With age comes experience, and experience never gets old. Seeing old people with tattoos are usual nowadays. However, their tattoo may not be there because of spontaneity or impulse like the generation that followed them. For they were born in an era where tattoos were used to tell a story of who they are and their journey in life. Or maybe they just want to look badass.
Old People Tattoo Ideas to Look Badass
Let's admit it, we dismiss our seniors more than we like to. We assume they're boring and everything they say doesn't matter. But unlike your average old folks, old people with tattoos get more attention.
There's something raw with old persons having ink all over them. Looking at them is like seeing a walking artwork with character, like every piece of their tattoo is an interesting story waiting to be shared. So let's hear them out in this list of tattoo design ideas for old men and women while they share their stories with us.
#1: Faces of Yesterday
What we have here is a guy with tattoos of women all over his body. These faces may be the women who influenced him all throughout his life. Or maybe a number of lovers that didn't work out!
#2: Traditional Yet Timeless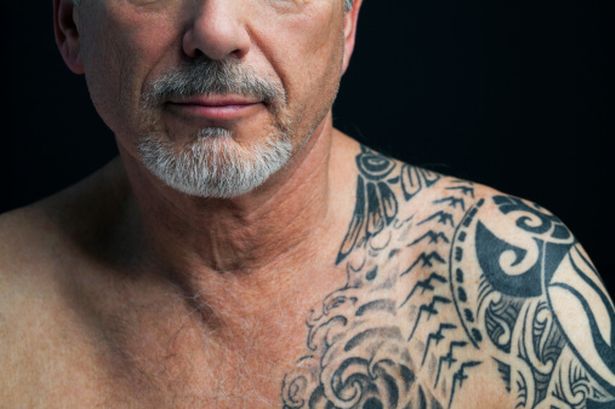 Here we see a traditional tribal tattoo with carefully drawn details. It has the mark of a classic ink used in tribes or inclusive groups.
#3: Old People with Tattoos That Match
These two tattooed seniors have ink on their back that matches the other. This kind of commitment expressed on their tattoos is something to be admired by young couples.
#4: A Lasting Art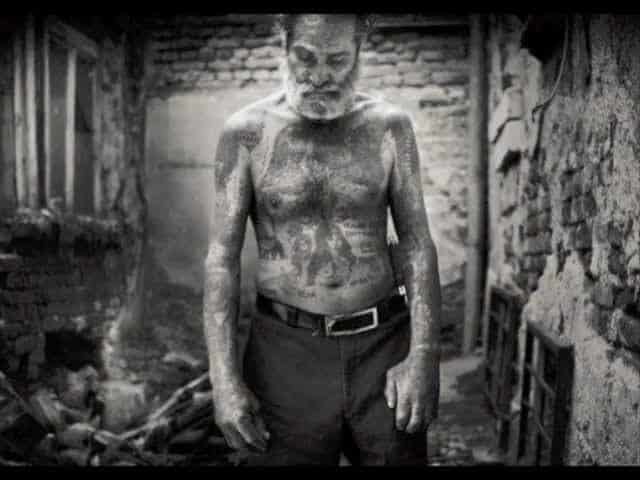 If you look closely, the artform pierced all over his body is finely done. You can see that every space available is not wasted, and every piece is different from the others.
#5: Smooth and Steady
This tattooed senior is definitely one of the coolest in the list. His style is smooth and gives that steady vibe, proving his style is unshakable even all these years.
#6: Why Use Clothes?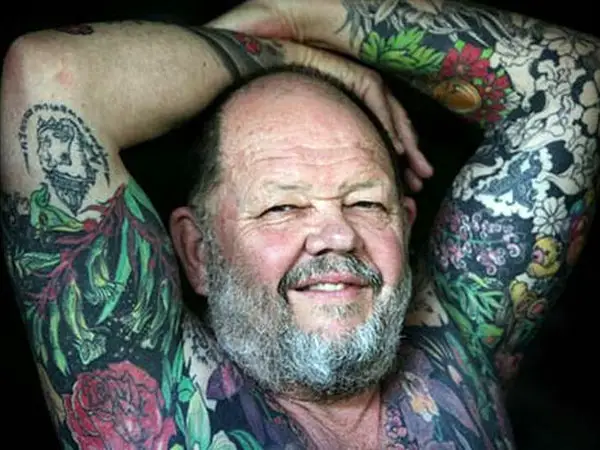 If you have a lively and vibrant tattoo like this one you wouldn't have that much use for clothes!
#7: Tattooed Senior with Ageless Ink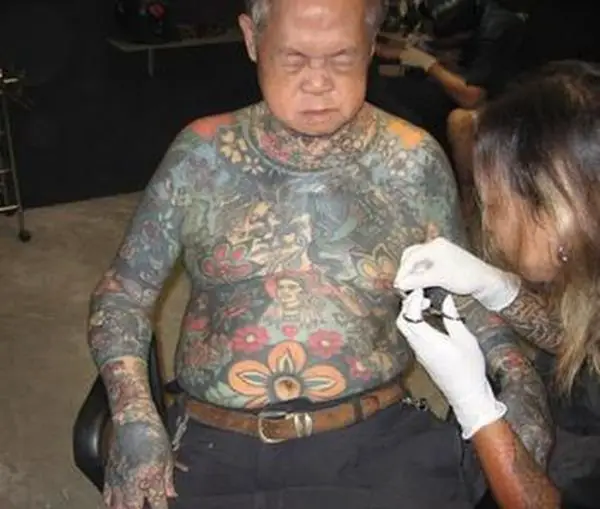 Decorated with complex patterns, this guy is the perfect example that not all old people with tattoos turns into soggy designs. You can still appreciate the beautiful artwork done in his body.
#8: An Awesome Testament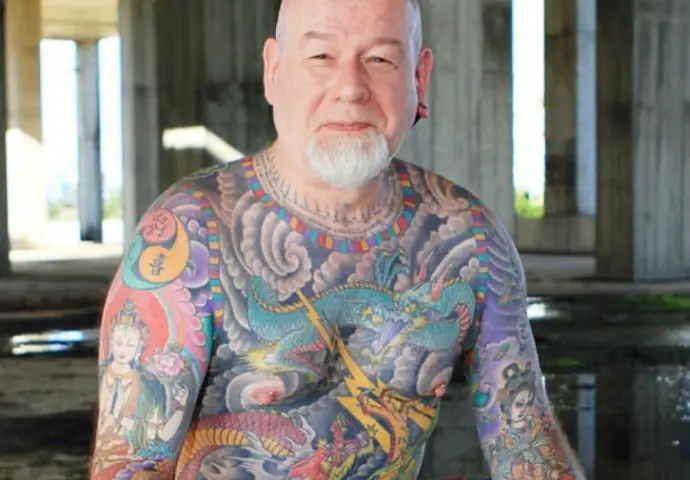 This tattooed senior is one of the great examples of making your tattoos testamentary.  Notice the story being told from the Buddha on his right arm to the geisha on his left. It looks like was from an Asian country and carried their culture.
#9: Bonded Old People with Tattoos
Couples need to have an activity they can both share and be excited about. And this couple shows that interest in tattoos is not only a great hobby for both to enjoy, but also to create a bond that lasts.
#10: For You Can Be Old and Sexy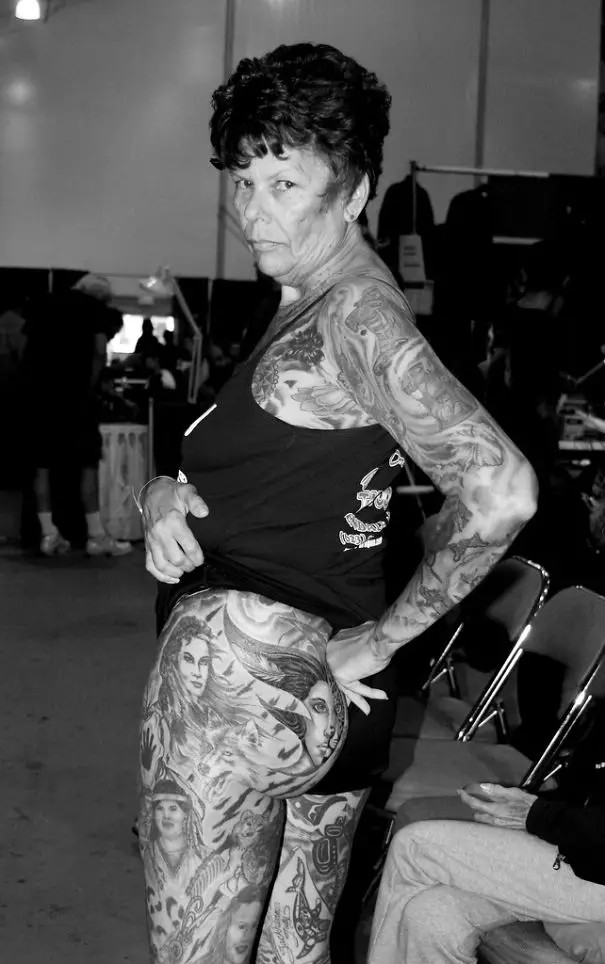 This aged woman surely knows how to portray her ink in a teasing manner. It's like stating that you can be old and still be sexy with your tattoos.
#11: Old Woman with Tattoo All Over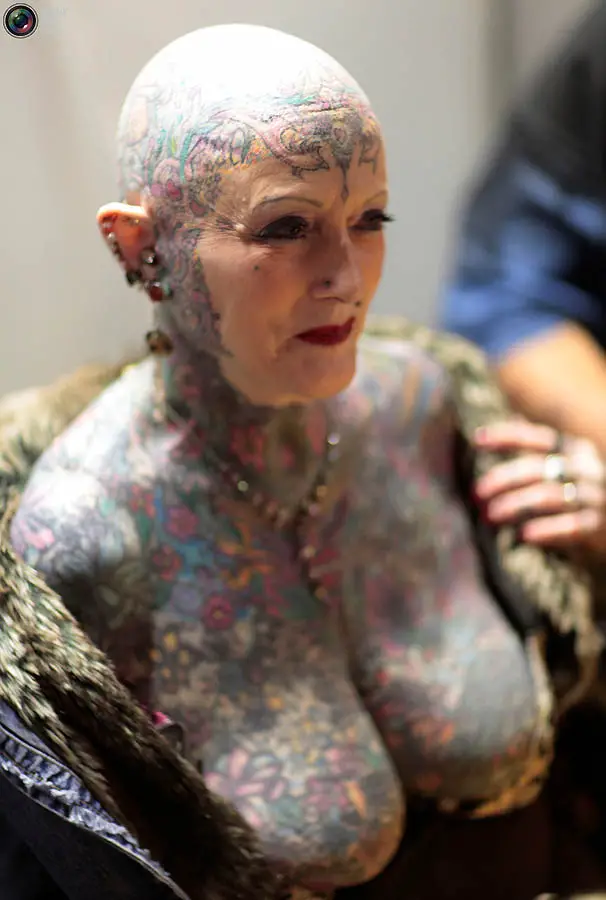 This old woman with tattoo all over her body has a magnificent floral presentation. Notice how each flower is different from the others. This maybe a complete set of flower tattoos collected over the years.
#12: Tattooed Senior with Iconic Figures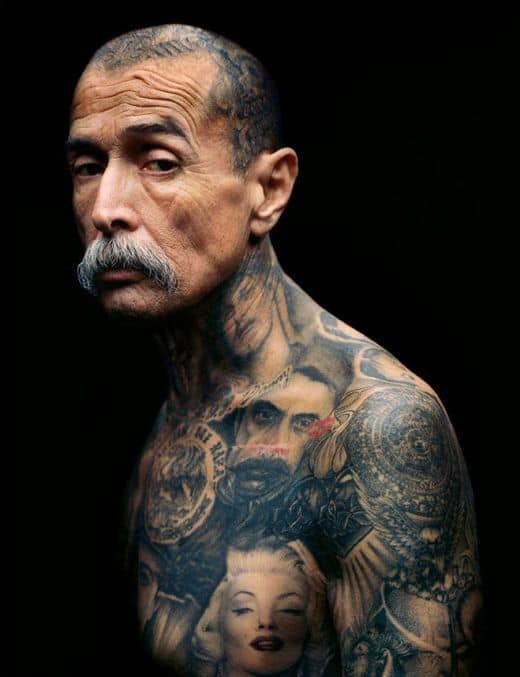 Unlike the first picture is shown here, this clearly shows the faces inked in his body. This tattooed senior has well-known figures like Marilyn Monroe throughout his body.
#13: Badass is Forever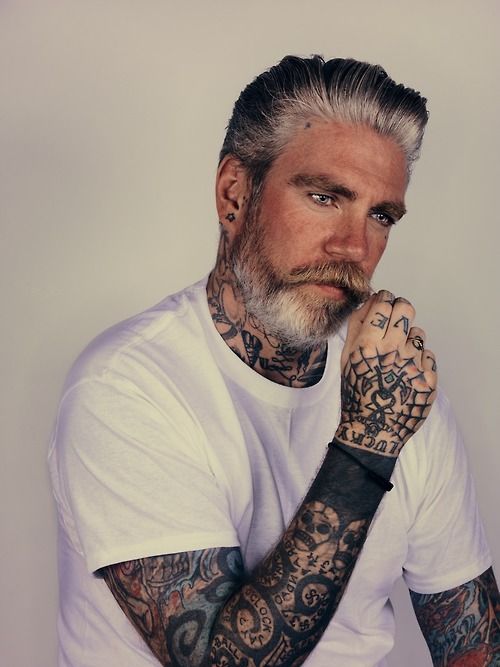 He may start having grey hair, but his style is still banging. His arm has various awesome designs using only one color and maybe a mark of his hardcore personality.
#14: Ink That Still Rocks!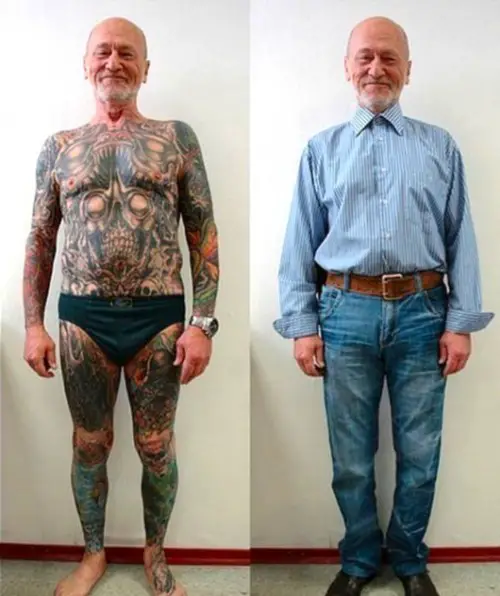 Who said old people with tattoos lose the charm of their ink? Because this will definitely prove them wrong. Complete from top to bottom, this tattooed senior's ink still rocks!
#15: Old Girls Just Wanna Have Fun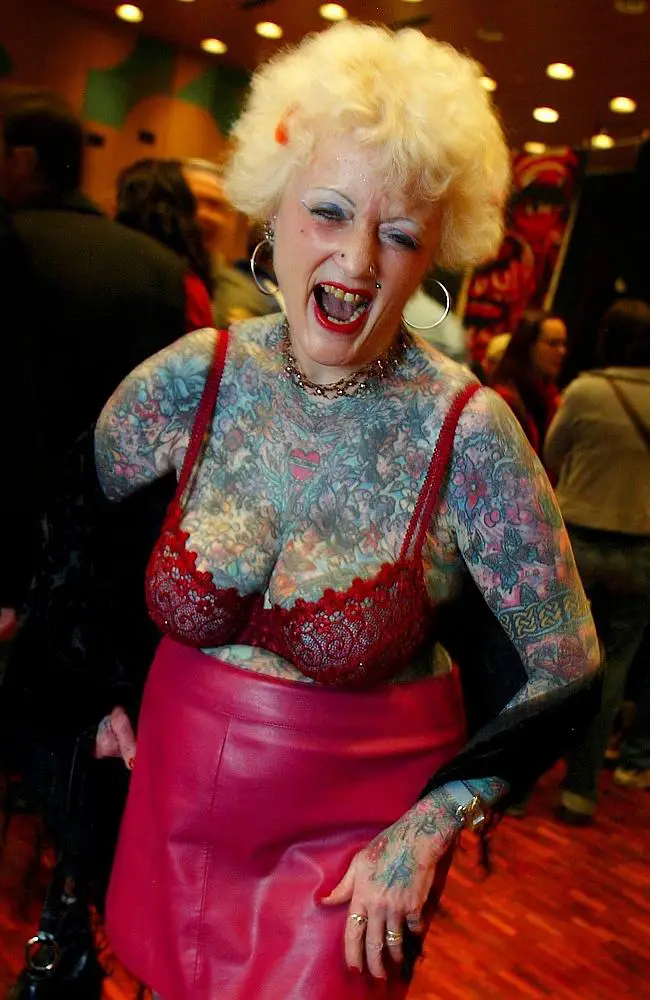 An aging body doesn't equal a boring attitude. You can be sixty-years old but still be young at heart like this old lady and her fun-filled tattoos.
#16: Tales to be Told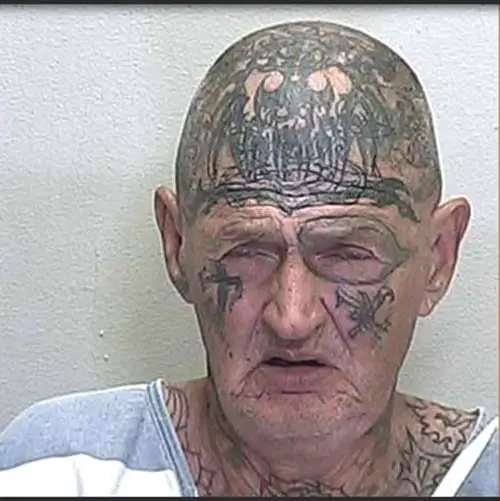 One of the most impressive ink in our list of old people with tattoos. This looks like a guy who has been to a war and his tattoos has tales waiting to be told.
#17: A Graceful Old Woman with Tattoos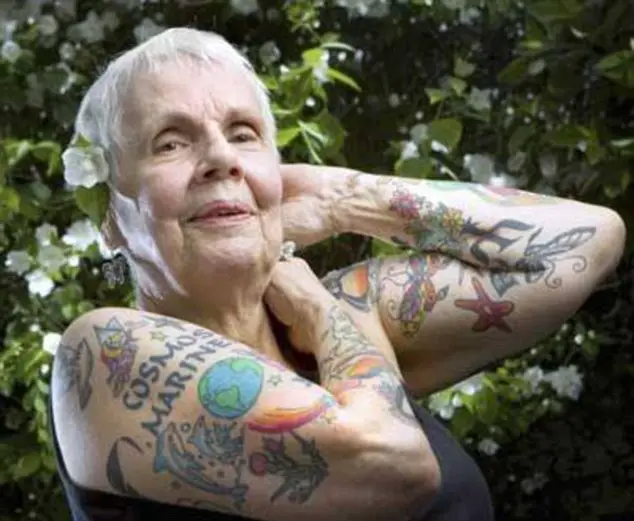 They say that women age like wine, well this one aged gracefully. You can see how she carries her tattoos with poise and finesse. Even though her crafts are a little bit whimsical.
#18: In The Jungle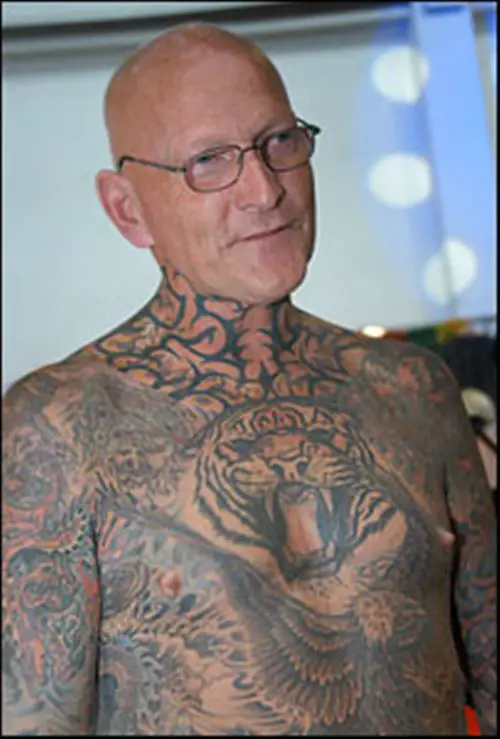 This old man with tattoos of different creatures in his chest depicts the wild life of a jungle. An intense set of pieces showcasing a kill or be killed vibe.
#19: Old Man with Tattoos of Skulls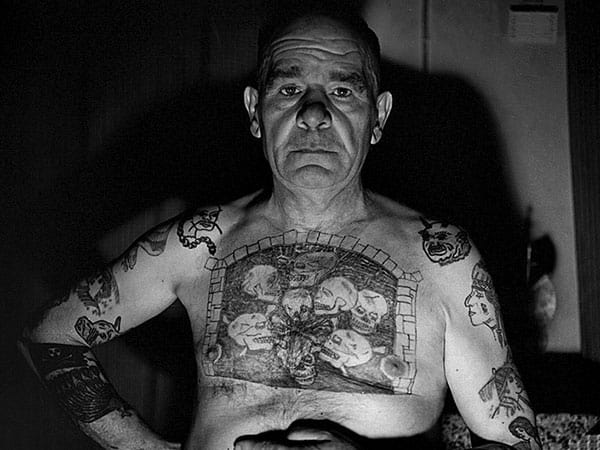 Skulls will always be a favorite for the defiant ones. This has a gloom and doom feeling which makes you wonder what this tattooed senior has been through.
#20: Glamor with Attitude
Glimmering with confidence, this old woman with tattoos all over her body shows that glamour is best partnered with a little bit of attitude.
#22: From Then Till Now
Talk about an art that never ages. Not only did the owner have this masterpiece all over his upper body, he also didn't change or add a single tattoo. Now that is commitment.
#23: On Arm's Length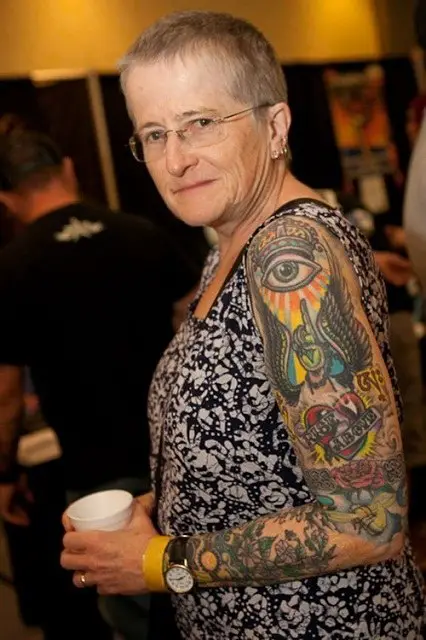 It's hard not to get captivated by the lengthy variety of designs in her arm. It just shows how this tattooed senior is one radical ink lover.
Hottest Pin-up Girl Tattoo Ideas
#24: Old People with Tattoos For Love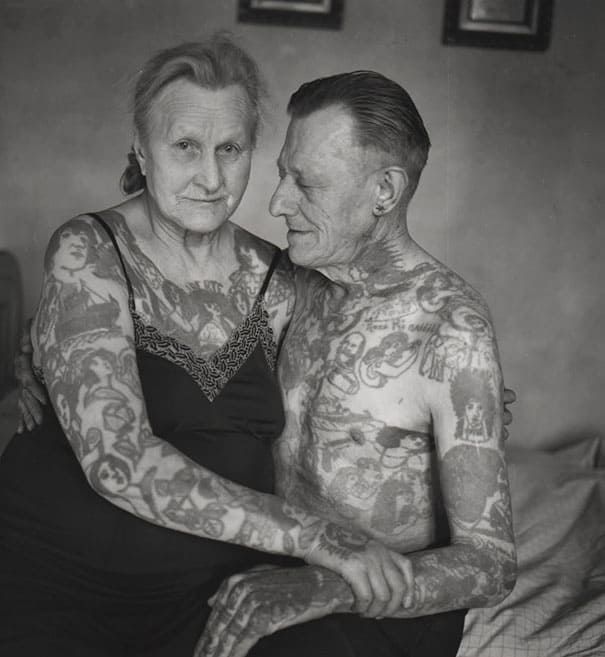 Notice their tattoos have similar style and placements. This romantic couple immortalized their relationship by having identical artwork cover their body.
#25: Tough and Sturdy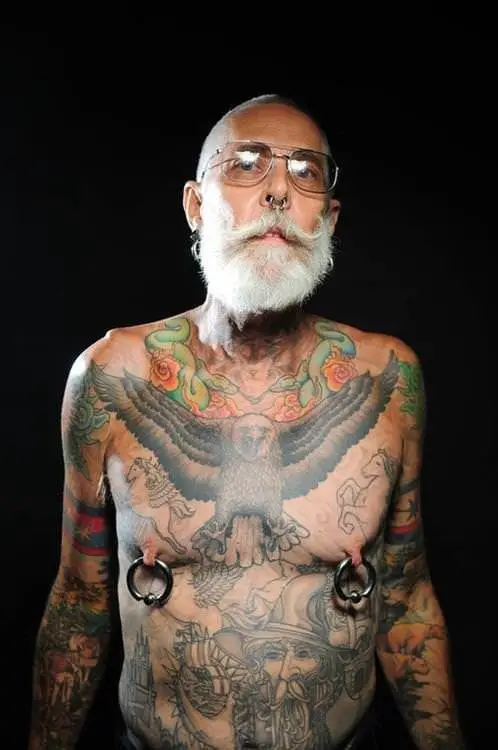 This tough and sturdy oldie has a native vibe going on. As shown above, he has a combination of animals roaming around his body with one bearded guy on his belly.
#26: A Sumo of Art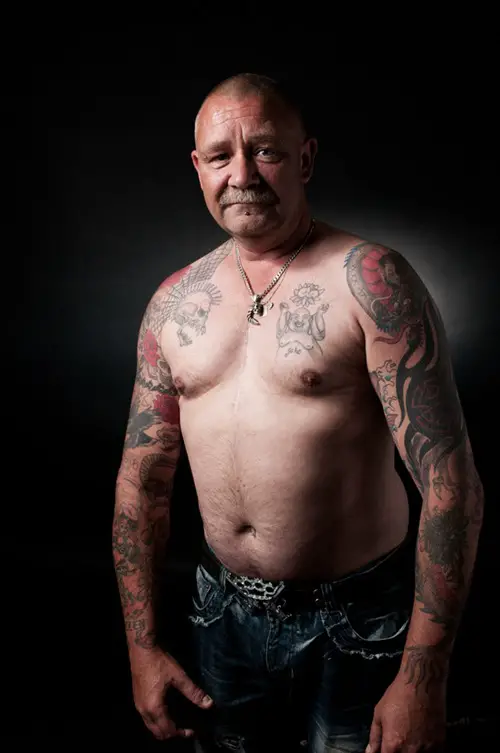 An emblem that is probably as awesome then as it is now. This tattooed old man shows a brand commonly seen on sumo wrestlers in Japan. If tattoos do tell a story, his will certainly be worth hearing.
#27: Creatures of the Wild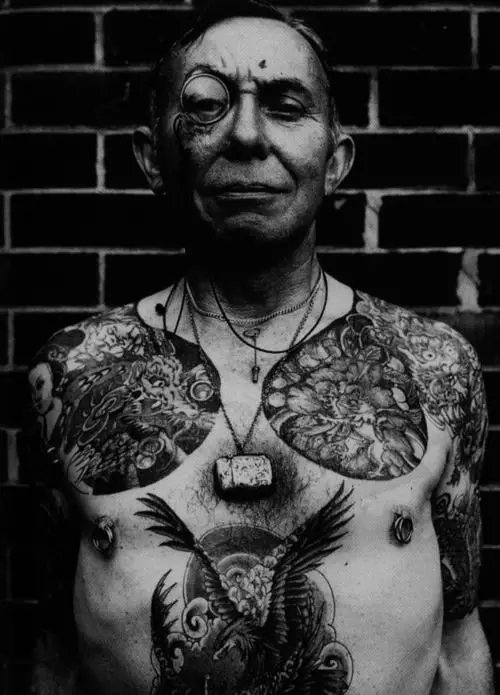 This tattoed old man surely knows the good stuff. Packed with fearsome creatures, his set is definitely formidable.
28: The Chameleon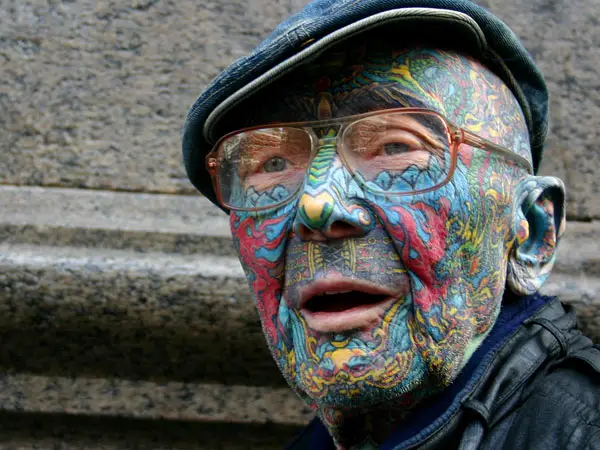 I don't know if he had this back in his military days to camouflage himself, but it's one insane artwork. If it wasn't for his skin loosening up, you won't probably guess he's an old guy.
#29: Old Man with Tattoo Covering His Face
Who needs plastic surgery when you can have this. Although this may be an ethnic or tribal tattoo earned through their rituals.
#30: Tigers in the Garden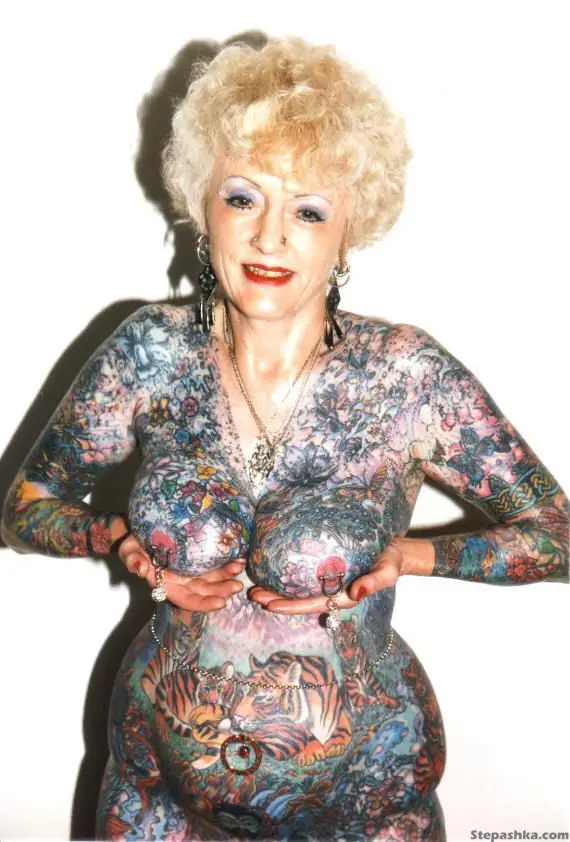 Coating her entire body with ink all throughout the years, yet not one blemish changed on this wondrous craft. For any woman fearing their tattoos might get messy when they age, you can use this as an inspiration.
#31: Snake and Peacock
Though it is an unusual choice of design, it's unbelievably clean and clear given that it's a tattoo on the back of an old man. It displays a peacock trying to escape the wrath of a snake.
#32: When Style Meets Confidence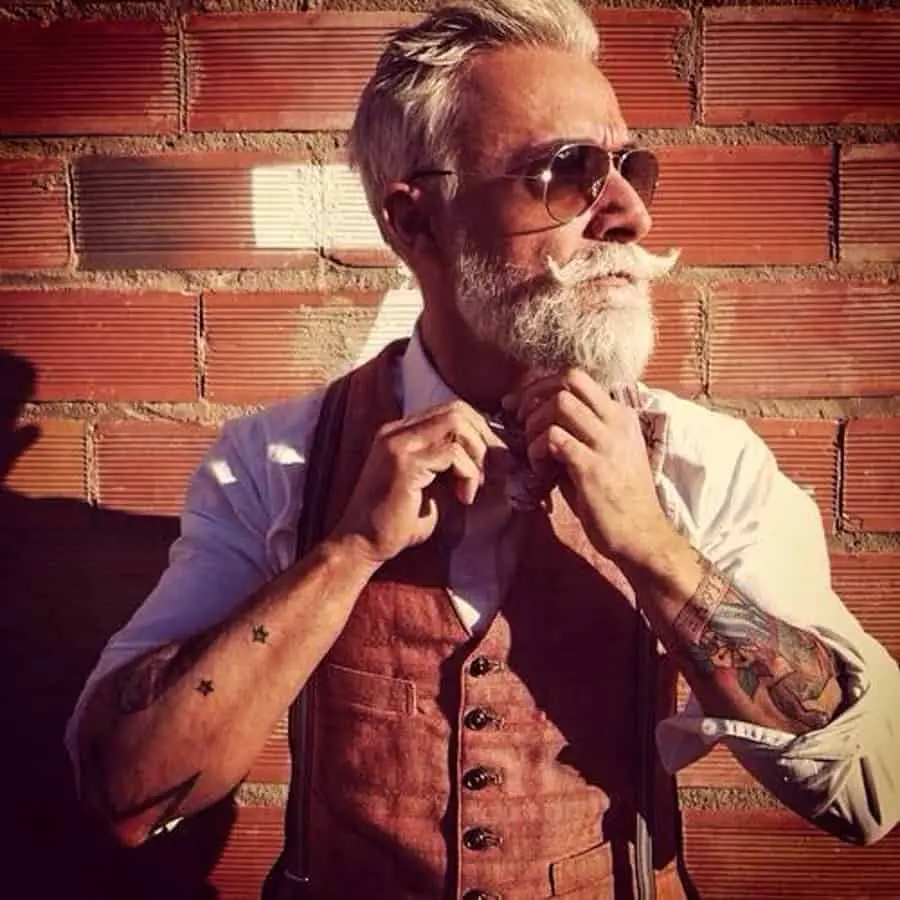 Everything about this tattooed senior spells out confidence. From his swag to his clothes and from his charm to his attitude. And to top it off, his image is polished by those smooth arm tattoos.
#33: Old Man with Tattoo on Right Side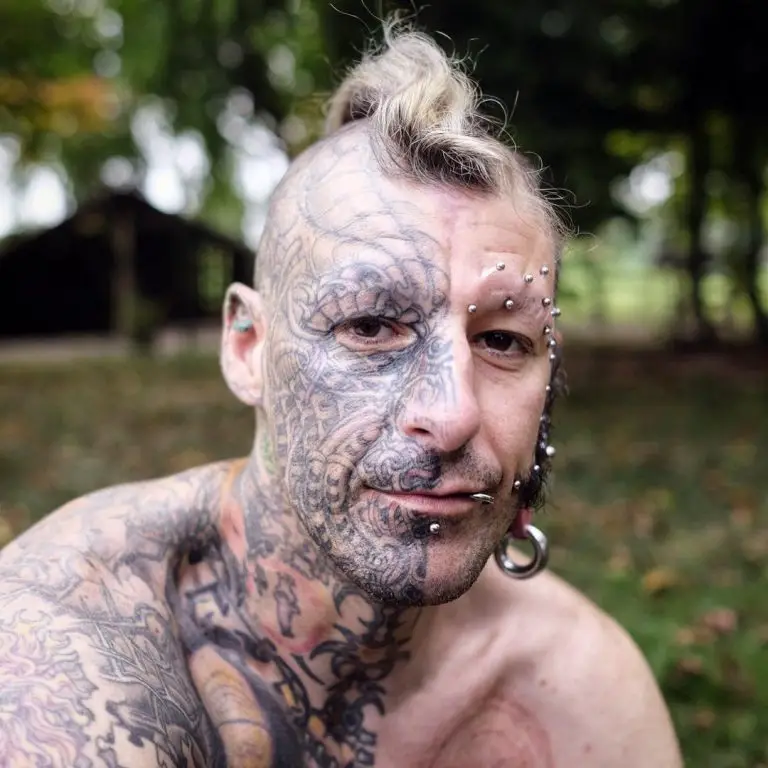 Having half of his upper body tattooed completely, this old fellow is no push over. Displaying an intense set of designs, this guy is definitely extreme with his style.
#34: Kickback, Relax, and Retire
When you retire, you may want to keep this photo as an inspiration. For this old man with tattoos all over him is a good example of enjoying your retirement in style.
#35:  Sexier with Age
Saving the best for last. This hot lady may have a set of grey hair, but it doesn't take away her strong sexual appeal along with her elegantly carved ink.
Age will never be a hindrance to your tattoos. It will never prevent them from looking cool. The secret lies in taking care of yourself and your pierced art like these old folks did. Young or old, people will always look more awesome with excellent tattoos inked on them.