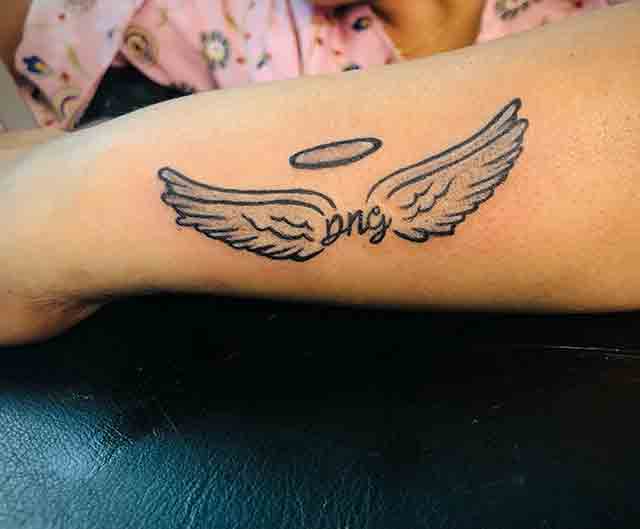 Angel wings are a representation of the guardian angels that protect us from evil and danger. Angel wings tattoo designs are a popular choice among religious and believing men and women.
While the tattoos seem simple and minimalistic, they hold a very deep meaning behind them. These designs are a perfect choice whether you want to remember a loved one or represent your belief and ideas.
With more than a thousand angel wing tattoo ideas available, it is quite difficult to choose the perfect one. To make things slightly easier for you, we have shortlisted a few angel wings tattoos. Let us dive deep into the guide and take a look at these absolutely mesmerizing tattoo designs.
Angel Wings Tattoo Designs And Meanings
Now, angel wings tattoo designs are not only pretty to the eyes, but the underlying meaning makes the tattoo designs more attractive and eye-pleasing. Whether angel wing tattoos are small or cover up an entire part of the body, these designs are absolutely beautiful. Here, we will take a look at a few angel wing tattoo designs and what they represent.
Small Angel Wings Tattoo
Small angel wings tattoos look amazing and attractive on all body parts. Let us take a look at some of the top small angel wings tattoo ideas.
1. The Finger Wings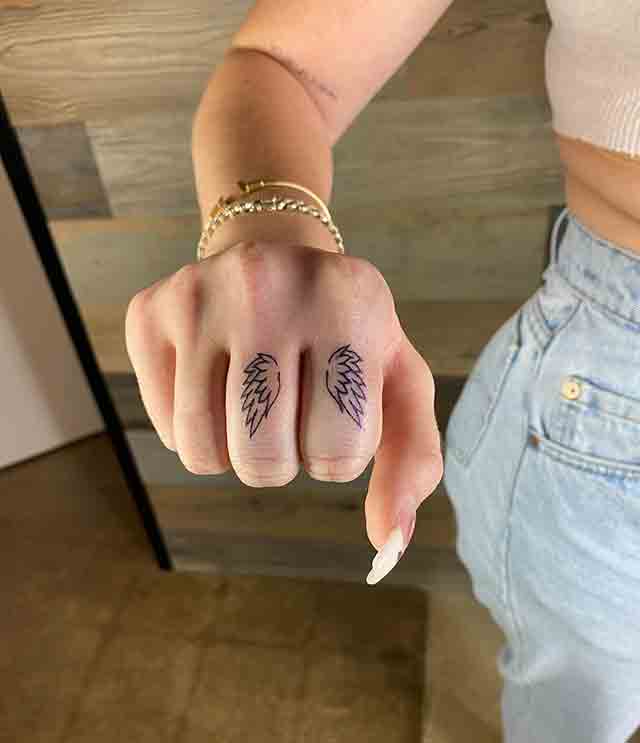 Improve the features of your fingers and attract attention to your hands with this beautiful angel wings tattoo.
2. Floral Wings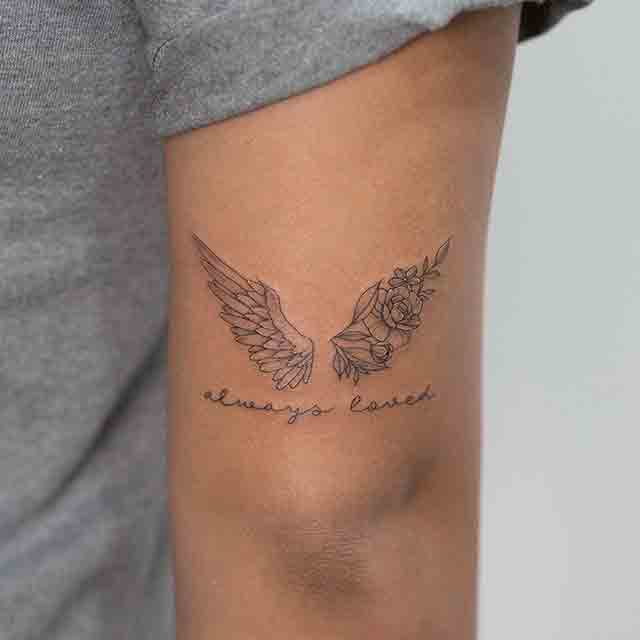 Show respect and remember your loved ones with this amazing floral angel wings tattoo. It displays love and tribute to the ones who are gone forever.
3. Baby Angel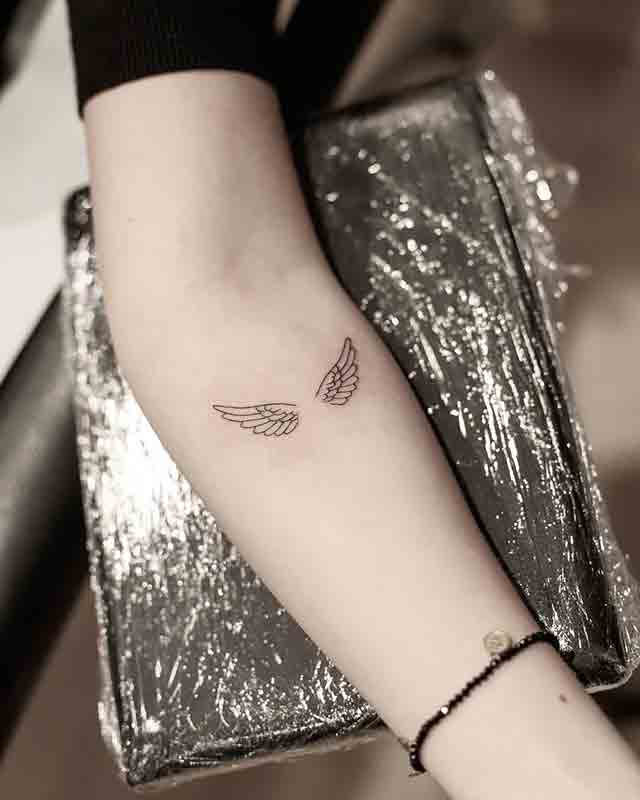 Portray love, freedom, protection, and spirituality with this small and intricate angel wings tattoo design.
Fallen Angel Wings Tattoo On Back
Fallen angels have been part of religious history since the beginning of time and also a major part of the tattoo culture. Here, we will discuss a few fallen angel wings tattoo designs on the back.
4. Angels and Demons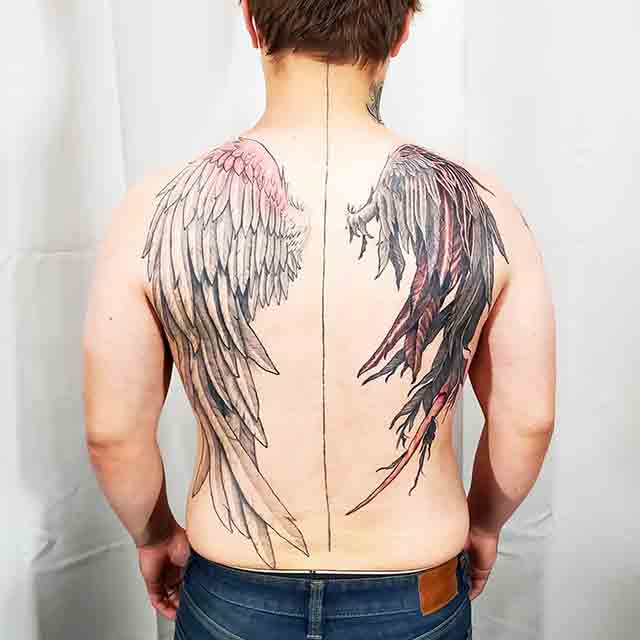 With angel wings on one side and fallen angel wings on the other, this tattoo represents the good and bad sides of life.
5. To Infinity And Beyond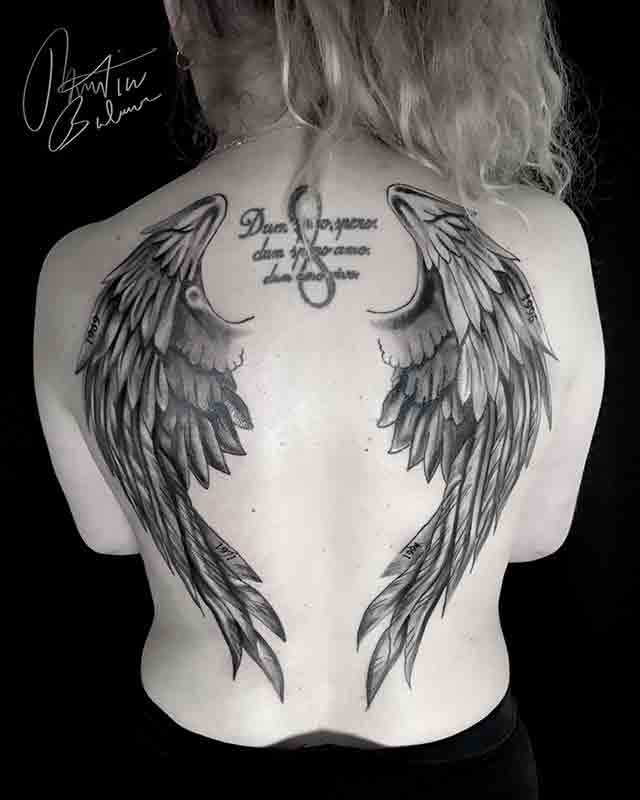 Beautify your back with this stunning and detailed angel wings tattoo design. The fallen angel wings represent the struggles in life while the infinity symbol symbolizes unbreakable bonds.
6. The Angellic Wolf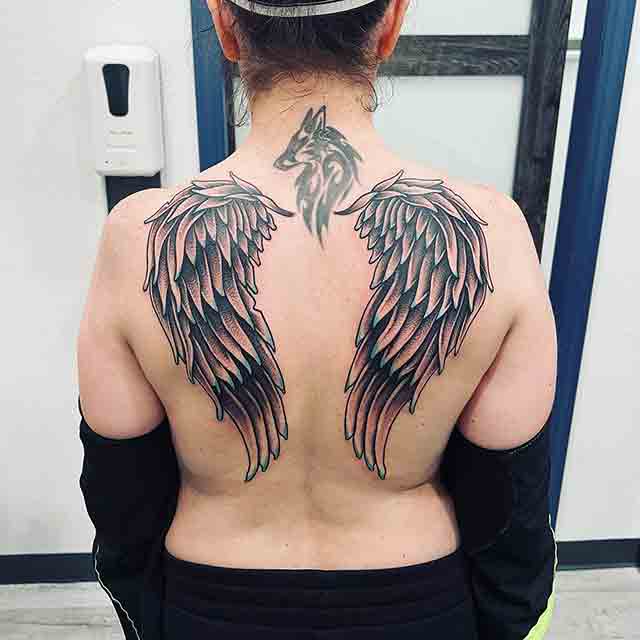 Wolf and fallen angel wings have a similarity in the meaning they put across the table. A combination of both these elements symbolizes courage, strength, and the struggles of life.
Angel Wings On Neck Tattoo
No tattoo beats the beauty and attraction of neck tattoos. Angel wings on the neck make the area look more eye-catching and stunning. Let us see a few neck angel wings tattoo ideas.
7. Pretty Little Wings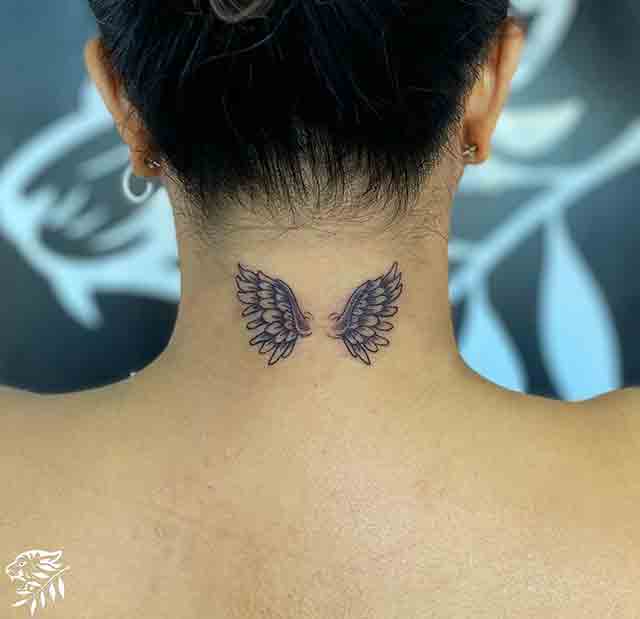 Symbolize purity, freedom, innocence, and faith with this mesmerizing and small angel wings tattoo. Although the tattoo is small, the meaning behind it is quite significant.
8. Believer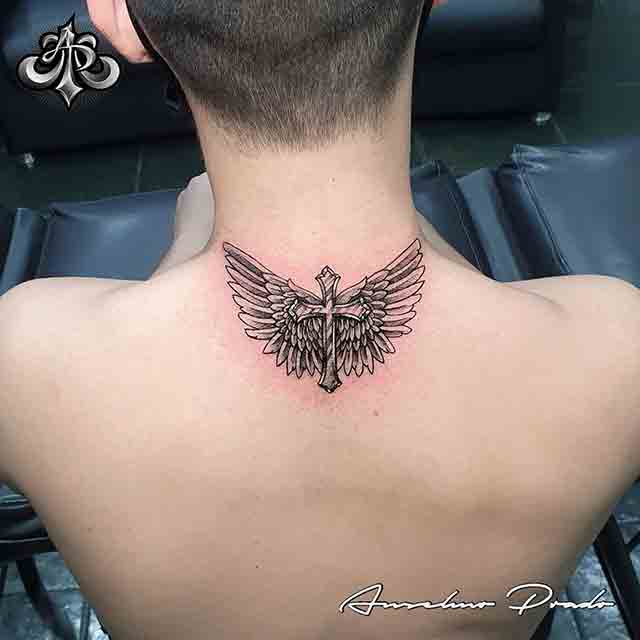 Angel wings are a major part of Christianity. This tattoo is a clear representation of faith, belief, and love for the religion.
9. Admiring Wings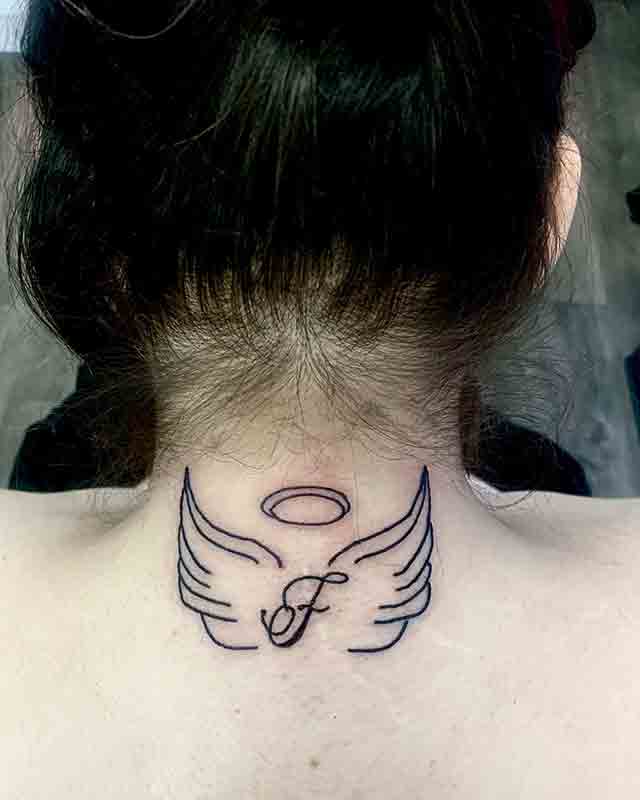 Dedicate these angel wings to an angel in your life who is now taking a deep nap in a better place.
Cross And Angel Wings Tattoo
Christianity and angel wings have had a deep connection since the beginning of time. The cross and angel wings combination in a tattoo always creates a magical and eye-pleasing sight. Here, let us see some of the top cross and angel wings tattoo designs.
10. Cross Faith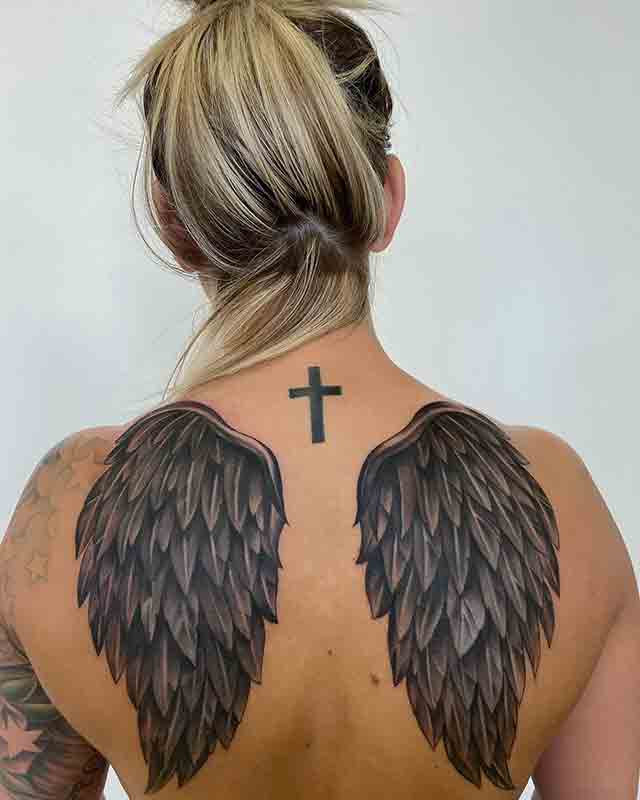 Strengthen your belief and love towards your religion with this iconic cross and angel wings tattoo. It is a portrayal of purity and good things in life.
11. Rest In Peace, Angel!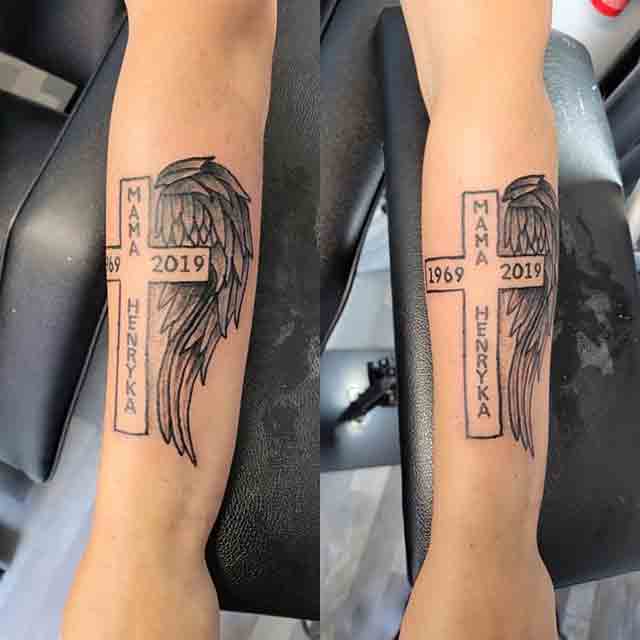 Losing a loved one is never easy in any way. Keep a reminder of them and their beautiful soul with an angel wings tattoo design showing your love for them.
12. Faith In The Heart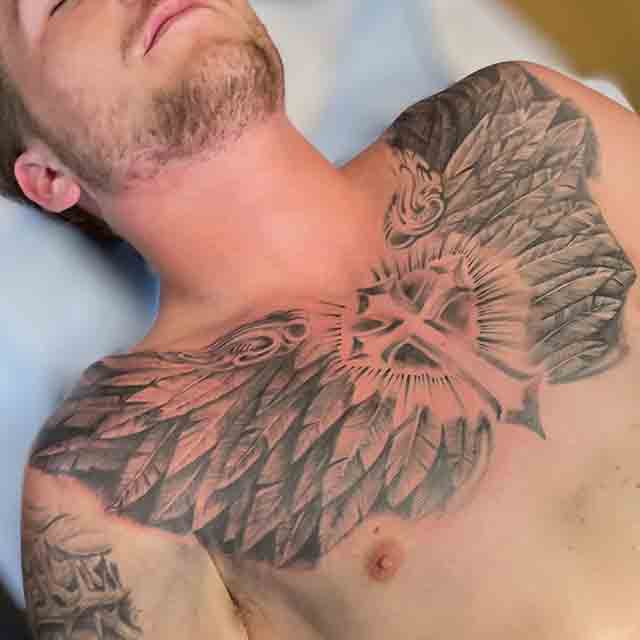 The enlightened cross surrounded by the angel wings symbolizes protection, innocence, and faith.
Angel Wings Tattoo On Wrist
Wrist tattoos are quite an interesting and great placement for creative and meaningful tattoos. Angel wings on the wrist look attractive and extremely beautiful without any doubt. Let us see a few examples of angel wings tattooed on the wrist.
13. A Half-Hearted Wing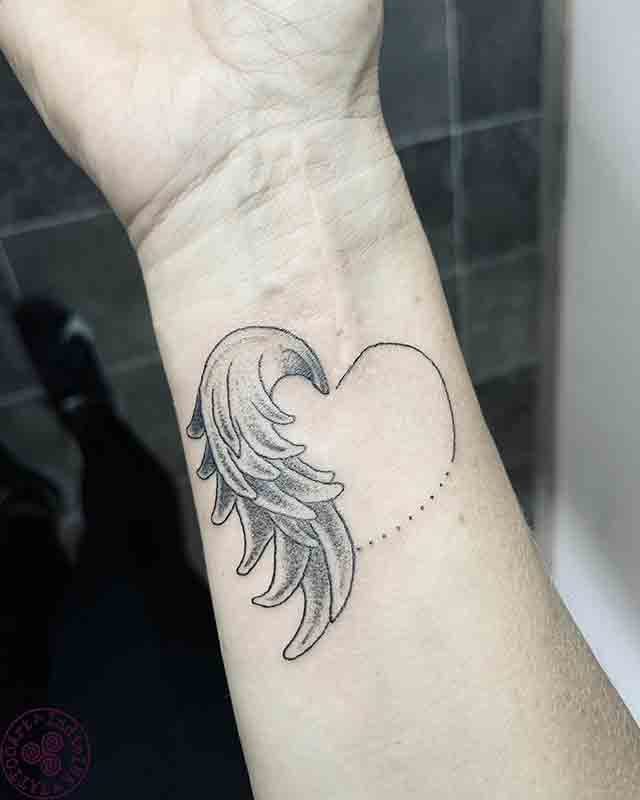 Losing someone you loved dearly to death is like losing a piece of your heart. This single wing with a dotted half-heart portrays respect and love for a lost loved one.
14. Gone Too Soon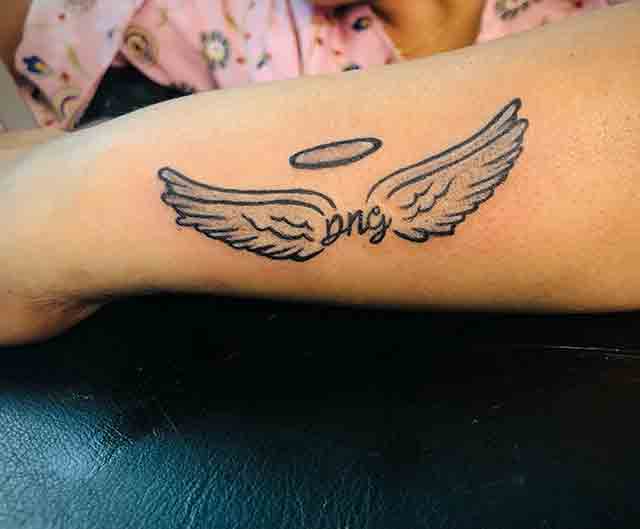 Life is short but often painful and hurting. Get this tattoo as a reminder of a loved one you lost and show you eternal love for them.
15. A Piece From Both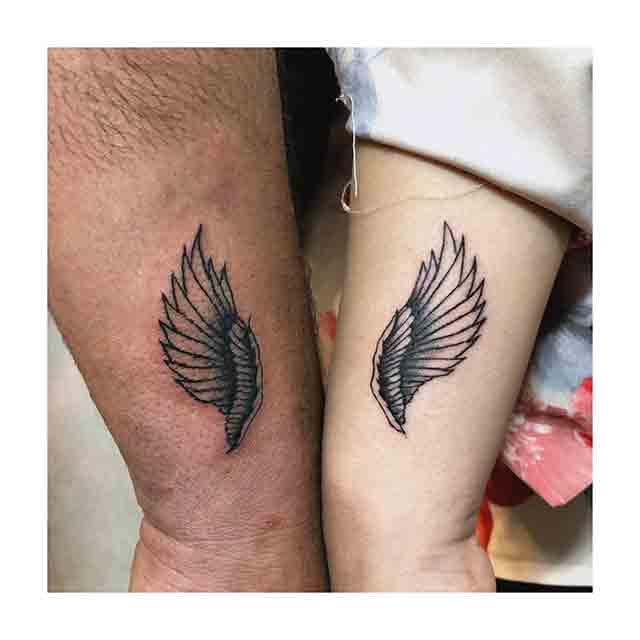 Get this unique couple angel wings tattoo as a reminder of love, peace, and protection.
Black Angel Wings Tattoo
16.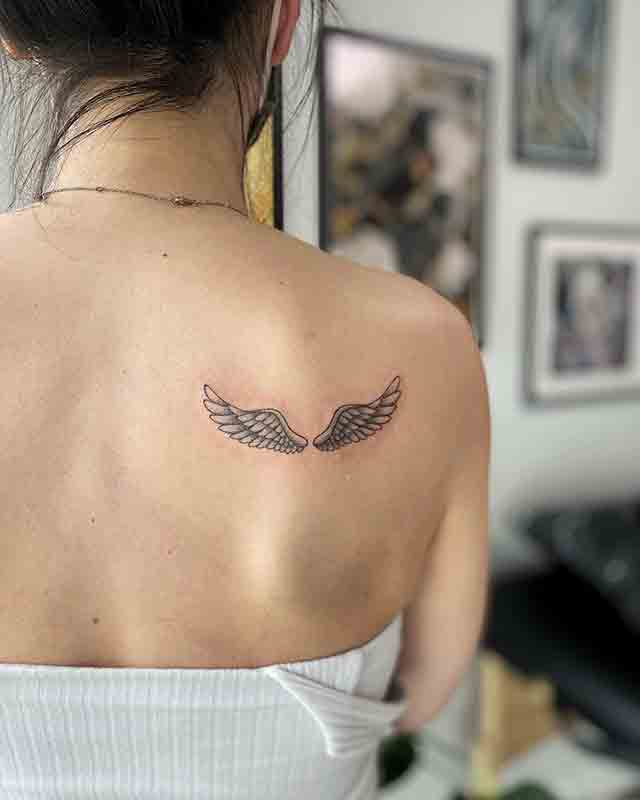 Show your belief and faith in guardian angels and the protection they provide over you.
17. The Good And Bad Life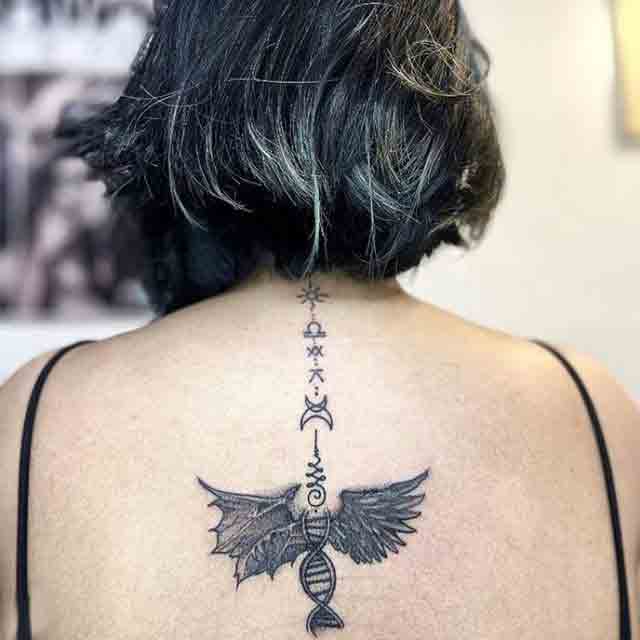 Give a daily reminder to yourself and the world that good and bad lie within us with this beautiful angel wings tattoo.
18. The Angel Scene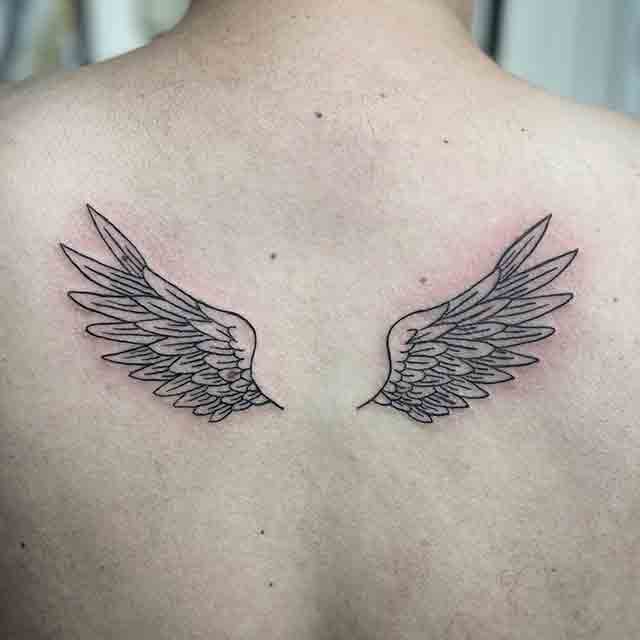 Innocence, purity, and love are the humbling necessities of life. This angel wings tattoo is a representation of all the soft and stable feelings in our lives.
Angel Wing Forearm Tattoo
The forearm is a top tattoo placement choice for both men and women. You can attract eyes to your hands with stunning angel wings forearm tattoo or keep them hidden as a reminder to yourself. Let us see a few angel wings tattooed on the forearm.
19. The Sword Protection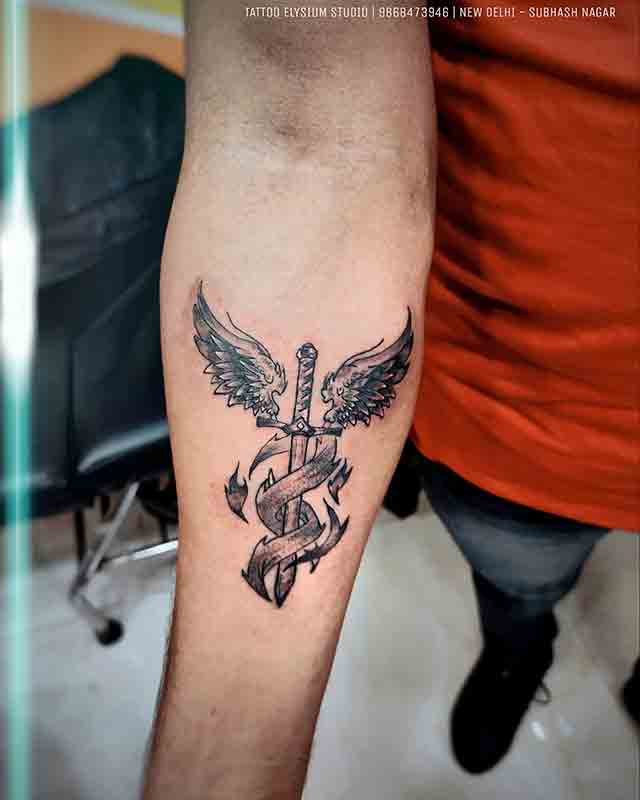 Display the power and protection of guardian angels. The sword represents the battles we fight in life while the angel wings portray the blessings that come from the angels.
20. Always and Forever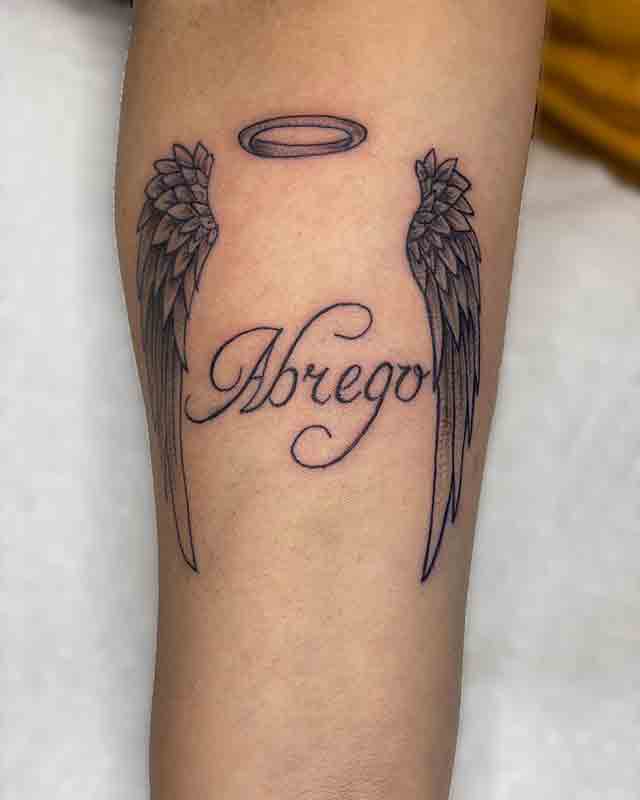 Pay tribute and show love to a loved one you have lost by tattooing angel wings and their name on your half-sleeve.
21. The Love Angel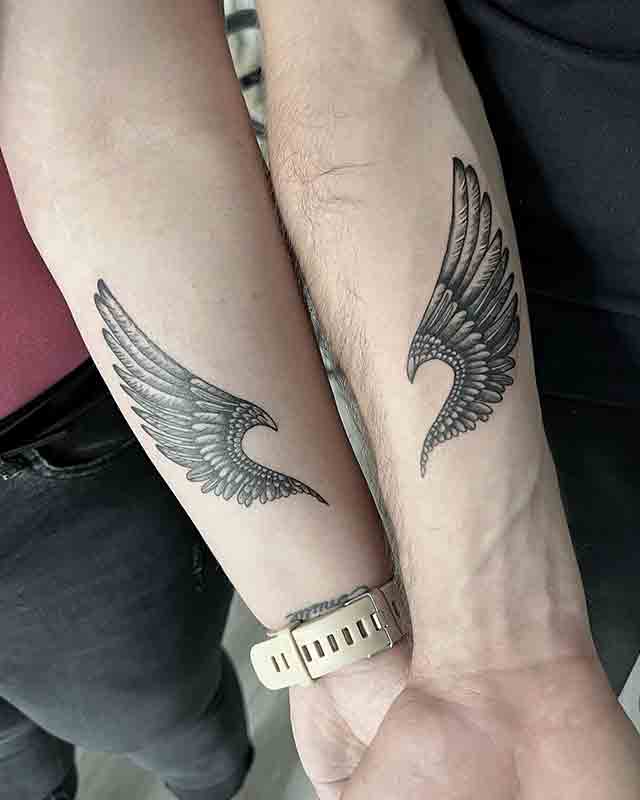 Soulmates complete each other like one angel wing completes the other. Show love and compassion to your partner with these hearty angel wings.
Angel Wings Chest Tattoo
Angel wings on the chest portray affection and respect for the religion and the belief in guardian angels. Here, let us take a look at a few angel wings chest tattoos.
22. Simplicity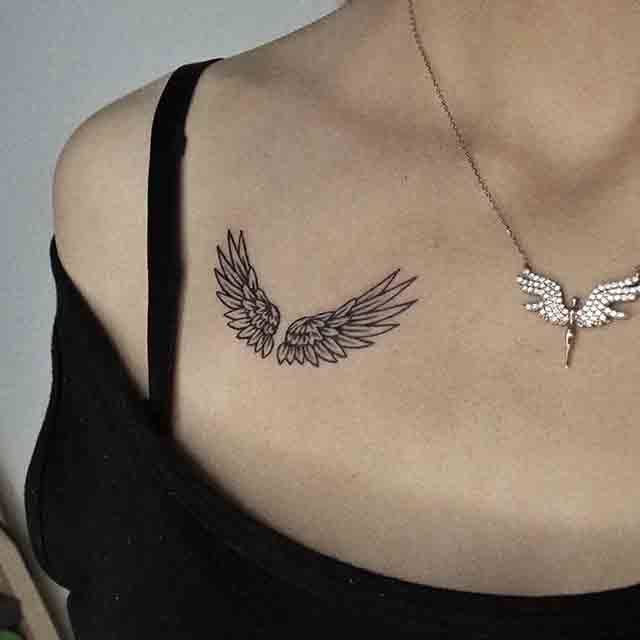 Dedicate a piece of your love to guardian angels and show belief in their protection and magic with the beautiful and intricate angel wings tattoo design.
23. Faith and Freedom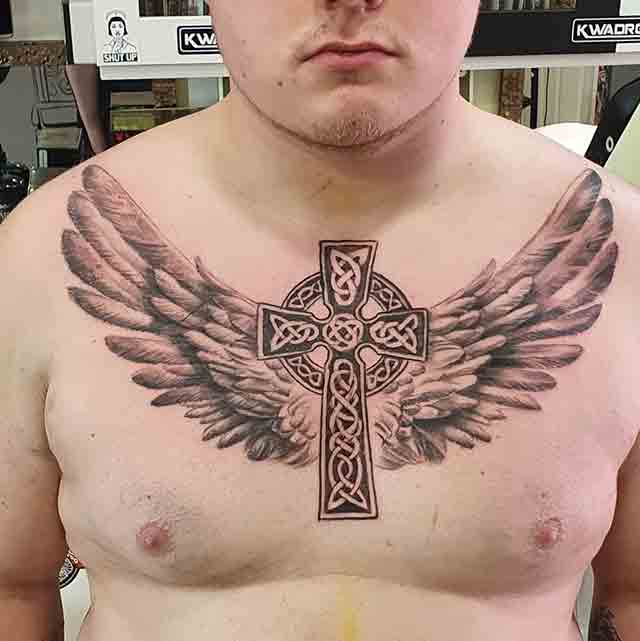 Spread your wings and fly into a world of goodness and magic. This tattoo is a symbolization of belief, love, freedom, and spiritual peace.
24. Starred Wings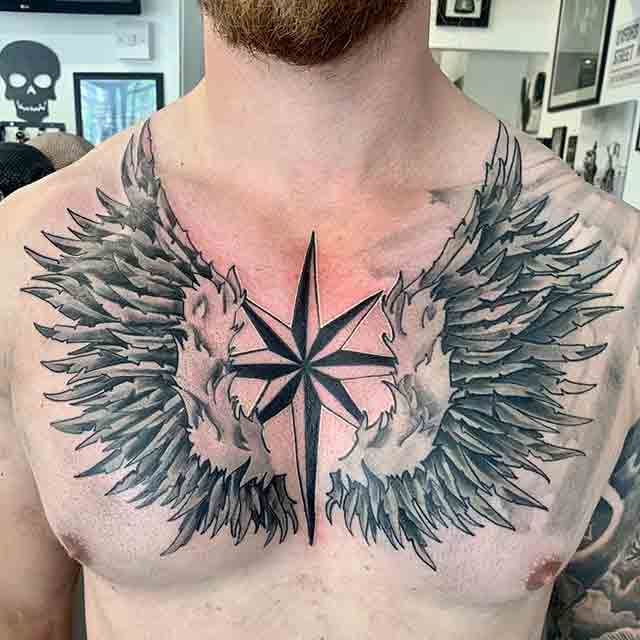 Turn heads and attract eyes to you with the angel wings tattoo sporting a star. It is a beautiful take on the deep meaning of the wings and also shows the creativity of the artist.
Simple Angel Wings Tattoo
25. Half Wing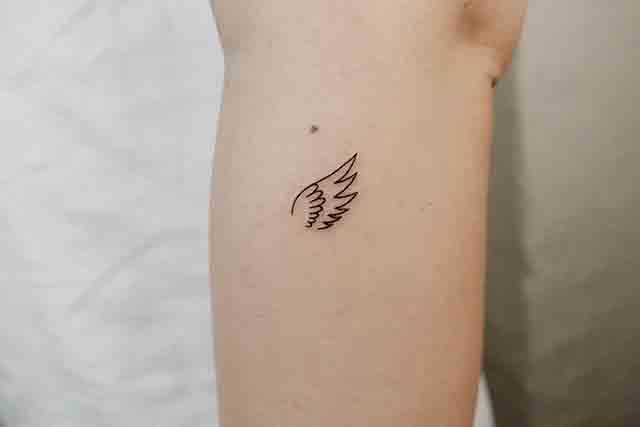 A half wing represents the loss of a loved one. It is a representation of the belief that they are in a better and happy place.
26.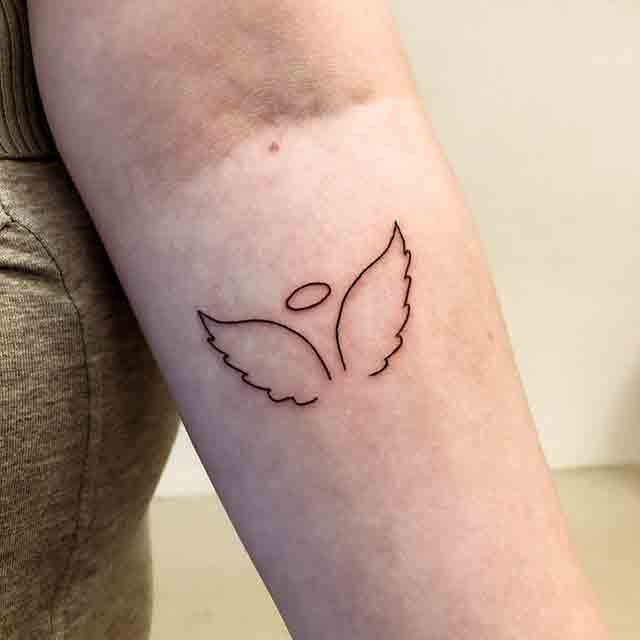 27.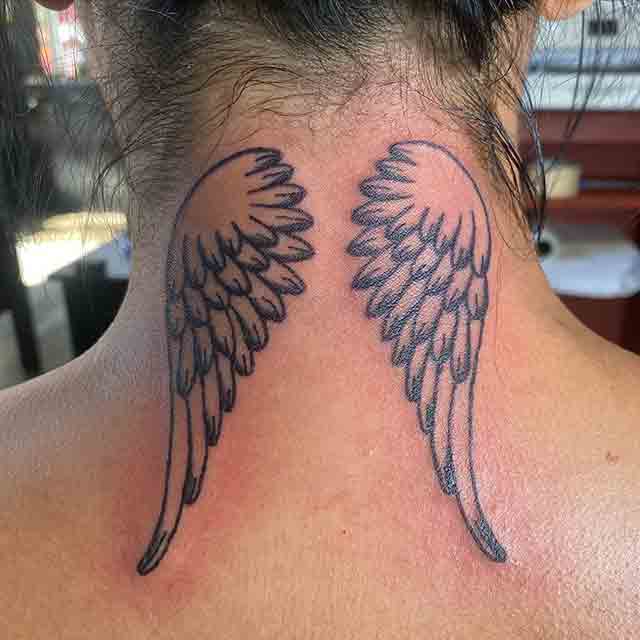 Heart With Angel Wings Tattoo
28.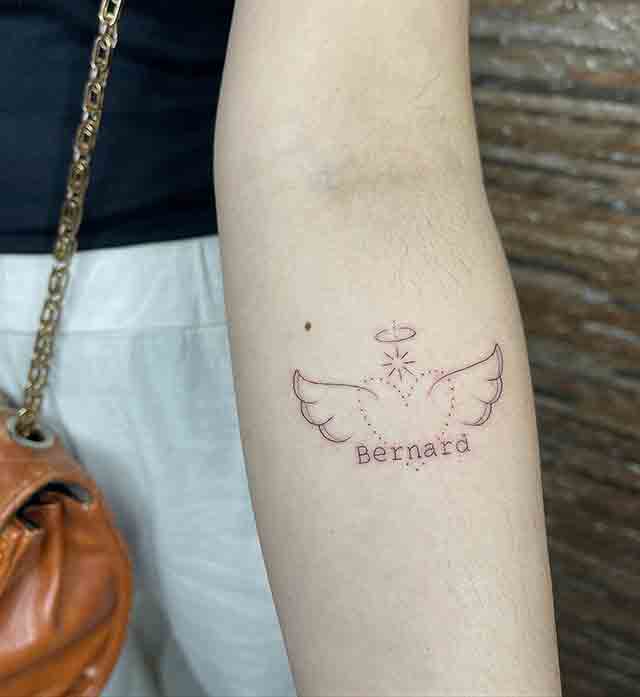 29.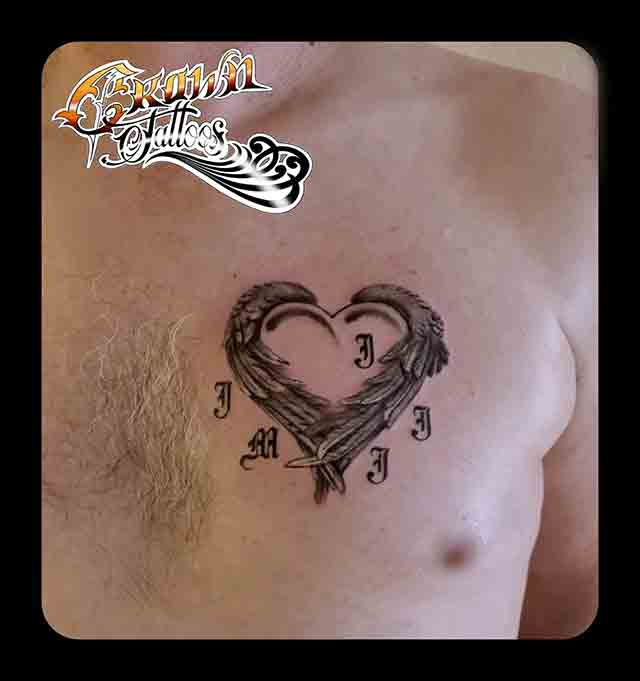 30.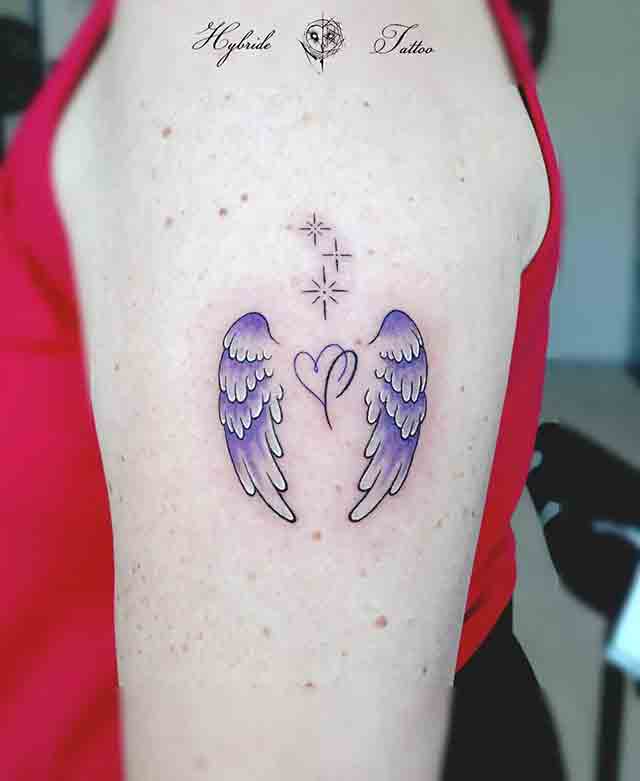 Name with Angel Wings Tattoo
31.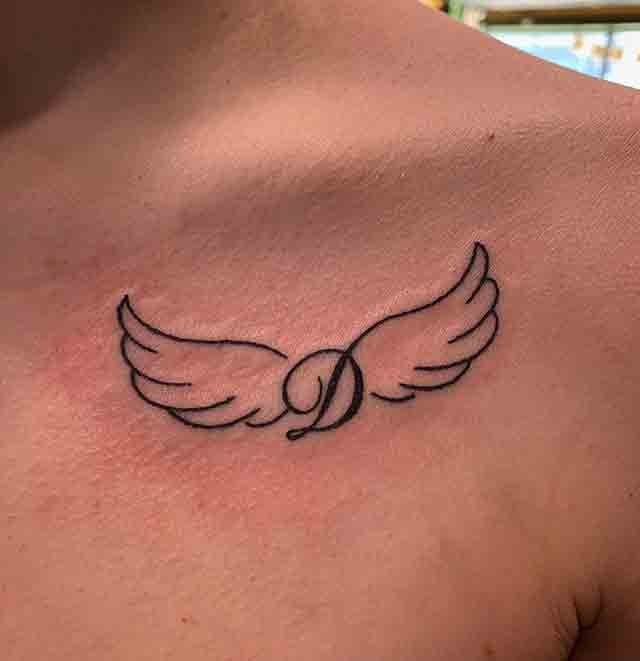 32.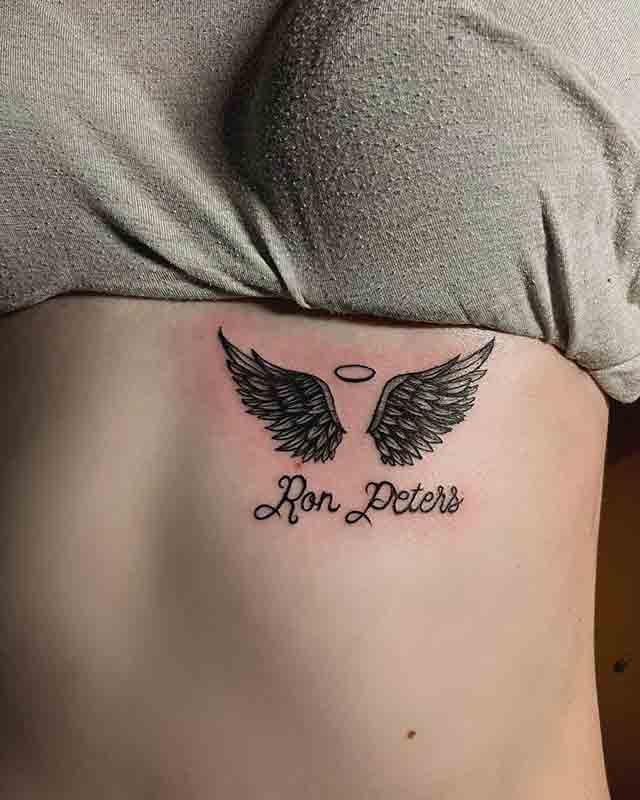 33.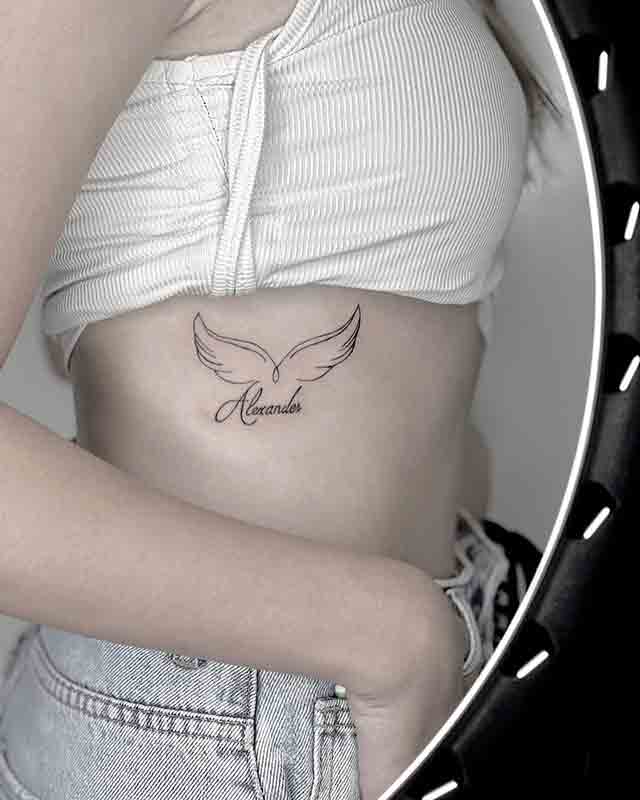 Angel Wing Semicolon Tattoo
34.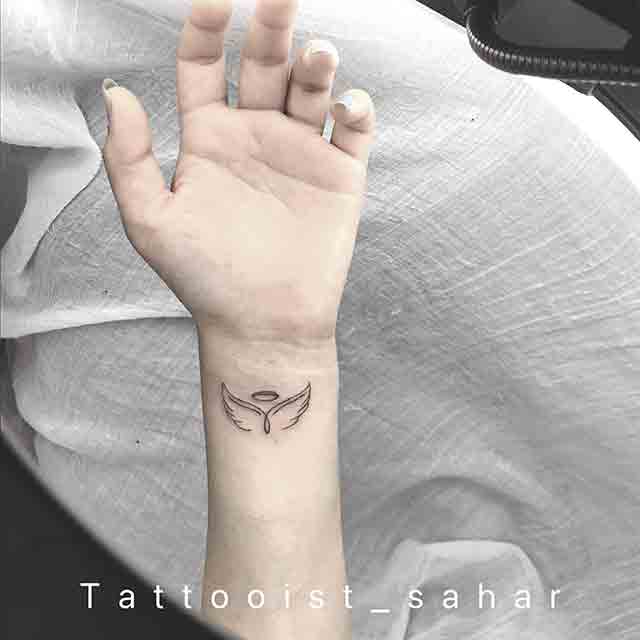 35.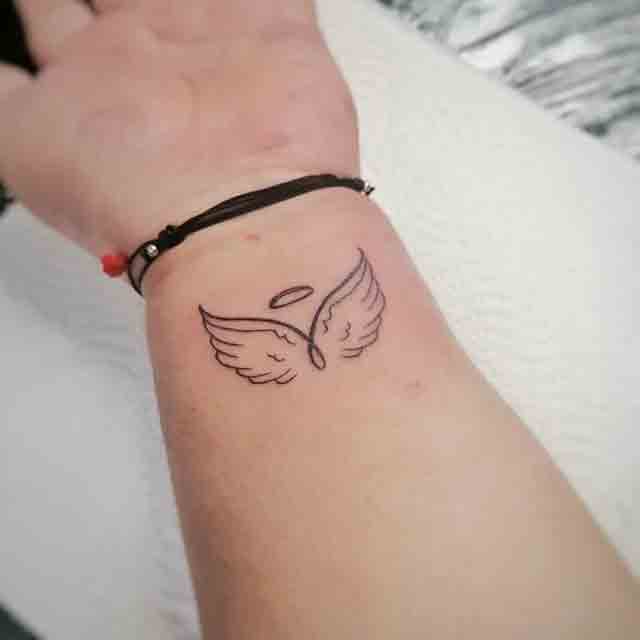 36.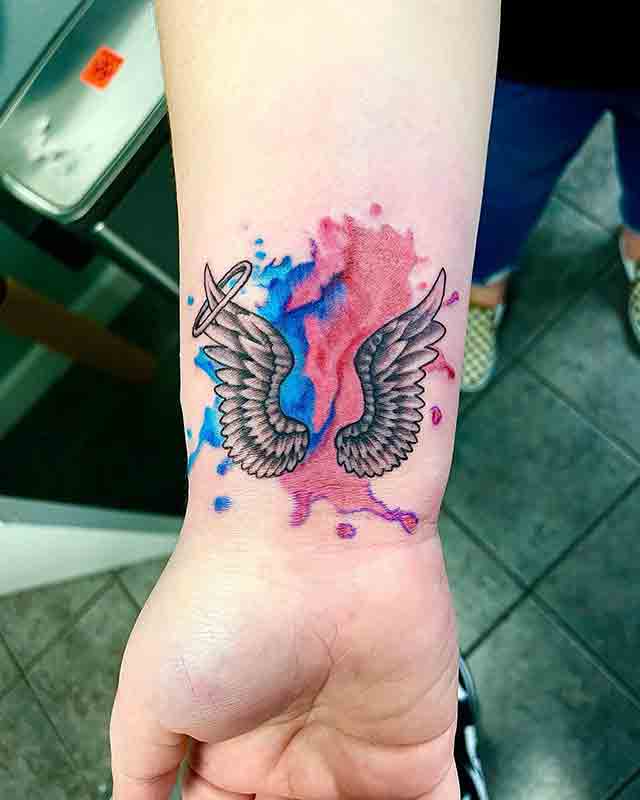 Angel Wings Memorial Tattoo
37.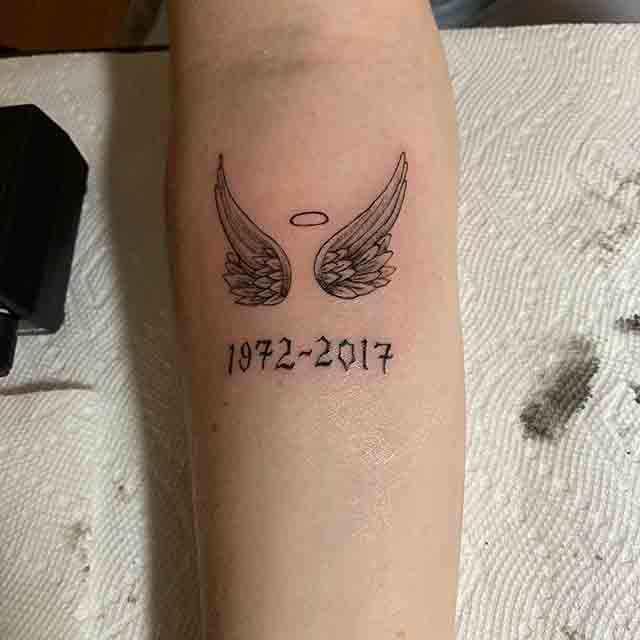 38.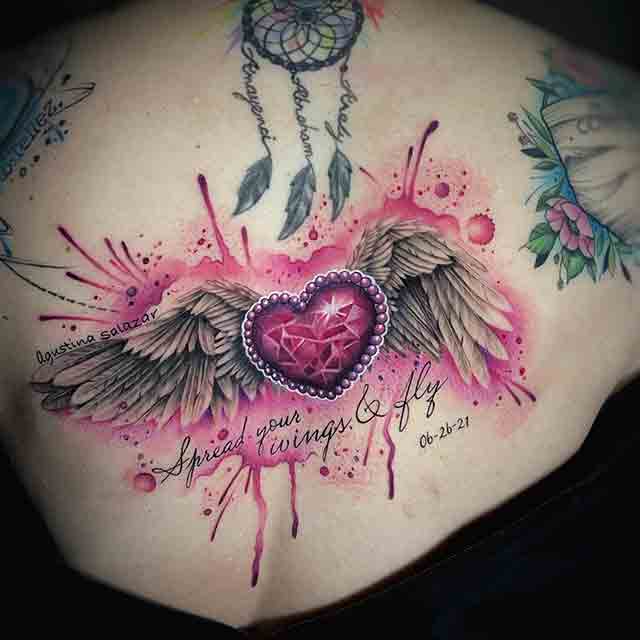 39.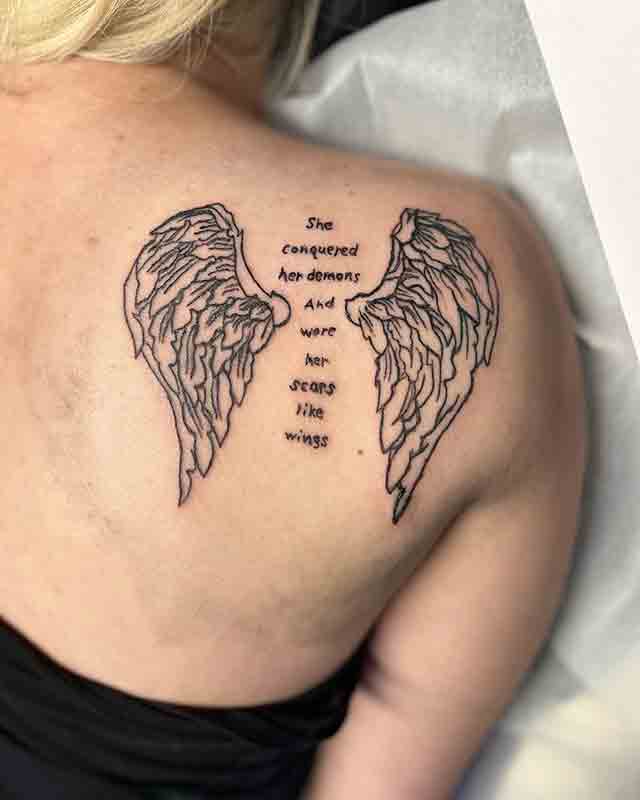 Female Angel Wings Tattoo On Back
40.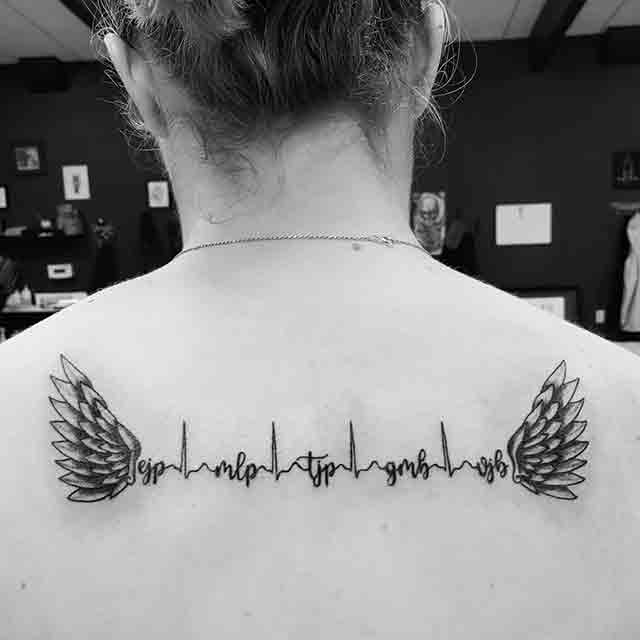 41.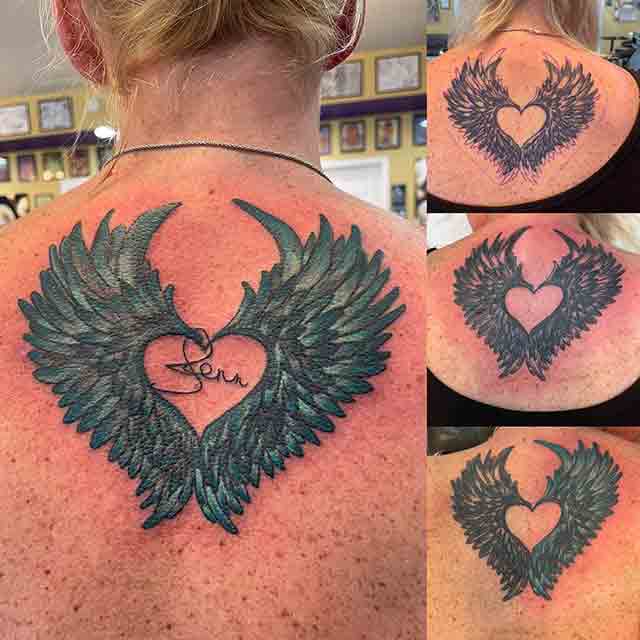 42.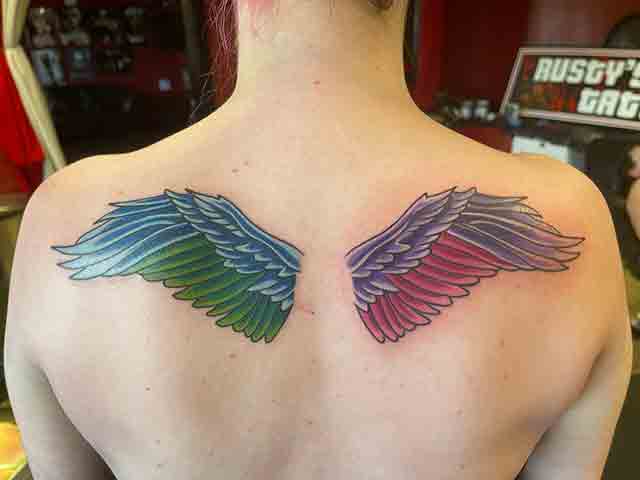 Angel Wings Tattoo On Shoulder
43.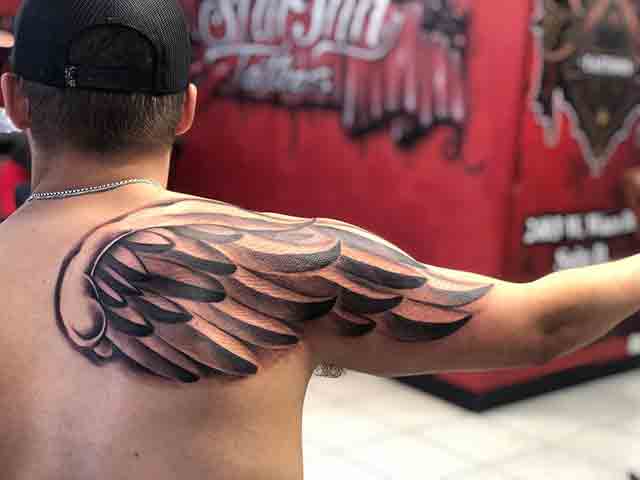 44.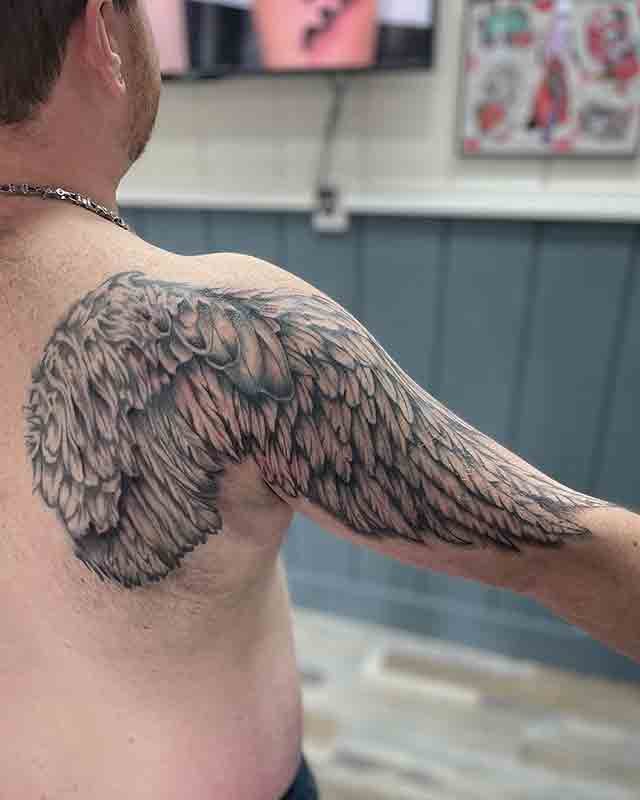 45.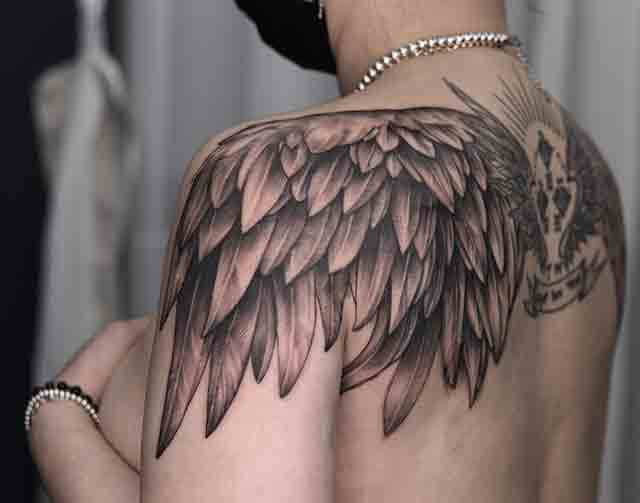 Angel Wing Tattoos For Females
46.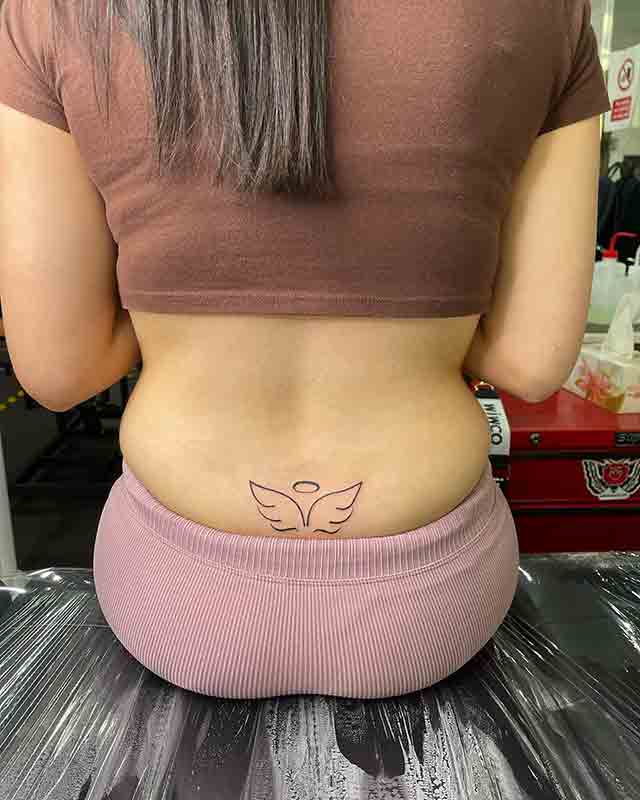 47.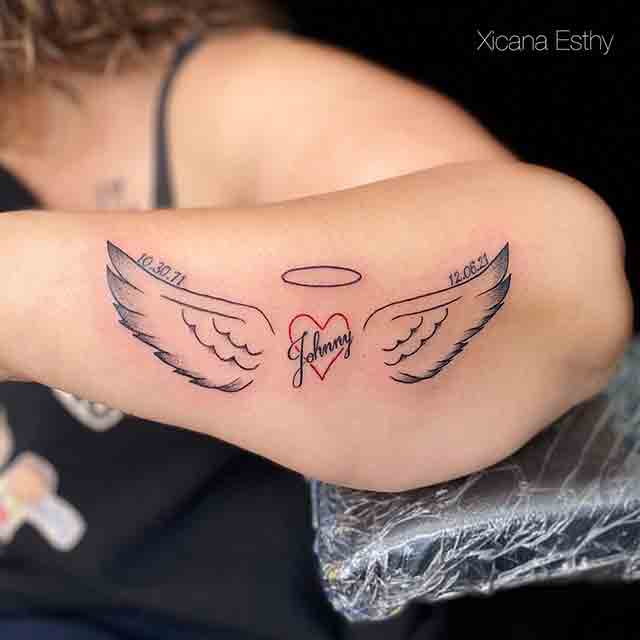 48.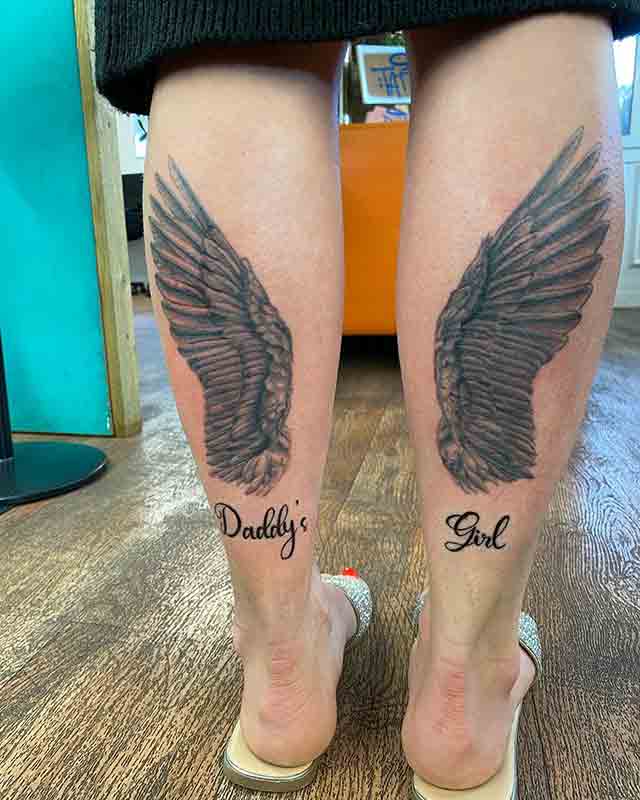 Angel Wing Sleeve Tattoo
49.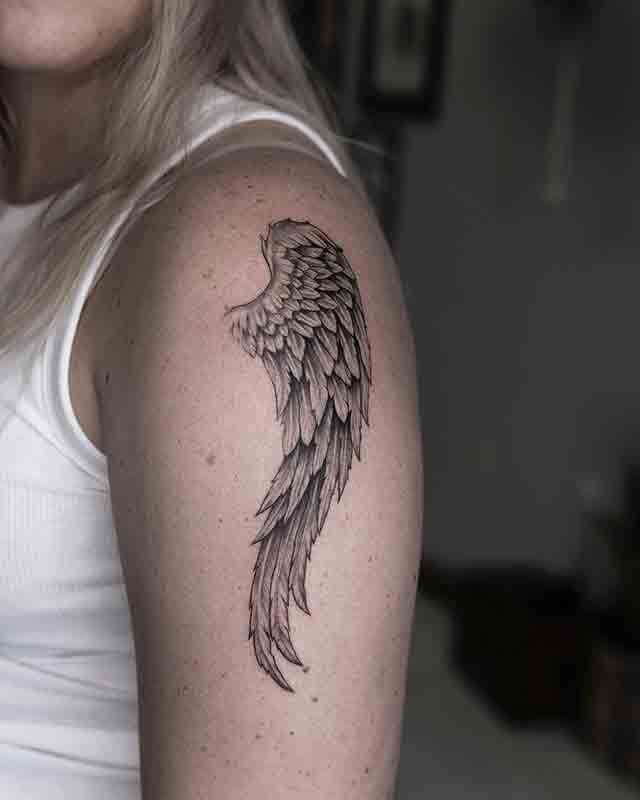 50.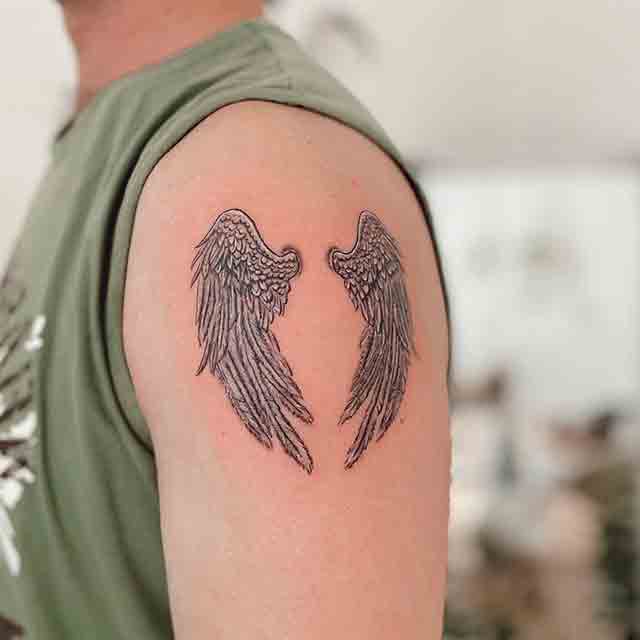 51.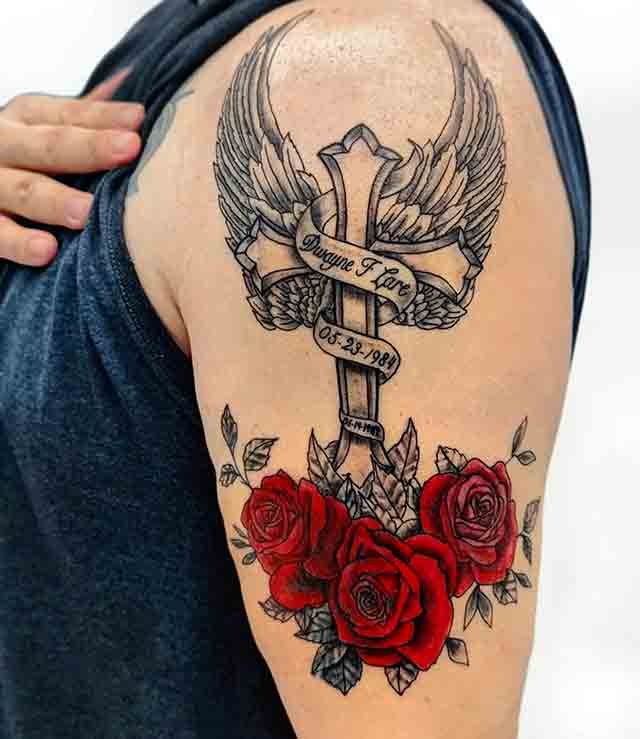 Angel Wings Tattoo On Arm
52.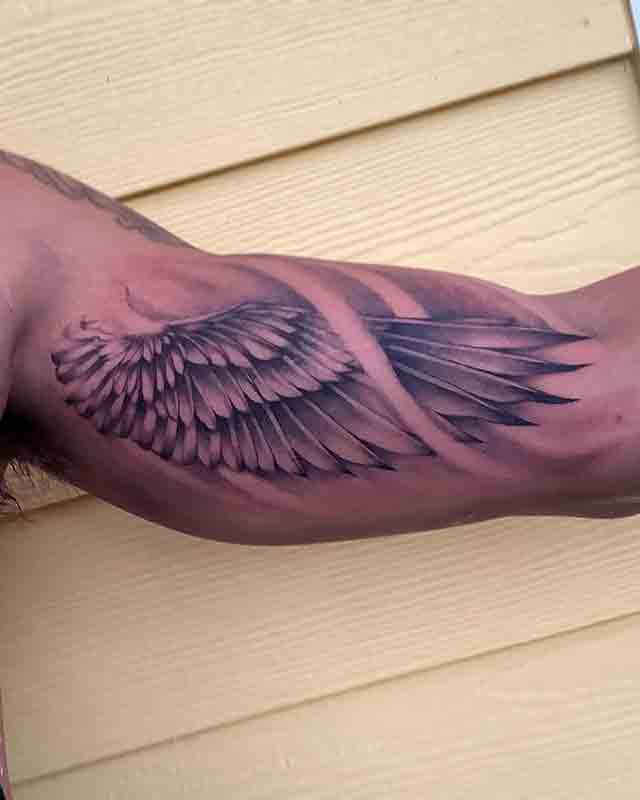 53.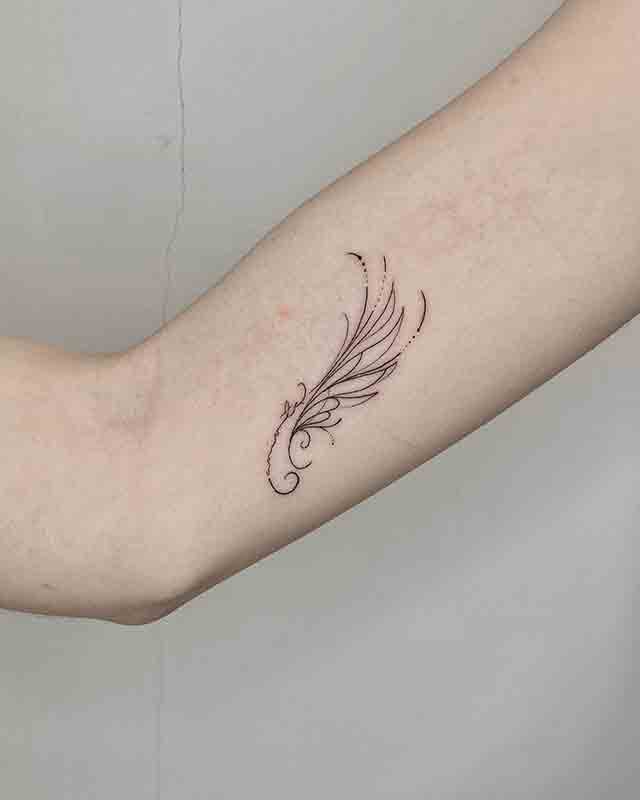 54.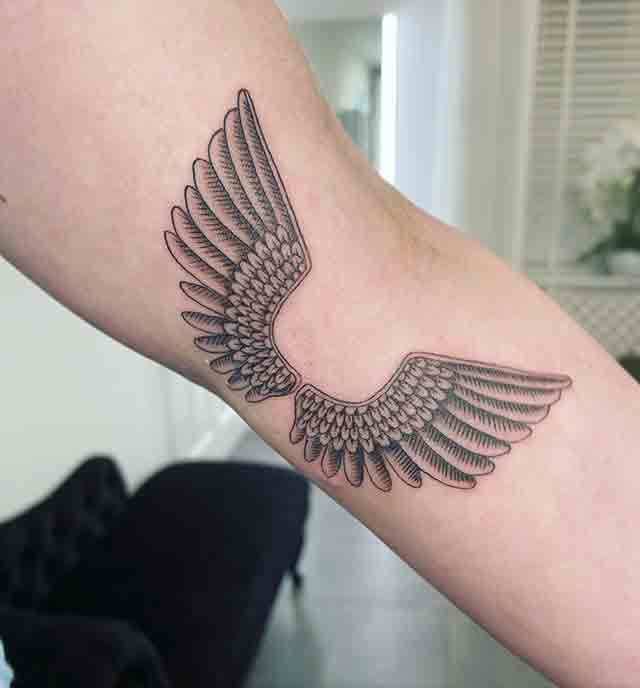 55.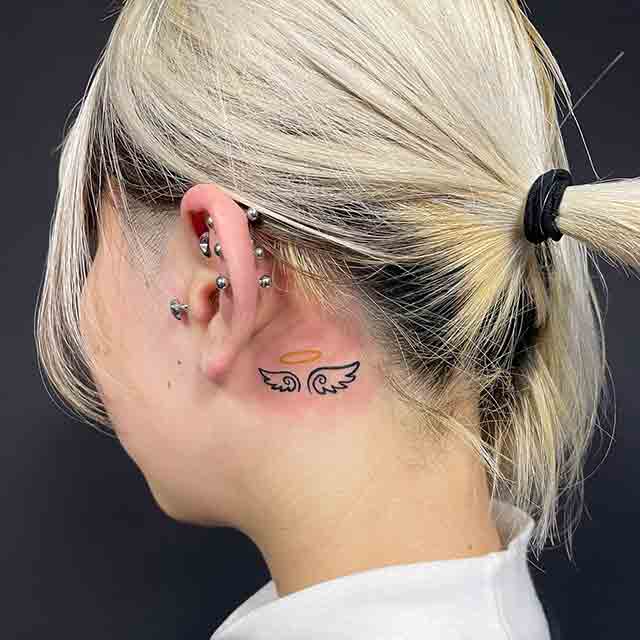 56.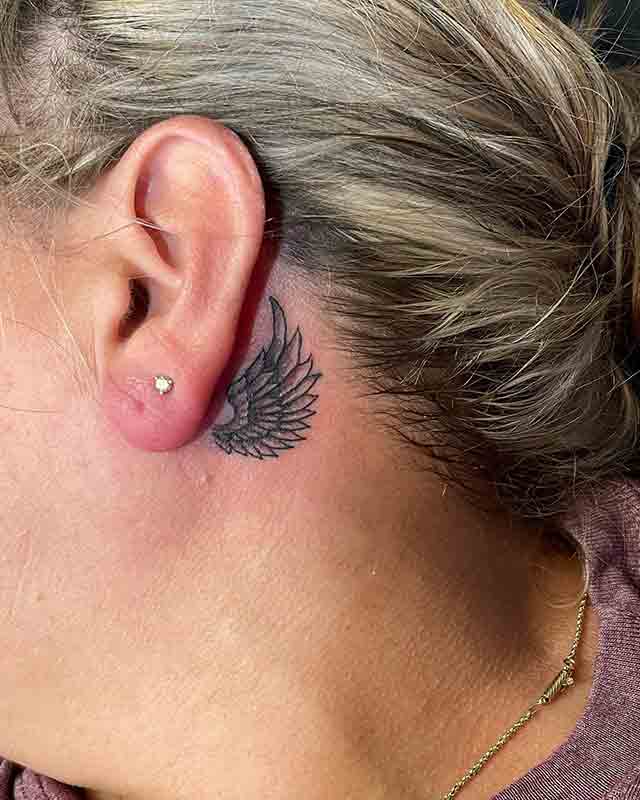 57.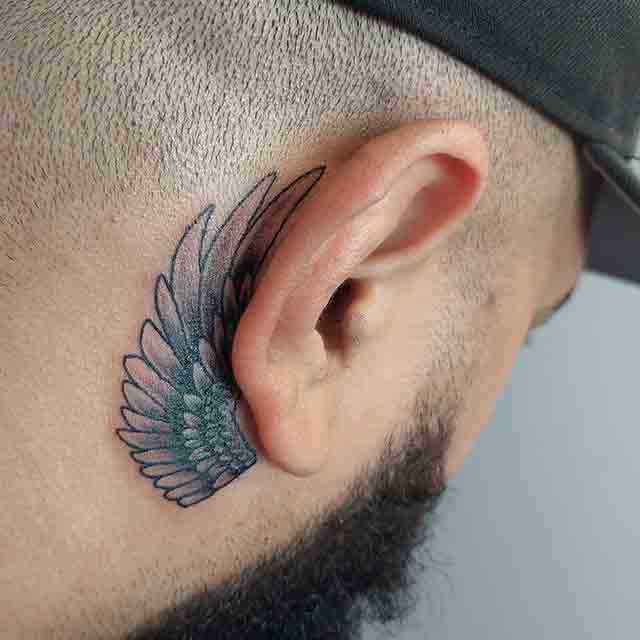 Fallen Angel Wings Tattoo
58.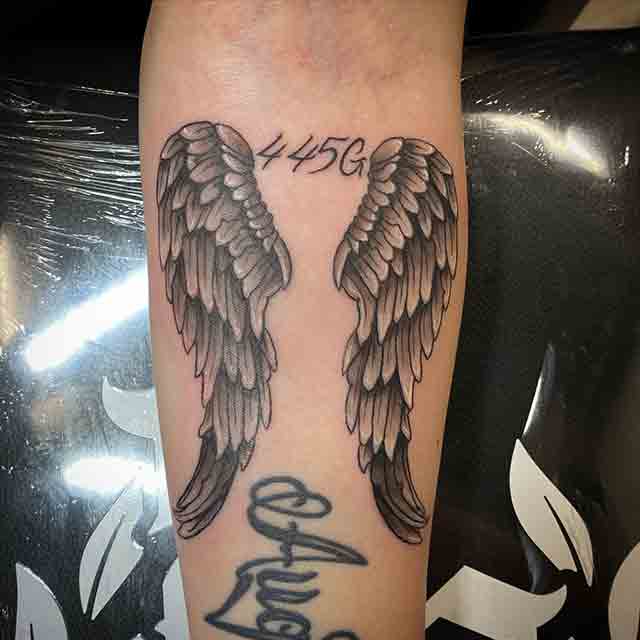 59.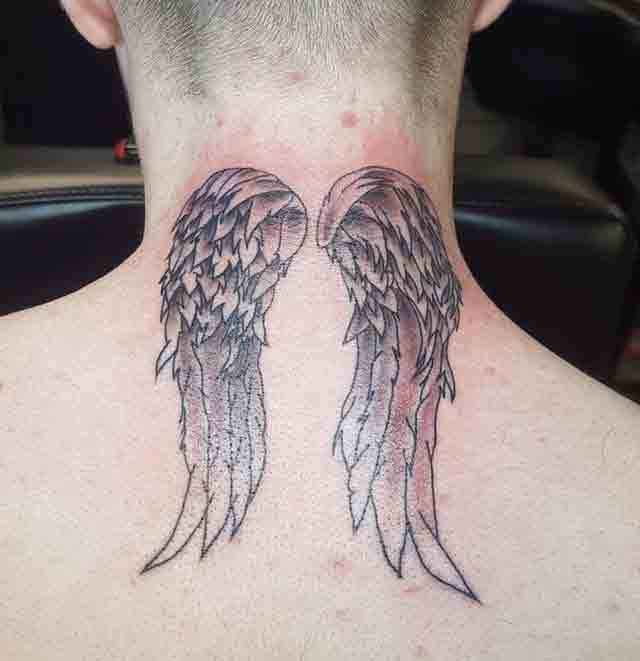 60.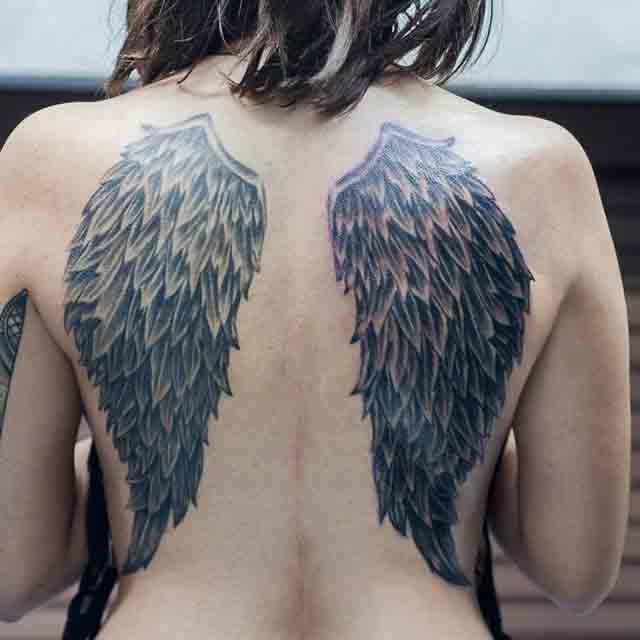 Angel And Devil  Wings Tattoo
61.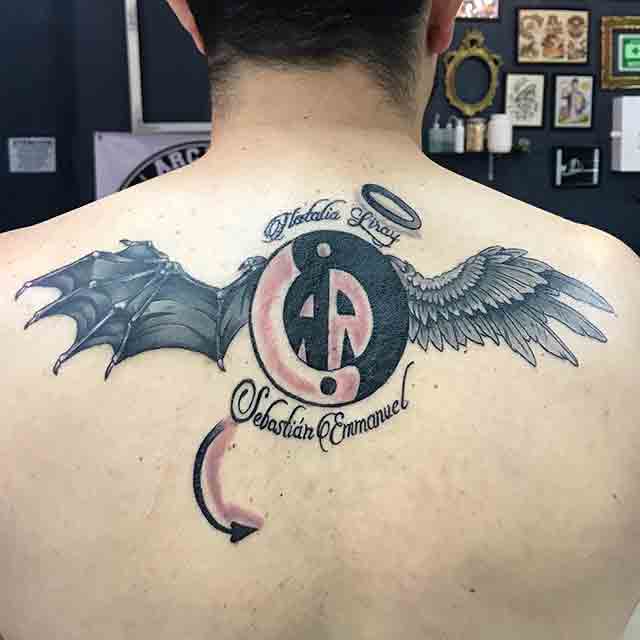 62.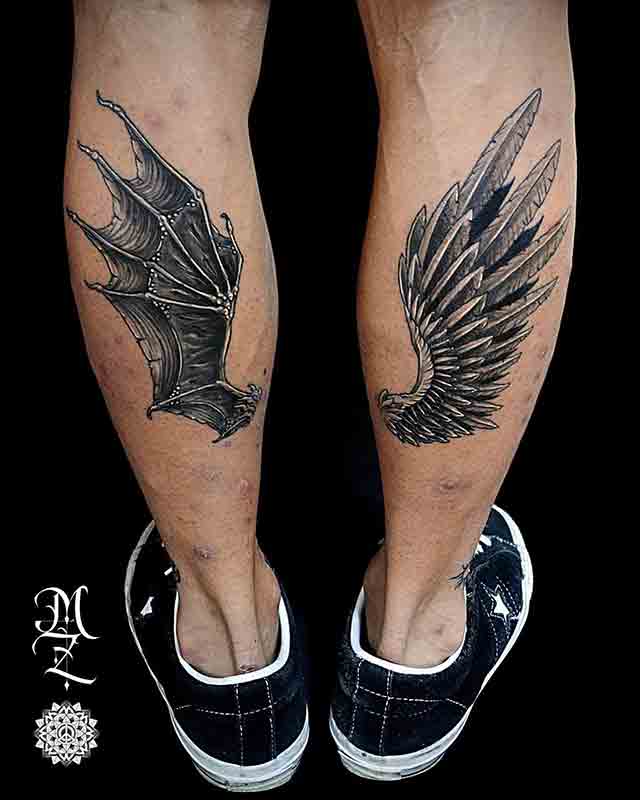 63.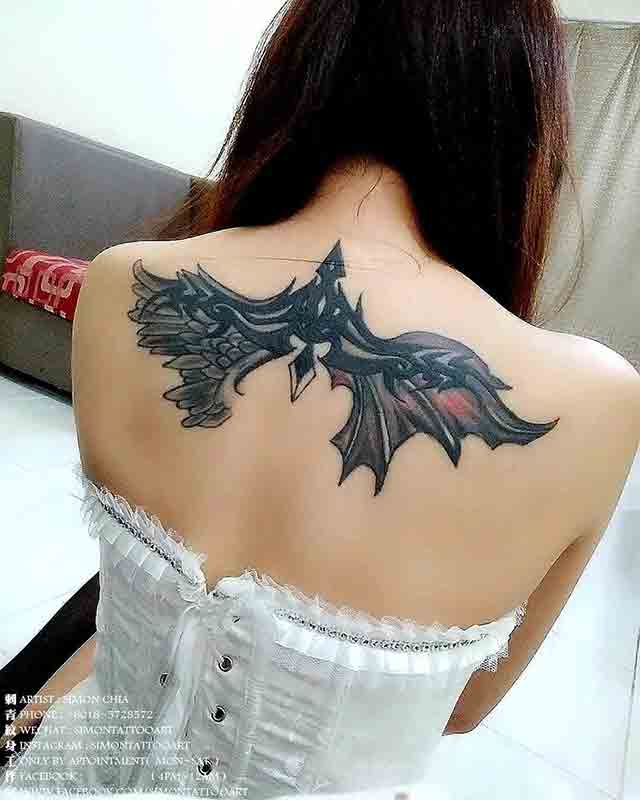 64.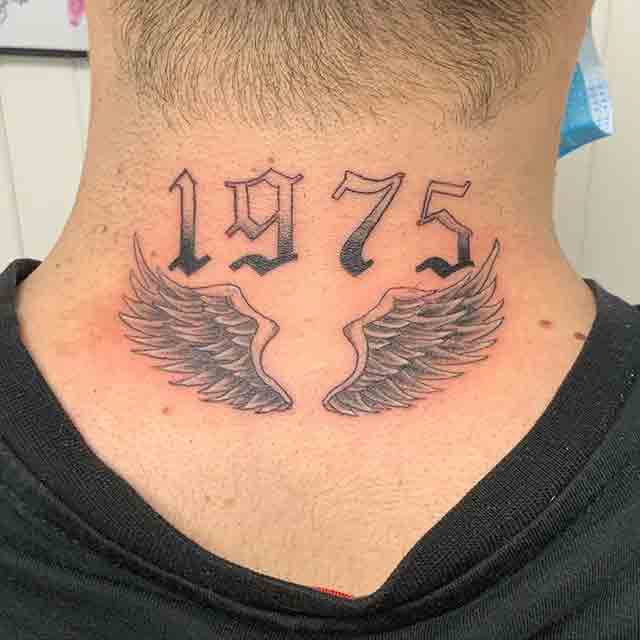 65.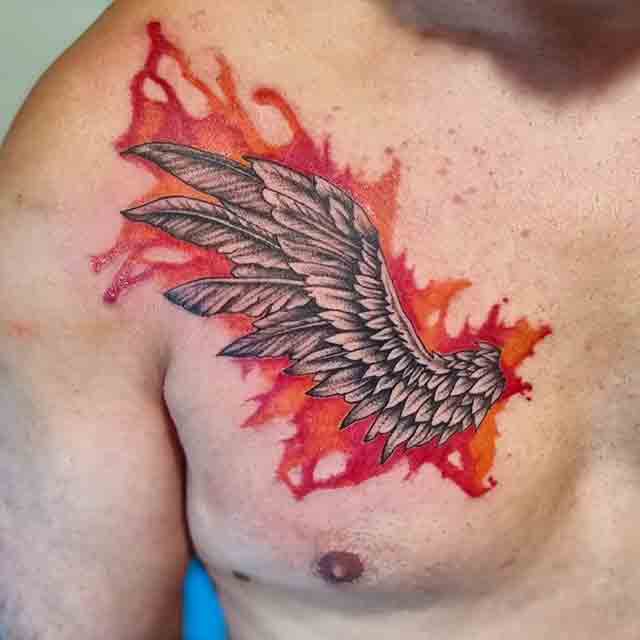 66.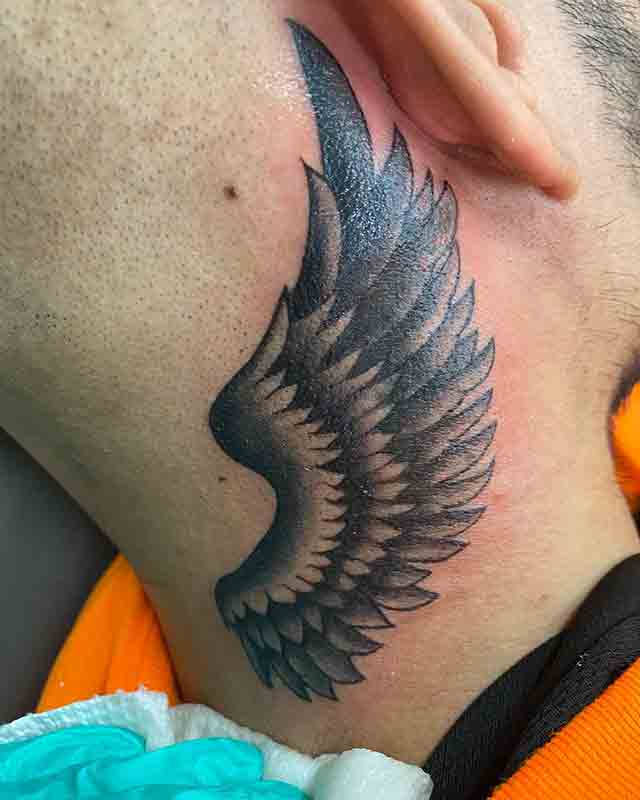 Rest In Peace Angel Wings Tattoo
67.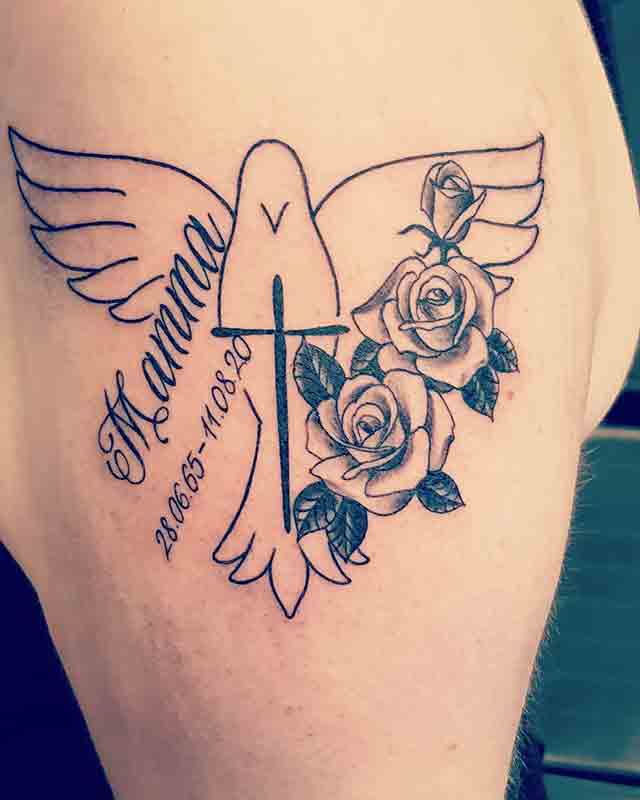 68.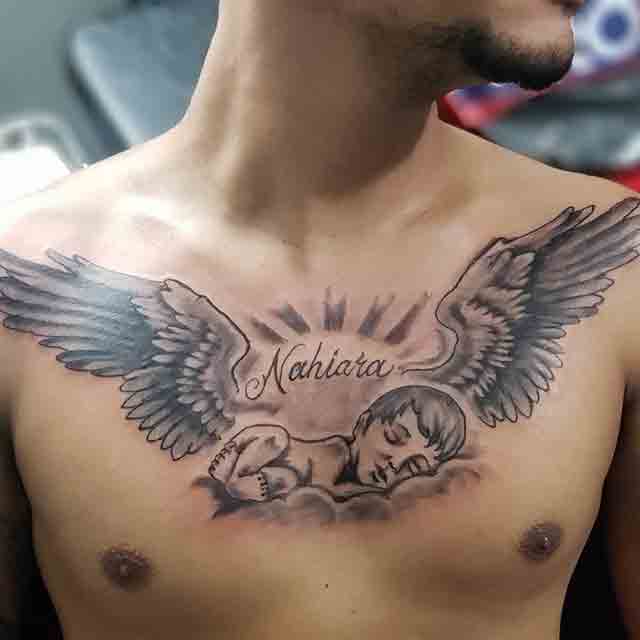 69.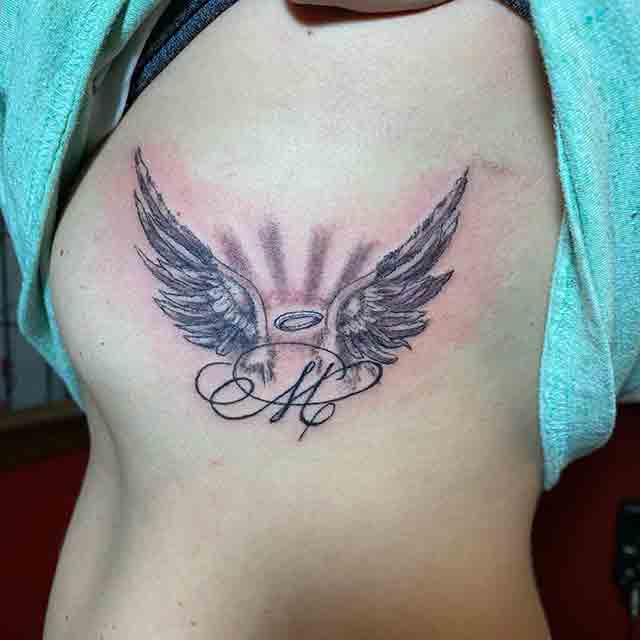 Angel With Butterfly Wings Tattoo
70.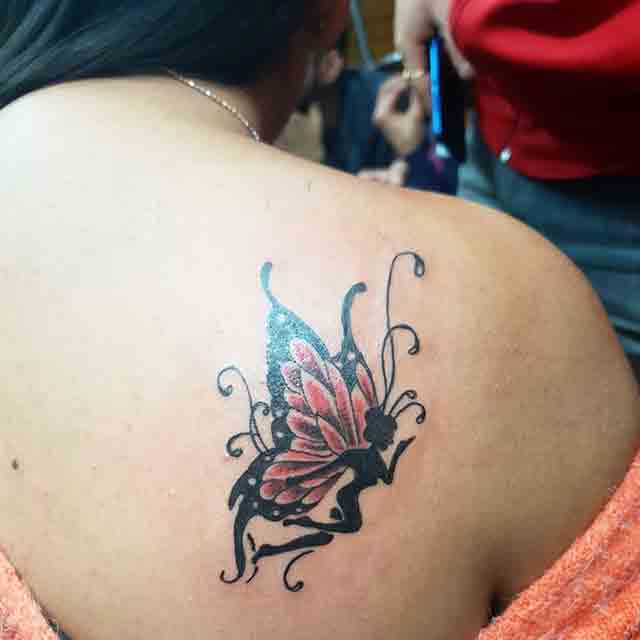 71.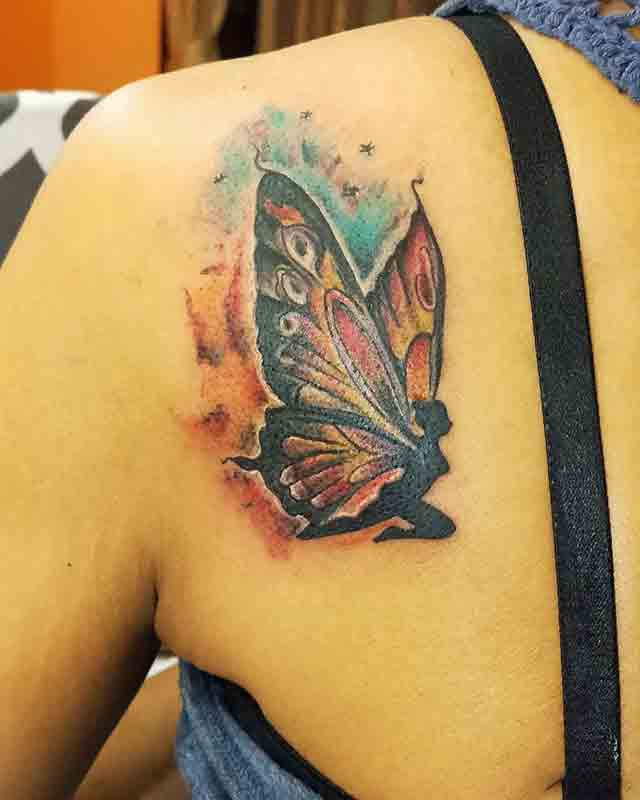 72.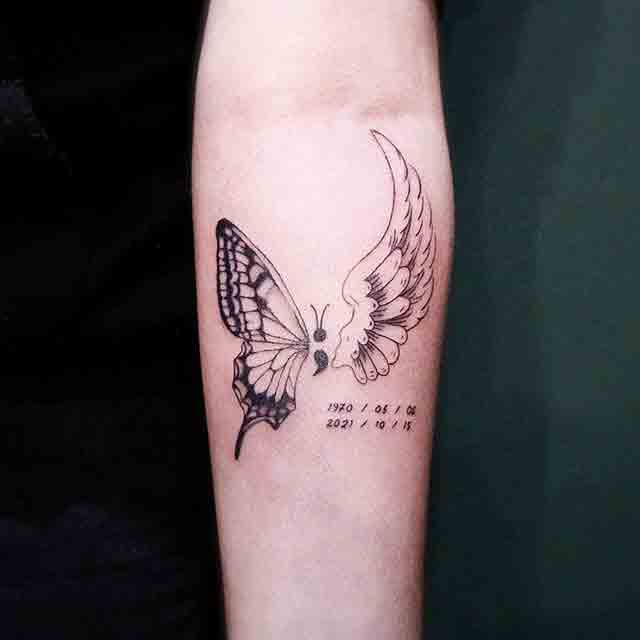 Minimalist Angel Wings Tattoo
73.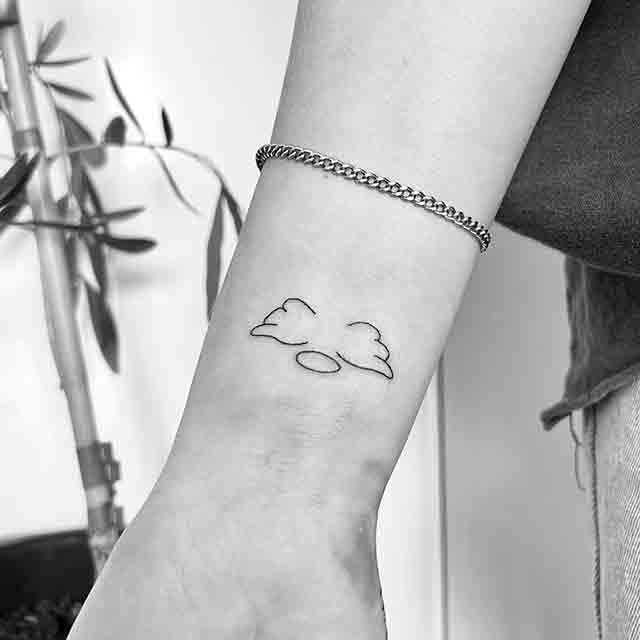 74.
75.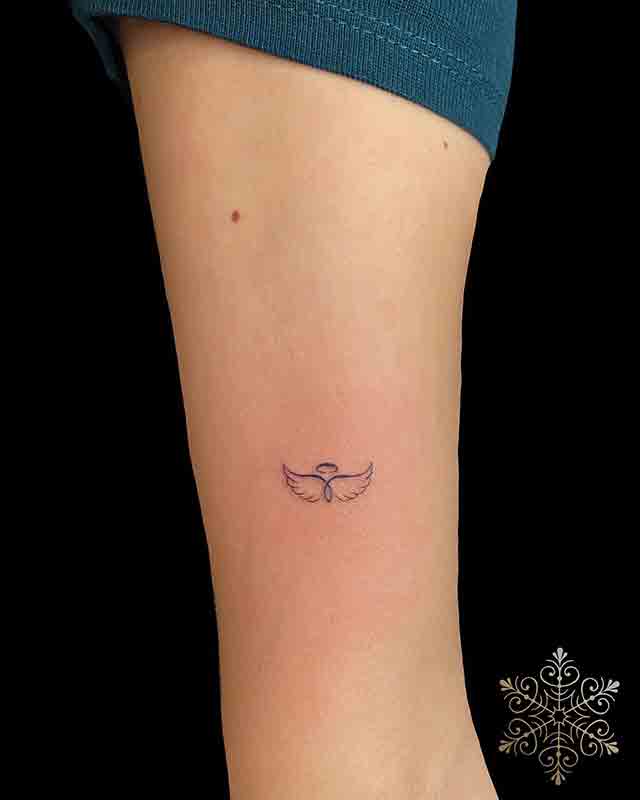 Little Angel Wings Tattoo
76.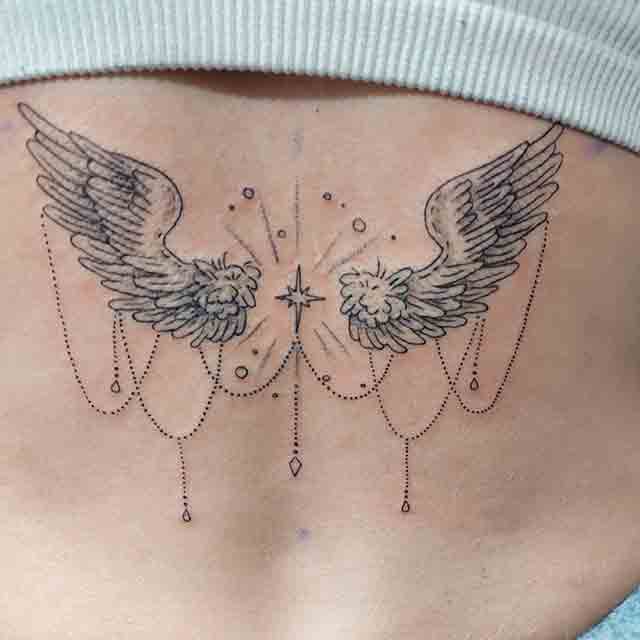 78.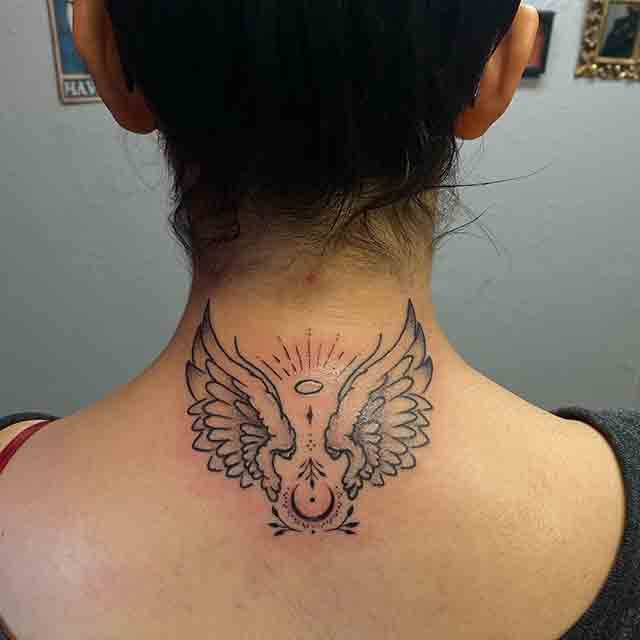 79.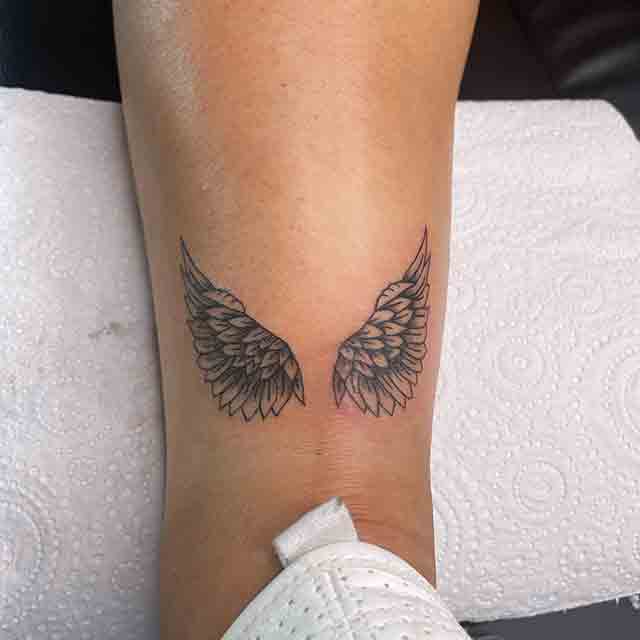 Angel Wing Scars Tattoo
80.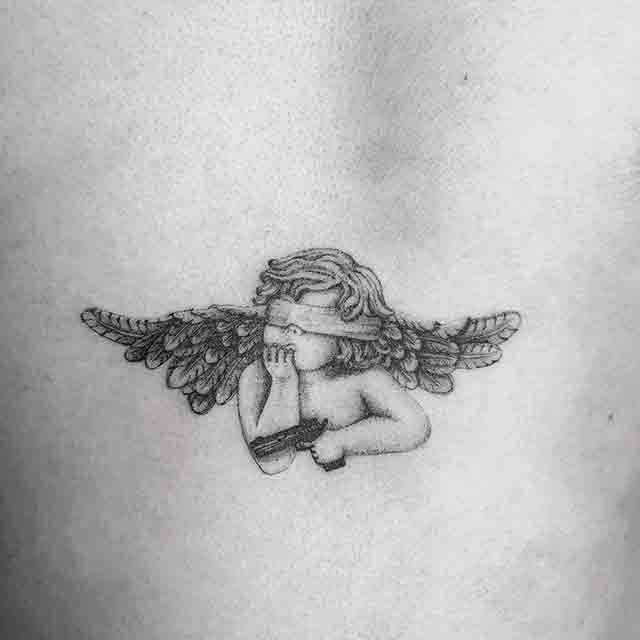 81.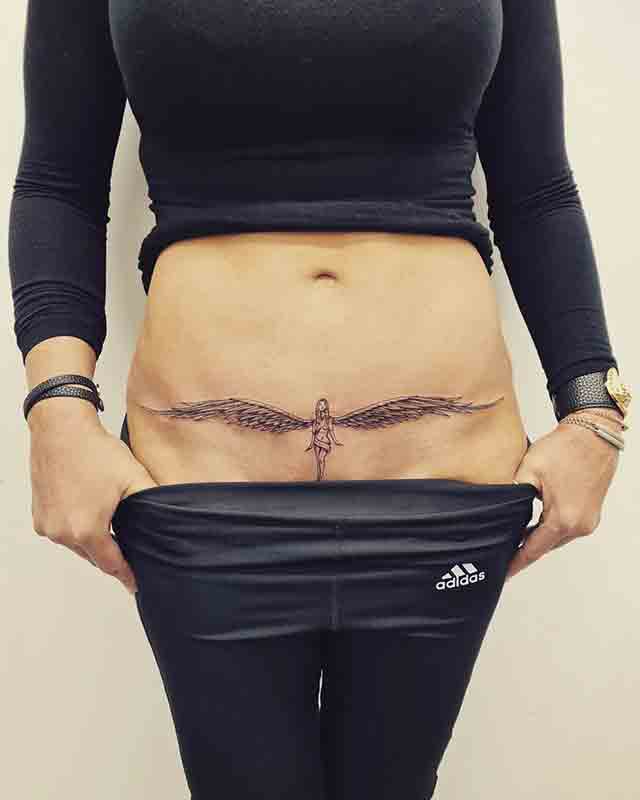 Guardian Angel Wings Tattoo
82.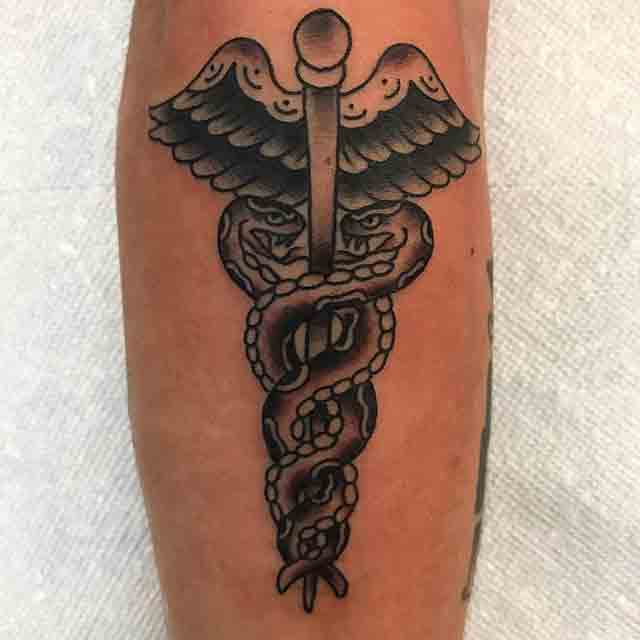 83.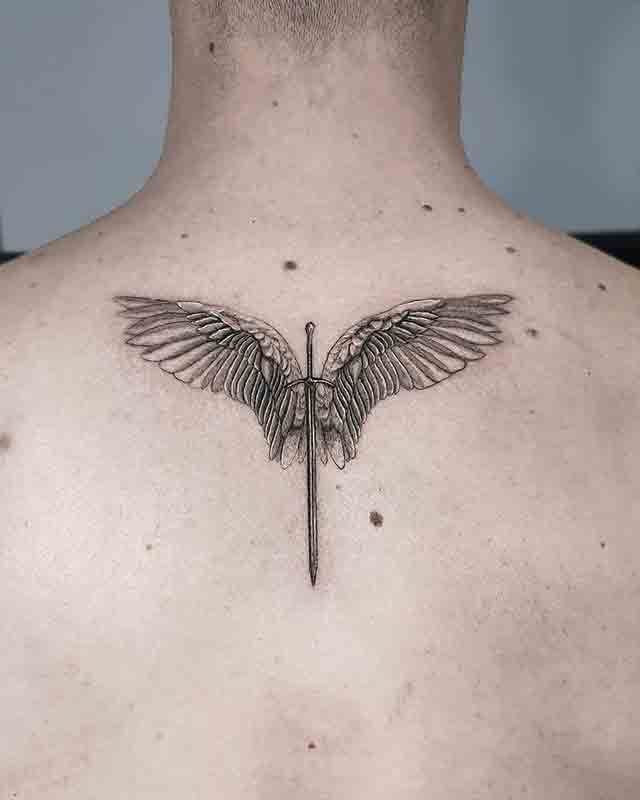 84.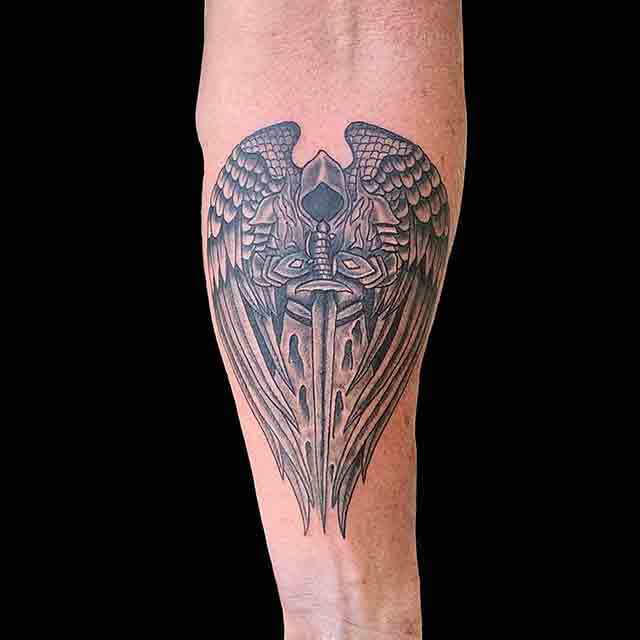 Wrap Up
Angel wings tattoo designs are popular for their unique detailing and deep meanings. Finding the right design for an angel wings tattoo is quite tricky. We are not at the end of the guide and hopefully, you have found the inspiration for your next tattoo. Combine the angel wings with an additional element or keep it simple, the choice depends on you.
However, make sure that you choose the design before walking into the tattoo place. Check the credibility and certification of the tattoo artist before you get one to avoid mishaps and risks.
Frequently Asked Questions
What does angel wings tattoo mean?
Angel wings tattoos are a beautiful representation of love, protection, and purity. It is also a beautiful take on freedom, innocence, and faith.
Why do people get wing tattoos?
While some people find the design and concept creative and artistic, many find it meaningful and stunning. Typically, angel wings tattoo symbolize the good things in life.
What does a single angel wing mean?
A single angel wing usually represents protection from evil by the guardian angel looking at us from above. However, it also symbolizes love and remembrance of the loved ones gone forever.
What do black angel wings represent?
Black angel wings are a creative take on fallen angels or those who have gone astray. It depicts the evil and dark things in life.