You have well-toned biceps, but there is something still missing. How about a deadly bicep tattoo to show off your muscularity? Bicep tattoos for men are very popular, and there are many reasons for it. Biceps form a great canvas for tattooing, and you can easily hide them (for any professional reason). Moreover, because of the thick fat layer, inking at these spot hurts less. A well-positioned bicep tattoo perfectly intensifies the manliness. Inner side or the outer area, a tattoo on bicep can attract the onlookers and reflects a lot about your personality.
STATUESQUE DESIGN IDEAS FOR BICEP TATTOOS FOR MEN
As a prominent spot for tattooing, the design for this space is always a matter of great concern. It isn't easy to hide unless you are wearing full sleeves so you have to make sure whatever you choose is perfect and resonate your thoughts. Also, consider your profession and surroundings, as you definitely don't want to break any rules or make anyone feel offended with your selection.
When looking for the design ideas, there are plenty of examples. From tribal prints to modern art, nature inspired designs, animals, birds, fictional creatures and more. The sky has no limit for bicep tattoo ideas. A lot of guys choose inner bicep tattoos because that is easier to hide even when off shirt and they can take the advantage of movement to make the tattoo more interesting and lively. If you are thinking to have a decorative biceps and need some cool ideas, then our list of 25 fantastic bicep tattoos for men will surely help you.
#1: BOLD PRESENCE BICEP TATTOOS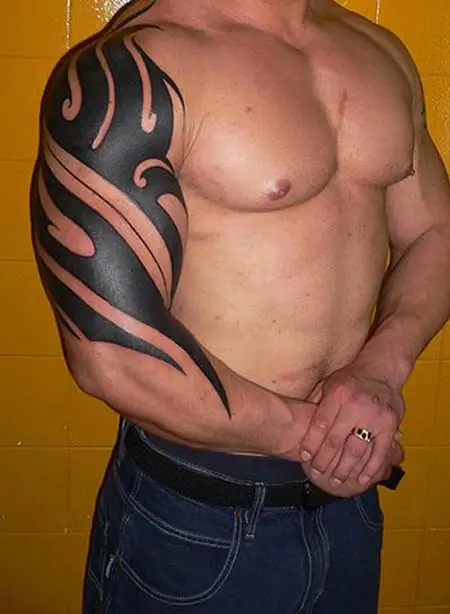 Tribal tattoos are timeless. And not just the back or the chest, they look extraordinary on biceps as well. The bold lines of this awesome tribal tattoo design really enhance the look of the man's muscular bicep. This neatly done tattoo has a charisma that instantly grabs attention.
#2: BLACK ROSE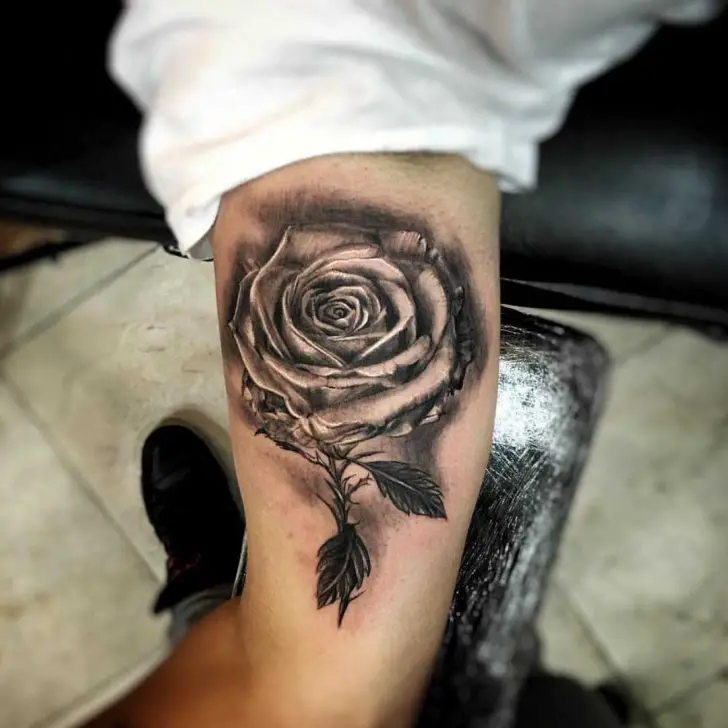 A rose tattoo on a man's bicep is not a common sight, but just look at how wonderful it looks done in masculine black. One of the most used inner bicep tattoos for men.
#3: WATCH OUT FOR THOSE PINCERS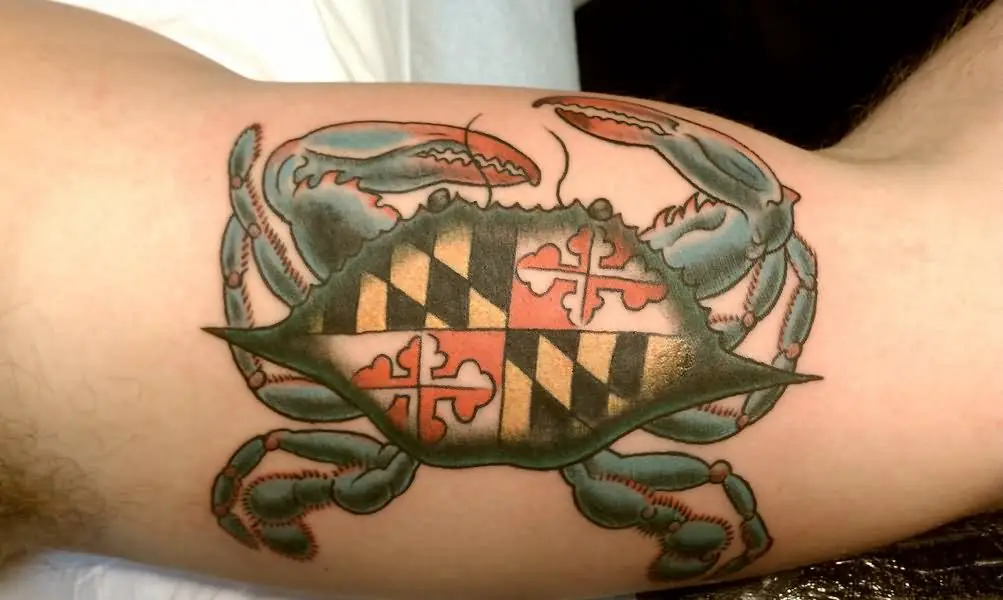 From Greek mythology to Chinese culture, Crabs have all sorts of symbolism across the world. So if it has a special meaning to you or you just love crabs, you could get a design like the colorful one shown here.
#4: CITYSCAPE BICEP TATTOOS FOR MEN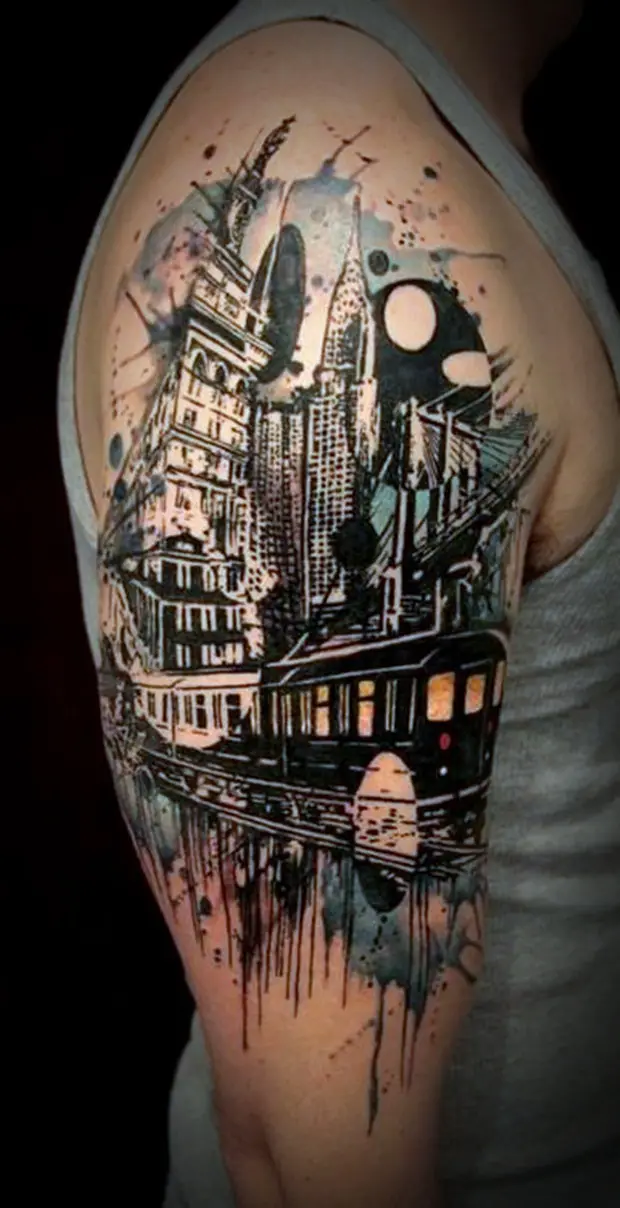 Ouch! It is impossible to imagine the pain but we are completely fallen off for the proficiency of the artist. It needs a lot of practice and command to clearly ink those minute details. If you love your city with great passion and want to let everyone know just how much, then why not get it inked on your bicep.
#5: ABSTRACT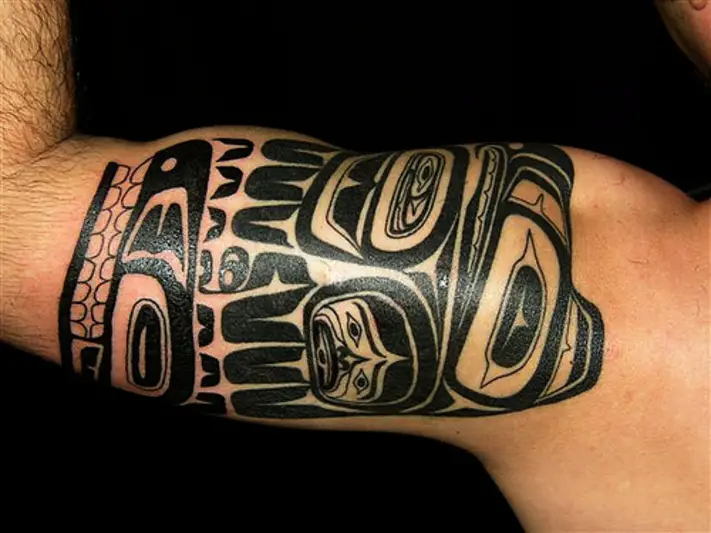 This abstract design on bicep with such strong lines inked in thick black would suit someone with an outgoing personality.
#6: A TRICK UP THE SLEEVE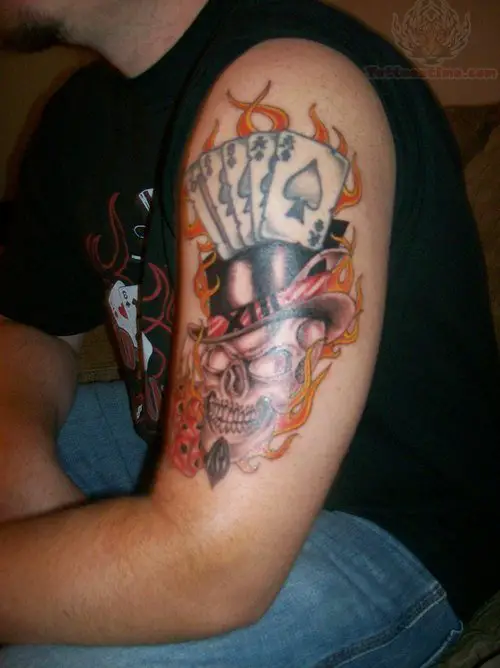 A joker skull with an evil grin, flames, and the cards; here's a great choice for those who have a love of gambling or taking risks. This says you hold all the cards you need.try this bicep tattoo designs for men.
#7: INK YOUR PASSION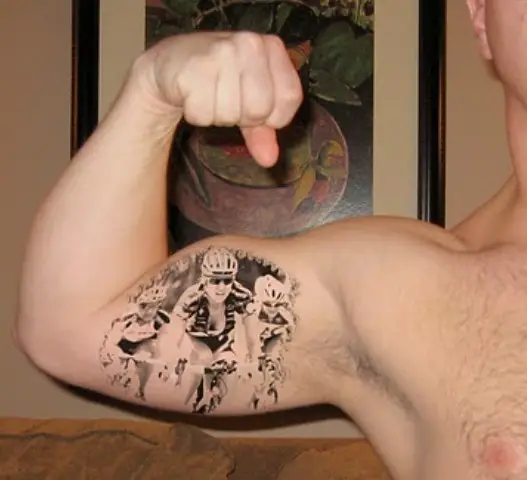 Sometimes we are extremely passionate about a sport, such as cycling in this case. That gives us an obvious choice for an impressive bicep tattoo. What made this bicep tattoo extra special is its 3D effect. Isn't it looking as if the cyclists are coming straight out of the image?
#8: TRIBAL TATTOO ON BICEP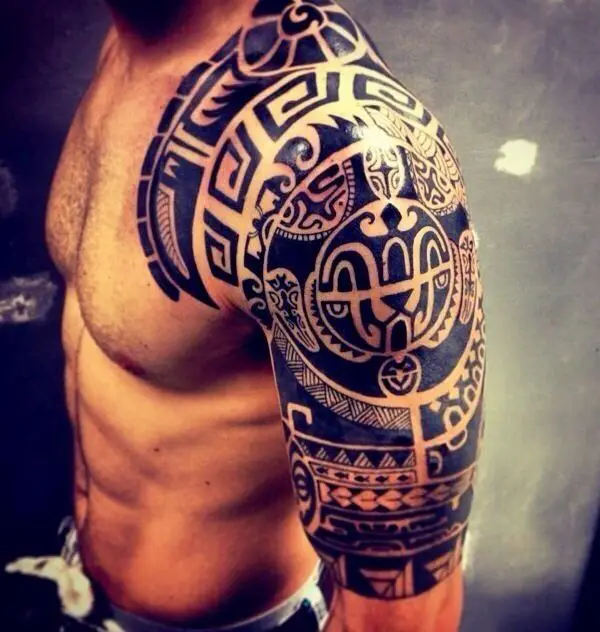 Look at how this marvelous tattoo makes the bicep seem bigger and more macho. Tribal designs can be awesome for shoulder and bicep tattoos for men.
#9: GUARDIAN ANGEL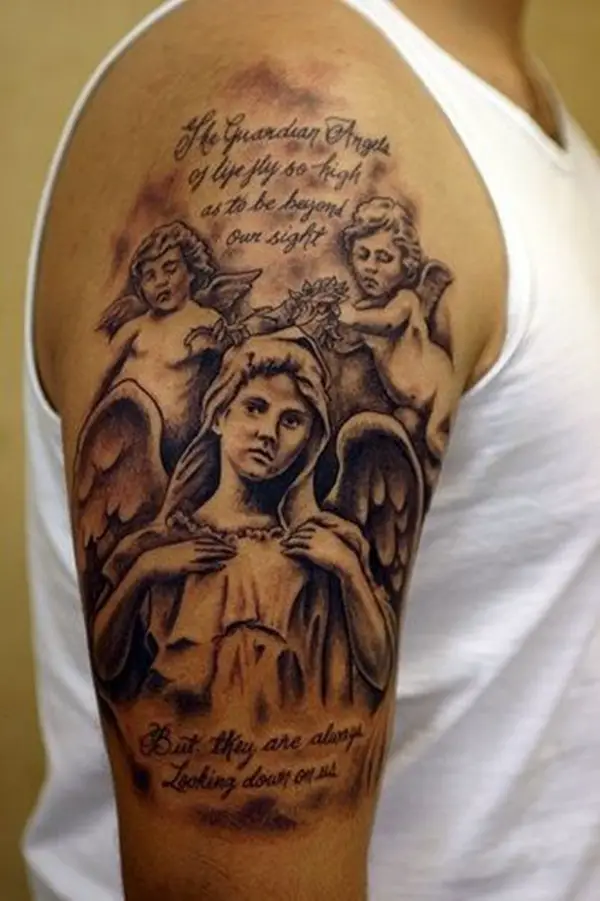 Isn't this a beautiful message? It lets us know we are not alone and even in our darkest hours our guardian angels are there even if we can't see them. Inner bicep quote tattoos for men with powerful messages are always a hit.
#10: THE POWER OF DRAGON
A dragon symbolizes power so where better to get it inked than on your toned biceps. It definitely makes a bold statement even if it's a small piece of art.
#11: TOUGH SOUL BICEP TATTOOS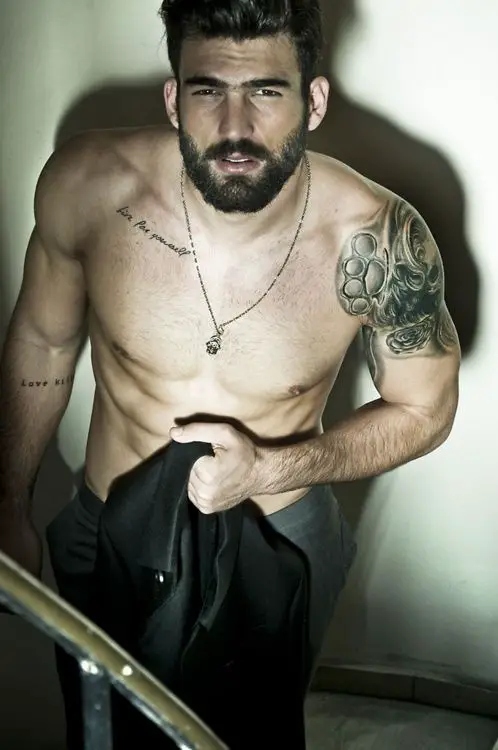 Do you think that life is a battle and in which you are all alone and should only live for yourself? If yes then maybe you could find inspiration in this somber design with a knuckle duster and a Rose.
#12: NUMBER ONE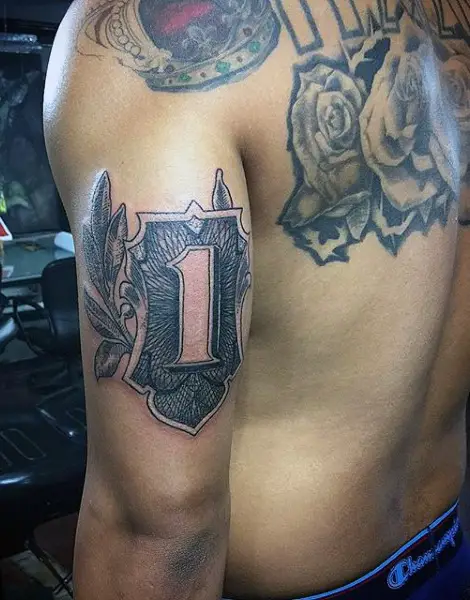 Whether you are or you desire to be number one, tattooing it on your biceps or triceps will serve as a constant reminder.
#13: WAVE RIDER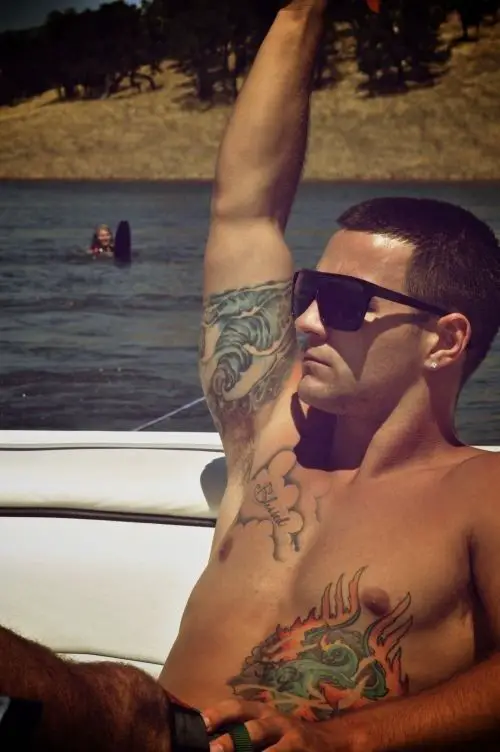 An undeniable love of the ocean waves is on display on the bicep here. It's an awesome design for any surfer dude or gal indeed.
#14: A DARK FANTASY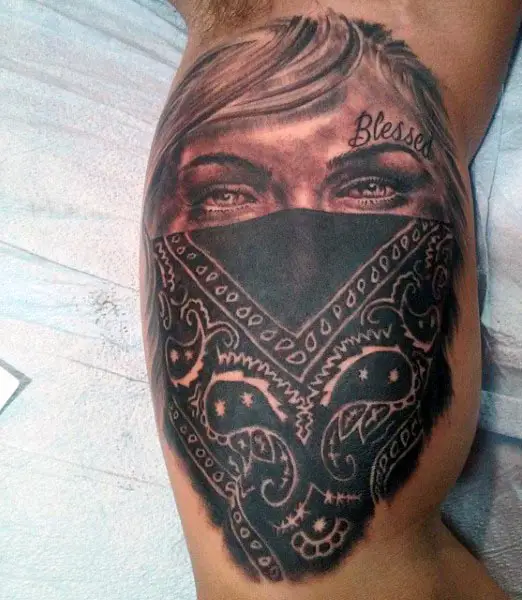 This is one of our favorite bicep tattoos for men on this list. Mischevious, the tattoo is done with ultimate precision. From the eyes to the hair and even the nose covered in a scarf, we are completely bowled over by the artwork. And not to forget, the eyes of the girl are mysterious and beautiful.
#15: BE CAREFUL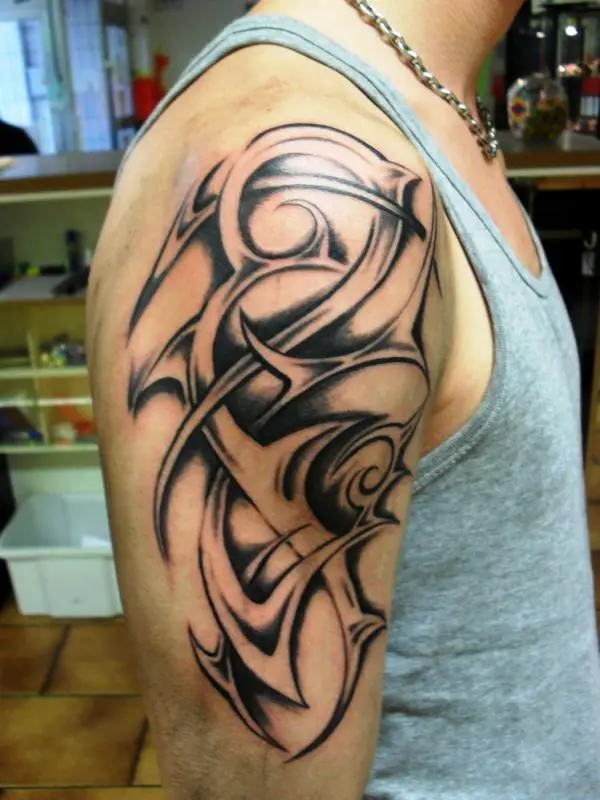 The lines on this tattoo are so sharp it feels like you could cut yourself trying to them. It really is a masterfully done tribal design in black.
#16: THE WARRIOR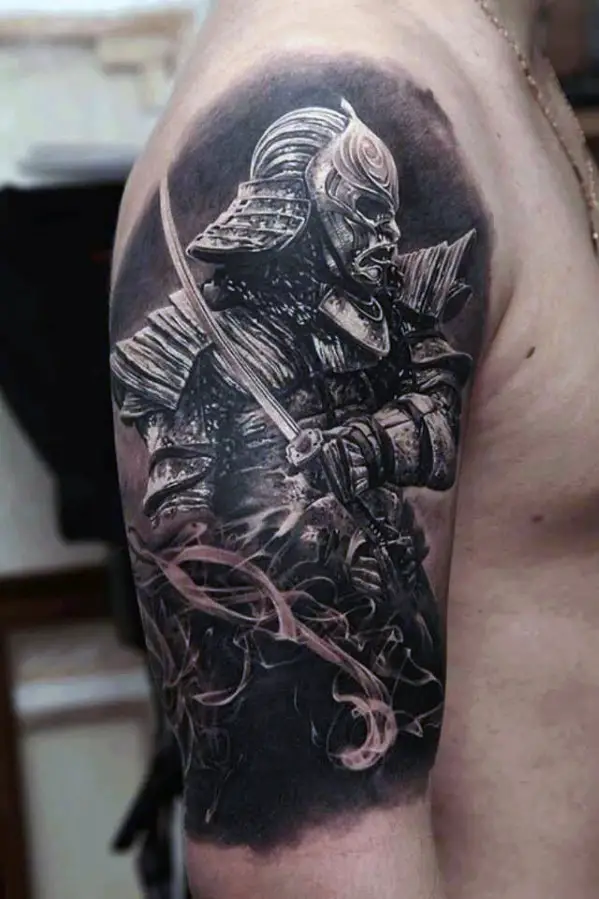 The Samurai warrior was an ancient Japanese fighter that struck fear into the hearts of his enemies, with his mighty Samurai sword. If you have the soul of a warrior this design might be the right match.
#17: DO IT LIKE ROCK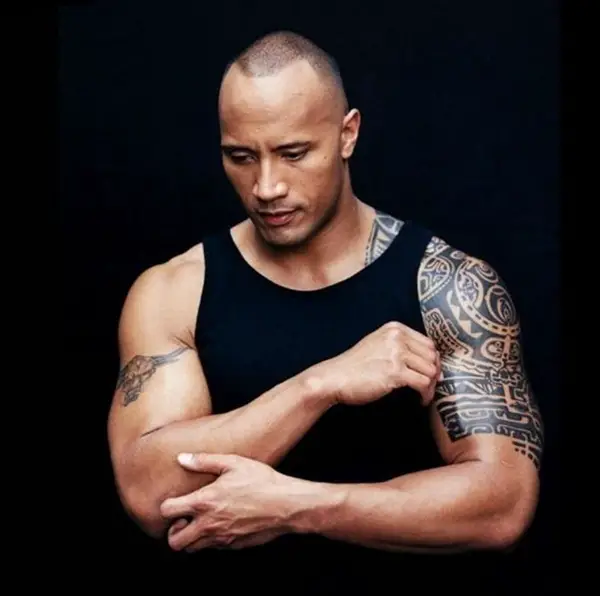 It is impossible for us to skip Dwayne 'The Rock' Johnson's impressive and meaningful tattoos. On the left shoulder, the former wrestler has an intricate Polynesian tribal design that represents his Black Nova Scotian and Samoan heritage. The right upper arm is inked with an image of a bull referring his old nickname 'The Brahma Bull' and also his strength. You can think of a design that represents your personality or family history.
#18: WRITING ON SKIN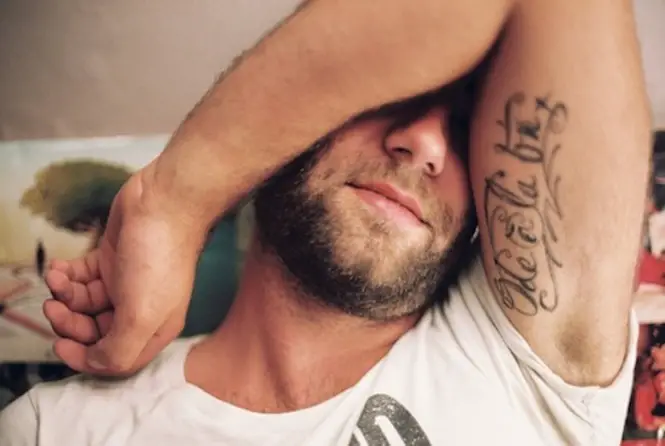 Calligraphy is the art of writing in a beautiful and decorative way. So using it as a tattoo is a beautifully expressive way to showcase your message or the name of someone special to you.
#19: THE TREASURED TIME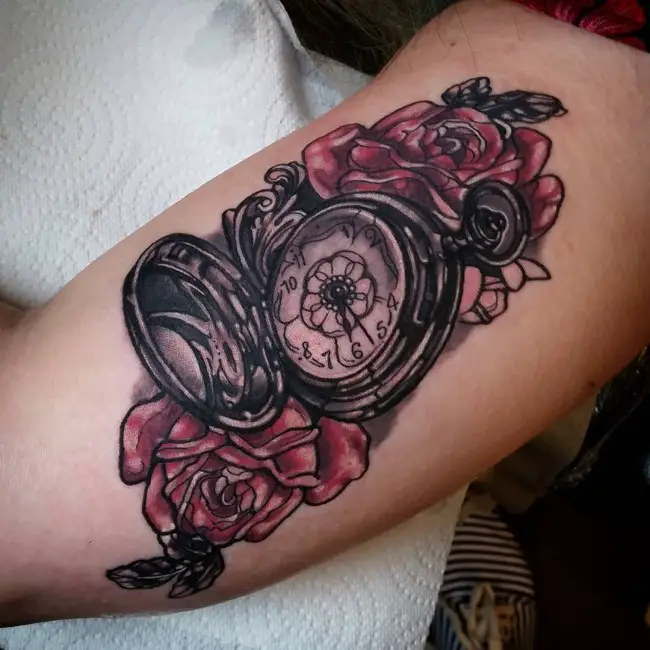 Want to commemorate the time someone special came into your life? Do so with an artistic design of a pocket watch and roses.
#20: MESSAGE IN THR CLOUDS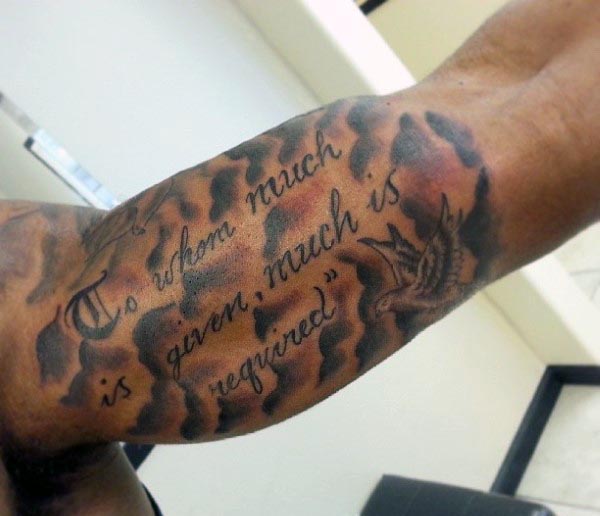 A tattoo with a message of responsibility; got to love it. You could, of course, have any kind of message you want keeping the backdrop of the clouds and the dove for a gorgeous effect.
#21: DEEP MEANING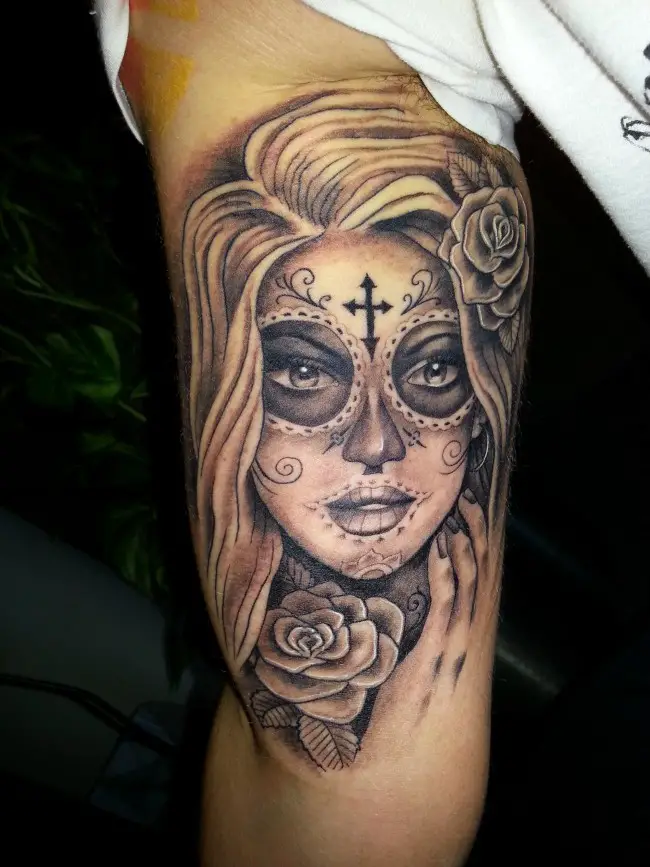 There are a lot of tattoos of a woman's face accompanied with symbolic motifs such as the cross and rose but what makes this one stand out is the depth in the eyes.
#22: A ROSE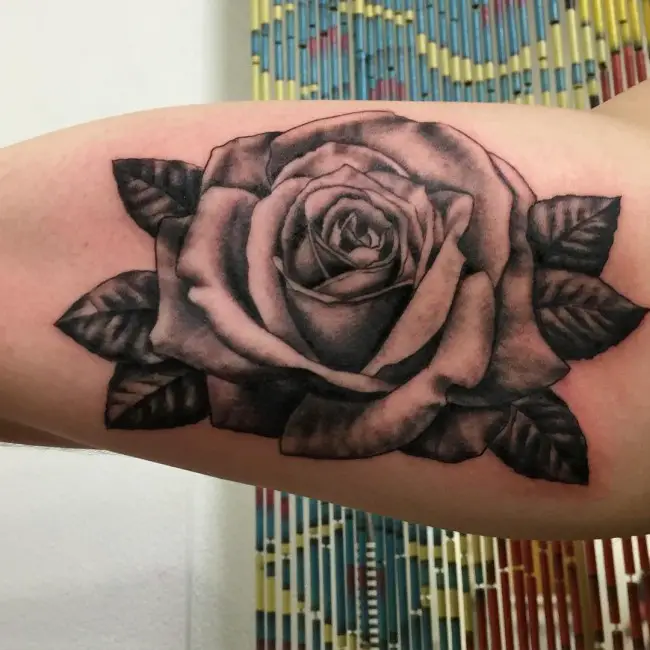 It seems more men are going in for a rose tattoo on their biceps these days. If you too desire one then you would be hard pressed to do any better than what you see here.
#23: THE TIME IS RUNNING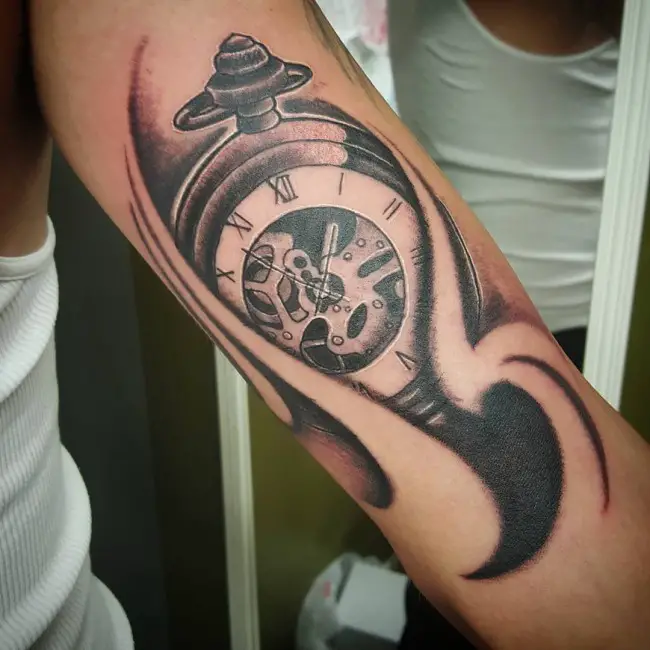 The pocket watch has been a common design for a long time now but this design is special because it has a sort of surreal feel to it. We love the hourglass effect here.
#24: THE WRATH OF THE GOD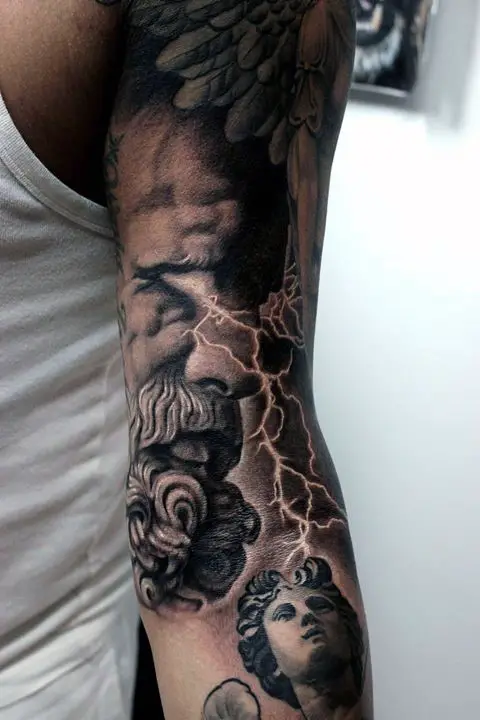 We sometimes need a reminder to follow the right path because the Lord is watching us. If you agree then maybe you too would love this incredible image on your skin. Just be sure you are ready to bear the extreme pain that is required for such a cult classic tattoo.
#25: THE PATRIOT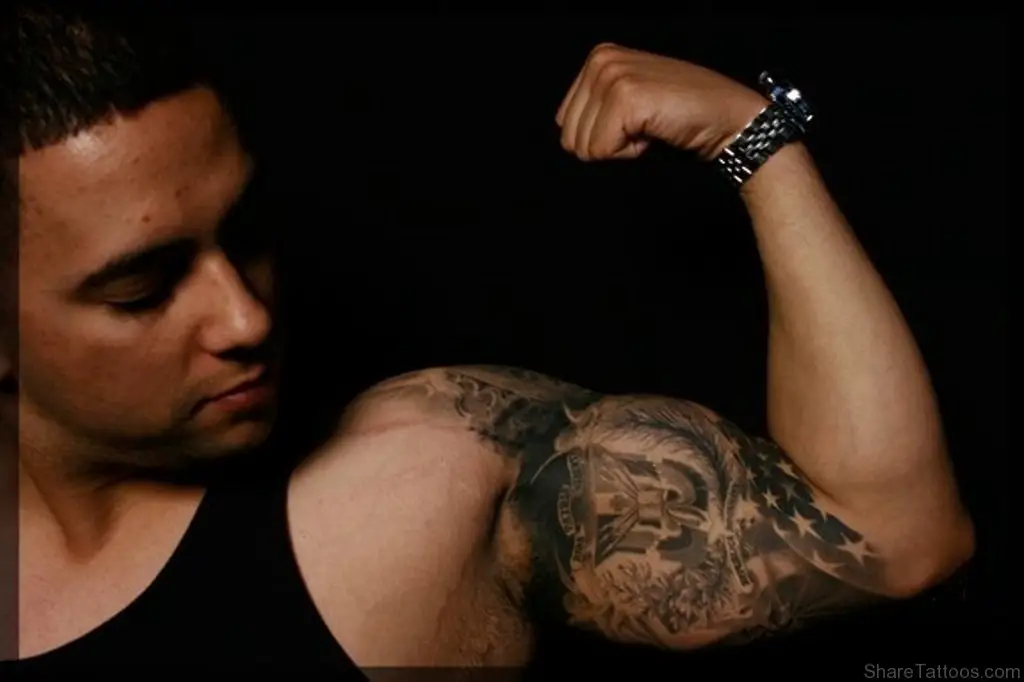 You don't always have to join the army to show how much you love your nation. You could get a splendid tattoo of the flag on your bicep instead.
More Bicep Tattoos to Try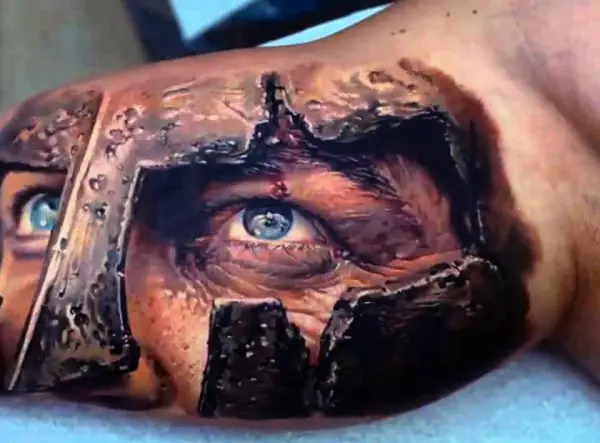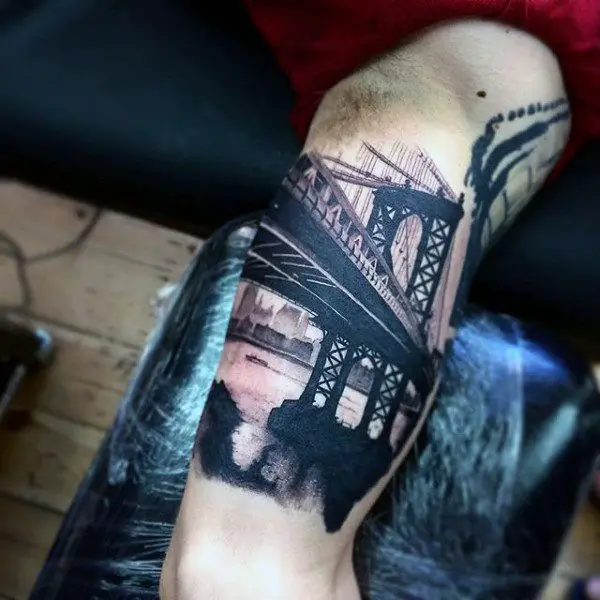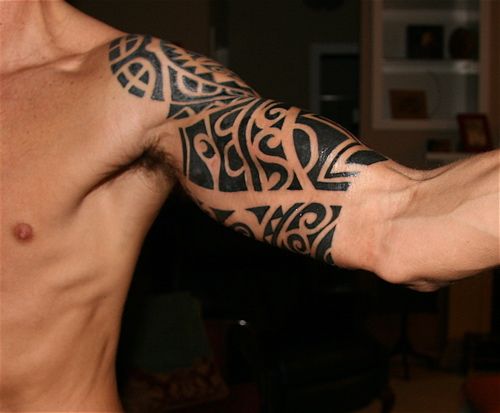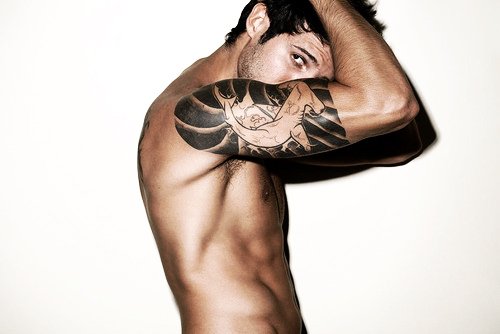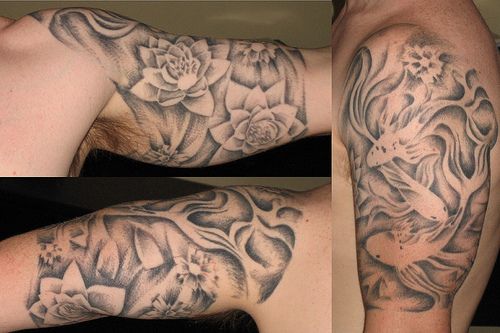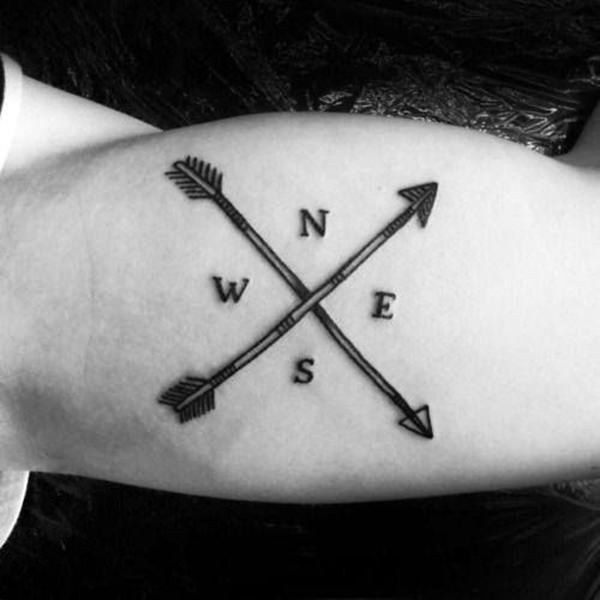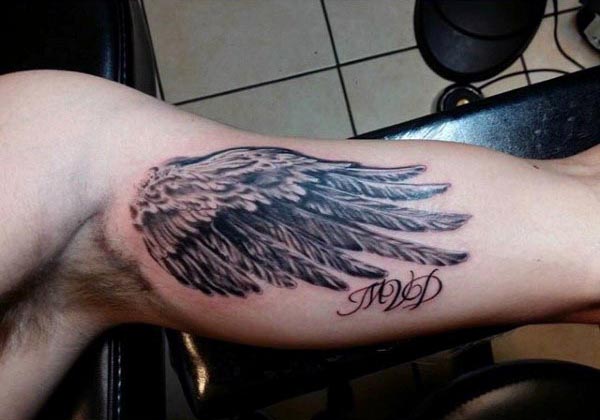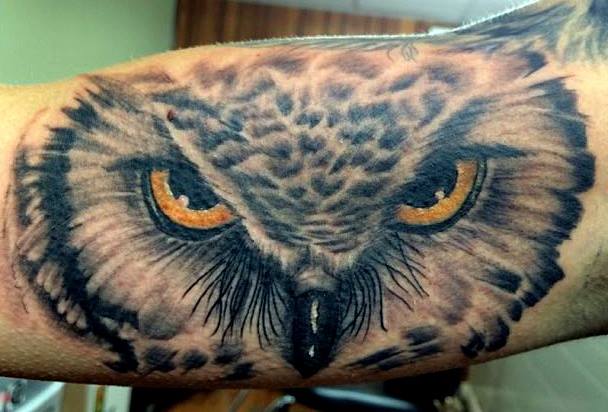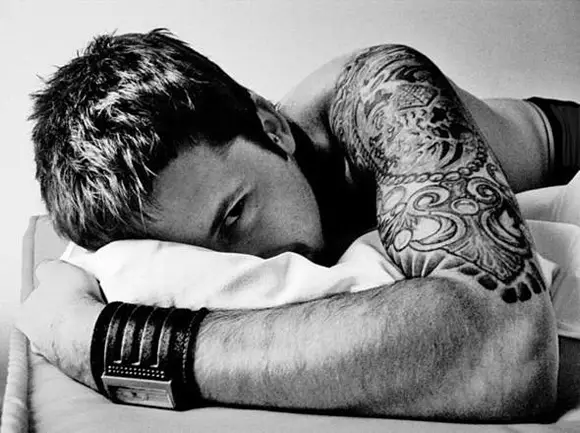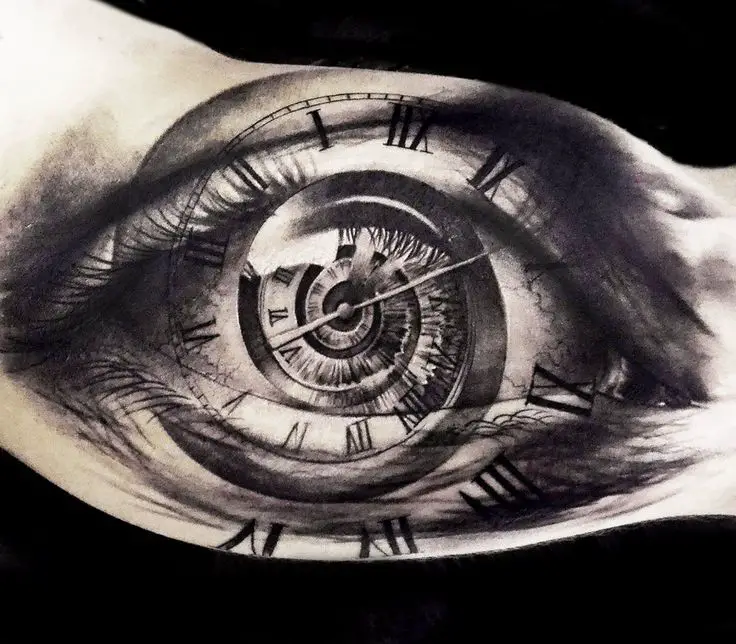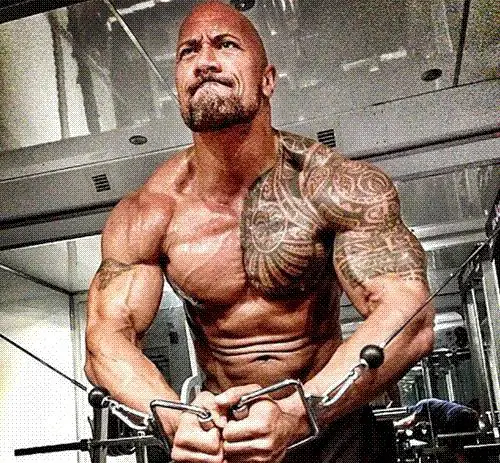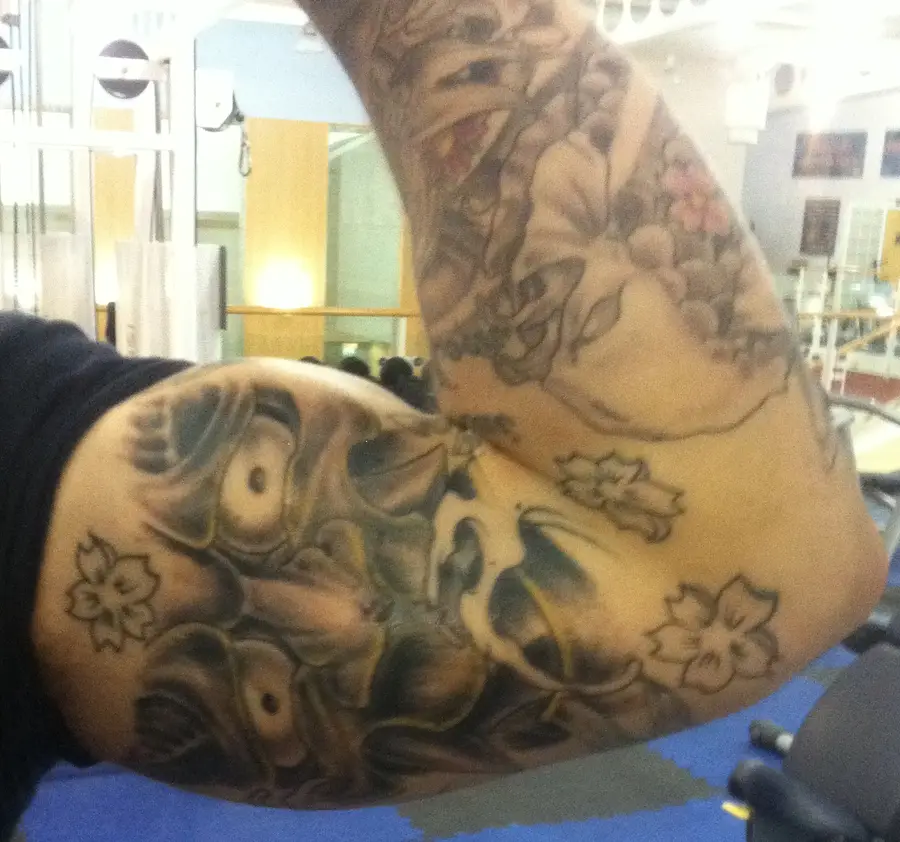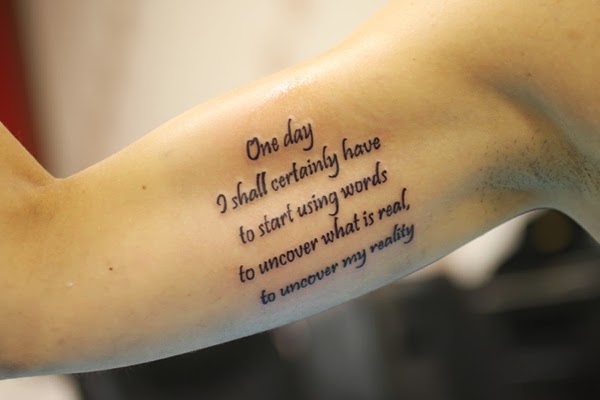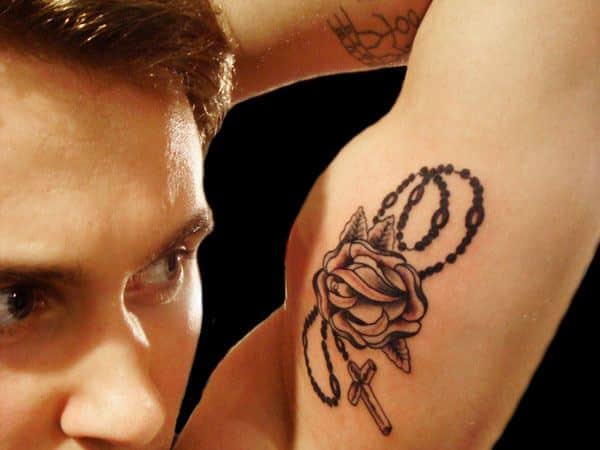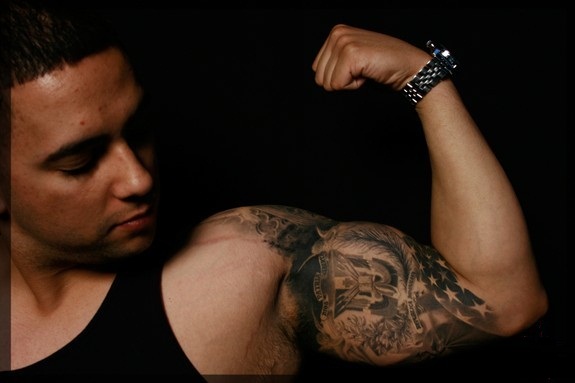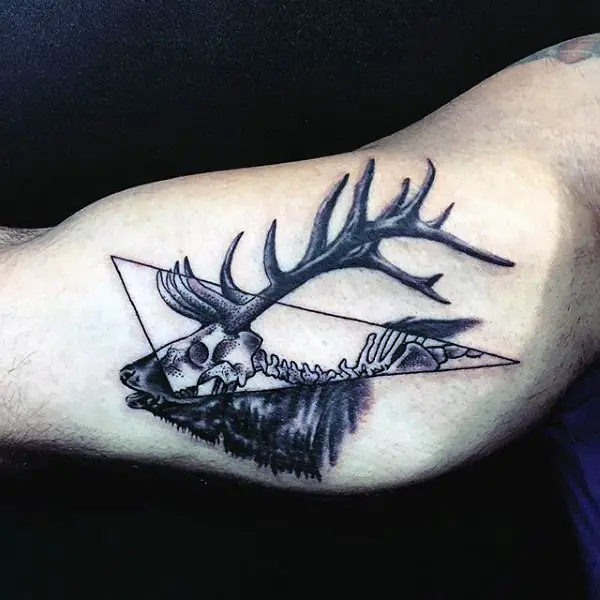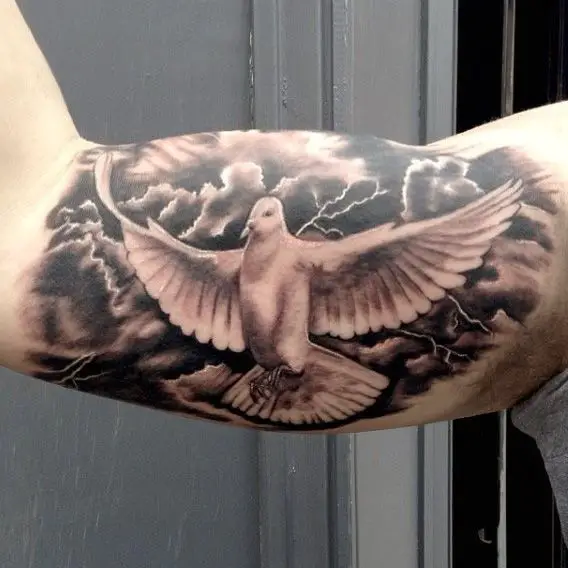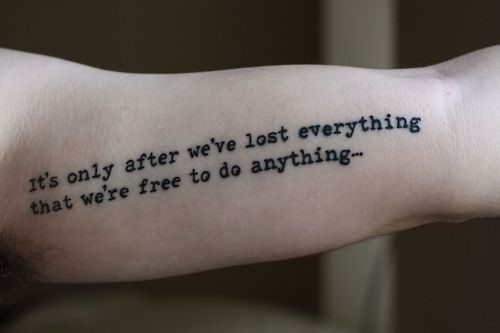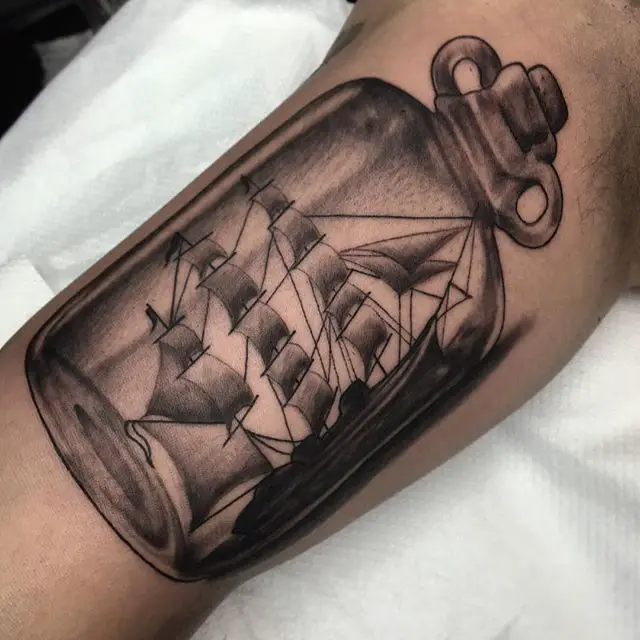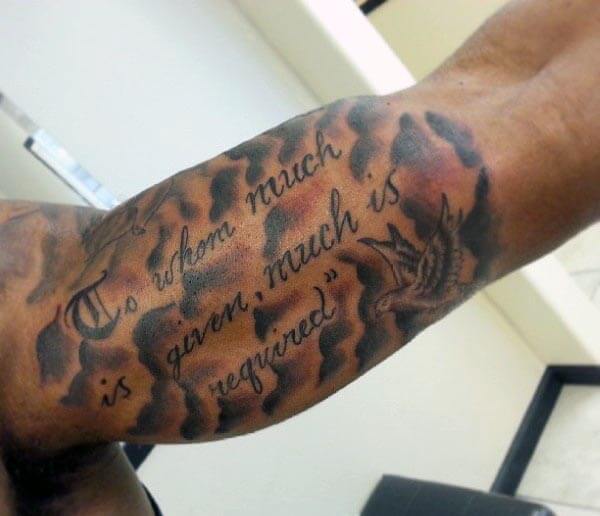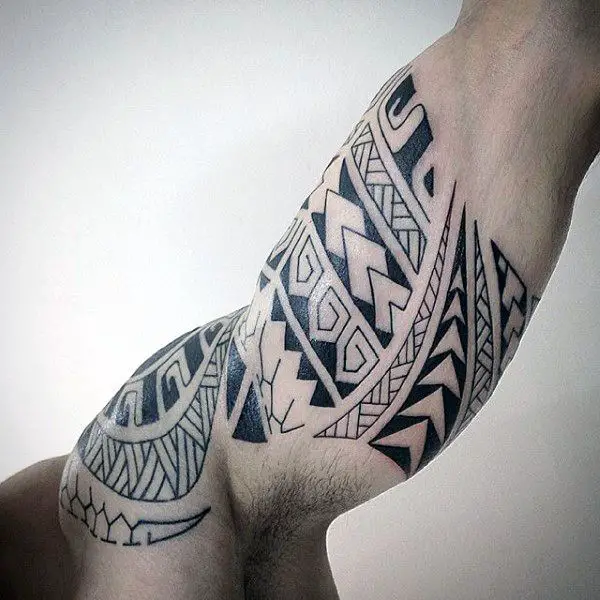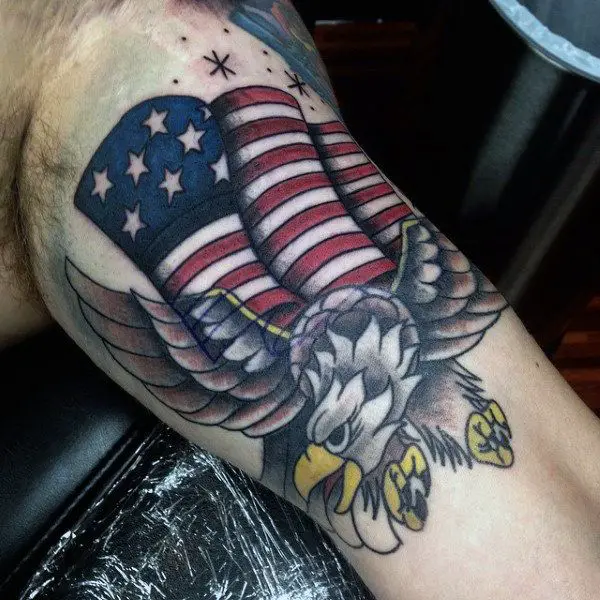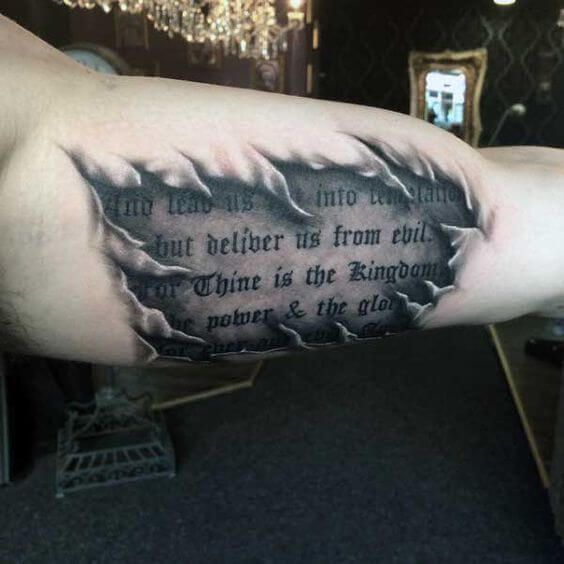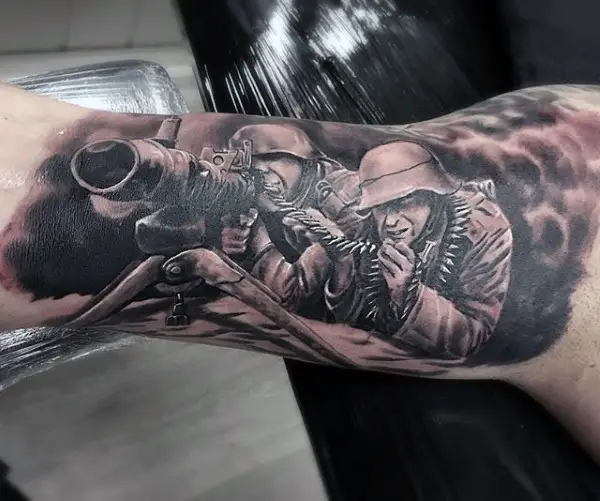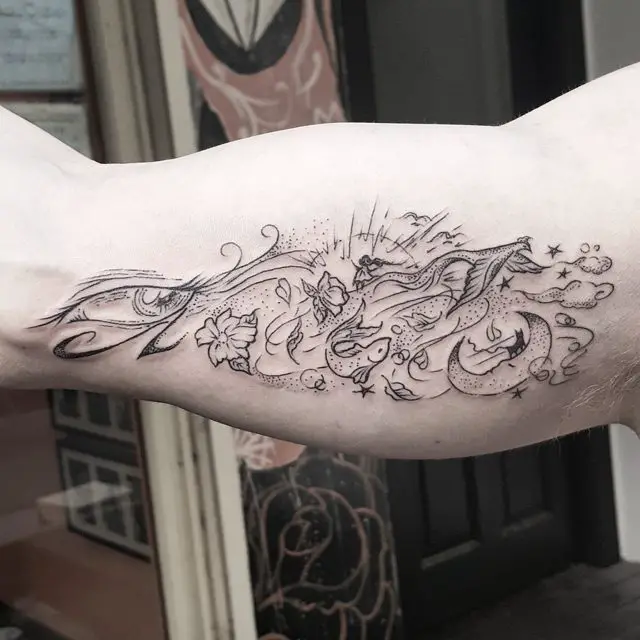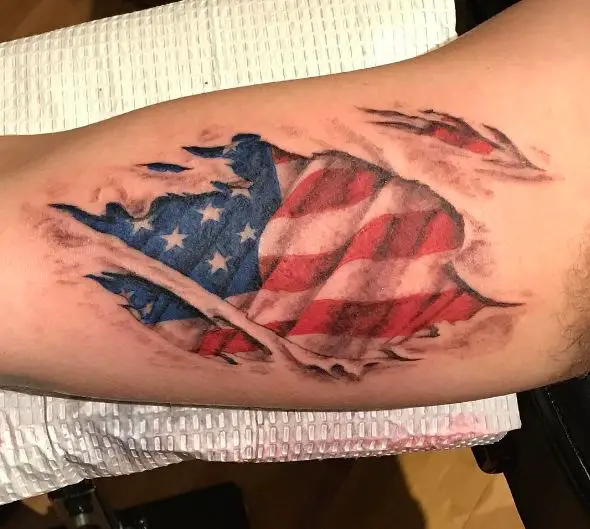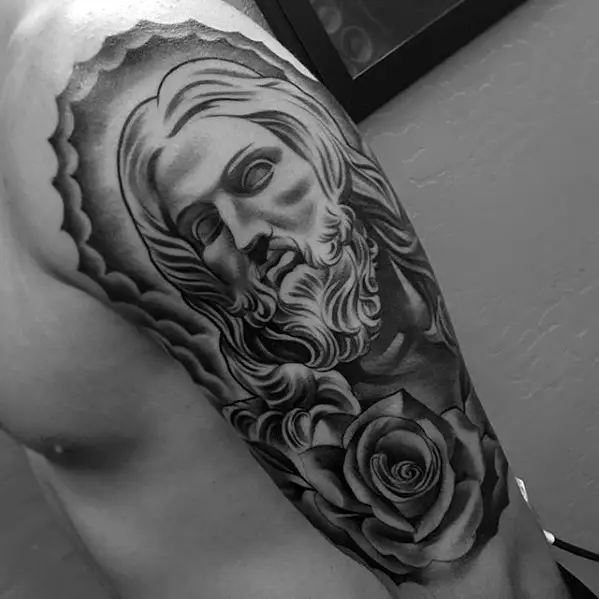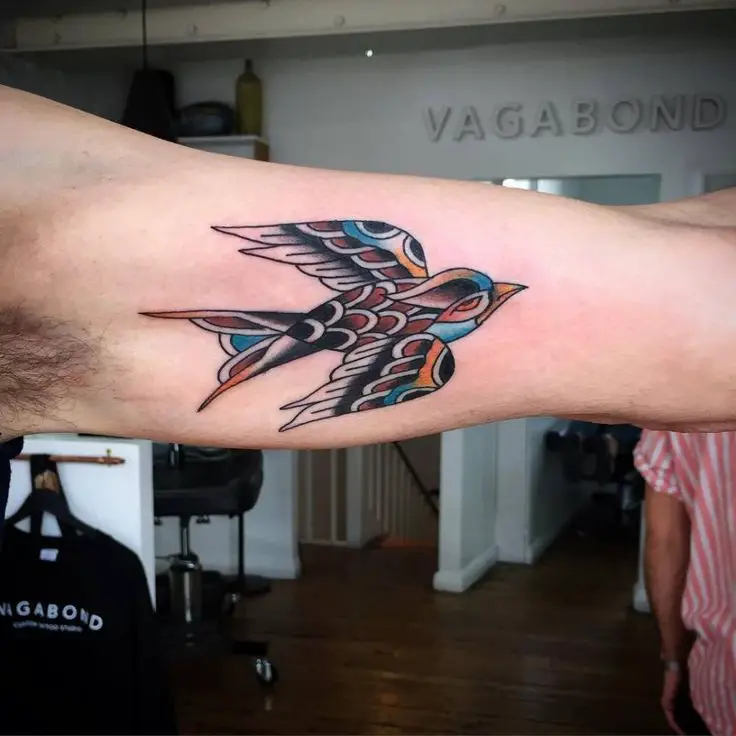 #26    Drugs on Bicep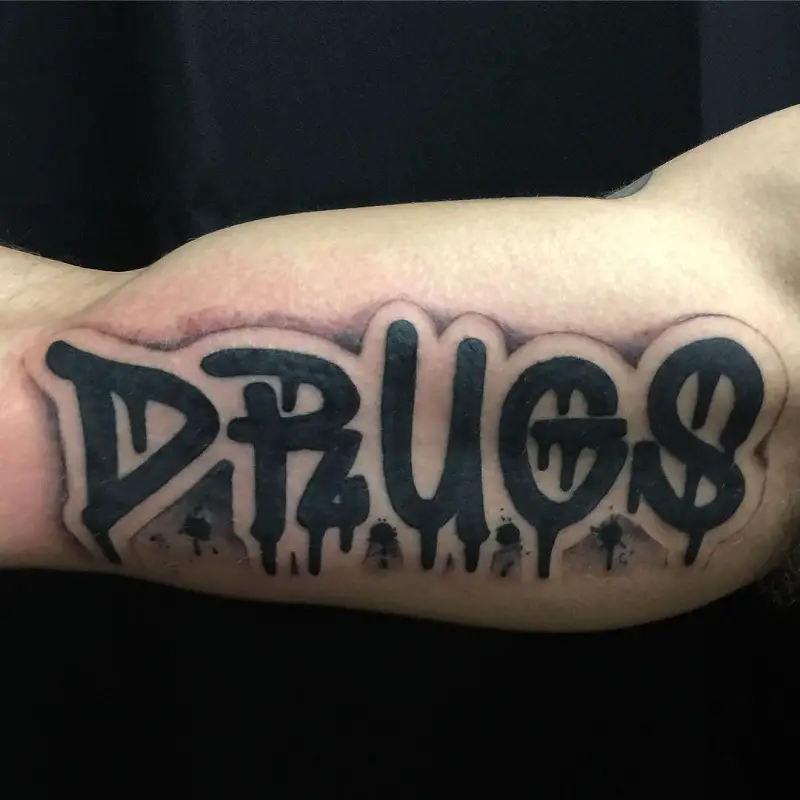 You definitely do not have to do drugs to rock this bold tattoo. This is one simply timeless piece with its sleek 3D fonts and smooth deep black hue.
#27  Kneeling Angels Bicep Tattoos for Men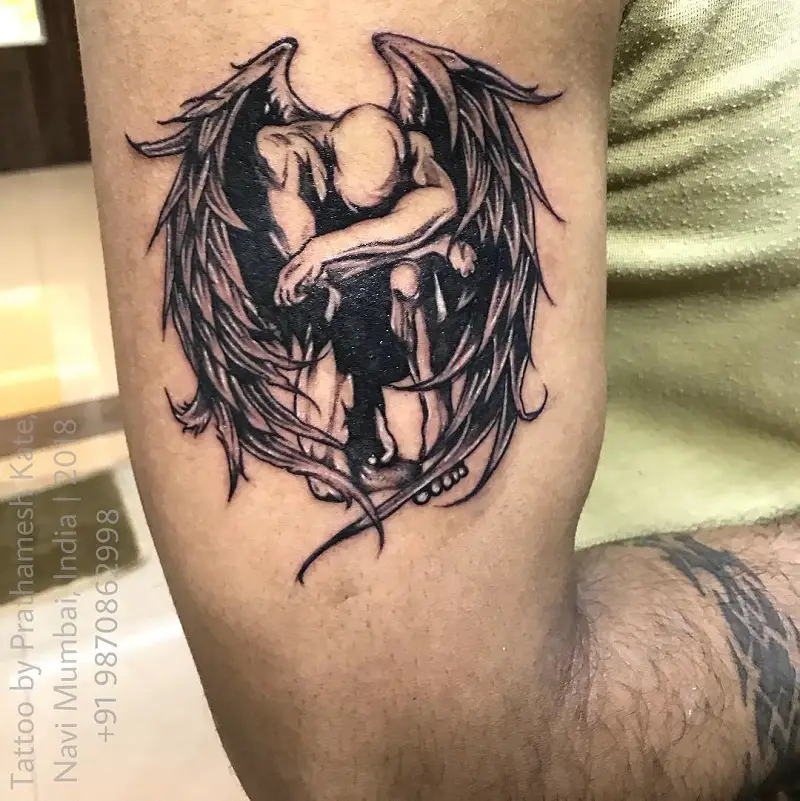 Who doesn't need a guardian angel? This tattoo features a magnificent graphic of an angel on his knees, with heads bowed. The wings are styled to create an extraterrestrial finish.
#28. Gates of Heaven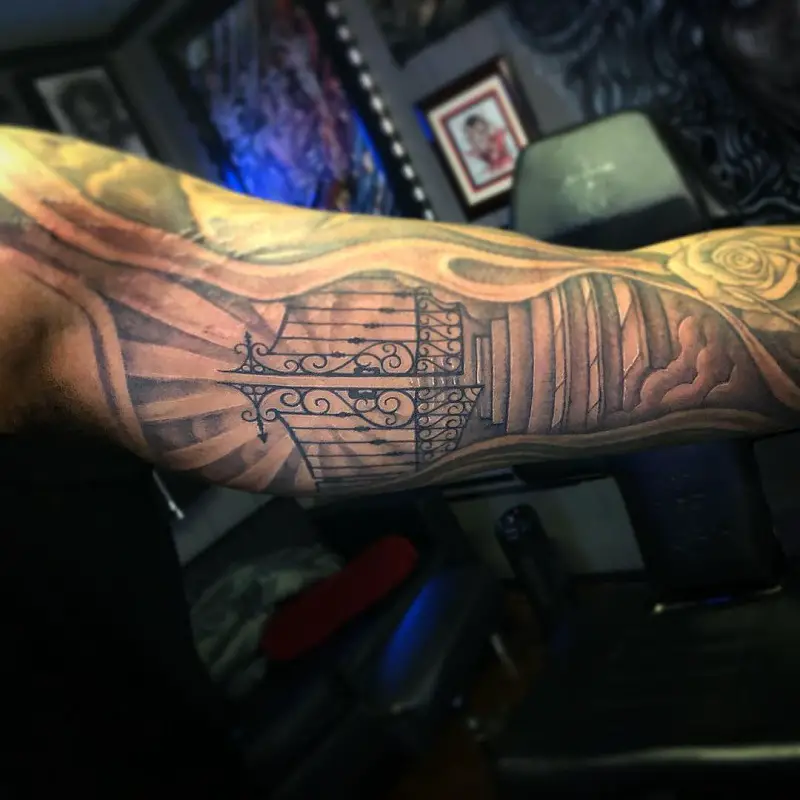 Welcome to Heaven's gates! This Bicep tattoo depicts an impression of the glamorous gates of Heaven, in all its splendor. It covers the entire arm, giving this a full appearance.
#29. Zeus on Bicep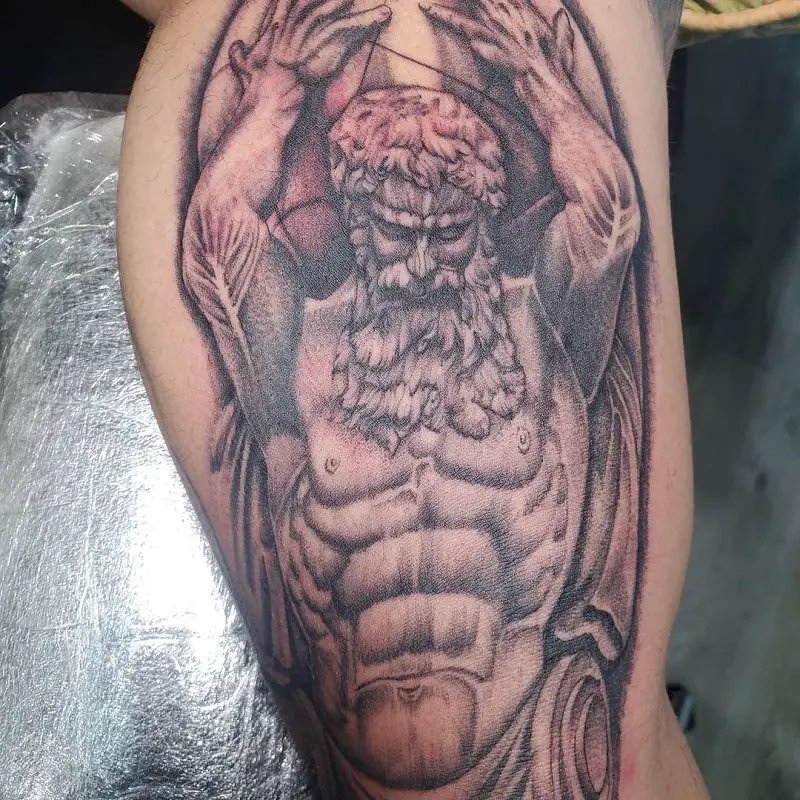 Tattoos on biceps are really sexy when skillfully crafted. A stunning image of Zeus is inked on the biceps with a red tint for effect. This is a must-have.
#30  Flower on Bicep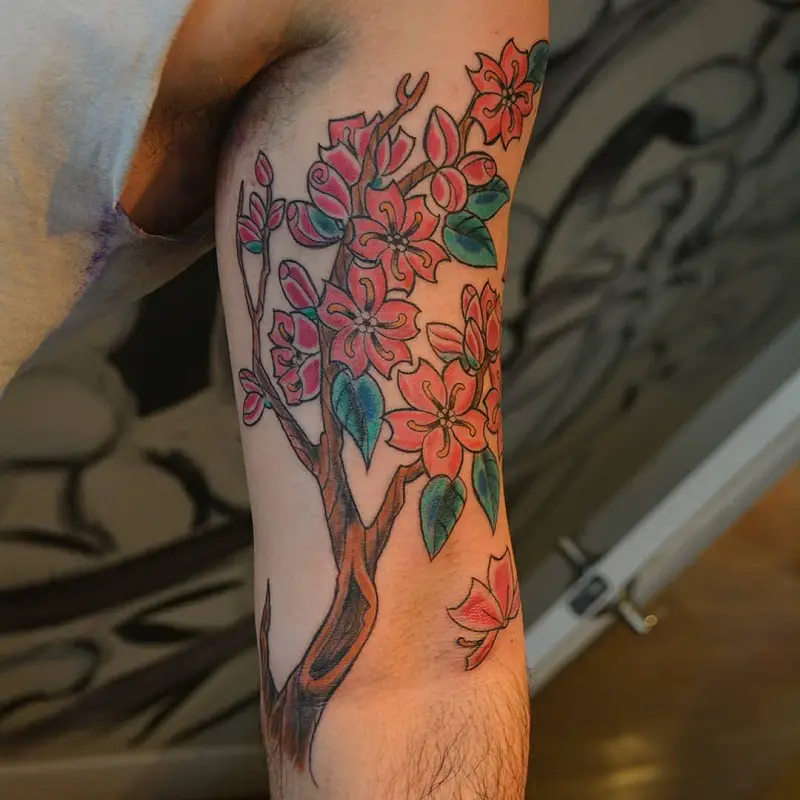 There's nothing cuter than flower tattoos because of their eccentricity. If you need a colorful tattoo, this is for you. It sports beautiful flowers on a stalk spanning the arm.
#31  Home in the Skies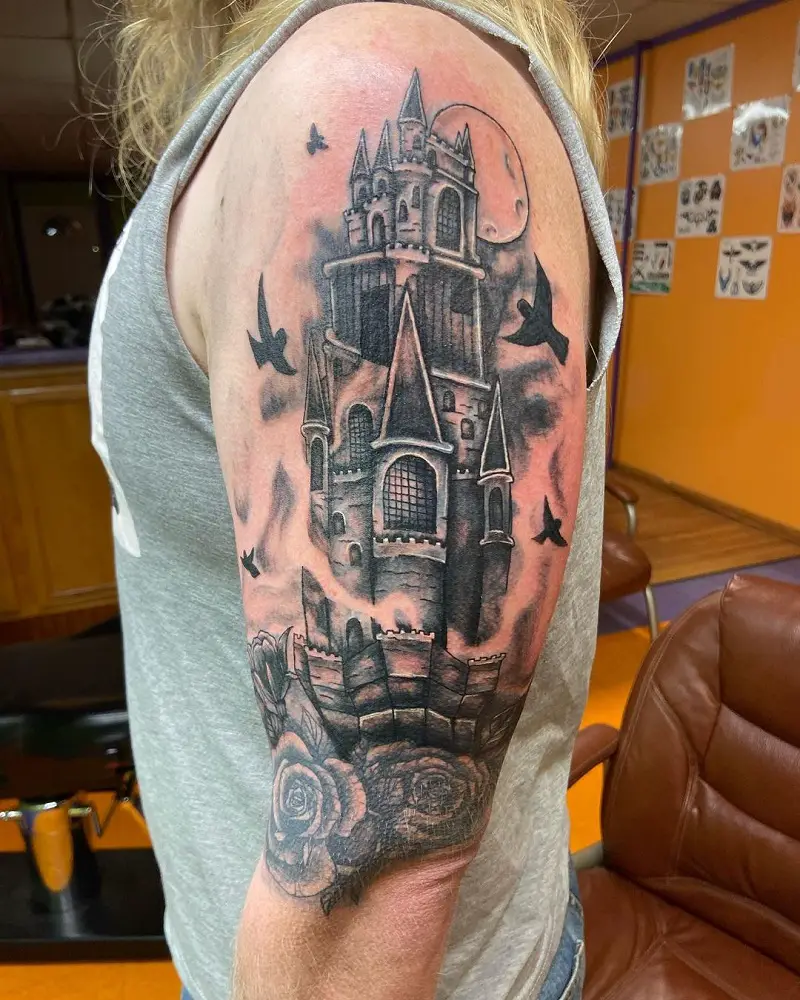 Who says you can't have your home in the skies? Sketch the home of your dreams on your arm, so you never forget to own it. Now, go get it!
#32. Eagle in Flight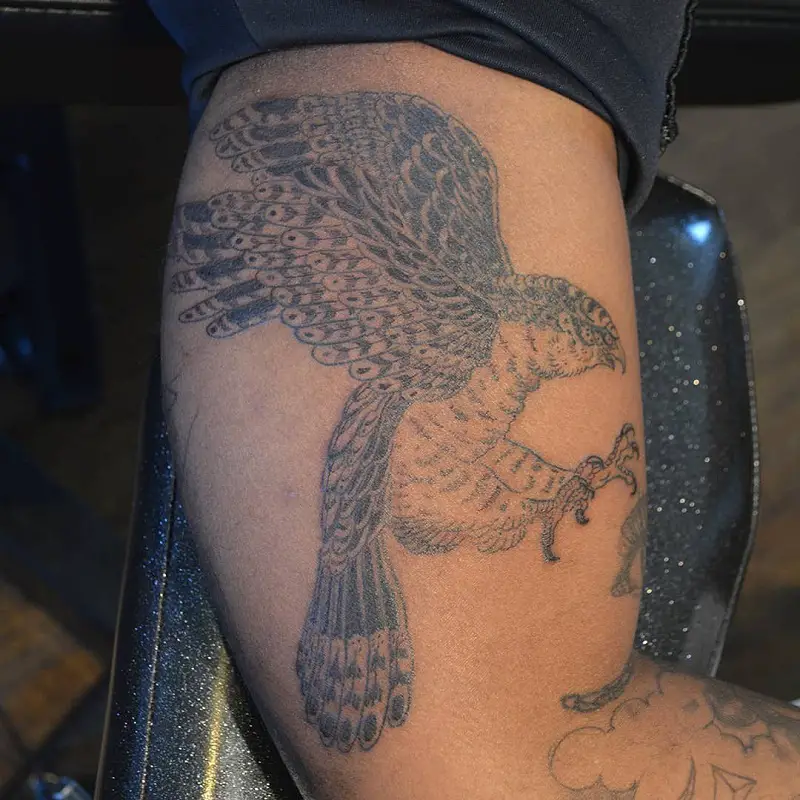 This bicep tattoo is for you, if you are spontaneous and free-spirited. The Eagle in flight with stretched claws symbolizes a fearless nature and a will to glide through life's troubles.
#33. Samurai on Arm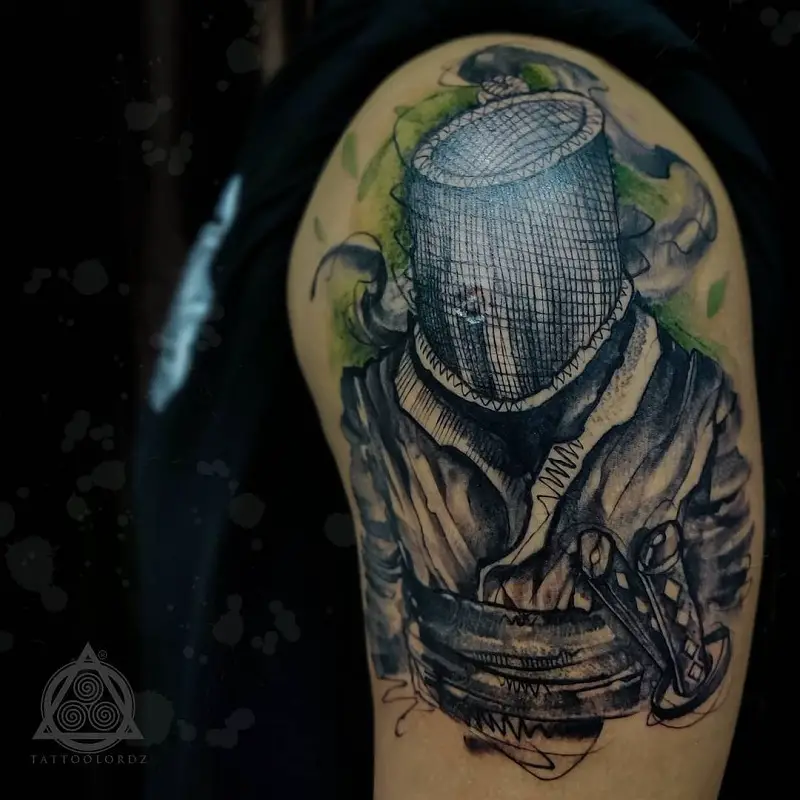 If you are a lover of Samurai movies, you would love this tattoo. It features a colorful Samurai image with a creative tree-trunk head and two swords by his side.
#34. Lion Head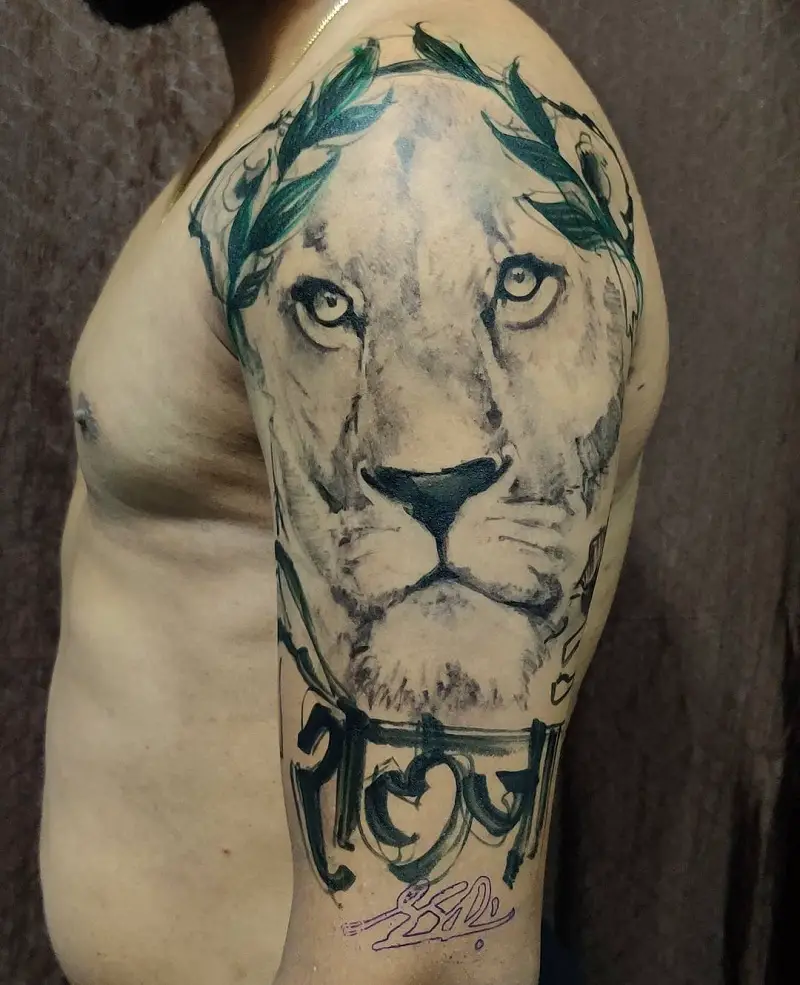 What's more interesting than inking a lion's head on your biceps? This is really stunning and perfect for people who are not too timid to go for what they want.
#35. Beautiful Roses on Bicep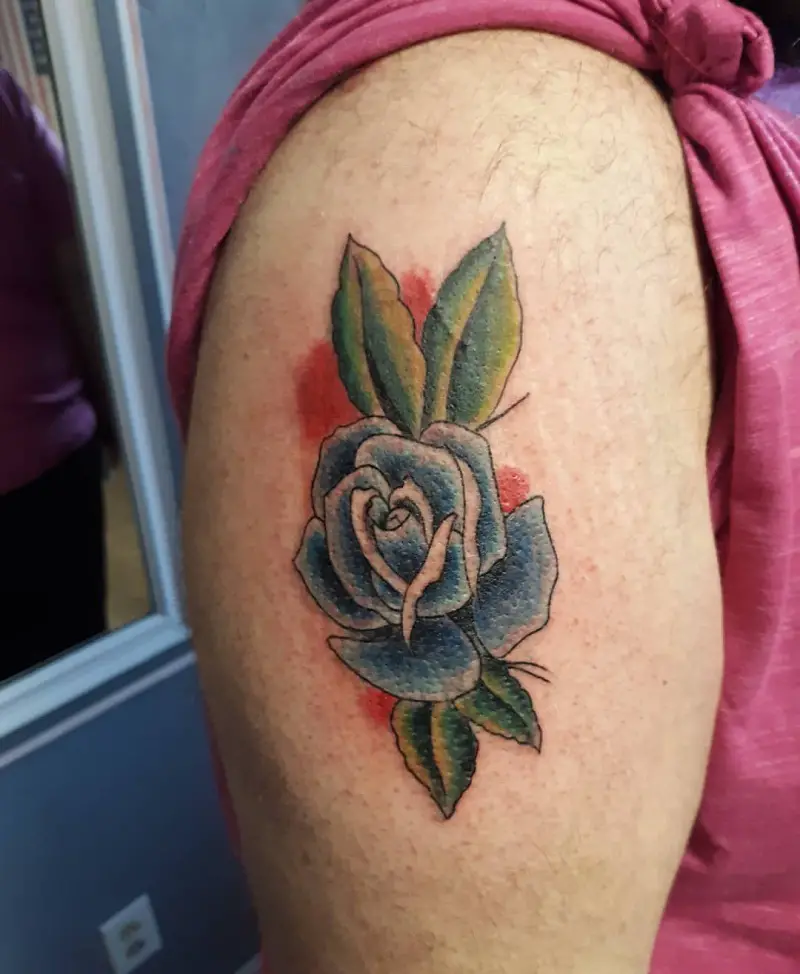 Colors are a great way to add flair to your tattoo. This rose is a perfectly simple, yet sophisticated design. You can flaunt your cute tat with an armless top.
#36. Skull with Rosary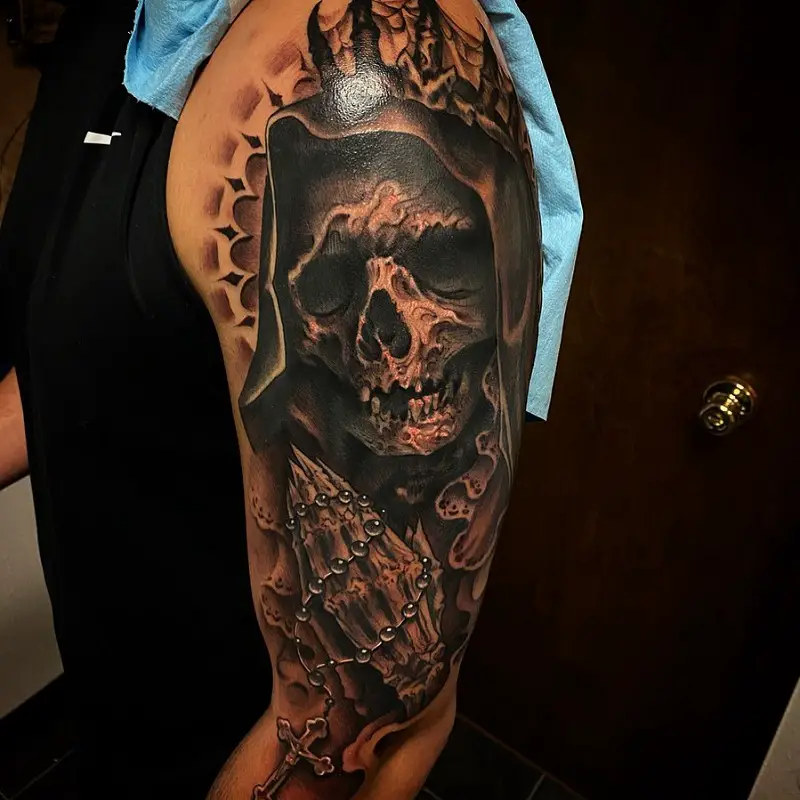 #37.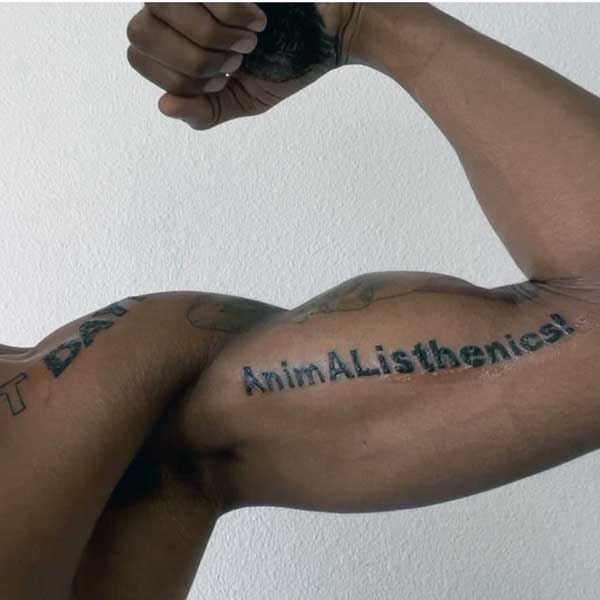 #38.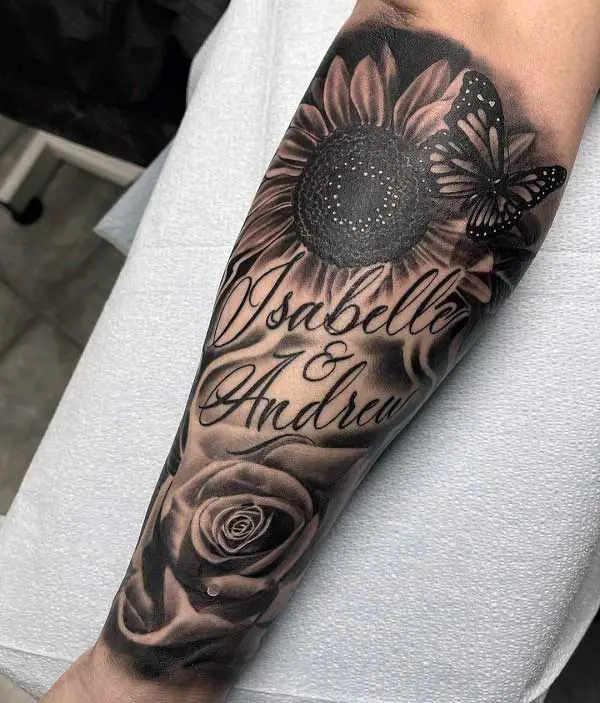 #39.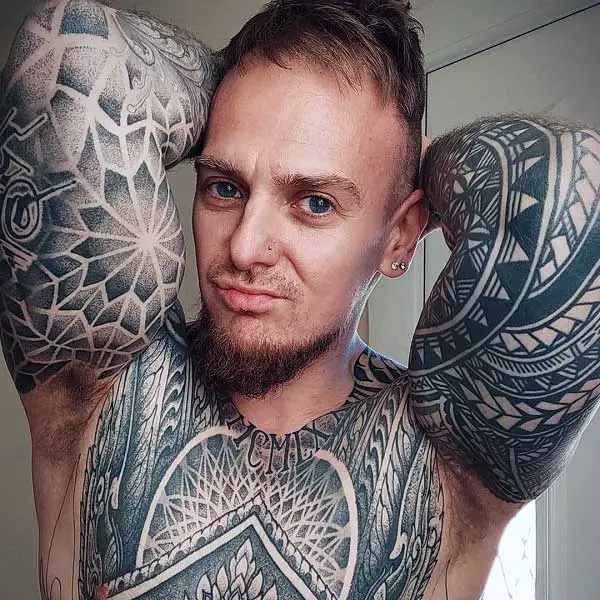 #40.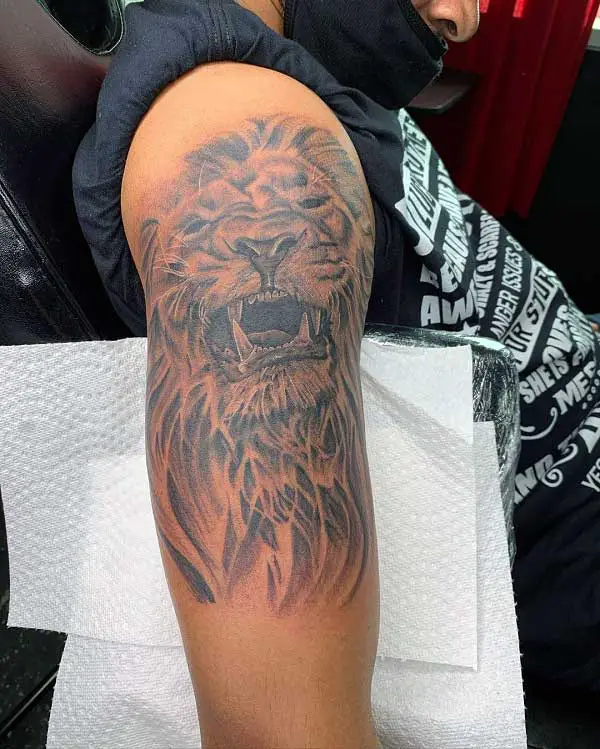 #41.
#42.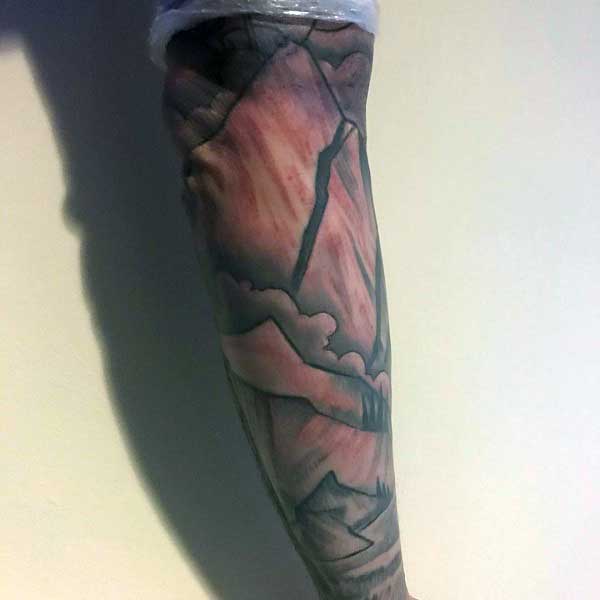 #43.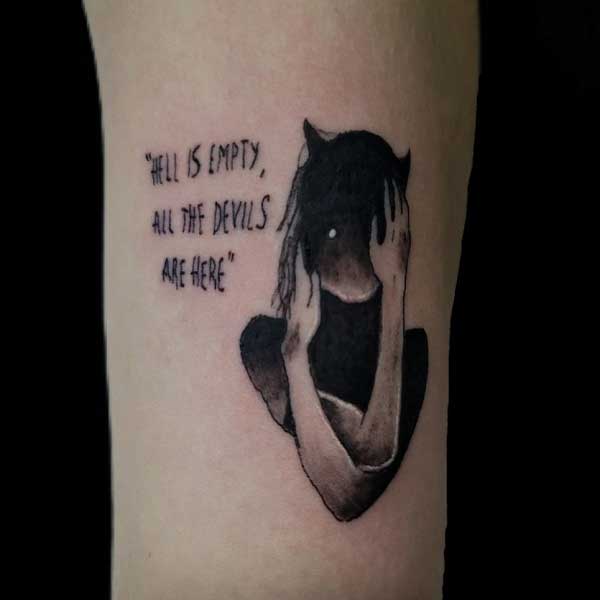 #44.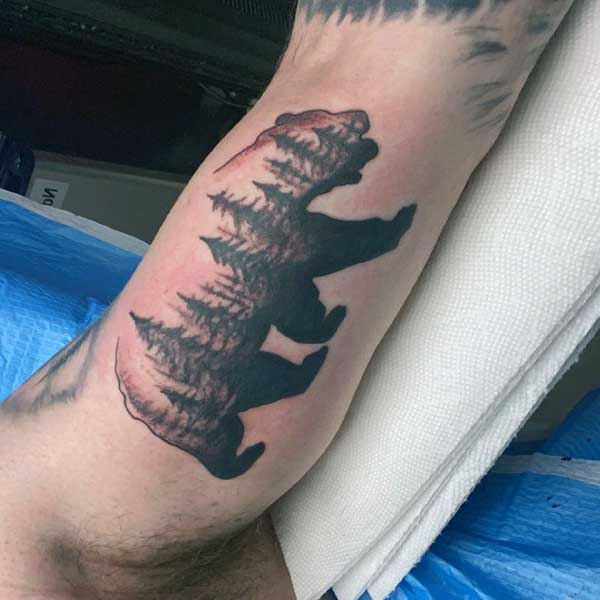 #45.
#46.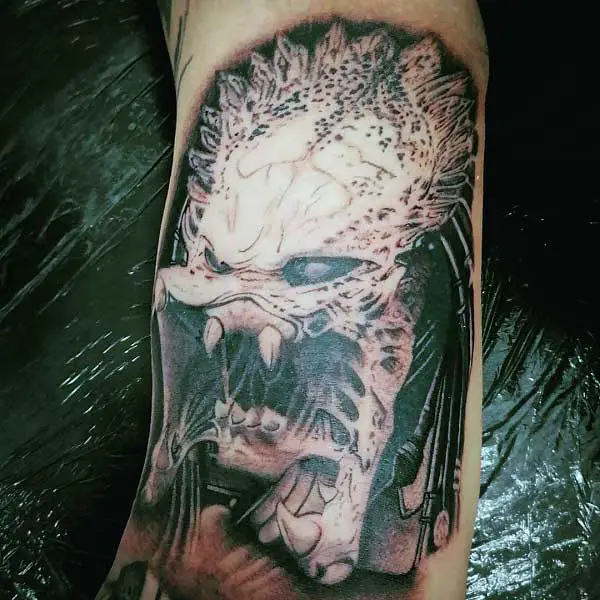 #47.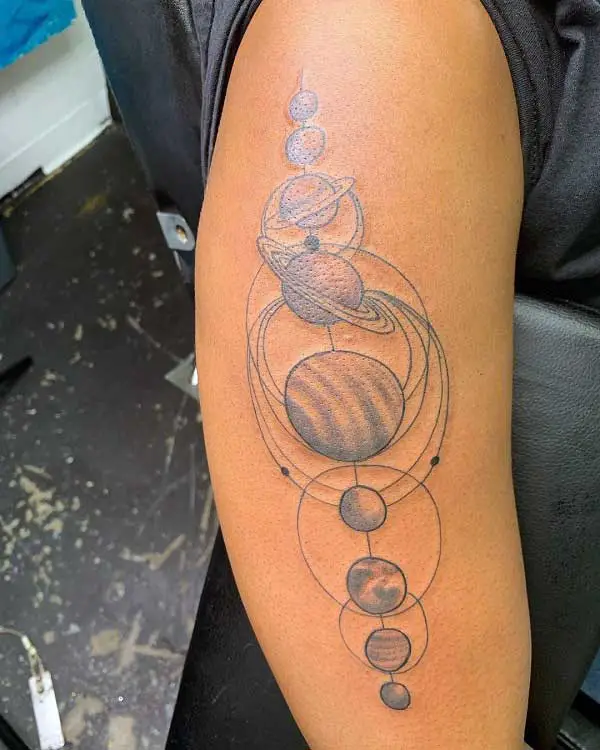 #48.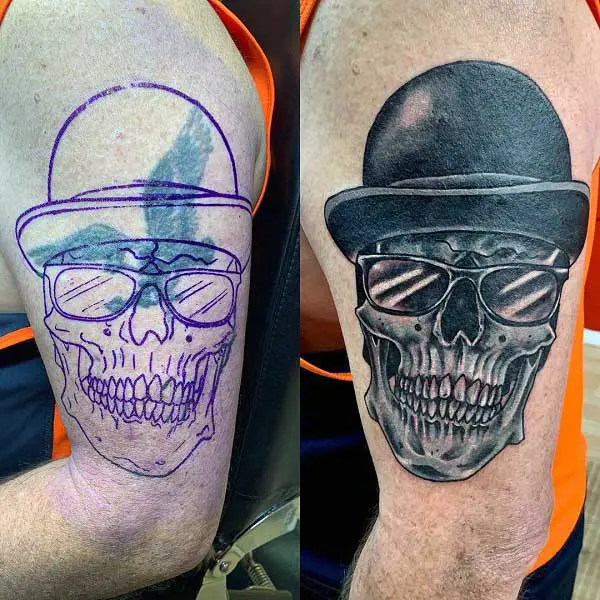 #49.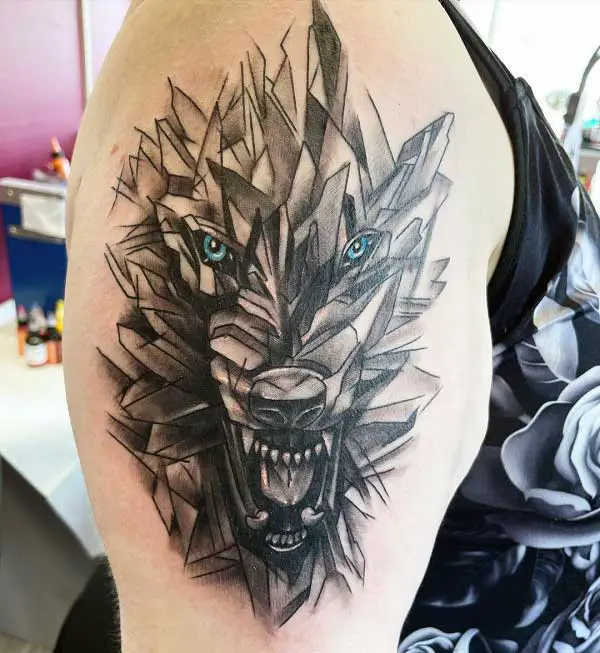 #50.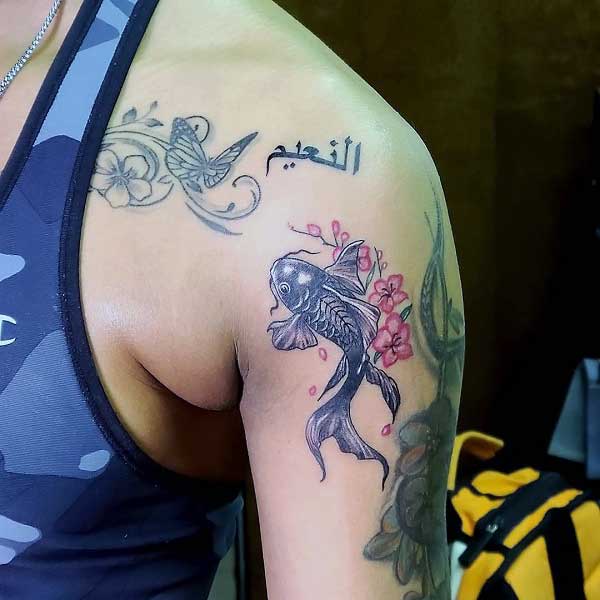 #51.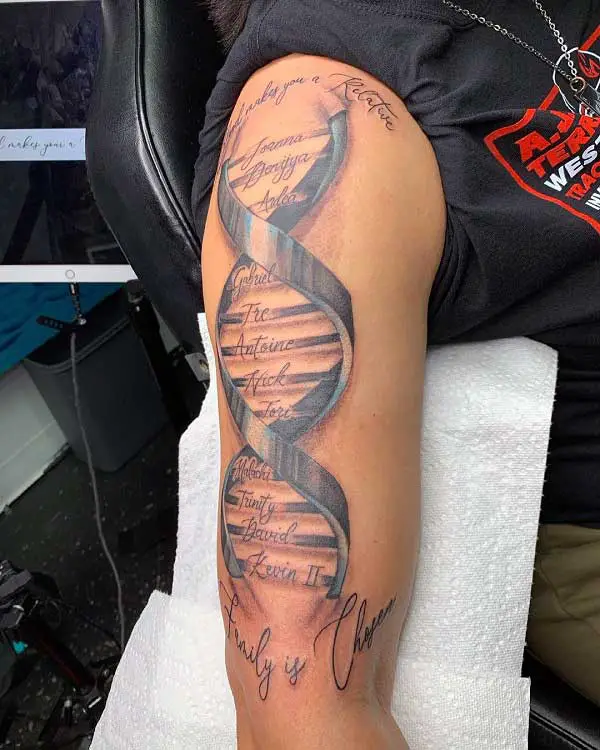 #52.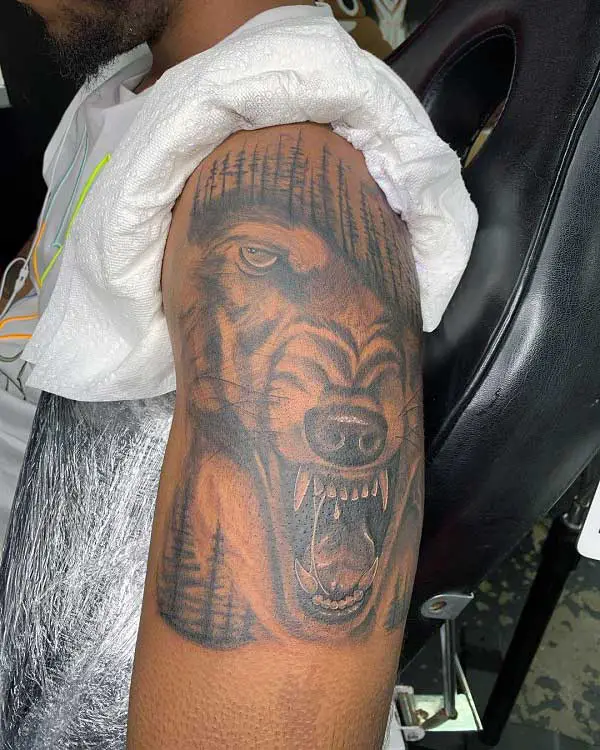 #53.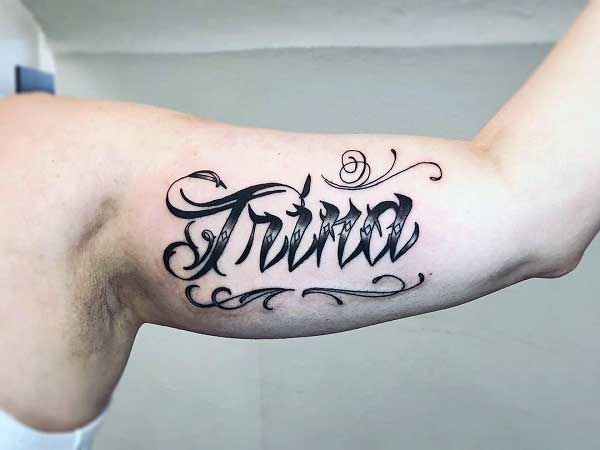 #54.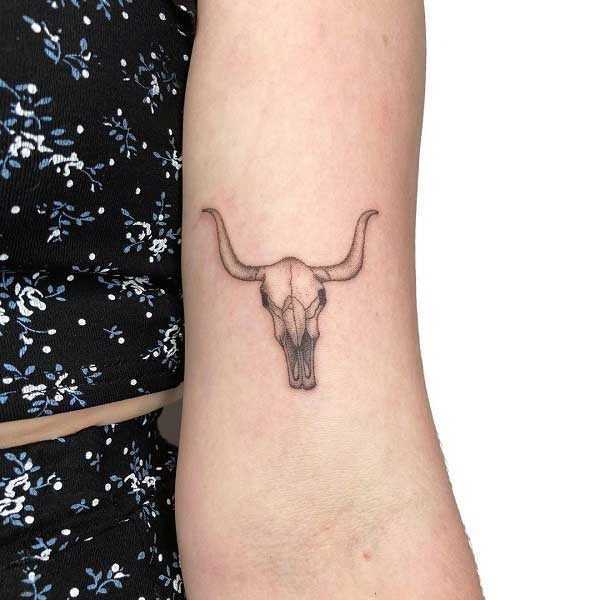 #55.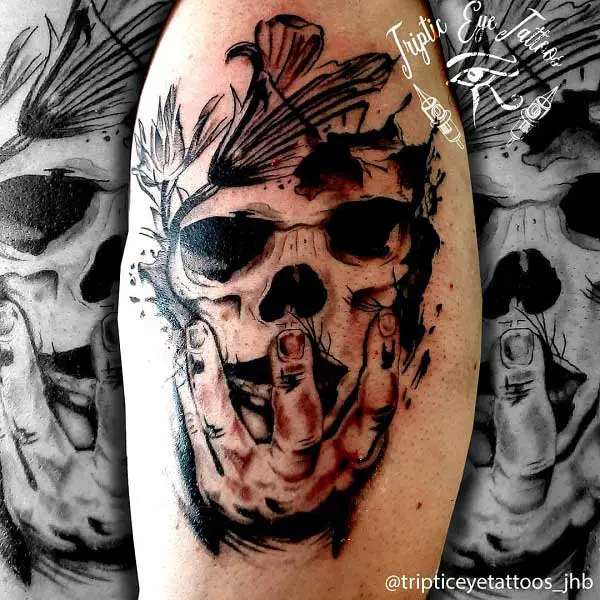 #56.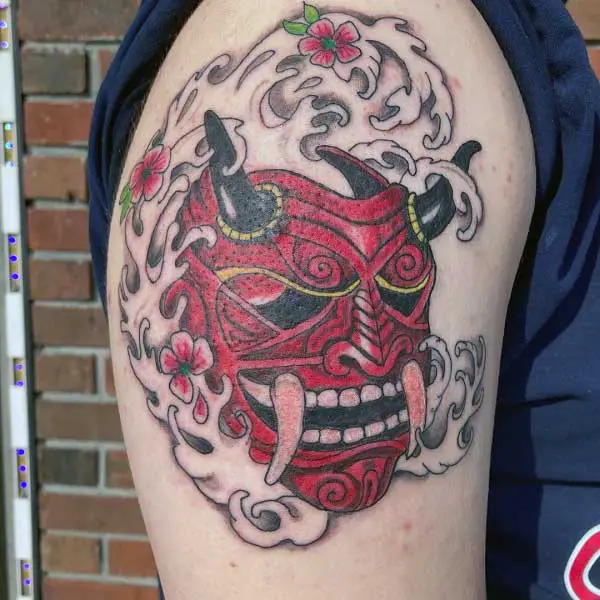 #57.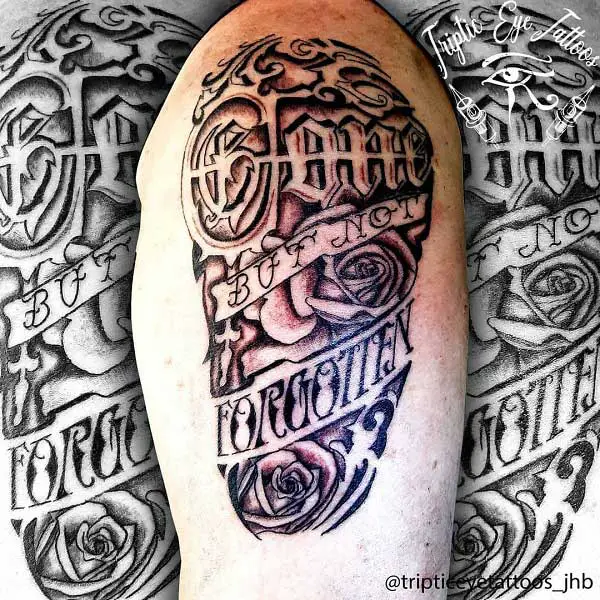 #58.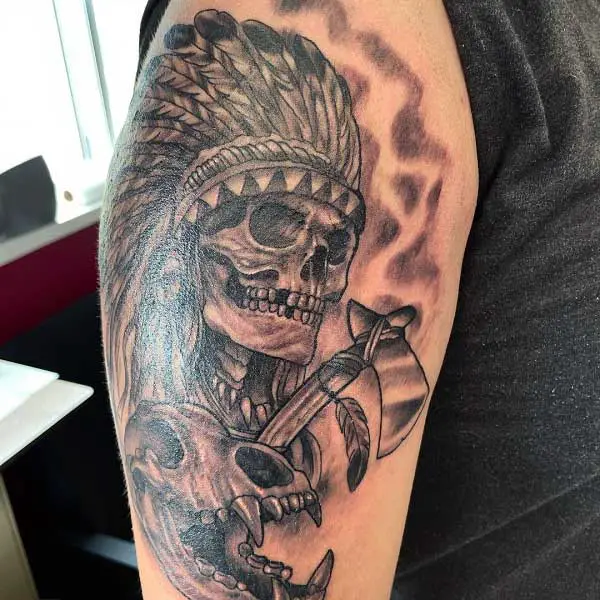 #59.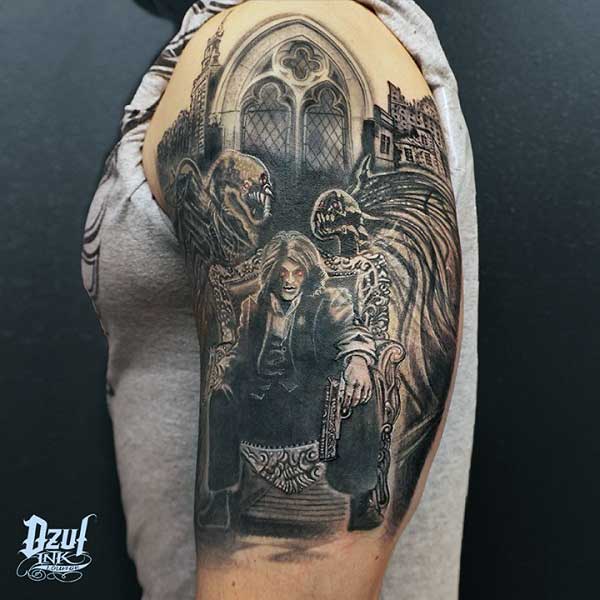 #60.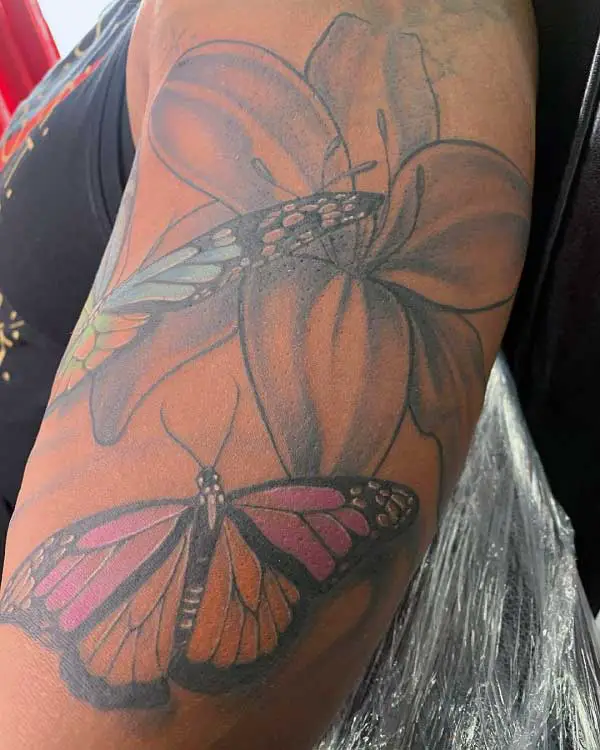 #61.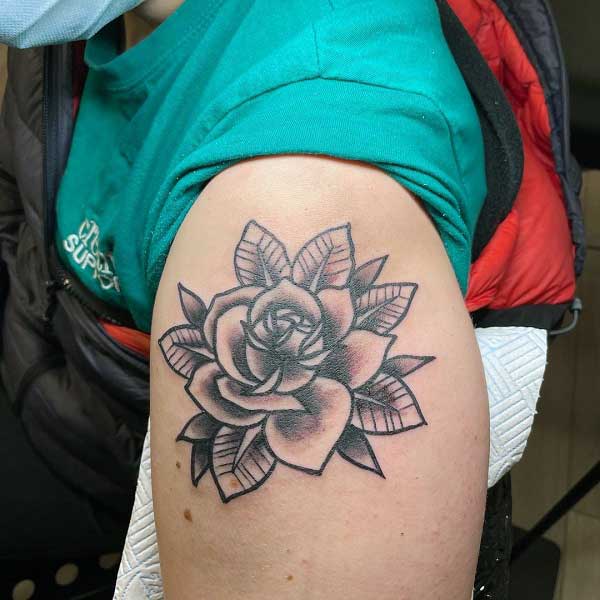 #62.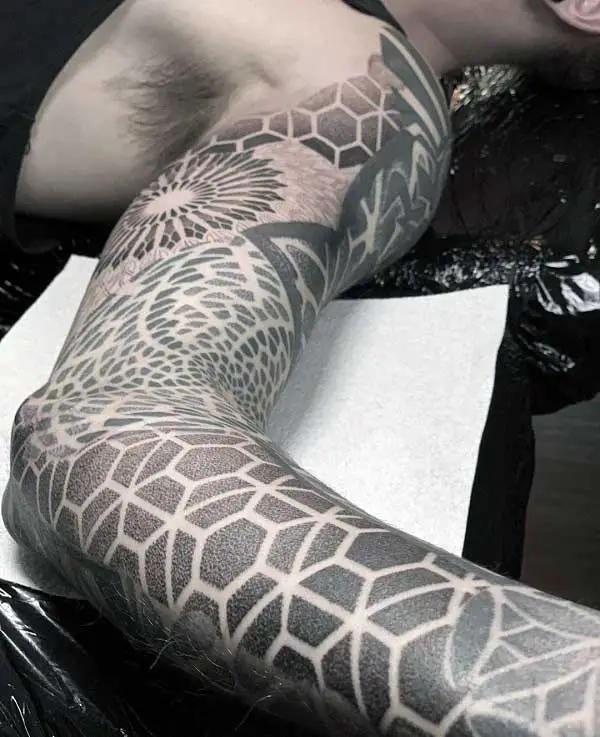 #63.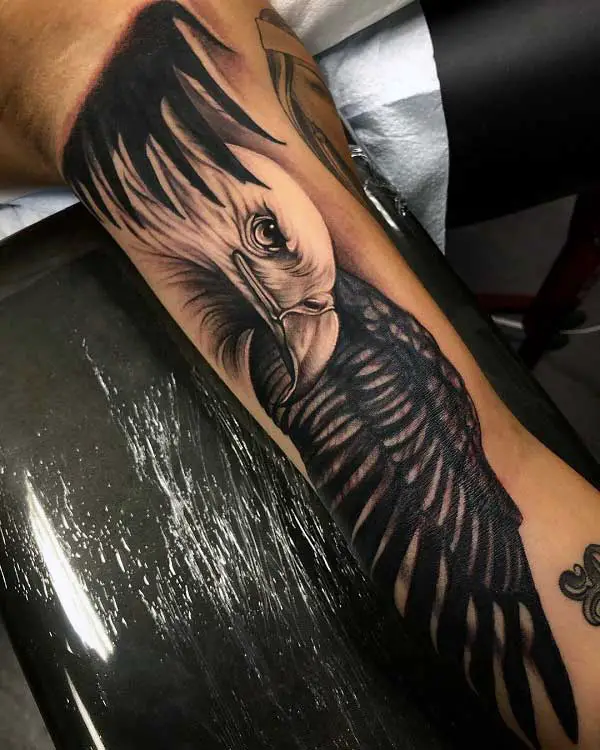 #64.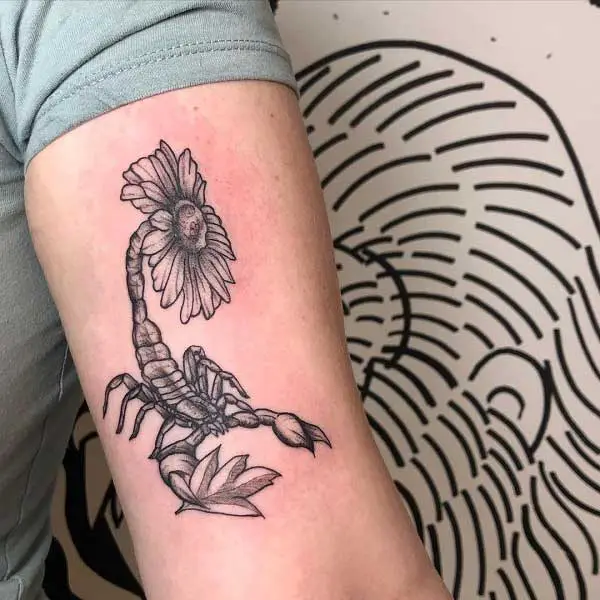 #65.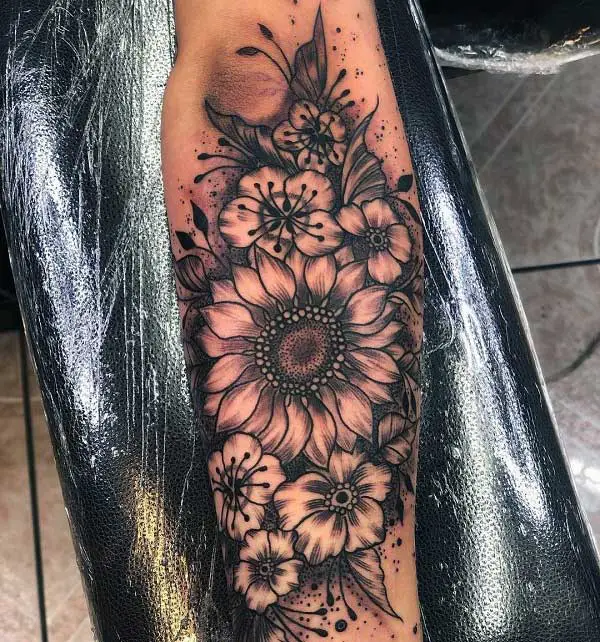 #66.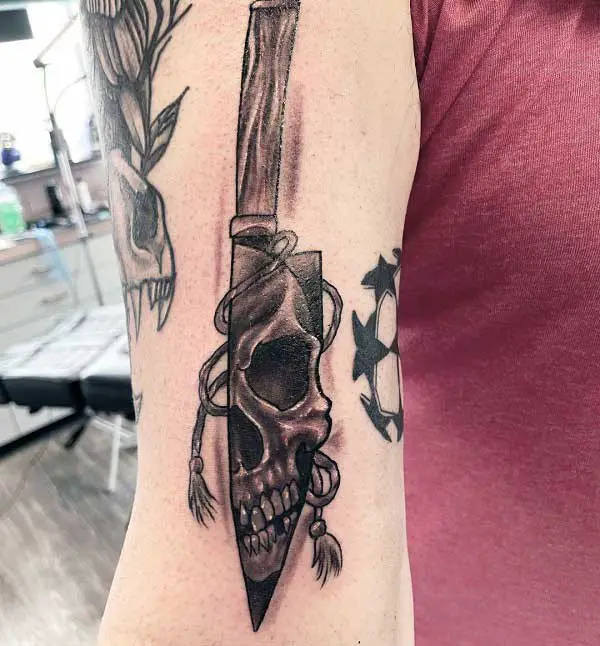 It is best to get a tattoo with symbolic visual elements. The skull gives this design depth with its heavy contrast, while the cross adds a touch of drama
Bicep tattoos for men, regardless of the design, will always look seamlessly attractive when inked properly. As an ideal spot, you will get plenty of space to use your creativity for remarkable body art.