Consider that any man who wears tattoos must have thought seriously about what he wanted before putting himself under the needle. If you're looking for the best tattoos for men there's no shortage of hot tattoo ideas to choose from.  Heck, you are likely to see your neighbor wearing an eye-catching design that's irresistible.
IRRESISTIBLE BEST TATTOOS FOR MEN TO SELECT
No doubt you may have an idea of the tattoo you want. But if your aim is to shock and awe others there are some over the top designs you could go for. For those interested in marking meaningful relationships, friendships or significant life events, appropriate designs can be chosen to make such statements. Men who push boundaries usually aim for epic designs that cover large areas of their bodies.  Prime areas for the unmistakably male tattoo include the back, shoulders, chest, arms, thighs, and legs. Here are twenty of the best tattoos for men that are sure to inspire your next design.
#1: COLORFUL CHARACTERS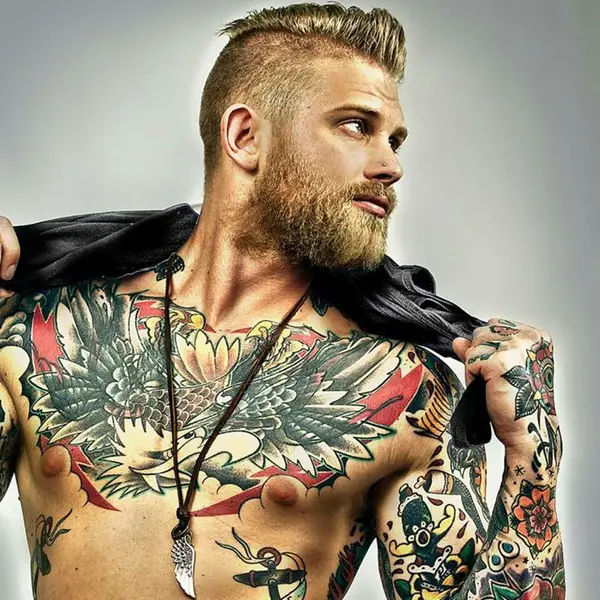 Multiple images done expertly in vivid colors make this male tattoo an attractive choice and also on of the best tattoos for men.  When you know exactly what you want to portray it's easy to go ahead and do your thing.
#2: BEST ARMS AND CHEST TATTOOS FOR MEN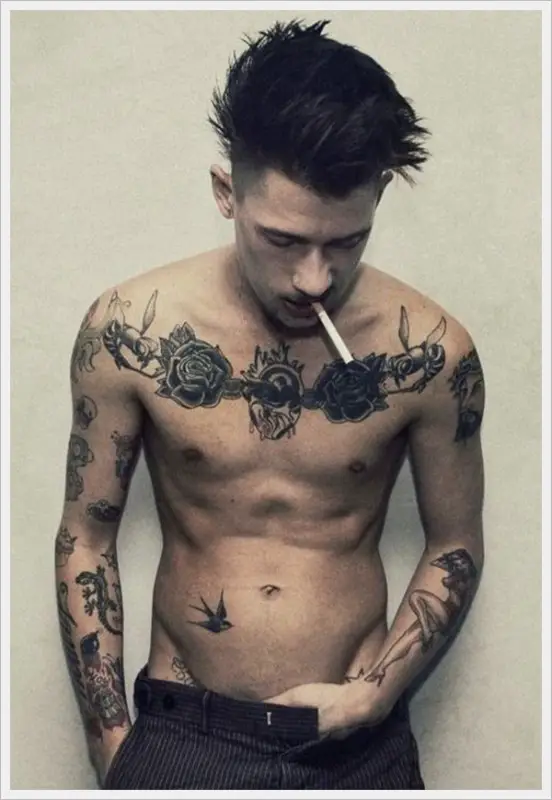 It's clear that this man has a number of inspirations for his arm and chest tattoos. He chooses mostly black ink with a subtle hint of color. Each image seems to mean something important to him.
#3: EXOTIC SLEEVE TATTOO
There's nothing sexier than an exotic nature inspired tattoo on a muscular arm.  Here's a prime example of a skillfully done and quite detailed sleeve tattoo to admire.
#4:  FULL SLEEVE DESIGN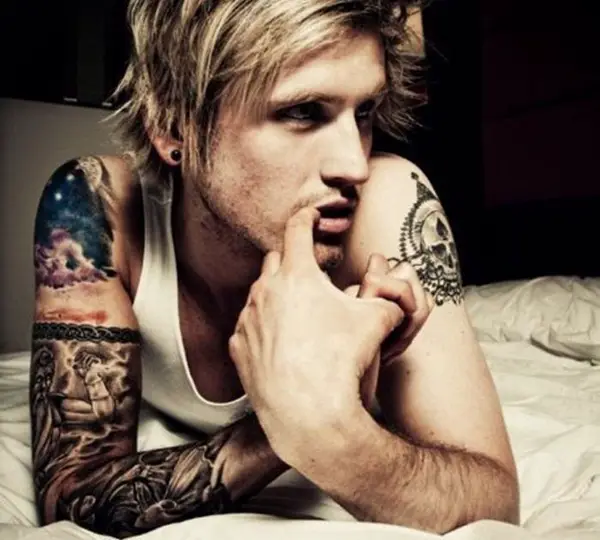 The ink work on the arm sleeve tattoo this man wears is a mix of black shades and vivid color.  Quite an attractive choice for the upper and lower arm. The other arm carries a separate skull image that also means something.
#5: ANGEL WINGS TATTOOS FOR MEN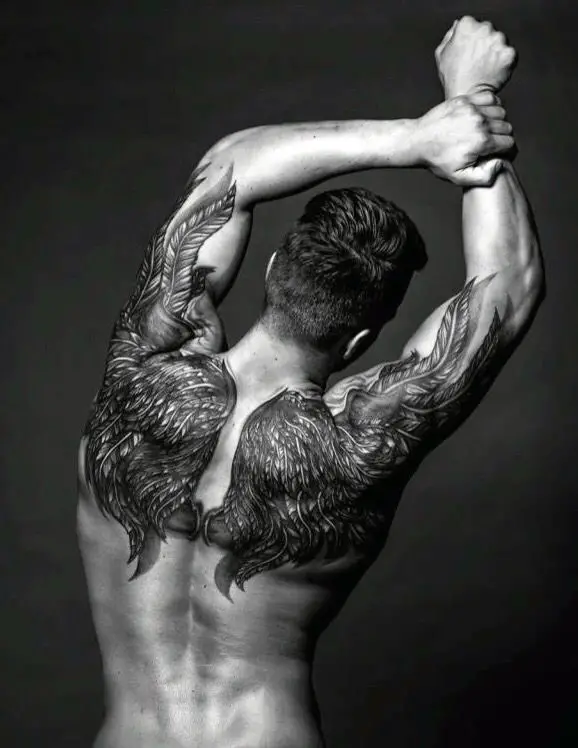 Among the best tattoos for men are the winged designs like this one here. Wings and birds are prominent among simple tattoo designs men choose.  Clearly, the intent may be to connect with the idea of flying or rising above circumstances and barriers.
#6: FLYING WINGS BACK TATTOO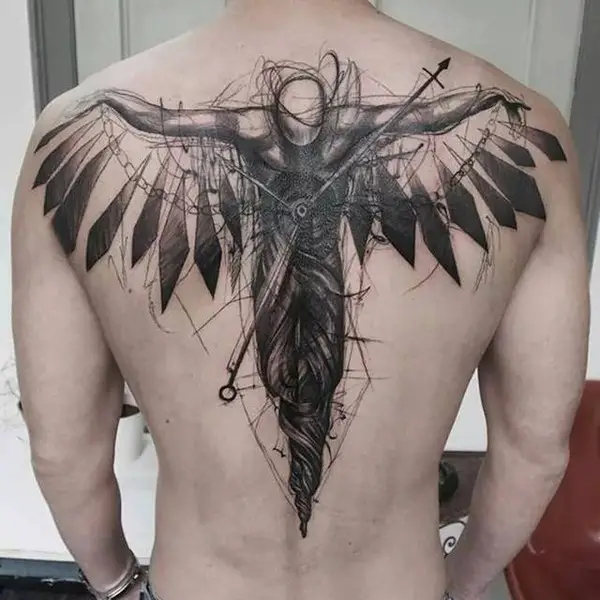 Here's another use of wings in a tattoo idea.  This time it's a complete character poised to fly on a back tattoo. This predominantly black inking is a precise design that requires great skill and patience to put on.
#7: BLACK STRIPES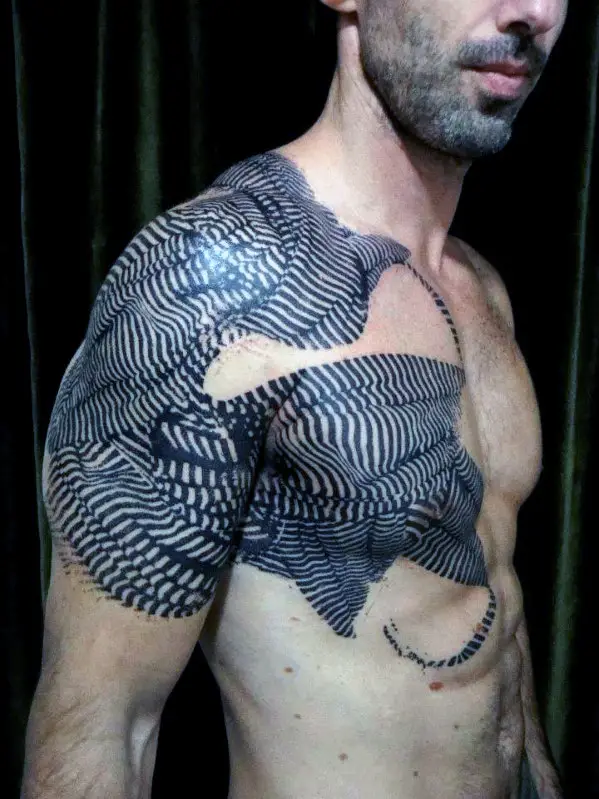 While the ink work here is only stripes, the way it's applied shows the tattoo artist's skill in creating depth. This mesmerizing design is bound to attract attention and start conversations.
#8: BLACK INK CHEST AND ARM DESIGN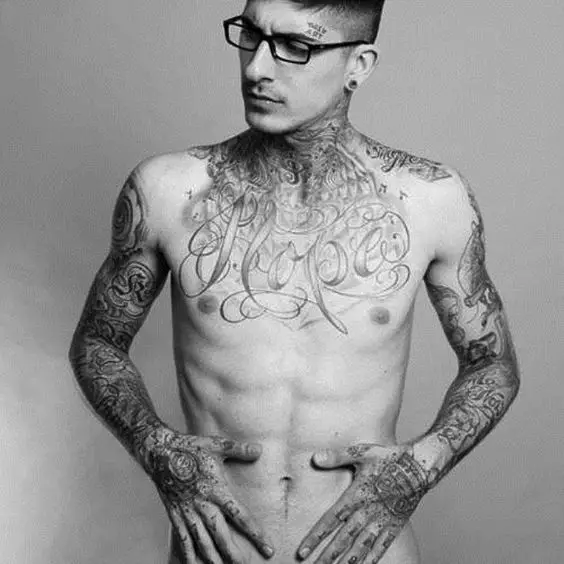 When you have a lot to show the best places to do so are on the chest and arms if you want others to see them. This man's hope tattoos show how effective black ink work can be in tattoos for men.
#9: VIVID COLORS MALE TATTOOS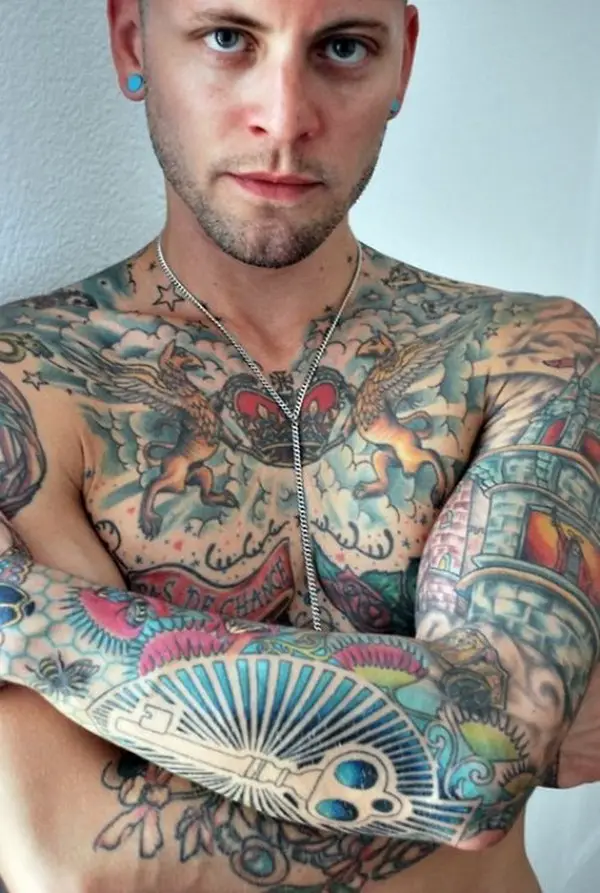 Contrast any black ink tattoo with this vividly colorful design here. There's so much to see in this arm and upper body tattoo. It must have taken a great deal of thought, time and patience to get everything done right.
#10: SKELETON EXPOSED TATTOO DESIGN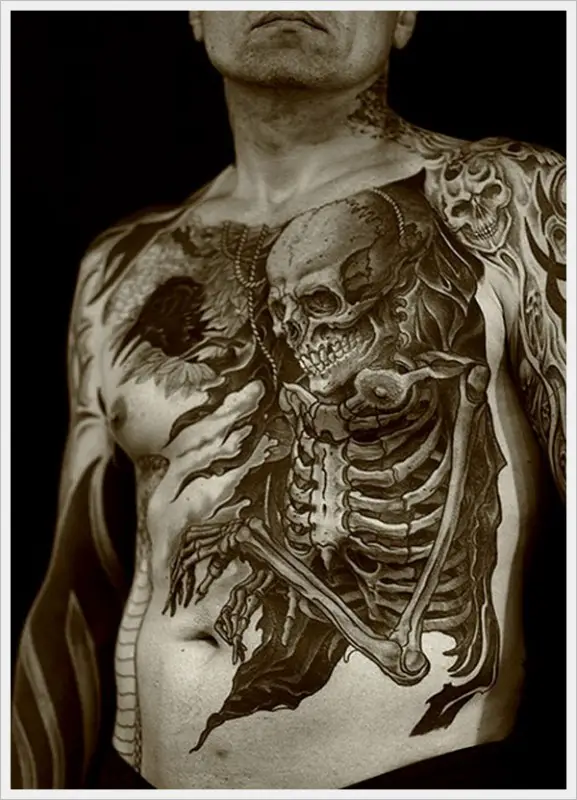 Not surprisingly a male tattoo turns up with a skull and full skeleton.  The skeleton is actually a popular choice among the best tattoos for men who are pushing the boundaries. You must admit that this ghoulish design is quite expertly done.
#11: INTRICATE TRIBAL PATTERNS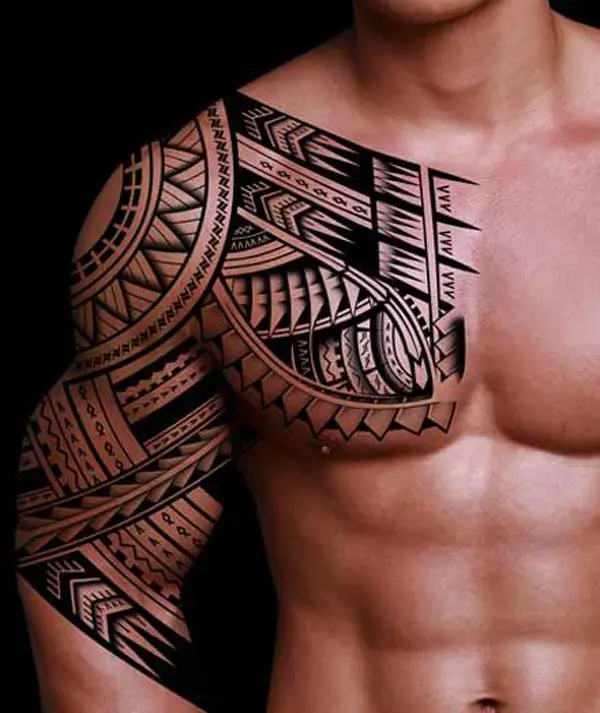 This intricate tribal pattern is among the best you can expect in tattoo ideas for males.  Admittedly, this powerful design is best done on someone with impeccable skin and a great body.
#12: THE CYBORG ARM AND SHOULDER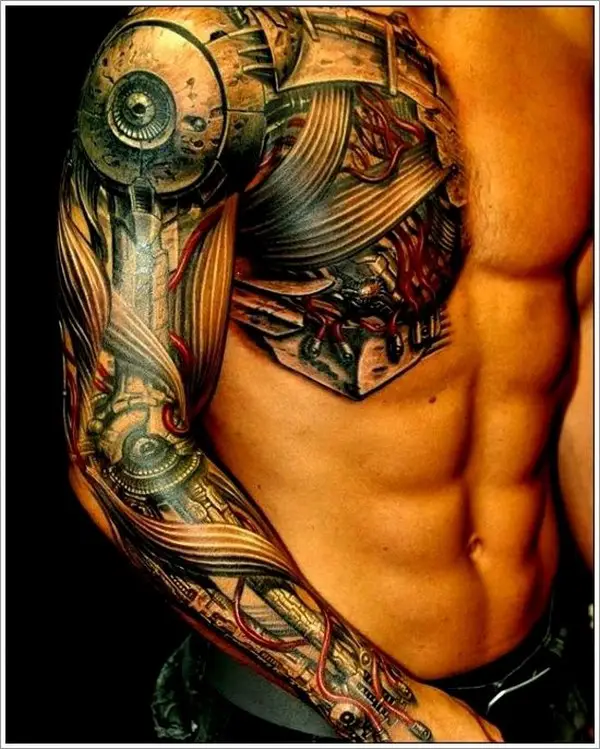 Popular tattoos for men also feature the cyborg design.  This realistic example reveals the tattoo skills that have been used to bring this cyborg look to life. Check out the attention to details and the expert mix of black and color used here.
#13: BODY TATTOOS FOR MEN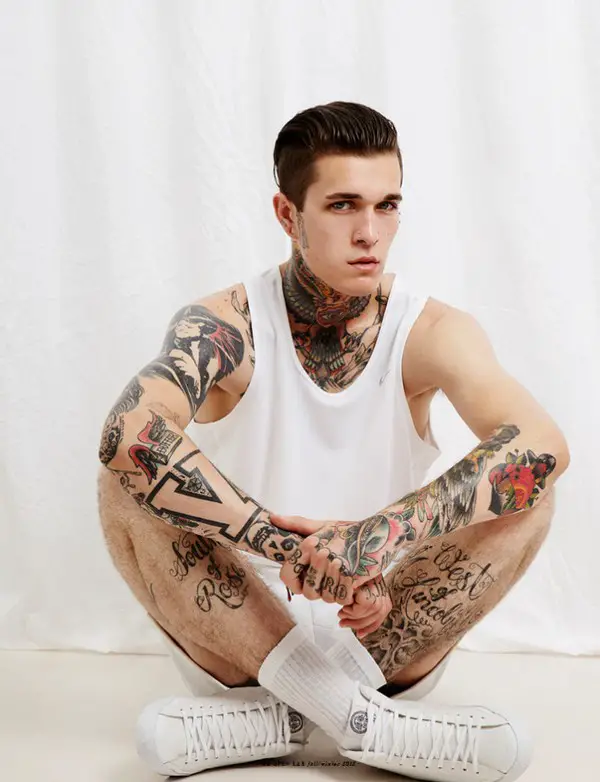 Perhaps, you would do like this guy and cover your body with tattoos of various kinds. You'll need to look closely at each of the black and color images to read this man's story.
#14: POWERFUL BACK AND ARM  BEST TATTOO IDEAS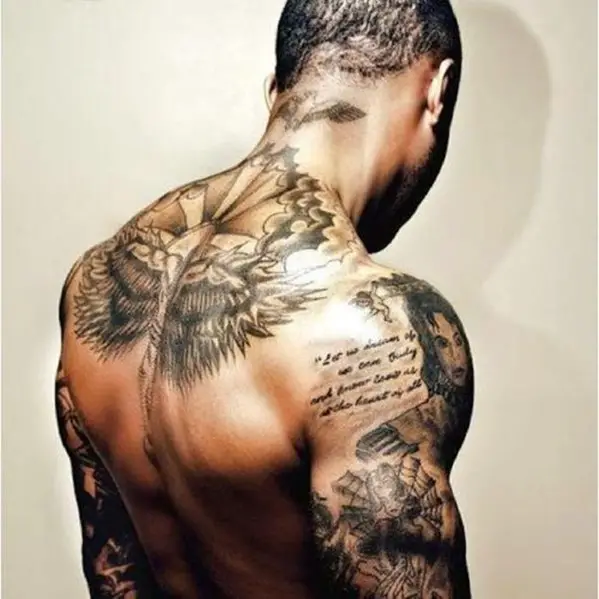 Here's a striking rendition of back and arm tattoos done in black. Notice the many symbols and images that together tell of his many experiences and inspirations.
#15:  IMPRESSIVE CHEST INK WORK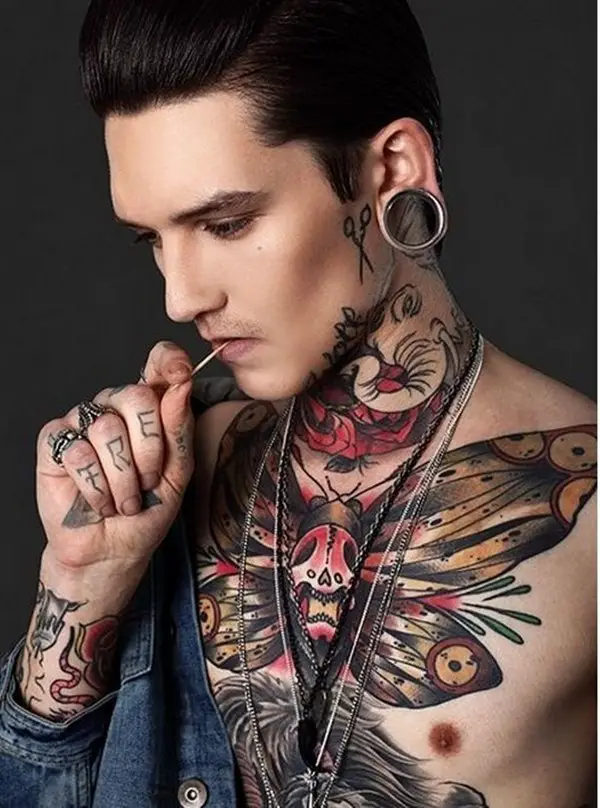 The chest remains one of the best locations for an impressive design like this. See how effective this colored inking really is? No doubt this male tattoo will continue to draw attention and some admiration.
#16: SCRIPTED ARM TATTOOS FOR MEN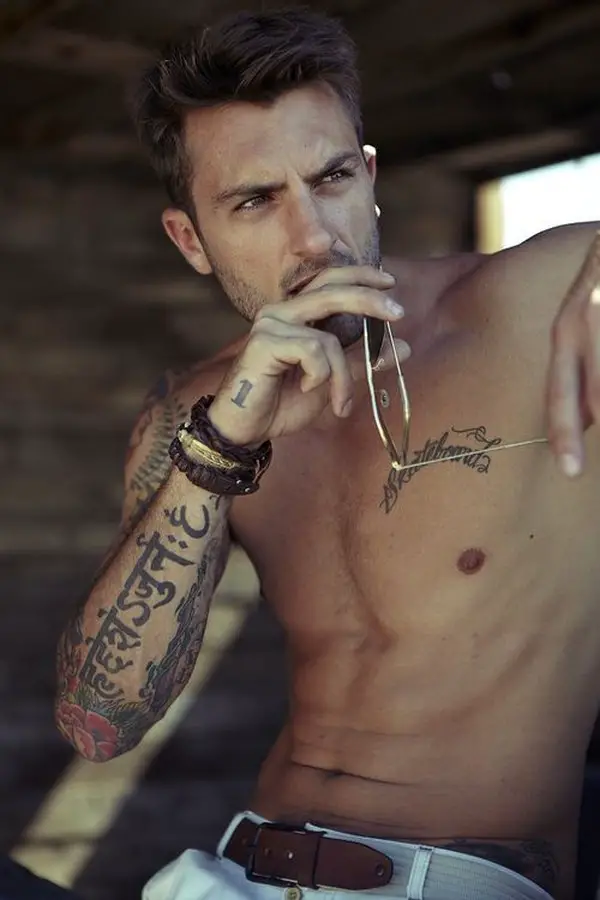 Sometimes all it takes is a simple Sanskrit to say something to attract interest.  Scripted characters add dimension to any tattoo design once used carefully.
#17: TRIBAL SYMBOLS ARM AND LEG TATTOOS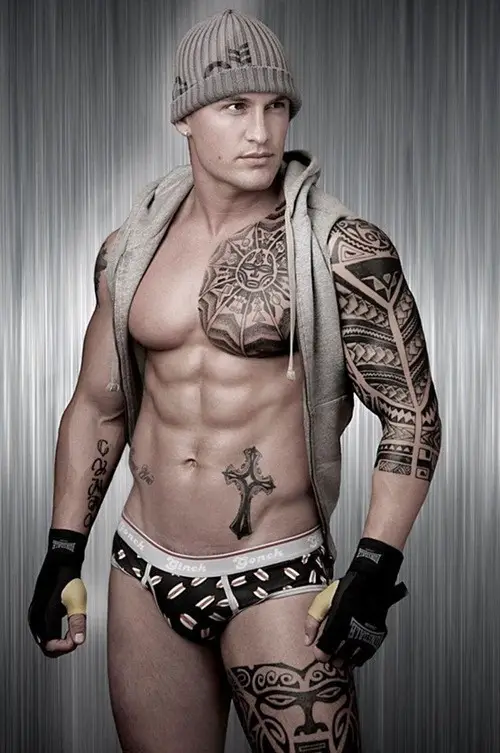 Now here's a man who knows exactly what tattoo he wants to wear. With this neatly done black tribal symbol tattoo this man has added a sizzling dimension to his overall appeal.
#18: DARK SLEEVE TATTOO DESIGN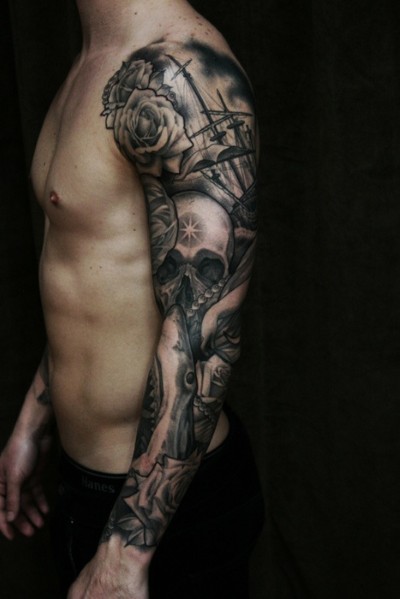 Much can be seen in this dark sleeve tattoo design this man wears, It's quite apparent that he has a lot of inspiration that he uses to good effect in this impressive tattoo.
#19: BEST STAG TATTOOS FOR MEN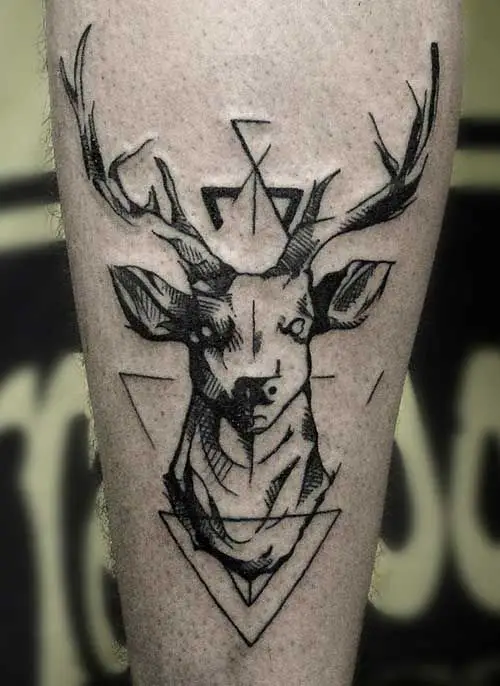 No collection of the best cool tattoos for men is complete without the stag tattoo design.  This neat black ink tattoo is an example of a masculine design. Add a few triangles and you have a hot tattoo idea.
#20: HEAD SYMBOL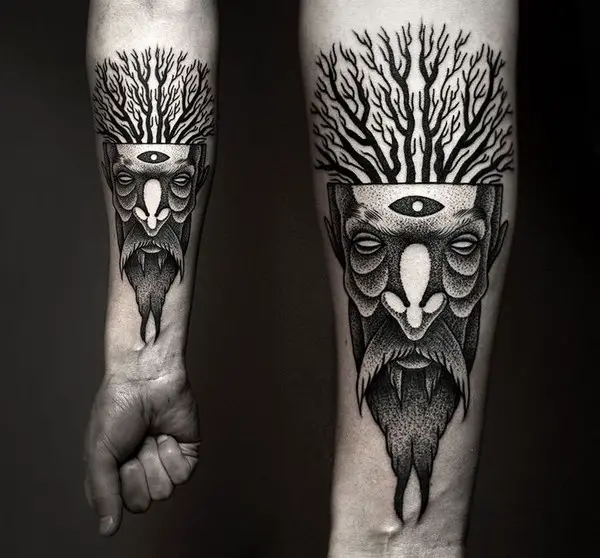 A head in tattoos for men is a strong symbol of wisdom and leadership. This black ink example also presents other symbols that can be read in a number of ways. Certainly, this mysterious forearm tattoo is eye catching.
So there you have it gentlemen, twenty of the best eye-popping tattoos for men that will definitely grab attention and create a stir. Whether you are in for a simple tattoo or a grand epic, a design is there for you. There's really no end to the many options out there. As long as you have space on your body, any of these designs will do.