Have you considered using Alice in Wonderland tattoo ideas? Anyone who has ever read Lewis Carroll's classic children's book would no doubt remember those crazy characters that Alice encountered.  Who could forget the White Rabbit, the Cheshire Cat, the Mad Hatter and the evil Queen of Hearts? Tattoo lovers who are also fans of this timeless classic now have the chance to permanently mark their favorite characters on their bodies.
CLASSIC ALICE IN WONDERLAND TATTOO IDEAS
Let's face it, there are so many characters and events to choose from if you are crazy enough about Alice in Wonderland to put them in ink.  Firstly, you may need to consider the actual character or scene you want to depict.  Secondly, consider the space on your body that is most suitable for the chosen character or scene.  Not all available body spaces are actually suitable for the image you may have chosen.  To get you inspired, here are fifteen ideas for your Alice in Wonderland tattoo.
#1: CHESHIRE CAT UP IN A TREE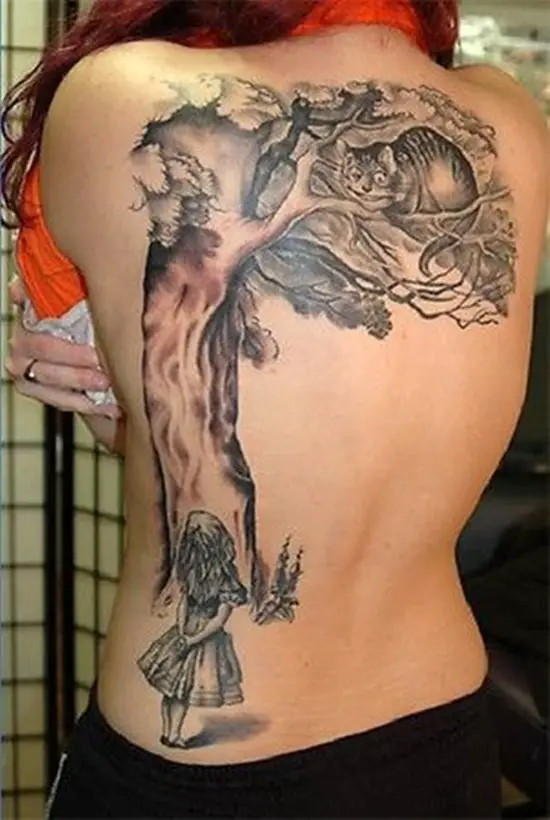 One of most memorable characters is the Cheshire Cat, the cat with the lasting grin.  This girl has chosen to put the first encounter between Alice and the cat on her back.  This illustration makes full use of black ink with some hints of color.
#2: THE WHITE RABBIT'S LATE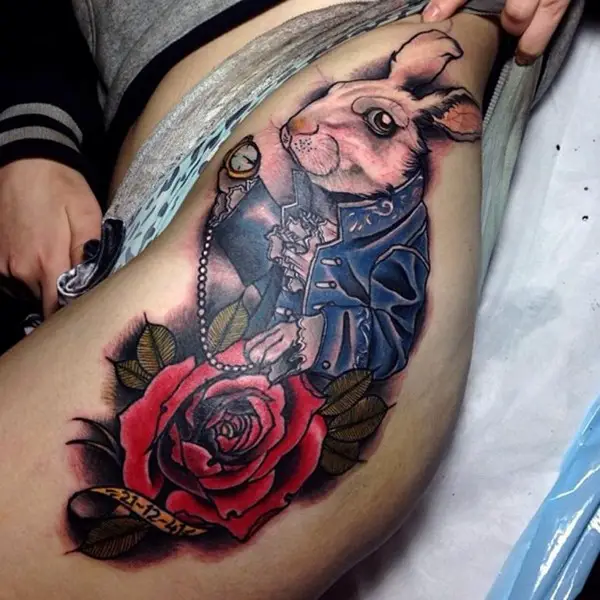 Here's a colorful version of the White Rabbit.  The pocket watch is a familiar accessory but checks out the large red rose which is an added image.
#3: BIG ALICE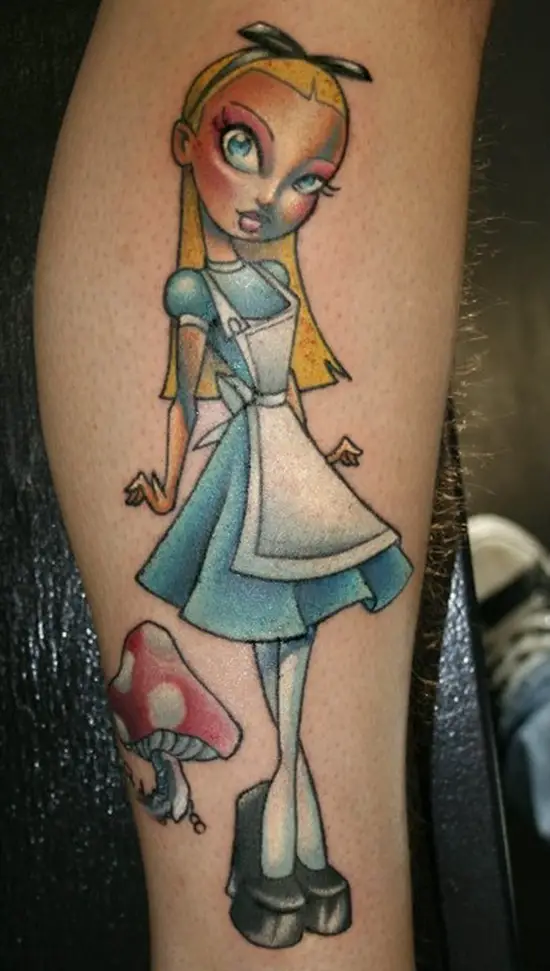 Among Alice's many adventures in Wonderland included her sudden growth as well as shrinkage.  This scene is well designed here in full color.
#4: EVIL QUEEN OF HEARTS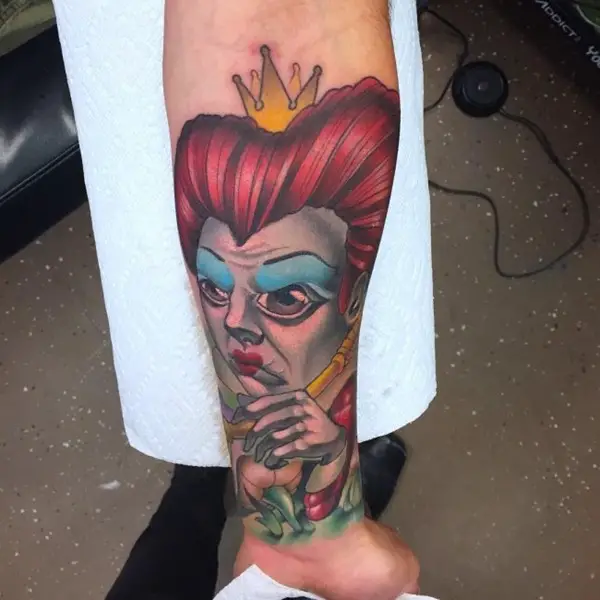 One look at this character and you know you're facing the evil Queen of Hearts.  Her unmistakable frown is well created by the tattoo artist.  Notice the dominance of red which is her signature color.
#5: FALLING DOWN THE RABBIT HOLE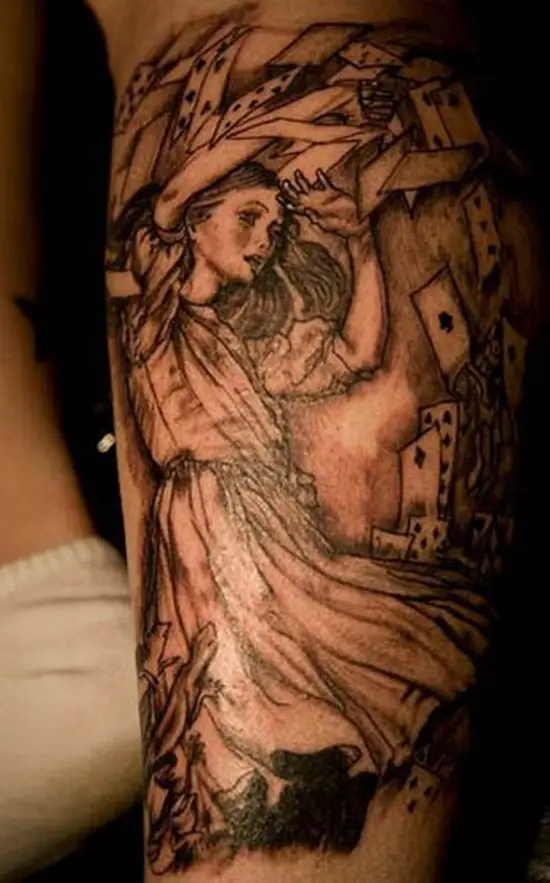 This Alice in Wonderland tattoo design recreates the original illustration of Alice falling down the rabbit hole.  This was where her crazy adventures began.
#6 THE WHITE RABBIT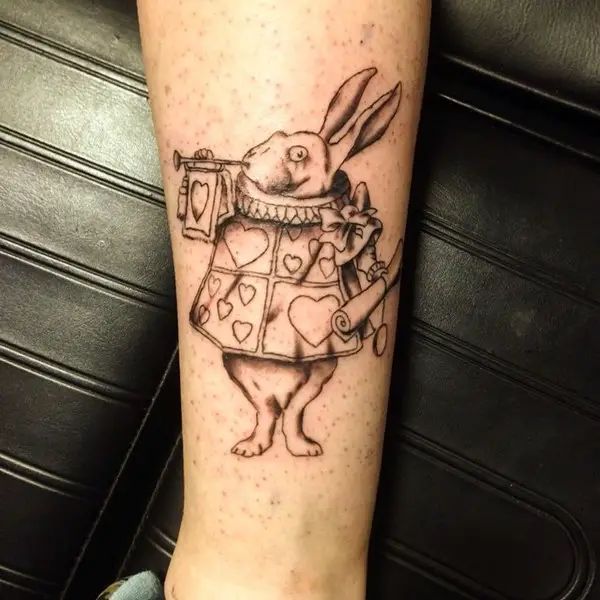 Here again is another of the original illustrations of the White rabbit. This black ink tattoo presents the classic rendition of this memorable character.
#7: THE WHITE RABBIT AGAIN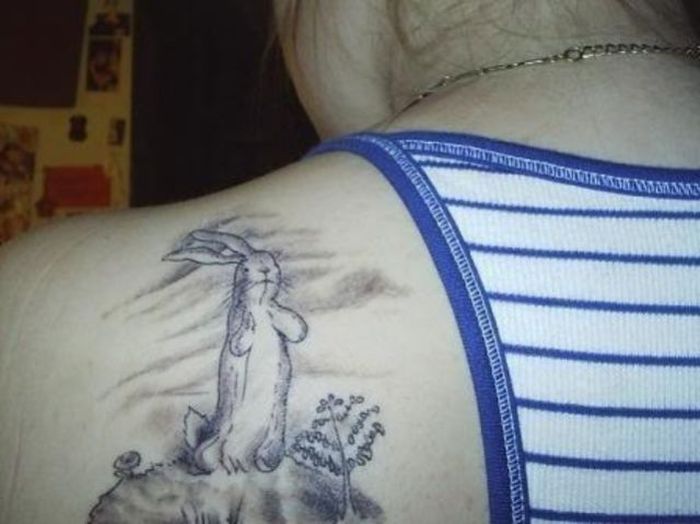 This shoulder tattoo also shows the White Rabbit looking out. Perhaps this is inspired by an early illustration from Alice in Wonderland.
#8: THE MAD HATTER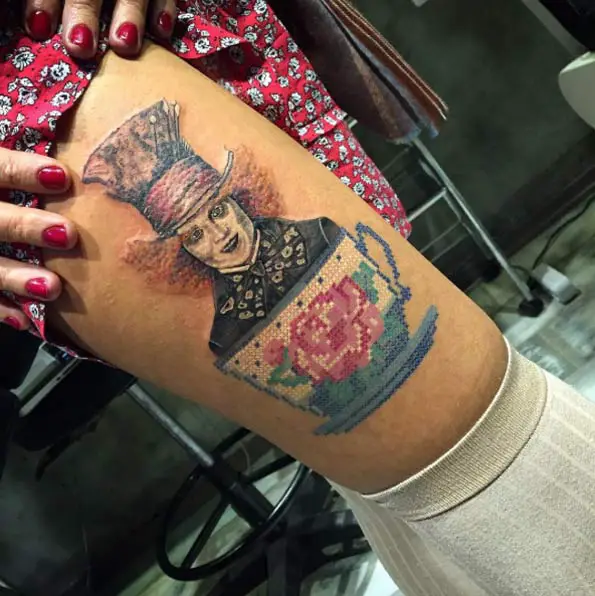 This almost hilarious Alice in Wonderland tattoo features the Mad Hatter in a teacup. This tattoo done in color may have been a favorite character for this girl.
#9: THE FLAMINGO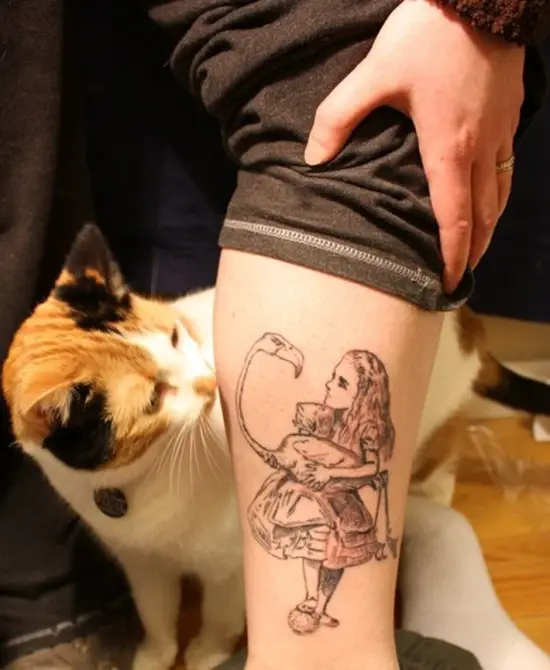 Here's an interesting character taken from the original classic, the Flamingo. This tattoo is inspired by the original illustration from this classic children's book.  The black ink work adds to the vintage appearance of this body art.
#10: CHARACTERS TOGETHER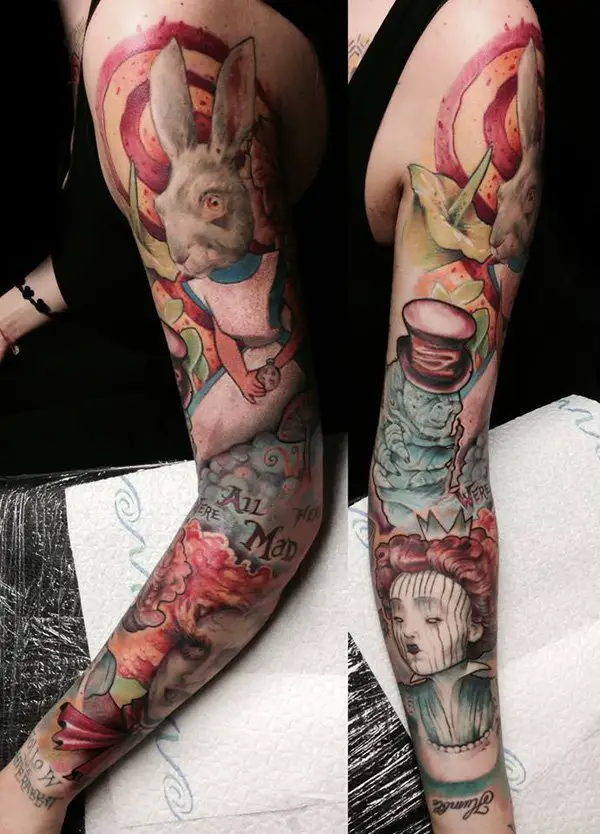 This pair of sleeve tattoos shows off as many of the Alice in Wonderland characters that can be placed on the arm.  These vividly colored tattoos accurately show them off.
#11: FACES FROM WONDERLAND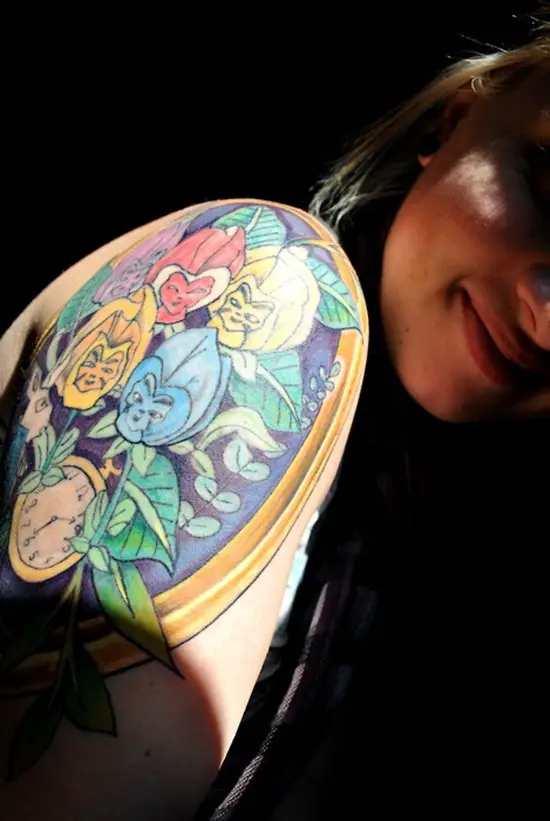 This girl chose her shoulder for her Alice in Wonderland tattoo which features talking and singing flowers .  These are among the crazy creatures Alice met in Wonderland.
#12: COLLECTION OF FRIENDS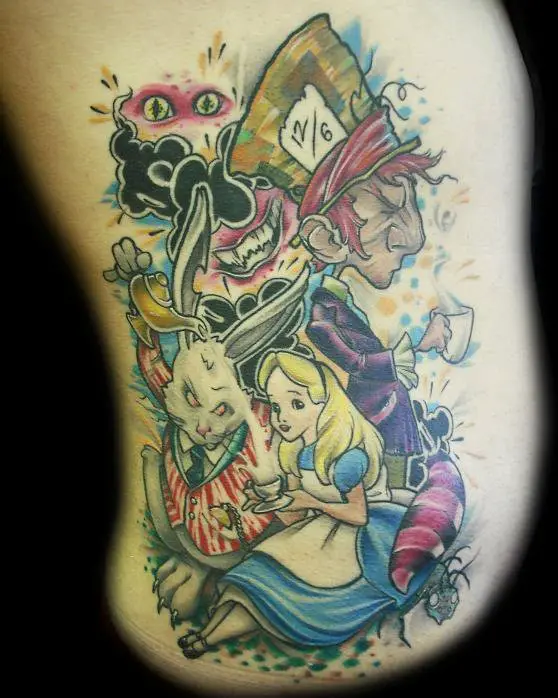 This cartoon rendition of the main characters from Alice in Wonderland is quite colorful and sharp. No doubt, this is one of the best inking of these crazy characters.
#13: ILLUSTRATED CHESHIRE CAT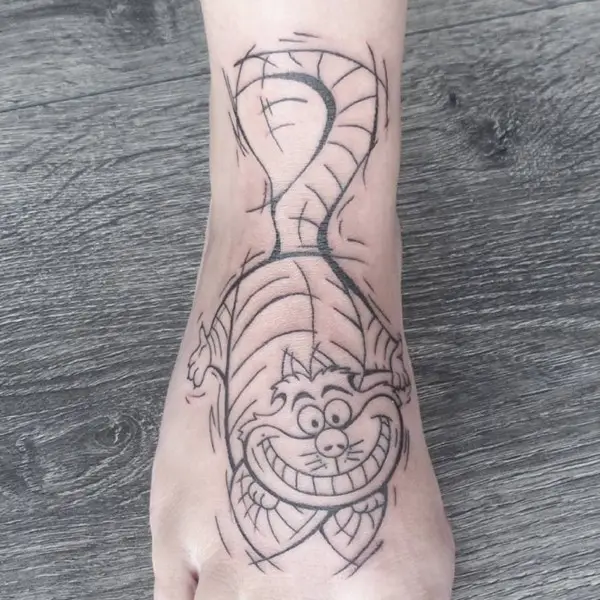 Using only black it's possible to showcase any of the familiar and well loved characters in an Alice in Wonderland tattoo.  Here on the hand is the grinning Cheshire Cat.
#14: COLORFUL MAD HATTER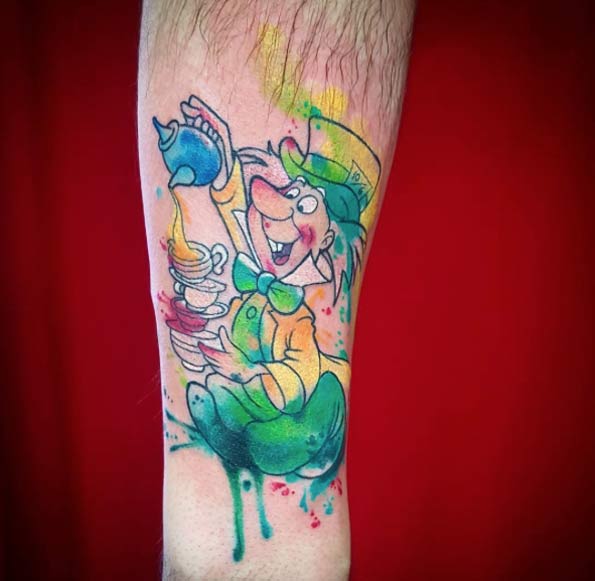 Clearly, the Mad Hatter is one of the favorite Alice in Wonderland characters to use as a tattoo.  Check out this colored version which is one of the funnier renditions of this classic character.
#15: CLASSIC ILLUSTRATION OF MAD HATTER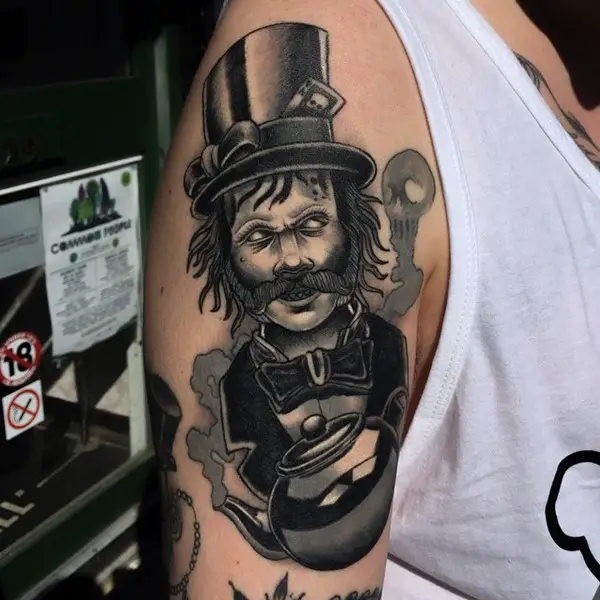 Alternatively, this dark illustration of the Mad Hatter could be more your cup of tea.  This detailed illustration may be true to the original idea that the author intended.
OK, so you have seen only fifteen of the numerous versions of characters you can choose for your Alice in Wonderland tattoo.  Have you seen your design idea yet? If not, no sweat.  You can still view other crazy, funny, or even true to life illustrations that will inspire your body art. Certainly, for Alice in Wonderland fans, there's really no shortage of great tattoo ideas that are fitting tributes to this great American classic.