There's no limit to the imagination when it comes to side tattoos for men. In fact, a man's side provides ample space for large tattoos or ones with various images. Not surprising, the male tattoo is usually huge and all-encompassing as well as quite graphic.
SIDE TATTOOS FOR MEN 
TO LOOK RAVISHING
It's amazing to see the wide variety of design ideas men get for their side tattoos including epic battles in unearthly realms, mystical images, as well as images of hope and dreams. It's also not unusual to see various creatures inside tattoos for men such as elephants, tigers, wolves, birds, snakes, dragons among other living and fantasy creatures. See for yourselves the fantastic side tattoos for men that you can consider.
#1: THE ELEPHANT SIDE TATTOO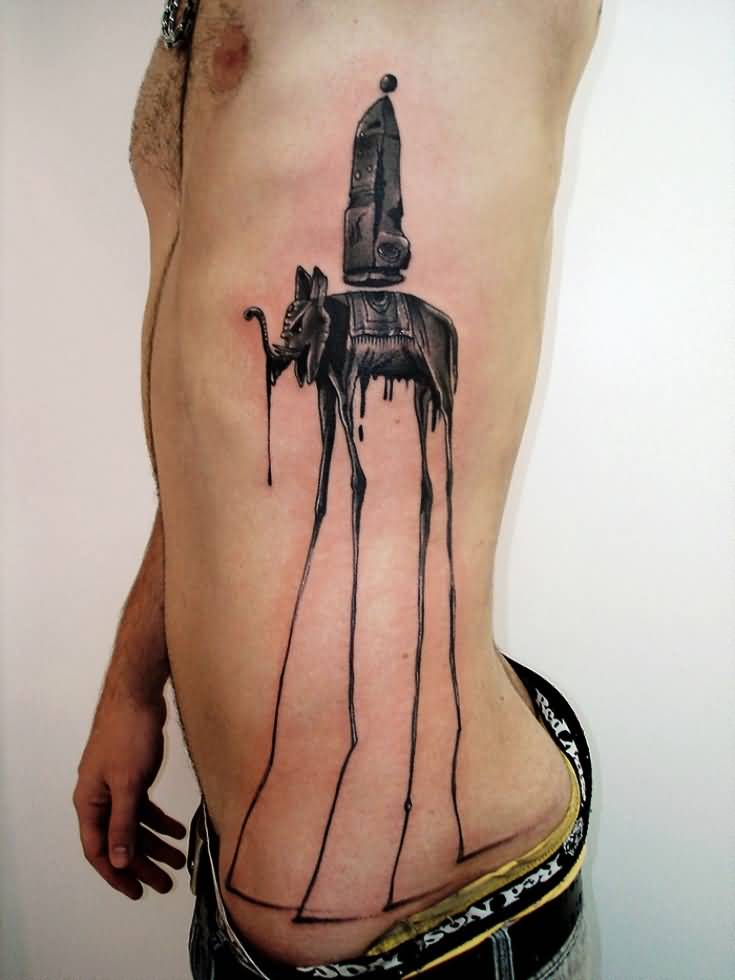 People usually associate elephants with intelligence and dignity. Here, though this side tattoo shows a rendering of the elephant in an unusual way.  This may be a deliberate choice to present a different side to this calm and gentle creature.
#2: THE NAKED ANGEL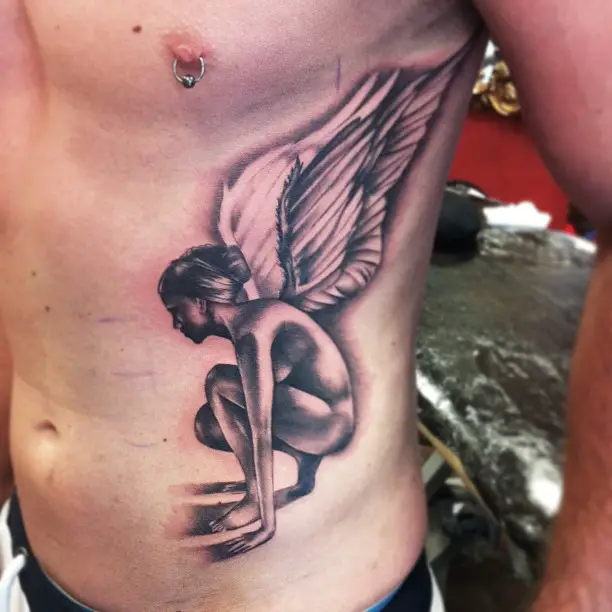 This naked angel tattoo is expertly done in black ink and is shown crouching. Perhaps she is in the position to take action whenever necessary.
#3: EGYPTIAN GOD ANUBIS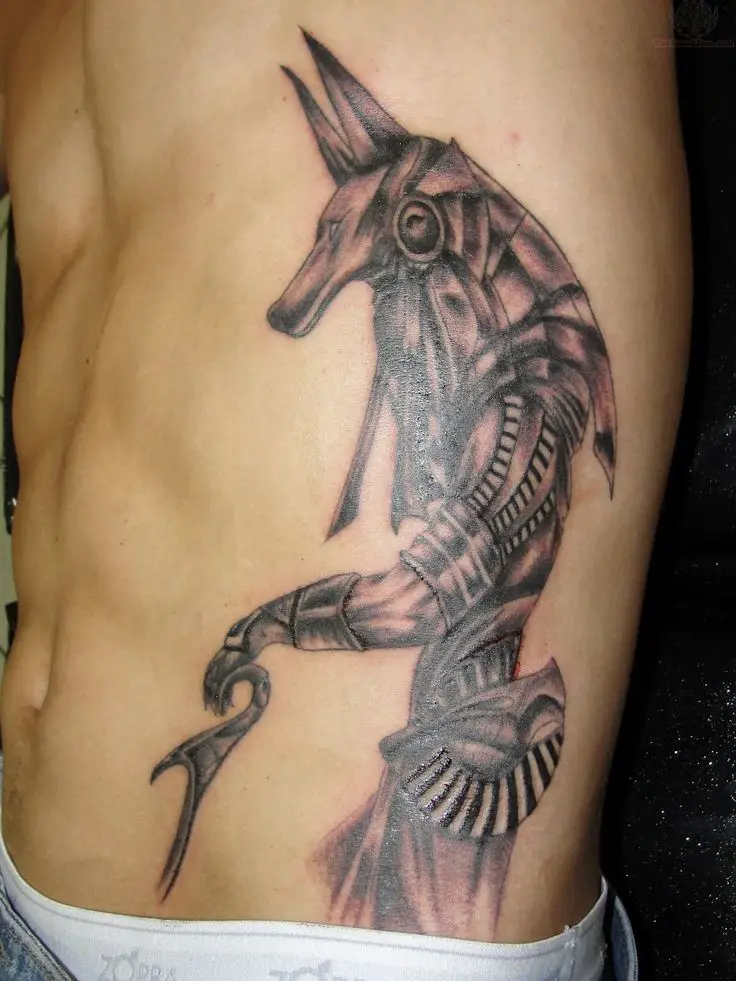 Prominently inked in fine details, Anubis, the ancient Egyptian god of the dead and afterlife is worn by a man who knows what he means. The strong black ink work is complemented by subtle shades of color to give this image a powerful presence.
Related: Superb Tattoos of Nativ American Tribal
#4: MYSTERY UNFOLDS SIDE TATTOO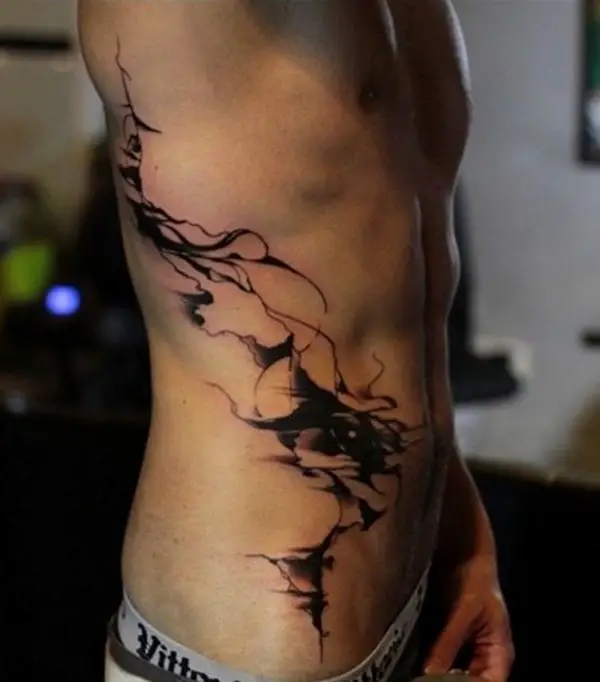 The splash of ink pattern that resembles a huge wound occupies this man's side as a powerful reminder, perhaps of life's danger. If you look long enough, you might find other phantom images in this skillfully rendered side tattoo.
#5: ANCIENT TREE SIDE TATTOOS FOR MEN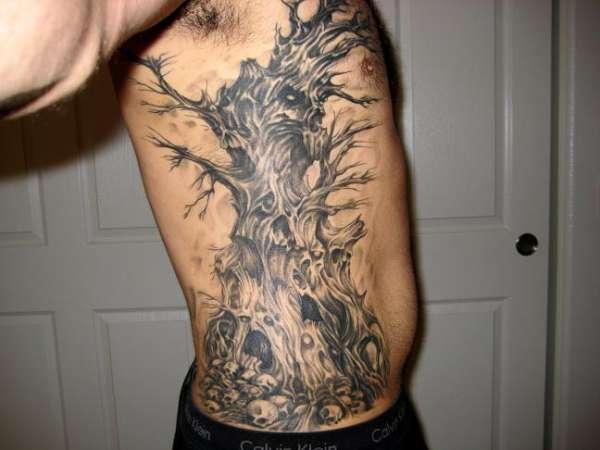 Here's a side tattoo that leaves no doubt about what it means.  This ancient tree with a collection of skulls at the base could easily be interpreted as a death symbol. This haunted symbol of death and danger is expertly inked in such detail that it could easily have been art on a canvas.
#6: FLYING BIRD SIDE TATTOO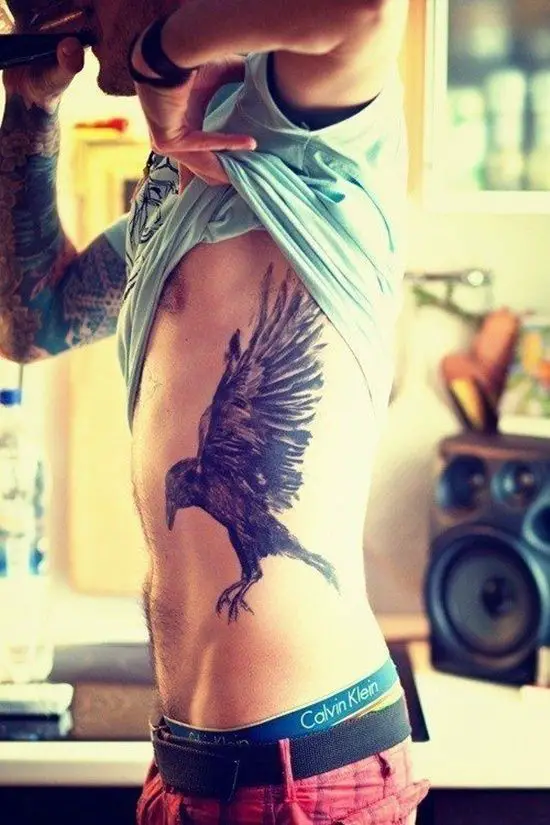 Birds are among the popular creatures often featured on side tattoos for men. This blackbird is, therefore, no exception to the images used to show man's freedom in life.
#7: THE EYE ON MAN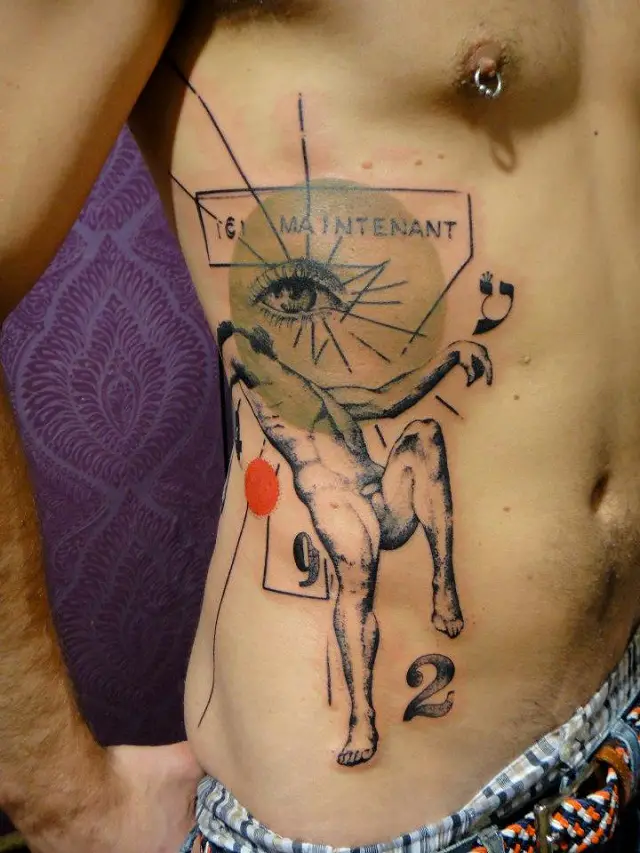 Here's one side tattoo that belongs to the increasingly popular photoshop style tattoo.  The symbols rendered mainly in black ink present man under the watchful eye of a superior being.
#8: THE JAZZ PLAYER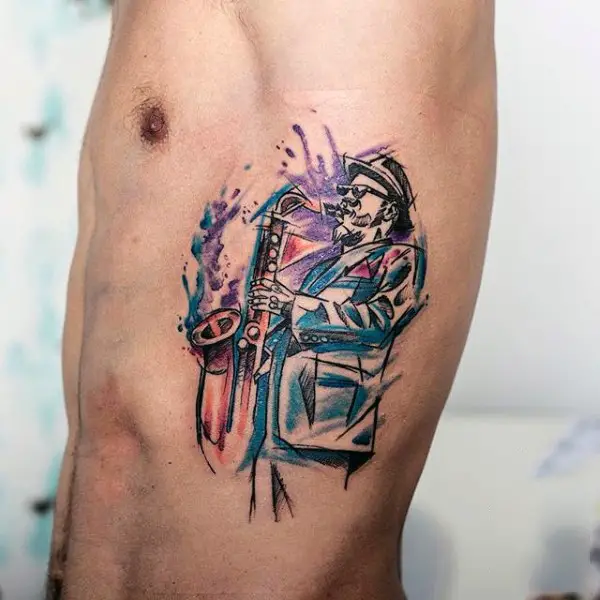 Music may have inspired this man's side tattoo on the ribs, or perhaps a musician he truly admires. This stylized illustration is a colorful expression of the dynamic nature of popular culture.
#9: SEMPER FIDELIS SIDE TATTOO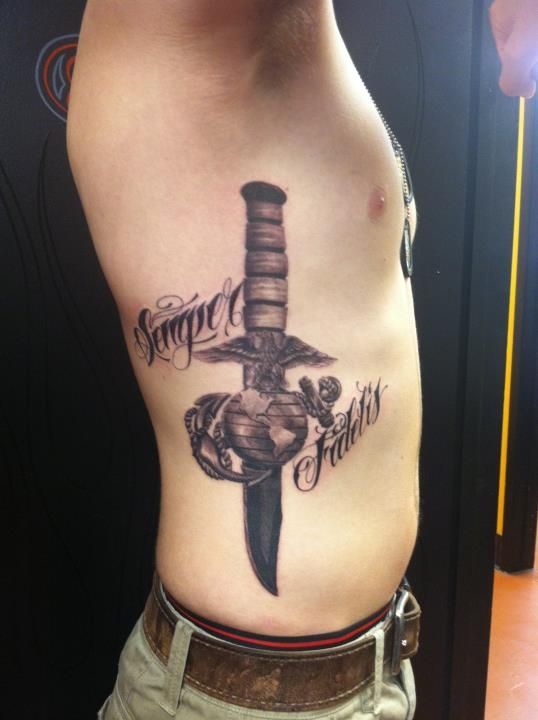 Weapons as tattoos are sometimes statements about a man's connection with the military, or with game hunting or other sports. This man's dagger through the world with the words "Semper Fidelis" carries special meaning for members of the Marine Corps – a symbol of faithful commitment.
#10: EPIC DRAGON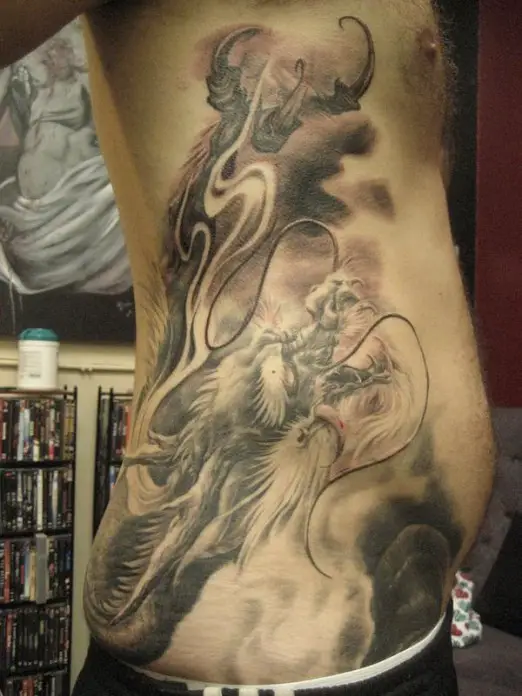 One can only conclude that this side tattoo design of an ancient dragon is this man's symbol of an unearthly battle. The clever shading of ink throughout this design shows off the skill of the tattoo artist, and perhaps the wearer's endurance and determination. Quite an epic piece indeed.
#11: BLACK WING SIDE TATTOO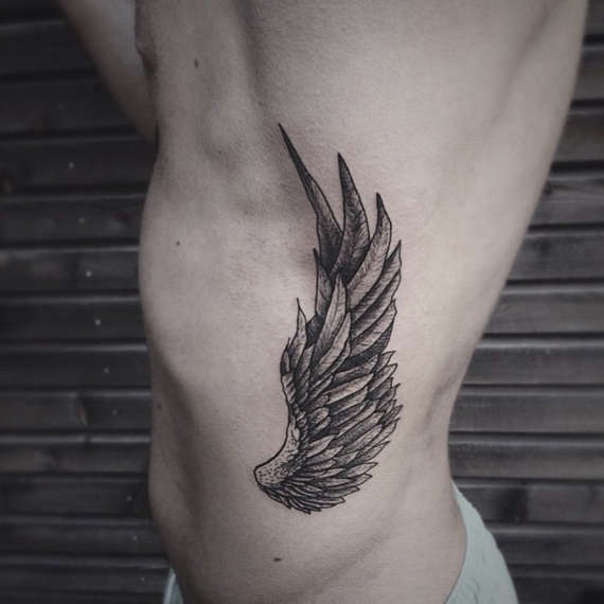 Not surprisingly, wings play a dominant role in the kinds of tattoos, men desire to have. Here, for instance, this black ink work shows an angel's wings on a man's side. Is this a forecast of his desire for wings to fly?
#12: THE SCRIPTED MESSAGE
Written symbols may be just as appropriate as an elaborate graphic for a side tattoo. The message is clear to those familiar with Asian characters and is able to read them.
#13: PROWLING TIGER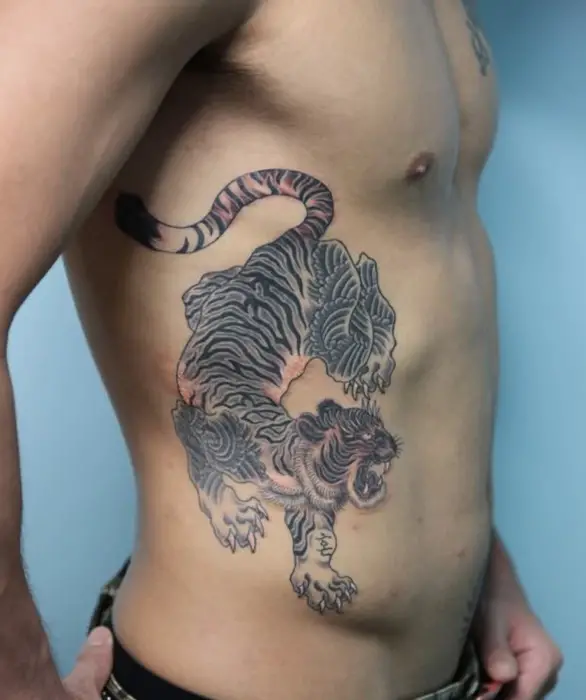 Much care has gone into the inking of this prowling tiger worn proudly by this man. The realistic details in black and subtle shades of color create a stunning effect. No doubt, this is a candidate for the vivid side tattoos for men award.
#14: HOLY ROSARY SIDE TATTOOS FOR MEN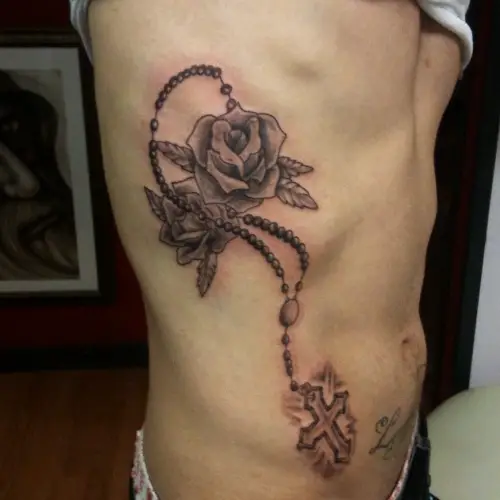 The rose and rosary design is a recognizable side tattoo idea that clearly shows this man's faith.  Religious symbols are often chosen in tattoos as an added layer of protection against harm or as a statement of belief.
#15: ARTISTIC TREASURES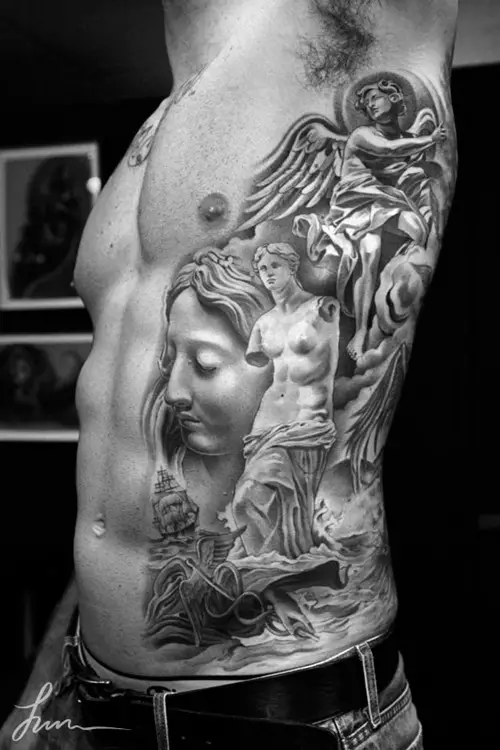 Well, known pieces of artwork are captured in this example of spectacular side tattoos for men. The black and white ink shows off the skill of the tattoo artist. Can you recognize any of these famous sculptures and paintings here?
Men in search of the butt-kicking side tattoo will agree that these fifteen designs are among worthy contenders.  There are tons of others that did not make this list, but not because they do not qualify. You will certainly find the side tattoo that is the right fit for you so get advice from tattoo experts who know what works.