'Live, Laugh, Love',  three powerful words that inspire men and women as a guiding philosophy for life. Each word carries deep meaning and you can't help but form a connection with them. So much can be said about people's connection with inspiring words and slogans but this post will show how these three words are used in contemporary body art – Live Laugh Love tattoos.
Maybe you are passionate about life and relationships and you want the world to know. Perhaps, you are free spirited and are not trapped by society's rules or expectations. Then again, you are more concerned about sending a message or supporting a cause.  No matter the reason for your decisions, the tattoo you choose will be with you for life (unless of course you choose to pay big bucks to have it removed).
Simple and Catchy Live Laugh Love Tattoo Design Ideas
The simple truth is that you and your tattoo are intimately connected:  These three simple, yet inspiring, words are represented in tattoos ranging from the dainty and charming to the bold and brash designs that say a lot about the person wearing them. You can tell that for many satisfied wearers these popular tattoos have been done with great care and skill where ever on the body they are placed. How many ways can you really say these words? How about with an image to back them up, or simply on their own, no other image required?  Either way, you can be sure that there are hundreds of ways to represent these words that are truly attractive and attention grabbing. You'll find 'Live Laugh Love tattoo designs' that also have other design elements like flowers, ribbons, birds, rosaries, butterflies, and crosses.
See for yourself these twenty amazing Live Laugh Love tattoo designs:
1. Above the ankle with a butterfly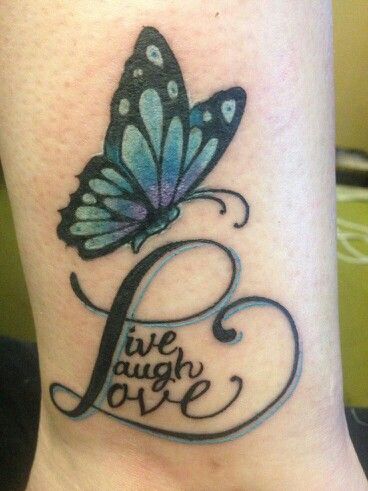 No doubt this neat inking above the ankle says it all. Check out the all-embracing and heart shaped "L" and the details in the butterfly. A nice touch!
2. Add words to say it clear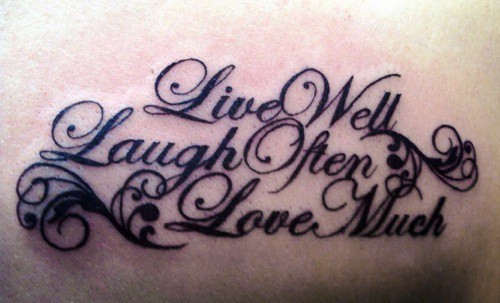 Maybe it's not enough to say it without other words, as expressed in this design. You see immediately what inspires this wearer. The stylish calligraphy and patterns add elegance to this tattoo.
3. Simple and powerful Live Love Laugh Tattoo design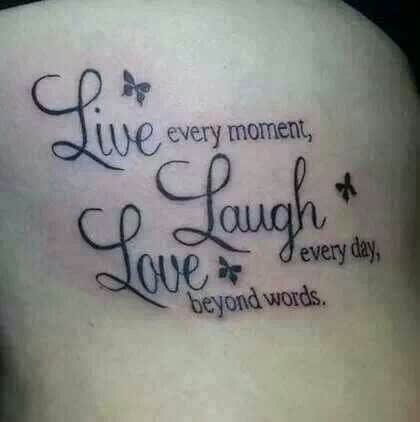 Here is another way to express your message, which does not detract from its simple power. Notice that other words are included so you know exactly what inspires this wearer.  Patterns are also included to punctuate each point for emphasis.
4. A bold and daring statement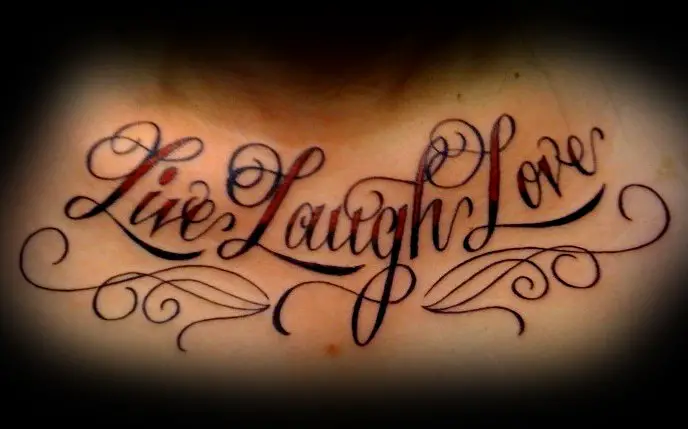 This lively and colorful design says it loud and clear. It's up front and bold with a strong flourish that says this wearer is not afraid to wear this live laugh love tattoo design. This tattoo is a definite stand out that is sure to attract admiration and positive attention.
5. No frills, just say it.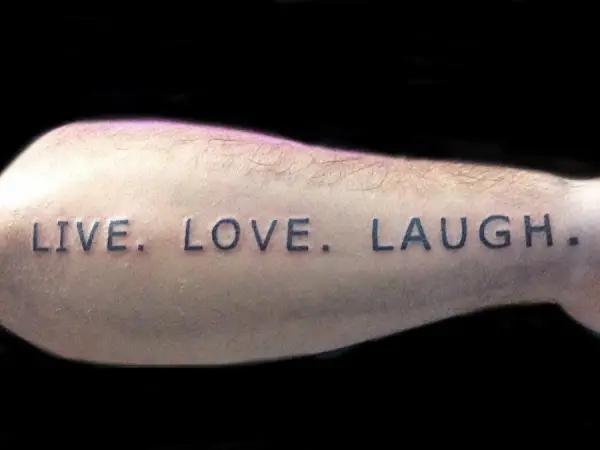 Here is one dude who gets it. Simple, bold and to the point. No frills, no distractions.  His statement is crystal clear.
6. Celebrating life's heartbeat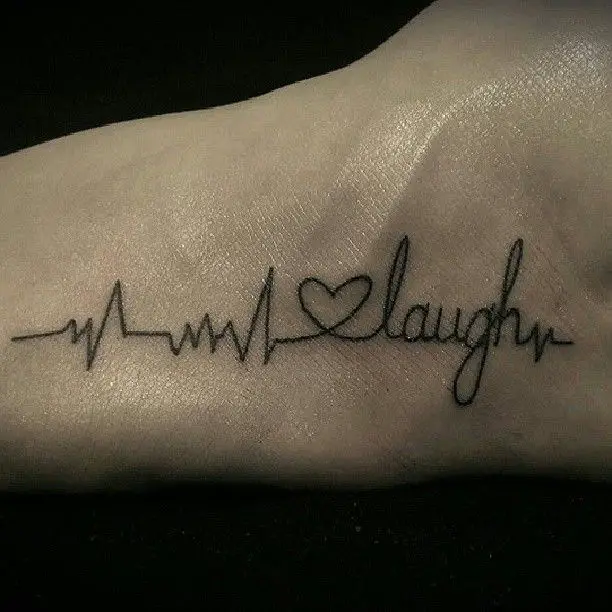 Ever though a heart rhythm monitor could inspire this pattern that makes your statement so clearly? Not only is this design quite creative, it says exactly what it needs to without many words. See the clever integration of all the elements? Don't expect a flat line anytime soon.
7. Vital life signs for Live Laugh Love Tattoo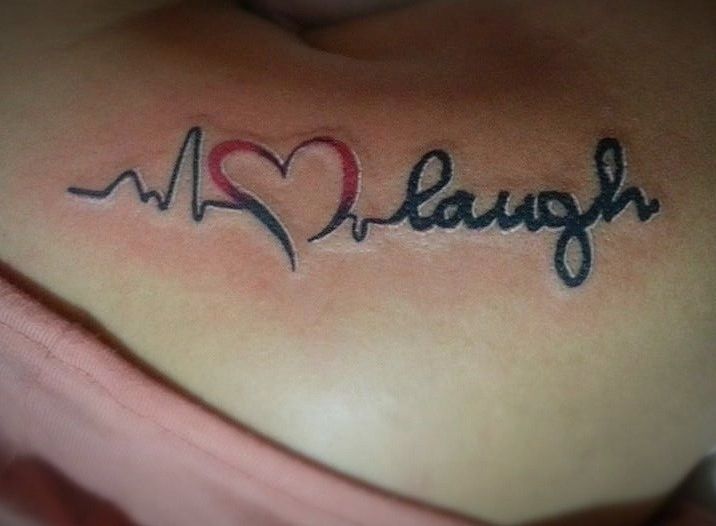 Here's another way to use this vital sign of life, this time with a touch of color. Wearing it close to your heart is a fitting placement for this vital and life celebrating statement. Way to go!
8. Lighthearted and cute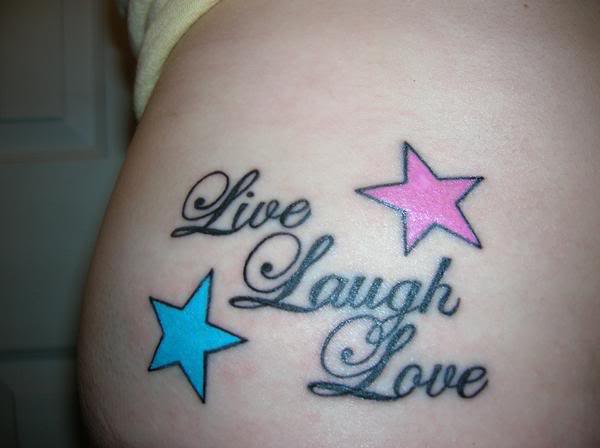 This cute rendition is playful and lighthearted.  It's just right for the youth who is making her own statement and who knows what she wants out of life.
9. Freedom to fly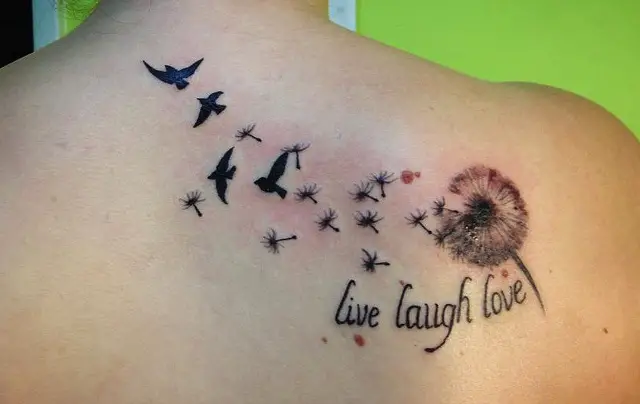 Birds in flight from a single dandelion add new meaning to this simple yet potent slogan. You can tell that a lot of thought went into this design. It makes you believe you can fly and reach the sky.
10. Stylish with stars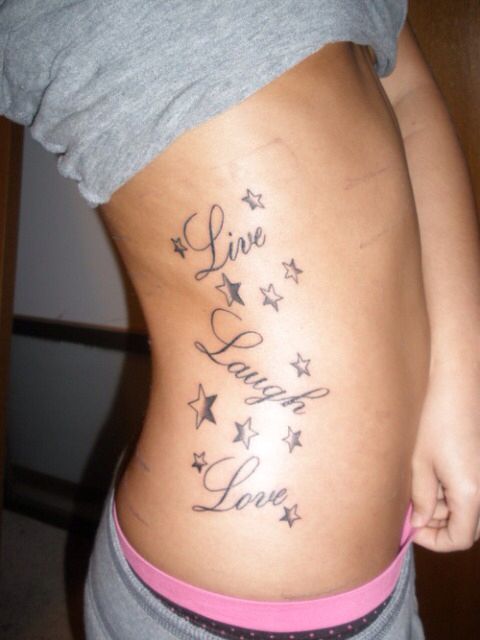 Stars are always that added touch which breathe new life to this simple slogan. The stylish inking also accentuates this bold tattoo.
11. With purple flowers on the feet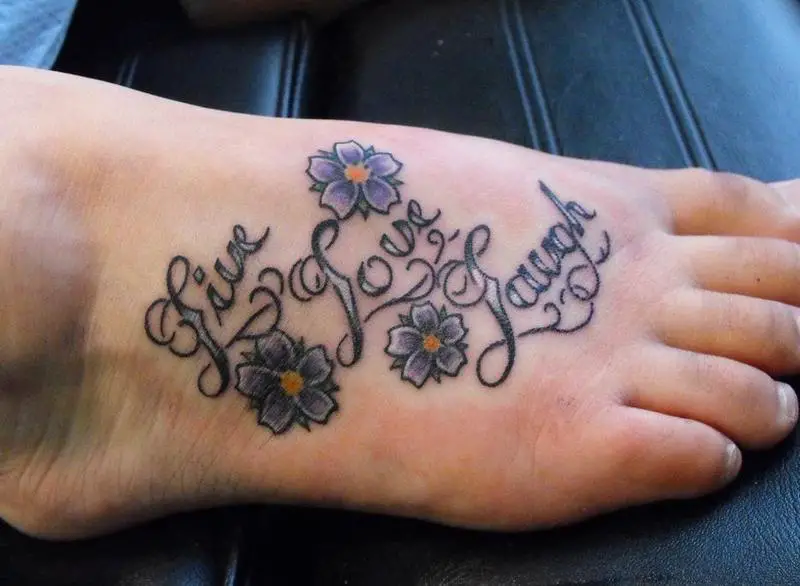 Check out how well spaced this layout of this Live Laugh Love tattoo is on this foot. With its consistency of style and color, it's easy to appreciate the great care that has gone into this design.
12. Always and infinity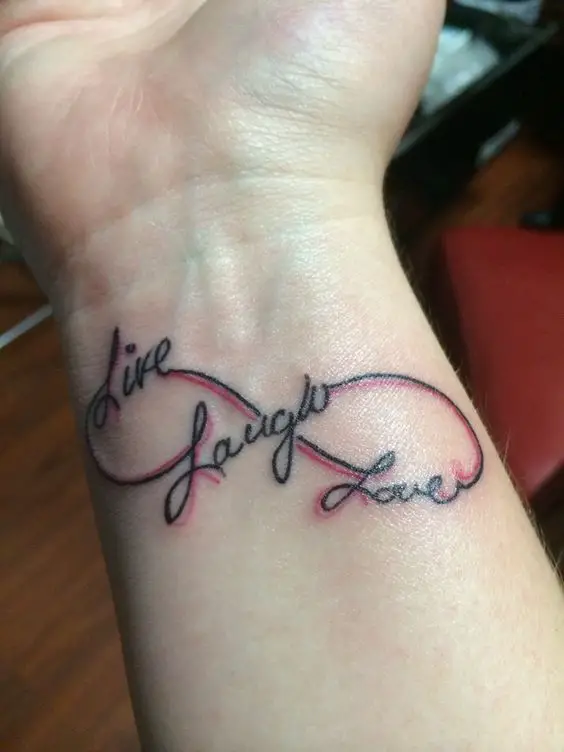 For a simple yet potent Live Laugh Love tattoo typo font, it's only natural to transform these words into a continuous line curved in infinity. There's no doubt that this creative design has made a statement that means so much.
13. Another infinite statement for life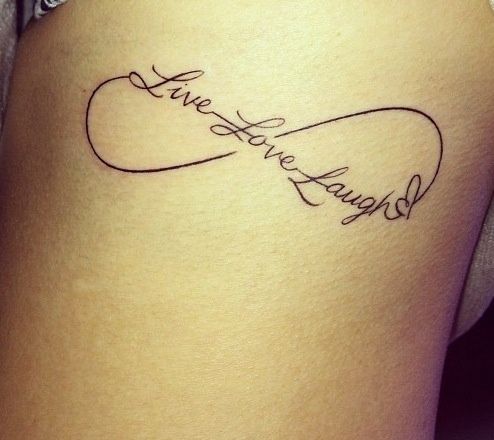 Here's another use of this slogan in infinity. Clearly, this girl knows what are important and where her passions lie.
14. Straight to the point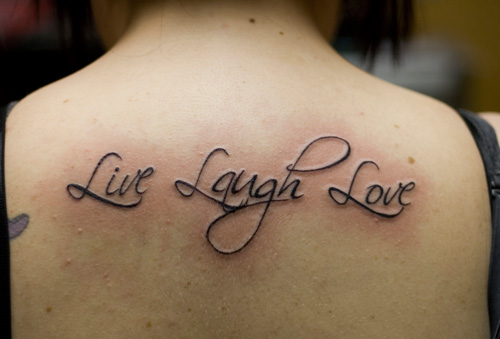 Yet, for those who are not distracted by what life throws at them, it's enough to simply say it with a straight forward Live Laugh Love tattoo.
15. Chinese characters add oomph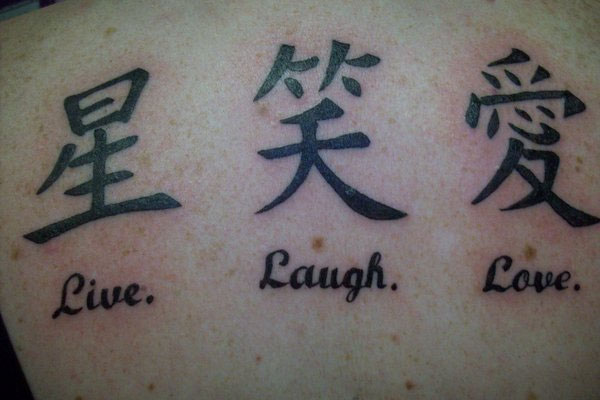 Maybe you'll want to add character to the mundane English. Why not look to the Chinese?  These intricate symbols add so much oomph to an otherwise simple design. This can easily be an icebreaker whenever you meet new people or are in new situations.
16. Fearlessly living, laughing and loving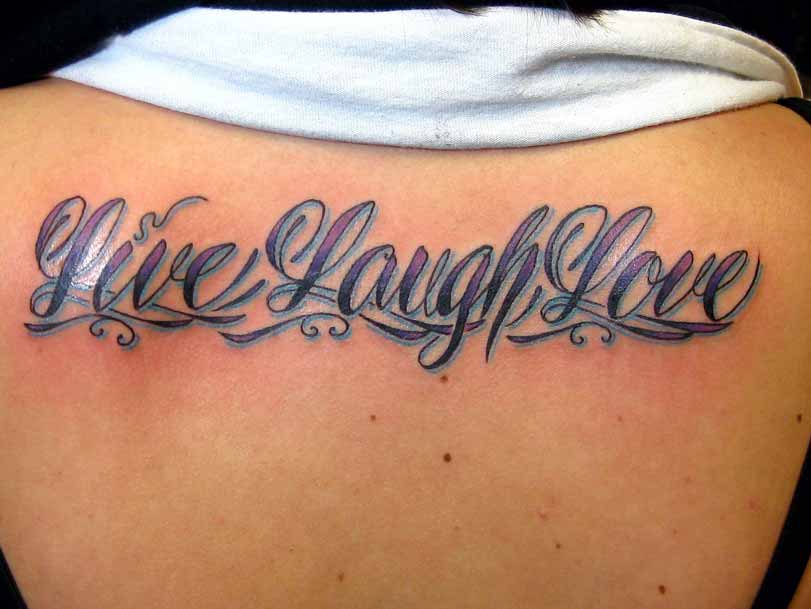 Here is one person who's confident and fearless. Big, bold and colorful inking that is hard to miss. The extra strokes add depth to this awesome statement.
17. A bold yet simple statement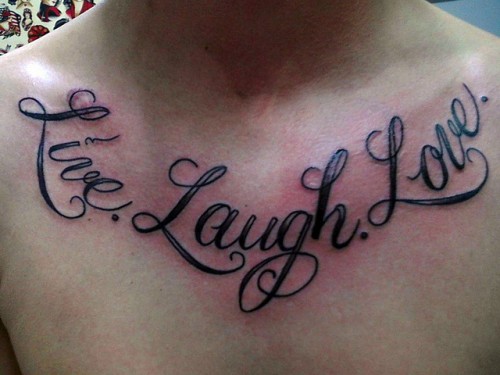 Another very prominent placement for this universal slogan. Expect a lot of attention for this strong, yet stylish inking.
18. One line says it all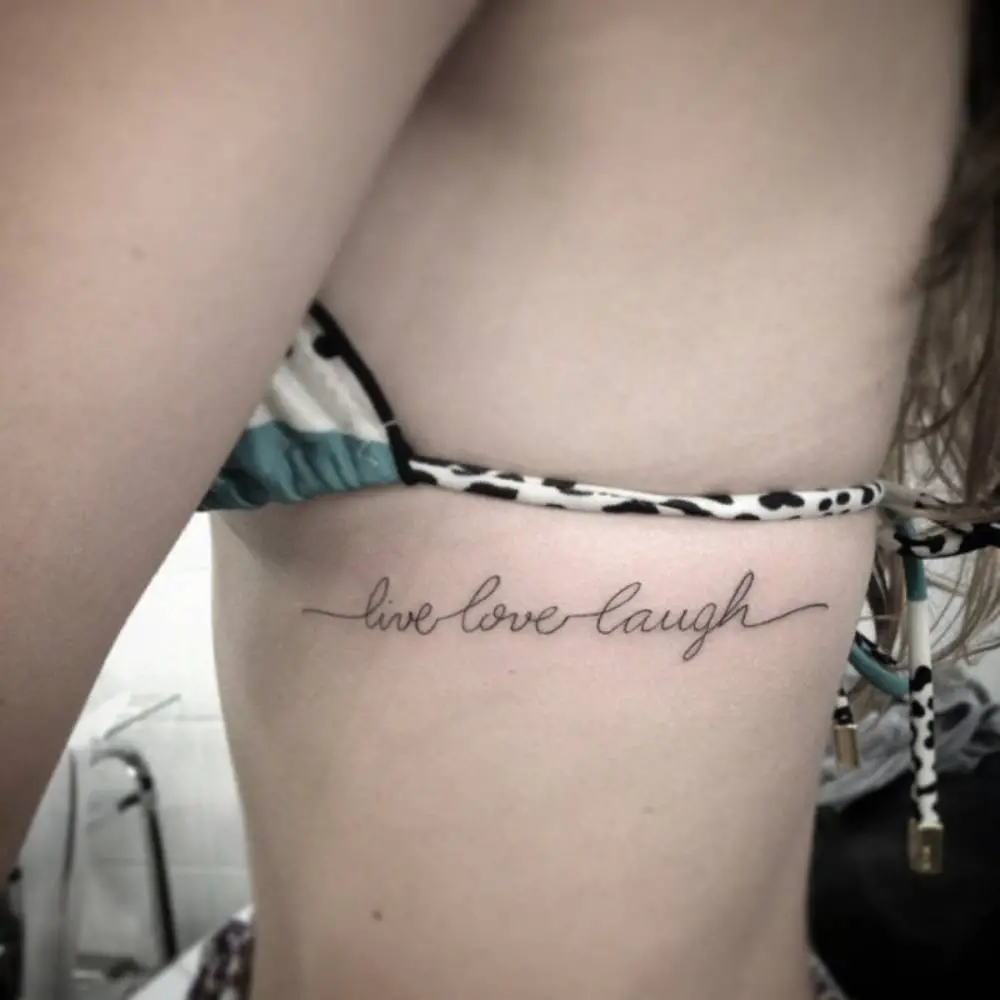 All in a straight line and closely connected, this simple design may be just enough for a first tattoo.
19. Life's gift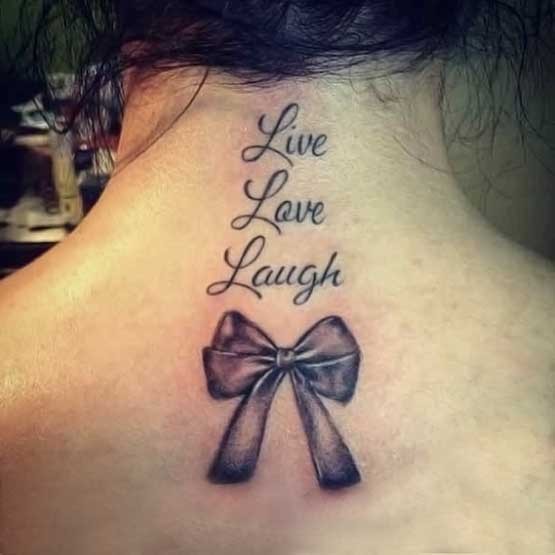 If you want to add another design element to these powerful words, maybe the way to go is to tie them all together, like how this bow is used here.
20. For the survivor in you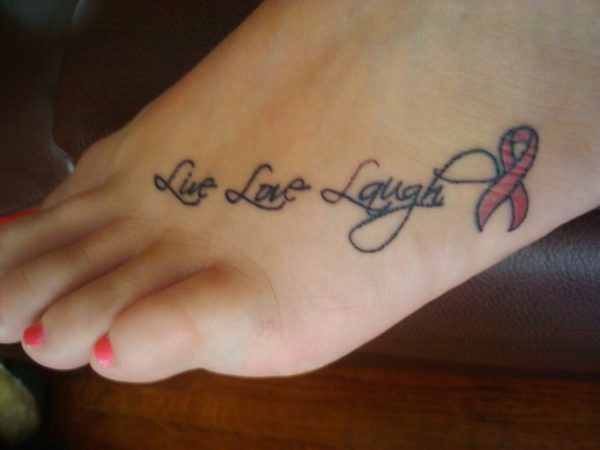 You can tell by the pink ribbon at the end of this simple Live Laugh Love tattoo art – this is either a survivor or someone with a loved one battling a life challenge. Here's to the ability to find joy amidst life's adversities.
There are literally hundreds of wonderful and creative Live Laugh Love tattoo design ideas out there that celebrate life's passions. The twenty we just looked at are just the tip of the iceberg. You can be inspired by these and others that are just the right tattoo design that fits your personality and taste.