For as long as you've known each other you and your best friend do everything together. So sporting a matching best friend tattoos is yet another way to acknowledge the strong bond with someone you'd rather trust with your life. Certainly, you won't think twice about going all the way for your best friend.  After all, there's no replacement for your best pal who's there for you through thick and thin, in good times and bad.
STARTING TIPS & IDEAS FOR BEST FRIEND MATCHING TATTOOS
Therefore any best friend matching tattoos you'd choose to wear will be a permanent reminder of your deep connection with him/her. To avoid any regrets, here are a few quick tips. Firstly, agree with your friend that you're going together for matching tattoos. Secondly, take your time to choose best friend tattoo ideas that go well together. Thirdly, decide where on your bodies you will carry your matching tats. To help you decide, check out these twenty-five best friend matching tattoo ideas.
#1: MOON AND SUN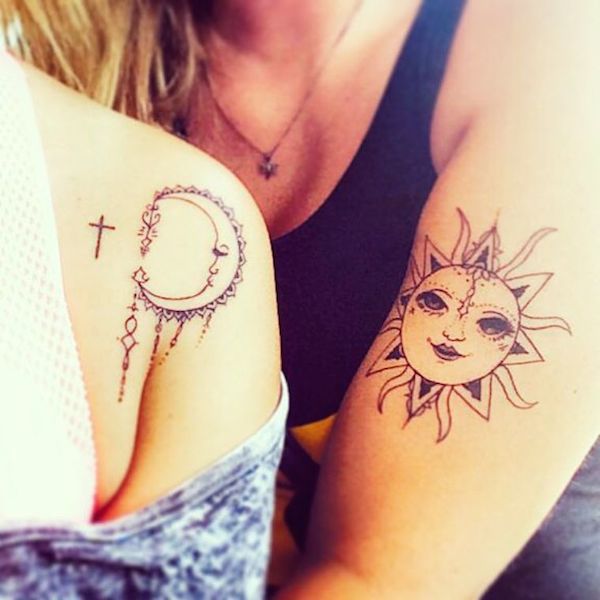 The complement of the sun and the moon is a popular choice that easily conveys a strong friendship message for these two. Of course, both tattoos use the same ink style and are placed on matching parts of the body.
#2: TEA FOR TWO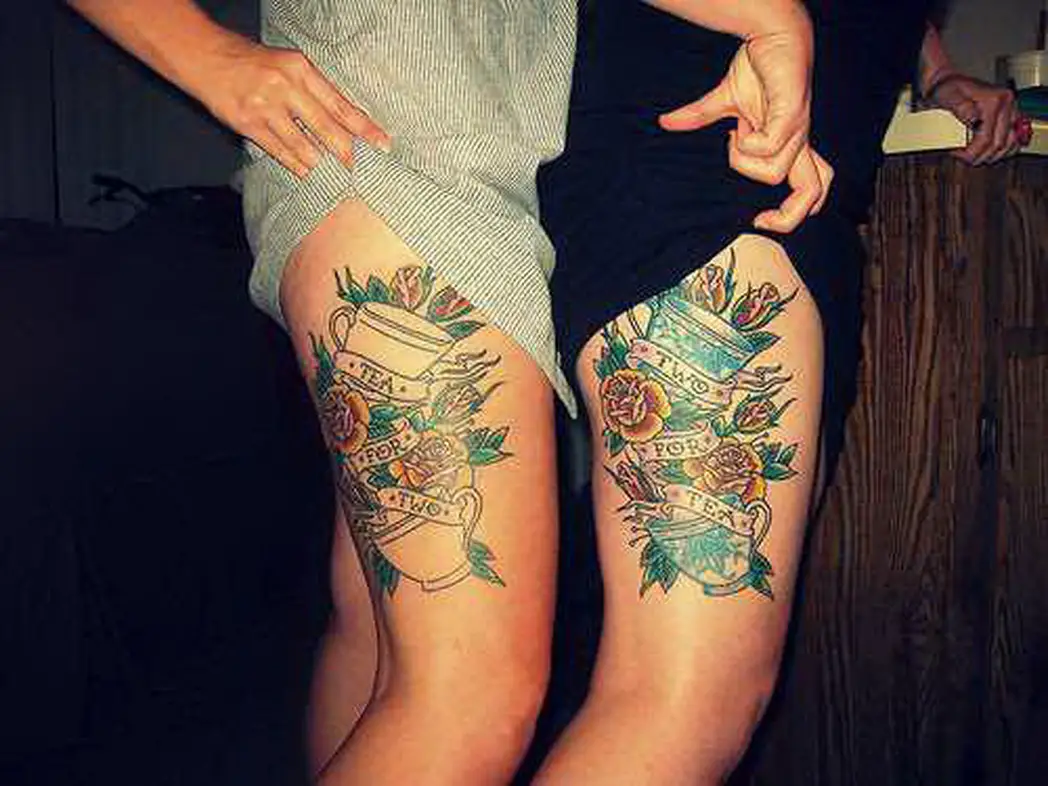 You can see just what these two ladies have in common apart from their matching tattoos. Certainly, these very detailed and colorful ink work demonstrate the strength of their passion for tea and each other.
#3: CUTE RUSSIAN NESTING DOLLS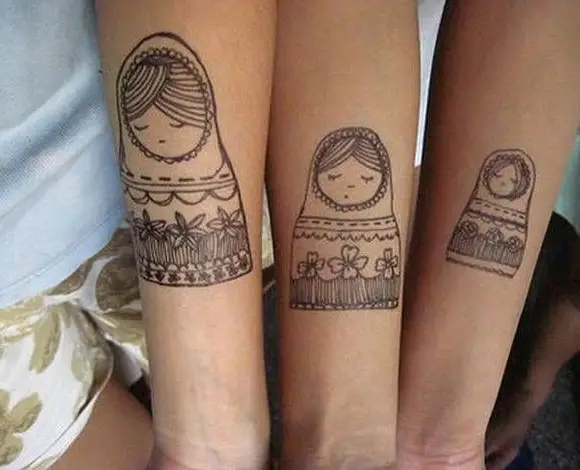 These three friends have gone for the cute Russian Nesting Dolls reserved for sisters. No doubt, this tattoo idea shows the deep flavor of this friendship that is like a sibling bond.
#4: INSPIRING QUOTE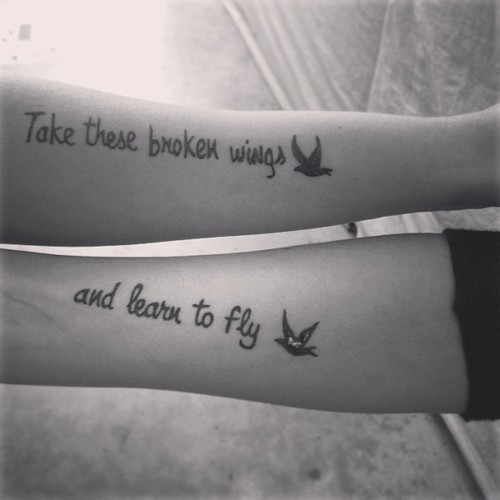 What better way to seal a friendship than with tattoos that complete a memorable quote.  With black script and a bird, each is motivated to be there for her best friend.
#5:  ALL FOR HER MOTIVATION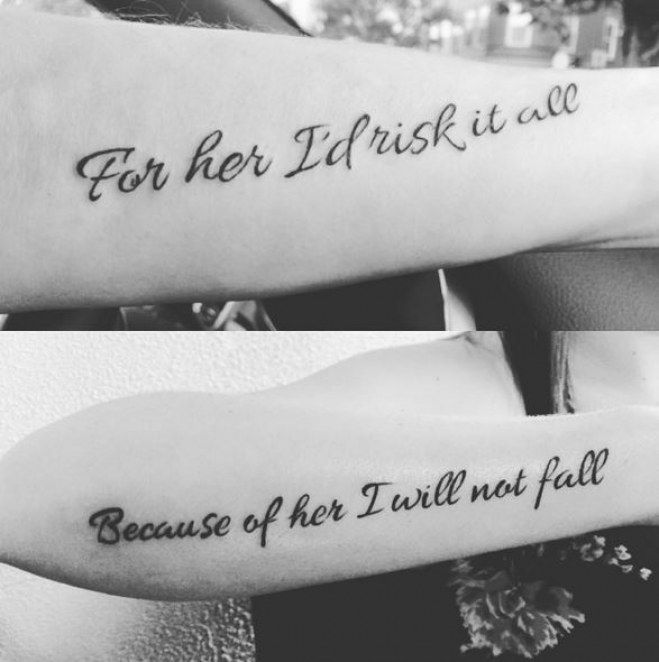 This friendship must mean a great deal for these two to so boldly declare their lifelong connection.  Evidently, it's all worth the risk with these best friend matching tattoos.
 #6:  GOOD WISHES WITH THE DREAM CATCHER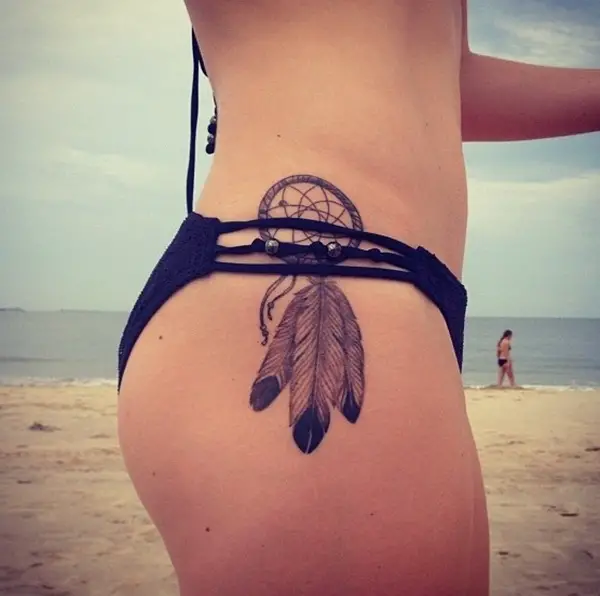 From the looks of this perfectly designed dream catcher tattoo it's clear that only good wishes are intended toward the other wearer. This tattoo design inspired by Native American culture is a popular choice among friends who desire only the best for each other.
#7:  THE TRIANGLE CODE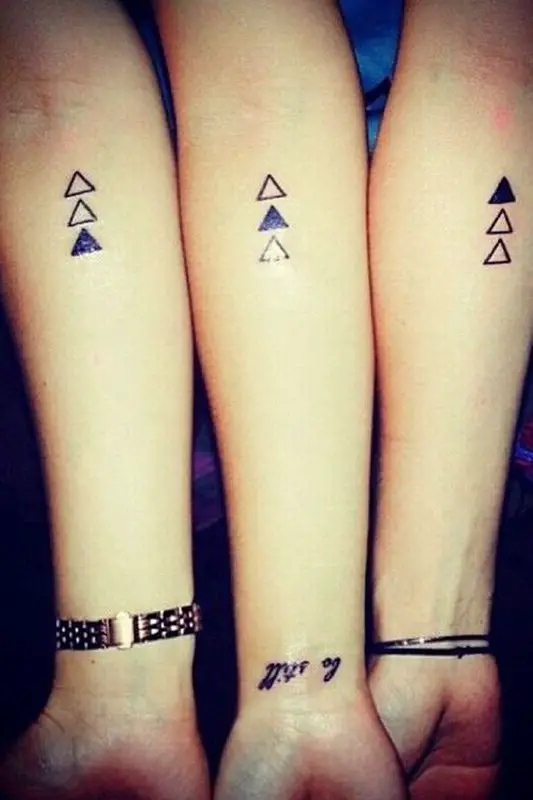 Here's a love "triangle" among friends.  This clever code using three triangles stacked together sends a message only these three friends will understand. Let's say this is the way it will always be among them.
#8: THESE BUTTERFLIES MATCH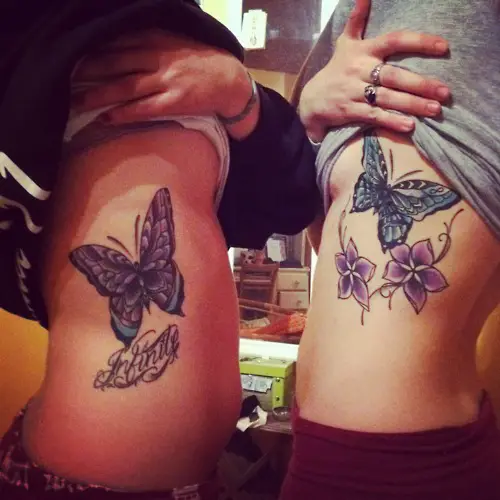 True friendship means going through the ordeal required to ink these vividly colored and detailed butterfly designs on the torso. There's no questioning the commitment these two have made to each other for the long haul.
#9:  MATCHING CONFESSIONS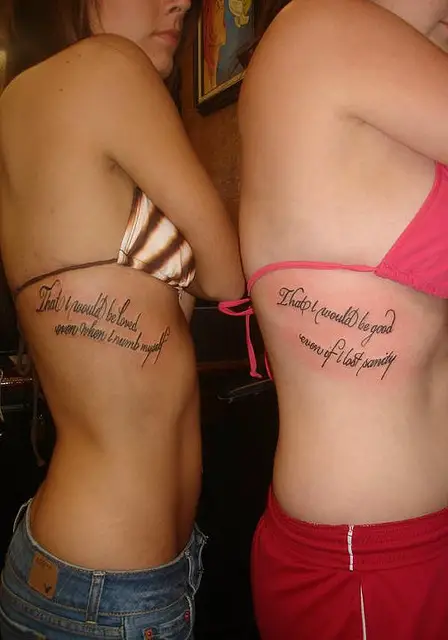 A little confession between friends is expected to strengthen the bonds that keep them inseparable. These matching tattoos are guaranteed to keep these girls closely connected for life.
#10: EACH WITH A SLICE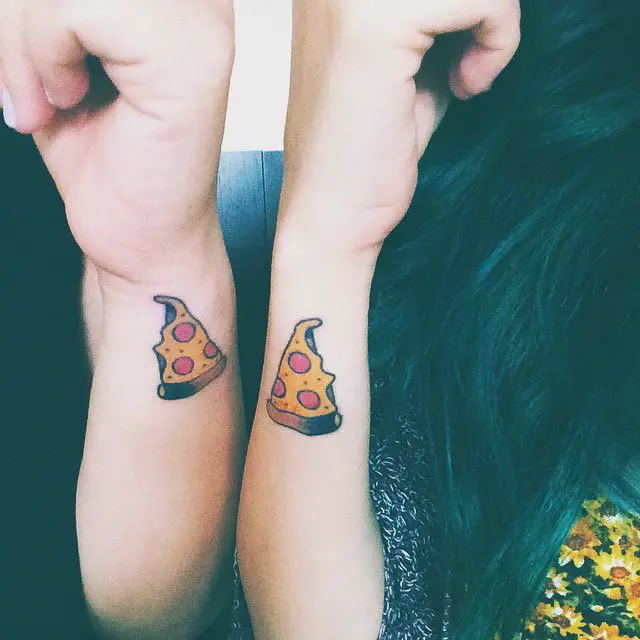 These matching best friend tattoos are bound to bring a smile every time.  This humorous combination reveals the quirky personalities of these two friends. They also remind others that these girls are prepared to do absolutely everything together.
#11:  PERMANENT PROMISES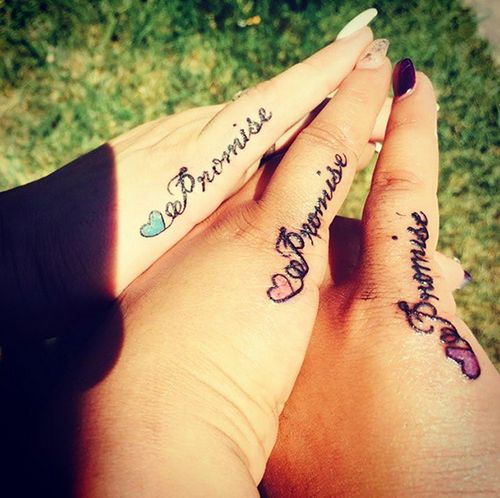 What's better than a promise ring? Promise tattoos of course! These three friends declare their promises to each other with best friend tattoo ideas that are permanently etched on their pinkies.
#12: BIRDS TOGETHER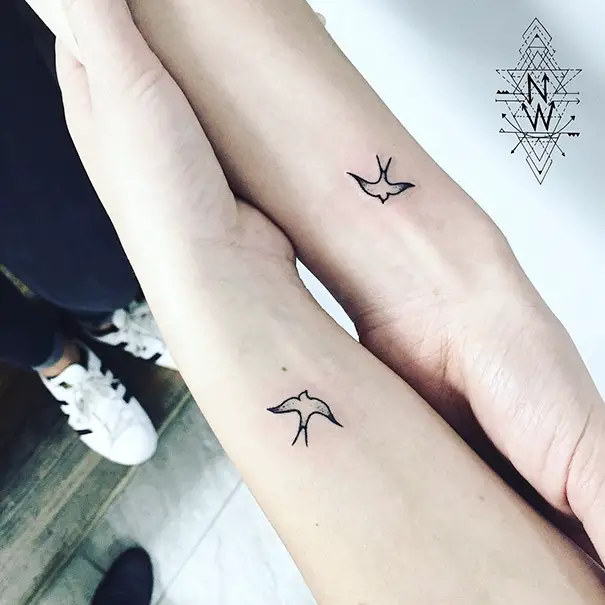 Another popular symbol of friendship is to use matching bird tattoos on any visible part of the body.  Here these two have used a simple black ink design to seal their connection for the world to see.
#13: RELATED FRIENDS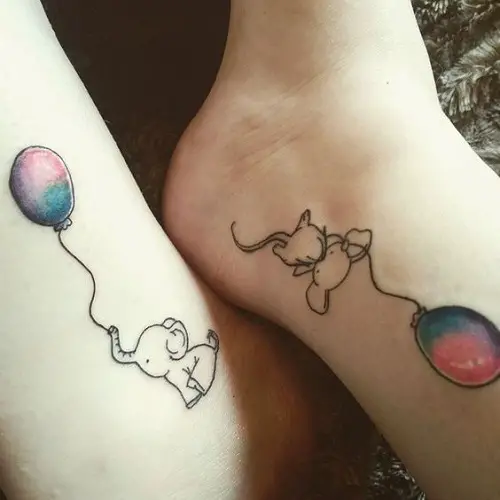 Only those who know that elephants and mice are related will get the humor in these cute best friend matching tattoos. Evidently, these friends have no qualms about using these cutesy images to show just how deep their friendship is.
#14: TRAVEL THE WORLD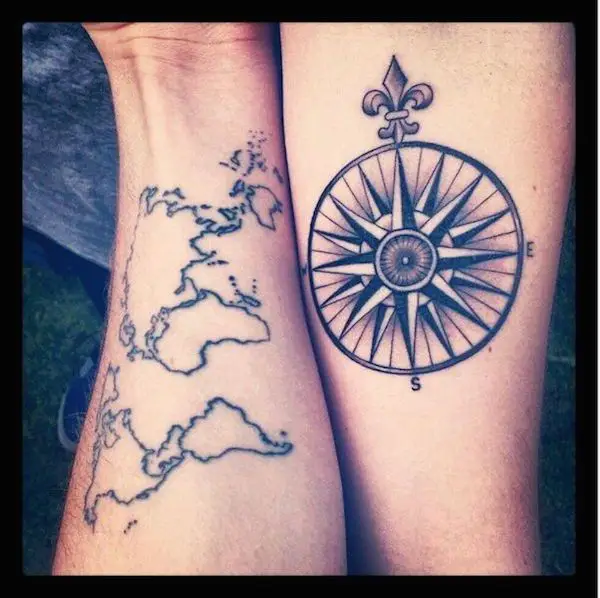 Here's a tattoo combination for friends who share a common interest. A passion for adventure and to travel the world may be what bind these friends together for life.
#15: COMPLETE ASSURANCE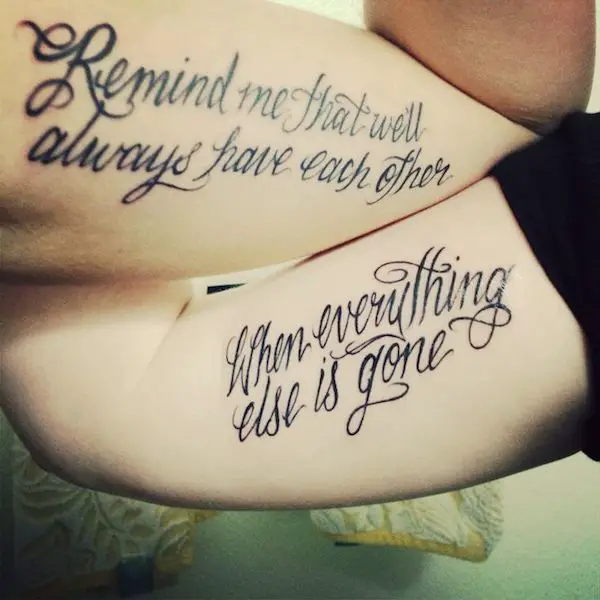 Here's another way to declare that great friendships last forever. With this best friend matching tattoo, no one would have reason to doubt that everything will be well between these girlfriends.
#16: ANCHORED TOGETHER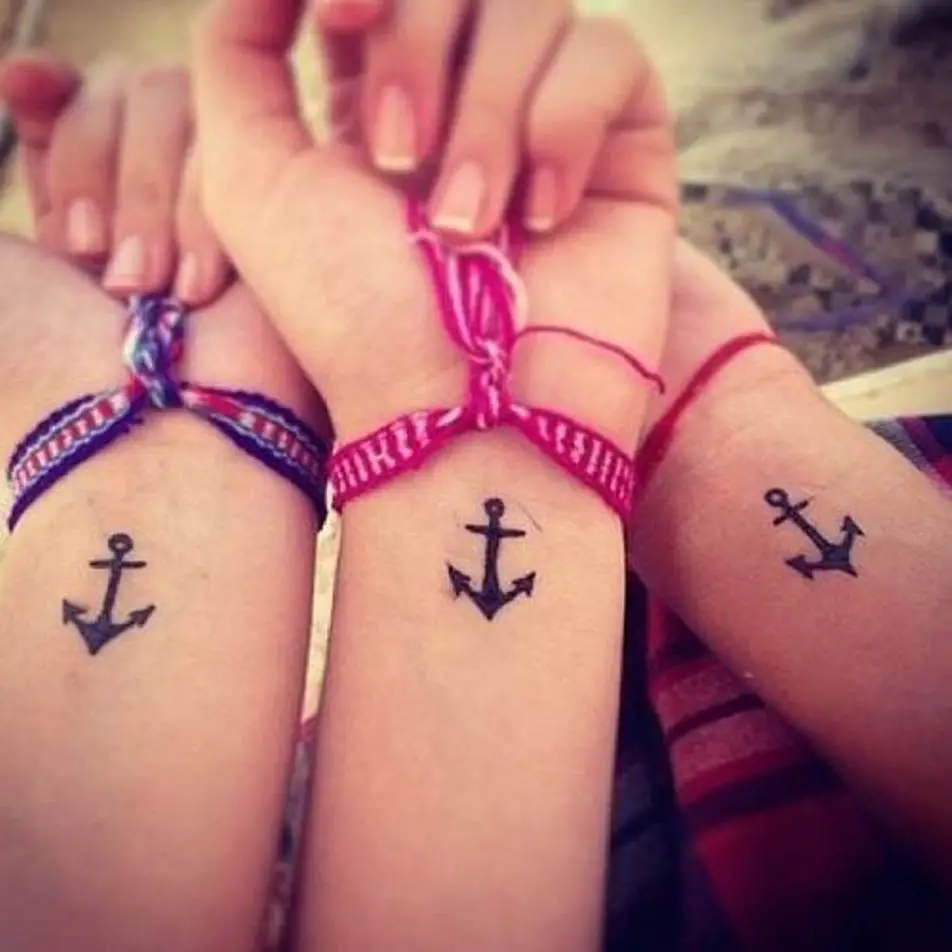 Even when life threatens to tear good friends apart it's reassuring to know that there is something that will keep them anchored together. With a simple but universally understood symbol, these friends have shown their strong bond.
#17: SUN MOON COMBINATION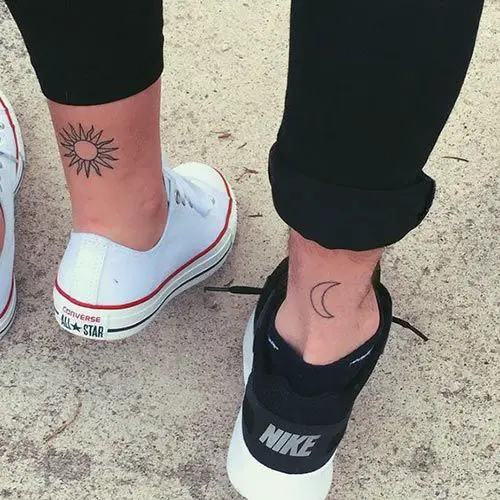 Simple yet effective these sun and moon tattoos tell others to back off.  These two friends are bound together for better or worse.
#18: GOOD JOURNEYS FOR BEST FRIENDS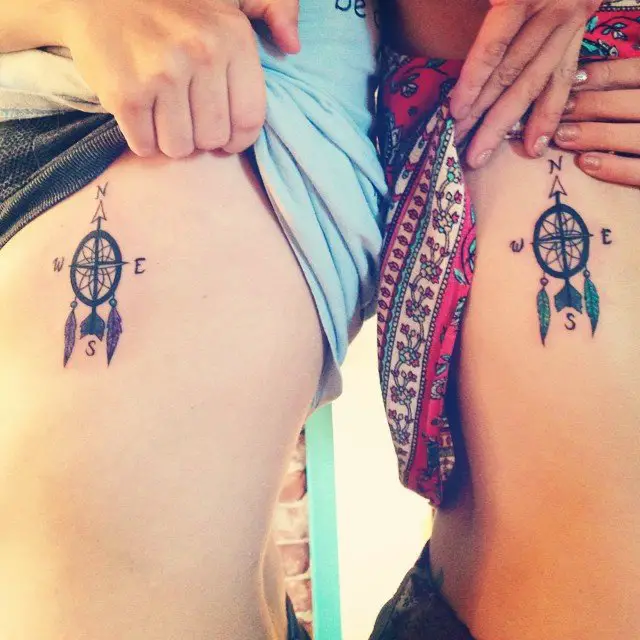 With this clever union of a compass and a dream catcher tattoo design these two have cemented their path together. Only great dreams and journeys await them for as long as it takes.
#19: SHARING THE SAME LINE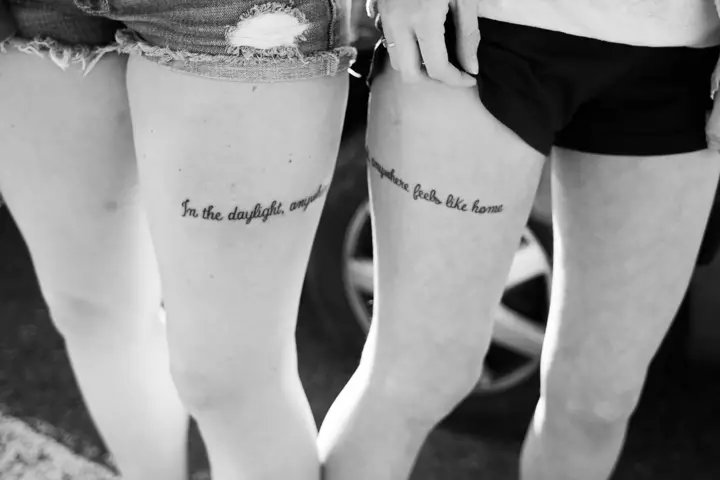 A simple statement shared by two friends is sometimes all that's required to show the common connection that binds them. These best friends matching tattoos are equivalent to being joined at the hip.
#20: COMPLETE CIRCLE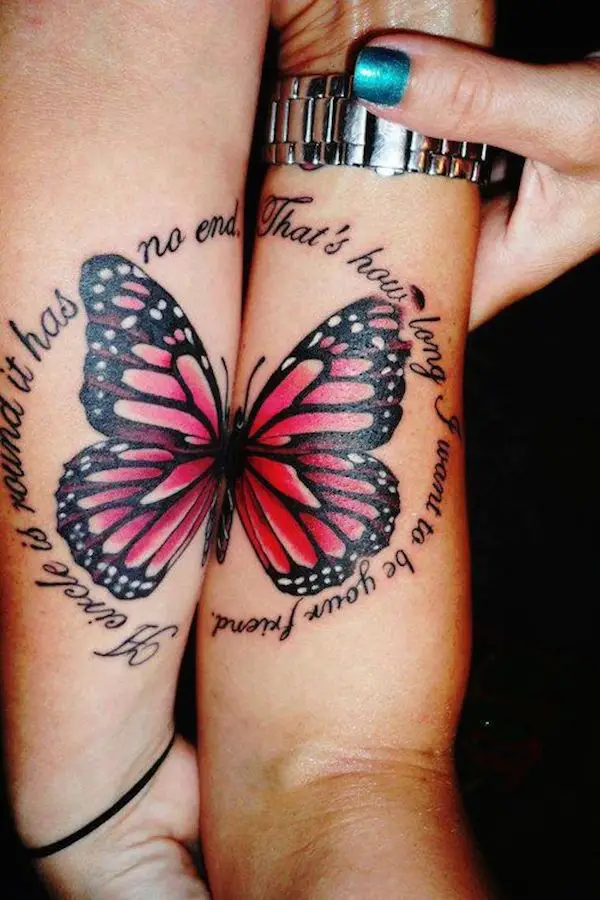 Is it any wonder that these two are pals for life? Their vivid and well-designed tattoos are meant to be put together to make complete sense. Clearly, these girls cannot stay apart for too long as each has only half the picture.
#21: INFINITELY CONNECTED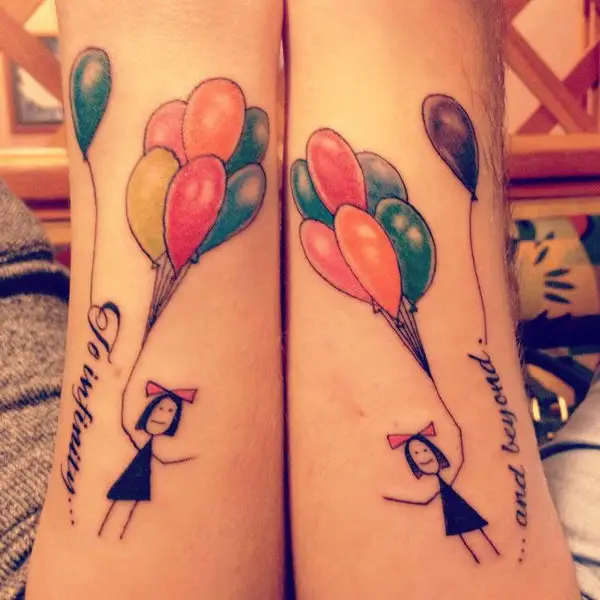 This sweet and cute best friend matching tattoo ideas are meant to show just how strong this friendship really is.  No doubt that this friendship will last forever.
#22: INSEPARABLE FRIENDS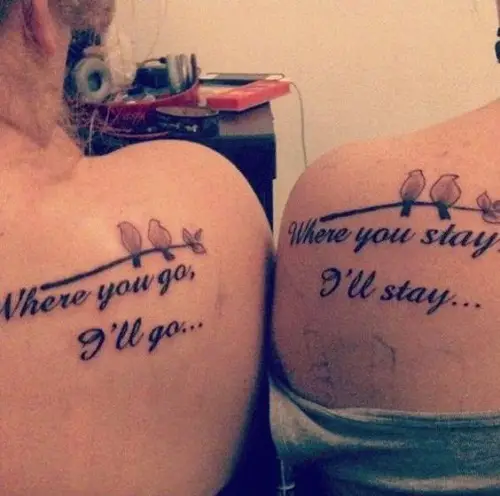 Friends who don 't intend to be separated would most likely show their commitment with a matching tattoo like this. Expect that this promise will never be broken.
 #23: MATCHING HEARTBEATS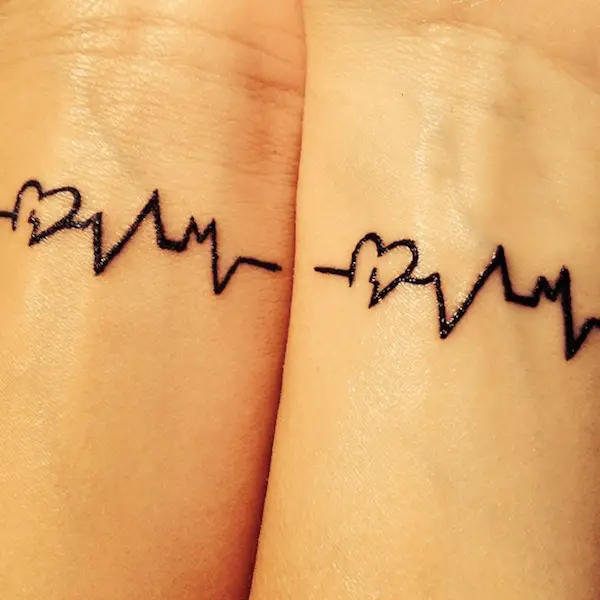 What better way to demonstrate an inseparable bond than with perfectly matching heartbeat tattoos that connect together quite well? It takes a very special relationship with friends to share this single lifeline with each other.
#24: BADGE OF FRIENDSHIP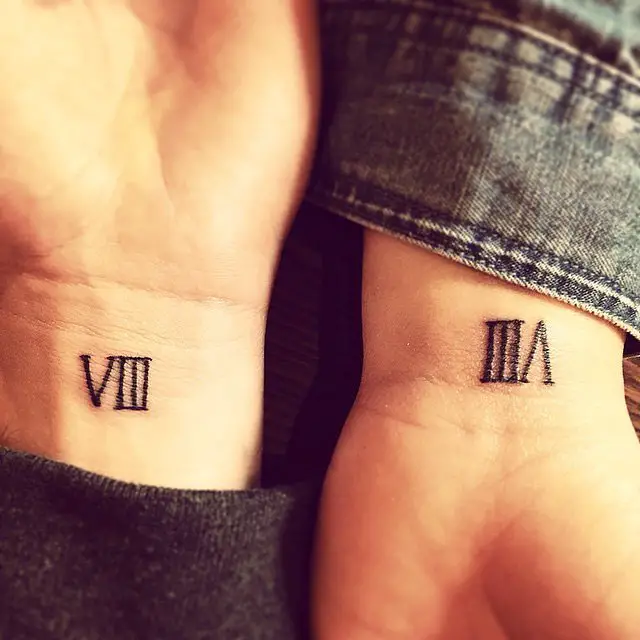 The meaning of the single Roman numeral on this pair of wrists may be a well-kept secret between these friends.  Certainly, with this best friend matching tattoo, these pals won't allow anything to tear them apart.
#25:  SAFE AND WILD BEST FRIEND MATCHING TATTOOS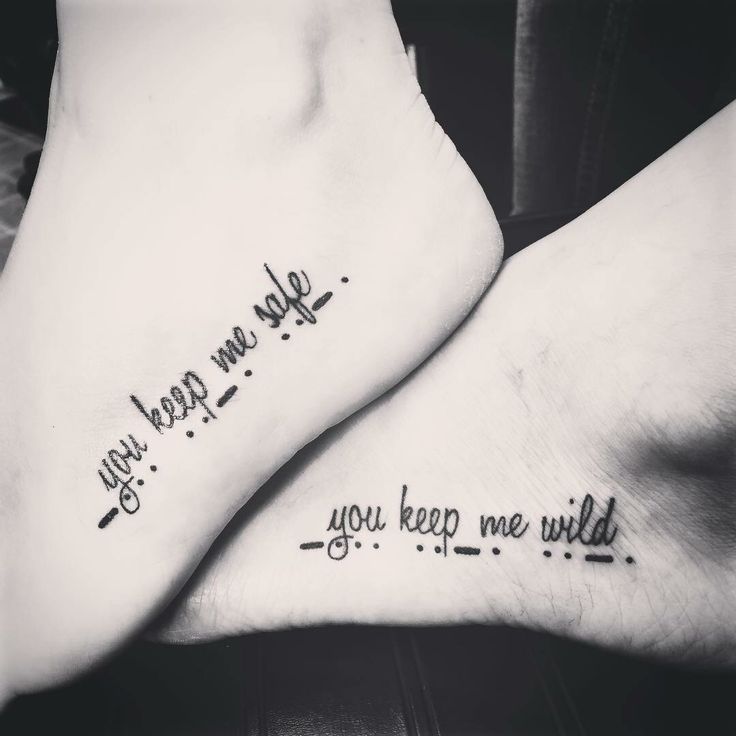 Finally, here's how to keep things real and grounded. Use a sincere text tattoo as a reminder of the person who keeps the relationship balanced.
OK, that's it! The twenty-five trendy matching best friend tattoos that are favorites among best friends who appreciate their shared connection. Of course, there are tons of other great best friend matching tattoo ideas out there and what you've seen here are really to get you started.