If wearing cool tattoos for girls is considered rebellious, then more and more girls are rebellious these days. And by that, we mean girls from all walks of life. While most teenage girls enjoy tattooing, professional women and celebrities also like the idea to express themselves through their body art.
As tattoos make them more appealing and sexy as well as act as a stunning fashion symbol, girls don't fear about pain. In fact, they love to flaunt more elaborative artwork.
COOl TATTOOS FOR GIRLS TO TURN HEADS
A masterfully inked tattoo truly make you stand out of the crowd. However, given its fairly permanent nature, you should choose the design wisely. Whether you like a mark with a meaning or a fun design,  this list of cool tattoos for girls will surely give wings to your imaginations.
#1: Pink and Sassy

For girls that want to look pretty and fierce, this is a rather unconventional style to try out. Show off your other side to the world.
#2: Pink Flowers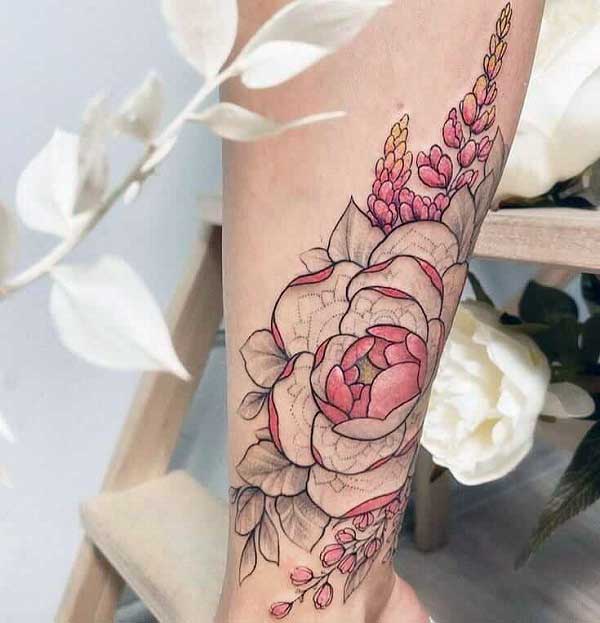 Flowers are a really pretty feature of any girl tattoo. So, why not try out this lovely piece with its lovely, graduated pink petals?
#3: Flower Bouquet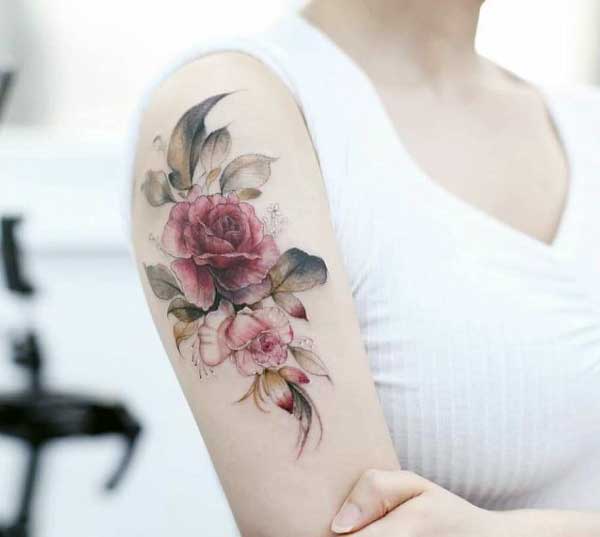 For a flowery tattoo, this is a moving option with great imagery. The colors are vivid with the rose resting gently on the arm.
#4: Blackbird with Red leaves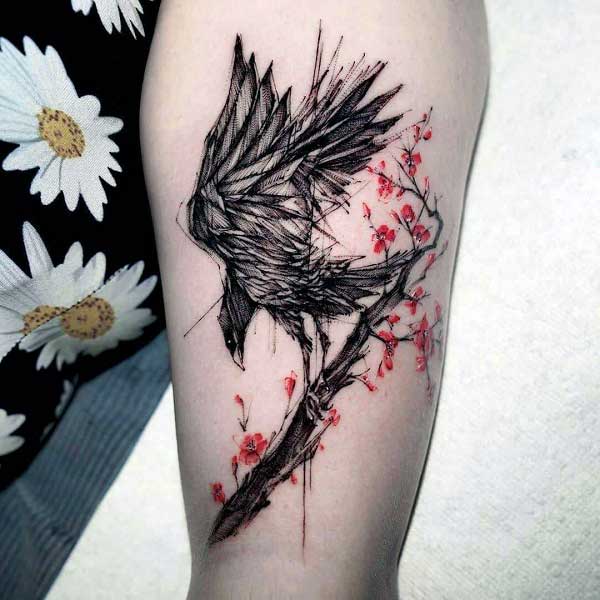 While the black bird gives this a lot of contrast, the red leaves on the branch make it pop. You definitely should get this!
#5: Butterfly on Flower
A blue butterfly is a great way to add flavor to your tattoo style. It sits prettily on a bed of flowers with contrasting leaves.
#6: Spirit Animal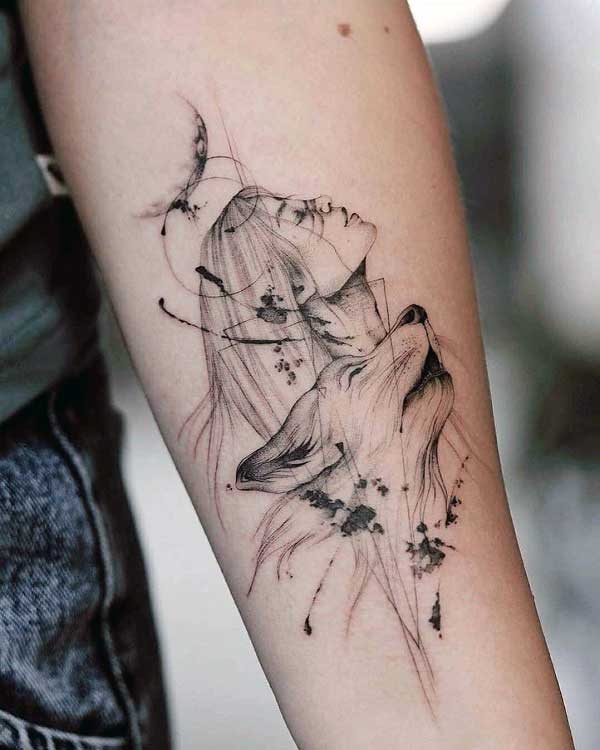 If you love to get a tattoo of the spirit animal you most connect with, this is for you. Is features a pretty girl with the head of a lioness below.
#7: Red Flowers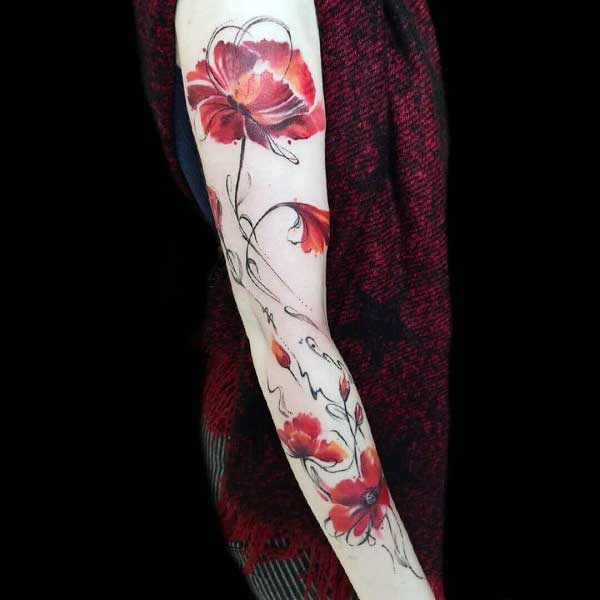 What's a girl tattoo without red flowers? They beautify the length of your upper extremities with the stalks of each flower forming moving lines.
#8: A Black and White Fox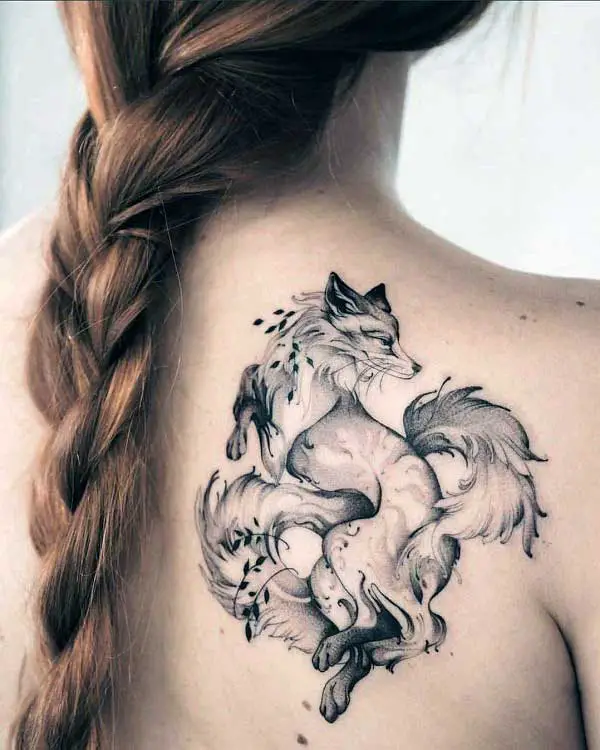 Foxes are animals that share a weird relationship with humans. But if you know you are as cunning as one, why not try this tattoo?
#9: A Snake and Flowers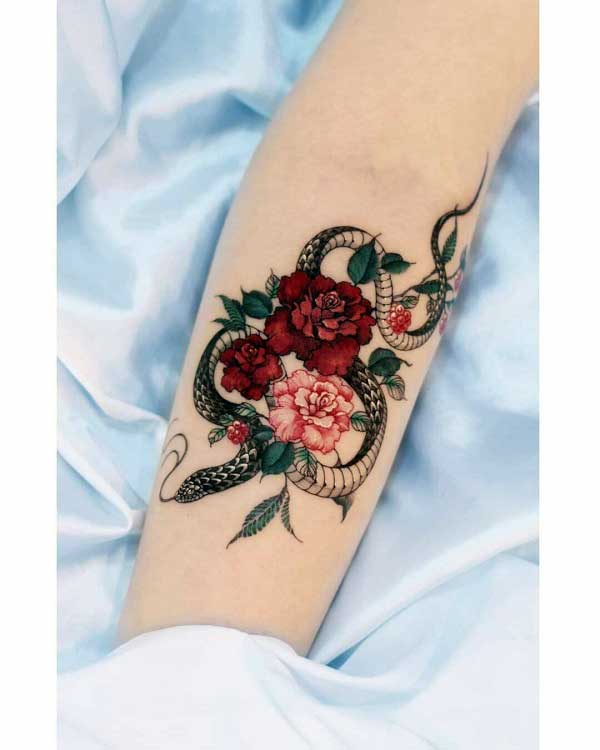 If you love oriental themed tattoo, this is a really cool choice. It features a patterned snake with red roses for a sharp contrast.
#10: Red roses on black background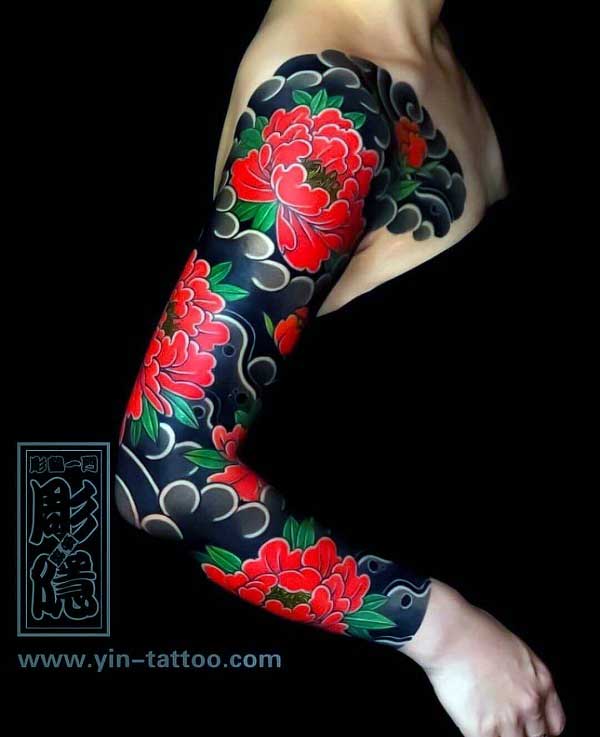 There's no telling how beautiful this is on any woman. If you want to hype your style, go for these red flowers with green leaves on a black background.
#11: EXQUISITE JAPANESE SHOULDER TATTOO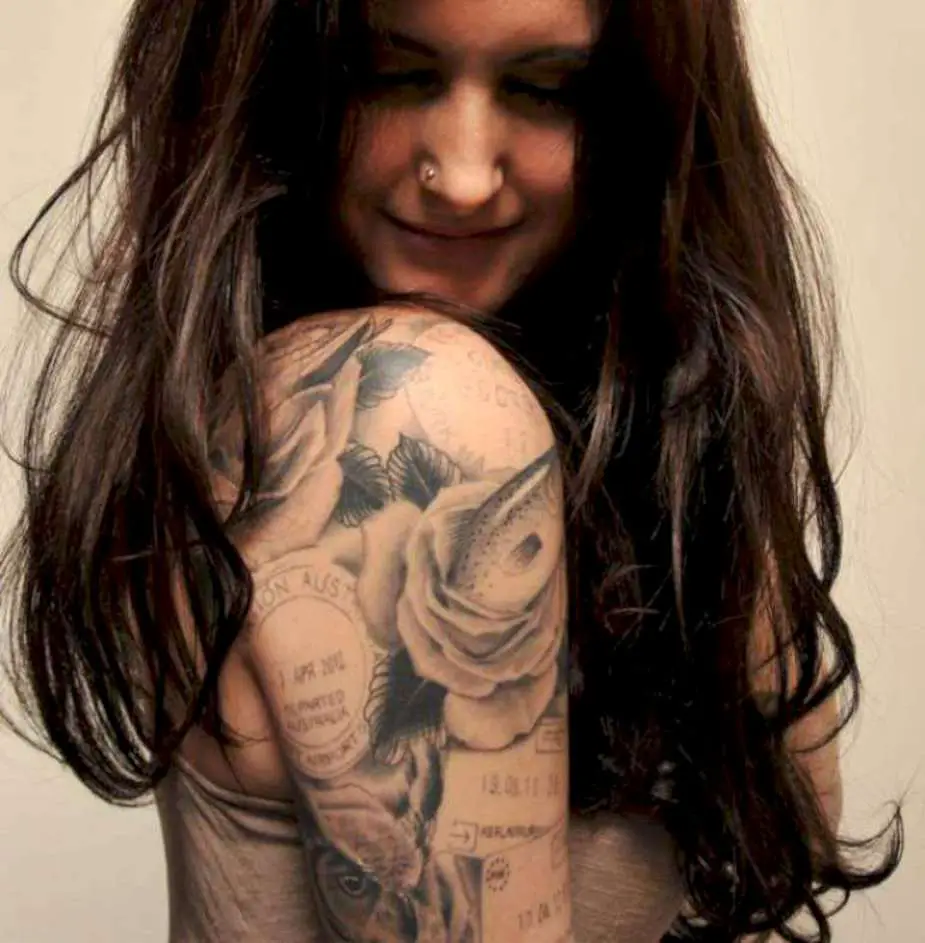 Classic Japanese designs such as koi fish, dragons and floral motifs are some of the cool tattoo ideas to try. You can try a single motif or choose to get multiple design ideas interwoven in an intricate patchwork like this girl. Her shoulder tattoo with clearly detailed roses, leaves, koi fish and stamps is certainly a cool piece of art to try.
ASTONISHING RIB TATTOOS FOR GUYS
#12: ROSES AND GUNS SHOULDER TATTOO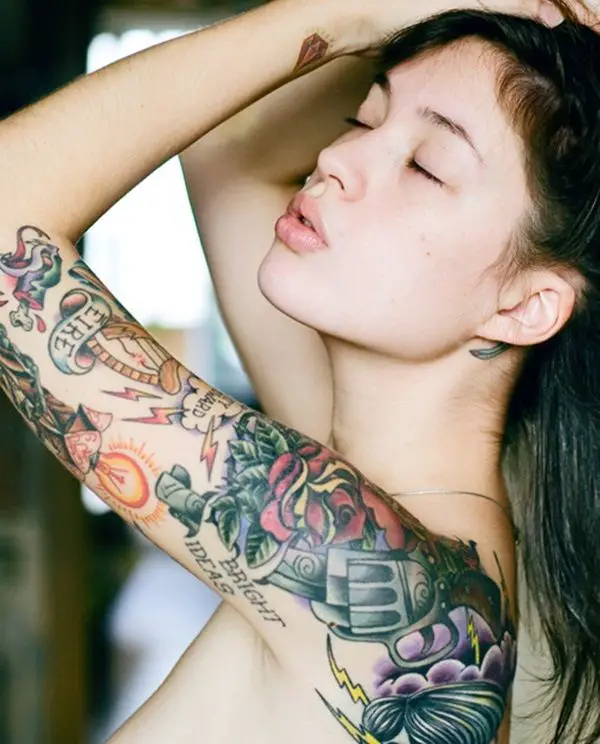 Shoulder tattoos are very popular amongst girls. They can be simple designs or elaborate work of art like this flowers and gun design. Colorful, vibrant and full of elements, this design instantly calls attention and consider as one of the cool tattoos for girls to try.
#13: DRAMATIC BACK TATTOO FOR GIRLS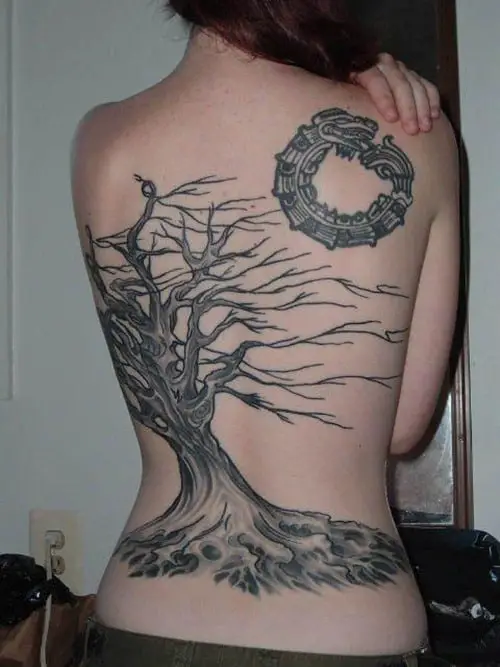 It's hard to imagine Fall so flawless. This brave heart girl had chosen the perfect spot to ink that withered tree with the dragon. Such elaborate designs come out exceptionally beautiful when carved around the larger space such as back or ribs. If you choose a themed tattoo that needs a complete canvas, then get it inked at your back as the artist will get ample of space to create a masterpiece.
#14: FLORAL RIB TATTOO FOR GIRLS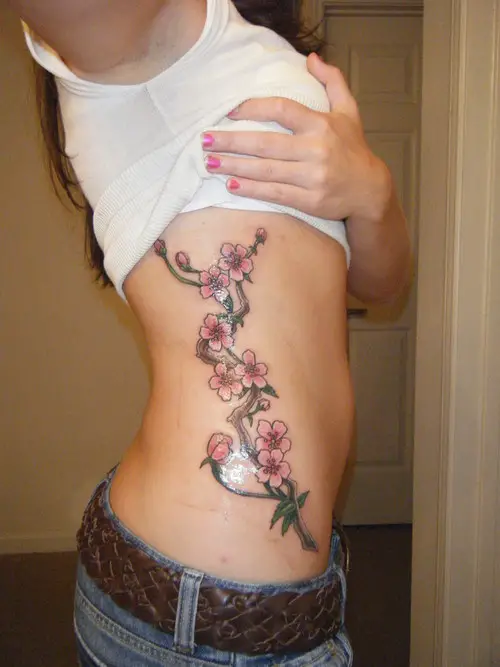 Floral motifs are classic yet cool tattoo designs for girls. You can get cool floral wrist tattoos, full sleeve tattoos or even a cute yet daring rib tattoo like this girl. Rib tattoos are very painful but they seem to be the coolest of all style. If you have the courage to drill around your bony rib cage, then this pretty pink floral tattoo idea is a must to pick.
#15: HENNA STYLE TATTOO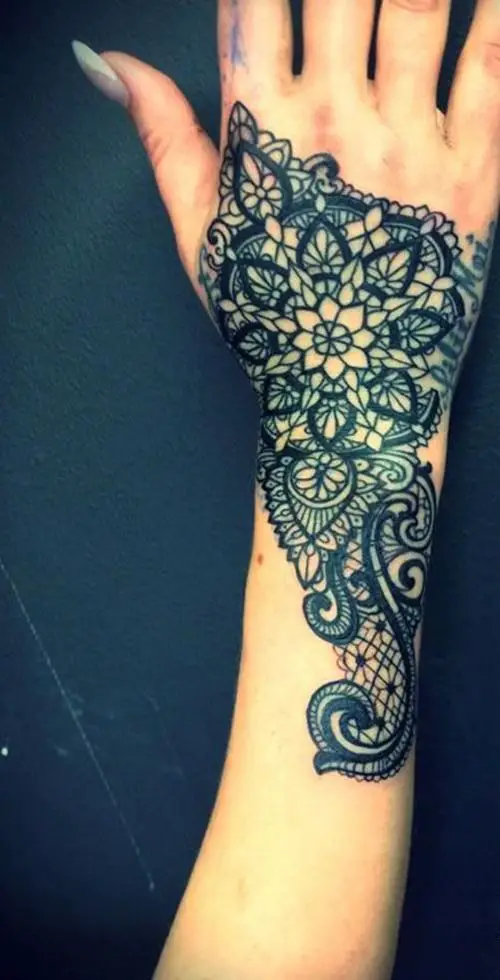 This is a refined sample of tribal artwork. Created with utmost care and patience, this henna style tattoo of girls is very striking and make a distinctive style statement. While tattoos drawn with henna lasts only for few days, they look fabulous. You can choose any of the curvilinear henna designs for a cool arm tattoo idea.
#16: GRAYSCALE EXPRESSION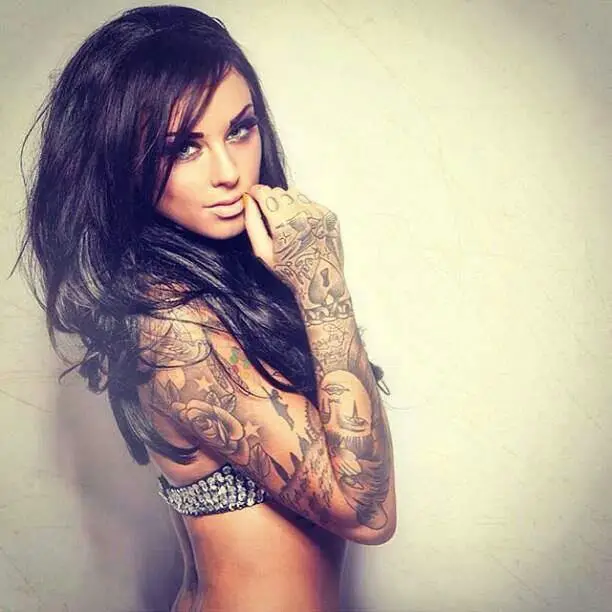 Here is a beautiful example of gray and black shoulder tattoo that's full of natural elements. Amidst the flowers, leaves, stars and a landscape at the dusk is a swan carrying a baby, a little girl trying to grab the colorful balloons, a locked heart and a straight face. It looks as if the girl tried to tell the story of life through this cool arm tattoo.
#17: 3D ARM TATTOO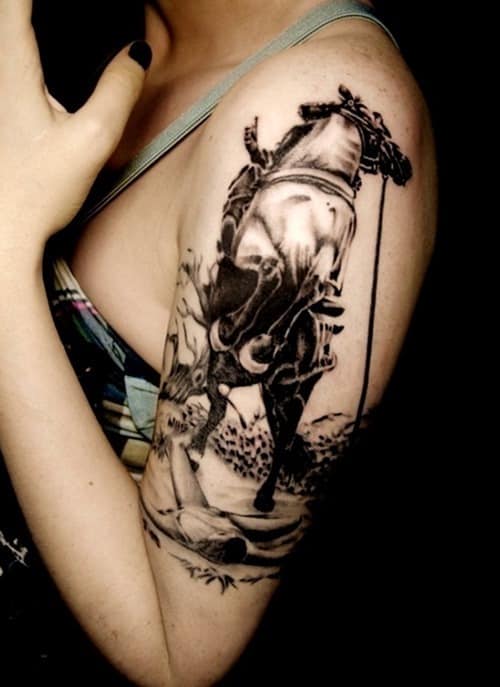 Here is another standout arm tattoo to admire and get inspired by. This masterpiece featuring a masked figure riding a horse and another man lying on the ground seems to tell a Gothic story.
#18: THE MERMAID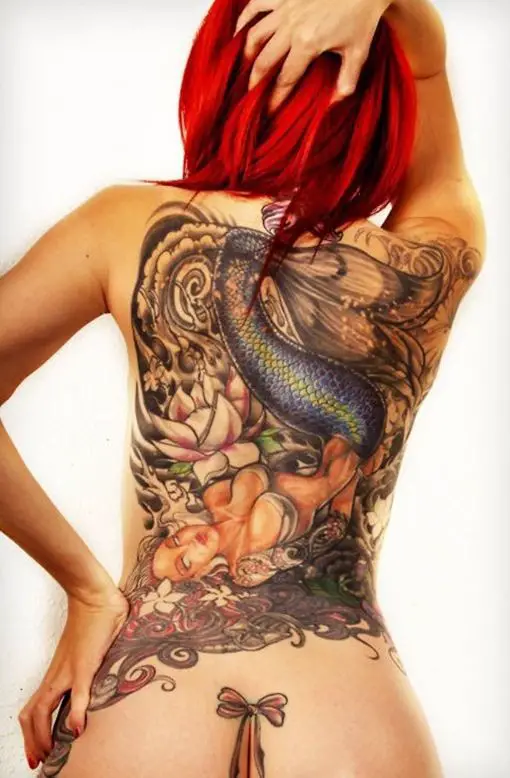 This back piece uses vivid elements to create a tapestry style tattoo. A sexy blue mermaid with a shoulder tattoo covers the major part while a lotus, few jasmines and curvilinear scrolls beautifully fill the space around the mermaid. This is certainly a fabulous cool back tattoo for girls.
#19: THE AUTUMN TREE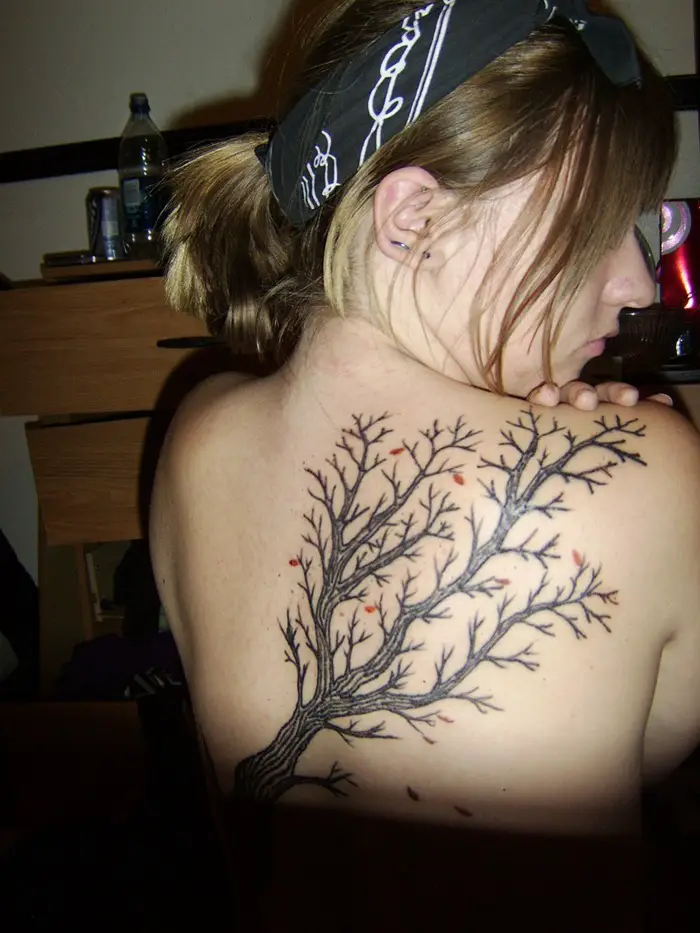 Here is an exceptional work of art showcasing the beauty of Autumn. This girl likes the Fall season. A thick woody tree inked with long branches and few last leaves on her back is telling that nature bursts with its last beauty. What is your favorite season?
AMAZING TATTOO IDEAS FOR WOMEN
#20: THE GOTHIC LOOK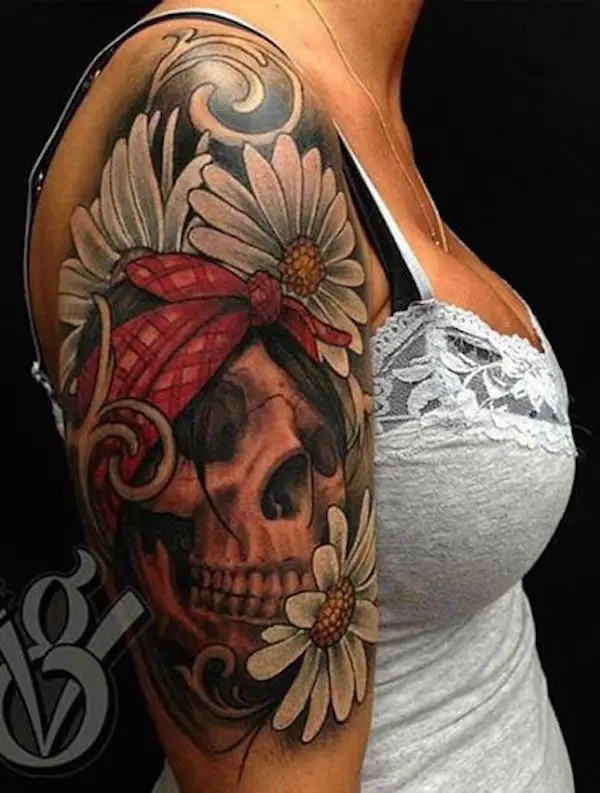 Though gothic designs are more favored by men, there is no thumb rule to it. If you think a skeleton tattoo is a cool stuff for you, then don't bother in getting one inked. You can try a skeleton shoulder tattoo like this or try with more Gothic ideas. A 3D design will be more elucidating and creepy to try.
#21: THE RED PEACOCK
Peacock tattoos are some of the cool tattoos for girls. You can choose a basic design in shades of gray and black or can pick an elaborative design full of vibrant colors like this red peacock shoulder tattoo.
#22: THE BLOOMING GARDEN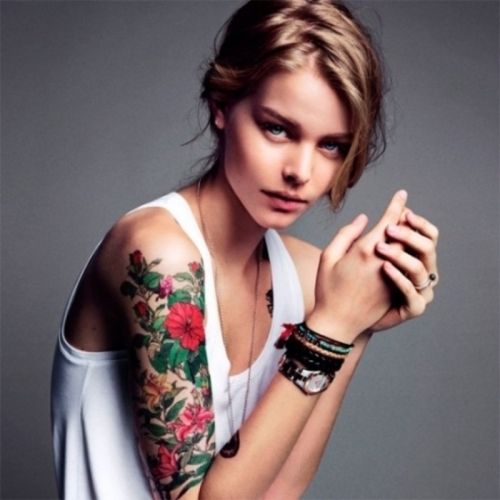 This is a vibrant idea to turn heads. Featuring hibiscus and roses with lush green leaves all around, this upper arm tattoo is simply splendid.
#23: GRAY IS GORGEOUS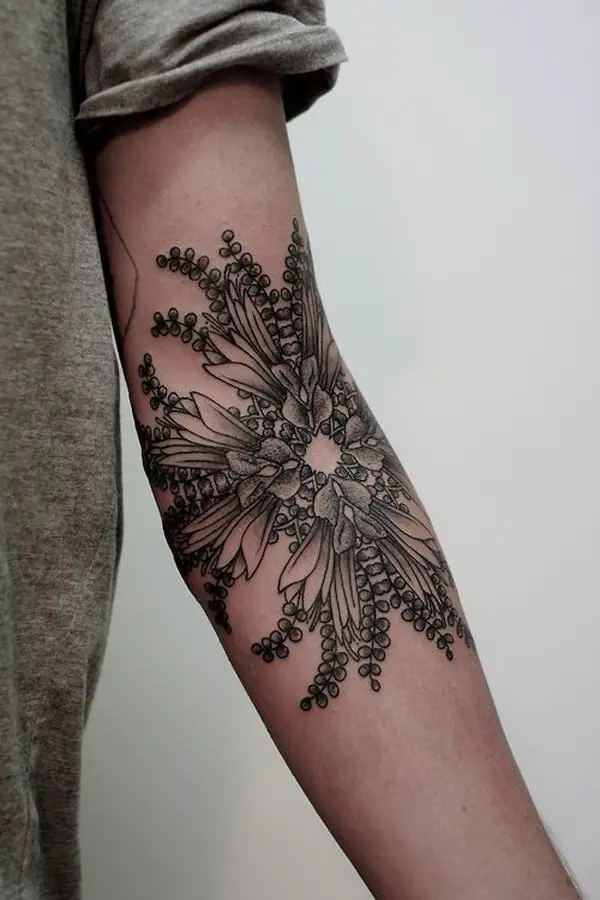 The artist who inked this elaborative hibiscus flower perfectly knows how to play with shades of gray. This arm tattoo seems like an effortlessly created pencil sketch. Such a well-inked tattoo is worth bearing pain.
#24: BUTTERFLY TATTOO FOR GIRLS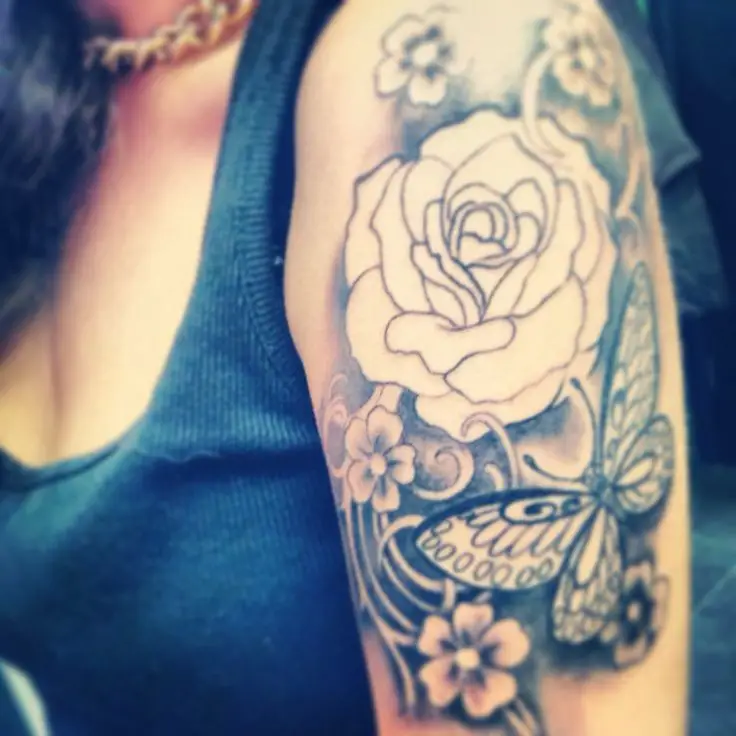 Here is a tattoo in blue ink to make everyone jealous. A rose, a butterfly, some more flowers and lots of scrolls make this cool tattoo a perfect style accent.
#25: BIRDS IN AUTUMN FOR GIRLS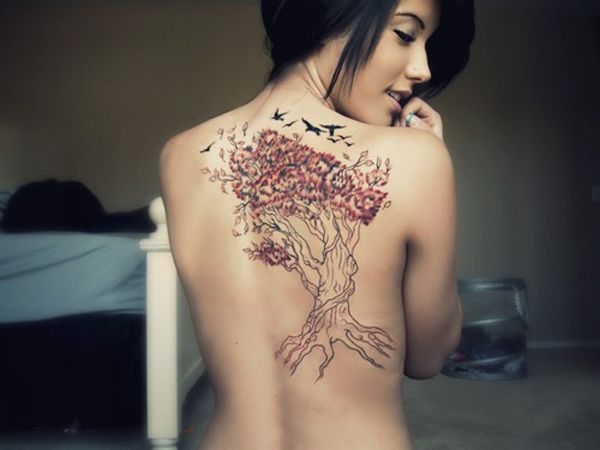 Back tattoos are very popular amongst girls. They give ample space to play with your imagination and adds up to your sex appeal. If minor details make you crazy, then you will love this cool tattoo for girls. The leaves of the sturdy tree start falling while the birds seem to prepare to migrate.
#26: FLOWER SHOULDER TATTOO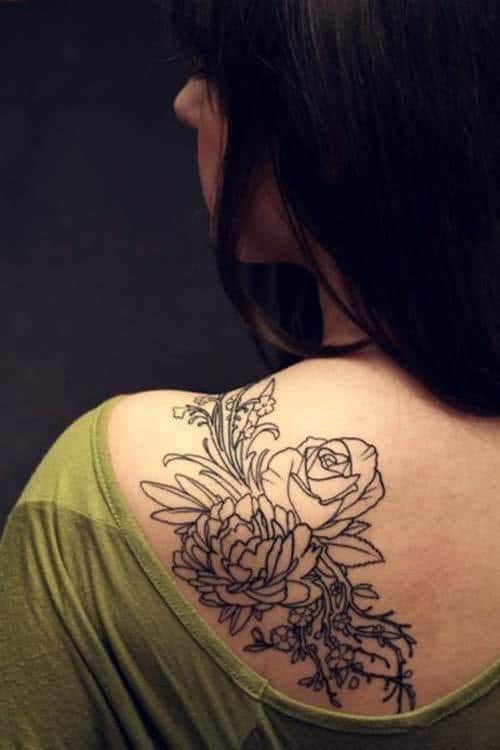 This flower tattoo is another example of cool tattoos for girls.
#27: WHEN YOU CAN'T GET ENOUGH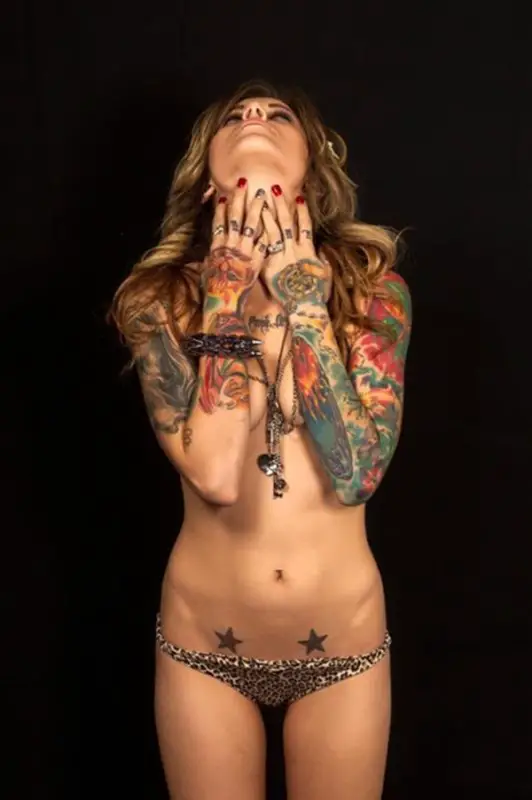 If a single tattoo is not enough to express you, go for multiple ones like this girl. Elaborative and Colorful arm tattoos are a visual feast to look sexy and chic.
#28: THE VINE WORK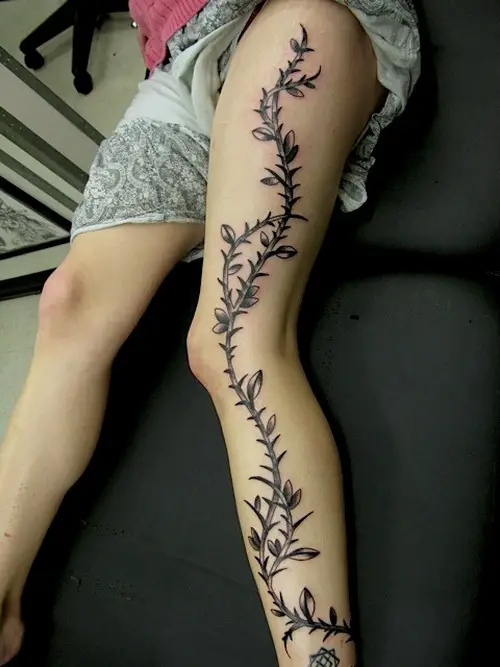 This masterfully crafted creeper leg tattoo is oh-so-classy. Isn't it worth bearing the pain?
#29: DARK FANTASY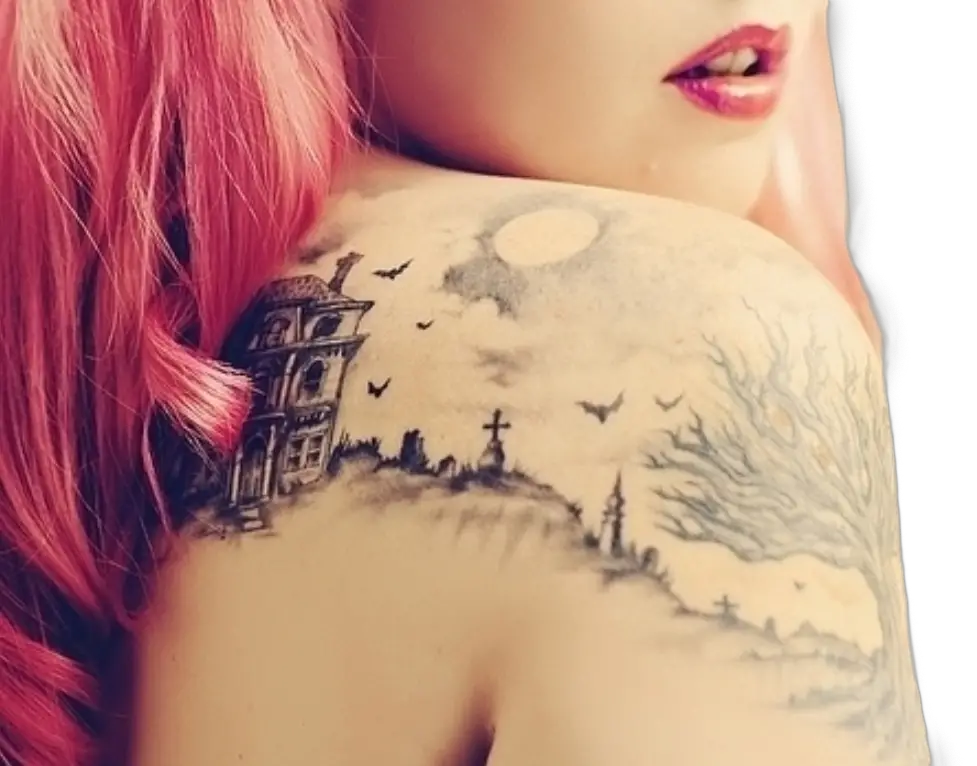 It's hard not to admire this finely crafted shoulder tattoo. Just look at the minute detailing such as the night sky, the creepy looking tree, and the gravestones in distant – this cemetery inspired tattoo will keep the Halloween spirit high.
#30: TRIBAL TRADITION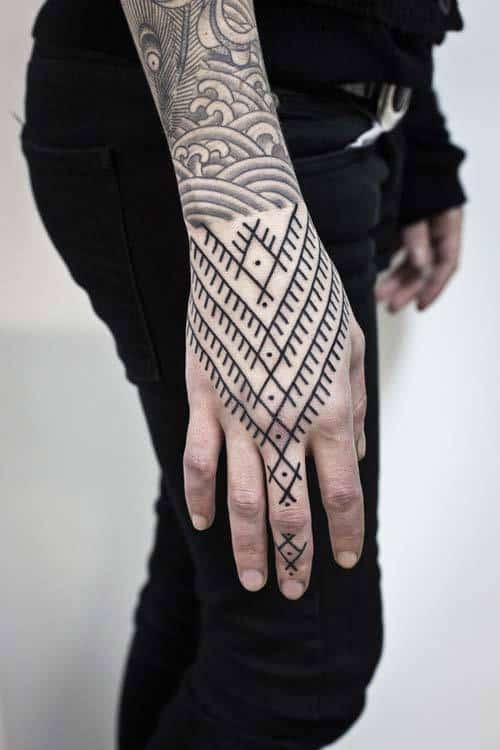 If Japanese koi fish in the wavy sea decorates the arm, the Aztec inspired patterns make a cool idea for hand tattooing.
#31: BIRDS OF BEAUTY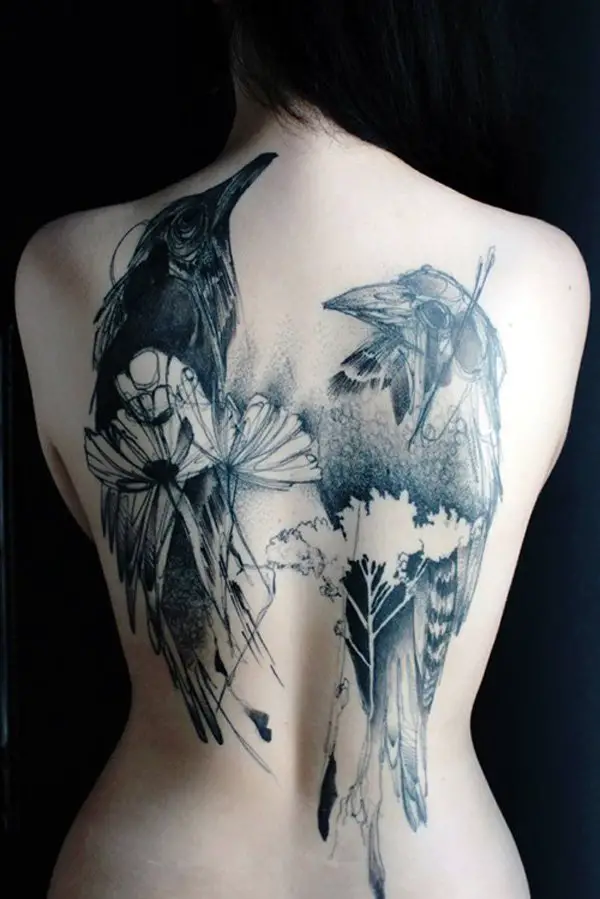 Isn't this 'birds perching on tree' tattoo a masterpiece? It needs a lot of patience and a skilled artist to create such wondrous body art cool tattoos for girls.
#32: RIGHT FROM THE VINEYARD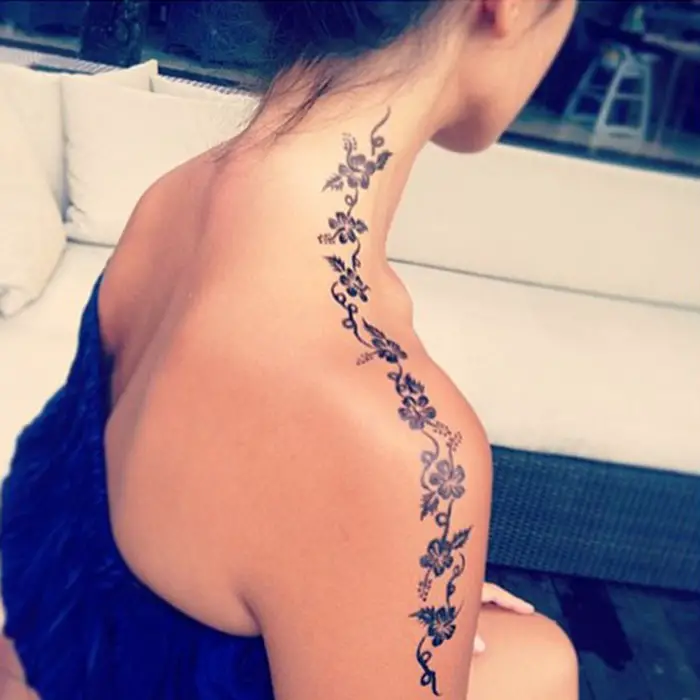 It is hard to draw away the attention from this intoxicatingly beautiful and sleek vine tattoo design. This is a sexy inking idea to show off some skin.
#33: RIB QUOTES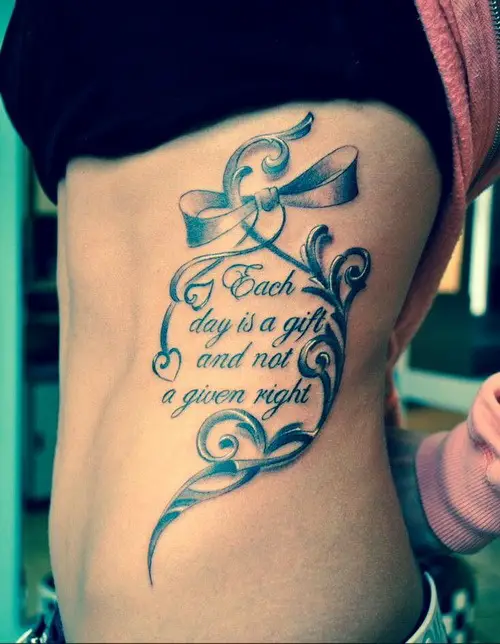 Rib tattoos are extremely painful as the area is less fleshy. However, this inspiring rib quote tattoo is picture-perfect and inspires for some daring.
#34: ABSTRACT ART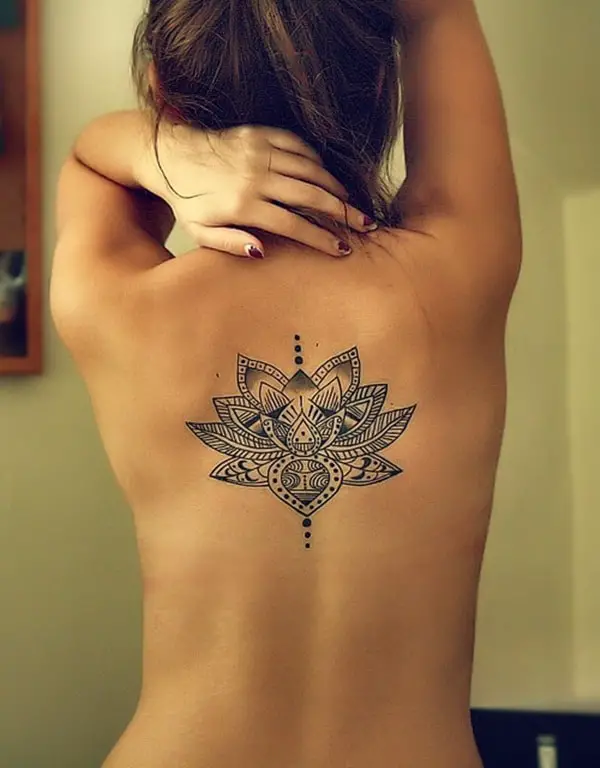 How about a blend of different tribal patterns to get a dramatic body artwork like this lotus flower back tattoo?
#35: MAGICAL SYMPHONY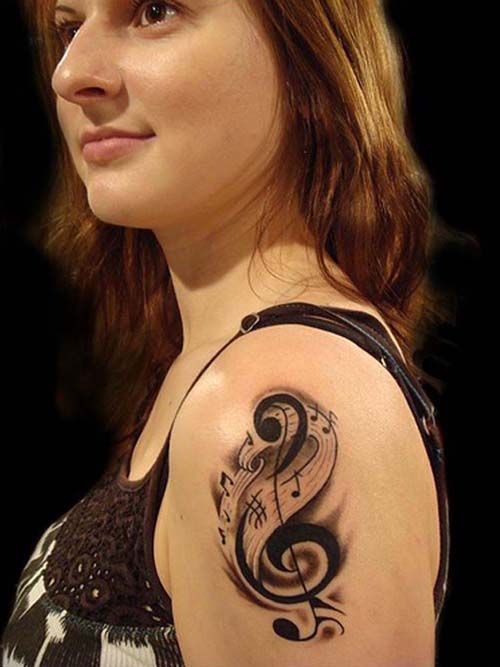 #36: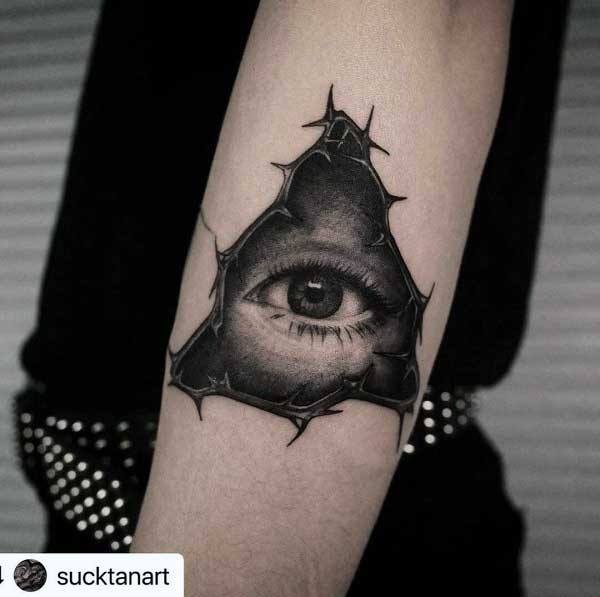 #37: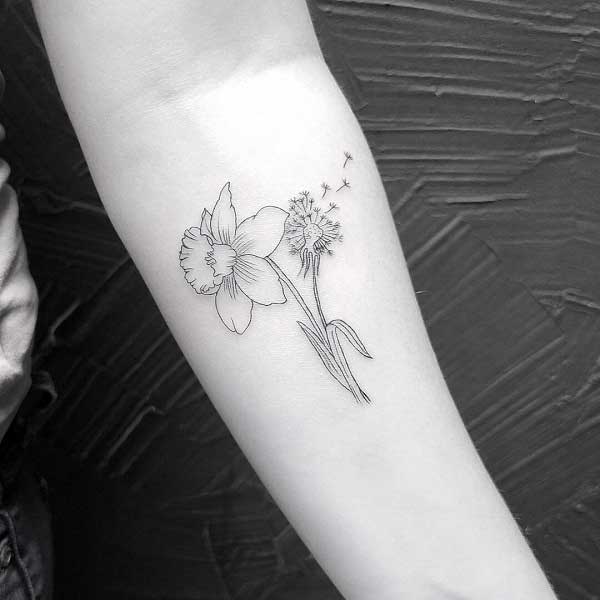 #38: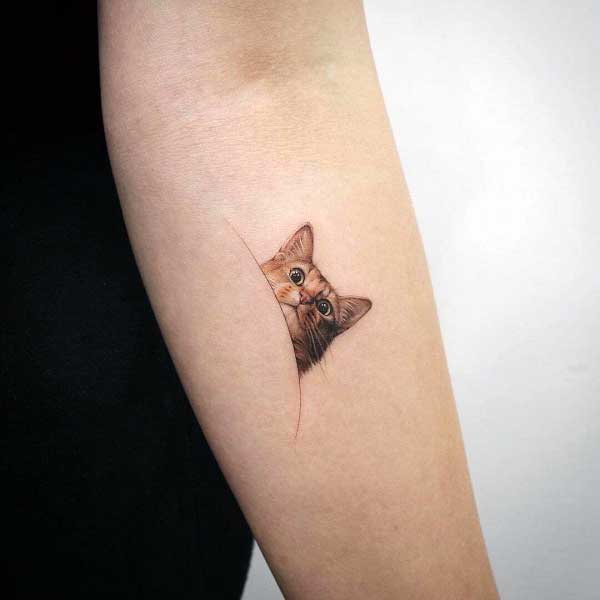 #39: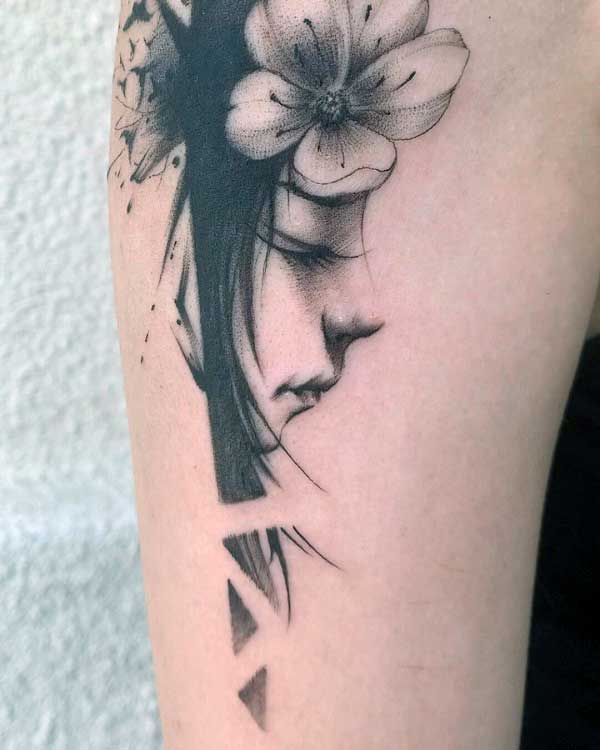 #40: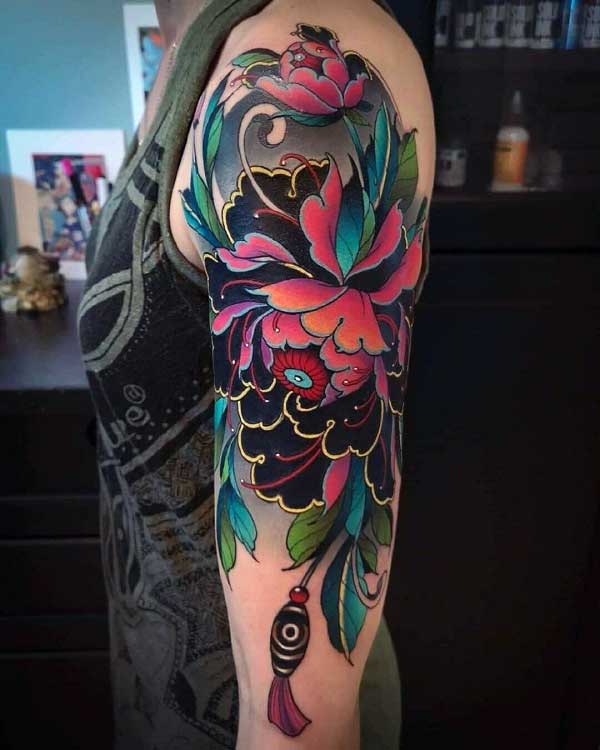 #41: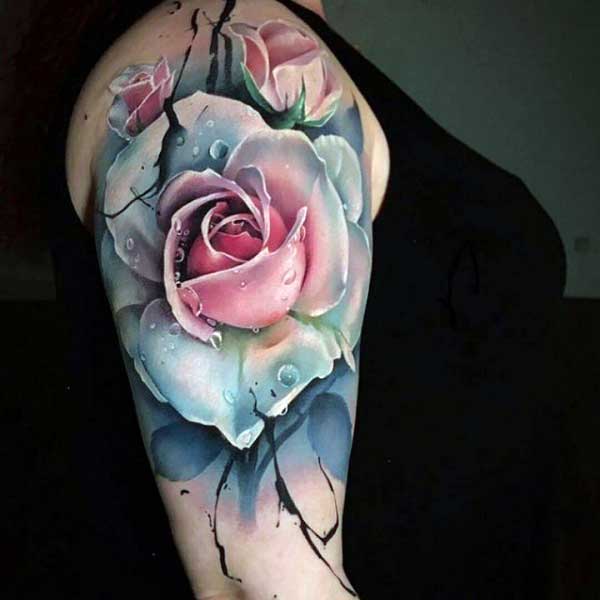 #42: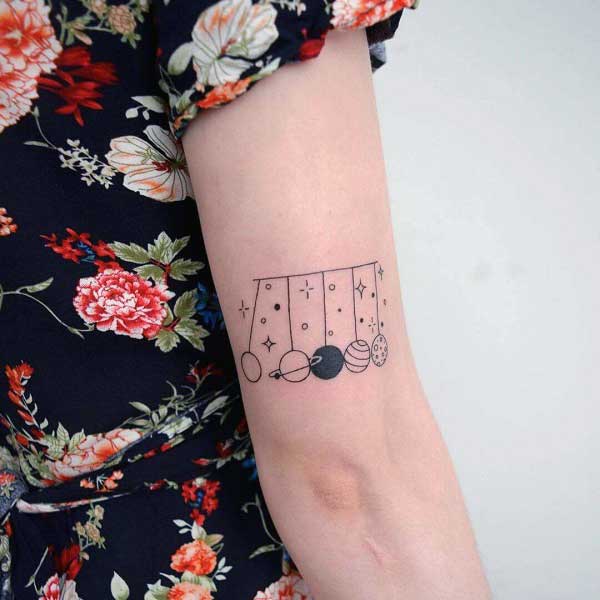 #43: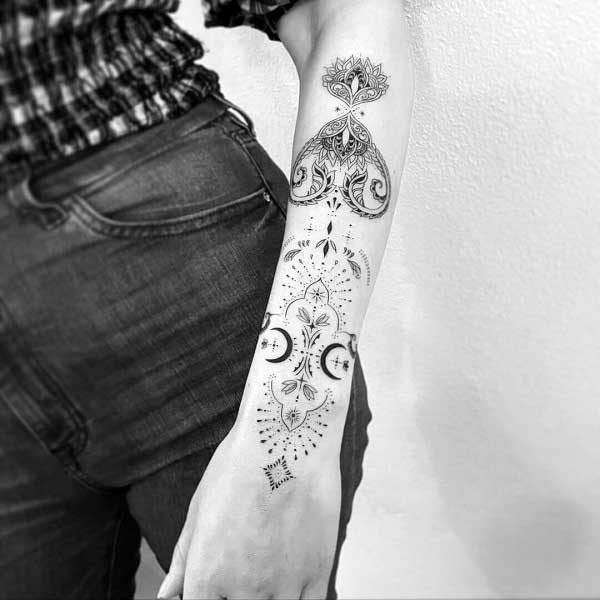 #44:
#45:
#46: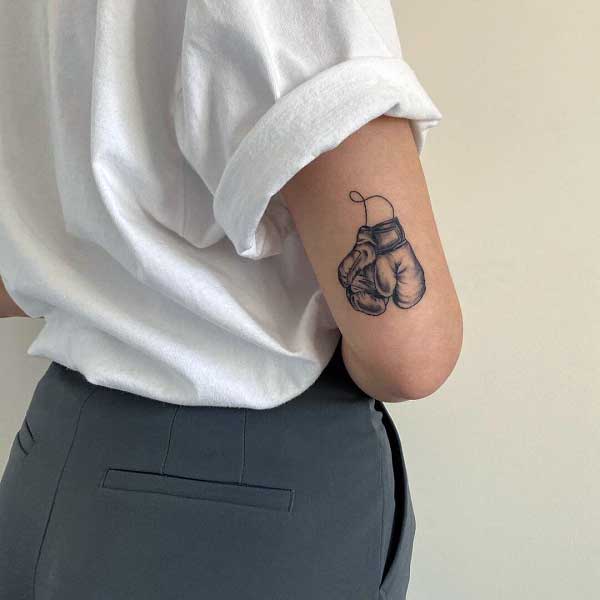 #47: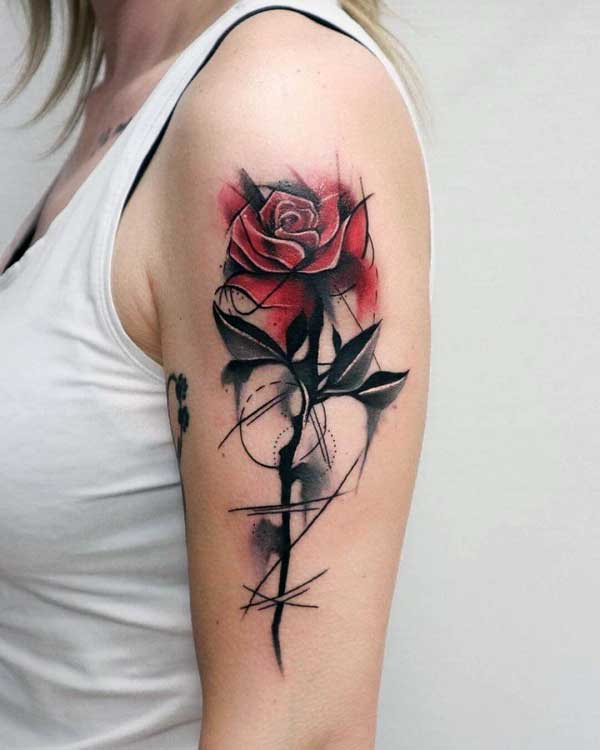 #48: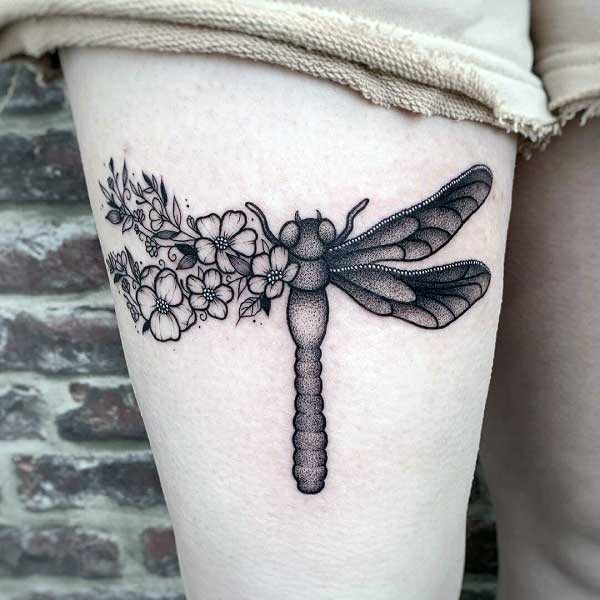 #49: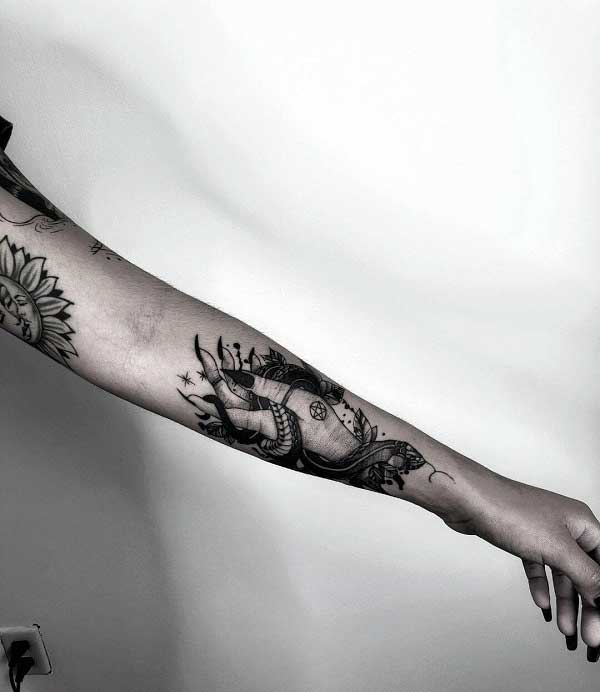 #50: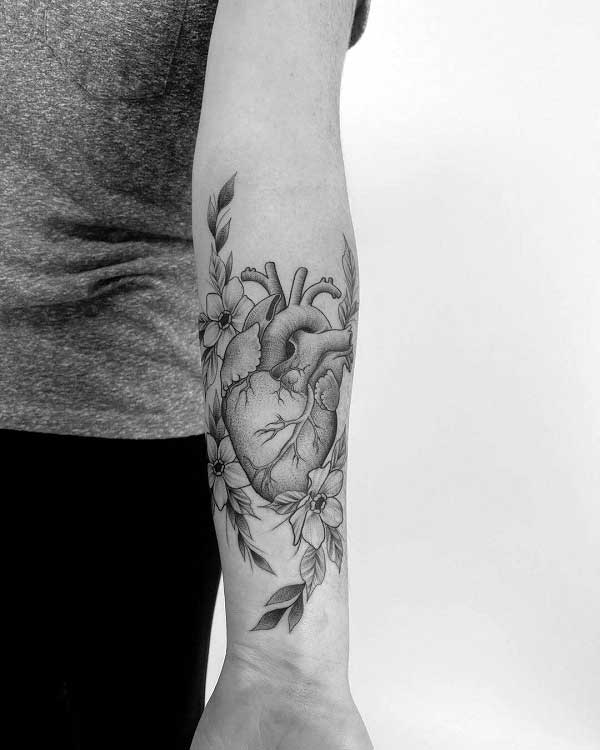 For passionate music lovers, this music note inspired shoulder tattoo is a cool, crisp and playful.
These are few of the best-picked tattoo ideas for girls. However, there is no limit for imagination. There are infinite design options depending on which part of the body you want to ink the tattoo. So let your creative juices flow fluently while you find a skilled artist to ink them.