Let' s be real, it's impossible not to notice a girl's stomach tattoo. Invariably stomach tattoos for girls are often quite captivating and it's easy to see why so many girls love to have a tat there. You'll notice that girls quite often put their tattoos below the navel so they are easily seen. Fact is, most female stomach tattoos are well placed to attract attention.
GORGEOUS STOMACH TATTOOS FOR GIRLS
Attention grabbing stomach tattoos for girls come in all shapes and sizes. Popular images for these types of tattoos include flowers, butterflies, mandala designs, jewelry, and exotic creations. Color or black ink are usually selected based on the image, and the effect she wants to bring out in her stomach tattoo.  Take a look at these fifteen desirable tattoos for the female stomach.
#1: THORNY ROSES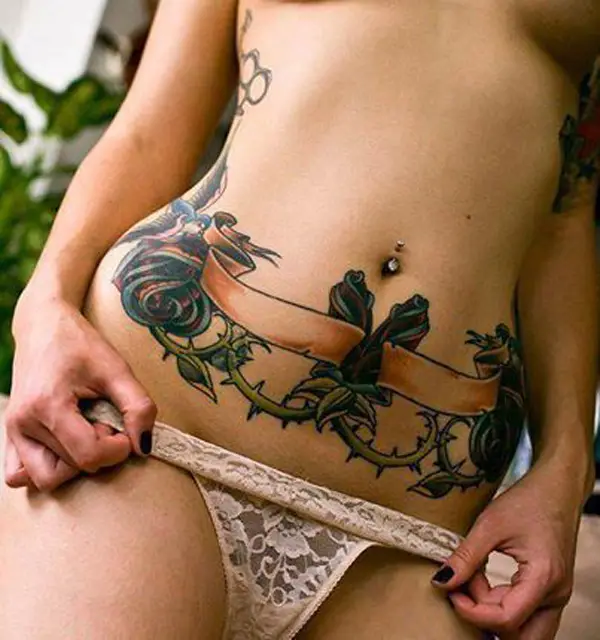 These roses with thorns provide an effective statement that this girl is not always easy. Others may have to handle with care.
#2: MANDALA DESIGN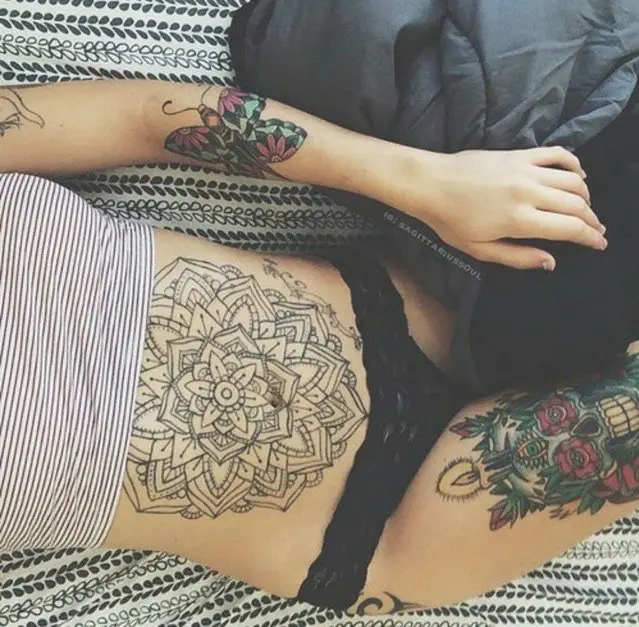 Mandala tattoo designs are often quite impressive because of their intricate patterns. For this girl, her dominant black ink is simply amazing.  Is it any wonder that she can proudly show her stomach?
#3: ROSY TUMMY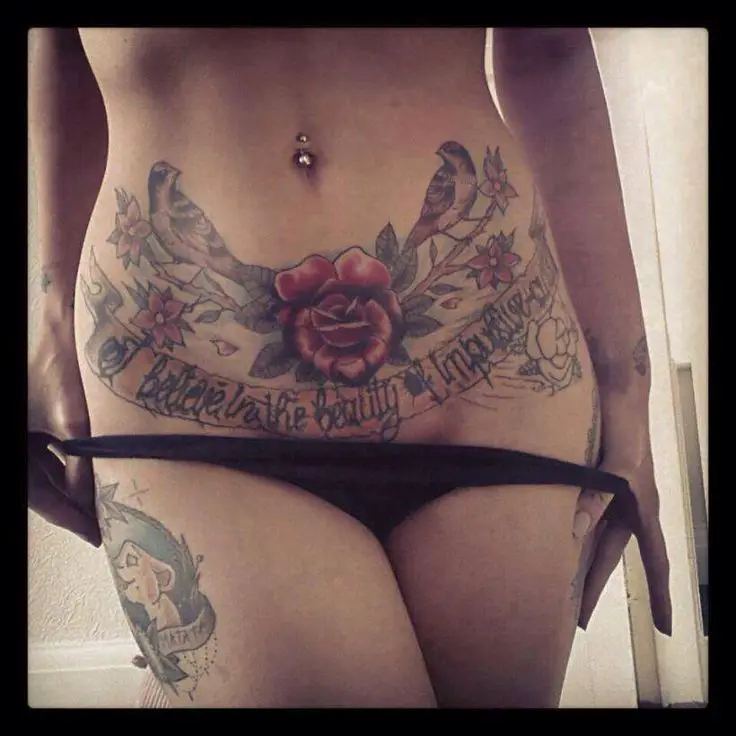 Red roses are among the favorites for stomach tattoos for girls. This one also comes with a statement that can easily be read. Great skill has gone into this rather bold design.
#4: IMPRESSIVE PATTERNS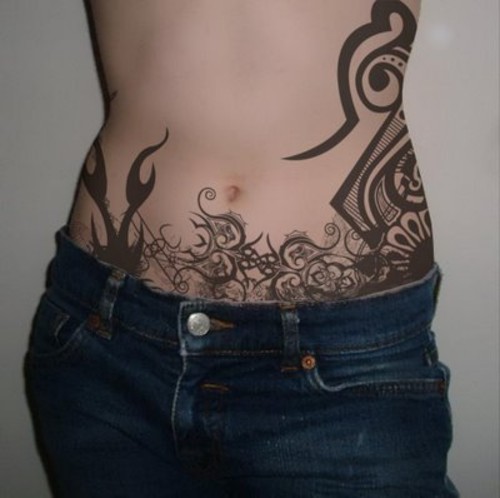 Here's how to design an intriguing stomach tattoo – use intricate patterns and do them in solid black ink. It is said that stomach tattoos like this are often used to hide stretch marks.
#5: HIBISCUS FLOWER TATTOO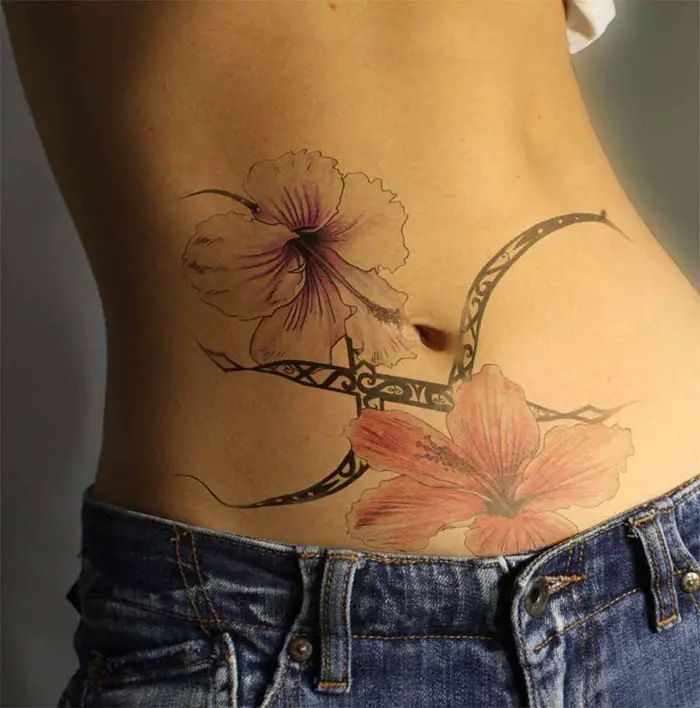 Somehow a stomach tattoo like this one that features hibiscus flowers belongs to a female who's not afraid to express herself.
#6: THE DANGLING LOOK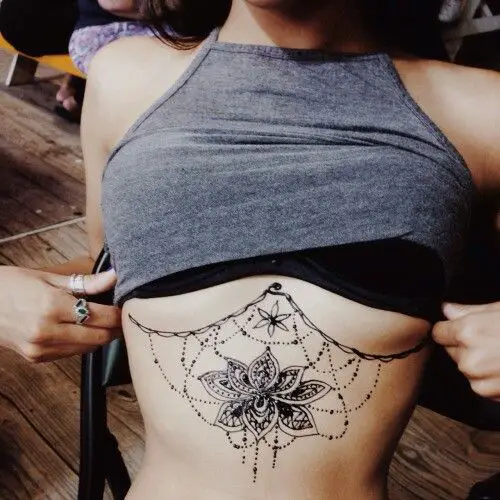 A mandala patterned jewelry design is an exquisite choice that works well for this girl. This is one of the awesome pieces of tattoo craft that adds sex appeal as well.
#7: LOCKED IN PLACE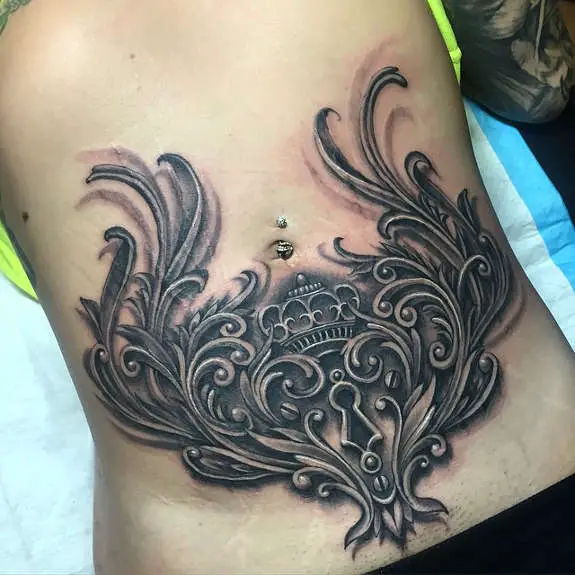 This sturdy looking lock stomach tattoo shows off the skill of the tattoo artist. The 3D effect gives the illusion of a lock in which you can literally insert a key. Clearly, this intriguing design looks great on this girl's flat stomach.
#8: SOLITARY TREE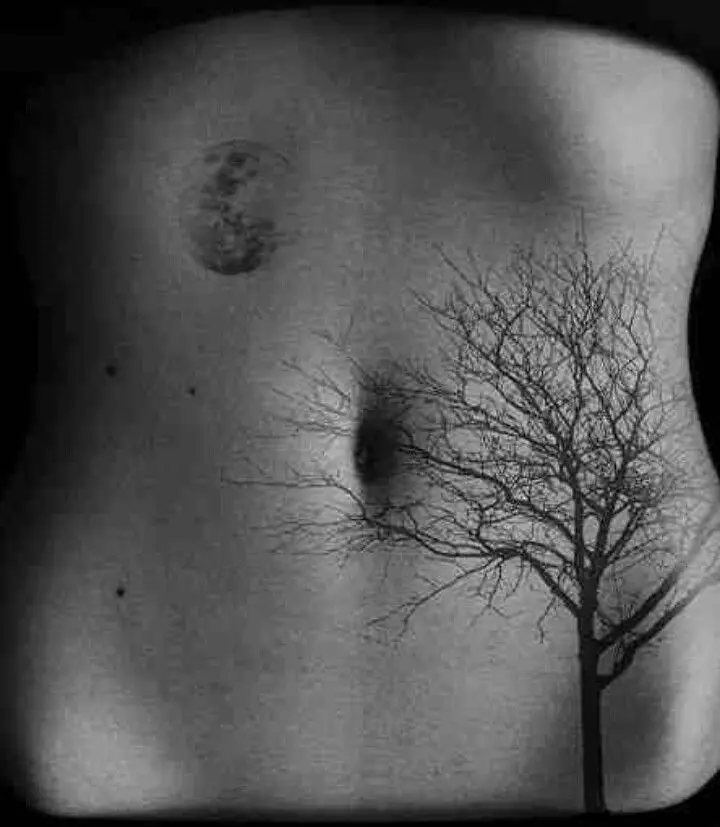 Black ink is quite effective in a stomach tattoo and for this girl, the lone tree is just fine.
#9: THE SKULL DESIGN
It's not every day you see girls with huge skulls on their stomachs.  Here then is one that's sure to stay in your mind for a while. Whatever her reason,  this girl uses a detailed and expertly inked design to make her statement.
#10: FREE SPIRIT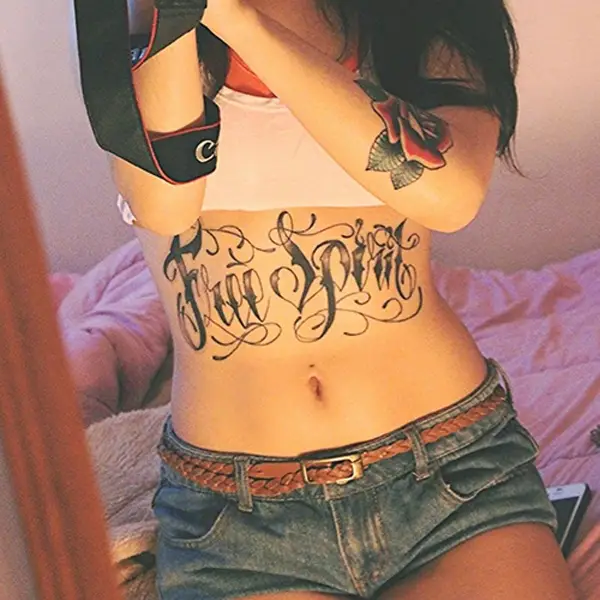 You don't always need images to make an attention grabbing statement.  Words work just as well.  This exquisite calligraphy adds flavor for this free spirited girl.
#11: CUTE FLOWERS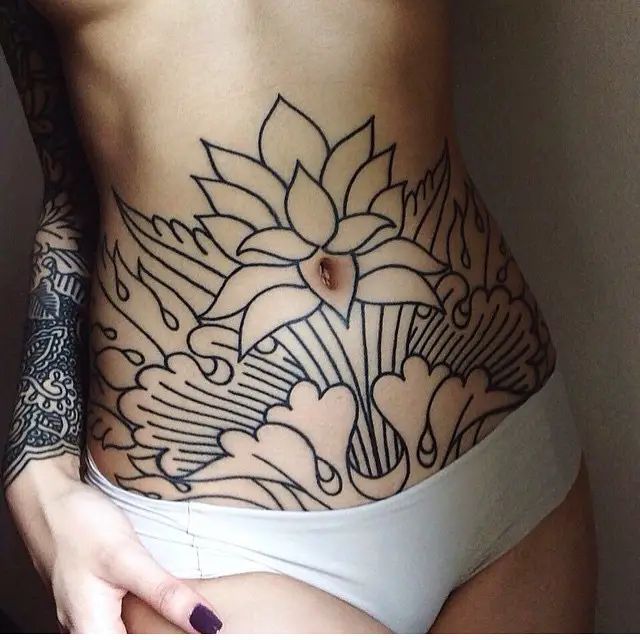 This deceptively simple design is a clever way to highlight the navel and create a sexy illusion at the same time.  Black ink is the right choice for a tattoo like this.
#12: FLORAL PATTERN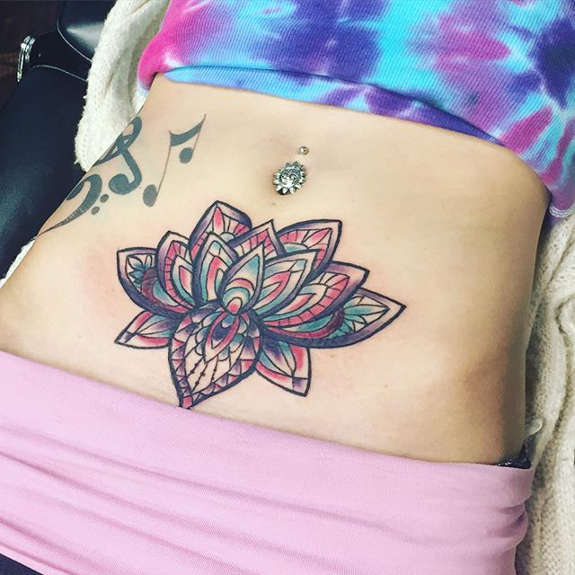 Girls go for colored petals like this one shown here.  Of course, the bold edginess also shows her daring side.
#13: PATTERNED DESIGN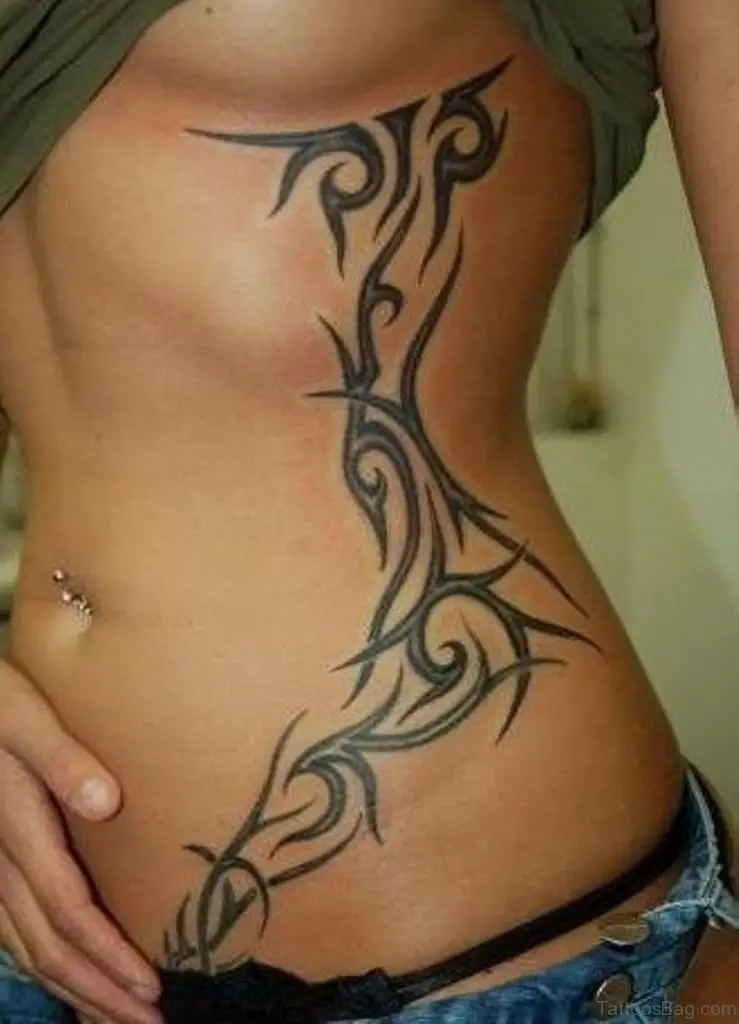 Mysterious symbols are sometimes used in stomach tattoos for girls as a unique piece of art that's only for her.  It's also a good use of ink to hide those annoying stretch marks.  Either way, this is an eye-catching design that's quite attractive.
#14: PURPLE PETALS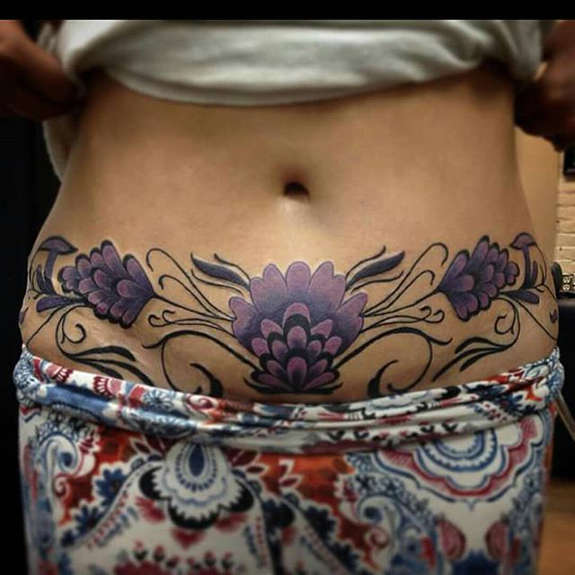 One look at this artistic rendering of purple flowers and you'll see the expert skill of the tattoo artist. This is one gorgeous stomach tattoo that must always be seen and admired.
#15: BUTTERFLY, WINGS AND ROSES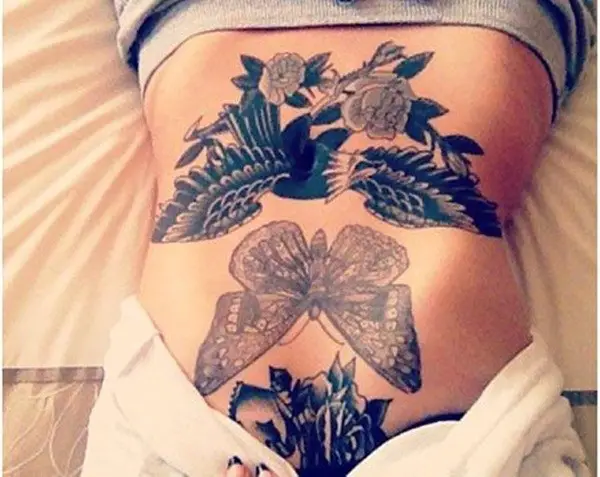 This outstanding stomach tattoo is a head turner.  Check out the details of each image, the use of black ink and the shades of color. The combination of roses, bird and butterfly makes this a feminine tattoo that girls will definitely like.
So, have you decided on your trendy stomach tattoo? From these examples of tantalizing stomach tattoos for girls you can find just the art work that's right for you. No doubt there is a tattoo idea that will inspire you to check your tattoo artist next time. Ensure though that whatever choice you make it will suit your style and purpose.