Men with intricate rib tattoos instantly catch attention. It amazingly displays their toned body and gives an insane sex appeal to the personality. Moreover, these tattoos offer more space for inking intricate and complex designs. Their ability to conceal easily also makes tattooing around the ribs more popular.
It's been found that tattoo lovers are really courageous in their choice of tattoo designs for ribs and sides. From rib quotes, rib lettering and rib texts to various masculine elements such as animal designs, tribal designs, and more, the options of rib tattoos for guys are endless. It all depends on personal taste, choice and purpose.
Hot Rib Tattoos for Guys to Look Attractive
Tattoos, since ancient times, have been representing the bravery and strength of a man. Earlier, tattoos were used to mark certain grades such as warriors and soldiers. However, in modern times, they express many emotions – courage, love, faith, admiration, concern, and so on. These tattoos are comparatively more painful as ribs are less fleshy and if not done skillfully, it might hurt the bones. That means you have to be brave heart to get a rib tattoo. However, with a dramatic final result, you won't mind bearing that pain. Elaborative and exquisite, rib tattoos for guys are definitely worth praising.
#1. Do it like Beckham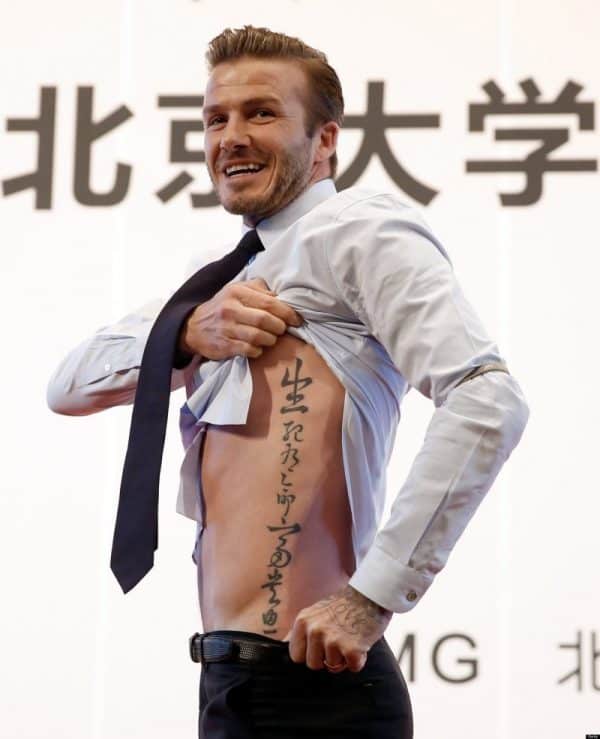 Beckham is known for his toned physique and tattoos as he is famous for his game. The tattoo that the professional footballer inked on the side is a Chinese proverb. It means 'Death and life have pre-determined appointments; riches and honor are from heaven'. A meaningful tattoo is definitely a cool idea.
Gorgeous Side Tattoos For Girls
#2. Angel the Savior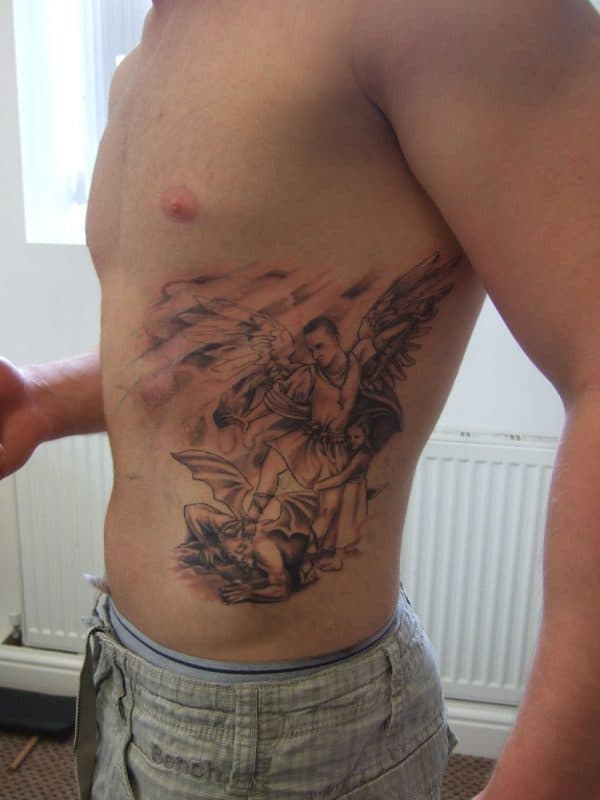 The tattoo here shows an angel saving a child while killing a demon. Definitely a beautiful thought to express in the picture. Angel tattoo designs are amazing for rib tattoos as they come out exceptionally beautiful in this space.
#3. Tribal Inspiration Rib tattoos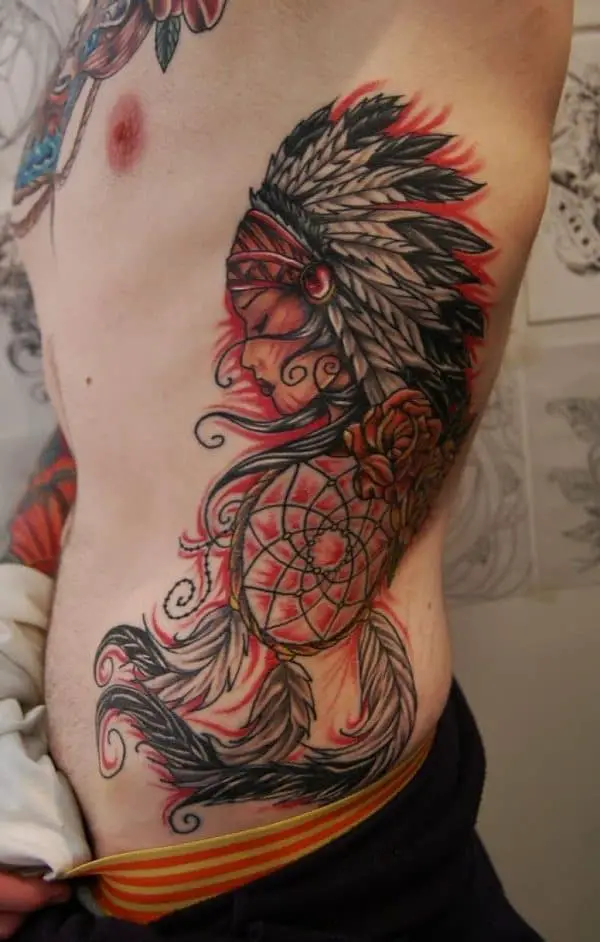 This guy seems to be a die-hard fan of native art and culture. See how beautifully the Indian American with his feathers and armor is inked on the ribs. You should see an expert for such awesome body art.
#4. Arch Rivals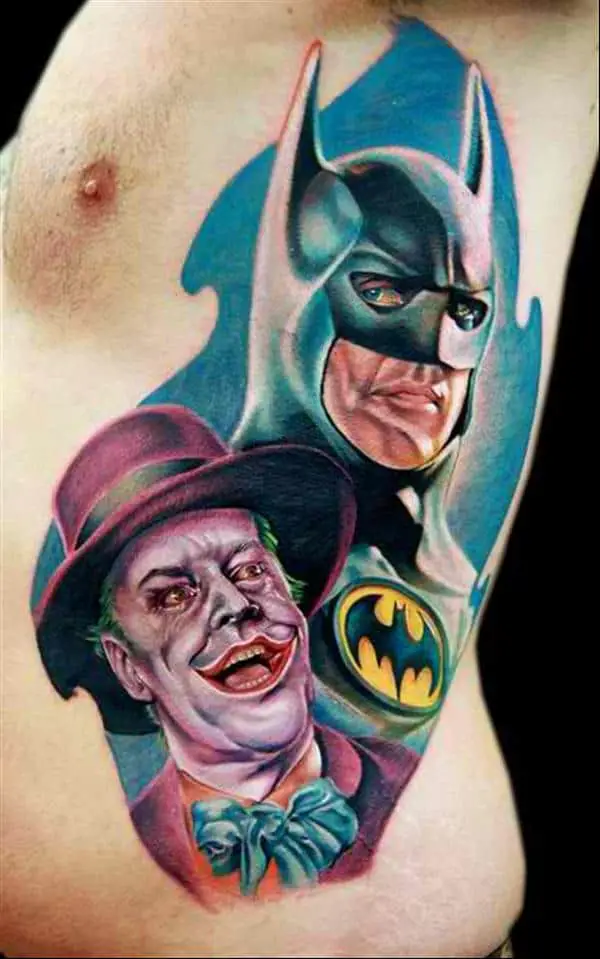 Superheroes are an awesome theme for rib tattoos for guys. If done well, like this Batman and Joker tattoo, they look fabulous.
#5. Creepy Imagination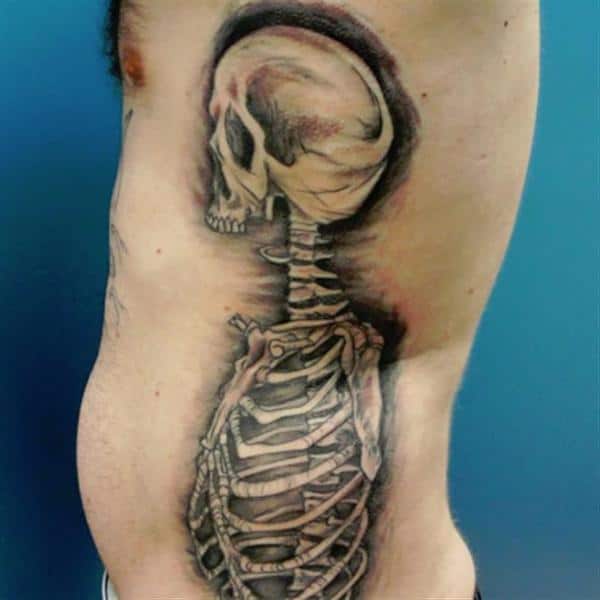 A bony structure is definitely a creepy idea for a rib tattoo. Though this skeleton seems missing a few things, it is still a cool piece of art. Isn't that?
#6. Inspiring Nature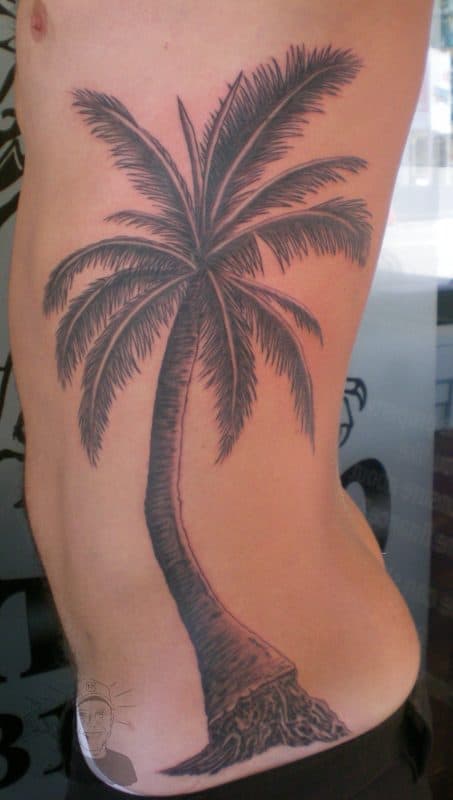 This palm tree rib tattoo is great to show your closeness to nature. The vivid elements out and about are always an inspiring design source for inking.
#7. Cute and Fun Tattoo Idea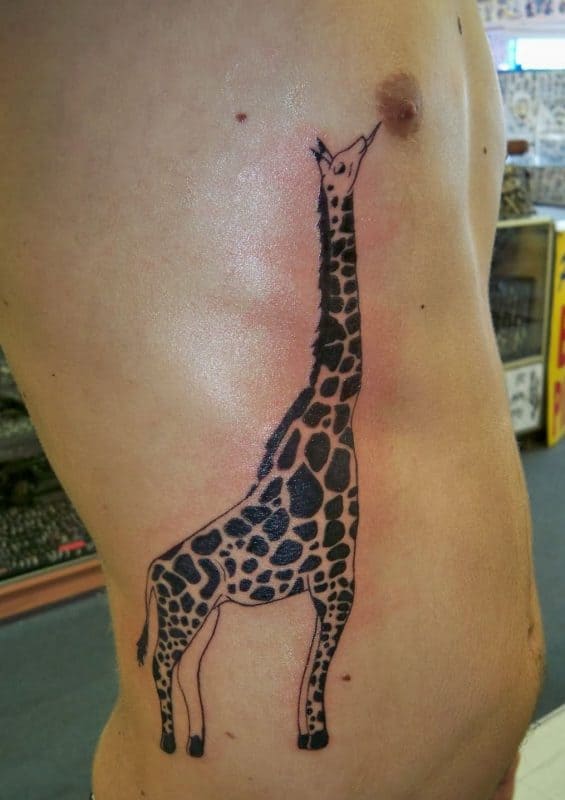 This guy surely knows how to bring fun to life. Don't stop the smile that floats around your lips when you see the giraffe having his meal!!
#8. Symbol of Strength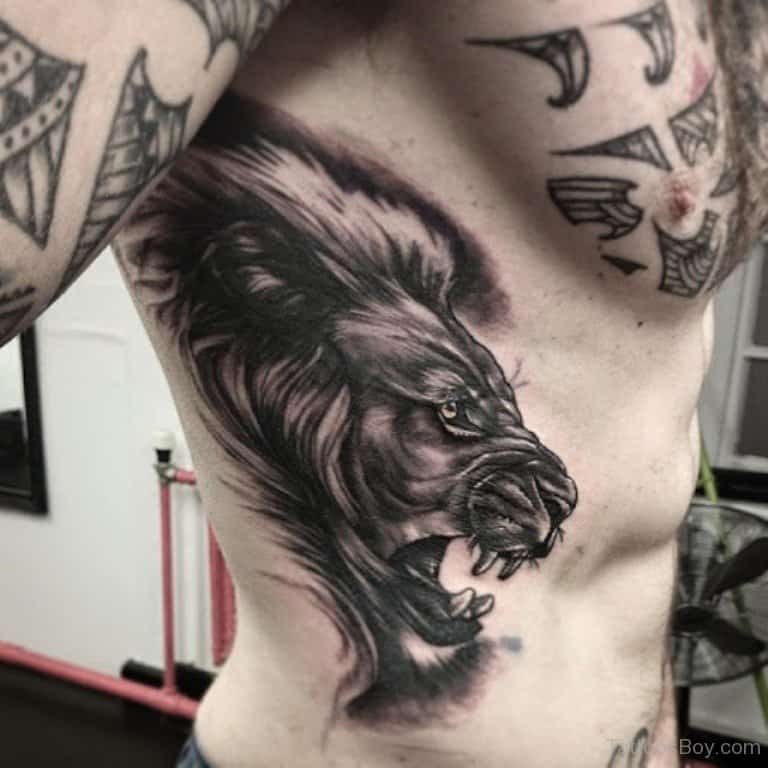 Loved the detailing in this fiery lion rib tattoo. Get a fine tattoo like this and let others sense the roar of your strength. Inking such a piece of art around the ribs need a daring heart!
#9. Life is a Theatre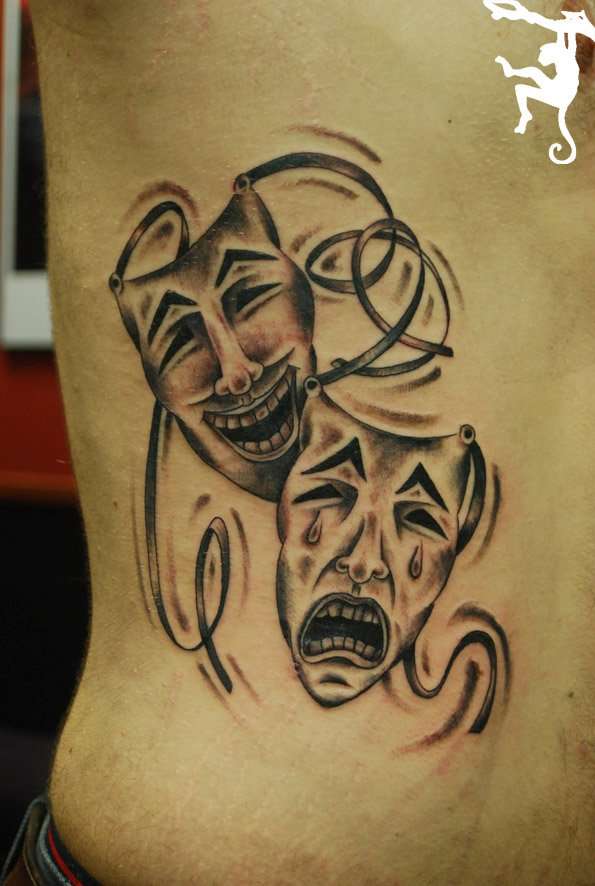 The drama mask tattoo on ribs is a cool idea to say that you know the true philosophy of life.
#10. Tribal Takeaway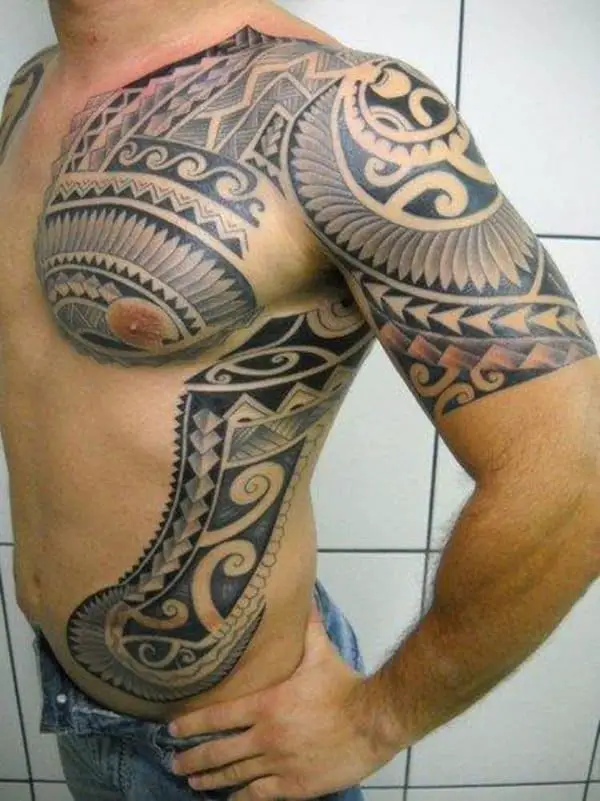 Wow! a robust physique like this guy has deserved a dramatic tribal tattoo. Just see how masterfully he got the Hawaiian tribal signs inked around his chest, shoulder and rib.
#11. What's your Zodiac sign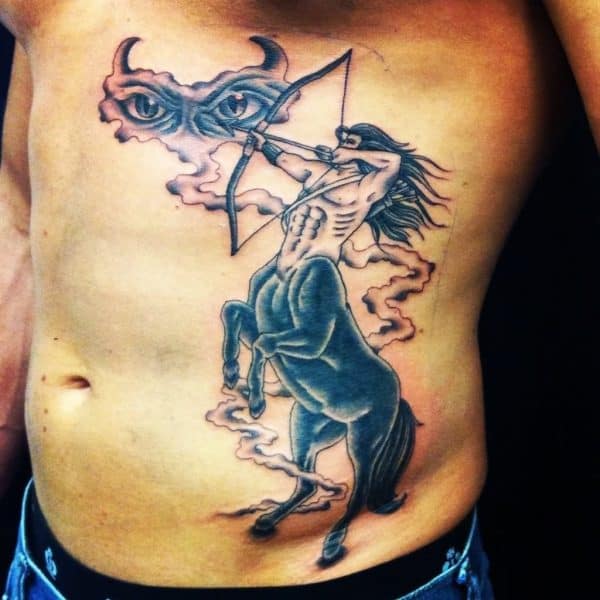 Sun sign theme is a cool idea for rib tattoos for guys as the area provide ample of space to elaborate the zodiac that defines the manly traits guys acquire from their zodiac. This masculine Sagittarius with intricate detailing is sure to add an oomph to the looks.
#12. Name Rib Tattoos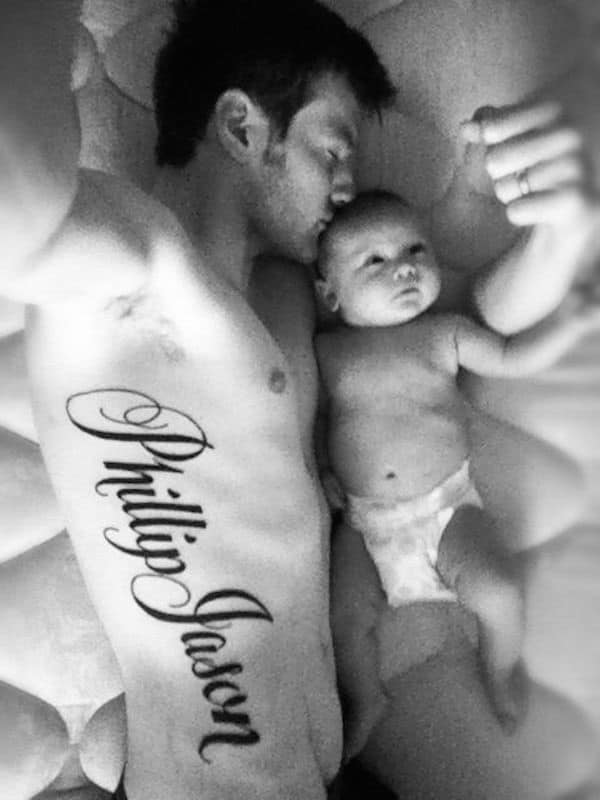 Isn't this picture so adorable? The doting father definitely found the best way to show his timeless bond with his little angel. While the name tattoo is simple, straight and sensitive, there are endless possibilities to customize the theme. You can choose to name a footprint theme, family tree design, add the birth date, include symbols like hearts to the tattoo and so on.
#13. Tick Tack Rib Tattoo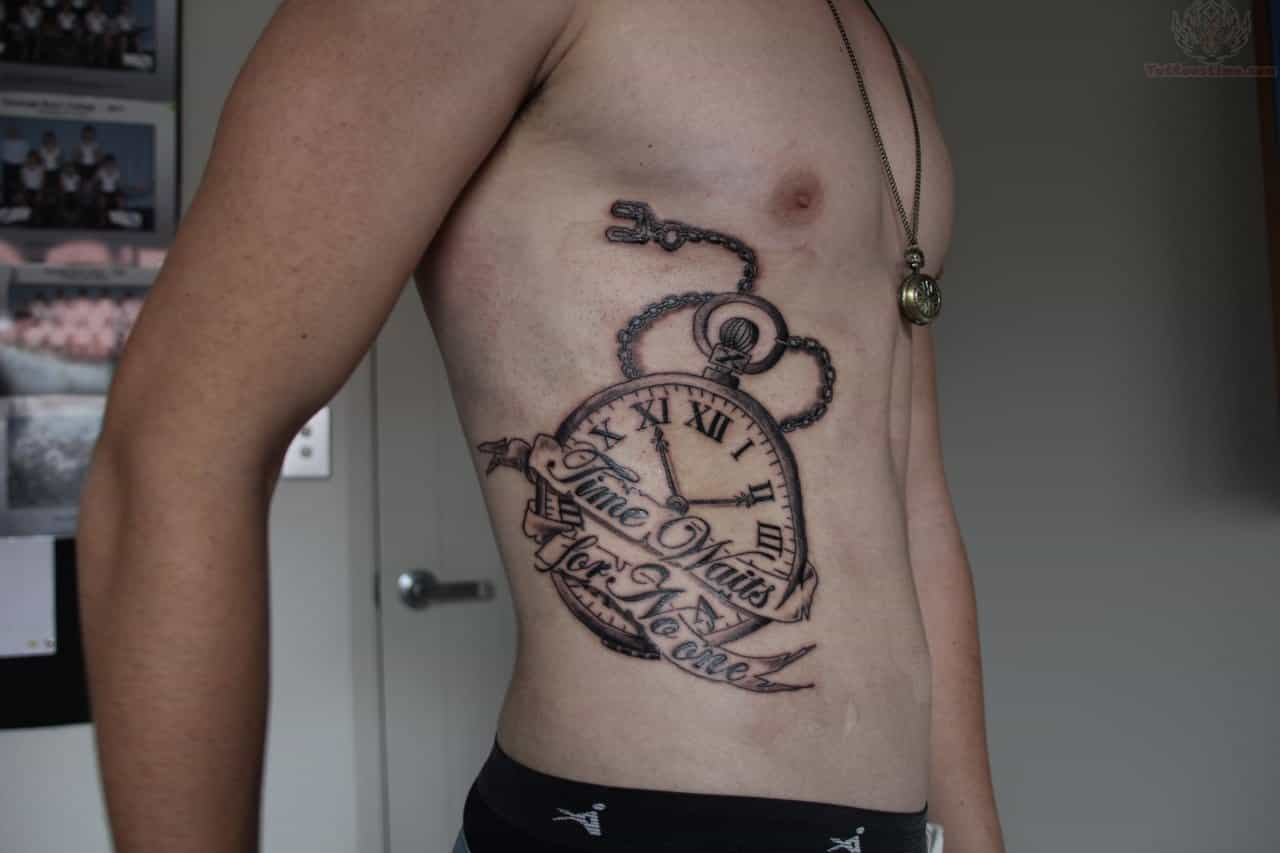 This Victorian inspired watch tattoo with the message 'Time Waits for No One' is great to show your clear thinking.
#14. Faith Expressed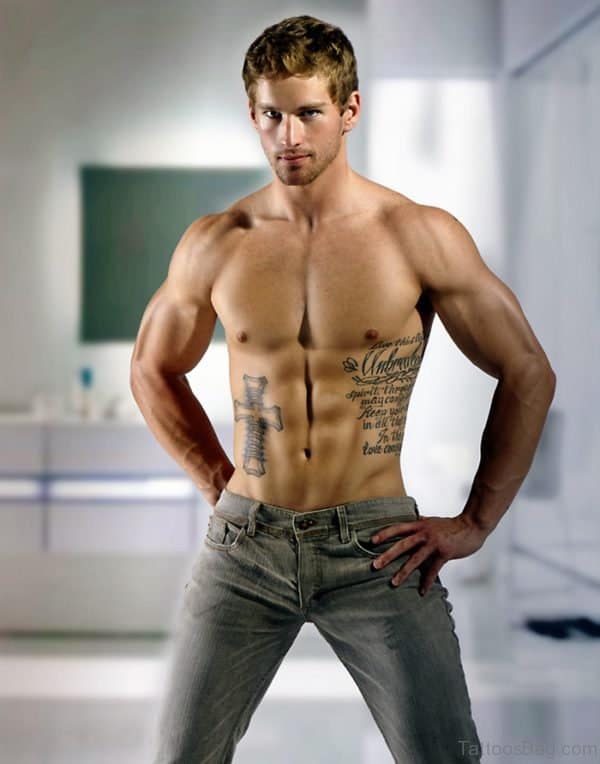 This guy has the guts! He got both sides inked and wow, the cross on one side with the text on the other is just amazing. You can choose Celtic symbols, quotes from holy books, sacred figures and more options to reflect your belief.
#15. Beautiful Portraits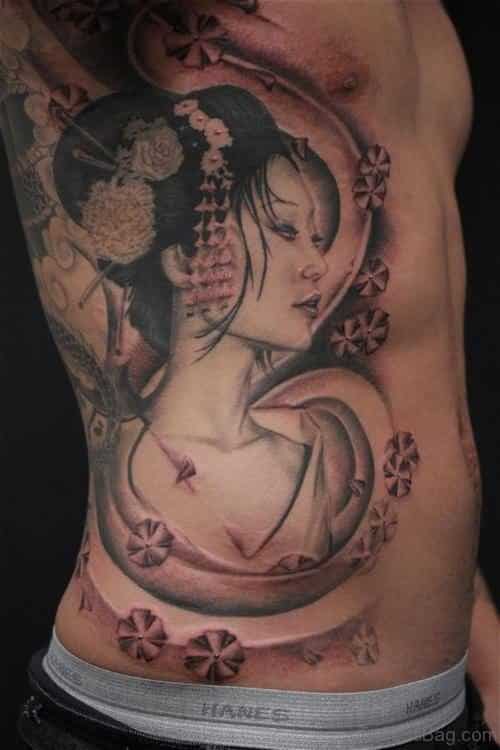 You should see an experienced and highly creative artist to get a rib tattoo like this Geisha Portrait.
#16. Myths Inscribed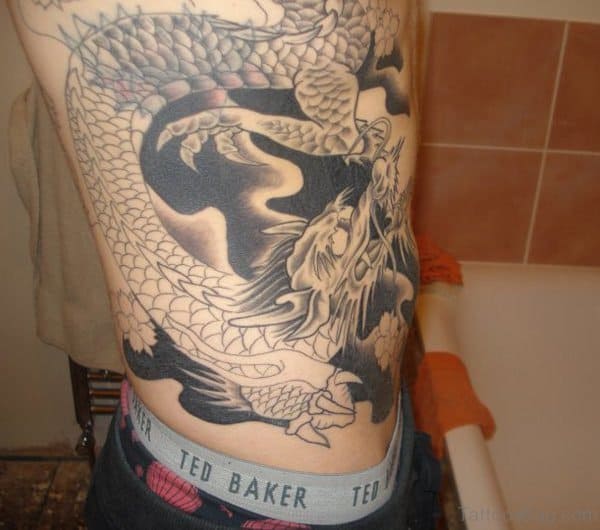 Here we have another rib aching piece of art. Mythical creatures, legends and folklores are amazing sources of inspiration for tattooing. All you need is immense courage to get an admirable design like this dragon rib tattoo.
#17. The Mechanics Rib tattoos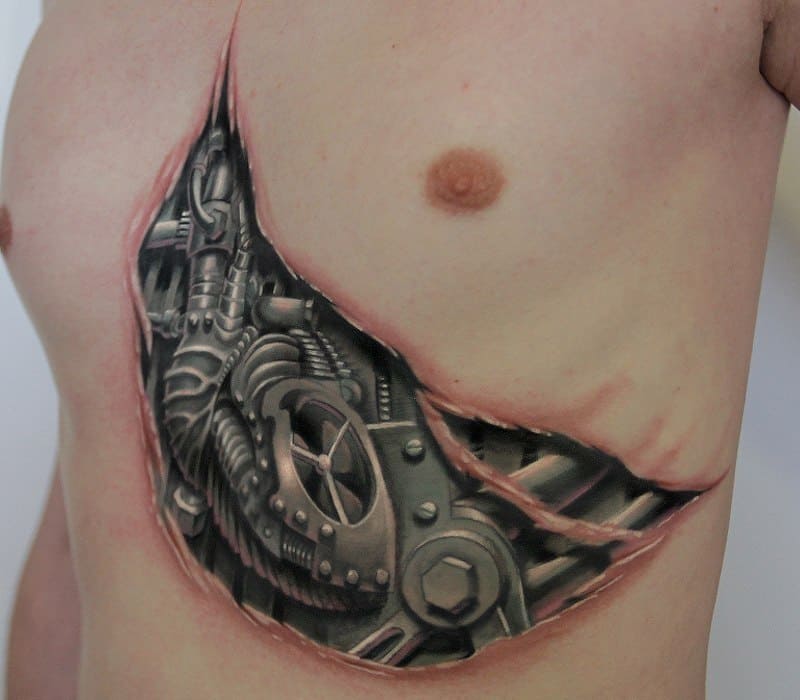 This 3D mechanic tattoo is perfect for a 'Robo-Cop' or 'Transformer' franchise fan.
#18. Pirates of Caribbean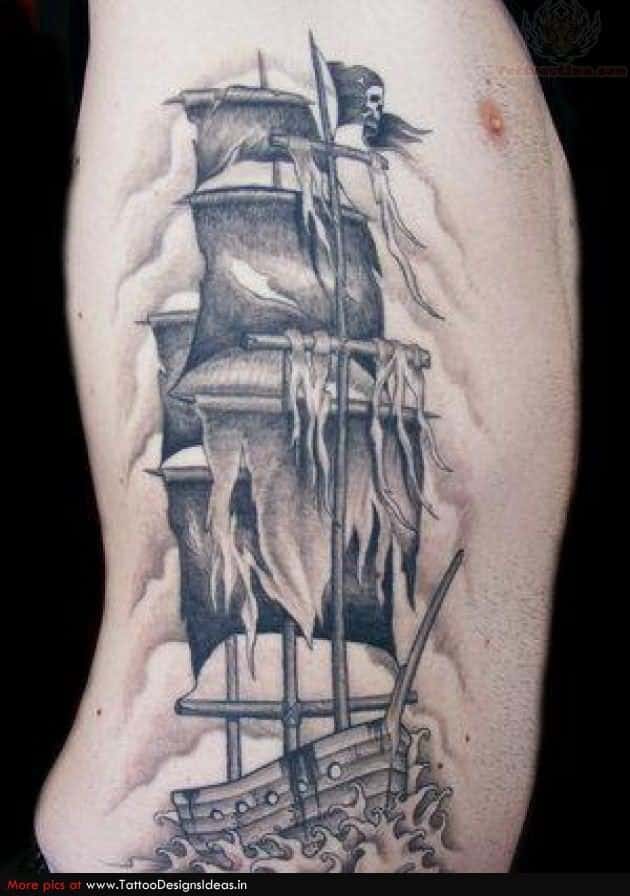 You don't have to be Jack Sparrow to get a pirate ship. An elaborative pirate ship sailing the stormy ocean tattoo around the rib cage is enough to catch the attention.
#19. Above and Beyond the Sky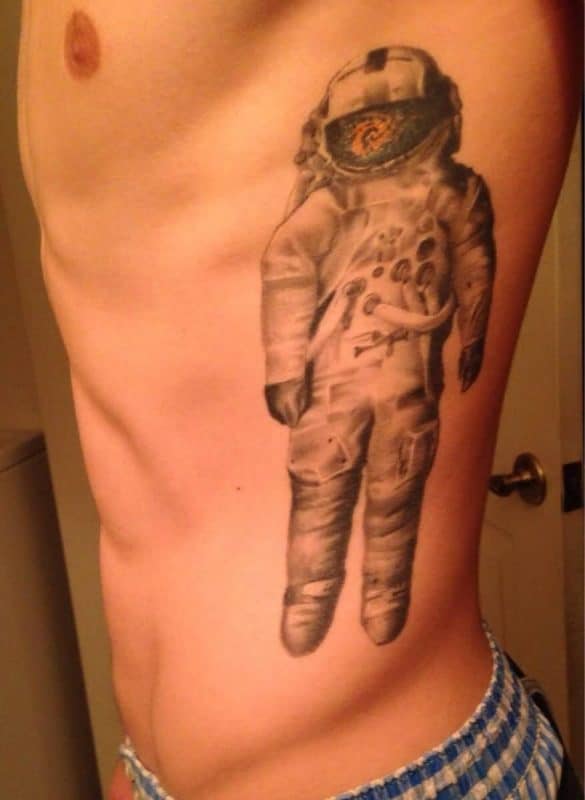 If there isn't enough inspiration on earth for you, then travel to space. This astronaut tattoo is good to start your space journey.
#20. Spiritual You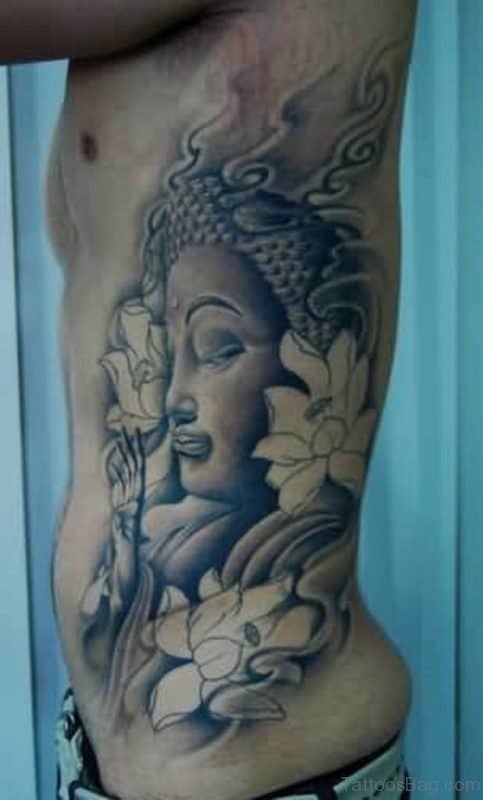 Last but not least – these spiritual Buddha rib tattoos are serene and soul-capturing. Getting spiritual tattoos inked around the ribs lets you show your spiritual side only when you wish to do so. You definitely don't want everyone to know how peaceful you are!
More 15 rib cage tattoo ideas for men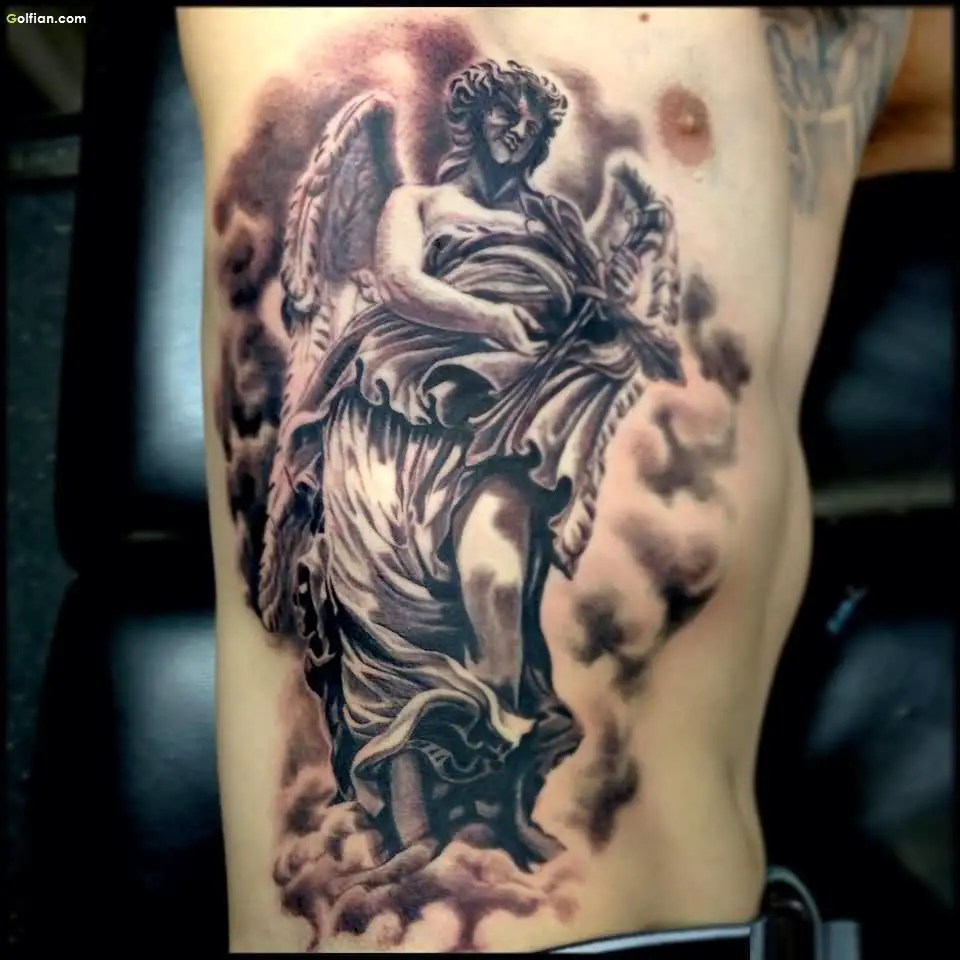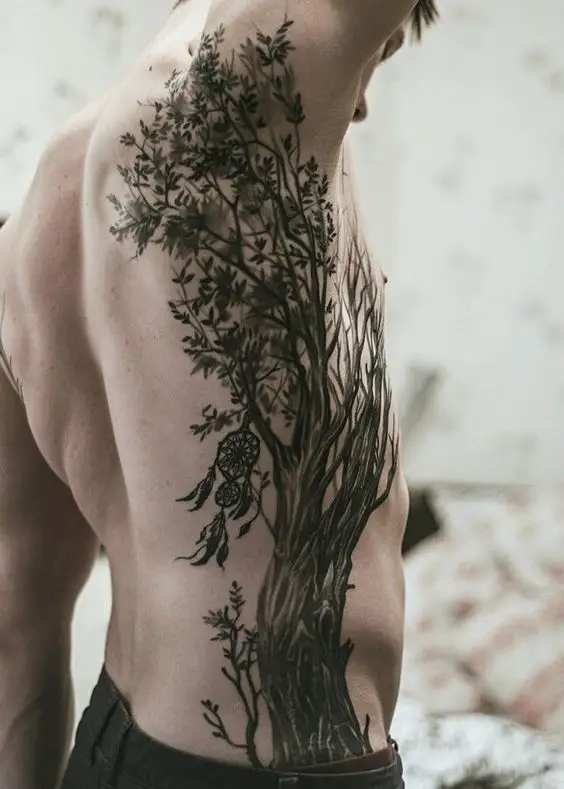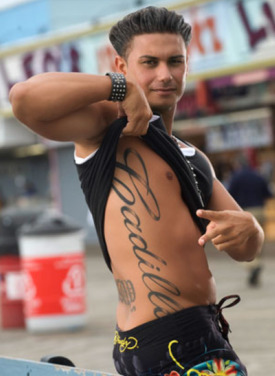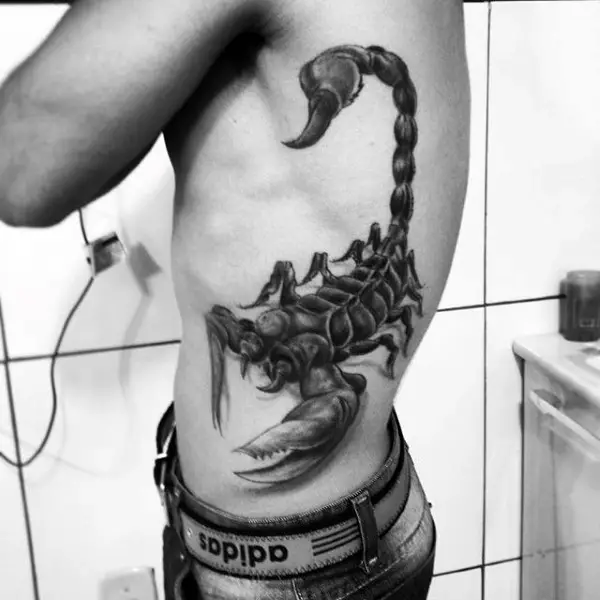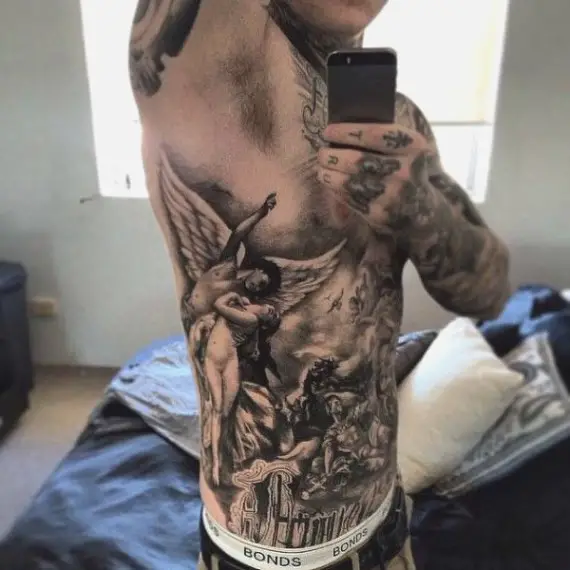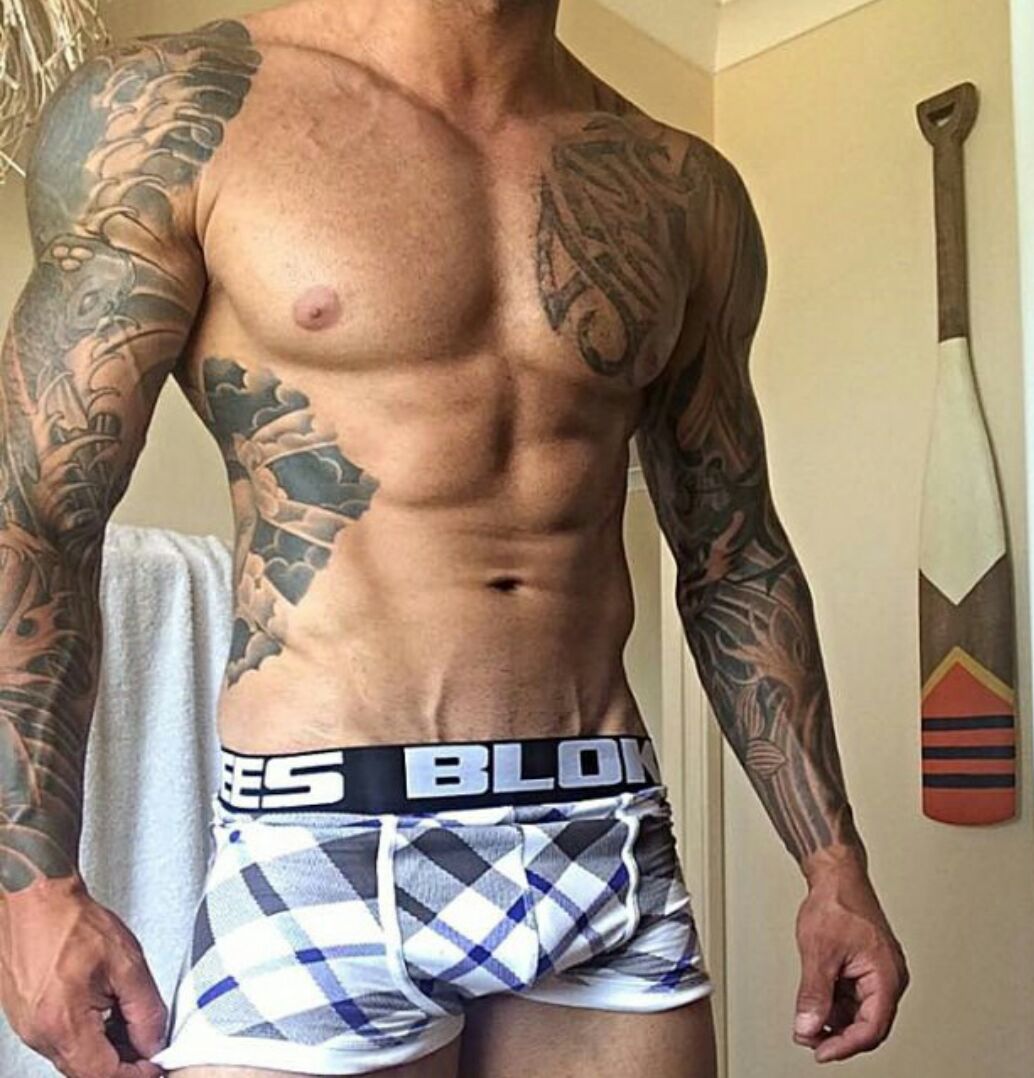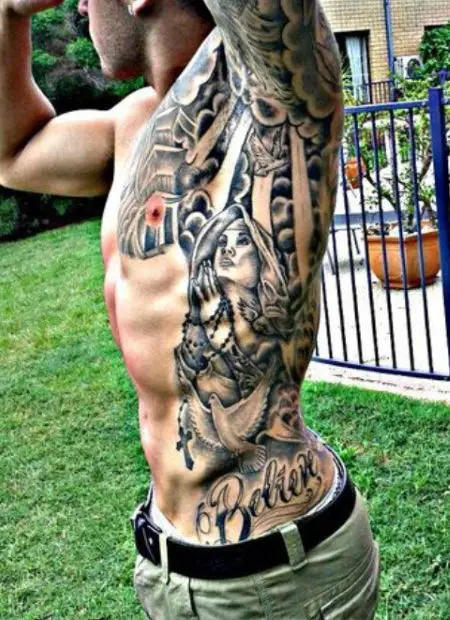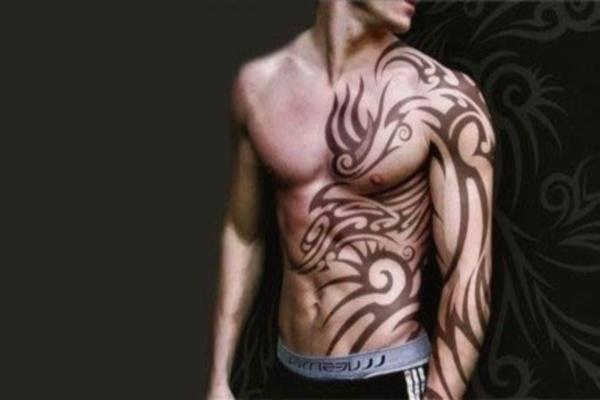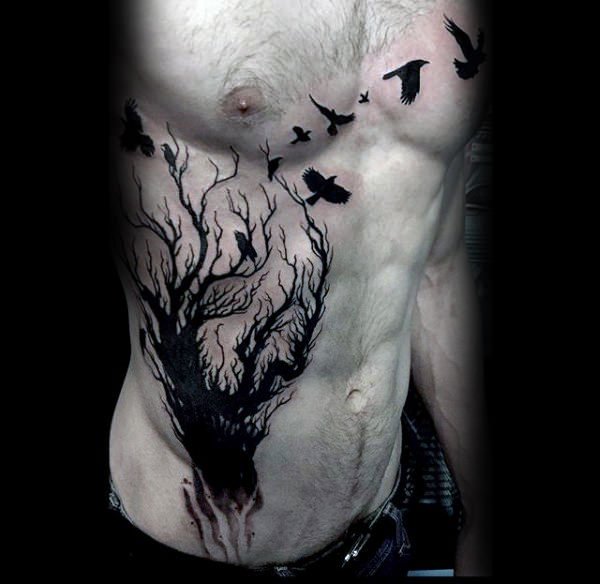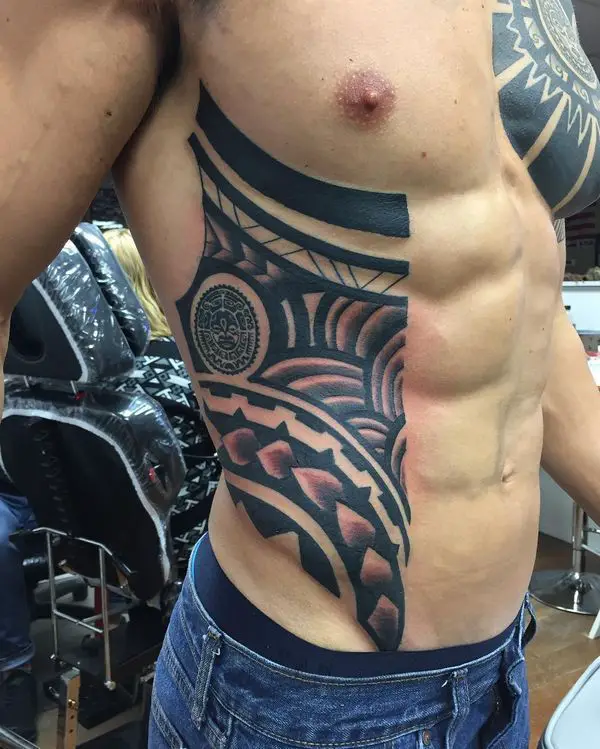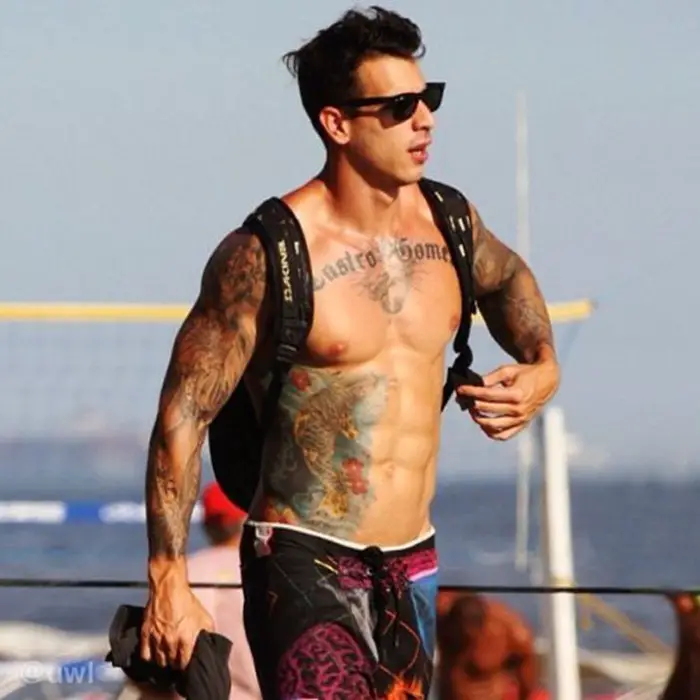 Like sky , there is no limit for rib tattoo themes and designs. So let your imaginations go wild and listen to your gut when you desire to draw something timeless around your ribs.