What would you think about star tattoos for men? Sincerely, your thoughts will be along the line of hot and sexy. You may even want to think that maybe this guy holds his dreams dearly and really wants to chase after them – maybe.
Star tattoos for men have become fashionable and very popular for their unique appeal. Many tattoo artists have been requested for star tattoos, some of which have deep meanings while others are simply artistic. The results of star tattoo drawing session by a professional artist on the skin of its wearer are usually amazing and thought to provoke.
DRAMATIC STAR TATTOOS FOR MEN TO TRY
When you think of inking a star, there is a range of designs with extraordinary look and deep significance. From the number of arms to the geometric thickness and different other patterns involved in the tattoo create wonderful body art. As examples of what such tattoo can be on a man, here are twenty exquisite ideas of star tattoos for men:
#1: STAR OF ATLANTIS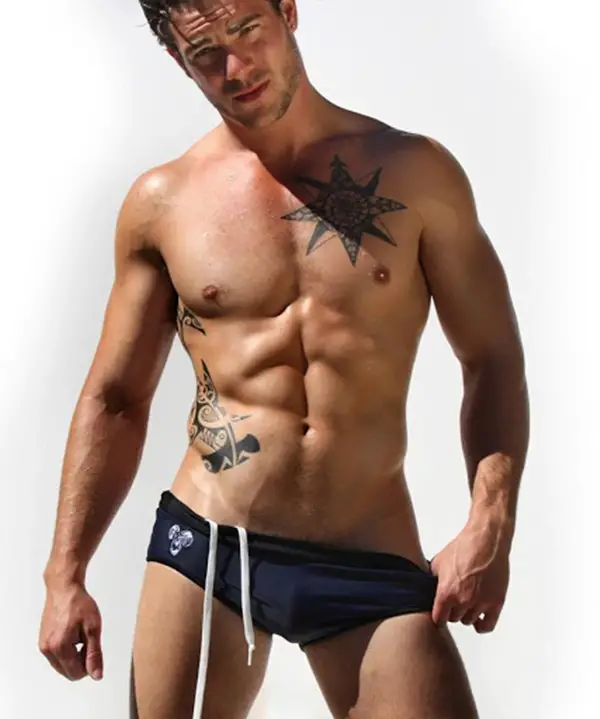 This eight-pointed star is intricately designed to beautifully contrast with the skin of its bearer. It has a center circle and jet-like shape on its top and depicts beauty and power. There is no way the eyes will be willing to tear itself off this tattoo when it's sighted.
#2: TWO STARS AND AN ANCHOR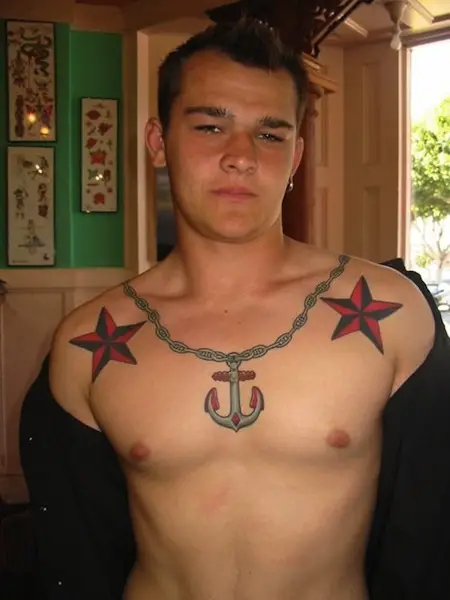 It's a wonder the way these two stars sit at opposing ends between a stylish anchor. Verily, these stars cannot go unnoticed because of their red and black colors. The shades interplay and complement the colors on the anchor that is inked like a bold pendant in the center.
#3: THE CELTIC KNOT AND STAR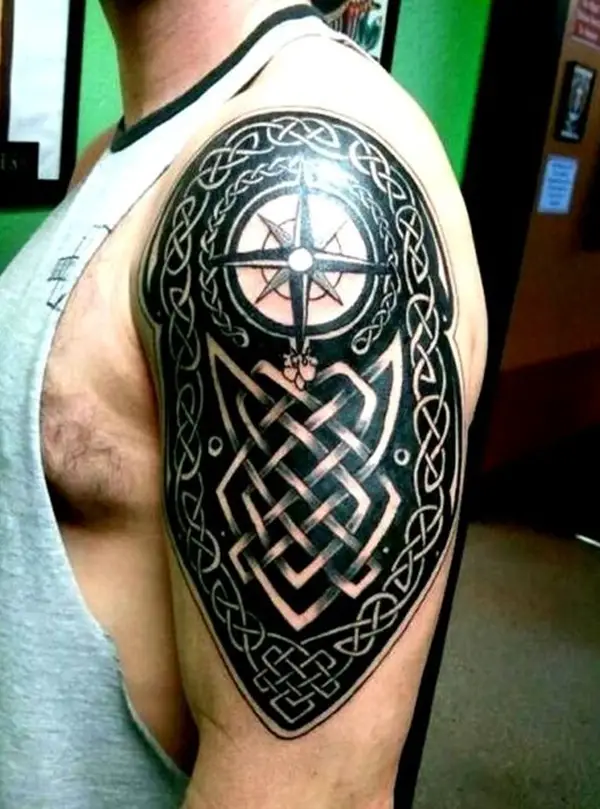 With Celtic knot all around, the star in the center represents a compass. The knot represents eternity and the star guides through the journey.
#4: ABLAZE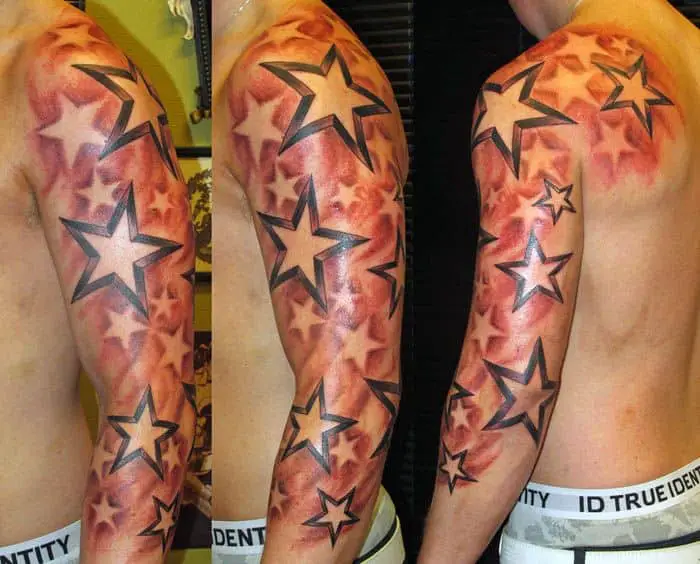 These colorful stars are not metallic and the watermark is not burned. The artist behind this craft is just insane. The background of the art is skilfully drawn to render observers dumbfounded and a little curious as to what the tattoo bearer has in mind for having such an art placed on his body.
#5: STARRY PATTERN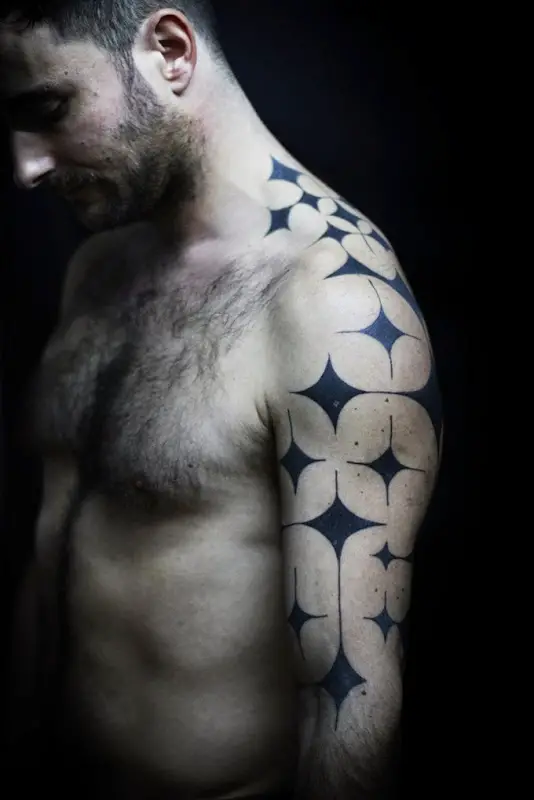 This looks suited for mature men who do not mind wearing some tattoos. The tattoo looks quite classy, with stars forming an intelligent pattern that you would really love to understand and see how and where it ends. The monochrome art perfectly fits the skin of its bearer and may even increase his sexiness by a notch or two.
#6: YIN AND YANG STAR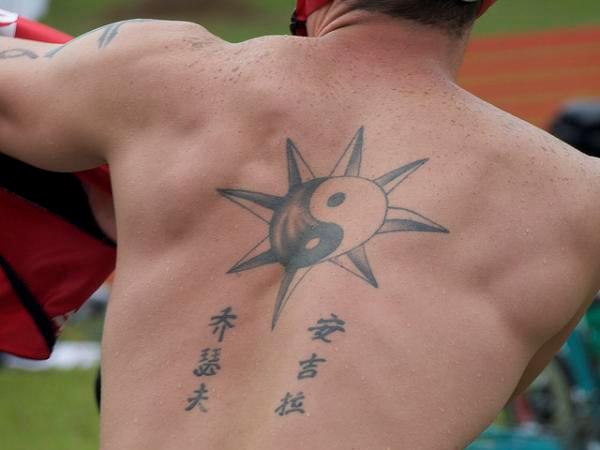 This star takes a philosophical or conscious undertone by embedding itself with Yin and Yang symbol. There are few Asian words that have a thing to say about the tattoo. Can you translate them?
#7: THE GLOWING GLAXAY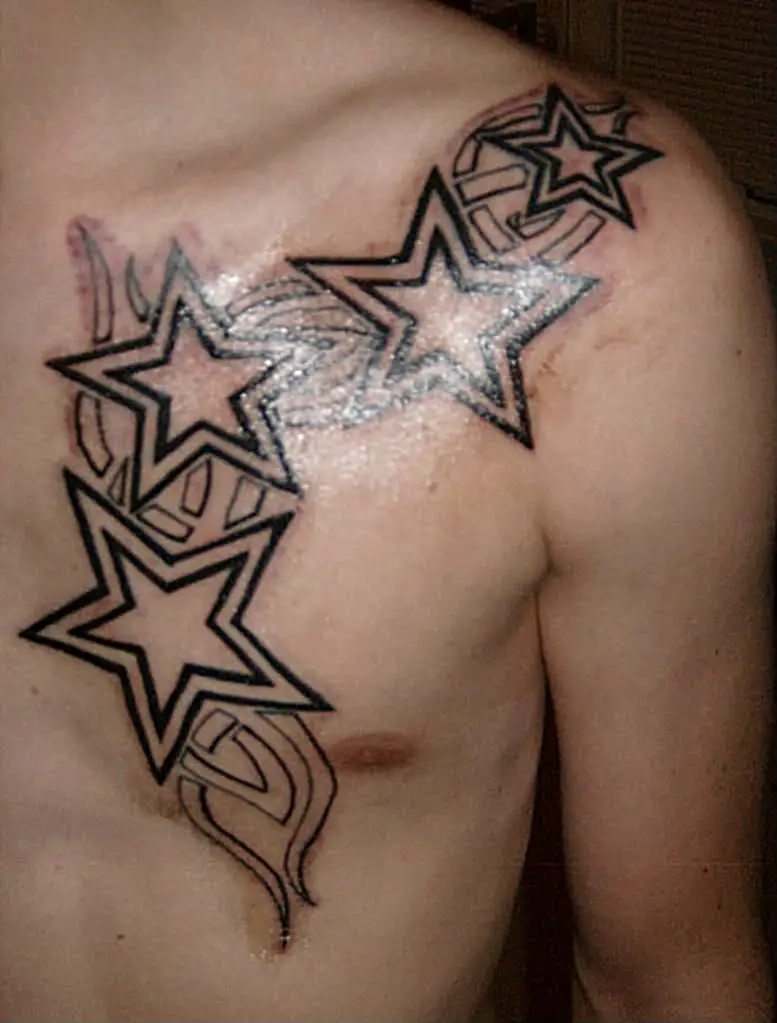 With just a black glossy outline, this star tattoo becomes exceptional. It really requires precision to draw such calculative artwork.
#8: SWIRLING STAR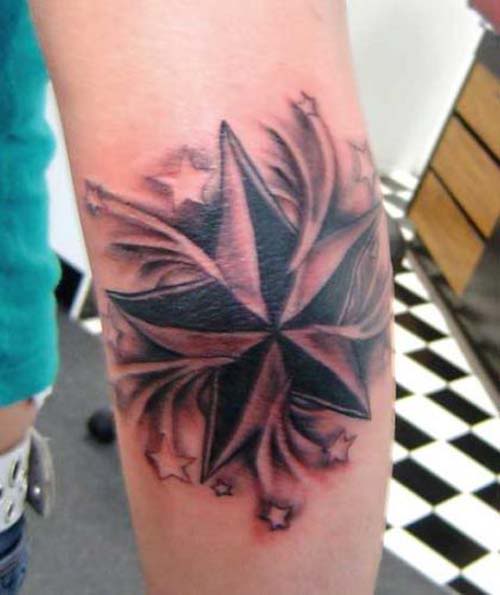 This star is just in a world of its own, swirling and spinning then packing some wind in its wake. Also, it has a party of acolyte stars who are paying homage to its greatness. The art is well detailed to create a form that is clear and alive.
#9: STARS OF HISTORY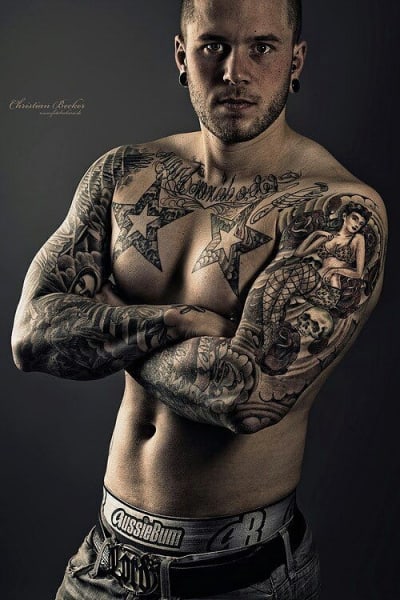 What creates our personality is a string of past experiences. The stars on this guy's chest feature various past experiences, including a contact with women and the dead, which are few of the numerous stories told in this mindboggling tattoo.
#10: 3D STAR TATTOO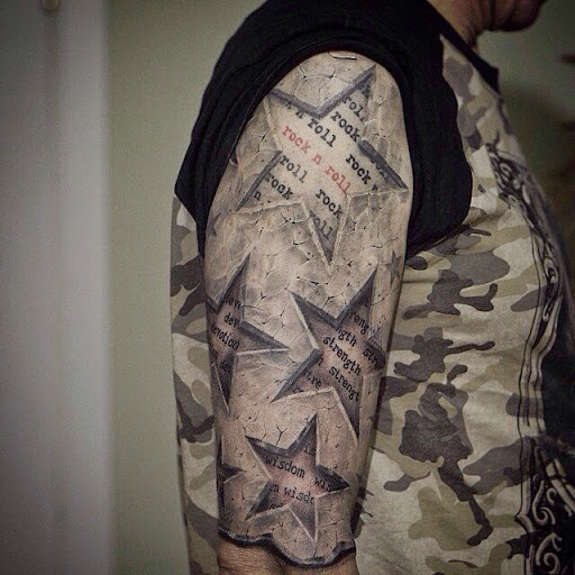 Wow! Isn't the tattoo exceptional? It happens once in a blue moon when we come across such dramatic artwork. Wonder how painstakingly the artist has done it?
#11: CUTE WRIST STAR TATTOO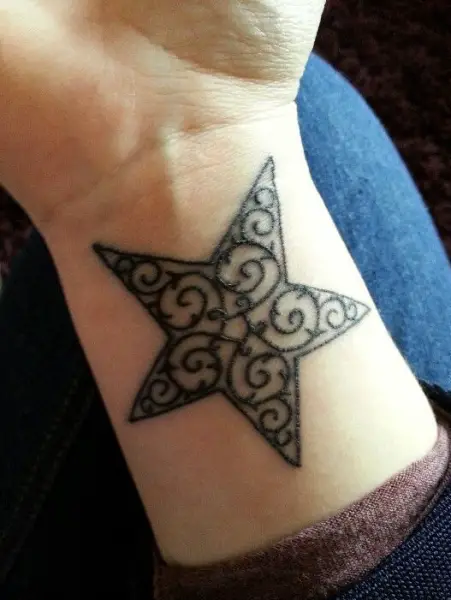 The patterns inside the star appear like wavy branches from a tree. The patterns are close and take the shape of a star.
#12: STARS IN THE FAMILY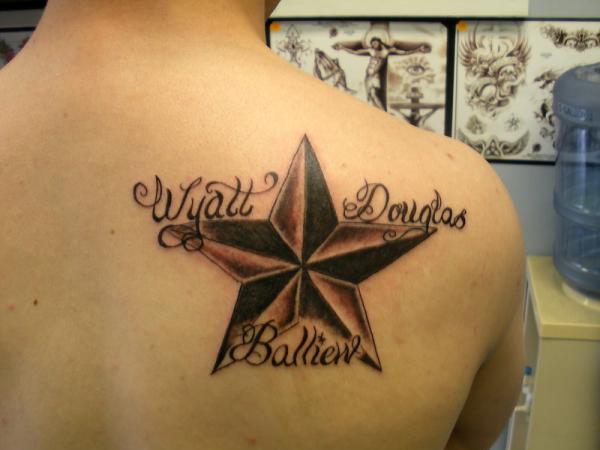 This shoulder tattoo beautiful showcases the love of the wearer for his family members.
#13: FANTASY RELOADED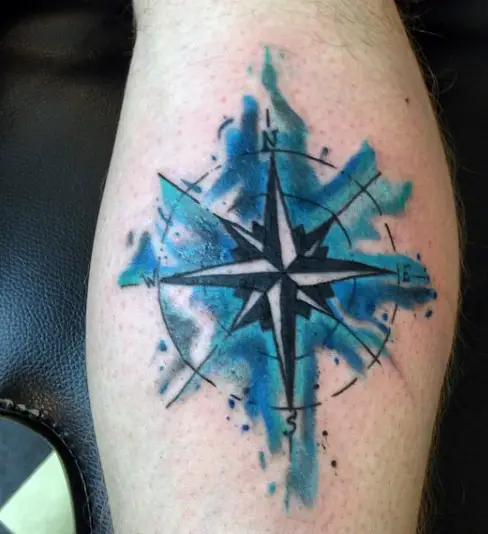 Isn't this compass star tattoo reminds of the mystery tales? Love the water effect of blue ink.
#14: ELBOW STAR TATTOOS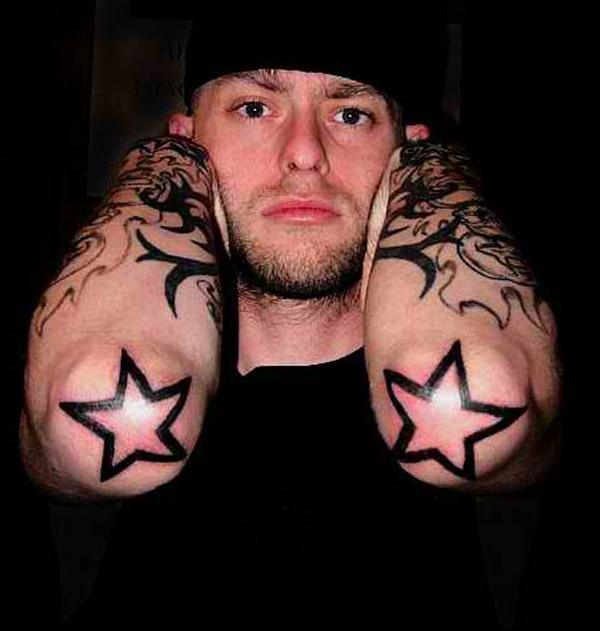 Ouch! We wonder how he managed to get the stars on elbows?
#15: BLOOD AND COMPASS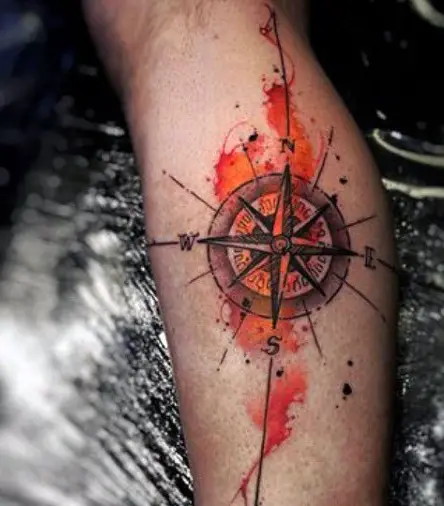 The blood splash on the compass looks smeared and really appears like 'a blood on compass'. There are inscriptions on the compass too, giving the effect of a real deal. What these bring to mind is some really crazy combo from an adventure movie.
#16: RIPPED CREED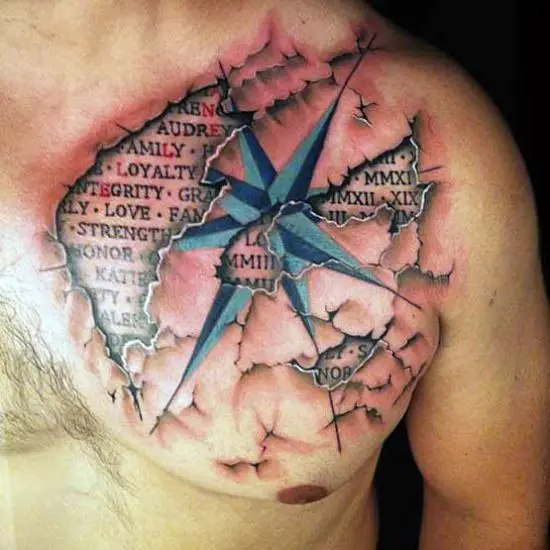 This one can intrigue and disturb at the same time. It's strident and accurate illustration of a torn star from an underlying document with codes on it.
#17: STARS, STARS, AND MORE STARS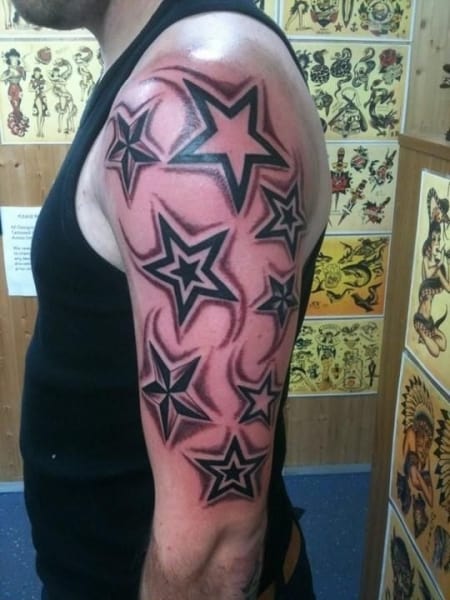 What makes life interesting is that it has varieties just as the stars in this tattoo. Not only do they have different sizes but also different looks, with some looking particularly blank.
#18: AROUND THE STARS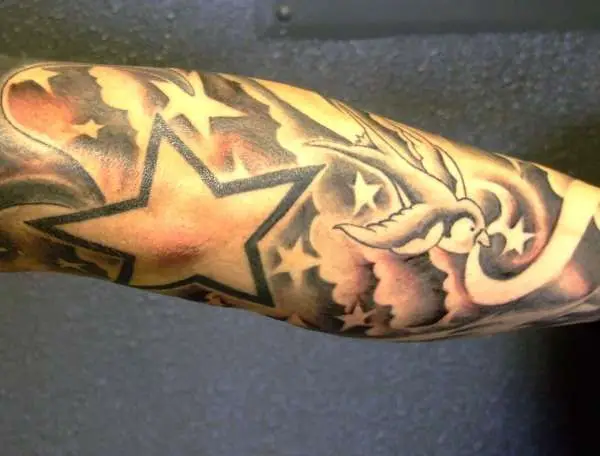 This one has a dove surprisingly amidst clouds and stars. The shades and contrast on the tattoo make it appealing to eyes and a bit brimful of some untold wisdom. Perhaps the dove has paid its dues and worked through thick and thin to earn the presence of stars even when the cloud is there.
#19: STARS IN GRADUATION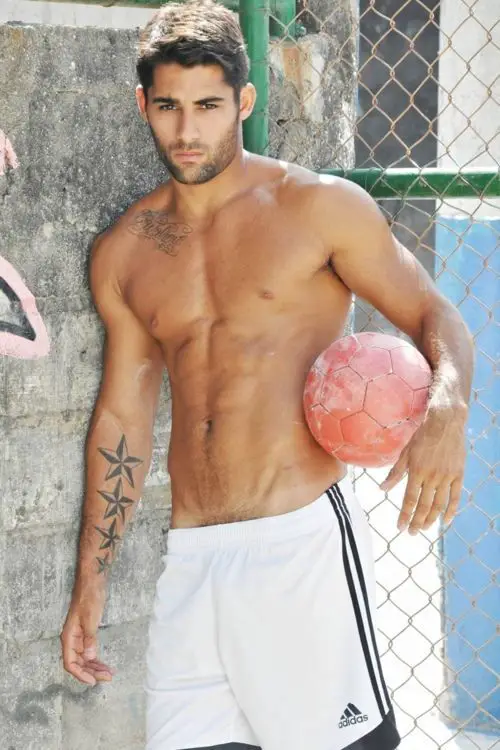 Wonderfully arranged on the forearm to the wrist of a bearer, the stars maintain symmetry and size gap that tells the observer that the bearer has a thing for neatness and organization. The eyes will not have enough after looking at these stars just once.
#20: MONOCHROME STAR TATTOO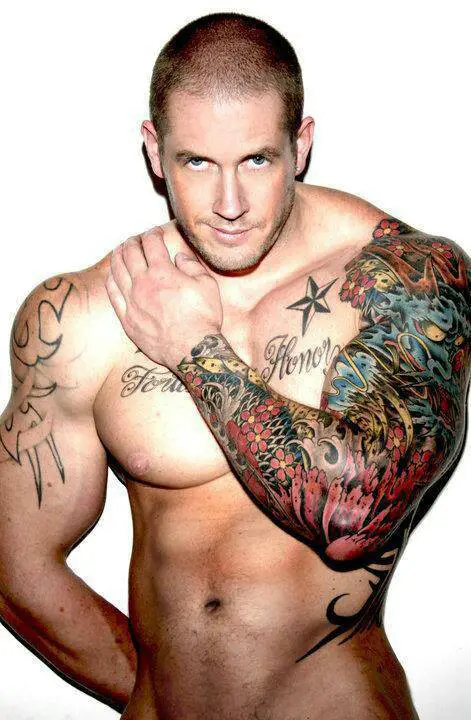 The star looks distinct from the other elements that are beautifully drawn with ink of different colors, in its monochrome.
The sky has no limit when you need inspiration for an abstract star tattoo. While there are plenty of ideas, we are sure the few listed above will make up your mind to ink your next star tattoo. Star tattoos for men make a distinct category amongst tattoo lovers as they look masculine and often holds a significance.