Rest in Peace tattoos are a timeless way to honor and remember the loved ones who have passed away. These tattoos have long been in practice to show respect and love for the departed soul. A range of designs and patterns can be found in RIP tattoos that make them unique.
You also have a myriad of options for where you want to ink it. If you want the world to see it, choose shoulders, arms or neck. If you want to keep it personal, you can go with rib, stomach or back Rest in Peace tattoos.
VERSATILE REST IN PEACE TATTOOS
As Rest in Peace tattoos are a way to strengthen the emotional connection with a loved one who has started a journey to the new world, there is no limit to creativity when you want to express your emotions. People often add more personal touch to a simple tattoo for an emotional appeal. You can choose anything from a quote said by the loved one to their signature or any special symbol that associate with them. Dates, names, prayers and even portraits have also seen inked as a part of the tattoo. Many people even add funny elements and cartoon characters for a positive approach.
If you need some serious inspiration to get a tattoo done in memory of your loved ones, then look for our list of 15 RIP tattoos.
#1: PORTRAIT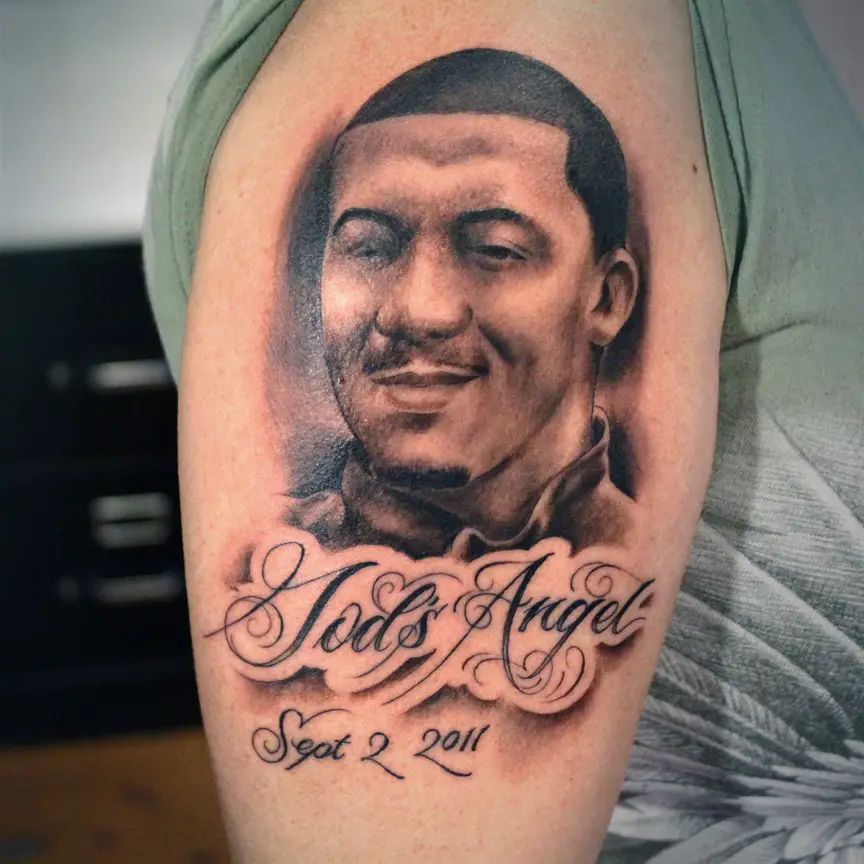 Take a cue from this tattoo and ink a portrait of their face. You could draw your favorite picture of them on a significant place like your arm sleeves; bold tattoo lovers can decide to tattoo them on their chest or backs.  This will keep their face forever in your heart.
#2: ANGEL'S WINGS RIP TATTOOS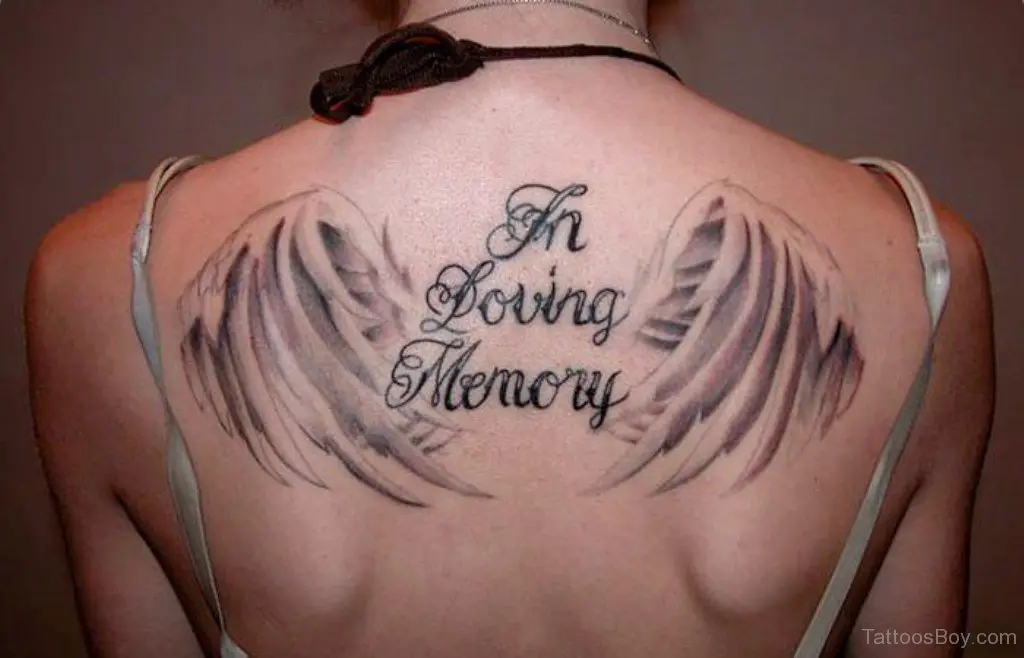 This angel's wings rest in peace tattoo will remind you that they have gone on to heaven and are with the angels. Very emotional!
#3: THE CROSS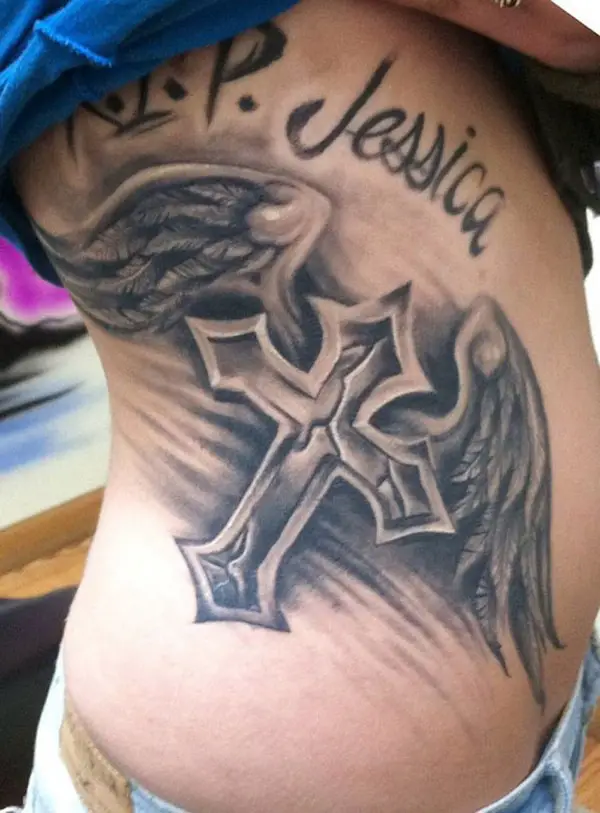 You can draw inspiration from the rib tattoo of this guy to remember that they are with the Lord. The cross with the wings is a great reminder that they are gone on angel's wings. Adding a name makes it more personal and specific.
#4: ARM CROSS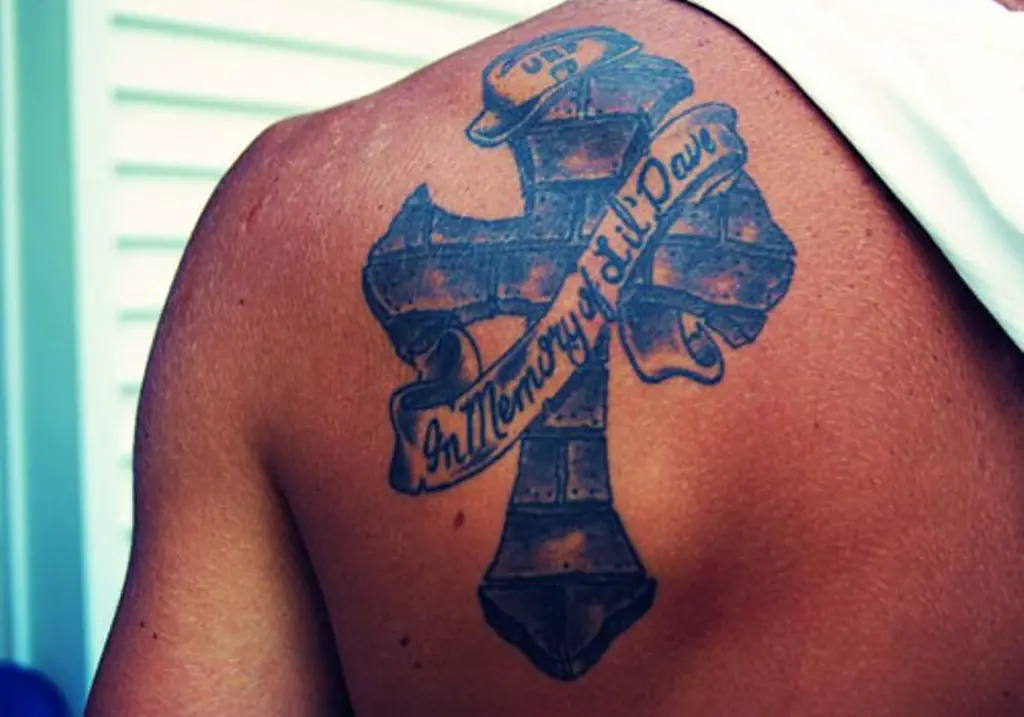 This cute shoulder tattoo is very bold and can be a loving reminder of your loved one. Etch their name (s) along the cross for better emphasis.
#5: BABY ANGEL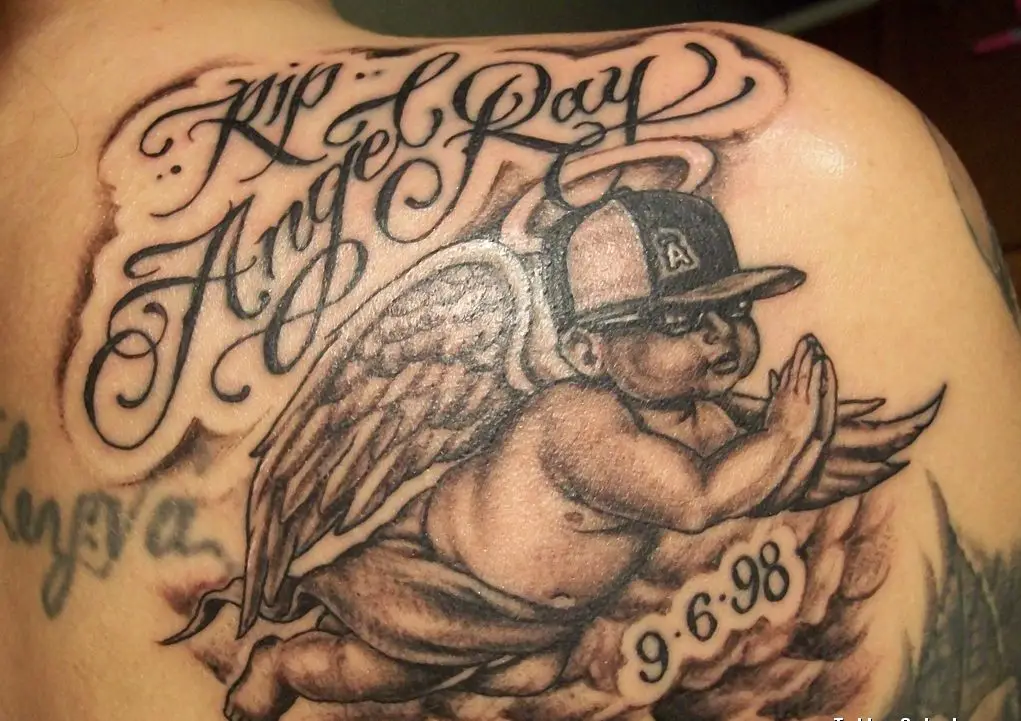 This bold Baby Angel tattoo will keep them in your heart for life. You can ink their names along with their death dates to constantly remind you of them.
#6: RIP CROSS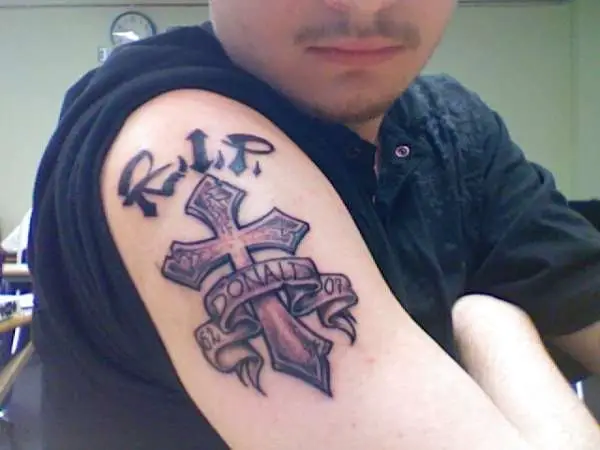 This Celtic cross tattoo will serve as a constant reminder that your loved ones are in heaven. To make it bold and daring, put this tattoo on your arm to forever keep them in your thoughts and remind you that they are watching over you. Adding dates and name will make it more personal.
#7: PEACE AND LOVE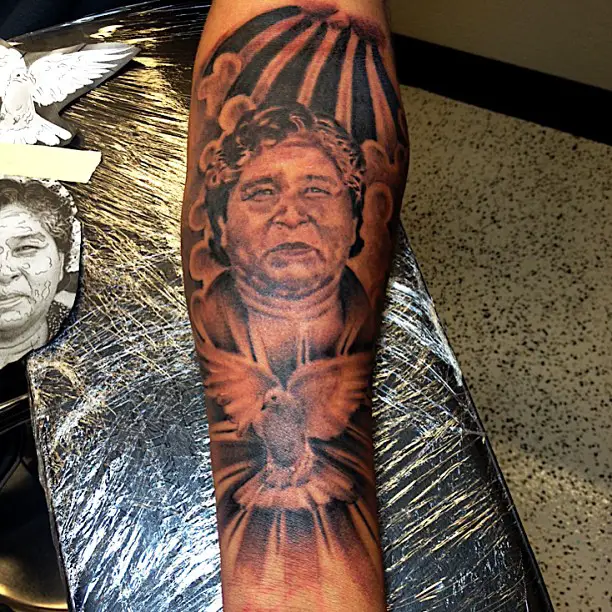 This bold and alluring tattoo is both thoughtful and fashionable. You can draw up their face along with their favorite color to make it pop.
ATTRACTIVE TATTOO DESIGN IDEAS FOR MEN
#8: BROTHER IN ARMS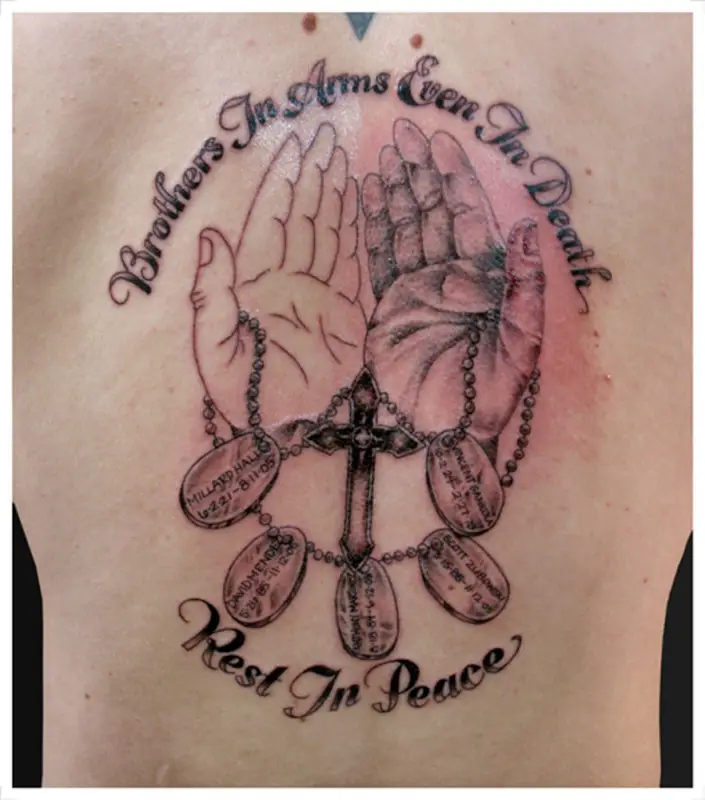 This military-inspired tattoo can be used to remember a lot of loved ones at a stretch, it doesn't take up a lot of space and is a constant reminder of the good times you had with them. Be creative by adding their names and dates like this tattoo.
#9: SOCCER LOVER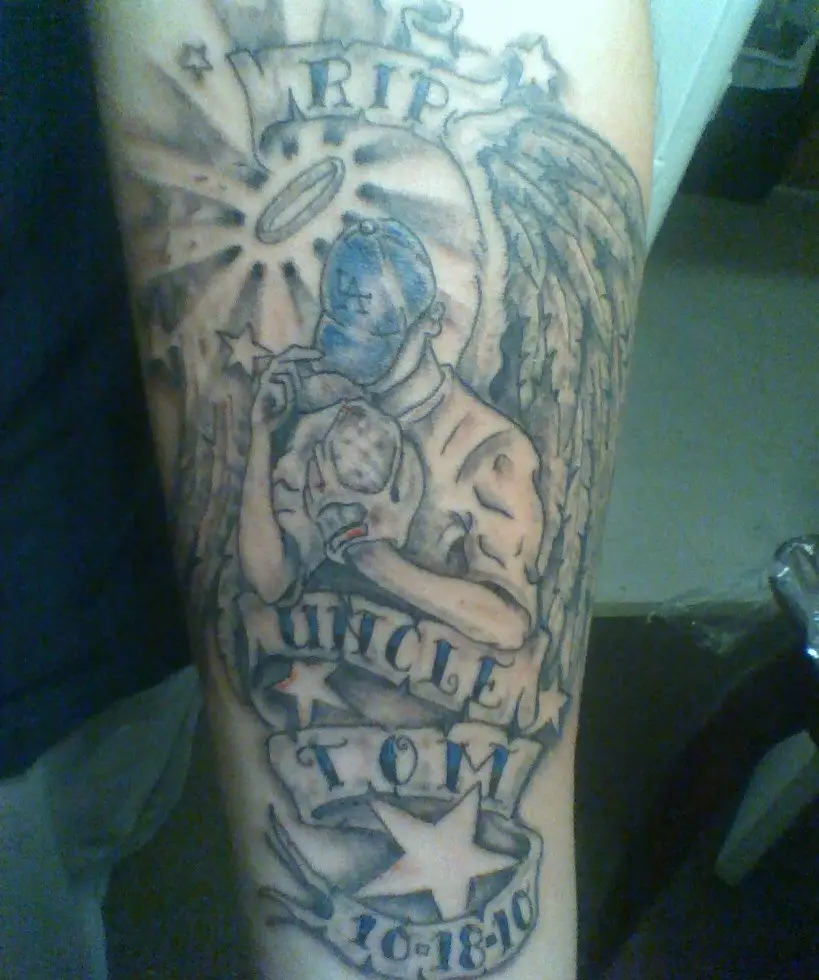 This is a great tribute to a soccer lover. The divine halo, the angel wings and lots of stars make it very heavenly while the portrait with the name and departure date give it the required personal touch.
#10: REST IN PEACE LOVE TATTOOS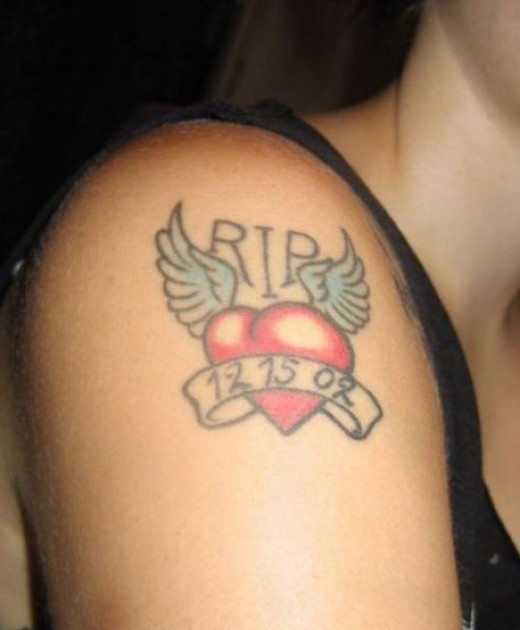 This simple and sweet tattoo is easy to replicate. However, you can decide to personalize it however you want for unique sentimental appeal.
#11: THE TOUGH GUY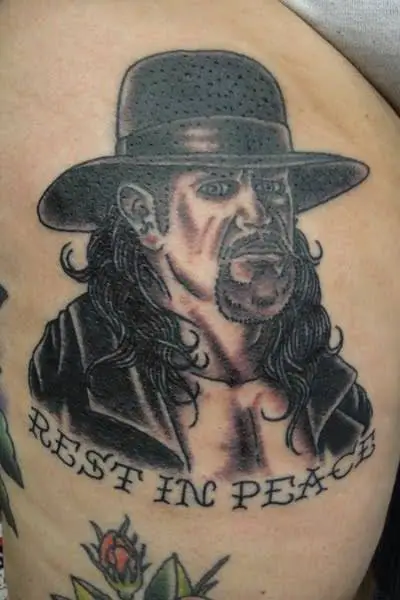 Remember your tough guy friend or family with this shoulder Rest in Peace tattoo.
#12: JADED CROSS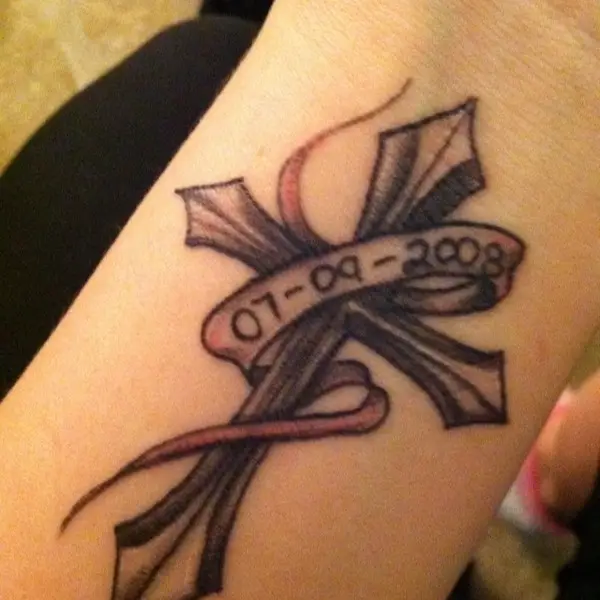 This is also another cool tattoo that doesn't take up a lot of room, it is simple, straight to the point and thoughtful; perfect for tattoo newbie who wishes to mark a loved one's departure.
#13: HEAVEN'S GARDEN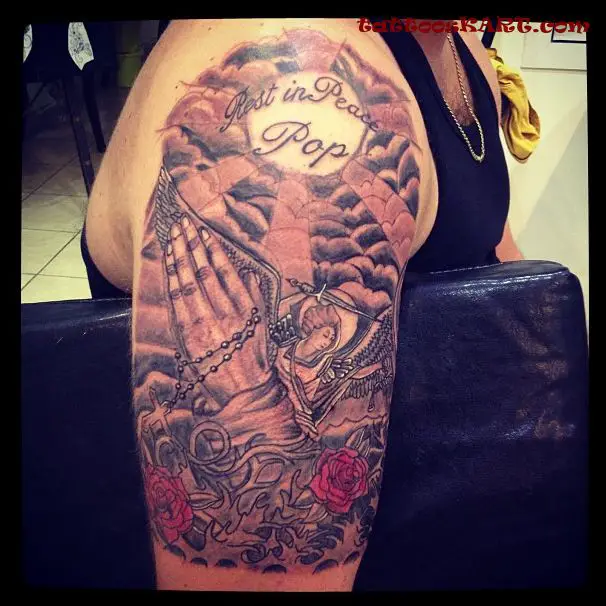 This elaborate rest in peace tattoo is perfect for keeping your dead loved one such as a father or mother close. This is not for the faint of heart and requires an expert to get the details right.
#14: THE ANGEL IN HEAVEN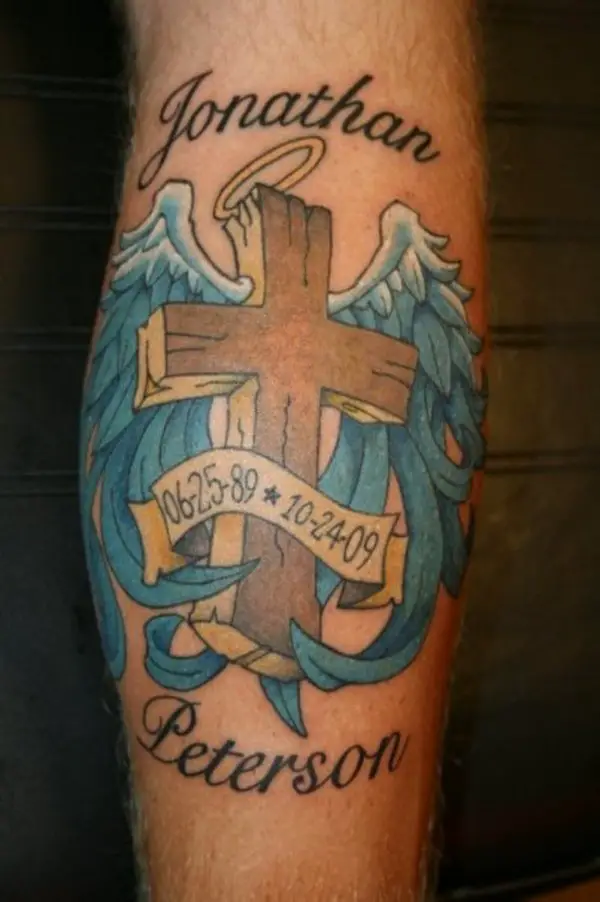 This is a simple yet meaningful Rest in Peace tattoos marking the names and lifespan.
#15: REST IN PEACE MOTHER TATTOOS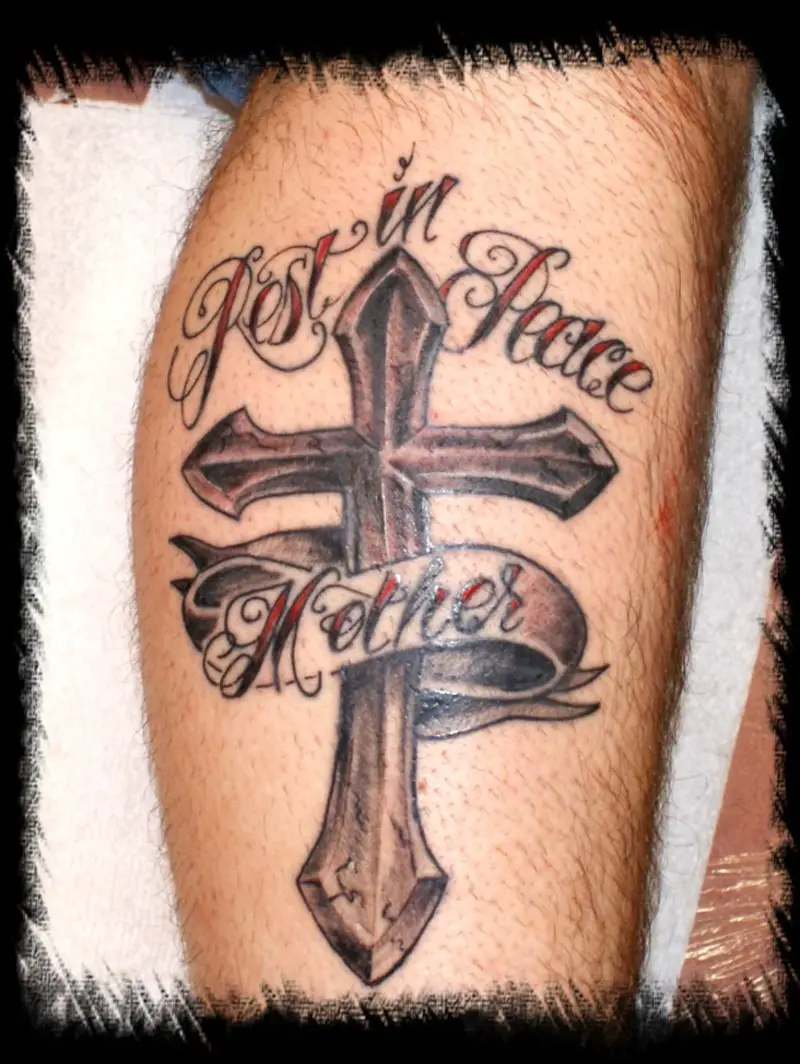 Bold and emotional, this RIP tattoo is awesome to ink in memory of your mother/father. You can keep it simple or make more personalized by adding dates, name or any special quote.
These beautiful and thoughtful rest in peace tattoos are perfect for keeping a departed soul close to your heart forever. Wherever you decide to ink them, these tattoos will forever etch their memory in your heart.