Back in the day finger tattoos for men were inked to cast away illness and bad spirits. With the passage of time now they are a symbol of elegance and fashion.
These designs are usually smaller compared to other tattoo designs. Somehow they lost their popularity in the past but gained new interest in the late 1800s and in the 19th century.
There are loads of designs for men's finger tattoos. The smaller and elegant styles are mostly favored by men. The detailed designs tend to fade so sticking to bold designs is your best bet.
In this article, we'll go over some of the best designs for your fingers and answer some of the most asked questions. So, buckle up and get started.
60 Finger Tattoos Ideas For Men
There is a design for almost every shape and size of fingers. Simple & elegant designs are most common but bold designs tend to last longer. Crown finger tattoos create a sense of royalty and authority. Here are some of the best design ideas for you to try:
Small Finger Tattoos For Men
Smaller finger tattoos are easier to get and have an elegant and minimal look to them. They are the most common types of finger tattoos for men.
1. Ring Finger Heart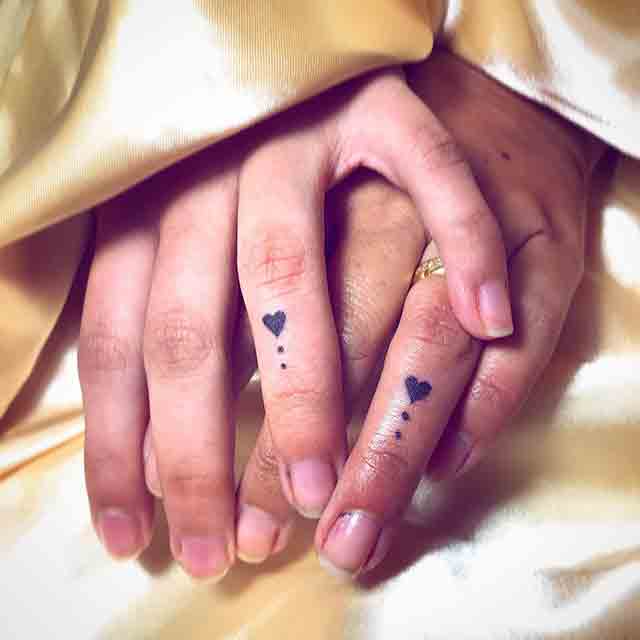 A small heart is drawn on the ring finger of this man. The two dots below the heart symbol represents two souls that are together by the bond of love.
2. Knuckles Symbols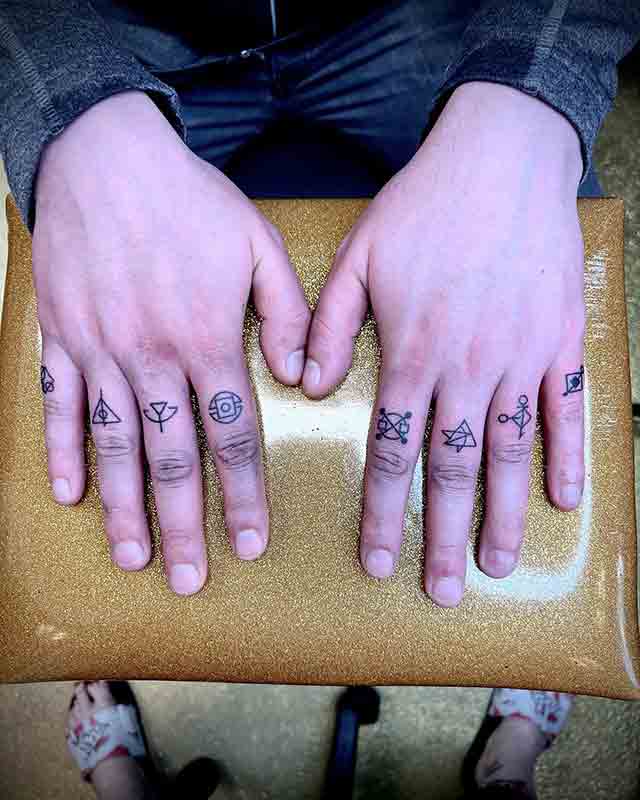 Each knuckle of this man is inked with a symbol. The symbols are cryptic and might have some hidden meanings to them.
3. XO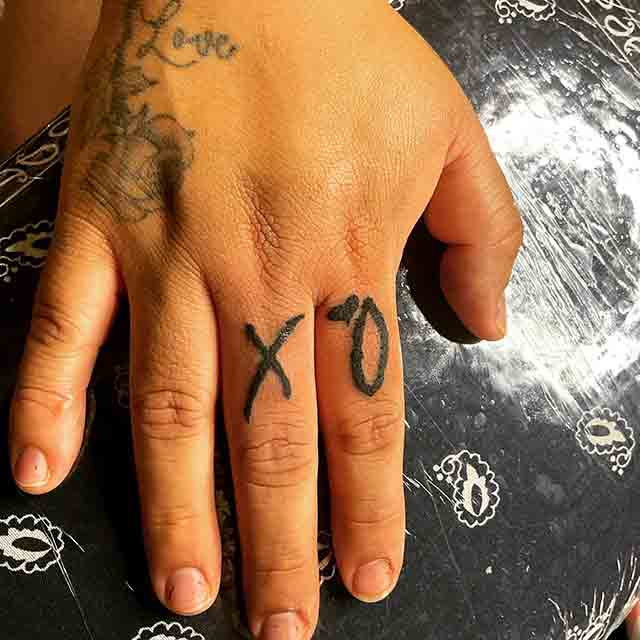 The index and middle fingers of this dude have an "X" & "O" drawn on them. Most likely they are the initials of someone's name. The "O" is accompanied by a heart symbol. This shows his love for the person.
Love Finger Tattoos For Men
Love is a universal language. It is often expressed with a man's finger tattoo. Certain elements such as the heart symbol, a partial sign, etc are used to create these designs.
4. Lovely Day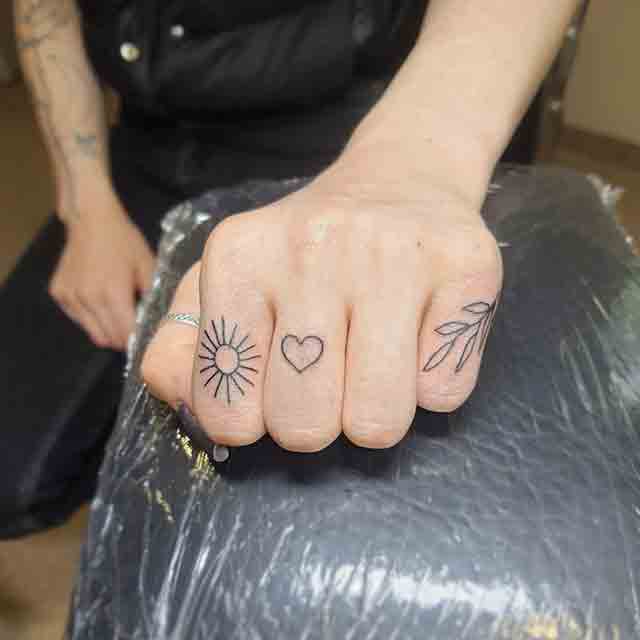 The sun on the index finger represents a sunny day & the heart on the middle finger shows his love. The person seems to be an outdoor lover and wants to feel the sun aginst his skin.
5. Partial Heart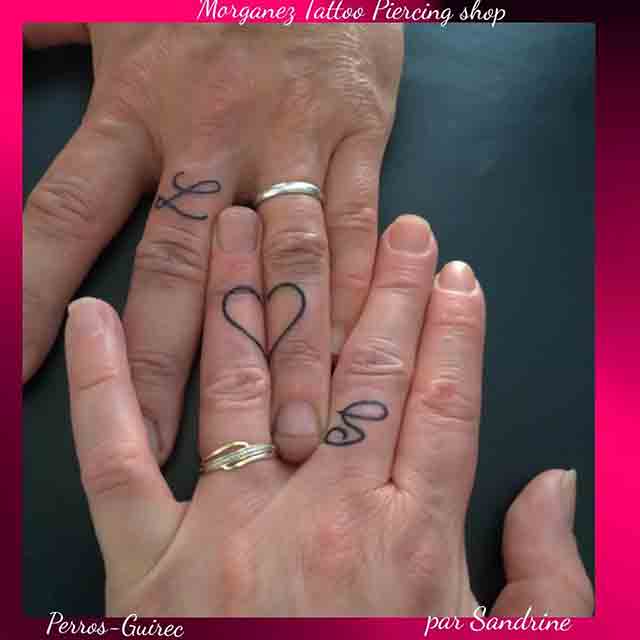 A love finger tattoo suitable for couples. The ring finger of the man has half of the heart and the woman has the other heart. When combined together it fulfills the heart.
6. Card Symbols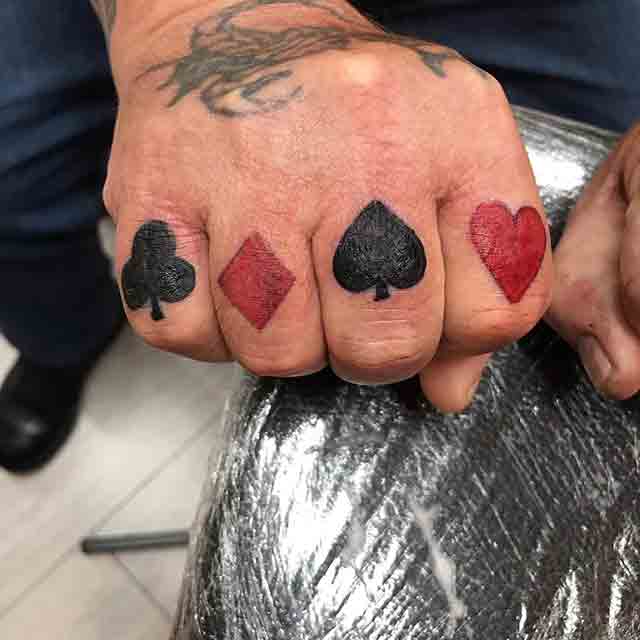 Each finger of this man has different symbols of a card deck. A heart, spade, diamond, and spades. The symbols go nicely with his wide fingers. one of the best finger tattoos for men with thick fingers.
Ring Finger Tattoo Designs For Men
Ring finger tattoos are favored by tattoo enthusiasts who are completely dedicated to the art. Usually, these designs come in the shape of a ring or a band.
7. Lightning Ring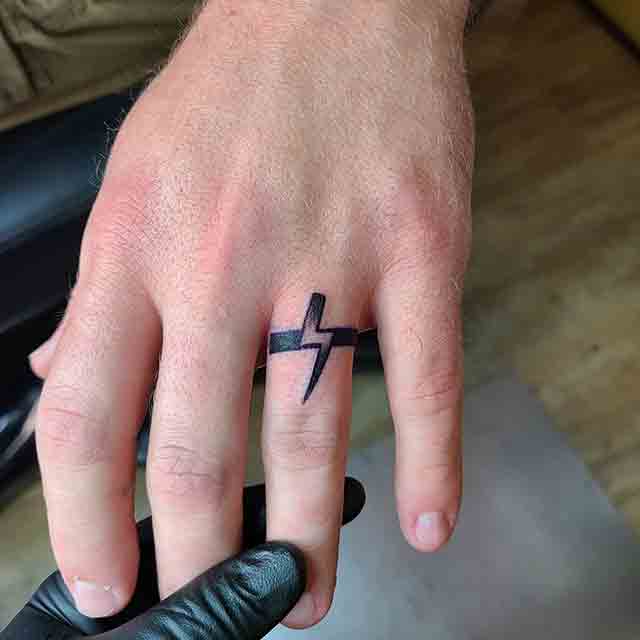 A black ring is surrounding the finger of this man. The center of the ring has a bolt of lightning on it. It resembles the spark he feels when he sees his significant other.
8. Shapes & Patterns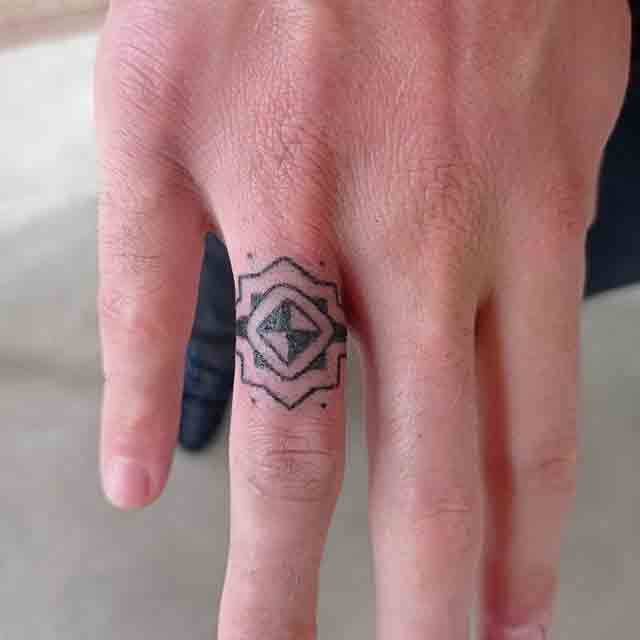 This ring finger tattoo for men has some patterns and shapes drawn on it. The outer section is almost empty and white. However, the use of negative space creates the pattern more pleasing.
9. Thin Lines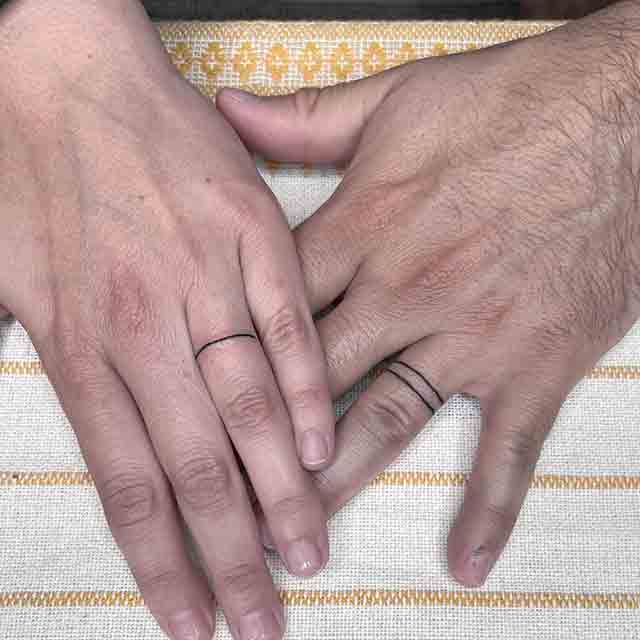 The man has two thin lines on his ring finger & the lady has a single line. The double lines create a bold ring-like design whereas the thin line creates a slim and elegant feminine design.
Animal Finger Tattoos For Men
Animals are often used in finger tattoos to give different meanings. They are used to describe certain characteristics & emotions. Sometimes fictional animals and beings are also used in these designs.
10. Cute Triceratops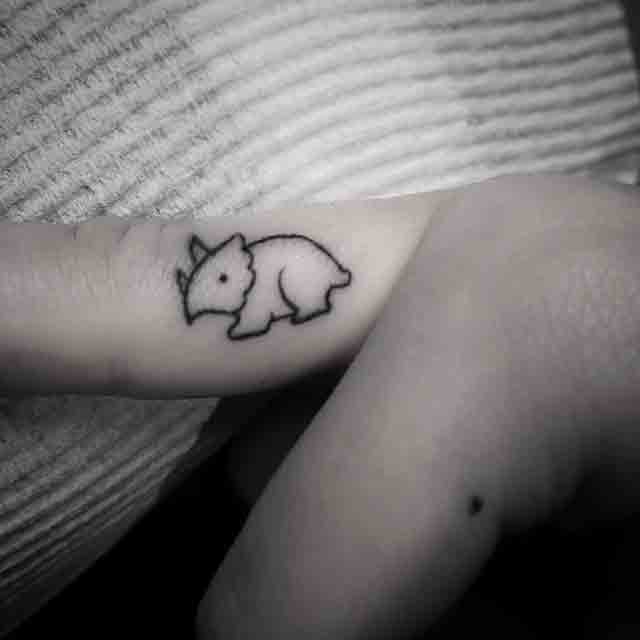 A mini extinct Triceratops is drawn on the side of this man's finger. Although it is a terrifying being in reality it is portrayed as cute in this finger tattoo. The small nature of this design adds a uniqueness to this design.
11. Star Wars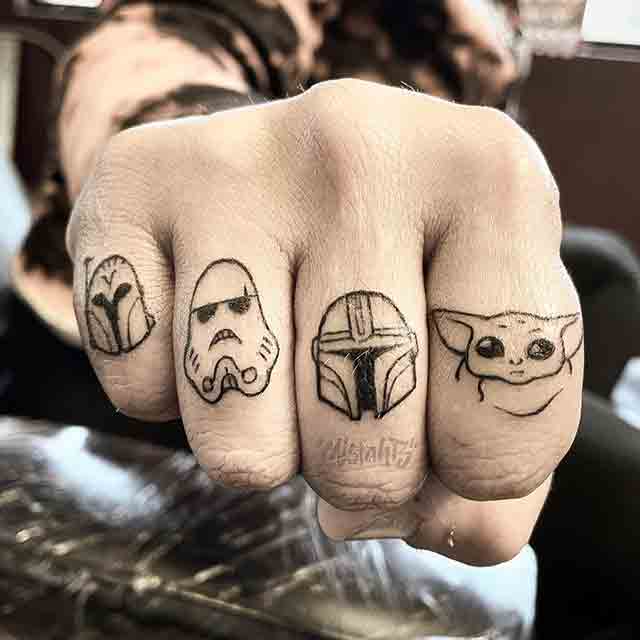 This tattoo on the man's hand has the most iconic characters from star wars drawn on them. The bottom of his every knuckle is filled with one character. A perfect fit for men who loves star wars.
12. Evil Skull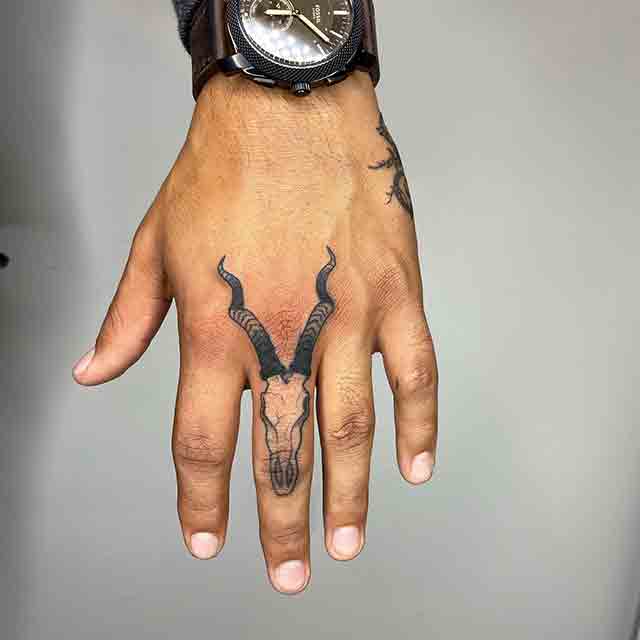 The art on this dude's middle finger has a skull that represents roughness. The long black horns create a terrifying look. The skull looks as if it was stretched.
Middle Finger Tattoos For Men
Typically these tattoos are considered offensive. It's mostly popular among young men who want to protest against certain things. They should be inked with proper meaning or else they might offend people.
13. Alien Head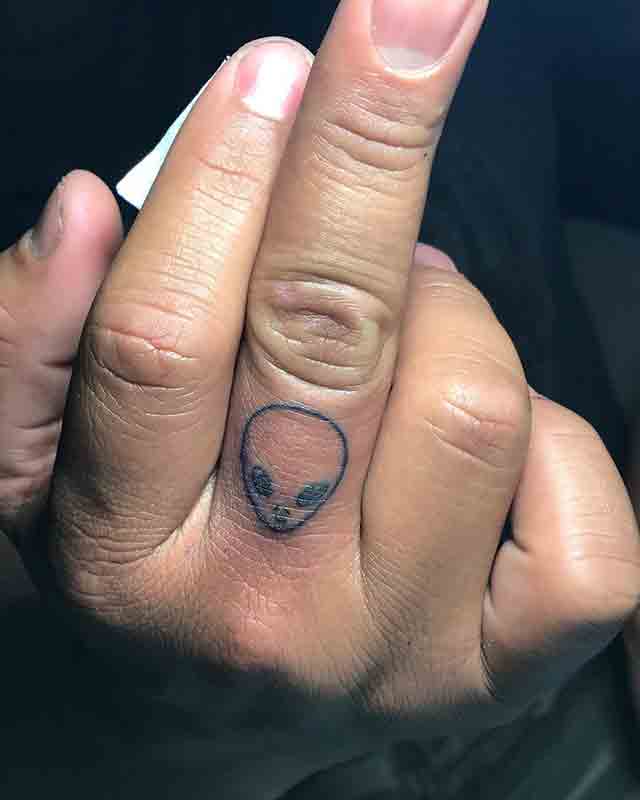 A simple alien head is inked on the middle finger of this young man. The eyes and nose is drawn with a black circle. The tiny shape gives this a cute look.
14. Fuzzy Smile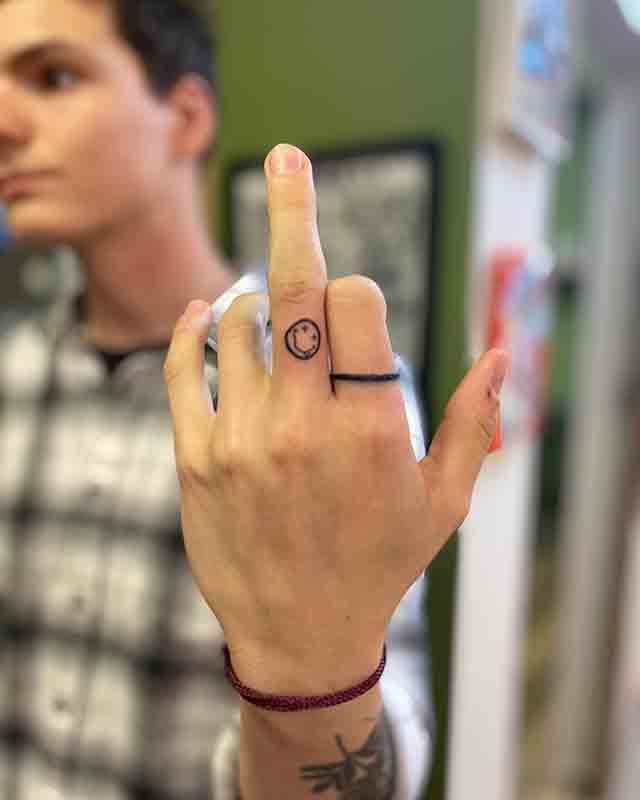 A smiling emoji is inked on this man's finger. The emoji looks kind of drunk and fuzzy. The crossed eyes of the design make it look like it passed out.
15. Dead Sign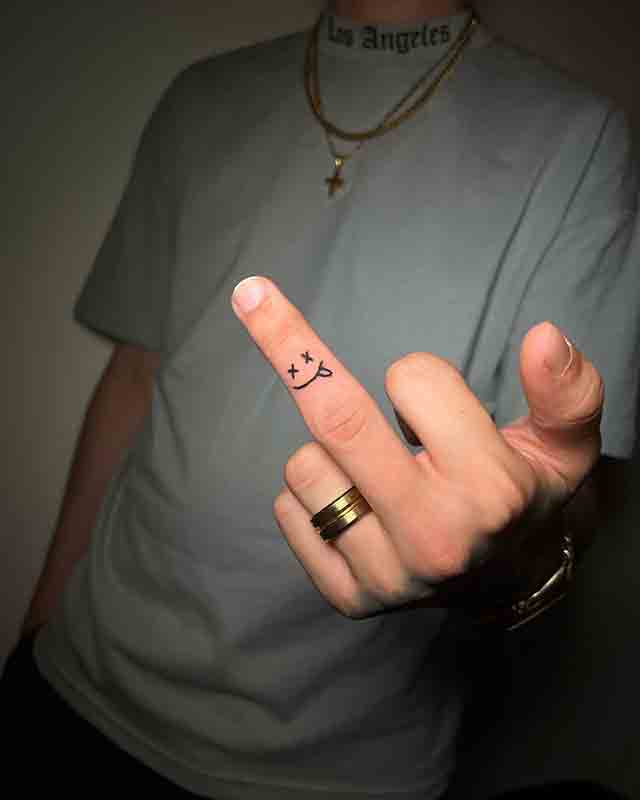 The design has its young sticking out. The eyes are closed off. It represents a dead emoji. This will definitely piss someone off. An offensive middle finger tattoo for men.
Crown Finger Tattoos For Men
A crown is the symbol of royalty and power. It also defines wealth & authority. Crowns are inked on men's finger tattoos to show their authority and influence.
16. Royal Crown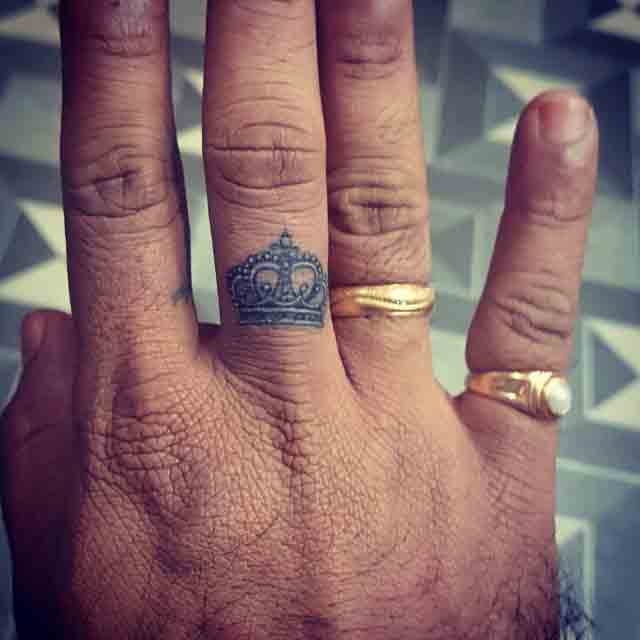 A gorgeous crown is inked in the middle of his finger. The pearls create a unique look. The piece looks like an antique piece from the history books.
17. Crown Doodle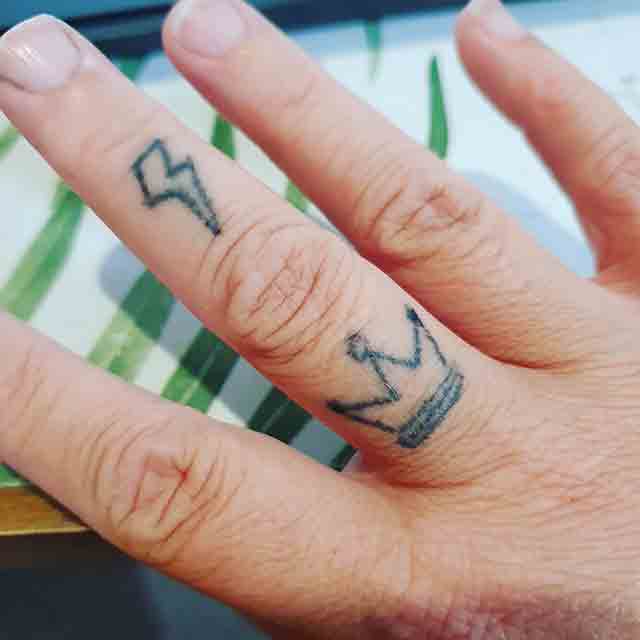 A lightning bolt is outlined just above the crown. It has simple look. The thunder on the top section of the finger indicates the power possessed by the crown.
18. Red Stone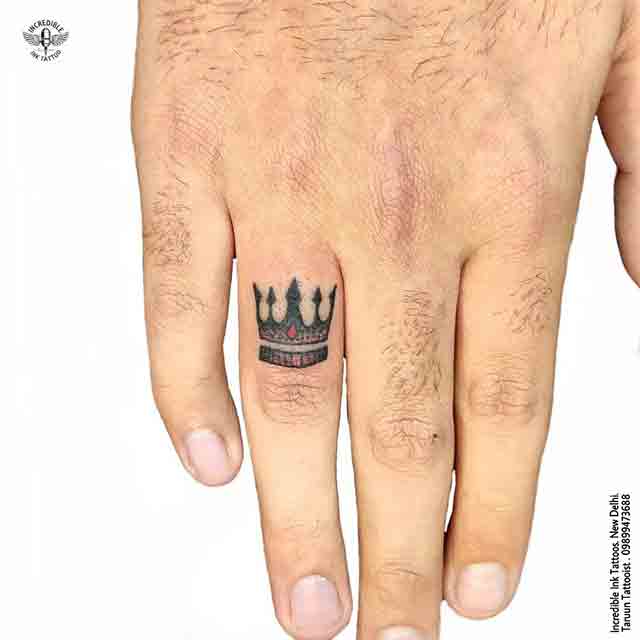 The black crown has a red stone in the middle. The spikes of the crown give it an aggressive look. The combination of dark & red creates a dominating look.
Wedding Finger Tattoos For Men
Wedding finger AKA ring finger tattoos are also getting attention for men's finger tattoos. A common theme is that these designs are suitable for couples and love pairs.
19. King & Queen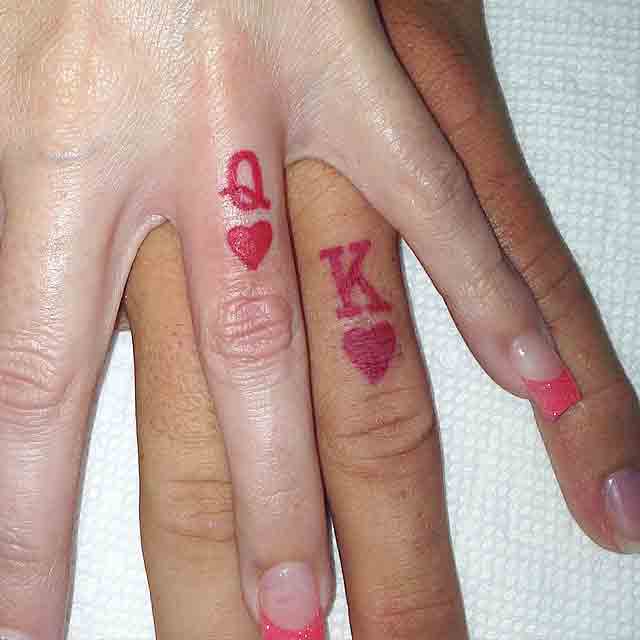 The man has a king of heart tattooed on his ring finger & the lady has a queen of heart on her finger. It means that the woman is the queen of his heart and the man is the king of her heart. A romantic finger tattoo for men & women.
20. Triangles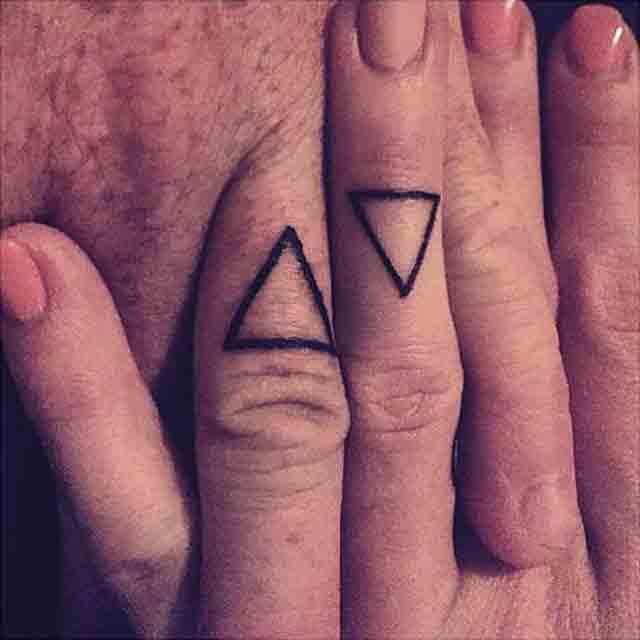 A simple triangle is tattooed on the ring finger of both people. The bold lines are vivid and sharp. That'll make a great finger tattoo for couples.
21. Skeletons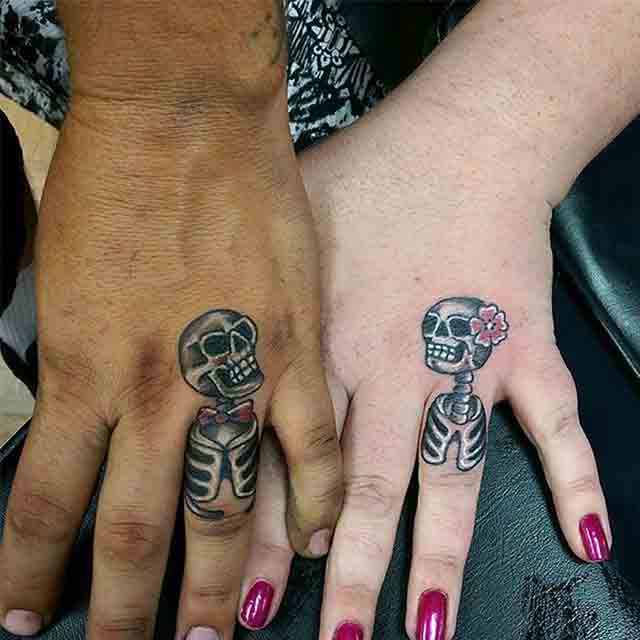 The man has a skeleton of a male figure on his ring finger. It is wearing a bow tie and looking in the sky. The lady's skeleton has a flower on the side of the skull.
Cool Finger Tattoos For Men
Sometimes random objects and elements are used in finger tattoos. Men's finger tattoos can have things like drinks, texts, letters, etc. They create a fresh look and shows creativity.
22. Chilled Drinks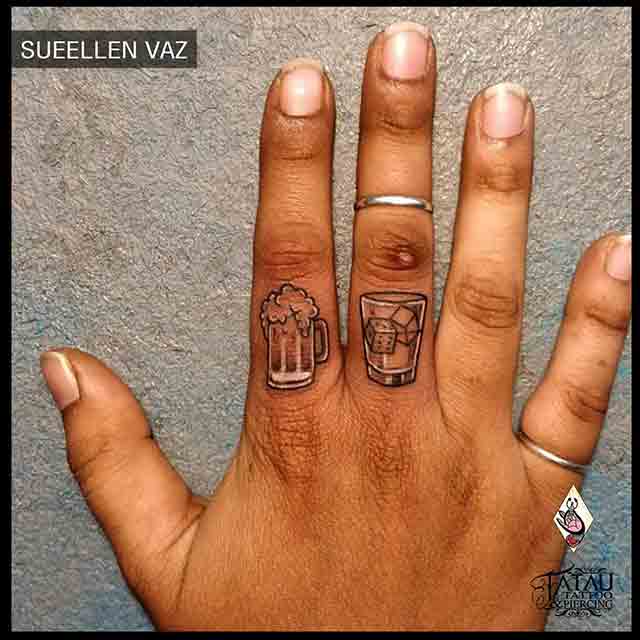 A pint of beer is drawn on the index finger & a glass of alcohol on the middle finger. This shows the man's love for alcoholic beverages. It also shows his fun & adventure-loving nature.
23. Cursive H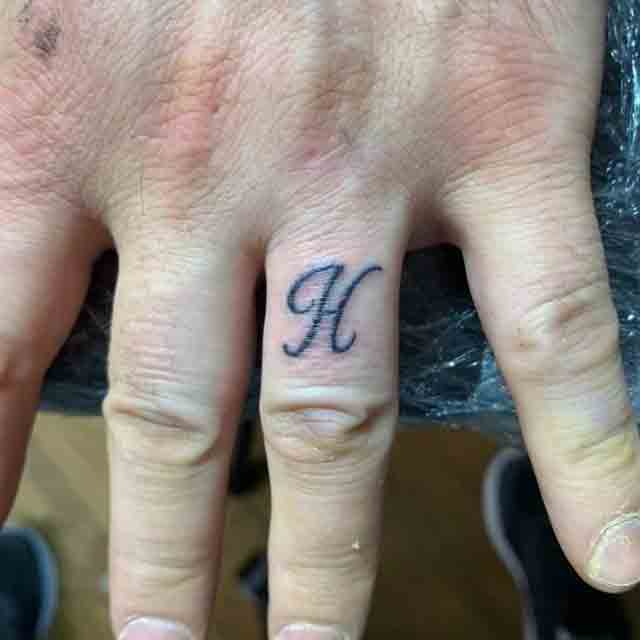 The letter "H" is inked on the ring finger of this man. It is drawn with a fancy style. The curves and long strokes show elegance and flow.
24. Free Soul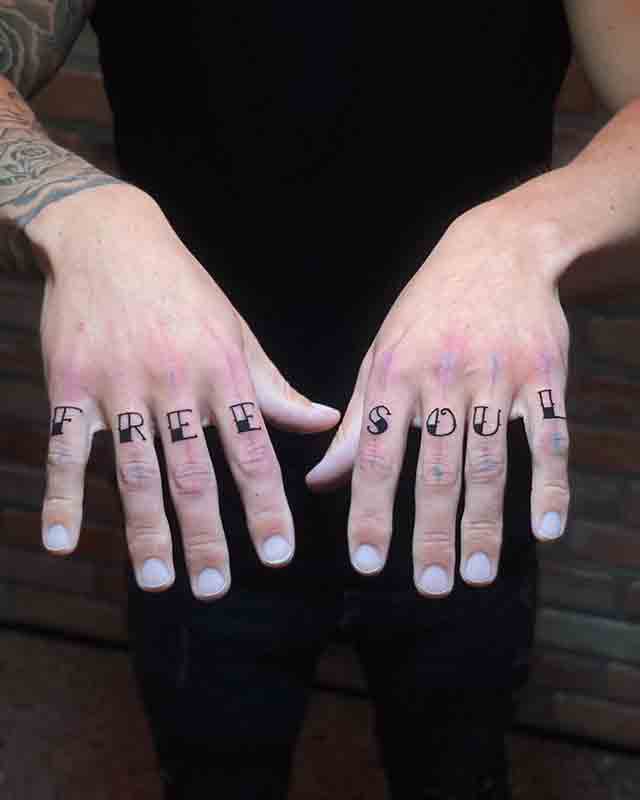 Having a free soul is a luxury of its own. The man in this picture has the word free soul inked on his fingers. He is a believer in being free and loves freedom.
Cross Small Finger Tattoos For Men
Cross finger tattoos are a branch of religious tattoos for men. These designs are based around a cross which is the symbol of sacrifice & suffering. Typically the upper section of the knuckle is used for these simple designs.
25. Cross Loop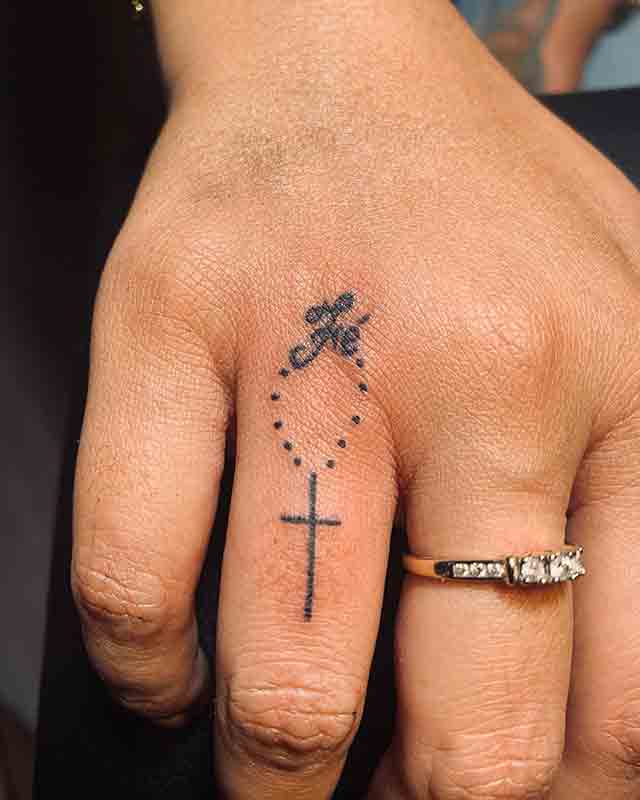 A minimal cross is drawn on the ring finger. The top of the cross is connected to a loop made with dotwork. A writing in cursive has the initials of his name. A simple cross tattoo for men's fingers.
26. Simple Cross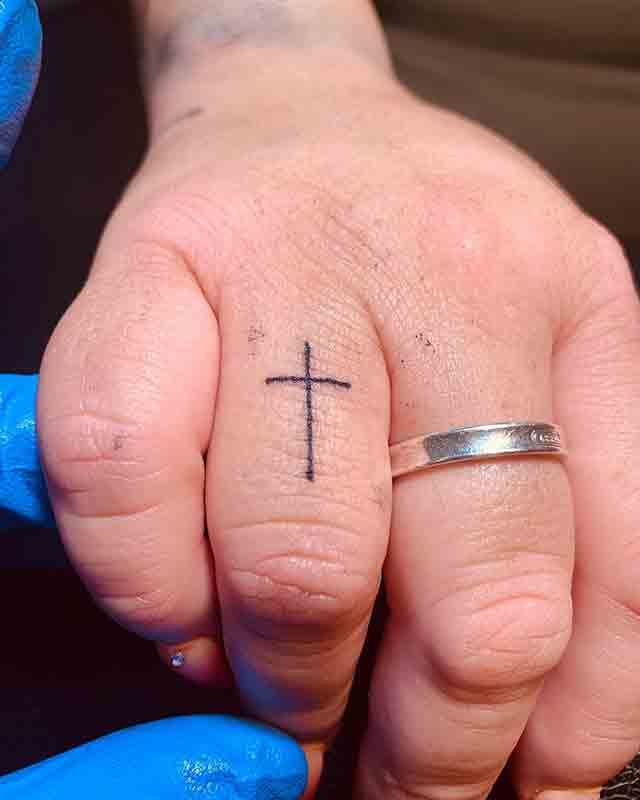 This is the simplest cross tattoo for men's fingers. Just two thin lines crossing each other. It creates a clean and minimal look. Anyone can have this on their finger to achieve a minimalist look.
27. Finger Neckless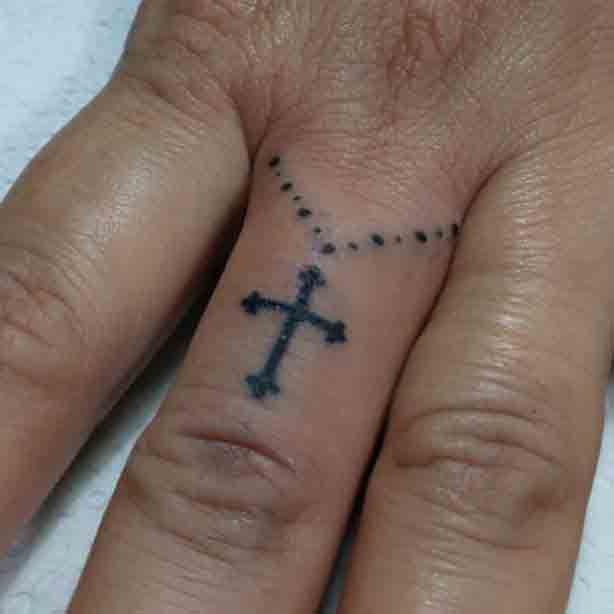 The cross is hanging from a chain made of dots. It seems like it surrounds the finger. The cross is bold and has three edges on each.
Finger Cover Up Tattoos For Men
When you have a piece of tattoo that needs to be covered up, a finger coverup tattoo can come in handy. Cover-up designs are bold and slightly bigger in size. The main objective is to hide the previous work.
28. Cover-Up Guitar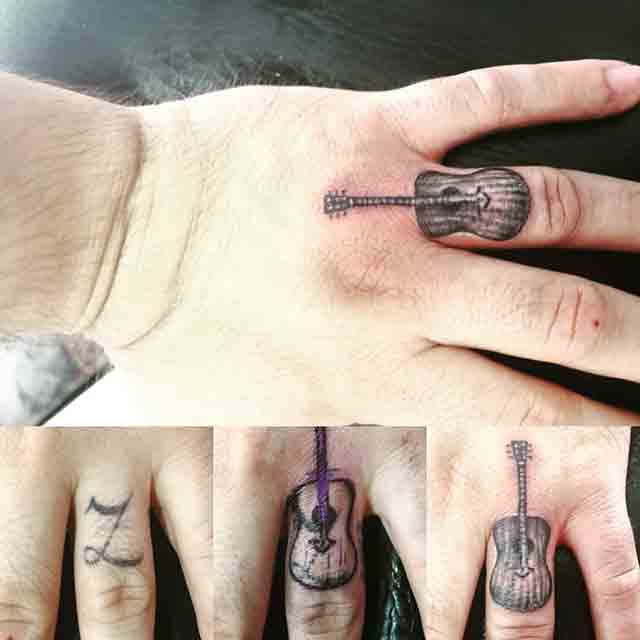 A beautiful acoustic guitar is drawn over an existing finger tattoo to cover it up. The guitar has a handle that looks like an arrowhead. There's no sign of the previous tattoo in this one.
29. Black Lotus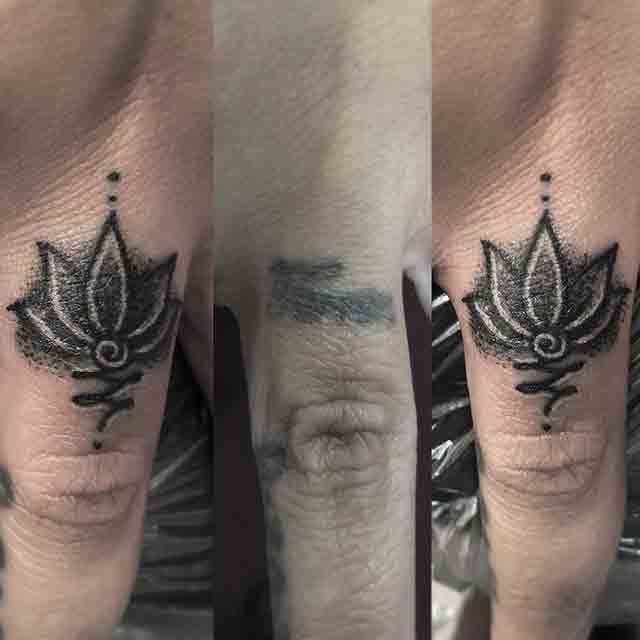 A lotus is drawn with a dark color on the ring finger of this man. The design has some negative space that makes it look gorgeous. The tangled stem adds a little bit of fluency to the design. An amazing patchwork finger tattoo for man.
30. Black Drips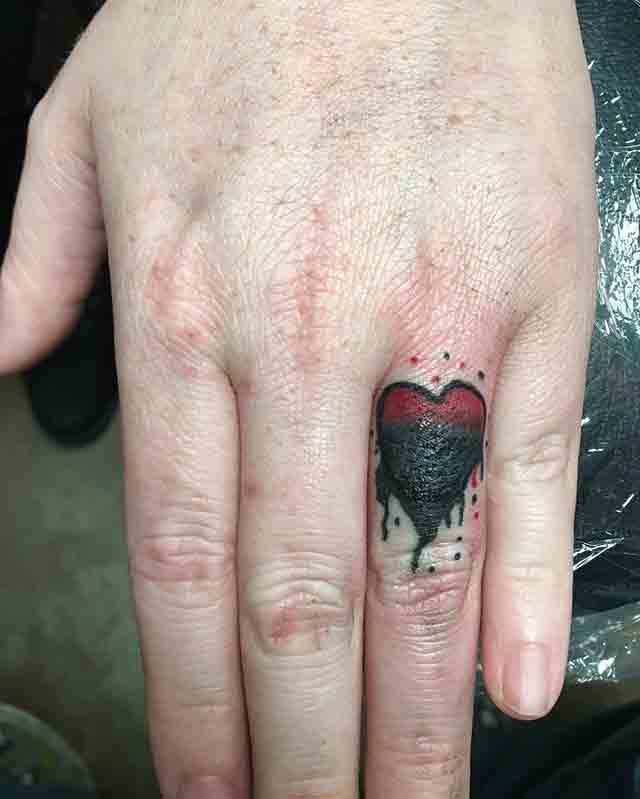 Black blood is dripping down from this red heart. This indicates the man's pain and heartbreaks. The tiny splashes around the love sign make it look even more dramatic.
Geometric Finger Tattoos For Men
31.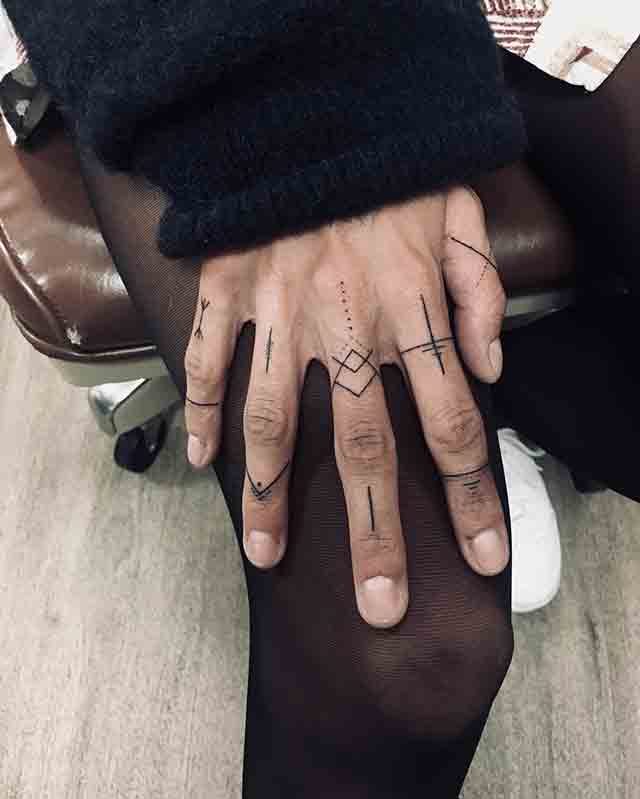 32.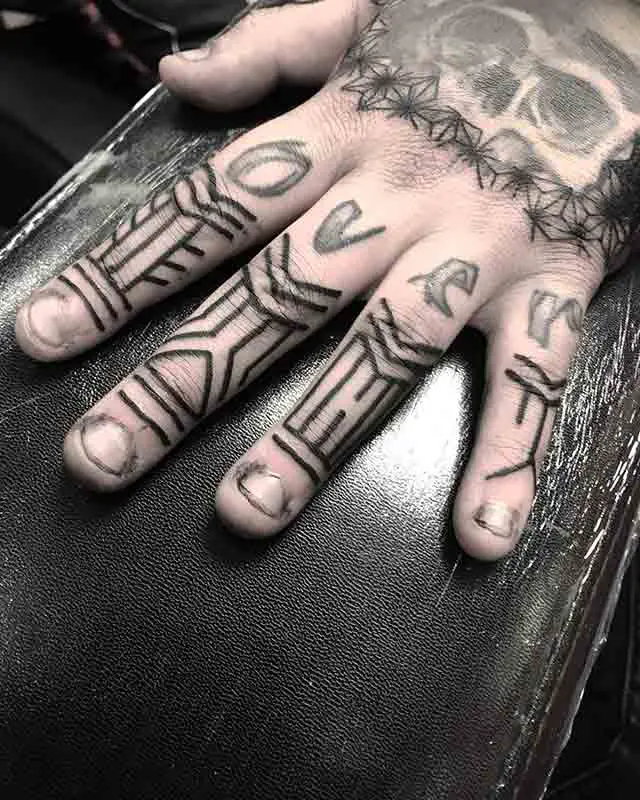 33.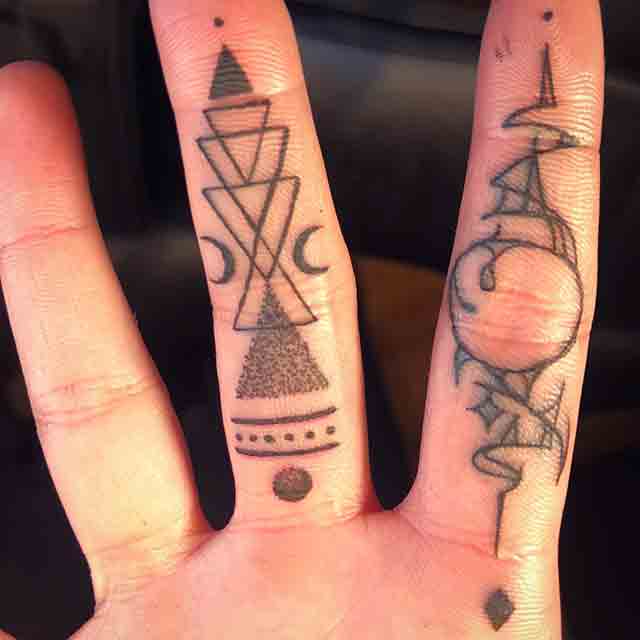 Rose Finger Tattoos For Men
34.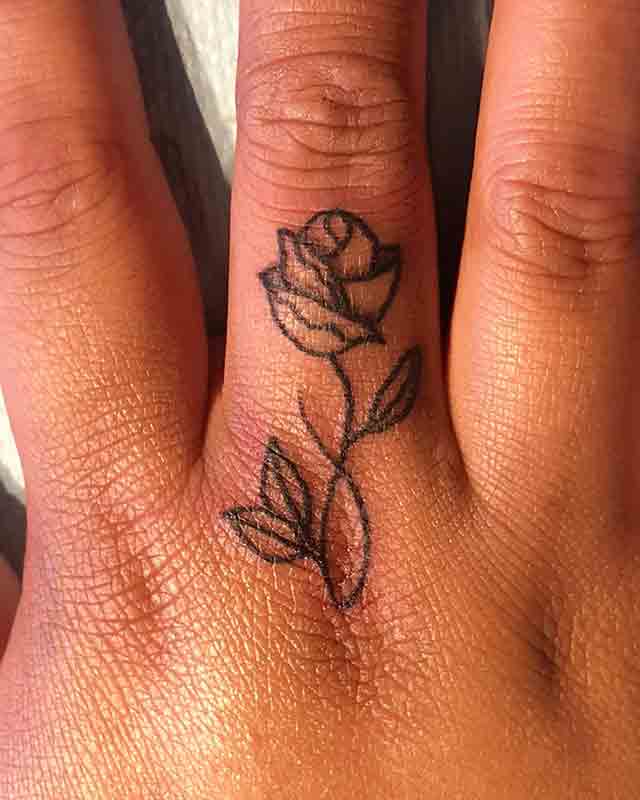 35.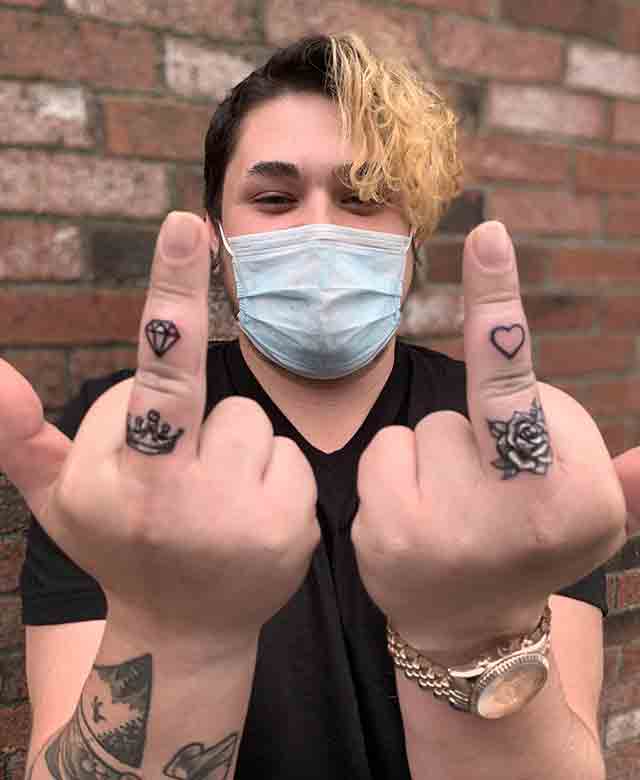 36.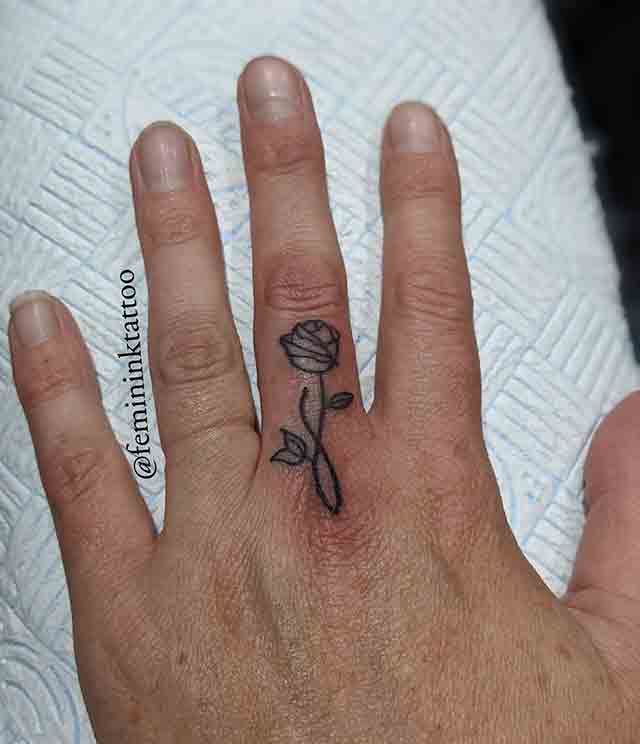 Tribal Finger Tattoos For Men
37.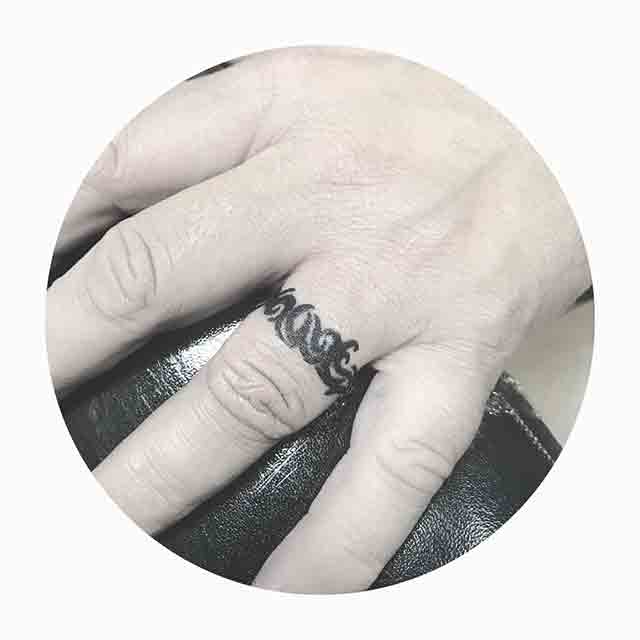 38.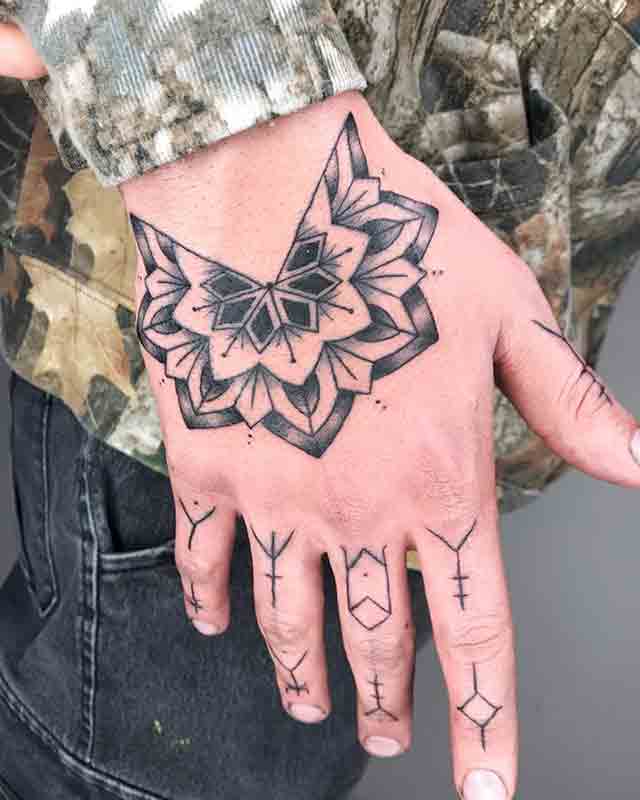 39.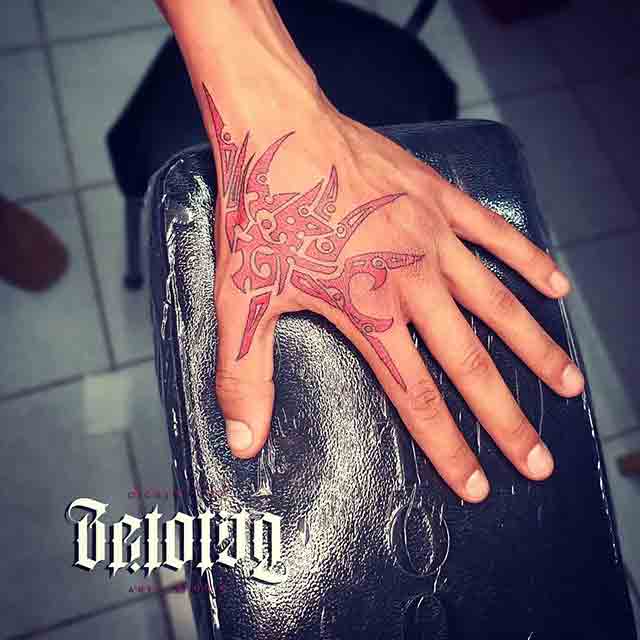 Gangster Finger Tattoos For Men
40.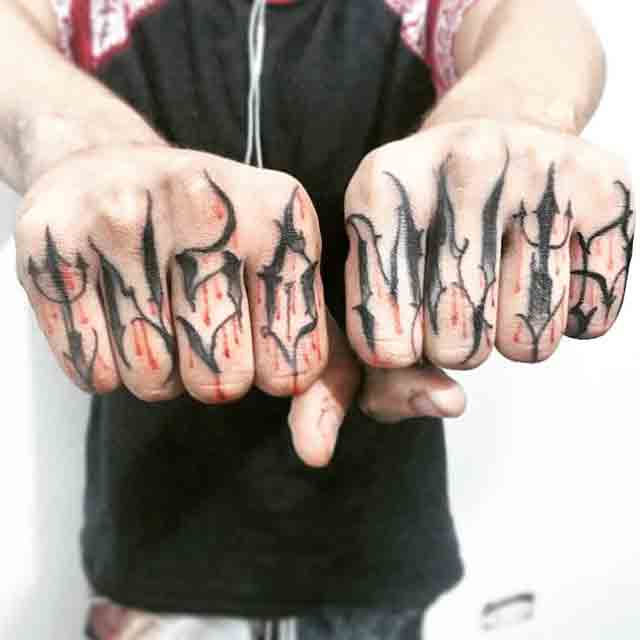 41.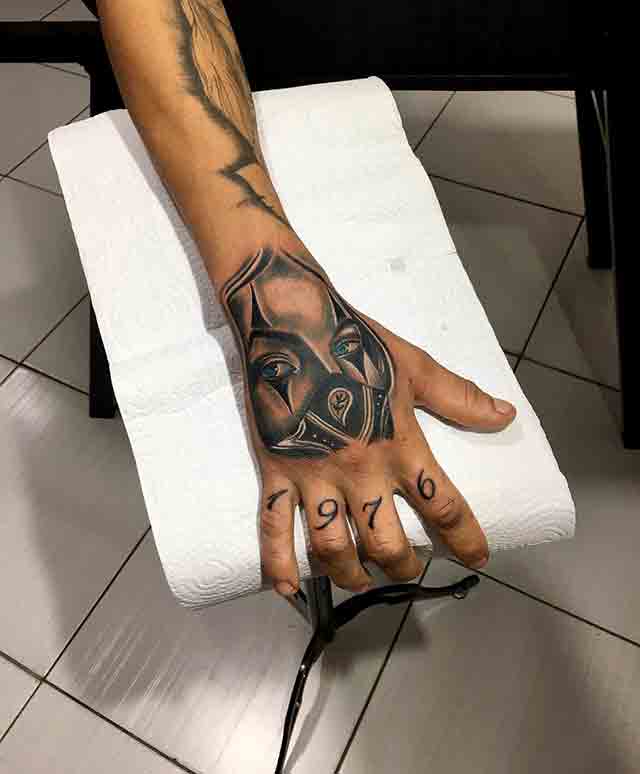 42.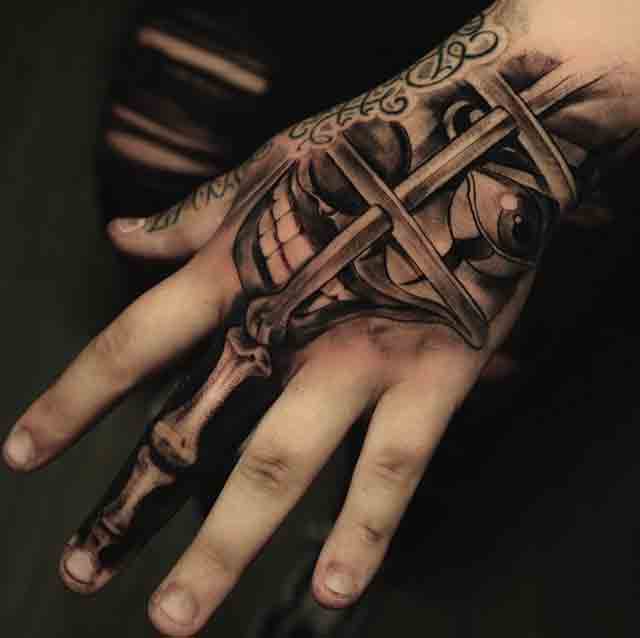 Side Finger Tattoos For Men
43.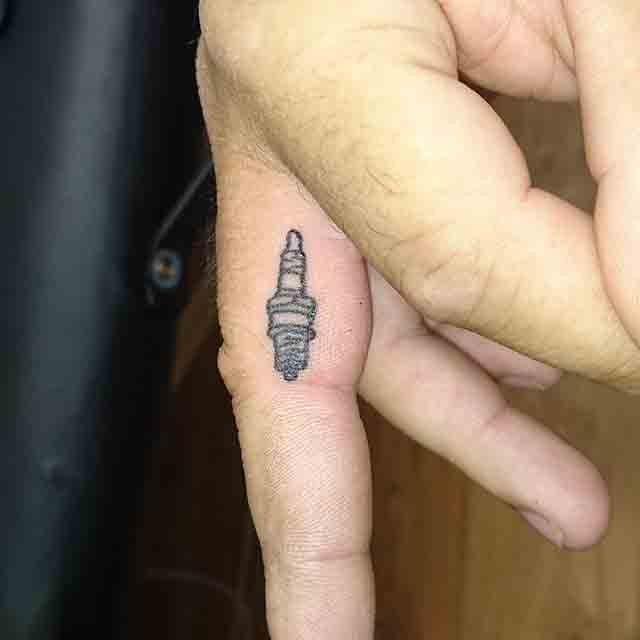 44.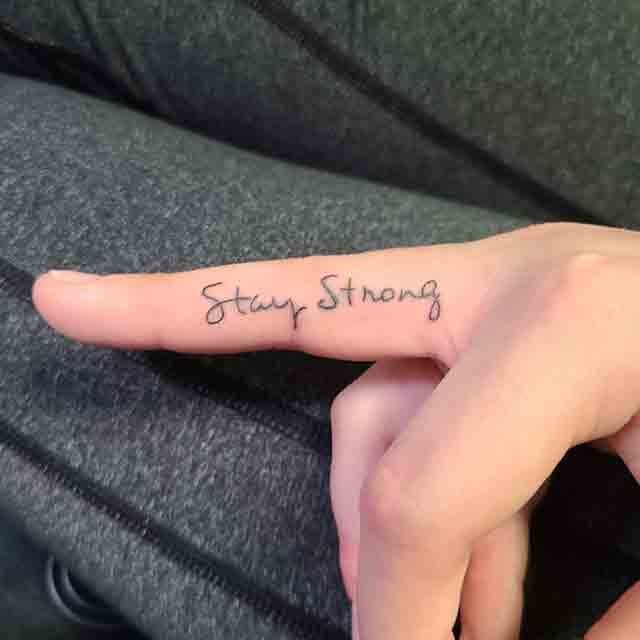 45.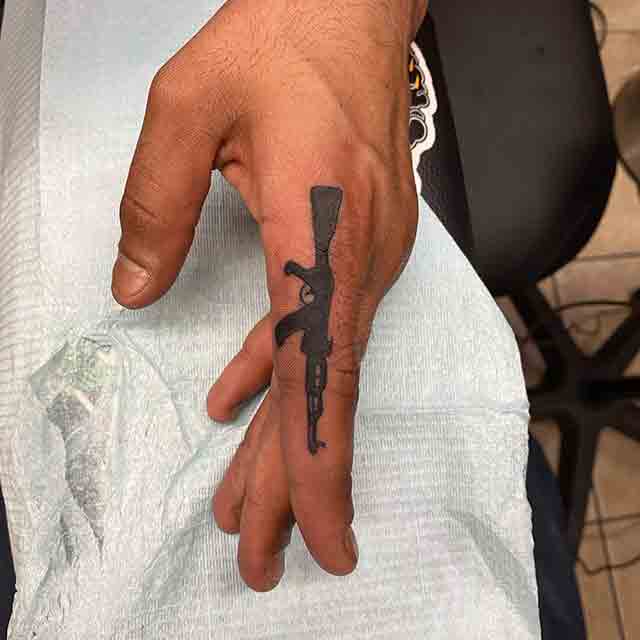 Skeleton Finger Tattoos For Men
46.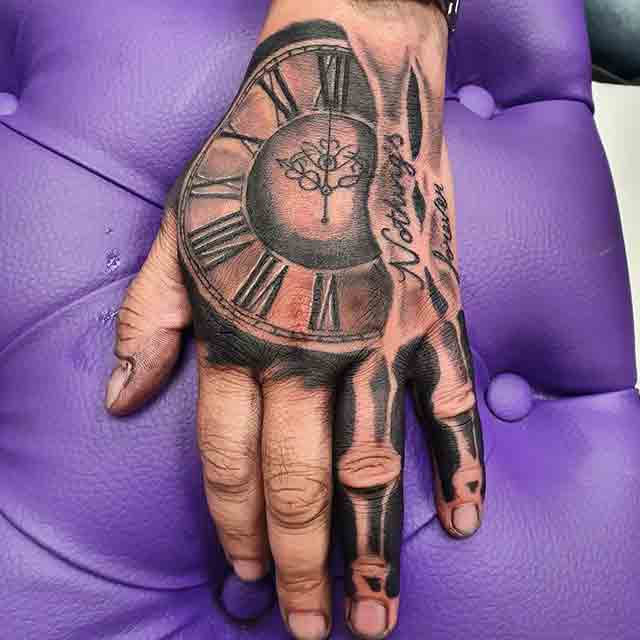 47.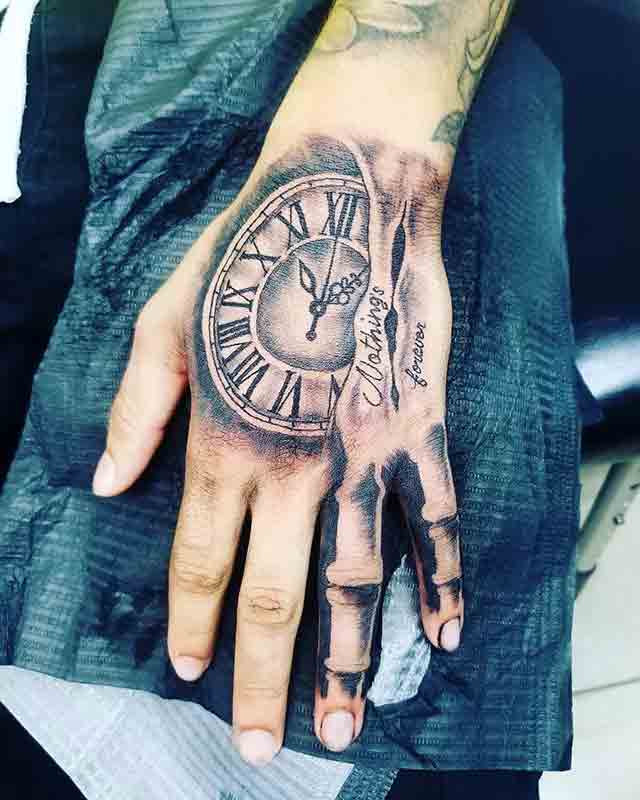 48.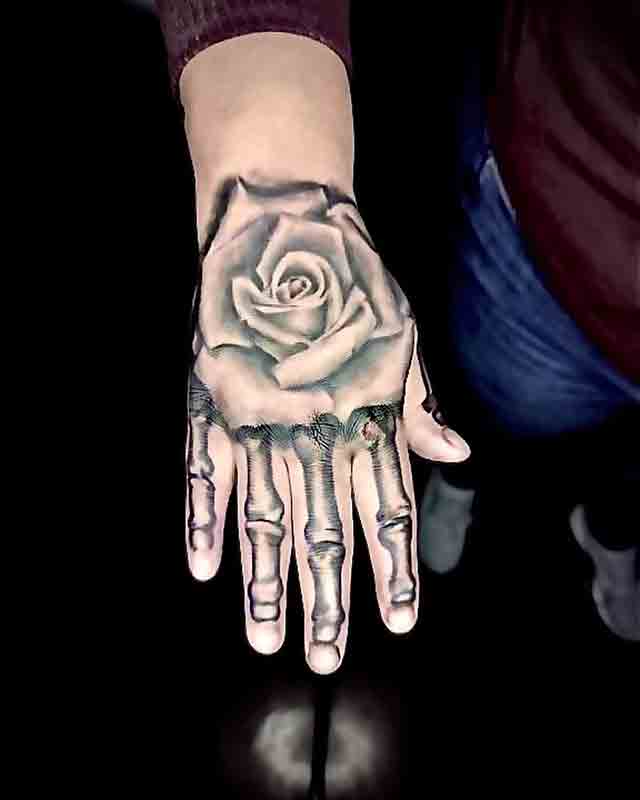 Symbol Finger Tattoos For Men
49.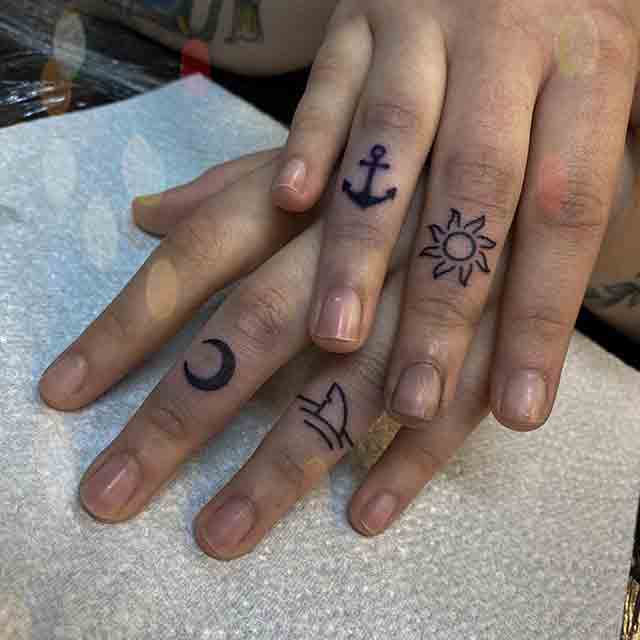 50.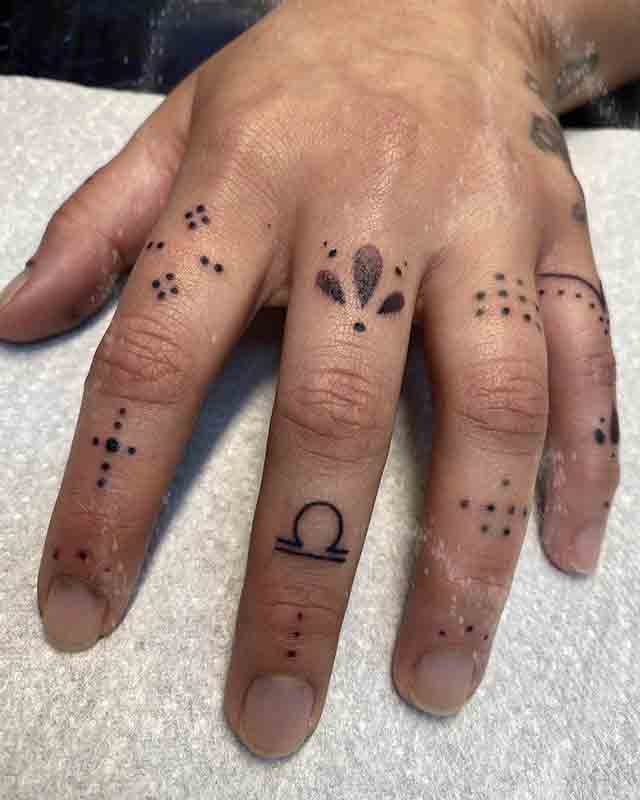 51.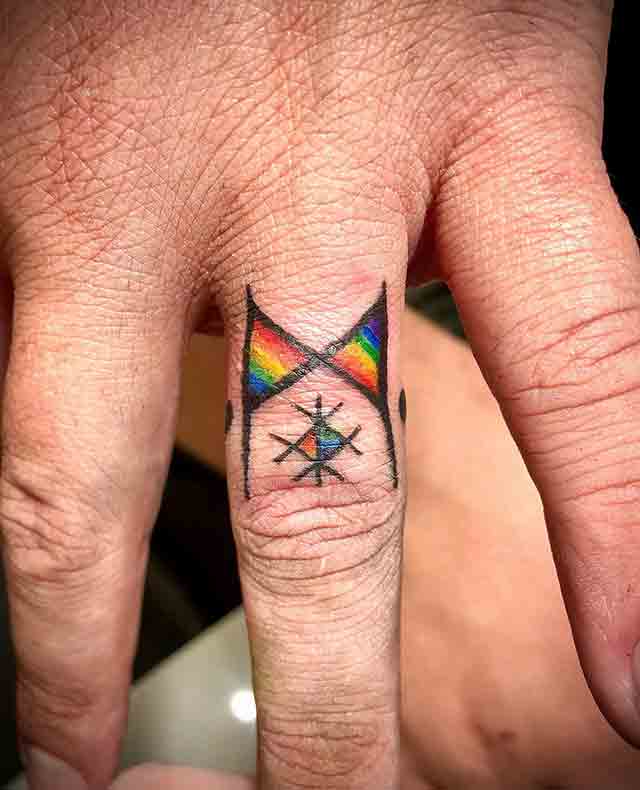 Badass Finger Tattoos For Men
52.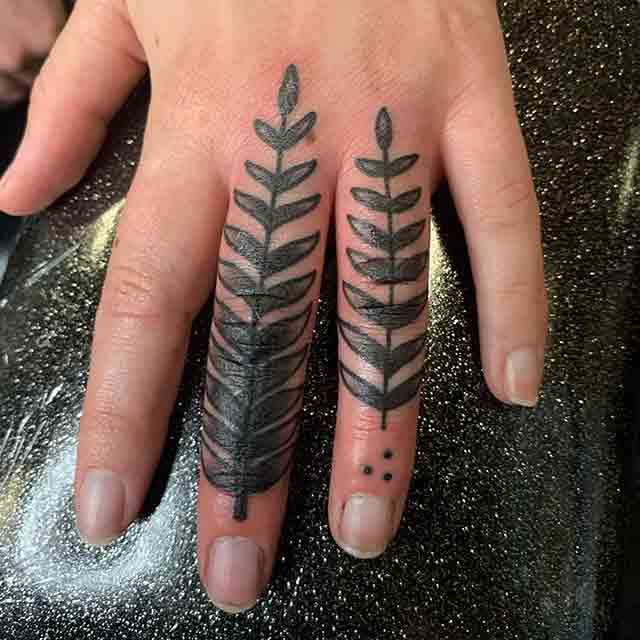 53.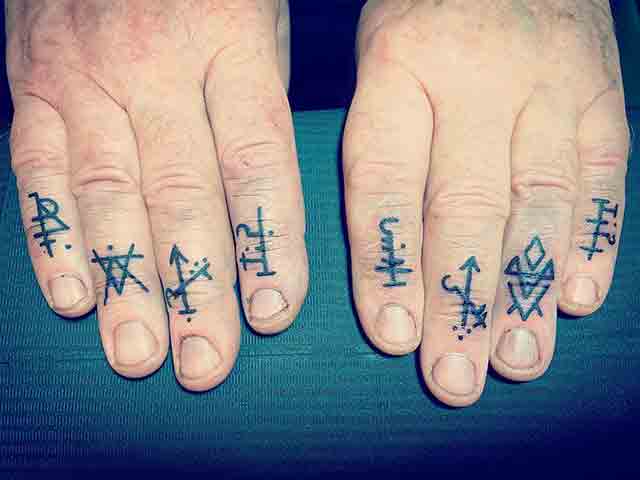 54.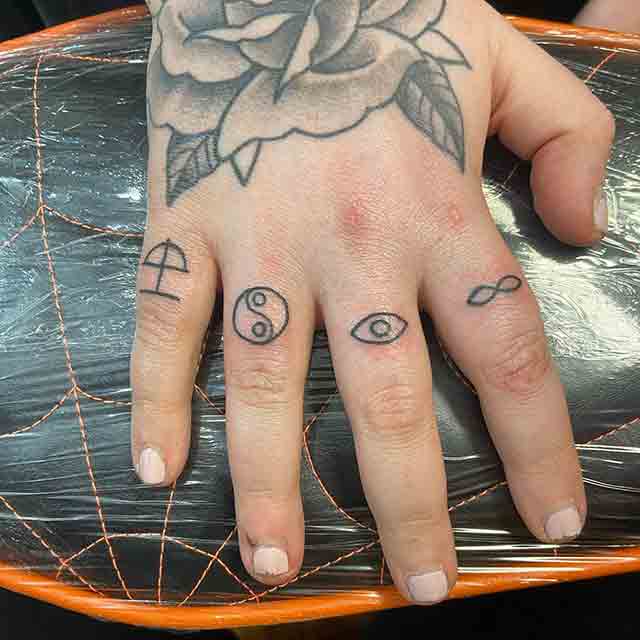 Broken Heart Finger Tattoos For Men
55.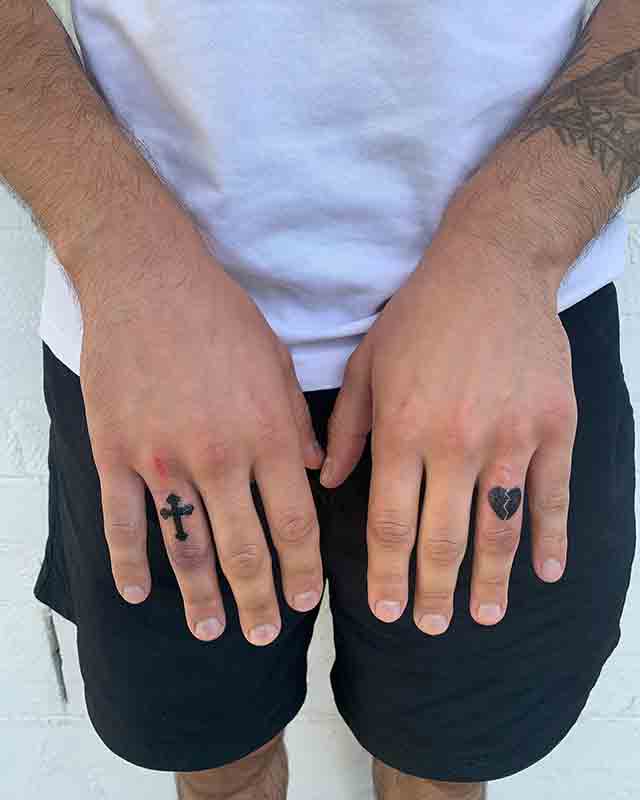 56.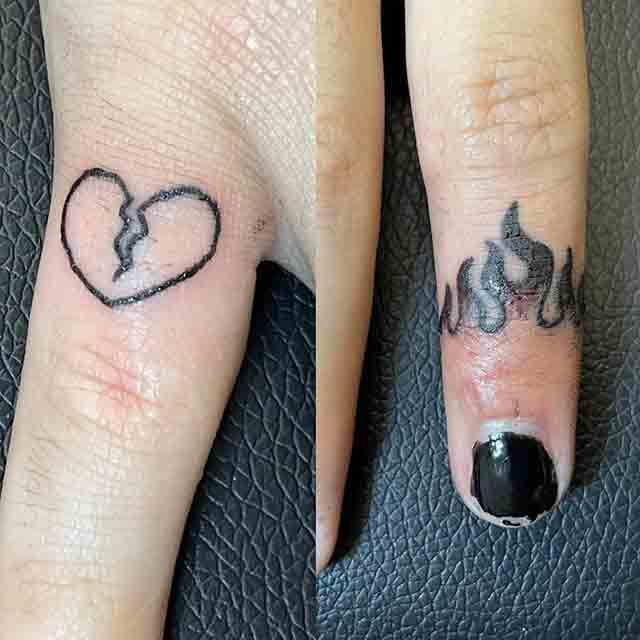 57.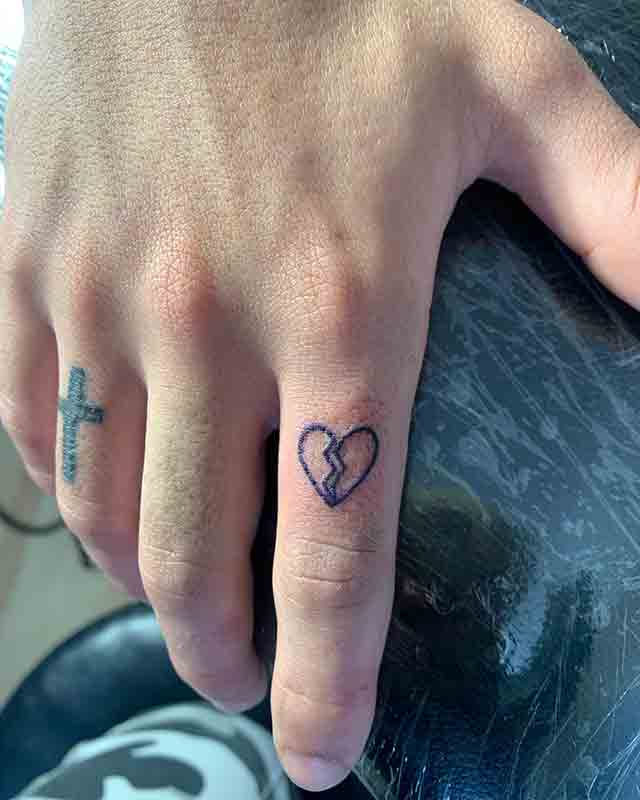 Motivational Finger Tattoos For Men
58.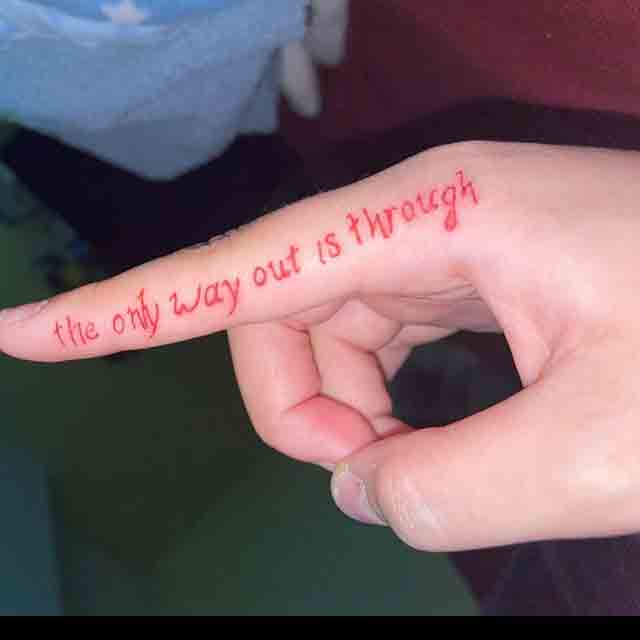 59.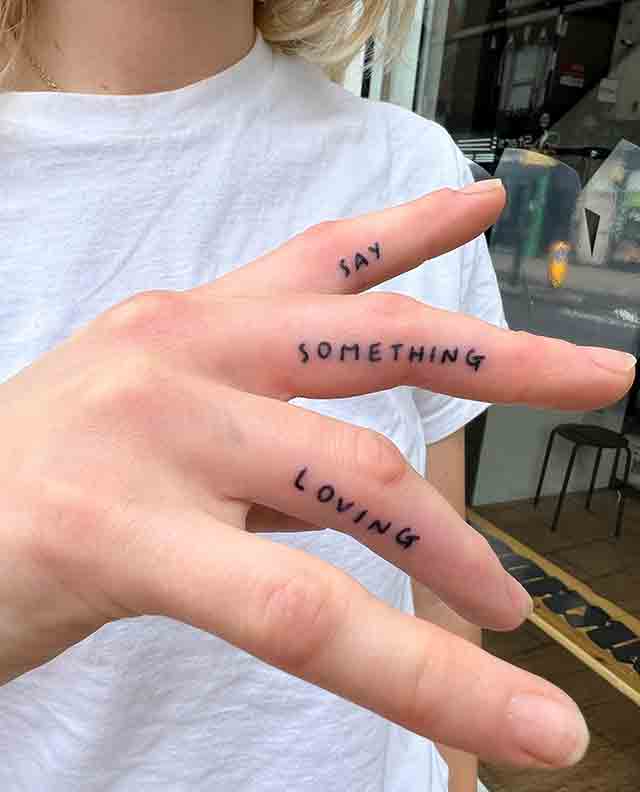 60.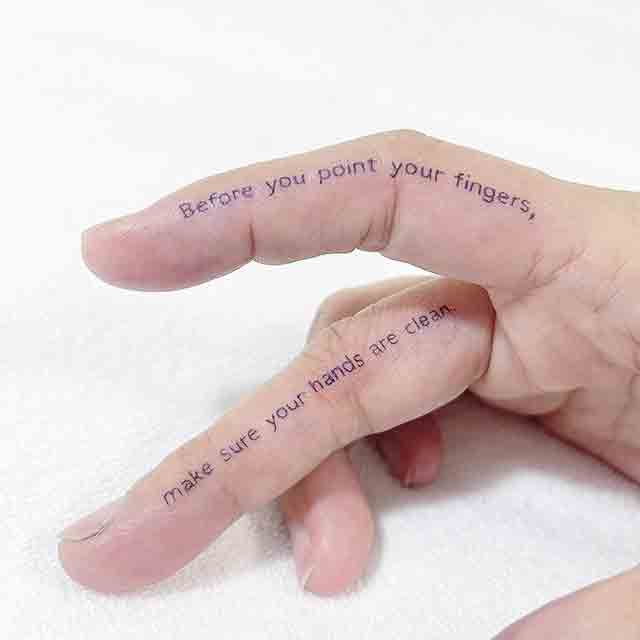 Conclusion
We hope these amazing finger tattoos for men were able to spark some new ideas into your mind. If you decide to go with any of these designs it's highly recommended to have an experienced artist for the task. Also, try to use as low details as possible, or else it'll start to bleed.
Frequently Asked Questions
Do guys get finger tattoos?
Of course. They are very common among men.
Do tattoos on the finger hurt?
Yes. Fingers don't have any thick layer between the skin and bone so they are quite painful.
Are tattoos on fingers a good idea?
If you don't have any issues in your professional life then they won't create any trouble.
Do finger tattoos affect jobs?
Yes. Some jobs require you to hide your tattoos. They will certainly affect those roles.
Do finger tattoos last?
They usually last around a year or so.
What does 3 dots on your finger mean?
It means there is still some story left to tell. It can also mean a slow transformation of one's journey.
How much do finger tattoos cost?
They cost somewhere around $50 to $300 based on the design and artist.
Do finger tattoos fade quickly?
Yes. Finger tattoos tend to fade quickly compared to other tattoos.
How long do finger tattoos heal?
They can take around four to six weeks to heal properly.
How much would a small finger tattoo cost?
Small finger tattoos cost as low as $50
Do ring tattoos go all the way around the finger?
Yes. They typically go all the way around the ring finger.
What is the best finger to get a tattoo on?
Most likely the index finger or the ring finger is the best to get a finger tattoo.
Are finger tattoos worth it?
Absolutely. Finger tattoos are totally worth every penny.
Do finger tattoos bleed?
Finger tattoo designs with fine details are most likely to bleed.
Why are finger tattoos expensive?
They are not expensive. In fact, they are quite the opposite.