Queen of hearts tattoo is beautiful creations inspired by the Queen of Hearts playing card. It makes for some great body art and can come in varied styles from cool classic and retro chic to uber modern and ultra-abstract. Depending on the design and part of the body, these tattoos can stand for many things such as a romantic gesture, a longing love, fondness for gambling, an adventurous spirit and so on.
OUTSTANDING QUEEN OF HEARTS TATTOO TO TRY
Amongst the most popular types of tattoos, the Queen Of Hearts tattoo has numerous styles and design themes to consider. Moreover, as these tattoos look fabulous everywhere, you can ink them on any part of the body. If you wonder what could be some dramatic ideas based on the theme, then have a look at our list of most wonderful Queen of Hearts tattoos.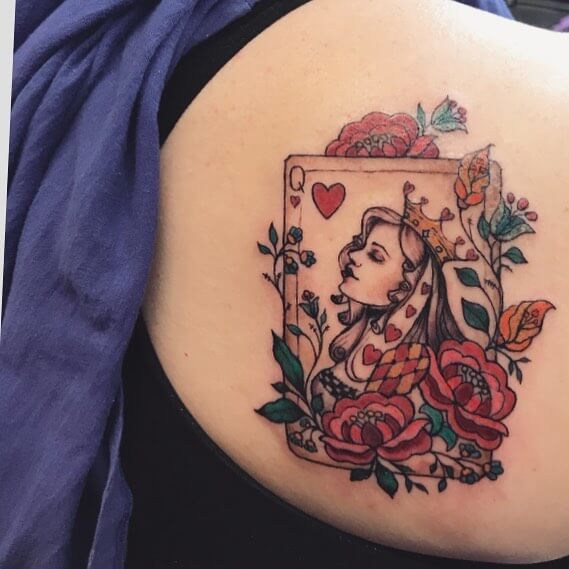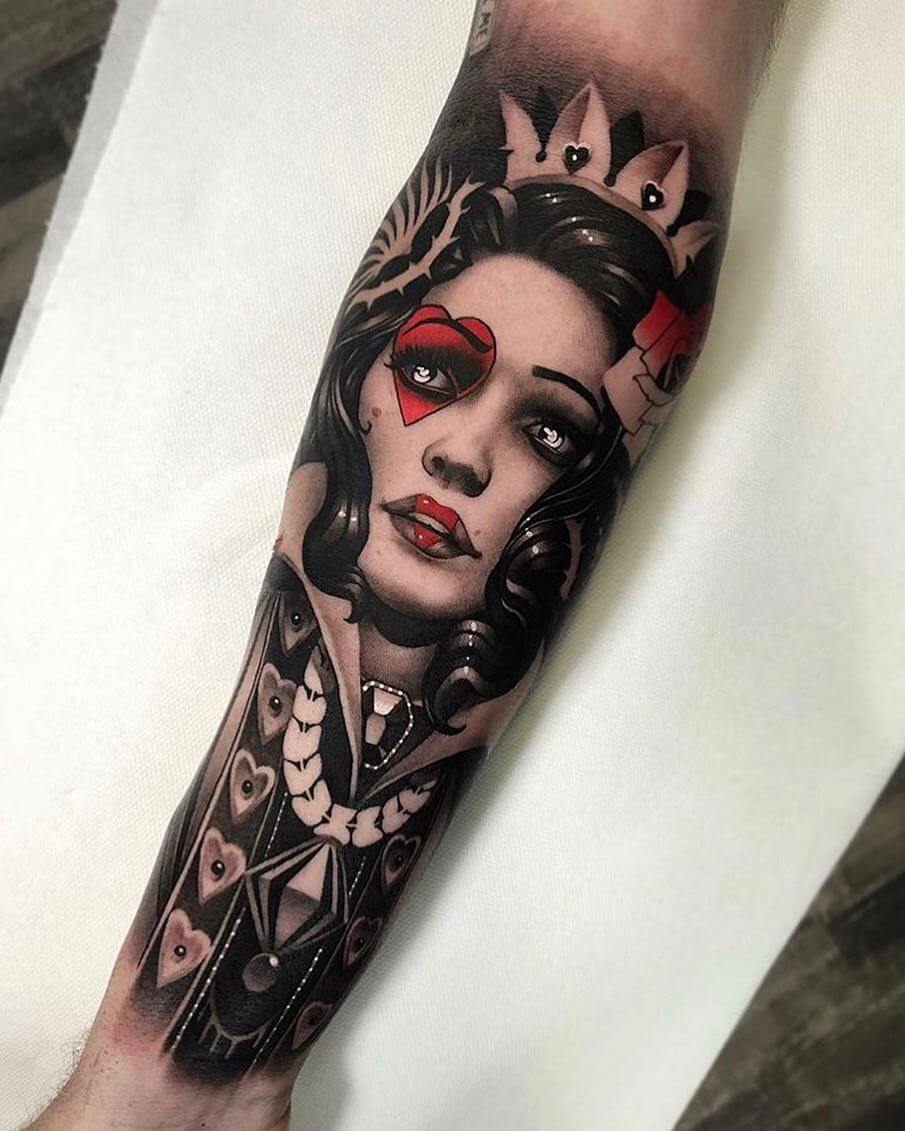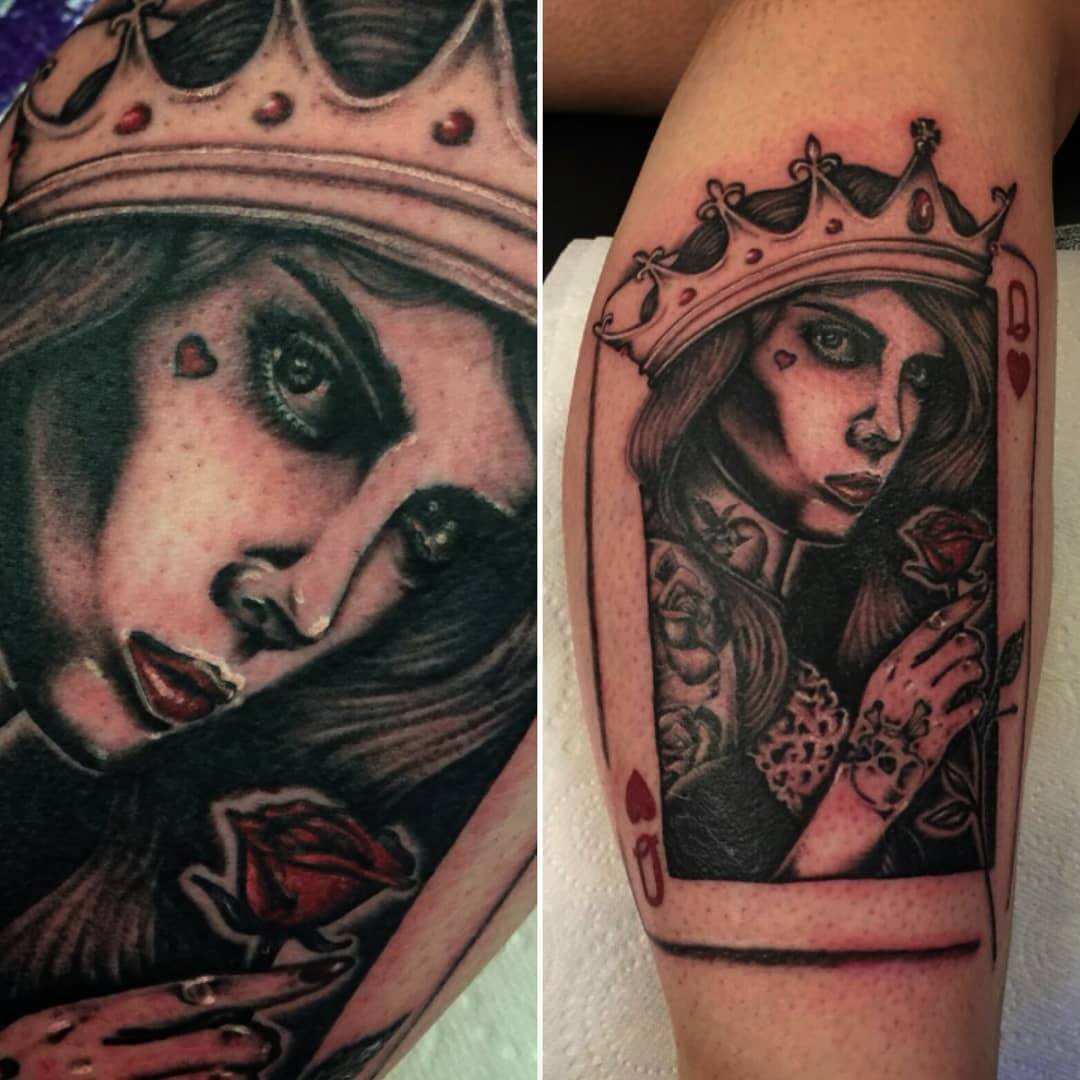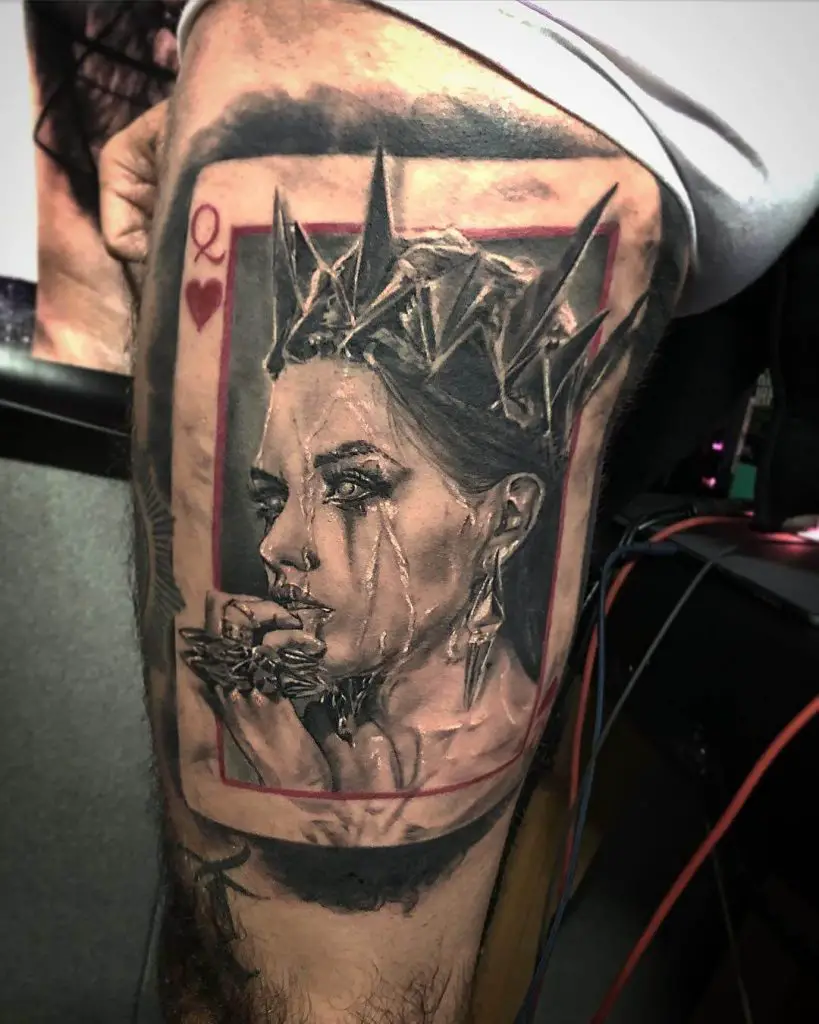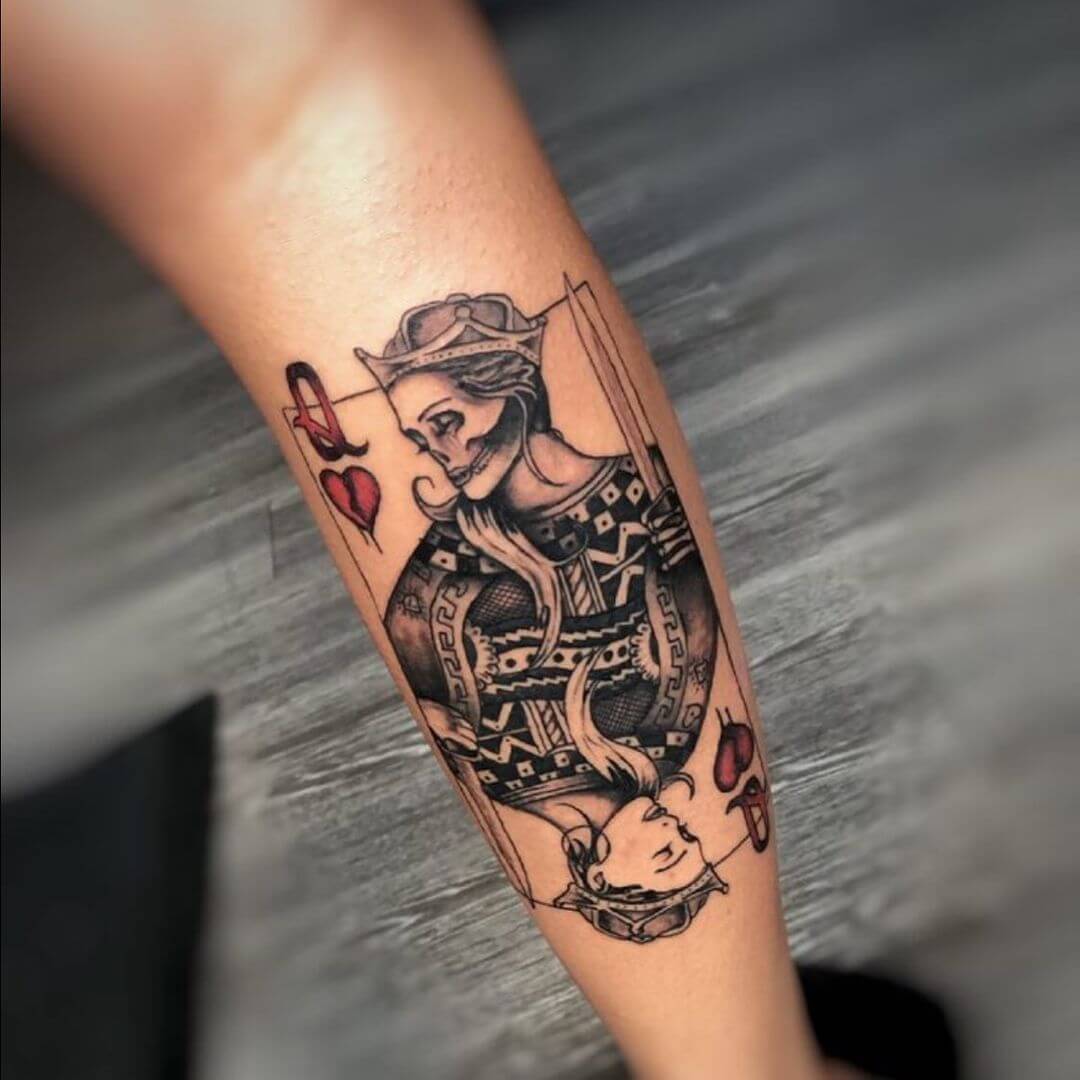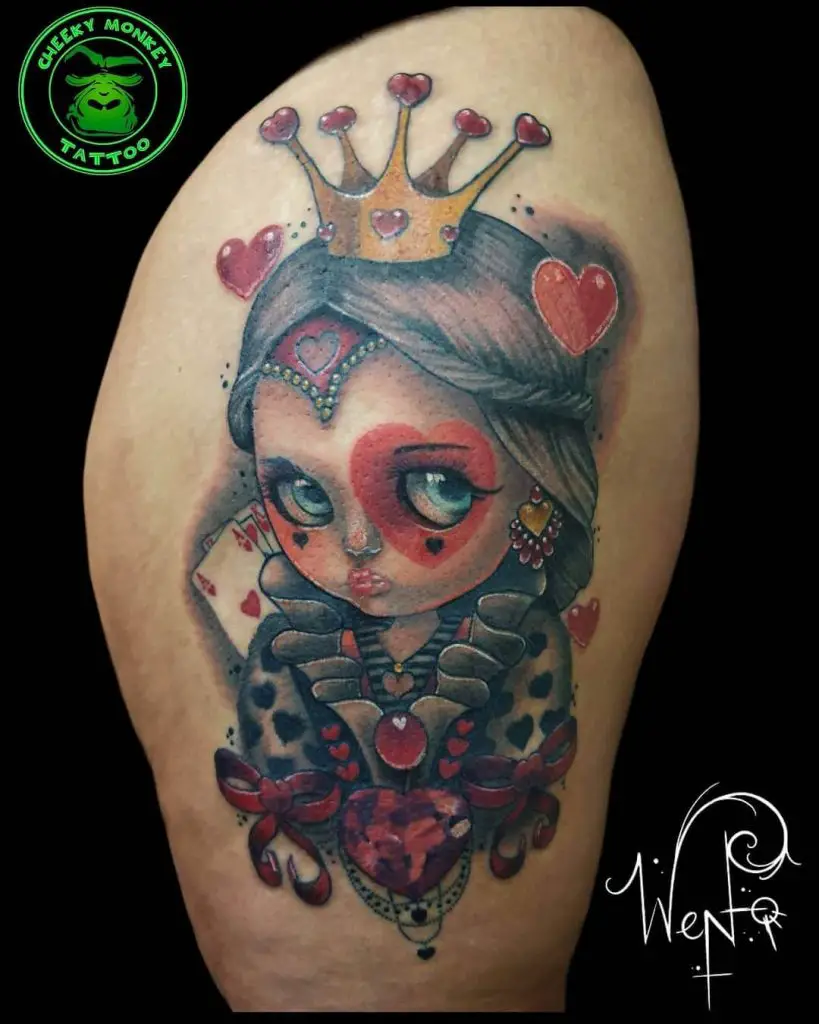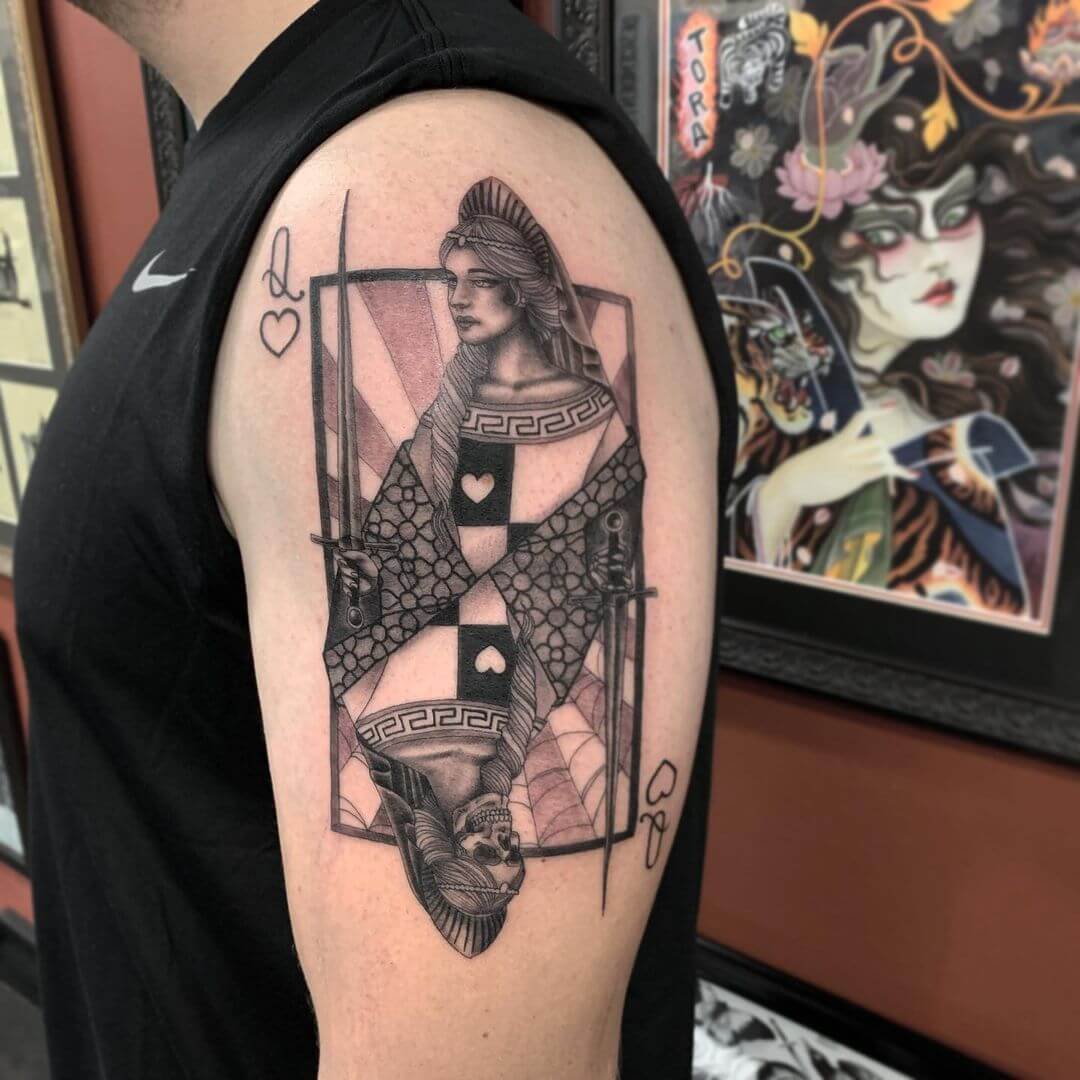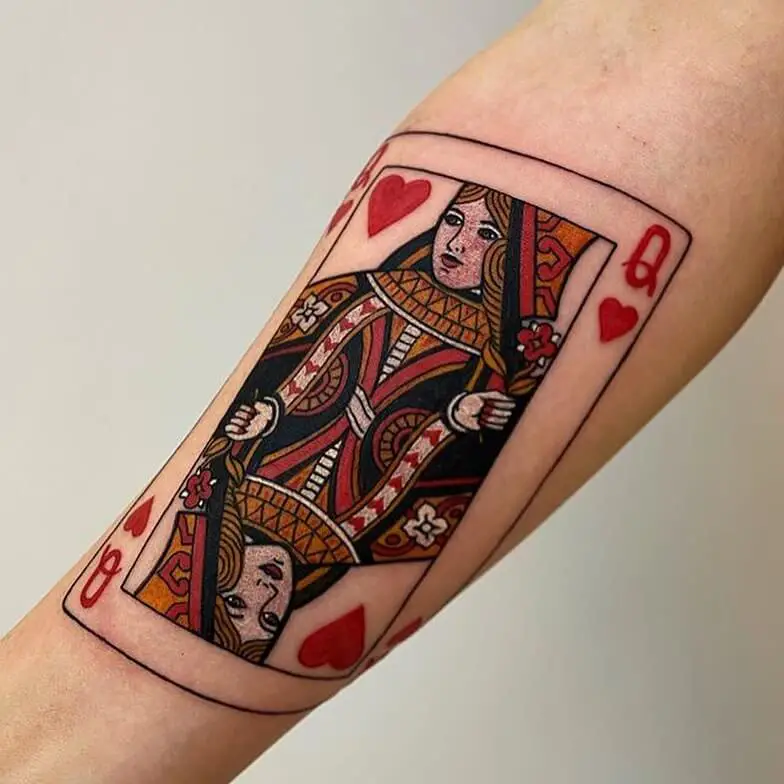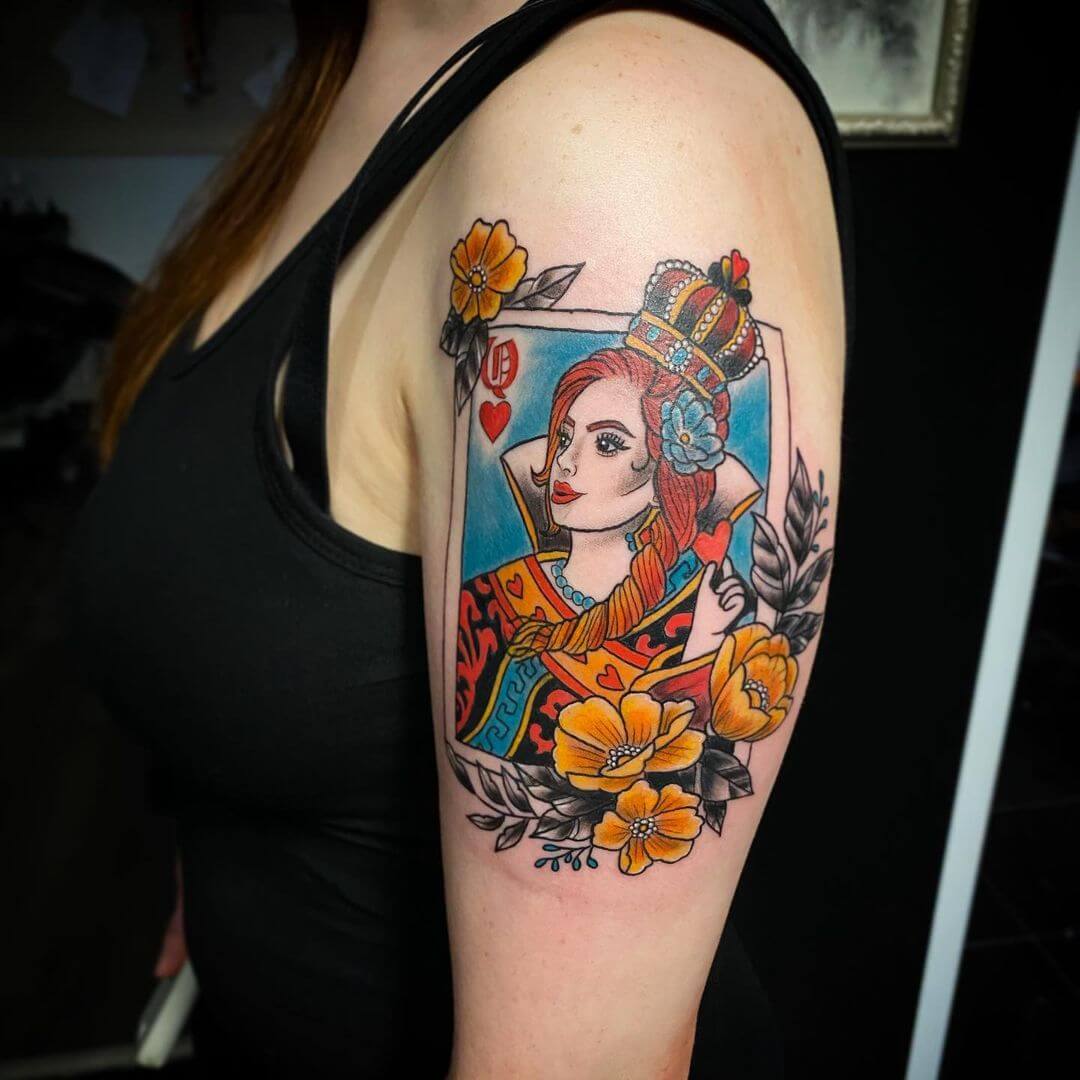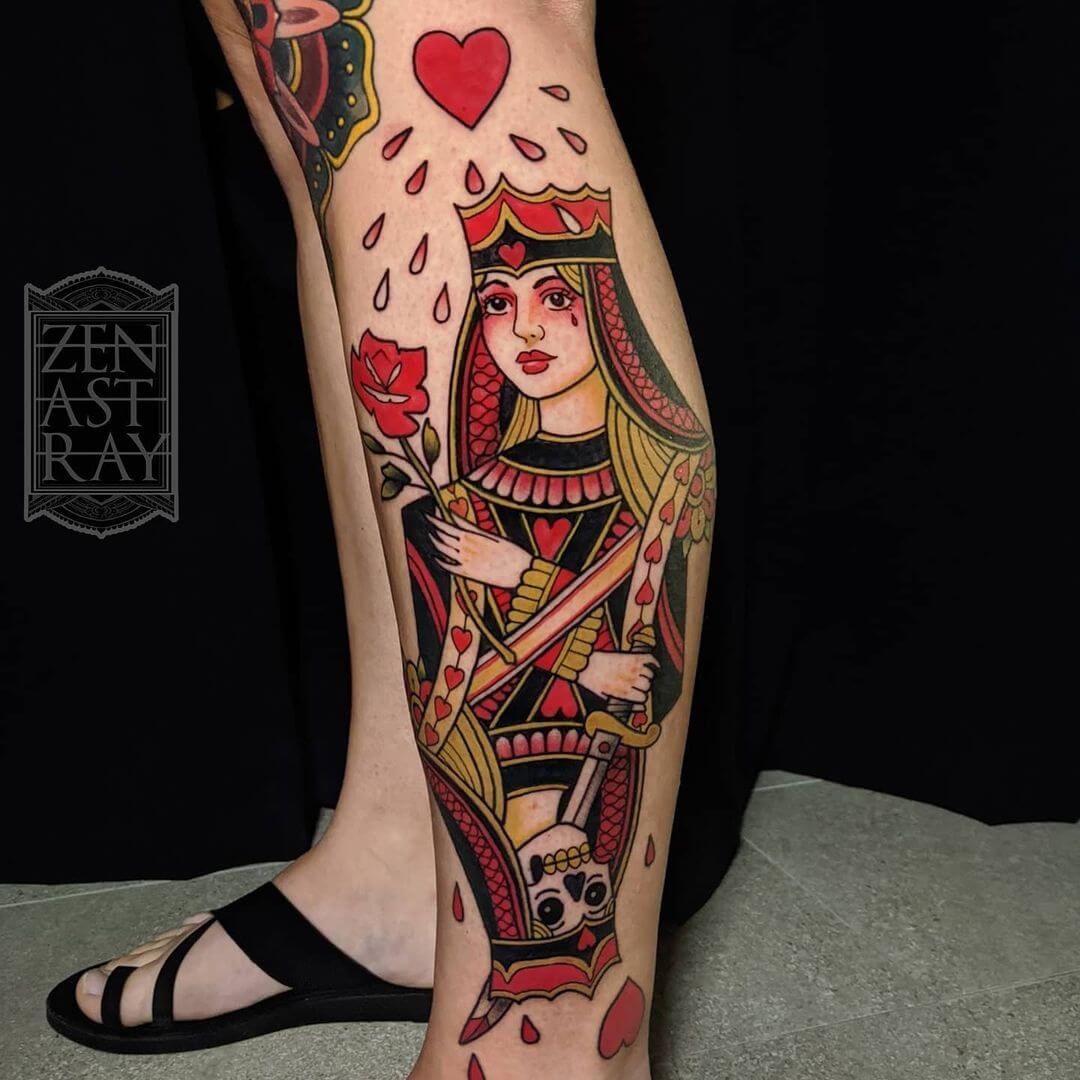 #1: THE GYPSY QUEEN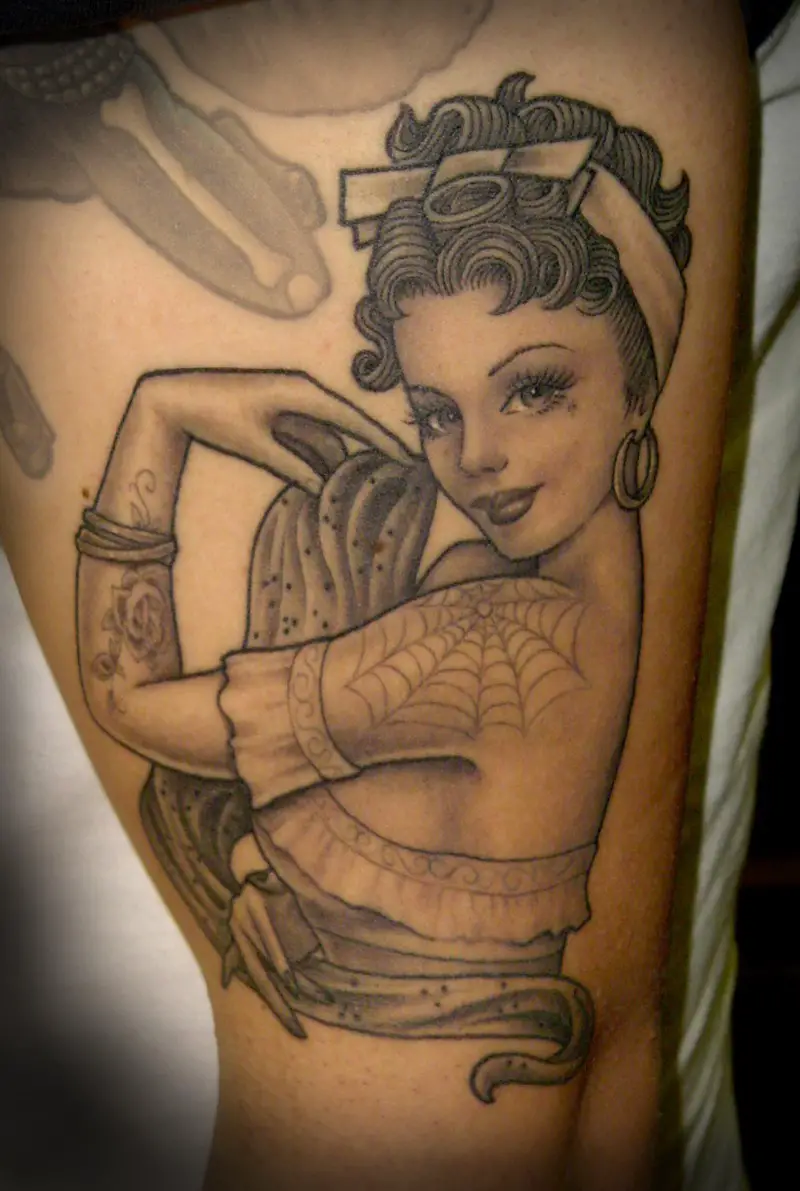 This queen of hearts tattoo design looks beautiful on the upper arm or even on the side of the body. It denotes a free spirited woman with gypsy charm and the spider's web adds an element of mystery.
#2: GAMBLE ON LOVE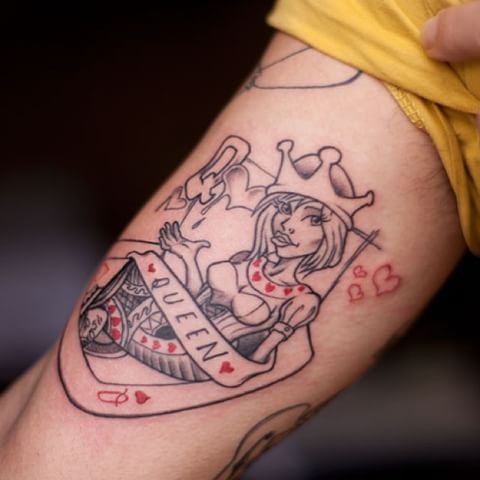 This tattoo is for those who want to show off the gambler in them. It reflects an obvious love of gambling and its artsy yet comic lines give it a unique take on the old classic style. The subtle use of red makes the design pop.
VERSATILE REST IN PEACE TATTOOS
#3: EVIL QUEEN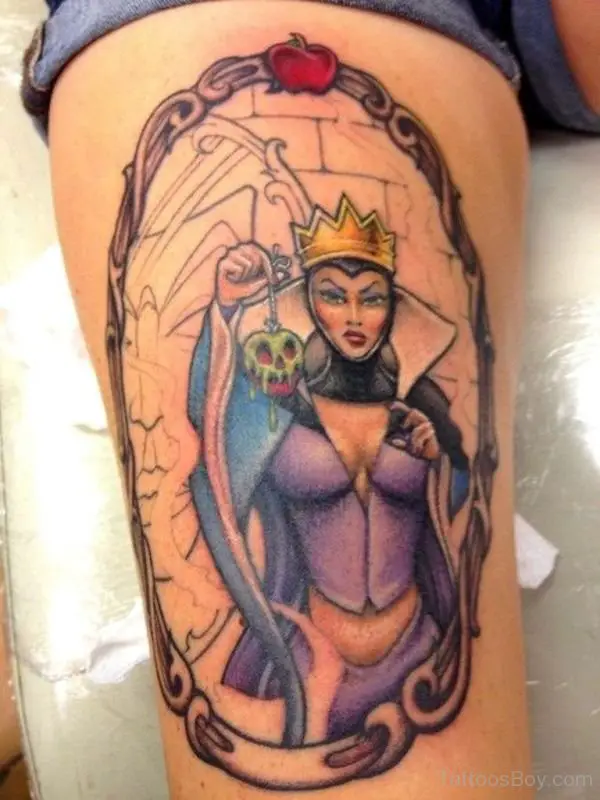 This one is not for the goody two shoes. This provocative tattoo has a fairy tale motif but is for those that want to display their dark side. The evil queen in the mirror beckons one and all with her poison apple.
#4: SHE HOLDS ALL THE CARDS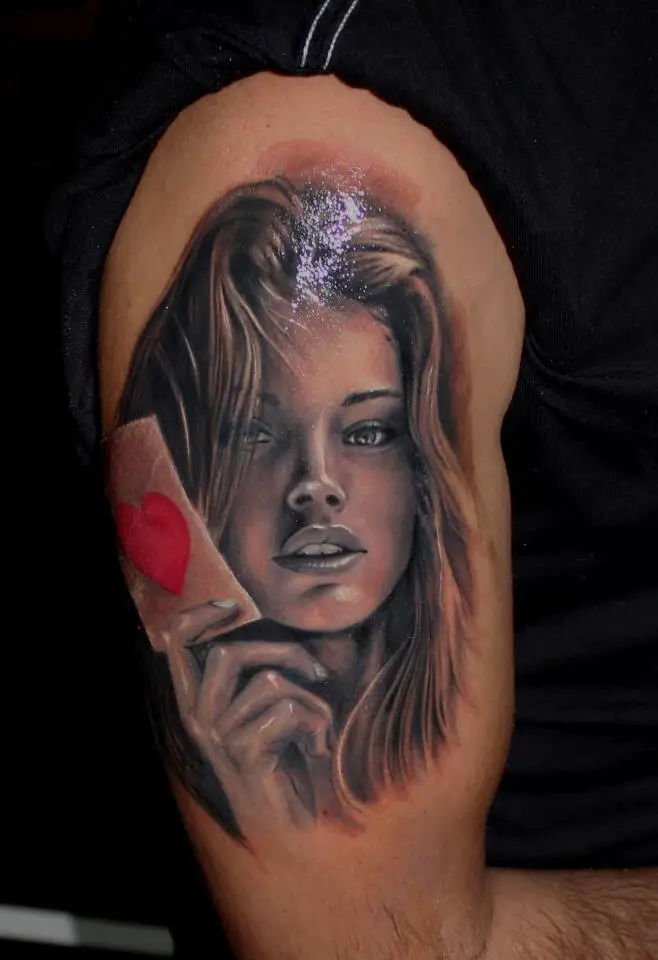 With her seductive eyes seemingly staring out into the vast beyond, she holds the card that can make your dreams come true. This realistic face tattoo is perfect for those who want to tell the world about that special someone in their life.
#5: THE CADGED HEART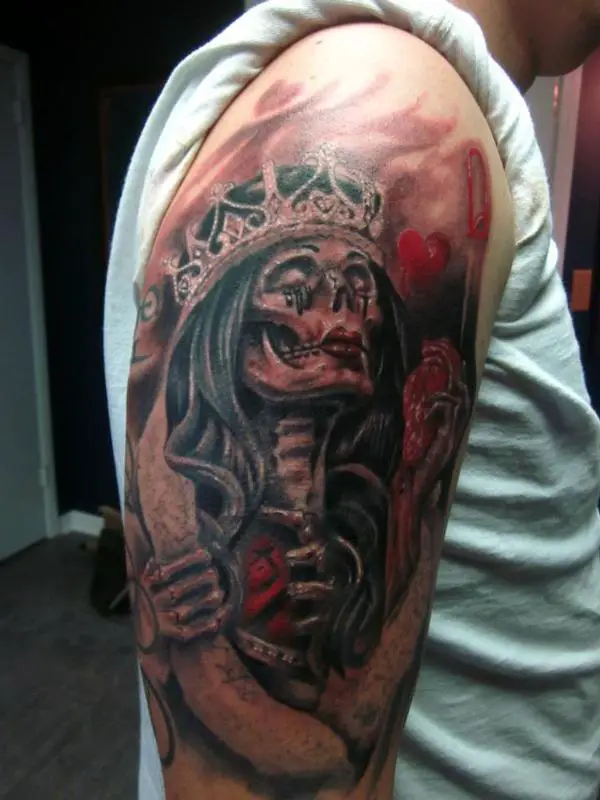 This Gothic inspired queen of hearts tattoo is dark and gloomy but sends a potent message of love unrequited. The bleeding heart in her hand talks more than words can about the pain and longing she feels for the love she lost or could not have.
#6: TWO FACED QUEEN OF HEARTS TATTOO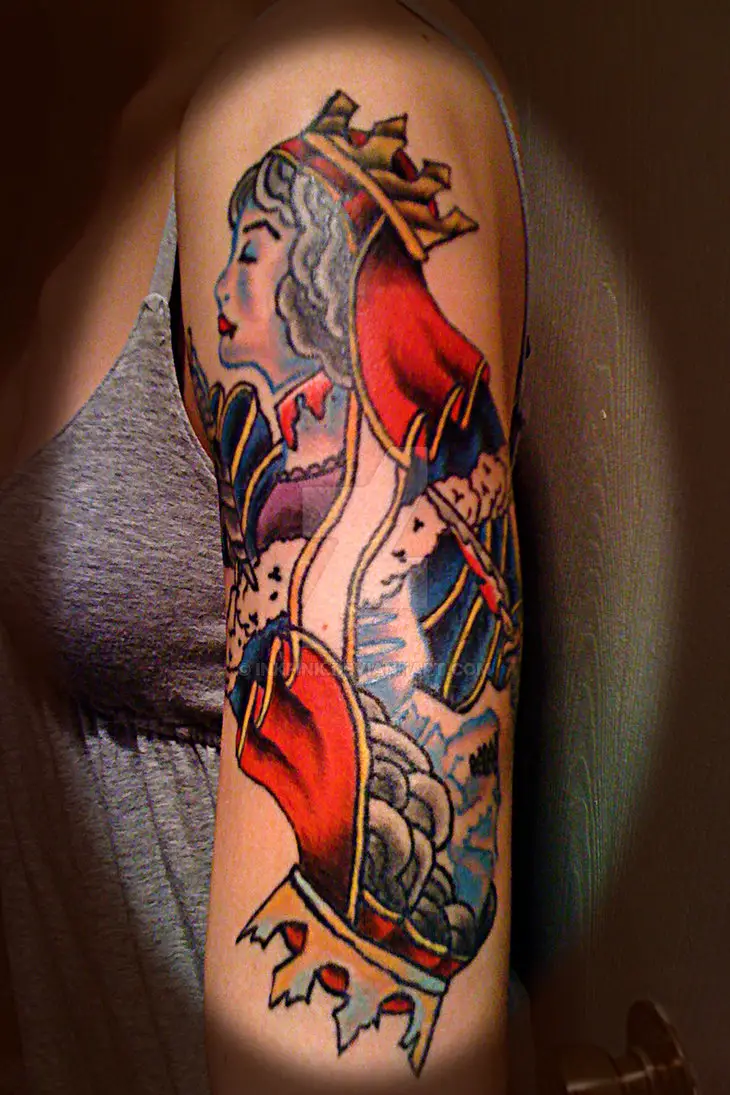 This two-faced queen of hearts tattoo depicts someone that has a great inner depth to them but reveals only one facet of their personality to the world whilst keeping the other their own private secret.
#7: LUCKY NUMBER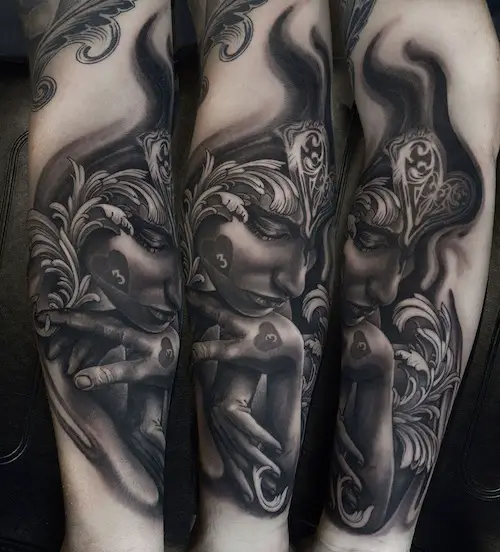 Maybe you have a love of gambling or a fondness for a particular number like a lucky number or maybe it's a symbol. Either way, you can encase it in this classy, mysterious and enigmatic tattoo design.
#8: TWO SIDES OF A COIN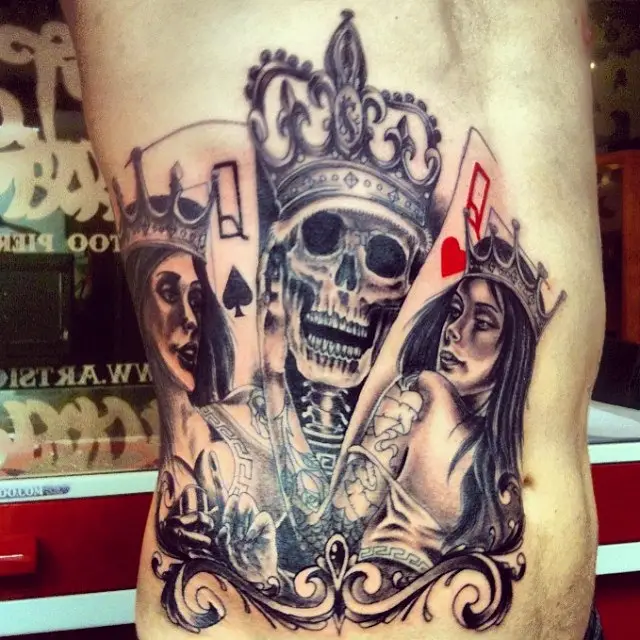 This tattoo is for those who want to let people know that they have all the cards and can deal with any situation. Depending on the need they can reveal their angelic side or unleash the devil in them.
#9: TWO OF A KIND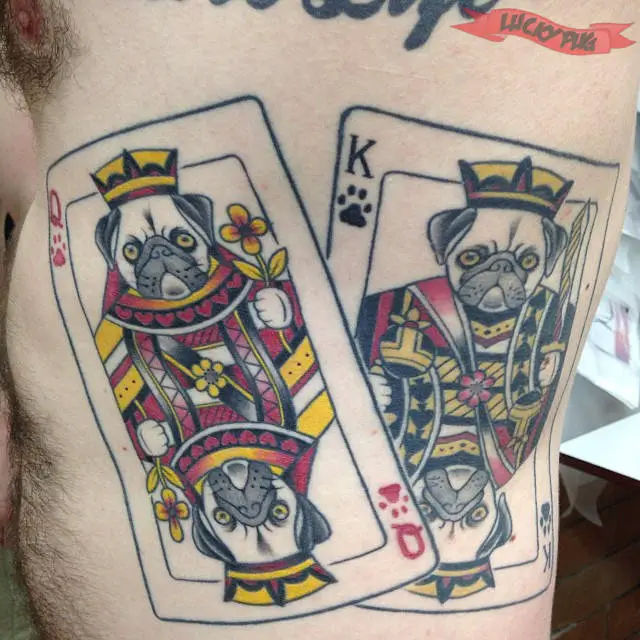 This fantastically distinctive body tattoo is great for the man or woman that wants to flaunt their love in a way that is cool and quirky.
#10: THREE HEARTS AND A CROWN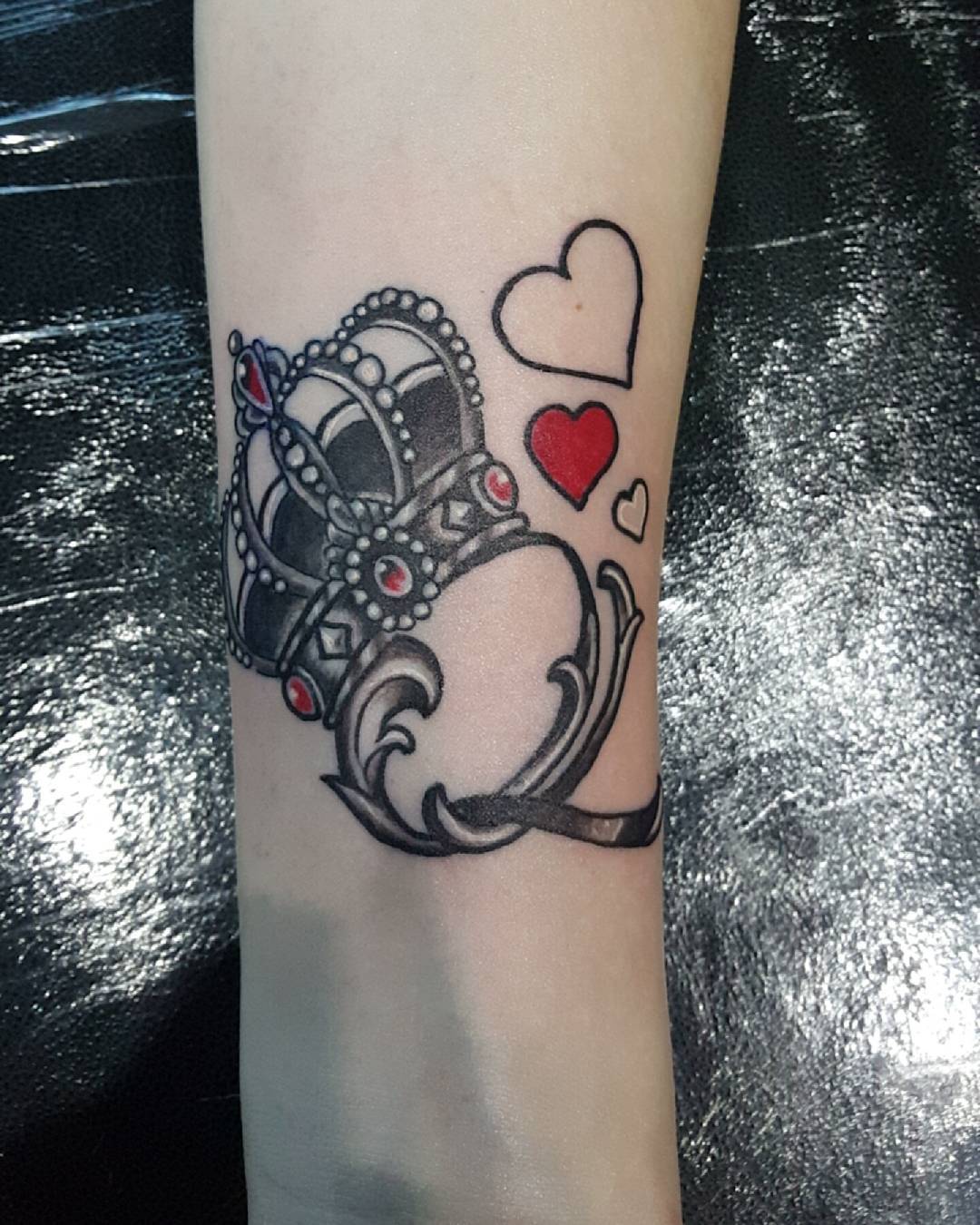 The unique placement of this simple tattoo certainly makes it eye catching especially with its wonderful use of shading in the crown with red gems and the red heart as highlights.
CAPTIVATING TATTOO FONTS FOR MEN
#11: ALL HEART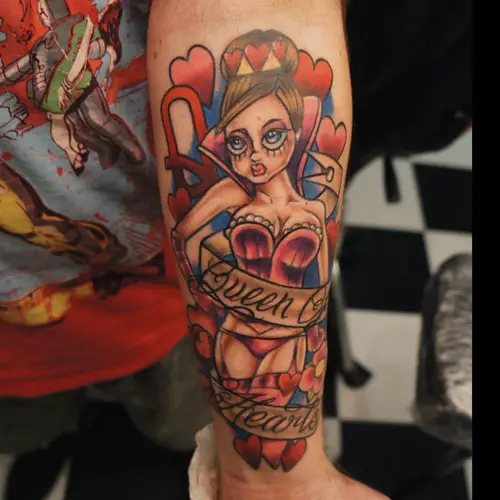 This tattoo has a slight cabaret or burlesque theme. The girl's eyes are sort of pensive and longing. She has a thousand lovers and is the Queen Of Hearts with a lot of love to give but longs for that someone she can't have.
#12: DUALITY QUEEN OF HEARTS TATTOO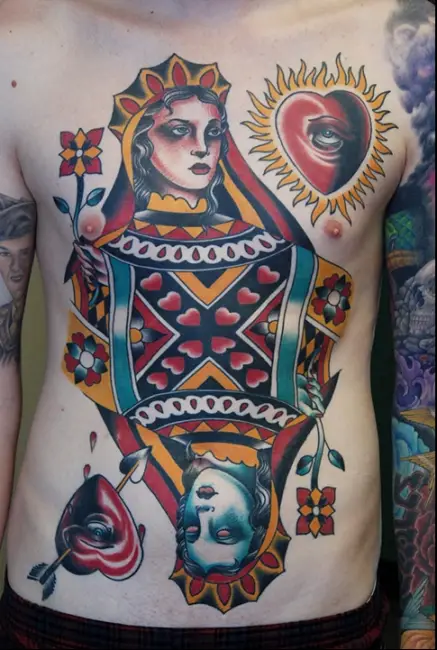 This is a big and bold body tattoo meant to show the two sides a personality. One side that's ever hopeful and the other side that seems crushed by the pain love can sometimes cause.
#13: A TRIBAL HEART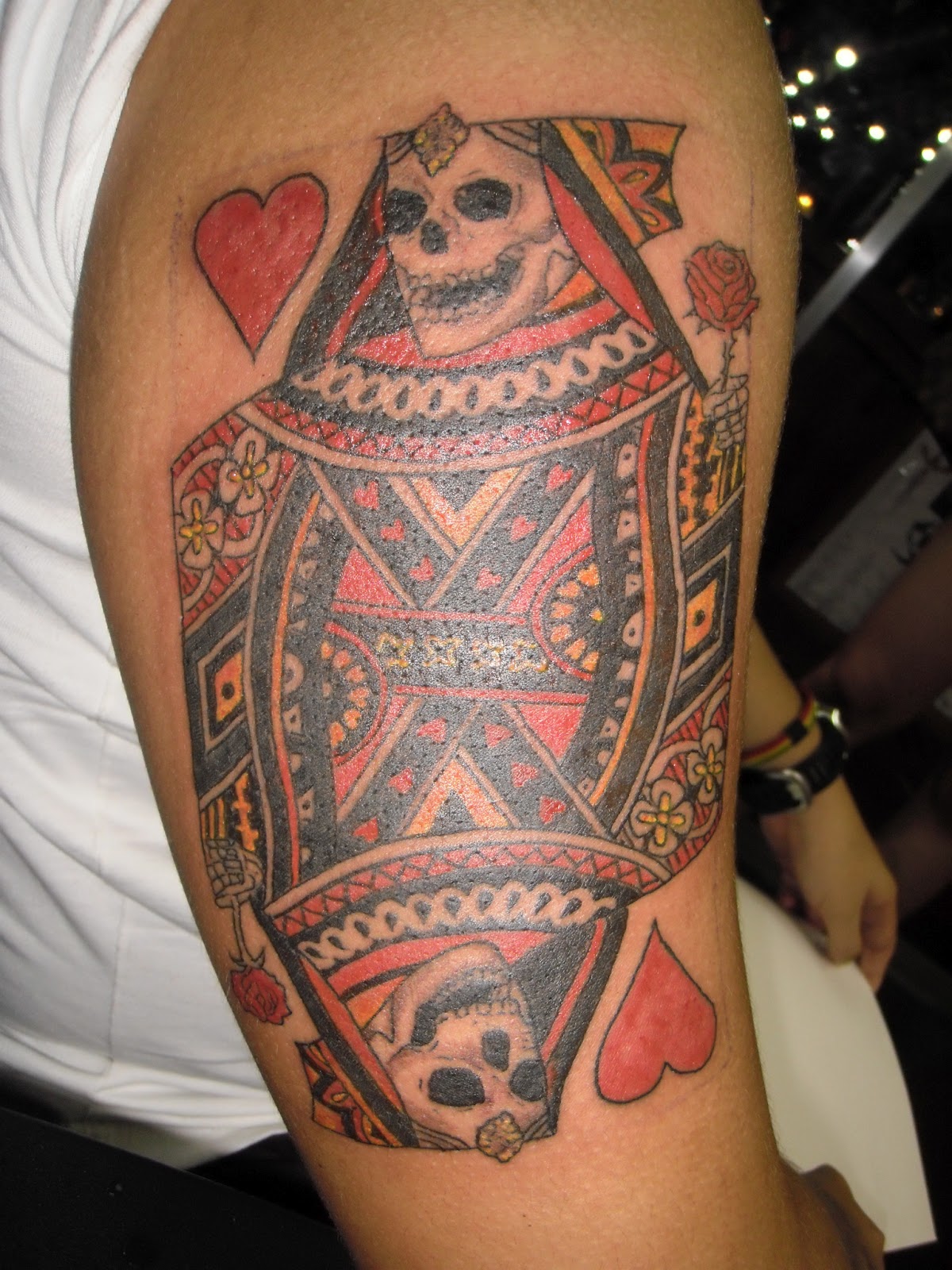 If you like tribal motifs tattoo you will love this one of a kind colorful tattoo which also has a slight Gothic appeal due to the skulls in it. This one is clearly for the bold at heart.
#14: GET SKETCHY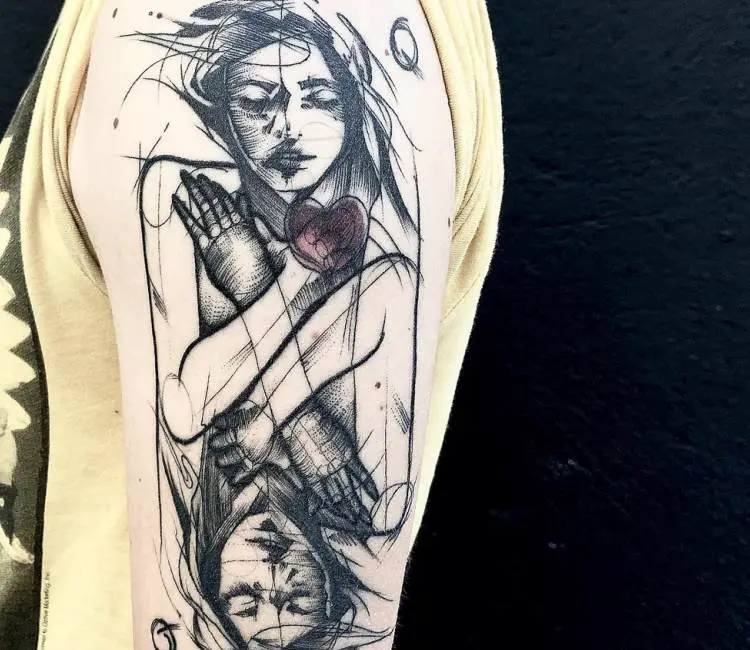 This tattoo has a dreamy quality to it with an implicit serenity. It is modern and abstract and could be used to portray any number of thoughts you might have.
#15: QUEEN WITH RED HEARTS TATTOO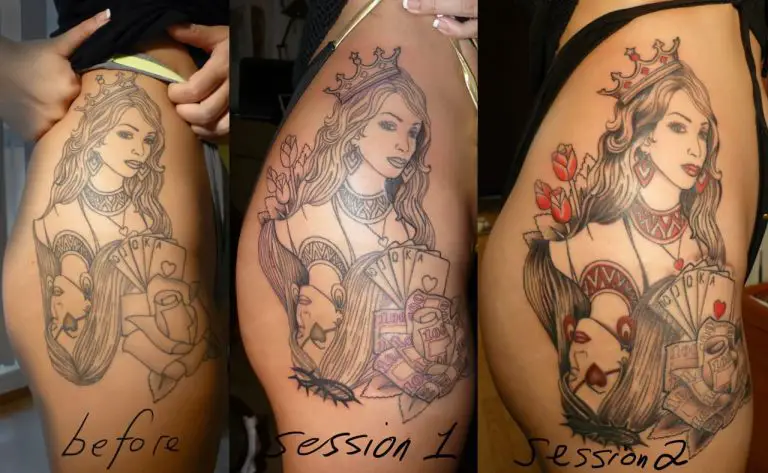 What an amazing thigh tattoo? The flower made out of currency notes simply explains about the girl's love for gambling while the two faces of the queen signify two personalities.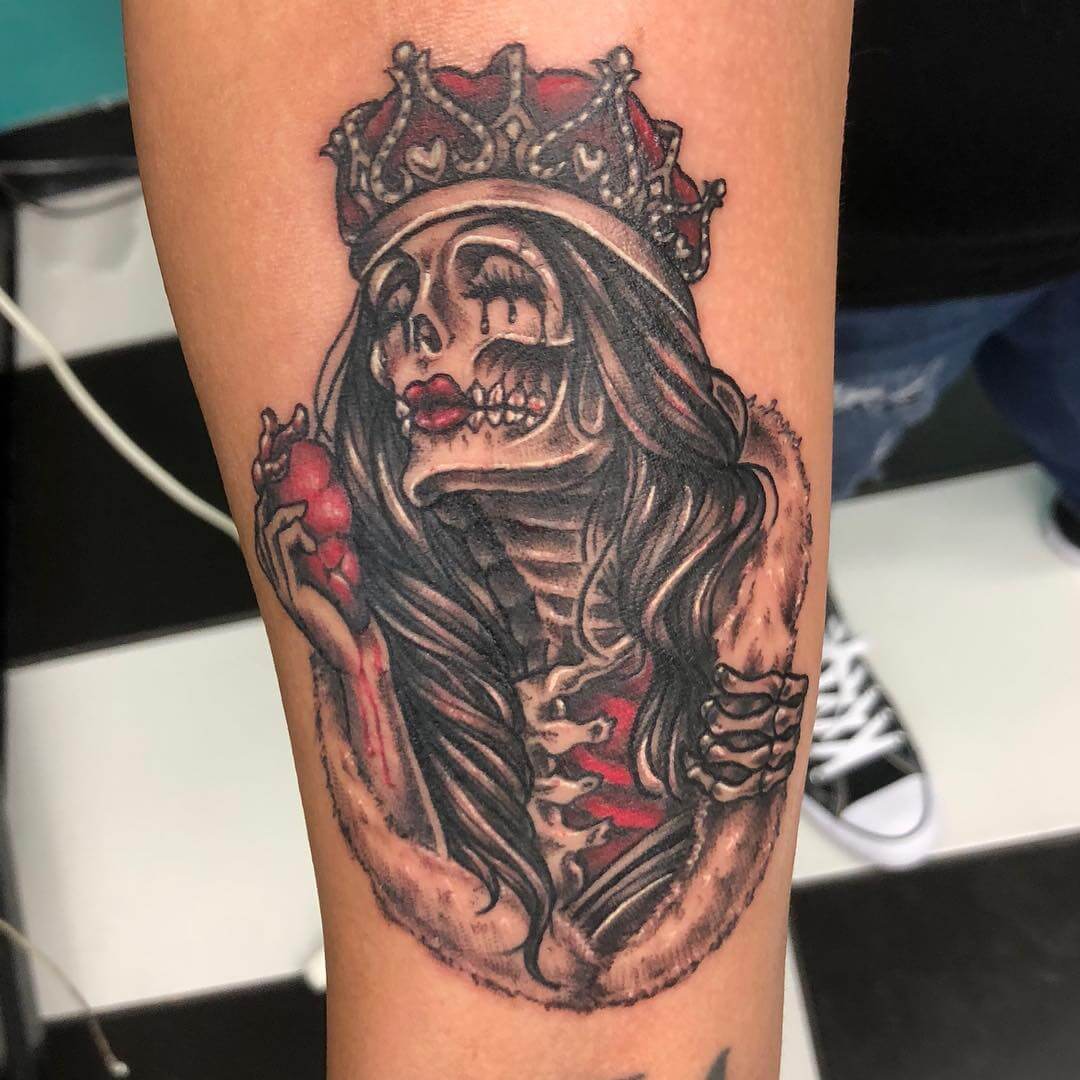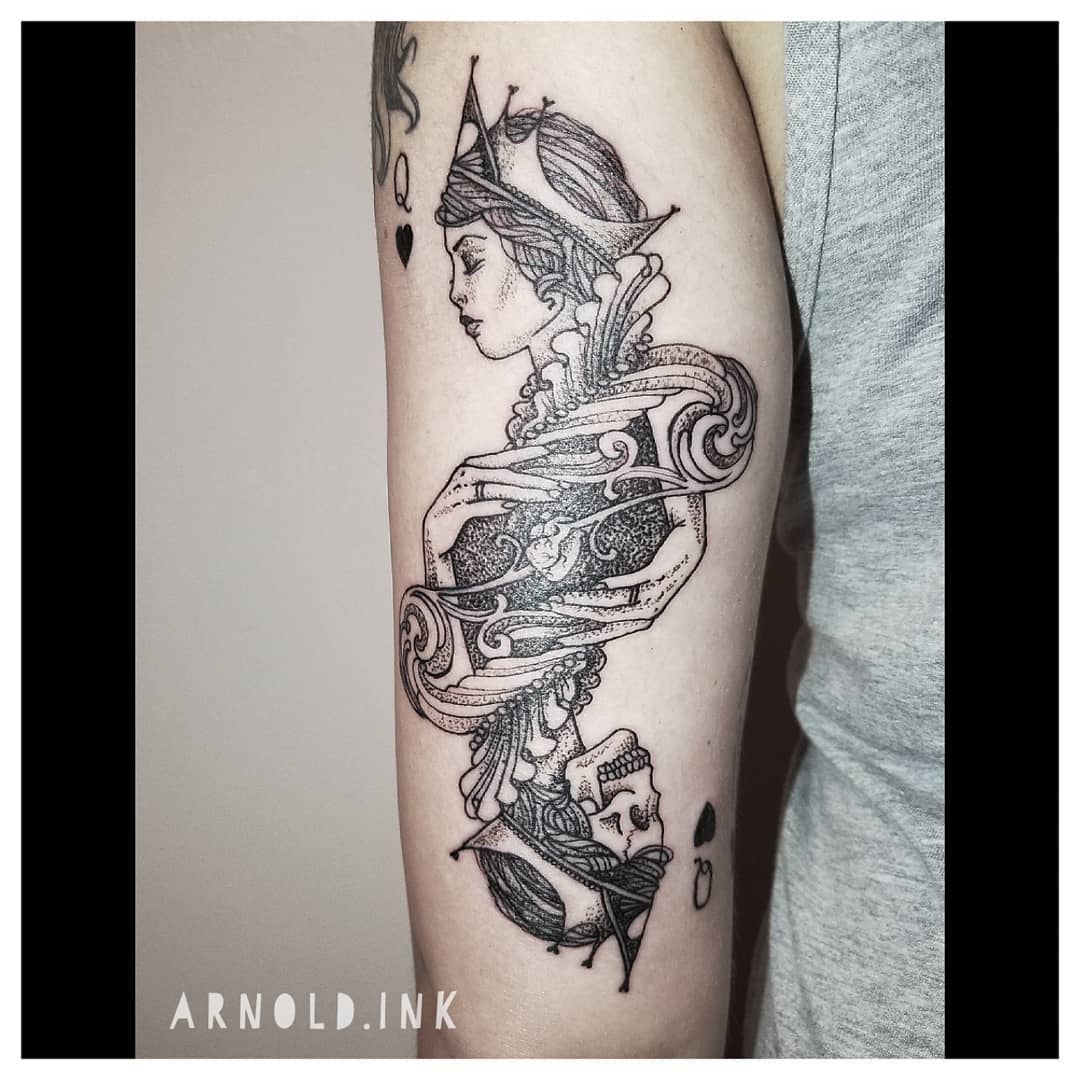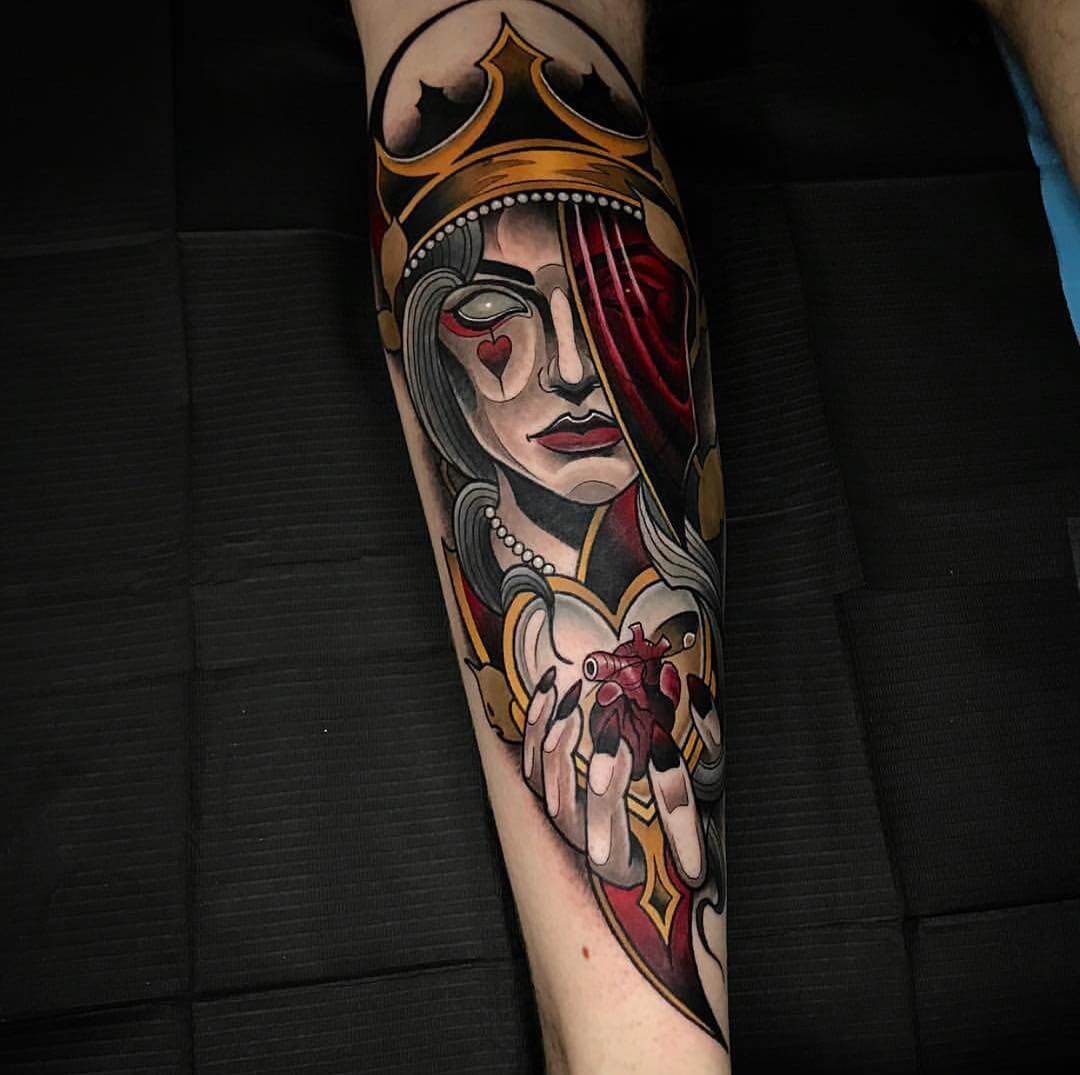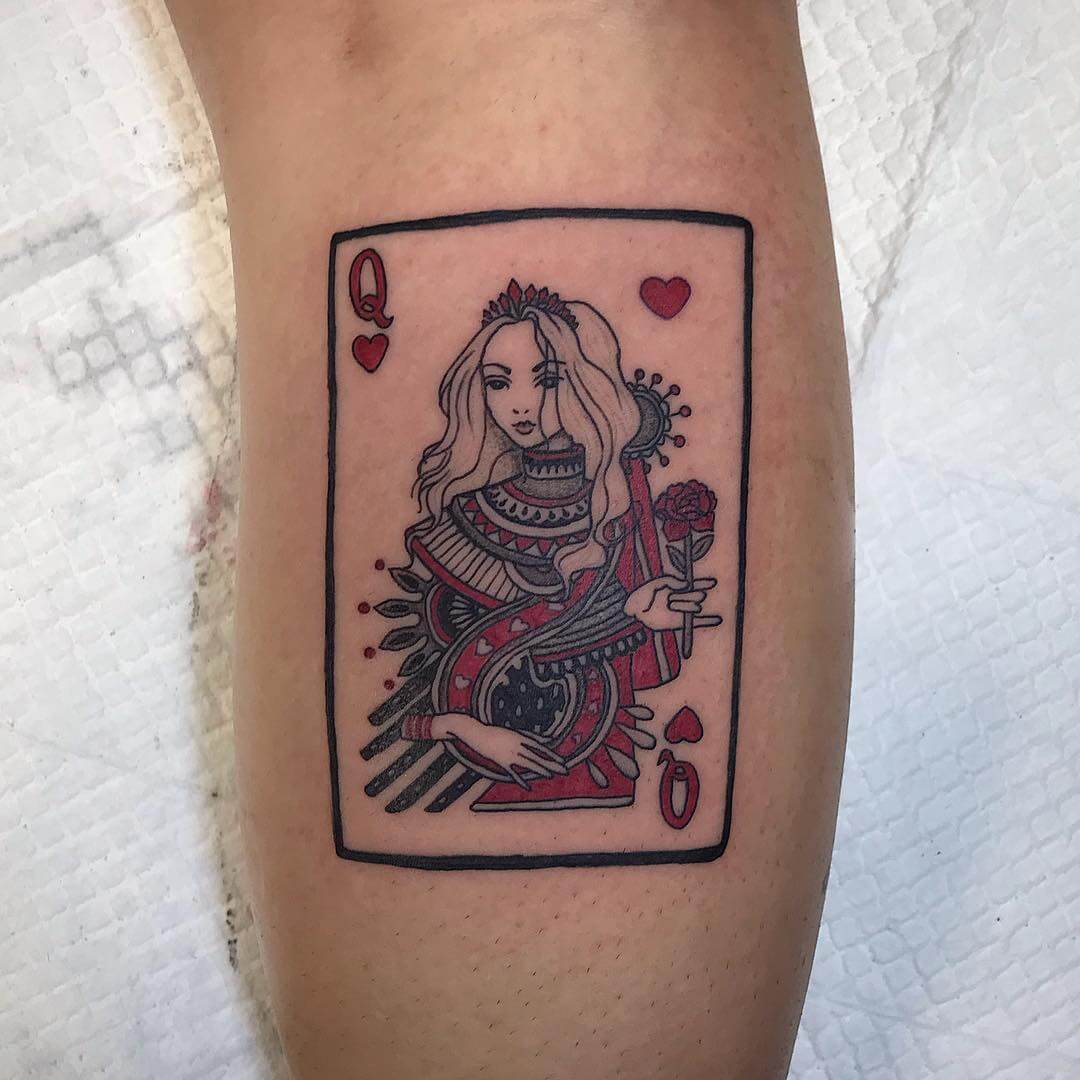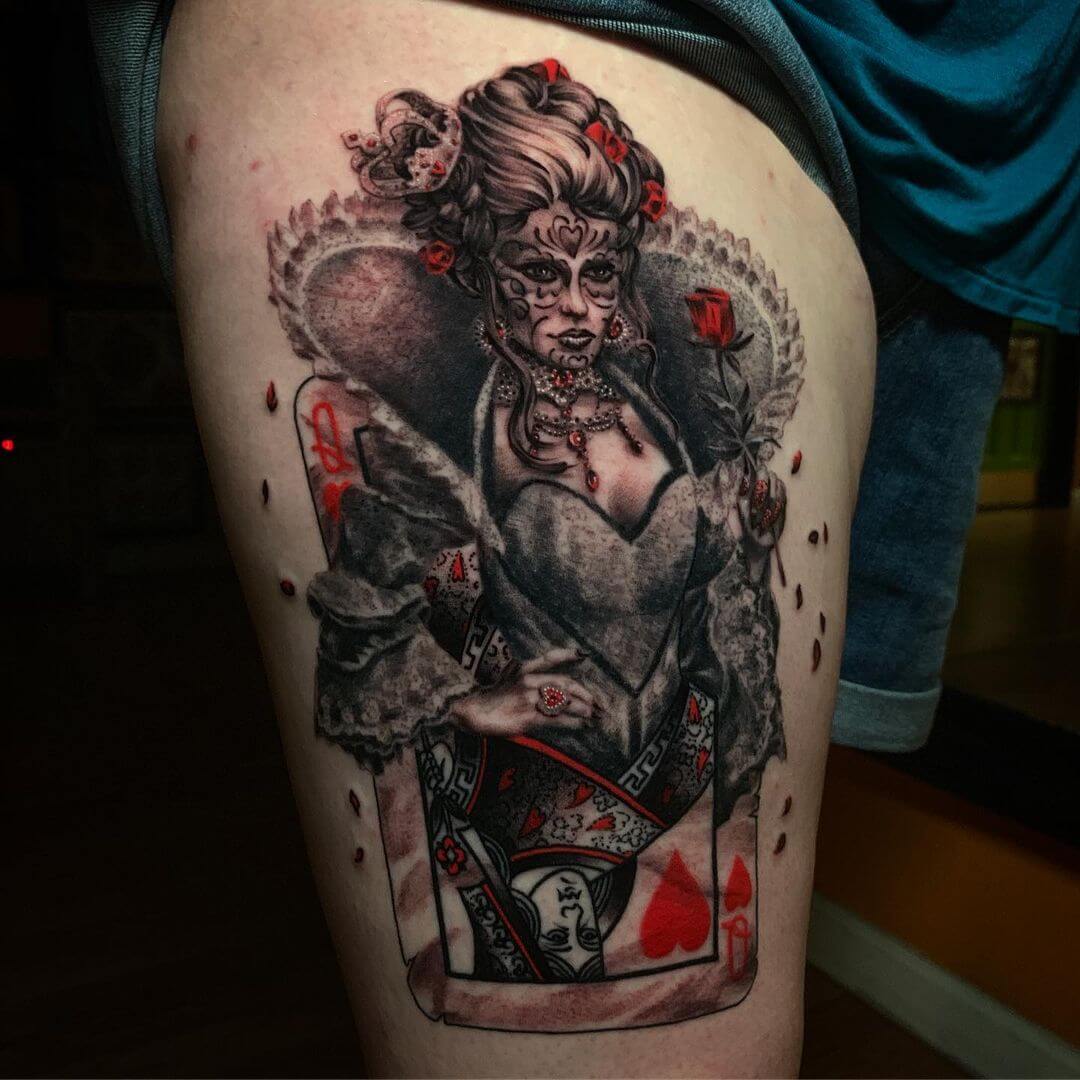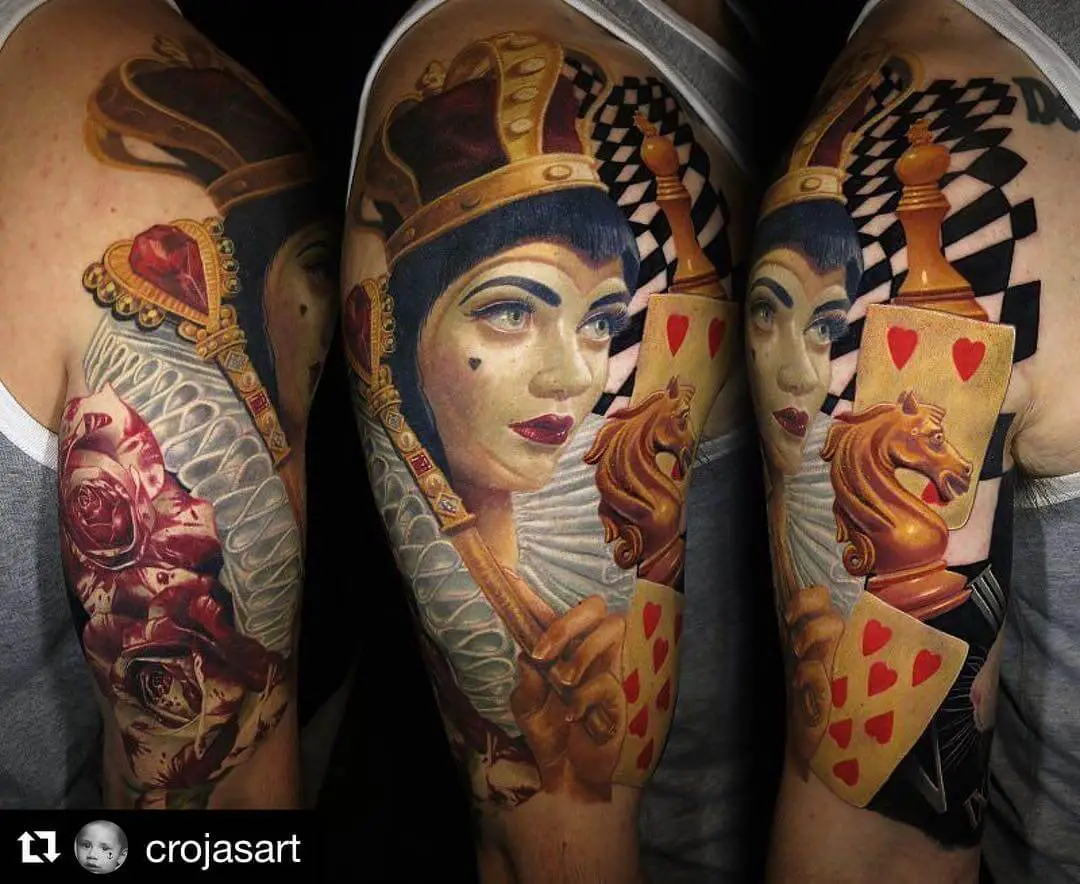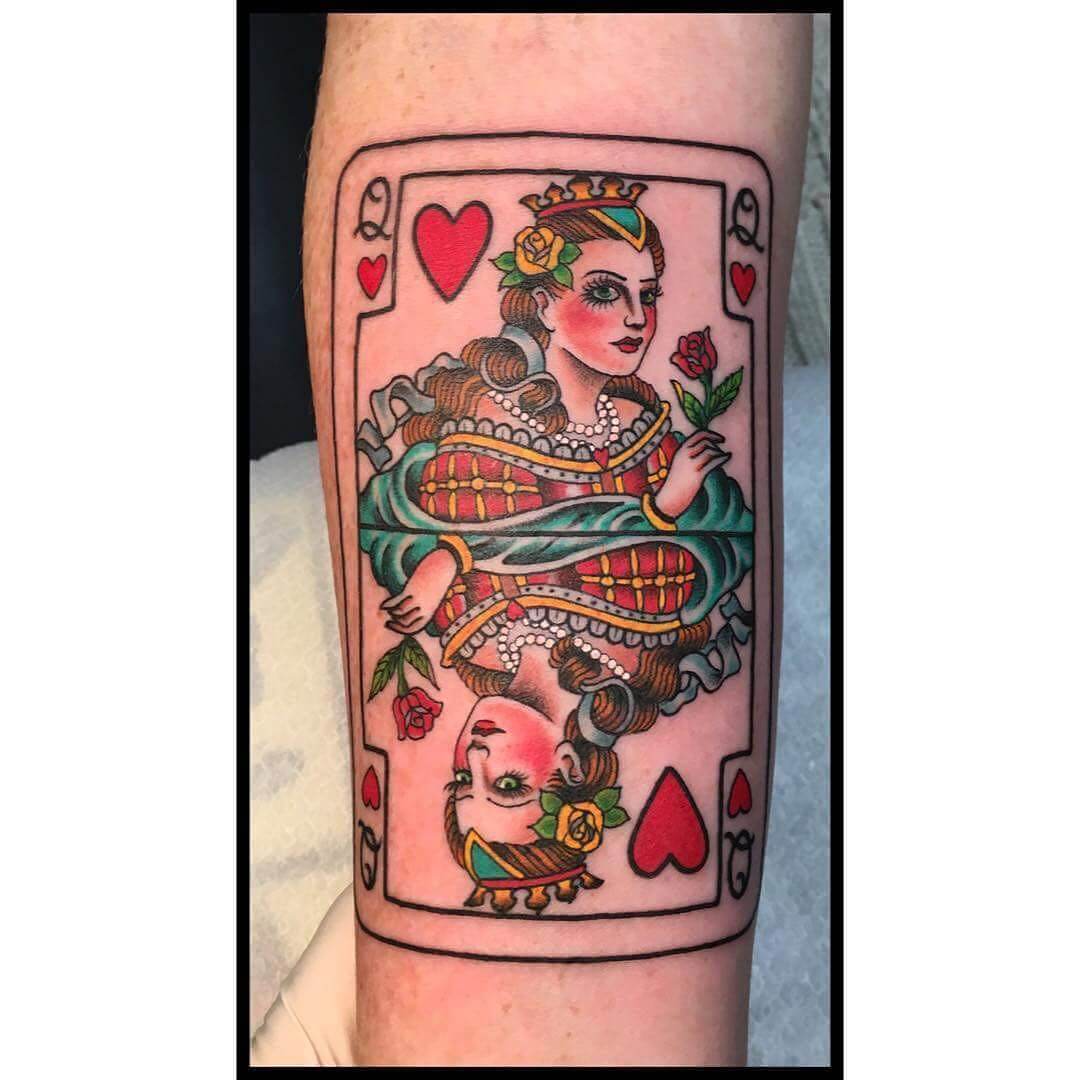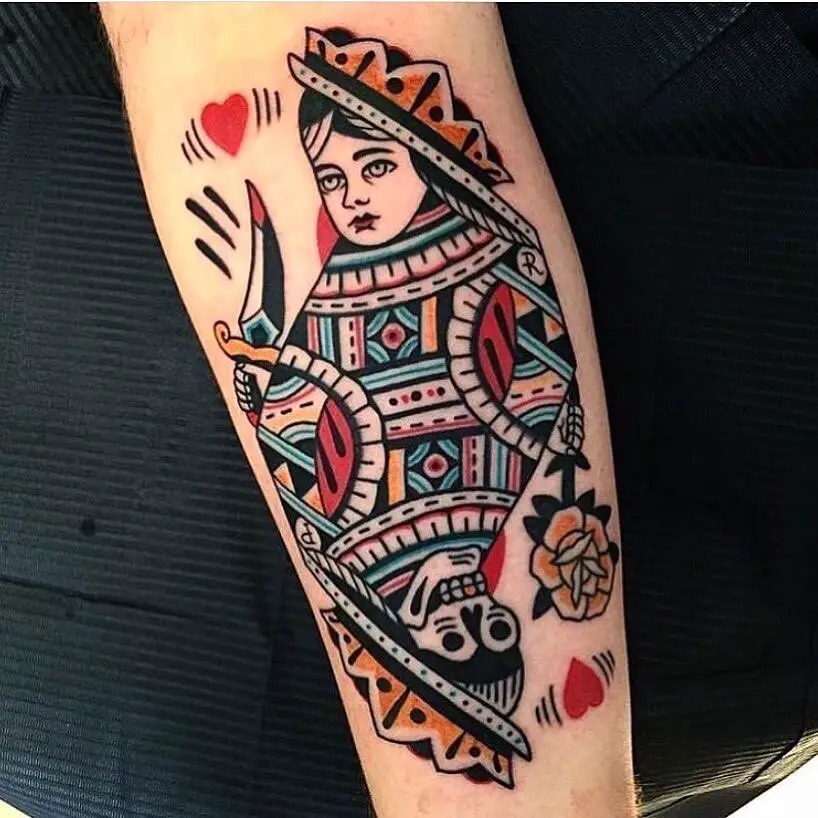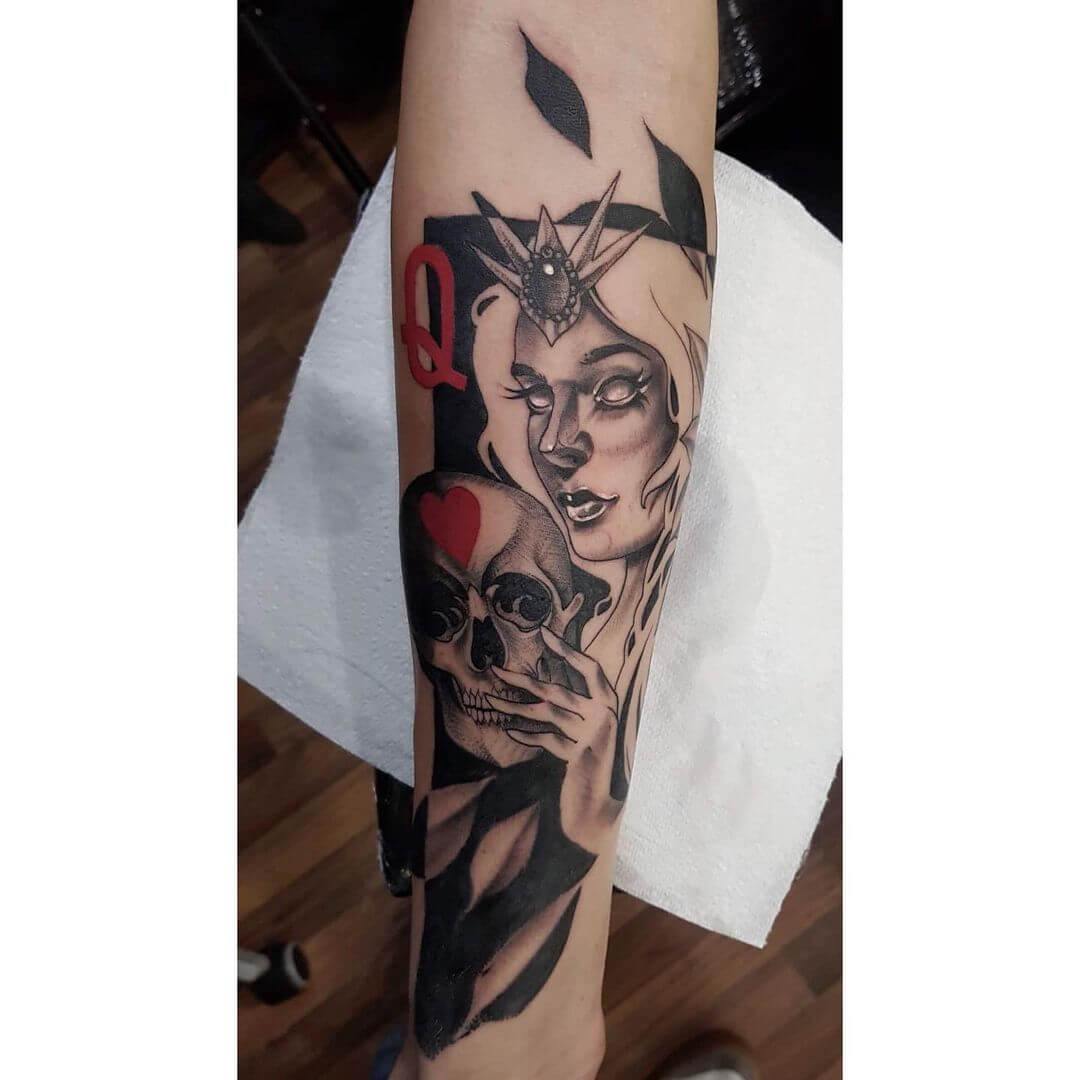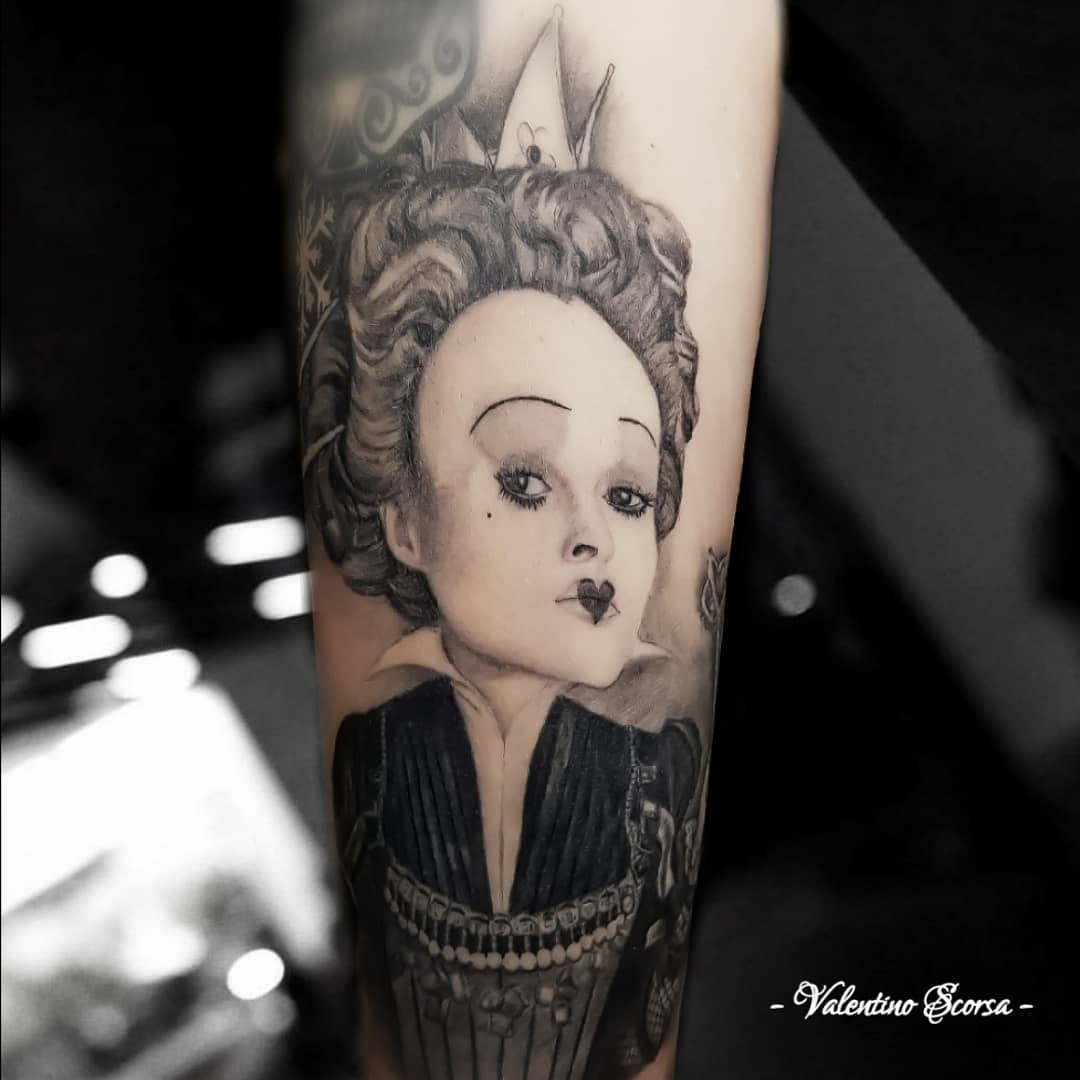 A tattoo is a very personal expression of who we are and what we want the world to see. It says a lot about us. Hopefully, you've found these designs useful and inspirational in your search for that perfect tattoo design.