Matching tattoos for couples are one of the most significant things to symbolize love. Love is a splendor thing; it can bring two people together in such a way they that they are willing to do anything to be with each other for the rest of their lives. And a thoughtful tattoo definitely express it best.
MATCHING TATTOOS FOR COUPLE ARE FOR 'TOGETHER FOREVER'
When a couple gets inked together it is a show of commitment to their relationship. It tells the world that the couple is deeply in love and committed to each other for life.
Getting matching tattoos for couples can be a bit tricky as firstly you have to be one hundred percent sure of how you feel about your lover. Then there is the matter of choosing the right design as it should suit the personalities of both the parties concerned. Furthermore, the location of the design should be carefully considered as it depends on how much you want to flaunt the tattoo. Also, the size plays a big role in determining the time, expense and pain involved.
Puzzled? Here are some cool, quirky, fun and interesting tattoo ideas for you to explore.
#1: SIMPLY YOURS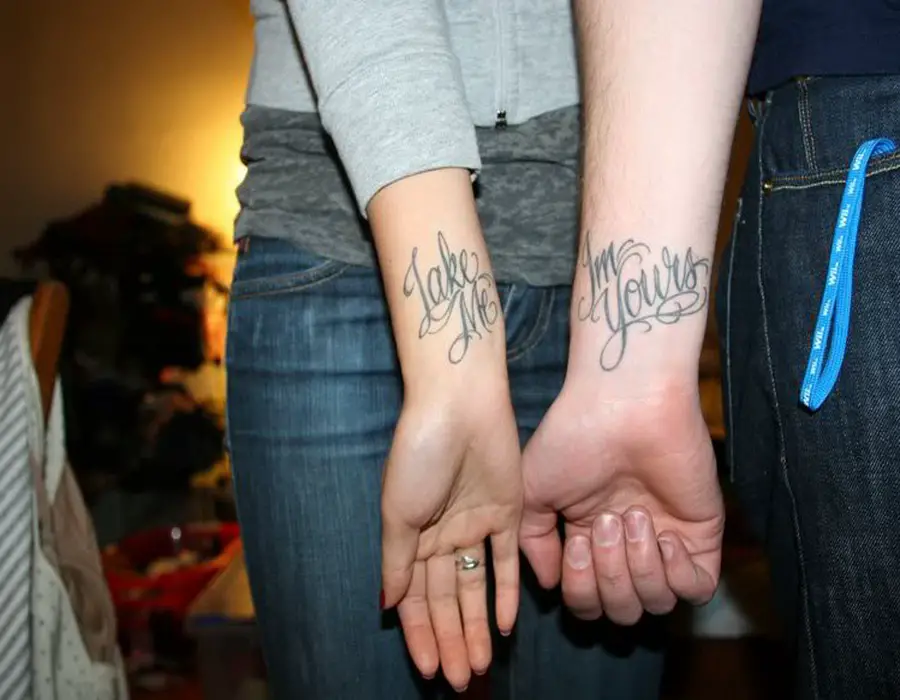 This is a simple thought transcribed into art by simply inking it in stylized cursive writing. The couple has the tattoo design placed on the inside of the forearm, just above the wrist. That means they want to see it quite often!
#2: ETERNAL LOVE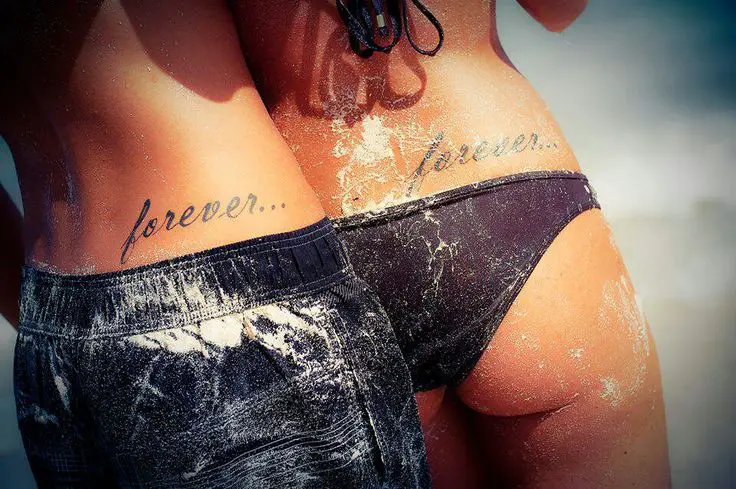 'Forever' is more a concept than a reality but we all understand what it means. When two lovers have a tattoo such as this one, it shows they will be with each other until the end.
#3: I HEART YOU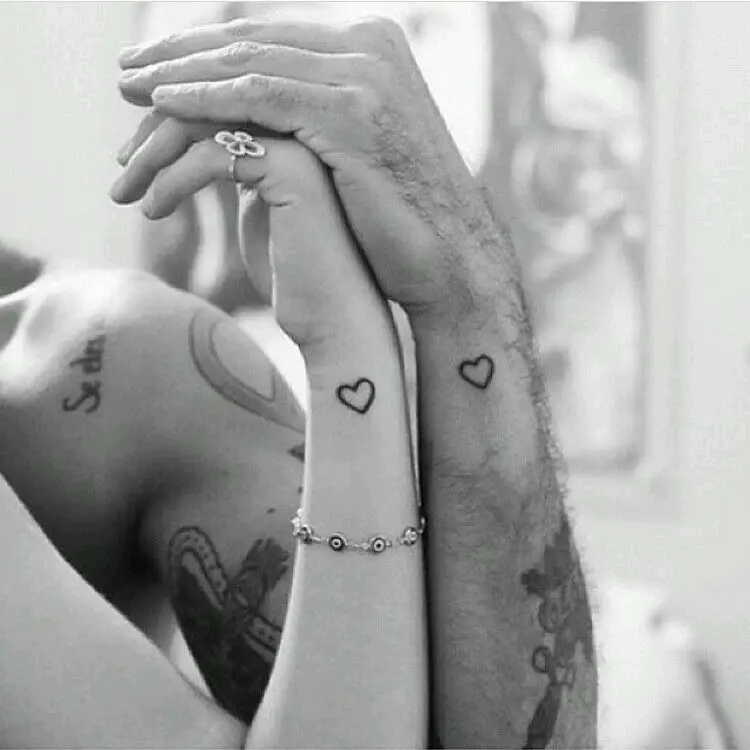 When a man is willing to get a cute little matching heart tattoo with his beloved, it can't be denied how much he loves her. The tattoos are placed in a very visible location, announcing the couple's love.
#4: JUST MARRIED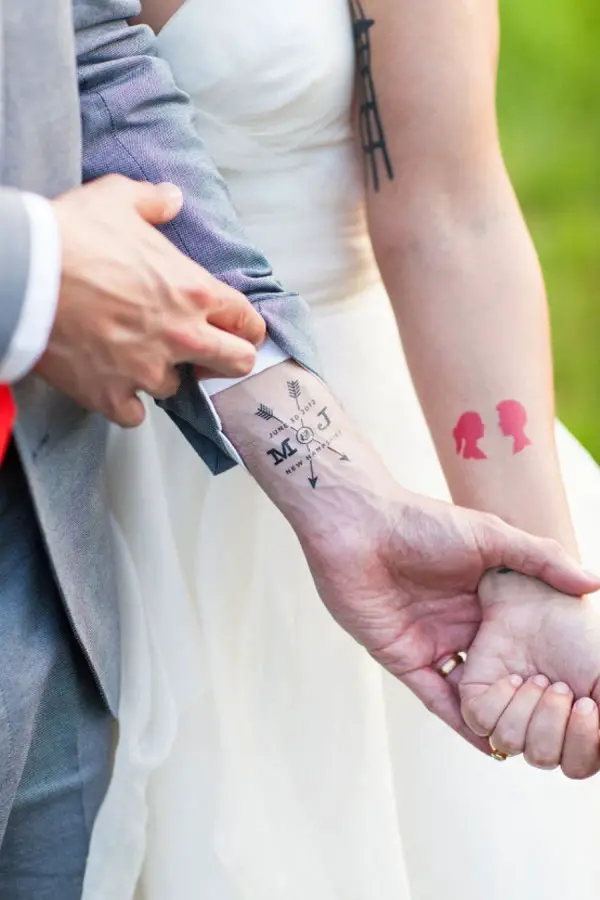 If you are or are going to get married, matching designs like these are a great way to express your love and commemorate the event at the same time. The woman has a depiction of the couple's likeness and the man has their initials with the date and location of the wedding.
P.S: He will never forget his anniversary. Lucky girl!!
#5: FOOD FOR THOUGHT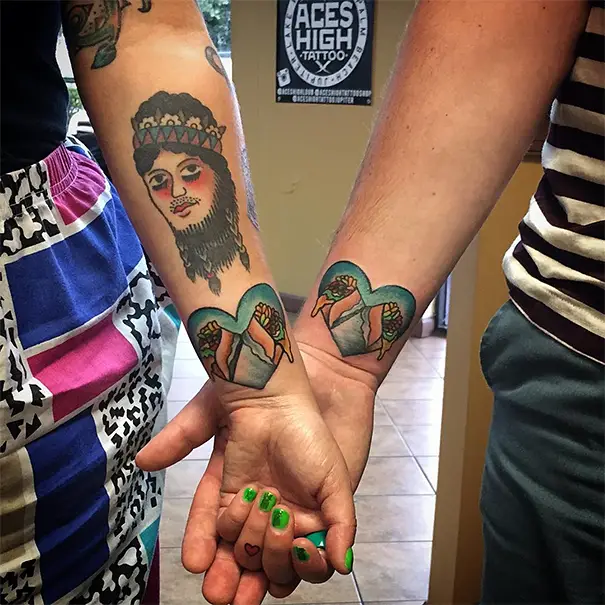 This couple has combined their love of food with their love of each other in this unique and quirky tattoo. It is quite a large heart shape design on the inside of the wrist.
#6: A WHALE SONG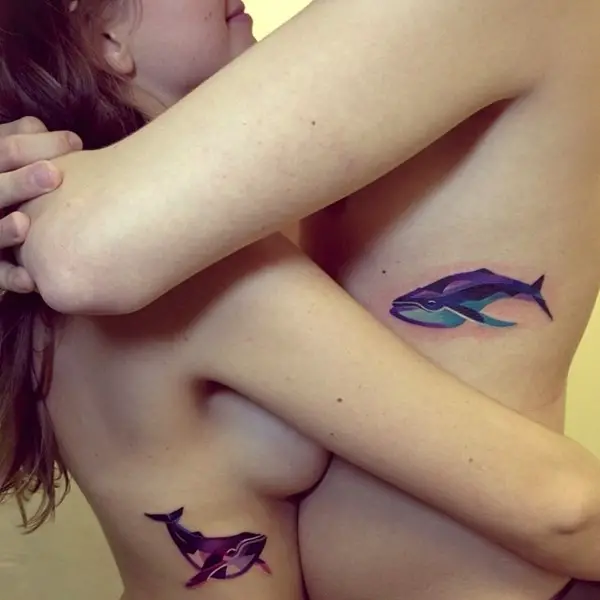 The Blue Whale is the largest animal in existence that can communicate with each other from thousands of miles and love to be with their family. By having this magnificent creature as a side tattoo the couple here is saying their love is humongous.
#7: YOUR ROYAL HIGHNESS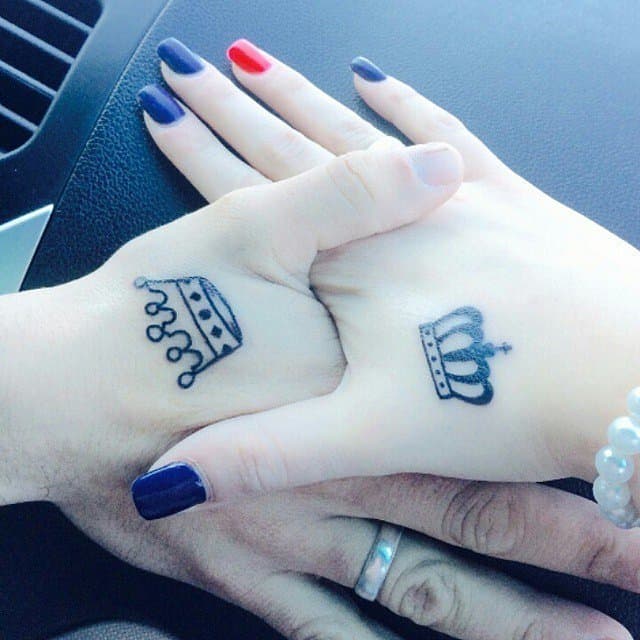 Love is grand and is more wonderful still when your partner treats you like royalty. The crown tattoos in this design are gender specific and are fit for showing the couple makes each other feel like king and queen.
#8: FOOTPRINTS IN TIME
Bearing the couple's names and a pair of matching footprints, this design makes for a meaningful tattoo. They intend to walk by each other's side for the rest of their lives. You can have your tattoos inked at different spots like them on ribs, back of the neck, back side of the chest.They will still be matching tattoos for a couple.
#9: DISCRETE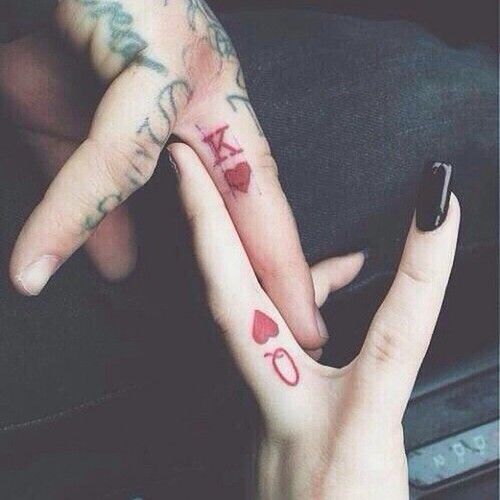 What a cool idea!! The design is minimalistic and yet conveys so much. Its location is so unique and personal as it is not usually easily visible.
LOVING MOTHER AND SON MATCHING TATTOOS
#10: LOCKED IN LOVE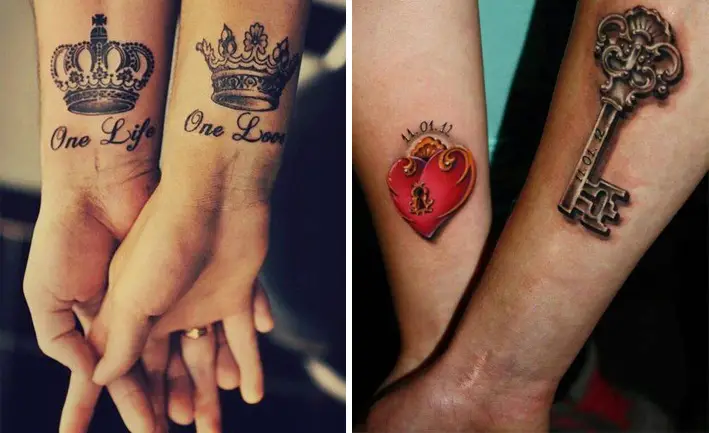 The ornate key on his arm and the beautiful decorative heart on hers come with a special date inscribed. The design's meaning is obvious; he holds the key to her heart.
#11: WE ARE ONE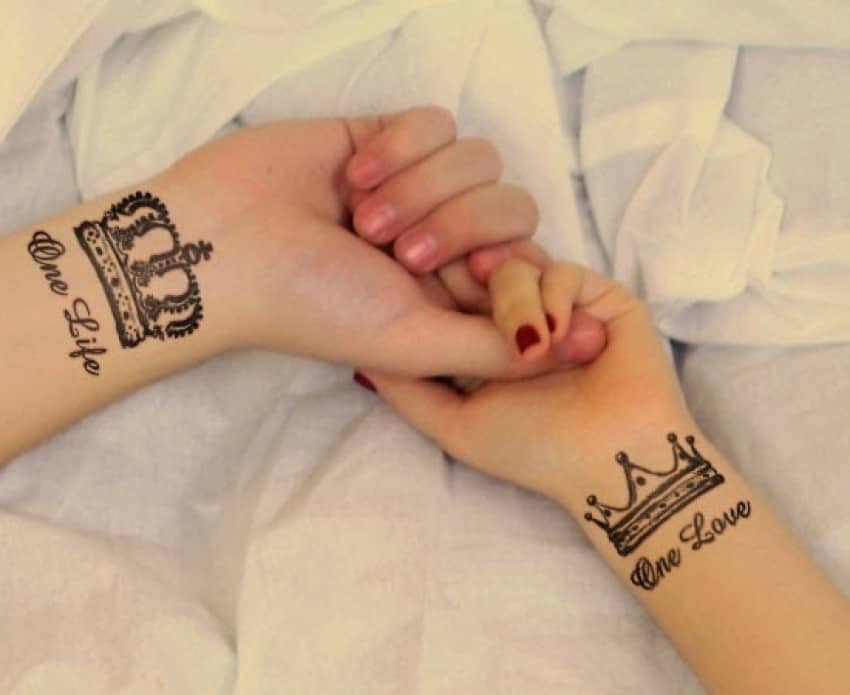 One life and One love are what the inscriptions read. The simple all black crown tattoos state unequivocally that there is no one else for him or her in this life.
#12: LOVE WEARS A CROWN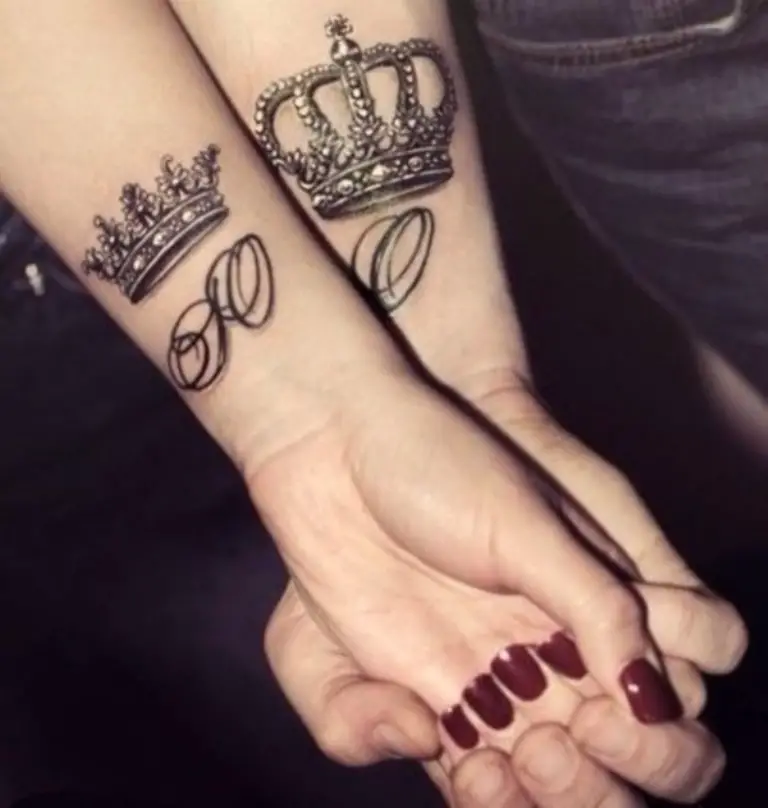 Another take on the crown theme, the elaborately ornate design of these tattoos make them stand out. They are big and bold and have the other's initial under them.
#13: TOGETHER FOREVER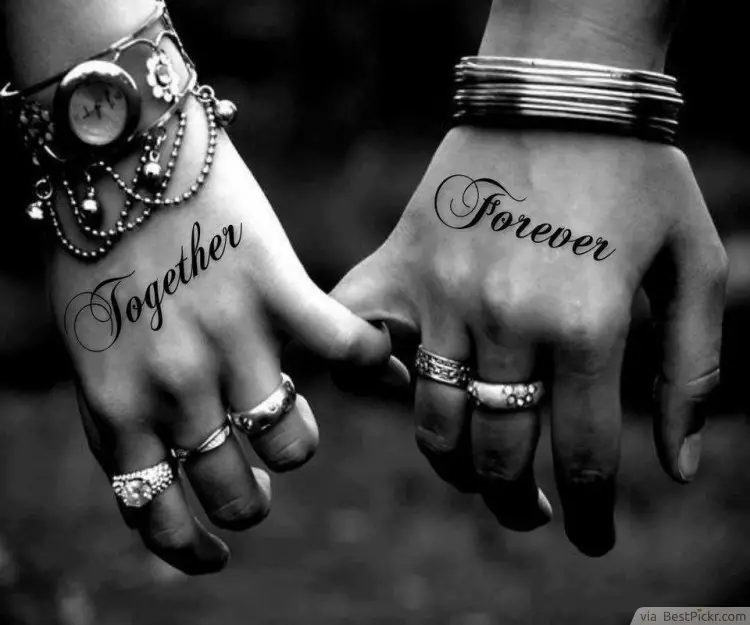 This is a difficult one to get as it is a sensitive area due to the skin being thin on the back of the hand. However, the lovers' unwavering love for one another is clear for anyone to see not only because of the location but also the elegant font.
#14: LITERAL MATCHING TATTOOS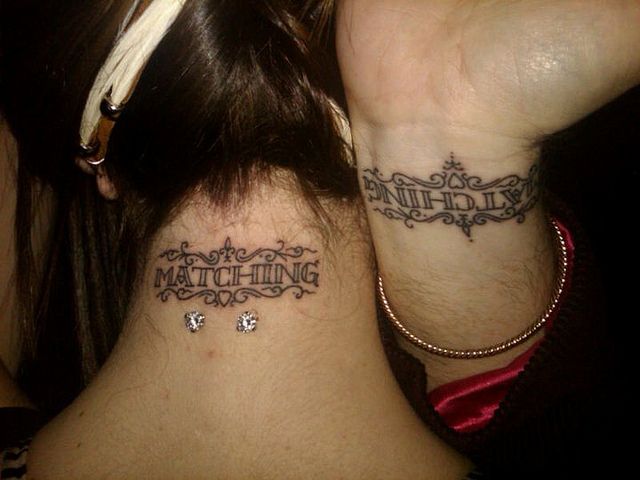 The words matching tattoos have been taken quite literally here.
#15: ITSY BITSY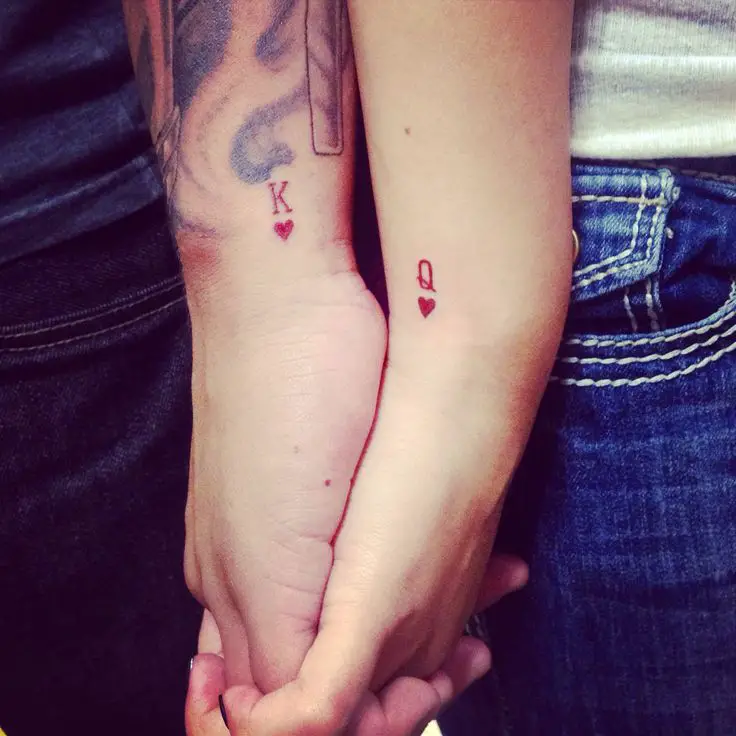 Once again we see the king and queen theme on display. It's cute and expressive besides being cheap and fast to get.
#16: SPELL IT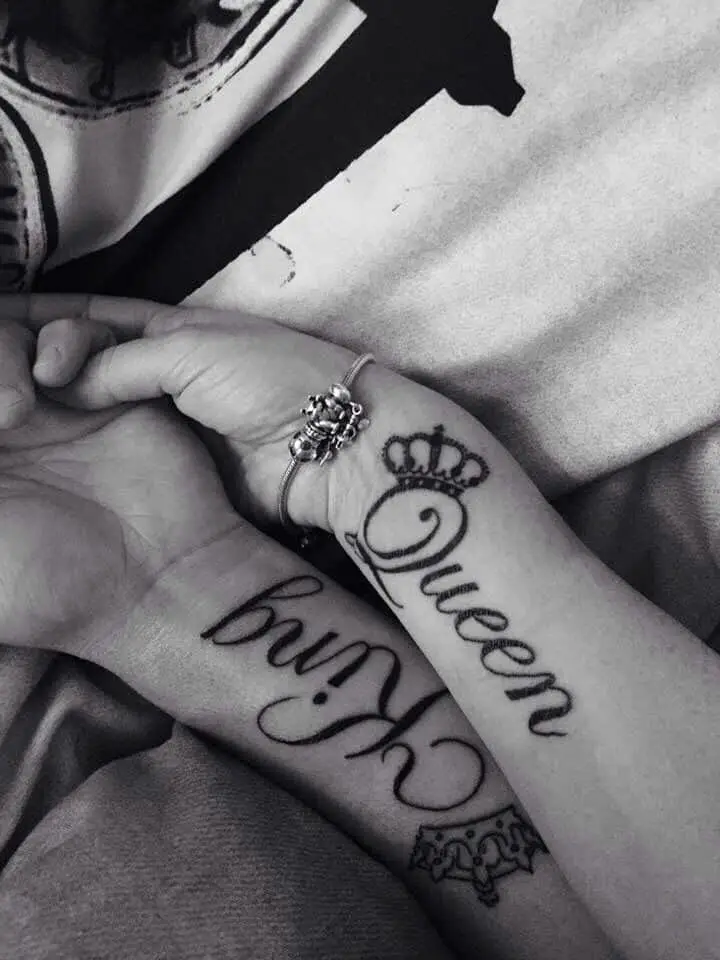 Another example of a literal tattoo design; the man and woman show off just what they feel like when they are in each other's company.
#17: YOU COMPLETE ME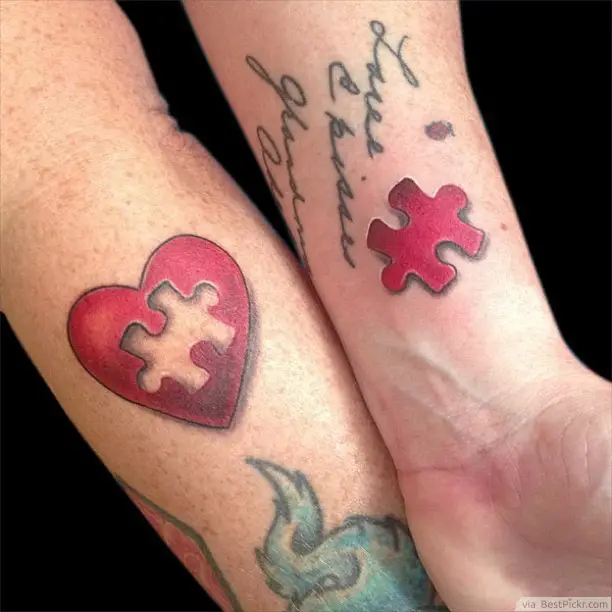 Two pieces of a puzzle have to come together to make the heart whole again. This is a simple rendition of an excellent thought.
#18: ON THE WINGS OF LOVE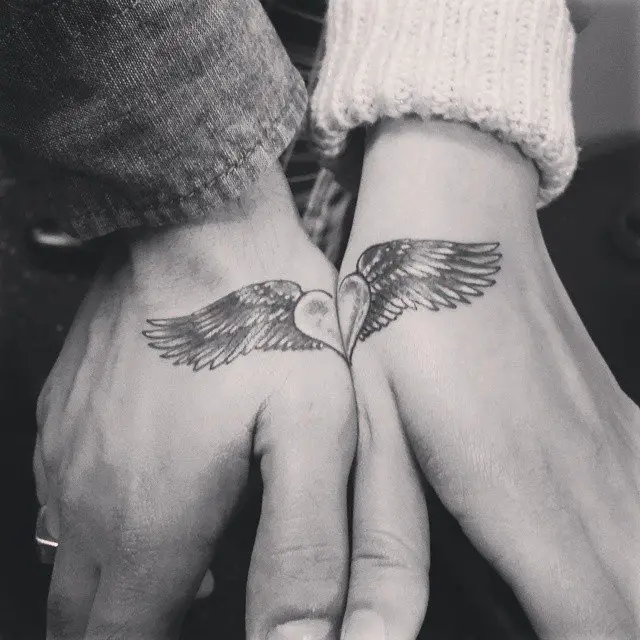 Love is uplifting and gives one the freedom to bare our soul to the one we cherish. Two loving hearts come together in this delightful black tattoo.
#19: LOVE IS A PUZZLE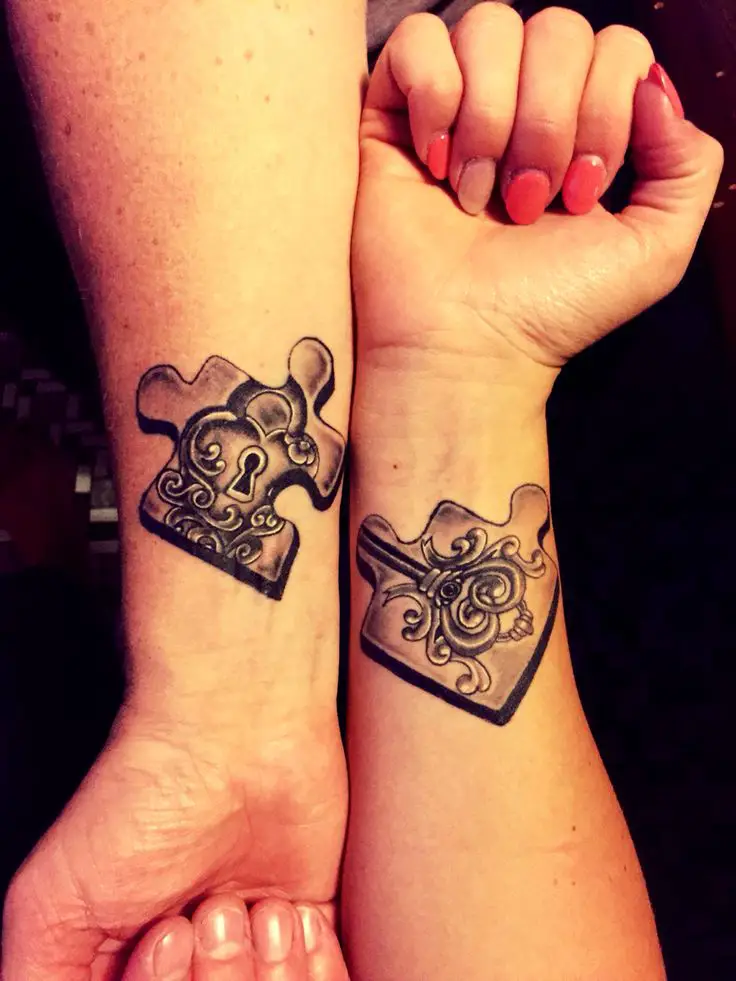 Sometimes we get lucky and find the one with whom everything just fits, like two pieces of a puzzle. These matching tattoos for couple celebrate this feeling.
#20: FINGER MATCHING TATTOO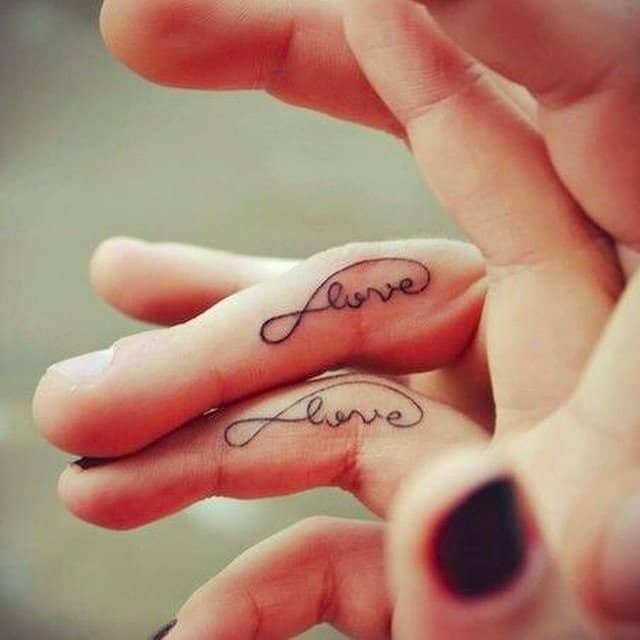 Finger tattoos are distinctive in the choice of where they are placed and also for the fact that they are rarely revealed. Something simple like the one in this image is perfect in its simplicity.
#21: LOVE SPEAKS ALL LANGUAGES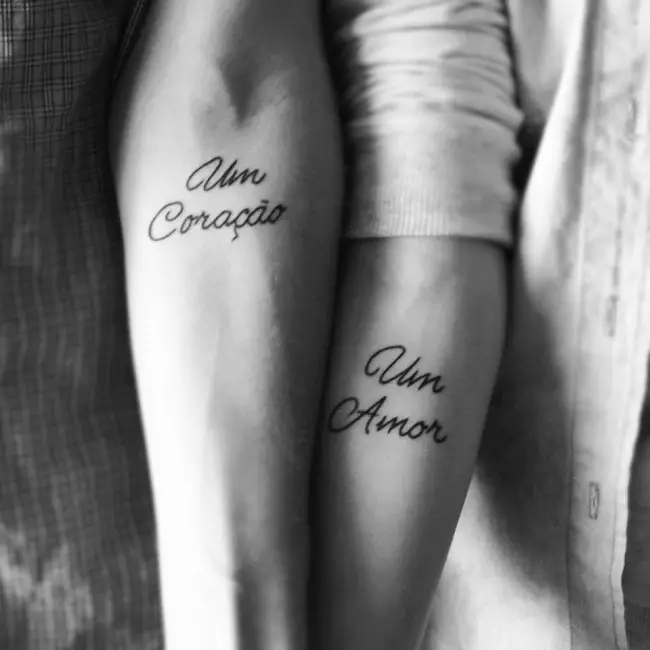 You could be a little different and express your love via a tattoo in a foreign language. Tattoos like these are romantic in any tongue.
#22: LOVE IS A GAME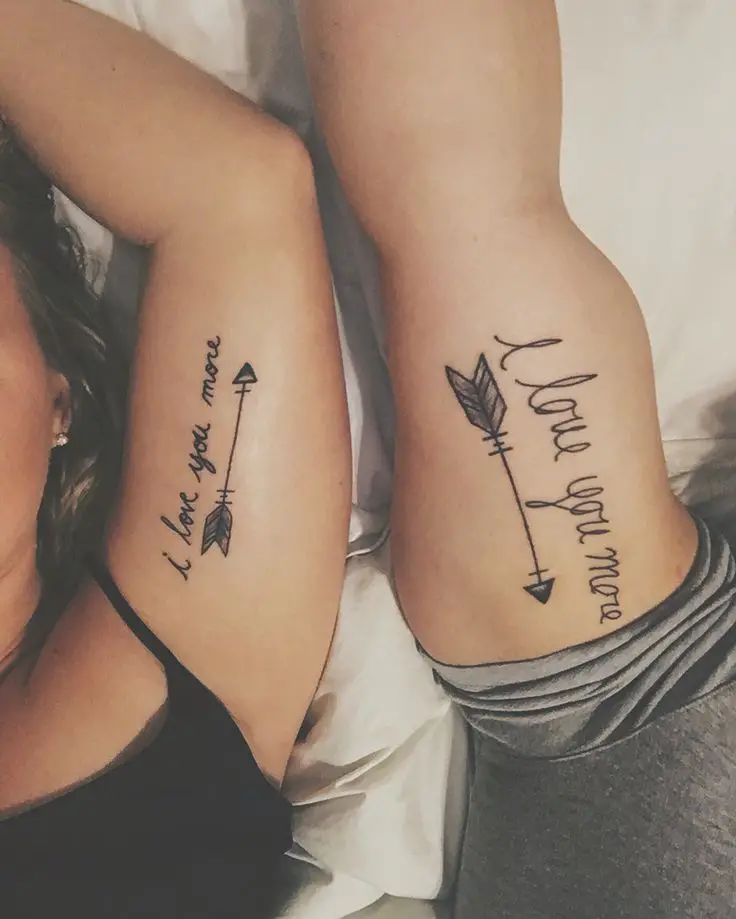 Love is not a competition but it can be fun for partners to try and show they love the other more than the other loves them. Maybe you could take inspiration from this design.An arrow in different directions on the lower biceps of both the lovers with a message 'I love you more' is an awesome tattoo to have. Both the arrows seem to complement each other owing to the same location. Love and fondness for each other can be hugely expressed by the arrows placed on respective hands. The best part of this design is that it is not that exposed. You can easily hide it if you don't want to show it off.
#23: THE HEART WEARS A CROWN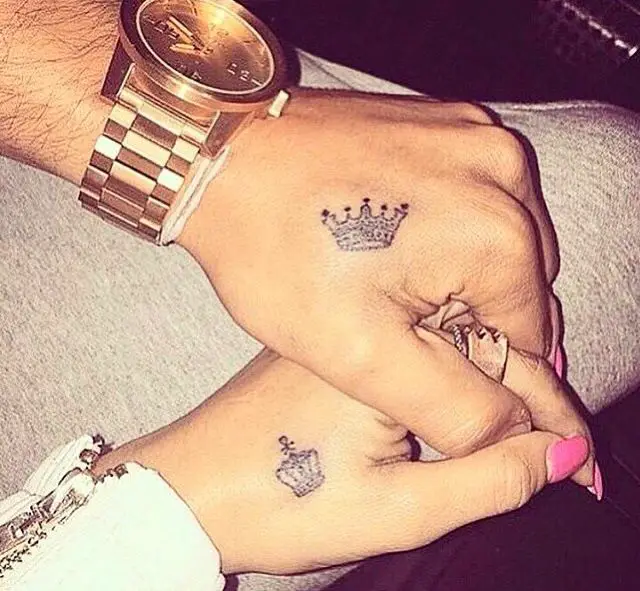 Crown tattoos are gaining in popularity. This is because they have a special meaning and look good anywhere and in any size.
#24: MAKE IT LARGE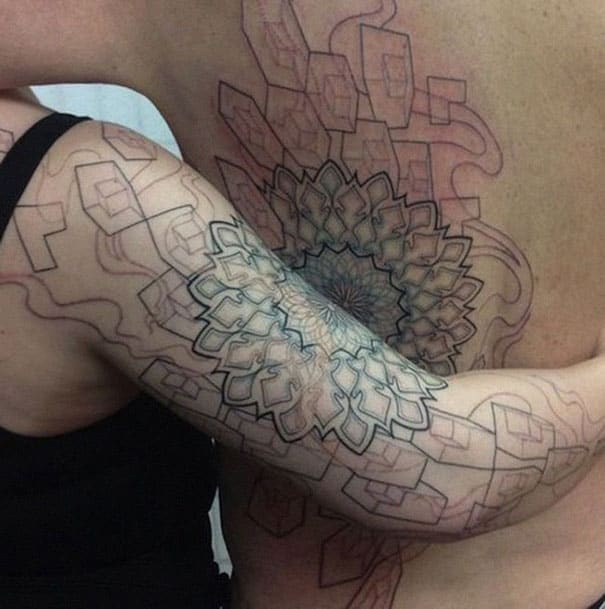 We are clueless of what it symbolize but one thing is sure, this couple has gone far and beyond to get a matching tattoo. It's so creative and complex that only the two can decode it. You could go for a large and intricate pattern such as this pleasingly exclusive design.
#25: IN YOUR ARMS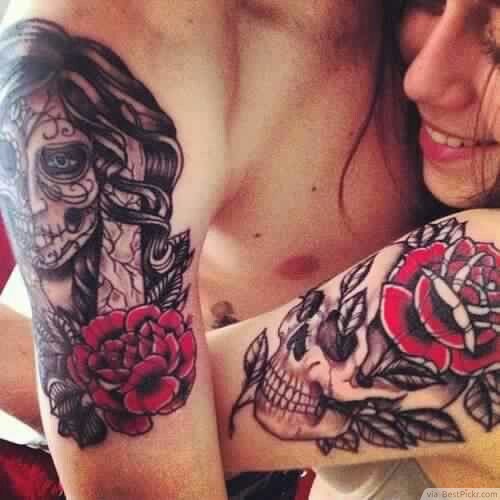 This is a great way to show you want to spend your mortal and afterlife in each other's arms.
#26: MAN AND WOMAN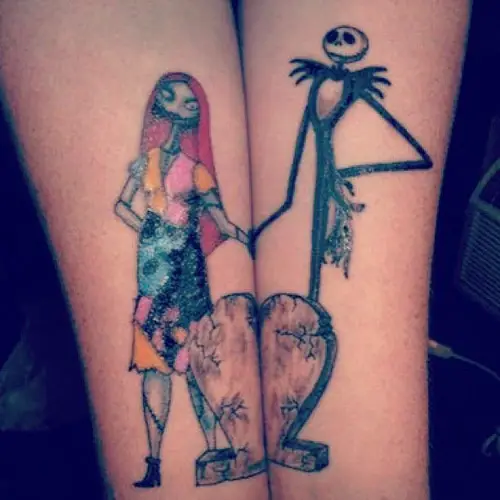 Opposite hands of lovers engraved with a man and a woman in modern art format are a unique design to get. When putting together, they seem to be holding hands showing togetherness and bond. Although unconventional, this unique design is certain to grow your bond stronger.
#27: BOW AND ARROW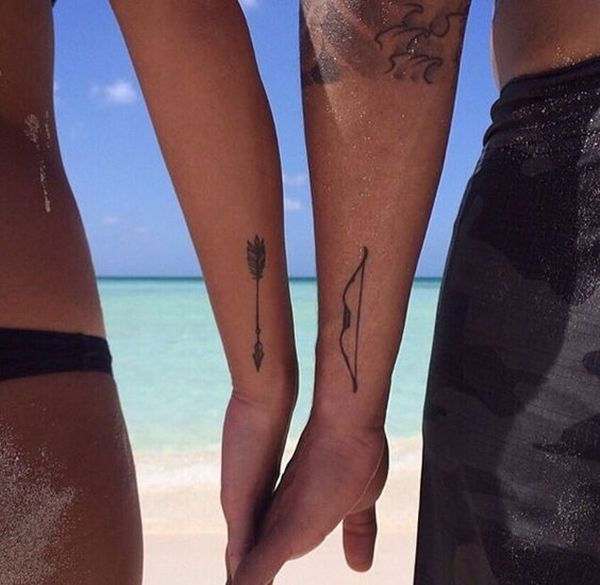 This popular designed is loved by couples around the world transcending geographical boundaries. The special feature of this design is the complementary nature of bow and arrow. Without the bow, an arrow cannot be shot upon whereas a bow is useless if there is no arrow. Therefore it symbolizes the symbiotic relationship of both the partners. Simple yet attractive, this design is a nice idea for a positive and complimentary feel.
From popular crown tattoos to abstract symbols and sugar skulls there are plenty of design ideas for couples' matching tattoos. Hopefully, these tattoo designs were sufficient inspiration for you. Now go ahead and get inked together.