Nothing can be as iconic than the sun and the moon for they are particularly symbolic and carry different meaning to every culture around the world. This is the main reason why sun and moon tattoos are exceedingly popular all throughout history.
Most Popular Sun and Moon Tattoo Ideas
With this line of design that is usually the question, for you only have the sun, the moon, or both elements to choose from. Whatever you pick be sure to choose one that expresses your character and personality. It should be a mirror of what you want to look like and what you want to say. So say it loud with the below list of coolest sun and moon tattoo ideas:
#1: The Hidden Crescent Moon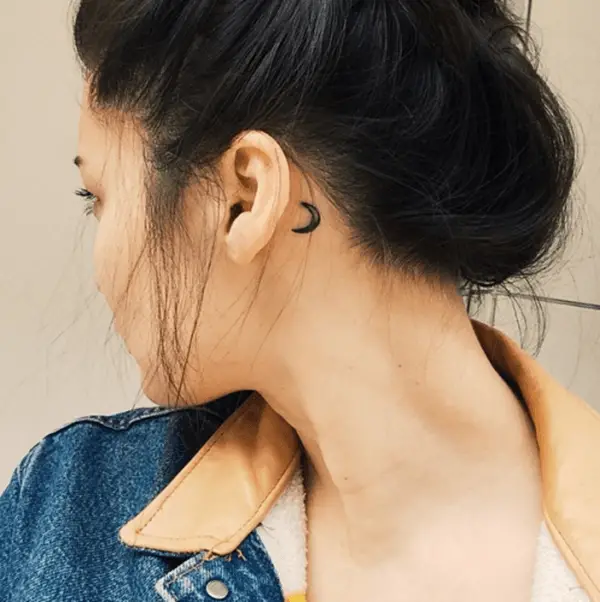 If you want something simple yet cute, have this tattoo behind your ear. It may be hard to find but gives a fine impression. Being an effortless and clean design, it'll be a great choice for either your first tattoo or for a body part you don't want to look 'too messy'.
#2: Blooming Flower in The Sun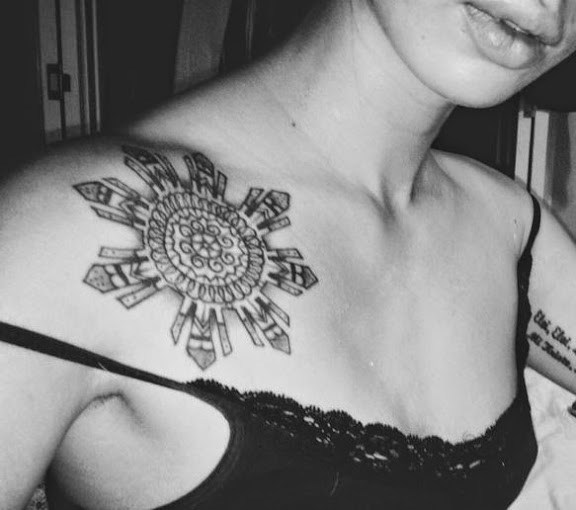 A unique design with a strong depiction, women love having this tattoo of tribal flower in the sun. It gives a feeling of empowerment and femininity thus the reason it's drawn close to the heart.
#3: A Mysterious Chaos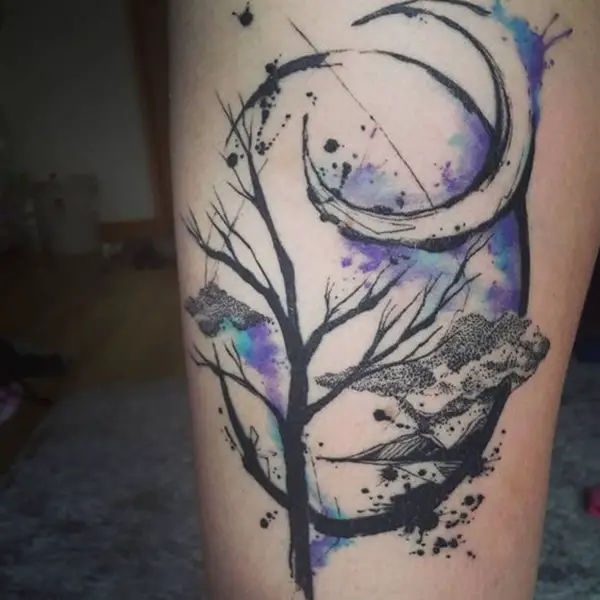 This artistic piece surely makes a powerful impression as it uses a heavy tone of ink yet conveys a pleasing illustration of the moon and its chaotic surrounding. A good mark for you to express a chaotic yet mysterious vibe.
#4: Playful Tribal Sun Tattoo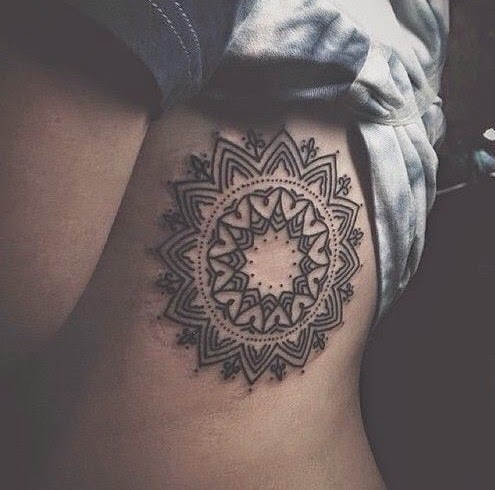 This ink consists of two sun designs in and out of the dotted sphere. You can get this pierced on your back to let that jolly-fun look bring out your inner child.
Side Tattoo Design Ideas for Girls
#5: Roses of the Night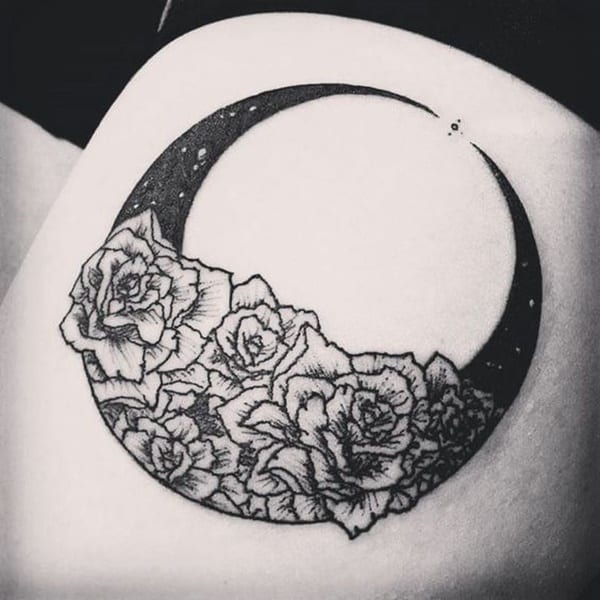 With both the moon and roses having a natural feminine beauty, this design is mostly labelled as a girly tattoo. With the tone of ink used in this piece as dark shades for the moon and light shades for the roses, you can easily create a sexy romantic sense.
#6: Sun in Splendor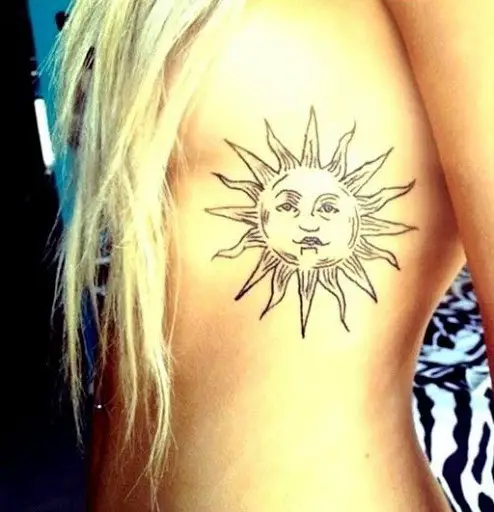 Have this majestic tattoo that features the face of a human and is surrounded by alternating straight and wavy sun rays. This is often called the sun in splendor that's often linked with glory.
#7: A Warrior's' Legs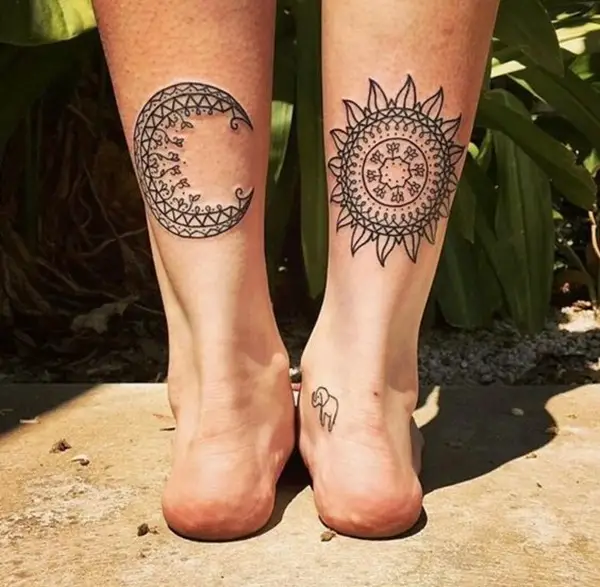 If you want a separate design of these two elements, try this combination of a tribal sun and moon on the back of your legs. Its design will give you that ethnic and native warrior look that tribes used to have.
#8: Sun and Moon Tattoo on Forearm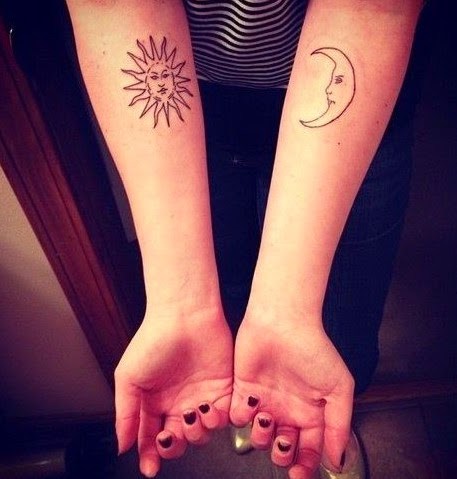 A traditional image passed down by native tribes and can be passed onto you. This classic tattoo on forearm has simple features of a human face on the sun and moon which makes it look like they're talking to each other.
#9: Cool Crescent Moon in Tribal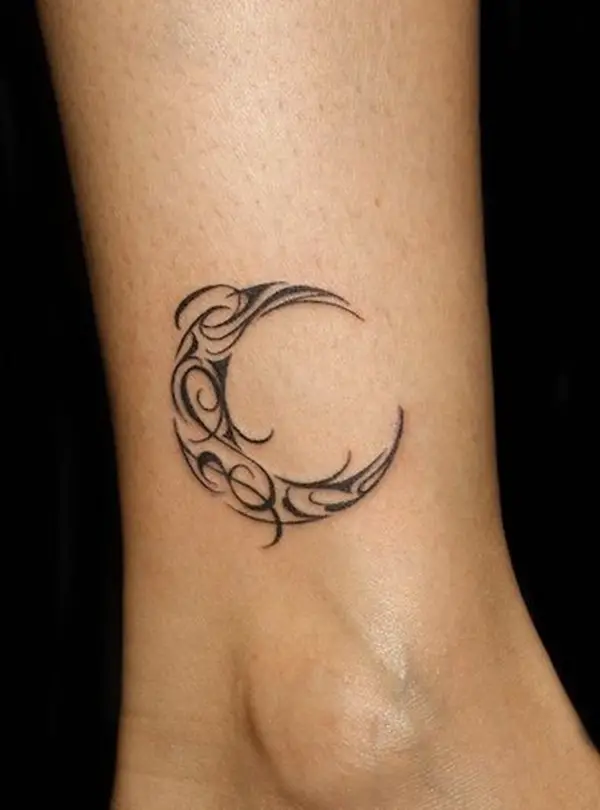 A cool design that'll definitely give you a head-turning attention. This particular design has a modern-meets-classic vibe that appeals to the younger generation.
#10: Night and Day Becomes One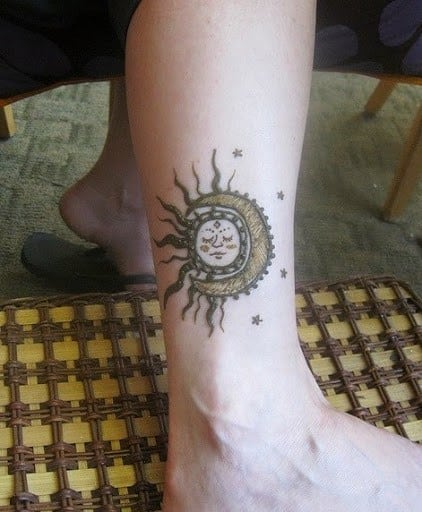 A creative combination of the sun and moon. You can have this tattoo represent the cycle of night and day, and the beautiful horizon that they create.