Side tattoos are painful to get but worth it to have you are a girl who loves tattoo. Having the needle grind through your thin flesh while pressing to your ribs or hip bone may not be a pleasant experience, but it's a rewarding one once you see the tattoo. Side tattoos complement the curves and feminine structure. That's why even female celebrities from around the world are getting them too, like Lady Gaga.
Rocking Side Tattoos for Girls
Among the female celebrities parading their tattoos is Lady Gaga. In fact, she only has tattoo on the left side of her body due to her father's request. Now, Lady Gaga has a total of 20 tattoos located only on her left side. One of her most influential and copied ink is her rose tattoo found at the lower back stretching to her left hip. This gives you an idea on how you can maximize side tattoos and see why it's a beautiful part to get inked. To give you more ideas, here are 50 cool and sexy side tattoos for girls.
#1: The Lascivious Cat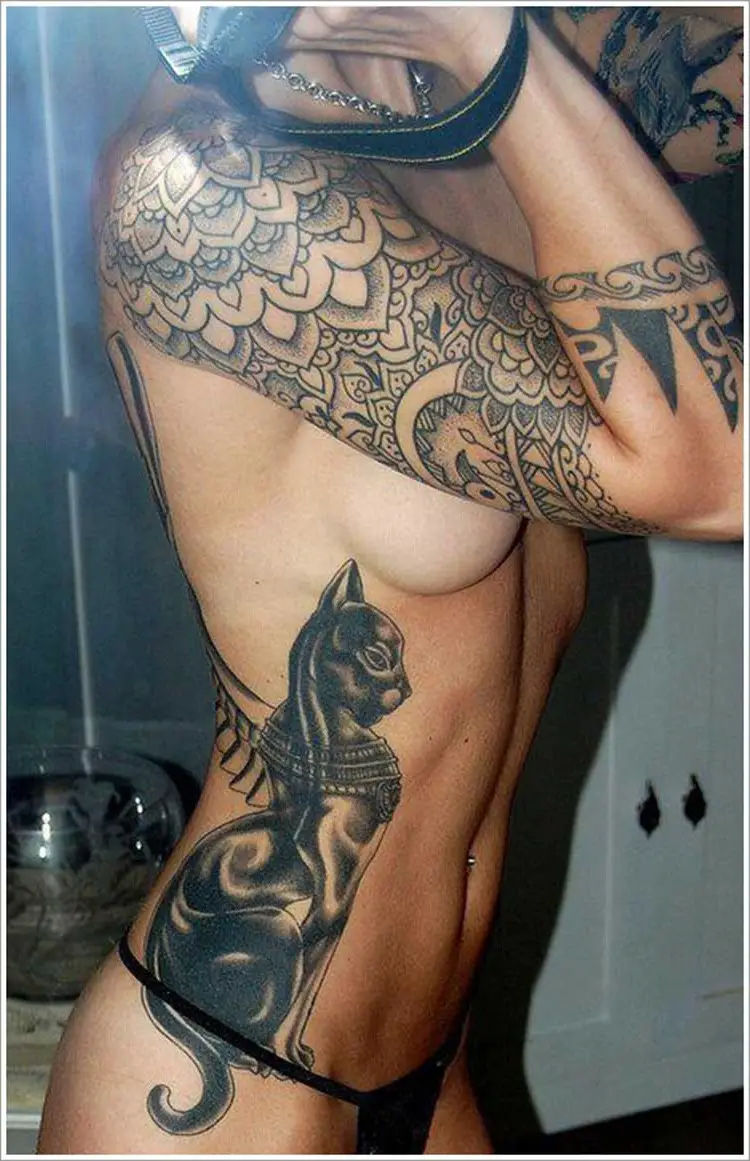 If you're a fan of cats and want to get yourself inked with them in a sexy way, this is definitely a design to consider. Having this teasing art on your side will make you practice your naughty purrs in no time.
#2: A Girl's Vines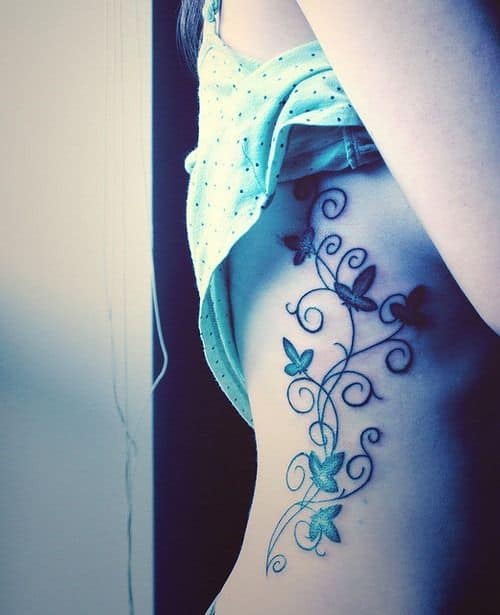 This rib tattoo looks like a tribal design of growing vines. You can see that the artist made it adorable to make it for girls who are into nature, gardening or simply want a cute vine ink on their side.
#3: Tribal Side Tattoo For Girls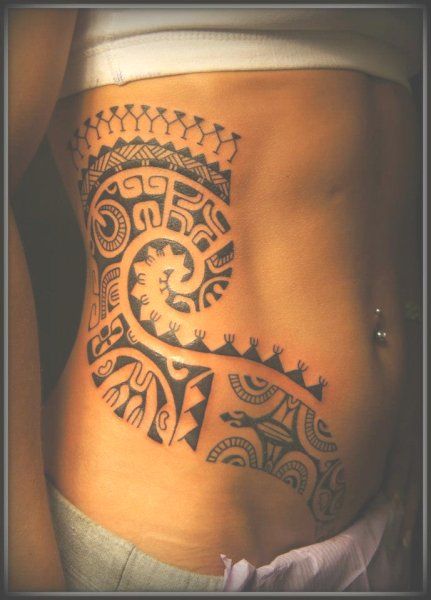 Depending on your interpretation, the set of pieces in this tattoo can tell a story known only to the person who has this tattoo. It can even be from their tribe and tells the roles of a woman in their community.
#4: The Musical Butterfly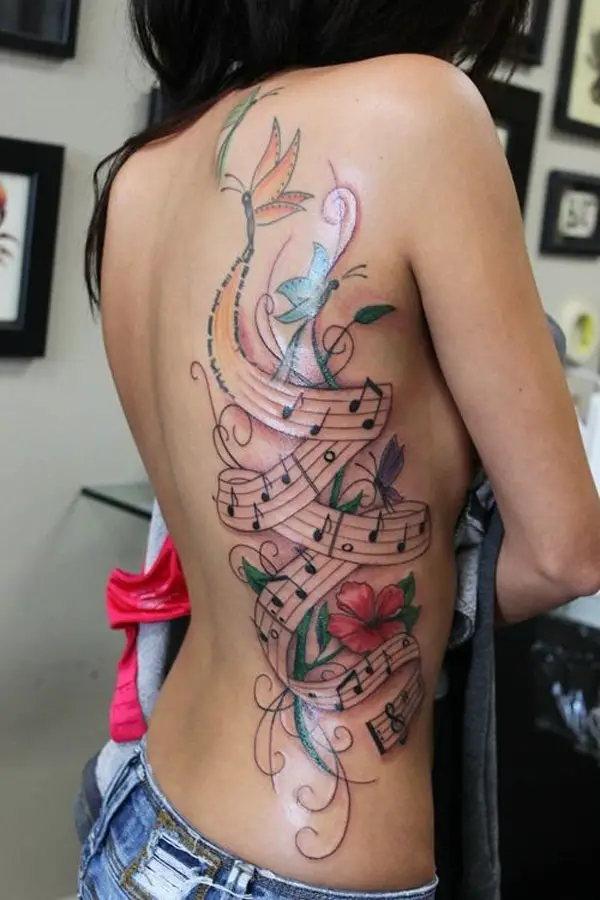 A butterfly tattoo is a common choice for women, that's why imagining a unique presentation for them is hard. But the combination of butterflies, musical notes, and the flower it's spiraling upon will make your butterfly design distinctive specially if you're into music.
#5: Side Tattoo of a Tribal Rose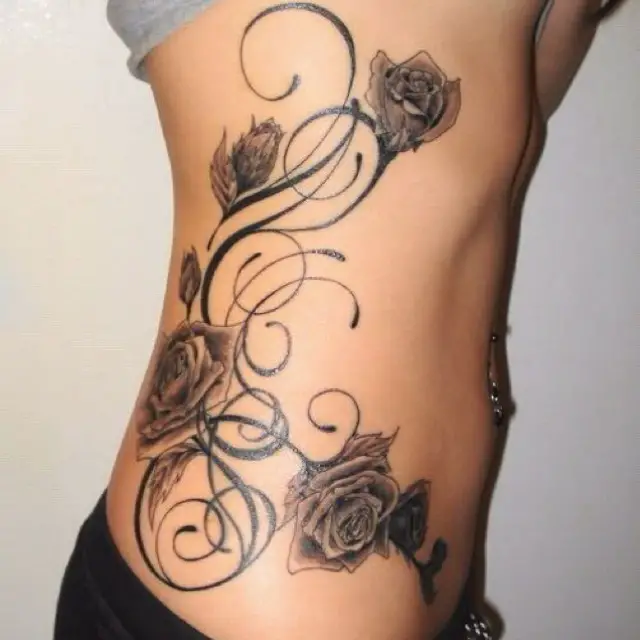 A tattoo of roses is great on lengthy parts of your body like on your ribs or legs. Roses are a favored symbol for romanticism, love, and being a woman. And the design on this one empowers its symbol by using a beautiful and modern tribal design.
#6: Sexy Garden of Eden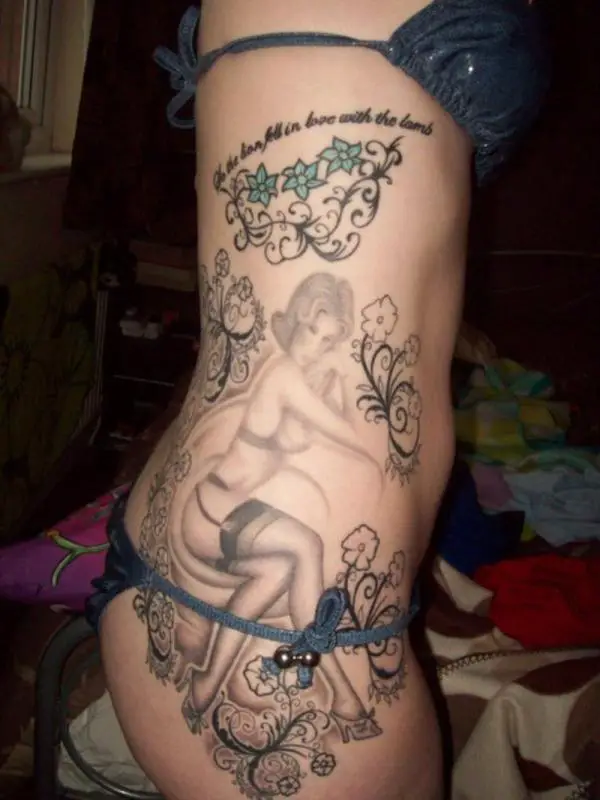 Though a garden isn't your typical place to get down and dirty, this mix of a sexy lady and garden flowers can make any man gulp at site. It even has a quote inscribed on top playing with the idea of a lion falling in love with a lamb, that can mean a man wildly falling for a woman.
#7: Voodoo Roses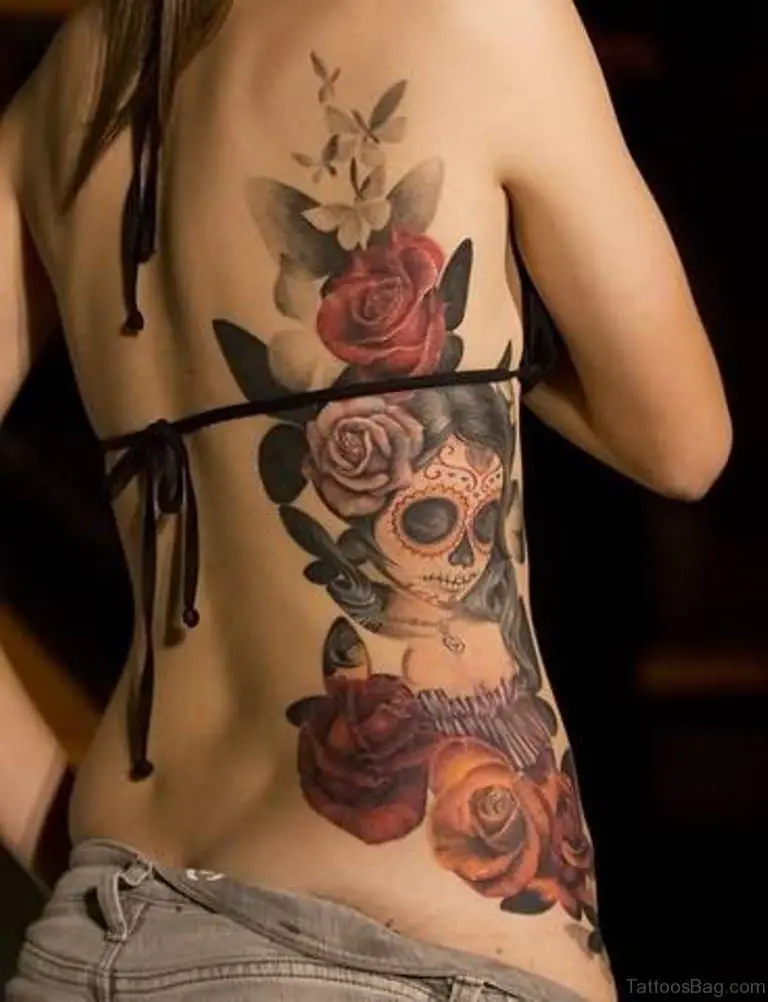 This is for the mysterious ones. The roses in this design are pretty and well drawn but the puzzling face of a woman can easily give a witch-like vibe. This tattoo is suited for women who believe in or practices witchcraft.
#8: Diving Fish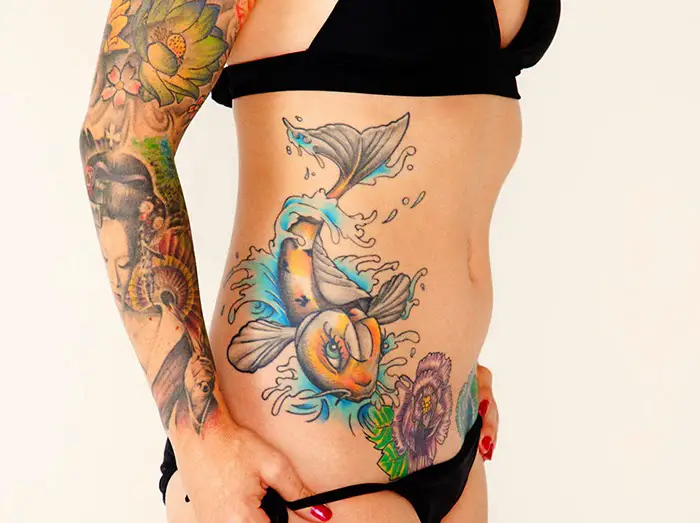 Except for sharks, fish tattoos are not that popular specially to the ladies. However, the design, drawing and coloring used in this piece made the fish look feminine like how the fish's eyelashes has that flirtatious look.
#9: Wild Creatures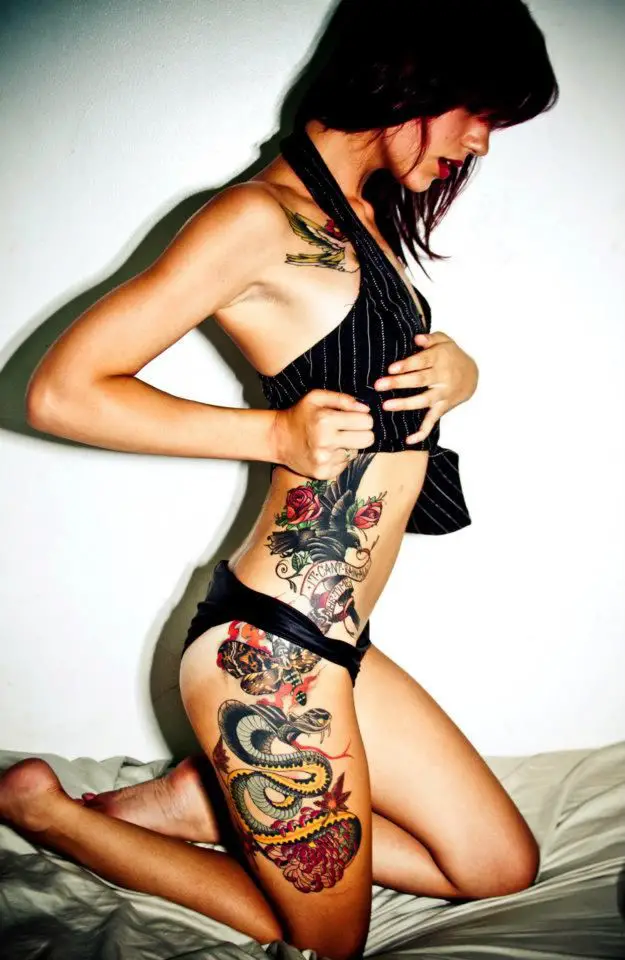 Respect to the artist that made this thing of beauty that was inked to tell a story. If you look at it closely you can see the bird and butterfly can signify a women's freedom and empowerment while the snake can be the danger that lurks in her adventures.
#10: Side Tattoo of Beautiful Flowers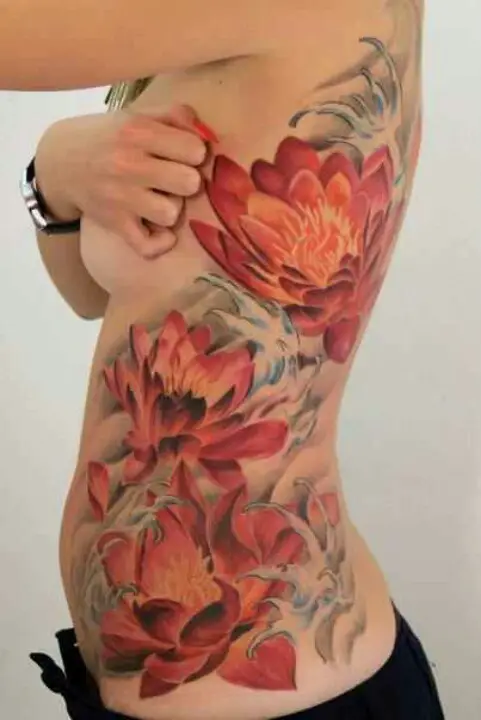 Side tattoos for girls usually cover a slim area of their rib or lower back. But this piece covered the entirety of the subject's left side as a canvas for these glamorous flowers.
#11: Abstract Flower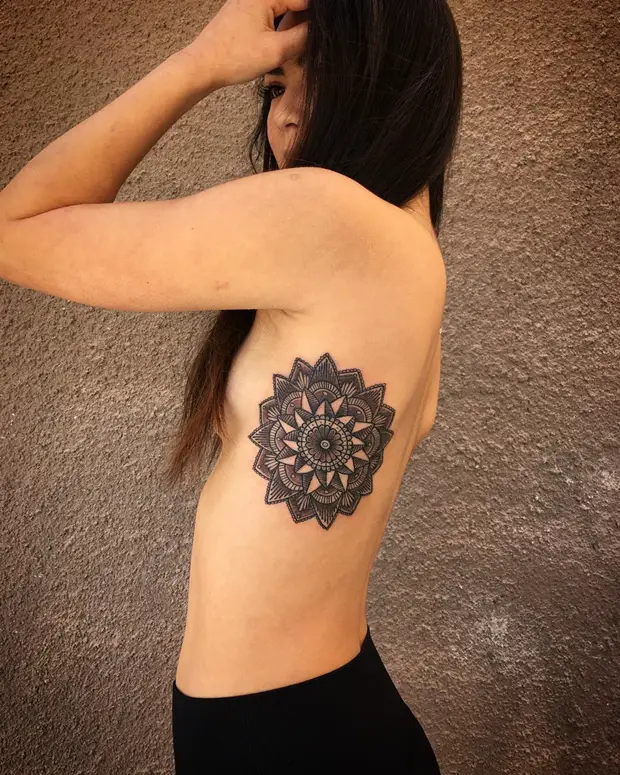 A detailed rib tattoo for tribal design enthusiasts. Having this pierced on the side is rare since it is more painful given the quality that needs to be polished.
#12: Side Tattoo of Roses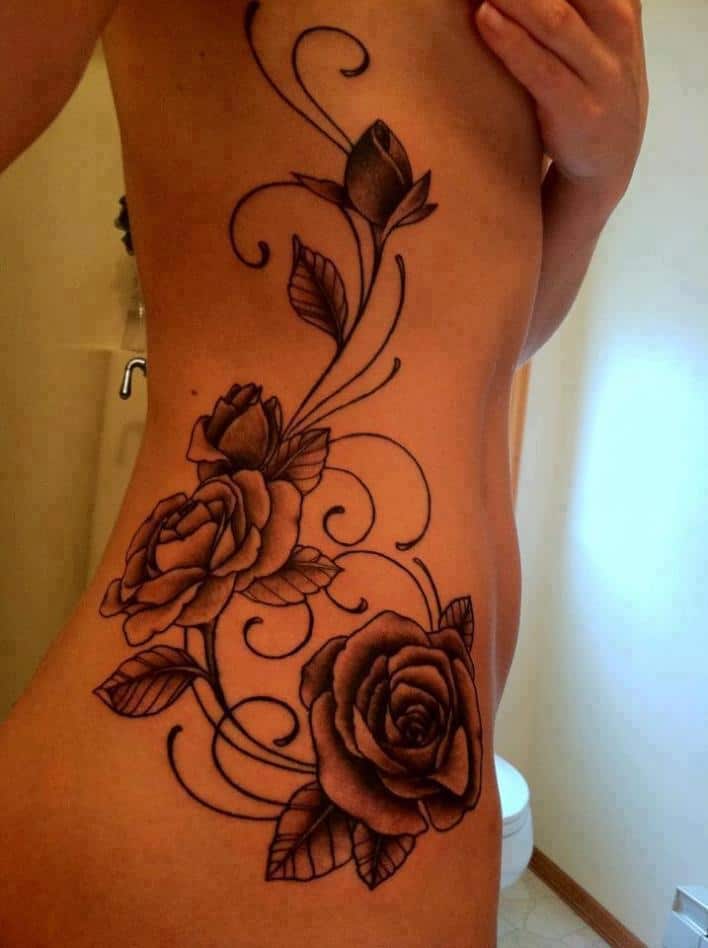 This side tattoo of roses is beautifully done by making the stems of the rose carry a tribal-like design. Not to mention the fine artwork given to the roses are magnificent.
#13: Realistic Sunflowers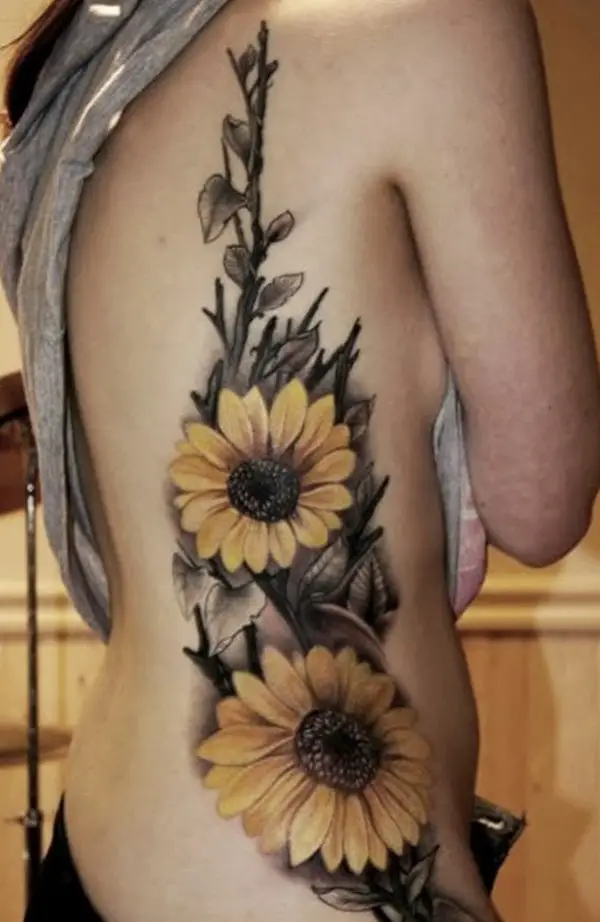 As you can see, this side tattoo looks like a real sunflower attached to the side of a woman. It may be hard and expensive to get, but it will be worth it since sunflowers are well-known to give you good luck.
#14: Cherry Blossoms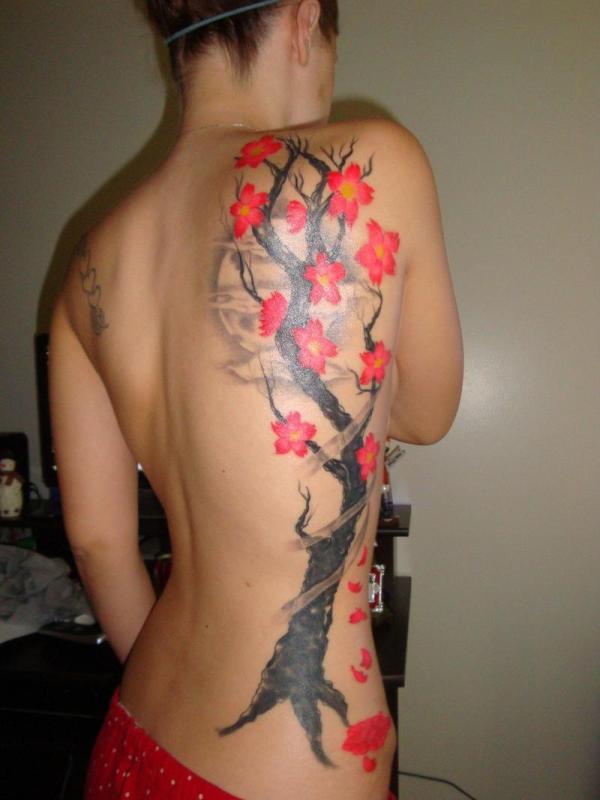 If you want to immortalize that serene feeling of seeing cherry blossoms at their best, have this wonderful tattoo drawn on your side. It captures the glow that cherry blossoms give and is a great choice for ladies.
#15: Tribal Side Tattoo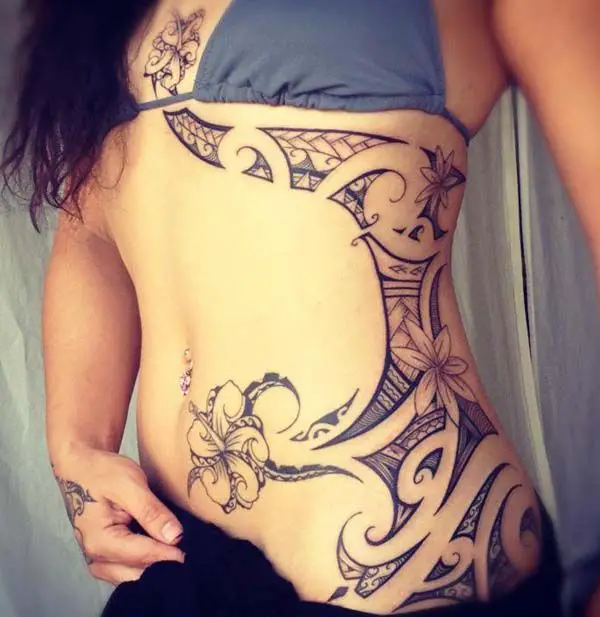 A cool tribal side tattoo with flowers scattered throughout the side of your body. And because of its pattern, you can easily extend this or have it done little by little until it covers the areas you want inked.
VERSATILE REST IN PEACE TATTOOS
#16: Saturn's Sky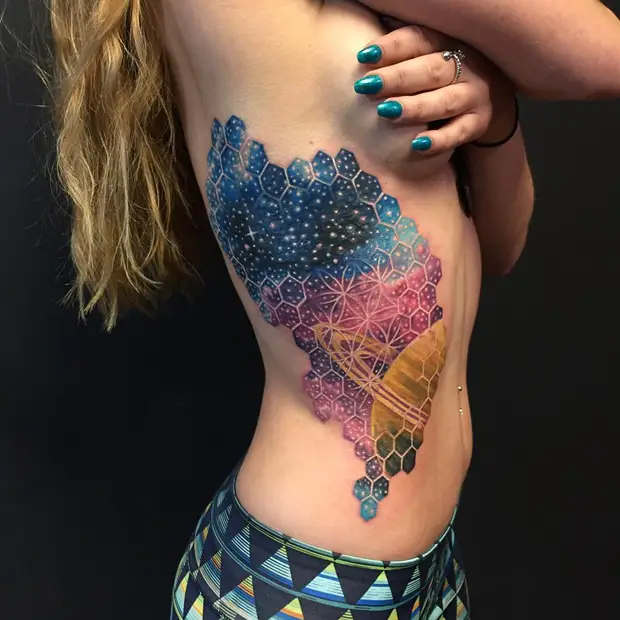 The artist certainly created a stellar rib tattoo with this one by using a hexagon structure for each piece to create a big picture of Saturn and the space. You can keep adding hexagon pieces till the picture you want to display is complete.
#17: Red Butterflies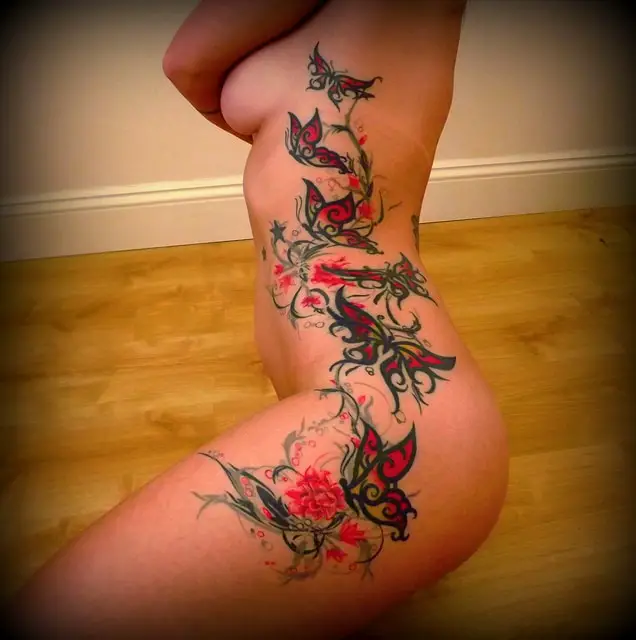 Butterflies will always be a favorite among ladies because of its symbolization of growth and rebirth. To make them more decorative, use this pattern of intricate design and coloring to make your tattoo as gorgeous as this.
#18: Flower Rib Tattoo for Girls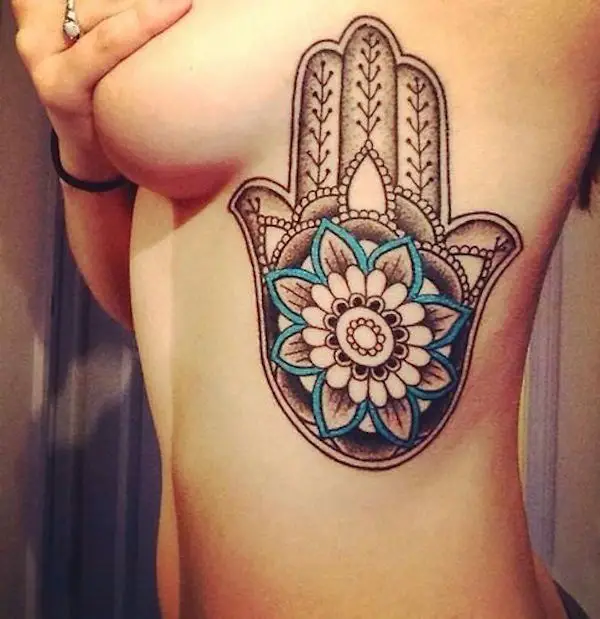 A great flower rib tattoo for girls because of its pretty design. The art for this is crafty but the placement depends on how much you want it to be seen, and this one looks like it's not shown a lot because it's too close to a part usually covered.
#19: Nature's Sun and Moon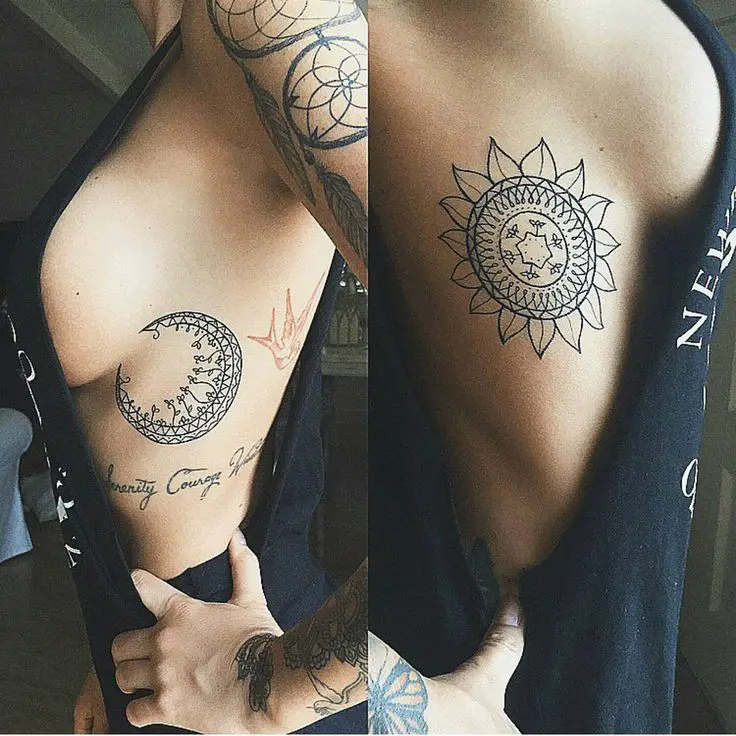 If you want each side to have a rib tattoo, then one of the most iconic designs to utilize is the sun and moon. But this one adds a twist by using tribal vines to design the elements on each side.
#20: Lanterns with Feathers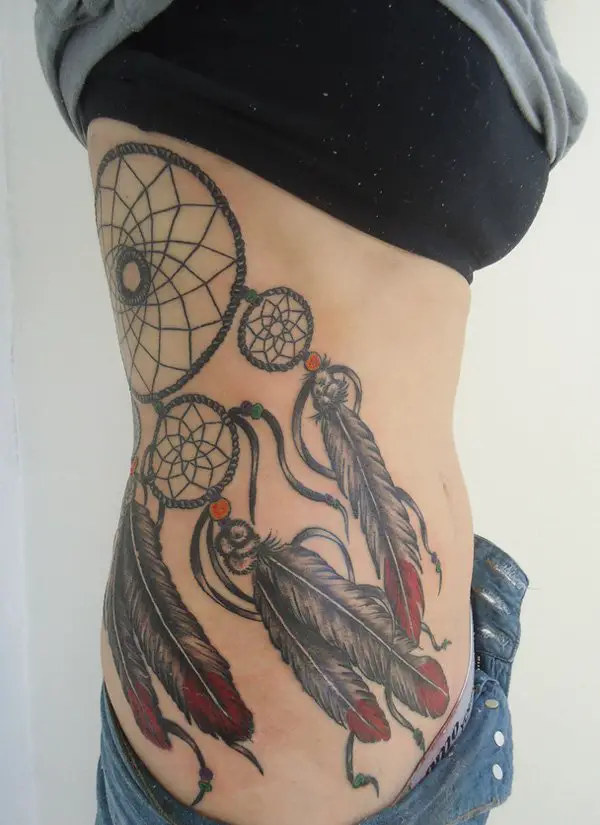 Even if lanterns are mostly used during holidays, this gives a traditional vibe like it was made from a tribe. If you're a fan of ethnic designs then this one is worth considering.
#21: Feather Tattoo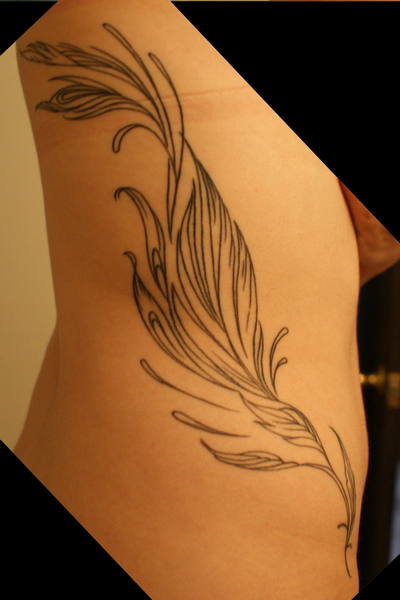 Every time a feather is drawn we immediately assume its either from a bird or an angel, and both are popular choices for women. A feather can represent the freedom a bird has or the purity an angel portrays.
#22: Face of A Woman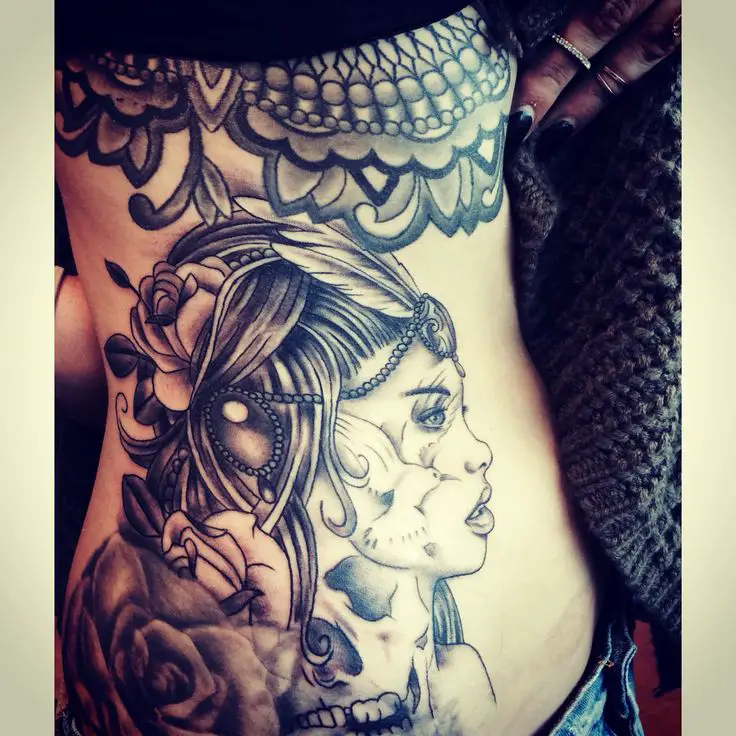 A wonderful tattoo with the face of a woman looking far away. If you want a face of a loved one or an iconic figure on your side, you can use this to give you an idea on how the face will be drawn and displayed.
#23: Quoted Side Tattoos for Girls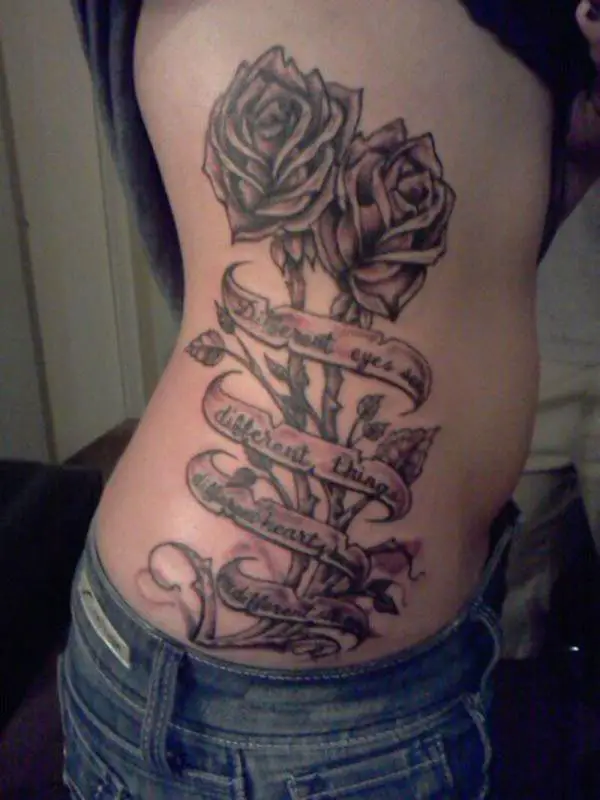 Quotes are always popular in the tattoo world. You can make your quote tattoo different by adding another element like the rose on this one.
#24: Blooming Flowers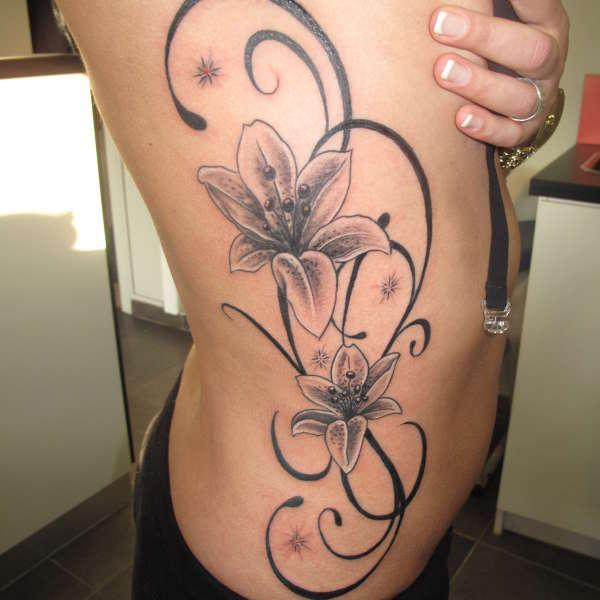 A flower tattoo can have many different meanings. But always has a characteristic that resonates with a woman's personality. Like this fashionable girly tattoo.
#25: Cute Side Tattoo with Quotes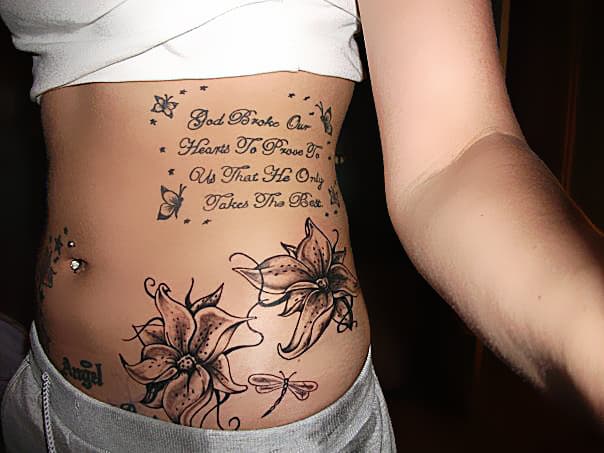 Many people has a quote or two of their favorite book, movie, or song. That's why quotes are a typical pick for ink lovers. You can use this to get an idea of how you want yours to look like.
#26: The Cross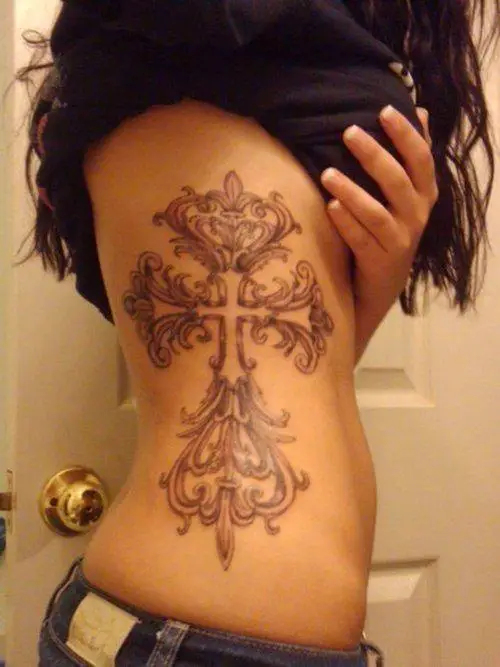 A cross is extremely iconic and has various meanings in different cultures. Thus the reason for cross tattoos always gaining attention. For women, it's best to have it on your back or at the side.
#27: From Roots to Branches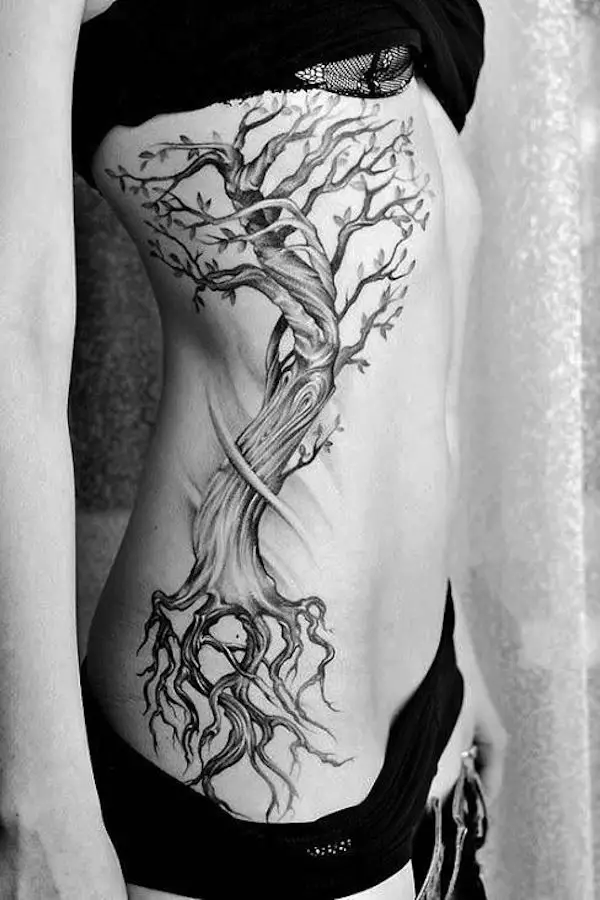 Side tattoos are a good place to put lengthy designs, and a tree is a good example. Like this tattoo shown in the picture, the artistically drawn tree is being displayed perfectly because of its canvas.
#28: Roses with Thorns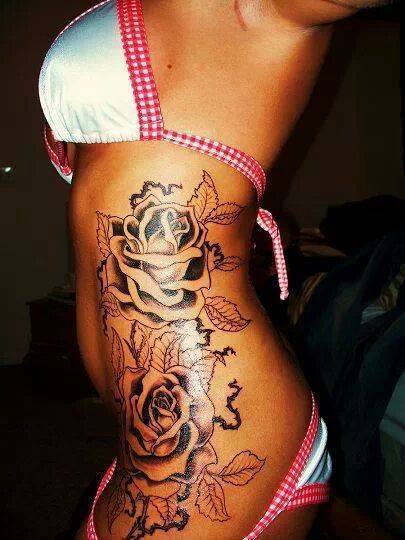 Every color of rose has a different set of meaning. But this one is drawn with a certain vibe of affection from the roses while giving it a sense of danger because of the thorns.
#29: Bird Side Tattoos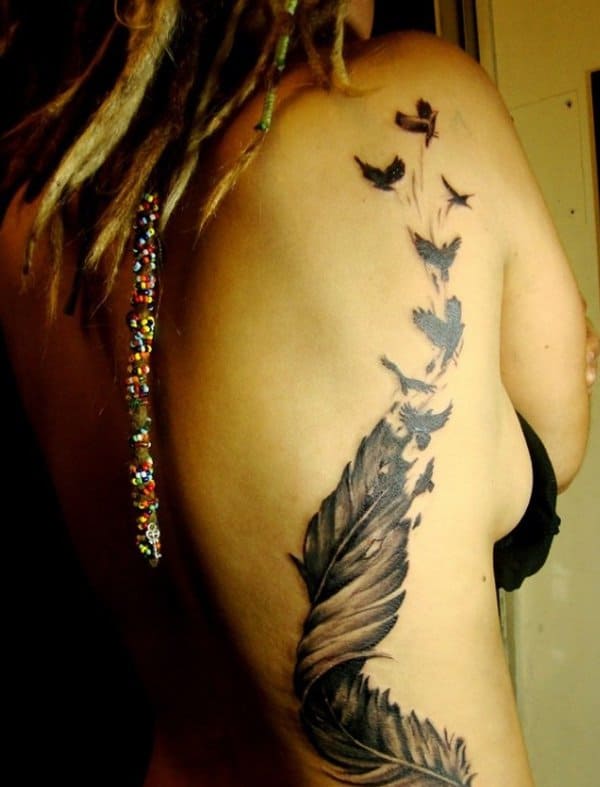 A bird tattoo is always intricate because of its symbol and how it is seen in various traditions. Looking at this tattoo you can see the most traditional symbol of a bird is being portrayed, which is being free.
#30: The Keys to Freedom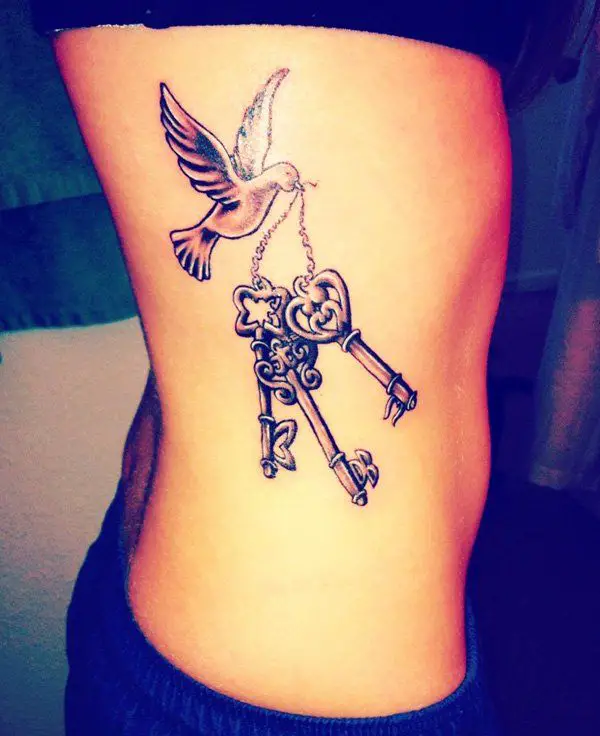 Speaking of keys and speaking of freedom, this rib tattoo says the exact same thing. Though it is presented in a different fashion as the bird shown in this tattoo carries three keys to unlock something.
SUPERB TATTOOS on BACK of NECK 
#31: Swallow Over Roses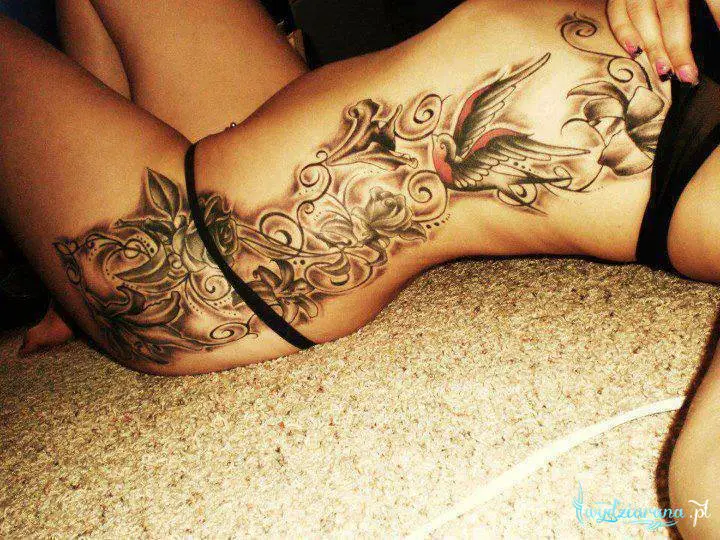 Like penguins, swallows choose their mate for life. That's why it is a strong symbol for love and loyalty that resonates well with roses. This illustration is a magnificent way to signify their meaning.
#32: Tiger Side Tattoos for Girls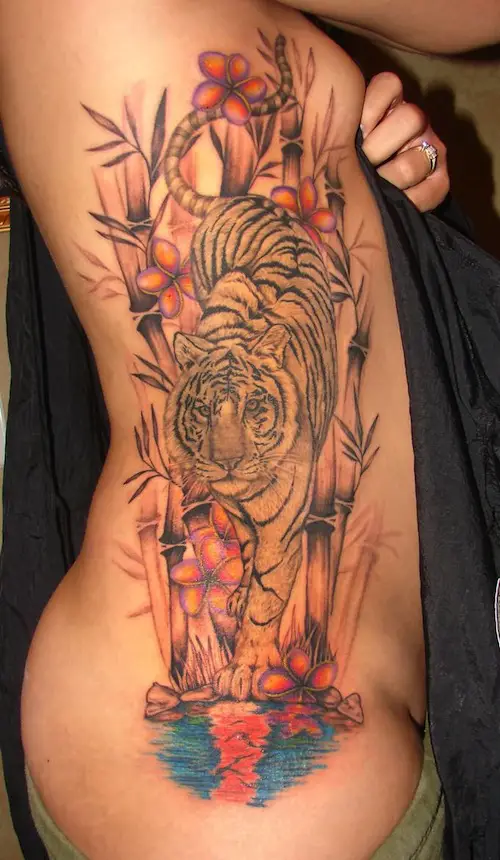 Tiger tattoos are always placed on the back or the sides and stretches to your body. To make it more lady-friendly combine this fierce creature with a soft background like the flowers in this tattoo.
#33: Compatible Quote and Design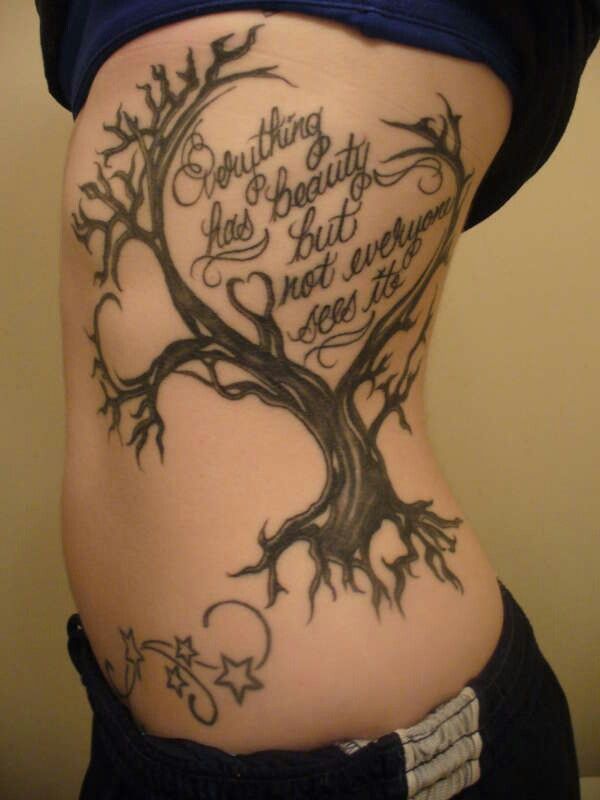 Unlike the first two quote tattoos shown above, you can have your background design to support your message like this artwork. Notice how the message talks about inner beauty while showing a leafless tree to empower its message.
#34: Geisha Surrounded with Flowers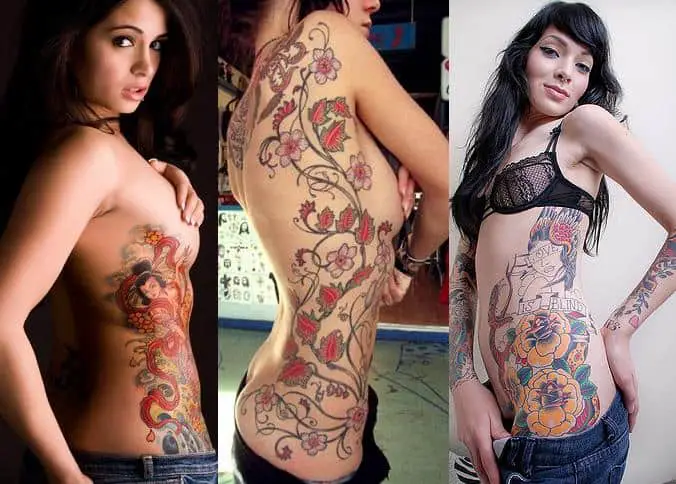 The Geisha is a well-known figure for women in Japan. Though commonly mistaken for one, a geisha is not a prostitute but someone educated to entertain men. That's why having a geisha tattoo represents the pinnacle of female appeal and seduction.
#35: Skull Side Tattoo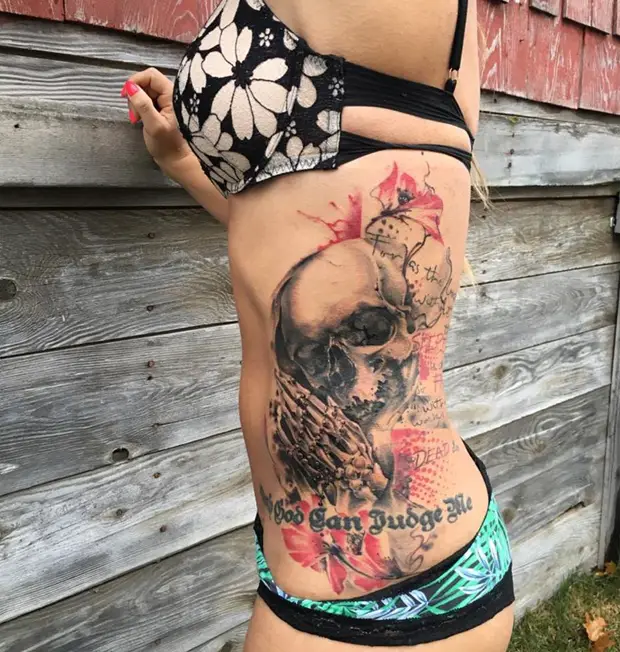 It is not common but skull tattoos can also be inked on the side. Just make sure to make it longer like the picture shown above to maximize its display.
#36: Bouquet of Flowers
If you're thinking of getting a flower tattoo, consider having a set of flowers lined up on your side like this one. You can even give it a little twist by having several types of flowers (shown below).
#37: Flowers of Serenity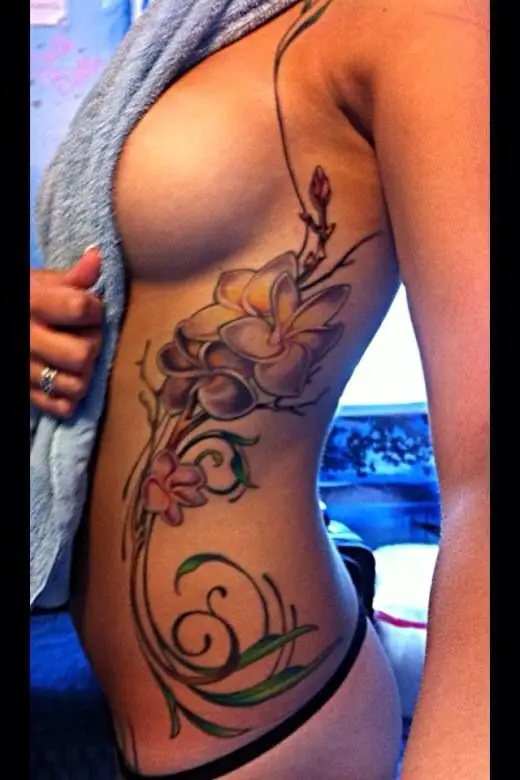 Looking at this rib tattoo influences a calm emotion. A serene yet graceful artwork of a flower best for people with a peaceful personality.
#38: Elegant Peacock
Peacocks will always have a dash of royalty in their looks. Plus their wings are like a bunch of beautiful eyes. Though this shows the peacock at the side it easily stretches to the back because of its size. And if you want your peacock tattoo to look elegant you'll want it as big as this one.
#39: Diverse Set of Flowers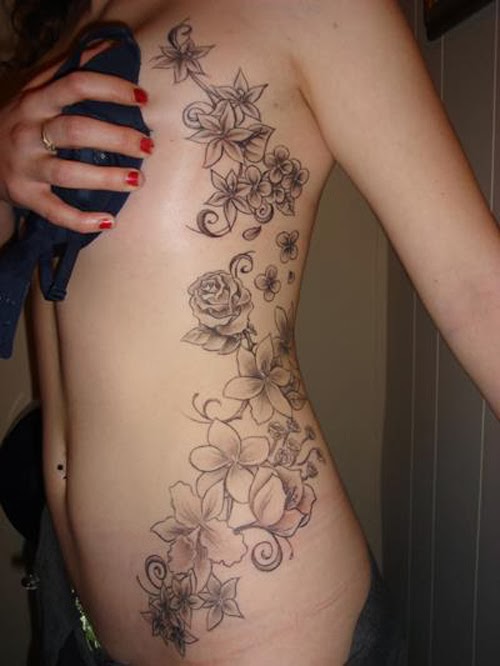 As mentioned earlier, if you want to add a twist to your flower design just use a diverse set of flowers like this one. Just make sure to know what each flower symbolizes as you might pick one not suited for your taste.
#40: A Side Tattoo Painting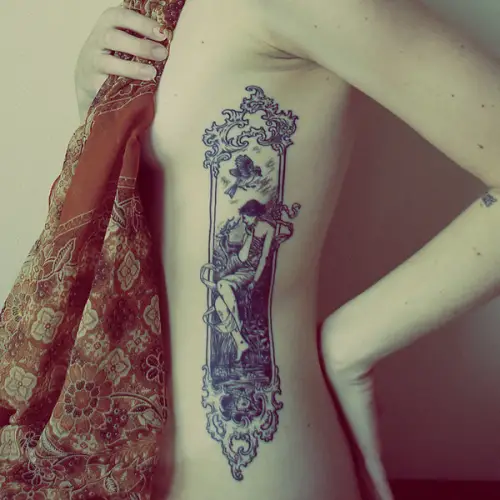 A painting using your skin as the canvas. This lovely tattoo shows a girl sitting in a garden waiting for someone. This tattoo may be a story of a woman waiting for his man.
#41: Blossom with Flowers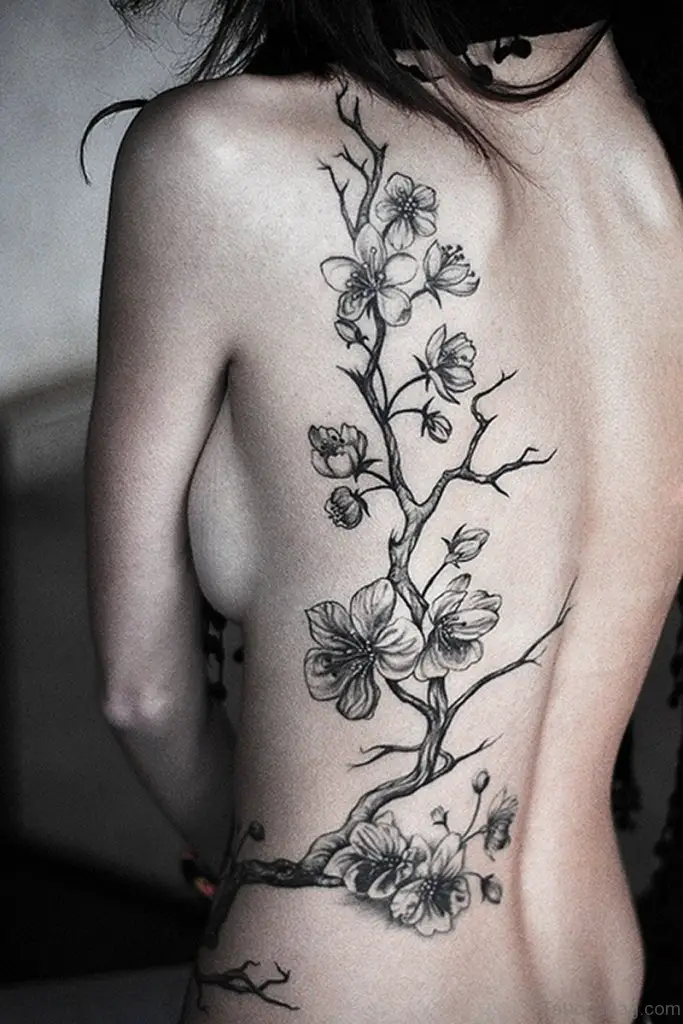 These soft blooming flowers represent a woman's beauty like no other. You can have it in one color like this to make it have that black and white classical look.
#42: Love and Pain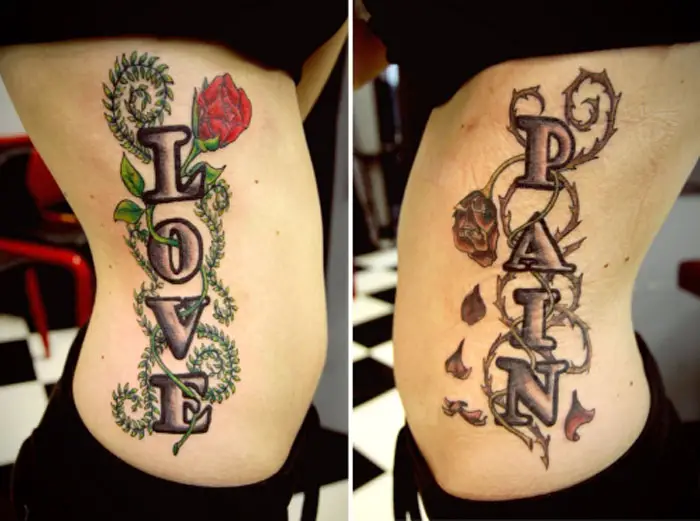 This artwork clearly expresses the joyful experience of loving someone and the drought of pain that comes after. This tattoo plays a strong contrast and is suited for people who have loved and lost.
#43: Dandelions Flying with the Birds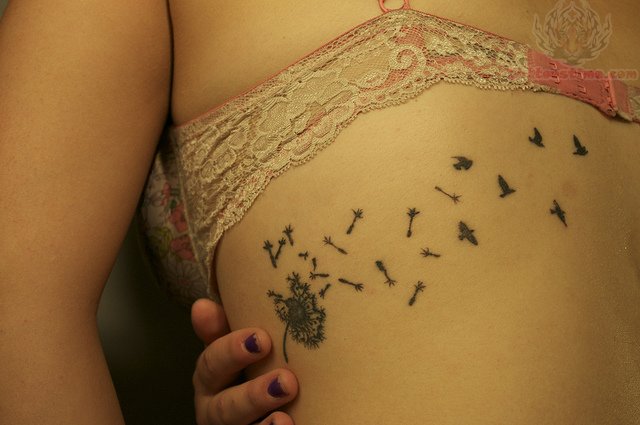 Dandelions are special types of flowers that are inviting to young people or people who are young at heart. Have this inked to give that nostalgic feeling of playing with a dandelion back when you were a child?
IMPRESSIVE TRIBAL TATTOOS FOR WOMEN
#44: 3D Roses and Skull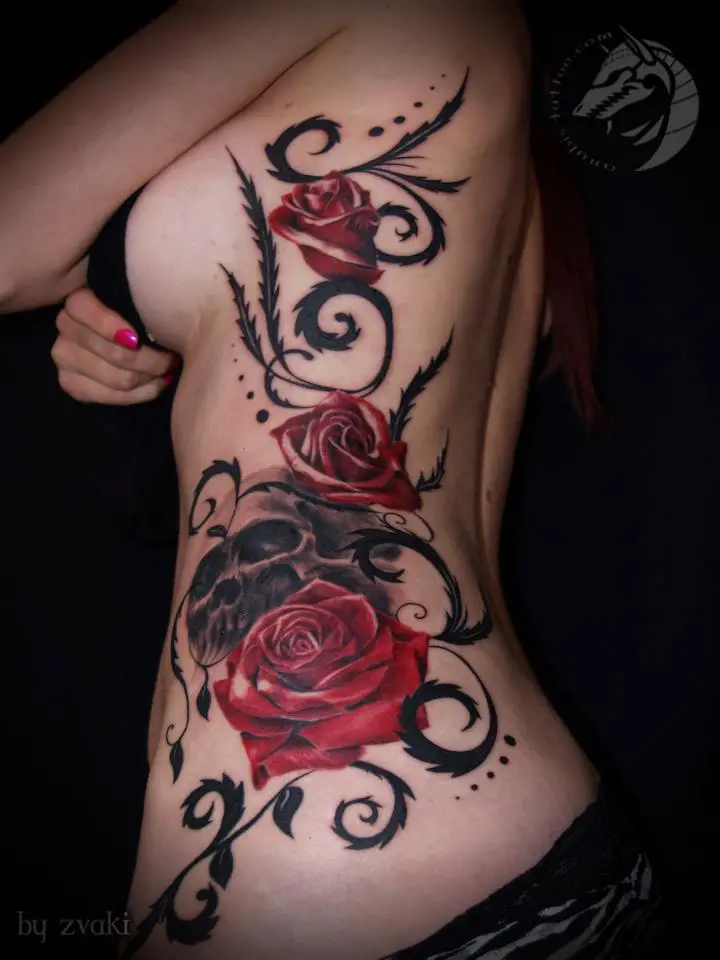 A three-dimensional tattoo that makes it look like you're really growing roses on your skin. Also, the skull gives it a dash of mystery and is a preference of style. This divine piece of art is simply a masterpiece.
#45: Side Tattoo with Intricacy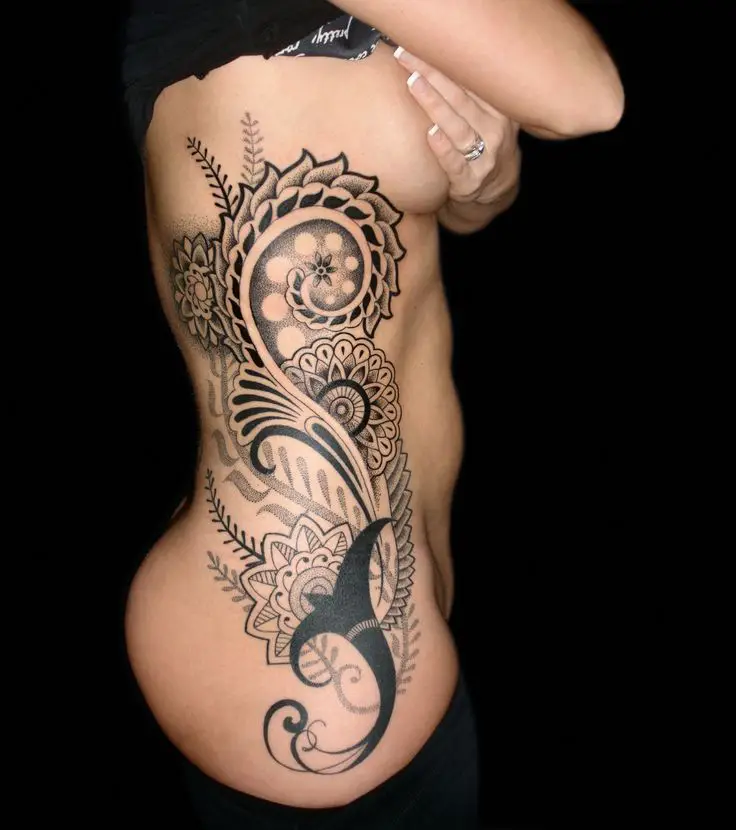 A highly fashionable tribal side tattoo beautifully detailed. This goes well on to either side of your upper body or the legs as it needs a lengthy canvas.
#46: For Strength and Freedom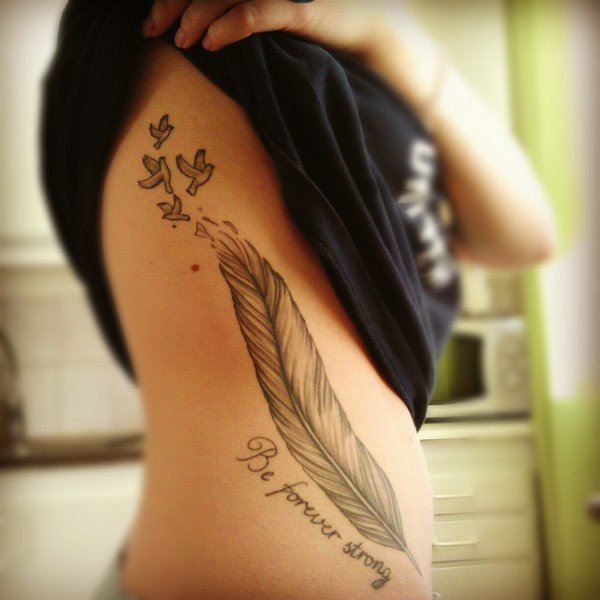 The message inscribed at the bottom talks about being strong while the birds and the feather is a powerful symbol for freedom. Get this tattoo if you want to clearly express the same message.
#47: A Side Tattoo Message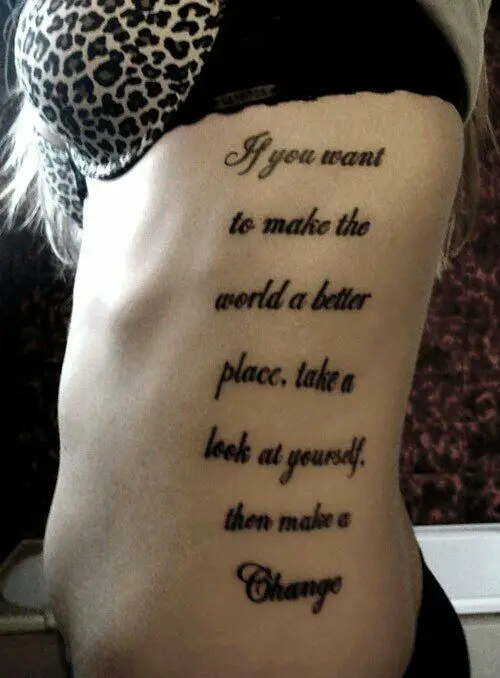 In our society today, women are finding more and more ways to empower themselves. Like having a rib tattoo that expresses your empowerment. If your message is long like this one, it is best to put it on the back or the side.
#48: Tyson's Philosophy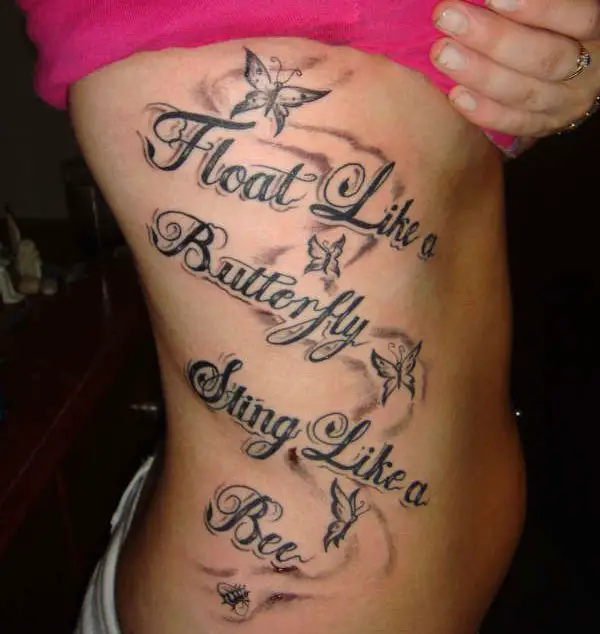 You may already know that this is a quote made famous by Mike Tyson. However, this is not just a quote for him but a philosophy. And you can have your philosophy in life inked like this too.
#49: An Adorable Elephant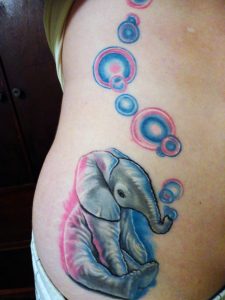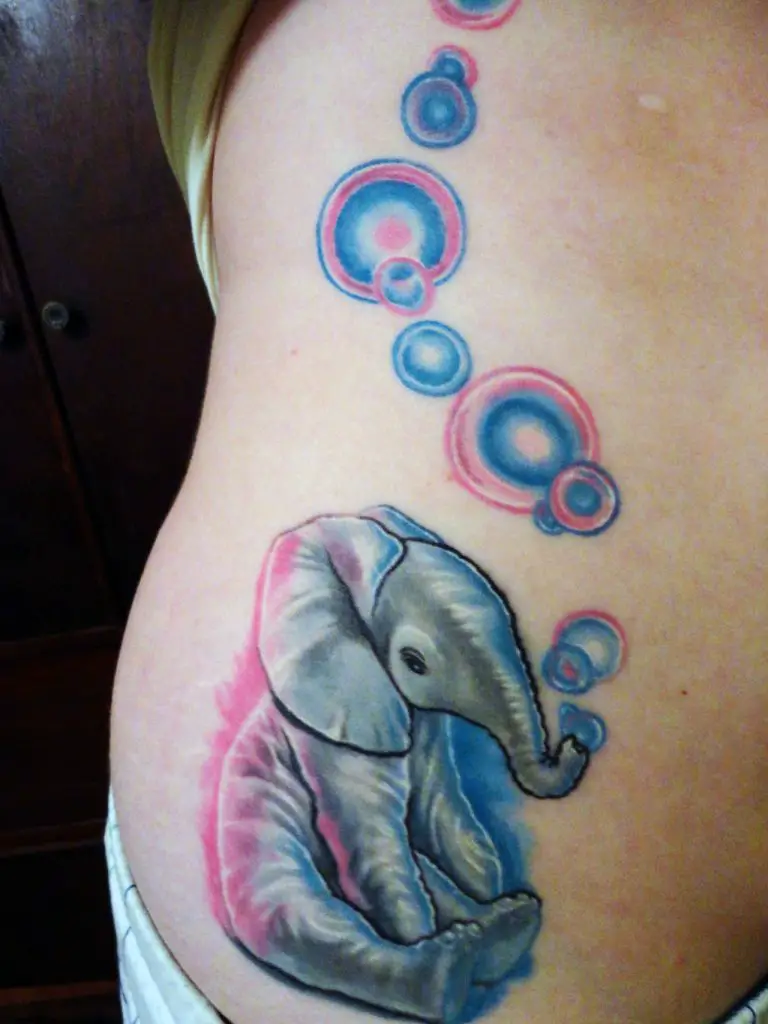 If you favor the kid inside you, this is a wonderful tattoo to have. Have a playful illustration of an elephant inked at your side with bubbles blown for fun.
#50: Star Side Tattoo for Girls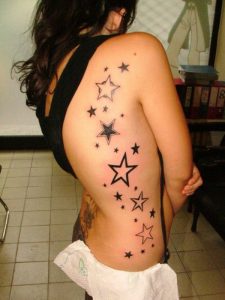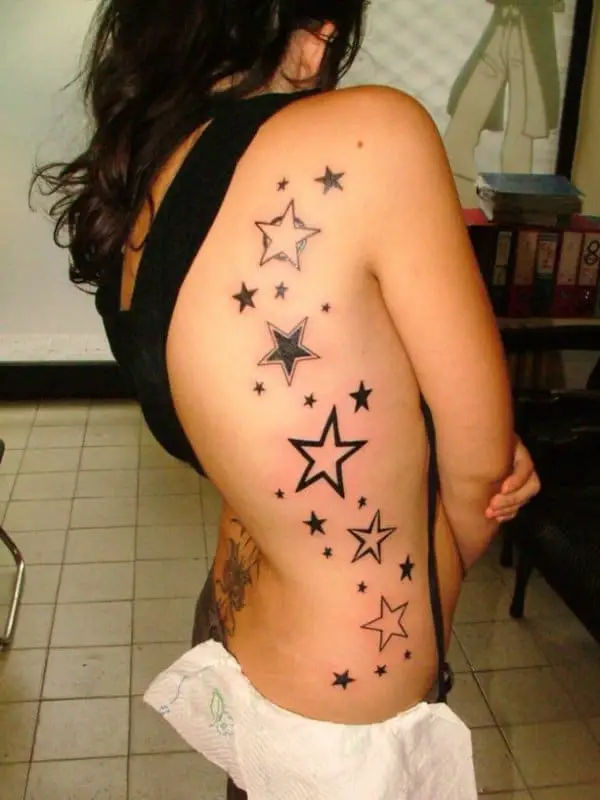 Having stars on your side is a simple yet delightful design. It can signify your hope, dreams, and aspirations. Or simply how cute stars are when drawn like this.
Make sure your side tattoo is where you want and is shown beautifully for it is easily covered by your arms and clothing. Side tattoos for girls are usually lengthy designs or messages. Other than the legs, this is probably the best canvas for female tattoo lovers wanting to have a big or long design inked on their skin. So don't waste that spot and get a tattoo worth being there.