Side tattoos are painful to get but worth it to have you are a girl who loves tattoo. Having the needle grind through your thin flesh while pressing to your ribs or hip bone may not be a pleasant experience, but it's a rewarding one once you see the tattoo. Side tattoos complement the curves and feminine structure. That's why even female celebrities from around the world are getting them too, like Lady Gaga.
Rocking Side Tattoos for Girls
Among the female celebrities parading their tattoos is Lady Gaga. In fact, she only has tattoo on the left side of her body due to her father's request. Now, Lady Gaga has a total of 20 tattoos located only on her left side. One of her most influential and copied ink is her rose tattoo found at the lower back stretching to her left hip. This gives you an idea on how you can maximize side tattoos and see why it's a beautiful part to get inked. To give you more ideas, here are 50 cool and sexy side tattoos for girls.
#1: The Lascivious Cat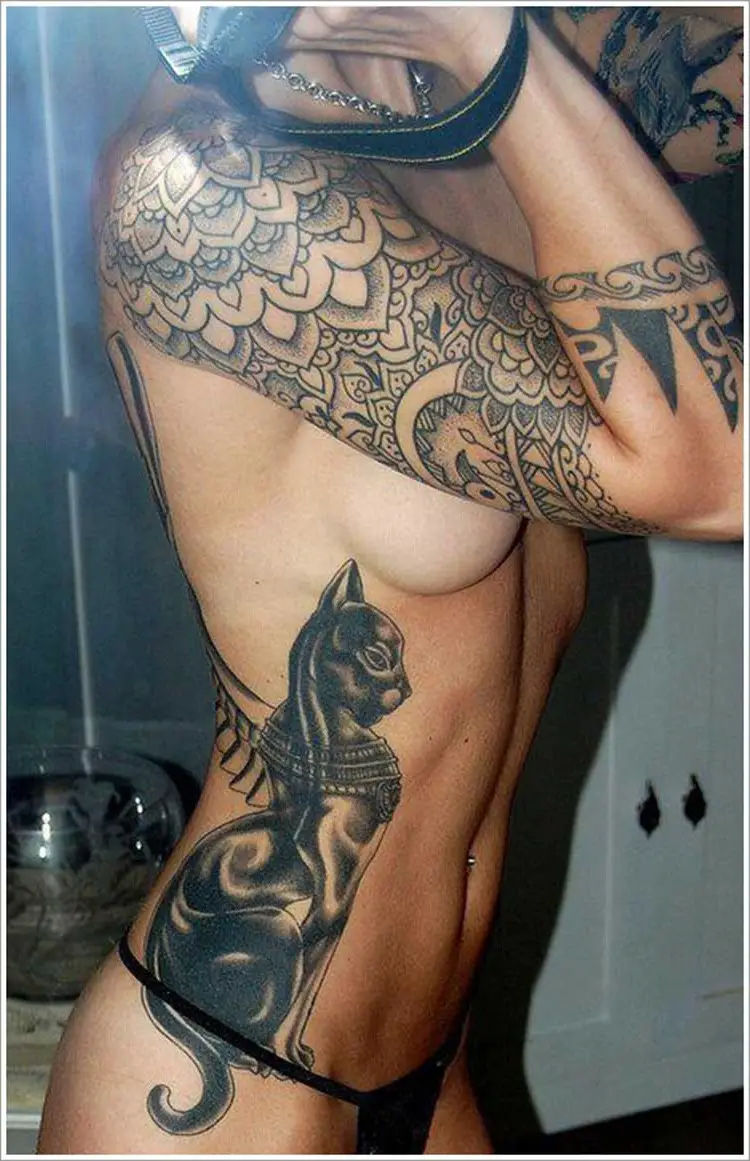 If you're a fan of cats and want to get yourself inked with them in a sexy way, this is definitely a design to consider. Having this teasing art on your side will make you practice your naughty purrs in no time.
#2: A Girl's Vines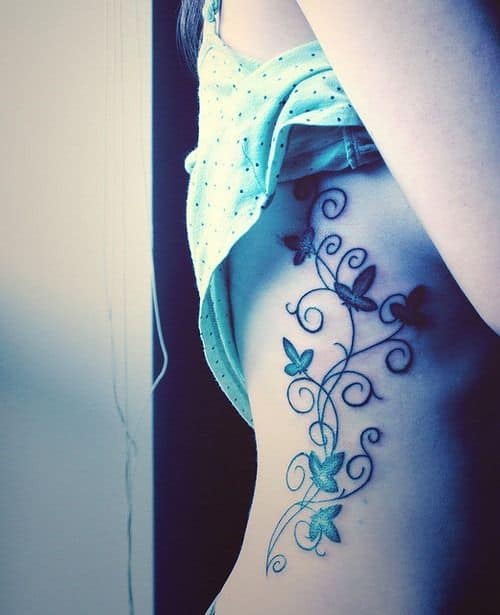 This rib tattoo looks like a tribal design of growing vines. You can see that the artist made it adorable to make it for girls who are into nature, gardening or simply want a cute vine ink on their side.
#3: Tribal Side Tattoo For Girls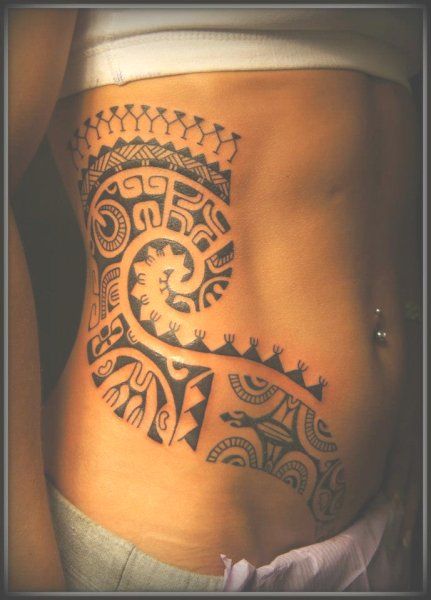 Depending on your interpretation, the set of pieces in this tattoo can tell a story known only to the person who has this tattoo. It can even be from their tribe and tells the roles of a woman in their community.
#4: The Musical Butterfly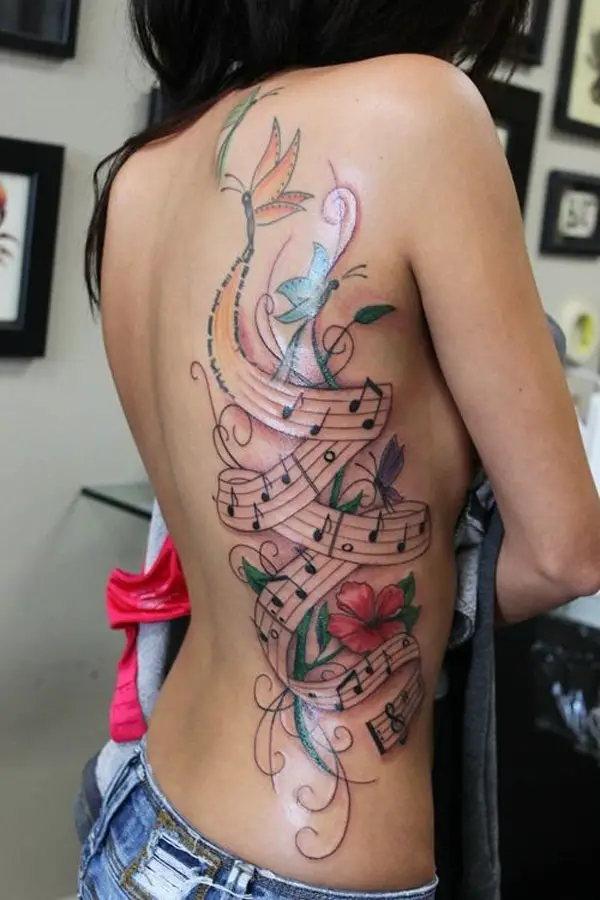 A butterfly tattoo is a common choice for women, that's why imagining a unique presentation for them is hard. But the combination of butterflies, musical notes, and the flower it's spiraling upon will make your butterfly design distinctive specially if you're into music.
#5: Side Tattoo of a Tribal Rose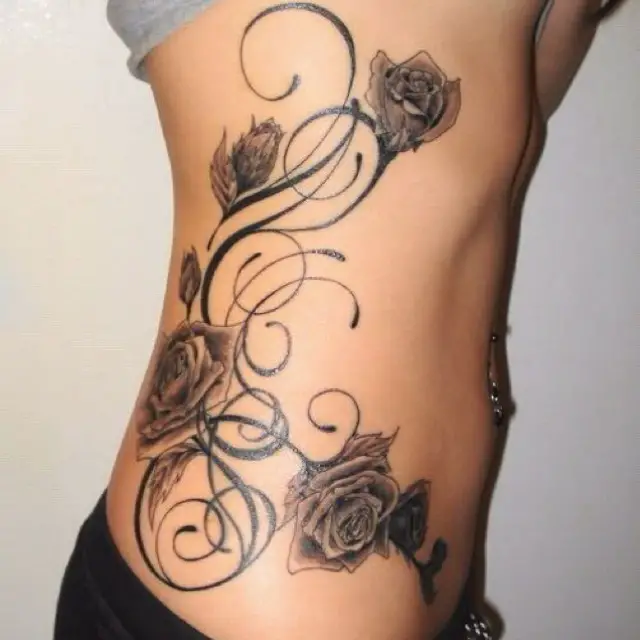 A tattoo of roses is great on lengthy parts of your body like on your ribs or legs. Roses are a favored symbol for romanticism, love, and being a woman. And the design on this one empowers its symbol by using a beautiful and modern tribal design.
#6: Sexy Garden of Eden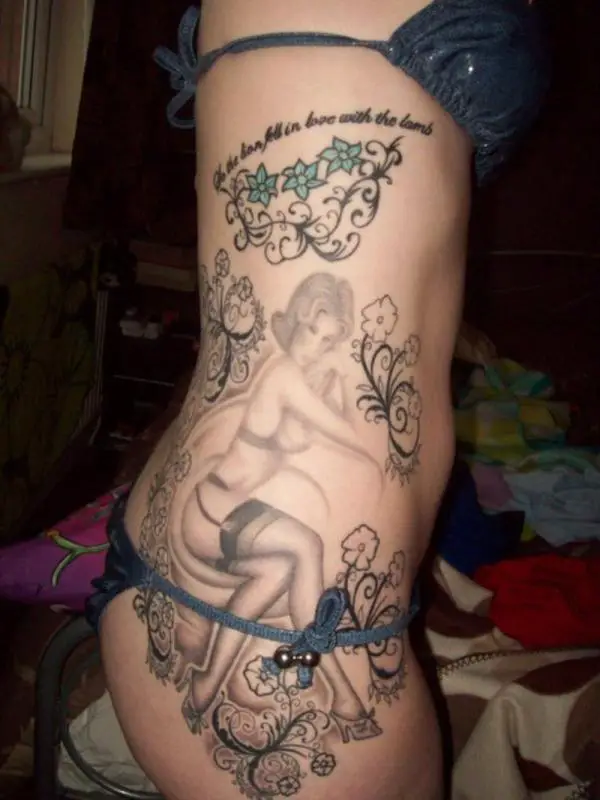 Though a garden isn't your typical place to get down and dirty, this mix of a sexy lady and garden flowers can make any man gulp at site. It even has a quote inscribed on top playing with the idea of a lion falling in love with a lamb, that can mean a man wildly falling for a woman.
#7: Voodoo Roses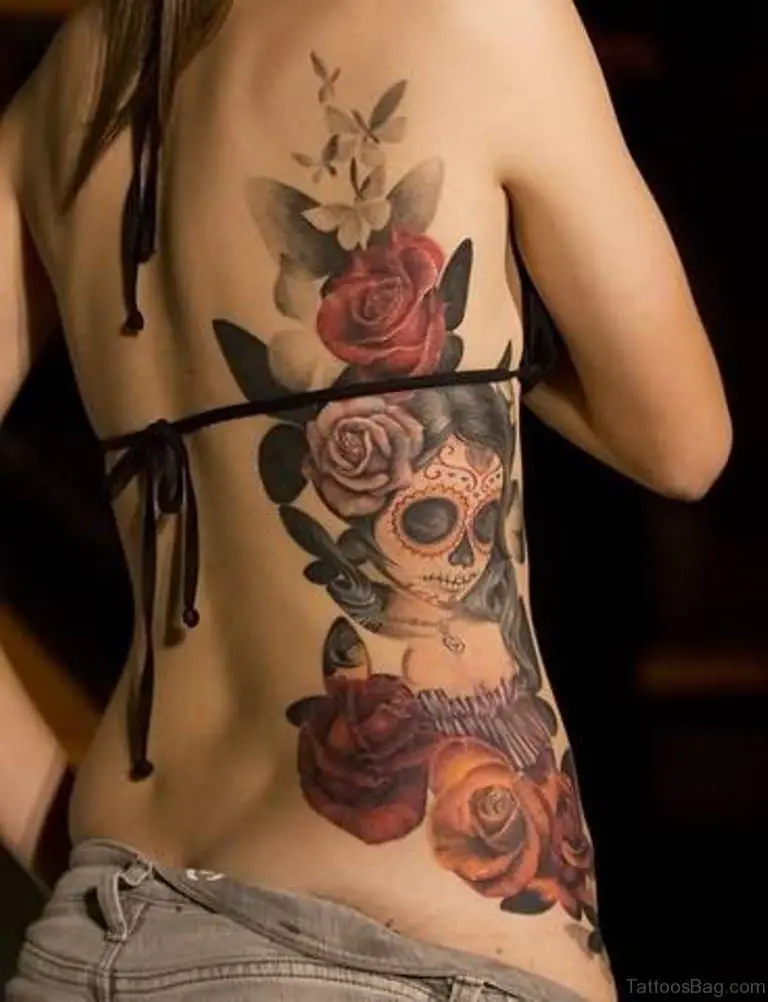 This is for the mysterious ones. The roses in this design are pretty and well drawn but the puzzling face of a woman can easily give a witch-like vibe. This tattoo is suited for women who believe in or practices witchcraft.
#8: Diving Fish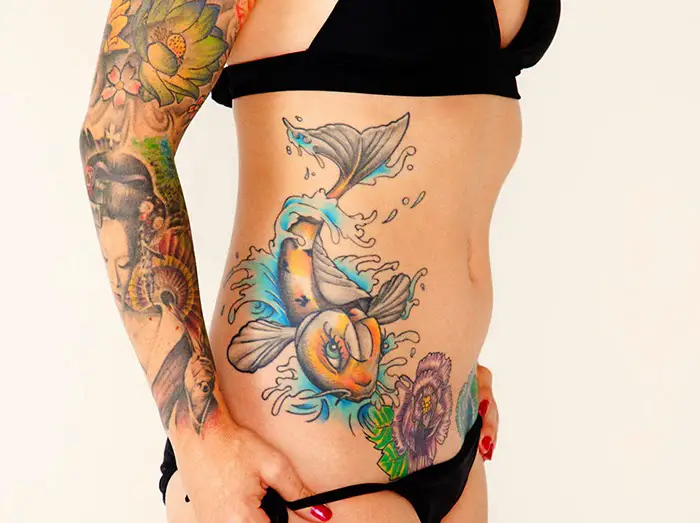 Except for sharks, fish tattoos are not that popular specially to the ladies. However, the design, drawing and coloring used in this piece made the fish look feminine like how the fish's eyelashes has that flirtatious look.
#9: Wild Creatures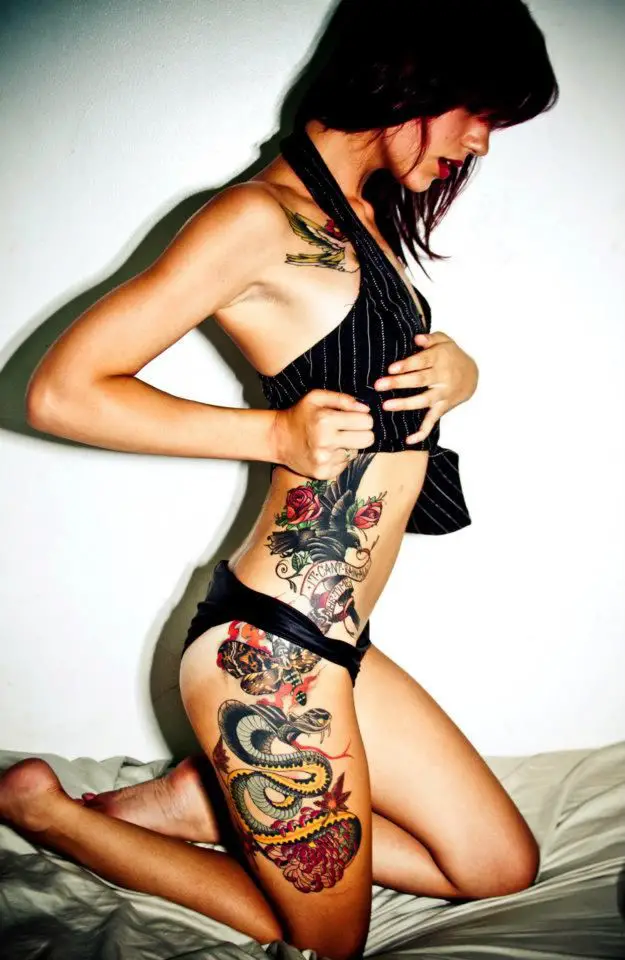 Respect to the artist that made this thing of beauty that was inked to tell a story. If you look at it closely you can see the bird and butterfly can signify a women's freedom and empowerment while the snake can be the danger that lurks in her adventures.
#10: Side Tattoo of Beautiful Flowers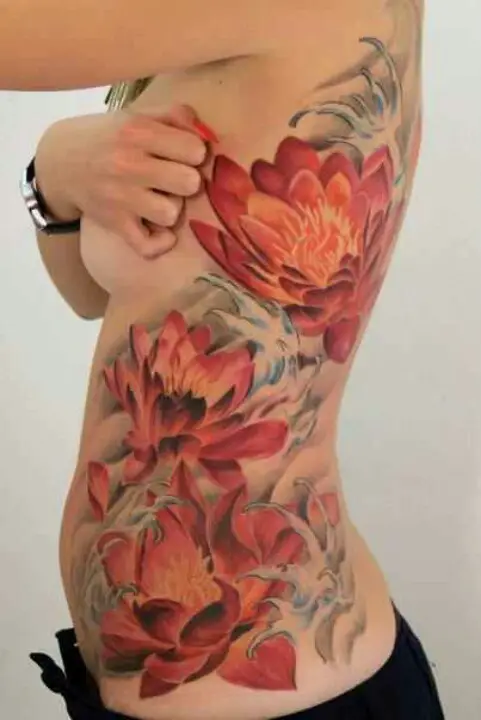 Side tattoos for girls usually cover a slim area of their rib or lower back. But this piece covered the entirety of the subject's left side as a canvas for these glamorous flowers.