Who doesn't love the Joker? An iconic DC villain and probably the most popular one to ever exist. People choose different mediums to show their appreciation for this timeless character and getting etched with Joker tattoos is certainly one of them. 
The craze for Joker tattoos was immortalized through the stellar performance by Heath Ledger back in 2008 in "The Dark Knight". Various future portrayals such as Jared Leto's Joker, and the recent hit of Joaquin Phoenix have attracted more people to get Joker-themed body art. 
We all love the depth of this character to the moon and back, and we are very sure you do as well. It's time to get tattooed with Joker art to show how much you love his silliness.
81 Joker Tattoo Designs and Meanings
People think Joker tattoos are associated with negative energies and represent everything bad. However, it is a great source of inspiration to instill rebellious traits and a personality of a stubborn man who will do anything to go ahead. There is a load of possibilities on how you can choose to depict your joker tattoo on your body. Let us help you pick the best Joker tattoo for your body from the many of the designs we have selected for you below.
Jared Leto Joker Tattoos
Did you know Jared Leto had to go through a series of transformations mentally and physically to prepare for the role of Joker? Well, the result was spectacular and these tattoos below are evidence of his awesome acting skills. Check out these Jared Leto Joker tattoos below.
1. Jared Leto Joker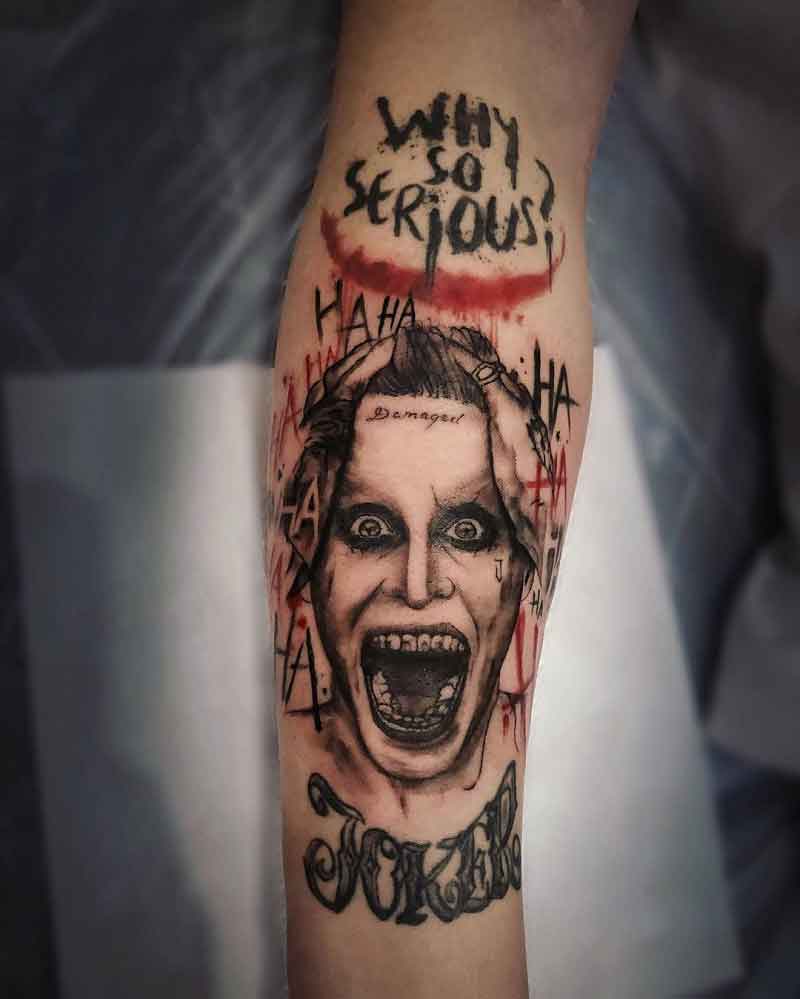 This Jared Leto Joker Tattoo on a man's arm is accurate in every way possible. It brings to life all the hysteria that the character possesses.
2. Jared Leto Coloured Joker Tattoo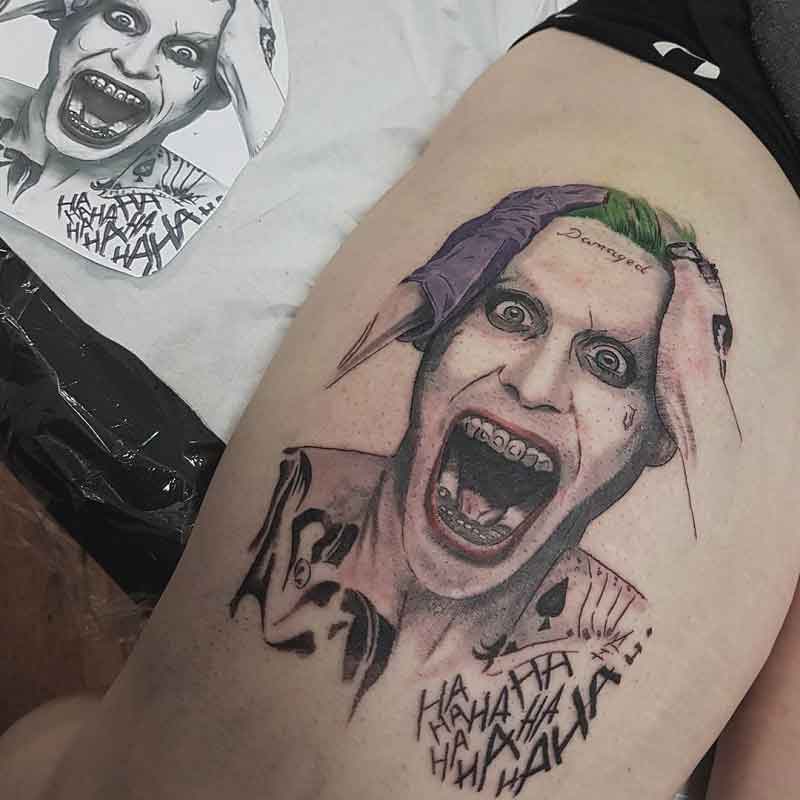 Loved the last art piece? Consider this tattoo art on a man's bicep as well. The addition of colors to the tattoo brings forth a whole new perspective!
3. Jared Leto Hand Laughter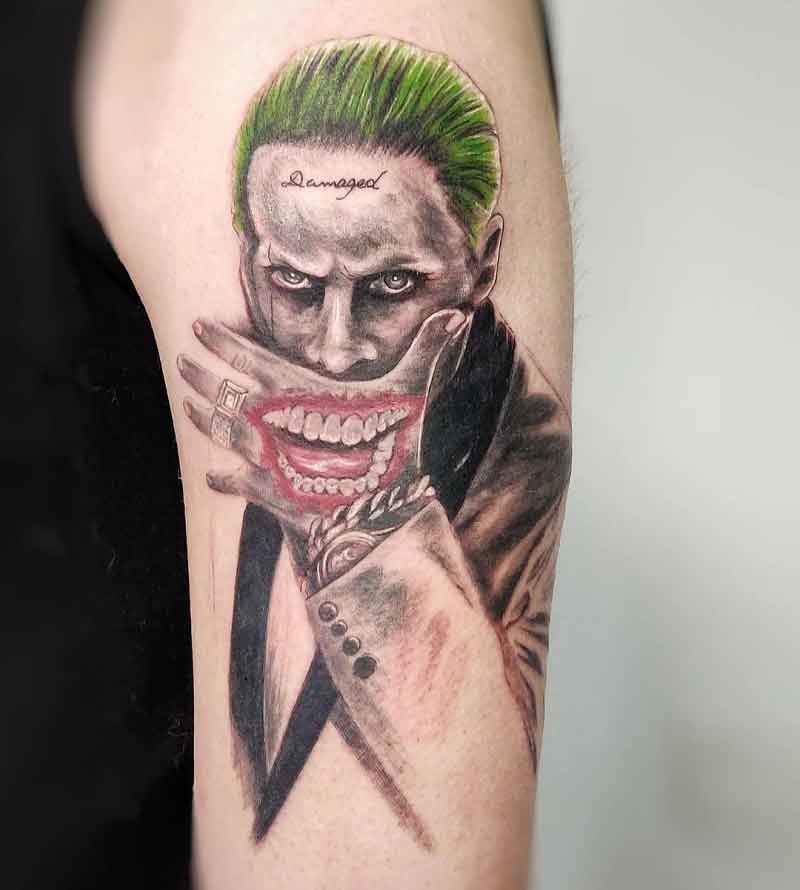 One reason that made people really love Jared Leto as a joker was the multiple tattoos he had on his body. Check out this Joker laughter tattoo on his hand depicting the devil laughing at your face.
Joker Hahaha Tattoo
The Joker's hysteric laughter is enough to get you goosebumps. Even the great Batman himself gets nervous when Joker's laughter enters the room. Check out these cool Joker hahaha tattoos that we have scavenged from the depths of the tattoo industry!
4. Hahaha Joker Mouth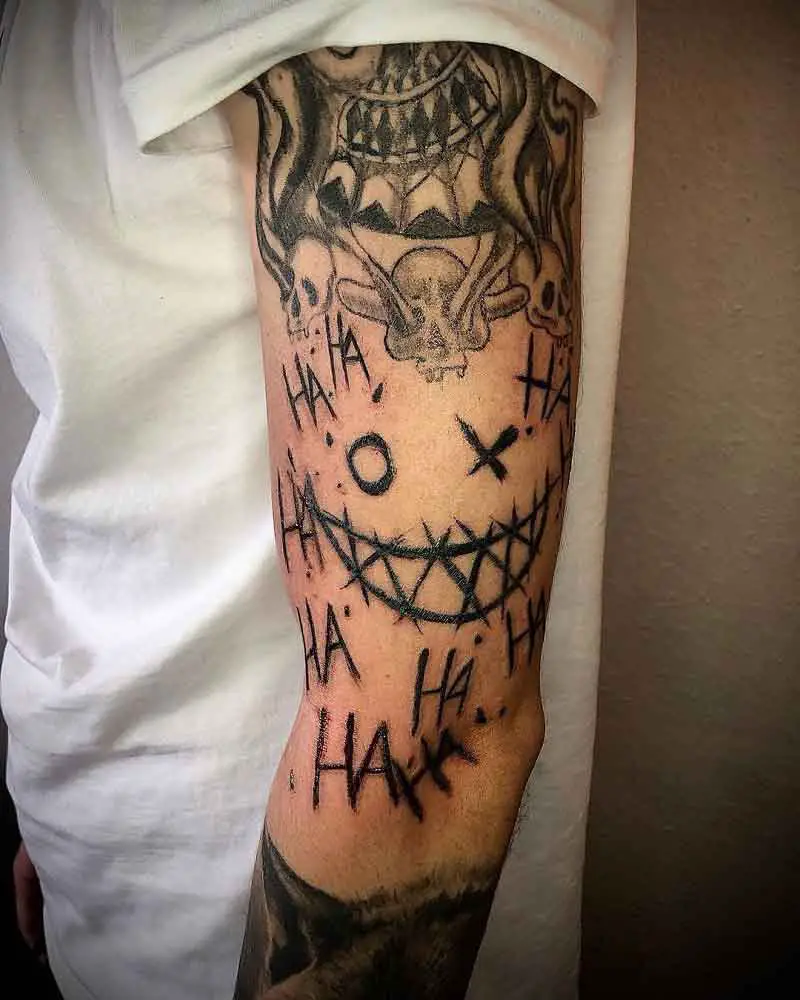 A cool funky take on the Joker hahaha tattoo teamed up with stitched Joker graffiti. The addition of this simple tattoo to the upper arm really helps fill up the place and add a lot of value.
5. Realistic Joker Hahaha Tattoo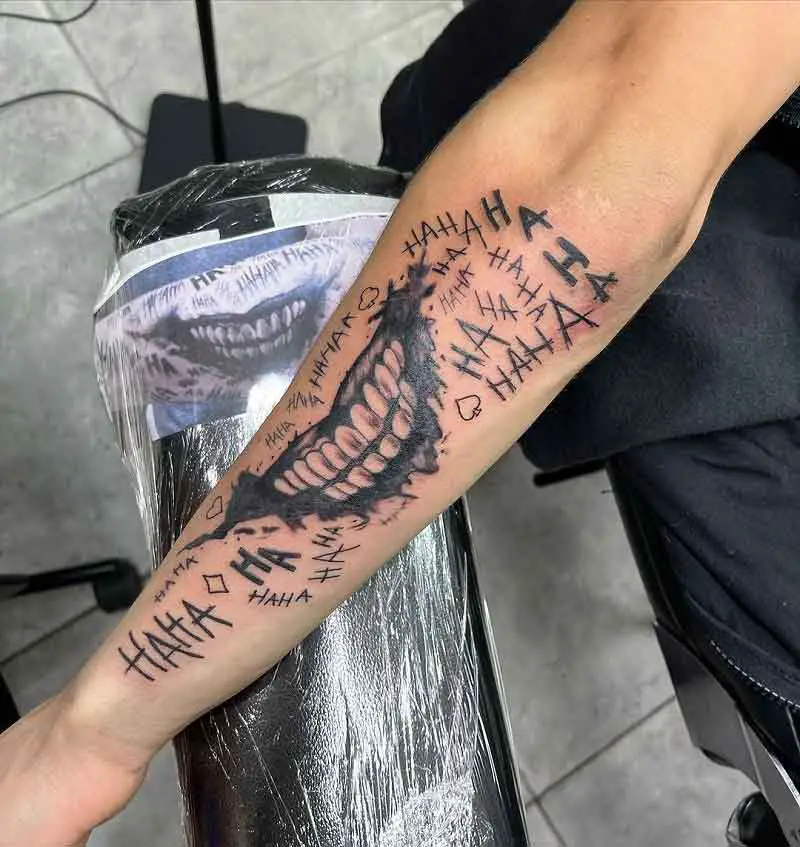 A realistic Joker hahaha tattoo with this overstretched mouth in the model. It can be a great addition to your lower arm, sending chills through the body of everyone looking at it.
6. Traditional Joker Hahaha Tattoo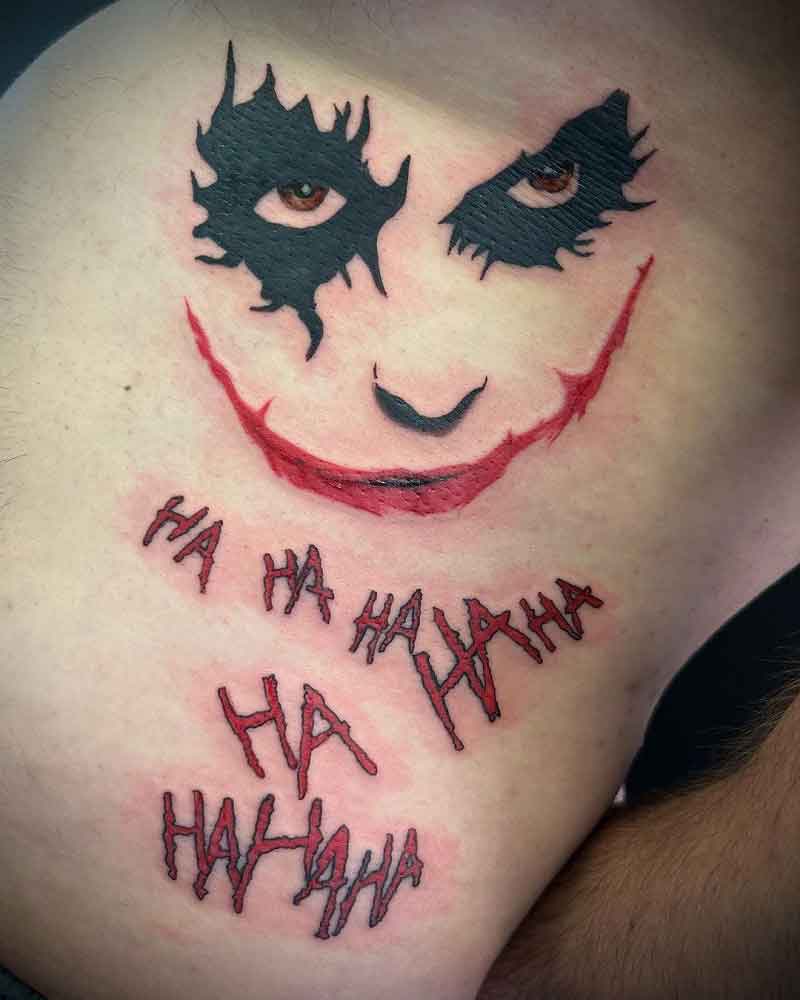 Oh boy, we surely go gaga every time we spot Heath Ledger's Joker. This is by far the best Joker character as well as the best Joker hahaha tattoo as well.
Joker Smile Hand Tattoo
Joker Smile tattoos are just as popular as the other Joker body art. This form of Joker tattoo was popularised after the release of Suicide Squad 1 and the introduction of Jared Leto's Joker. Check out all the cool Joker smile hand tattoos that we have selected for you.
7. Joker Hand Tattoo
A simple Joker smile hand tattoo.  It doesn't have a lot of details compared to the ones coming next but still does the job really well if you are simplistic by nature.
8. Groovy Joker Smile Tattoo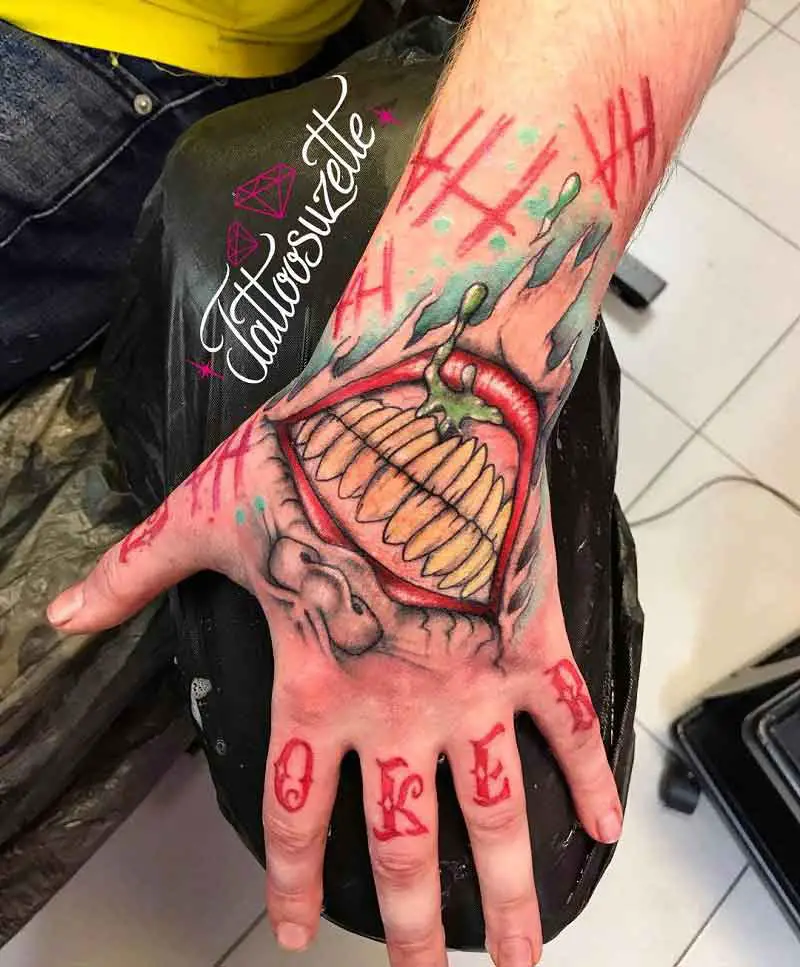 Ever watched the animated Batman series? Then you certainly remember the manic joker in the cartoons. This tattoo on a man's hand does well to replicate his laughter.
9. Animated Joker Smile Tattoo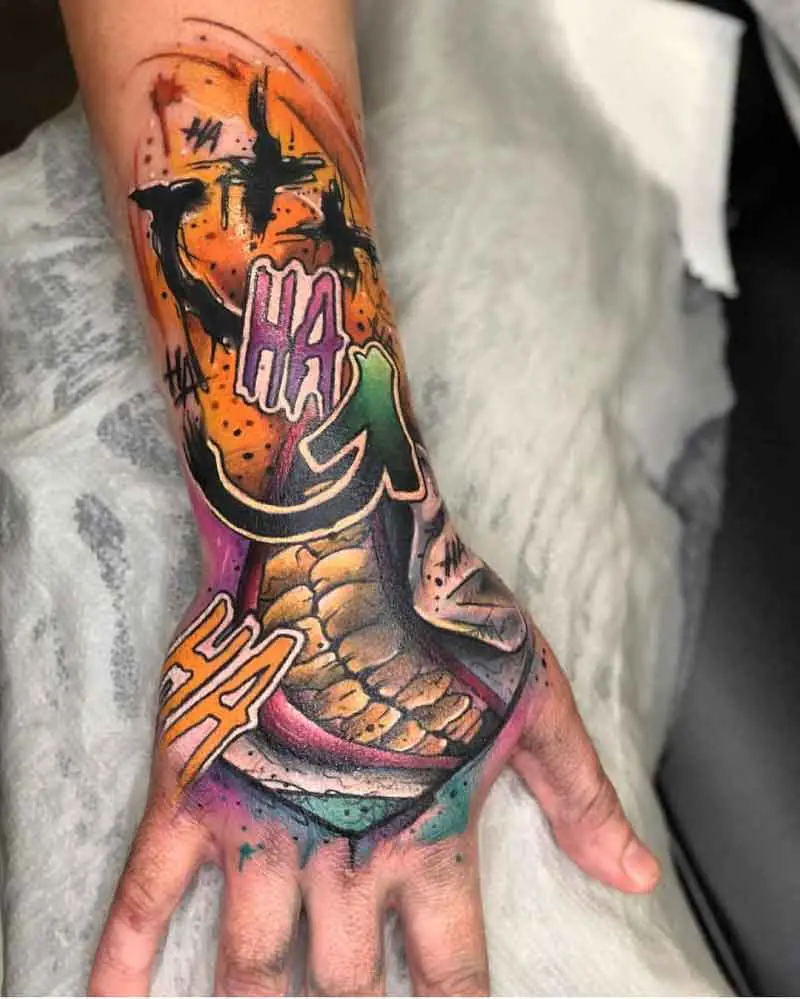 Another animated Joker smile hand tattoo but better. The beautiful colors, the rugged teeth. This hand tattoo is crazy in every way! A must-get for you to replicate the manic Joker laughter.
Batman Joker Tattoo
Joker without Batman is incomplete just as you cannot have evil without good creating a much-needed balance. The collaboration of the Joker and Batman in the tattoos below helps to portray the rivalry really well.
10. Bat Sign And Joker Hahaha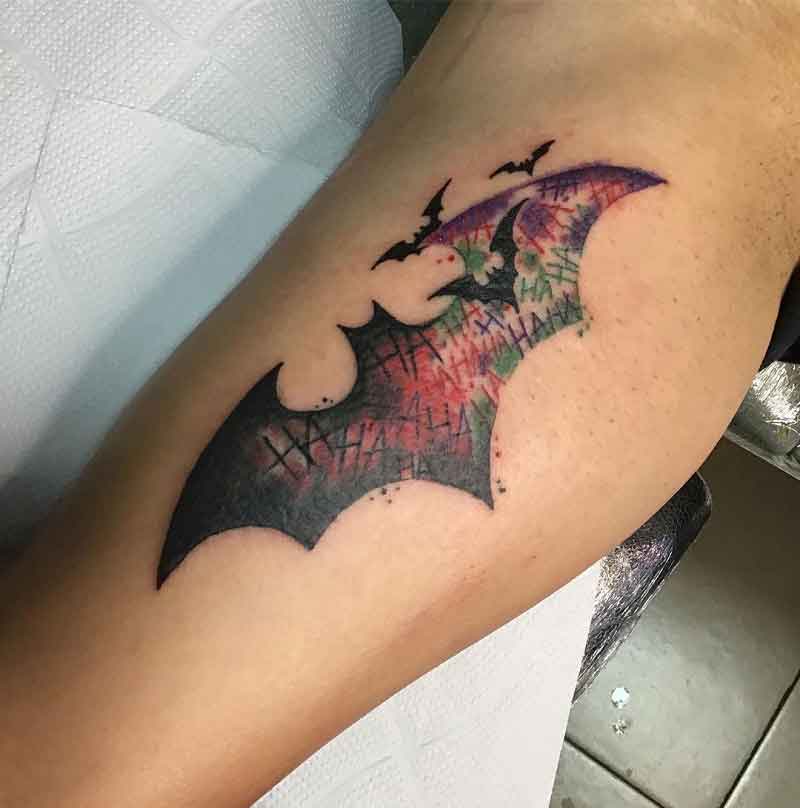 The joker's laughter taking over the bat sign this is a usual sight for Gotham City dwellers. The fight between good and evil is portrayed really well in this tattoo.
11. Balance Between Good And Evil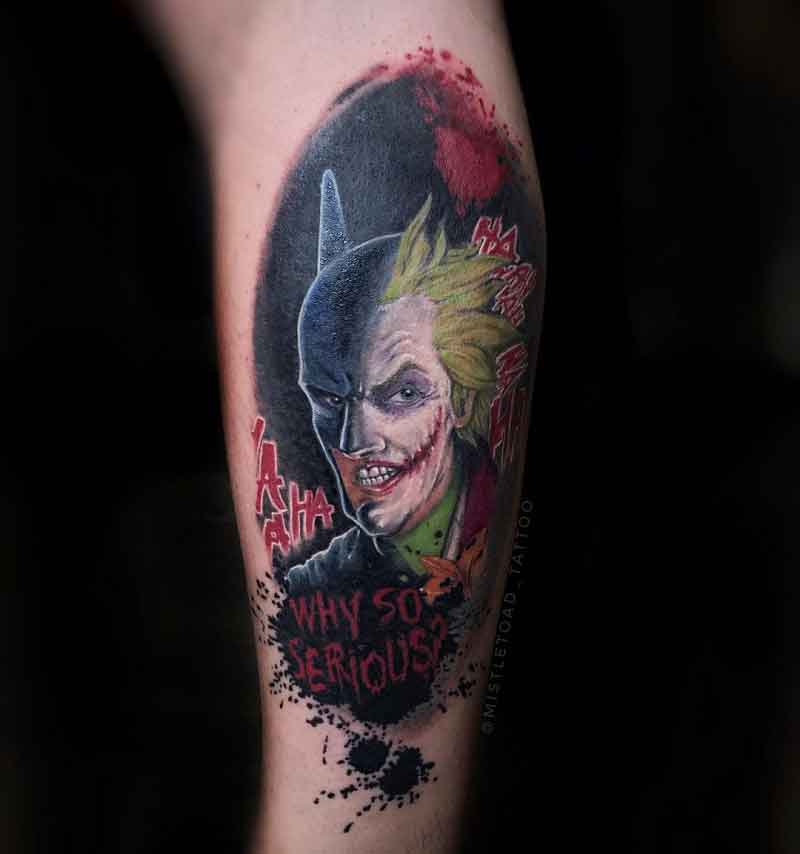 We cannot help but agree that the Joker and Batman are not complete without one another. Look at this cool art piece that helps to depict both characters really well!
12. Joker And Batman Cartoon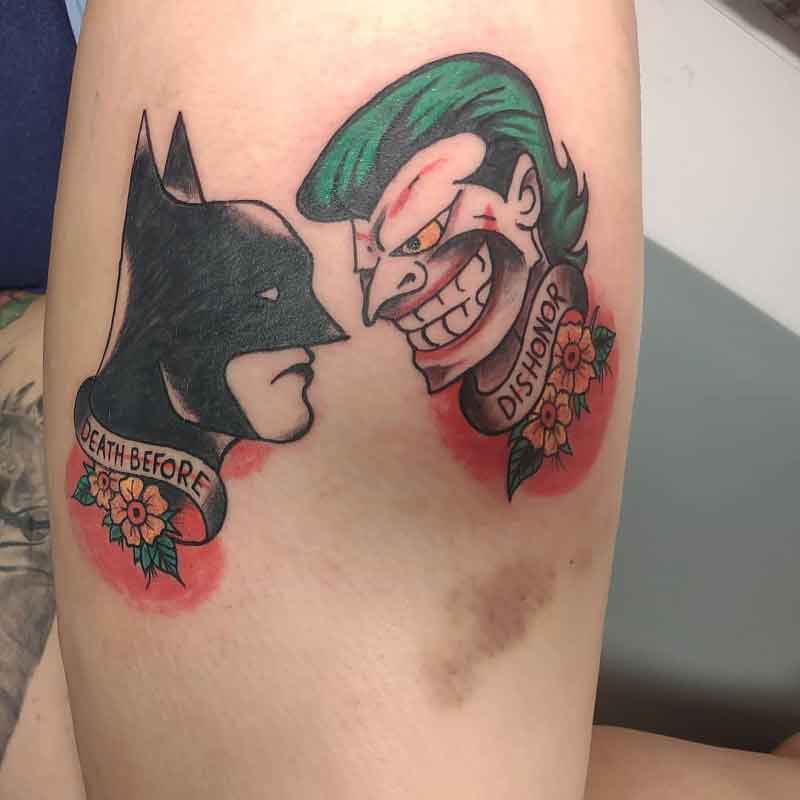 A funky version of both Batman and the Joker. This is a great nod to the villain and the superhero. You can surely get this tattoo etched on your arm.
Joker Poker Tattoos
A Joker Card suggests cunningness and staying a step ahead. The Joker is always ahead of his archnemesis Batman because he has his Joker Poker card in his pocket! Get your own Joker poker card tattooed to stay ahead in life. Give a look at all the great Joker poker tattoos below.
13. Dead Joker Card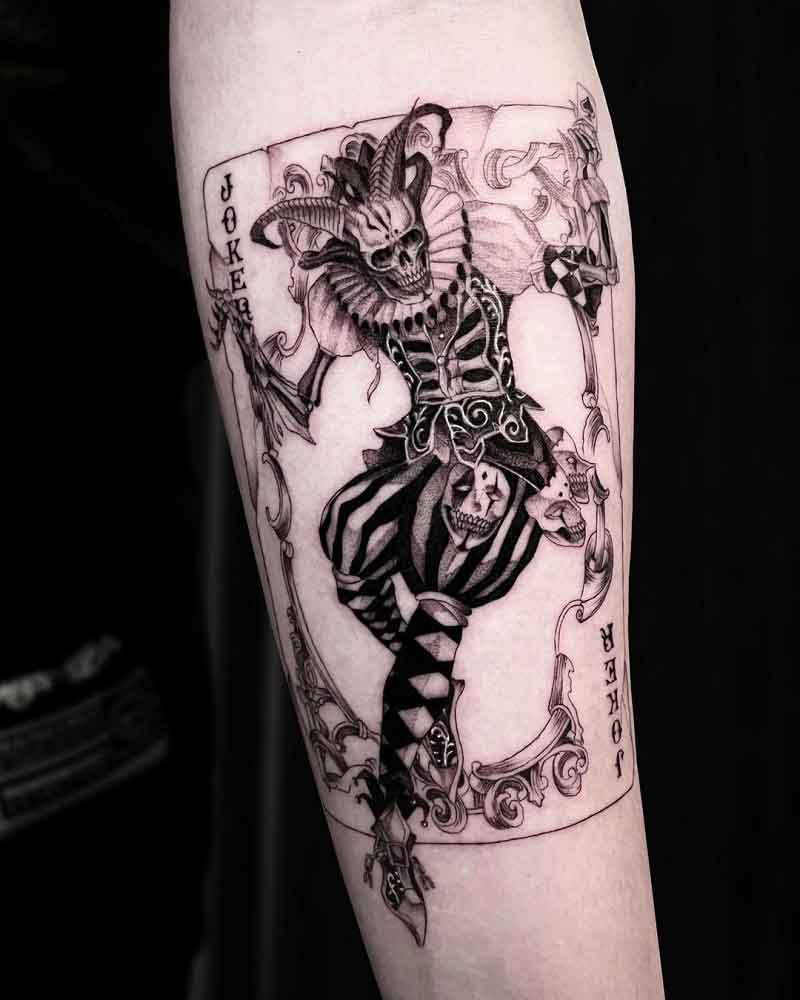 This tattoo is not inspired by Batman's Joker just to let you know. The amount of detail and pure brilliance in this tattoo made us keep this on the list.
14. Joker Holding His Card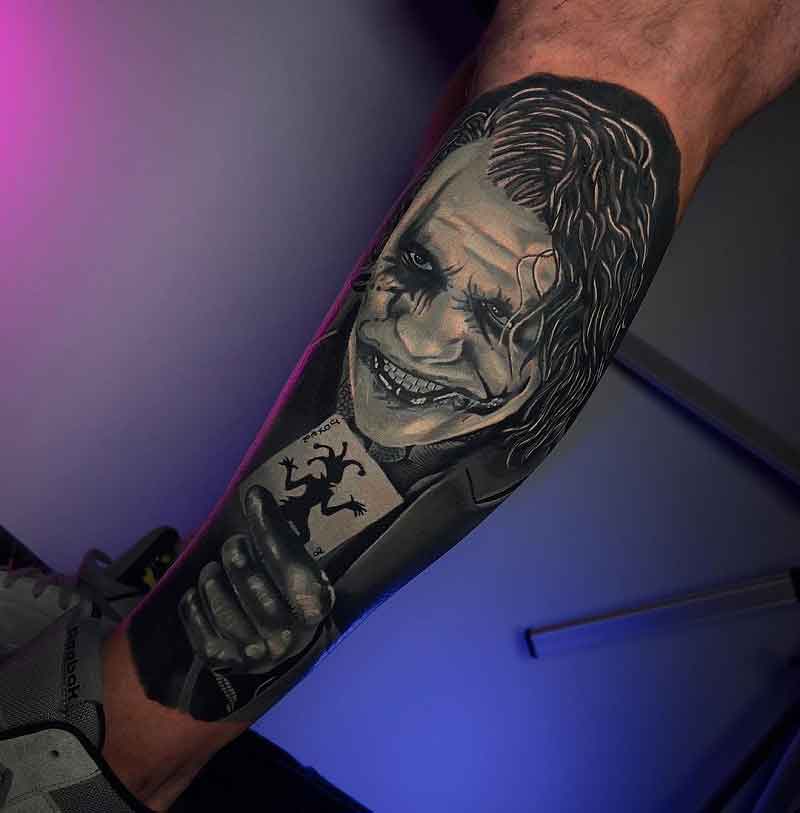 This tattoo is a great recreation of an iconic scene from the movie "The Dark Knight". Look at the Frantic look on the Joker's face as he decides his next move against Batman.
15. Joker Card
This tattoo of Joaquin Phoenix's Joker on this woman's torso does look simple but still contains a lot of details to make it look alluring. We recommend you consider this ink design!
Suicide Squad Joker Tattoo
We have mentioned so much about the Suicide Squad's Joker played by Jared Leto. Below you can find some of the tattoos that represent the character played by Jared Leto if you are a big fan!
16. Suicide Squad Hahaha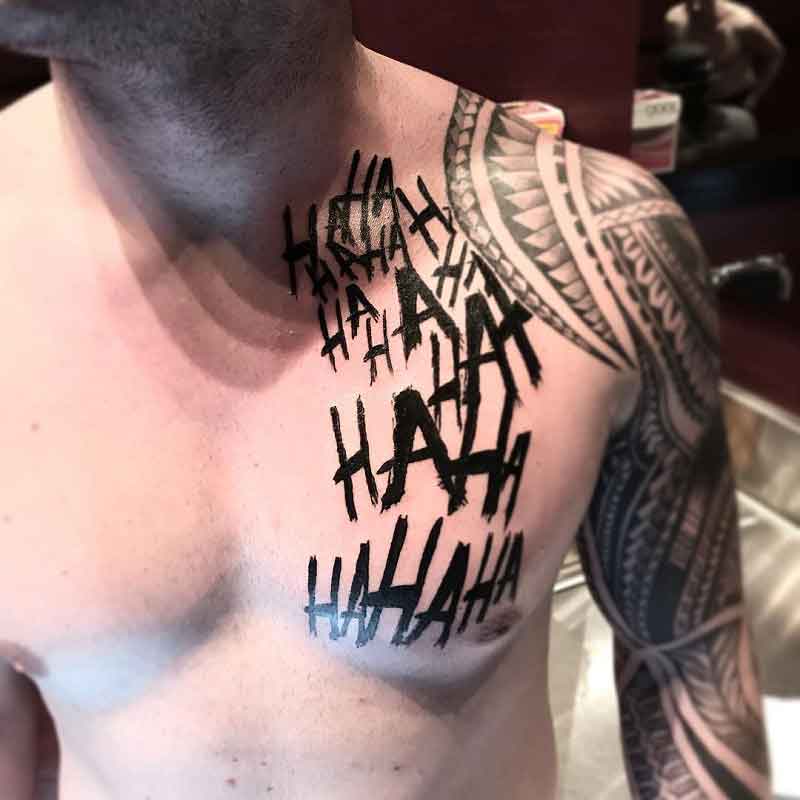 We bet you have spotted Jared's Joker tattoos when he goes shirtless in the movie. This hahaha tattoo is inspired by the one Jared had and you can certainly get your chest inked with this.
17. Suicide Squad Skull Tattoo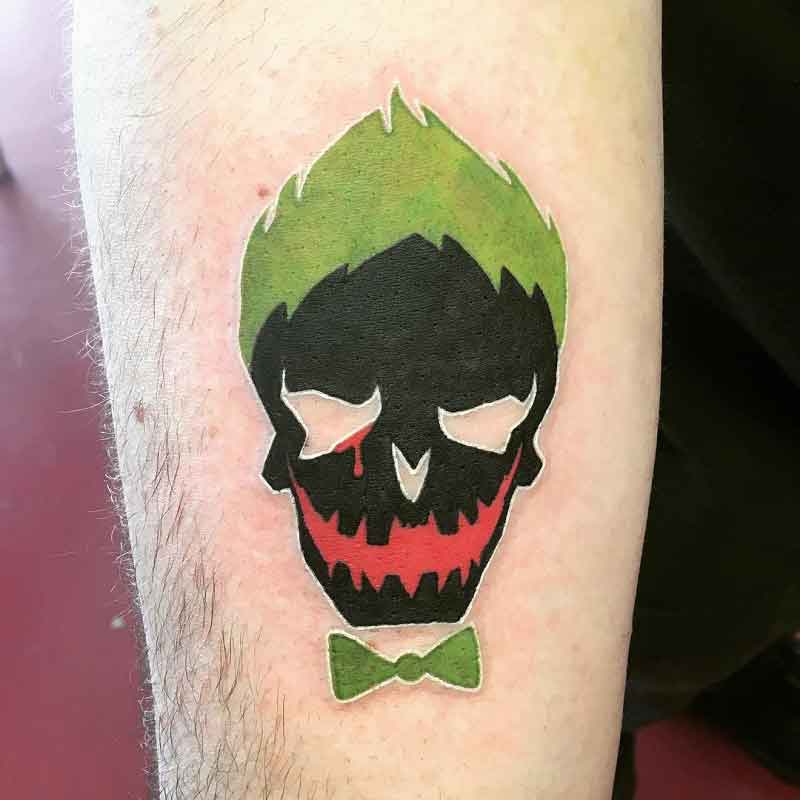 Have you noticed the Suicide Squad poster? This Joker emblem tattoo is from the movie's poster and certainly is a fun take on the character. A small tattoo that you can easily hide.
18. Jared Leto Full Tattoo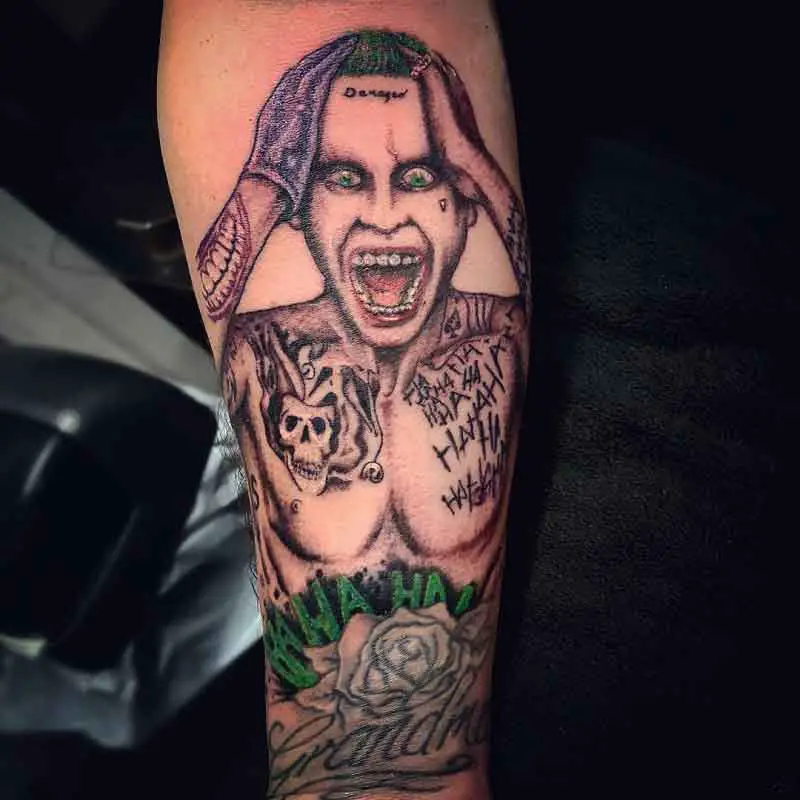 A whole Jared Leto Joker tattoo for your limbs. What's cool about this tattoo is that it has all the tattoos that he had originally. A tattoo inside a tattoo, isn't that interesting?
Joker Damaged Tattoo
You cannot expect the Joker to be rational because you got to know he's a man who knows no civic boundaries. The damaged tattoo on his forehead is a clear note to his adversaries. Some Joker damaged tattoos for you are below.
19. Joker Forehead Damaged Tattoo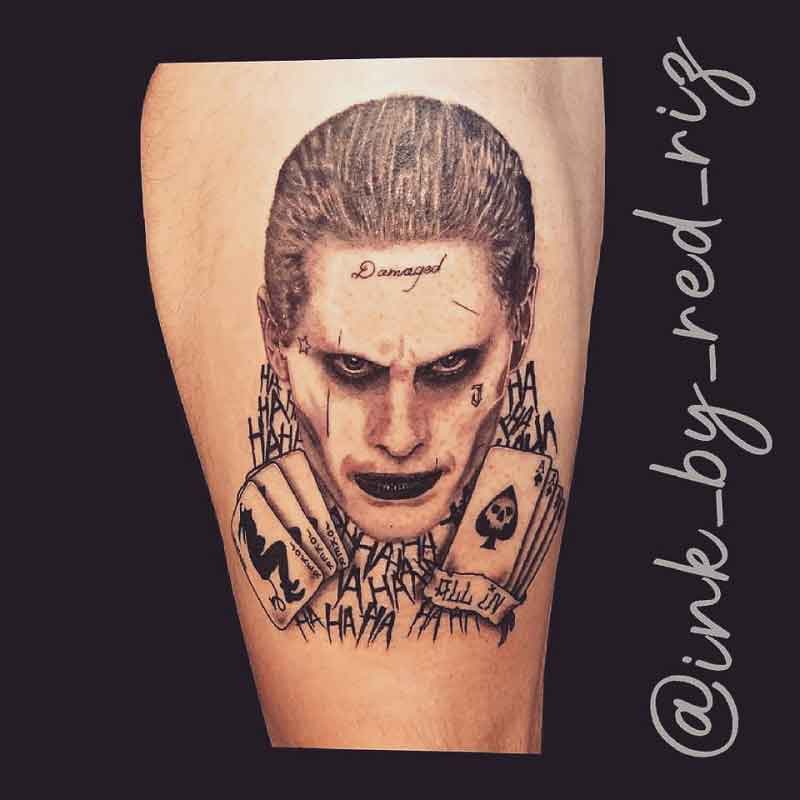 A cool Jared Leto Joker Tattoo for your bicep. A lot of attention has been paid to the details to make this tattoo look alive.
20. Jared Leto Joker Card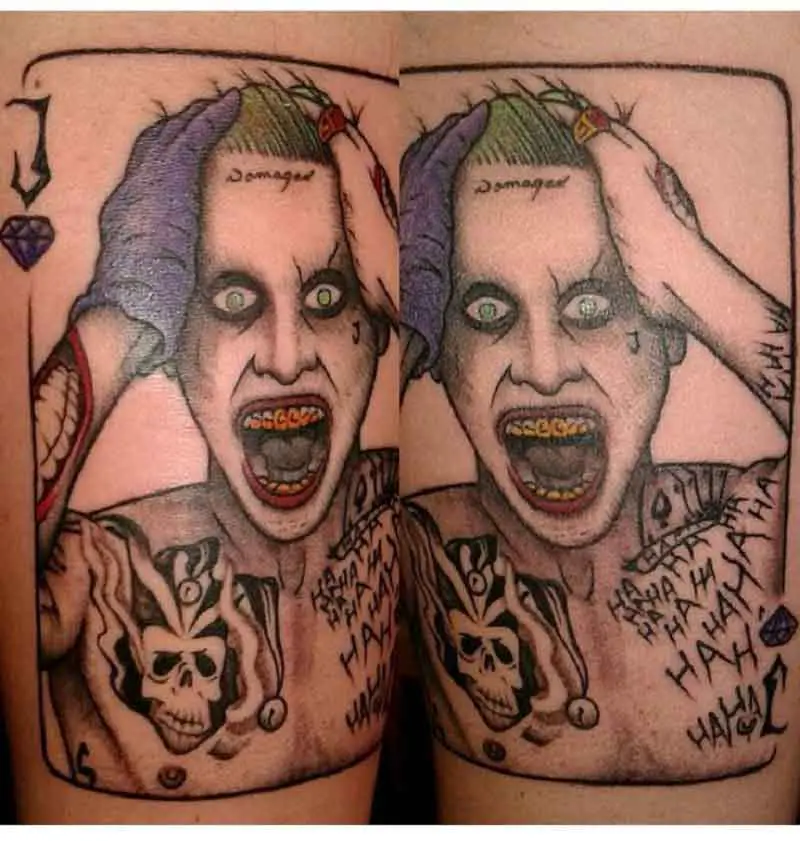 Were you looking for a Jared Leto Joker card up there? Don't worry because we have got one for you right in this section with the iconic word 'damaged' tattooed on his forehead.
21. Realistic Damaged Joker Tattoo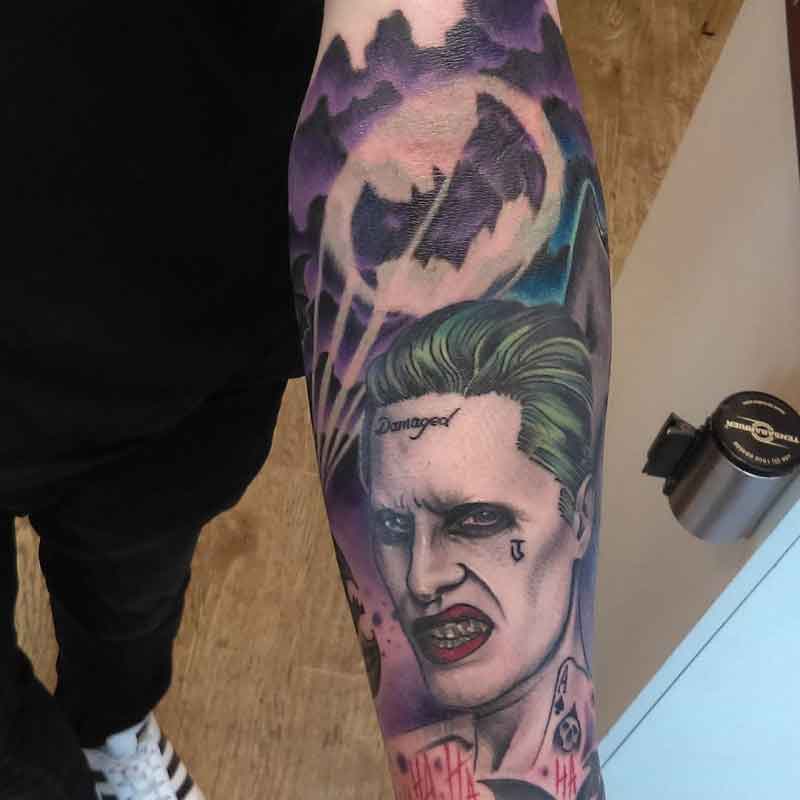 The smirk, the stare, the swag of his hair, and the 'damaged' word, everything in this tattoo is to die for! We are sure that you are awestruck by the beauty of this arm tattoo!
Joker Forearm Tattoo
Joker tattoos are timeless and have been around for ages now. They look great everywhere but one very popular spot is the forearm. Check out all the cool Joker forearm tattoos that we have gathered for you below!
22. Comics Joker Forearm Tattoo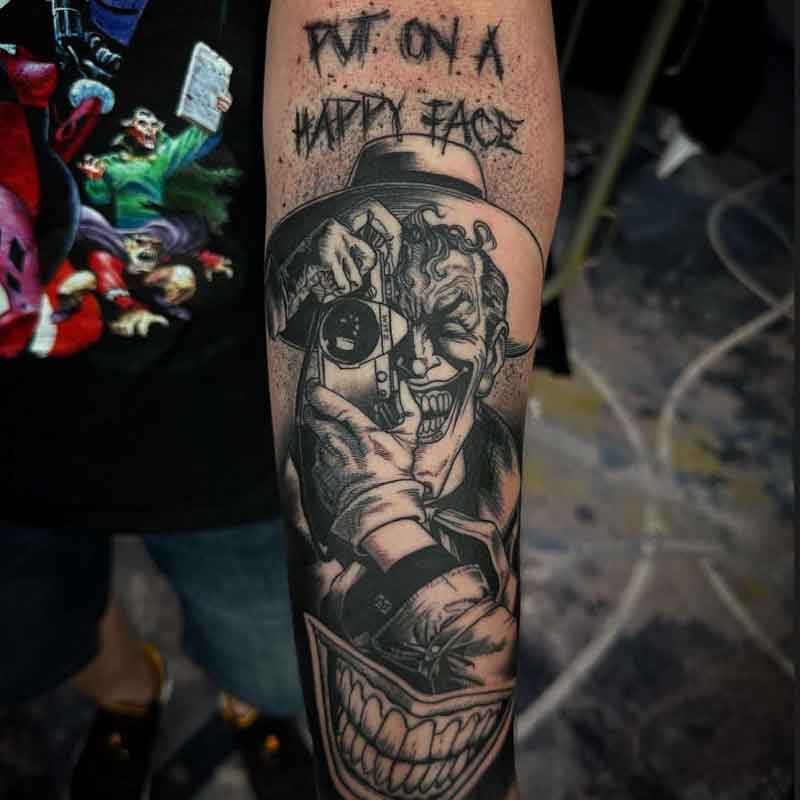 Joker is directly out of the comic books! If you are a 90s kid like us then you are certainly familiar with this version of the Joker. You would be a legend if you got this tattoo!
23. Heath Ledger Joker Forearm Tattoo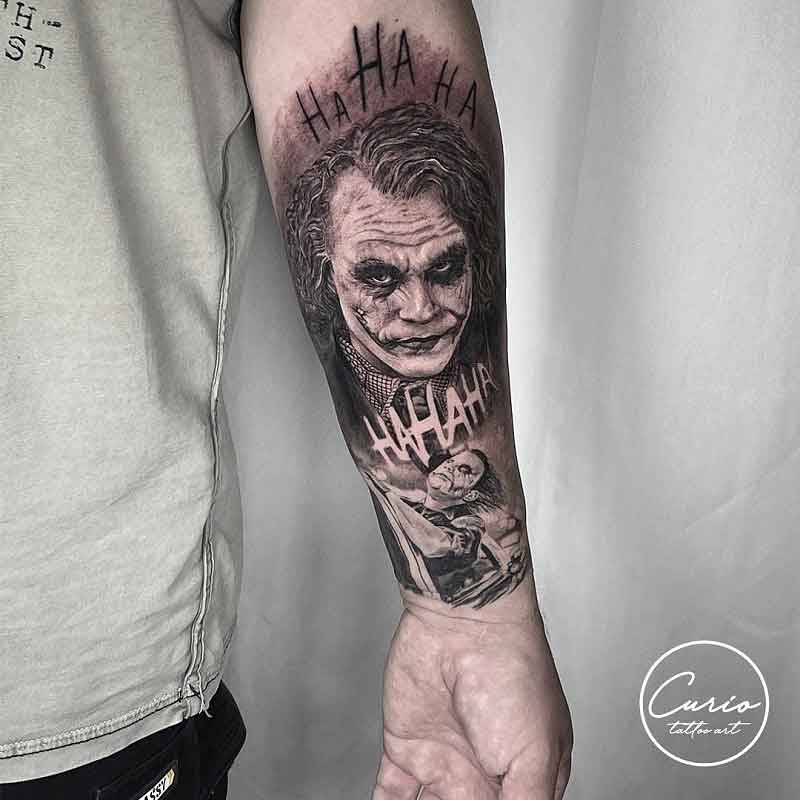 The death stare is not only scary for Batman but also for your rivals when they look at this tattoo on your forearm. We can't seem to keep our eyes shut with this tattoo in front.
24. Heath Ledger Joker Tattoo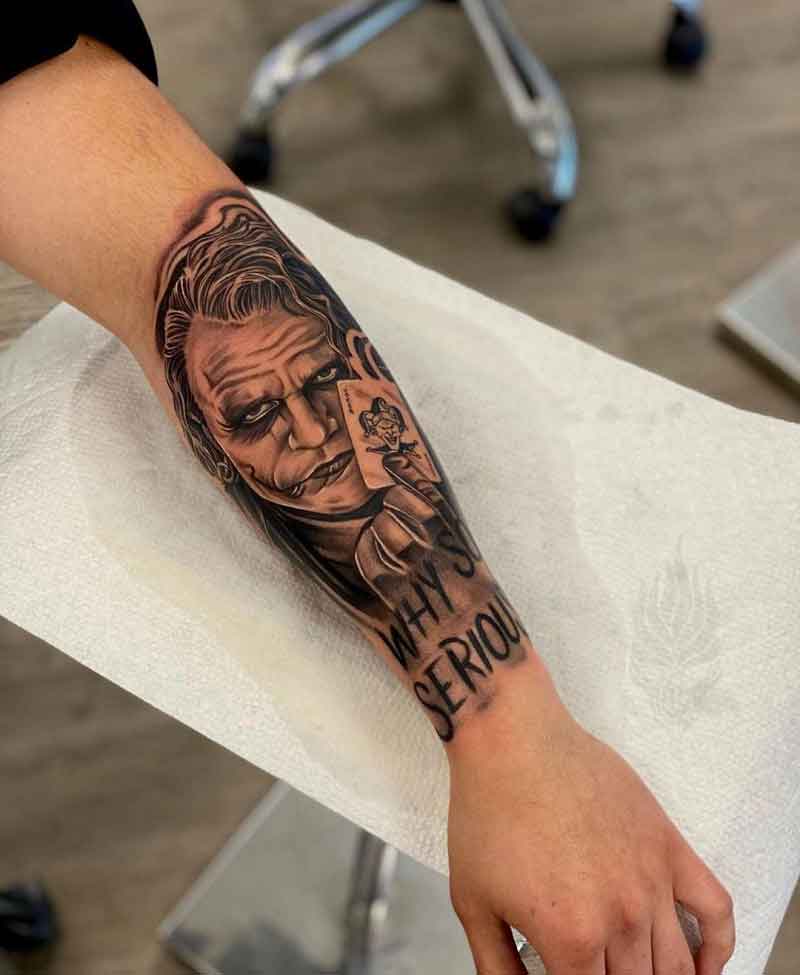 Another version of the iconic recreation of Heath Ledger's Joker holding a card. Due to the addition of more shades, this tattoo gets to have a lot of depth in it.
Killer Joker Tattoo
Joker despises all humans and he is certainly not someone you would want to have around you. He is a killer and mass murderer and won't mind killing people for a second. Check out these terrifying killer Joker tattoo designs that we have accumulated for you.
25. Joker Comic Art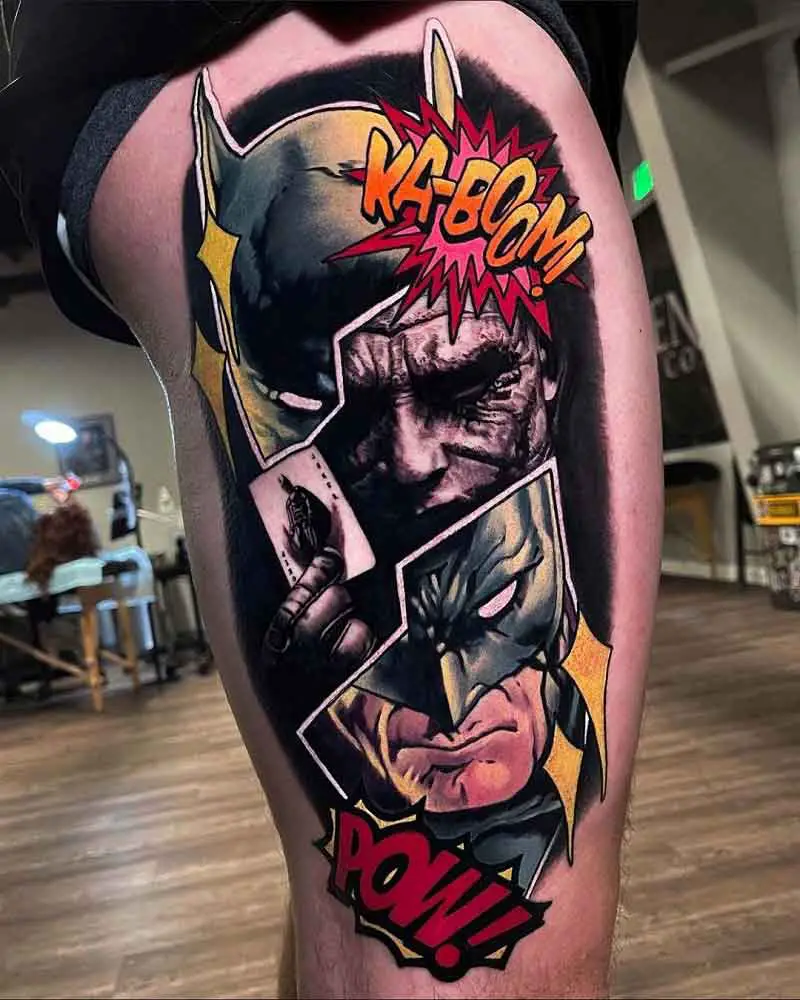 A modern Joker comic art tattoo on the thigh for you. All you can see is darkness in the middle because that's what the Joker is, a Harbinger of evil!
26.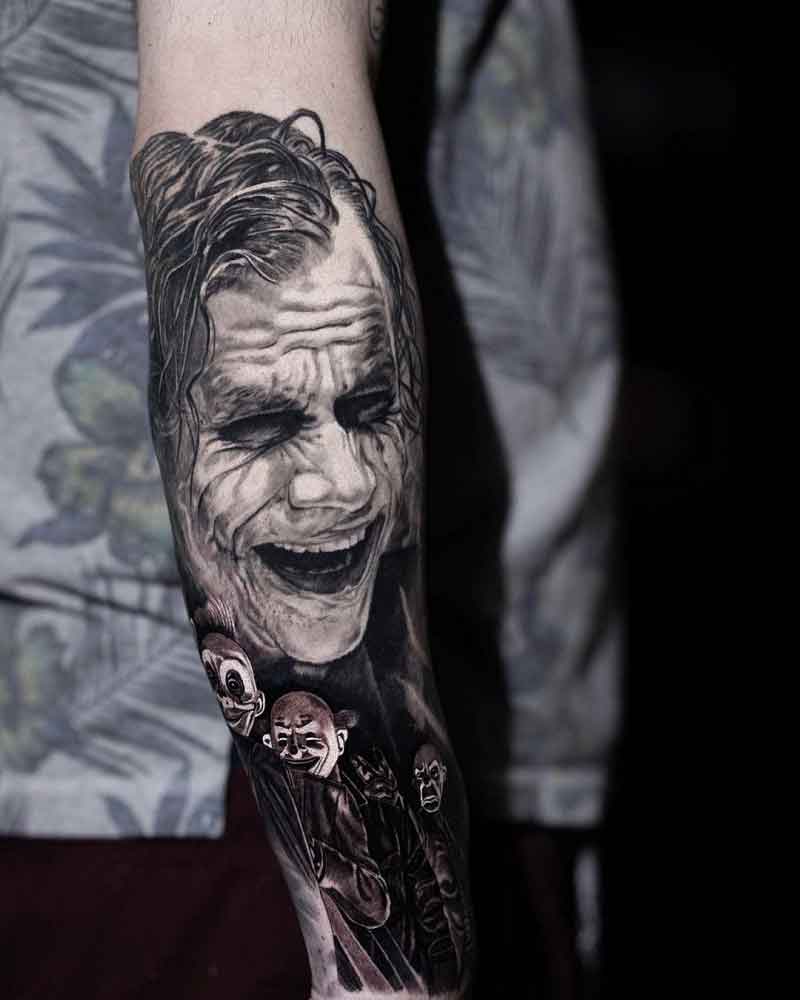 27.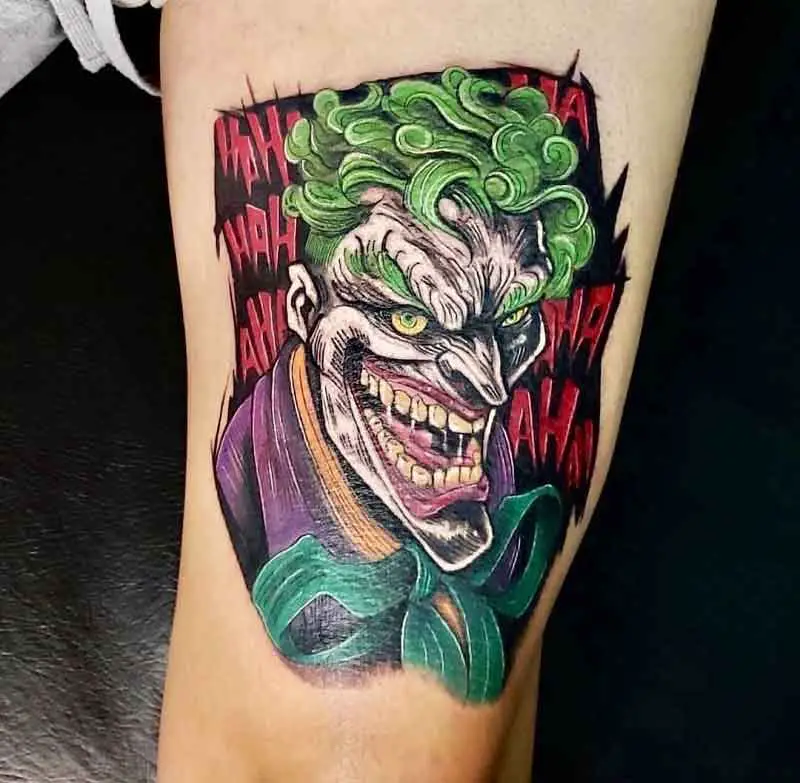 Dark Knight Joker Tattoo
28.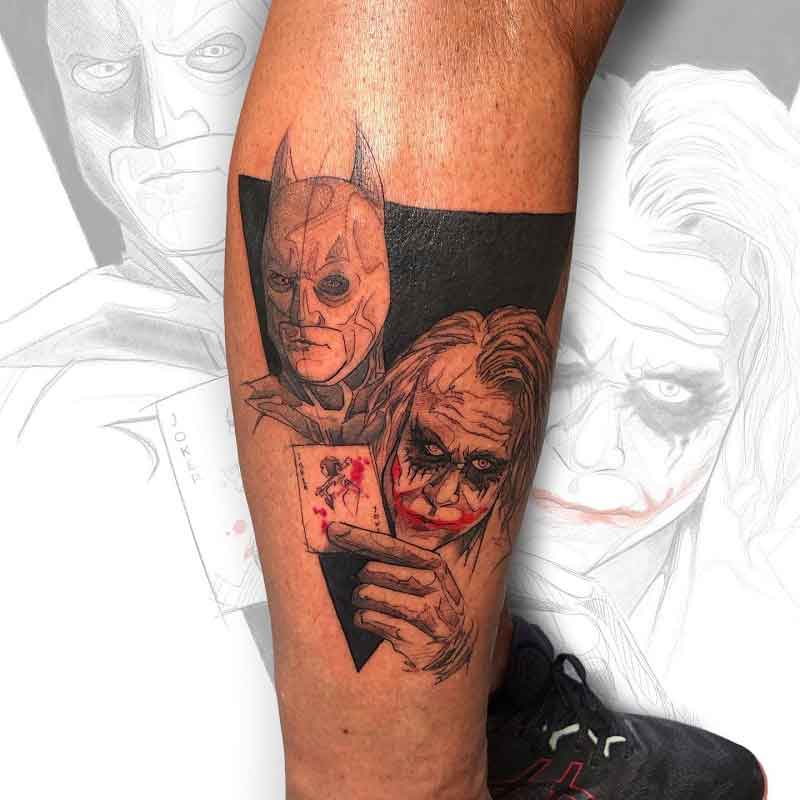 29.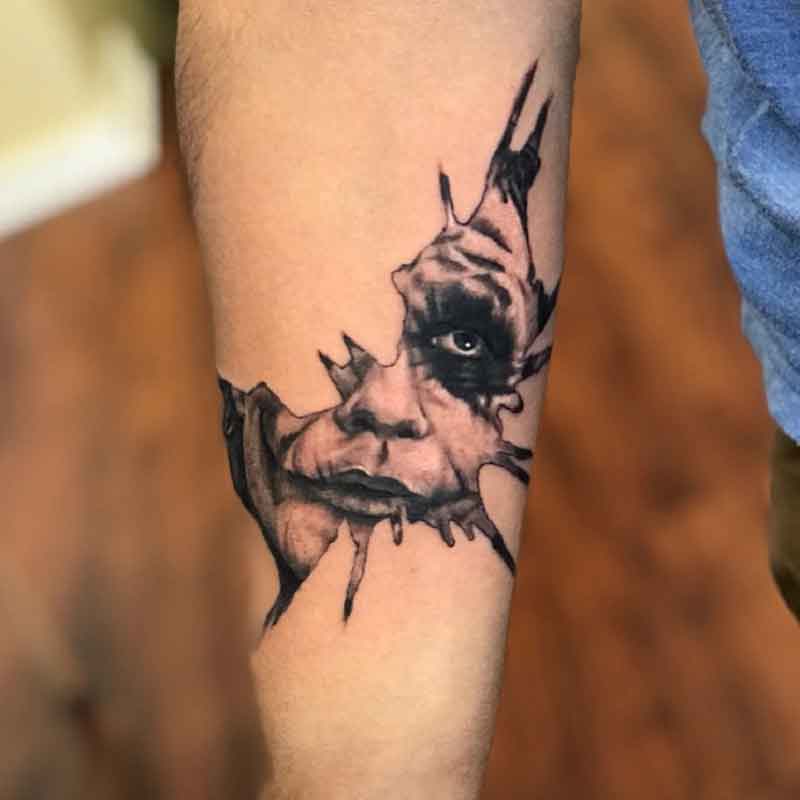 30.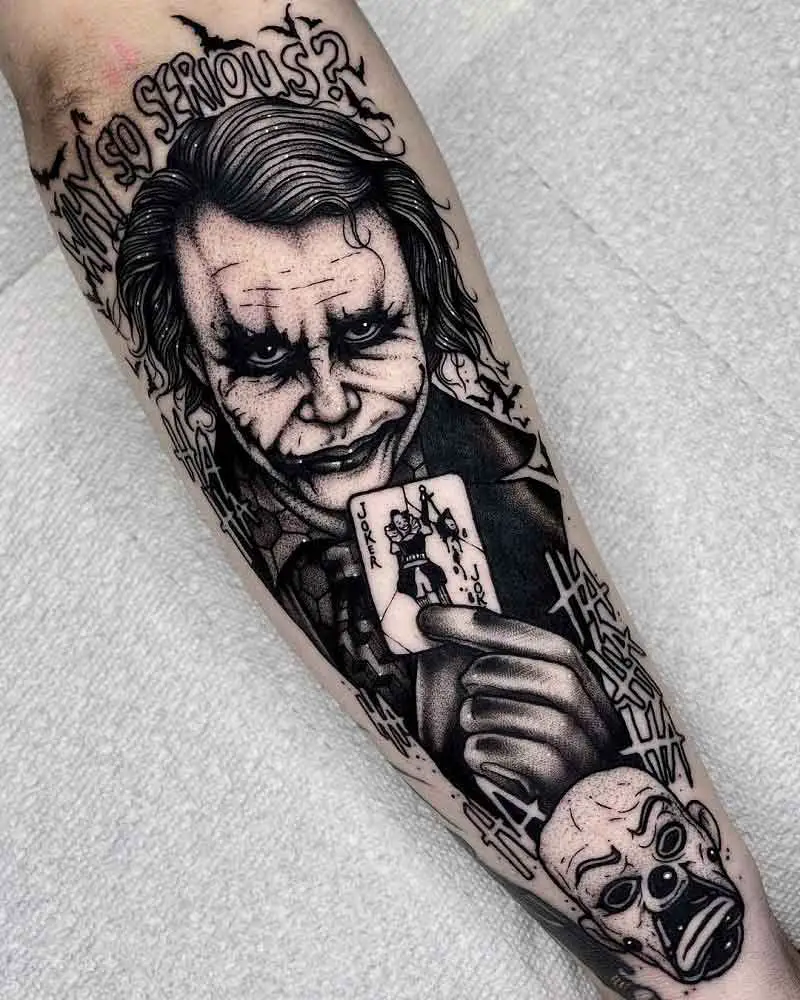 Joker Mouth Tattoo
31.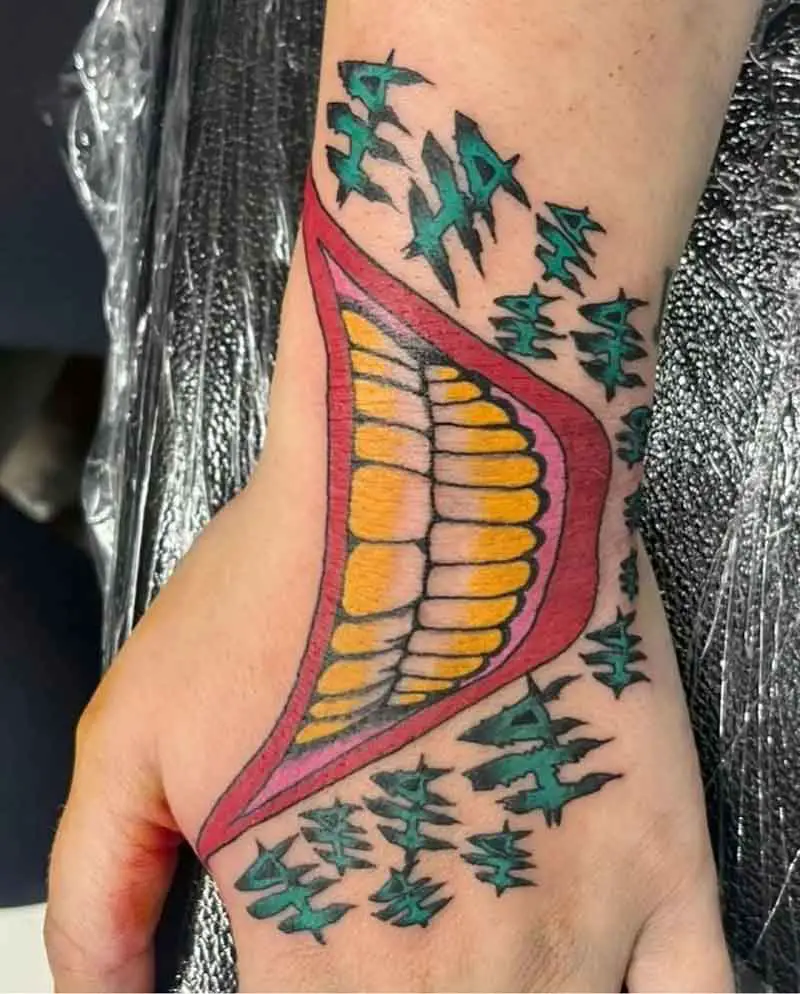 32.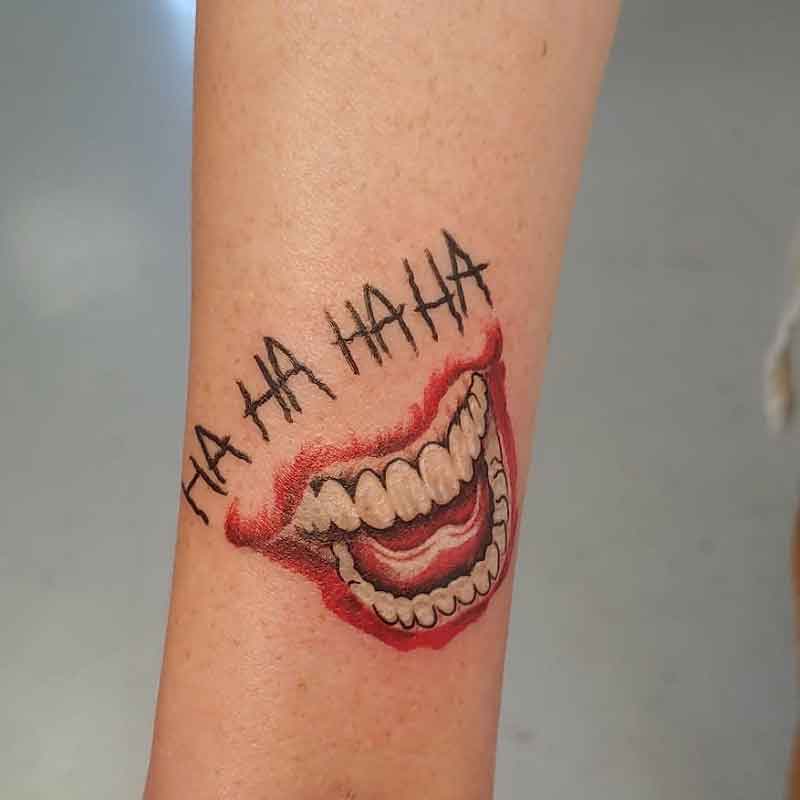 33.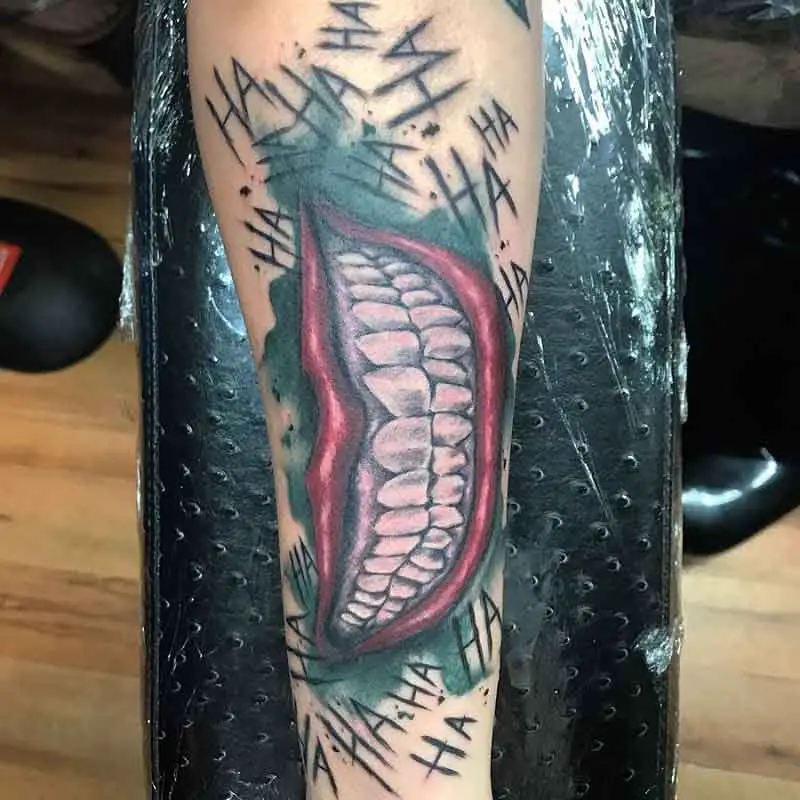 Joker Skull Tattoo Designs
34.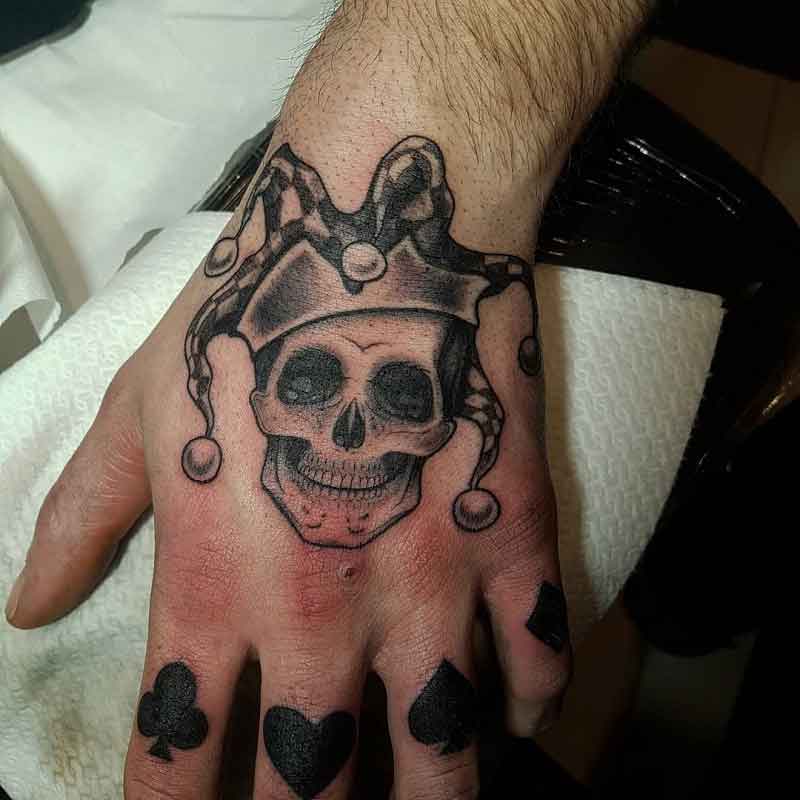 35.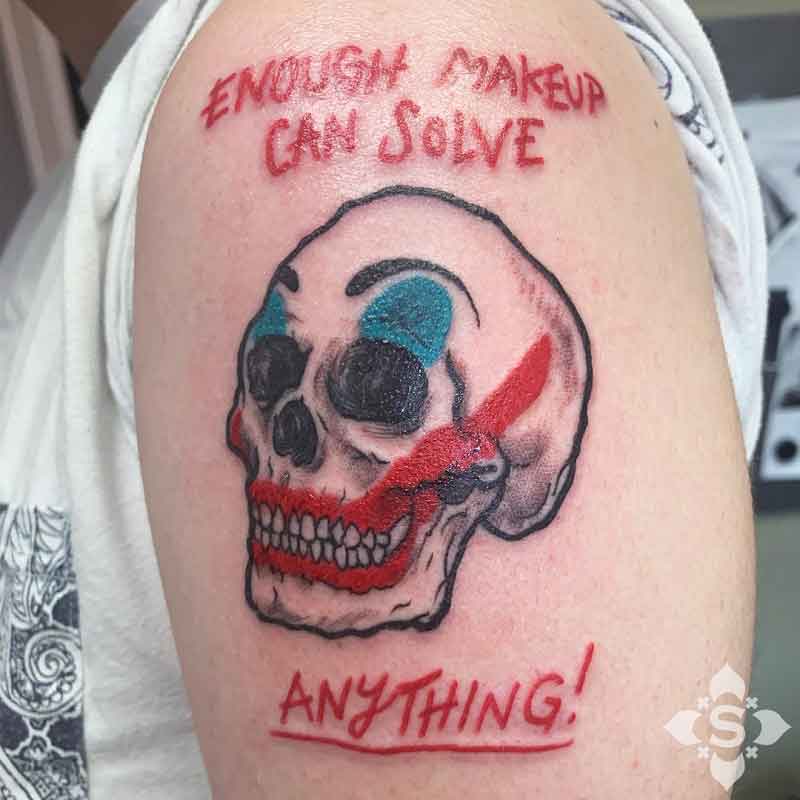 36.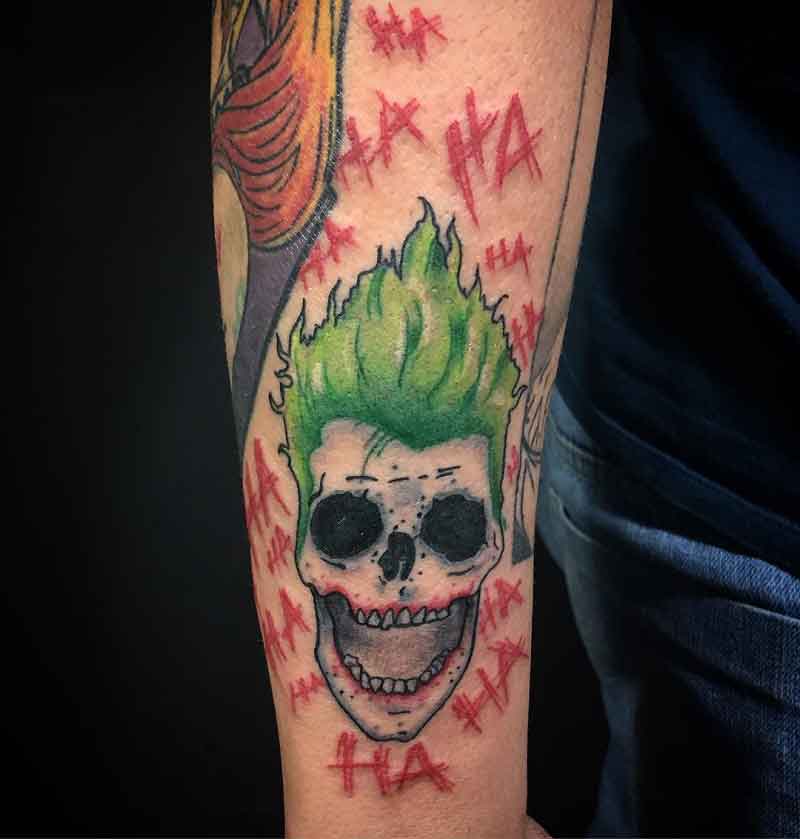 Joker Bank Robber Mask Tattoo
37.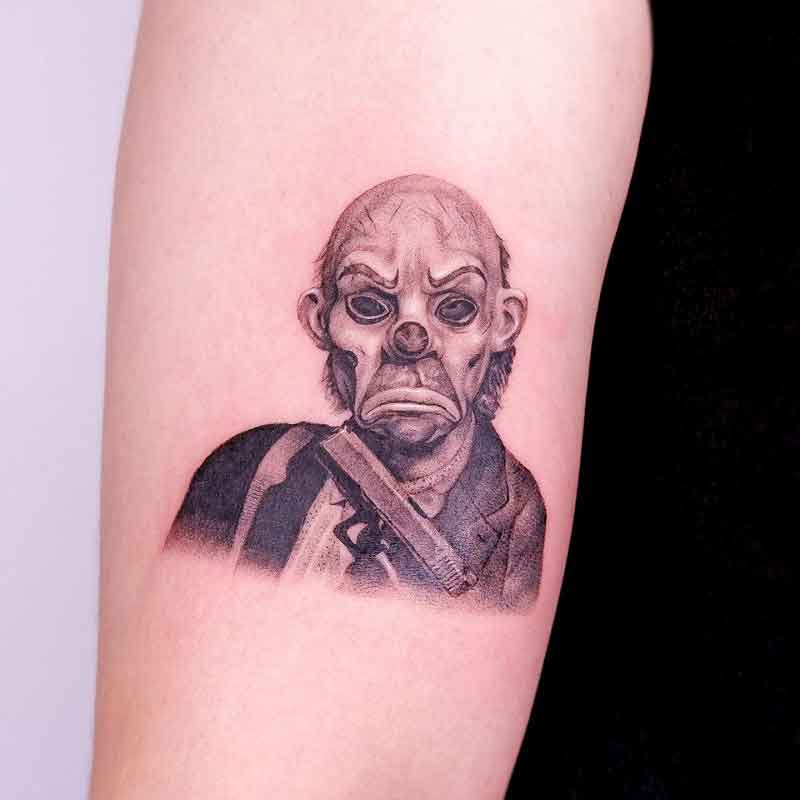 38.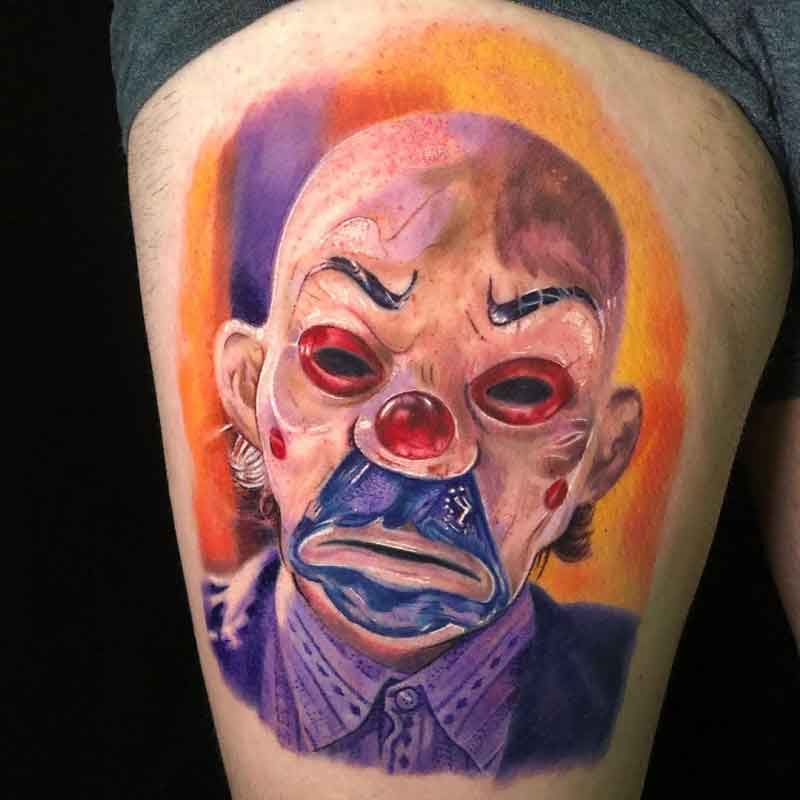 39.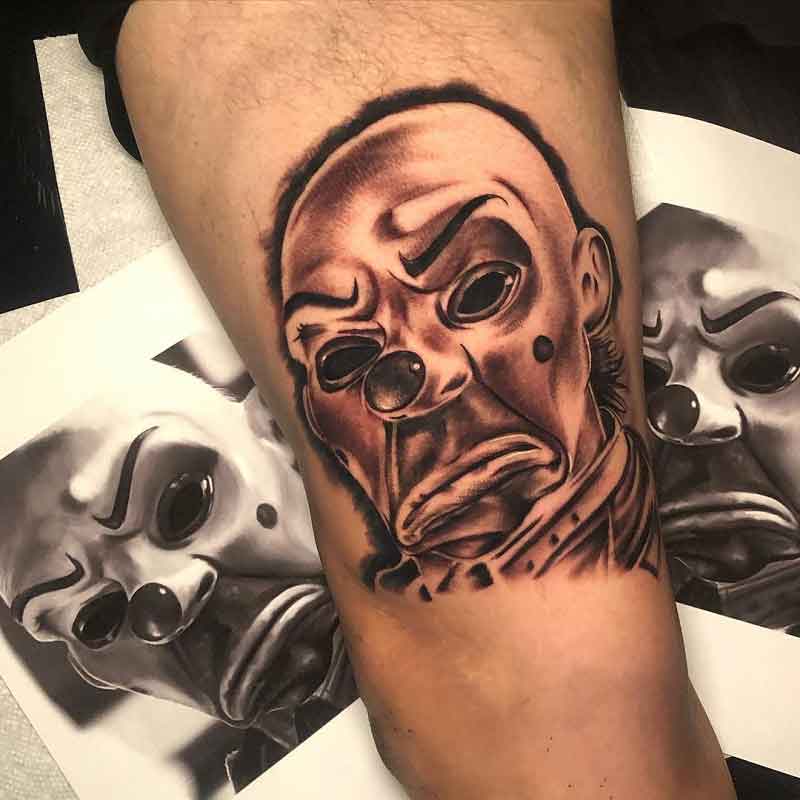 Joker Leg Tattoo
40.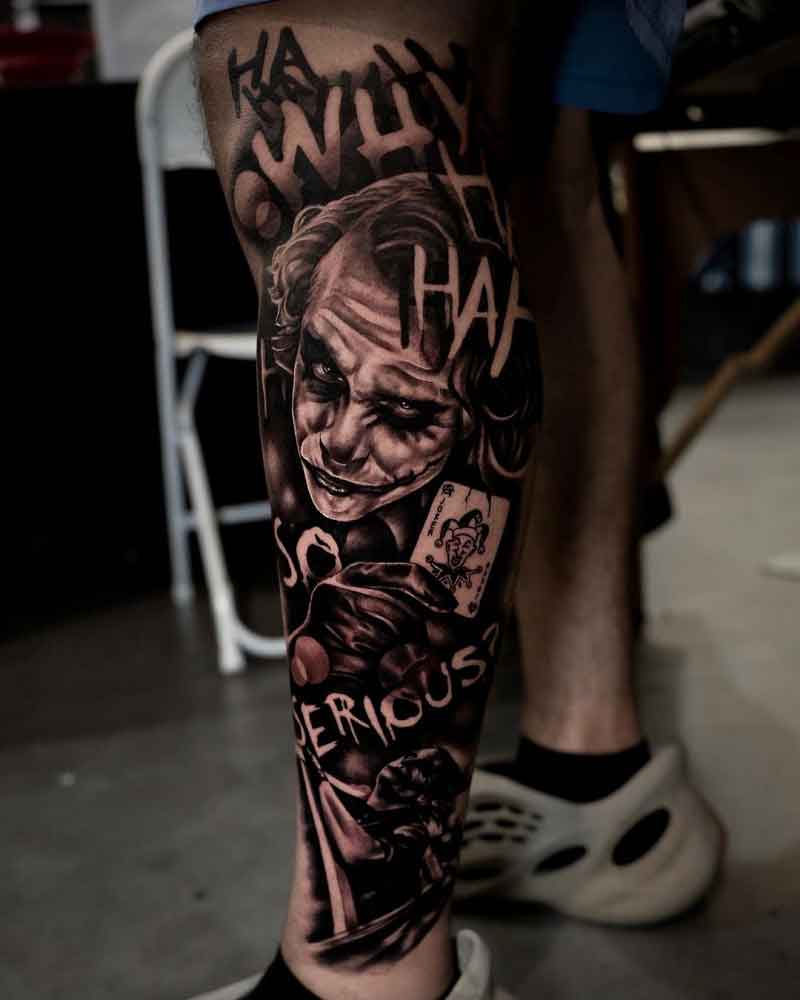 41.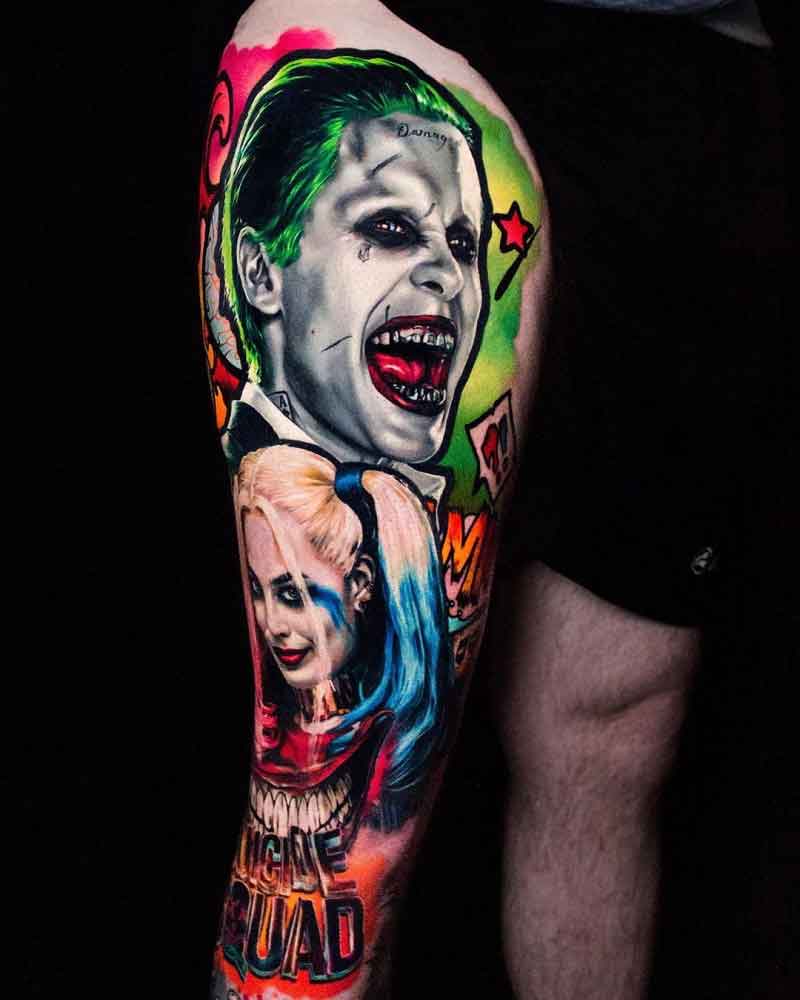 42.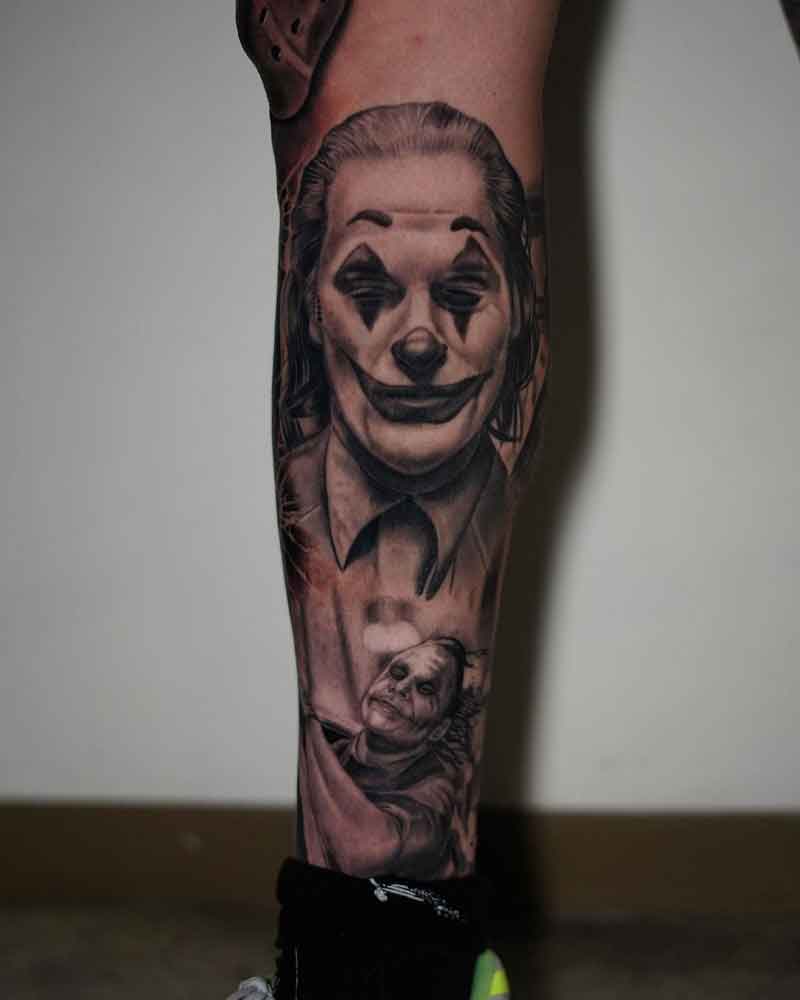 Joker Neck Tattoo
43.
44.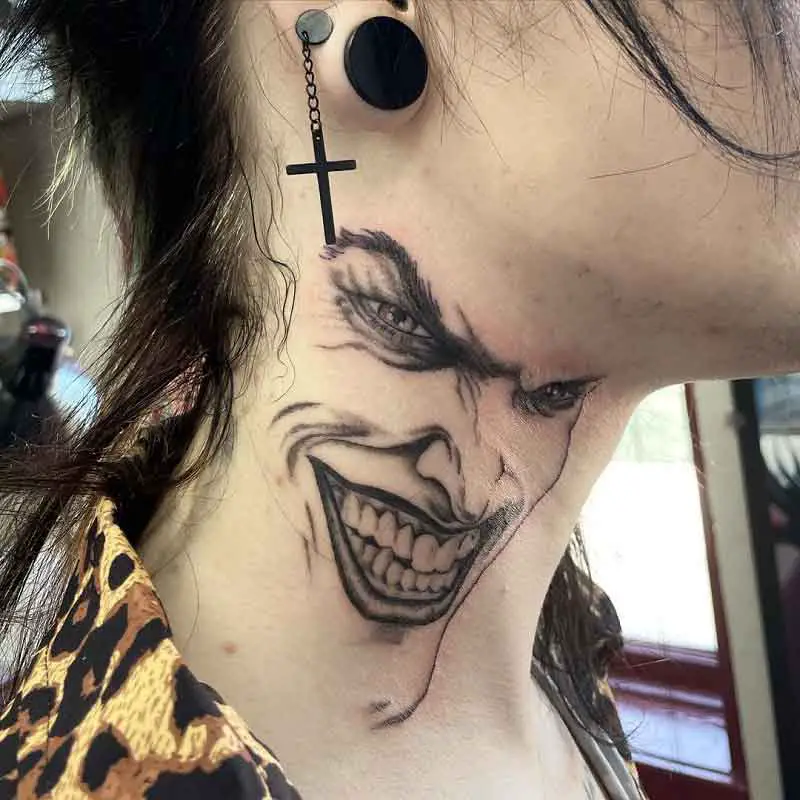 45.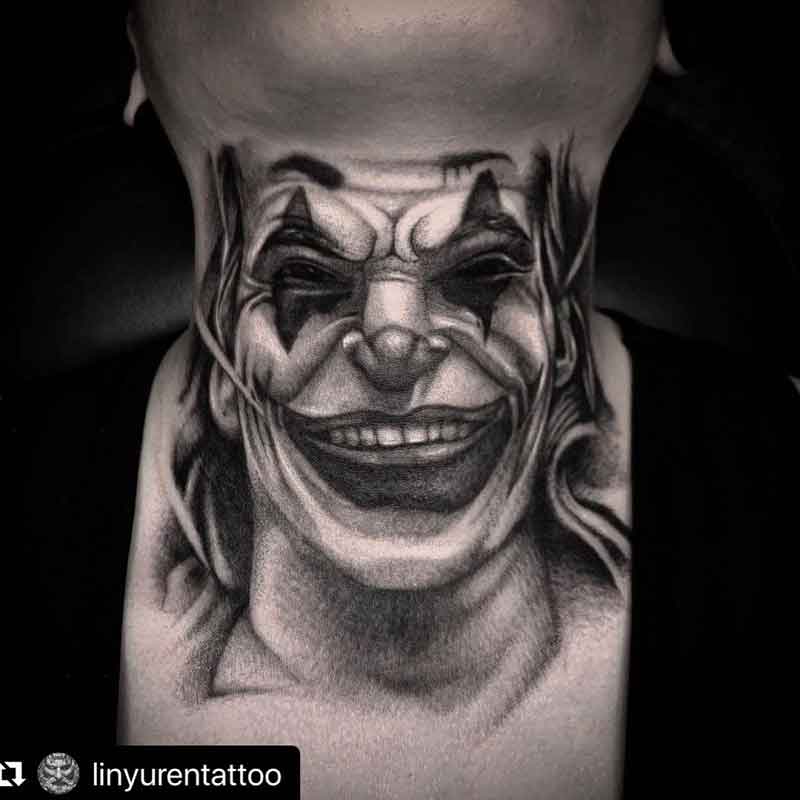 Traditional Joker Card Tattoo
46.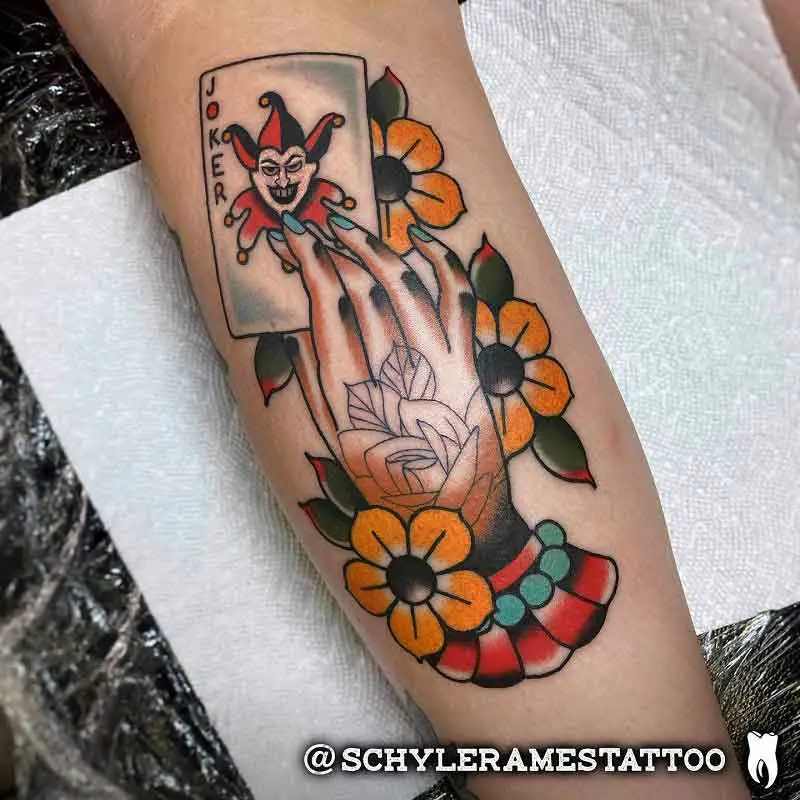 47.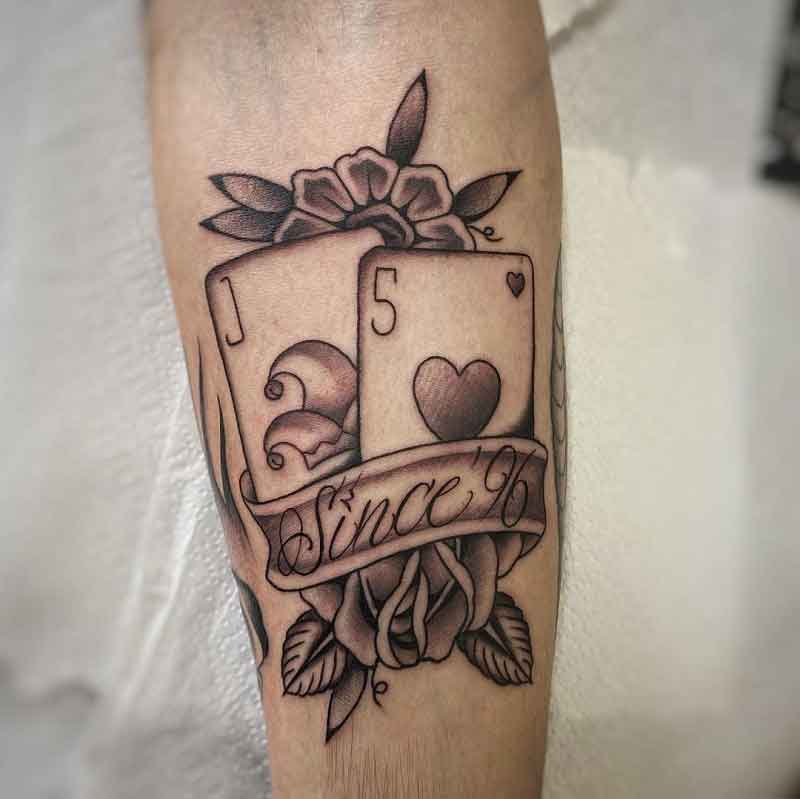 48.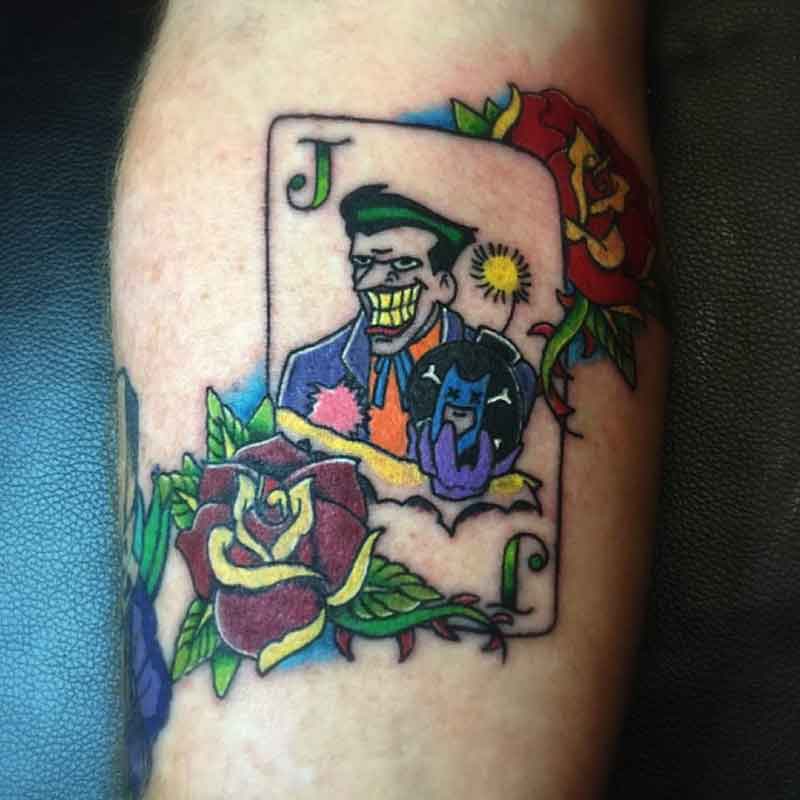 Joaquin Phoenix Joker Tattoo
49.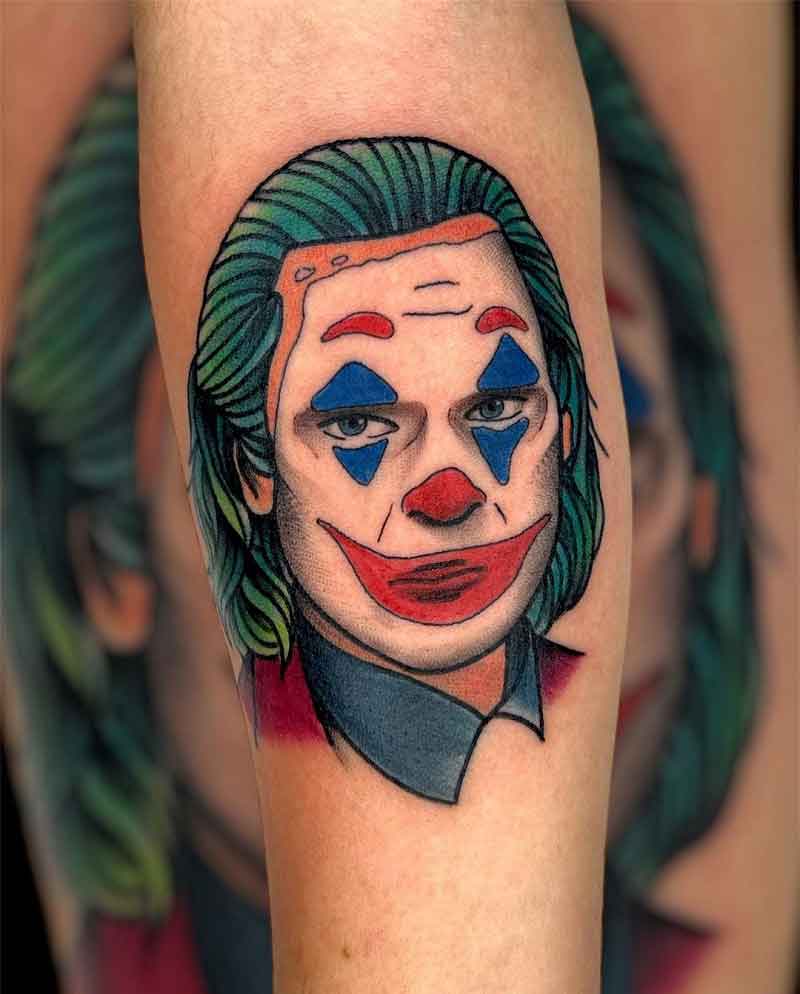 50.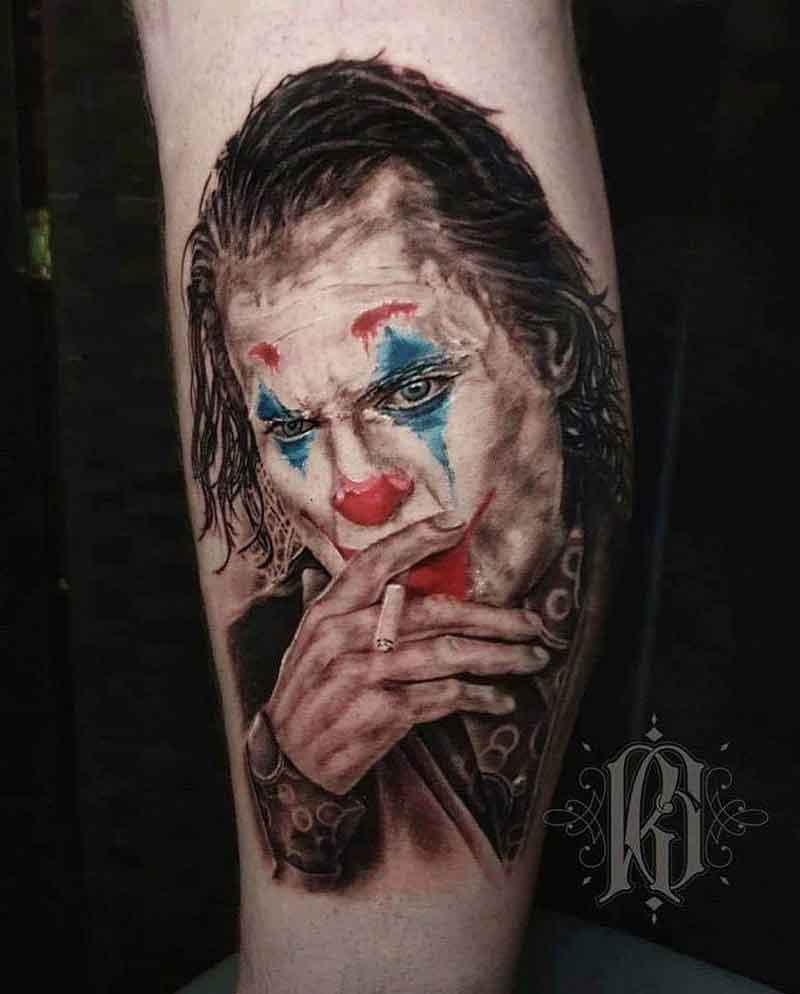 51.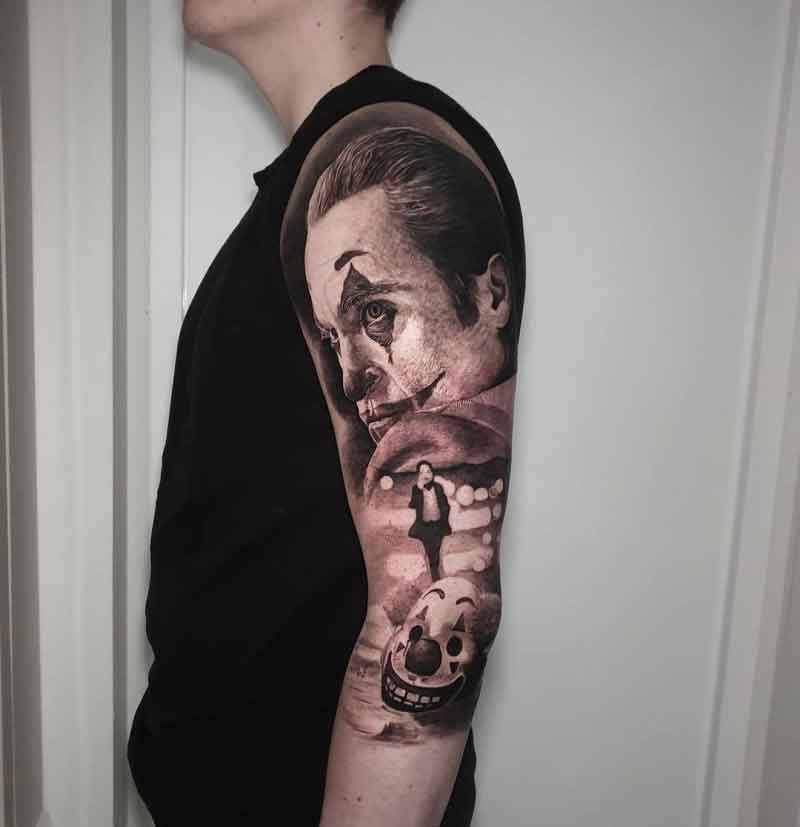 Cartoon Joker Tattoo
52.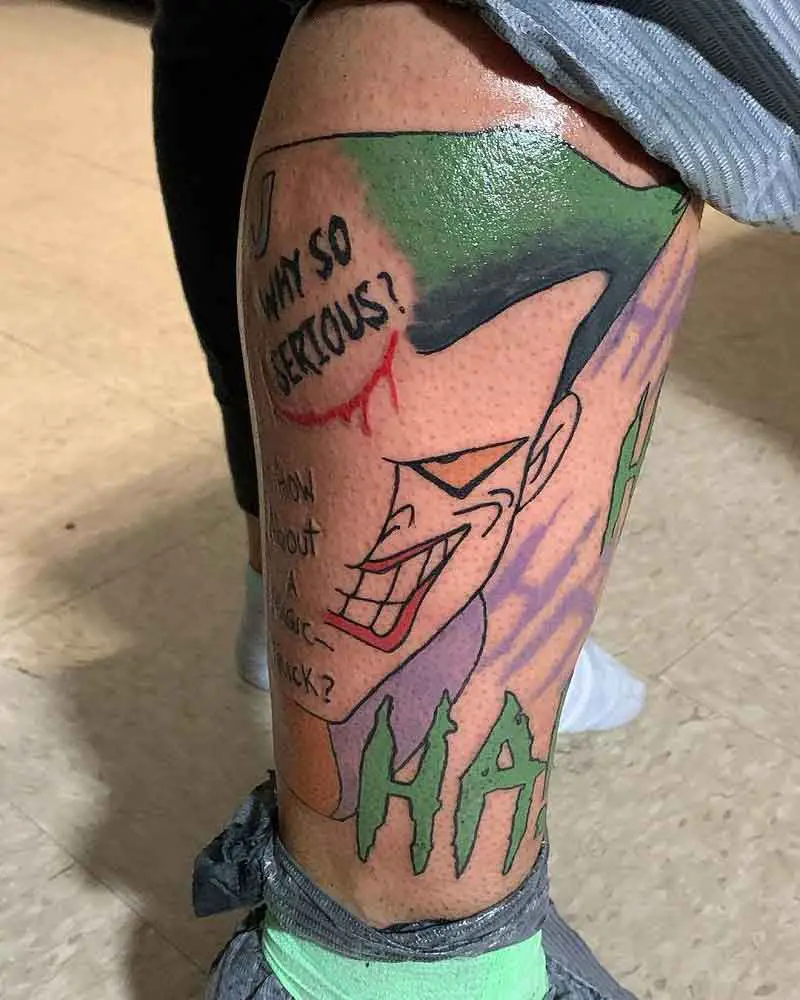 53.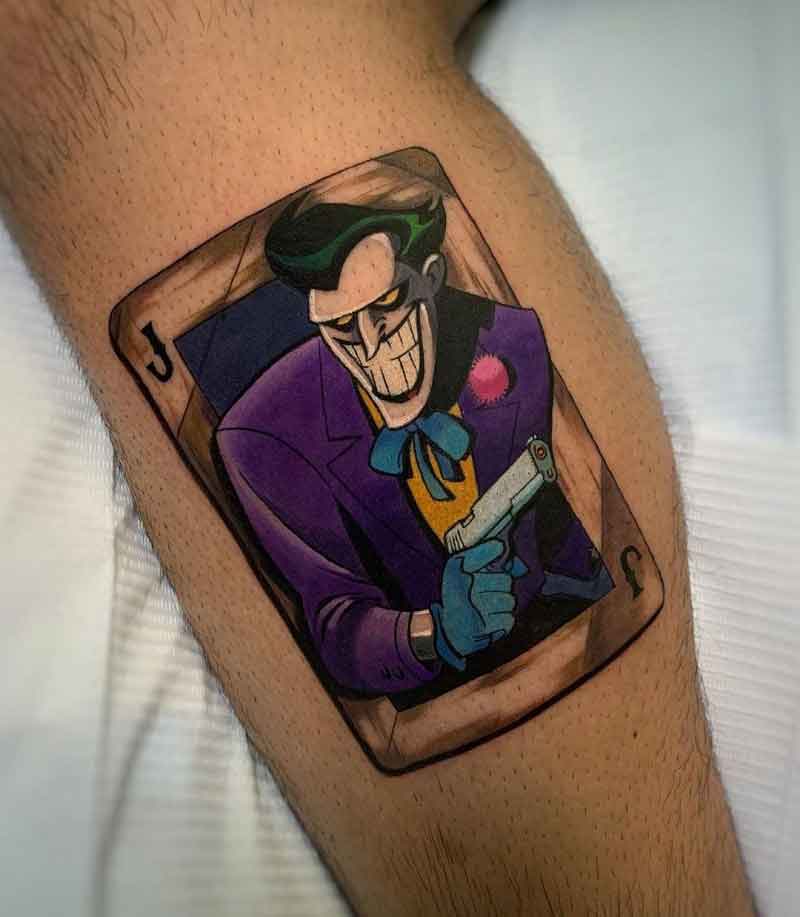 54.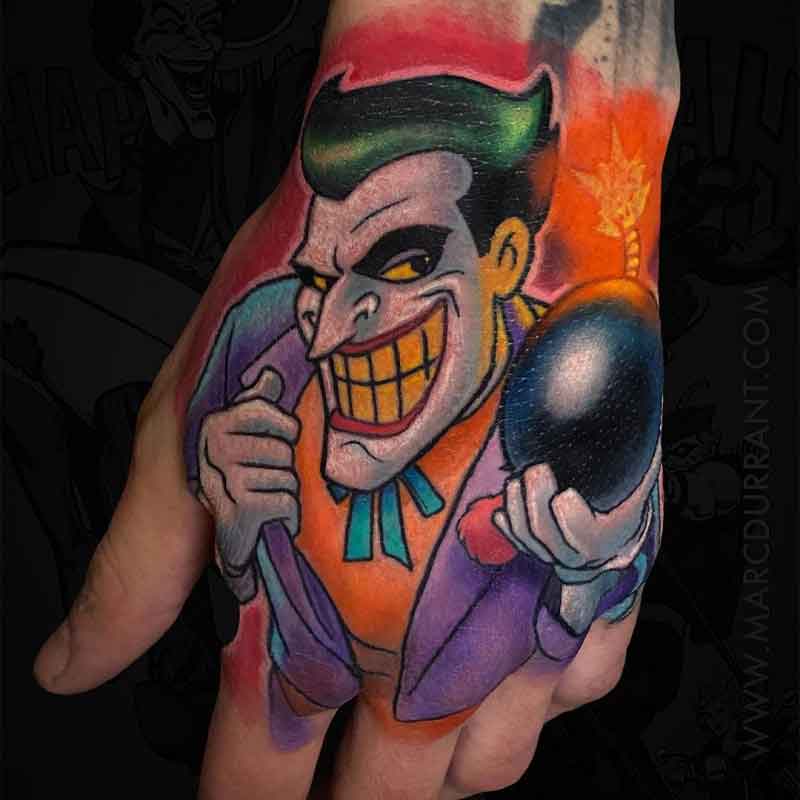 Evil Joker Tattoo
55.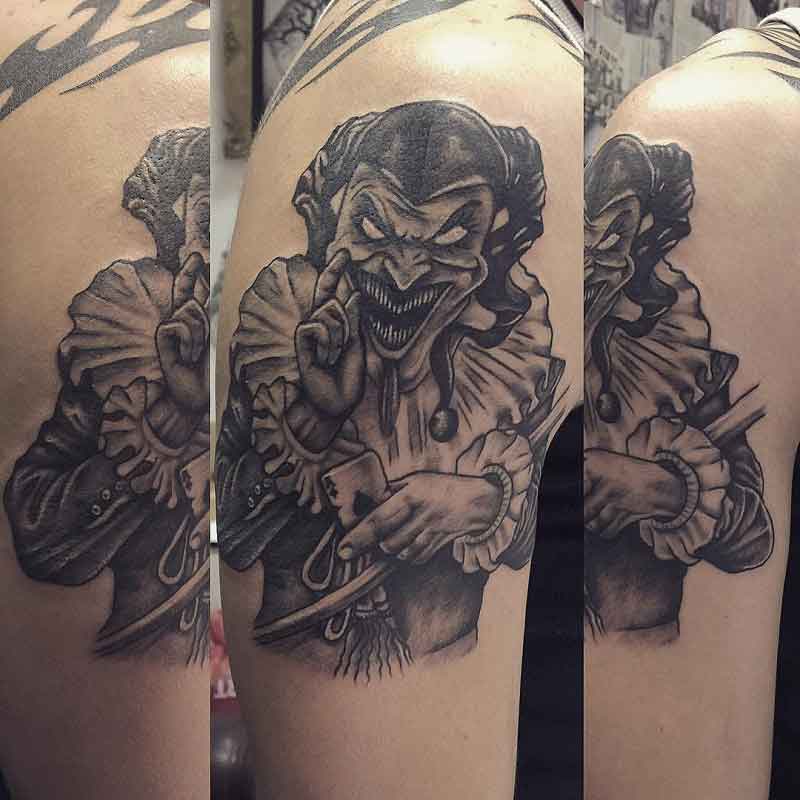 56.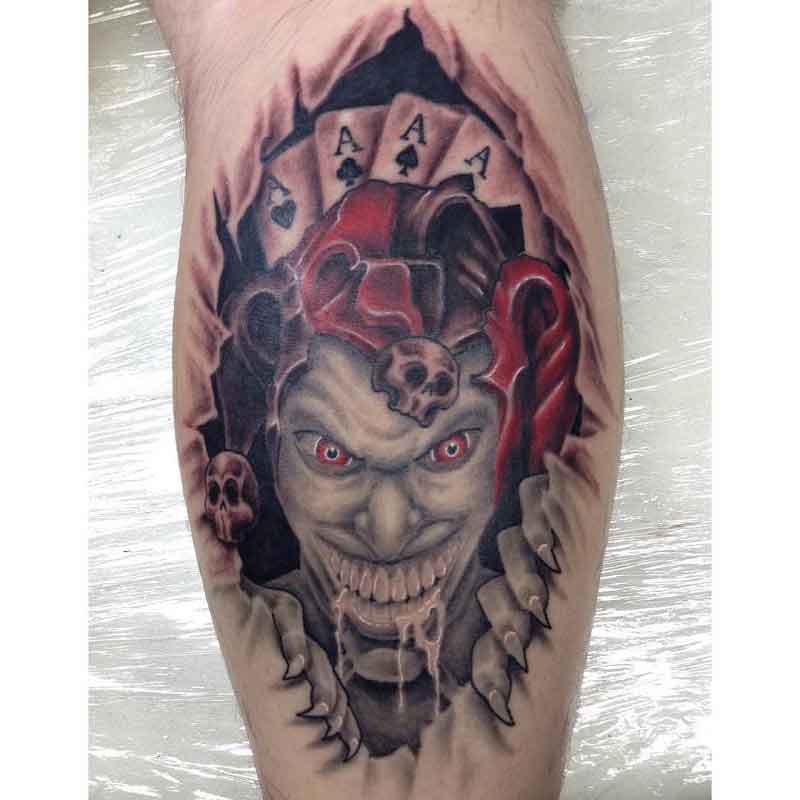 57.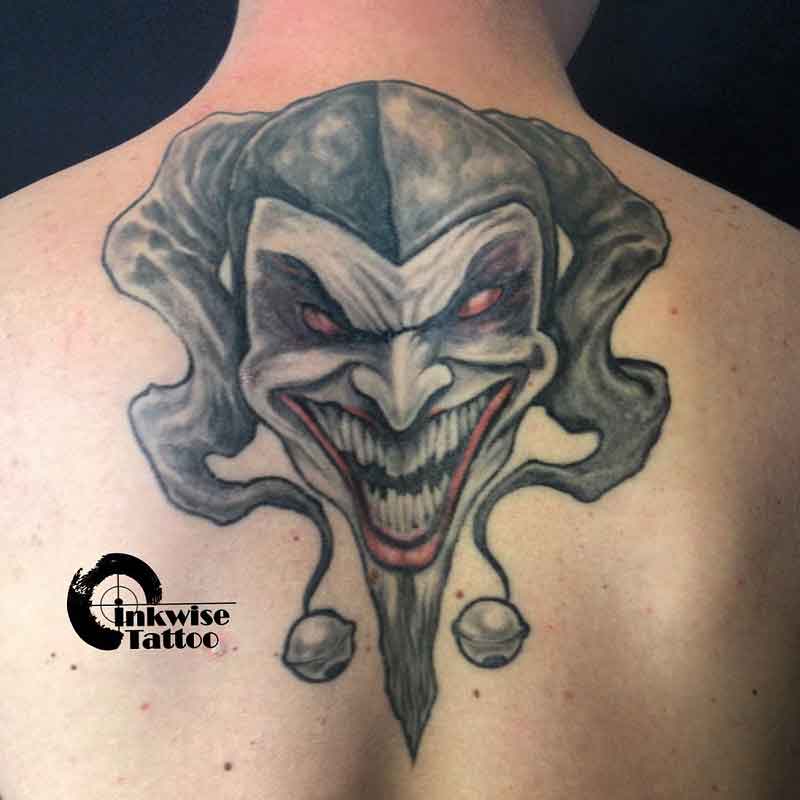 Joker Clown Tattoo
58.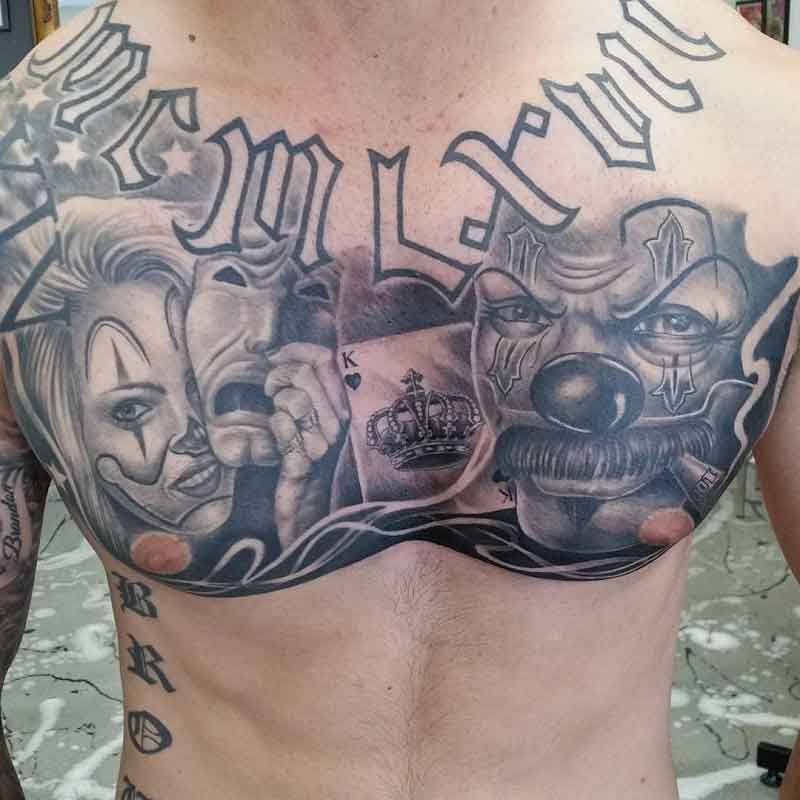 59.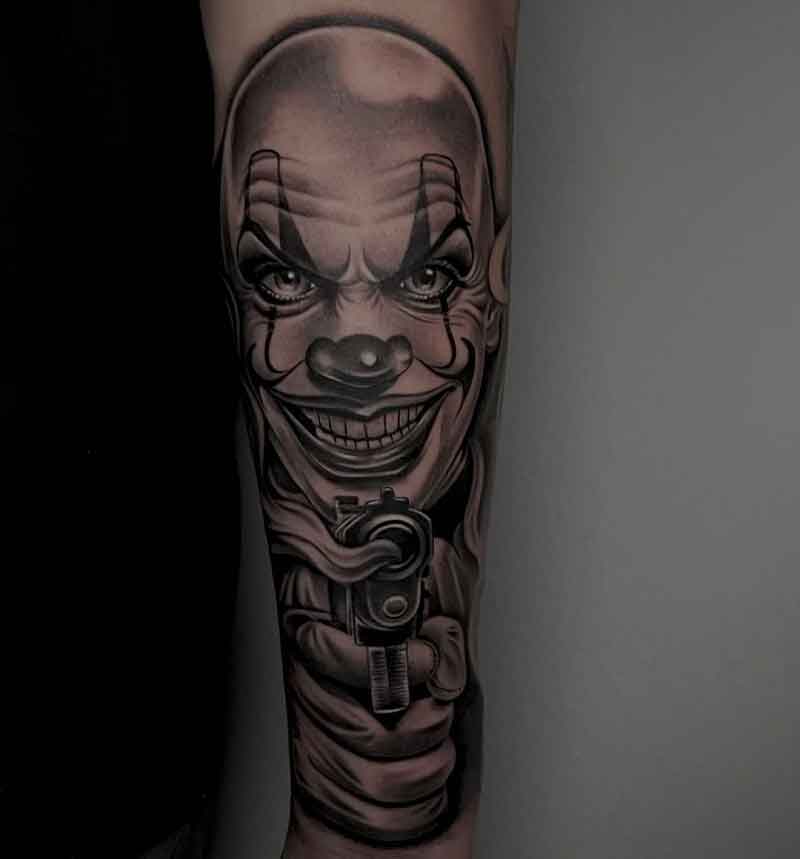 60.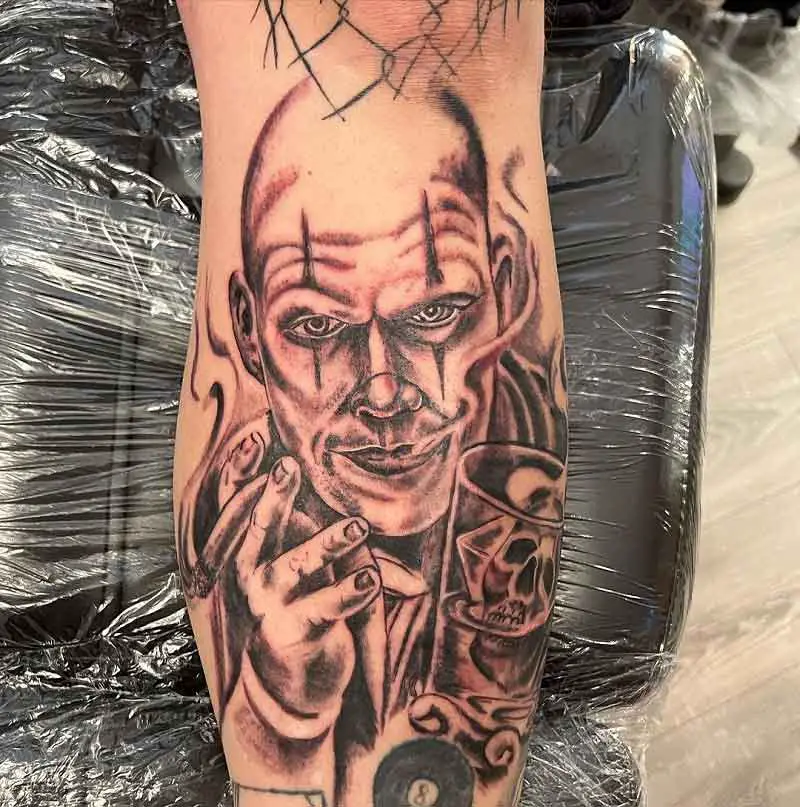 Joker Inspired Tattoos
61.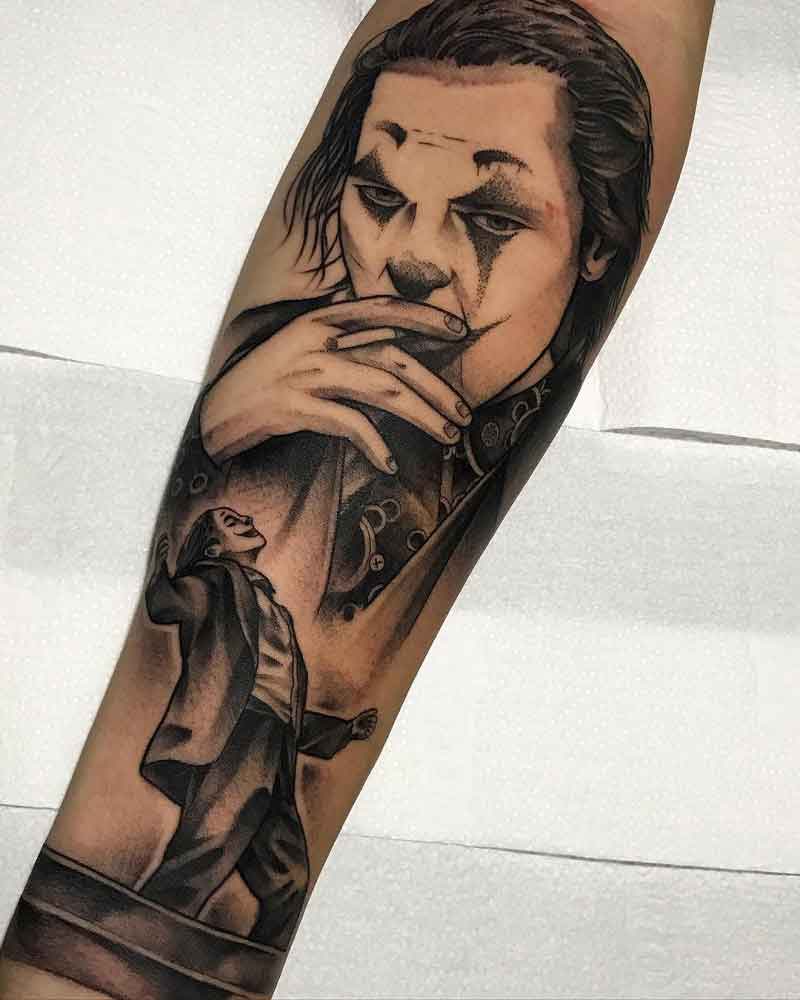 62.
63.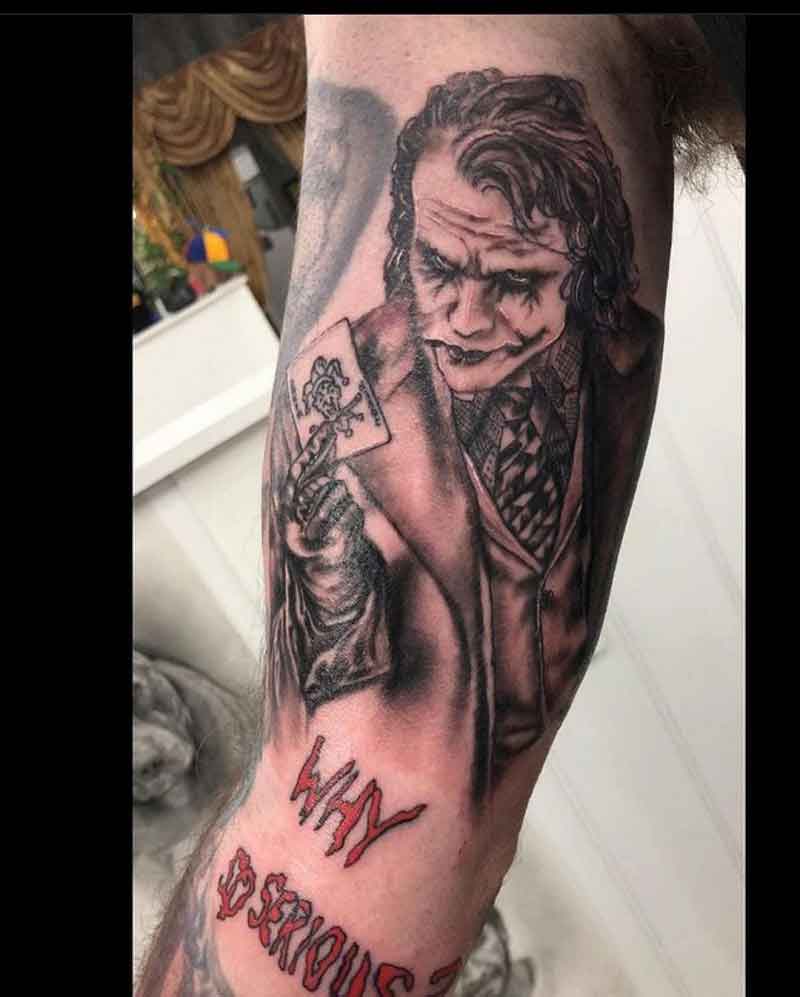 Gangsta Joker Card Tattoo
64.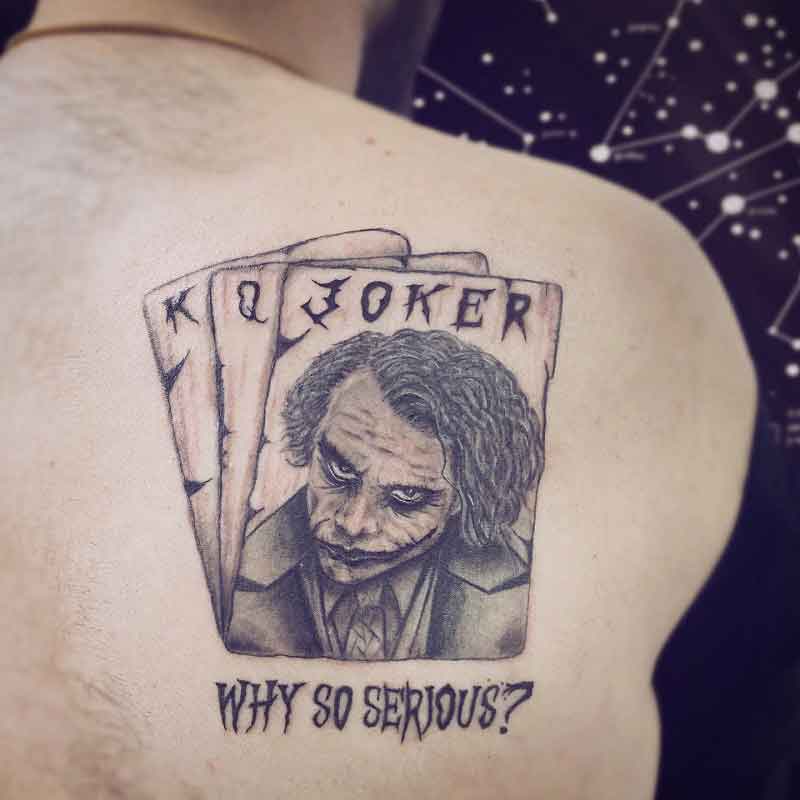 65.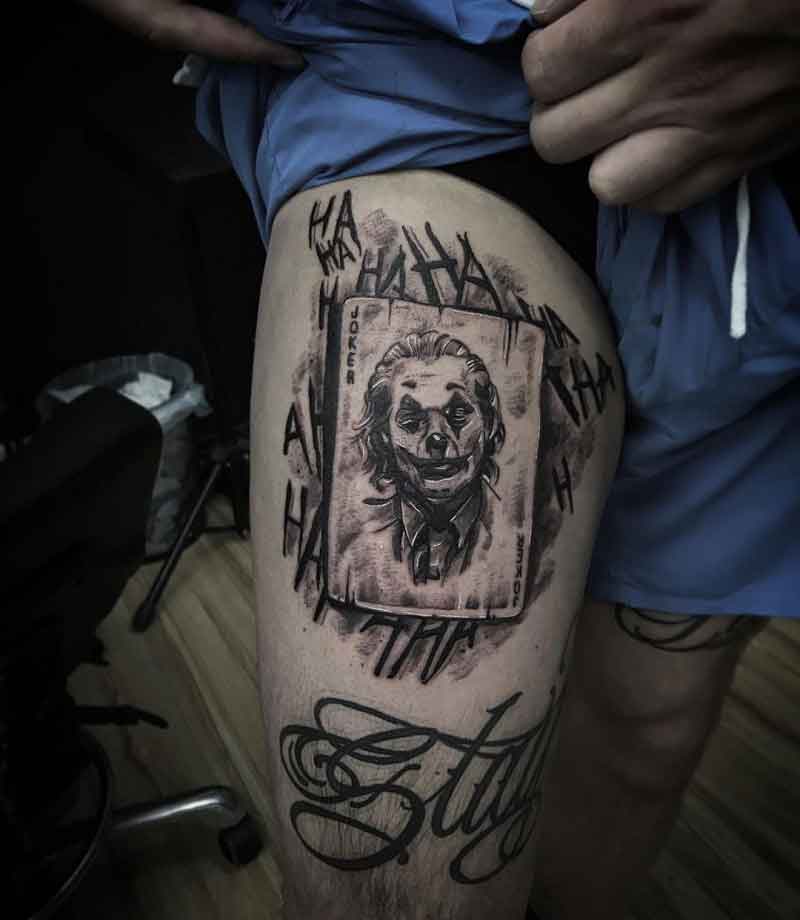 66.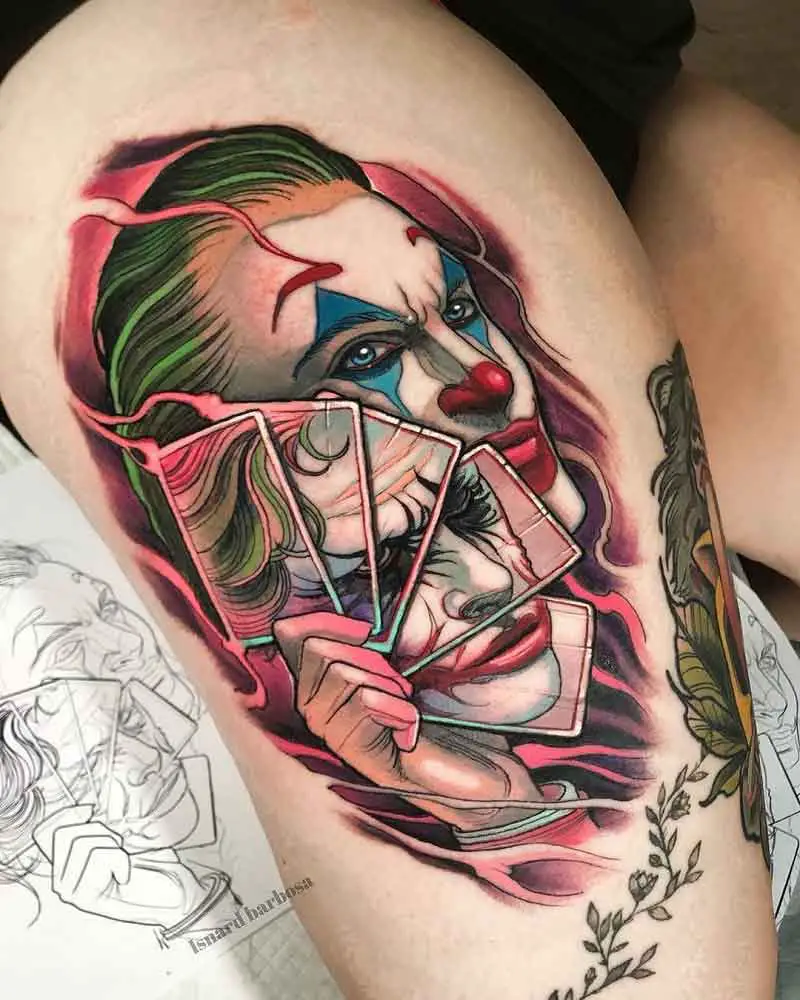 Joker Jester Tattoo
67.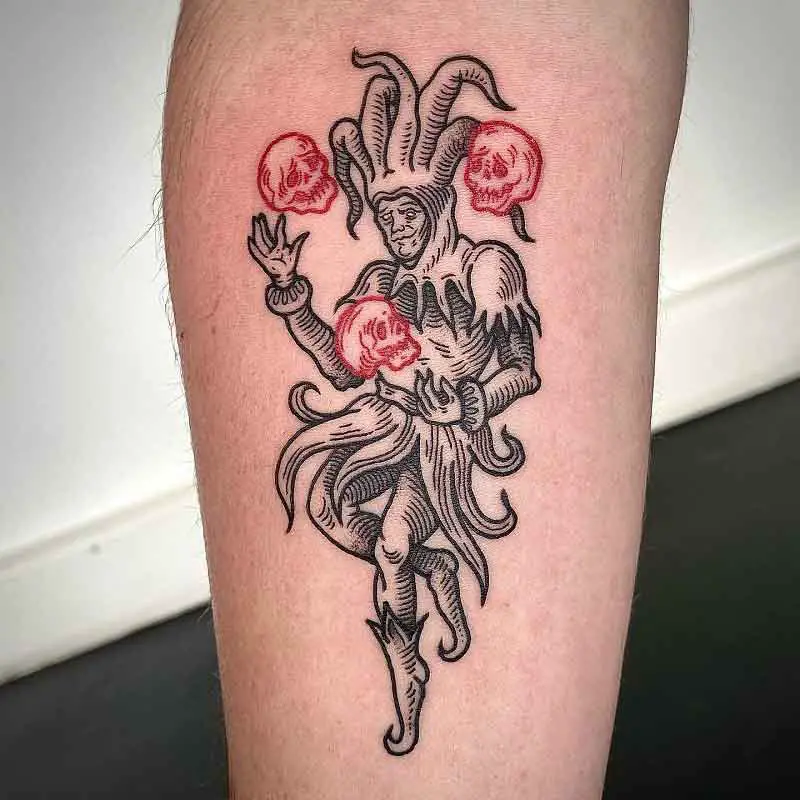 68.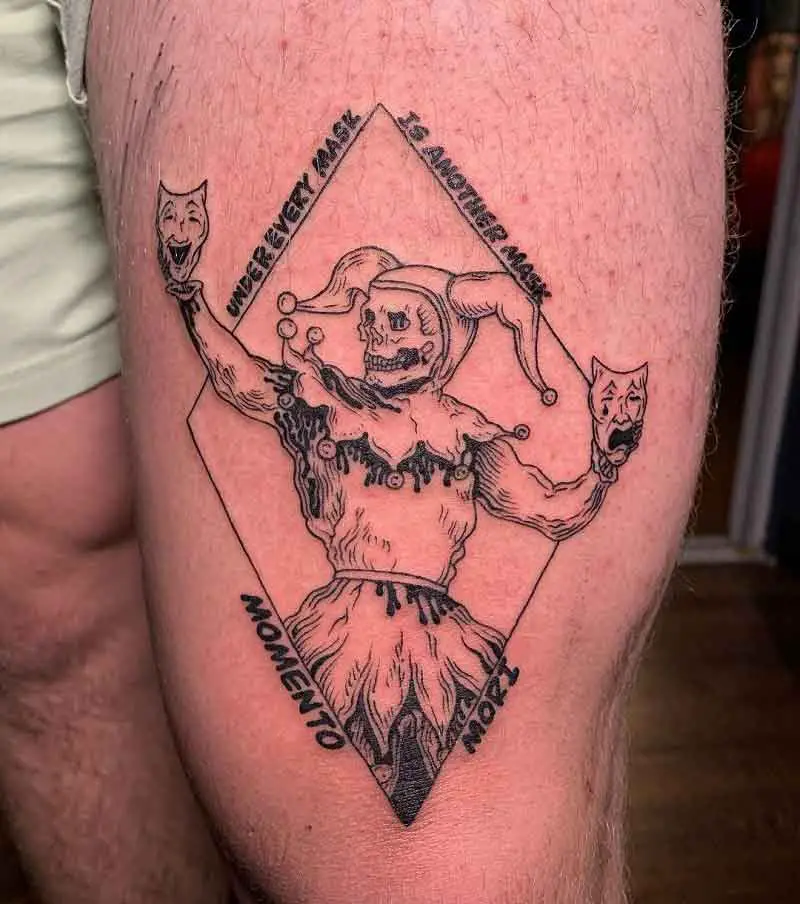 69.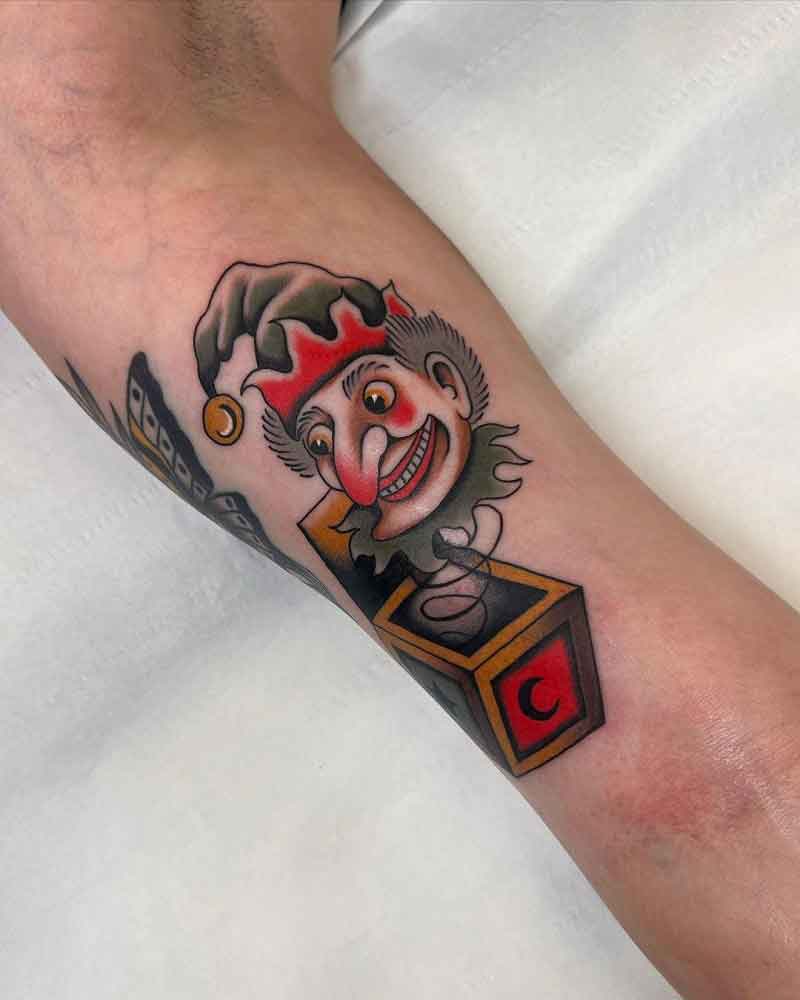 Simple Minimalist Joker Tattoo
70.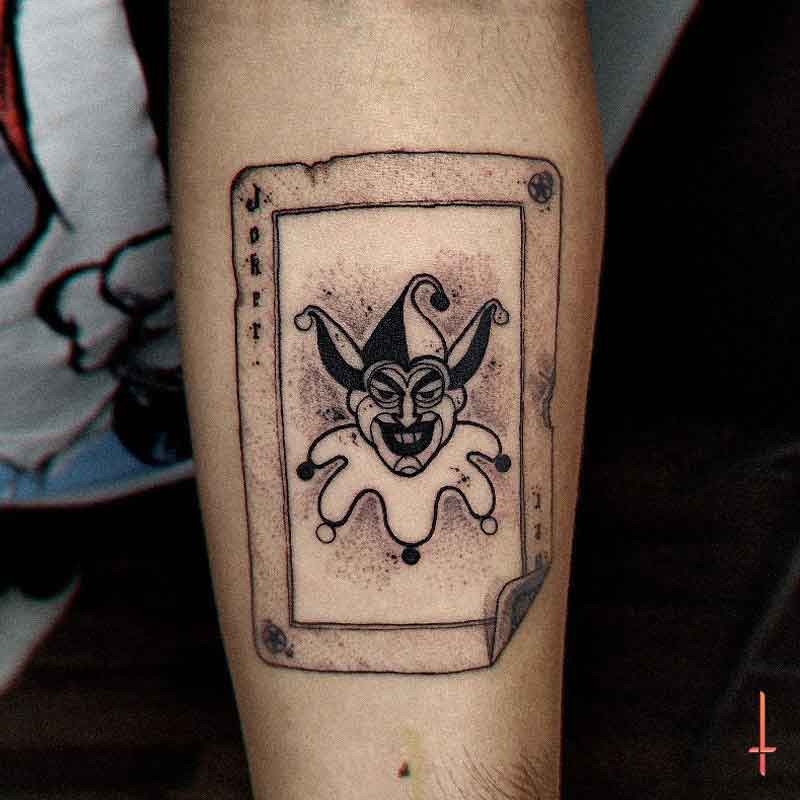 71.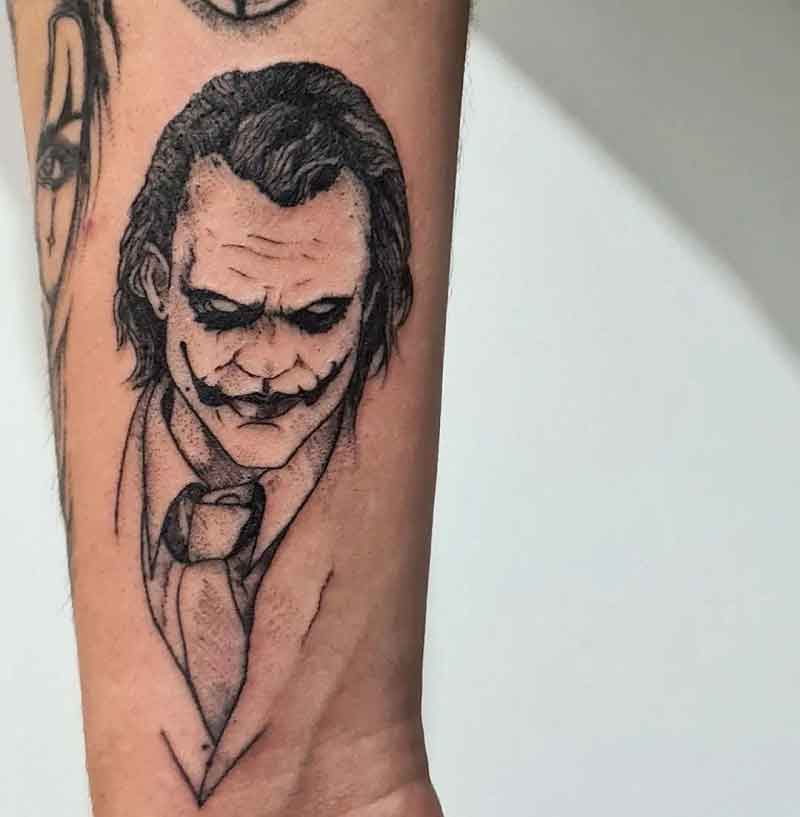 72.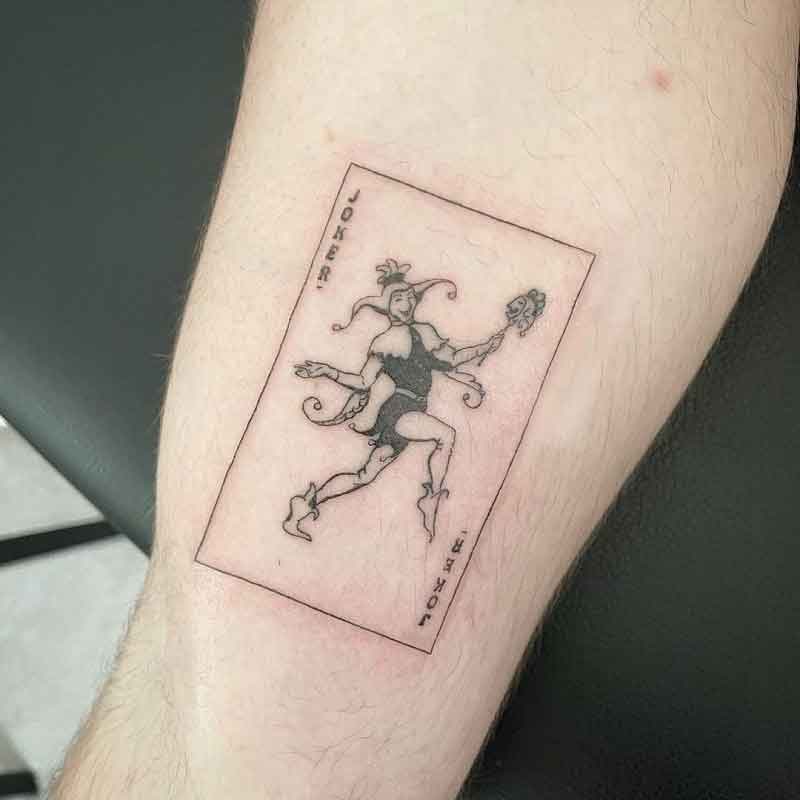 Bad Joker Tattoo
73.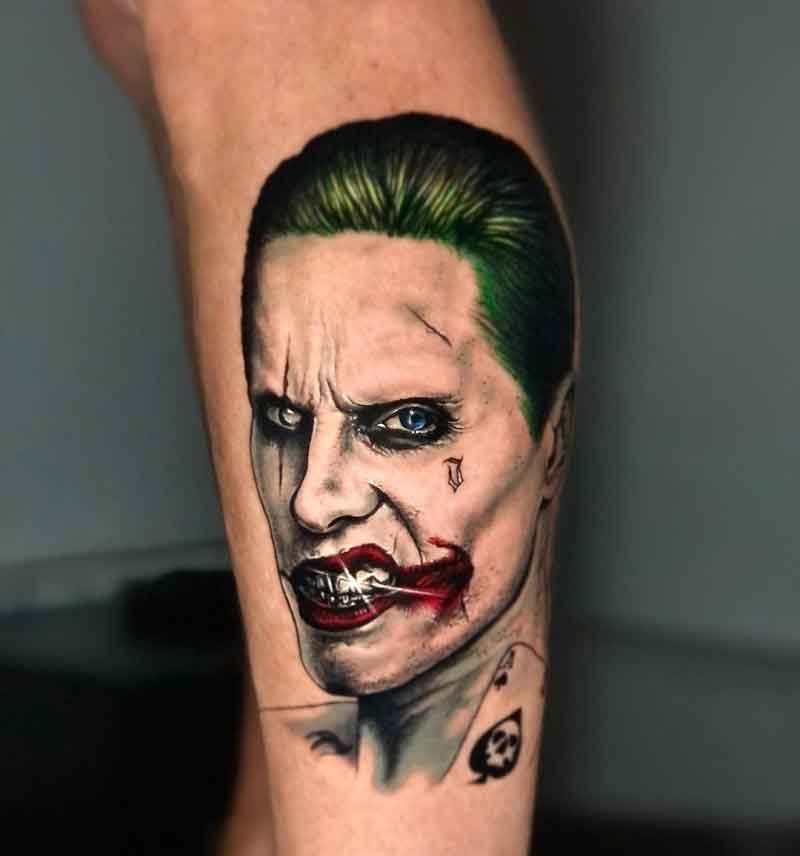 74.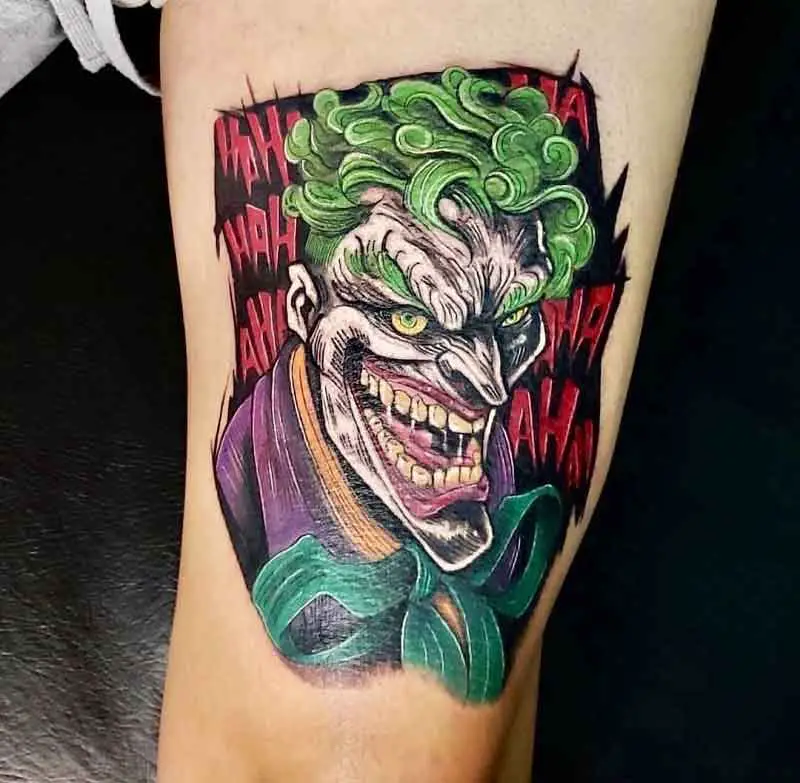 75.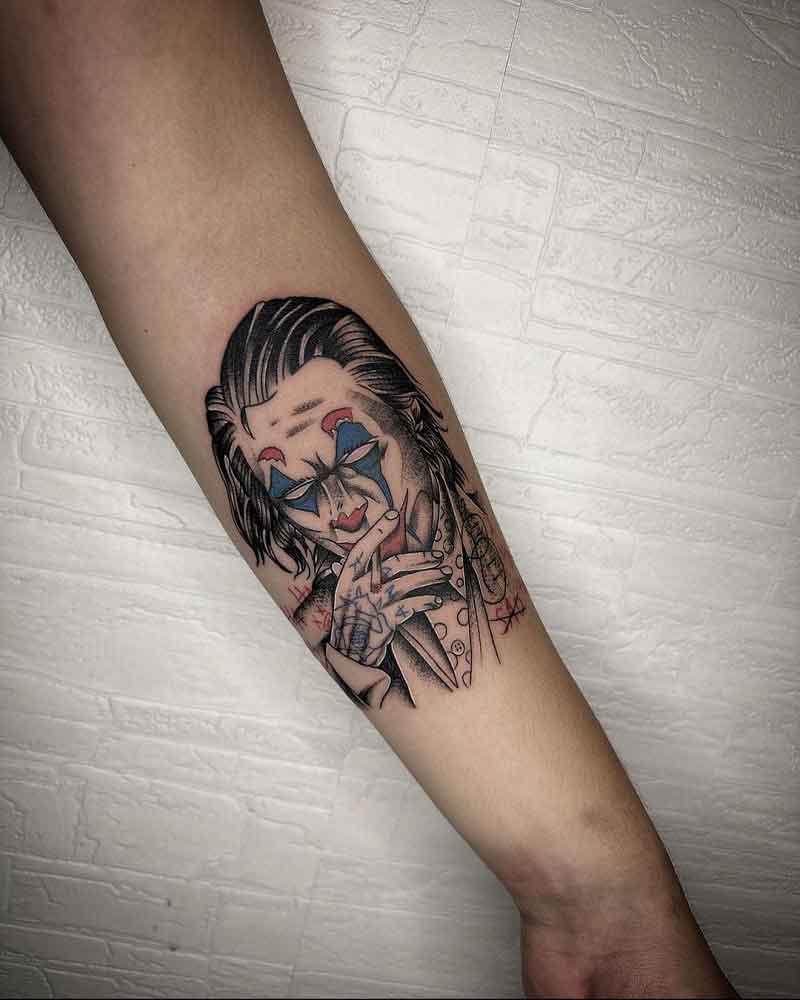 Joker Eyes Tattoo
76.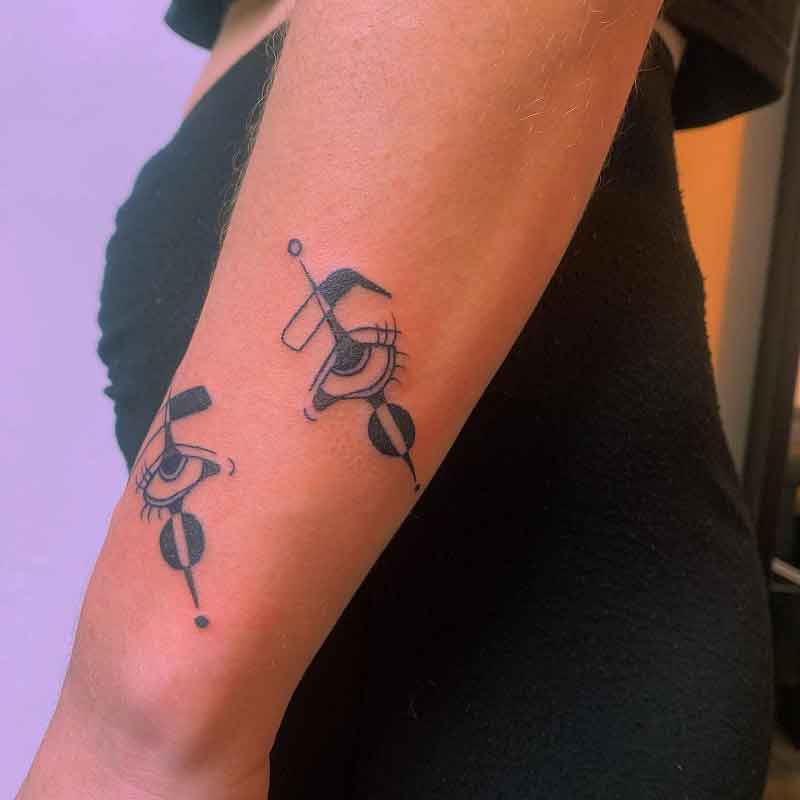 77.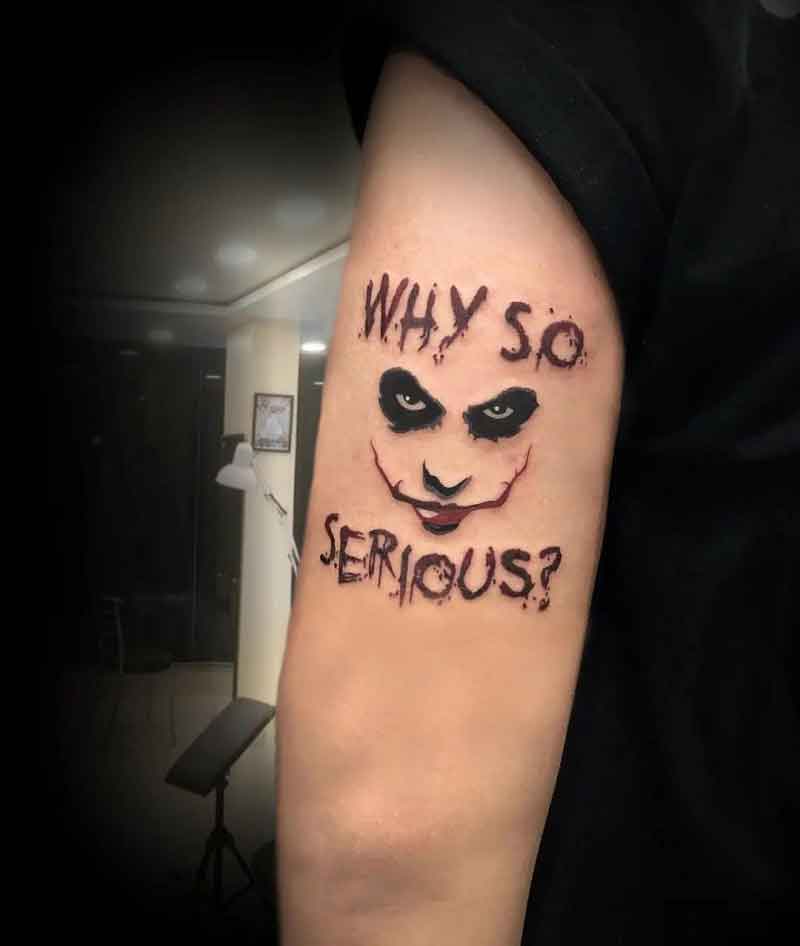 78.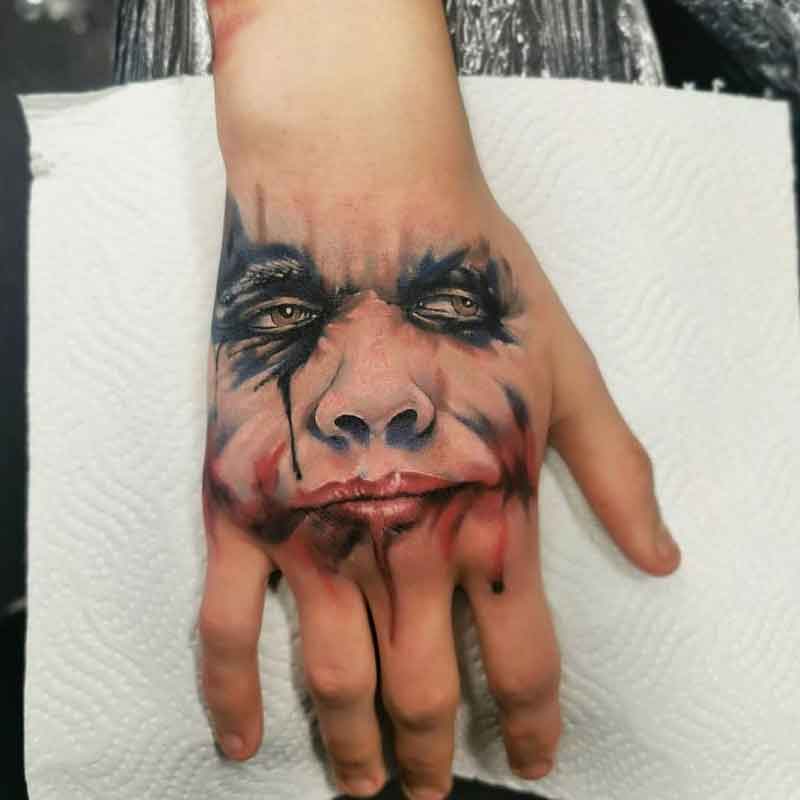 Joker Hat Tattoo
79.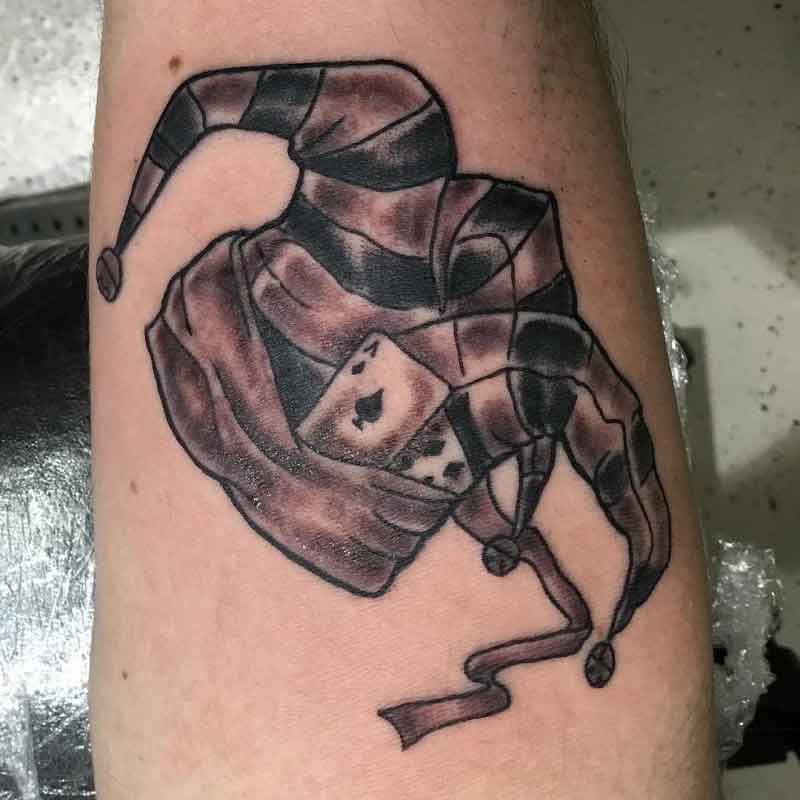 80.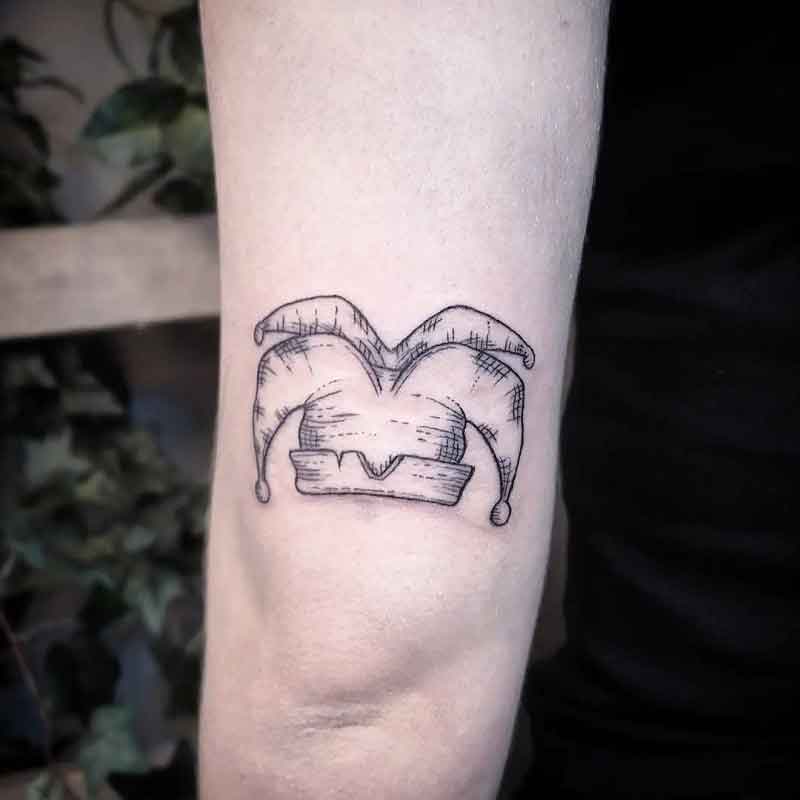 81.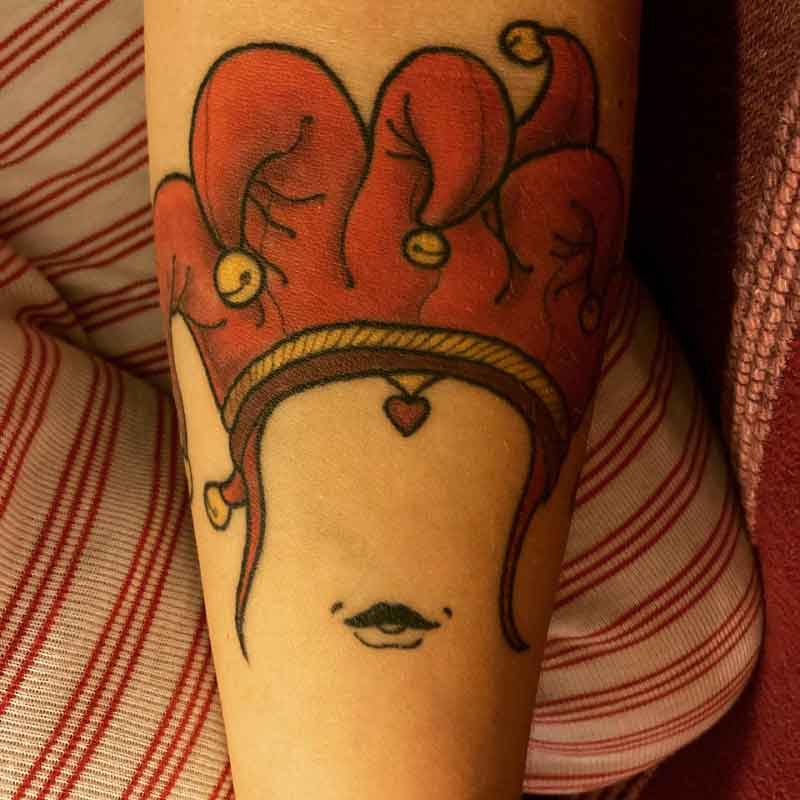 Frequently Asked Questions
1. What Do The Joker Tattoo Mean?
Joker tattoos symbolize a person with perseverance and the hunger to succeed in his life. There is a lot of meaning to the tattoos other than the negative image that many people think the art has.
2. Why Does Joker Have A Damaged Tattoo?
The damaged tattoo is for people around the Joker to know that he is not a sane being like everyone else. It is a warning to not expect any rationality from him.
3. What Does A Clown Tattoo Mean?
Clown tattoos are a great way to motivate yourself to stay positive no matter what. Having a jolly mood and not frowning upon stuff around you can be attained by having a clown tattoo on you.
Conclusion
Joker tattoos are a timeless allure that breaks the boundaries of pop culture and helps to connect to the real world. This form of body art has been popular through generations with new designs surfacing with each passing year. Having Joker etched on your skin is certainly a great show of perseverance and hard work. Have the Joker's luck and his crazy antics by your side with one of these manic Joker tattoo designs that we showcased in this article.