Sleeve tattoos for men are usually worn to make a man's arms look more masculine, but there can also be a deep meaning behind one, as is often the case. As sleeves offer a large canvas, creating a dramatic tattoo that is jaw-dropping gets easier. However, do not underestimate the efforts, expertise, and patience required to ink a stand-out sleeve tattoo.
SLEEVE TATTOOS FOR MEN – WHAT AND WHAT NOT TO INK?
When working on the sleeves, there is hardly anything that you can't get inked. From tribal symbols to sugar skulls, flowers, Chinese signs, ancient scripts, portraits, alchemy symbols, secret notes, emotional quotes and more, it is impossible to run through the ideas and inspirations. So with endless design possibilities, it really gets difficult to decide what design looks best. However, we have a few tips and 21 cool tattoo ideas to make your selection easy.
When selecting a tattoo, consider your personality, personal taste and the reason to get it on your sleeve. For example, angel, flower, and religious tattoos are perfect to show your faith in Almighty. At the same time, if done with precision, they can be downright manly. Also, keep your lifestyle in consideration. If your office policy doesn't favor tattoos, make sure yours is concealable in some manner.
One more thing is to choose an expert who can best utilize the space to ink your imagination. And in the end be patient for a praiseworthy piece of art needs a good time.
#1: CLASSY IN BLACK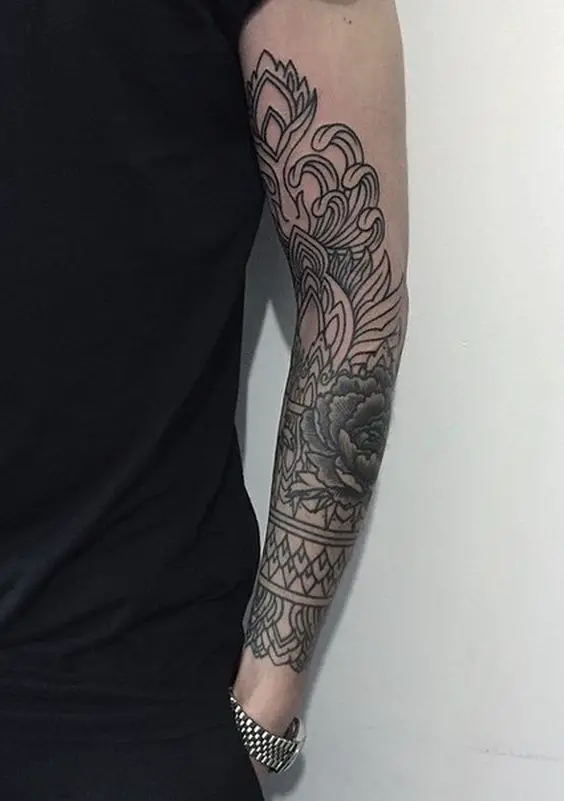 This beautiful black and grey tattoo is very tastefully designed. It shows off the personality and projects and elegant image.
#2: JUST FACE IT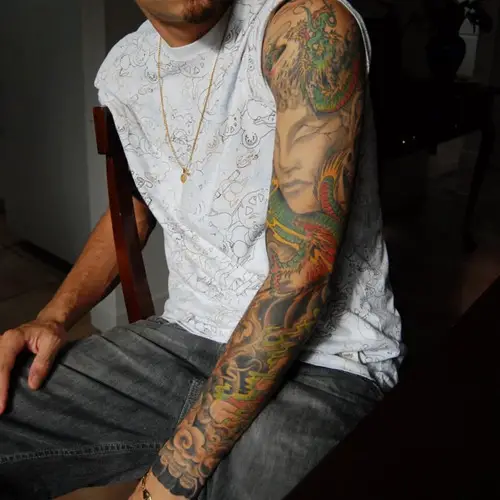 A lovely Mexican face tattoo, this design incorporates vivid colors but in a somewhat subtle way. The dragon definitely makes this full sleeve tattoo more mischievous.
#3: LIVING PROOF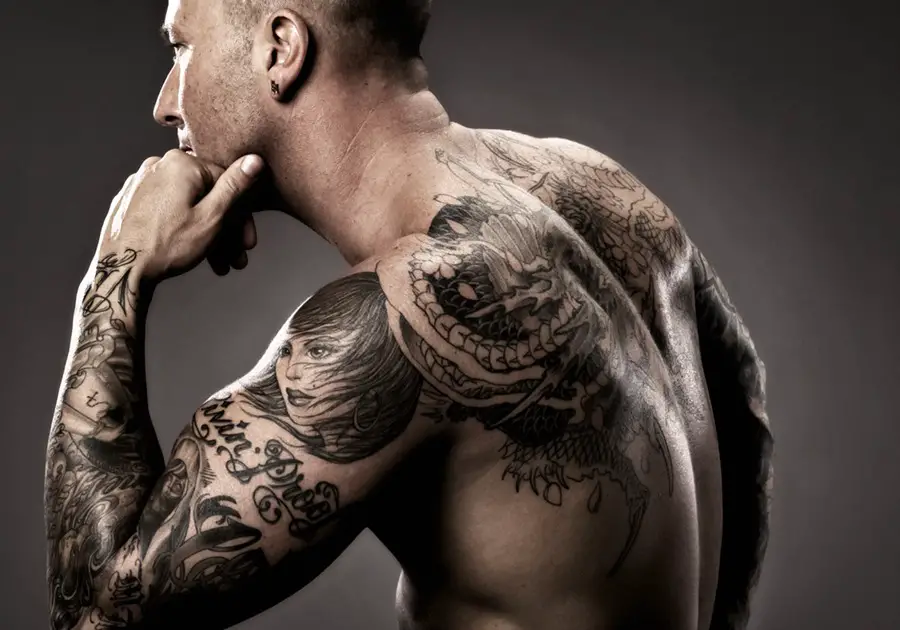 Quotes are quite popular and when combined with images are often used to either commemorate someone who passed away or as evidence of a love in one's life.
#4: ISLAND LIFE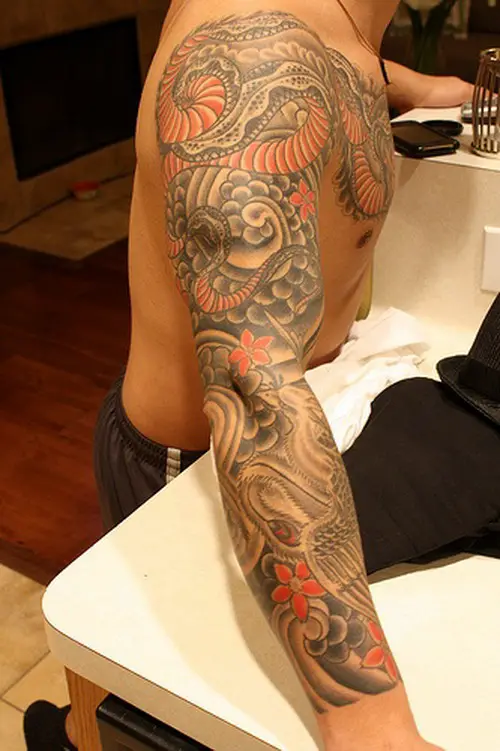 Hawaiian themed tattoos have gained a lot of prevalence over the years. This design is very well done, with superb shading and just the right amount of color.
#5: GO LARGE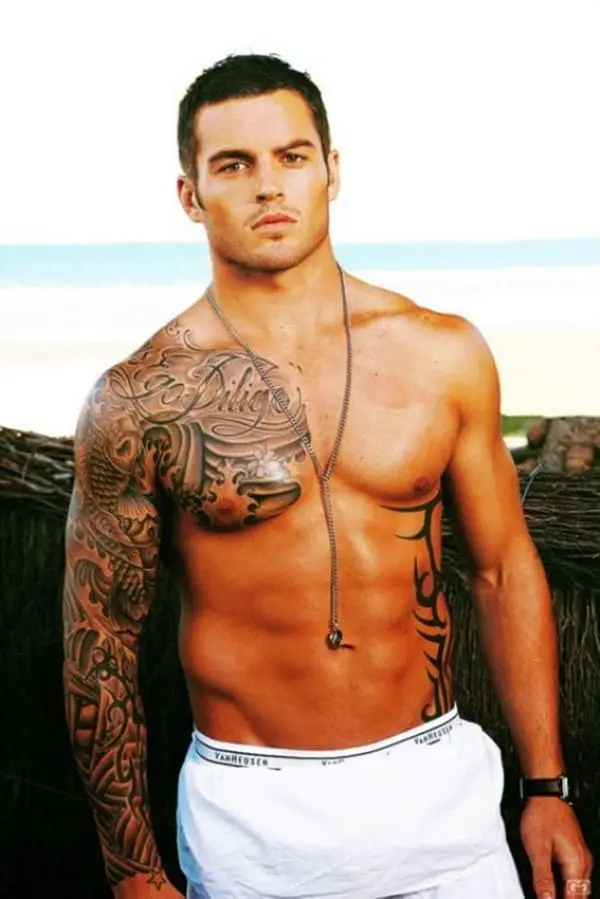 Tribal tattoos usually articulate intricate shapes and lines. They are great for covering large areas such as in this full sleeve tattoo design.
#6: BEWARE THE DARK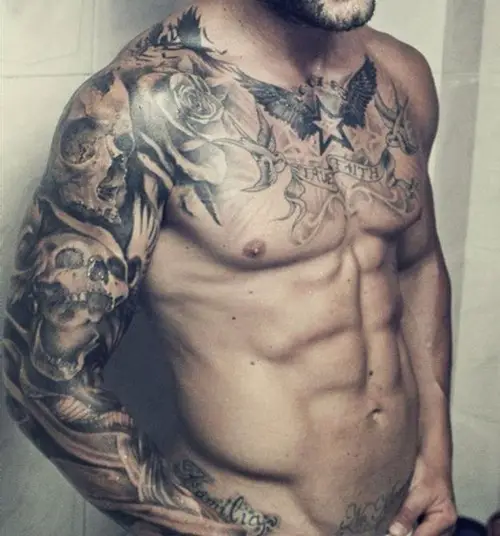 Skulls are definitely a great element to incorporate in a sleeve tattoo for a man as it can signify a manly, badass persona, telling people to beware of messing with you.
#7: THE GAMBLER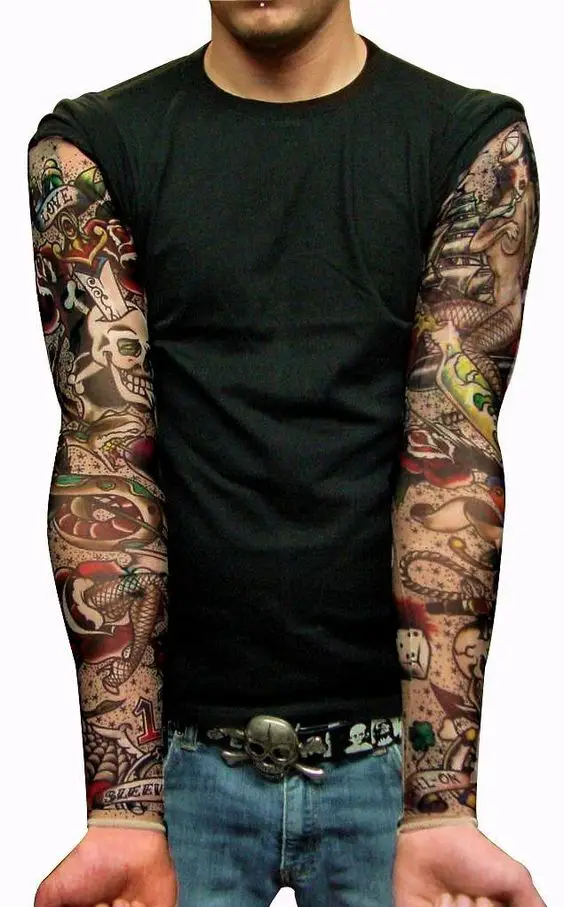 For someone who loves to roll the dice and gamble in hope of the finer things in life, a design like this would really mean something. It's bold and colorful and full of symbolism.
#8: SUPERFAN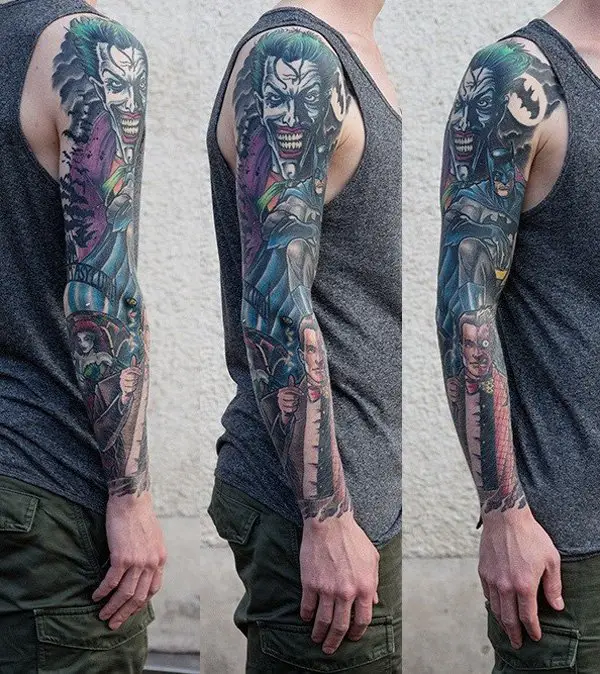 Some people are such huge fans of something that they just have it on their skin. This obvious homage to the Batman series makes its intentions quite evident.
#9: MYTHIC PROPORTIONS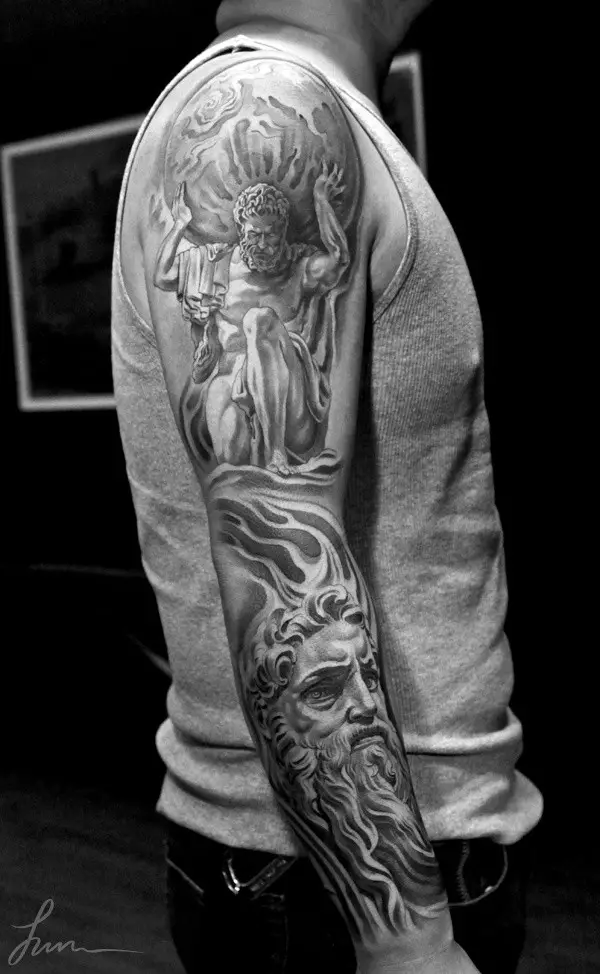 Ever felt you are carrying the weight of the world on your shoulders? If yes, then a tattoo like this of the Greek mythical hero Atlas holding up the Earth could be a perfect expression of that feeling.
#10: THE PERFECTIONIST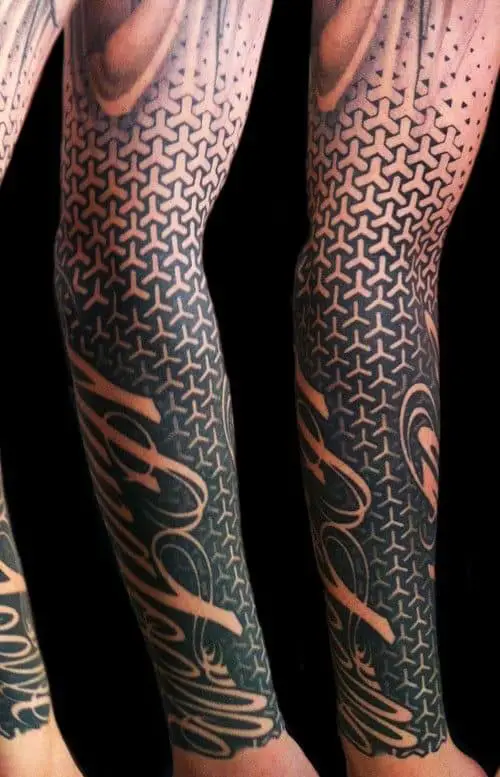 Oh My God! Is it a handmade tattoo or a 3D print? Neat and symmetrical, this tattoo is highly impressive. The artist has done a commendable job in creating this truly stylish design that stands apart from the usual fare. It is simplicity and elegance rolled into one superb piece of art.
#11: DUALITY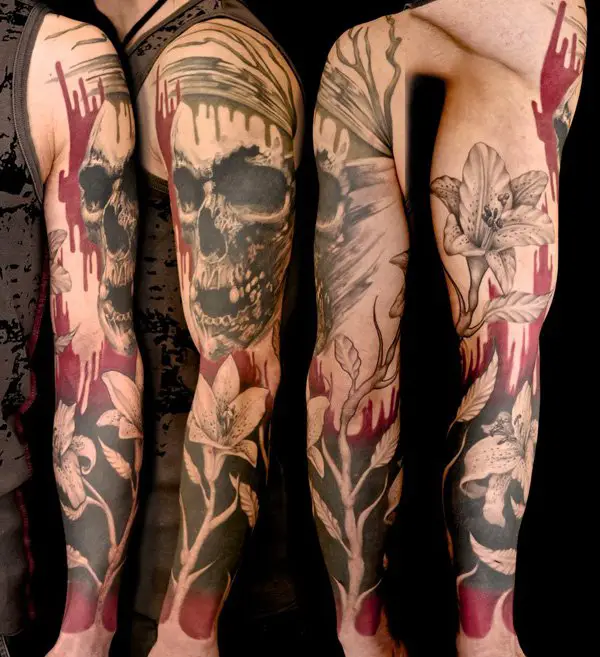 The dual themes of life and death are clearly evident in this design. The classic combination of red and black make the imagery striking and audacious.
#12: PHOTO TATTOO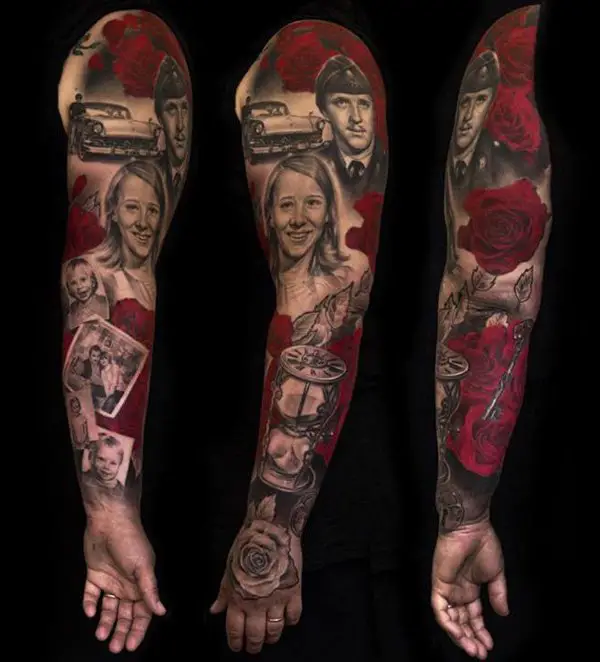 Full sleeve face tattoos to memorialize loved ones, are a beautiful way of showing you wear your heart on your sleeve.
#13: SPIRITED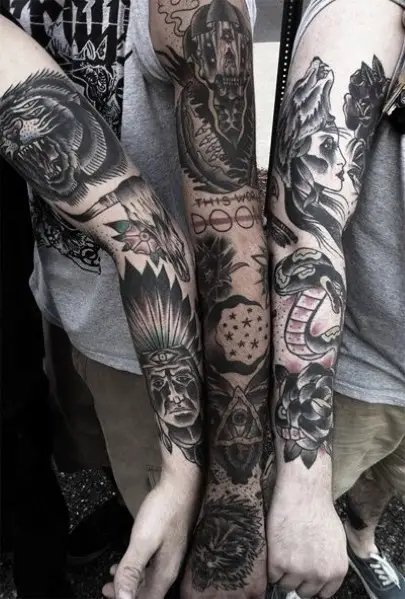 Whether you have Native American ancestry or are just a huge fan of the culture, an animal spirit tattoo like this gorgeous black one will make a great statement.
#14: KEEP IT SHORT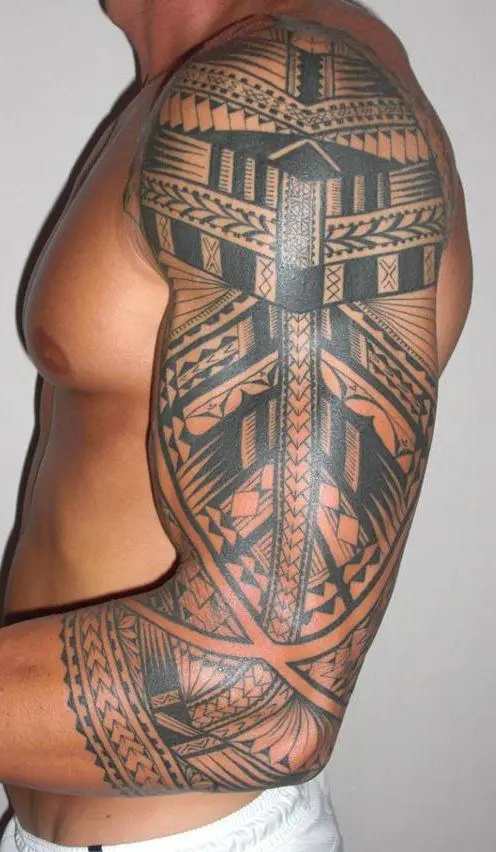 The design starts at the shoulder and ends a little lower than the elbow. Geometry can be poetic too as is shown by the way the patterns in this tattoo have been created. Definitely, it's a perfect tattoo for tribal culture lover.
#15: VISUAL TREAT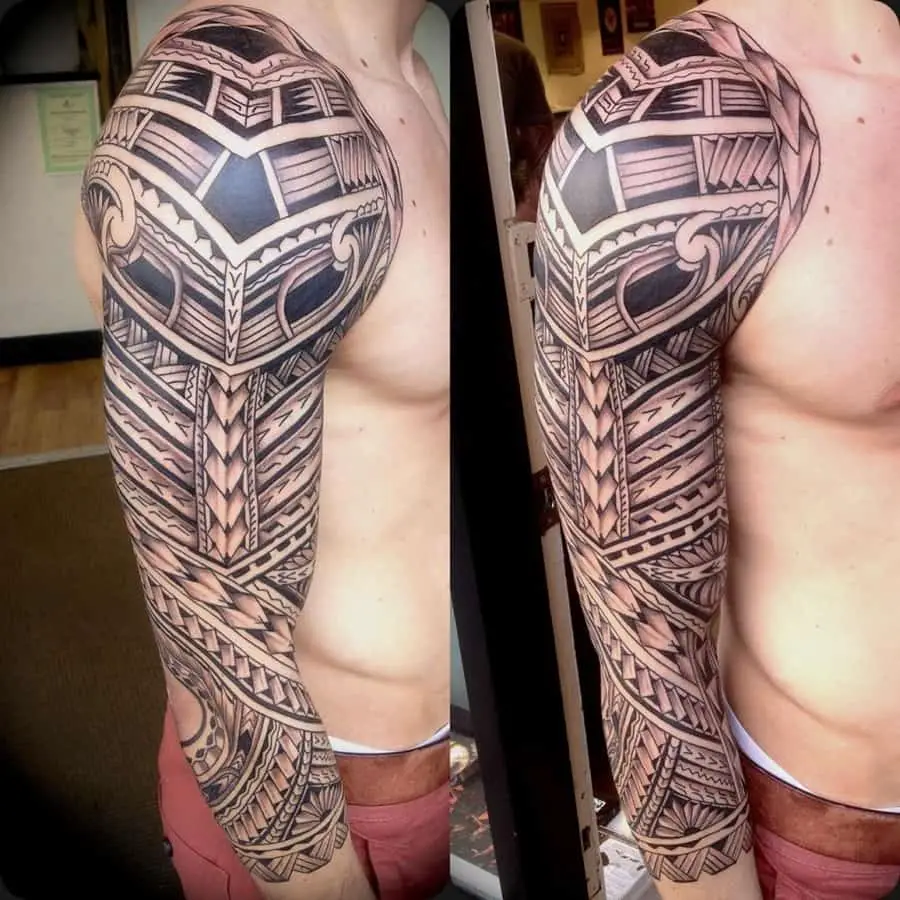 Another tribal tattoo with razor-sharp patterns! Simple geometric patterns come together exquisitely to form a fantastic full sleeve tattoo that runs the entire length of the arms from the top of the shoulder to the wrist.
#16: FEELING LUCKY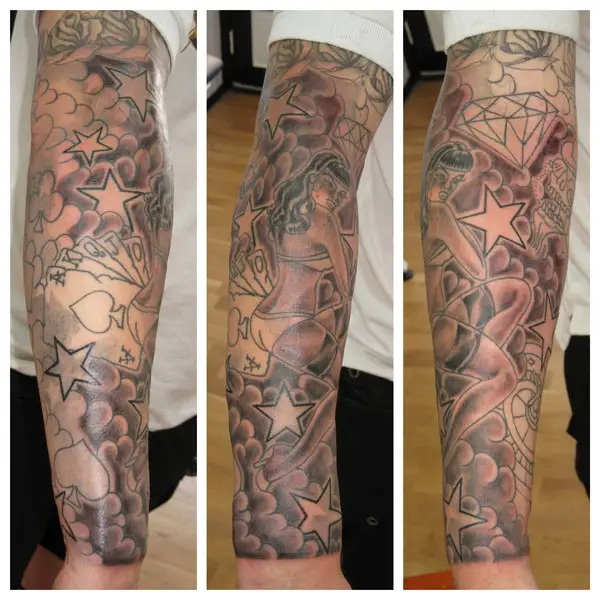 What a dreamy representation of a gambler's best possible hand in a game of poker; the Royal Flush. It's for the man who wants a beautiful woman and the money to spend on her and trusts his luck to make his wishes come true.
#17: BEAUTY FADES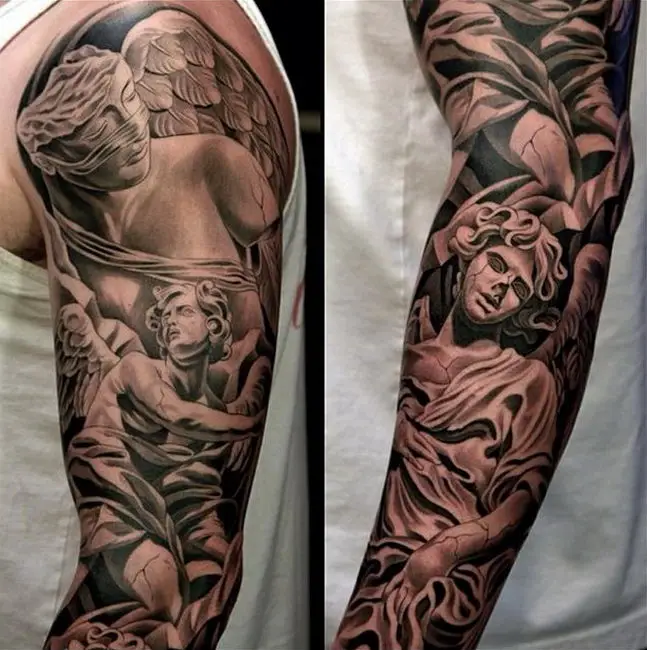 Nothing is permanent. Even an angle's image cast in stone is bound to fall from grace with the passage of time. This highly detailed and artistically executed piece showcases this message unfalteringly.
#18: LIVING IN PRAYERS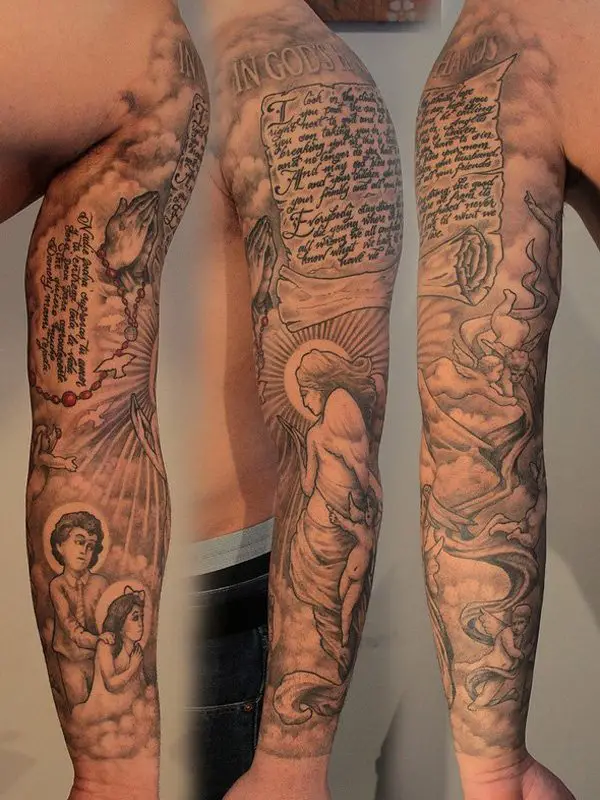 Tattoos don't always have to be about showing off your masculinity. They can also depict your deepest convictions. This tattoo talks about being in God's hands and is inspirational in ways more than just its artistic portrayal of a heavenly theme.
#19: TRIBAL ART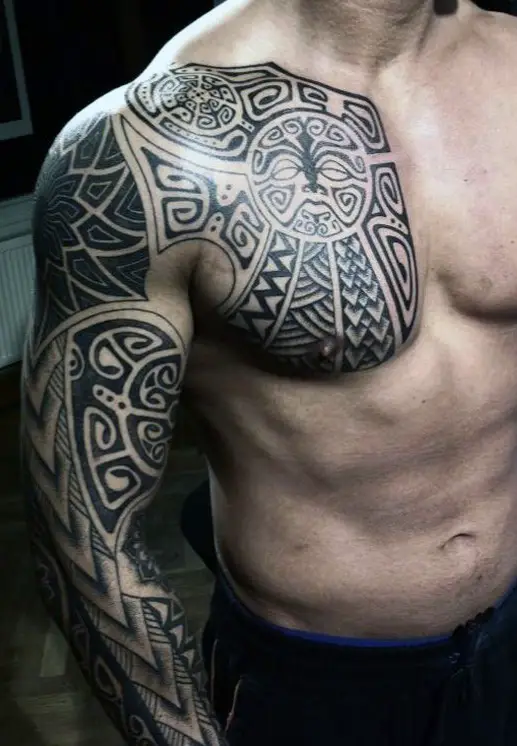 Tribal designs are literally innumerable and can be used to create some of the most amazing looking tattoos. This one, in particular, does a superb job of accentuating the pectoral area, the bicep, and the forearm.
#20: FREE RIDER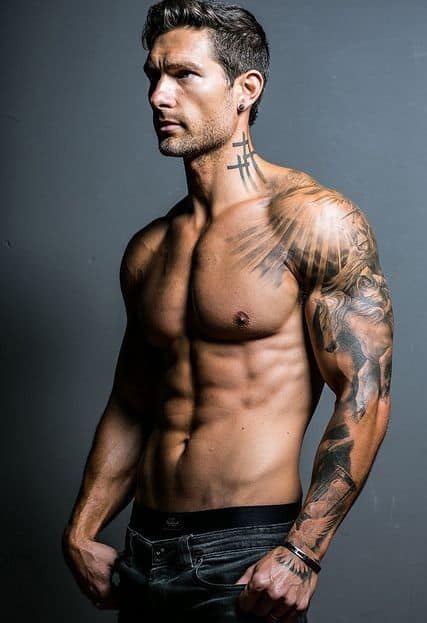 Starting at the neck and extending below the wrist onto the back of the palm, this splendid tattoo design evokes a strong sense of passion. The horse and hourglass combination tell us to be free spirited and enjoy life before time runs out.
#21: A FIERY BEAST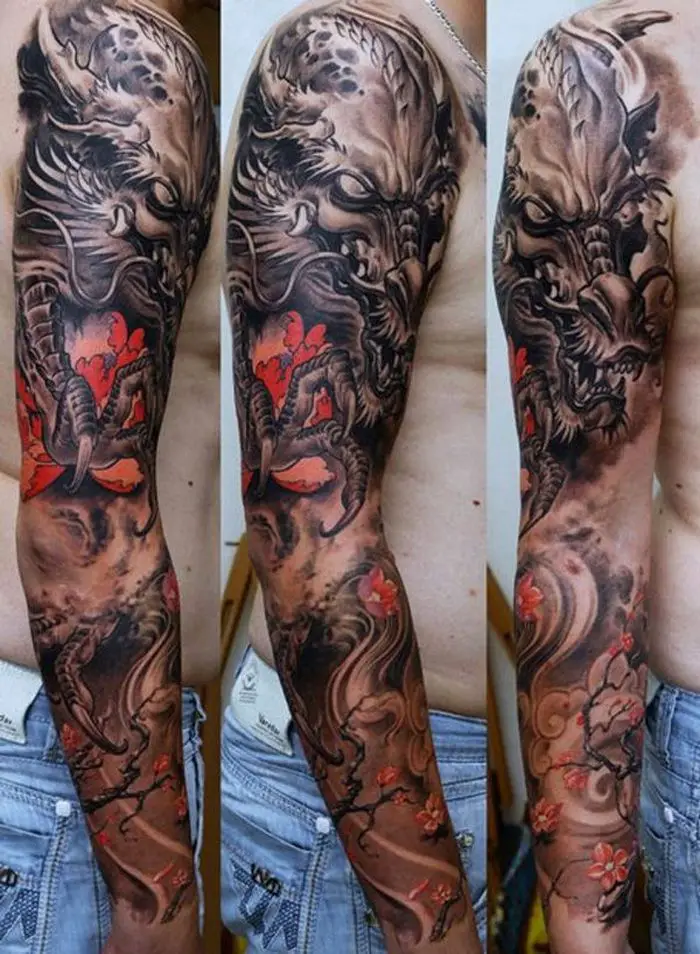 Magnificent in its magnitude and menacing in its appearance the dragon here seems to reach out of the dark depths. Its fiery intentions glisten in its eyes as it extends its fierce talons to grasp at its enemy. It has been done in black ink with shades of grey. The wonderful use of red to represent both the viciousness of fire and the gentleness of flowers makes the entire design pop.
21 full sleeve tattoos for men are definitely enough to figure out what you want. You can get the same design or customize any of them to suit your taste – choice is completely yours. In the end, do share your sleeve tattoo with us to inspire others as well.