Sleeve tattoos for men are usually worn to make a man's arms look more masculine, but there can also be a deep meaning behind one, as is often the case. As sleeves offer a large canvas, creating a dramatic tattoo that is jaw-dropping gets easier. However, do not underestimate the efforts, expertise, and patience required to ink a stand-out sleeve tattoo.
SLEEVE TATTOOS FOR MEN – WHAT AND WHAT NOT TO INK?
When working on the sleeves, it this hard to decide on what to get on a sleeve tattoo. From tribal symbols to sugar skulls, flowers, Chinese signs, ancient scripts, portraits, alchemy symbols, secret notes, emotional quotes, and more, it is impossible to run through the ideas and inspirations. So with endless design possibilities, it really gets difficult to decide what design looks best. However, we have a few tips and 145 sleeve tattoo ideas for men to make your selection easy.
When selecting a tattoo, consider your personality, personal taste and the reason to get it on your sleeve. For example, angel, flower, and religious tattoos are perfect to show your faith in Almighty. At the same time, if done with precision, they can be downright manly. Also, keep your lifestyle in consideration. If your office policy doesn't favor tattoos, make sure yours is concealable in some manner.
One more thing is to choose an expert who can best utilize the space to ink your imagination. And in the end be patient for a praiseworthy piece of art needs a good time.
Arm Sleeve Tattoos For Men
Tattoo sleeves for men are an incredible way of displaying art, creativity, and their feelings. With so many possible men's sleeve tattoo ideas, you can fully describe your inner feelings. Let us see some of the best art sleeve tattoos for men.
1. Fish World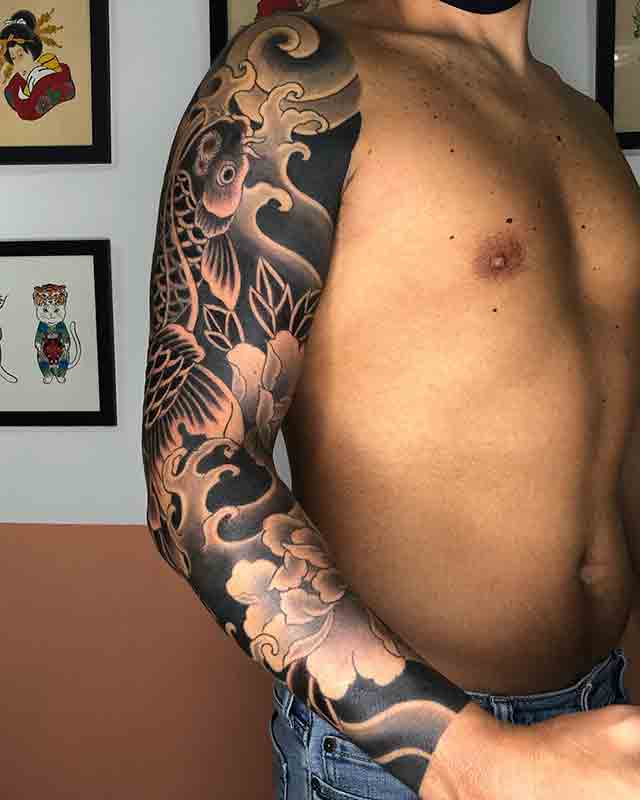 Turn heads everywhere you go with this amazing and intricate fish sleeve tattoo for men. With a unique look, it represents life and its ways.
2. The Anime Chronicles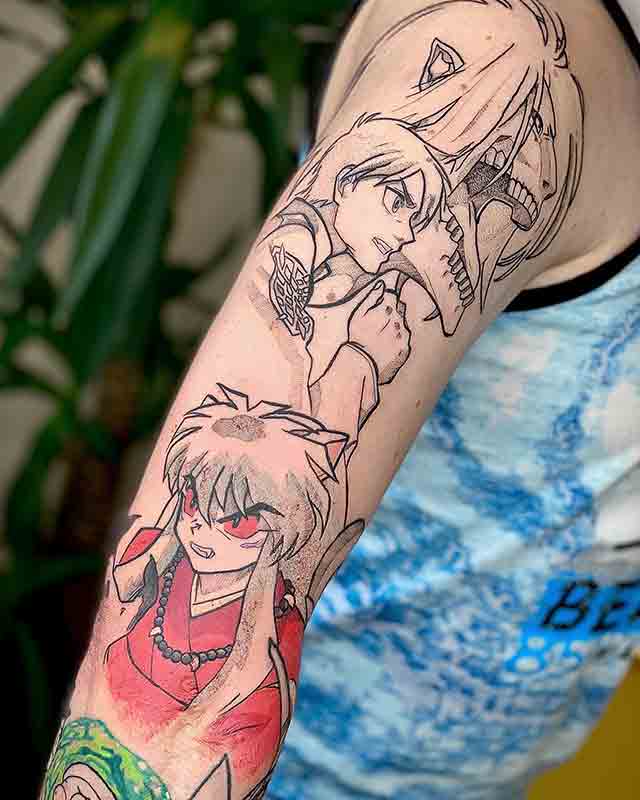 Want to get a sleeve tattoo representing your favorite anime characters? Get creative with this outstanding sleeve tattoo idea for men.
3. Tribal Sleeve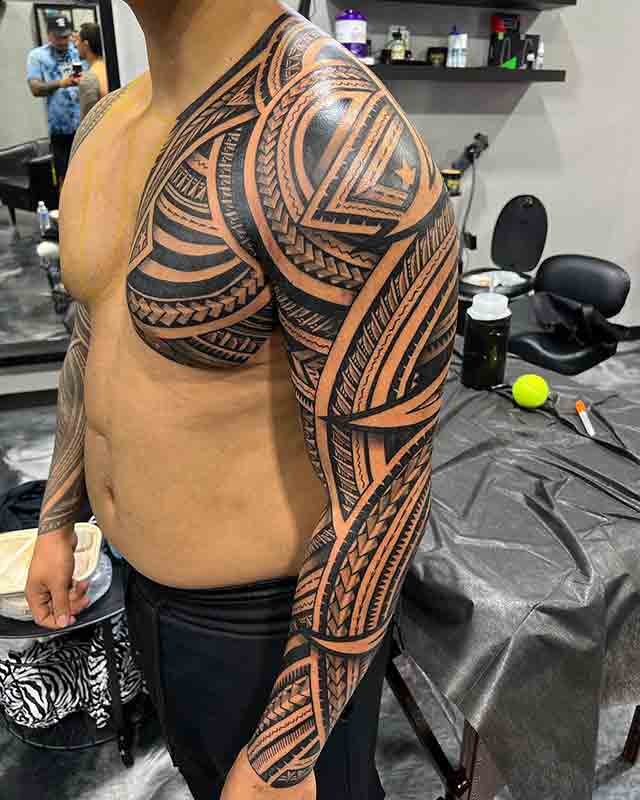 Show respect to tribal culture, art, and their struggles with with sleeve tattoo for men.
Black Sleeve Tattoos For Men
Nothing beats the matte blank ink when it comes to tattoos. Here, we will take a look at some of the top black sleeve tattoos for men.
4. Beehive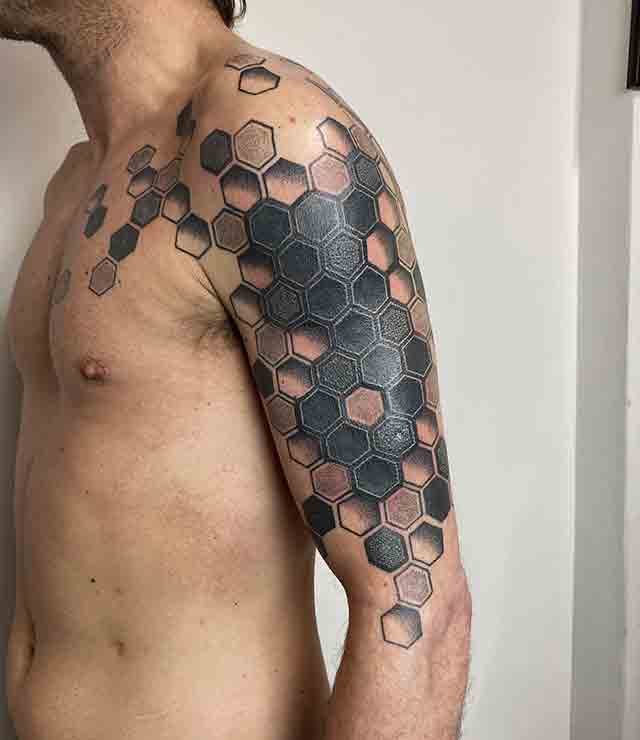 Display confidence, focus, love, and pride with a perfectly designed honeycomb tattoo on men's sleeve.
5. World On The Eye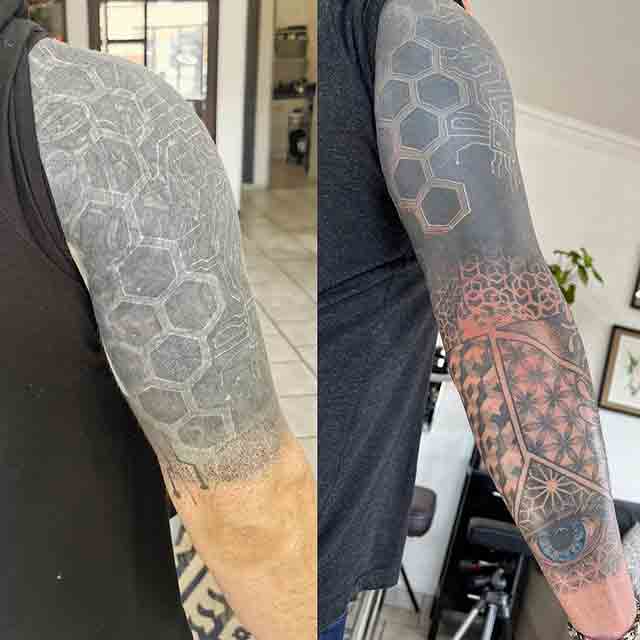 A full sleeve tattoo for men resembling outstanding patterns with an eye. It is a deep portrayal of protection and the beauty of the world.
6. The Mysteries Of Life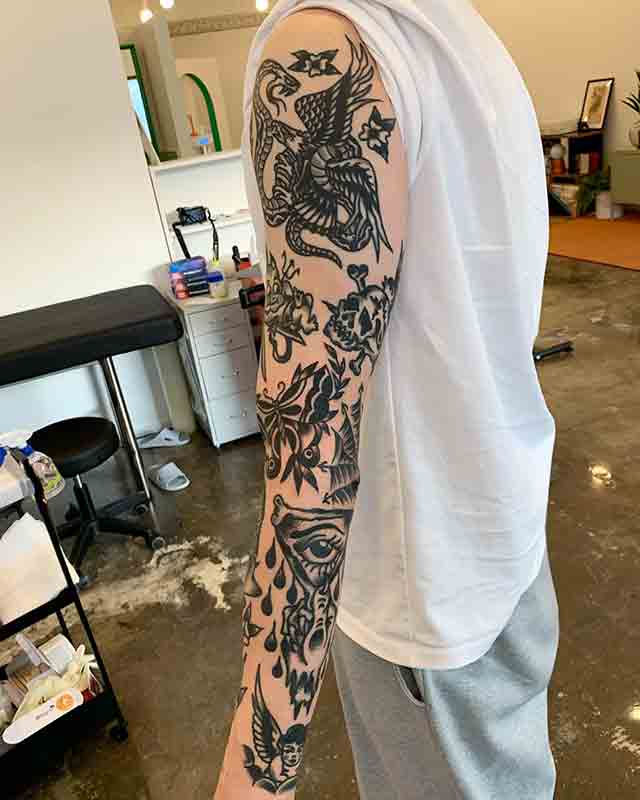 Life is full of unseen and unexplainable mysteries and magic. Get a mysterious men's sleeve tattoo on your arm to represent the art and the mysteries of life.
Full Sleeve Tattoos For Men
There is no doubt that full sleeve tattoos for men are attractive and extremely eye catching. Not only that, but you also get a bigger canvas to represent your creativity and love for art.
7. Last Fight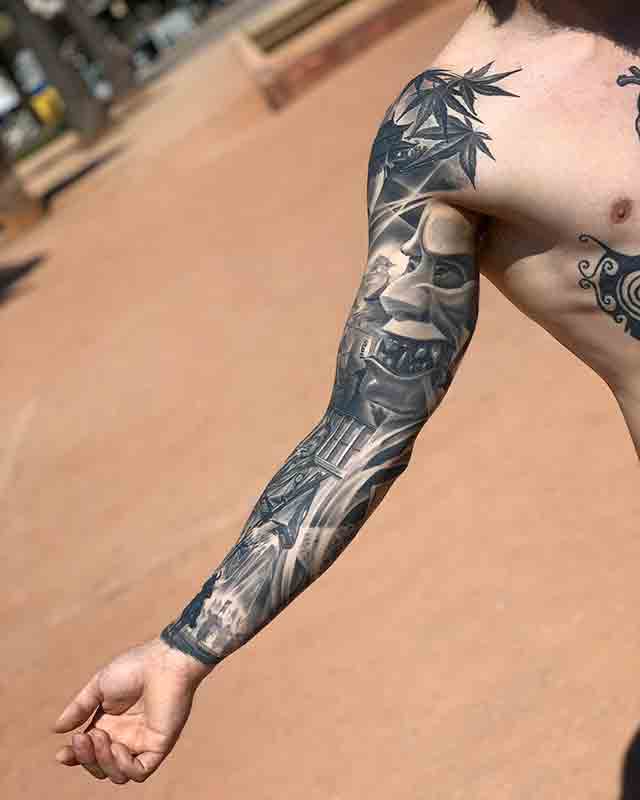 Lift up your fighting spirit with this topnotch sleeve tattoo idea for men. It is a beautiful represent of the battles we fight every day in our lives.
8. Reign Of Evil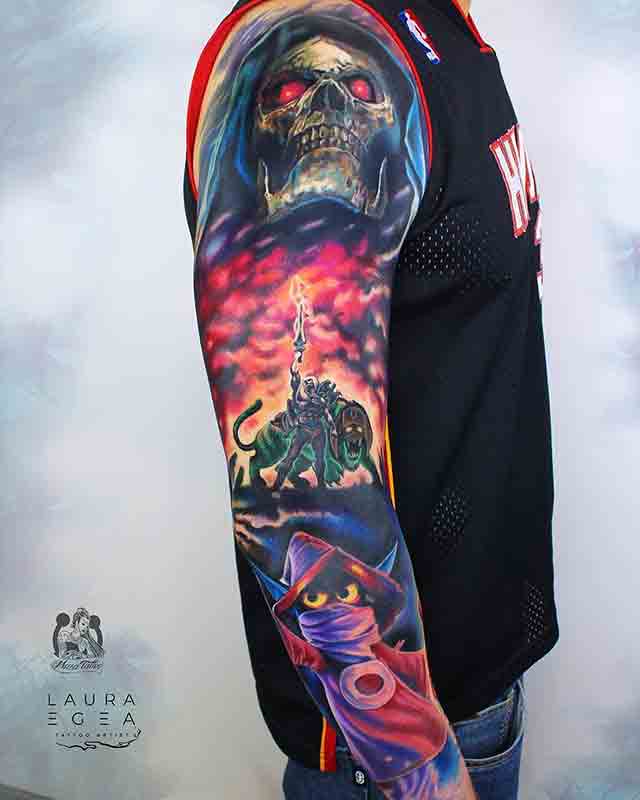 Attract the attention of everyone with this colorful sleeve tattoo for men. It is a representation of power, courage, and the evil aspects of life.
9. Koi Adventure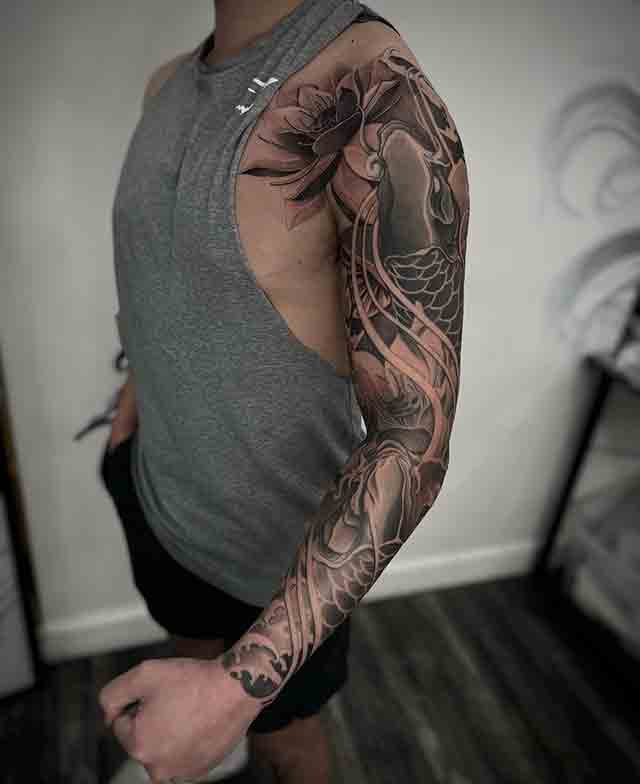 Check in with the adventurous side of life with this amazing sleeve tattoo for guys. It is a portrayal of struggles, life, and adventures.
Colorful Tattoo Sleeves For Men
Even the dull photos look pretty with colors. So, undoubtedly, tattoos look attractive with colors as well. Let us take a look at a few colorful tattoo sleeves for men.
10. Living Nature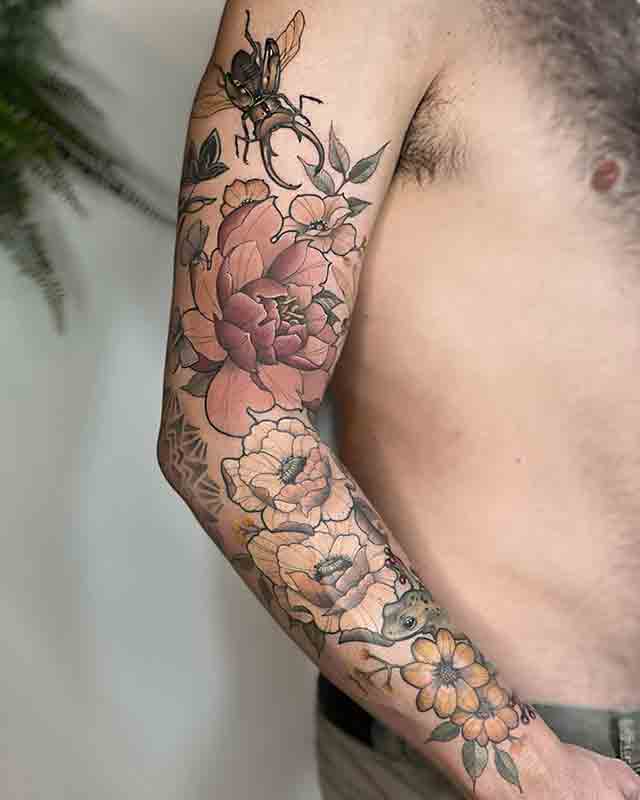 Nature is beautiful in each and every form. Represent your love and respect for nature and its creature with this beautiful sleeve tattoo idea for men.
11. Evil Luck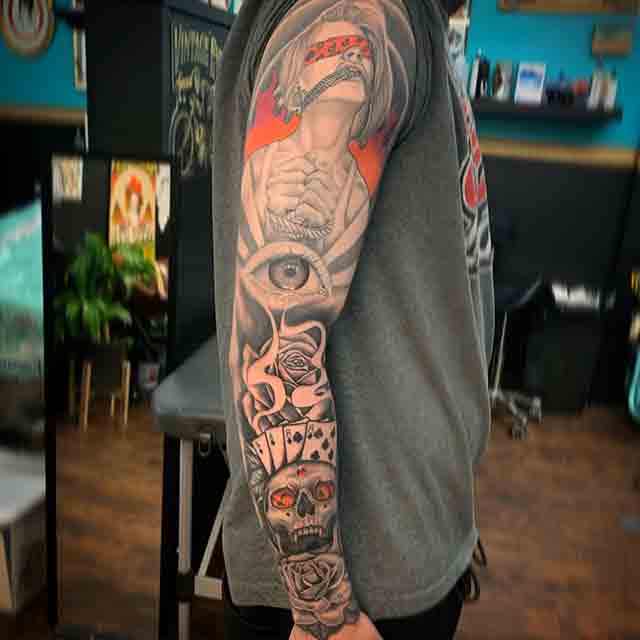 Catch eyes and turn heads with this full sleeve tattoo for men. It is a beautiful take on power and evil in life.
12. Garden Of Colors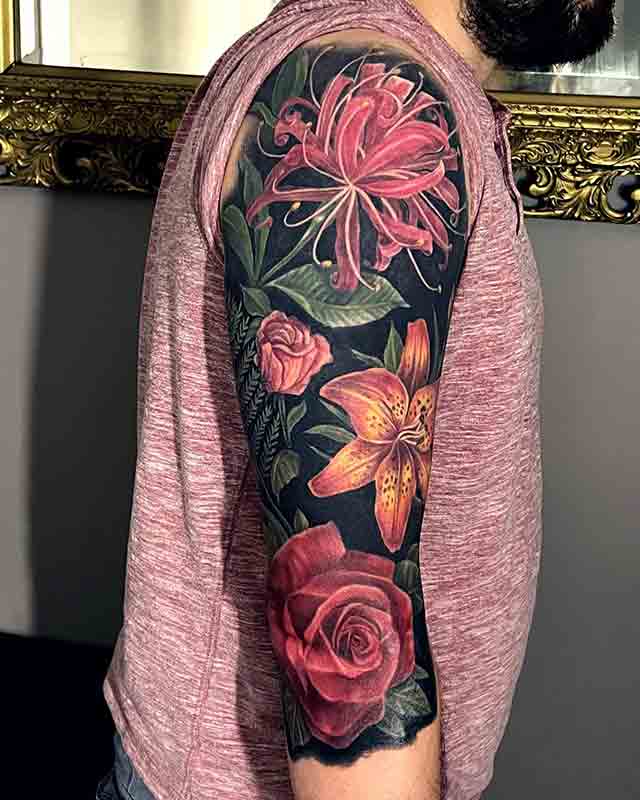 Nothing can beat the beauty of flowers, especially when it comes to tattoos. This tattoo sleeve for men is a beautiful display of nature and the beauty it holds.
Lion Sleeve Tattoos For Men
Lions are an amazing choice when it comes to sleeve tattoo ideas for men. Let us take a look at a few top lion sleeve tattoos for men.
13. King Of The Jungle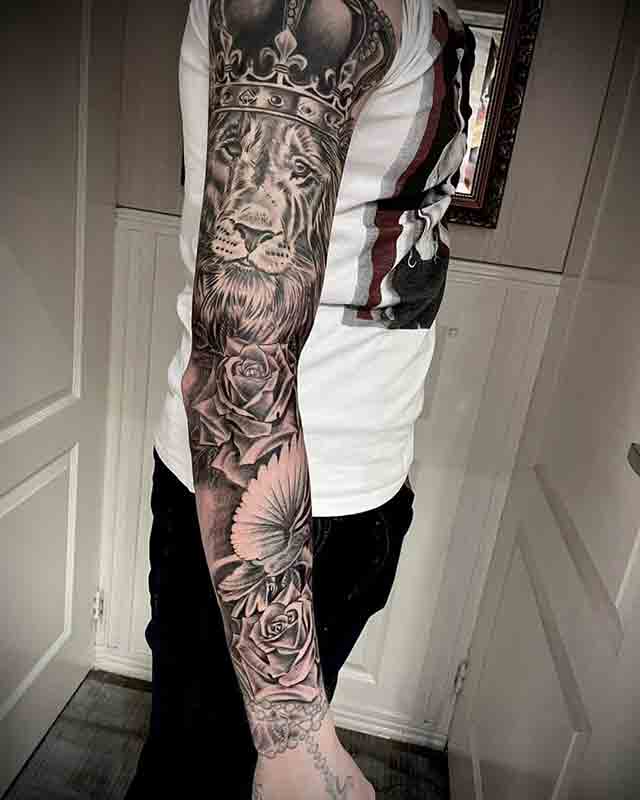 Represent bravery, confidence, power, and courage with this crowned lion tattoo on men's sleeves.
14. Eye on The Lion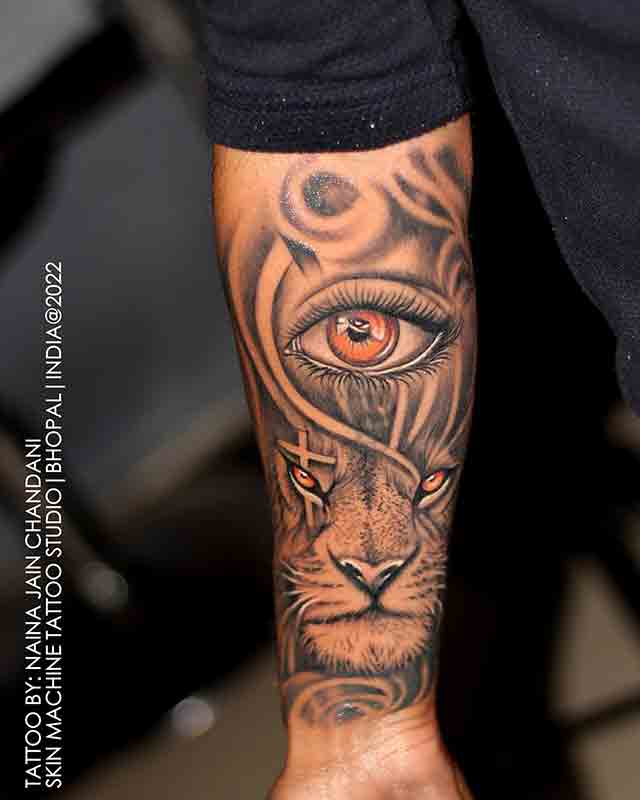 Do not miss the watchful eyes of the lion. It symbolizes the cleverness, alert senses, and wisdom of the lion.
15. The Crowned King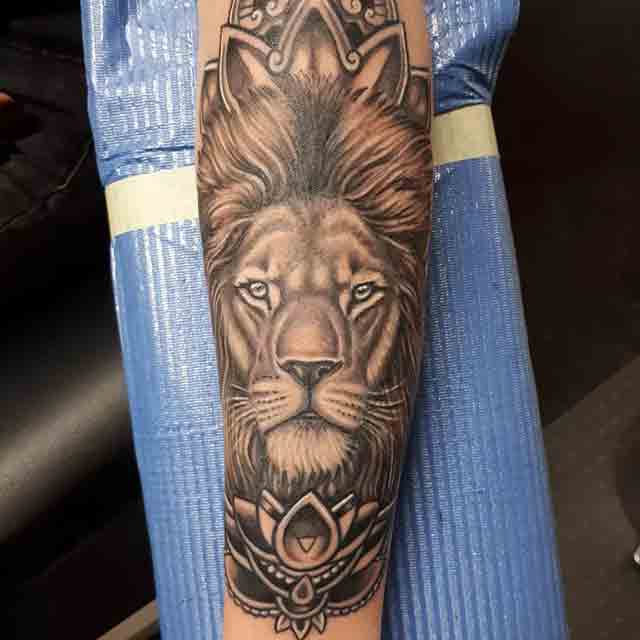 An intricate men's sleeve tattoo of a lion crowned with a jeweled crown. It symbolizes the power, wisdom, courage, and beauty of the lion.
Celtic Sleeve Tattoos For Men
Celtic sleeve tattoos for men hold a decent share in the tattoo culture. Even though the patterns look similar to tribal tattoos, the meaning and culture difference makes it different and unique.
16. Celtic Patterns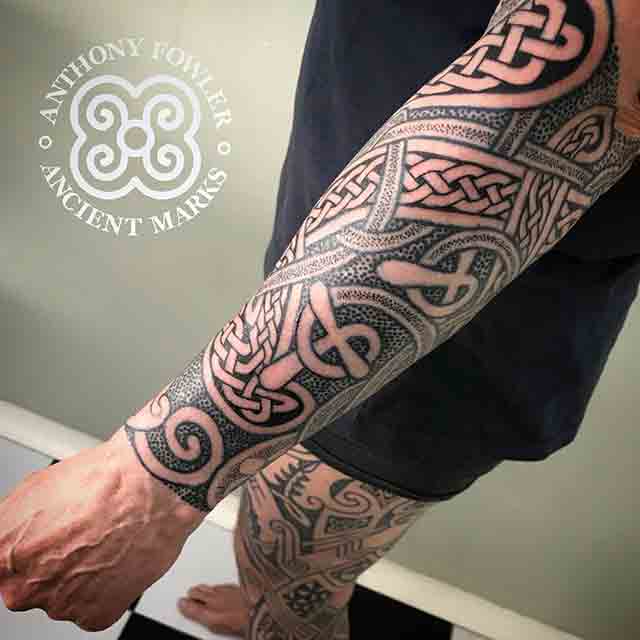 Show respect and tribute to the Celtic culture and their love for art with this sleeve tattoo for men.
17. The Chronicles Of Life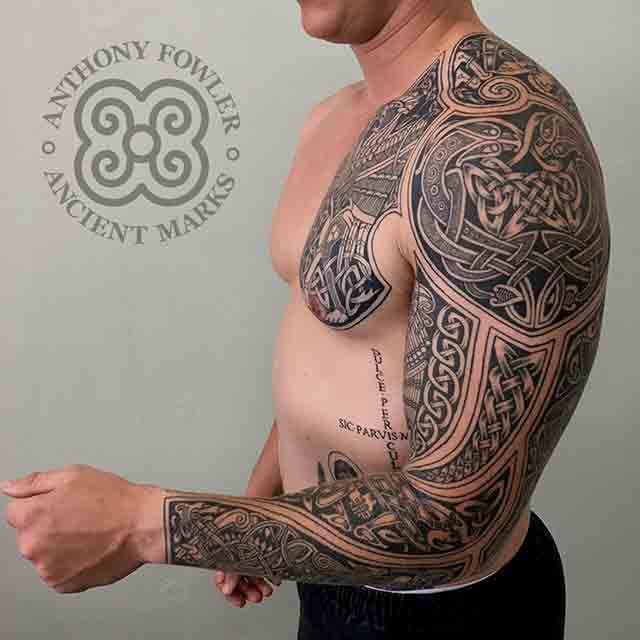 An intricate sleeve tattoo idea for men with a deep meaning. It represents life, death, peace, afterlife, and so on.
18. View Of Life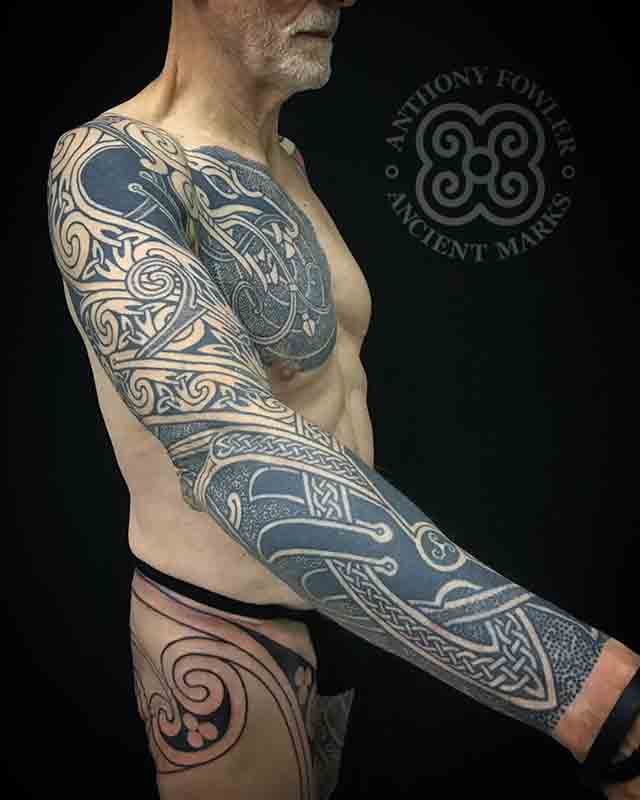 Celtic tattoos are a great way of representing your view of life, death, eternity, and art.
Skull Sleeve Tattoos For Men
A major part of the tattoo culture is covered by skulls. Representing death, afterlife, power, and strength, it is a popular choice for sleeve tattoos for men.
19. Skull In Waves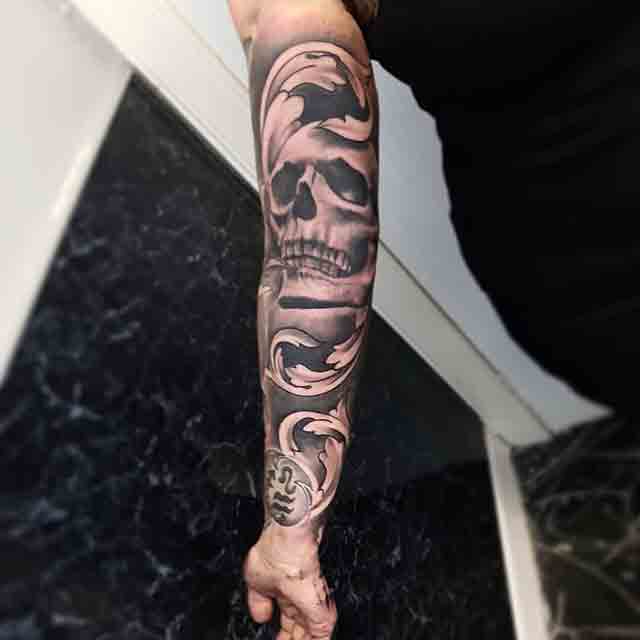 Beauty lies in everything in this world. It is a beautiful combination between nature and death.
20. Skull-Head Symmetry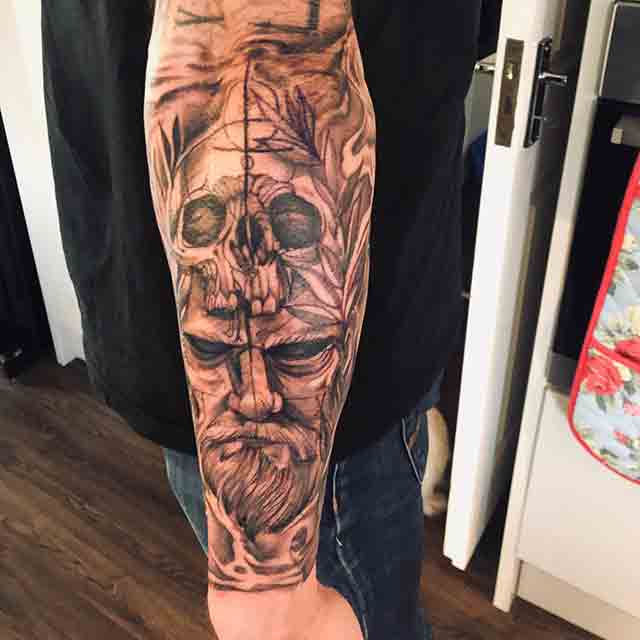 The skull over the head portrays the final destination or condition of our lives. It is a unique take on the fact that beauty is temporary in life.
21. Destructed Skull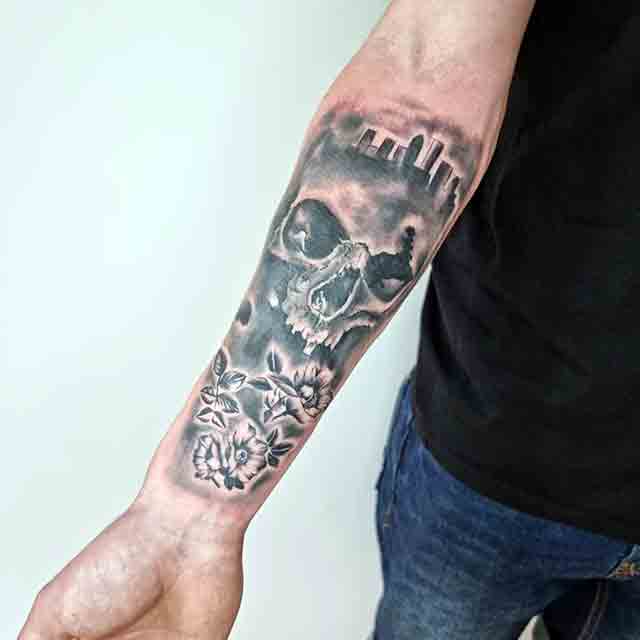 Although it presents a view of a deformed skull, it comes with an amazingly beautiful meaning. This men's sleeve tattoo represents the beauty of life even in broken things.
Tribal Sleeve Tattoos For Men
Tribal designs are a great choice when it comes to choosing sleeve tattoos for men. Here, we will take a look at a few sleeve tattoos for guys.
22. Tribal Tribute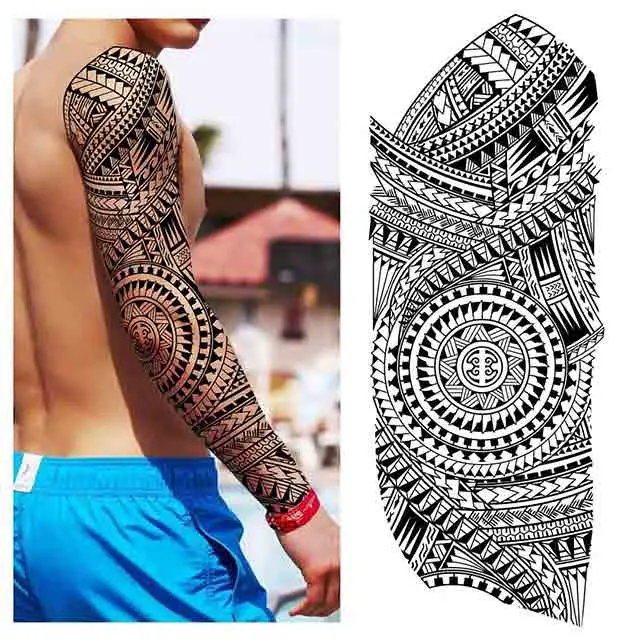 Pay tribute to the tribal culture and their art. It is a great work of creativity, displaying respect, love, peace, and many more.
23. Symmetry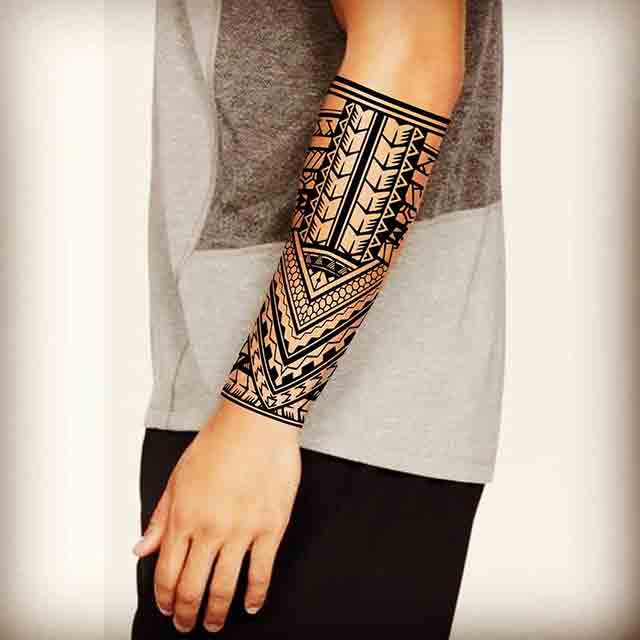 Symmetrical tattoos for men's sleeves portray balance, stability, and peace in life.
24. Tribal Mask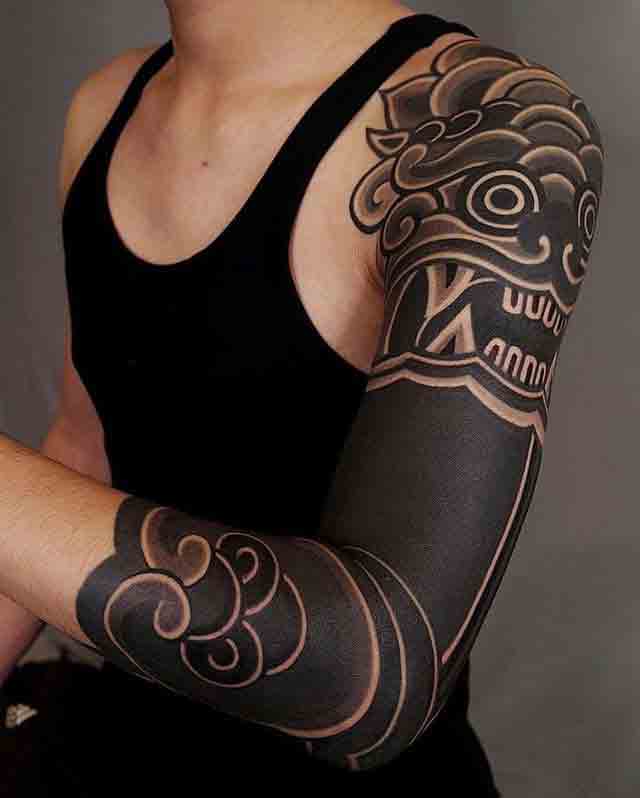 Give your sleeve a unique look with this tribal face tattoo. It is an intricate sleeve tattoo idea for men, displaying respect for the culture.
Family Sleeve Tattoos For Men
Families are an essential part of our lives. We live and fight for our loved ones and a great way of showing gratitude for your loved ones is to get a tattoo remembering them. Let us see some of the family sleeve tattoos for men.
25. Time and Memories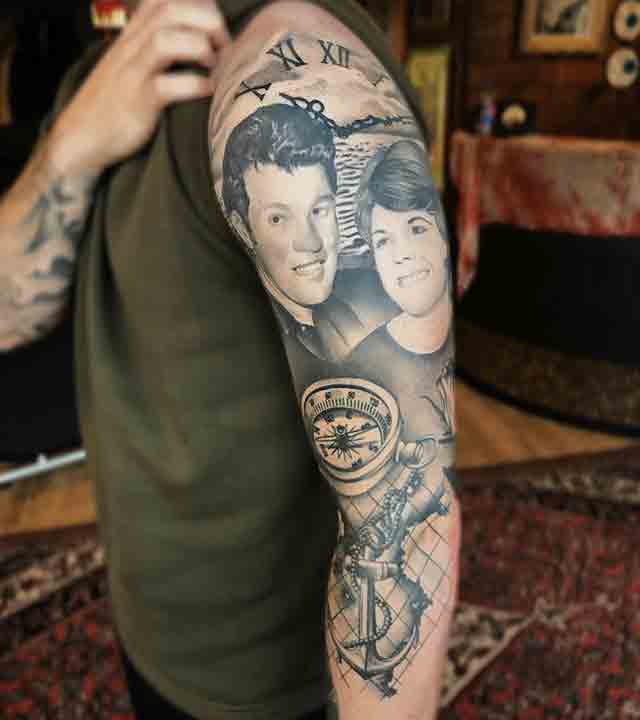 Get a picture of your loved ones inked on your arm. It is an amazing sleeve tattoo idea for men, symbolizing love, respect, and memories.
26. The Girl On The Tattoo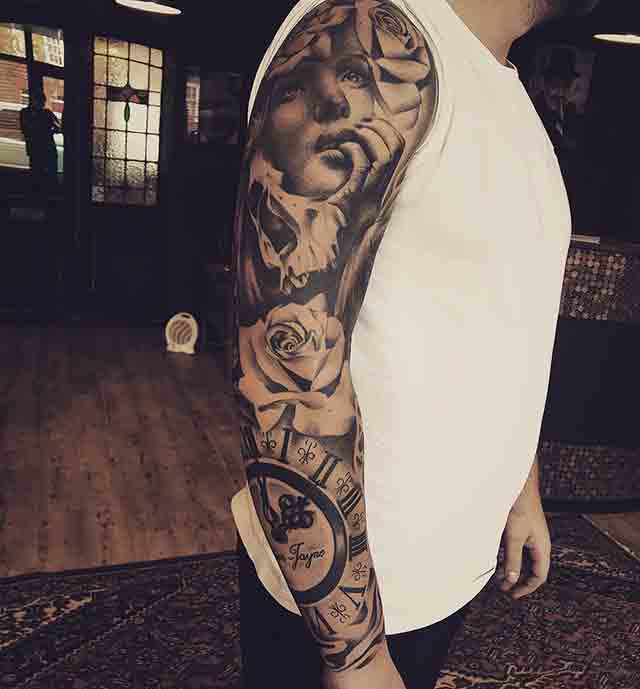 Show love and respect to the person you love in this tattoo sleeve for men.
27. Blooming Flowers Of Life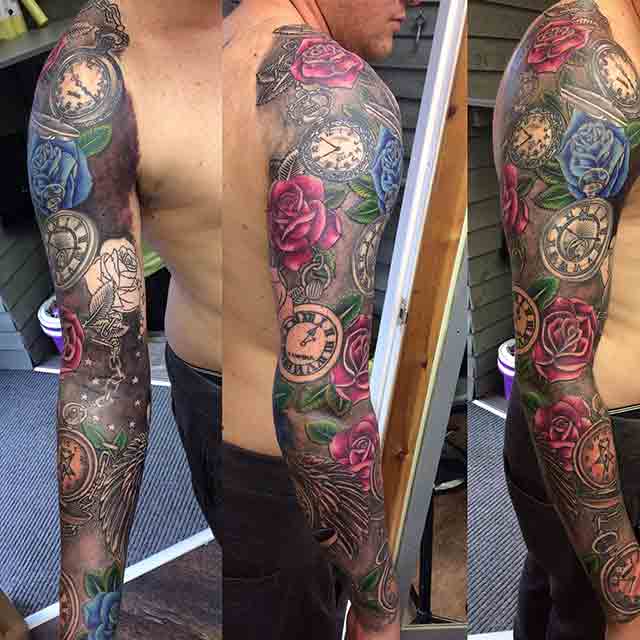 Flowers are a symbol of both love and life. Get this timeless sleeve tattoo for men to portray your love for nature and life.
Modern Sleeve Tattoo Ideas For Men
Modern art is trending in the current tattoo culture. These tattoo designs are both creative and eye catching. Let us see a few examples of modern sleeve tattoo ideas for men.
28. The Celestial Eye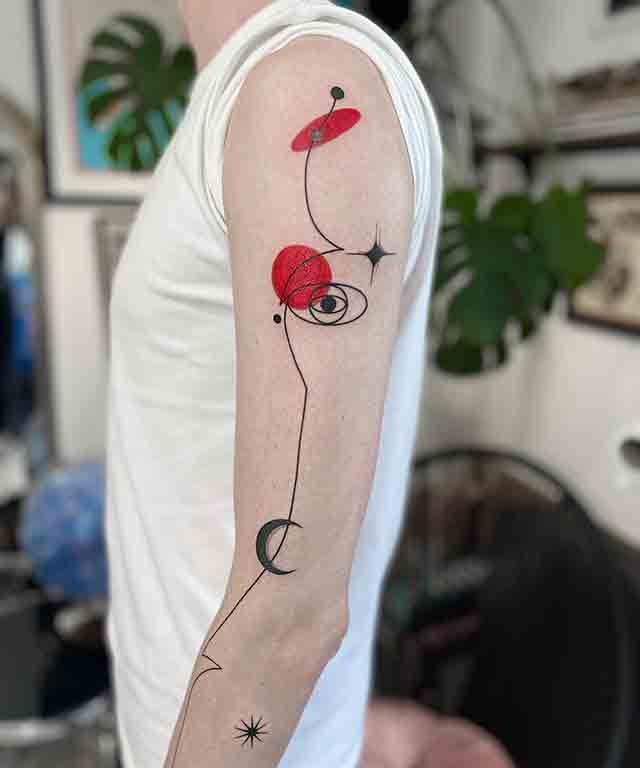 Aesthetic sleeve tattoos for men are trending in today's date. Symbolize the view of life, magic, and love with this beautiful tattoo design.
29. Double Trouble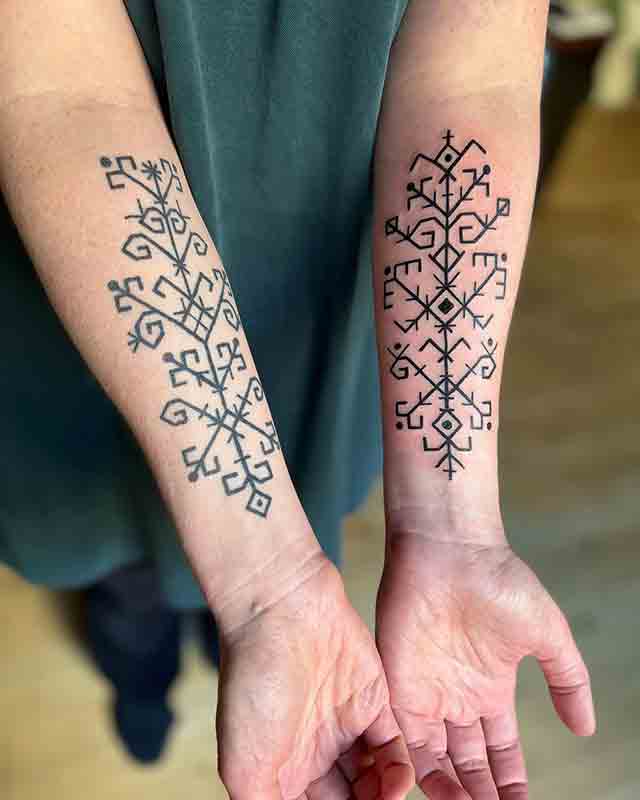 Attract attention of everyone with this double pattern tattoo. It represents stability, balance, and power of life.
30. The Aesthetic Life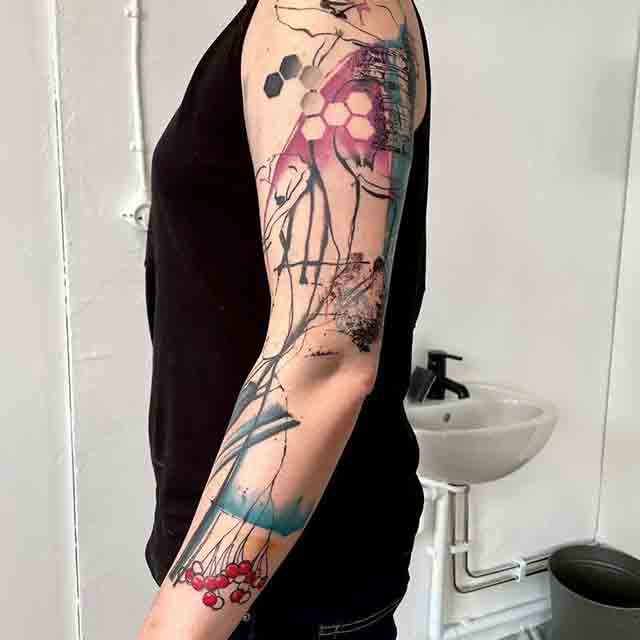 A lively representation of life, love, respect, and freedom. It also represents the beauty of art and the talent of the artist.
Creative Sleeve Tattoo Ideas For Men
31.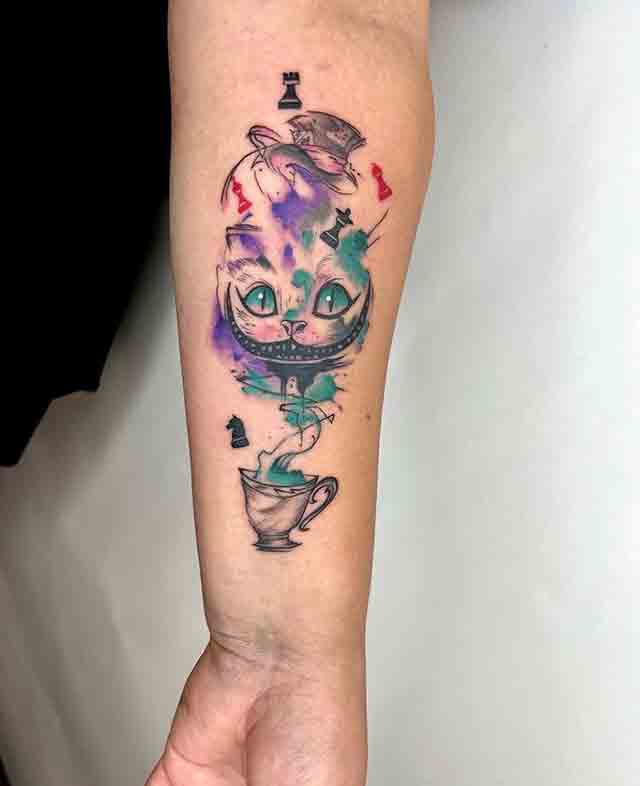 32.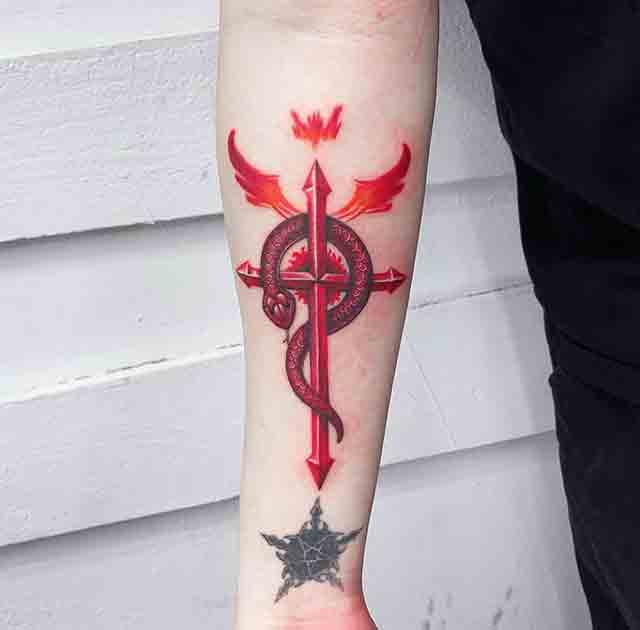 33.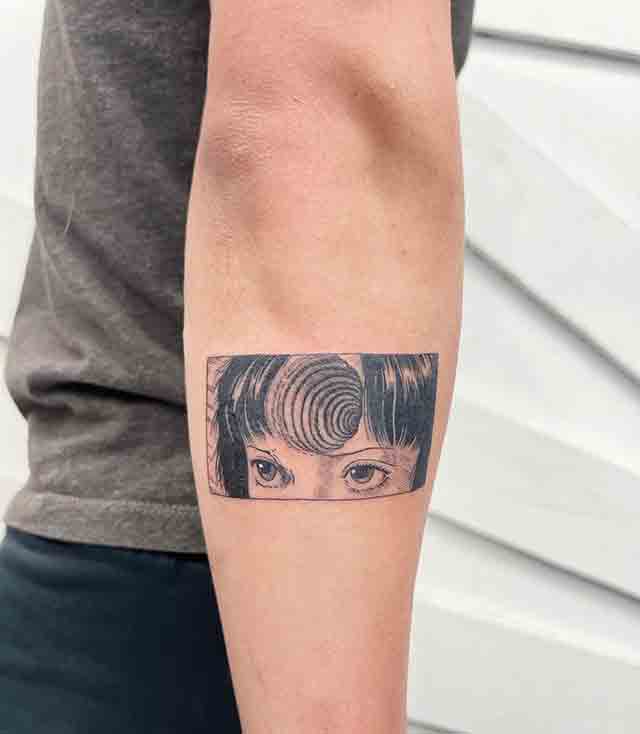 Cross Sleeve Tattoo Ideas For Men
34.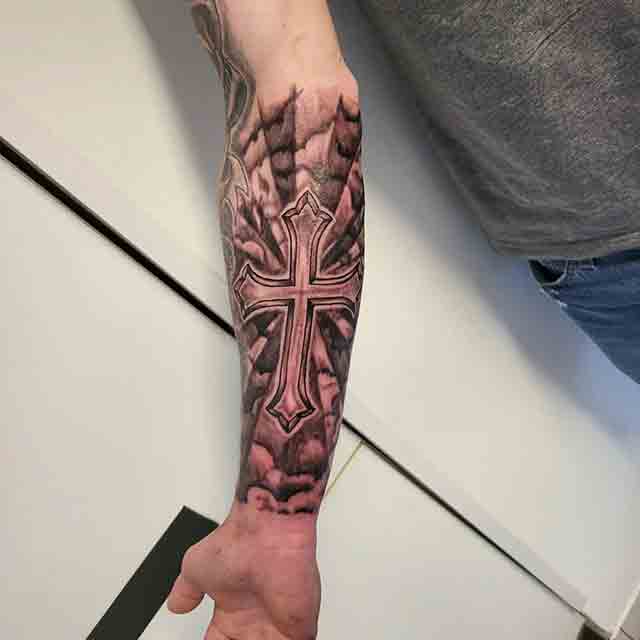 35.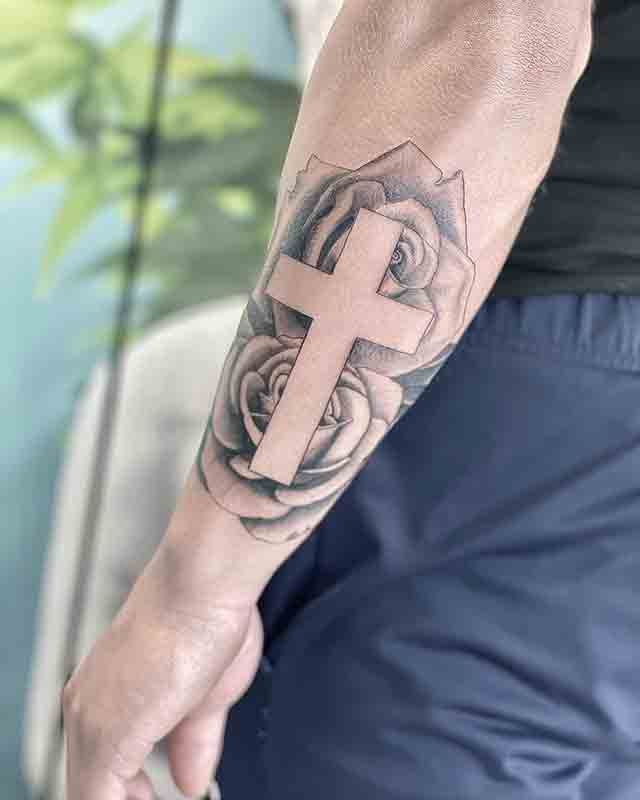 36.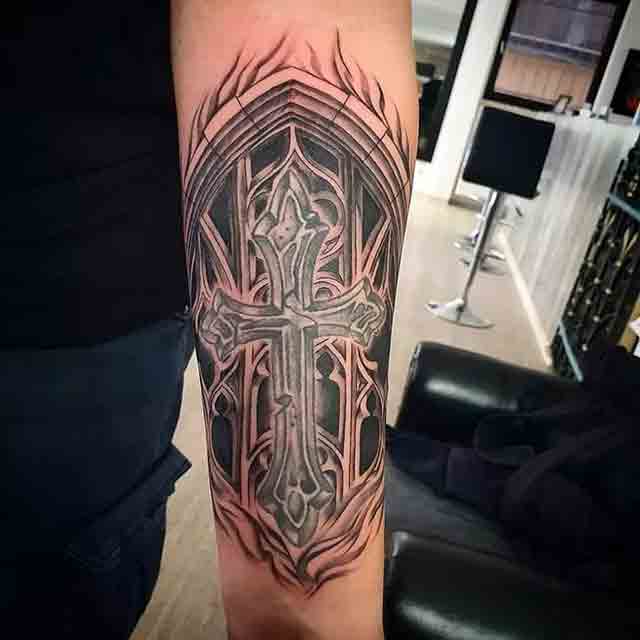 Japanese Tattoos Sleeves For Men
37.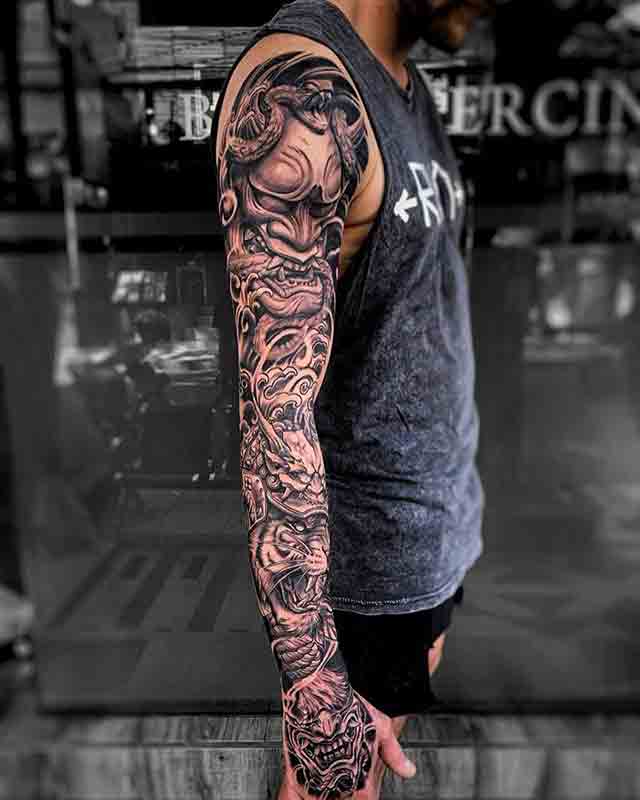 38.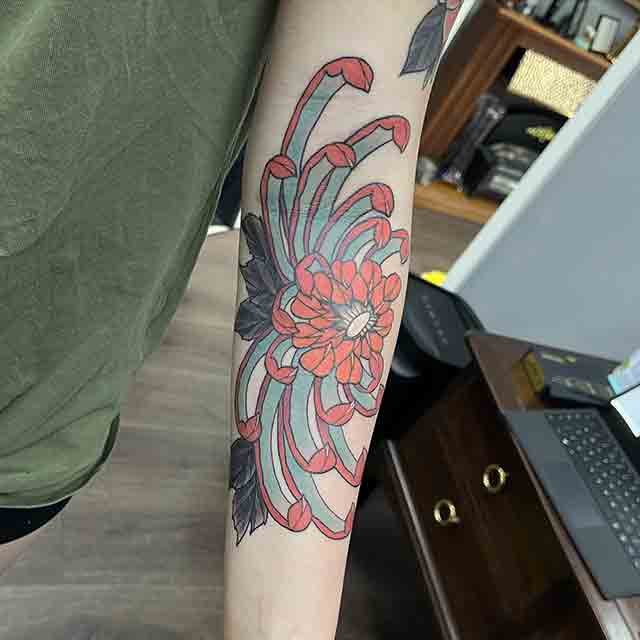 39.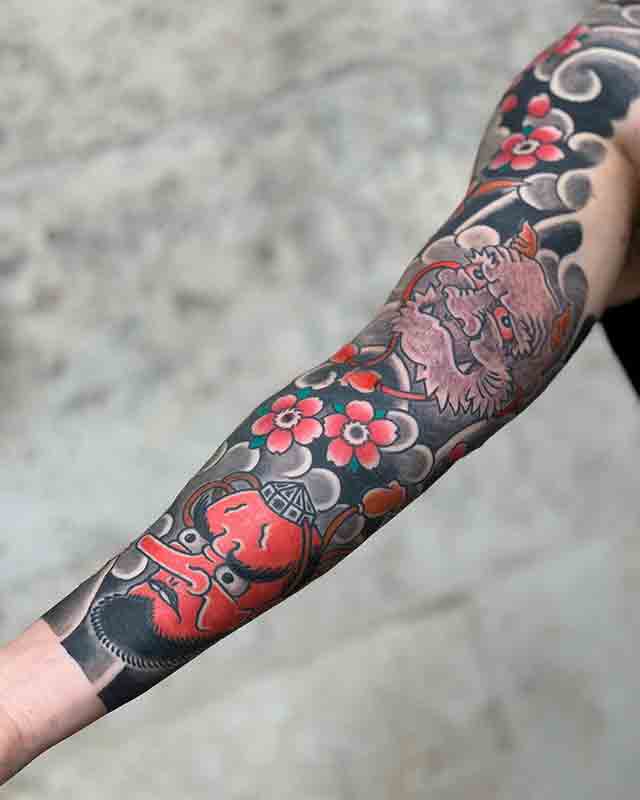 Nature Sleeve Tattoo Ideas For Men
40.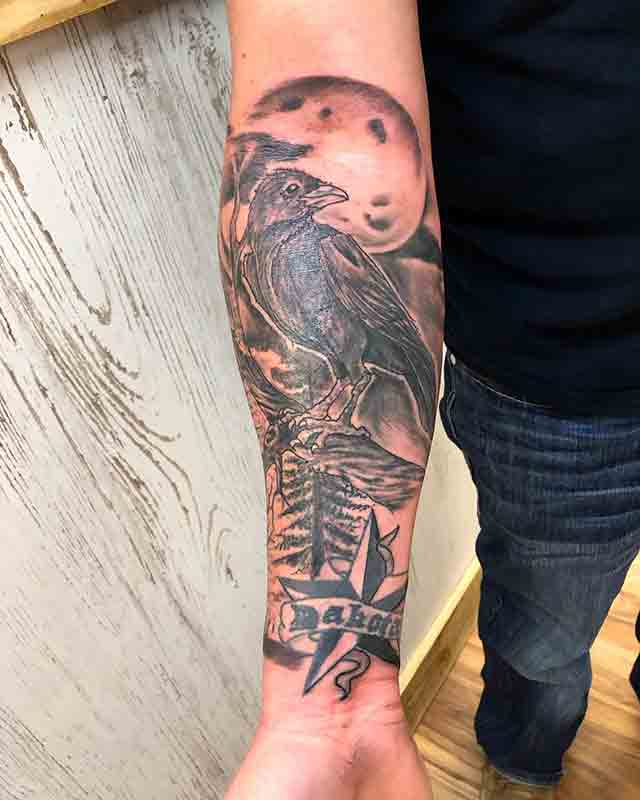 41.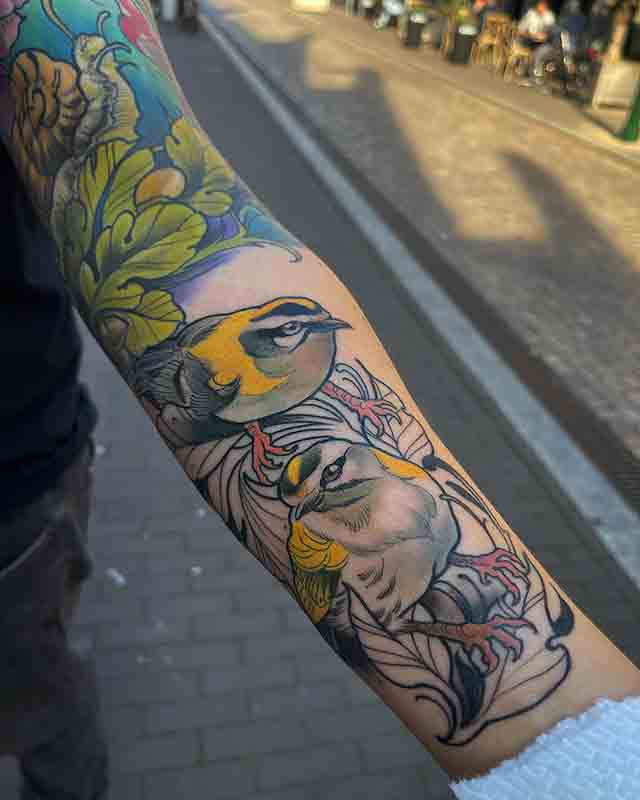 42.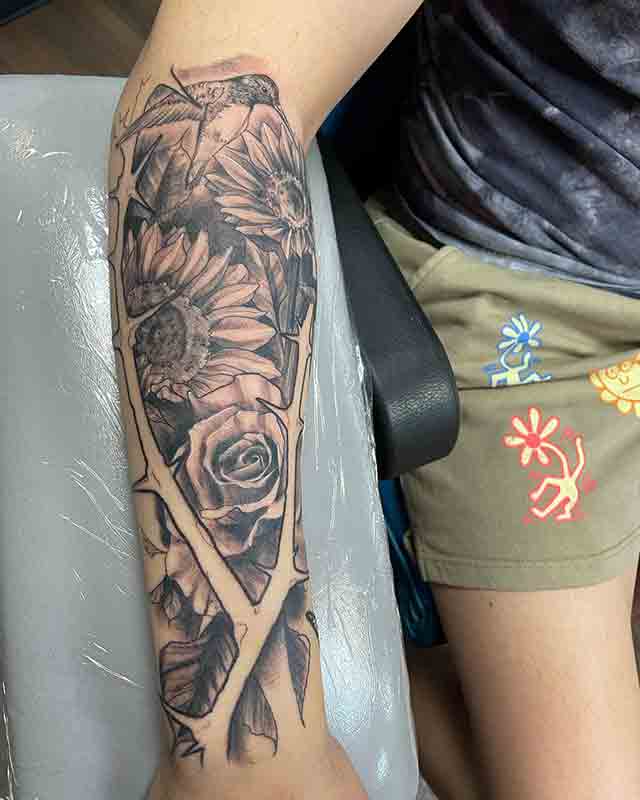 Tree Sleeve Tattoos For Men
43.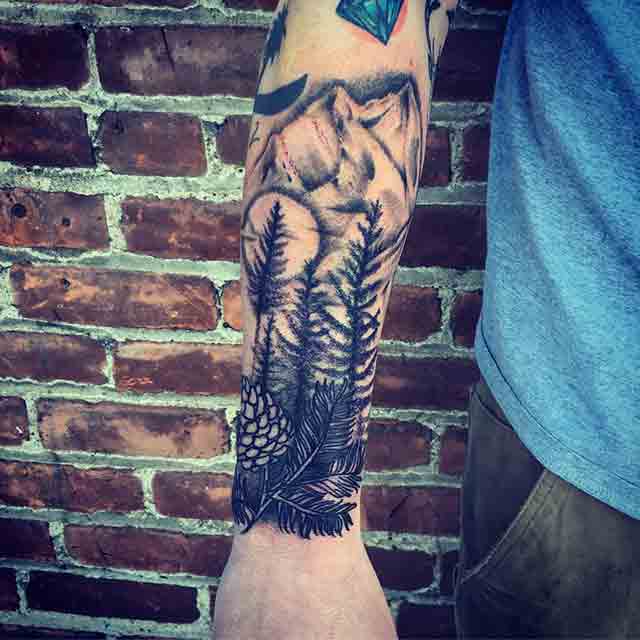 44.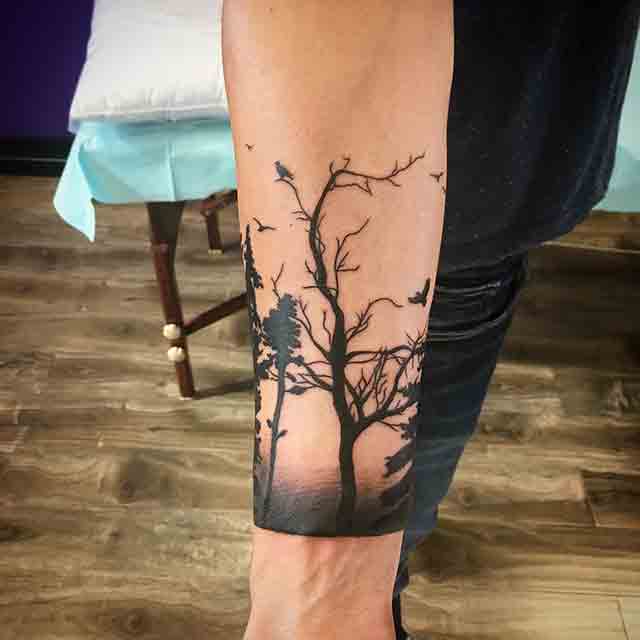 45.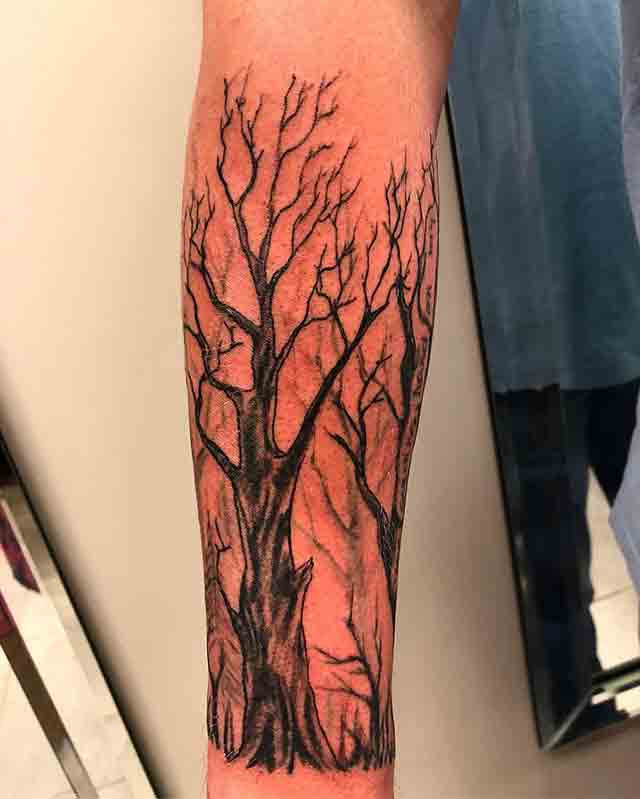 Simple Sleeve Tattoos For Men
46.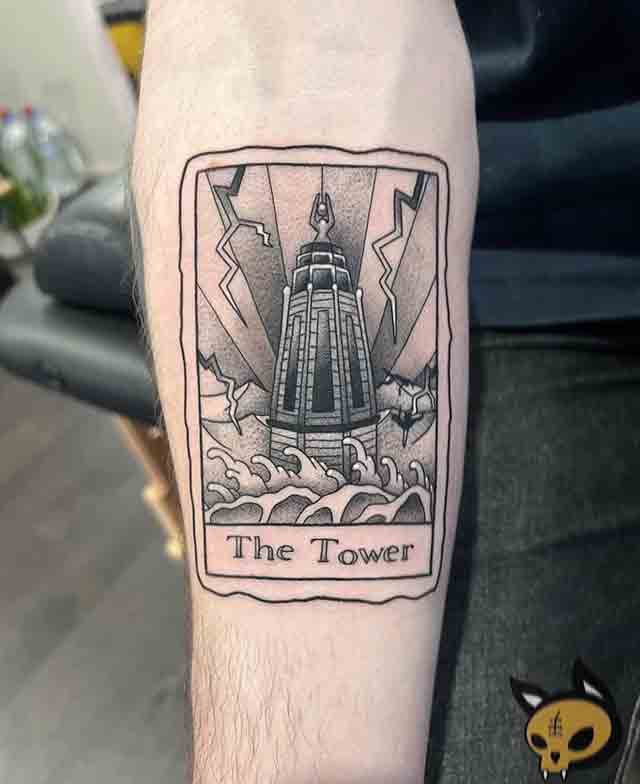 47.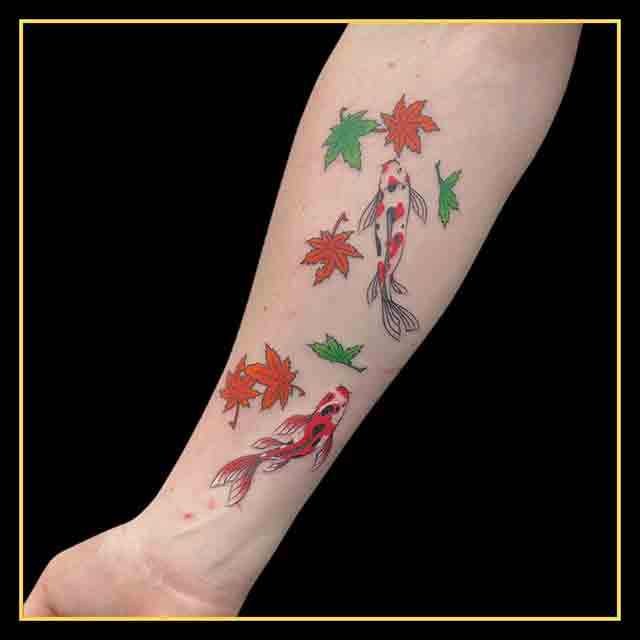 48.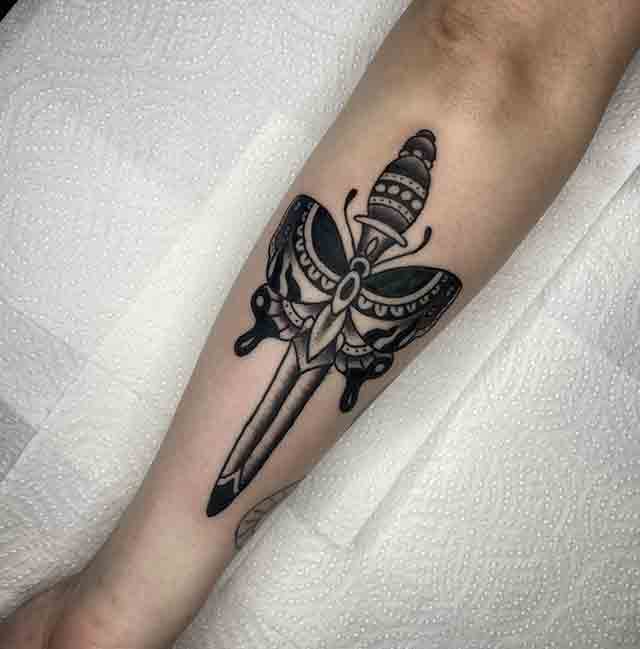 Aztec Sleeve Tattoo Ideas For Men
49.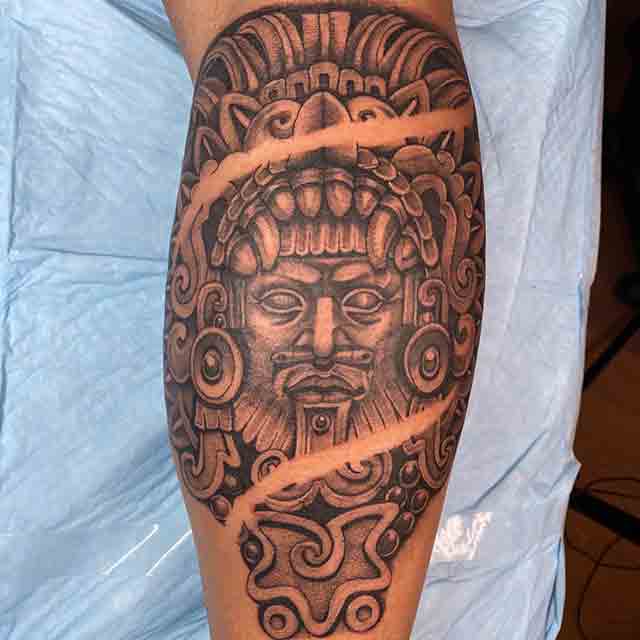 50.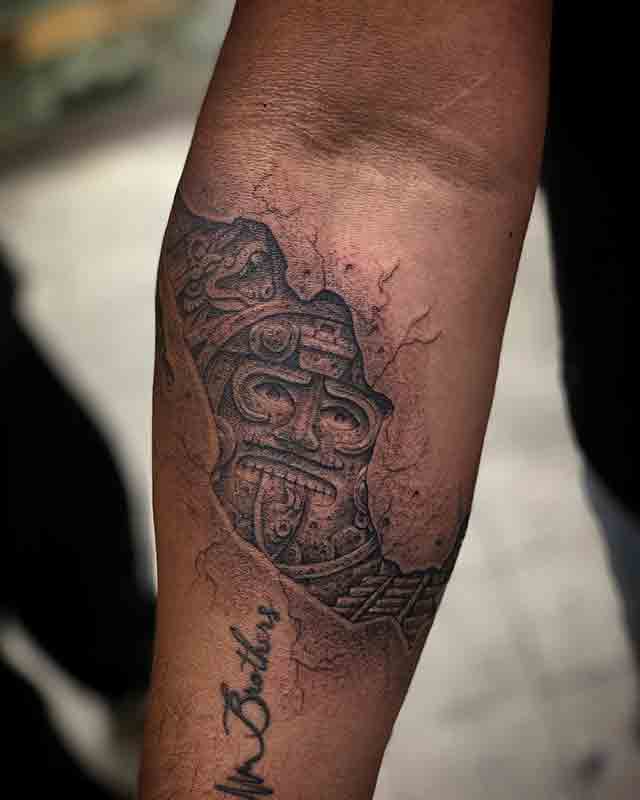 51.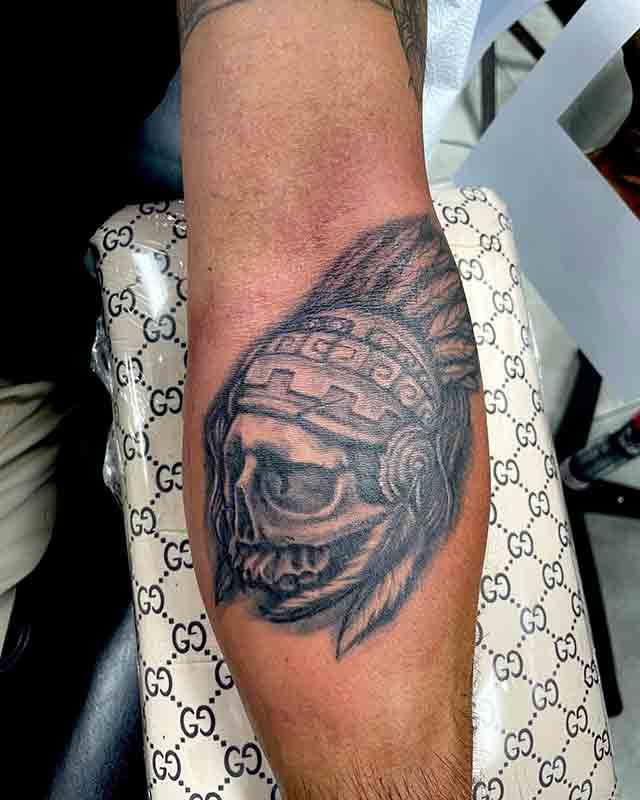 Badass Sleeve Tattoos For Men
52.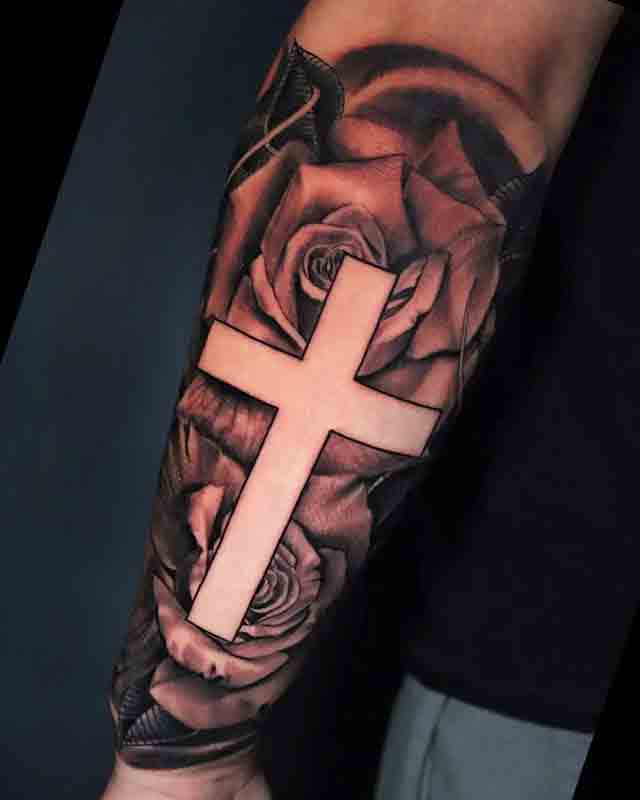 53.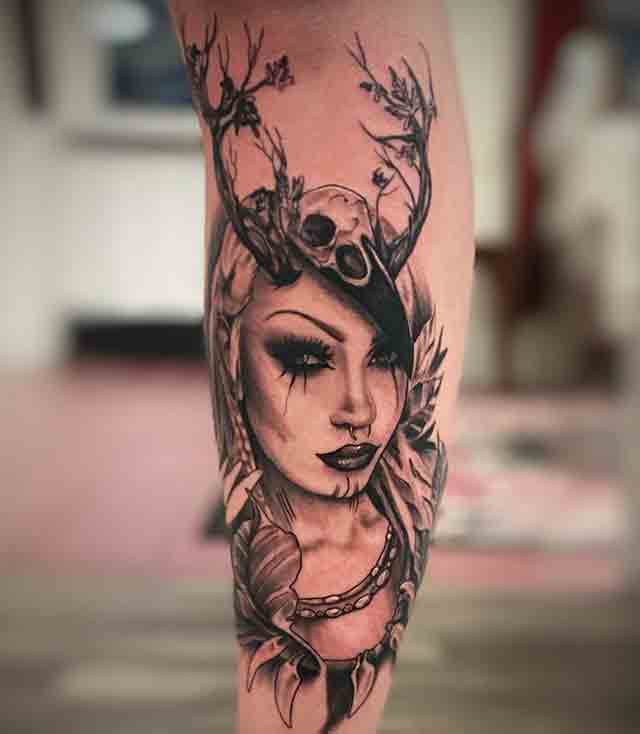 54.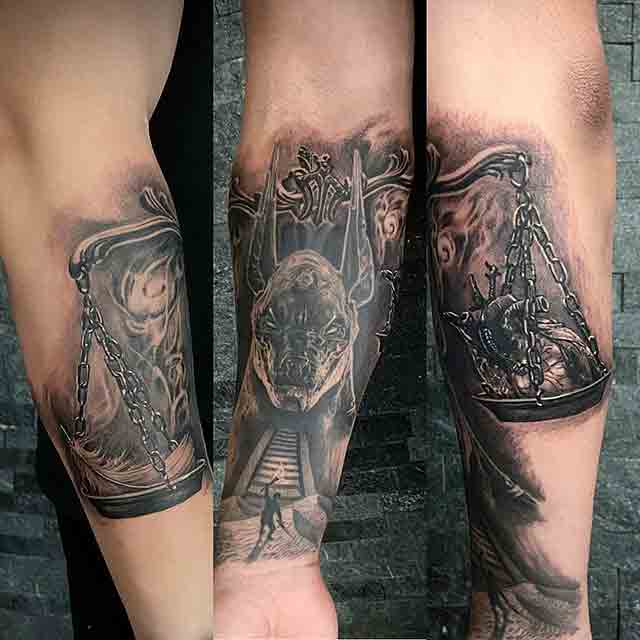 Cloud Sleeve Tattoos For Men
55.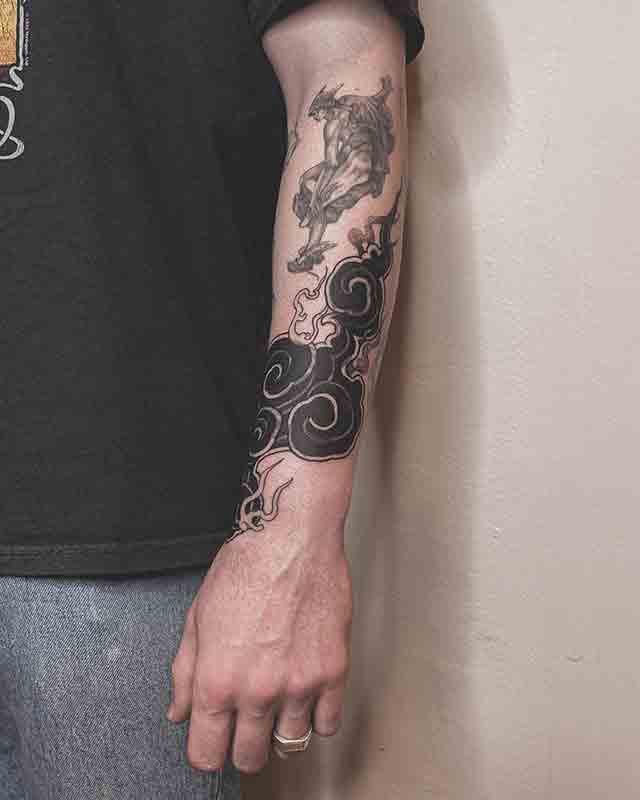 56.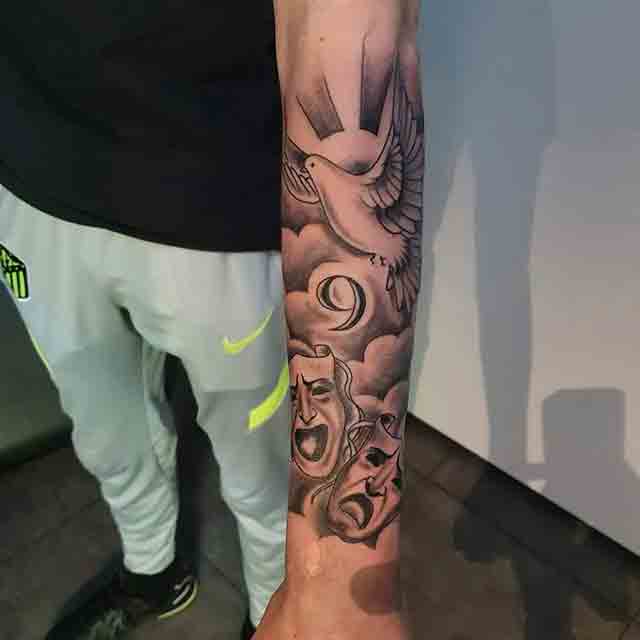 57.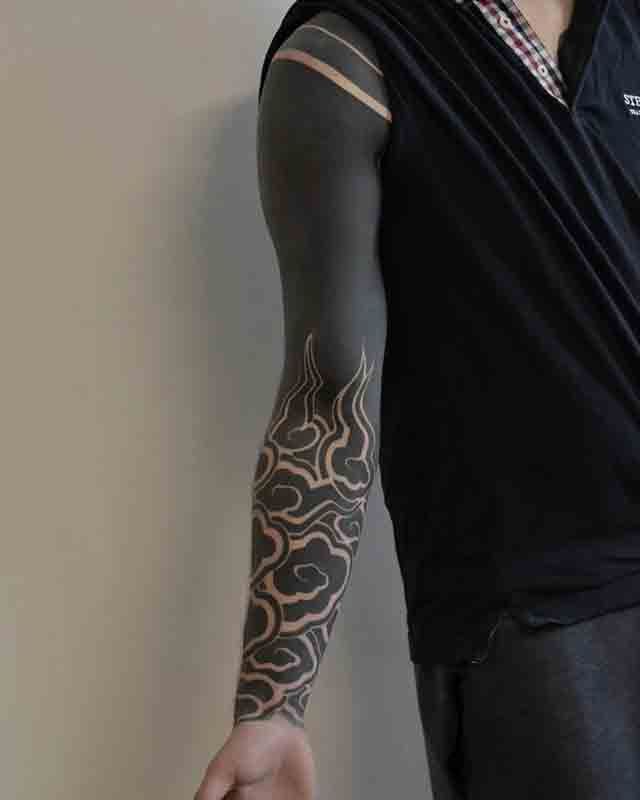 Lion Sleeve Tattoos For Men
58.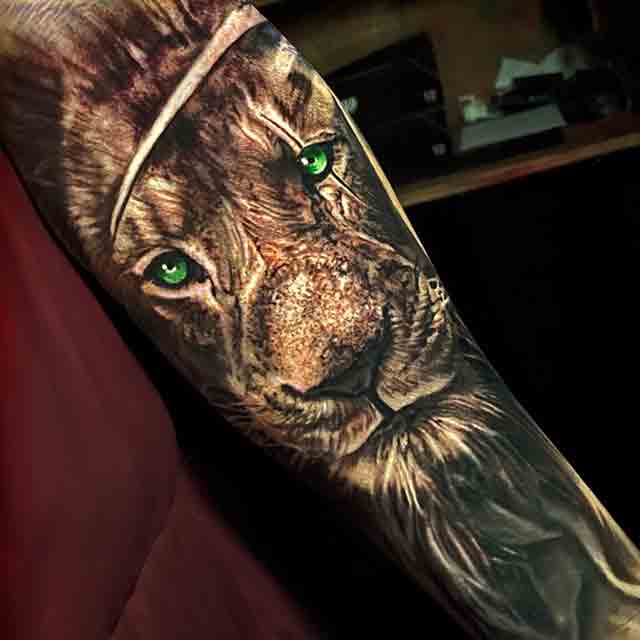 59.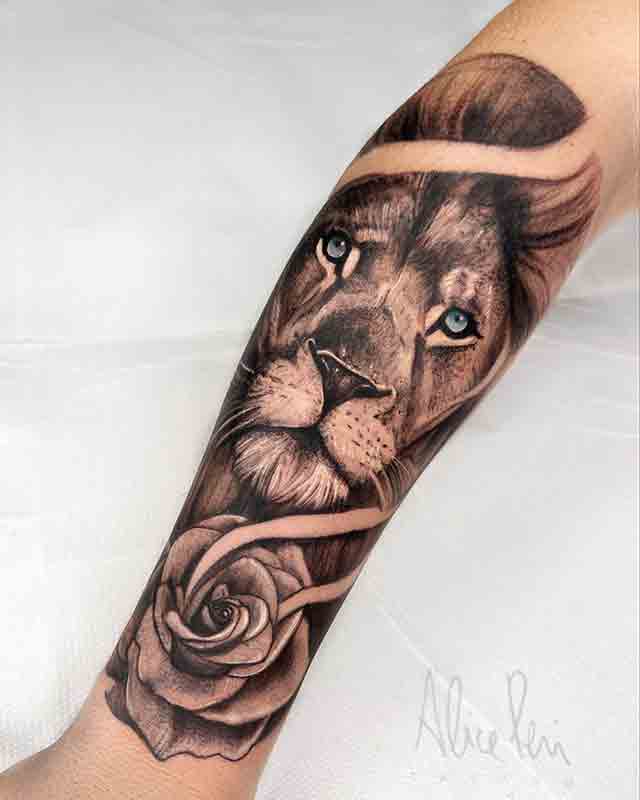 60.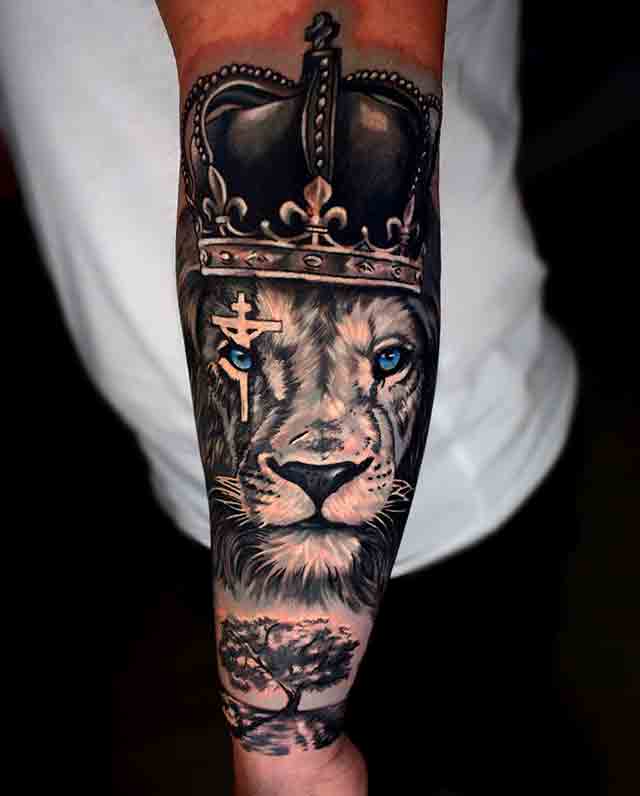 Nautical Sleeve Tattoos For Men
61.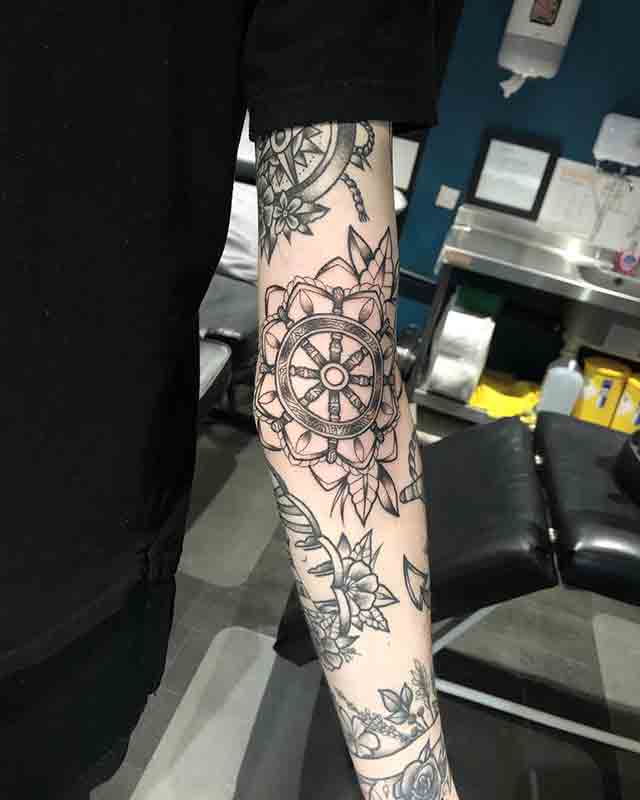 62.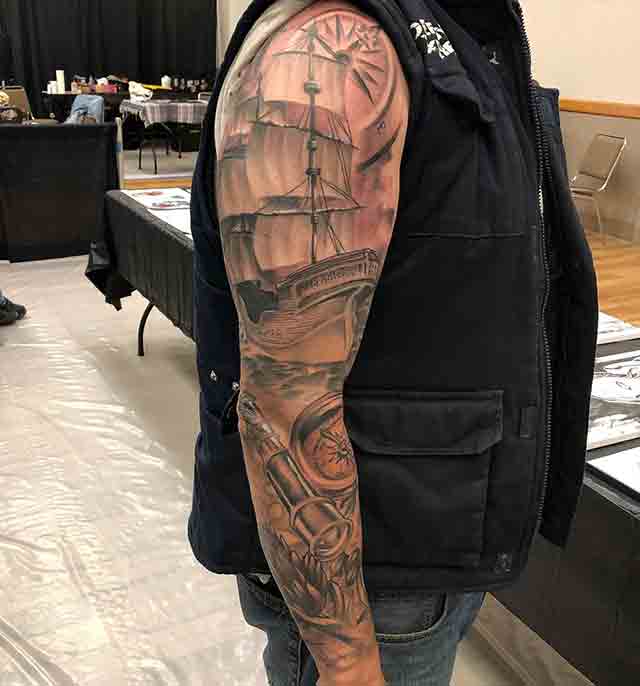 63.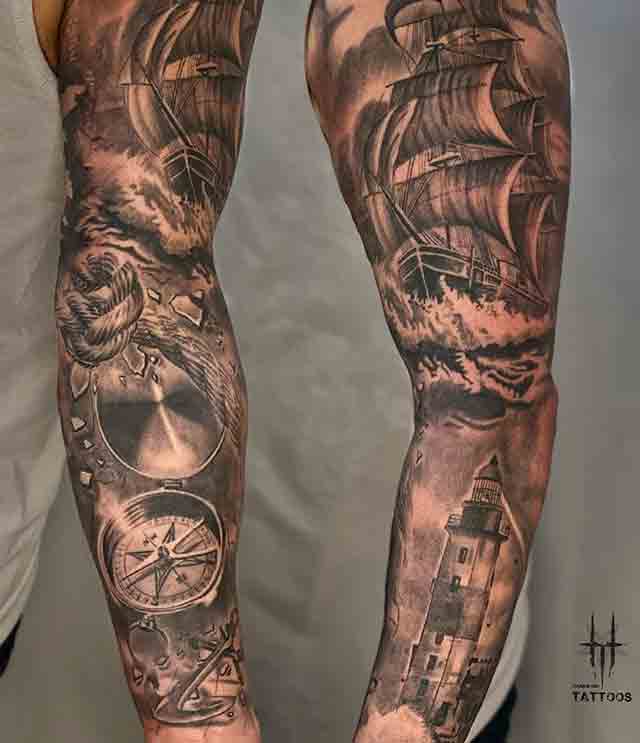 Outdoor Sleeve Tattoos For Men
64.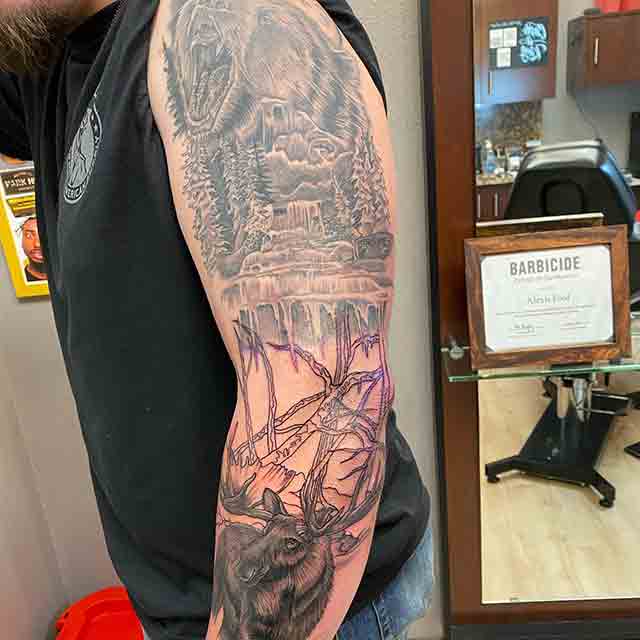 65.
66.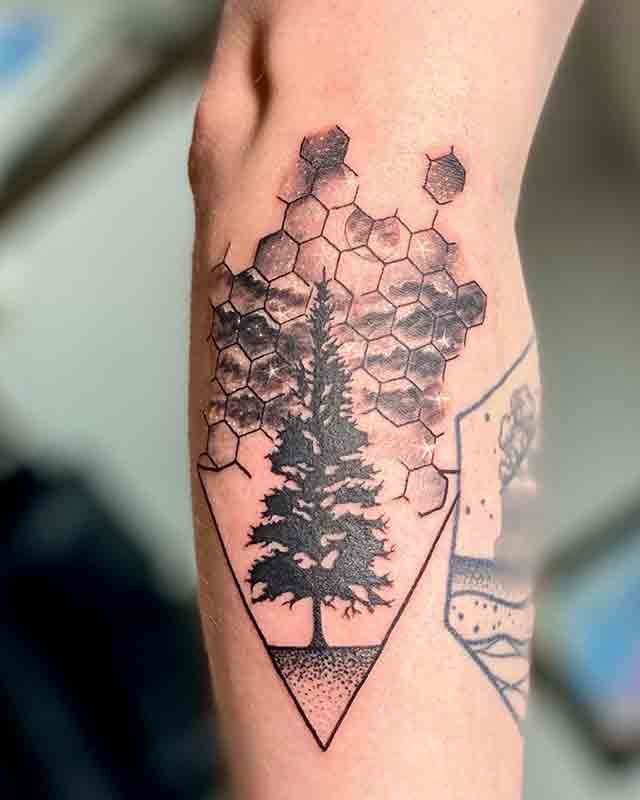 Religious Sleeve Tattoos For Men
67.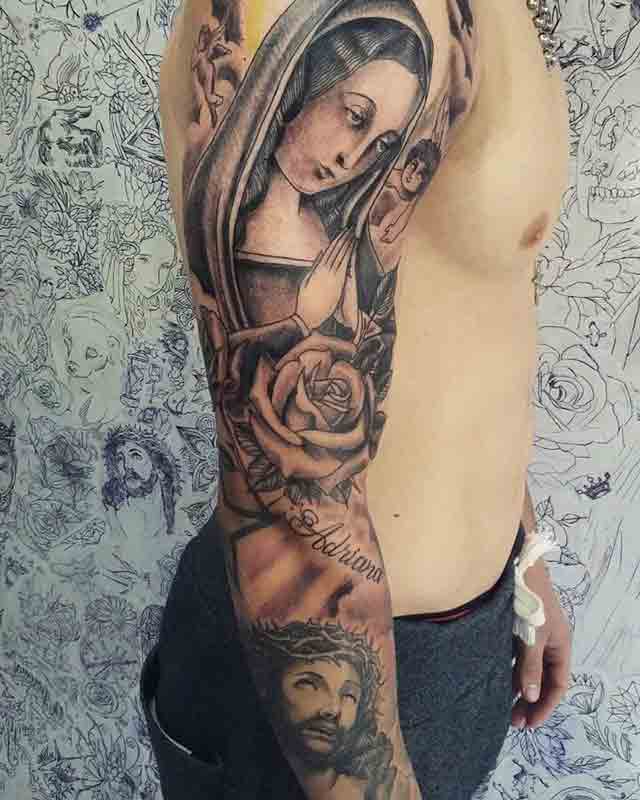 68.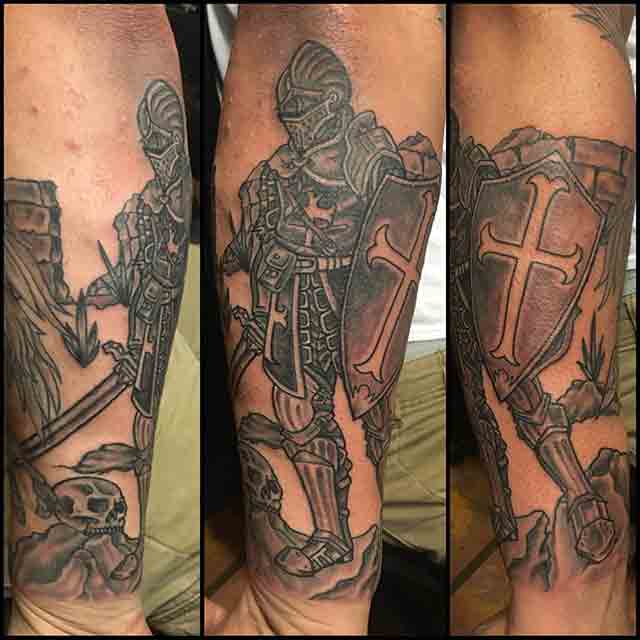 69.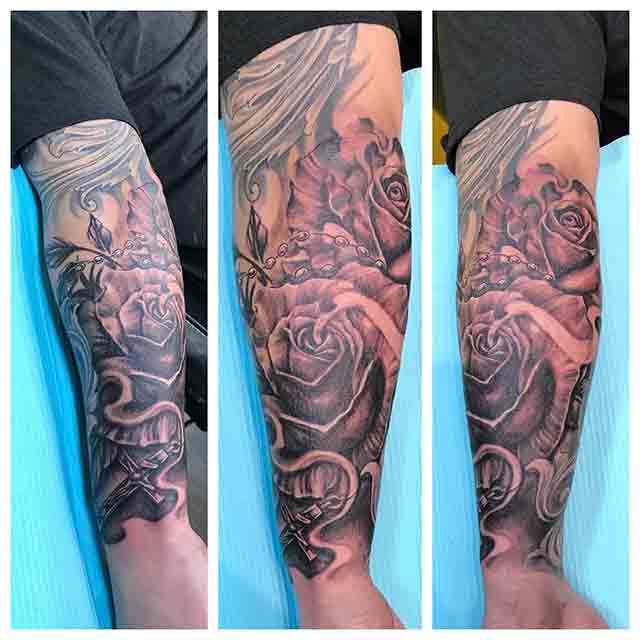 Viking Tattoos For Men Sleeve
70.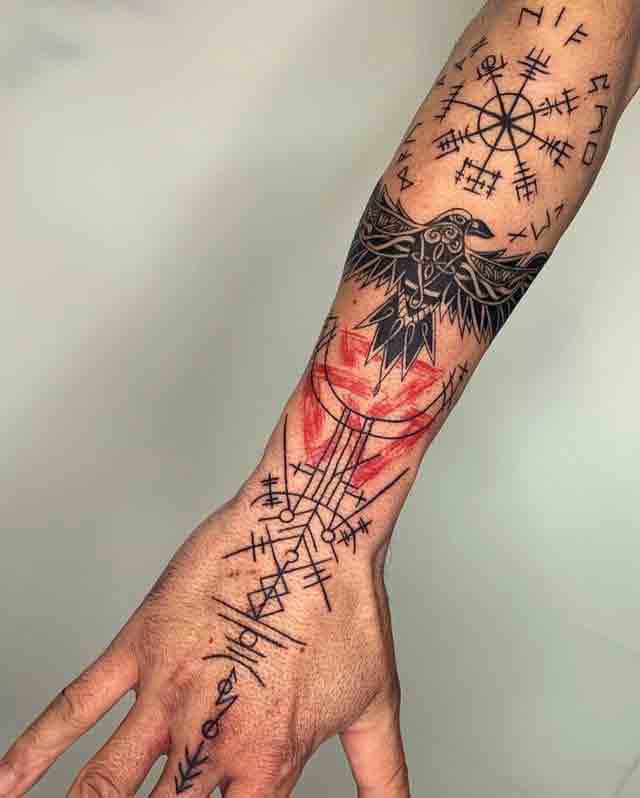 71.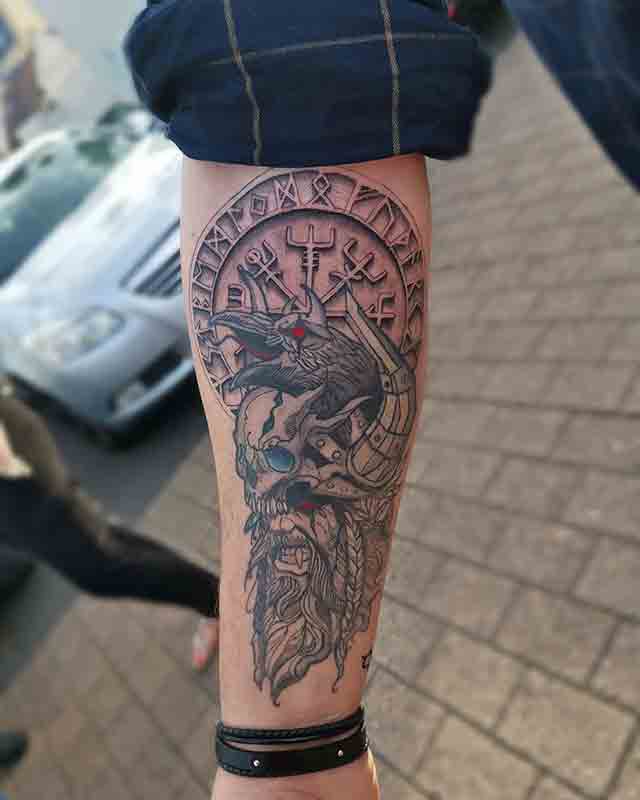 72.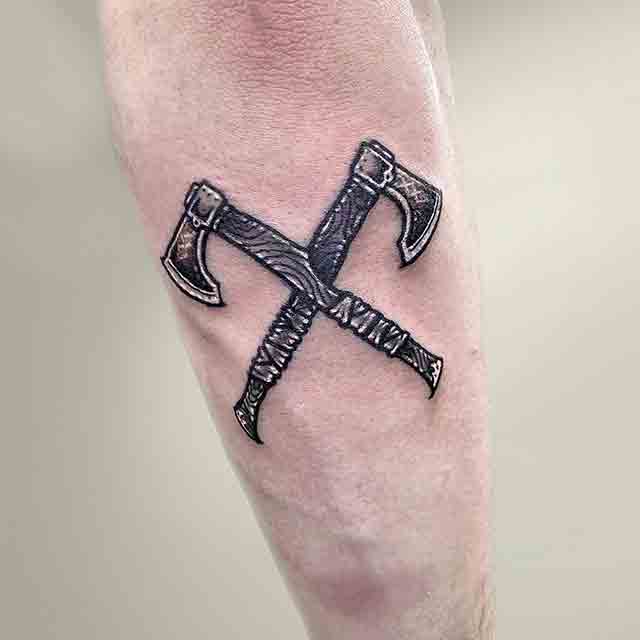 American Sleeve Tattoos For Men
73.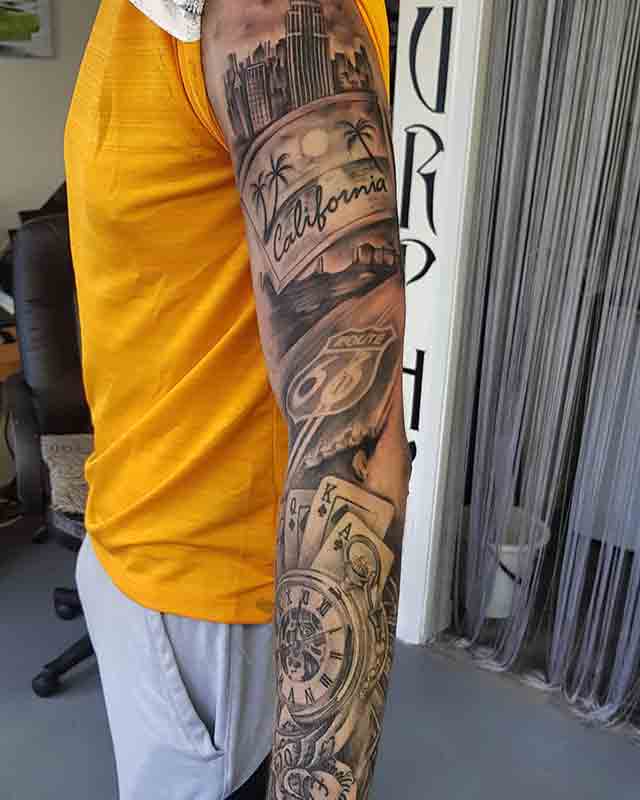 74.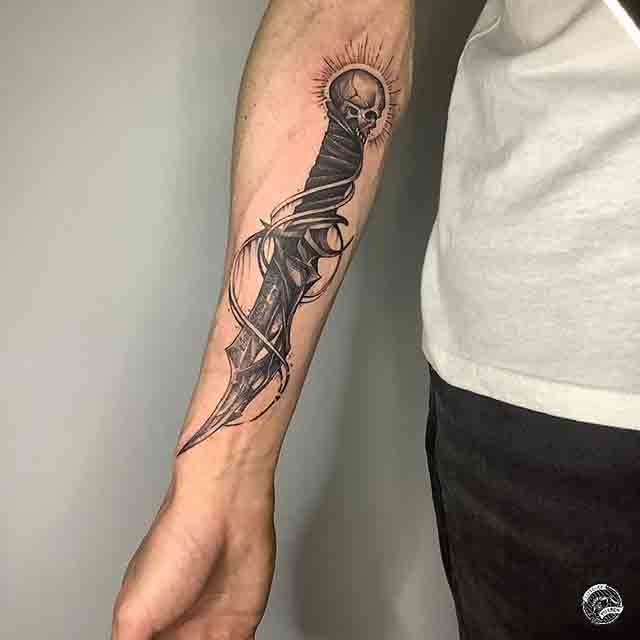 75.
Chinese Sleeve Tattoos For Men
76.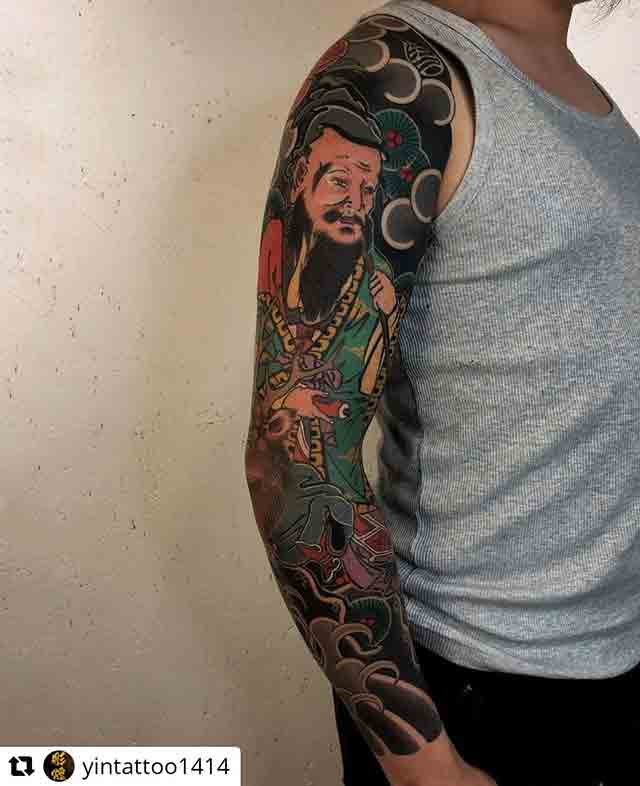 78.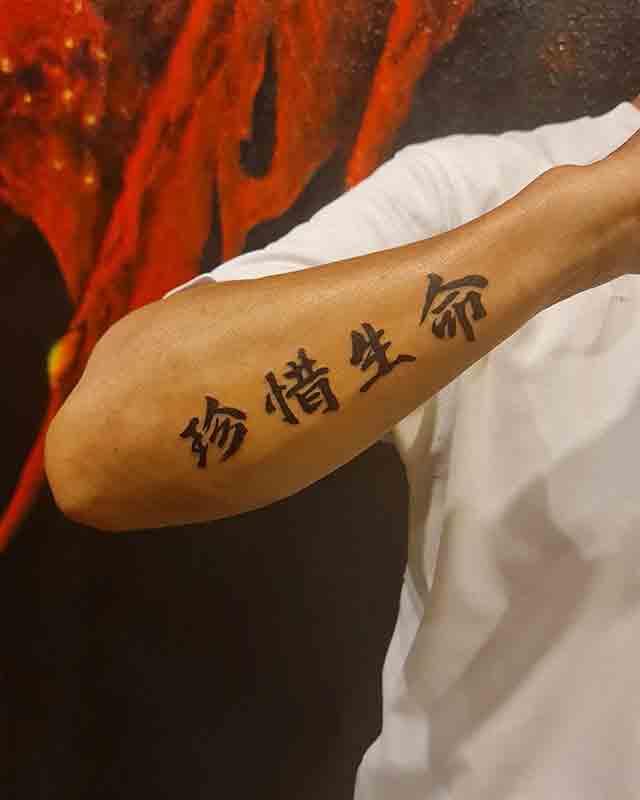 79.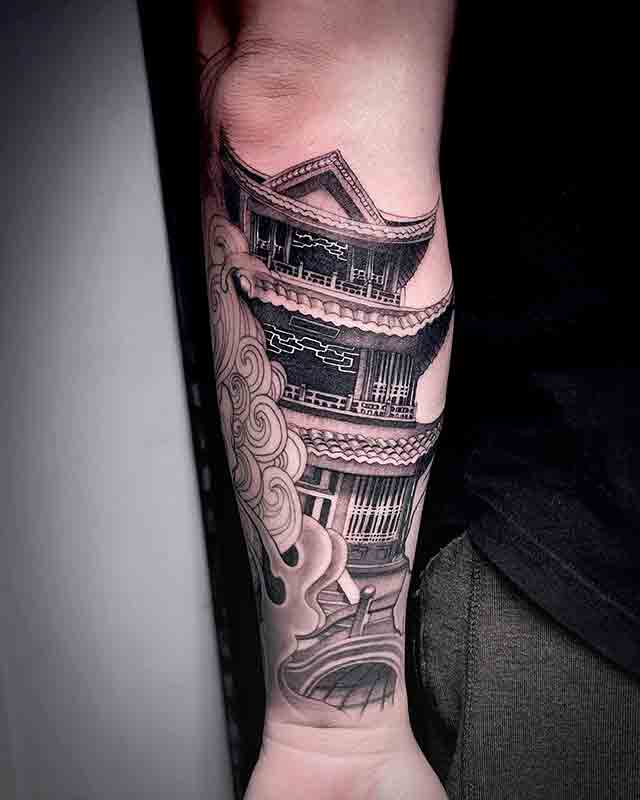 Christian Tattoo Sleeves For Men
80.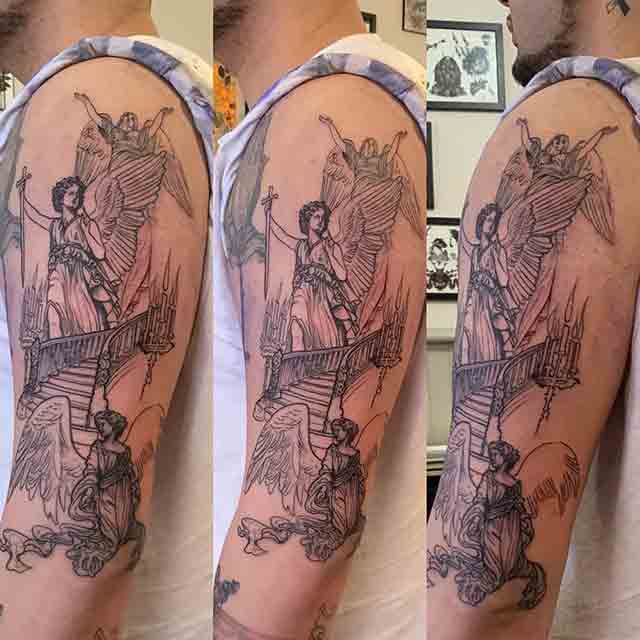 81.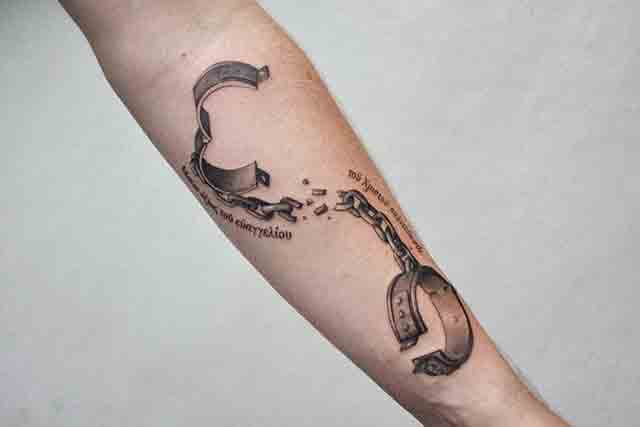 82.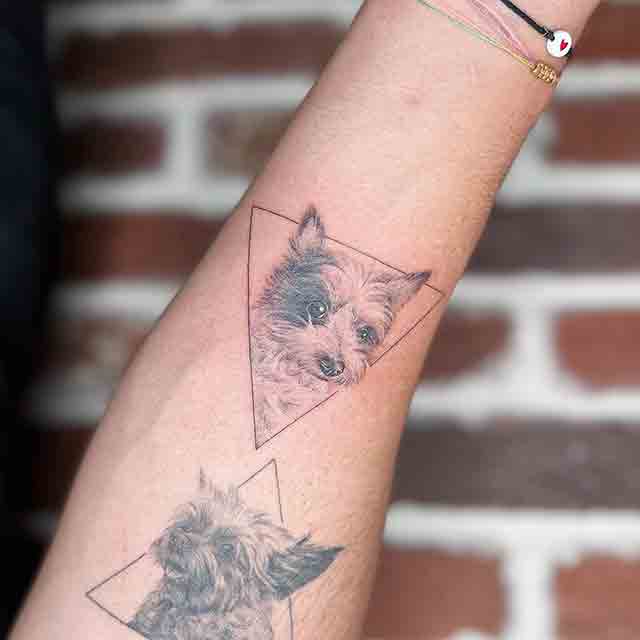 Clock Sleeve Tattoos For Men
83.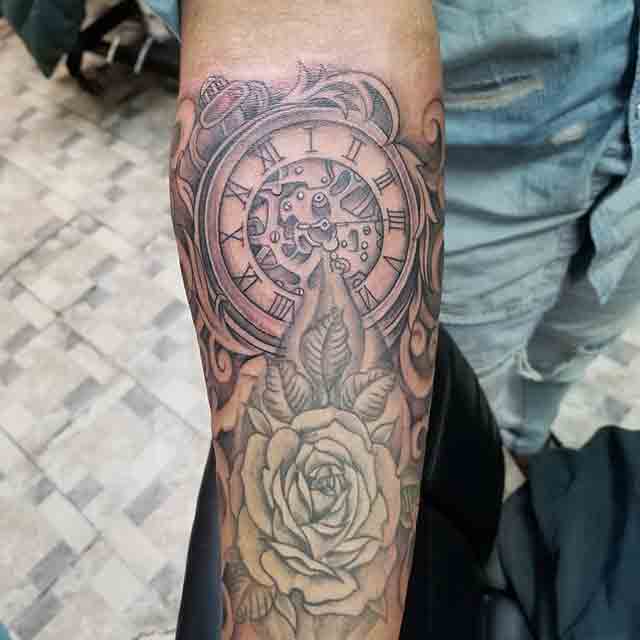 84.
85.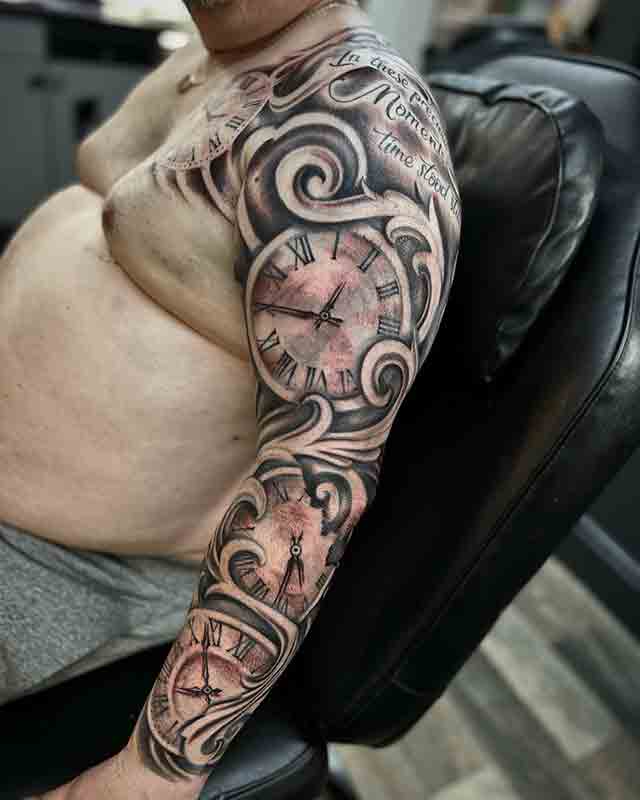 Gangster Hood Sleeve Tattoos For Men
86.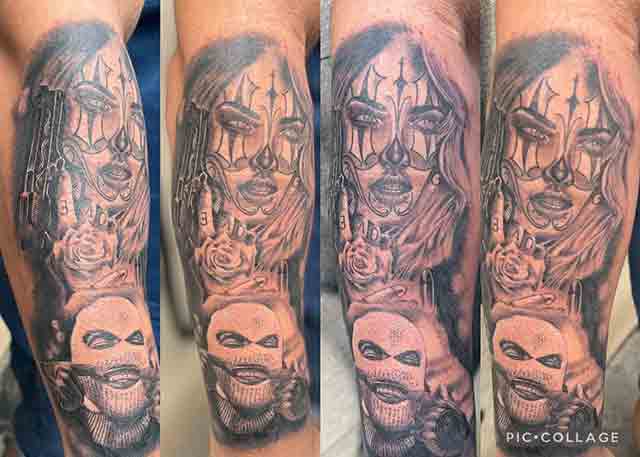 87.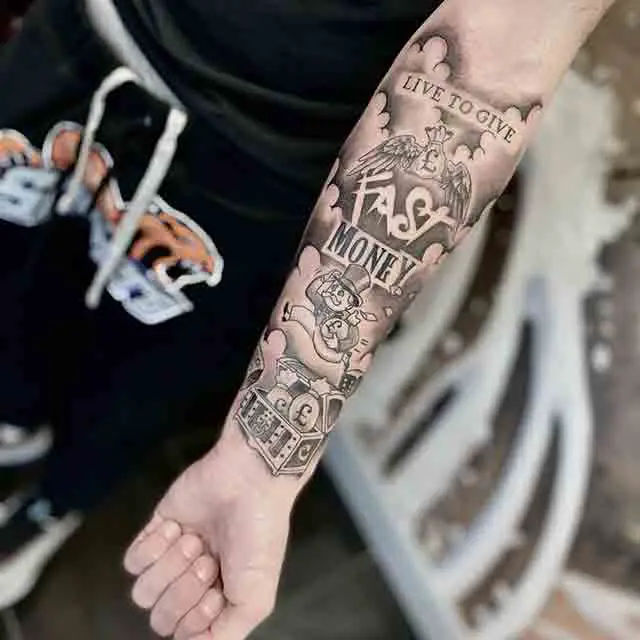 88.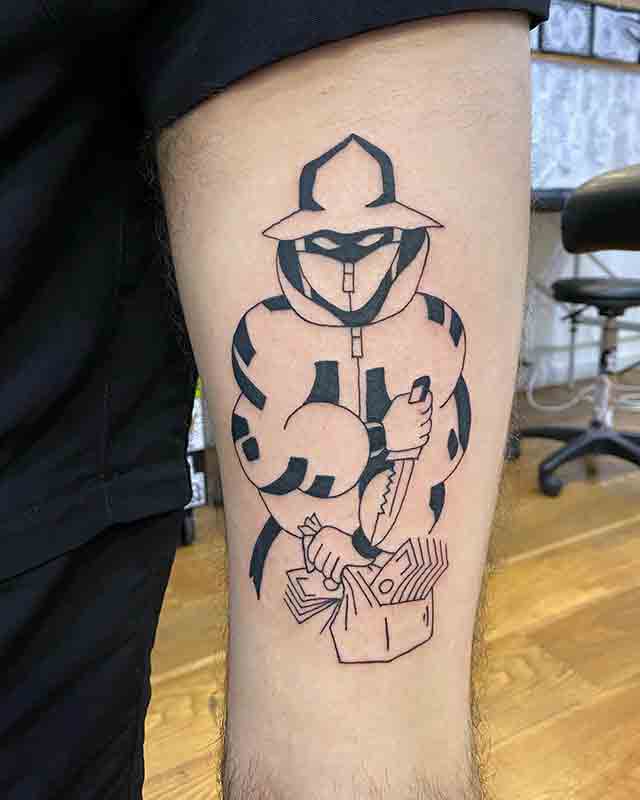 Irish Sleeve Tattoos For Men
89.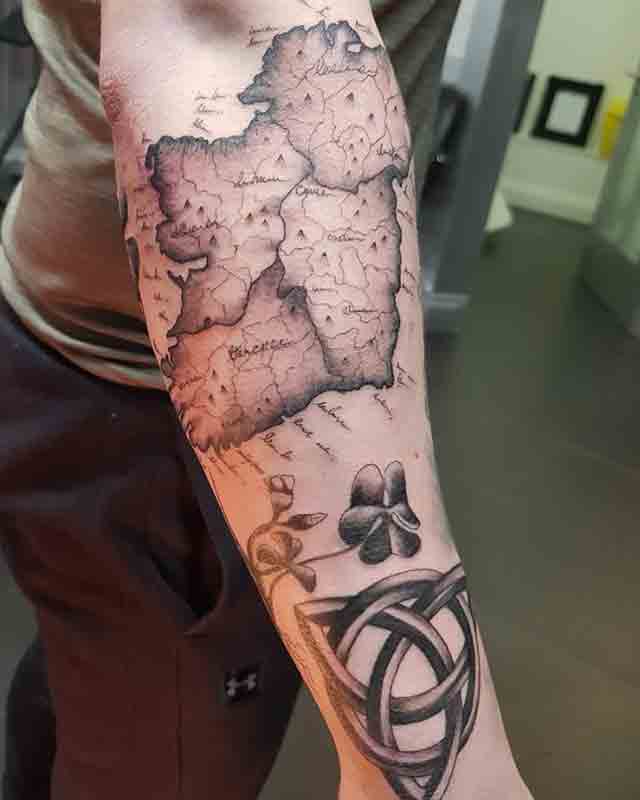 90.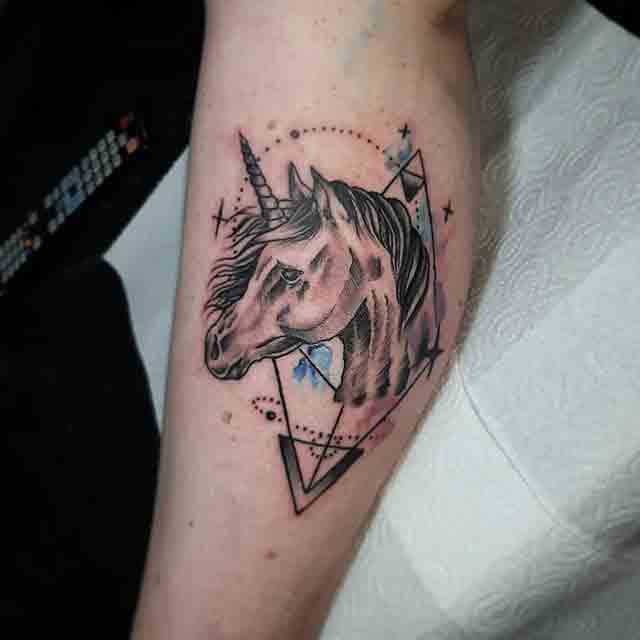 91.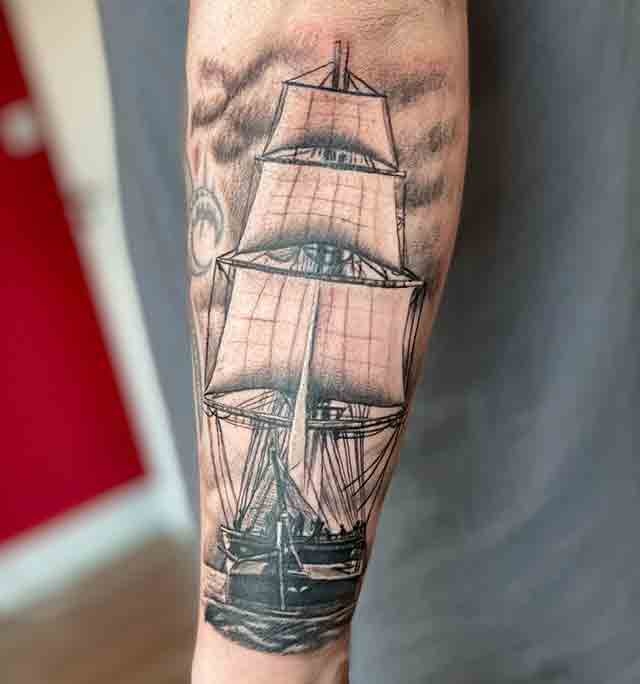 Ocean Sleeve Tattoos For Men
92.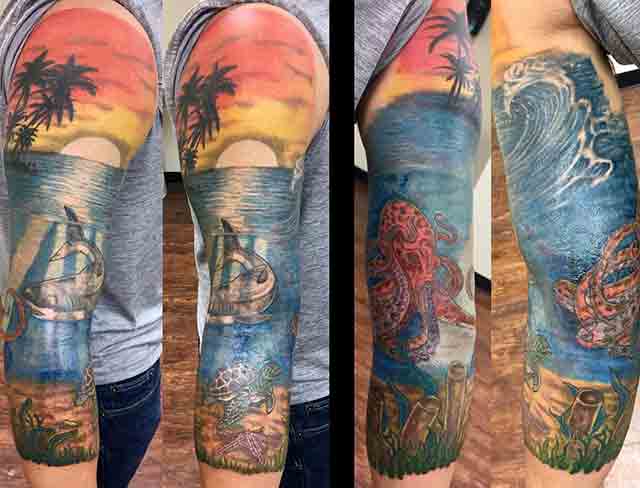 93.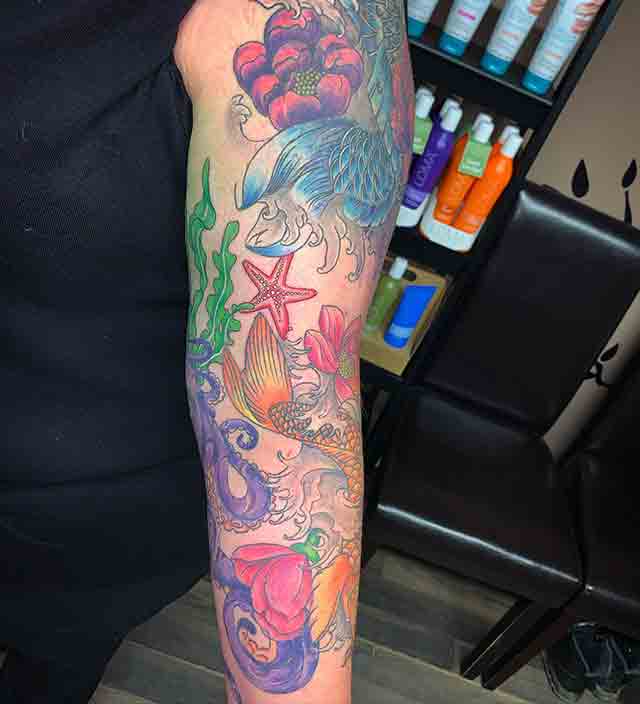 94.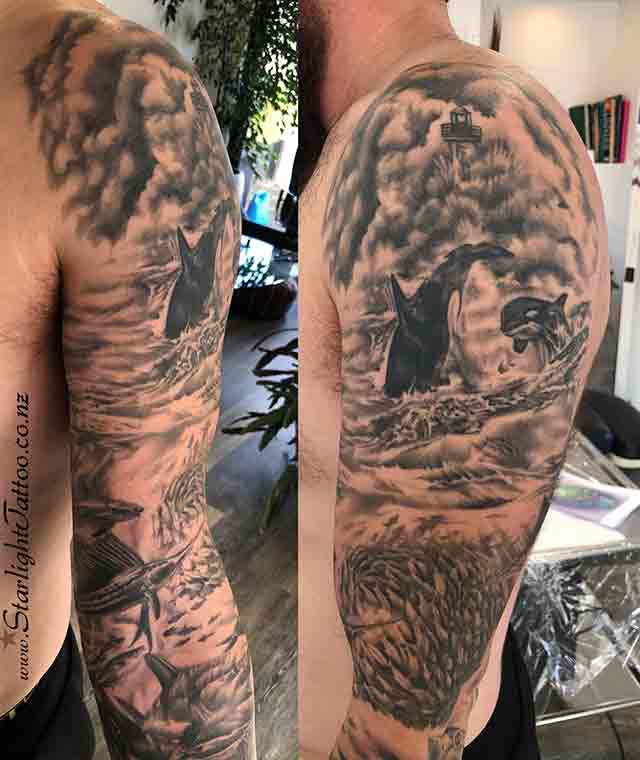 Patriotic Sleeve Tattoos For Men
95.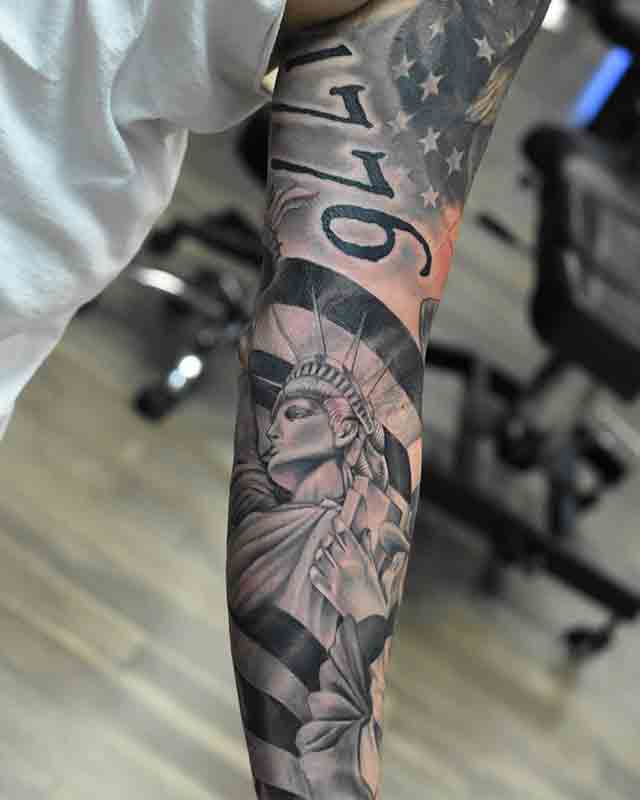 96.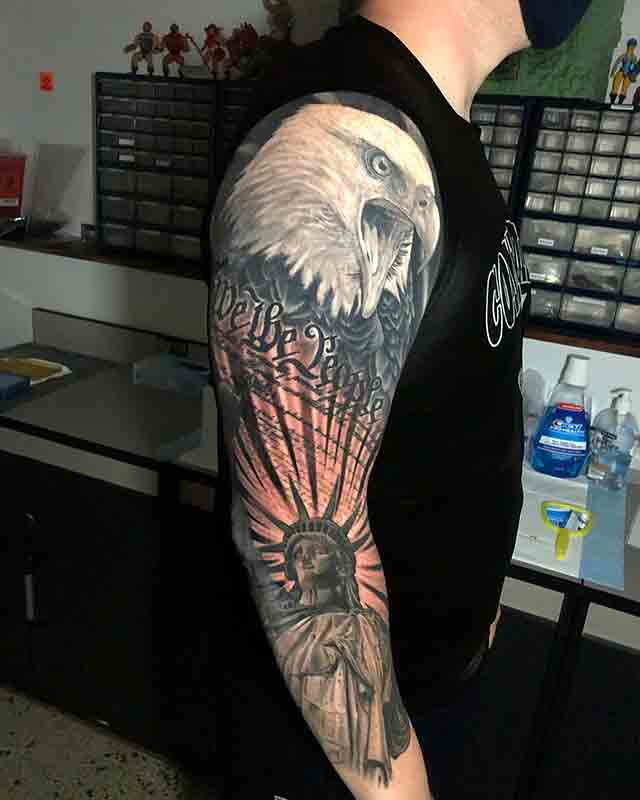 97.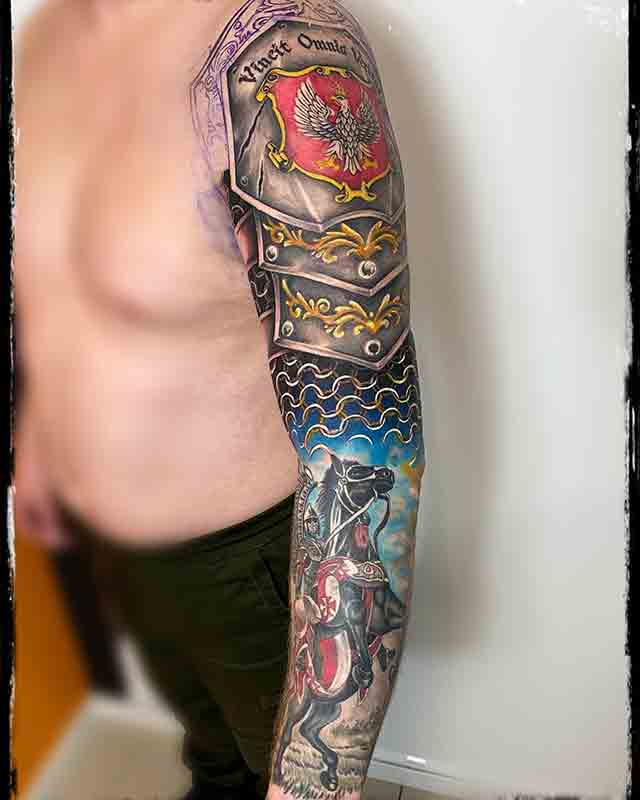 3d Sleeve Tattoos For Men
98.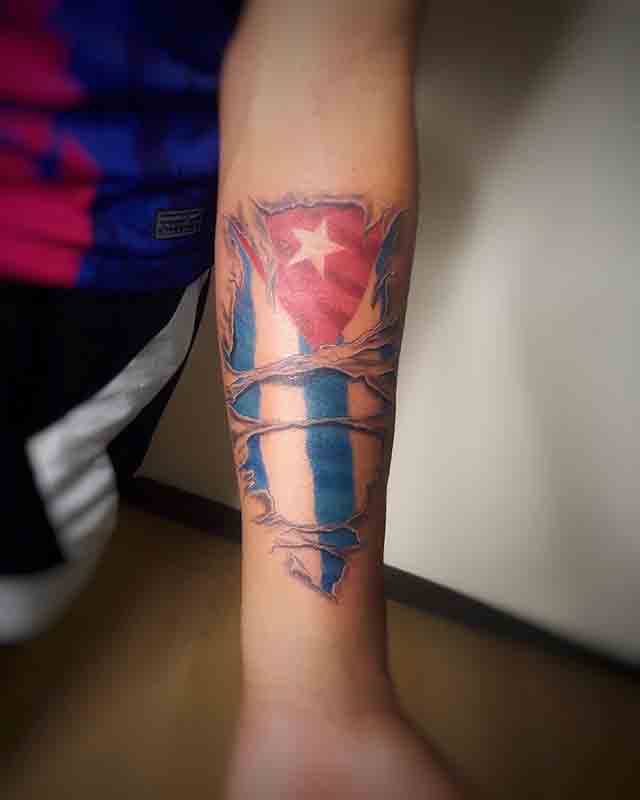 99.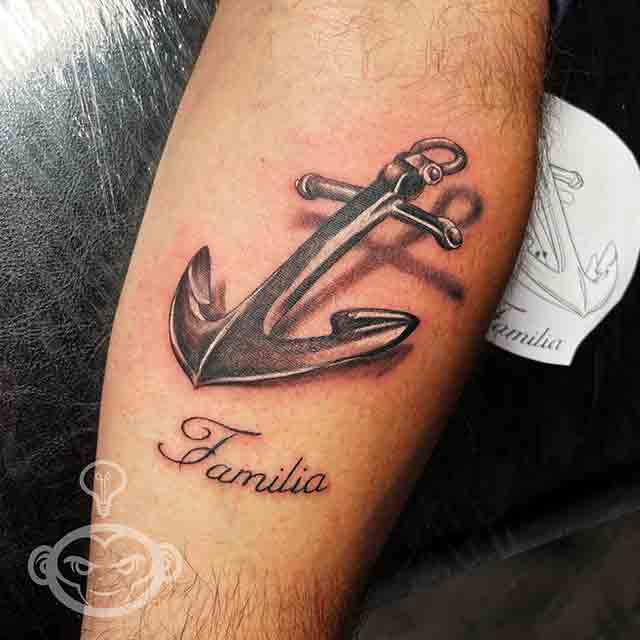 100.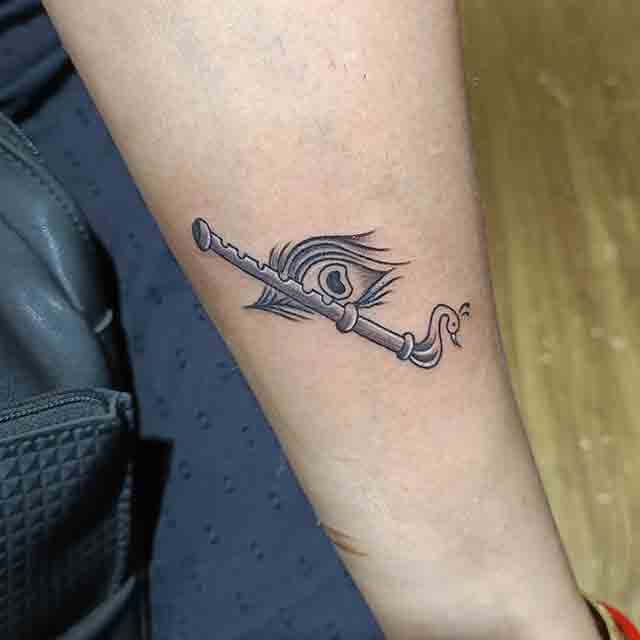 Animal Sleeve Tattoos For Men
101.
102.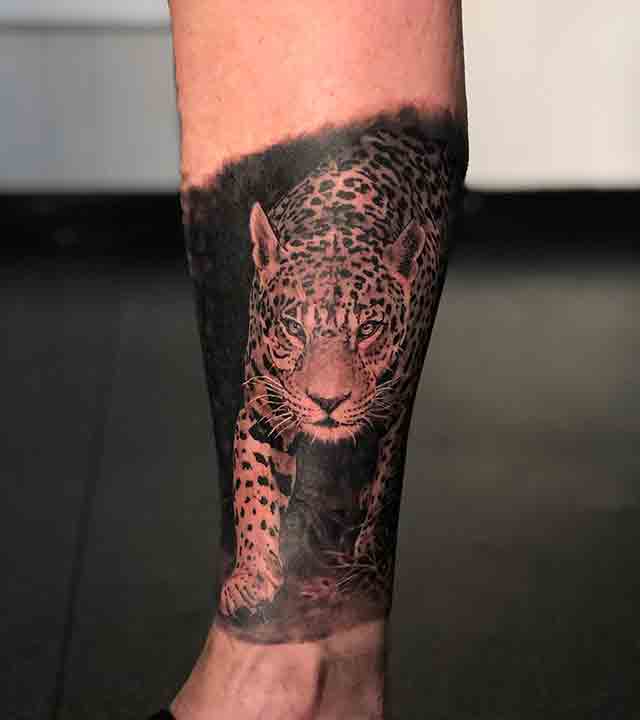 103.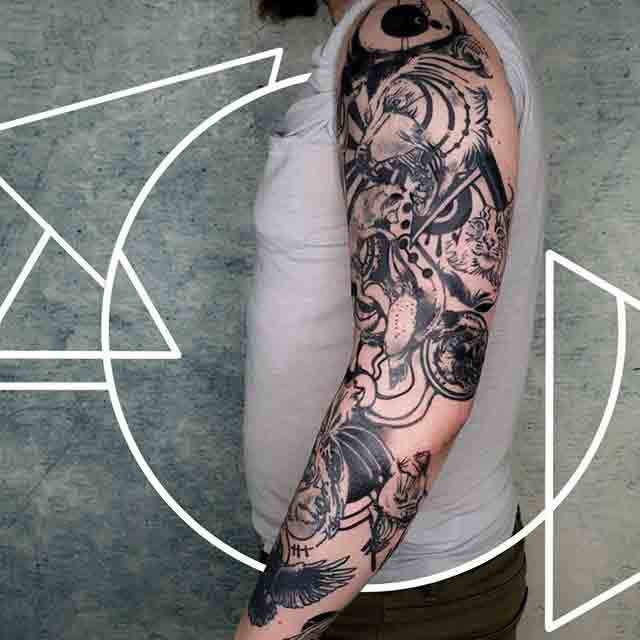 Compass Sleeve Tattoos For Men
104.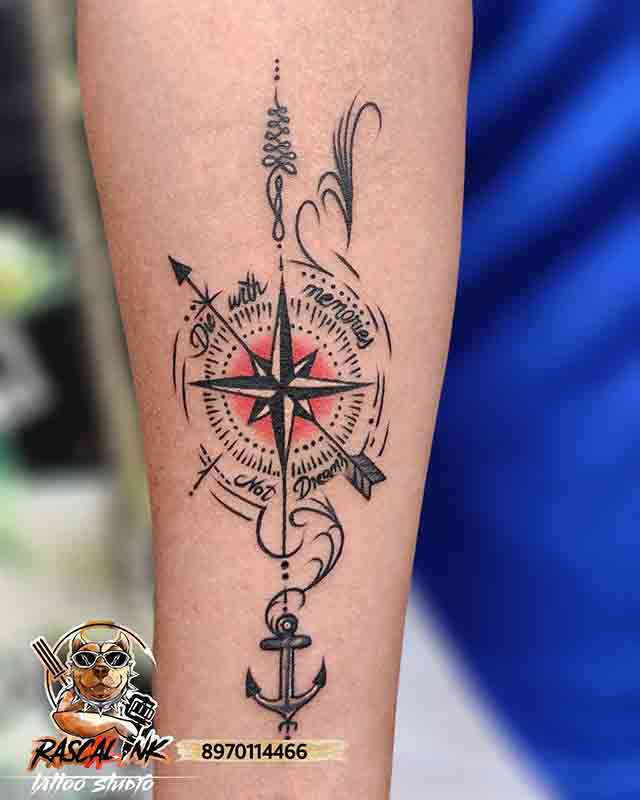 105.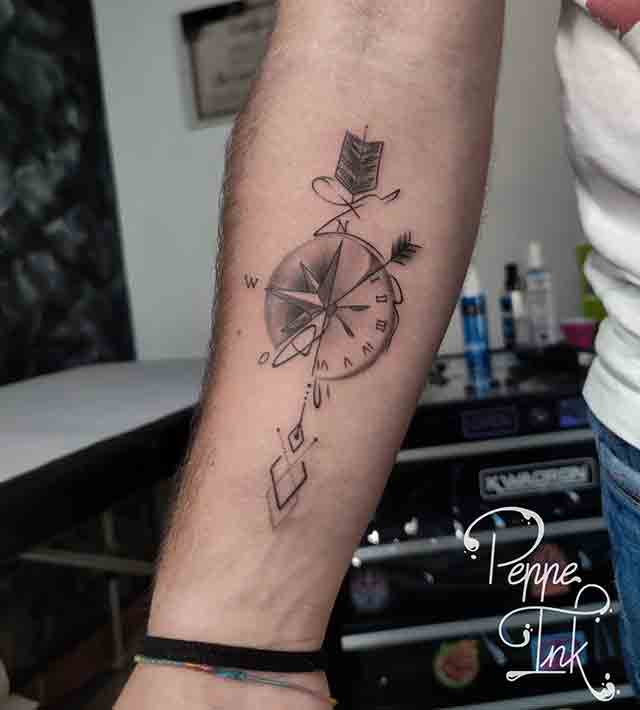 106.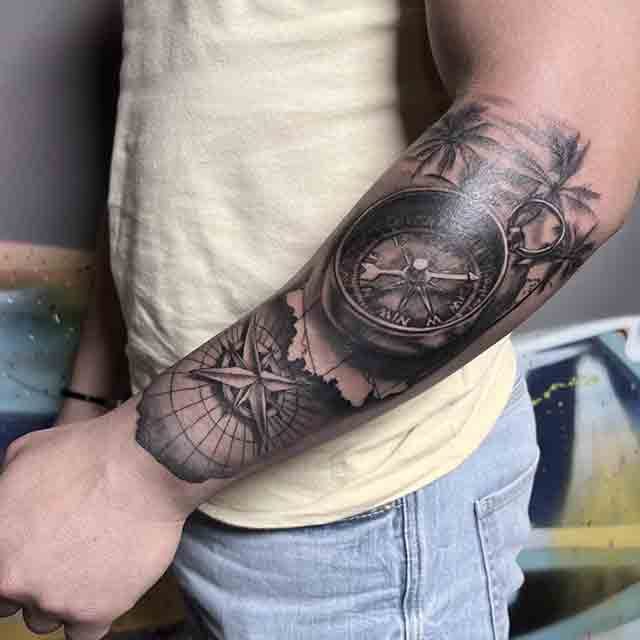 Dove Sleeve Tattoos For Men
107.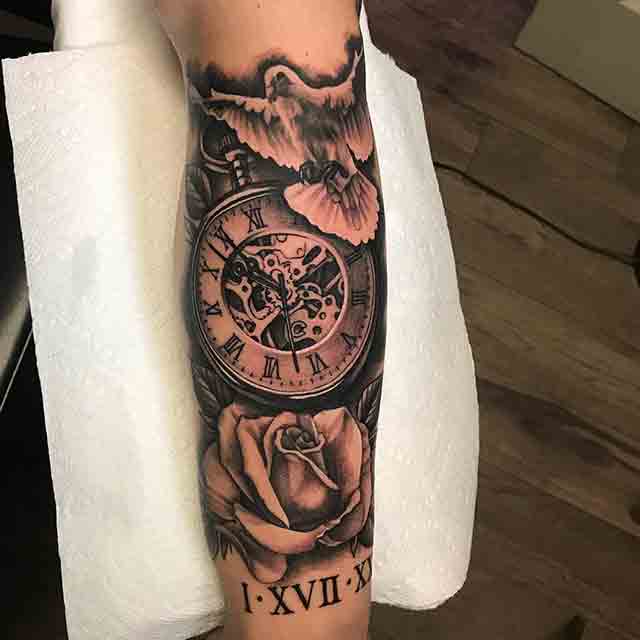 108.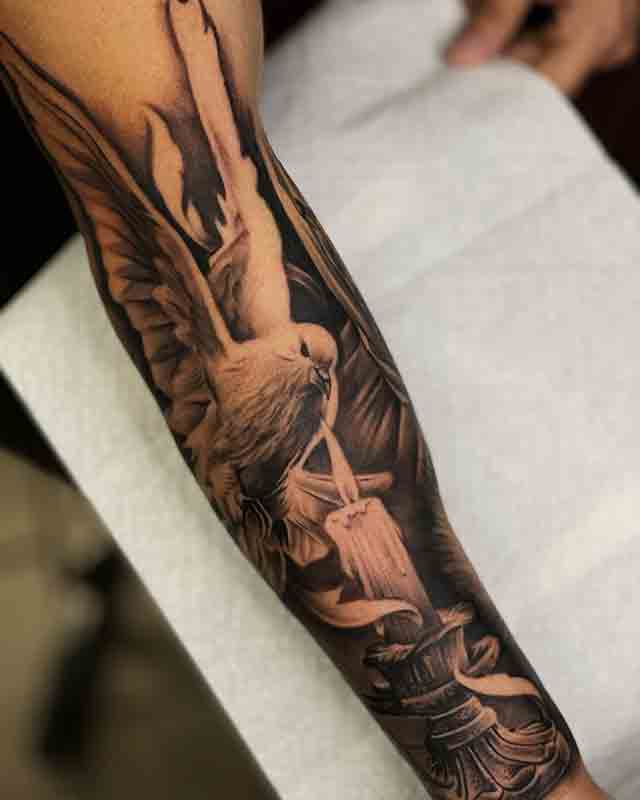 109.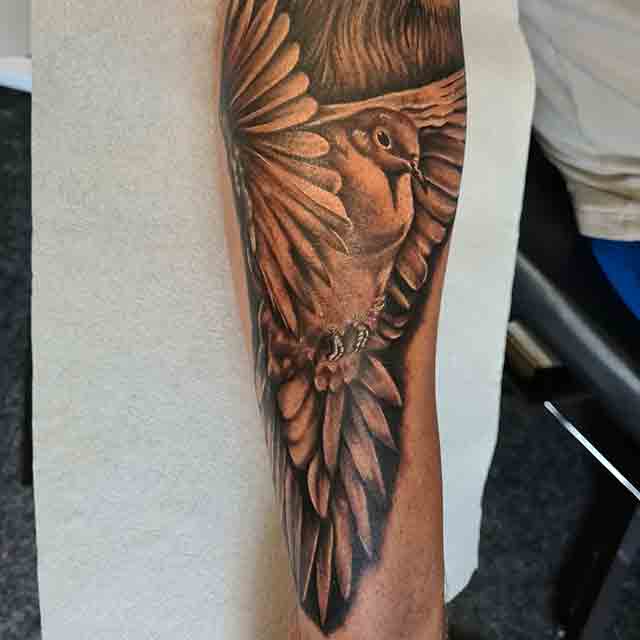 Dragon Tattoo Sleeves For Men
110.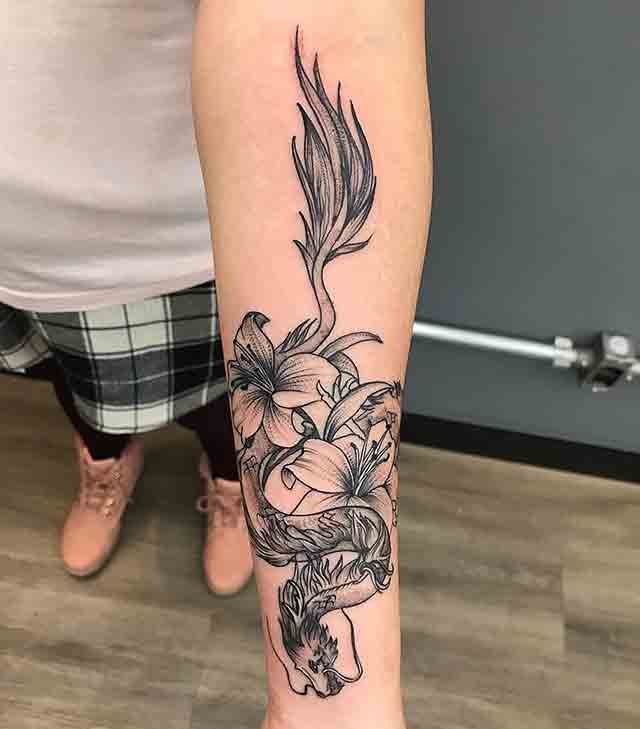 111.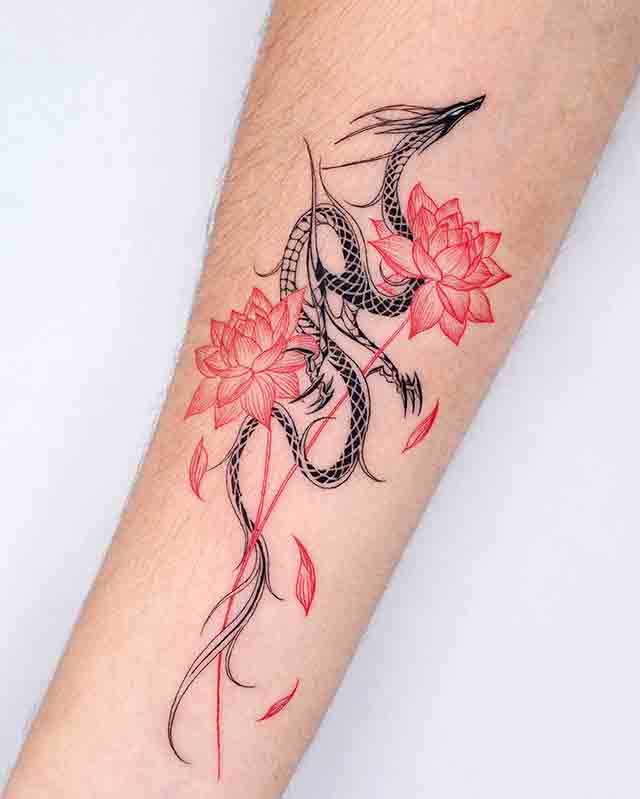 112.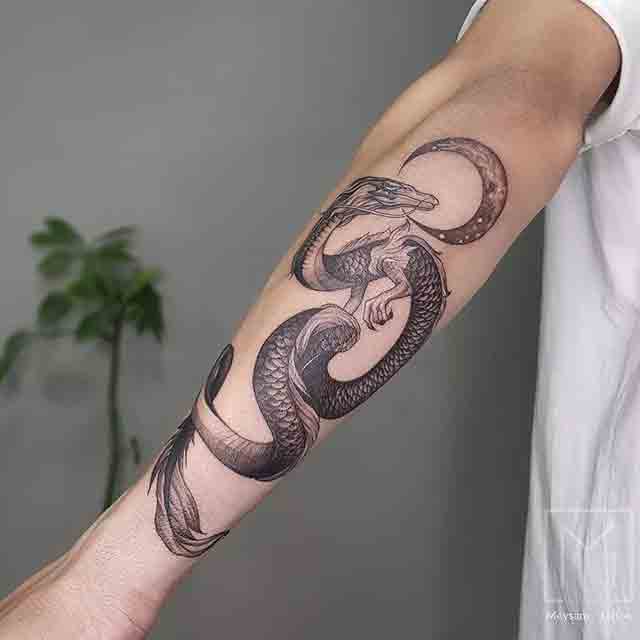 Eagle Sleeve Tattoos For Men
113.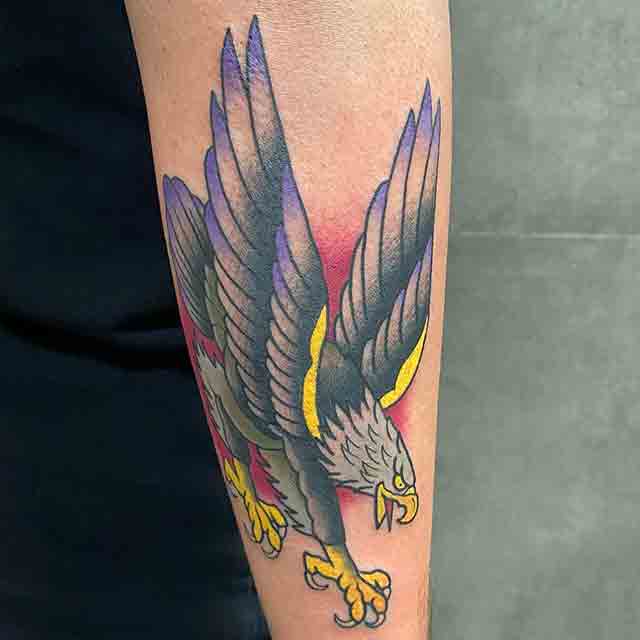 114.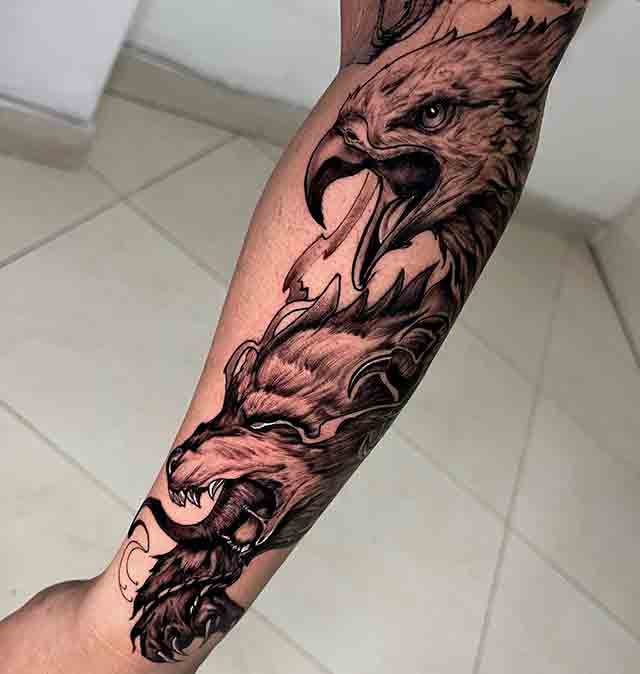 115.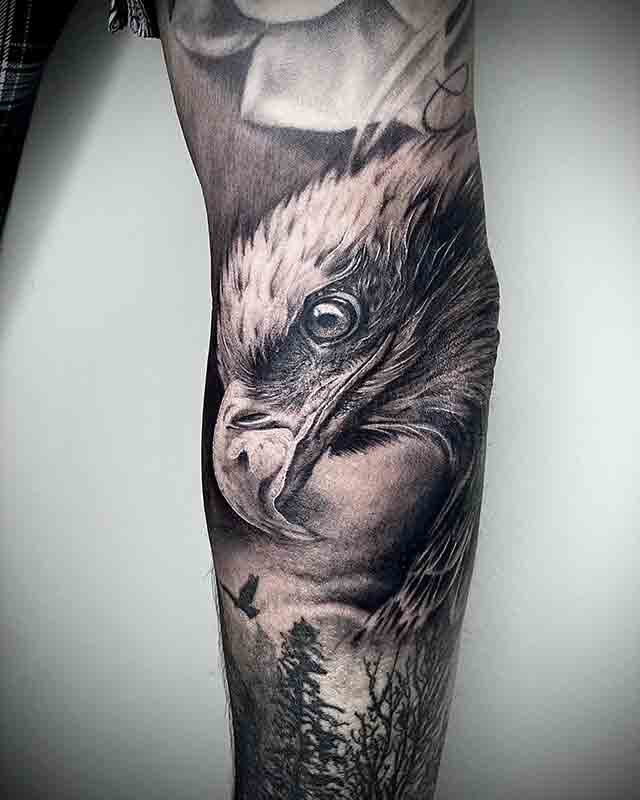 Flower Sleeve Tattoo Ideas For Men
116.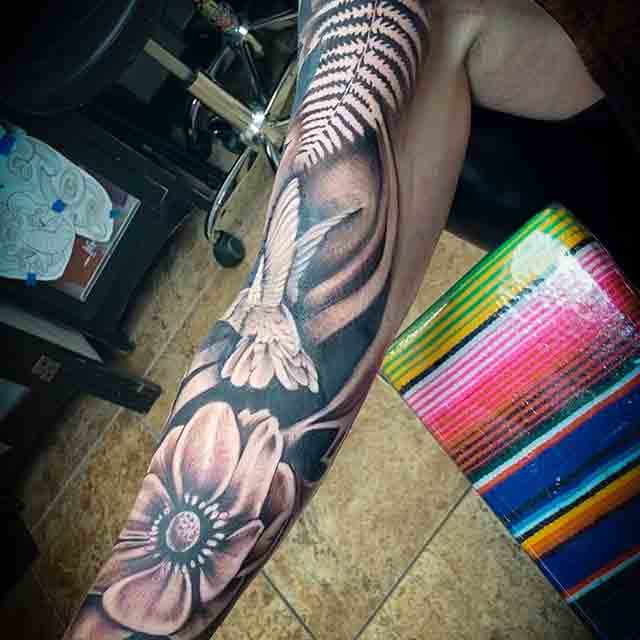 117.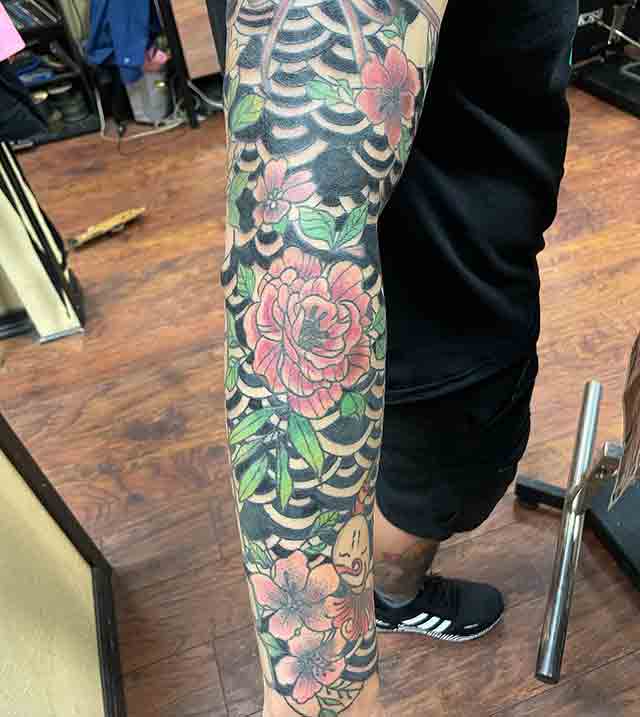 118.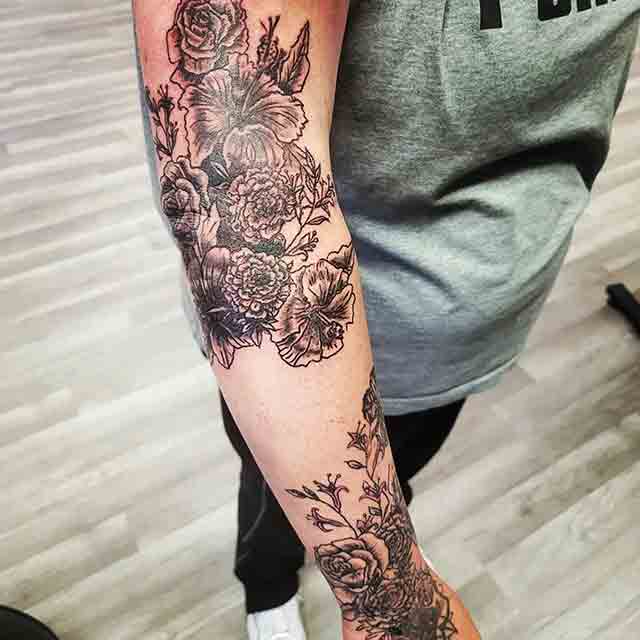 Geometric Tattoos For Men Sleeve
119.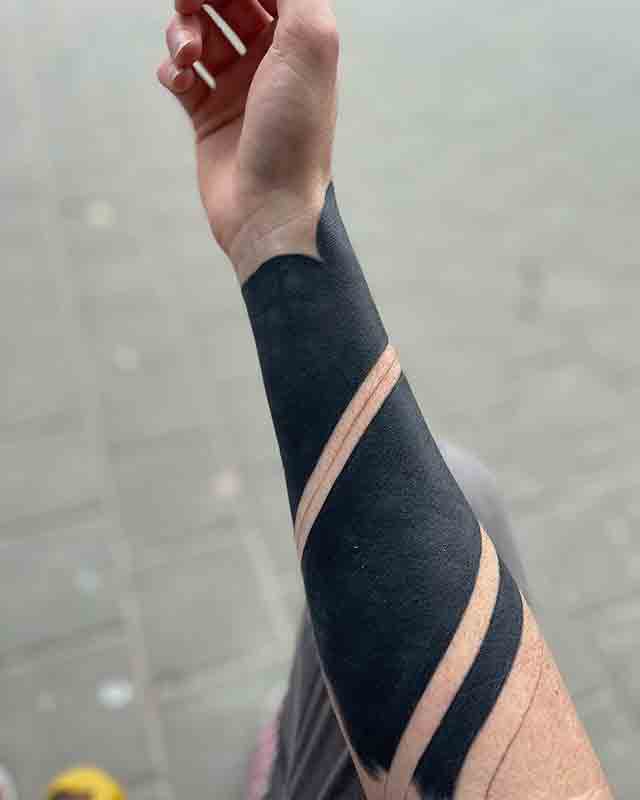 120.
121.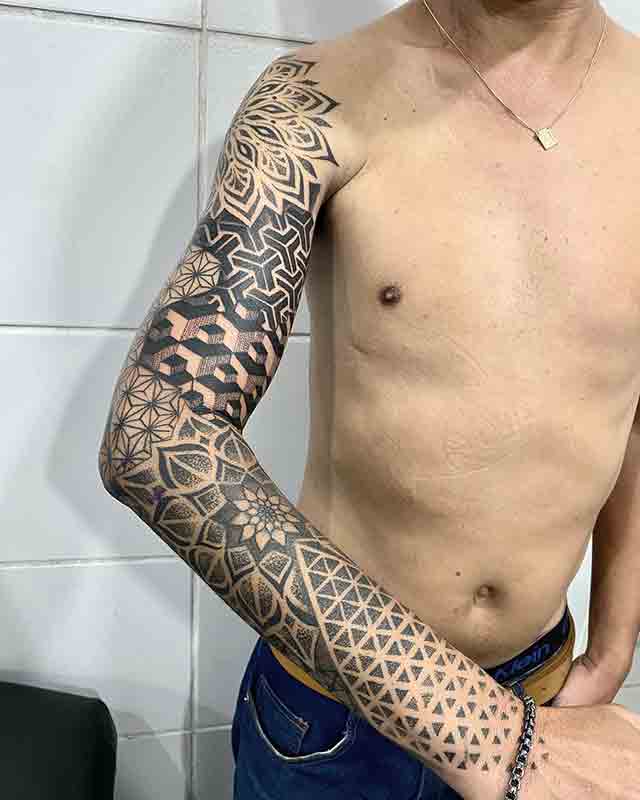 Greek Sleeve Tattoos For Men
122.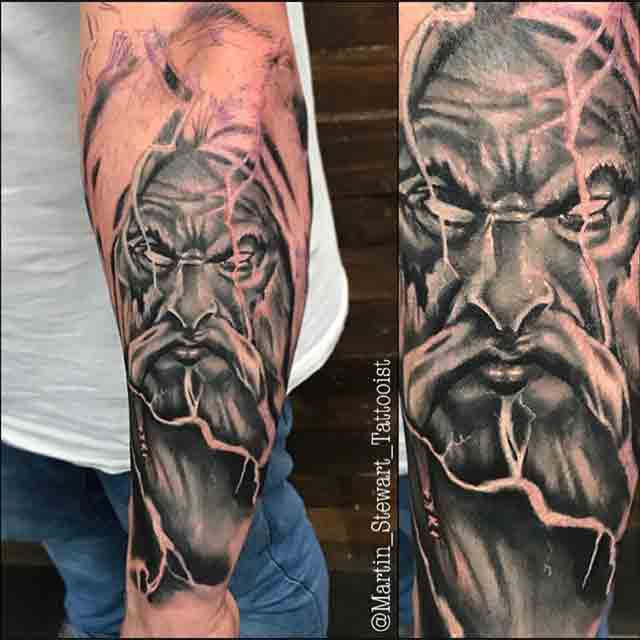 123.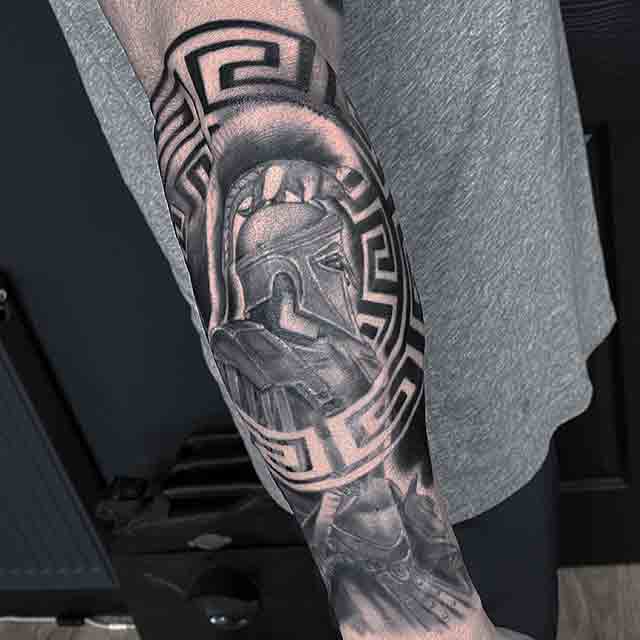 124.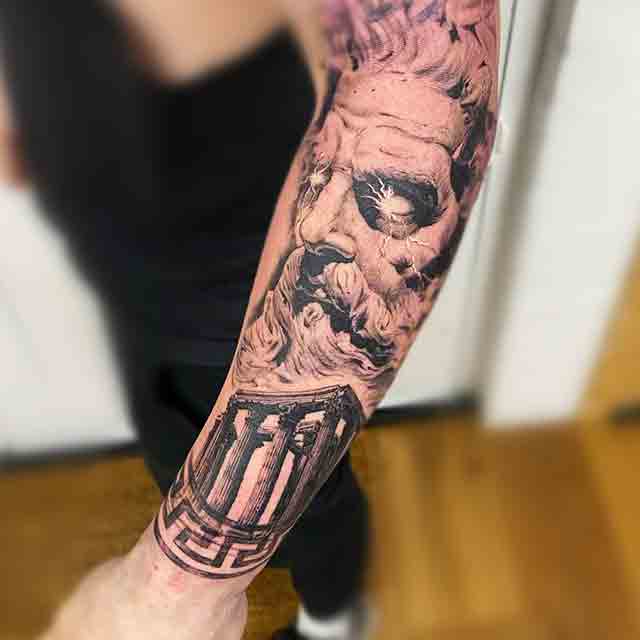 125: CLASSY IN BLACK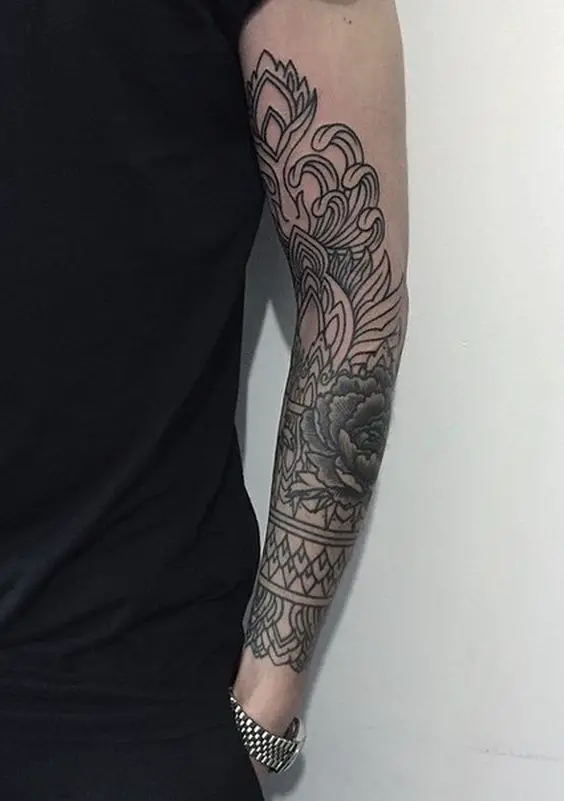 This beautiful black and grey tattoo is very tastefully designed. It shows off the personality and projects and elegant image.
126: JUST FACE IT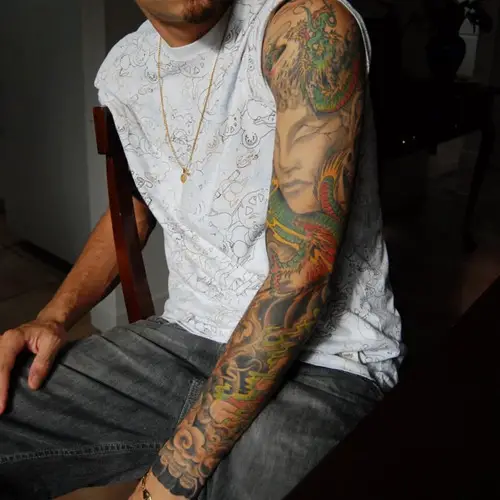 A lovely Mexican face tattoo, this design incorporates vivid colors but in a somewhat subtle way. The dragon definitely makes this full sleeve tattoo more mischievous.
127: LIVING PROOF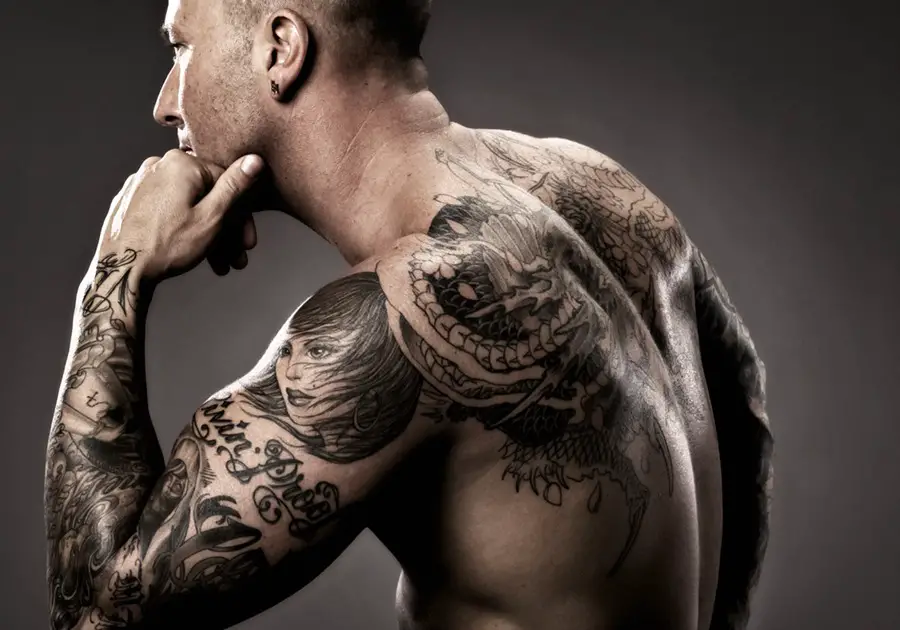 Quotes are quite popular and when combined with images are often used to either commemorate someone who passed away or as evidence of a love in one's life.
128: ISLAND LIFE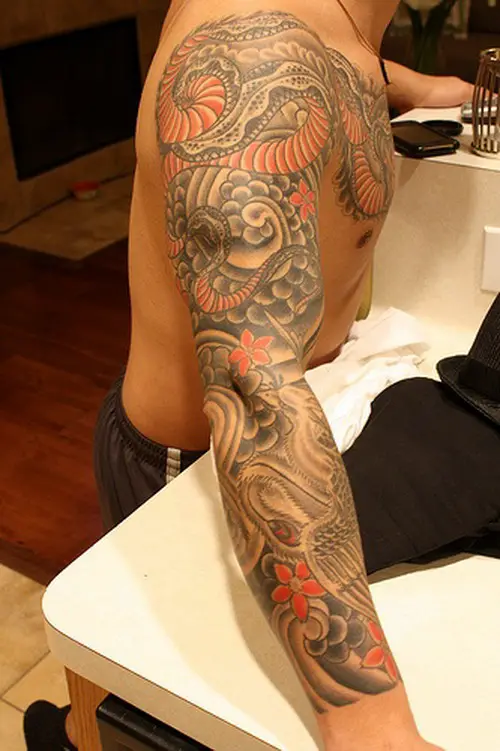 Hawaiian themed tattoos have gained a lot of prevalence over the years. This design is very well done, with superb shading and just the right amount of color.
129: GO LARGE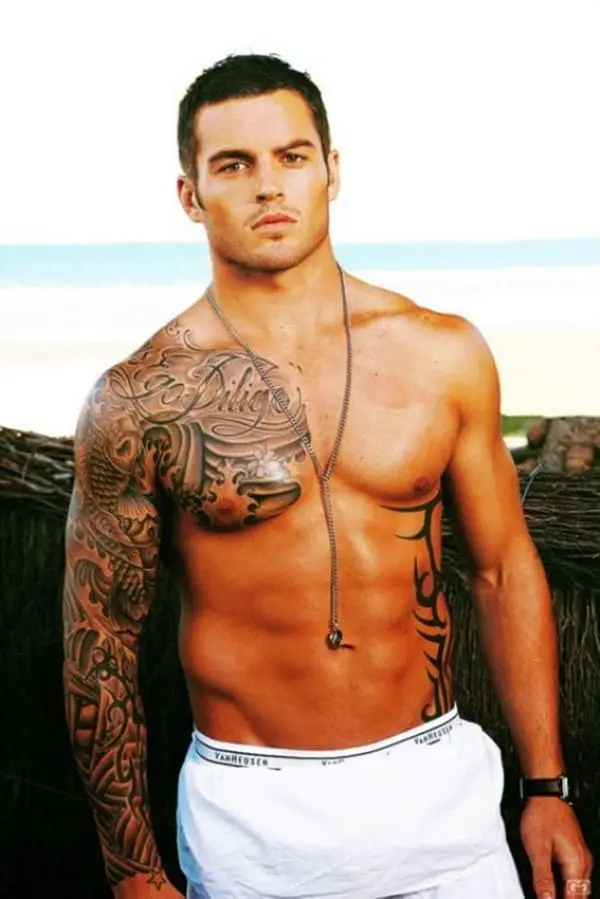 Tribal tattoos usually articulate intricate shapes and lines. They are great for covering large areas such as in this full sleeve tattoo design.
130: BEWARE THE DARK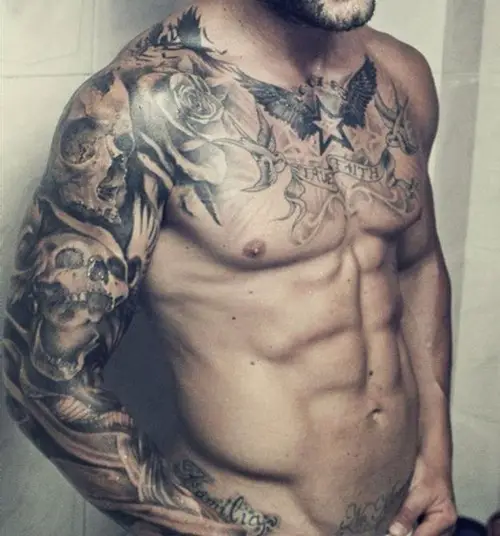 Skulls are definitely a great element to incorporate in a sleeve tattoo for a man as it can signify a manly, badass persona, telling people to beware of messing with you.
131: THE GAMBLER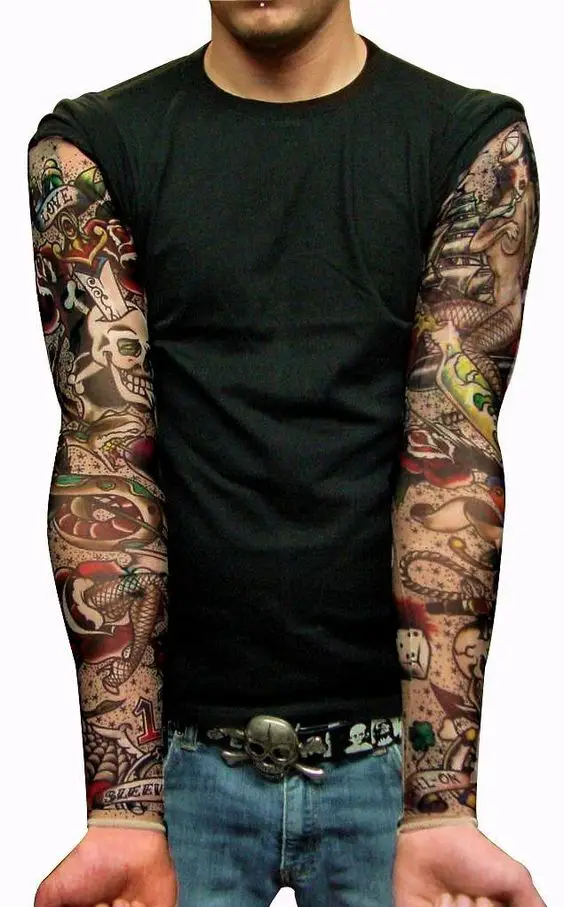 For someone who loves to roll the dice and gamble in hope of the finer things in life, a design like this would really mean something. It's bold and colorful and full of symbolism.
132: SUPERFAN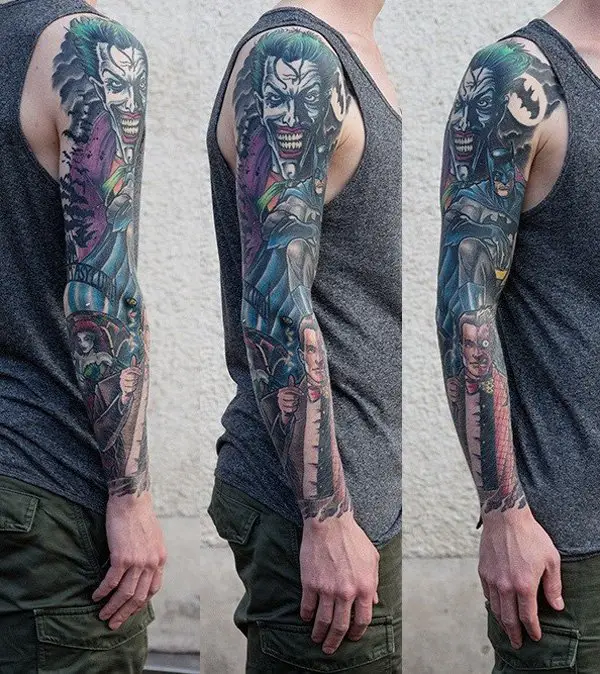 Some people are such huge fans of something that they just have it on their skin. This obvious homage to the Batman series makes its intentions quite evident.
133: MYTHIC PROPORTIONS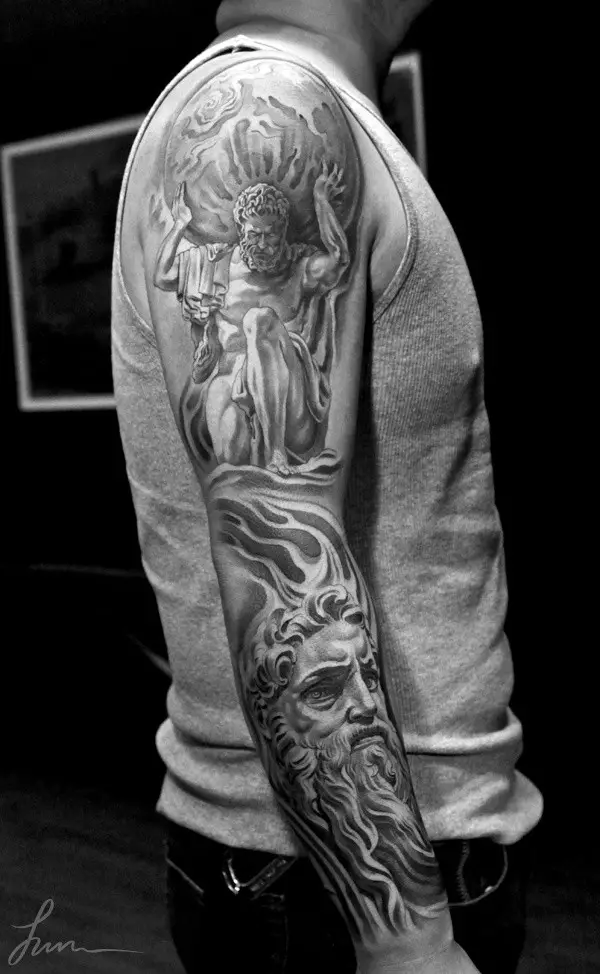 Ever felt you are carrying the weight of the world on your shoulders? If yes, then a tattoo like this of the Greek mythical hero Atlas holding up the Earth could be a perfect expression of that feeling.
134: THE PERFECTIONIST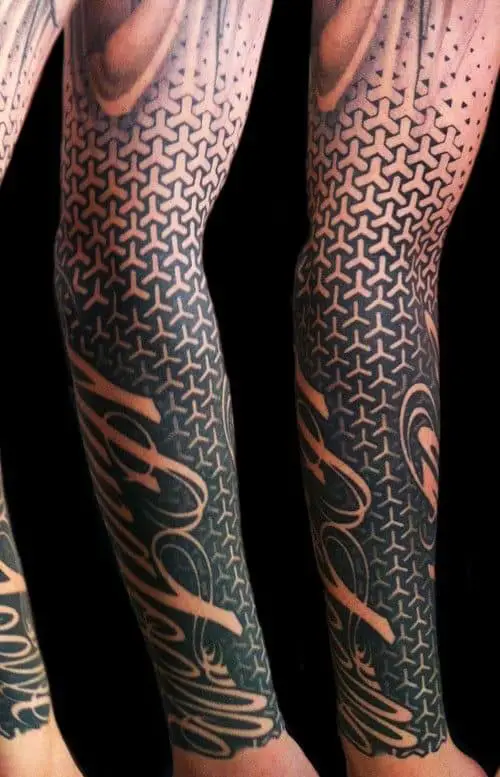 Oh My God! Is it a handmade tattoo or a 3D print? Neat and symmetrical, this tattoo is highly impressive. The artist has done a commendable job in creating this truly stylish design that stands apart from the usual fare. It is simplicity and elegance rolled into one superb piece of art.
135: DUALITY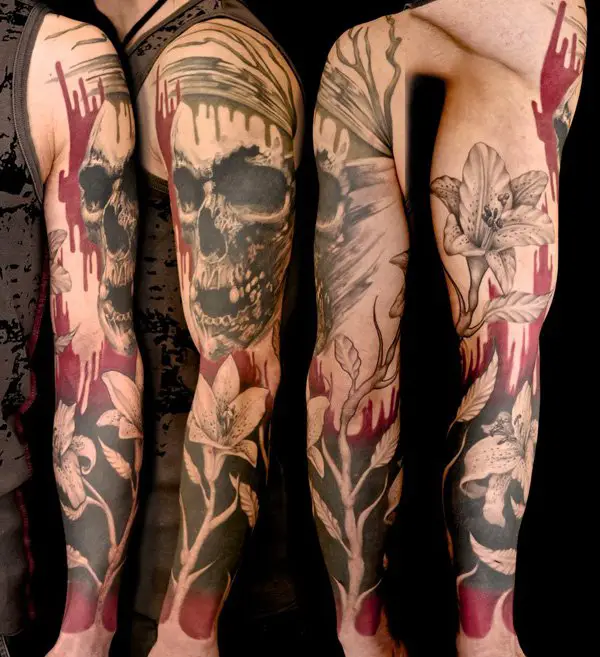 The dual themes of life and death are clearly evident in this design. The classic combination of red and black make the imagery striking and audacious.
136: PHOTO TATTOO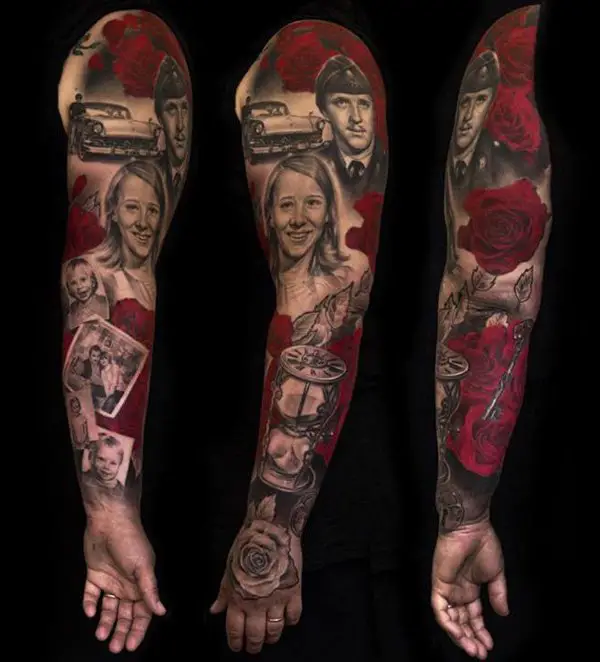 Full sleeve face tattoos to memorialize loved ones, are a beautiful way of showing you wear your heart on your sleeve.
137: SPIRITED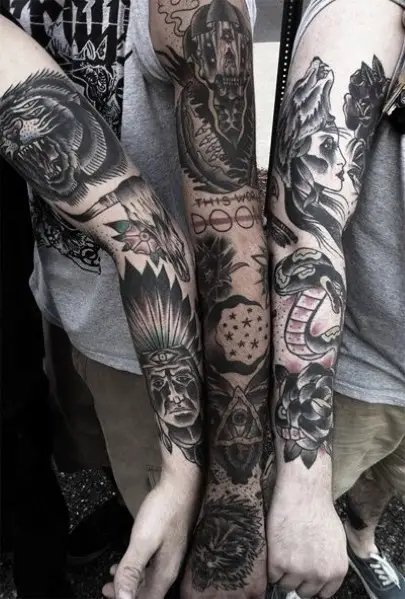 Whether you have Native American ancestry or are just a huge fan of the culture, an animal spirit tattoo like this gorgeous black one will make a great statement.
138: KEEP IT SHORT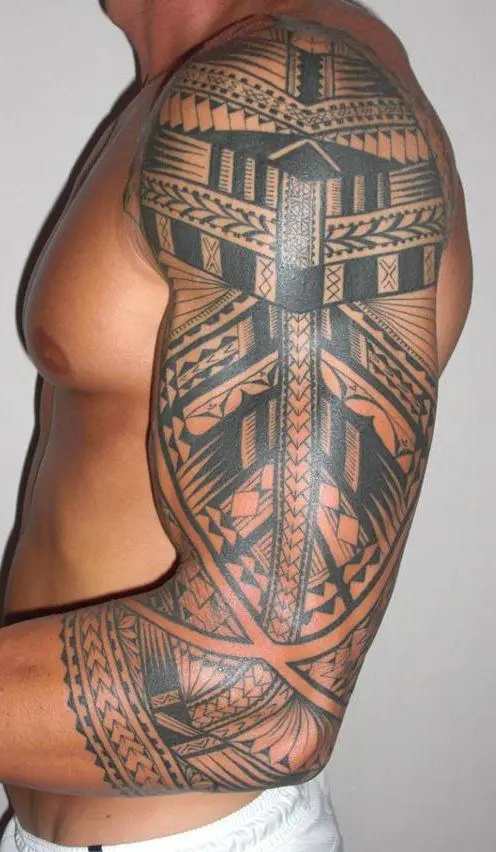 The design starts at the shoulder and ends a little lower than the elbow. Geometry can be poetic too as is shown by the way the patterns in this tattoo have been created. Definitely, it's a perfect tattoo for tribal culture lover.
139: VISUAL TREAT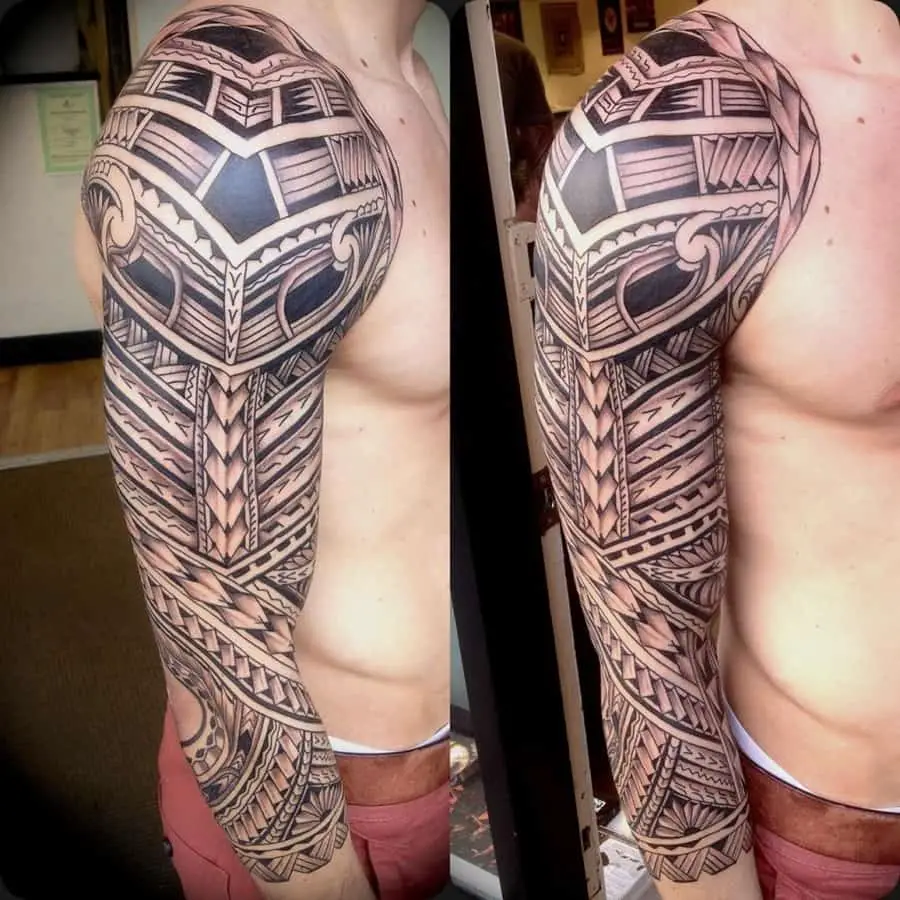 Another tribal tattoo with razor-sharp patterns! Simple geometric patterns come together exquisitely to form a fantastic full sleeve tattoo that runs the entire length of the arms from the top of the shoulder to the wrist.
140: FEELING LUCKY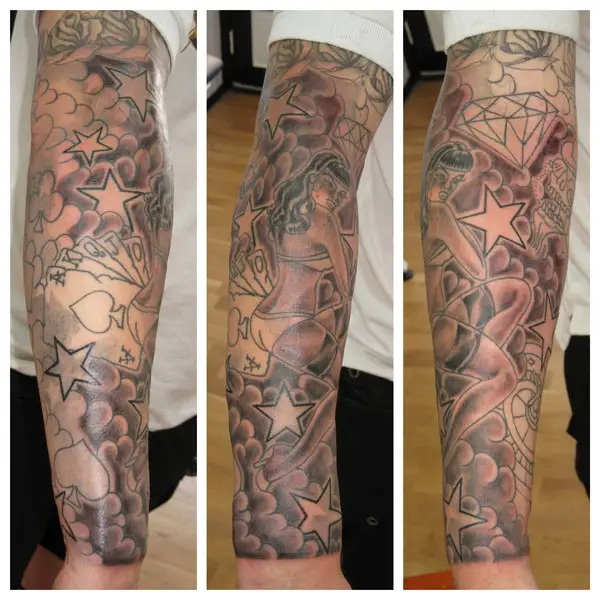 What a dreamy representation of a gambler's best possible hand in a game of poker; the Royal Flush. It's for the man who wants a beautiful woman and the money to spend on her and trusts his luck to make his wishes come true.
141: BEAUTY FADES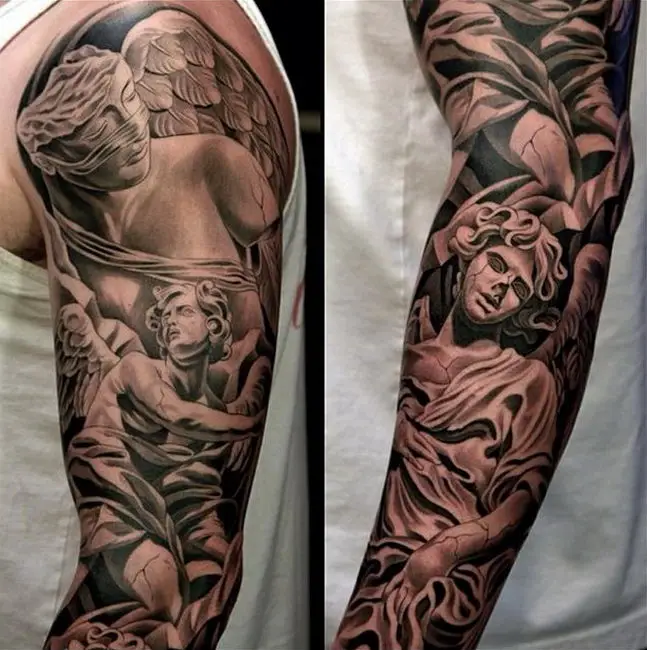 Nothing is permanent. Even an angle's image cast in stone is bound to fall from grace with the passage of time. This highly detailed and artistically executed piece showcases this message unfalteringly.
142: LIVING IN PRAYERS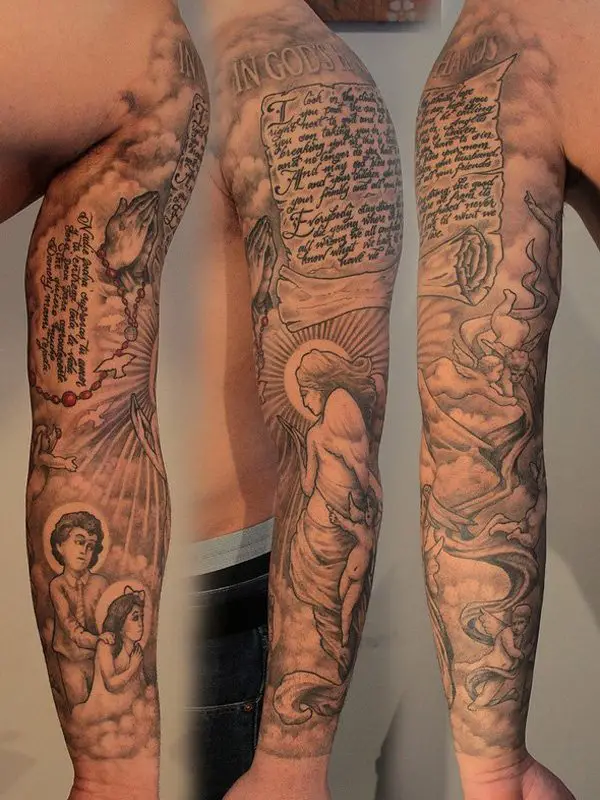 Tattoos don't always have to be about showing off your masculinity. They can also depict your deepest convictions. This tattoo talks about being in God's hands and is inspirational in ways more than just its artistic portrayal of a heavenly theme.
143: TRIBAL ART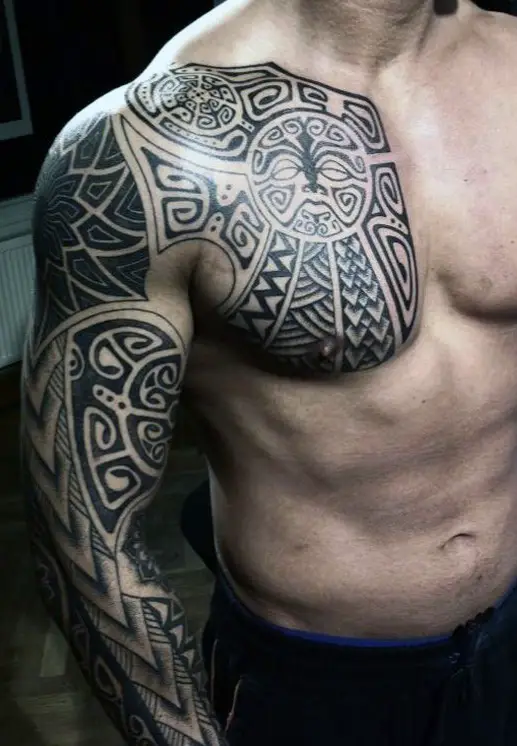 Tribal designs are literally innumerable and can be used to create some of the most amazing-looking tattoos. This one, in particular, does a superb job of accentuating the pectoral area, the bicep, and the forearm.
144: FREE RIDER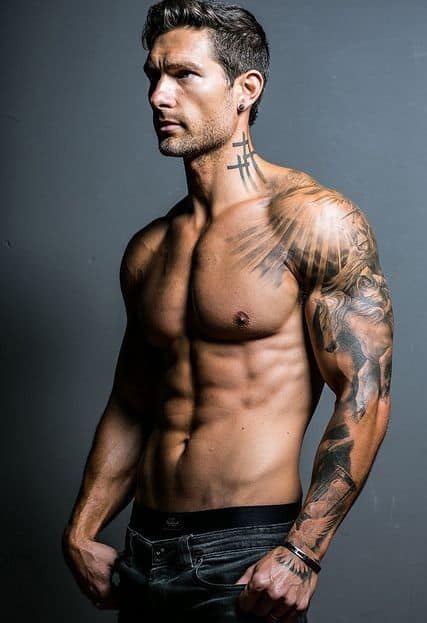 Starting at the neck and extending below the wrist onto the back of the palm, this splendid tattoo design evokes a strong sense of passion. The horse and hourglass combination tell us to be free spirited and enjoy life before time runs out.
145: A FIERY BEAST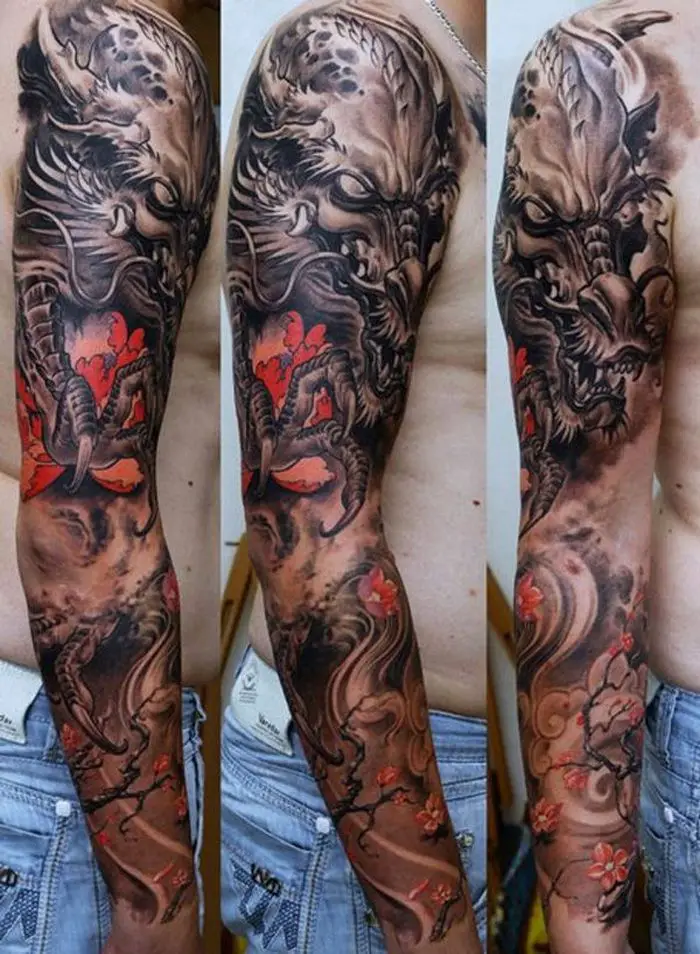 Magnificent in its magnitude and menacing in its appearance the dragon here seems to reach out of the dark depths. Its fiery intentions glisten in its eyes as it extends its fierce talons to grasp at its enemy. It has been done in black ink with shades of grey. The wonderful use of red to represent both the viciousness of fire and the gentleness of flowers makes the entire design pop.
21 full-sleeve tattoos for men are definitely enough to figure out what you want. You can get the same design or customize any of them to suit your taste – the choice is completely yours. In the end, do share your sleeve tattoo with us to inspire others as well.
FAQ
What Is A Sleeve Tattoo?
A sleeve tattoo is typically a collection of tattoos or one big tattoo covering the arm of a person. In a sleeve tattoo, all the tattoos are connected in a way or meaning.
Should I Get A Sleeve Tattoo?
Sleeve tattoos are a great way of enhancing the beauty of your arms and display meaningful tattoos. However, whether you should get a sleeve tattoo or not typically depends on your personal preference.
Do Tattoo Sleeves Hurt?
Yes, getting sleeve tattoos is quite a painful process. Mainly due to the fact that you have to spend a decent amount of time under the needle and will often require more than one session to get the tattoo done.
How Much Is A Men's Sleeve Tattoo?
There is no fixed answer to how much are sleeve tattoos. The price significantly varies depending on the design your choose, size of the tattoo, along with the experience of the artist.
What Arm Should A Man Get A Sleeve Tattoo?
You can get sleeve tattoos on both of your arms. The decision usually depends on the personal performance of the customer.
How Long Do Sleeve Tattoos Take?
The amount of time a sleeve tattoo takes depends on the design and the size of the tattoo. However, it usually takes 12 to 80 hours to get a complete sleeve tattoo done.
How Many Sessions Does A Sleeve Take?
If you are getting an intricate sleeve tattoo done, then you will require multiple sessions over a period of 3 to 4 weeks. Sleeve tattoos typically require at least 7 to 8 sessions depending on the style and size.
Can You Get A Sleeve Tattoo In One Day?
A simple sleeve tattoo takes about 12 hours of work to complete. It is quite impossible to complete a sleeve tattoo in one day.
How To Design A Sleeve Tattoo?
Choosing the perfect sleeve tattoo is quite a difficult task. However, you can design a tattoo by taking ideas from the theme, style, or meaning you want. You can also research the recent trends and choose one as your inspiration.
Do Sleeve Tattoos Affect Jobs?
The chances of sleeve tattoos or any tattoos affecting your job or employment status is extremely thin. However, offensive words or images can sometimes portray a negative image to viewers and employers.