Thigh tattoos for women are one of the sexiest and most attractive body art. The fact that thighs are the semi-bared canvas, is an interesting spot for a sexy tattoo. You can get a tattoo on your upper thigh or lower thigh, or a tattoo on your full thigh to spice up the look. You can show off a bit of artwork in short outfits, or reveal the complete tattoo in a sexy bikini.
The reason why thigh tattoos are considered sexy is that the spot is not always visible to the eyes just like the buttocks, back, ribs and breasts, etc. These spots are usually covered and people hardly know you have them inked. So, when you wear sexy outfits such as short shorts, bikinis, or dresses with a thigh-high slit, you let people discover your utterly sexy side. It is very normal to hear questions like what's the design means? Where did you get it inked? Why did you choose the spot? And so on. That way, thigh tattoos for women are a good conversation starter.
DRAMATIC THIGH TATTOO FOR WOMEN TO MAKE PEOPLE CRAZY
When you decide to go for tattoos for women's thighs, you will never be out of design ideas. While flowery features, clocks, birds, and varied patterns are some common design aspects for sexy thigh tattoos, the ideas are not limited to them. From mystical objects and fantasy creatures to tribal symbols, cultural elements, and historic events, you have an array of options to choose from. We have picked 106 thigh tattoos for female to give you some eye-popping ideas.
Side Thigh Tattoos
When the side of a woman's thigh is used for a tattoo it's considered a side thigh tattoo for women. They are the most common and easy to get.
1. Flower Bouquet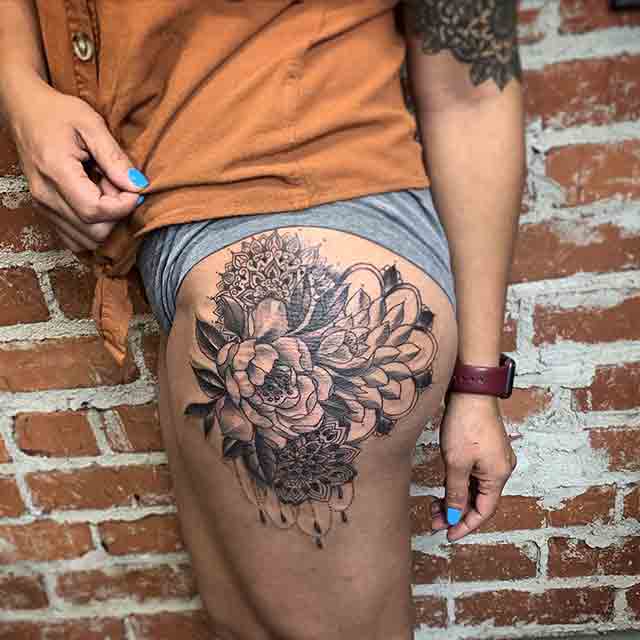 The side of this young woman's thigh is inked with a gorgeous bouquet of flowers. It covers the entire side of the thigh. The top portion looks like a small flower crown.
2. Flower & Snake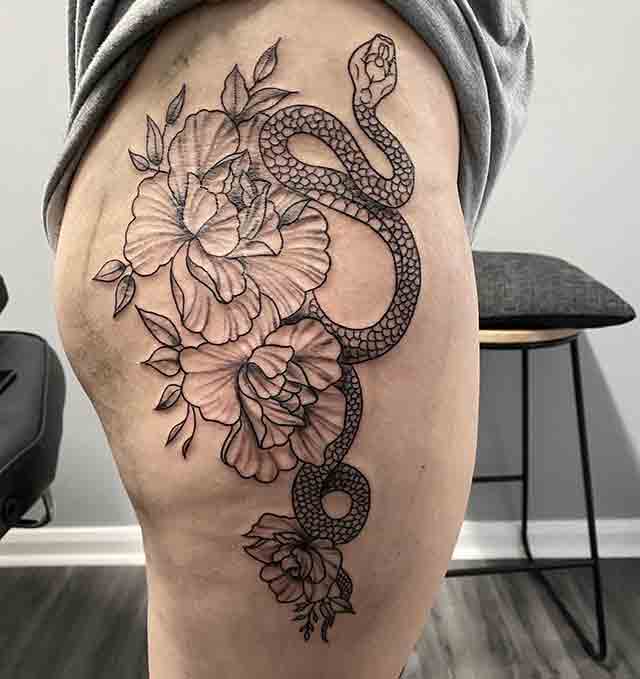 A slippery snake is roaming around a few flowers. This gives the tattoo a feel of danger and thrill. It's a classy thigh tattoo for women.
3. Sharp Inks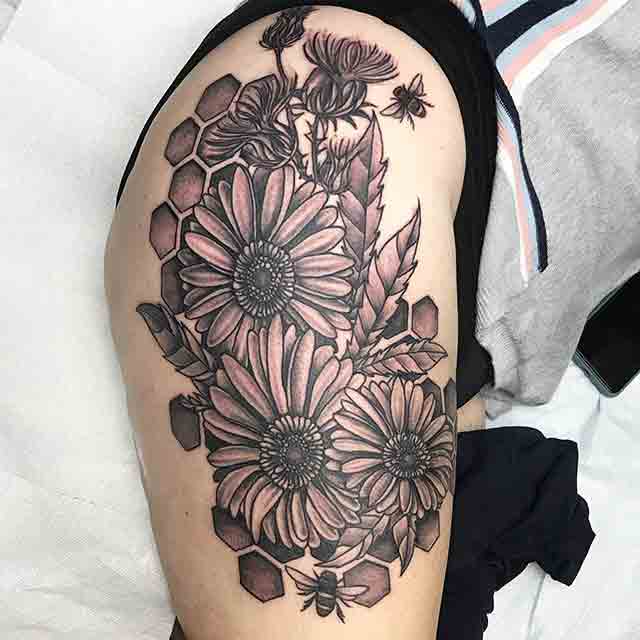 The entire tattoo is inked with a very dark color. The design looks very vivid. The bees around the flowers are roaming around for honey. A piece suitable for women who have thighs with fair skin tones.
Small Thigh Tattoos
If you have less time or just want a piece that is small and compact then these small thigh tattoos are a great option. They don't take much time to get & tend to be less expensive.
4. Tiny Branch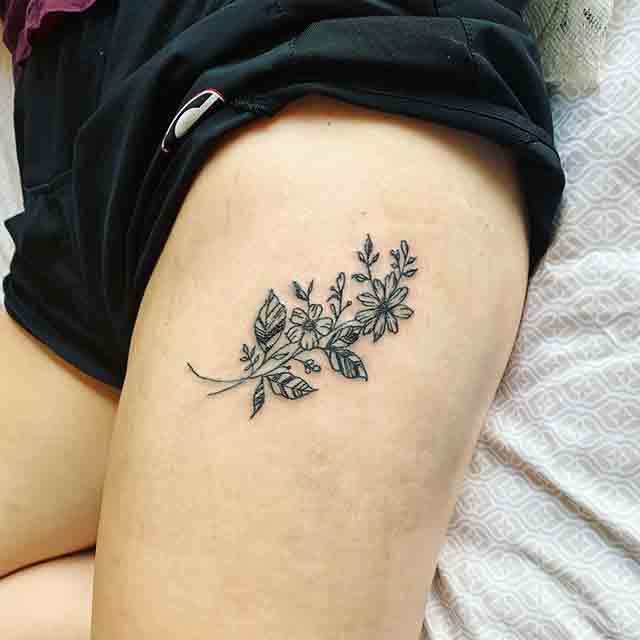 The outer side of this beautiful lady's thigh is inked with a classy looking tattoo. The branch has some fully grown flowers and some young buds. A thigh tattoo for females.
5. Crying Angel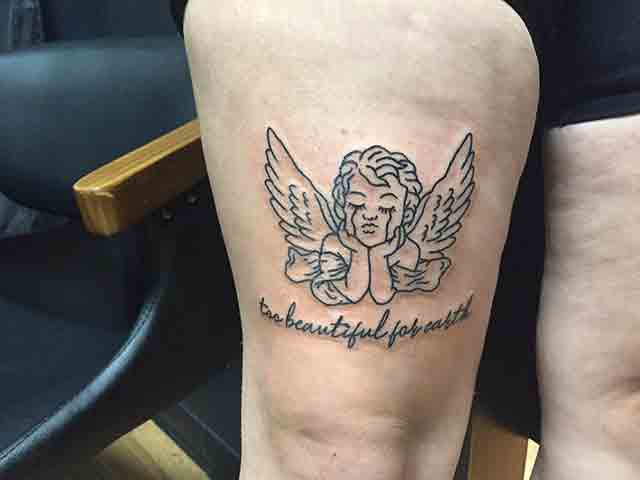 Tears are pouring out of this innocent angel's eyes. It has its wings out and crying. There's also a quote that says "Too beautiful for earth". A sad thigh tattoo for women.
6. Sparrow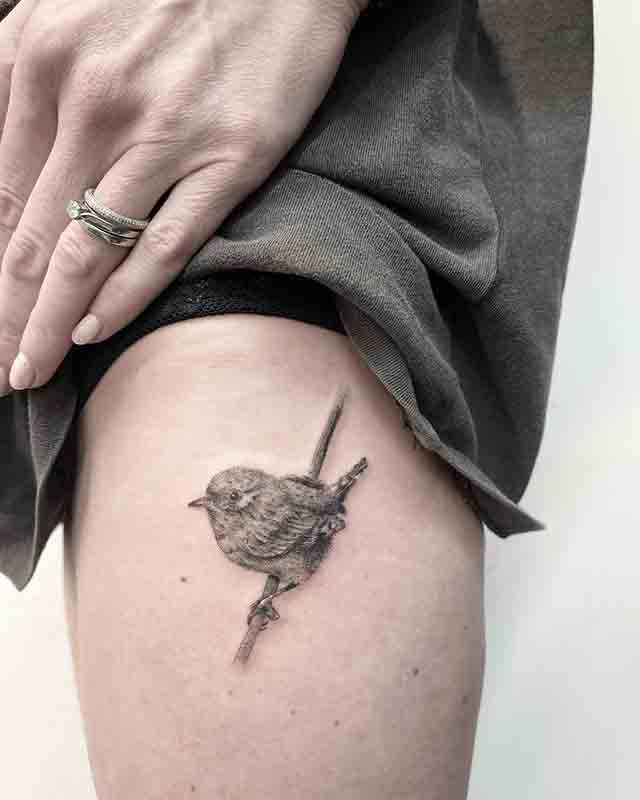 A sparrow is a cunning and small bird. It is a symbol of agility and a free spirit. It is sitting on a thin branch. It is suitable for women who are looking for feminine thigh tattoos.
Dragon Thigh Tattoos
A dragon symbolizes power, good luck, and control. They enhance the looks of tattoos. It also gives women's thigh tattoos a more aggressive look.
7. Flower Beast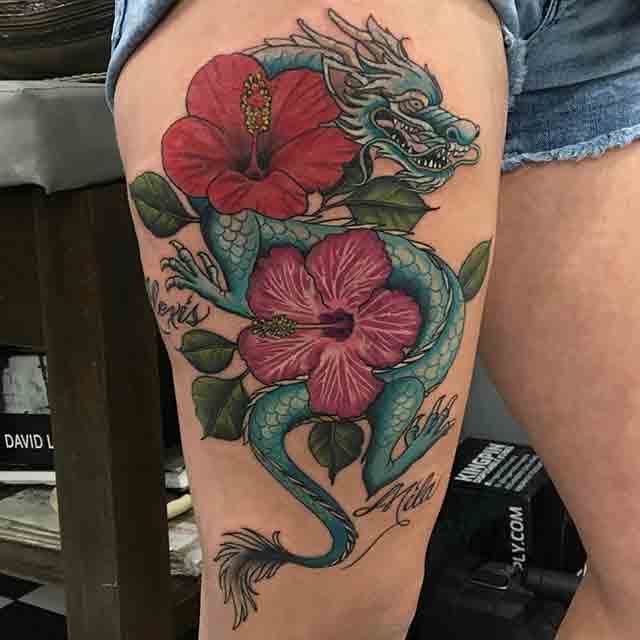 A dragon is considered a mighty and royal mythical creature. It's surrounded by a few flowers which scream feminine vibe. It is one of the best feminine classy thigh tattoos
8. Black & Red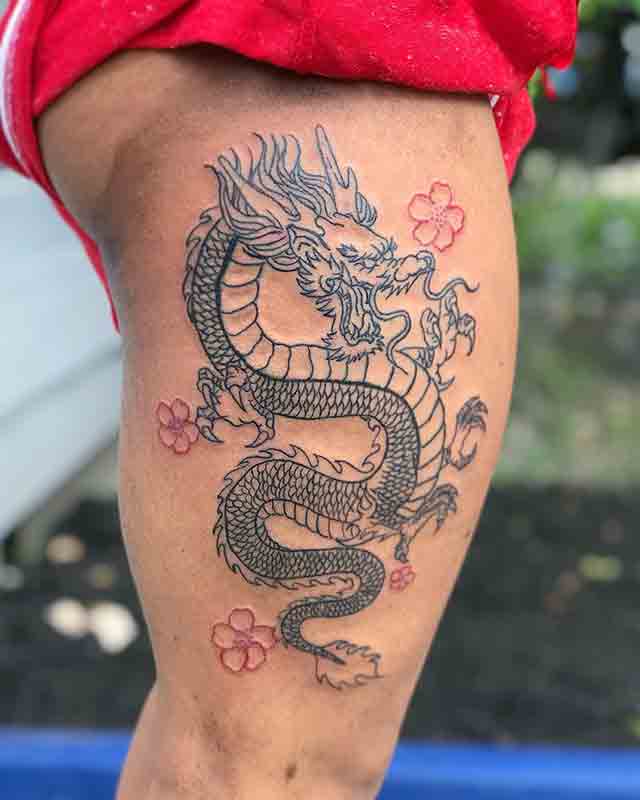 The dragon is looking majestic with its floating beards. The red outlines of the flowers contrast the black color and pop out. A gorgeous tattoo for women's thighs.
9. Full Thigh Dragon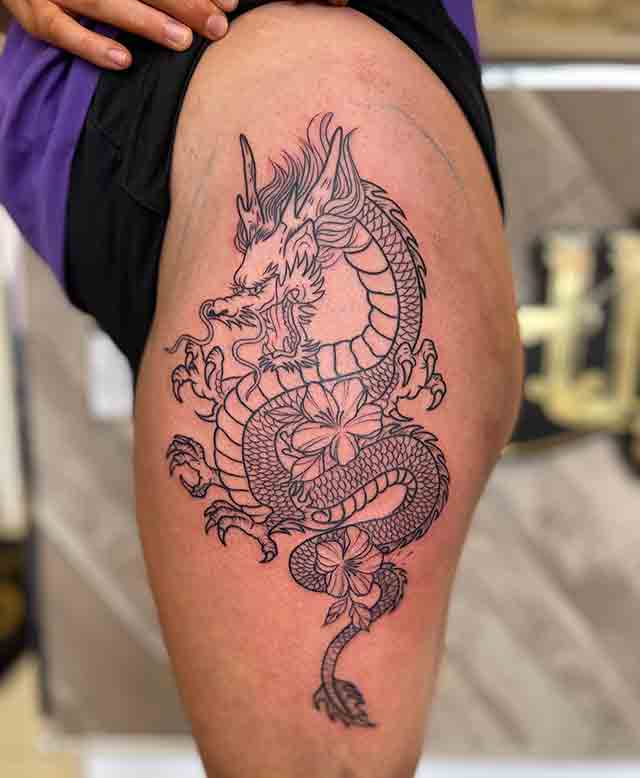 A massive dragon is inked on the entire outer side of this female's upper leg. The dragon has its claws out and is ready to attack. Suitable for women who want to have a powerful look.
Henna Thigh Tattoos
Henna is heavily used as dyes for hair and beards. However, they are also used to draw temporary tattoos that create color on the skin. If you want to try a design that will only last a few weeks these types of tattoos are best for you.
10. Henna Pyramid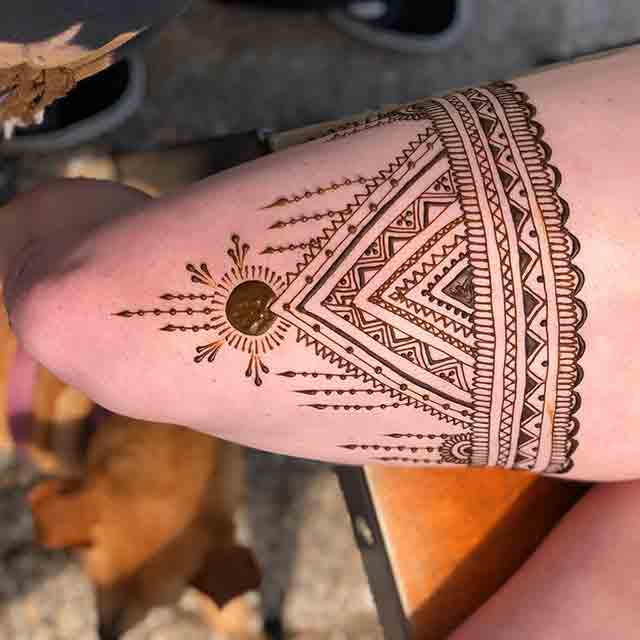 This temporary henna tattoo is drawn on the front of this girl's thigh. The sun is just over the pyramid. The patterns and designs make it look like a masterpiece.
11. Filigree Henna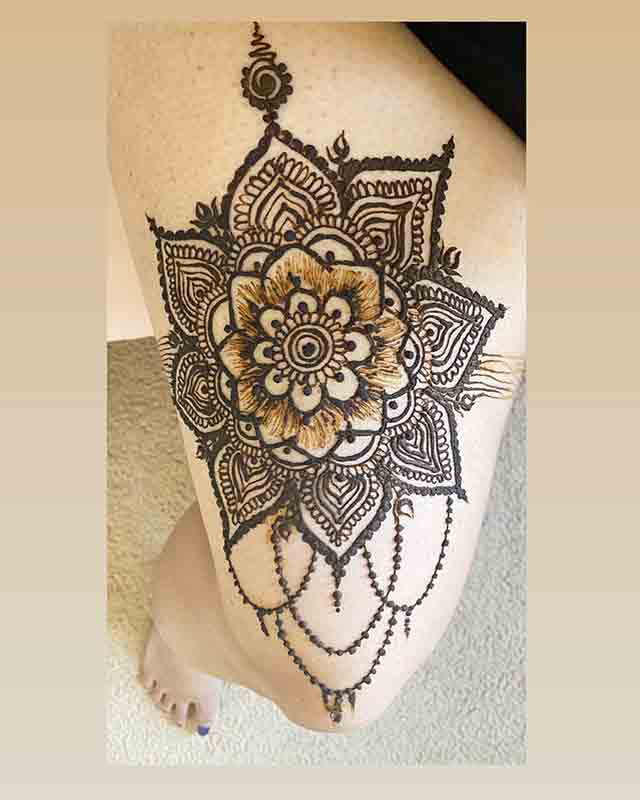 A flower is in the middle of this design. There are some chains hanging from the patterns surrounding the flower. If you are looking for filigree variation tattoos for women on thigh, this will be a great fit.
12. Henna Flowers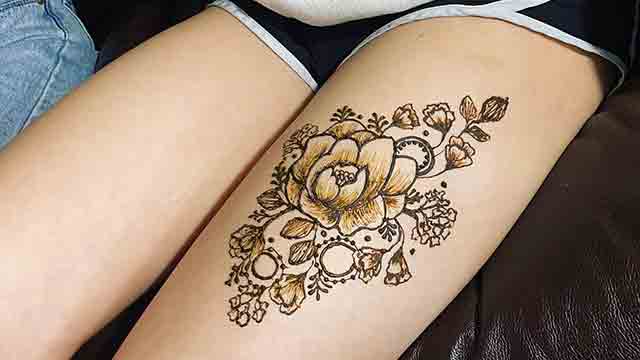 The small flowers around the big flower. It currently has a golden color but most likely they'll turn red and look amazing against her fair thigh skin.
Thigh Tattoos For Black Females
Women with dark skin need to be thoughtful when choosing a design for their thighs. Not all colors go with their skin tone. These tattoos tend to be on the less vibrant side.
13. Lucky Bug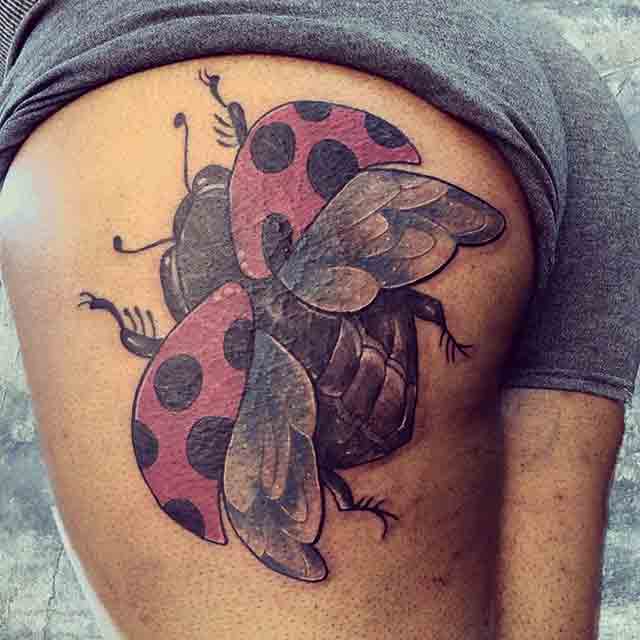 The ladybug is a symbol of luck. It has its wings out and is ready to fly. The red color looks great against her dark skin. It is inked on the back of this young woman's thigh to bring good luck.
14. Ethnic Girl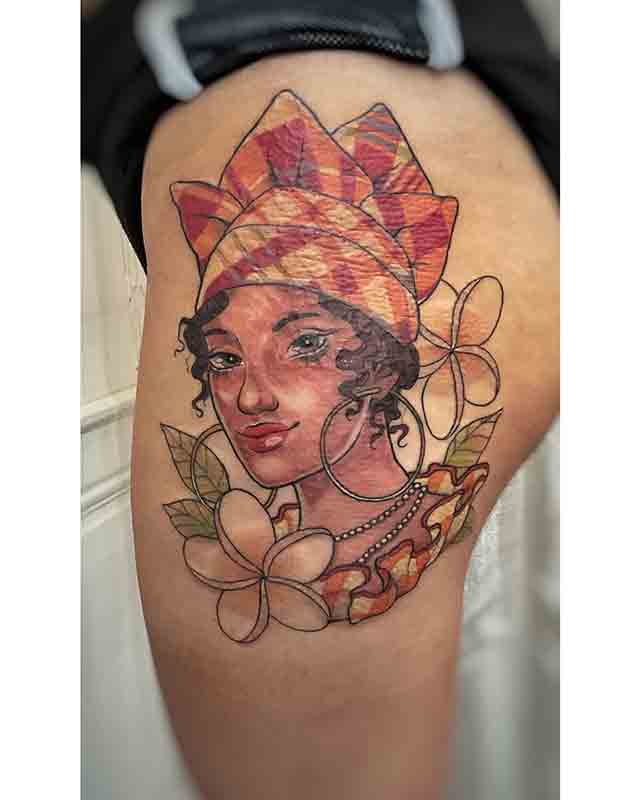 A dashing young ethnic girl is portrayed in this amazing tattoo. There is a look of confidence in the girl's eyes. Her dress looks like a cultural outfit. This stands out among the other thigh tattoos for females due to its cultural look.
15. Hidden Skull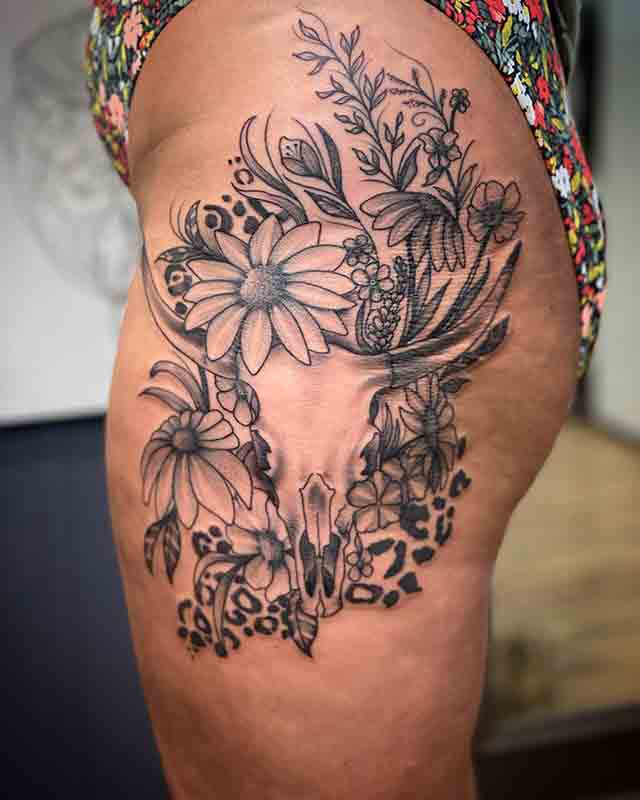 A skull of a beast is buried inside a few flowers. The horns on the skull are still intact. The flowers reduce the scariness of this thrilling thigh tattoo for ladies.
Inner Thigh Tattoos
Inner thigh tattoos for women are a bit more painful to get. Plus you need to sit in a spread position for a long time. However, They are worth the hassle.
16. Succulent Pot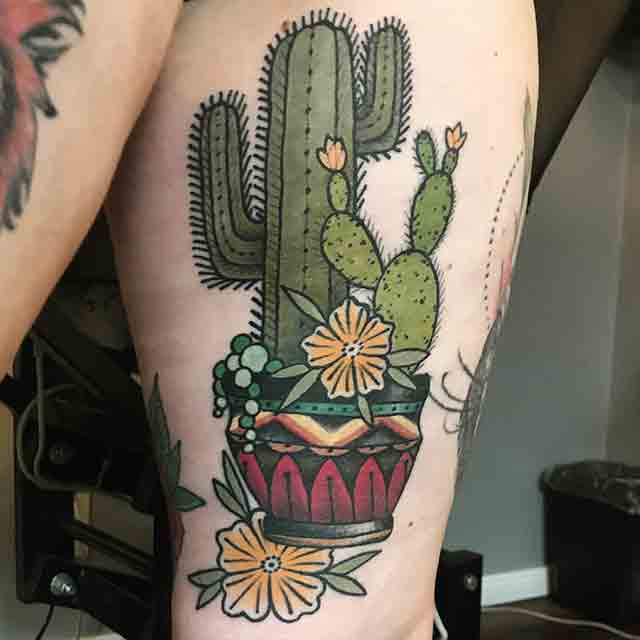 A colorful tattoo of a cactus is the main attraction here. The pot itself has red designs on it. The yellow flowers indicate that although it is harsh from the outside there is still beauty on the inside. A meaningful piece for women's inner thigh.
17. Flower Pile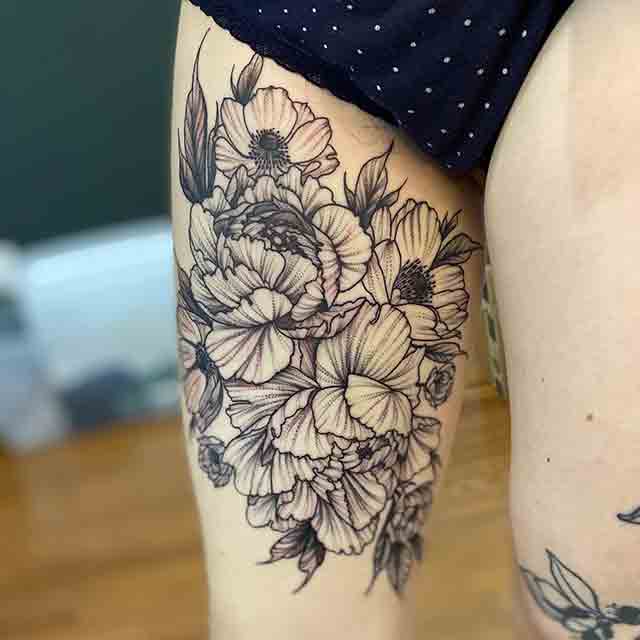 A bunch of colorless flowers is piled together on her inner thigh tattoo. The extra dark spots add to the depth of the pile. It'll only be visible if she wears revealing clothes.
18. Zebra Leaf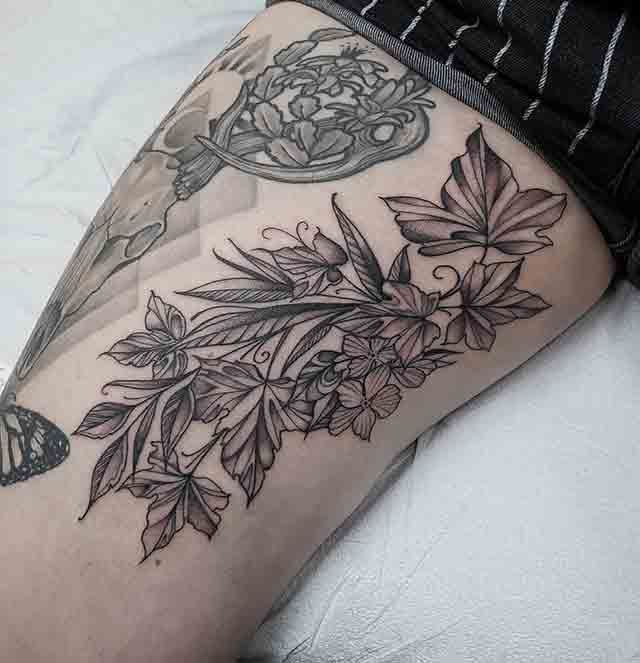 Just like a zebra, the leaf on the bottom of this tattoo has a black and white pattern. The white space has a touch of realism to it. This would take a long time to be inked on the inner thighs.
Rose Tattoos For Women On Thigh
A rose is a sign of love and passion. Rose tattoos on women's thighs increase their feminine vibe. It also means that the woman with these is a love seeker.
19. Own Way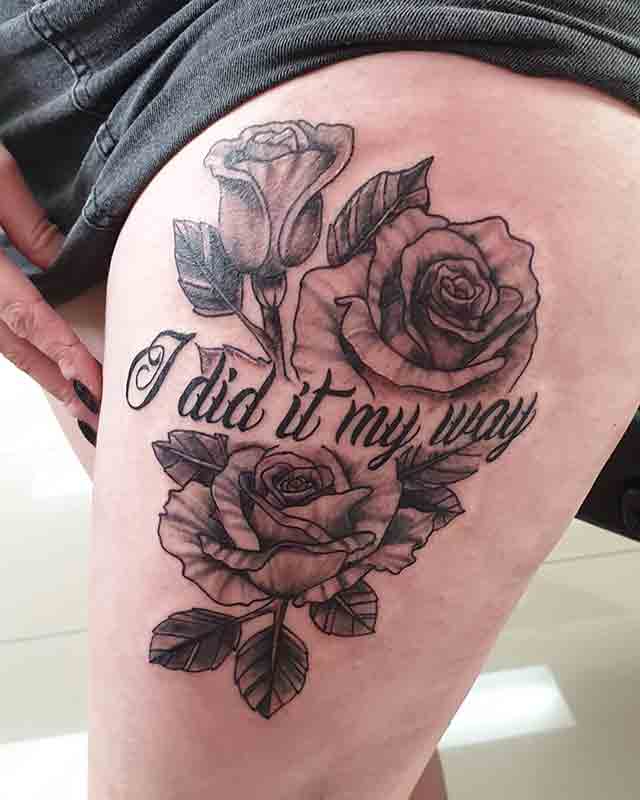 Three roses surround a quote that shows her choosing her own way of doing things. It inspires at tells us to follow our own guts. The roses however are monochromatic.
20. Colorful Rose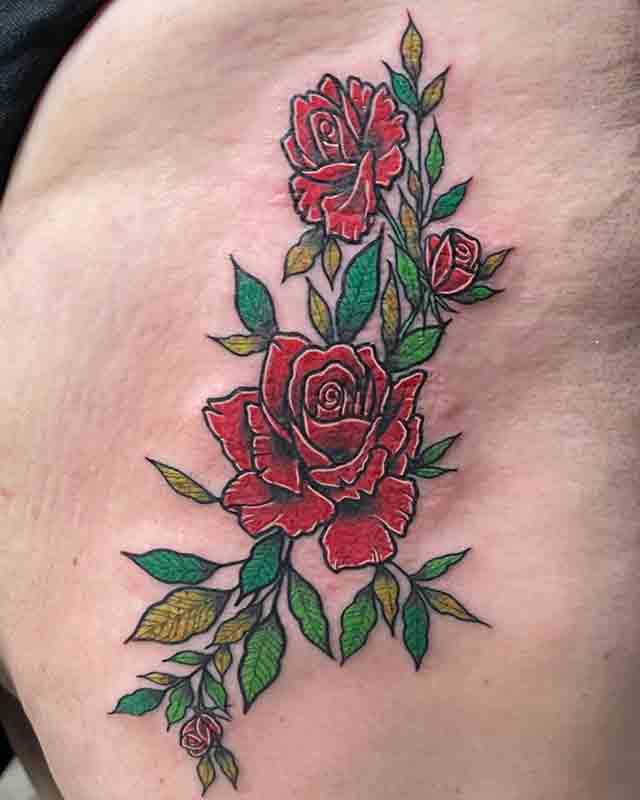 A multi-colored tattoo on this fabulous lady's thigh is looking amazing. The red roses and the green leaves are accompanied by a few yellow leaves. A natural-looking tattoo that is suitable for women with light skin.
21. Filigree Rose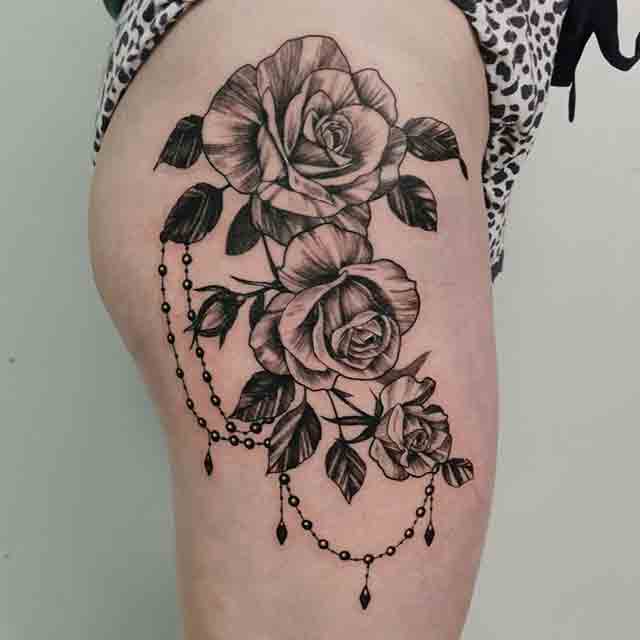 The roses are incorporated with the filigree style. There are little beads hanging on the lines. The black leaves add a touch of realism to this thigh tattoo for women.
Tribal Thigh Tattoos
Tribal thigh tattoos are a sign that the person with this tattoo wants to be a parent of that specific tribe. They are usually big in size and have bold designs.
22. Full Thigh Tribal Work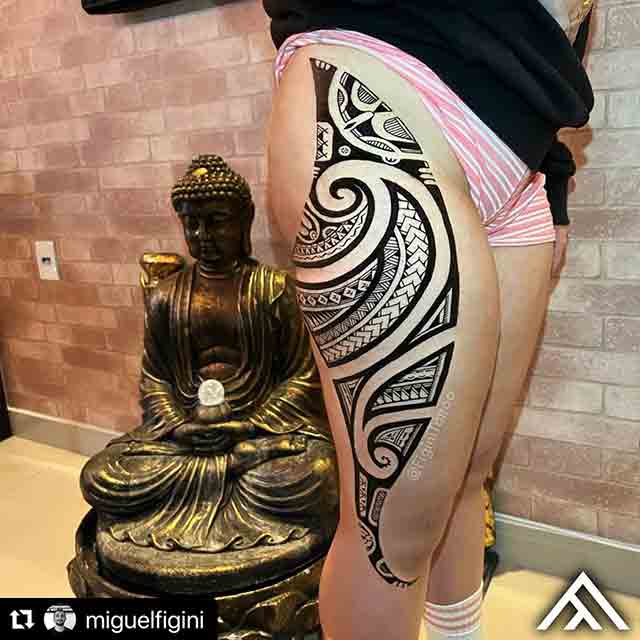 From the top of the thigh to the very end of this lady, a traditional tribal tattoo with bold lines and swift-flowing design is inked carefully. It most likely took a long time to get.
23. Tribal Pheonix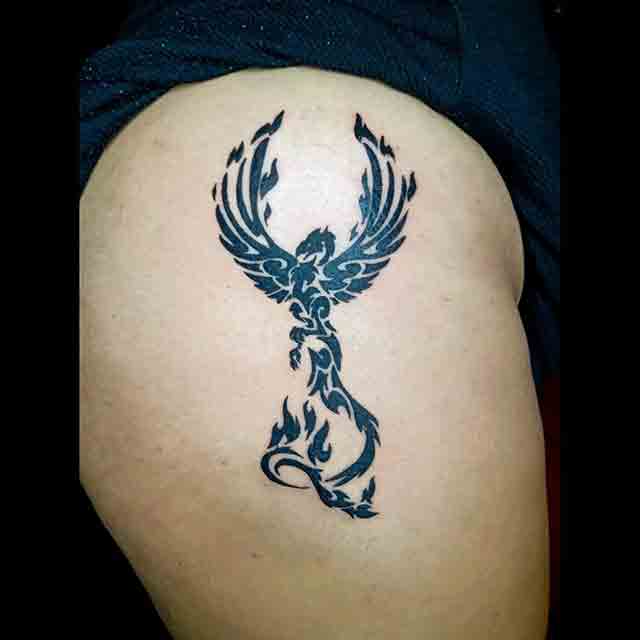 A phoenix is inked with the tribal design in mind. The bold color represents the tribal style and the phoenix represents vengeance and rebirth. A combined thigh tattoo for women who love traditional design.
24. Spiked Outline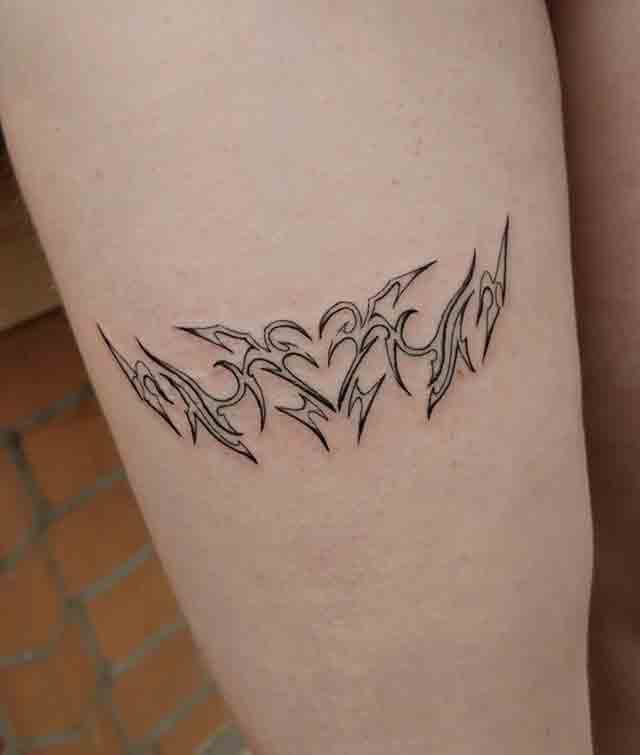 From the look of this, it looks like a trap that is transparent. The sharp edges are deadly and dangerous. Yet, it looks elegant on this beautiful woman's upper thigh.
Simple Thigh Tattoos
Simplicity is the key to the most iconic and eye-catching thigh tattoos for women. Usually, they are very small in size. They also fit every skin type.
25. Slim Snake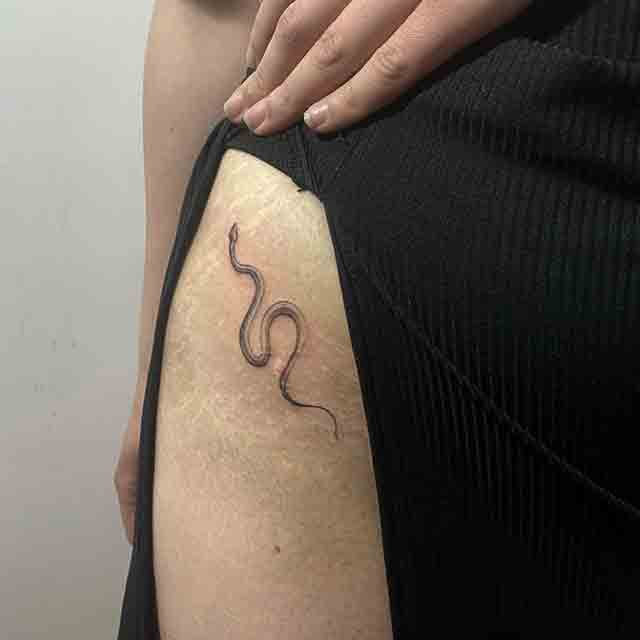 A very thin snake is inked just below the waistline and at the upper thigh of this attractive lady. The snake is a symbol of a creative life force. The lady is most likely a creative individual herself.
26. Bees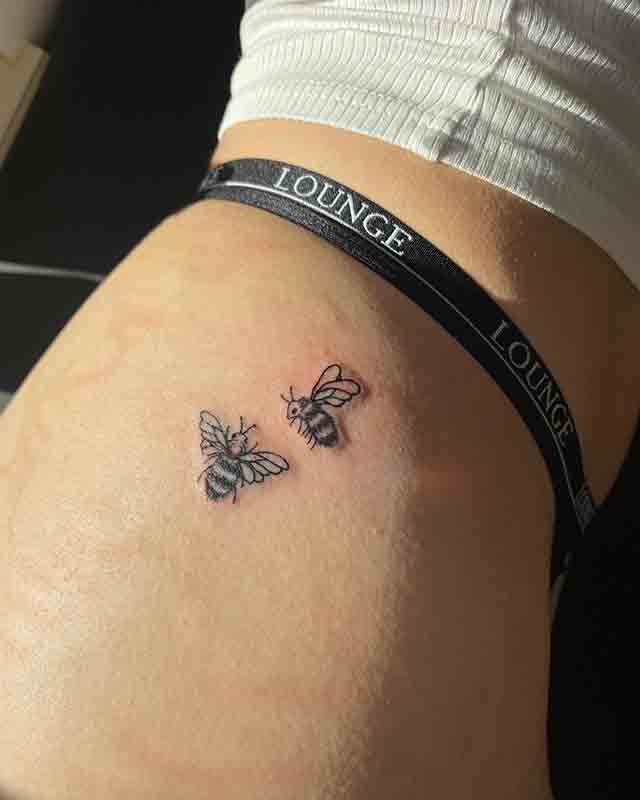 27. Heart Spike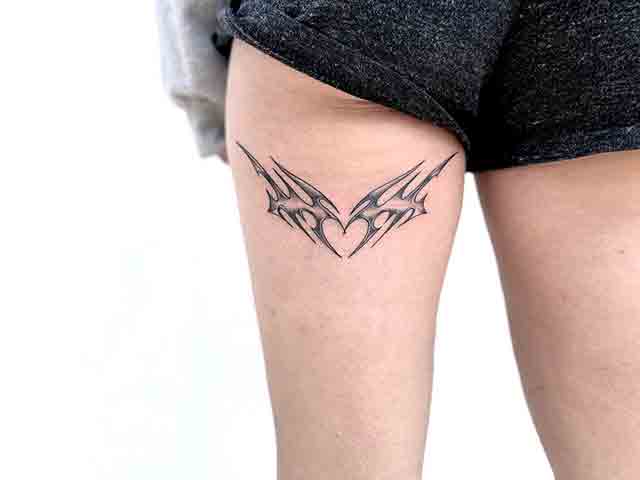 Skull Thigh Tattoos
28. Beauty Skull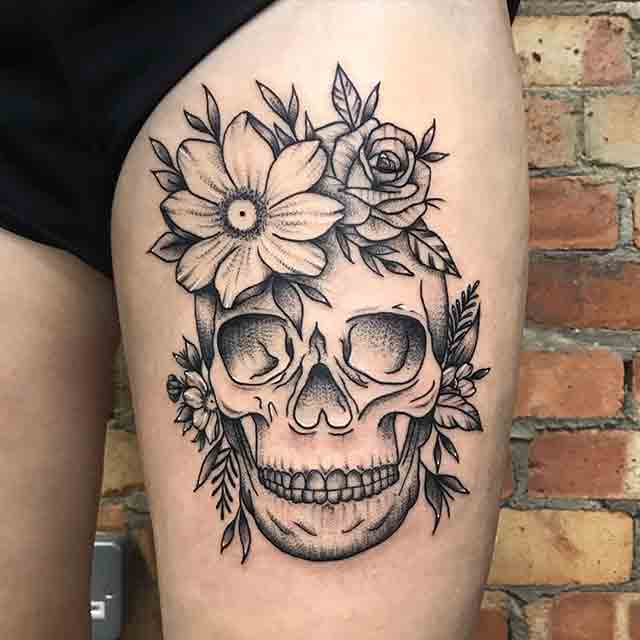 29. Tattooed Skull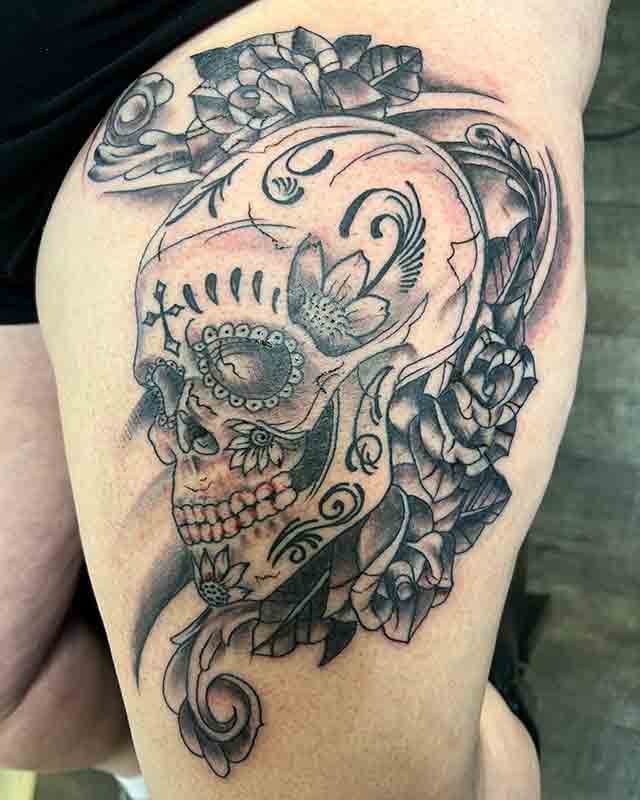 30. Skull Queen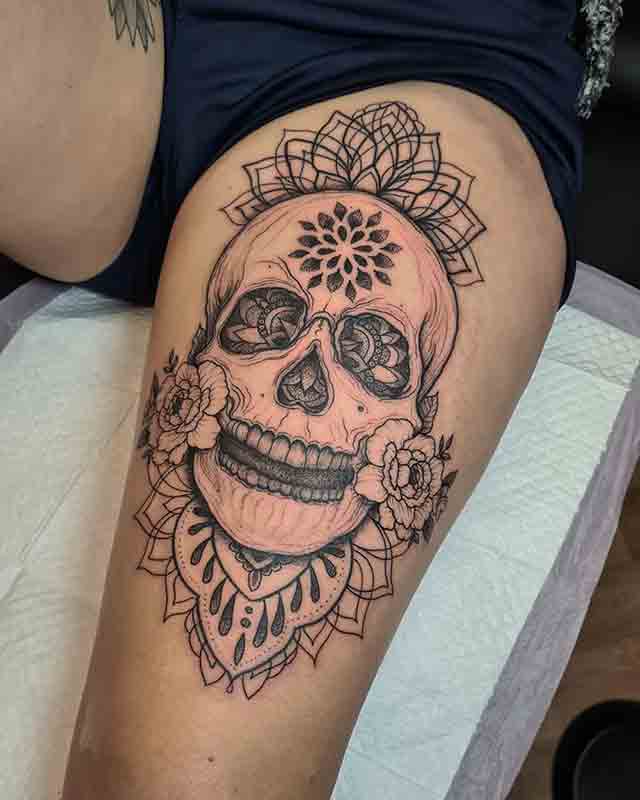 Upper Thigh Tattoos
31. T-Rex Skeleton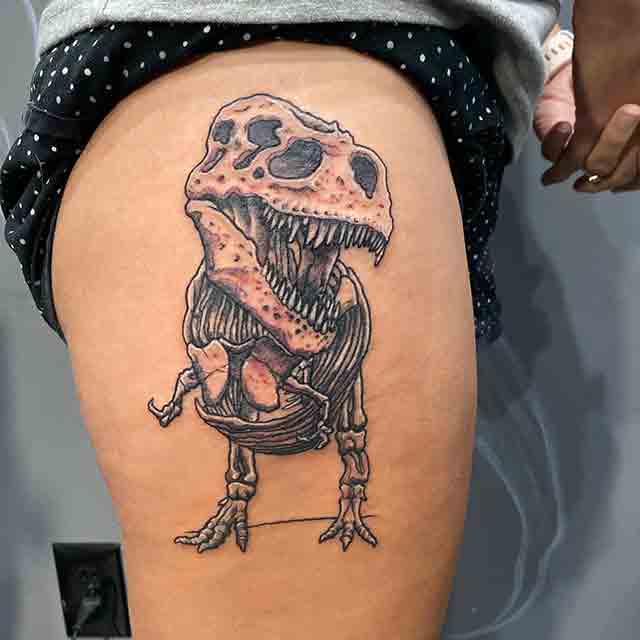 32. Pink Lotus 
33. Cat & Butterfly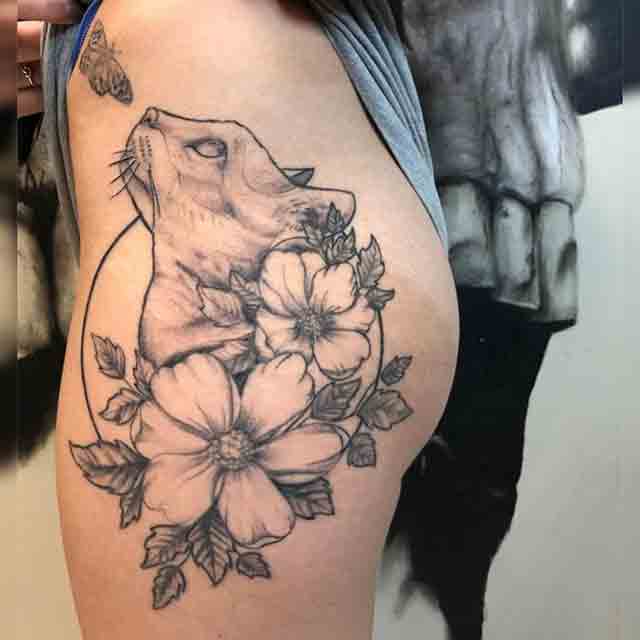 Butterfly Thigh Tattoos For Females
34. Moon & Sun Wings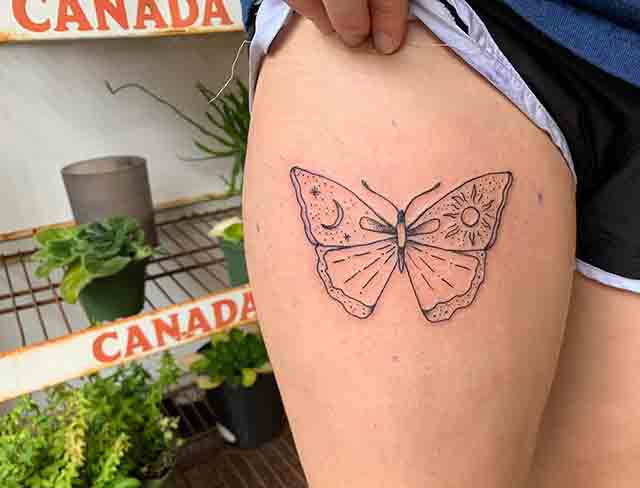 35. Skull Butterfly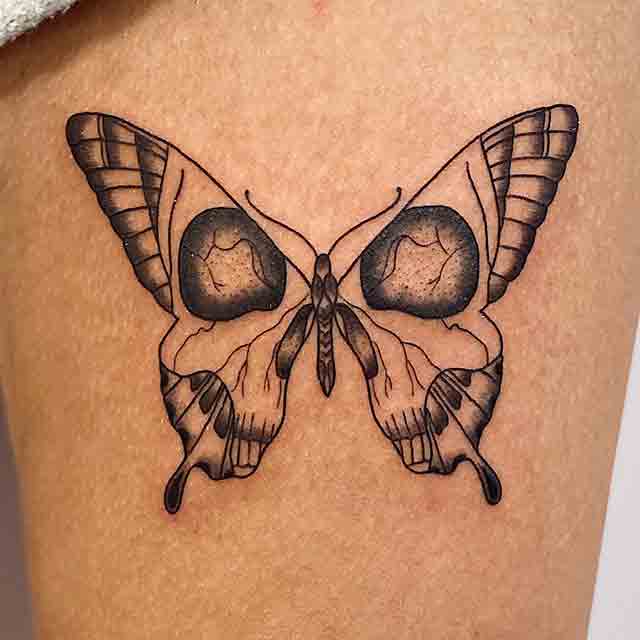 36. Butterfly Heard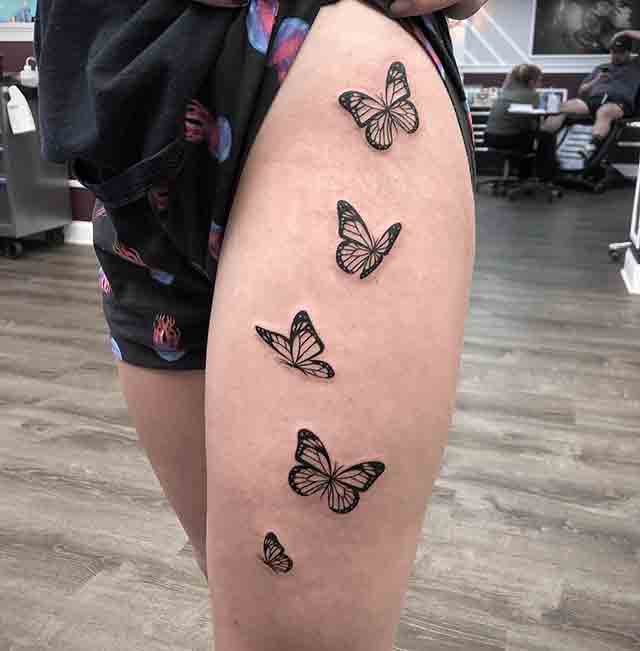 Lion Thigh Tattoos
37. Tribal Lion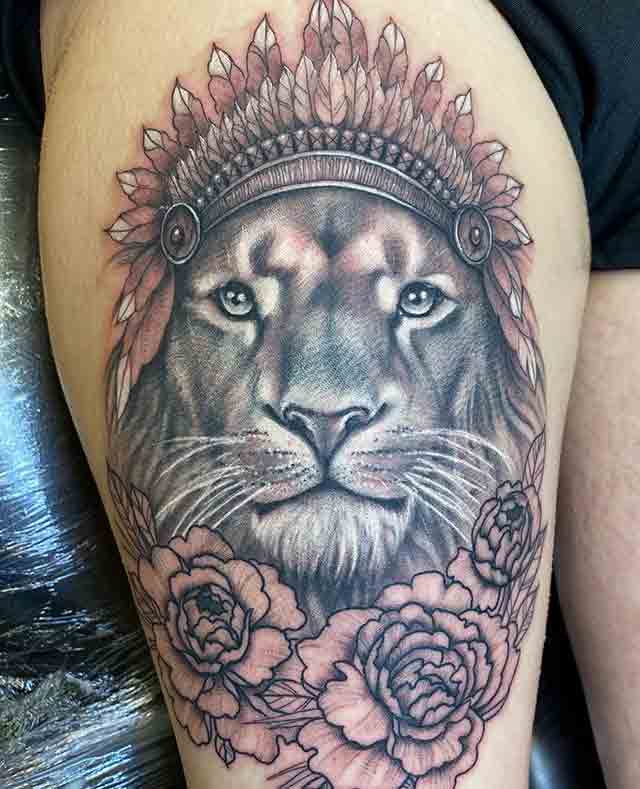 38. Blue Eyed Lion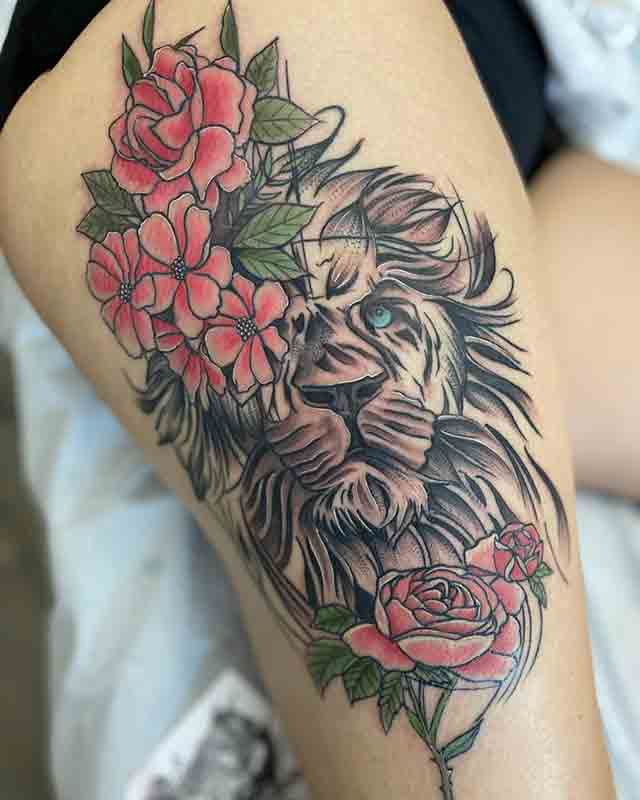 39. Depression Ender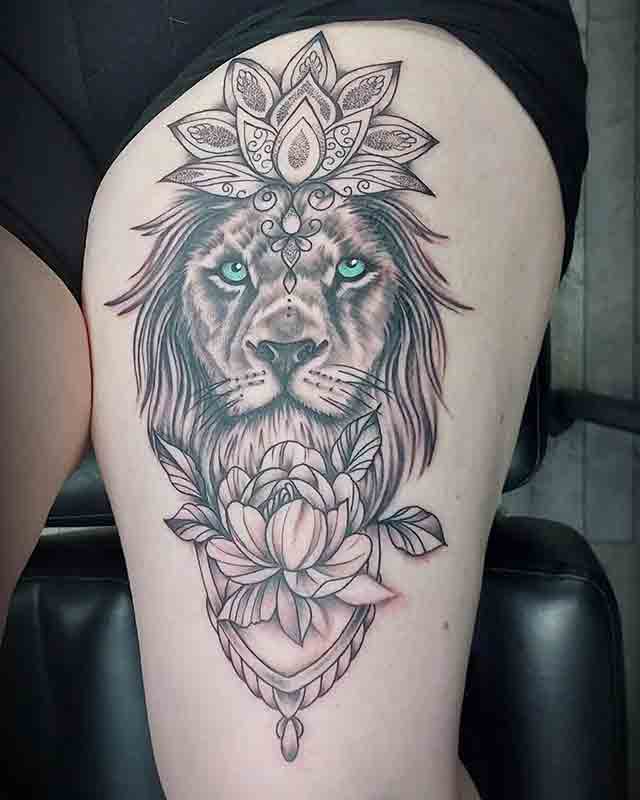 Feather Thigh Tattoos
40. Pink Feather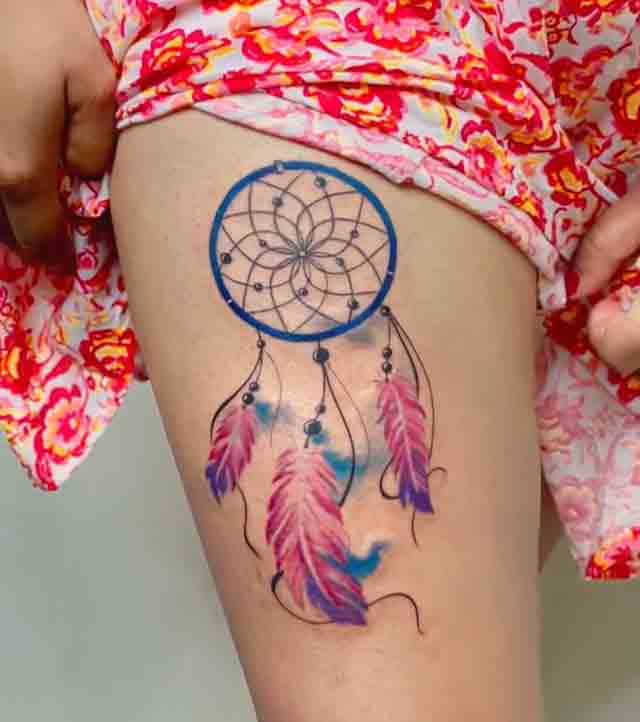 41. Feather Band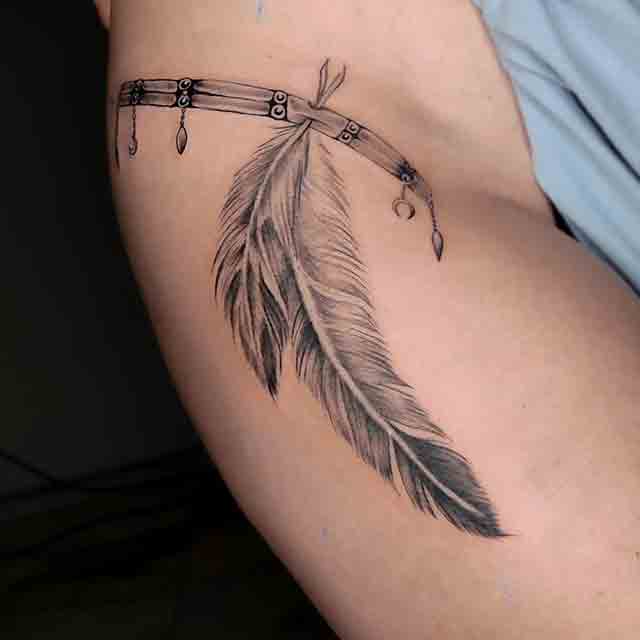 42. Horseshoe & Feather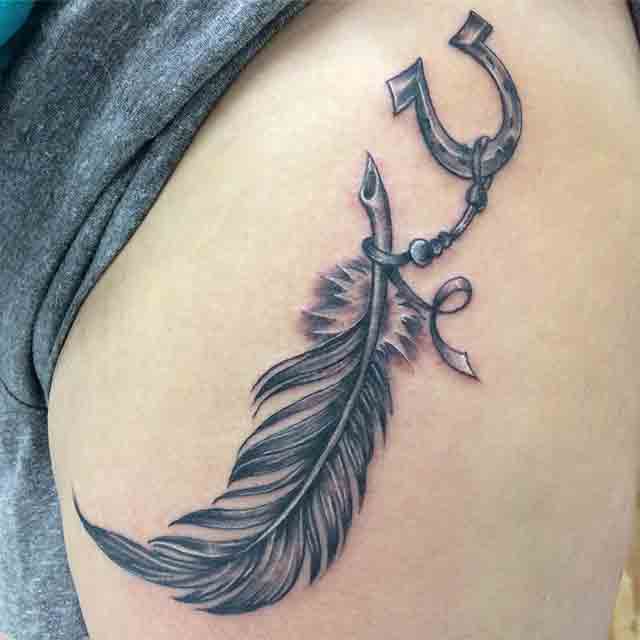 Full Thigh Tattoos
43. Mixed Design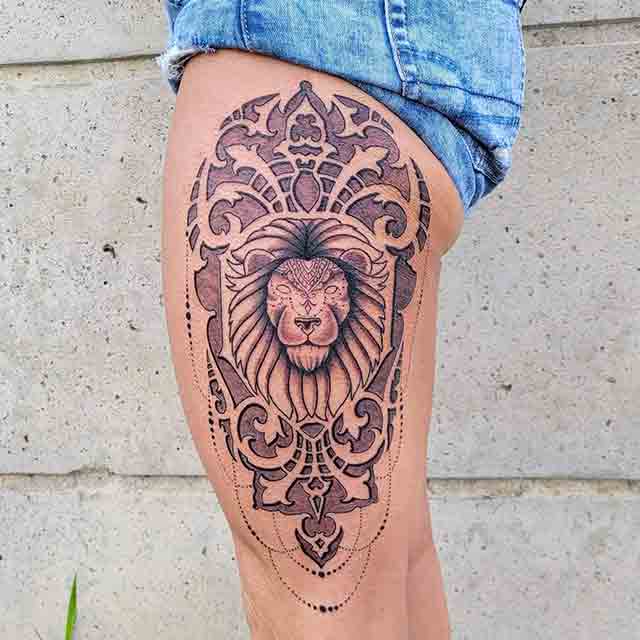 44. Crying Medusa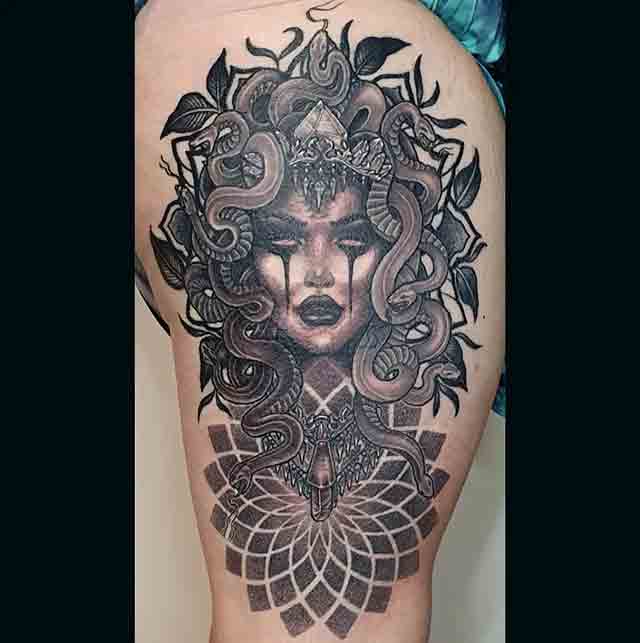 45. Flower Trumpet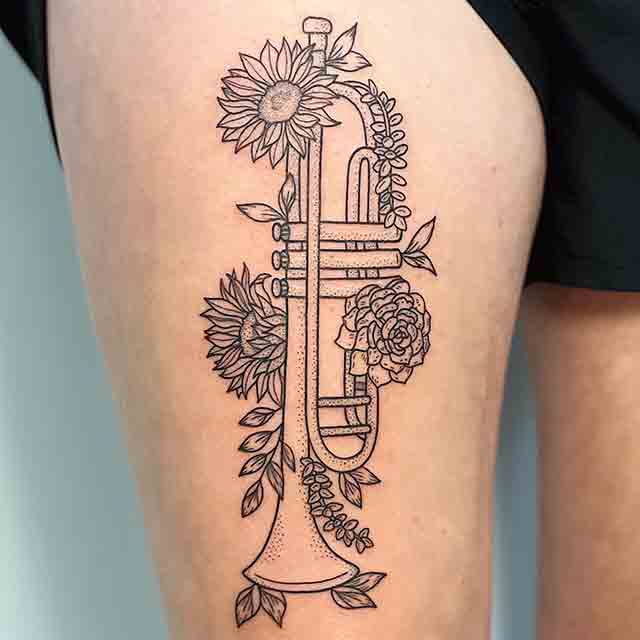 Back Of Thigh Tattoos
46. Eggs & Nest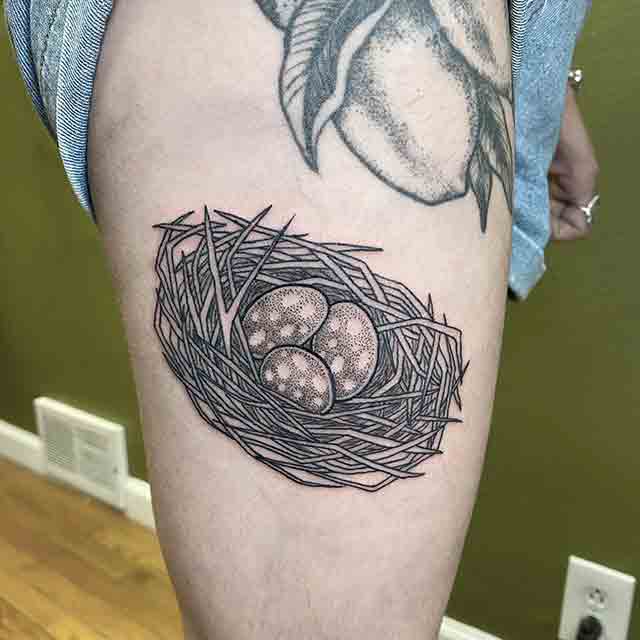 47. Love Moth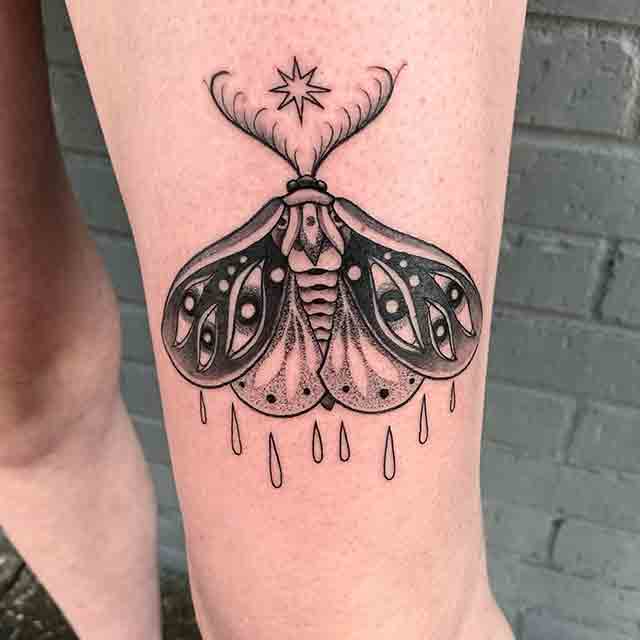 48. Downward Mask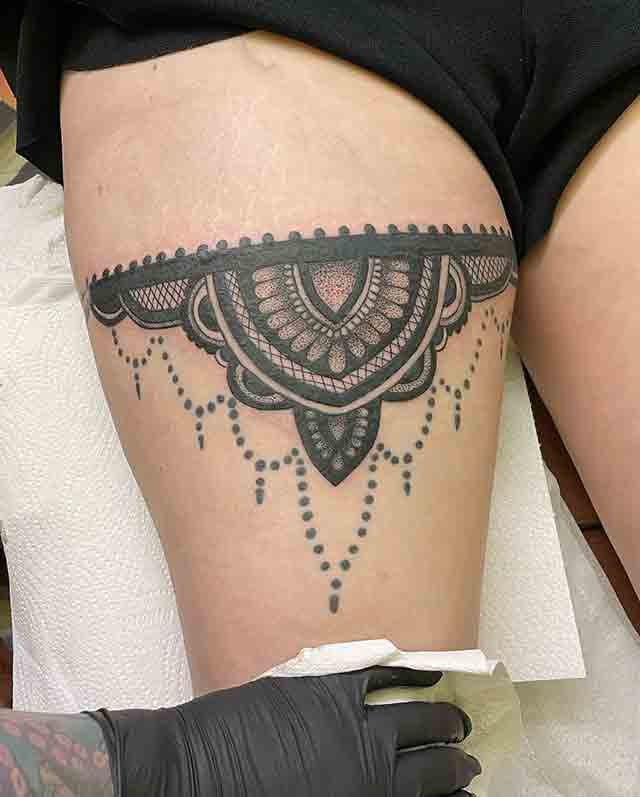 Elegant Thigh Tattoos
49. Blooms On Horn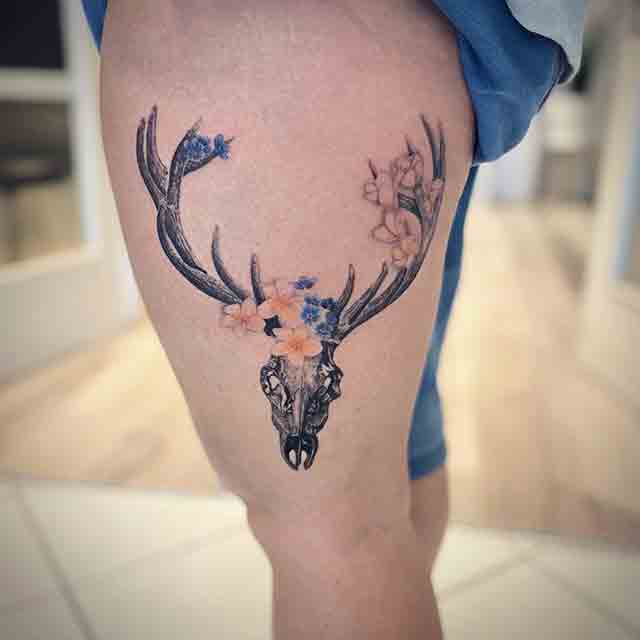 50. Outlined Flower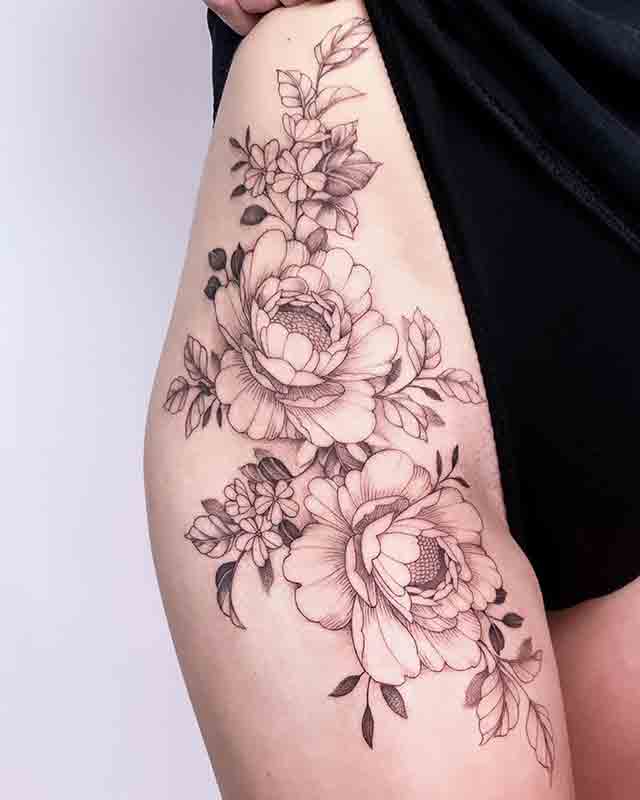 51. Thin Grass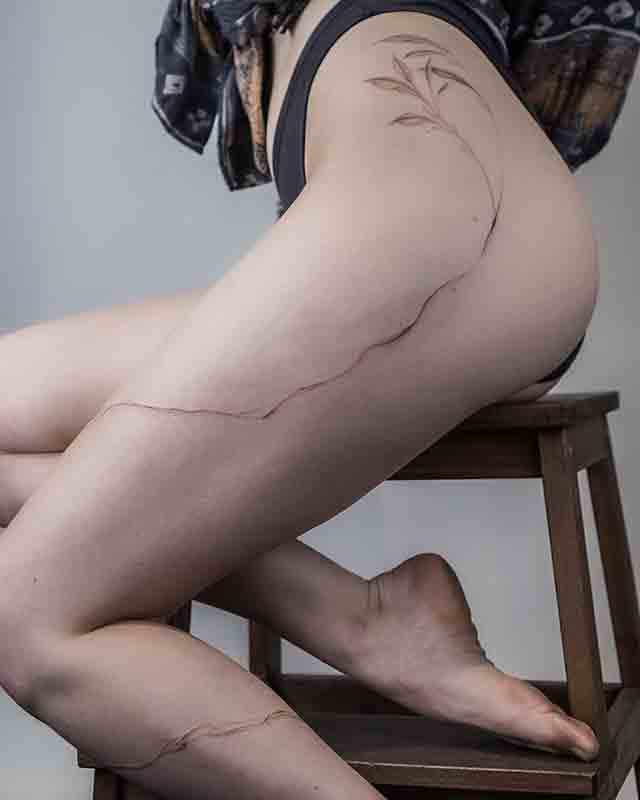 Geometric Thigh Tattoos
52. Gorgeous Flowerwork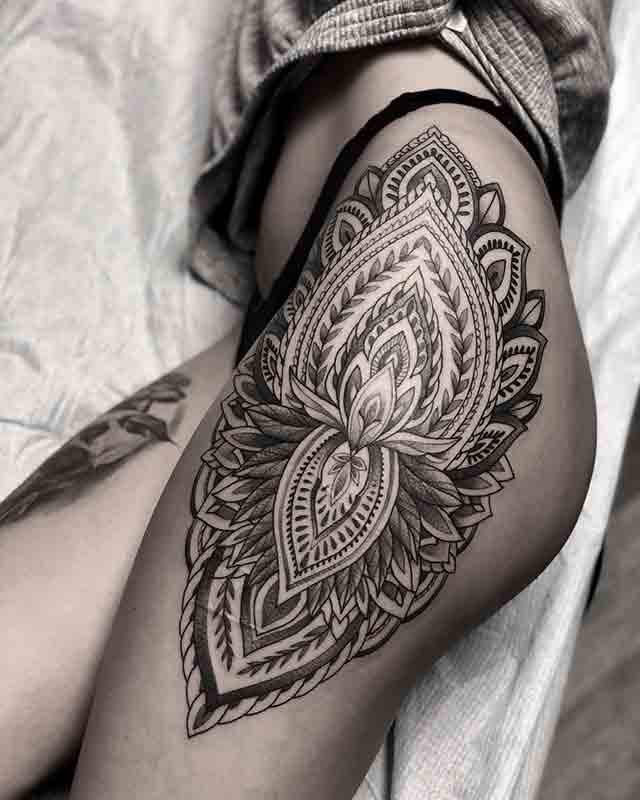 53. Thigh Extension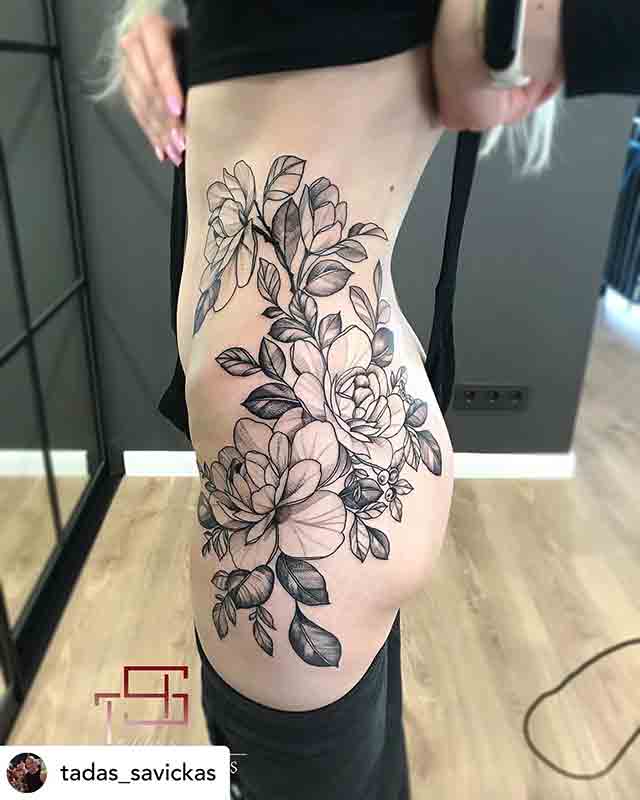 54. Size Contrast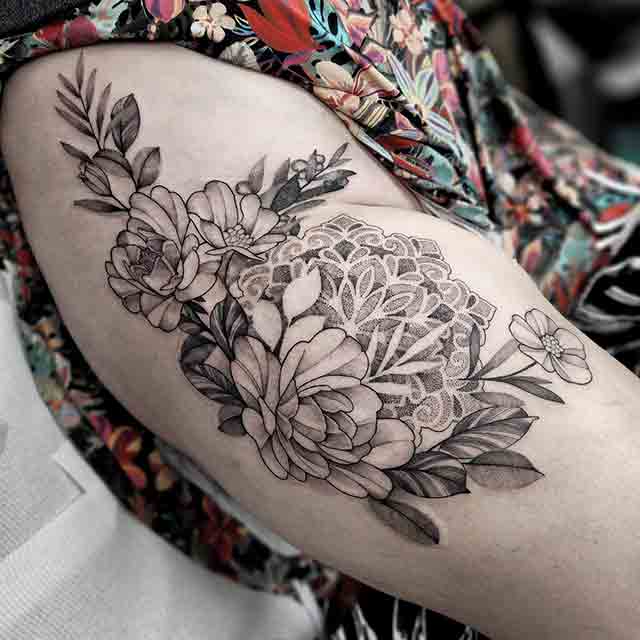 Sunflower Thigh Tattoos
55. Grouped Sunflower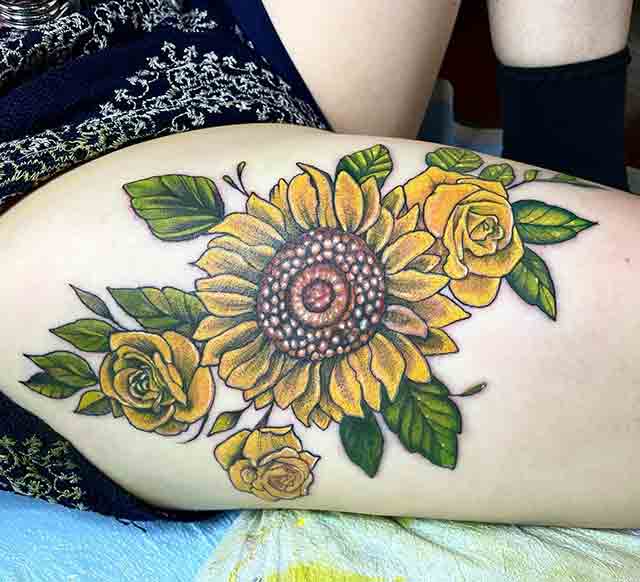 56. Sunflower Triplets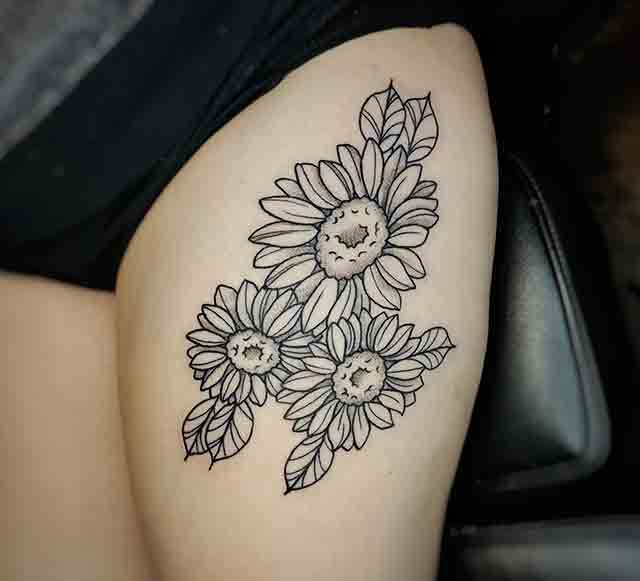 57. Huge Sunflower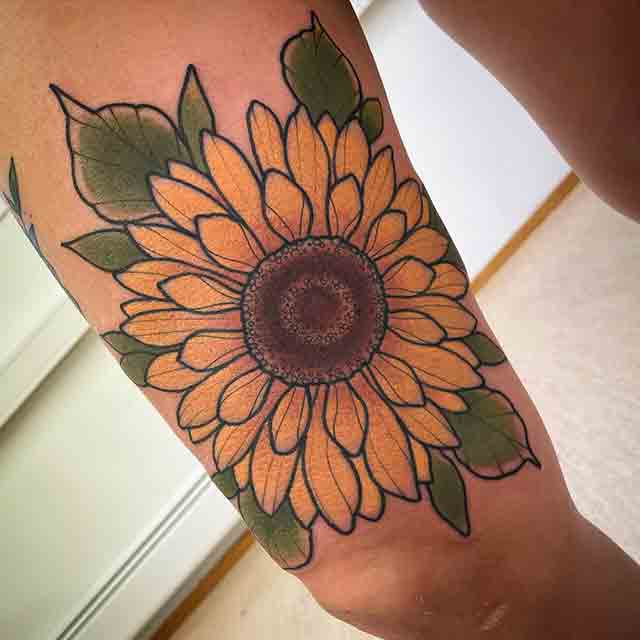 Cross Thigh Tattoos
58. Damaged Cross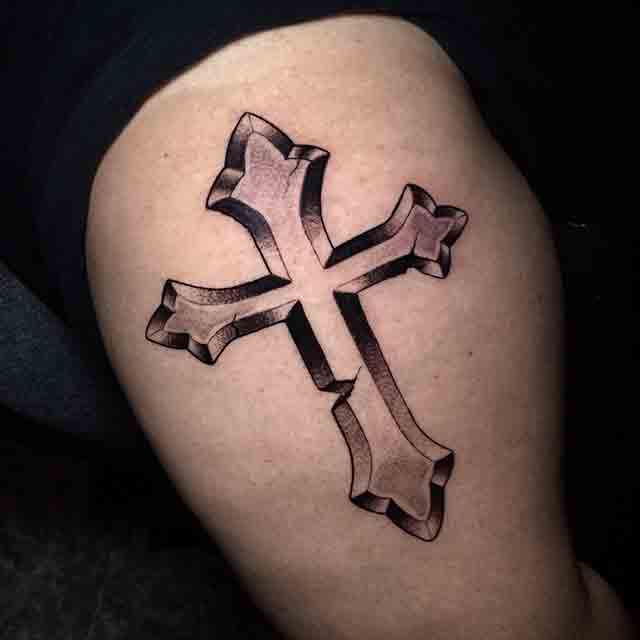 59. Black Metal Cross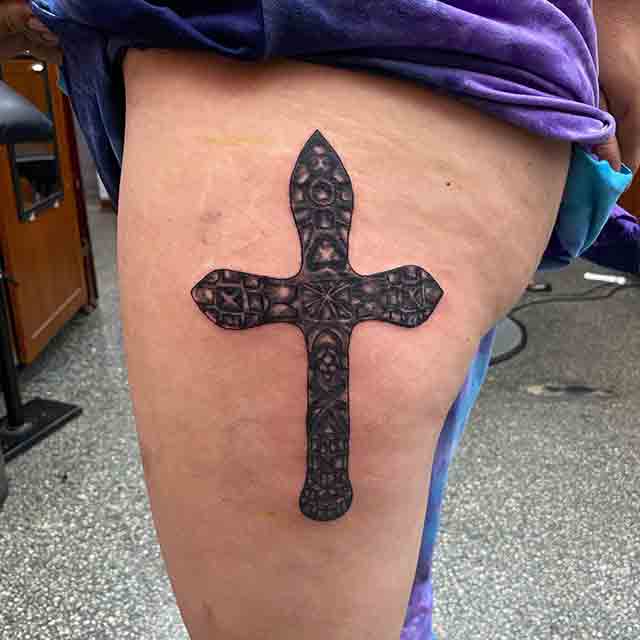 60. Drawing Process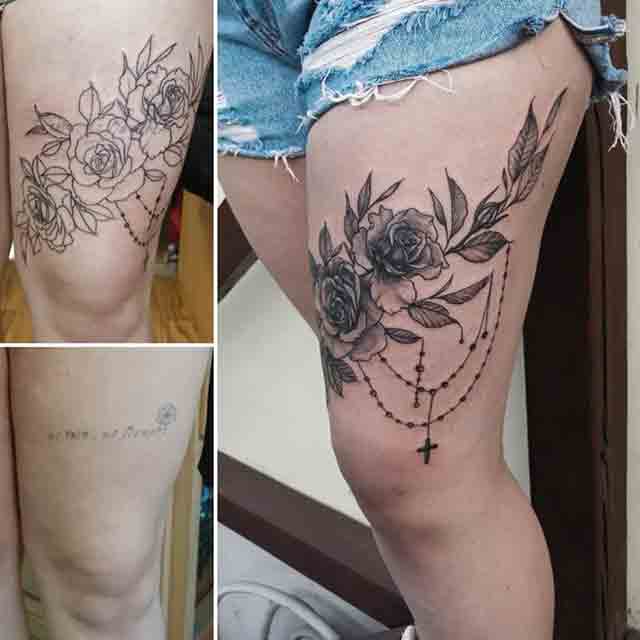 Libra Thigh Tattoos
61. Balance Of Heart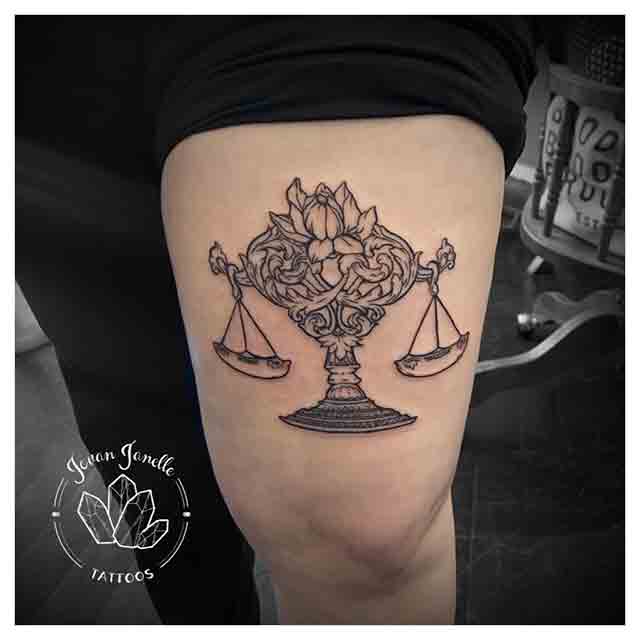 62. Libra Signs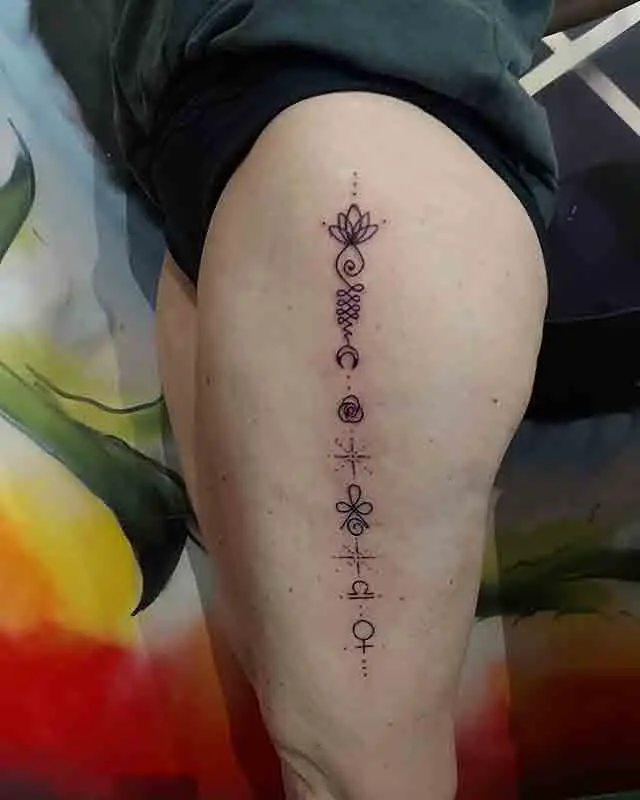 63. Libra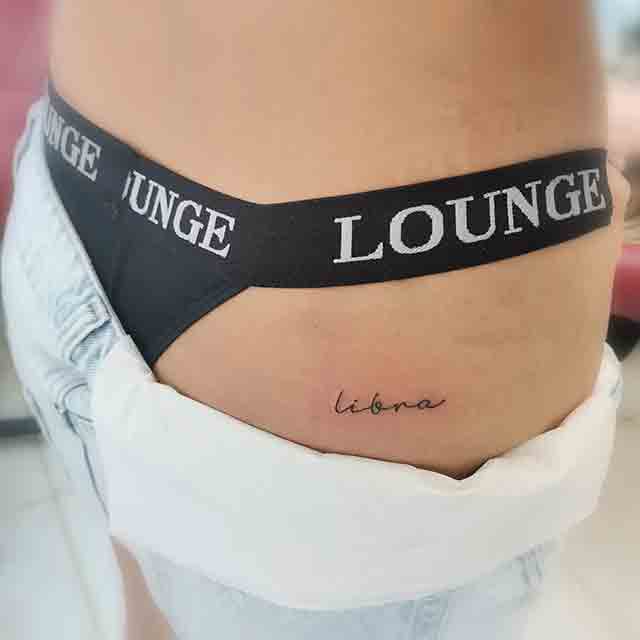 Moon Thigh Tattoos
64. Glittering Moon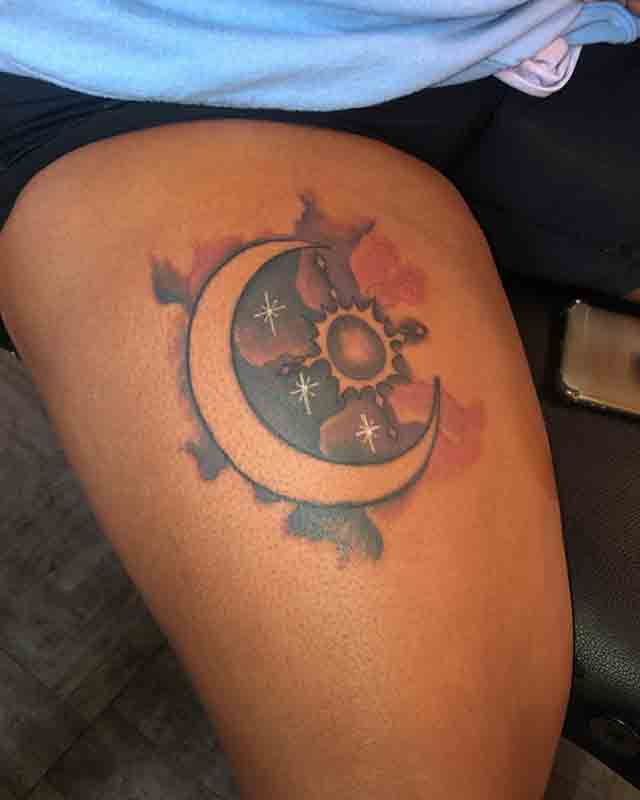 65. Trapped Moon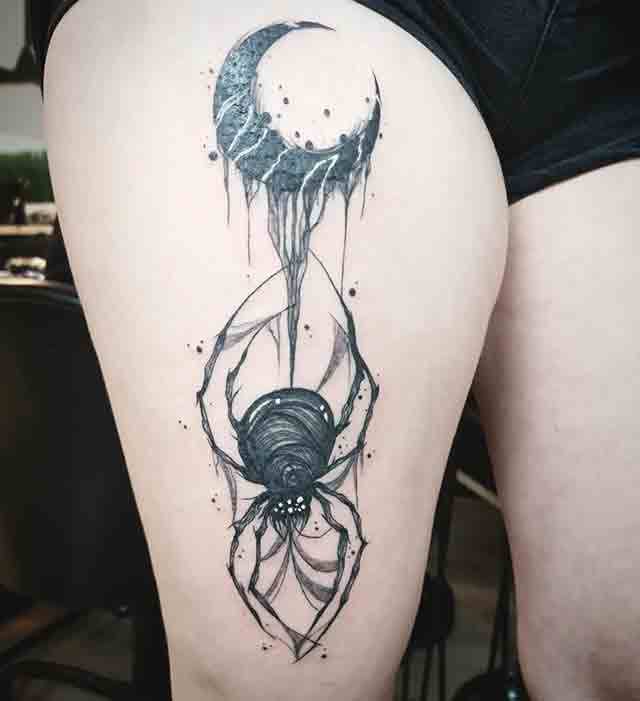 66. Dangling Leaf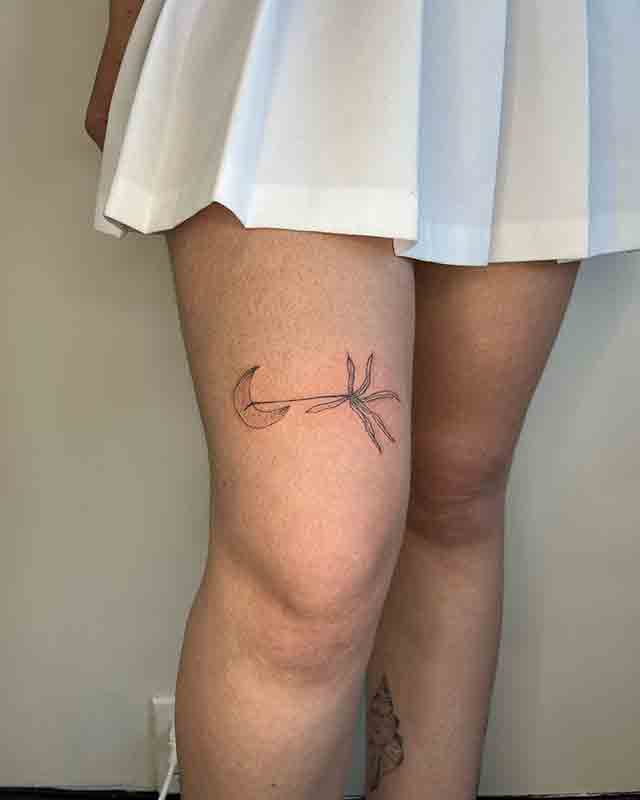 Snake Thigh Tattoos
67. Giant Poison Bites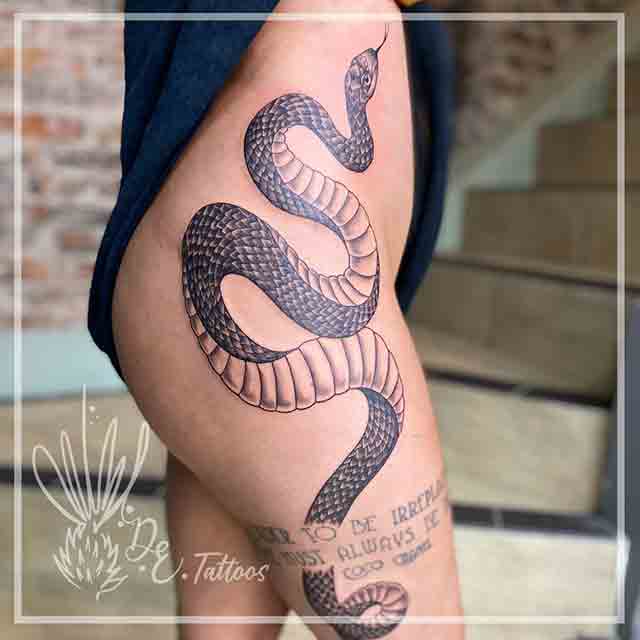 68. Purple Snake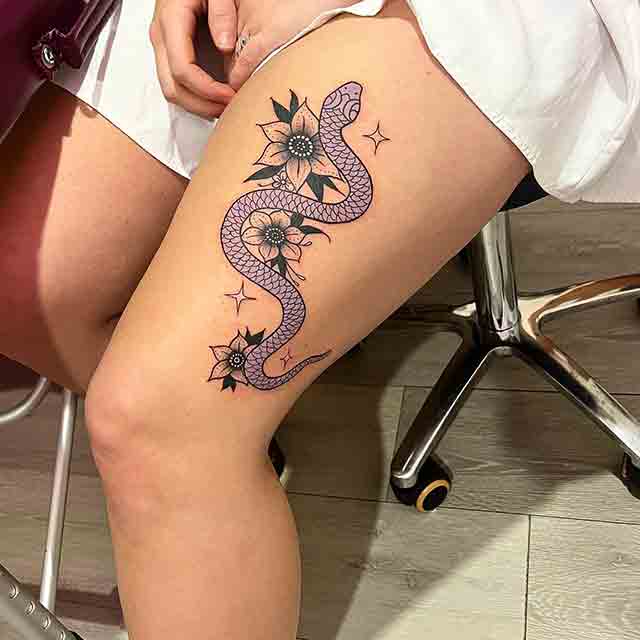 69. Moon & Snake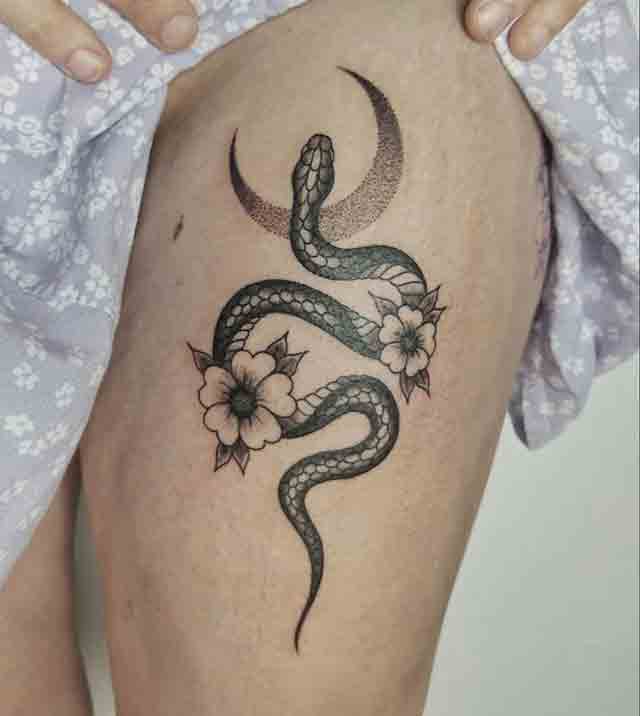 Badass Thigh Tattoos
70. Side Florals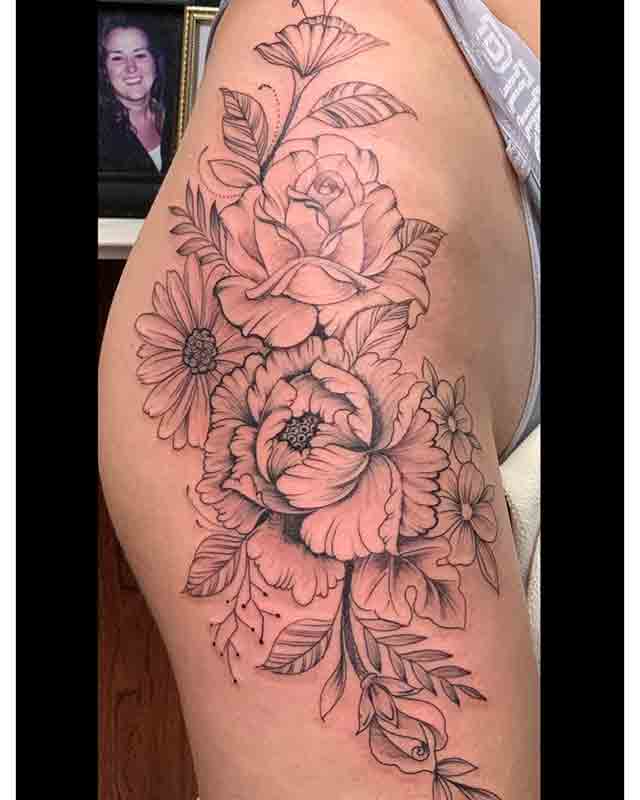 71. Love Curves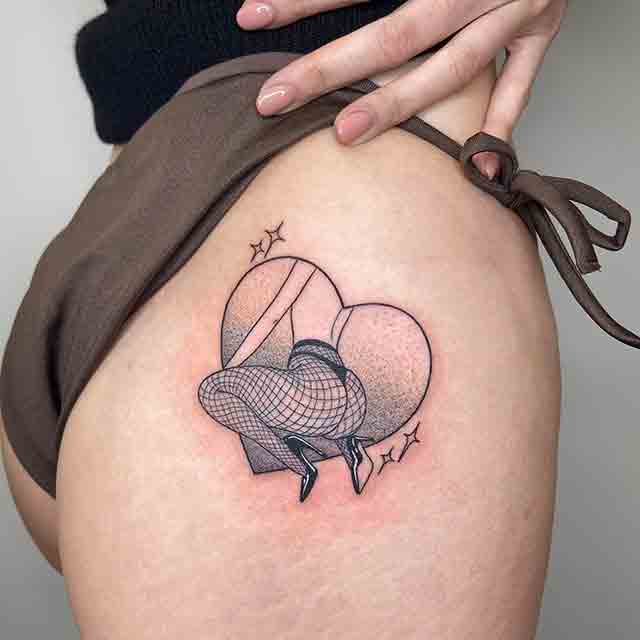 72. Mountain Fox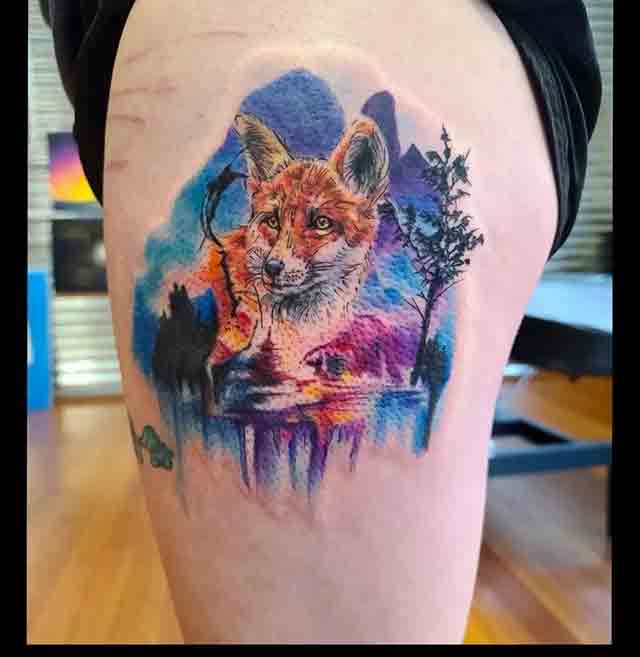 Crown Thigh Tattoos
73. Dog Heart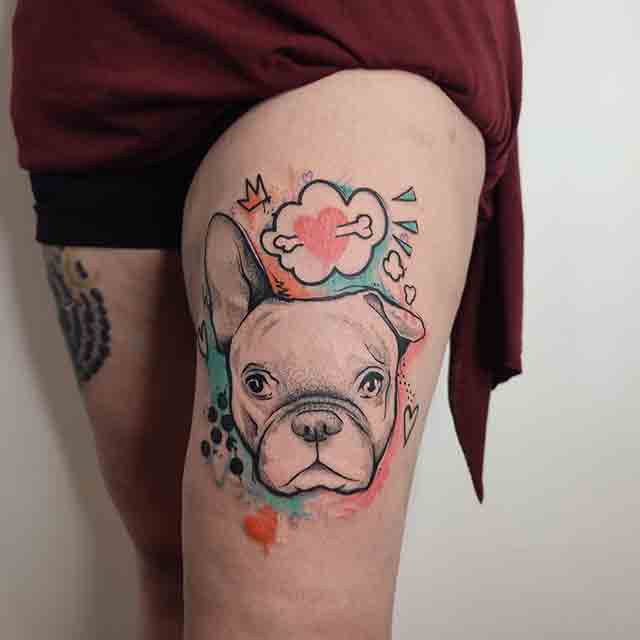 74. Devil King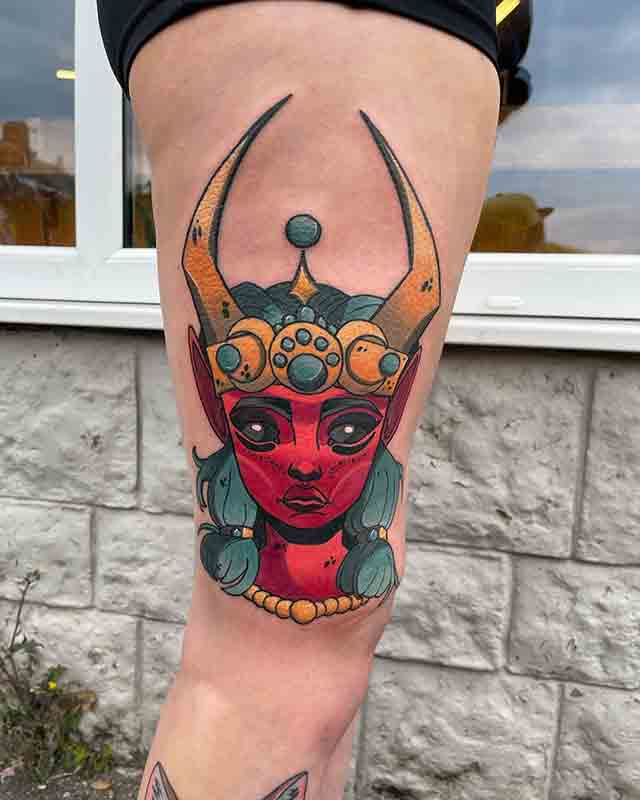 75. Crown Heart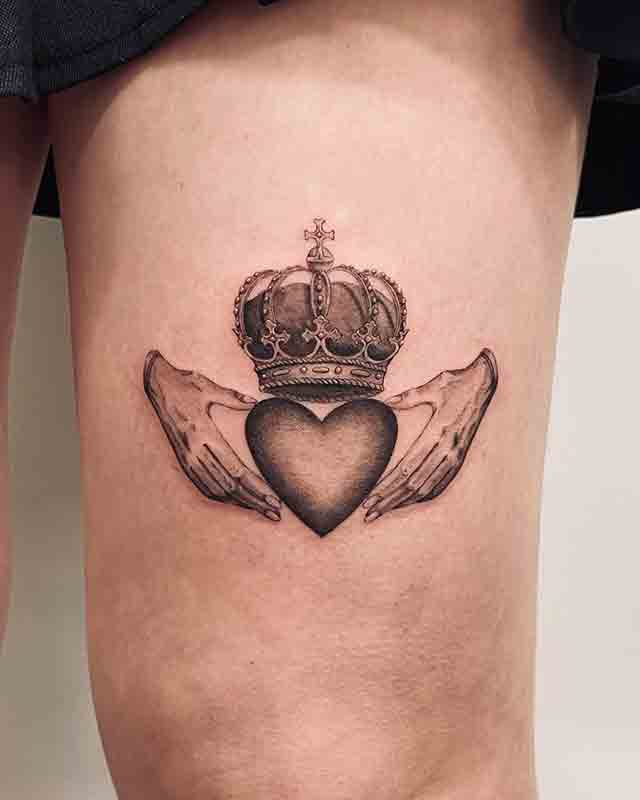 African Thigh Tattoos
76. Cheetah Eyes 
77. African Elephant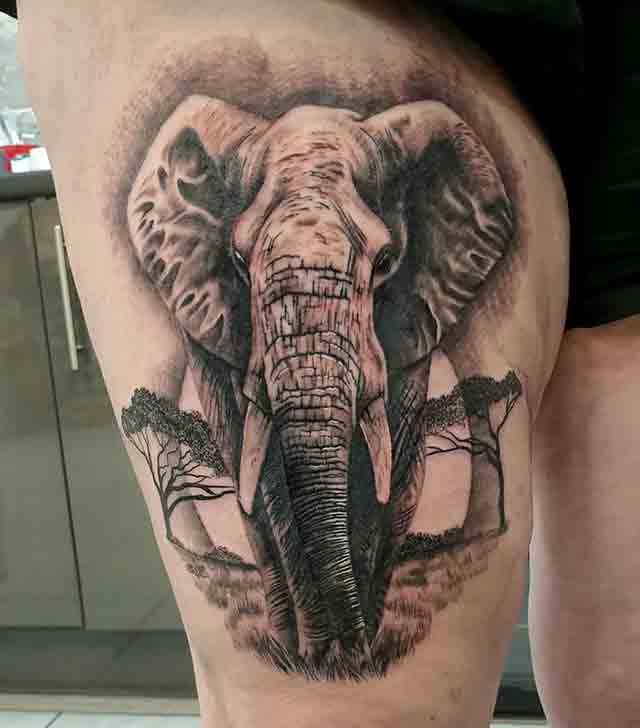 78. Long Neck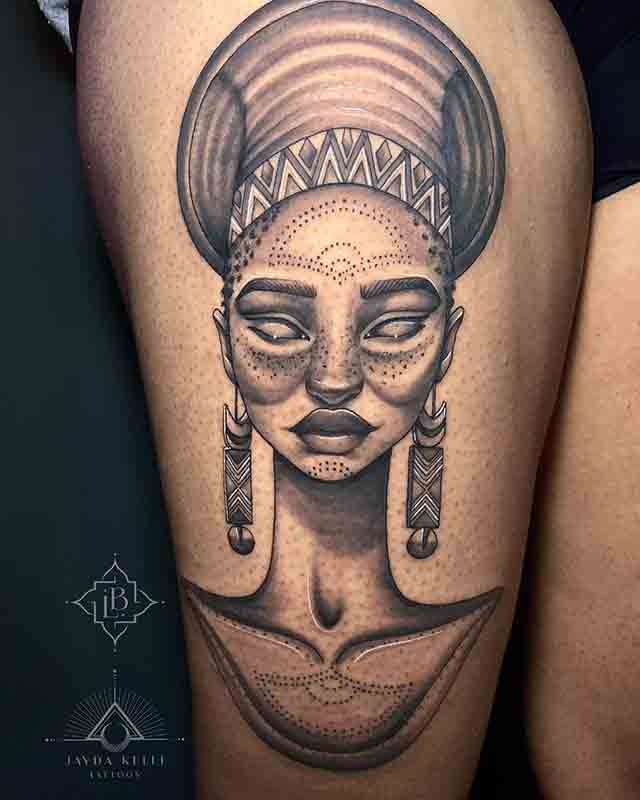 Bird Thigh Tattoos
79. Bird Couple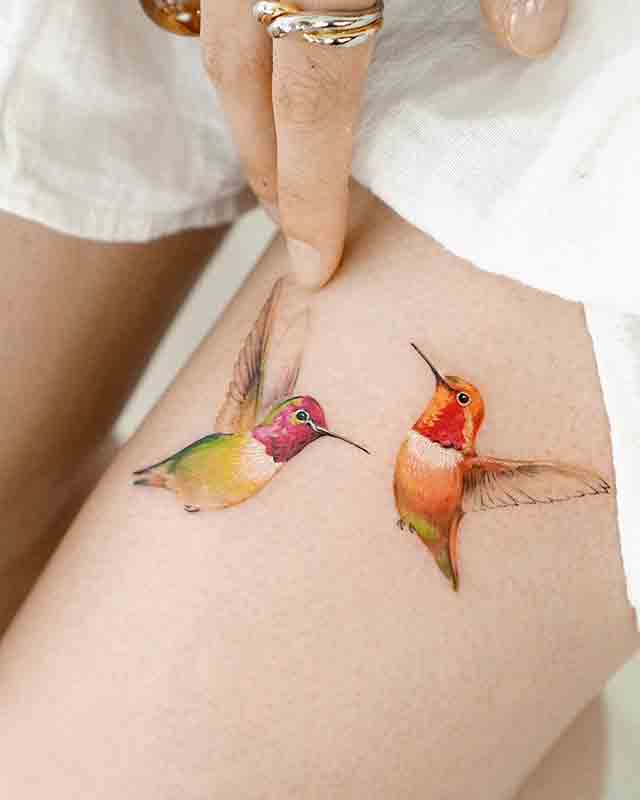 80. Pierced Bird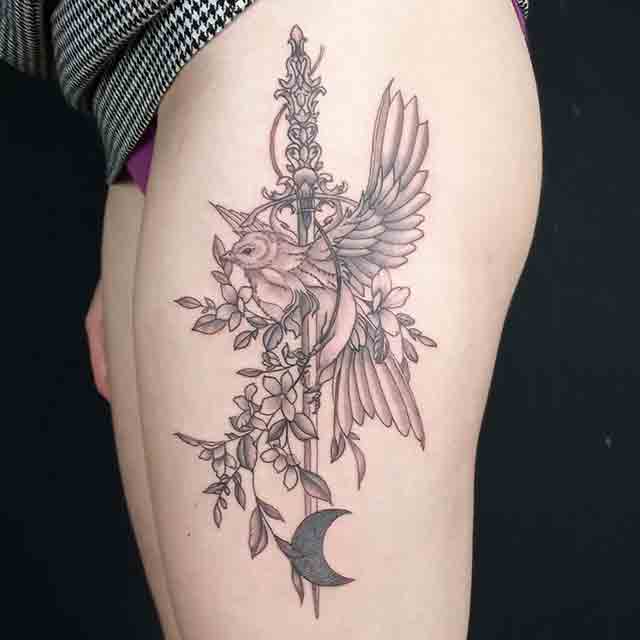 81. Bird On Tree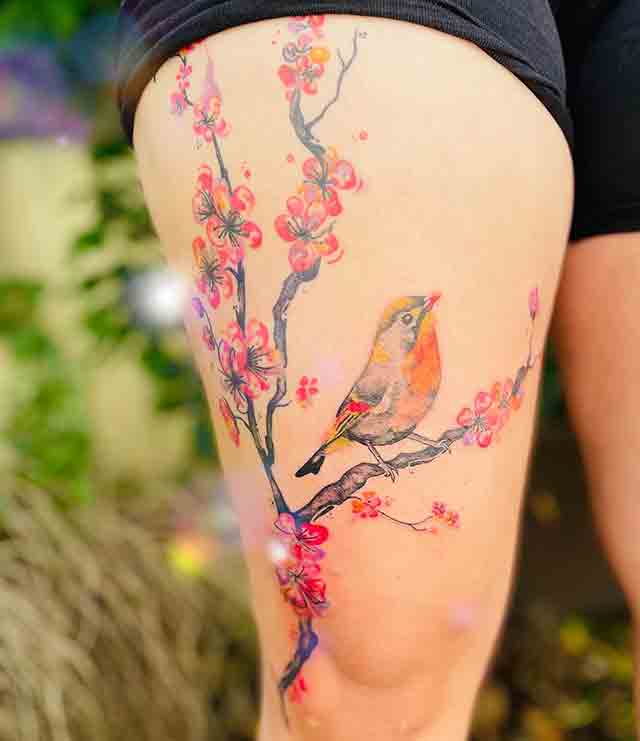 82: ROSES AND ANCHOR

We bet this girl loves to stay grounded yet has the world full of beautiful dreams. This rose tattoos with the anchor is a nice example of a clean and lovely tattoo.
83: SUN AND MOON

This celestial sun and moon tattoo in bright shades is sexy and significant. The sun symbolizes strength and power while the moon signifies feminism in many cultures.
84:  ANTELOPE IN GARDEN

Is this a tattoo? It looks more like a sketch painting on a canvas. It is so real that you can even feel the depth of the antelope's eyes.
85: ELEPHANT IN FRAME

The mighty creature is one of the most popular choices for tattoos for women's thighs. The floral frame featuring the elephant speaks for the girl's belief in longevity and prosperity.
86: SEXY FLOWER TATTOO

Can flowers be sexy and sassy? Well, if they are inked on a sexy thigh, then they become more admiring.
87: THE WILD BEAST

We wonder how skillful the artist would be? He has done such an amazing artwork on the thighs. The images are so immaculate, it's impossible to take off the eyes from them.
88: THREE RAMS' HEAD THIGH TATTOO

Ram is the symbol of Mars, the Roman God of Fire. However, a skeleton head of a ram could have a different meaning. It is often associated with satanic symbolism. Whatever meaning this tattoo has, it's clear that the design is awesome and creates a lot of curiosity.
89: RACCOON THIGH TATTOOS FOR WOMEN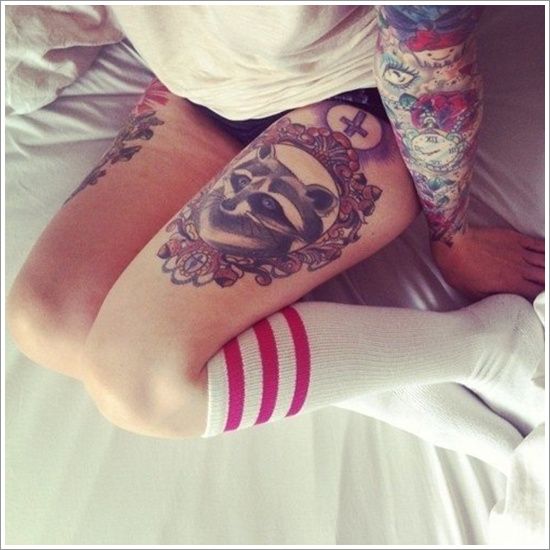 This is a cute raccoon photo frame tattoo to try. The bejeweled frame with a cross at the top looks classy while the animal is finely done as if it's real.
90: LACE GARTER THIGH TATTOO

A Victorian lace garter tattoo is a sexy and fabulous idea for thigh tattoo.
91: WHITE HIBISCUS THIGH TATTOOS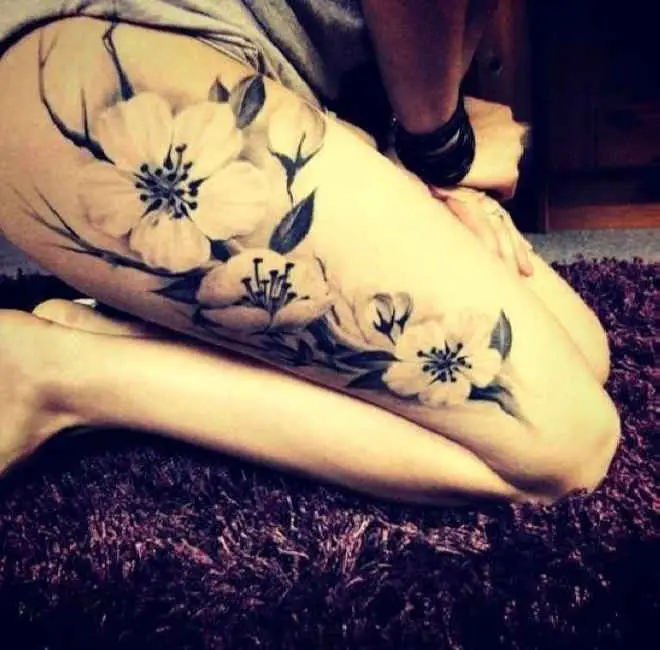 This is an example of tattoo mastery. The white flowers with a touch of gray are magnificent.
92: ELEPHANT AND BEAR TATTOOS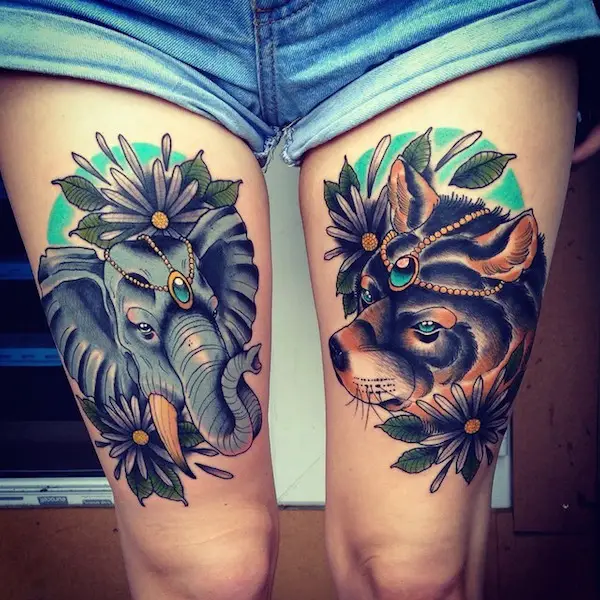 Animals are one of the most popular choices for thigh tattoos. Here the girl has selected two of the mighty creatures – elephant and bear. And with a bejeweled head, gave them a curious look.
ASTONISHING RIB TATTOOS FOR GUYS
93: OCTOPUS THIGH TATTOO

Symbolizing mystery, vision, illusion and diversity, this octopus tattoo is extraordinary.
94: MONOCHROME FLOWER TATTOO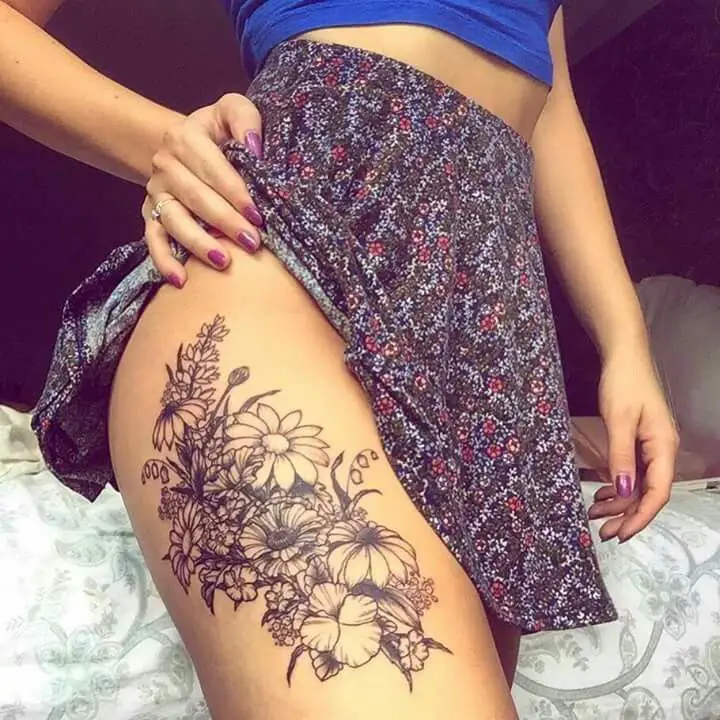 Some tattoos may look simple but demand a high level of perfection. This bunch of flowers is one of such masterpieces that requires full control over the pen.
95: CUTE ELEPHANT TATTOO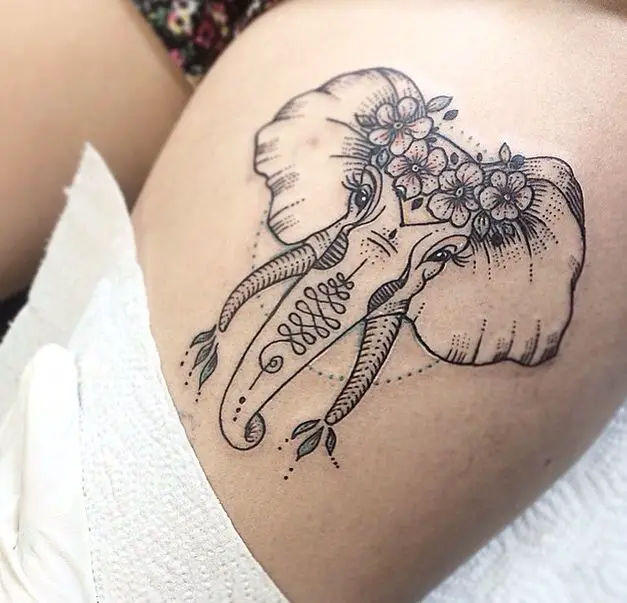 If you need a pretty thigh tattoo, then take ideas from this girl. Her baby elephant tattoo with flower tiara is so lovely.
96: ROSE TATTOO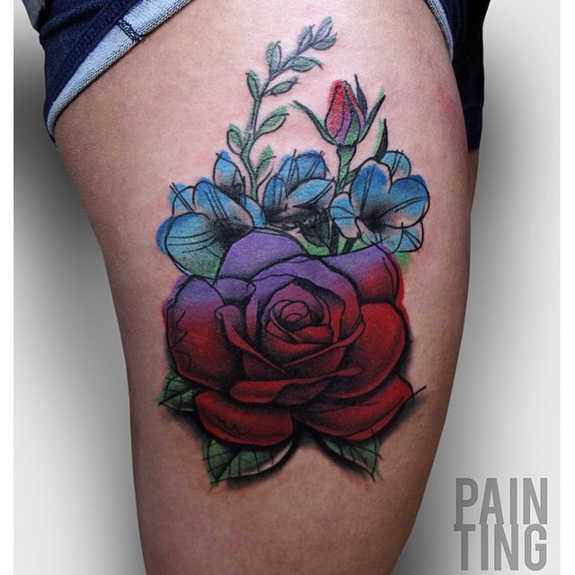 Here is a simple rose tattoo with a difference. The fine switch from one color to another is awesome.
97: SUGAR SKULL AND FLOWERS TATTOO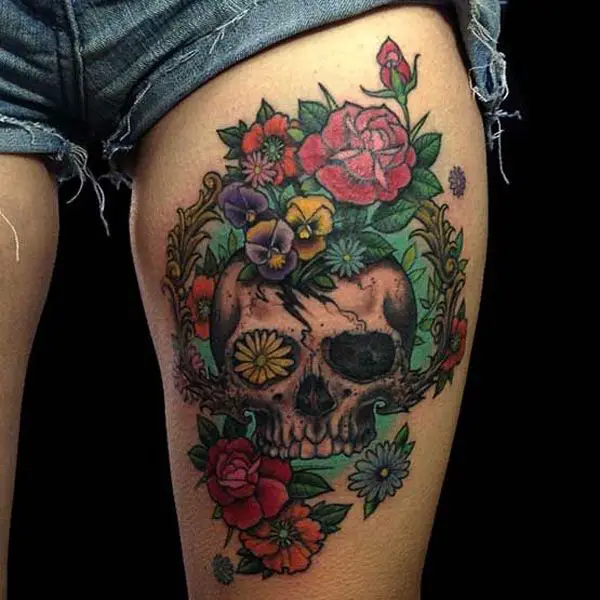 Skulls tattoos with flowers always make a popular design choice for inking.
98: THE MERMAID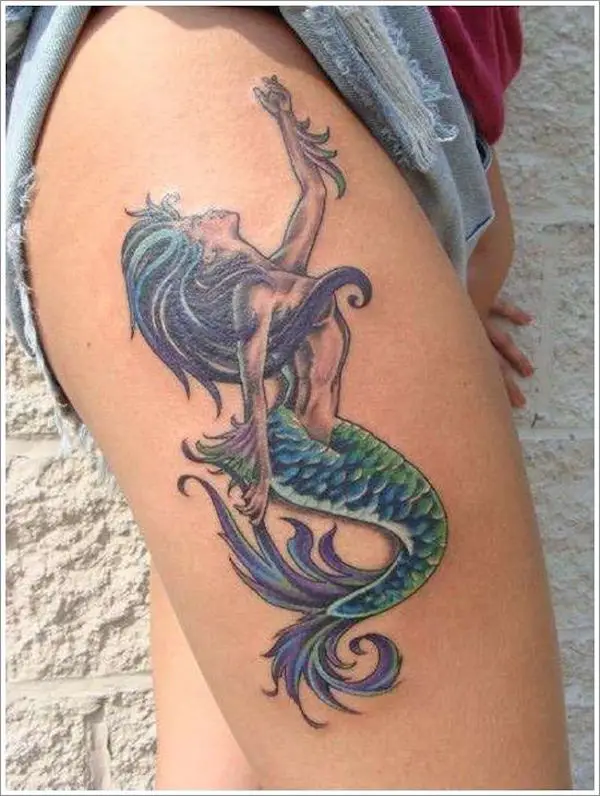 Take her to the waters lady, the mermaid needs some splash to shine!
99: COMPLEX TIGER HEAD TATTOO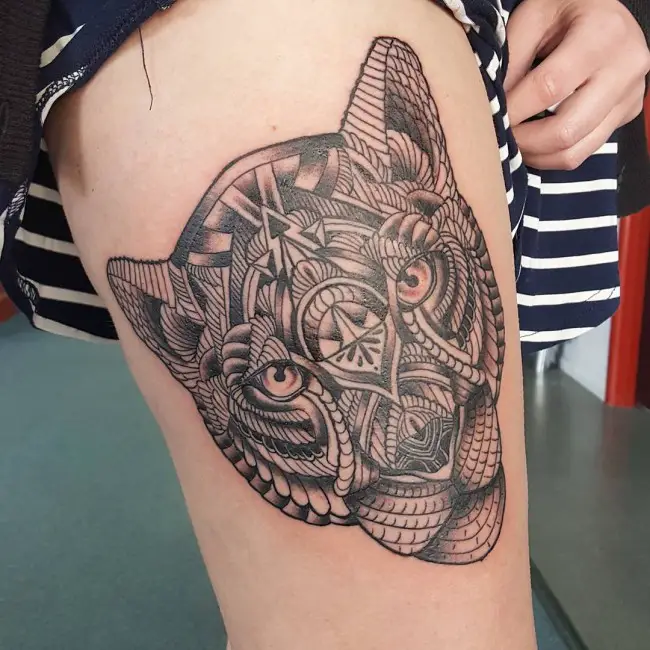 We wonder how many patterns have been used in this tiger head tattoo. This tribal style artwork is a great choice for tattooing on a thigh.
100: DAFFODIL VINE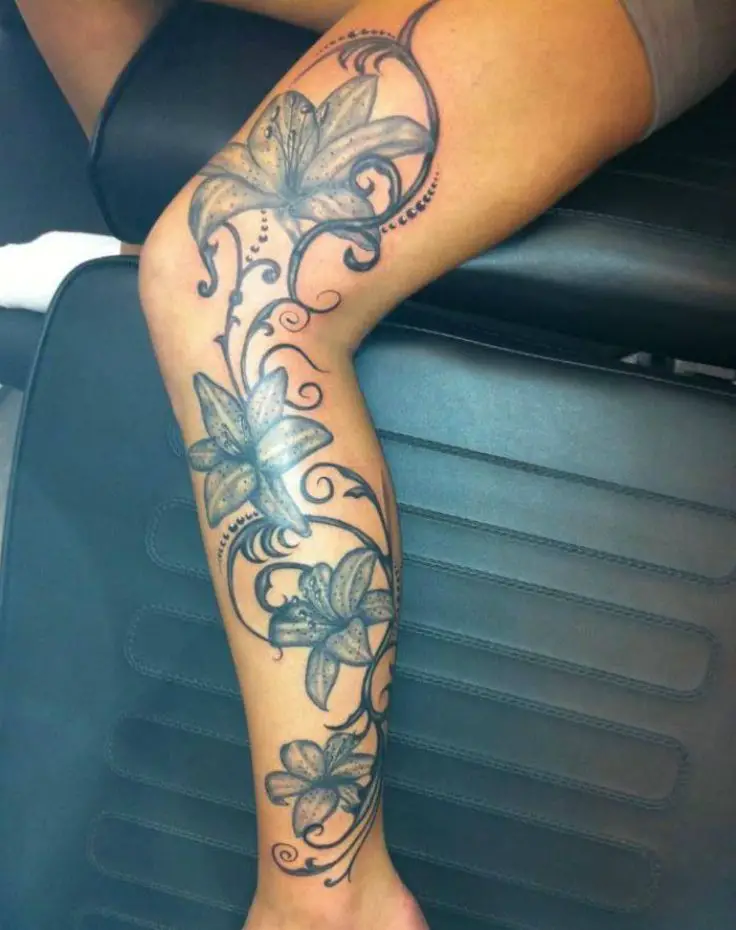 Starting from the thigh, the blue daffodil vine goes down to ankle making this tattoo ultra-sexy and oh-so-pretty. Colorful flowers make a good simple tattoo design but those in dark tones such as this one has a unique appeal that can never go unnoticed.
101: BEAUTY IN BLACK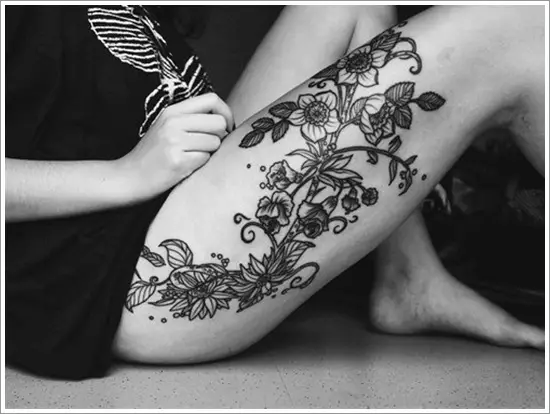 As we said, dark tones are always eye-catching. Here is another example of flower tattoo in black ink for a glossy and sensual look.
102: SKULLED RAM HEAD WITH FLOWERS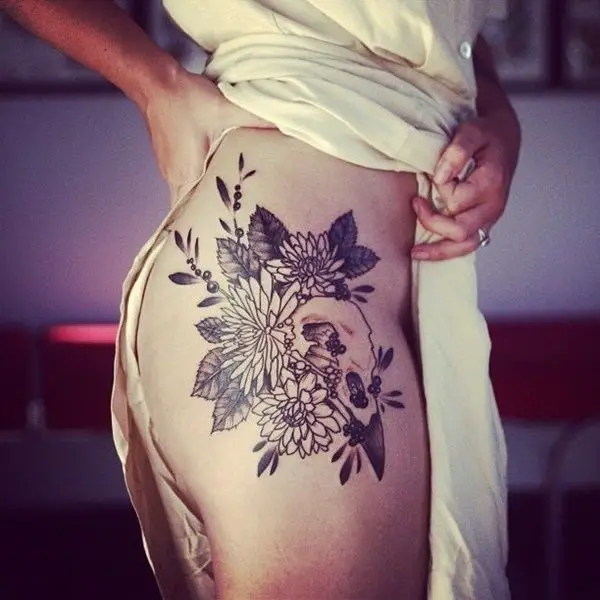 The side look of ram's skull head hidden in the bunch of flowers is sure to arouse curiosity.
103: ROSES AND GUN THIGH TATTOOS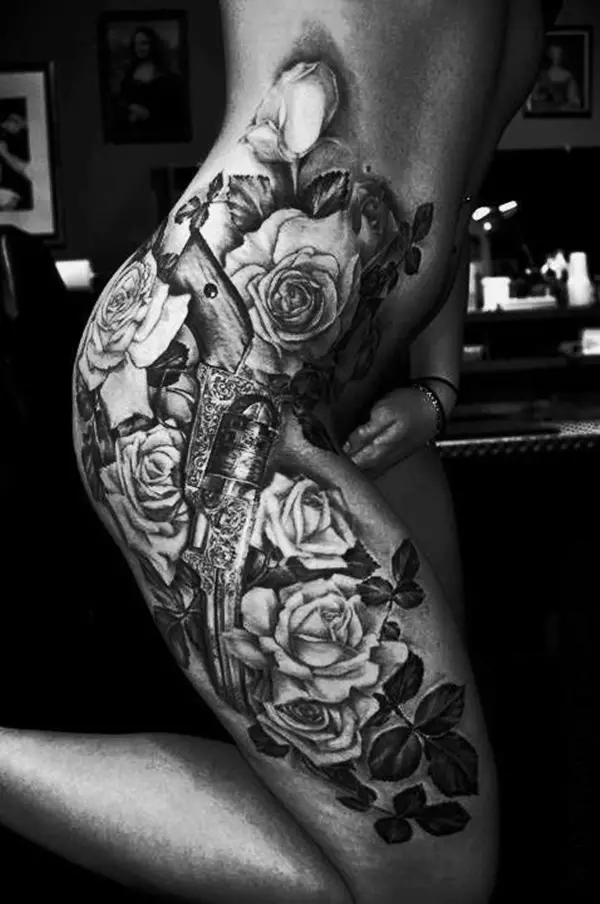 What an elaborative leg tattoo to try? Love the minute detailing in every twist and turn of roses, fine veins of leaves and the carving on the gun. This tattoo is a refined example of mastery in tattooing.
104: THE GRAY BUNCH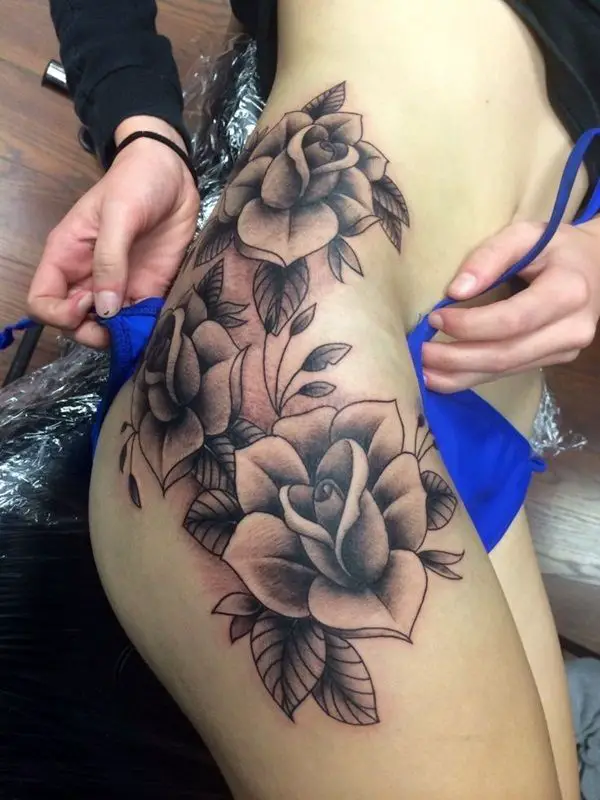 It looks like someone has a perfection in using pencil strokes. The tattoo is going over the thigh, adding an oomph to its charm.
105: COMPASS AND QUOTES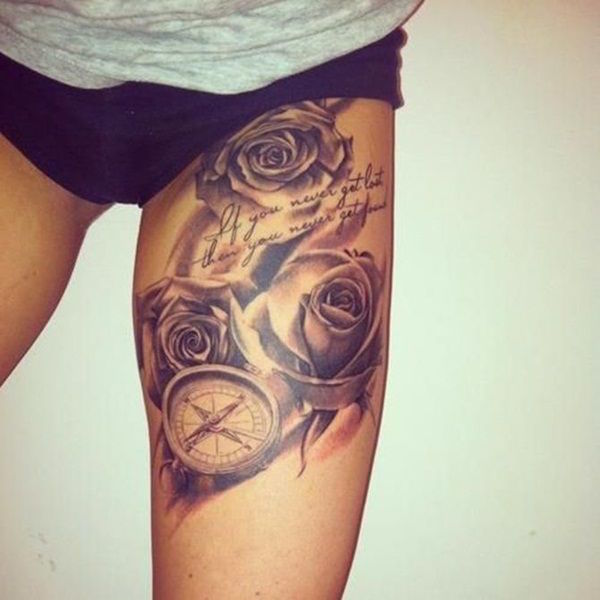 'If you never get lost, then you never get found'. What a thoughtful quote with an equally meaningful design. The compass represents a pathfinder while the roses signify the world.
106: HEENA THIGH TATTOOS FOR WOMEN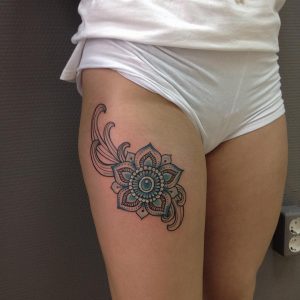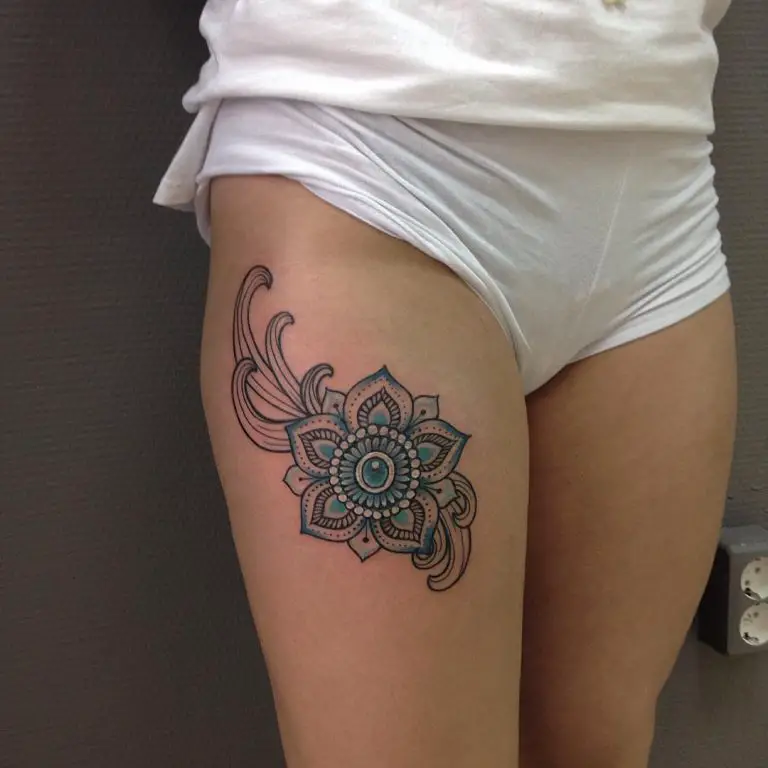 This is a simple yet delicate piece of body art that any woman can try. It is timeless and so surreal that you will never get bored of it.
TAKE A LOOK ON SIMPLE TATTOOS FOR MEN
Conclusion
Thigh tattoos for women are a symbol of mystery. They are usually hidden and have different meanings that are spiritually and mentally supporting. The designs above will definitely give you ample inspiration. If you wonder that most of the designs are too feminine, then don't worry as feminine means sexy and classy. Whatever design you choose, just remember to b confident about it and you will wonder how beautifully it will grace your look and take your style to the next level. If you have a thought you want to express freely they are definitely an effective way of doing so.
FAQ
How do you sit for a thigh tattoo?
You need to sit in a way that allows the artist to easily access the part of the thigh they'll be tattooing. If it's the inner thigh then you need to spread your legs. For outside thigh pieces, the artist will tell you the best position to sit in depending on the positioning and placement of the design.
How much does a garter tattoo cost?
A garter tattoo can cost around $450 to $500. But detailed pieces can cost a lot more depending on the time.
How painful are thigh tattoos?
Thigh tattoos are less painful to get. At most, they'll be moderately painful.