Black And Grey Tattoos are quite popular these days and you have probably been wanting to get one. That's why you're here looking for some inspiring Black And Grey Tattoo designs. So you might be interested to know that they were initiated in prisons in the 70′ and 80's. However, now they are prevalent amongst all class of people. These tattoos are usually made using a single needle dipped in black ink to create varying shades.
GIVE BEAUTIFUL SHADES TO LIFE WITH BLACK AND GREY TATTOOS
Our existence is a complicated affair and has more dark shades to it than we might like. The best thing we can do is embrace it. A cool tattoo is definitely one way to go. And black and grey tattoos can even be a classy way to signify more than just the ups and downs of life.
Moreover, what was originated as a necessity is one of the trendiest tattoo styles today. These days, most tattoo lovers want more complex forms of shading. And a perfect infusion of black and grey ink gives them the desired depth and shadows for a remarkable body art. From simple lettering to portraits and landscapes, there are infinite designs to get inspired for your next tattoo. However, to make it less complicated, just explore our compilation of cutting-edge black and grey tattoo samples.You can also try rib tattoos for guys, rose tattoos for men, Star tattoos for men.
#1: DRAGON'S ROAR WITH BLACK AND GREY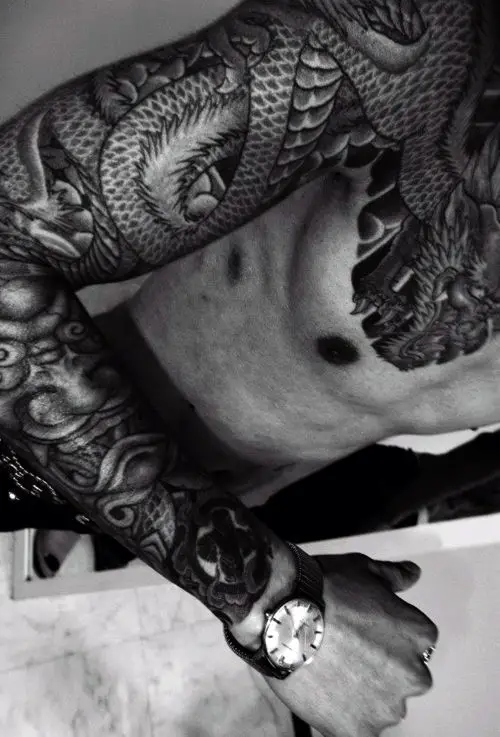 Dragons are magical and mystical creatures that symbolize all potential and probabilities. They can express the polarity of human nature; from the best to the worst. Some cultures consider them tokens of good luck and others revere and fear them.
EXCLUSIVE STOMACH TATTOOS FOR MEN
#2: THE TRUTH WILL SET YOU FREE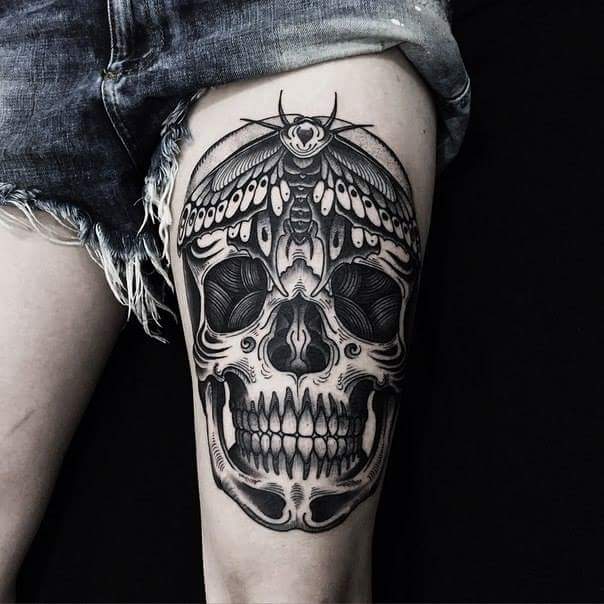 However beautiful we are on the outside, we're all the same on the inside…human. Each of us will meet the same fate and our mortality is inescapable. This gorgeous thigh skull tattoo is a potent way to signify that.
#3: NIGHT OWL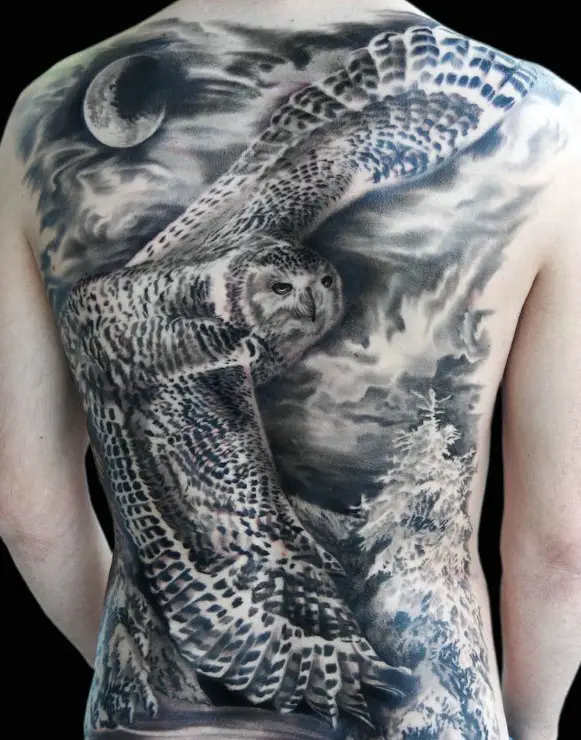 Just look at this back tattoo. The artist has perfectly used the full canvas and made this tattoo so exceptional. An owl is more than just a bird of prey. It has a mystical significance that transcends the physical world. It is a wise spirit that guides us on our journey through life.
#4: NOBLE WARRIOR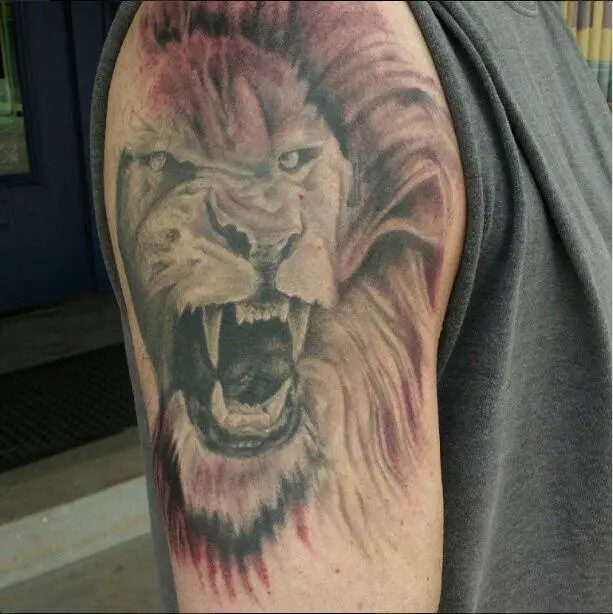 A Lion is the king of the jungle and is a proud and fierce beast. Wearing this tattoo shows you'll fight for what you believe in. You're not scared of any challenge.
#5: RISE AND SHINE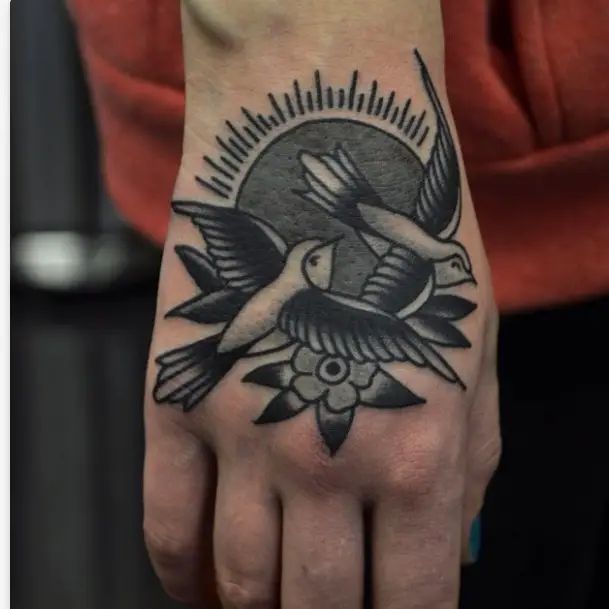 The Sun is shining and the birds are flying. A new day and a new beginning are what this tattoo talks about. The location of this tattoo also makes a strong statement of the commitment to a new purpose.
#6: EMBRACE LIFE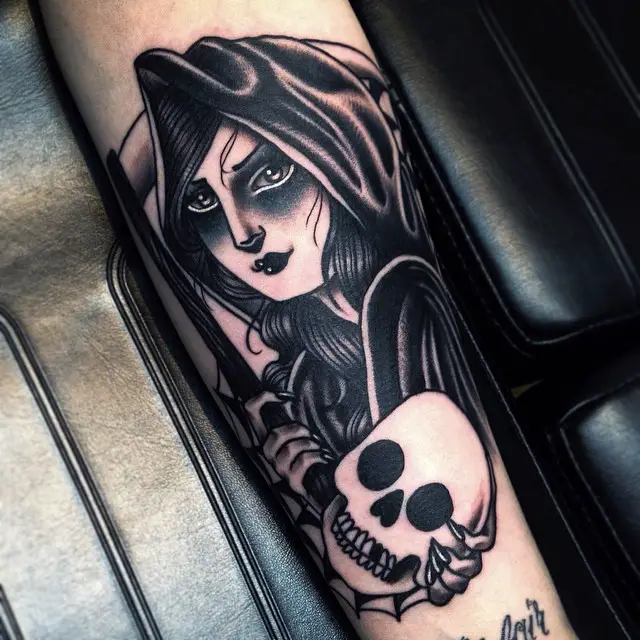 The grim reaper is coming for one and all. We can't escape death so we should make the most of our days. Live each day as if it were the last.
#7: JUST LET IT GO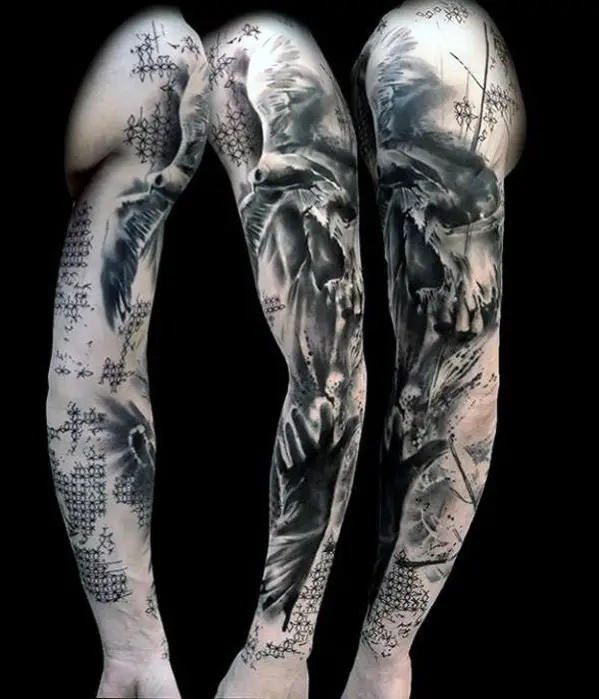 A splendid wrap around tattoo is great but it's even better when it delivers a powerful message. The hand releasing a bird implies you're ready to let go of whatever is holding you back. You're moving on.
#8: GET SPIRITUAL BLACK AND GREY TATTOOS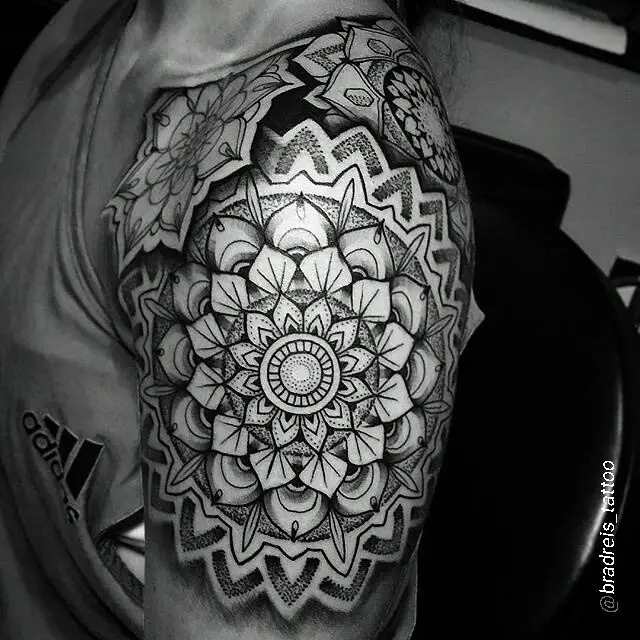 Traditionally a Hindu and Buddhist sacred symbol, a striking Mandala design is going to bring out your spiritual side. It could have a protective effect on your body and mind.
#9: THE SAVIOUR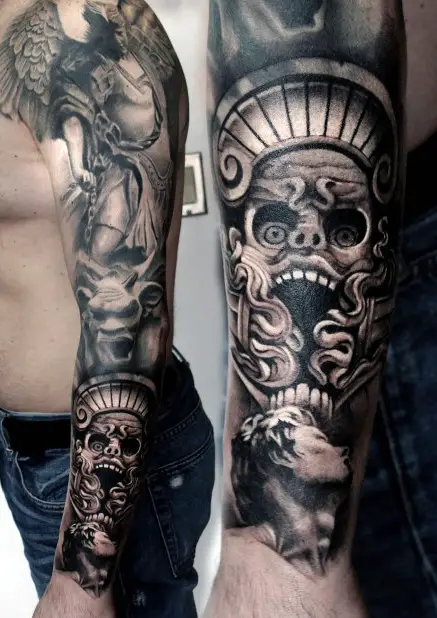 At times our lives become a mess and we feel lost and without hope. We end up doing things our conscience knows is not right. This mythic image says it's never too late. Our souls can be saved. We wonder the level of creativity, efficiency and time have been invested in this tattoo.
#10: WISE OWL
Sometimes we need a constant reminder of how to live our lives. A proverb from the Bible brought to us by a wise owl can do that.
#11: EYE SPY BLACK AND GREY TATTOOS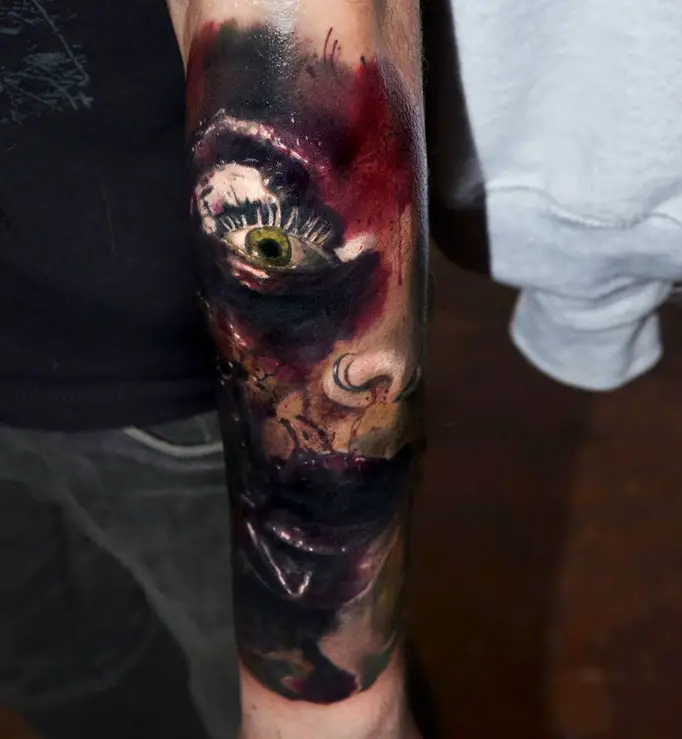 Eye tattoos can mean different things to people. This one could mean an Evil Eye protecting you from bad influences.
#12: THE DARK KNIGHT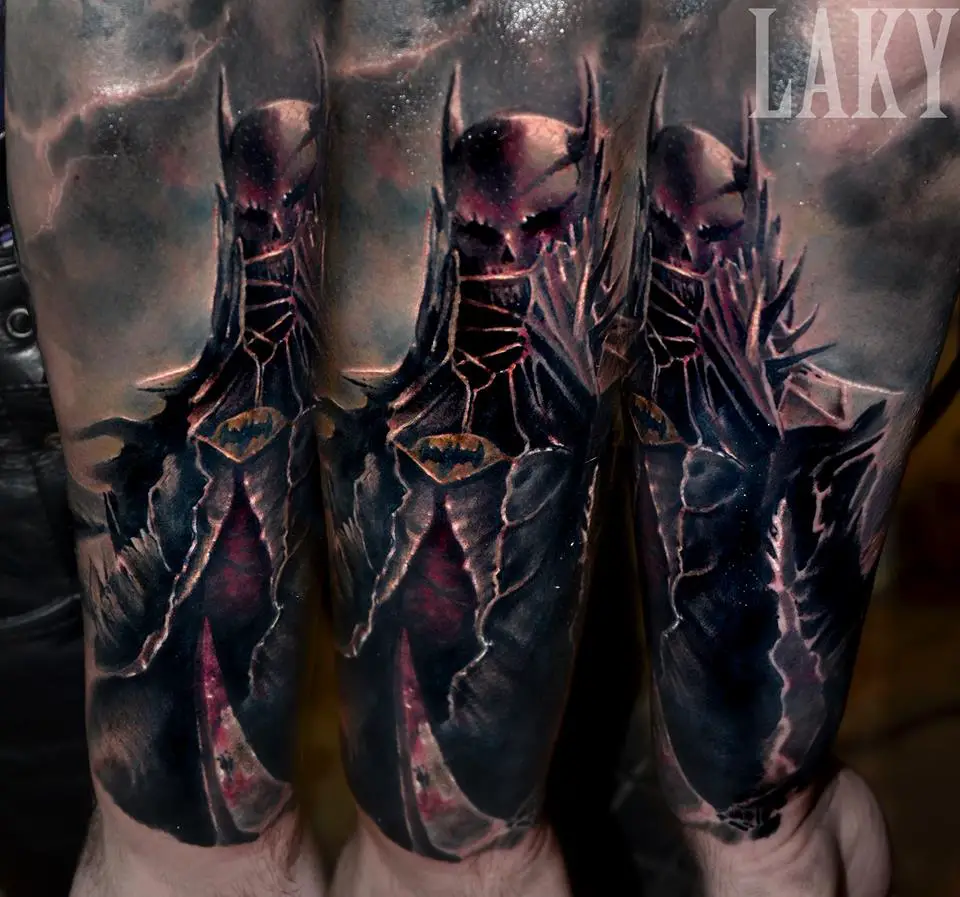 Batman fans will love this tattoo. It's a unique design with an amplified mystery factor. It's sure to get your friends talking.
EXCEPTIONAL GIRL SLEEVE TATTOOS
#13: GOTHIC DREAM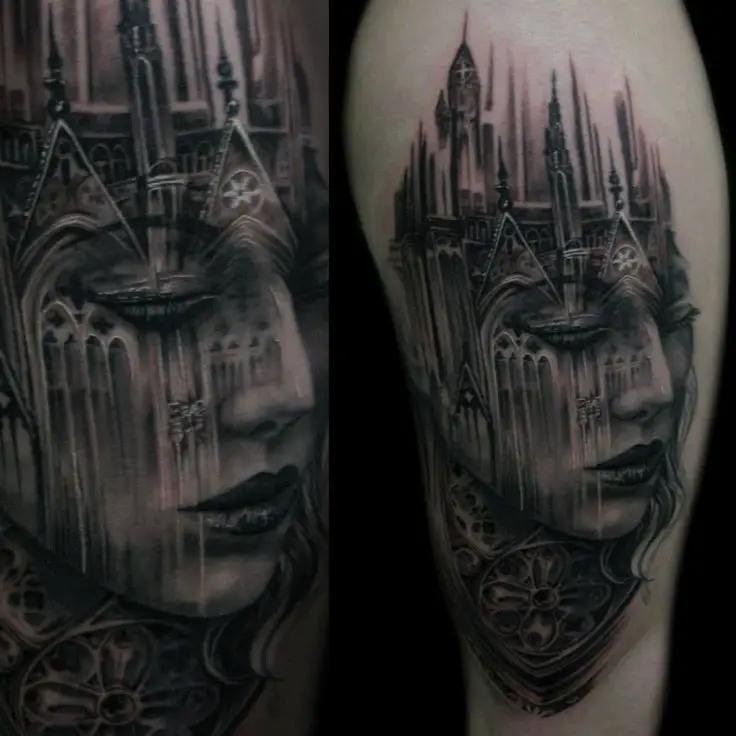 The intricate design and marvelous skill in shading are the hallmarks of this tattoo. The dream-like quality makes it stand out.
#14: AN ENDLESS LOVE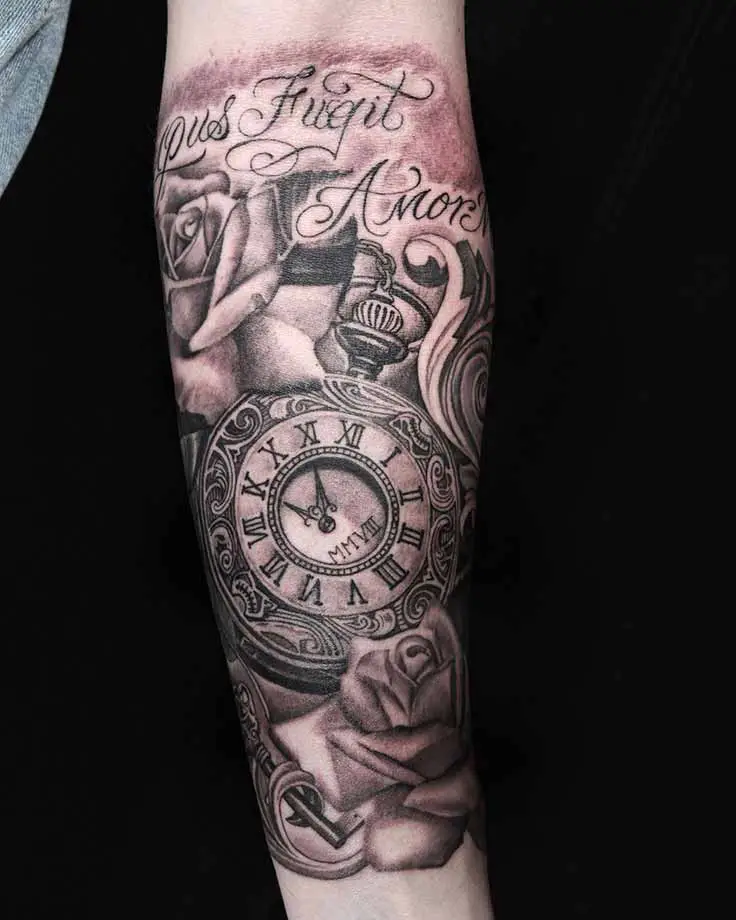 A clock and rose tattoo denote an undying love. Add a quote and it makes for a significant message. It's perfect for a family member or lover that means the world to you.
#15: LIFE IS A BED OF ROSES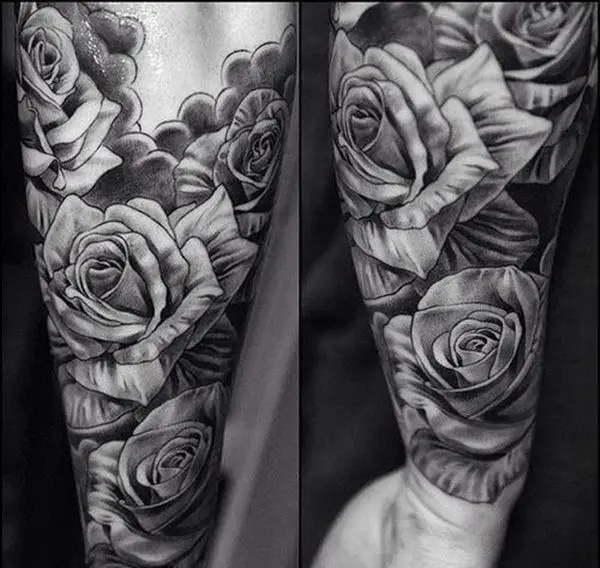 Time passes and life goes on. Sometimes it's hard to believe but tough times don't last. So get this black and grey rose tattoos if you are feeling hopeful of a life full of promise and new beginnings.
#16: DARK ANGEL BLACK AND GREY TATTOOS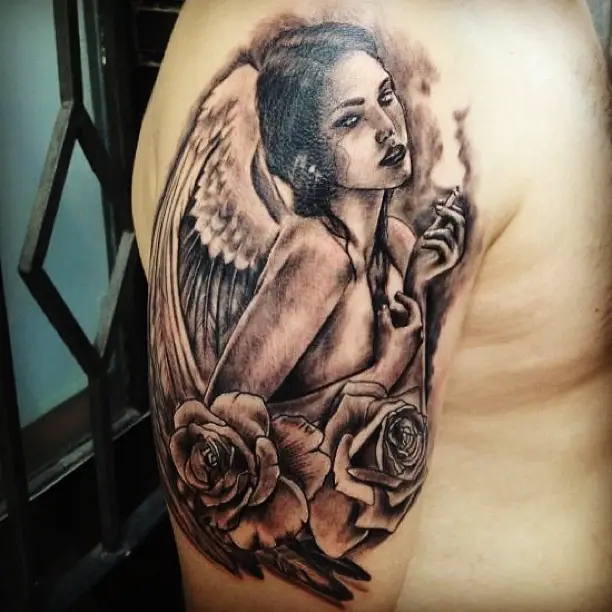 This is a good girl with a wild side. No matter how angelic we might be on the outside there's a devilish side to us all and this is a good way of showing it. So this design can help you cut loose.
#17: ACCEPT CHANGE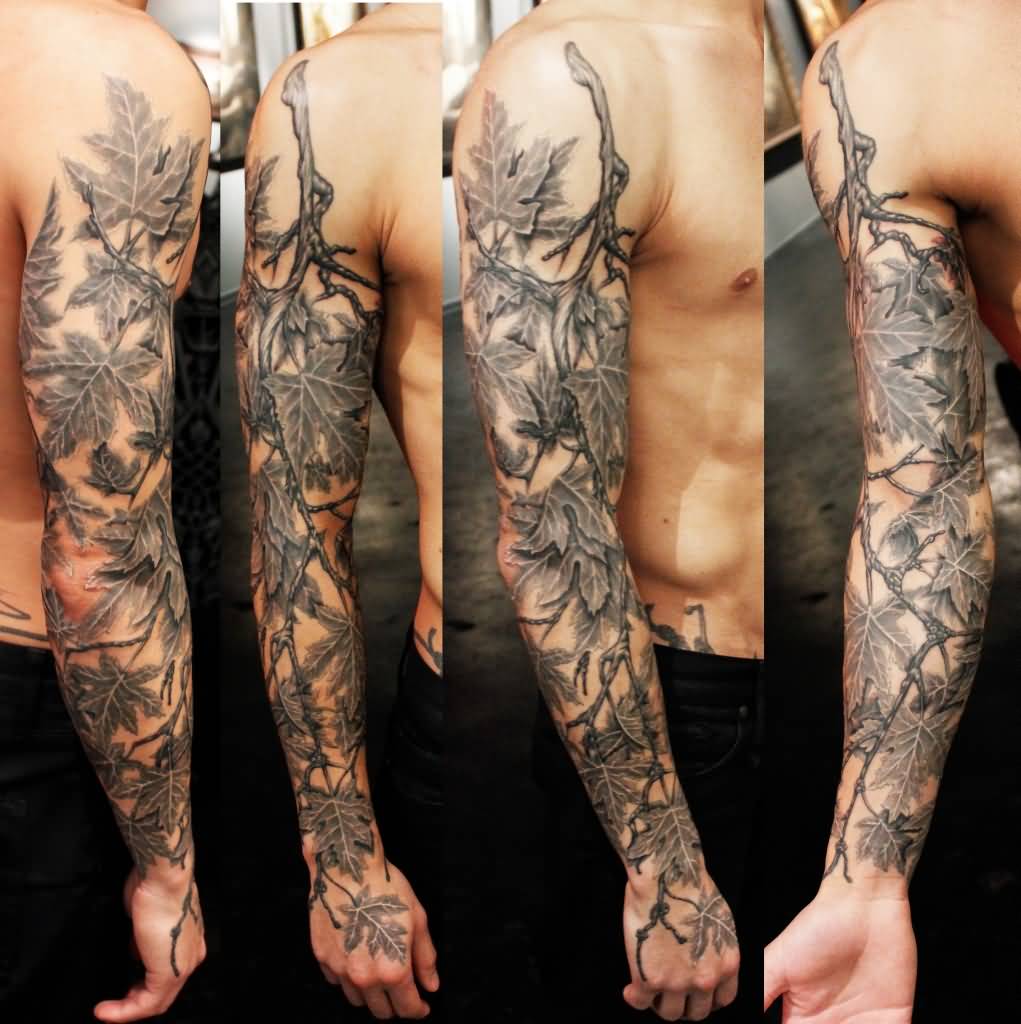 Life is like a seesaw and ever changing. Ups and downs happen to us all and the grey leaves in this tattoo signify this cycle of life. Having this design would suggest you accept change and will make the most of life.
#18: THE WONDERFUL WIZARD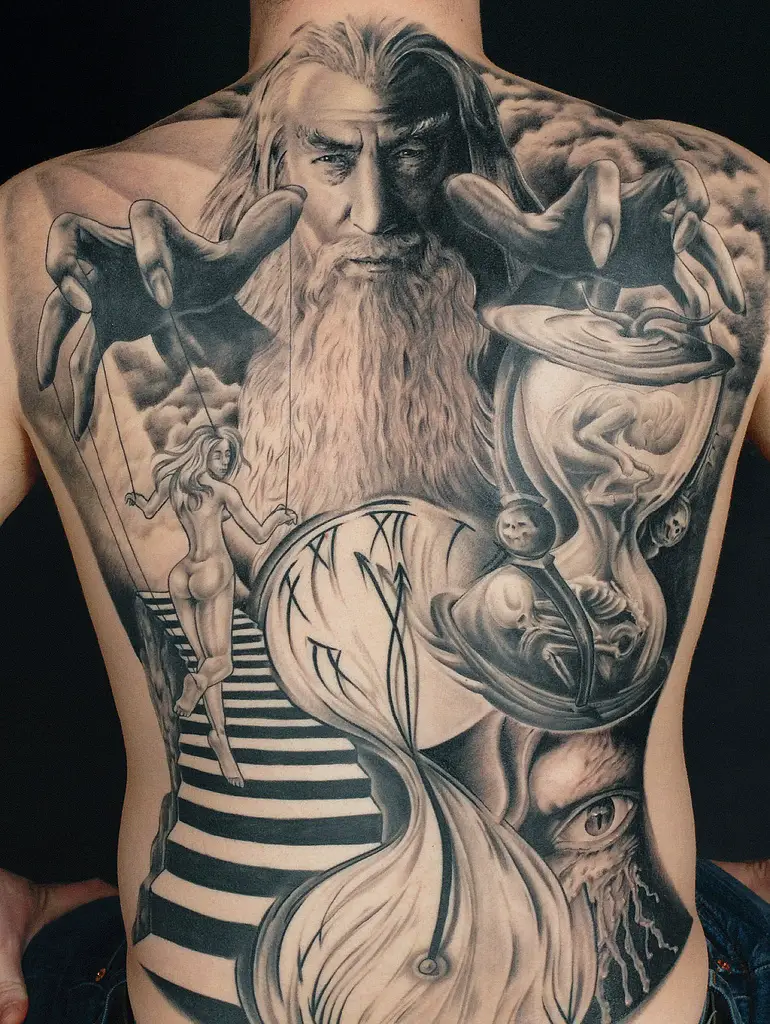 O Lord! This is called a masterpiece. Kudos to the artist for creating such a marvelous tattoo. This is so clean and clear yet holds a mysterious factor. Wizards are masters of magic and they can be good or bad depending on your point of view. If you're a 'Lord Of The Rings' fan and have this tattoo, we know which side you're on.
#19: HEAR ME ROAR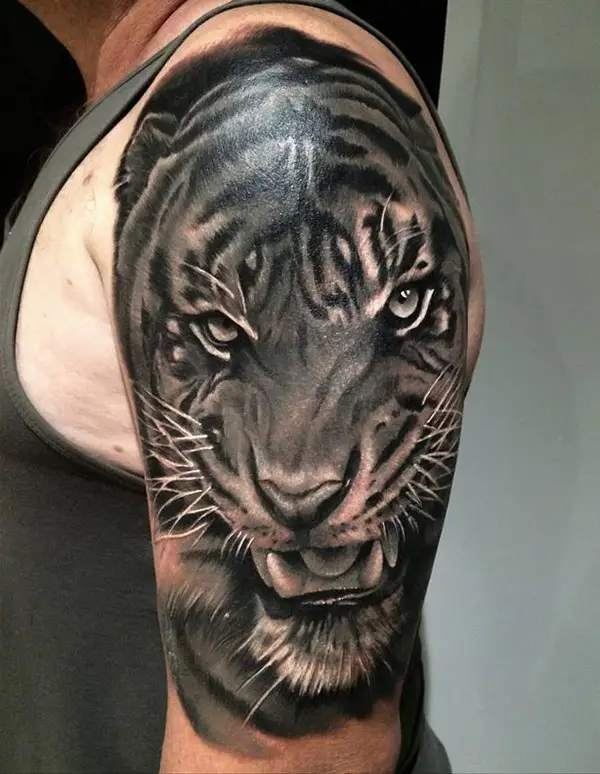 Tigers are powerful, wild beings unfettered by any restrictions. They go where they want and do what they want. Having this totem as a fierce tattoo shows you have strong passions and desires and are also not someone to mess with.
#20: IMMORTAL WISDOM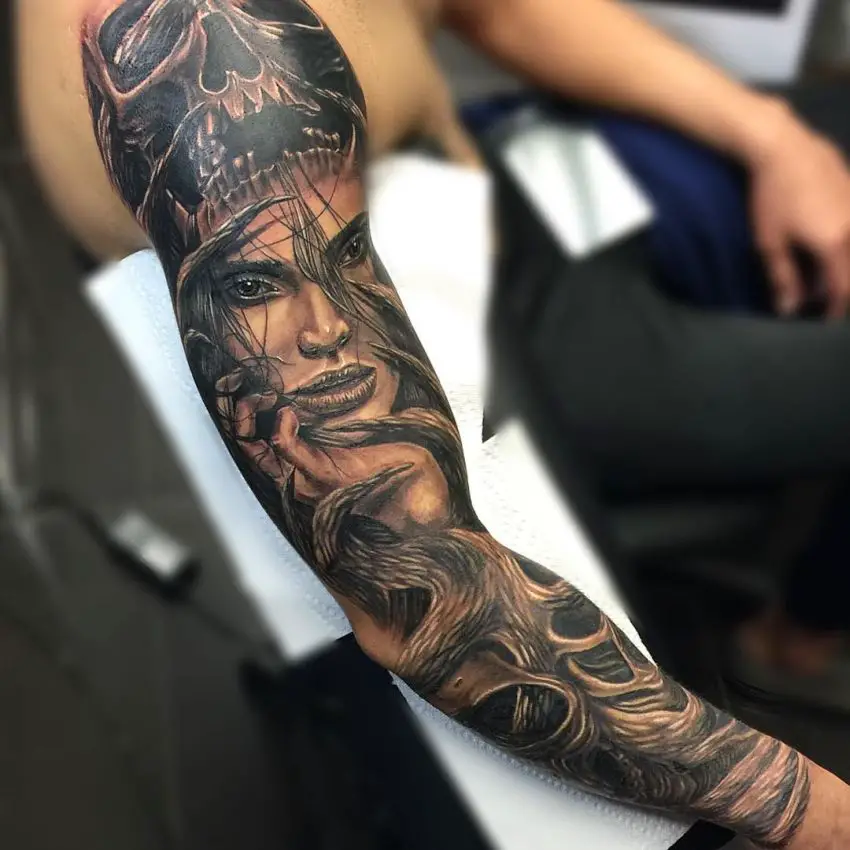 Skulls usually represent death or evil but they can also mean many other things such as power, protection or strength. This is a positive design with a constructive message of wisdom and guidance as denoted by the skull upon the girl's head black and grey shade.
#21: DEATH'S WHISPER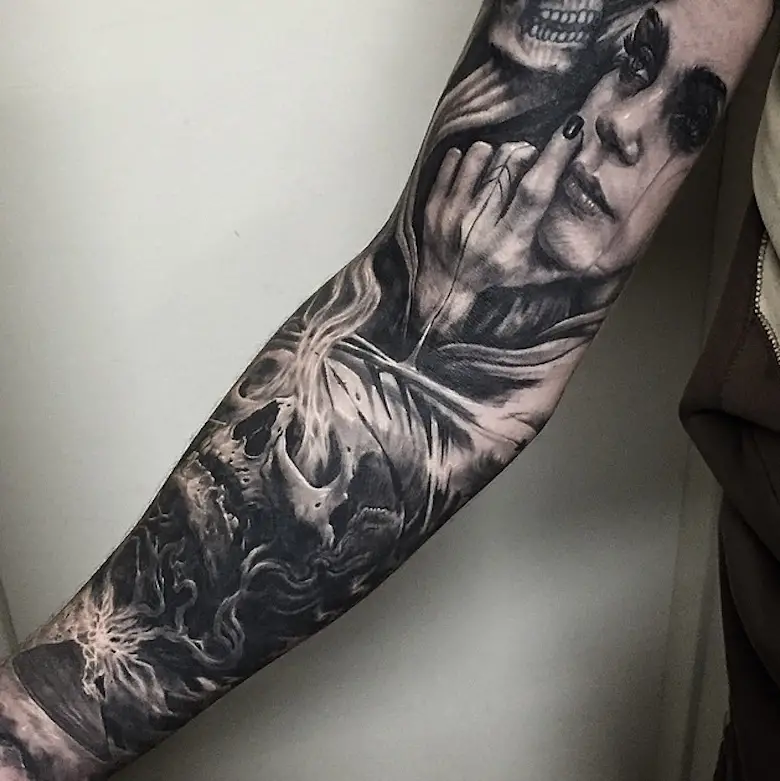 Death is inevitable. We know what awaits us at the end of our lives but this depiction shows someone fearless in the face of eternal sleep. Someone who knows what's coming and is unafraid.
#22: DARK TIMES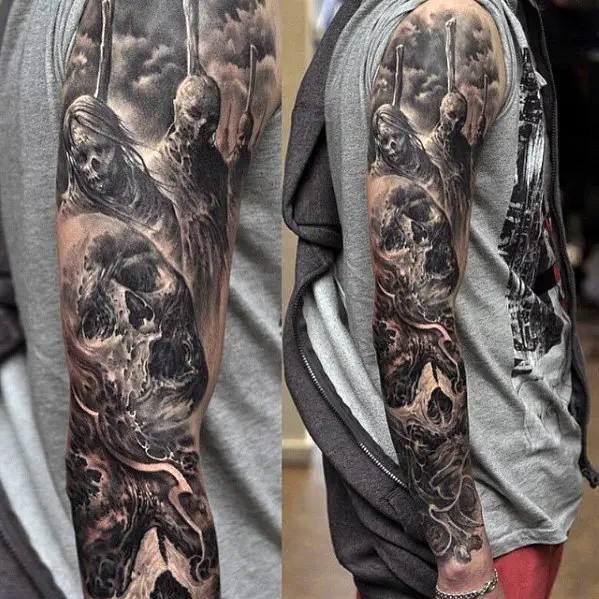 It may not always be obvious or evident but there's evil all around us. We accept that fact and are ready to face it. A tattoo like this is like a giant middle finger to all that means us harm. Nothing scares us and we have faith in life.
YOU CAN ALSO TRY BLACK AND BLUE TATTOO
So the list is over but we are sure it stirred your creative juices and now you are working up for mind-blowing black and grey tattoos. Do not forget to share the final result with us!