Beside their captivating outfits, intricate hairstyles, and colorful nails, women have another great way to express their style with half sleeve tattoos.All things considered, sleeve tattoos fall into two types: full sleeves and half sleeves tattoos for women. Full sleeves cover your whole arm and are common on men while half sleeve tattoos only cover half and are common on women.These tattoos are beautiful on women as it makes them look spirited and unrestrained. But that's not the only reason why the female population likes them so much.
Amazing Half Sleeve Tattoos For Women That Blends Perfectly
Getting sleeved with ink is trendy for the ladies because it can be used to blend with their clothing or other accessories. Thus why half sleeve tattoos for women became a hit. Think about your favorite shirt matching your ink, it just shouts out your style!Also, it's an impressive fashion accessory for the ladies because of how it complements their sense of overall identity. Plus, it's an effective attention grabber that will make people check you out.
So if you're thinking of getting one, here are 25 head-turning half sleeve tattoo designs for women that you'll love:
#1: Ornamental Flowers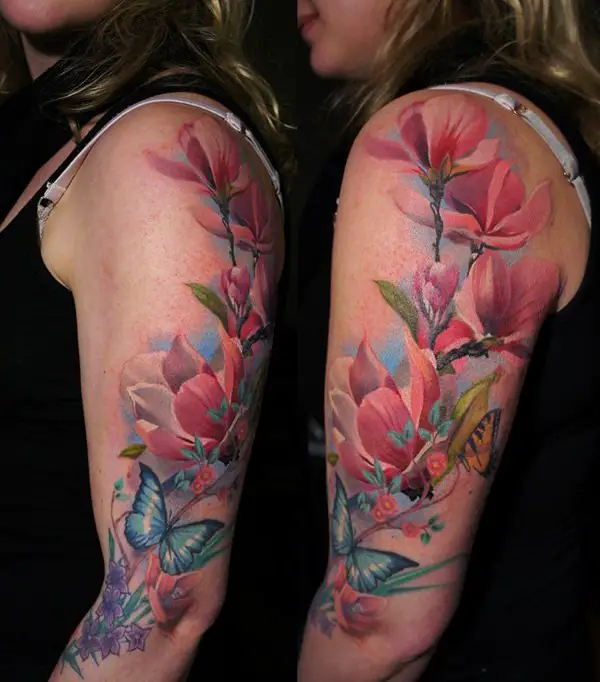 With half sleeve tattoos for women, it is common to go with floral designs. This well-painted tattoo is highlighted by its rich colors which make it look real. With the flowers toned perfectly and the butterflies' hues full of life, this masterpiece strongly influences a vibrant feeling.
JAW-DROPPING PIN UP GIRL TATTOOS
#2: Classic Rose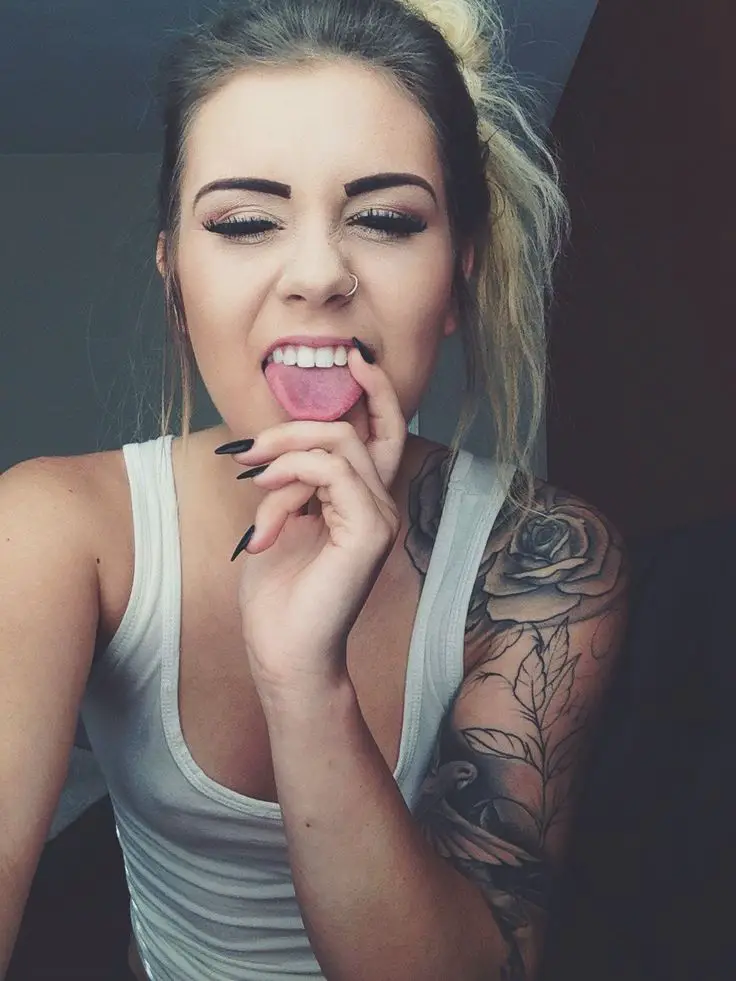 Roses are a typical choice of tattoo for women and can be easily included in any design. The rose inked on her arm is drawn in its simple beauty. Using a dark color was a good approach by the artist for it made the rose look classic.
#3: Floral Half Sleeve Tattoos For Women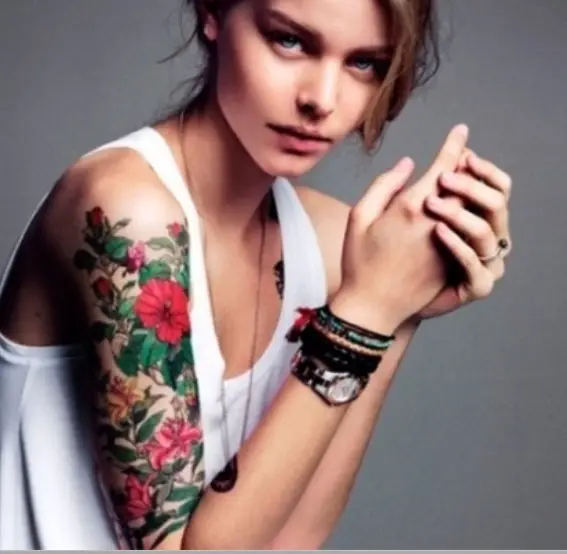 Another beautifully made floral design bursting with colors. The flowers on this half sleeve tattoo were accented by their bright red and pink colors while the leaves were shaded darker to fuse well with the background.
#4: Black and Grey Style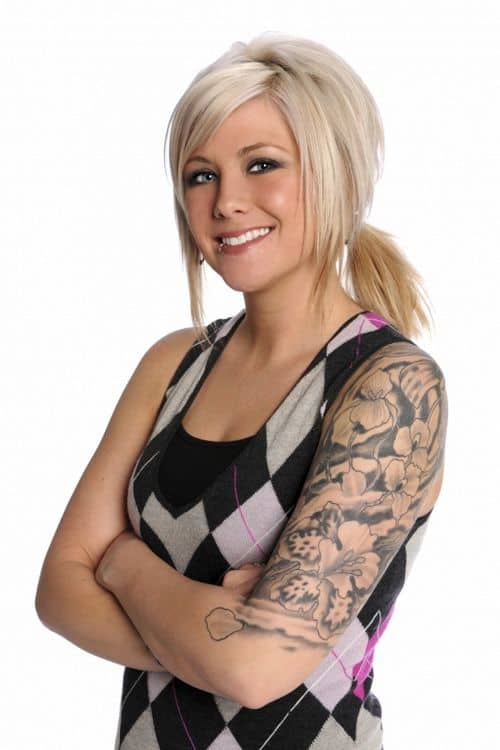 This tattoo uses a black and gray style that made the flowers on her arm look like an old photo. Artistically shaded and watered down, this design is a detailed and accurate display of real-life flowers.
#5: Botanical Art
A group of nicely drawn plants shaded simply with one color. It may only have a single tone, but the outline on this was done thoroughly. Also if you look closely you can see how different plants were intertwined to each other to completely make them a whole.
#6: Illustrative Rose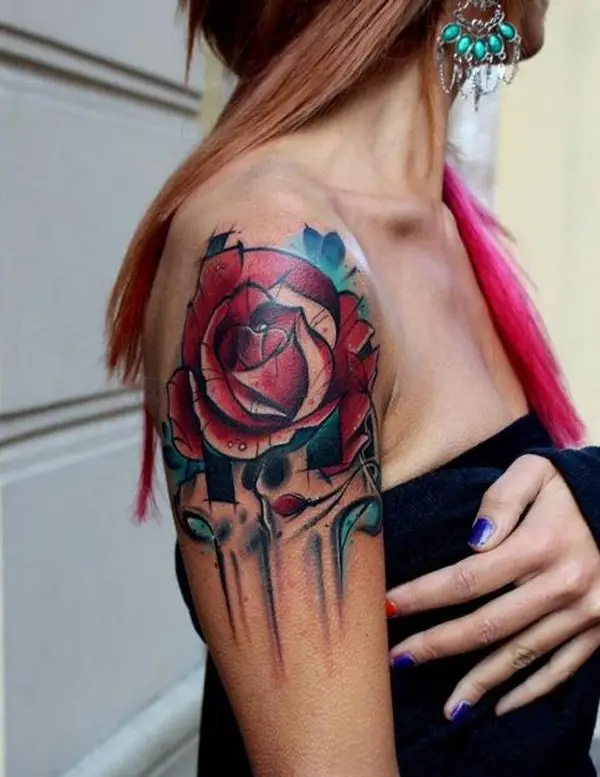 Half sleeve tattoos for women are commonly seen in an illustrative fashion such as this rose. It's a balance of striking outlines and potent color saturation with the artist's mind-blowing shading techniques that made this creation breathe life.
#7: Sleeve Tattoo For Women with Floral Variety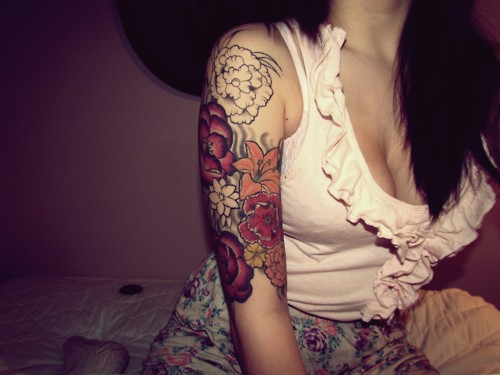 A conventional approach for a flower ink that used vivid outlines and imbued standout colors. Moreover, the flowers can be a strong representation of beauty and femininity.
#8: Rainbow-Colored Flowers and Butterflies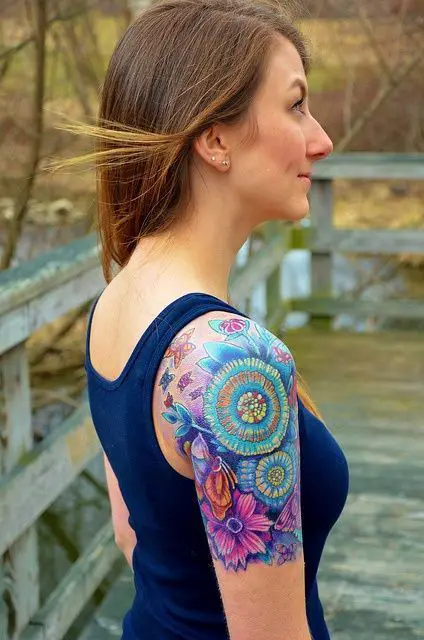 A carefully mixed design of flowers and butterflies popping with bold colors. This is a good choice for fun-filled women with playful personalities.
#9: Phoenix Rising From the Ashes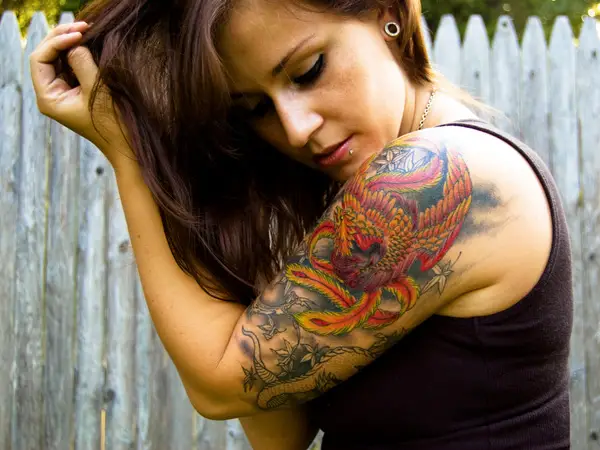 This is an Irezumi of a fiery phoenix used as a sleeve tattoo. The background shaded in black makes it look like the phoenix is rising from the ashes. For the Chinese, a phoenix is a symbol of an empress or feminine elegance, which makes this one of the best choices for women with fierce characteristics.
#10: Fallen Feathers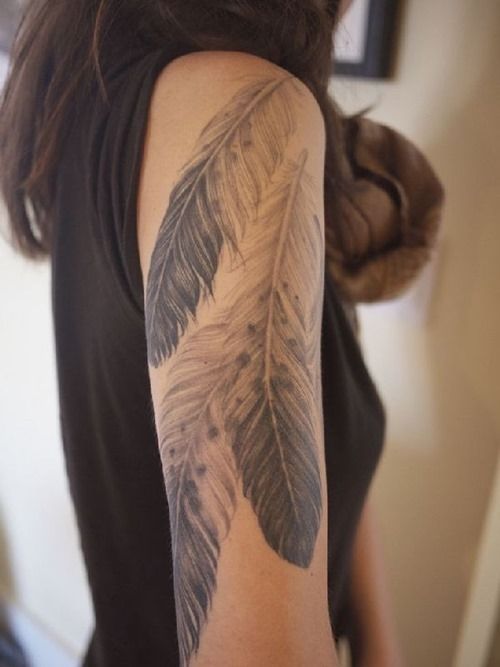 A lifelike design of black and gray feathers. The lining of the feathers are accurately done and the details spot on. Plus, feathers are prominent tattoos for they signify freedom and are portrayed either from a bird or an angel.
#11: Half Sleeve Tattoos For Women Using Black Ink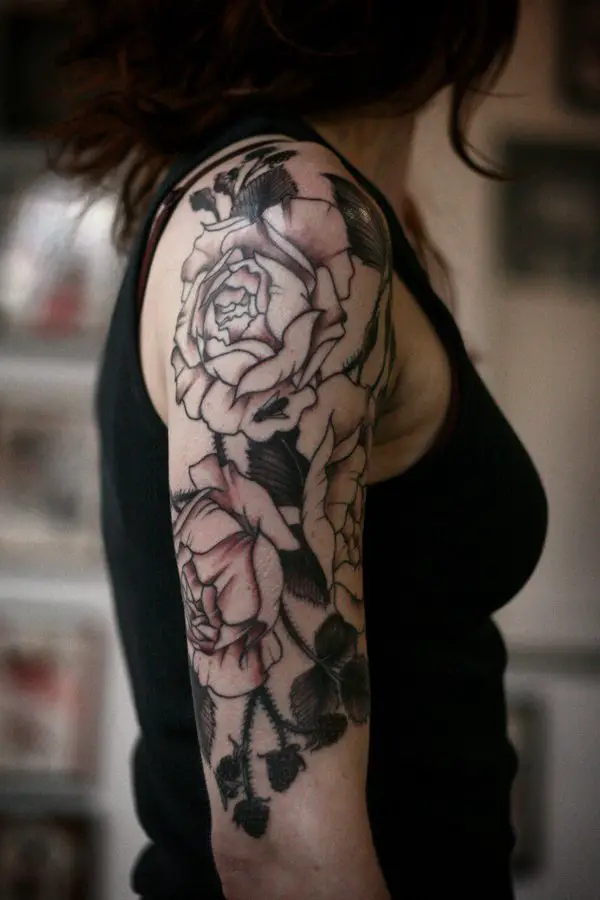 Though this design may look like it has a hint of various colors, its skillfully toned flowers are actually shaded with black ink only. This style is typically used to make the design appear more real and raw like this piece here.
#12: Photographed Ink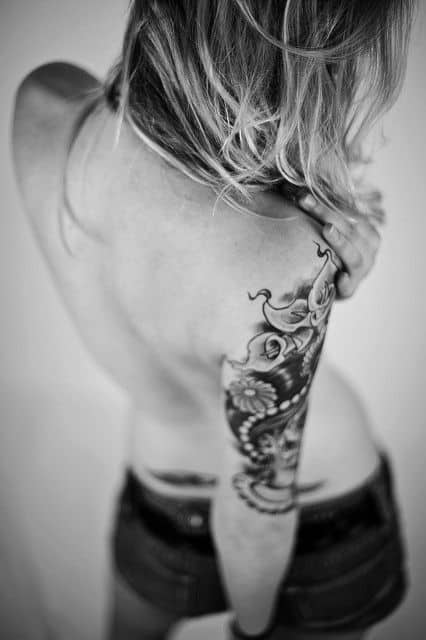 Unlike the design above, this one has a more photographic appearance like it was taken from a camera. Also, the ink is rightfully watered down to create the right balance of black and gray shades.
#13: Vintage Roses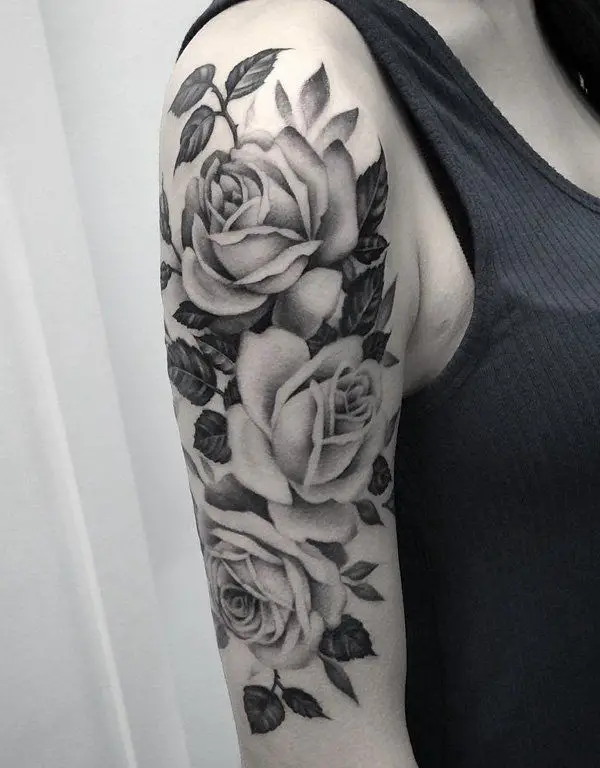 Except for the color, this is how a rose would appear in real life. The depiction of black and white makes this rose design look classy and timeless. Hence making it befitting for people looking for a vintage piece.
#14: Tribal Half Sleeve Tattoos For Women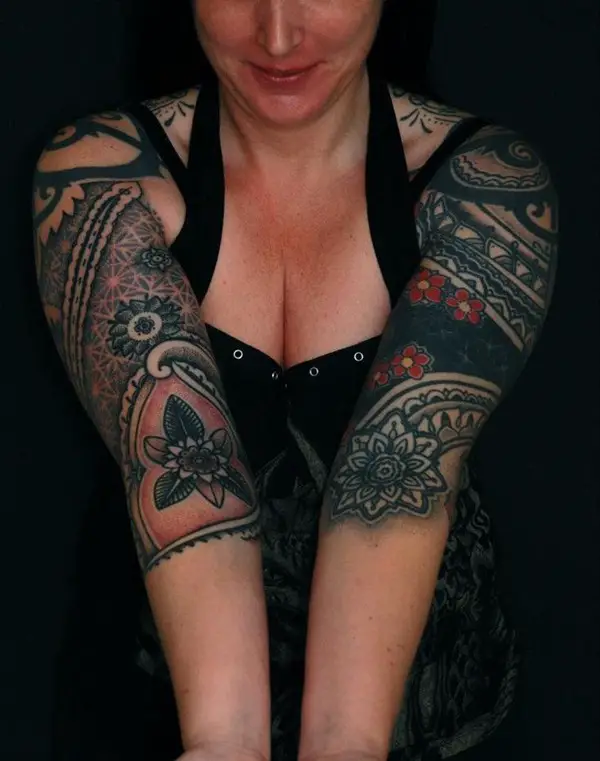 A rare tribal design of flowers and other elements on both arms. This tribal half sleeve tattoo for women depicts a fierce feminine vibe that makes it a great option for female tribal fans.
#15: Real Horse Riding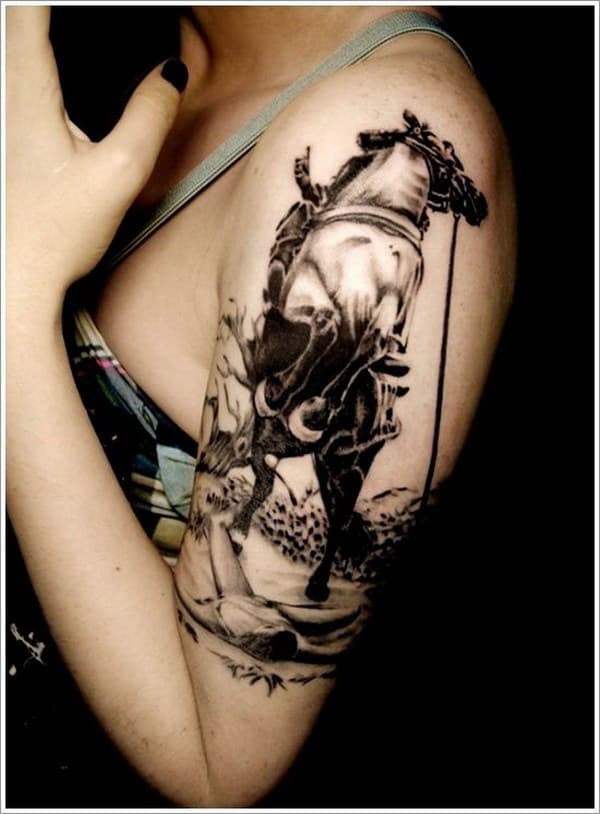 A meticulously shaded horse being ridden. The gentle contrast of dark ink on skin utilized in this design made it look like the tattoo came to life. This suits you if you can't get enough of horses, especially if you ride one.
Women's Coolest Tattoo Design Ideas
#16: A Simple Sunflower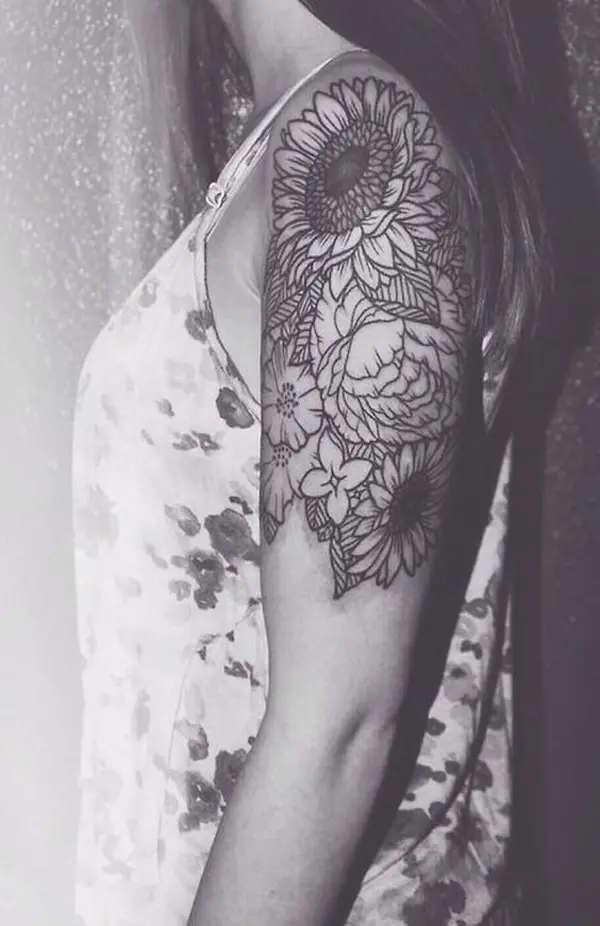 A design that is pretty in its simplicity. The lining is clear and unpretentious as the artist used a straightforward approach on this tattoo.
#17: Tribal Flowers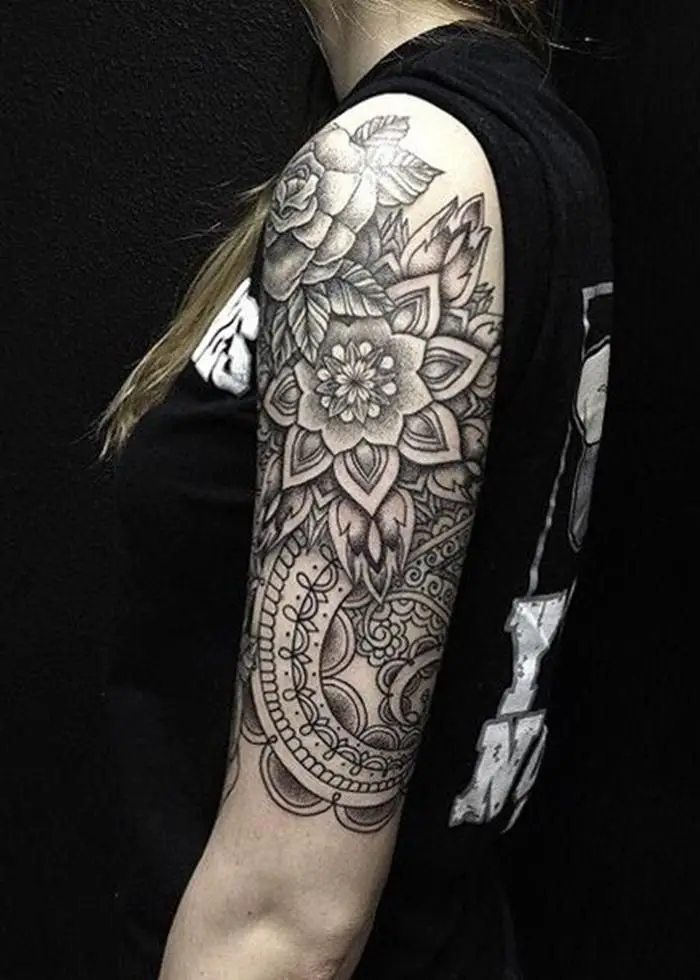 This half sleeve tattoo has a more ornate design than the tribal inks shown above. Explicitly, the heavy outline and light patterns within the subjects made this design intricate.
#18: The Right Direction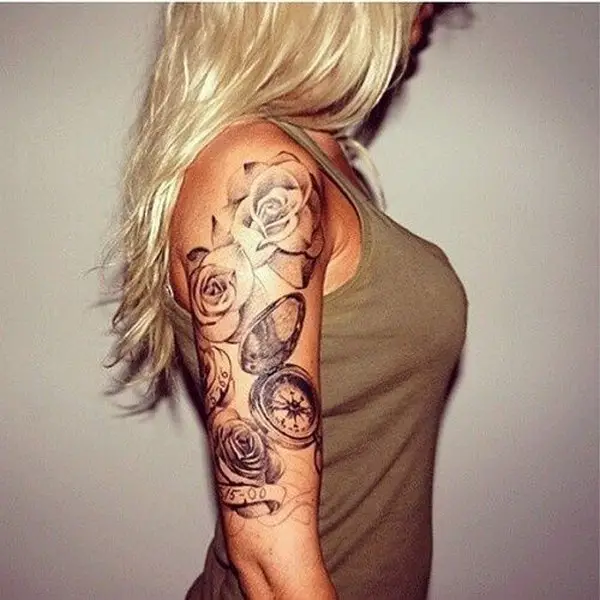 Emphasized by a background of dark inked roses, this sleeve tattoo is graphically pierced to resemble a real-life compass. Not to mention the cover has a reflection of the compass itself, which says a lot about the high-quality work needed in this piece.
#19: Half Sleeve Tattoo in Four Seasons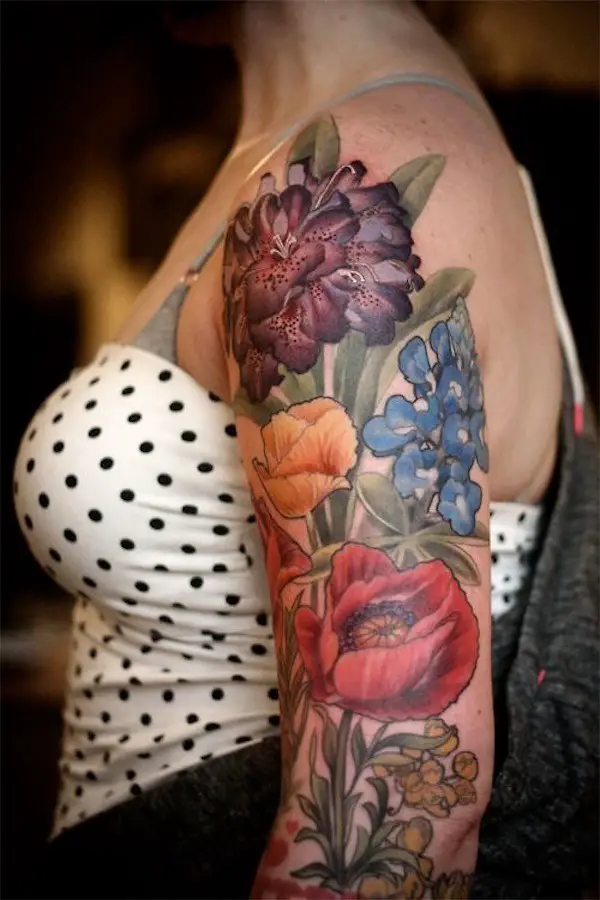 This tattoo has four flowers in it that can represent the four seasons. The red for summer, the yellow for autumn, the purple for fall, and the blue for winter. Truly giving you a metaphor about the cycle of beginnings and endings in life.
#20: The Hairstylist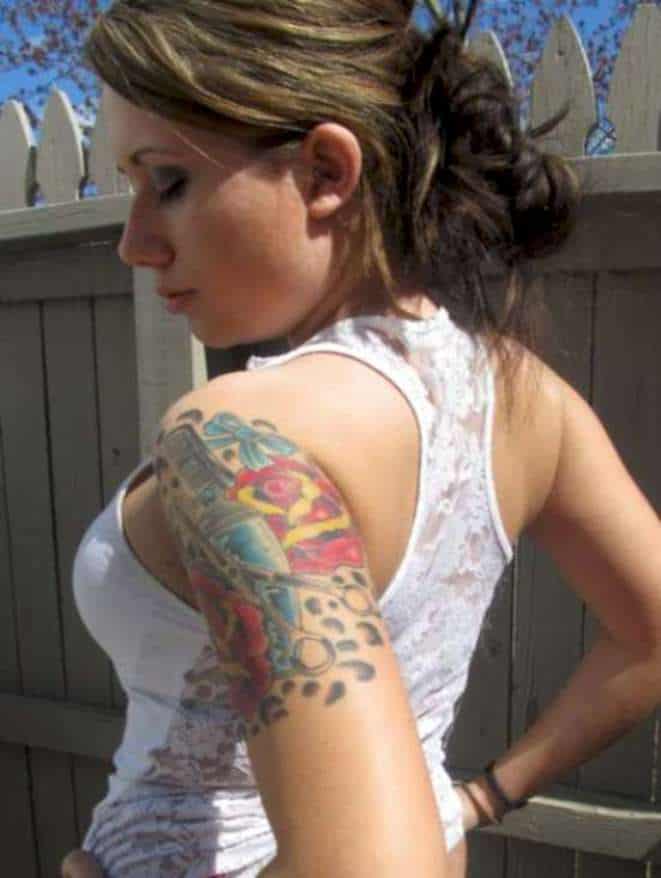 This is a half sleeve tattoo for women who works as a hairstylist. Pierced on the girl shown above is the materials they use like scissors and combs. It's a tattoo that proudly states one's commitment to their passion.
#21: Sugar Rush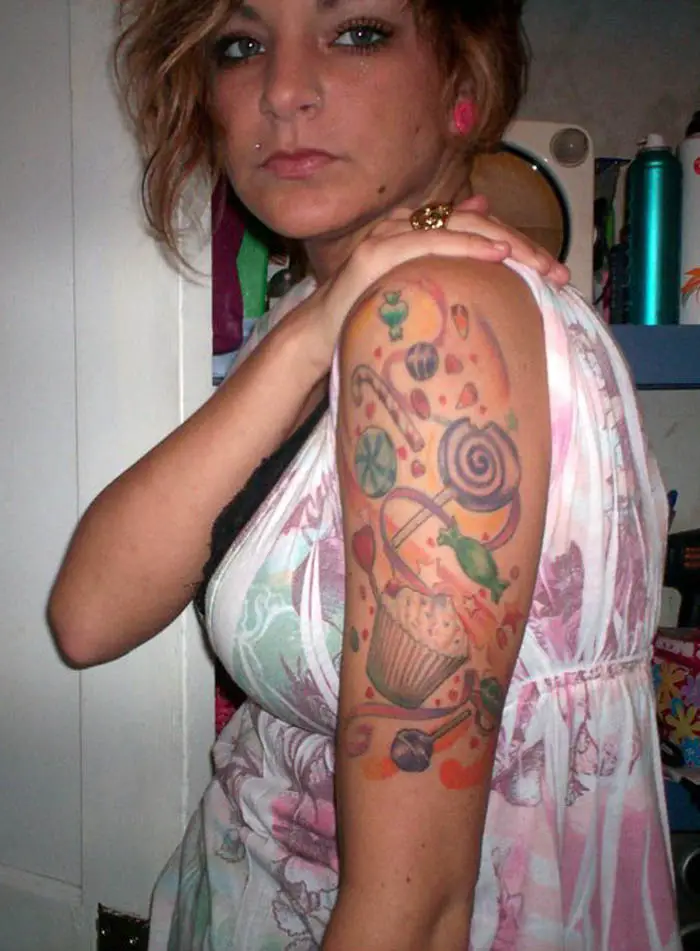 Notice how the colors aren't as vibrant as the ones shown above. This is a traditional tattoo that used dark outlines to emphasize the colors within the designs. It's a nice tattoo appropriate for sweet-toothed persons.
#22: Half Sleeve Tattoo for Women with Lettering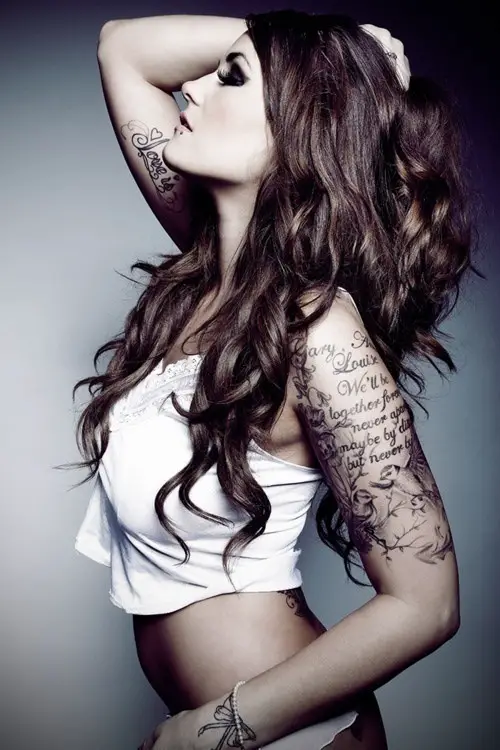 An aesthetically pleasing tattoo enhanced by its cursive font and background of birds. If you want your half sleeve tattoo to carry a message then consider this design.
#23: Tears of a Portrait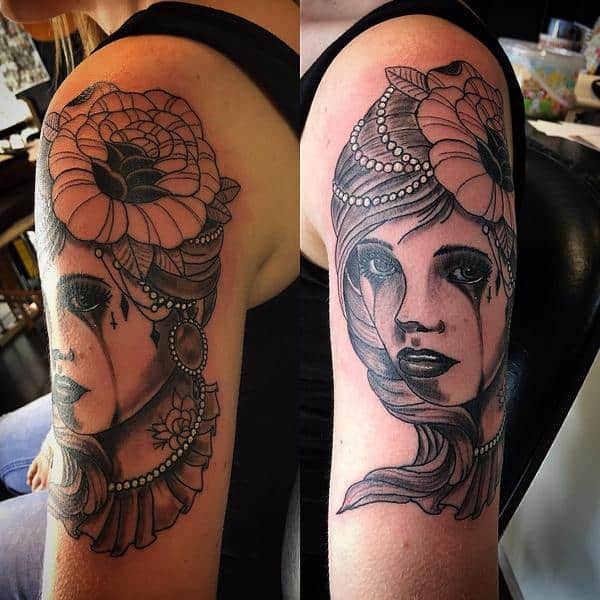 A sad depiction of a woman in tears. Even though only a single color was used on this artwork, the watered down shading on this piece's eyes and tears conveys a strong feeling of sadness.
#24: Nature's Spirit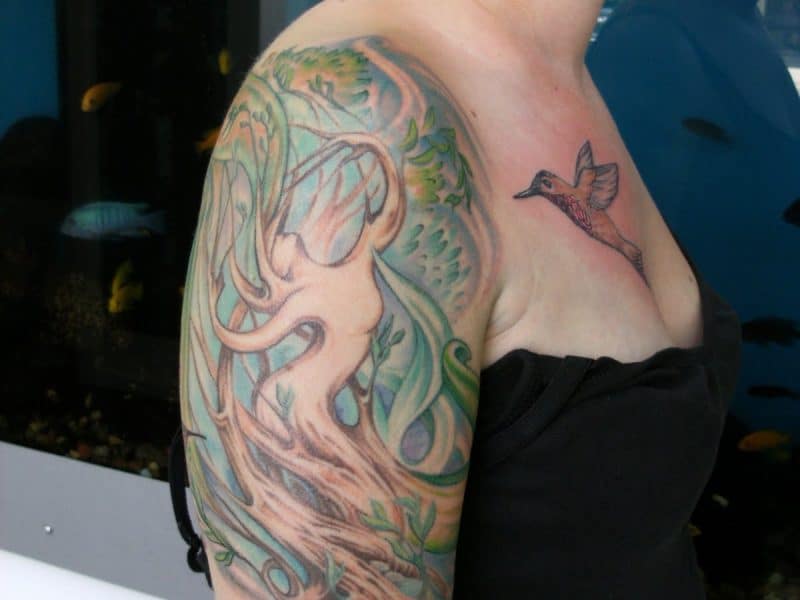 An abstract presentation of a female spirit along with nature. The outline used here is a bit softer than the ones shown beforehand, but the incorporation of different subjects are well done.
#25: What Lurks Above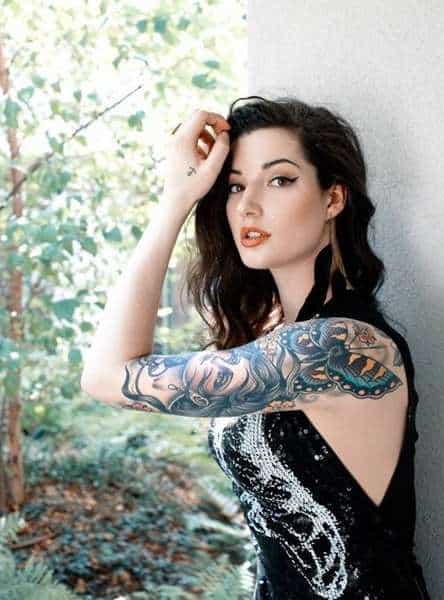 This design is one of the finest in the list. See the realism of the portraiture on her arm, it is a good example of a well-drawn lifelike face captured in ink. And what makes the design thrilling is the monster lurking above the woman.
Given the variety of lovely half sleeve designs shown above, you'll surely have a hard time choosing. But it all comes down to your sought look. Try searching for a tattoo that harmonizes with your clothing, accessories and persona. Then, just weigh in your favorites and choose one that'll be a delightful mark to represent your style.