There's no mistaking the distinctive artwork of tribal tattoos for women that enhance their styles and appearance.  Just look around for the many varieties of tribal designs that are quite eye-catching and appealing. The most effective tribal tattoos are elaborate designs that are bold and dominant wherever on the body they are inked.
IMPRESSIVE TRIBAL TATTOOS FOR WOMEN TO TRY
In the world of tribal tattoos, expect powerful symbols that dominate the area on the body on which they are placed. Tribal tattoos date back centuries and were once used as identification marks or as symbols celebrating certain rites of passage. Nowadays the intricate details of tribal tattoos serve to accentuate certain styles and to accessorize like well-crafted pieces of jewelry. Here to whet your appetite are twenty-two of the finest examples of tribal tattoos for women.
#1: Face Tribal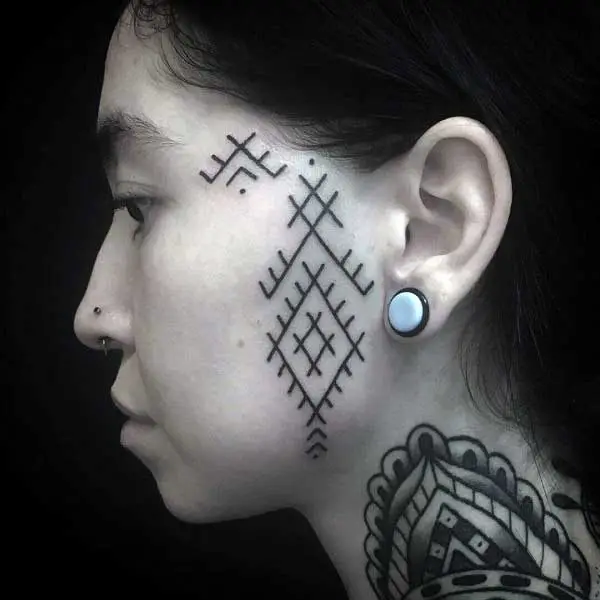 Talk of a perfect tribal tattoo, these face markings are a sweet choice for any season. They extend the entire length of the cheek and compose of small triangles.
#2: Round and Round
Tattoos are very beautiful especially when they have a variety of shapes within them. This deep black piece whirls around your forearm, starting and ending with sharp pointed tips.
#3: Full length Tribal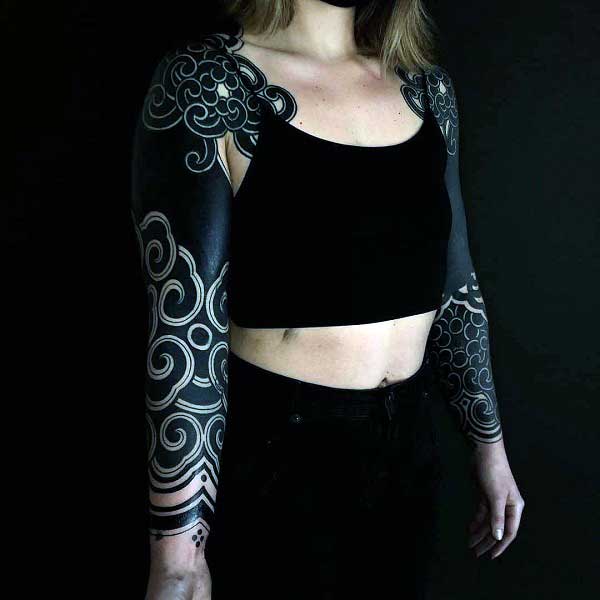 This is a satin black spectacle that spans the entire length from shoulder to wrist. It is infused with lovely whorly markings that break the tattoo at intervals.
#4: Two Elbow Tribal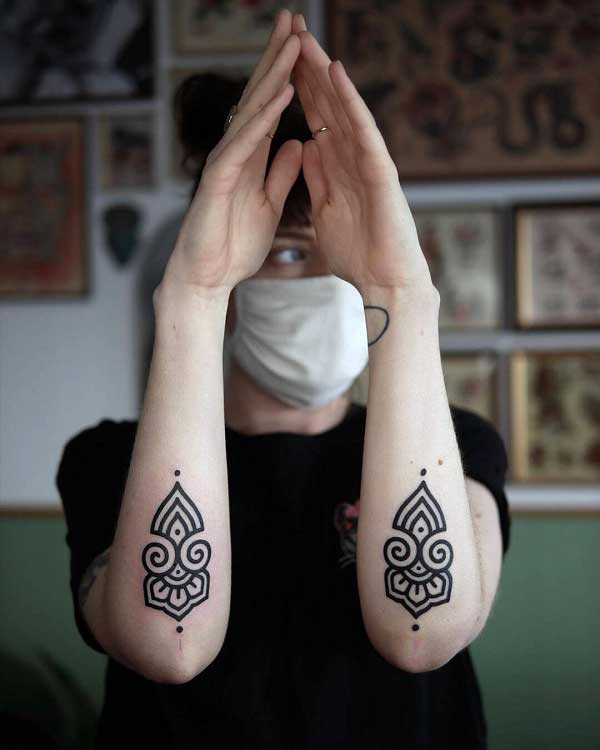 Rep your tribe with pride by inking this amazing piece on your elbows. They feature pointy ends with a dot, depicting a unique strength of character and unity.
#5: Pagodas and Flowers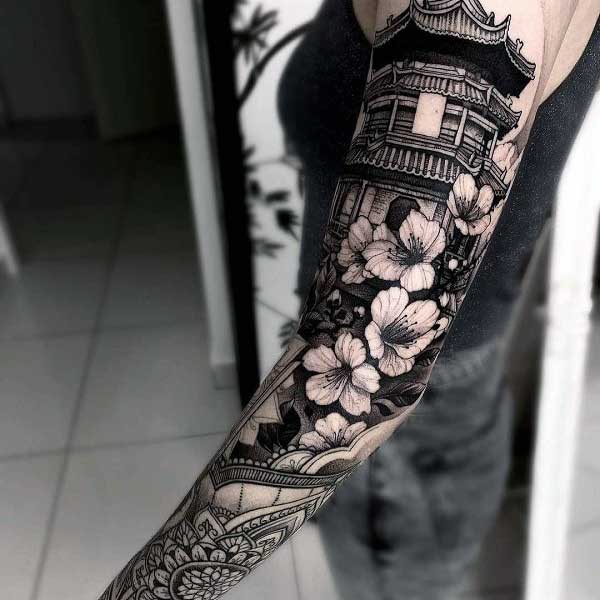 There's nothing more traditional than pagodas and flowers. They carry the magical essence of the Asian history. An ancient history that is rich in greatness, nobility and honor.
#6: The Dragon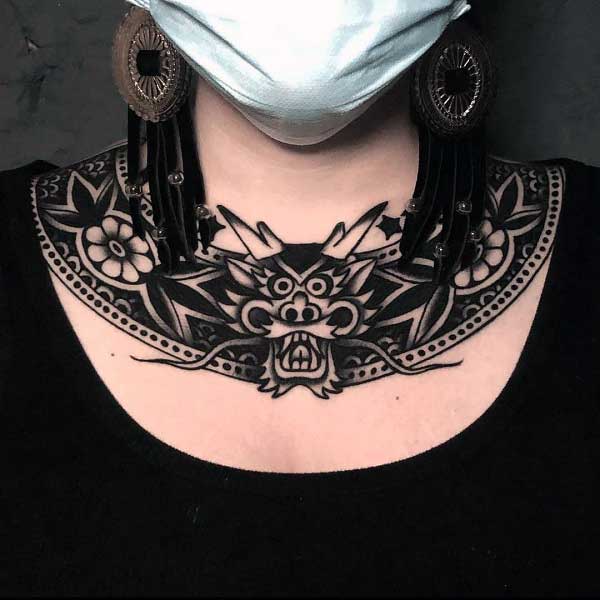 Here's a tattoo that is very simple yet really symbolic. It features the legendary head of the dragon that is a fantastic way to usher in better times into your life.
#7: Back Tattoos
Adorning your back with tattoos are a good way to celebrate your roots. This tattoo is made up of deep black parts and lots of moving lines for an aesthetically pleasing finish.
#8: Arm Tribal
Shapes and figures make a perfect tattoo and this tribal piece is not any different. It is drawn on the arm for easy visibility and as a way to flaunt your proud ancestry.
#9: Arrows Tribal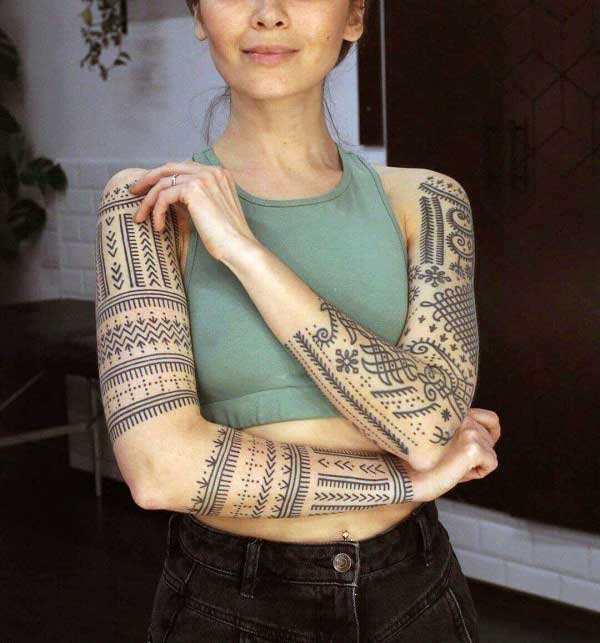 You should let your cultural backgrounds inspire you when choosing your next tattoos. Have you seen this beautiful tattoo with its moving lines and multi-dimensional arrows? It's really a no-brainer.
#10: Two Feathers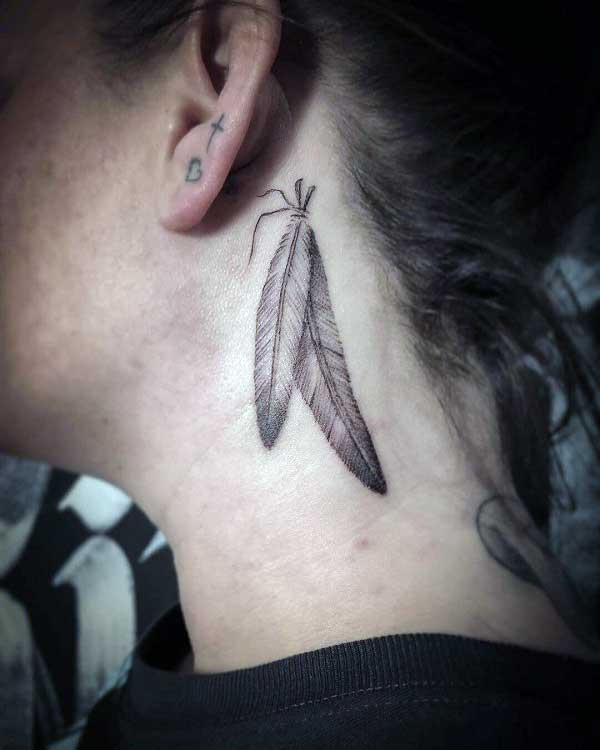 Feathers are a perfect symbol to ink on any part of the body. This lovely piece is drawn just below the ear for a peek-a-boo feel. Get yours today.
#11: Floral Pattern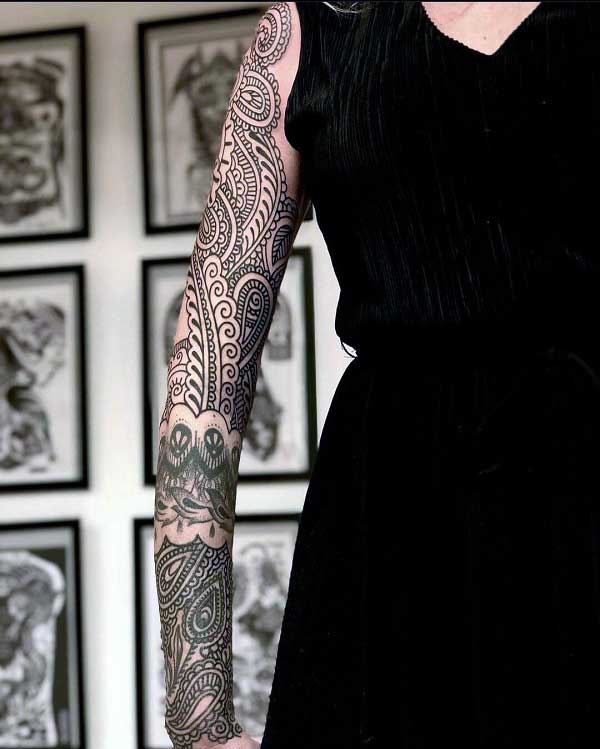 If you love tribal tattoos, then this is a gorgeous option for you to shine in. The floral patterns are well-crafted and its monochrome color is a huge plus.
#12: Intricate Back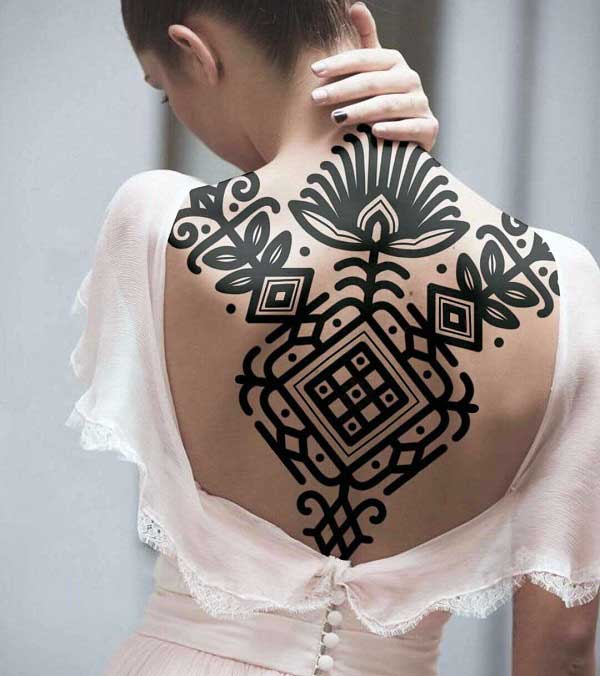 Here is another effortless rendition of a creative back tattoo. This masterpiece is well infused with shapes that create an illusion of arising from the most central one.
#13: Geometric Flowers
You can style your flower tattoos with geometric shapes and a gothic theme to create a real spectacle. The tattoo shows a hand holding the flower and more flowers below, extending from shoulder to wrist.
#14: Full Body Tattoos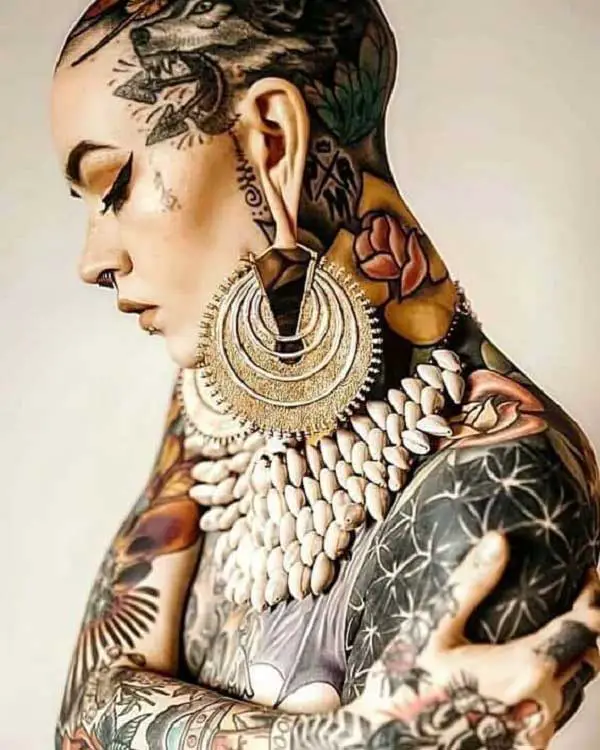 It is a thing of beauty in some cultures to totally cover yourself with symbolic tattoos. But, you can make this look really sweet by choosing a variety of colors to try out.
#15: Bird in Flight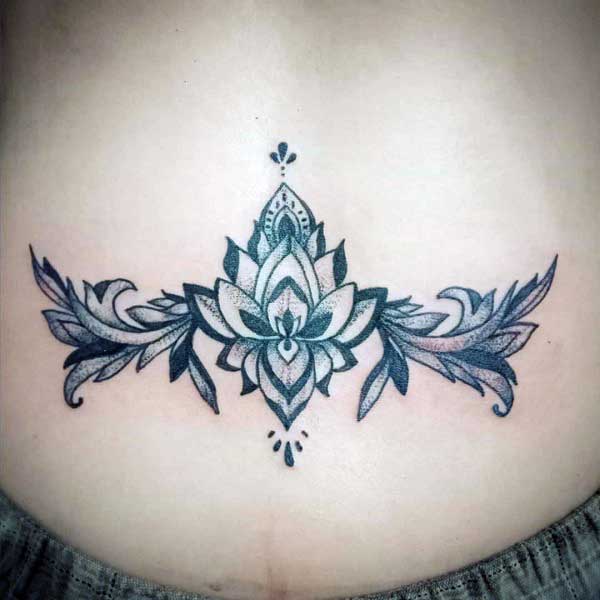 This takes the shape of a bird in flight with beautiful feathers. Well, that's one perspective. Try the different variations of this gorgeous tattoo and keep people guessing.
#16: TRIBAL SIDE TATTOO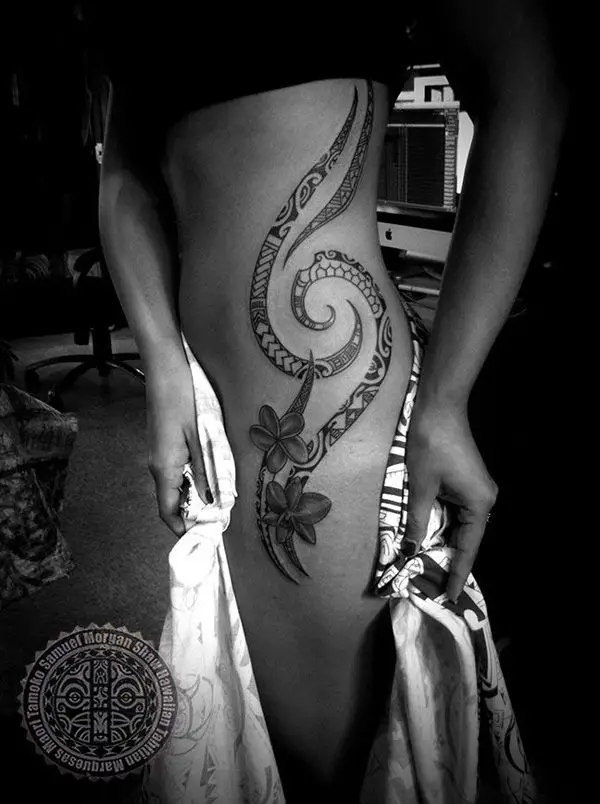 This intricate tribal tattoo extends down to this girl's thighs.  No other tattoo is needed to detract from the elegance of this black ink design. The skillful artwork also shows off the talented artist.
#17: TRIBAL DRAGON DESIGN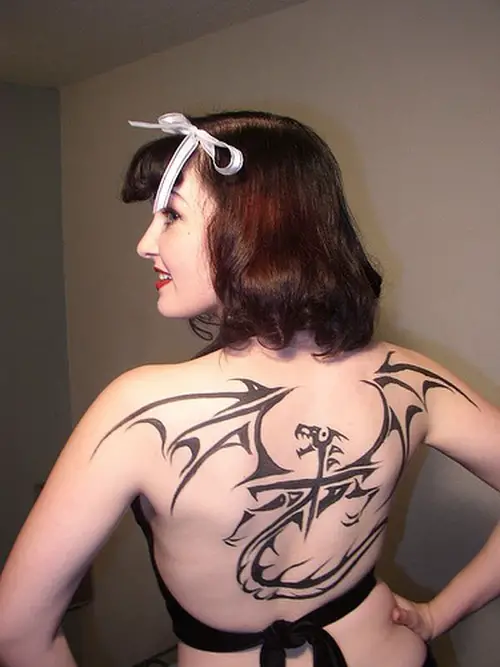 It's quite noticeable that this black dragon tattoo is meant to be seen and admired.  Here's a girl who's not afraid to show off her stunning artwork in backless outfits.
#18: BACK TATTOO TRIBAL PATTERN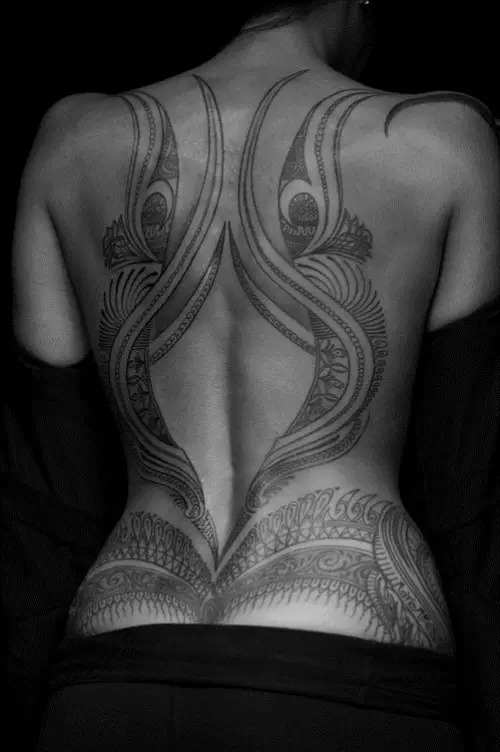 Interestingly, this full back tribal tattoo for women gives the illusion of a form fitting dress. So convincing is this design that it can be worn anywhere and attract admiration.
#19: FLORAL INSPIRATION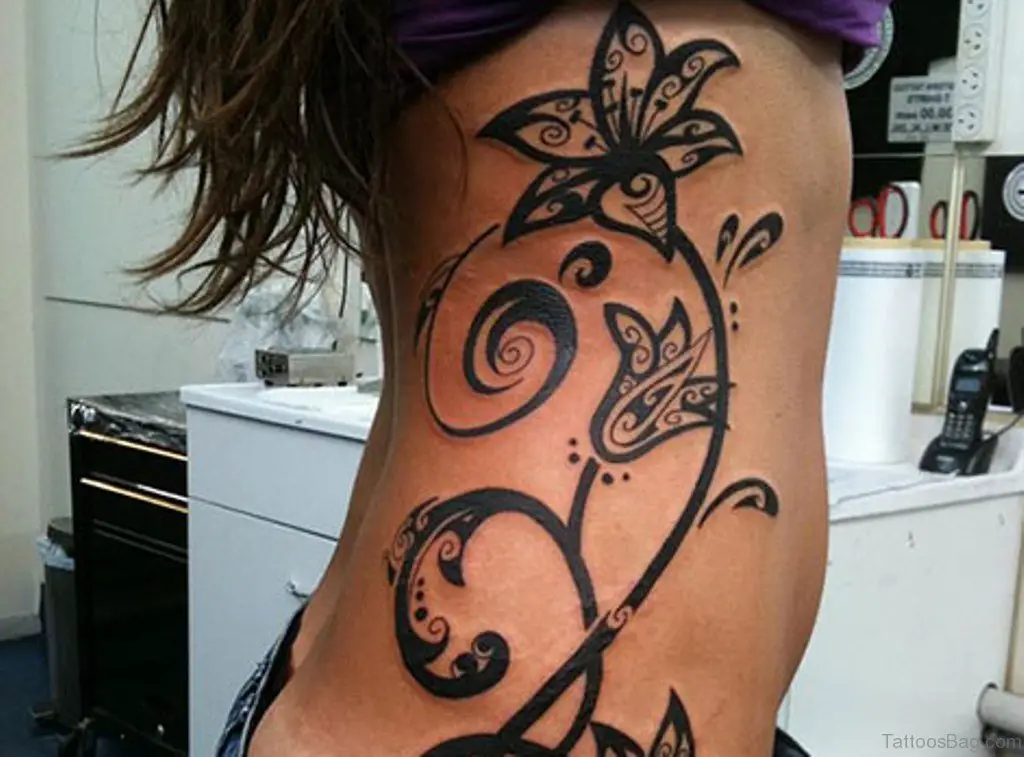 Here's an interesting rendition of flora using predominantly black ink to show off intricate details.  See how neat this body art really is?
#20: SHOULDER PATTERNS TRIBAL INK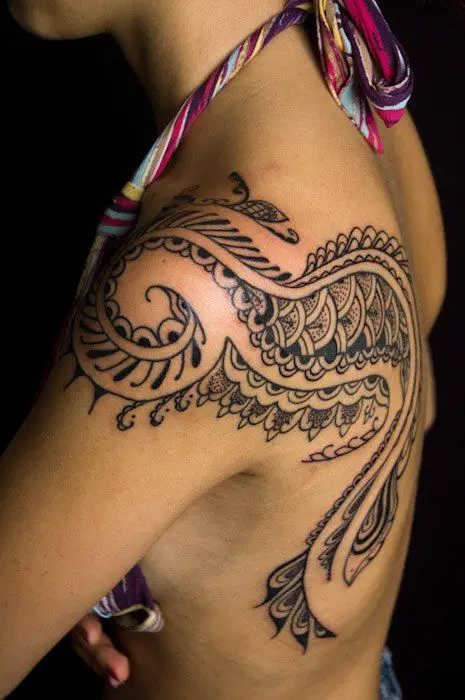 Shoulder tattoos are quite fitting for tribal designs like this one here.  No doubt this girl is satisfied with the skillfully rendered details of these ornate tribal patterns.
#21: JAPANESE FEMALE WITH FISH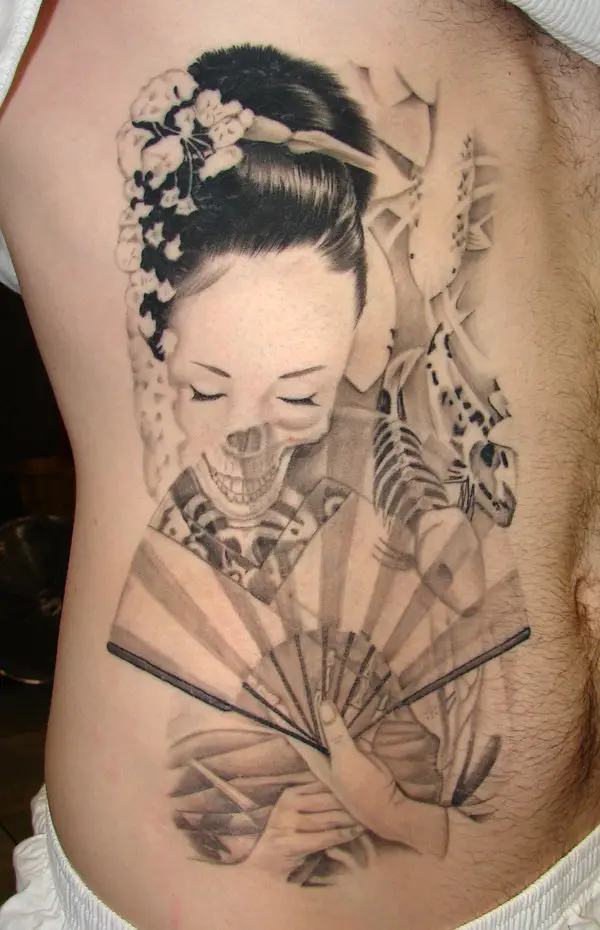 Maybe this woman is deeply into Japanese culture which inspires her tattoo choice.  This textured application of black ink allows this tattoo design to impress anyone who sees it.
#22: BOLD SHOULDER TRIBAL PATTERNS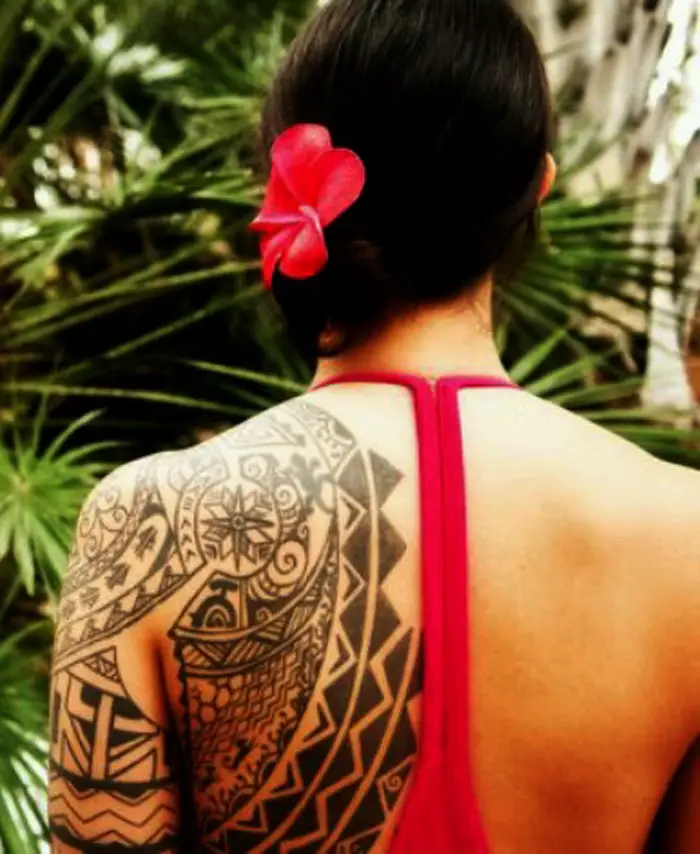 Tribal patterns on the shoulders are quite distinctive and unmistakable.  This girl carries hers with such confidence and poise.  No doubt this is one of the head-turning tribal tattoos women love.
#23: EXTENDED SIDE TRIBAL TATTOOS FOR WOMEN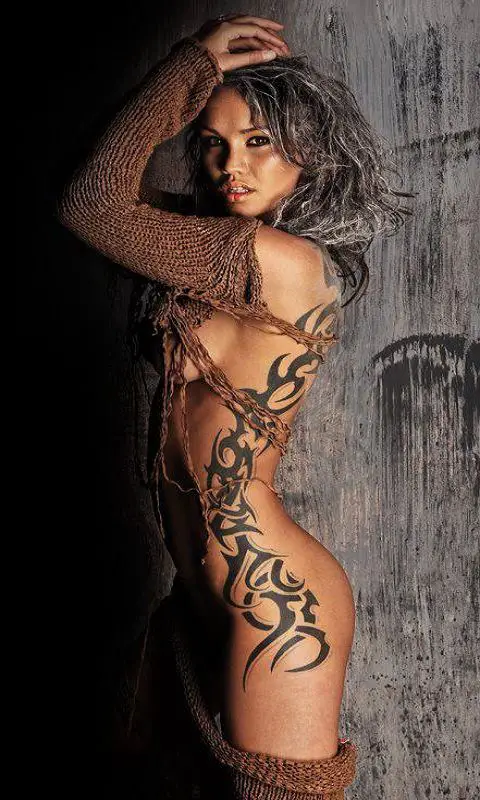 Extended tribal tattoos are popular because of their visual appeal.  This girl no doubt wears hers with no inhibitions knowing just how stunning her body art actually is.
#24: TRIBAL LEG TATTOOS FOR WOMEN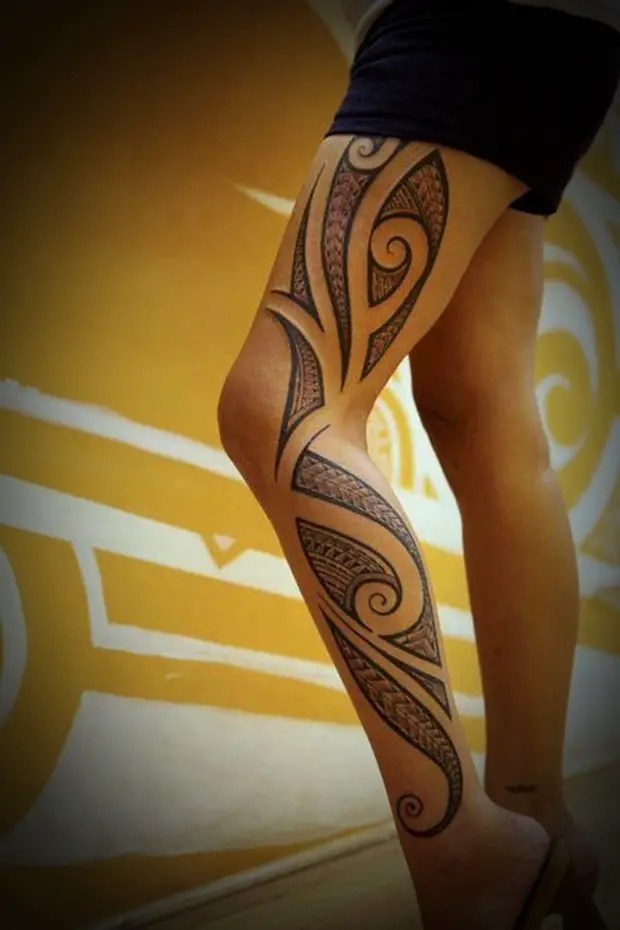 A neatly applied tribal tattoo for women will always attract the right attention.  This leg tattoo, therefore, is among those that show off striking details and awe-inspiring use of shapes and color.
#25: NEAT SPINE TRIBAL DESIGN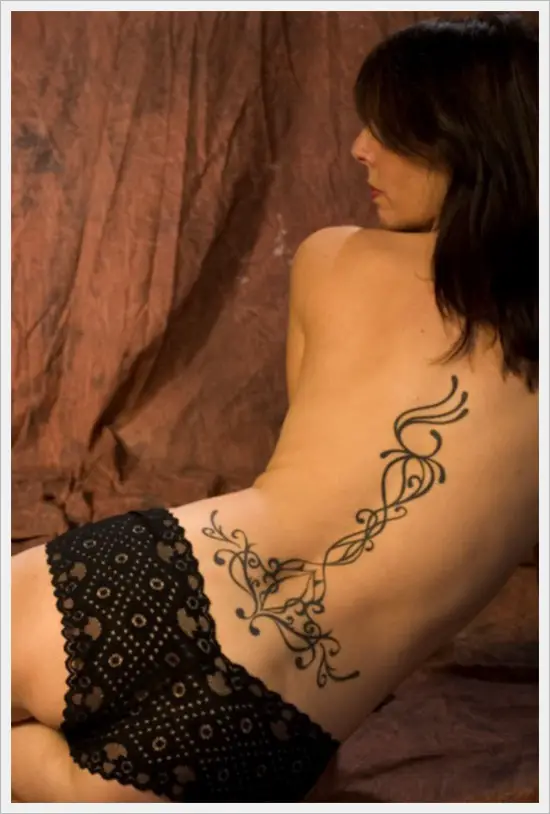 Here's a really cool spine and waistline tribal pattern that fits the female form perfectly. Check out these stylish curls and details on this deceptively simple tribal tattoo design.
#26: TRIBAL SYMBOLS ON LEG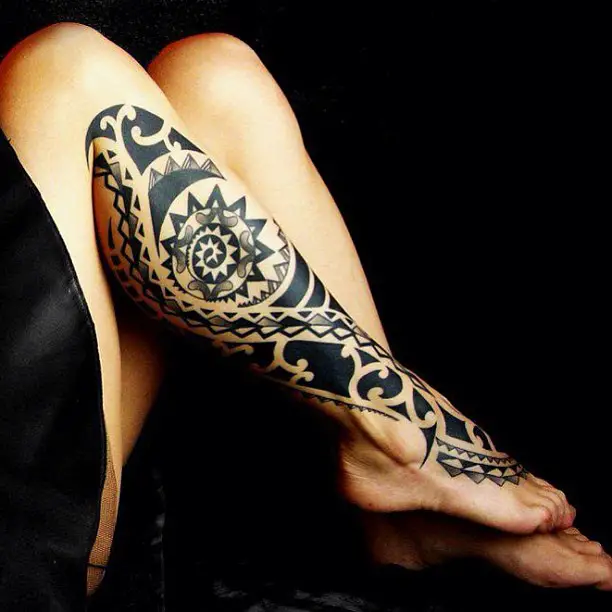 Strong black ink work is the first thing to notice about this powerful tribal design for the leg. This is an unmistakable example of a well put together tribal tattoo that will continue to turn heads.
#27: LOWER BACK TRIBAL PATTERNS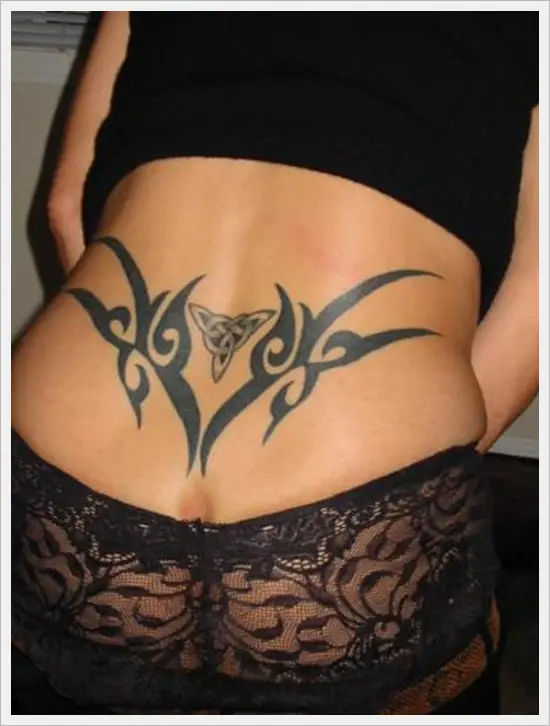 The lower back is one of the favorite places for a well designed tribal tattoo like this one here. Clearly, the trend among females who love tribal designs is to ink them in places that are noticeable.
#28: EXOTIC FULL SIDE BODY ART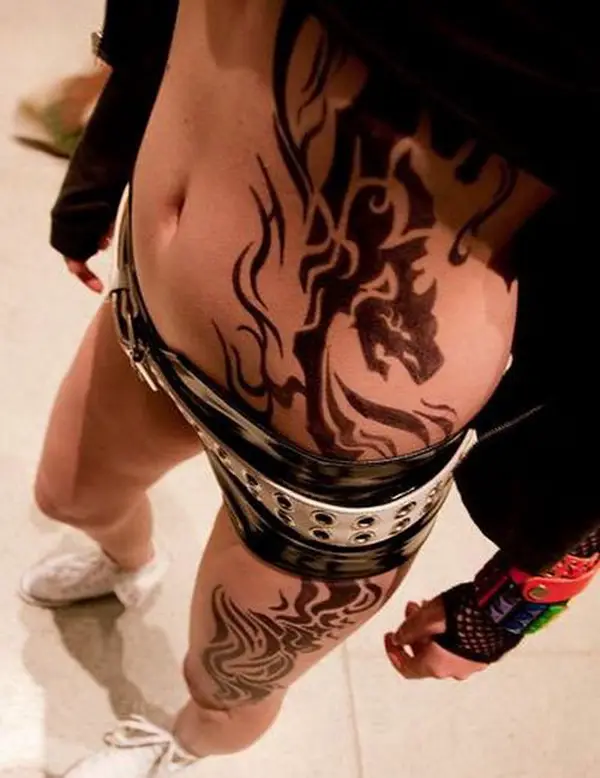 Sometimes to get the full visual impact tribal tattoos for women may be done as a full body extension.  Here then is an example of a stunningly intricate side tribal tattoo done purely in black ink.
#29: NECK AND SHOULDER TRIBAL INK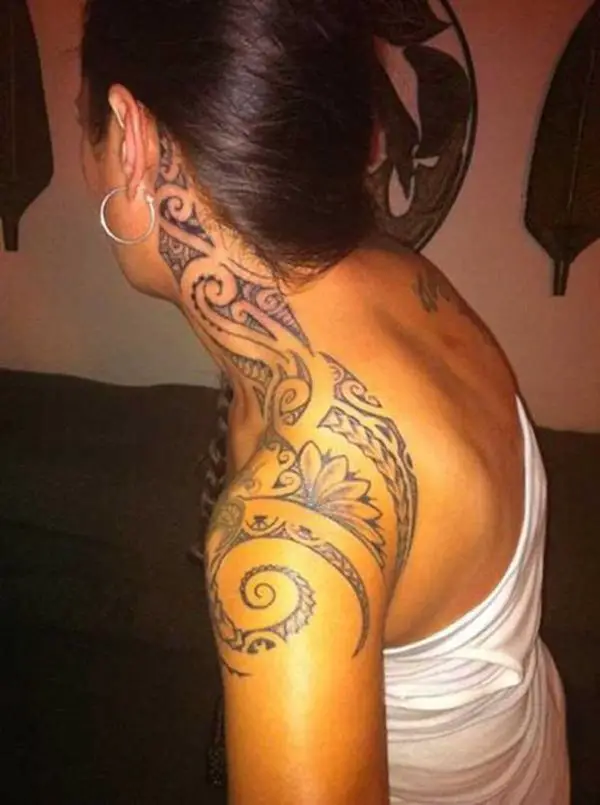 Tribal patterns lend themselves well to neck and shoulder tattoos.  Here is a good example of a vibrant design that goes well with any outfit this woman may choose to put on.
#30: CURVY TRIBAL DESIGN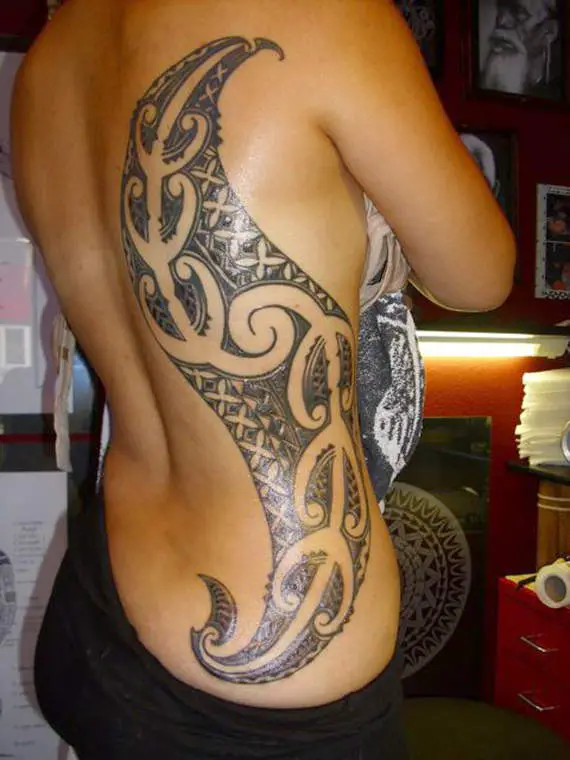 The huge variety of shapes and patterns present numerous possibilities for attractive tribal tattoos for women. Clearly, this girl has no difficulty getting compliments for her taste in body art designs.
#31: TRIBAL STROKES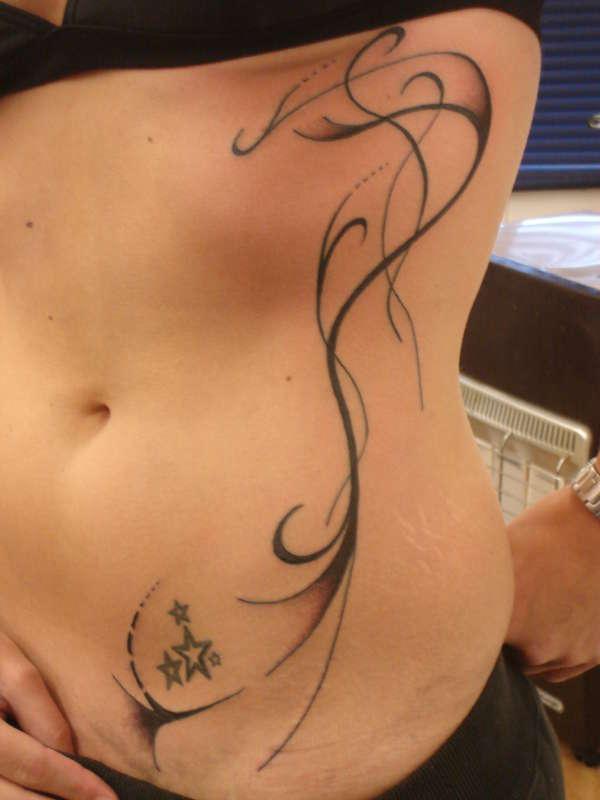 Perhaps all it takes are a few well placed strokes to achieve an eye popping effect. Check out the relatively simple tattoo that uses mainly black ink to cover the space well.
#32:  TURTLE PATTERN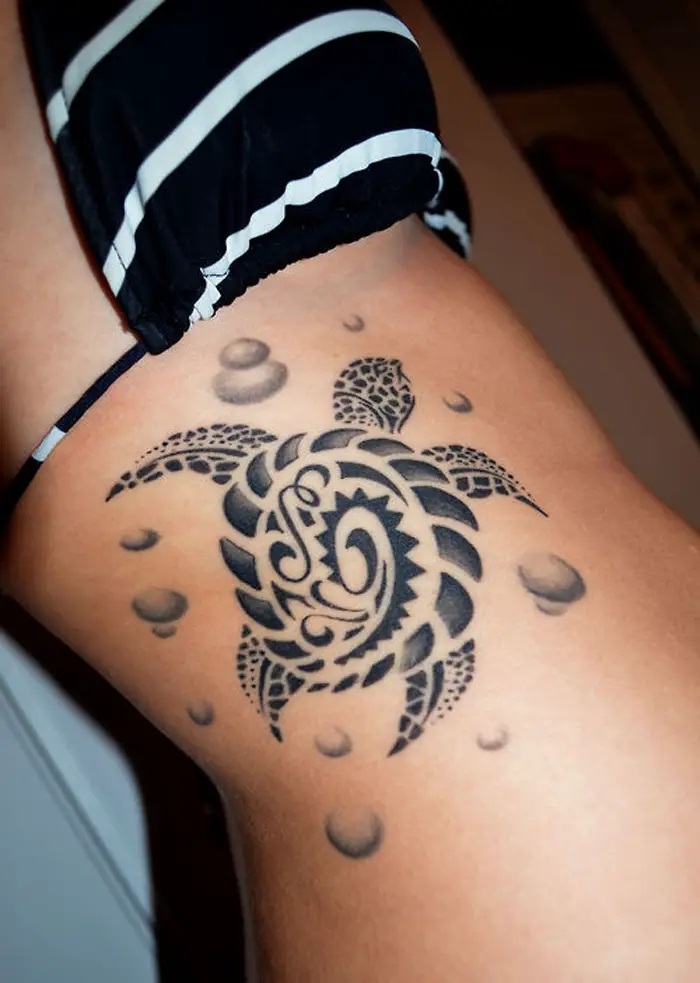 Here's an interesting twist for tribal tattoo lovers.  This sea turtle is inked using the pattern style of tribal tattoo artists.  In some cultures this sea creature carries significant meaning.  Perhaps for this woman the turtle also carries some deep significance.
#33: INTRICATE SHAPES AND FLORAL PATTERNS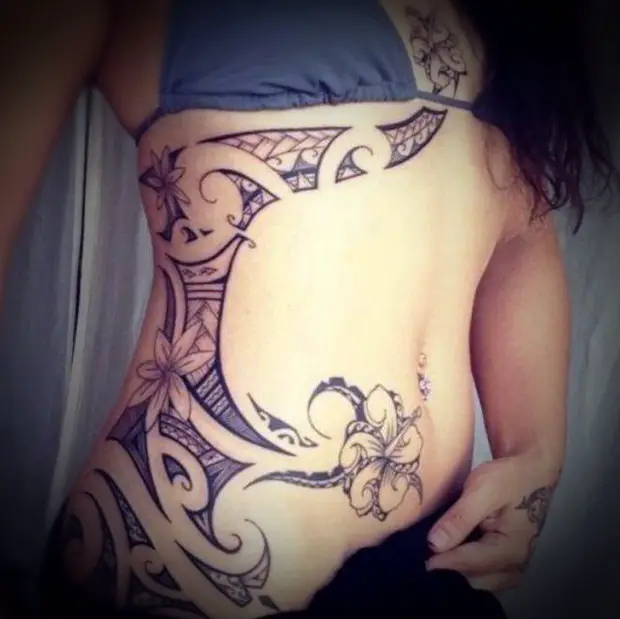 One way to create a lasting impression is to choose an elaborate tribal tattoo that covers a large area of your body.  This well designed example shows off the ornate patterns and floral details that are simply jaw dropping.
#34: ORNATE TRIBAL INKING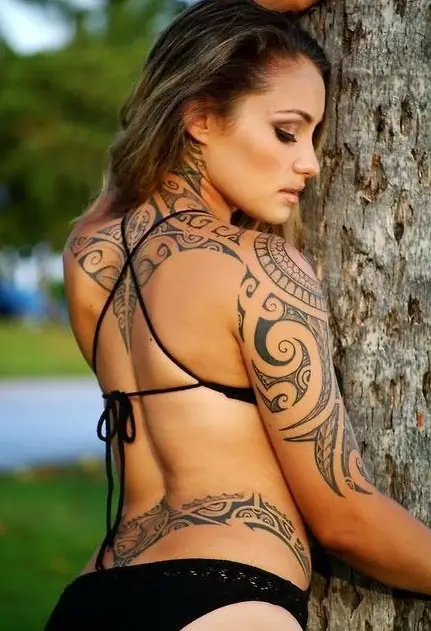 Here's another well designed and expertly inked tribal tattoo that women crave.  These details positively exude style and glamour that deserve much attention and admiration.
#35: ACROSS THE BACK FLORAL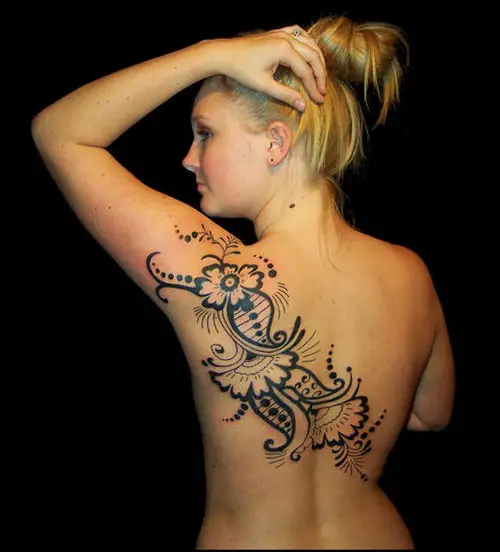 Dominant black inking is quite appropriate for stunning tribal tattoos for women such as this back tattoo. Expect lots of great attention with this amazing design.
#36: INTRIGUING DETAILS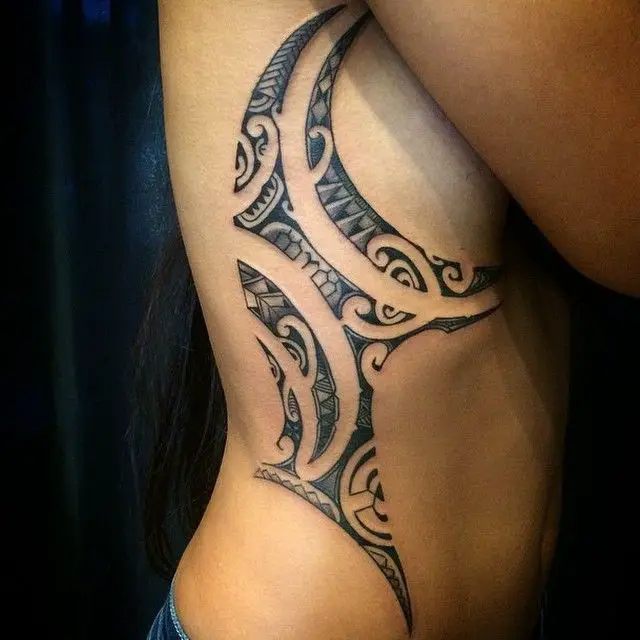 Well spaced tribal patterns will always be used by women who appreciate exquisite works of art. Check out this carefully inked design that works well for this girl.
#37: BACK AND NECK TRIBAL TATTOOS FOR WOMEN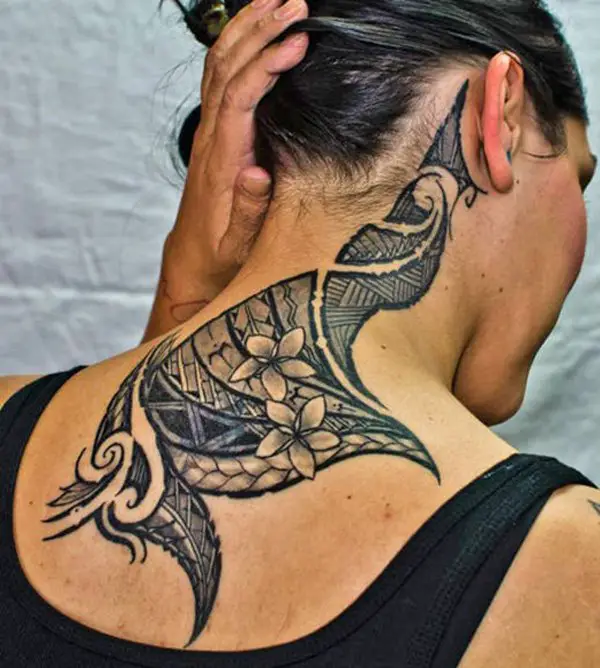 Clearly visible for all to see, this predominant black ink design leaves a strong impression. These's no mistaking the distinctive tribal style represented by this expertly inked work of art.
There you have it, twenty-two of the best examples of tribal tattoos for women that are simply breath taking. You must agree that all of them are worth showcasing for their elegance, beauty, and captivating charm.  Certainly, there is a tribal design out there that will captivate and mesmerize because of their intricate details. Simply browse through the many options and select the one that most suits you. One thing is certain, tribal tattoo designs are among the most intricate and artistic you can find any where.  So, find the tribal design that speaks to your heart.