Matching tattoos for sisters are a promise that never diminishes. Sisters are for sharing laughter and wiping tears. The bond between sisters is naturally the strongest. She is your best friend, a guide, a mentor, a secret keeper, a stress buster… well the list could be endless. As sisters share the most incredible milestones of a lifetime, many of them make the memories and the bond of love immortal by inking sister tattoos. Tattooing is a kind of commitment that you carry forever, and when you add a family bond to it, the commitment gets stronger and more meaningful.
Imagine a time when you and your sister could be miles apart from each other. In such times, your identical sister tattoos will remind you of the beautiful memories you had created together. It will also make your relationship stronger as your heart knows there is someone who is missing you as much as you miss her.
MATCHING TATTOOS FOR SISTERS TO PICTURE THE LASTING BOND
Matching tattoos for sisters are a lovely way to live the beautiful relationship and to reveal it to the world. If you are thinking of sisterly tattoos to cherish the kinship or to celebrate the eternal connection, then think of getting matching tattoos with a special story or a meaning. The tattoos could be matching quotes, symbols, animals, angels or any illustration with a special meaning to both of you.
These kinship tattoos can be placed on the same body part or on the counterpart of the other to create a lovely mirror image. With time, these tattoos will become more precious.
If you don't have a sister doesn't mean you can't enjoy the emotions. Sister tattoos can best express the unique sisterhood, blood-related or not. We have made a special list of inspiring ideas to help you with some incredible sisterhood tattoos. So before you visit the tattoo artist, look for the designs and discuss with your sister to mutually decide what best represent your relationship.
#1: QUOTE TATTOOS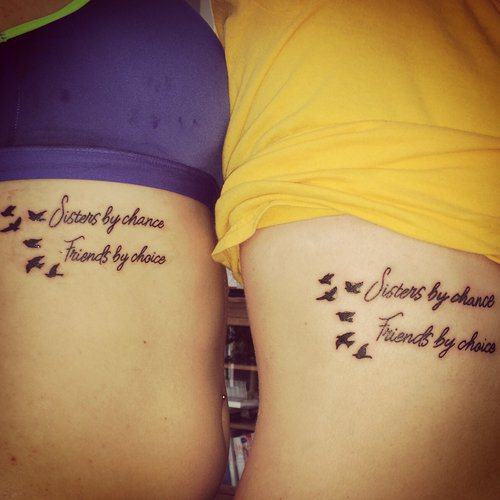 Quotes are always a good idea for sisterly tattoos. The sisters in above picture have identical rib lettering tattoos. You can think of the same style or opt for other variations such as you can have the half sentence and your sister has the rest half. A nice thing about quote tattoos is that they are timeless, honest and real.
#2: INFINITY KNOT TATTOO
The symbol itself explains timelessness. You can add more imagination to the symbol to make it one-of-a-kind just like the girls in the above picture have done. The word 'sisters' and the birds make these matching tattoos for sisters so cute and classy.
#3: UNIQUE TRIBAL THEMED TATTOO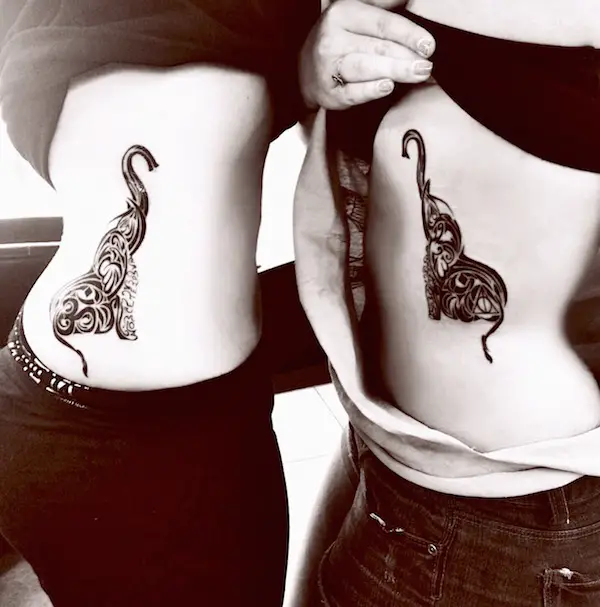 If you want your tattoo to be uncommon, then choose a design that only you and your sister can relate to. The image above is a nice example of such a standout tattoo. The elephant shaped tattoo has many tribal symbols that together give a certain meaning. Moreover, the placement of the tattoo also makes them special as rib tattoos are not visible often. You can show them as and when you wish to.
#4: SISTER TATTOO FOR FOUR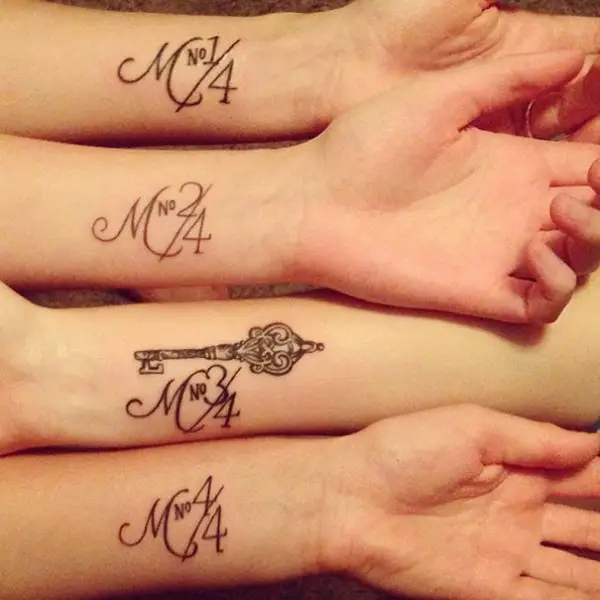 This is a great tattoo idea to let the world know how many sisters you have. Well, the image above shows four sisters. If you want, you can get the same theme inked in a different manner. For example, choosing roman numerals, or using objects to denote the numbers.
#5: INFINITY KNOT AND HEARTS TATTOOS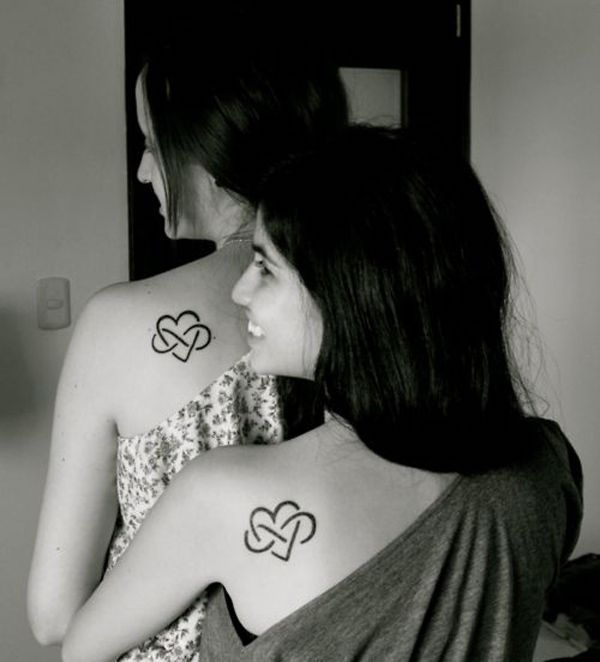 Isn't the infinity inside hearts tattoos above are cute and compelling? They are simple yet very significant and telling the whole story through the two symbols.
#6: SPARROW AND KEYS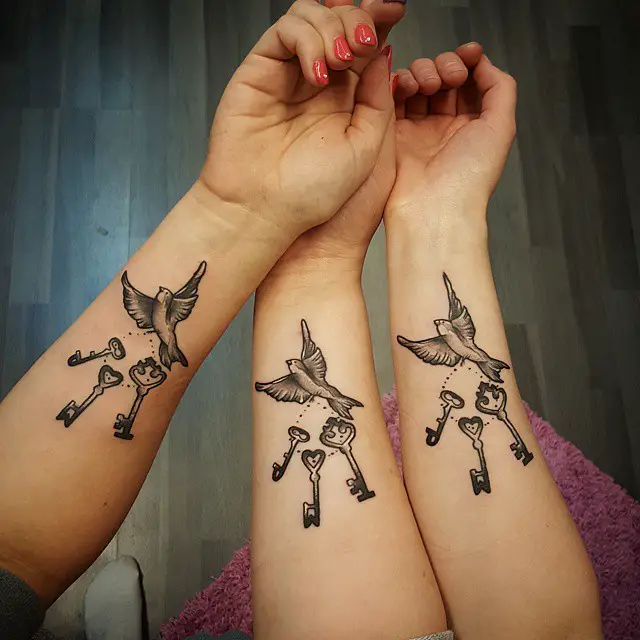 A sparrow with three keys are representing three sisters connected together. If you will notice carefully, the keys are of different sizes and are connected through tiny dots. The largest key is the eldest sister, the middle one represent the younger sister and the smallest key is the youngest sibling. Here sparrow might represent the mom. So nice and thoughtful, isn't it?
#7: COMPLEMENTING WORDS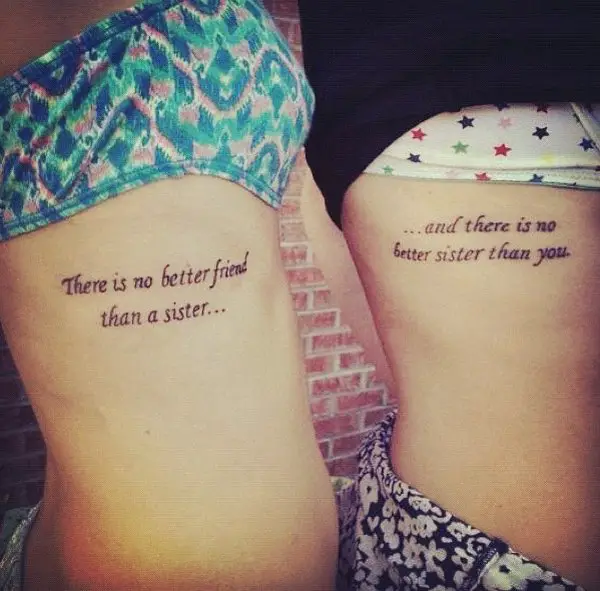 The sisters in the above image chose to have a message divided into two halves. It will complete when both are together. That's a nice idea to mark your kinship.
#8: MORE WORDS OF PRAISE
Here is another beautiful example of complementing quotes. Lettering is certainly a very popular choice of matching tattoos for sisters.
#9: CONNECTING FEET TATTOO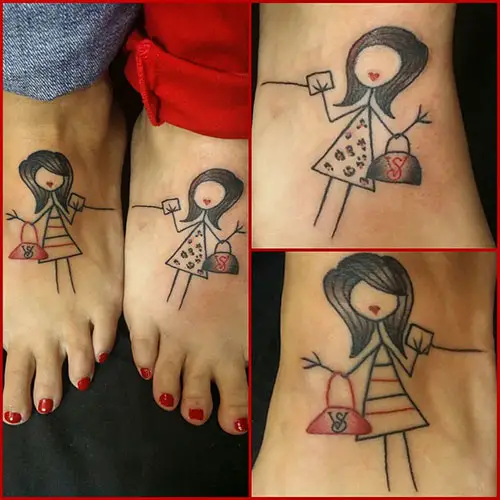 We are sure, you can't beat a connecting tattoo like the above one. This lovely tattoo is complete only when you are with your sister. The images are cute and adorable, and also give endless ideas for connecting sister tattoos.
#10: MATCHING BIRDS AND QUOTES TATTOO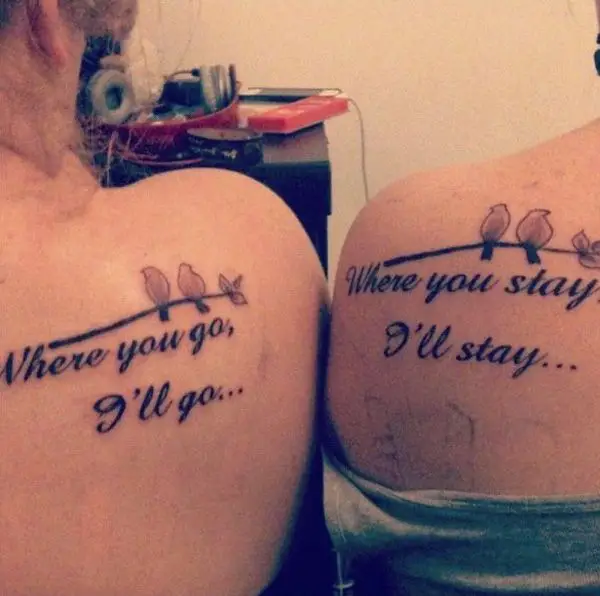 It's a cute thought for any sister. So emotional and very well done. You can feel the love through the words and the two adorable birds.
Sister tattoos are amazing to strengthen the heavenly bond. The above ideas for matching tattoos for sisters and best friends are versatile enough to let your imagination go wild. You can keep it simple or give a more creative touch by opting for significant symbols as shown in few images above. We also welcome your personal ideas and experience of sisterly tattoos.