Among all the tattoo designs for women , the sleeve tattoo is one of the toughest to do right. Stunning sleeve tattoos for women require careful planning and skillful execution. When you're finished, you'll find that's it's well worth the effort. Tattoos worn on the entire length of your arm can be quite impressive and attention grabbing.
SLEEVE TATTOOS FOR WOMEN TO LOOK GORGEOUS
So, to create that stunning sleeve tattoo it's very important to choose your design carefully. First of all, take the time to select your tattoo design as well as the tattoo artist – don't rush. Secondly, be patient. Depending on how complex your design is your tattoo may take a pretty long time to complete. Finally, choose sleeve tattoos that you'll be comfortable wearing on any occasion and with any outfit. The twenty-five sleeve tattoos for women shown here were carefully selected to showcase their strength, beauty, intricacy and sophistication. Let's take a look.
#1: TRIBAL SOPHISTICATION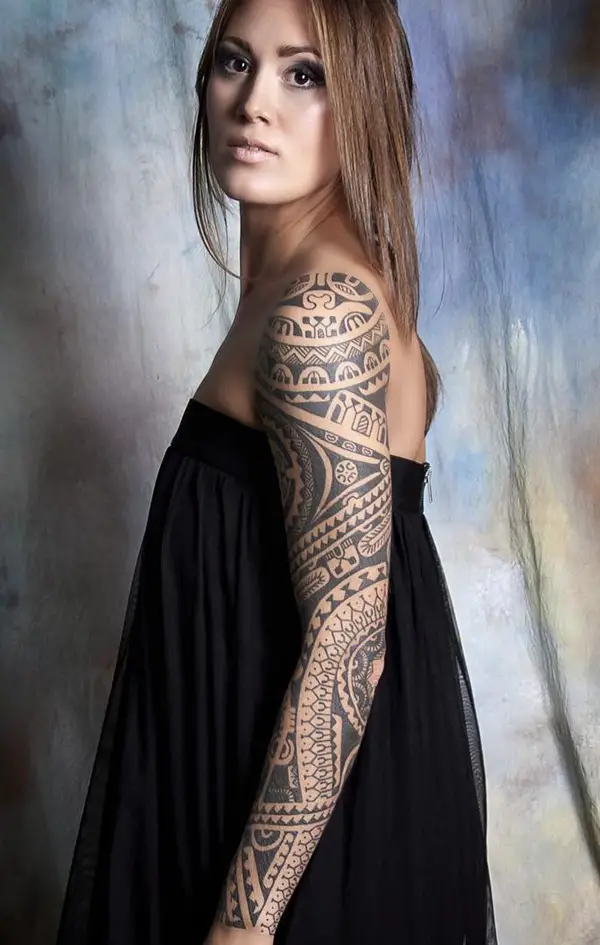 This woman wears an elaborately detailed black inked sleeve tattoo that is inspired by tribal designs. Undoubtedly, this design attracts a lot of admiration wherever she goes.
#2: ROSES PREDOMINATE SLEEVE TATTOOS
Flowers such as roses are popular choices in tattoo sleeves for women and these come in a variety of colors and sizes. Here's a perfect example of how well flowers can be integrated into a full arm tattoo design to add color and vibrancy to any outfit.
#3: SEA CREATURES ON BOTH SLEEVES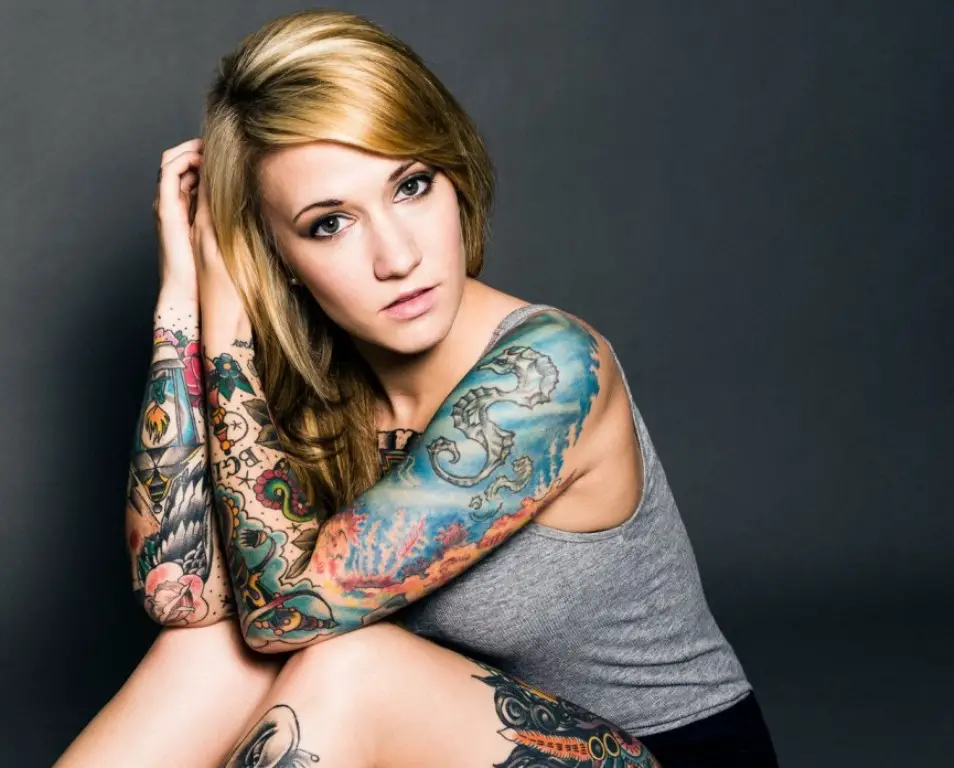 On both arms, there are colorful tattoo sleeve ideas for women who prefer seahorses and other underwater creatures.  See how well these tattoos complements her other tattoos. Evidently, this took careful planning and a skillful tattoo artist to achieve.
GORGEOUS HALF SLEEVE TATTOO IDEAS
#4: POWERFUL AND CONFIDENT WOMEN TATTOO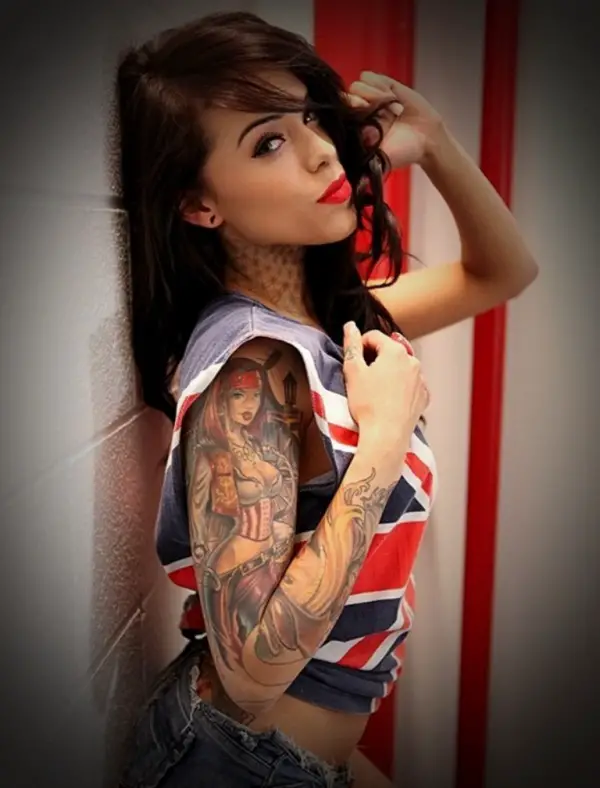 Everything about this woman reveals her brash confidence.  Definitely, her sleeve tat shows the female superhero or warrior that may be her real motivation to stay true to herself.
#5: INDEPENDENT WOMEN LOVING HER FREEDOM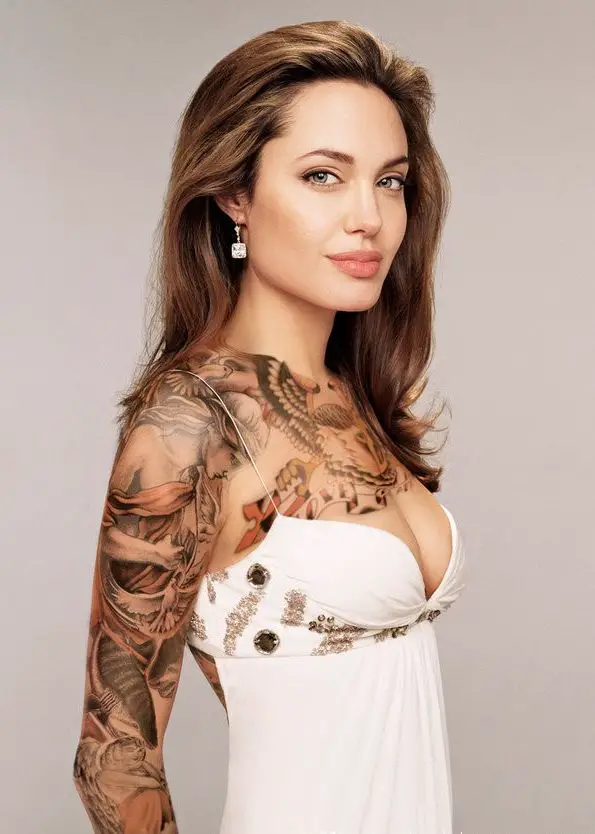 Evidently, this full sleeve tattoo shows a strong, independent woman who is also connected with birds and freedom. See how expertly her tattoo artist has blended color with black to bring this impressive tattoo to life. Also, this sleeve extends to her chest and back.
#6: INFLUENTIAL WOMEN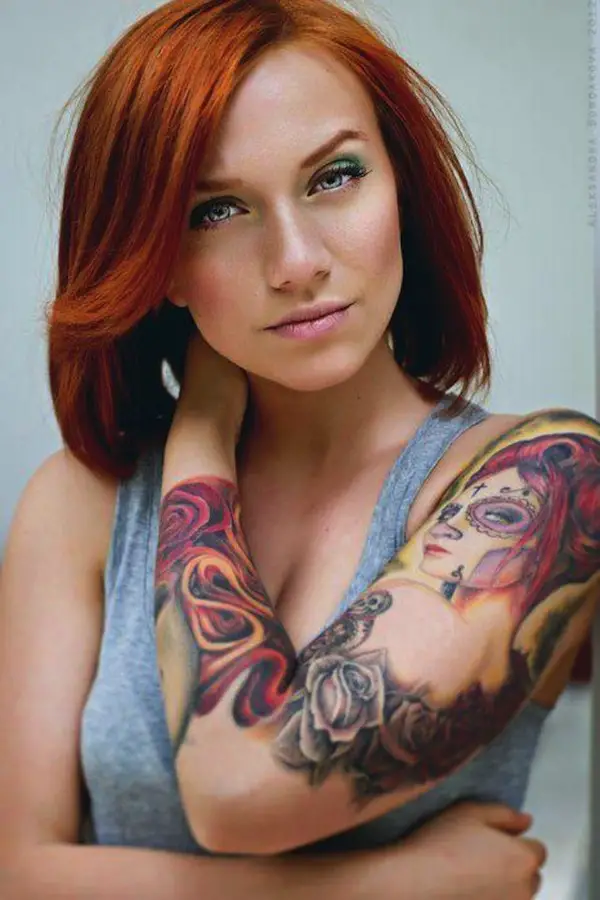 sleeve tattoo ideas for women often show images of other women in various tattoo forms. This sophisticated woman is inked using vibrant red and blended with roses. Perhaps this is a symbol of the strong female character she admires, or maybe her alternative identity.
#7: WARRIOR WOMEN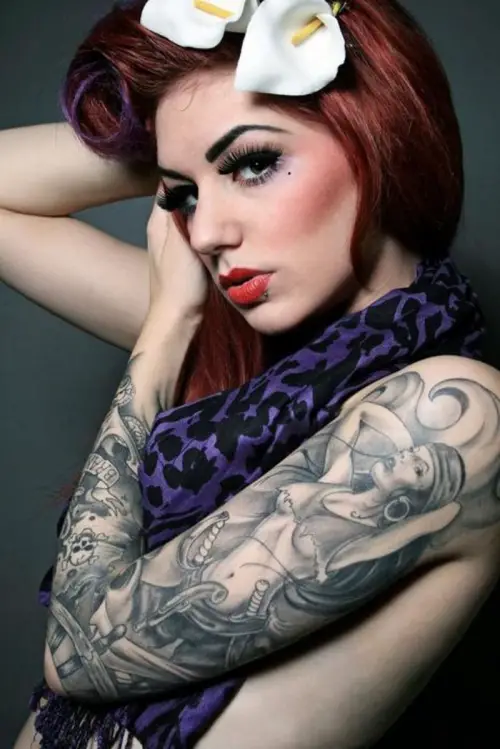 Here's another sleeve design that shows off the strength and beauty of the woman. This warrior princess done in black details may be this girl's other self.
#8: LADY SOPHISTICATION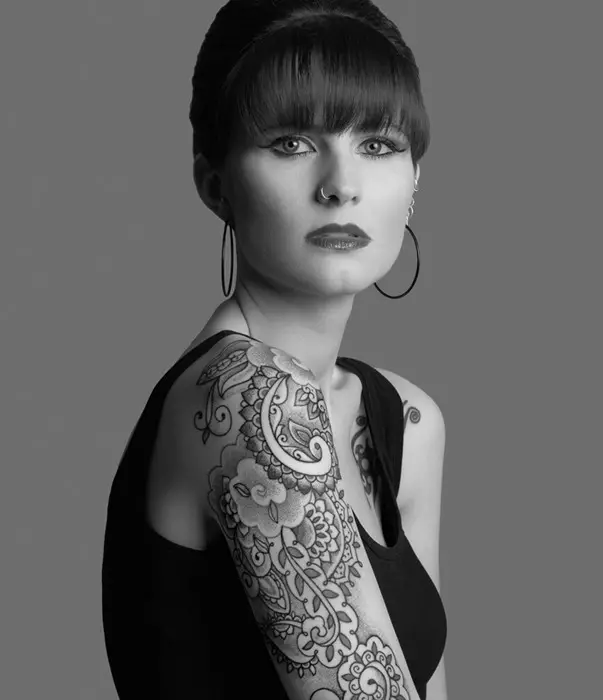 See how skillfully this design of flowers and shapes blends into an intricate and sophisticated sleeve tattoo women would be proud to show off. No doubt this tattoo adds class to her overall appeal.
#9: INTRICATELY DESIGNED FASHIONISTA TATTOO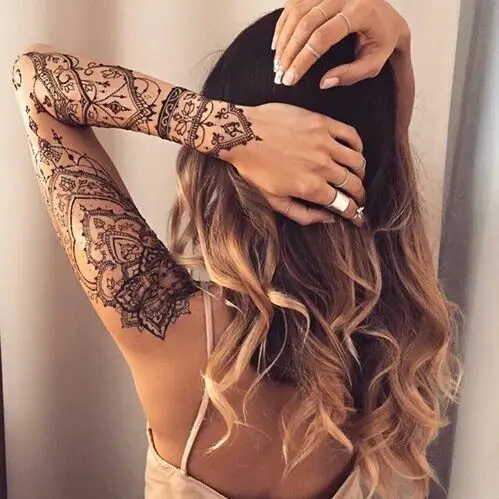 Women who know the flattering effect of a well-designed sleeve will appreciate this intricate design that goes well with her skin tone. Inspired by tribal designs, this tattoo fits like fine lace that can go well with any outfit.
#10: LACY SLEEVE DESIGN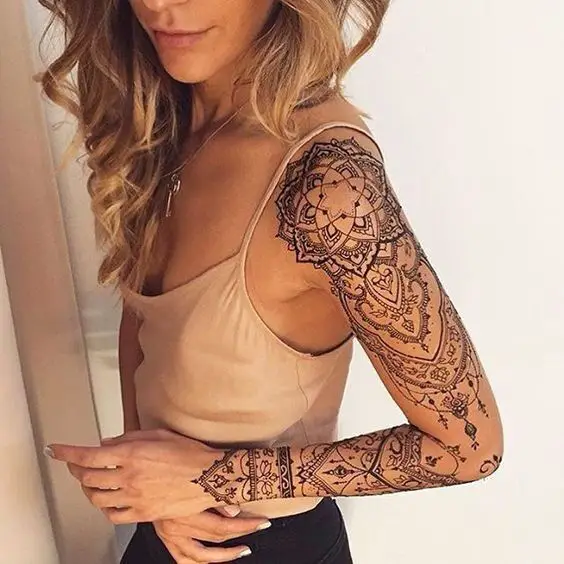 Another example of the use of finely detailed sleeve tattoos that needs no other color apart from the black ink used. The patterns are distinctive and well executed by the tattooist. Without a doubt, this sleeve design adds character to any outfit this woman chooses to wear.
#11: SEXY ROSES SLEEVE TATTOOS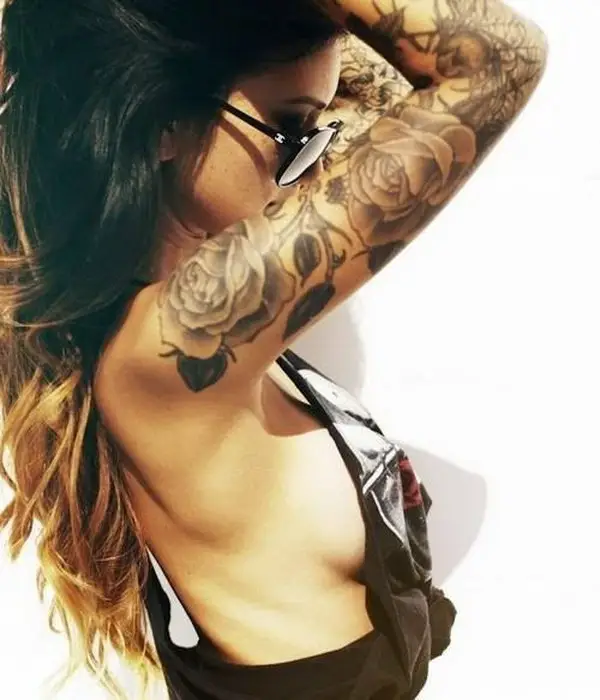 Check out this dominant use of roses done in shades of color with black.  Naturally, this tattoo sleeve ideas for women adds sex appeal to this woman's overall look.
#12: BIRDS AND FLOWERS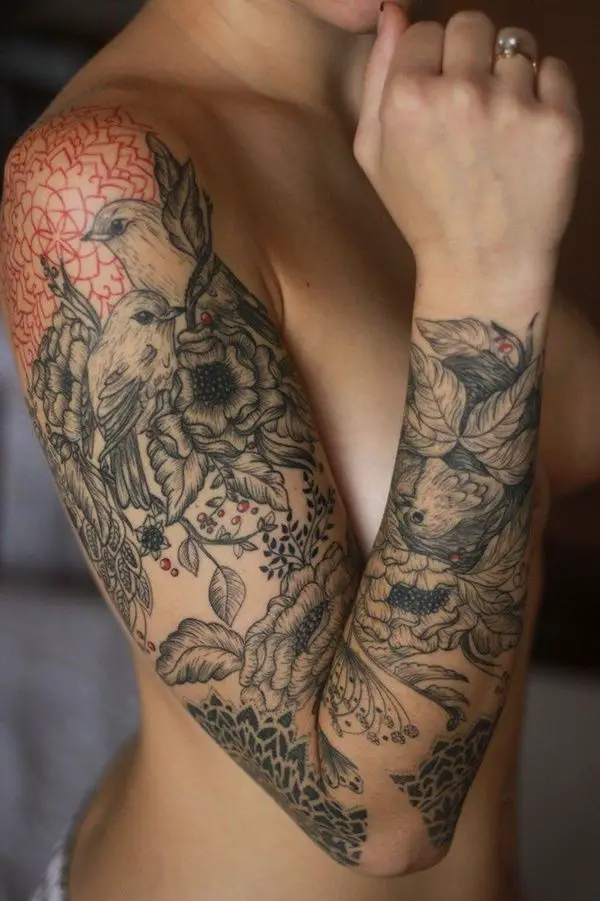 Birds and flowers are also popular designs in sleeve tattoos for women.  Here these elements are blended together for a finely detailed and spectacular work of art.
#13: THE MANY FACES OF A WOMAN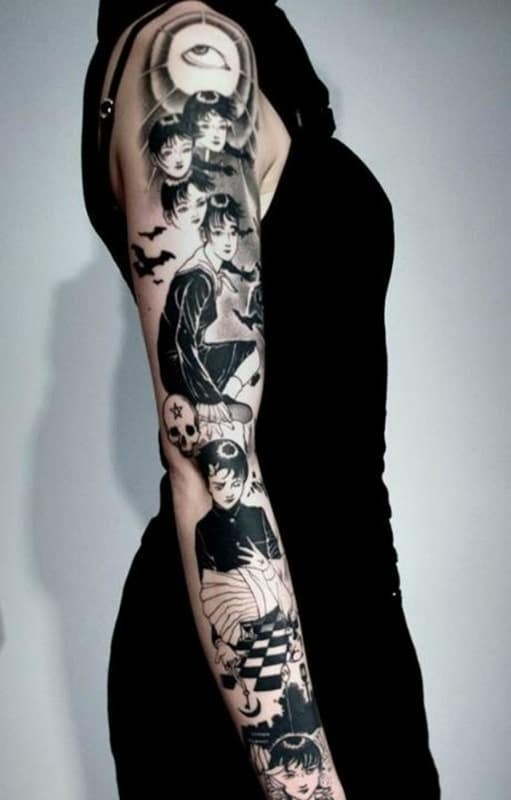 Dark ink is used effectively in this graphic showcase of a woman in a variety of poses.  Other images add dimension to the overall design.
#14: SKULL AND ROSES
Skull and roses are predominant images in this full sleeve tattoo and complete the overall power of this design. Clearly, this is a great conversation piece that grabs attention.
#15: WATER AND SKY DESIGN
This girl has used her arm as a canvas for this beautiful watercolor of birds in their natural setting.  It's no surprise that this design would be among the attractive and desirable tattoo options for today's tattoo savvy women.
#16: CLASSIC WONDERLAND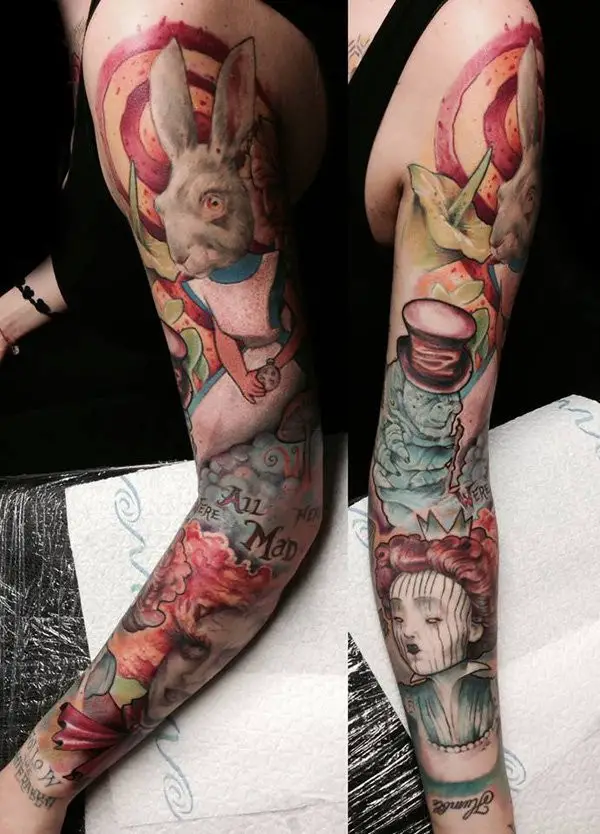 It's quite obvious that this woman is fascinated by Alice in Wonderland.  Her sleeve recreates this classic tale of a young girl who was lost in a fantasy world where the magic happens. Quite colorful and finely detailed.
#17: FLORAL SLEEVE TATTOOS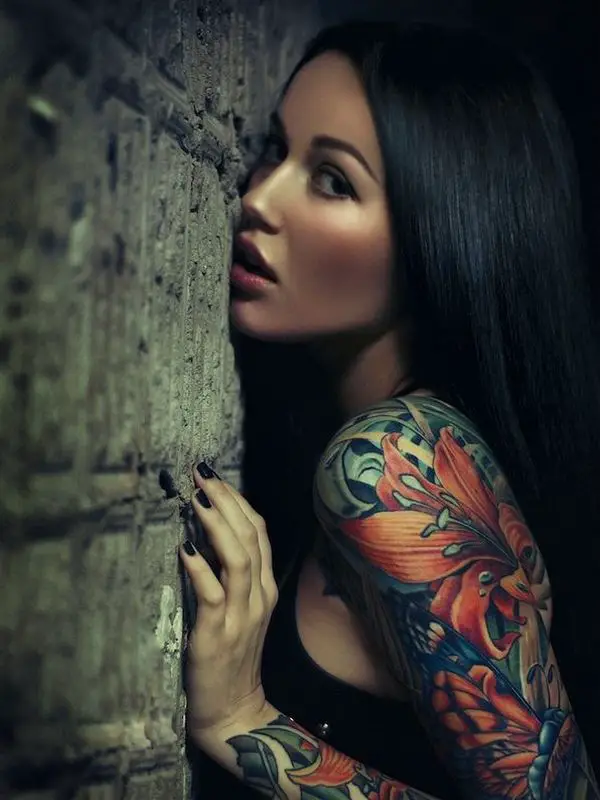 Flowers with dominant colors tattoo sleeves for women looks quite attractive. Here this well-designed tattoo gives this girl an edgy look with its sheer beauty as a work of art.
#18: DAUGHTER OF THE SEA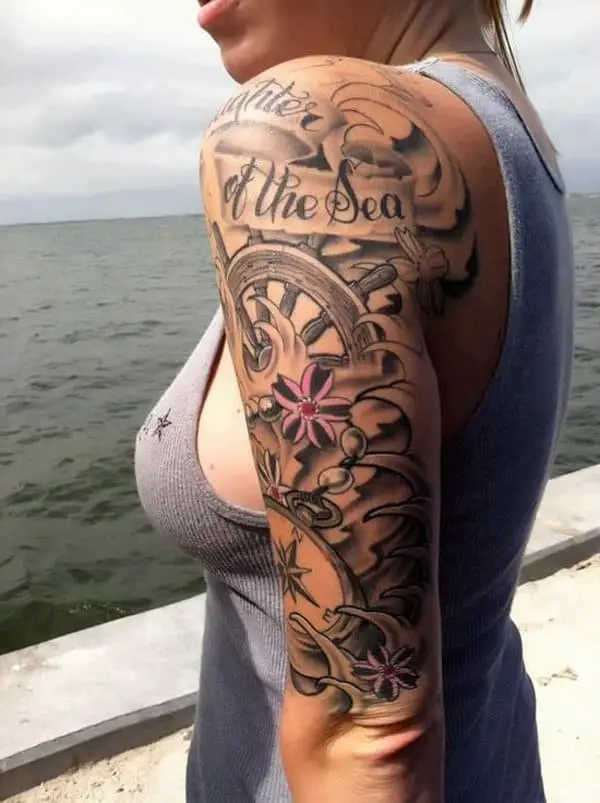 The half sleeve tattoo seen here clearly shows this woman's love for the sea and sailing. Notice the use of black ink in this design and the minimal use of color. This is an effective technique that grabs attention.
#19: ORNATE SLEEVE TATTOOS FOR WOMEN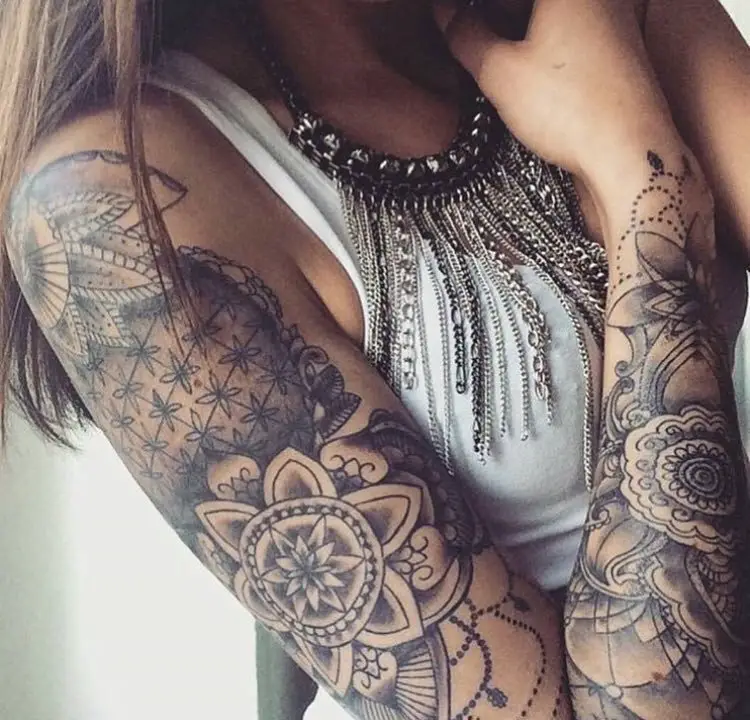 This design makes full use of ornate patterns done in black ink that is blended well.  Clearly, this example from sleeve tattoos for women will go well with any outfit she could have chosen.
# 20: BOLD TATTOO STATEMENT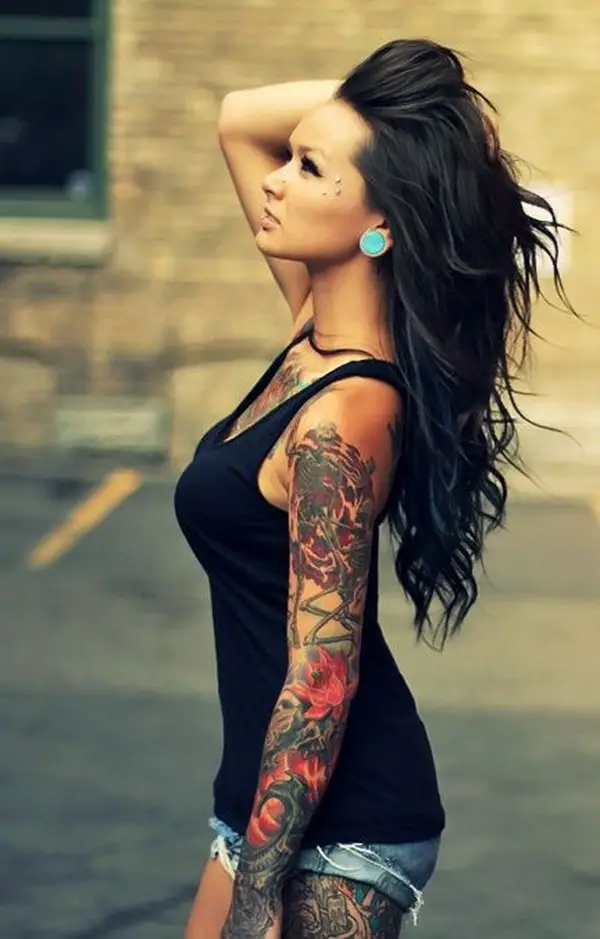 This woman knows what she wants in her sleeve.  Skeleton, blood and red flowers dominate in this graphic ink work. Bold colors and a powerful design set her among those who defy social rules.
#21: ANIMAL DESIGN SLEEVE TATTOOS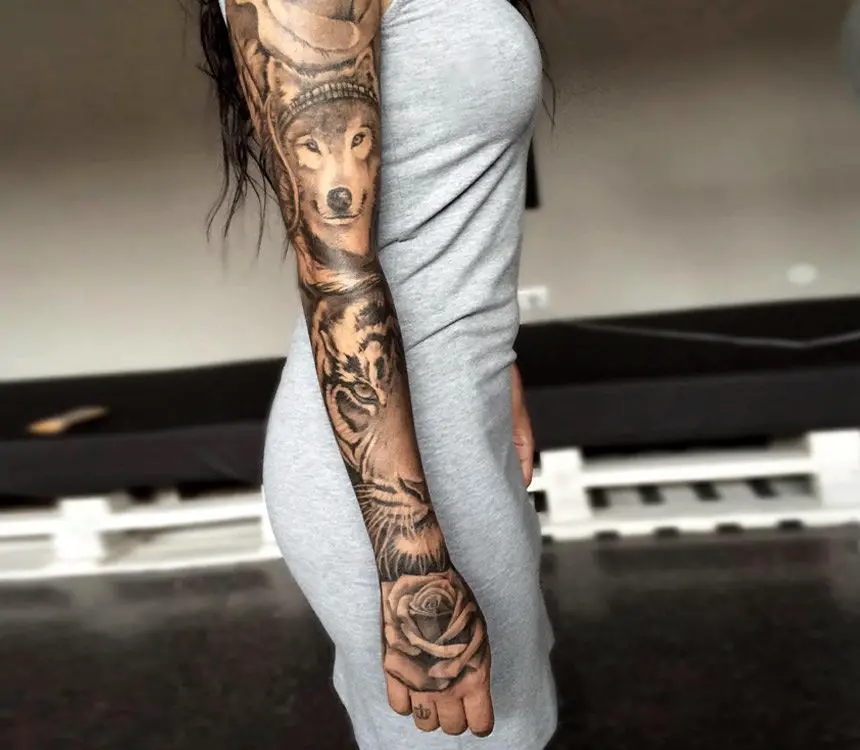 Animals and flowers done in black ink are presented in this full sleeve tattoo that reveals everything this woman admires.
#22: INNATE STRENGTH SLEEVE WITH FLOWERS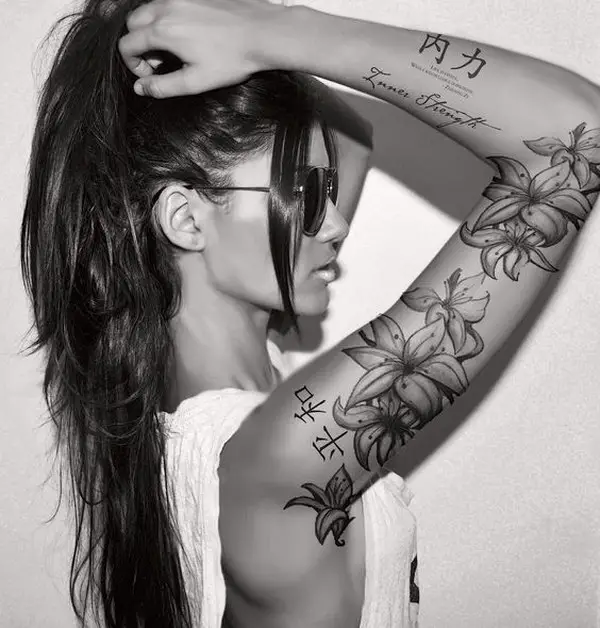 Flowers mixed with Kanji characters demonstrate this girl's innate strength.  However, the images are well spaced and not crowded which is very tastefully done.
#23: INTENSE PATTERNS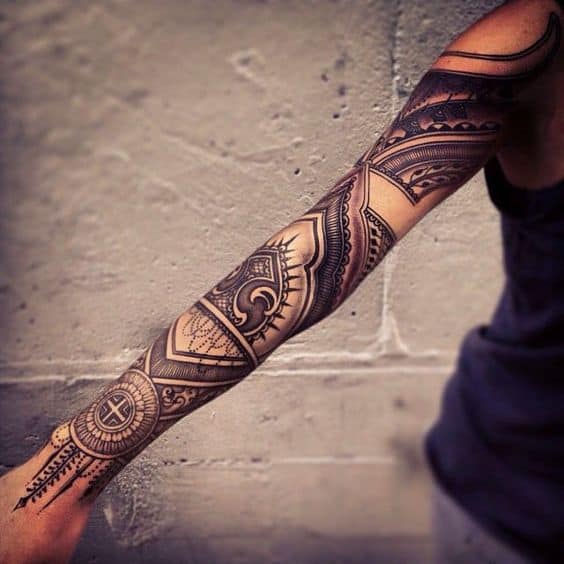 Here's an awesome creation that effectively uses intricate patterns and subtle colors to achieve a stunning effect. Invariably, this is a design any tattoo loving woman would be proud to wear.
#24: MIXED IMAGE SLEEVES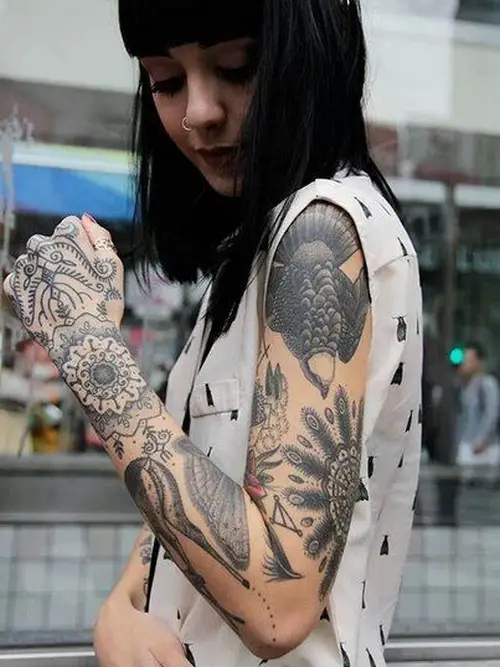 Here's an interesting mix of patterns and images that together make a strong statement. Check out the predominantly black ink work with just a subtle hint of color.
#25: SYMBOLS ON THE SLEEVE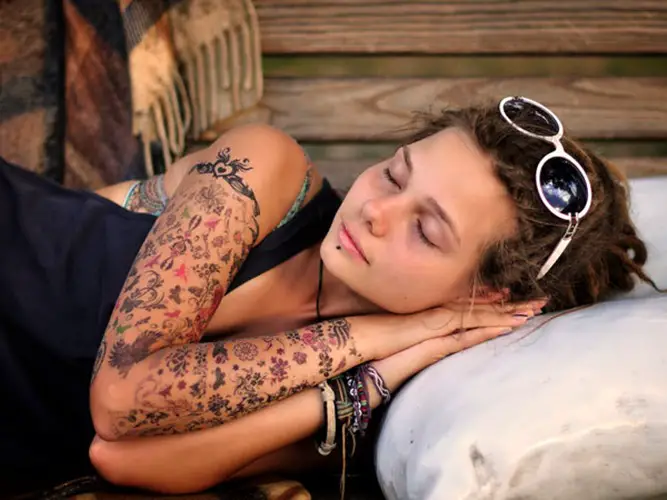 There's a lot going on in this sleeve tattoo that this woman is wearing. All these symbols may represent something meaningful to this girl and may have been acquired over a period of time.
Have you seen your design from these amazing sleeve tattoos for women yet? Certainly, from the range of skillfully done and stunning designs at your fingertips it's not hard to find just the right look for you.  Remember, the right sleeve design goes quite well with any outfit all the time. So, choose the design that matches your personality, passions, and fashion style and go for it.