Flowers are predominantly the most popular design inspiration for tattoo lovers. However, even in this niche, the rose tattoos on the shoulders occupy the largest space. Roses have so much to admire. They look beautiful, come in an array of colors and they smell great. Moreover, they signify various emotions from love, friendship, and trust to anger and hate.
Whatever expression you want to wear, there is a special rose tattoo for it. You can show 'life is beautiful with a red rose in the garden or could choose different colors to reflect the vividness of emotions, expressions, and the changes around you.
Ceaseless Design Ideas Of Rose Tattoos On Shoulders
The rich history with the denotation of beauty and love, the litheness of colors and the enchanting beauty are some reasons why roses are entitled as the 'king of flowers'. Moreover, this flower of variations is highly recognized amongst various religions for its spiritual, remedial and sentimental attributes. Every color has its own significance and when included the size and other motifs, roses could deliver infinite expressions.
One of the reasons for the popularity of rose tattoos on shoulders is the conditional visibility. You can show them when you want and hide otherwise. Also, the design never goes out of style.
As for the design ideas and inspiration, there is literally no limit. Roses with sugar skulls; roses and spikes; the flowers in the grey shades; roses with quotes or in the vector images; the choice is all yours. If only a flower is not enough to reflect your thoughts, add other elements and objects such as letters, phrases, numbers, celestial objects, crosses, mythical elements and more.
If you need help, we have some ceaseless ideas of rose tattoos on shoulders to help you imagine your custom body art.
#1: Love Forever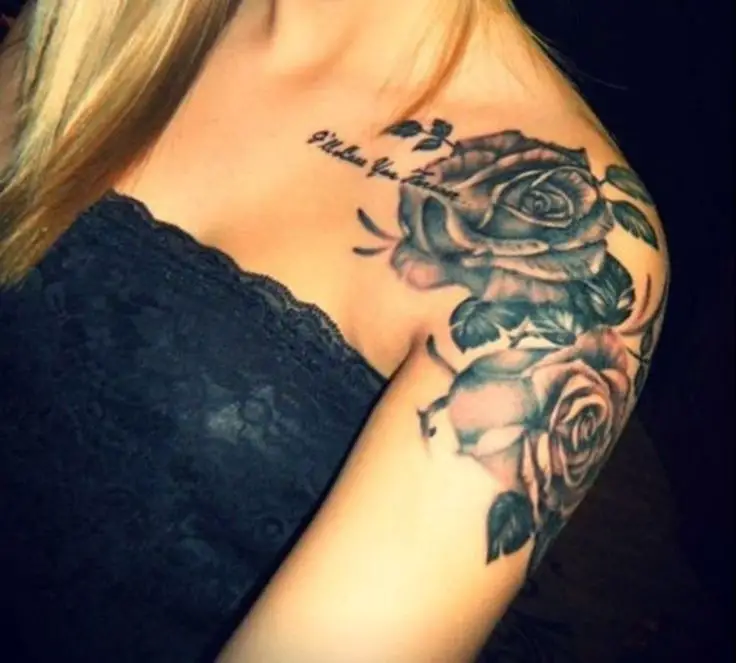 What can be a better way than roses to express your deep love for your partner. Roses studded with the line 'I'll love you forever' is one of the most loved tattoo designs. Isn't the black with a tint of pink looks so fascinating?
#2: The Grey Garden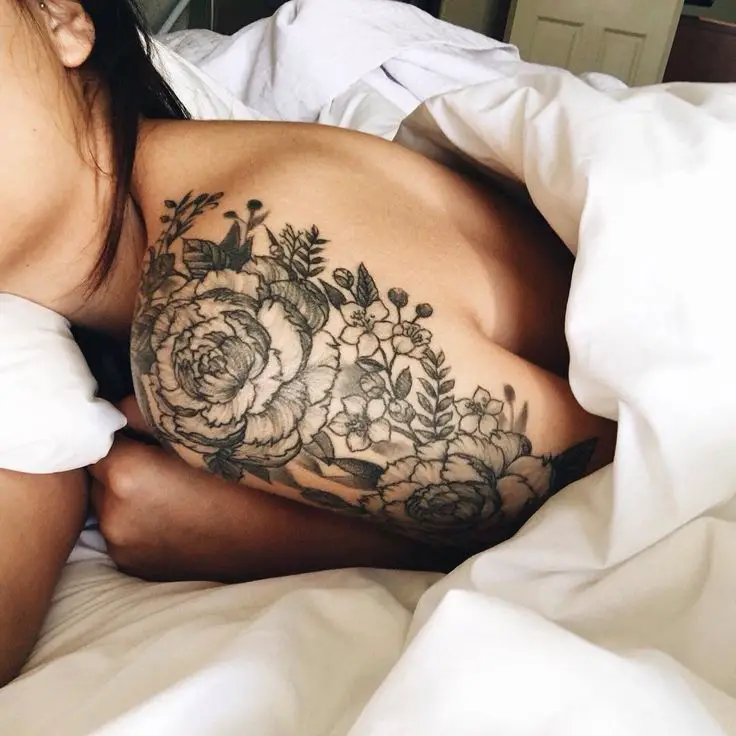 Roses covering the shoulders completely are in vogue nowadays. Roses with other flowers covering the shoulder almost completely from front to back give a feel of a blooming garden. Beautiful in design, they are definite to entice the feeling of love.
#3: Pair of Roses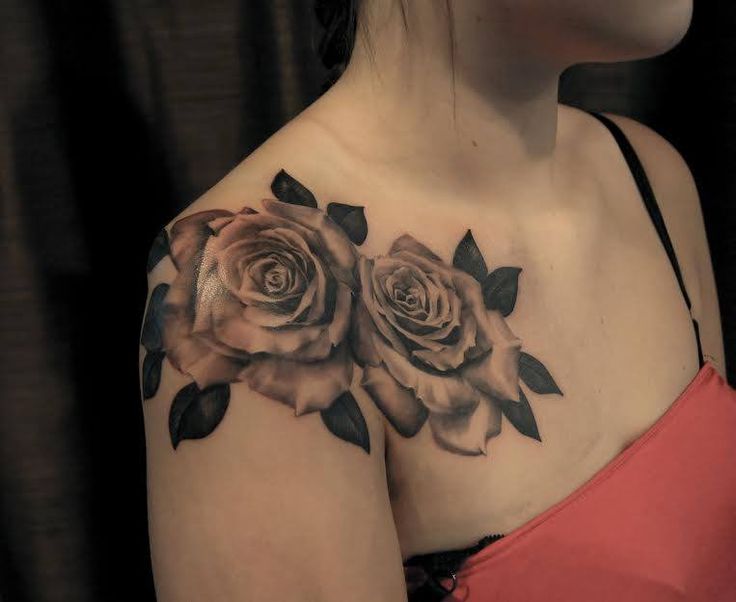 Symbolizing togetherness, two tattoos representing a pair are aptly placed on your shoulder giving a superb visual treat. The dark shade blended with skin tone expresses that love never fades even in the most challenging conditions.
#4: Fearless Expression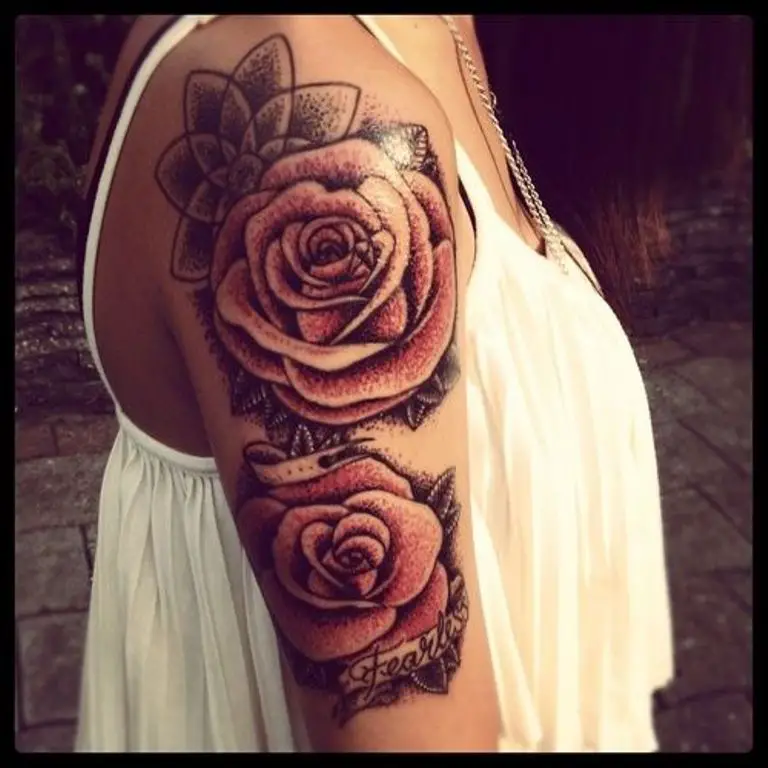 This is a very neatly done tattoo with two red roses and black leaves covering almost up to the elbow. The granular effect makes the tattoo more interesting while the word 'Fearless' reflect the personality of the tattoo bearer.
#5: In The Memories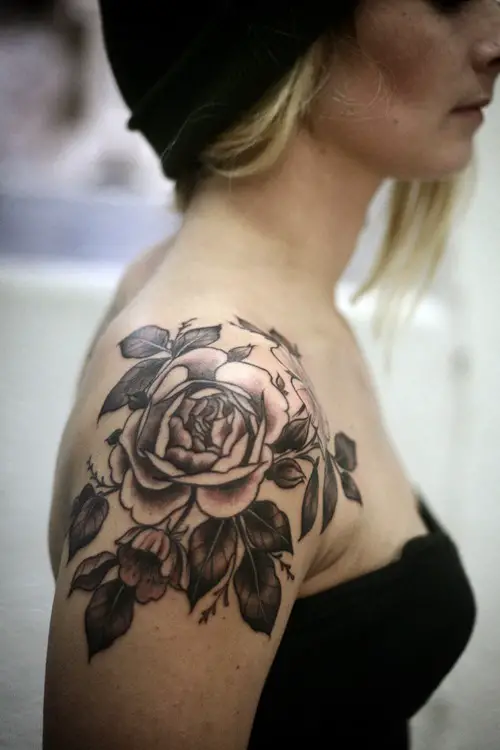 Do you know Persians believe that dark tattoos like this rose tattoo on shoulder symbolize the memories of loved ones? You can choose this design to feel a loved one every moment close to you. Moreover, the meticulous and clean design reflects the proficiency of the artist.
#6: Graphical Rose Tattoo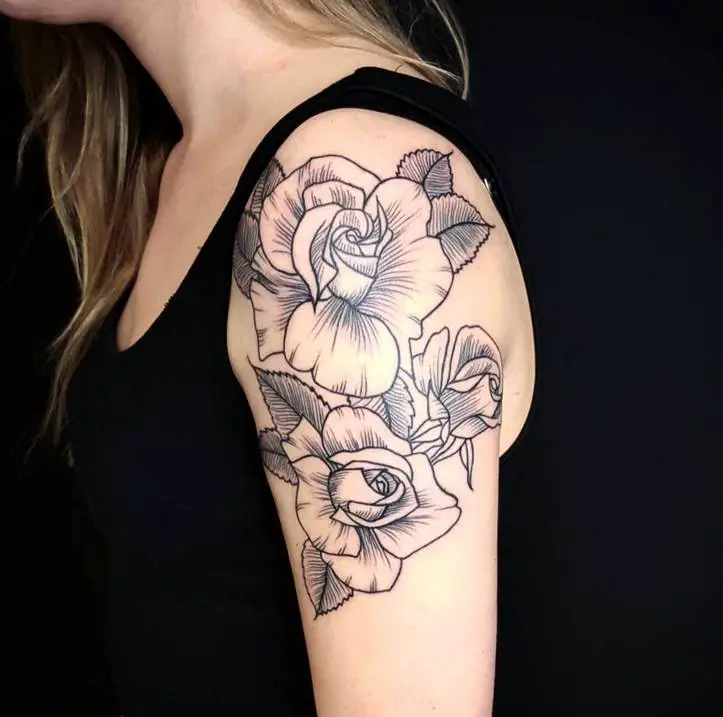 Here is a truly amazing shoulder tattoo with a sexy appeal to turn heads. The pencil stroke style makes the tattoo more interesting.
#7: Black And Grey Rose Shoulder Tattoo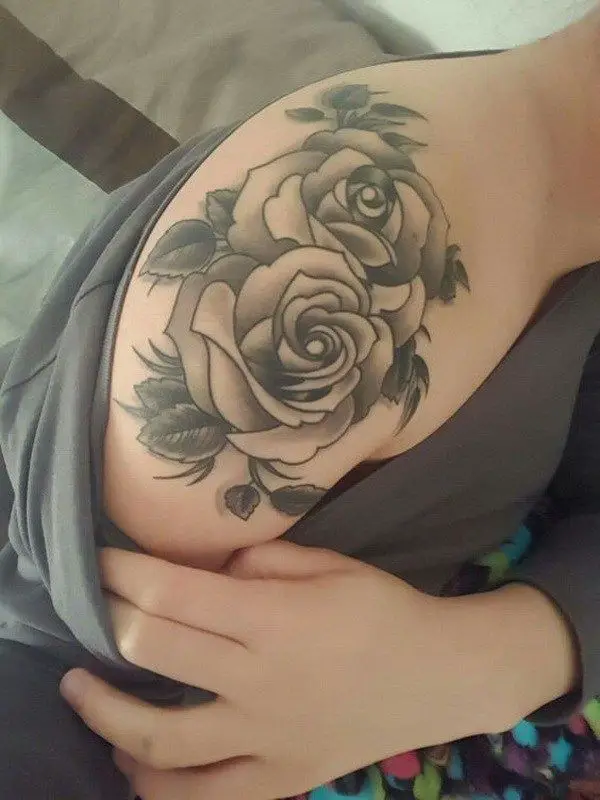 We are completely bold over for this beautifully done shoulder tattoo. Two grey roses with a multitude of leaves bloom here and represent growing love.
#8: Intriguing Roses On Shoulder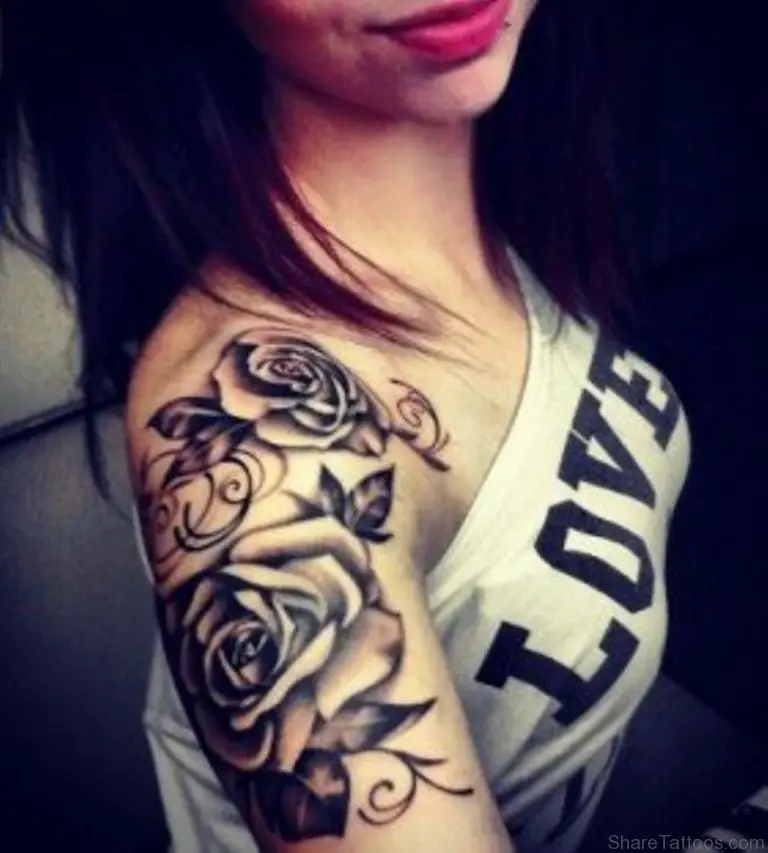 Isn't this shoulder tattoo seductive and charming? Terrifically done, the roses and vines show a profound style statement you will love wearing up for a lifetime.
#9: Guiding Love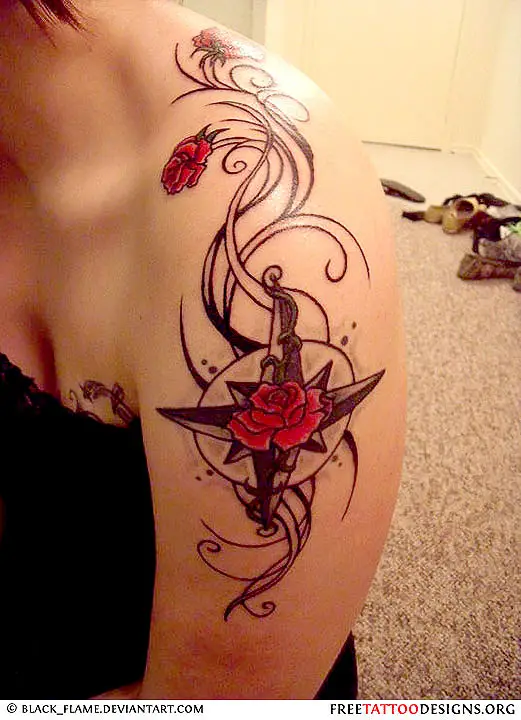 Red roses have been a symbol of genuine passion and strong love since time immemorial. With twirled vines, the rose on the compass represents love guiding you through the journey of life. The tattoo itself is dramatic.
#10: Three For Trinity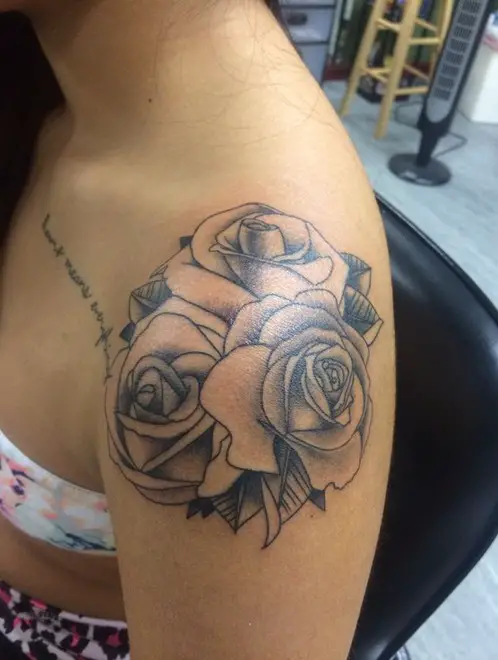 There could be several interpretations of a tattoo design. Here the three roses could represent the trinity of love, trust, and divinity. They could also denote beauty, sensuality, and passion. It depends on how you want the design to communicate.
#11: Bejeweled Roses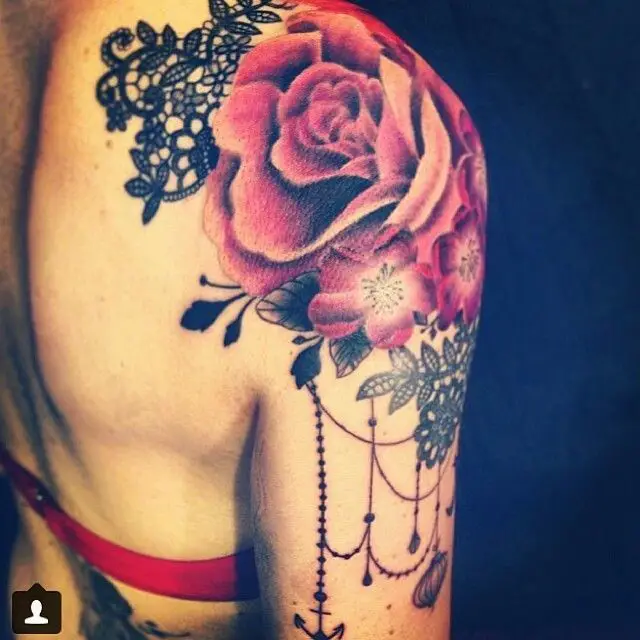 What an alluring rose tattoo! The bold red rose looks so organic while the exquisite leaf patterns with chains and charms make the design ostentatious.
#12: The Black Beauty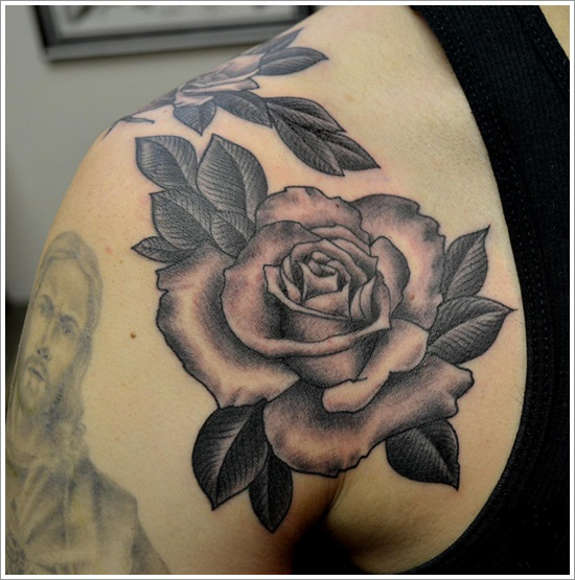 Look at this beautifully done black rose, isn't this an ideal artwork of the rose tattoo on the shoulder? A beautiful, blooming black rose signifies the peak of youth and beauty with some mystery. Here the black symbolizes the depth of soul and power of love.
#13: Gothic Roses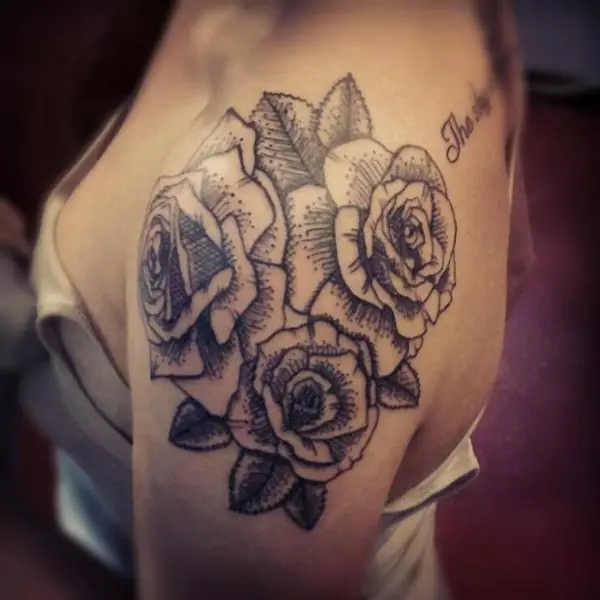 One more trinity-style rose tattoo is here to inspire you. The Gothic roses have always been associated with mystery. Here they represent the close association with the loved ones or the desire to make new relations.
#14: Together Forever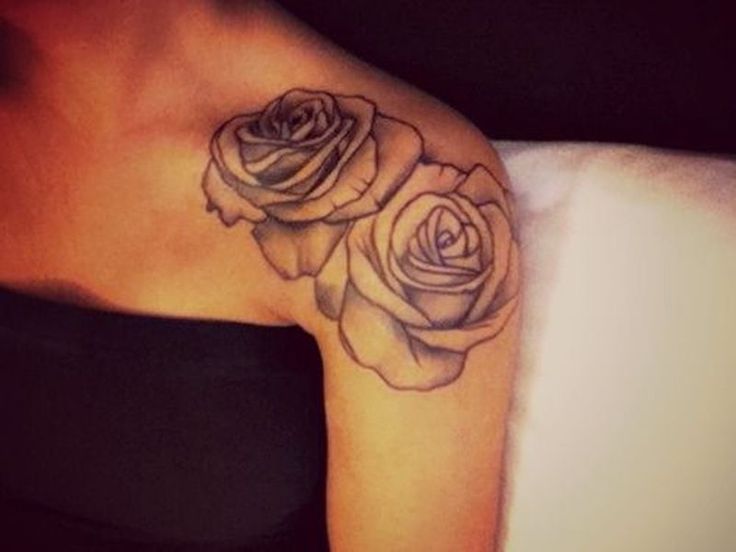 It is so surprising how a single flower could signify the vivid emotions. These beautifully itched roses on shoulder reflect the bond of love that is strong and divine. We love the meaningfulness and simplicity of the design.
#15: Black And White Roses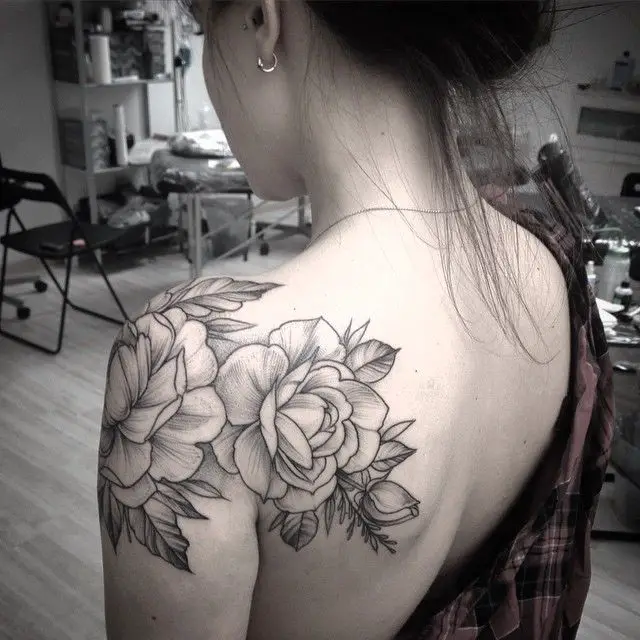 A classy black and white rose tattoo with leaves and buds is artfully depicted on the shoulder. We are completely in love with this graceful tattoo and must say that the artist is an expert. Every stroke is so refined and clear that it gives a feel the artist has worked on a canvas and not a body.
#16: Smoky Rose Tattoo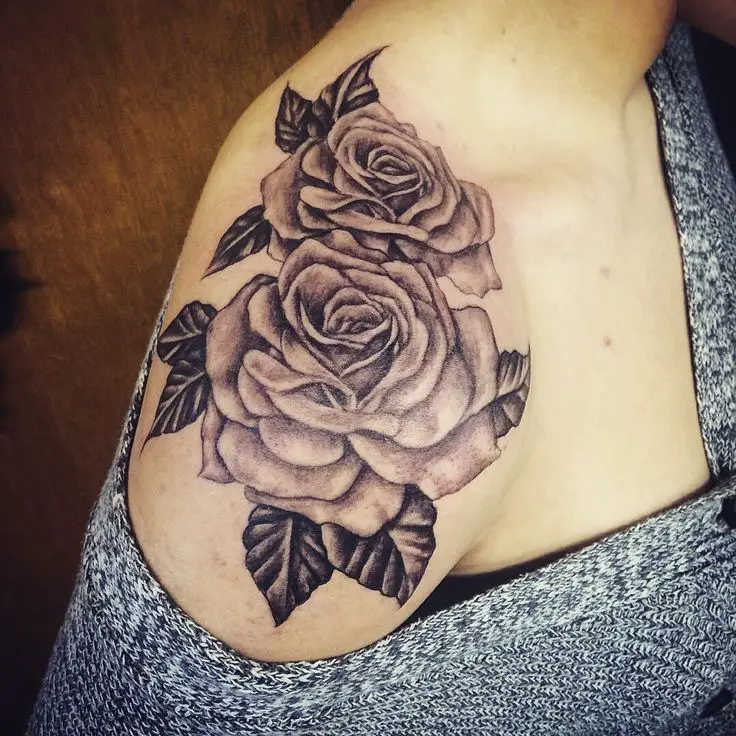 It looks as if dark roses are more loved by tattoo lovers. We tried hard but couldn't resist including this tattoo in our list. These fully bloomed roses with a smoky touch look so real. If you are an inking enthusiast who desire for a profound style statement, then this must be your tattoo of choice.
#17: 3D Rose Tattoo On Shoulder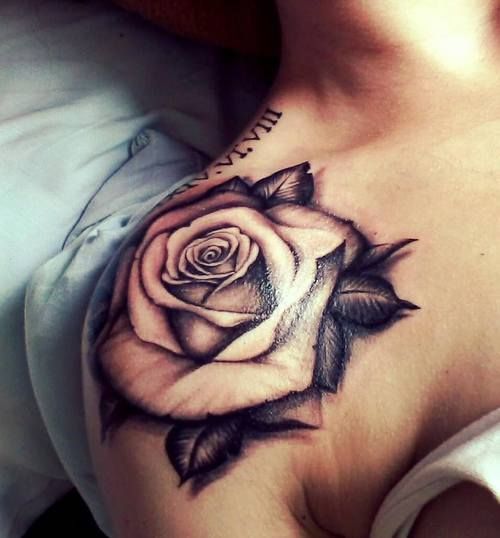 This is a masterpiece! Glossy, classy and sexy, the rose with leaves and roman numbers look so passionate and adorable. You can add a significant date or quote with it for a custom feel.
#18: Red Roses On Shoulder And Back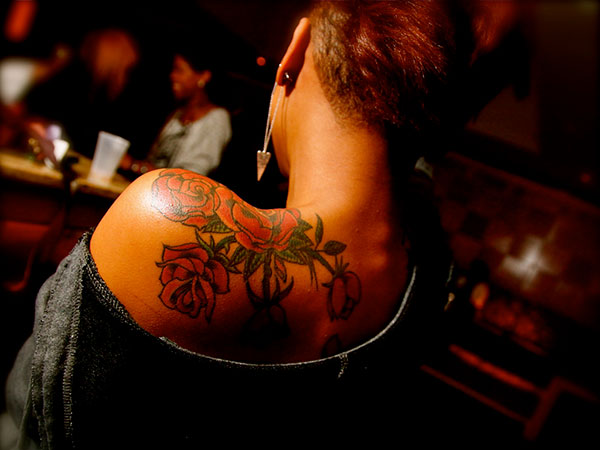 Classic red rose tattoos convey the typical meaning – love, desire, and passion. The color of the leaves indicates dedication and youth. Here the tattoo extends from shoulder to the back and gives a branching effect.
#19: Clock With Rose Tattoo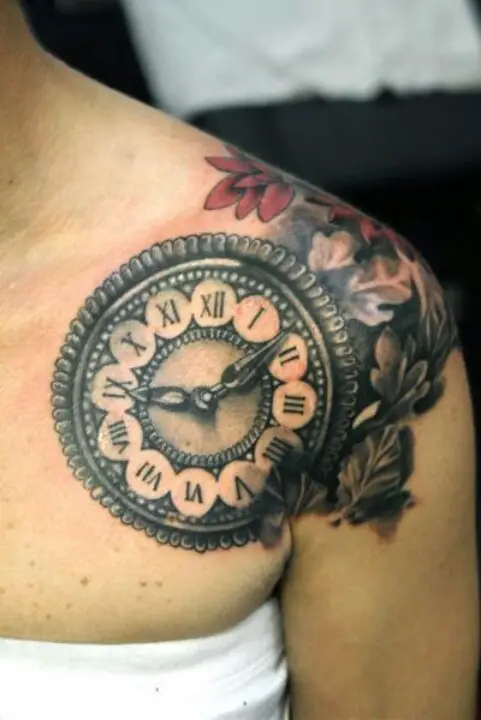 Last but not the least is this clock and rose tattoo that spread from front to back on the shoulder. The front side that is clearly visible here has a Victorian style clock with dark leaves and deep red flowers in the rearview. The tattoo expresses that the beauty and love are timeless. They grow with time but never die.
Rose tattoos can express a lot of messages such as religious devotion, passionate love, divine belief in spirituality and association with the ancient to name a few. All you need in these tattoos is your imagination. Moreover, when inked on a shoulder, they give an advantage of desired show off. Be it a typical red rose or a Gothic one rose tattoos on the shoulder are sexy and stunning.