Creation, rebirth, courage, self-improvement, or new beginning, a phoenix tattoo can represent multiple attributes. This mystical creature of paradise has an Egyptian or Greek origin but it also has a stronghold in the Chinese, Celtic, and Native American mythology. Phoenix is the only bird that can go to paradise, has fiery feathers and wings, lives over a thousand years, can heal any wound with its tears, and reignite from its ashes. The reason for its increased demand could be its mythological association or the extraordinary traits it represents.
Striking Phoenix Tattoos – Meaning, and Ideas
A phoenix tattoo signifies the intense struggle, compassion, courage, and ultimately a new form that is better and stronger. It can be represented in red, blue, yellow, or orange shades. You may ink this virtuous bird in any size, proportion, and composition. While the chest and back are best for placements, arms and legs also offer space for large tattoos.
#1: Classic Phoenix Shoulder Tattoo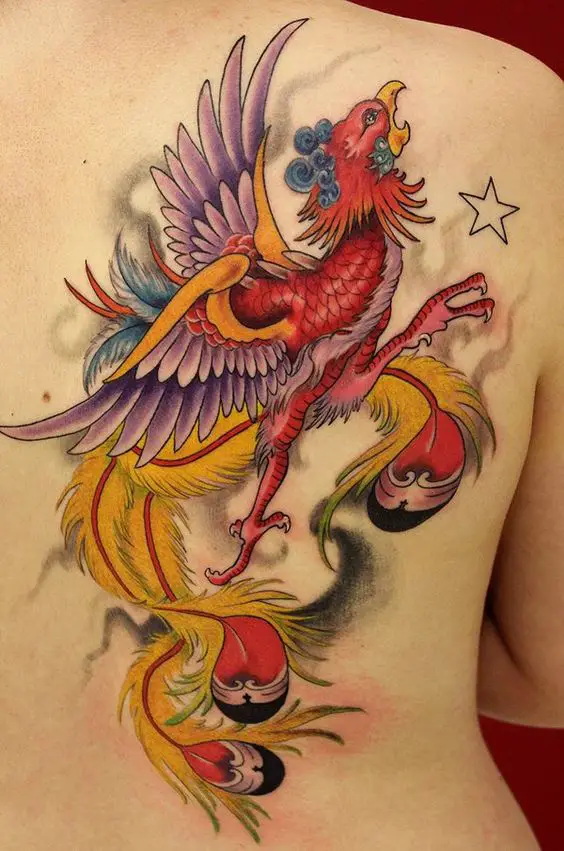 What a well-inked tattoo! With its flowing tail feathers, open wings, sharp talons, and scaled body, the phoenix looks rising from the ashes.
#2: Black Phoenix At The Back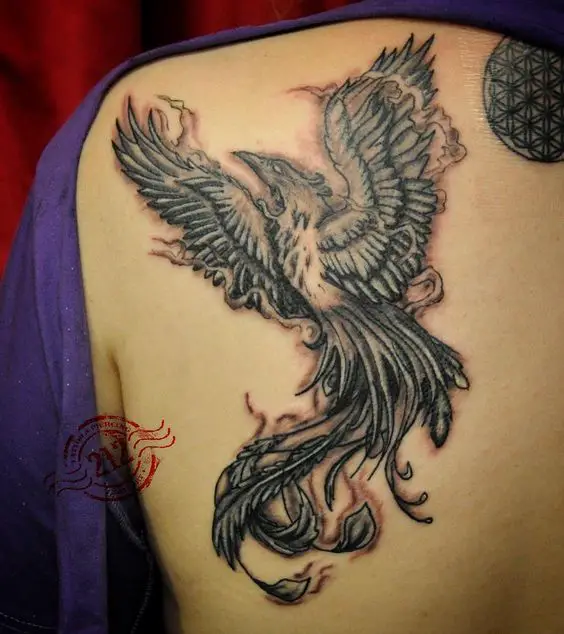 While most tattoo lovers like a phoenix with a realistic representation of features and feathers, some people like to have it in shades of black with either only the outline or with intricate grey detailing.
#3: Dragon Phoenix In Bold Colors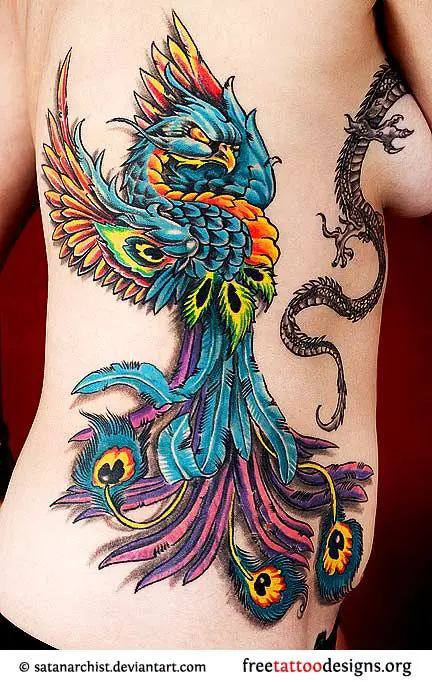 You may choose to incorporate mythical elements such as the Chinese dragon phoenix with lots of colors and details just like this side body tattoo. We are blown away by the kind of masterstrokes done with different shades.
#4: Rising Phoenix Back Tattoo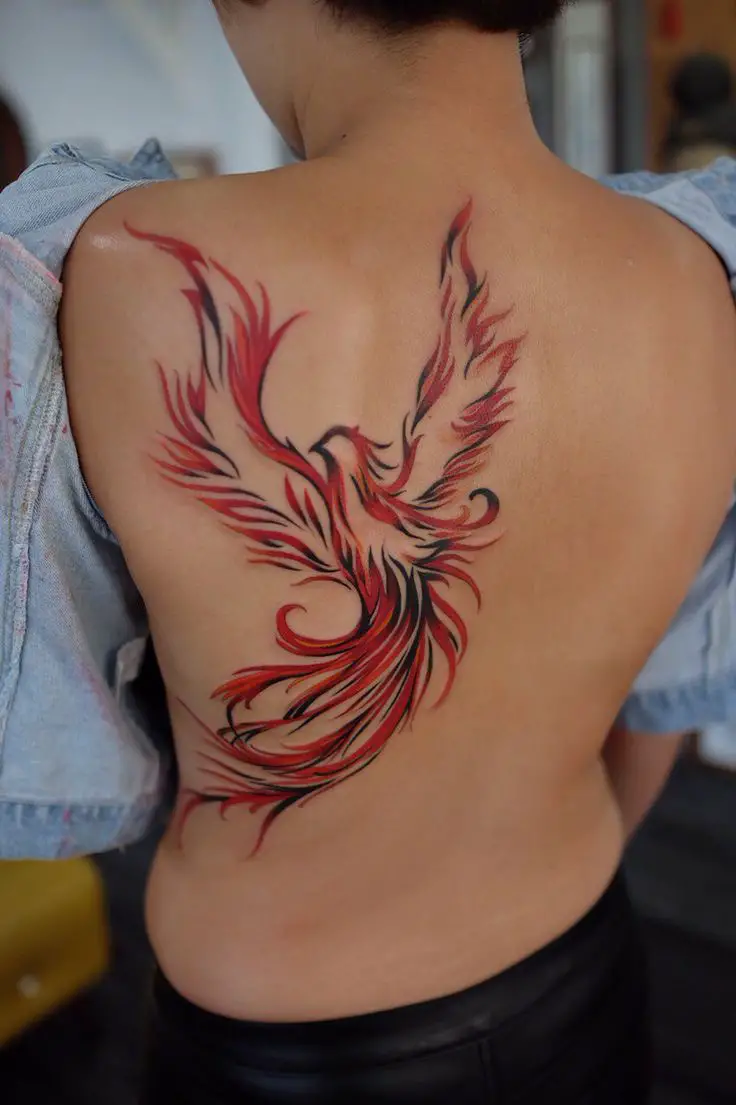 This is a perfect tattoo to hint at great power in a subtle manner. With yellow and orange representing the fire flames, the bird expresses fearlessness and confidence. With clear and meticulous strokes, this particular tattoo looks great on the back.
Recommended: Breathtaking back neck tattoos
#5: Blue Phoenix With Peacock Feathers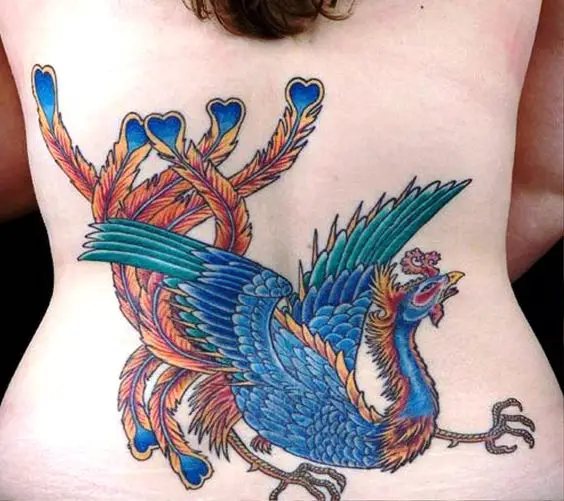 Want a beautiful and meaningful phoenix tattoo? Look for this iconic blue bird that is ready to fly. Each part of its body is finely inked and clearly delivering the message that nothing can stop you from rising high. We love the contrast of blue with red and yellow.
#6: Spread Winged And Long Tailed Phoenix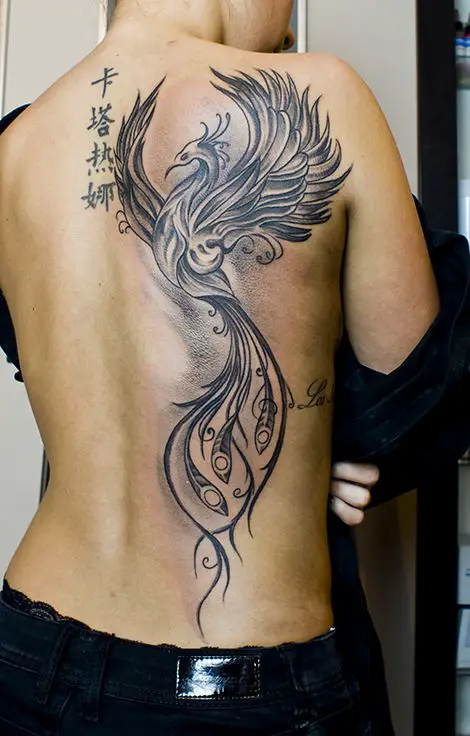 Phoenix is a great theme for back and shoulder tattoos. You can choose a grey and black high rising phoenix-like this. It looks grand with those wings spread and a delicate feathered tail that's going down until the waist.
#7: Bold Flying Phoenix Chest Tattoo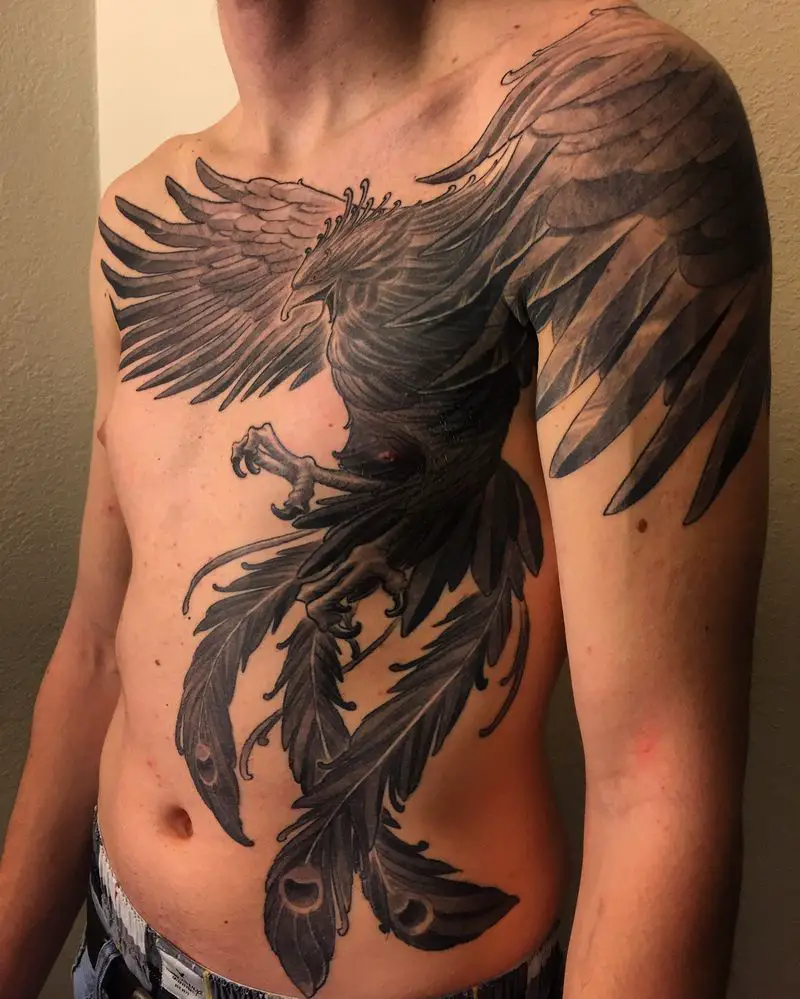 Such a large black and grey phoenix on front of a shoulder or chest looks very powerful and badass. We are impressed with the artist's precision as the drawing makes complete and meaningful use of the space. The strokes and shading are at par.
#8:Cute Phoenix On Arm Tattoo
Standing tall with wings high and feathers touching the ground, this colorful phoenix shows honor, grace, and elegance in an incredible manner. You may choose to place a phoenix tattoo like this on your hand, forearm, wrist, ankle, side, thigh, or bicep.
Related: Eye-catching back-of-arm tattoos
#9:Tiny Phoenix Tattoo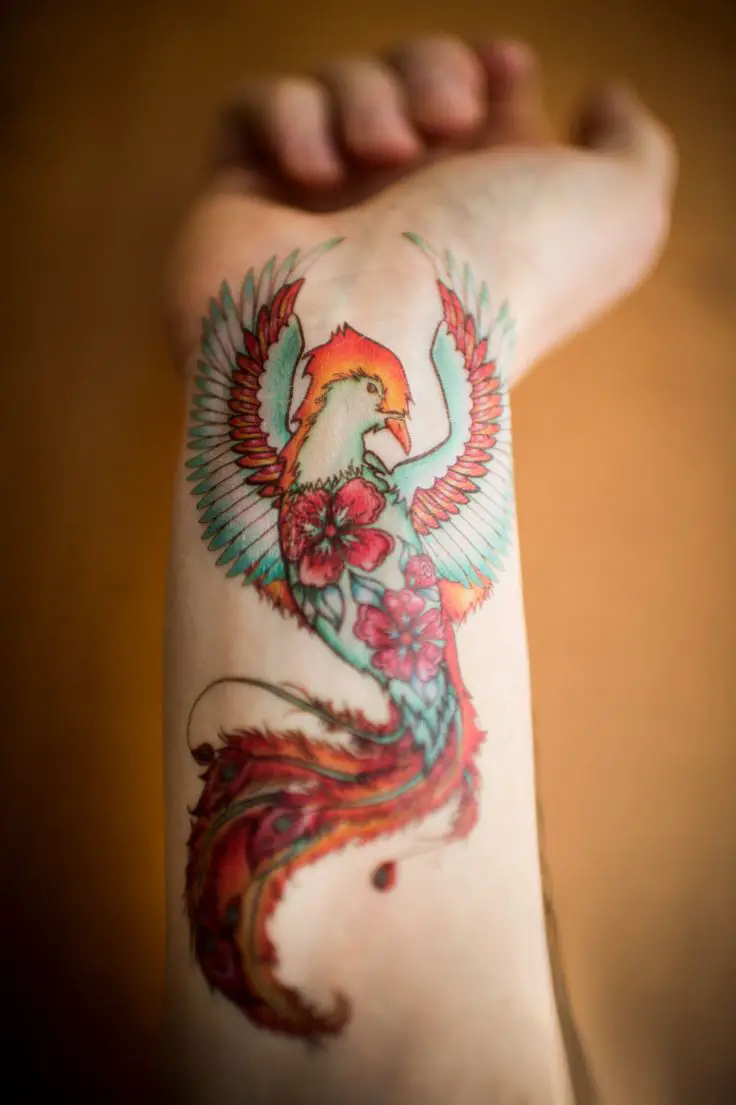 If you want to try with a small design idea, then this little phoenix on the wrist is perfect to opt. This baby phoenix with flamed feathers and flowers on its body shows an extraordinary shading effect.
#10:Flying Phoenix Ankle Tattoo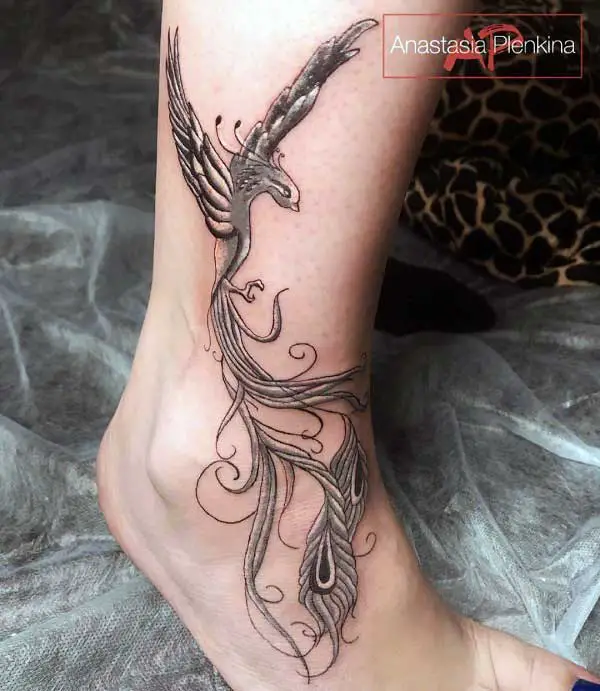 This is not an ordinary spot for a phoenix tattoo and therefore looks very appealing. Also the flying phoenix design in black and grey with long feathers is gorgeous to catch the attention.
#11: Watercolor Phoenix Tattoo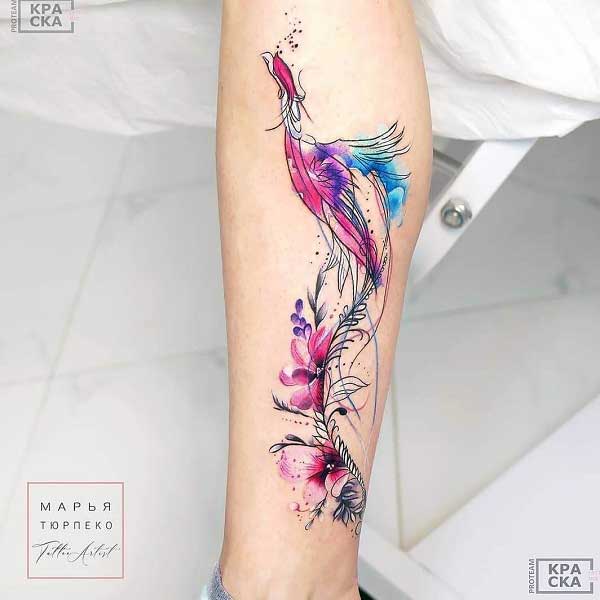 The freehand strokes of this rising phoenix with those delicate flowers and the refined use of the watercolor style of coloring exhibits the excellent skills of the artist. Your wrist or lower arm can be the best place to ink it.
#12: Phoenix In Flight Tattoo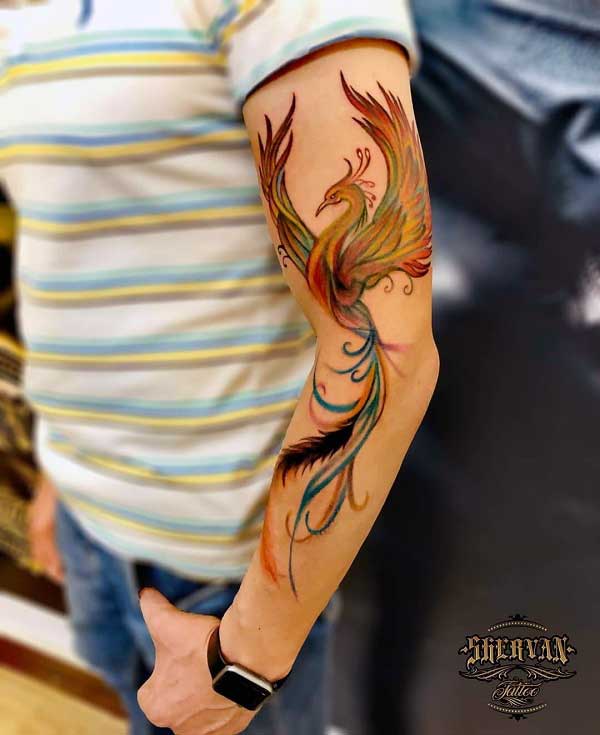 Certain designs are unisexual like this elegant firebird arm tattoo. With its high rising flaming wings and a long tail with a black feather, this design is very intimidating and sexy.
#13: Roaring Phoenix Full Hand Tattoo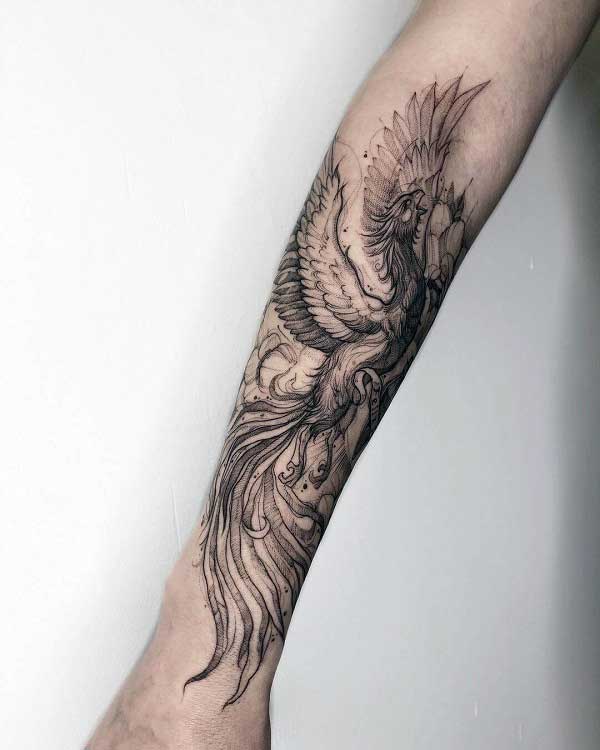 A bird in flight will look great on the arm as the space is large enough to include extensive detailing. Also, it feels less pain in the area even with a highly intricate design due to more of flesh and muscles.
More to Read: Great wolf tattoos 
#14:Phoenix In Ribbon
This tattoo on the inside of the lower arm is beautifully accented with the dot technique to enhance the shading effect. As the bird looks flying towards the sky, it looks like ribbons swirl down the back and down to finely mingle with the feathers.
#15:Face Of The Immortal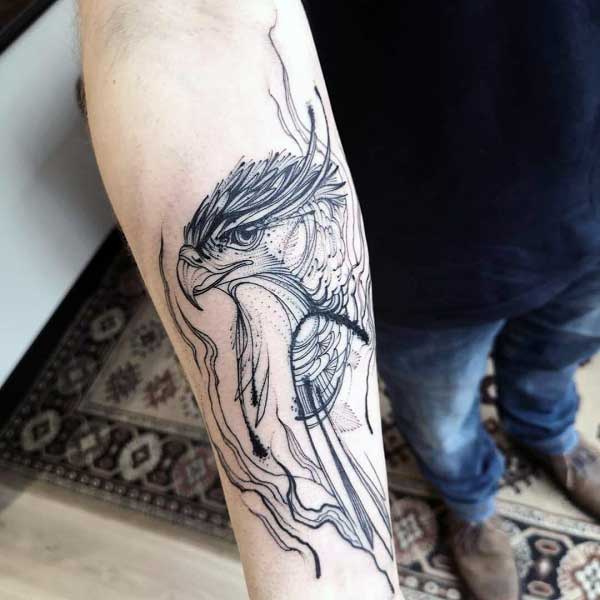 What an intense expression that is drawn in this phoenix tattoo. The bird is done in an outline manner with only half of the body visible out of the flames. It signifies the wearer is strong and can behold the fire with serenity.
#16:Phoenix With Sun, Moon, And Stars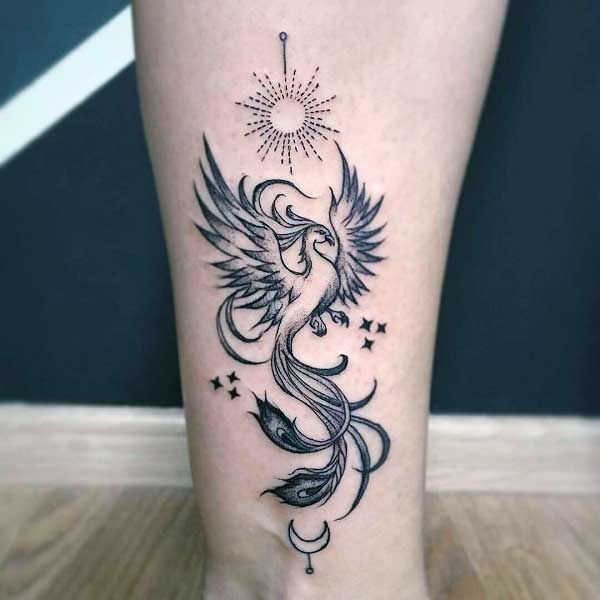 This magnificent yet classy tattoo features the sun on the head of the phoenix, the moon at the tail, and stars on the sides, a very celestial design with deep meaning. You may choose to add some colors or a piece of text for a custom appeal.
#17:Phoenix With Flowers Tattoo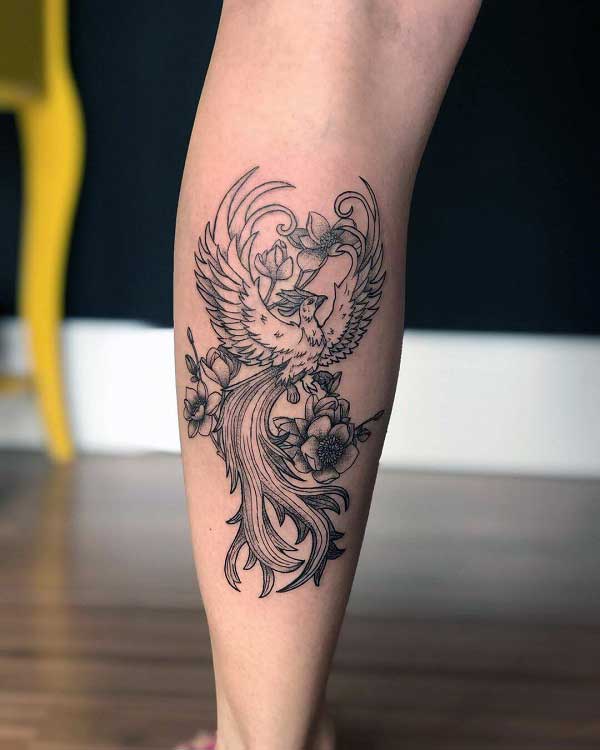 What an elegant bird in flight mode. This small tattoo on the calf portion is accentuated with black flowers making it even more appealing. Adding watercolor technique to it can amp up the already iconic tattoo.
#18:Tiny Phoenix Kissing The Neck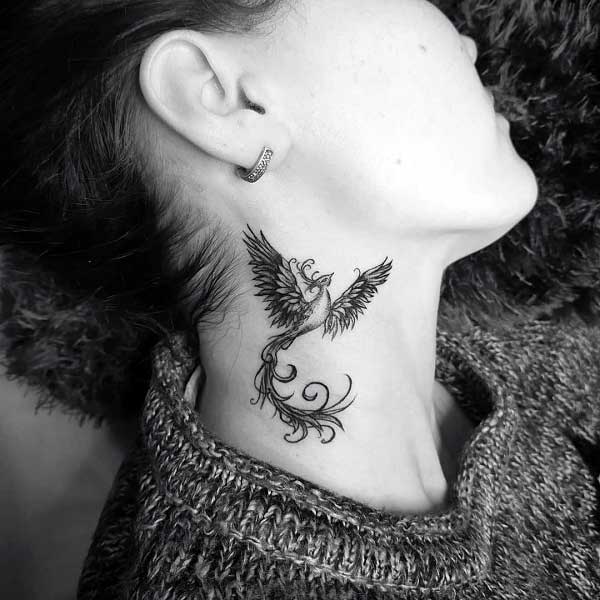 If you are a braveheart like this girl, placing a tattoo on the neck is the most incredible idea. However, it's a very sexy spot to show off your phoenix artwork.
#19:The Phoenix At An Angle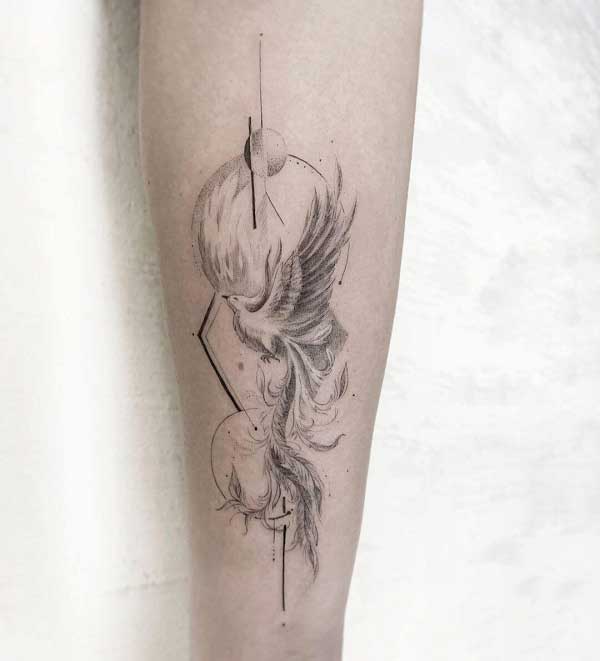 If you like abstract designs, then this is a cool and edgy design to choose from. Done with very light ink, it gives a shaded effect. How about adding a hint of red or orange to flames for a resplendent feel?
#20:Cupid With Phoenix Wings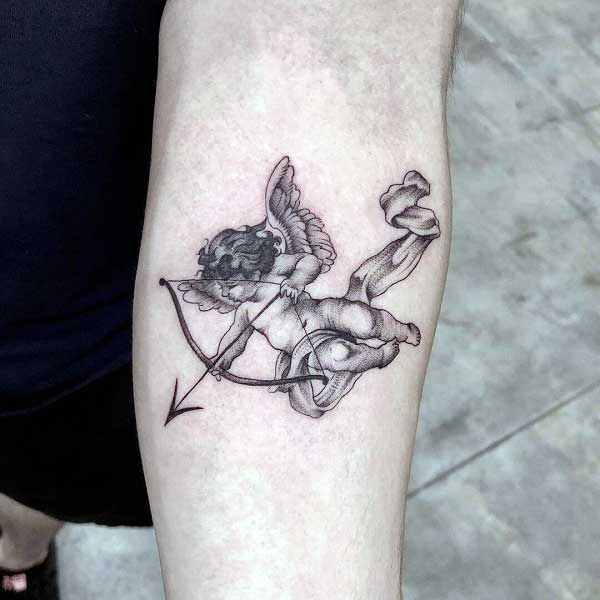 If you are in love and it is immortal, this tattoo of a cupid with phoenix wings is perfect to show it off. It's a very rare design and would definitely raise heads if placed on a visible part such as a lower arm.
#21:The Majestic Phoenix In The Blood Splatter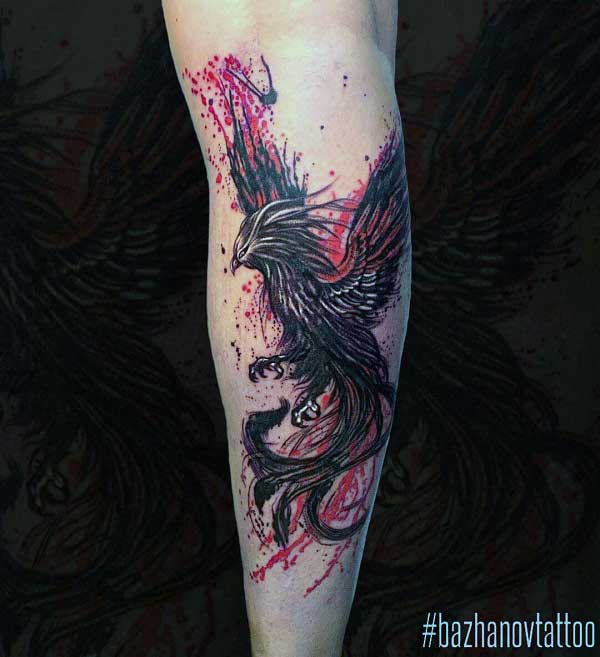 That's an intense tattoo of the mighty firebird! The red in between the black is simply awesome to show the blend of colors. The bird shown in flight and fight mode is amazing to ink on a large space such as calf area, arm, shoulder, chest, or back.
#22:Yin And Yang Tattoo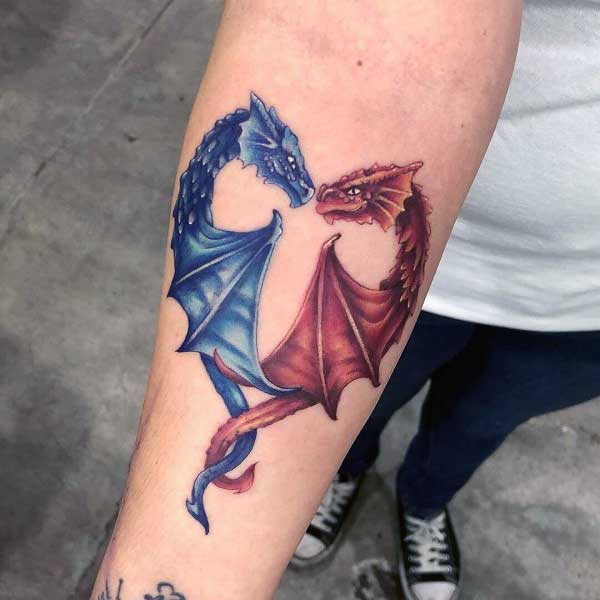 These dragon phoenixes represent two different energies that balance each other. With simple but meaningful detailing in blue and red, this Chinese tattoo is a fit for your wrist.
#23:Unique Phoenix Design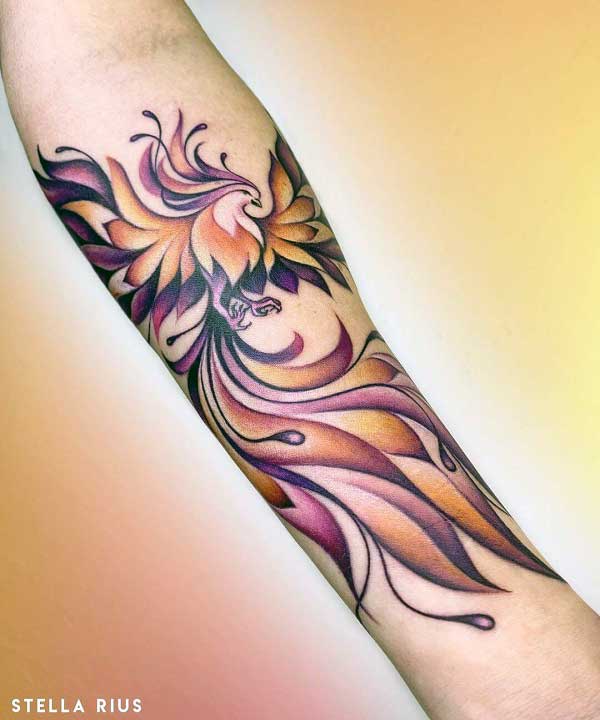 If you want an alluring phoenix design to flaunt on your arm or shoulder, then ask your artist for a design like this design. We are totally smitten by the color shades, and how the entire bird is inked. It's expressing pure love.
#24:Tribal Inspired Phoenix Tattoo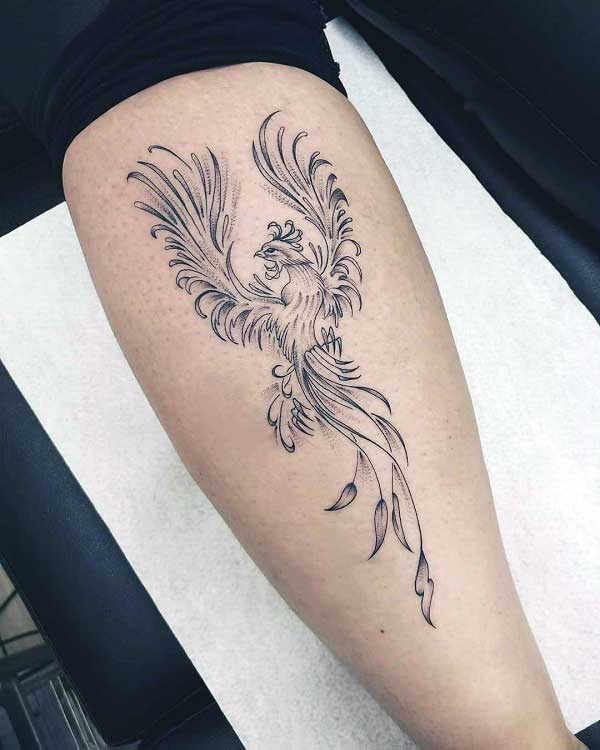 Designs inspired by tribal roots are very popular for their symbolic appeal, intricate patterns, and distinctive style. You may choose a typical tribal phoenix tattoo or opt for an inspired look like this.
Related: Awesome tribal tattoos
#25:Black Rising Phoenix On Shoulder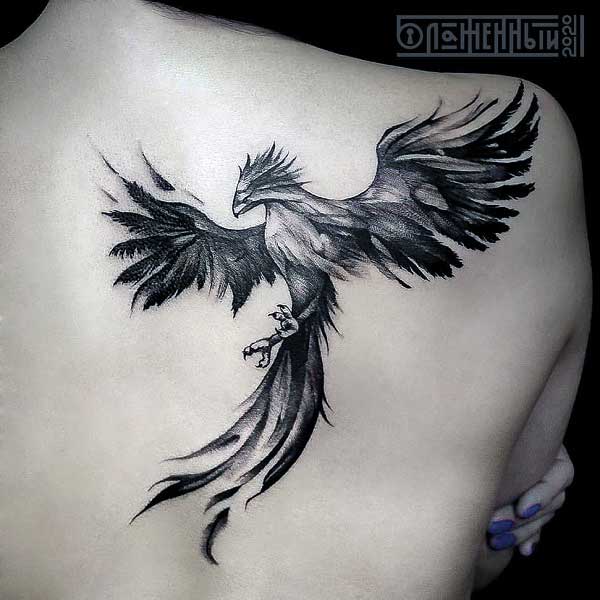 What a marvelous shading work done in this black phoenix tattoo. It certainly takes a lot of time, high skills, and years of experience to ink such a well-versed tattoo that looks simple in design but is very difficult to draw.
#26:Rising Phoenix Face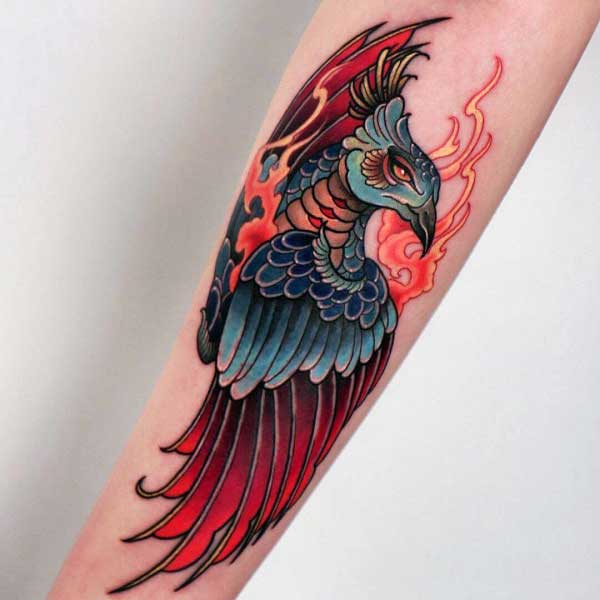 For a tattoo lover, this design holds a lot of meaning and beauty. You can see how the eye is done with a hint of white for the glass-like reflection. The feathers around the flame are red while the blue shows that they are evolved. This must be the look of an immortal!
#27:Minimalist Arm Tattoo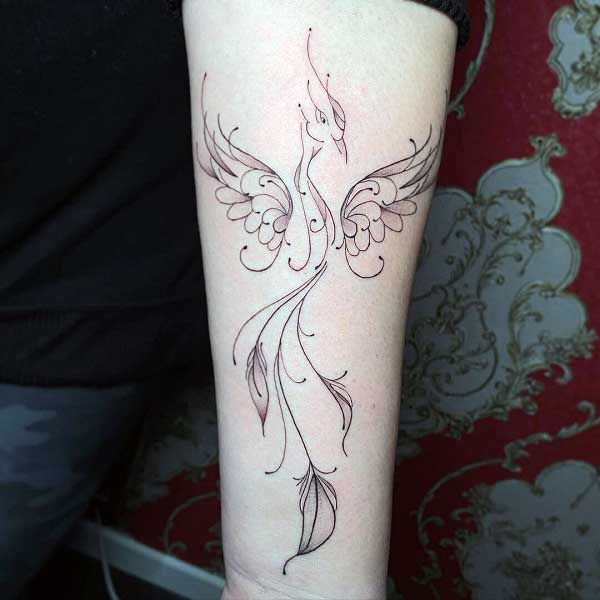 Isn't this a cute phoenix tattoo with simple but very iconic line strokes? You can as your artist for some more colors into this design or can leave it as is.
#28:Resurrection Of A Phoenix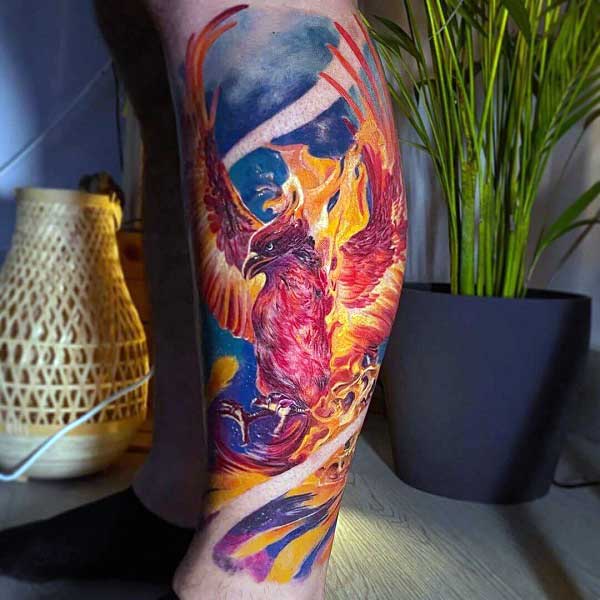 This is an intense work of art! We salute the artist for his exceptional skills to feature the entire scene of the rebirth of a phoenix from its ashes. What a way to show the flames burning the bird and how it's turning red signifying the renewal process with grace and elegance.
#29:Gorgeous Flying Bird In Color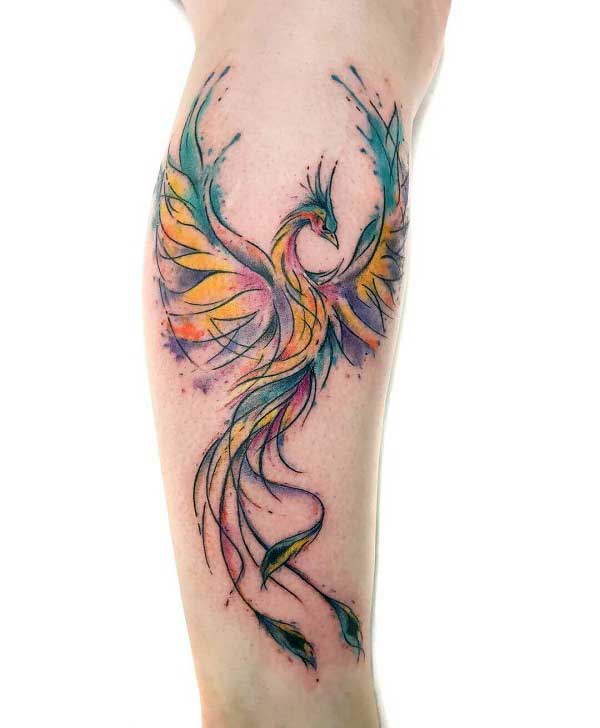 With a very unique color combination for a phoenix, this petite design of the flying bird is sure to make a statement. The watercolor effect makes it more compelling.
Frequently Asked Questions:
What does a Phoenix tattoo symbolize?
A phoenix's resurrection from death symbolizes the eternal cycle of time and existence. It signifies that letting go of the past is important to celebrate a beautiful present and future. Moreover, a phoenix tattoo represents that every rebirth is a level higher than the previous and thus, denotes the importance of self-improvement and gaining strength with wisdom. These iconic tattoos also symbolize your belief in mythology and show how beautiful history can be expressed and nurtured.
Is the Phoenix male or female?
In most cultures, it is considered genderless. For example, according to Persian myths, Huma is a bird that joins both male and female attributes in nature. However, in Chinese mythology, a phoenix represents a female while a dragon represents a male. A phoenix has the characters of both forms and it is born without mating, it is believed to be a female where the offspring has all the genes inherited from the mother and the fertilization is done through parthenogenesis. But irrespective of its gender, a phoenix tattoo can flaunt by anyone.
What does a blue Phoenix mean?
A phoenix is a symbol of immortality as it burns itself to ashes when aged and then a new one rises from its own ashes. While in Egyptian culture, a golden phoenix is most popular, phoenix with different colors has their own meaning and significance. A blue phoenix is believed to symbolize peace, tranquility, and intuitions. It gives hope for a majestic transformation.
What could be the cost of a Phoenix tattoo?
Different artists charge differently. Since the phoenix tattoo looks best in a large size and involves too much detailing even in a small design, it is expensive. So usually $150 is an hourly rate, an artist can charge for the entire tattoo project. The pricing also depends on the intricacies, if it is in single tone or multicolor, etc. Most importantly you have to understand that phoenix tattoo is a complicated subject that needs high proficiency and should only be handled by an expert on the theme. For this, the cost would automatically be high.
How Long Does It Take To Make A Phoenix Tattoo?
It might take anywhere from 6 to 10 hours to complete a phoenix tattoo. The time may vary depending on how much pain you can bear, what's the size of the tattoo and the body location to ink it.
Does Getting A Phoenix Tattoo Hurt?
Unfortunately, all the tattoos are painful. But the degree of the pain depends on the wearer. The same is with a phoenix tattoo. If you can bear the pain it is nothing more than a bit of annoying irritation but it might hurt if you can't take it up. Moreover, it is more painful in some areas of the body such as hips, thighs, or back.
Conclusion
Your phoenix tattoo can symbolize a renewed hope, an equilibrium you have attained after much struggle, or a symbol of warmth and guidance that will always remind you to strive for a brighter and better future. Now that you have understood the significance and have a list of wonderful design ideas, what phoenix tattoo you would choose?