Wrist tattoos for men are one of the unique inking styles. They look simple but often carry great meaning. If you want to figure everything about wrist tattoos then ask a man who has the one. He will tell you that this type of tattoo rates higher on the pain scale because of the lesser amount of skin. Moreover, if not done carefully, there are chances of hurting the veins. So when you think of getting a wrist tattoo, make sure you are in highly skilled hands.
As you get very less space to let your imagination go wild, you should choose the design wisely. It is also important because you can hardly hide wrist area and the ink will always be visible to the world. If you are confused about the most profound design options for men, then this list of most interesting ideas will definitely inspire you. However, before we move ahead, let's have a look at the history and meanings of wrist tattoos.
People who went to sea were the first to use wrist tattoos. Most of them get a tattoo of nautical star believing it help guide them in the sea and protects them during the journey. Later, in the 50s and 60s, wrist tattoos were linked to lesbian and gay communities. However, this mentality has changed over time and now the tattoos have no connections with any such communities. In fact, these tattoos are one of the most appealing body art that is very much in trend.
MOST INSPIRING WRIST TATTOOS FOR MEN TO GET KILLER LOOK
While different designs have their own meaning, the placement of tattoo on the inner wrist, or around the wrist also has a special meaning. If you think there are less choice for wrist tattoos for men, then get ready to amaze. From inspirational quotes to words of strength and motivation, significant symbols such as hearts, lock & key, infinity knot, astrological signs, flowers, celestial symbols and more, there are as many options possible as you can imagine. If you are unclear about what to pick, then scroll down and explore the most inspiring and interesting wrist tattoo designs.
Wrist Tattoos Ideas For Men
There are numerous wrist tattoo design ideas for men. Among them, religious and simple designs are most common. The main idea should be to get a  design that goes with the skin tone and the shape of your wrist. If you have a wide wrist then you can opt-in for some larger pieces if not then sticking to a smaller design with minimal color will be your best option. Here are some of the best wrist tattoo designs to rock as a man to show confidence.
Small Wrist Tattoos For Men
Smaller tattoos look best on men with thin wrists. The slim designs complement their hand nicely. They can be as small as an inch in size.
1. Mini Wish Bone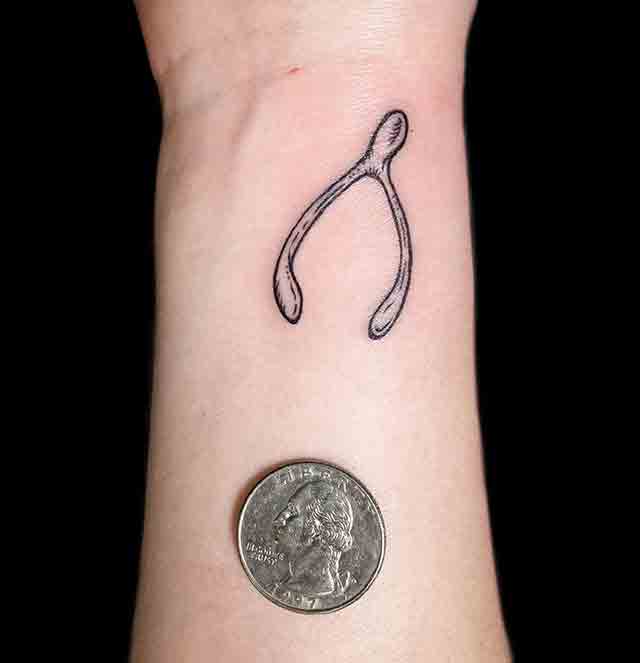 A tiny wishbone is tattooed on the wrist of this young man. The piece is so small that even a coin looks bigger in size. The wishbone has some texture on the outside which gives it an aesthetic look.
2. Smile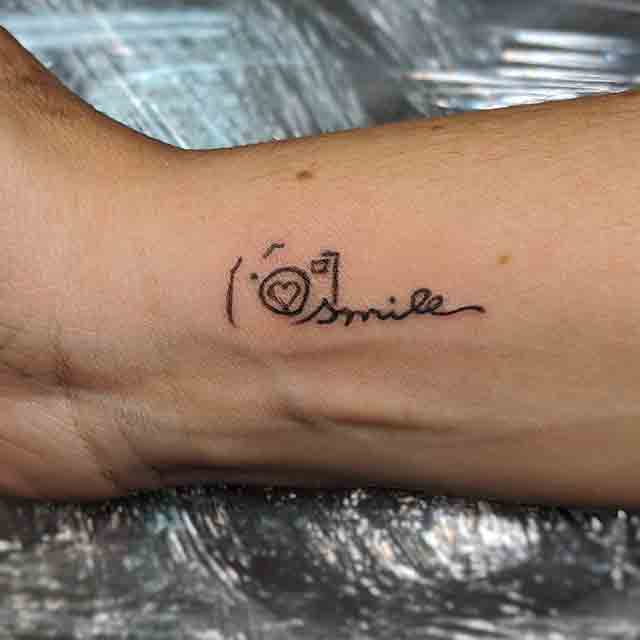 It's typical to say the word smile when taking a picture. the design on his wrist has a camera with a lens of the heart. It tells us to smile from the inside rather than the outside.
3. Mini Mountain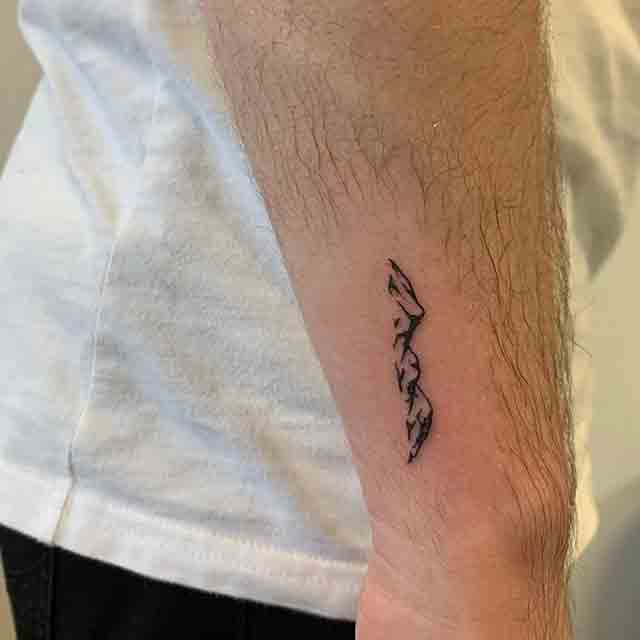 The peak of a mountain valley is tattooed on the side of this handsome man's hand. The black shades act like the shadows of the mountain. A good choice if you want something small and with depth.
Black Wrist Tattoos For Men
Darker shades of color look best on men with light skin tones. The contrast on their wrist makes the tattoos more visible and appealing.
4. Structured Bear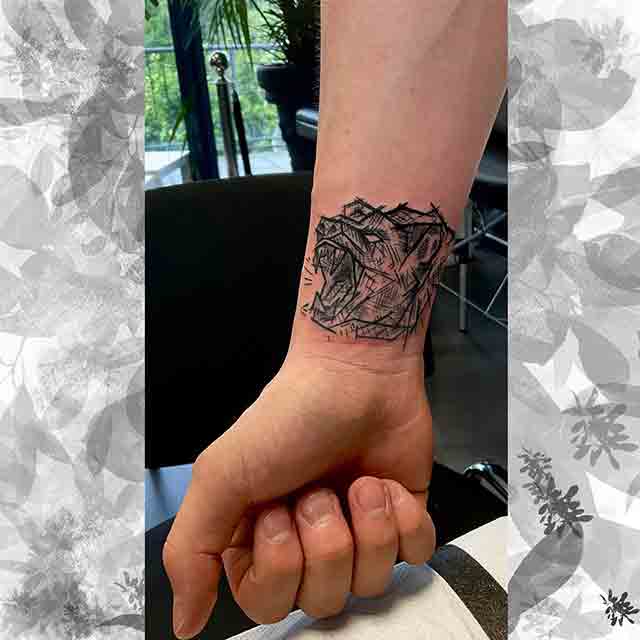 The front of the wrist of this man is inked with the portrait of the head of a bear. The bear is roaring and spreading fear everywhere. A dominating wrist tattoo for men.
5. Flowery Turtle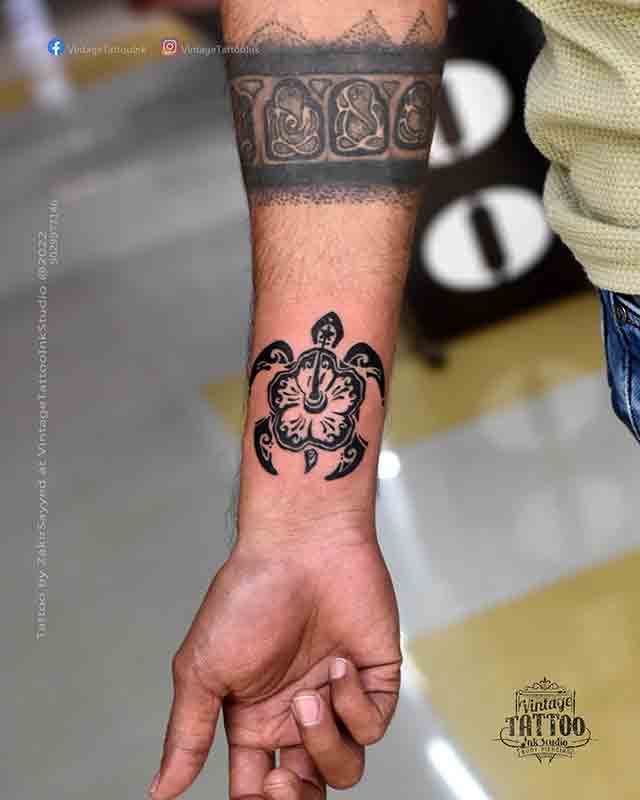 The tortoise is one of the longest living and slowest animals seen in nature. The shape of the turtle looks like a flower which advocates delicacy. The black trails of ink make it one of the best wrist tattoos for men.
6. Hidden Prism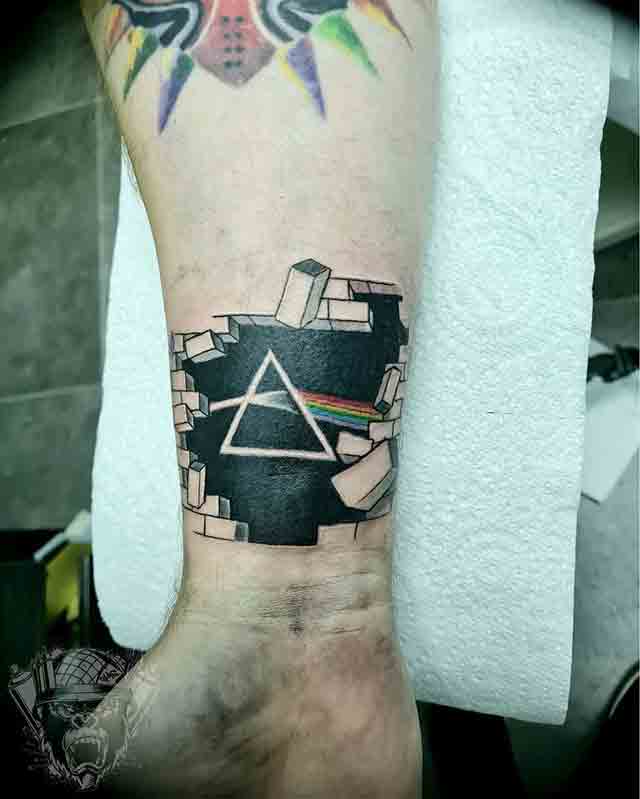 Behind a broken wall a prism is drawn to add some extra dimension to this men's wrist tattoo. The prison is taking light and making it divided into many colors. It teaches us how we should always try to find color even in our darkest times.
Cool Wrist Tattoos For Men
For ages, wrist tattoos for men are considered to be cool and trendy. Many elements that are on-trend all year round are used in these designs. However, they are usually smaller in size and are recommended for men with fair skin.
7. Music Star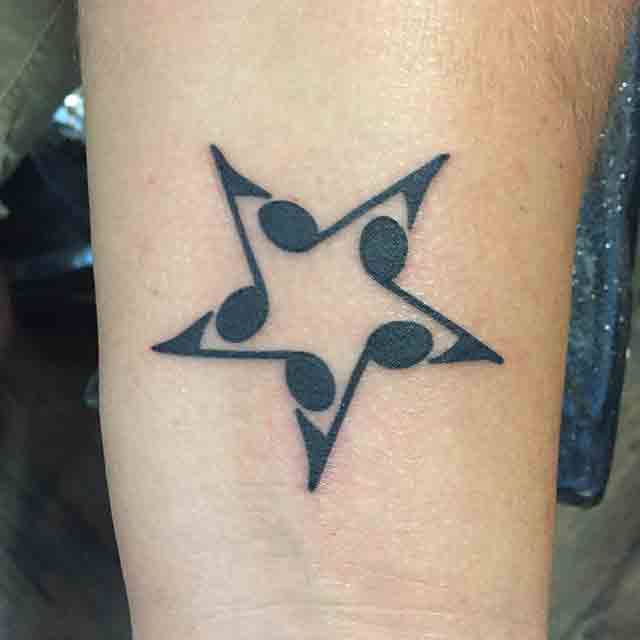 5 symbol of music has formed a structure together. They appear as if they were a star. this wrist piece indicates that the harmony of this tune could make someone a star.
8. Curved Square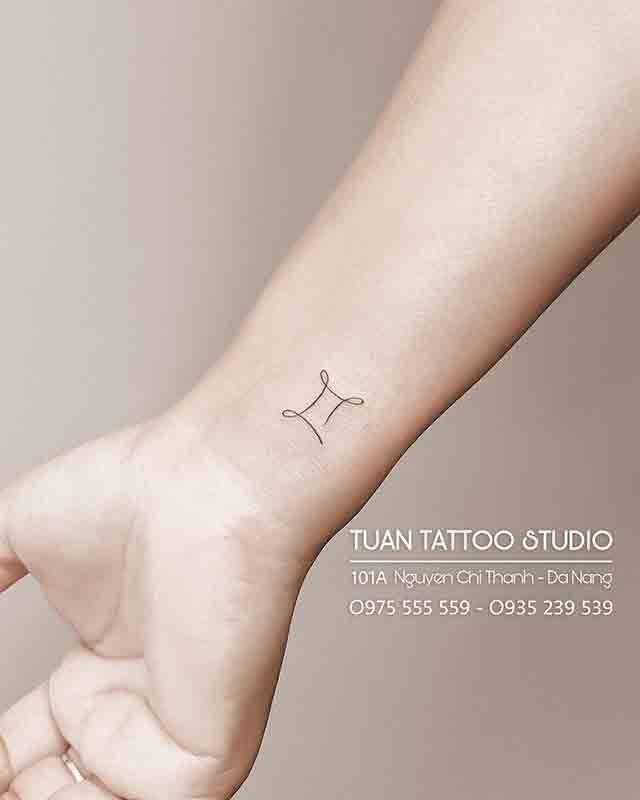 A minimalist approach to a wrist tattoo. The simple and elegant strokes of ink on top of his fair skin make this square a classy design. The edges of the square have oval shapes which were added to make it more appealing.
9. Bloody Paws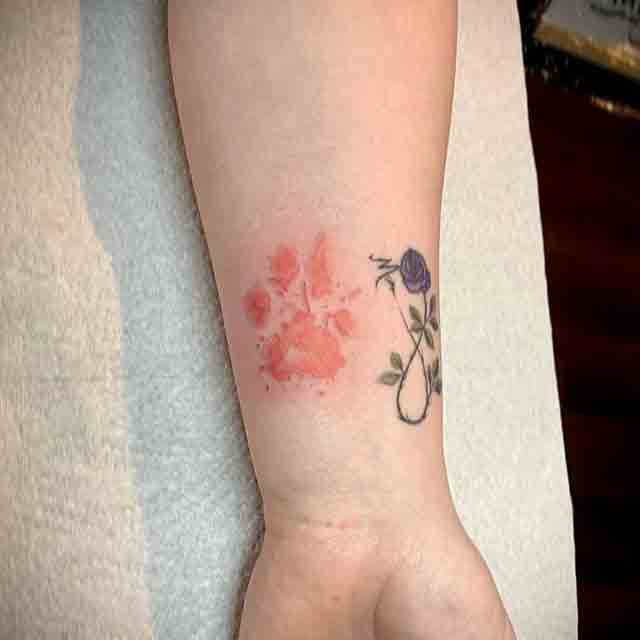 A footprint of an animal is planted on this amazing wrist tattoo design for men. The crimson red color contrasts the violate looping flower on the side. A wrist tattoo with good contrast for men.
Wrist Cover Up Tattoos For Men
Ever had a piece that you don't feel comfortable with? Then coverup wrist tattoos for men are your best option. They'll hide the existing tattoos and give you a new look that you'll feel great showing off to other people.
10. Coverup Rose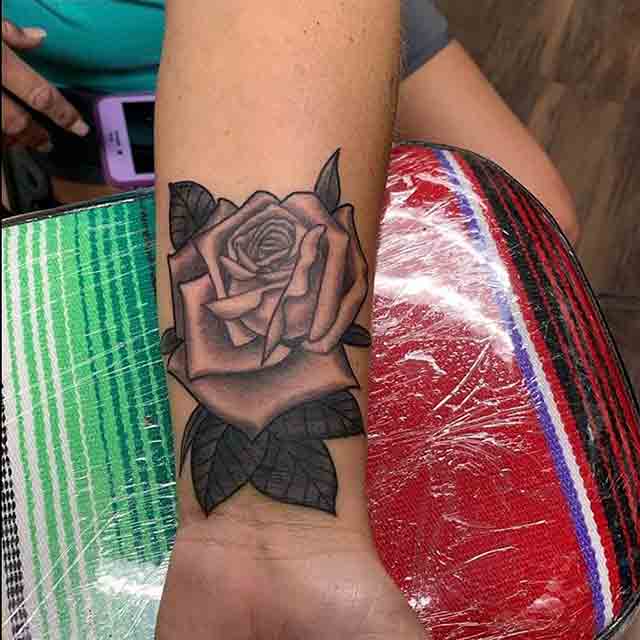 If you have a piece on your wrist that you want to hide with another piece a rose can be a great option. They are loved by almost everyone & can be drawn over any small tattoo. One of the best options for a men's wrist coverup tattoo.
11. Disguised Peacock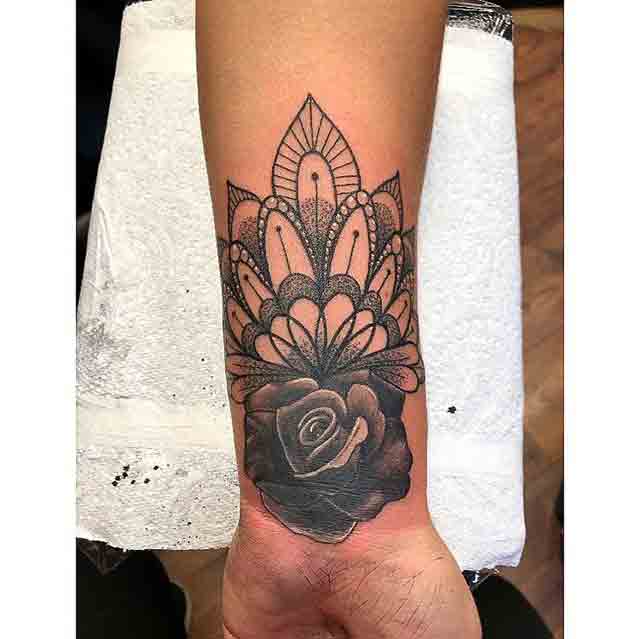 An image of a peacock is covered up on this gentleman's wrist. The flower is hiding the bottom part of the tattoo and giving this a unique look. The intentional use of Dark color on the flower was a clever move.
12. Peaking Flowers
The flowers on this young man's wrist are trying to come out of the boundary. The black horizontal lines were most likely the old tattoo. But now it's covered nicely by the flower.
Cross Tattoos For Men's Wrists
When there is a cross or sense of a cross is implemented on a wrist tattoo design, It's considered a cross wrist tattoo. They are a part of religious tattoos. People with all skin tones can rock them.
13. Filigree Cross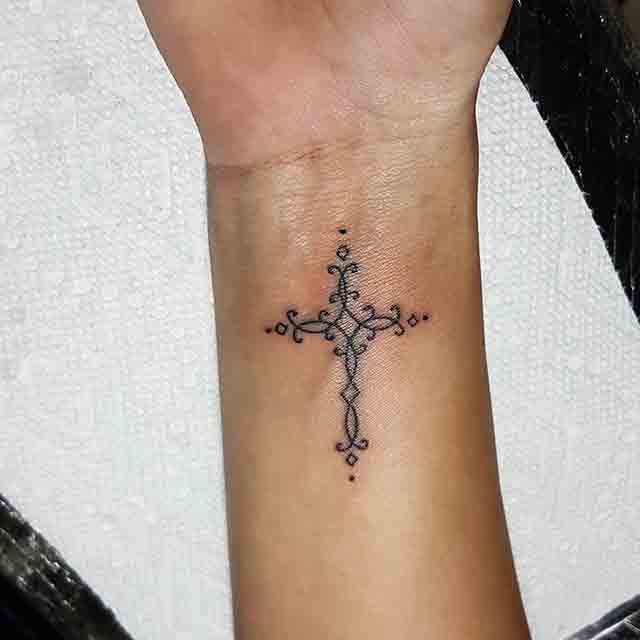 A gorgeous adaptation of the cross is depicted in this tattoo with the filigree style. The design patterns on the body of the cross give it an ornamental look. A luxurious and elegant wrist tattoo for men.
14. Crossed Blades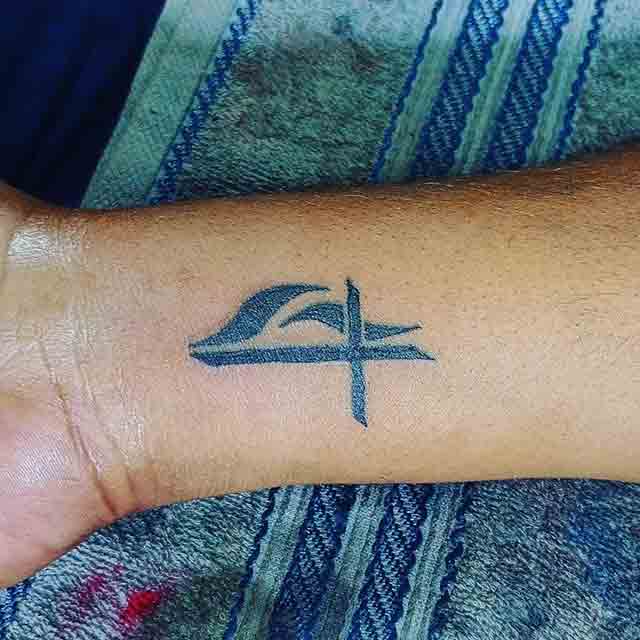 The vertical line of this cross is like the blade of the grim reaper and the horizontal line is a two-sided blade. A design that transformed the sign of faith into a scary and deadly weapon. Suitable for men with wide wrists.
15. Dark Cross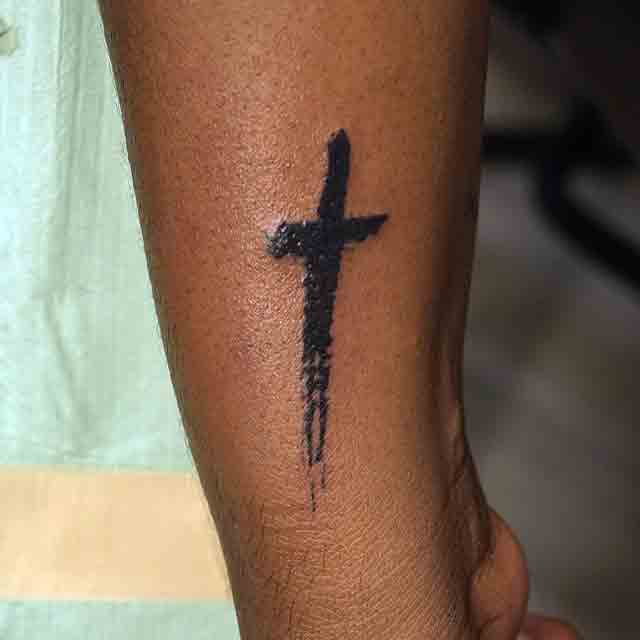 Cross is always associated with light and goodness. However, this one on his hand is drawn with a black color which makes it look like some deed of an evil spirit. A twisted and scary wrist tattoo indeed!
16. Bracelet Of Pearls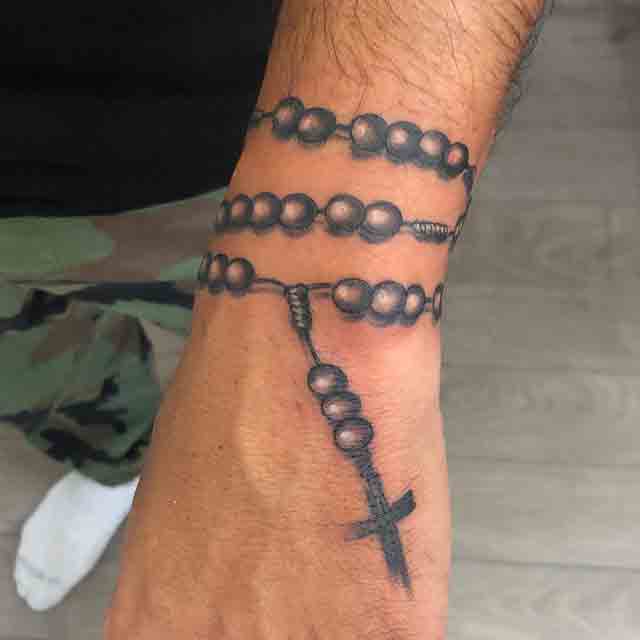 A bracelet made out of pearls is drawn around the entire wrist of this man. The light texture of the white ink gives this a realistic look. There's also a cross at the bottom of the bracelet. A beautiful religious wrist tattoo for men.
Meaningful Wrist Tattoos For Men
There is always some meaning behind a tattoo. But these tattoos are usually hard to find the meaning and only the person who has this will be able to give you the true meaning behind them. They make you appear more mysterious and interesting.
17. February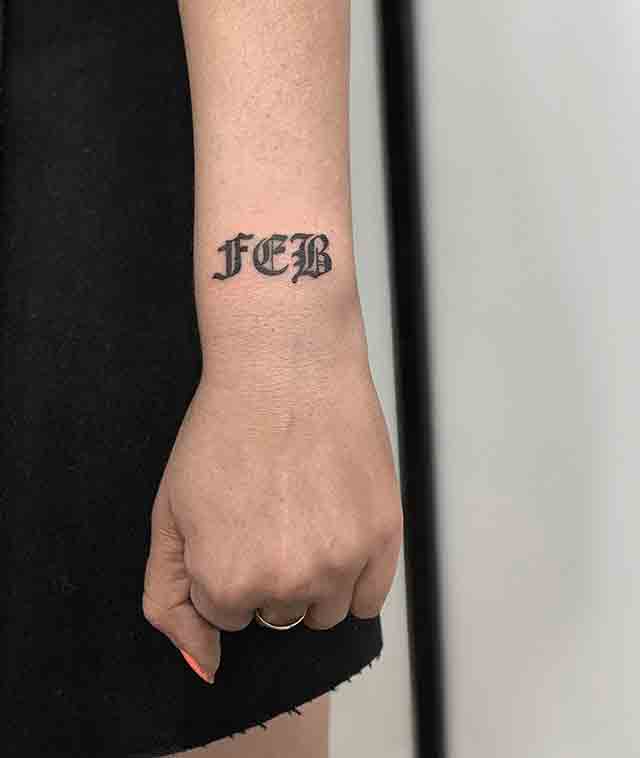 The shortest month's name on the calendar is tattooed on the wrist of this person. Only the first 3 initials of the name are used in this piece. The font is bulky and masculine looking. It's best suited if you want to show masculinity.
18. Paw Outline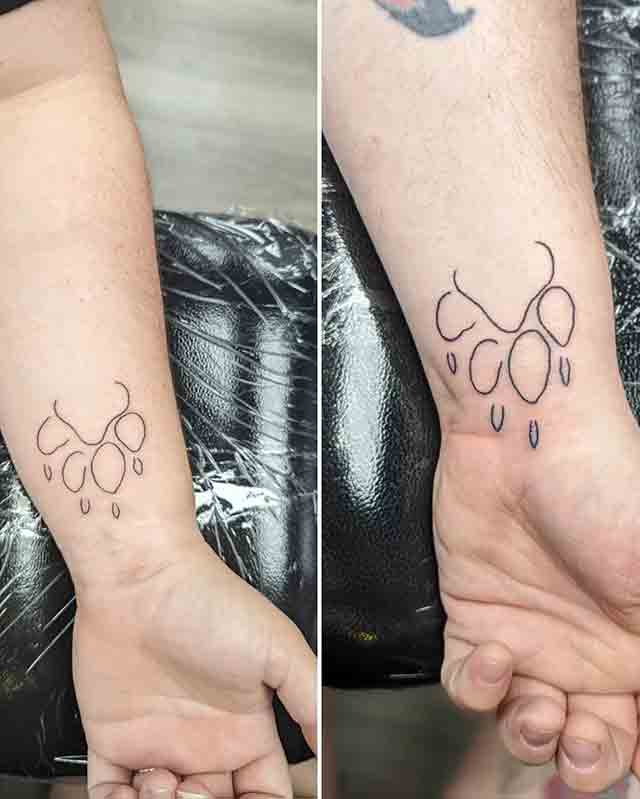 Pets always leave their footprint on our life. In this wrist tattoo, the owner has tattooed the print of his pet's paws. It indicates that he will always carry the mark of his beloved pet.
19. Love For Pet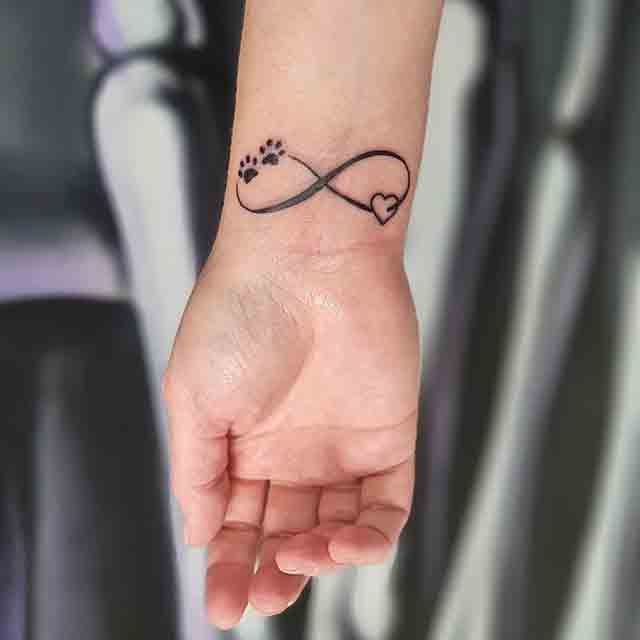 This simple and minimal piece is a reflection of the love a person and a pet have for one another. The cute paws and the heart is in an infinite loop. A sweet wrist tattoo for men who are pet lovers.
Side Wrist Tattoos For Men
The side of the wrist is a common way to show your piece to the world. They are visible all the time. These tattoos usually have texts on them and are longer in size.
20. Neha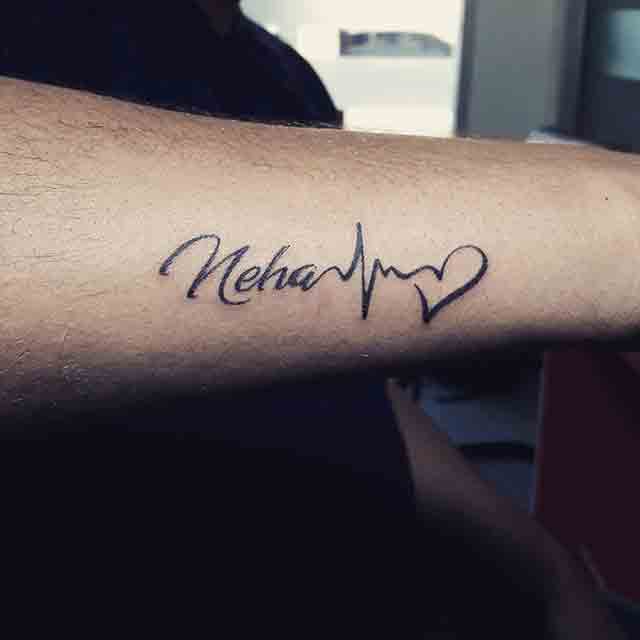 Neha is most likely a girl's name that this man has tattooed on the side of his wrist. The music and heart symbol means that the is the tune and love of his life. A romantic wrist tattoo idea for committed men's
21. Roman Date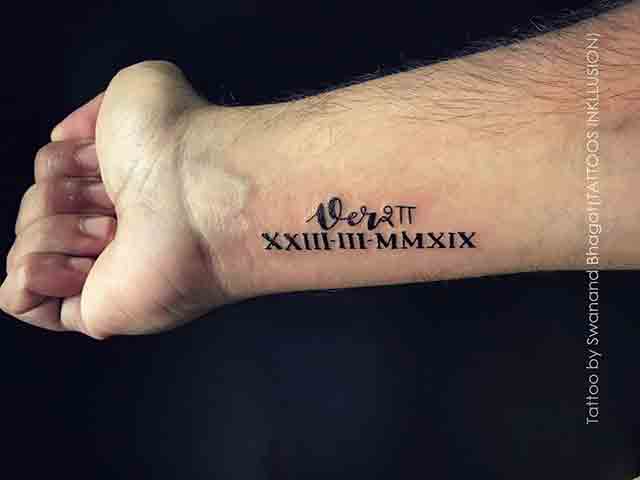 One of the most ancient numbering systems has been used to draw this wrist tattoo. His hand has the date 23-3-2012 inked on it. Most likely this means something special to him.
22. Fancy Feather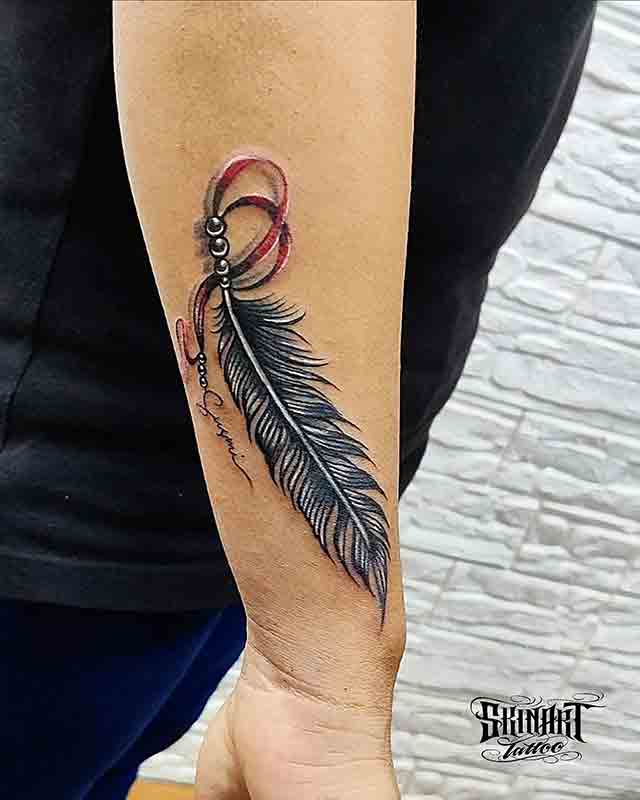 The strand of feather on the side of this young lad's hand looks fancy. The bottom has some writing on it. It's acting like a pen that has been used to write fluently.
Simple Tattoo For Men On The Wrist
Sometimes less is more. These type of wrist tattoo design for men are very easy to get and doesn't take much time to get. They are also on the cheaper side. If you have a tight schedule and looking to get something quick and simple they are the best option for you.
23. Waves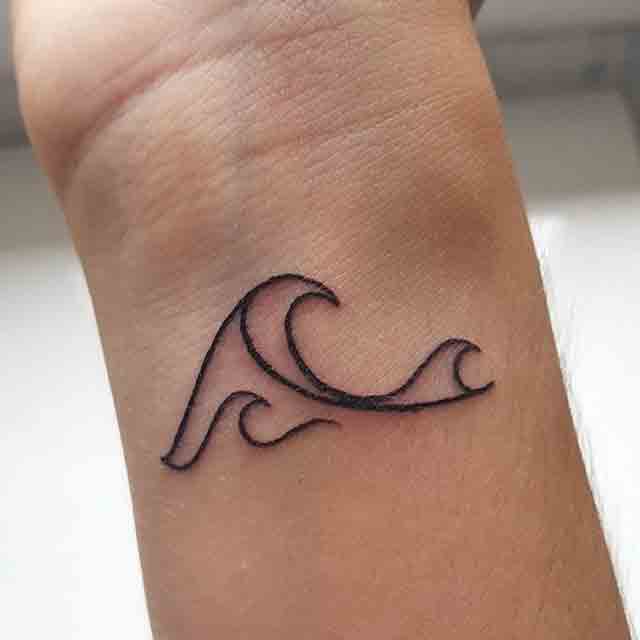 Nothing is more shooting than watching a wave on the sea. With the help of bold strokes, the artist has created an outline of a wave on the front of his wrist. The waves are moving slowly towards the shore.
24. Triangle Of Death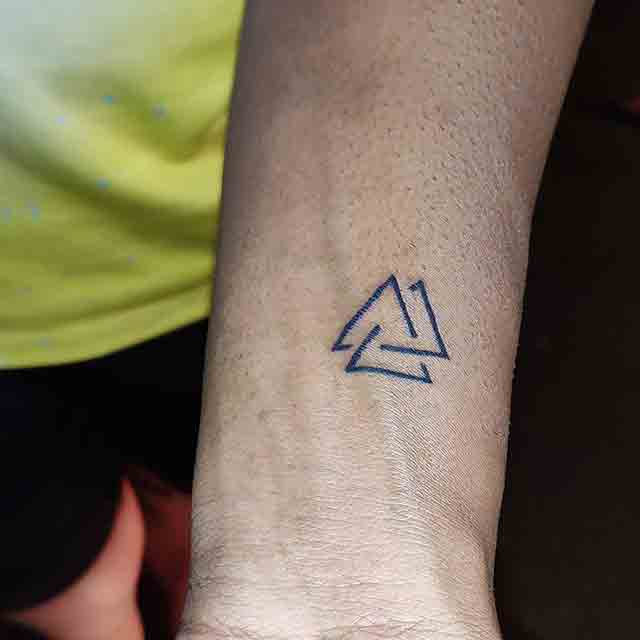 The Bermuda triangle is known for its deadly nature. This man has a symbol that represents the Bermuda triangle. If you are looking for a symbol wrist tattoo this can be a good choice.
25. Heart Beats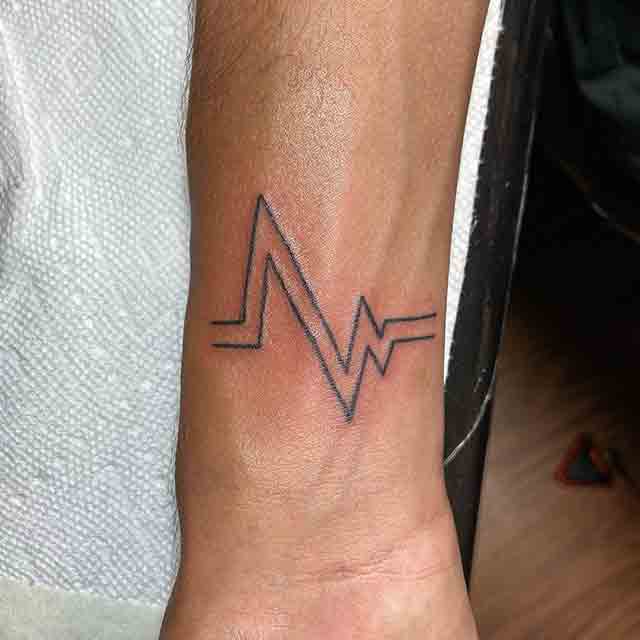 Both of the beats are moving in a synchronized manner. This represents two lovers with the same passion. A romantic wrist tattoo design for men.
Rosary Wrist Tattoos For Men
A rosary is a representation of the ancient roman catholic people. If you are a believer in them then they are suitable for you. They also come in colorful options. They bring out the religious beliefs of a man.
26. Catholic Rosary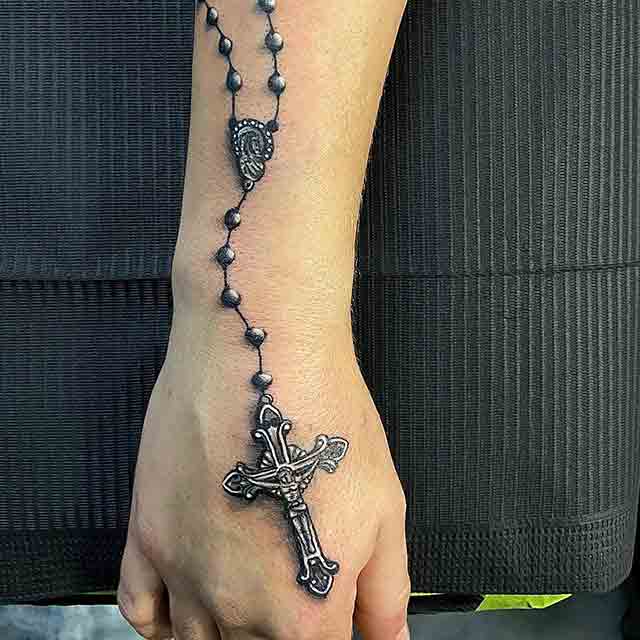 The cross attached at the end of this rosary indicates that this is of catholic origin. The beads are at a fair distance from one another. An ancient wrist tattoo idea for catholic men.
27. Rosary Pair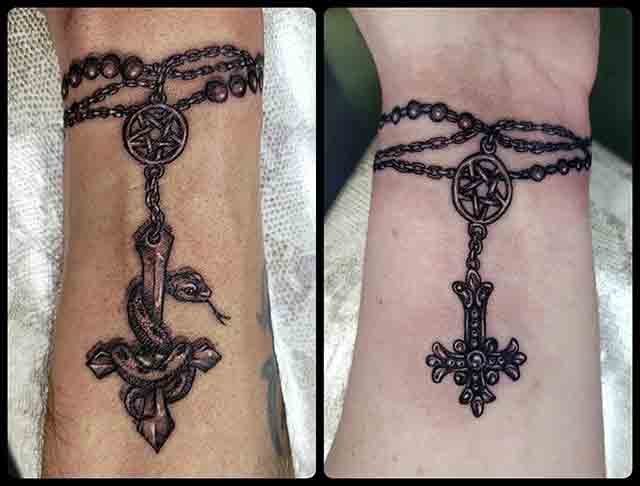 A couple has rosary wrist tattoos on their hands. Although the girl's cross is unprotected, the man has a design that has a snake on the cross that'll act as a defender. A piece suitable for religious couples.
28. Beads & Dog Tag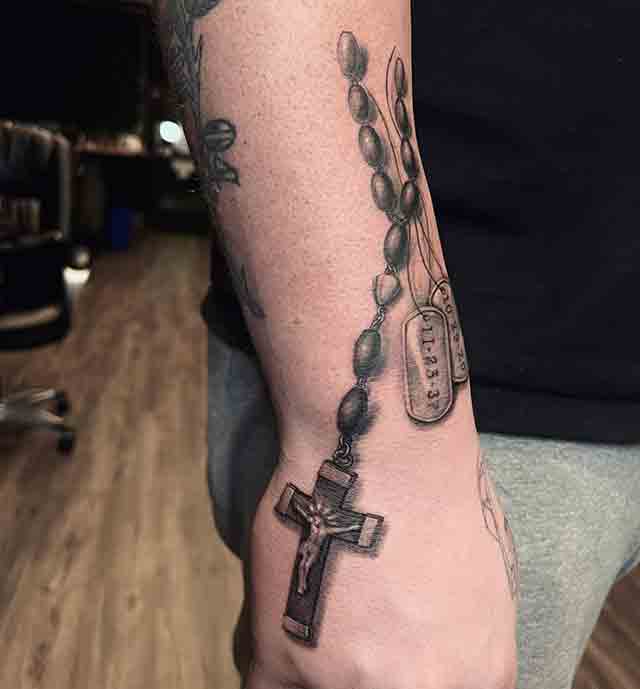 The dog tags tattooed on the wrist of this man are accompanied by a rosary. This tells us that he still keeps the men he lost in his prayers. A pure display of brotherhood and faith.
Religious Wrist Tattoos For Men
Religion is a very sensitive and personal subject. But if you want to spread your beliefs then you can consider getting one of these religious wrist tattoo ideas for men. Try to keep the designs to a minimum & you'll end up with a beautiful piece.
29. Colorful Beads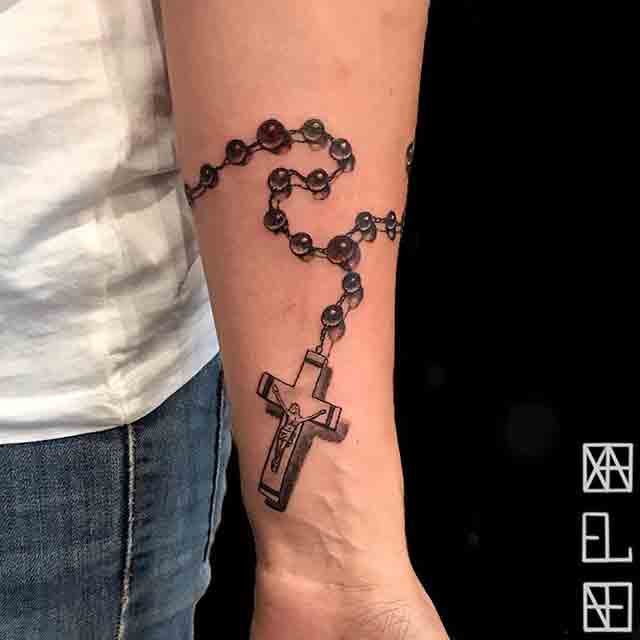 The individual beads of this rosary are slightly colorful and look pleasing. The inner part of his wrist is nicely decorated with this majestic design. The cross at the end of the beads gives it the religious look.
30. Nailed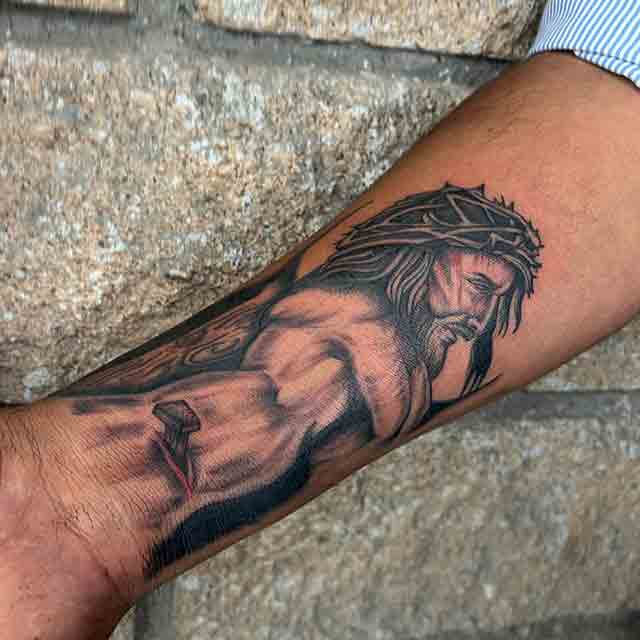 This wrist tattoo in particular looks like an extension of his own hand. The figure on this tattoo has his hands nailed to a cross. A tattoo that is full of suffering and pain.
31. Potion Container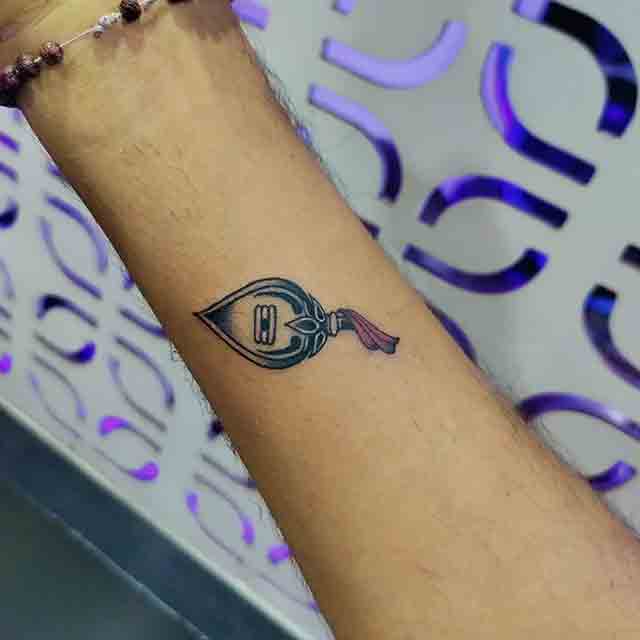 Tribal Wrist Tattoos For Men
32. Tribal Wristwork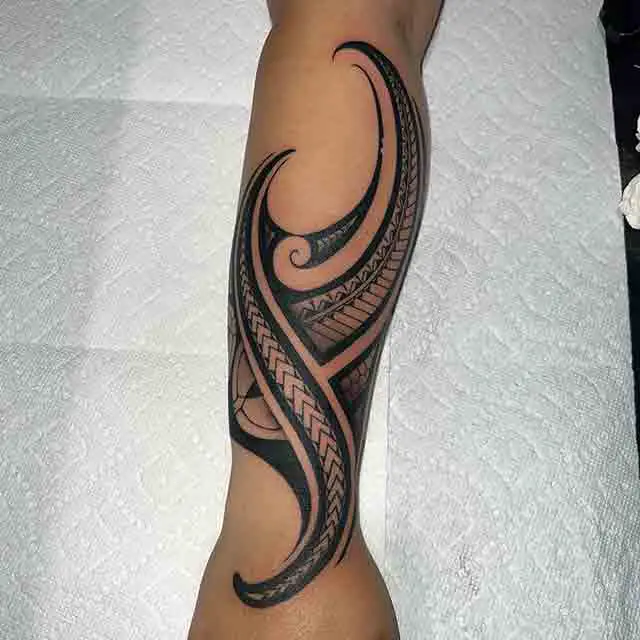 33. Text Carrier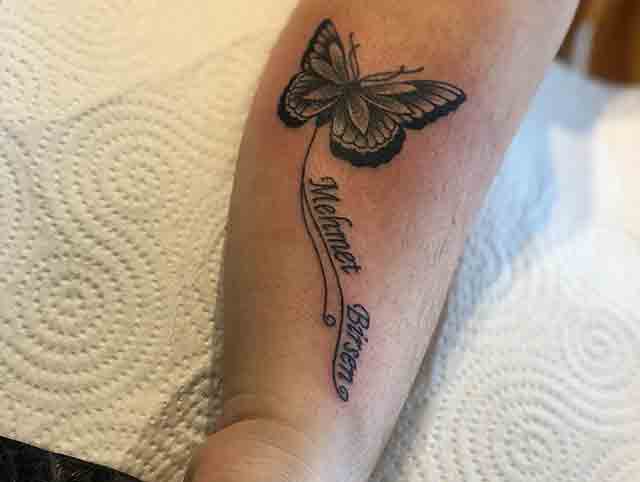 34. Lola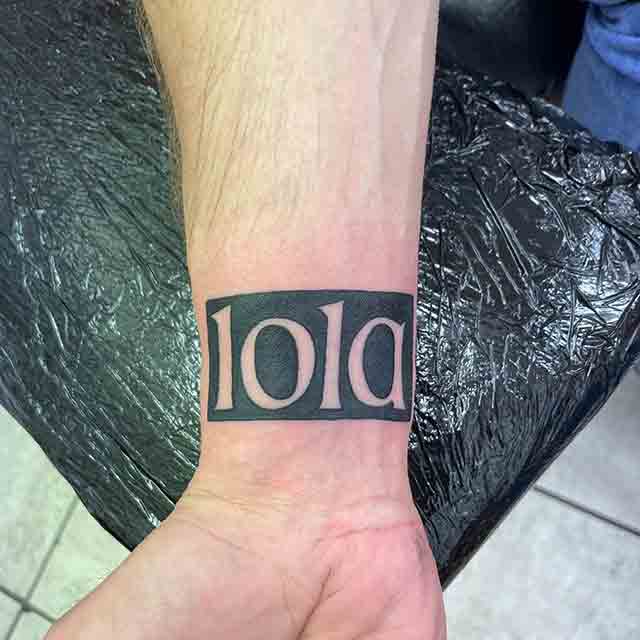 Celtic Wrist Tattoos For Men
35. Celtic Bracelet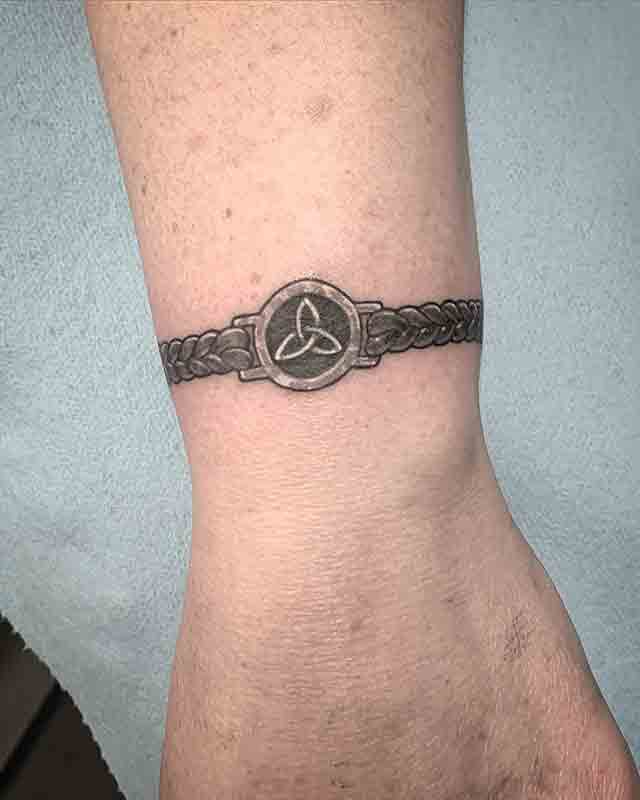 36. Filigree Anchor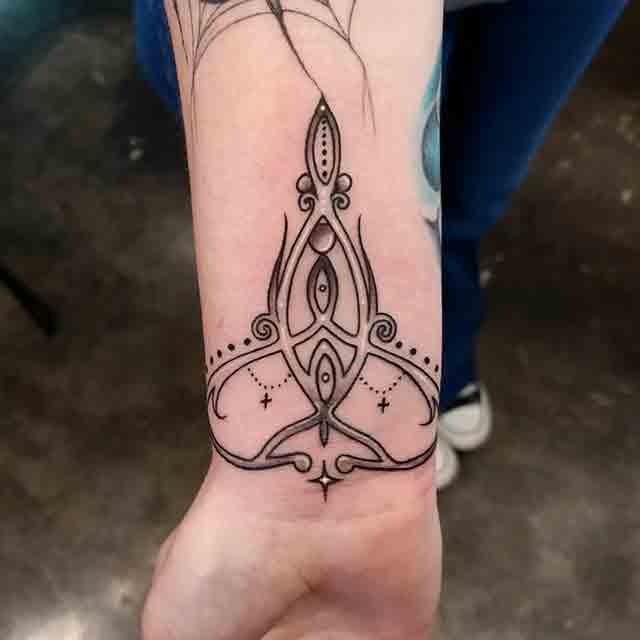 37. Death Anchor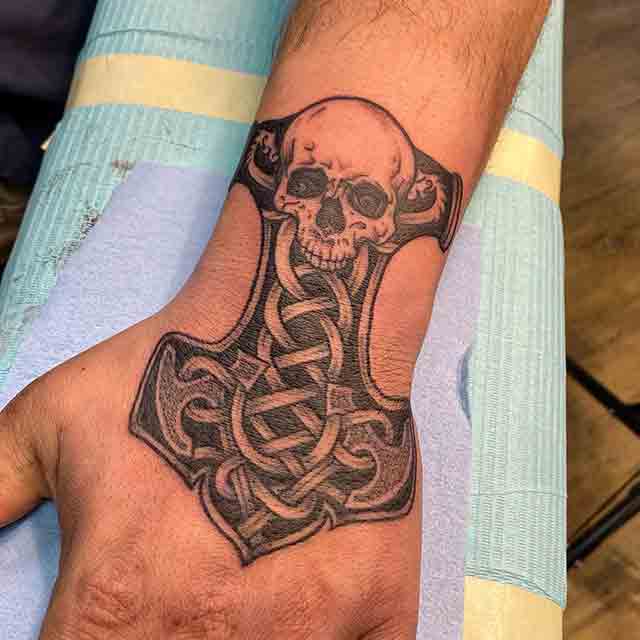 Front Wrist Tattoos For Men
38. Humble Girl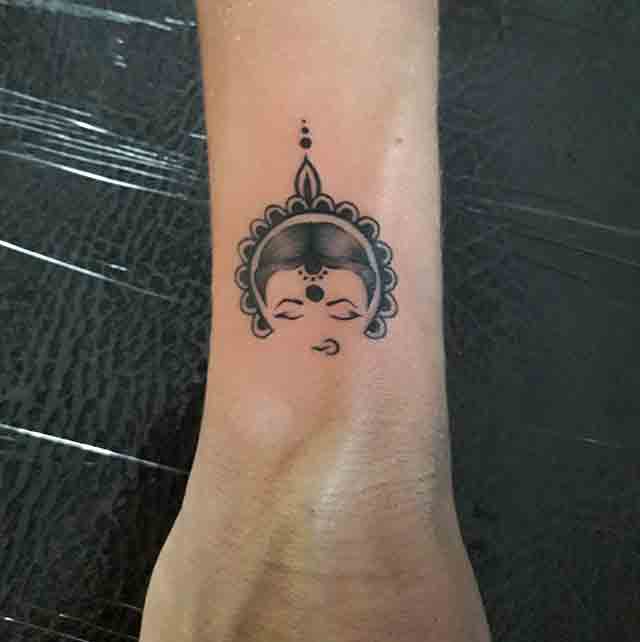 39. Tiny Dandelion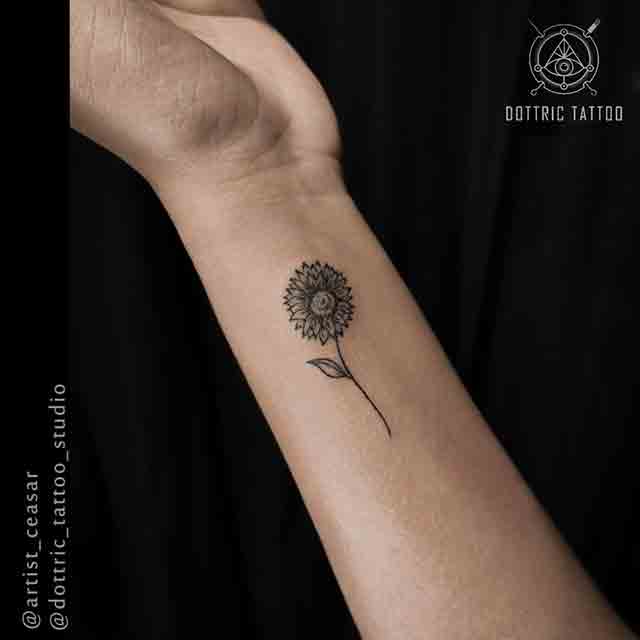 40. Monochrome Plant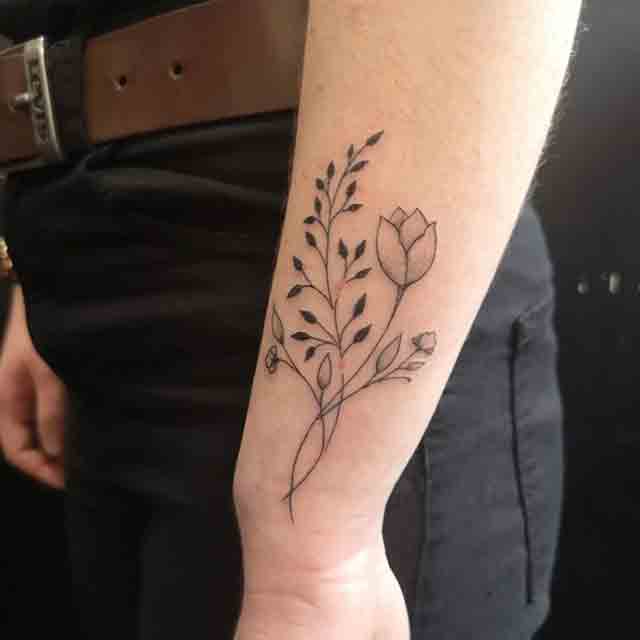 Geometric Wrist Tattoos For Men
41. Symbolic Text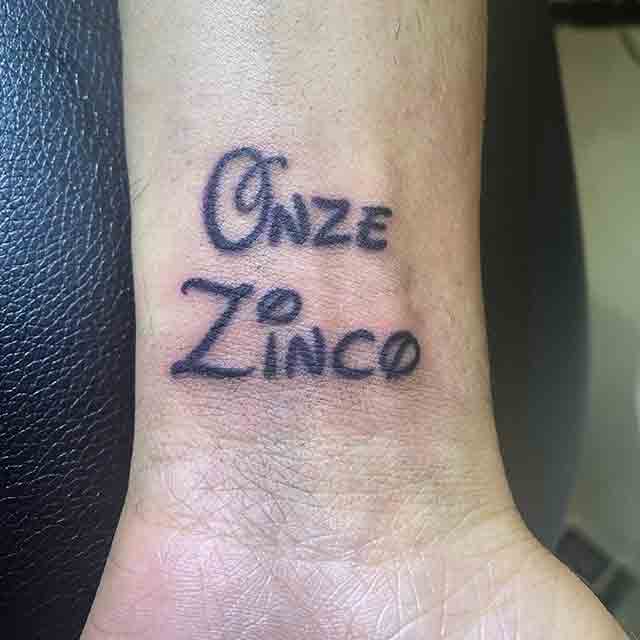 42. Critical Thinker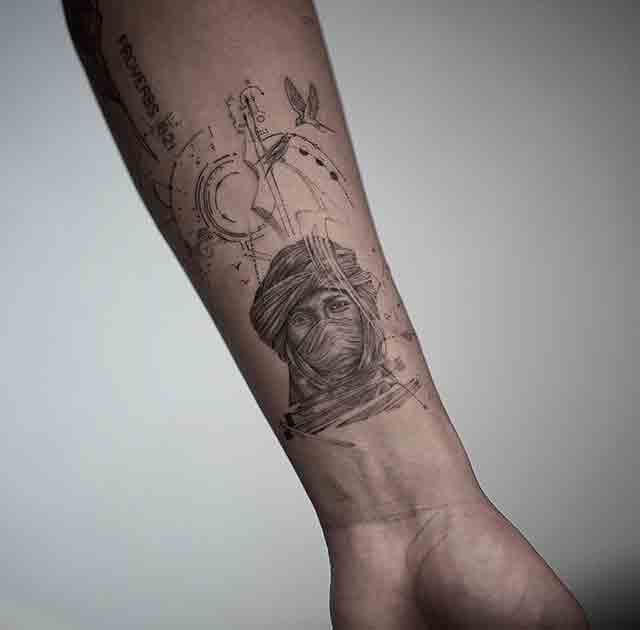 43. Sea Shore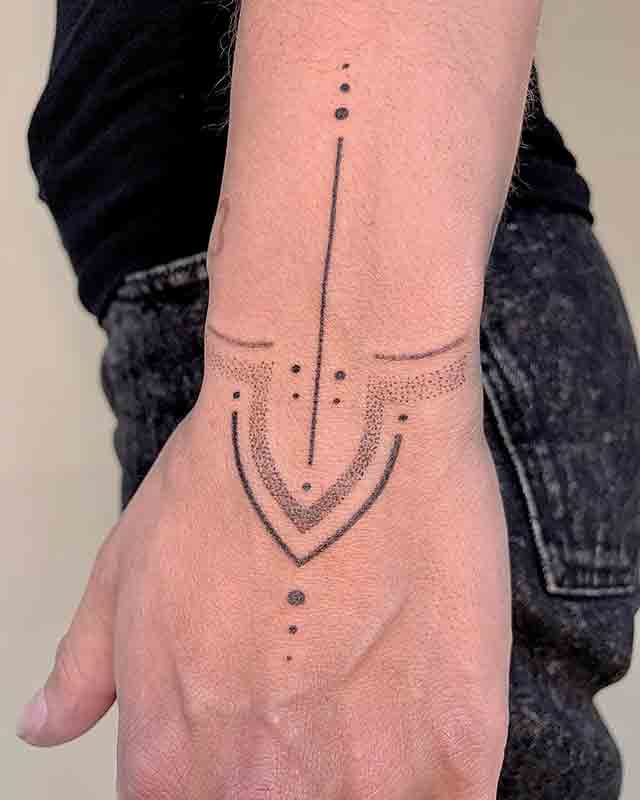 Inner Wrist Tattoos For Men
44. Middle Of Nowhere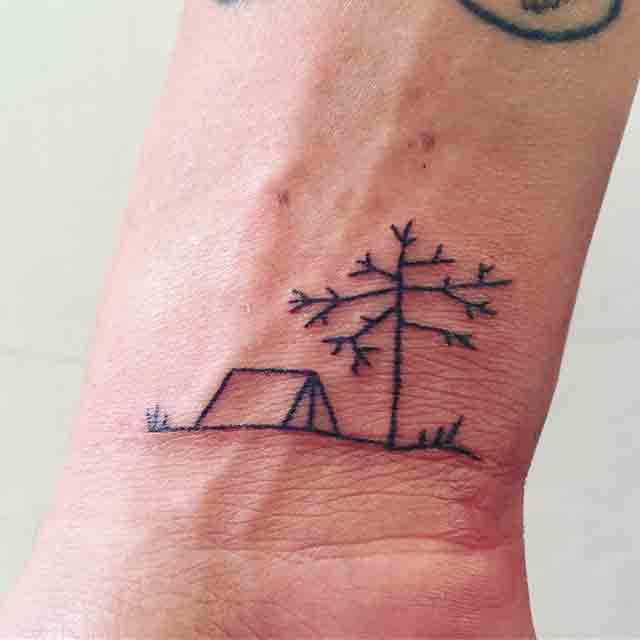 45. Rose & Dragon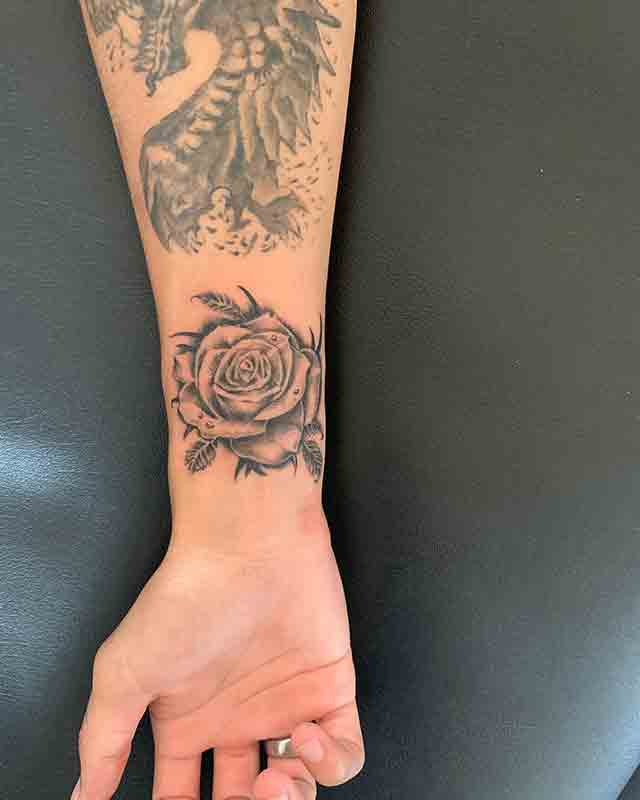 46. Flipped Diamond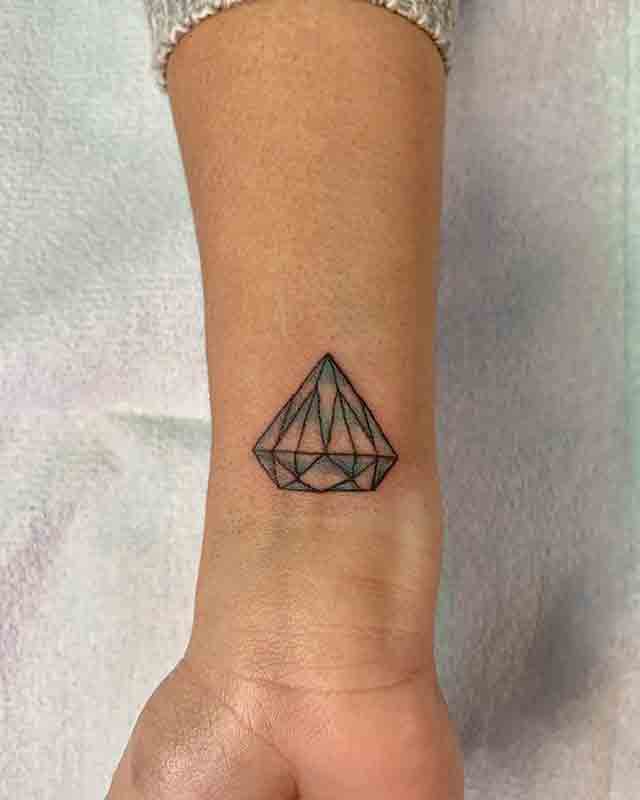 Compass Wrist Tattoos For Men
47. Flat Pathfinder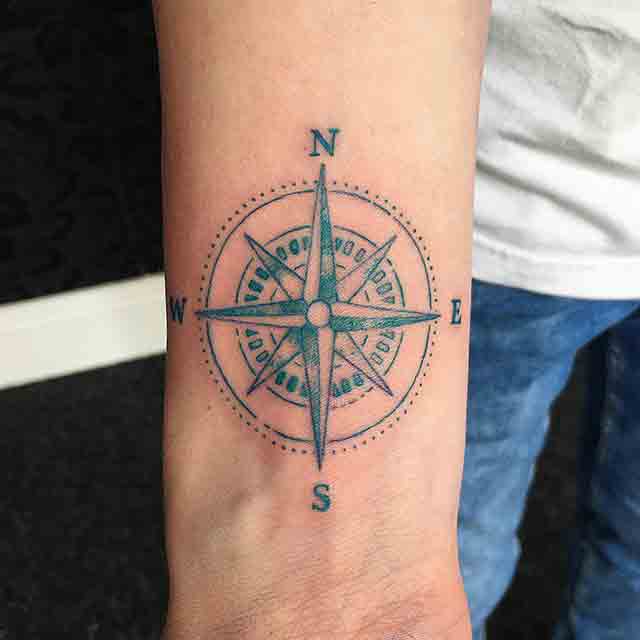 48. 3d Compass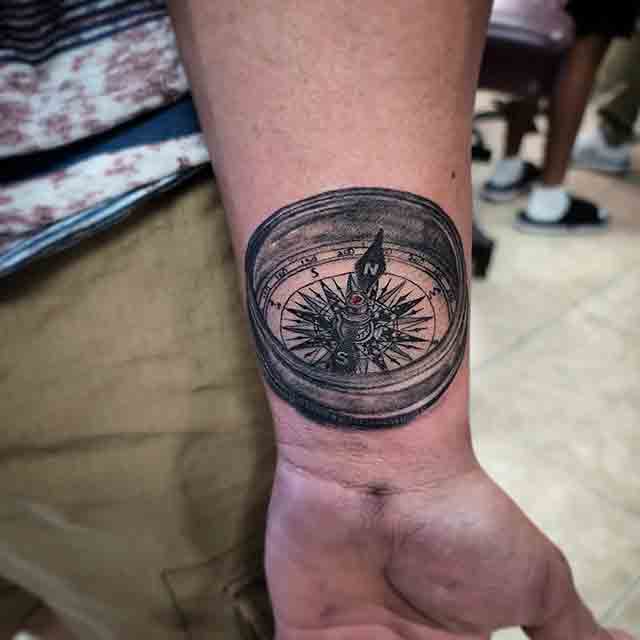 49. Red Compass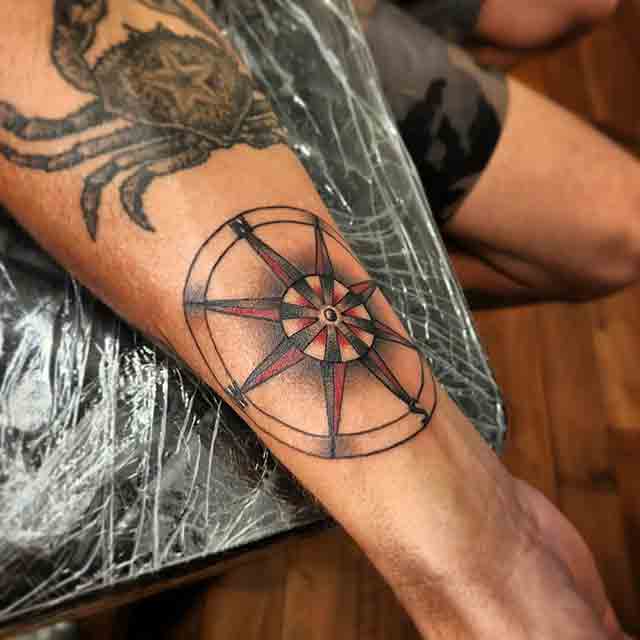 Full Wrist Tattoos For Men
50. Full Wrist Text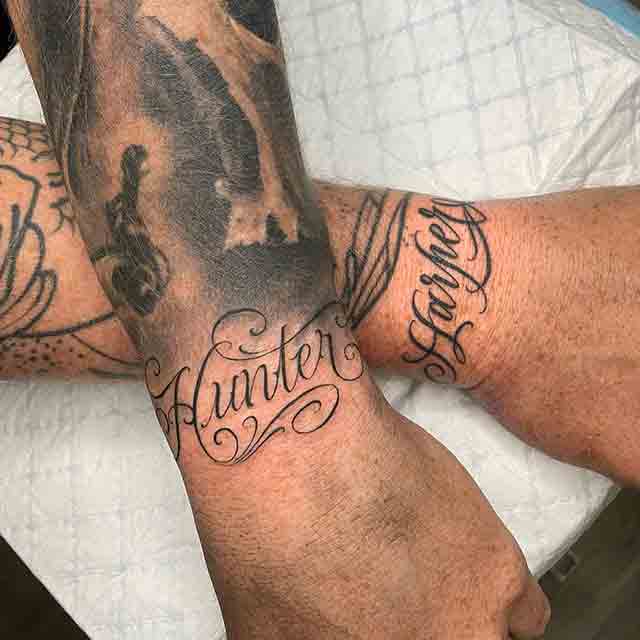 51. Hypnotizing Pattern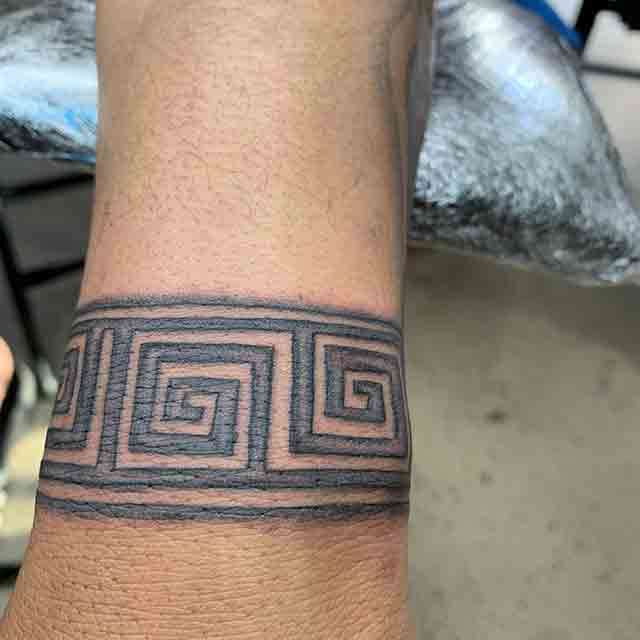 52. Full Rose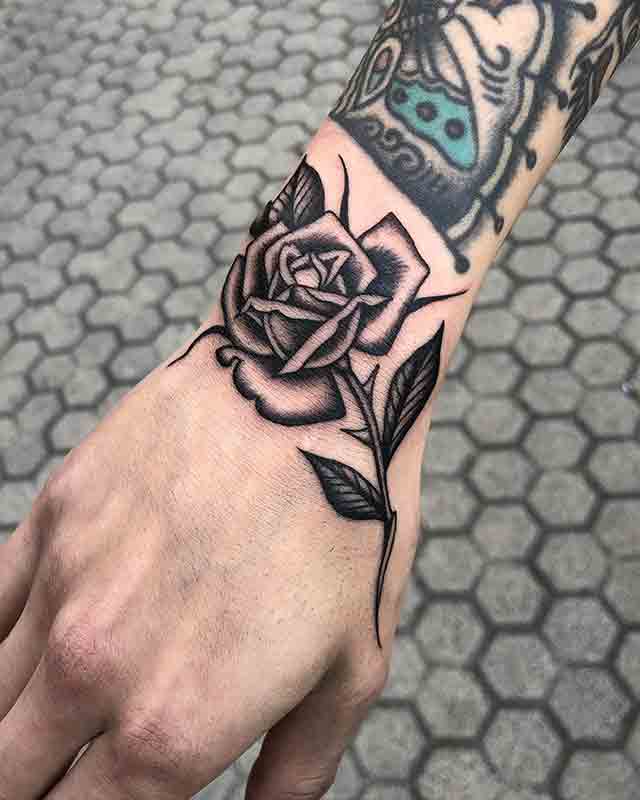 Skull Wrist Tattoos For Men
53. Broken Witch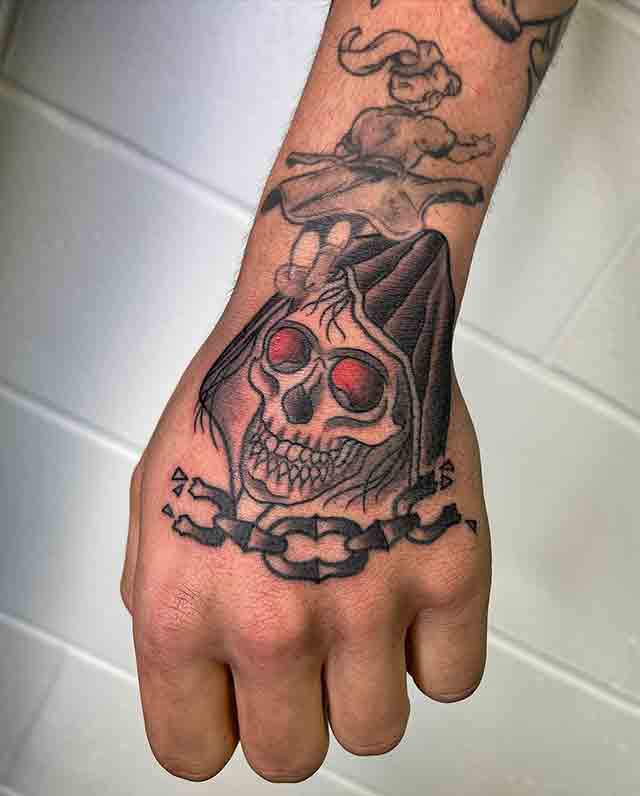 54. Black Skull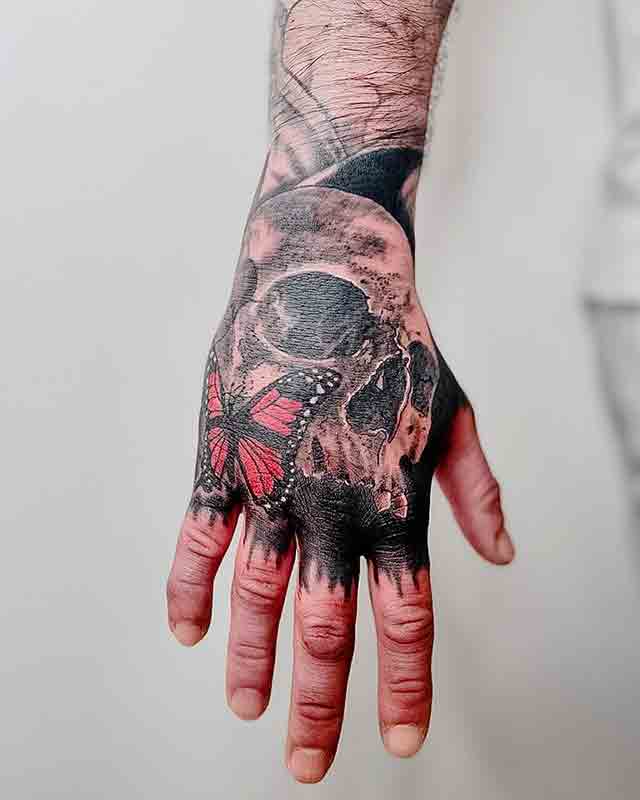 55. Mr. Skull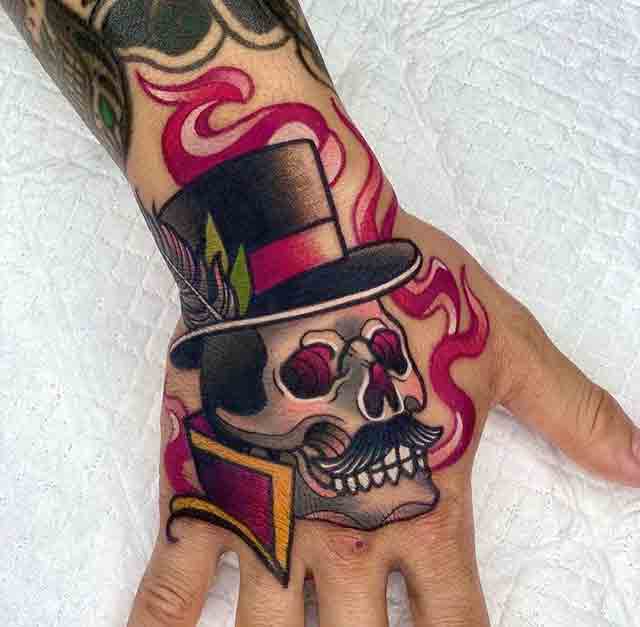 Bracelet Tattoo For Men's Wrist
56. Brolen Band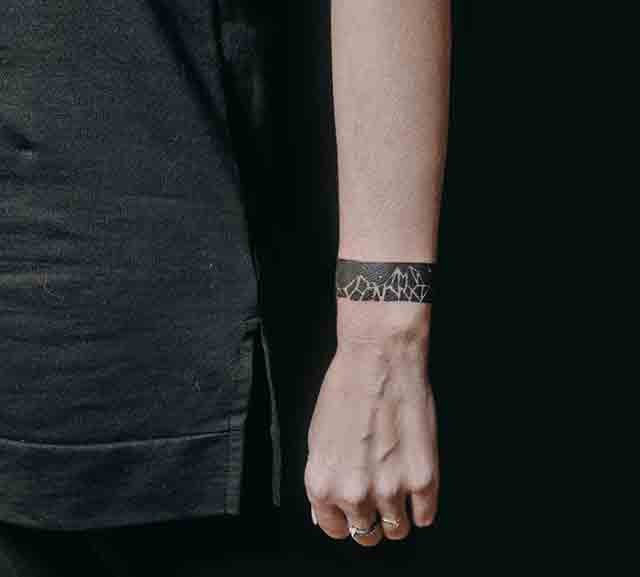 57. Black Stripes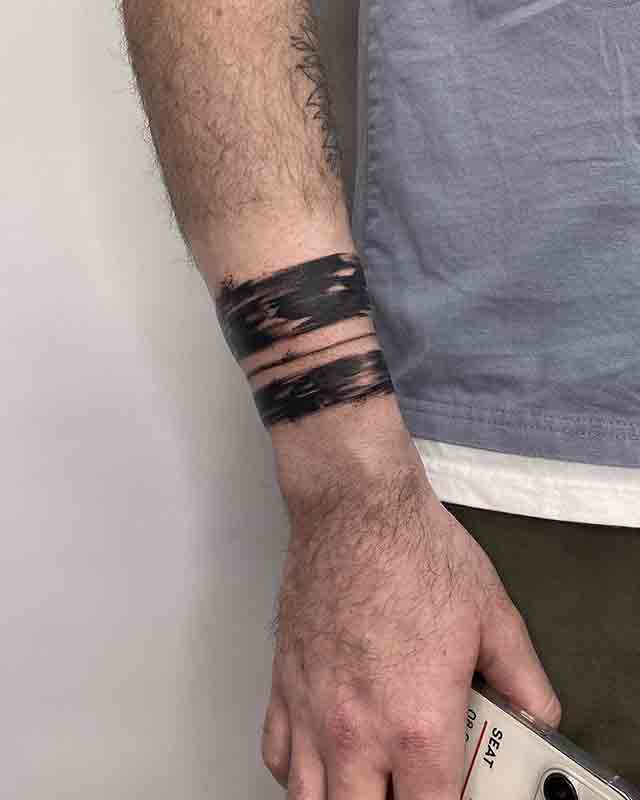 58. Contained Delicacy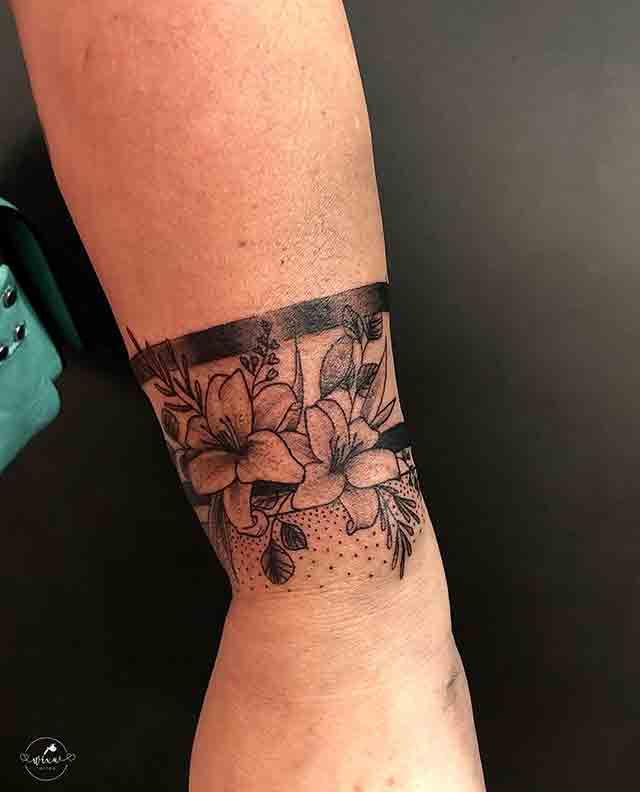 Japanese Wrist Tattoos For Men
59. Deamon Head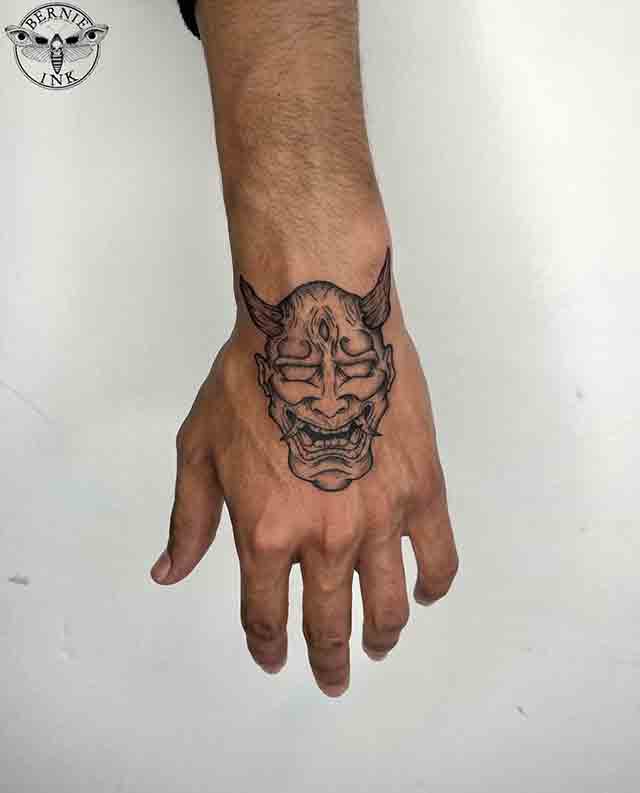 60. Colorful Tides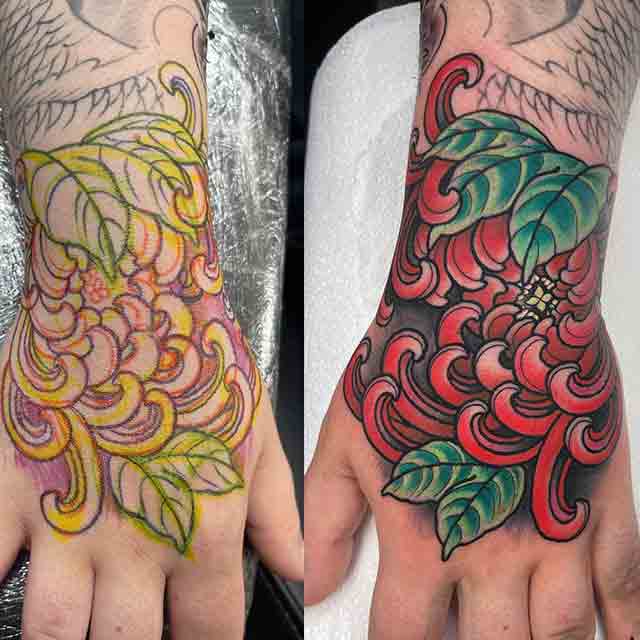 61. Cultural Mix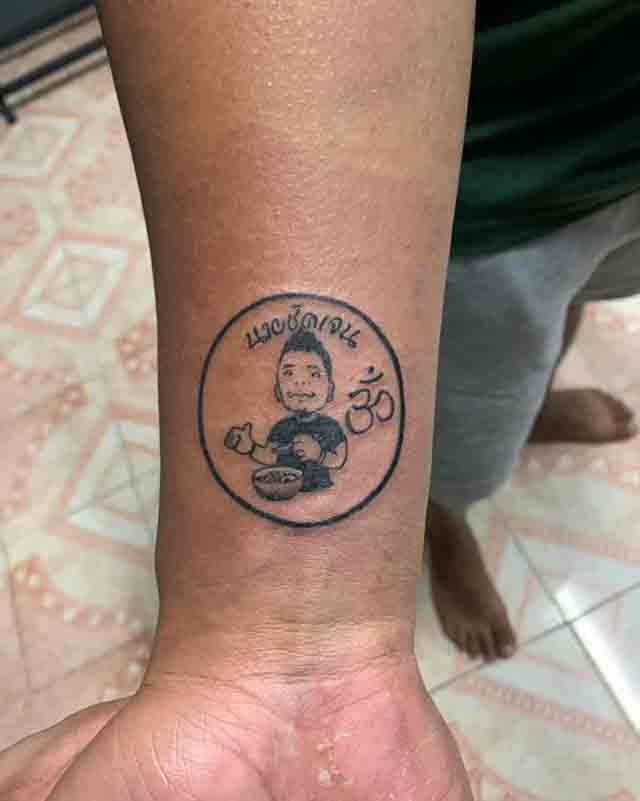 Wolf Wrist Tattoos For Men
62. Mighty Blue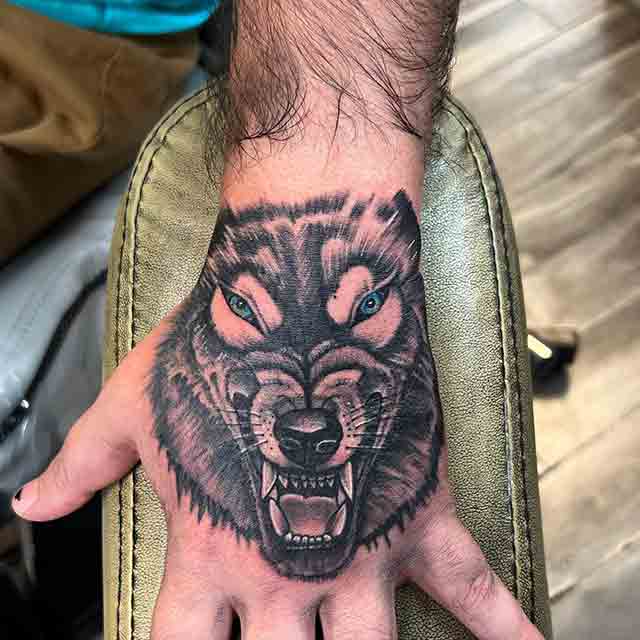 63. Night Howler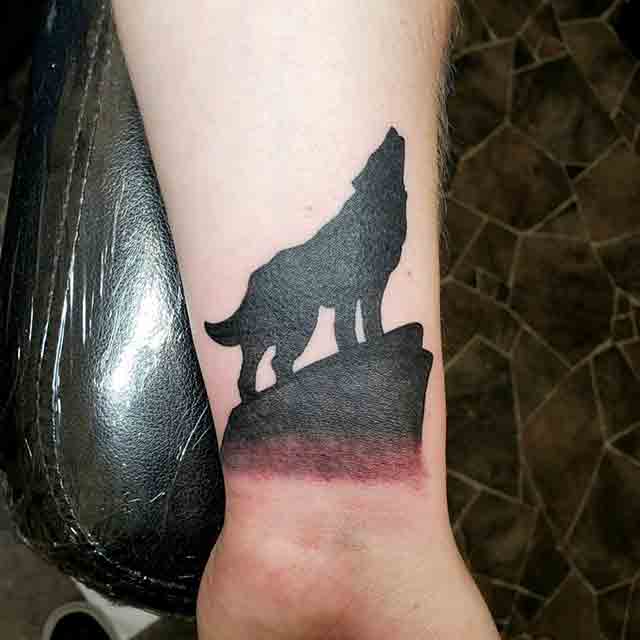 64. Forest Wolf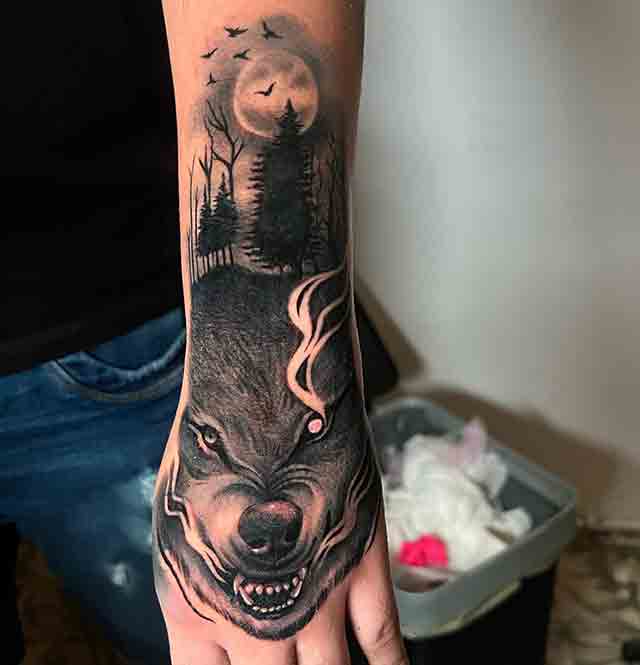 Arrow Tattoo On Wrist For Men
65. Bulky Love Arrow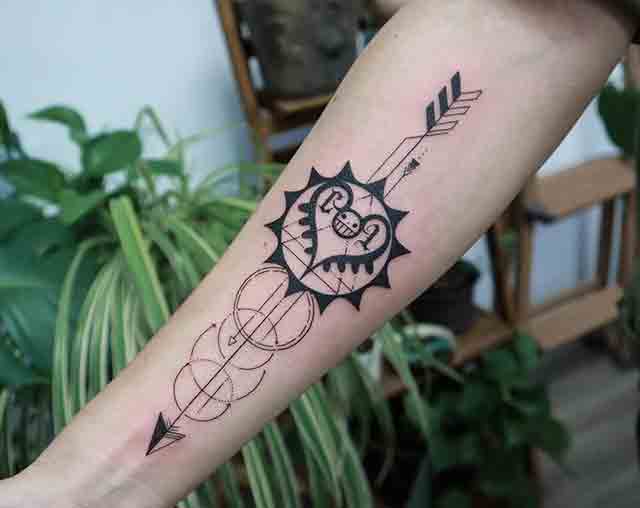 67. Life Quadrant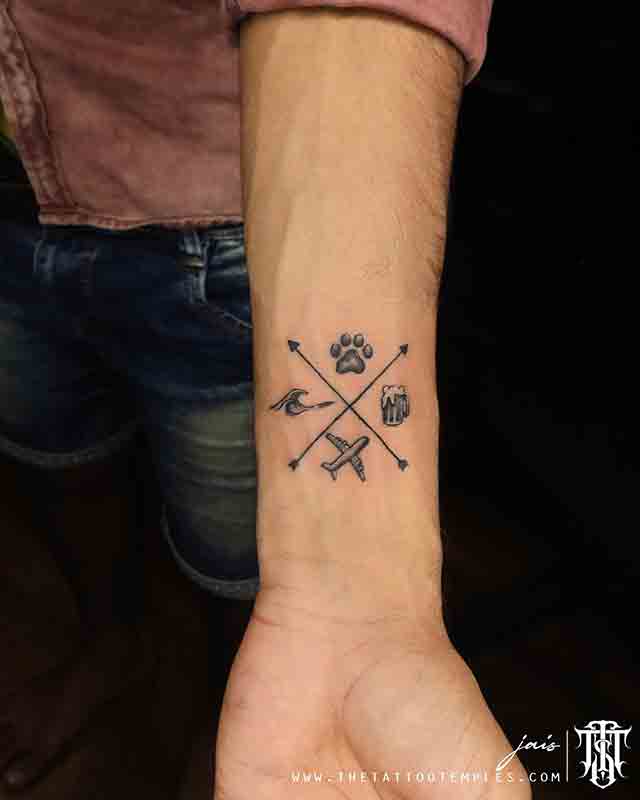 68. True Love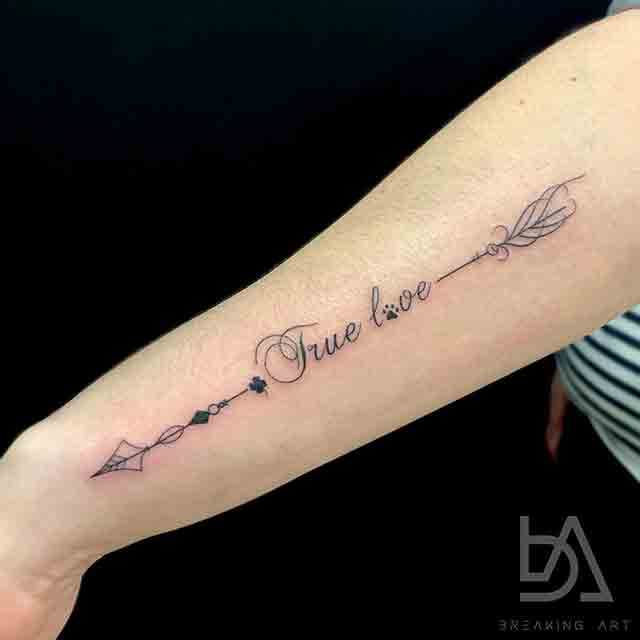 Tree Wrist Tattoos For Men
69. Night Forest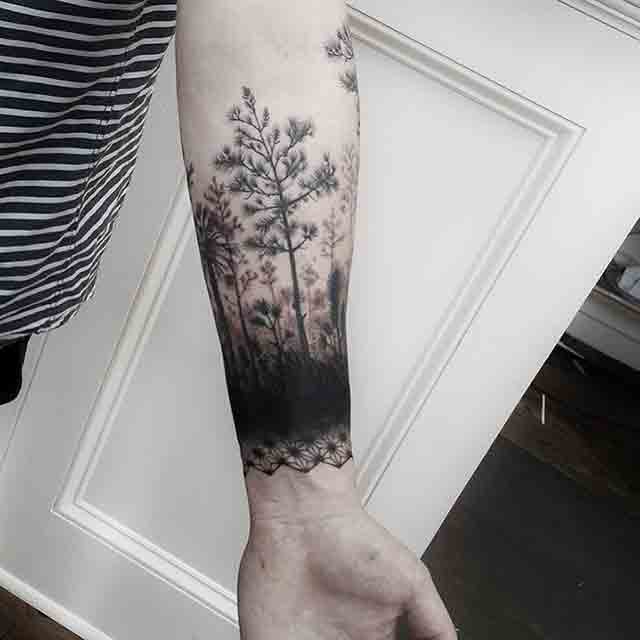 70. Dried Tree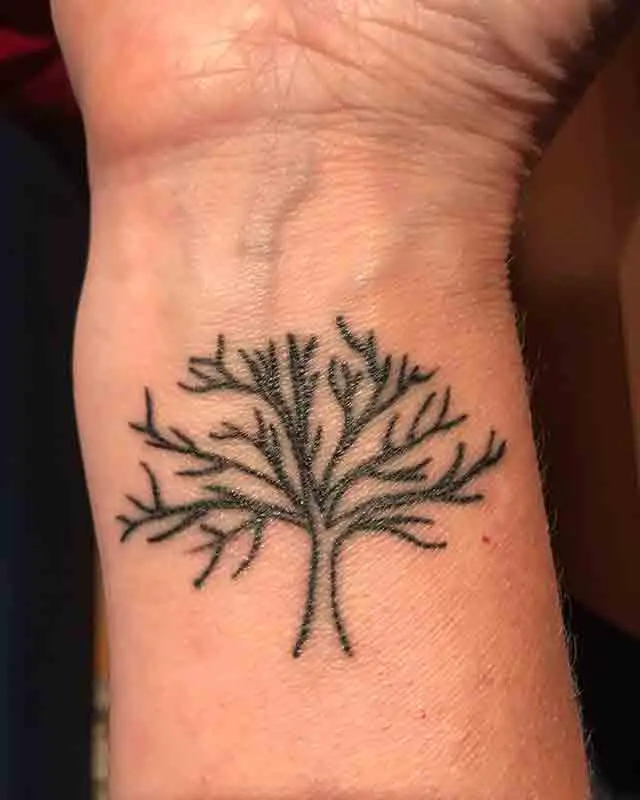 71. Peace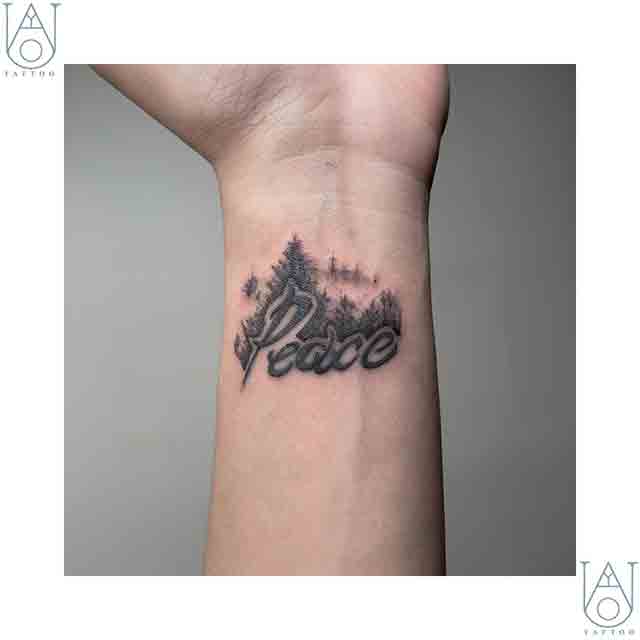 72: COMPASS WRIST TATTOOS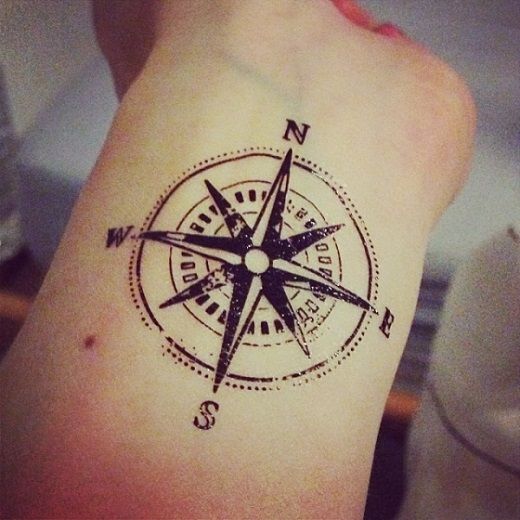 Compass style wrist tattoos are very common amongst men and women. As a popular maritime symbol for early sailors, compass tattoo was believed to protect people on rough waters. The design has endless variations but what we like the most about the tattoo above is its classic and vintage look. This star compass with its wear and tear look is sure to turn heads for many years to come.
73: THE PINE FOREST
While plant parts such as leaves, flowers, and pollens are common for wrist tattoos, this pine forest tattoo in blue ink is simply exotic. This finely etched tattoo is brilliant to remain close to nature and enjoy the wilderness.
74:  GUITAR TATTOO DESIGN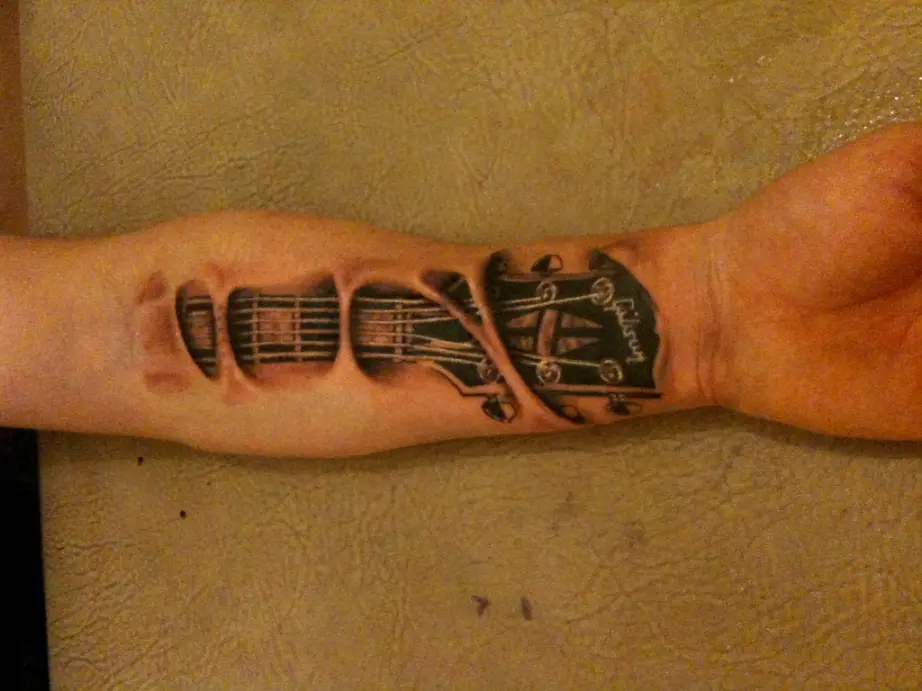 What a remarkable choice for a musical lover! With this 3D style guitar tattoo, the guy cleared that music is in his flesh, bones, and blood.
75: ANIMAL TATTOO ON WRIST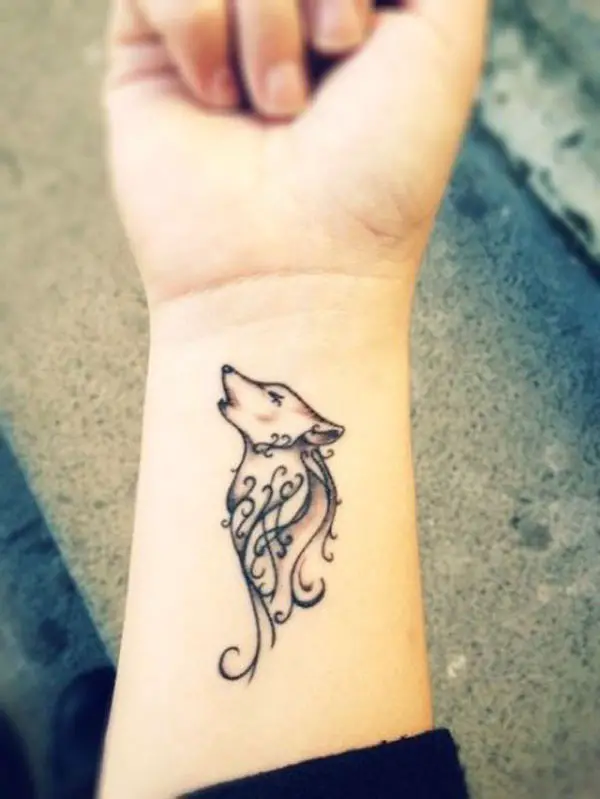 Animal tattoos like the above one are popular amongst men. They can contain some meaning, can be associated with your personal belief or can have some sort of personal bonding. For example, this dog tattoo might be inspired from the wearer's love for his dog.
76: PLAYING CARD TATTOO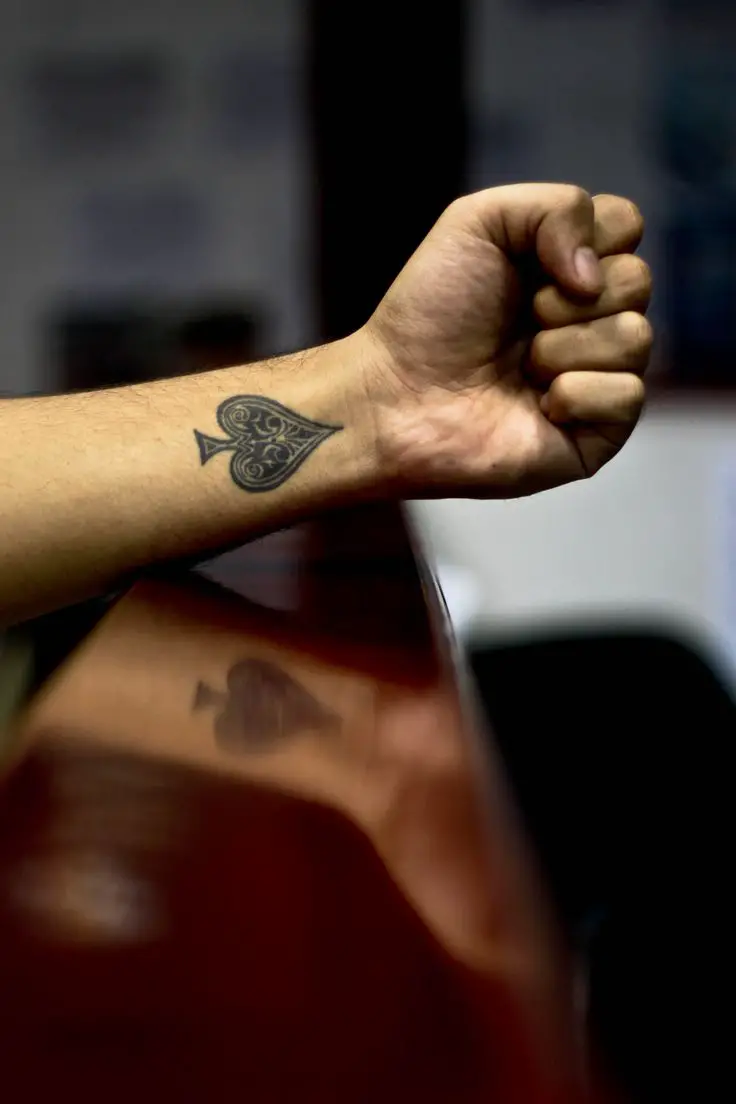 This finely etched spade is a cute idea for a wrist tattoo. The guy picked a rather intricate design with a clean outline, that makes the tattoo so unique. However, you can go beyond the basic designs and infuse details such as Victorian artwork or choose for more than one object.
77: THICK FOREST TATTOO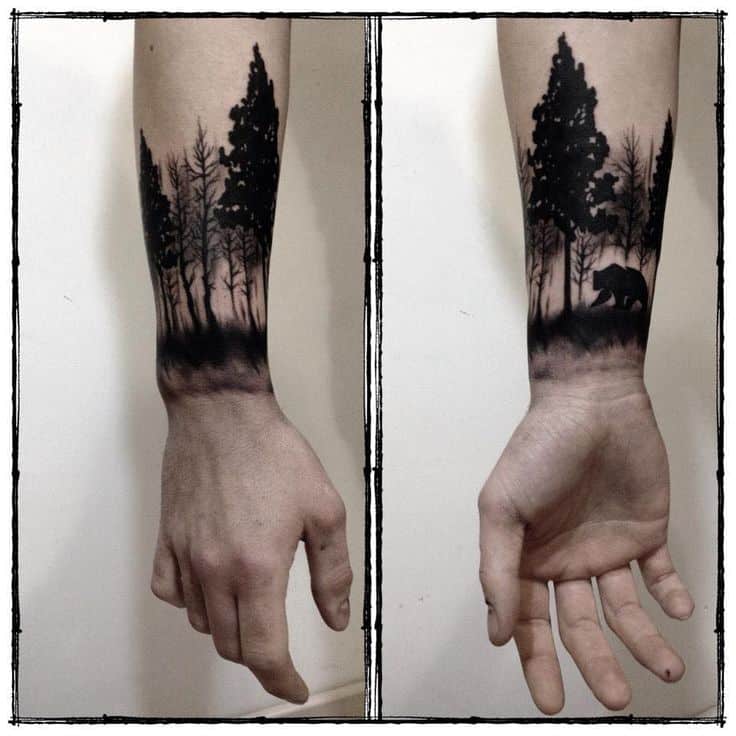 This beautiful image of a forest at dusk is an exceptional work of skilled artistry. While the trees have consumed the darkness, the little light at the back is enough to see the wild bear.
78: GARDEN OF LOVE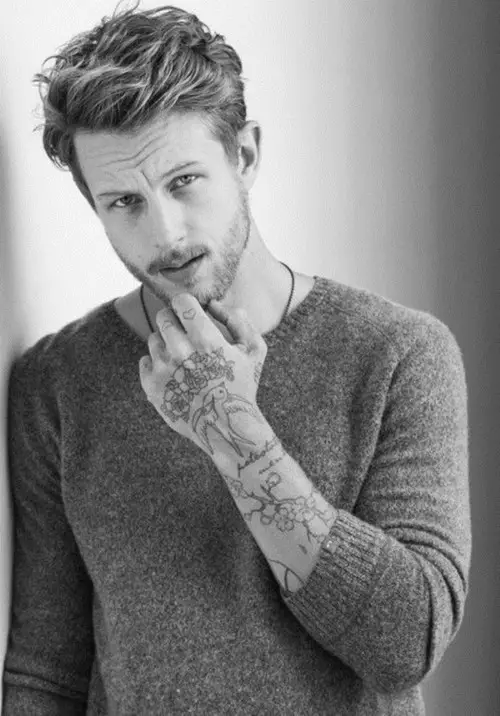 The guy seems to love nature. He created a beautiful garden on his wrist and palm. We love the different elements including the sparrow, the flower basket, and the quote. This is a nice example of how you can play with available designs and imagine something unique.
79: THE ROSE AND THE SUNSHINE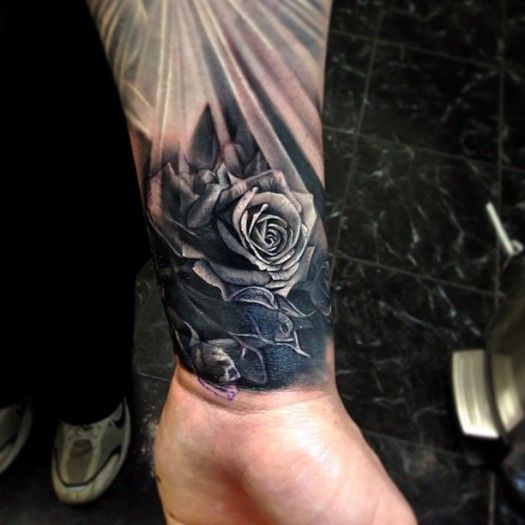 As roses symbolize love, they are excessively used to show appreciation, love or any special emotion. The black rose wrist tattoo above is basking in the sunshine and looks glorious around the forearm.
80: WRIST WATCH TATTOO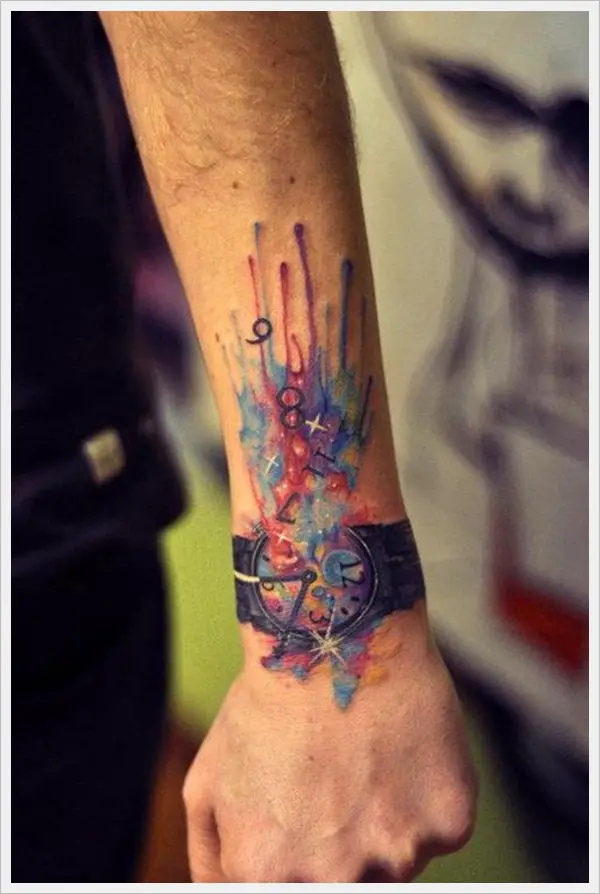 A wrist watch is a timeless companion of a wrist, and thus makes a brilliant design option to ink. The dramatic tattoo above with a burst of colors is spectacular. However, you can choose your own watch style and even etch your favorite luxury brand.
81: THE WAVES TATTOO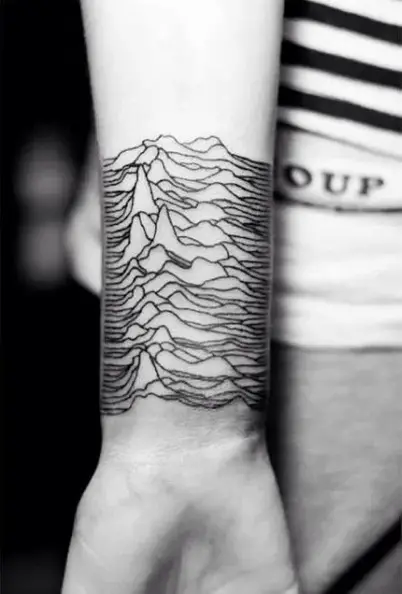 This guy must be a sailor or have grown near waters, and chosen to take the memories with him. As water is purifying, it symbolizes the cleansing of mind and soul. This could be another reason to have a wave tattoo around your wrist.
82: SIMPLE COMPASS TATTOO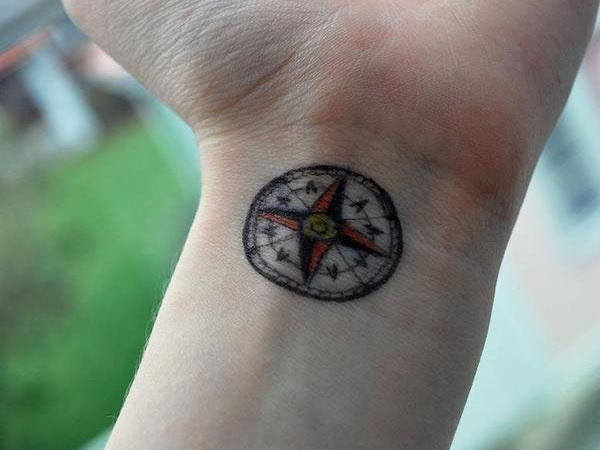 Sometimes being simple is special. This compass wrist tattoo is not as neat as the previous one, yet has an appeal to it.
83: THE PIXELS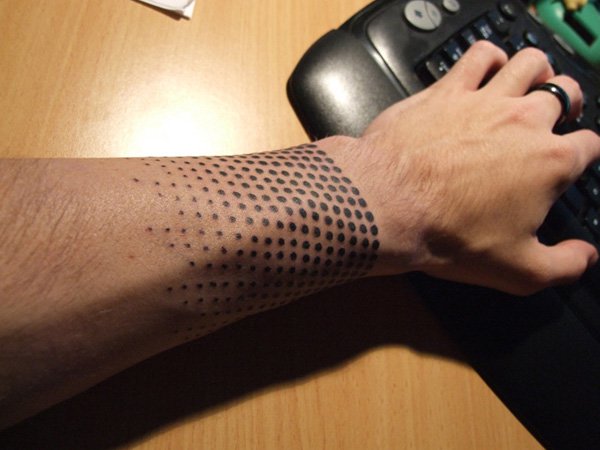 This seems the best tattoo for a techno geek.
84: THE HOPE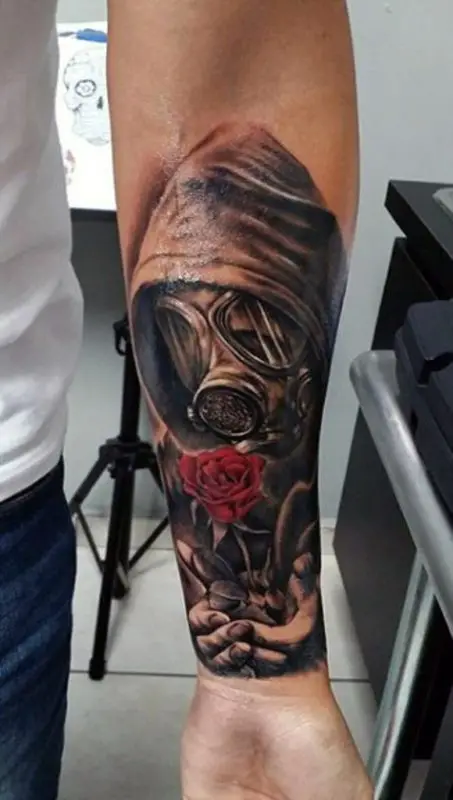 We love this wrist tattoo for its clear message. The masked man in shades of gray is trying to inhale the fragrance of the rose he is holding through his masked filter. The wearer of this tattoo seems to be very concern about the environment and wants to tell the world that there is still a hope left to improve our surroundings.
85: CRAZY FOR DIAMONDS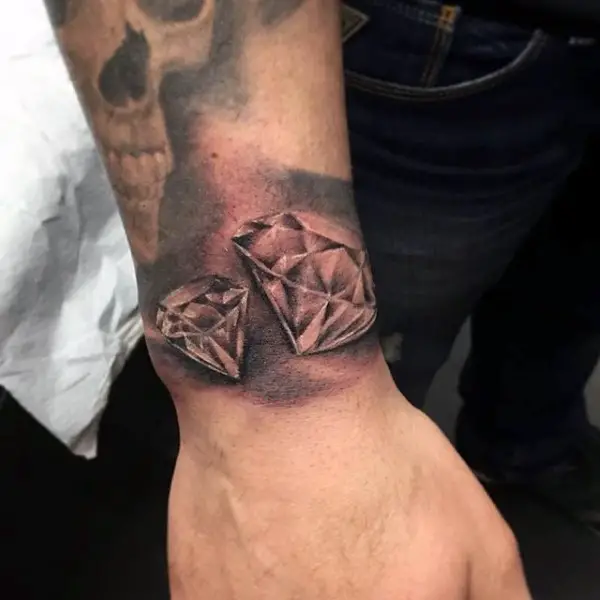 The skull and diamonds probably symbolizing the result of being greedy. Inspirational and motivational wrist tattoos are very popular for they are a nice way to teach others a lesson you otherwise might not be able to teach. You can choose your own theme for such tattoos.
86: BLACK BEAUTY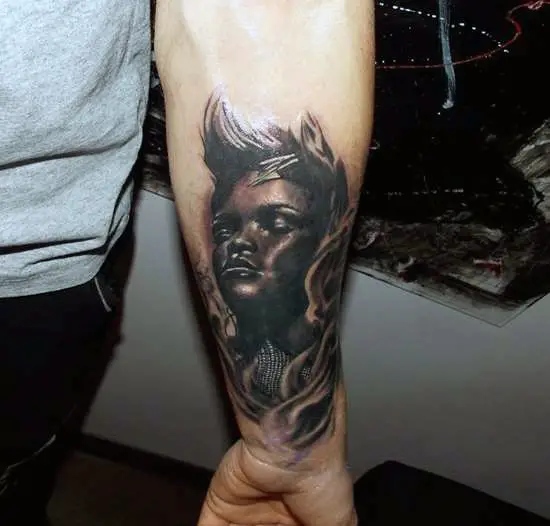 This tattoo is a great example of fine artwork. See how finely the artist has done the job. It seems as if the girl will come to life anytime.
SIDE TATTOOS FOR CONTEMPORARY GIRLS
87:  LIFE GROWS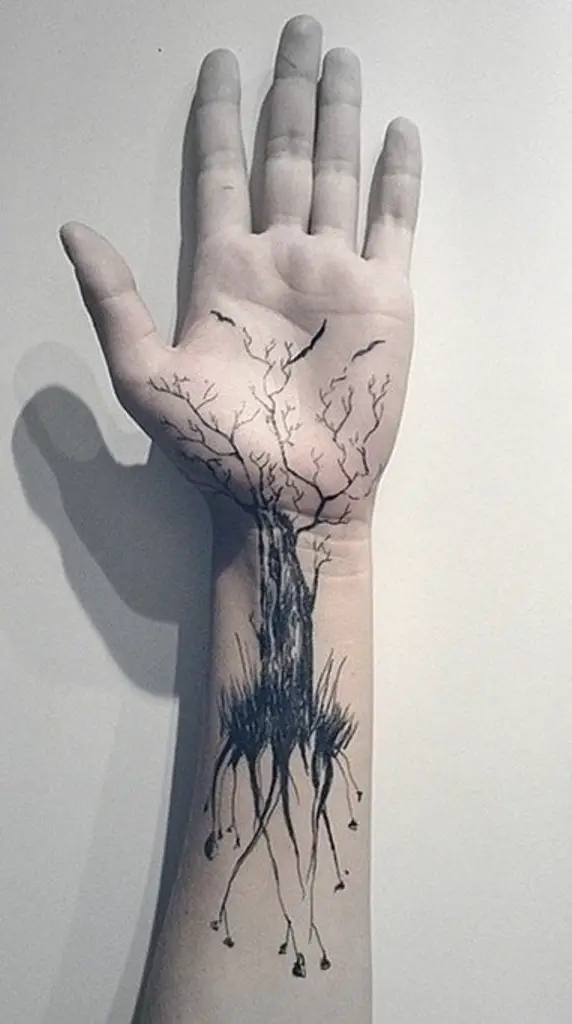 We are completely taken aback by this inspiring wrist tattoo. The artist has shown the fact of life through a simple illustration. As the roots go deeper so does the tree grows above the ground and reach new heights. The same is the case with humans. We have to stick to our roots to enjoy sky-high success.
88: TREE OF LIFE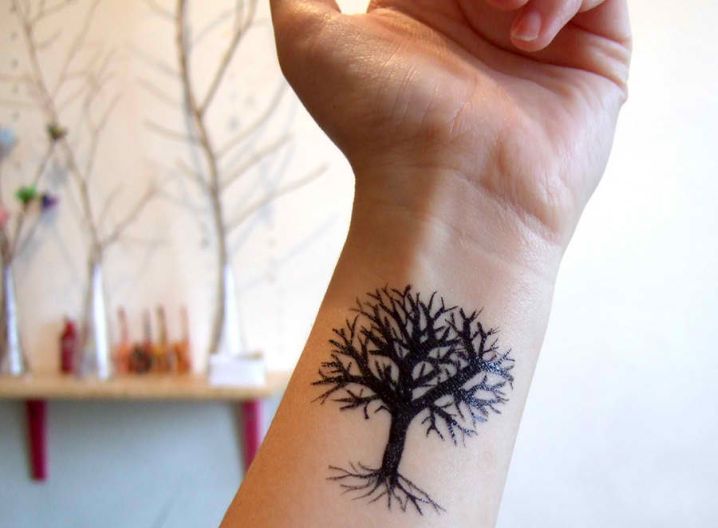 Trees, flowers and other natural elements have always been a favored source of inspiring tattoos. This tiny tree of lifestyle tattoo looks cute and speaks for the philosophy of life.
89: FRENCH COMPASS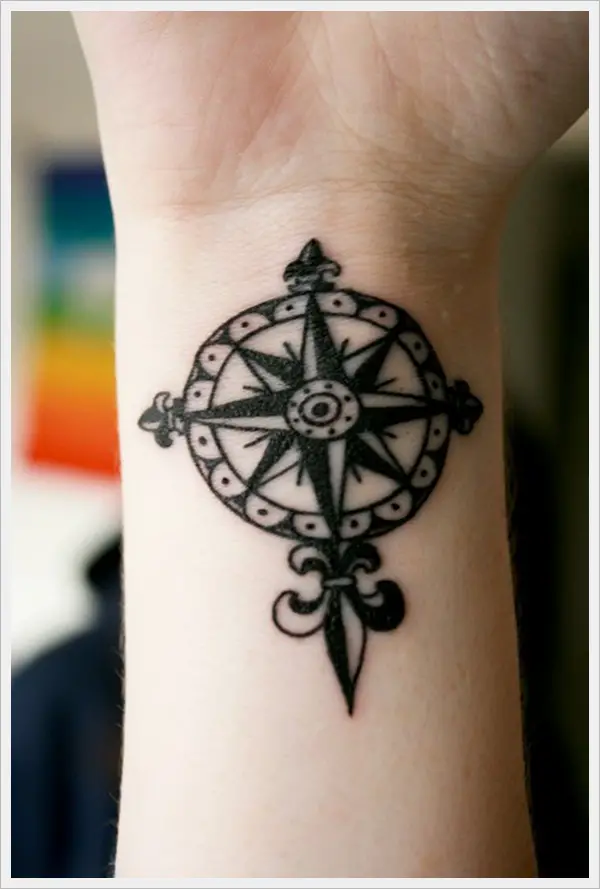 This compass tattoo has 'Fleur-de-lis' for a royal touch. The French symbol signifies perfection, light, and life. You can use your own symbols with compass design to create a unique design.
90: FLY LIKE AN EAGLE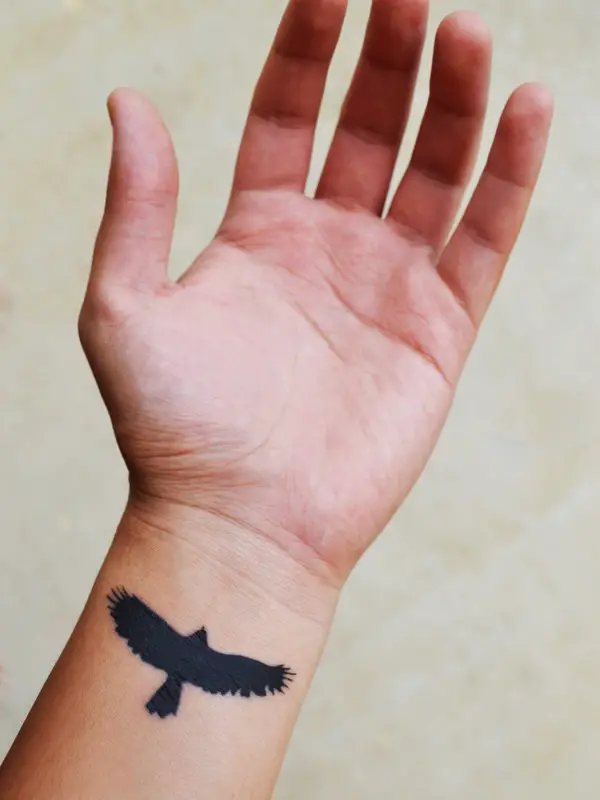 Birds especially eagle represent freedom, focus, and bravery. An eagle always fly alone and never get afraid of a storm. The tattoo wearer seems to be a brave heart. You can choose any bird such as sparrow, peacock or others to signify your attributes. Isn't that nice?
91: IN THE RAINS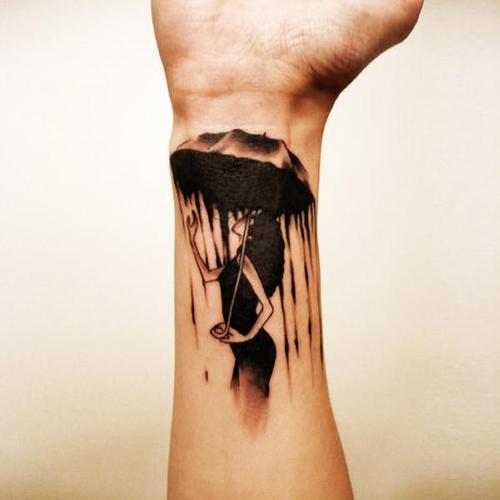 This wrist tattoo for men is really sexy and classy.
92: THE PALM TREE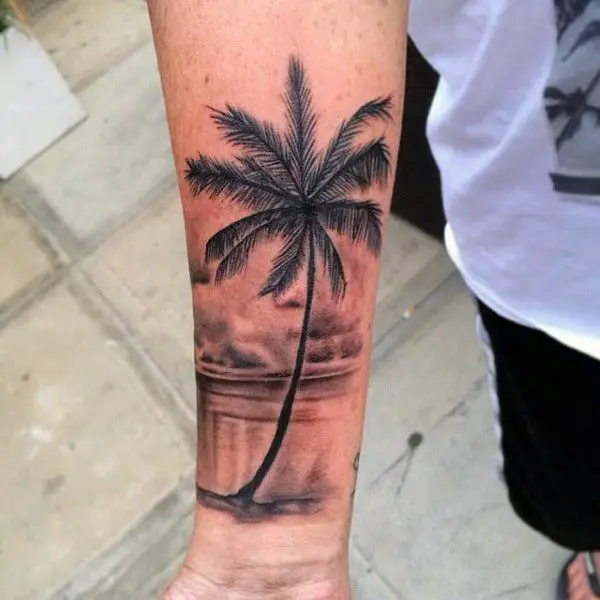 Here is a beautiful palm tree by the oasis. We love how gracefully the artist has inked every detail, whether it's the leaves, the trunk or the still water and clouds in the background. By the way, you will be amazed to know that palm tree is considered a symbol of wholeness and is believed to be equally united with polarity in alchemical traditions.
93: BUTTERFLY WRIST TATTOO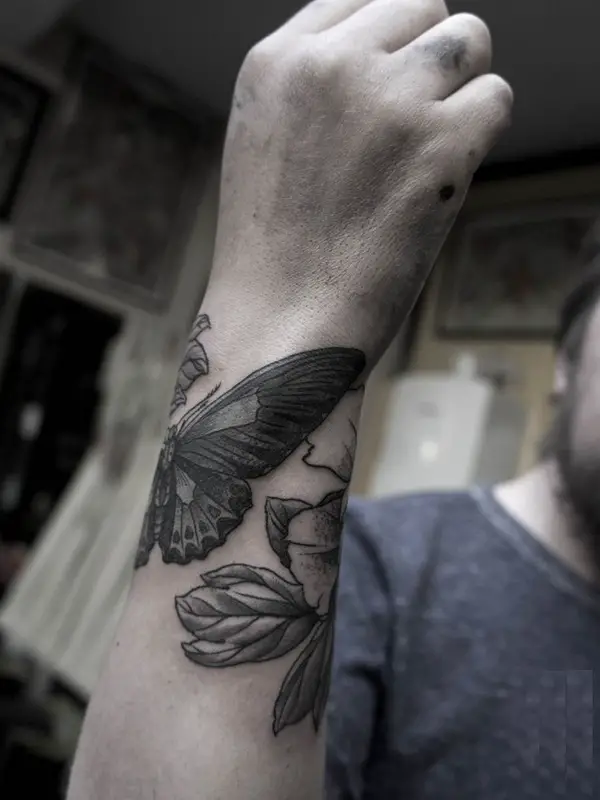 If you think a butterfly is very feminine, think again. The tattoo above is so masculine and classy.
94: ANTICAPITING HALLOWEEN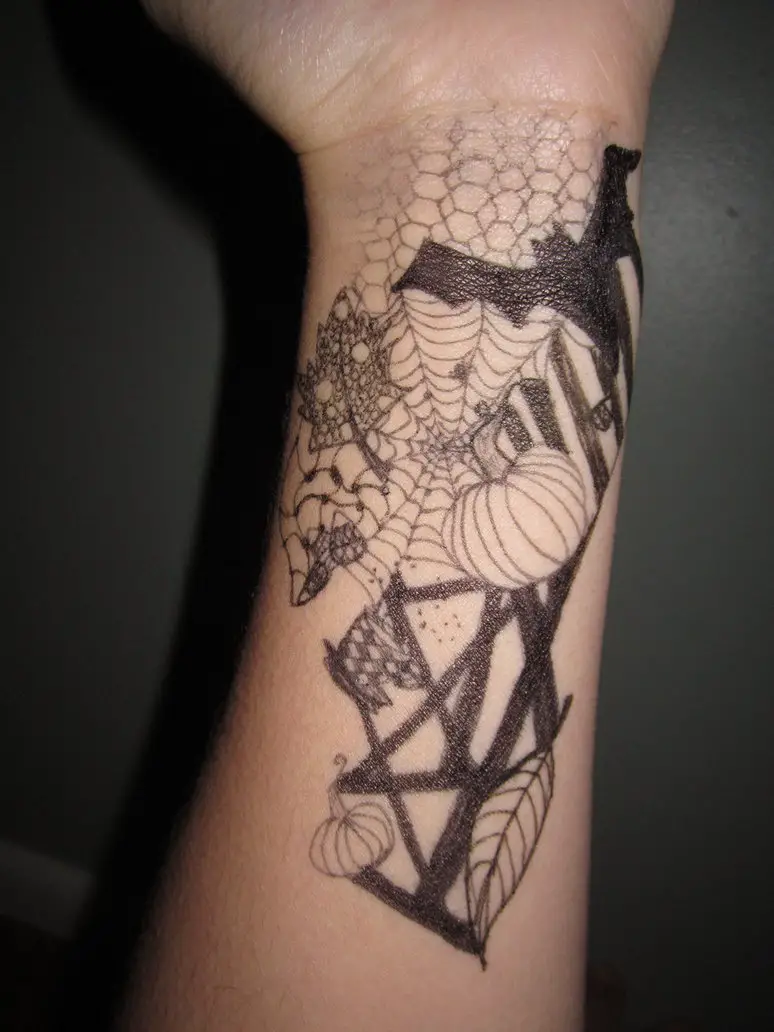 We haven't imagined a scary and creepy backdrop could look awesome until we have seen this finely done Halloween wrist tattoo.
95: TINY PALM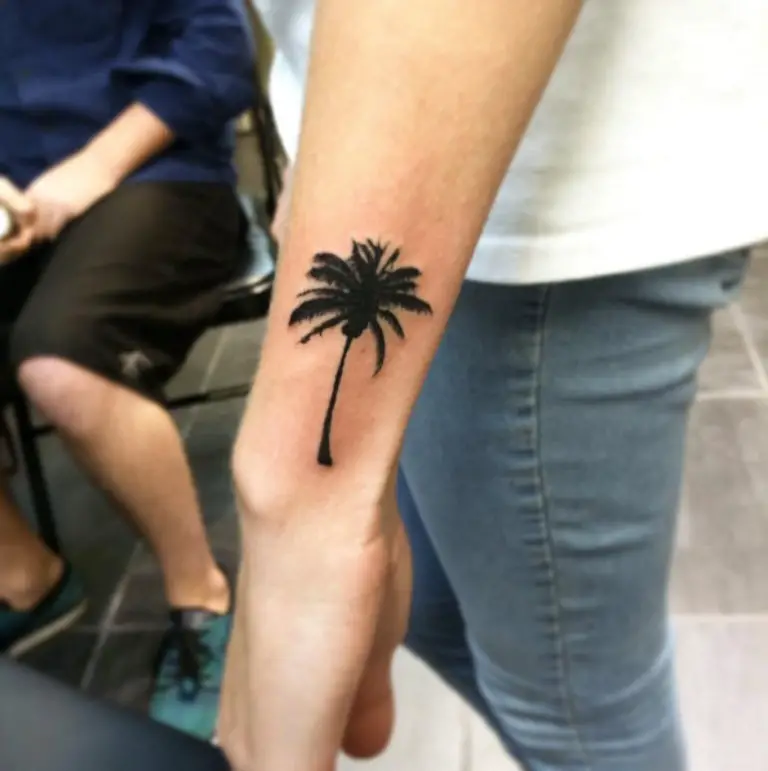 This cute palm tree on the side is sure to catch attention.
96: WORDS THAT ECHO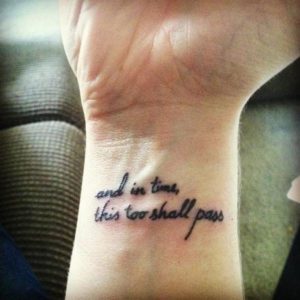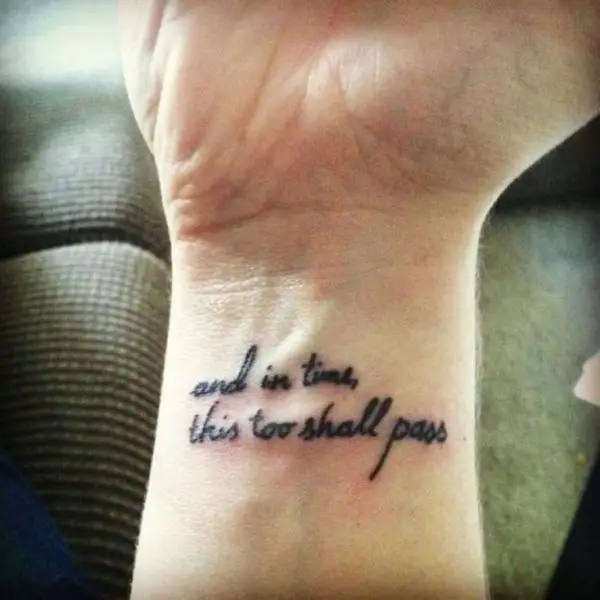 Last but not the least is this special quote that will remain significant till eternity. The wrist is a perfect place to etch words, quotes, messages and similar text tattoos. You can also mix text with images for a unique appeal.
Conclusion
We are sure these wrist tattoos for men are sufficient enough to inspire you for getting your own wrist tattoo. However, regardless of the designs, you should always ensure that you get the job done by professionals only. Also, understand the meaning of signs and placement of your tattoo so that you can better connect with it. If you have some ideas of your own you should discuss them with your tattoo artist and get their opinion as well. At the end of the day, you should have a piece that fits your personality and characteristic.
FAQ
Should guys get wrist tattoos?
If a guy feels like getting one and his profession allows it then absolutely.
Are wrists painful to tattoo?
Yes. But they are not as painful as neck tattoos.
What do tattoos around the wrist mean?
Tattoos around the wrist mean assertiveness, confidence & influence.
Are wrist tattoos Manly?
Yes. Wrist tattoos are manly but there are some gender-neutral options as well.
How much does a wrist tattoo cost?
Wrist tattoos can cost anywhere between $50 to $200 depending on the design.
What is a masculine tattoo?
A tattoo that shows manliness and masculinity is considered a masculine tattoo.
Can you take a shower after getting a tattoo?
Yes. You can take a shower after you get a tattoo. Just don't keep the tattoo submerged underwater for too long.
How much is a 1-hour tattoo?
A 1-hour tattoo will cost between $80 to $200.
How much is a 3-hour tattoo?
Depending on the artist, a 3-hour tattoo will cost between $250 to $600.