Wrist tattoos for men are one of the unique inking styles. They look simple but often carry great meaning. If you want to figure everything about wrist tattoos then ask a man who has the one. He will tell you that this type of tattoo rates higher on the pain scale because of the lesser amount of skin. Moreover, if not done carefully, there are chances of hurting the veins. So when you think of getting a wrist tattoo, make sure you are in highly skilled hands.
As you get very less space to let your imagination go wild, you should choose the design wisely. It is also important because you can hardly hide wrist area and the ink will always be visible to the world. If you are confused about the most profound design options for men, then this list of 25 most interesting ideas will definitely inspire you. However, before we move ahead, let's have a look at the history and meanings of wrist tattoos.
People who went to sea were the first to use wrist tattoos. Most of them get a tattoo of nautical star believing it help guide them in the sea and protects them during the journey. Later, in the 50s and 60s, wrist tattoos were linked to lesbian and gay communities. However, this mentality has changed over time and now the tattoos have no connections with any such communities. In fact, these tattoos are one of the most appealing body art that is very much in trend.
MOST INSPIRING WRIST TATTOOS FOR MEN TO GET KILLER LOOK
While different designs have their own meaning, the placement of tattoo on the inner wrist, or around the wrist also has a special meaning. If you think there are less choice for wrist tattoos for men, then get ready to amaze. From inspirational quotes to words of strength and motivation, significant symbols such as hearts, lock & key, infinity knot, astrological signs, flowers, celestial symbols and more, there are as many options possible as you can imagine. If you are unclear about what to pick, then scroll down and explore most inspiring and interesting wrist tattoo designs.
#1: COMPASS WRIST TATTOOS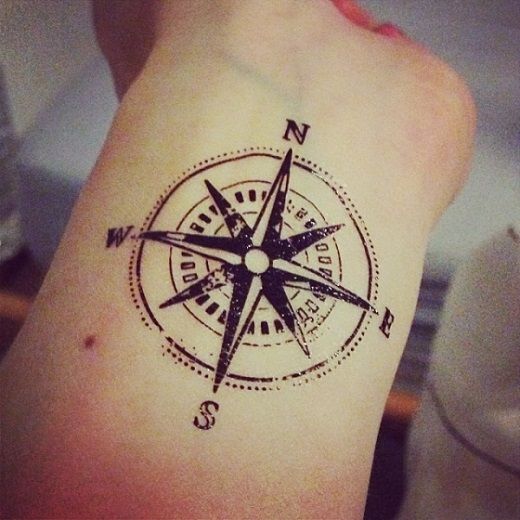 Compass style wrist tattoos are very common amongst men and women. As a popular maritime symbol for early sailors, compass tattoo was believed to protect people on rough waters. The design has endless variations but what we like the most about the tattoo above is its classic and vintage look. This star compass with its wear and tear look is sure to turn heads for many years to come.
#2: THE PINE FOREST
While plant parts such as leaves, flowers, and pollens are common for wrist tattoos, this pine forest tattoo in blue ink is simply exotic. This finely etched tattoo is brilliant to remain close to nature and enjoy the wilderness.
#3:  GUITAR TATTOO DESIGN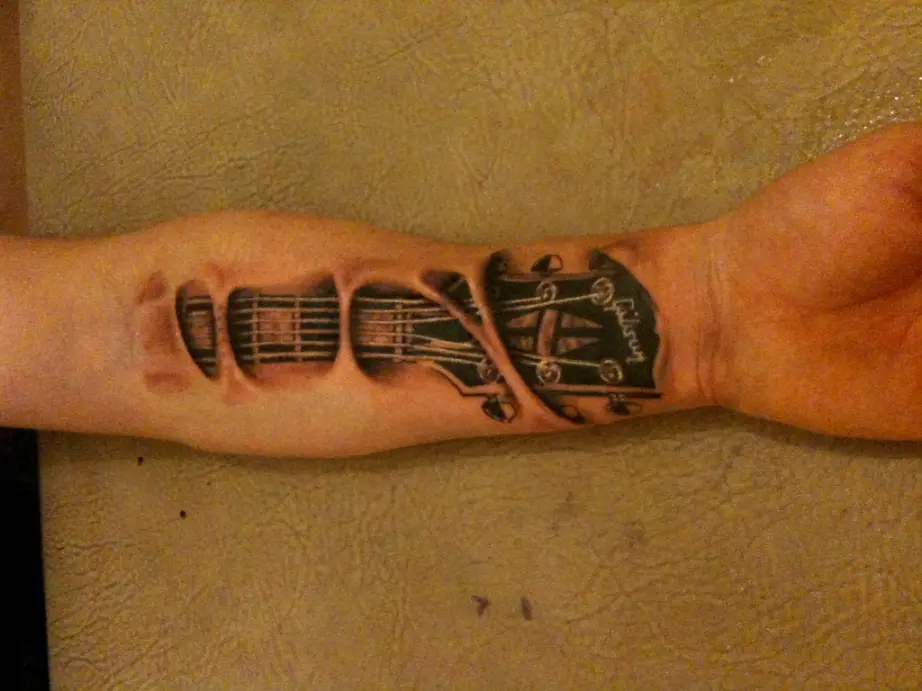 What a remarkable choice for a musical lover! With this 3D style guitar tattoo, the guy cleared that music is in his flesh, bones, and blood.
#4: ANIMAL TATTOO ON WRIST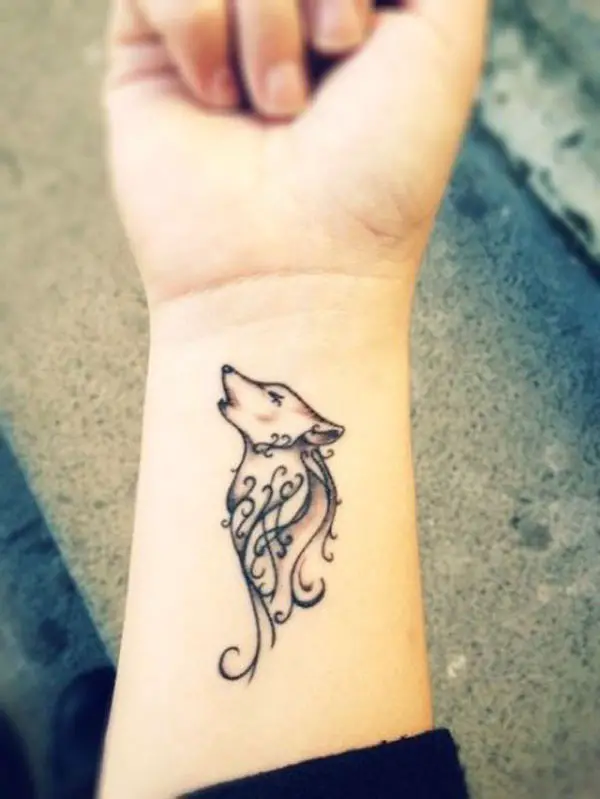 Animal tattoos like the above one are popular amongst men. They can contain some meaning, can be associated with your personal belief or can have some sort of personal bonding. For example, this dog tattoo might be inspired from the wearer's love for his dog.
#5: PLAYING CARD TATTOO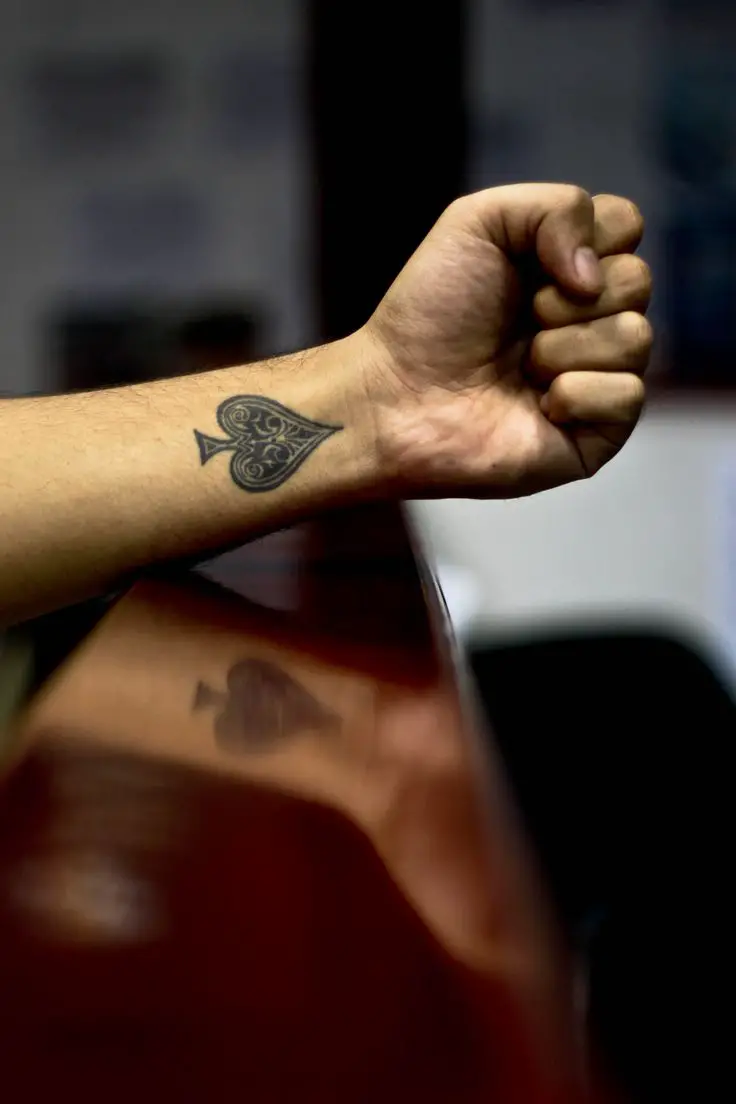 This finely etched spade is a cute idea for a wrist tattoo. The guy picked a rather intricate design with a clean outline, that makes the tattoo so unique. However, you can go beyond the basic designs and infuse details such as Victorian artwork or choose for more than one object.
#6: THICK FOREST TATTOO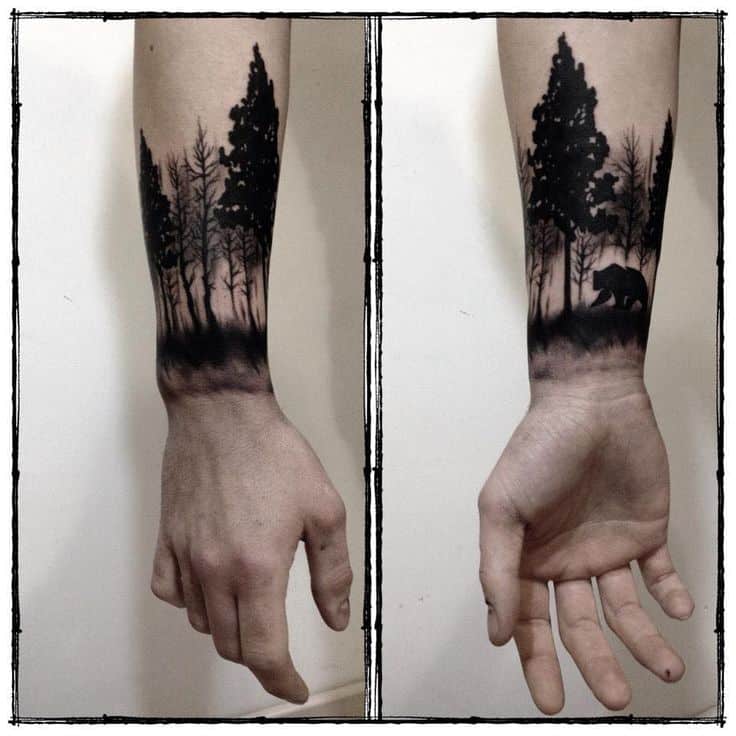 This beautiful image of a forest at dusk is an exceptional work of skilled artistry. While the trees have consumed the darkness, the little light at the back is enough to see the wild bear.
#7: GARDEN OF LOVE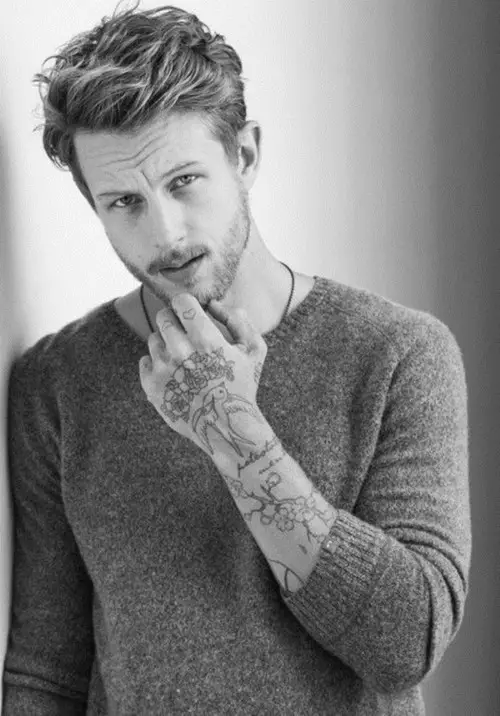 The guy seems to love nature. He created a beautiful garden on his wrist and palm. We love the different elements including the sparrow, the flower basket, and the quote. This is a nice example of how you can play with available designs and imagine something unique.
#8: THE ROSE AND THE SUNSHINE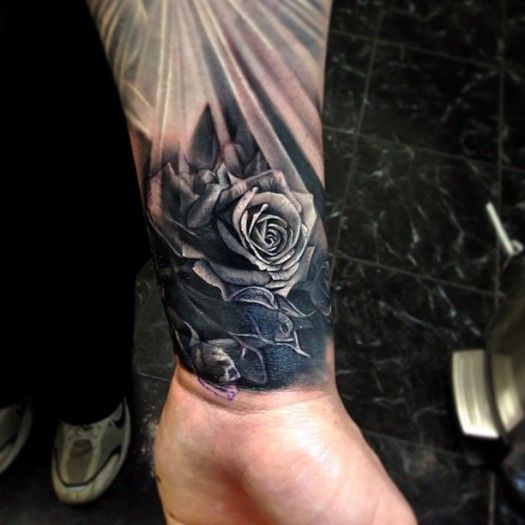 As roses symbolize love, they are excessively used to show appreciation, love or any special emotion. The black rose wrist tattoo above is basking in the sunshine and looks glorious around the forearm.
#9: WRIST WATCH TATTOO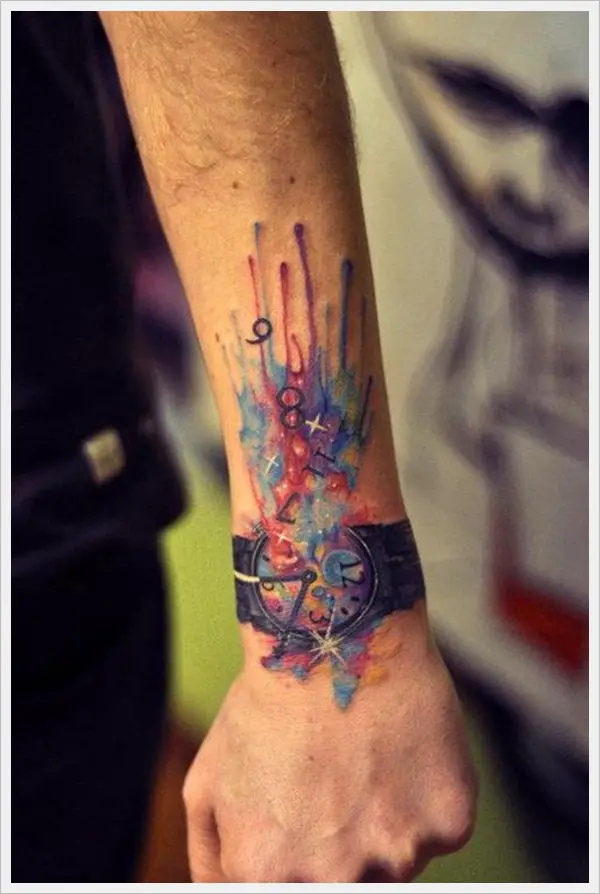 A wrist watch is a timeless companion of a wrist, and thus makes a brilliant design option to ink. The dramatic tattoo above with a burst of colors is spectacular. However, you can choose your own watch style and even etch your favorite luxury brand.
#10: THE WAVES TATTOO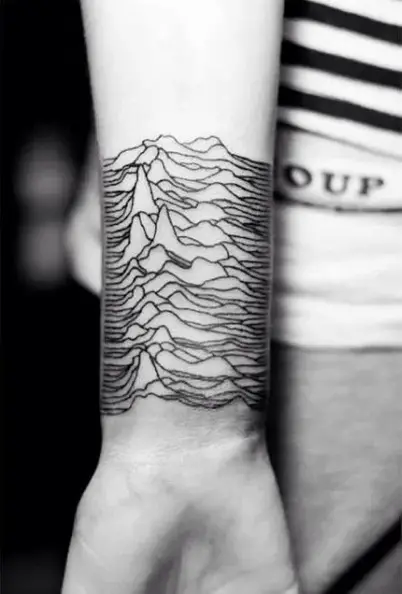 This guy must be a sailor or have grown near waters, and chosen to take the memories with him. As water is purifying, it symbolizes the cleansing of mind and soul. This could be another reason to have a wave tattoo around your wrist.
#11: SIMPLE COMPASS TATTOO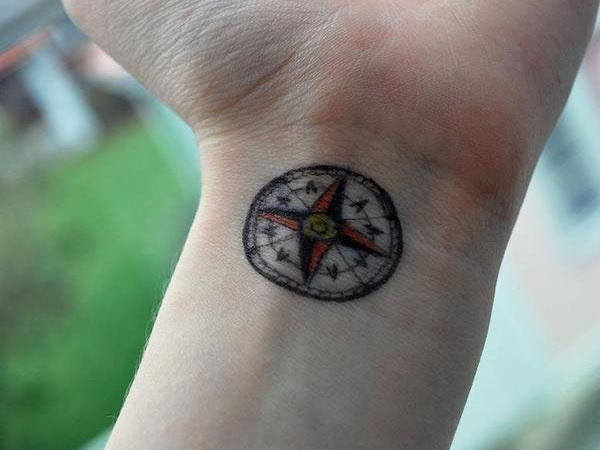 Sometimes being simple is special. This compass wrist tattoo is not as neat as the previous one, yet has an appeal to it.
#12: THE PIXELS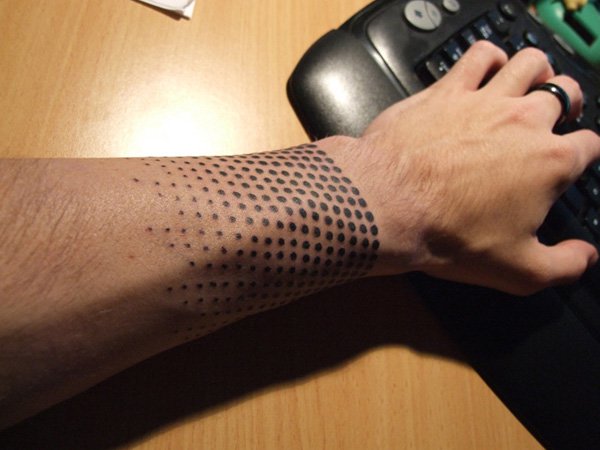 This seems the best tattoo for a techno geek.
#13: THE HOPE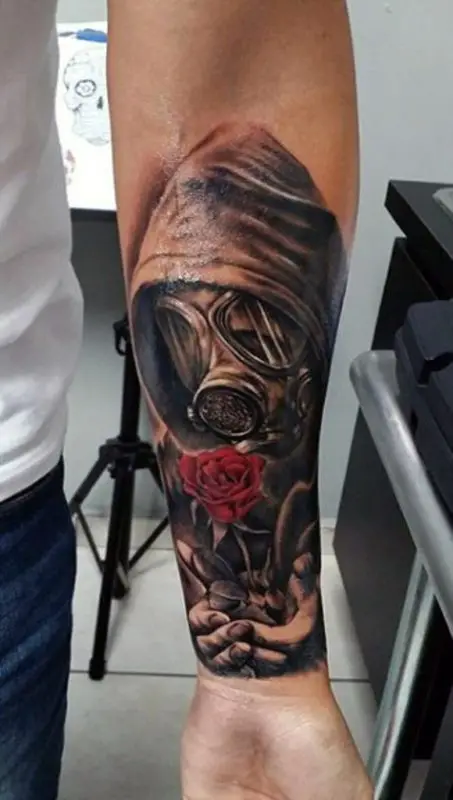 We love this wrist tattoo for its clear message. The masked man in shades of gray is trying to inhale the fragrance of the rose he is holding through his masked filter. The wearer of this tattoo seems to be very concern about the environment and wants to tell the world that there is still a hope left to improve our surroundings.
#14: CRAZY FOR DIAMONDS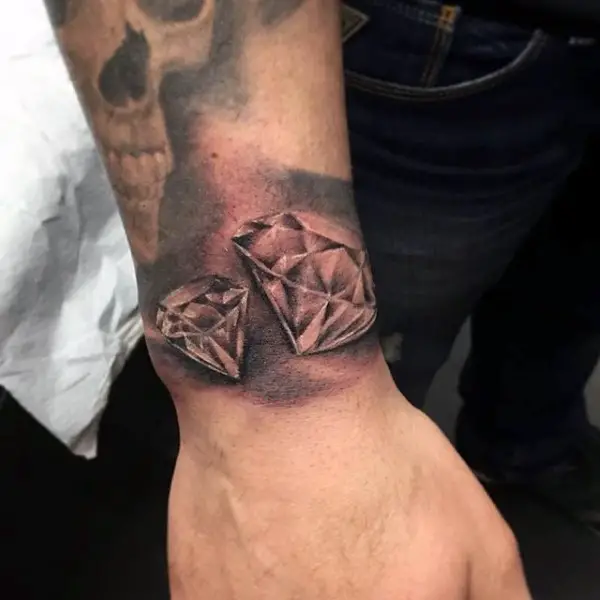 The skull and diamonds probably symbolizing the result of being greedy. Inspirational and motivational wrist tattoos are very popular for they are a nice way to teach others a lesson you otherwise might not be able to teach. You can choose your own theme for such tattoos.
#15: BLACK BEAUTY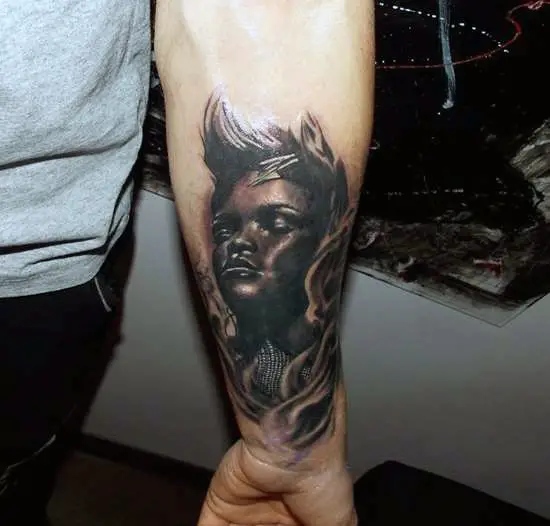 This tattoo is a great example of fine artwork. See how finely the artist has done the job. It seems as if the girl will come to life anytime.
SIDE TATTOOS FOR CONTEMPORARY GIRLS
#16:  LIFE GROWS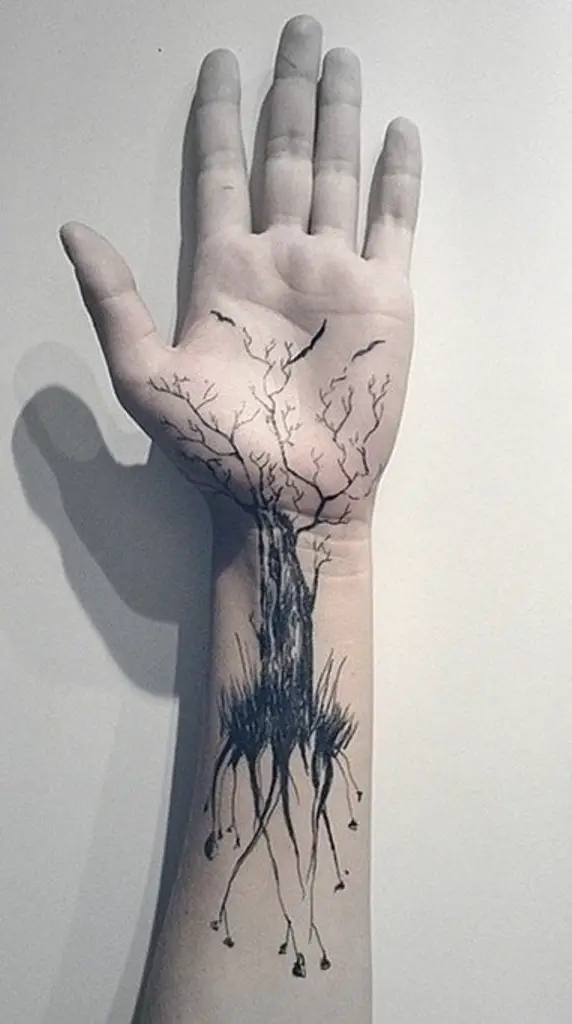 We are completely taken aback by this inspiring wrist tattoo. The artist has shown the fact of life through a simple illustration. As the roots go deeper so does the tree grows above the ground and reach new heights. The same is the case with humans. We have to stick to our roots to enjoy sky-high success.
#17: TREE OF LIFE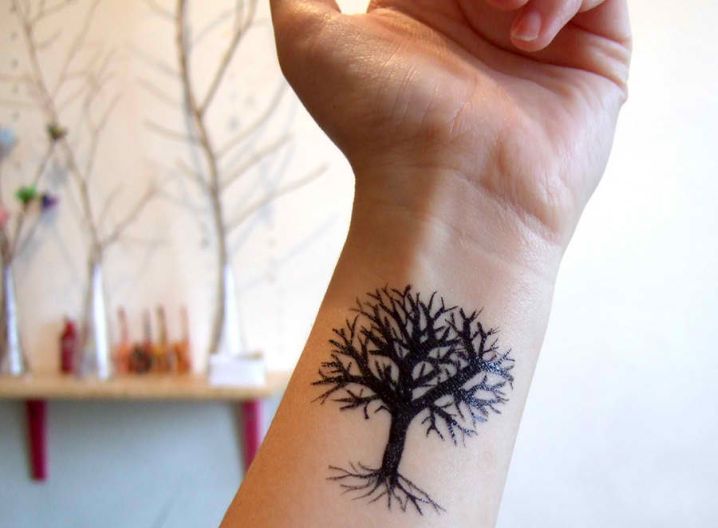 Trees, flowers and other natural elements have always been a favored source of inspiring tattoos. This tiny tree of lifestyle tattoo looks cute and speaks for the philosophy of life.
#18: FRENCH COMPASS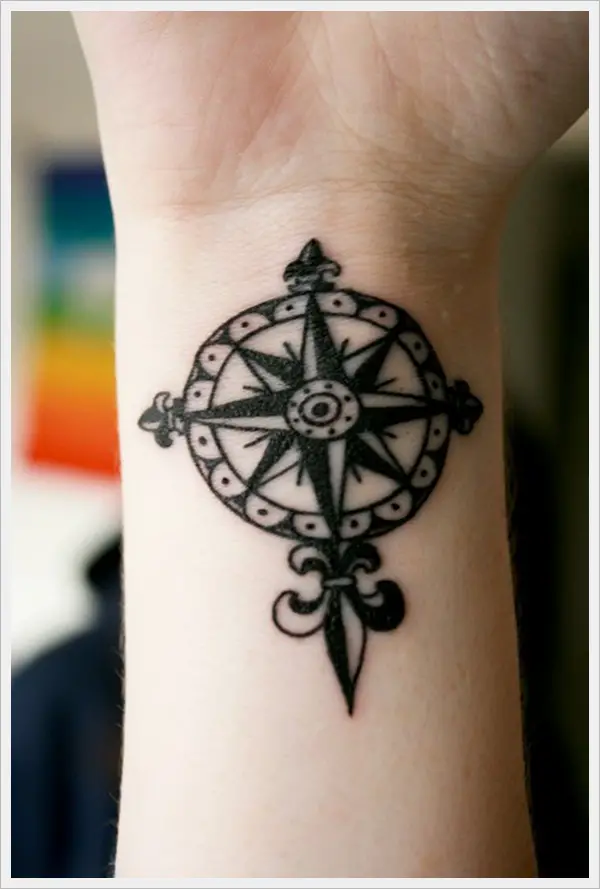 This compass tattoo has 'Fleur-de-lis' for a royal touch. The French symbol signifies perfection, light, and life. You can use your own symbols with compass design to create a unique design.
#19: FLY LIKE AN EAGLE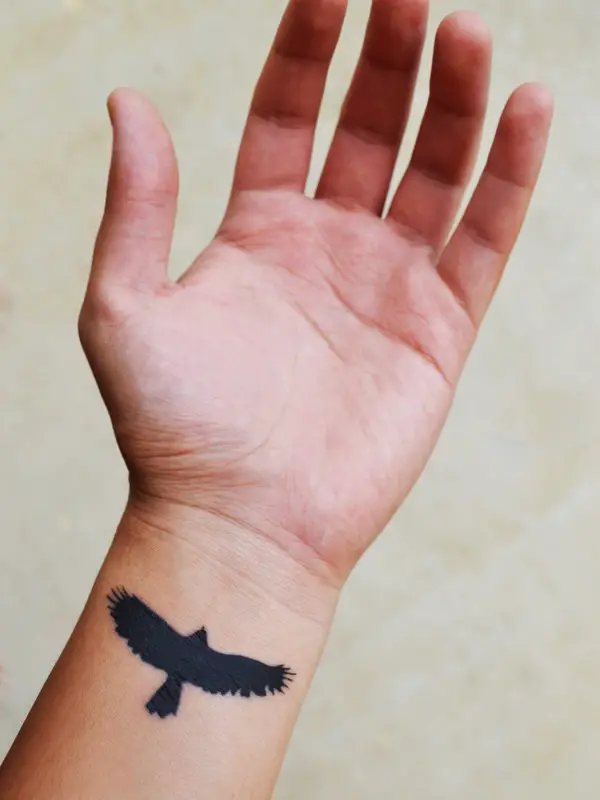 Birds especially eagle represent freedom, focus, and bravery. An eagle always fly alone and never get afraid of a storm. The tattoo wearer seems to be a brave heart. You can choose any bird such as sparrow, peacock or others to signify your attributes. Isn't that nice?
#20: IN THE RAINS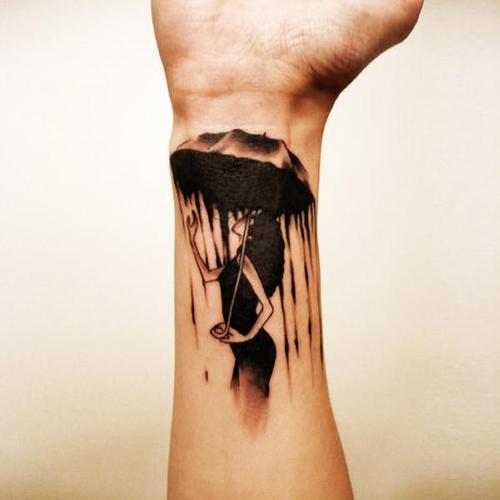 This wrist tattoo for men is really sexy and classy.
#21: THE PALM TREE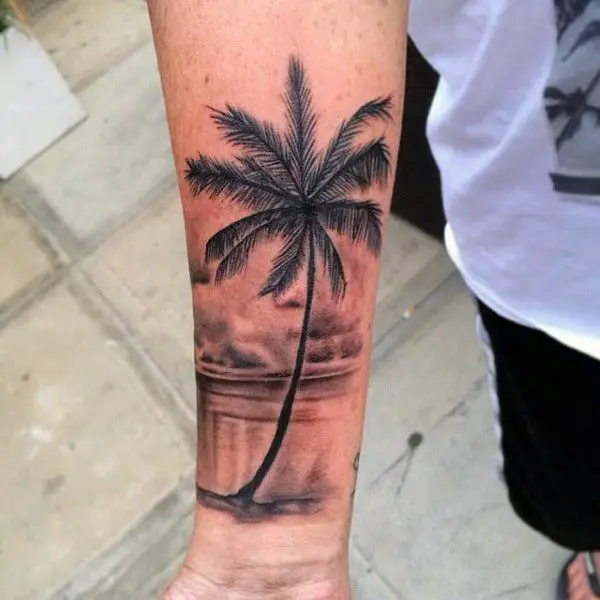 Here is a beautiful palm tree by the oasis. We love how gracefully the artist has inked every detail, whether it's the leaves, the trunk or the still water and clouds in the background. By the way, you will be amazed to know that palm tree is considered a symbol of wholeness and is believed to be equally united with polarity in alchemical traditions.
#22: BUTTERFLY WRIST TATTOO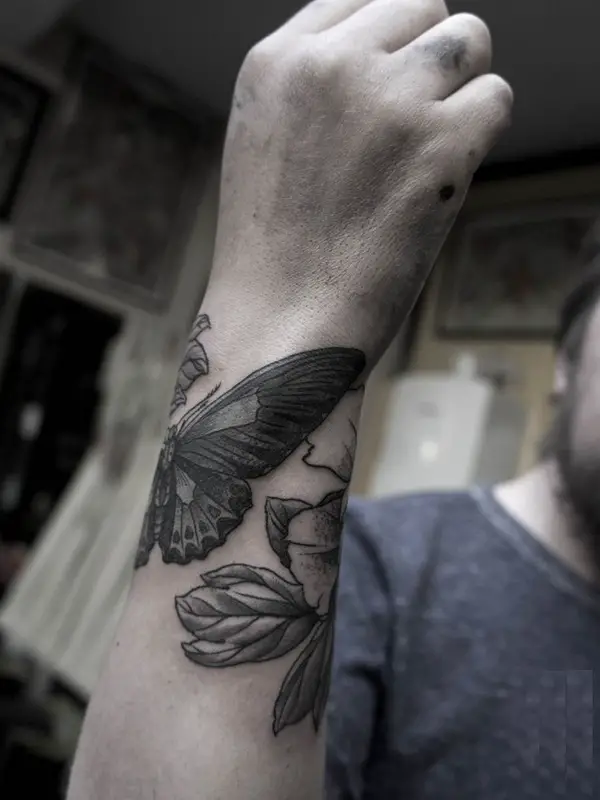 If you think a butterfly is very feminine, think again. The tattoo above is so masculine and classy.
#23: ANTICAPITING HALLOWEEN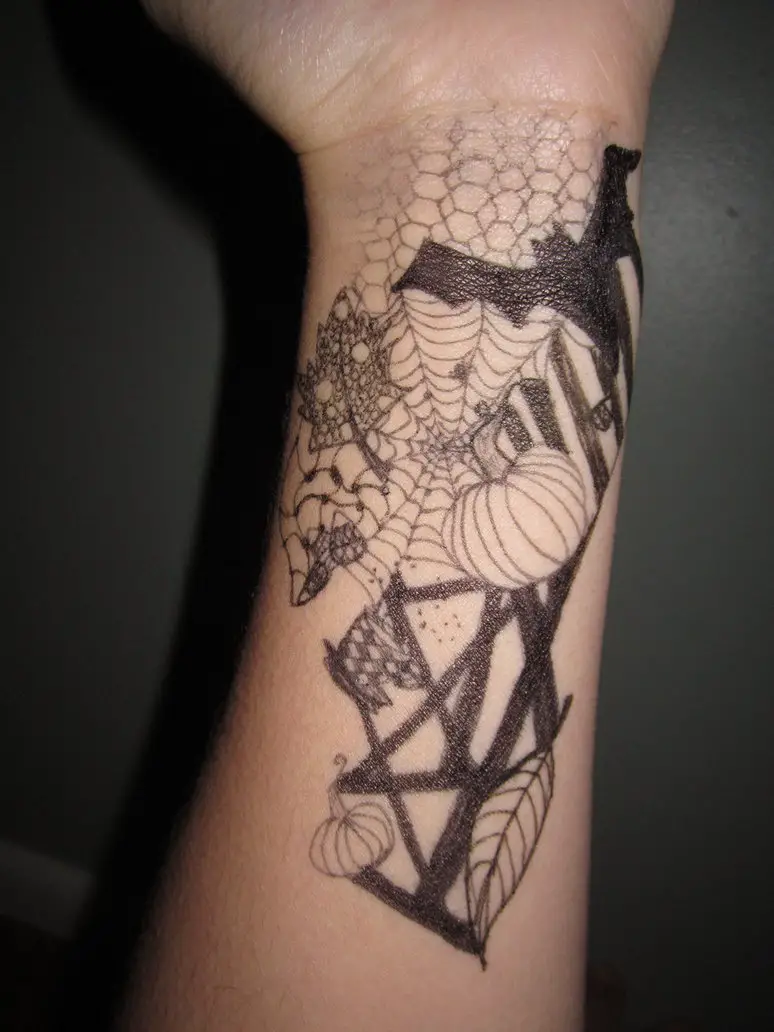 We haven't imagined a scary and creepy backdrop could look awesome until we have seen this finely done Halloween wrist tattoo.
#24: TINY PALM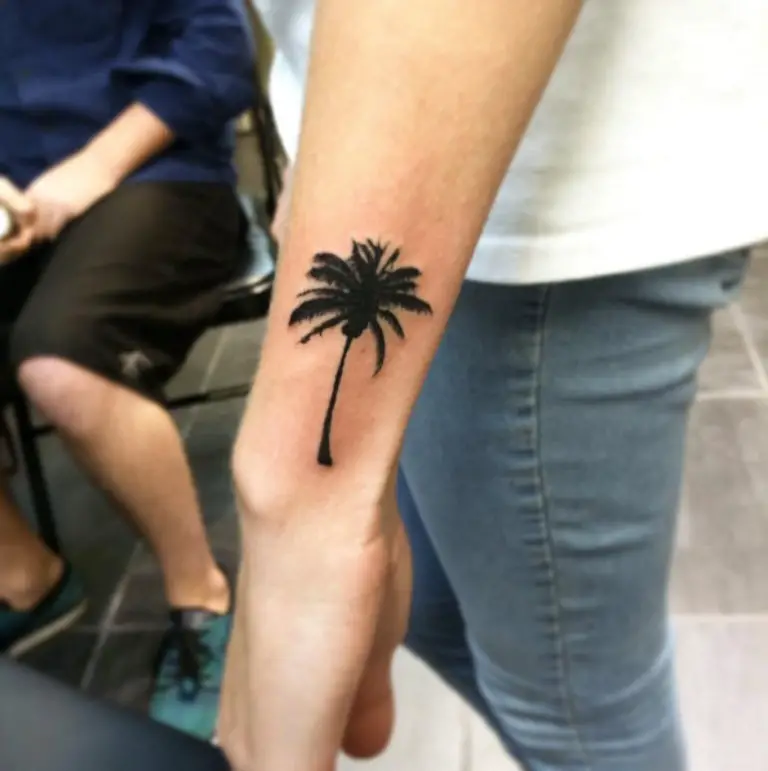 This cute palm tree on the side is sure to catch attention.
#25: WORDS THAT ECHO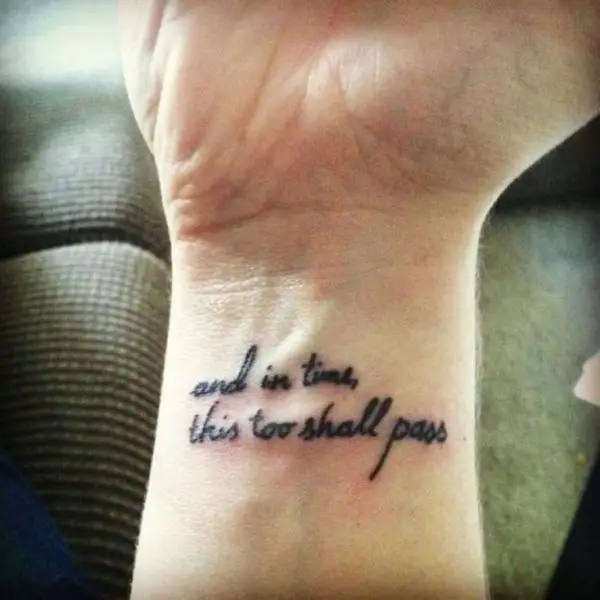 Last but not the least is this special quote that will remain significant till eternity. The wrist is a perfect place to etch words, quotes, messages and similar text tattoos. You can also mix text with images for a unique appeal.
We are sure these 25 wrist tattoos for men are sufficient enough to inspire you for getting your own wrist tattoo. However, regardless of the designs, you should always ensure that you get the job done by professionals only. Also, understand the meaning of signs and placement of your tattoo so that you can better connect with it.