There is nothing cooler than forearm tattoos for women if a women  want to look chic and classy. However, for a tattoo on forearm, you really have to be daring. The art of tattooing has come a long way yet it is not completely accepted by many societies. When you decide to have a tattoo, you choose to take a risk of being discriminated at work, by conservative people, elders and others. Although body tattoos are accepted by many societies, others will consider it a taboo. Things get more complicated for women as conservatives often connect tattooing with ethics and moral character.However, if you have chosen forearm for inking, you are sporty enough to take bold steps. It is because forearm tattoos are easily visible unless you have long sleeved shirts to hide them.
FABULOUS FOREARM TATTOOS FOR WOMEN TO SHOW DARE
Forearm tattoos are bold yet very popular and fun to get. Many people get so fond of them that they start with a small patch and ends up inking both hands. A major reason for the popularity is that they don't showcase the art in any indiscreet manner, rather reflects the confidence most people won't show. Also, caring for your skin under forearm tattoo is much easier than tattoos at other places. Carefully check with your tattoo master and closely observe his style as to be sure you are in safe hands.
As far as the design is concerned, there are numerous ideas for forearm tattoos for women. You can choose to keep it minimal with a tiny paw or name tattoo or opt for an extravagant work of art that reflects your emotions or personality. To help you find something inspiring, we have rounded up a list of these 20 forearm tattoos for women. Take a look around and see which options suits you best.
#1: MEANINGFUL EXPRESSION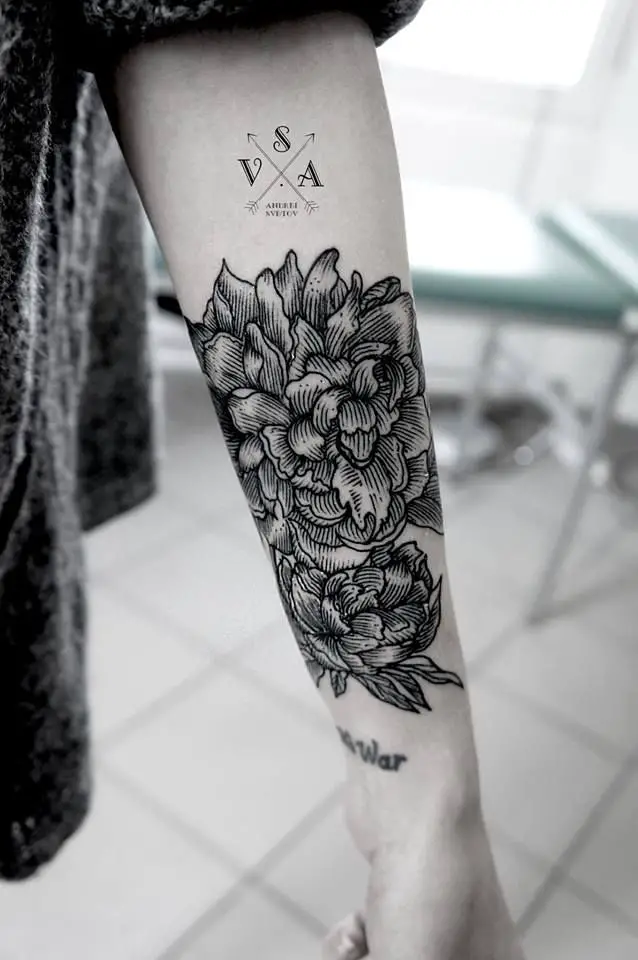 This flower forearm tattoo screams passion. It has so much detail, we wonder how much time it took. To top the beautiful flower, those arrows with letters seems symbolically relating to the person's relationship.
#2: WIREFRAME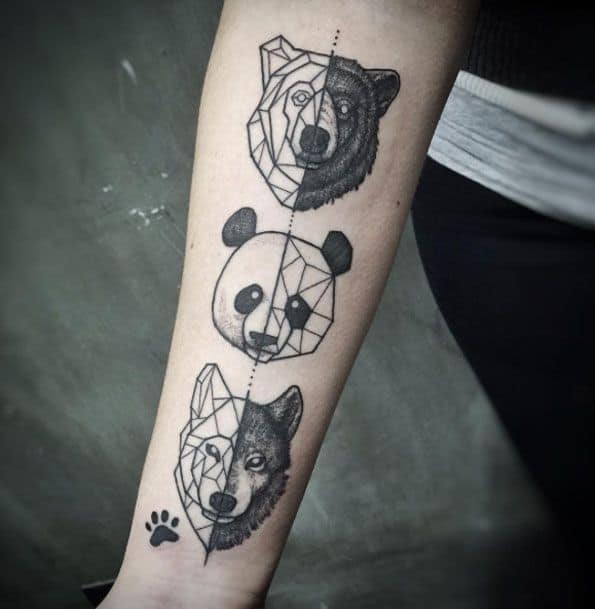 Isn't this tattoo incredible? A bear, a panda and a wolf face – half wired, half finished. This forearm tattoo grabs instant attention. And you just can't, ignore that paw!
#3: VICTORIAN ARTWORK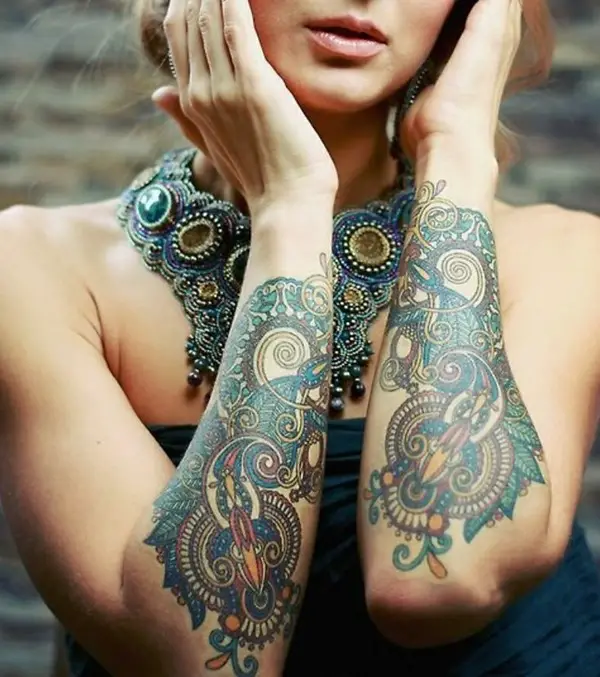 This tattoo design is majestic and so Victorian, don't you think? It's so intriate, dainty and beautiful that we can't help but be a little in awe by it. Notice the detailing, it's as refined as the bib necklace the girl is wearing. And both the forearm tattoos for women are mirror identical.
#4: BLACK ROSES FOREARM

Literally, picture perfect. Making these flowers look realistic is no easy task but this artist did a flawless job. What makes this tattoo remarkable is an eye for detailing. Just look at those twisted petals and the fine strokes giving the petals a natural touch.
#5: MANDALA FOREARM TATTOO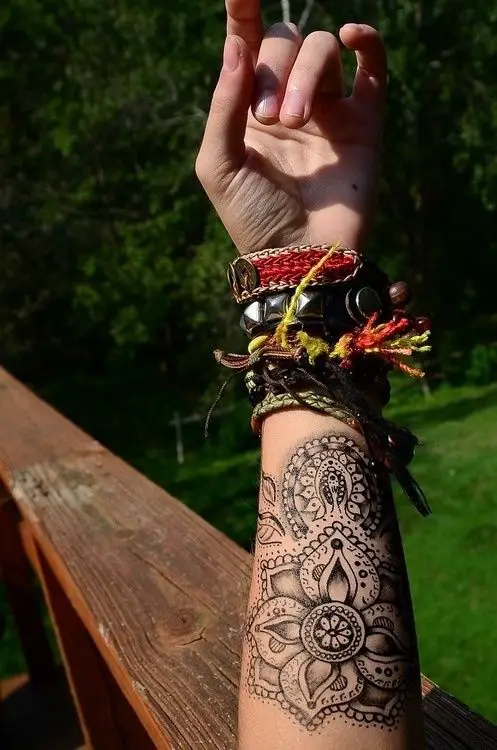 Mandala is a Sanskrit word for a circle that symbolizes eternity and completeness. This is a simple yet traditional Mandala forearm tattoo. Most mandala tattoos are inked in black since it protects its origin.
#6: FIERCE BEAR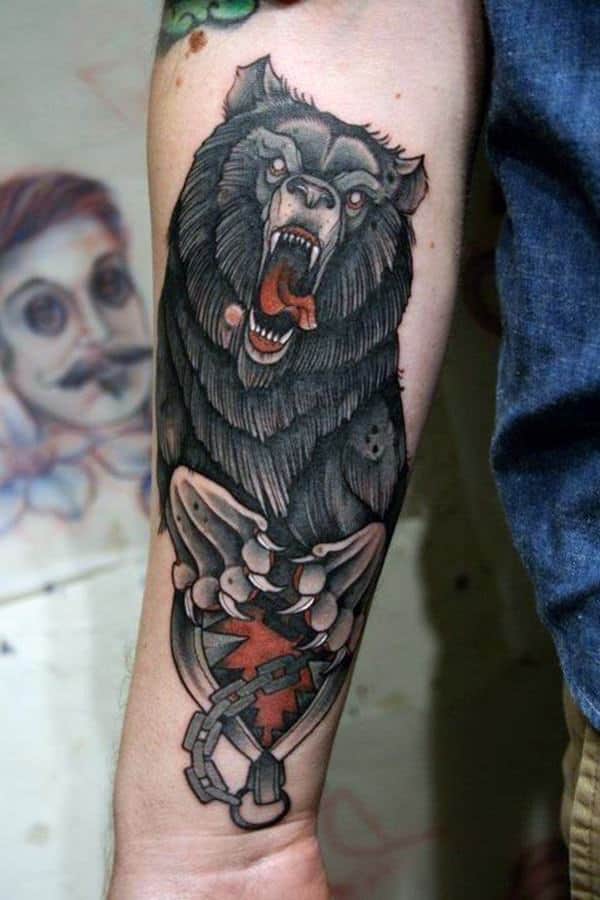 There is no better way to express your anger than an angry bear tattoo on forearm. This crazy animal seems trying to break the trap to free himself. This illustrative tattoo is very meaningful. You can choose this or think of some other way to express your deep buried emotions.
#7: BUTTERFLIES FOR YOU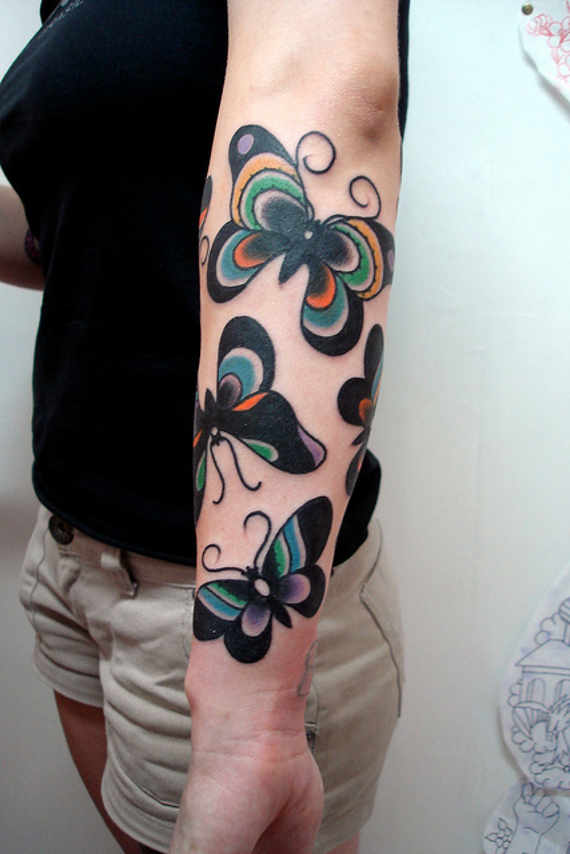 Here is a colorful and cute tattoo for nature loving girls. The butterfly tattoo with butterflies of different sizes and color shades give a soft feel. This soothing tattoo will make you awe!
#8: LACEWORK ON FOREARM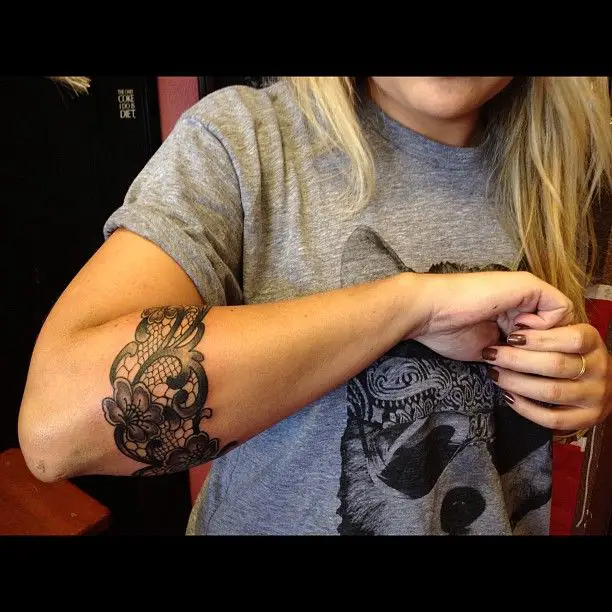 Laces are timeless, especially when you get them inked on your forearm. This lace tattoo is so realistic, it looks as if the girl has tied a real black lace on her hand.
#9: LADY OCTOPUS FOREARM TATTOOS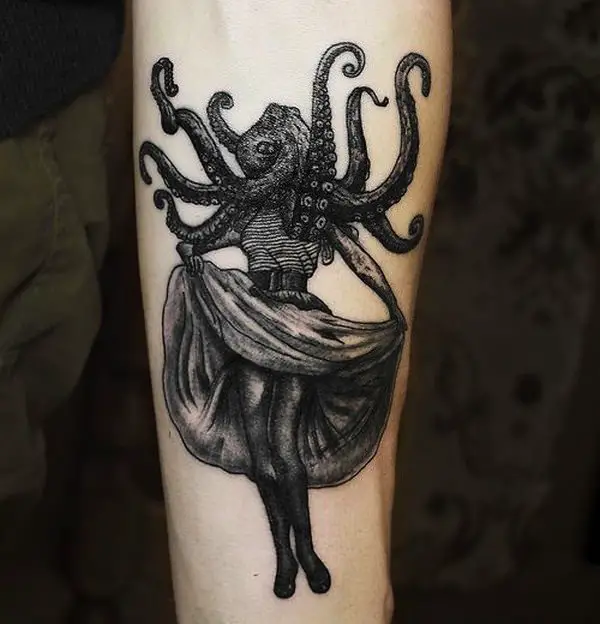 Mysterious yet mystique, this forearm tattoo of an octopus-headed lady is incredible.This mysterious forearm tattoos for women is enough to arise curiosity.
#10: SIMPLE YET STYLISH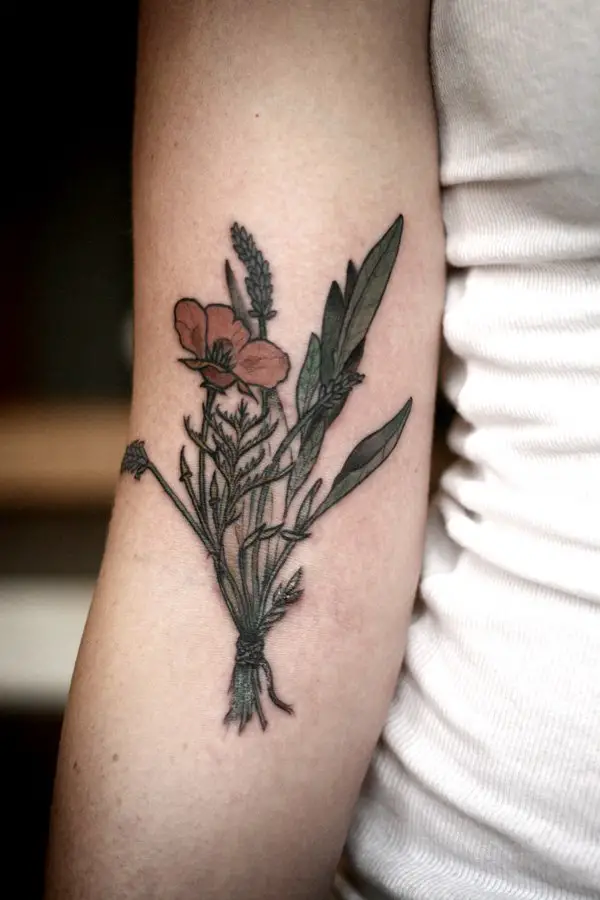 You don't always have to opt for extravagant designs to make your forearm tattoo a center of attraction. This nicely done tattoo has so much to the allure.
#11: MANDALA WITH DIAMONDS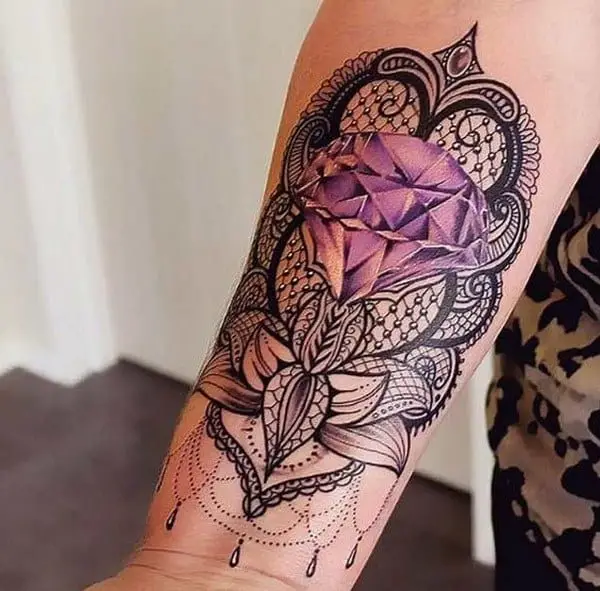 We love the detailing and can't stop appreciating the artist for such a dramatic work of art. The huge pink diamond makes this mandala forearm tattoo more desiring.
#12: BLACKWORK POPPY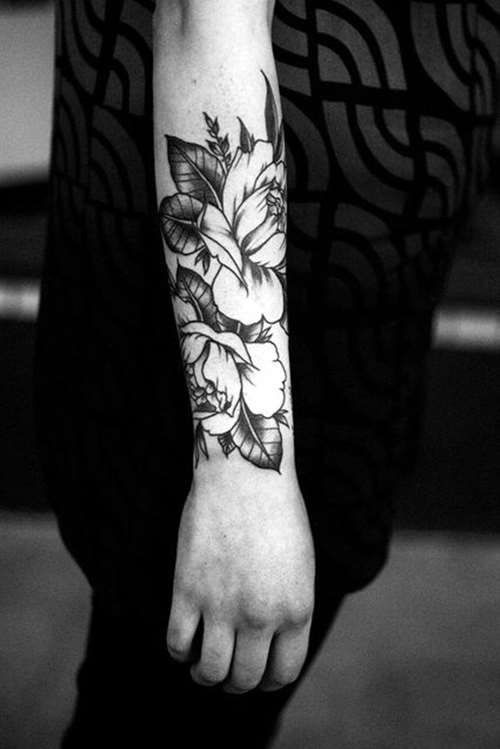 Flowers are always the best subject for forearm tattoos for women. There are possible infinite options to have incredibly awesome floral patterns and this poppy flower tattoo with pencil stroke style leaves is an amazing example.
OLD PEOPLE TATTOO IDEAS FOR 2017
#13: DREAM CATCHER FOREARM TATTOOS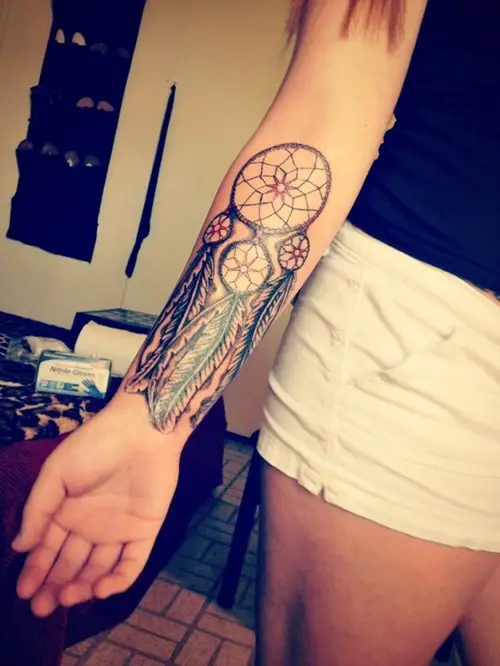 A beautifully woven web accompanied by bird feathers is lovely to carve on the forearm. Dream catcher is said to catch dreams and the design in numerous variations is loved by women for inking. You can add leaves, gems or some personal symbols to the design for more significance.
#14: CLASSY COLLAGE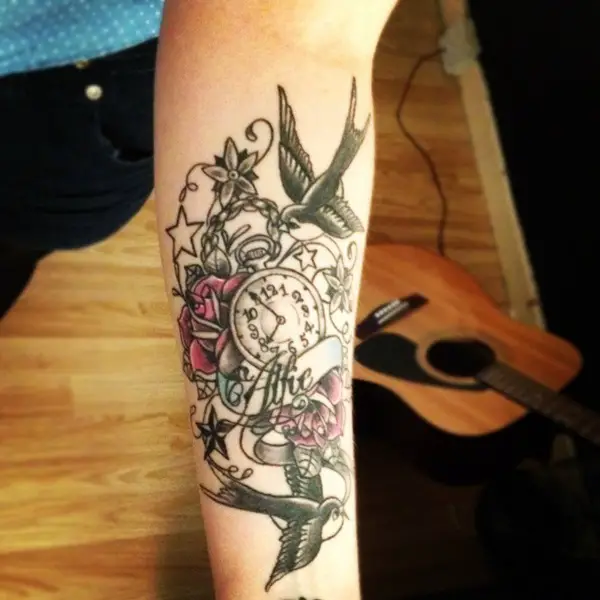 Flowers, birds, stars, clock, all these elements create a lovely collage that is finely painted with subtle hues of pink and blue contrasting the black tones. You can go errands with more elements that express your emotions, personality or belief.
#15: ANTELOPE FOREARM TATTOOS FOR WOMEN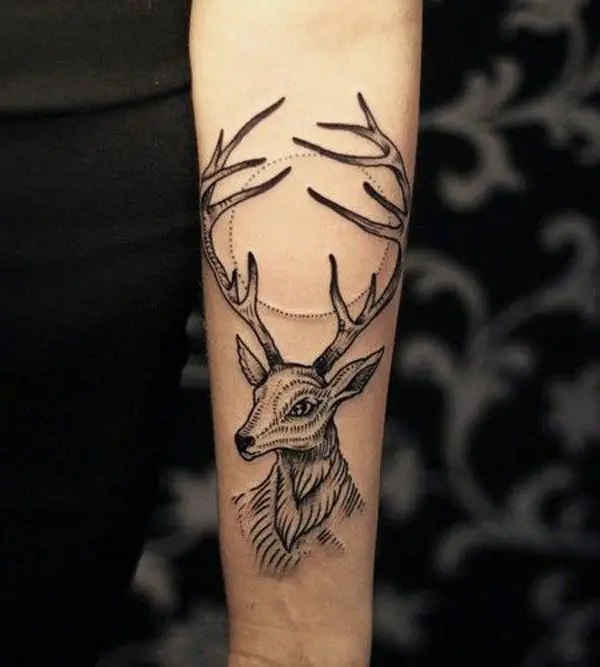 A simple, realistic rendition of an antelope head with branched antlers will surely turn heads. The dotted circle in between the antlers is impossible to ignore.
#16: MORE FLOWERS WITH FRILLS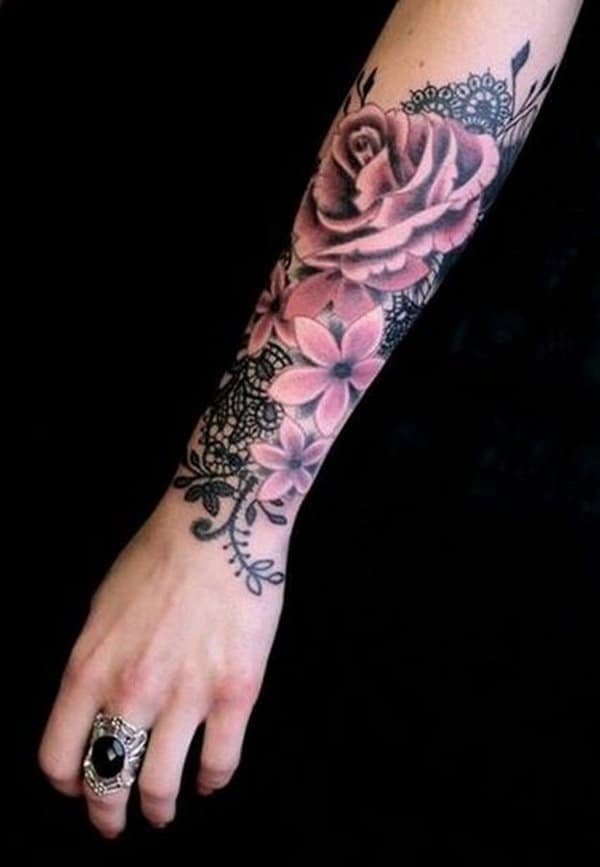 The flowers in pink create a lovely contrast with those black frill.
#17: 3D FLORAL FOREARM TATTOO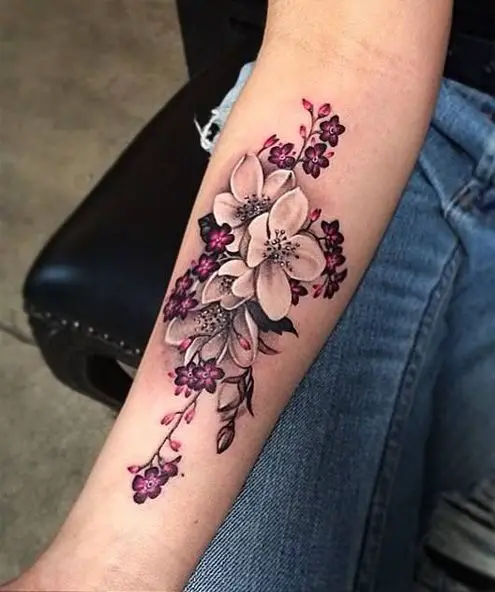 Isn't this forearm tattoo for women looks live? The unique art work is surely breathtaking and we love the subtle use of purple with shady white.
#18: PENCIL STROKE CREATED ROSE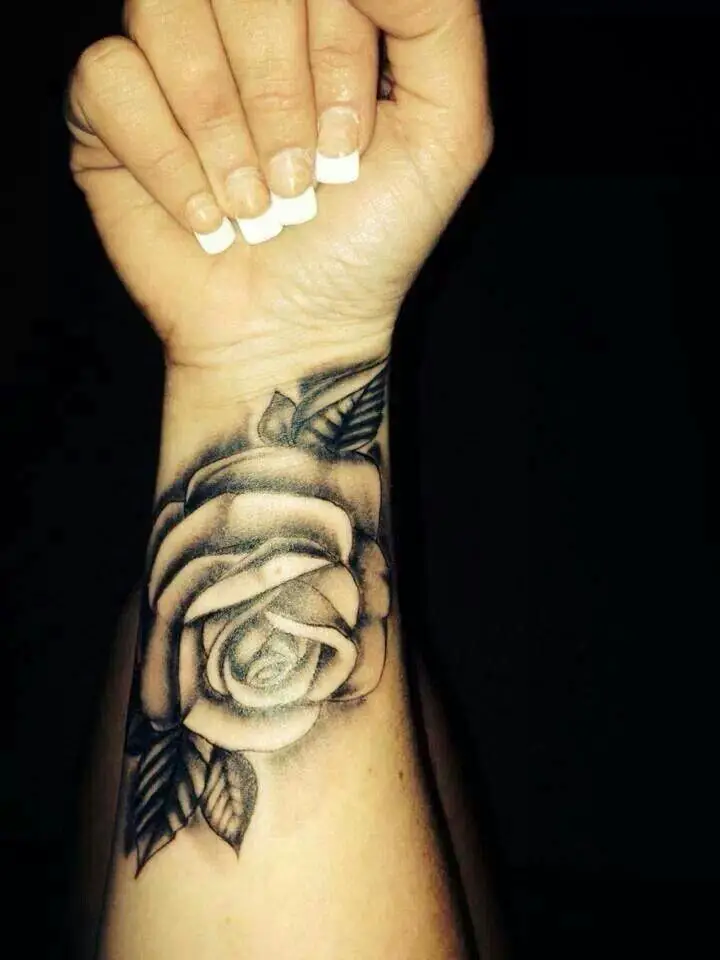 This rose tattoo looks like it's not inked on a body but on a paper canvas. Observe the shading. The artist has done a marvelous work.
#19: THE VINE WORK

Here is a unique tattoo that has inked with admirable precision. The silhouette of the swirled vines reminds of the dramatic art-work of the Art-Noveau era.
#20: LET THE MUSIC FLOW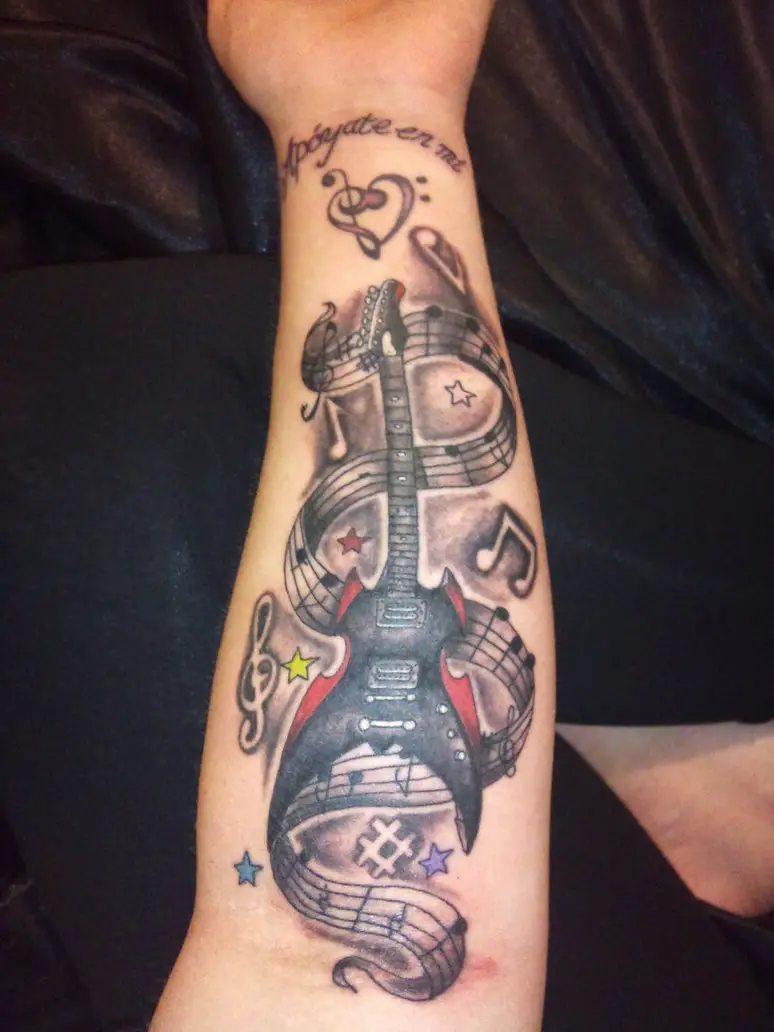 This rhythmic guitar with musical notes tattoo expresses the love for music. Music tattoos are popular for forearm as they let the artist play with their imagination even with the smallest idea.
You have just seen 20 forearm tattoo ideas for women, and we bet you must have fallen in love with most of them. You can mix up your creativity with these tattoo inspirations to create your unique design. Do share your inking experience and tattoos here to let other folks find some new ideas.