There is nothing cooler than forearm tattoos for women if a women want to look chic and classy. However, for a tattoo on your forearm, you really have to be daring. The art of tattooing has come a long way yet it is not completely accepted by many societies. When you decide to have a tattoo, you choose to take a risk of being discriminated against at work, by conservative people, elders, and others. Although body tattoos are accepted by many societies, others will consider it a taboo. Things get more complicated for women as conservatives often connect tattooing with ethics and moral character. However, if you have chosen a forearm for inking, you are sporty enough to take bold steps. It is because forearm tattoos are easily visible unless you have long-sleeved shirts to hide them.
FABULOUS FOREARM TATTOOS FOR WOMEN TO SHOW DARE
Forearm tattoos are bold yet very popular and fun to get. Many people get so fond of them that they start with a small patch and ends up inking both hands. A major reason for the popularity is that they don't showcase the art in any indiscreet manner, rather reflects the confidence most people won't show. Also, caring for your skin under forearm tattoo is much easier than tattoos at other places. Carefully check with your tattoo master and closely observe his style as to be sure you are in safe hands.
As far as the design is concerned, there are numerous ideas for forearm tattoos for women. You can choose to keep it minimal with a tiny paw or name tattoo or opt for an extravagant work of art that reflects your emotions or personality. To help you find something inspiring, we have rounded up a list of these 20 forearm tattoos for women. Take a look around and see which options suits you best.
Forearm Tattoos for Women

Here are some of the best forearm tattoos for women that you can try.
Side Forearm Tattoos For Women
The side of the forearm of women is one of the best places to get a tattoo. When you'll have your arms on the side the people around you will be able to see it without any extra effort.
Old Broom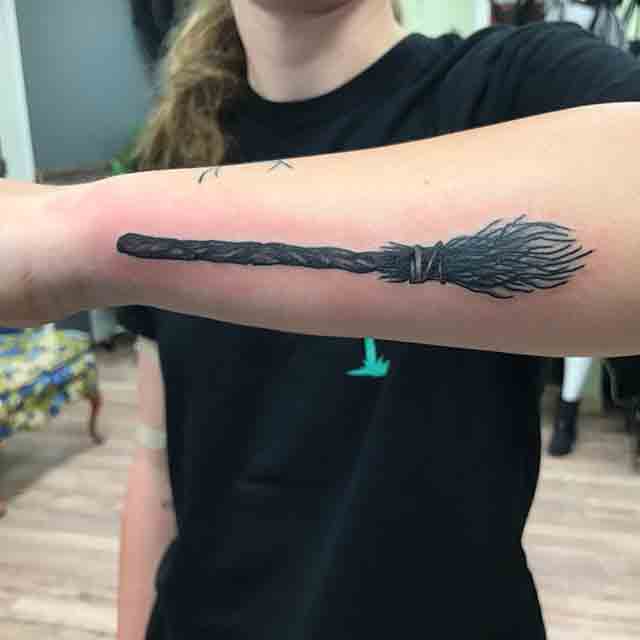 An old and rusty broom with some messy tip is tattooed on the forearm of this woman. The tattoo is vertically aligned to match the direction of her arm.
2. Heart & Brain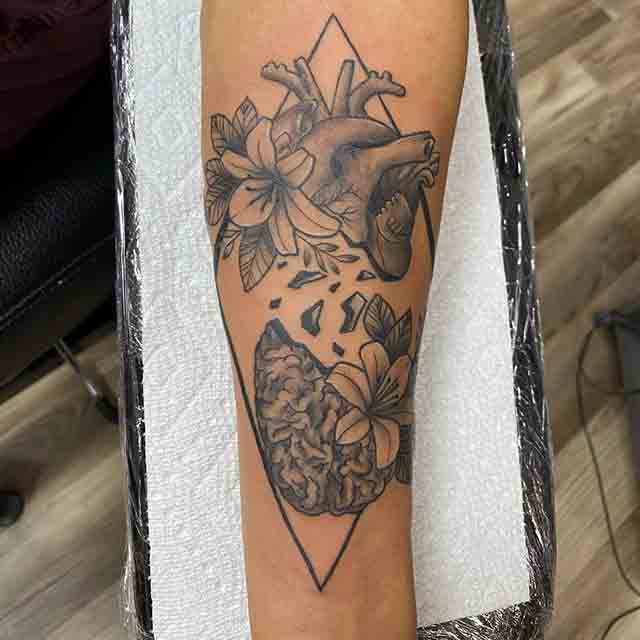 The image of two of the most important parts of a human being is inked just over the skin of this girl's radius. Both of them are accompanied by a flower. It adds a beautiful touch to this amazing forearm tattoo.
3. Realistic Spider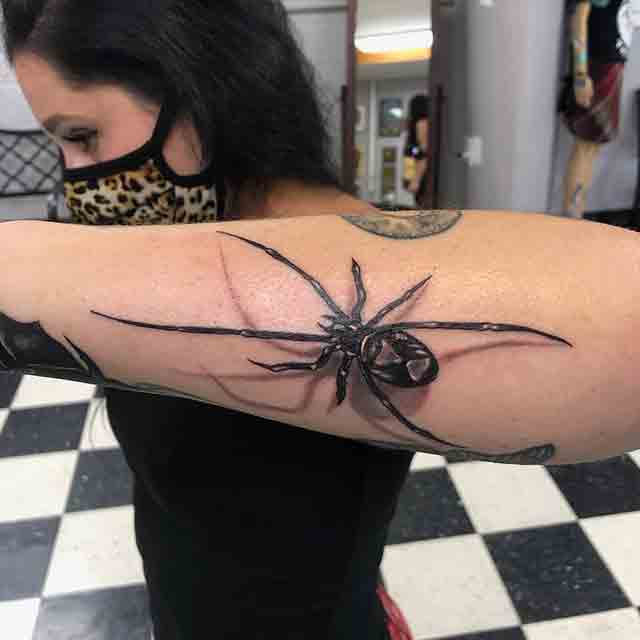 A massive black spider is drawn with extreme realism on this woman's forearm. The shadows give it a more realistic look. One of the best forearm tattoo ideas for women.
Small Forearm Tattoos For Women
Forearm tattoos for women tend to be smaller in size. Depending on the width of the forearm the design can be slim or a little wide. Nonetheless, they are beautiful to look at.
4. Bermuda Triangle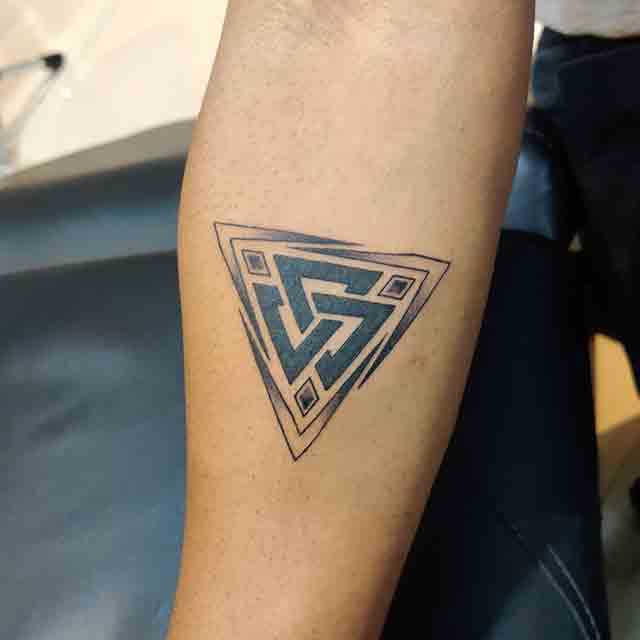 This small forearm tattoo is drawn to represent the Bermuda triangle. The three triangles are contained with another triangle. The center is dark compared to the outer layer.
5. Sun & Rain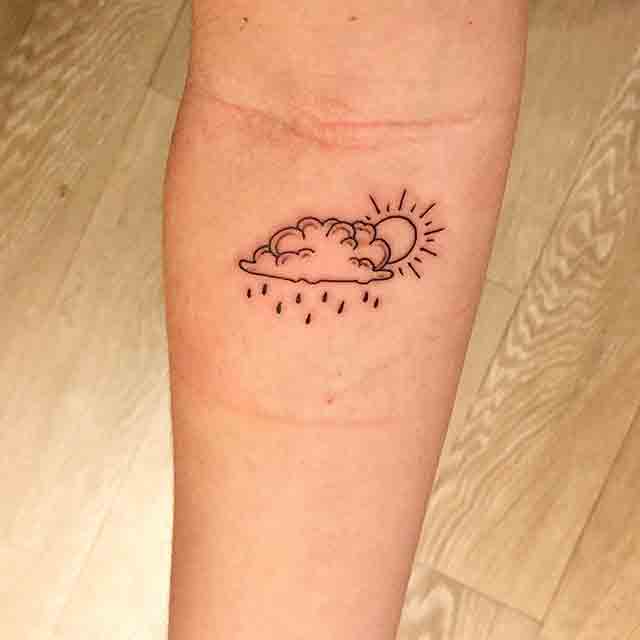 The sun and rain are the two contrast of the weather. Both of them are beautifully tattooed on this gorgeous girl's hand. It represents the contrast in nature as well as in people.
6. Coupon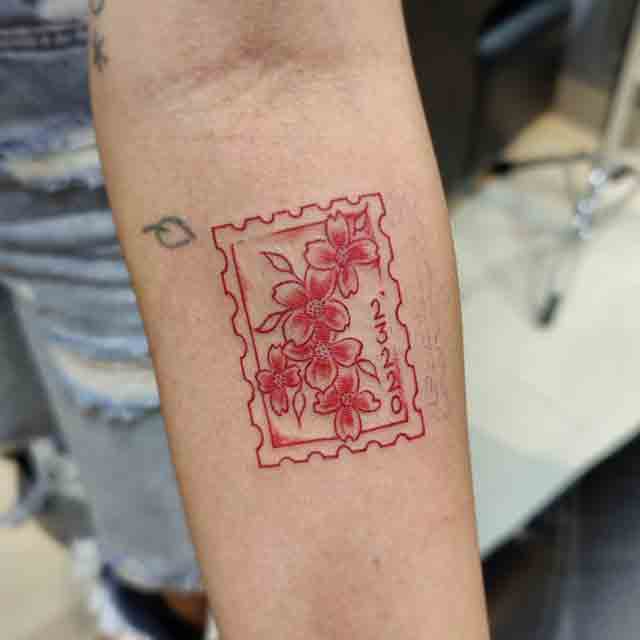 A red coupon with a serial number is the main attraction of this forearm piece. The number on her tattoo doesn't necessarily have to be a serial number though. A good choice for girls with fair skin.
Unique Forearm Tattoos For Women
Forearm tattoos for women have some of the most unique and appreciated styles of tattoos. Whenever there's an extraordinary element is used as the subject it is considered to be a unique forearm tattoo.
7. Layered Dissection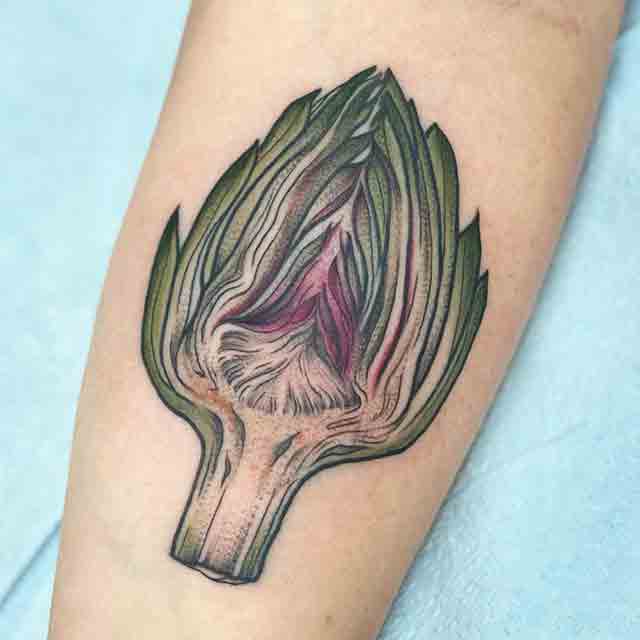 The design on this lady's forearm is made out of various layers. The different colors add dimension to this piece. The center represents a woman's heart which is protected from the harsh environment.
8. Scribbled Flower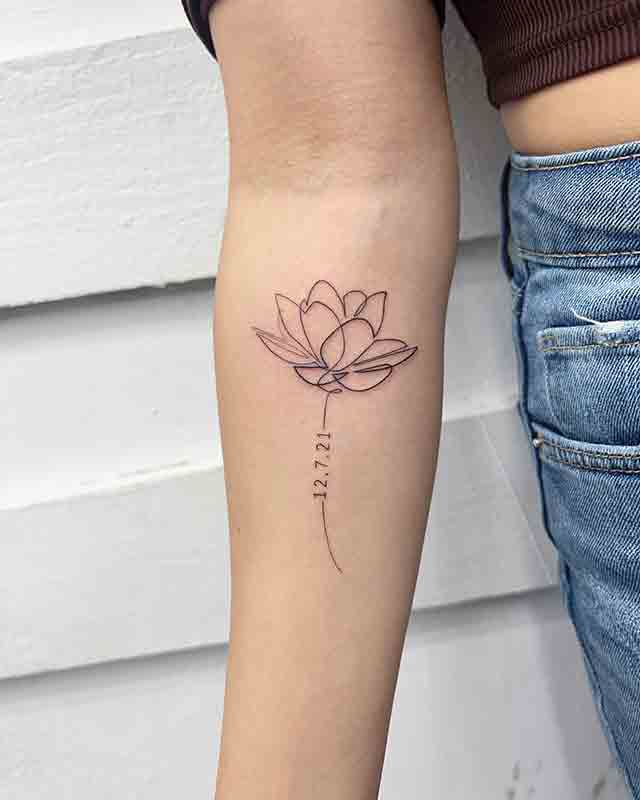 A minimal and simple forearm tattoo for women with a date is the main attraction of this piece. The artist made it look so simple yet elegant. This young woman's forearm nicely compliments this simple design.
9. The Protector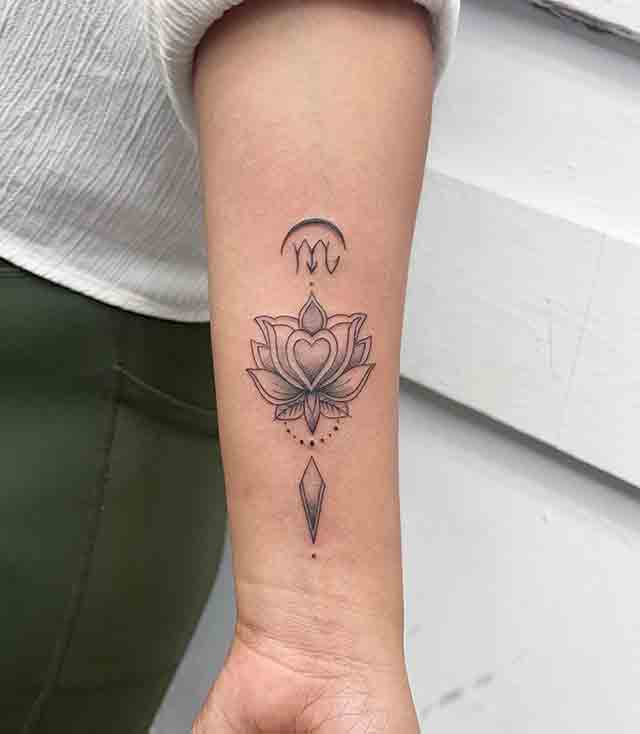 A delicate flower with a heart symbol is accompanied by a Scorpio zodiac sign. This indicates that the scorpion will do anything to protect the delicacy of the flower. if you are in search of forearm tattoos for women that have a touch of a zodiac sign it's a great choice for you.
Outer Forearm Tattoos For Women
The outer portion of the forearm mostly faces the viewers. If you have a design that you want to show off to the people but want to keep a natural look, the outer forearm tattoo is best for you.
10. Love Arrows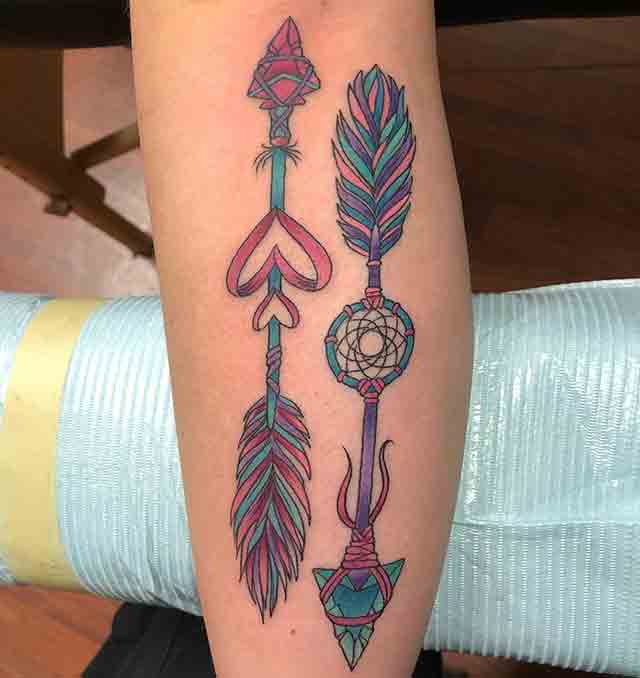 The Arrows on this women's forearm has vivid color and cute shapes in them. It's making them appear like decoration elements rather than a weapon. But the lethality is still there when needed.
11. Fancy Writing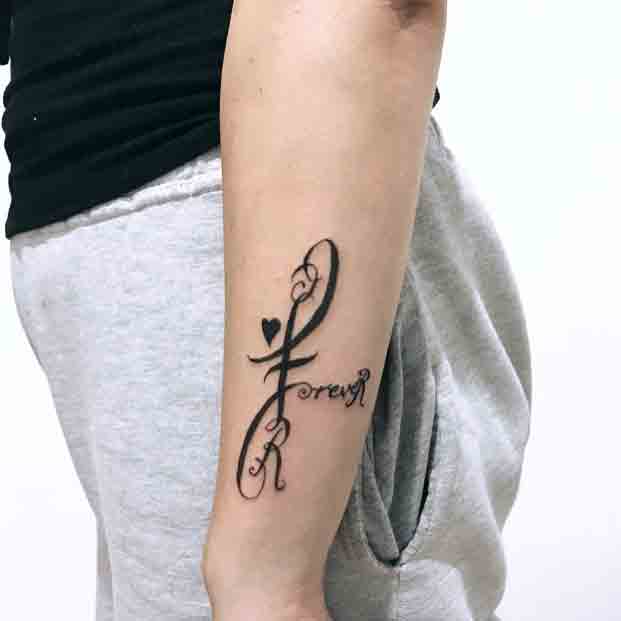 The outer side of this girl's forearm is tattooed with a design that is created by using a fancy writing style. The strokes of the ink have a sense of luxury attached to it. A luxurious forearm tattoo for women.
12. Fullsize Tulip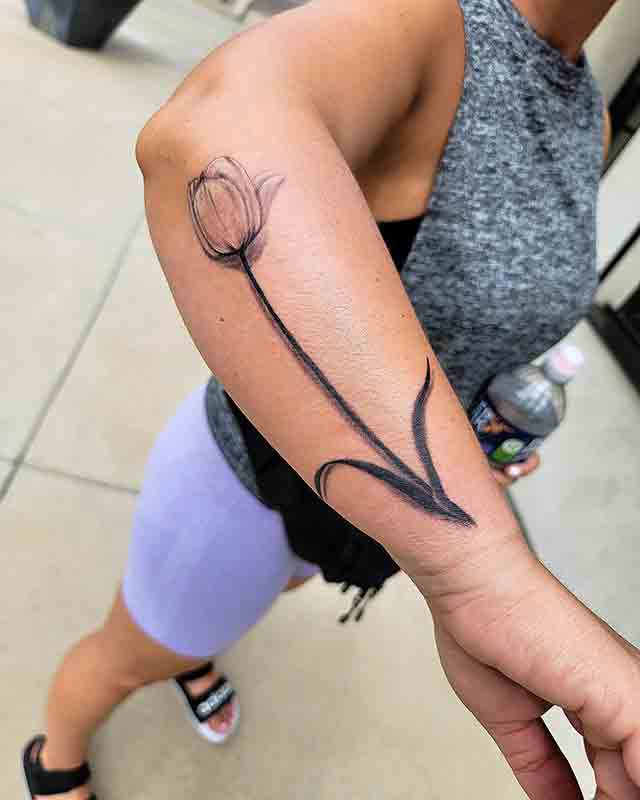 A tulip reminds us of the spring. The full-sized tulip on the side of her forearm gives a warm and cozy feeling of the spring. Although this could have used some colors to better represent the feeling.
Butterfly Forearm Tattoos For Women
Butterflies are a symbol of transformation and delicacy. If you want to have a forearm tattoo with deep meanings and a girly vibe, they are a good option. Plus they go nicely with every skin type.
13. Watching Pair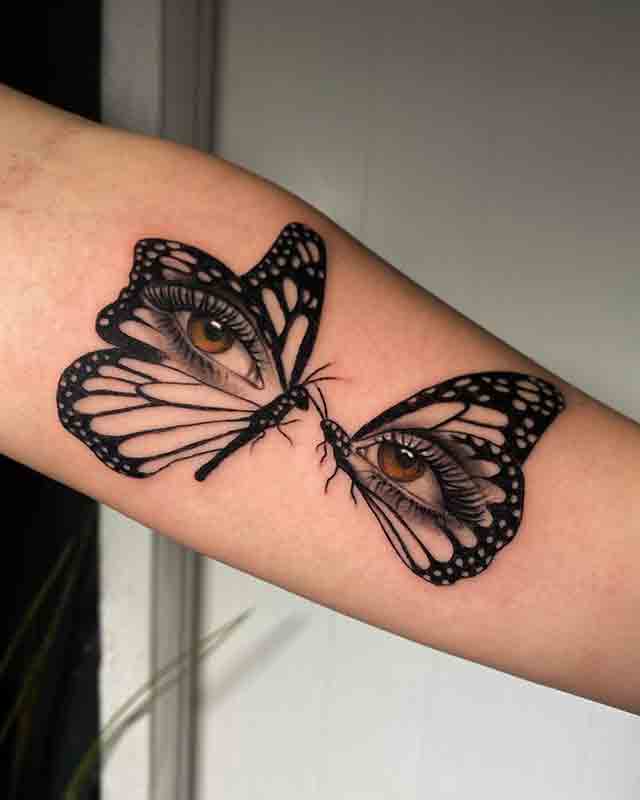 The two butterflies are facing each other but the wings have an eye on each. The eyes are always watching what's going on. The beautiful eyes are gorgeous just like the woman wearing this forearm tattoo.
14. Tiny Butterfly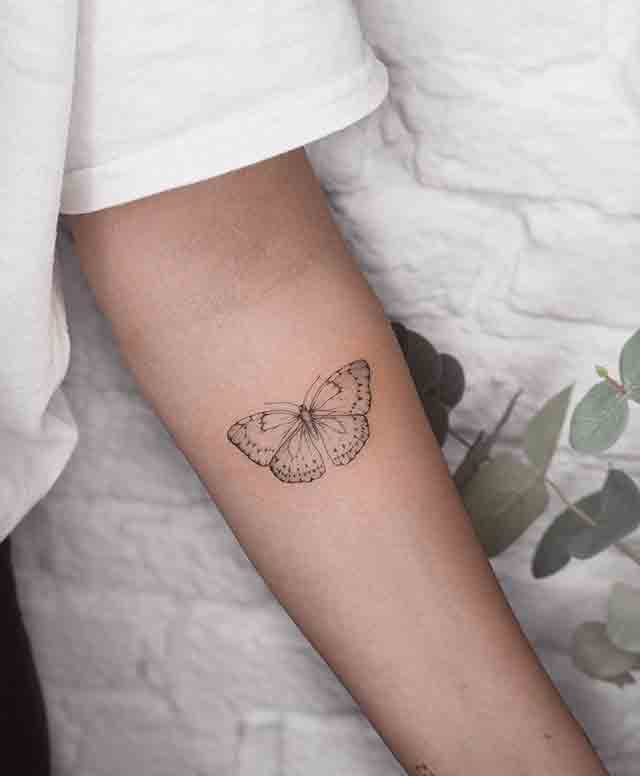 A small And fully grown butterfly is drawn on this girl's hand. However, The insect could have used a bit more details & colors. It'll most likely fade over time.
15. Rainbow Wings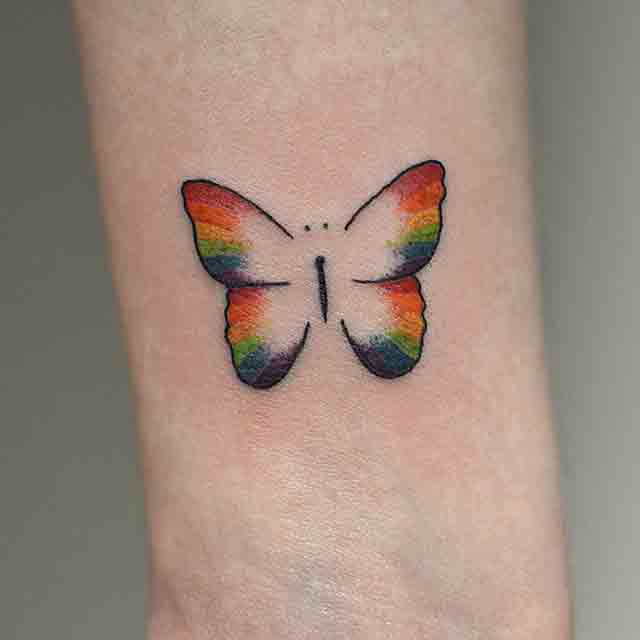 A colorful and half-vivid image of a butterfly is inked on this woman's forearm. The center of the butterfly is invisible. It indicates that the butterfly is fading away into nature. A good choice for women who are looking for a colorful forearm tattoo.
Colorful Forearm Tattoos For Women
Color is often associated with women's forearm tattoos to make them vibrant and reduce the seriousness of the tattoo. These tattoos are only suitable for light skin. If you have a dark skin tone, they might not look good.
16. Monthly Discharge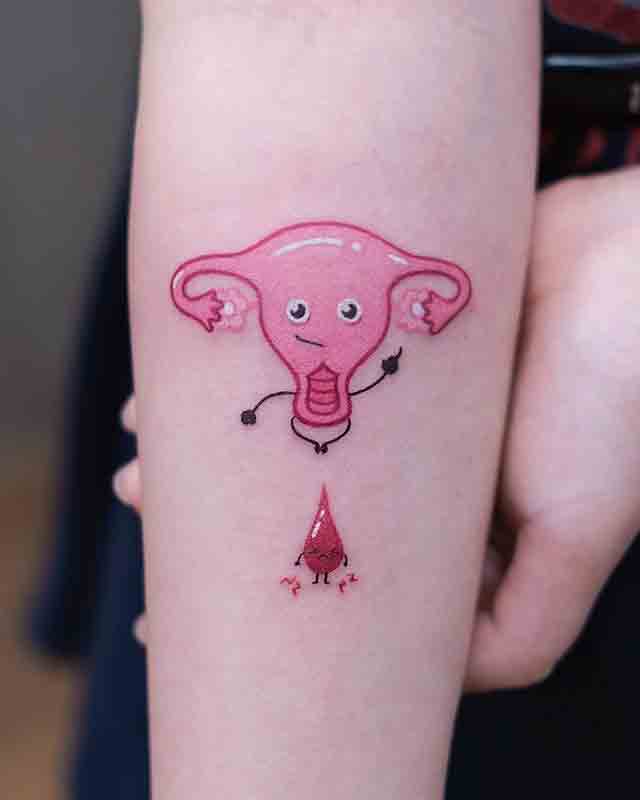 A colorful diagram of the female reproductive system is drawn in a cartoonish manner. The blood drop suggests that it means the time of a discharge. A forearm tattoo for women that screams feminism.
17. Burning Insect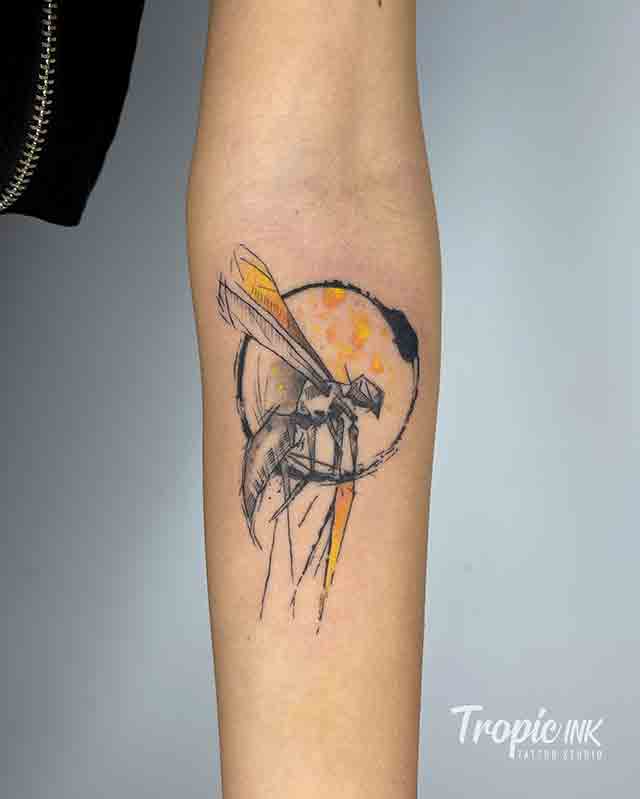 The vivid yellowish-orange color on the wings and the background represent fire and the black circle is containing the flames. The design goes well with the skinny forearm of this woman.
18. Chubby Raccoon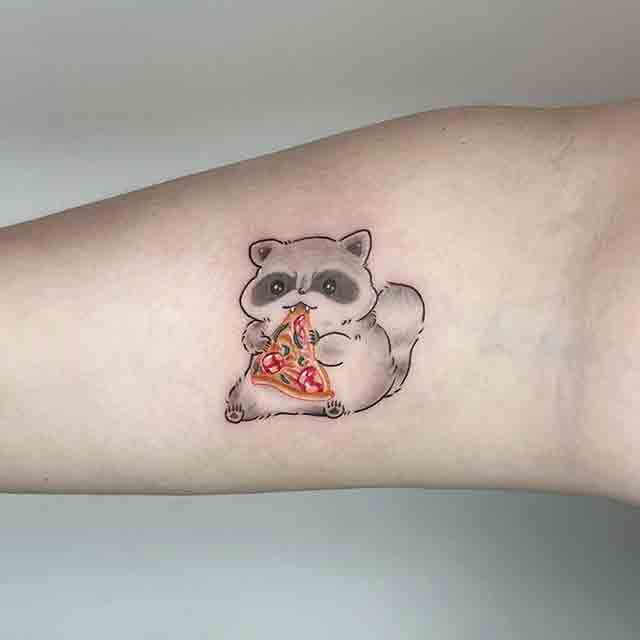 A cute raccoon is having a slice of pizza. The pizza is colorful but the raccoon isn't It shows how people look at different things even in the same environment. A great forearm piece for women if you're an animal lover.
Cute Forearm Tattoos For Women
Small tiny and charming elements are some of the main characteristics of a cute women's forearm tattoo. These designs will be relatively small and quick to get. They are also cheaper compared to other desgns.
19. Glowing Eyes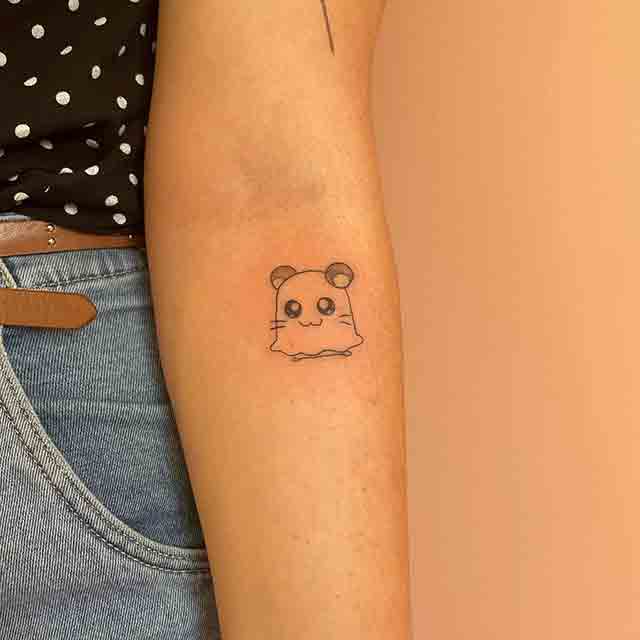 This forearm tattoo is an overload of cuteness. The glow on this amazing creature's ye is so cute. This will go nicely with any woman who is looking for a cute forearm tattoo.
20. Small Froggy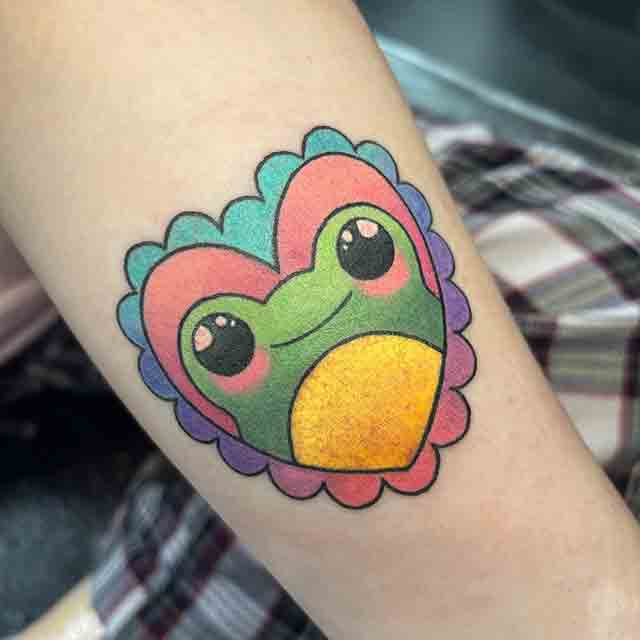 A beautiful froggy is looking through a heart-shaped mirror. The red glow below its eye is making it look cute. The use of simple color makes it a classic piece suitable for women's forearms.
21. Red & Blue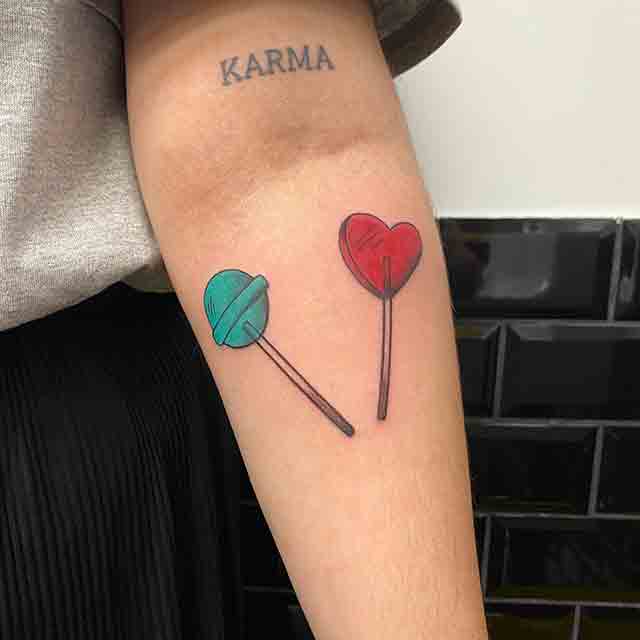 Two candy with a contrasting color is the main subject of this women's forearm piece. They remind us of our pleasant childhood. It brings back cute memories and nostalgia.
Flower Forearm Tattoos For Women
No tattoo style is complete without some flower variation. The same goes for the women's forearm tattoos. The symbol of fragility is often depicted to give deep meanings to the pieces.
22. Flower & Bird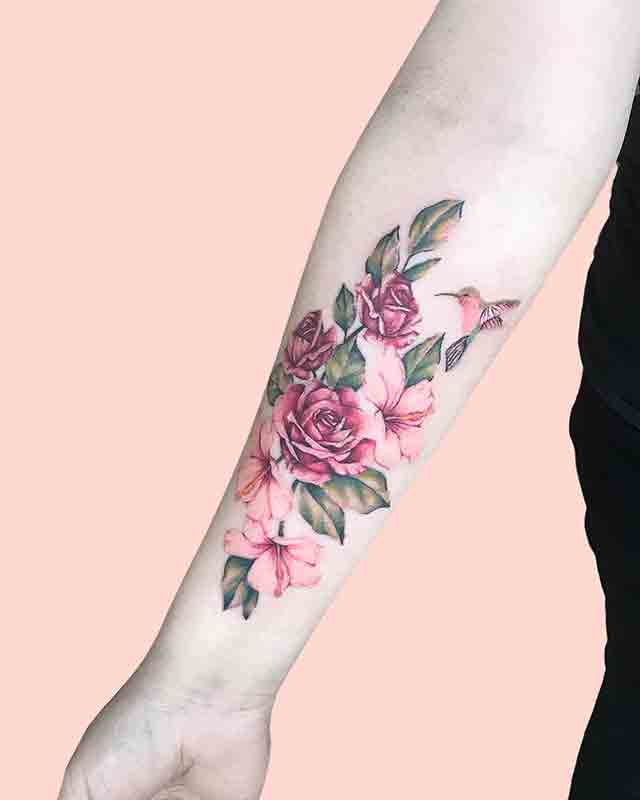 Both flowers & birds are dependent on each other. The stunning pink color of the flower compliments the color of the bird's feather. The green leaves add some extra depth to this forearm tattoo for women.
23. Dry Flower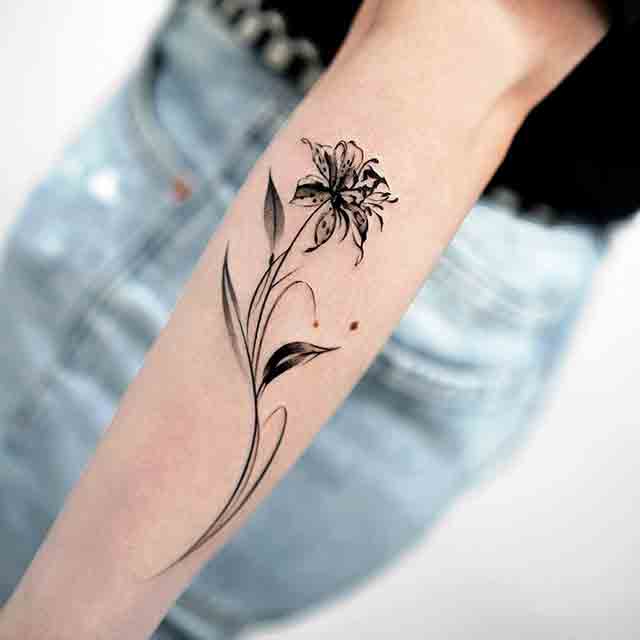 A monochromatic-themed flower can be seen on this tattoo. The stem is thin and the pulps are dying. A tragic look to a thing that is a symbol of beauty. Girls with pale skin can rock this design without any issues.
24. Peaking Blooms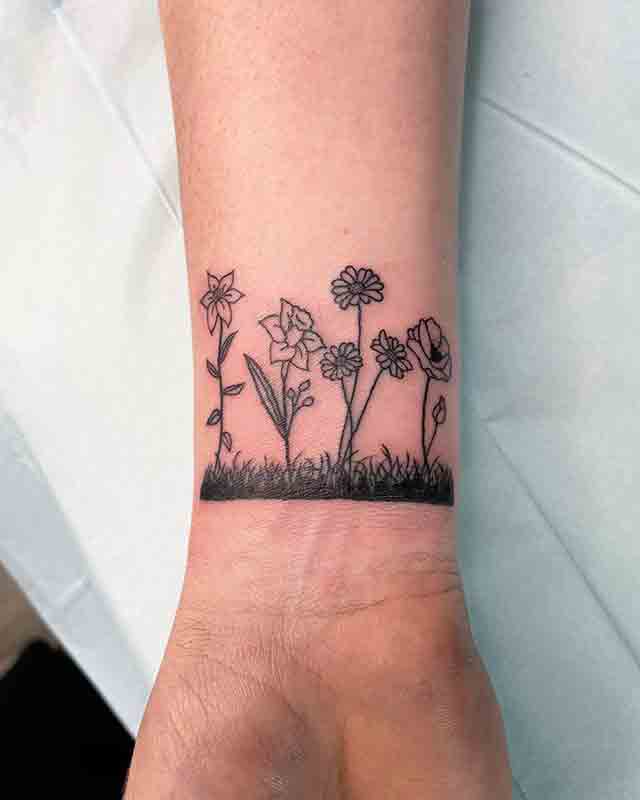 The base of this women's forearm tattoo is a lot of grass. However, there are seven flowers that have risen above the crowd and bloomed. A tattoo that encourages to grow above the average.
Inner Forearm Tattoos For Women
The inner forearm is usually hidden from the crowd's view. If a woman wants to have her design away from the public view, the inner forearm is the best place to get a tattoo. You can still show it when you want just by rotating your forearm.
25. Hummingbird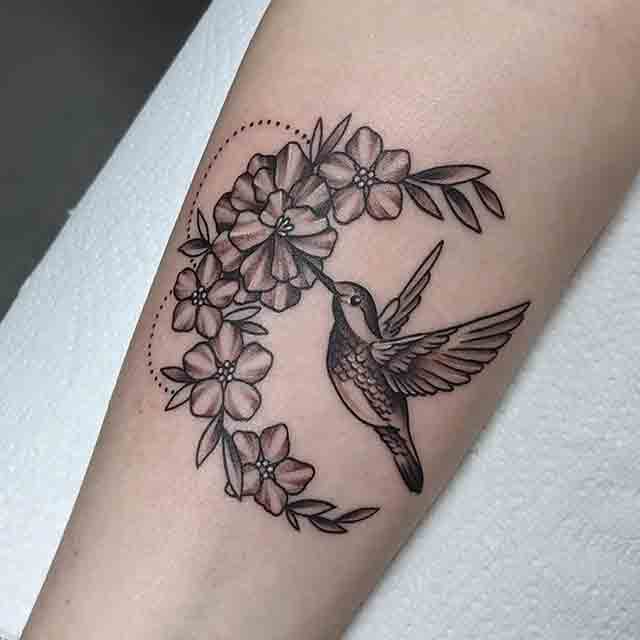 A lightweight hummingbird is eating honey from a bunch of flowers. It has to do this all day in order to survive. A forearm tattoo for a woman that represents daily struggle.
26. Matching Constellation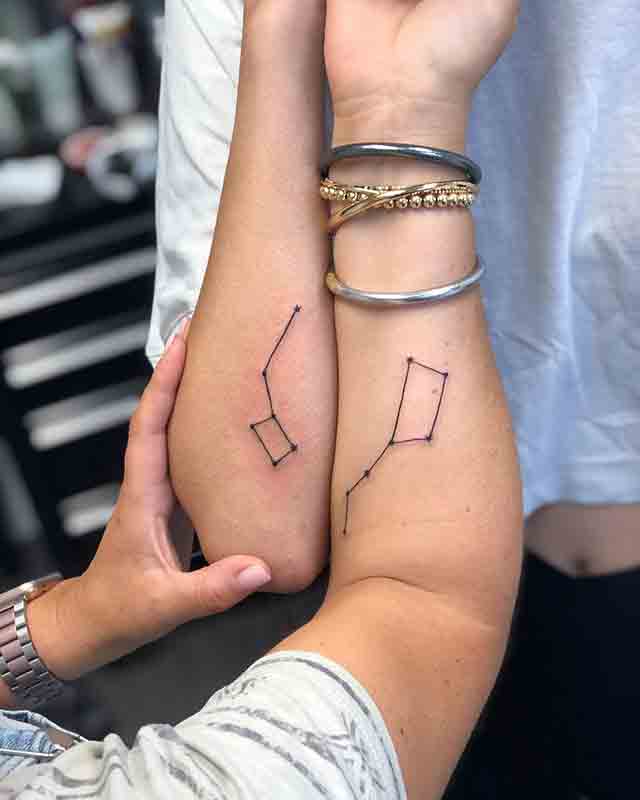 A couple can be seen with a matching tattoo of their zodiac constellation. The lady has her tattoo inked on the inner side of the forearm. A beautiful option for young couples.
27. Purple Lily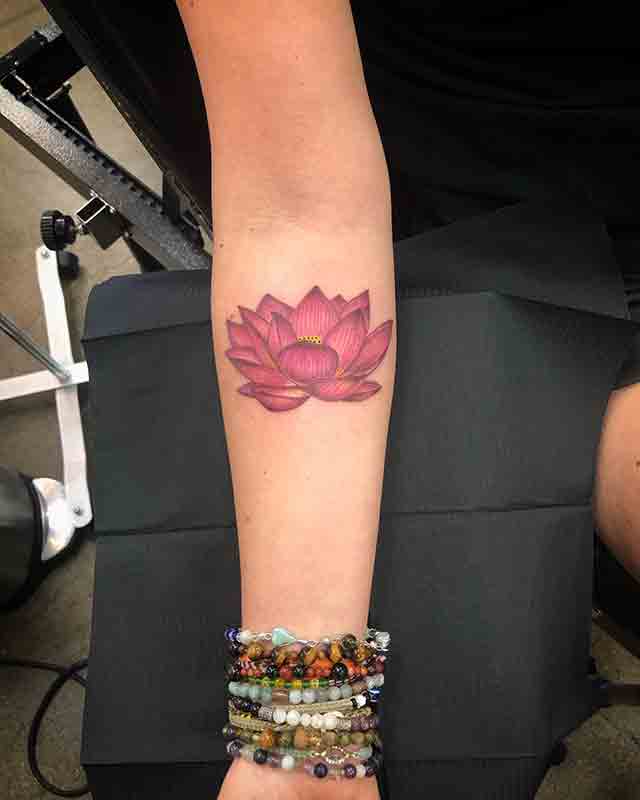 Lily is a water-based plant. But in this tattoo, there isn't any sign of water. It shows that the flower is adapting to change and still looks amazing just like the woman who's wearing it.
Beautiful Forearm Tattoos For Women
Beautiful and charming designs are always desired by women for their forearm tattoos. So, the tattoo artists try to make the tattoos as visually pleasing as possible for ladies by adding minimal design and loveable objects. These tattoos will complement your delicate forearms and enhance their beauty.
28. Butterflies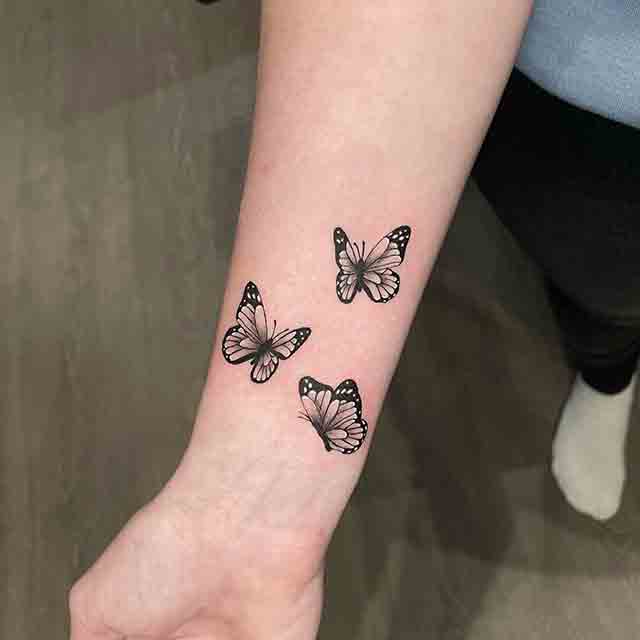 Three small butterflies are flying and playing together. They are enjoying their lives. The tattoo on her forearm encourages us to live a happy life just like the butterflies.
29. Dead Leaf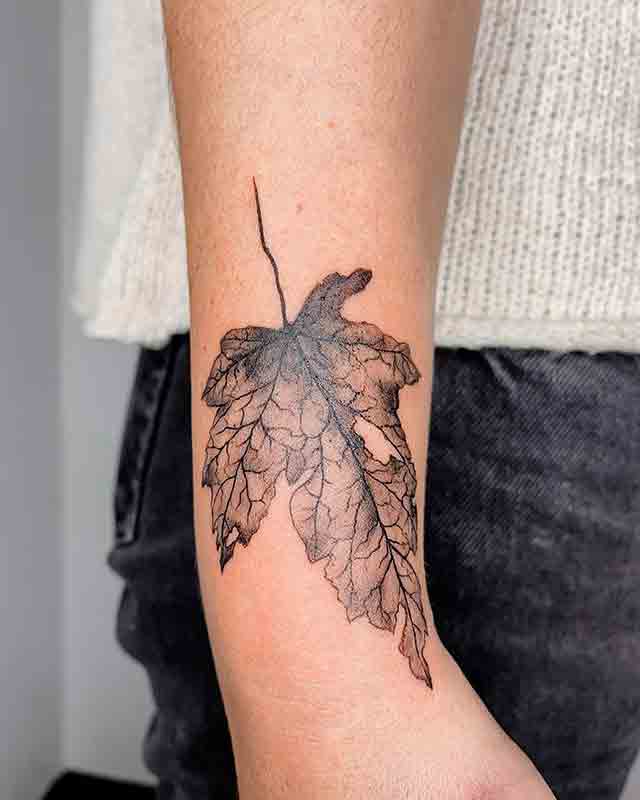 A decomposing leaf is the main element of this tattoo. It has seen better days but now its life has come to an end. A forearm tattoo for women that'll keep them humble and down to earth.
30. Minimalist Take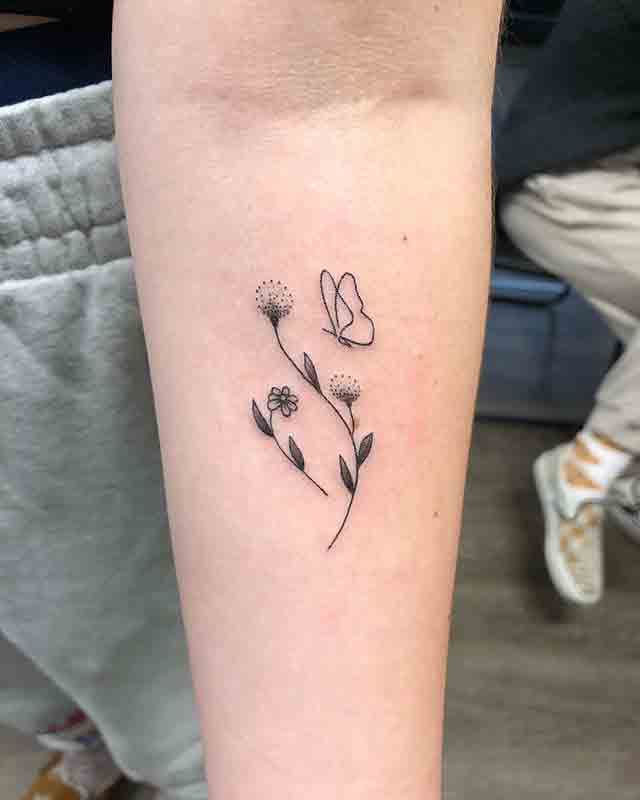 The tattoo artist has taken a very tidy and minimalistic path when making this piece. Her tattoo is resting gently on the forearm with light strokes and color. The color composition is monochromatic but it is still an amazing piece.
Cross Forearm Tattoos For Women
31. Cross Sword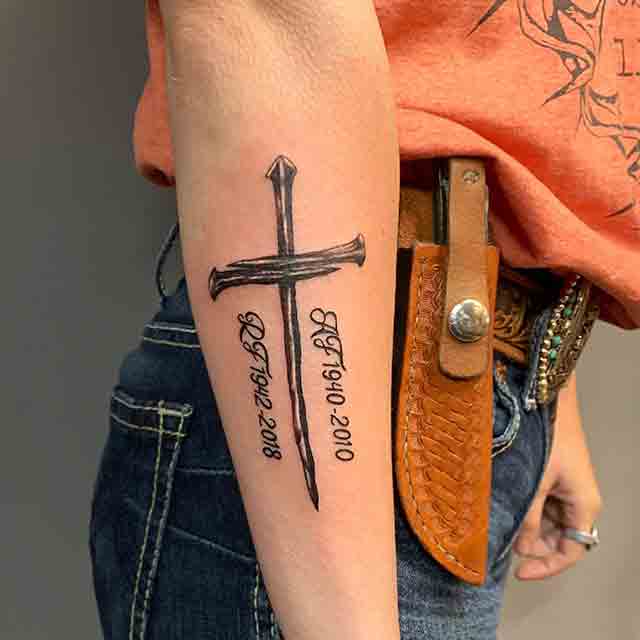 32. Thin Cross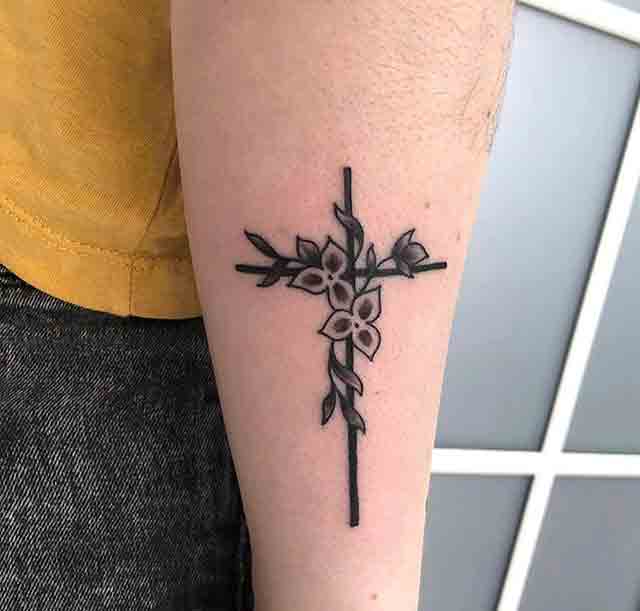 33. Cross Outline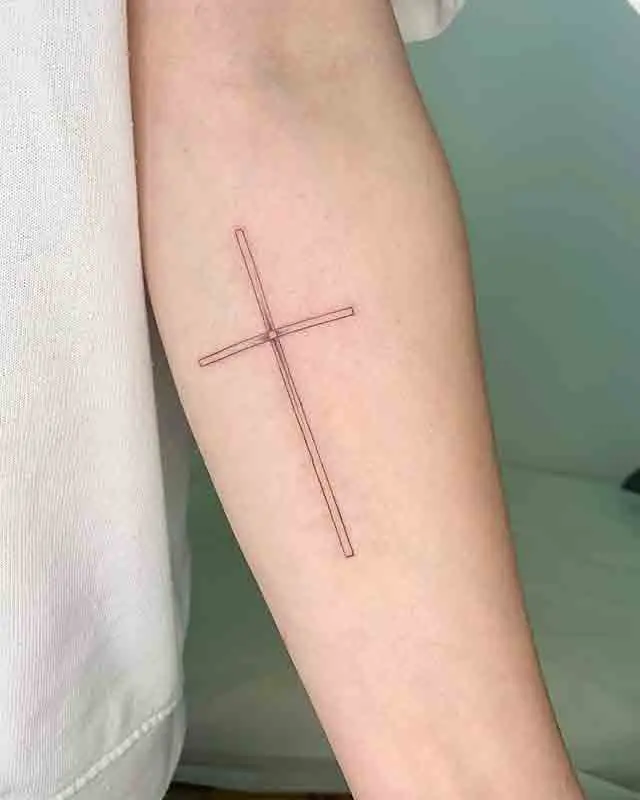 Feather Forearm Tattoos For Women
34. White Feather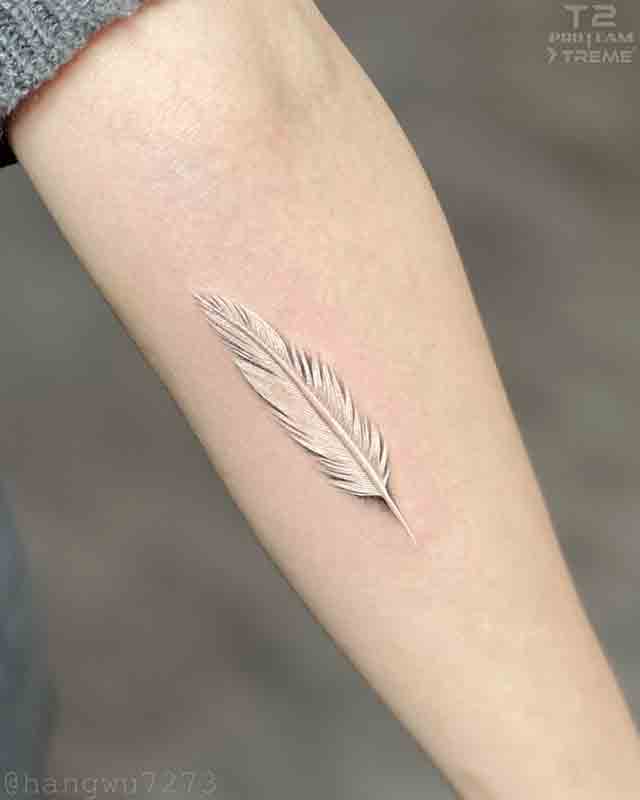 35. Feather Artwork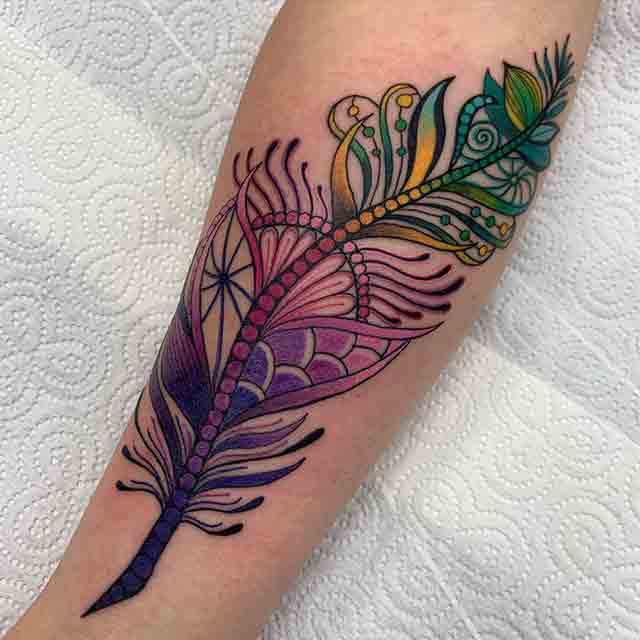 36. Purple Quill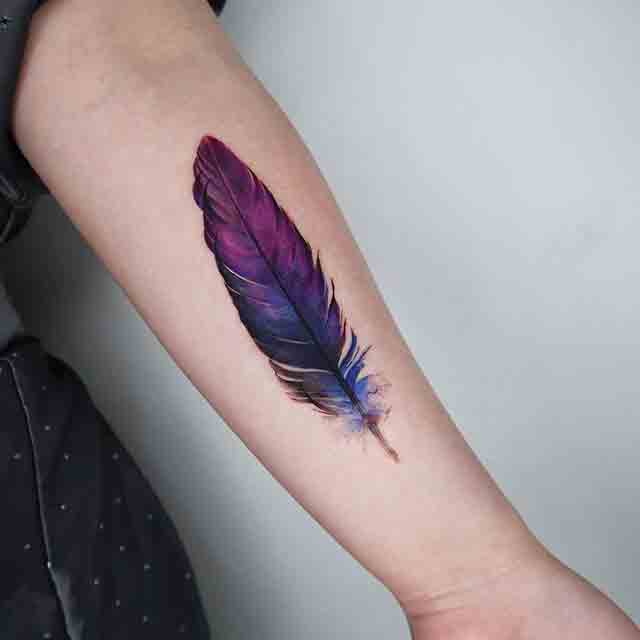 Rose Forearm Tattoos For Women
37. Vivid Rose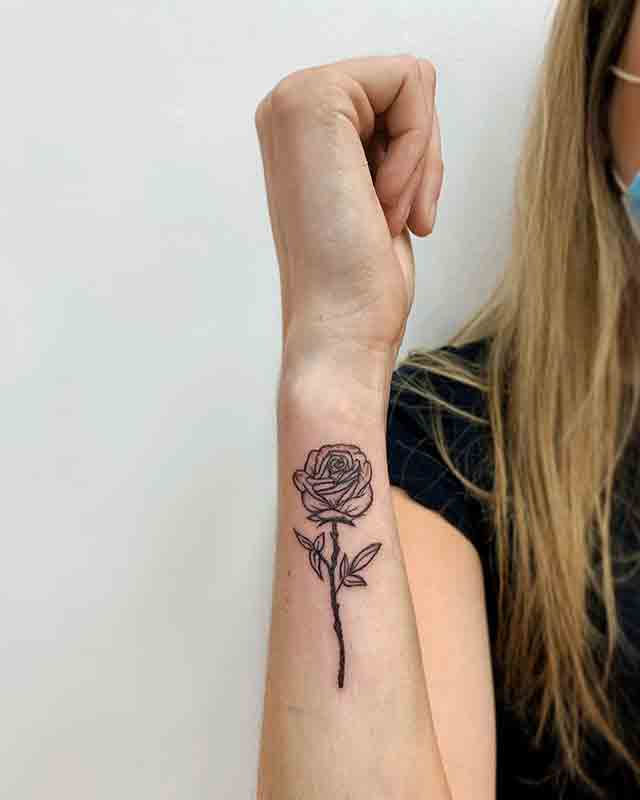 38. Pearcing Dagger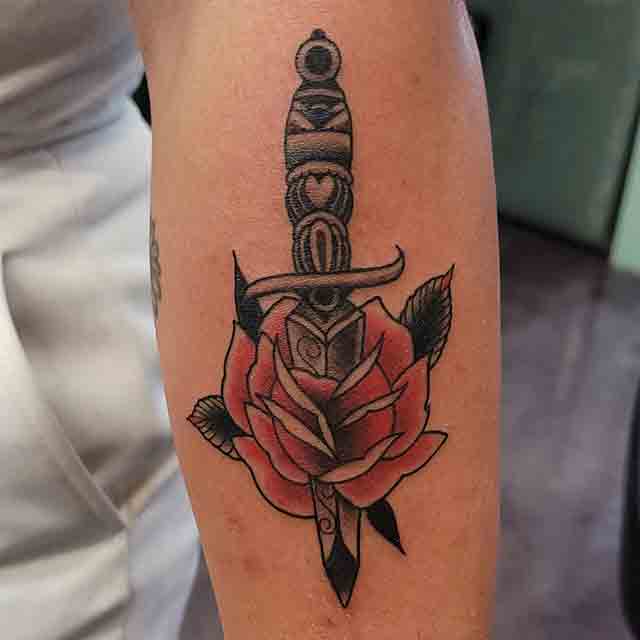 39. Shadow Rose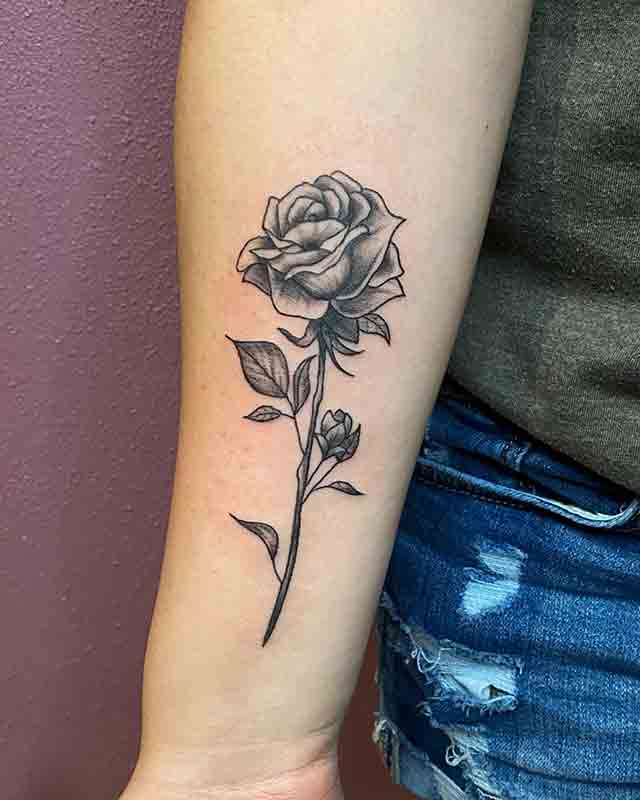 Back Of Forearm Tattoos For Women
40. Humble/Hustle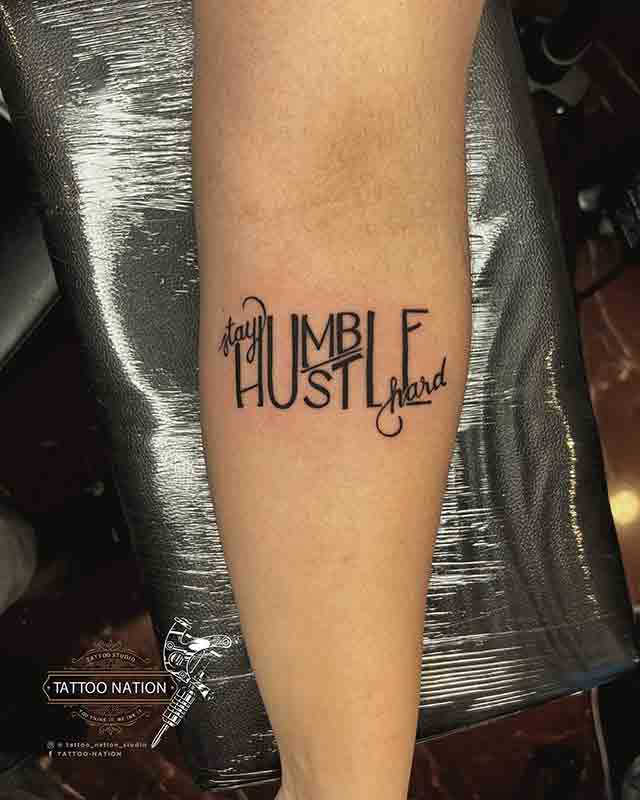 41. Running Tiger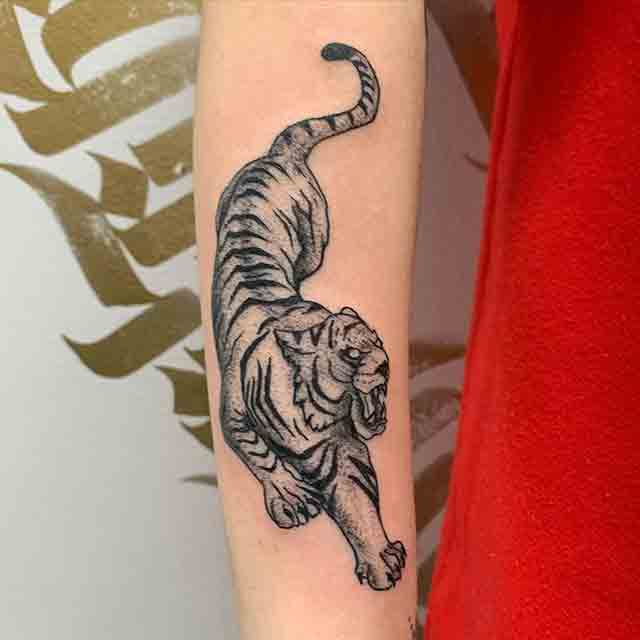 42. Life Flow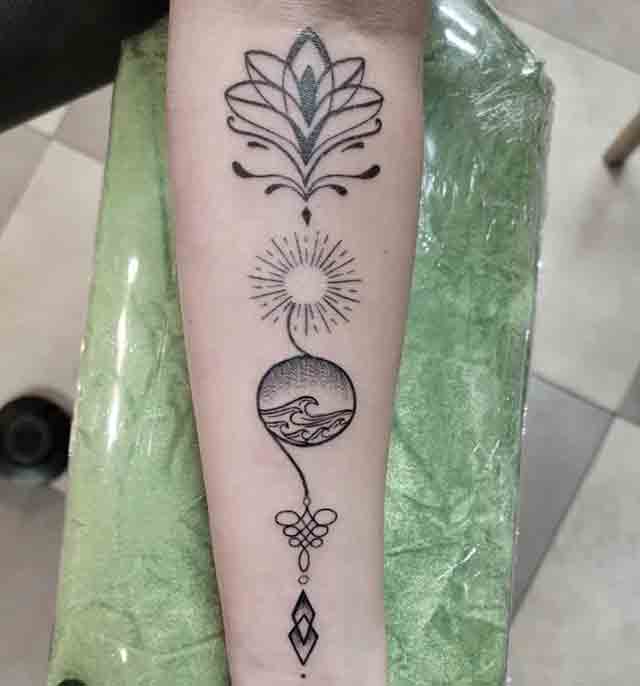 Dainty Forearm Tattoos For Women
43. Ancestors Tree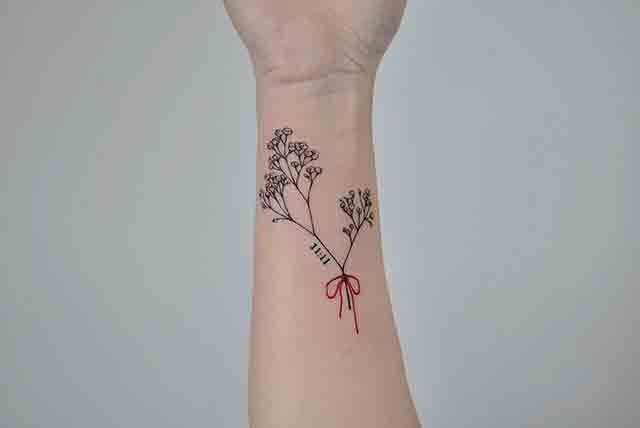 44. Smiling Dogs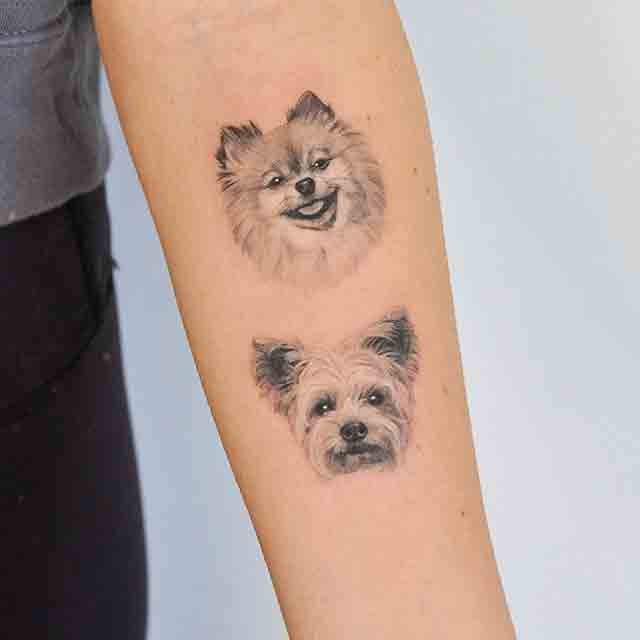 45. Multicolored Flower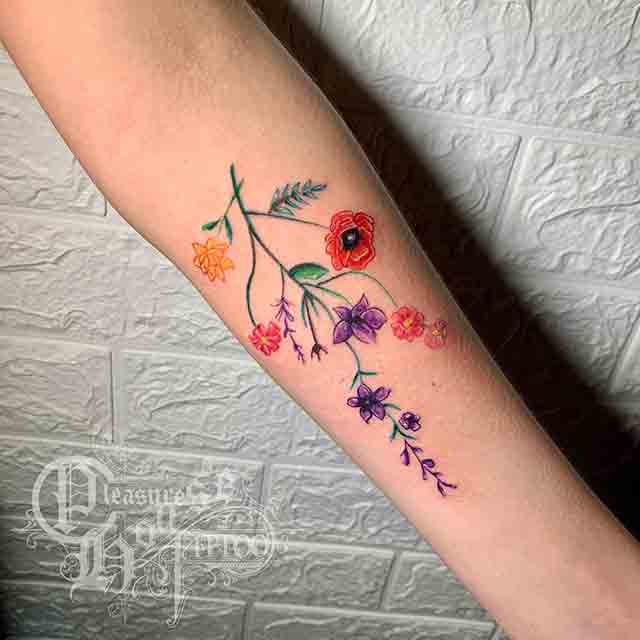 Lotus Forearm Tattoos For Women
46. Purple Crystal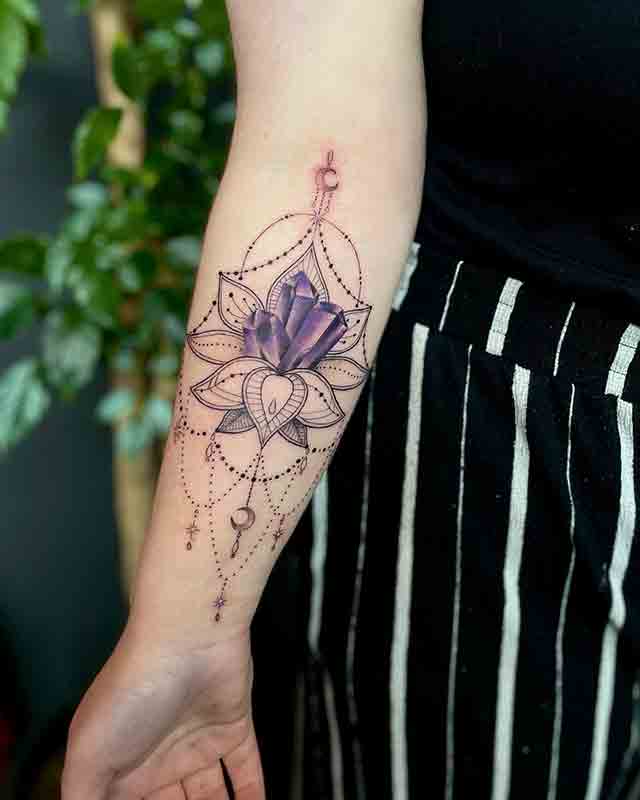 47. Scribbled Art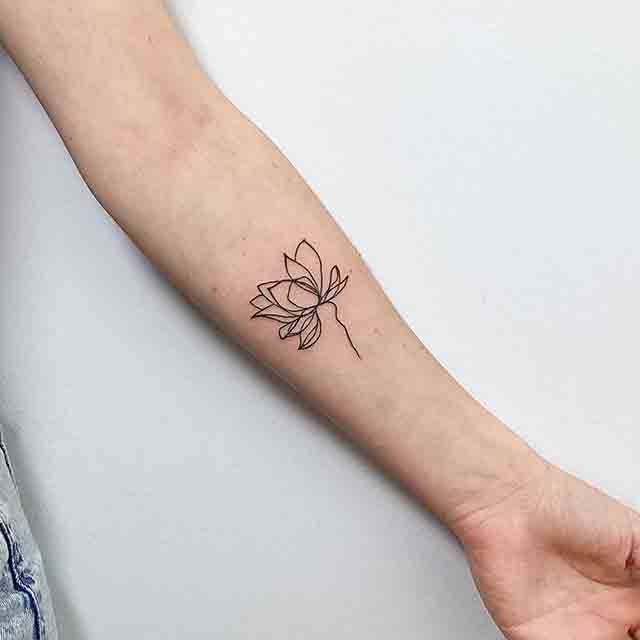 48. Upside Down Flower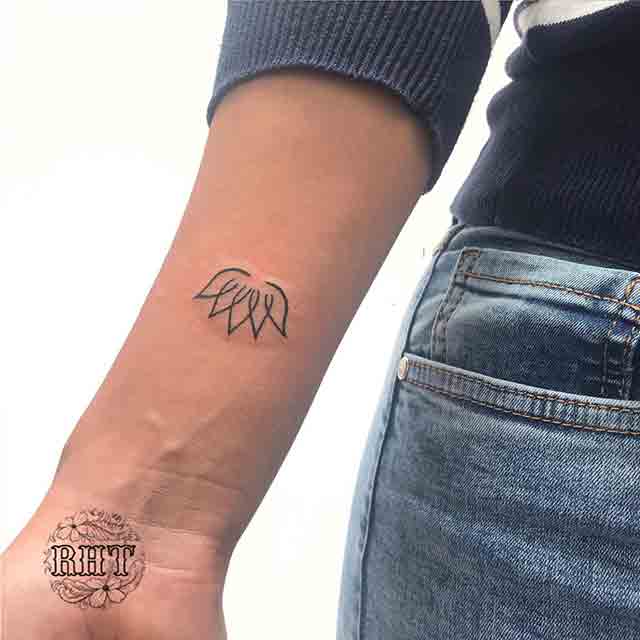 Sunflower Forearm Tattoos For Women
49. Detailed Sunflower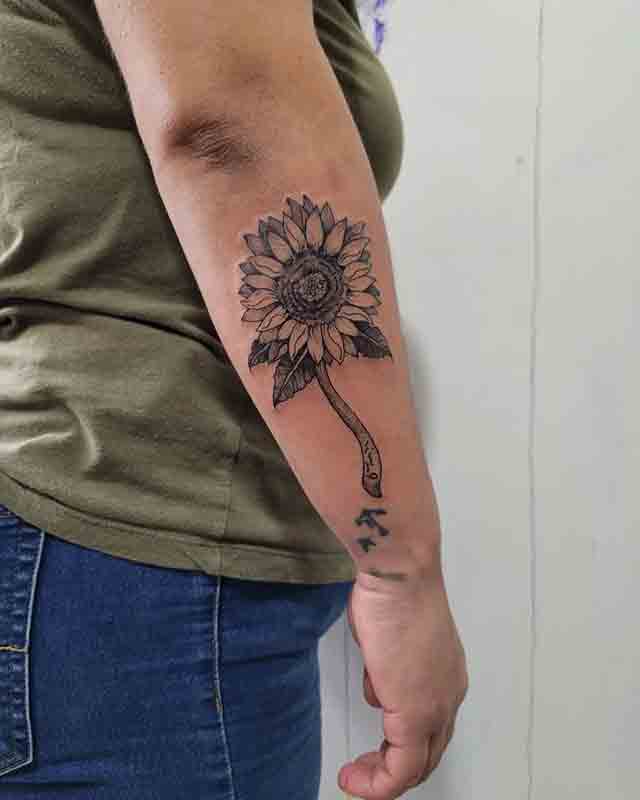 50. Contained Beauty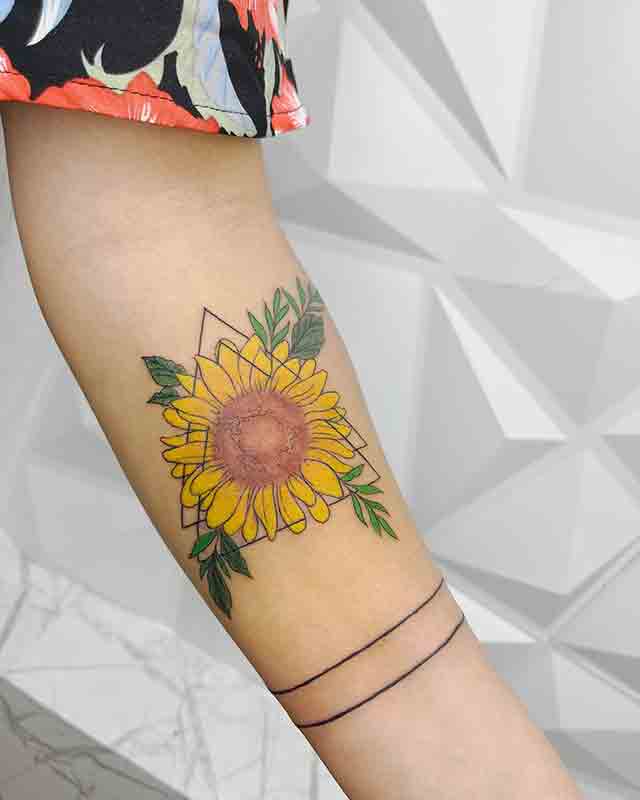 51. Rootless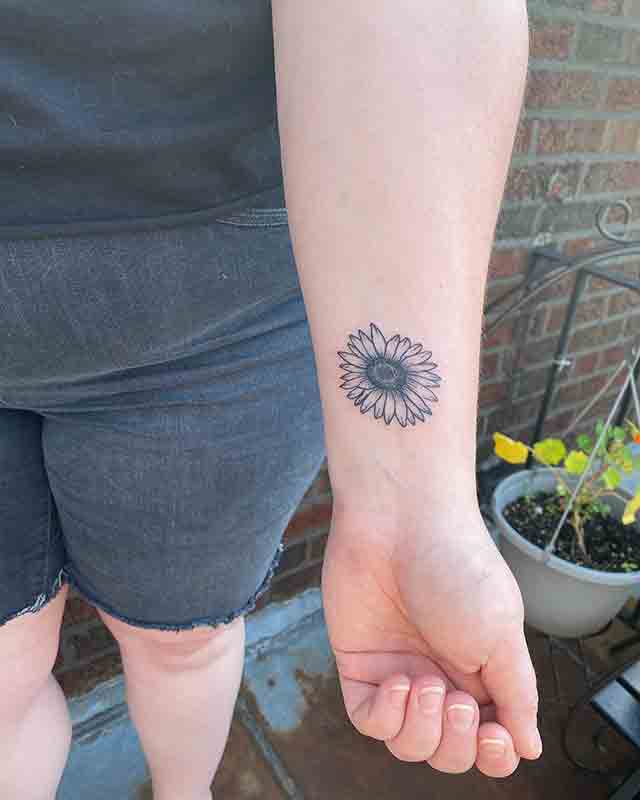 52. Heartbeat

53. Cute Panther

54. Outgrown Beauty

55. Wild Flowers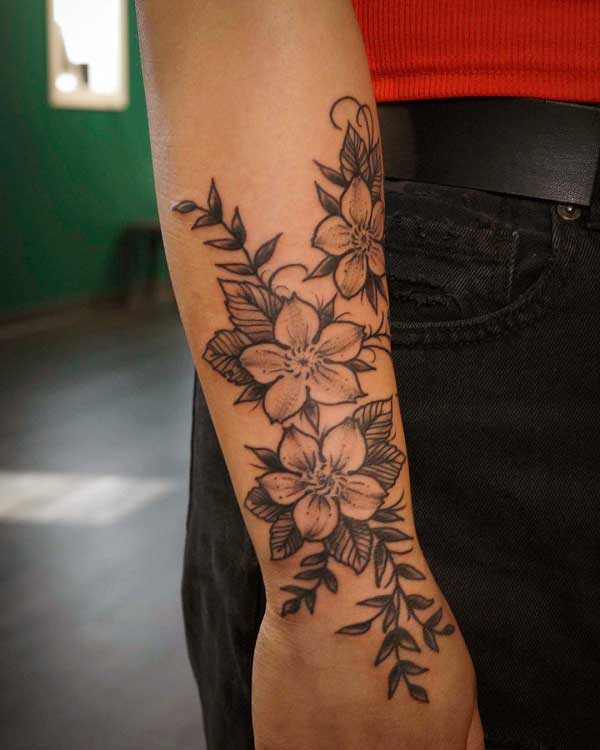 56. Disassembled Face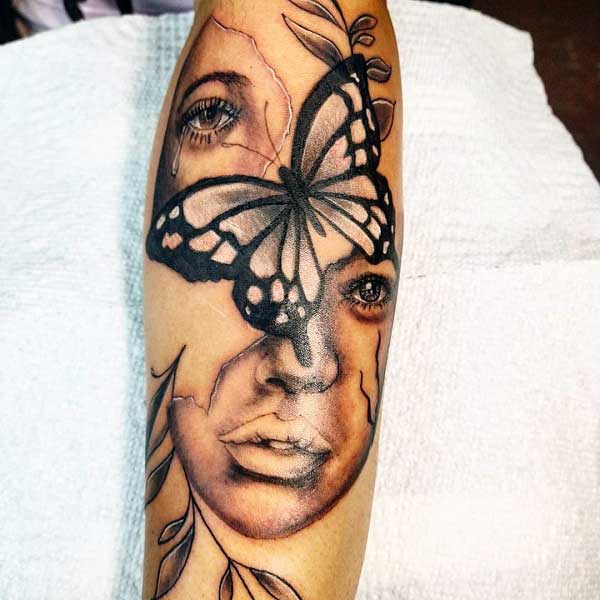 57. Colorful Rose
58. Dead Mechanic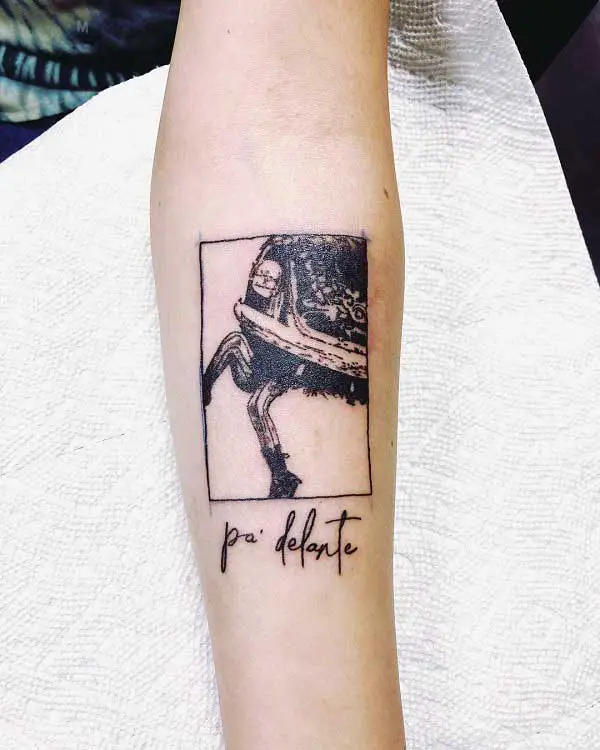 59. Sun Card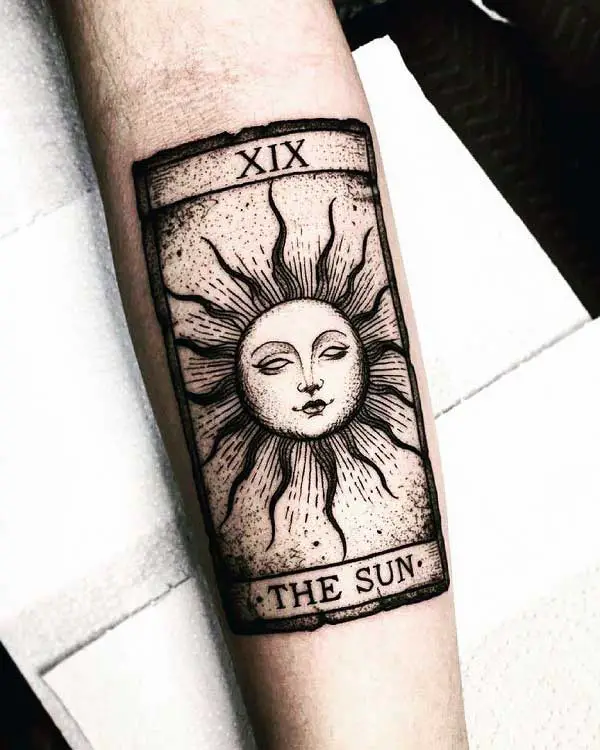 60. Violate Butterfly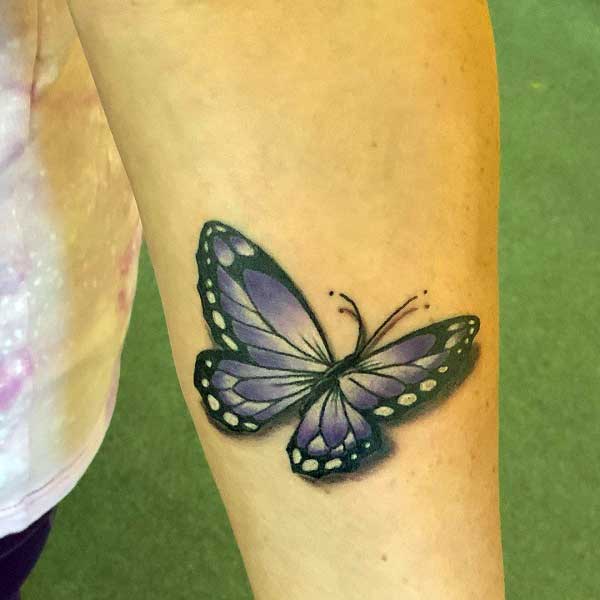 61.  Groomed Skull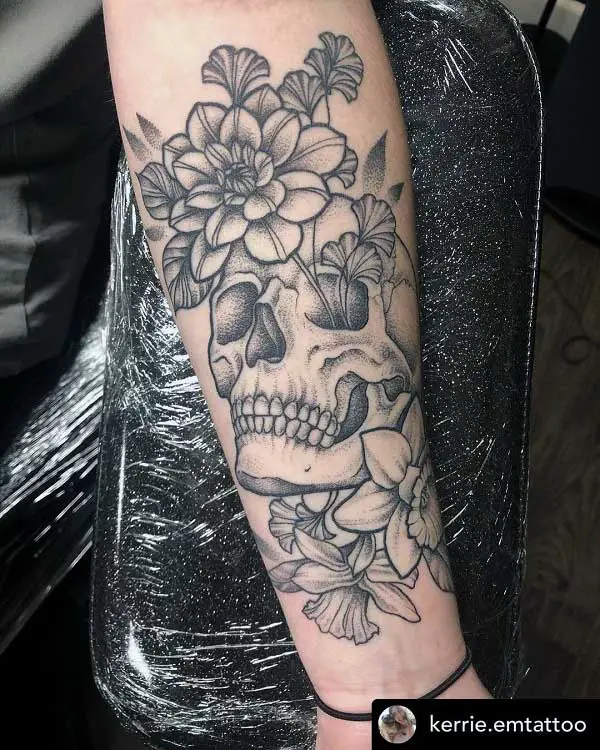 62. Full Forearm Tattoo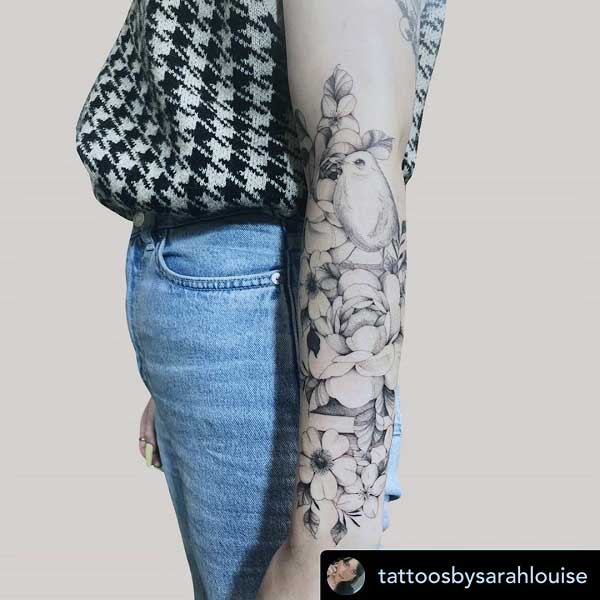 64. Butterfly Trail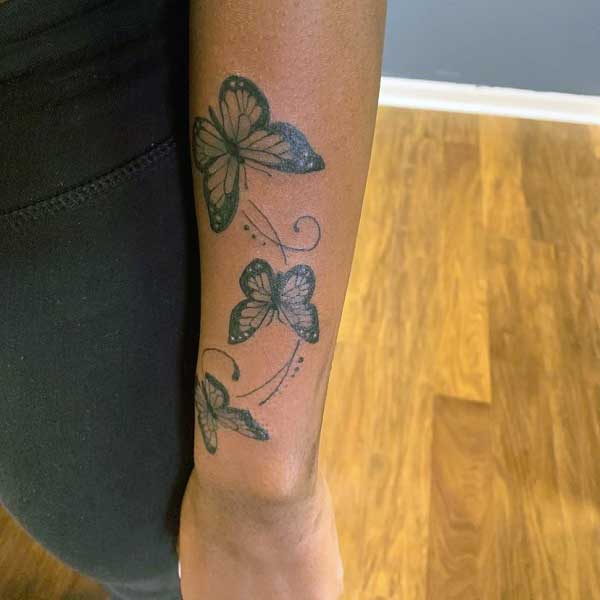 65. White Snake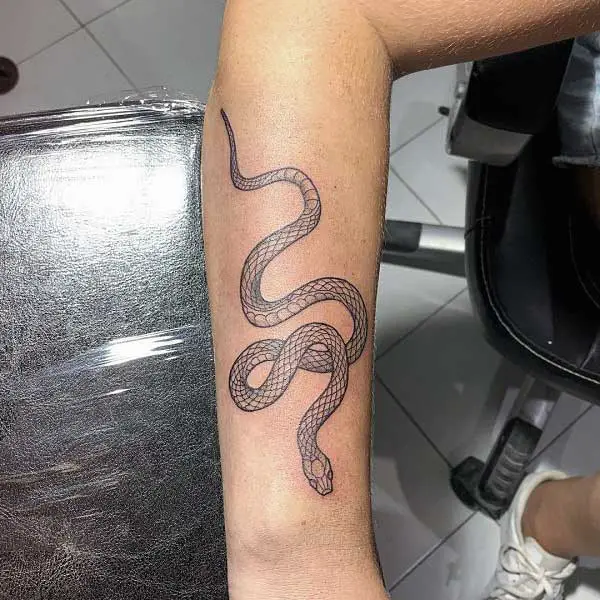 66. Cryptic Koi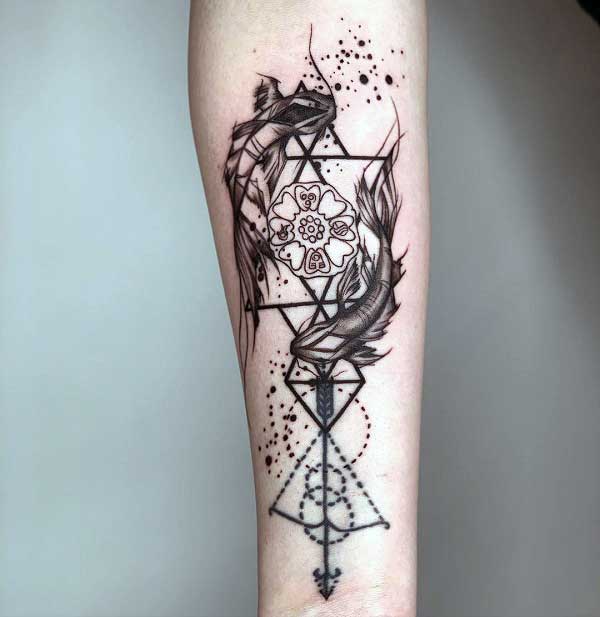 67. Crown Art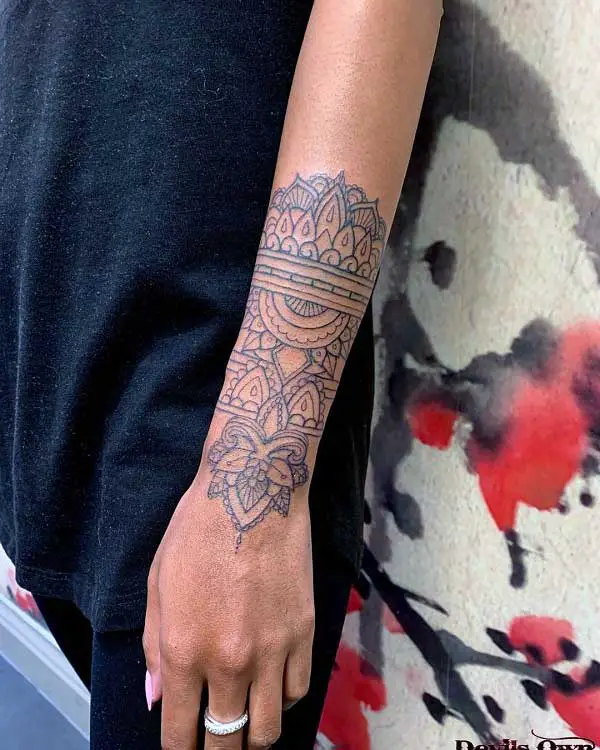 68: MEANINGFUL EXPRESSION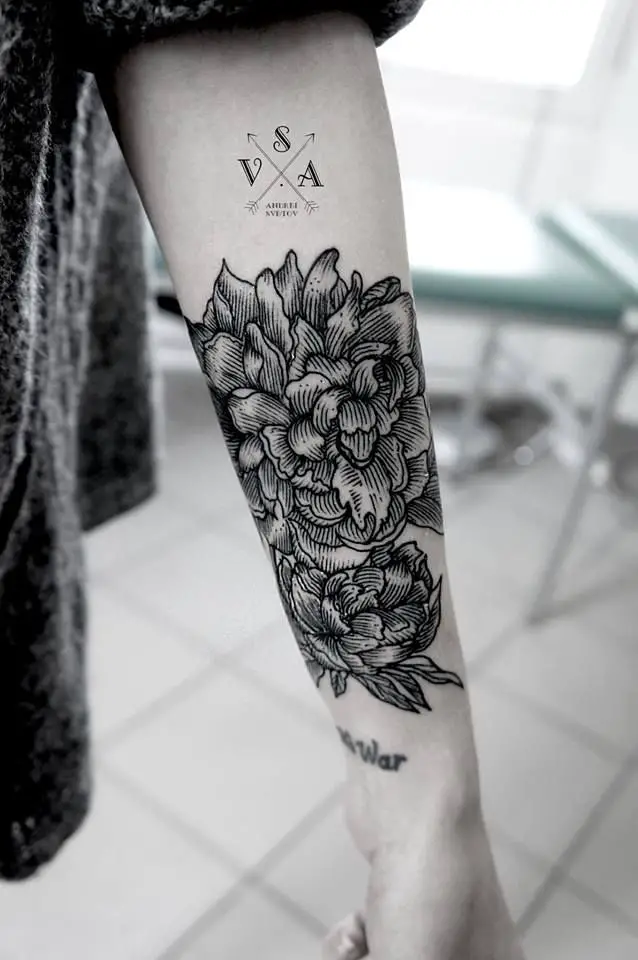 This flower forearm tattoo screams passion. It has so much detail, we wonder how much time it took. To top the beautiful flower, those arrows with letters seems symbolically relating to the person's relationship.
69: WIREFRAME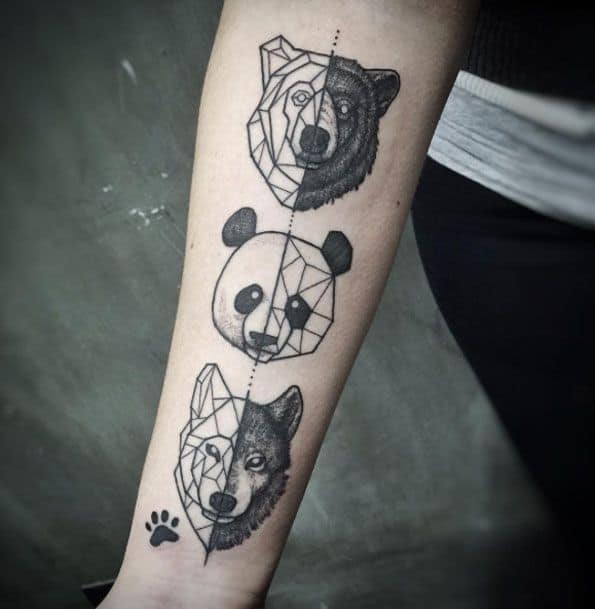 Isn't this tattoo incredible? A bear, a panda and a wolf face – half wired, half finished. This forearm tattoo grabs instant attention. And you just can't, ignore that paw!
70: VICTORIAN ARTWORK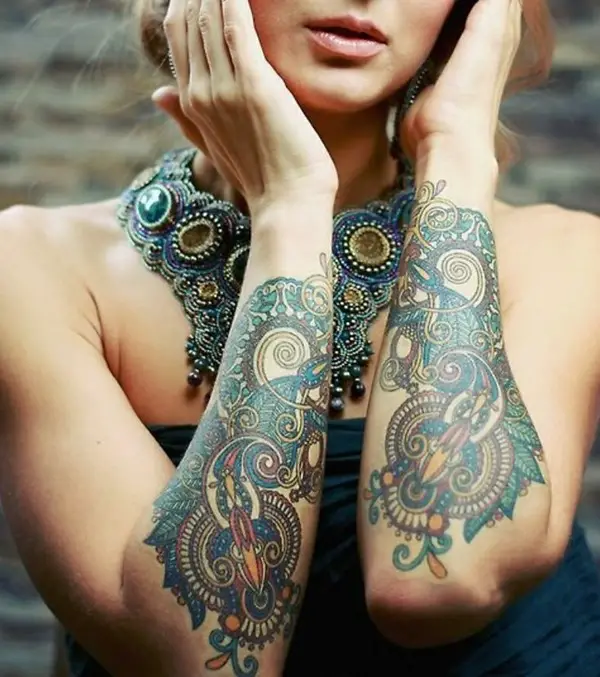 This tattoo design is majestic and so Victorian, don't you think? It's so intriate, dainty and beautiful that we can't help but be a little in awe by it. Notice the detailing, it's as refined as the bib necklace the girl is wearing. And both the forearm tattoos for women are mirror identical.
71: BLACK ROSES FOREARM

Literally, picture perfect. Making these flowers look realistic is no easy task but this artist did a flawless job. What makes this tattoo remarkable is an eye for detailing. Just look at those twisted petals and the fine strokes giving the petals a natural touch.
72: MANDALA FOREARM TATTOO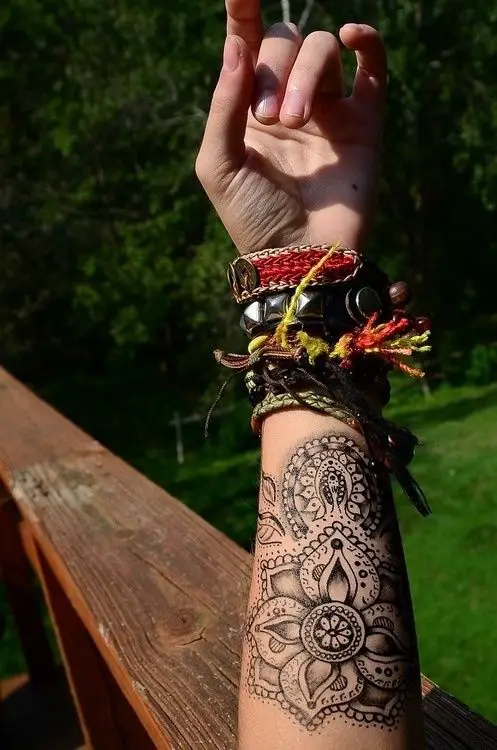 Mandala is a Sanskrit word for a circle that symbolizes eternity and completeness. This is a simple yet traditional Mandala forearm tattoo. Most mandala tattoos are inked in black since it protects its origin.
73: FIERCE BEAR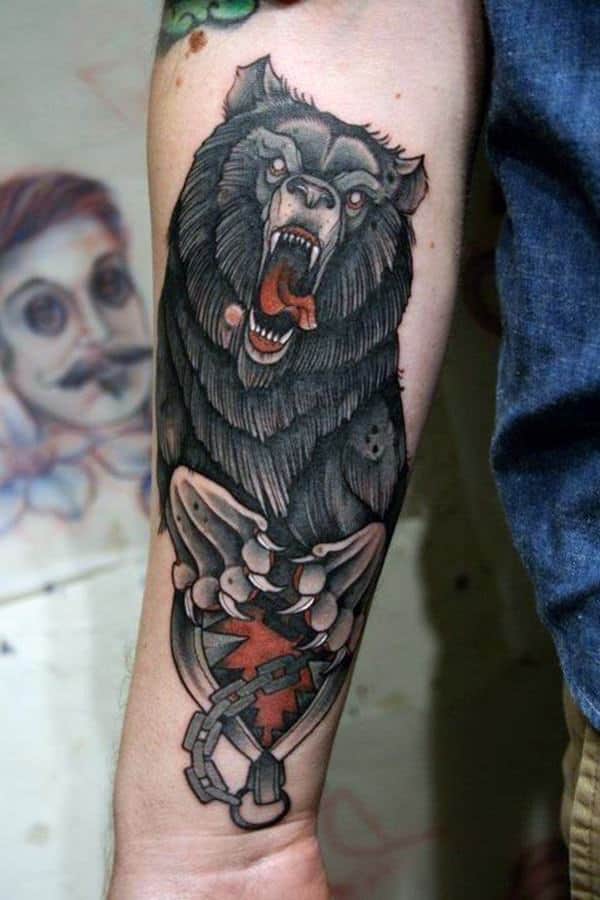 There is no better way to express your anger than an angry bear tattoo on forearm. This crazy animal seems trying to break the trap to free himself. This illustrative tattoo is very meaningful. You can choose this or think of some other way to express your deep buried emotions.
74: BUTTERFLIES FOR YOU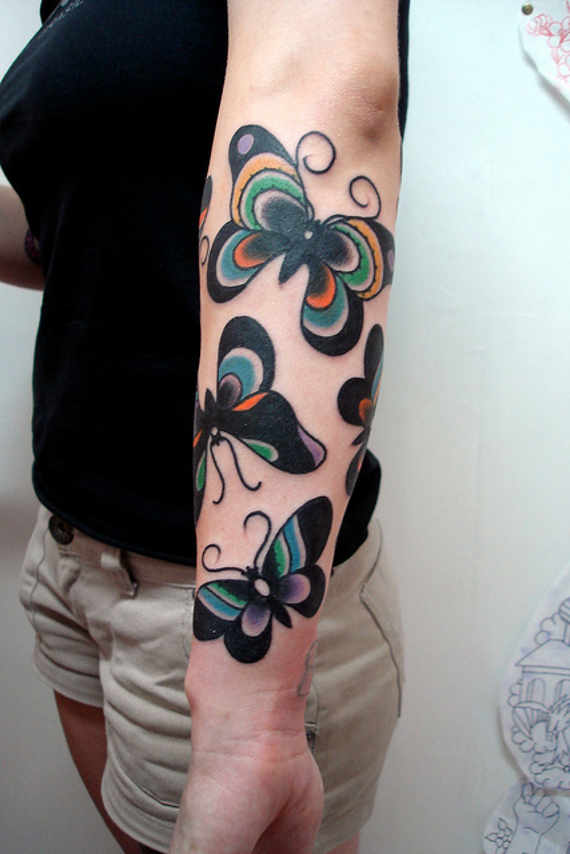 Here is a colorful and cute tattoo for nature loving girls. The butterfly tattoo with butterflies of different sizes and color shades give a soft feel. This soothing tattoo will make you awe!
75: LACEWORK ON FOREARM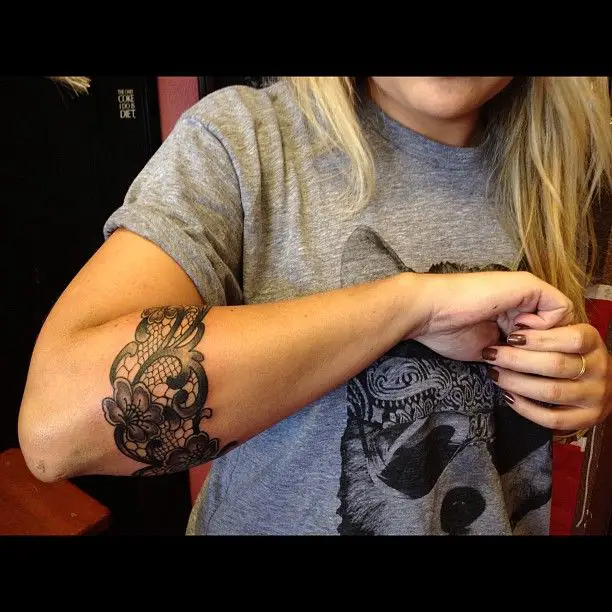 Laces are timeless, especially when you get them inked on your forearm. This lace tattoo is so realistic, it looks as if the girl has tied a real black lace on her hand.
76: LADY OCTOPUS FOREARM TATTOOS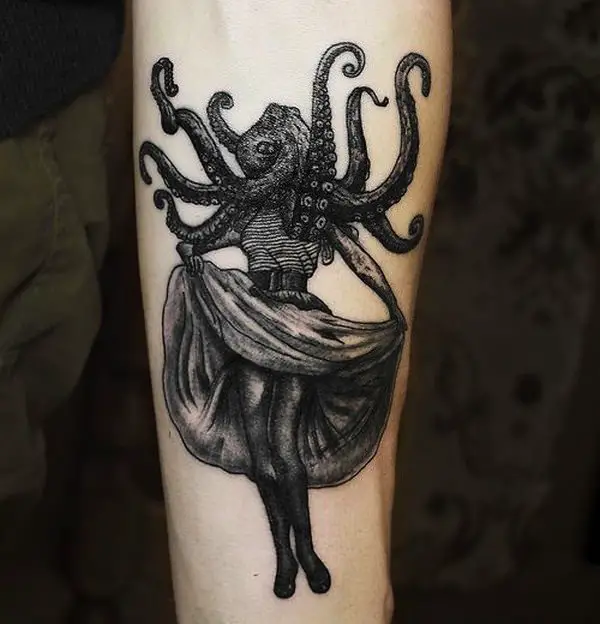 Mysterious yet mystique, this forearm tattoo of an octopus-headed lady is incredible.This mysterious forearm tattoos for women is enough to arise curiosity.
77: SIMPLE YET STYLISH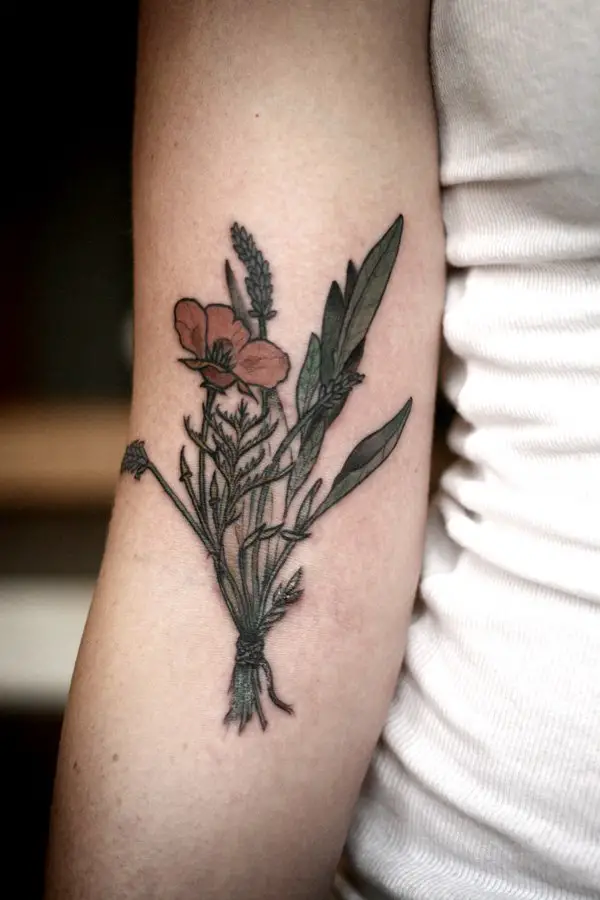 You don't always have to opt for extravagant designs to make your forearm tattoo a center of attraction. This nicely done tattoo has so much to the allure.
78: MANDALA WITH DIAMONDS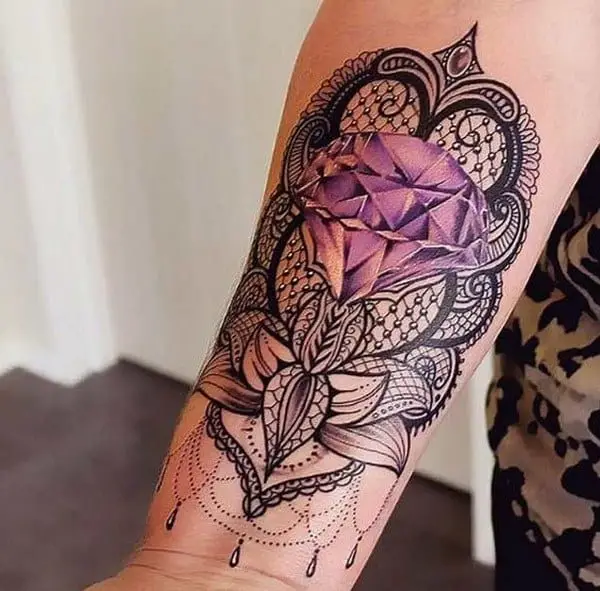 We love the detailing and can't stop appreciating the artist for such a dramatic work of art. The huge pink diamond makes this mandala forearm tattoo more desiring.
79: BLACKWORK POPPY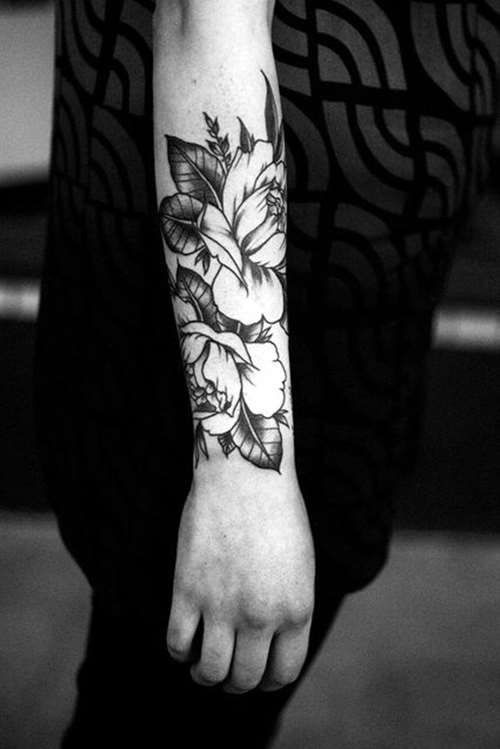 Flowers are always the best subject for forearm tattoos for women. There are possible infinite options to have incredibly awesome floral patterns and this poppy flower tattoo with pencil stroke style leaves is an amazing example.
OLD PEOPLE TATTOO IDEAS FOR 2017
80: DREAM CATCHER FOREARM TATTOOS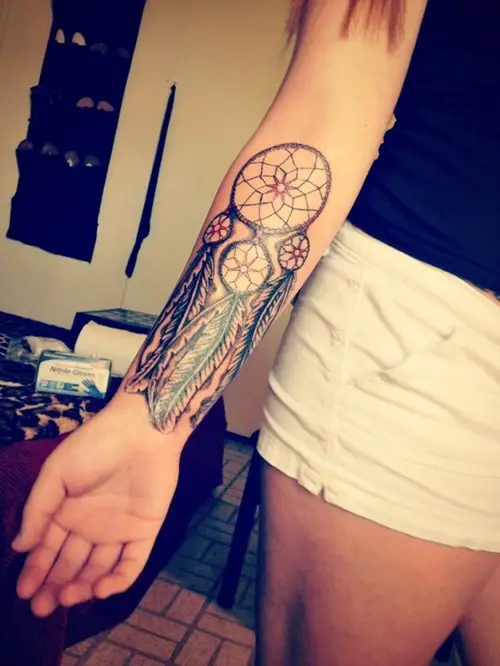 A beautifully woven web accompanied by bird feathers is lovely to carve on the forearm. Dream catcher is said to catch dreams and the design in numerous variations is loved by women for inking. You can add leaves, gems or some personal symbols to the design for more significance.
81: CLASSY COLLAGE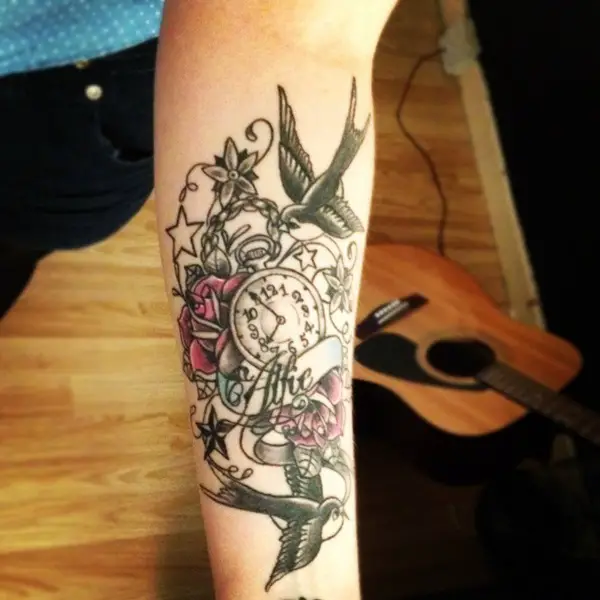 Flowers, birds, stars, clock, all these elements create a lovely collage that is finely painted with subtle hues of pink and blue contrasting the black tones. You can go errands with more elements that express your emotions, personality or belief.
82: ANTELOPE FOREARM TATTOOS FOR WOMEN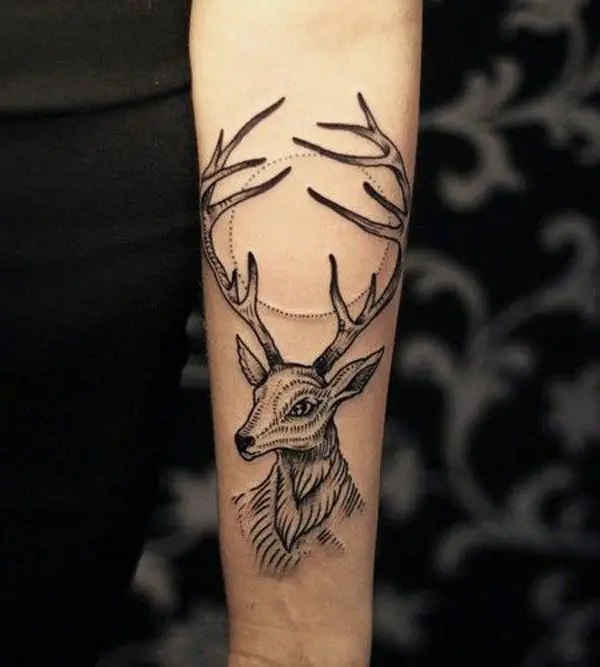 A simple, realistic rendition of an antelope head with branched antlers will surely turn heads. The dotted circle in between the antlers is impossible to ignore.
83: MORE FLOWERS WITH FRILLS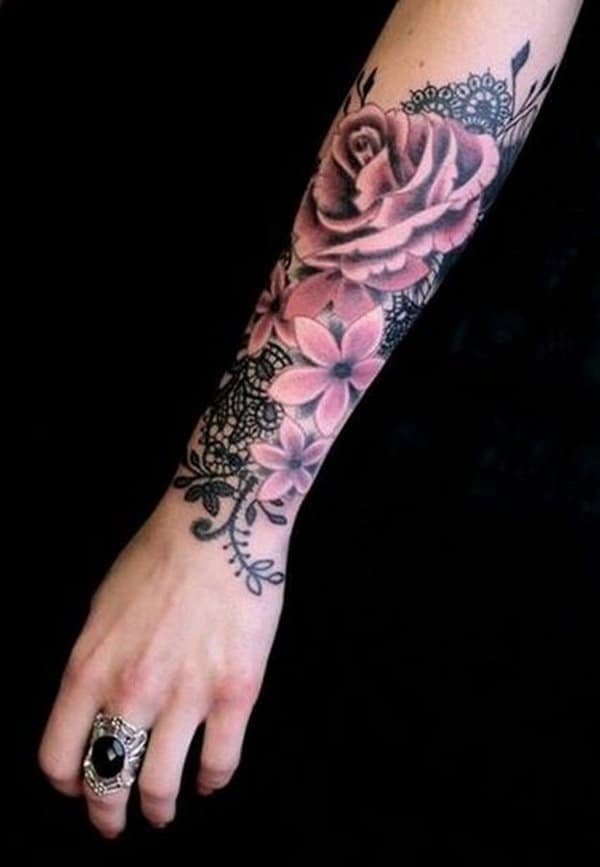 The flowers in pink create a lovely contrast with those black frill.
84: 3D FLORAL FOREARM TATTOO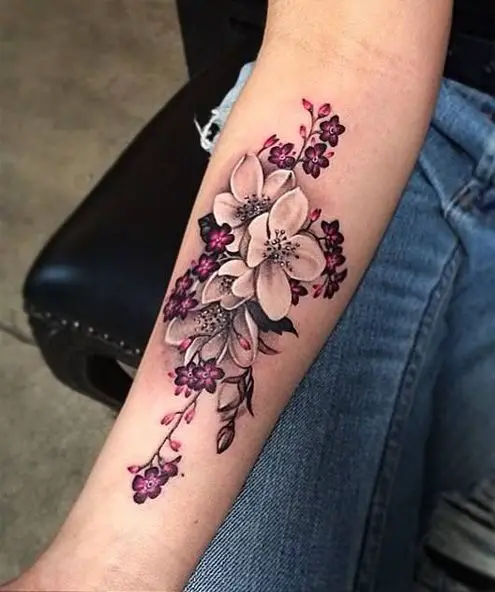 Isn't this forearm tattoo for women looks live? The unique art work is surely breathtaking and we love the subtle use of purple with shady white.
85: PENCIL STROKE CREATED ROSE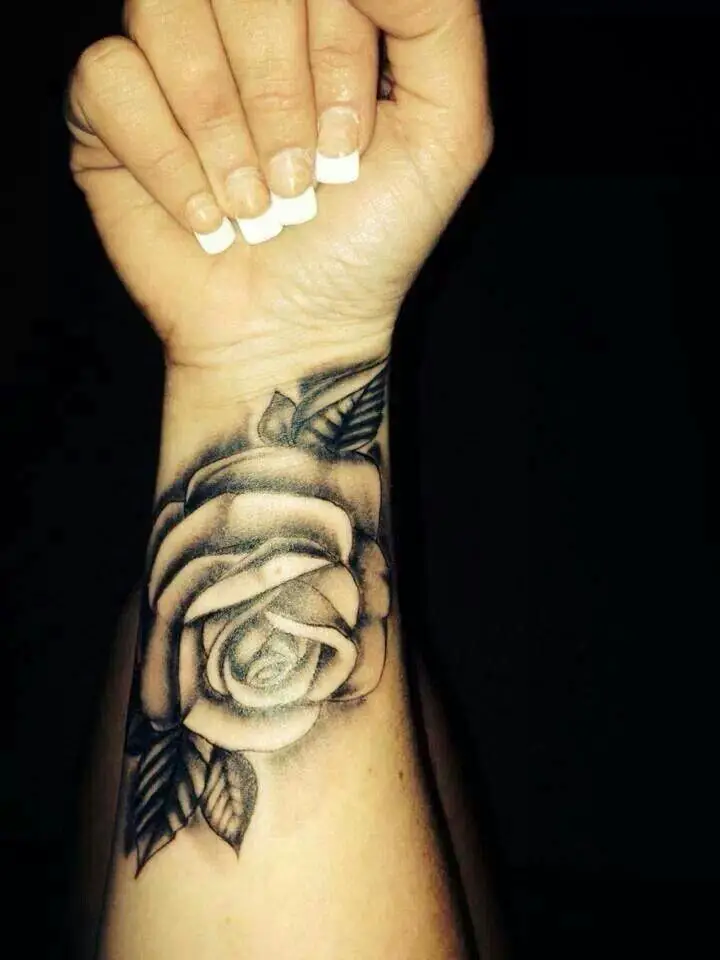 This rose tattoo looks like it's not inked on a body but on a paper canvas. Observe the shading. The artist has done a marvelous work.
86: THE VINE WORK

Here is a unique tattoo that has inked with admirable precision. The silhouette of the swirled vines reminds of the dramatic art-work of the Art-Noveau era.
87: LET THE MUSIC FLOW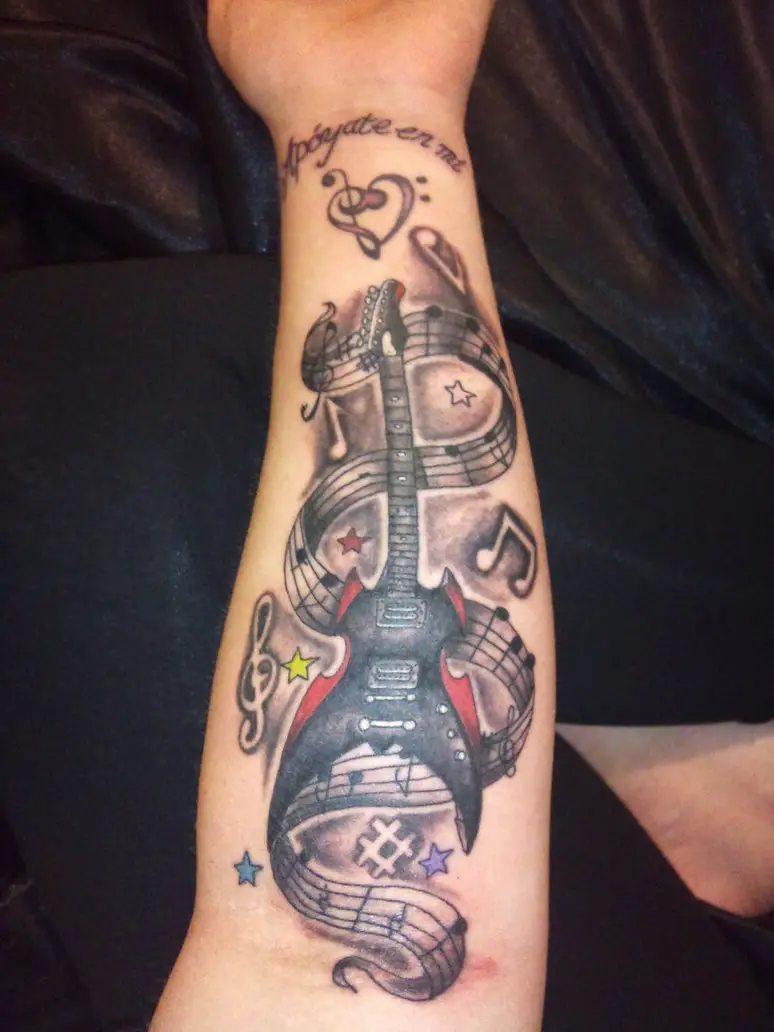 This rhythmic guitar with musical notes tattoo expresses the love for music. Music tattoos are popular for forearms as they let the artist play with their imagination even with the smallest idea.
You have just seen 20 forearm tattoo ideas for women, and we bet you must have fallen in love with most of them. You can mix up your creativity with these tattoo inspirations to create your unique design. Do share your inking experience and tattoos here to let other folks find some new ideas.
FAQ
How much is a forearm tattoo?
A forearm tattoo costs anywhere between $250 to $1300.
Which way should a forearm tattoo face?
Well, it depends. If you want to look and enjoy at your own design it should face you otherwise it should face the viewers.
Do forearm tattoos twist?
Yes. Forearm tattoos twist. However, a well-designed forearm tattoo will look good even when you twist your hand.