The popularity of cultural tattoos has been on the rise in recent years. And if you are also an enthusiast about ancient culture and civilizations, getting an Aztec tattoo might spark your interest.
The Aztecs are a civilization that lived in Mexico from 14th to 16th century. What makes this empire so attractive is its rich history and fascinating mythology which makes it popular not only among historians but also in the tattoo regime.
Aztec art's intricate patterns and bold colors make for stunning tattoos, and the meaning behind these symbols can be deeply personal for the wearer. Find out more below about Aztec tattoos and their meanings.
30 Aztec Tattoo Designs With Meanings
Aztec tattoos come in a variety of styles and designs because of their rich culture and heritage. From deities, various artworks, and traditions to their lifestyle and warriors, Aztec tattoo designs give a diverse set of collections.
Aztec Warrior Tattoo
The Aztecs are considered one of the greatest civilizations that lived on earth. Aztec tattoos of warriors wearing helms of jaguars or eagles are common these days. They can symbolize strength, power, pride, and responsibility.
1. Jaguar King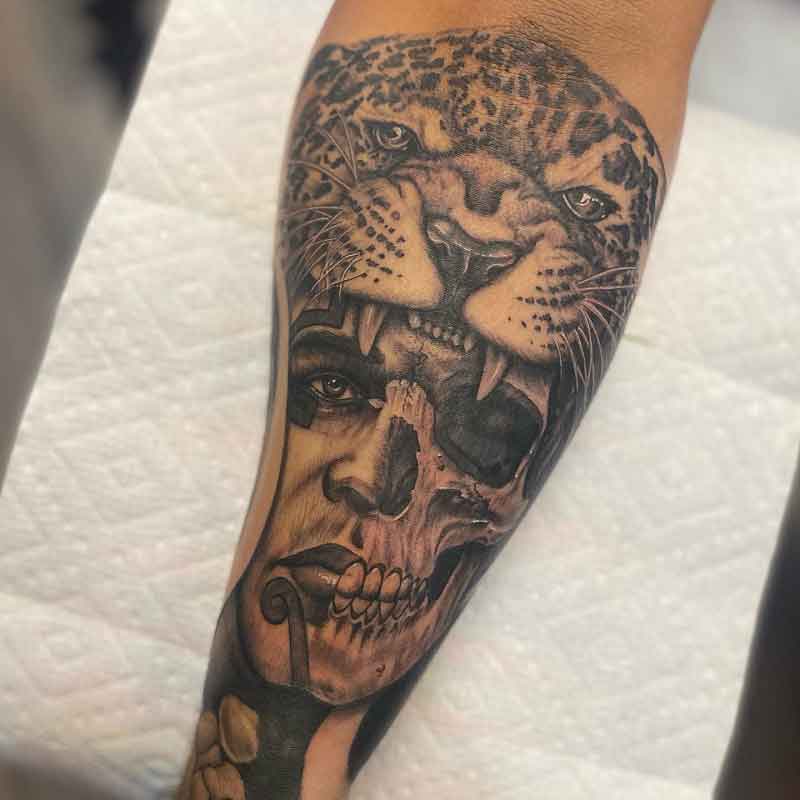 A grim looking Aztec warrior wearing a jaguar helm. You can see that a side of the warrior's face is depicted as a skeleton. Meaning that they will protect their people even if death is evident.
2. The Huntress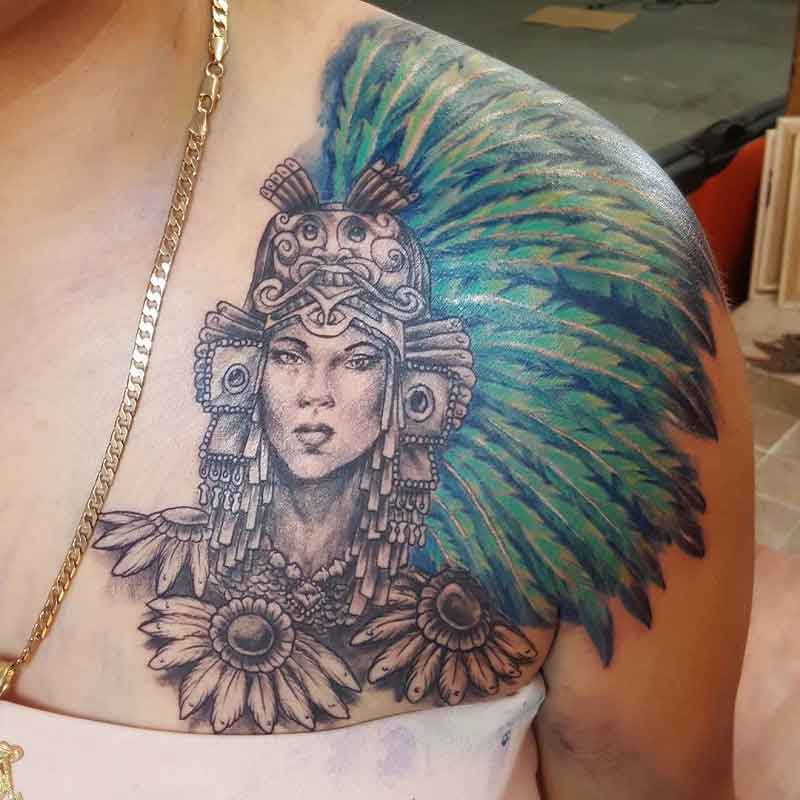 There were female warriors in the Aztec civilization. In this tattoo, there is a female warrior with beautiful blue feathers behind her back head. It makes one realize how genuinely progressive and gender equal they were. 
3. Sublime Heritage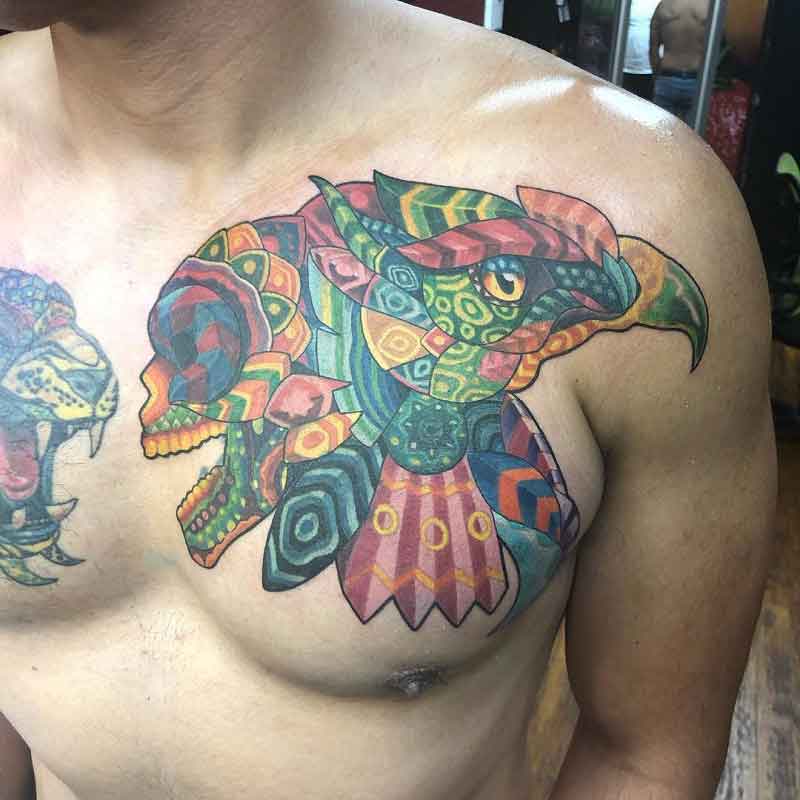 A traditional skull and a bird fused to each other. This tattoo has a trippy vibe to it with its mesmerizing color play. The tattoo artist did a fantastic job blending the colors which highlights the chest elegantly.
Aztec Calendar Tattoo
The Aztec calendar is one of the most significant features of their culture. It was used to determine the best time to plant crops, harvest crops, and fix the dates for religious festivals. Priests would use it to predict the future also.
4. Reminder to Self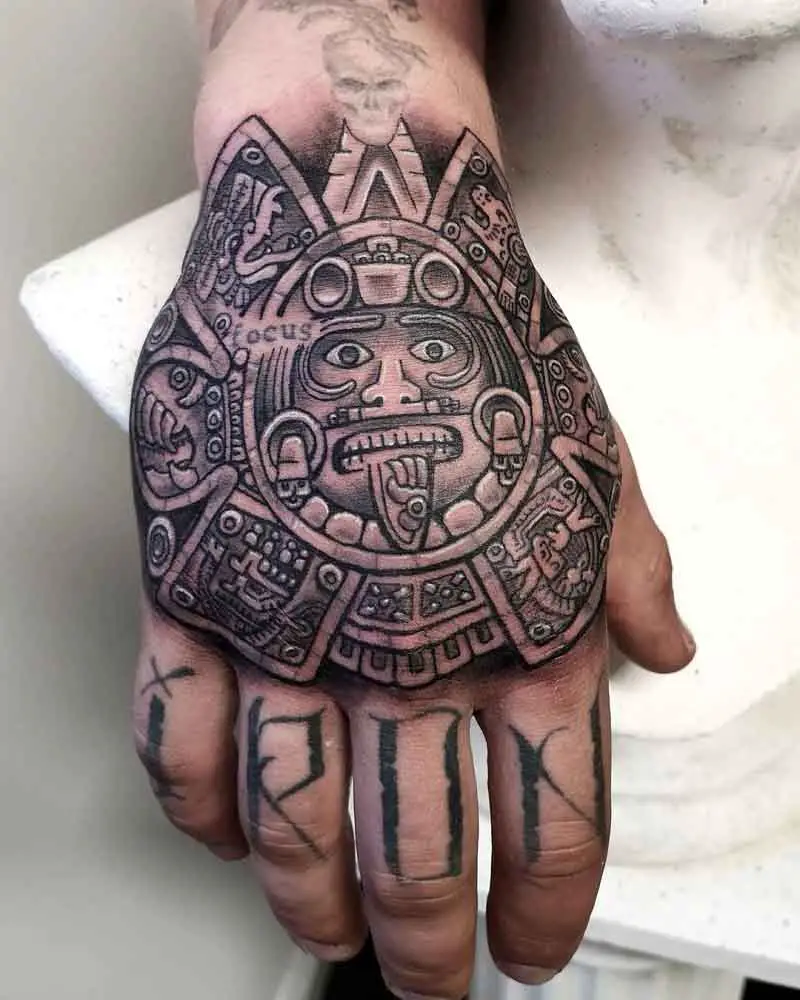 This tattoo can be a reminder to self whenever distraction occurs. Inside this Aztec calendar tattoo 'focus' is written in small letters. This declares a tattoo wearer's determination to achieve his targeted goal through concentration.
5. Aztec Calendar on The Sleeve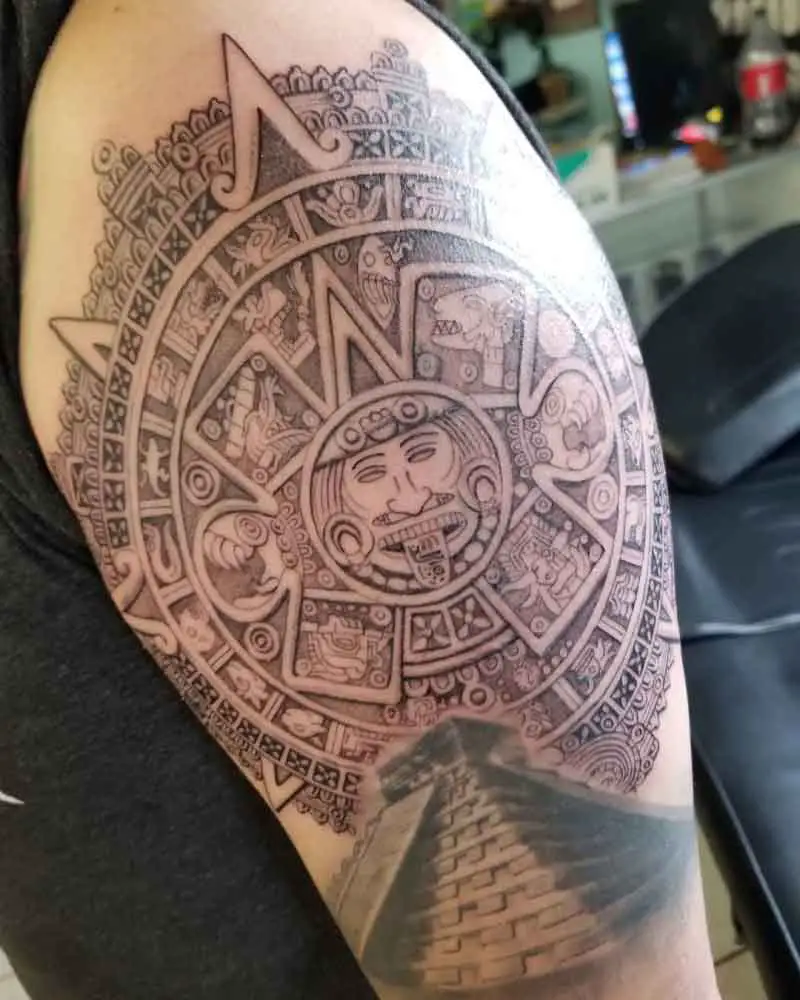 Beneath this Aztec calendar tattoo, there is an architectural building of their time. It shows how ahead of the time they were in the ancient era. This tattoo can be a monumental piece being inked into your arm.
6. Ancestral Embodiment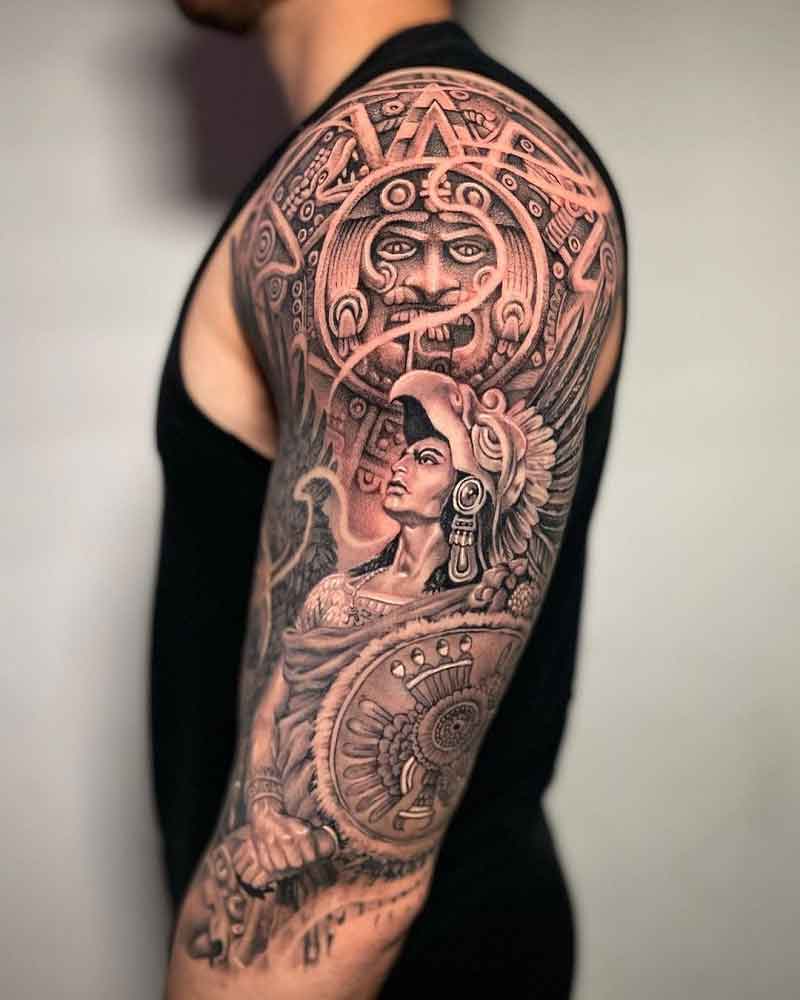 To achieve something in life, perseverance is crucial. The Aztec empire lasted over 200 years because of their rich culture and heritage. This tattoo showcases that fact being a symbol of persistence, consistency, and legacy.
Aztec Tattoo Designs
Aztec tattoos were a form of ritualistic art for ancient Aztecs in Central America and Mexico that were used to honor gods, separate tribes, and show warrior prowess. These tattoos come in a lot of designs and styles.
7. The Azure Fist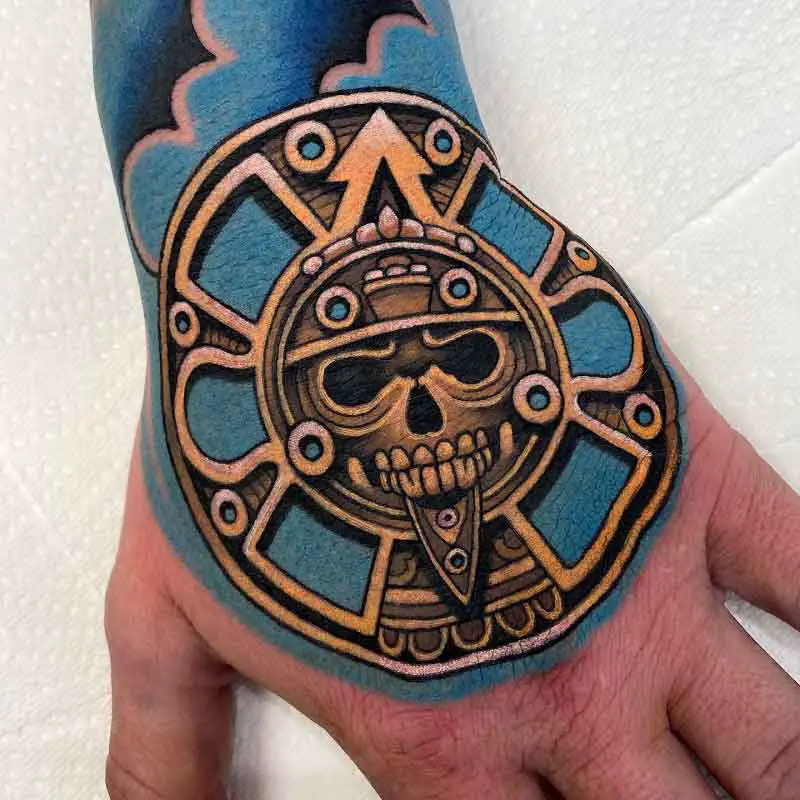 A colorful Aztec compass tattoo on a man's fist. This tattoo represents guidance, protection, good luck, balance, and harmony of Aztec culture. If you are someone who travels a lot or wonders around aimlessly, this tattoo might help you in your discovery.
8. Aztec Sun on The Skin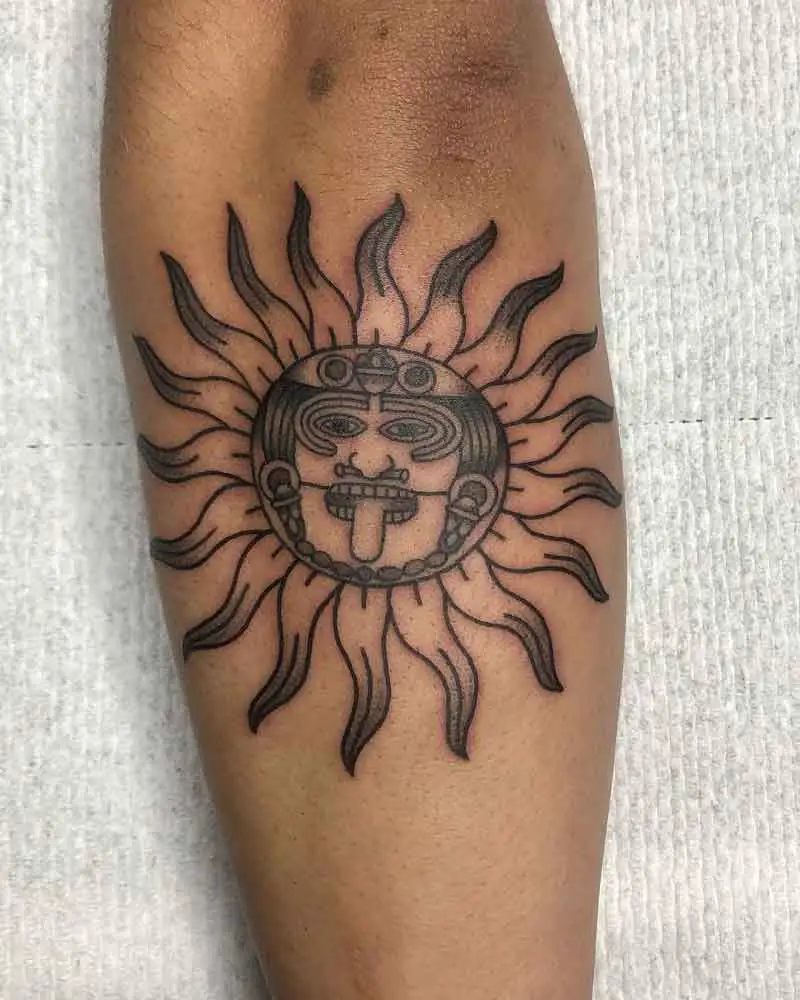 The Aztecs worshipped the sun as one of their most important deities. For them, the sun deity represented hope, strength, life, resurrection, and change. Getting an Aztec sun tattoo is a determination to positivity and optimism towards life.
9. Elegant Beauty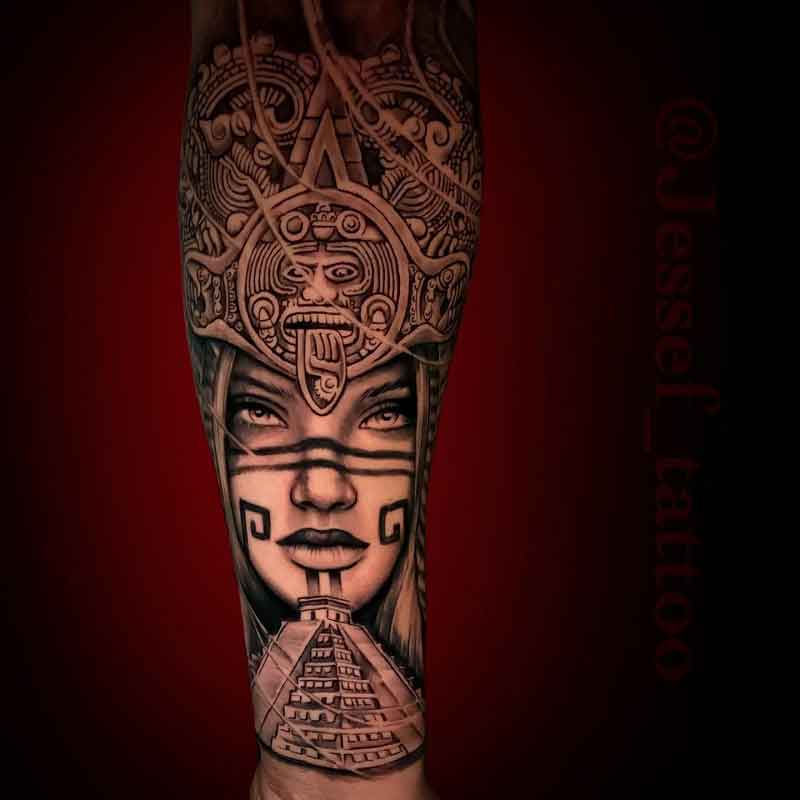 Among all the tattoos you've seen till now, this one might grab your attention as the most realistic one. The tribal woman here is giving a tempting look that surely will drive others to daydream and wonder about ancient culture.
Aztec Tattoo Ideas
Tattoos depicting Aztec culture are so unique that one can instantly recall them just by taking a glimpse. Not only are they unique in design and style but also many ideas can be experimented with through them. See those ideas here.
10. The Shaman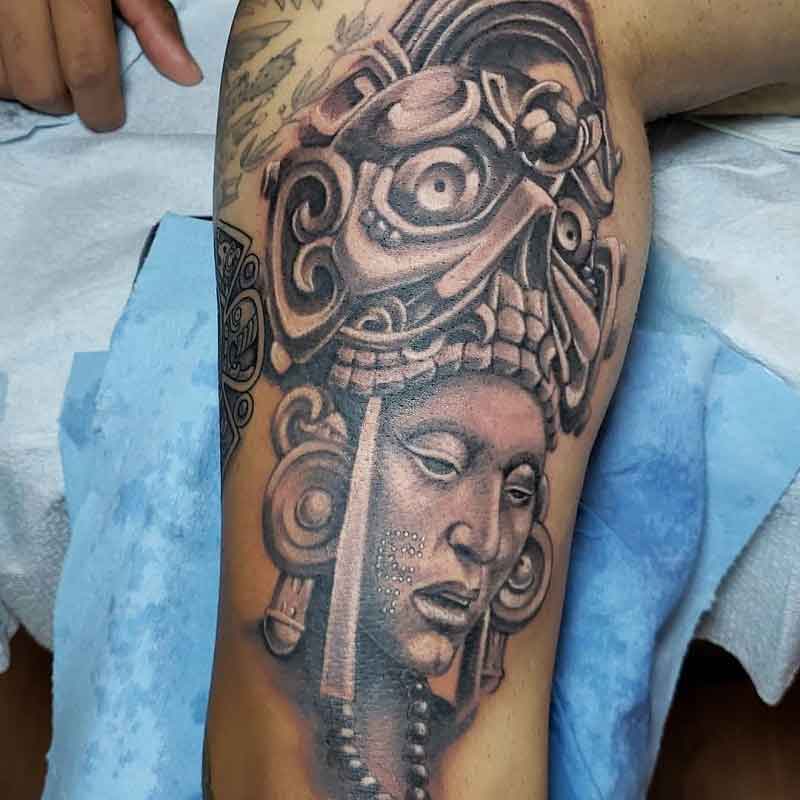 The priest or the shaman in Aztec culture is a very significant and respected figure. The main rituals are performed through them on various occasions. This tattoo of an Aztec shaman on your leg will look fabulous.
11. Pride of A Warrior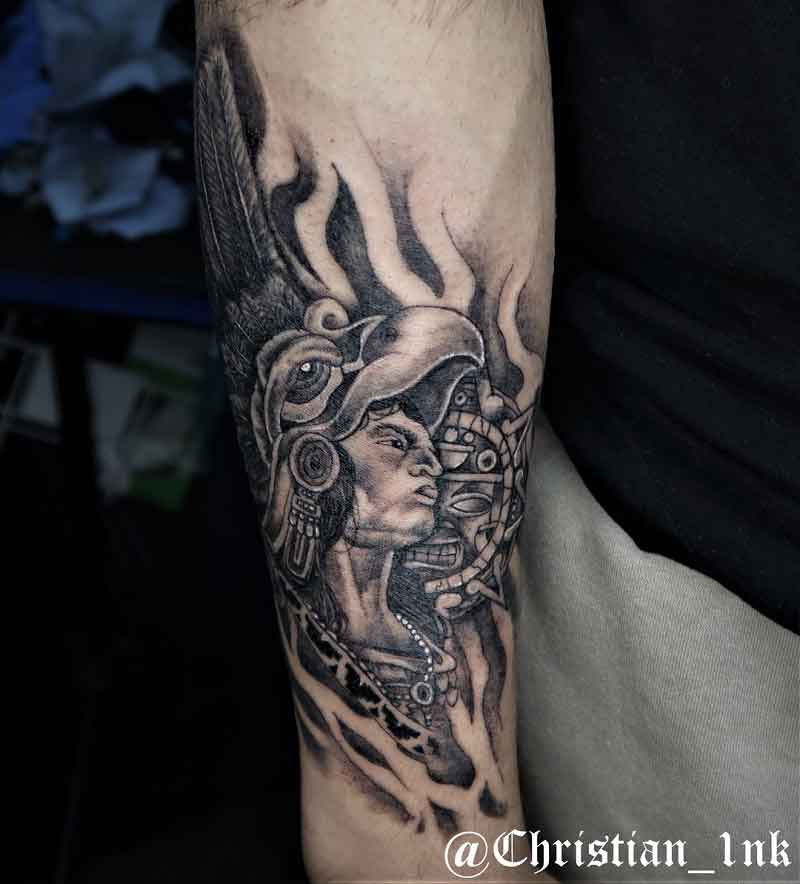 The Aztecs always took pride in their culture. Their warriors were confident and patriots for their nation. This tattoo of an Aztec warrior on a man's forearm depicts this very patriotic vow showing valor, zeal, and commitment to their own culture.
12. Culture in Color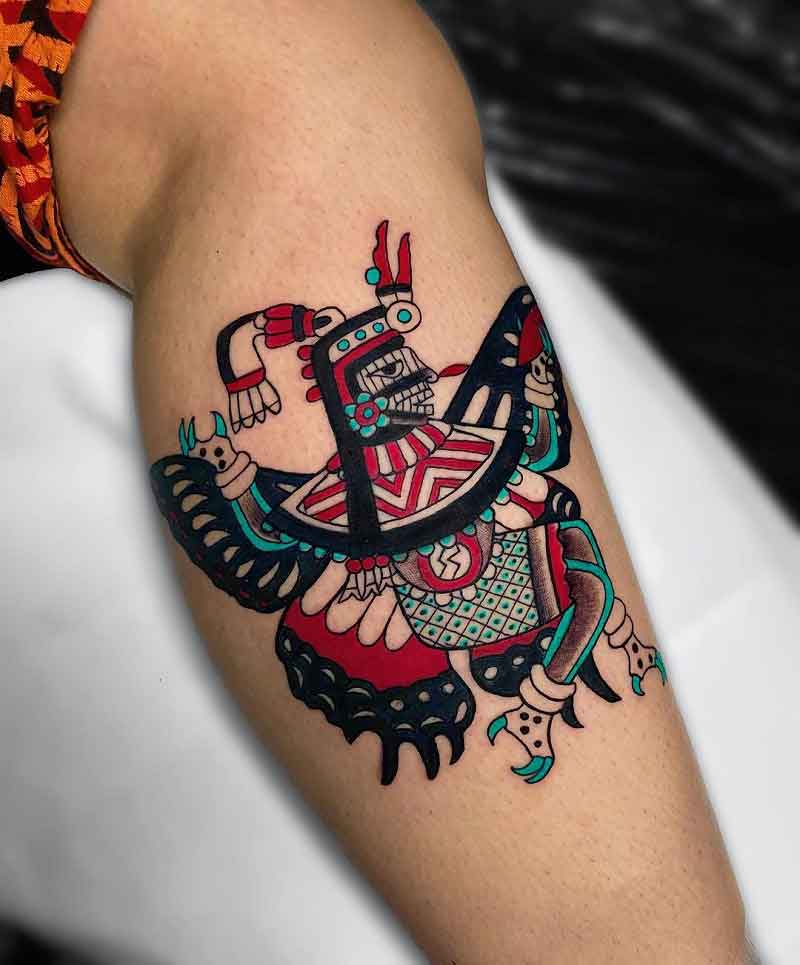 A fresh and sassy-looking colorful Aztec body art for chill people. This tattoo will suit someone with a jolly mood who likes to party a lot. People seeing this tattoo on your leg will have no doubt that you're a celebrator of culture.
Aztec Tribal Tattoo
The main features of tribal tattoos are that they are bold in color, geometric in shape, and have intense linework. Tribal tattoos use negative spaces according to their need and make your skin look majestic. See them right now.
13. The Aztec Code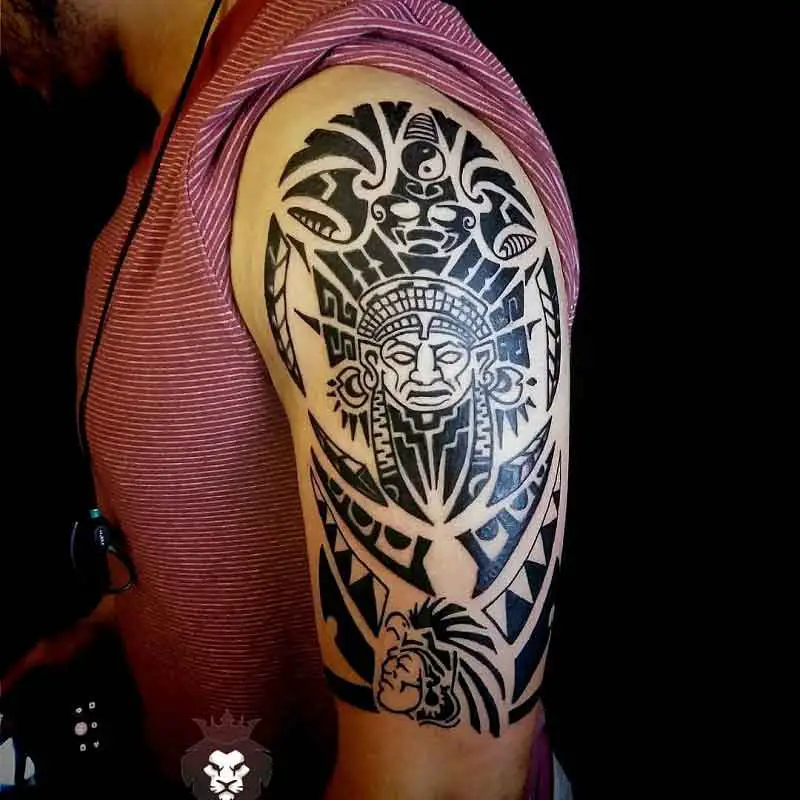 A beautiful use of negative space. The motif of this tattoo displays the Aztec tribal heritage from the core. The design on this one is very classy and well inked which makes it eye catchy to the audience.
14. Symbol of Heritage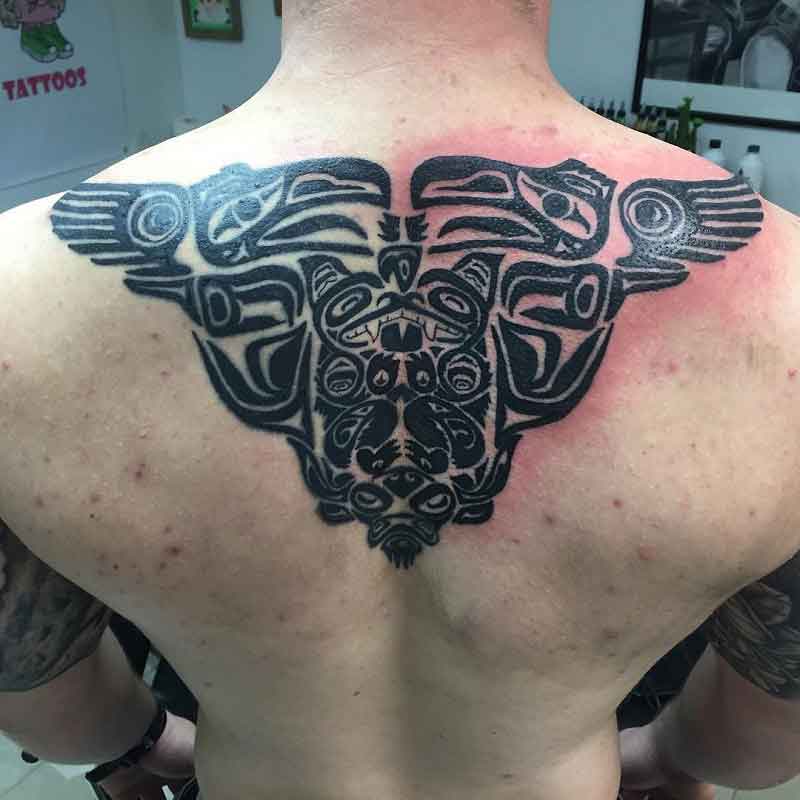 The back is an excellent place for symmetric tattoos. In this tattoo, the culture of the Aztecs is illustrated magnificently. This type of tattoo will suit you if you have bright skin.
15. Cultural Embroidery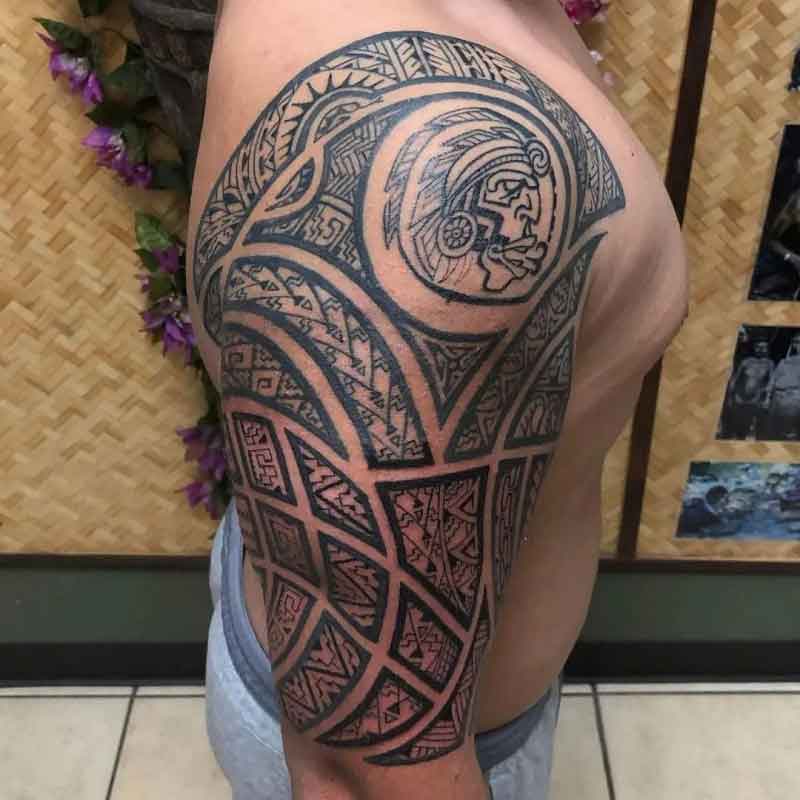 This fantastic piece looks like someone knitted their cultural heritage with utmost care and passion. Embroidery arts are seen to be one of the highest forms of representing a tribe and sure this tattoo does that with perfection.
Meaningful Aztec Tattoos
Aztec tattoos can have different meanings according to their types and characteristics, Usually, they symbolize strength, power, fertility, rebirth, and protection. See those meaningful Aztec tattoos below.
16. Timeless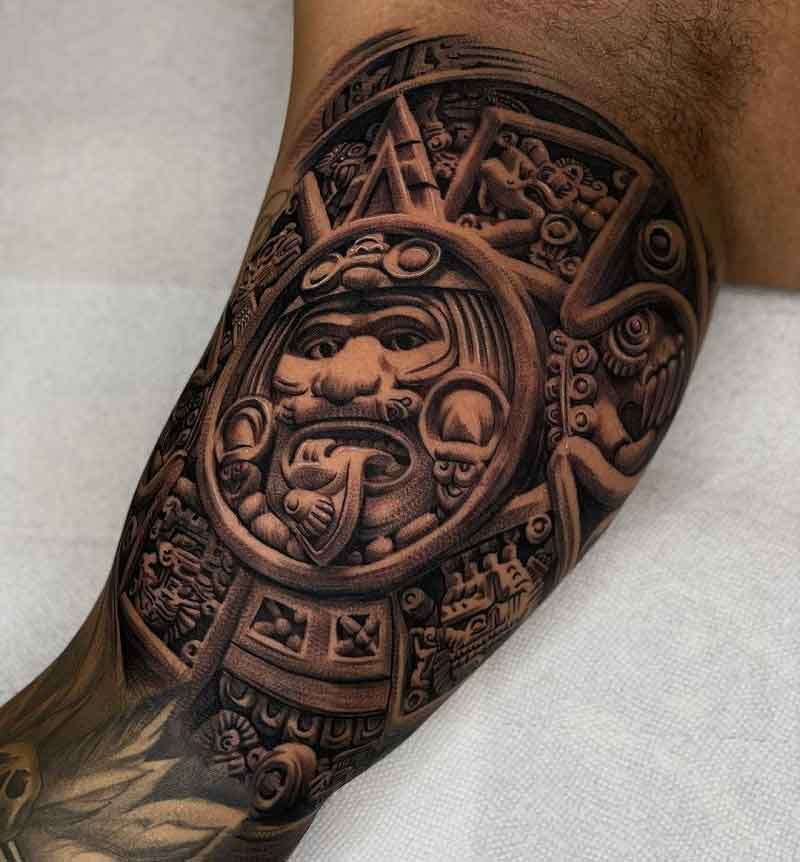 This is a unique place to get a tattoo on. It is an Aztec sun calendar tattoo on a man's bicep. You can see that the tattoo artist made some compromises to fit the tattoo into the muscle which turned out to be fabulous.
17. Beauty and Heritage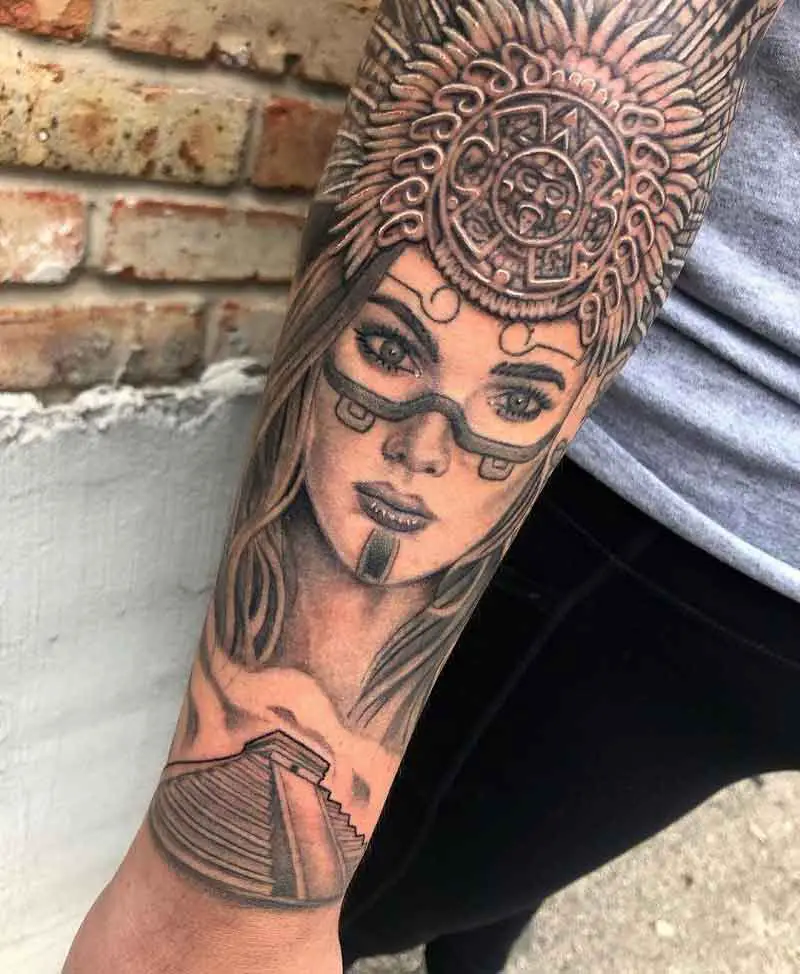 Multi-character tattoos are popular among tattoo enthusiasts because they not only tell a story but also have the ability to bear a whole legacy of a culture within it. This tattoo is no exception, it represents the ancient culture profoundly.
18. Queen on the Arms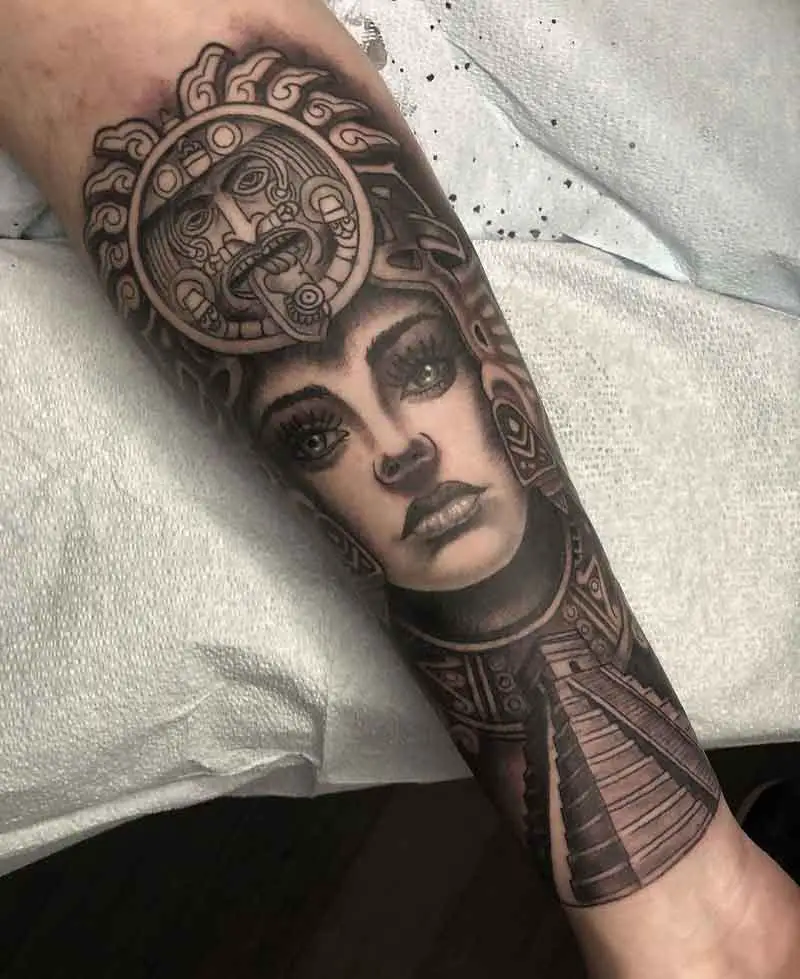 Another multi-character tattoo of the Aztec civilization on a man's hand. Previously you saw this type of tattoo covering the full sleeve. But this tattoo can give you an idea of how those designs would look in half of your hand.
Aztec God Tattoo
As the Aztecs were polytheistic, they worshipped many gods. These deities had many specific powers and domains of influence. Some of the popular Aztec gods are the god of war, the god of the sun, the god of rain, and the goddess of beauty.
19. The Deity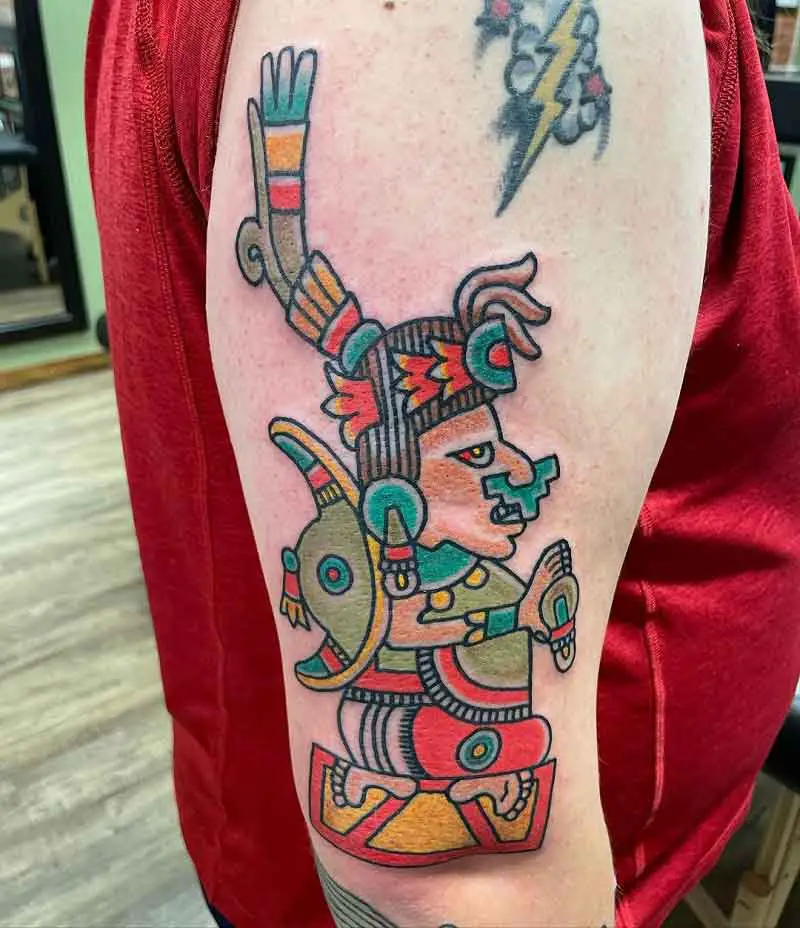 A colorful Aztec deity in traditional clothes. You can see a black thundery cloud above the deity indicating that this is the deity of storm and rain. Praying for rain in heavy drought seasons to the rain god was pretty common in their era.
20. Colorful Deity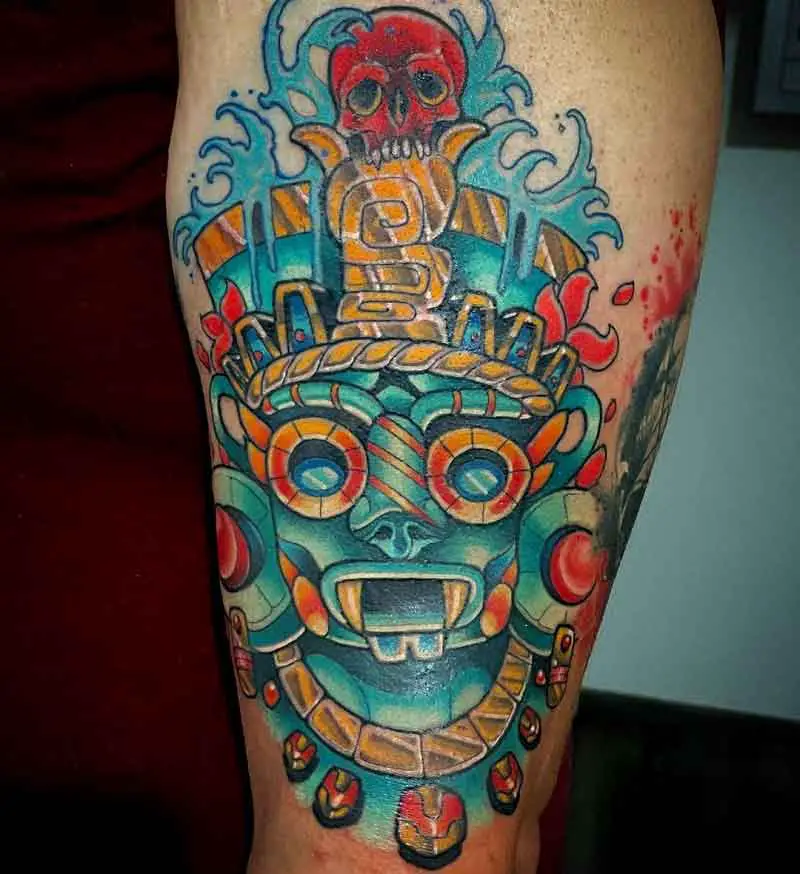 An Aztec god in a festive look. The Aztecs used to celebrate many festivals in a year where they performed special rituals for specific deities. The vibrant colors with jubilant design make this tattoo an exceptional piece.
21. The Aztec Skull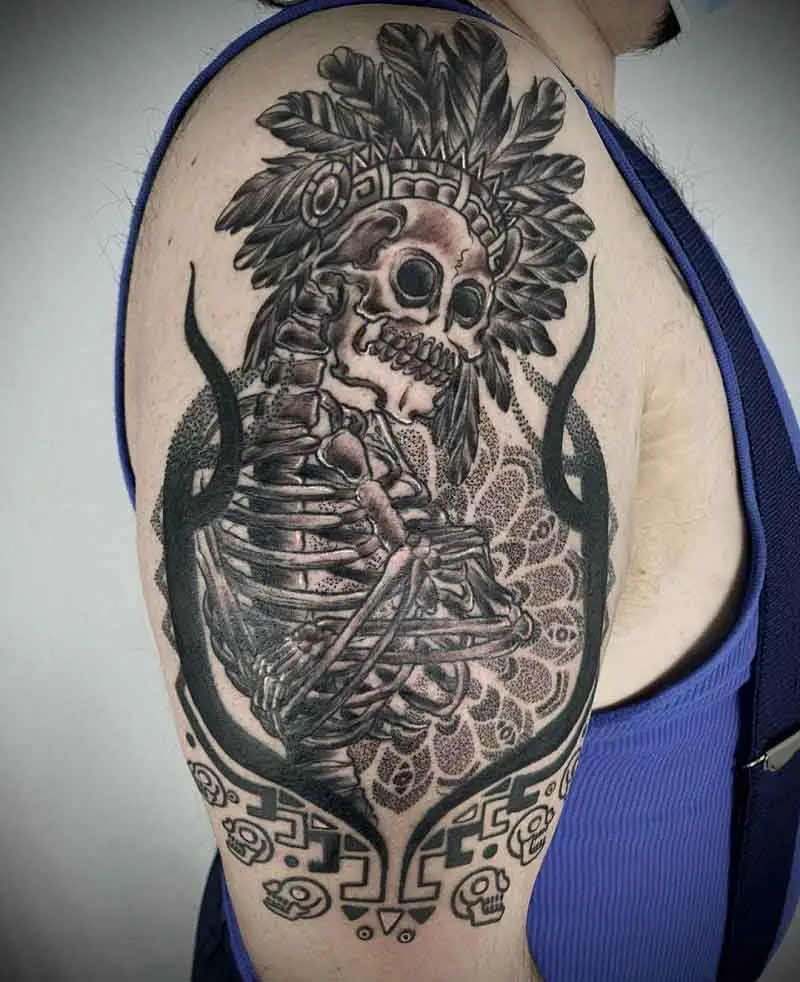 This skeleton figure represents the Aztec god of death. This tattoo can be a reminder to oneself that one day everyone has to leave this world behind. It can be a reminder to be kind and benevolent towards others no matter what.
Aztec Sleeve Tattoo
The sleeve is a place best fit for long tattoos. If you are someone with wide muscles then you will get more coverage for the tattoo to display itself on your skin. You can get different types of Aztec tattoos on your sleeve. Check them out.
22. Warrior on the Sleeve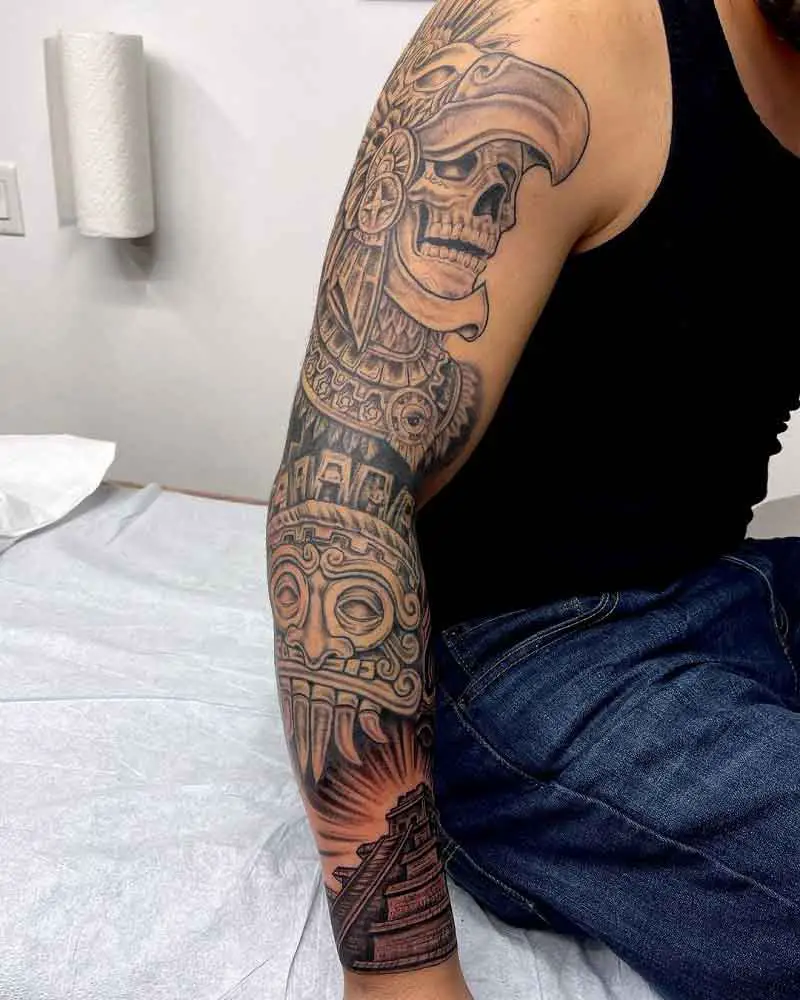 The eagle is a significant character in Aztech culture. Historians have found numerous Aztec depictures of warriors wearing eagle headgears. It represents freedom, leadership, spirituality, courage, and bravery.
23.  Legacy and Beyond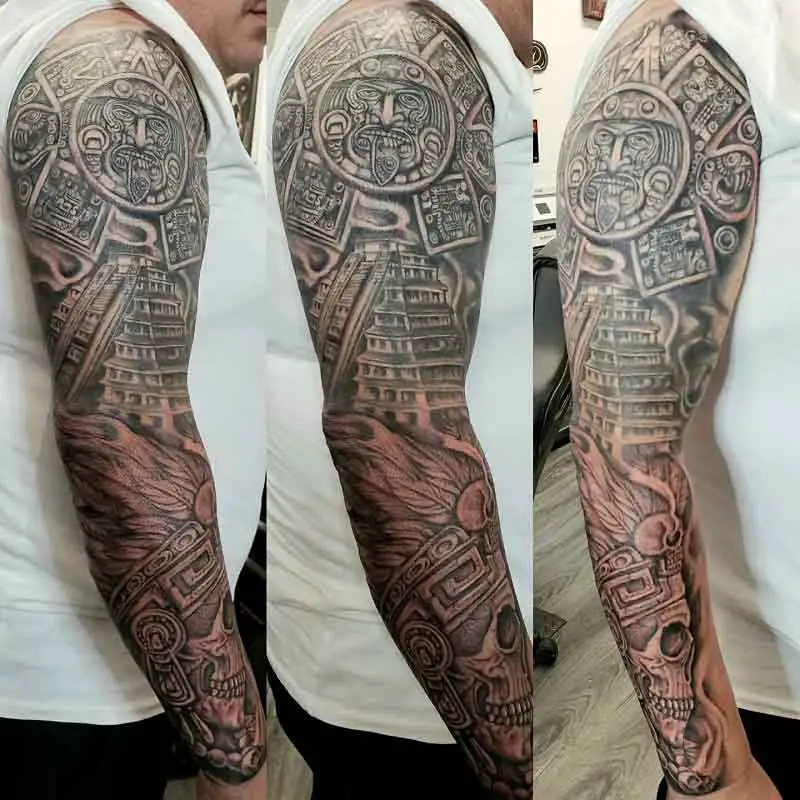 A full sleeve tattoo on a man's arm that portrays various aspects of Aztec culture. You can see that this tattoo has three parts. The upper shoulder embodies the sun god, the lower shoulder consists Aztec temple, and the low arm depicts an Aztec warrior.
24. Defender of The Night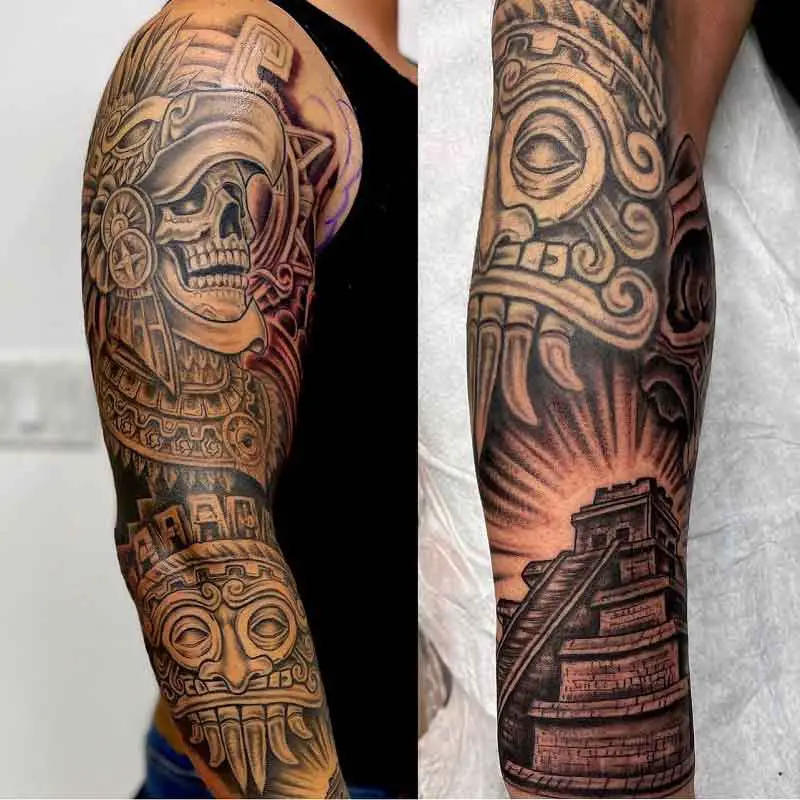 You can see two tattoo concepts here both of the Aztec culture. In the first one, the Aztec skull warrior is wearing an eagle helmet and in the second one, there is an Aztec temple radiating an alluring aura.
Mexican Aztec Tattoo
People who want to honor Mexico's rich cultural legacy and that of the Aztec culture in particular often get Mexican Aztec tattoos. These tattoos frequently include diverse aspects of Aztec symbolism, history, and art. Take a look at here.
25. Mexican Hunter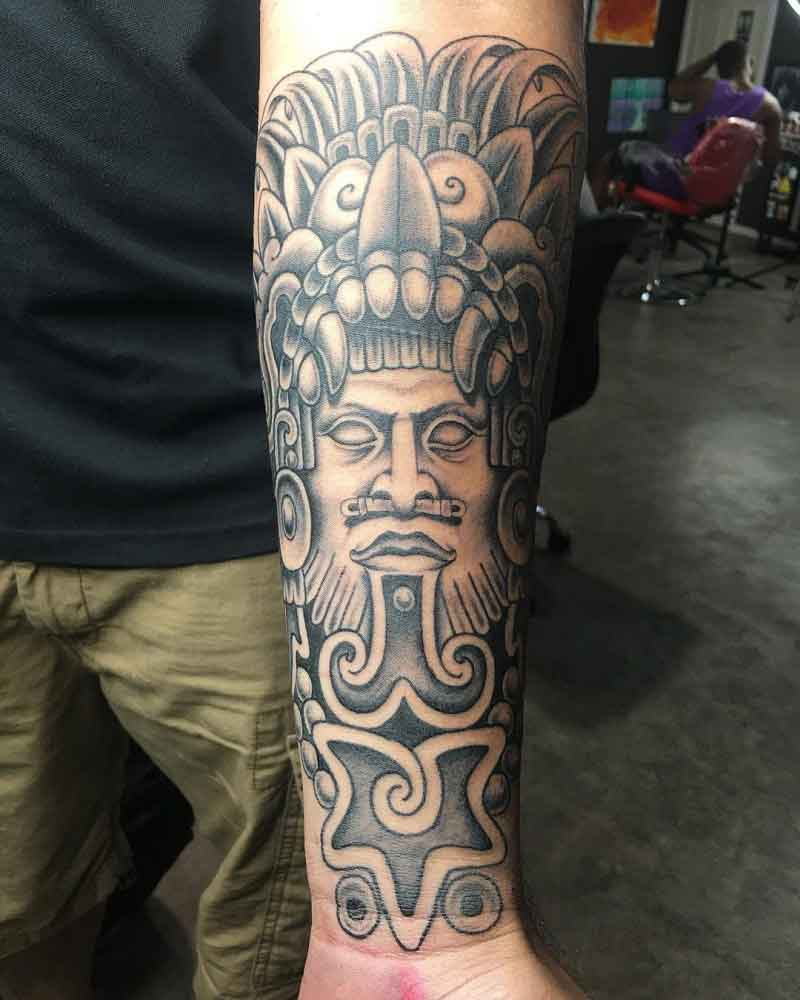 Hunters played a crucial part in building every civilization and putting them down in history. It's no exception when it comes to the Aztecs as well. This tattoo represents a Mexican Aztec hunter ready for duty.
26.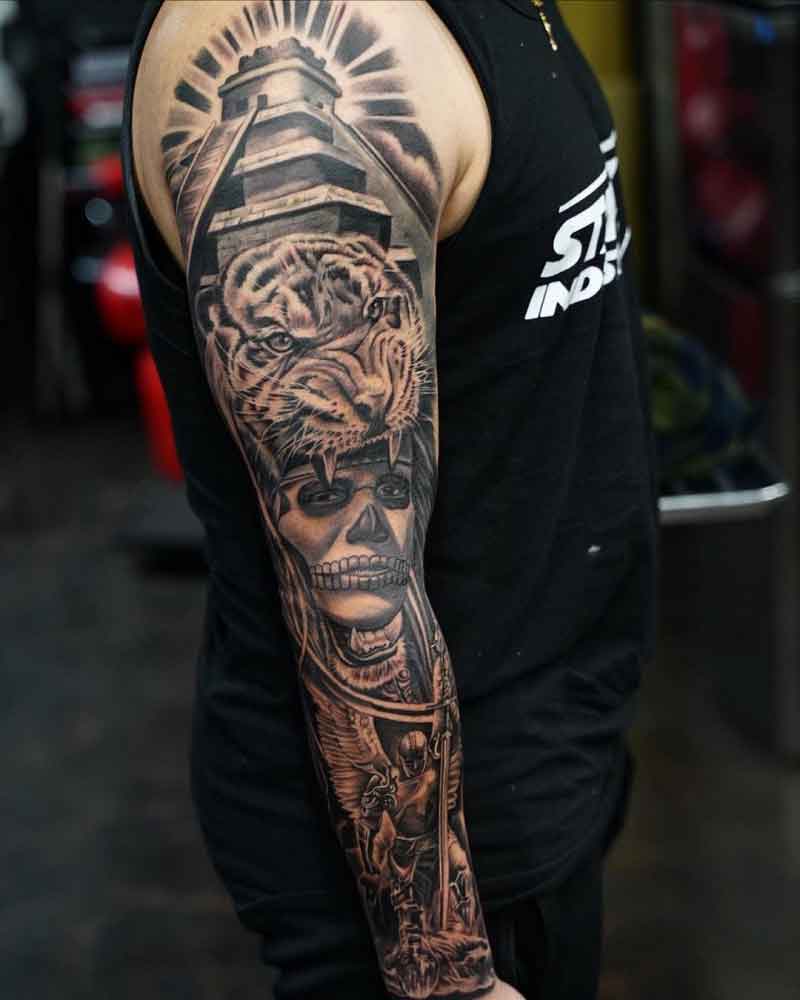 27.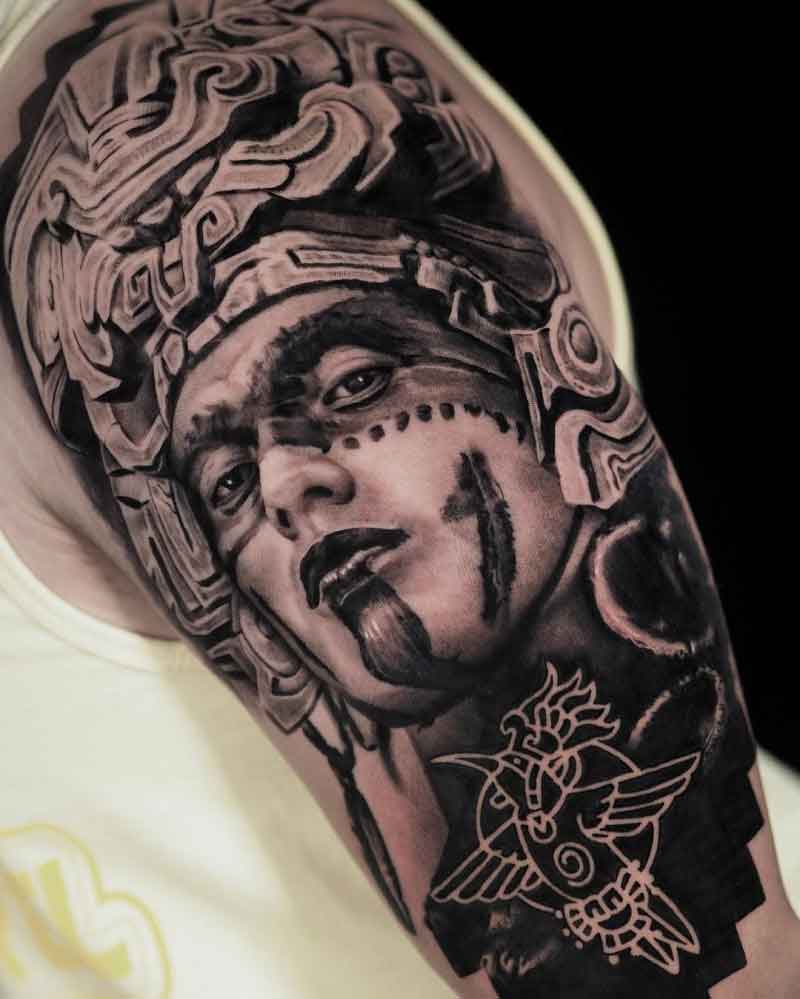 Aztec Forearm Tattoos
28.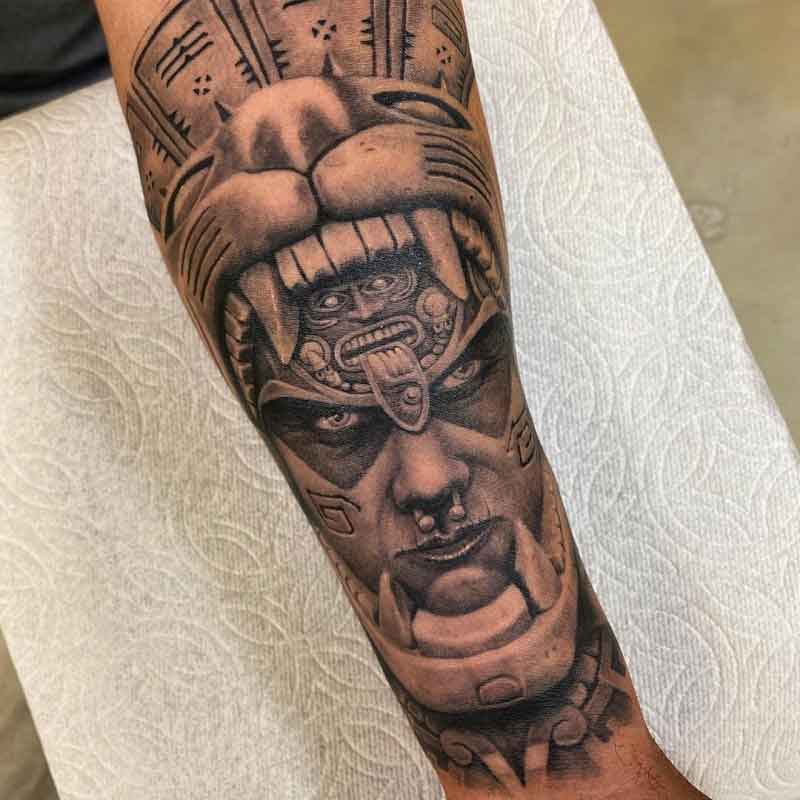 29.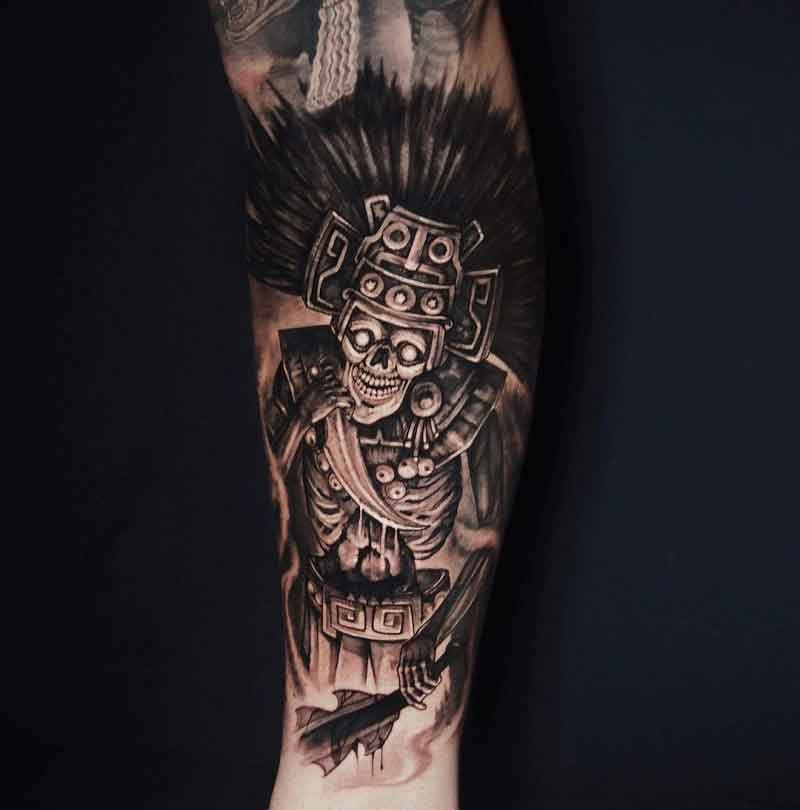 30.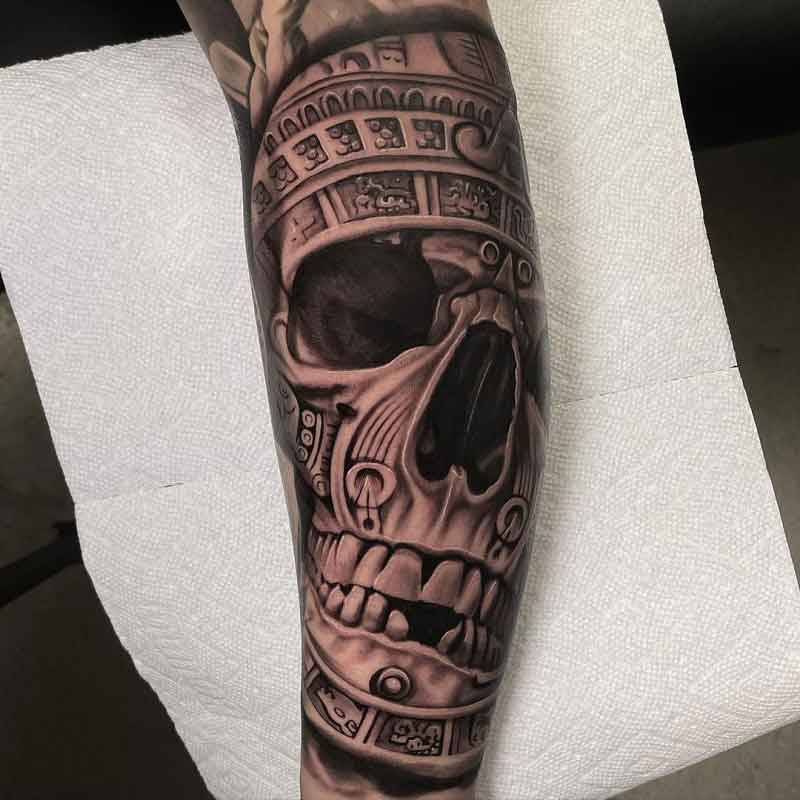 Frequently Asked Questions
1. What do Aztec tattoos mean?
Different types of Aztec tattoos have different meanings. They can mean a lot of things like the afterlife, power, strength, loyalty, pride, and valor.
2. What does the Aztec sun stone tattoo mean?
In Aztec sun stone tattoos, there is a central disk in the middle that represents the sun god in Aztec culture.
3. Should I get an Aztec tattoo?
Aztec tattoos carry strong cultural ties and meanings. So if you're a descendant of the Aztecs or even an enthusiast of civilizations, you should definitely get one.
Conclusion

An Aztec tattoo can have different meanings and interpretations according to its design, characteristics, and placement. The Aztecs had a culture and heritage so rich that even today people remember them and honor them by getting tattoos of their culture.
The inspirational and meaningful Aztec tattoos above are sure to get your peak interest and make you consider getting one of those inked in your body. So hurry up and unleash your Aztec energy.