It's the celebrity effect that made leg tattoos for men so popular over the years. From Lionel Messi to Ryan Reynolds and Justin Timberlake, the list is long and overwhelming. There are more reasons as for why more men are inclined towards leg tattoos these days. Tattoos on the leg can be showcased or concealed very easily, and they often have a traditional look with a hidden meaning. Moreover, the leg offers an incredibly versatile place for inking. Most men choose calf area tattoos while many other opt for thighs or full leg tattoos. Because it's a thick flashy area, you will feel less pain. Probably this is a reason you can easily find numerous examples of versatile, bright and vibrant leg tattoos for men.
MOST OUTSTANDING LEG TATTOOS FOR MEN
If you enjoy the incredible artwork, legs are definitely the perfect tattoo canvas. From simple quotes, flowers and tribal symbols to intricate portraits and 3D designs, there is a lot to explore when you search ideas for leg tattoos for men. To make your searching less tedious, we have here the top 25 leg tattoo ideas for men. From knee and ankle designs to full sleeves, these fresh and flamboyant options will be enough to choose the best one for you.
#1: MIX AND MATCH LEG TATTOOS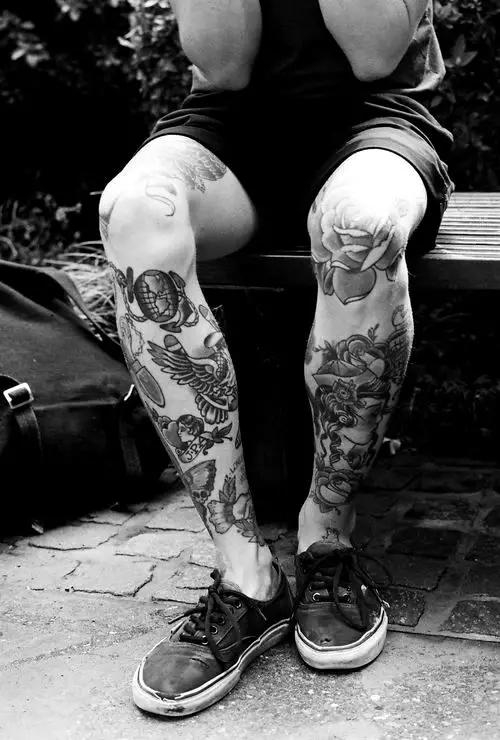 This guy knows how to best use the leg canvas to express yourself. The leg tattoos here are a fusion of ideas and images. There are dramatic flowers with a 3D look, and then one leg has a globe, a bird, a heart with a woman's image. The other leg tattoo features a country woman in a dramatic Victorian hat with lots of lacework around her.
#2: COLORFUL LEG TATTOOS FOR MEN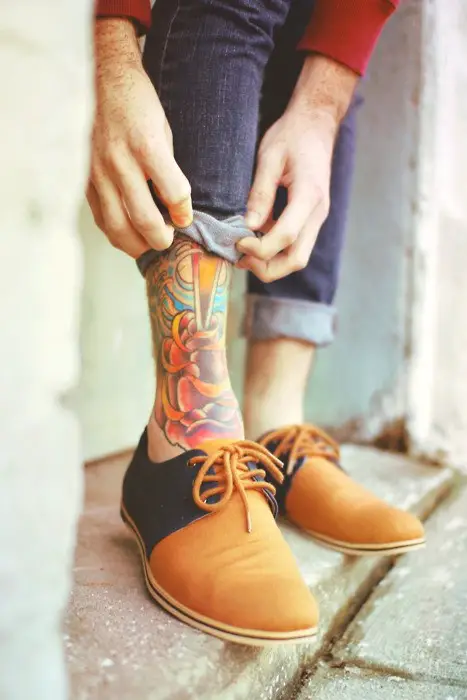 Though the tattoo is not very clear and all we could understand is that the artist best knows how to blend multiple colors to create an eye-catcher.
#3: CARTOON THEME LEG TATTOOS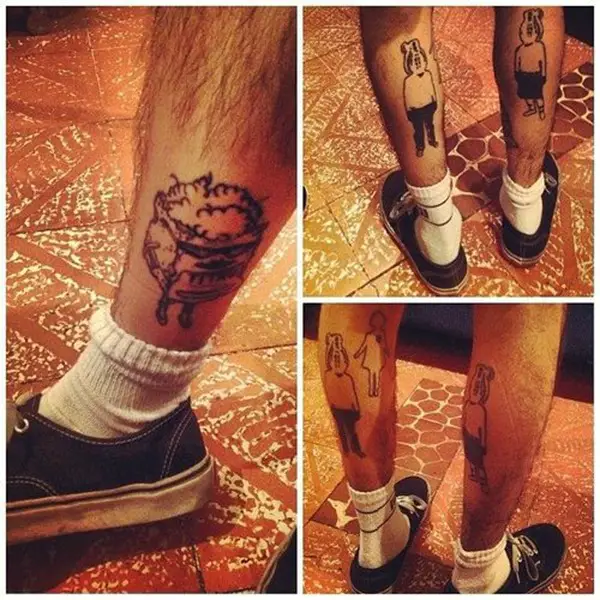 The guys seem to have a special liking for cartoons. The tattoos here showcase male and female figures with funny faces. You can choose your own characters and theme for a personalized feel.
#4: CREEPY LEG TATTOOS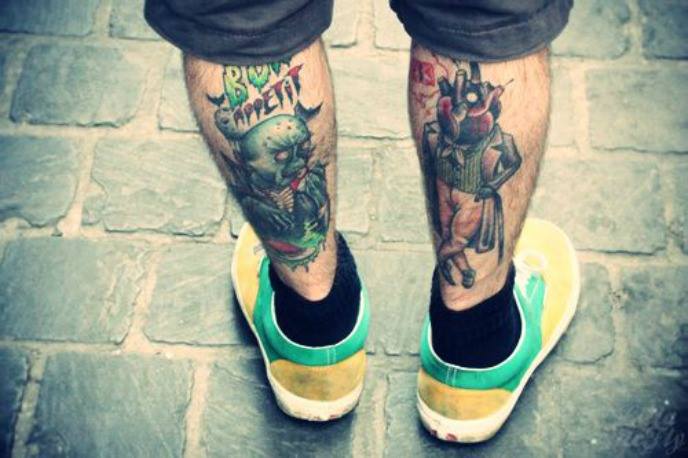 Men often have a special liking for abstract and creepy things. This guy reflected his love for weirdness with these monstrous leg tattoos.
#5: THE FACE OFF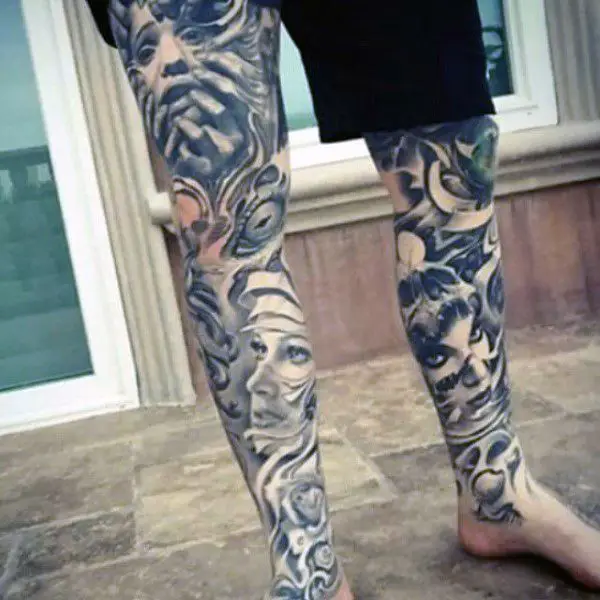 It's been found that people often choose different but theme based images for leg tattoos just like this guy. Here several images are placed together to come up with an exquisite piece of body art. You can easily see a troubled girl face clutched by many fingers on the thigh while the calf portion of both legs also have different woman faces. Once is calm while other is seducing. Other lacy elements simply add mystery to the tattoo.
#6: THE FUSION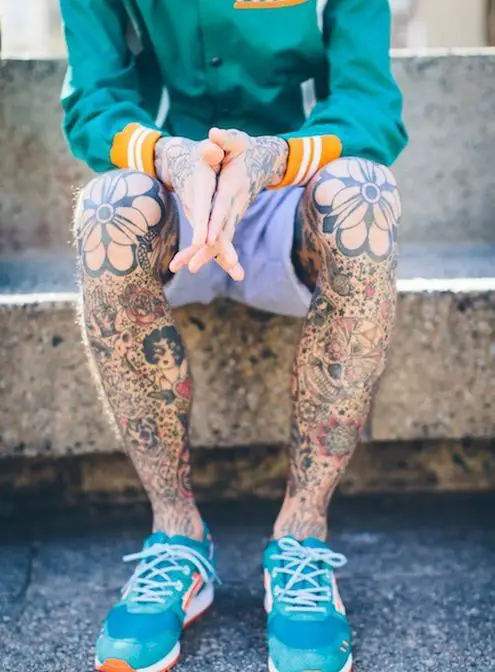 We wonder who could be so patient to draw and get drawn such exceptional piece of artwork.  You can easily see tiny stars exquisitely filling the blank space between different images such a skull tattoo, woman face, hand, flowers and other. What a tattoo!
#7: THE INFAMOUS FAMOUS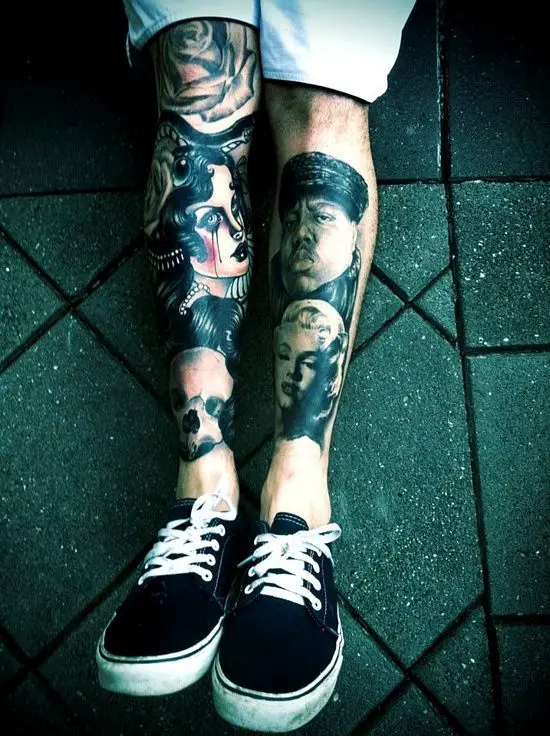 Isn't that an abstract piece to admire? The tattoos have so much to explore. We can't get the exact meaning of it but we can conclude that this man has a dark fantasy. One of the legs features a flower, a sexy brunette with bloody eyes and a skull while the other has portraits of two famous celebrities.
#8: PANDORA'S BOX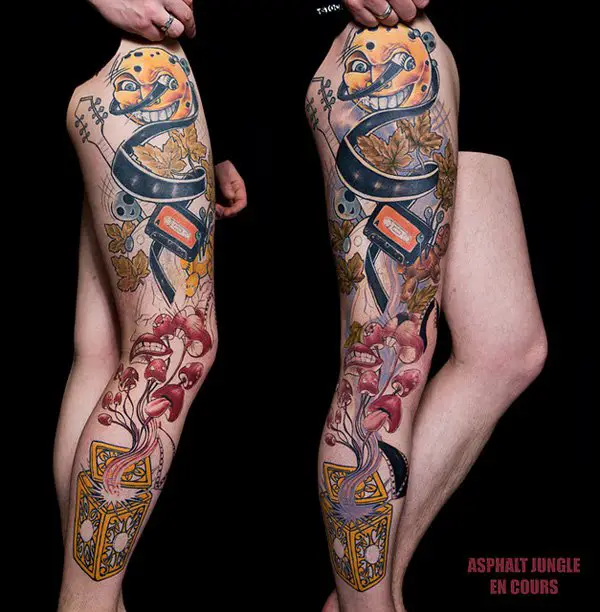 We wonder if creepy could be so amazing? This leg tattoo has so much going on that we are confused where to start. The mushroom mouths are creepy and so does the weird moon. Have you noticed the aliens and voodoo doll? Anything like this definitely calls for instant attention.
#9: INDIANA HUSKY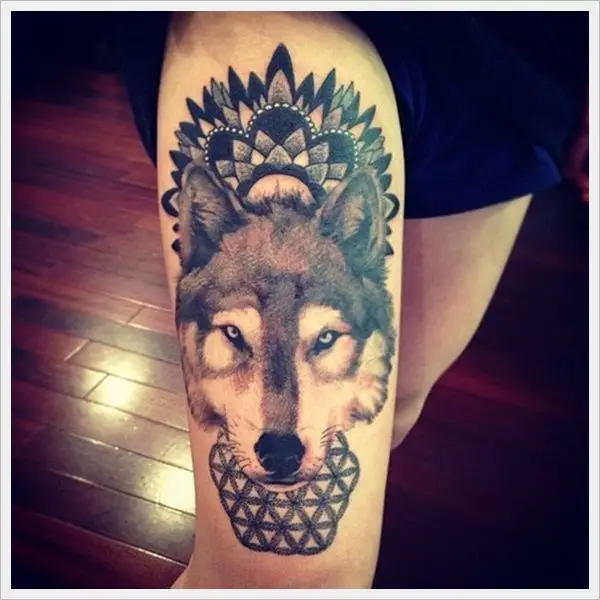 This tattoo with 3D effect and tribal prints is worth the pain.
SIZZLING BEST TATTOOS FOR MEN TO TRY
#10: MICHAEL JORDON LEG TATTOO
This is the perfect leg tattoo for any sports fanatic or specifically Michael Jordon fans.
#11: SAIL THROUGH THE IMAGINATION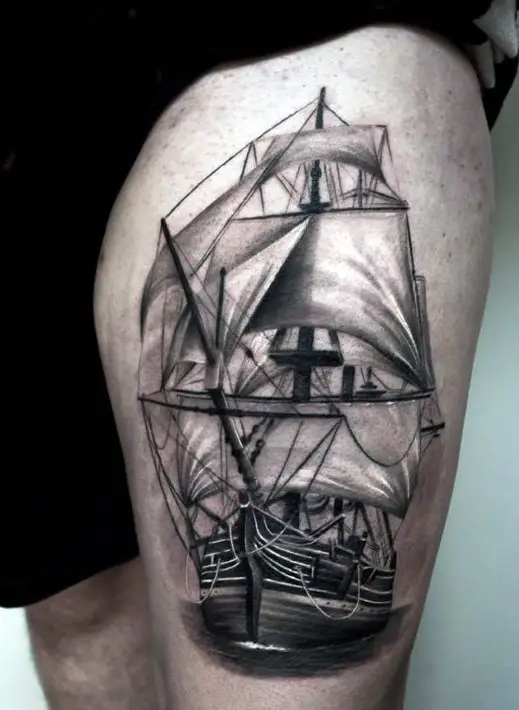 What a beautifully done leg tattoo? The artist has perfectly used the calf space. We are completely in love with the fine shading and the clear outlines for the ship.
#12: FREAKY LEG TATTOOS FOR MEN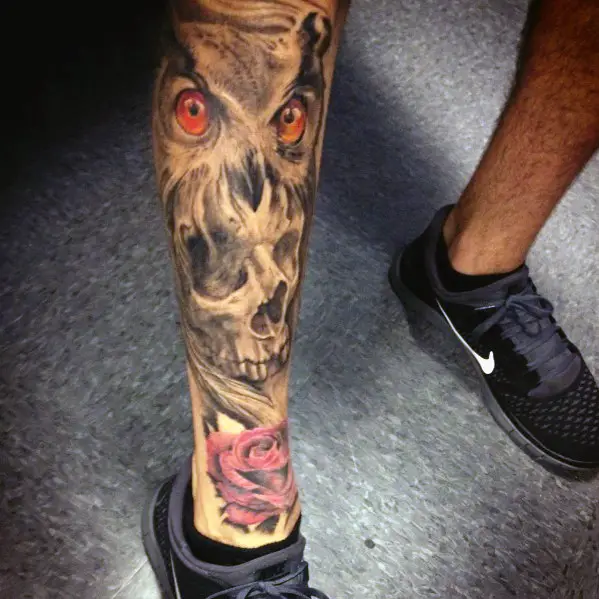 A bizarre owl converting in a skull and finished in a rose tattoo is what happening here. This knee to ankle tattoo is a nice idea for men who love mystery.
#13: TRIBAL LEG TATTOO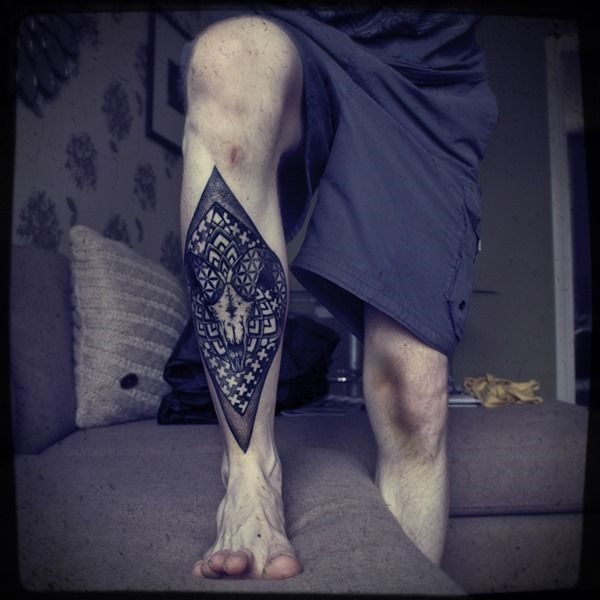 Don't know what it means but we love the finished look of this tribal tattoos on leg.
#14: ABSTRACT ART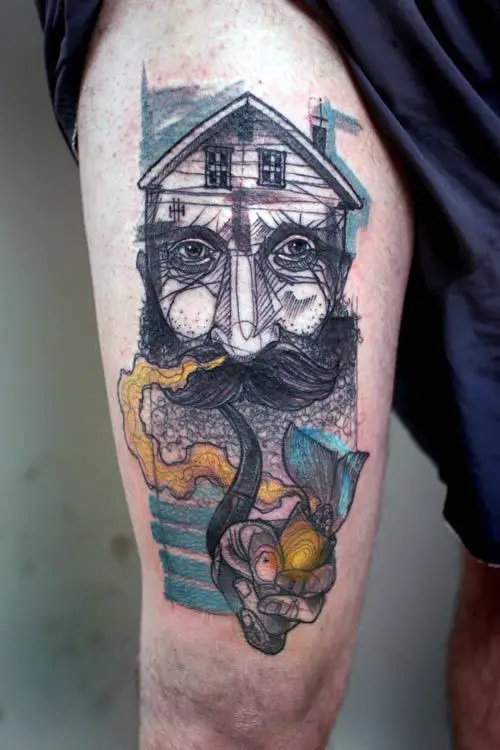 It's difficult to understand how people go beyond the limits to come up with so abstract things like this leg tattoo. For anything like this, look for a highly skilled artist.
#15: LEG MECHANISM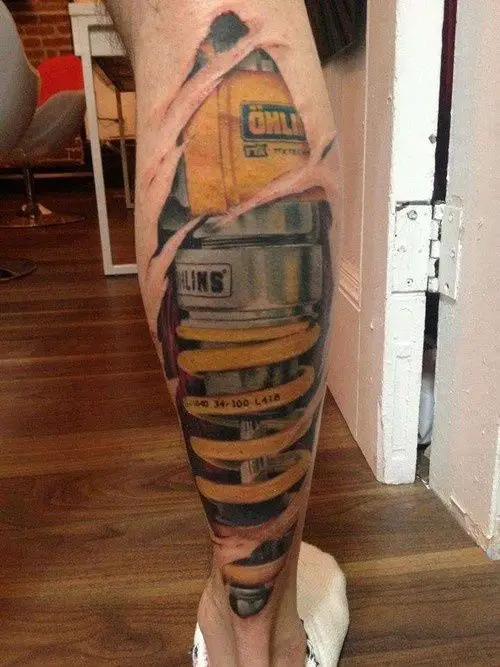 Anyone interested in knowing how your leg works can see this 3D tattoo.
#16: A DREAMCATCHER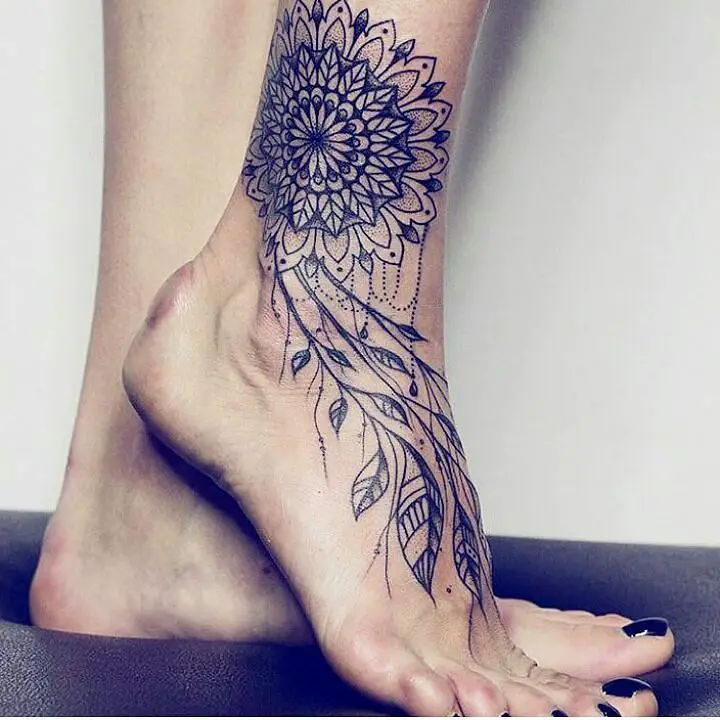 Oh if you think dream catcher tattoos are for girls, please update yourself. Guys can also have such tattoos with a twist. Choose your own design and infuse it in dreamcatcher for a unique look.
#17: BATMAN LEGACY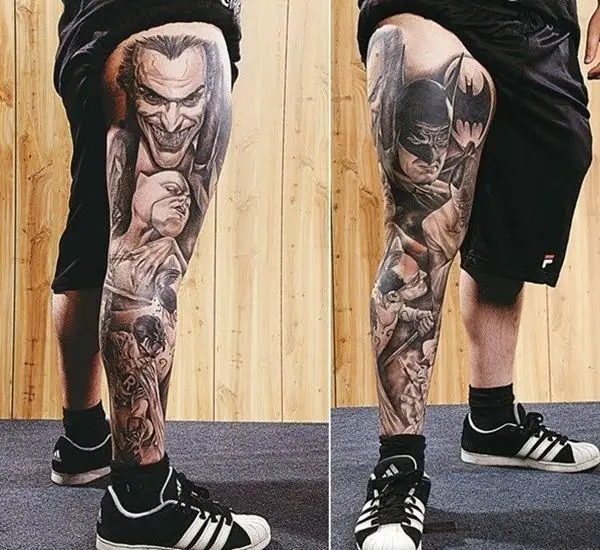 There is so much to explore in this batman tattoo. Any batman franchise fan will love bearing all the pain to have an amazing artwork like this.
#18:  COLORFUL AND CREATIVE
Here tattoos in bits cover most of both the legs. On one leg is a ship sailing through the blue sea while the other shows a search light tower and a compass that are probably showing the right way to the ship.
#19: BLACK KOI WITH RED FLOWERS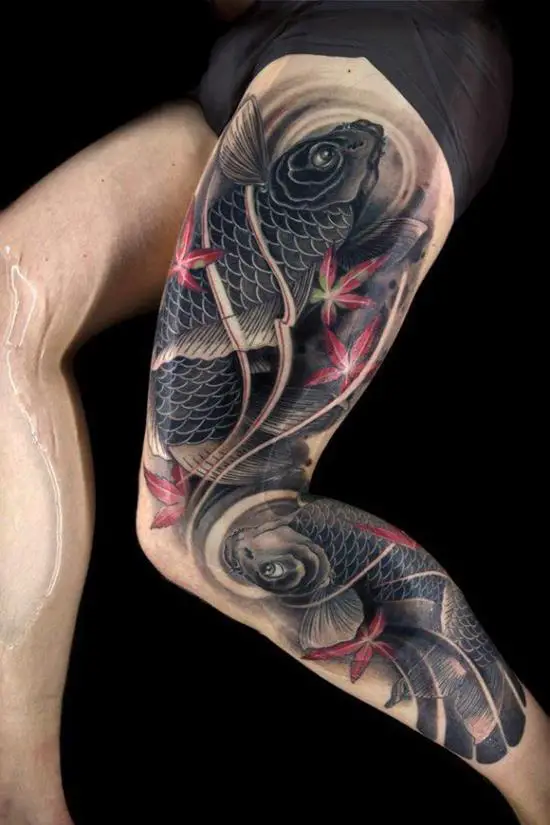 Koi fish is a popular choice for tattoo designs. With fine curves and elegant angles, the fish gives a feel of gentleness. Moreover, koi in different colors have different meanings. Like the koi in black symbolizes successful overcoming from a change or a challenge.
#20: THE DARK GAME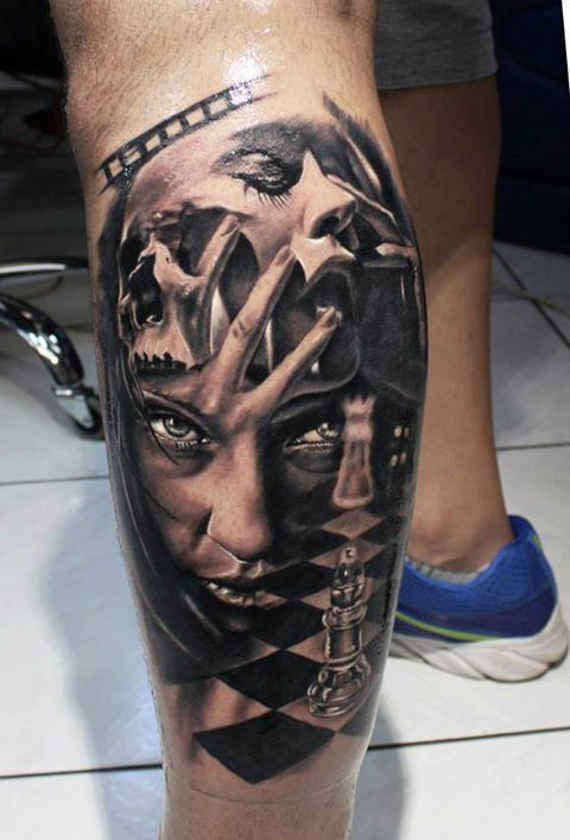 This tattoo seems like a poster of one of those horror thriller Hollywood movies. From concept to detailing, everything about the design is exceptional.
#21: METAL MAN LEG TATTOOS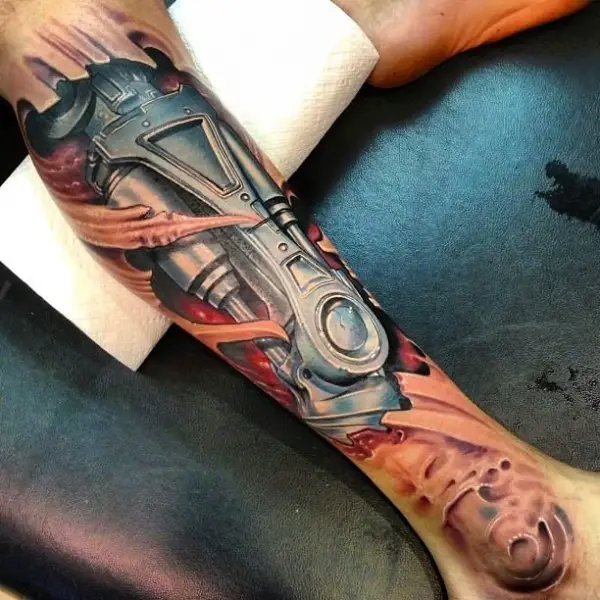 Another exquisite 3D tattoo showing the internal mechanics of the human machine.
#22: SCRIBBLED DRAGON LEG TATTOOS FOR MEN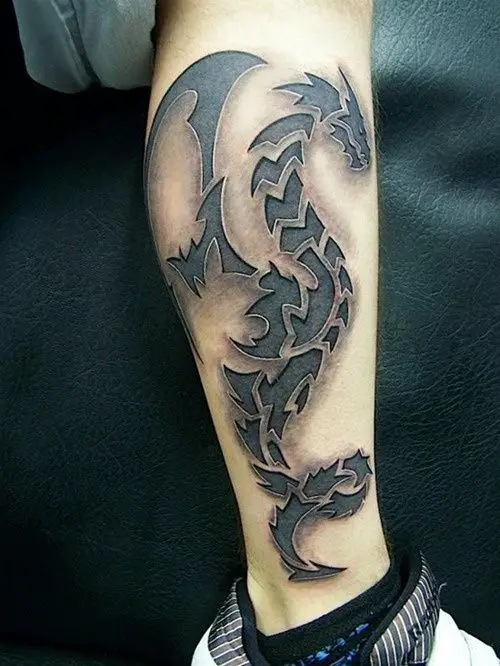 When it comes to leg tattoos, there are no rules. You can go beyond the basics just like this guy did. His dragon tattoo is so edgy and angular.
#23: OUTLINED OWL TATTOO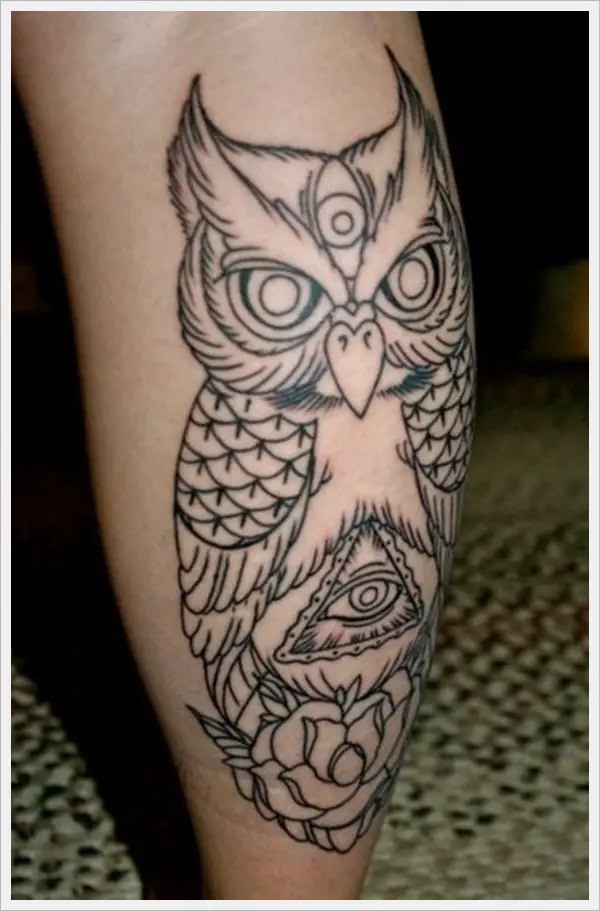 This nocturnal creature is related with magic, mystery and ancient knowledge. You can choose an outlined owl structure like the above one or choose to include more intricate detailing for a unique touch.
#24: OWL WITH SUGAR SKULL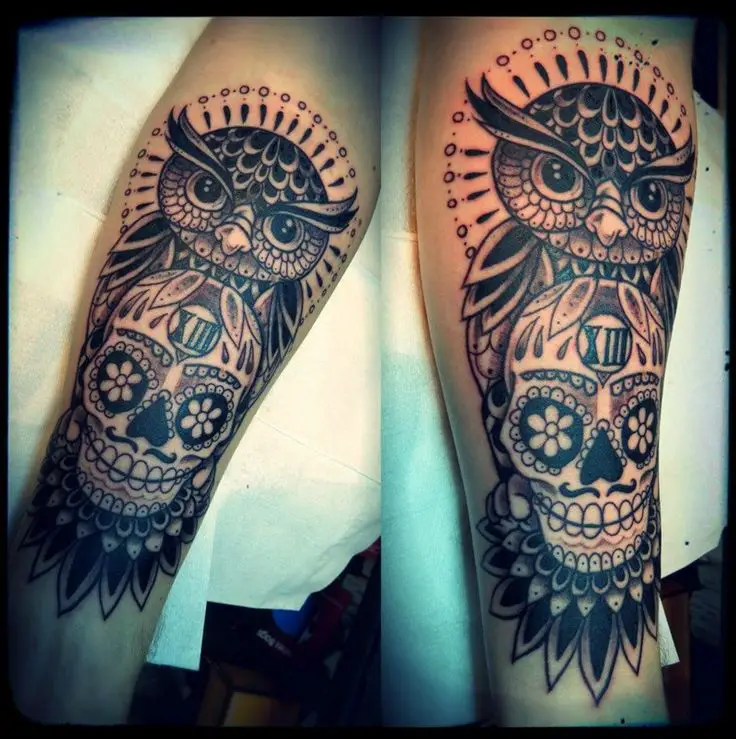 Here is an example of intricately done owl tattoo. The design also includes sugar skull and lots of tiny tribal signs.
#25: SAILOR'S PASSION
If you love several images then this is a nice tattoo to choose. While this one has a theme and all the tattoos are connected with the water theme, you can choose several unique stand-alone designs for a different look.
These 25 leg tattoos for men will definitely create a statement style. Just make sure people notice them. It's been seen that tattoos that are wrapped around are well noticed. So whatever design you choose, pay attention to details and how motion affects its visibility.