Are you obsessed with compass tattoo designs? It was once a favorite of wanderers, sailors, and travelers. However, this nautical inking theme with its deep meaning and charismatic appeal is very popular nowadays. With a variety of design ideas both complex and minimalist, compass tattoos suit different personalities. Scroll down to know more about this navigational theme to choose your design.
Compass Tattoo Design Ideas
This simple magnetic tool that has been a source to find true north is full of meanings and inking design inspirations. If you wish to speak for hope, guidance, passion, or protection, you may choose a classic nautical theme. A simple motif with just the arrows is good for a minimalist. Certainly, a compass tattoo can have a gothic, retro, or Celtic design inspiration. It may also include natural and inspiring elements such as flowers, sparrows, skulls, hearts, maps, and more. If you are up for a compass tattoo then here is a little design help for you.
#1: 3D Compass Tattoo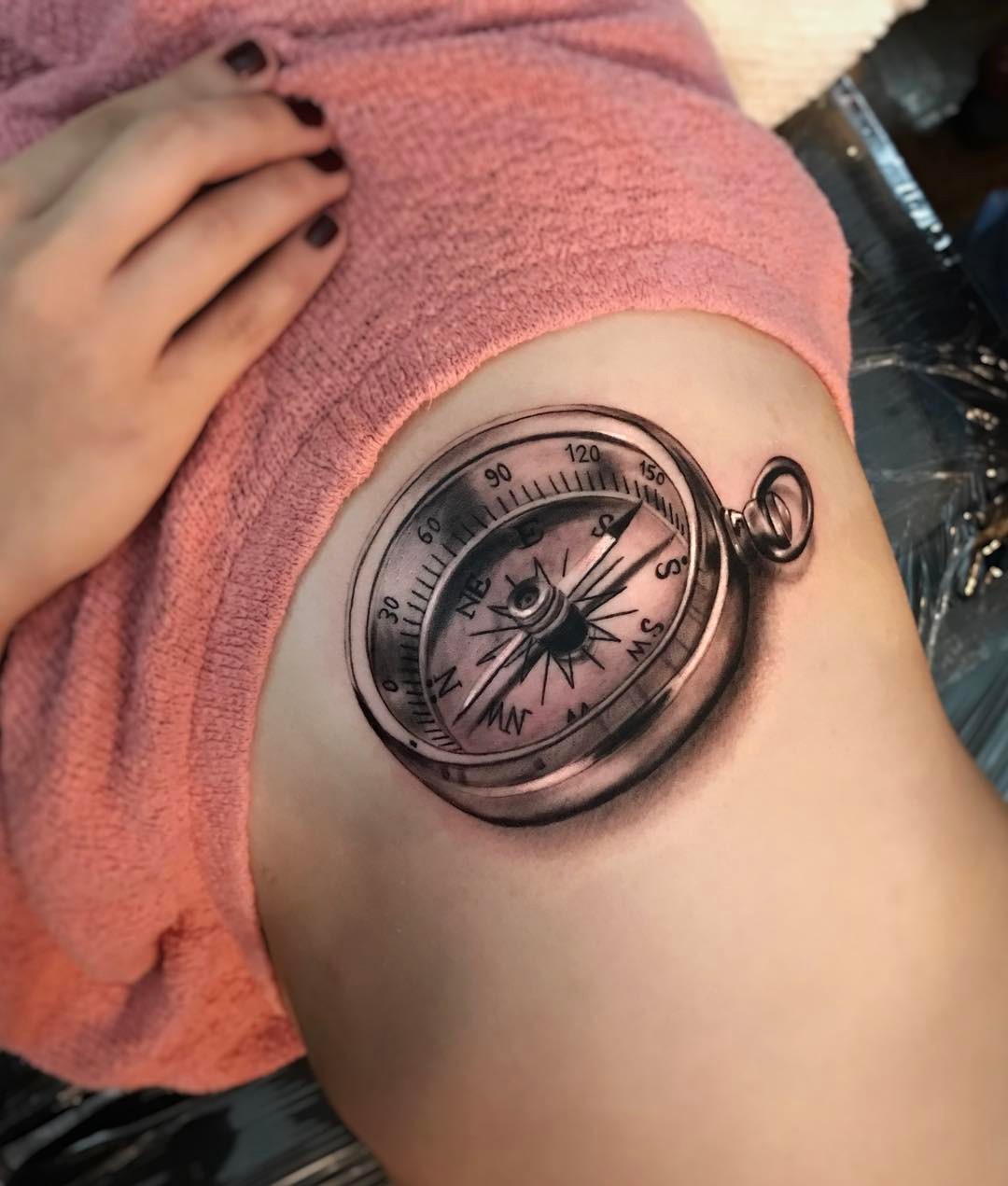 When you want a compass tattoo but not sure of what to choose, go for a simple but eye-catching 3D design like this. It's done superbly in a way that it's difficult to imagine it's not a real compass but a drawing on your upper arm.
#2: Compass Tattoo for Full Arm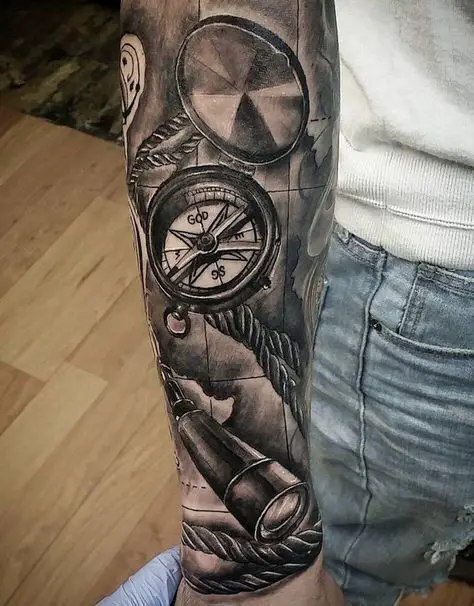 Compass with monocular, a rope, and other equipment of a sailor with a grid map in the background make this highly elaborative and well-inked full arm tattoo a center of attraction. It speaks of the wearer's mind and the artist's precision.
#3: Wrecked Compass Tattoo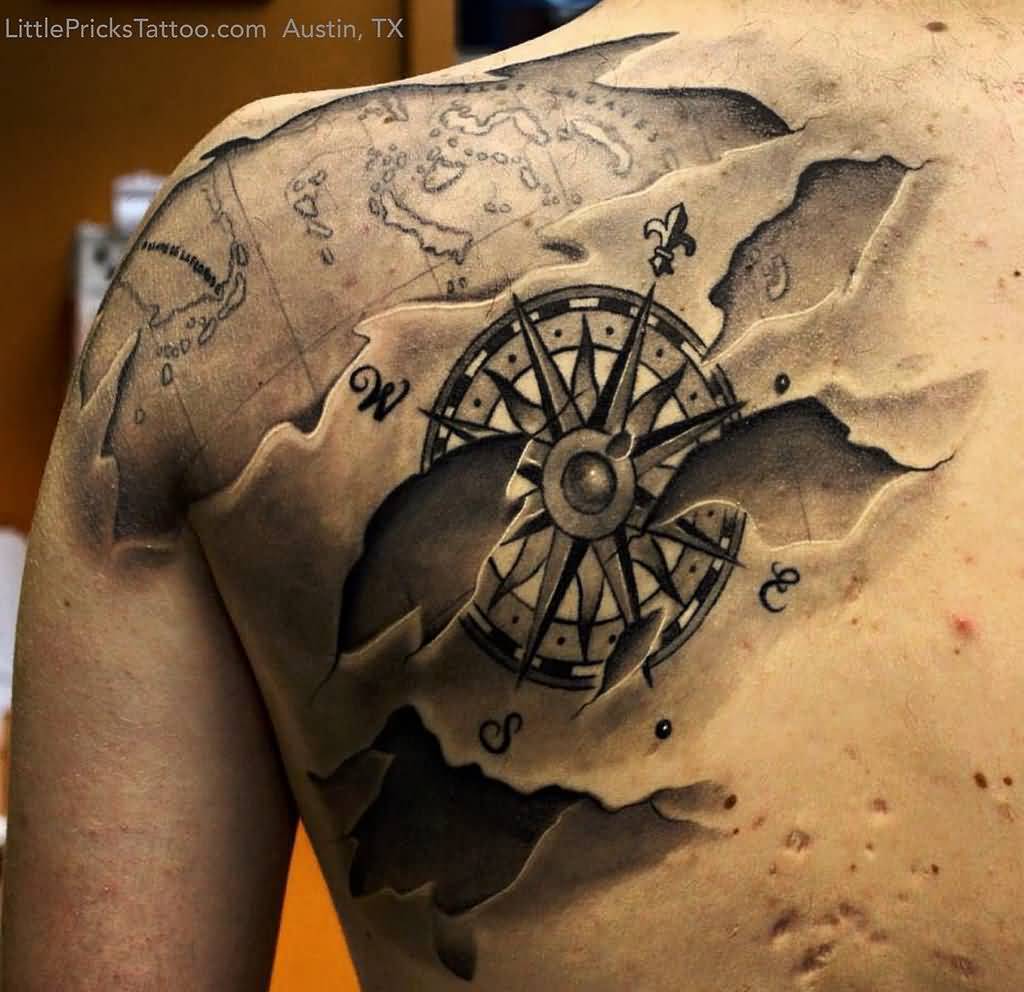 Love the sea or miss traveling, this is a cool tattoo with all the elements that symbolize the voyage. It's incredible to see how the world map is visible from the scraps with a broken compass. Make it more dramatic with your choice of elements.
#4: Old School Ship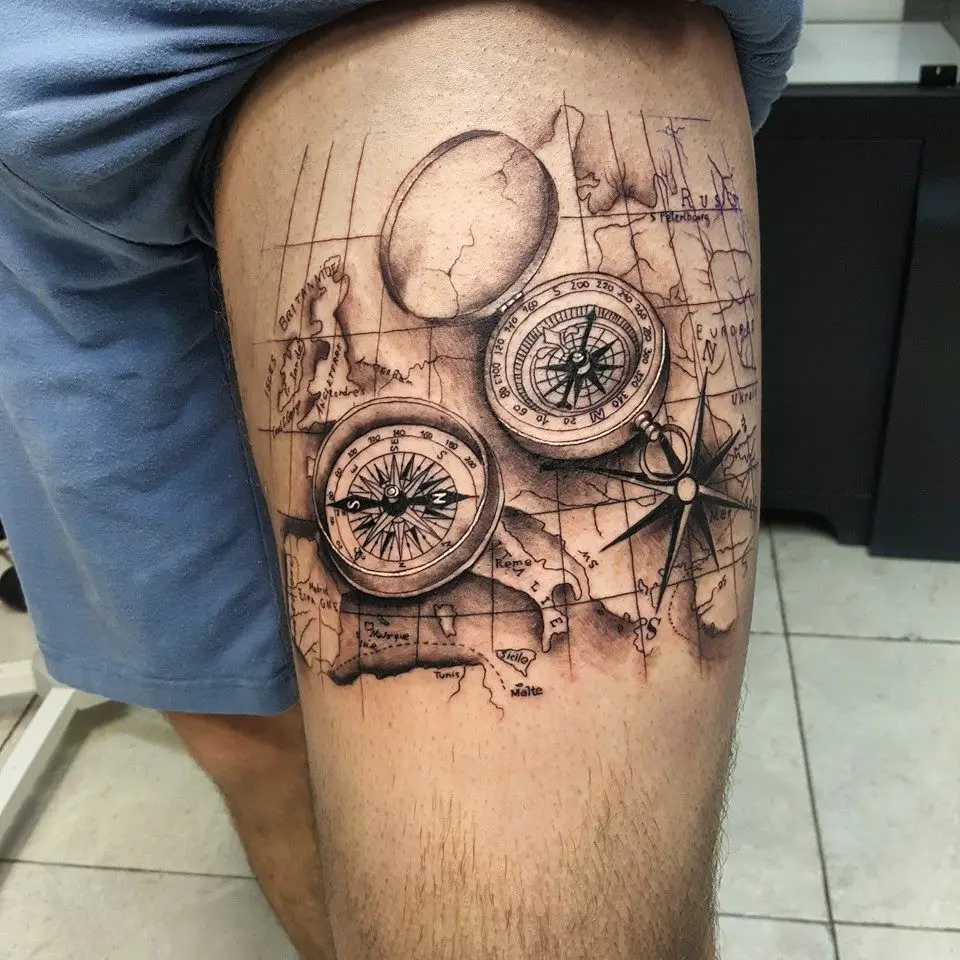 Beautifully executed, this realistic ship compass tattoo with its mechanical compass and the big voyage in black is significant to show your love for sea life. The old-school design elements add a vintage touch and make it more meaningful.
#5: Geometric Design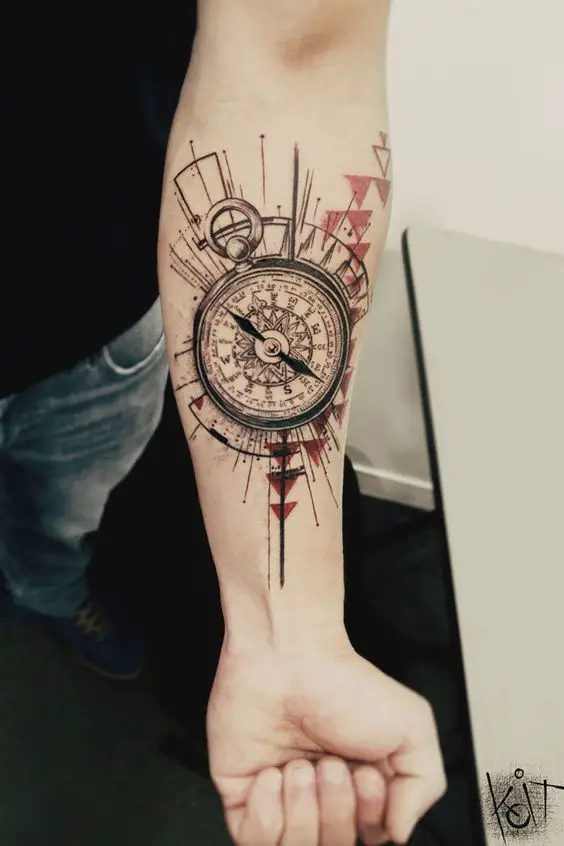 Another very beautiful design with perfect use of lines and triangles along with the compass! It clearly speaks for the artist's ability to implement very minute detail in and around the device. When you want a discreet tattoo, this could be a balanced option.
#6: Compass Rose Tattoo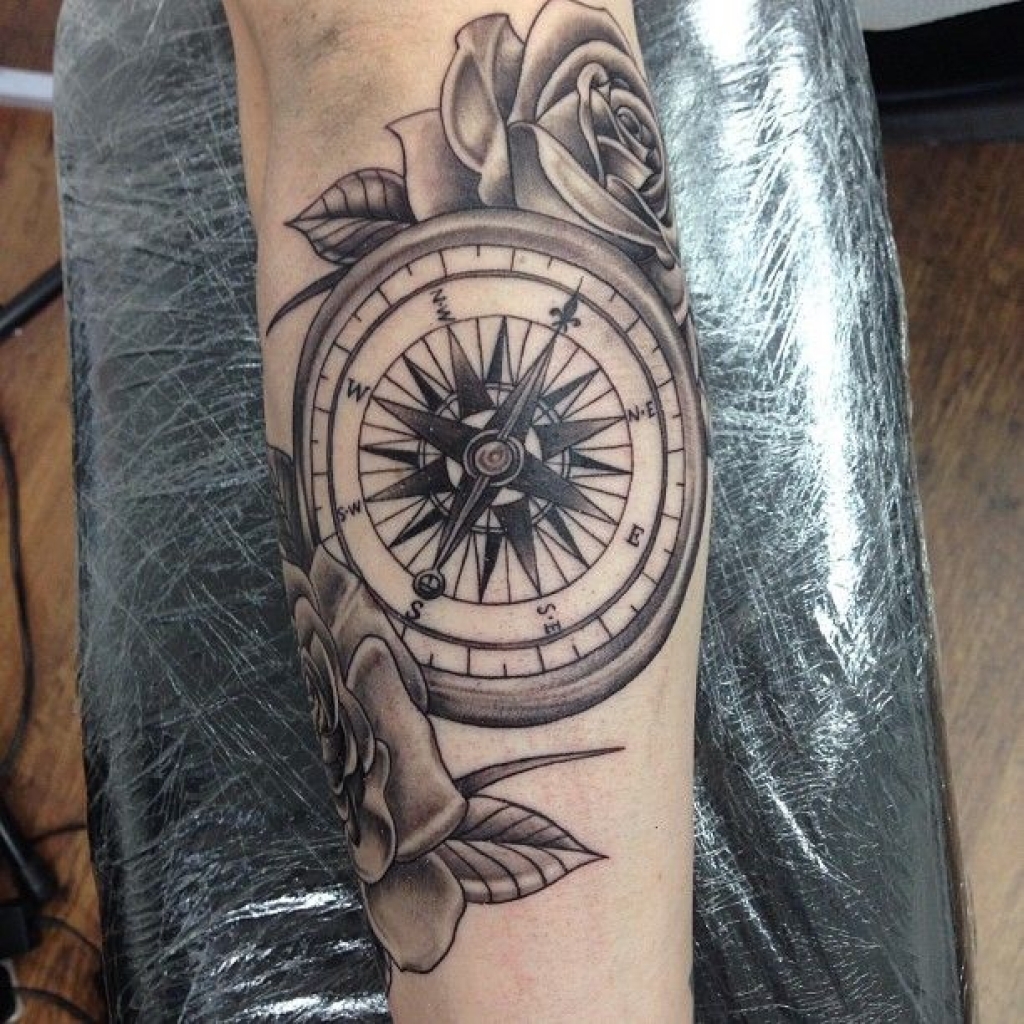 Rose compass tattoos have been around for hundreds of years and they were considered a symbol of hope and good luck by the sailors. This finely inked tat is a nice example if you wish to wear your luck. You may ask for similar roses or could add a shade of red too.
#7: Watercolor Compass Tattoo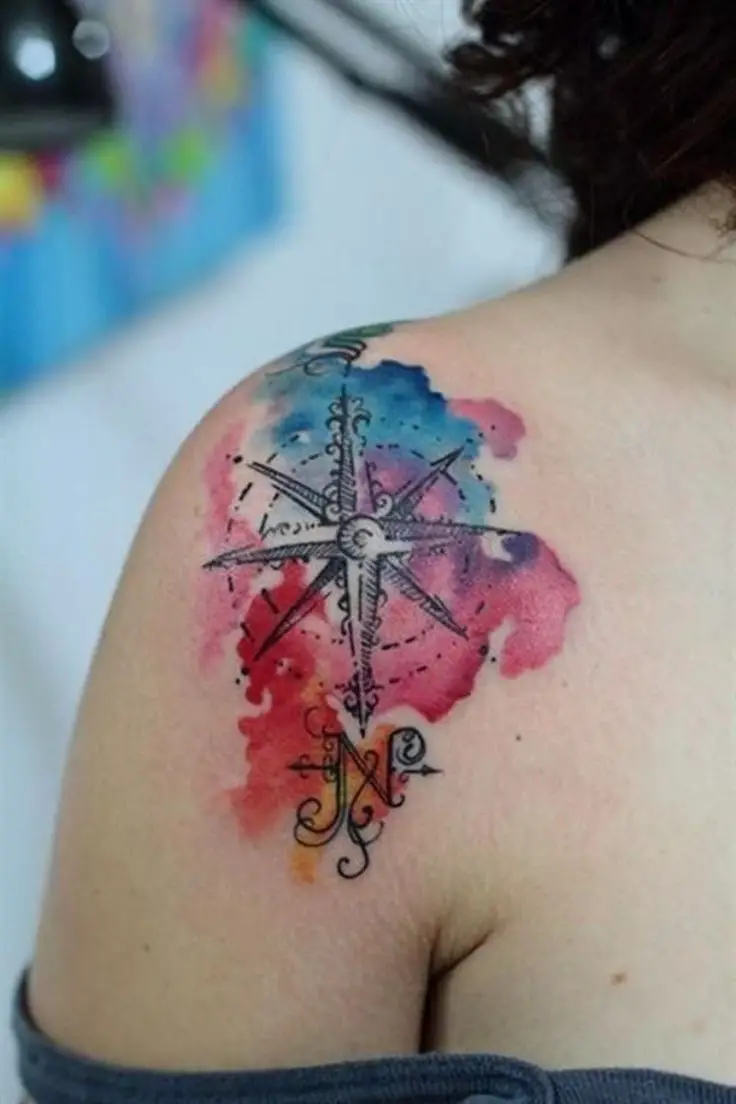 Here is a good example of how to give compass tattoos a unique watercolor effect. With North and South calligraphic initially and the black compass with dotted circles, the background with different shades mixing in each other adds depth to the design.
Related: Native American Tattoos
#8: Solid Rose Compass Tattoo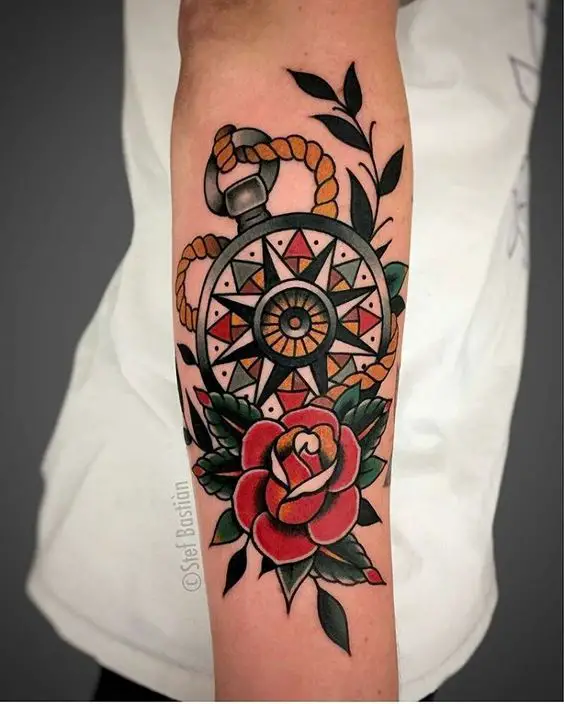 A nicely done tattoo with solid motifs and colors! The drawing is very meticulous and clear, and so does the color filling. The good thing is you can place it anywhere on your body for the desired subtle tattoo look.
Also Try: More Rose Tattoos
#9: Classic Compass With Roman Digits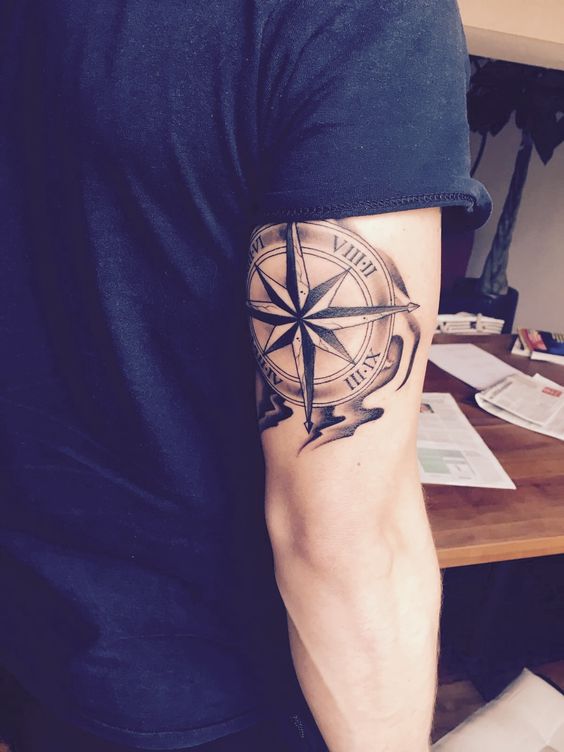 If you like the minimalist design then this elegant and simple tattoo is a classic choice. This upper arm tattoo in black has its unique appeal lies in the shading, arrow needle, and the roman digits showing the sub-directions.
#10: Bon Voyage Tattoo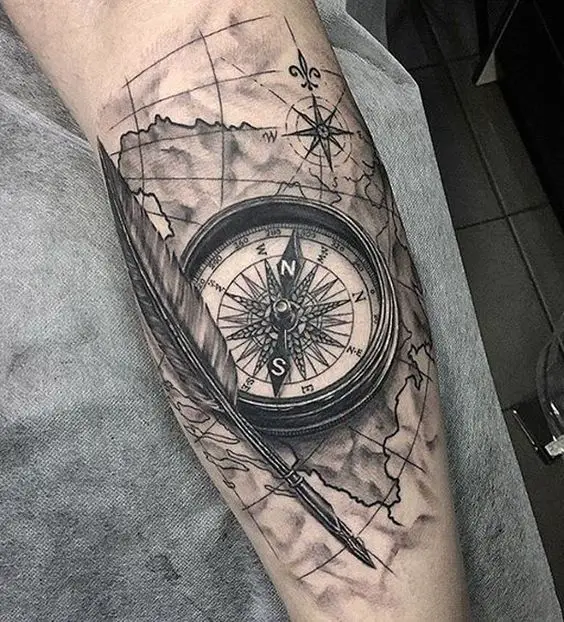 A compass with a map and an antique feather nib represents this wearer's love for the waters. Moreover, the 3D artwork features expert shading with black and gray to make the tattoo almost pop off the skin.
#11: Compass Clock Arm Tattoo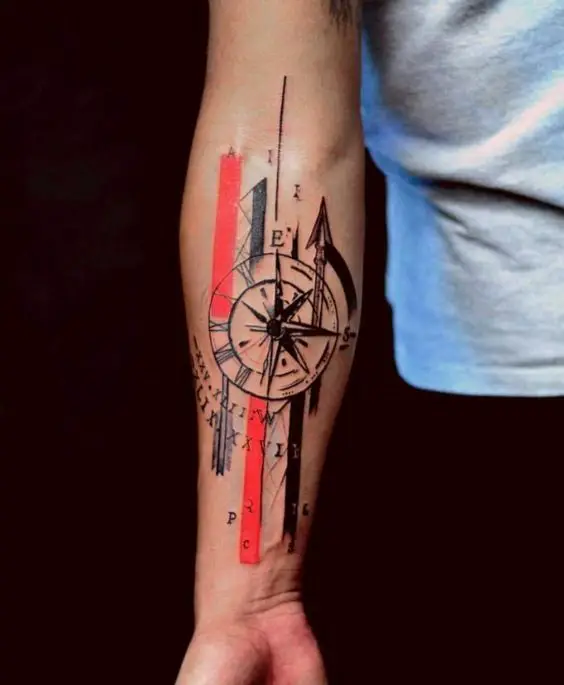 Half of the compass turns into a clock with added arrows and certain roman codes make this a unique and curious arm tattoo. The artist has effectively created an edged look by utilizing sharp red ink with a black link cracking technique.
#12: Compass With Elaborative Detailing Tattoo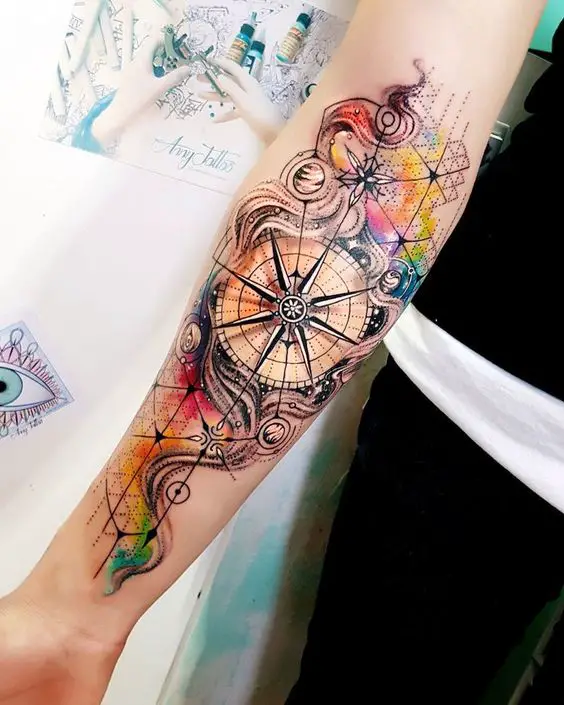 This is a brilliant and iconic compass tattoo with extraordinary artwork. We bow to the artist's excellence that used the dot and line technique so meticulously and further blended the splash of colors in a way that the whole piece looks so fluid and resplendent.
#13: Anchor Compass With Crown Tattoo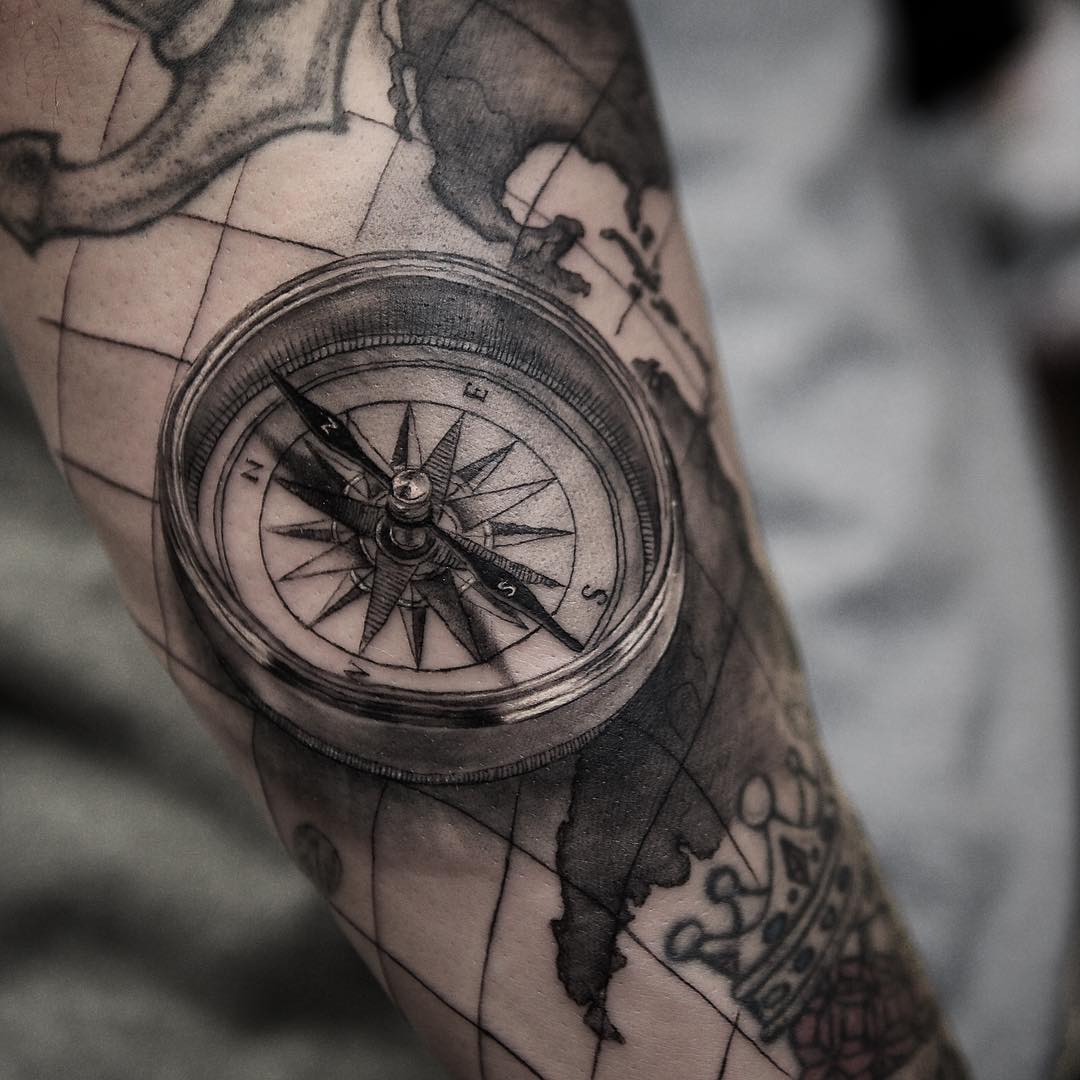 With excellent in-line and shading work, the use of white for the glossy effect of compass glass is highly comprehensive. The crown and the slight use of color with lots of black and gray is worth making it a premier compass tattoo.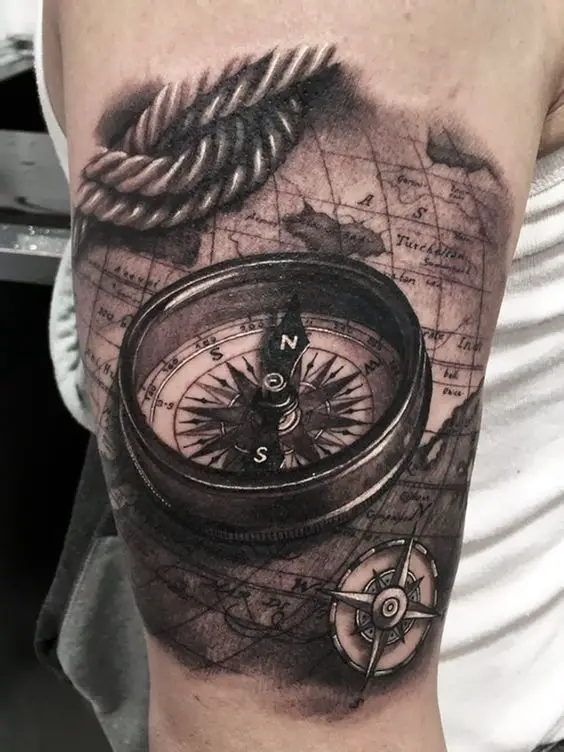 A standout design, the coiled rope in this standout tattoo has brief flicks of white ink while the compass has an embossed pop-up 3D effect.
#15: Inspirational Tattoo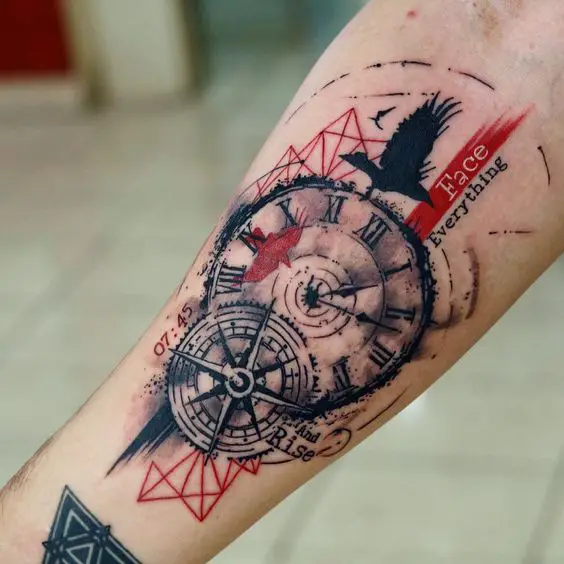 Geometric detailing, exclusive use of red and black ink with elements such as compass, clock, birds of prey, inspiring quote, etc. make this compass and clock tattoo a standout piece to try.
 #16: Classic Compass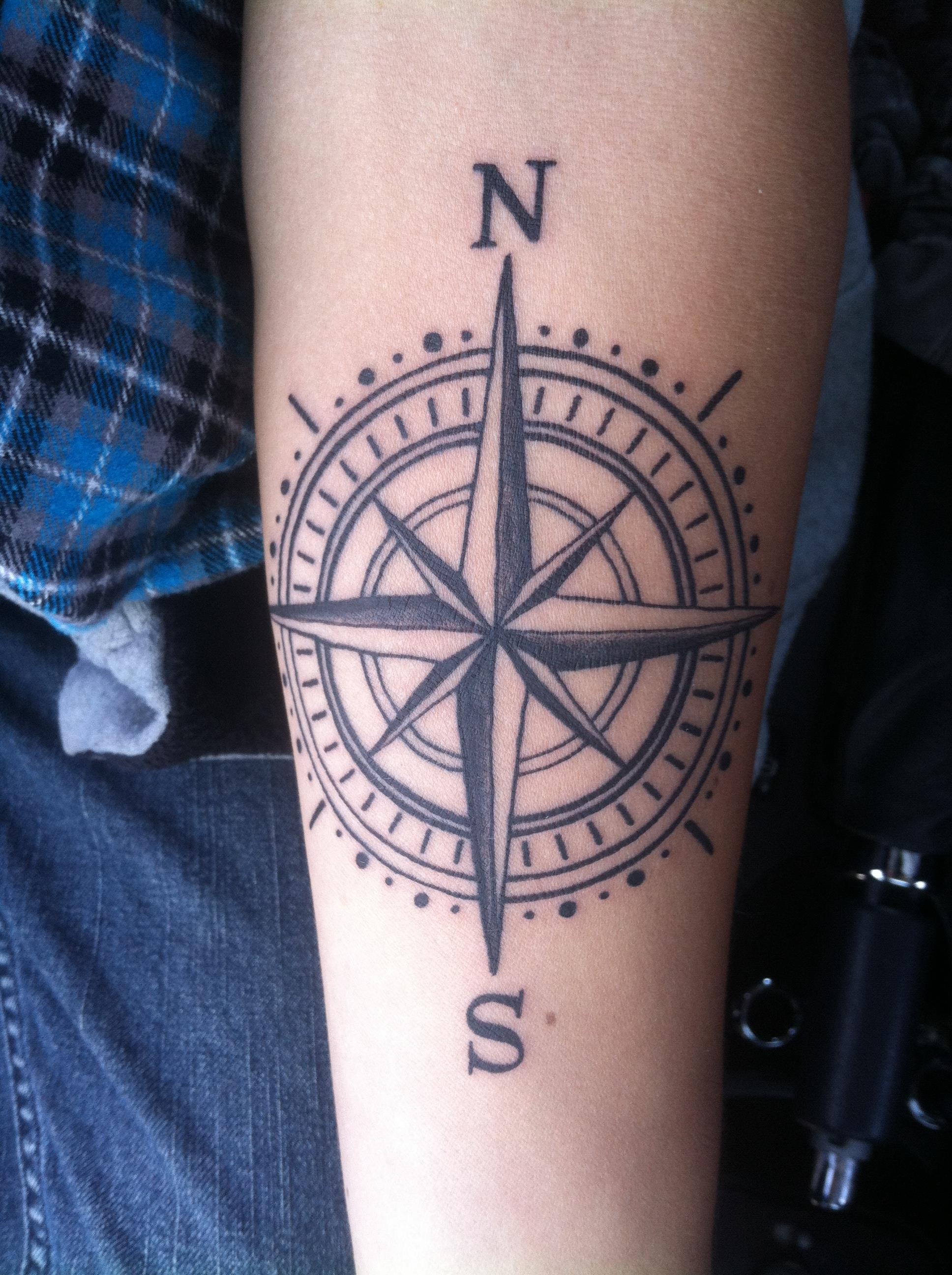 Keep it simple with a bold and uncomplicated arm tattoo like this. If you want, play with the shading or just add a quote or code to it.
#17: Couple Compass Tattoo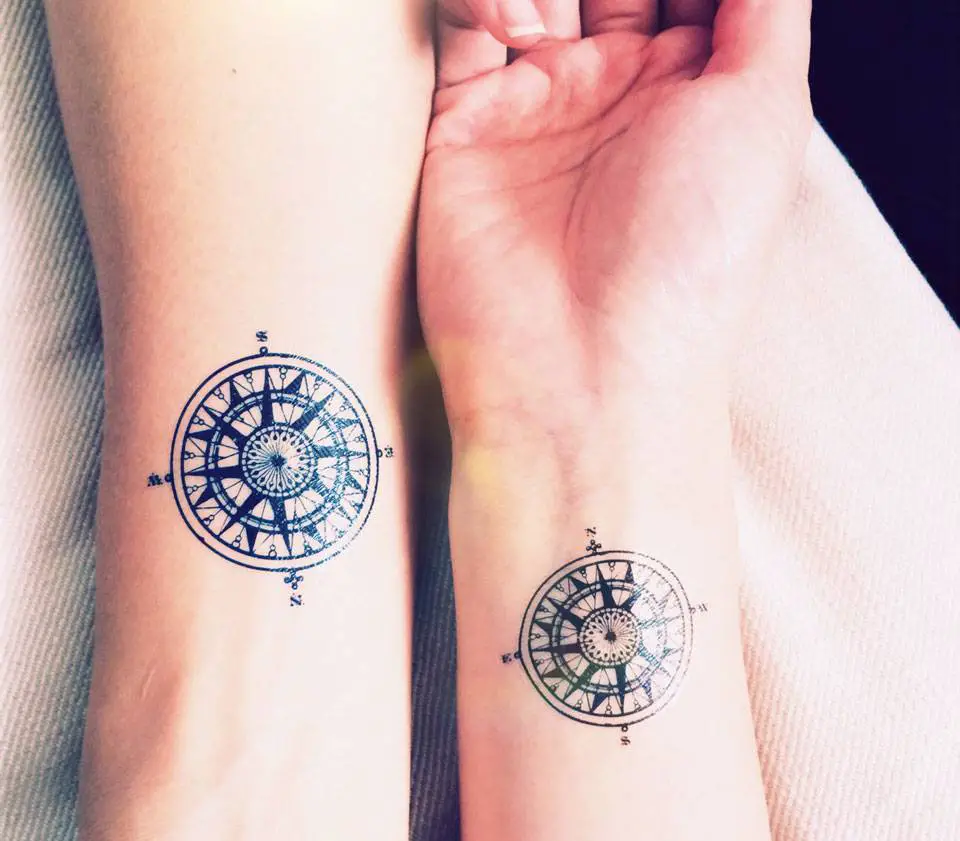 A couple-tattoo is a thoughtful idea to show your love and longing for each other. These glossy designs can be enhanced with your choice of detailing.
#18: Compass In Rose Tattoo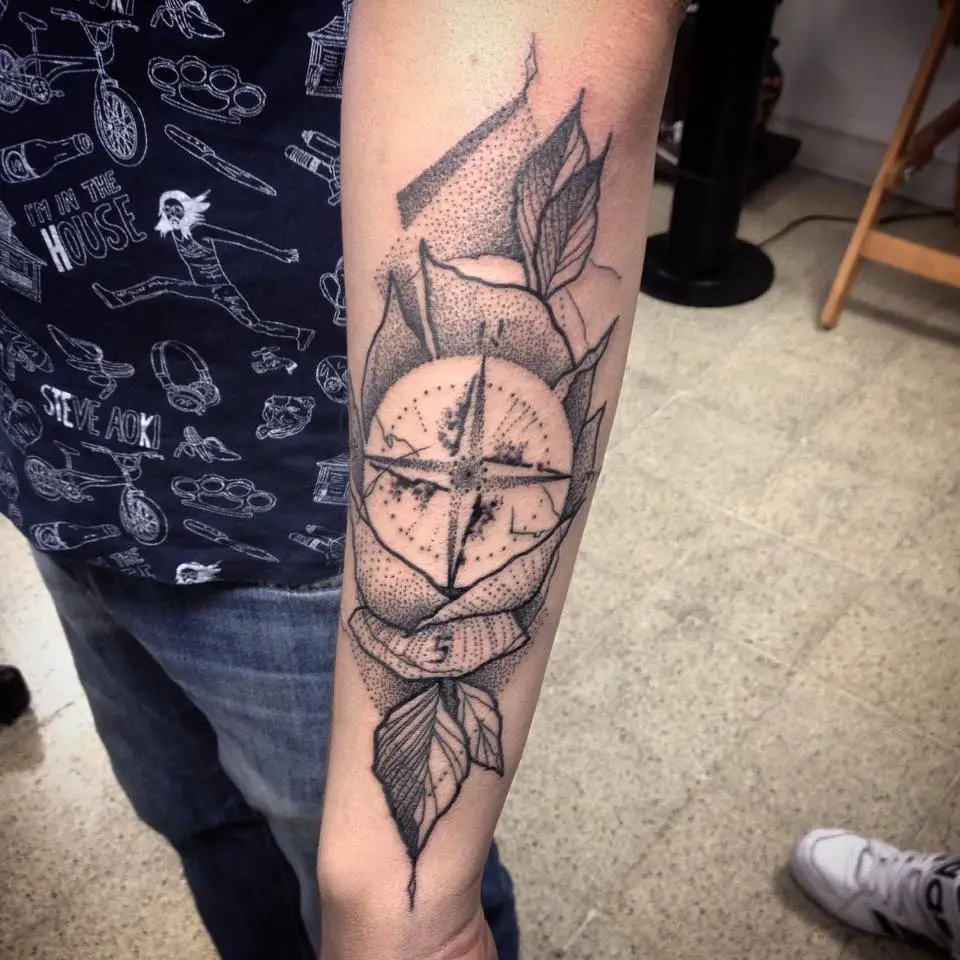 With the highly précised dot technique, the artist in this tattoo has created a visionary design where the compass is a part of the rose and everything looks as if flying away with the black sand.
#19: Compass Dreamcatcher And Rose Tattoo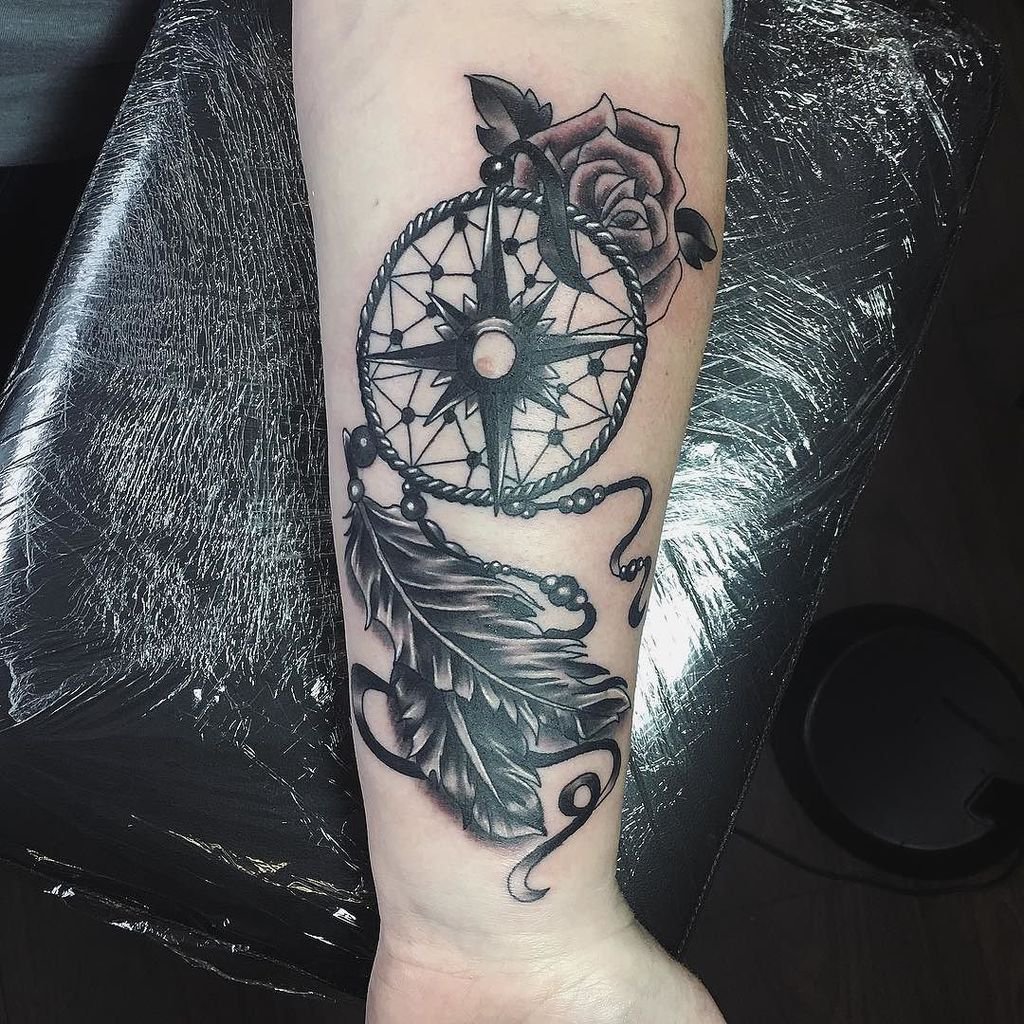 Blend different meaningful designs in one for a highly inspiring tattoo. Ask your artist for various techniques for a dramatic yet lucid inking.
#20: Arrow Compass Sleeve Tattoo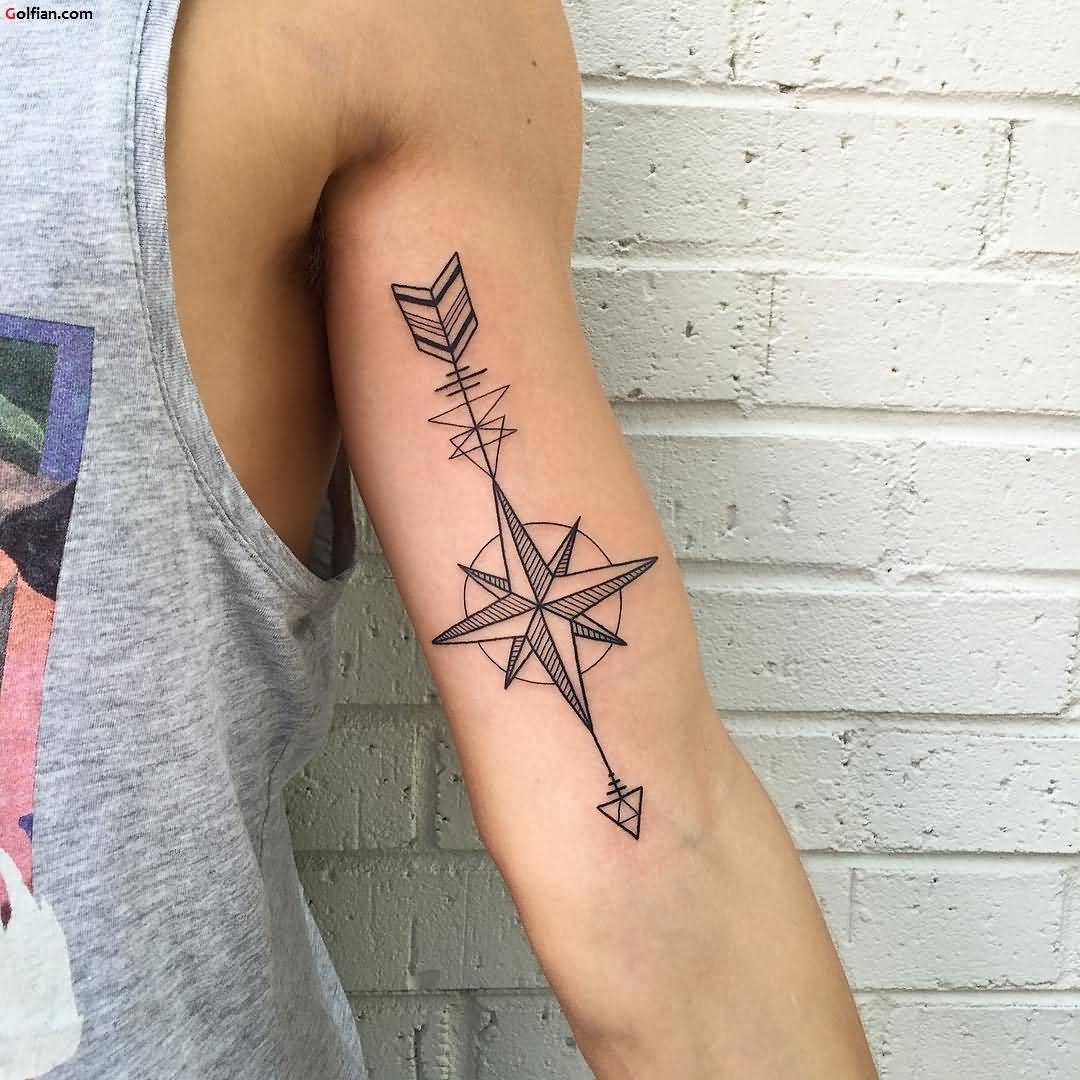 Very popular and meaningful, arrow compass tattoos represent a new beginning. It can be geometric using only lines or could blend solid figures and other details. Your arm is appropriate to show it off.
Related: Some more arrow tattoos
Frequently Asked Questions (FAQs)
What's the meaning of a compass tattoo?
Compass tattoos talk for the sense of guidance, belongingness, adventure, ethnicity, and harmony to name a few.  However, this theme just like many other tattoo design ideas ultimately manifests the wearer's perspective. Different designs with compasses may have celestial objects such as the pole star, the constellations, or sun and moon to represent a directional approach. Other ideas could also include flowers, birds, gothic motifs, a realistic touch, or a 3D view, each of which has its own unique meaning imagined by the wearer.
What does a compass mean spiritually?
Different cultures and civilizations have attributed compass differently, but they spiritually considered it a symbol to represent the right direction. Native Americans ink compass tattoos to feature their belief in wisdom (North), salvation (East), beginning (South) and conclusion (West).  Celtics associated four directions with four elements i.e. air, water, fire, and earth while the Chinese relate them with the zodiac animals that help humans find the right path.
What is the meaning of a compass rose tattoo?
The needle in the center of every compass that always points to the North is called a rose. So a compass rose tattoo works as a guide to ensure your consciousness heads in the right direction. A compass rose tattoo spiritually signifies the fusion of opposing complementary energies. It also symbolizes the bonding of the earthly and heavenly forces, of the positive and negative sides. A rose compass tattoo also means to find the right direction and not being lost on the way.
What does the clock tattoo mean?
Compass clock tattoos are incredible to remember that it is important to be in the right direction to achieve your goals before time passes away. It also represents the optimism to celebrate life before it goes.
What does a compass symbolize?
A compass is an iconic symbol of journey and travel. It doesn't tell you where you stand but always shows the direction concerning your present position. This interesting invention of the Chinese suggests orientation and works well as a Pole star. Moreover, the meaning of compass in Latin is to step together as com stands for together and passus means step or pace. Just like the device a compass tattoo in any form also reflects independent attitude, safety, and protection.
What does a compass with an arrow mean?
A compass tattoo with an arrow could express numerous possibilities. It symbolizes heading into a new direction, maybe starting something new in life. A compass arrow tattoo can also show that the wearer is not afraid of new challenges and can sustain life all alone. It also refers to the ability to transcend any kind of limitations.
What body part to get a compass tattoo? (Where should a compass tattoo be placed?)
Your arms and shoulders would be the most suitable body parts to flaunt a marvelous compass tattoo. It's easy to flaunt a tattoo there but if you want to ink it somewhere else then chest, back, legs, or stomach are good options to get an elaborative tattoo of your choice.
How long does it take to get a compass tattoo?
It will take at least 3 hours to choose a simpler design and go over 5 or 6 hours with a complex design. Moreover, the time also depends on how much pain you can bear at a time and how often you need the n between breaks. Also, the speed of the artist decides the time.
How many days does it take for a tattoo to heal?
It typically takes a few weeks to a few months for a tattoo to heal completely. The outer layer usually heals in 2 to 3 weeks but the entire healing might take more than 6 months depending on the size and complexity of the tattoo. It is important to correctly follow the instructions given by your artists to ensure the inking heals faster. Do not pick at the scabs, moisturize properly using the suggested lotion and avoid whatsoever is instructed you.