Pineapples are one of the best delights of nature. This exotic fruit tastes yummy and looks equally amazing in tattoos. From realistic designs to tribal art, the possibilities of pineapple tattoos are endless. The artistic beauty of these designs will simply blow your mind. Whether you opt for a large or tiny tattoo, the amazing look remains the same.
But the issue arises when you are trying to choose one out of so many gorgeous styles. So, let us help you with it. To make the tattoo selection easier for you, we have brought together a few out-of-the-world designs that will make you fall in love. Check out the absolute best tattoo ideas featuring pineapple in this guide.
100 Pineapple Tattoo Designs and Ideas
The beauty and exclusive look of the pineapple tattoos are a challenge to beat. With the prettiest detailing and cute shape, these designs completely rule over our hearts. Discover the best pineapple designs with us, along with their meanings.
Pineapple Skull Tattoo
The skull and pineapple are two individually stunning tattoo design ideas. These two tattoo aspects have different symbolization and styles. But when these two tattoo pieces are linked together, the result turns out to be mind-blowing. So, let us see a few examples of this excellent tattoo idea.
1. The Pineapple Jaw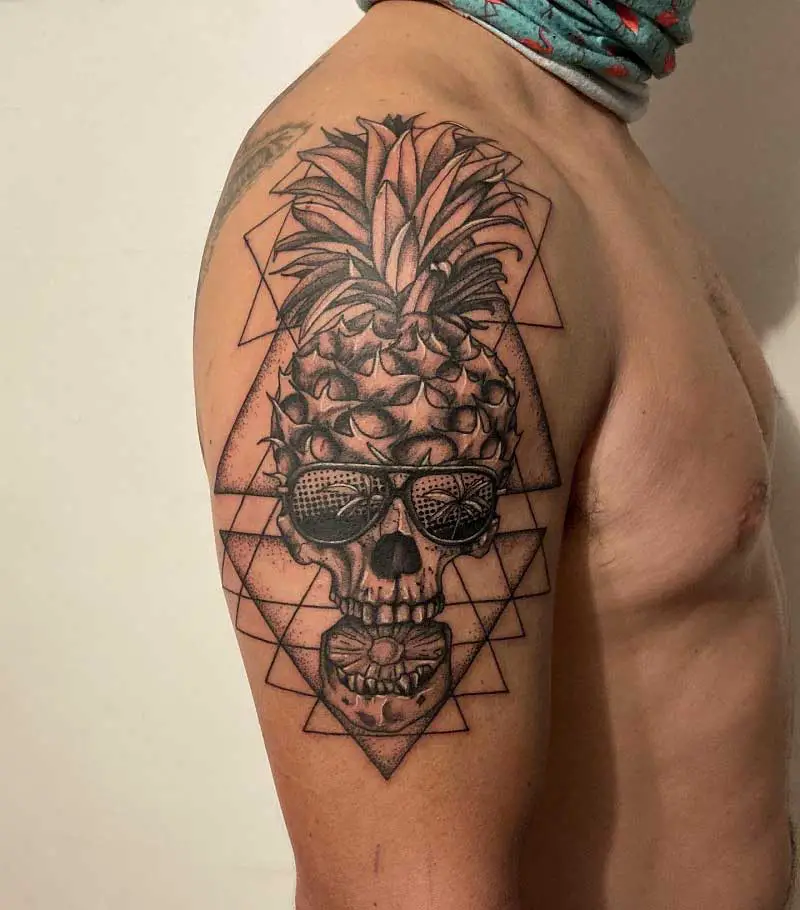 Take a look at this incredible tattoo idea of a skull combined with a simple pineapple. The classy sunglasses give the tattoo a unique look, and the geometric patterns surrounding the pineapple attract eyes everywhere you go. This design is perfect for the arms or shoulders of a man.
2. The Smoking Skull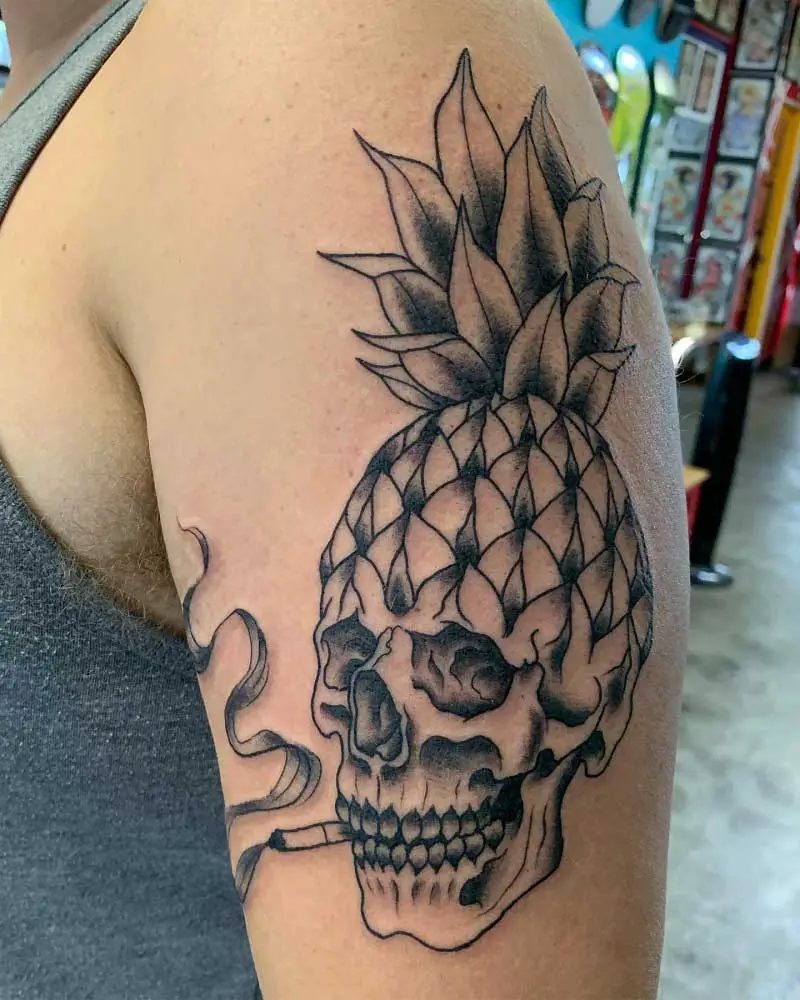 Skulls typically symbolize death, but they also refer to dealing with challenges and difficulties in life. The smoking skull is crowned with the grassy top of the pineapple, giving the design a majestic vibe.
3. Angry Pineapple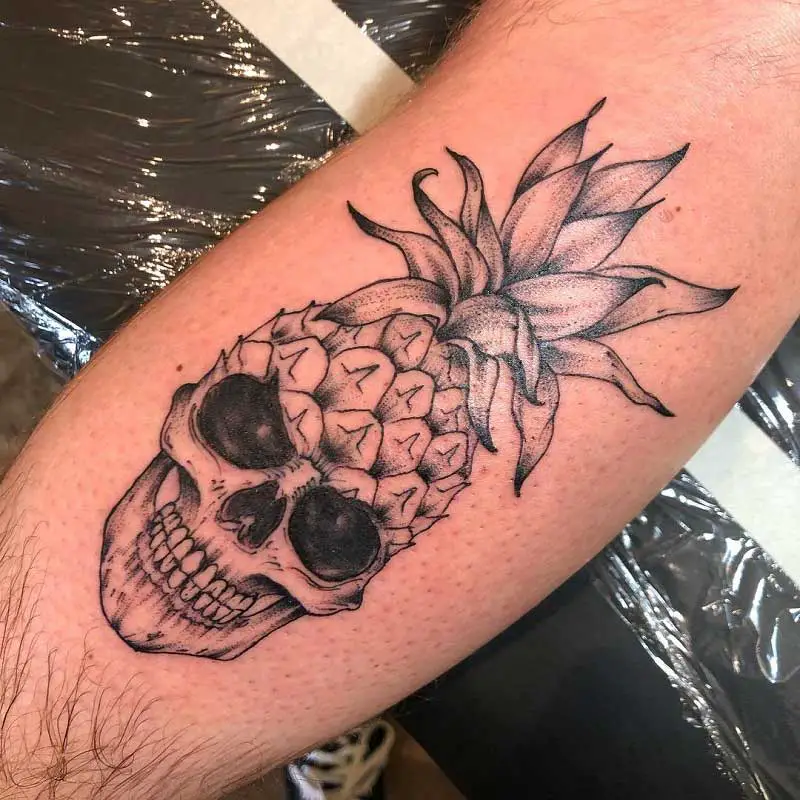 Have you ever seen an angry skull on a pineapple? Well, now you have. This design is a perfect portrayal of anger, power, and strength. It shows the struggles of life and is a great choice for the arms of a woman.
Upside Down Pineapple Tattoo
The upside down pineapple has had a symbolic meaning since the beginning of time. While many people see this upside down pineapple as a symbol of hospitality and a welcoming gesture, it has recently gained popularity as a representation for swingers. Discover some of the best ideas under this tattoo category.
4. The Swinger Symbol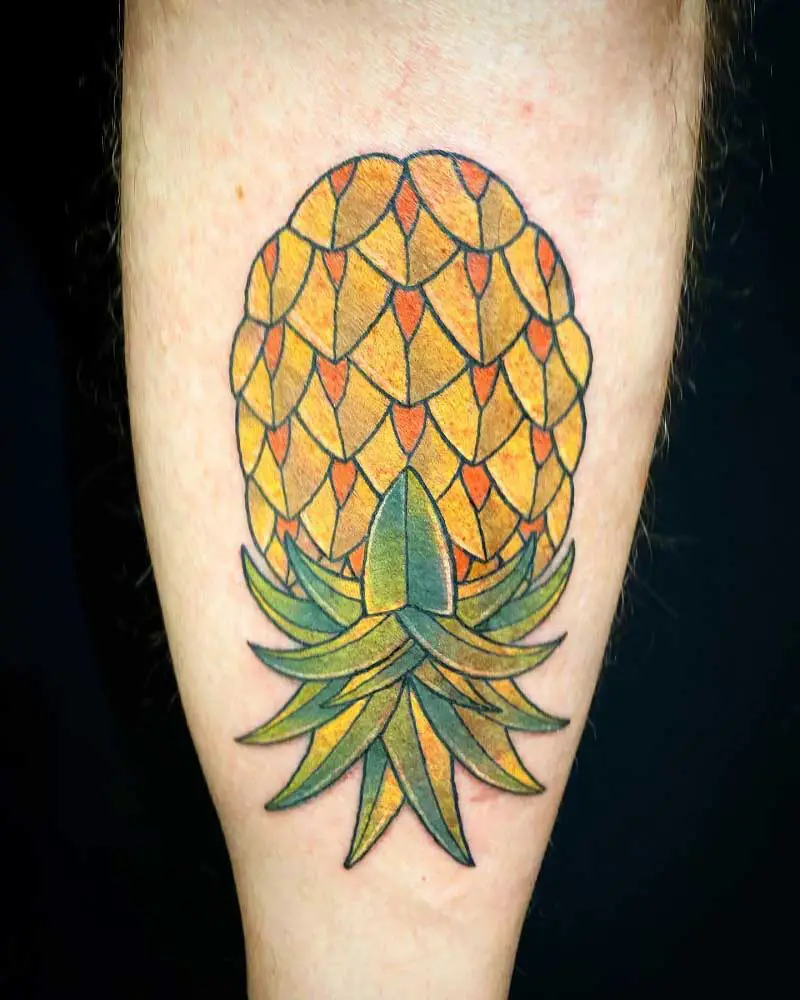 Beautify the features of your arm or leg with this gorgeous and colorful upturned pineapple tattoo. The shading on the design gives it a more vibrant look. It is a cute and public signal that you are a swinger.
5. The Symbolic Pineapple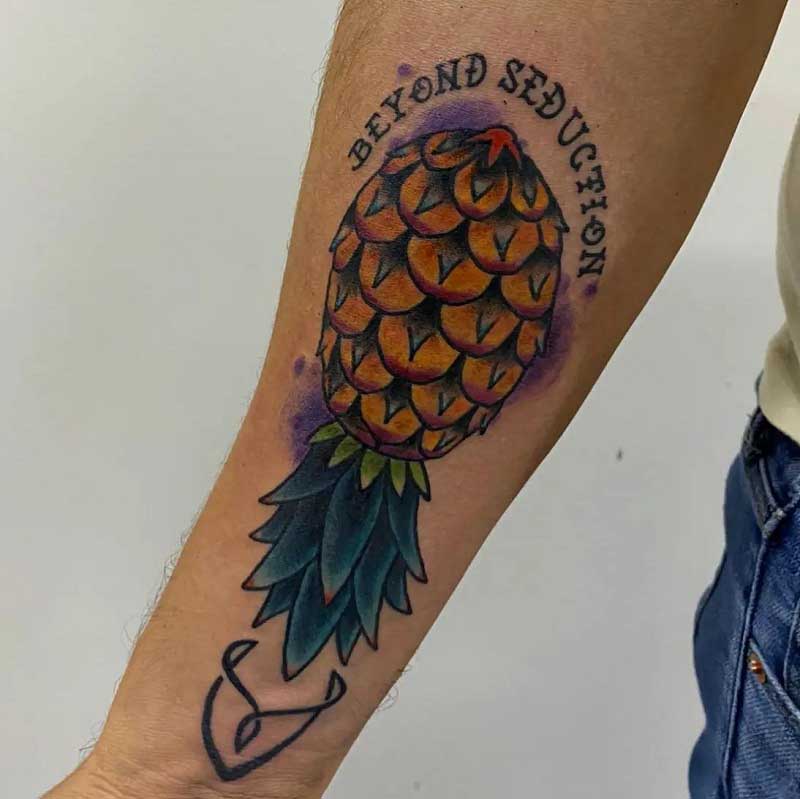 Show off the bottom-up pineapple design on your arm as a representation of your swinger preference. The quote is a clear indication of the connection you are looking for, and the intricate design attracts eyes. The flamboyant style makes it an absolute beauty for a woman's arm.
6. The Bright Pineapple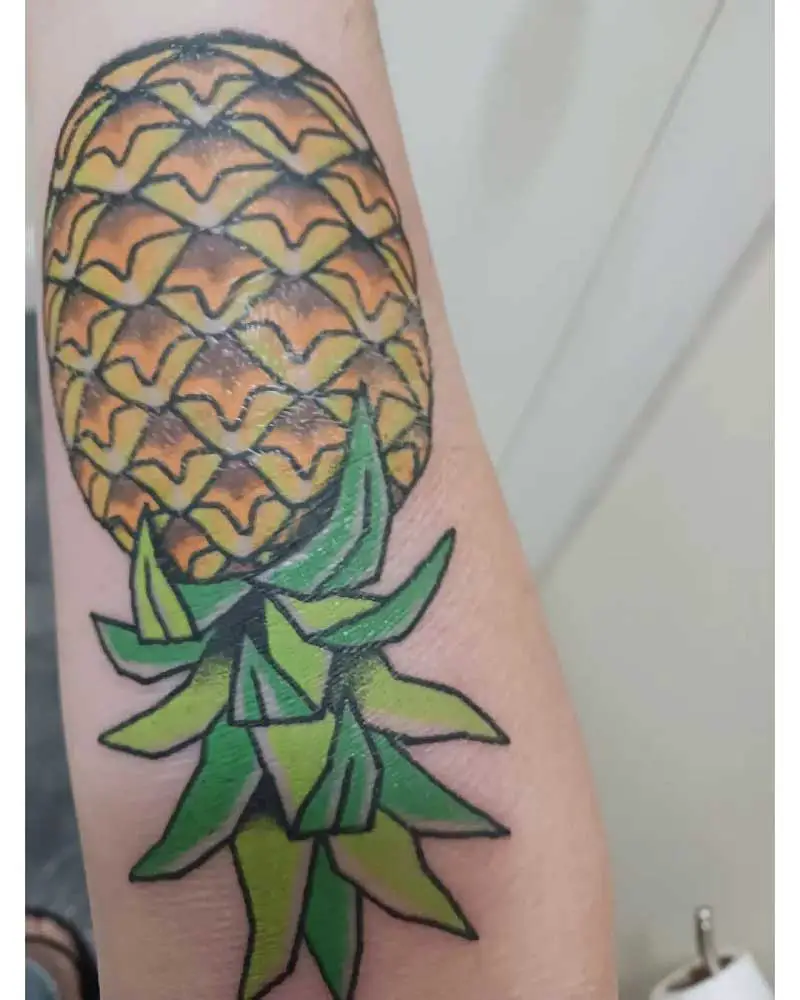 The flipped pineapple is seen as a sign of appreciation for people who want to swap and build a connection. This color coordination of the tattoo makes it eye-catching and pretty. Suitable for the skin of a man, it looks good on the arms or thighs.
Pineapple Grenade Tattoo
The pineapple and grenade bodies have an uncanny resemblance, don't you think so? And this mysterious similarity has unleashed the creativity of artists to create an outstanding pineapple grenade design. Dive deep with us to take a look at some of the ingenious tattoo ideas.
7. Pineapple Explosion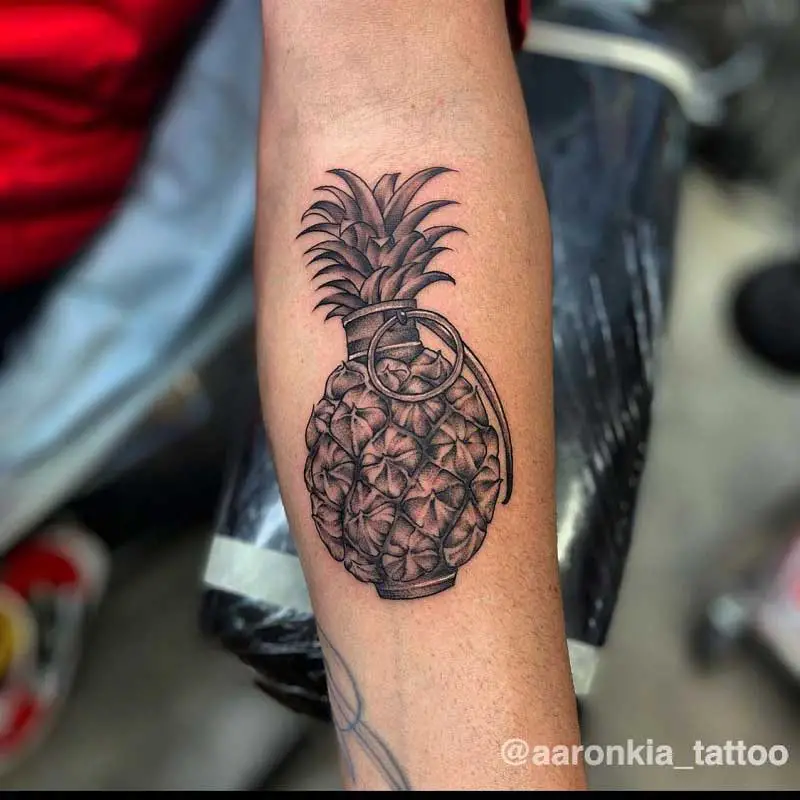 Combine the beauty of the exotic pineapple with the artistic side of the grenade to create an inspiring tattoo. The lever and pin of the grenade linked with the fruit crown give the design an aesthetic side. This artwork is a portrayal of love for grenades and weapons.
8. The Explosive Tribute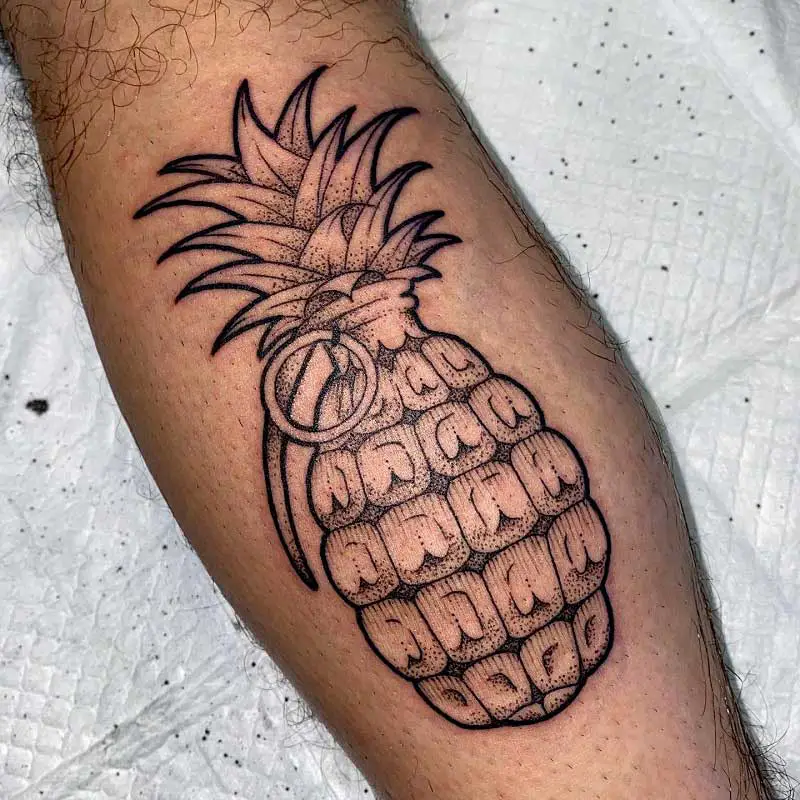 Losing a loved one is never easy on the heart and mind. But the pain and agony turn into pride when they sacrifice their lives in war for the country. Get this pineapple grenade as a tribute to a loved one who has passed away in the war and cherish their memories. A great tattoo for your calf.
9. Pineapple Grenade Top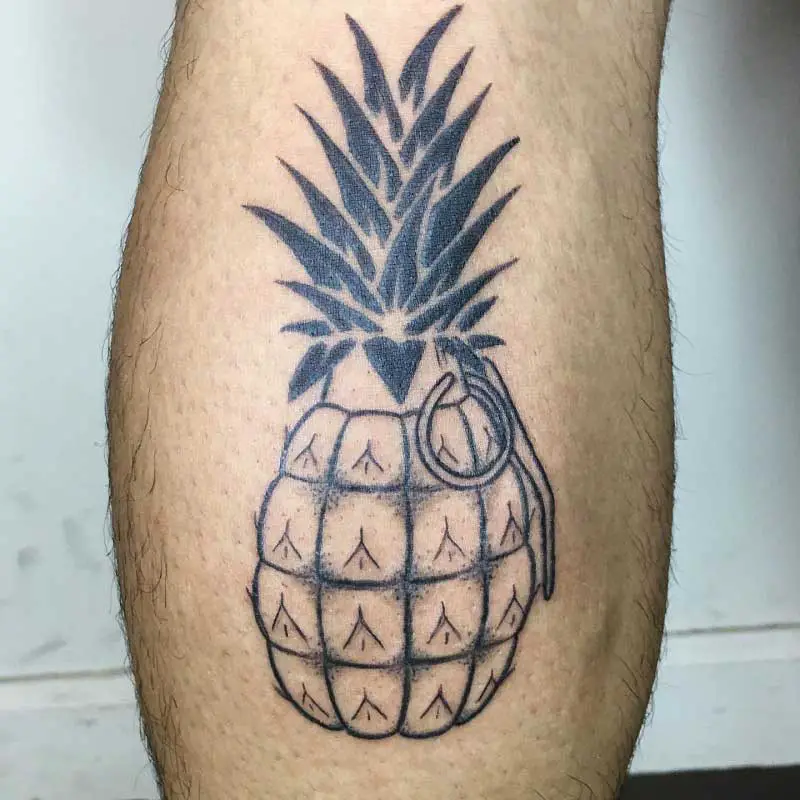 Simplicity works best in every scenario, and this pineapple weapon design proves that. It is a simple design that speaks a thousand words. This style is a perfect choice if you have served in the military or have a deep love for weaponry. The fruit crown on the top gives a soft vibe and looks extraordinary on the arm or shoulder.
Spongebob Pineapple Tattoo
Spongebob has been a major part of our lives growing up. The show is a comfort zone for many of us, and the tattoos help us connect to our memorable childhood. Check out a few great examples of Spongebob pineapple home tattoos.
10. The Spongebob House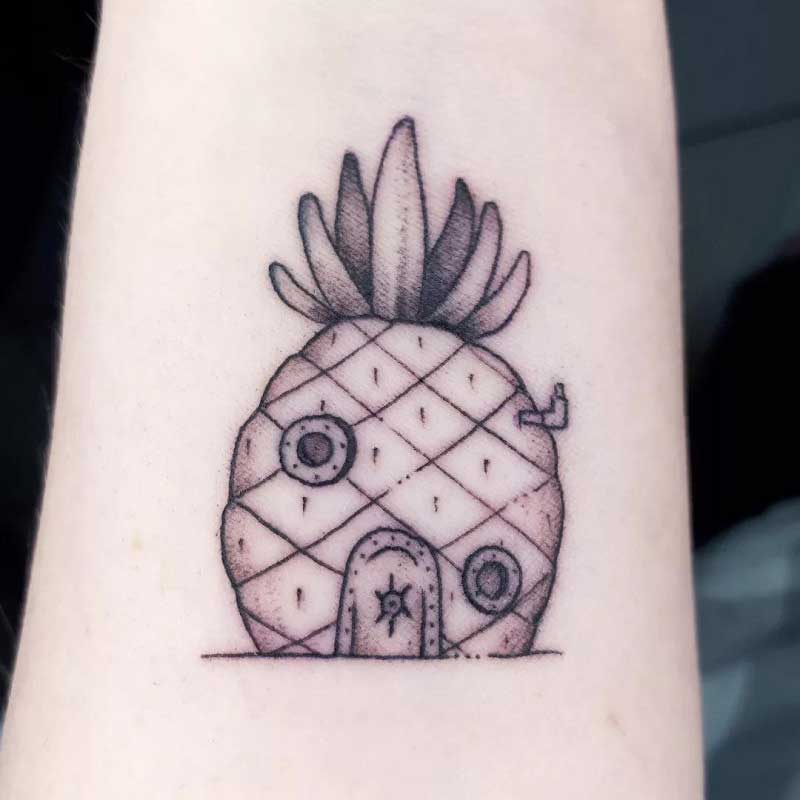 Who can forget the iconic pineapple home from SpongeBob SquarePants? This beautiful house looks great in tattoos and is a genius way of reliving the wonderful memories from your childhood. Get this design inked on your skin as a sign of love, adoration, and cuteness.
11. The Detailed Home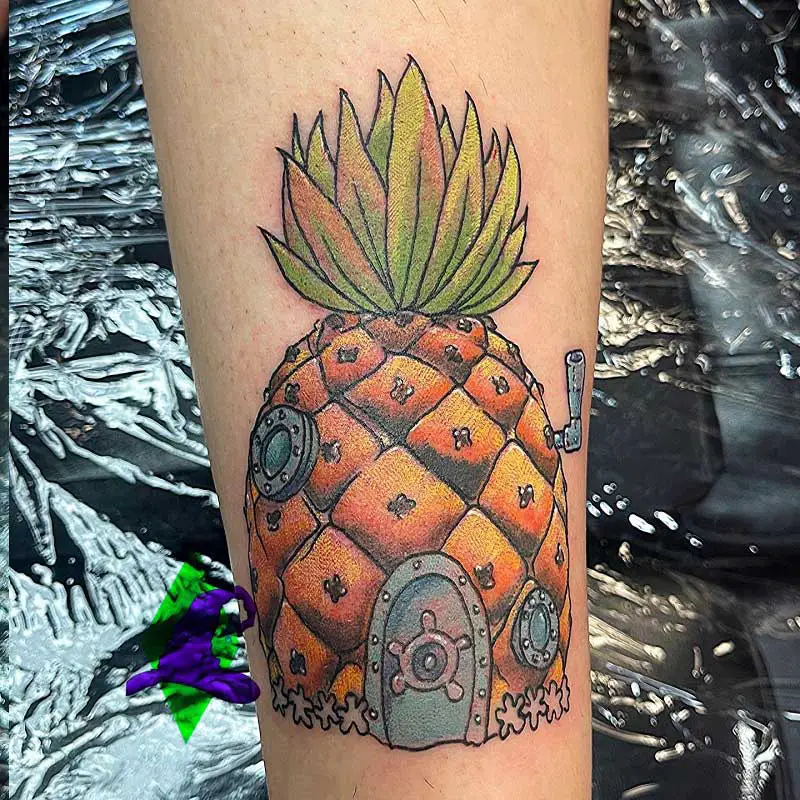 Bring a sense of comfort and love inside you with this stunning tattoo design. The pineapple home is a staple part of the show, and the beauty pops us significantly in tattoos, without any doubt. You can get this pineapple inked on your arm or shoulder and pay tribute to your wonderful childhood.
12. Minimalistic House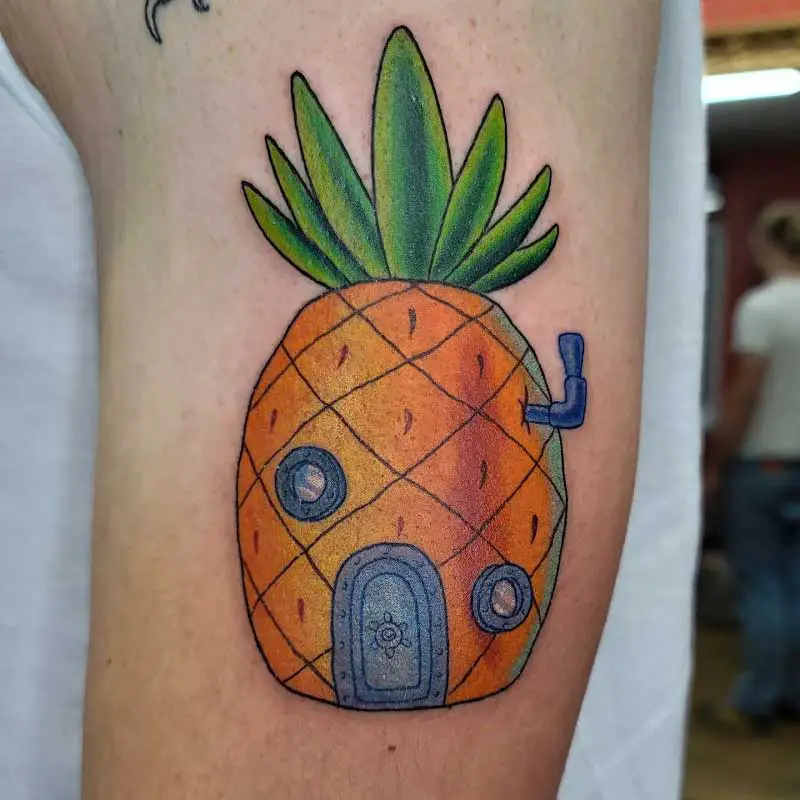 Attract attention at every step with this simple and colorful SpongeBob home tattoo. This stylish pineapple is a perfect choice for people looking for reminders of their childhood. And the beauty of this outstanding yet minimalistic design looks stunning on the arms of a woman.
Traditional Pineapple Tattoo
Traditional tattoos are the way to the heart, and pineapples have been a huge part of traditional designs for decades. The simple fruit holds a significant meaning in the tattoo culture with fans all around the world. Let us get through a few examples showcasing the traditional pineapple style.
13. The Red Pineapple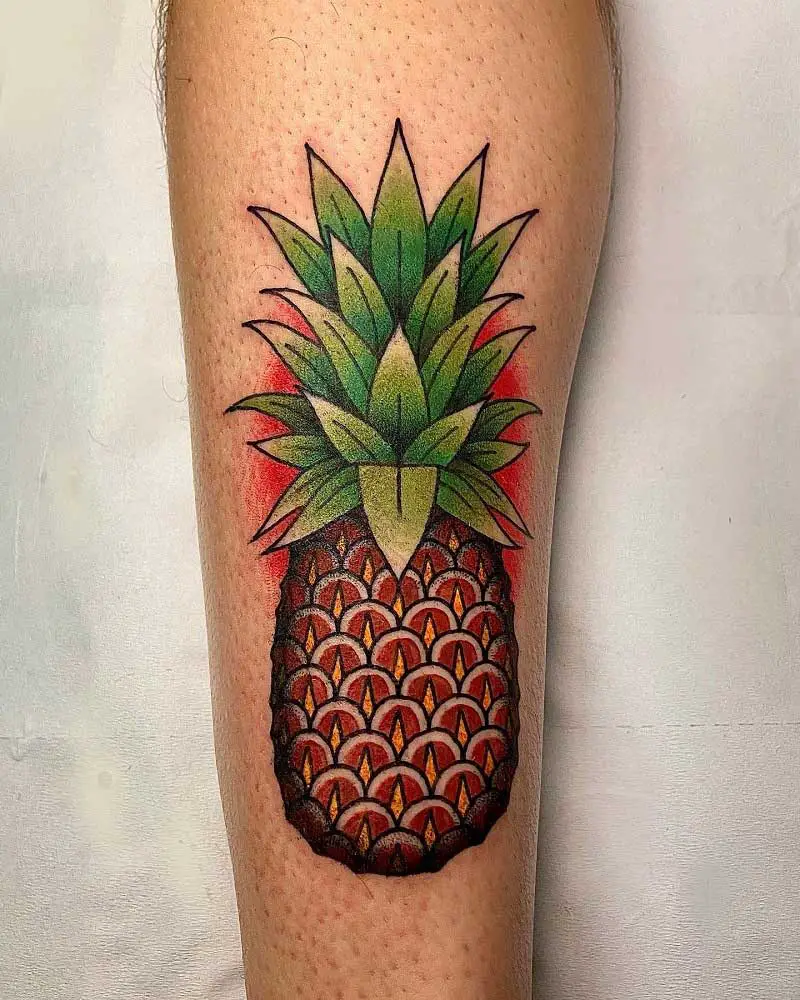 Bask in the attractive look of this vibrant and traditional pineapple. The reddish-brown color on the pineapple looks different than the actual image, but it holds a beautiful meaning. It is a symbolization of warmth and hospitality, and the red background attracts the eyes to the tattoo.
14. Simplicity At Best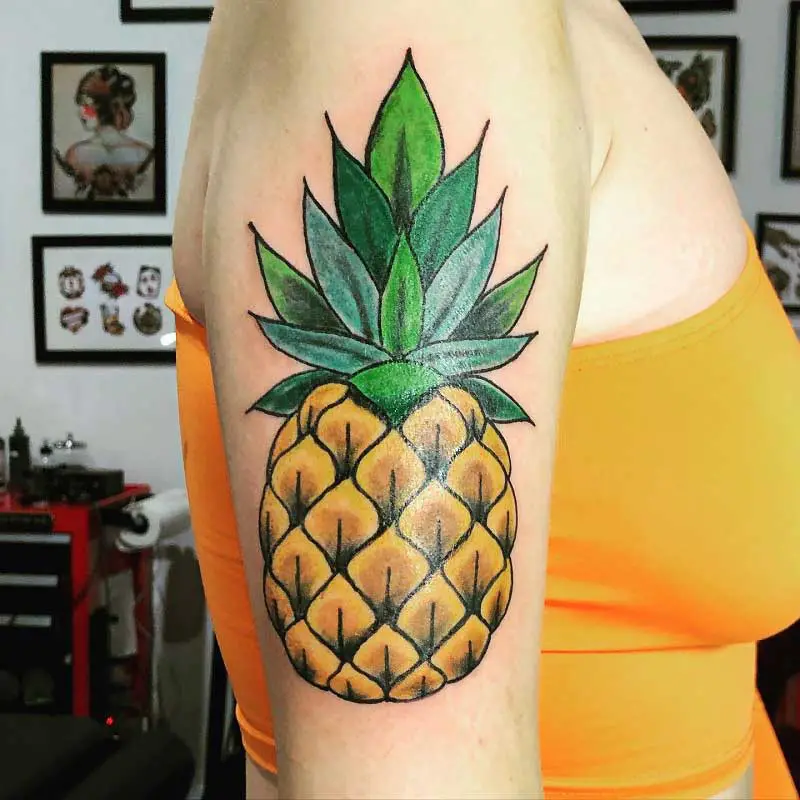 If you are in search of a cute pineapple tattoo on your arm, this is the perfect choice for you. The simple detailing on the pineapple and the lush green crown top gives the tattoo a bright and gorgeous look.
15. Over The Top Pineapple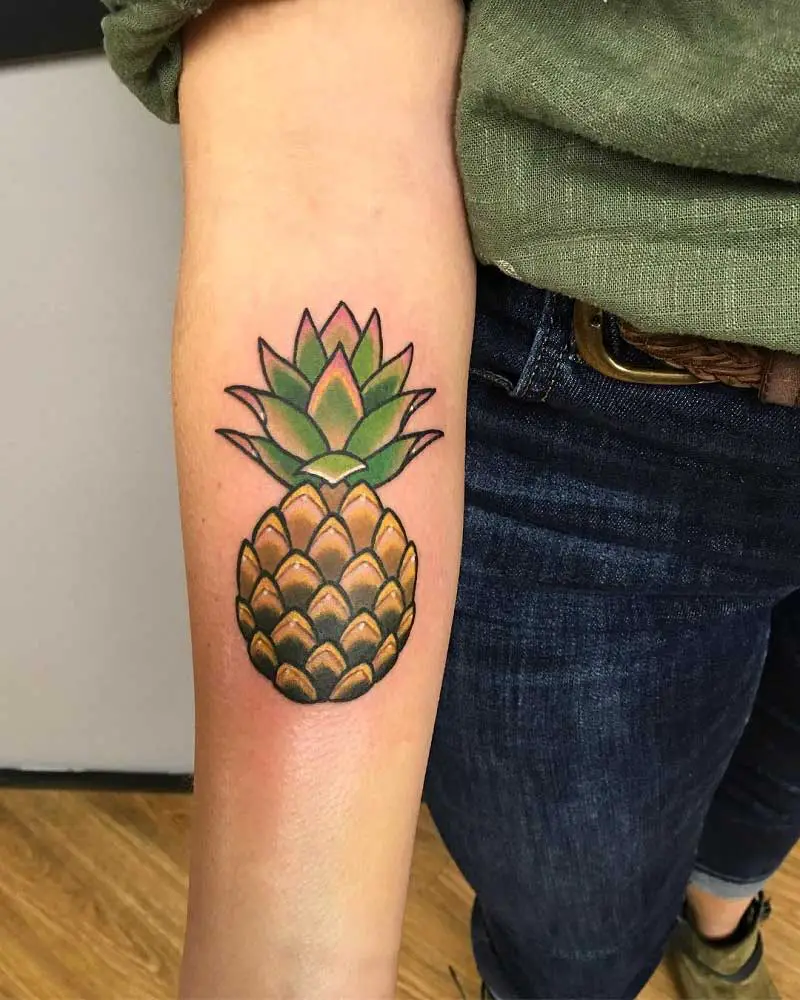 Display your warm personality and the goodness in your heart with this lovely pineapple design. It is seen as a symbolic sign of hospitality and warmth. This design will portray your loving nature and give people a sense of trust and faith.
Pineapple Outline Tattoo
The detailed tattoos are an amazing sight to behold, but the simple design outlines are equally impressive. These outlines showcase the beauty of the tattoos in a minimalistic manner and win the hearts of artists and enthusiasts. Know about the top designs discussing the pineapple outline tattoos.
16. Fruity Outline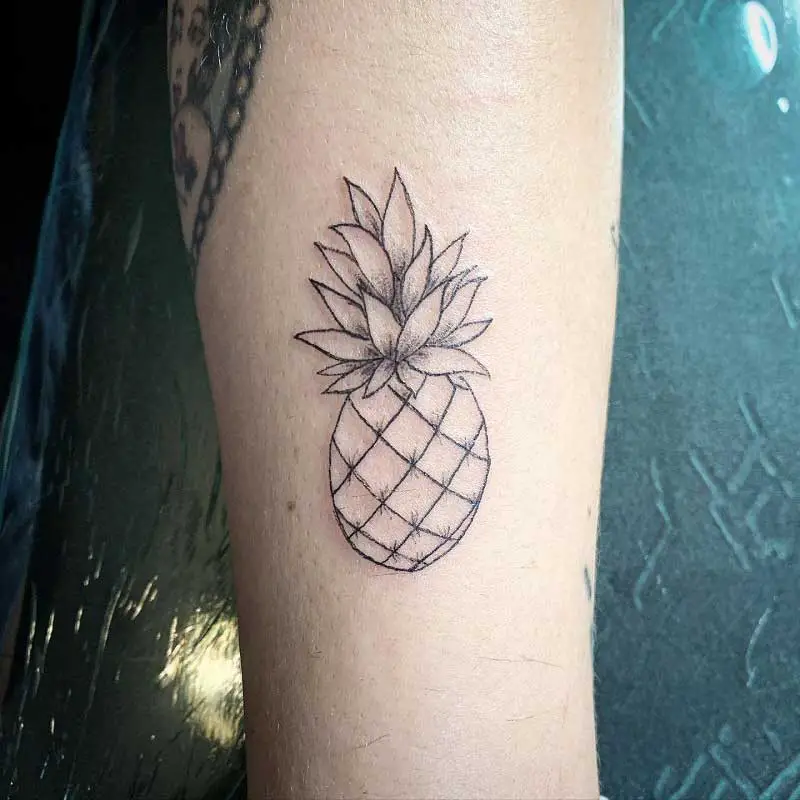 Make the features of your body more beautiful with this basic outline of an exotic pineapple. The style shows off a pretty design on your skin and portrays your love for simplicity and art.
17. Squiggly Pineapple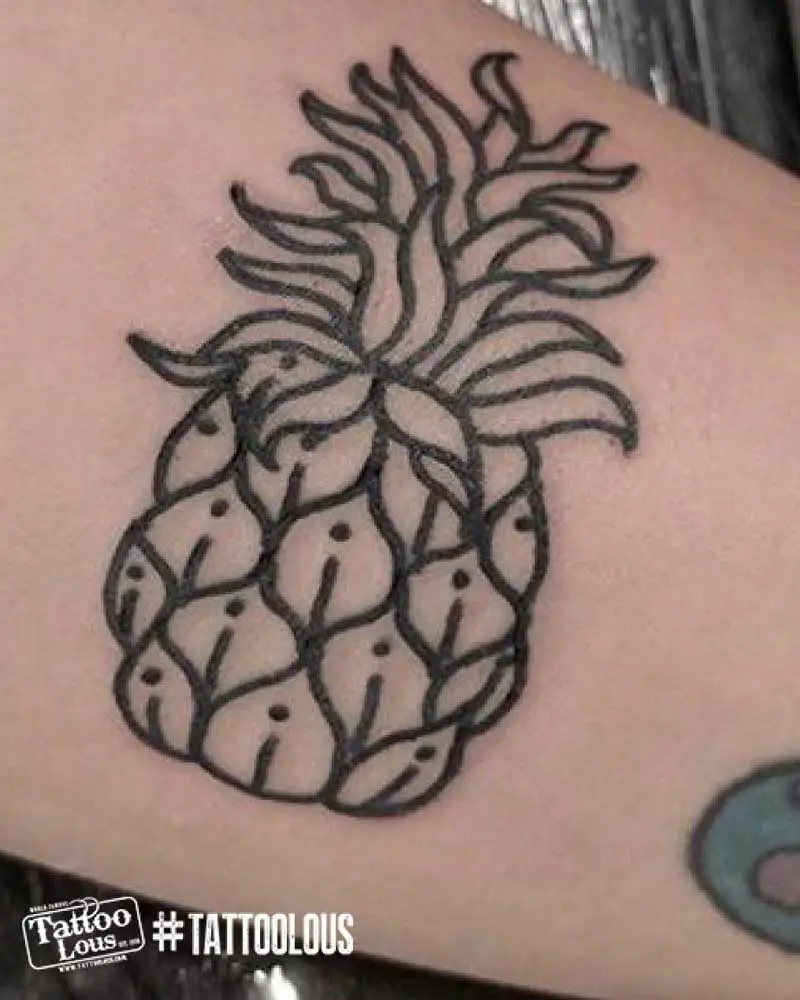 Turn heads toward your cute pineapple design with every step. Many of us run behind the concept of perfection all of our lives. But perfection is a concept that is impossible to achieve. And this squiggly design is clear proof of that. This tattoo shows that imperfect things are extremely beautiful and eye-catching.
18. Outlined Pineapple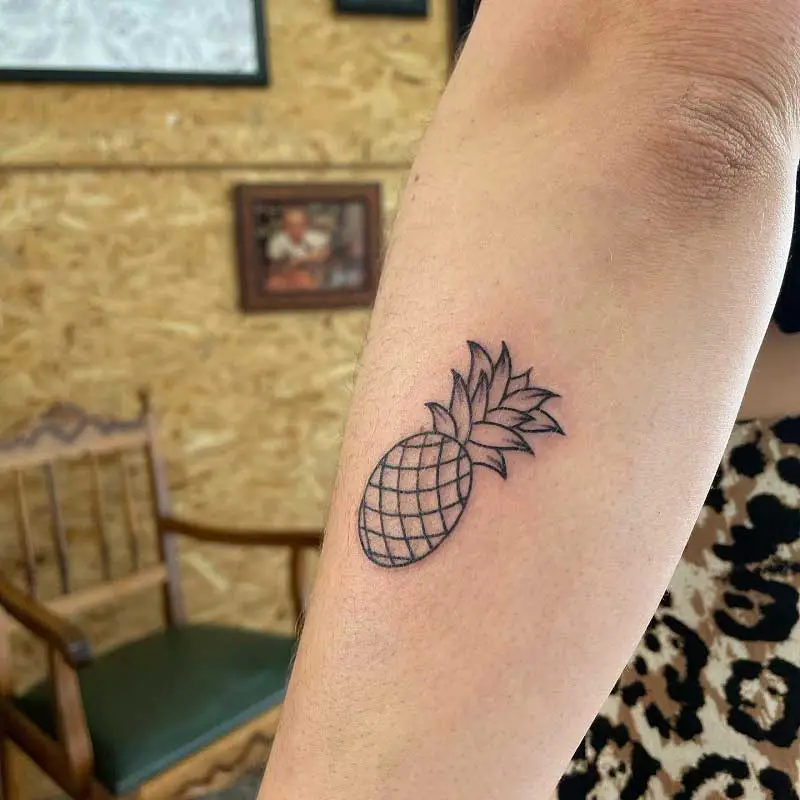 The world is impressed by the vivid colors and bright patterns. It speaks volumes and describes beauty, but the basic outlines and details require a keen eye to be understood. This effortless pineapple inked on the skin shows the simplicity of things and the underlying beauty. It is a unique choice to decorate a woman's arm who believes in the small joys of life.
Tiny Pineapple Tattoo
Not everyone is a fan of big and showy tattoo designs. Many people prefer the tiniest pieces of art on their skin that hold significant meaning and are close to the heart. They want to shield these tattoos from the eyes of the world while reminding them of their beliefs, values, and life. Check out the best tattoo ideas for a tiny pineapple desgin.
19. Baby Pineapple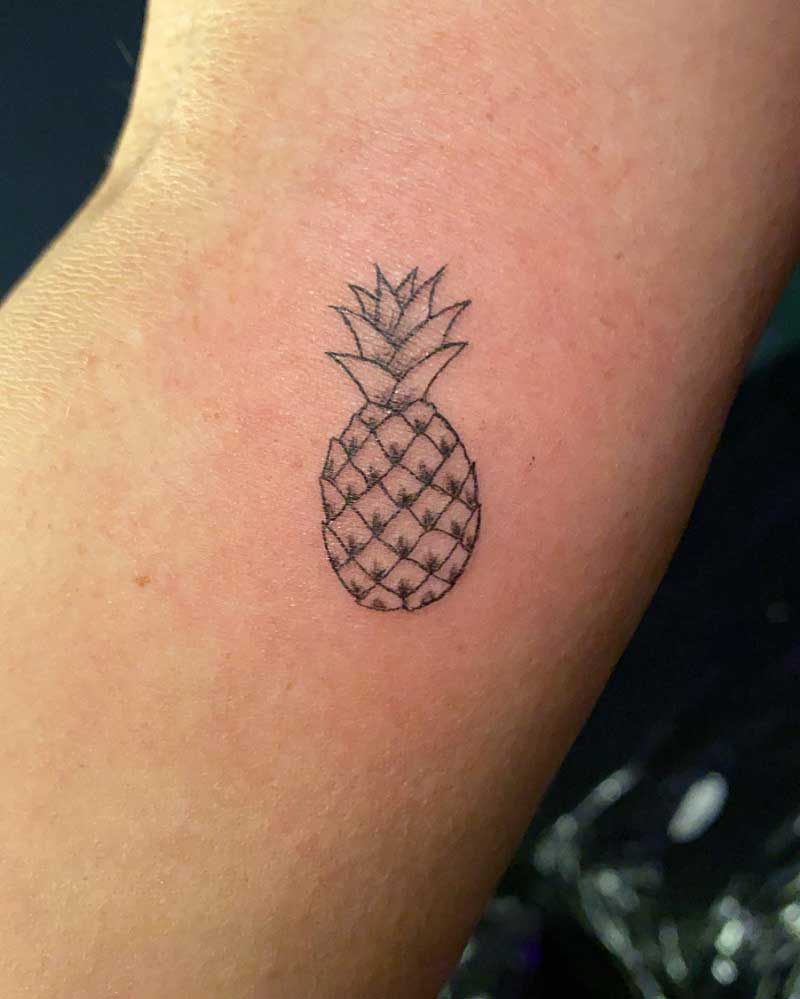 Boost your confidence and cuteness with this small pineapple design on your wrist or near the elbow. It is a representation of warmth and a welcoming gesture. This is a great choice for a man, and the tiny details make the design attractive.
20. Geometric Pineapple 
Combine geometric patterns and tasty pineapple together to create a wonderful tattoo design. This design is a clear sign of the talent and creativity of the artist. It also showcases an aesthetic vibe with a cute style and is suitable for making its home on a woman's shoulder.
21. The Glittery Fruit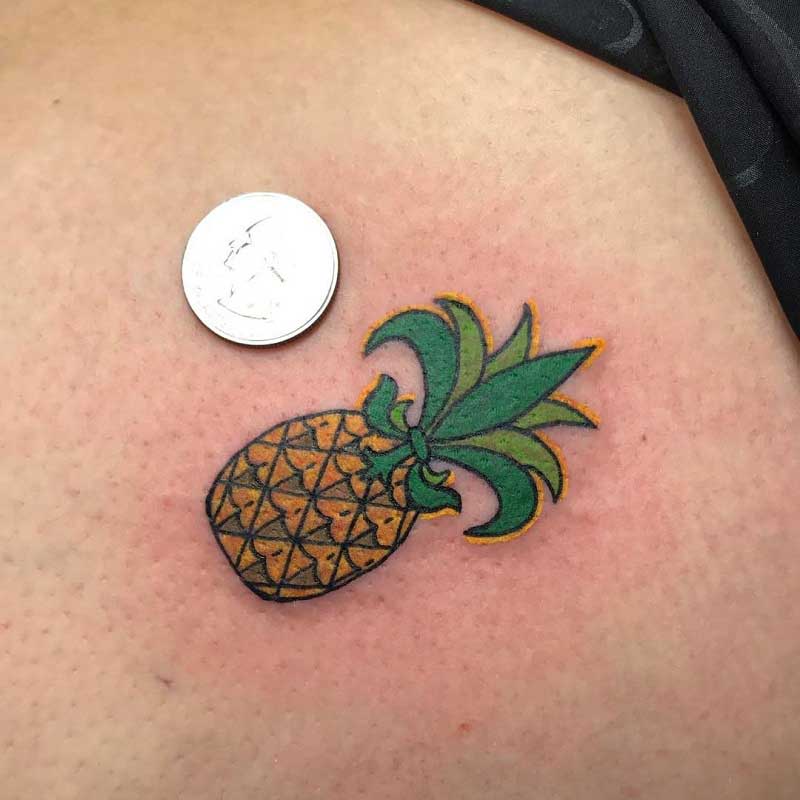 Take a look at this shiny and flamboyant pineapple. The golden glittery detailing on the outline of the crown top looks gorgeous without a doubt. It is a tiny and perfect design, giving you the opportunity to show off the tattoo or hide it from the world.
Tribal Pineapple Tattoo
Tribal designs and styles go way back in the world of tattoos. These patterns and art can combine with almost every style to present an eye-catching result. Discover the best pineapple tattoos linked with tribal art.
22. The Pattern On Fruit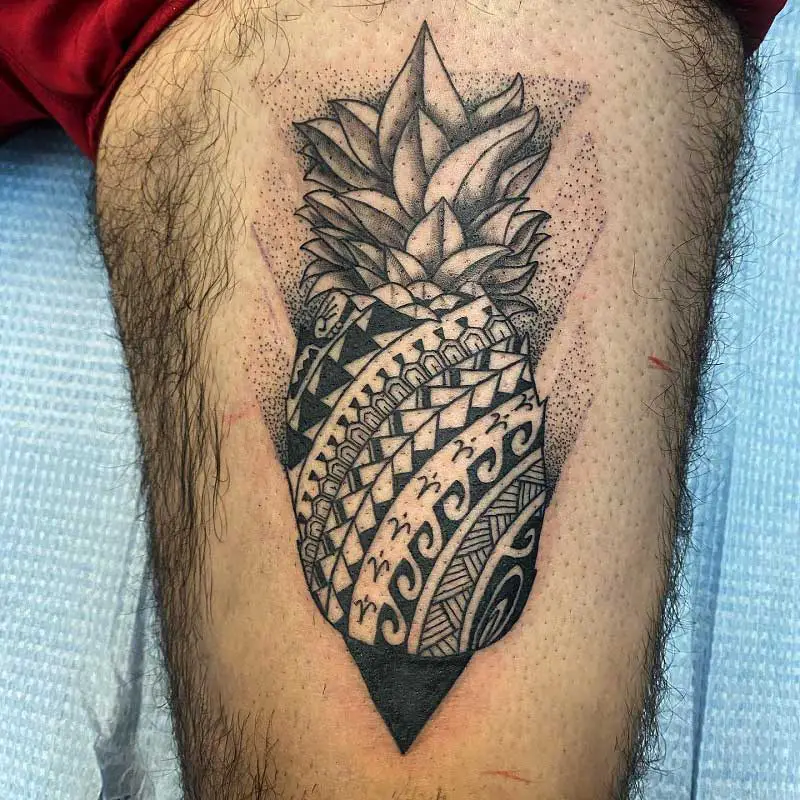 Give your features a boost of style and confidence with this eye-pleasing tribal pineapple. This pineapple is cutely detailed with tribal patterns in black ink. You can place this tattoo anywhere on your body, and it will look great on the neck.
23. Exclusive Pineapple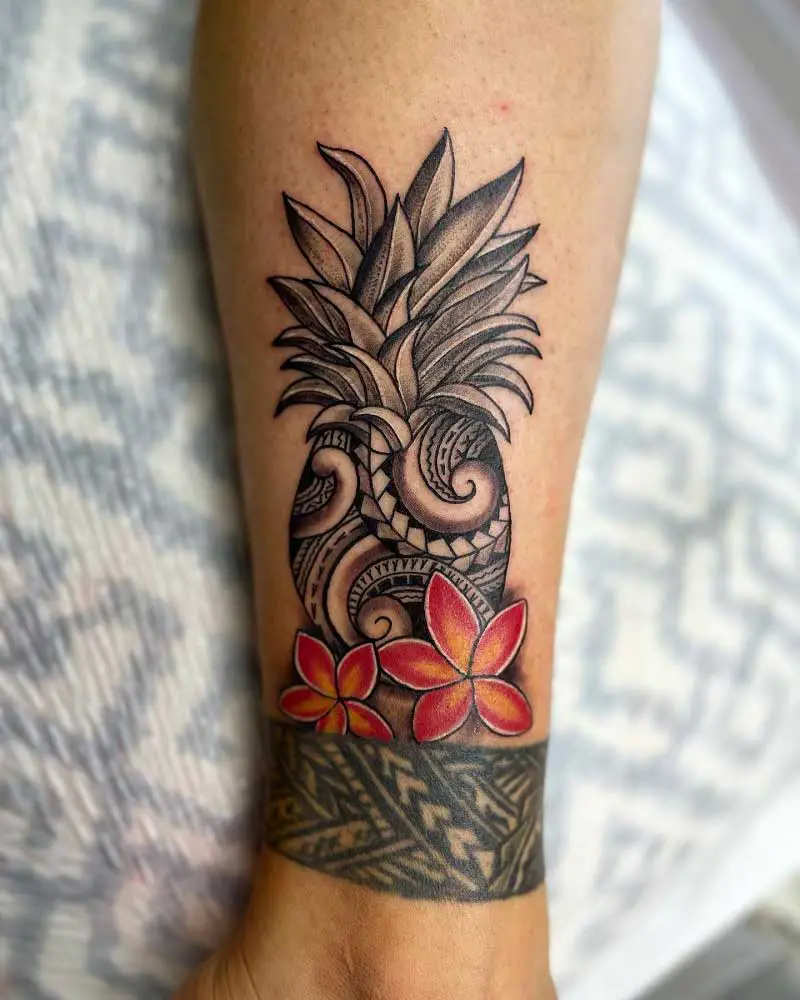 Enhance the glamorous look with this pineapple and tribal combination. The pop of color with the flowers shows a gradient style and beautifies the design even more. It symbolizes balance, harmony, and a heartwarming gesture.
24. The Sunset Glasses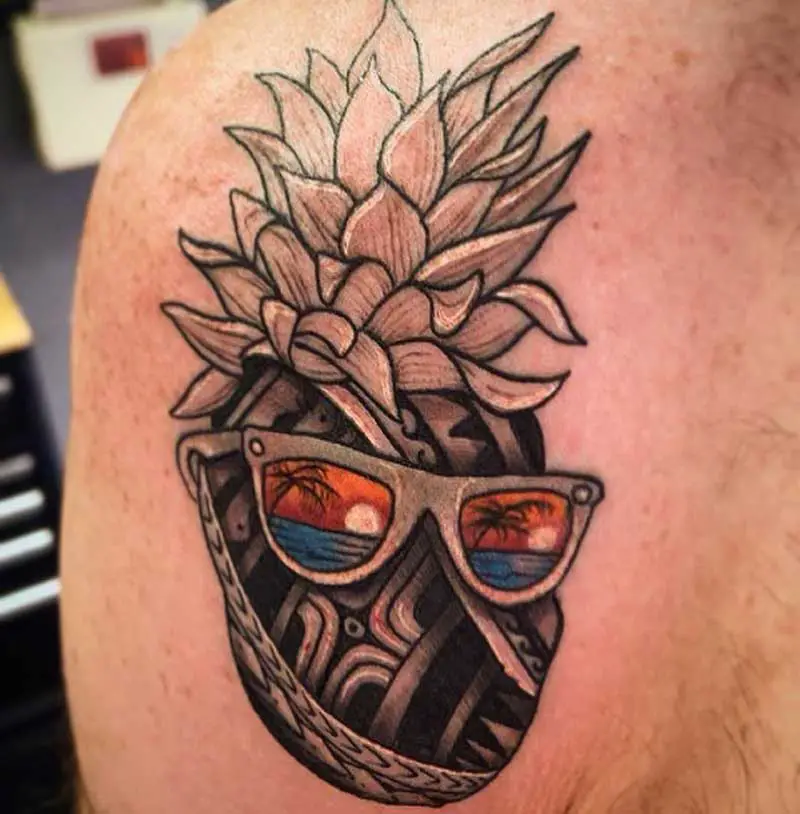 Give off a cool vibe with a tribal pattern wearing stylish sunglass. The glasses reflect a colorful sunset and the tattoo represents a love for nature. This is a pretty portrayal of the skills and artistic understanding of the artist.
Minimalist Pineapple Tattoo
Minimalistic designs are trending right now in the tattoo world. The style has gained enormous popularity as people understand the beauty behind simple things. Without further delay, discover the minimalistic pineapple designs with us.
25. Pineapple Heart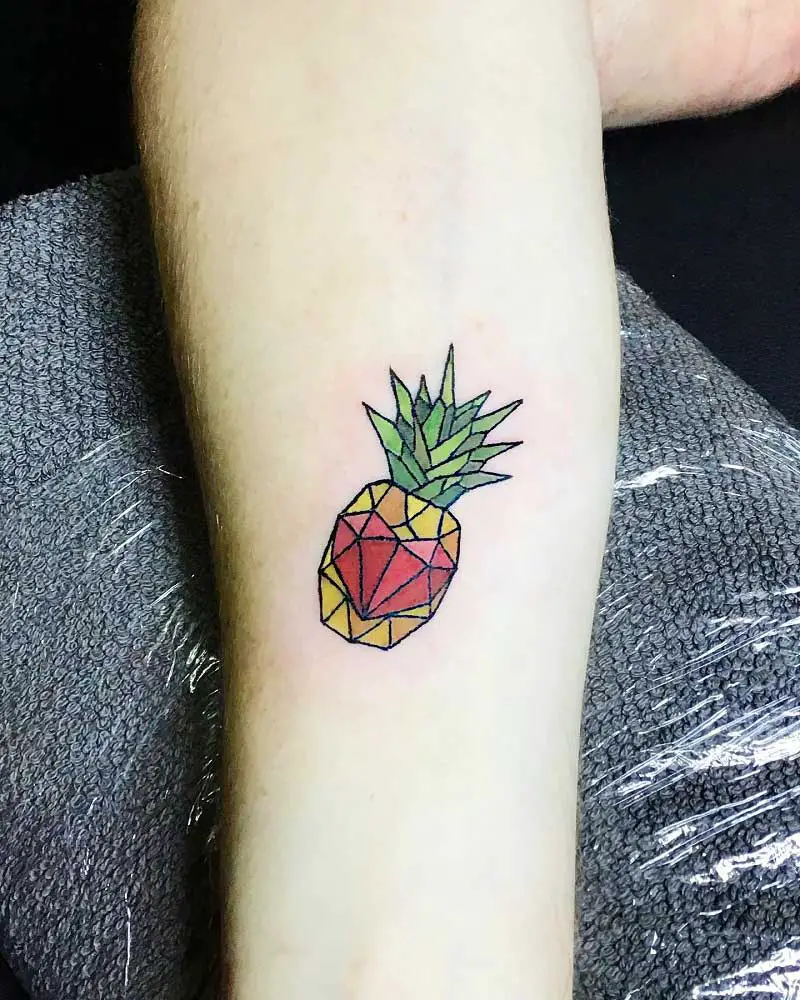 Express your love and adoration through this cute pineapple art. It is the cutest tribute you can pay to someone close to your heart.
26.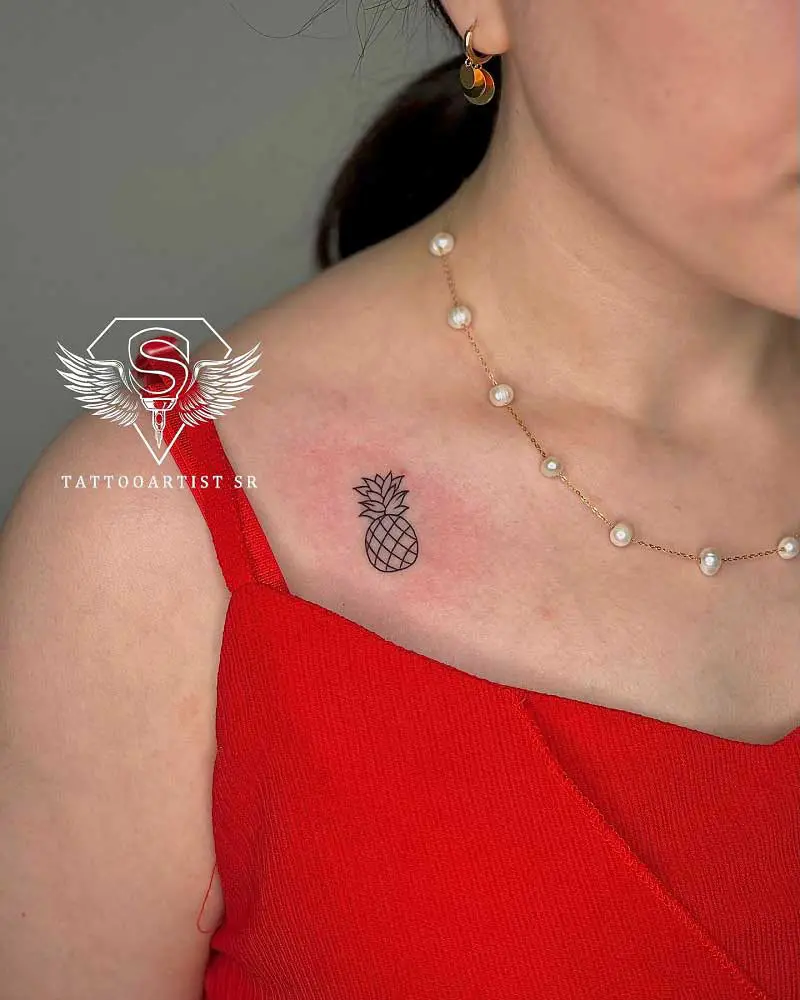 27.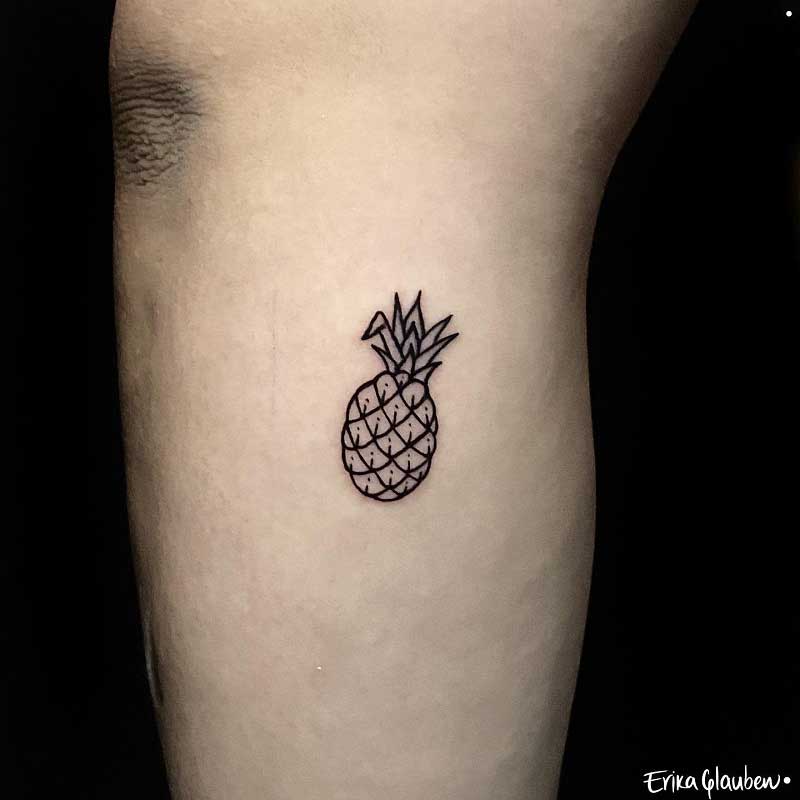 Geometric Pineapple Tattoo
28.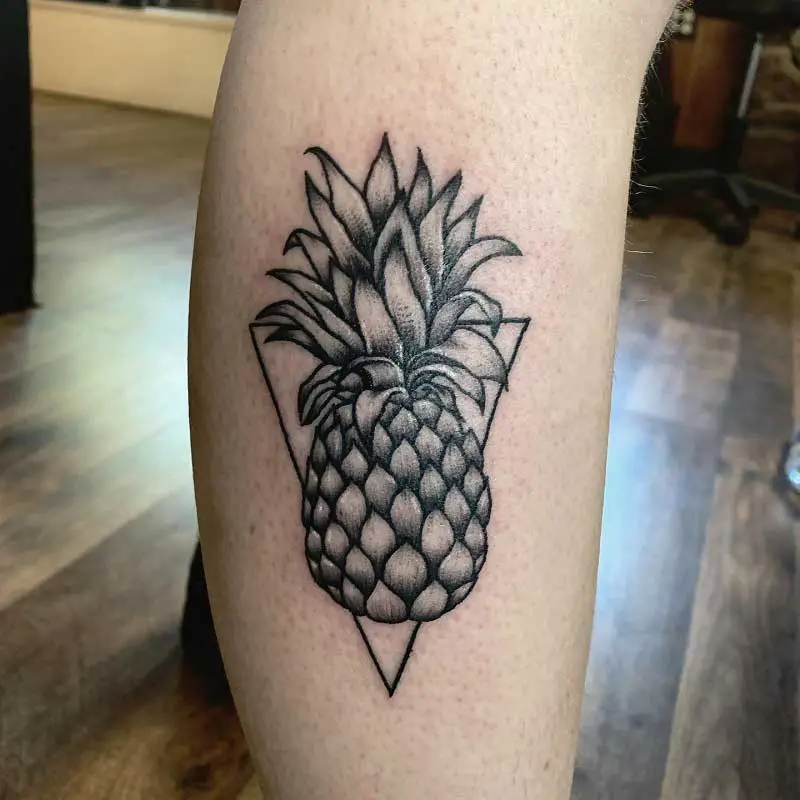 29.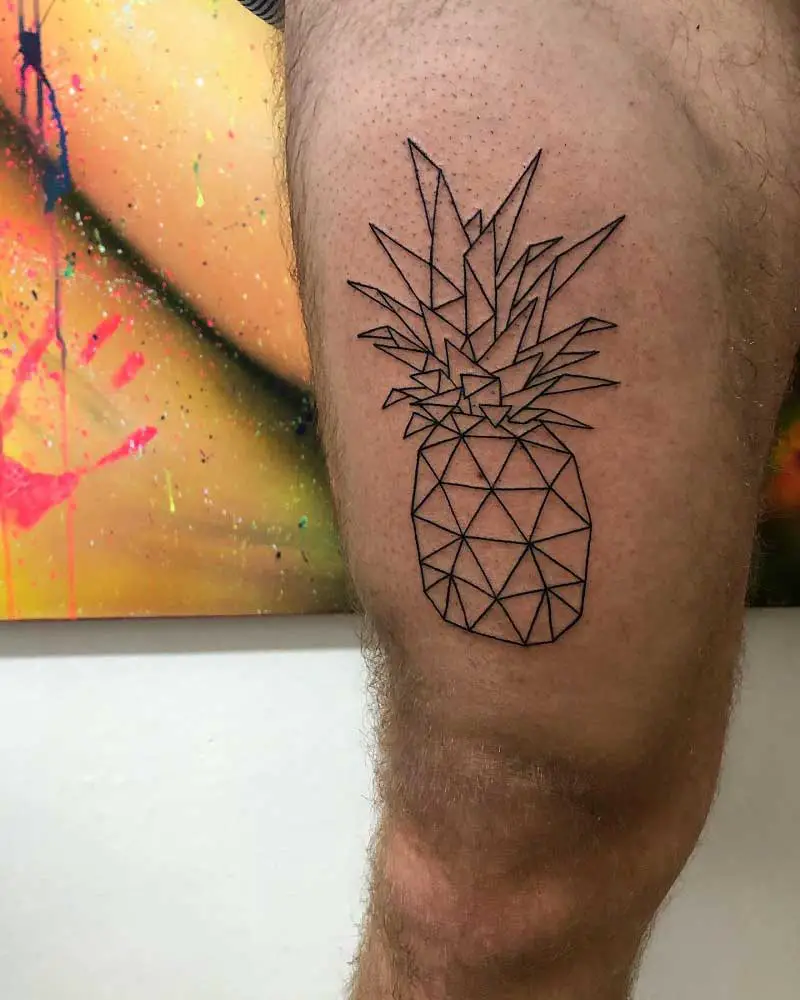 30.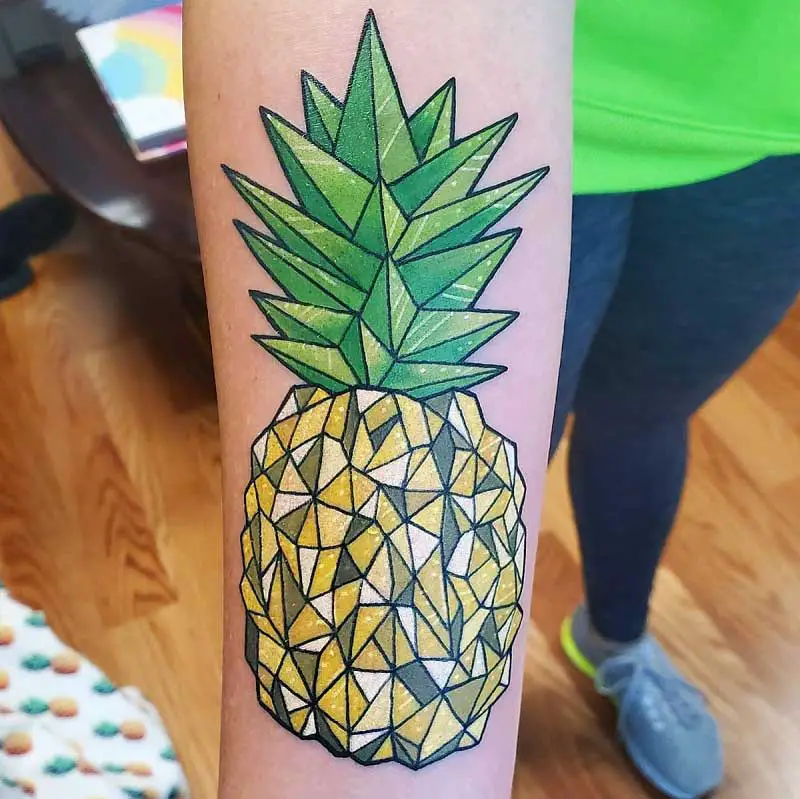 Pineapple Infertility Tattoo
31.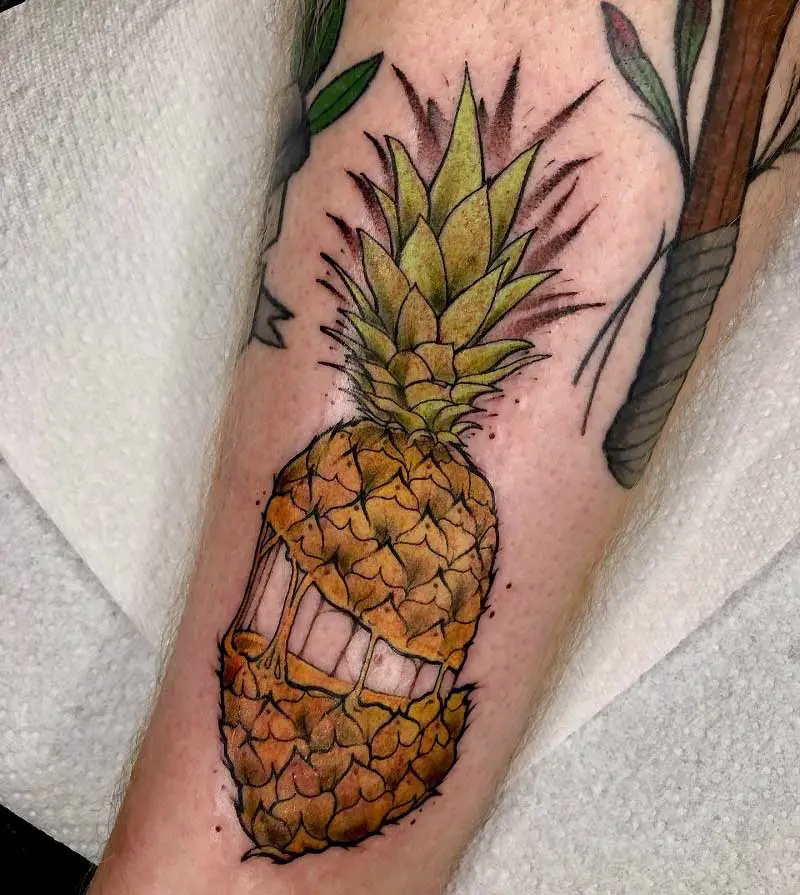 32.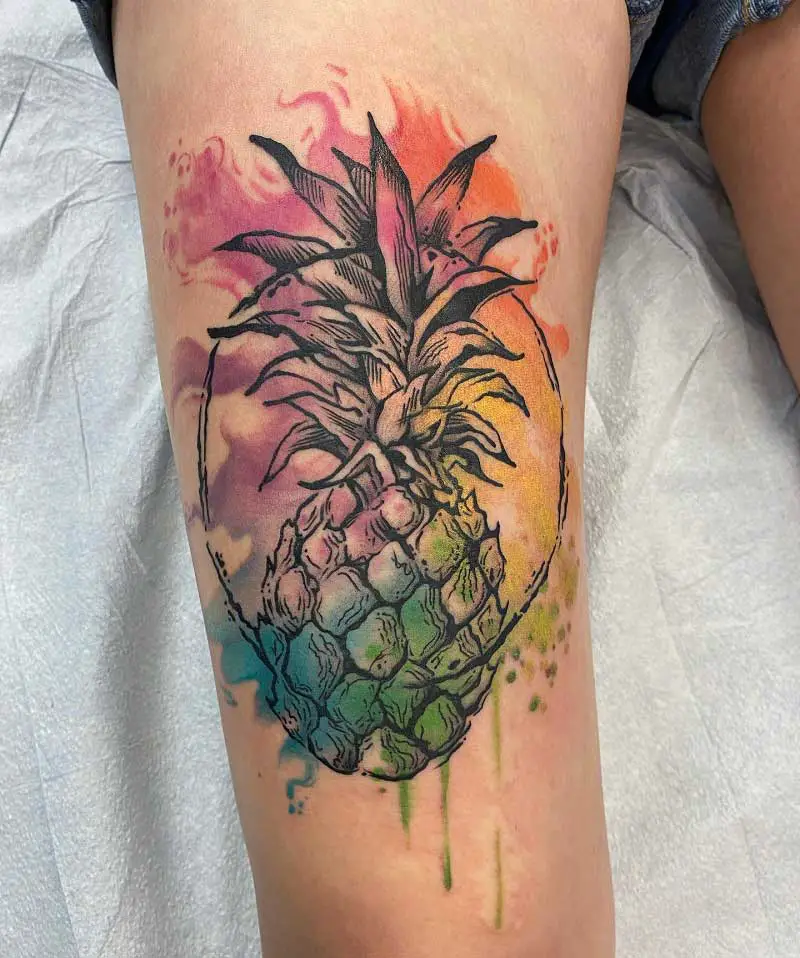 33.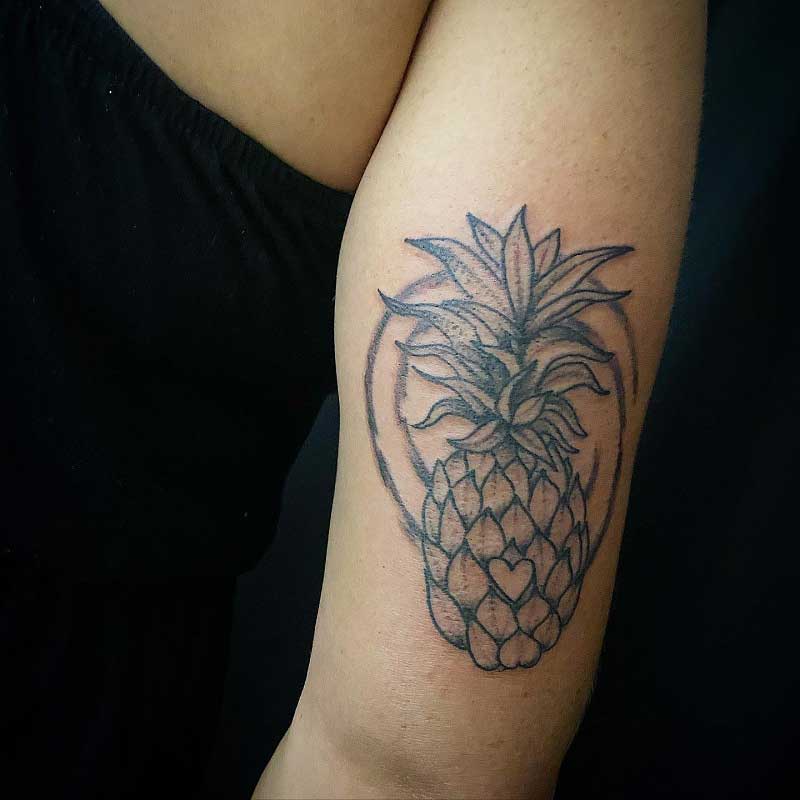 American Traditional Pineapple Tattoo
34.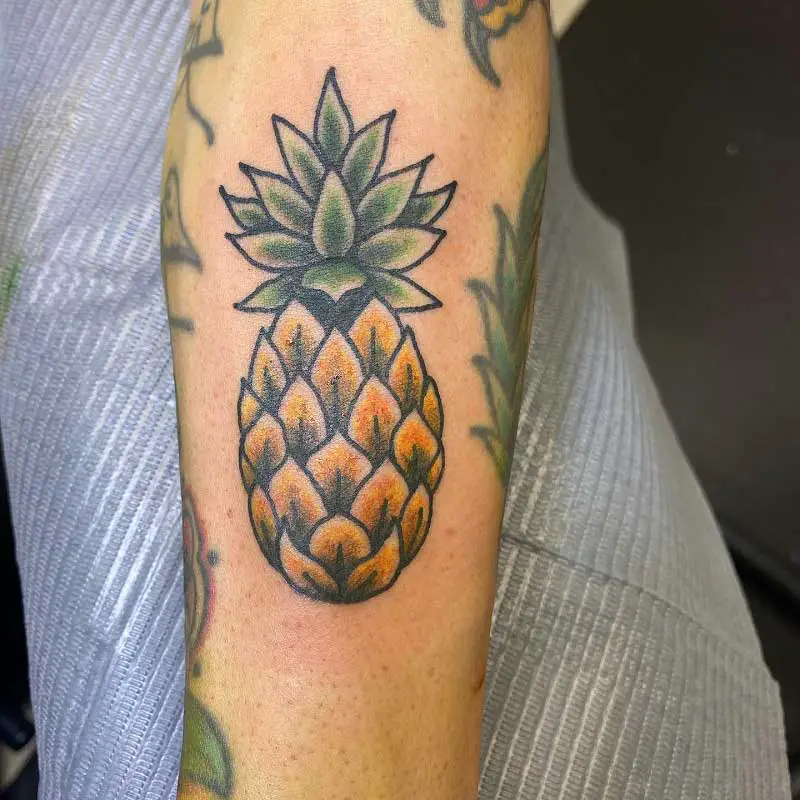 35.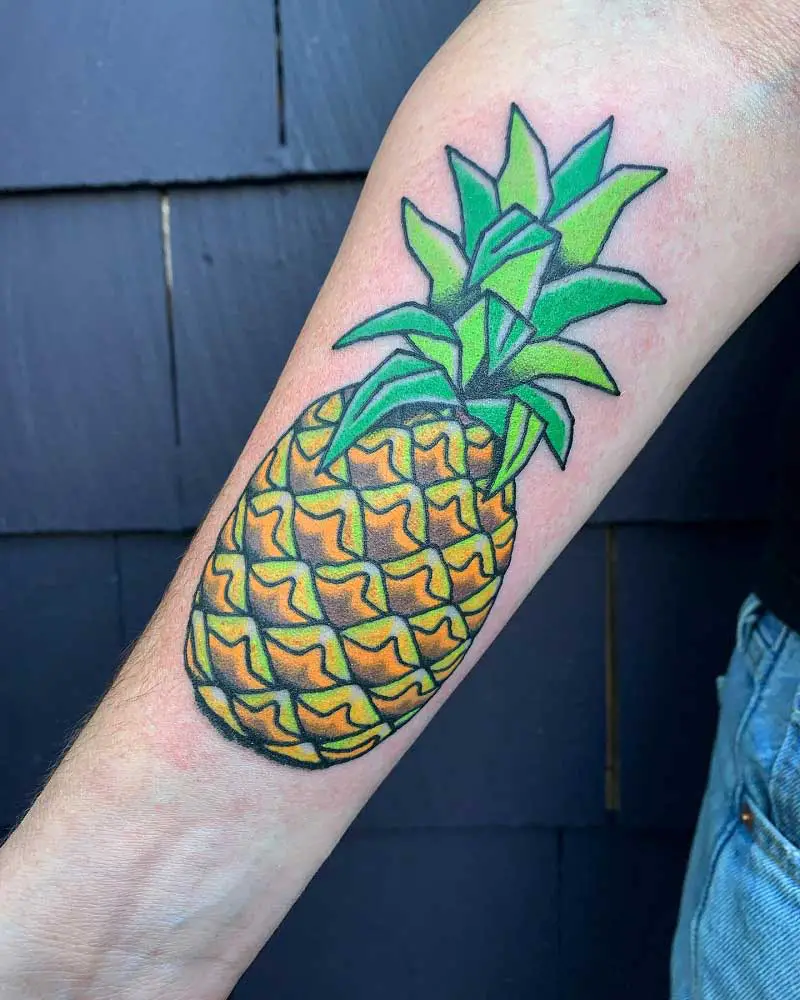 36.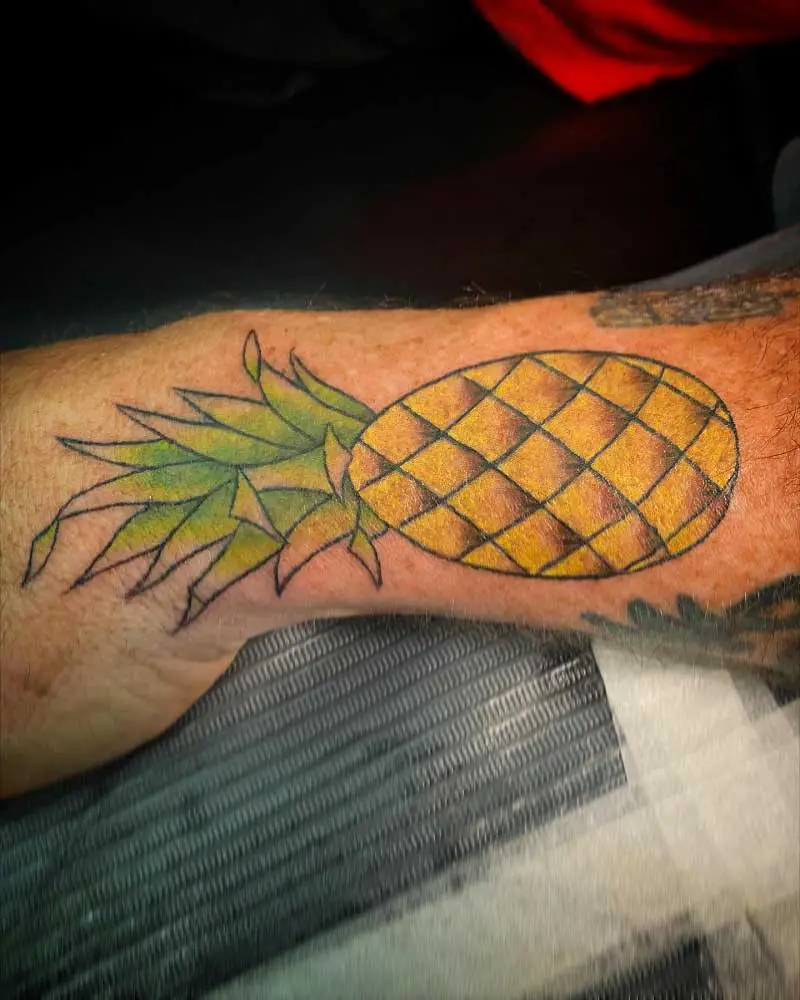 Pineapple Express Tattoo
37.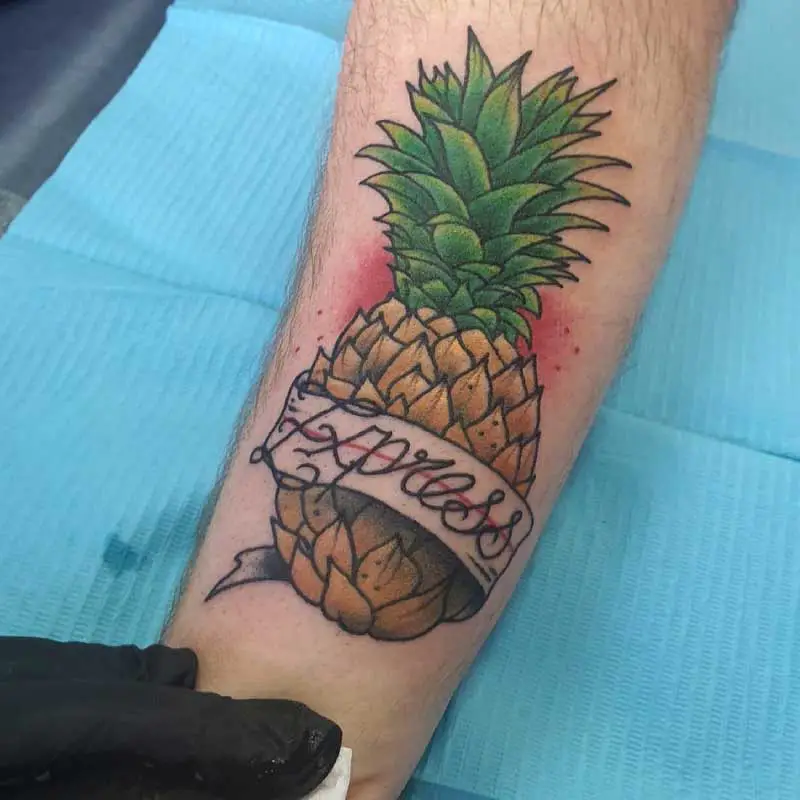 38.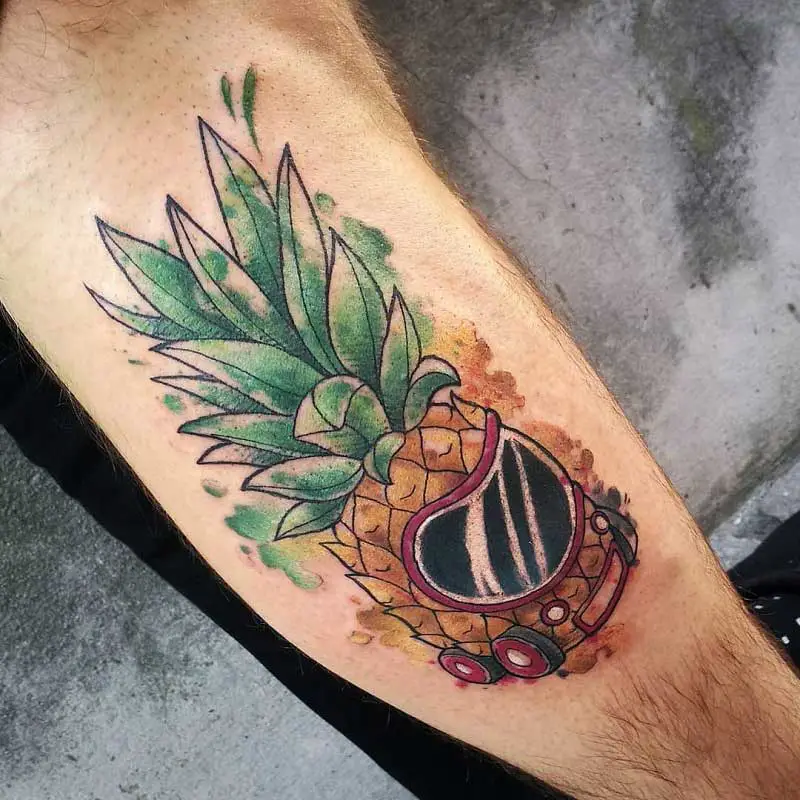 39.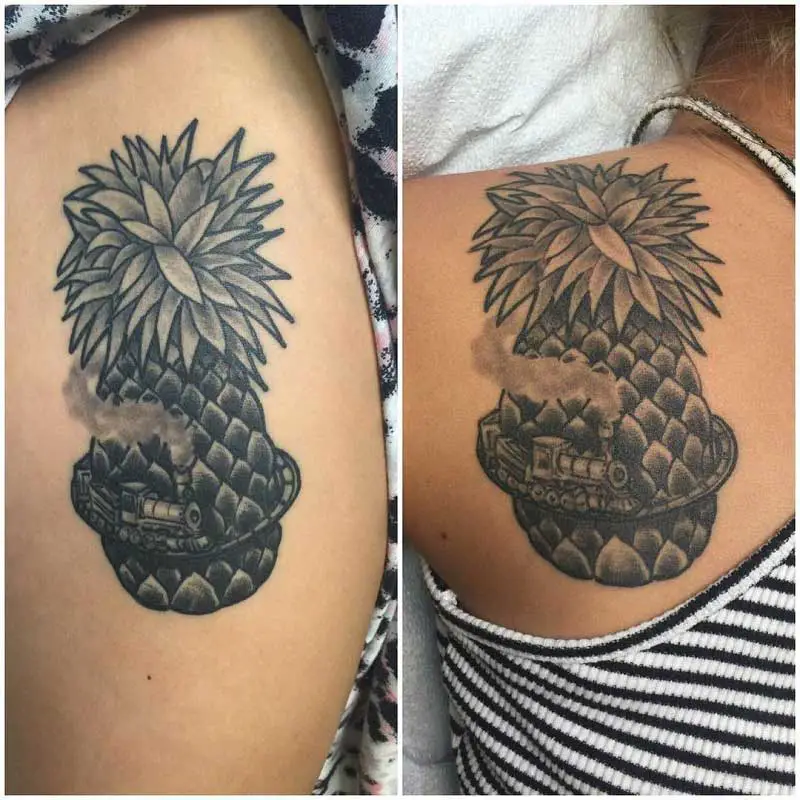 Hawaiian Tribal Pineapple Tattoo
40.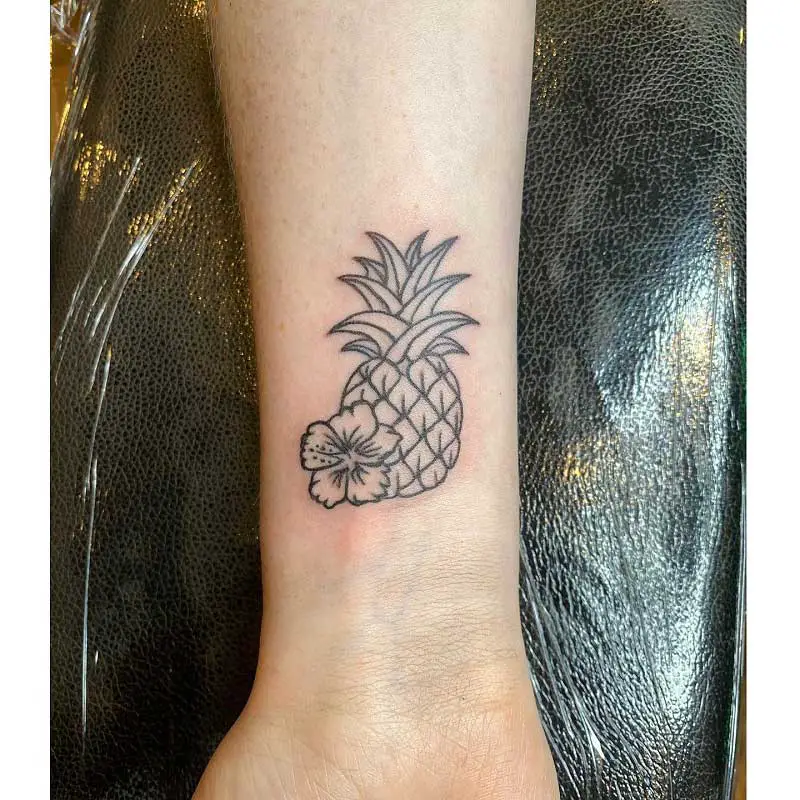 41.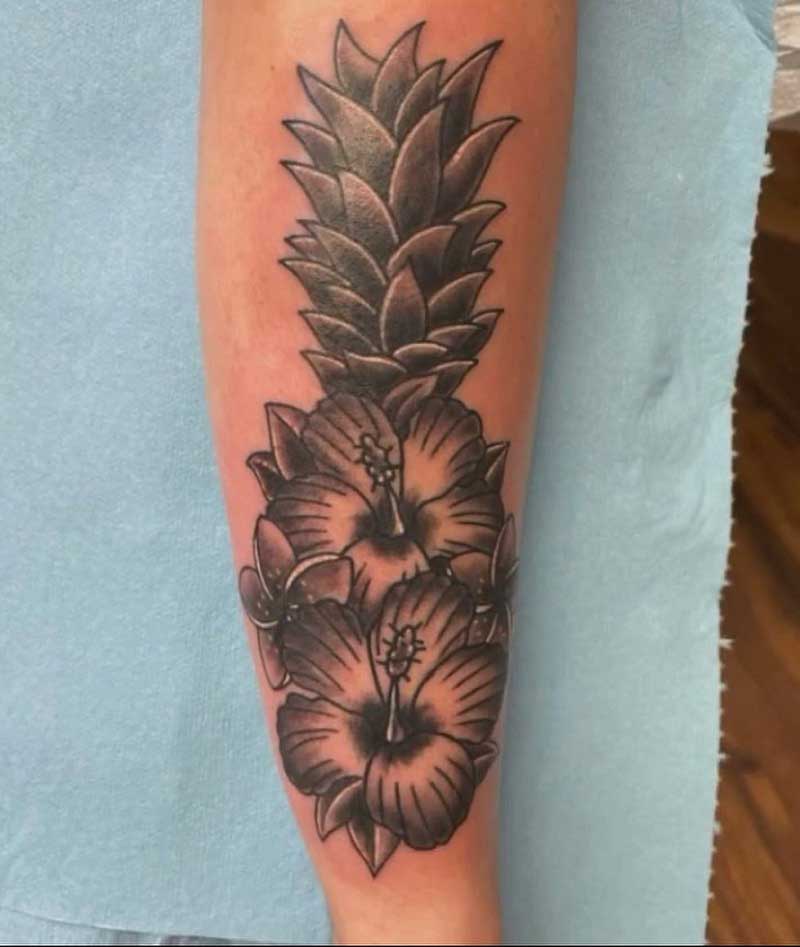 42.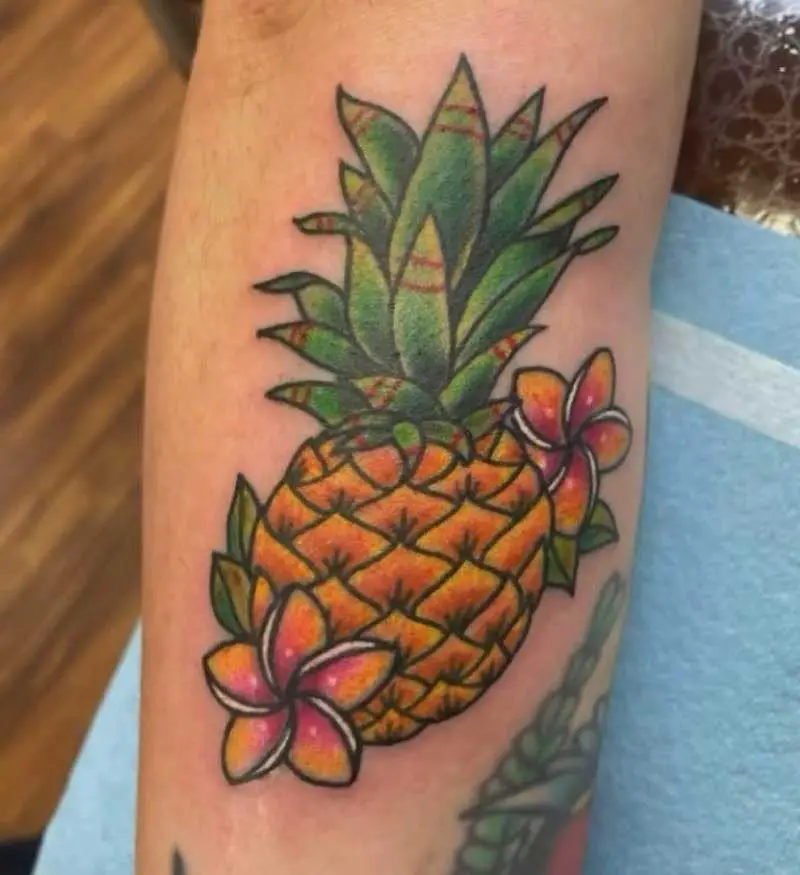 Pineapple Flash Tattoo
43.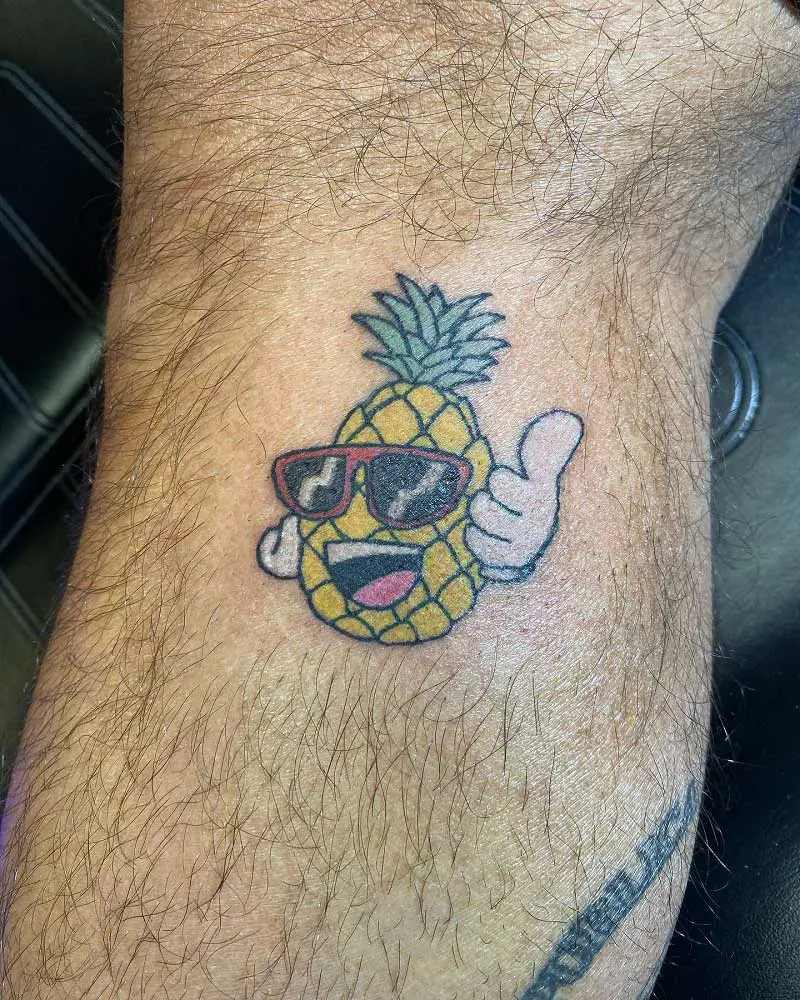 44.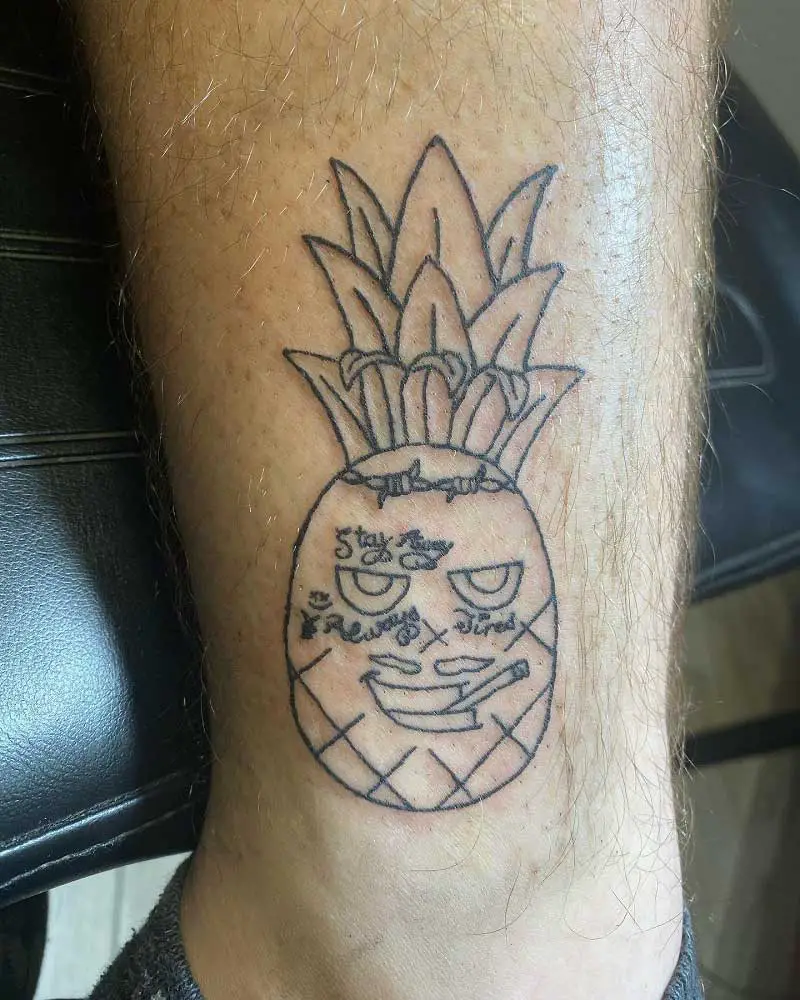 45.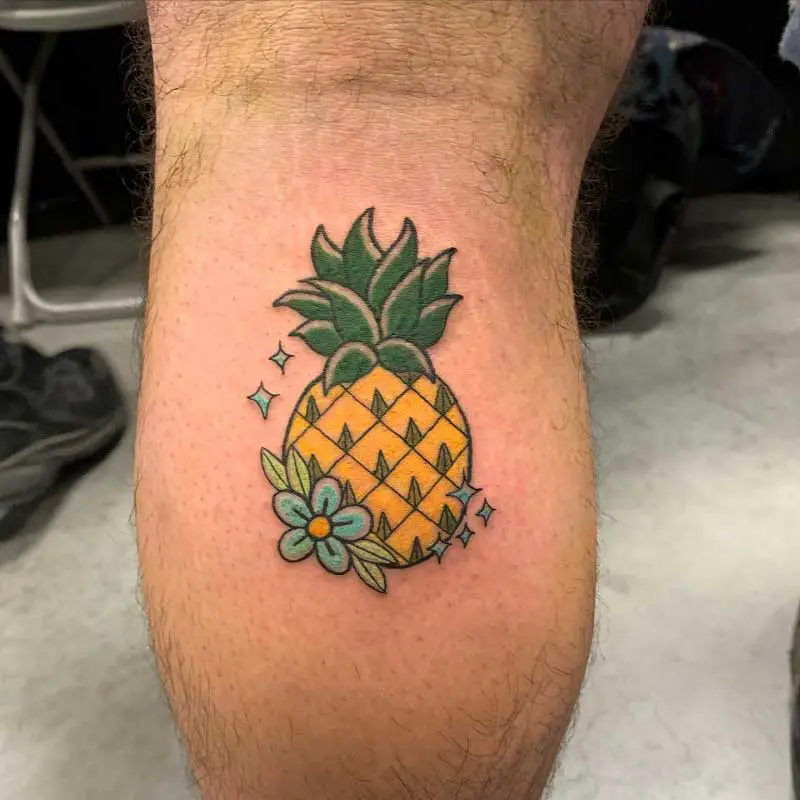 Pineapple Palm Tree Tattoo
46.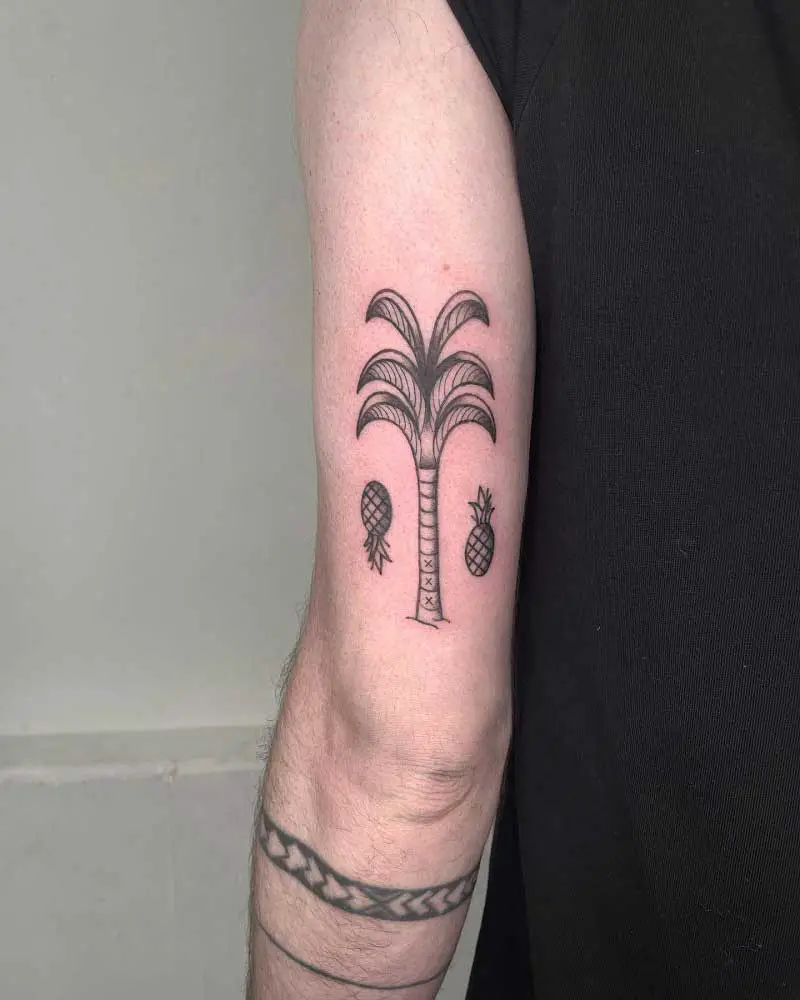 47.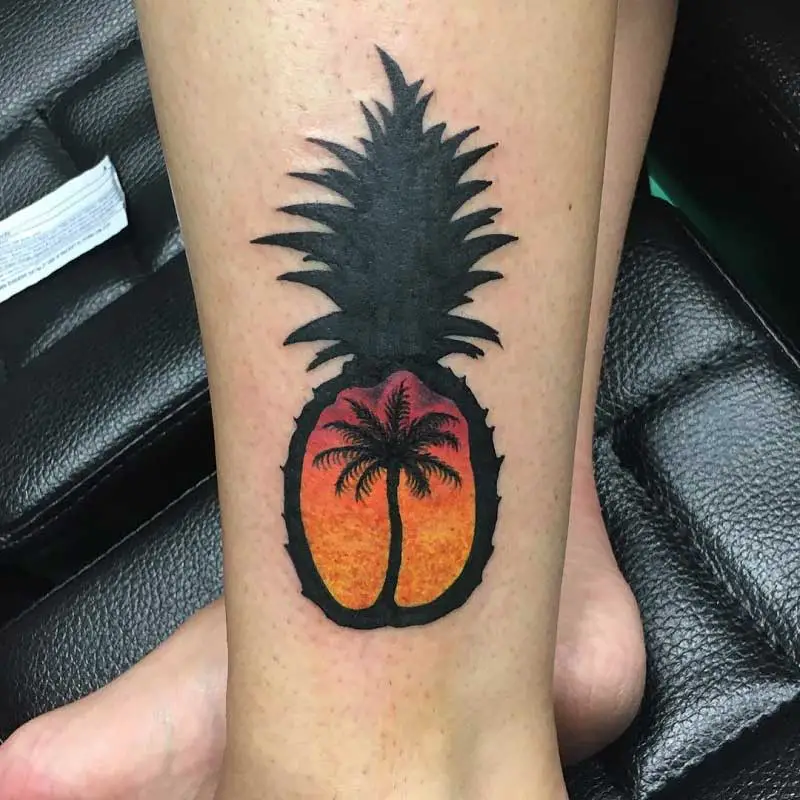 48.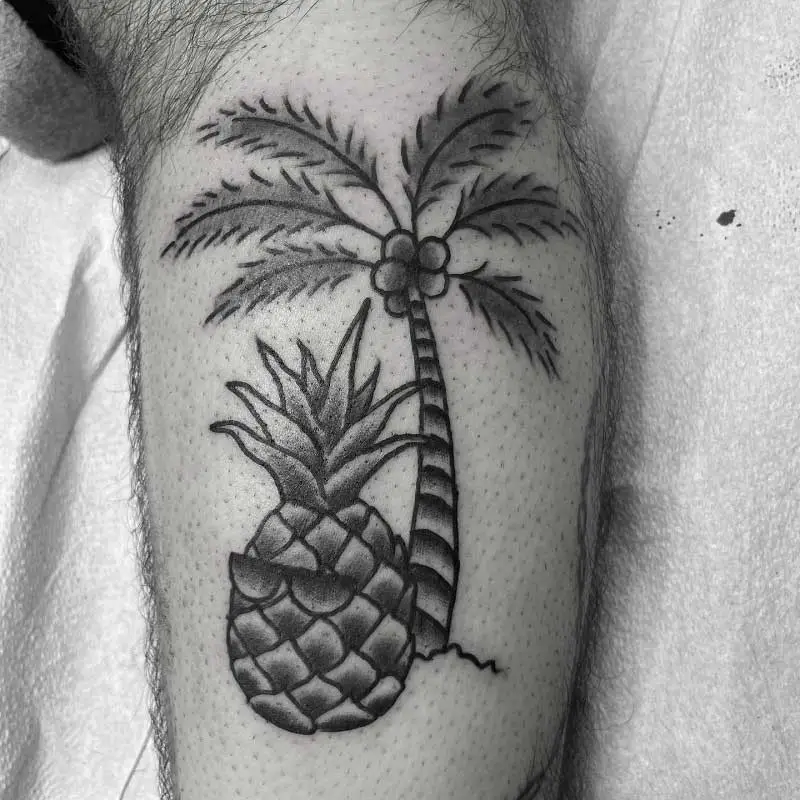 Pineapple Crown Tattoo
49.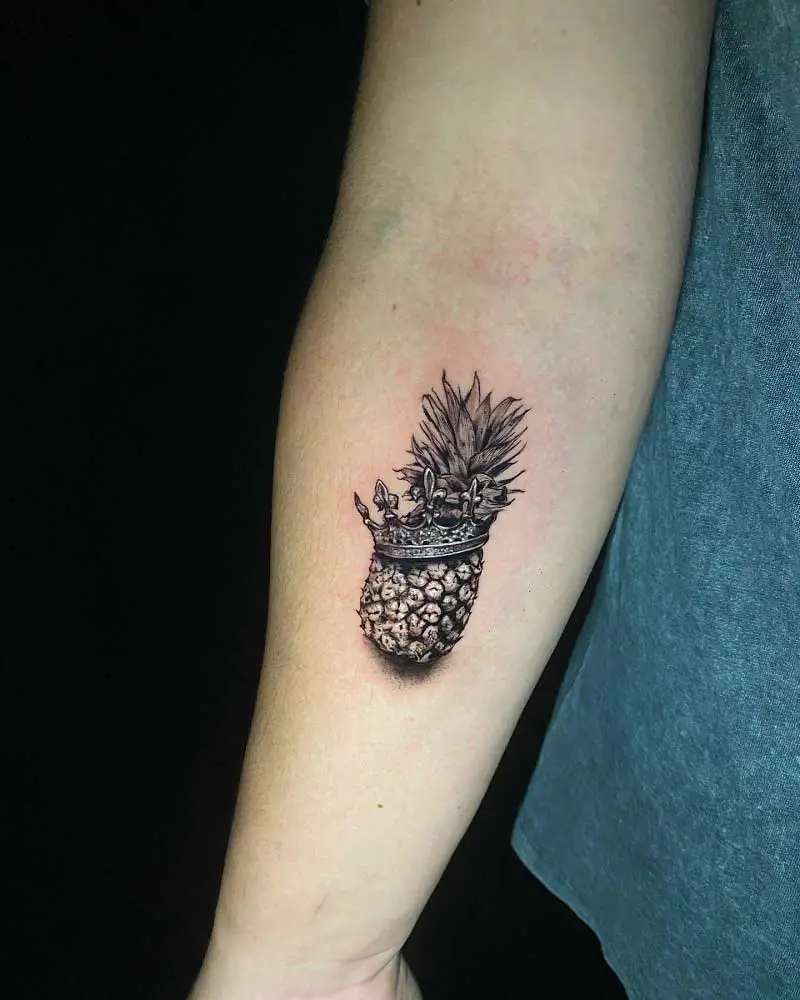 50.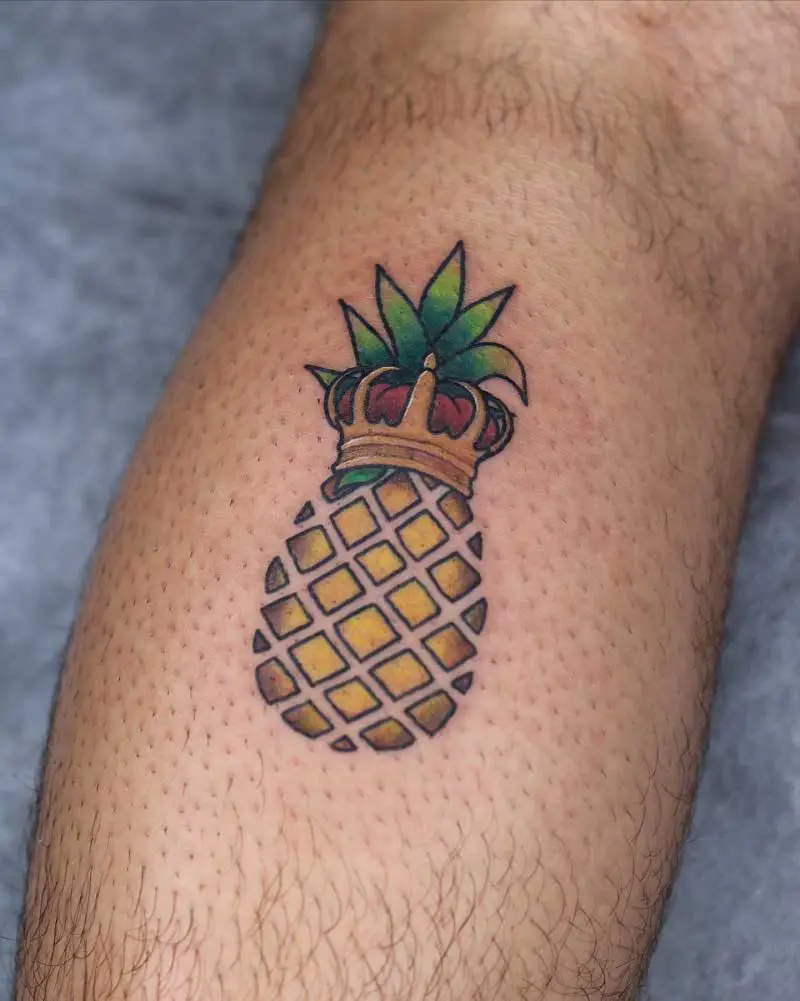 51.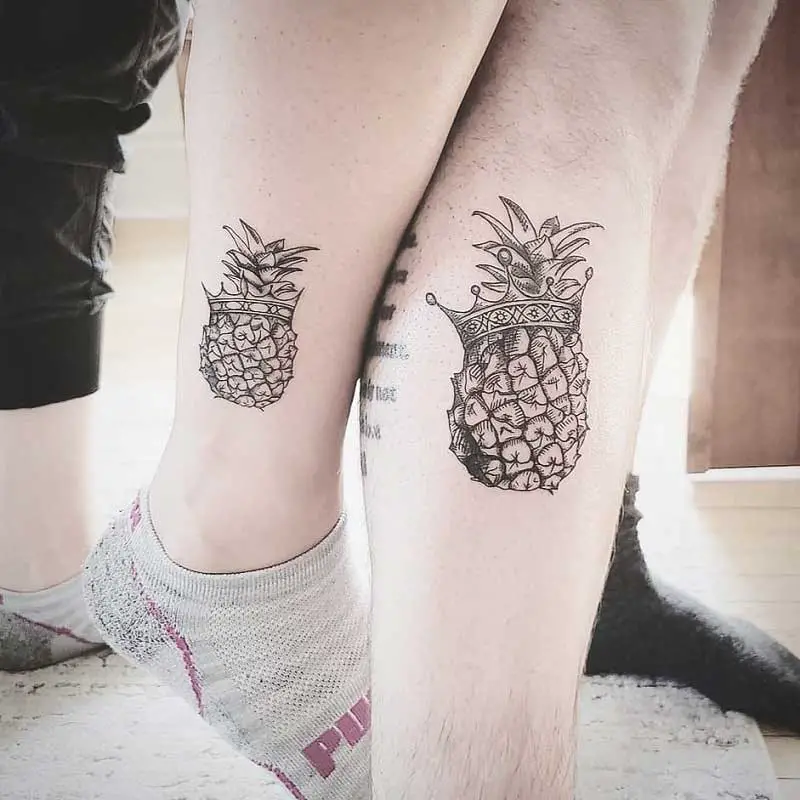 Pineapple Face Tattoo
52.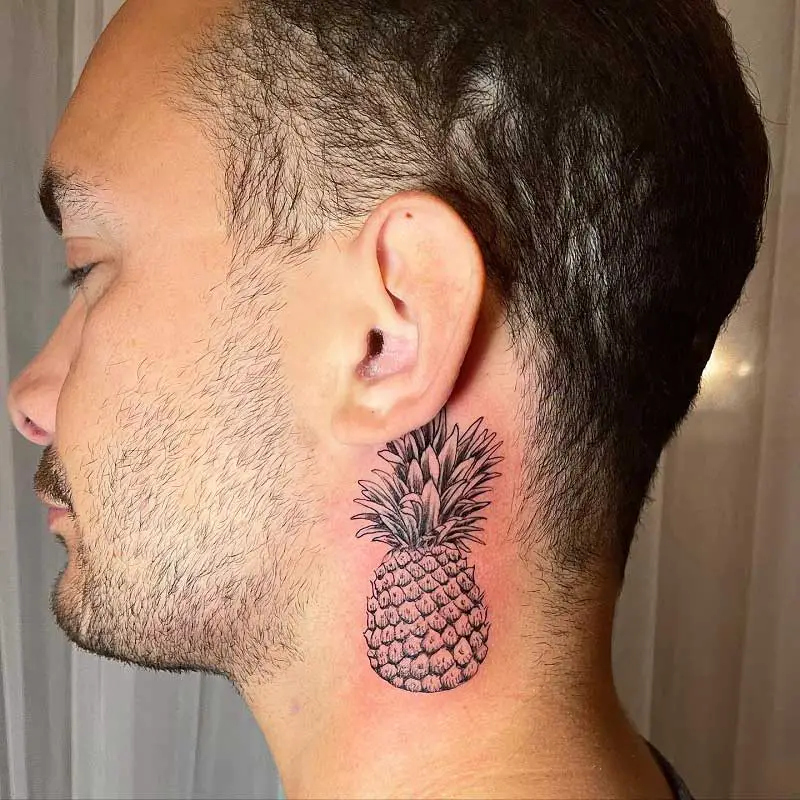 53.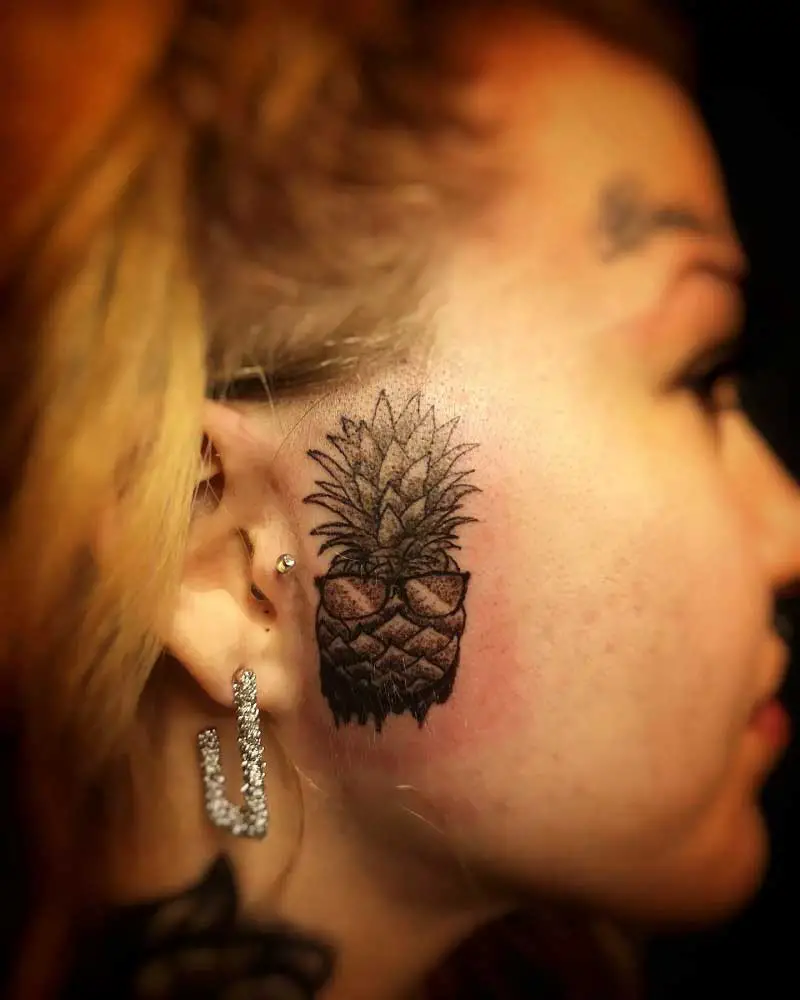 Pineapple Hand Grenade Tattoo
54.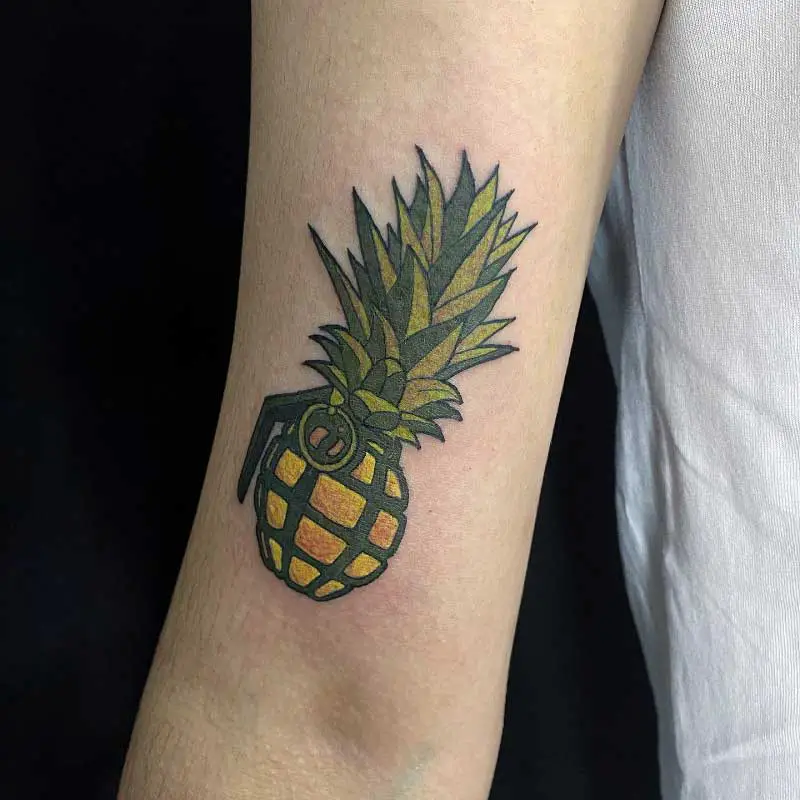 55.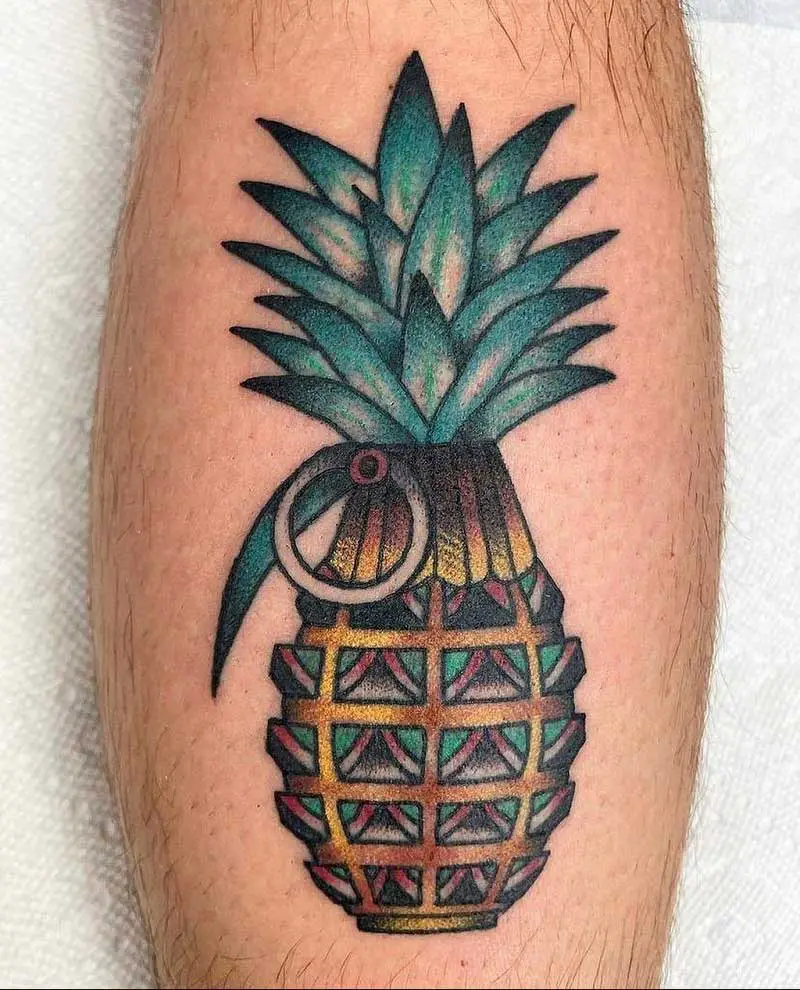 56.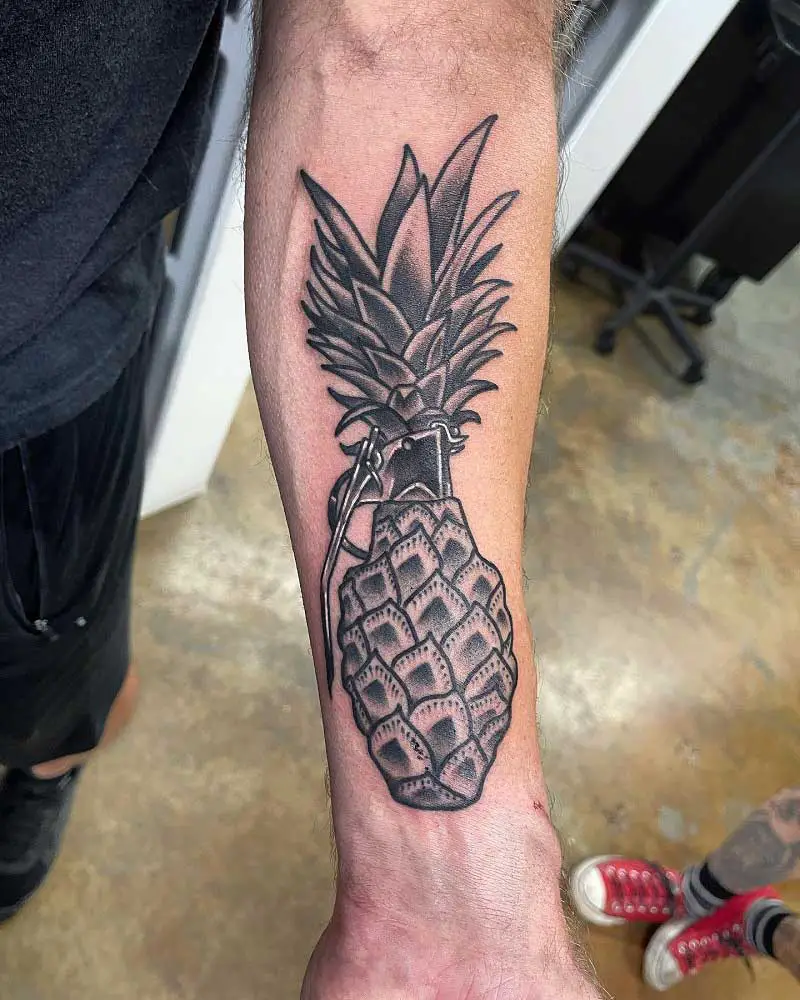 Pineapple Henna Tattoo
57.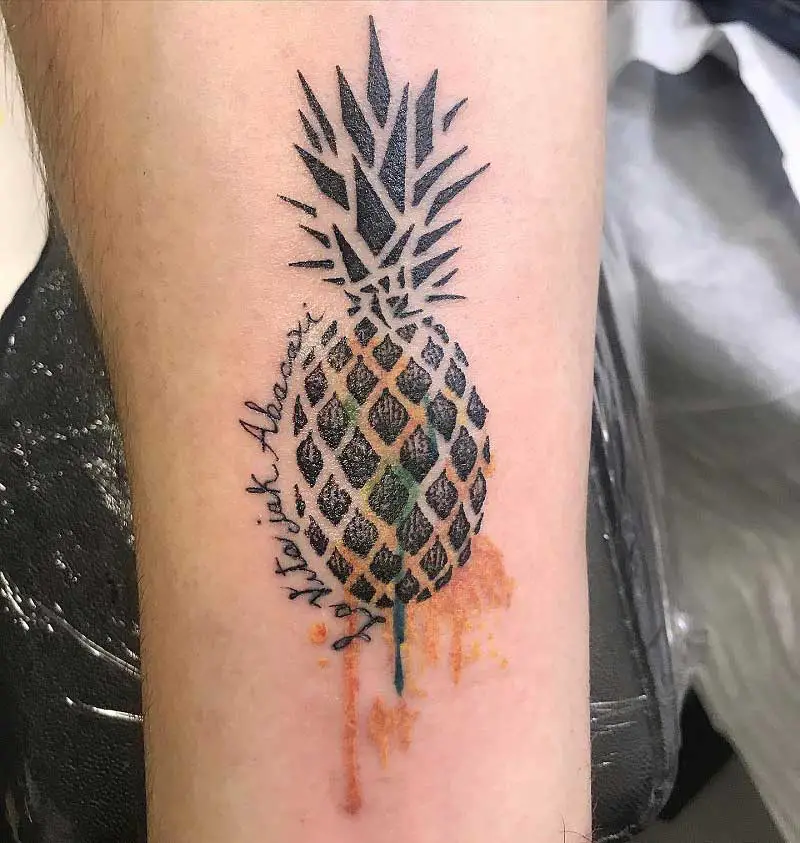 58.
59.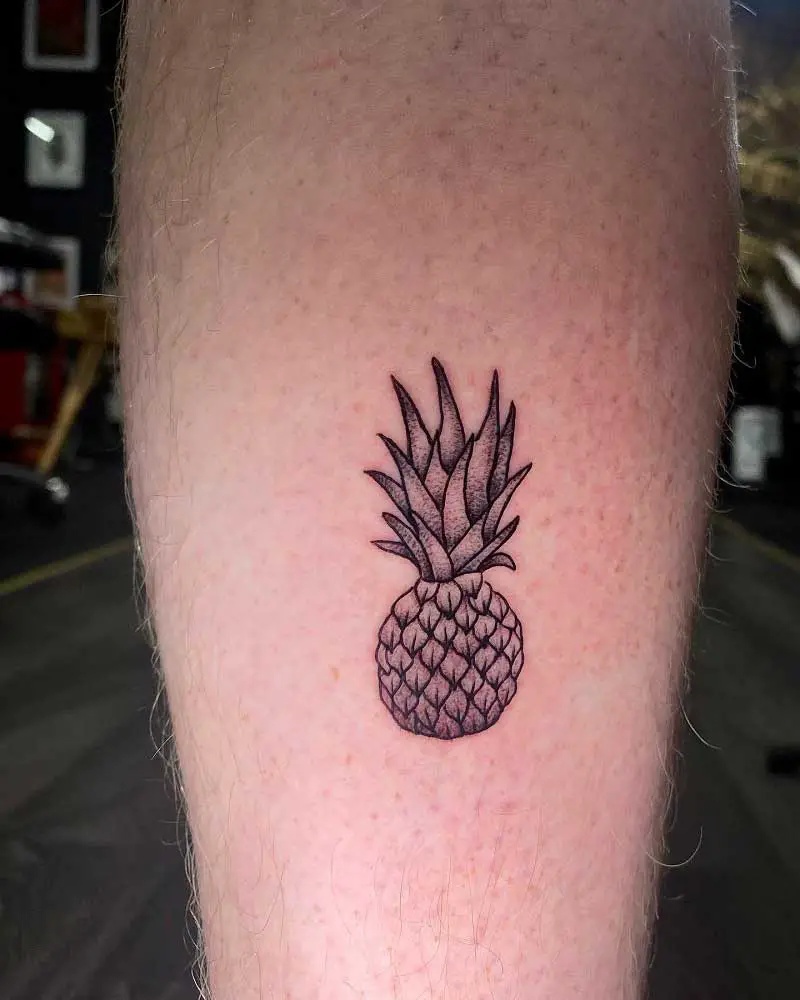 Pineapple Mandala Tattoo
60.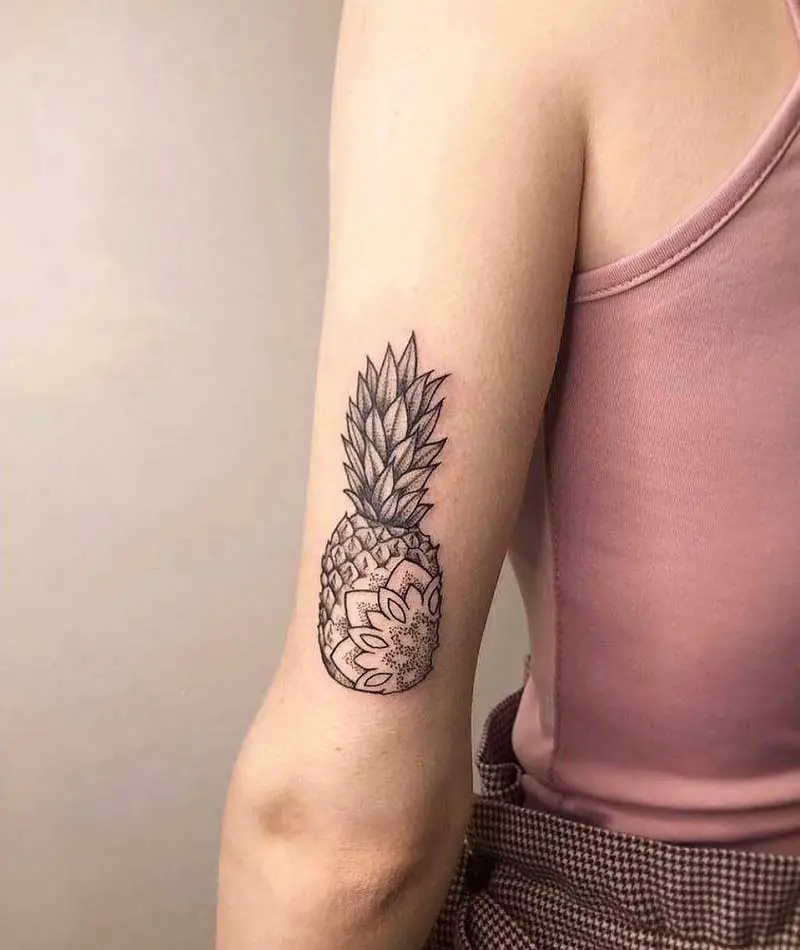 61.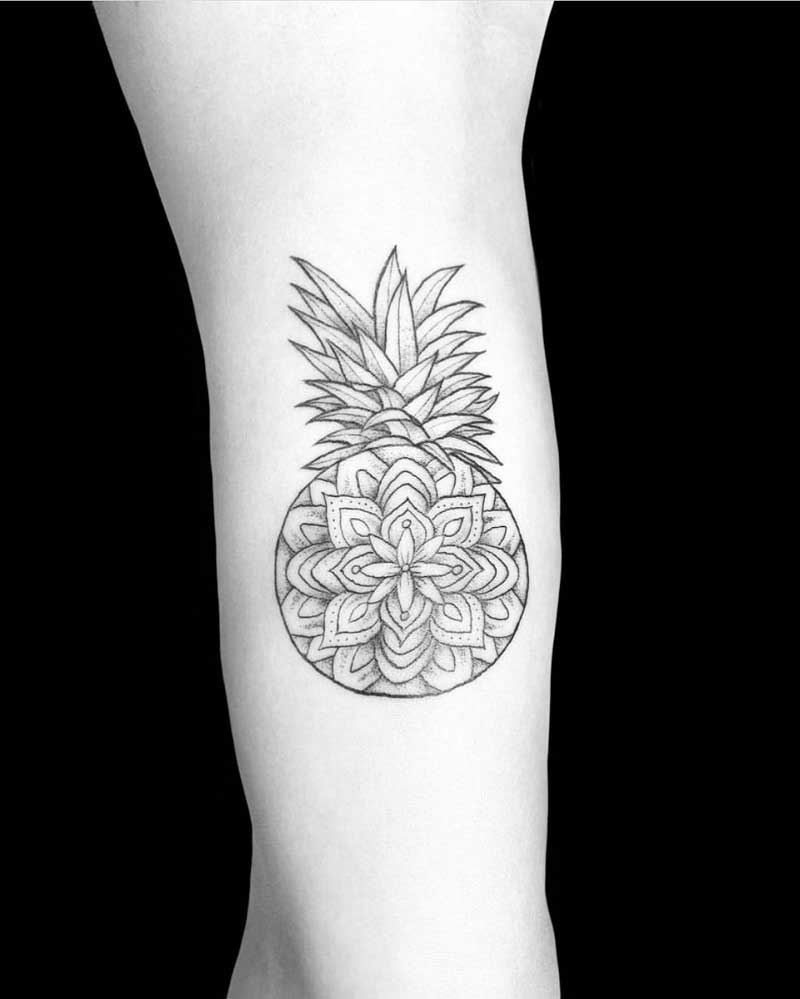 62.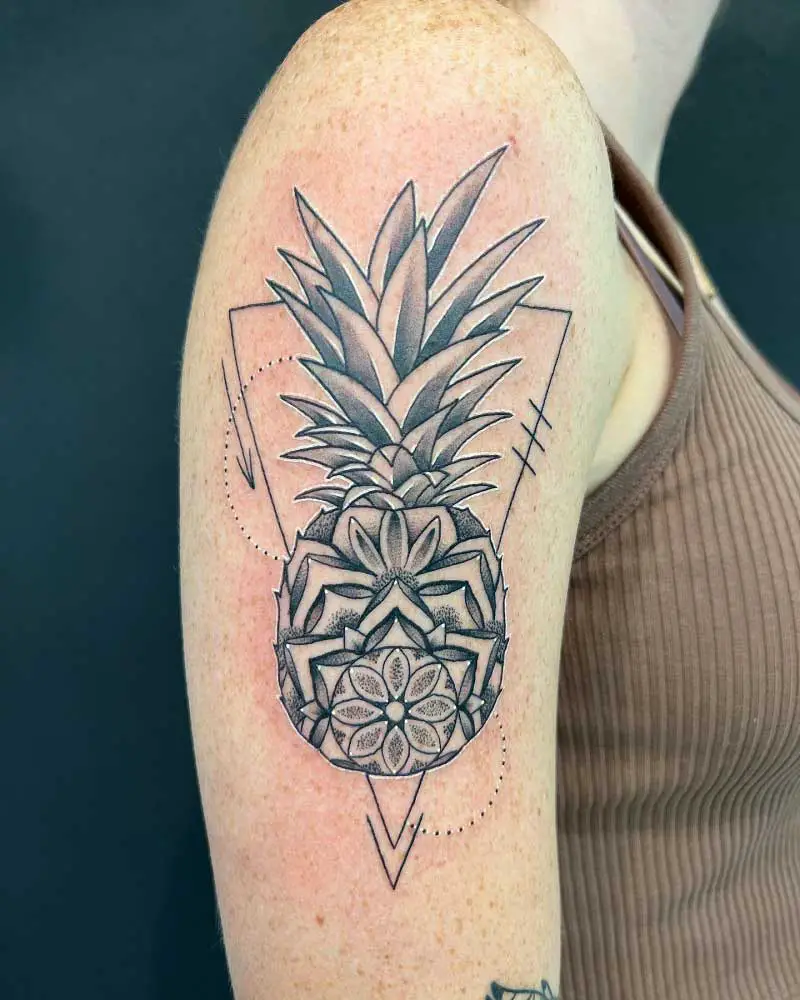 Pineapple Sleeve Tattoo
63.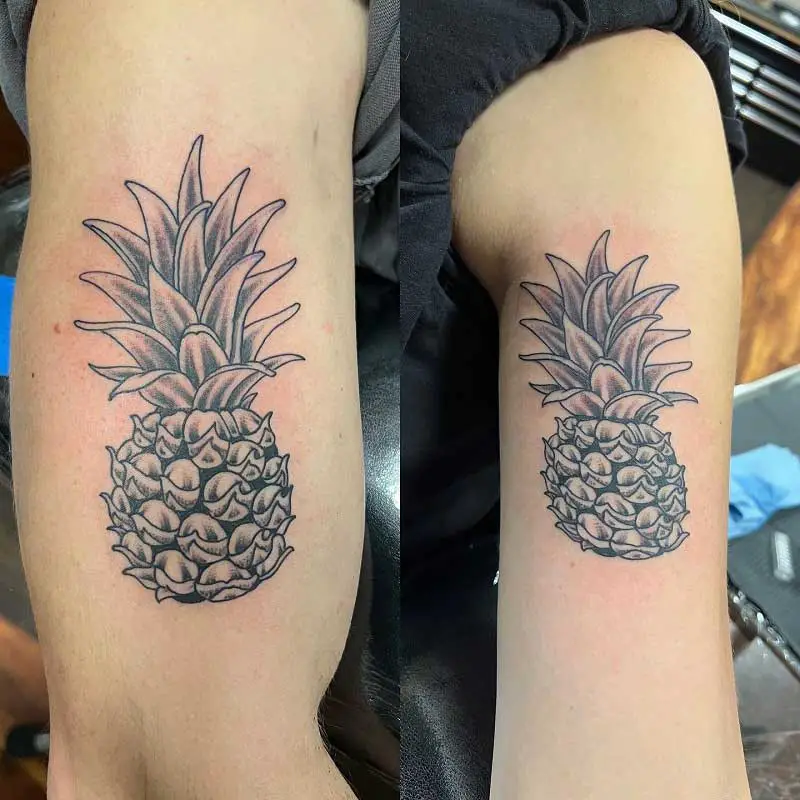 64.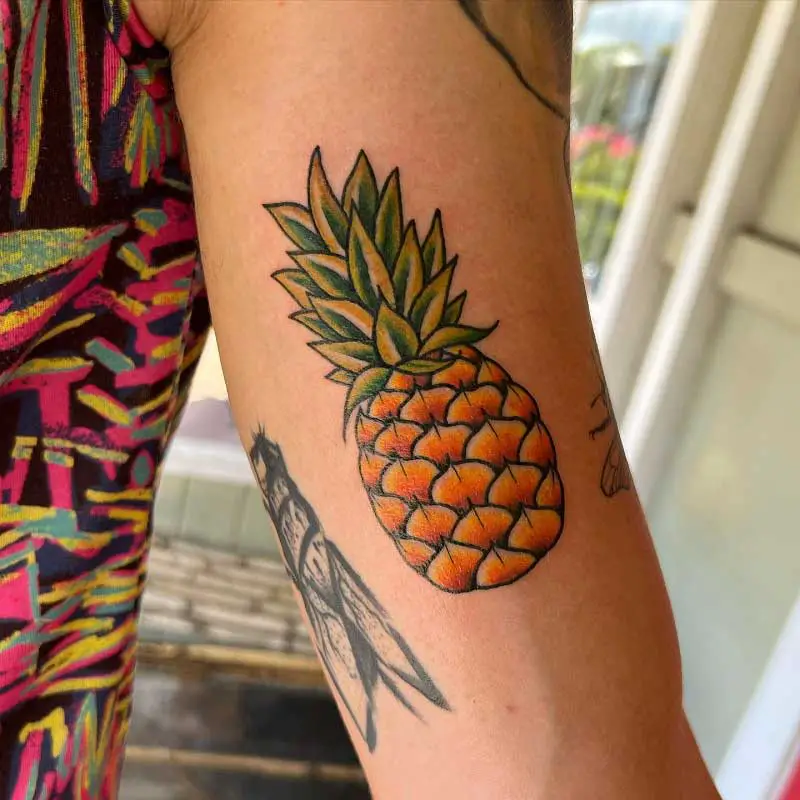 65.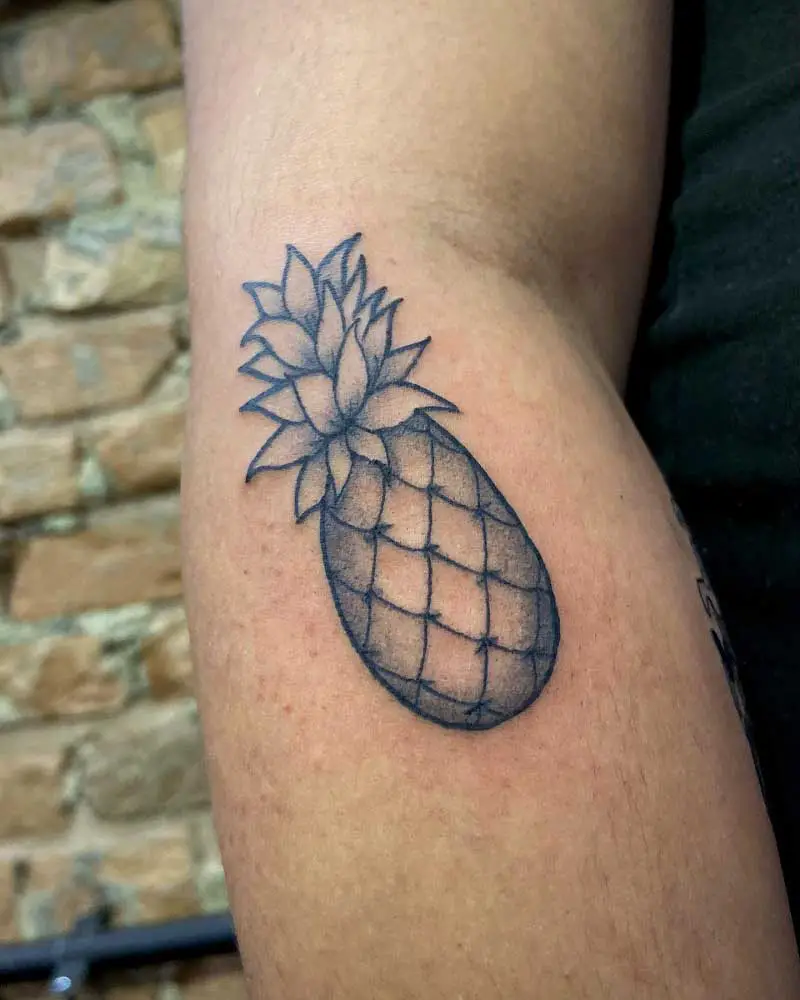 Pineapple Wearing Sunglasses Tattoo
66.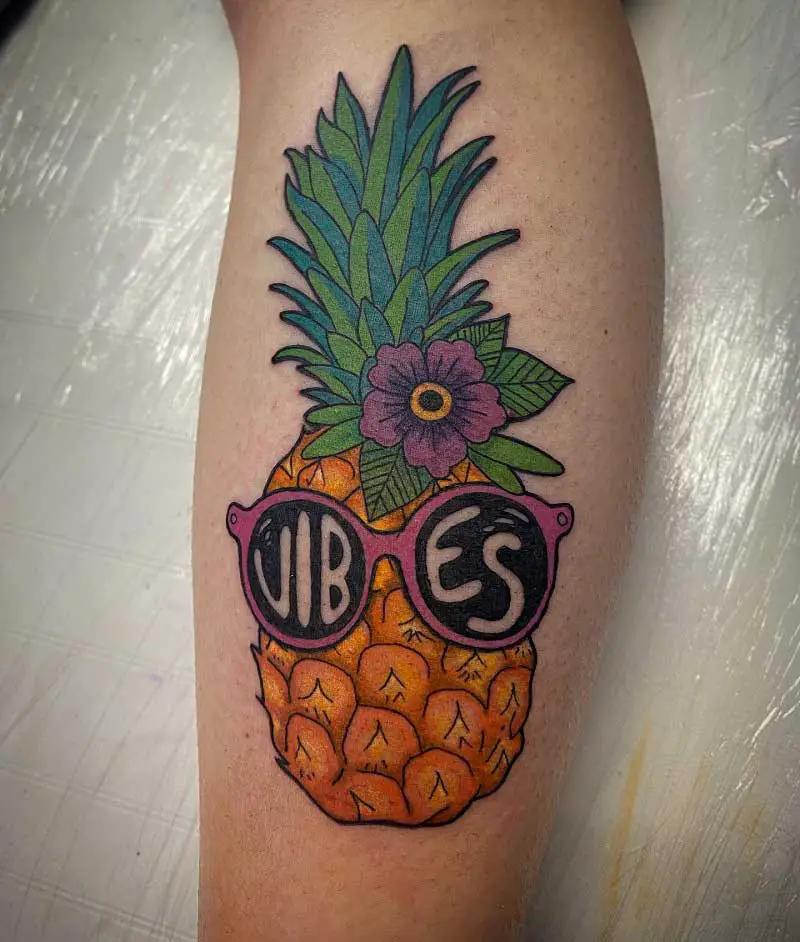 67.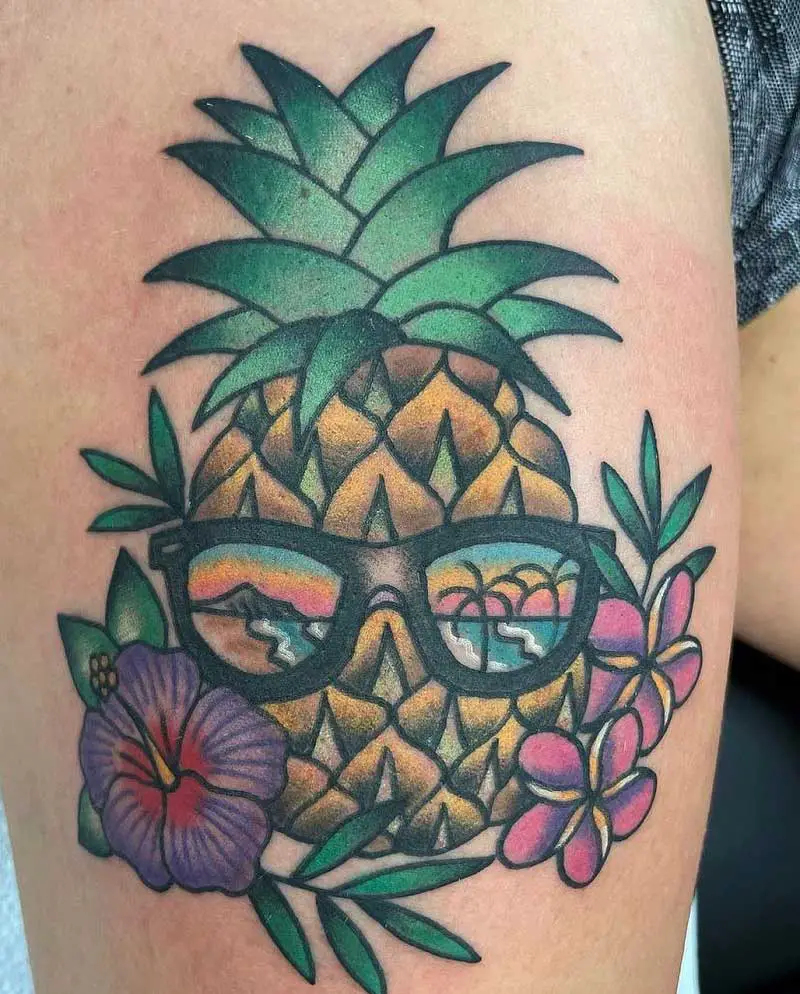 68.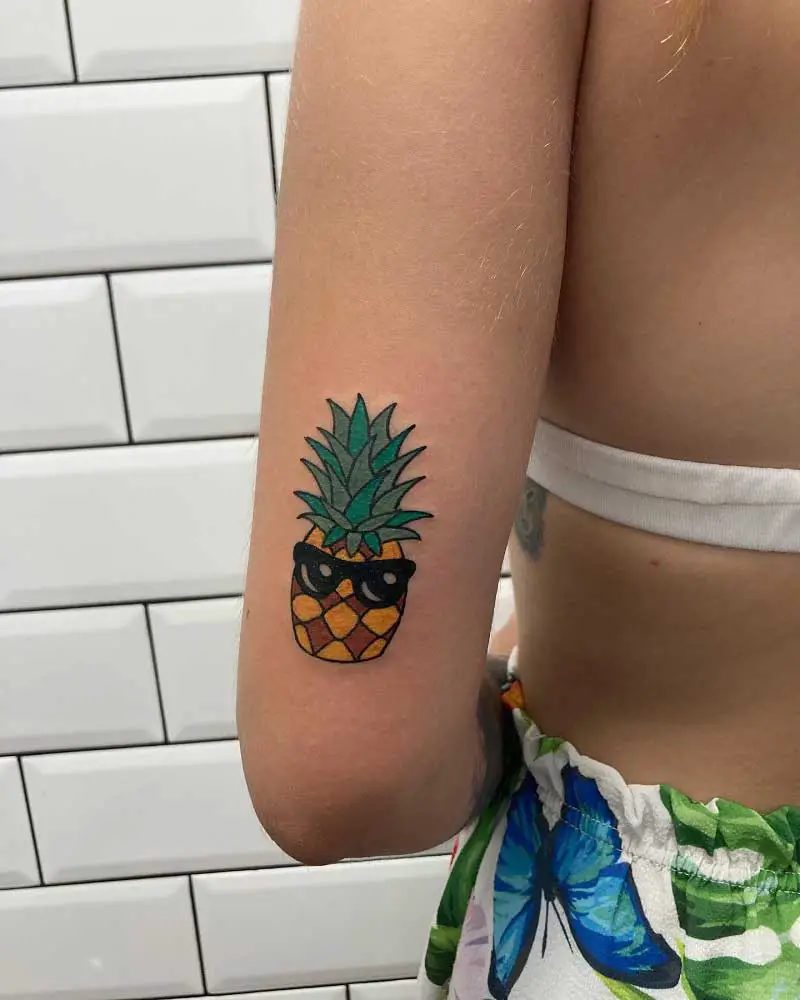 Pineapple Wrist Tattoo
69.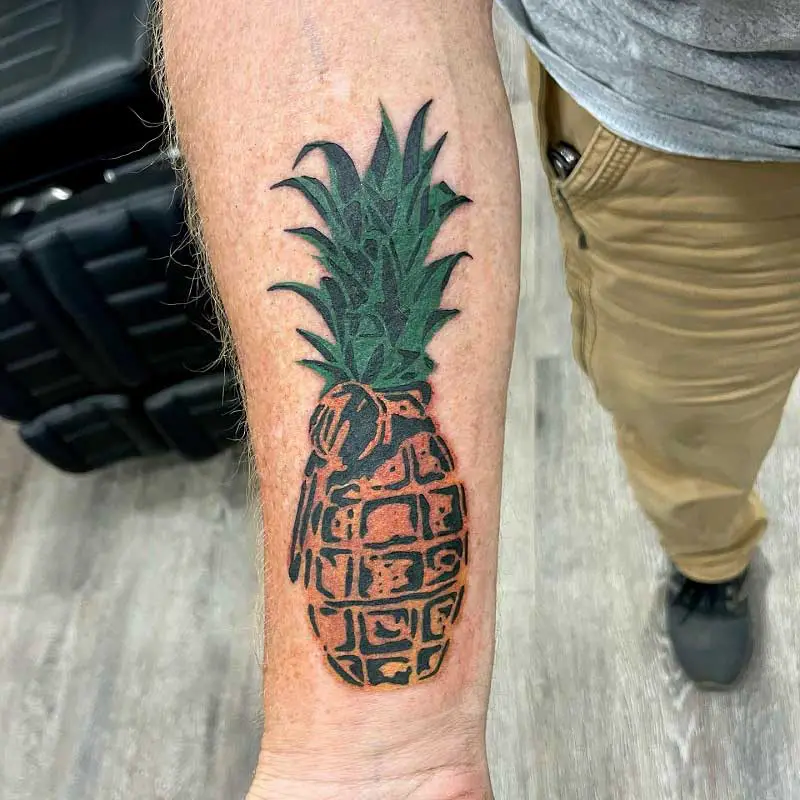 70.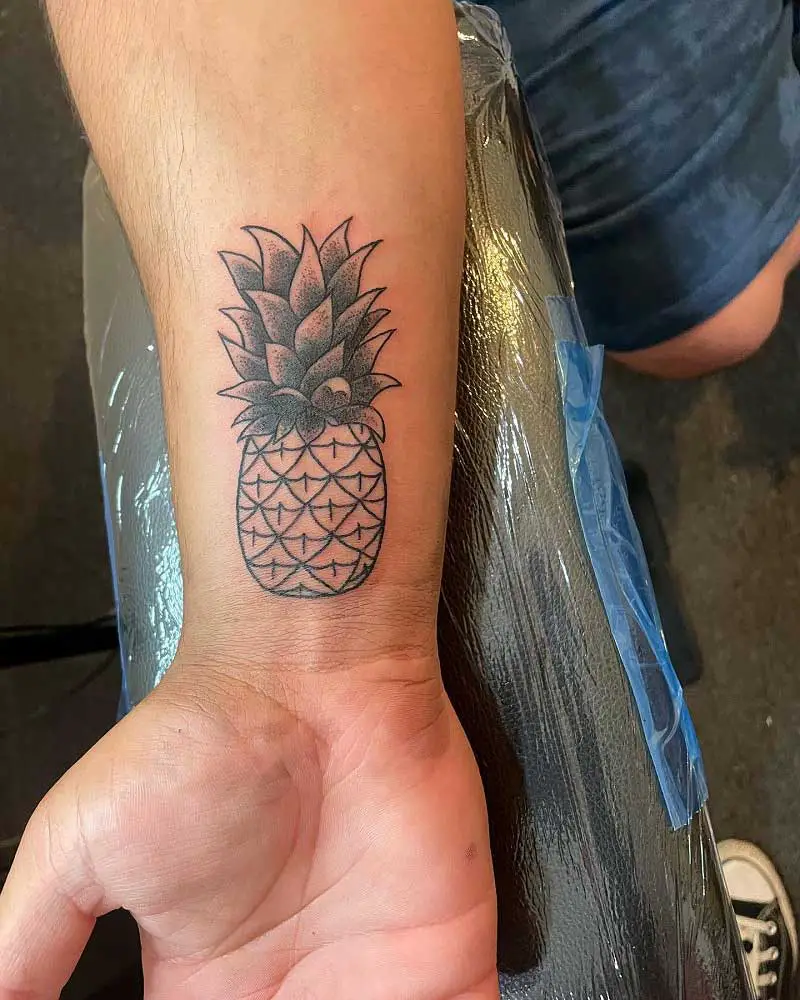 71.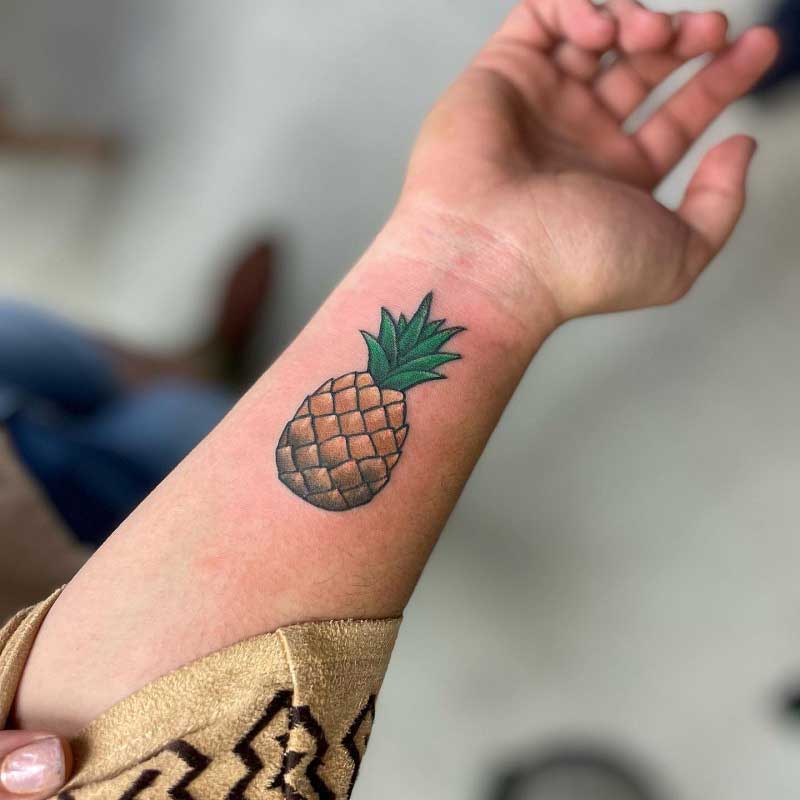 Polynesian Pineapple Tattoo
72.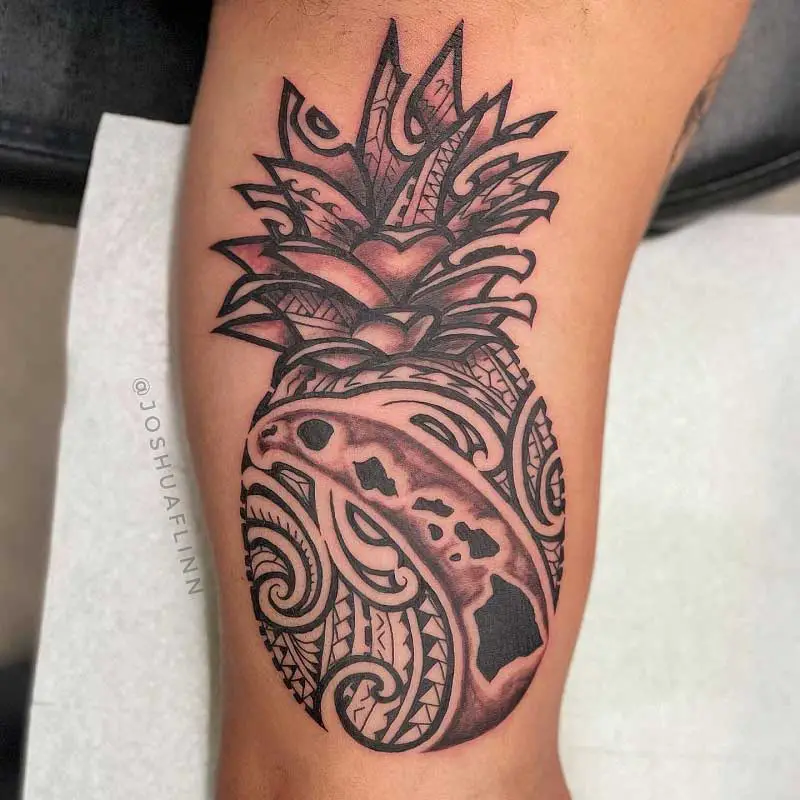 73.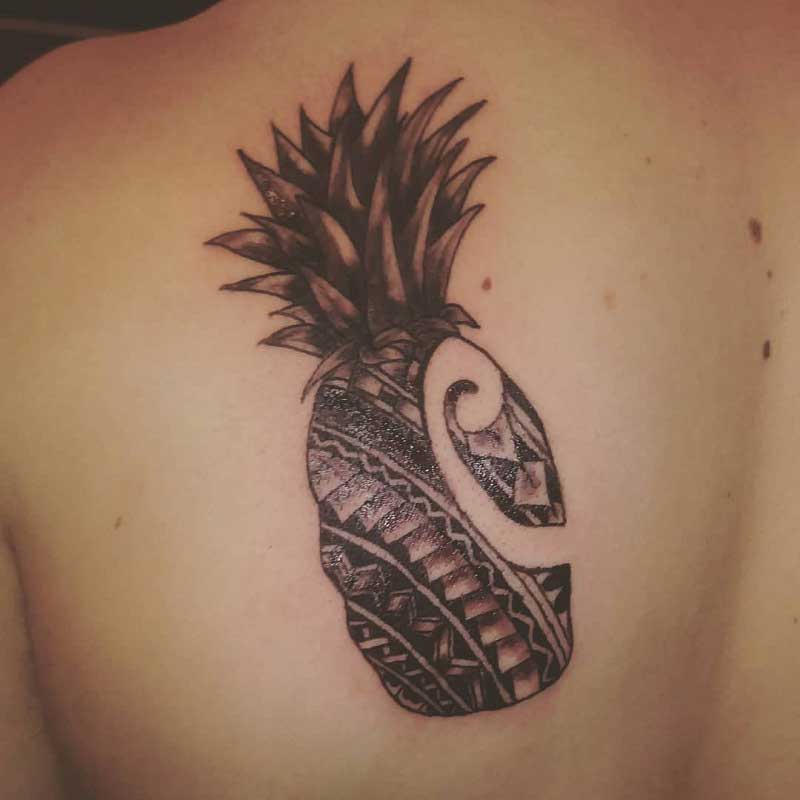 74.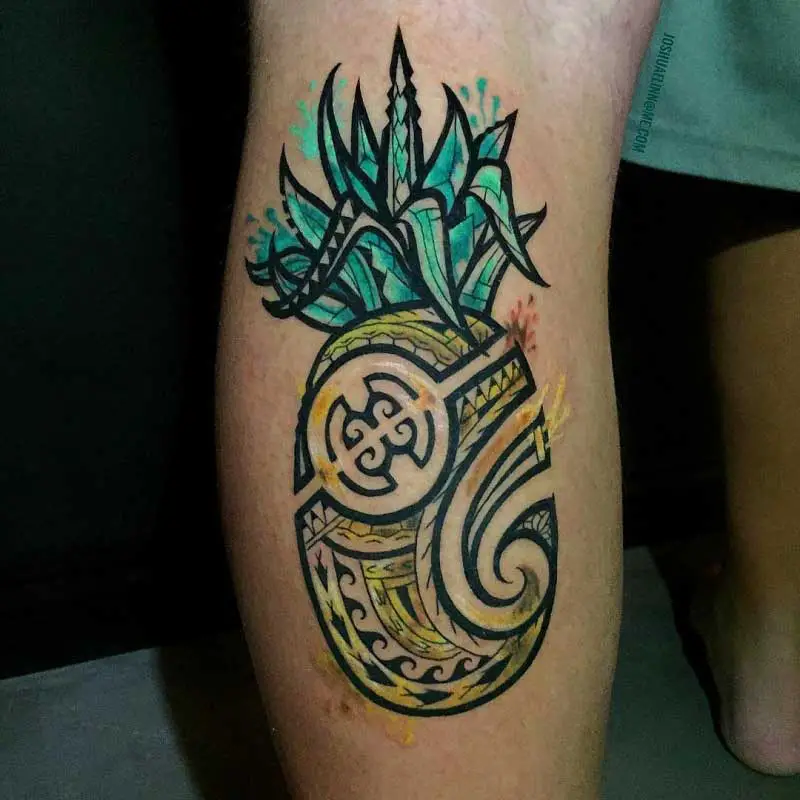 Psych Pineapple Tattoo
75.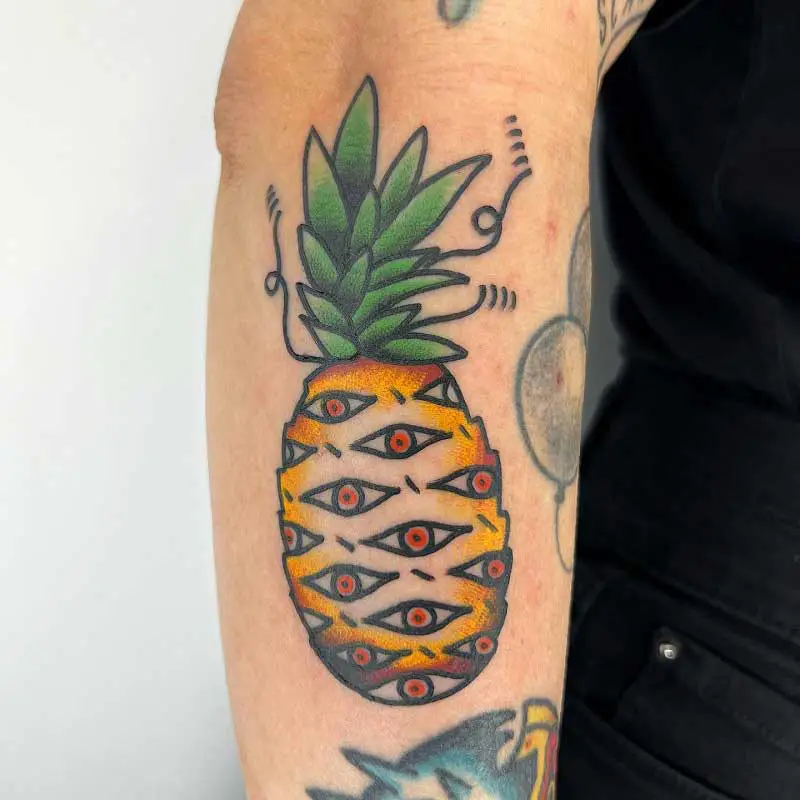 76.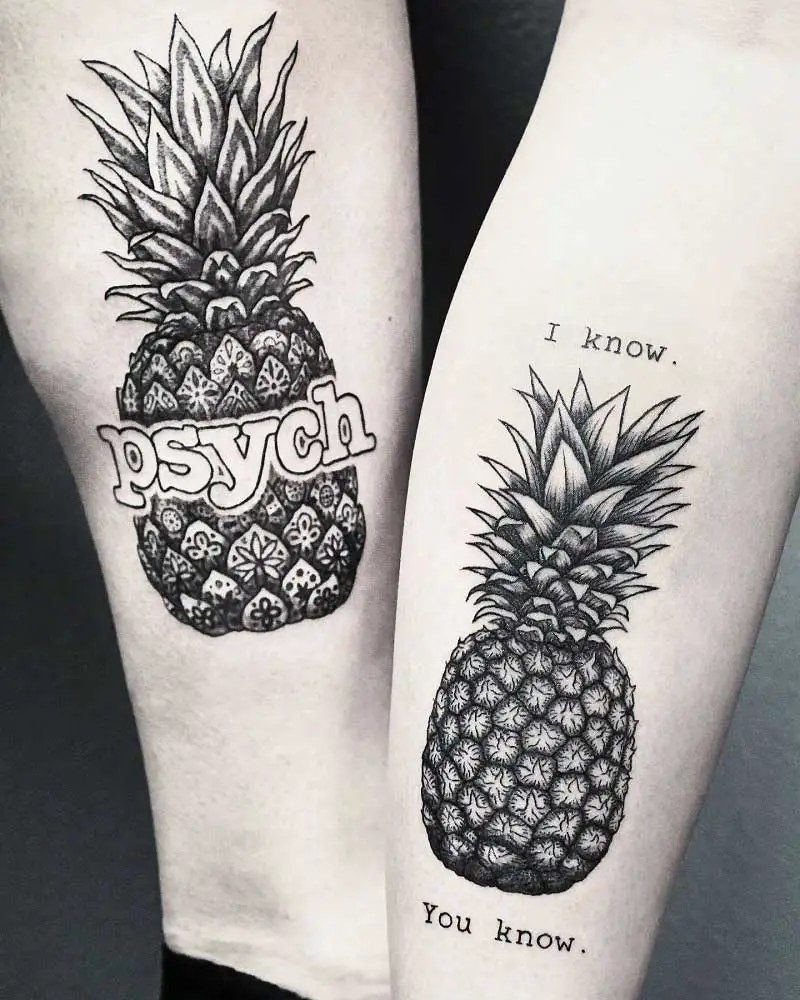 Cartoon Pineapple Tattoo
77.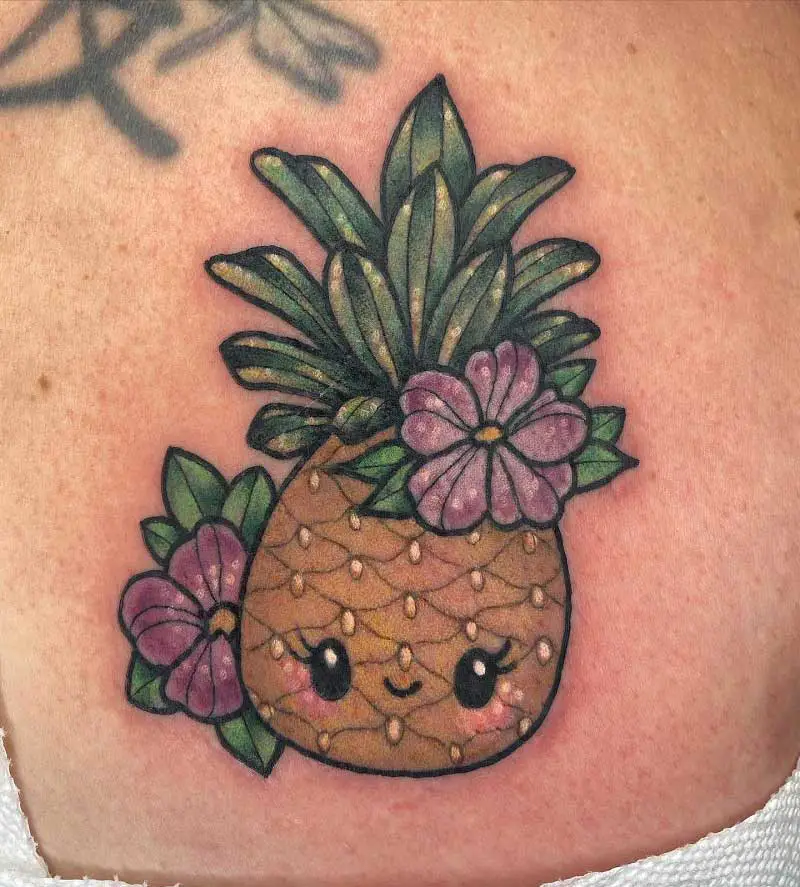 78.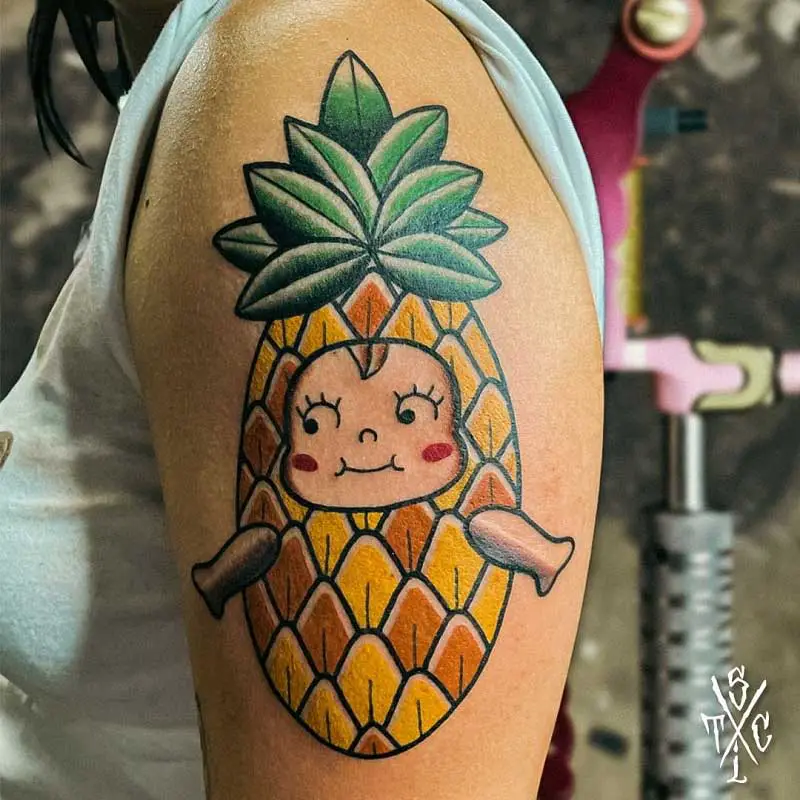 79.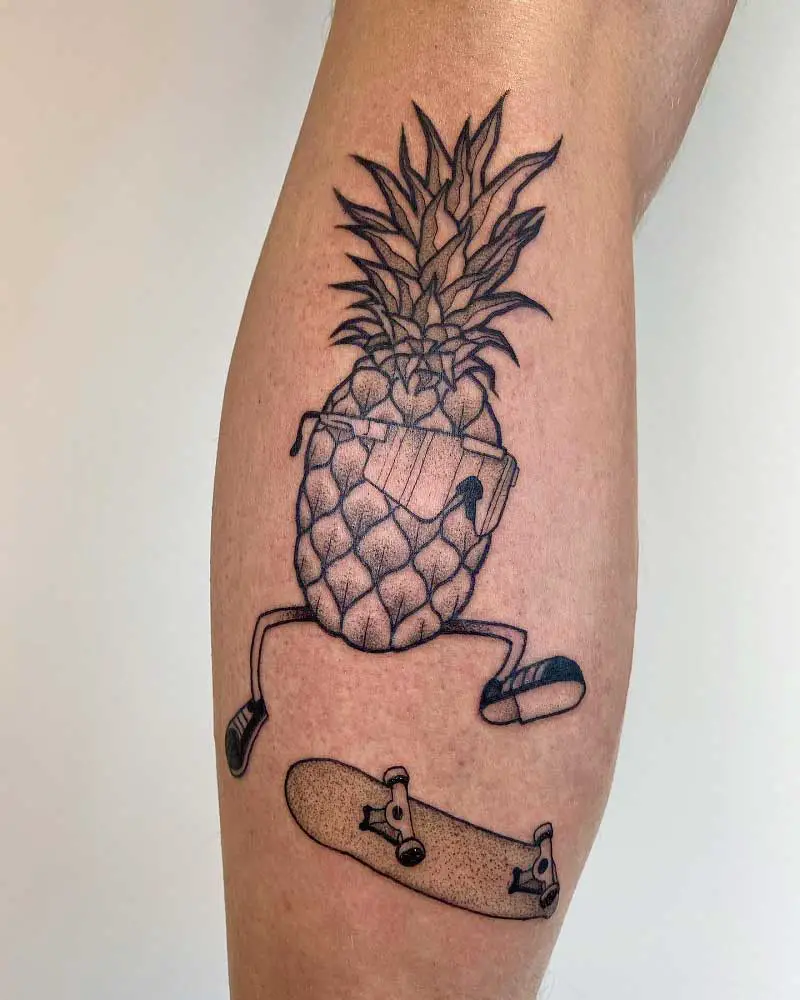 Pineapple Flower Tattoo
80.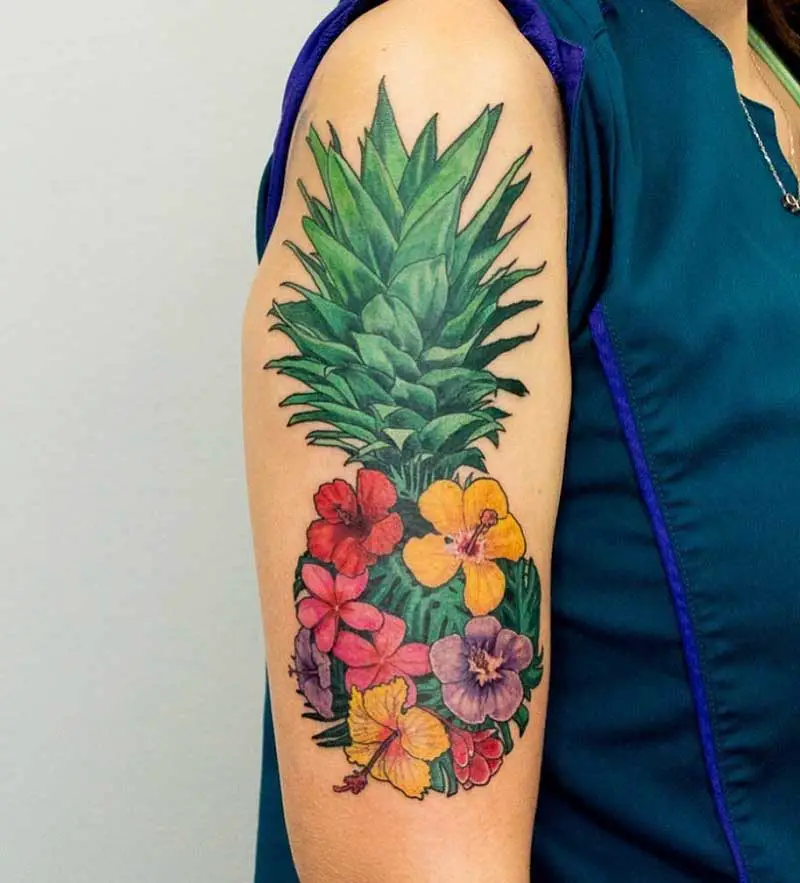 81.
82.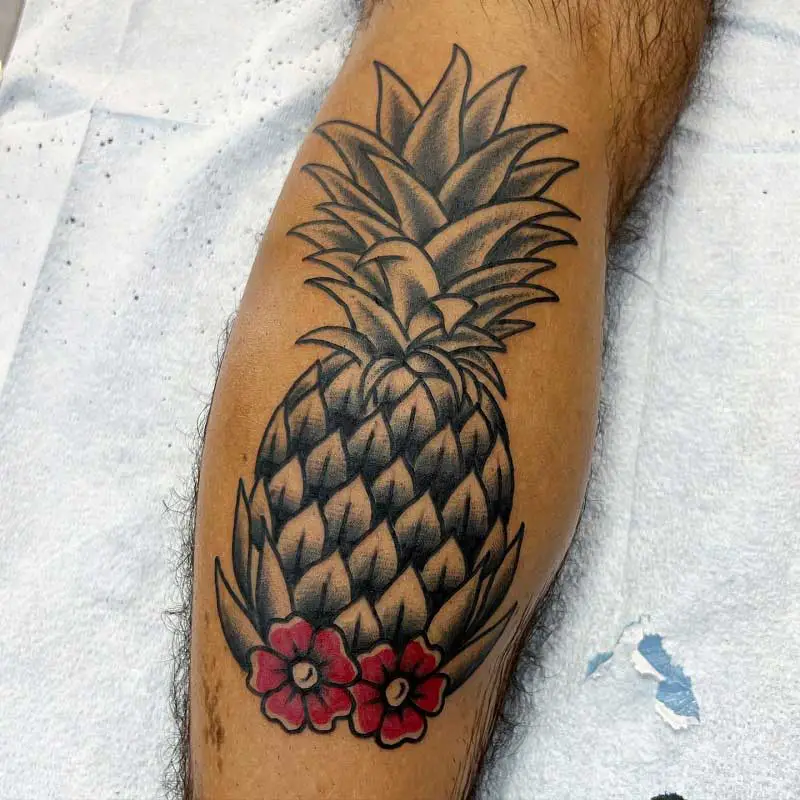 Pineapple Pizza Tattoo
83.
84.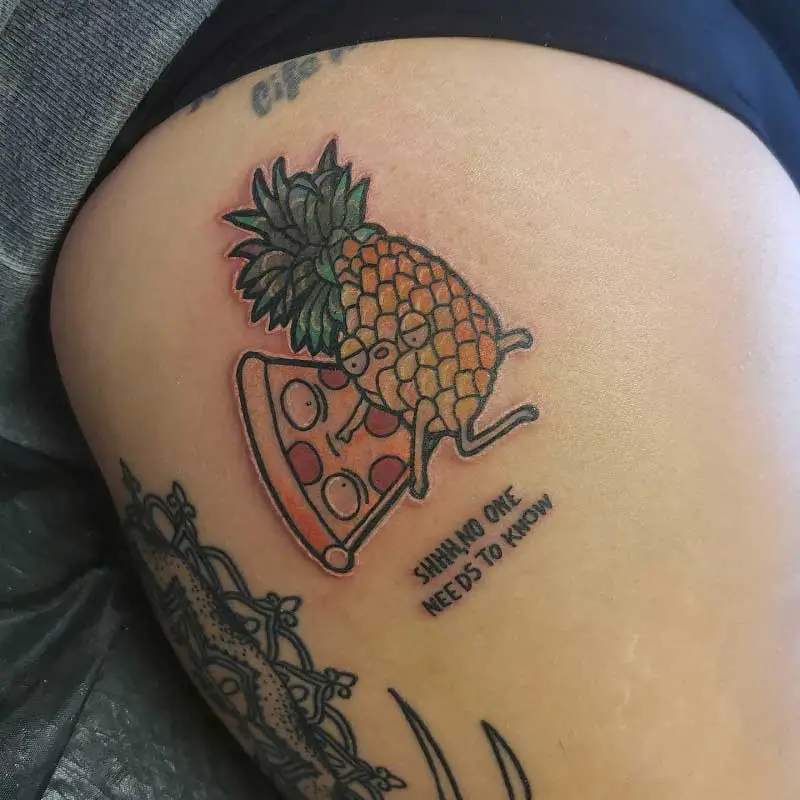 85.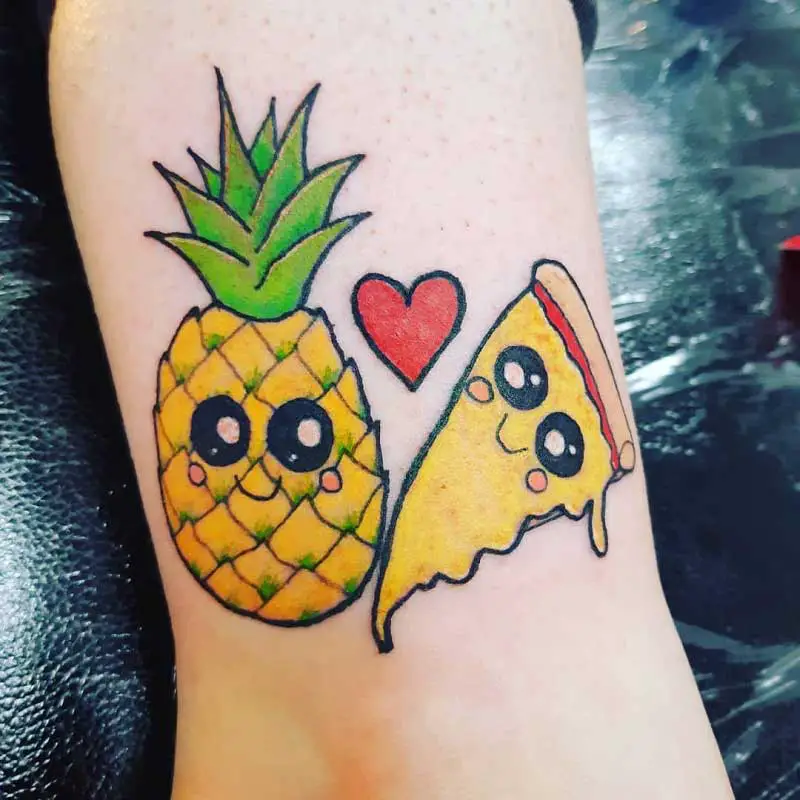 Pineapple Sunglasses Tattoo
86.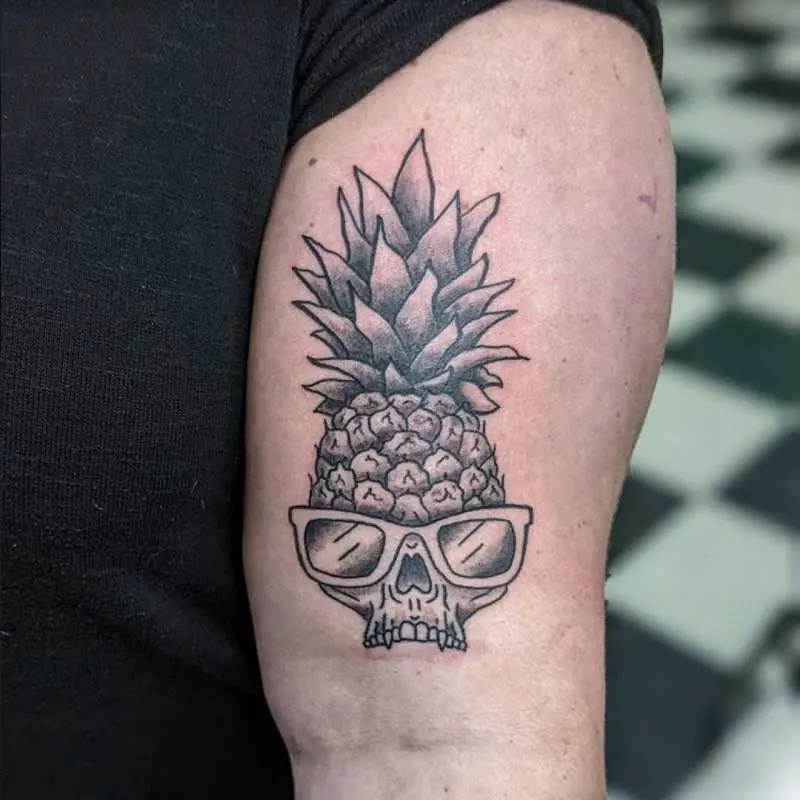 87.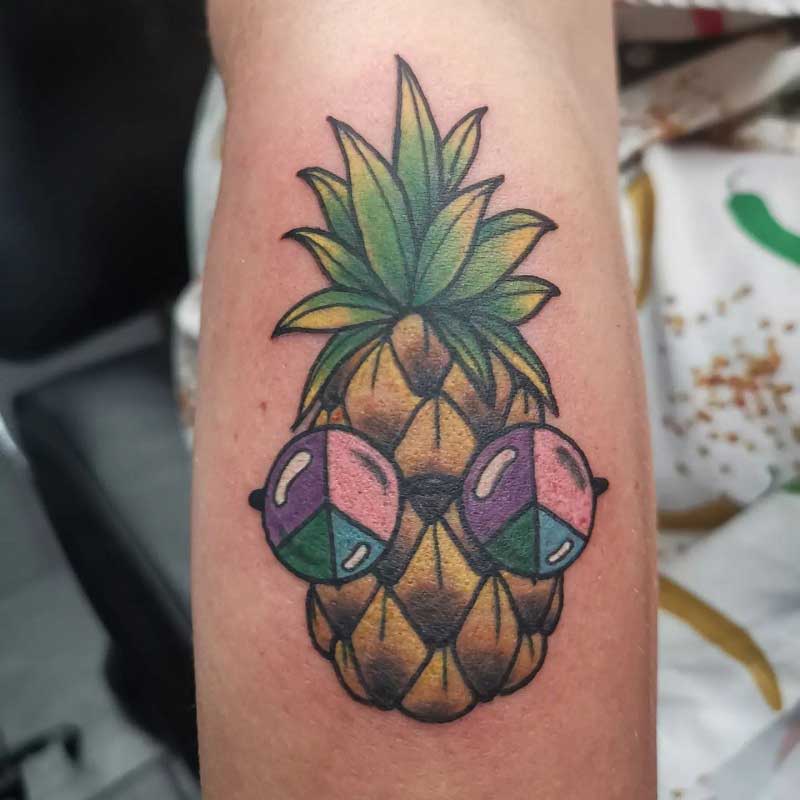 88.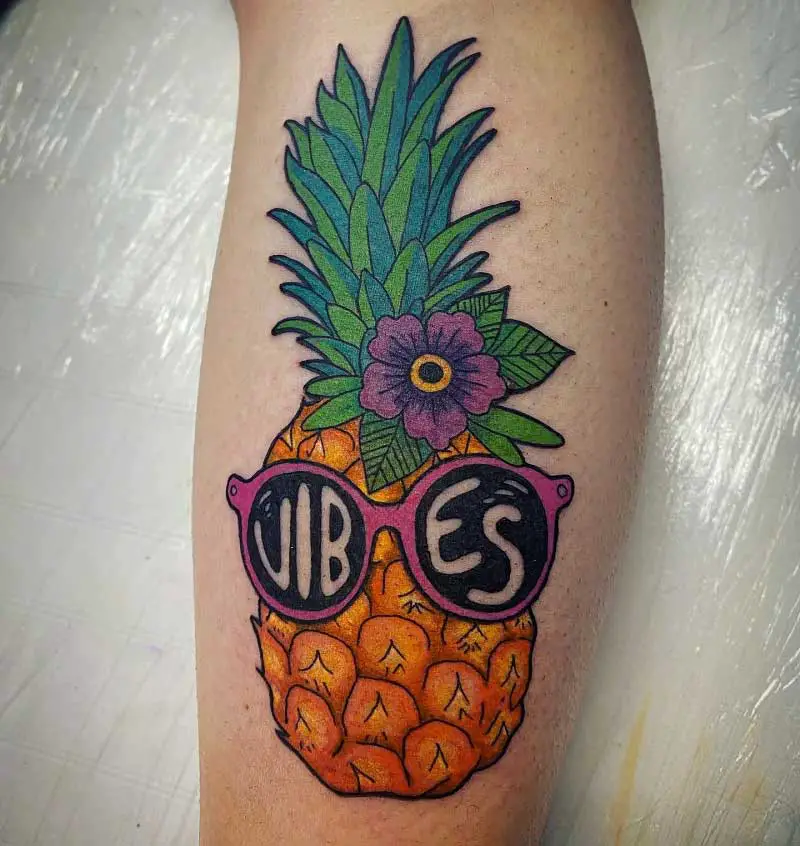 Abstract Pineapple Tattoo
89.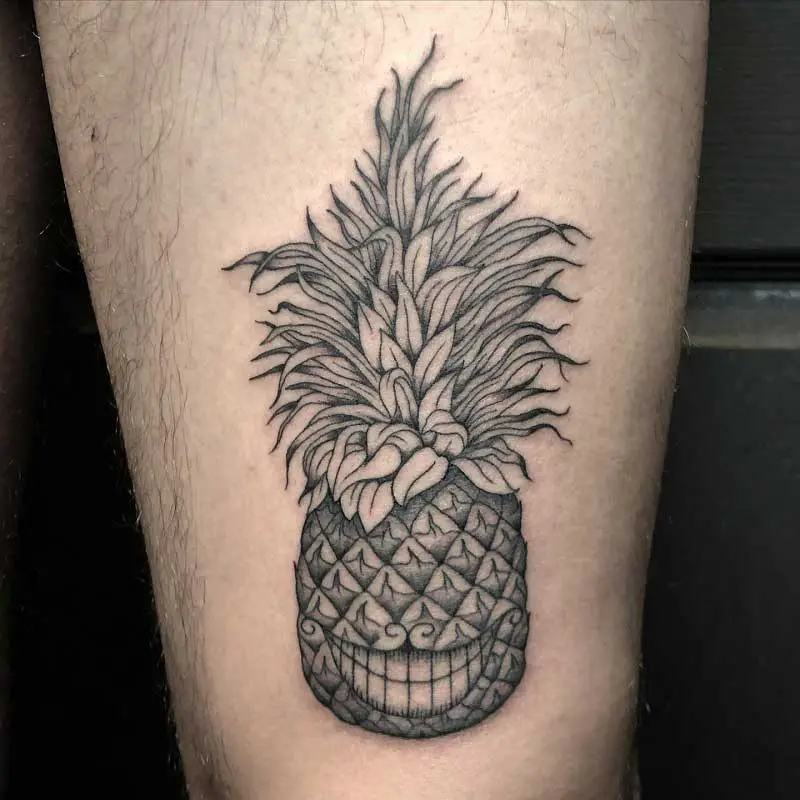 90.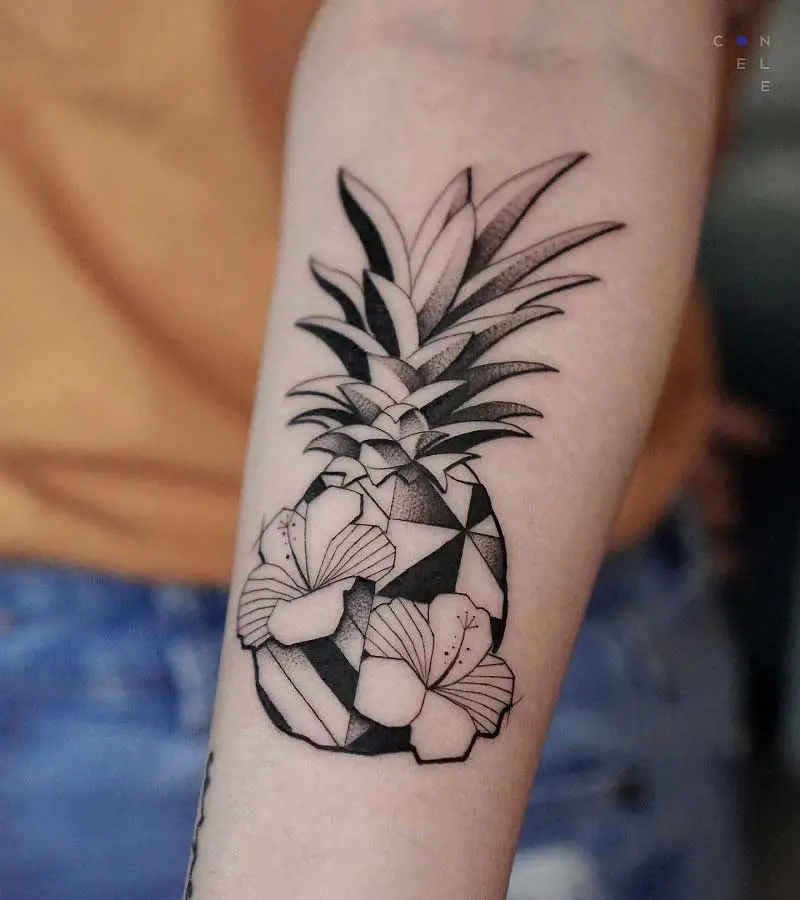 91.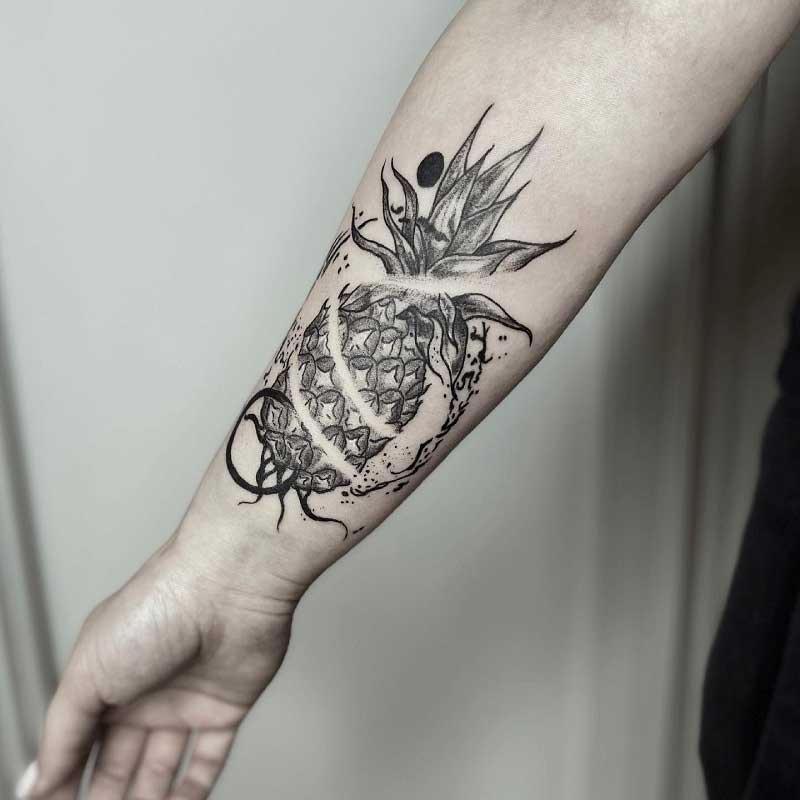 New School Pineapple Tattoo
92.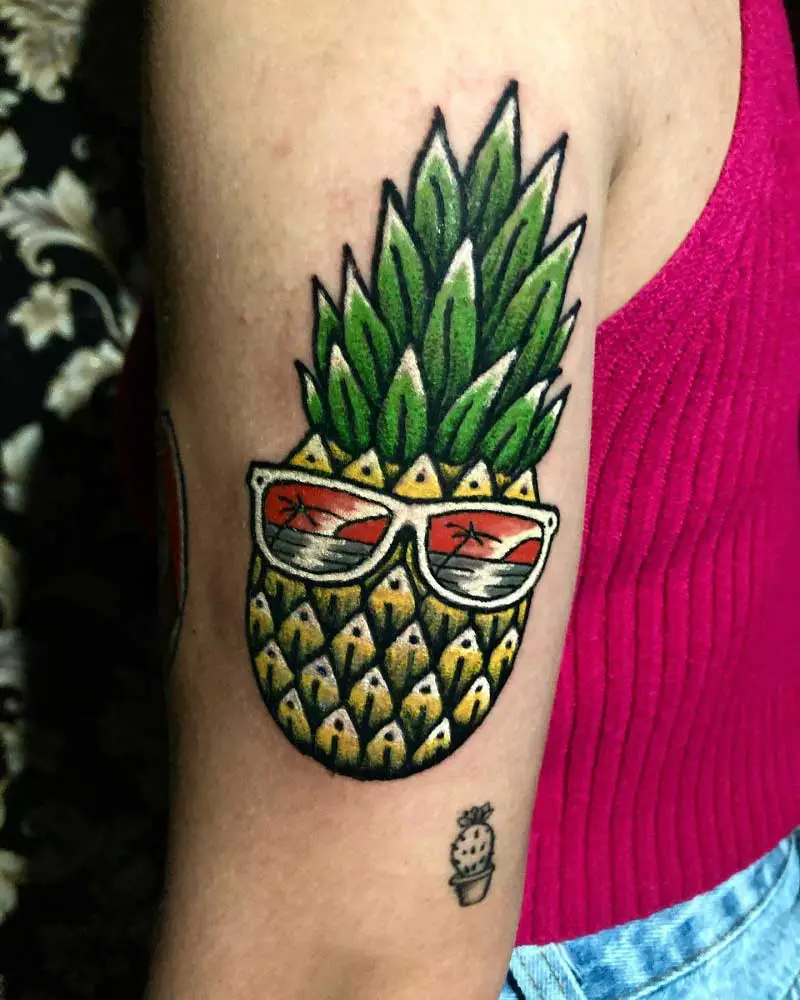 93.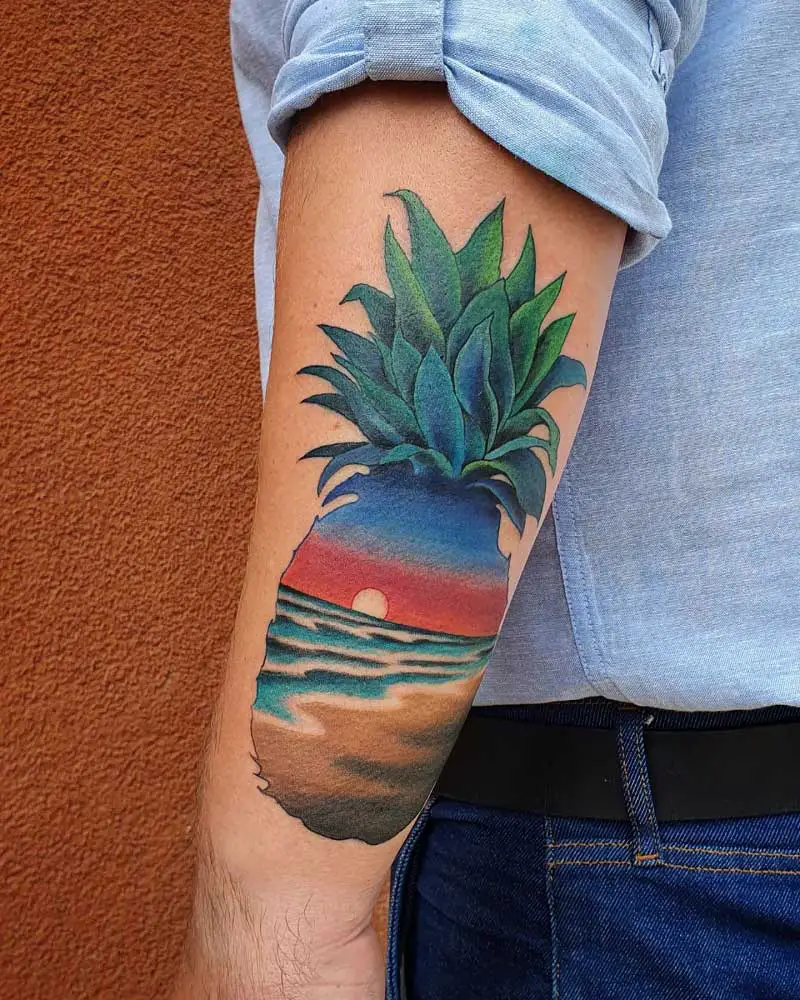 94.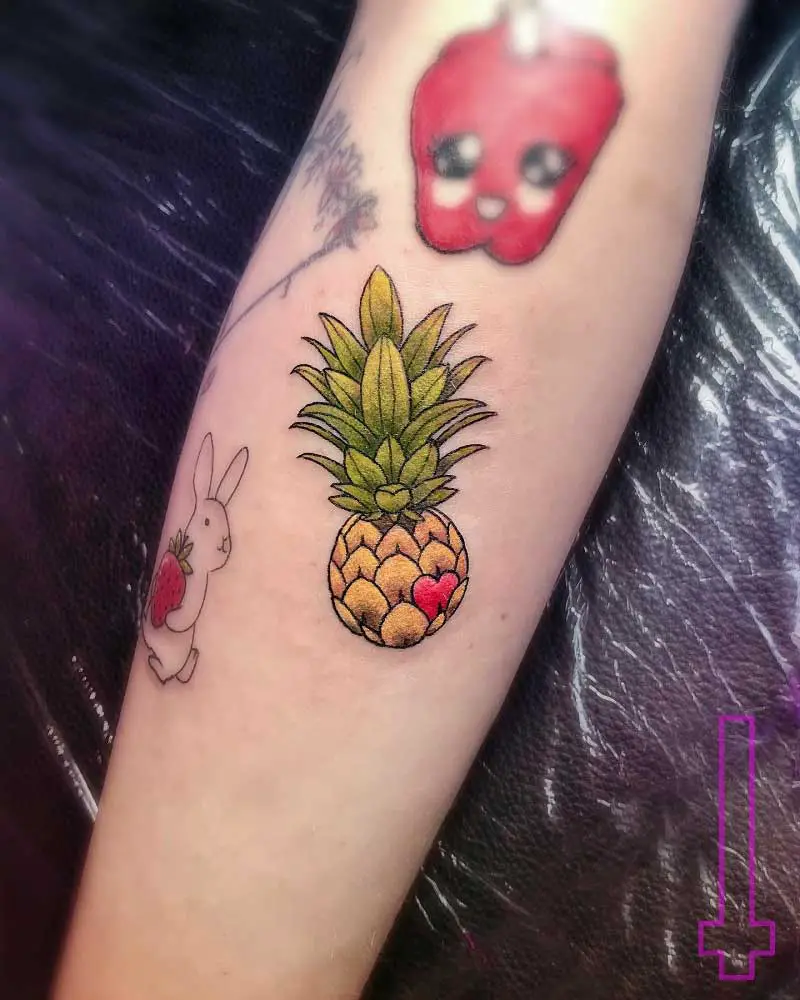 Pineapple Finger Tattoo
95.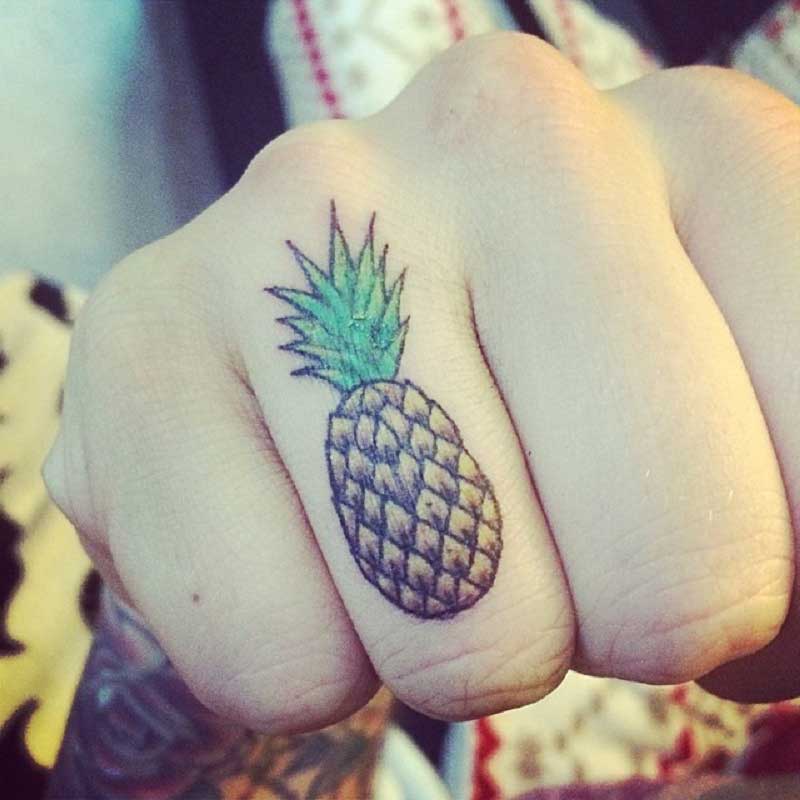 96.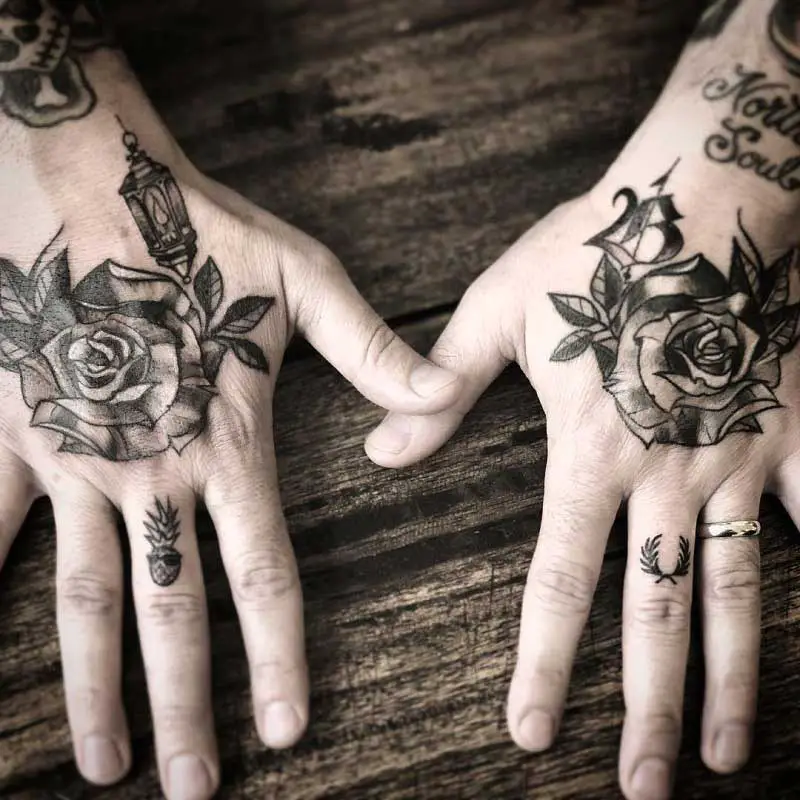 97.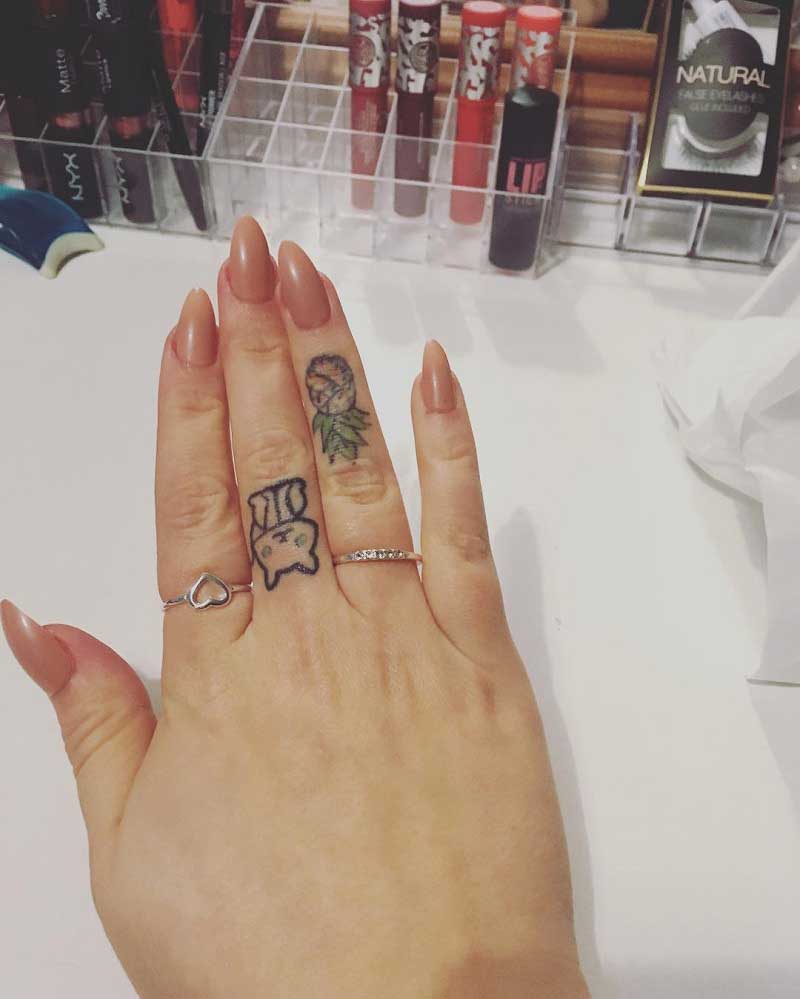 Pineapple Neck Tattoo
98.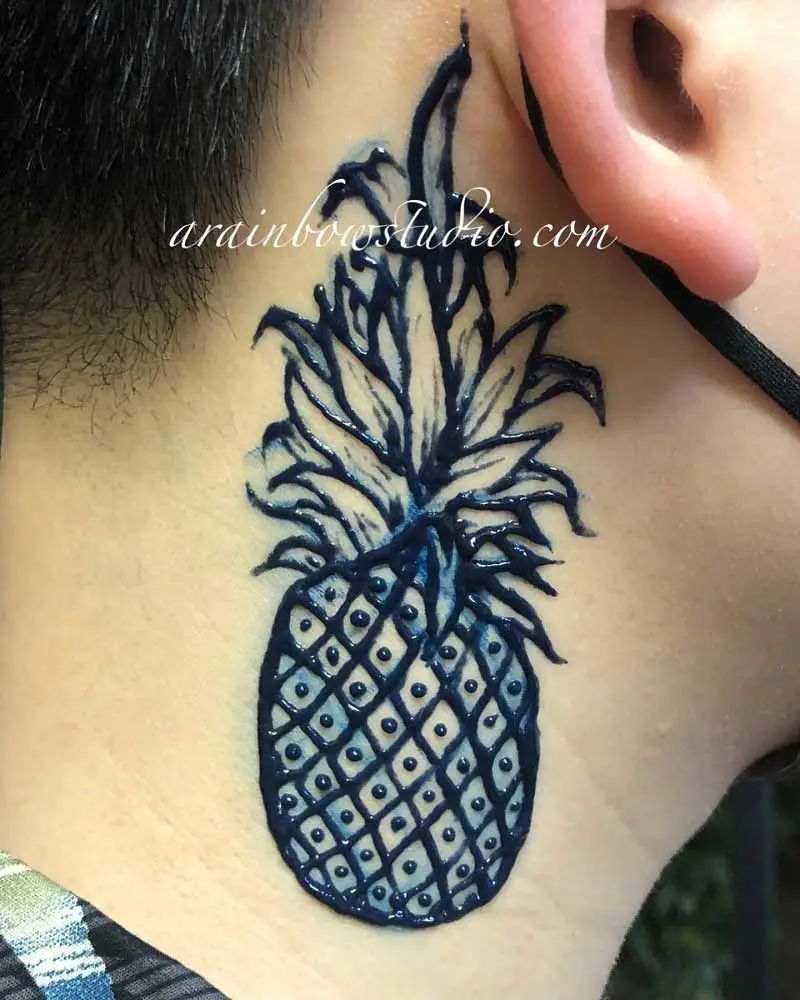 99.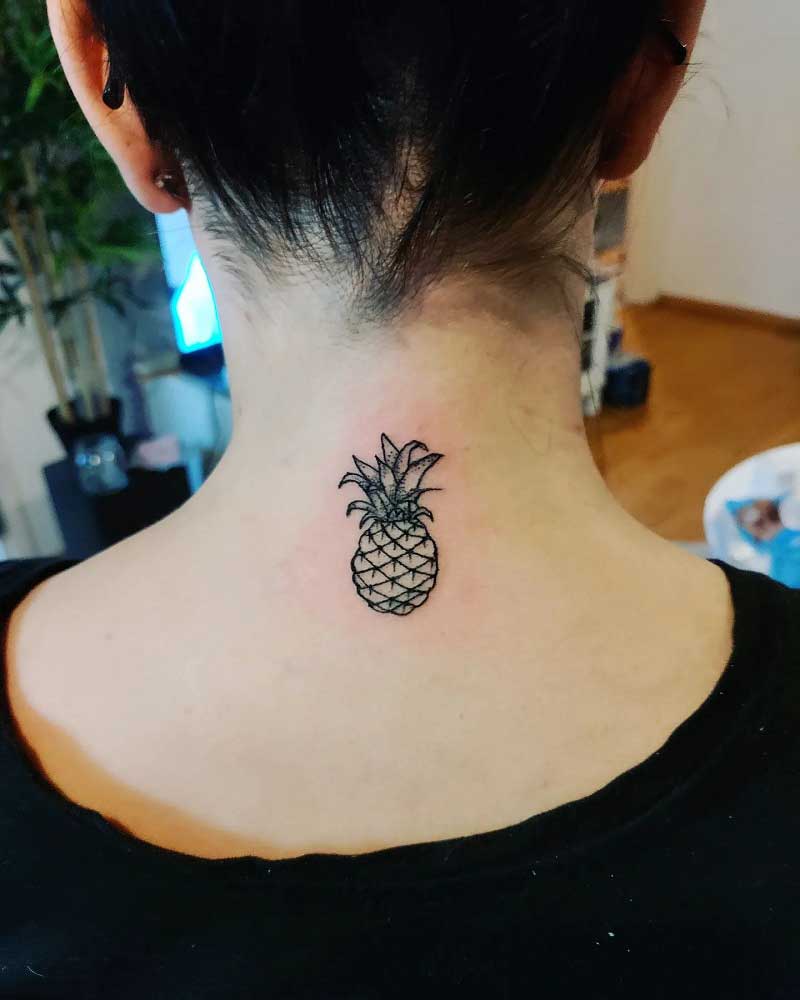 100.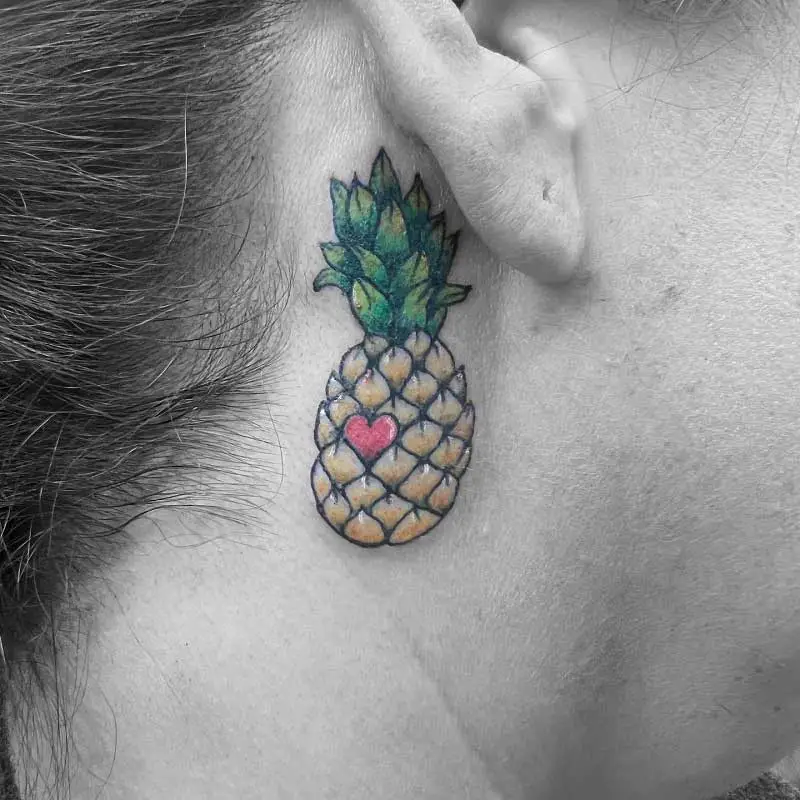 Conclusion 
Pineapple tattoos have made their way and built a significant place in the world of art and tattoos. These designs are beautiful and artistically pleasing to the eyes. With deep meanings and intricate details, the tattoos have won our hearts over and over again.
Deciding on a pineapple design when there are hundreds of tattoo styles available is not the easiest task. If you have found the inspiration you have been looking for from the designs we have put together for you, then rush to your tattoo artist and get it on your skin. Choose a top-notch artist who can give you the exact style you want without any trouble.
Frequently Asked Questions
What Does a Pineapple Tattoo Mean?
A pineapple tattoo usually refers to warmth, harmony, and a welcoming gesture. But the meaning varies depending on the style and depiction of the tattoo.
What do you need to know about the upside down pineapple symbol?
Upside down pineapple designs were typically seen as a sign of hospitality and welcoming nature. But it also has another meaning which refers to a swinger.
Where Should You Get Pineapple Tattoo Designs?
You can get a pineapple tattoo anywhere you like on the body. But popularly, these tattoos look great on the arms, chest, shoulder, neck, and thighs.