There's nothing more appealing than well designed and perfectly inked neck tattoos for women, especially when worn with much flair and confidence. You may have figured it out already that the size, color, pattern, and placement of a neck tattoo will complement your overall look. Of course, any neck tattoo design you choose will be a permanent part of your style. So select your design carefully.
AWESOME NECK TATTOOS FOR WOMEN OF STYLE
To make choosing your neck tattoo design a fun experience here are a few considerations. First, check your neck – is it the right length and size for the design you want? Second, check the design – does it go well with your neck and shoulders? Finally, trust your instincts – does this feel right for you? All set? Great! We've put together twenty-five of the most exciting neck tattoos for women that will certainly give you some cool design ideas.
#1: DIAMOND AND ROSES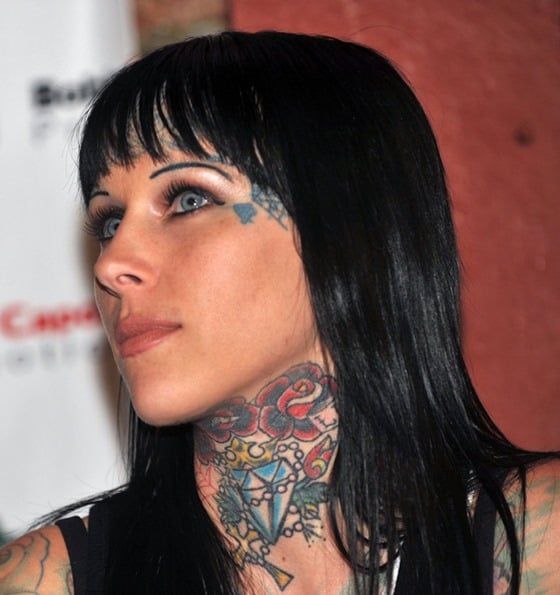 While her other tattoos can be seen, her colorful neck tattoo of blue diamond and red roses grabs attention.  The rosary also adds to her edgy look.
#2: ROSE WITH HER NAME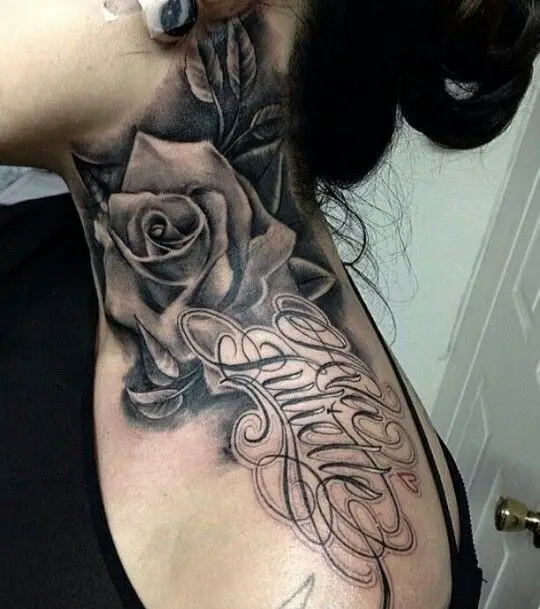 It's quite apparent that this rose inspired neck tattoo is dedicated to someone significant in this woman's life. The use of soft black tones makes this an attractive choice that complements her accessories and outfits.
#3: CREATIVE NECK TATTOOS FOR WOMEN
Here's a creative neck tattoo that adds style to this woman's look. This pattern with black ink is a great conversation starter as well as an aesthetic artwork worth admiring.
#4: PAW PRINTS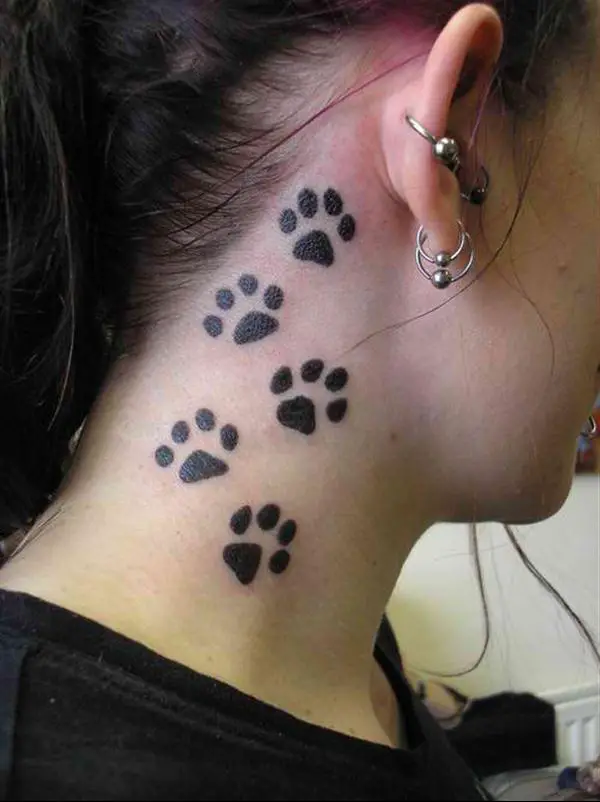 Neck tattoos for women do not have to use complicated patterns to get noticed.  In this simple yet meaningful tattoo, it's clear that pets are very dear to this girl.
#5: TEXT MESSAGE TATTOO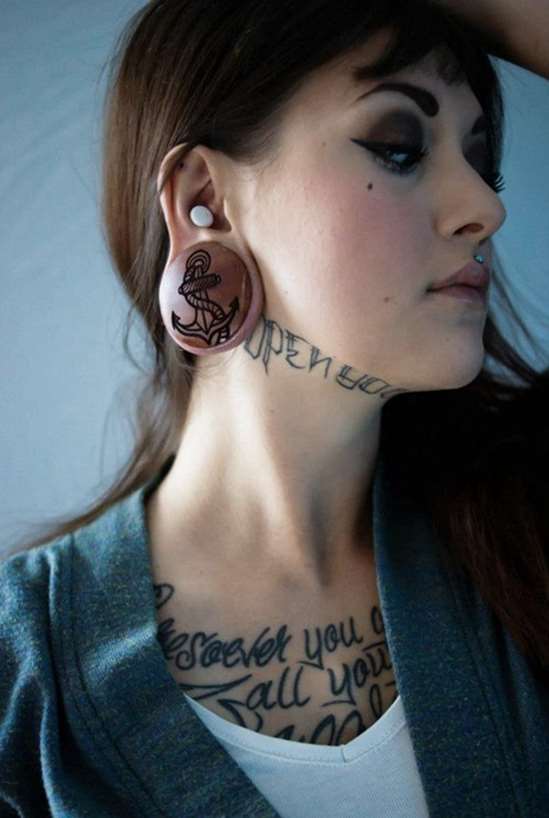 Interestingly, there is no way anyone could fail to notice this woman.  Her written neck tattoo sends her message for others to be open minded, loud and clear.
#6: EXQUISITE TATTOO DESIGN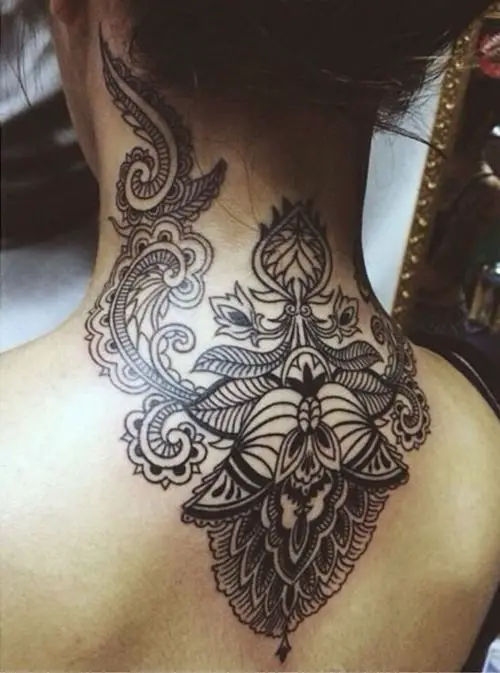 This exquisite back of neck tattoo design featuring a detailed floral pattern is sure to turn heads. No doubt, the fashion conscious won't be disappointed by this expertly made design.
#7: TRIBAL PATTERN NECK AND SHOULDER TATTOO
Intricate yet bold patterns done in black ink will definitely turn heads for this beauty. It's clear that this well-designed neck and shoulder tattoo complements her and will continue to command attention and admiration.
#8: INTRICATE PATTERNS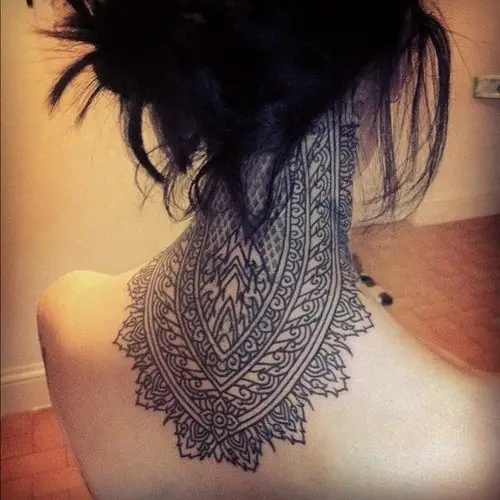 Here's why a neck tattoo that is quite intricate will always win style awards. The ink work shows the great care and patience that went into this lace-like finish. Certainly attention grabbing.
#9: A ROSE SAYS IT ALL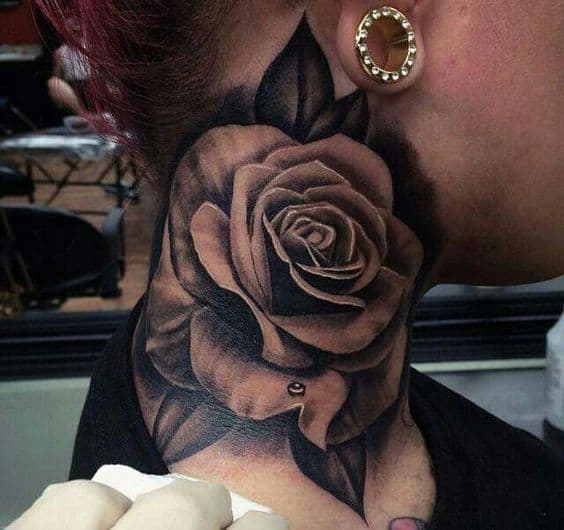 Popular among tattoo designs, the rose continue to dominate the preferences of women who love neck tattoos. Here is one rose that will certainly grab attention. Check out the expert shadings in black that add texture to this design.
#10: NECK AND SHOULDERS TATTOO DESIGN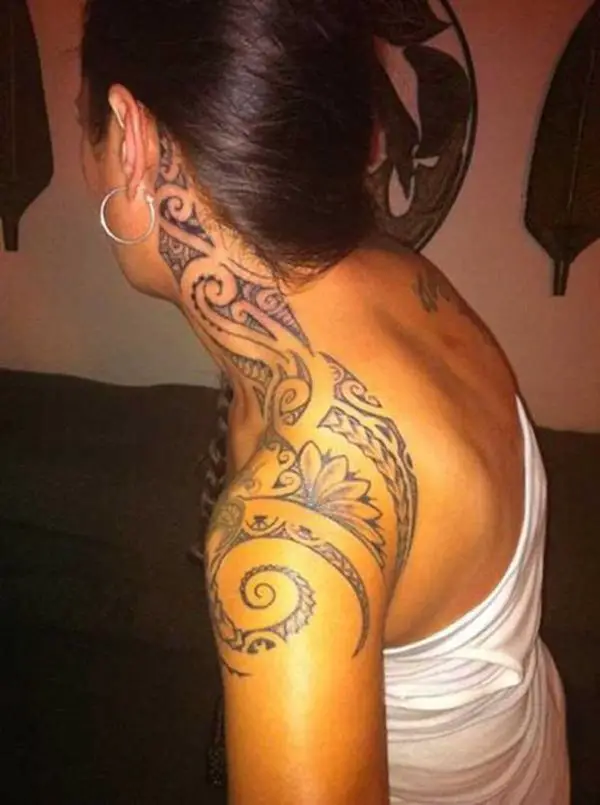 Here's a captivating neck tattoo pattern that also takes the shoulders. The black ink used is sufficient to show off the intricacies of this artistic design.
#11: EXTENDED NECK TATTOO DESIGN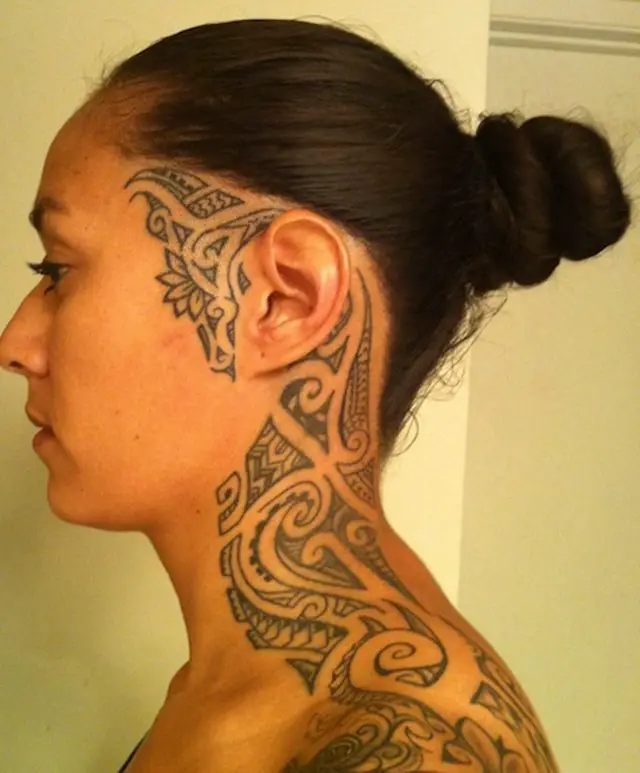 You'll agree that creative neck tattoos can also include the face and shoulders. Check out this expertly done black inking that does not require any other color.
#12: DANGLING JEWELRY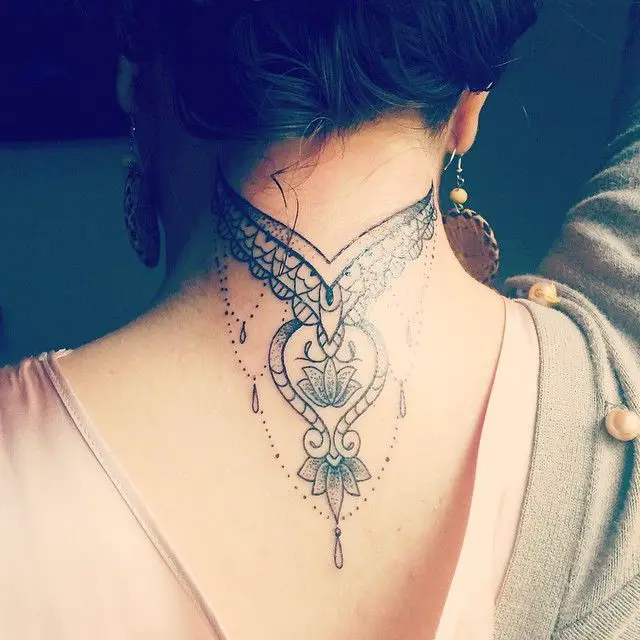 It's tempting to touch this dangling jewelry. It's, however, an expertly crafted neck tattoo. The details are exquisite and the ink work quite realistic. Undoubtedly, this neck tattoo goes quite well with any outfit and for all occasions.
#13: BUTTERFLY NECK TATTOO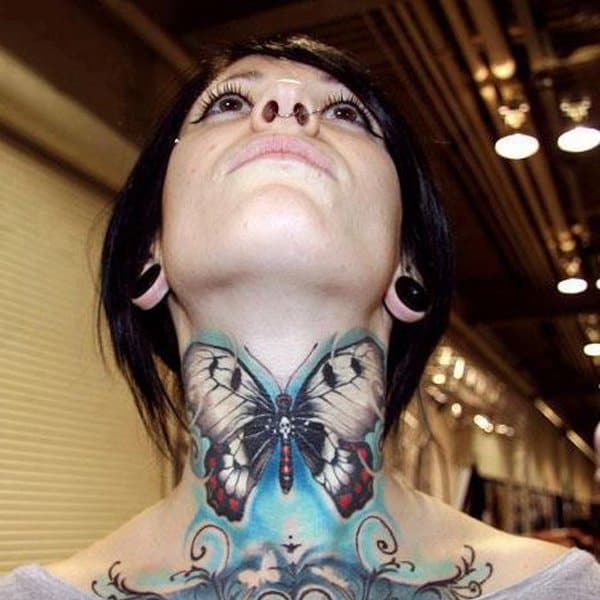 The butterfly takes a very prominent position in this neck tattoo for this women. Evidently, she's going for "Silence of the Lambs."
#14: ORNATE DESIGN FOR NECK TATTOOS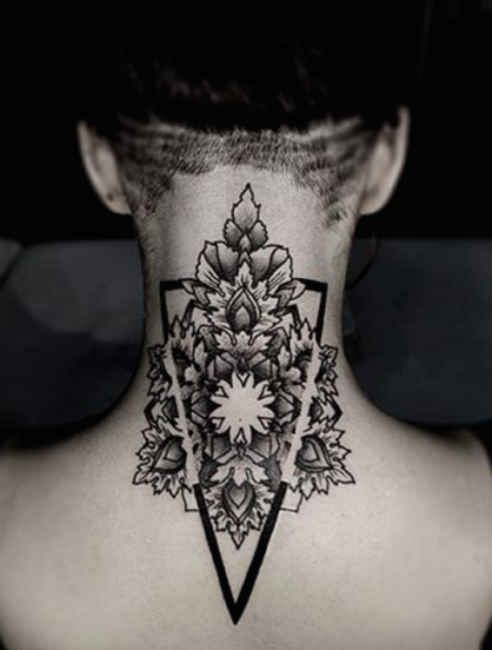 One sure way to start a conversation is to show off a unique neck tattoo that keeps everyone guessing. With this ornate design combined with a bold triangle, this girl shows her cool style.
#15: COMPLETE NECK AND BODY TATTOO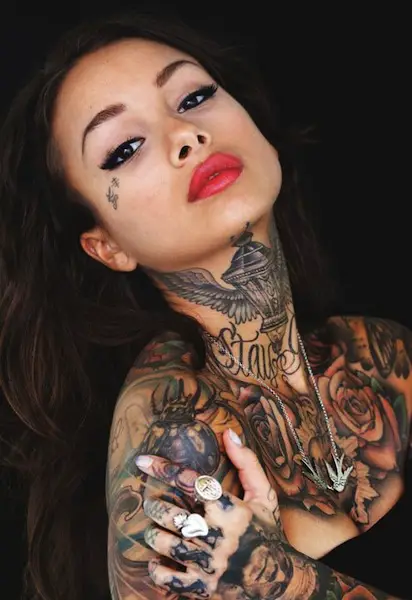 If your passions are as many as this beauty's, then a neck tattoo that goes with other tattoos may very well be your preference. Here, the winged image on the neck adds to the rest of her body's canvas of art.
NECK TATTOOS FOR MEN TO CHECK OUT
#16: BUTTERFLY NECK TATTOO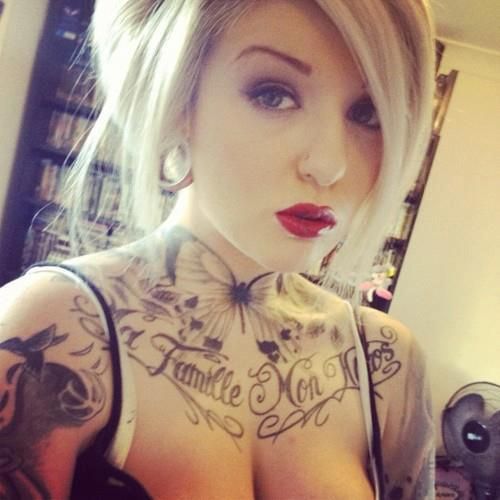 You simply can't go wrong with a gorgeous butterfly neck tattoo which accentuates this woman's other tattoos. Expect heads to turn at this one.
#17: INTERESTING PATTERNS AND IMAGES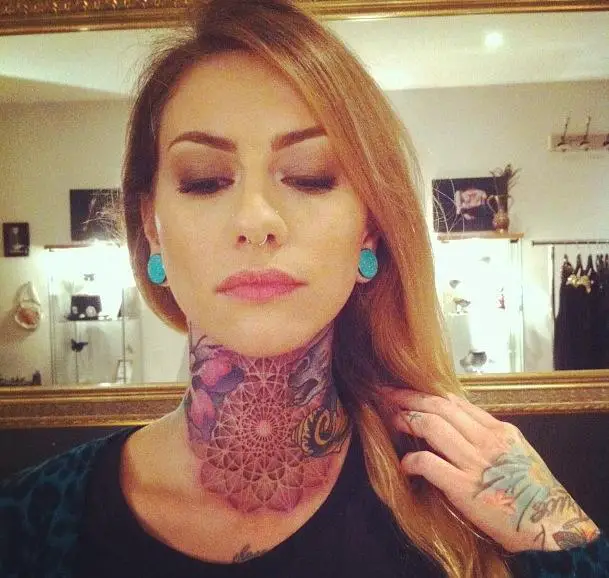 Here's how to make your neck the center of attention. Place a stunning neck tattoo and use vibrant colors to create that mystical or sci-fi effect. Of course, get an expert tattoo artist to do it.
#18: NECK TATTOO WITH ROSE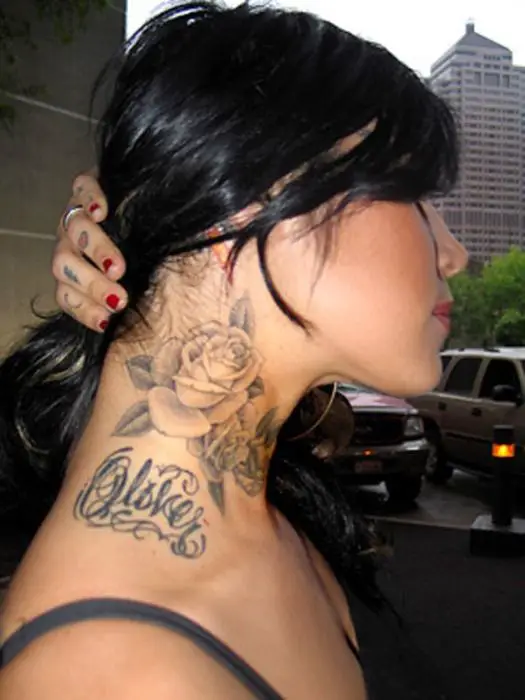 Whether this rose inspired tattoo is to honor the past or current relationship, this woman can be assured that this tattoo is a fitting tribute. The ink work remains subtle and detailed at the same time.
#19: ARTISTIC COLLAR TATTOO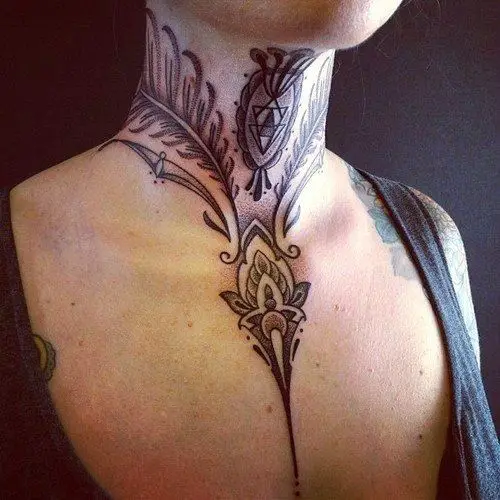 No doubt, this woman will always be proud of her design from neck tattoos for women.  This realistic tattoo showcases the awesome attention to intricate details and the inking which carries a hint of color with the dominant black.
#20: SINGLE ROSE TATTOO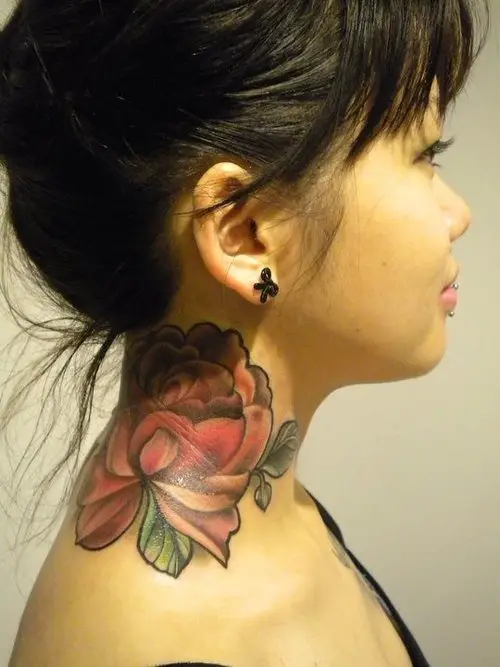 If in doubt about a tattoo choice simply go for a large red rose. This woman knows only too well the potential attention she would receive because of it.
#21: ANOTHER BLOOMING ROSE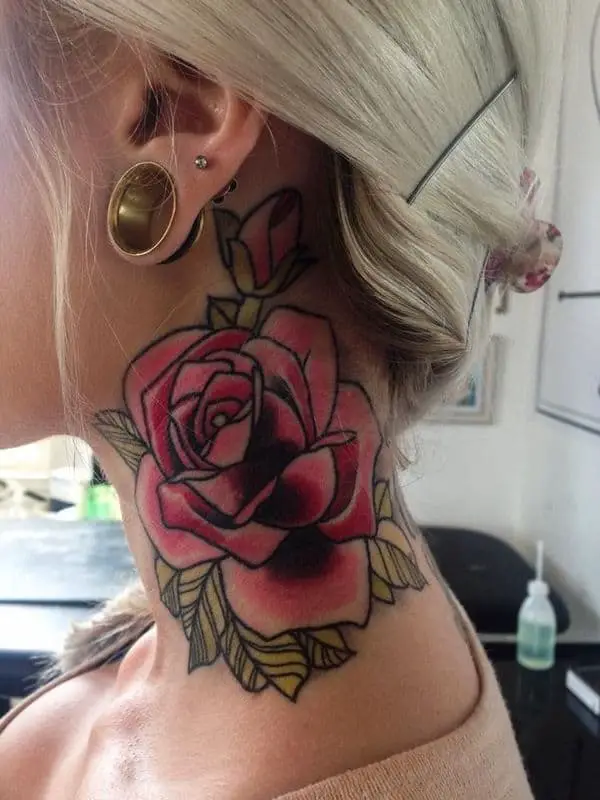 Let's check out this bright rose which sits boldly on this woman's neck. This dominant tattoo will certainly add flair to her vibe.
# 22: ROSE WITH THORNS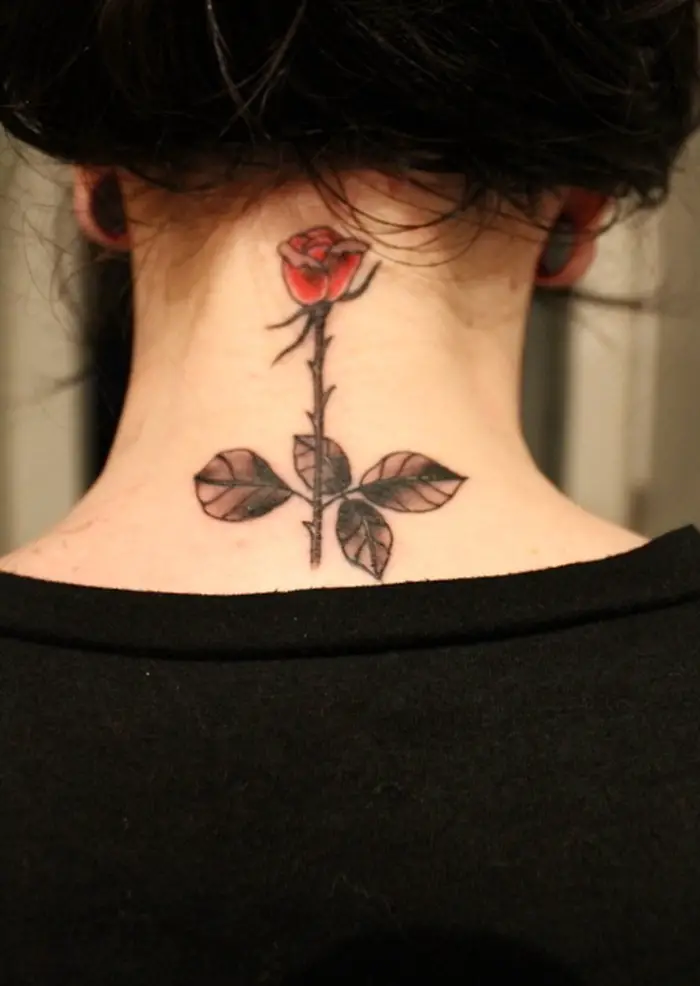 A single red rose on the back of the neck is the only tattoo this young woman needs to make her statement.
#23: ROSE AMONG OTHER THINGS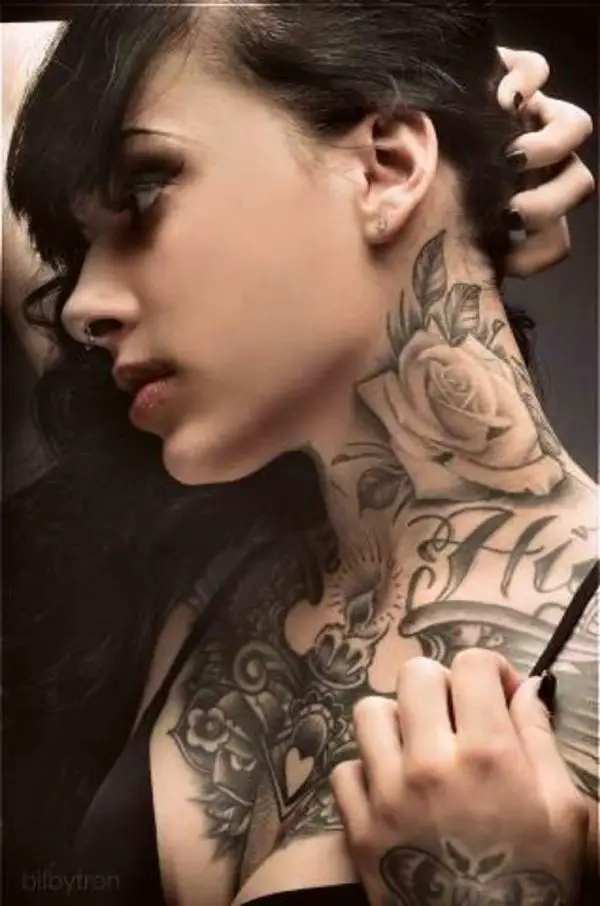 Another example of how the rose can be used in neck tattoos for women. This time it is joined by a lit candle on an elaborate holder.  Clearly, a lot went into this black inked design that adds to this woman's brazen style.
#24: FLOWERS AND BUTTERFLY NECK TATTOO DESIGN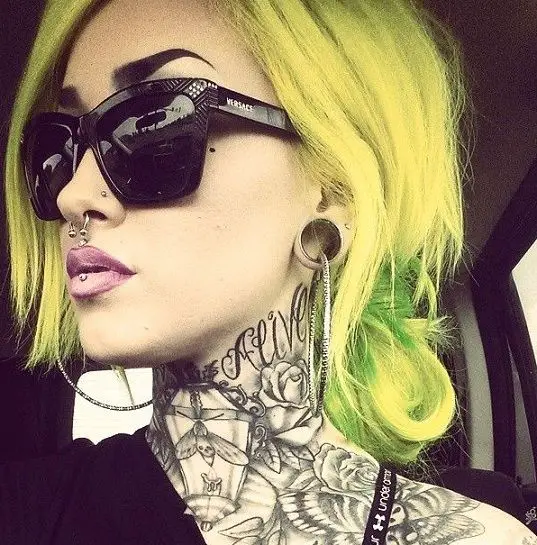 How about this complete neck tattoo that features roses and butterflies among other things? This black ink work shows off the artist's skill and the woman's creative taste. There's a lot to see in this tattoo that proclaims that she's alive!
#25:  BOLD BLACK PATTERNS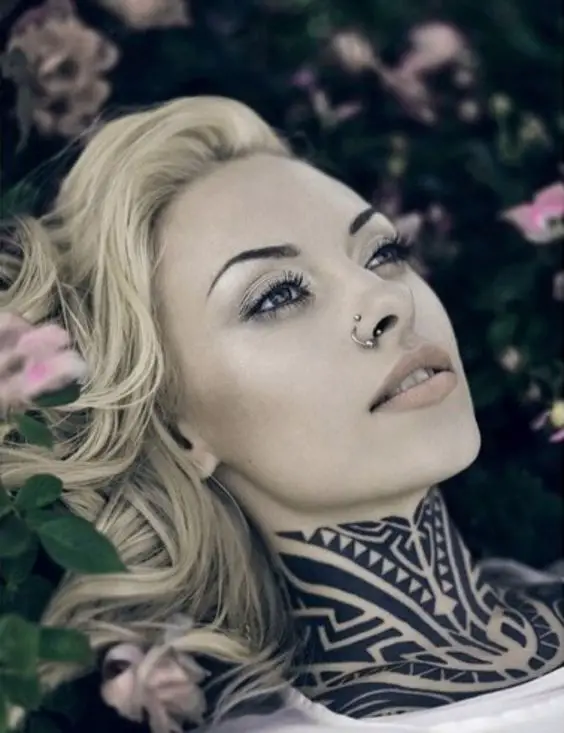 There's no confusion in this bold black ink work worn so confidently by this beauty.  It's almost as though she's wearing a fashionable inner blouse. This attractive tattoo design would go well with anything she chooses to wear.
So, there they are – twenty-five of the most spectacular neck tattoos for women who know their styles and preferences. By now, you'd have seen a neck tattoo that has sparked your interest.  Next step – consult your tattoo artist.