There's nothing more appealing than well-designed and perfectly inked neck tattoos for women, especially when worn with much flair and confidence. You may have figured it out already that the size, color, pattern, and placement of a neck tattoo will complement your overall look. Of course, any neck tattoo design you choose will be a permanent part of your style. So select your design carefully.
Neck tattoos come in many designs. Among them, side neck tattoos are very common. Another thing to keep in mind is that neck tattoos tend to be less colorful. If you want to experiment with colors choosing a deep and subtle color will give the best results.
Neck tattoos are believed to be originated from criminal gangs to mark their dominance. Although the origin of the neck tattoo is controversial, nowadays neck tattoos are more of a fashion statement and sentimental piece rather than a sign of aggression.
So let's dive deep and explore some of the best neck tattoo designs for women.
AWESOME NECK TATTOOS FOR WOMEN OF STYLE
To make choosing your neck tattoo design a fun experience, here are a few considerations. First, check your neck – is it the right length and size for the design you want? Second, check the design – does it go well with your neck and shoulders? Finally, trust your instincts – does this feel right for you? All set? Great! We've put together 78 of the most exciting neck tattoo design idea for women that will certainly give you some cool design ideas.
Small Neck Tattoos
Due to the small surface area on the neck, artists try to keep the designs small and elegant. There are some exceptions but mostly smaller neck tattoos are more suitable for women. They can be as small as one inch.
1. Black Fairy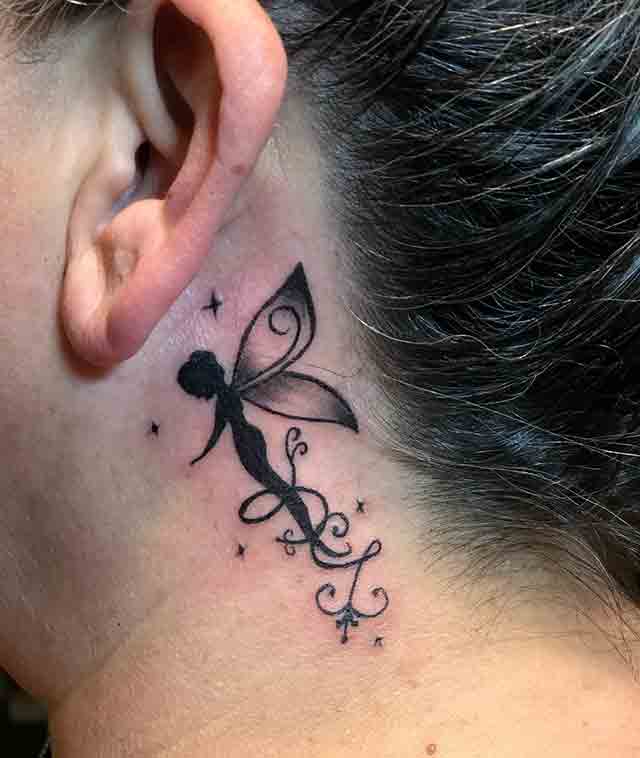 A small portrait of a fairy in the black color is inked on the back of this young woman's neck. The sparkles around her body make it look magical.
2. Tiny Wing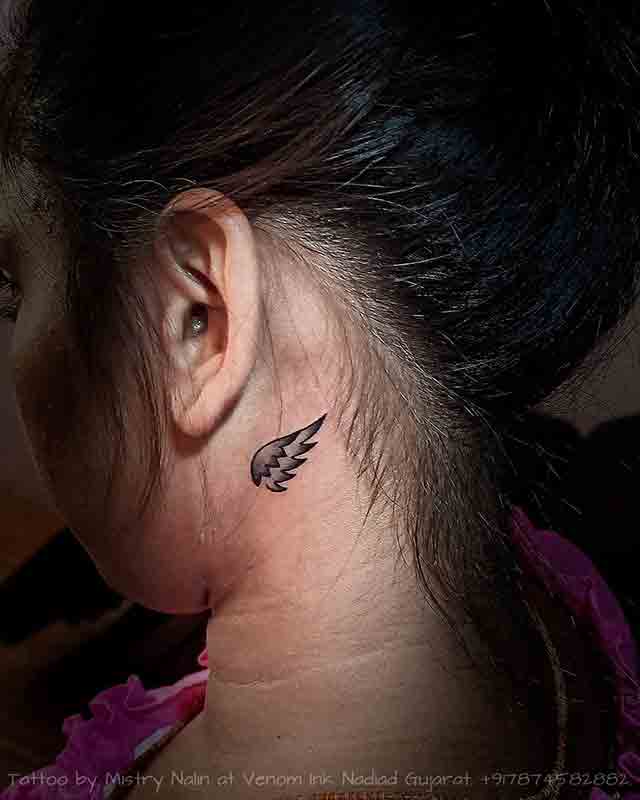 Few feathers and some sharp strokes from the artist have inspired these small wings' designs. The wing is tiny and suits the skin tone of her neck.
3. The "L"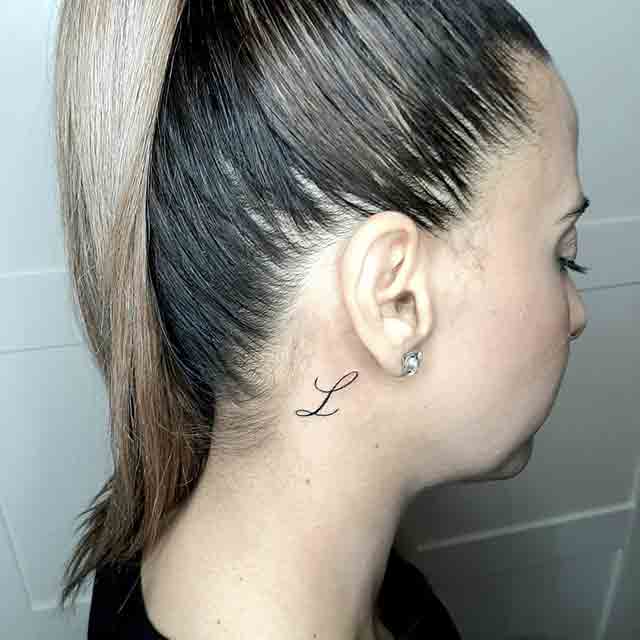 The small yet elegant shape of the letter "L" is inked on this young lady's neck. The fluent path of the letter is a great representation of her flow of energy & love.
Rose Neck Tattoos
Rose is considered the queen of all flowers. Women love to have roses inked on their necks. Rose adds the feeling of love and empathy to the tattoo. It also represents the soft and caring nature of women.
4. Minimal Rose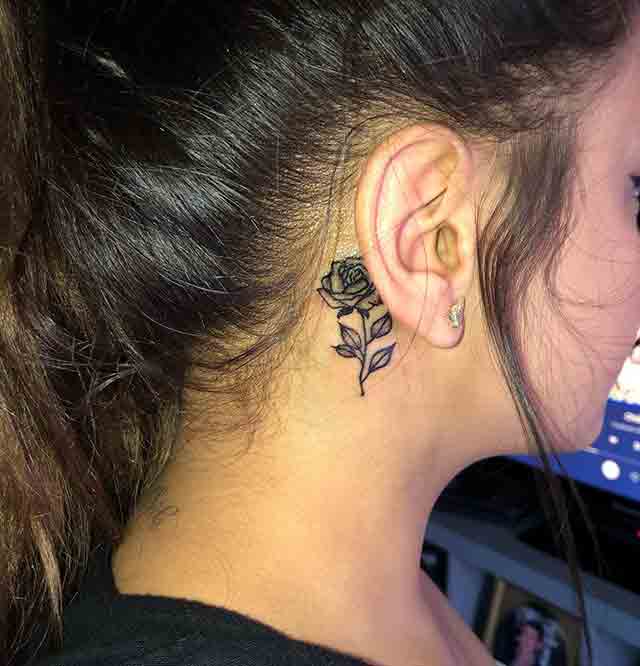 A delicate rose is the main subject of this neck tattoo for women. This tattoo has the rose slightly covered behind her ears. The use of negative space creates a unique look
5. Massive Rose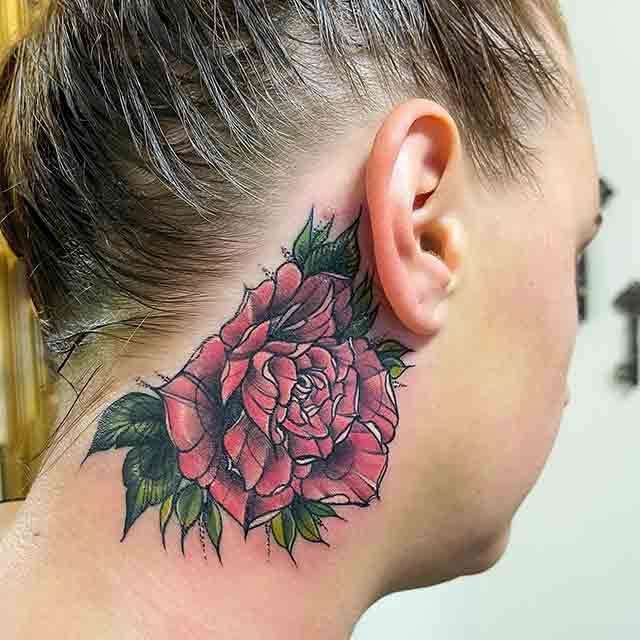 A huge image of a red rose with leaves is tattooed on this gorgeous woman's neck. This piece is making her look classy and fearless. One of the best classy neck tattoos for women.
6. Self Relient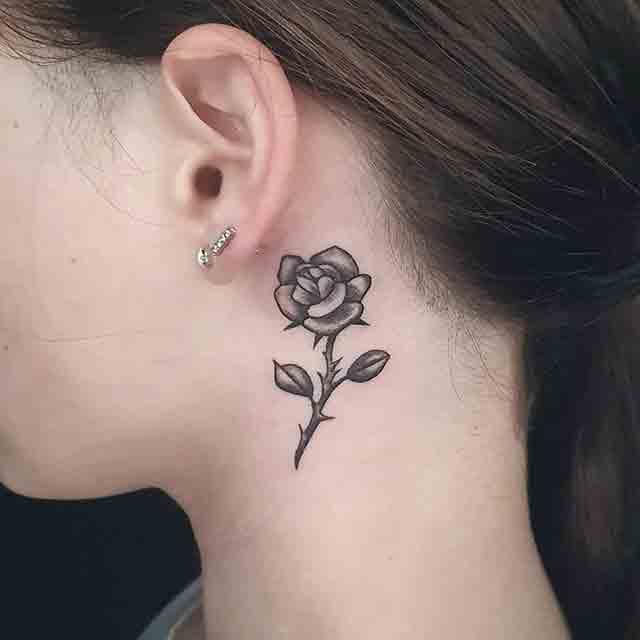 This lady in this image has a rose on the side of her neck inked with a monochromatic style. It is able to protect itself with the help of its thorns. The woman spreads the message that she is able to take care of her own.
Side Neck Tattoos
The side of the neck is the most popular and common area to get tattoos for women. These tattoos are suitable for every skin tone. Usually, they are a bit large than other variations of neck tattoos for women.
7. Baby Angel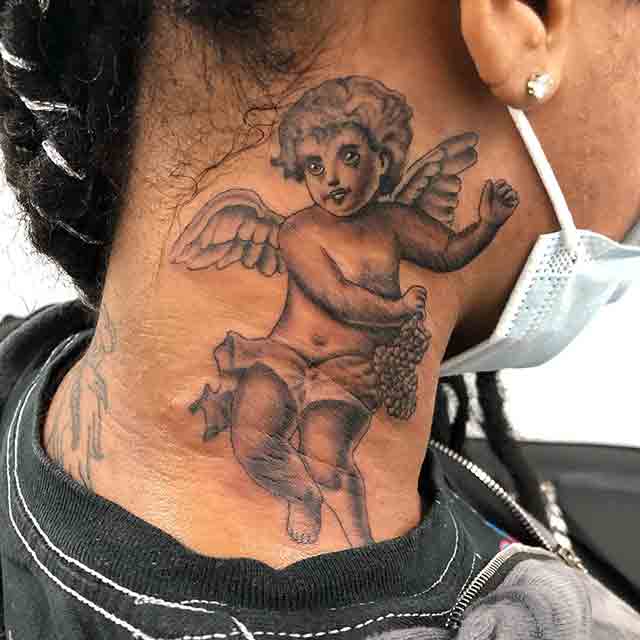 The gorgeous eye of the angel will melt everyone's heart. The tiny being on the side of her neck looks stunning. If you wear this tattoo, you'll definitely turn some heads on the road.
8. King Jason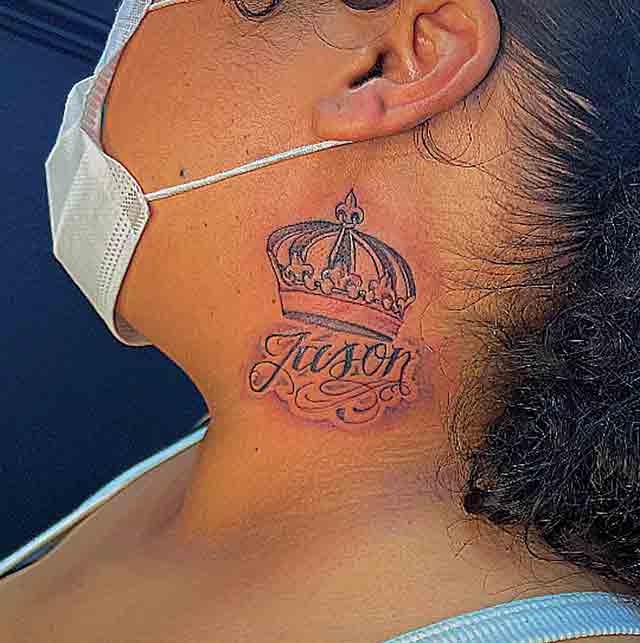 Crowns are often associated with royalty & respect. This amazing tattoo has the name "Jason" written below the crown. It indicates that Jason is the king of her kingdom and she is the queen.
9. Zayda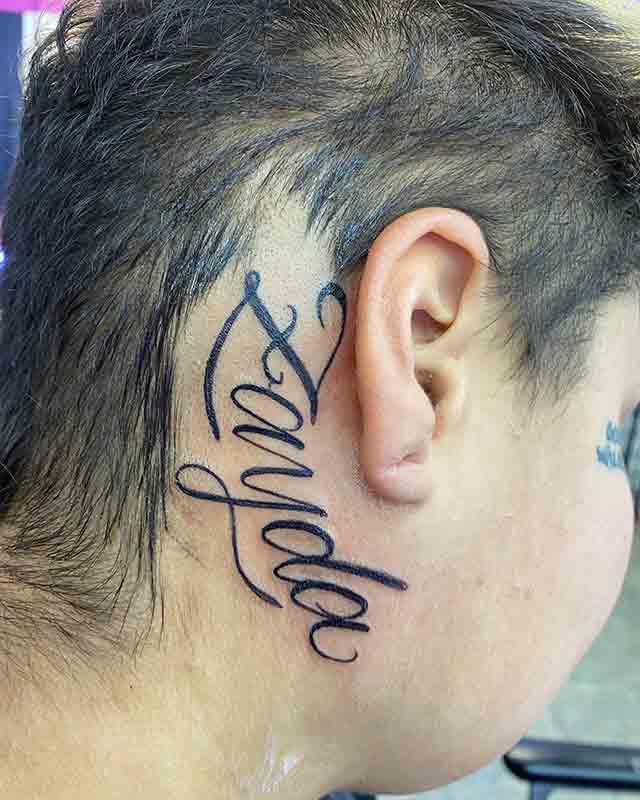 This side neck tattoo in particular has the word Zayda on it. Thy girl has it on the side of her neck. The text has a fluent flow to it. The bold lines are visible from a good distance as well.
Butterfly Neck Tattoos
A butterfly is the symbol of transformation & growth. A woman who has a neck tattoo with a butterfly is considered to believe in growth and change. They are easy to adapt according to the situation. There are some colorful options too. If you have light skin then you can go with the vibrant & colorful options.
10. Flying Butterfly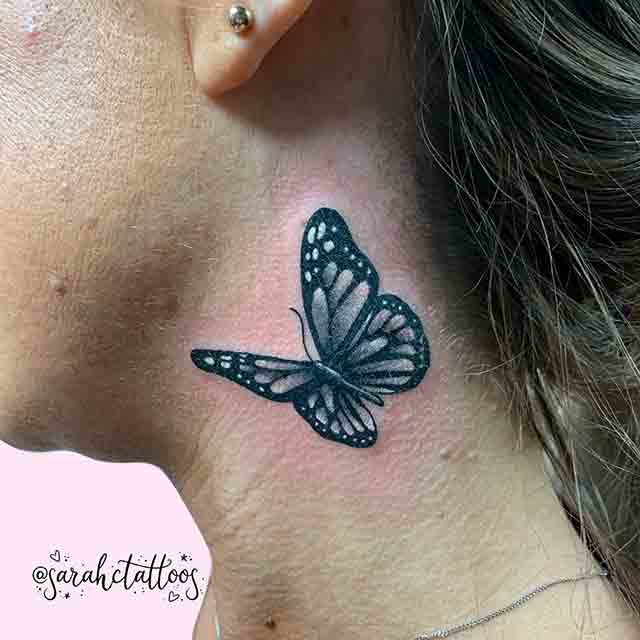 An amazing butterfly is flying on its own. It reminds us of the free spirit of this gorgeous young woman. This piece is freshly inked hence the redness of the skin around it.
11. Butterfly Triplets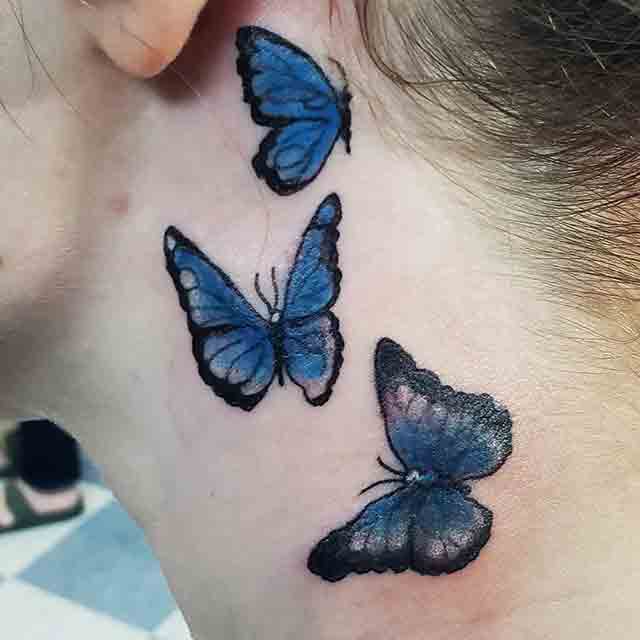 Three stunning blue butterflies are flyings in a synchronized manner. The light skin tone on this woman's neck highlights the color. The black outlines on the end of the butterfly's wings make them look even more beautiful.
12. Transparent Moth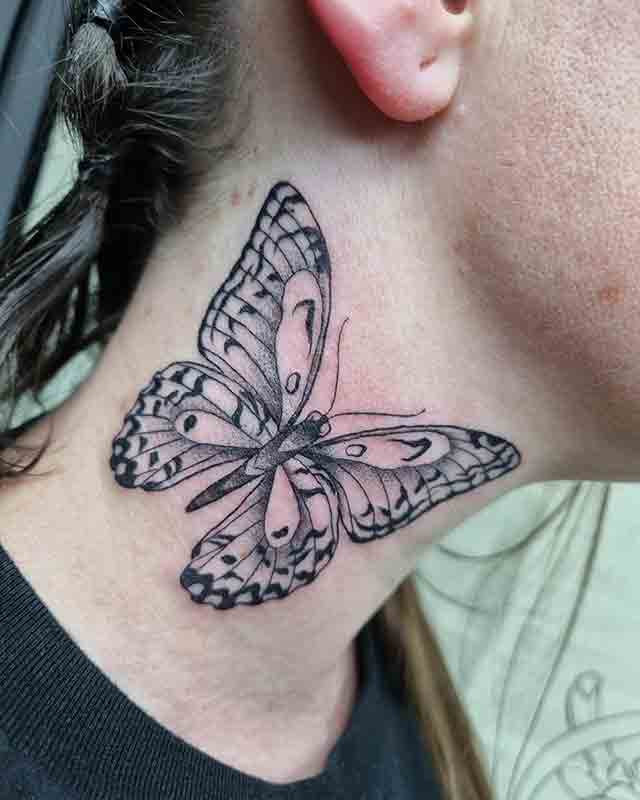 There's a moth on the side of this gorgeous girl's neck. The insect is transparent & looks like an outline. A beautiful neck tattoo piece for young women.
Cross Neck Tattoos
No tattoo design category is completed without a cross variation. It is the symbol of sacrifice and pain. It also represents suffering for the greater good. Cross tattoos tend to be simple and easy to get. Every artist should be able to create a design with a cross. If you are a religious woman definitely give cross neck tattoos a thought.
13. Lucky Cross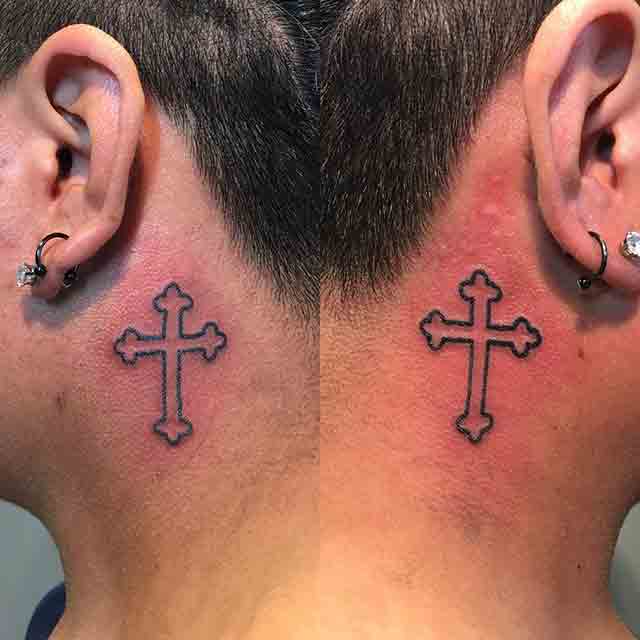 Just like lucky cloves the ends of this cross are rounded and have three particular hands. The cross is freshly inked behind her ear on the side of the neck. The hands also look like individual crosses too.
14. Black Moon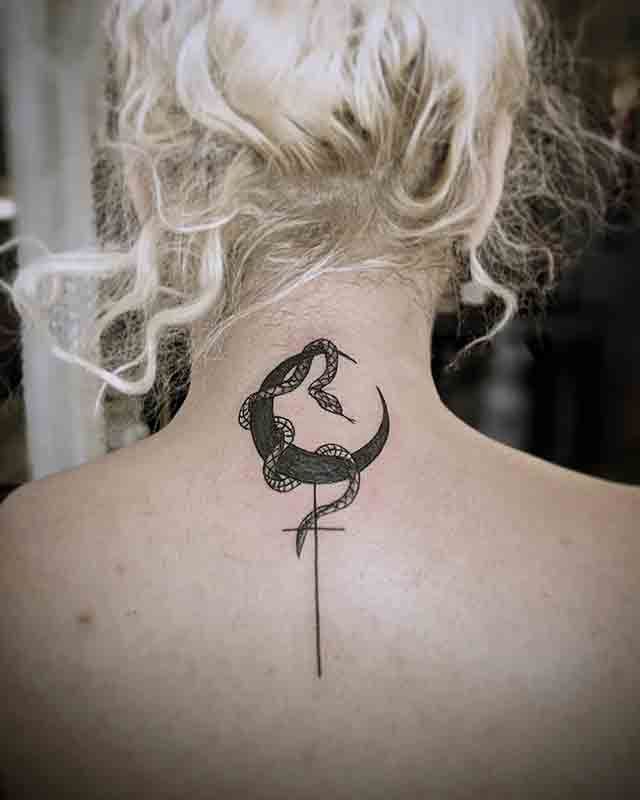 A venomous snake is crawling around the black moon. The deadly poison has infected the moon and it turned black. The tattoo gently rests on the back of the neck of this amazing woman. A true masterpiece that compliments her flawless skin tone.
15. Tiny Cross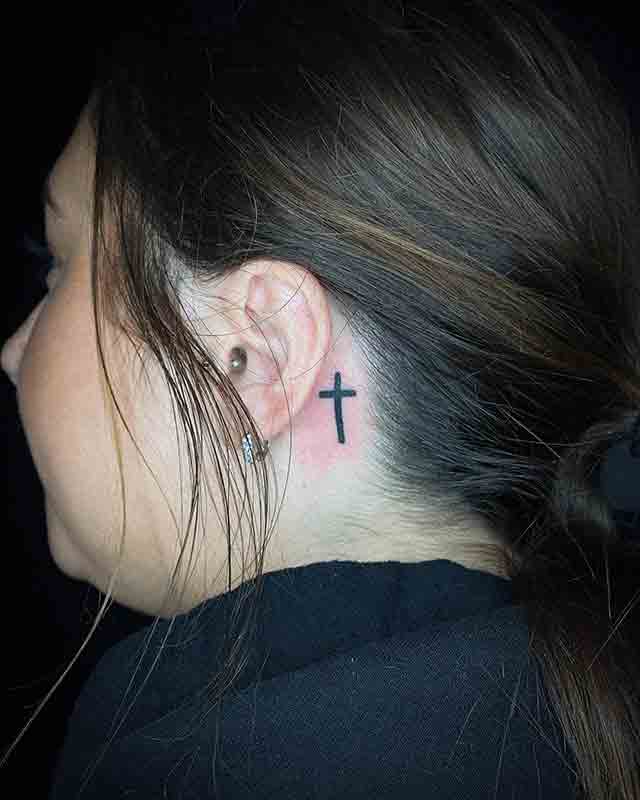 Just like the name suggests the black cross behind this lady's ear and on the side of her neck is very small in size. It gives her a fresh new look. It also indicates that she is religious.
Star Neck Tattoos
The tiny sparkling stars in the sky have inspired a lot of designs among tattoo enthusiasts. They are considered the symbol of hope. Usually, multiple stars are combined to make a meaningful neck tattoo piece for women. They are usually monochromatic
16. Star Trails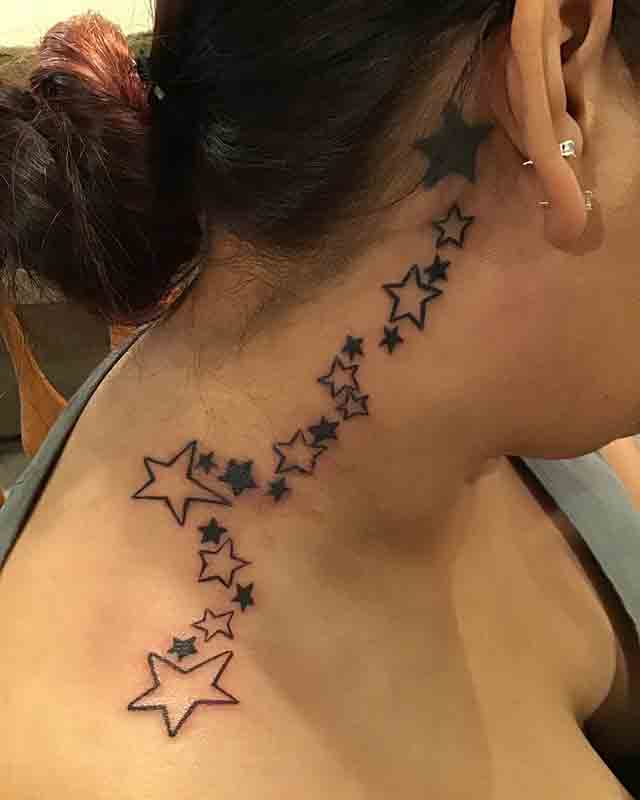 A trail of glazing stars is drawn on one entire side of this girl's neck. Some of the stars are black & some of them are white. The mix of different sizes and colors gives this tattoo a unique look.
17. Shrinking Star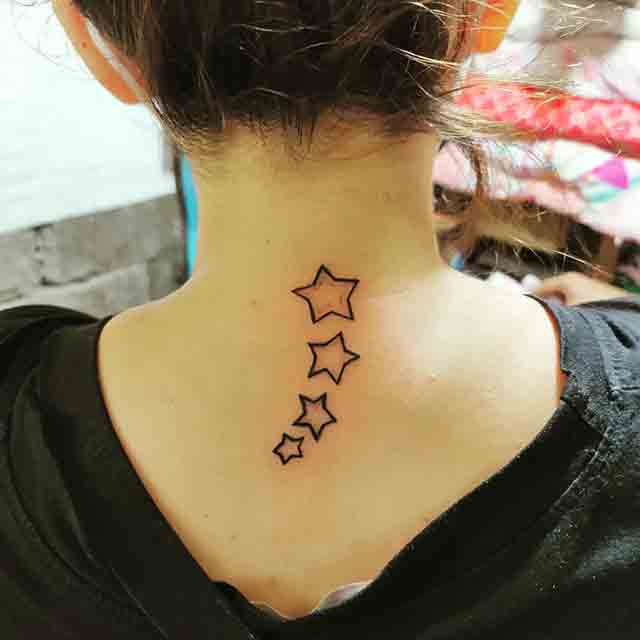 There are four stars tattooed one after another in a pattern. The first one is the large and the other ones gradually decrease in size. It shows the changes and growth of a person with the passage of time.
18. Paradise Of Stars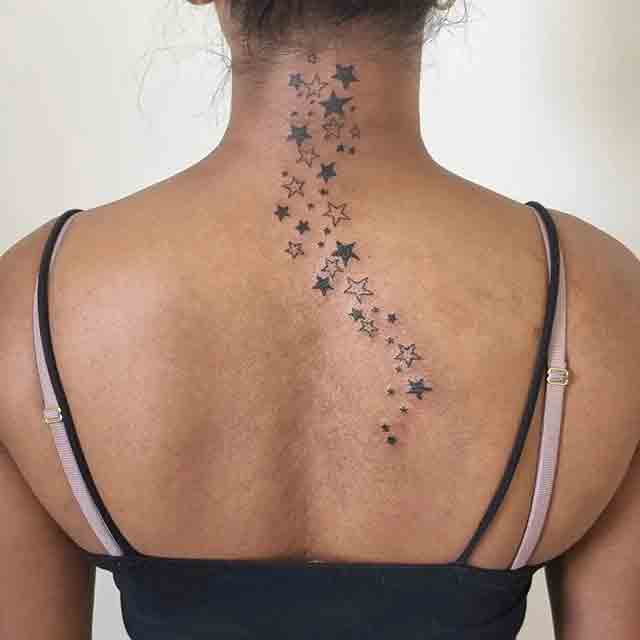 Hundreds of stars are visible on this woman's neck & back. Some of them are so tiny that they look like small points. The variety of colors helps to create more dynamics in this piece. If you have a dark skin tone this is a great choice for you.
Tribal Neck Tattoos
Tribes are some of the closely bonded peoples. By getting a tattoo that is associated with a specific tribe you show that you want to be a part of them. Tribal tattoos are one of the oldest tattoo designs. They help to better connect with the people of a specific tribe.
19. Tribal Sting Ray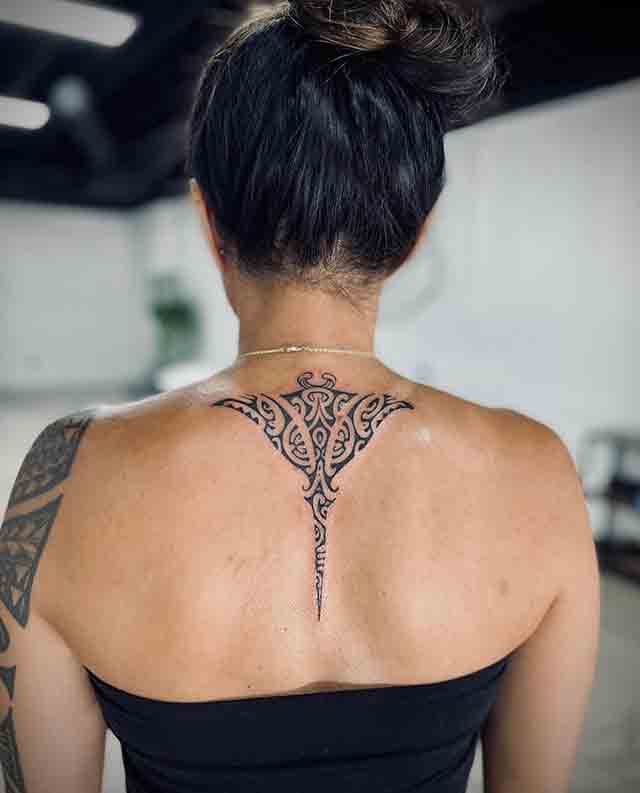 This amazing tribal design on the back of this modern lady's neck looks like a stingray. The body of the creature is filled with gorgeous patterns. The empty space divides the body into three parts but unites them at the root. A meaningful and sentimental neck tattoo design for women.
20. Fragmented Piller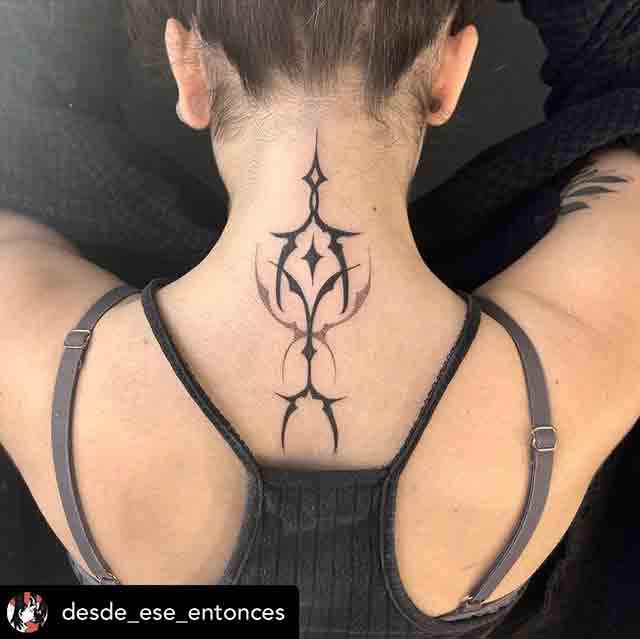 A few individual parts have joined forces and forged this pillar. The pieces are still recognizable but they are united. A powerful neck tattoo piece for women that shows unity and bonding.
21. Ancient Markings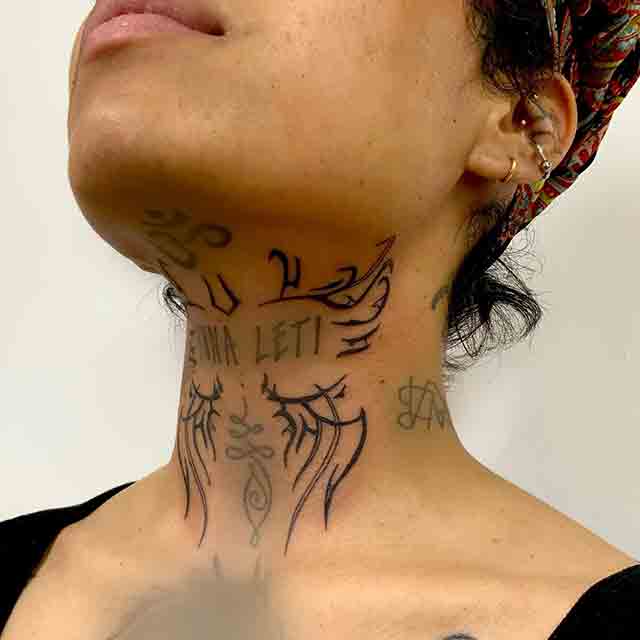 Most likely the design on her neck was inspired by a tribe that had an Indian origin. The symbols and lines make for a phenomenal piece. She also has her name written in the middle of the symbols. It indicates that she is willing to be surrounded by the beliefs of that tribe.
Anchor Neck Tattoos
Anchors are used to keeping ships attached to a certain place. However, they are used to describe stability and stillness when used in neck tattoos for women. They are a sign of brute strength and strong willpower. A woman with an anchor tattoo is considered to have a powerful mind and strong willpower.
22. Anchored In Flower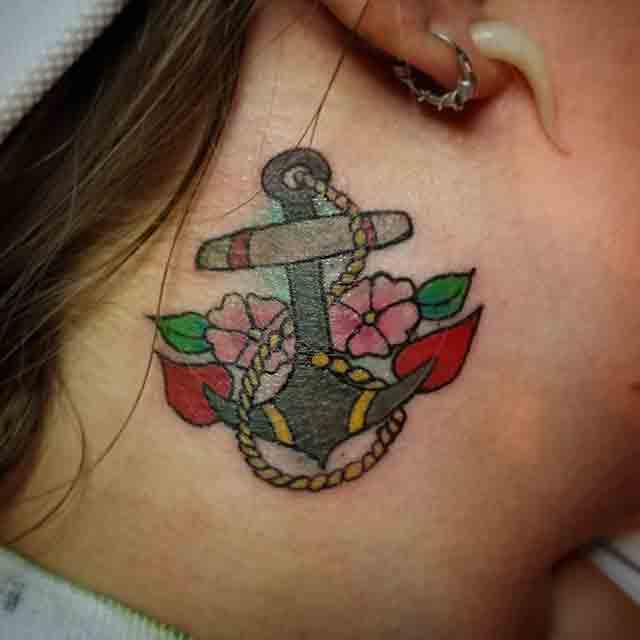 An anchor is a hard and stable object but flowers on the other hand are delicate and evergrowing. The artist has combined them together and created this colorful anchor neck tattoo. It is suitable for most women but women with fair skin, in particular, will look more attractive.
23. Strong Denial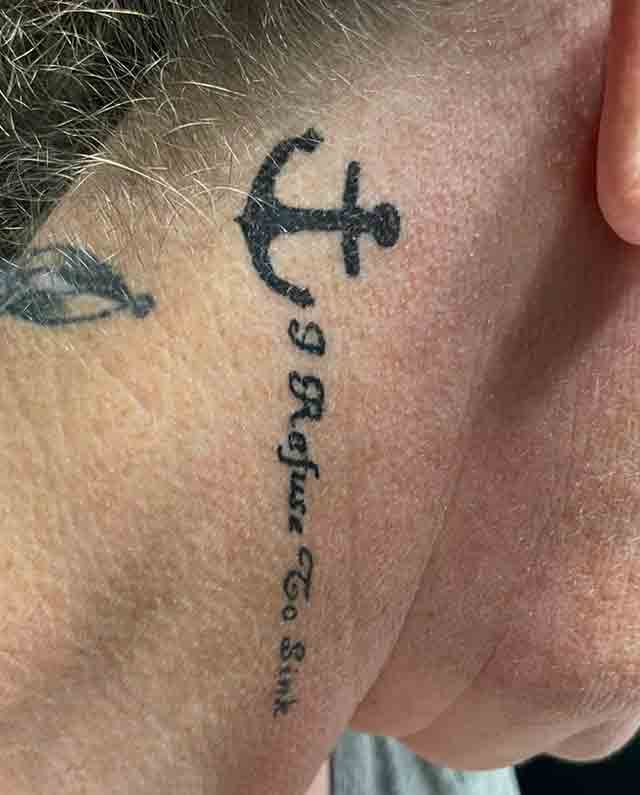 This neckpiece has the quote " I refuse to sink" on it. Although is accompanied by a metal anchor. The determination and strong will are clearly visible in this tattoo. A woman who will wear this will show her determination and strong willpower without even saying a word.
24. Massive Anchor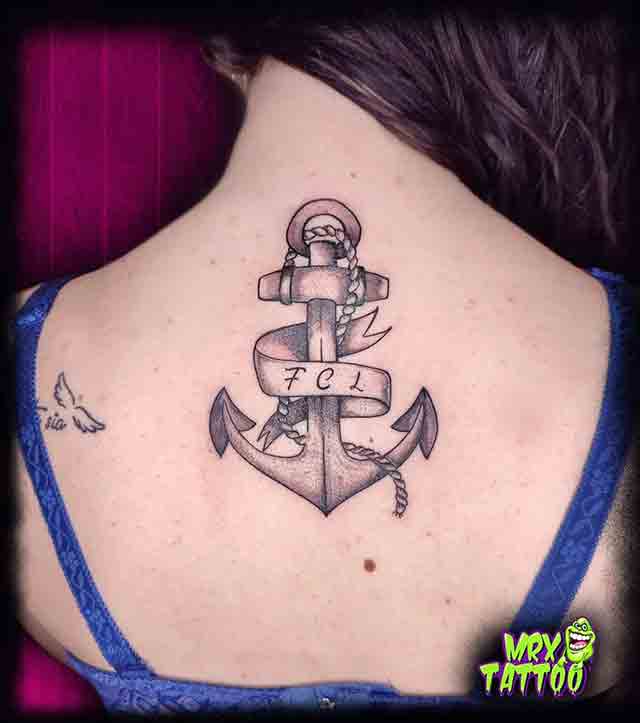 Among all of the anchor neck tattoos for women, this one is the biggest. There is a ribbon surrounding this anchor that says "FCL". You can include anything in here as you wish. It shows that the thing in the middle won't go anywhere.
Bird Neck Tattoos
Birds are free spirits that love to fly around without restriction. Women's neck tattoos with birds try to incorporate that same emotion. These tattoos have colors and gorgeous designs. These next tattoo designs represent freedom and youthfulness.
25. Multi-colored Phoenix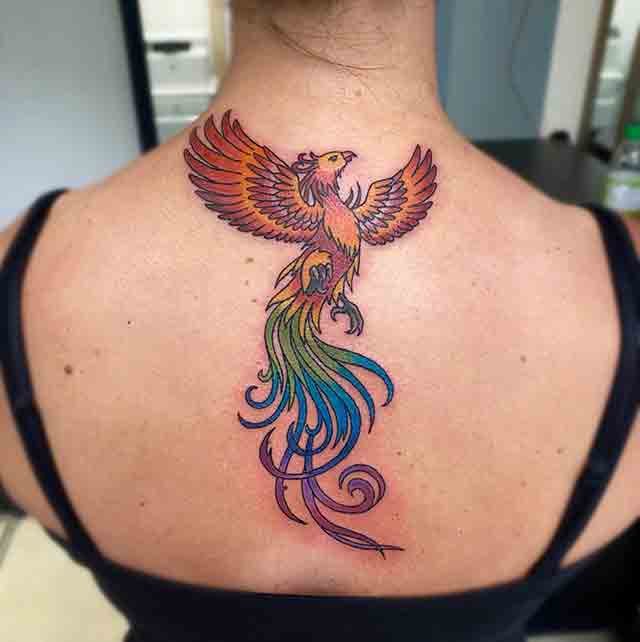 A colorful image of a phoenix is tattooed at the end of this wonderful woman's neck. The red and blue colors create an amazing contrast. The blue trail is taking the attention and making this piece an attention grabber.
26. Free Birds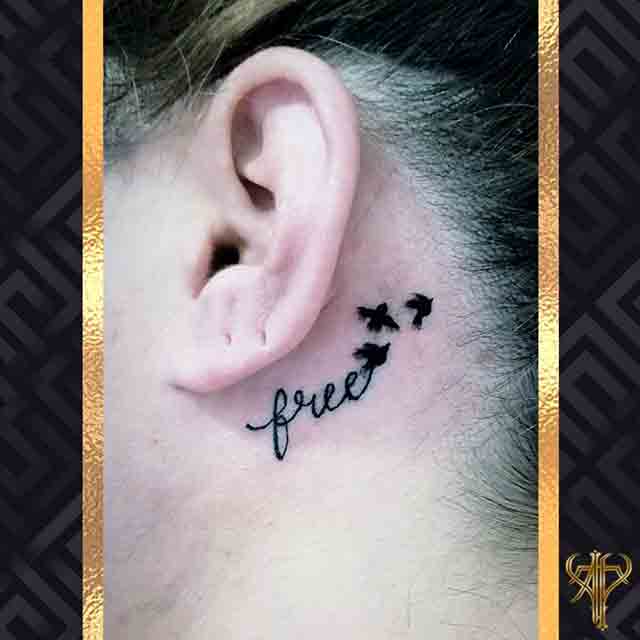 27. Alone Bird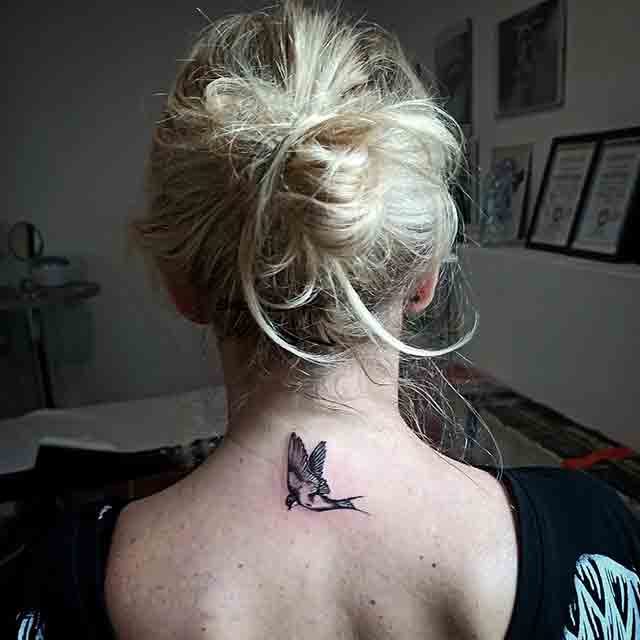 Skull Neck Tattoos
28. Crossed Skull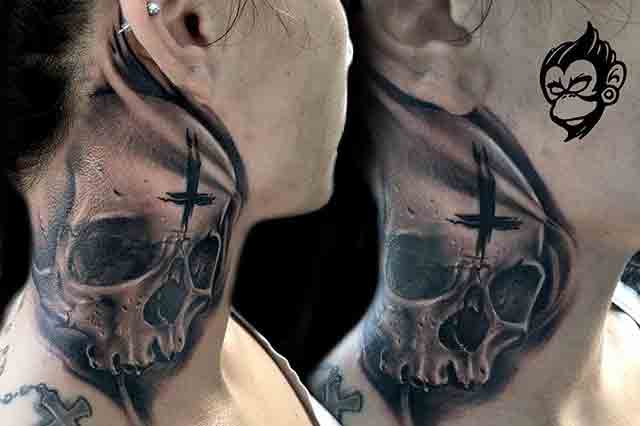 29. Dark Skull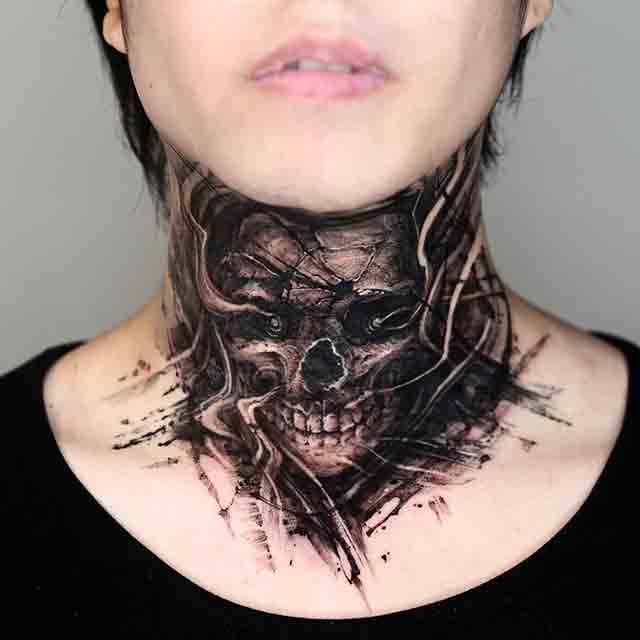 Dragon Neck Tattoos
30. Crazy Dragon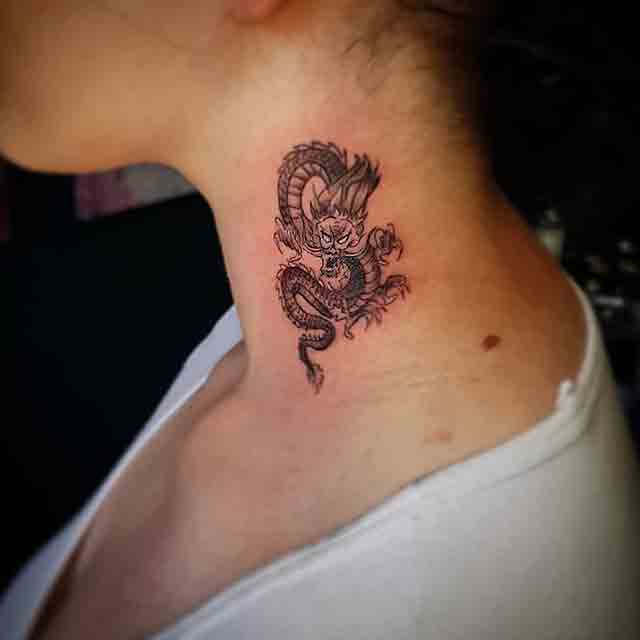 31. Angry Beast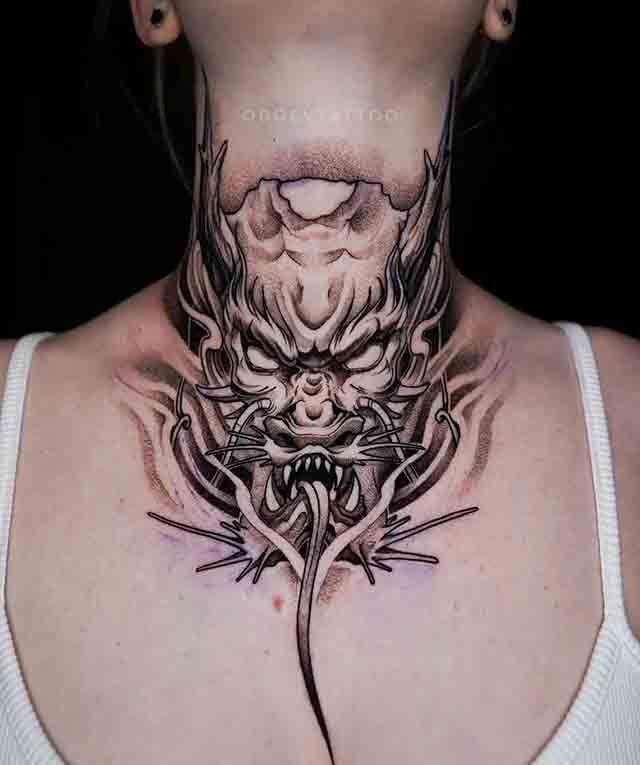 32. Flaming Red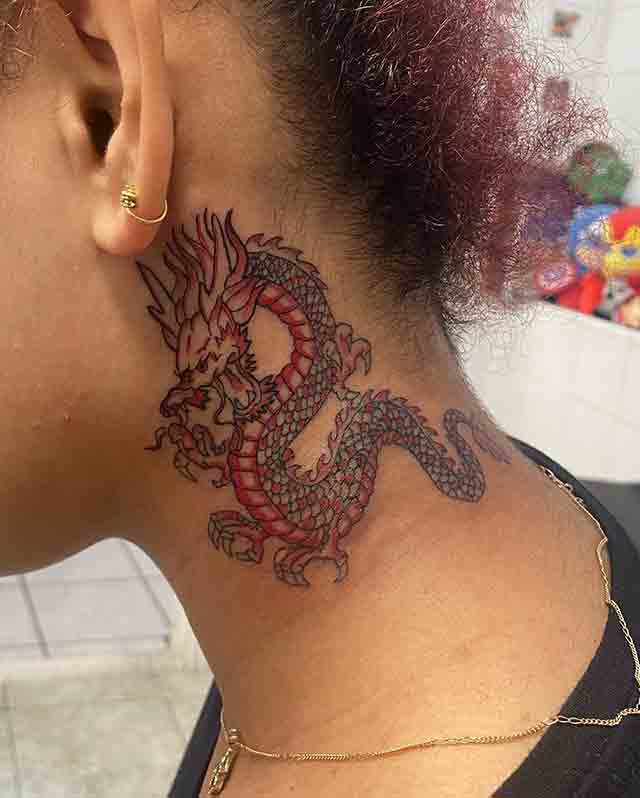 Phoenix Neck Tattoos
33. Blue Flames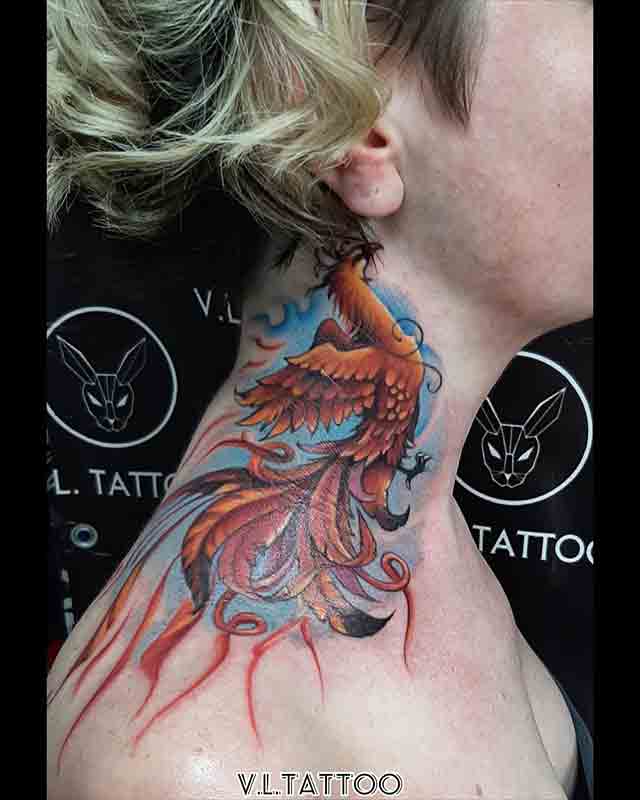 34. Flower Burner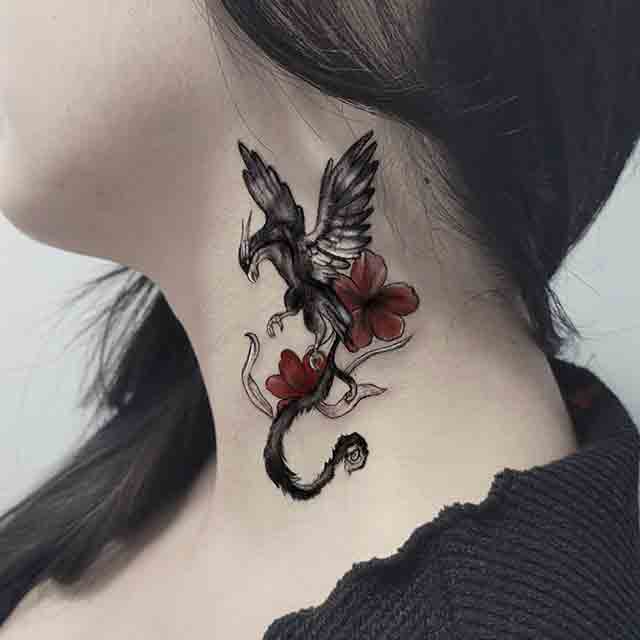 35. Gradient Phoenix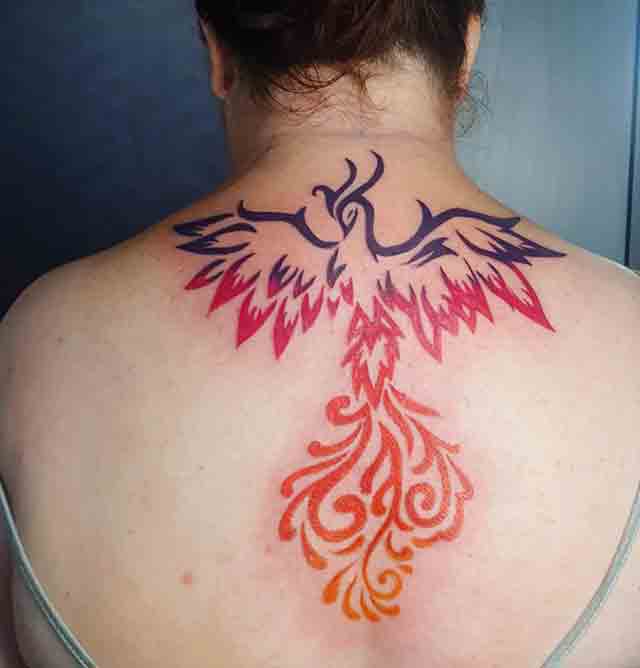 Flower Neck Tattoos
36. Pink Flowers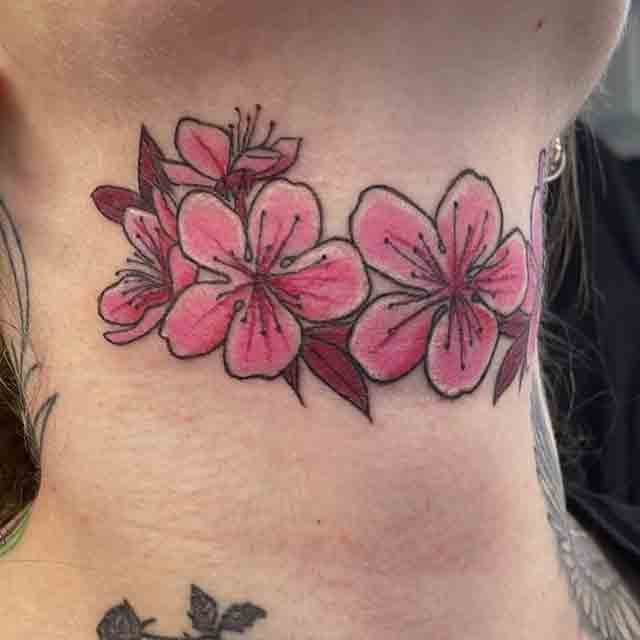 37. Spring Vibes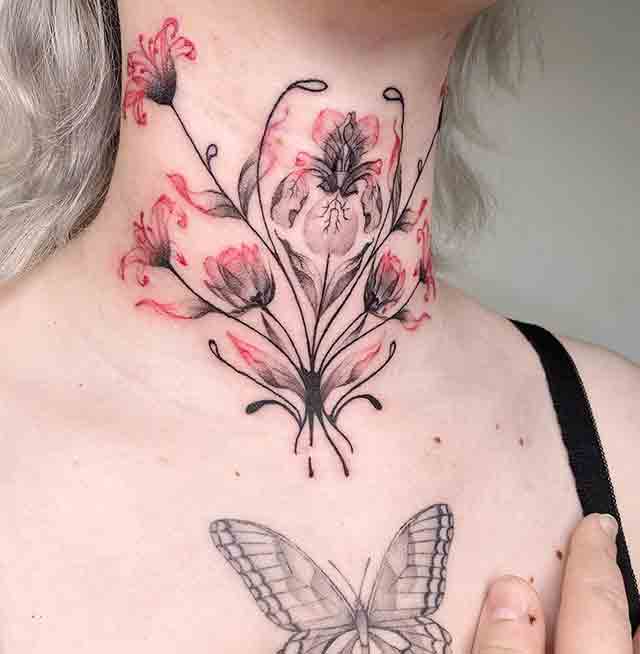 38. Hidden Web
Celtic Neck Tattoos
39. Christmas Tree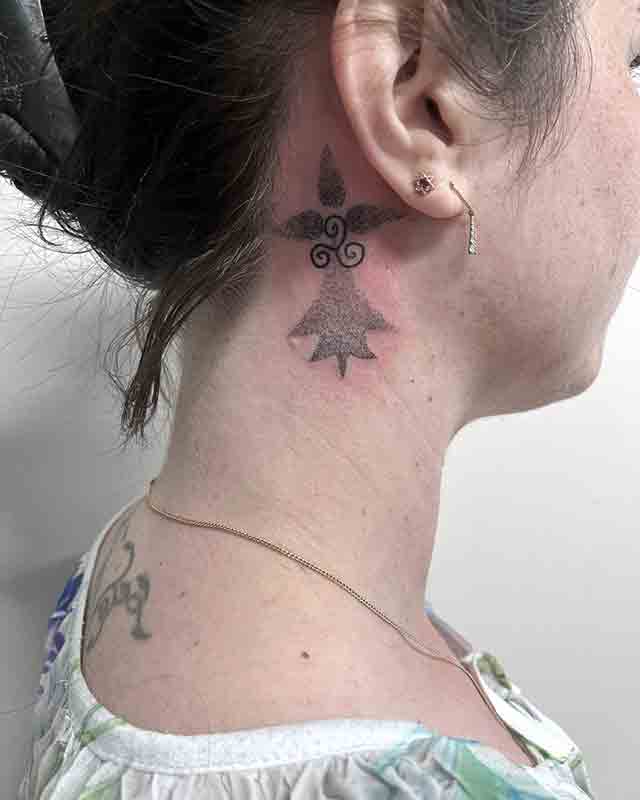 40. Celtic Symbol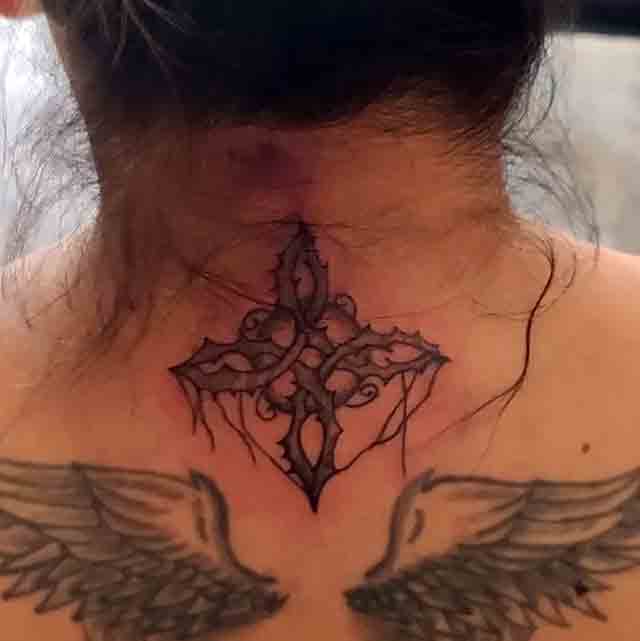 41. Lured Bug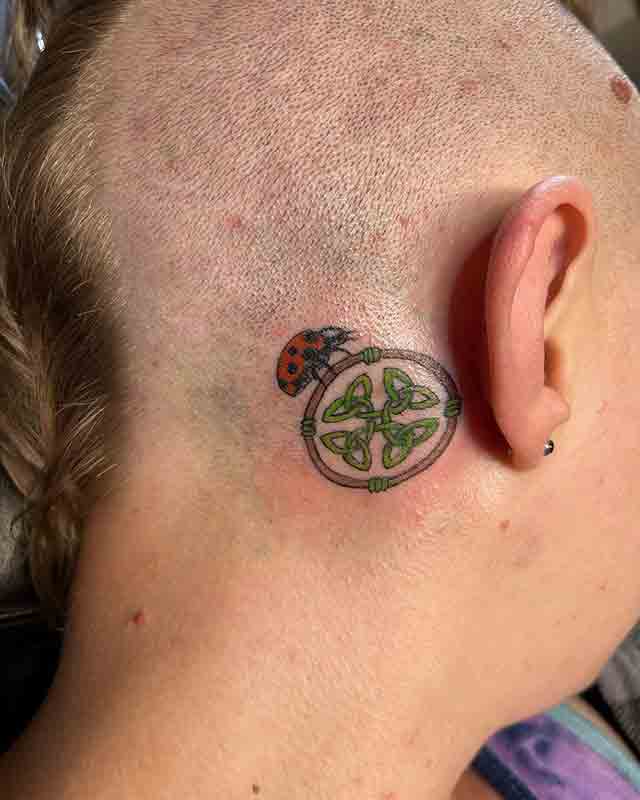 Minimalism Neck Tattoo
42. Minimal Rose Cross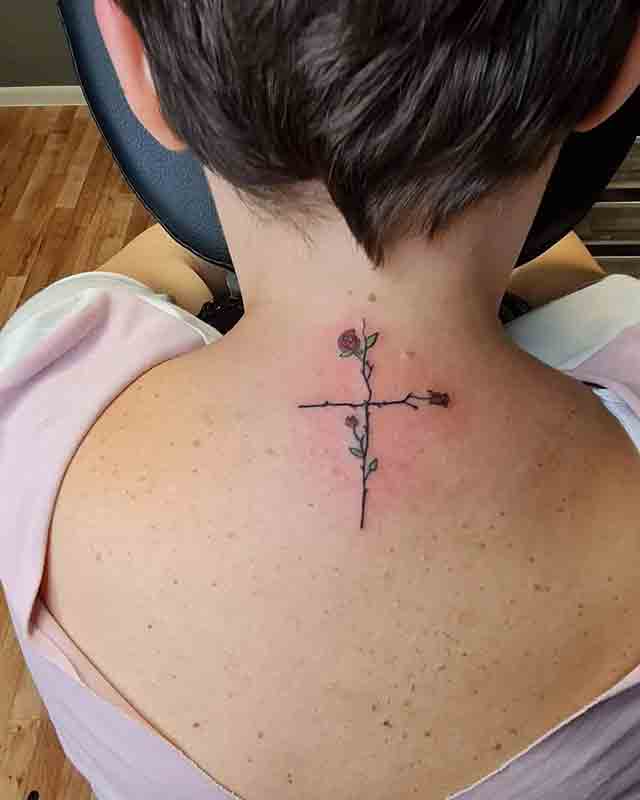 43. Minimalistic Lily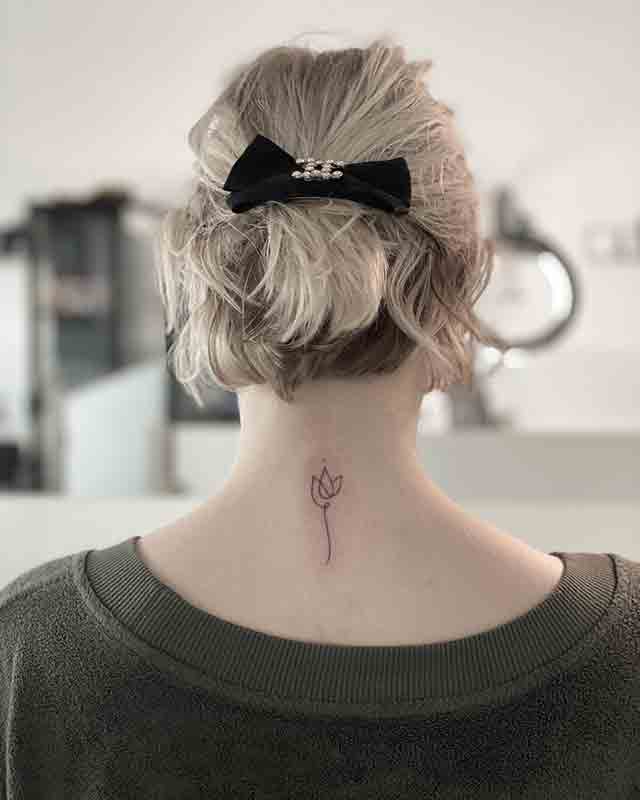 44. Light Birds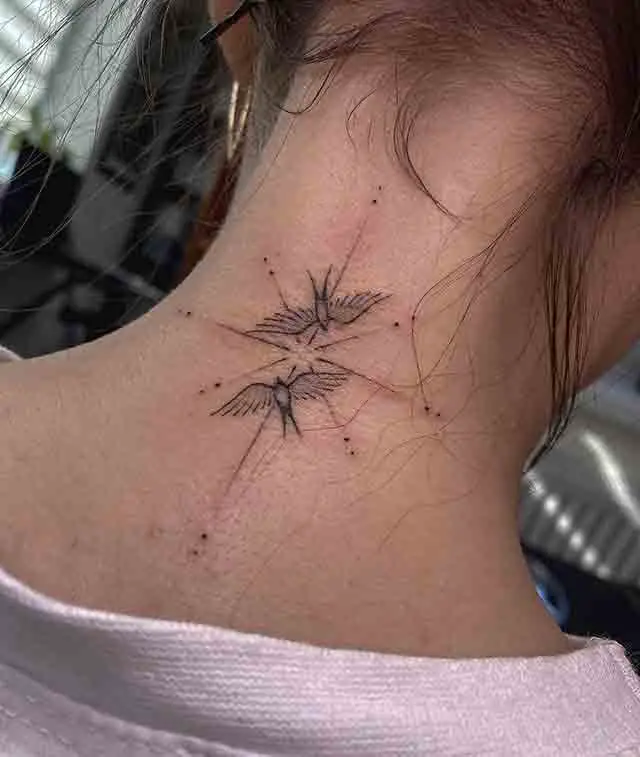 Heart Neck Tattoo
45. Devil Heart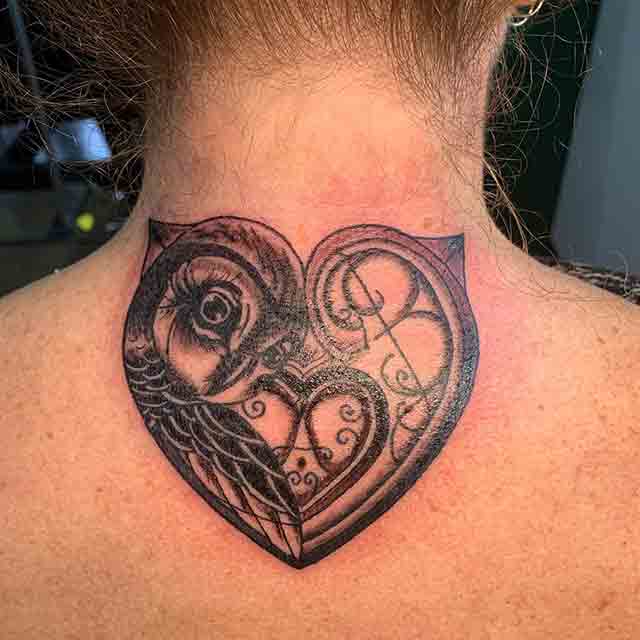 46. Queen Of Hearts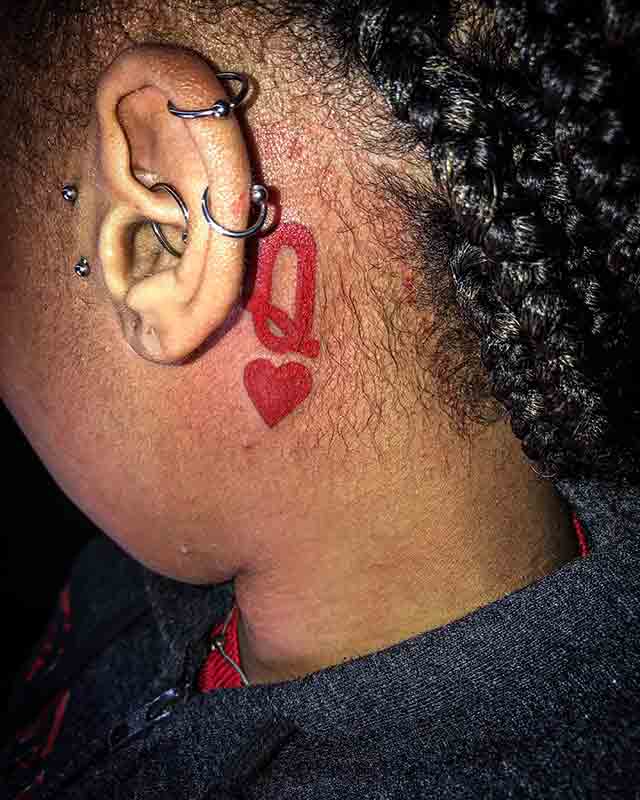 47. Rhythm Of Love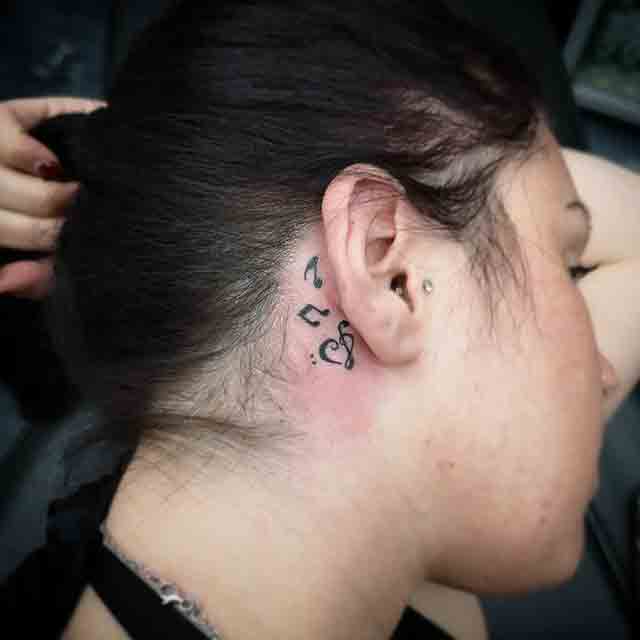 Lotus Neck Tattoo
48. White Lotus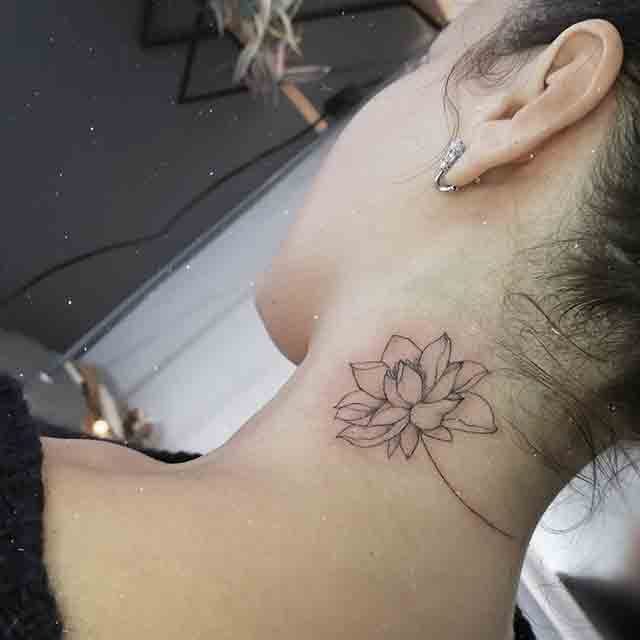 49. Gorgeous Lotus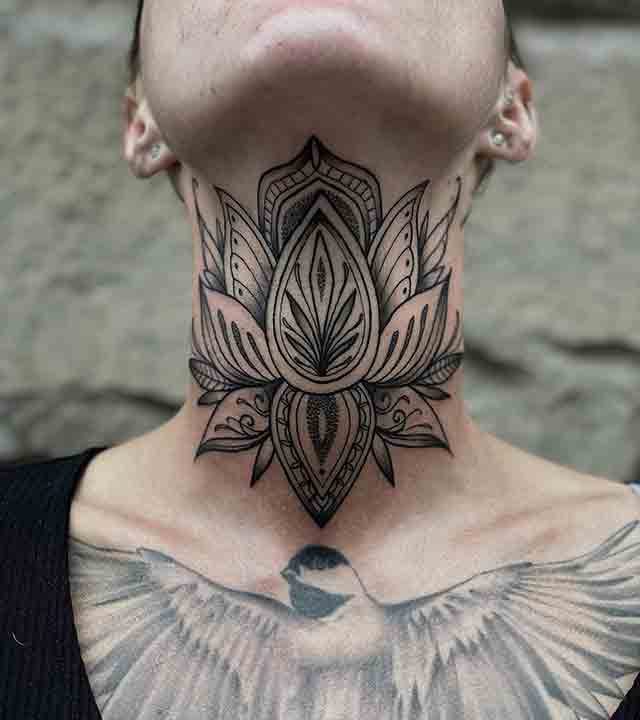 50. Filigree Lotus Tattoo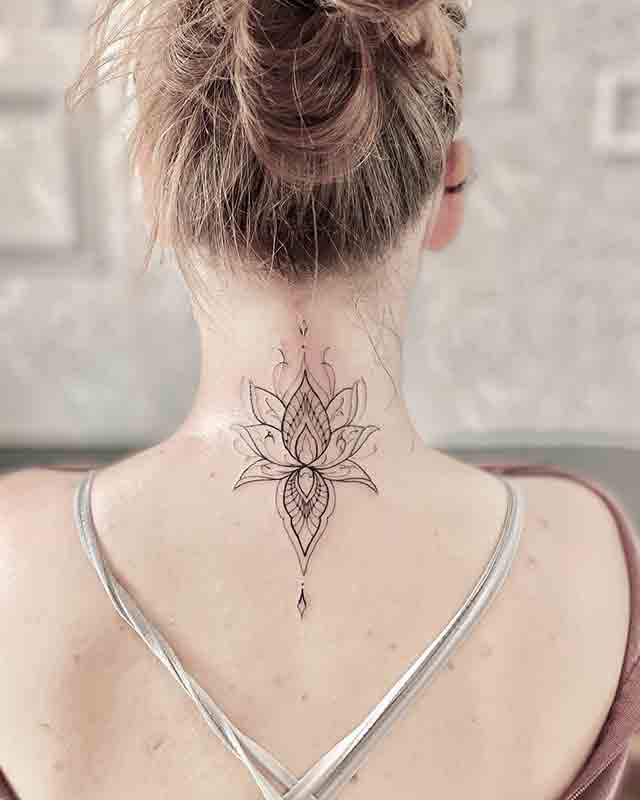 Snake Neck Tattoo
51. Giant Snake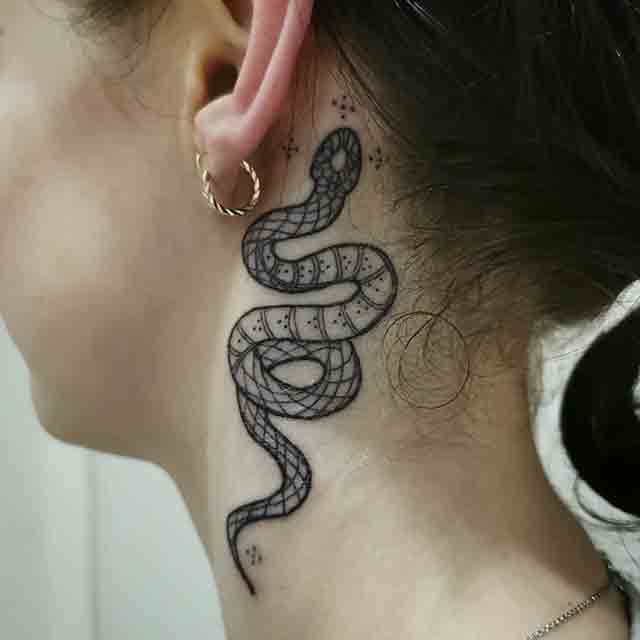 52. Black Poison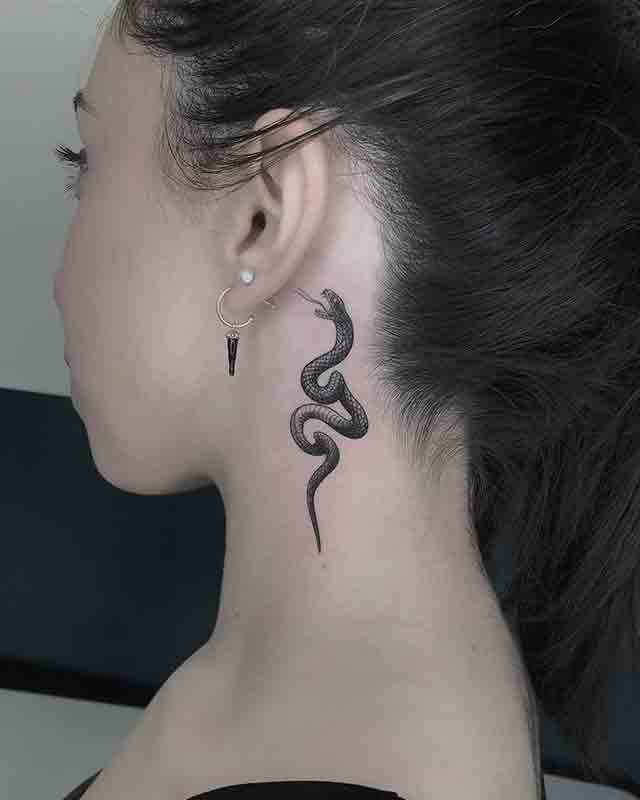 53. Poison Whisperer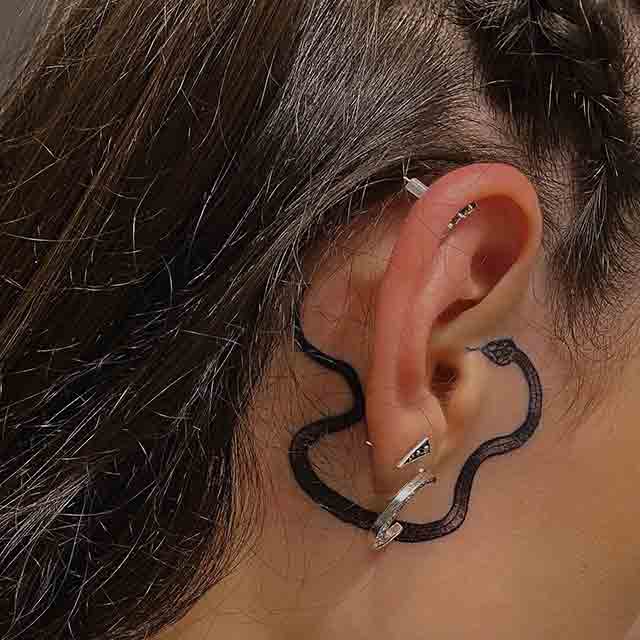 Sunflower Neck Tattoo
54. Sunflower Eye
55. Rooted Quote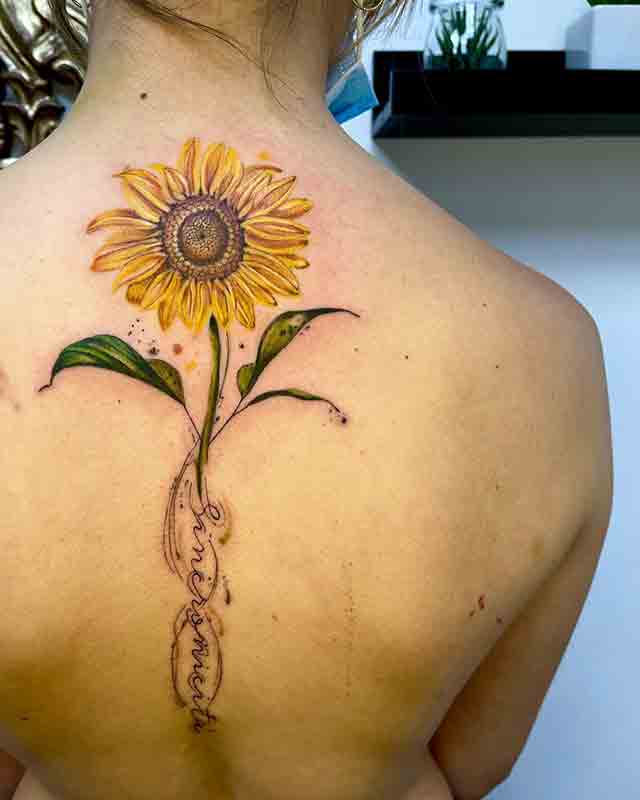 56. Back Of The Ear Sunflower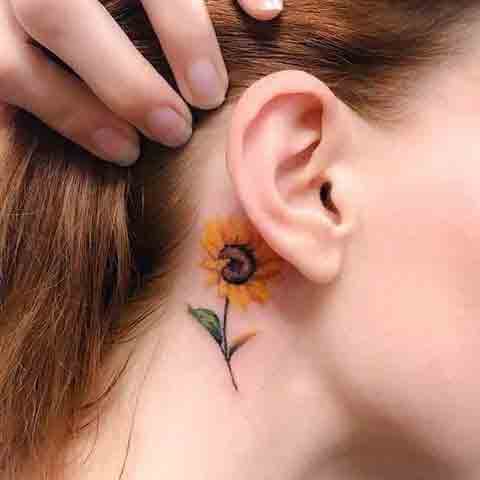 56: DIAMOND AND ROSES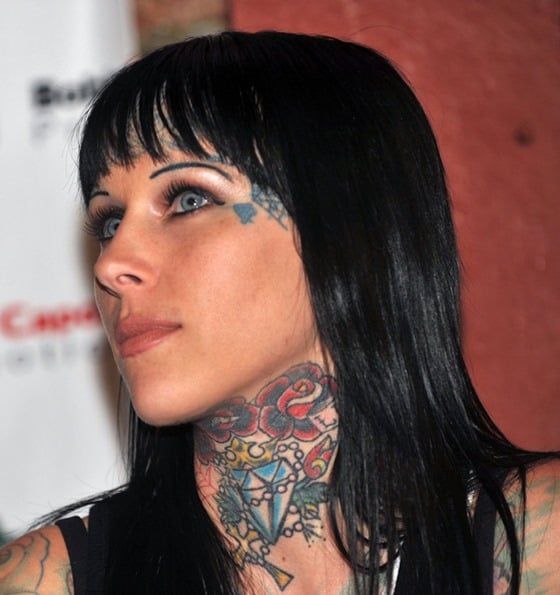 While her other tattoos can be seen, her colorful neck tattoo of blue diamond and red roses grabs attention.  The rosary also adds to her edgy look.
57: ROSE WITH HER NAME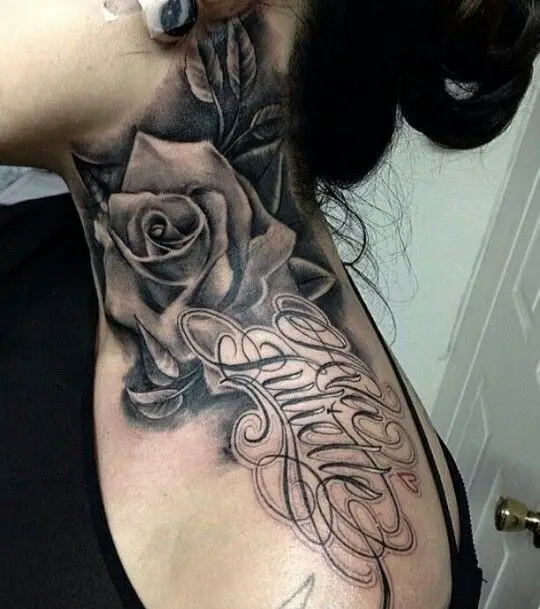 It's quite apparent that this rose inspired neck tattoo is dedicated to someone significant in this woman's life. The use of soft black tones makes this an attractive choice that complements her accessories and outfits.
58: CREATIVE NECK TATTOOS FOR WOMEN
Here's a creative neck tattoo that adds style to this woman's look. This pattern with black ink is a great conversation starter as well as an aesthetic artwork worth admiring.
59: PAW PRINTS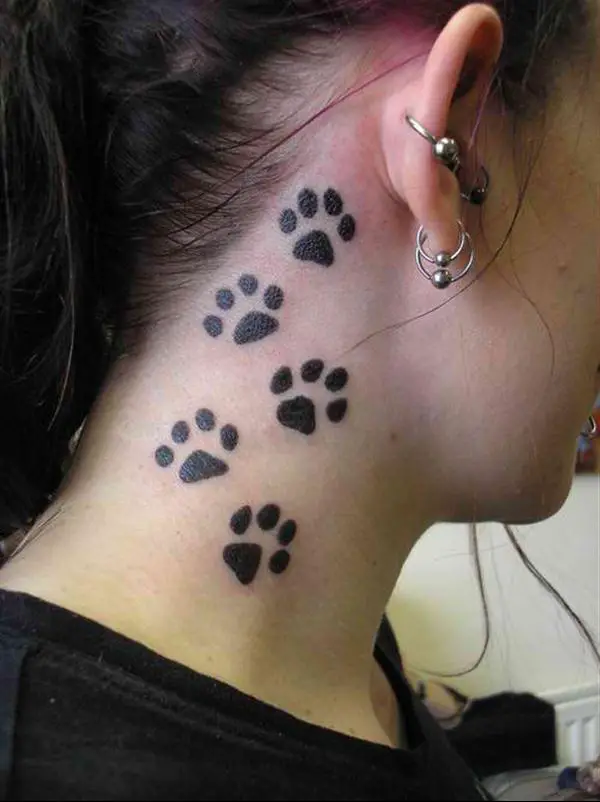 Neck tattoos for women do not have to use complicated patterns to get noticed.  In this simple yet meaningful tattoo, it's clear that pets are very dear to this girl.
60: TEXT MESSAGE TATTOO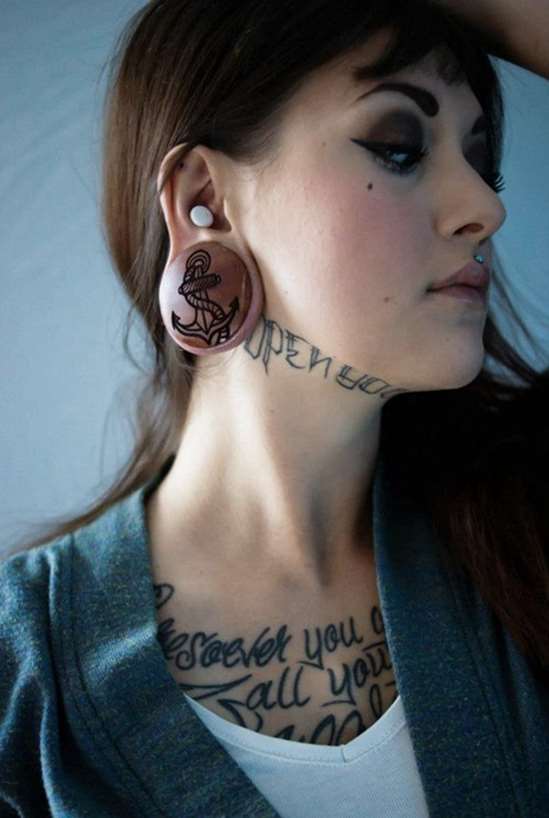 Interestingly, there is no way anyone could fail to notice this woman.  Her written neck tattoo sends her message for others to be open minded, loud, and clear.
61: EXQUISITE TATTOO DESIGN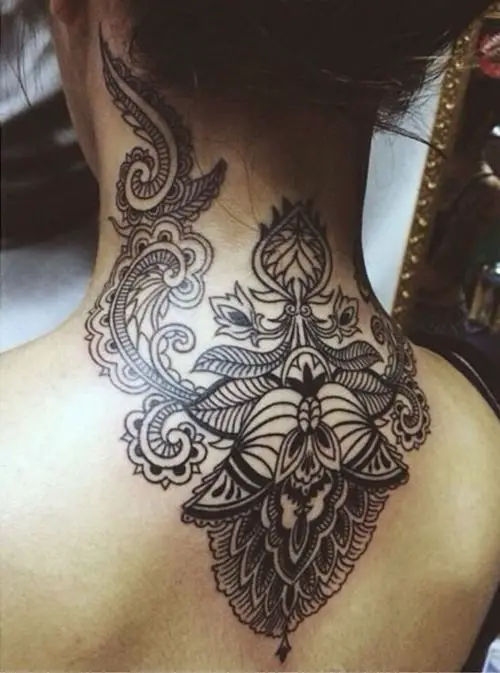 This exquisite back of neck tattoo design featuring a detailed floral pattern is sure to turn heads. No doubt, the fashion conscious won't be disappointed by this expertly made design.
62: TRIBAL PATTERN NECK AND SHOULDER TATTOO
Intricate yet bold patterns done in black ink will definitely turn heads for this beauty. It's clear that this well-designed neck and shoulder tattoo complements her and will continue to command attention and admiration.
63: INTRICATE PATTERNS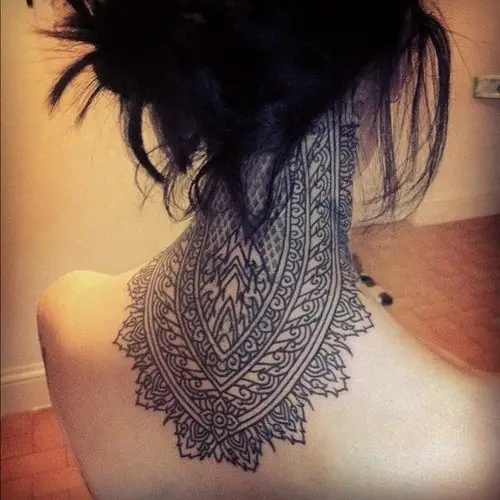 Here's why a neck tattoo that is quite intricate will always win style awards. The ink work shows the great care and patience that went into this lace-like finish. Certainly attention grabbing.
64: A ROSE SAYS IT ALL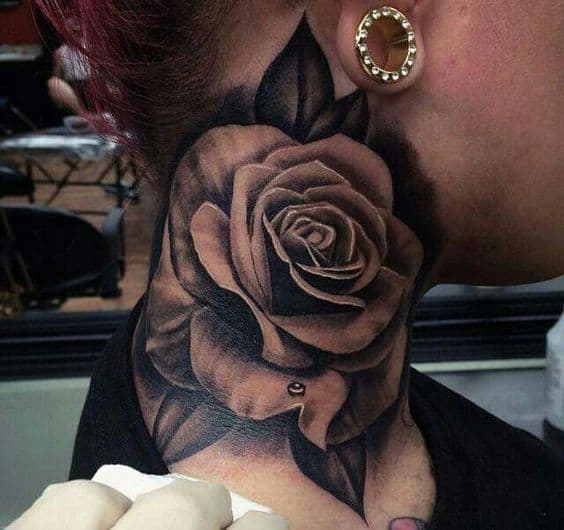 Popular among tattoo designs, the rose continues to dominate the preferences of women who love neck tattoos. Here is one rose that will certainly grab attention. Check out the expert shadings in black that add texture to this design.
65: NECK AND SHOULDERS TATTOO DESIGN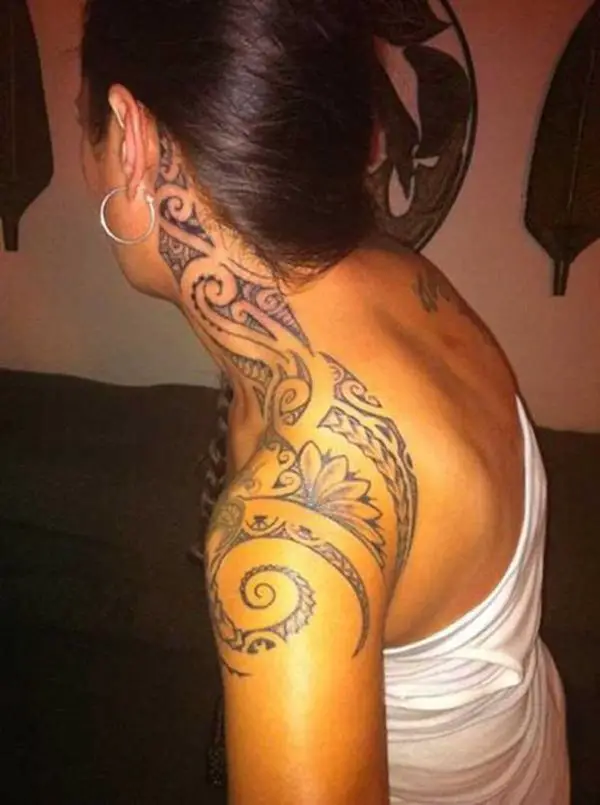 Here's a captivating neck tattoo pattern that also takes the shoulders. The black ink used is sufficient to show off the intricacies of this artistic design.
66: EXTENDED NECK TATTOO DESIGN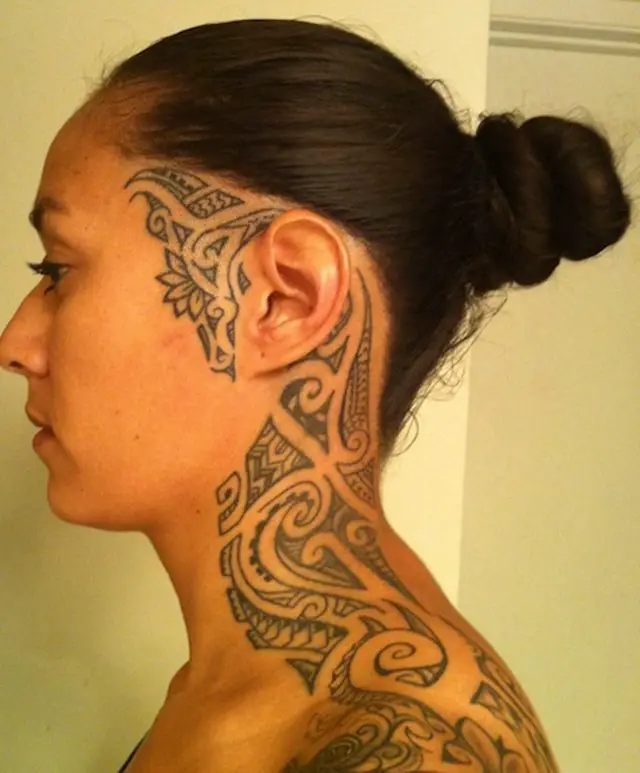 You'll agree that creative neck tattoos can also include the face and shoulders. Check out this expertly done black inking that does not require any other color.
67: DANGLING JEWELRY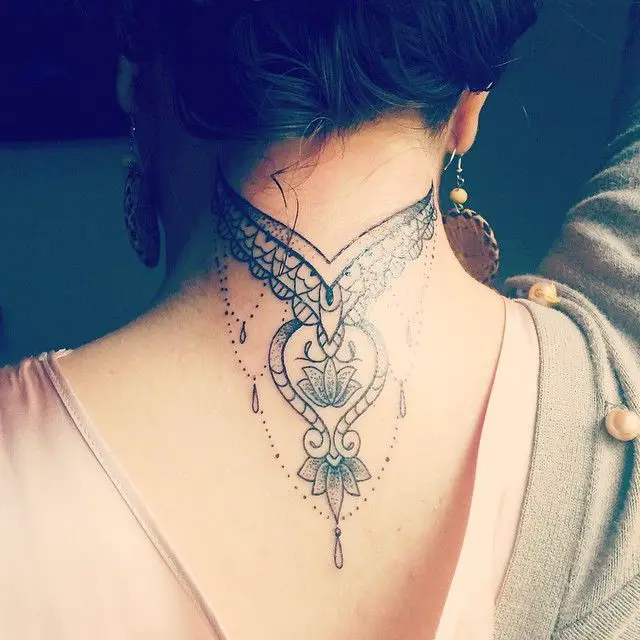 It's tempting to touch this dangling jewelry. It's, however, an expertly crafted neck tattoo. The details are exquisite and the ink work quite realistic. Undoubtedly, this neck tattoo goes quite well with any outfit and for all occasions.
68: BUTTERFLY NECK TATTOO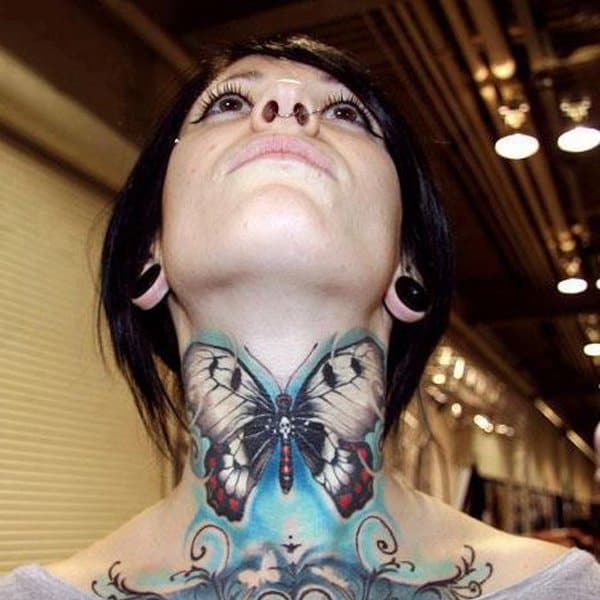 The butterfly takes a very prominent position in this neck tattoo for this women. Evidently, she's going for "Silence of the Lambs."
68: ORNATE DESIGN FOR NECK TATTOOS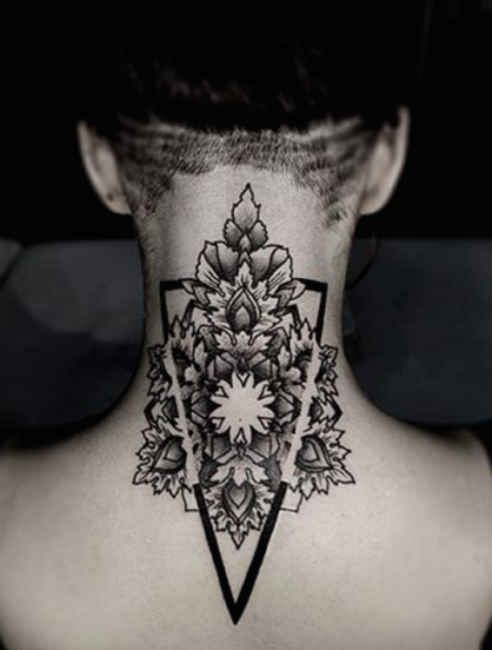 One sure way to start a conversation is to show off a unique neck tattoo that keeps everyone guessing. With this ornate design combined with a bold triangle, this girl shows her cool style.
68: COMPLETE NECK AND BODY TATTOO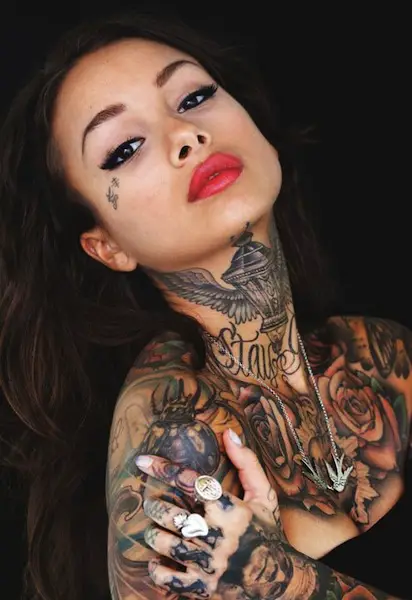 If your passions are as many as this beauty's, then a neck tattoo that goes with other tattoos may very well be your preference. Here, the winged image on the neck adds to the rest of her body's canvas of art.
69: BUTTERFLY NECK TATTOO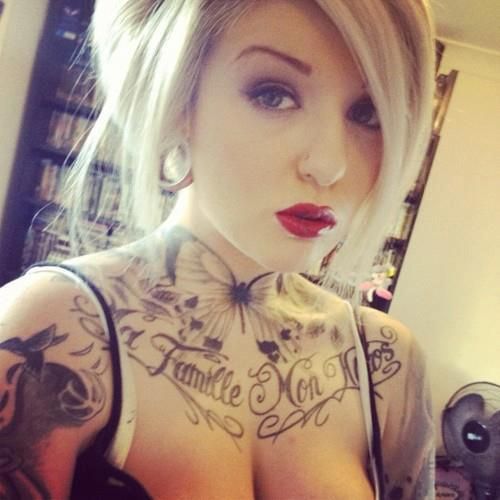 You simply can't go wrong with a gorgeous butterfly neck tattoo which accentuates this woman's other tattoos. Expect heads to turn at this one.
70: INTERESTING PATTERNS AND IMAGES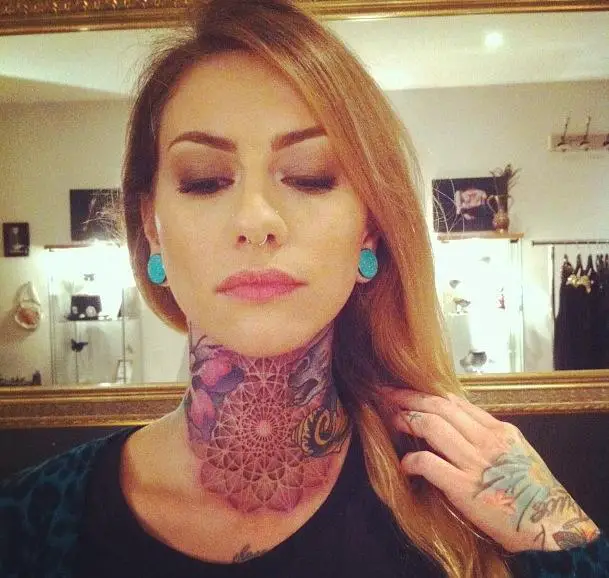 Here's how to make your neck the center of attention. Place a stunning neck tattoo and use vibrant colors to create that mystical or sci-fi effect. Of course, get an expert tattoo artist to do it.
71: NECK TATTOO WITH ROSE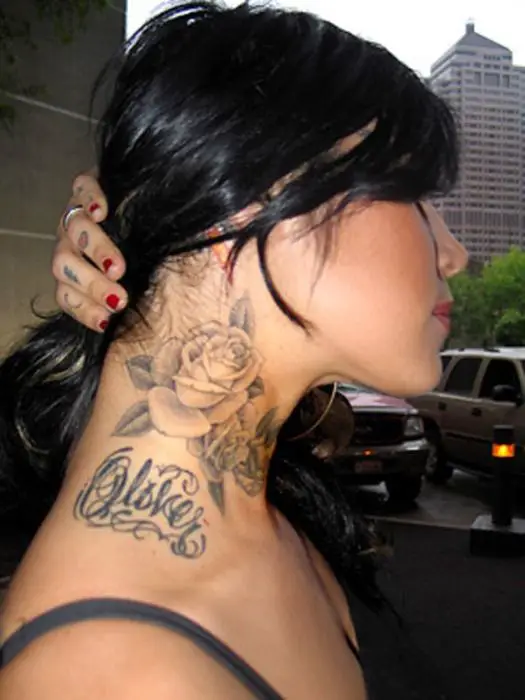 Whether this rose inspired tattoo is to honor the past or current relationship, this woman can be assured that this tattoo is a fitting tribute. The ink work remains subtle and detailed at the same time.
72: ARTISTIC COLLAR TATTOO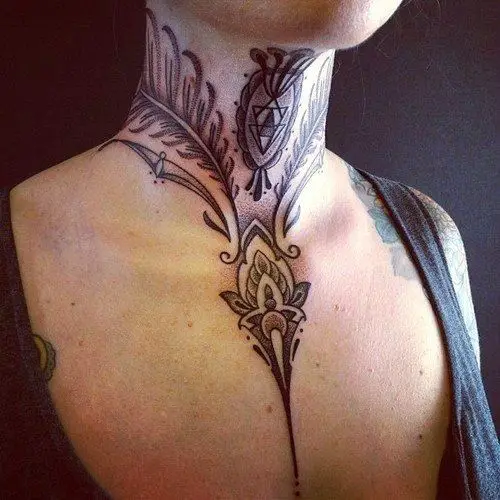 No doubt, this woman will always be proud of her design from neck tattoos for women.  This realistic tattoo showcases the awesome attention to intricate details and the inking which carries a hint of color with the dominant black.
73: SINGLE ROSE TATTOO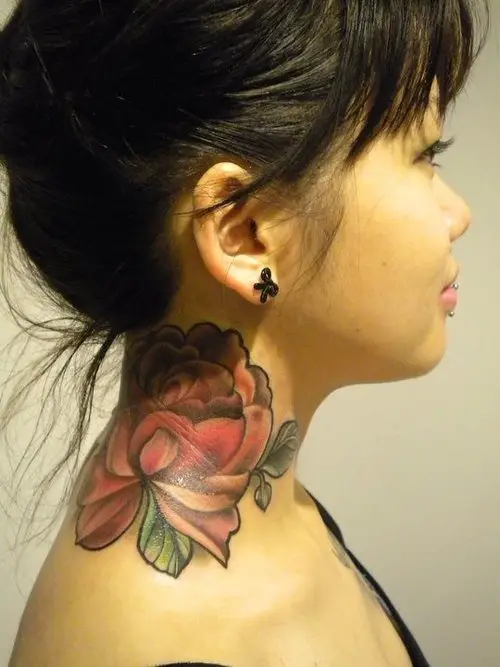 If in doubt about a tattoo choice simply go for a large red rose. This woman knows only too well the potential attention she would receive because of it.
74: ANOTHER BLOOMING ROSE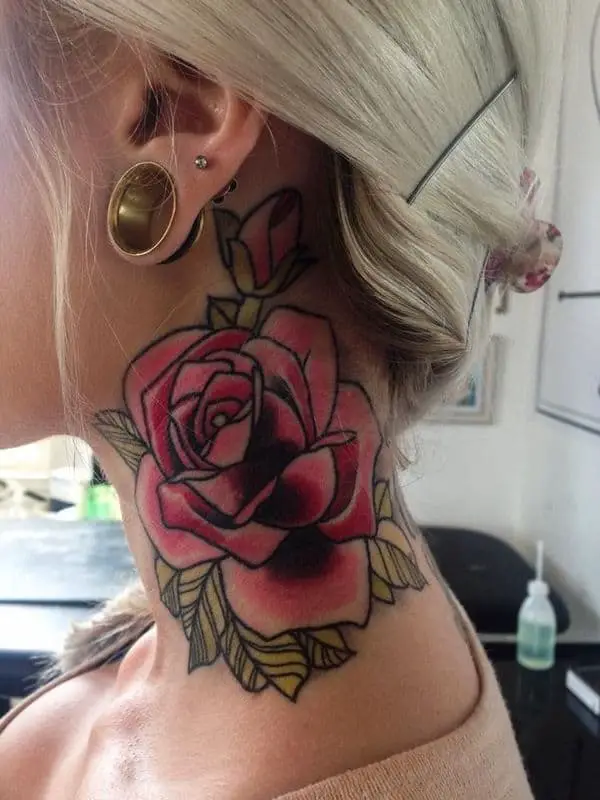 Let's check out this bright rose which sits boldly on this woman's neck. This dominant tattoo will certainly add flair to her vibe.
75: ROSE WITH THORNS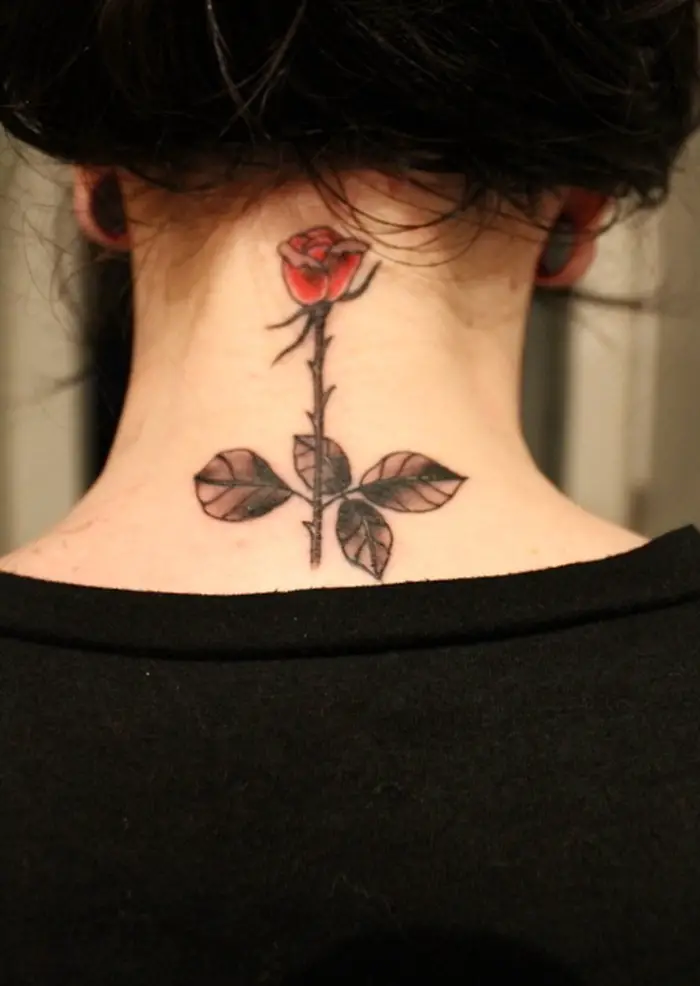 A single red rose on the back of the neck is the only tattoo this young woman needs to make her statement.
76: ROSE AMONG OTHER THINGS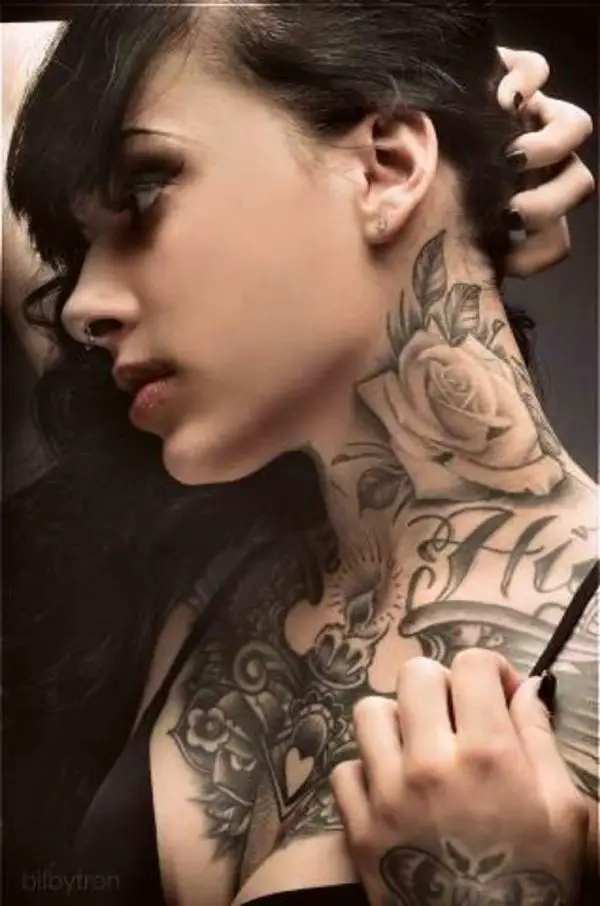 Another example of how the rose can be used in neck tattoos for women. This time it is joined by a lit candle on an elaborate holder.  Clearly, a lot went into this black inked design that adds to this woman's brazen style.
77: FLOWERS AND BUTTERFLY NECK TATTOO DESIGN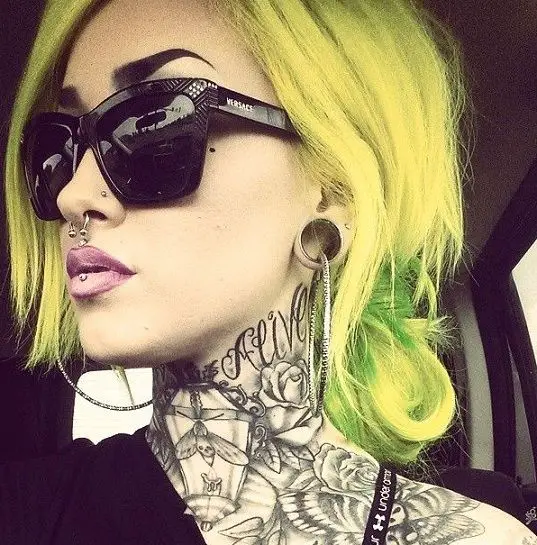 How about this complete neck tattoo that features roses and butterflies among other things? This black ink work shows off the artist's skill and the woman's creative taste. There's a lot to see in this tattoo that proclaims that she's alive!
78:  BOLD BLACK PATTERNS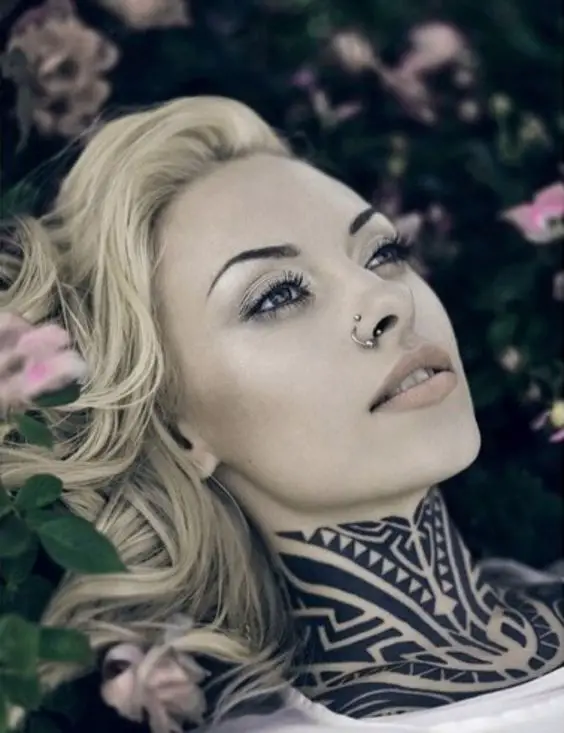 There's no confusion in this bold black ink work worn so confidently by this beauty.  It's almost as though she's wearing a fashionable inner blouse. This attractive tattoo design would go well with anything she chooses to wear.
Conclusion
These were some of the most spectacular neck tattoos for women. By now, you'd have seen a neck tattoo that has sparked your interest.  Next step – consult your tattoo artist. Feel free to express your thoughts to the artist before settling on a design. Make sure you select a design that'll suit your personality & skin type. Always try to go with a small design if you have to go to work where tattoos are required to be covered. At last, make sure you wear your tattoo with confidence and grace to get the best look.
FAQ
What does a neck tattoo on a woman mean?
It means that the woman is very open-minded and not afraid to face changes.
Do neck tattoos look good?
Of course. Neck tattoos look great if you select the right design.
Are neck tattoos very painful?
Yes. Neck tattoos are considered one of the most painful tattoos.
How painful is a side neck tattoo?
Side neck tattoos are extremely painful but they are not as painful as front neck tattoos.
How much is a neck tattoo cost?
Neck tattoos can cost anywhere from $200 to $4000 depending on the design, size, details & artist's reputation.
Are neck tattoos attractive?
Yes. Neck tattoos are very attractive & classy.