Tattoo ideas for men is a trend that has refused to die. Men all over the world are getting more daring with their choice of body arts. And tattoo artists are increasing in their creative mastery, churning out jaw dropping, awe inspiring designs daily. With different parts of the body in use, men can choose to get tattooed anywhere including the head, the face, the nape, the ankle, the ribs, the back and pretty much anywhere else. Some designs can be linked to human history, others are sentimental, and while some are gotten for the fun and expression, it gives.
EXCLUSIVE  TATTOO IDEAS FOR MEN TO TRY
Tattoos allow men to be more expressive and create, a man's tattoo pretty tells you all you need to know about his personality and likes. The body is a relatively large canvas if you have any new expressions to express. We are aware of how confusing choosing a tattoo design can be especially if you are a newbie. So we have put together a little compilation of some of our favorite tattoos for men spanning different color variations, themes, size, and location.
#1: TRIBAL MARKING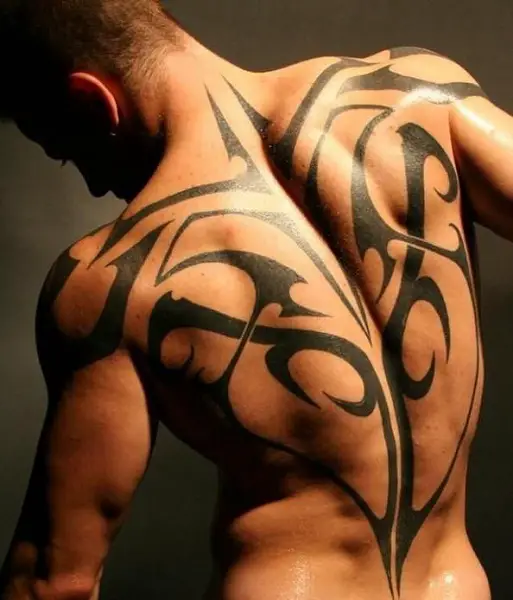 Looks like ancient markings, the type of marking you would find in an eerie, hidden and scary location. With its larger than life size, it back tattoo for men is very cryptic and intriguing.
#2: SAMOAN TRIBAL TATTOO
This is a nice example of a typical Samoan tribal tattoo. The sun is small when it is compared to the rest of the tattoo, but at the same time, it is so central and powerful. With other tribal designs finely weaved in patterns, this chest and shoulder tattoo is awesome.
#3: BODY ARMOR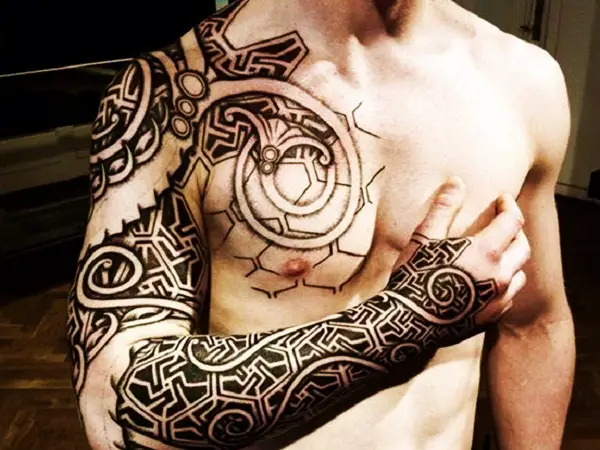 This 3D design of a body armor is so beautiful, intricate and so lifelike. Go and conquer, warrior!
#4: ULTRON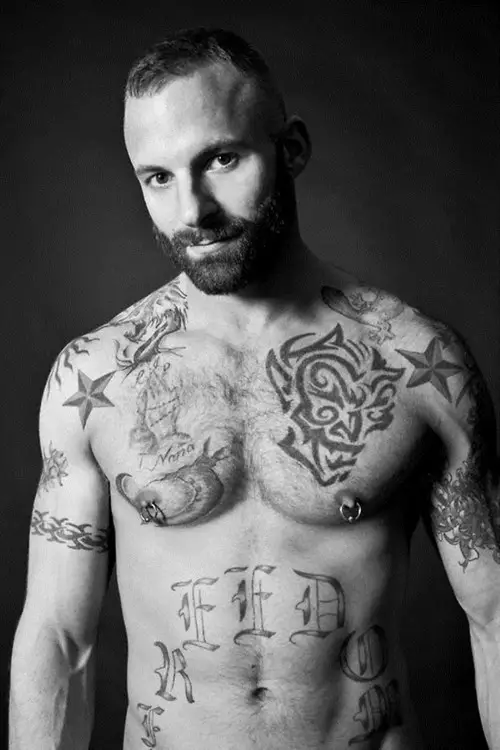 Alpha male; dominating, in charge. The design on the left side of the chest bares a close resemblance to a tiger's head or is it the Ultron? Any words about the calligraphy on your stomach?
#5: JOKER'S GRAVE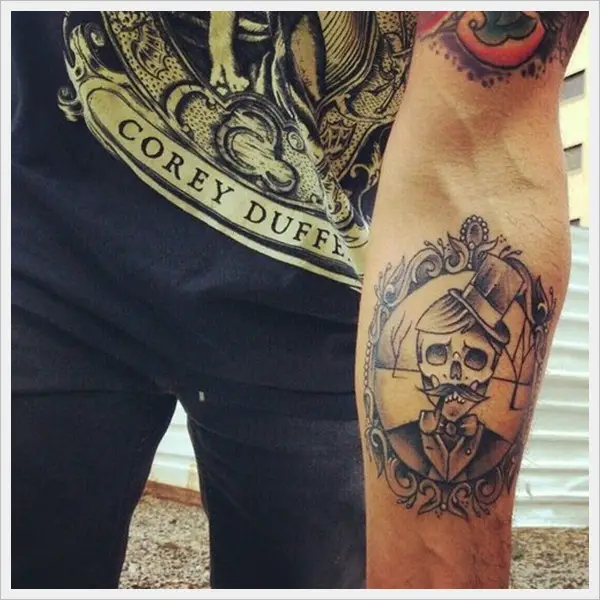 Yes, Joker dies, but no, his sense of humor rules the underworld. This tattoo is so fun and hippie. We love Joker's hat and the Victorian frame.
#6: COLD BLOODED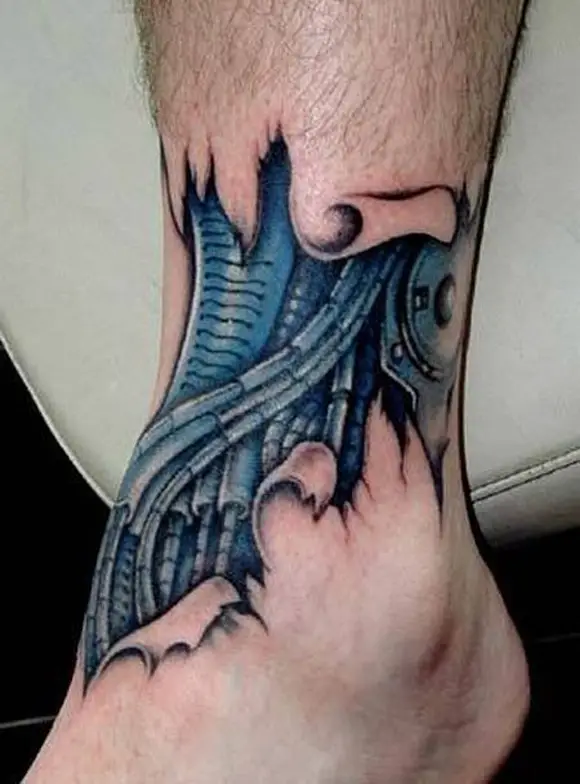 The machines are here, cords for veins and wires for muscles. Impregnable, strong and distinct. The location is giving us life! Who knew a tattoo at the ankle could look so amazing? Interesting!
#7: GOLDEN RATIO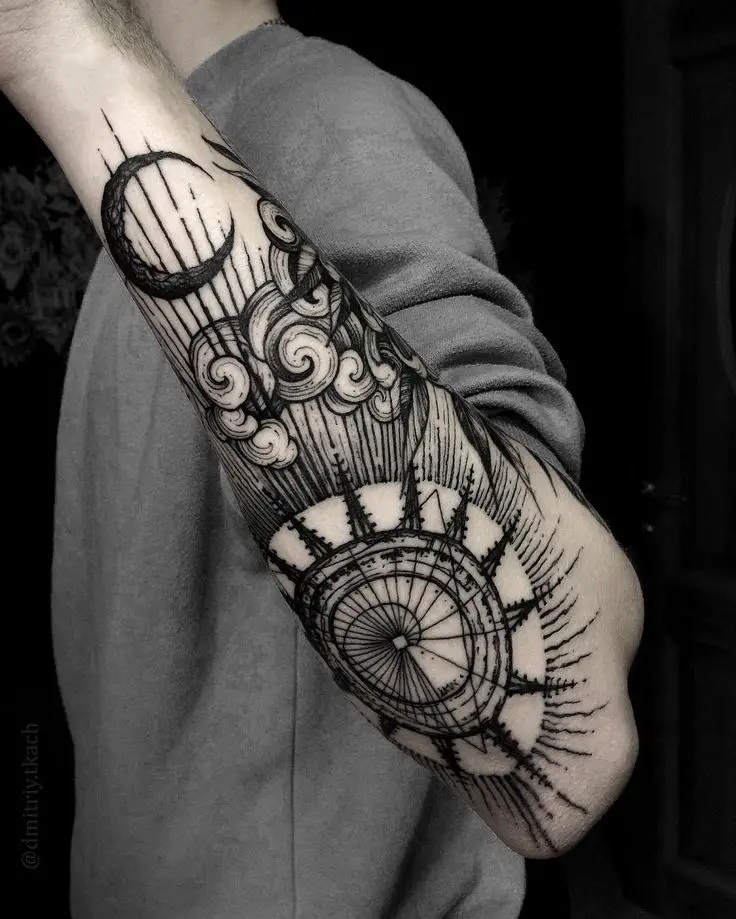 Something is calculated here, and it is not just the tattoo. So beautiful, you could stare at it for days. The perfect geometry could only have been achieved by a master tattoo artist. This is an amazing forearm tattoo idea.
#8: THE  BEGINNING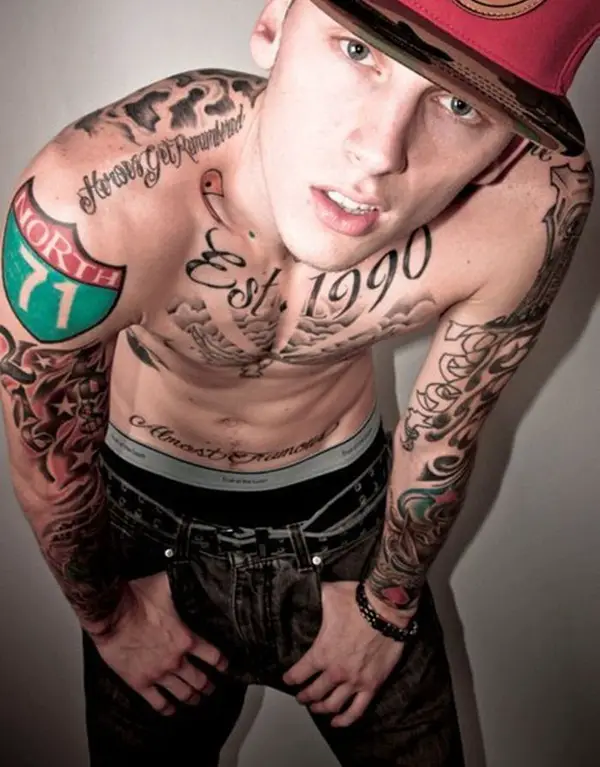 This would be a fabulous birthday gift to yourself. Make a wide design, flaunting your birth year. It is so cool. Plus, you have so many designs options to create a beautiful story of your journey of life or your interests.
#9: LONELY ROAD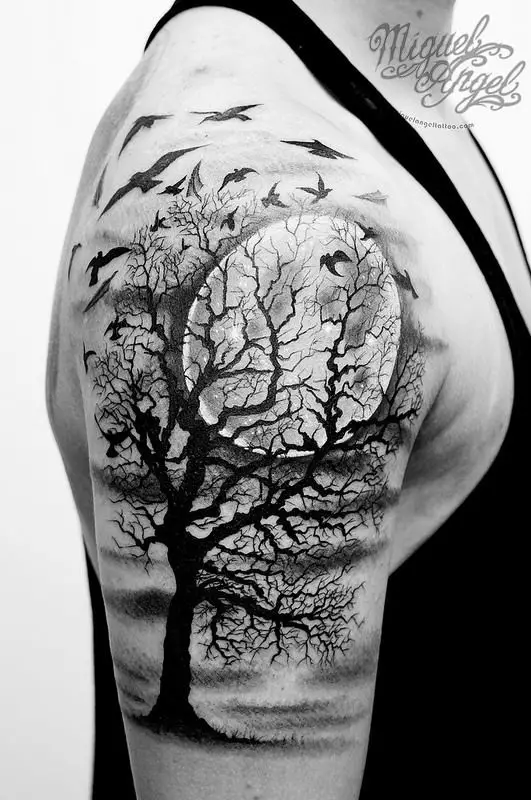 It is a journey like no other. You are stuck alone in the wild at midnight. You only have the light of the full moon to see, and your companions are the black crows, the noise of the sleeping forest. So eerie, graphic and scary!
#10: FUME  RIB TATTOO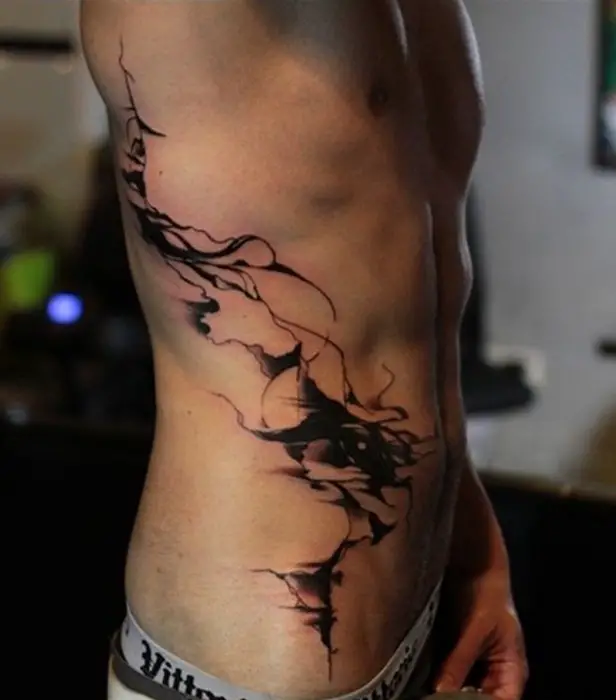 The black fume is coming from somewhere and shifting shapes while opening the cracks. This design looks simple, but it is difficult to draw and has a very bold and alive feel.
#11: COMPASS TATTOO FOR MEN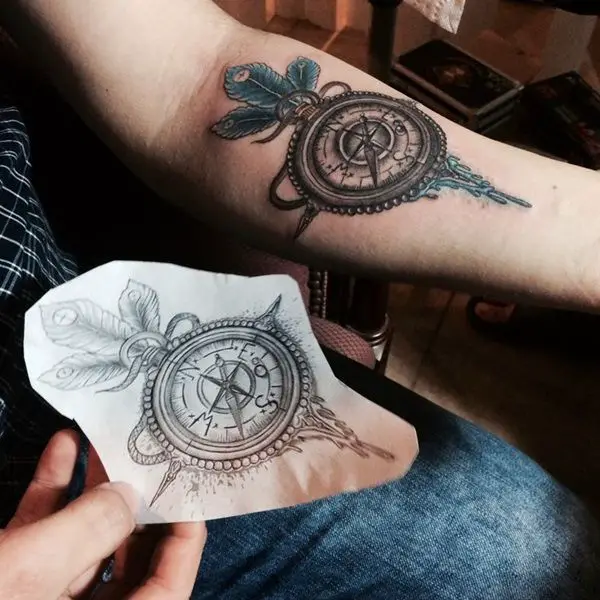 Imagine stretching your hands, so your sea mates can use the compass you have etched on your skin. Cool! Right? The blue feathers hint of a Native Indian heritage. We love it.
#12: SOAR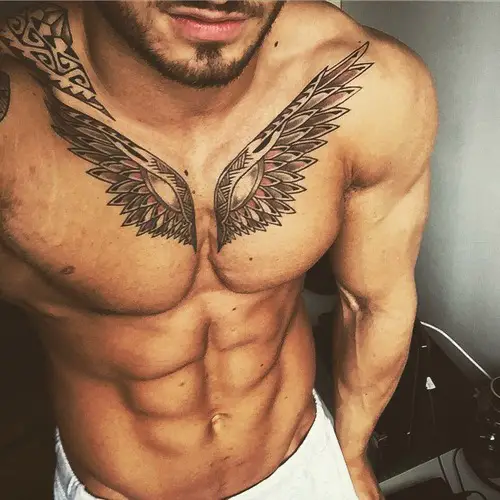 Dark angels with feathered wings. Who doesn't want an angel to save them? This must be quite popular with the ladies. We love the symmetrical position and how the design sits right in his chest.
#13: FEATHERED LIMB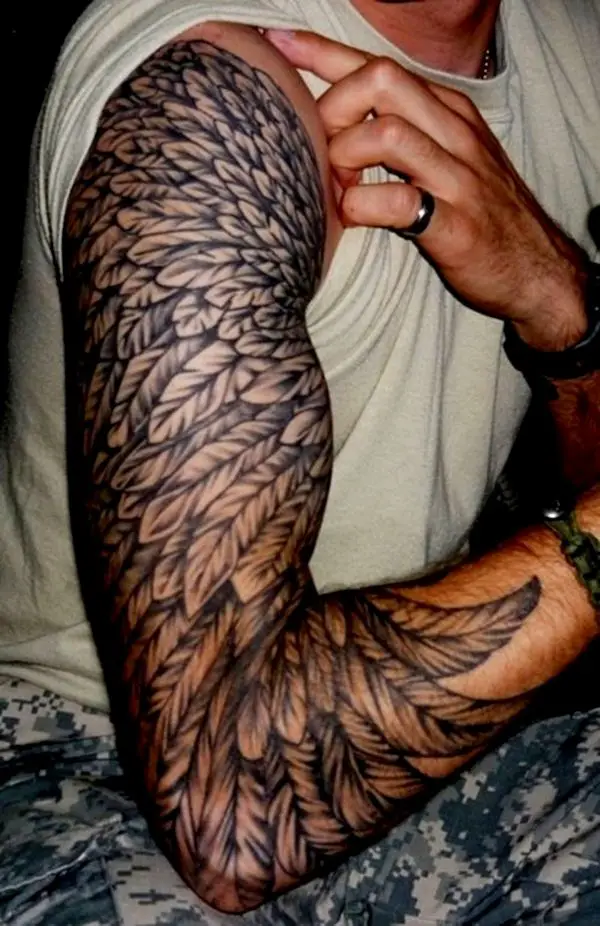 Every inch covered by feathers; is this an eagle or a falcon? This design is very mystical, and it has a striking dark silhouette.
#14: THE SKULL PALM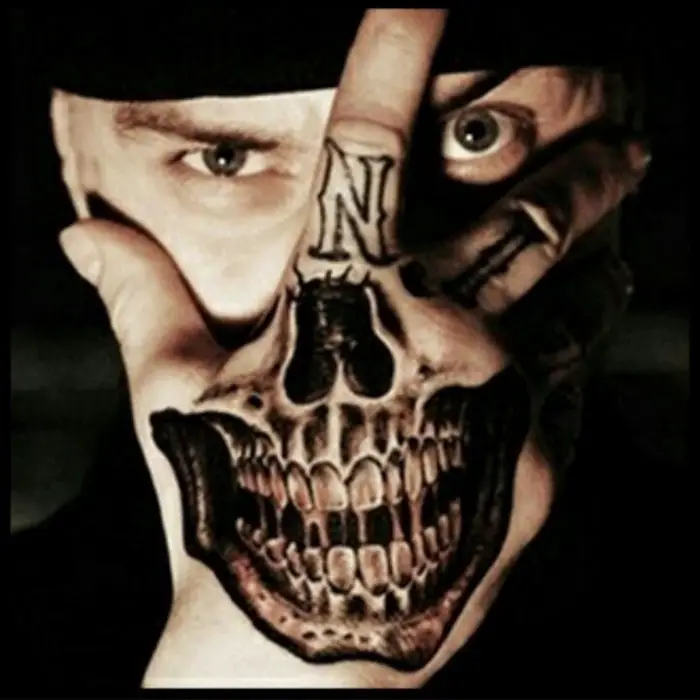 This is like having two tattoos for the price of one. Such genius and mastery. Abstract and yet so still life, it says everything. It is like an inspiration piece from a science fiction movie.
#15: RAZOR SHARP SHOULDER TATTOO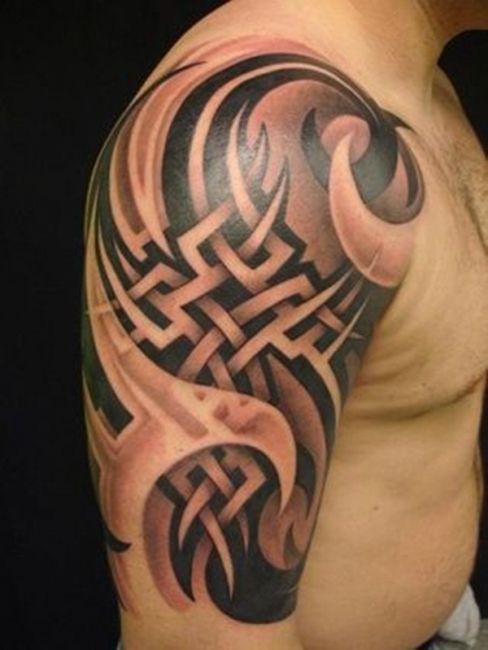 We love 2D etchings. The warm blood tone complement the black, and the sharp edges complement the swirls and the curves in the design. Very well laid out. Only an experienced artist can successfully work with light and dark colors this way.
#16: ANDROID WARRIOR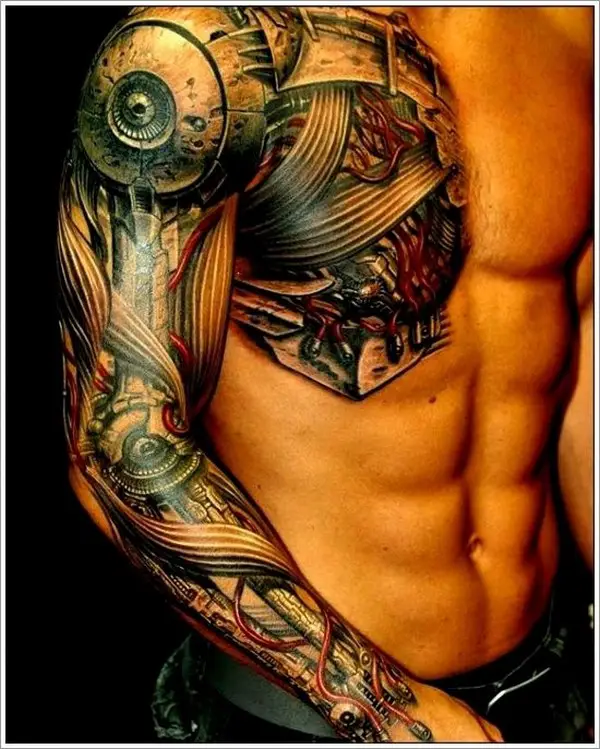 Is he man or machine or a fatal mix of both? 3-dimensional mastery! This design leaves us awestruck. The tattoo artist deserves an award for being such a genius. The body armor is so intricate and so striking. Our favorite of all the pieces and you surely cannot fault our logic.
#17: THE WAY FORWARD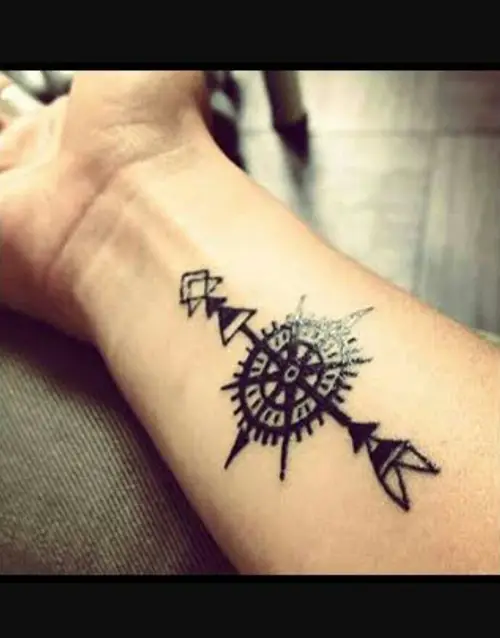 Classic, simple and sharp; are all the words we have for this design. The arrow is a symbol of precision, speed, and prowess in many cultures across the world. An arrow fitted with a compass at the rear end explains the speed is applied to the right direction. This design will definitely make you a sharp shooter.
#18: THE STAR SCRIPT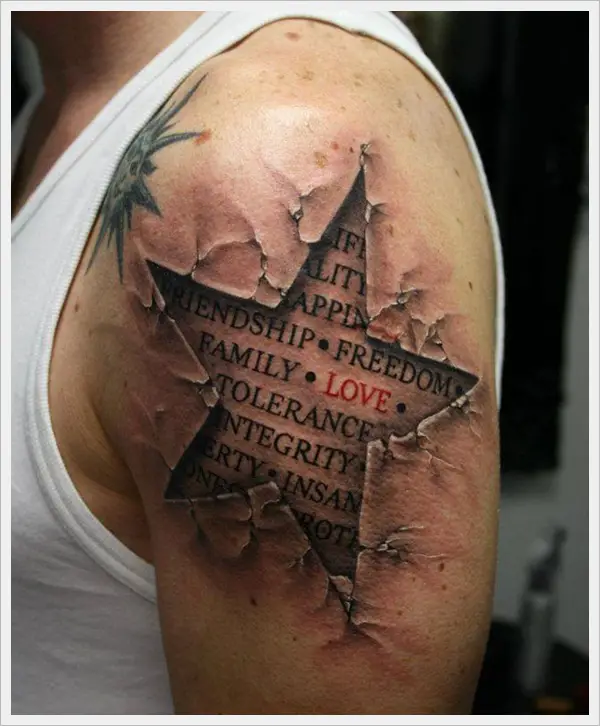 This is a man who knows what is important. Ideal for a family oriented person or perhaps someone in the military who is not afraid of displaying the things which he considers truly important.
#19: ANCIENT MYSTERY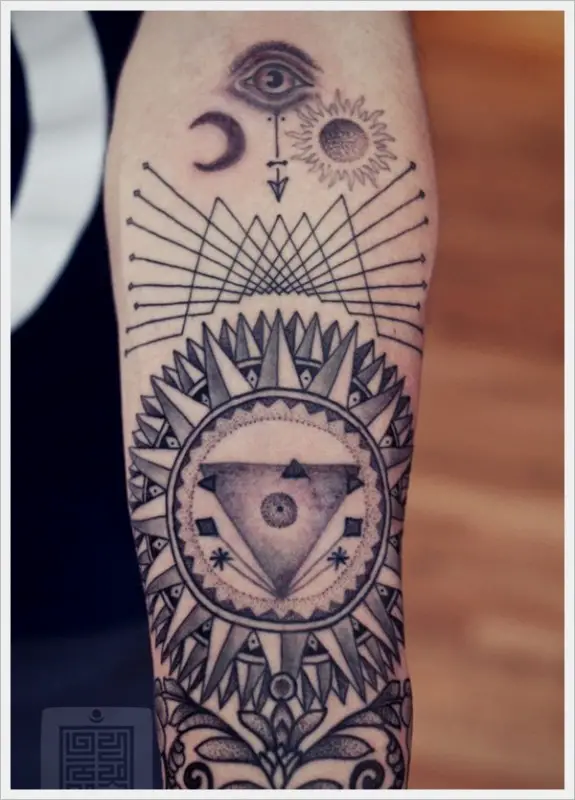 A remarkable graphic representation of a religious symbol, ancient rituals, the sun, the lone; the all-seeing eye and the temple. The design creates an intriguing mix, and we can almost feel the sacredness of the piece.
#20: SWEET TRAP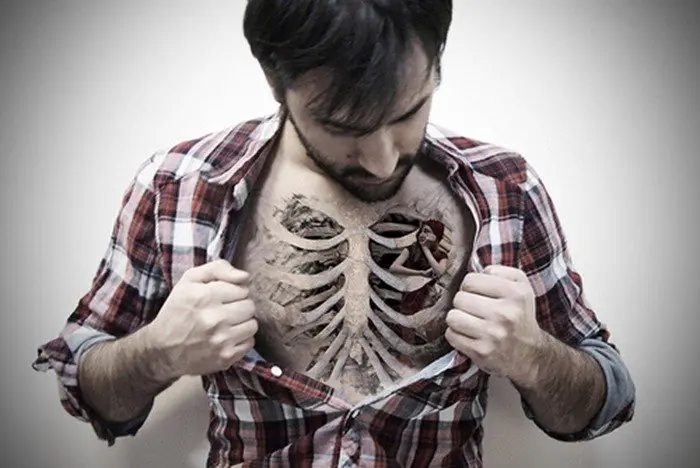 For a man who is not ashamed of his romantic tendencies. This tattoo design says to his beautiful lover, 'you have taken over my life and there is no space for anything else.' How sweet!
#21: IN THE WOODS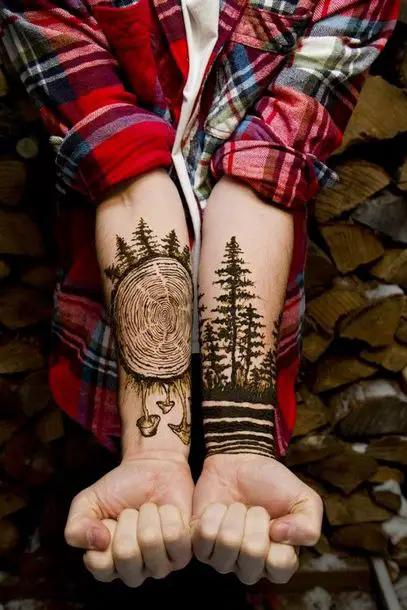 This design would be perfect for an activist. Conservationist, vegan or vegetarian, an environmental advocate or someone who promotes good causes like green energy. Save the trees and save our planet.
#22: THE ARMOR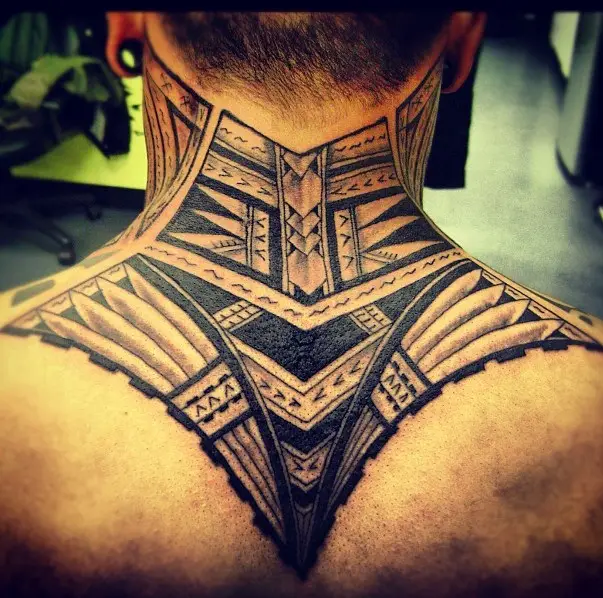 Bold, unapologetic, intricate, simply fascinating…we couldn't run out of words to describe this piece even if we tried. It is simply amazing.
We are sure that you have bold over more than one of these designs. So what are you waiting for? Work with your tattoo artist to create a piece that truly reflects you and brings all your ideas to life.