Ankle tattoos were first used by icemen to distract their enemies in battles. Nowadays these tattoos are a symbol of fashion and attractiveness.
Throughout history, they were worn by both men and women. They are suitable for almost everyone because of their different adaptation and variations.
Smaller and more colorful pieces are designed for women whereas bold and masculine pieces are aimed toward men who want to show dominance. They are suitable for almost every skin type. Designs, like wrapped around ankles and bracelets, are mostly for women. These tattoos also have a lot of flower variations, and palm tree variations which are suited for both men & ladies.
One thing to keep in mind when getting these tattoos is they are extremely painful to get. You should try these designs if you have a high pain tolerance.
In this article, We'll discuss everything you need to know about these tattoos. We'll also answer some of the most asked questions regarding these amazing tattoos. So, let's get started.
90 Ankle Tattoo Ideas
There are hundreds if not thousands of types of ankle tattoo designs. Among them, there are some which are very common such as folder ankle tattoos, inner ankle, rose, wrapped ankle pieces, bracelet designs, etc. Here are some of the best designs for you to inspire new thoughts.
Small Ankle Tattoos
Small ankle tattoos are one of the simplest tattoos to get. Due to the small surface area of the ankle, these tattoos are usually tiny compared to other tattoos.
1. Drowning Waves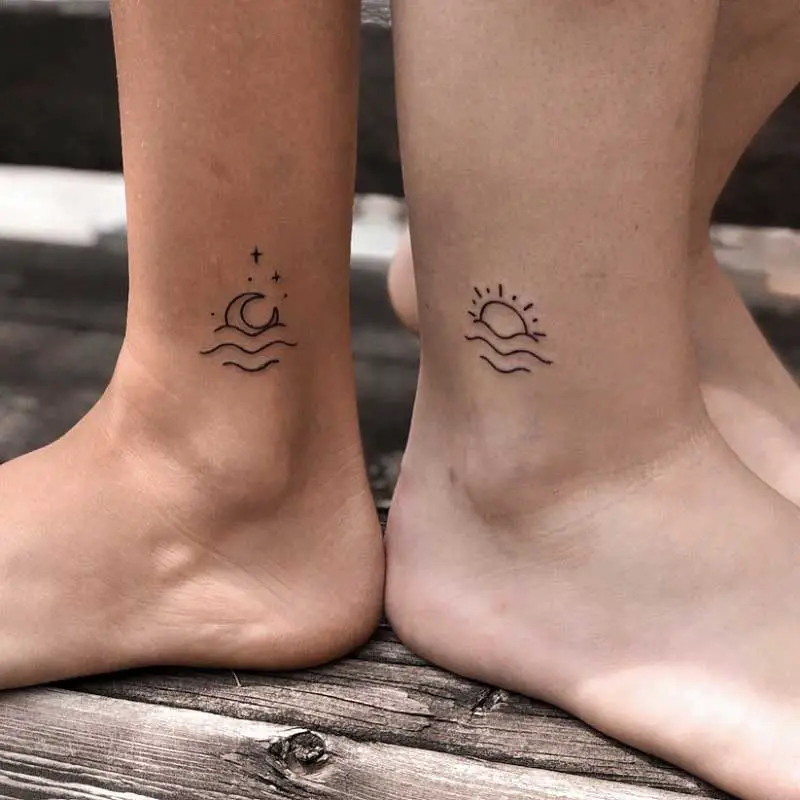 The waves on this ankle tattoo are covering the lower portion of the moon and sun. It gives the impression that they are growing into the cold waters.
2. Sun Moon Hug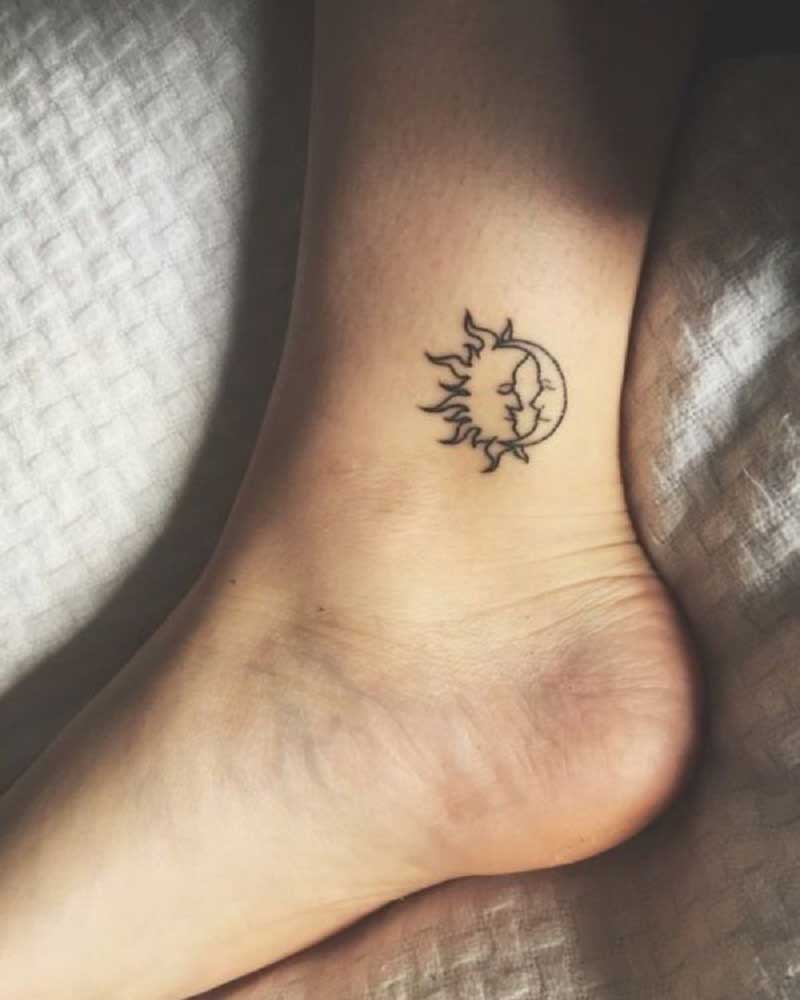 Both the sun and moon are touching each other. They have a face on them and are facing each other. It looks as if they were hugging. It teaches us that despite being opposite in nature, people can still have a healthy bond.
3. Honey Bee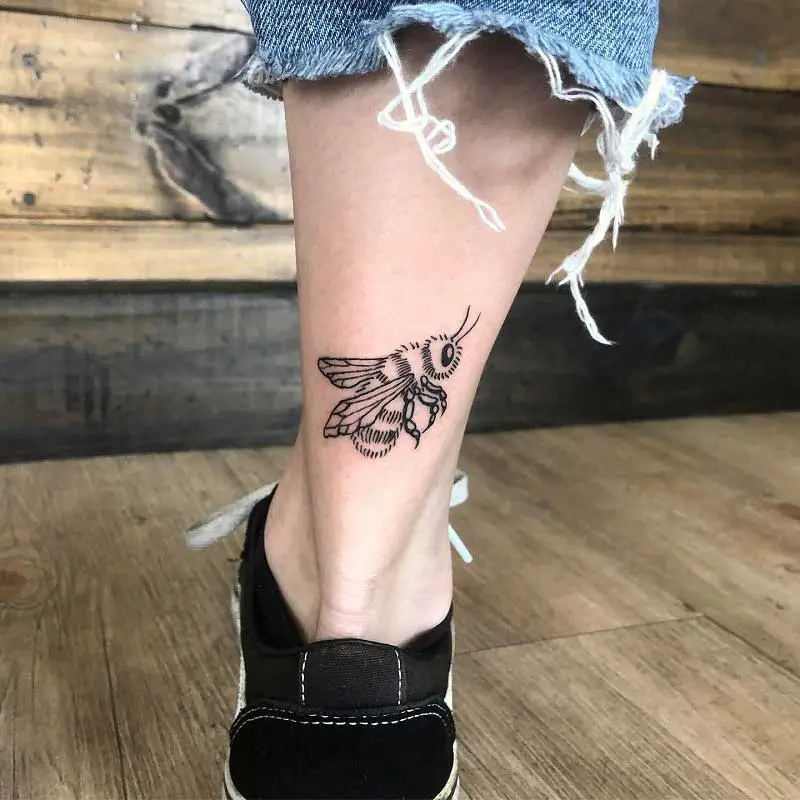 A massive bee is inked on the back of this girl's ankle. The feet of this tiny creature are boldly defined but the rest of the body is inked with tiny lines that don't connect with each other. This one will be a lot painful to get.
Wrap Around Ankle Tattoos
A lot of the time tattoos on the ankle will wrap around the feet. This allows the tattoo to be wider and elegant in design. Wrapped around the ankle tattoos are usually designed like bracelets.
4. Red Rose Bracelet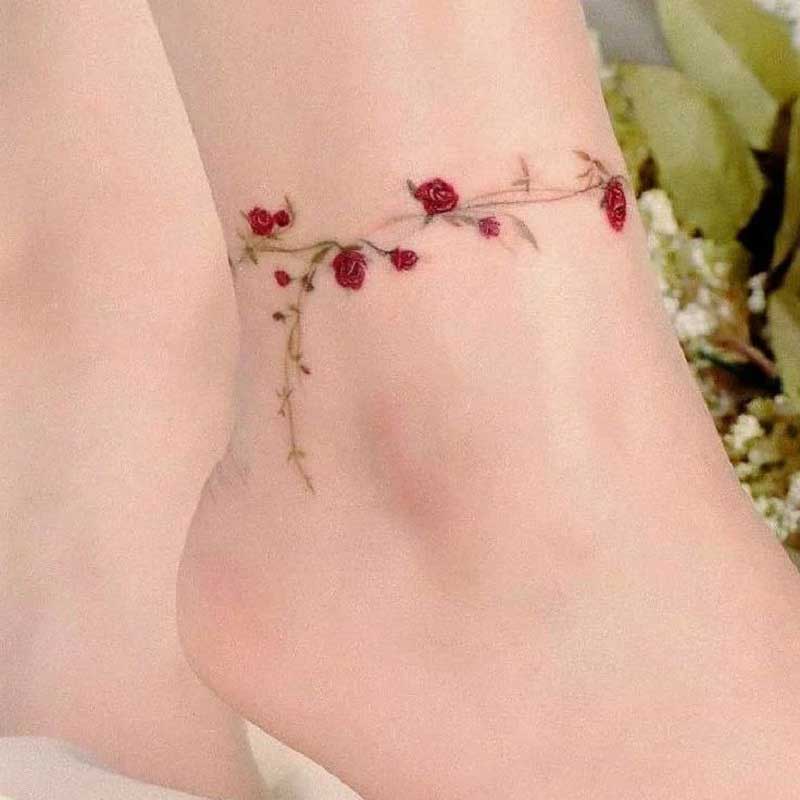 The minimal red roses are on a golden branch that wraps around the ankle of this woman. The branches help to achieve the look of a gold bracelet and the roses act like the jewls.
5. Multi-colored Flower Bracelet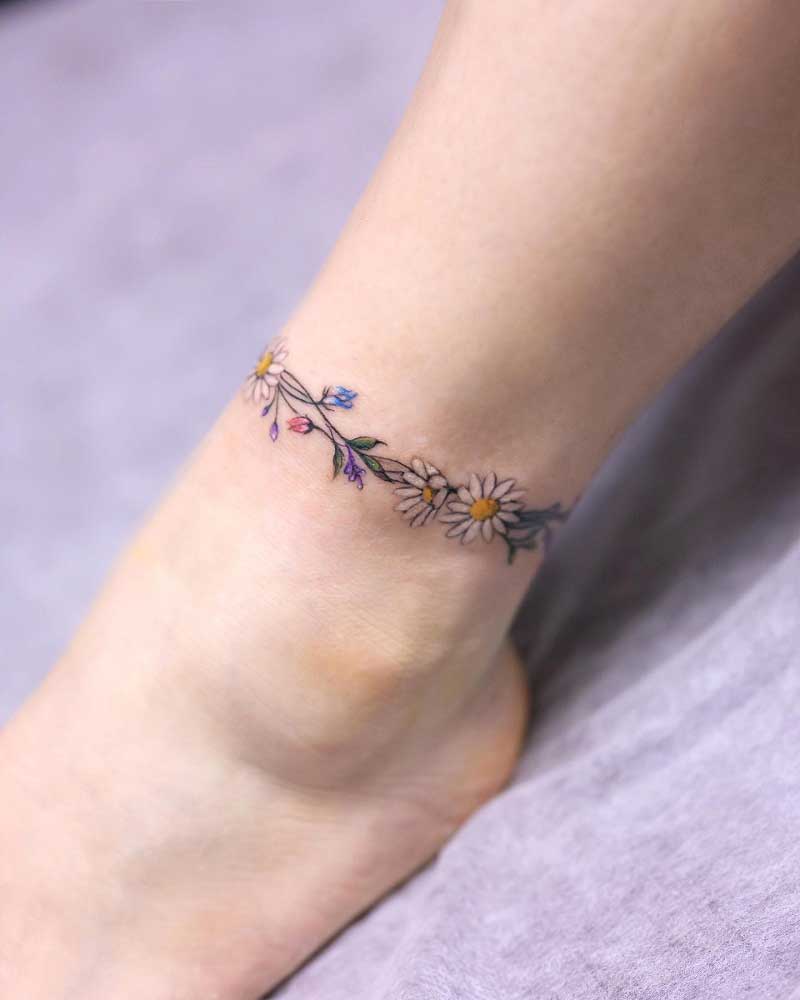 A bunch of small dandelions is accompanied by some colorful tiny flower buds. They have created a bracelet-like design just above the ankle of this lady. If you have fair skin this will pop out and gain attention.
6. Dots & Sparkles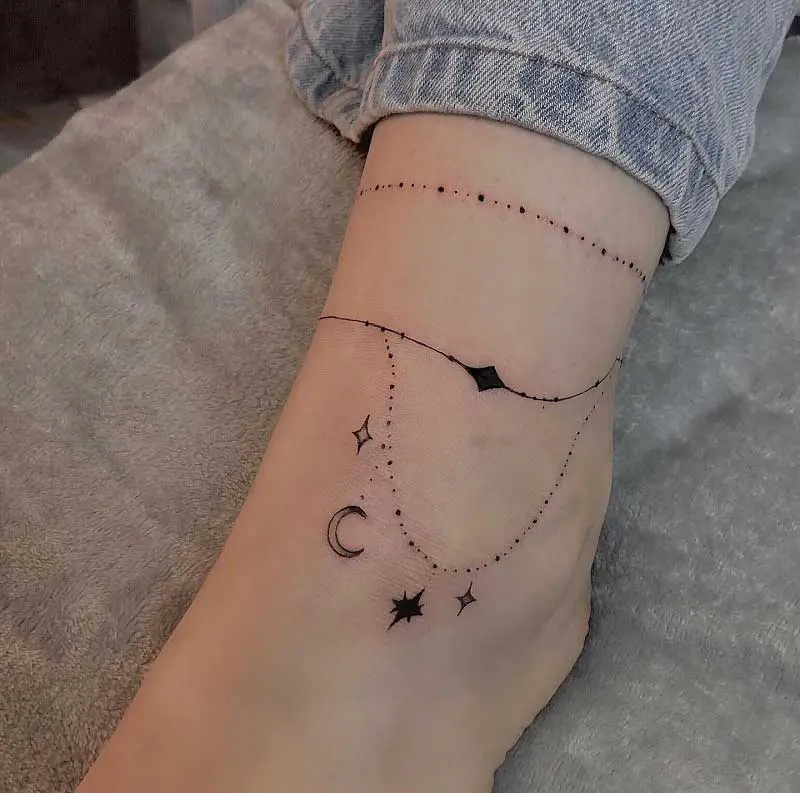 The dots on this piece have gone around the entire ankle and the hanging part has three stars and one moon tied to them. The shine from the stars is glittering & spreading a good vibe.
Butterfly Ankle Tattoo
Butterflies tend to be small and delicate but also gorgeous. This makes them a perfect fit for ankle tattoos. These are usually preferred by women with tiny legs.
7. Cute Butterfly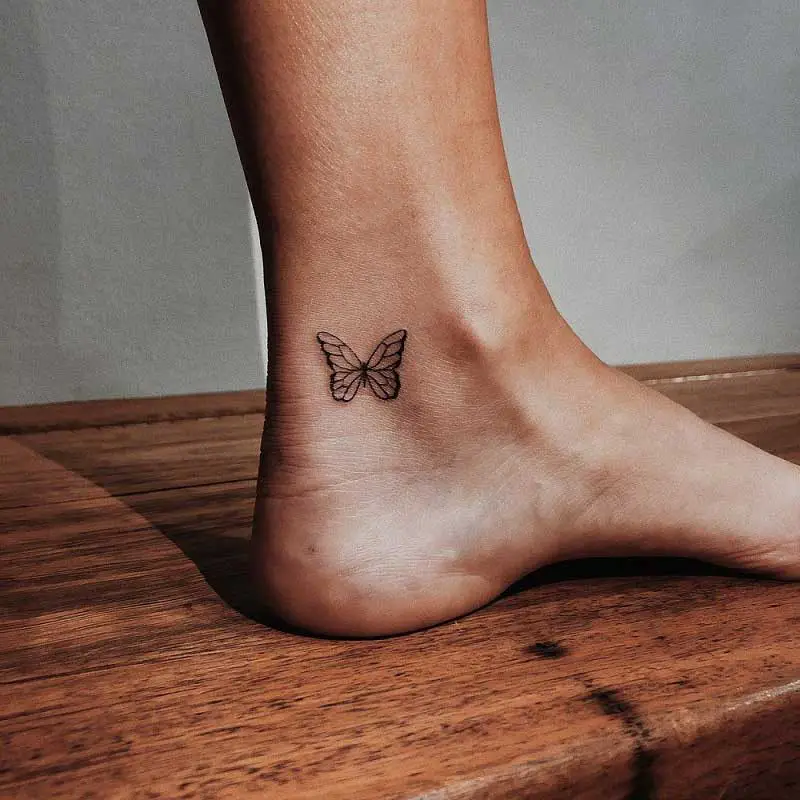 A translucent butterfly is tattooed at the side of this girl's ankle. It is barely the size of her ankle bone. Most of the time it'll be hidden from public view if she wears a sock.
8. Butterfly Herd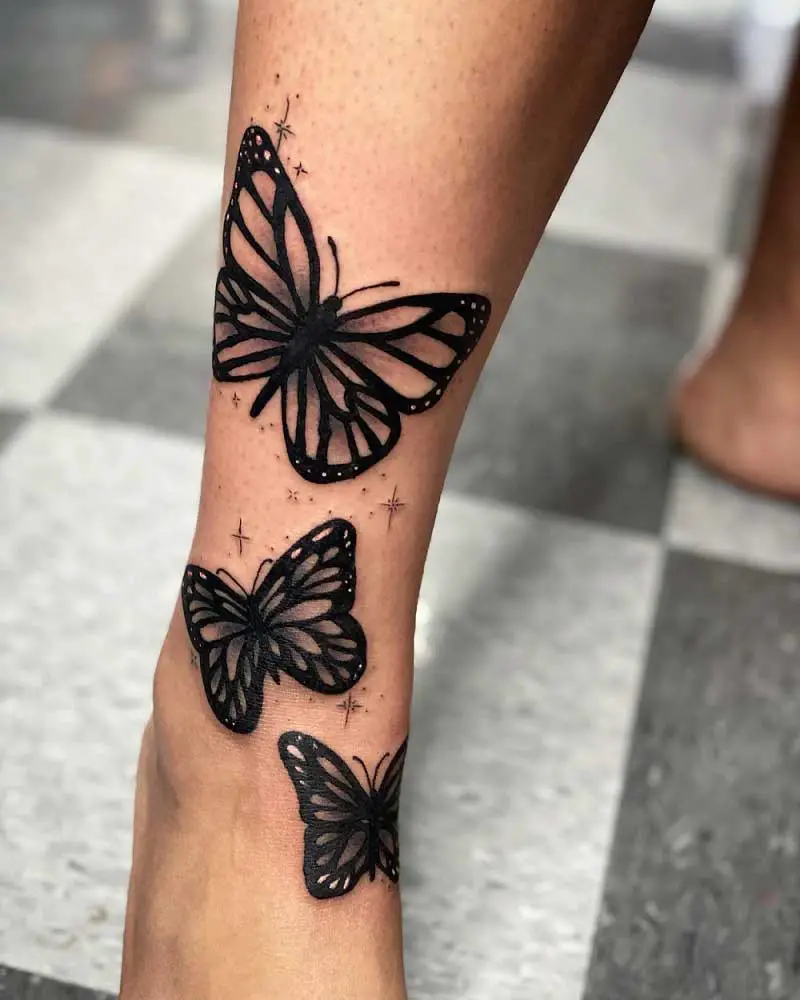 The size of these butterflies slowly transitions to a smaller size. The one on the top is huge while the one on the bottom is relatively smaller. All of them are drawn with just black color.
9. Flying Phase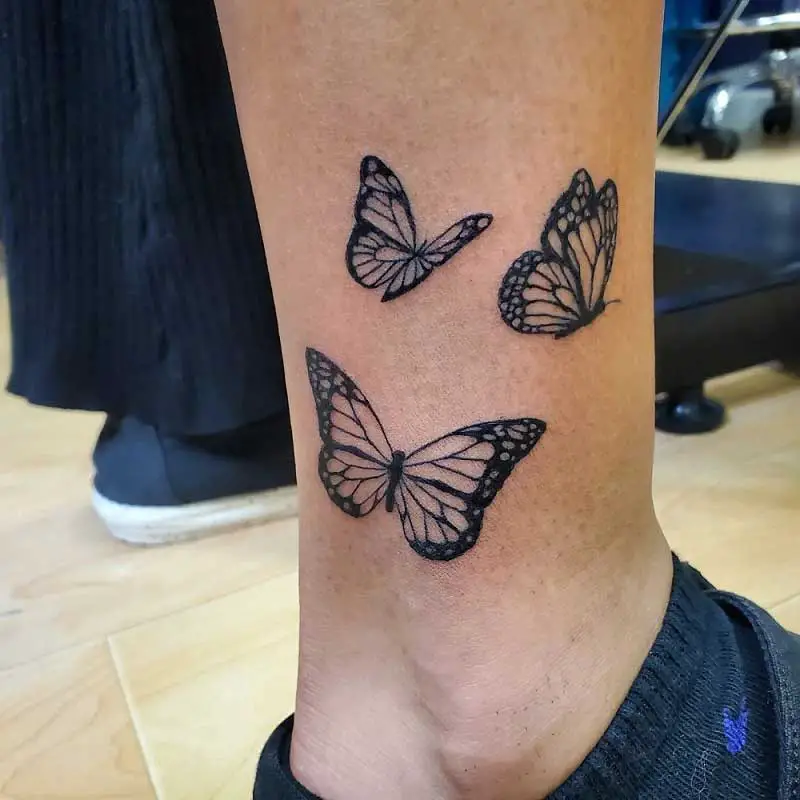 This tattoo in particular rests on top of the talus bone of this person. I demonstrate the different positions a butterfly has to go through to make a proper flying stroke. It also represents the different stages of a person's transition.
Ankle Bracelet Tattoo
Ankle bracelet tattoos and wrap ankle tattoos are very similar in terms of looks. However, bracelet tattoos tend to have a clear look like a bracelet. They are also a good choice for women's ankle tattoos.
10. Disconnected Bracelet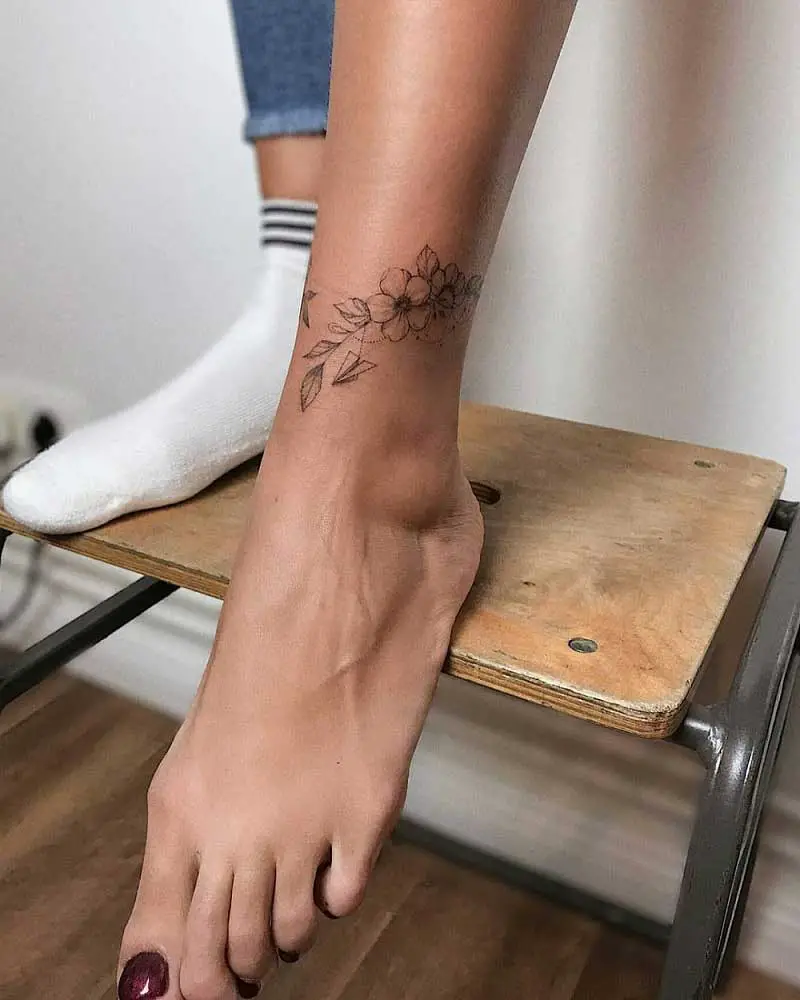 Both of the ends of this tattoo don't touch each other. it represents a bracelet that has to be pulled open with force in order to fit. It can fit any ankle shape. A tattoo that will fit everyone's ankle.
11. Branch With Seeds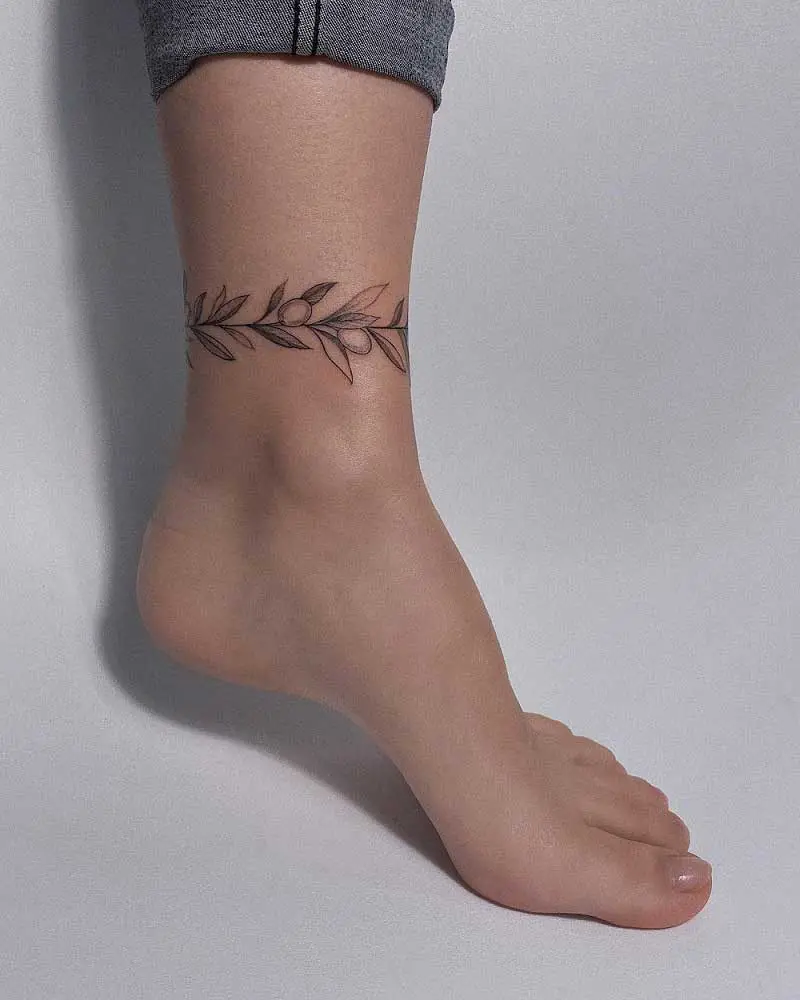 Usually, there are flowers on bracelet ankle tattoos. However, in this piece, we see two seeds on the two sides of the branch. It represents the early stages of blooming beauty.
12. Three Leaves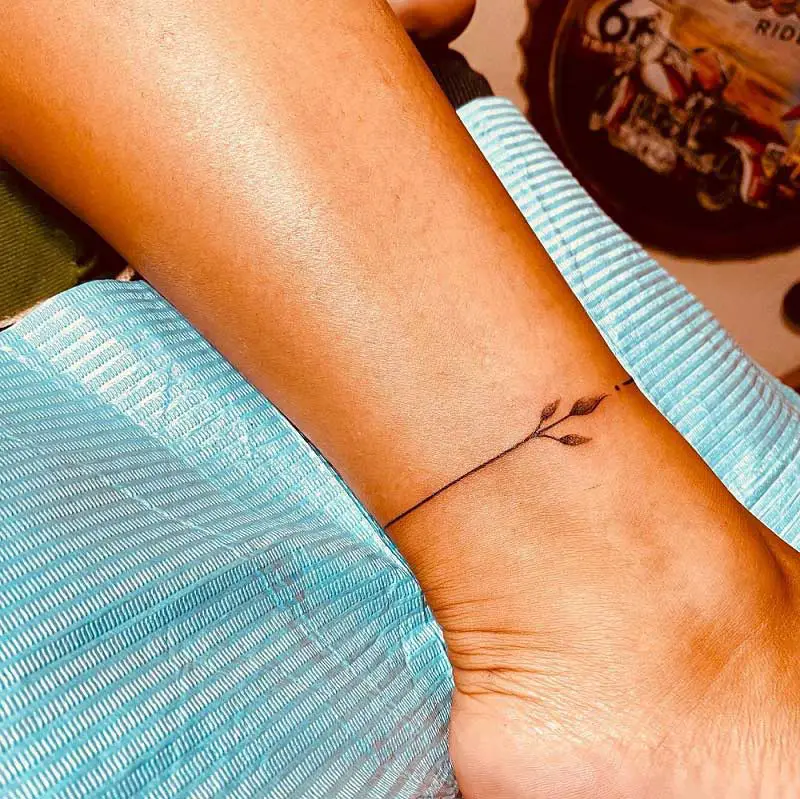 Three leaves have formed a triton-like shape in this design. It looks like a weapon but is actually a weak leaf breach. A representation of fake appearance to look like something else than one truly is.
Flower Ankle Tattoo
Flower can remove all the agony and pain in one's life with its beauty & charm. Flowers also enhance the fertile nature of a woman. They look especially good on women's ankle.
13. Realistic Flower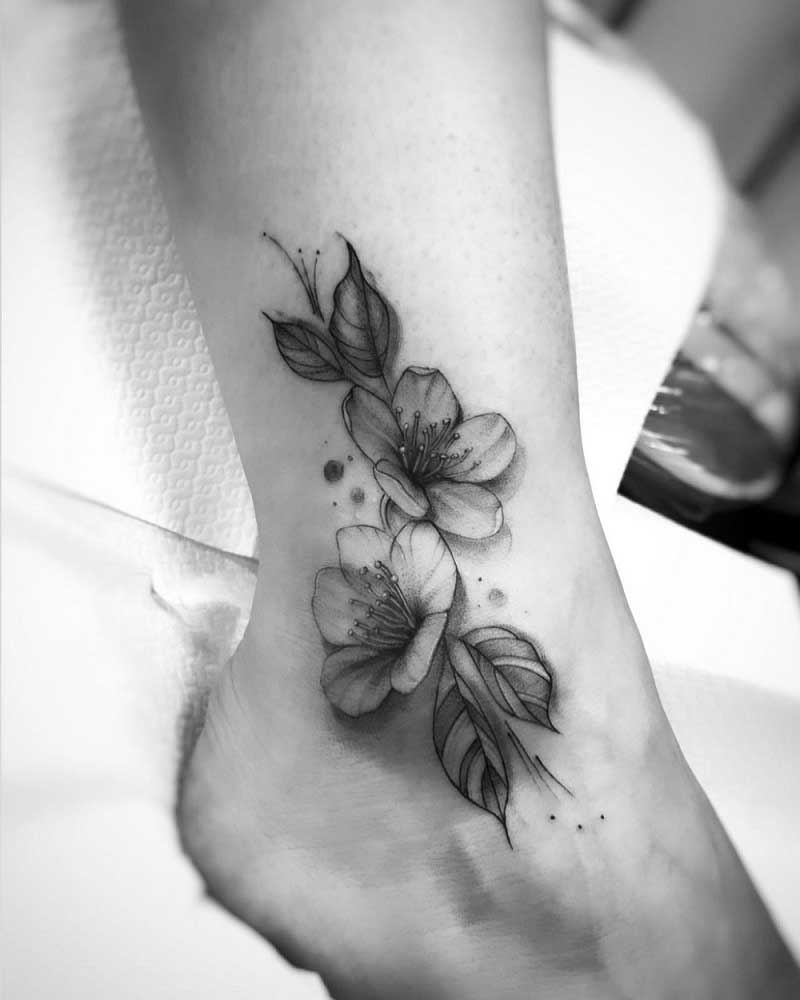 Although the flower is drawn with a monochromatic theme it still looks like a real flower that was removed from the tree. An amazing display of artistic quality.
14. Sunflower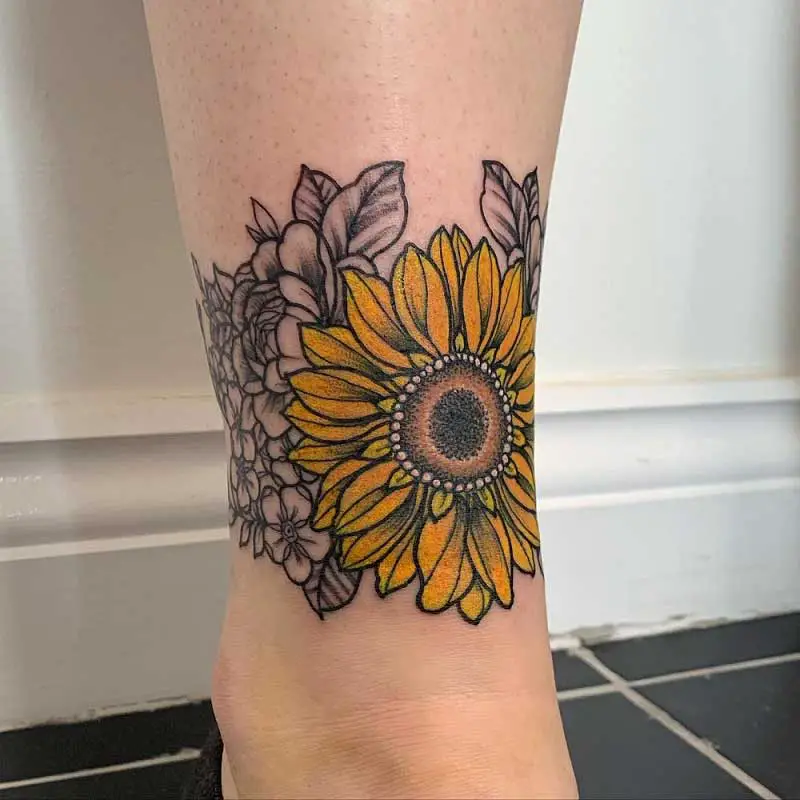 The sunflower on this tattoo is the main attraction. It not only looks beautiful but is accompanied by some outlined small flowers. The shading on the leaves gives this a feeling of depth. A combination of wrapped ankle tattoo with flowers.
15. Flower Art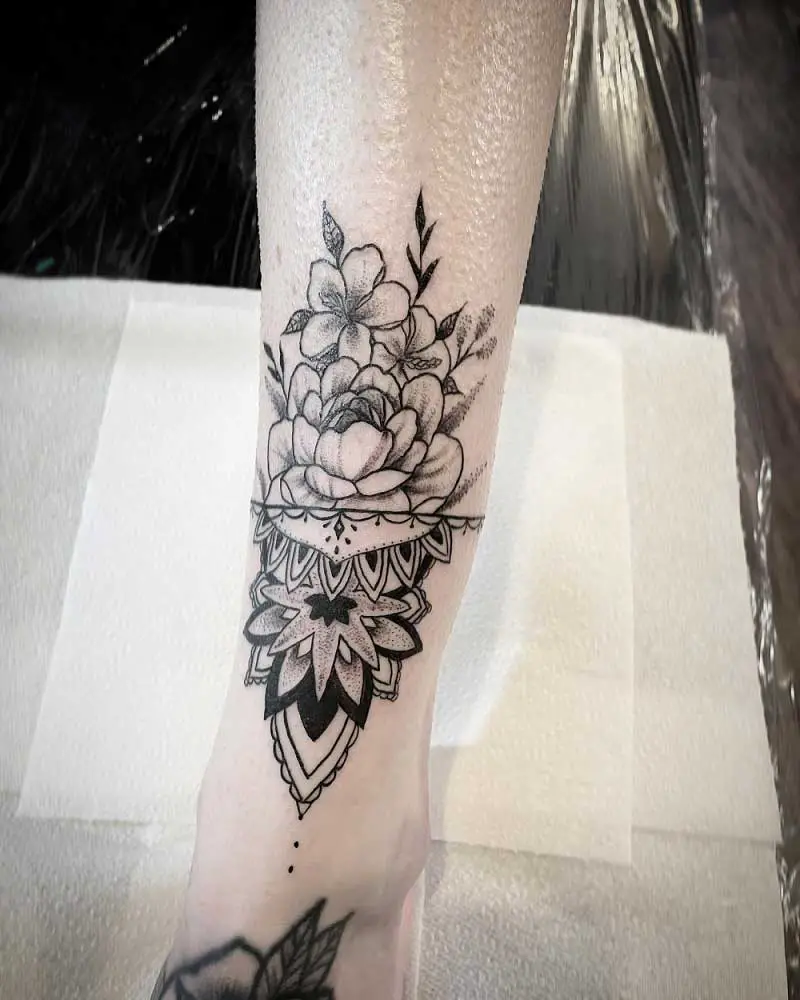 The bottom part of this person's ankle tattoo contains some traditional art. The upper part consists of a massive flower and a few smaller ones. It showed an efficient transition to a totally different art style.
Cute Ankle Tattoos
Ankle pieces with small and colorful designs are considered cute. They have a simplistic look and make the person wearing the tattoo more fun-loving.
16. Purple & Orange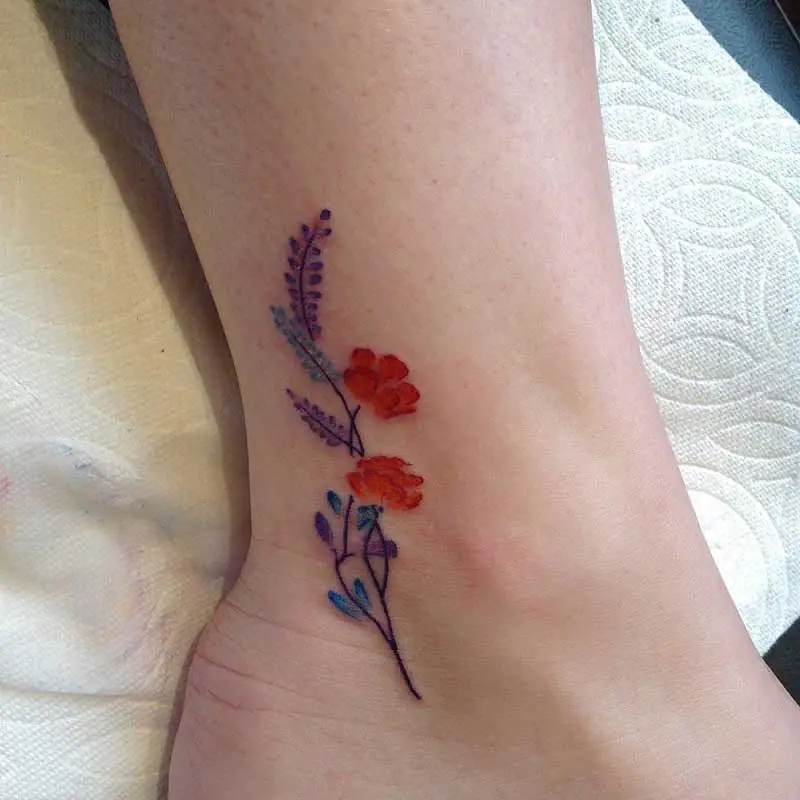 Orange is associated with an energetic personality & the purple color represents wisdom. This tattoo subconsciously indicates that the person is both energetic and wise at the same time.
17. Dimmed Refelction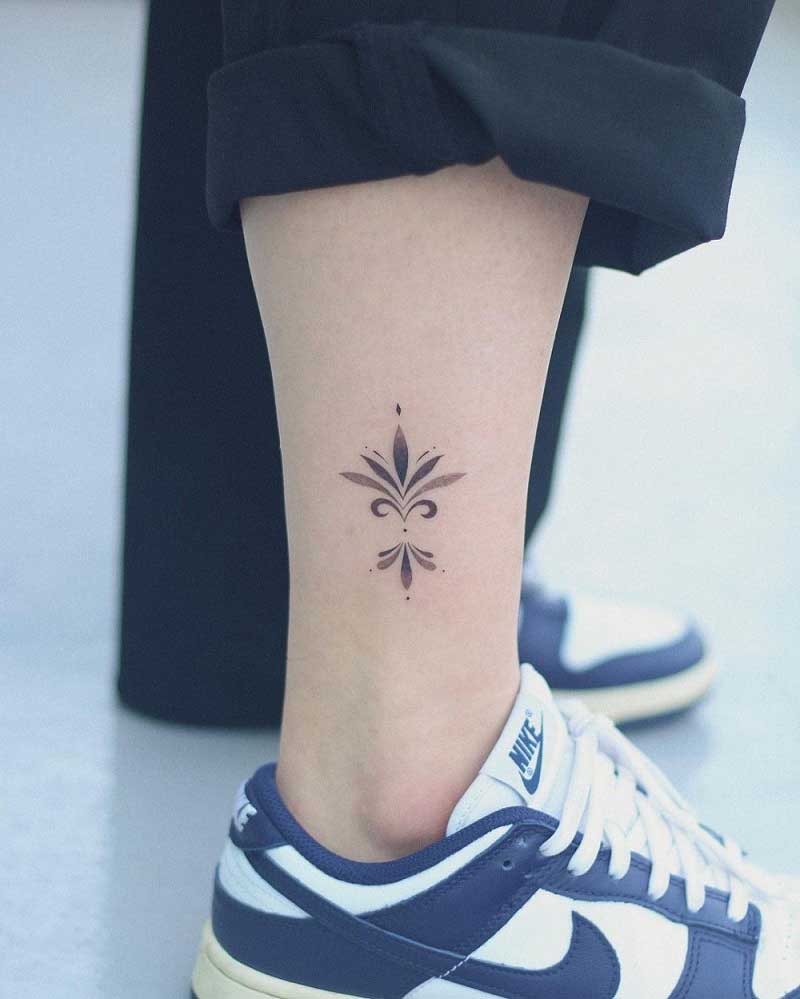 This tattoo gives the feeling of a reflection of the upper section that is somehow compressed into a more compact size. It suits her skinny ankle nicely. The bold black color also compliments her fair skin tone.
18. Rootless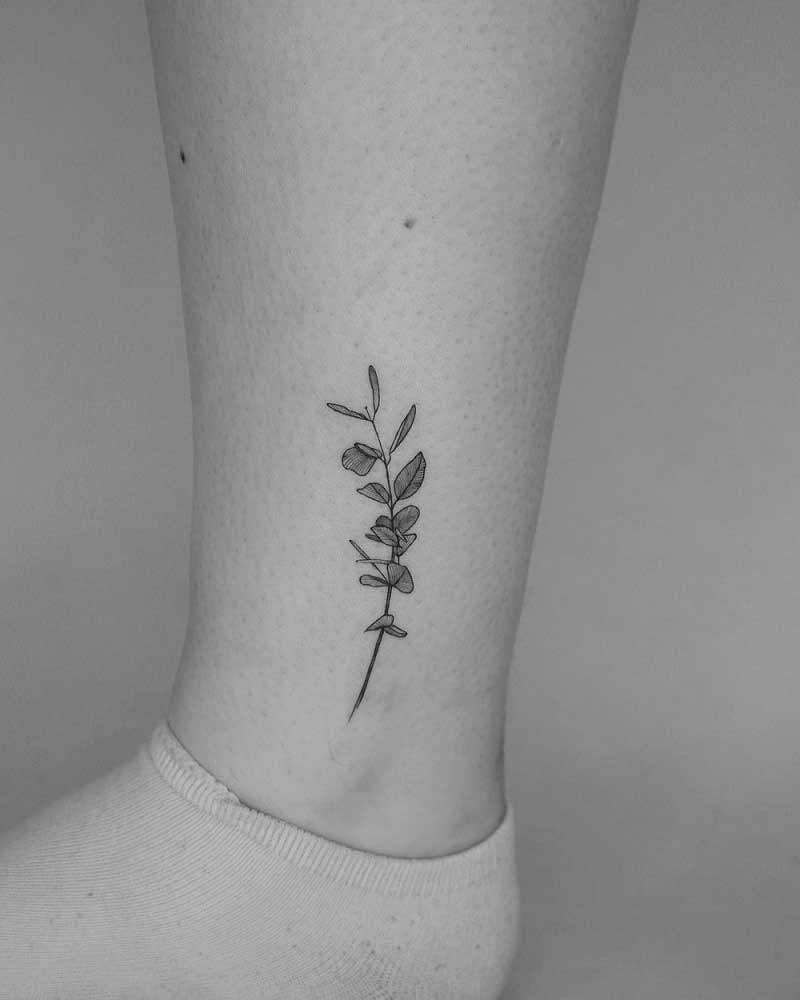 This tiny plant on the side of his ankle doesn't have any roots. It makes is very fragile and delicate. It teaches us the importance of a good foundation and bond with our roots.
Inner Ankle Tattoo
Inner ankles are typically more painful to get tattooed. However, they are worth it. They are also a typical place to get your tattoo that you don't want people to see easily..
19. Black Seeds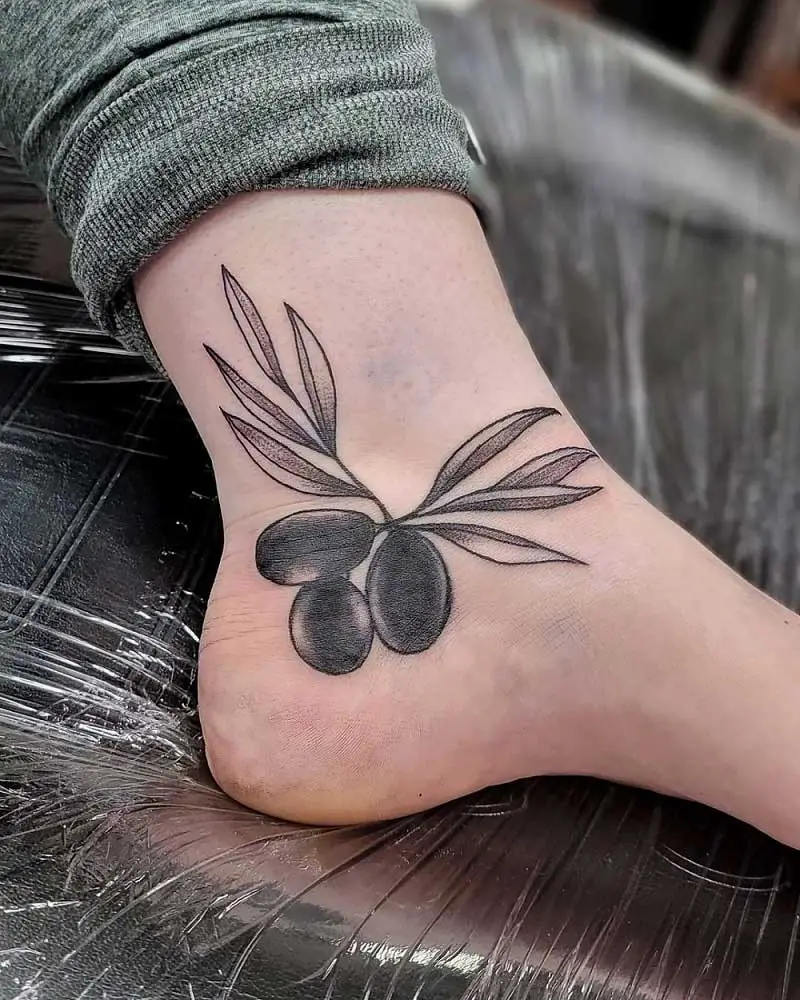 The inner section of this person's ankle is tattooed with a design that has three black seeds. The seeds are looking lifeless but soon they will give birth to new life.
20. Moth & Diamond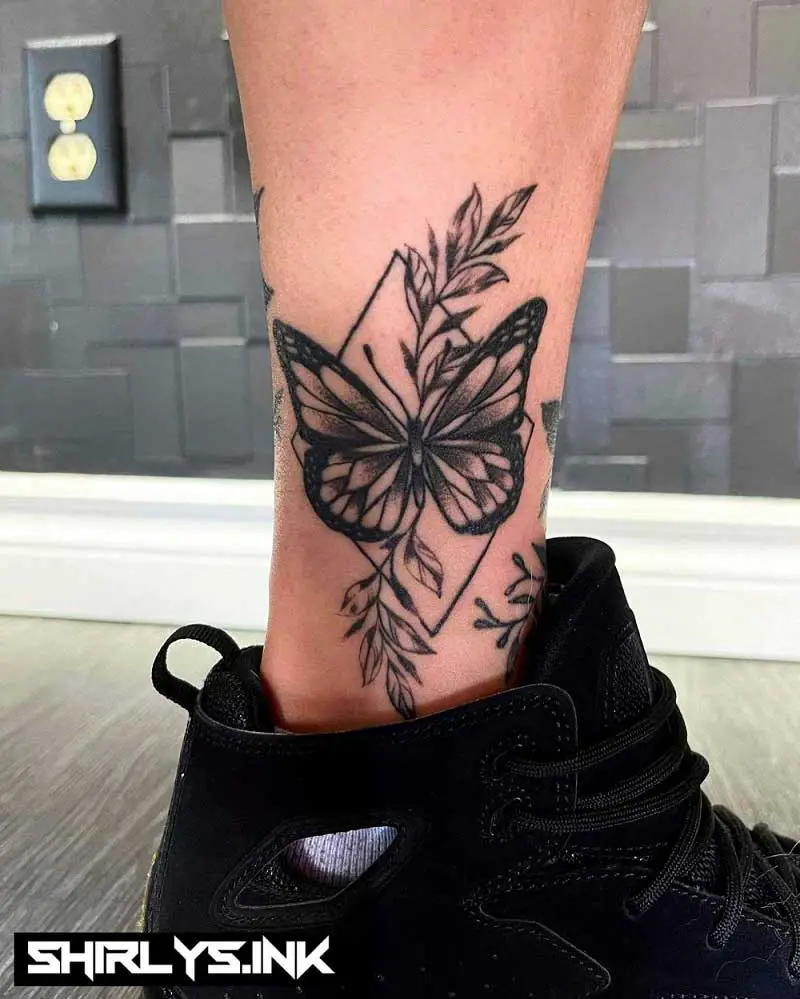 A gorgeous moth with eyecatching patterns on its wing gently rests on the diamond shape. It has one small vine coming out of it. Although the moth is on top the sharp edges of the diamond shape steal the attention. A combination of pattern and butterfly tattoo on the inside ankle.
21. Spider Web
A spider web is a symbol of struggle and hardship. This amazing ankle tattoo design with the web reminds us of those virtues and tells us to be humble.
Palm Tree Tattoo Ankle
Palm trees are a universal symbol of peace and rest. They are used in ankle tattoos to bring calmness to the designs. They are usually drawn vertically on the ankle.
22. Tilted Palm Tree
This palm tree on the side of his ankle is slightly tilted in one direction. The heavy leaves were somewhat responsible for it. The extra burden will eventually bring it down soon.
23. Moonlit Scenario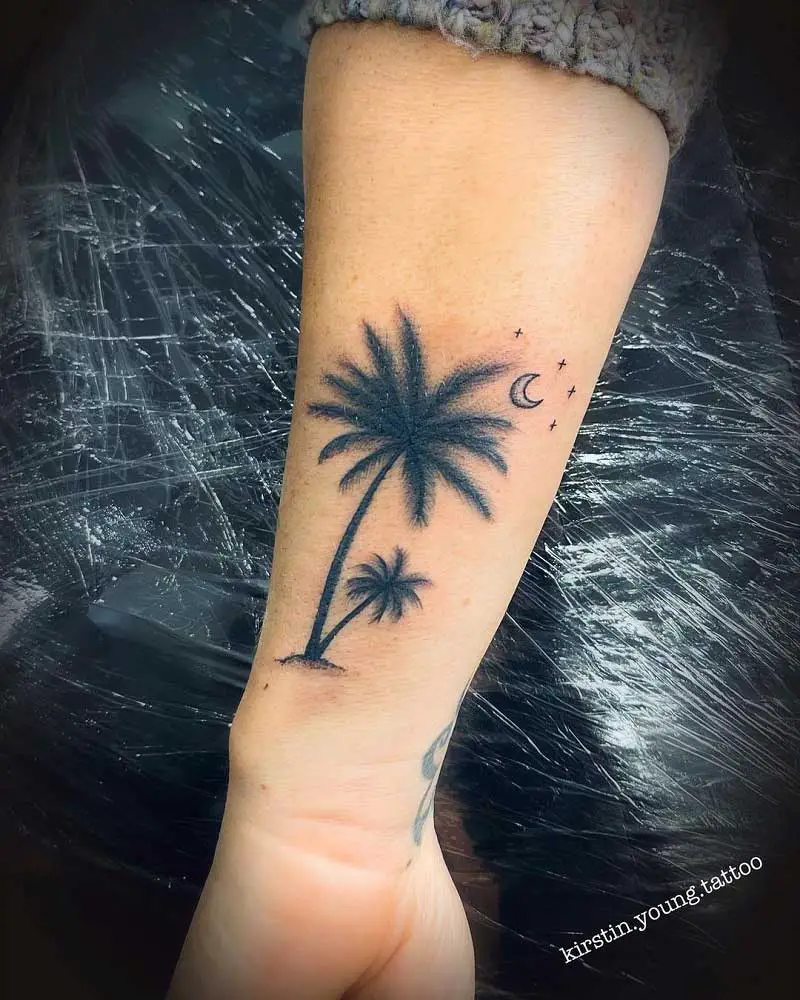 24. Needle Stem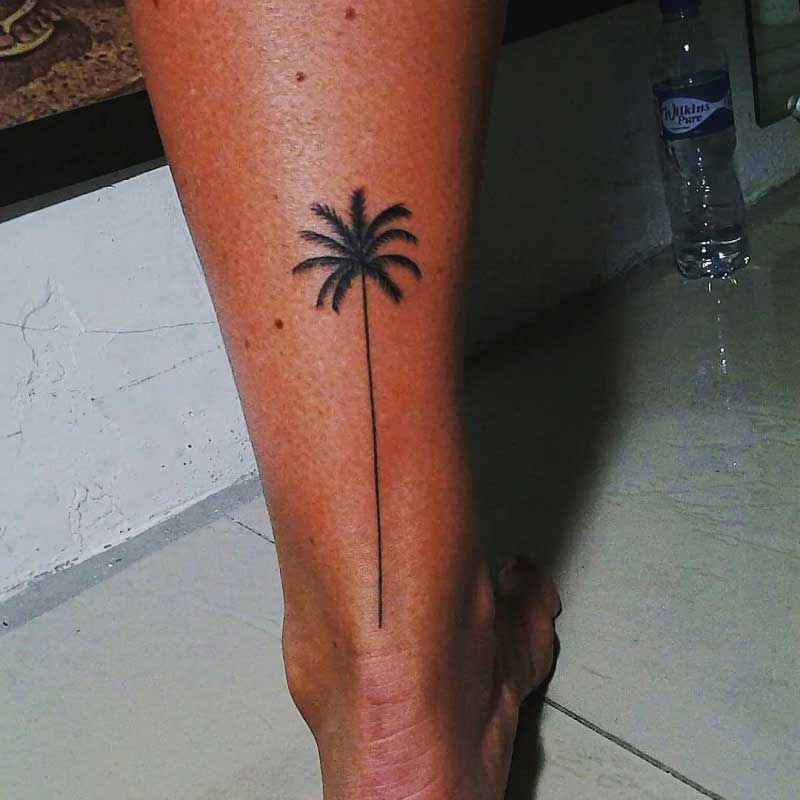 This ankle piece is made of some imaginary design. The stem of this palm tree is thin as a needle. It's physically impossible to have such a thin body and still be standing up.
Rose Ankle Tattoo
The symbol of romance, love & beauty is often used in ankle tattoos. They show devotion and love towards every being. They also indicate a soft heart. They are suitable for everyone regardless of gender and race.
25. Dew Drops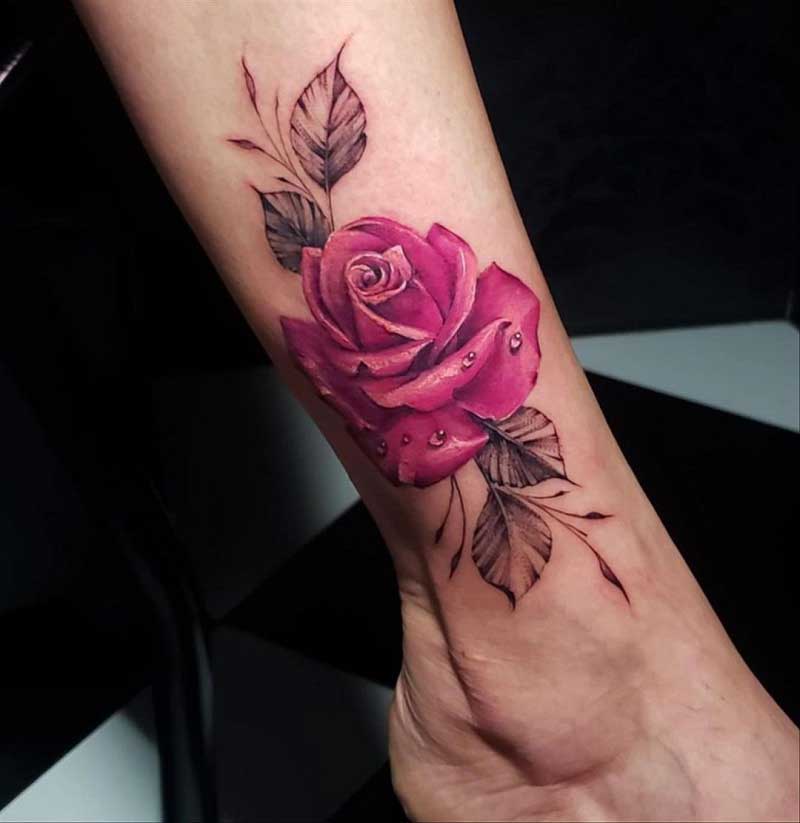 Nothing is more cinematic than watching a few tiny drops of dew on a pink rose pulp. This mind-blowing design makes the tattoo with a rose look like a reflection of a real flower. A truly astonishing piece of art.
26.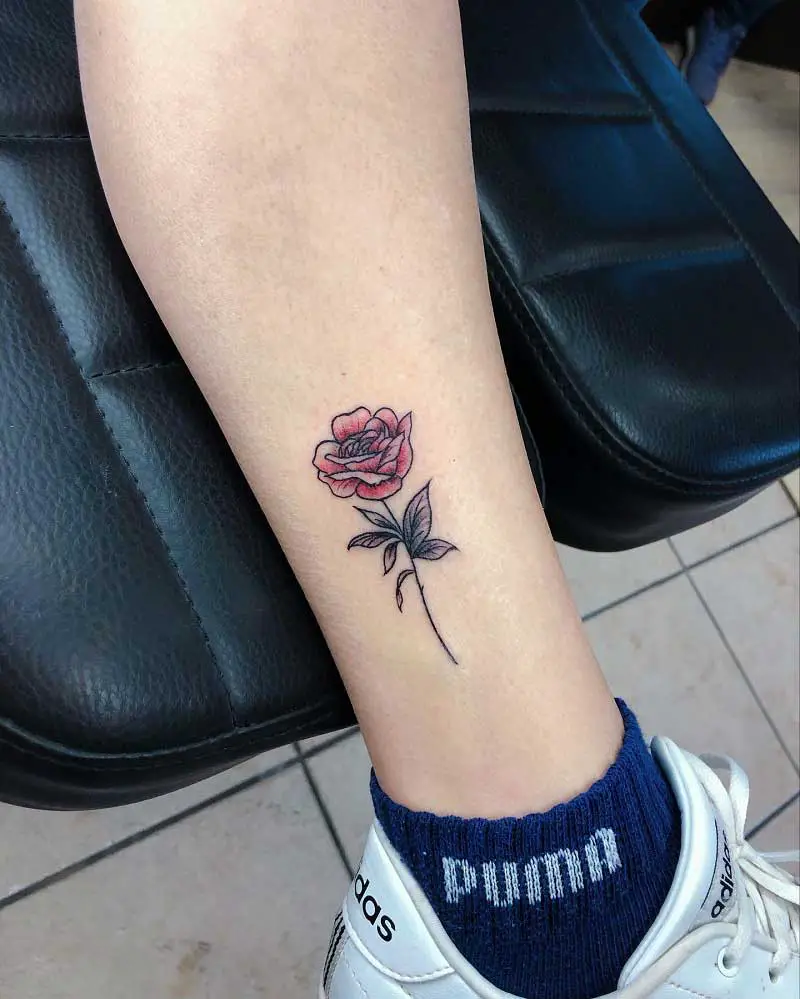 27.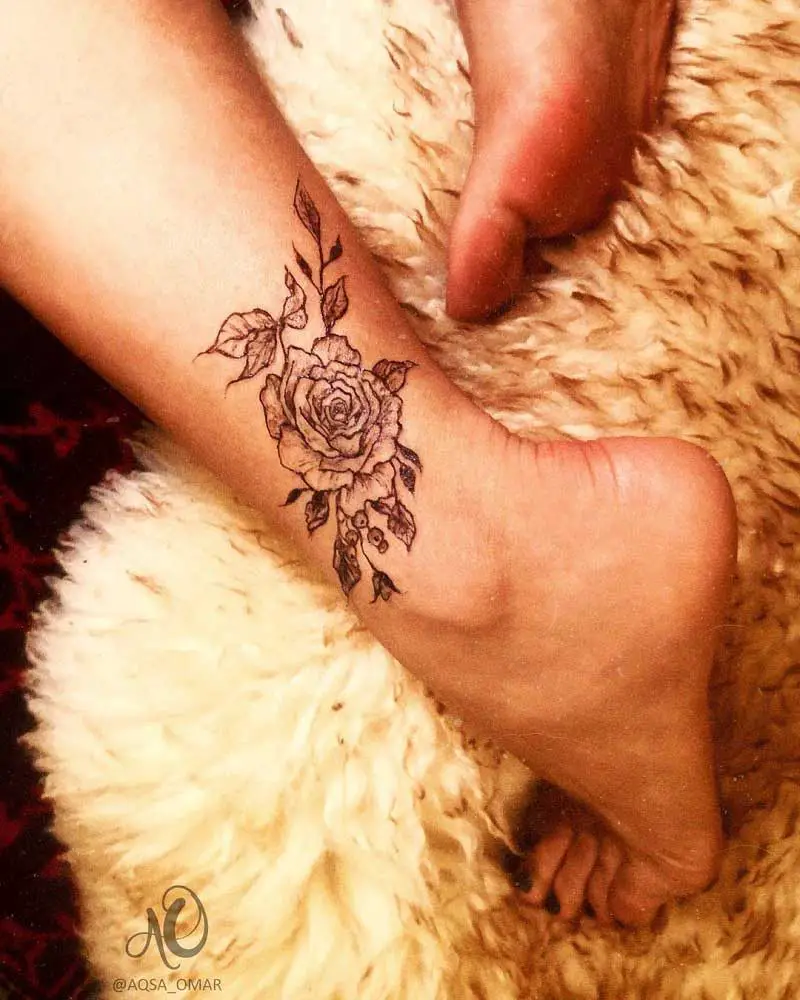 Snake Ankle Tattoo
28.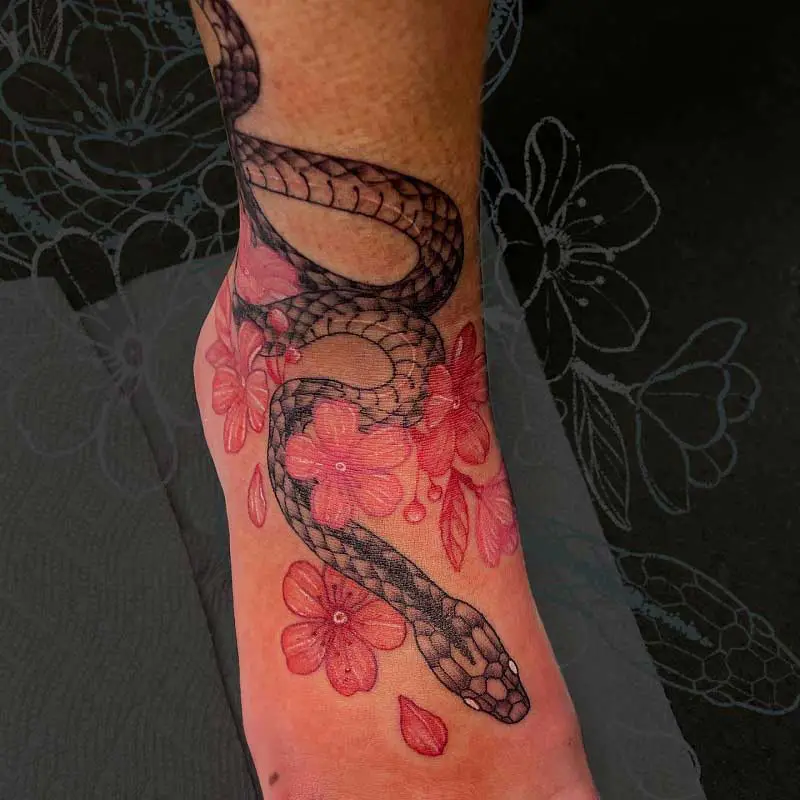 29.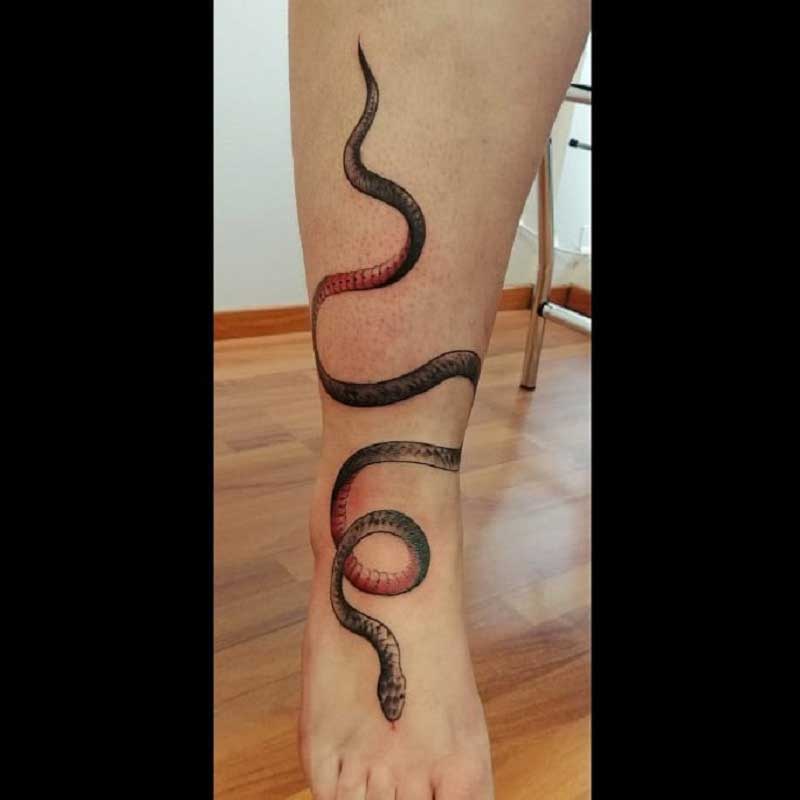 30.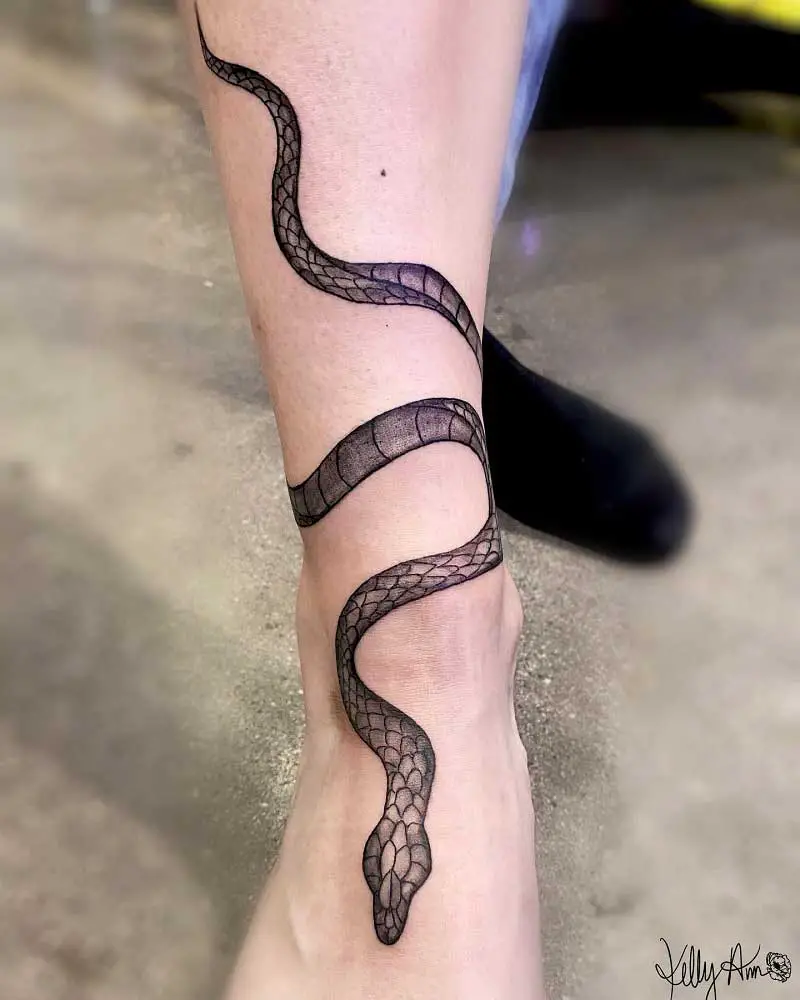 Cross Ankle Tattoo
31.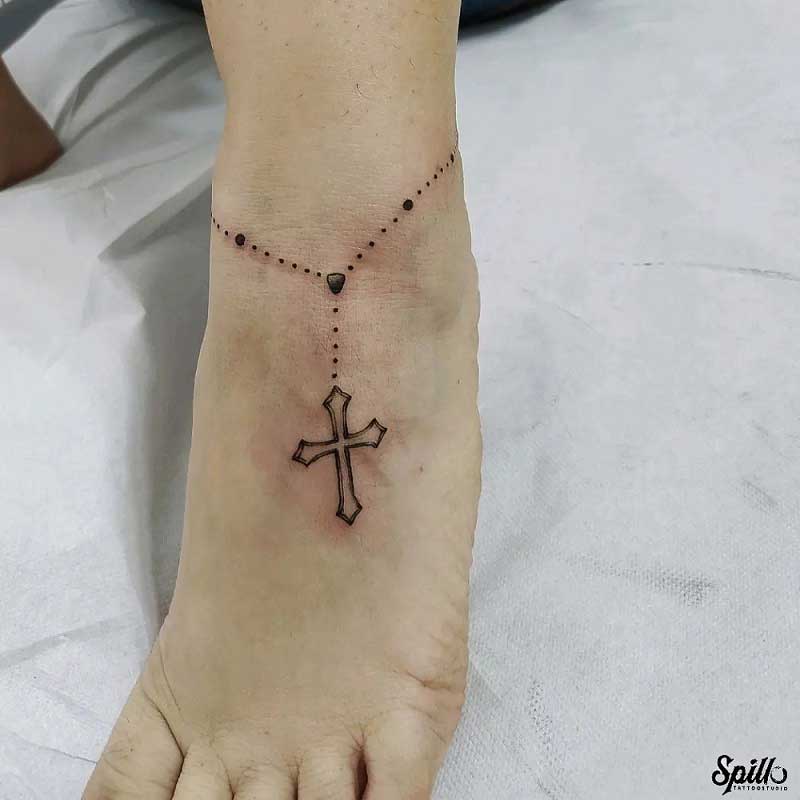 32.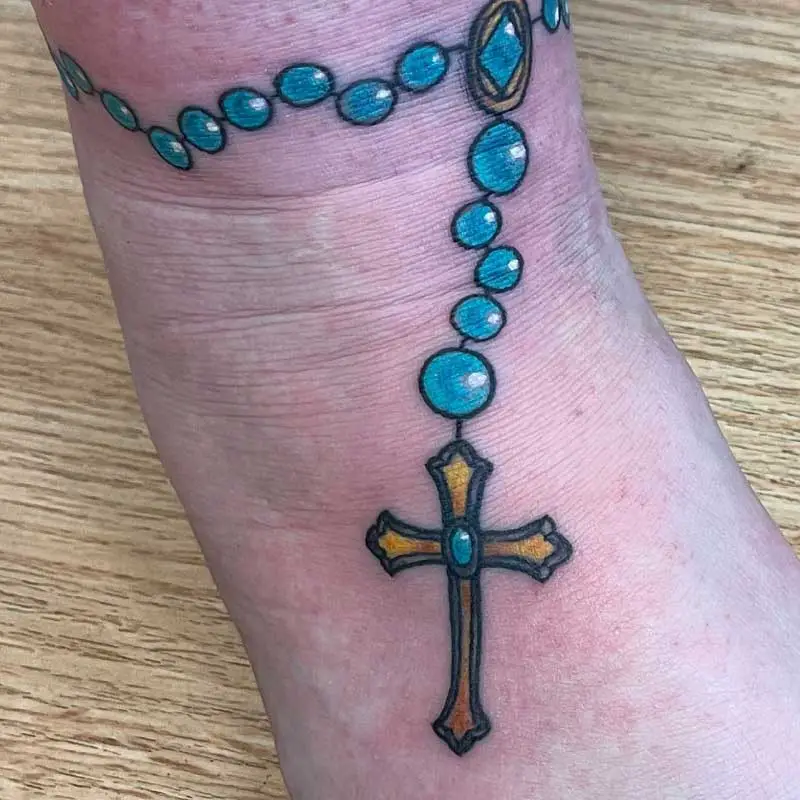 33.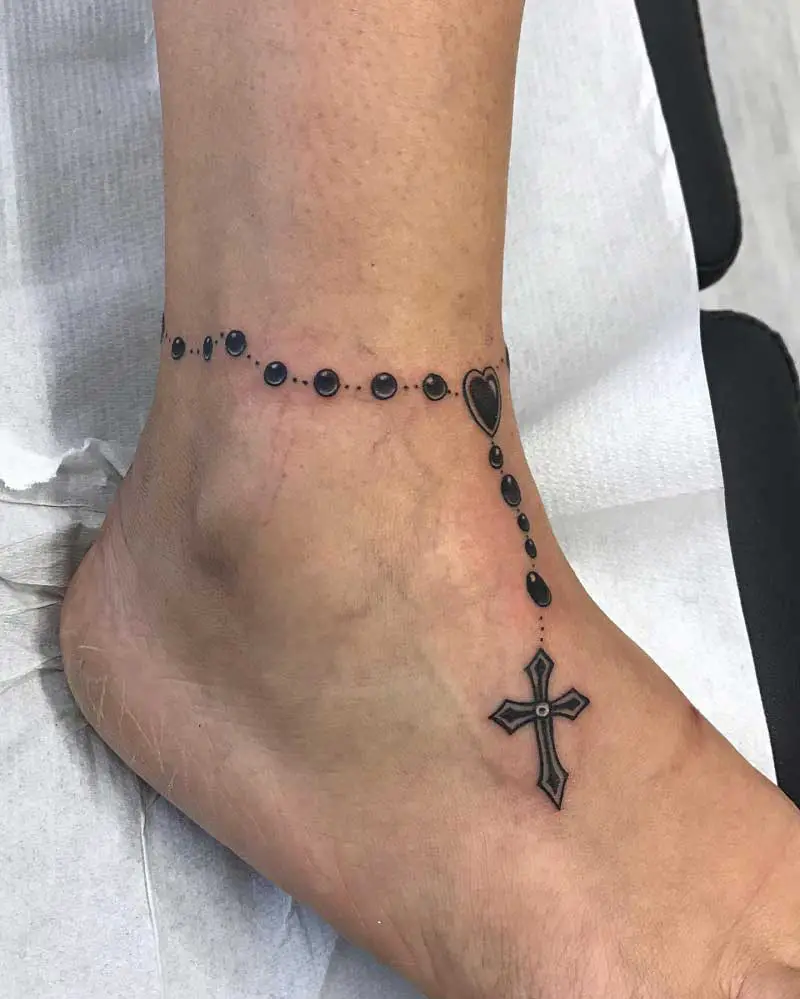 Feminine Ankle Bracelet Tattoo
34.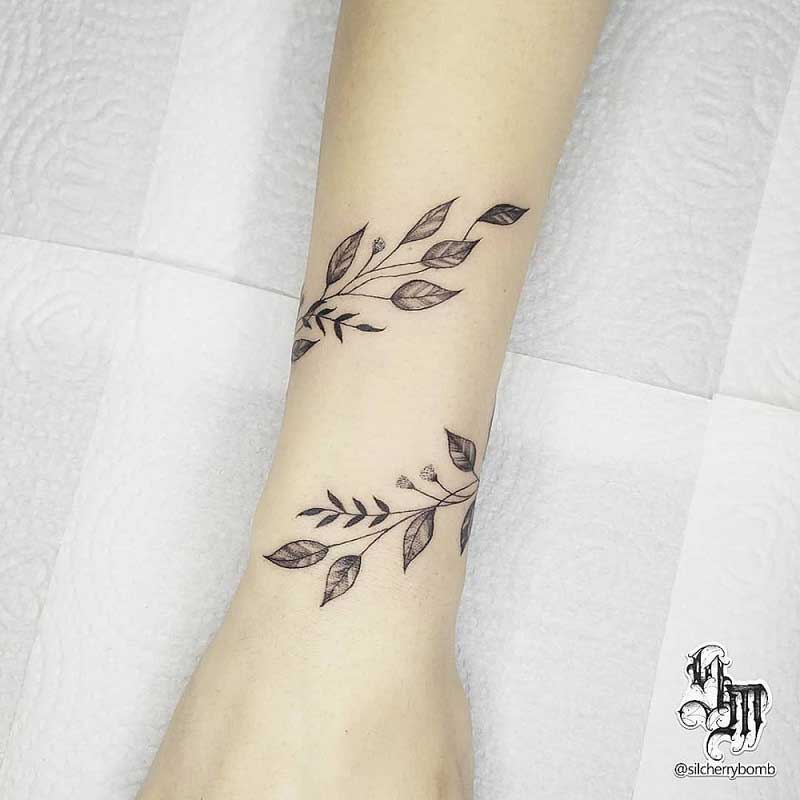 35.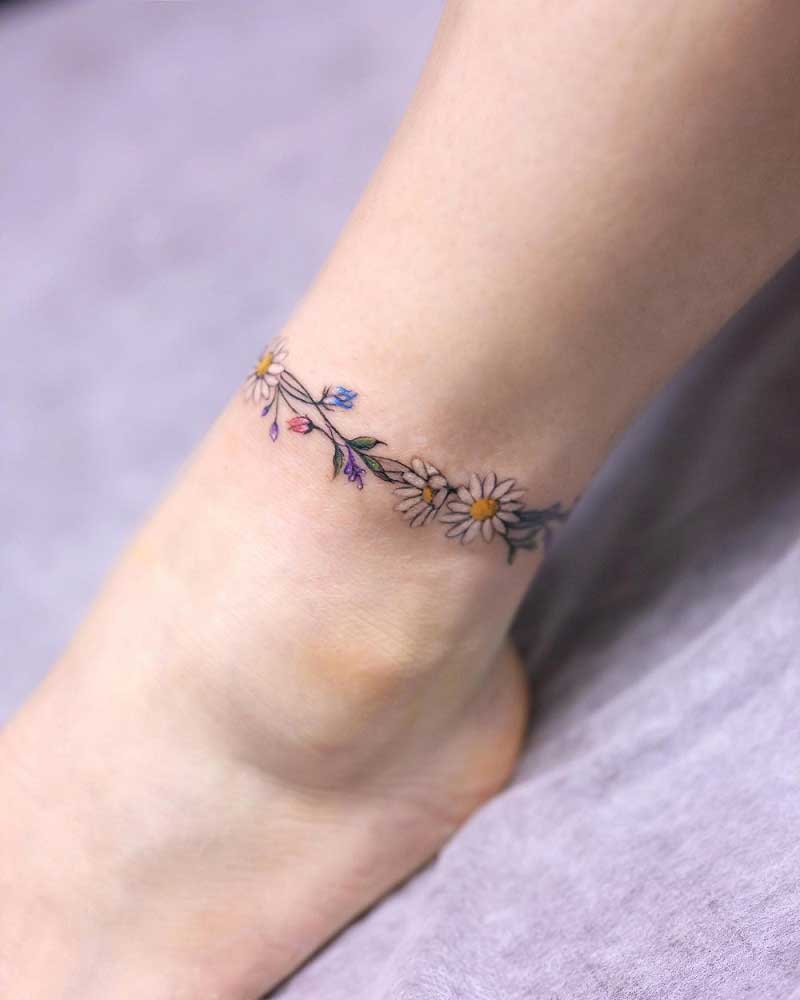 36.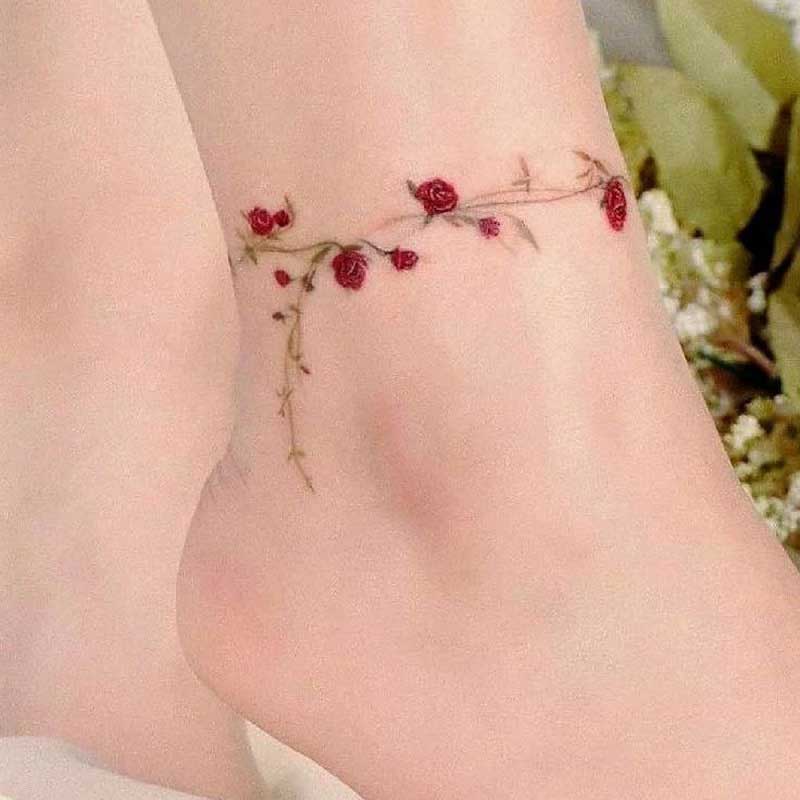 Sunflower Ankle Tattoo
37.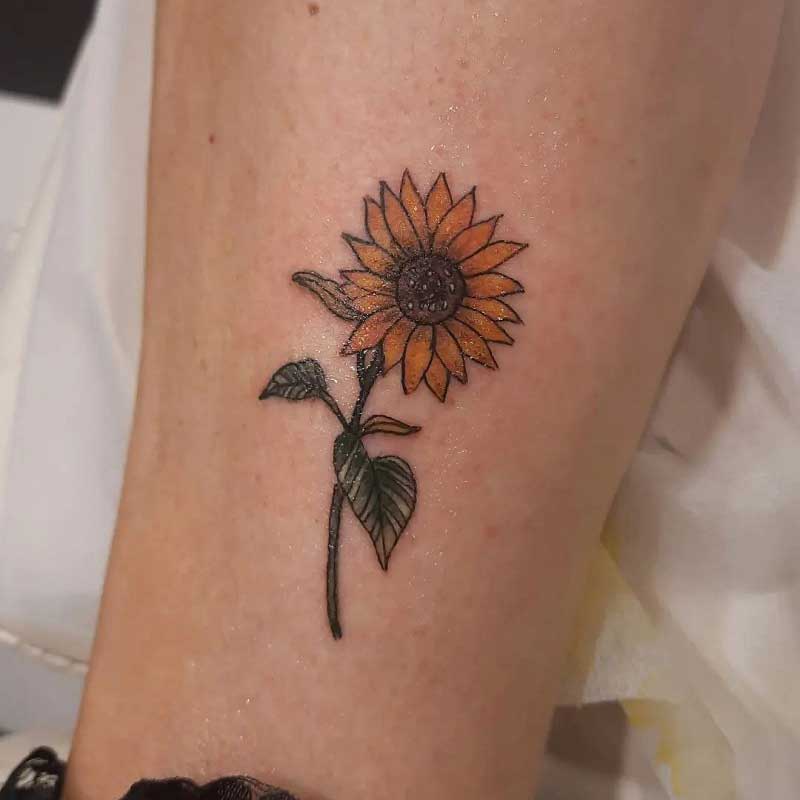 38.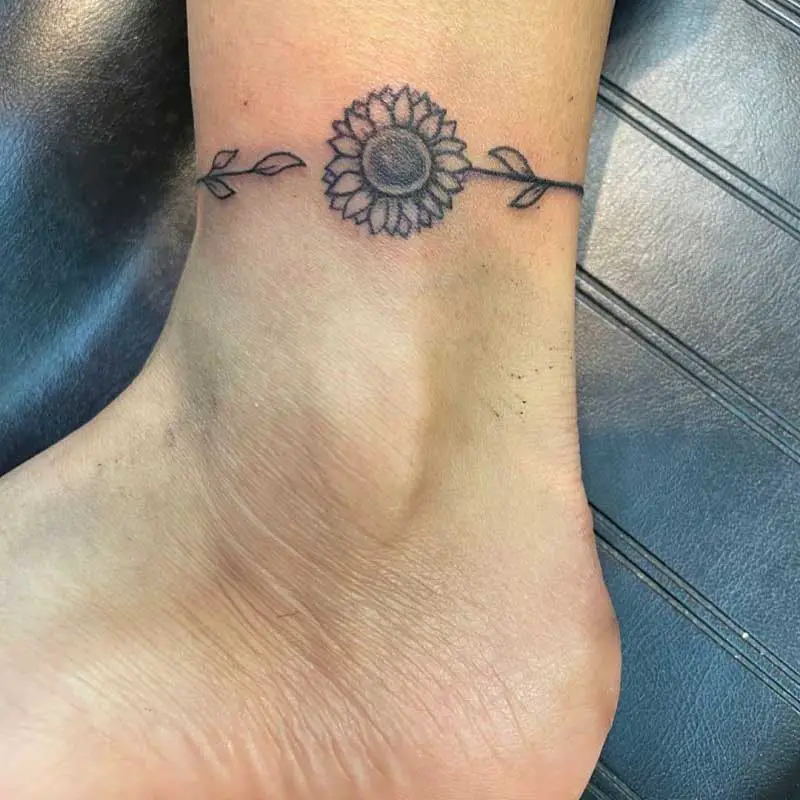 39.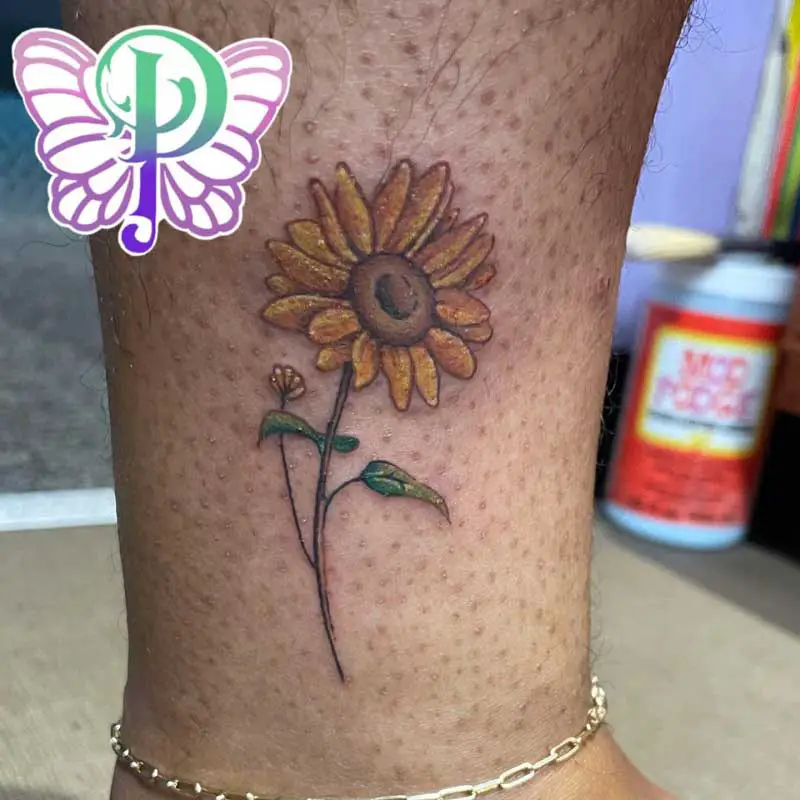 Heart Tattoo On Ankle
40.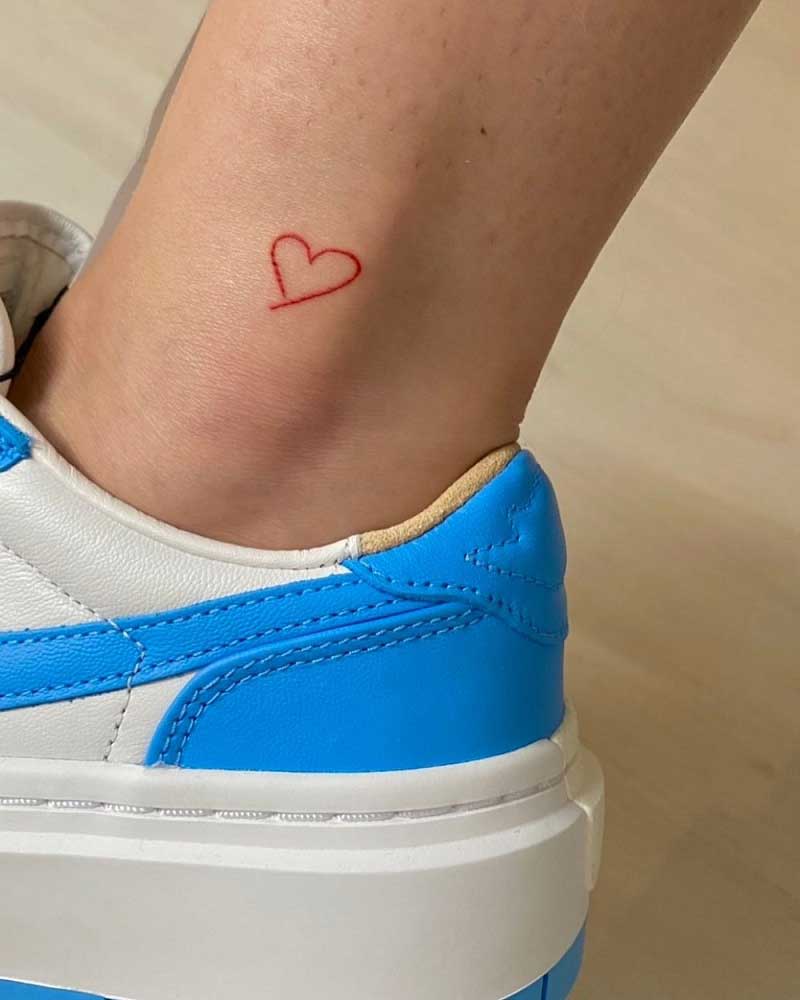 41.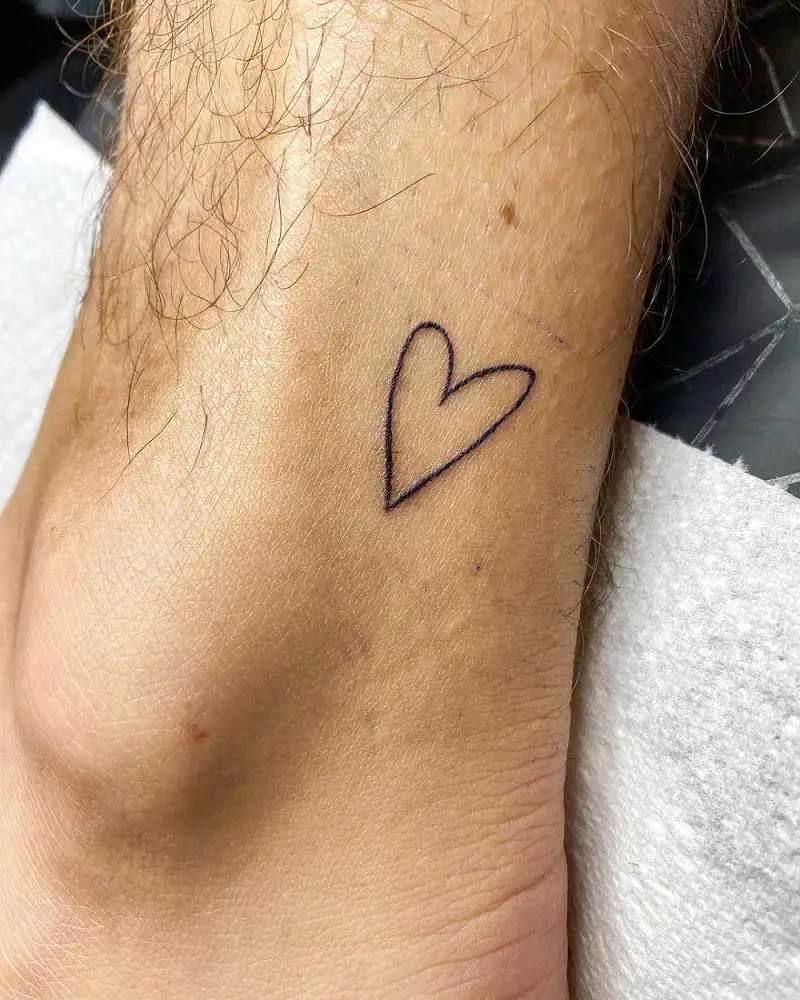 42.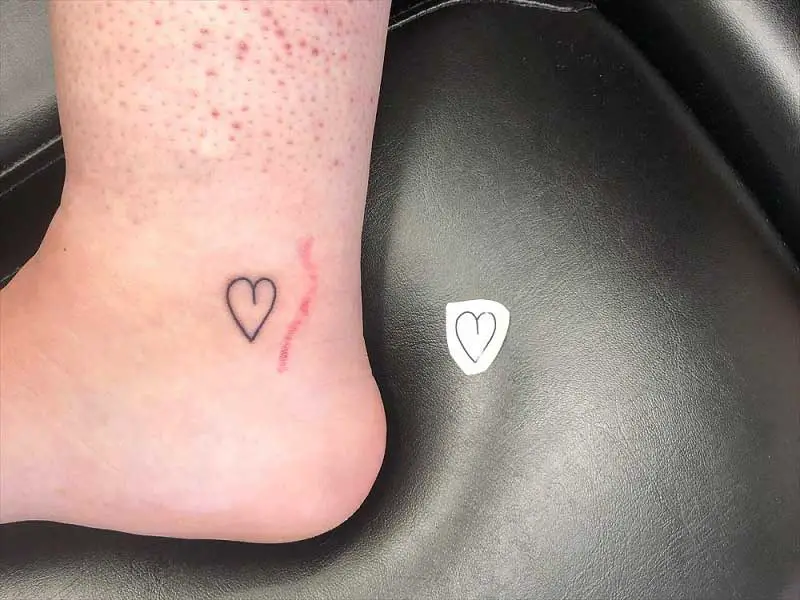 Ankle Wing Tattoo
43.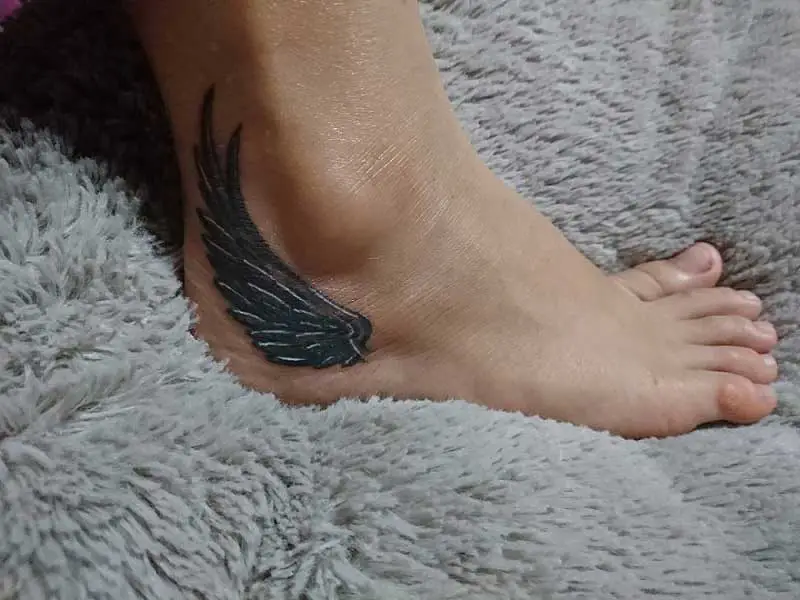 44.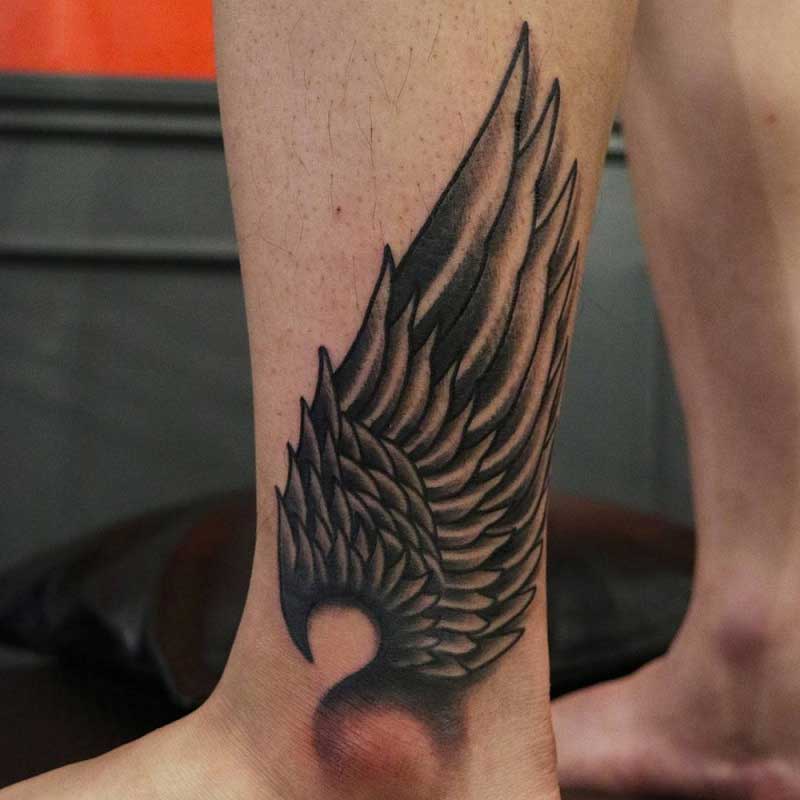 45.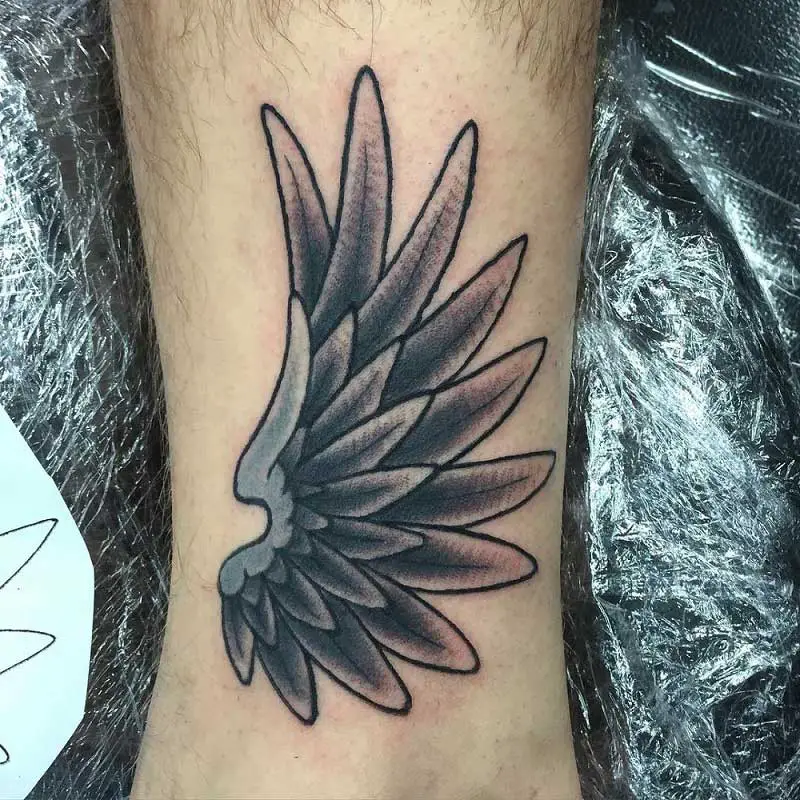 Ankle Dragon Tattoo
46.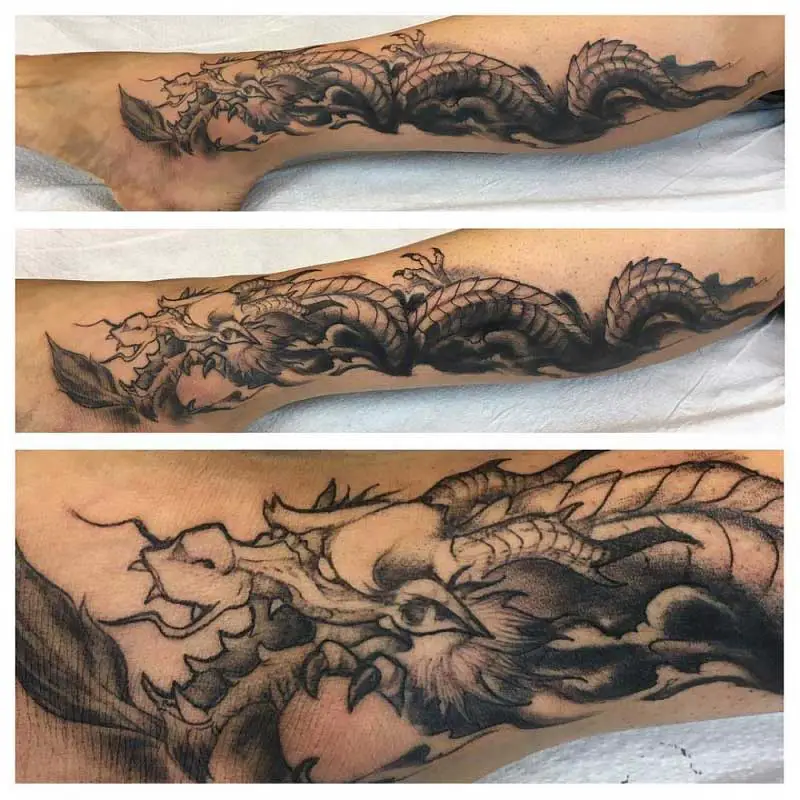 47.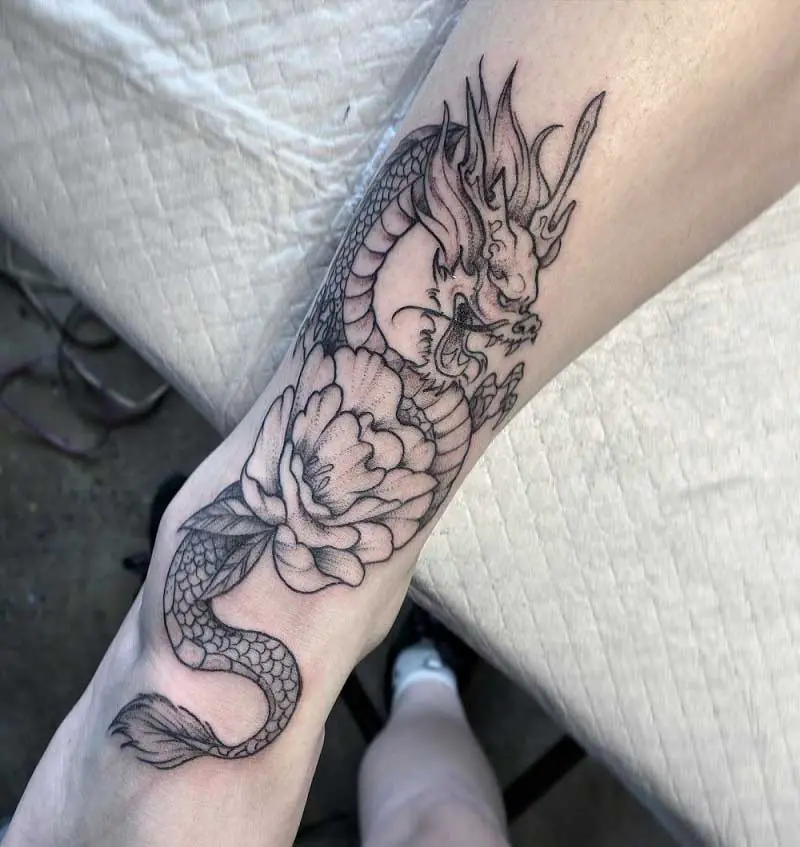 48.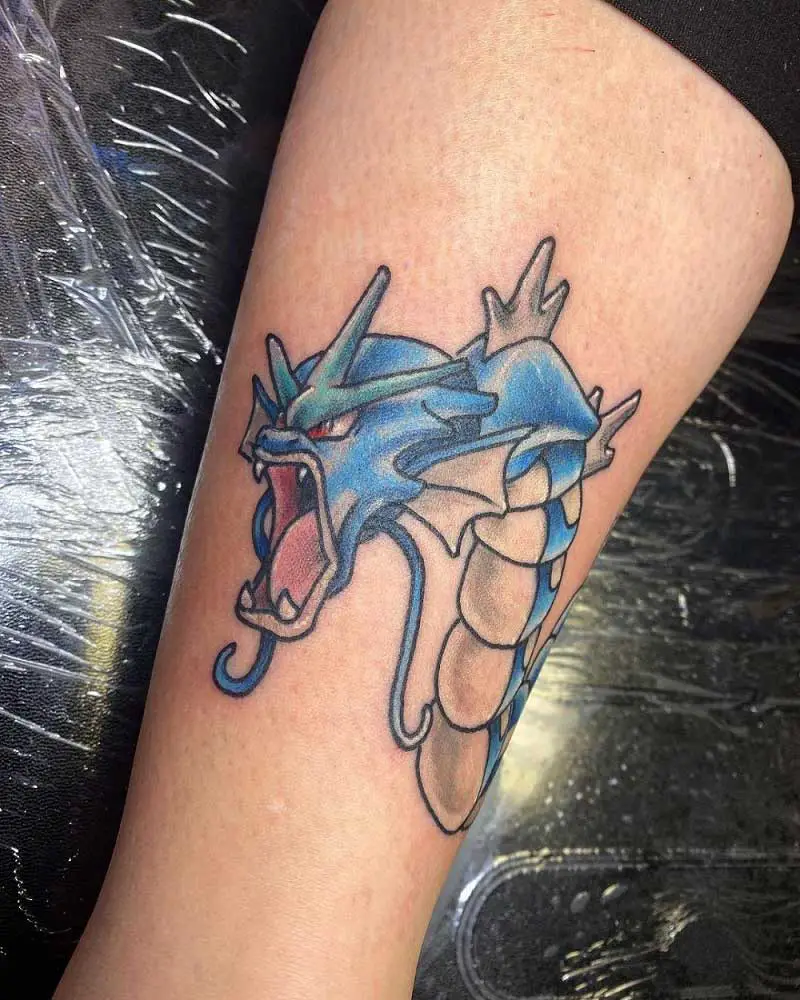 Henna Ankle Tattoo
49.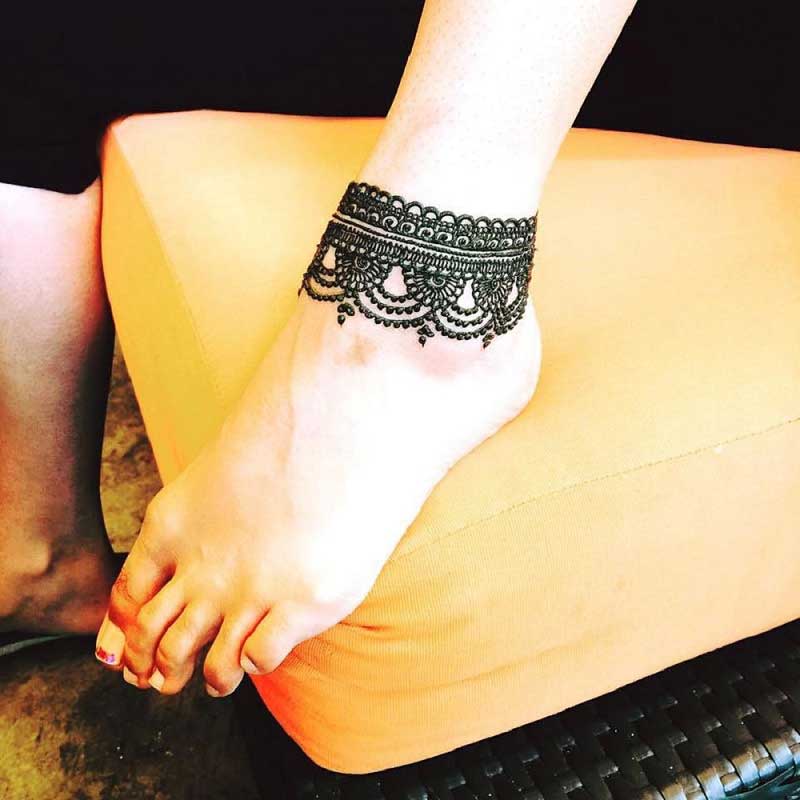 50. Henna Wave Design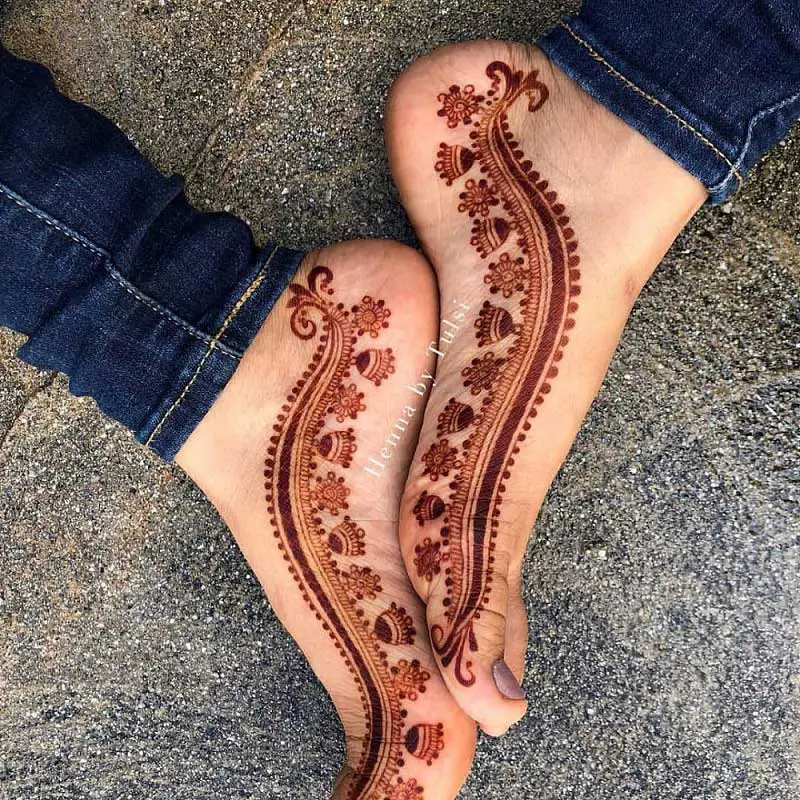 51. Henna Bracelet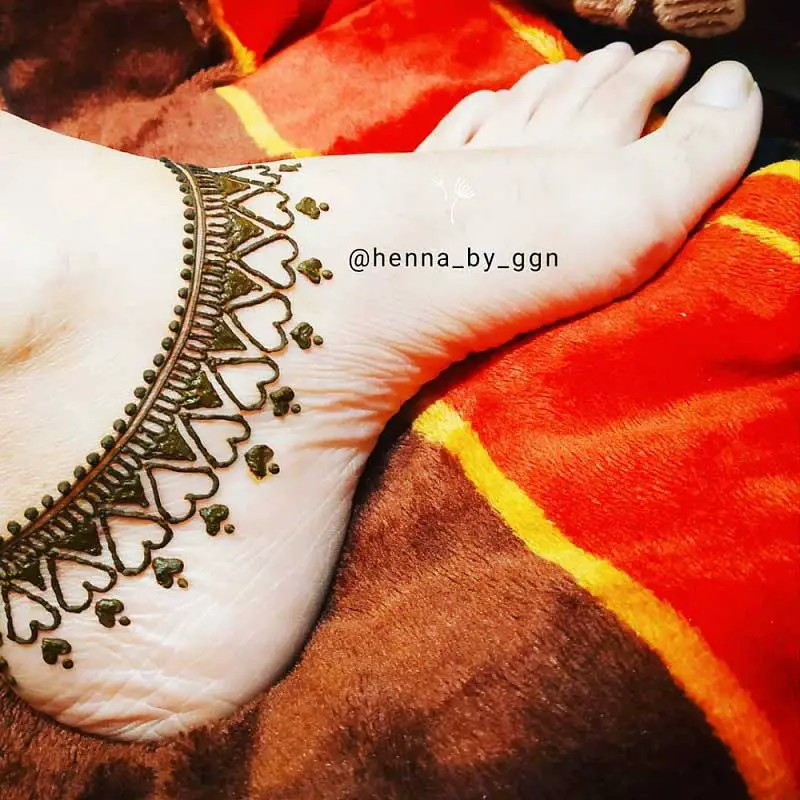 Mandala Ankle Tattoo
52. One-sided Mandela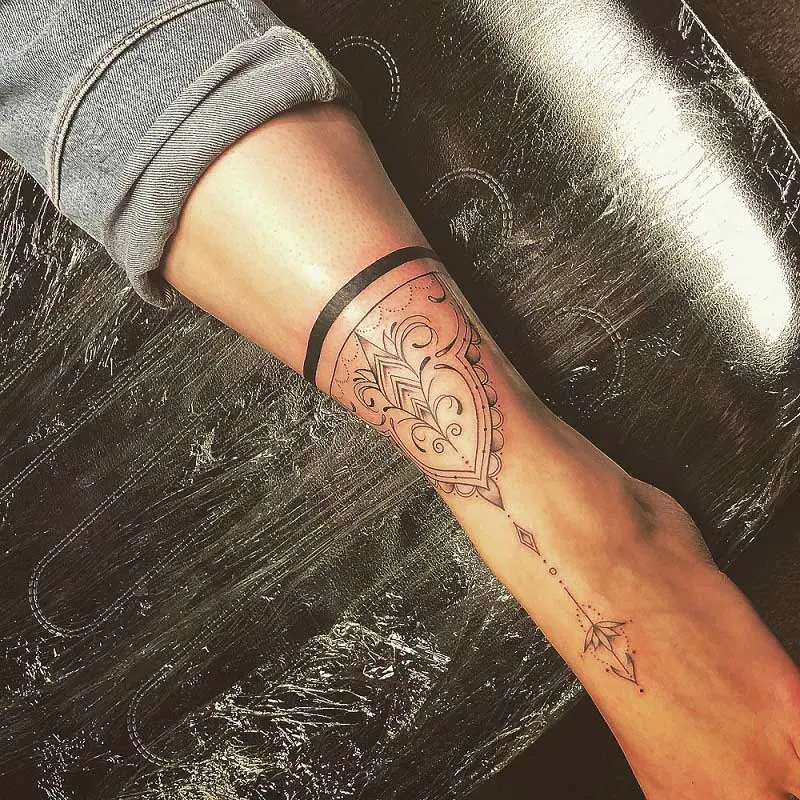 53. Reflection Mandela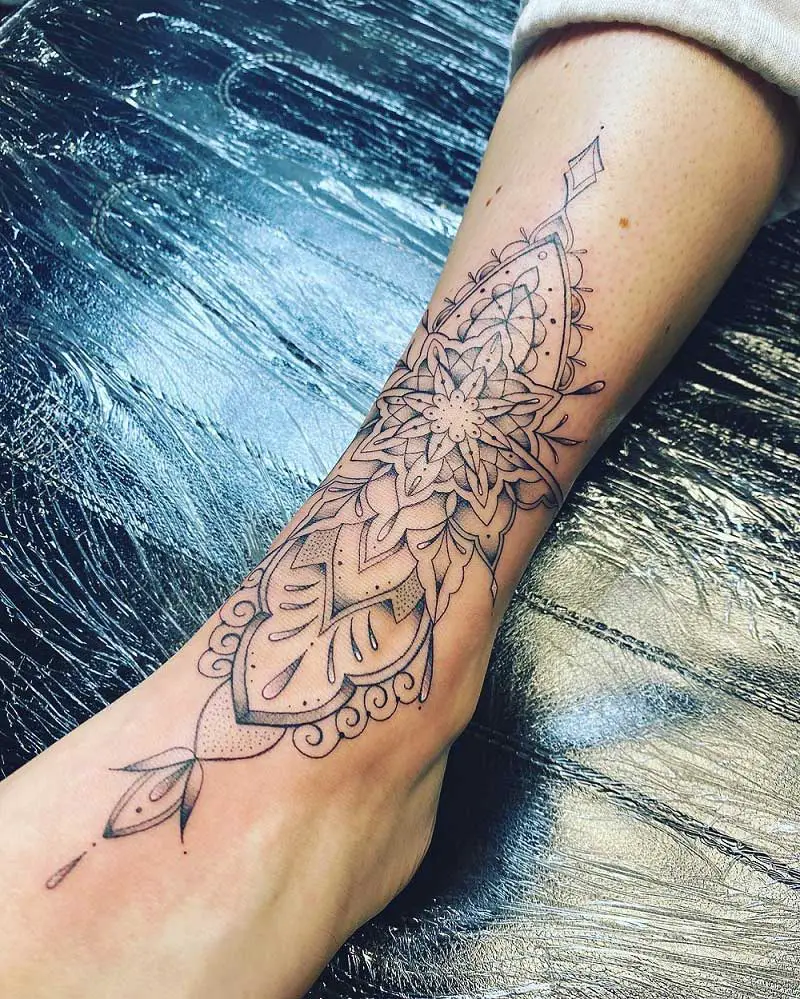 54. Disconnected Design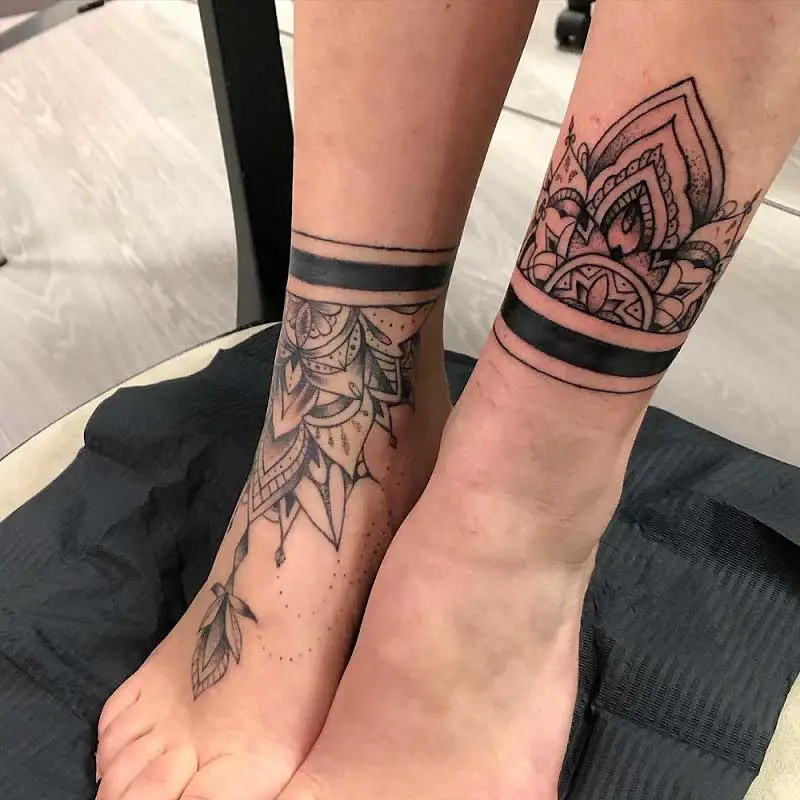 Rosary Tattoo On Ankle
55. Held By Love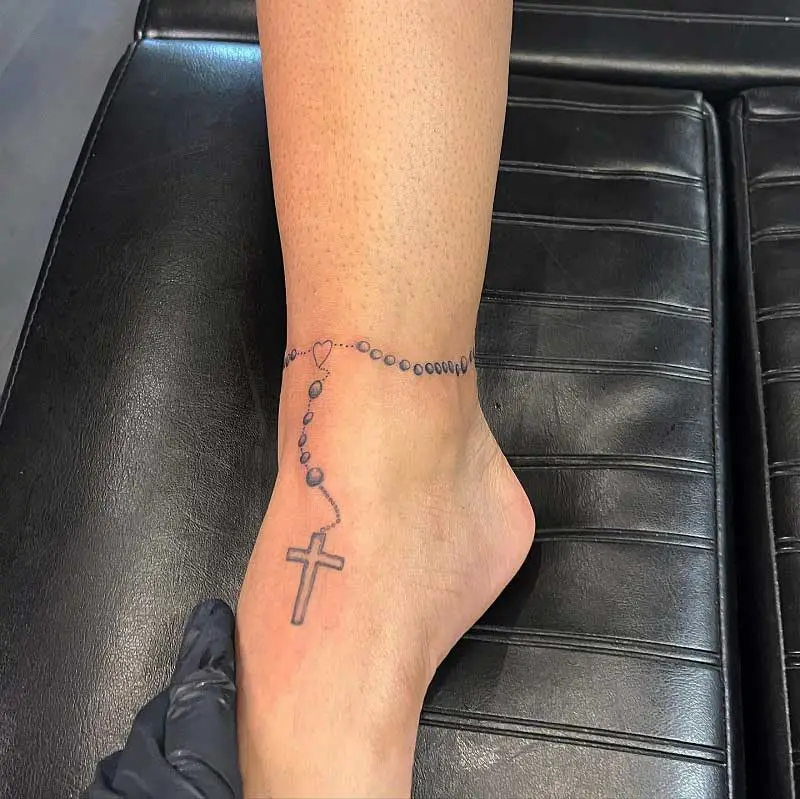 56. Double Wrapped Bracelet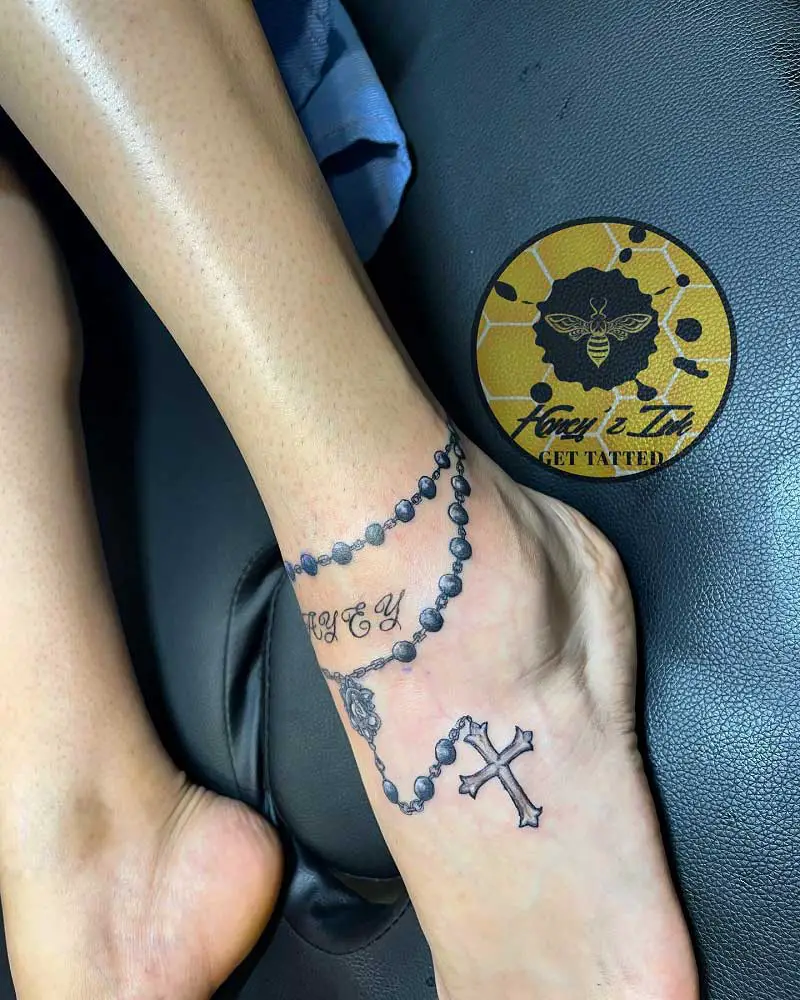 57. Cross & Beads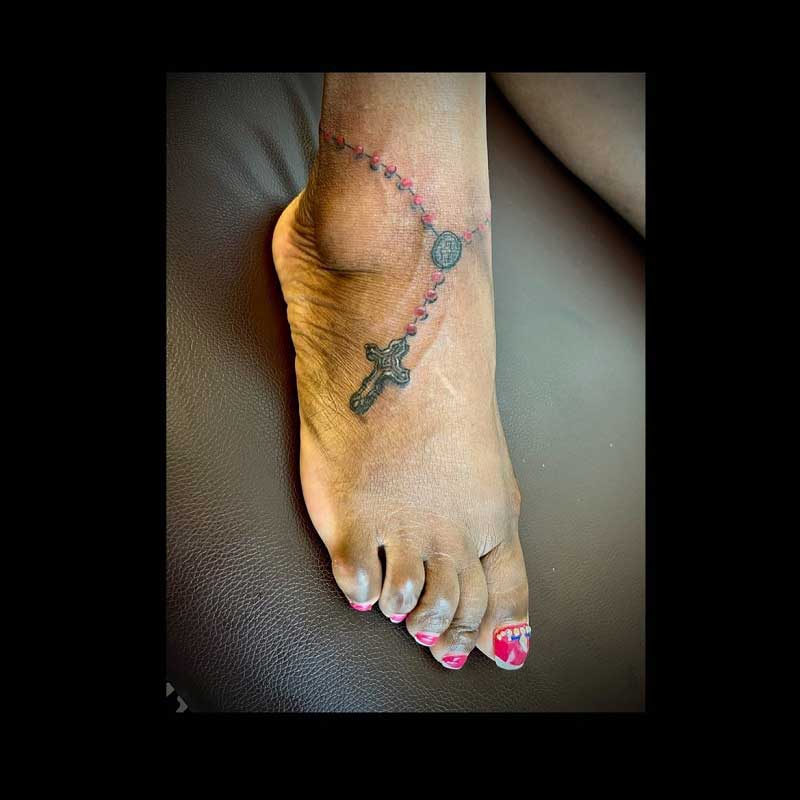 Tribal Ankle Tattoo
58. Tribal Line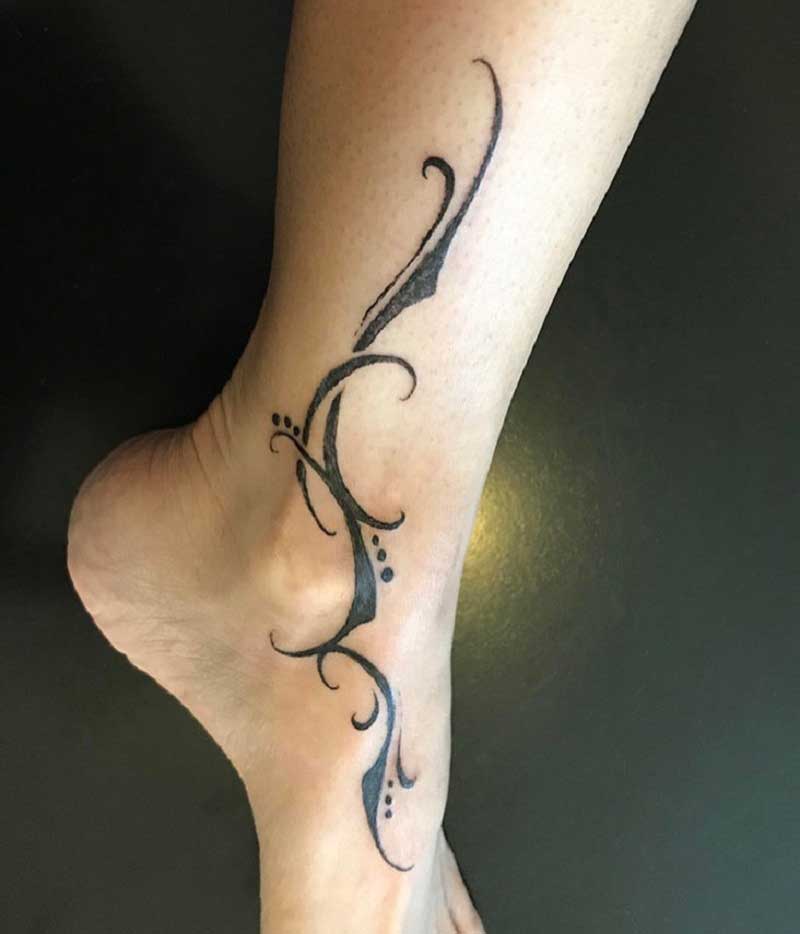 59. Sharp Claws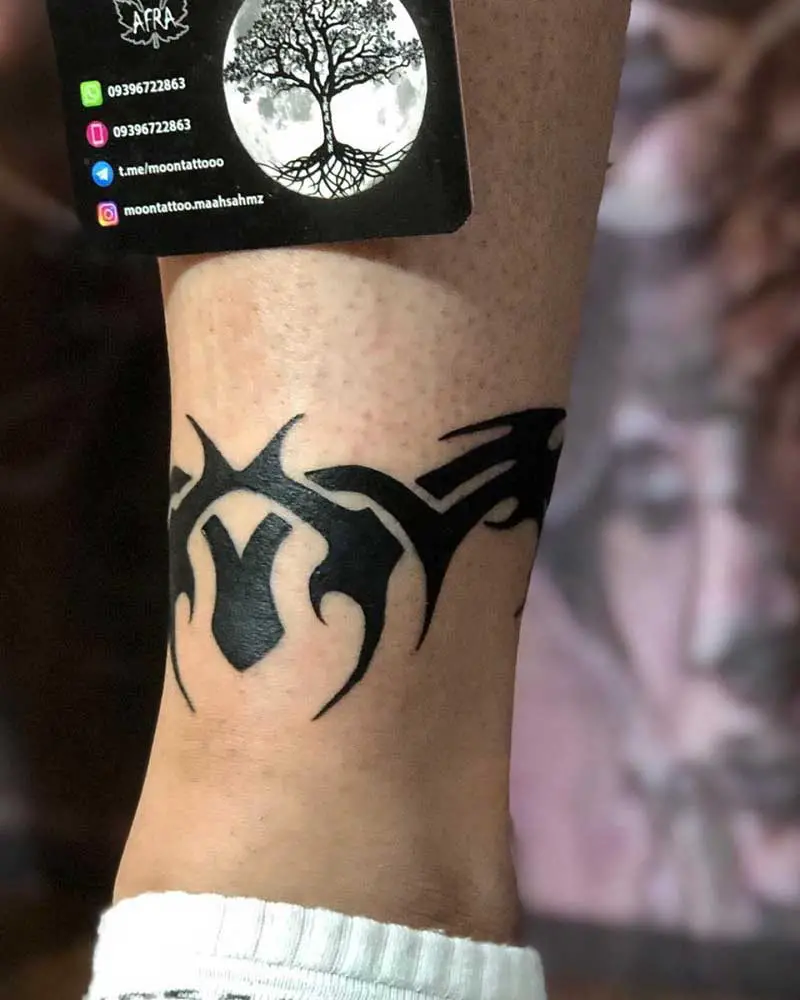 60. Henna Art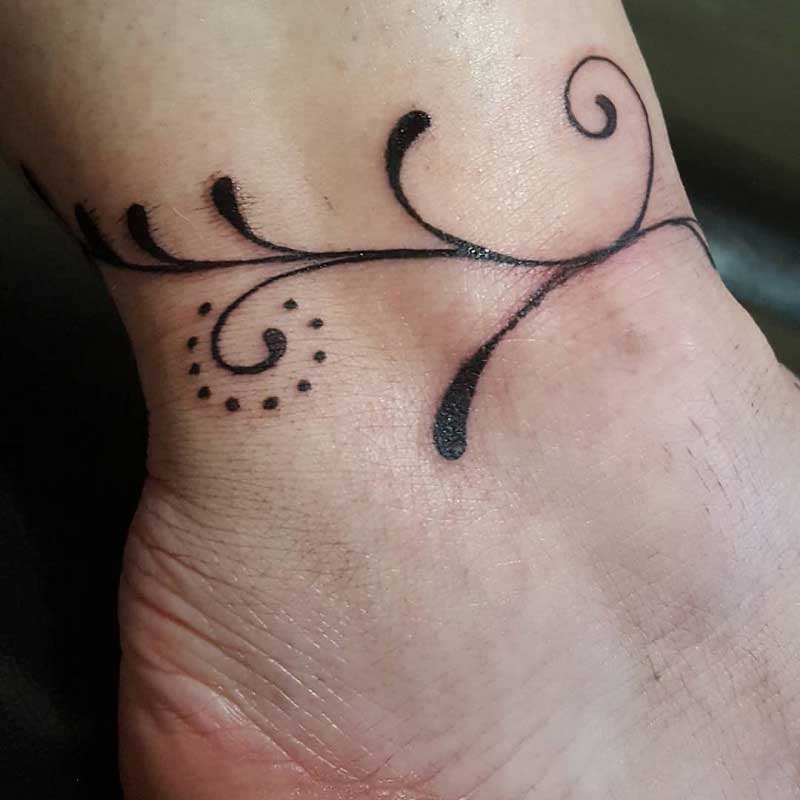 Wave Tattoo Ankle
61. Sun Eyes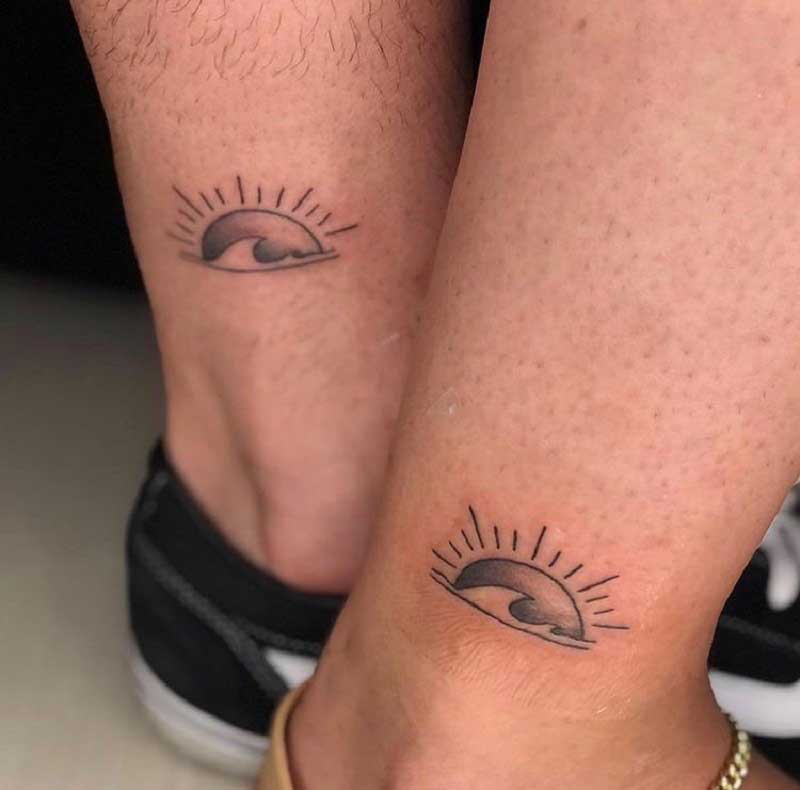 62. Mushroom Sparkles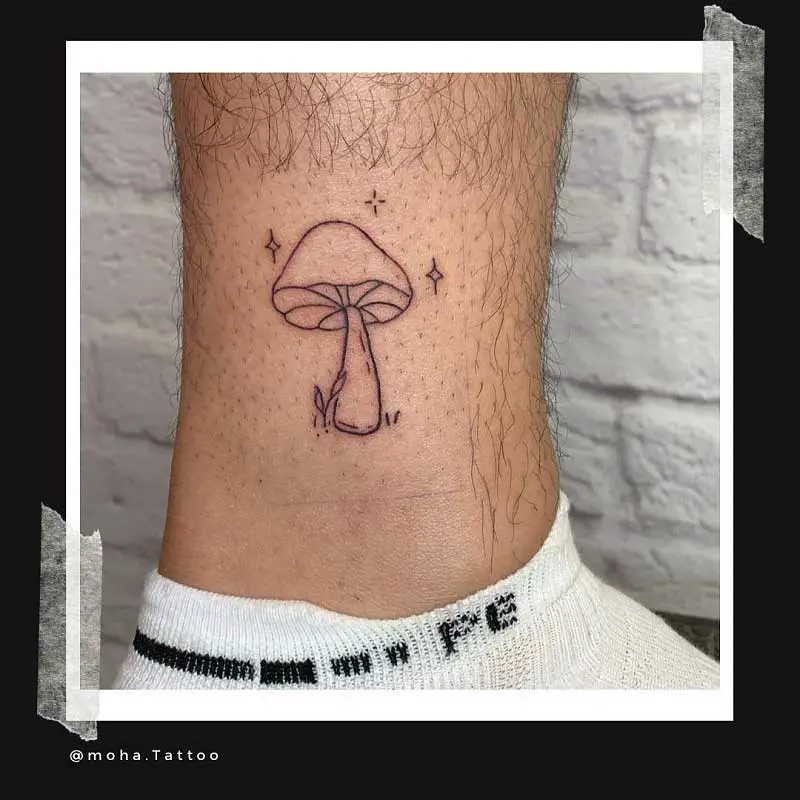 63. Single-Lined Wave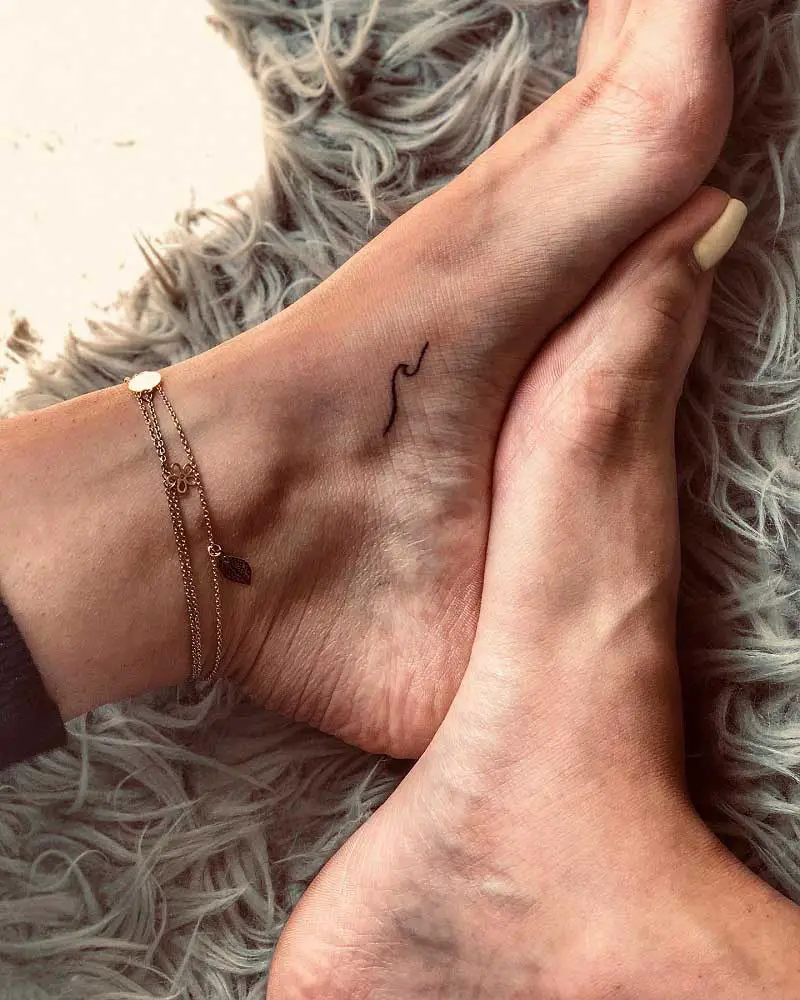 Ankle Cover Up Tattoos
64. Cover-Up Tulip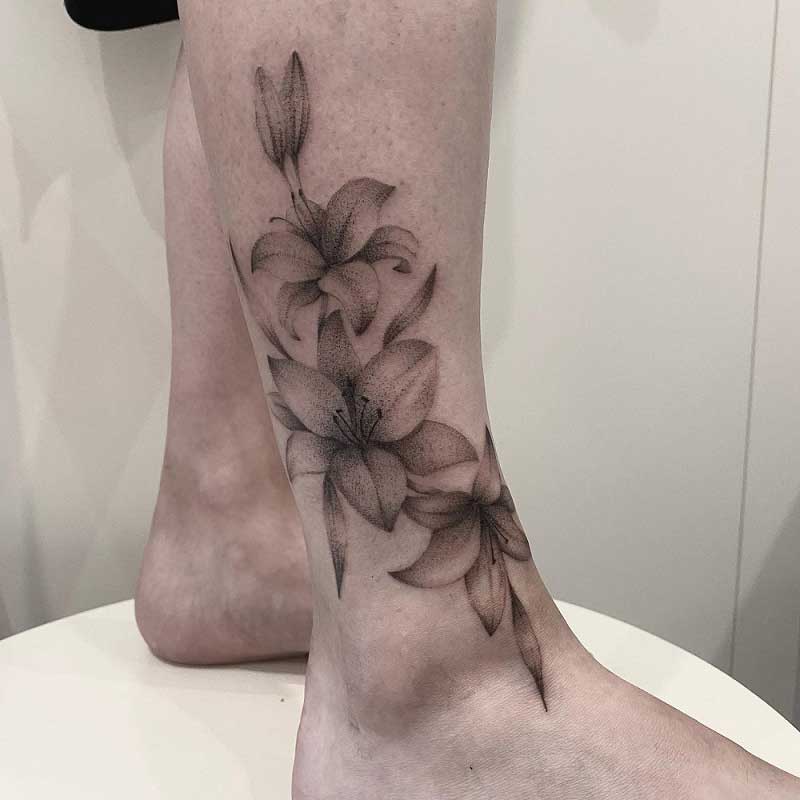 65. Patchwork Flower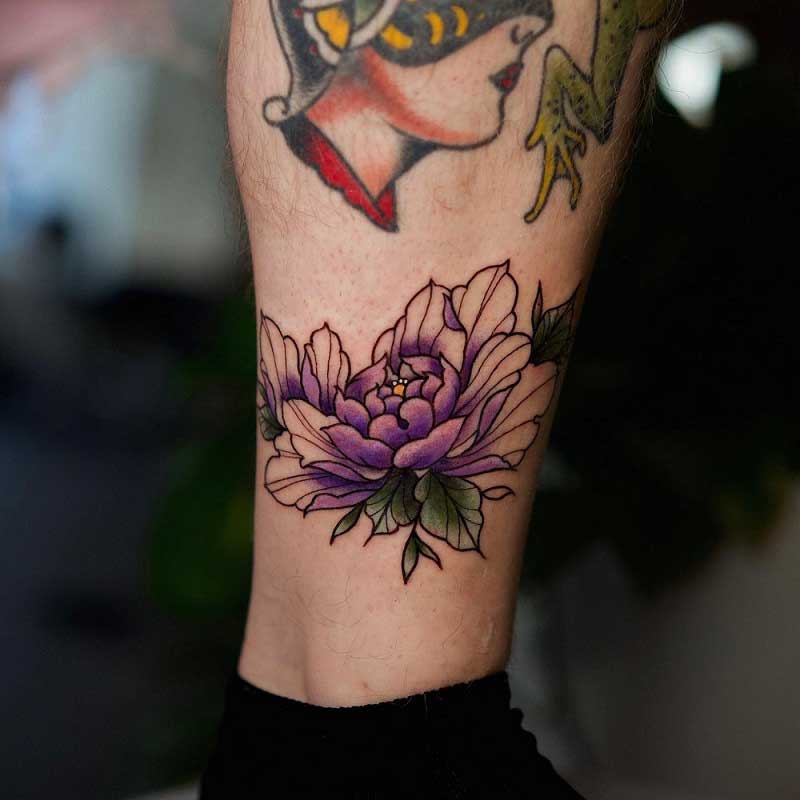 66. Mythical Dragon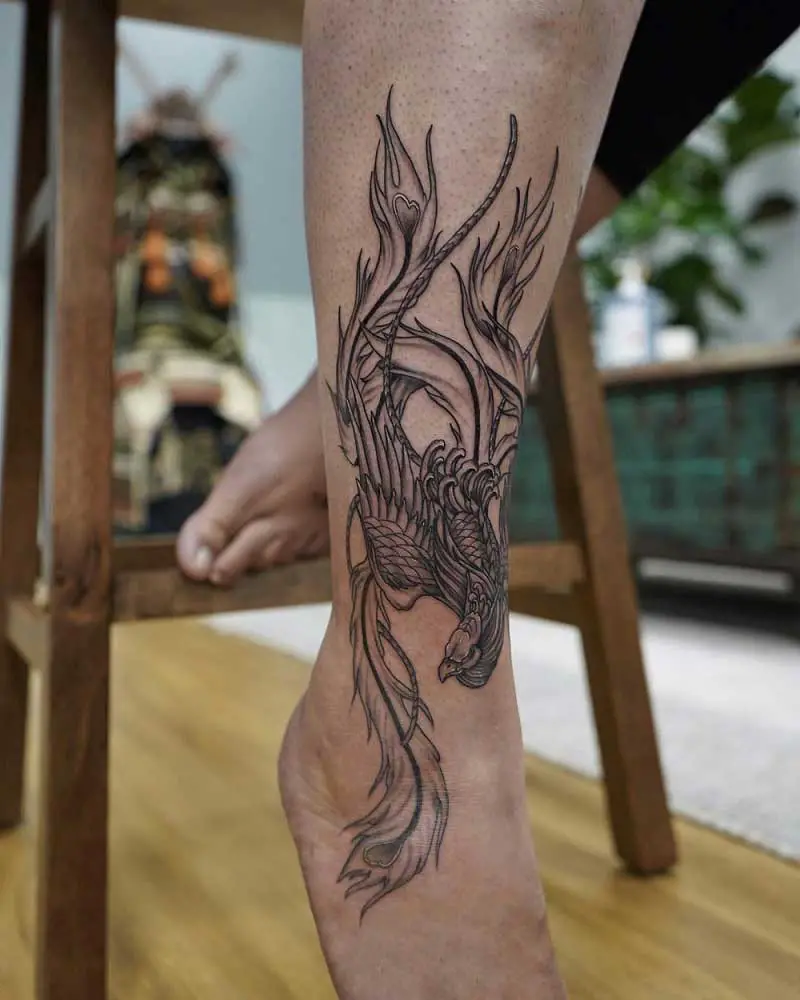 Cool Ankle Tattoos
67. Initial Signs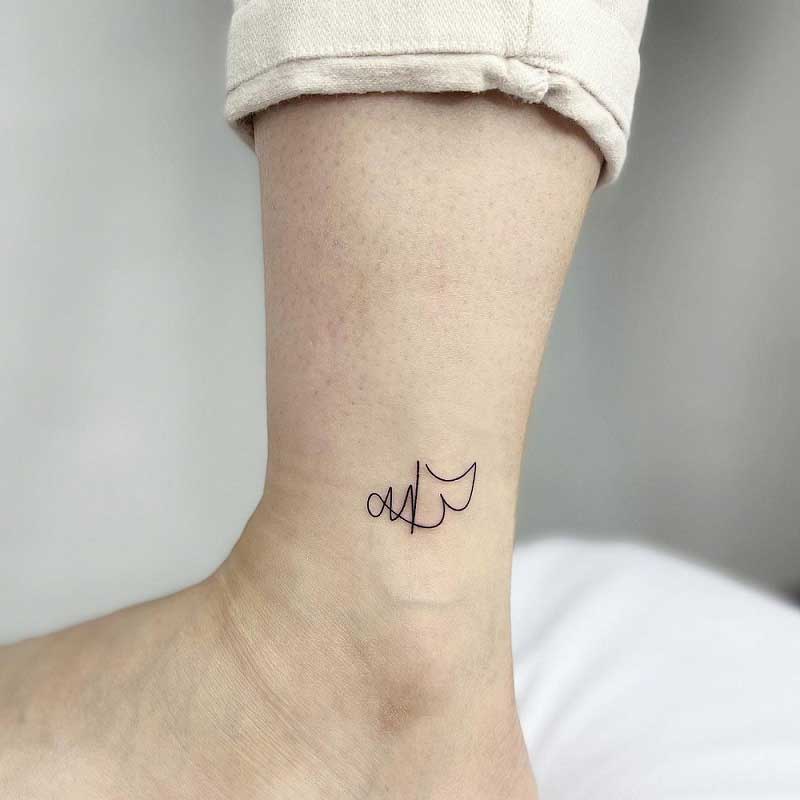 68. Chocolate Bar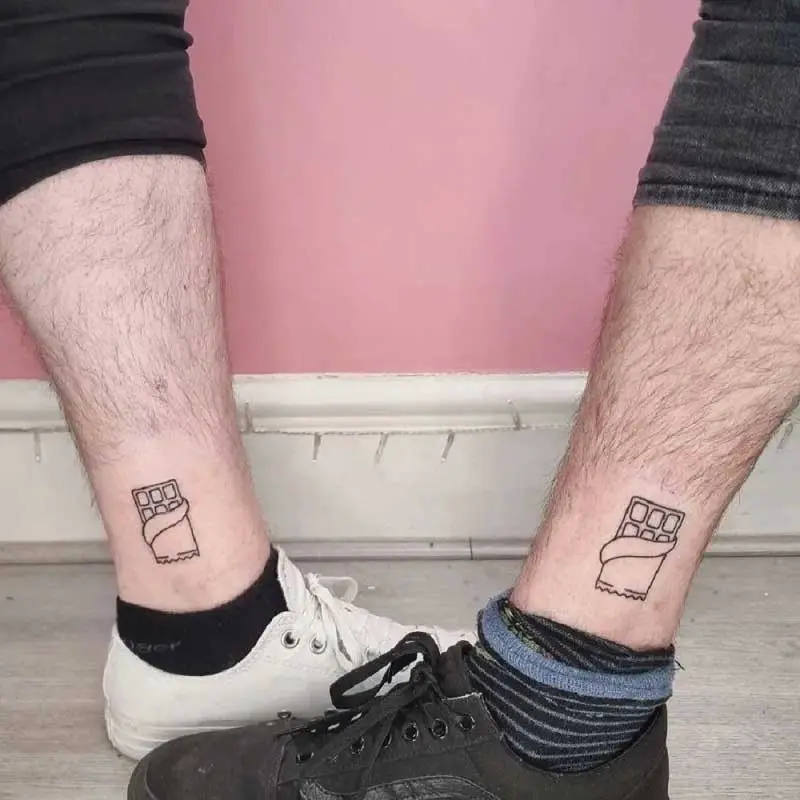 69. Dracula Skull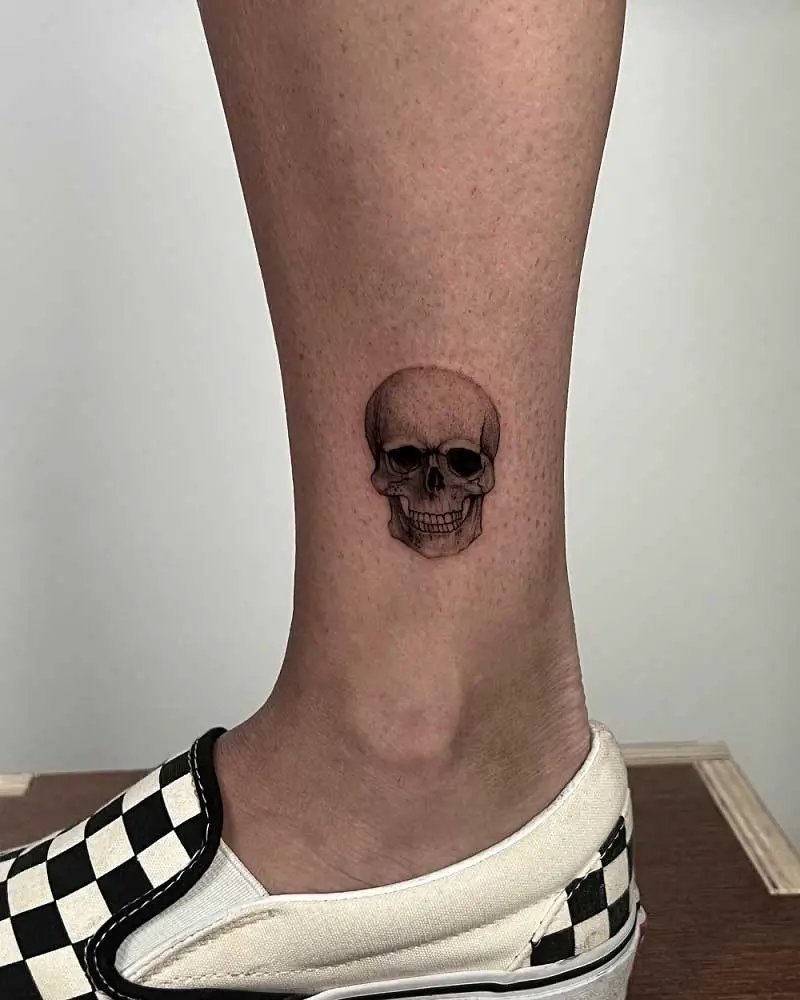 Elephant Ankle Tattoo
70. Trapped Mammoth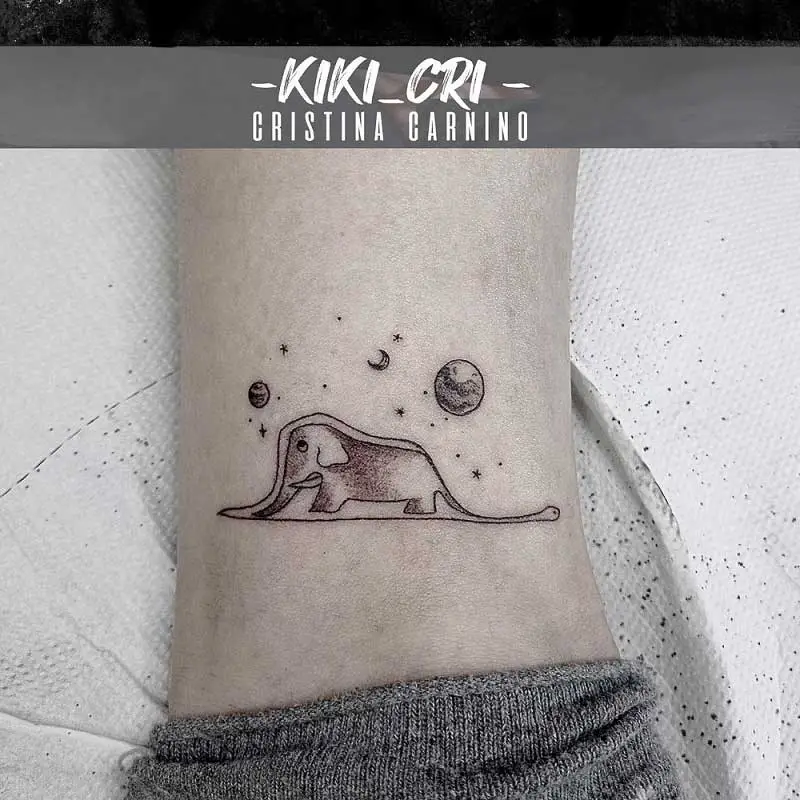 71. Mini Dinosaur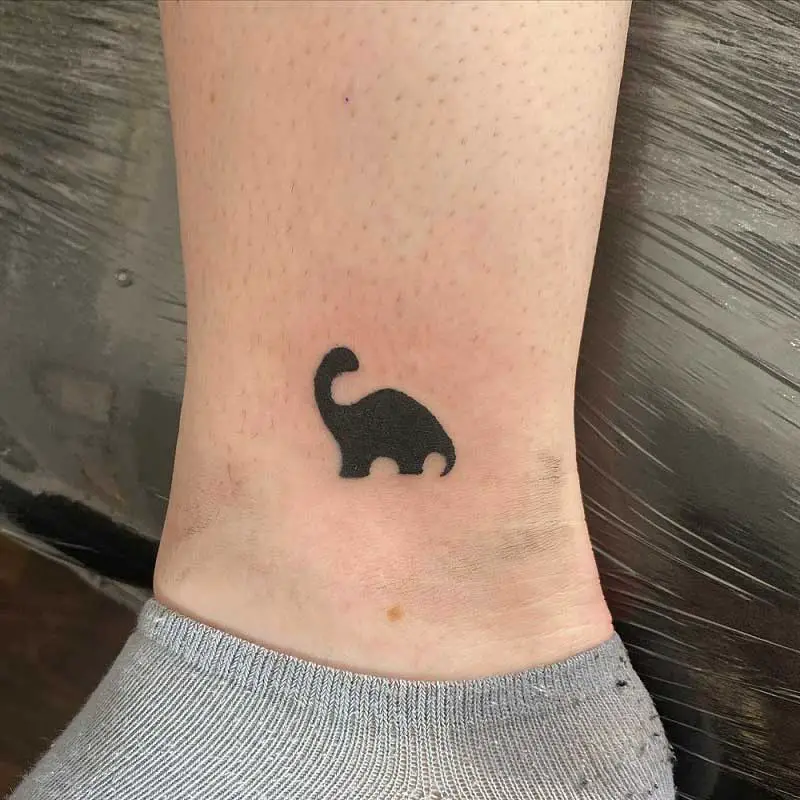 72. Elephant Love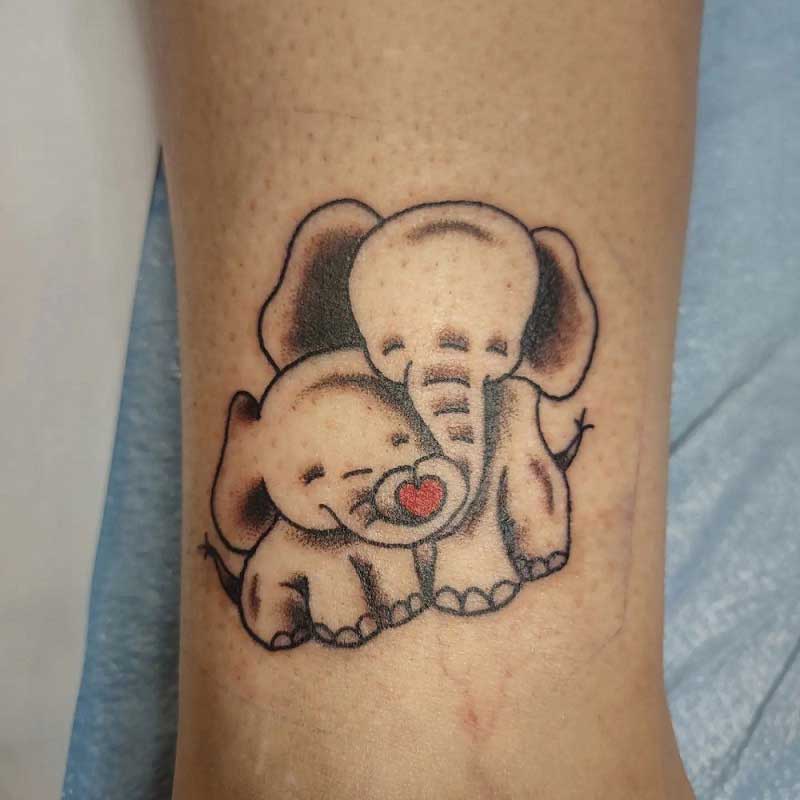 Floral Ankle Tattoos
73. Blue Flower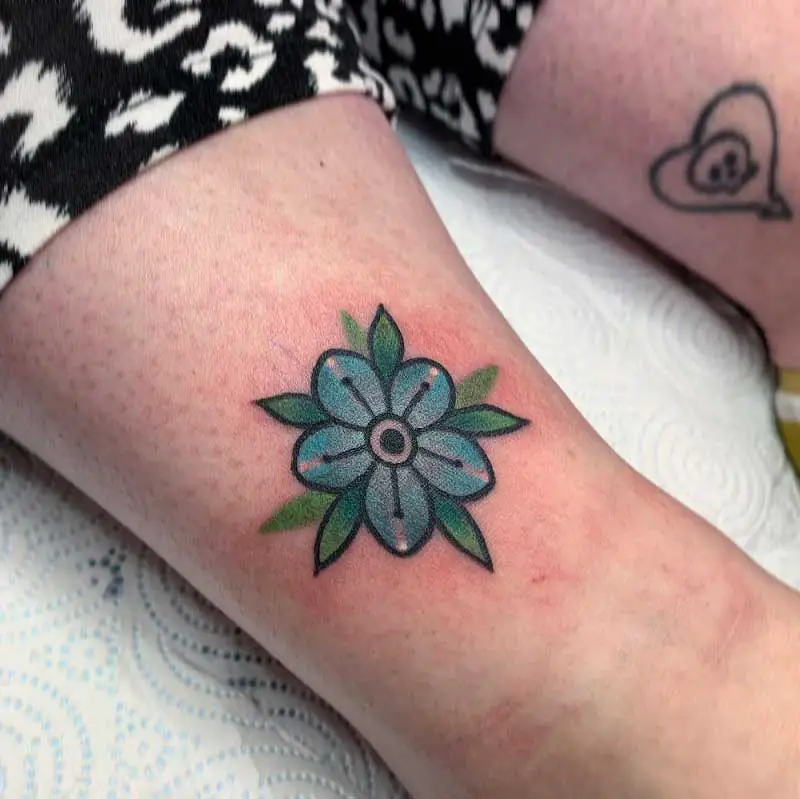 74. 6 Leaves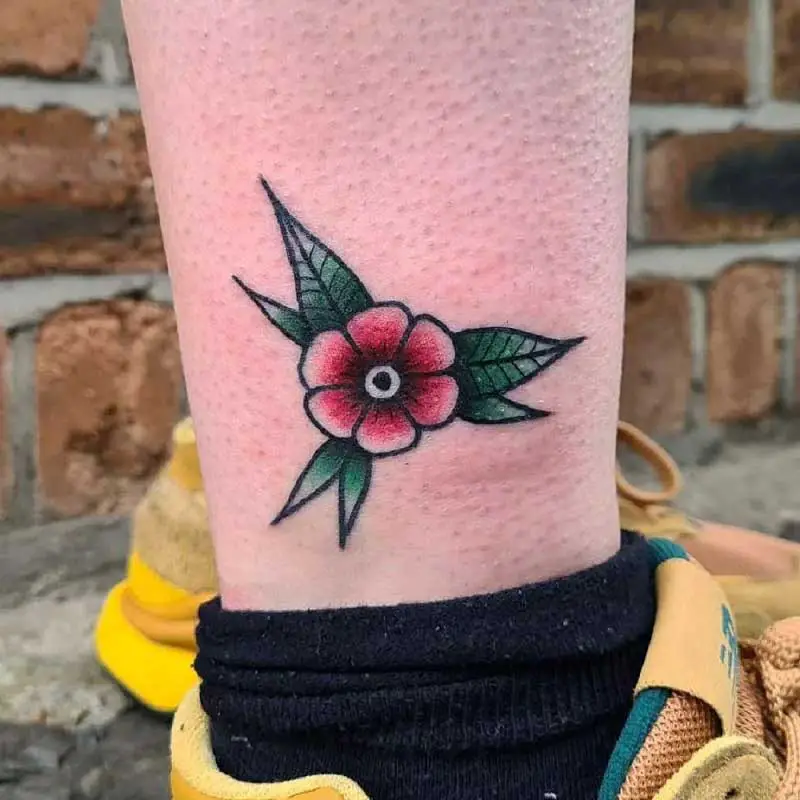 75. Moon Rose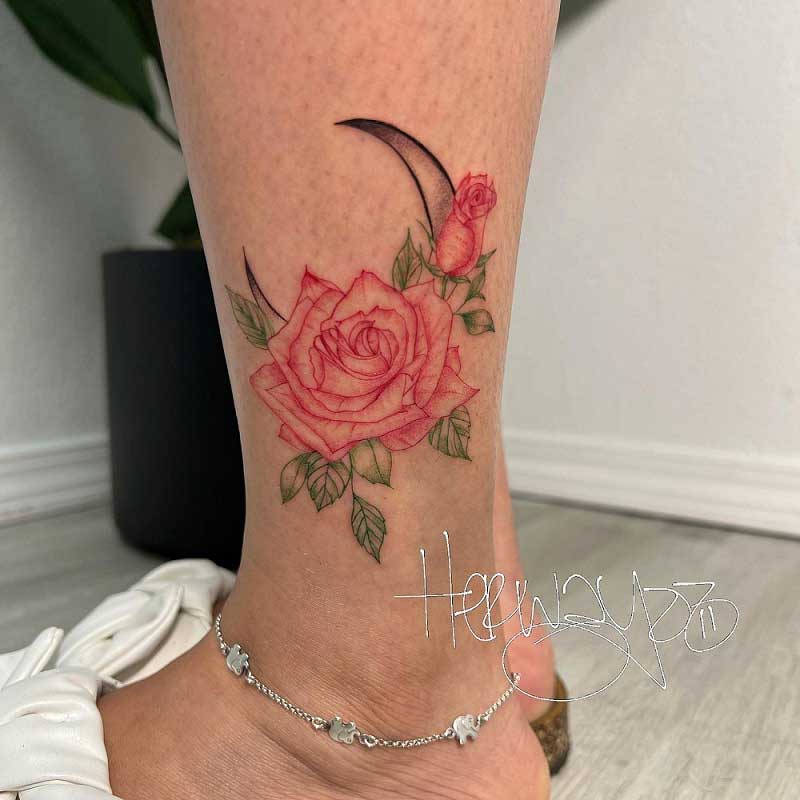 Geometric Ankle Band Tattoos
76. Spikes & Curves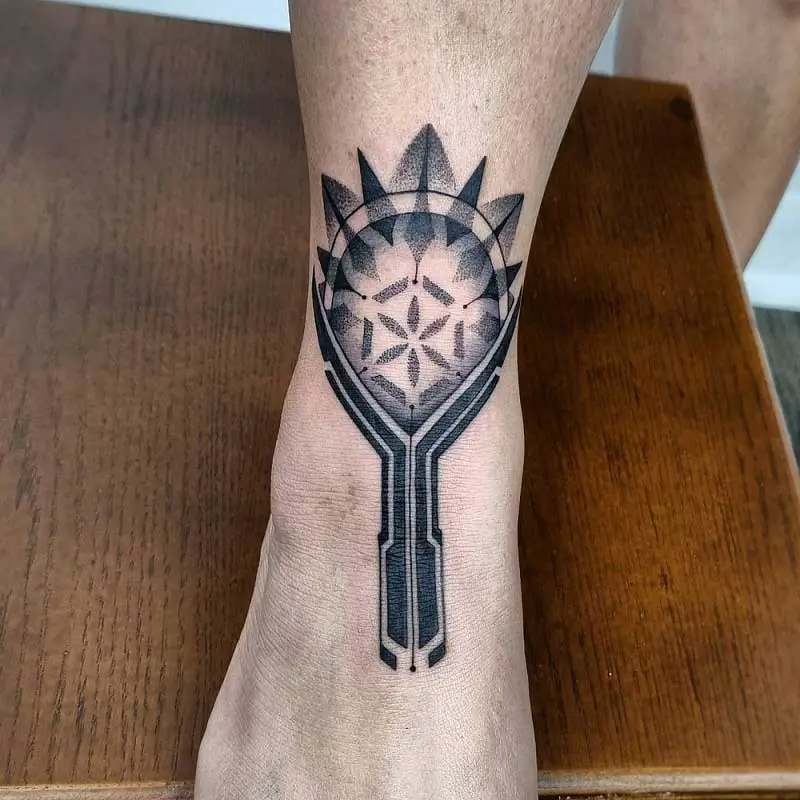 77. Tribal Lines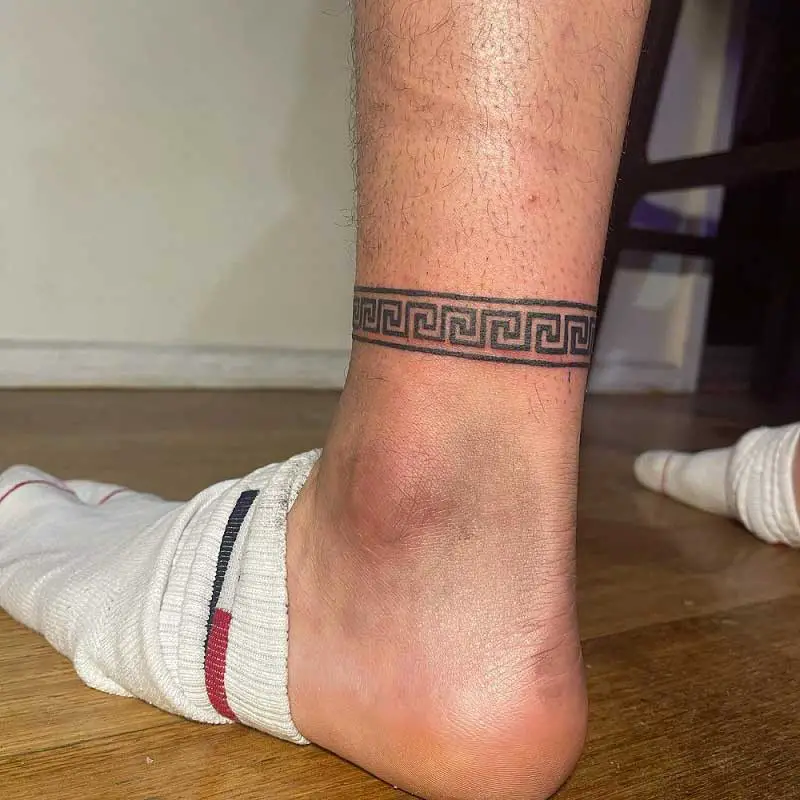 78. Alphabets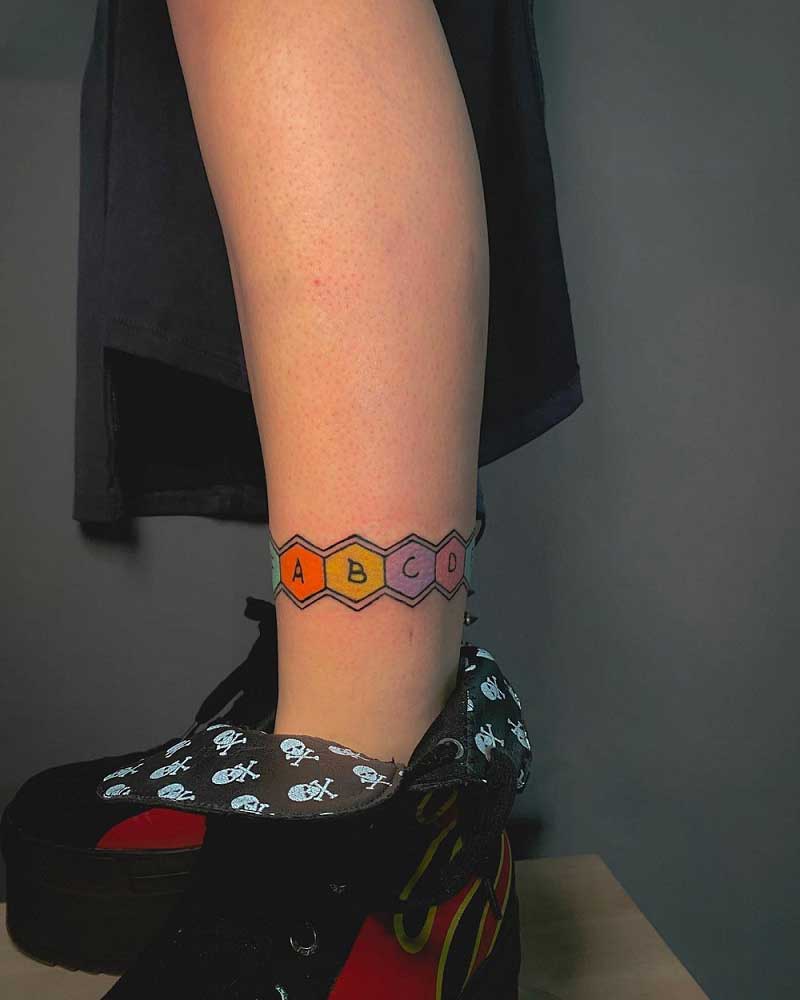 Lotus Flower Ankle Tattoo
79. Minimal Lotus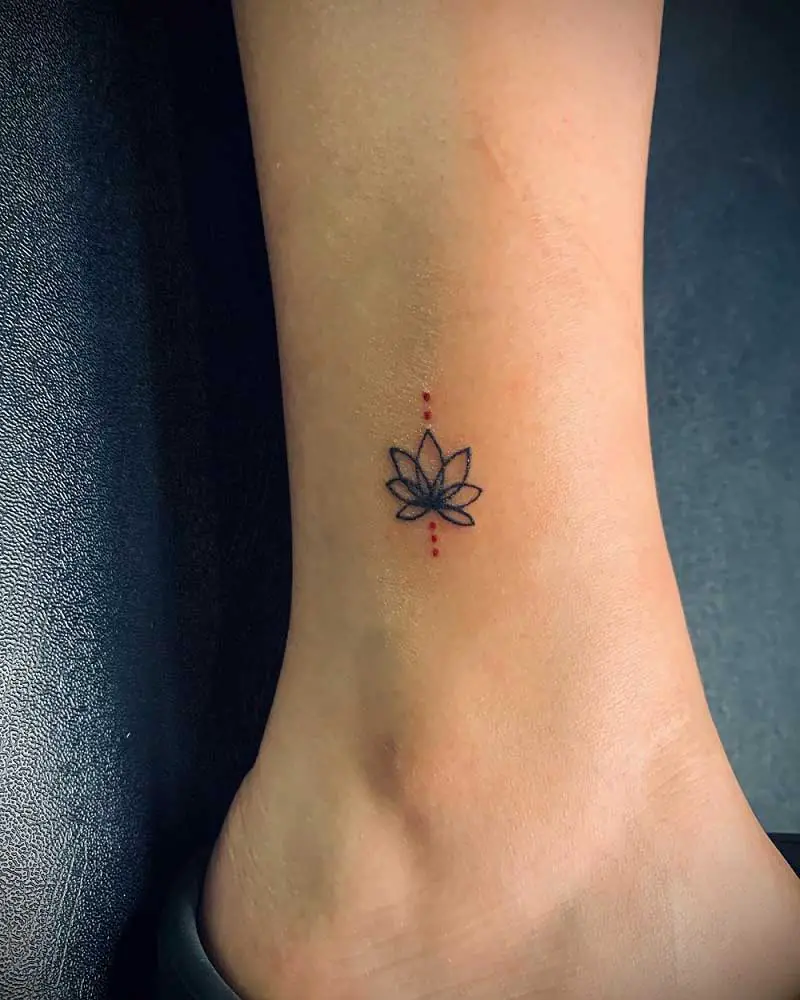 80. Bloomed Lotus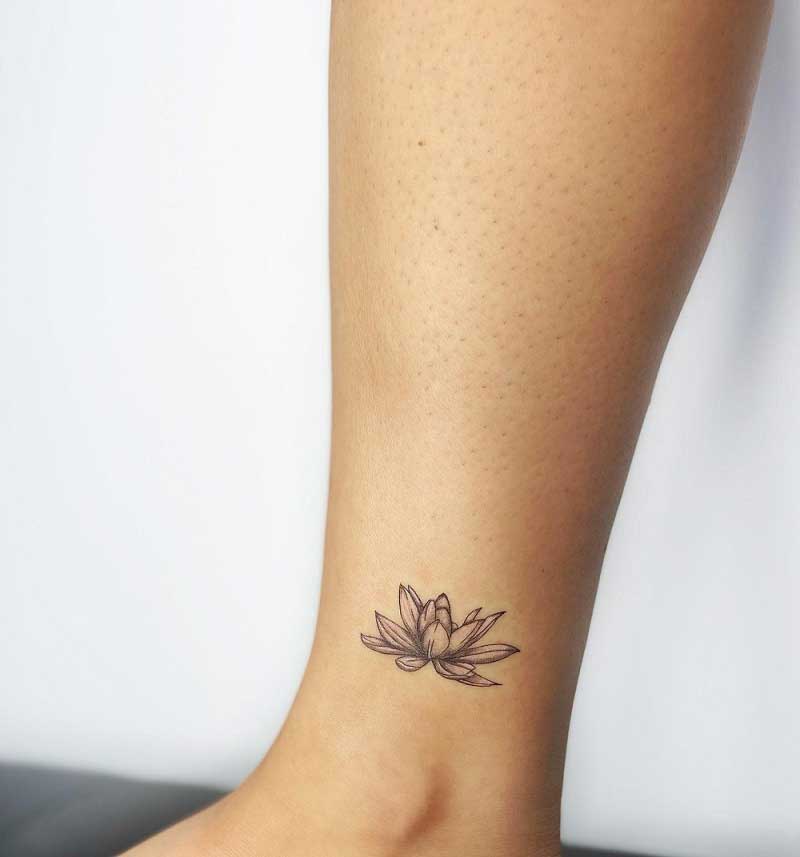 81. Pink Lotus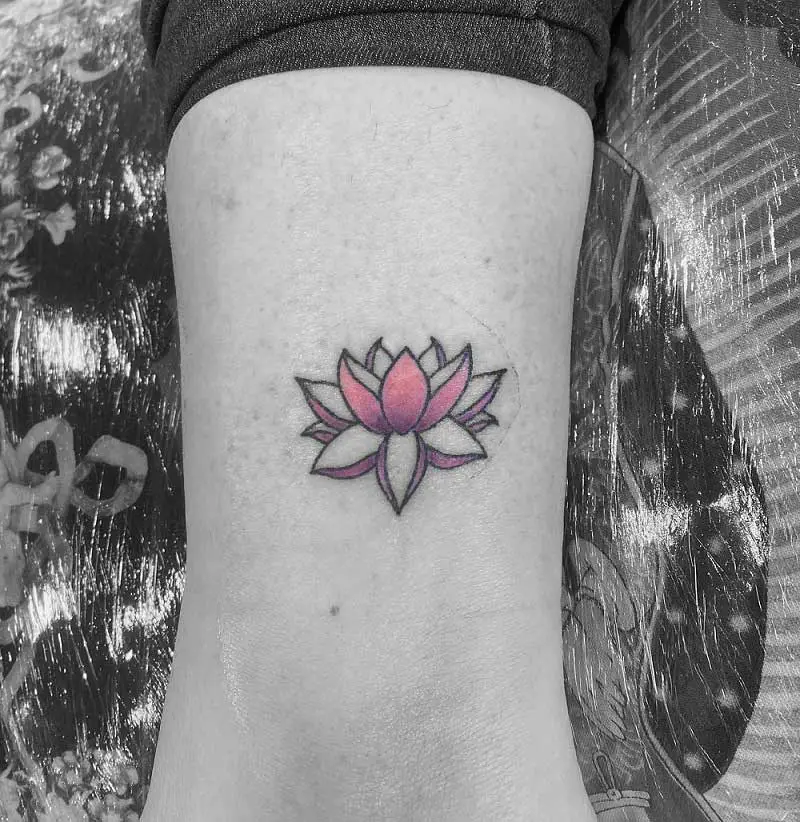 Moon Ankle Tattoo
82. Half-full Black moon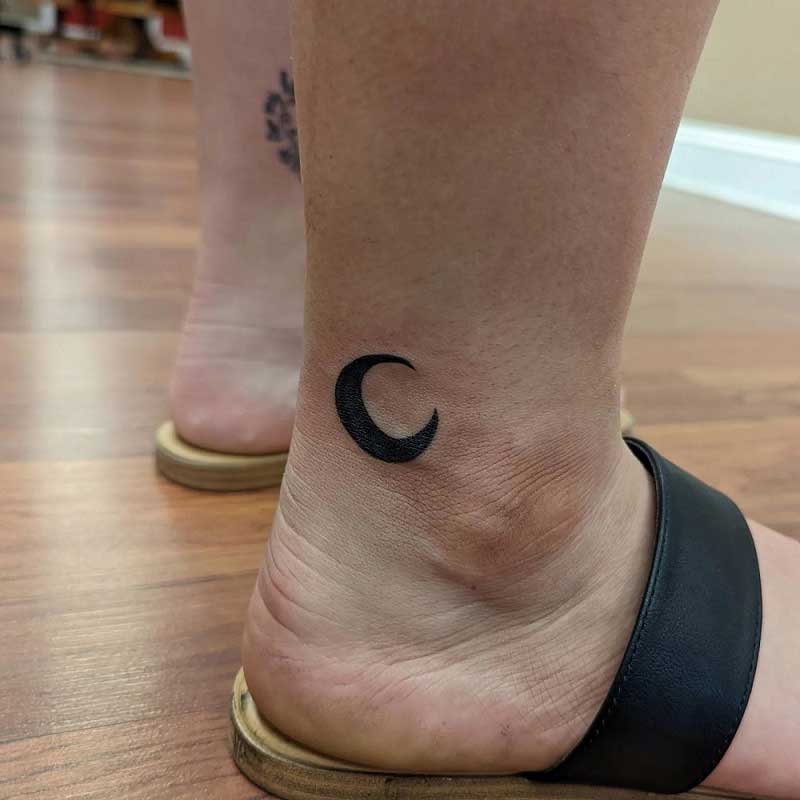 83. Moon Outline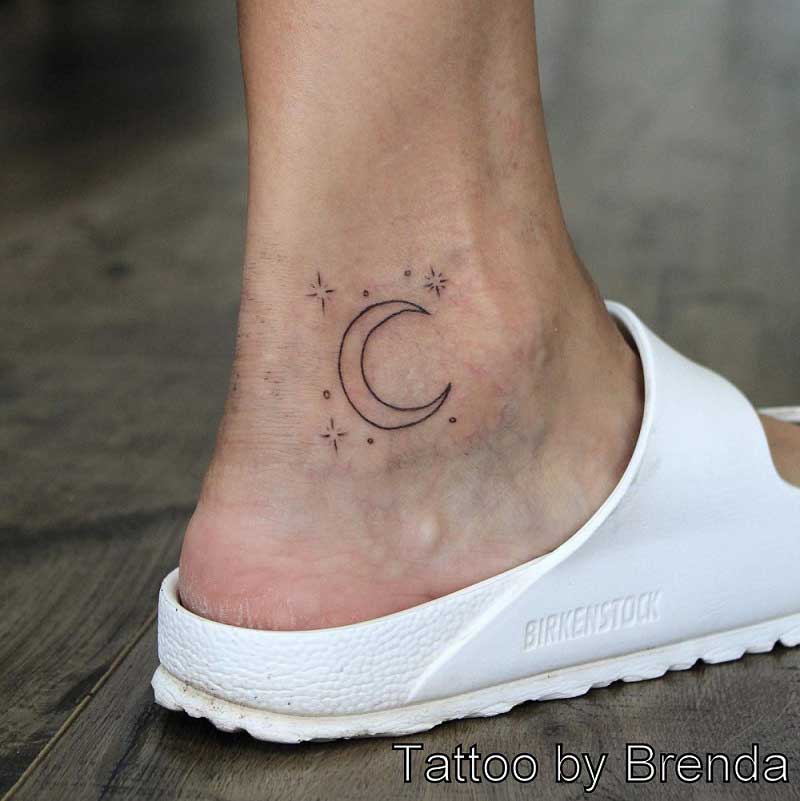 84. Slow Drip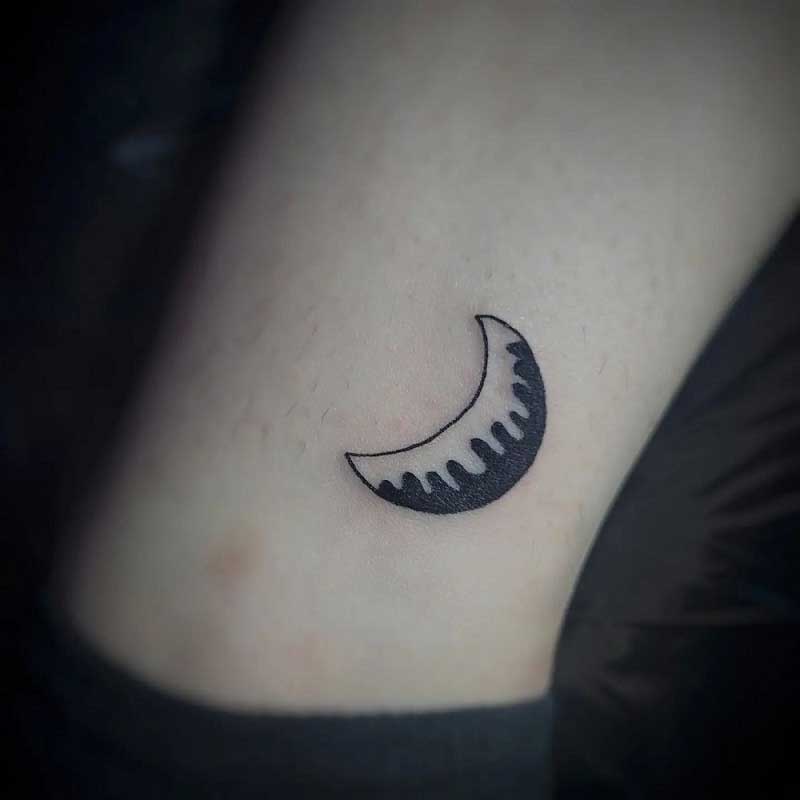 Polynesian Ankle Tattoo
85. Red Sting Ray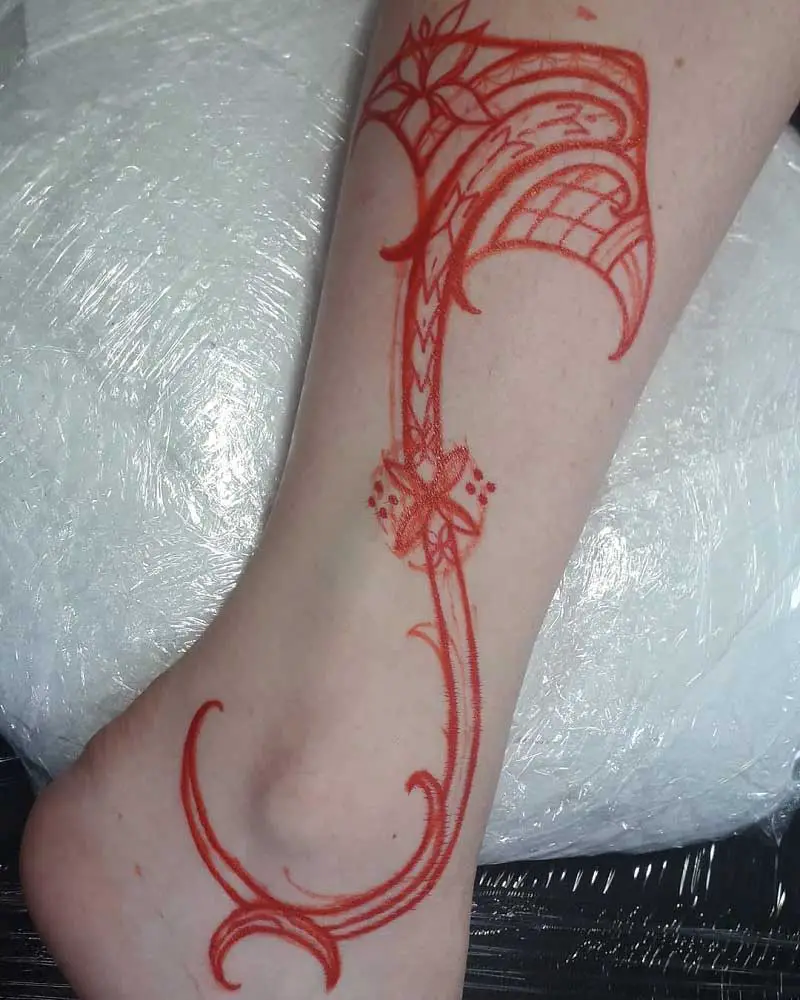 86. Tribal polynesian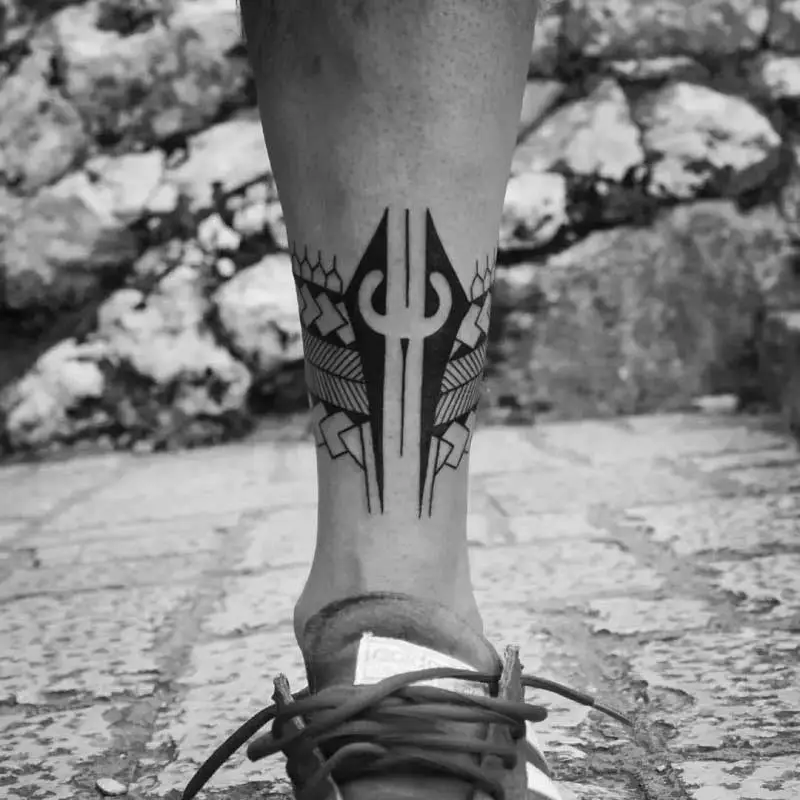 87. Mountain Waves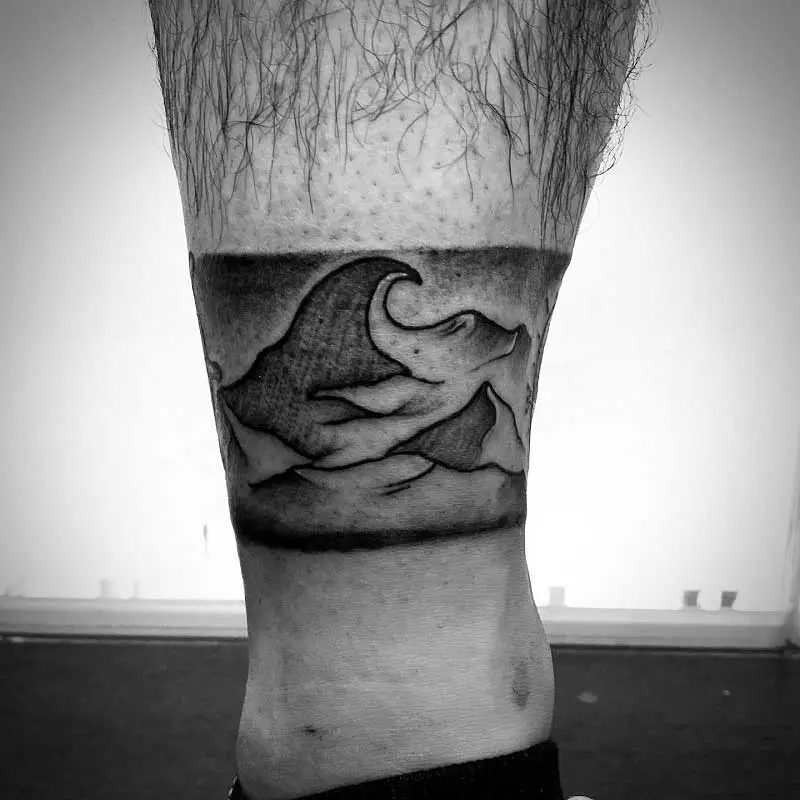 Star Ankle Tattoo
88. Red Stars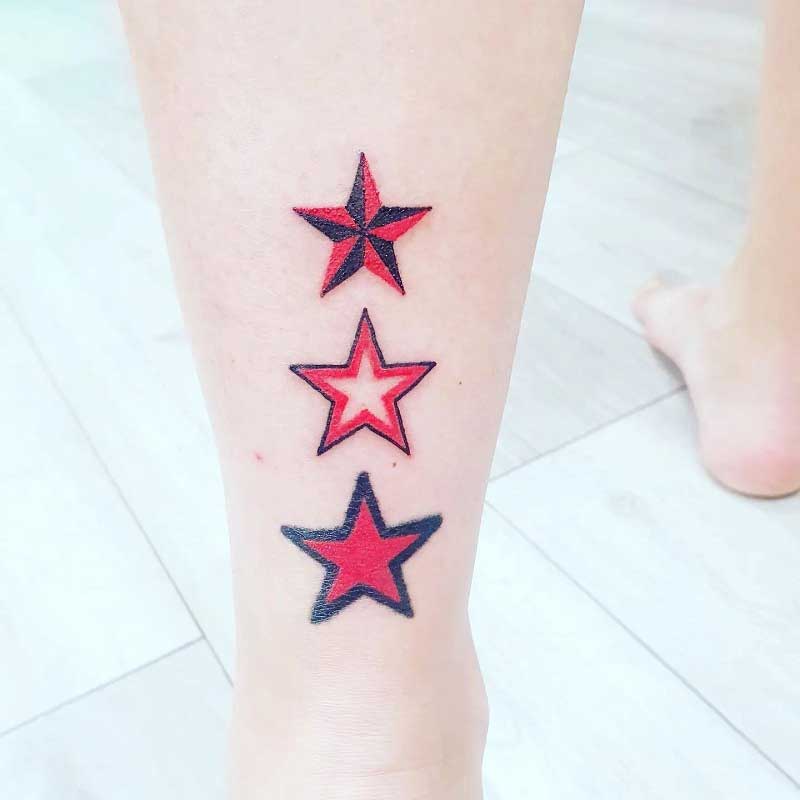 89. Trailing Stars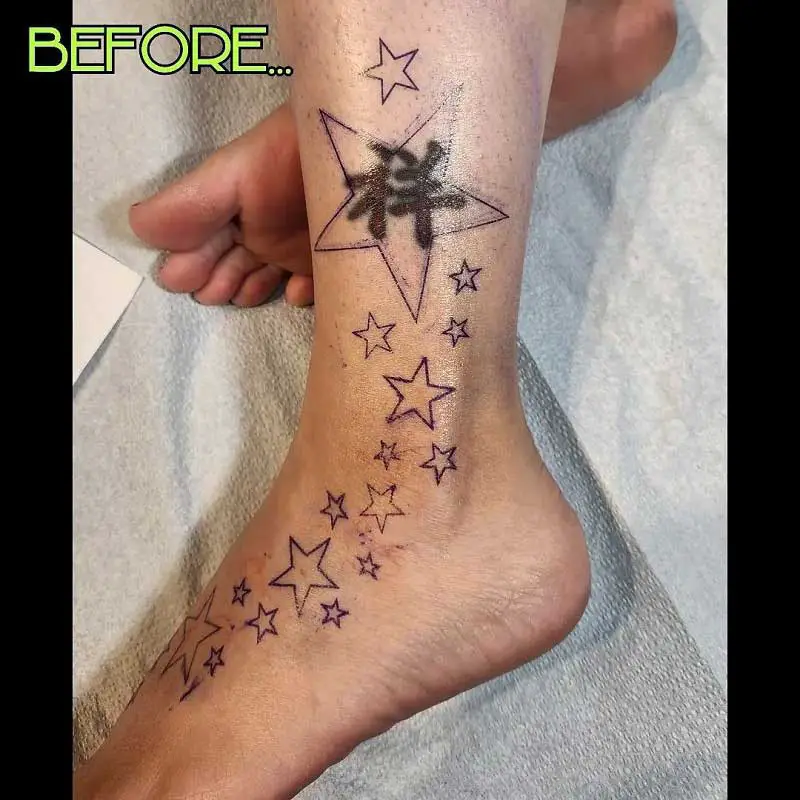 90. Star, Sun & Moon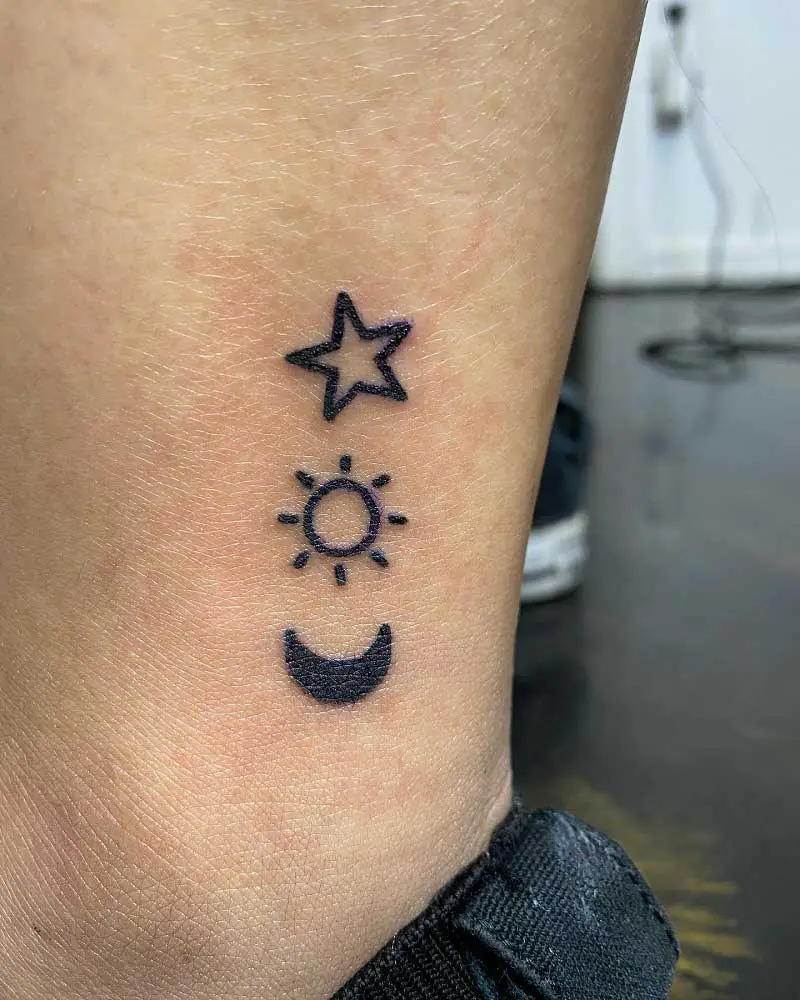 Conclusion
We hope these mind-blowing ankle tattoos were able to spark new ideas in your creative mind. if you decide to go for an ankle tattoo, make sure you have a few days empty in your schedule to let the tattoo heal properly. If you have a high pain tolerance and want to grab everyone's attention they are definitely a great choice.
People Also Asked
Do ankle tattoos hurt?
Yes. Ankle tattoos are very painful to get.
Is the ankle a good place for a tattoo?
if you don't wear high socks then they are a good place to get tattooed
Do ankle tattoos fade quickly?
Yes. Ankle tattoos fade quicly due to sweat head and friction from colthings.
Can I wear socks after an ankle tattoo?
Yes, you can wear socks after getting an ankle tattoo. Just make sure they are clean.
How long do ankle tattoos take to heal?
Ankle tattoos can take up to 3 months to heal properly.
How much do ankle tattoos cost?
A typical ankle tattoo will cost you around $50 to $350