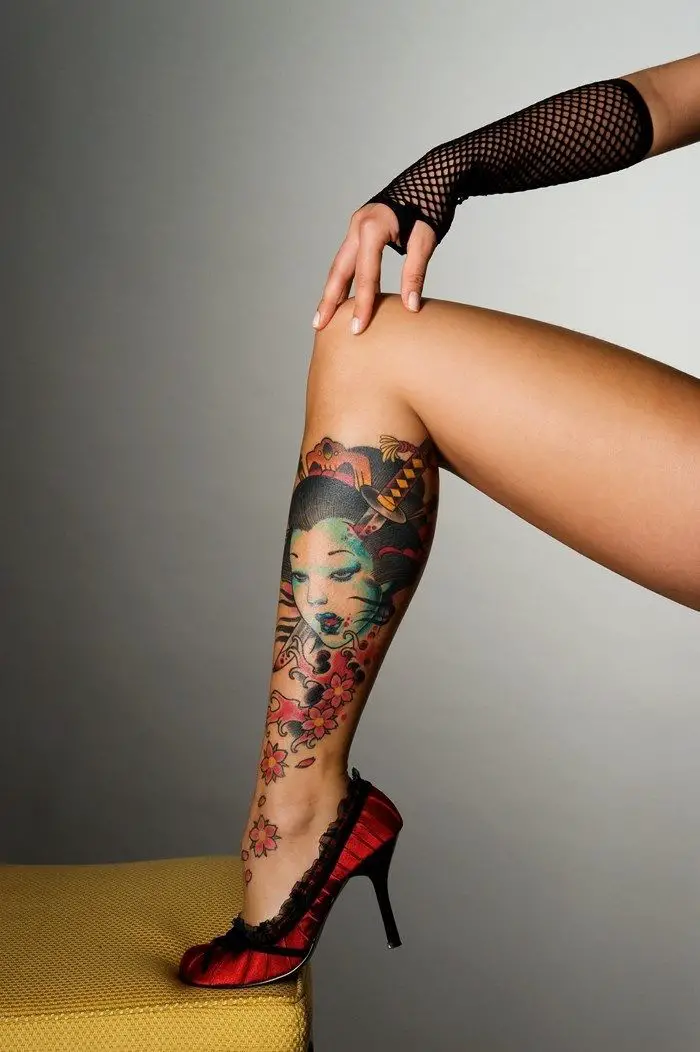 Leg tattoos for women are constantly in demand. They are one of the most revealing tattoos for women.
Leg tattoos on women's spread the message of power and courage. It also indicates their delicate nature and fertility.
Throughout the year, leg tattoos for women have evolved a lot. Tattoo artists have come up with designs for almost every part of the leg. Some of the most common parts are the thighs, ankles, and back of the leg.
In this article, we'll go through some of the most beautiful and gorgeous women leg tattoos. It'll inspire your creativity and help you decide on which ones will suit you the most.
77 leg tattoo ideas for women
Here are some of the best leg tattoos for women. Hopefully they'll give you a detailed idea about some of the most popular and gorgeous designs for your next piece.
Tree Leg Tattoo
Trees are a common element used in leg tattoos for women. They tend to be a bit bigger than other leg tattoos.

1. Thigh Branch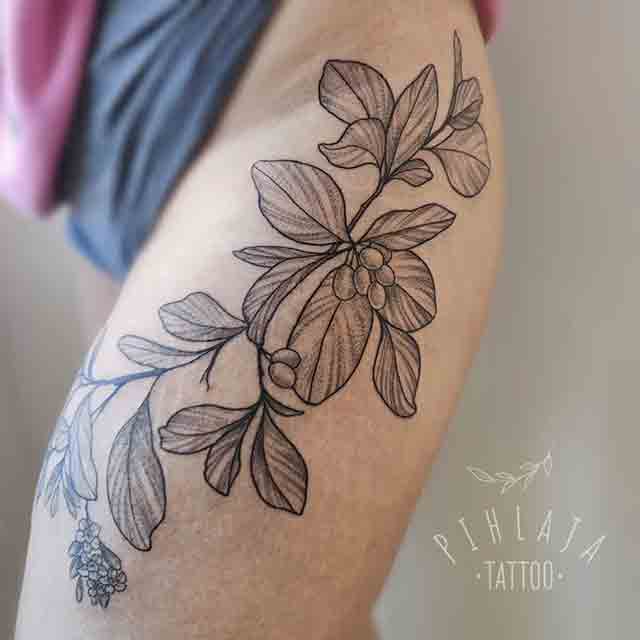 The entire thigh of this woman is covered with a tree branch. There are a few small fruits hiding behind the leaves. A Revealing leg tattoo for women.
2. Plant Creature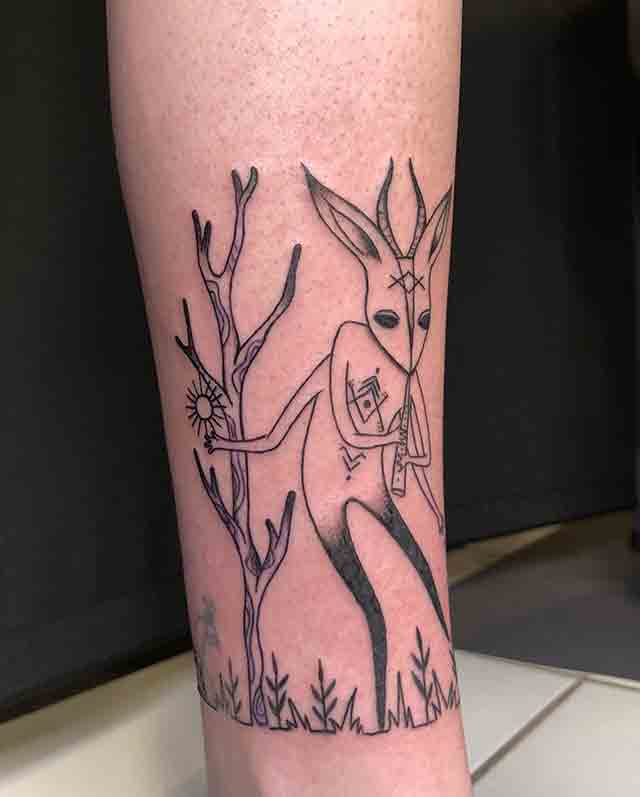 A mystical creature with four hands is the main attraction of this leg tattoo. With two hands, he is playing flute and the other two hands are vibing with the tune.
3. Minimal Spruce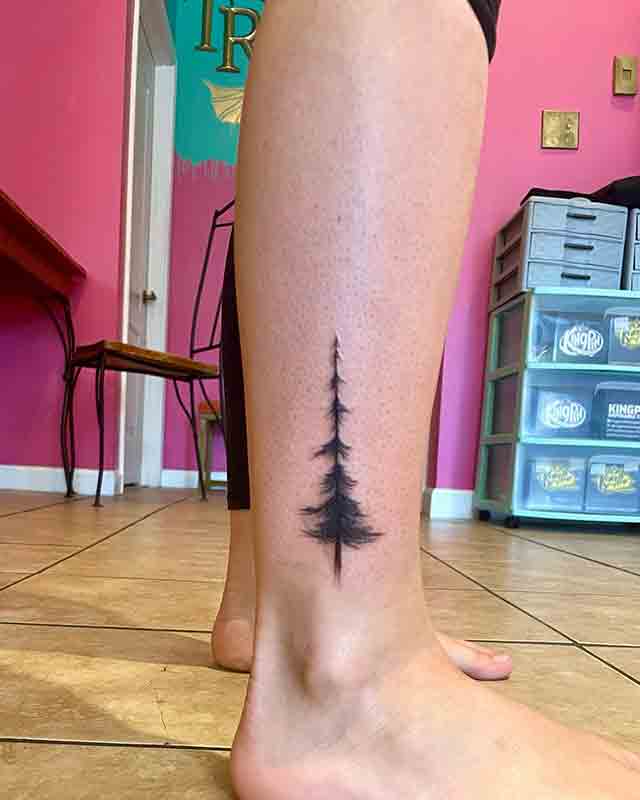 Spruce is well-known for its unique shape. It is inked just above the top of this gorgeous woman's ankle. The light and deep shades of black make it a solid design.
Lower Leg Tattoos
Usually, the lower portion of the leg is used to draw smaller tattoos with simple designs. They are very elegant and beautiful. Plus, they don't take much time to get.
4. Broken Infinity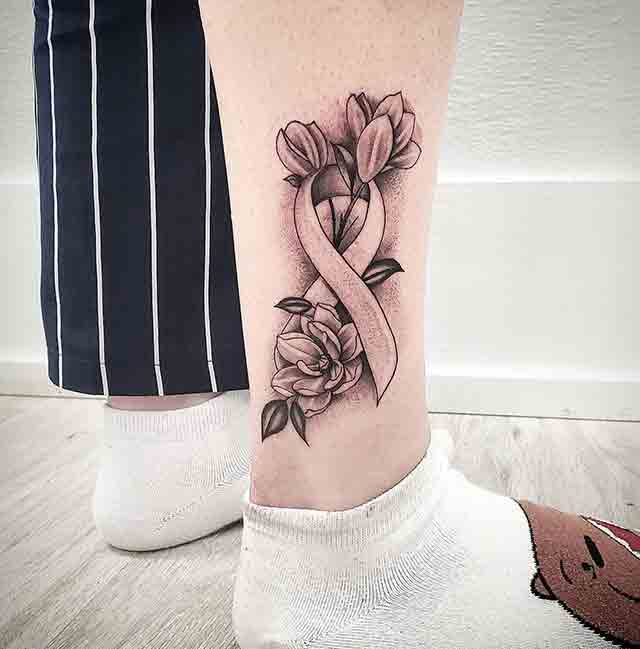 A bunch of flowers is accompanied by an infinity sign. But one side of the infinity sign is broken. It indicates that the lady in this picture has broken out of a loop. Although it was a nice loop.
5. Bird Skull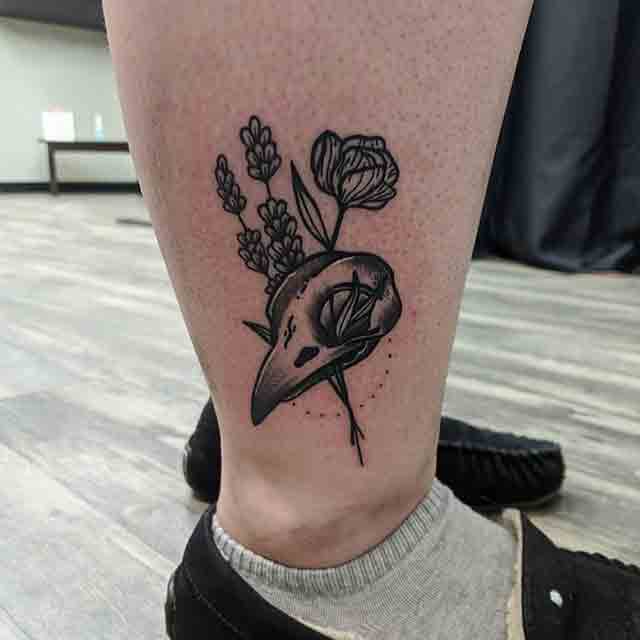 The bird on this woman's leg tattoo has gone through a lot. From the death of this creature, a new life has formed in the shape of a flower, and it went through the skull.
6. Small Mushroom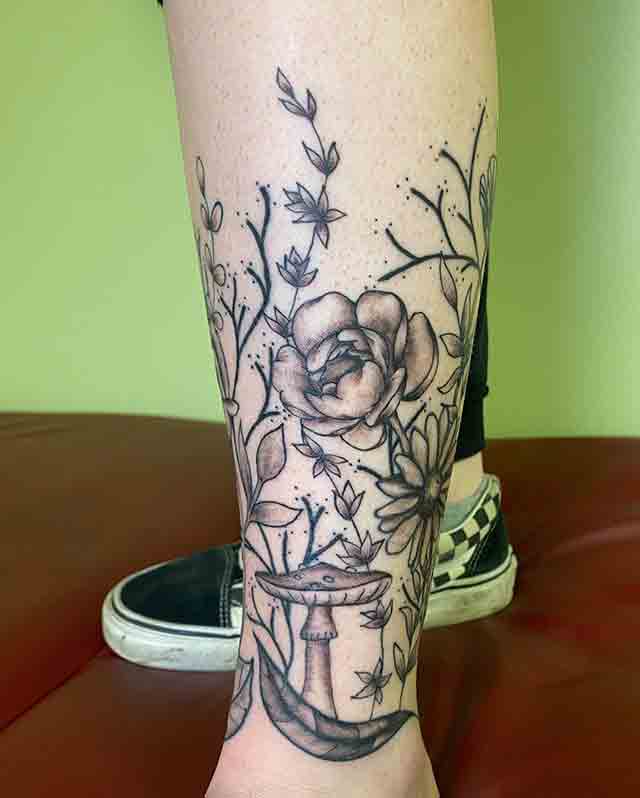 Compared to the surrounding, the mushroom is very small. It is surrounded by flowers and other tree branches. It gives a sense of size. An amazing piece for women's lower leg tattoos.
Full Leg Tattoos
Full leg tattoos are gorgeous to look at. However, they can be very time-consuming and painful to get. If you have lots of patience, then you can try these tattoos.
7. Colorful Animals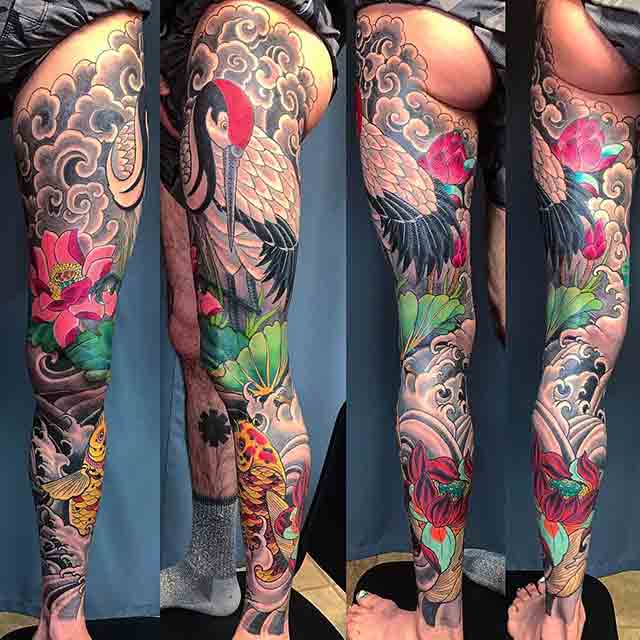 The entire leg of this dashing woman is covered with gorgeous colorful animals. The vibrant colors make this leg tattoo pop from the environment. A true masterpiece of leg tattoos for women.
8. Ancient Powers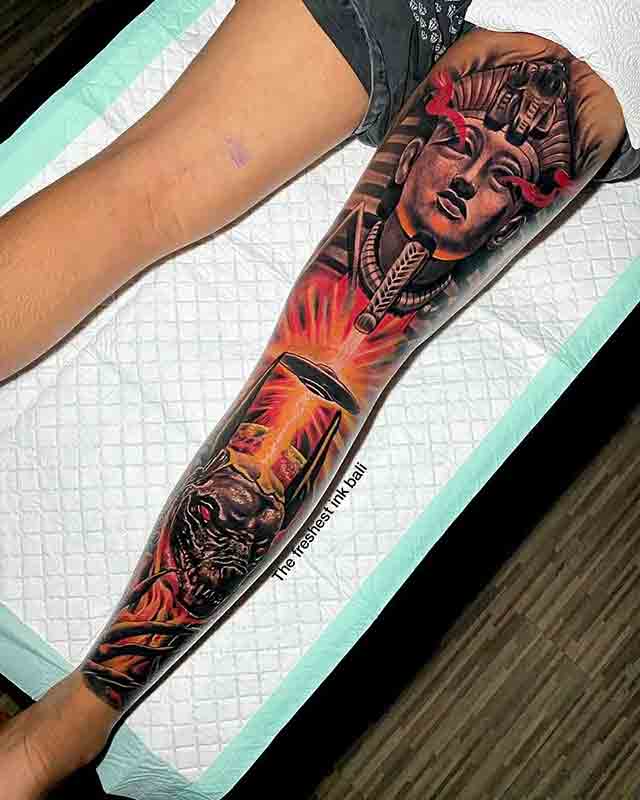 A sculpture of an ancient god is holding a sword that has a beast under it. Red flames are coming out of the eyes of this sculpture. A gorgeous piece for women's legs.
9. Davy Jones & Jack Sparrow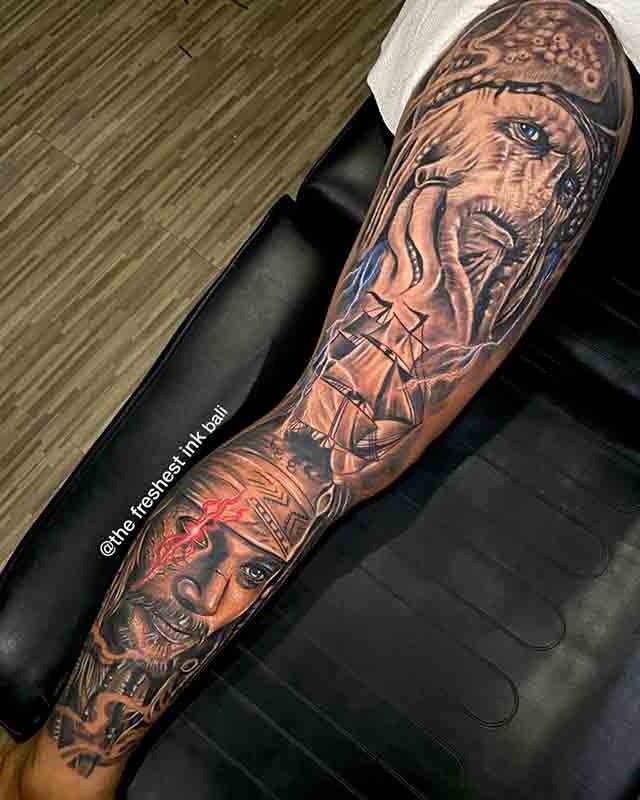 This tattoo is inspired by the "Pirates of the Caribbean" movie. Davy Jones is on top Of Jack and the ship is separating them both from crashing. It indicates that the lady in this picture is a fan of the cunning captain. It is one of the best leg tattoos for women.
Leg Sleeve Tattoo
Like full sleeve tattoos, when a large tattoo or a combination of small tattoos is used to cover the entire leg, it's considered a leg sleeve tattoo.
10. Giant Octopus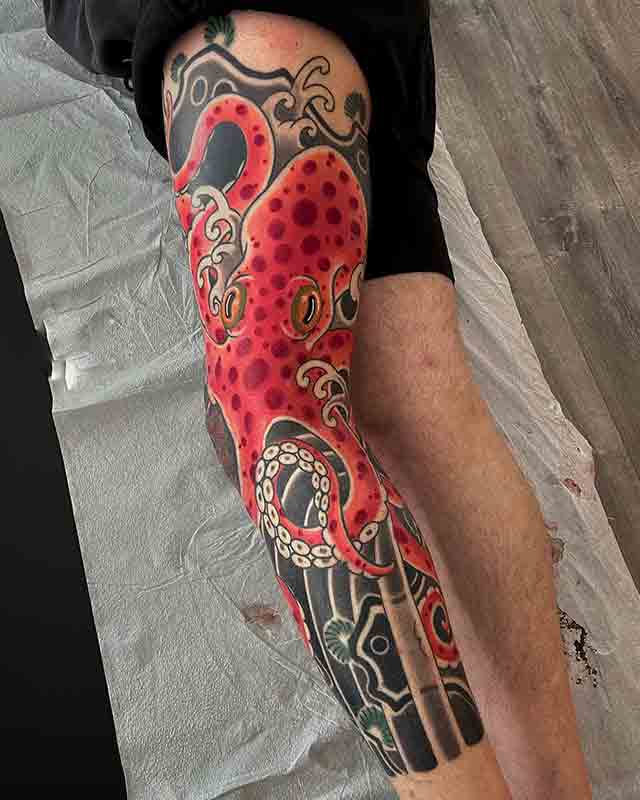 A red giant red octopus is drawn on this women's leg. The Red color indicates anger and vengeance, and the dark shading below the octopus indicates raging darkness.
11. Comic Lover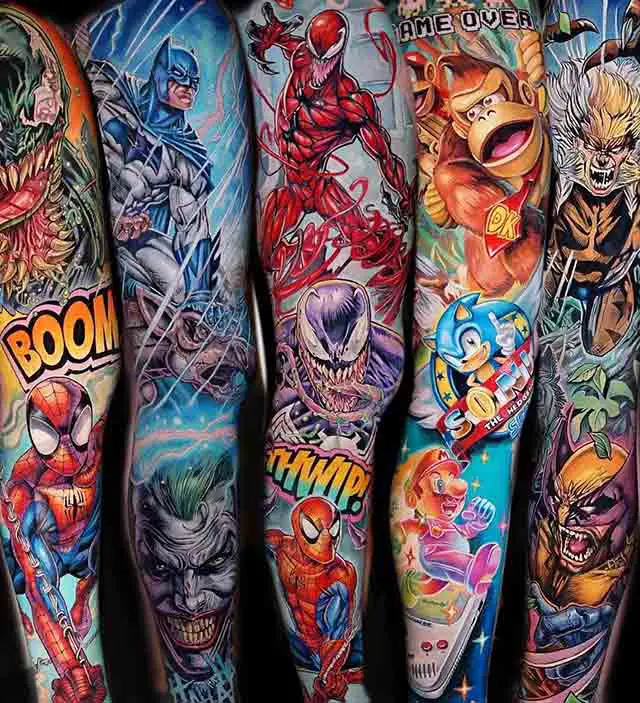 If you are a fan of popular anime, then this is a great style for you. We can see some of the most popular and iconic superheroes and their villains in this tattoo design. A colorful piece for comic lovers.
12. Tribal Leg Sleeve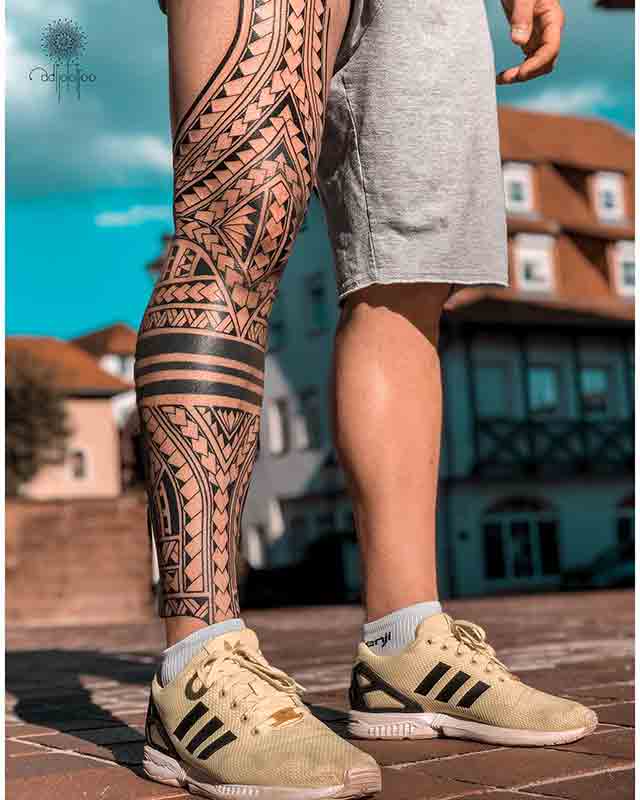 A large tribal tattoo is inked on this woman's leg. The entire right leg is covered with a gorgeous tribal design. If you are looking for a large leg tattoo, definitely give this one a thought.
Rose Leg Tattoo
Roses are known for their delicate nature. They are very popular in leg tattoos for women. They are often drawn with great details.
13. Monochrome Rose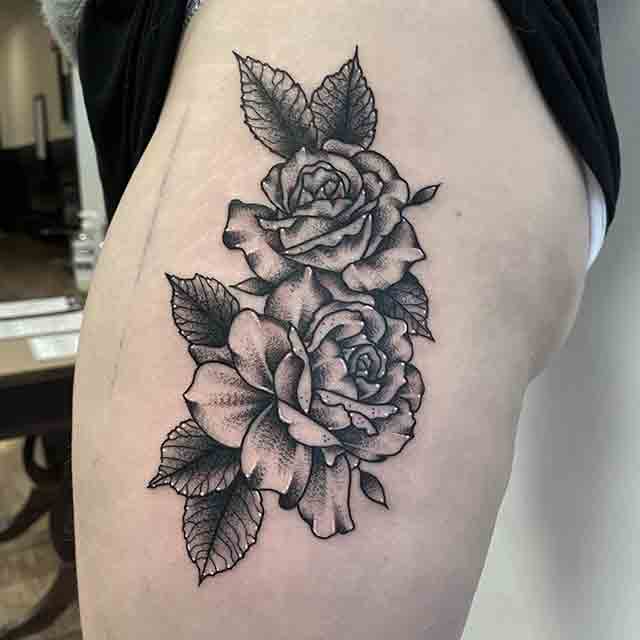 A realistic monochrome rose is drawn on the side of this women's thigh. Only black color is used to add depth and sharpness to this piece. The single color is giving this tattoo a feeling of emptiness.
14. Outlined Sparkling Rose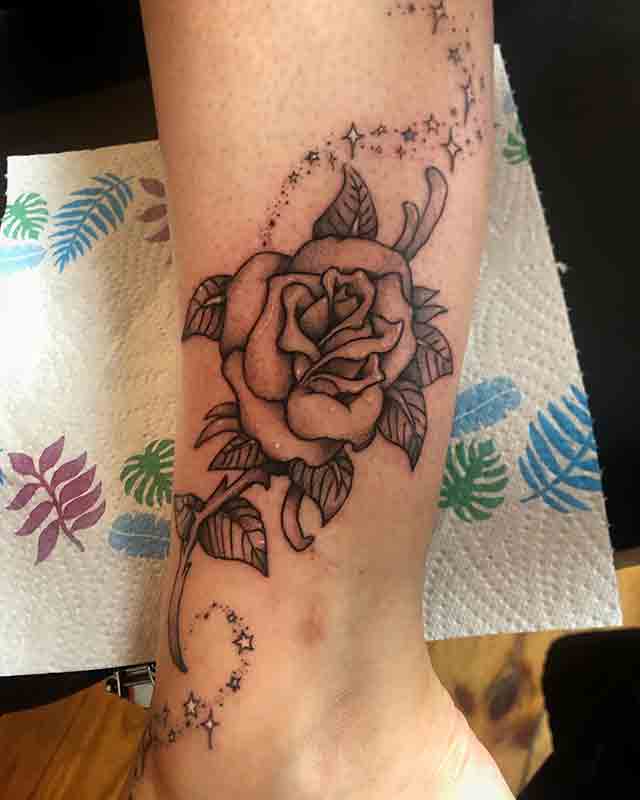 The beauty of this rose is greatly enhanced by the sparkling stars around it. They have created a line that is flowing with the rose. The use of negative space created the flower. A beautiful leg tattoo for women.
15. Sculpture Rose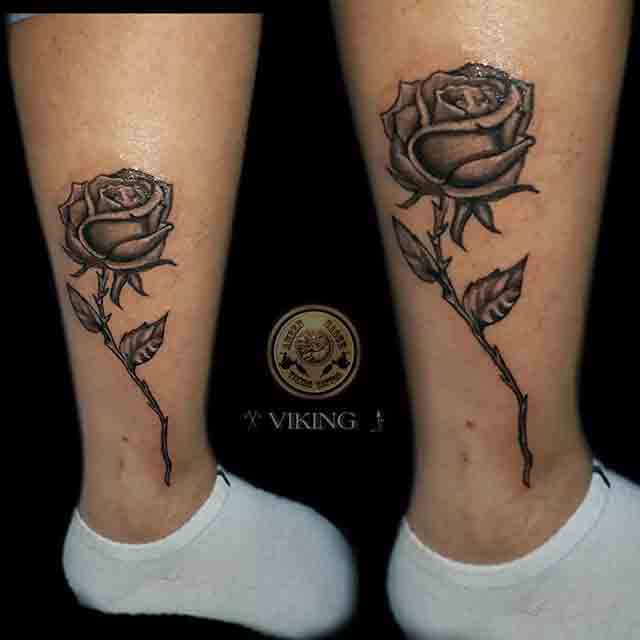 Sculptures are created to represent something with value and meaning. The rose on this girl's leg is drawn to represent her love & beauty.
Small Leg Tattoos
If you are thinking about getting a leg tattoo but don't have much time and get something simple, you can opt for a small leg tattoo. They are quick and easy to get and look amazing.
16. Falling Petal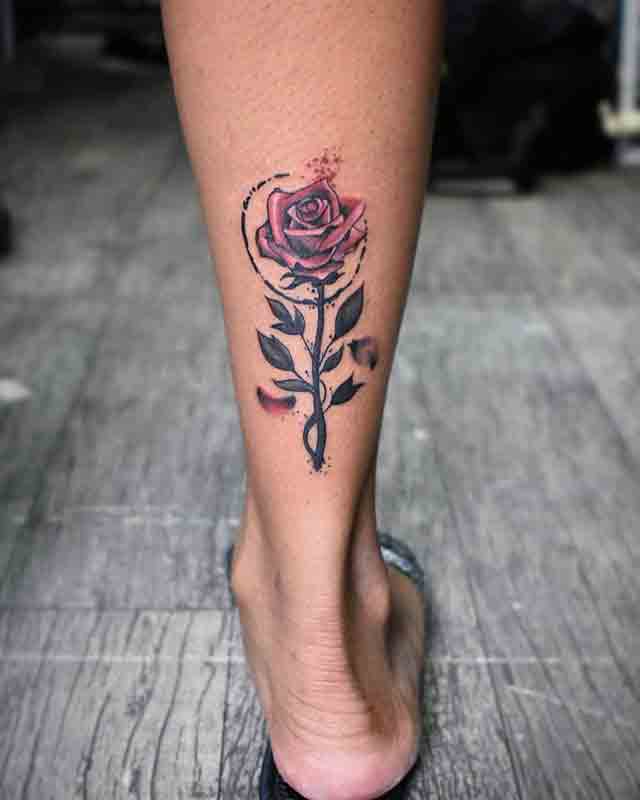 A cute flower is inked on the back of the leg of this woman. A red petal has disconnected from the main flower and is falling apart. This symbolizes a destructive nature.
17. Tiny Butterfly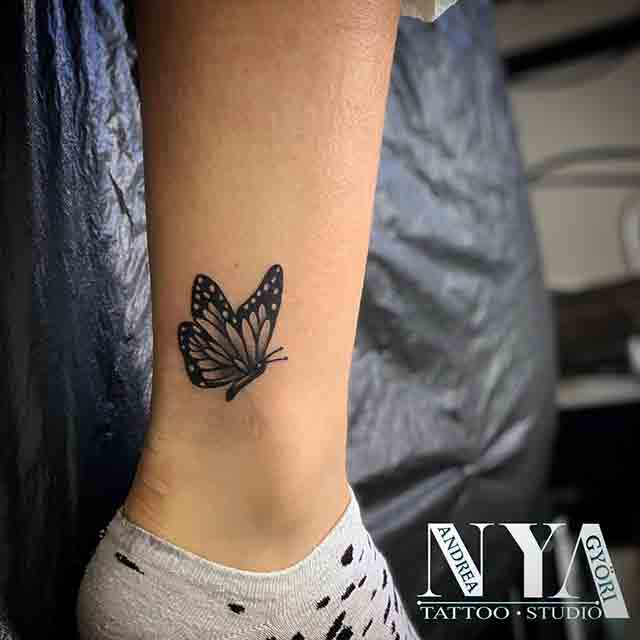 Whenever there's a butterfly nearby it's usually a sign of fertility and transformation. This side leg tattoo on this girl shows that she is a believer in change & transformation.
18. Mini Deadpool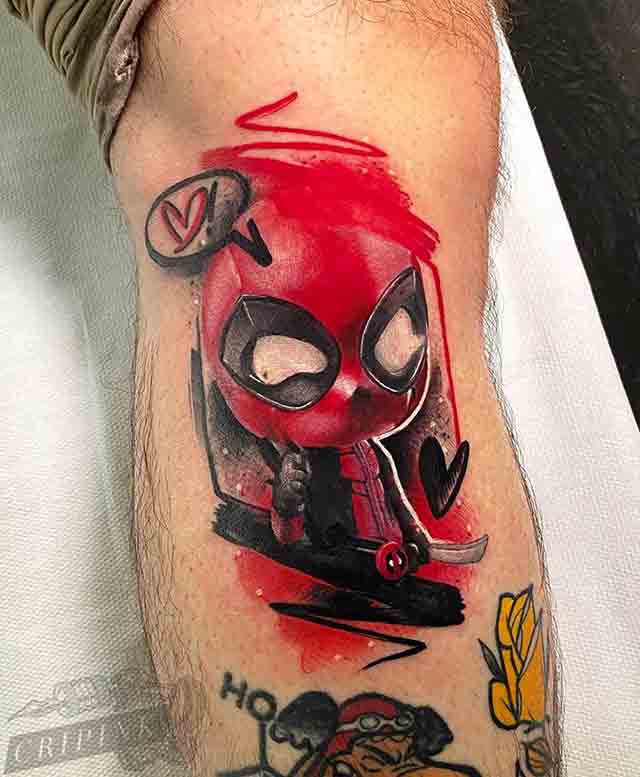 Deadpool is one of the badass characters of the marvel universe. His powers include regeneration and healing. This piece on the women's leg represents him in a cute manner. A special take on the character's appearance indeed!
Japanese Leg Tattoo
Lots of leg tattoos for women are inspired by Japanese themes. They combine the Japanese culture with the artist's creative touch.
19. Black Tides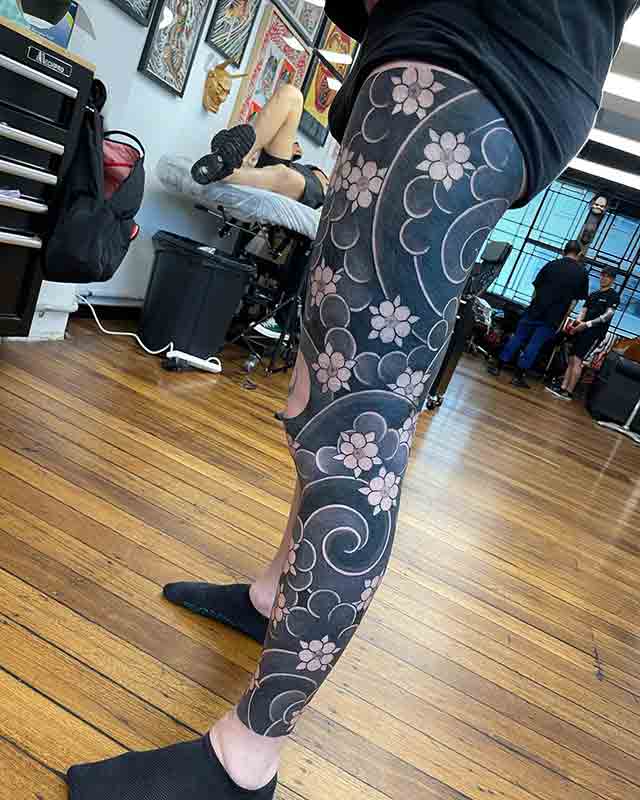 Japan is known for its beautiful oceans. The flowers on the black waves on this leg tattoo indicate Japanese people's character of staying calm even in dark times. A superb leg tattoo for women.
20. Japanese Dragons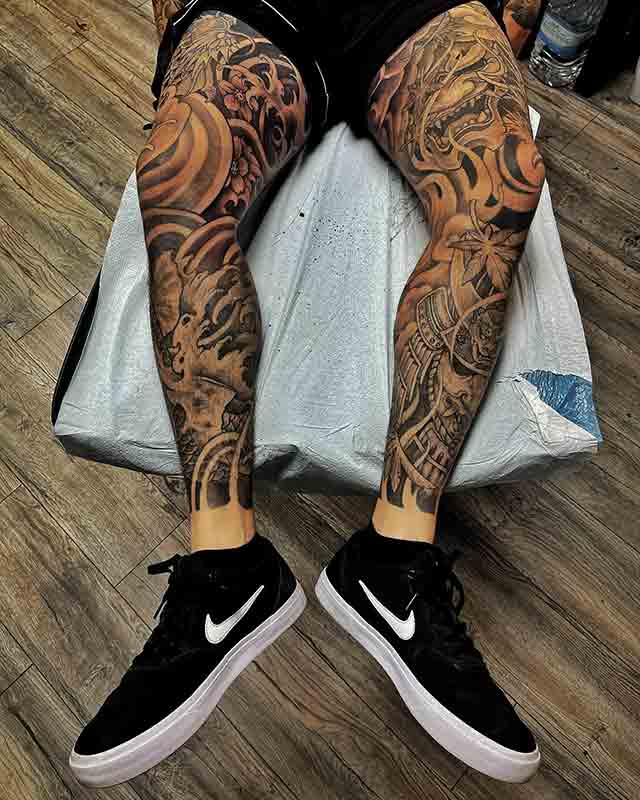 Dragons are another good representation of Japanese culture. The dragon on this leg tattoo with the heavy design is a piece of art. It is suitable for anyone who is interested in Japanese culture.
22. Dragon Killer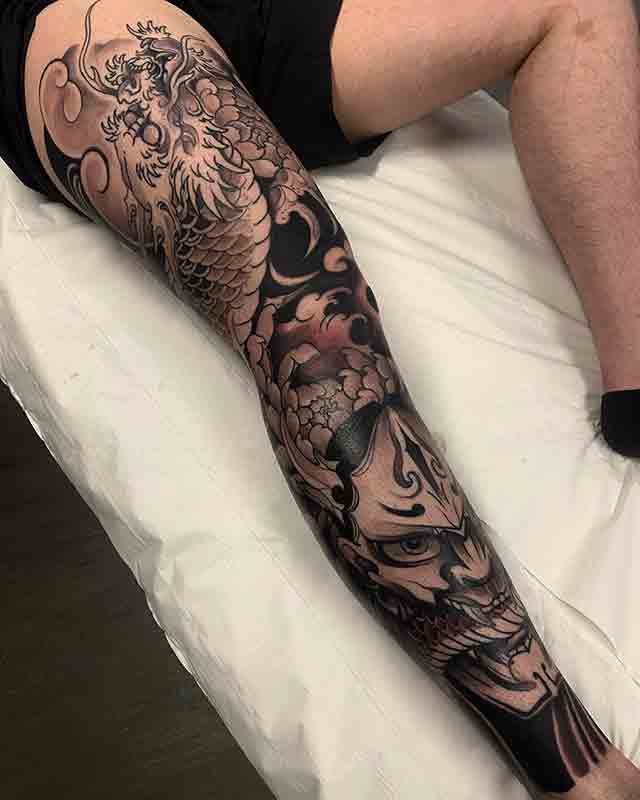 Just like the dragon, a samurai is also one of the most iconic parts of Japanese history and tradition. The samurai on this tattoo is biting the tail of this dragon. The dragon is trying hard to escape from him. A gorgeous piece of women's leg.
Upper Leg Tattoos
The upper portion of the leg is used to draw meaningful leg tattoos for women. It is one of the least painful places to get tattoos. If you are looking for a less painful leg tattoo for women, this could be a great choice.
23. Flower Skulled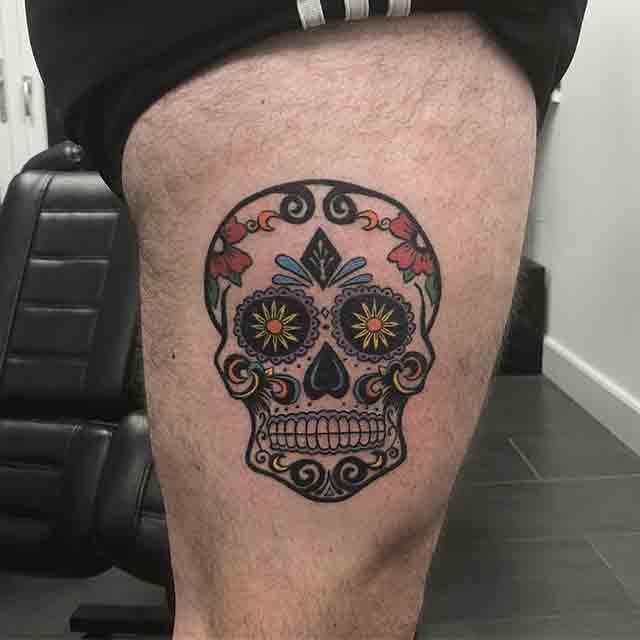 A skull with lots of flowers embedded in its bones is drawn on this woman's upper leg. The eye sockets are filled with flowers. A great upper leg tattoo for women
24. Venomous Guardian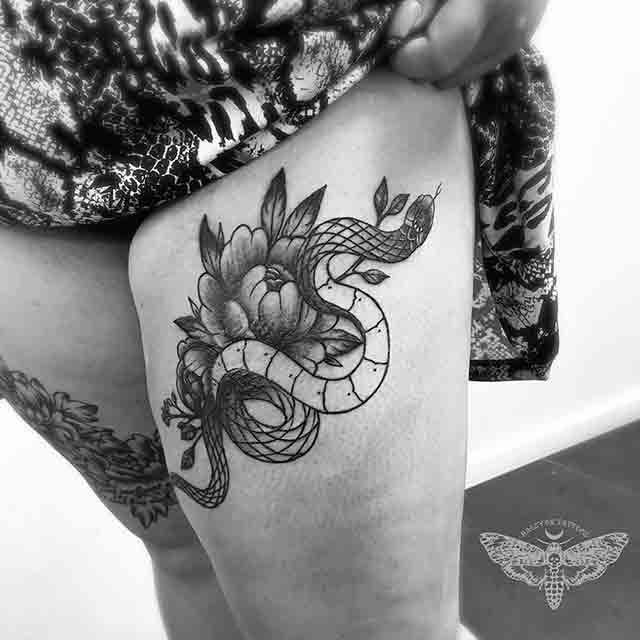 A venomous snake can be seen with the flower on this women's thigh. It is guarding the flower & will most likely bite anyone who tries to get to the flower.
25. Flaming Dragon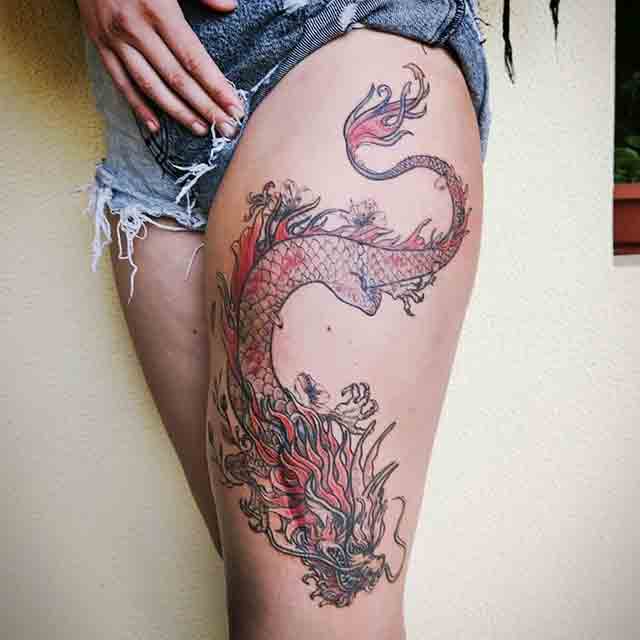 A dragon is believed to be born from a burning fire. The red glow on this dragon's skin shows us that characteristic nicely. A wonderful upper leg tattoo for women.
Flower Leg Tattoos
Flowers are a delicate creation of nature. They are heavily incorporated in women's tattoos. These tattoos tend to be a lot vibrant and colorful.
26. Mixed Flowers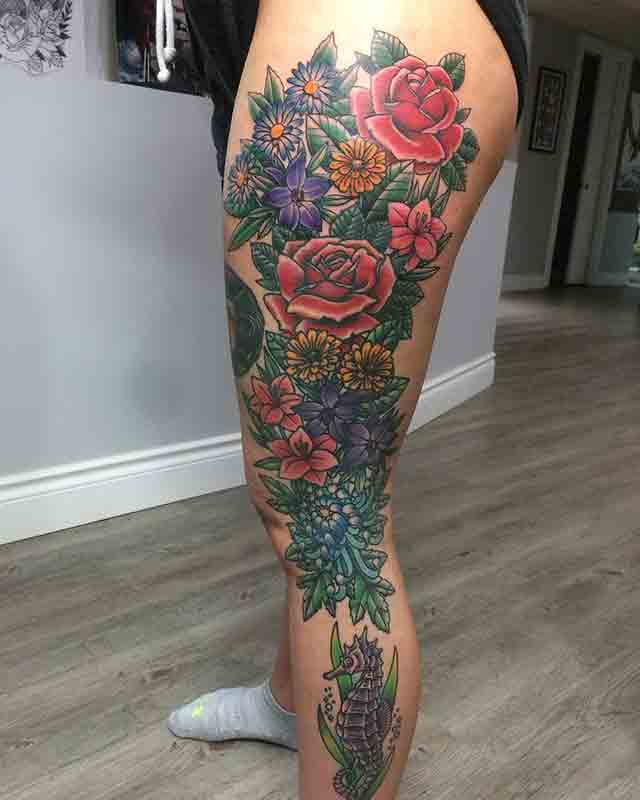 A combination of various flowers is drawn throughout her leg. The red-colored flower is the most dominating and vivid among them all. There's a seahorse on the bottom of the flower, which indicates it is inspired by an underwater environment.
27. Hidden Message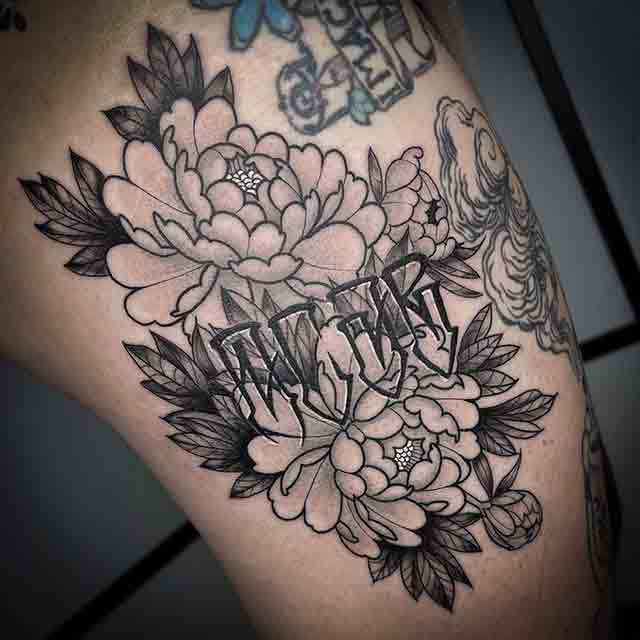 Every tattoo has its own meaning. This tattoo in particular has a twist in it. There are some symbols hidden with the help of some flowers. It adds a mystery to this leg tattoo on this gorgeous lady's thigh.
28. Memorable Date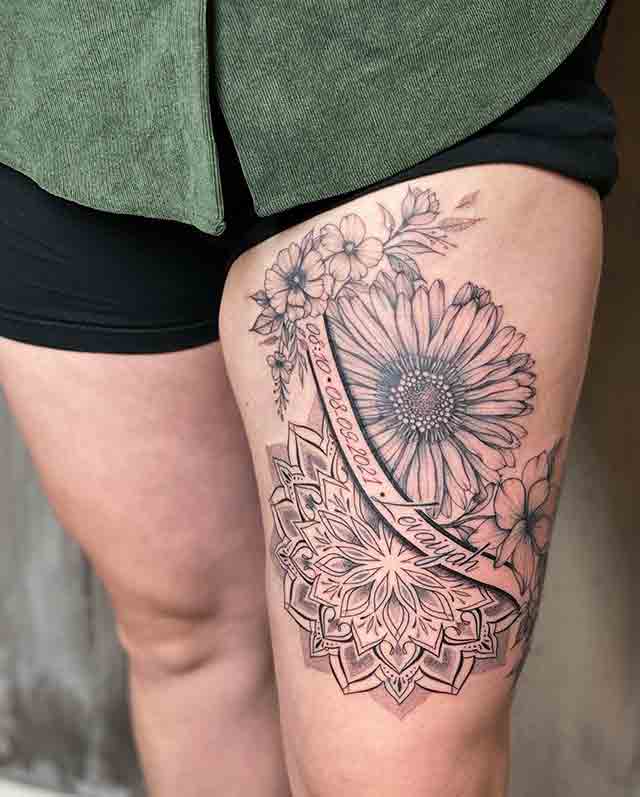 We often try to commemorate special dates with tattoos. This design on this young woman's leg follows a similar style. The dates are combined with flowers that help to keep the memory fresh.
Simple Leg Tattoos
Simplicity is often praised by minimalist people. Simple elements such as objects and animals are usually used in this style of tattoo.
29. Roaring Time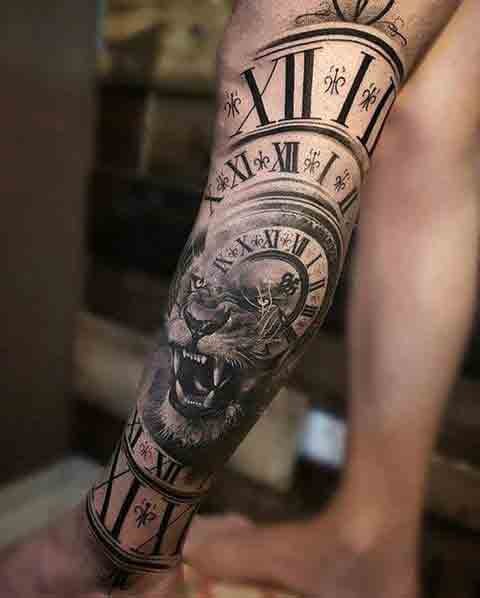 Time is one of the most sophisticated teachers. It always gives us new challenges and forces us to overcome those to come out victorious. The message on the back of this leg tattoo for women is depicted with a powerful design.
30. Black Squid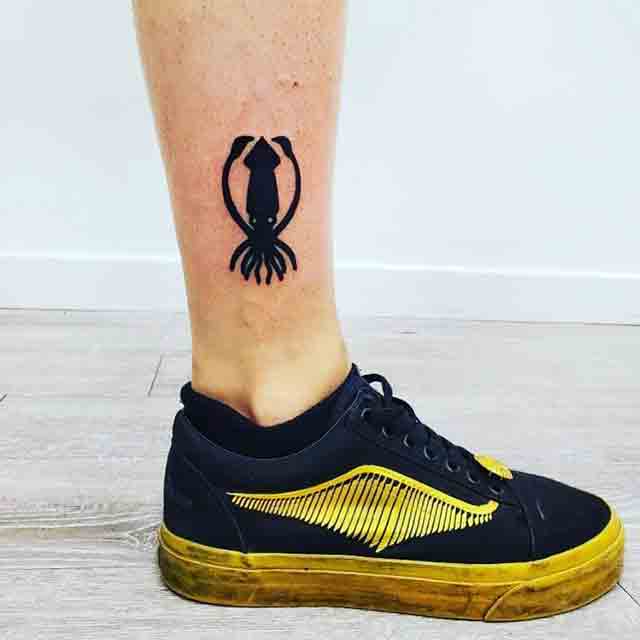 A simple and minimal squid is on the ankle of this beautiful girl. The black color of the squid's body creates a good contrast against her leg. The yellow eyes add some extra characteristics to the squid.
31. Cute Soul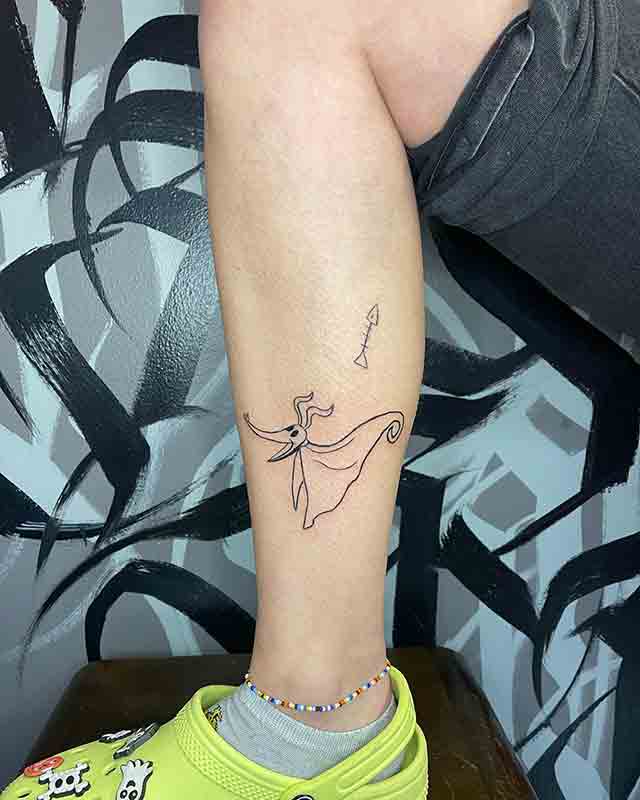 A ghost-like creature is the main attraction of this ankle tattoo. It has some resemblance to a dog with an open mouth. The cape on it makes it look funny instead of being scary.
Back Of Leg Tattoos
Women who like to wear short skirts or dresses back of the leg tattoos suit them nicely. These tattoos are often drawn in pairs and tend to be a bit bigger.
32. Filigree Knot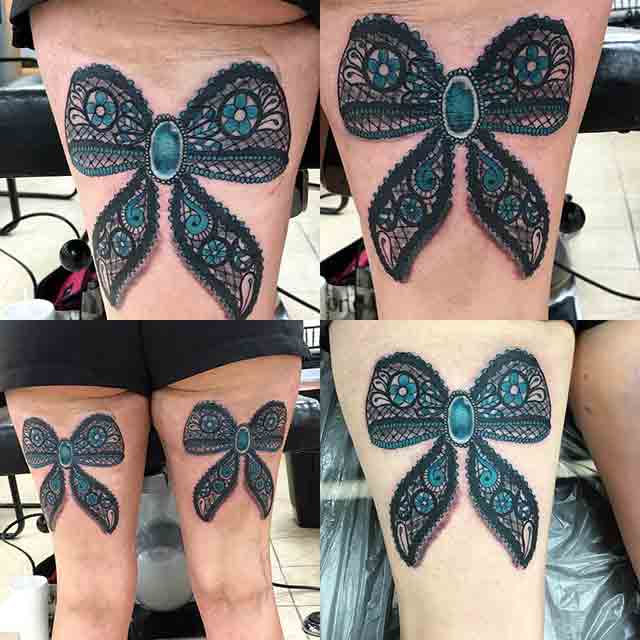 The back of this mature woman's leg is inked with a knot that is highly inspired by the filigree look. The artwork on the knot and the jewel at the center give it a sense of royalty. It's a variant of royal leg tattoos for women.
33. Contrasting Pair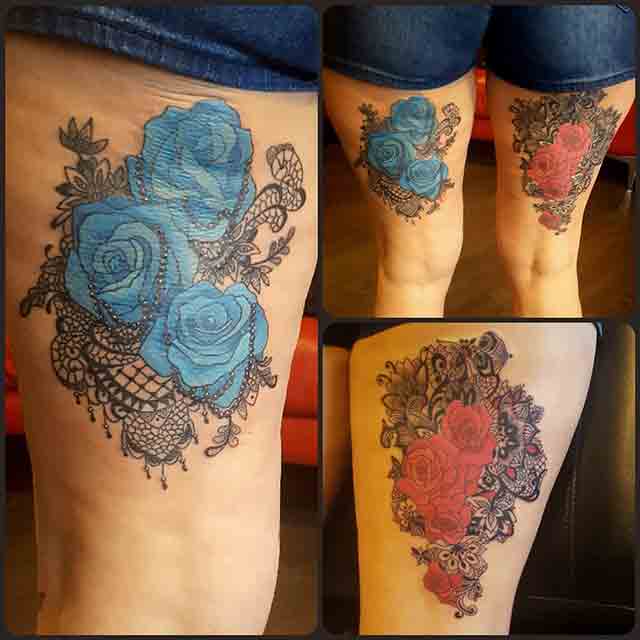 Some contrast between tattoo pairs is always eye-catching. The tattoo pair on the back of her thighs are totally different in color. The flaming red roses balance out the cold blue roses on the other thigh. A perfect display of balance between colors.
34. Skull Crown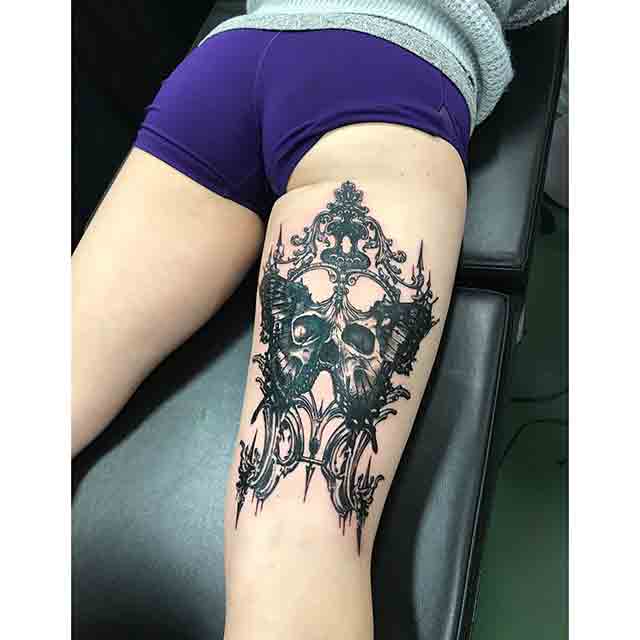 If you are a girl & looking for a tattoo that'll give chills down the viewer's eyes, you should get this back of the leg tattoo. The skull in the middle of the crown gives a creepy and scary vibe. An interesting adaptation of leg tattoos for women.
Ankle Leg Tattoos
Ankle tattoos are one of the most painful tattoos to get. Ankle leg tattoos are only recommended for women with a high pain tolerance
35. Bird Flocks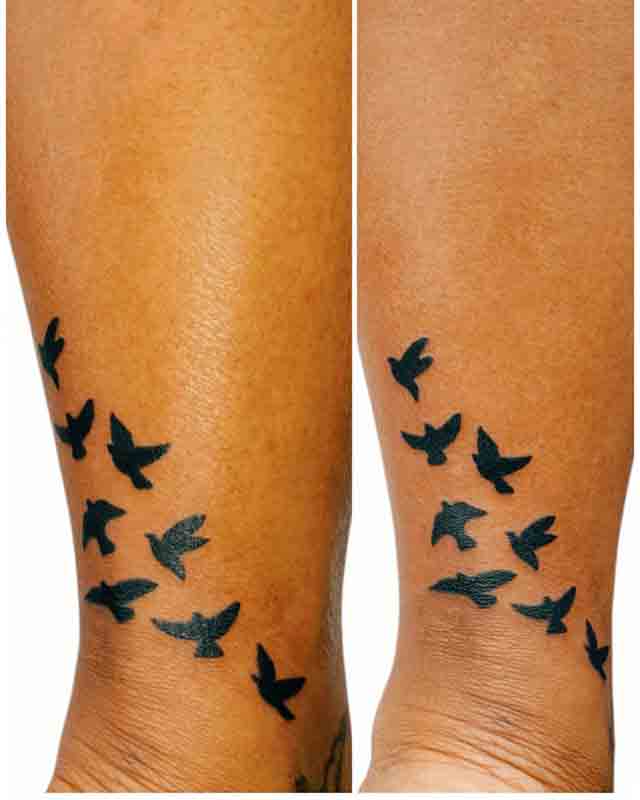 A handful of birds are flying in groups. Both of the ankles of this lady are inked with them. The minimal birds are creating a relaxing atmosphere. However, it will probably hurt a lot when getting it on your skin.
36. Ankle Bracelet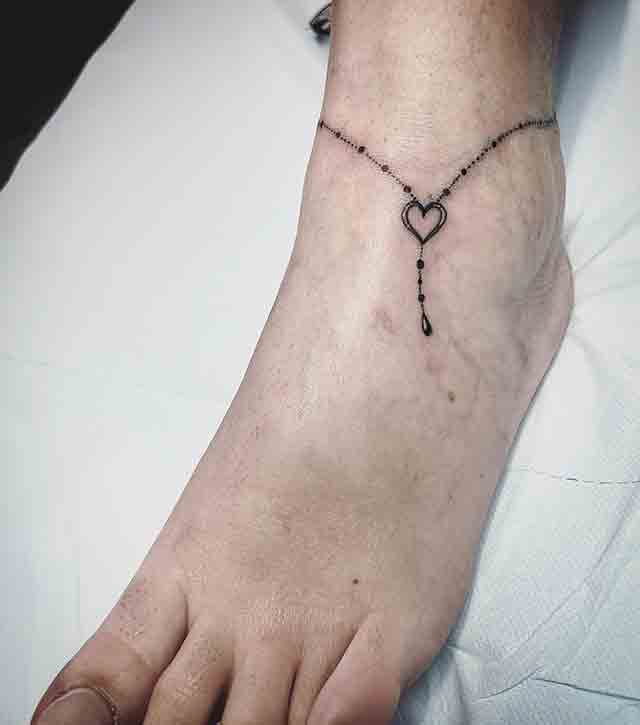 This tattoo is drawn around her ankle making it look like a bracelet. The heart symbol in the center of the bracelet gives this tattoo a feminine look. If are looking for a piece that shows feminism this could be a great option.
37. Tiny Dandelion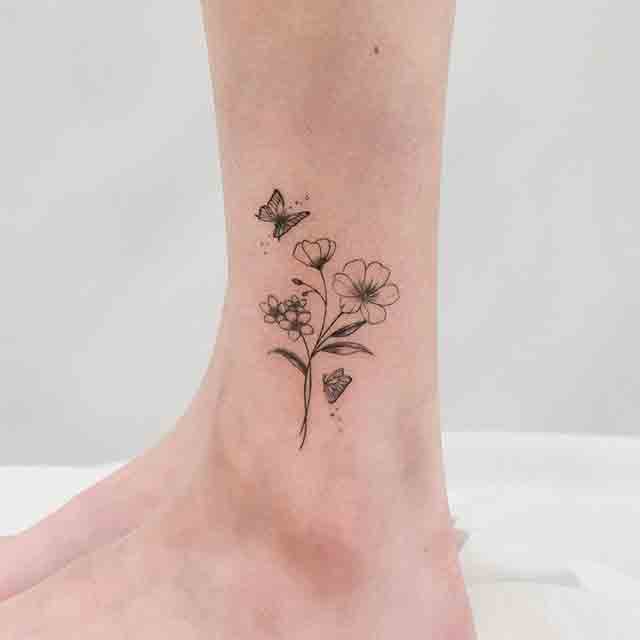 A pair of butterflies are flying around a small dandelion branch. They are enjoying the beauty of the plants and most likely looking for honey. An elegant ankle piece for women.
Lion Leg Tattoo
Lions AKA the king of the jungle is often used in leg tattoos to create powerful and dominating tattoos. These leg tattoos for women are a sign of strength and endurance.
38. Clash between Realities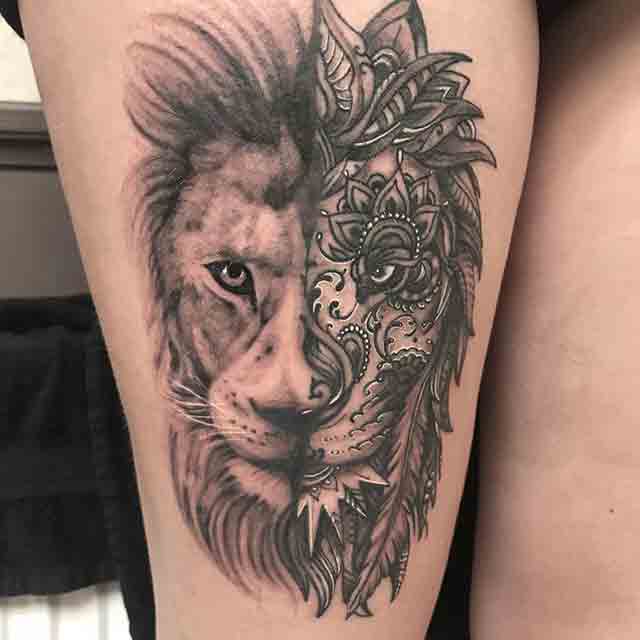 A two faces lion is the main subject of this tattoo. Half of the lion's face is normal but the other half is some sort of mythical lion. The two entities have fused together and created this damaging leg tattoo for women.
39. Outlined Lion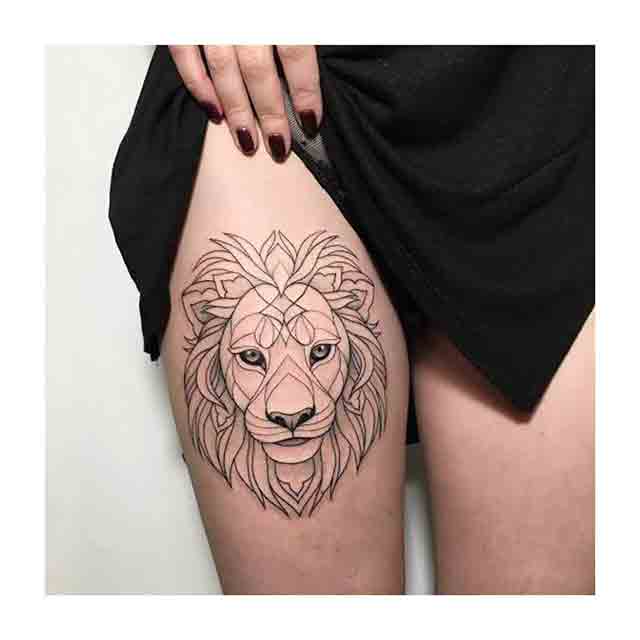 On the upper part of this dashing lady's leg, a tattoo of an outlined lion is depicted. The young king is looking straight into the viewer's eyes. The glaze on his eyes is mesmerizing.
40. Dated King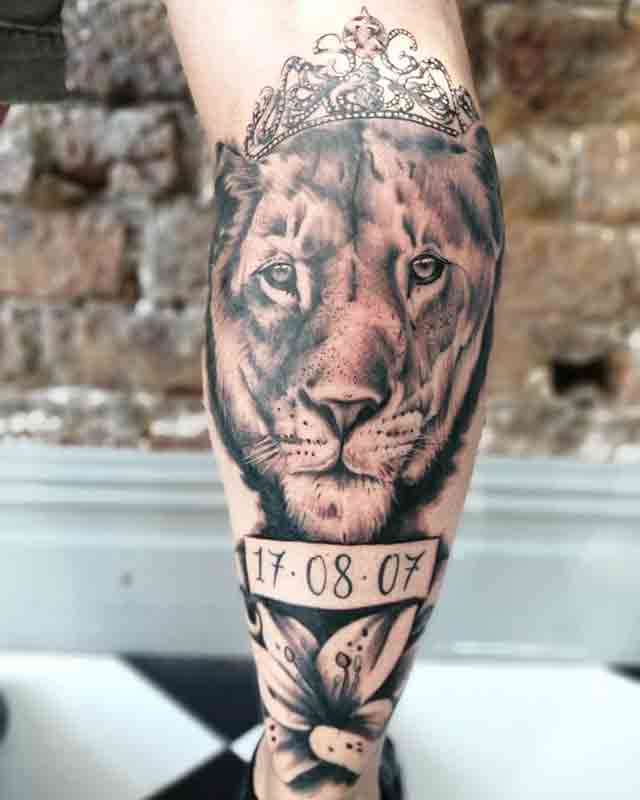 The king of the jungle is wearing a literal crown in this tattoo. There's a date that most likely has significant meaning to the tattoo bearer. The date reminds us of the king's memories.
Side Leg Tattoos
If you are looking for a tattoo that is less painful and slightly bigger, then side leg tattoos are an excellent choice. You can rock this style with any skin tone.
41. Tiger Claws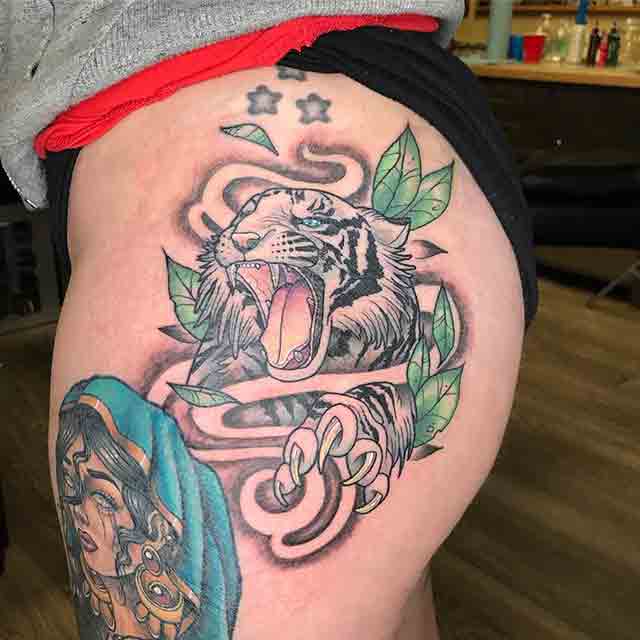 The innocent beautiful lady on this tattoo doesn't have the slightest clue that there's a fetal danger behind her. The tiger is trying to attack her but the clouds around it indicate that it is only in her head.
42. Flowers On Thigh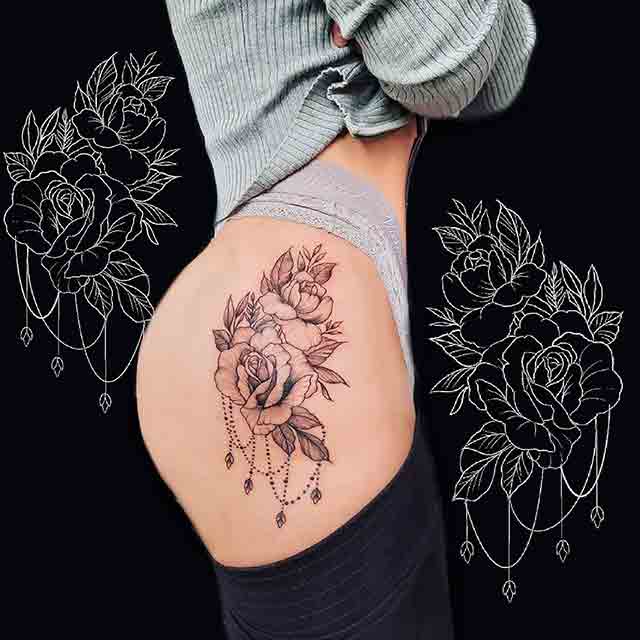 This attractive woman has some flowers inked on the side of her thighs. The dots below the flower makes it look like some ournament work.
43. Tiny Cages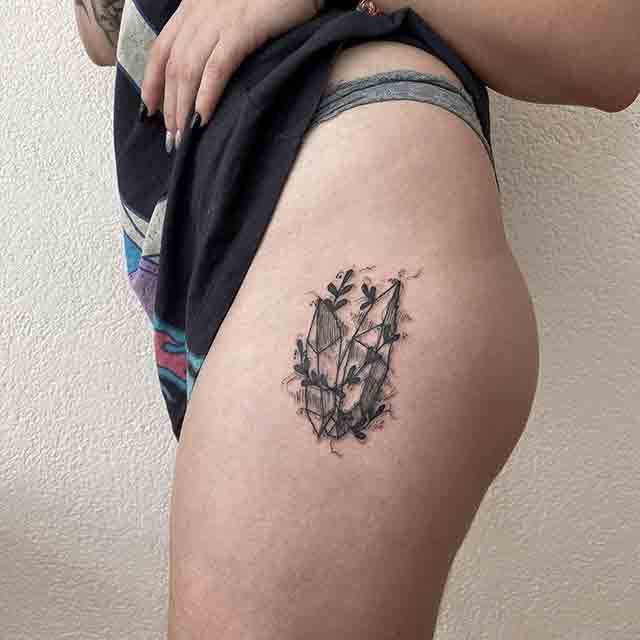 Some abandoned traps are dangling on a few plants. The cages were mostly to attract insects and eradicate them. It's depicted on this powerful woman's thighs & sends a strong message.
Butterfly Leg Tattoo
If you are a spiritual person or just looking for a tattoo that represents transformation, butterfly leg tattoos are one of your best options. Plus, they represent short and meaningful messages.
44. Realistic Butterflies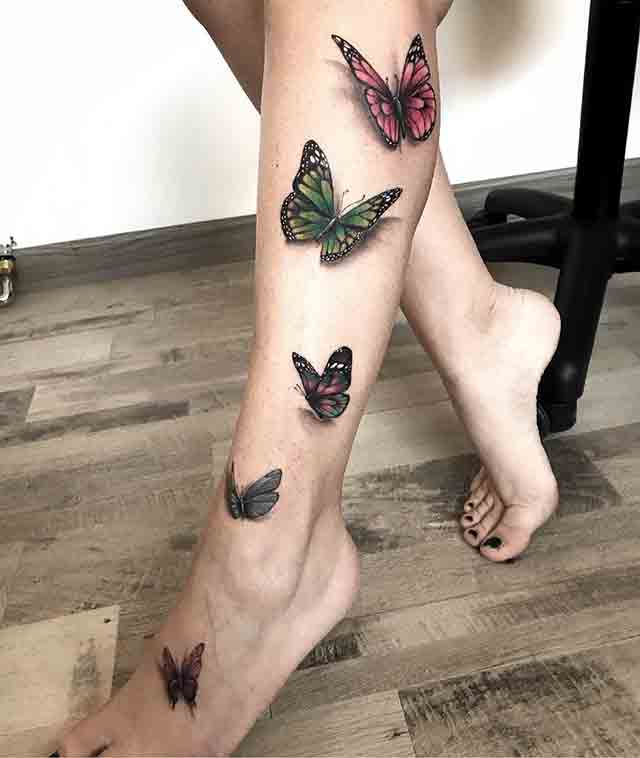 The use of shadows on this leg tattoo creates these realistic-looking butterflies. They go nicely with the fair skin tone of this young lady. A beautiful piece to have if you like colorful and realistic tattoos.
45. Giant Butterfly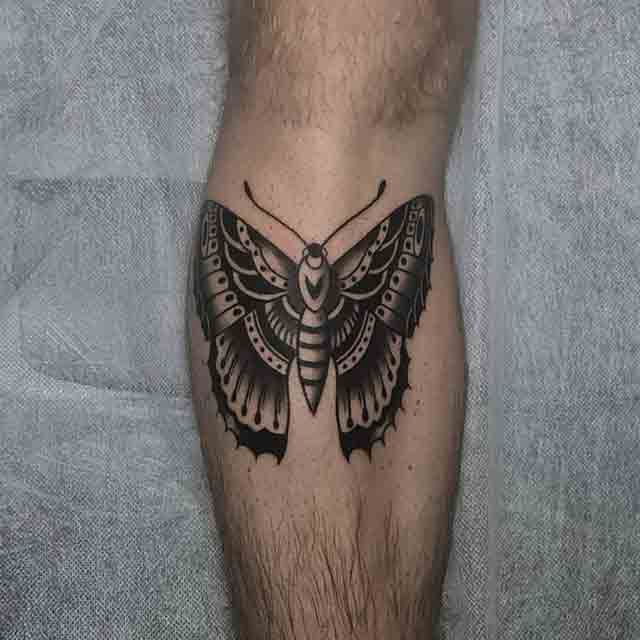 A single butterfly is drawn on this women's leg tattoo. The details in this piece are breathtaking. It is quite big compared to regular butterflies, and this makes it even more unique.
46. Windy Days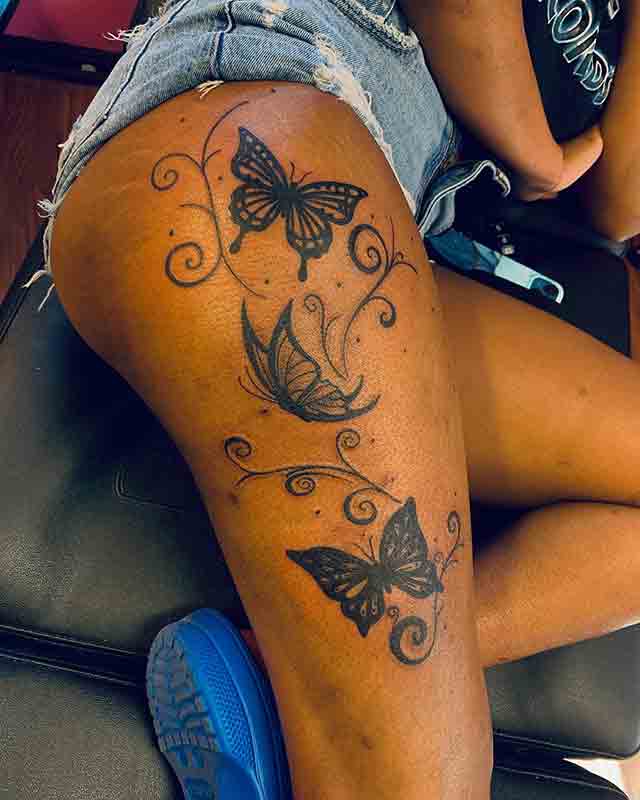 Snake Leg Tattoo
47. Simple Snake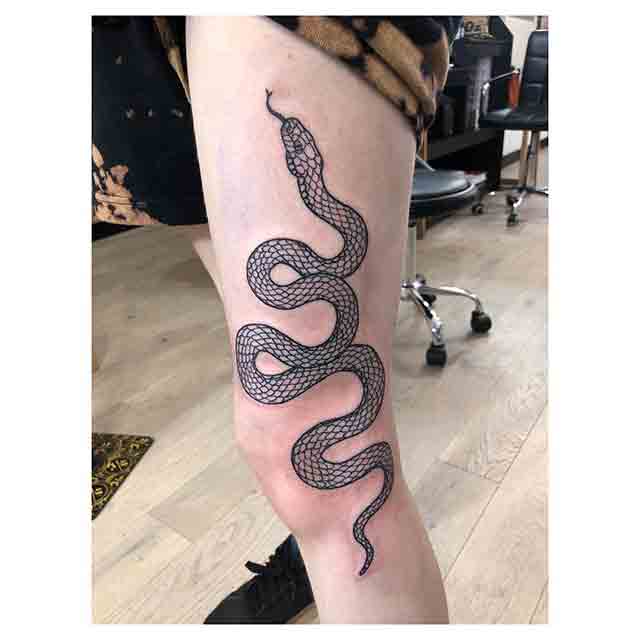 48. Downwards Snake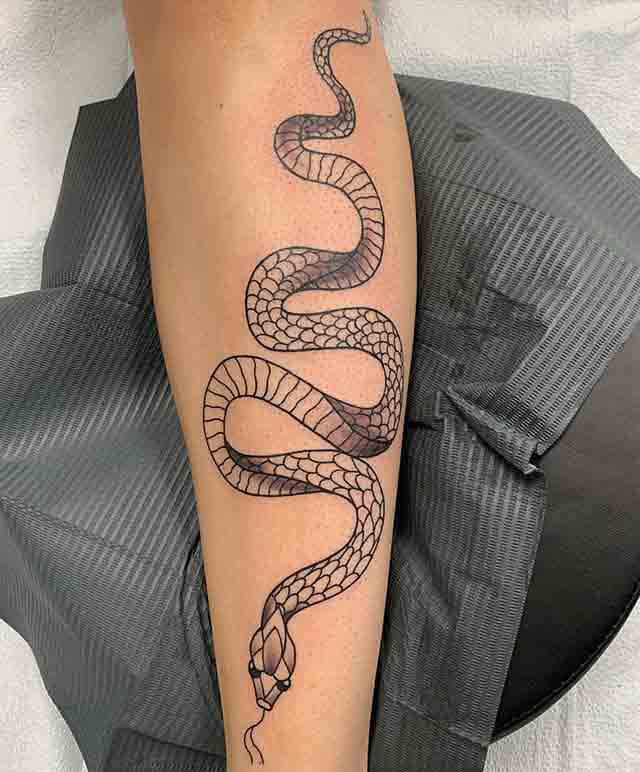 49. Red Venom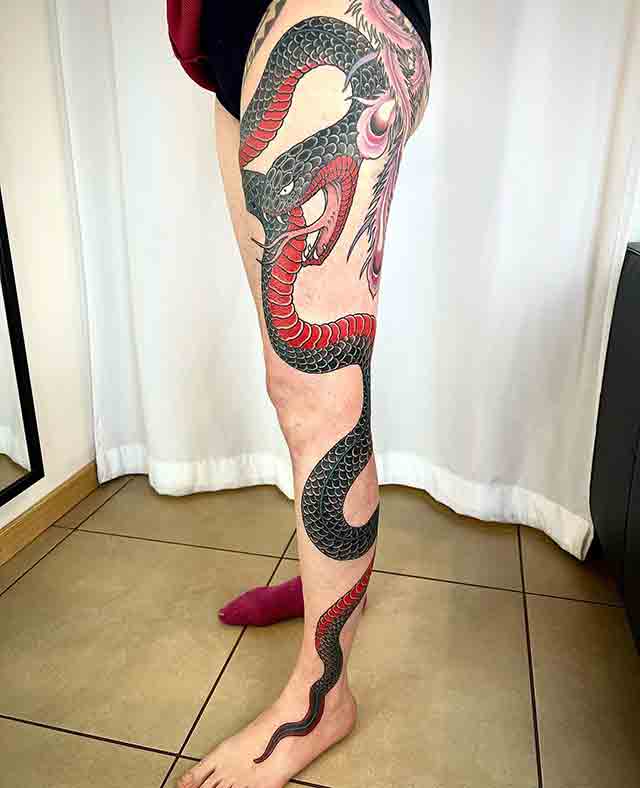 Dragon Leg Tattoo
50. Lightning Dragon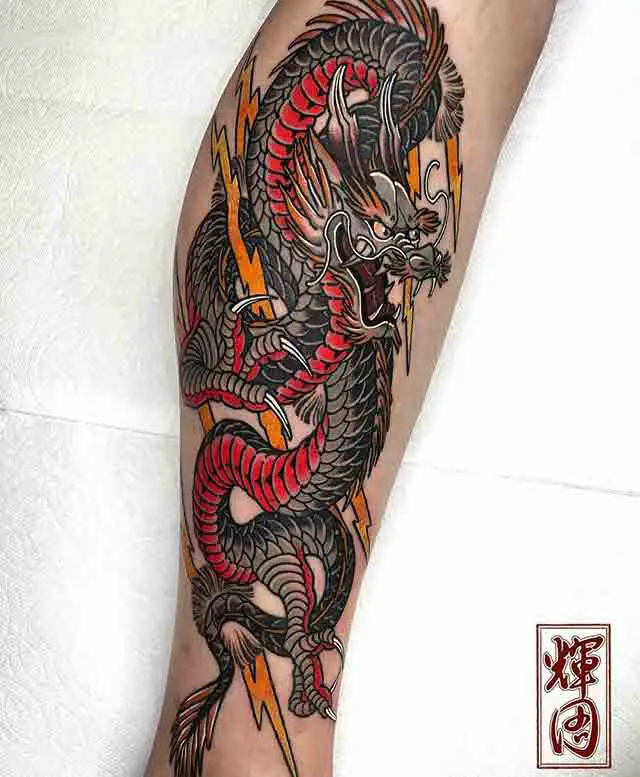 51. Floral Dragon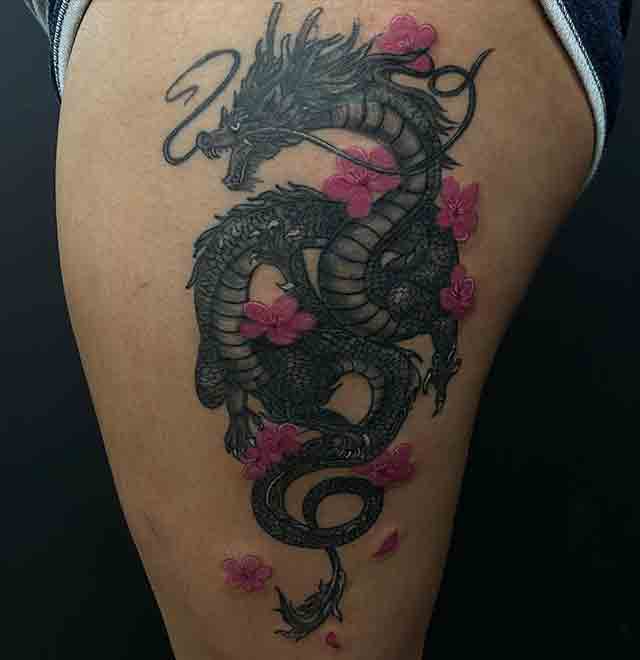 52. Mighty Beast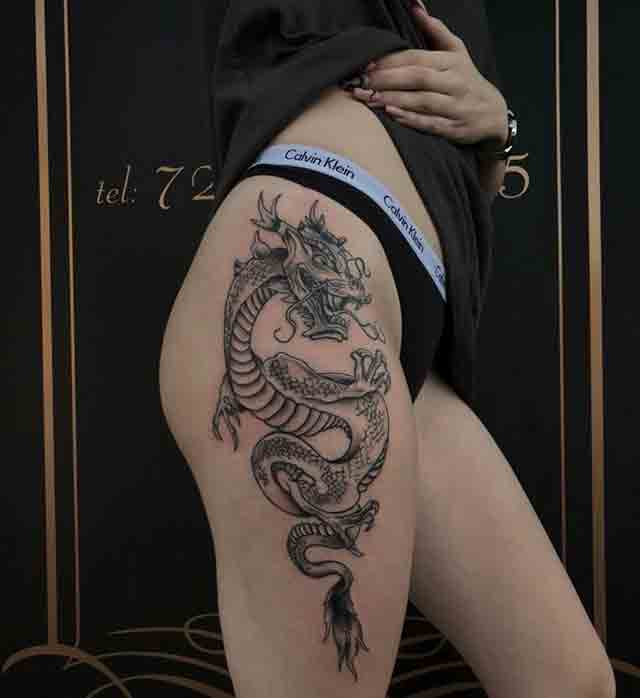 Half Leg Sleeve Tattoo
53. Peaceful Mind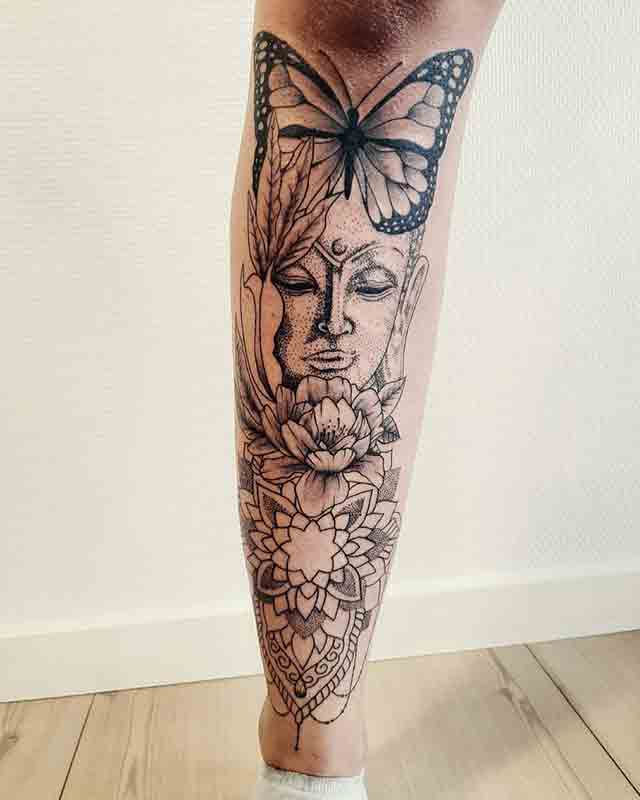 54. Lost Jewls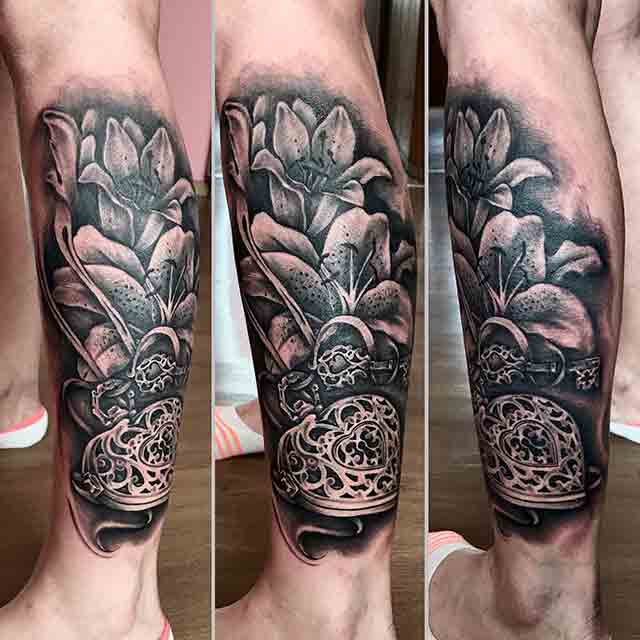 55. Symbolic Half Leg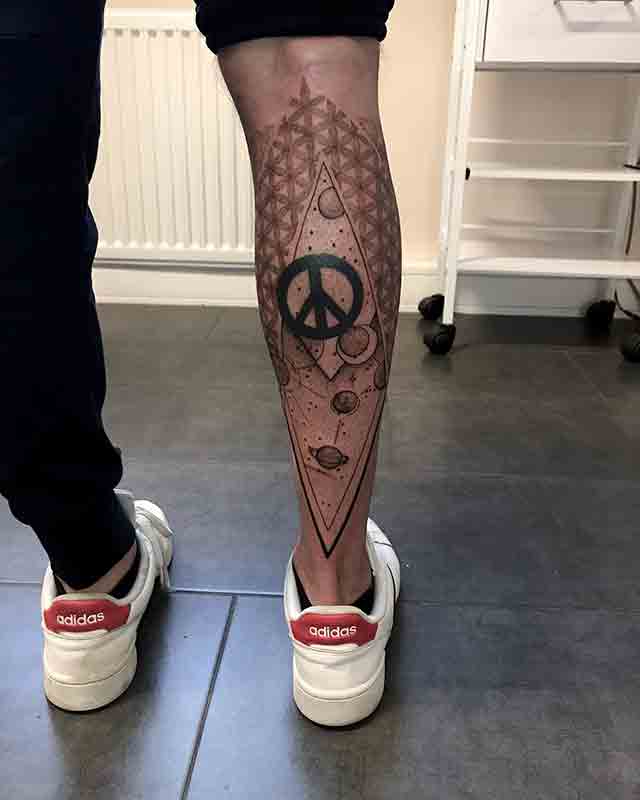 Henna Leg Tattoo
56. Cultural Artwork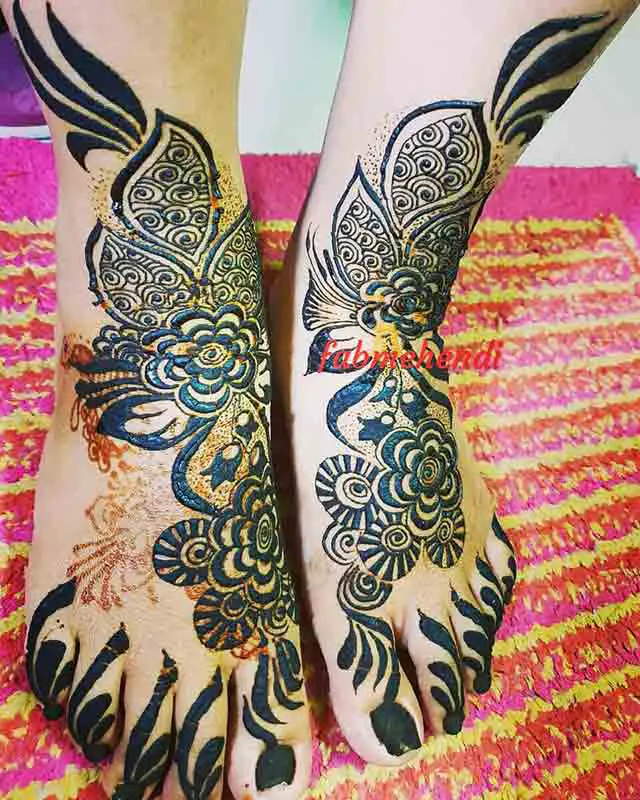 57. Temple Design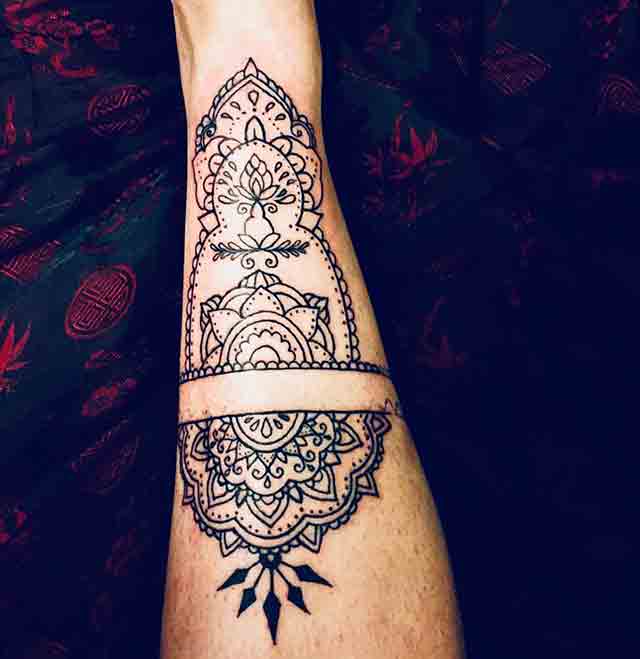 58. Full Leg Hennah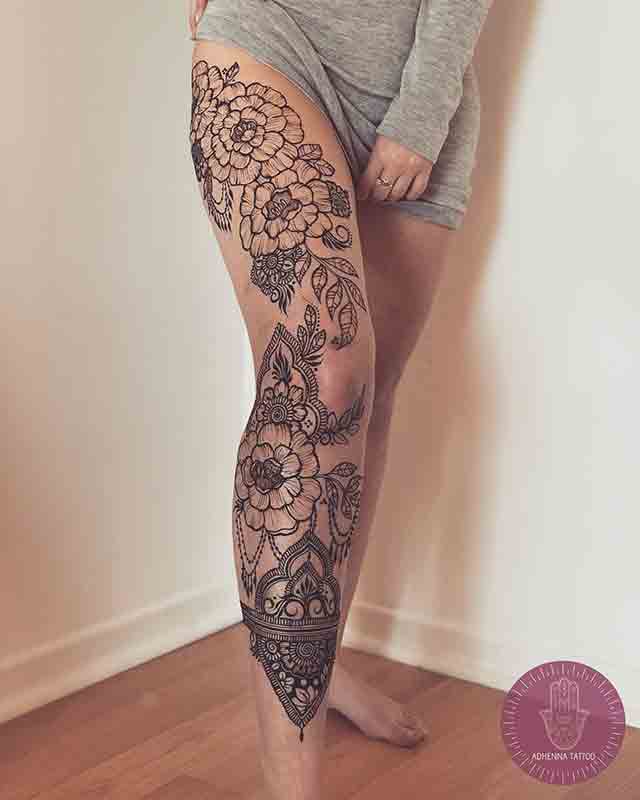 Harley Quinn Leg Tattoos
59. Crazy Diamond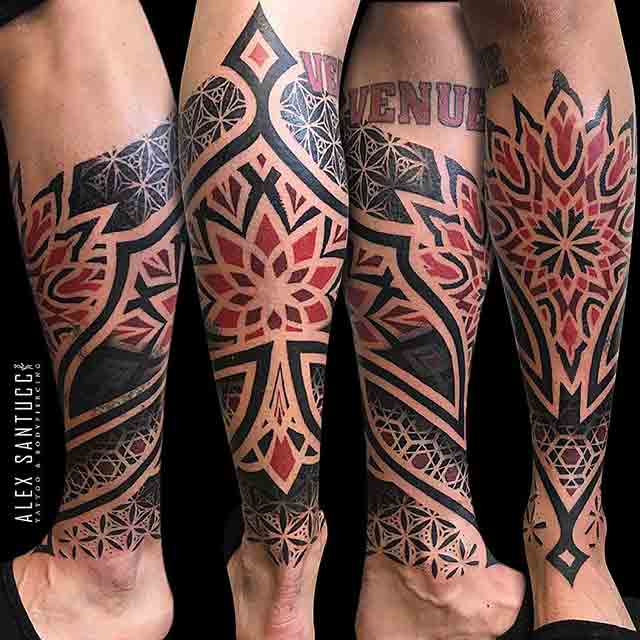 60. Hypnotic Diamonds
61. Overlapping Chakras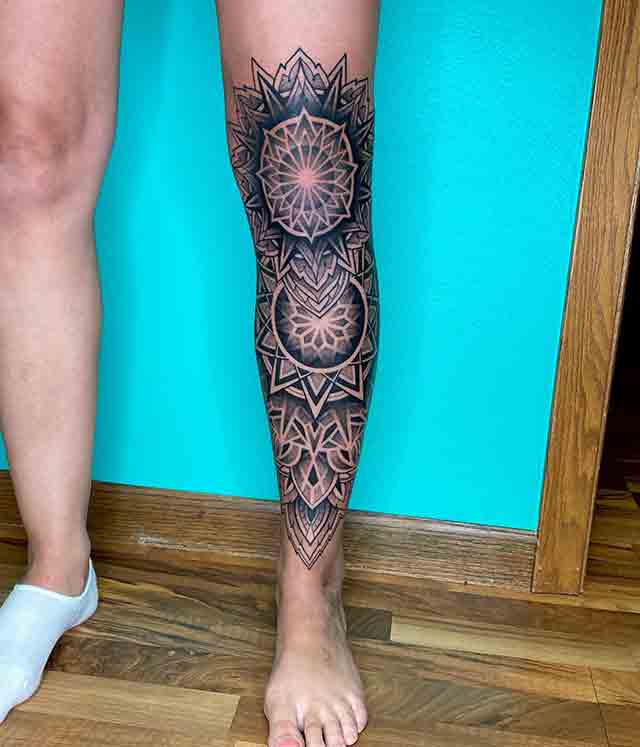 Owl Leg Tattoo
62. Tiny Owl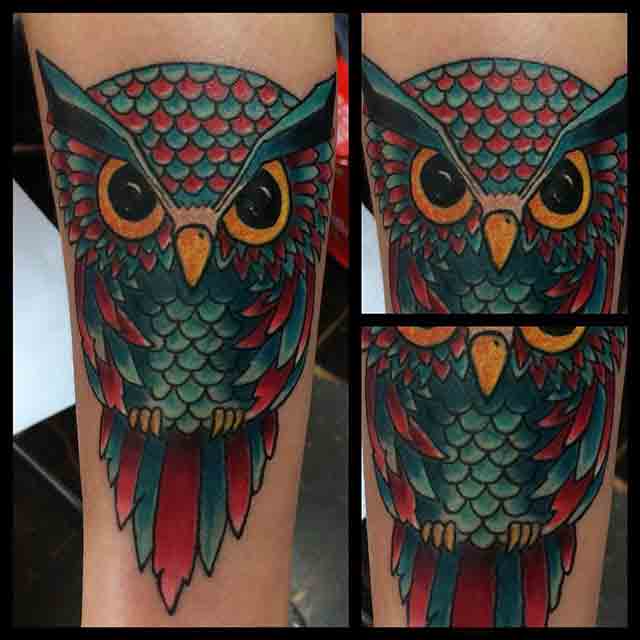 63. Mechanical Owl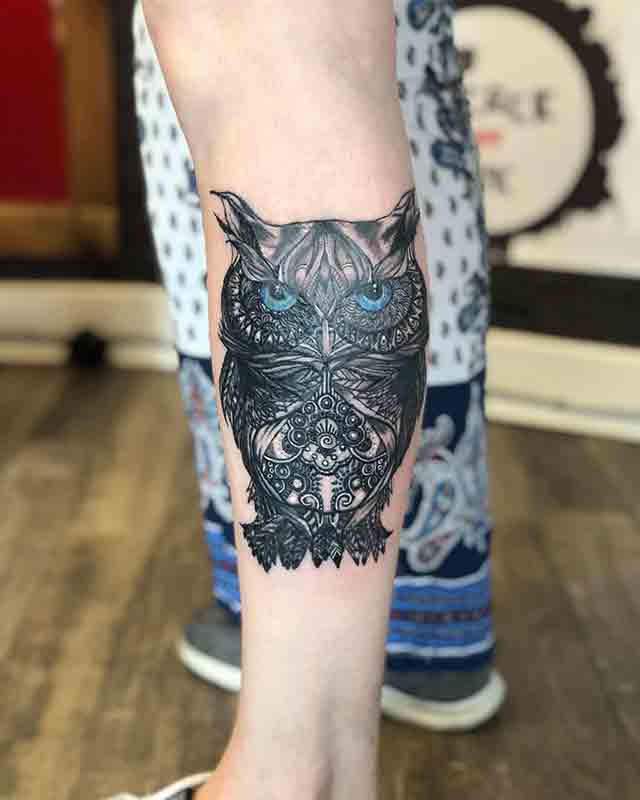 64. Grumpy Owlet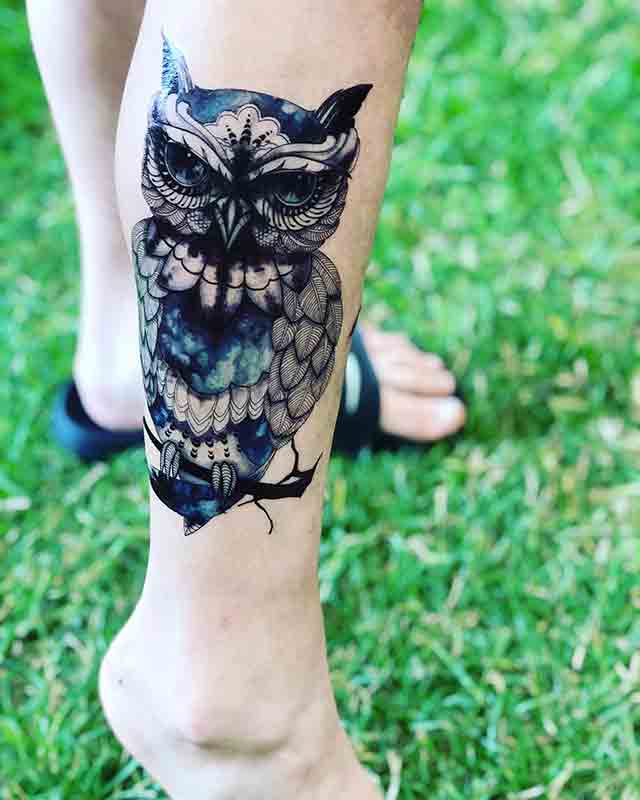 65. Koi Pairs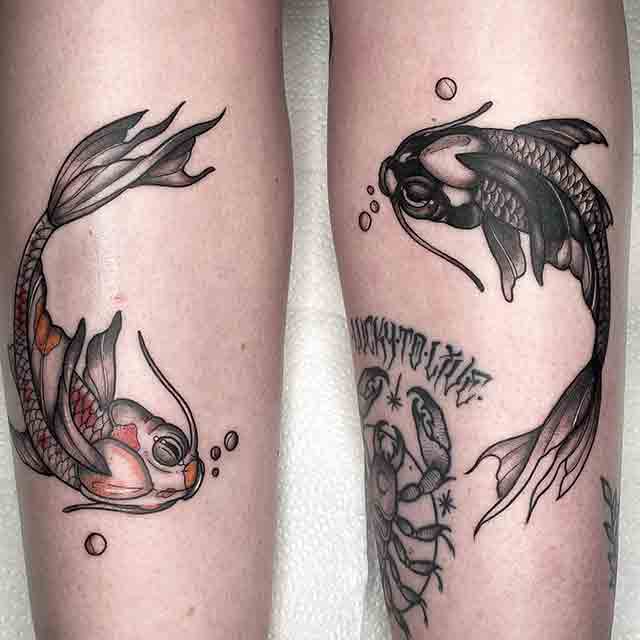 66. Mating Koi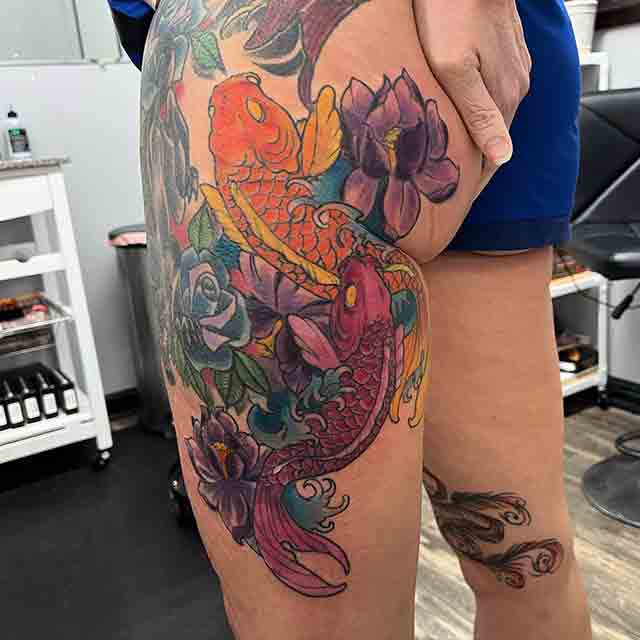 67. Wave Rider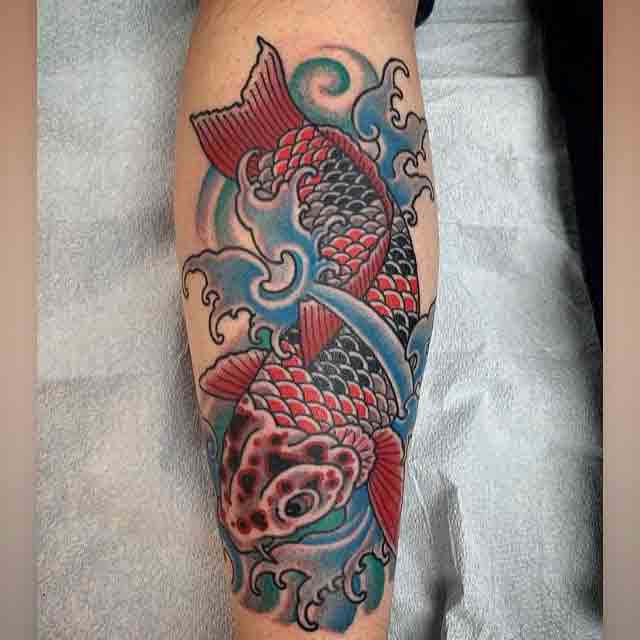 68. Harle's Portrait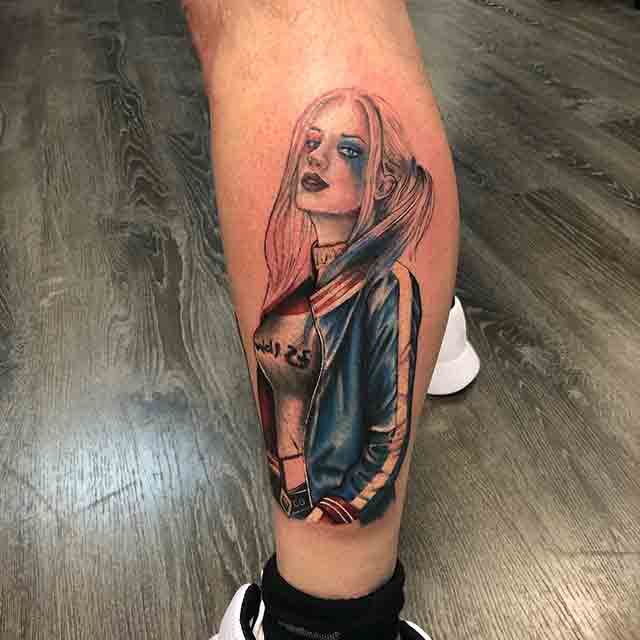 69. Joker's Company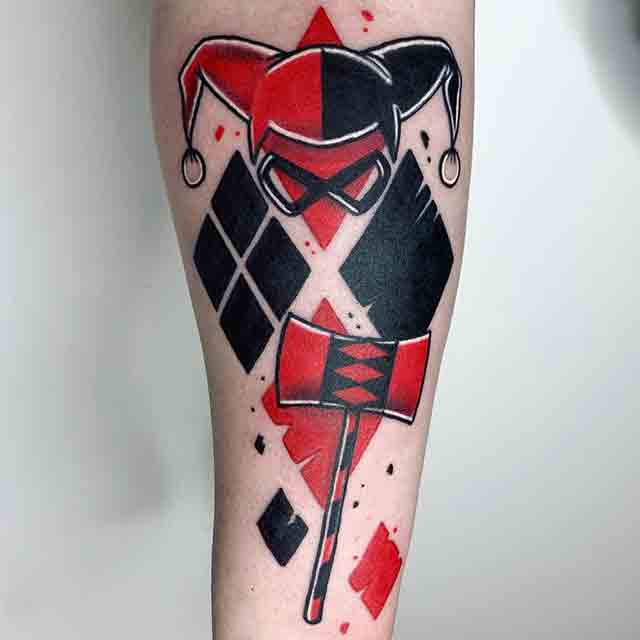 70. Realistic Healey Quinn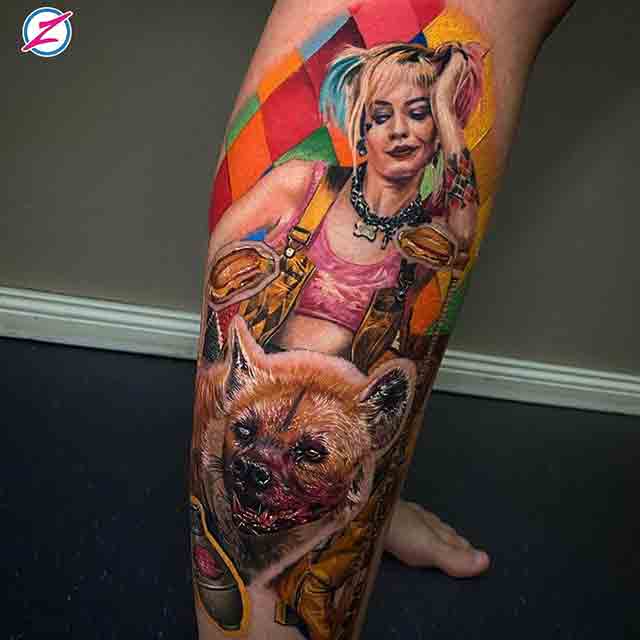 Phoenix Leg Tattoo
71. Headless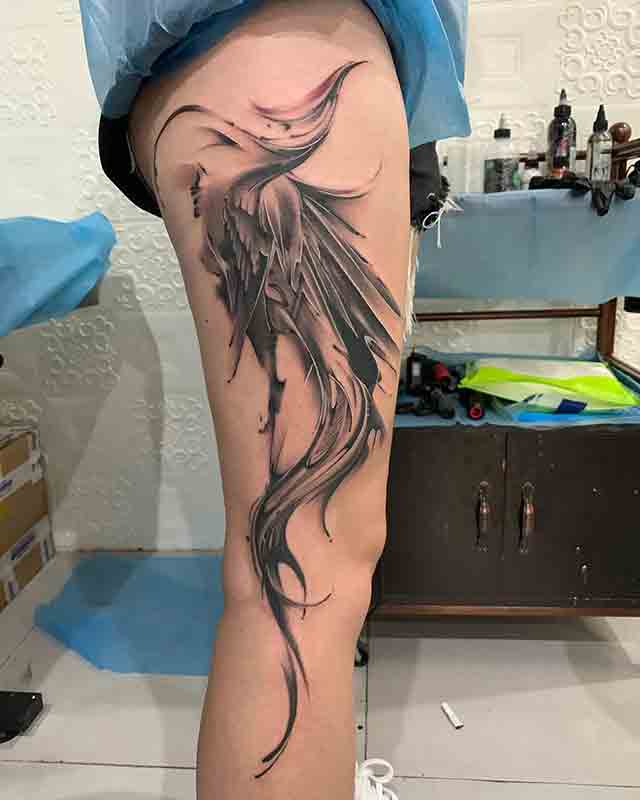 72. Wrath Of Pheonix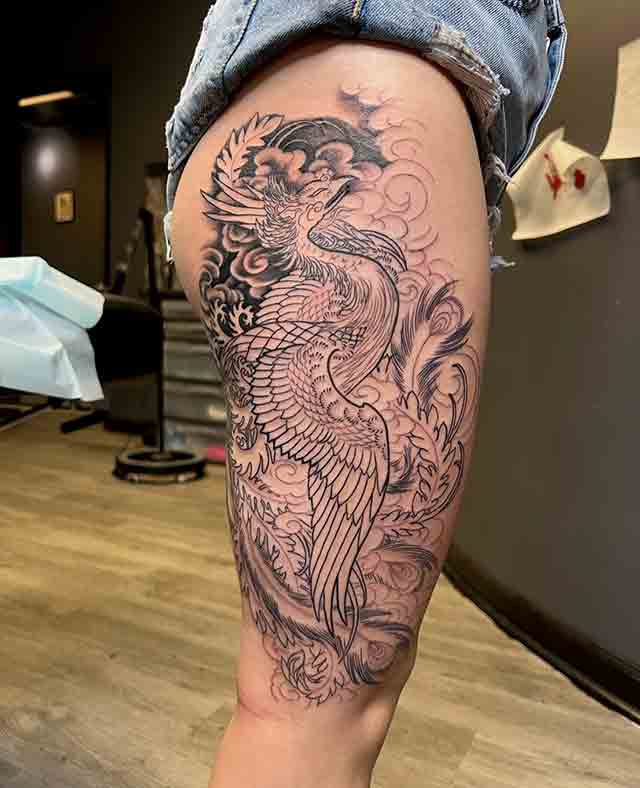 73. Black & Red Pheonix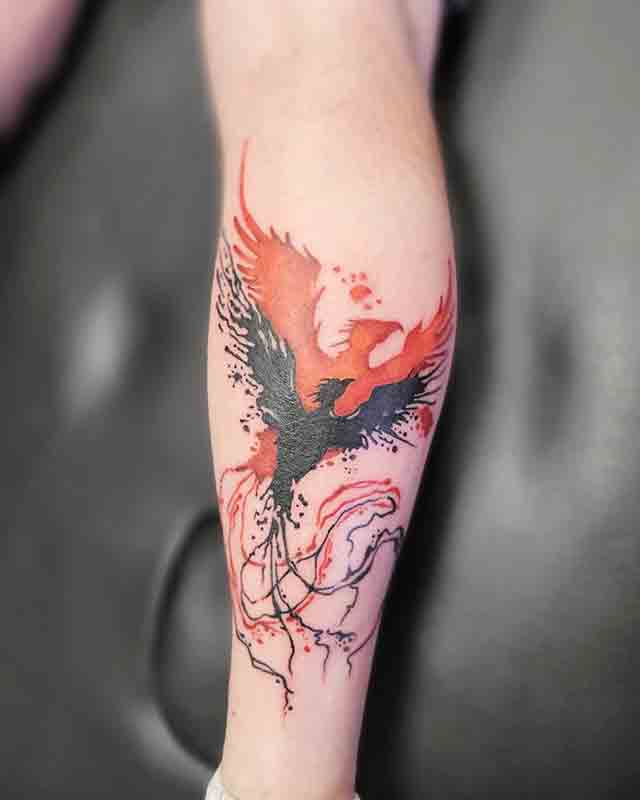 Joker Leg Tattoo
74. Masked Joker
75. Twisted Minds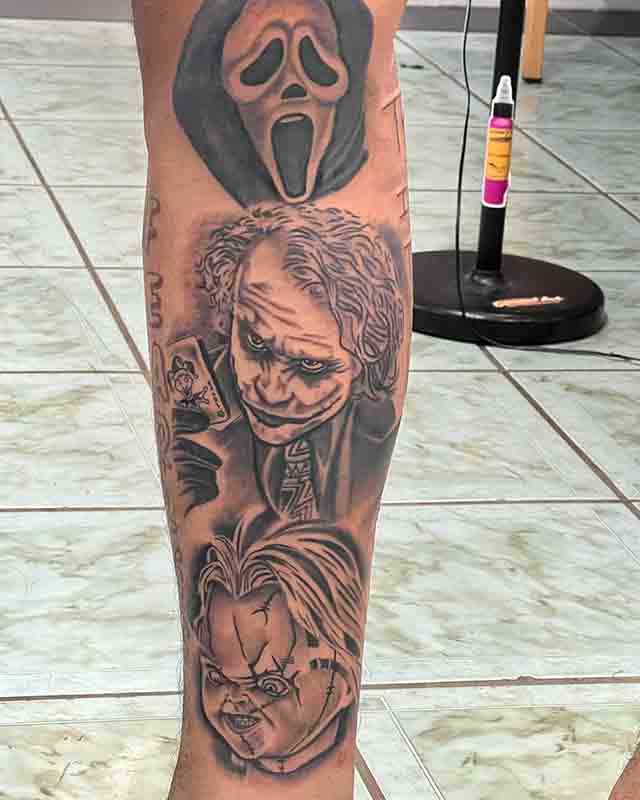 76. Forced Smile
Sunflower Leg Tattoo
77. Signed & Dated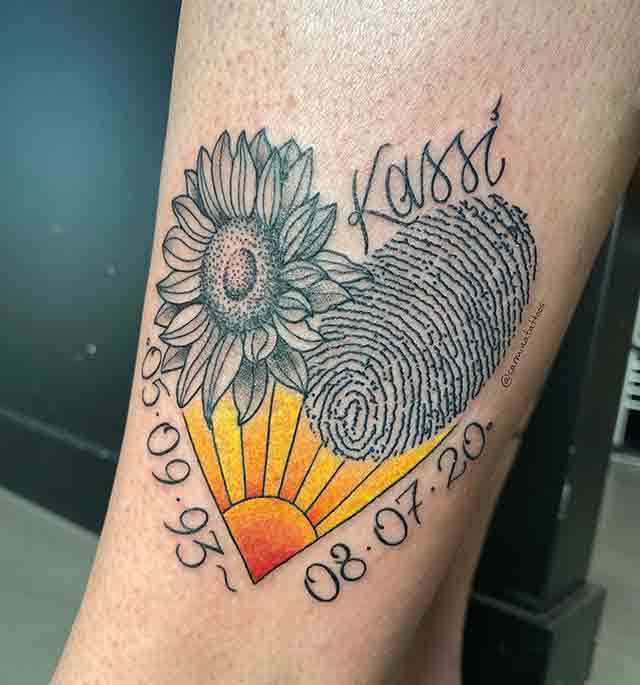 78. Sunflower & Butterfly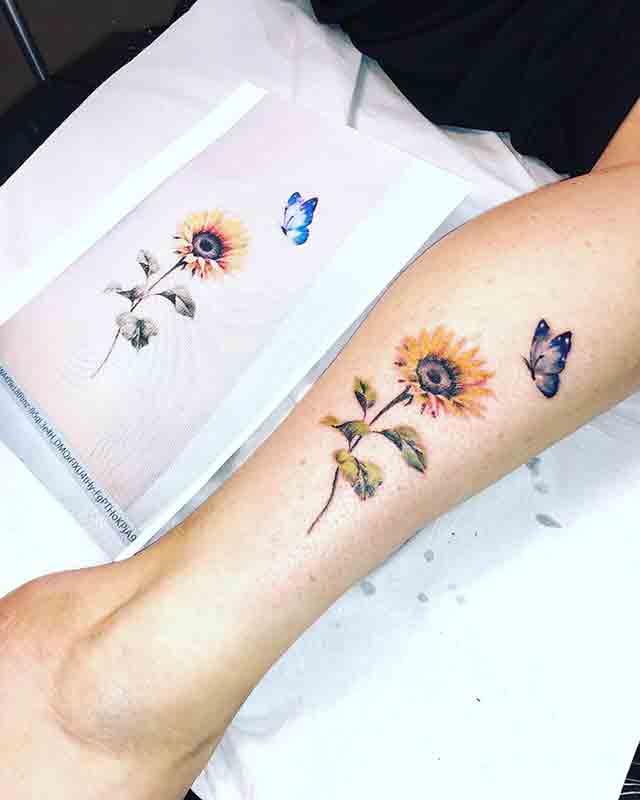 79. Outlined Sunflower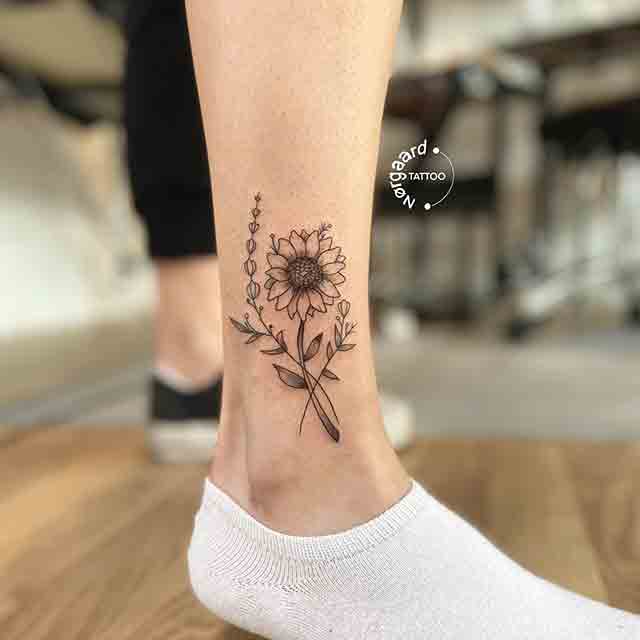 Conclusion
Hopefully, the above leg tattoos for women were able to spark some new ideas in your mind. Feel free to add your personal touch to them. If you are looking for smaller tattoos, go with any of the simple designs. If you want something less painful, then side leg tattoos and back leg tattoos should be your priority. Either way, they will help you achieve a new look with some meaningful full messages.