The toned female form is a work of art in itself, however, more and more women have been feeling the need to get inked to enhance their beauty. Back tattoos for women are a particular favorite in recent times. An artist loves a blank canvas to work his magic on hence the human back presents a great opportunity for a tattoo artist.
BEST OF THE TASTEFULLY PROVOCATIVE BACK TATTOOS FOR WOMEN
A woman might choose to get a back tattoo for one or more reasons but would always want it to be very aesthetically appealing. That's why it is of utmost importance that she chooses a tattoo specialist who understands the female body and its feminine contours. This will enable the artist to create a masterful design and result in many looks of awe and envy.
These tattoos can be very tiny and can be so large that they cover the entire back. There are so many styles to pick from that it can boggle the mind. From one or several small tattoos to a single large piece, back tattoos come in a great variety and range from cute to sexy or even elegant and meaningful.
#1: Angel

This beautiful tattoo of an angel is a sweet one to ink on your back. It extends from below the shoulder to the waist in a black and white shade
#2: Rose With Thorns

This tattoo features a lovely rose in the midst of thorns, which shows our capacity to live through the hard times. It has a deep contrast for a sleek finish.
#3: Eagle In Flight

If you have the spirit of an eagle, you should definitely try out this lovely tattoo. It features an eagle with claws stretched, ready to attack.
#4: Feather with Circle

Feathers are a healthy feature of any back tattoo. They add dimensions to the piece, giving it a geometric and intricate pattern.
#5: Fluid Design with Curves

What's more fluid than this visually moving tattoo? It has a lot of intricate patterns and is shaped to follow the neck line.
#6: Whorls

This is a great tattoo with whorls that twist in different directions. It has a broken pattern with a monochrome finish.
#7: Back Patterns

You can also get this lovely back tattoo on your back. It features sharp edges arranged along the curve of the bike.
#8: Sunflower

Sunflower is good imagery to depict with your tattoo. It shows a happy and gay side to you that no one else knows.
#9: Rose with Patterns

If you love patterned tattoos, this is definitely for you. It has geometric shapes with moving lines for an Artistic feel.
#10: Lions and The Rose

Have you imagined incorporating a lion's face with flowers.? Does this tattoo feature a lion with its mane made of beautiful flowers?
#11: THE BUTTERFLIES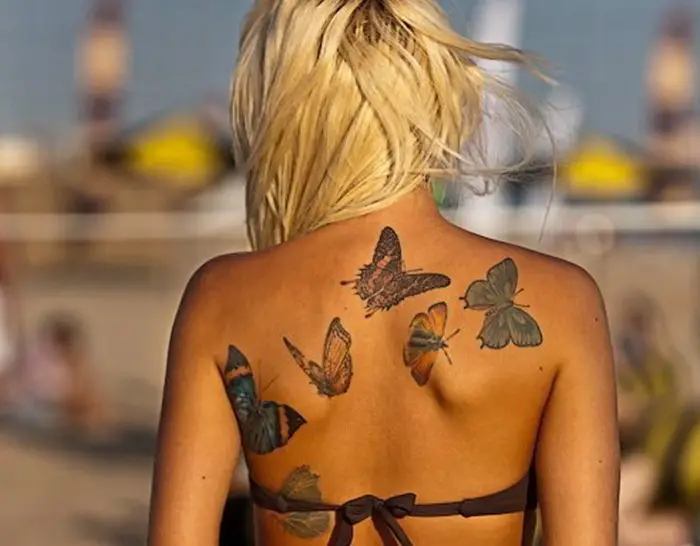 Cute, colorful, and sassy is what this tattoo says about its owner. The butterfly is a popular motif among women. It can signify hope, resurrection, change, and more. This design concentrates on the upper back with multiple butterflies from left to right.
#12: ANGEL IN THE GARDEN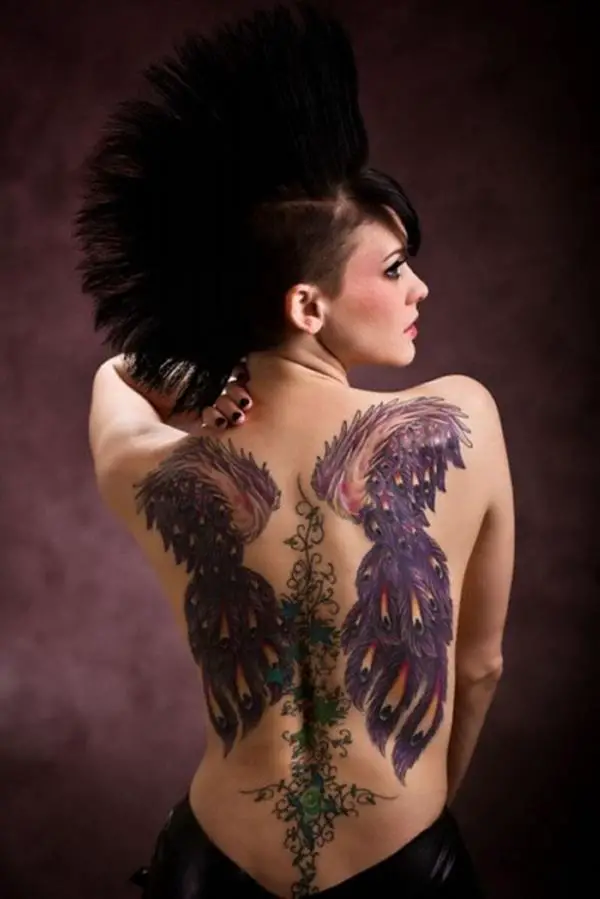 This is a unique take on wings of an angel tattoo design. It flows from the top of the shoulder blades down to the beginning of the lower back. Running down the middle of the spine is a vineyard design that flares out at the bottom.
#13: JAPANESE DOLL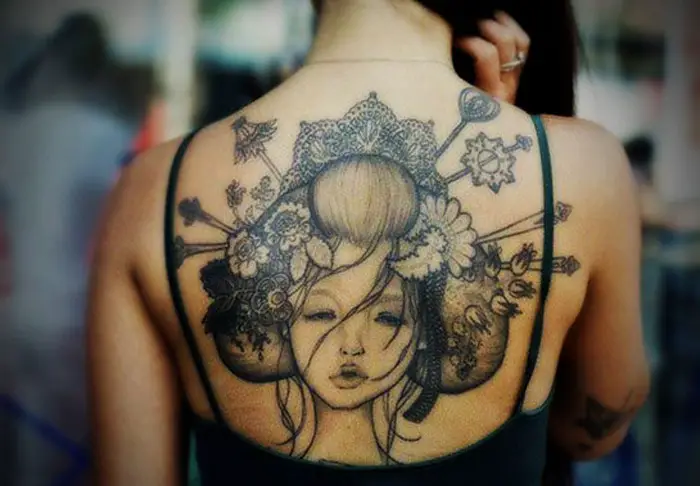 A simple all black tattoo design, this one sends a message that's just as simple; that this woman is fashionable, gentle and elegant…a feminine idea. You don't have to be Japanese to have something like this. You could have your own face or that of someone you love or admire.
#14: VINES-PIRATION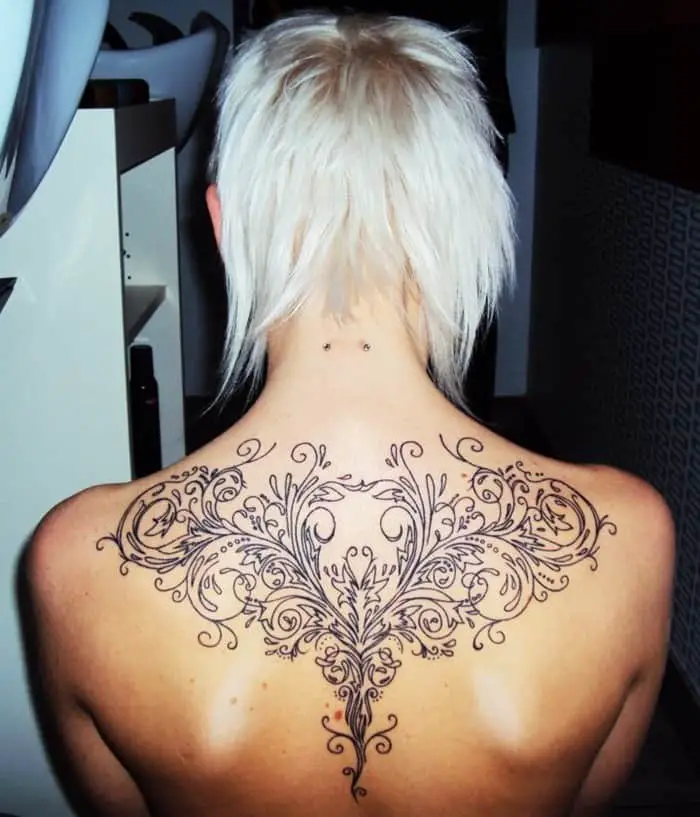 Take inspiration from this sleek tattoo that covers the upper back above and between the shoulder blades. Its slender lines lend beautiful symmetry to the woman's equally slender frame.
#15: FUNKY BUTTERFLIES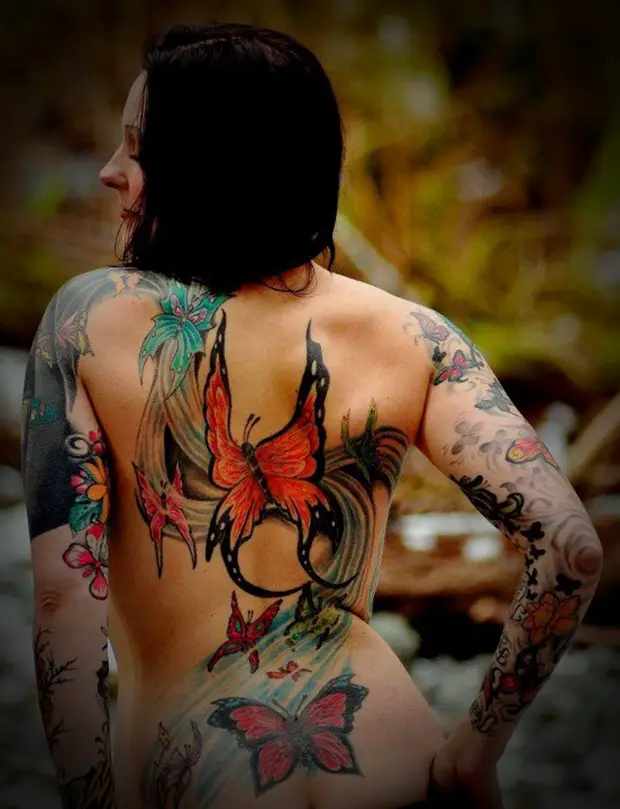 Butterflies gliding elegantly on streams of air, they flutter up and down the woman's back in colorful ensembles.
#16: DRAMATIC MANDALA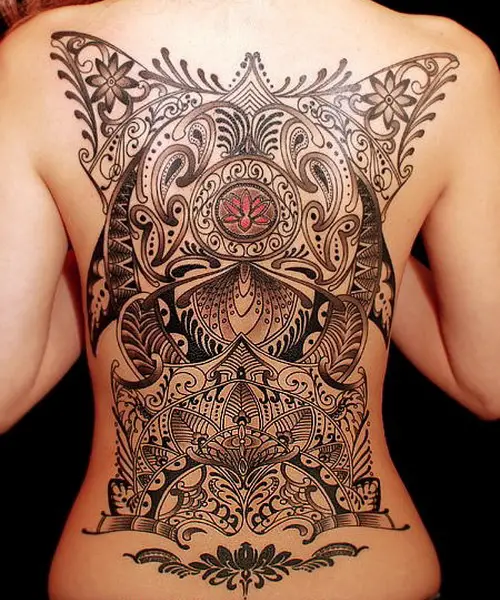 Mandala designs are usually quite intricate and this gorgeous tattoo with a lotus at its center is no exception to the rule. We just wonder how much precision would have been required for such a work of art?
#17: THE RAVEN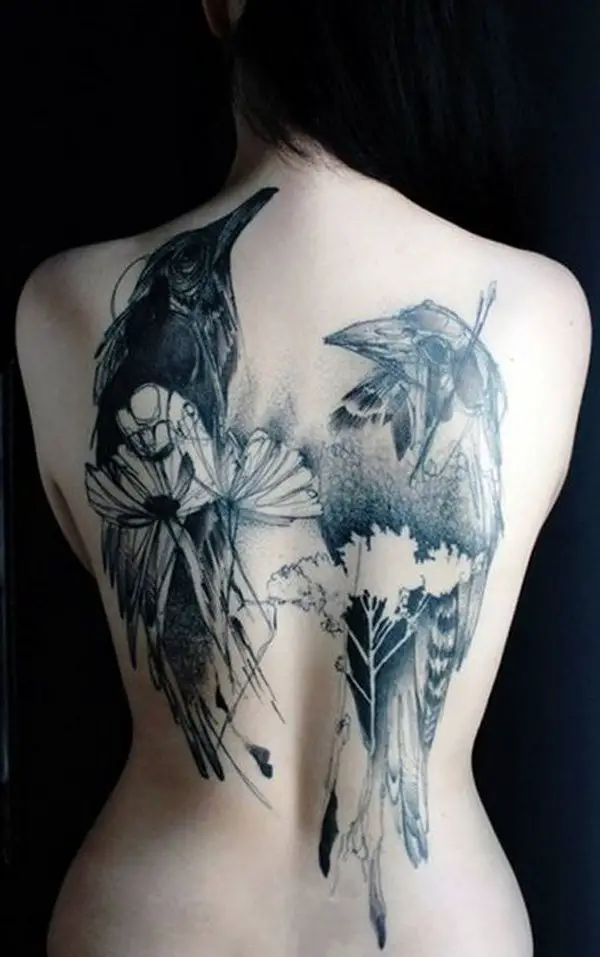 According to Greek mythology, ravens are the messengers of the Gods and harbingers of good luck. This tattoo has a dream like quality and has two ravens for double the luck.
#18: 3D BLOOM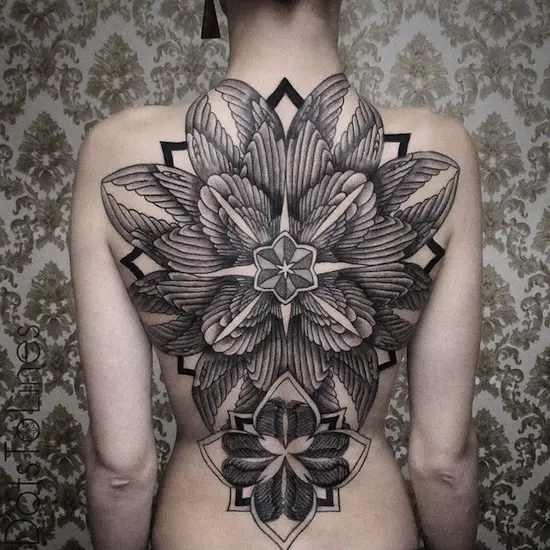 The design is very remarkable with a three-dimensional aspect that gives it an illusionary quality.
#19: TRIBAL FLARE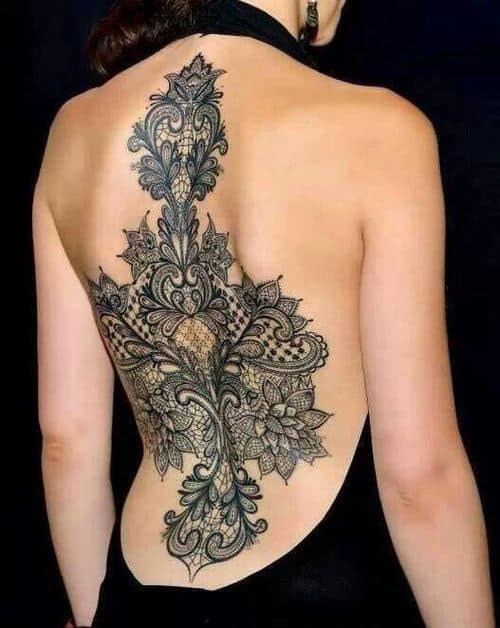 Breathtaking! Isn't it? Covering almost the entire back the exquisite floral tribal tattoo adds to the lady's elegance.
#20: CANDLE CHANDELIER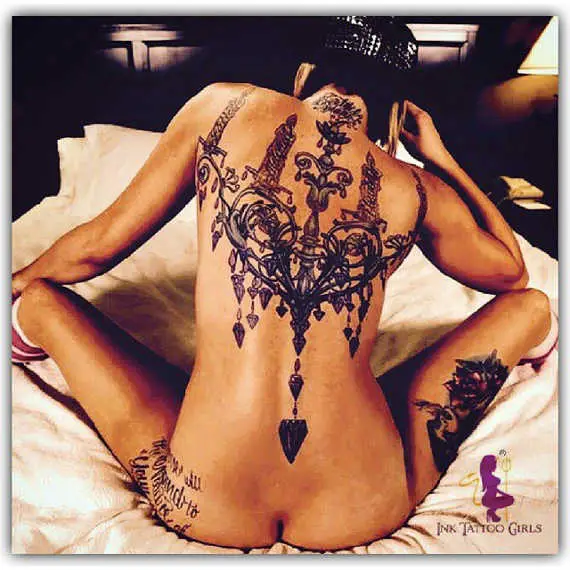 The burning candles, the carved mantle, the hanging crystals – isn't this candle chandelier hanging from her brooding shoulders reminds of the luxury Victorian era. But we wonder why chandelier?
#21: THE SCENT OF LIFE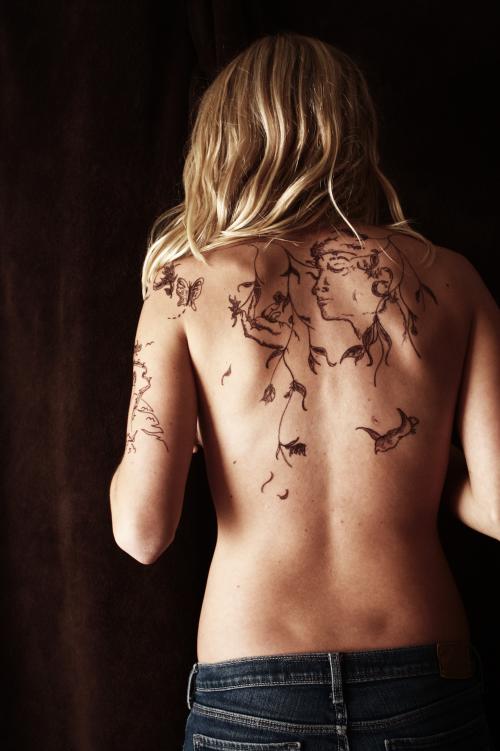 A soul-stirring tattoo for any nature lover, it's simple lines belie a deeper theme.
#22: RED BLOSSOM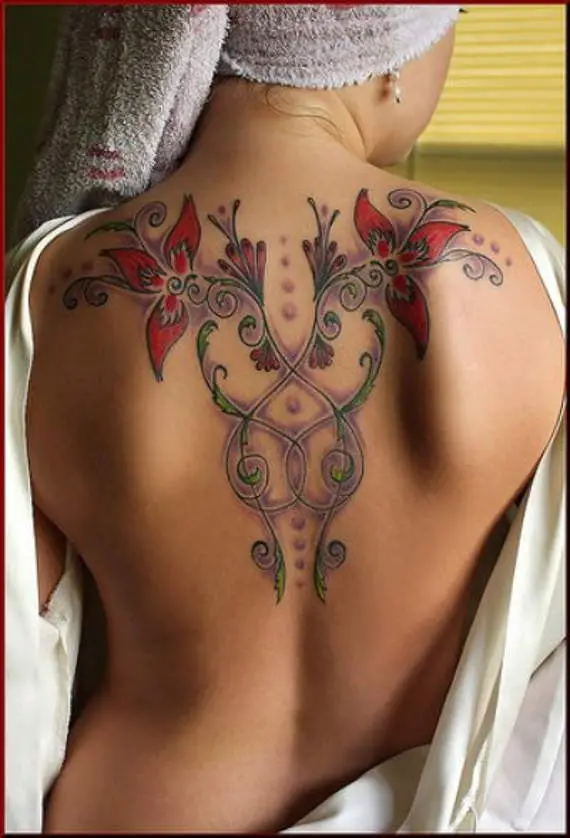 An elegant half back tattoo, the design is brought to life by the brilliant red flowers and the purple shading.
#23: WIND RIDER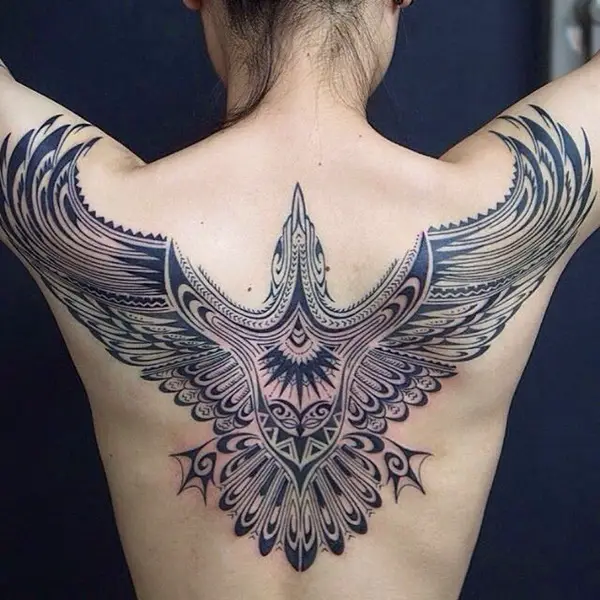 The eagle done in a tribal style is unique and depicts a free-spirited woman who can't be held down.
#24: BEJEWELED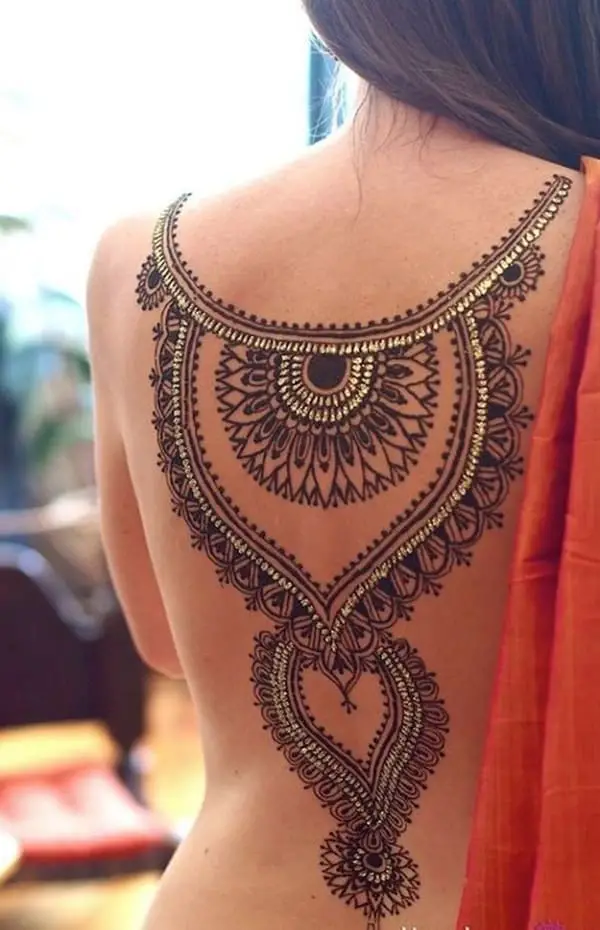 Ornamental tattoos are in vogue and this tattoo is a grand example of the category.
#25: A SPIRITUAL JOURNEY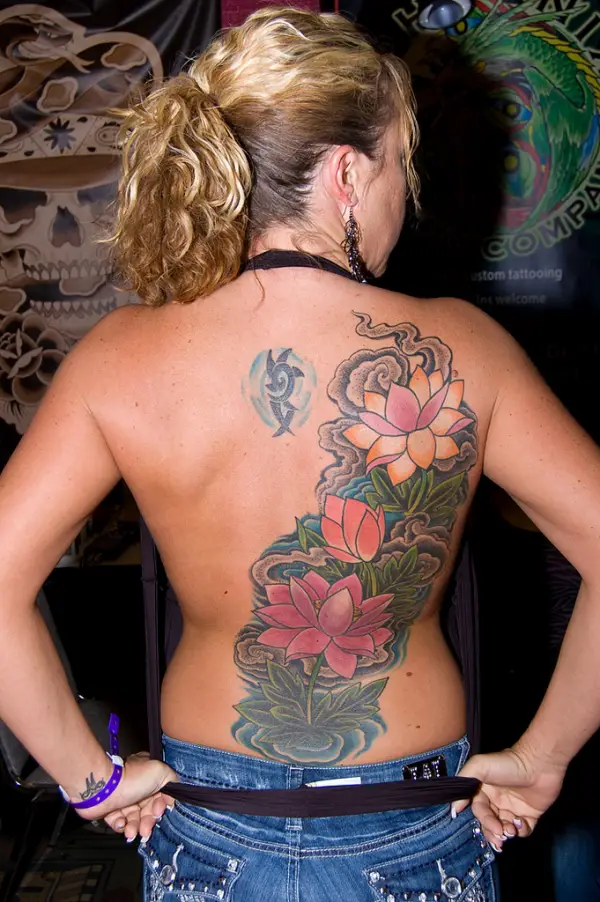 With Lotus depicting life, death, and rebirth, this is a bright and magnificently mystical back tattoo design for women.
#26: THE BROKEN CORSET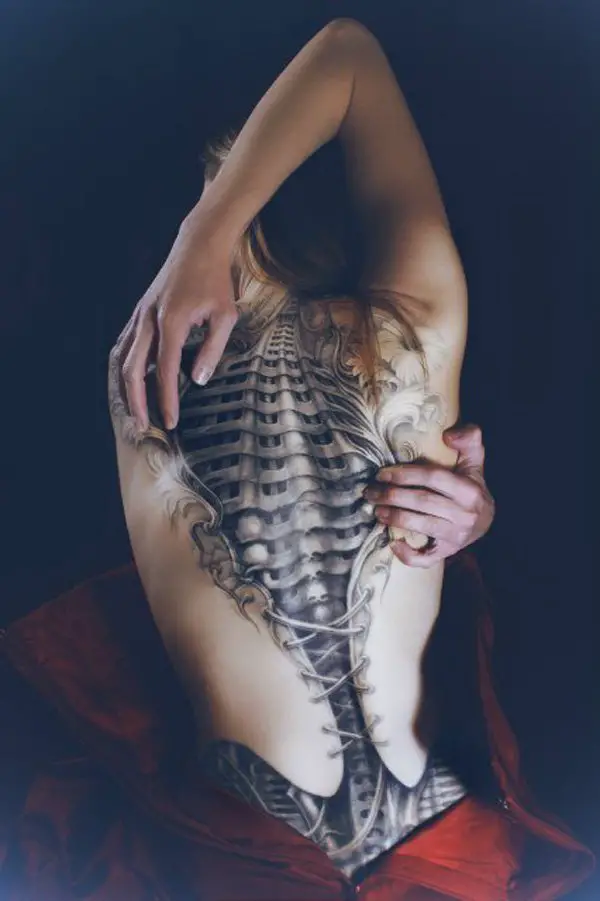 One can hardly believe how realistic this amazingly unique design is. It attempts to show the stripping away of the corseted exterior to reveal the inner reality. It is a truly magnificent back tattoo that will surely drop the jaws.
#27: DRAGON FIRE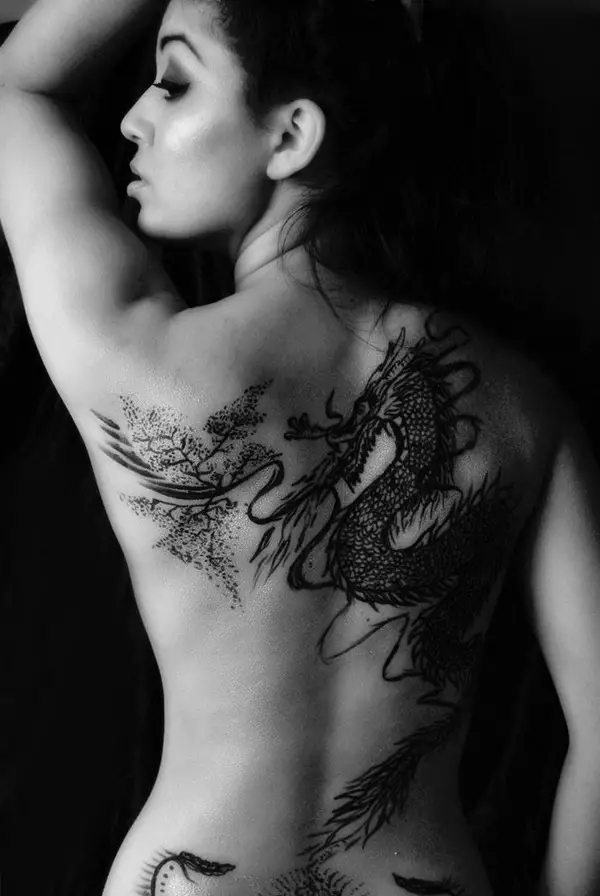 She's not a woman to be messed with. The dragon on her back spitting fire, tells you you'll get burned if you trifle with her.
#28: GUIDING WORDS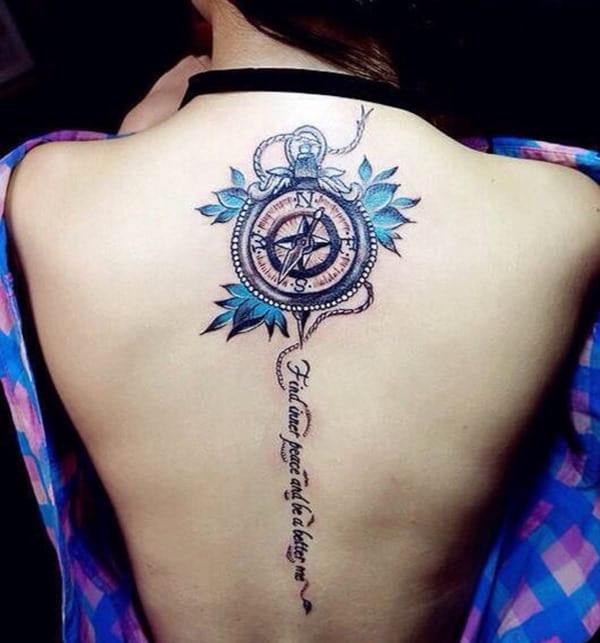 One of the most popular themes, a lovely and eye-catching compass tattoo with a motivational quote is for those who are looking for or have found the direction their life should head in.
#29: ELEGANTLY MINIMAL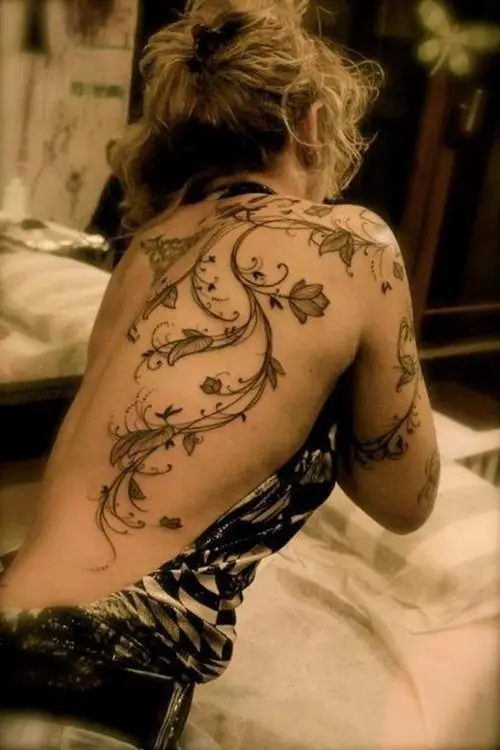 Dainty vines look as if they have crept right from a Victorian garden. This tattoo not only covers the woman's back but also extends on her arm. It is a refined design that is great for covering a large area in a minimalistic yet beautiful way.
#30: TINKERBELL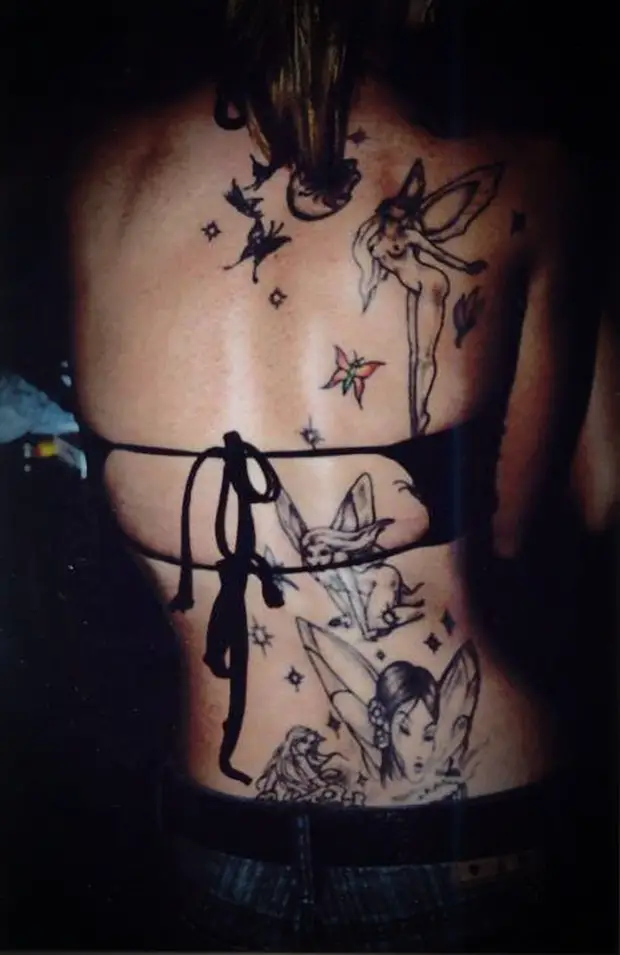 Someone with this tattoo is a light-hearted and playful woman, but then again maybe she's just into fairy tales.
#31: PRECIOUS ARTWORK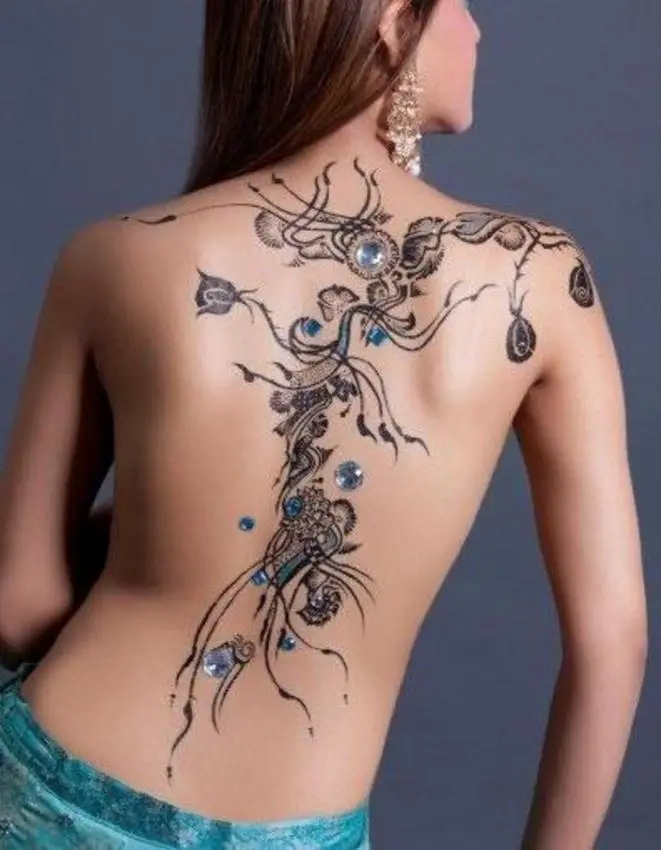 The artist has done a wonderful job in making it look like the woman's back is encrusted with blue jewels. They appear interspersed among the vines hanging from her shoulders and flowing gracefully down her sinuous back.
#32: LIFE IS A MASQUERADE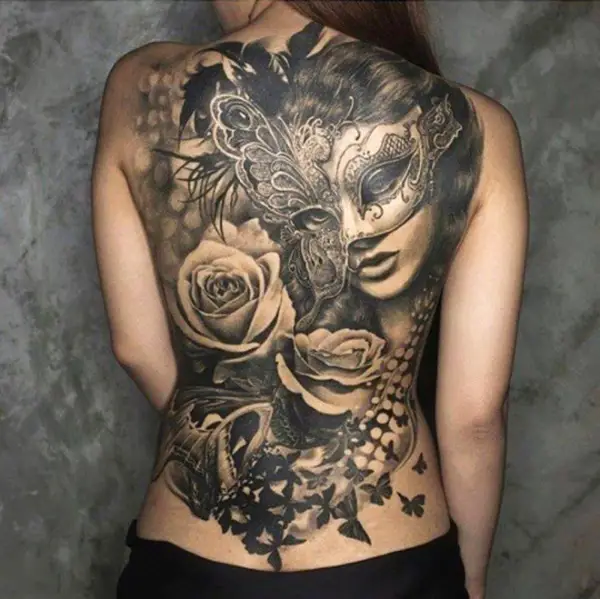 Ladies with a dramatic flair and a penchant for theatrics will love this grand full back design. Everyone wears a mask sometime or the other and there's nothing like a masquerade mask tattoo to get this point across.
#33: BACK TO NATURE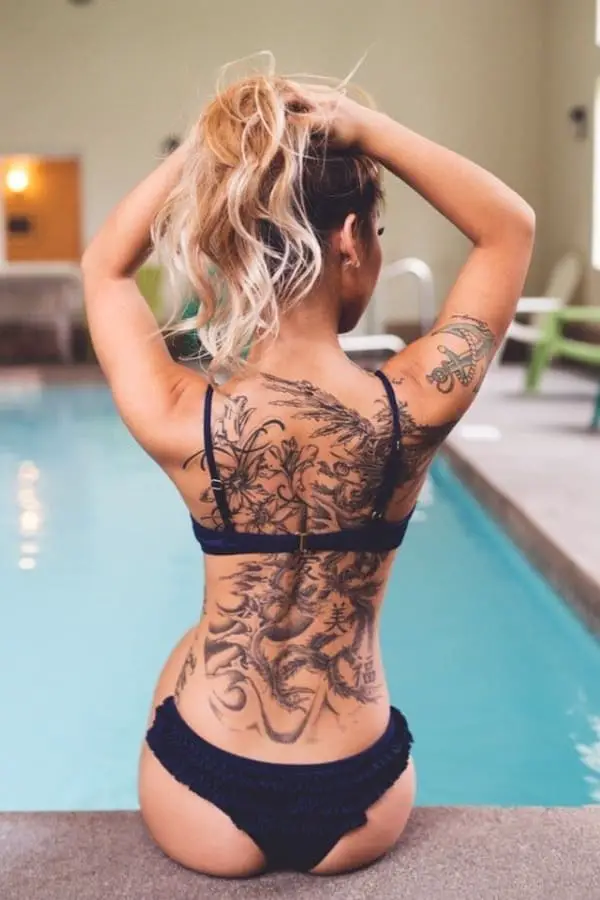 Calligraphic accents interspersed within a Chinese landscape of a flower filled valley give an air of mystery to this enigmatic design. That it is done only in black makes it more special.
#34: IN REVERENCE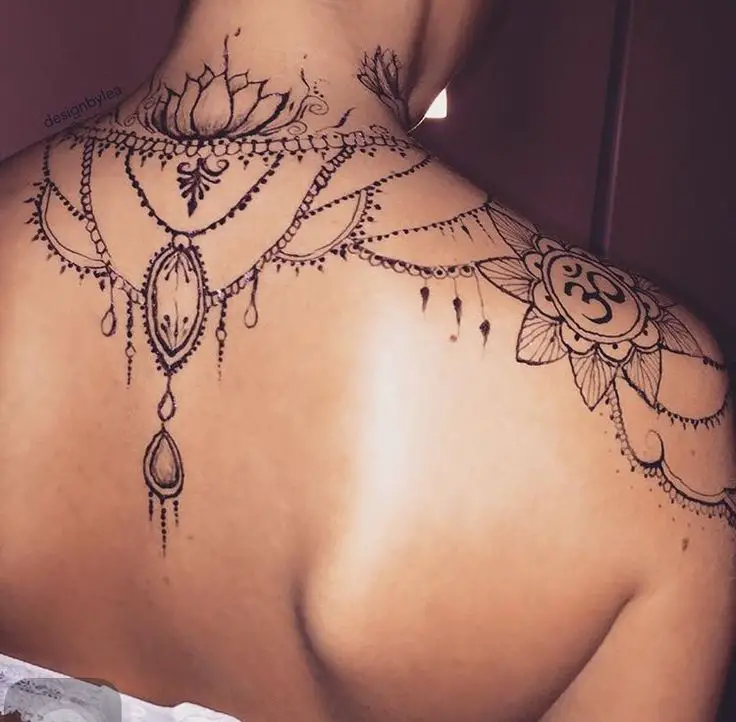 An ornamental 'Om' tattoo can be a simple yet beautiful way to express your deep admiration for life. This particular tattoo design is a stylistic representation of that very thought. Though it is not done with precision, it is a nice idea for your back tattoo.
#35: DECEPTIVE KITTY
#36: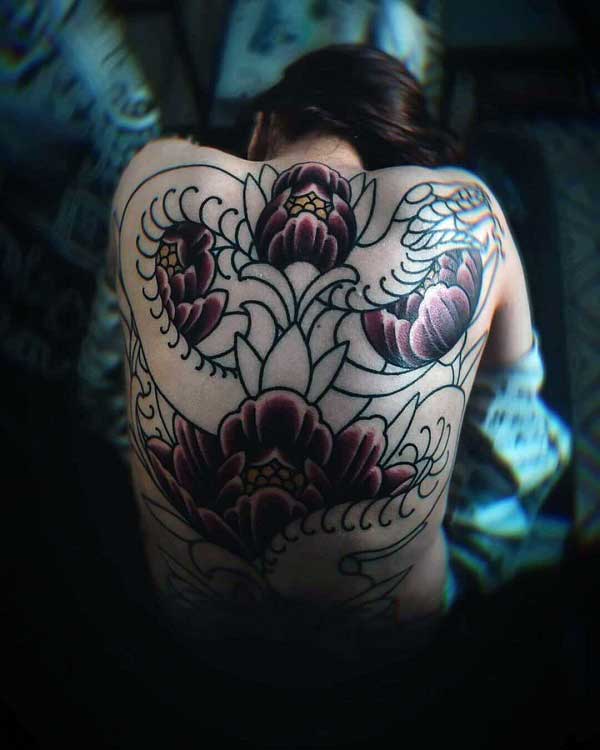 #37: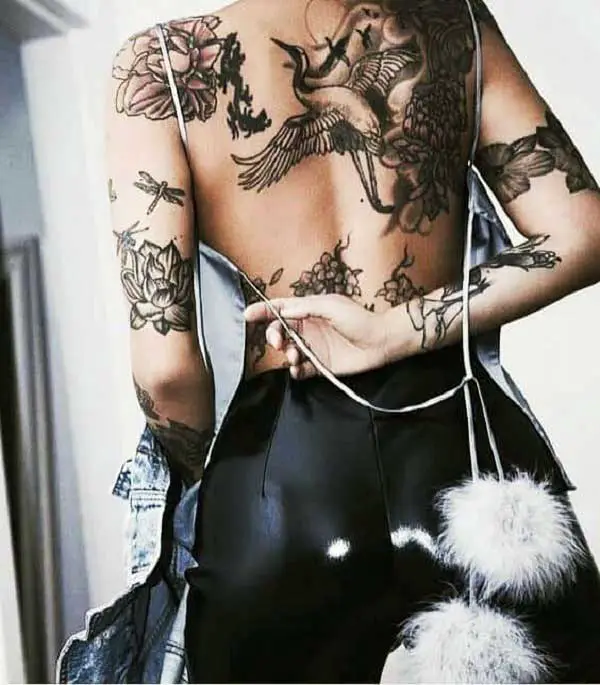 #38: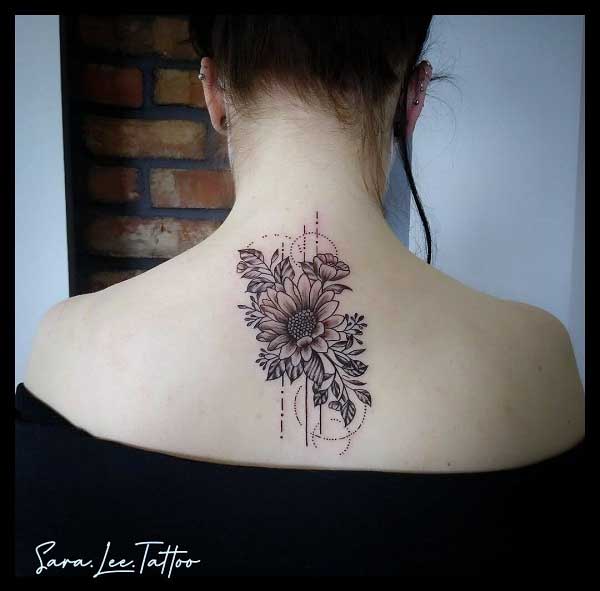 #39: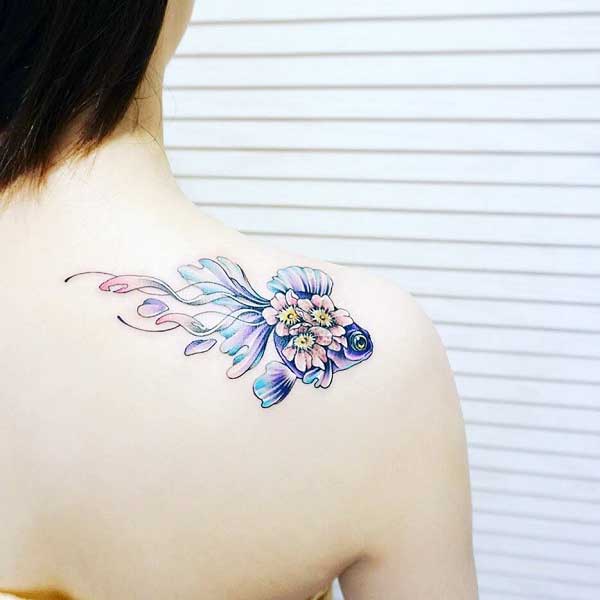 #40: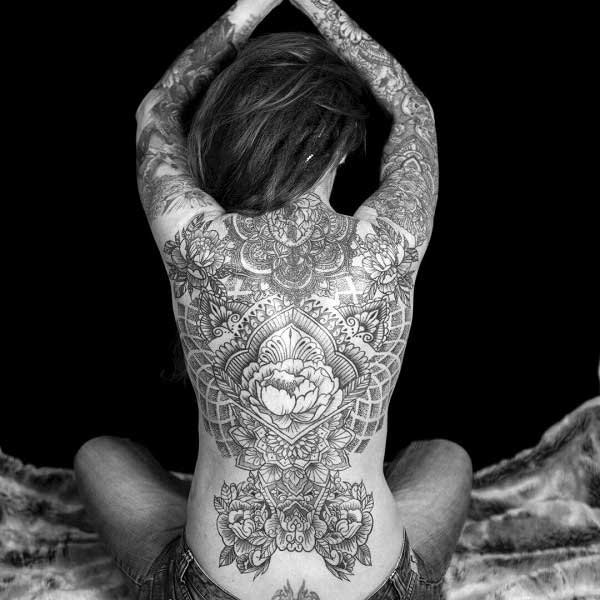 #41: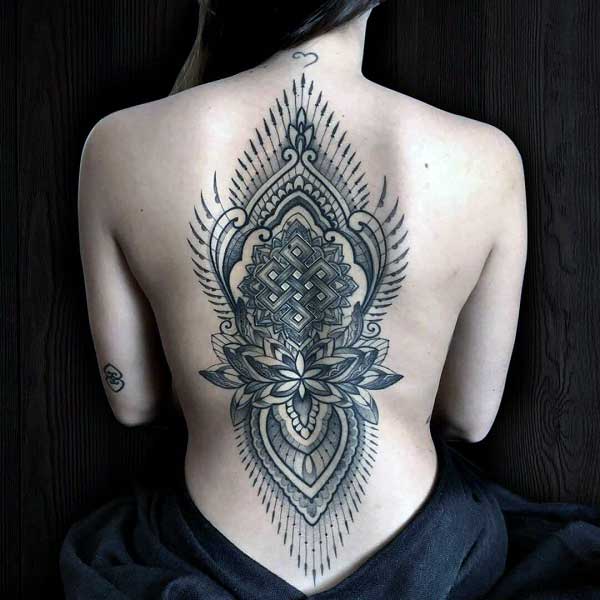 #42: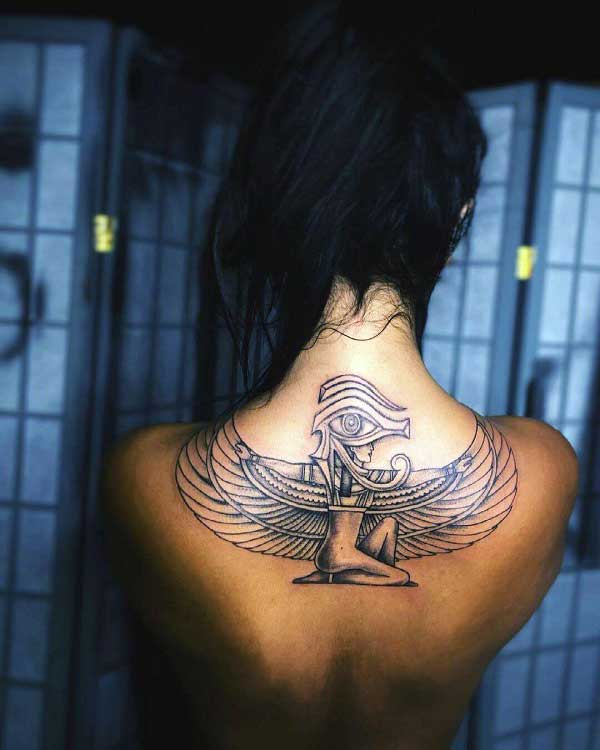 #43: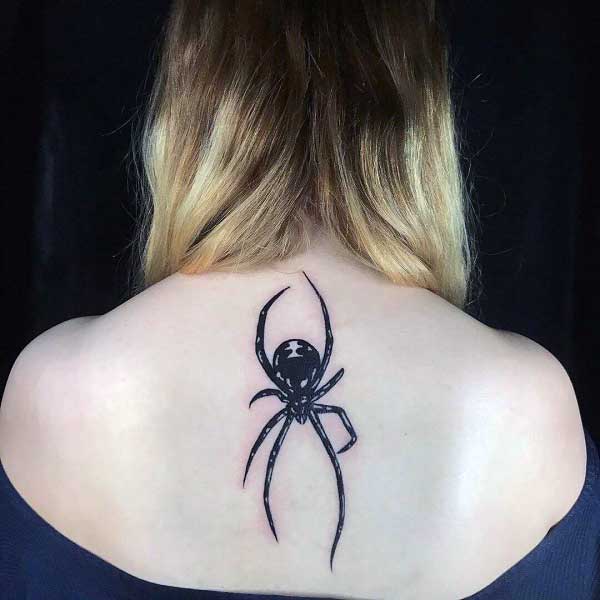 #44: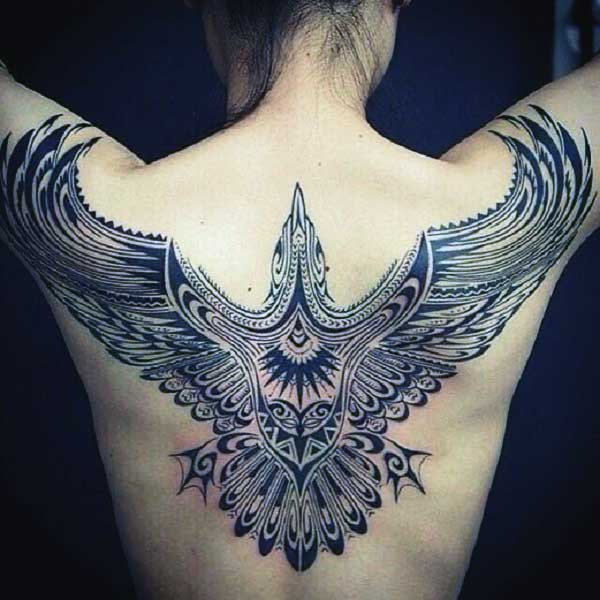 #45: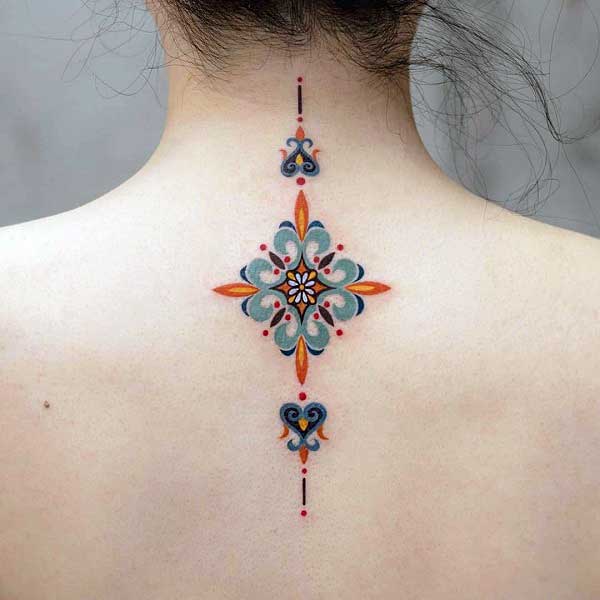 #46: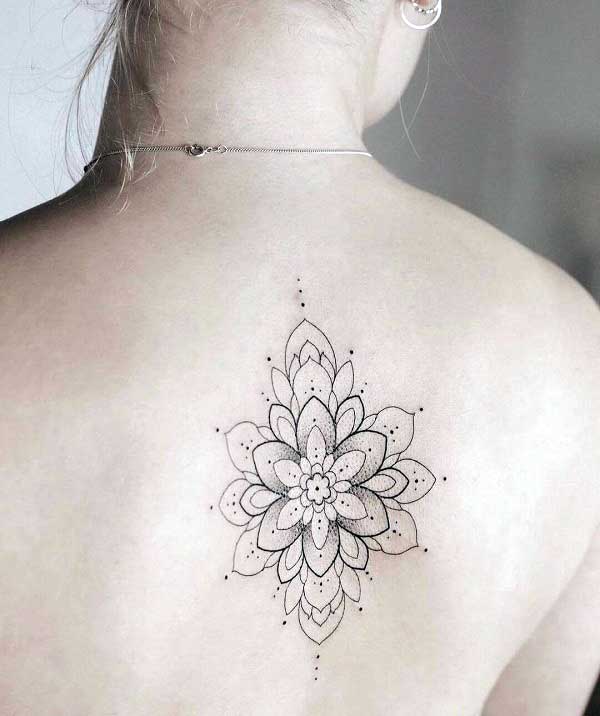 #47: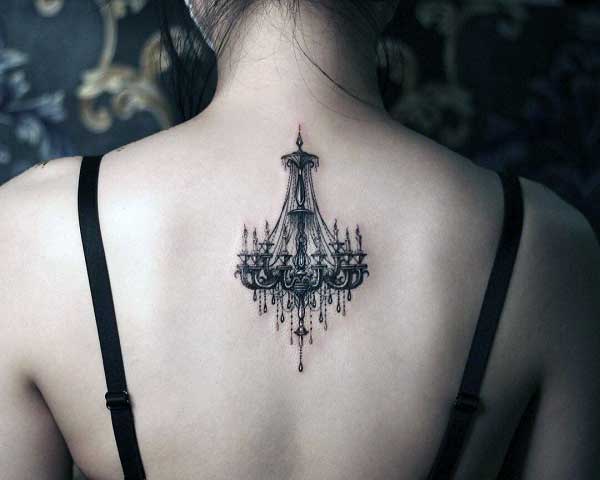 #48: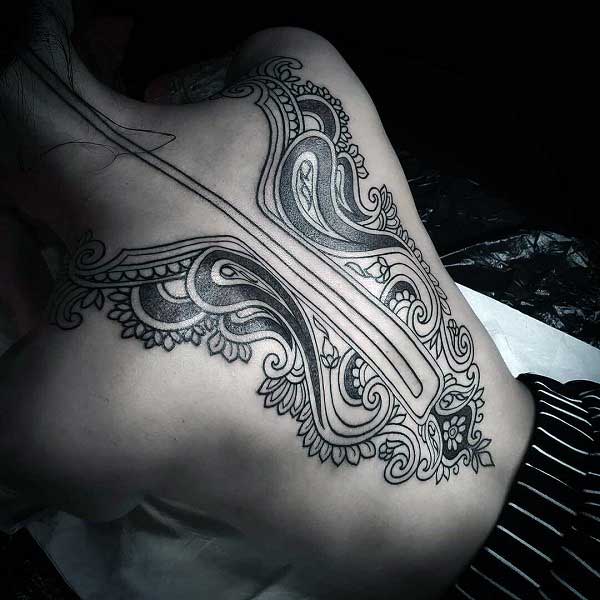 #49: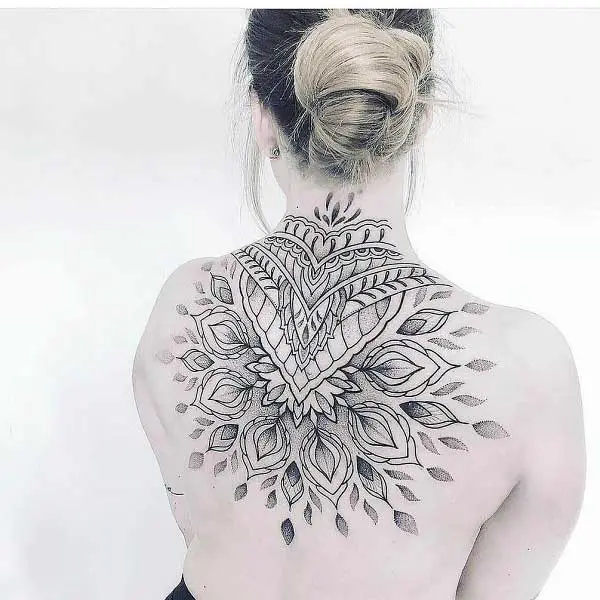 #50: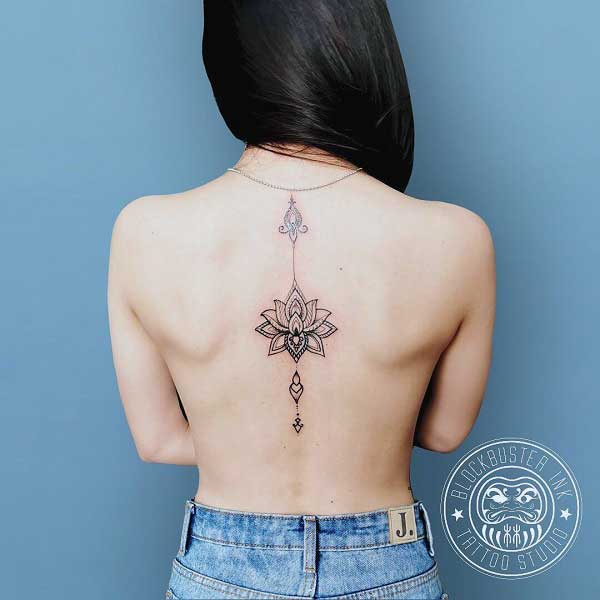 This lion may look tame but don't be deceived. Its power and ferociousness are ready to be unleashed at any time if someone is foolish enough to antagonize it. This simple tattoo says a lot about the woman possessing it.
There you have it; that's quite a range of great back tattoos for women to pick from. Larger tattoos will involve more money, more patience, and more pain so keep that in mind. Choose something that matches your personality and body type. Be sure of the design and the tattoo artist you decide on.