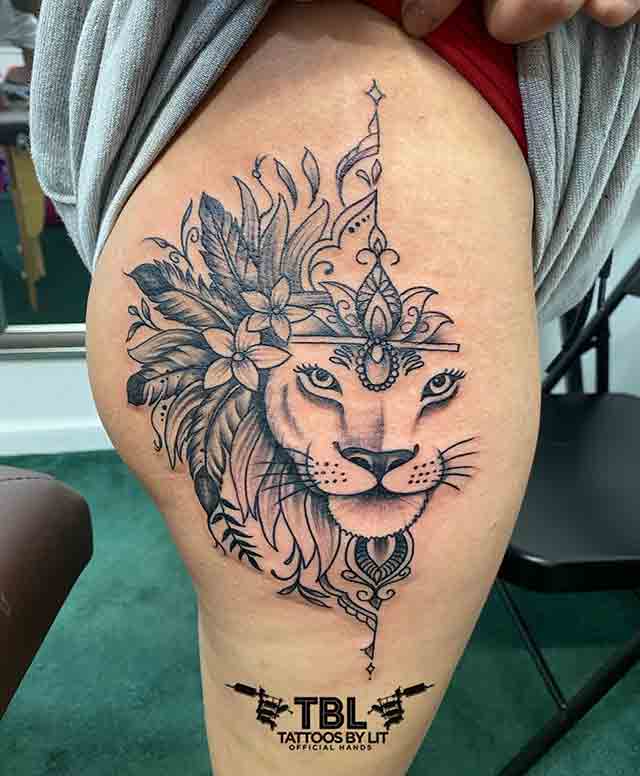 In recent years, one of the most preferred tattoo areas for men is their thighs. Why? Well, the thigh allows a larger space compared to arms, ankles, wrists, and so on, and you get the space to put your idea to life in detail.
Even though you will have to tolerate a moderate amount of pain on your thigh to get the tattoo done, you can easily show off or hide your thigh tattoos from the public eye. Tattoo artists all enjoy these thigh tattoos as it provides them with a chance to showcase their talent and creativity to their fullest capacity.
Let us go deep into the article and take a look at some of the top thigh tattoos for men, and maybe you will end up with the perfect tattoo idea for your next adventure.
80 Thigh Tattoos For Men
Now, in the world of tattoos, there is an endless number of designs available as it is widely dependent on creativity. Each tattoo tells its own story, whether it is something meaningful or just a silly, fun one. Here, we will take a look at 80 thigh tattoos for men and what they represent.
Small Thigh Tattoo for Men
We all know that the main advantage of thigh tattoos is that you get a wide space to work with. But that does not mean that you always have to end up with a big tattoo. Small thigh tattoos can be meaningful as well and look wonderful on your thigh.
1. Flower Arrow 
The Flower Arrow is a simple and sweet thigh tattoo suitable for men. The blue flower represents delicacy and beauty, whereas the arrow displays power and bravery.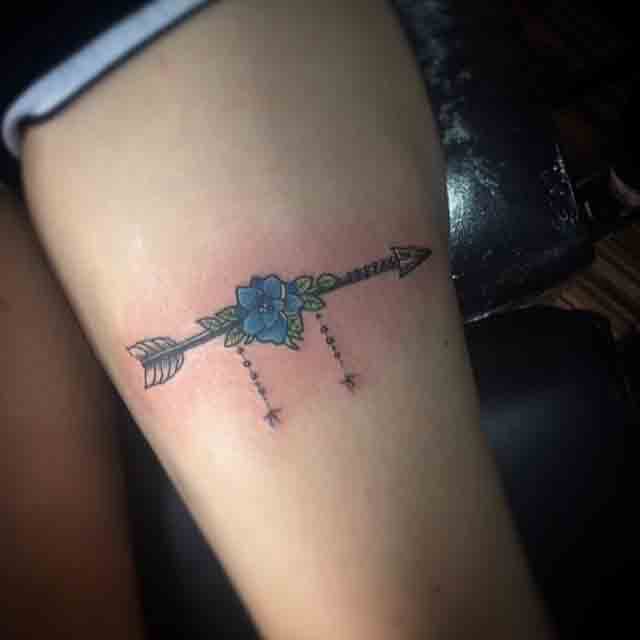 2. Flower Bundle
This Flower Bundle tattoo for men's thighs is a relatively common design. Not only on the thighs, but this gentle and neat floral design looks good on every part of the body.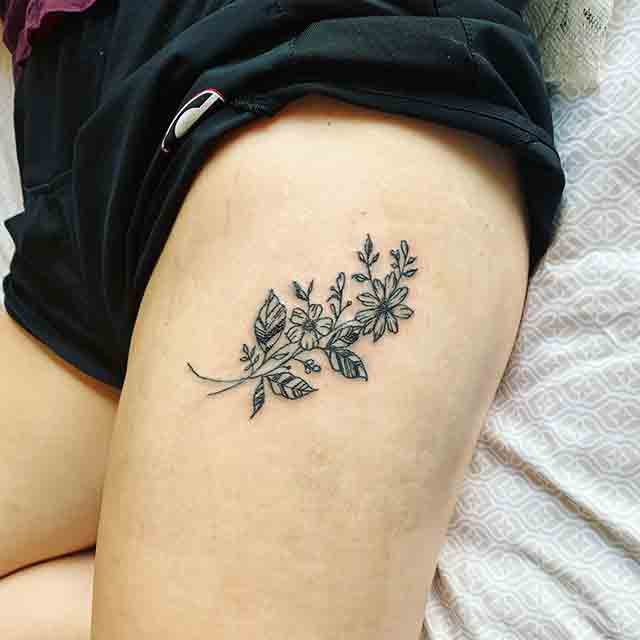 3. Floral Butterfly
The Floral Butterfly is a great tattoo for men's thighs with a creative and extraordinary look. The combination of flowers and the butterfly is a portrayal of beauty and nature.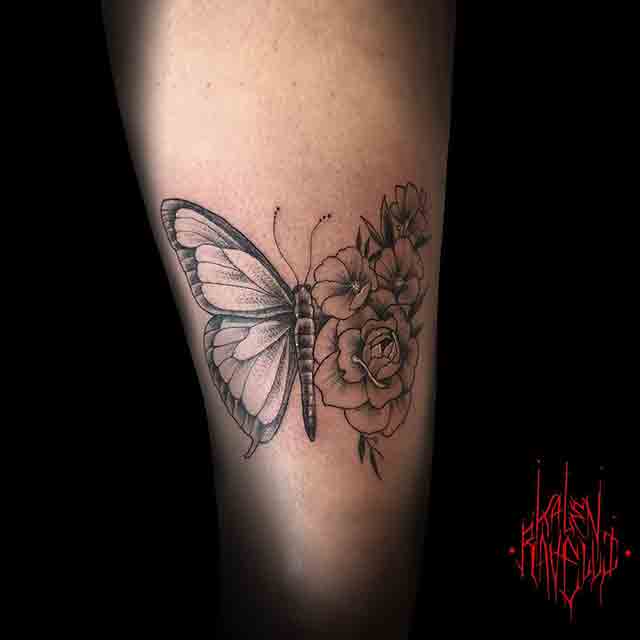 Snake Thigh Tattoos
While snake tattoos on the thighs are a unique and artistic choice, there are several interpretations and representations that go with it. Let us take a look at some of the best choices for snake thigh tattoos.
4. Black Mamba On Thigh
A black mamba tattoo on the thigh for men represents power, patience, rebirth, hell, and many more. It is also seen as a tribute to the late NBA Legend Kobe Bryant, who was nic.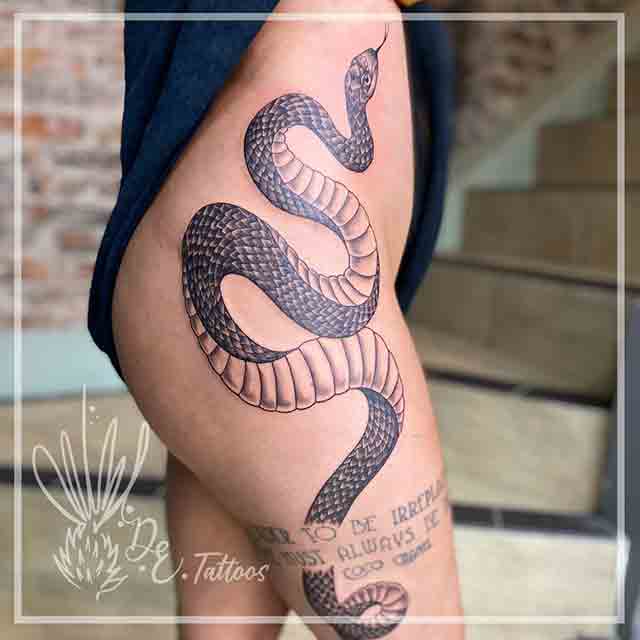 5. Roses And Snakes
The Roses And Snakes thigh tattoo for men is an amazing portrayal of love and power. While the beautiful roses bloom in their entire beauty, the poisonous snake provides protection against harm.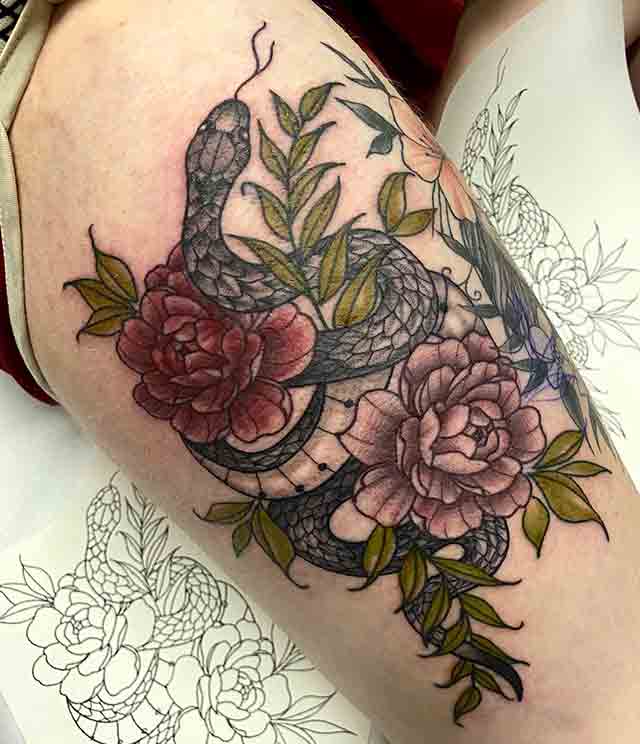 6. Floral Skin Snake
This snake with flowers on its skin is a highly eye-catching thigh tattoo design for men. It presents a pretty snake tattoo with a deep meaning of growth and elegance.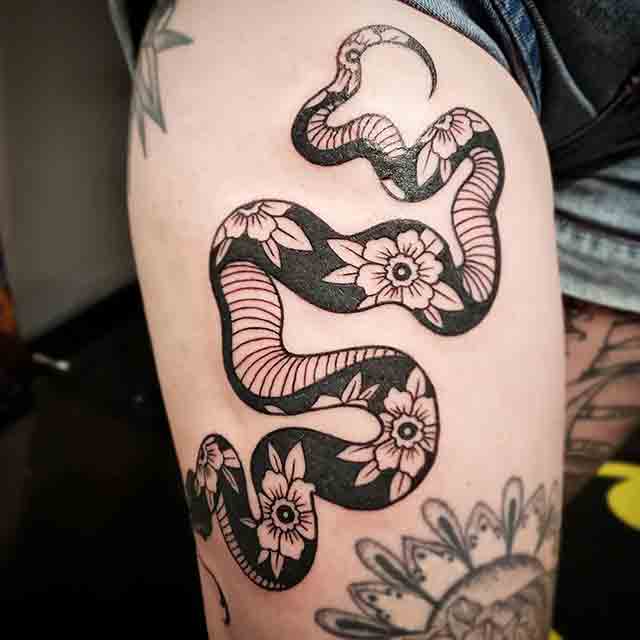 Tribal Thigh Tattoos for Men
Tribal thigh tattoos for men are considered a reference to culture, and the meaning behind the tattoos varies based on the culture or thought you are trying to portray. While many think that it is disrespectful to get a tribal tattoo, it really is not, as it shows that you respect both the art and the culture.
7. Tribal Art
This tribal art tattoo for men's thighs is a tribute and respect to their culture, design, and style. In addition to that, it also shows acknowledgment of their way of life and struggles.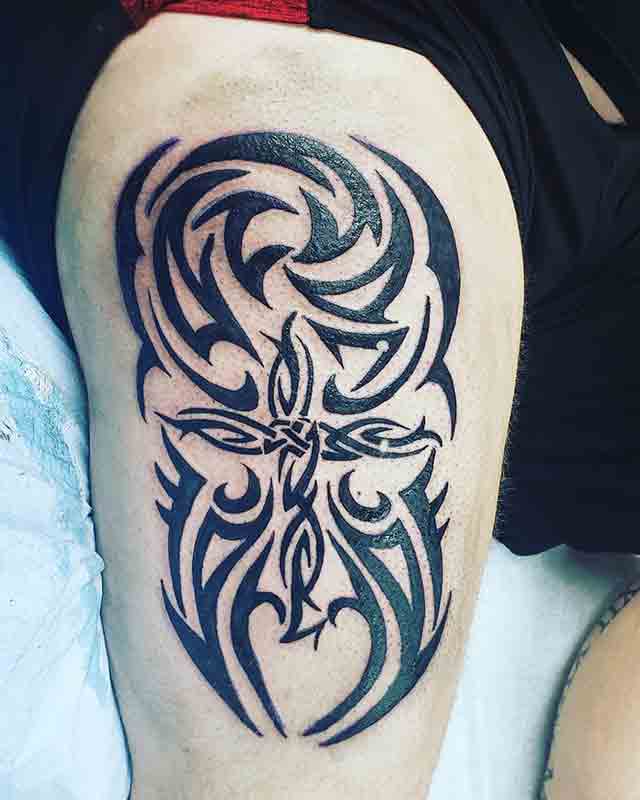 8. Tribal Cross
The tribal cross tattoo on the thigh for men is a combination of faith in Christianity and respect for tribal art. It symbolizes a beautiful mixture of belief and culture through art.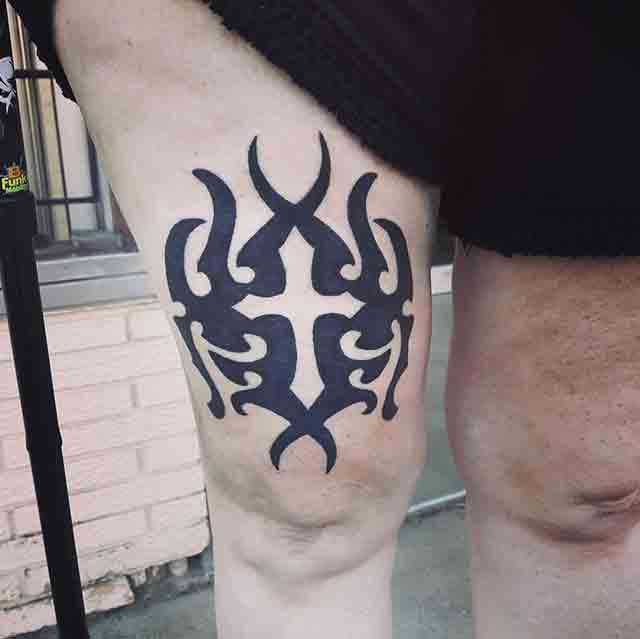 9. Tribal Face Tattoo
The Tribal Face Tattoo is an illustration of tribal culture. Not only is it a great tattoo for thighs on men, but it also offers a representation of acknowledgment and respect towards the art.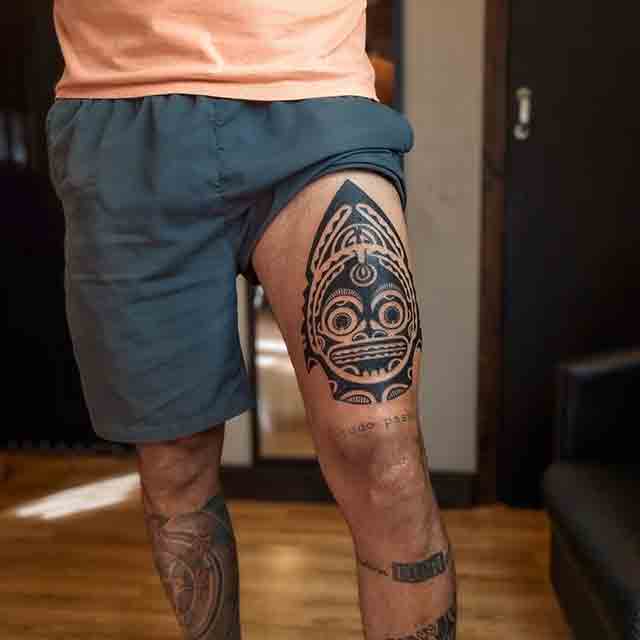 Upper Thigh Tattoos for Men
Tattoos on the upper thigh are an extraordinary placement for art, creativity, and style. Here, we will look at a few interesting and creative upper-thigh tattoos on men.
10. Nature Guardian
The Nature Guardian tattoo for men's thighs is believed to be a unique design. It ensures an impressive message to ourselves and the world to protect nature and its elements.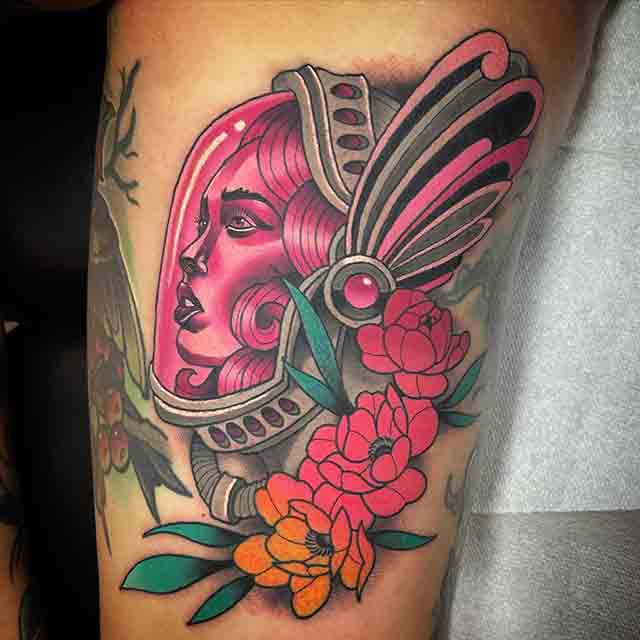 11. Fox Tattoo 
The Fox Tattoo is an incredible choice for a thigh tattoo for men and comes with deep meaning as well. This alluring tattoo symbolizes the intelligence, speed, and wiseness of the fox.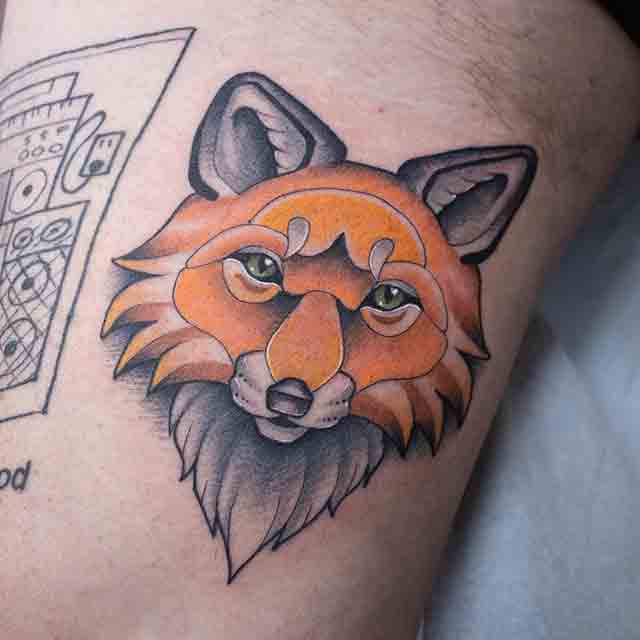 12. Eyes Up Guardian
The Eyes Up Guardian tattoo is a thoughtful reference to get up and go. It is a motivational phrase that loosely means that our destiny is in our own hands.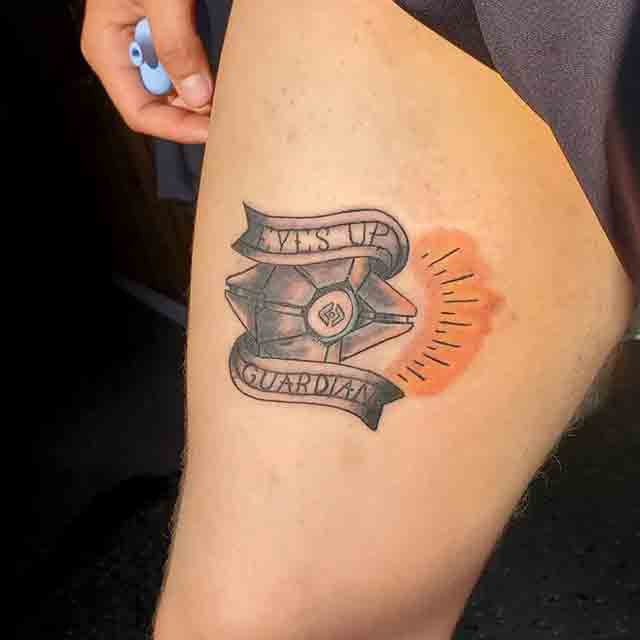 Front of the Thigh Tattoo
The front of the thigh is a great space for tattoos, even though the pain count is a bit high in this region. However, choosing a beautiful tattoo for the front of the thigh is essential. So let us take a look at a few attractive tattoo designs.
13. Big Duck Heart
Ducks are the cutest and there is no doubt about that. Now, this duck in a heart tattoo is a beautiful representation of the animal with an attractive design and a great thigh tattoo for men.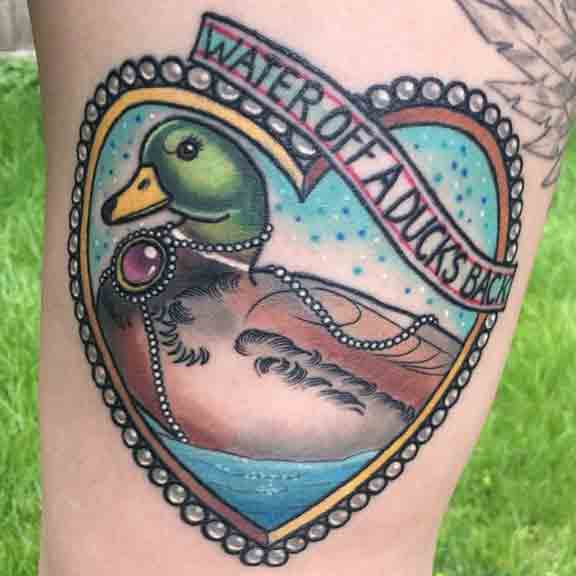 14. Tiger's Head On A Lamp
This men's thigh tattoo shows a roaring tiger's head on a lamp with a deep meaning behind this style. The meaning behind this eye-catching tattoo displays strength and bravery.
15. Big Roses Tattoo
You can never go wrong with floral tattoos on a guy's thigh, especially when there are roses on them. It is a pretty and clear depiction of delicacy, sensitivity, and beauty.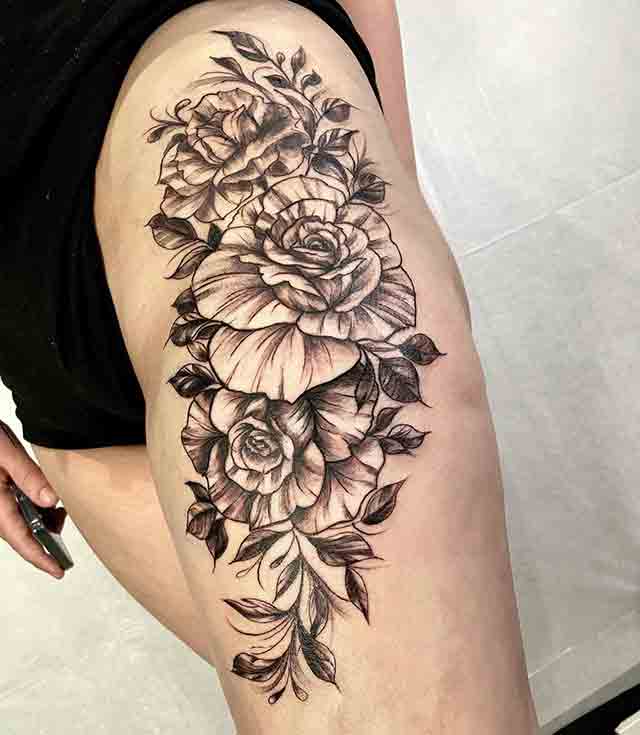 Tattoos on the back of your thighs are equally beautiful and enticing as the tattoos on the front. There is a decent amount of space to have an intricate tattoo and portray a beautiful scenario to turn heads.
16. Aesthetic Beach Vibes
This Aesthetic Beach Vibes tattoo is a quirky and fun representation of the summer and the beach. It is a perfect tattoo for men on the thigh for our summer lovers.
17. Girl With The Dragon
This colorful and elaborate tattoo for men's thigh has a very beautiful and deep thought behind it. The meaning is that it displays calmness, bravery, and patience.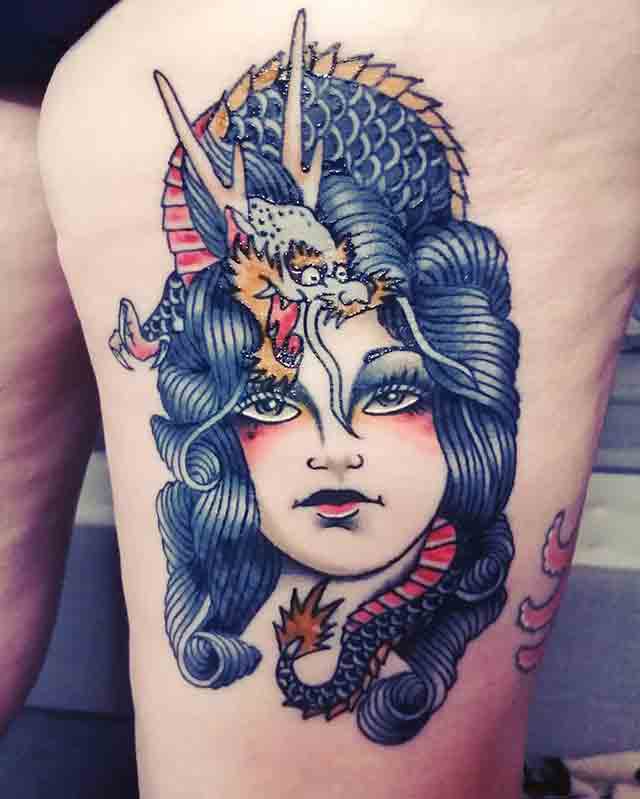 18. Double Flowers
In these tattoos for men on thighs, identical designs are done on the back of both thighs. While this may seem like a regular style, it depicts balance and stability.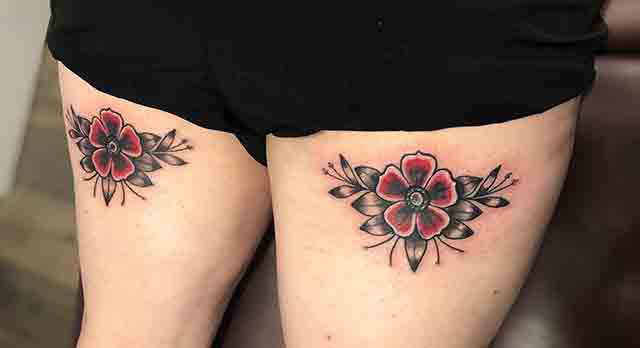 Owl Thigh Tattoos for Men
Owl thigh tattoos for men are a popular style with a great underlying understanding of life. One of the most interesting facts about owl tattoos is that they typically symbolize mystery and magic.
19. Blue Eyed Owl Skull
The Blue Eyed Owl Skull is a beautiful work of art, and the unique coloring of the eyes helps the details of the men's thigh tattoo to pop up perfectly.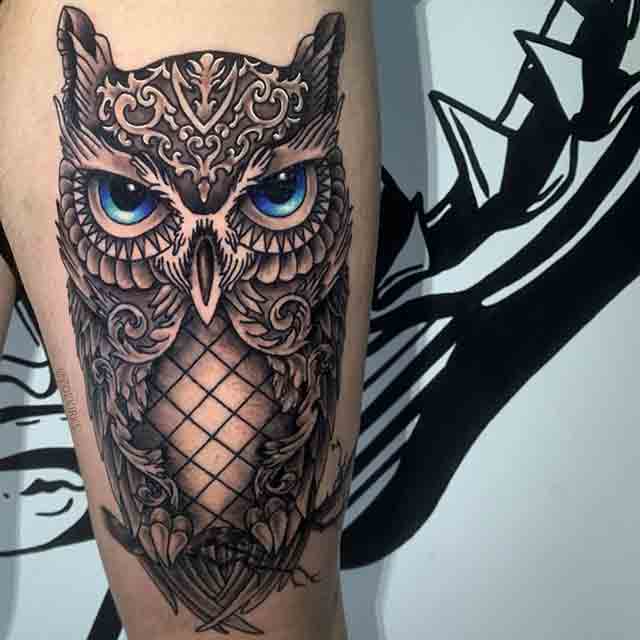 20. Owl And Roses 
Flowers and animals are all part of nature and this thigh tattoo for men presents that beautifully. The color combination of the -owl and the roses end up in an eye-catching artwork on the body.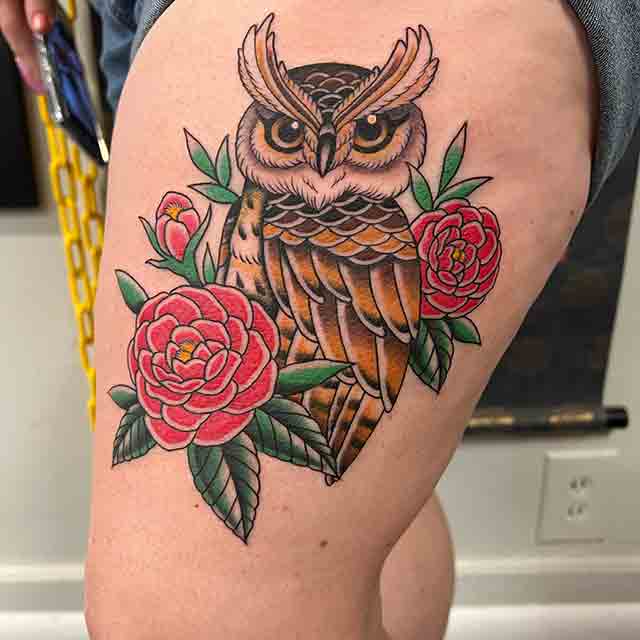 21. Messy Owl Head
The Messy Owl Head tattoo on a guy's thigh may seem like an incomplete art piece to many, but art lovers understand the sentiment behind it perfectly. It is a beautiful take on the ideology that beauty lies in the eye of the beholder.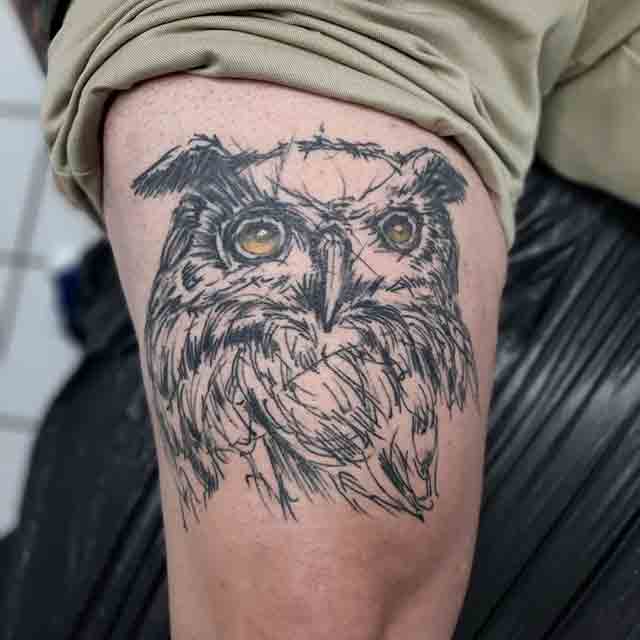 Bible Verse Thigh Tattoos
Many people prefer getting a tattoo of their favorite verse from the Bible as they believe that it strengthens their belief. Here are some of the top choices for Bible Verse Tattoo.
22. Isaiah 40:31 Verse
This popular verse from the Bible as men's thigh tattoo teaches patience, and strength, and improves faith in the Lord.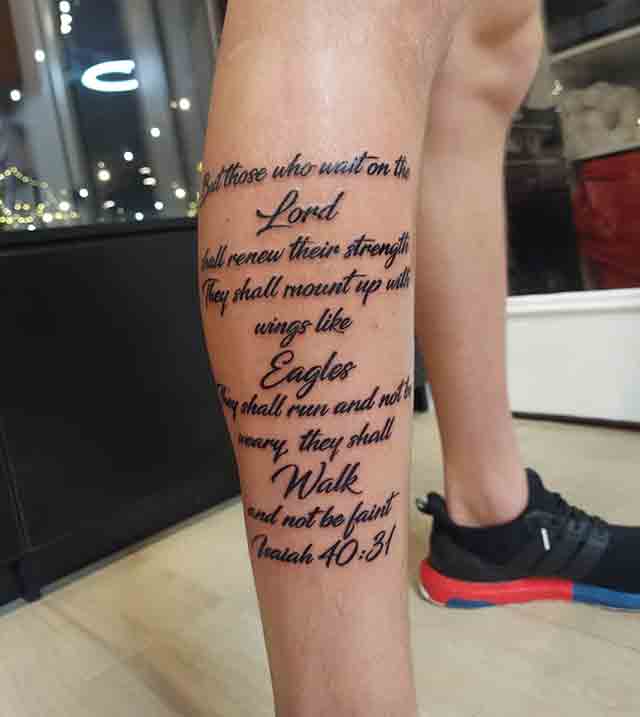 23. Philippians 4:13 Verse
This Philippians 4:13 verse showcases people's belief in Christ. This thigh tattoo for men also encourages them to have strength and patience to go through the struggles of life.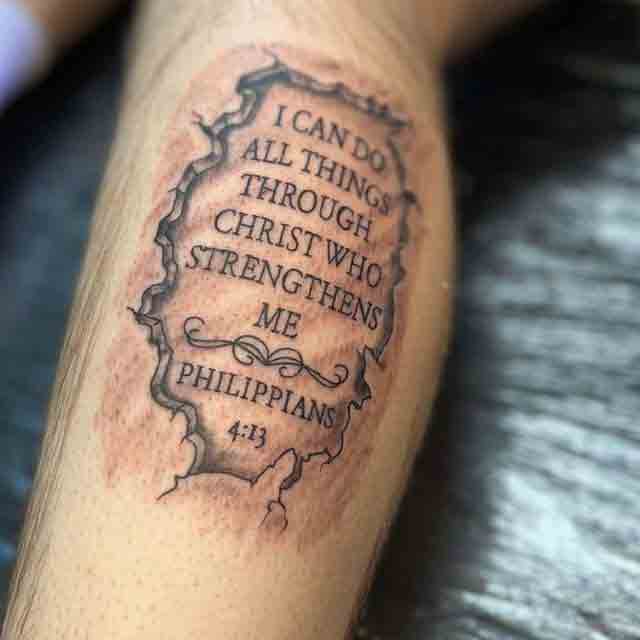 24. Leviticus 19:28
The Leviticus 19:28 tattoo for men on the thigh contradicts the saying of the Bible that warns people against tattoos.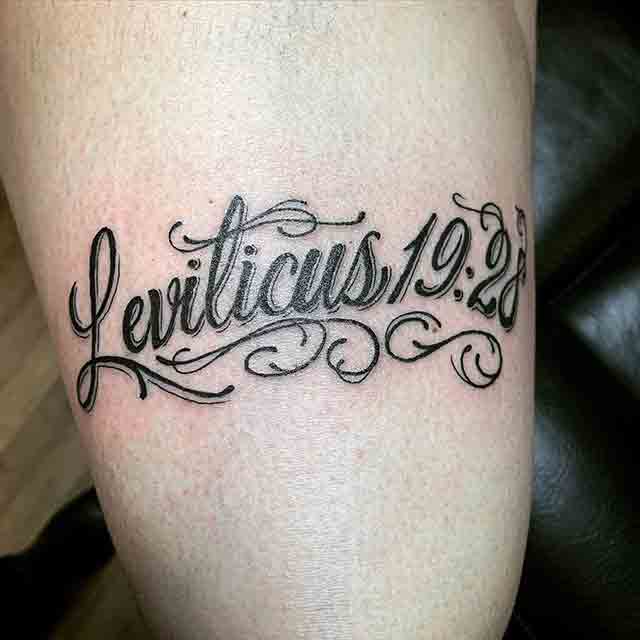 Cross Thigh Tattoos for Men
Cross tattoos are quite popular among Christians as it is considered a portrayal of their belief, faith, and trust on their religion and way of life. Here are some of the most elegant yet simple cross tattoos.
25. Three Crosses 
The Three Crosses Tattoo on the thigh for men is an impressive take on the Christian cross. It symbolizes belief, power, and hope.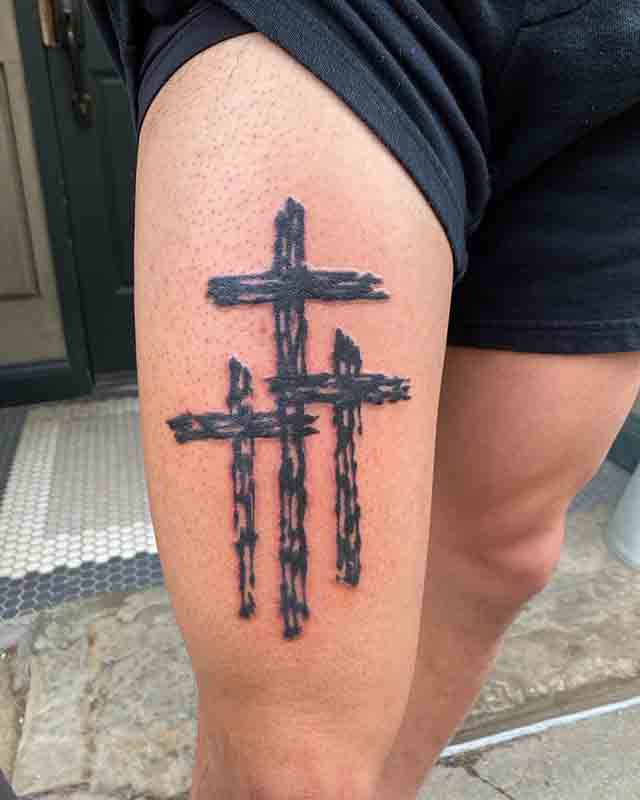 26. Golden Border Cross
This unique-looking tattoo for men on thighs has an attractive golden border that pops up the details of the cross while giving it an elegant style at the same time.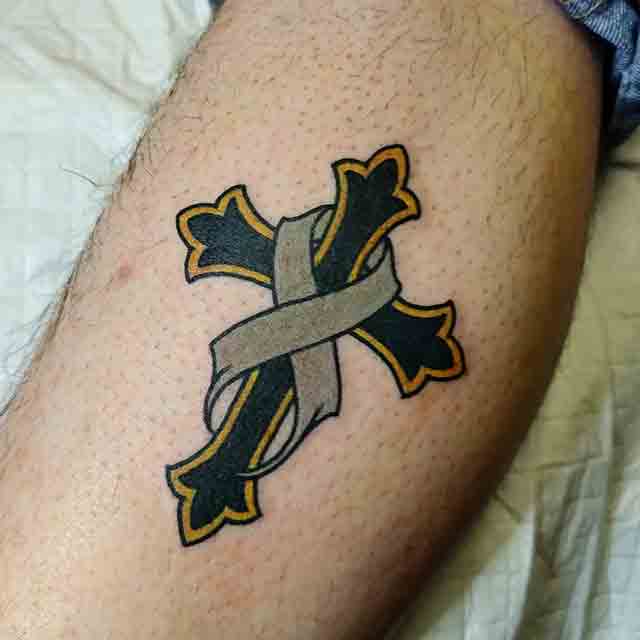 27. Cross and Flower
Blessings from the Lord are beautiful, and nature is undoubtedly a blessing to mankind. This cross and flower tattoo on a guy's thigh is a unique combination that represents the blessings from Christ.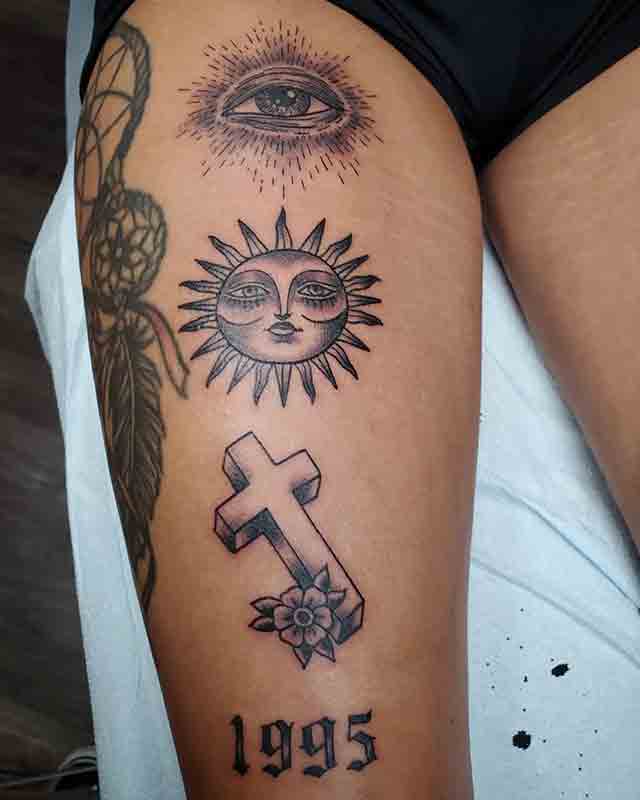 Hip and Thigh Tattoo
Big tattoos that start from the hip and end on the thighs are extremely eye-catching and beautiful. Not only that, but these tattoos usually represent a meaningful idea as well as display commitment toward art. Let us see a few designs of hip and thigh tattoos.
28. Roses and Names
There is no doubt that roses are a great choice for tattoos on men's thighs, especially when you are opting for big designs. The names you put on the tattoo is a token of love towards the people who mean the most to you.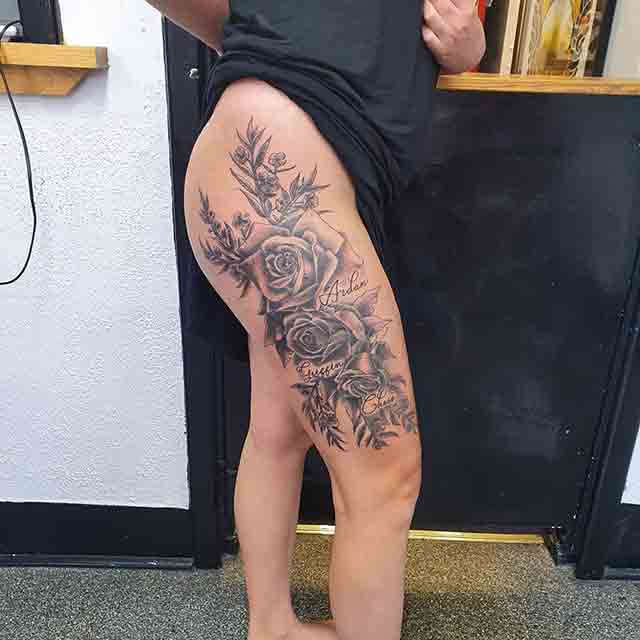 29. Unicorn and Mandala
The Unicorn and Mandala thigh tattoo for men is an extraordinary portrayal of art. This colorful and unique style will surely catch the eyes of many people.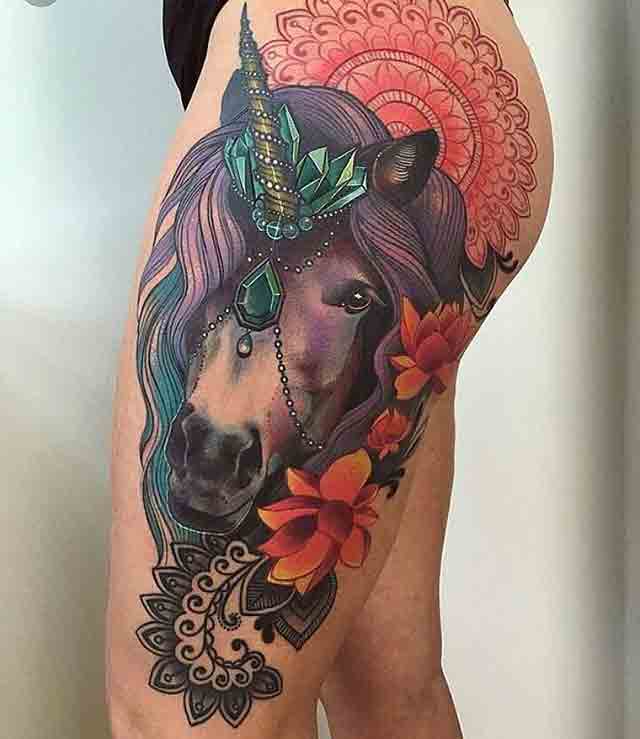 30. Elegant Flowers
You can never go wrong with flowers, and they look exceptionally pretty when they start from the hip and extend to the thighs. This is an alluring piece of art and breaks the stereotype against flowers on men.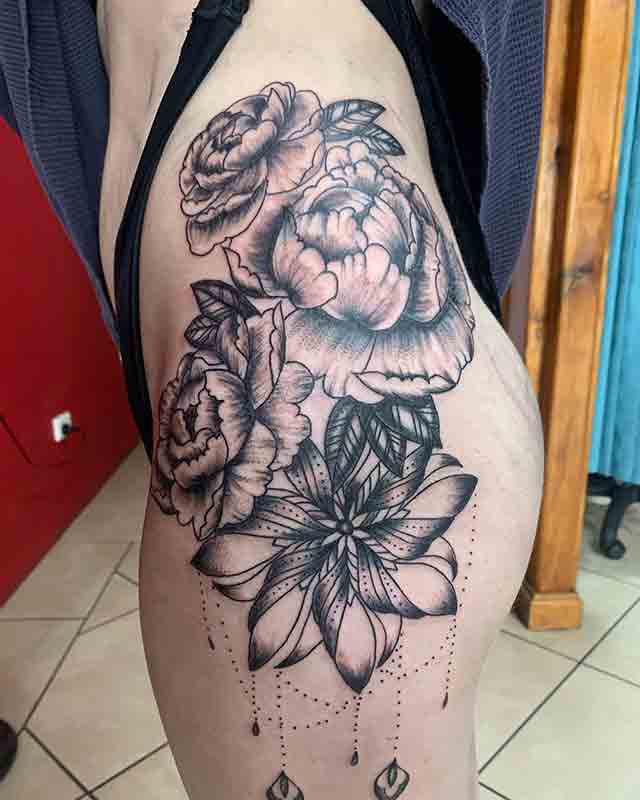 Minimal Thigh Tattoos
Minimal tattoos on the thighs come with proper detailing and usually portray a beautiful art piece. These intricate designs are outstanding tattoos for men on the thigh and compliments the other tattoos on the leg if there are any.
31. Eagle
Eagle is a mighty creature and undoubtedly, one of the most elegant tattoos for men's thighs. It symbolizes a lot of features, including dominance, wisdom, freedom, and many more.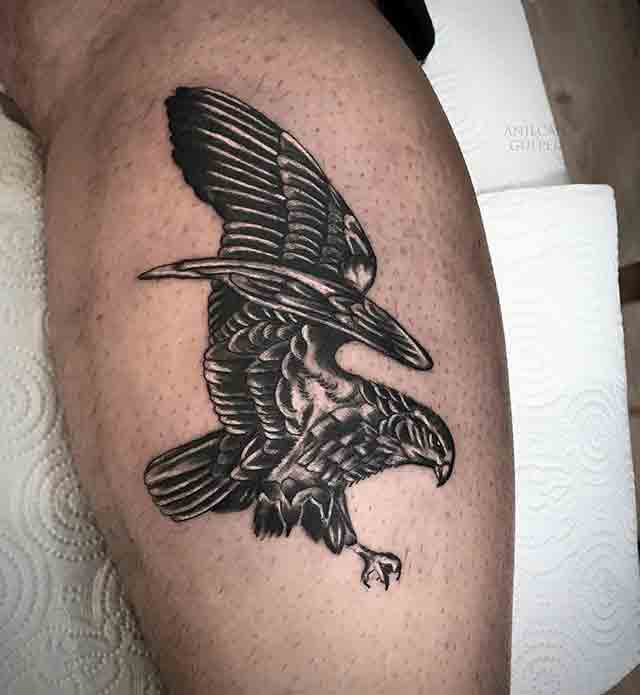 32. Red Love Scorpion
The Red Love Scorpion is a cute and colored tattoo for men on the thigh. Not only that, but the tiny detailing surrounding the scorpion makes the tattoo on the guy's thigh prettier.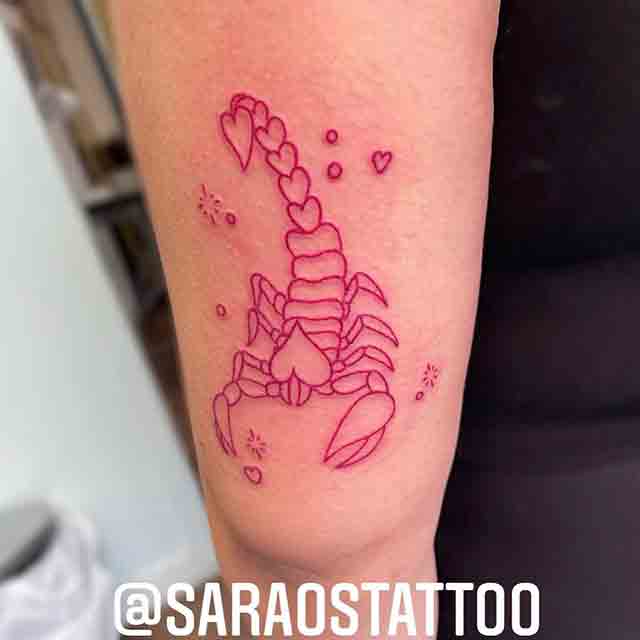 33. The Butterfly Spearer
The butterfly spearer symbolizes that both beauty and danger go side by side.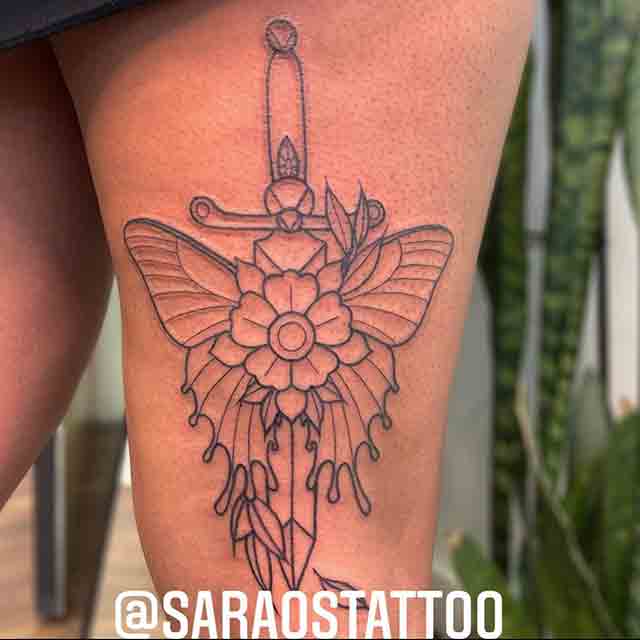 Quote Thigh Tattoos
There is nothing wrong with putting a motivational quote or your favorite word as a tattoo on your thigh. It is a thoughtful reminder to self, so, let us take a look at some quote thigh tattoos.
34. Cool Quote
Even though this tattoo on the thigh for men might be offensive to a few people, it represents a hearty connection between two people or lovers.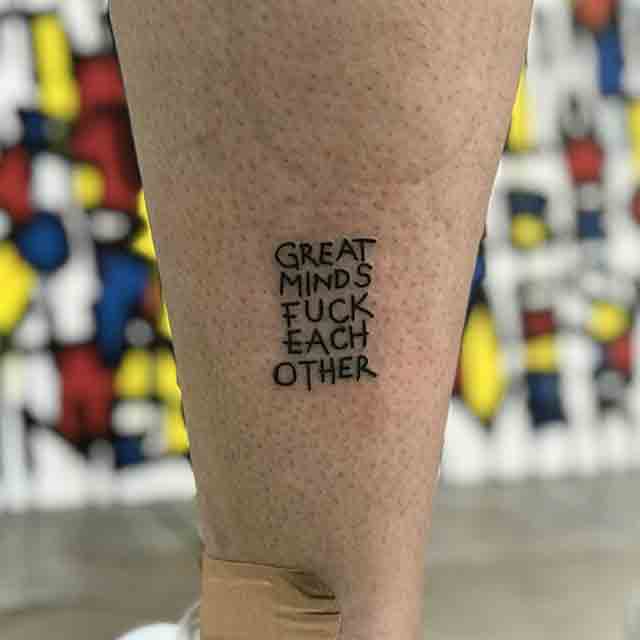 35. Hope Quote
The Hope Quote thigh tattoo for men portrays a thoughtful motivational quote that hope can help you win all the battles in life, no matter what you face.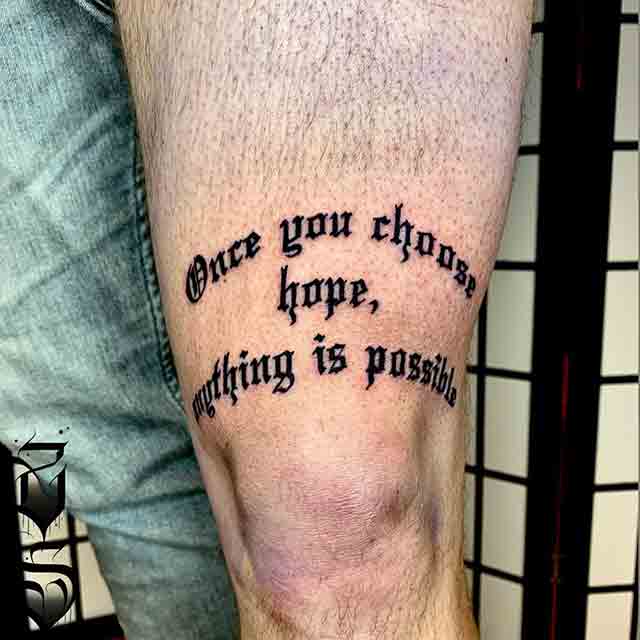 36. One Word: Hustle
This one-word tattoo on the thigh is a reminder that tough times in life are not permanent, and that hard work and hustle can bring a beautiful change in life.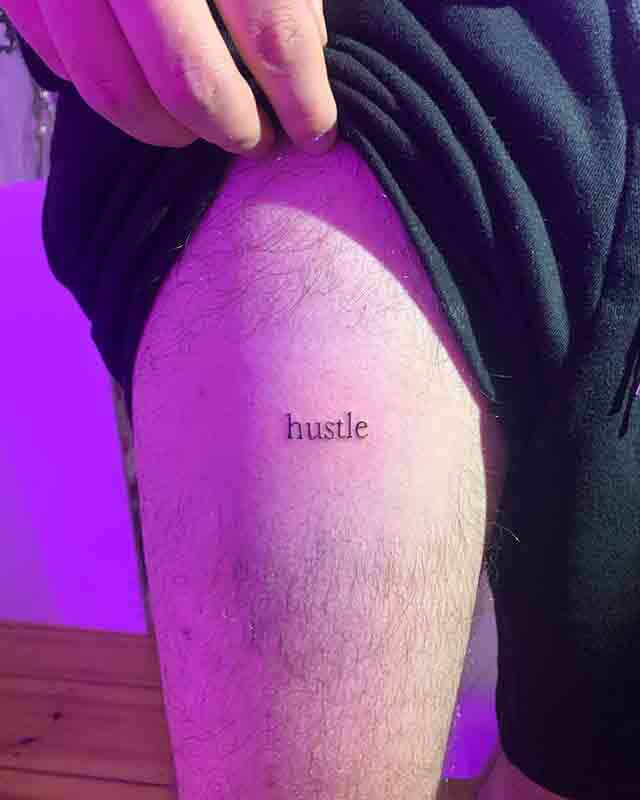 Rose Thigh Tattoos for Men
37. Roses And Zentangle
Flowers and artworks always go side and side to create something mind blowing and pretty. The Roses and Zentagle thigh tattoos on men represent art, creativity, and the beauty of nature.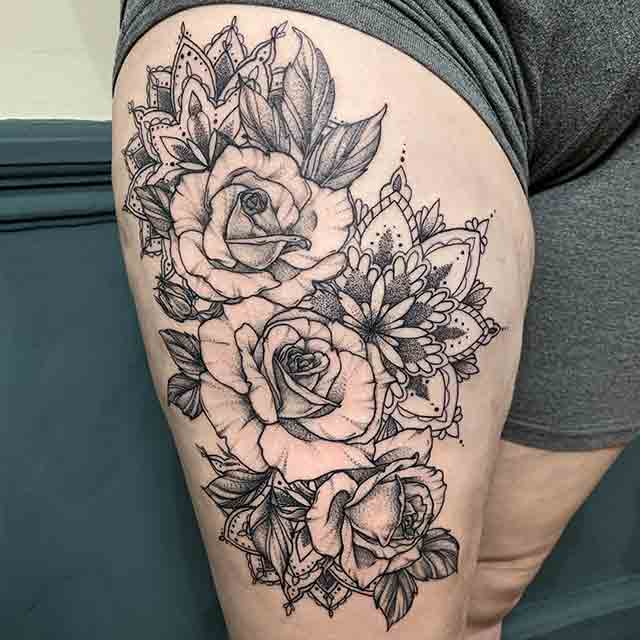 38. Colorful Roses
Flowers are pretty and a constant reminder of love, feelings, and all pretty things. This amazing tattoo on a guy's thigh of colorful roses symbolizes all the positive and nice things in life.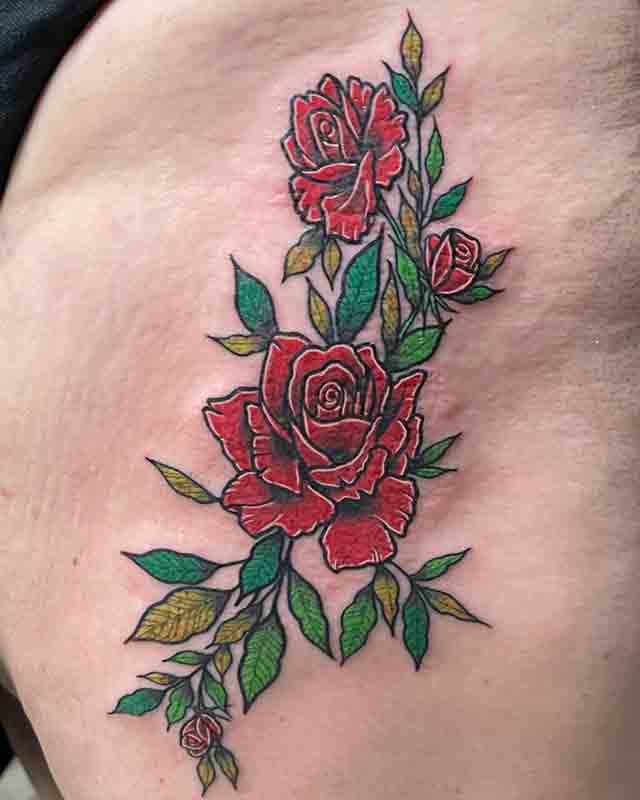 39. Big Red Roses
Roses are an expression of love and admiration since the beginning of time. This outstanding men's thigh tattoo of big red roses symbolizes love, nature, and beauty.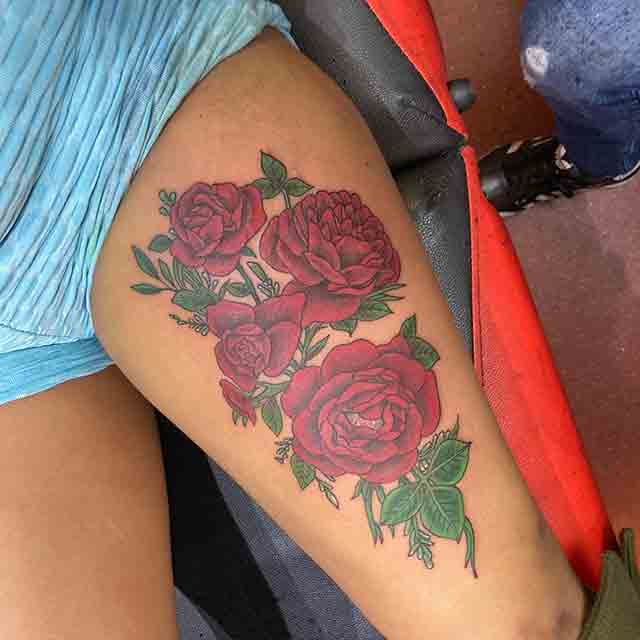 Side Thigh Tattoos For Men
40. The Crocodile Head Spearer
The Crocodile Head Spearer is quite an uncommon tattoo for men's thighs with a deep meaning behind it. It portrays an image of danger, life, nature, and time all in one piece.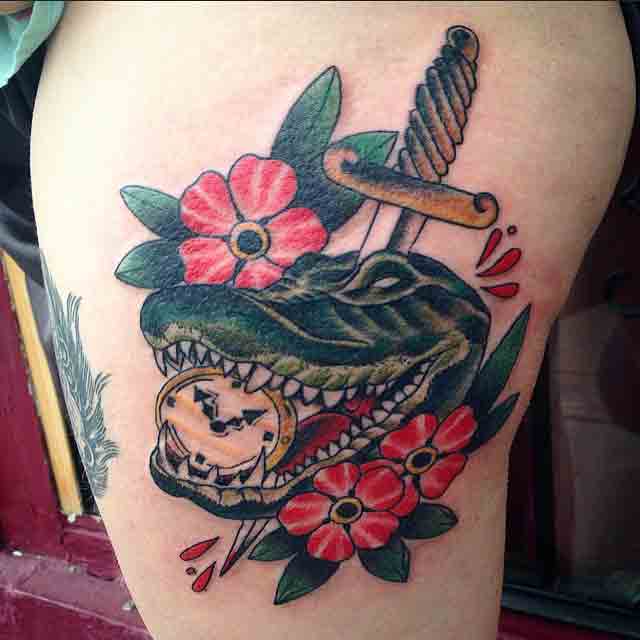 41. Detailed Blue Rose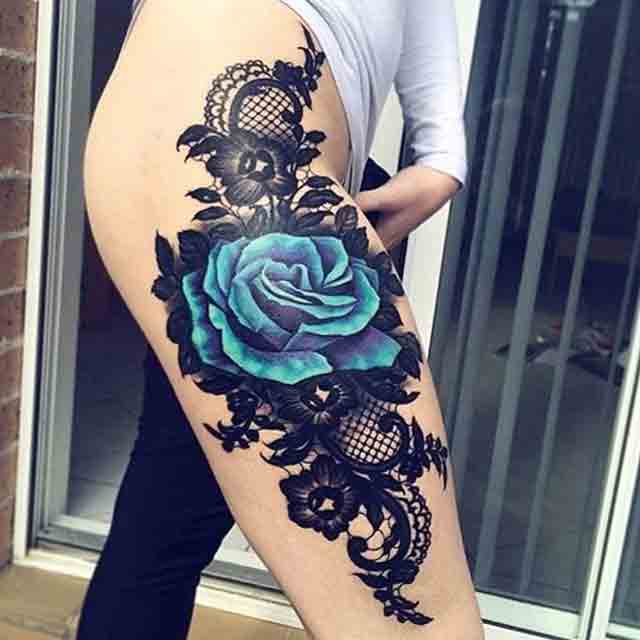 42. Tribute Rose Tattoo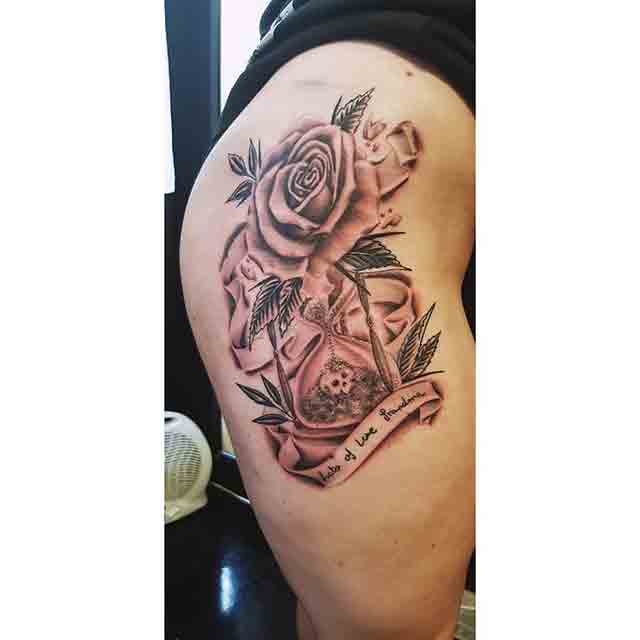 Word Thigh Tattoos
43. Motivational Tattoo: Woosah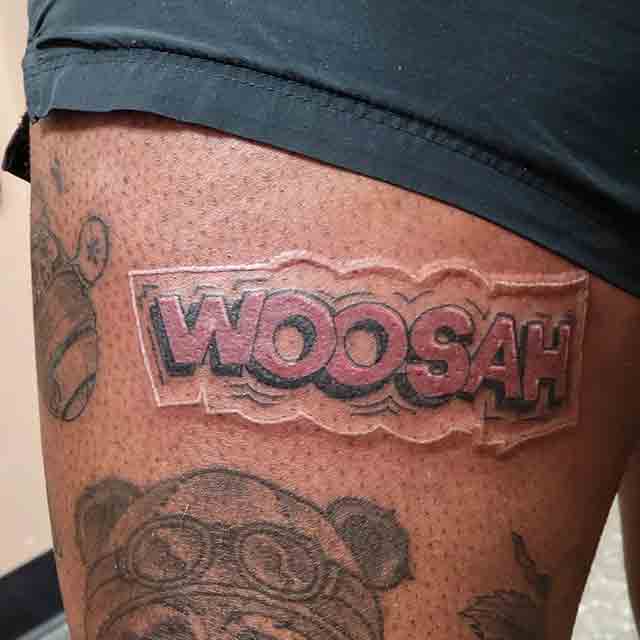 44. Big Mercy Tattoo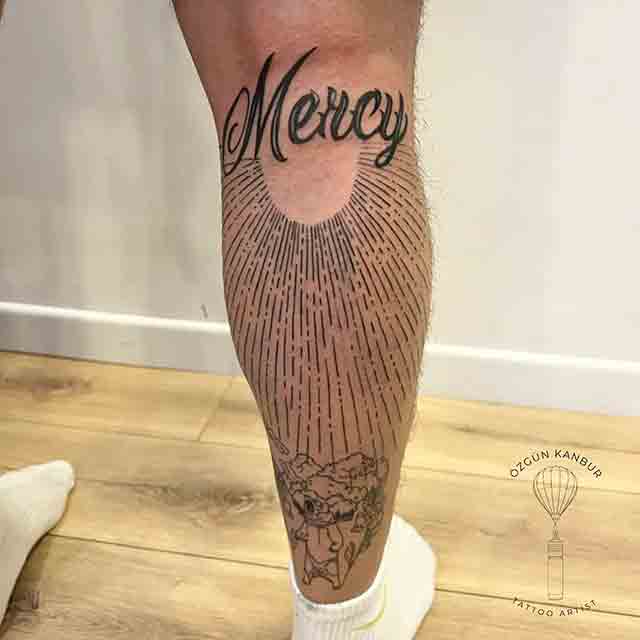 45. Simple "Why Not?" Tattoo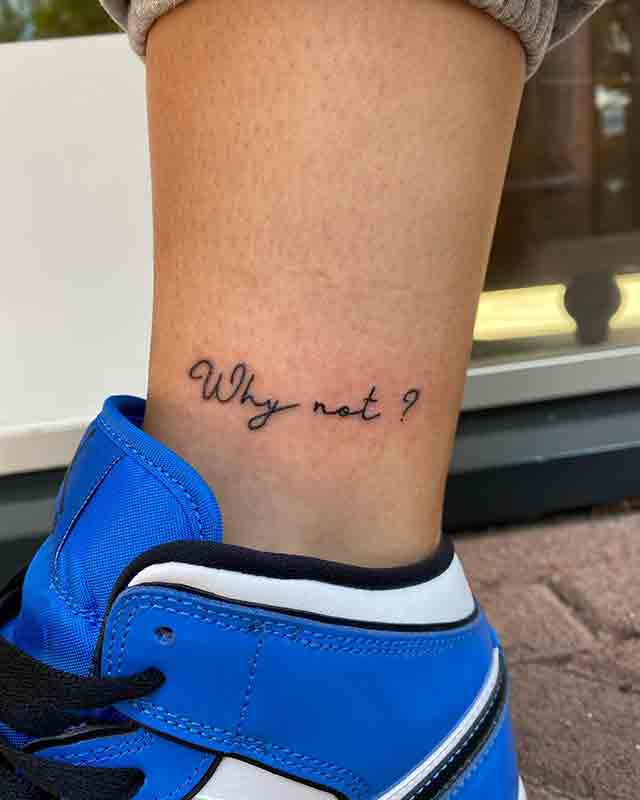 Christian Thigh Tattoos
46. Wounded Jesus Tattoo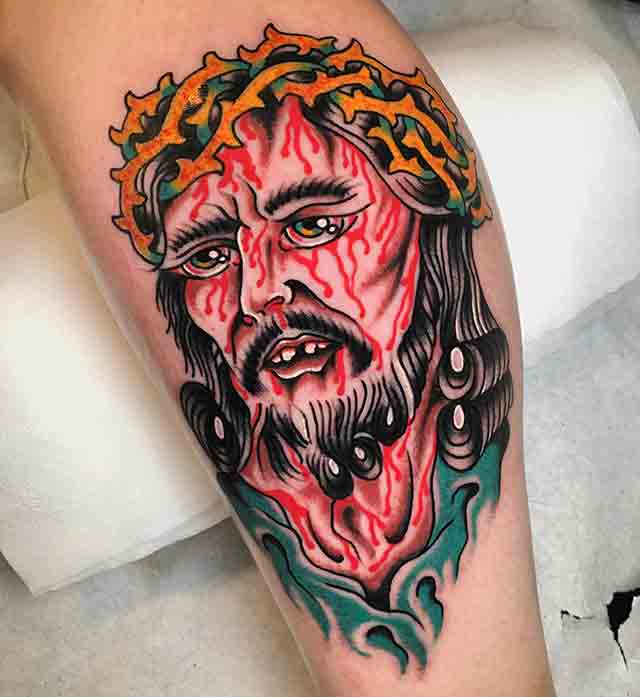 47. Comprehensive Jesus Tattoo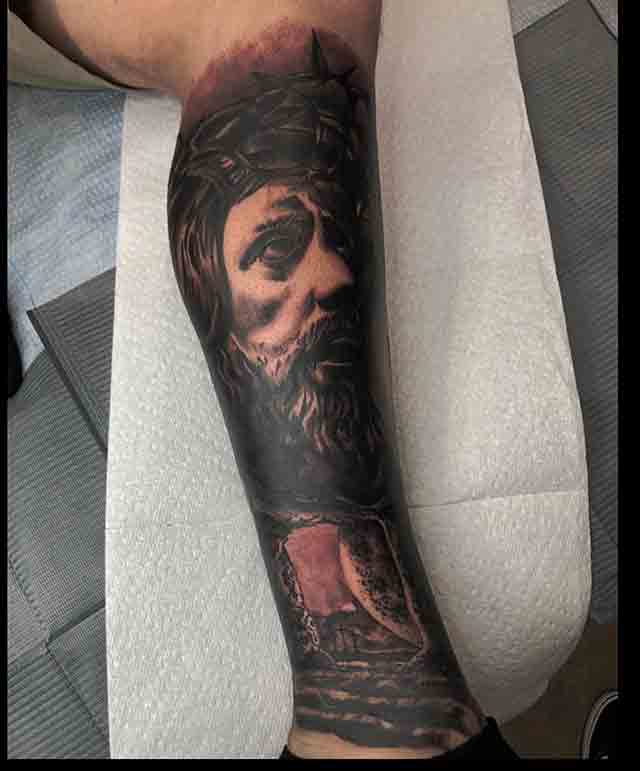 48. Big Cross And Rose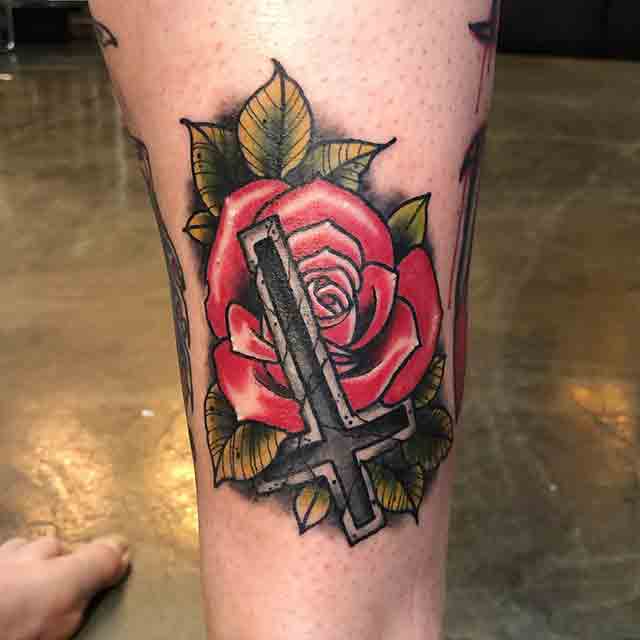 Nature Thigh Tattoos for Men
49. Sunflowers And Butterfly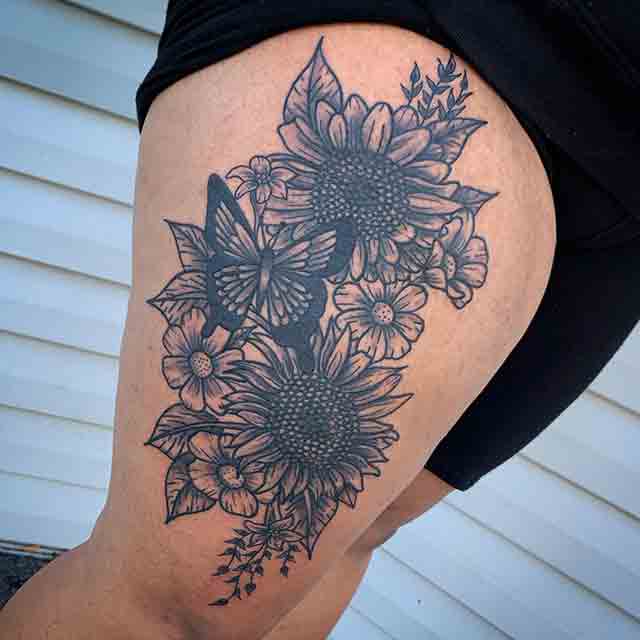 50. Eyed Vase With Flowers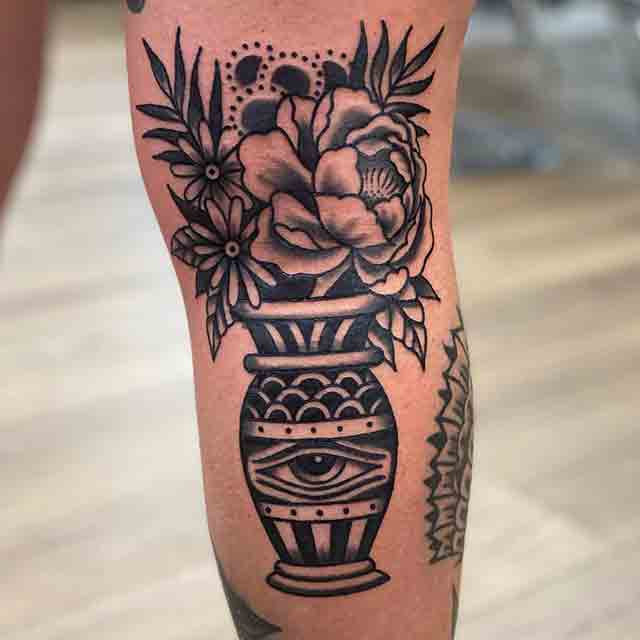 51. Leaf Vine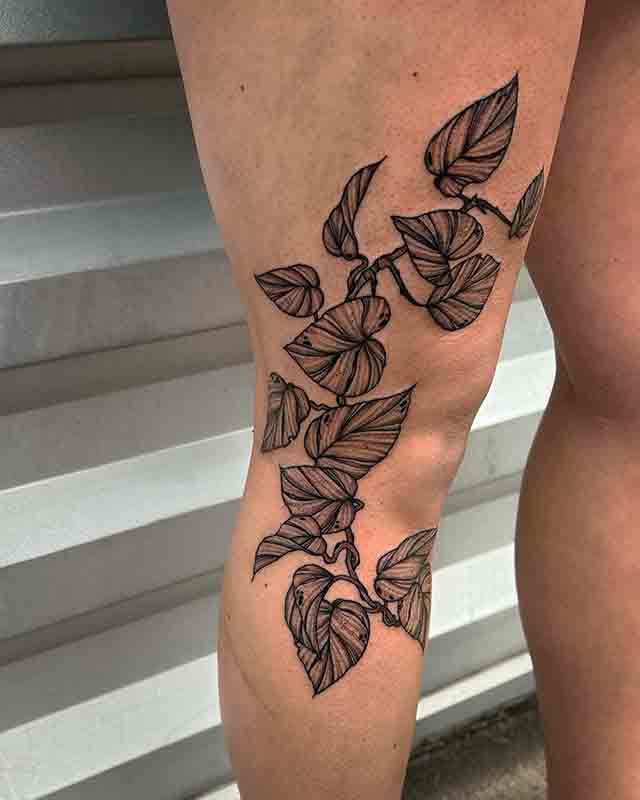 Dream Catcher Thigh Tattoo for Men
52. Floral Dream Catcher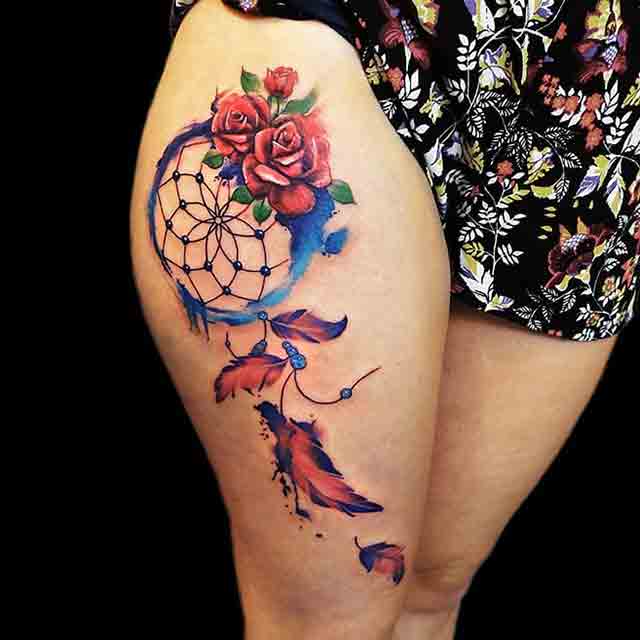 53. Yin and Yang Dream Catcher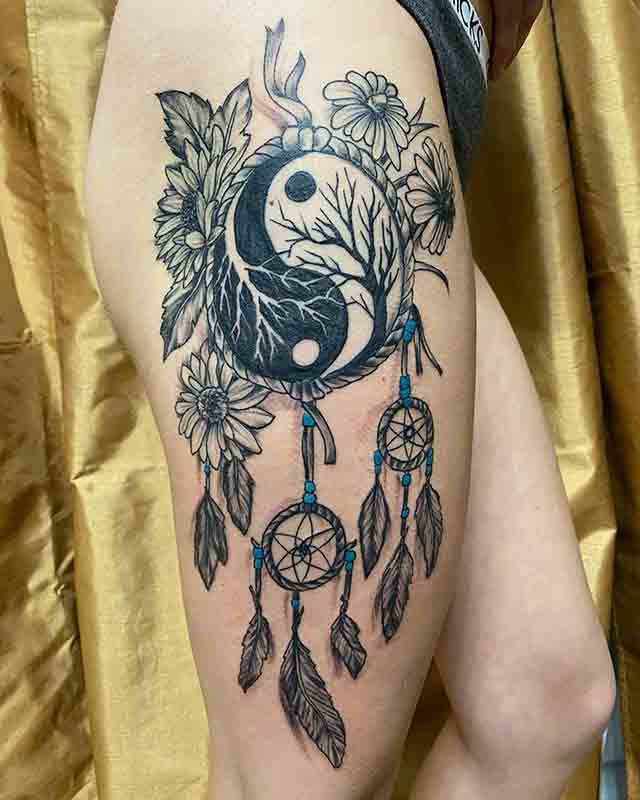 54. Flowers And Dream Catcher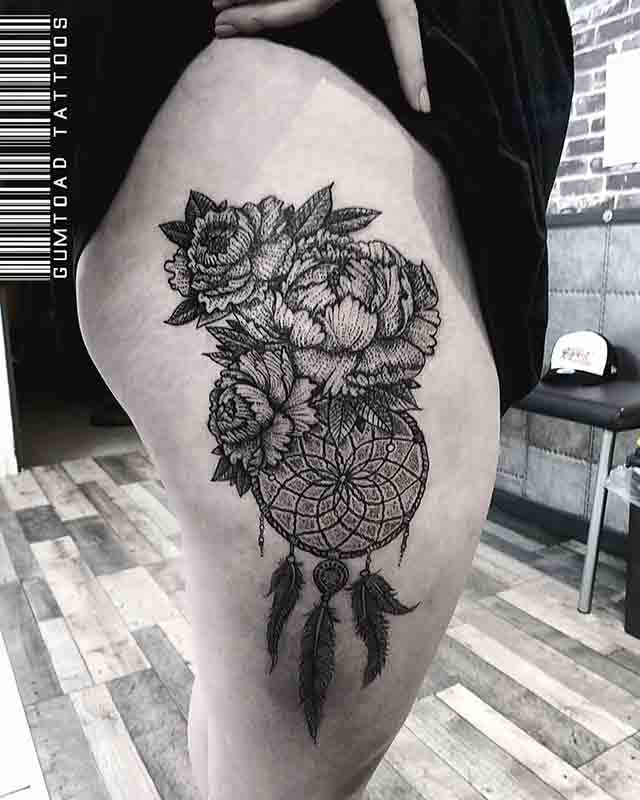 Lion Thigh Tattoo for Men
55. Artistic Lion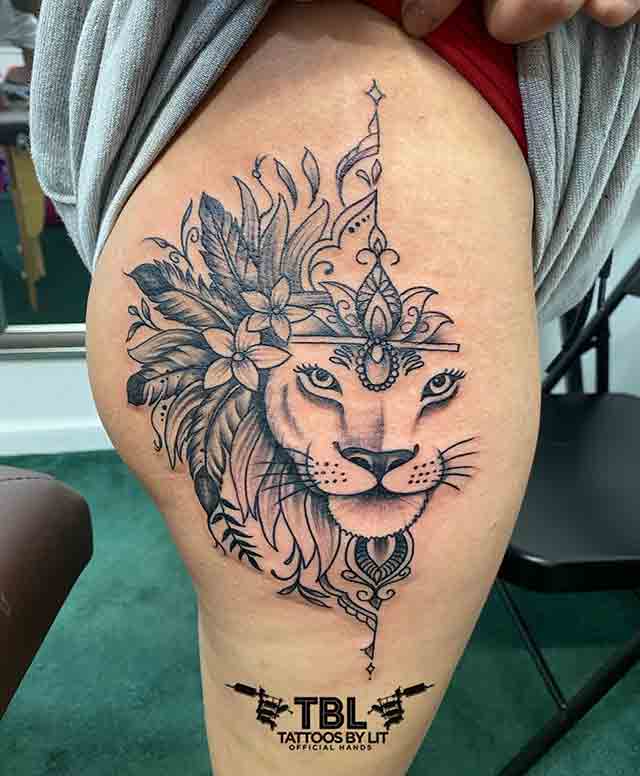 56. Realistic Lion Head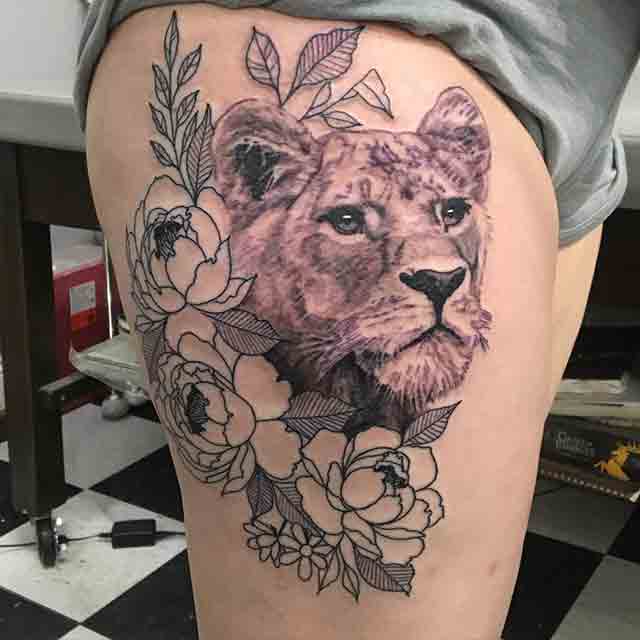 57. Blue Eyed Lion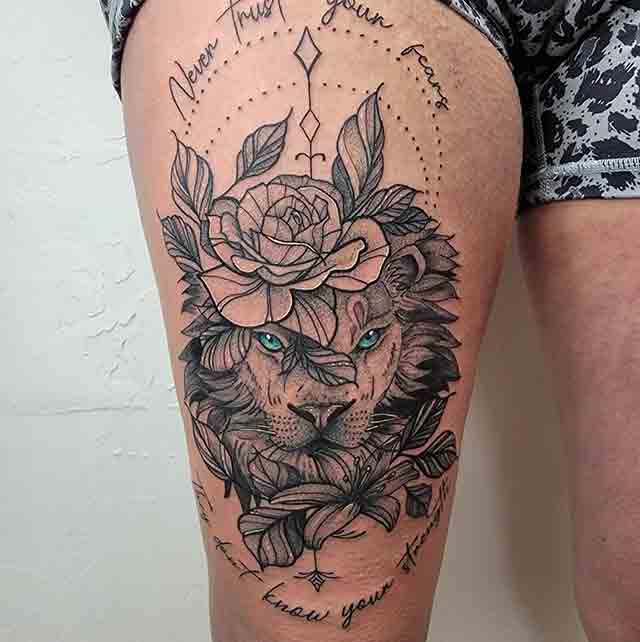 Dragon Thigh Tattoo
58. Big Dragon With Flowers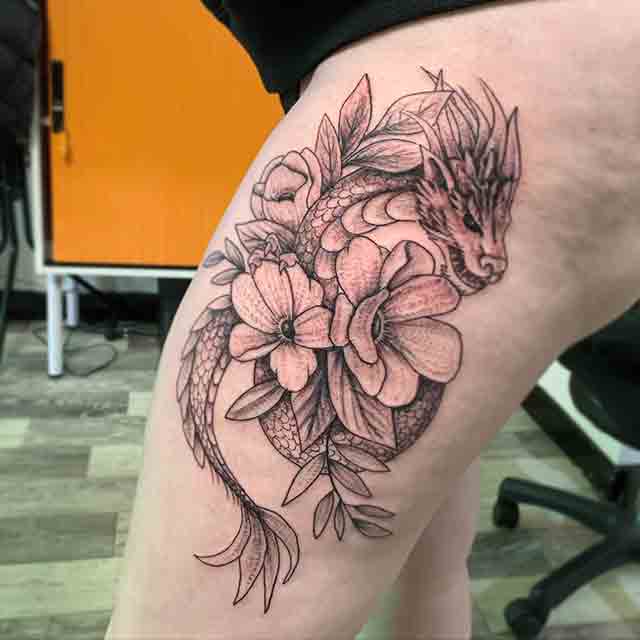 59. Realistic Dragon With Small Red Flowers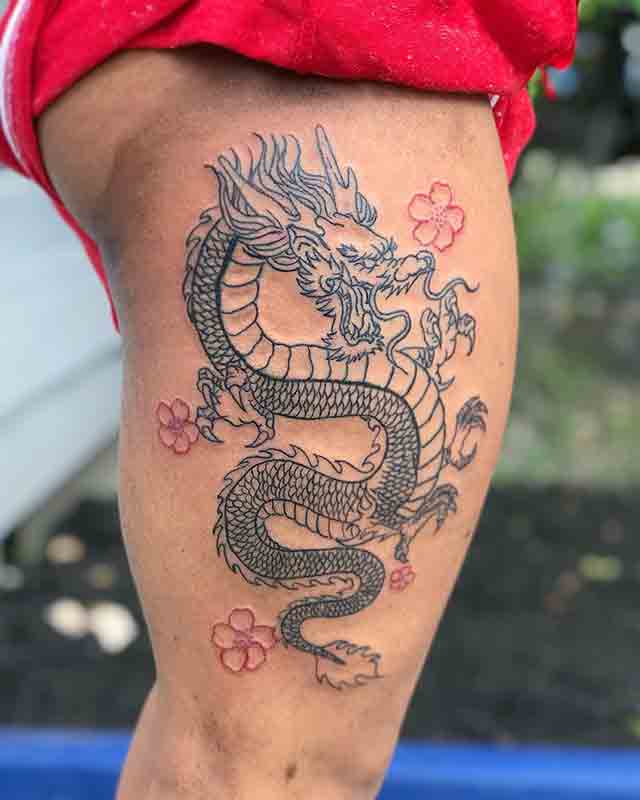 60. Roaring Dragon
Butterfly Thigh Tattoo
61. Flying Butterflies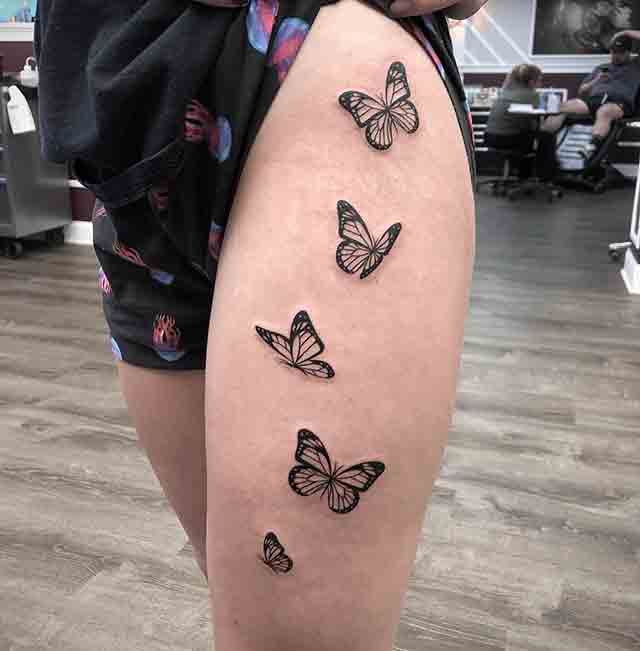 62. One Pretty Butterfly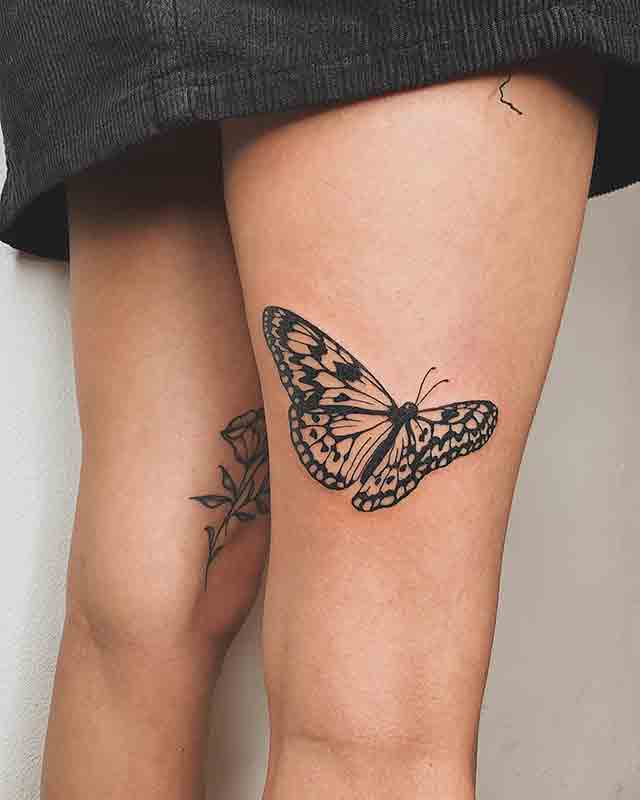 63. The Butterfly Dagger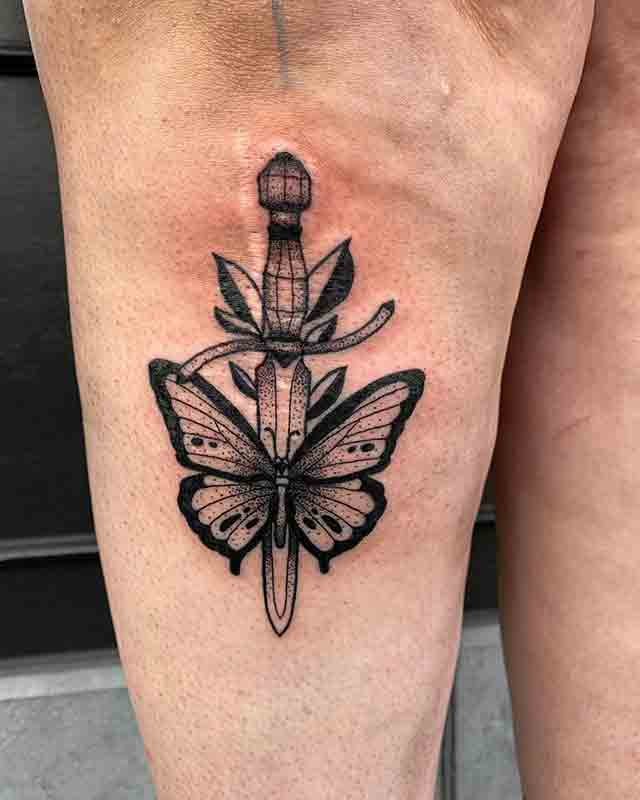 Tiger Thigh Tattoo
64. Roaring Tiger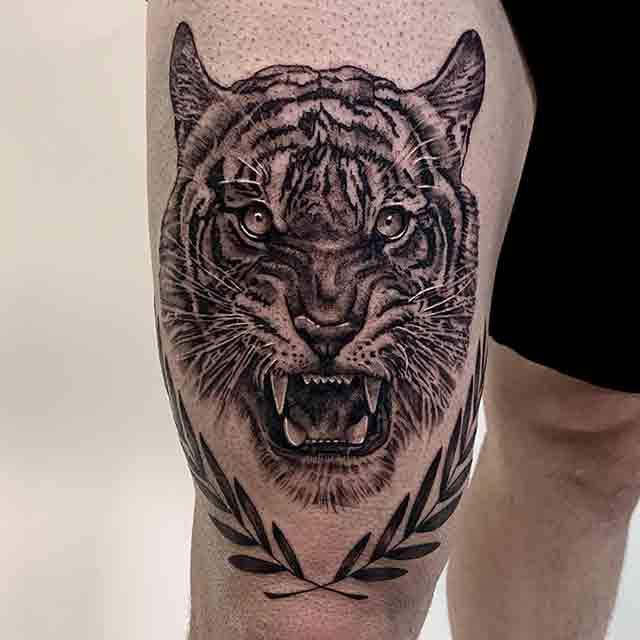 65. Colorful Tiger Head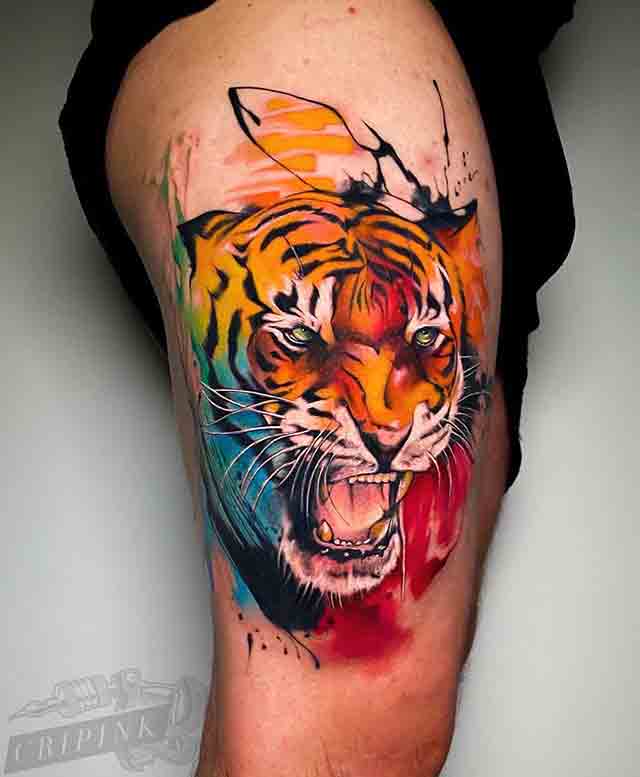 66. Double Trouble Tigers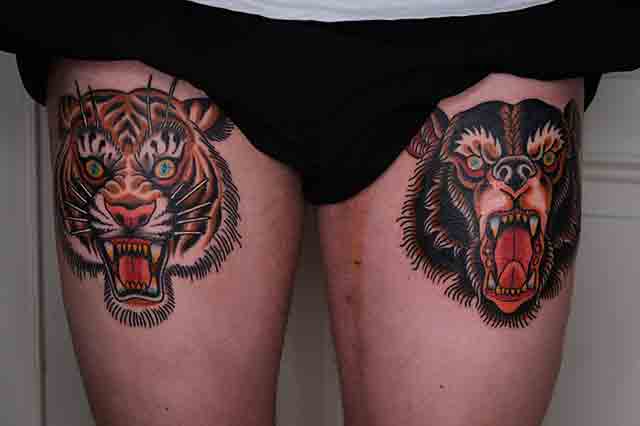 Gun Thigh Tattoo
67. Rowdy Guns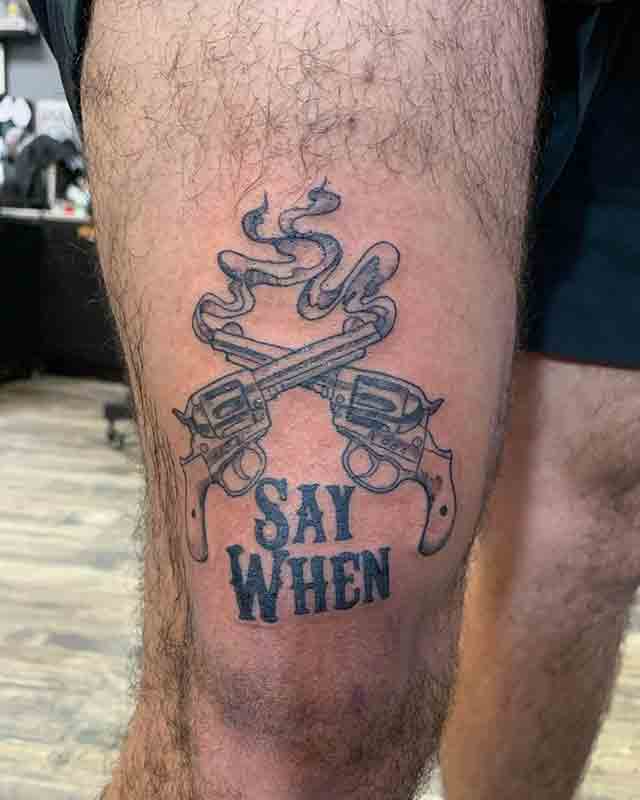 68. Realistic Revolver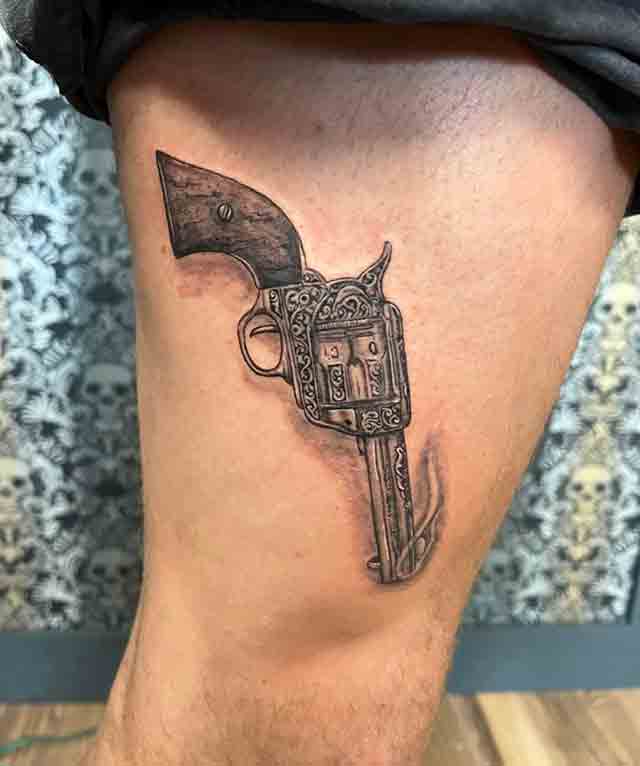 69. Nun With A Gun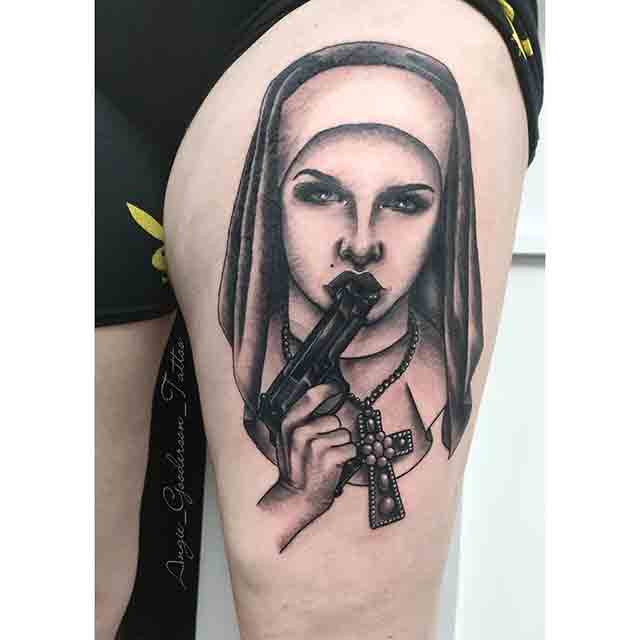 Frequently Asked Questions
Do guys get thigh tattoos?
Yes, thigh tattoos are typically common in guys and allows them to portray a beautiful artwork or thoughtful piece to the world and for themselves. Not only that, but many guys prefer thigh tattoos as a tribute to their loved ones.
Are thighs good for tattoos?
Thighs are one of the most preferred tattoo areas as there is more space to work with. This allows men to get a proper representation of their thoughts while allowing the artists to show their creativity in full form.
Do thigh tattoos hurt?
Yes, thigh tattoos are one of the most painful tattoo areas in the body. The pain count during thigh tattoos for both men and women is much higher compared to several other body parts.
Conclusion
Now that we have reached the end of the guide, I hope that you now have in mind the tattoo you want to get on your thigh. Each of these thigh tattoos for men have a beautiful underlying meaning which increases the value of the tattoos by a notch.
A small tip before you leave. Before getting a tattoo, make sure that you choose a certified and talented tattoo artist to get your thigh tattoo done. Research and verify the work of the artists first to make sure that you get exactly what you are asking for.