Many people believe in the sign and message of the tarot cards. These tarot card tattoos are recently coming to light as more people are showcasing their attractive tattoos. All of these designs are highly eye-catching combined with innovative style and intricate detailing. With several tarot card sectors available, the possibilities of getting a tattoo are endless.
However, finding a tarot card design to ink on the skin is not easy when you have so many options available. In order to make the search easier for you, we have put this guide together. Here, we will take a look at some of the best tattoo designs featuring the tarot cards. So, dive deep into a journey filled with outstanding styles and designs.
107 Tarot Card Tattoo Designs and Meanings
Getting the tarot card tattoo inked on your skin is currently trending. With so many available designs, you have the freedom to choose from hundreds of styles. Discover some of the top tarot card designs and the significance between these tattoos.
Death Tarot Card Tattoo
The death tarot card is currently trending in the world of tattoos. While this card typically gives an eerie vibe to viewers at first glance, the meaning and representation of this design taare eye-catching, to say the least. Let us take a look at some of the most interesting death tarot card designs.
1. The Lady Reaper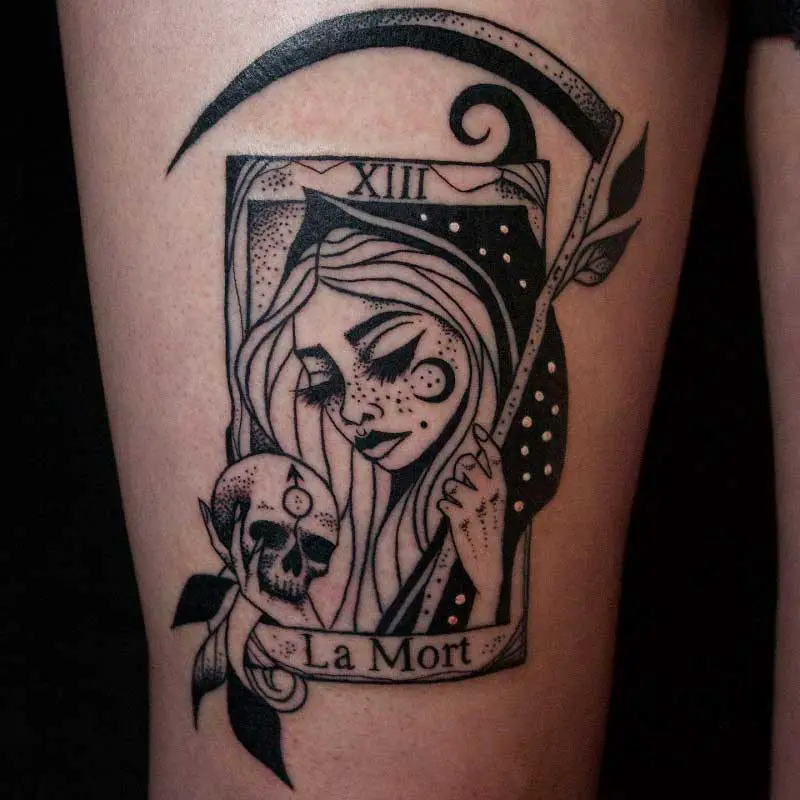 Let the angel of death on a tarot card beautify your body features. The meticulous detailing and artistic style of this tattoo makes it worth the pain. There is a skull in this design, which shows their duty toward the universe. It is a representation that a relationship or a significant chapter of your life is going to meet an end soon.
2. The Indication Of Death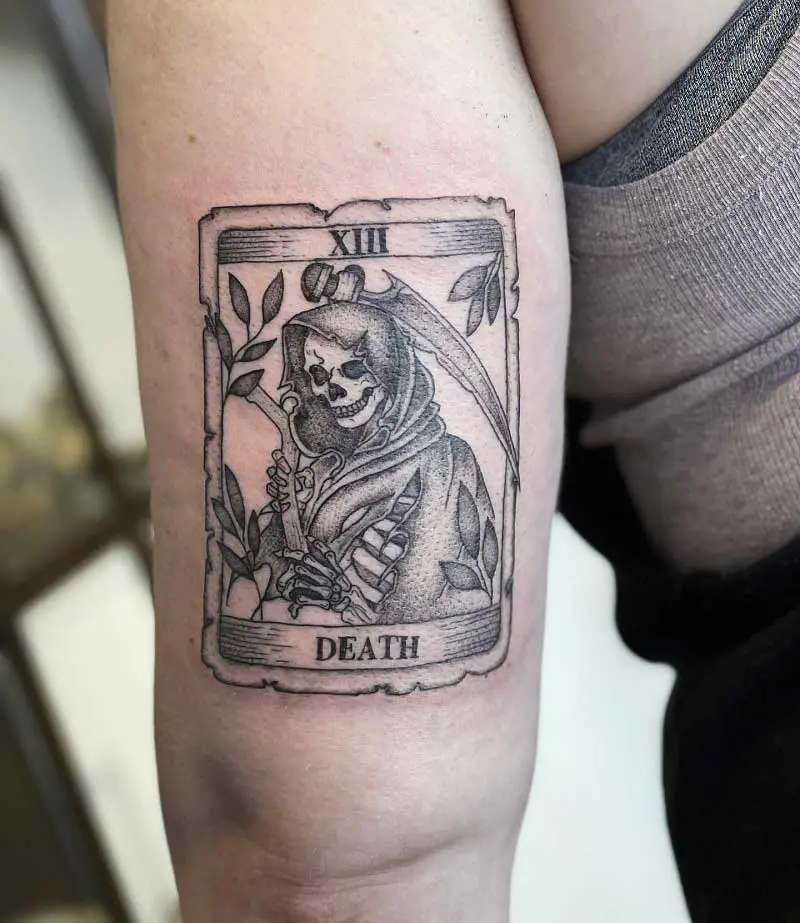 Did you know that the tarot card of death does not indicate the end of a person or your loved ones? This card typically symbolizes major changes and the exit of a few people from your life. The slight tears at the corners of the card make the tattoo more attractive to the eyes. It is a beautiful symbolization that imperfect things can be perfect in life.
3. The Decorated Death Card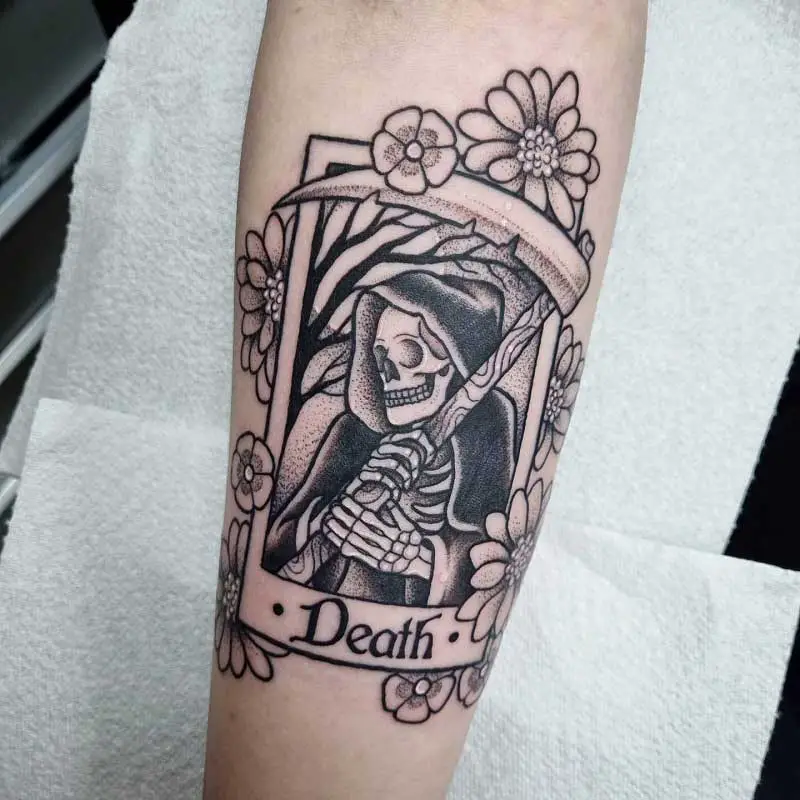 Tarot cards say a lot about our lives and the upcoming future. And the death tarot card holds great significance in the meaning of life. The grim reaper tarot card surrounded by flowers with tiny details makes the design more attractive to the eyes. This design is perfect for the arms of a man.
Minimalist Tarot Card Tattoo
Minimalist tattoos are highly popular due to their stunning and meaningful designs. When combined with tarot cards, these designs pop up more with their intricate details and aesthetic vibes. Take a look at some of the best examples of minimalist tattoos featuring tarot cards.
4. The Aesthetic Pattern Card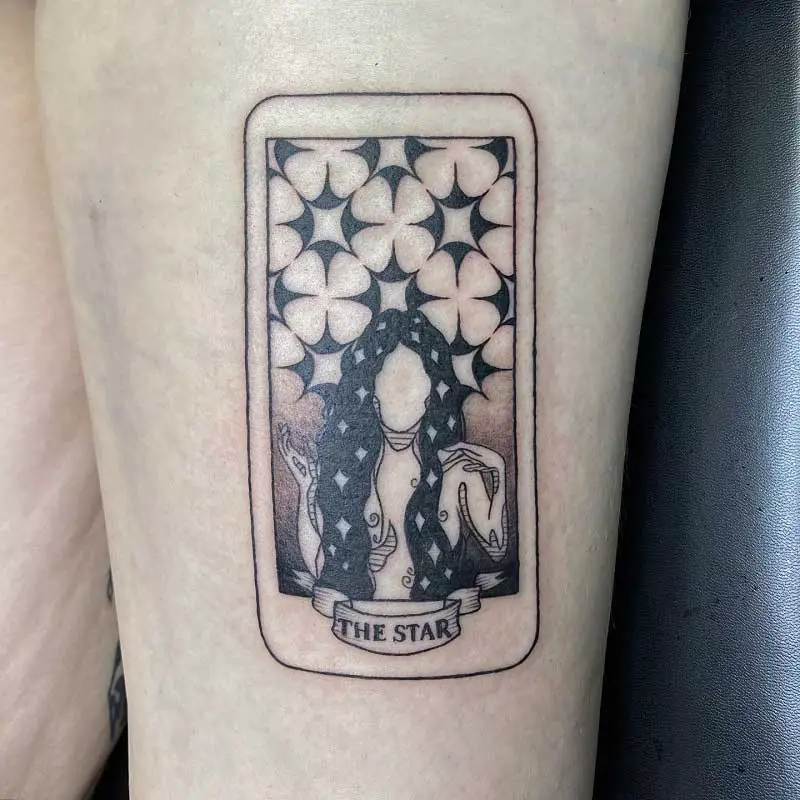 Beautify the features of your body and bring a sense of shine to your life with the star tarot card. The girl with stars in her hair surrounded by four-leaved clovers strengthens the meaning of this tattoo. It is a beautiful sign that you are welcoming a beautiful and happy phase into your life.
5. Raise Your Hand To The Sun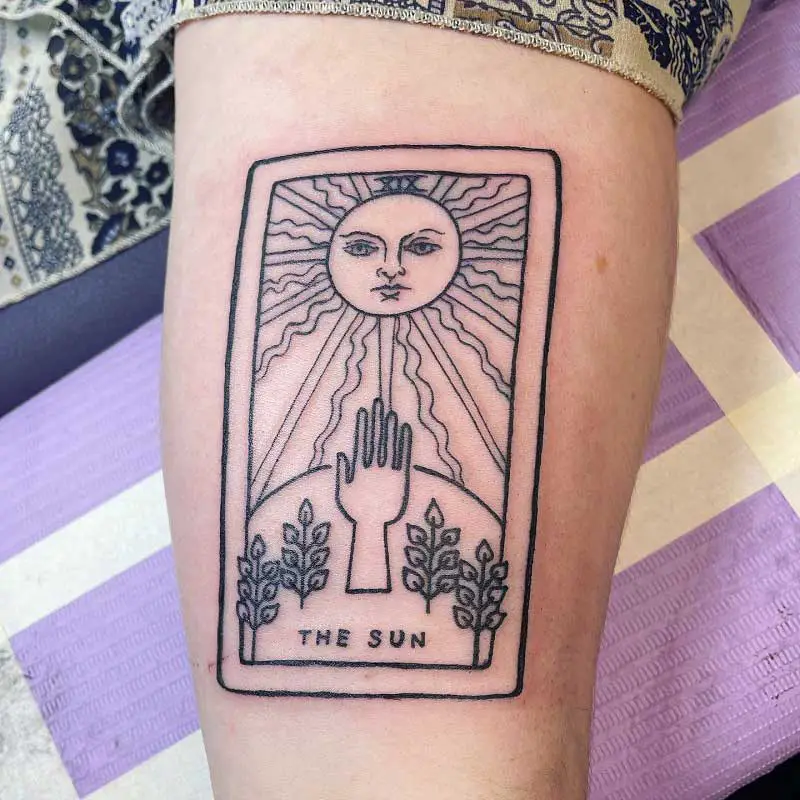 Do you want to motivate yourself and others in your life? Get this innovative and attractive sun tarot card inked on your thigh as a sign of art, beauty, and positivity. This design is a sign of radiating optimism, hope, and happiness.
6. The Affectionate Cats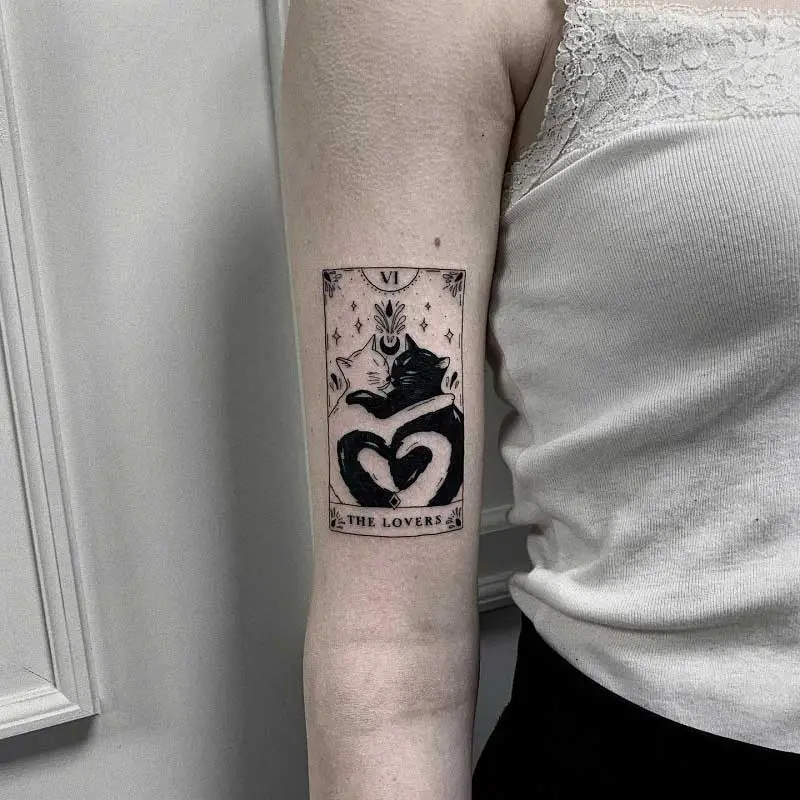 Strengthen your relationship and give the world a view of your pretty and happy bonding with the lover's tarot card.  The white and black cats make the design stunning, and the tiny details attract eyes to the tattoo.
Simple Tarot Card Tattoo
Simple tattoos are innovative and eye-catching in every category and style. These designs are cute, and the small details make them look amazing on the skin. All of these tattoo styles come with an artistic aesthetic, making them a top choice among hundreds of people. So, let us guide you through a few examples of simple tarot card tattoos.
7. Cat On A Mission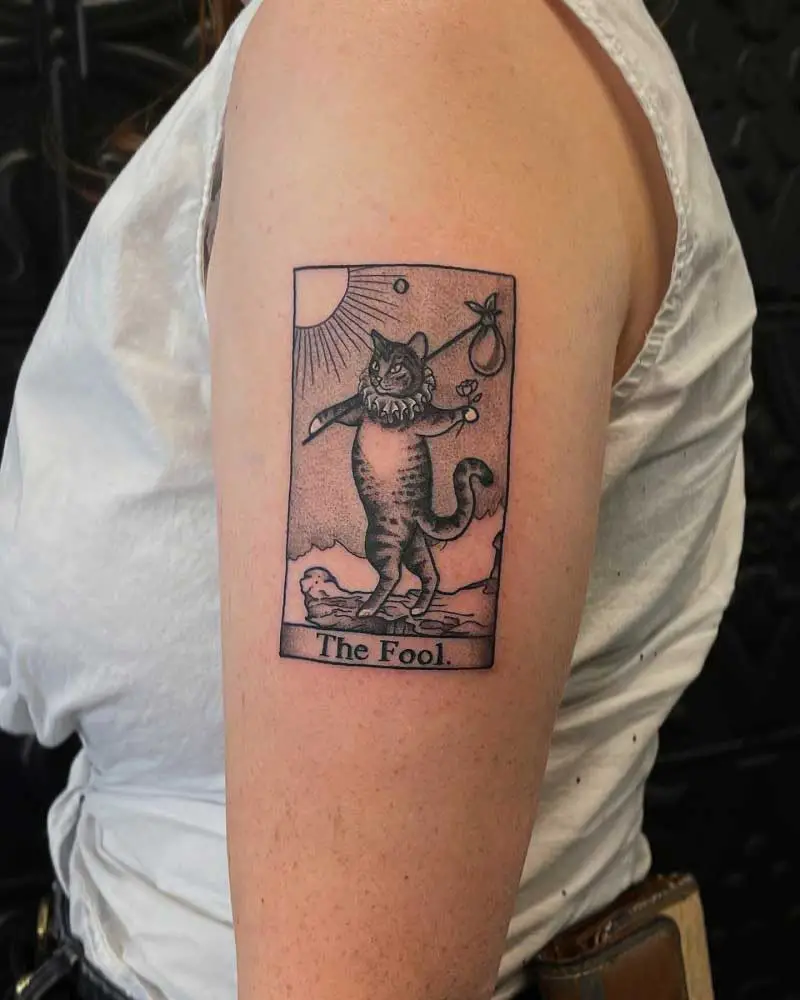 Set your foot out on a journey to find peace, success, and opportunities. The cat on the tattoo gives it a silly and fun vibe, and the pack shows determination toward life. This design looks perfect on the arms of a man.
8. The Nature Twins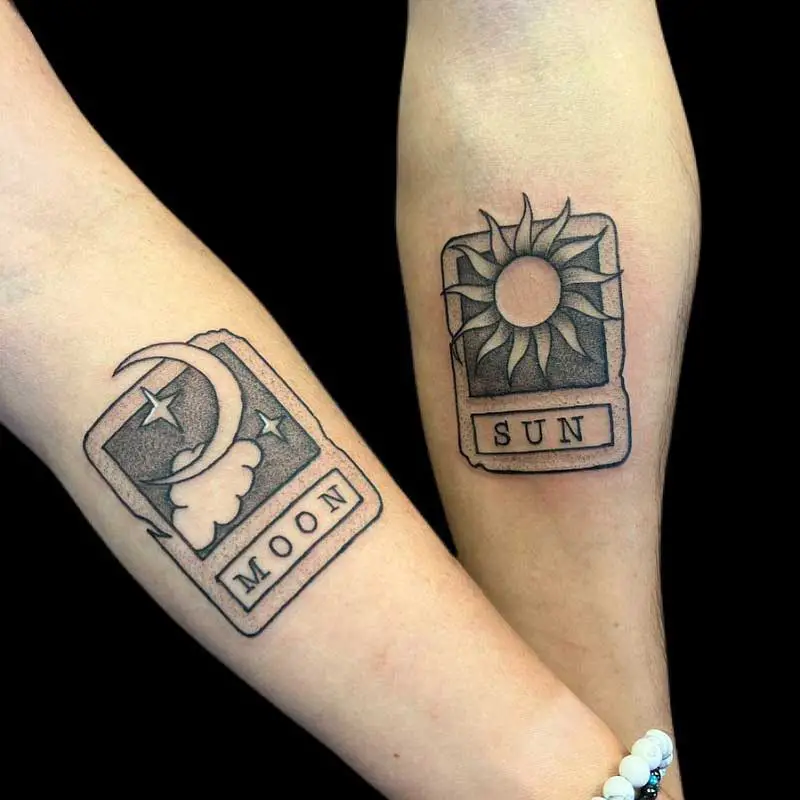 Who does not want matching tattoos with their best friend or partner? And what is better than having sun and moon tarot cards inked on the skin? Both of these designs represent artistic presence, intuition, delicacy, happiness, and many more. It represents a beautiful connection and bonding between two people.
9. Together Even After Death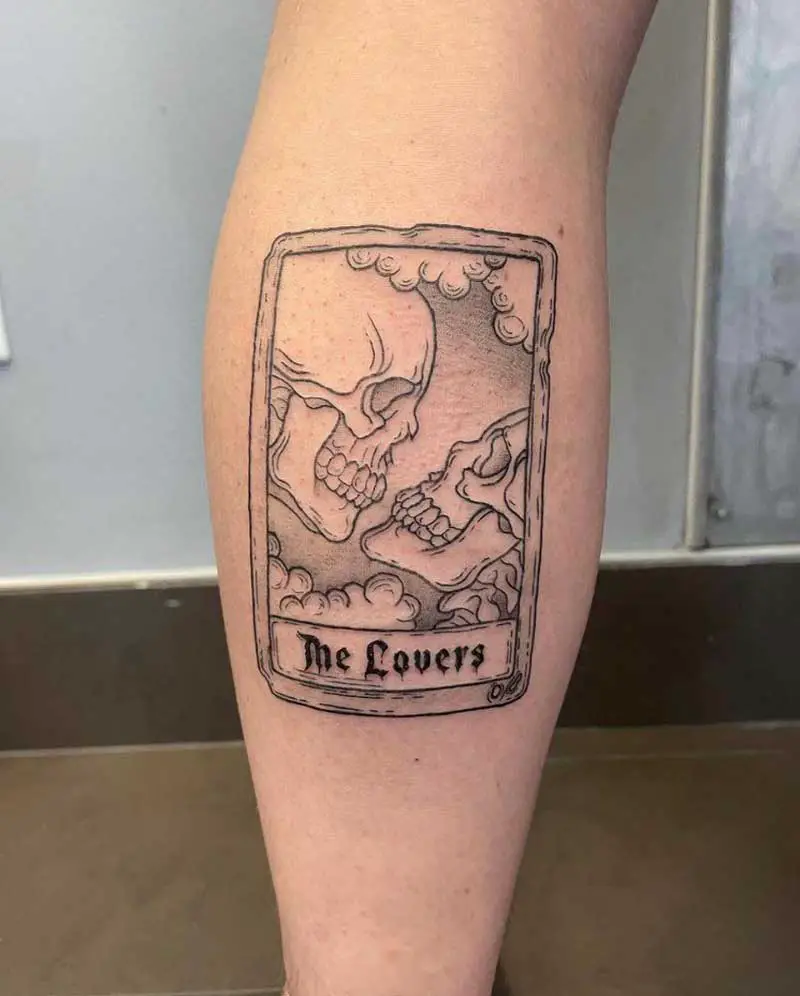 Love is one of the greatest feelings in this world. The emotions, bonding, and understanding between two people speak wonders and etch a beautiful sketch in tattoos. This design shows off love with two skeletons, representing love beyond life.
Strength Tarot Card Tattoo
Strength is an essential part of our lives. The tarot card of strength shows determination, power, and courage to fight the battles of life. Let us take a look at some of the best strength tarot card designs on the skin.
10. Infinite Strength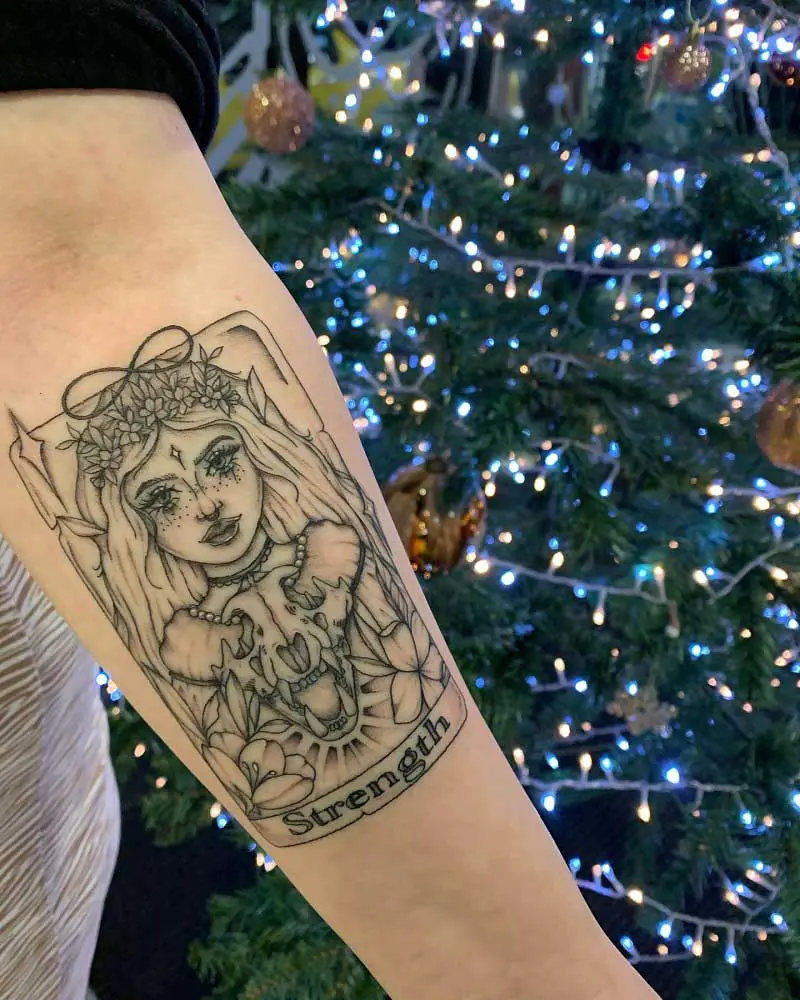 Turn heads everywhere you go with this stunning tattoo of strength on your skin. This beautiful design provides motivation to go through the struggles of life with a strong face. The infinite symbol on the top of the card is a sign of utmost dedication, and the flowers show delicacy and art.
11. Strength and Weakness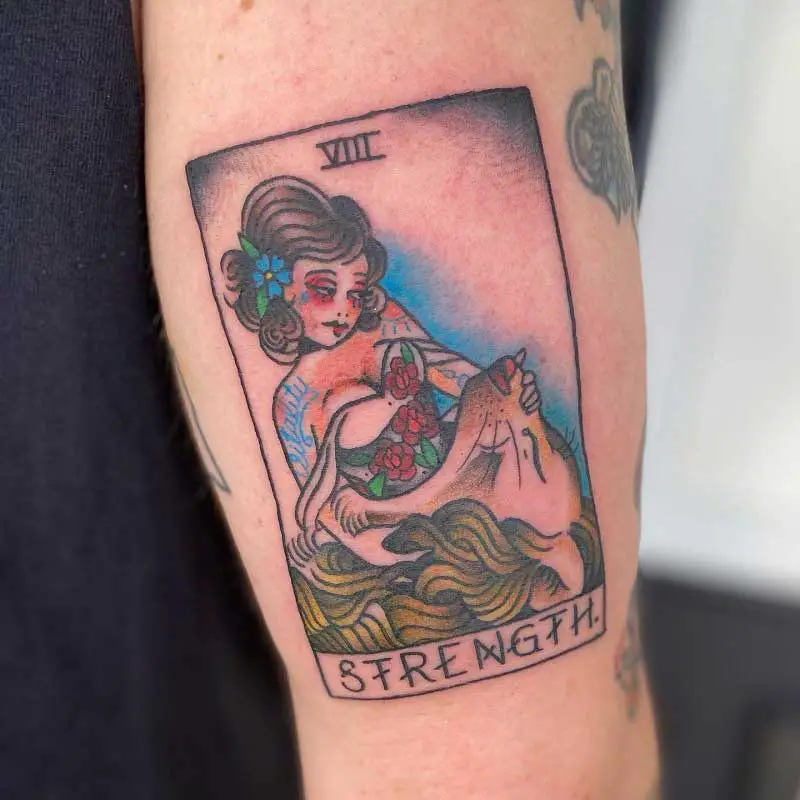 Strength goes hand in hand with weakness in life. All of our lives, we struggle the most with these two feelings, making our way through the battles and fights. The colors and artistic vibe of the tattoo create a beautiful image on the skin. Get this design tattooed and showcase a wonderful artwork to the world.
12. The Majestic Lion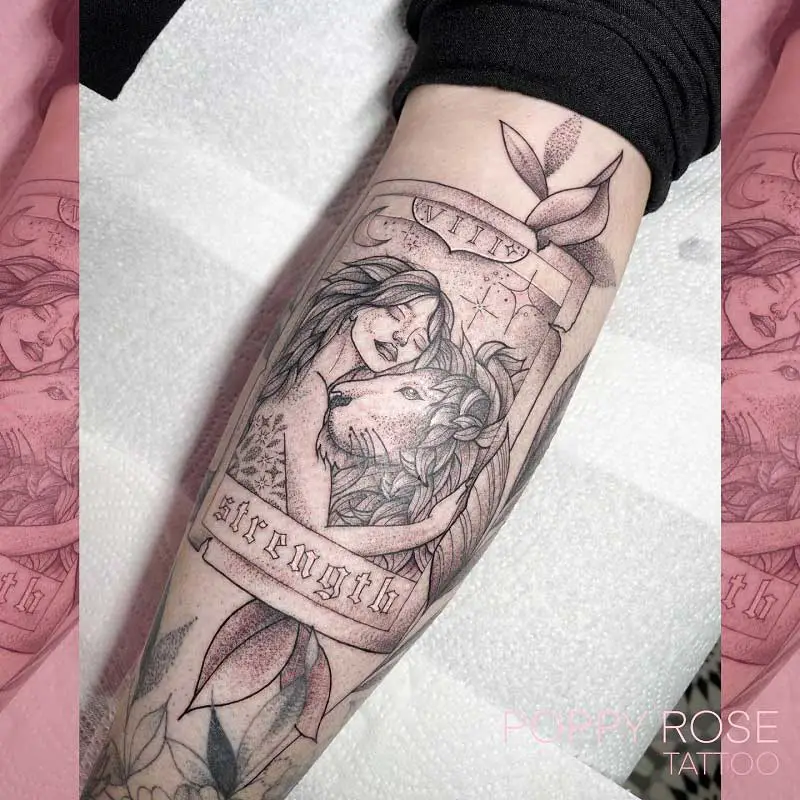 Lions are the epitome of bravery and courage. Their hunting instinct, combined with cleverness, power, and speed, makes them the king of the jungle. The girl and lion in the tattoo are a pretty representation of the strength found in love and bonds.
Lovers Tarot Card Tattoo
Having love in life is nothing less than a blessing. And representing love in tattoos majestically is not always possible. But love tarot cards make it easy with their aesthetic vibe and artistic style. Get to know the best lovers tarot card designs in tattoos!
13. Love After Life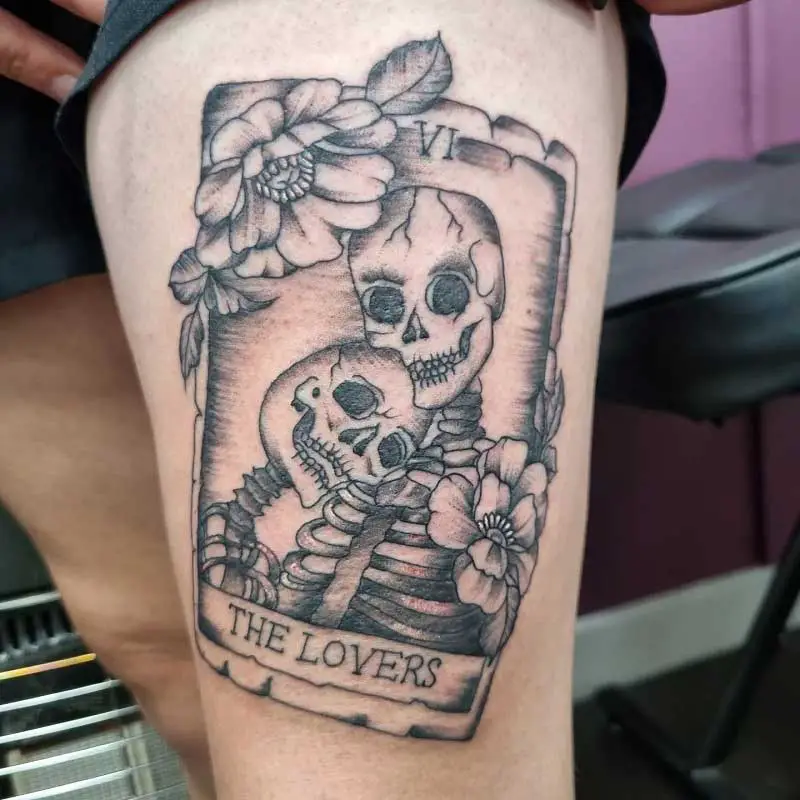 Dedicate this love tarot card tattoo to your partner as a token of love and a sign of appreciation. It is a cute idea for a special occasion or anniversary where you want to show your partner how much you love and cherish them. Finding the right partner is what life and love are all about!
14. The Skeleton Kiss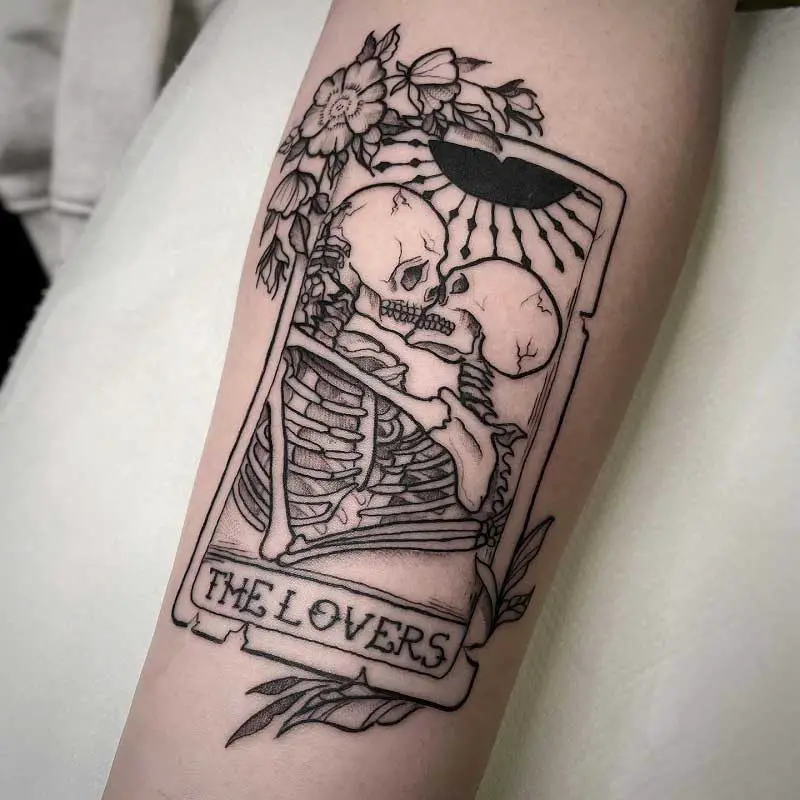 Share a kiss with your lover and express your love with a cute tattoo design. The love tarot card is a popular choice among committed and married couples who love their partners beyond measure. This design typically looks great on the arms of a woman as the surrounding floral patterns emphasize the body features.
15. Expression of Love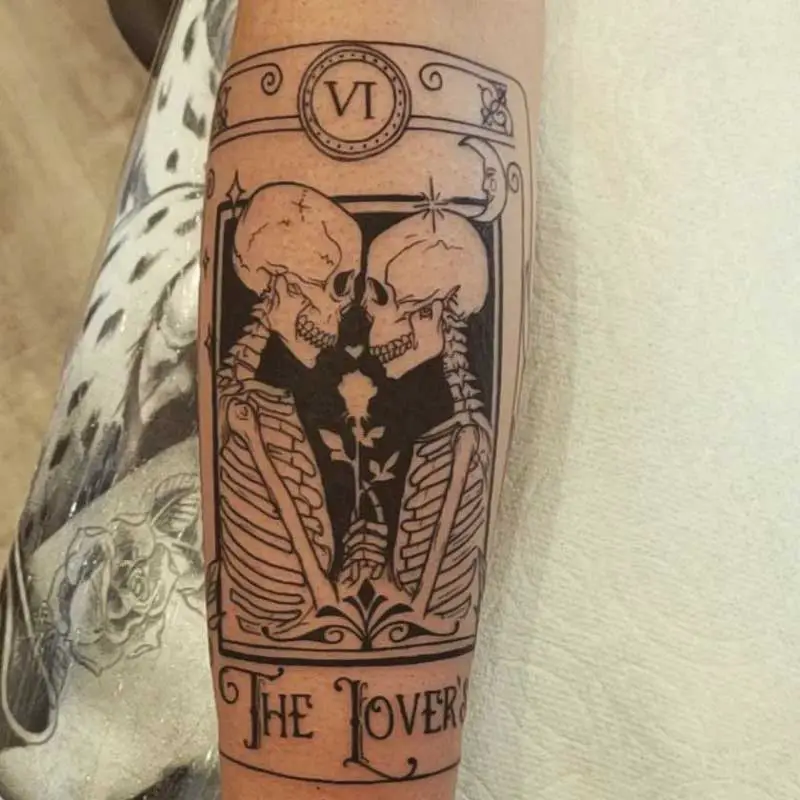 Looking for a cute way of showing commitment toward your loved one? It is a pretty special design to keep your love memorable through a tattoo. This design also shows the love you have for your partner even after they have left you to be in the land of no returns.
Moon Tarot Card Tattoo
Moon is one of the most popular tarot cards and a famous choice in the world of tattoos. The intricate details, artistic style, and pretty designs make this tarot card a great addition to the skin. Let us get into the world of moon designs.
16. The Crescent Moon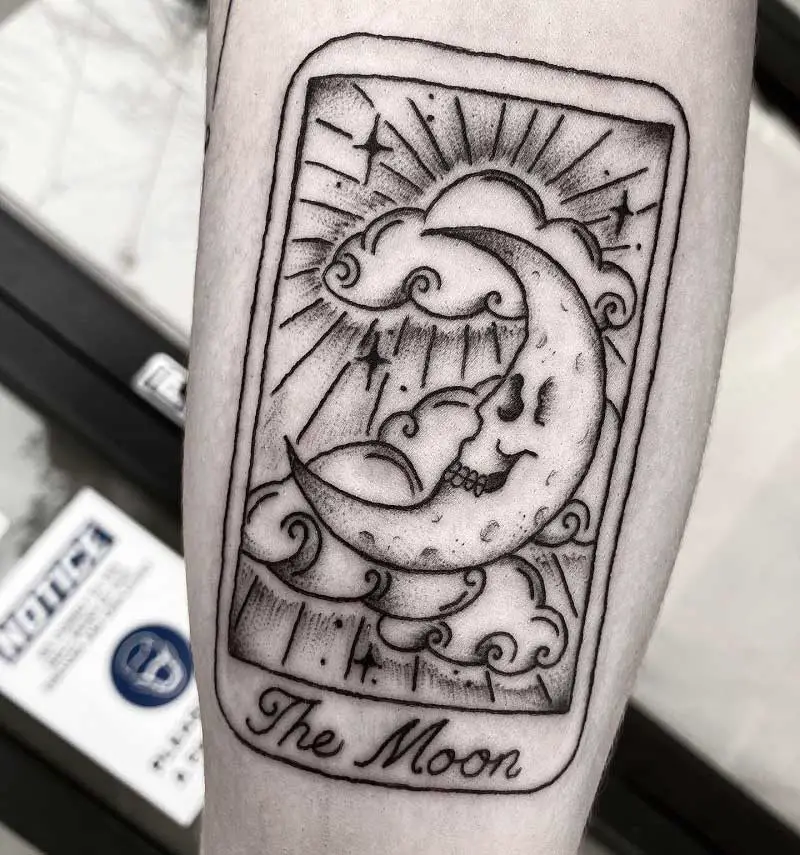 Turn heads everywhere you go with this stunning tattoo of a moon tarot card. The crescent moon surrounded by clouds and stars makes the tattoo more artistic and beautiful on the skin. It looks perfect on smooth skin.
17. The Powerful Moonlight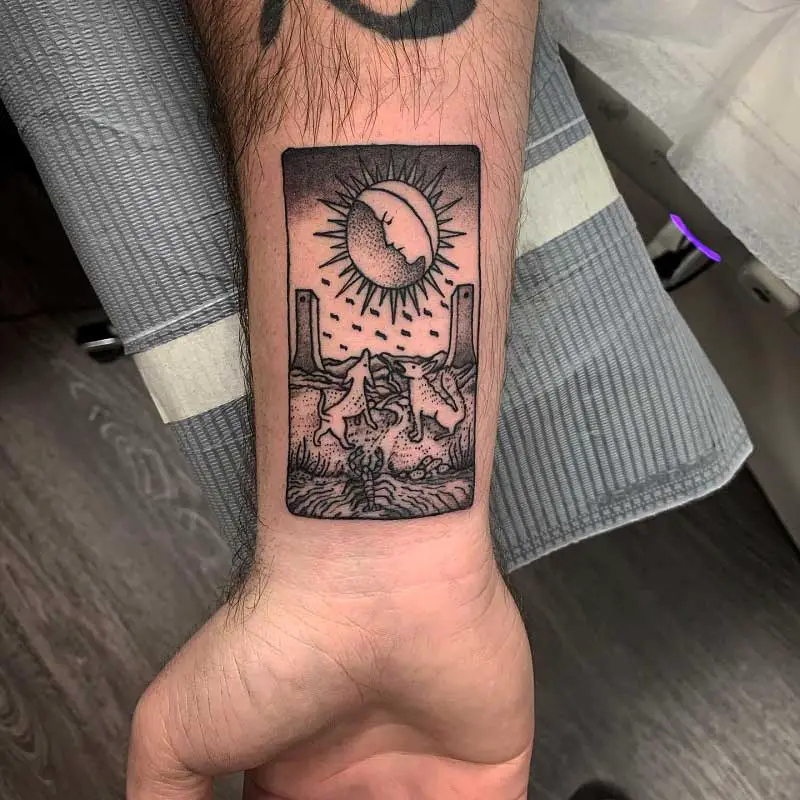 Moonlight holds a lot of significance in mythology and looks great in tattoos. The tarot card features a moon and two wolves in this tattoo who beam to their full power in the moonlight. This design is seen as a beautiful representation of power and courage and shows the talent and creativity of the artist.
18. Moon In The Clouds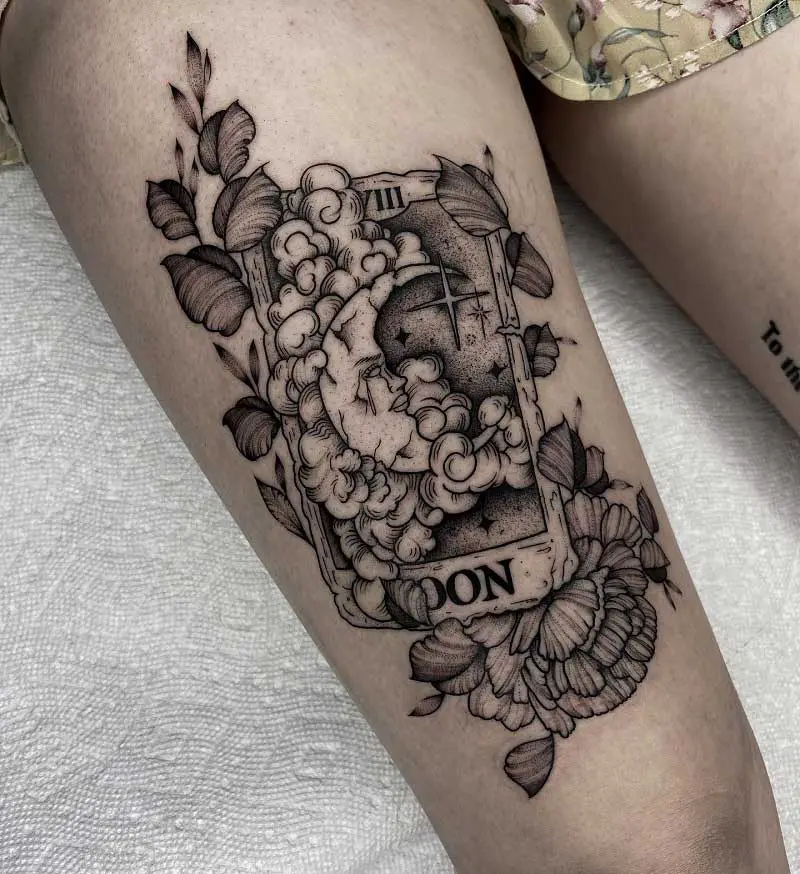 Beautify the features of your hand with this stunning tarot card tattoo of the moon. The beauty of the moon combined with clouds and leaves gives the design a more attractive and aesthetic vibe.
Sun Tarot Card Tattoo
Out of all the tarot cards, the sun is a popular choice for tattoo designs. The designs of the sun card are famous for their artistic style and excellent meaning. Discover some of the top examples of sun tarot card designs here with us.
19. The Bright Sun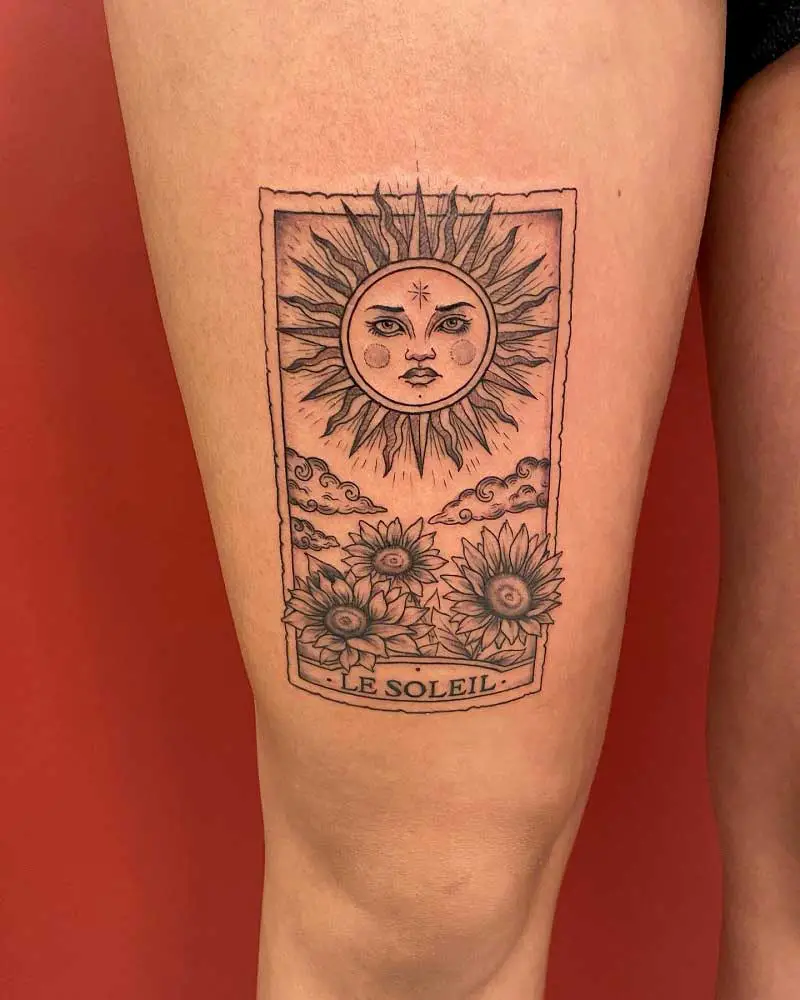 Get the sun tarot card inked on your skin and motivate yourself to improve personally and professionally. The sunflowers and clouds included in the design give the tattoo a more lively look. It looks great on the thighs of a woman and represents positivity and optimism.
20. The Red Eyes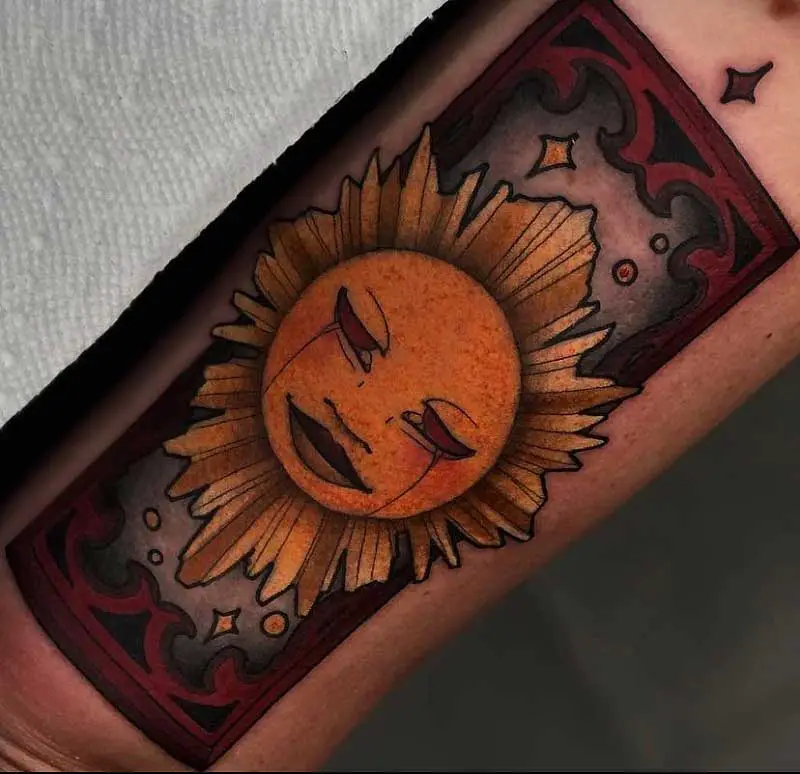 The sun tarot card is seen as a sign of positivity, but it is not always the case. Give the sun tarot design a dark side with this beautiful tattoo on the skin. The pop of red in the eyes of the design enhances the details and attracts the eyes in every situation.
21. Faith In Nature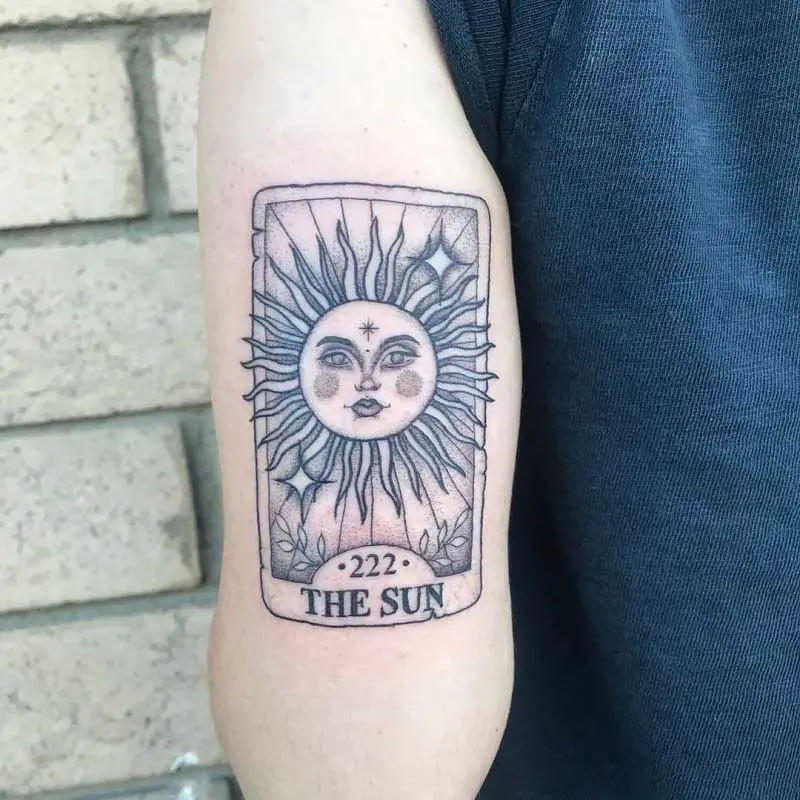 A sunny day can brighten up your mood within an instant. The sun tarot card on the skin has a similar effect and looks great on the arm. The big sun on the card is a sign of positivity, optimism, and art.
High Priestess Tarot Card Tattoo
In tarot cards, the high priestess is known for her mysterious personality and divine knowledge. The designs show the importance of being connected to your own spirituality and inner instincts. Discover some of the interesting high priestess tarot card designs with us.
22. The Instinct Indication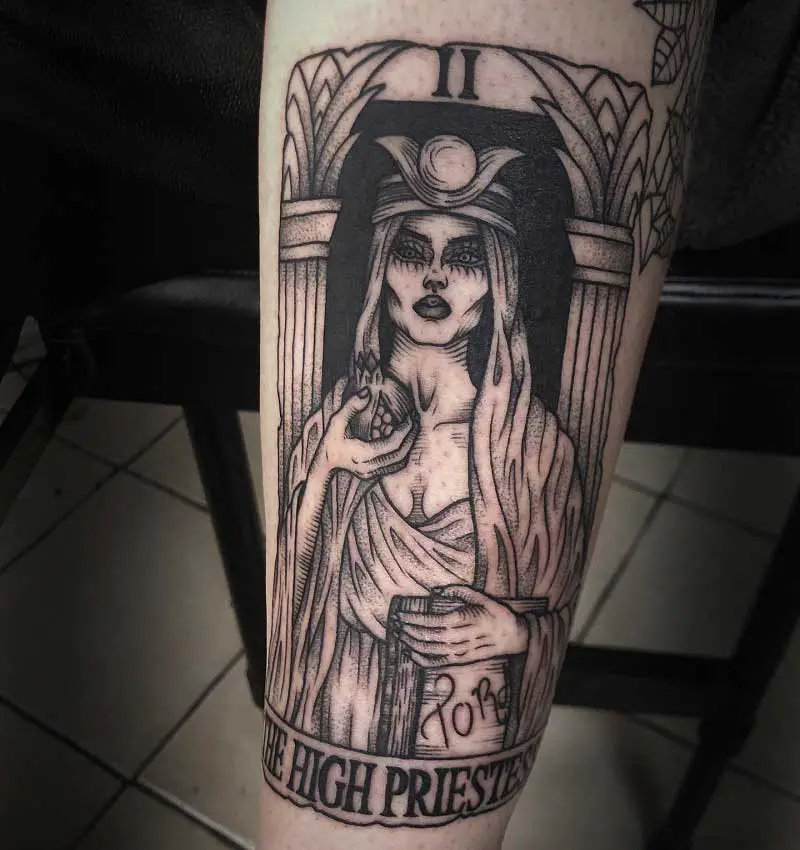 Trusting your gut and relying on your instincts often get you out of trouble. The high priestess tarot card inked on your body is a constant reminder that you should trust your senses in all situations. This design looks stunning to viewers without a doubt.
23. The Angels and Priestess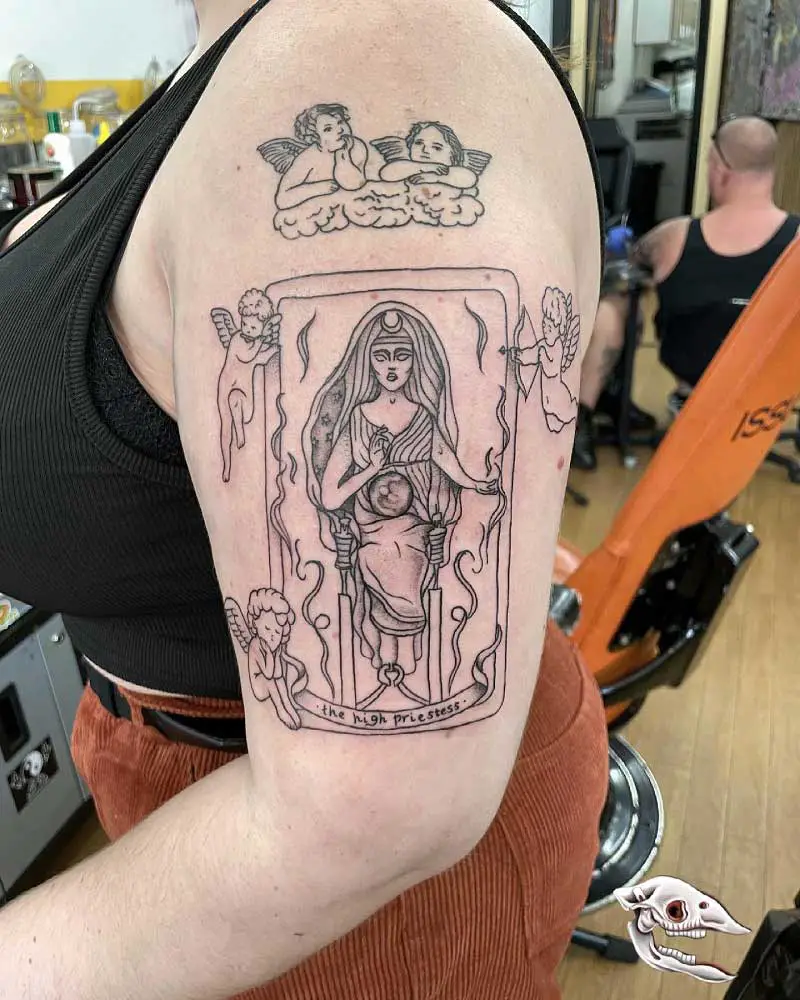 Beautify your body features with this stunning and attractive tattoo design. The high priestess tattoo on a tarot card motivates us to realize and act upon our instincts and gut feeling. Surrounded by angels with wings on their backs, this design looks great on the skin of a woman.
24. The Tarot Combination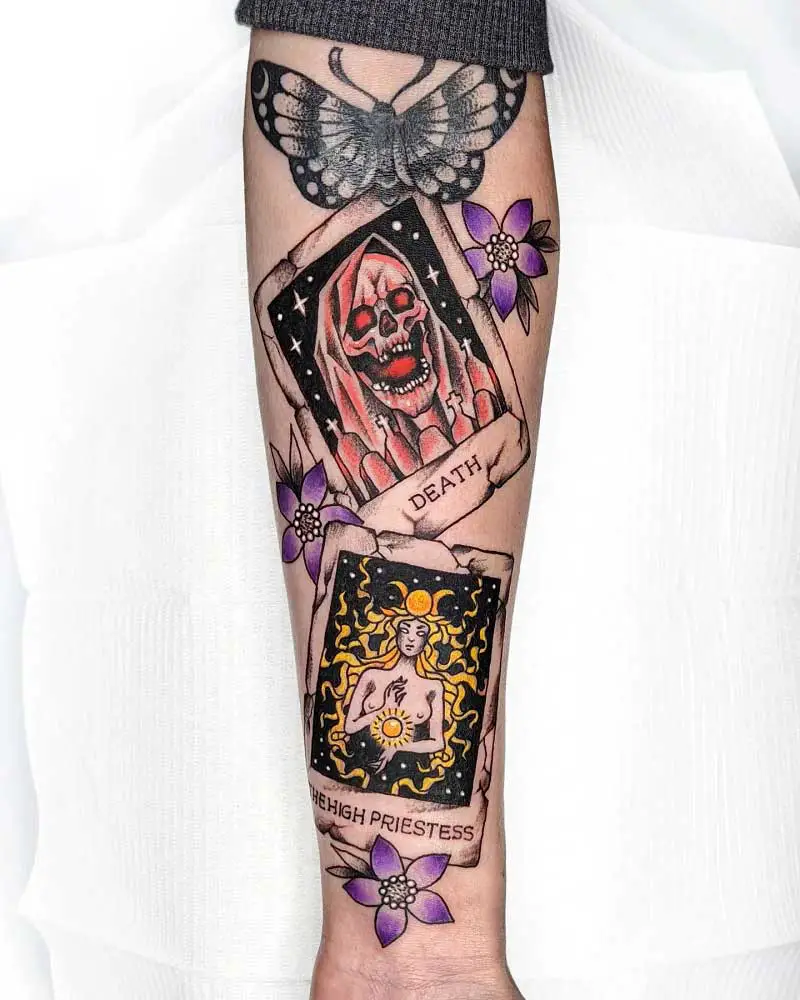 If you are looking for a colorful and innovative tarot card tattoo, then this is the perfect one for you! The death tarot card combined with the high priestess pushes us towards significant decisions in life. The colorful representation of both cards surrounded by flowers and a butterfly beautifies your inner and outer self. It inspires us to act upon major decisions in life by relying on our gut and instinct.
American Traditional Tarot Card Tattoo
Tarot cards are a major part of American culture. The traditional designs of these tarot cards are highly popular in tattoos. These tattoos look stunning on the skin so let us take a look at the best American traditional tarot card designs.
25. Touching The Star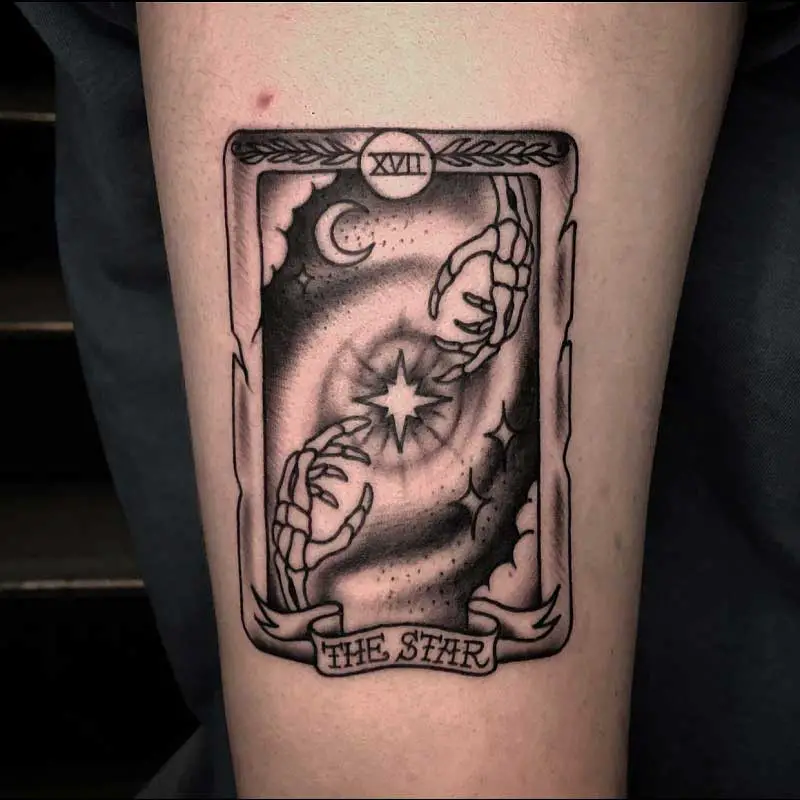 Renew your hope and faith in life by getting the tarot card inked on your skin. The stars bling in the sky with a bright shade, and the clouds surrounding the stars beautify the tattoo even more. The torn sides make the tattoo look amazing.
26.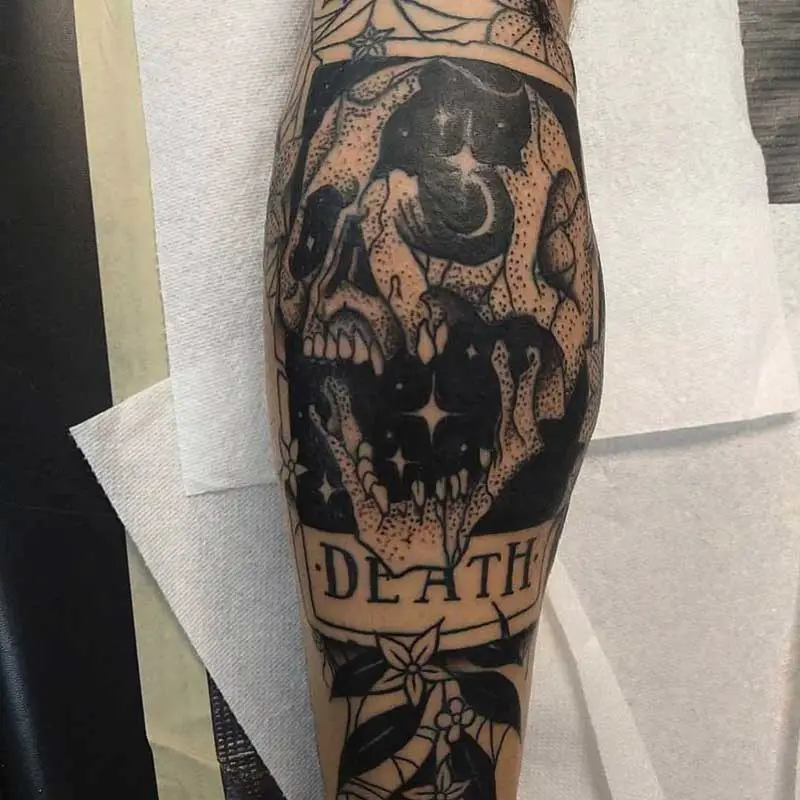 27.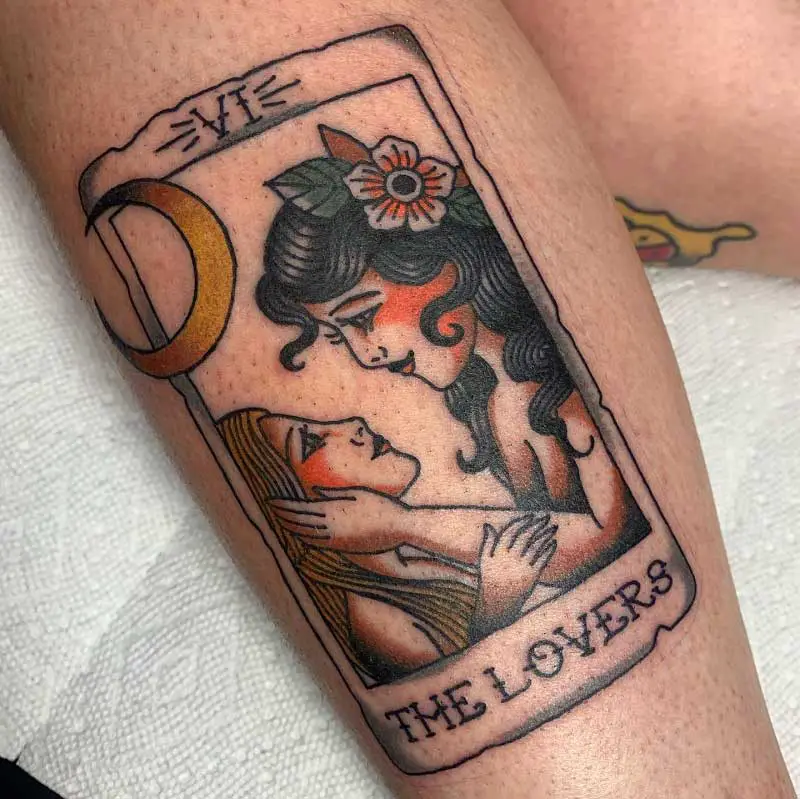 Devil Tarot Card Tattoo
28.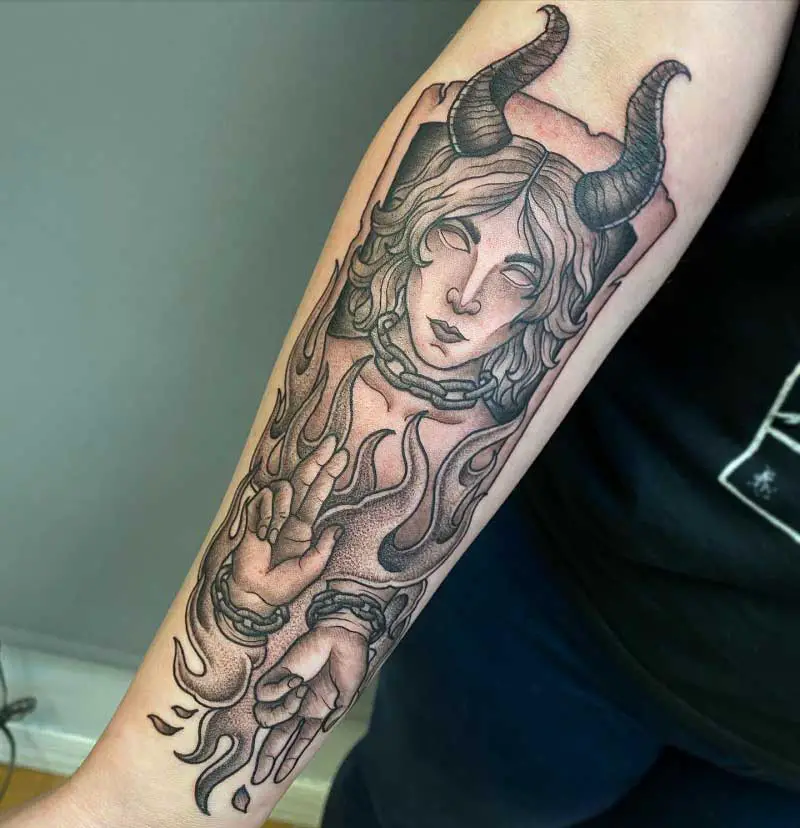 29.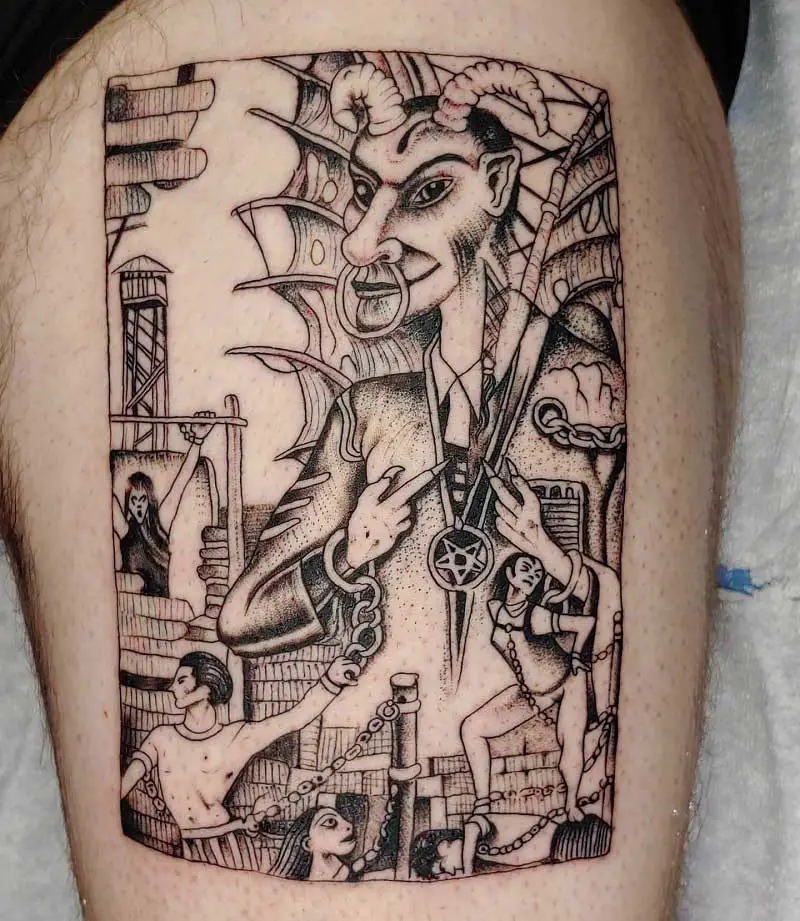 30.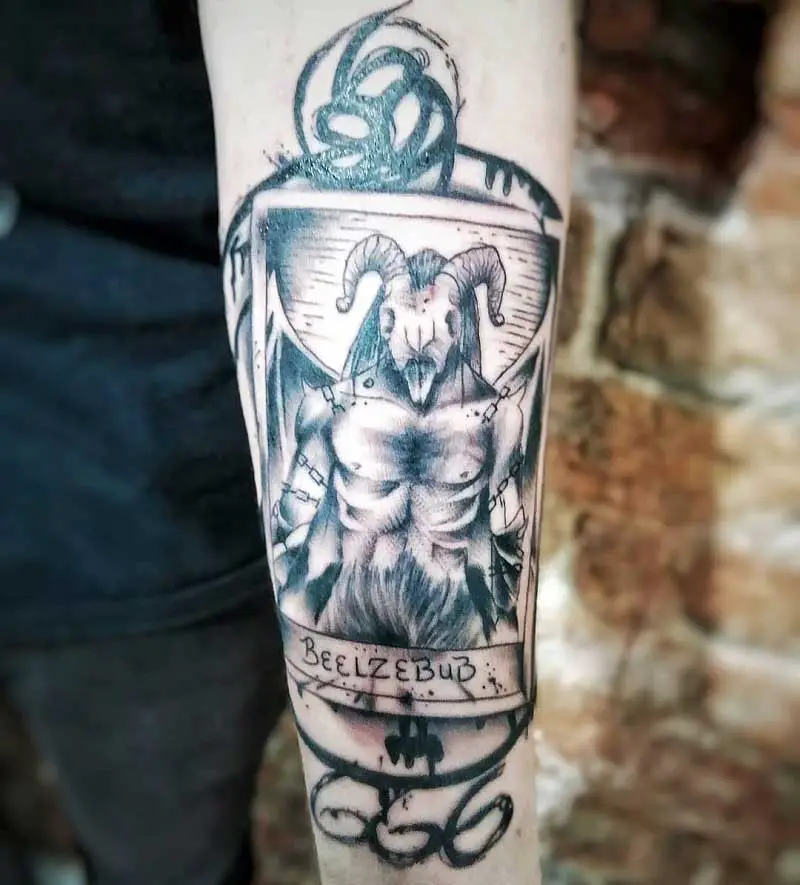 Empress Tarot Card Tattoo
31.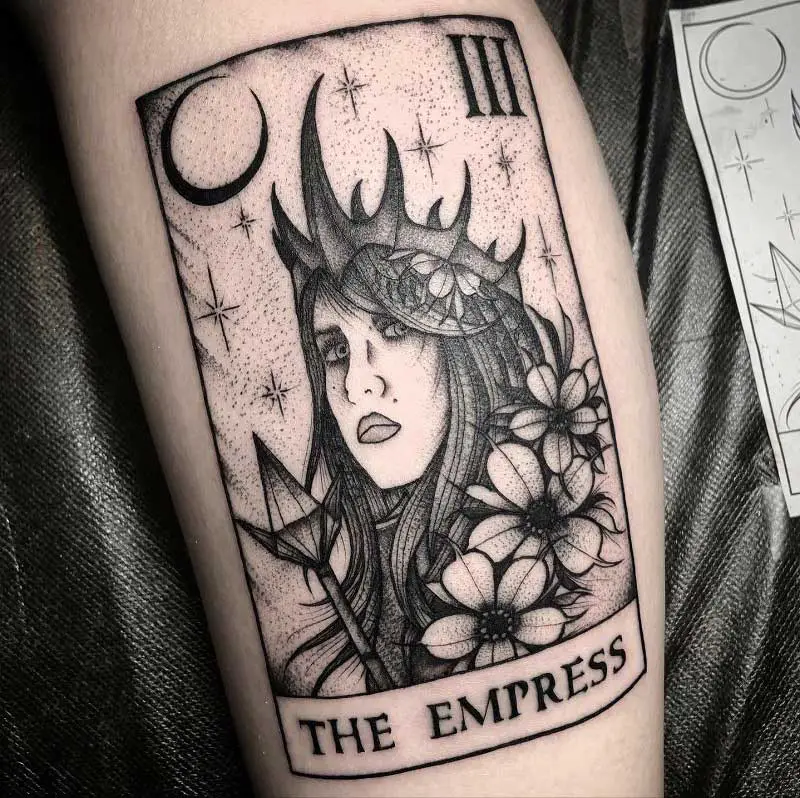 32.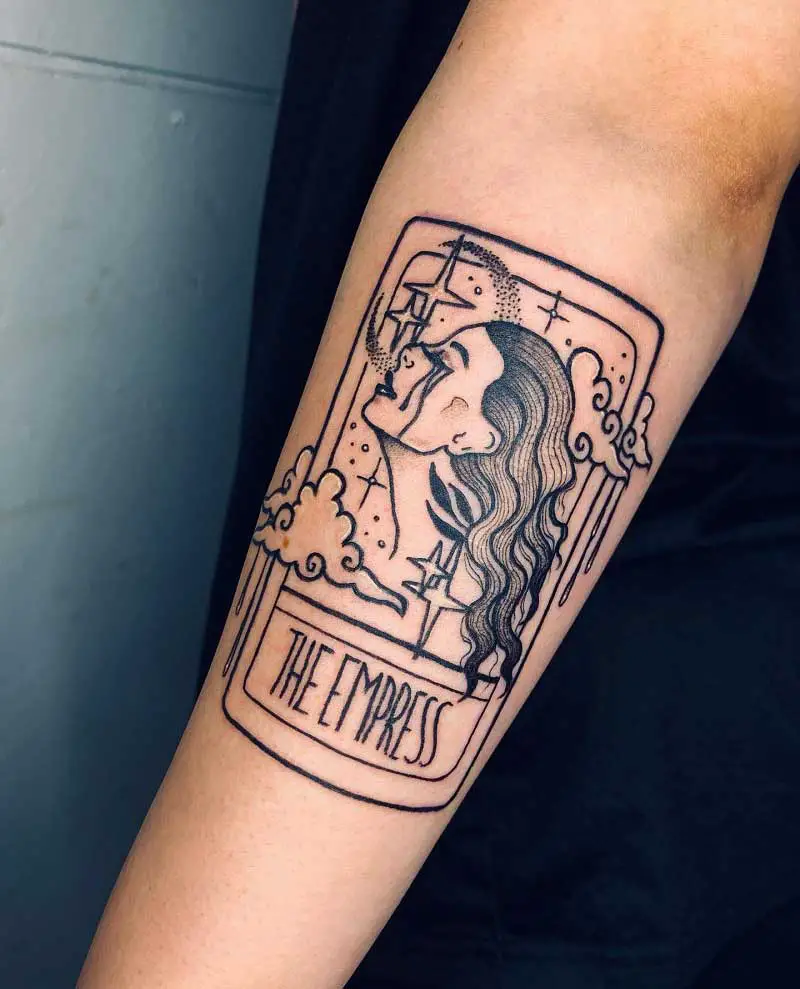 33.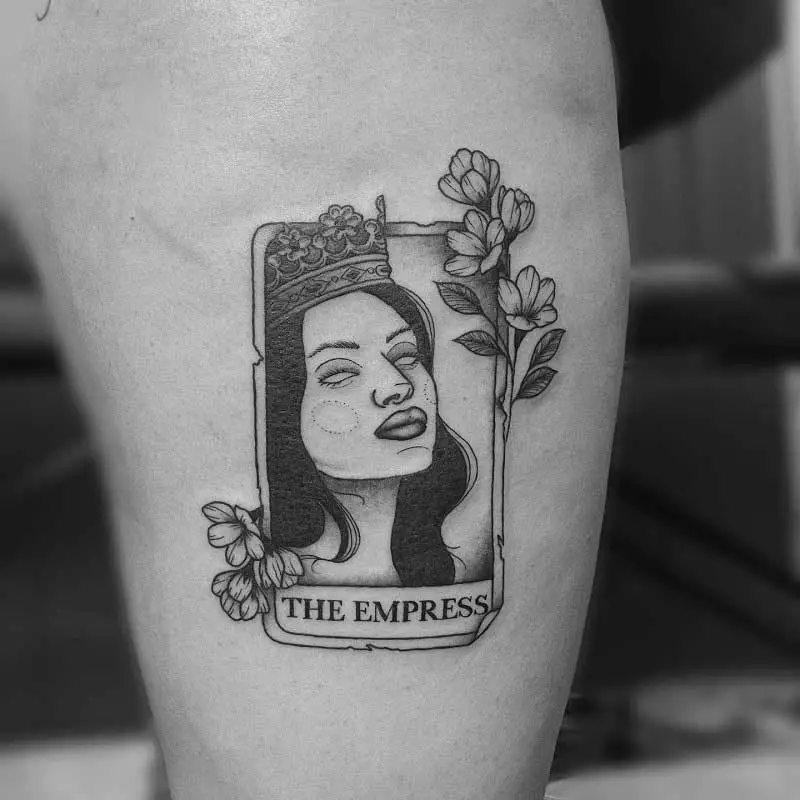 Justice Tarot Card Tattoo
34.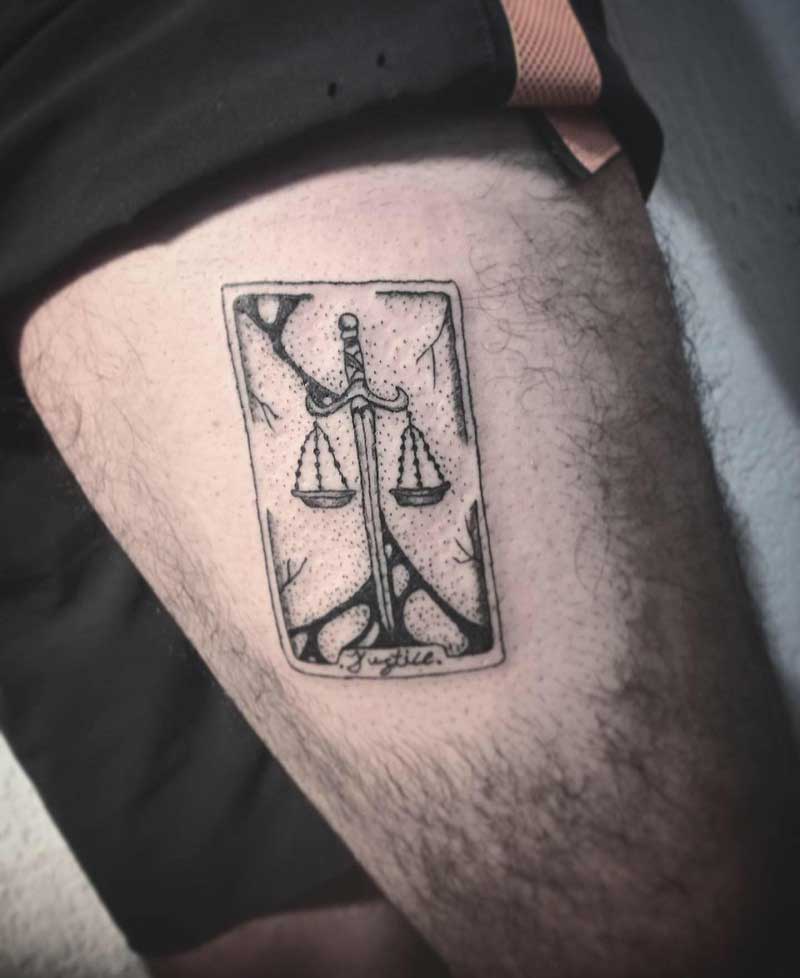 35.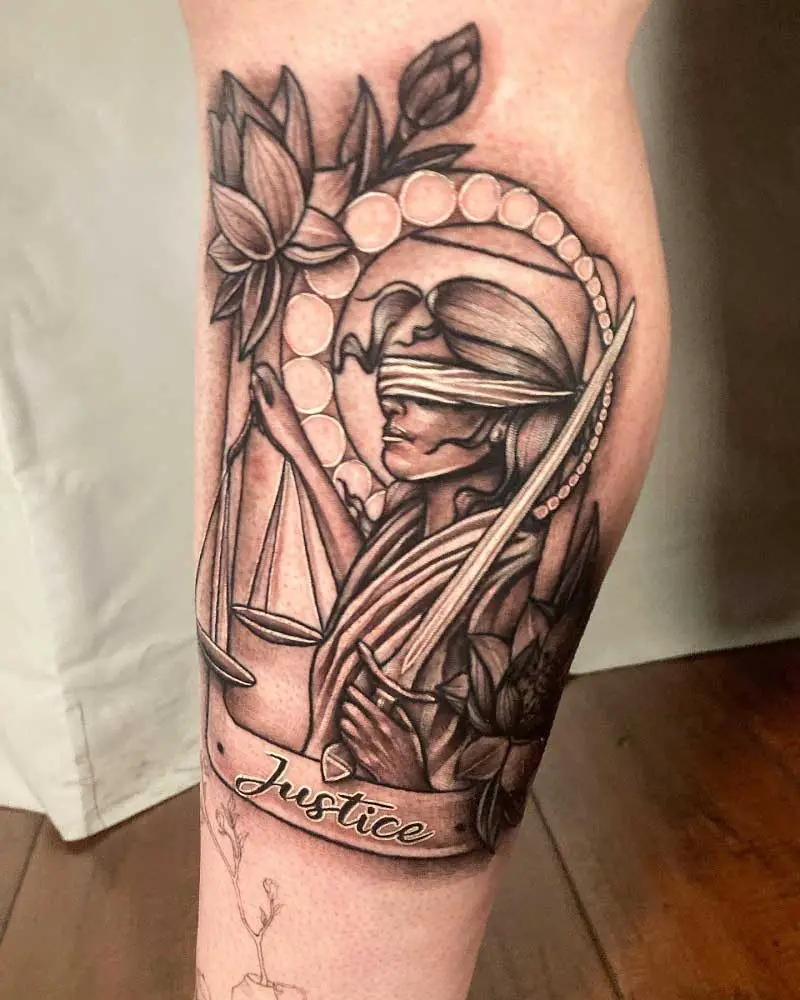 36.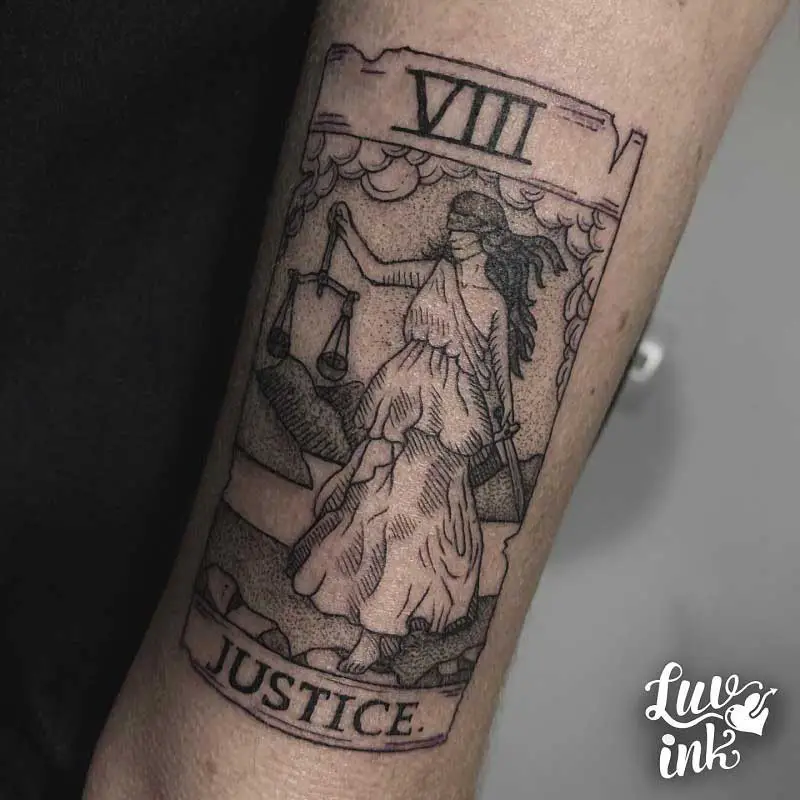 Karma Tarot Card Tattoo
37.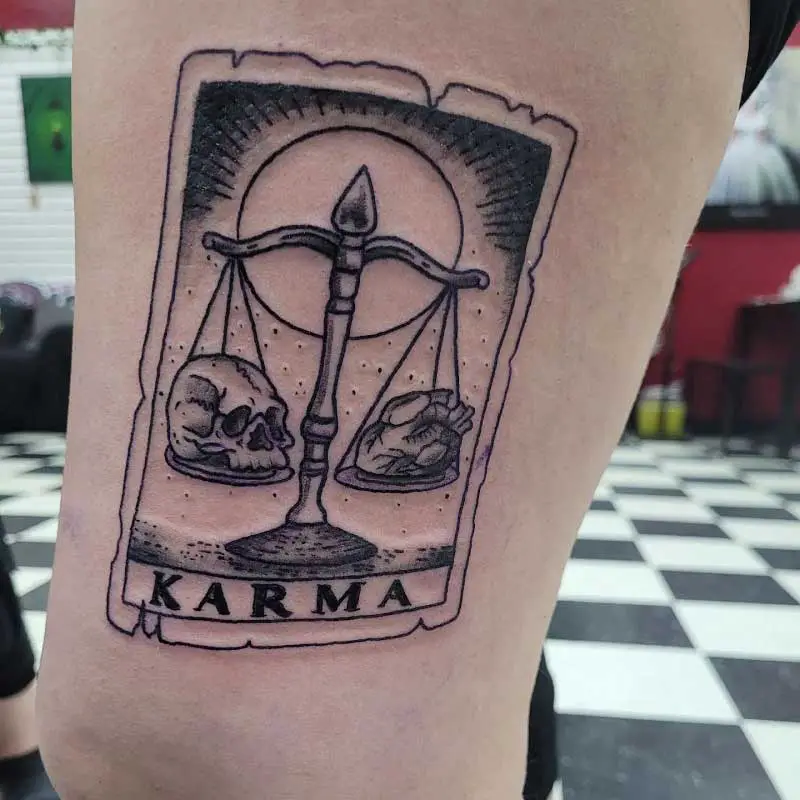 38.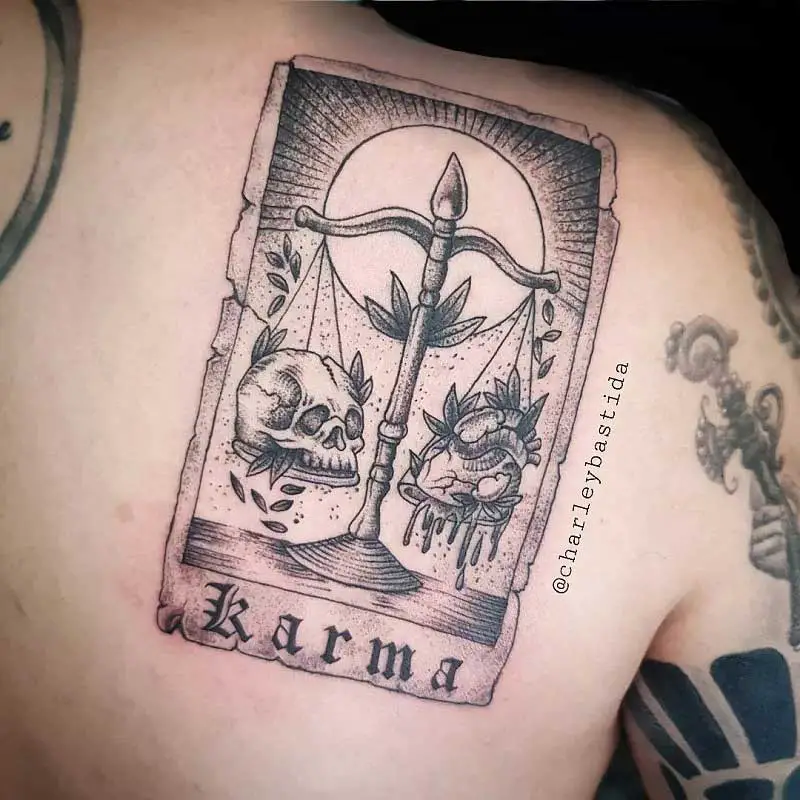 39.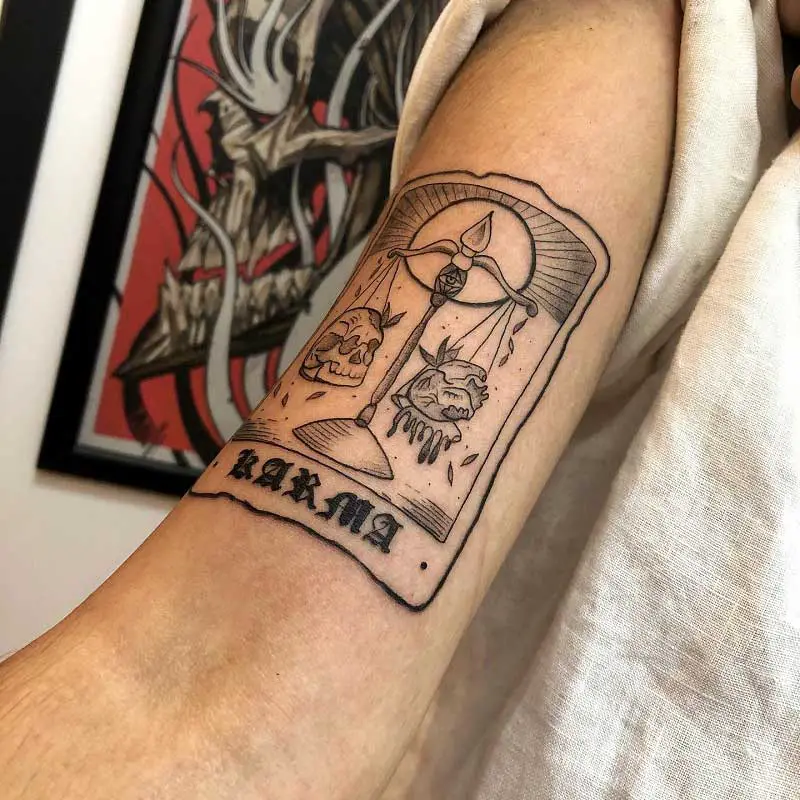 Medusa Tarot Card Tattoo
40.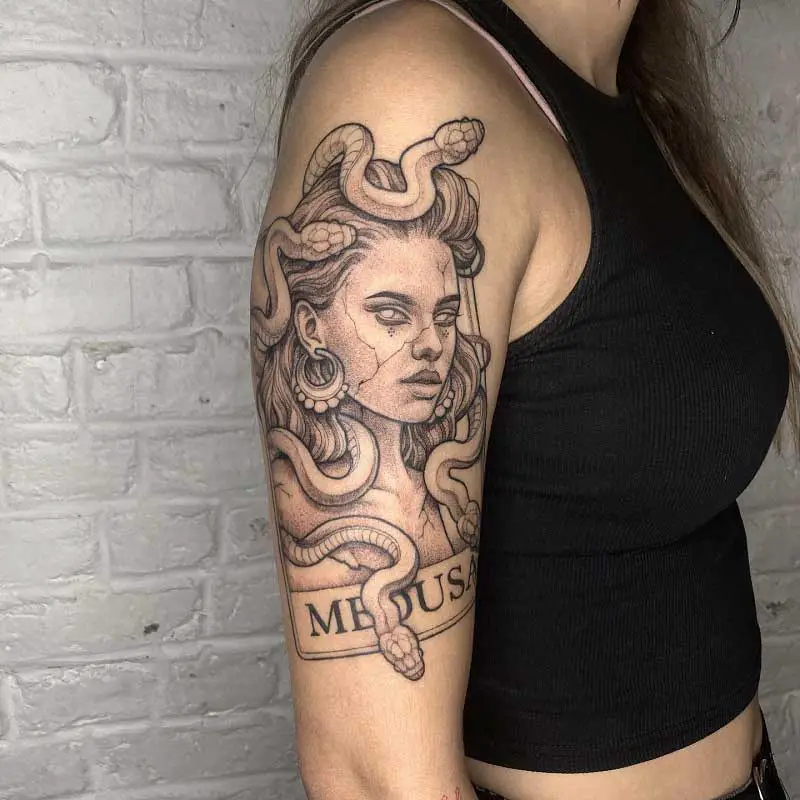 41.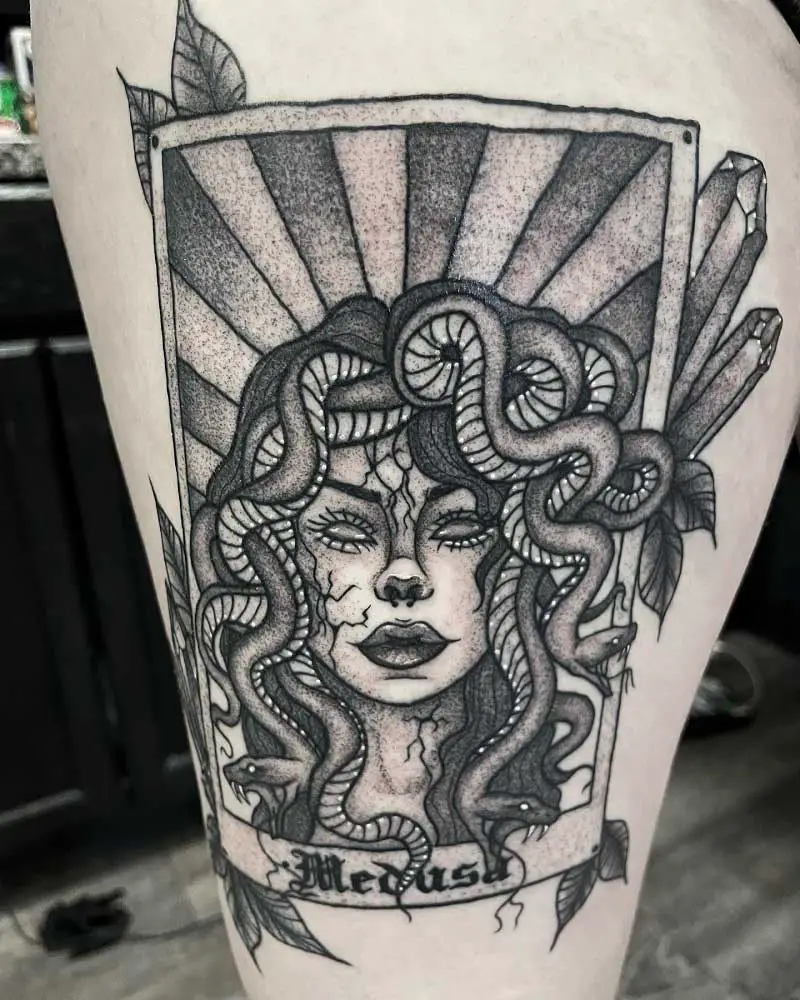 42.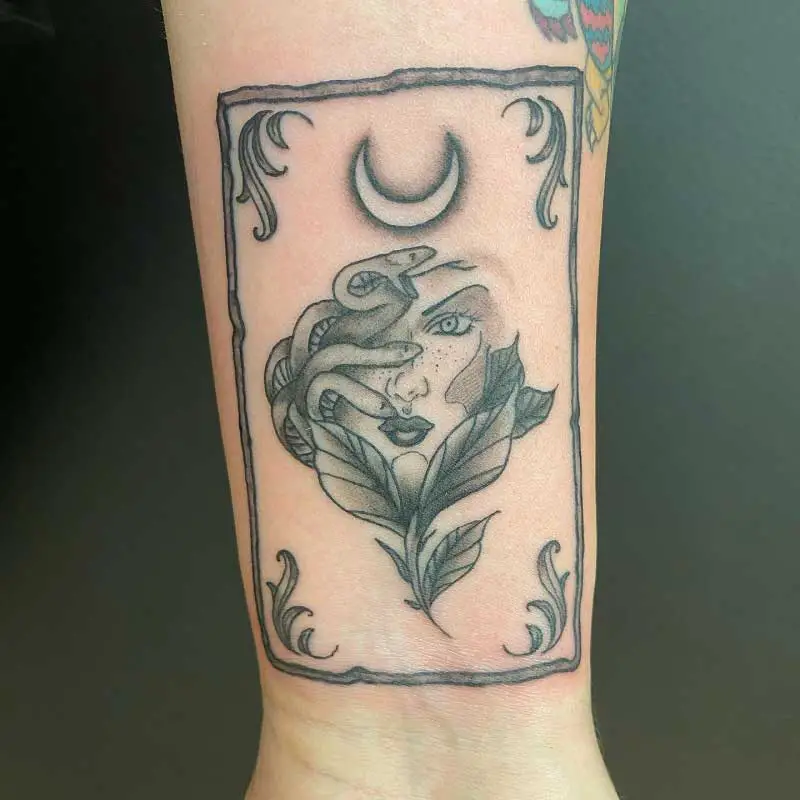 Gemini Tarot Card Tattoo
43.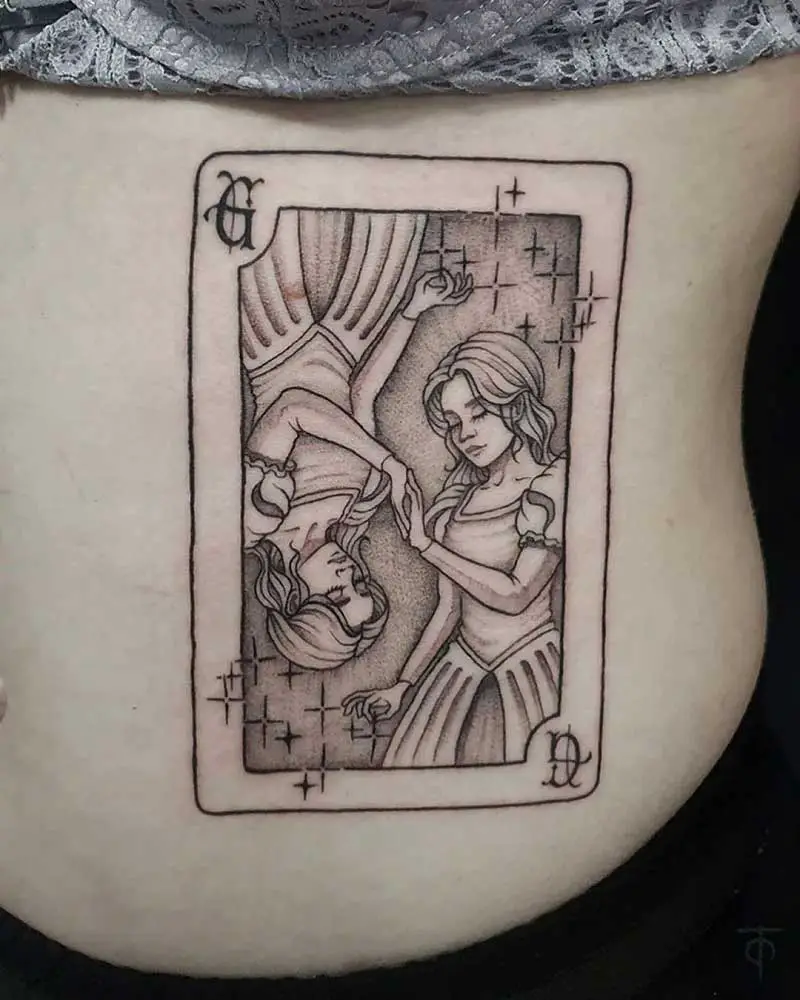 44.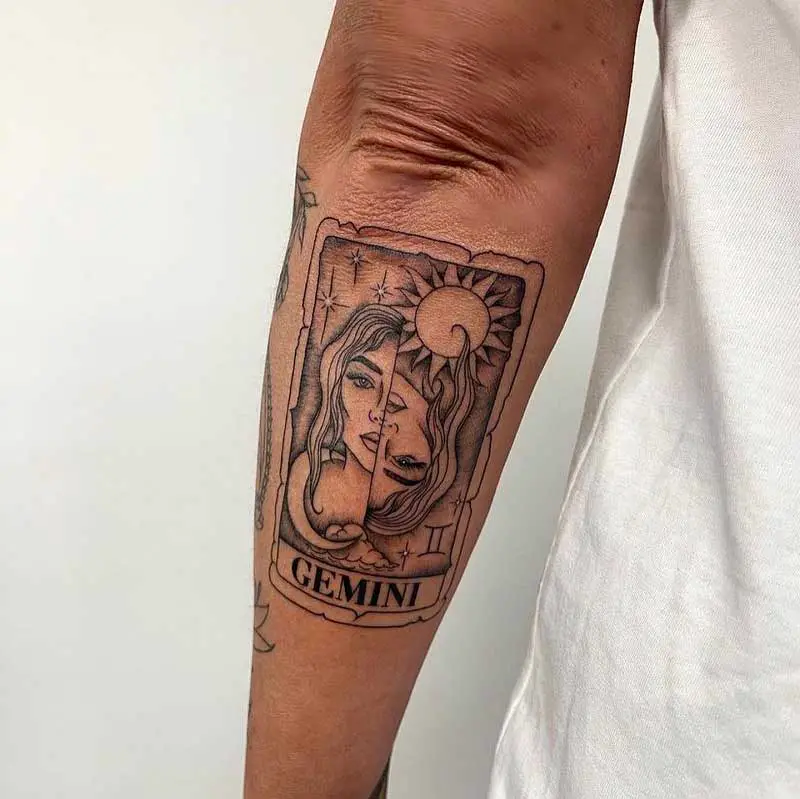 45.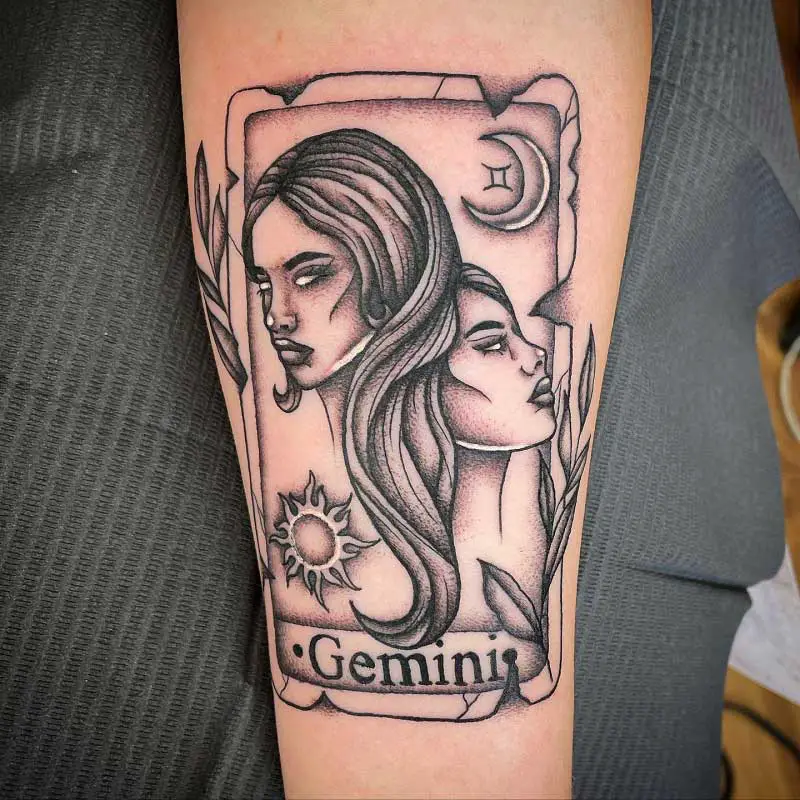 Hermit Tarot Card Tattoo
46.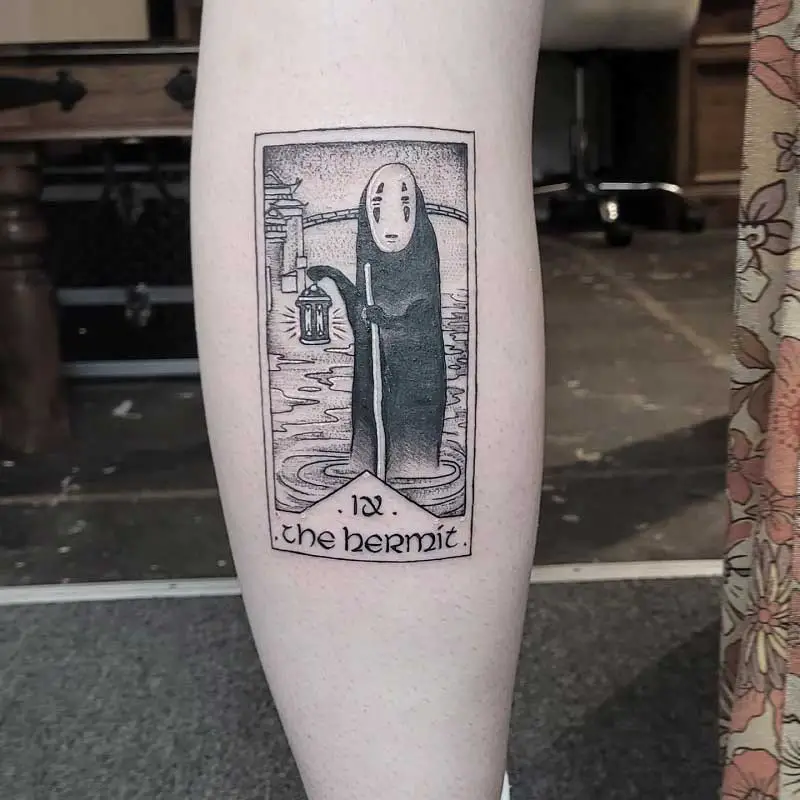 47.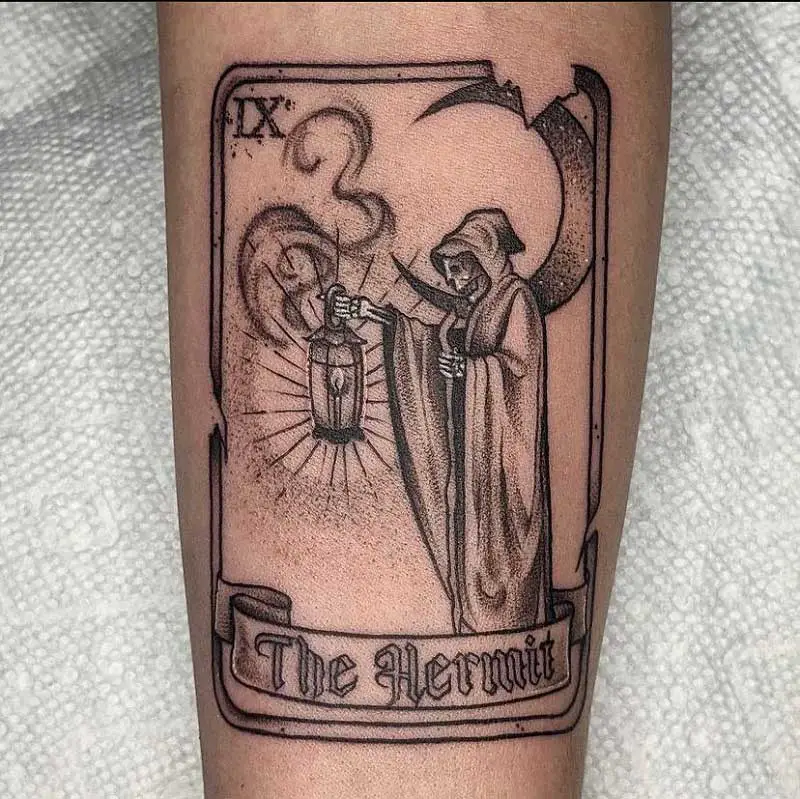 48.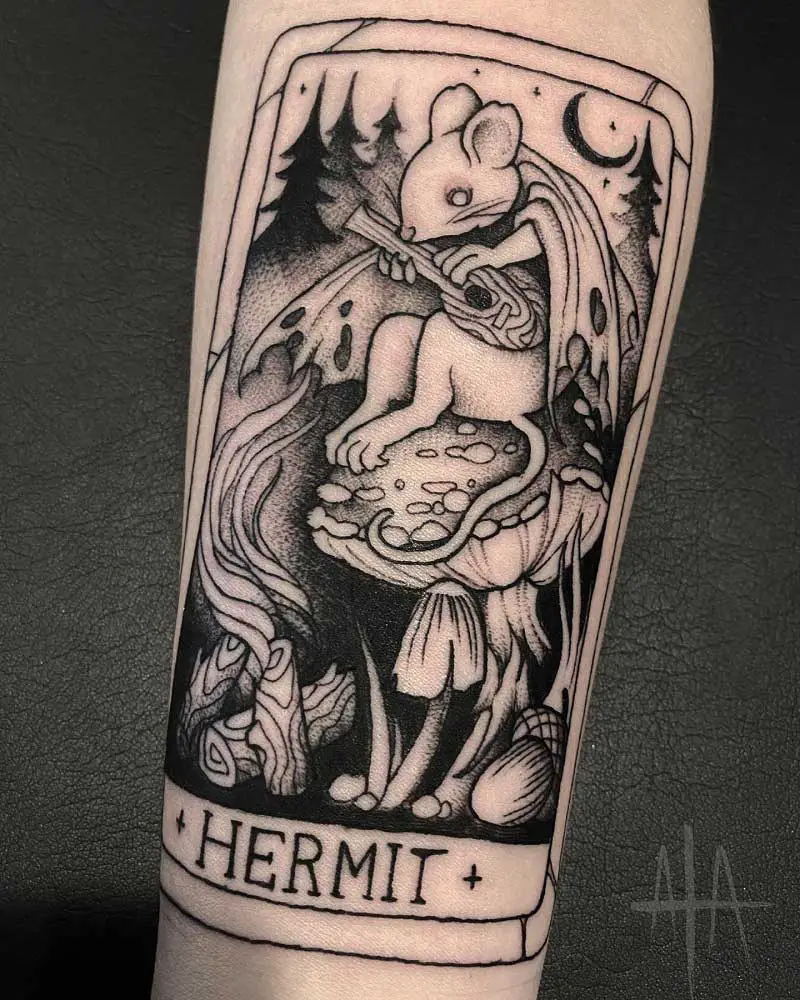 Libra Tarot Card Tattoo
49.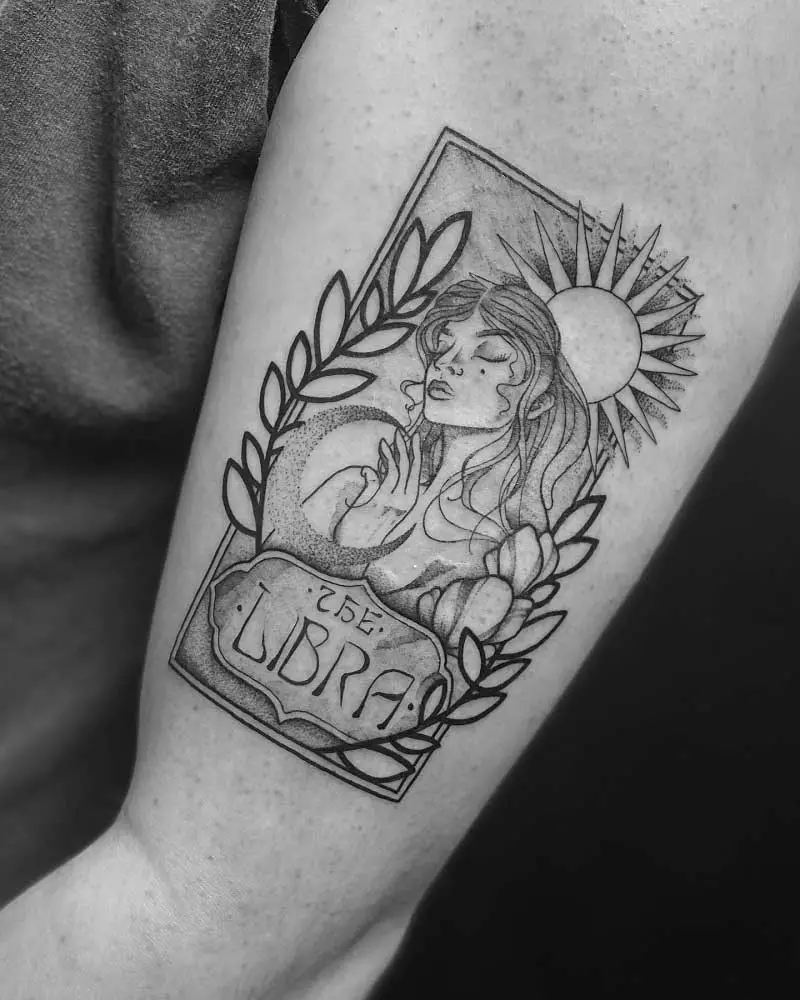 50.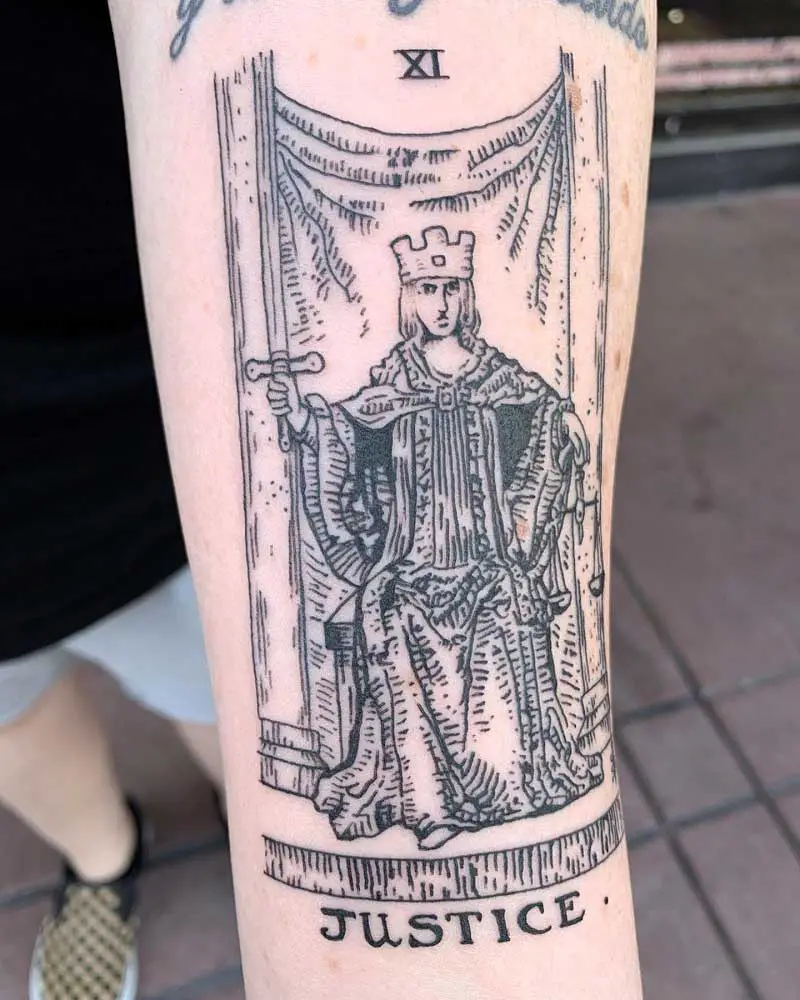 Temperance Tarot Card Tattoo
51.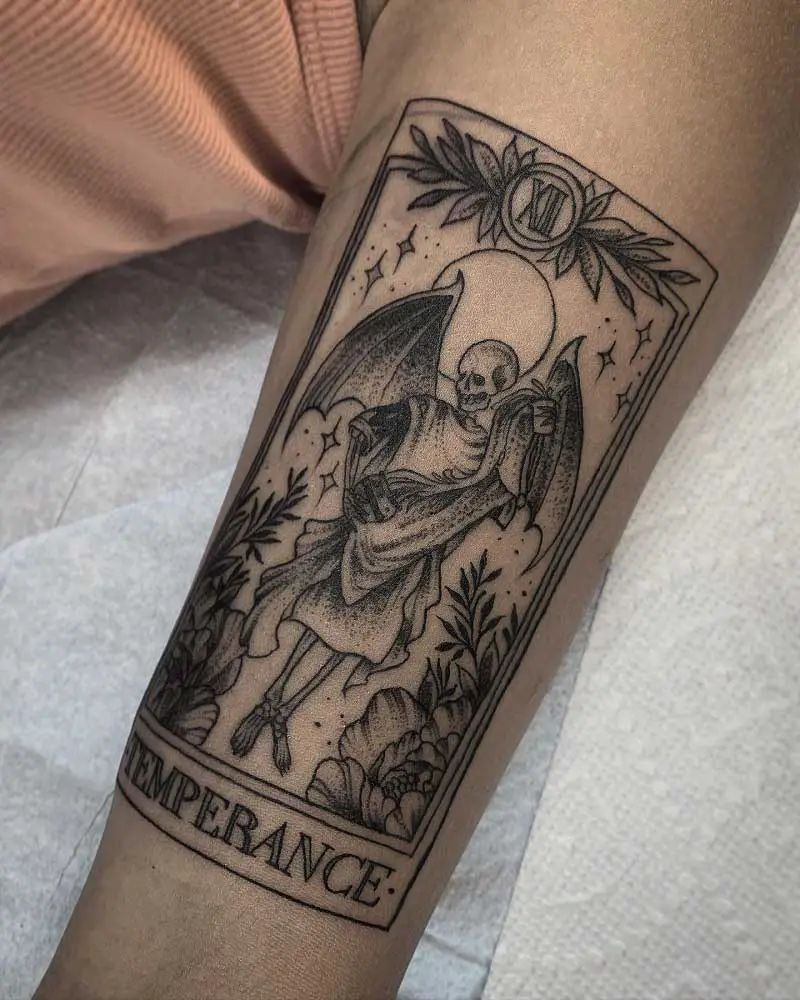 52.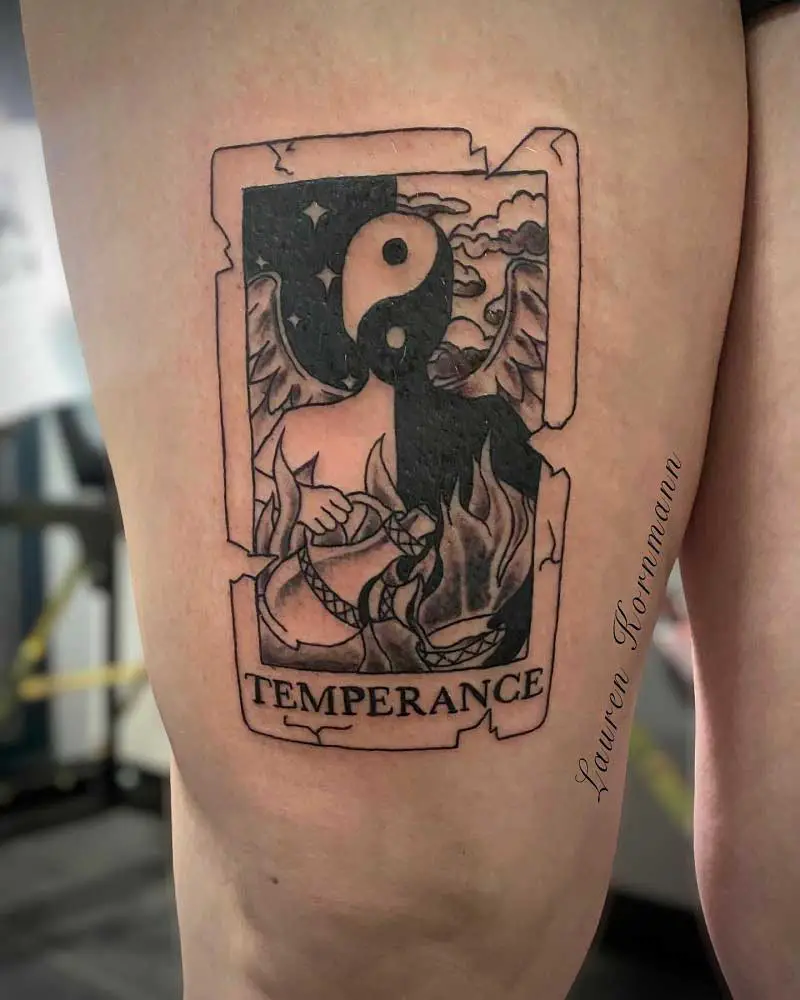 53.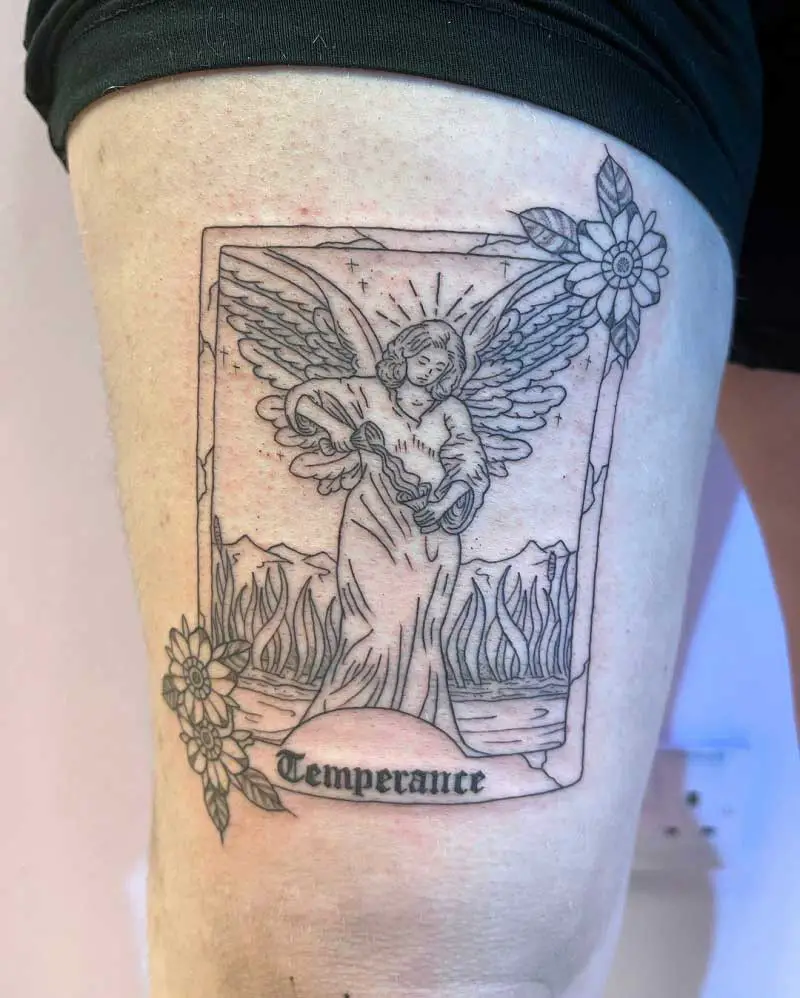 Aries Tarot Card Tattoo
54.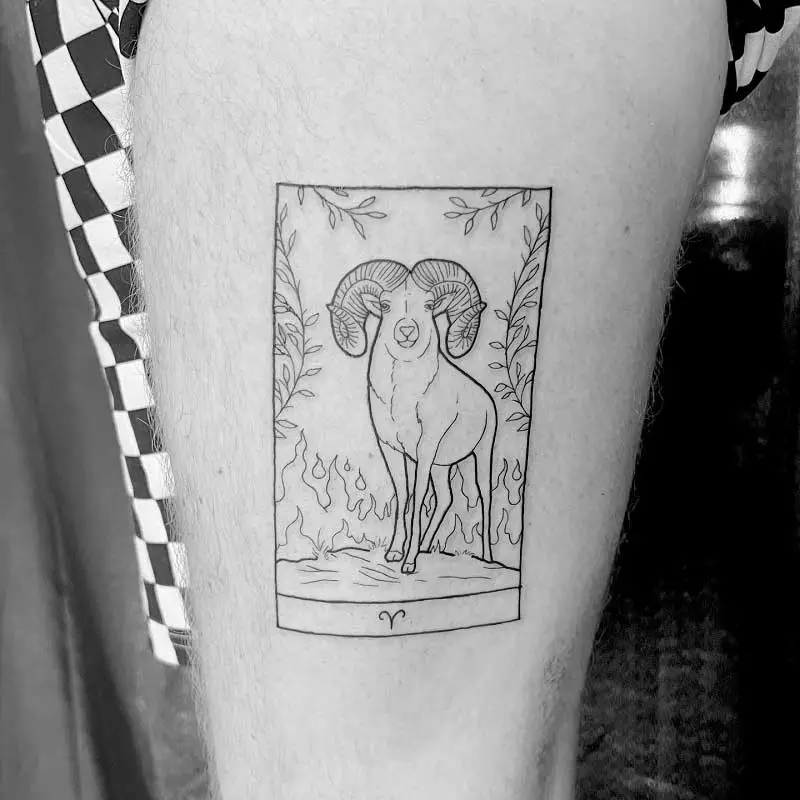 55.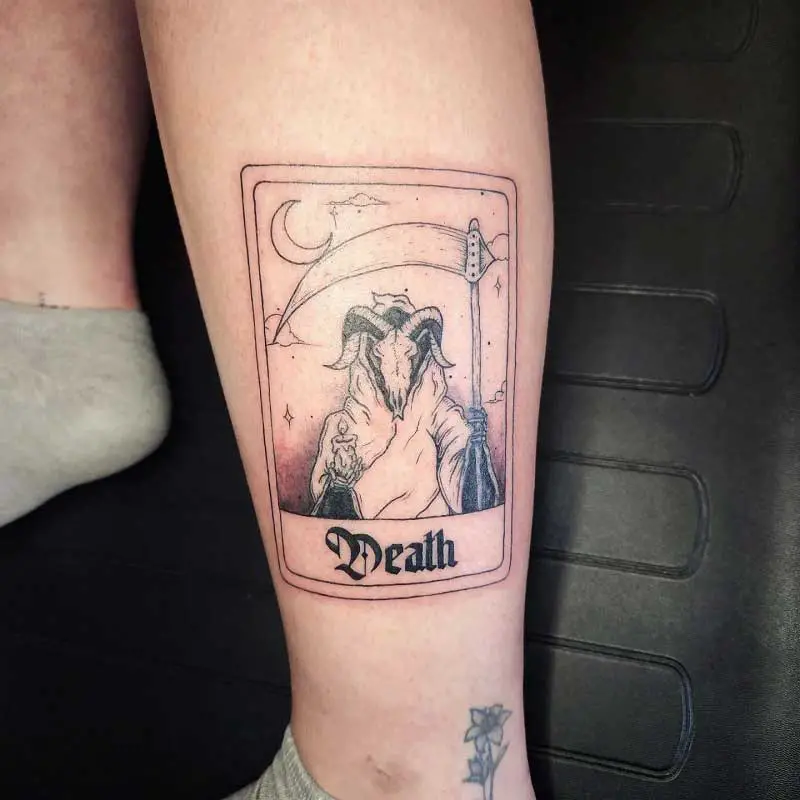 56.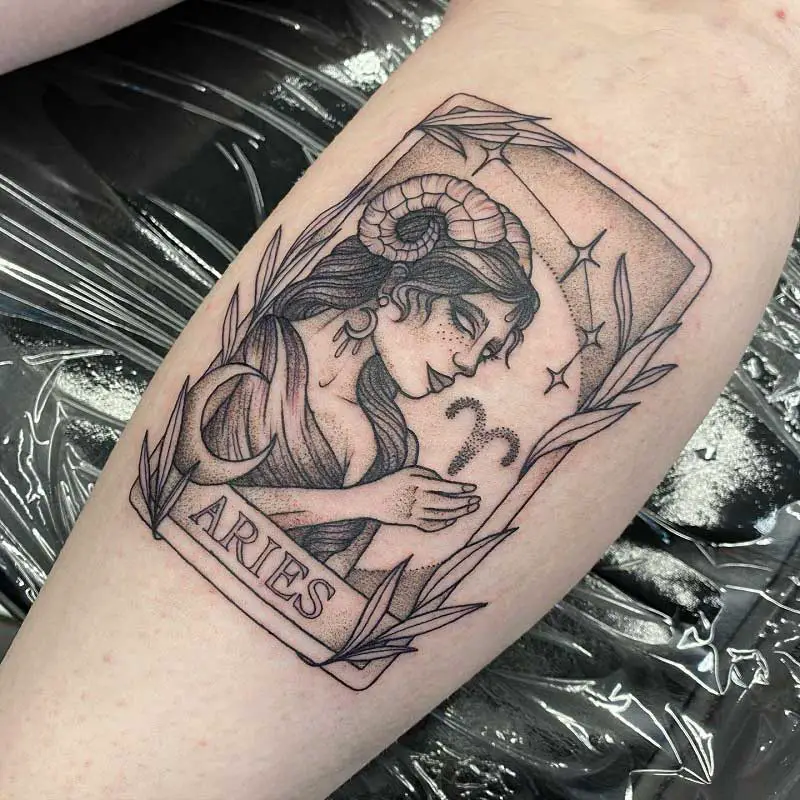 Fool Tarot Card Tattoo
57.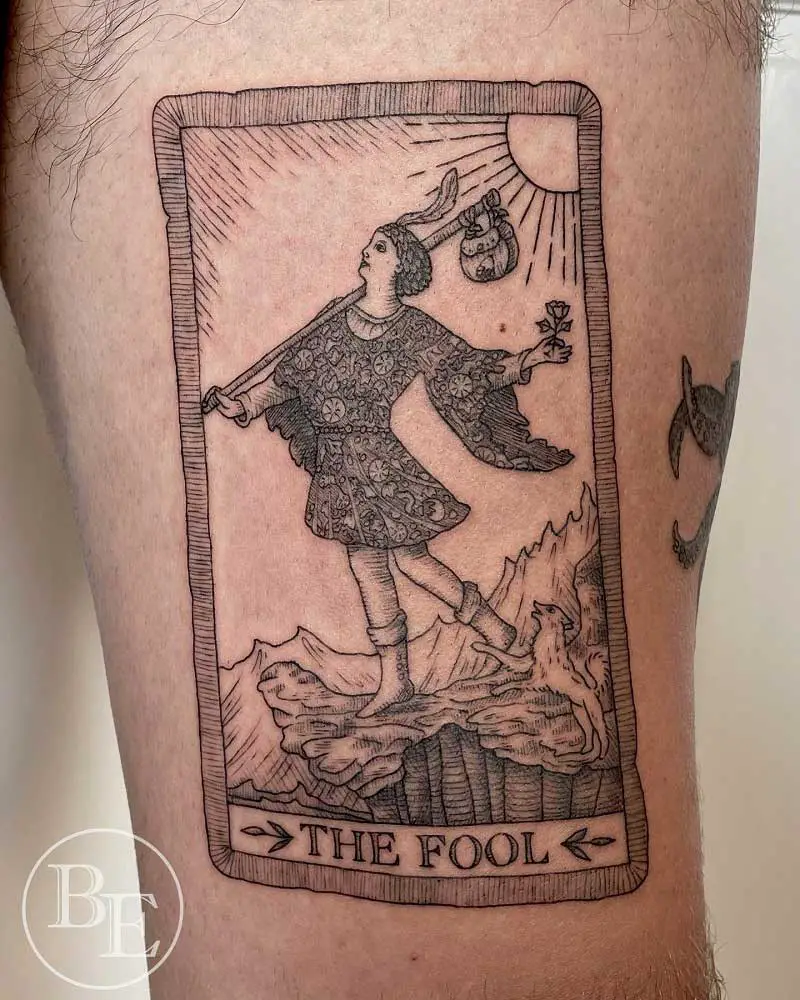 58.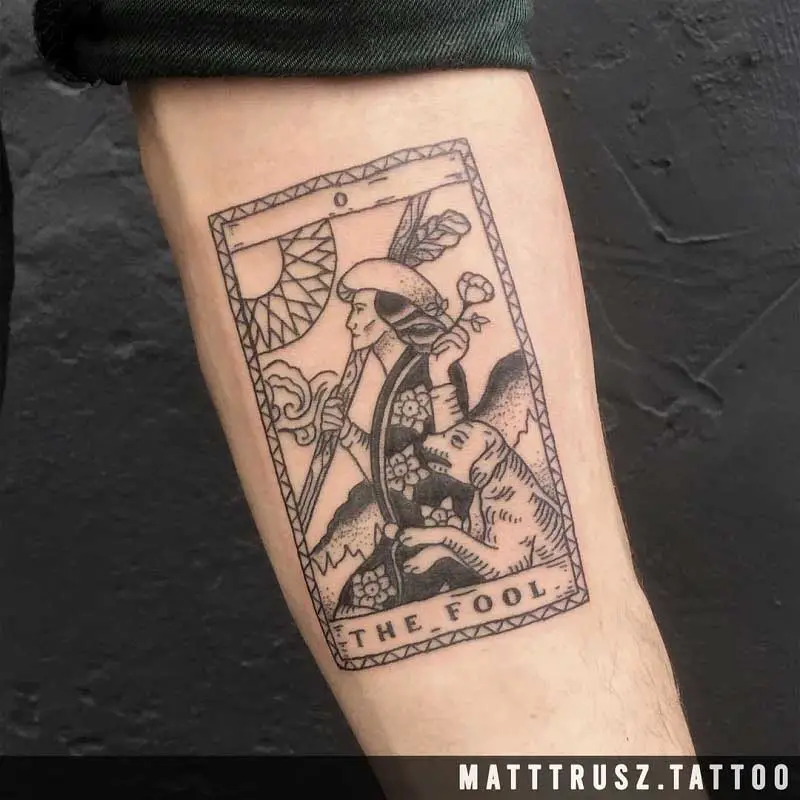 59.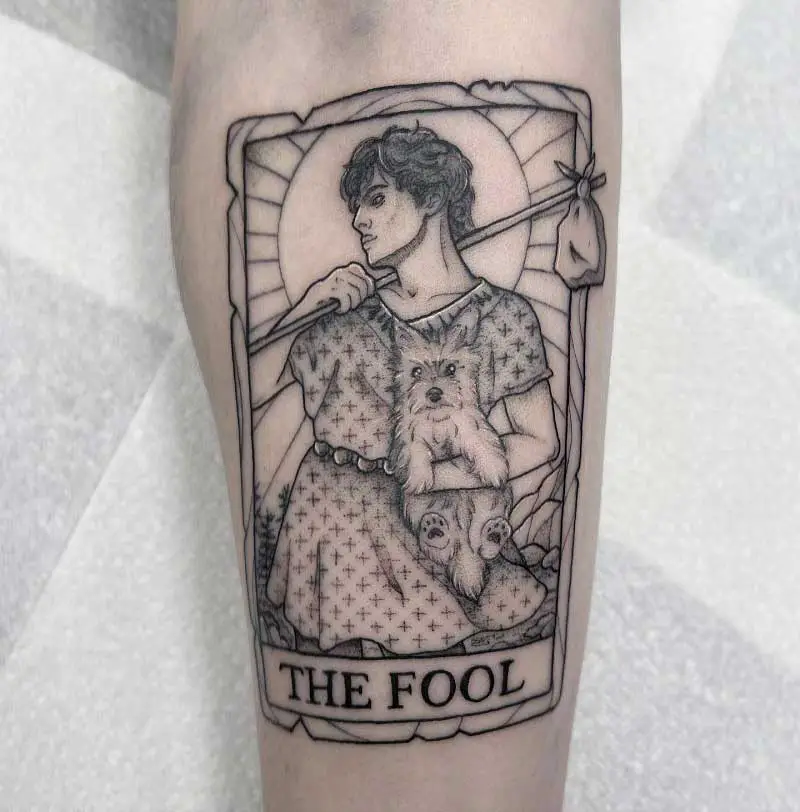 Hand Holding Tarot Card Tattoo
60.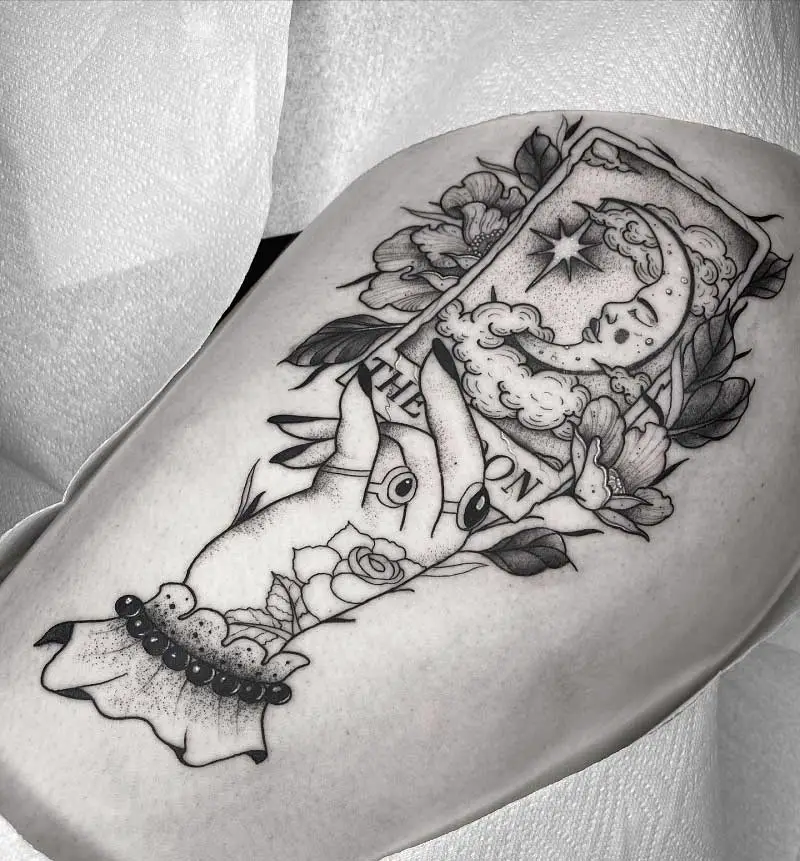 61.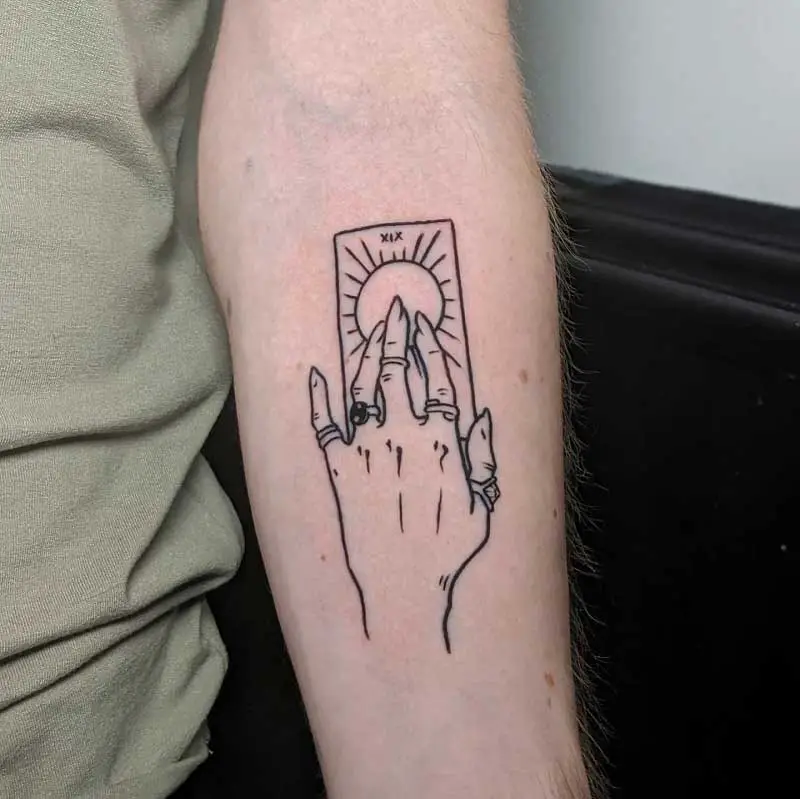 62.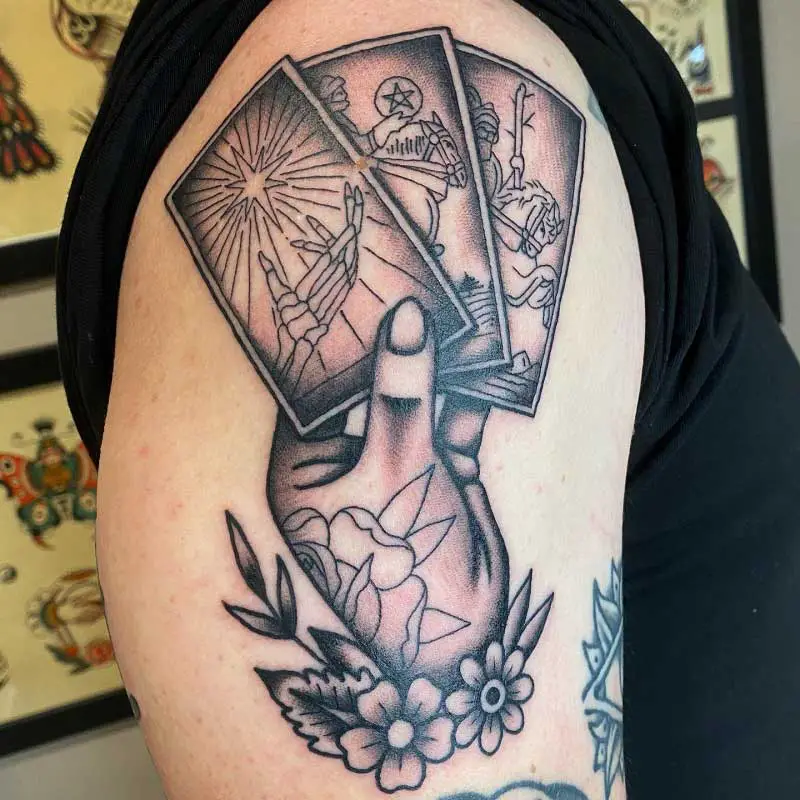 Judgement Tarot Card Tattoo
63.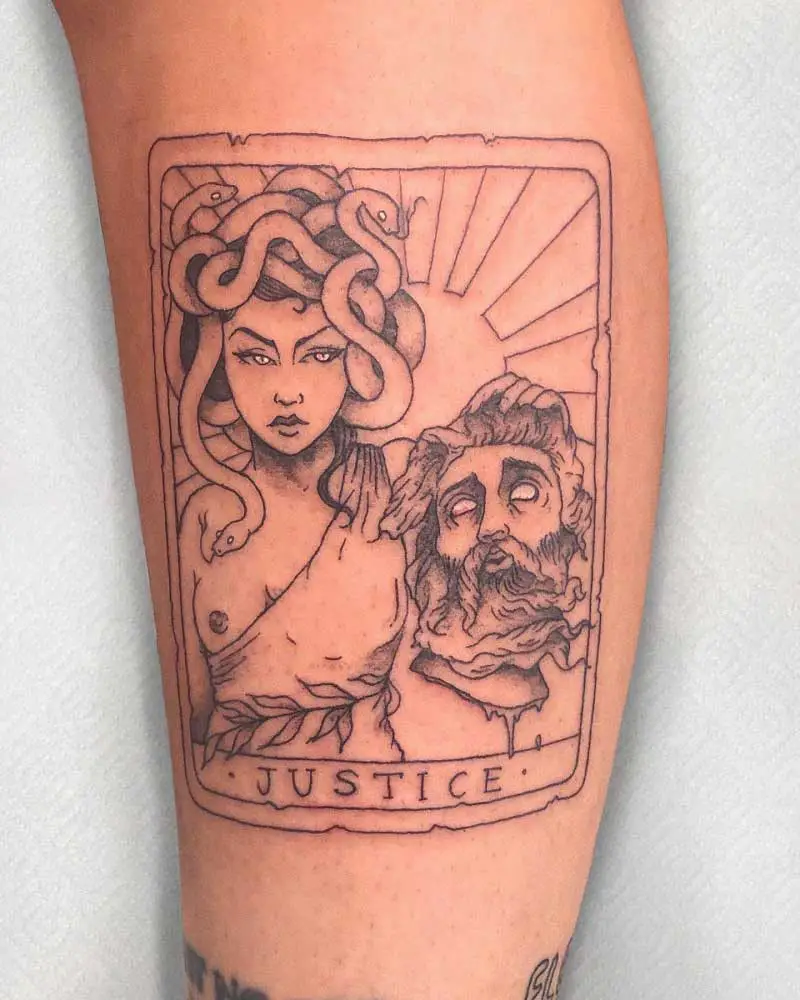 64.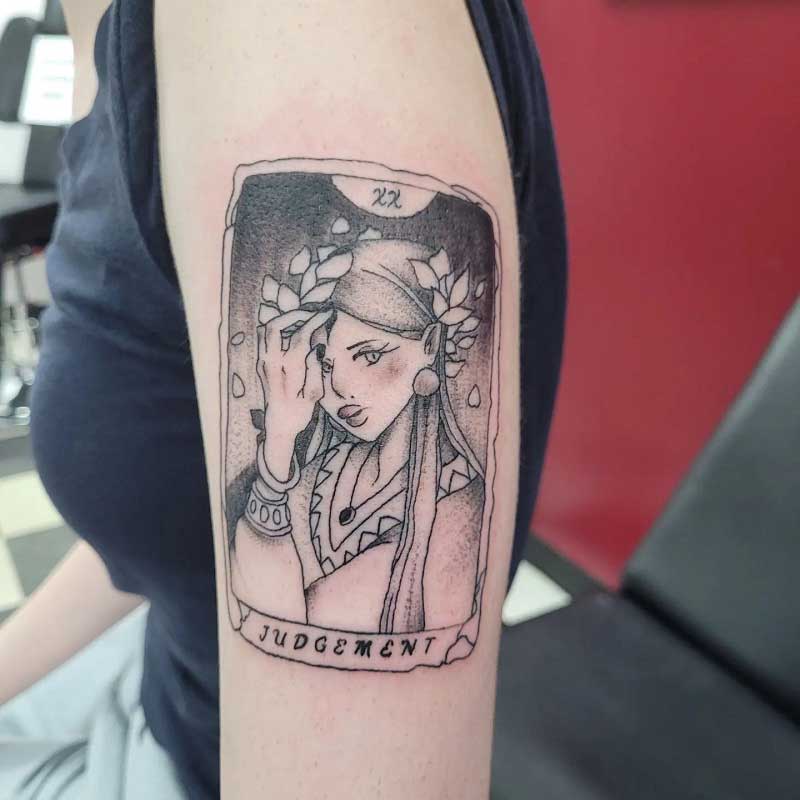 65.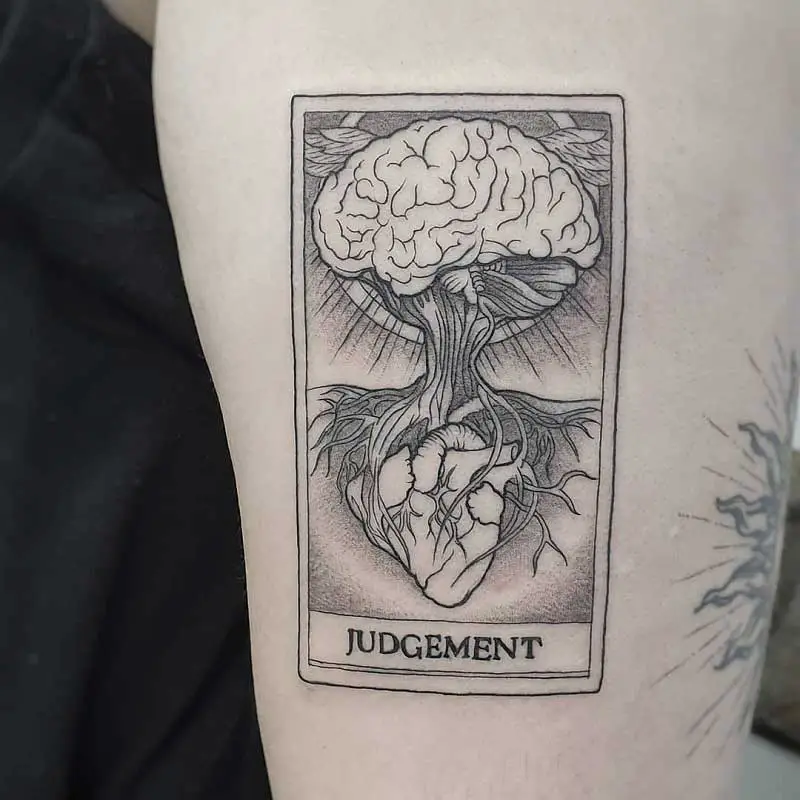 Leo Tarot Card Tattoo
66.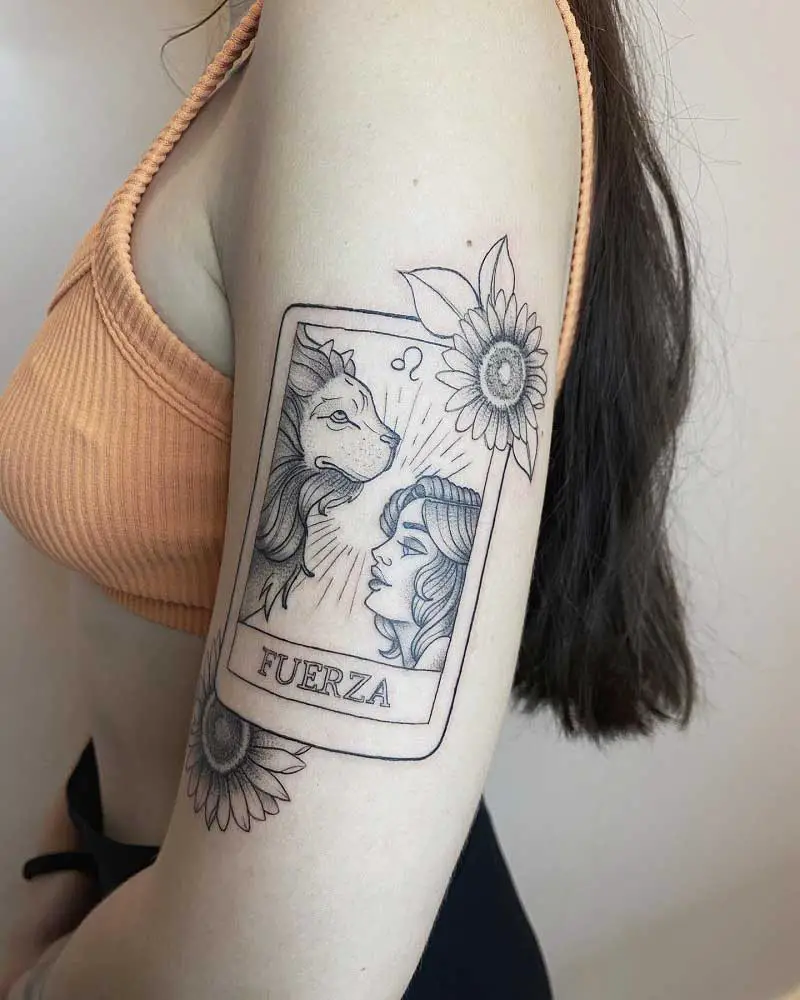 67.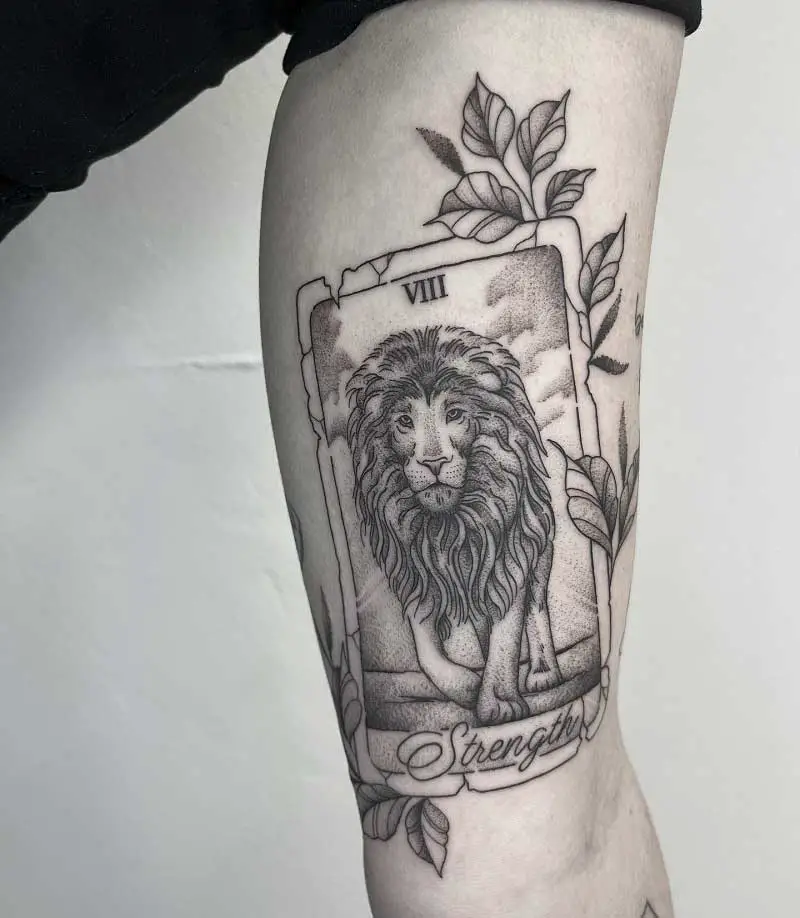 68.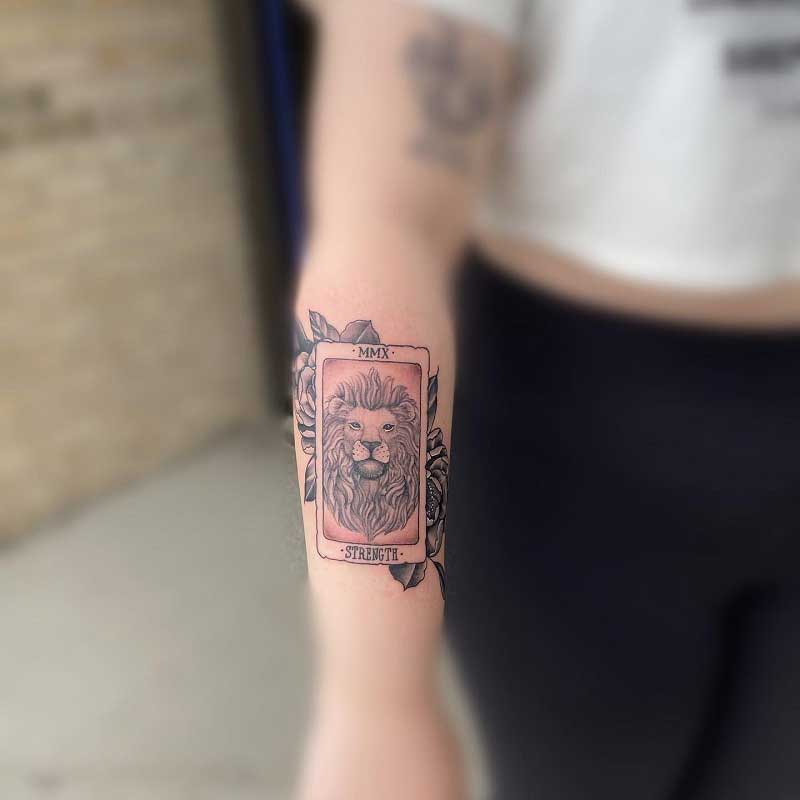 Love Tarot Card Tattoo
69.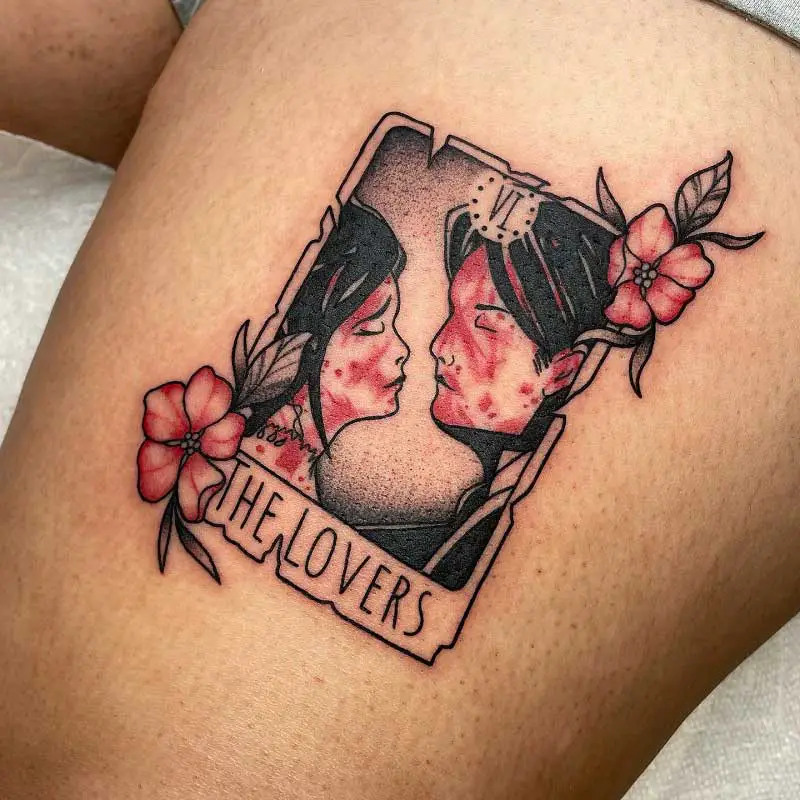 70.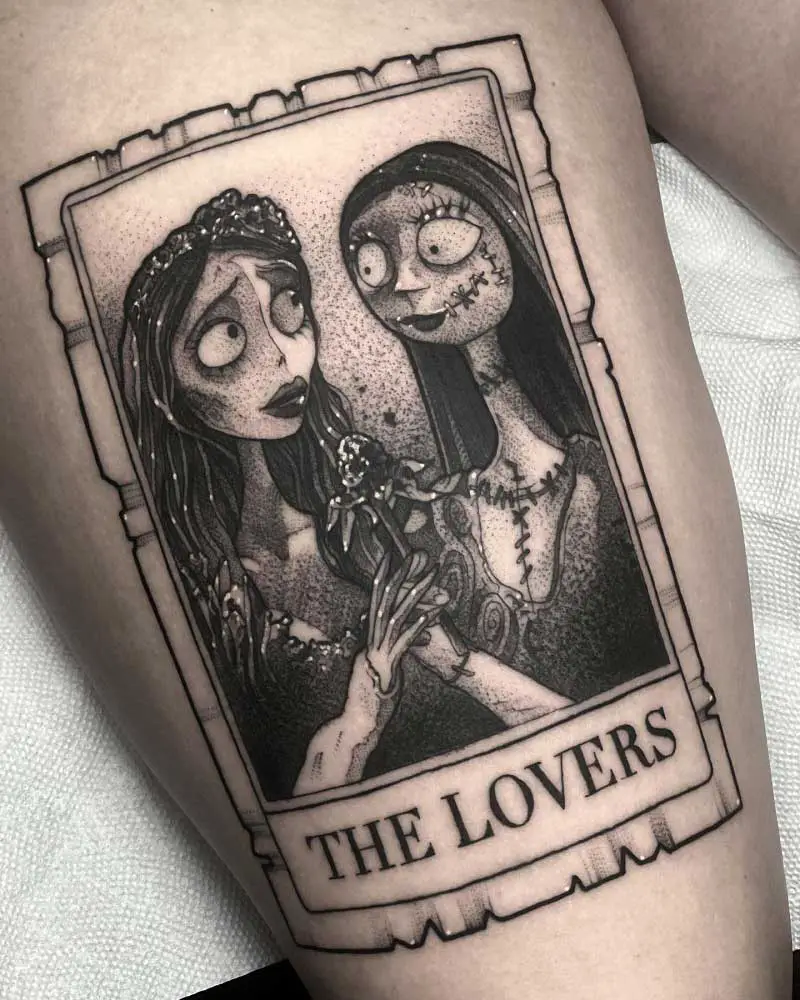 71.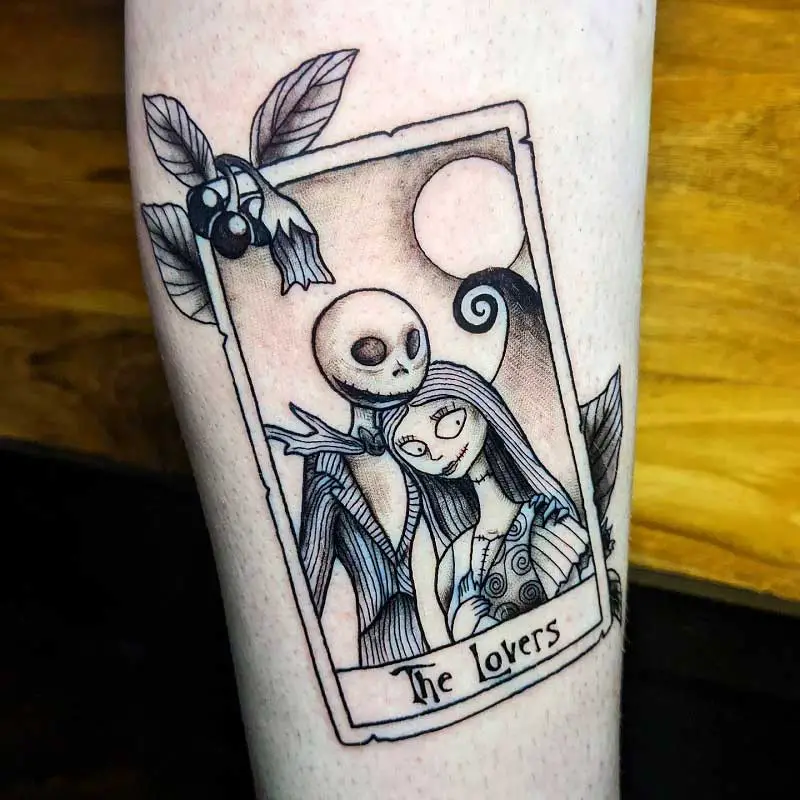 Pisces Tarot Card Tattoo
72.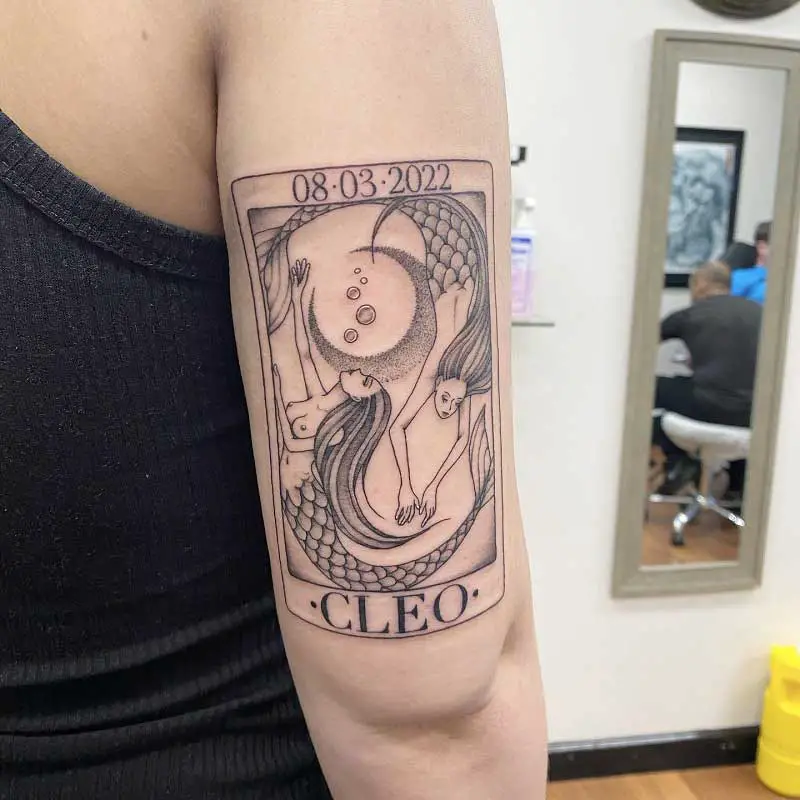 73.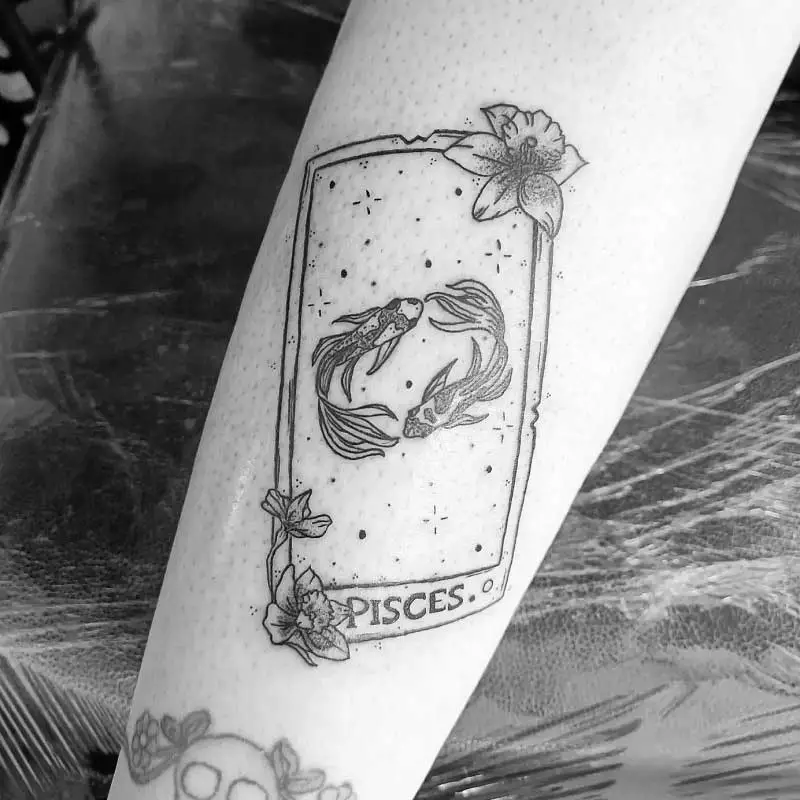 74.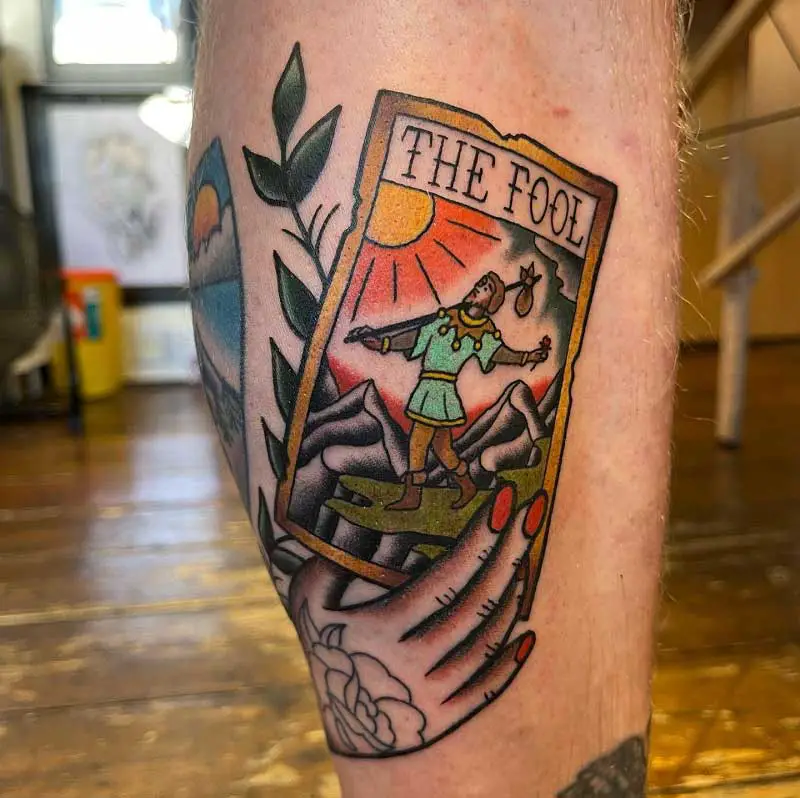 Star Platinum Tarot Card Tattoo
75.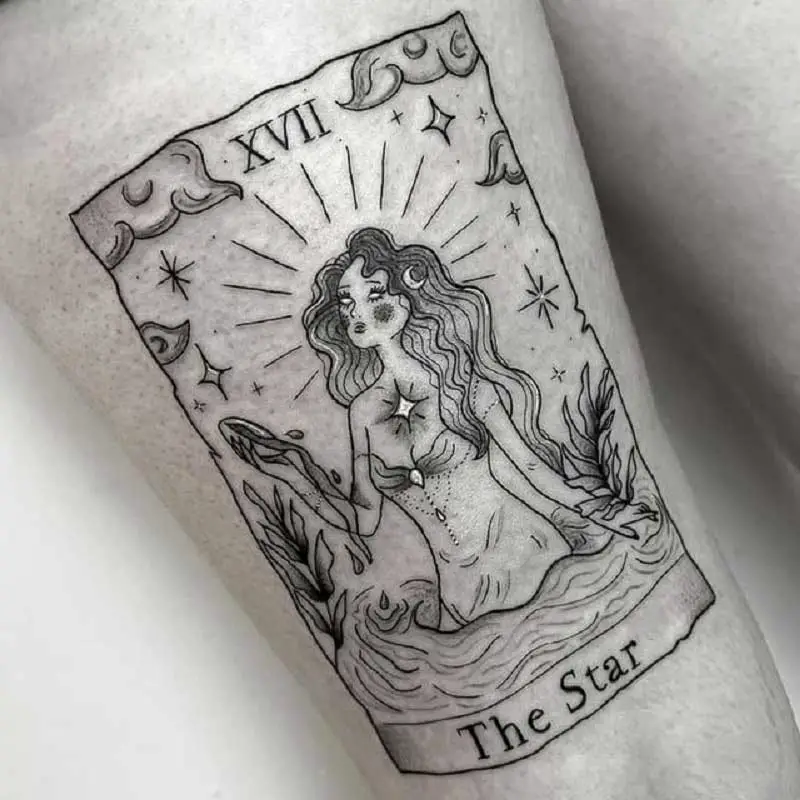 76.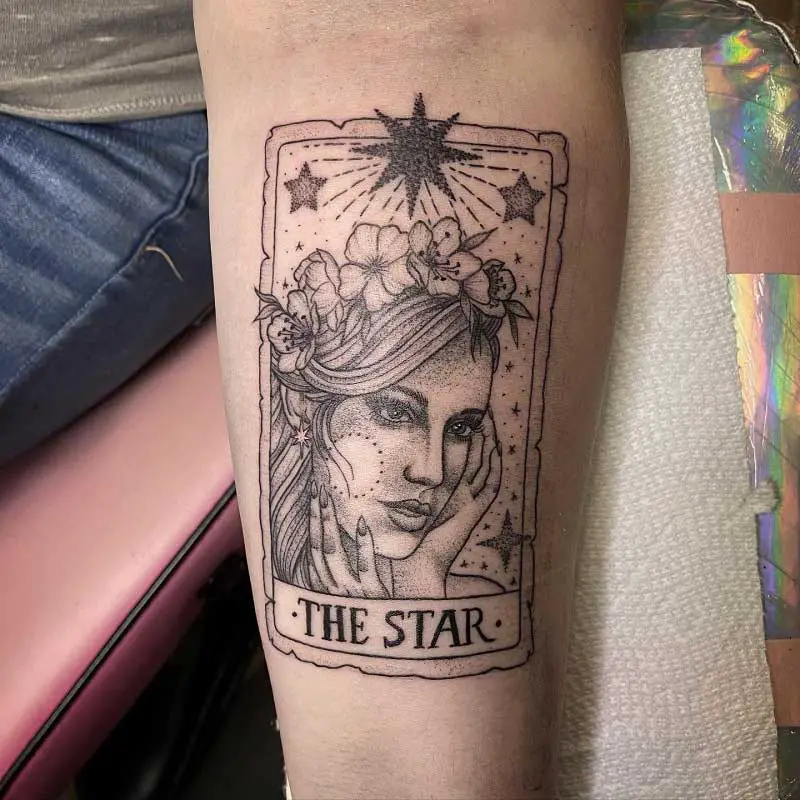 77.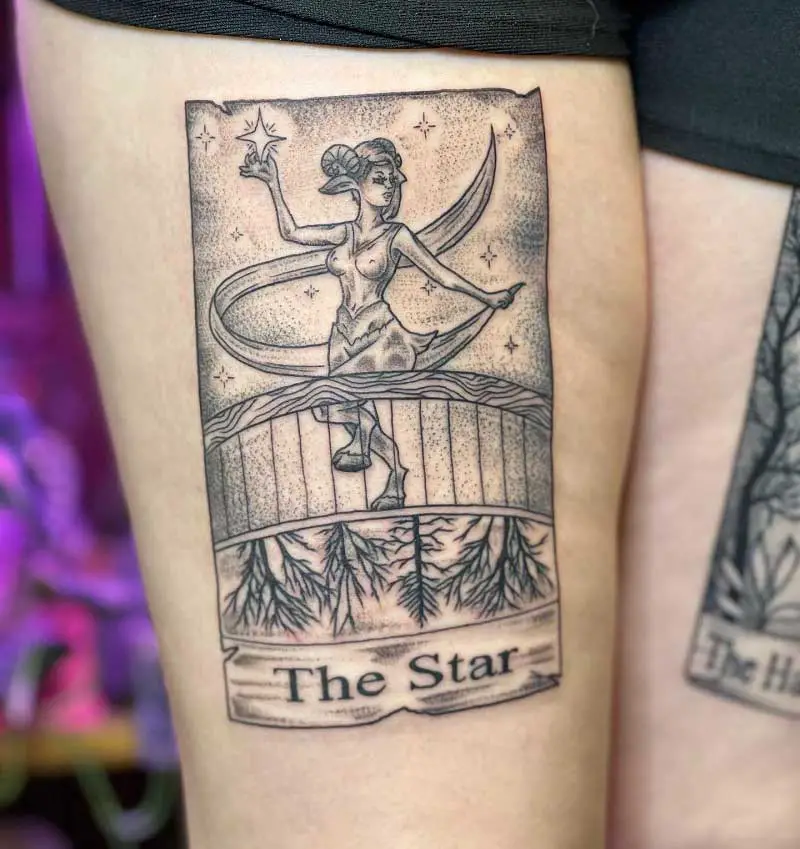 Virgo Tarot Card Tattoo
78.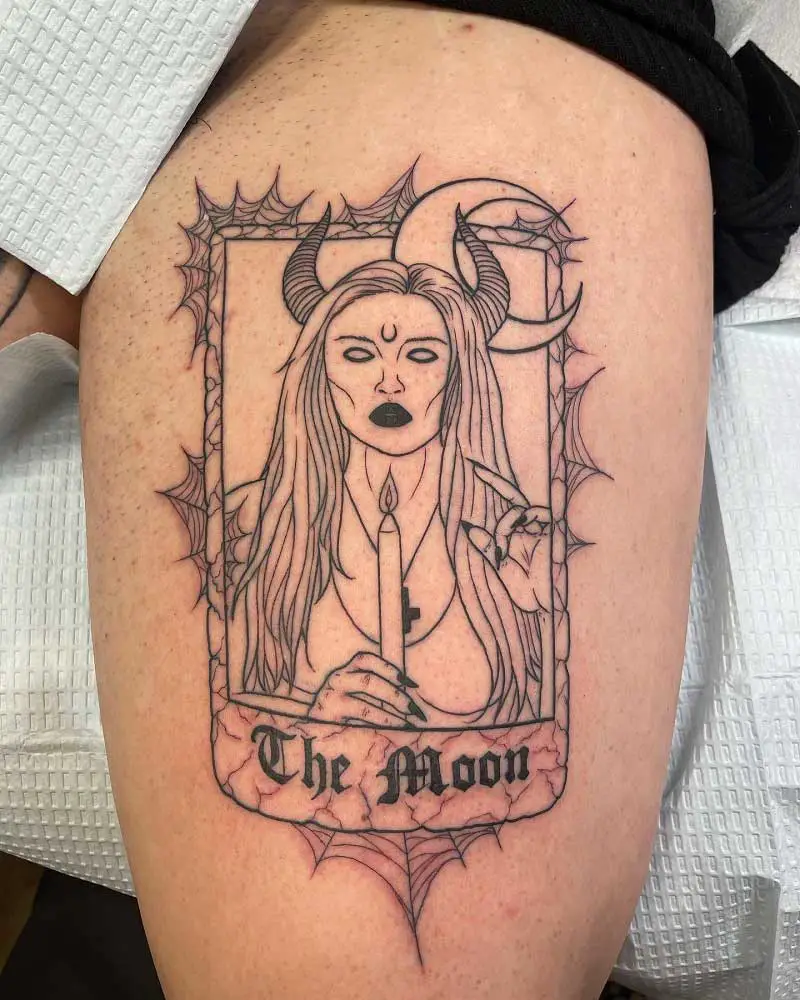 79.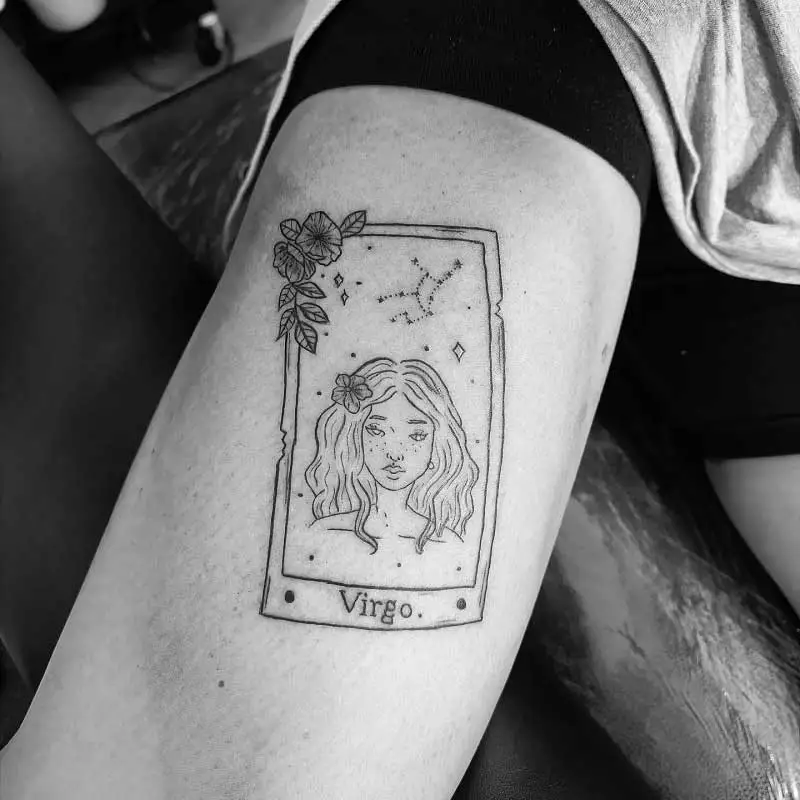 Stevie Nicks Tarot Card Tattoo
80.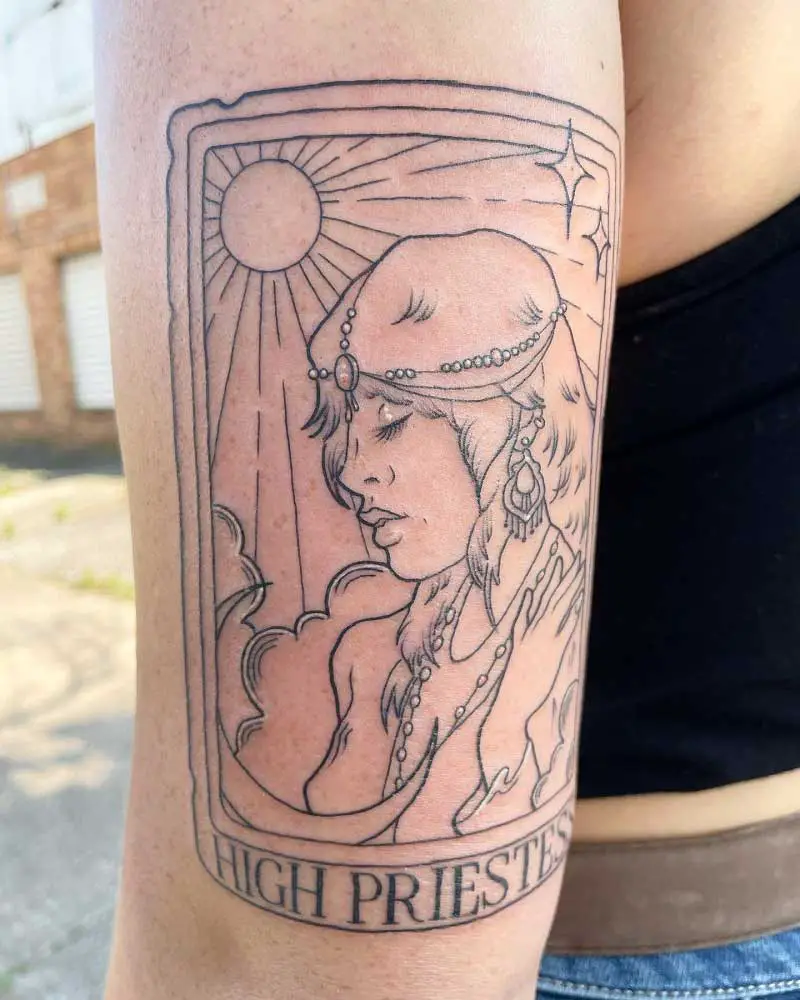 81.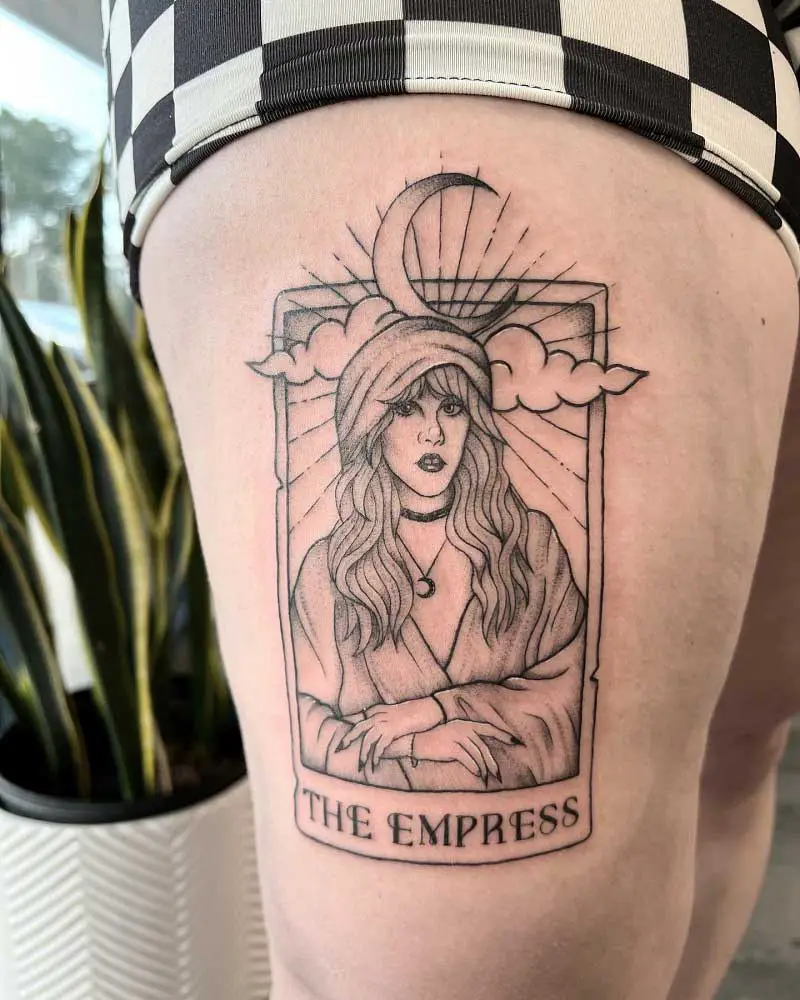 82.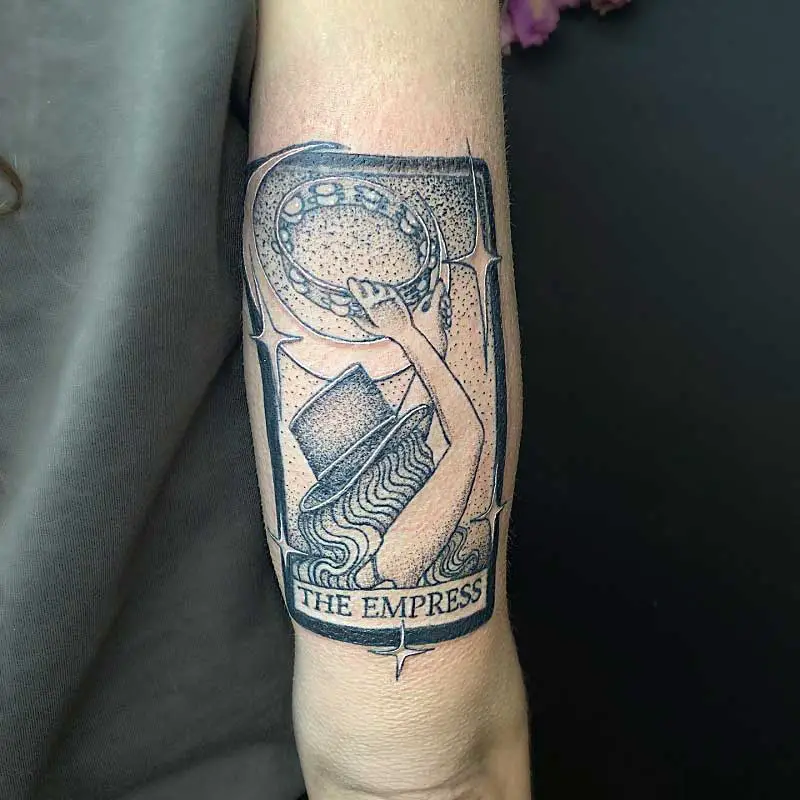 Aquarius Tarot Card Tattoo
83.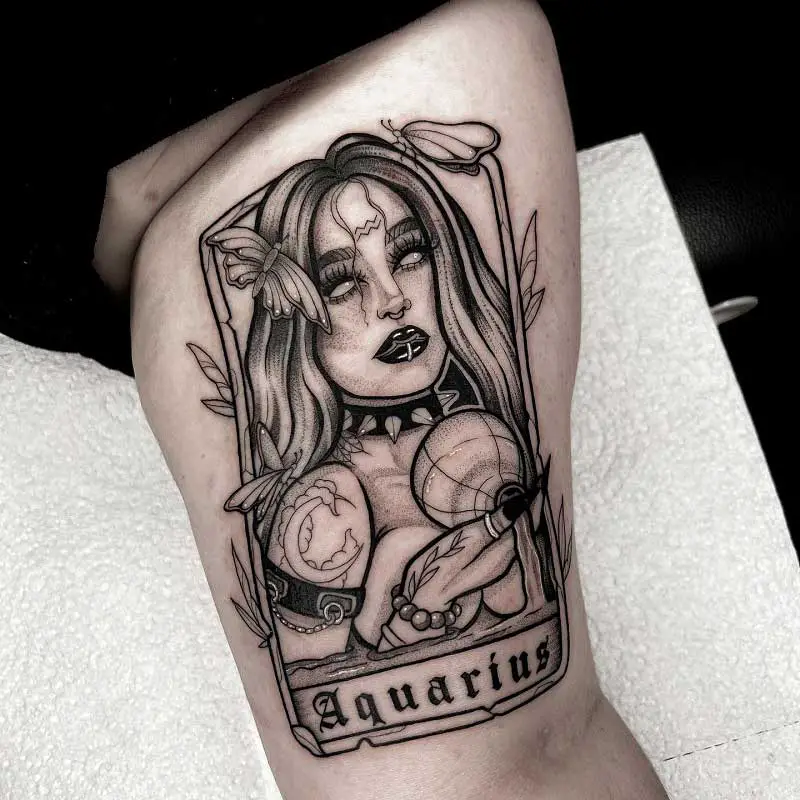 84.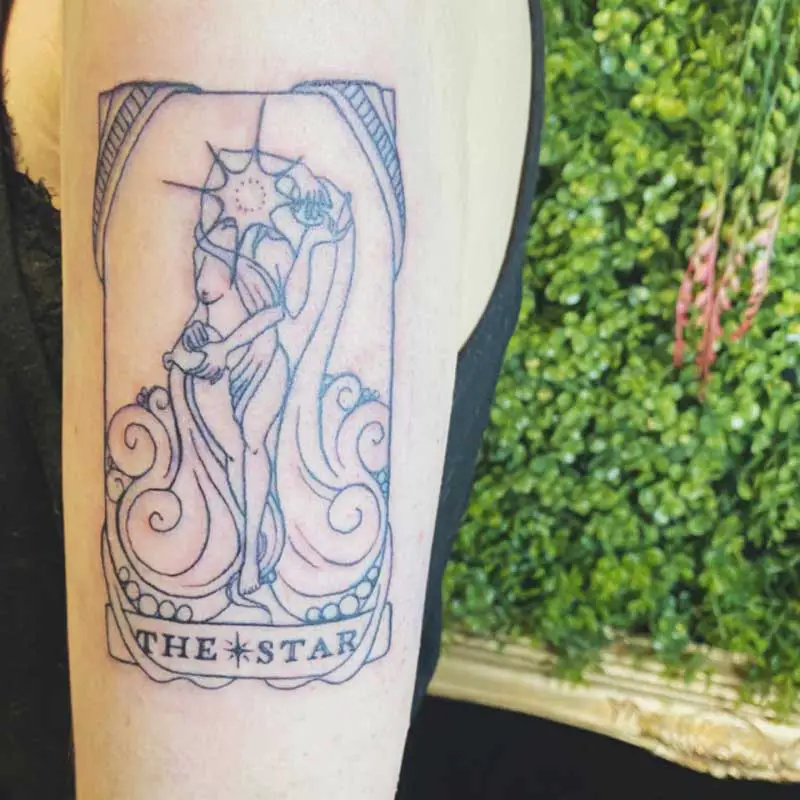 Emperor Tarot Card Tattoo
85.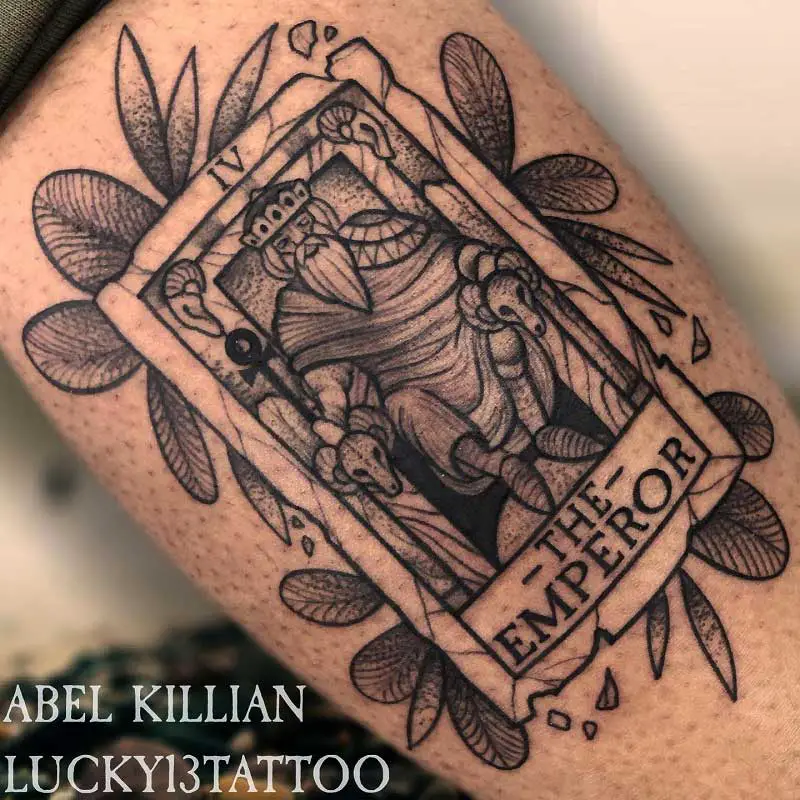 86.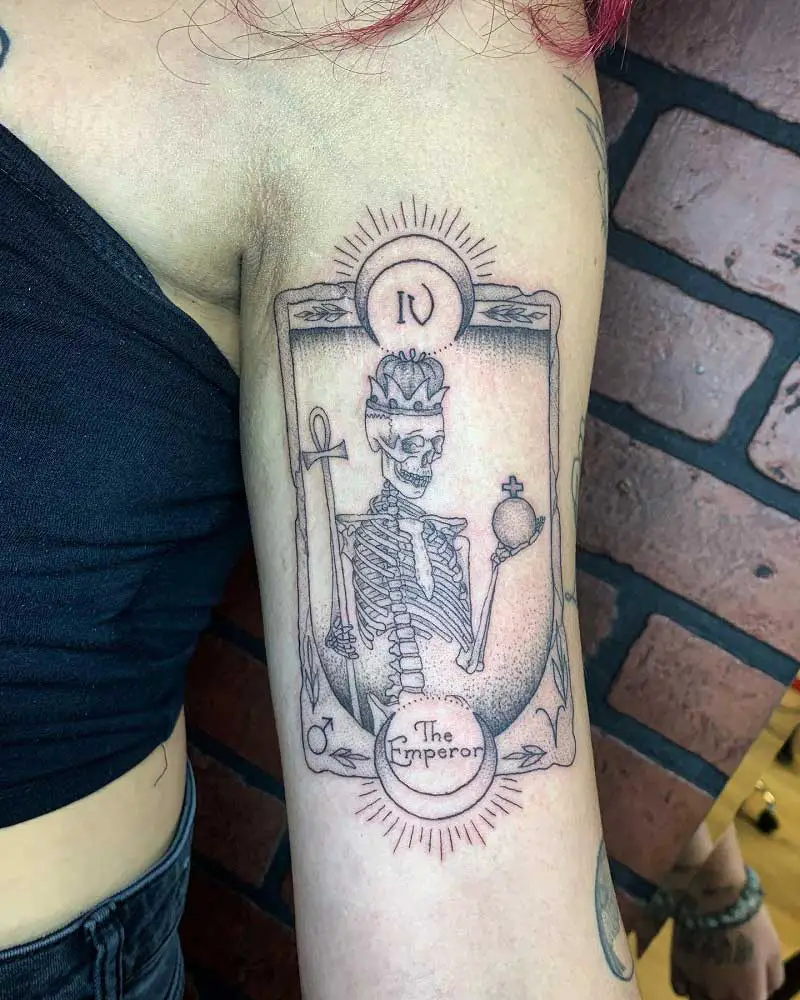 87.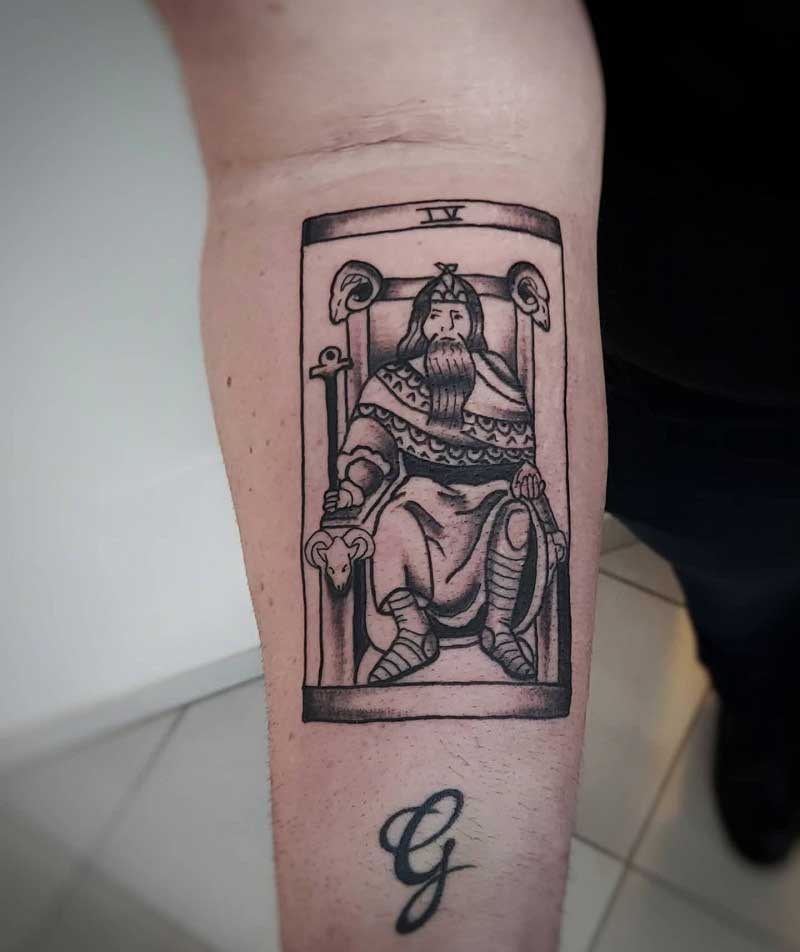 Hanged Man Tarot Card Tattoo
88.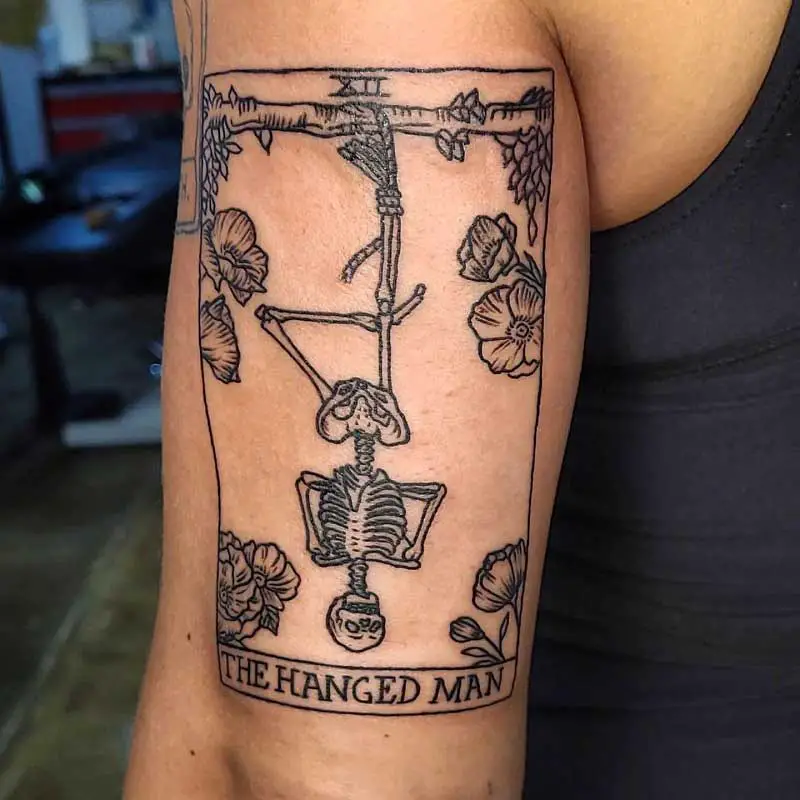 89.
90.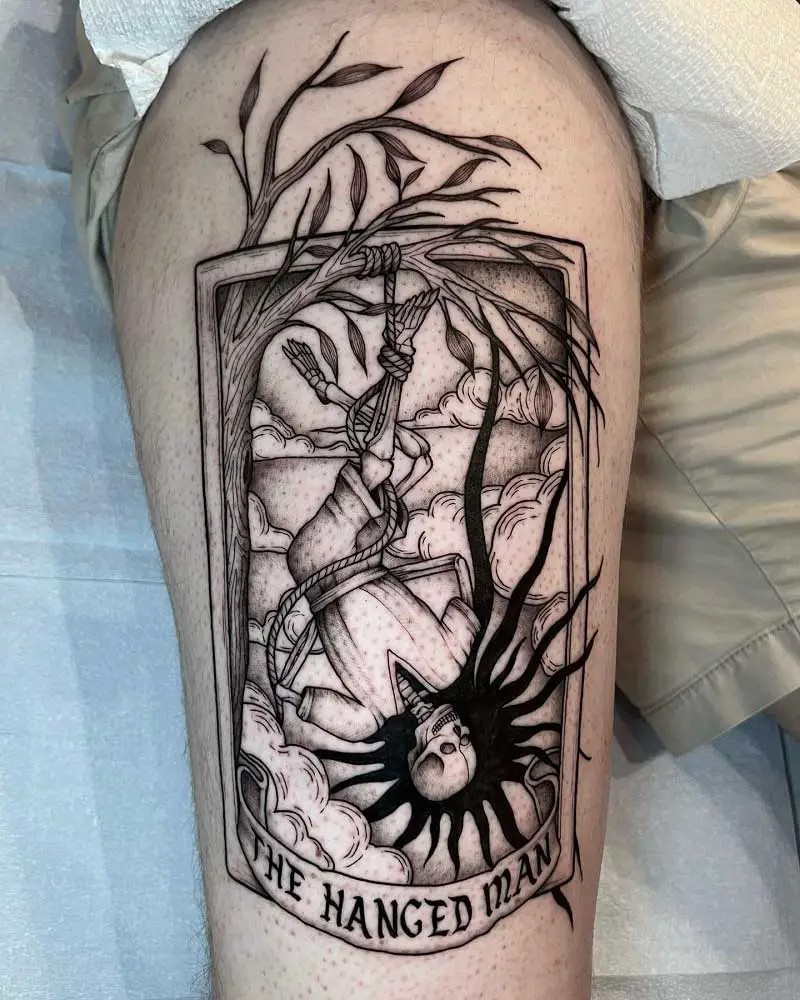 Magician Tarot Card Tattoo
91.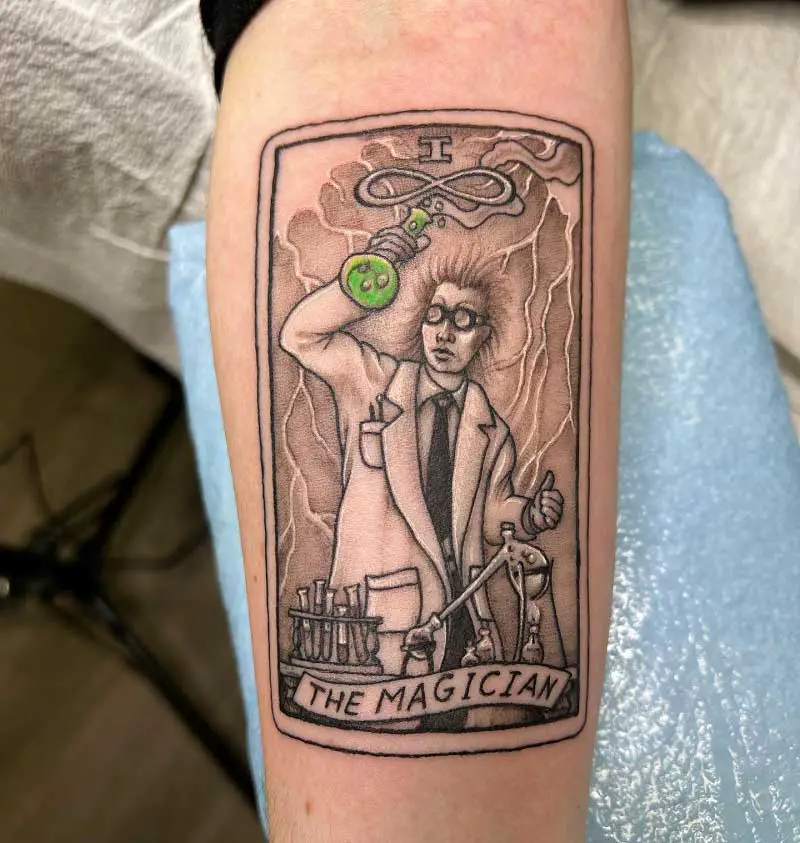 92.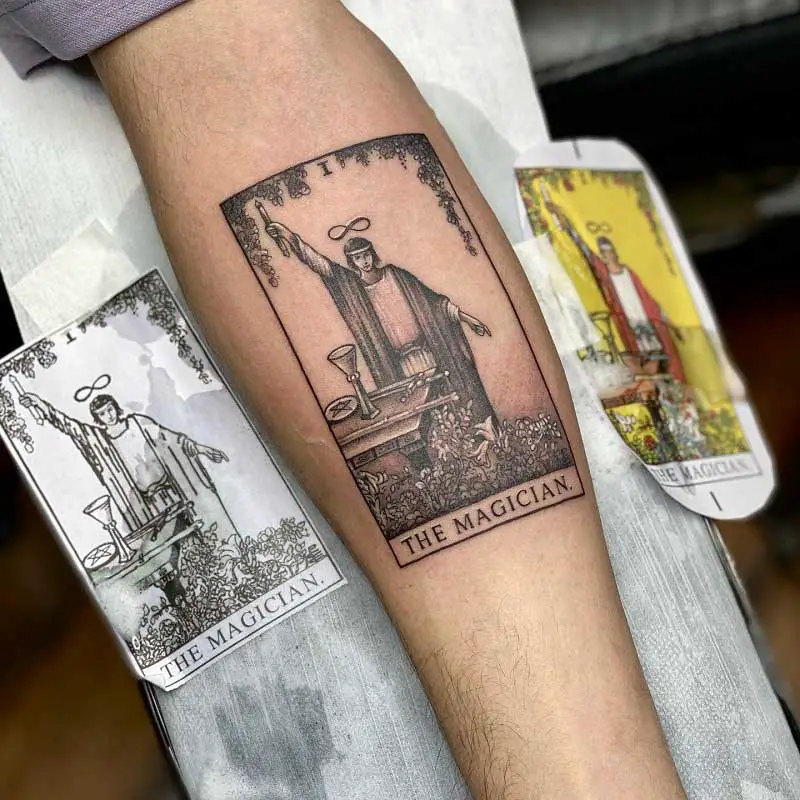 93.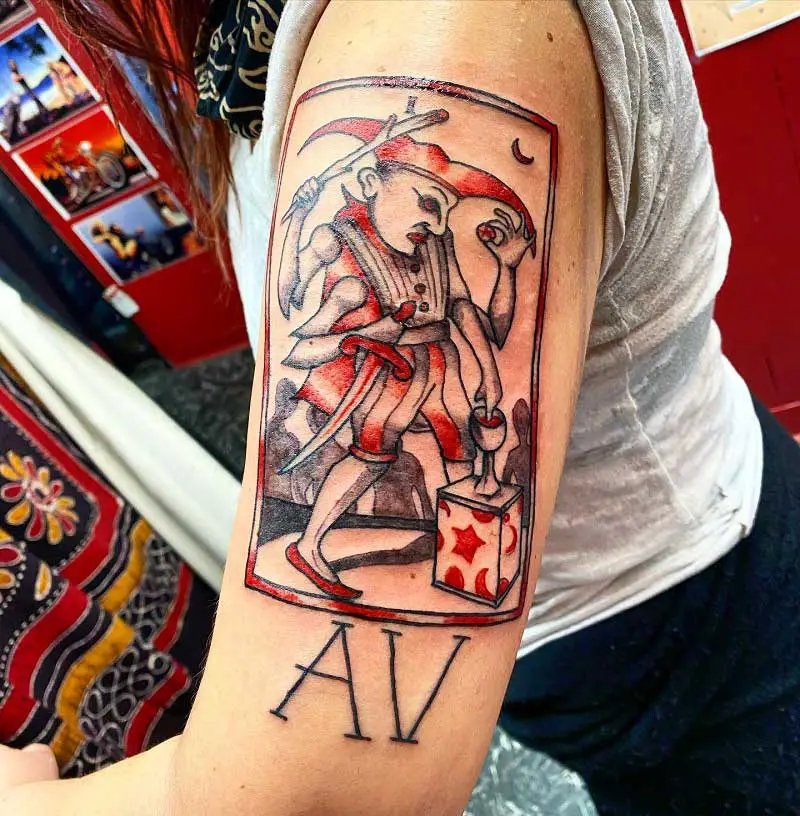 Tarot Card Back Tattoo
94.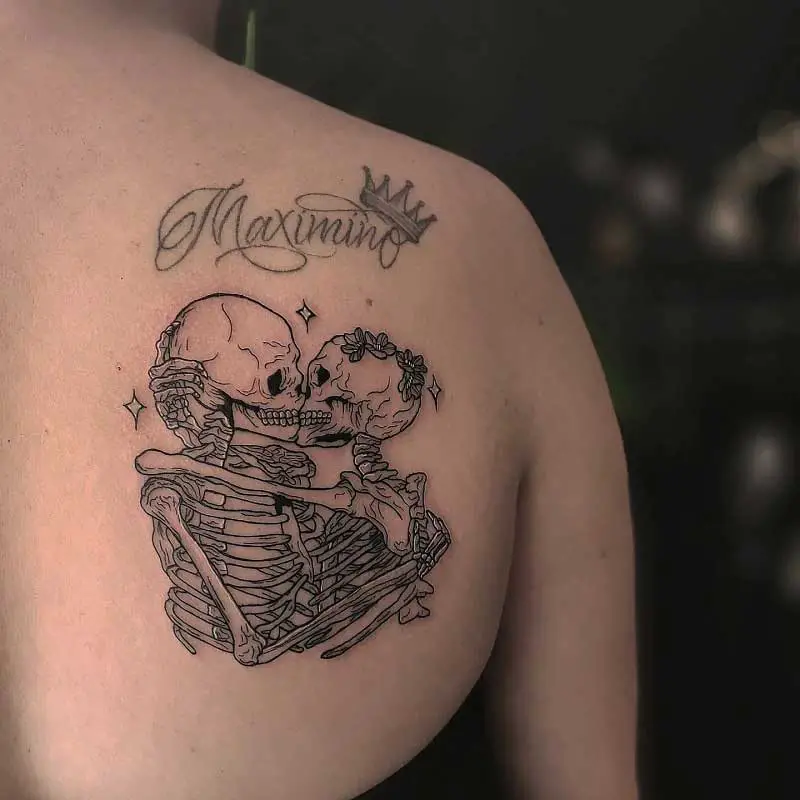 95.
96.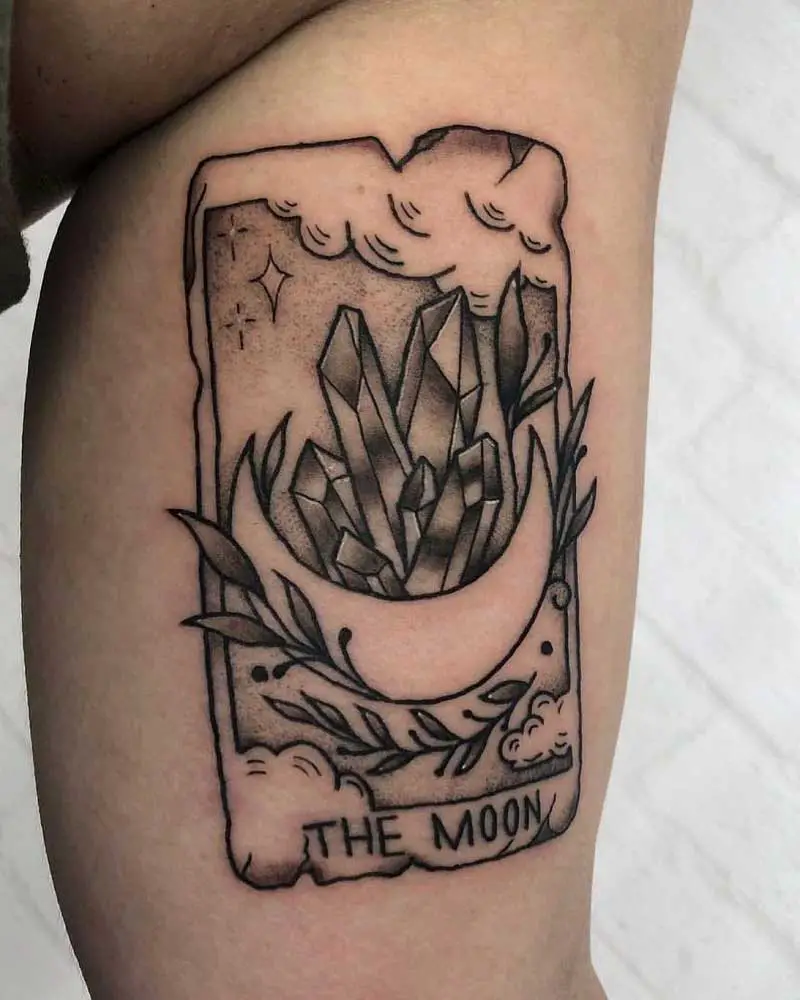 Tarot Card Thigh Tattoo
97.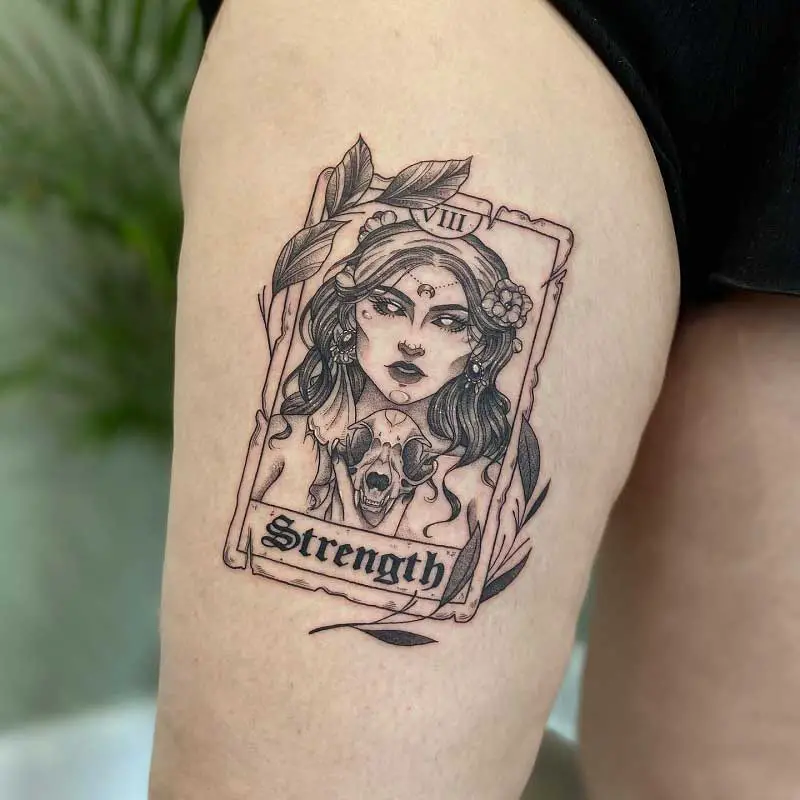 98.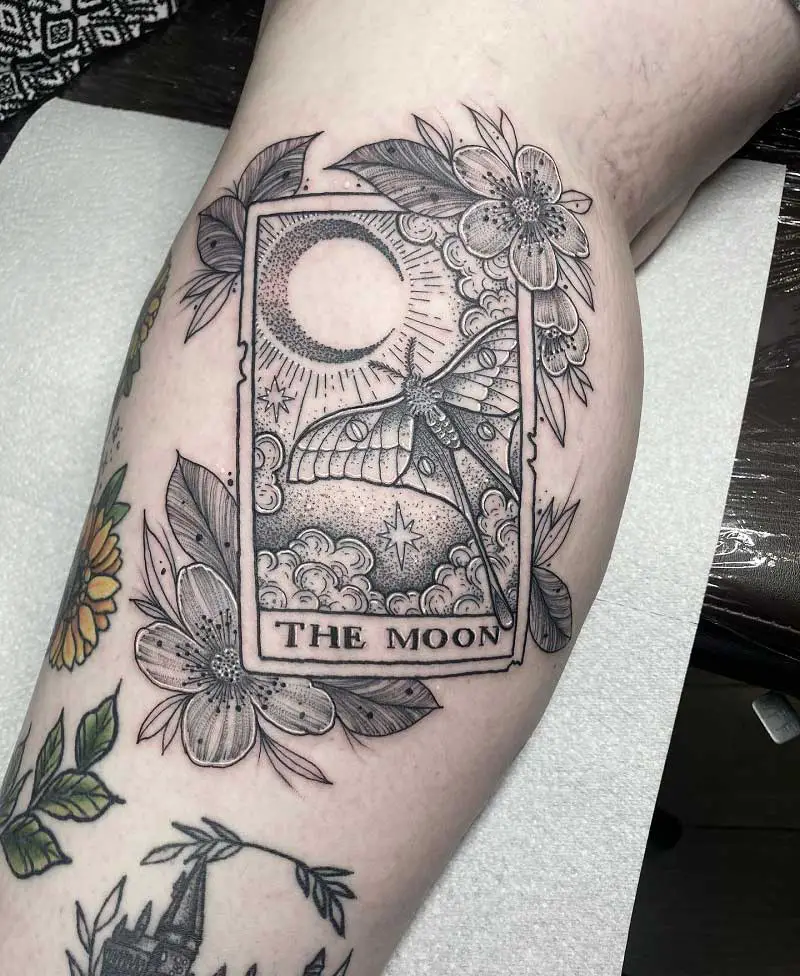 99.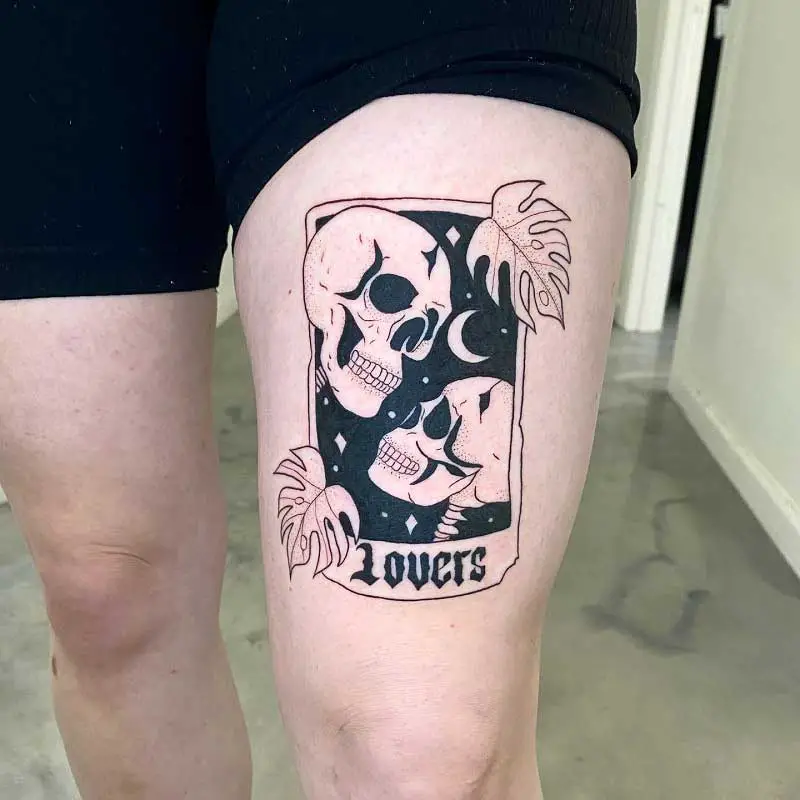 Taurus Tarot Card Tattoo
100.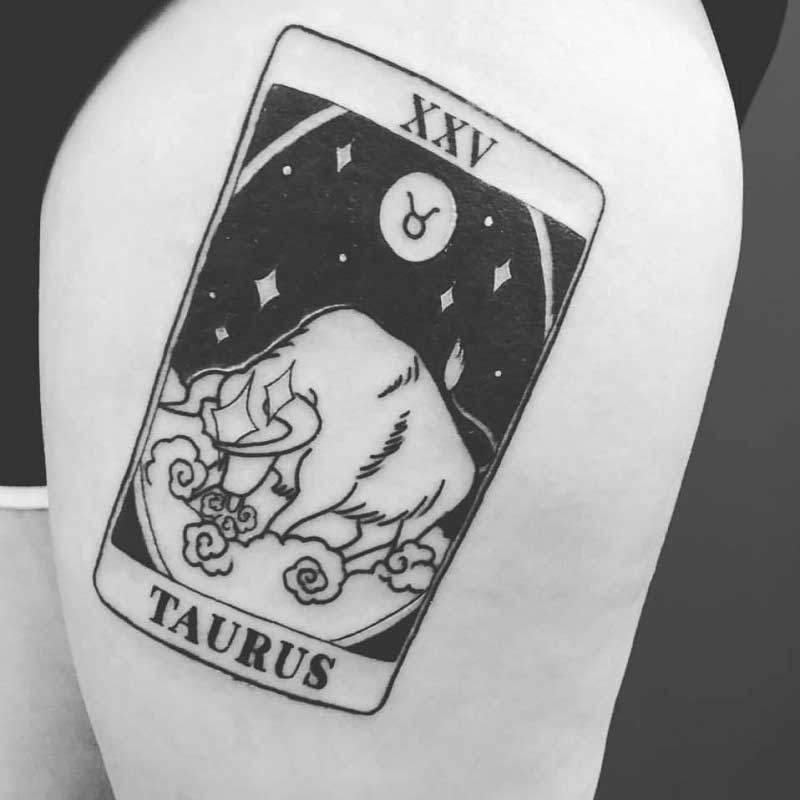 101.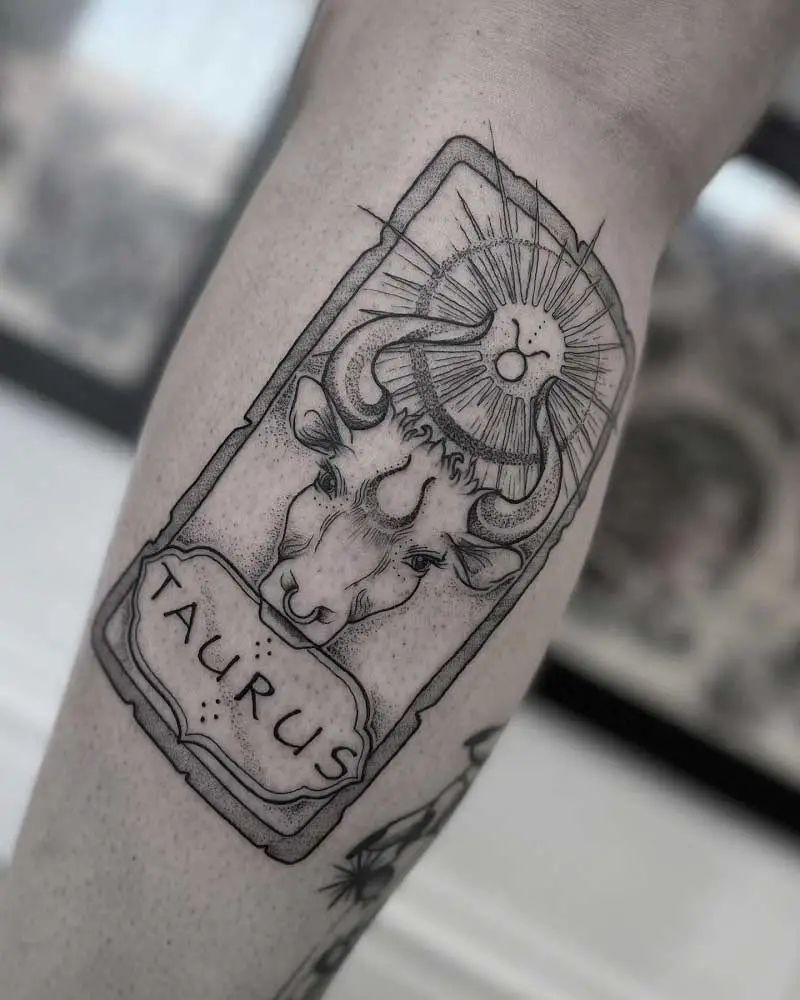 Tower Tarot Card Tattoo
102.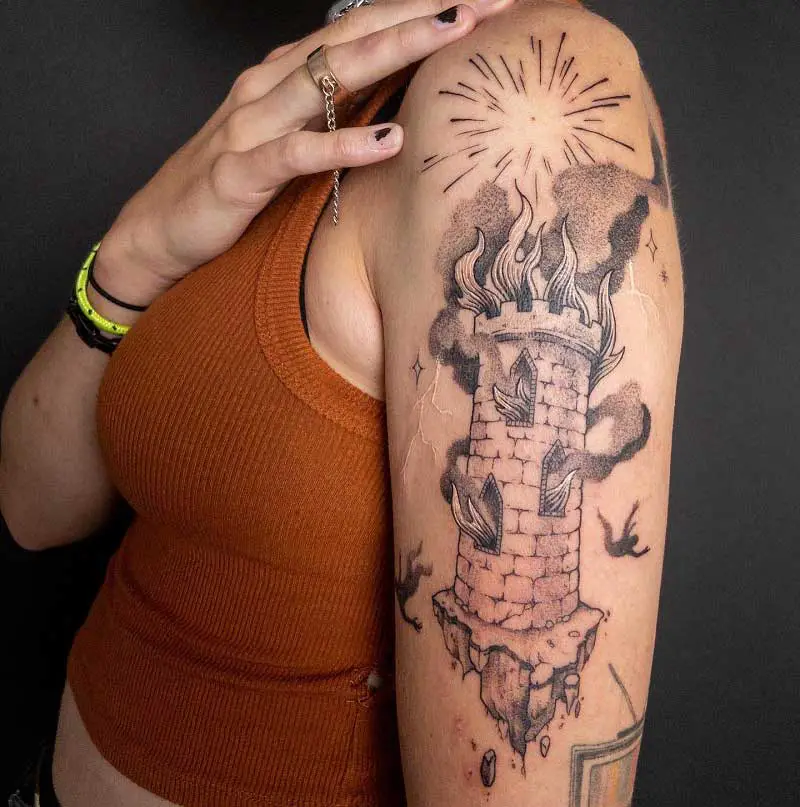 103.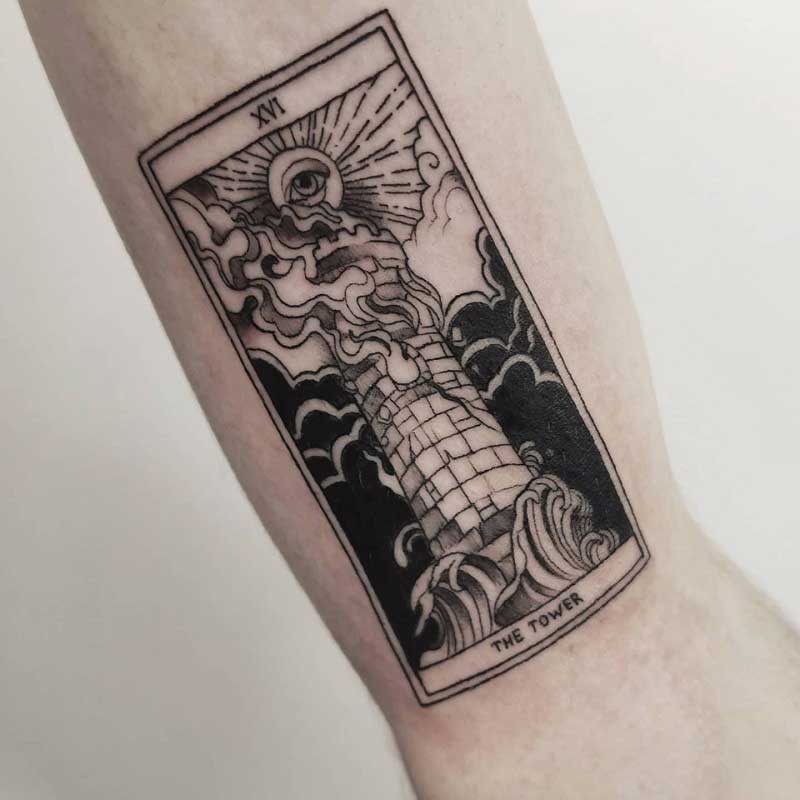 104.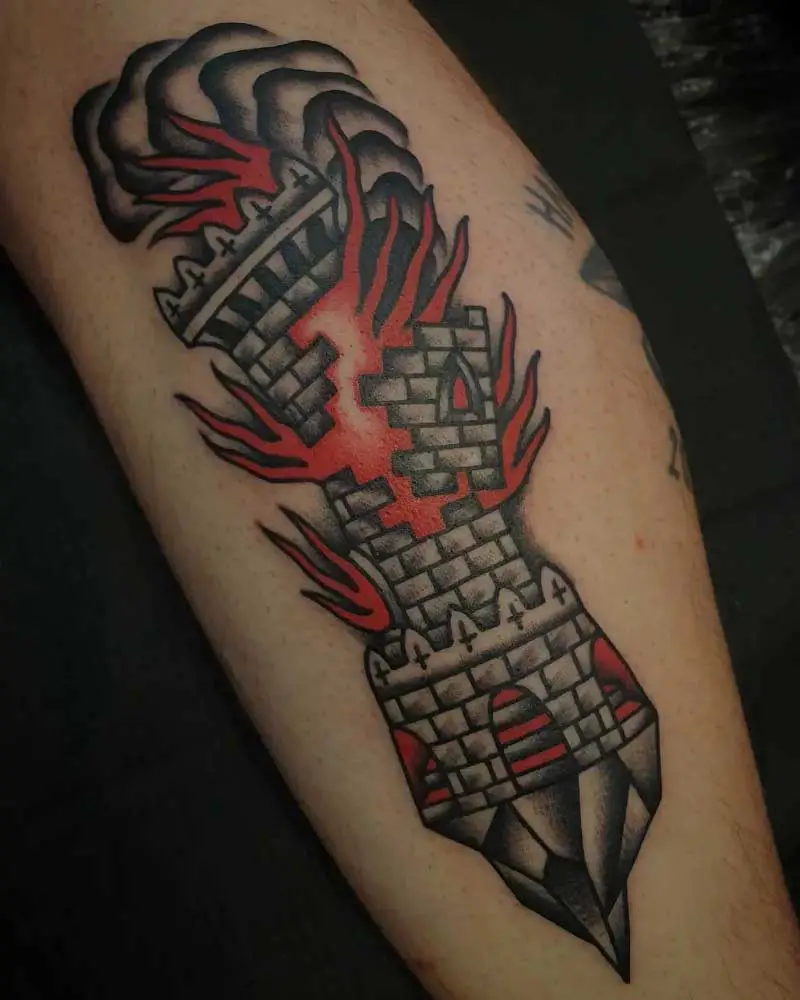 Traditional Death Tarot Card Tattoo
105.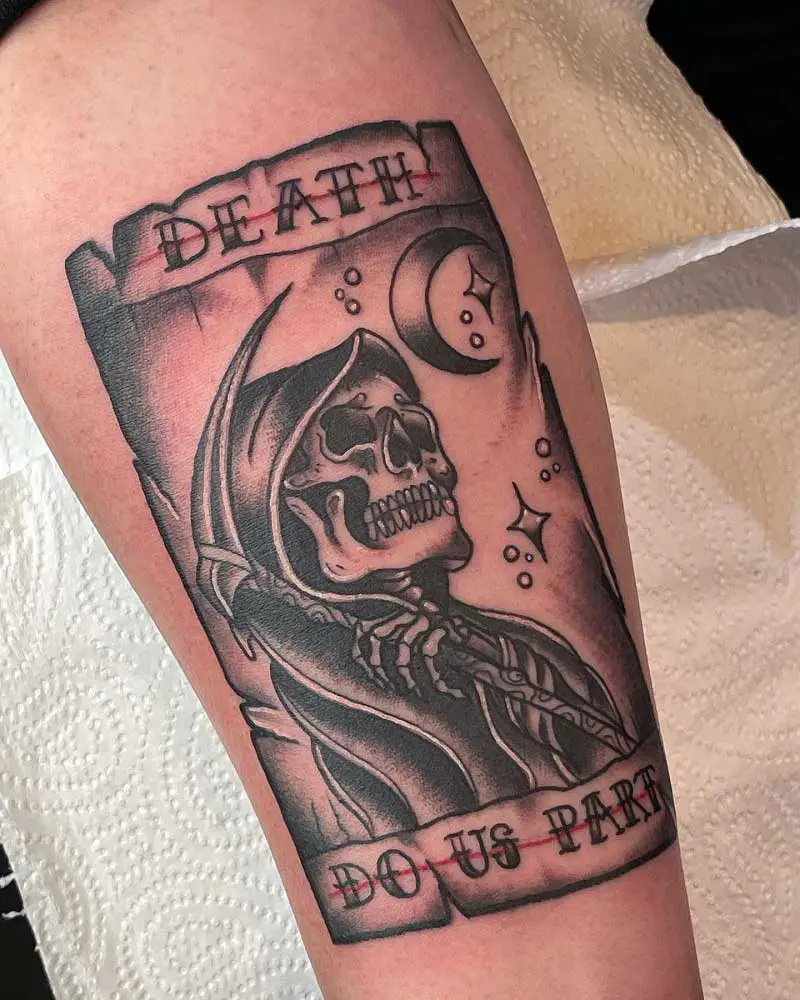 106.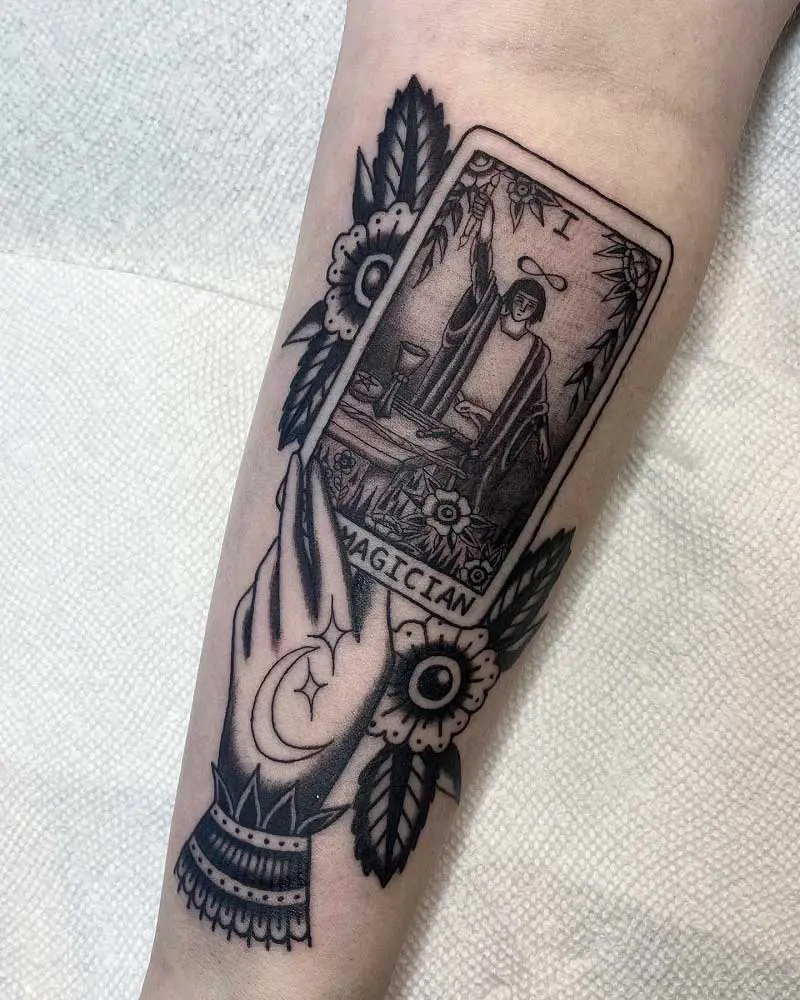 107.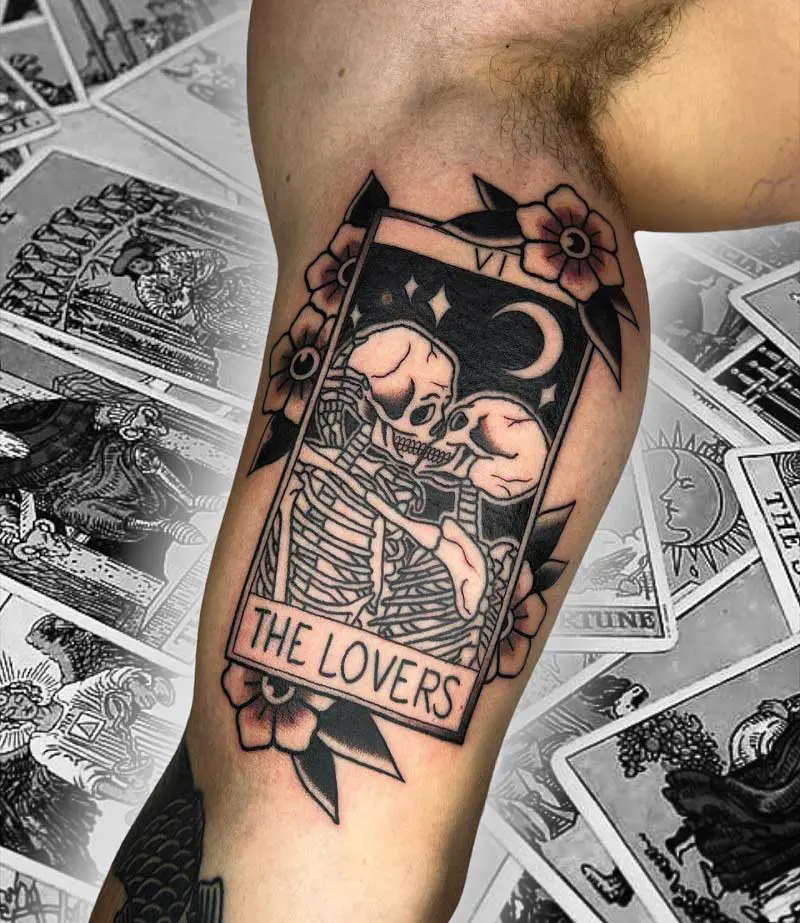 Anime Tarot Card Tattoo
108.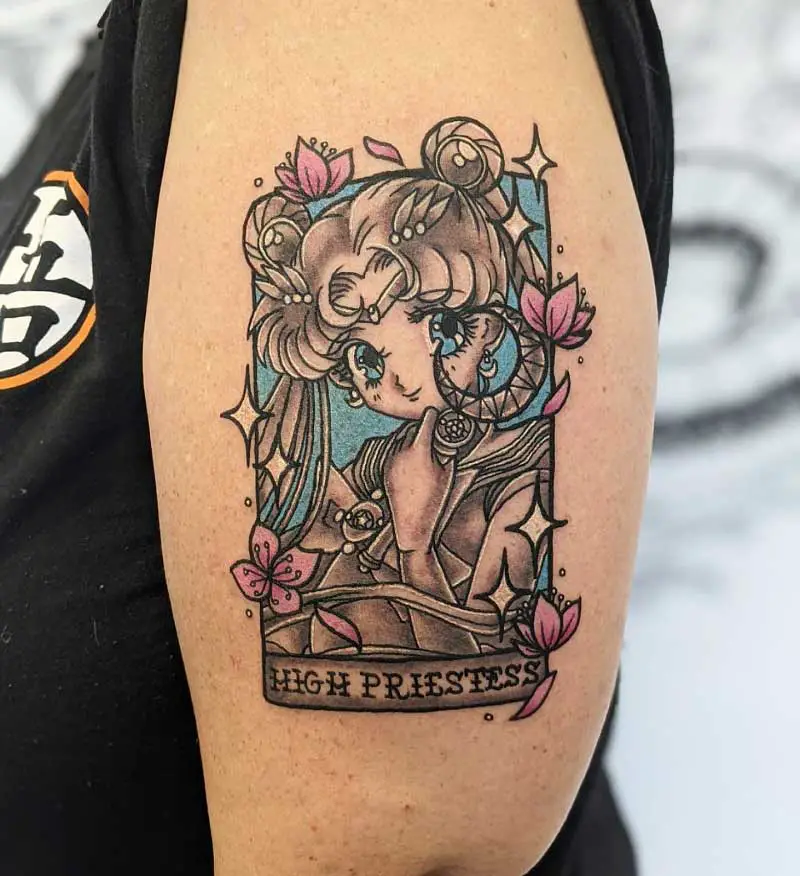 109.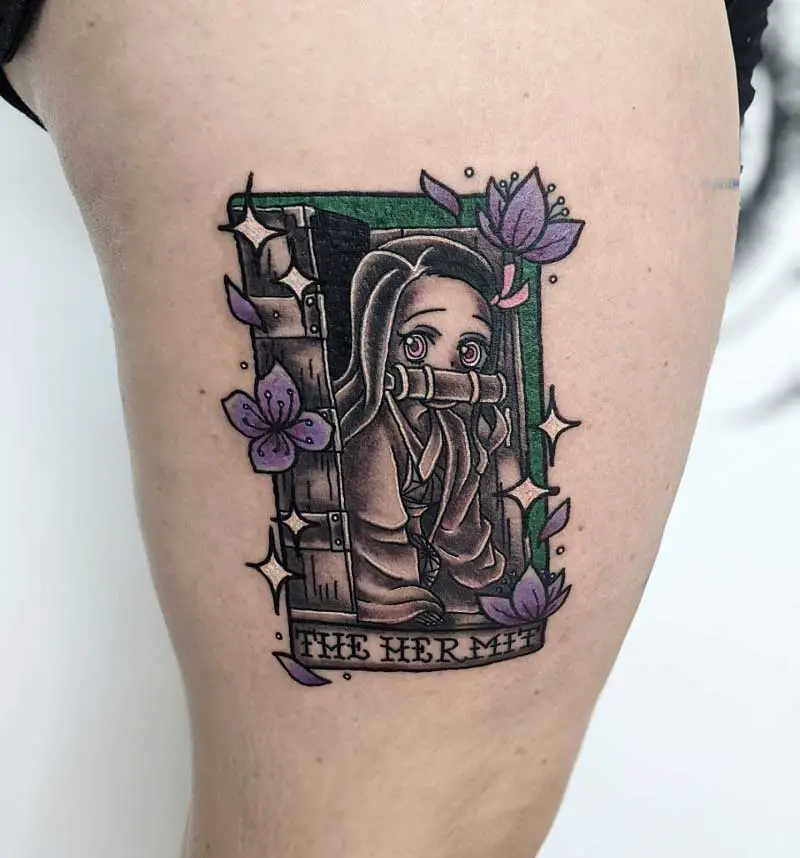 110.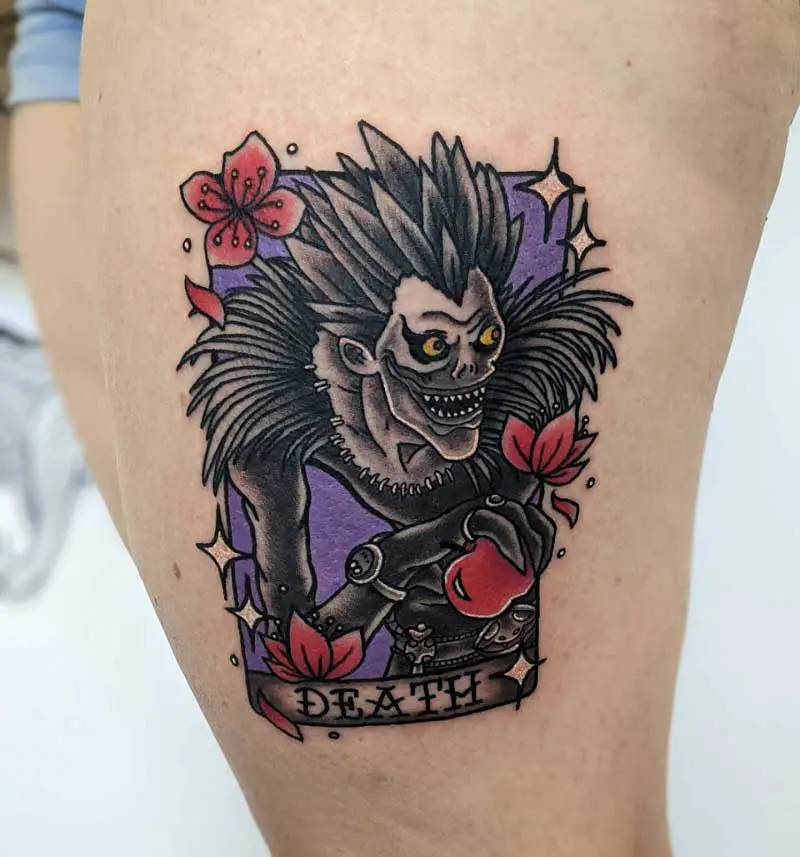 Death Rebirth Tarot Card Tattoo
111.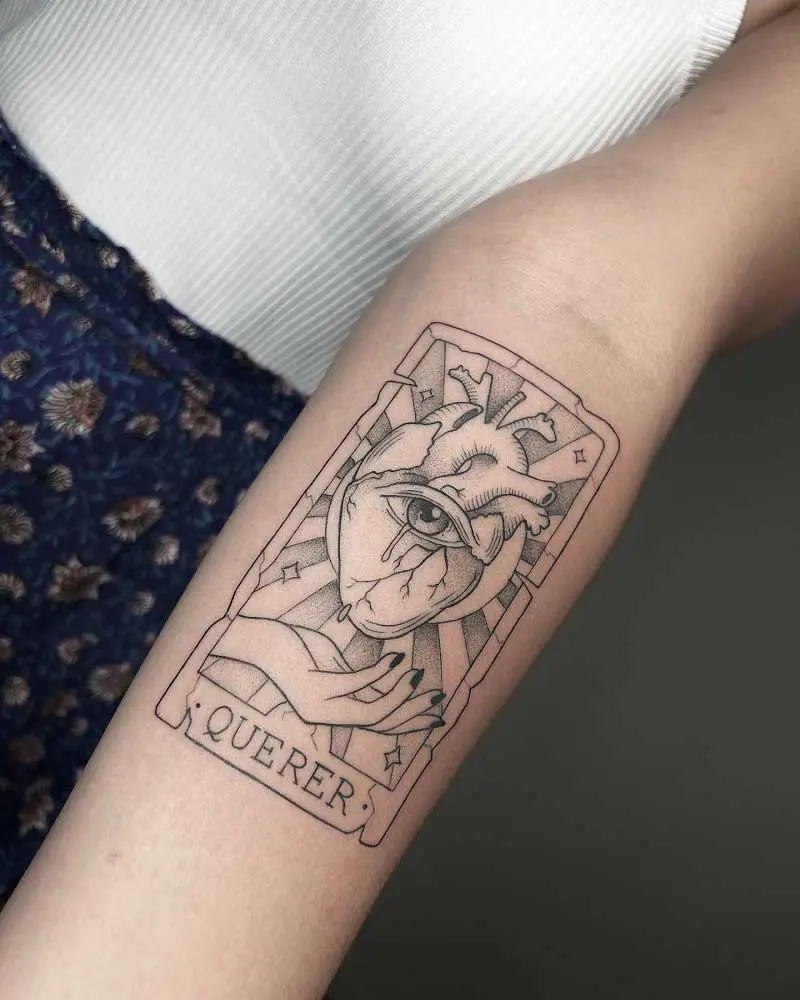 112.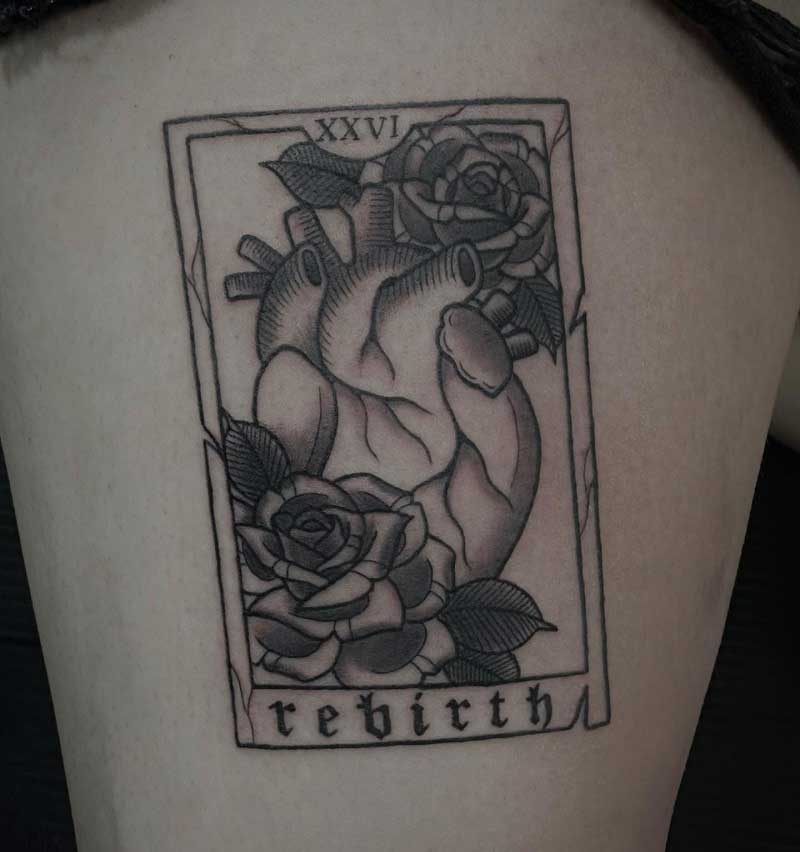 Dragon Age Tarot Card Tattoo
113.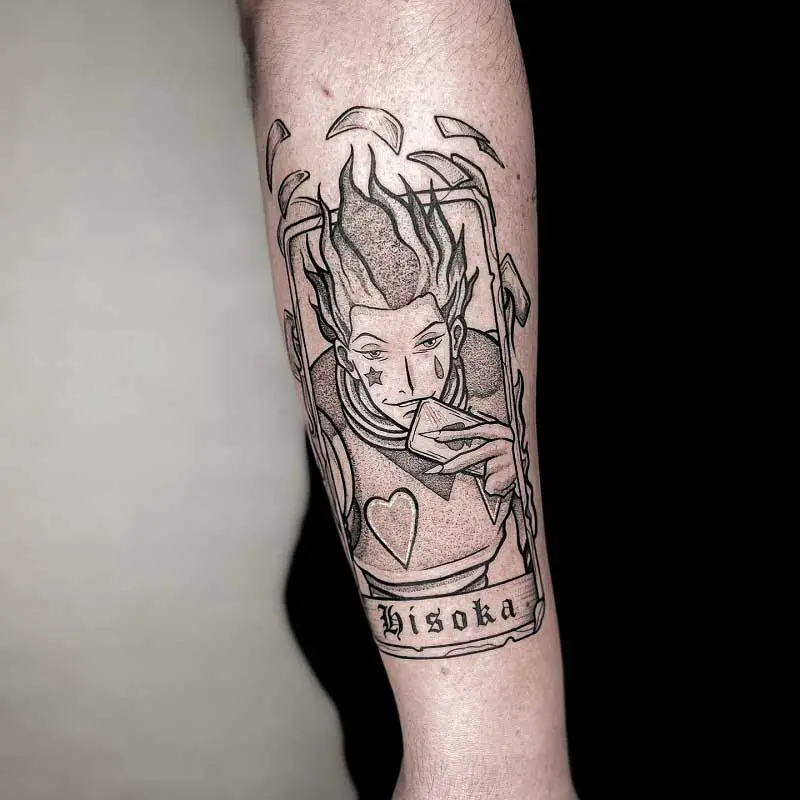 114.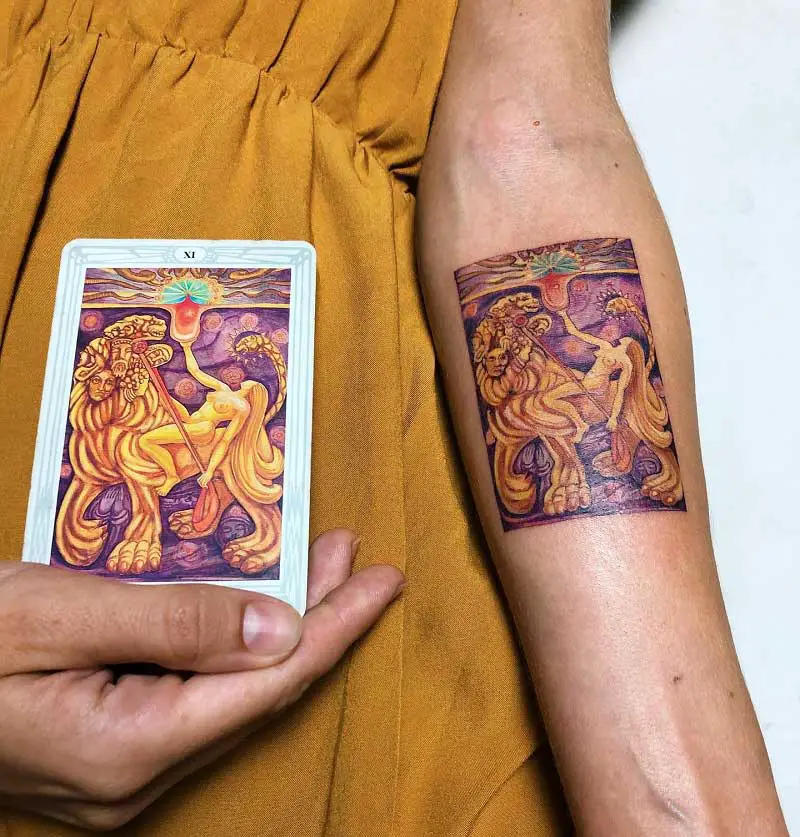 Conclusion 
Tarot cards come with beautiful designs and are adored with stunning details. Now that we are at the end of the guide, we hope that we have inspired you to find the perfect tarot card design for your next design. With endless possibilities, you have the liberty of choosing from hundreds of cute designs.
The significance of these tattoos makes the designs even more beautiful and attractive. Once you have selected an outstanding tattoo for your body, find an experienced tattoo artist to get it done. Make sure to check the artistic skill, talent, creativity, and experience of the artist before getting the tattoo done.
Frequently Asked Questions
What do the tarot cards represent?
Tarot cards are available in hundreds of designs suitable for tattoos. Each design has significant meaning in our lives and represents various aspects of our personalities and life.
Can you get a tarot card tattoo?
Yes, getting a tarot card tattoo is common in the current tattoo culture. There are several designs available in this sector and suitable for both men and women.