The thing about the lock and key tattoos is that both men and women can wear them and also the couple. Think about it, locks carry certain meanings such as security and control.  Keys are also meaningful and could convey messages of freedom, secret, or solution. Put together, the key and lock can mean bonding of love depending on their size, shape, color, and where on the body they are placed.
LOCK AND KEY TATTOOS AND THEIR POSSIBLE MEANINGS
When a couple wears the lock and key tattoos it usually shows a commitment to their relationship. The bond that both symbols represent is meant to last forever, never to be broken. Then again, these symbols carry over from medieval times when women wore chastity belts and only their lovers or husbands had the key to unlock. Here are ten tattoo ideas that use the lock and key to send their various messages.
#1: TRUE LOVE LOCK AND KEY TATTOOS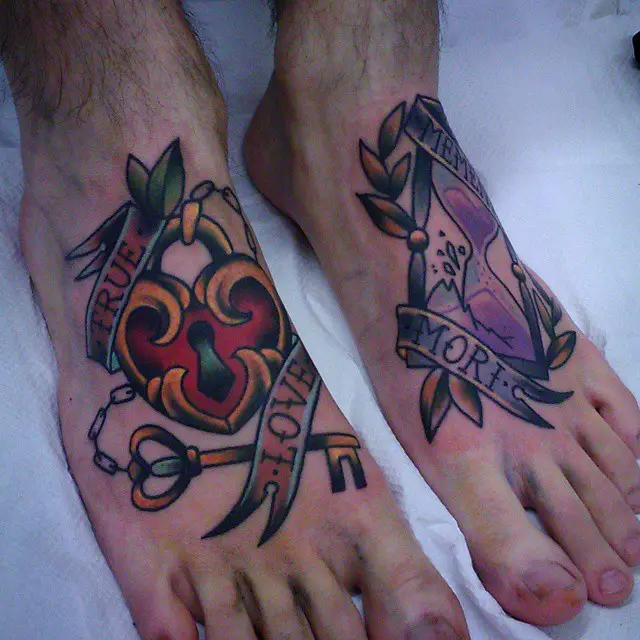 True love is shown by the vividly colored lock and key tattoos on this wearer's feet. Definitely a design to look out for. Is it a coincidence that the lock is shaped like a heart?
Also Try: Rib Tattoo for Men
#2: SEPARATE LOCK AND KEY DESIGN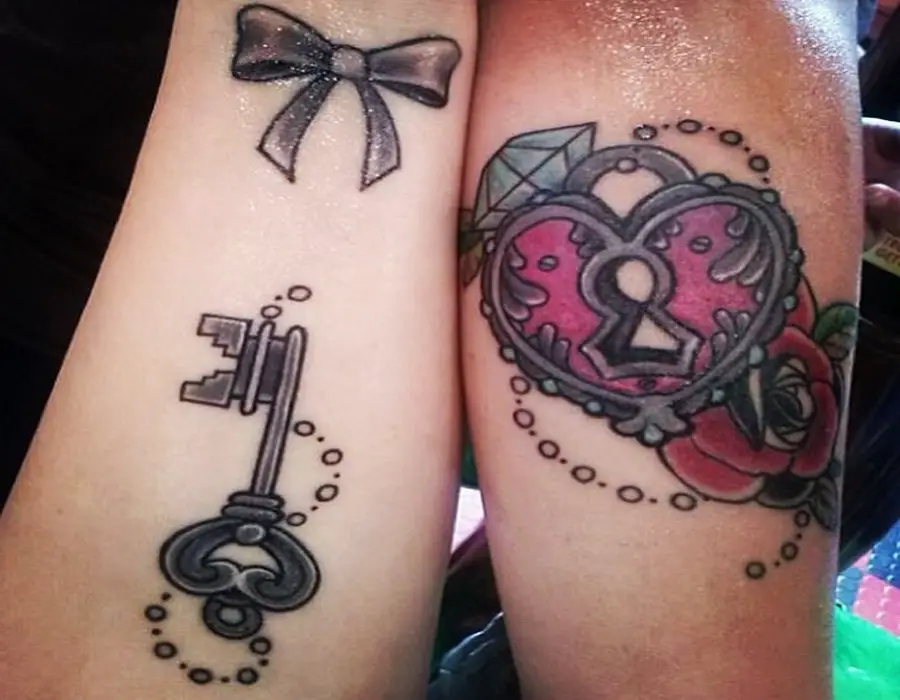 Here's another superblock with a key. This couple chose to carry one symbol each to show their connection to each other. Notice the other symbols that strengthen the meaning and add romance.
#3: SKULL INSPIRED LOCK AND KEY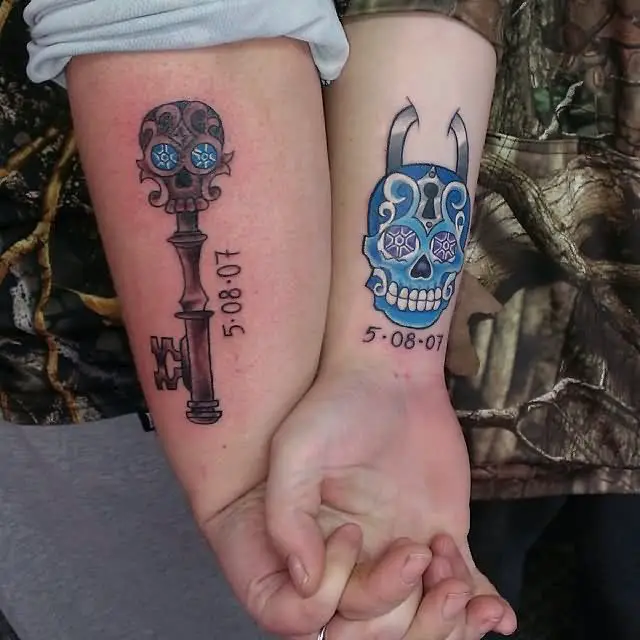 This couple chose to mark a date with the skull key and lock. The lock itself appears to go through the female's skin and is closed. Clearly, only this man's key can release her.
#4: GOTHIC LOCK AND KEY TATTOO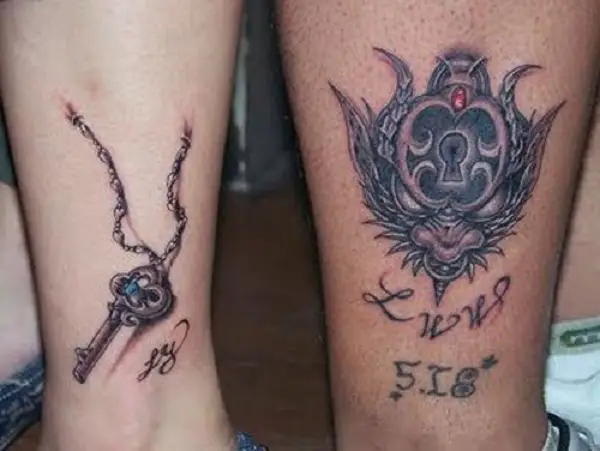 Both these wearers carry their lock and key separately but fastened through their skins. No doubt, the ancient and mystic black ink work with subtle colors means these two belong together.
#5: ANCIENT KEY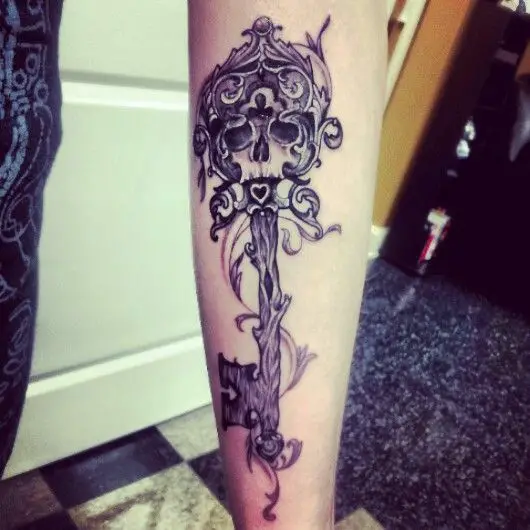 Look carefully and you'll see a heart in this skillfully crafted key design. Indeed, the ancient key holds many secrets and by the look of it, the wearer will not reveal them so easily. Does the skull face also look like an ornate lock? You decide.
#6: KEY WITH CLOCK FACE DESIGN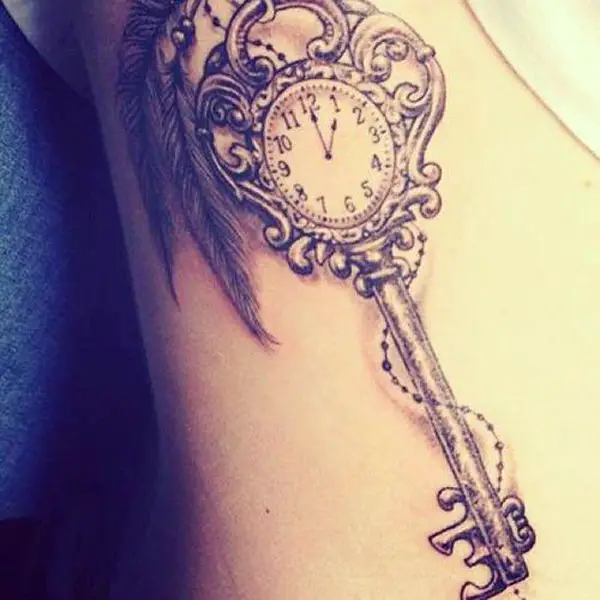 Invariably you will find a key design that somehow incorporates the clock. When these symbols combine they usually suggest life's time-honored secrets or codes. Check out the exquisite design and inking shown here.
#7: LOCK AND KEY SEPARATELY WITH EXTRAS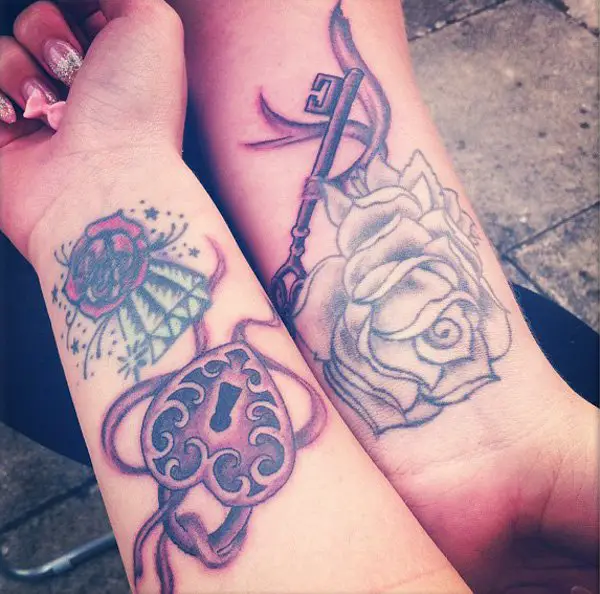 Lock and key tattoos also combine with other symbols to convey a deeper meaning.  For this couple, the key and lock are connected with a ribbon and along with the rose and diamond represent their very valuable relationship.
#8: LINKED KEY AND LOCK TATTOO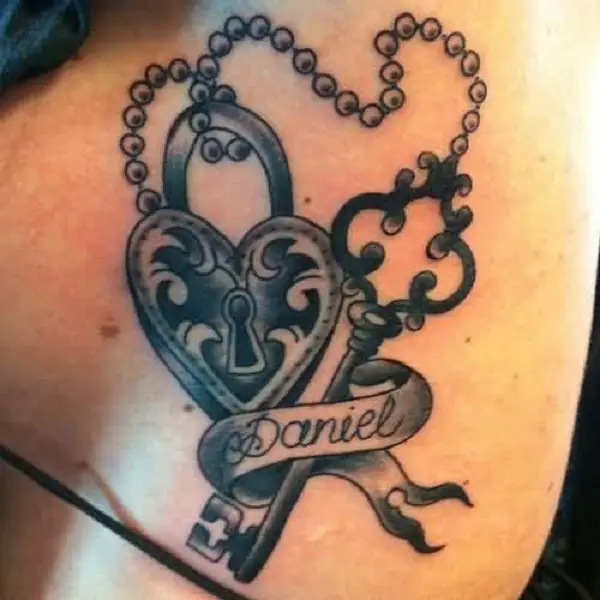 A closed padlock with a key attached sit on this woman's upper back for everyone to see.  The name inscribed on the banner belongs to the only one who can open it. Clearly, this is a bond that no other but her lover can release.
#9: COUPLES KEY AND LOCK TATTOOS
Again, another example of the separate lock and key tattoos that couples prefer. You can see the matching details on this predominantly black ink that both individuals are supposed to fit together.
#10:  SENTIMENTAL KEY  AND LOCK TATTOO DESIGN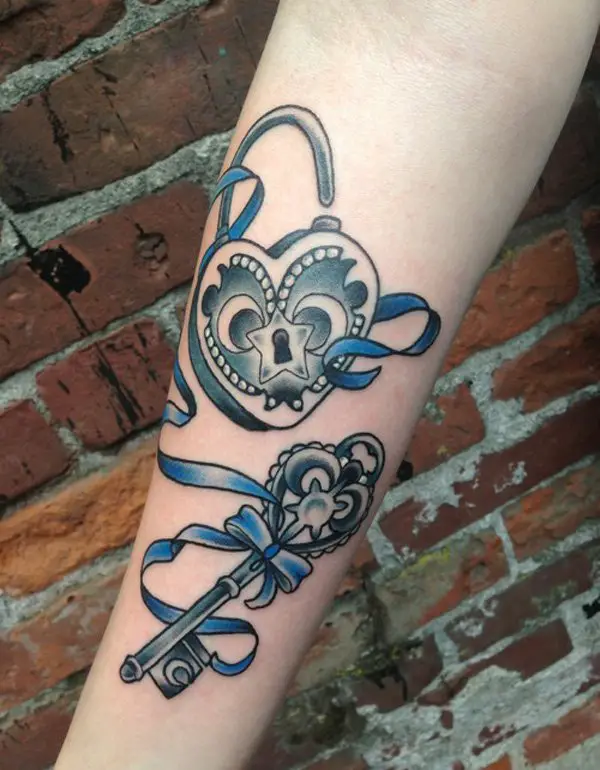 This woman wears an open lock with the matching key. Could this be an invitation that she is available for someone to claim? Perhaps, she is also declaring that she's in control of her own destiny.
Selecting from lock and key tattoos is not that difficult as there are many options to choose from. They are appropriate if you are a couple seeking to cement your commitment to each other. Maybe you simply want to show others that you control your choices. Whatever your reason, you can find just the right key and lock to suit your purpose.