Bold and powerful tattoos are the kind of body art many guys prefer and they will go all the way for ink work that defines who they are. It's not unusual to see back of neck tattoos that arrest attention and cause the observer to think guys wearing them are either quite insane or very defiant in their stance. There are literally hundreds of really cool neck tattoo possibilities, and many are certainly not for conservatives or cowards.
TRENDING AND POPULAR BACK OF NECK TATTOOS
Let's be frank, neck tattoos are meant to be seen not hidden.  You'll find that invariably, back of neck tattoos are strong and bold statements of the individual's beliefs, experiences, personality, fears, and fantasies. Expect a lot of attention with tattoo designs worn by the rebel who don't care what society thinks. Neck tattoo designs for men go from vividly graphic imagery that covers a wide area of the body to single icons that are barely visible. Let's check out twenty insanely compelling back of neck tattoos that certainly rock.
 #1: NECK FULLY COVERED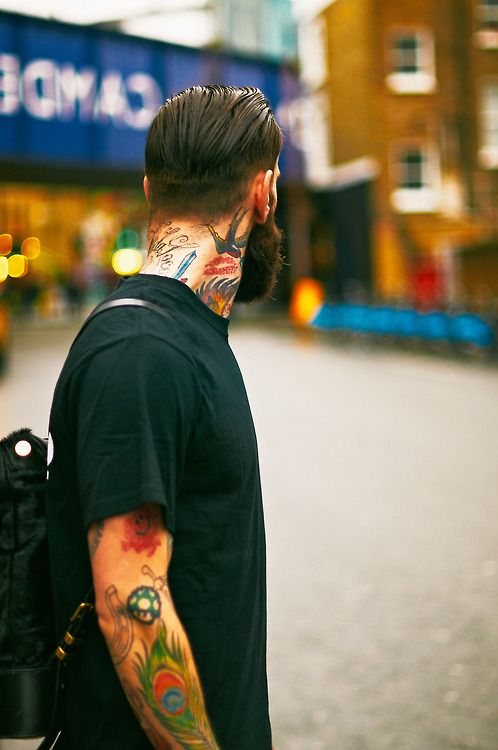 There's no wasted space here as every part of the body, including the neck is covered. This vivid and colorful ink work definitely represent this individual's many life passions.
TRENDY OLD PEOPLE TATTOO IDEAS
#2: MAJESTIC EAGLE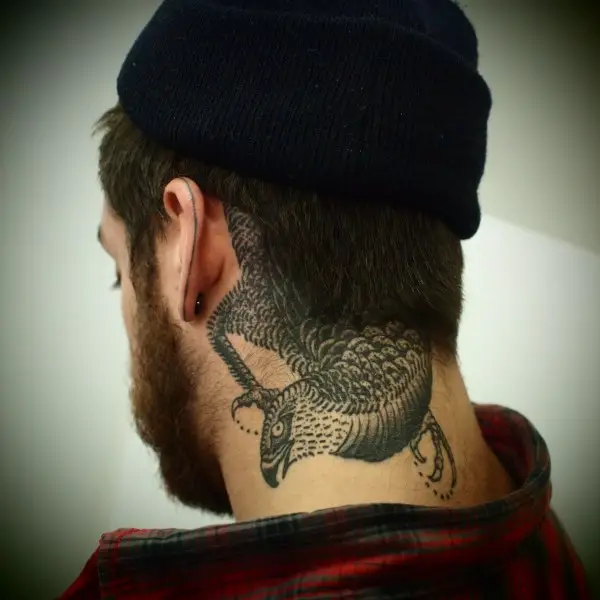 This majestic eagle is ready to strike, whenever and wherever it chooses.  Maybe for this individual, this back of neck tattoo is a true indication of his pursuit of life's opportunities.
#3: EYE TATTOO DESIGN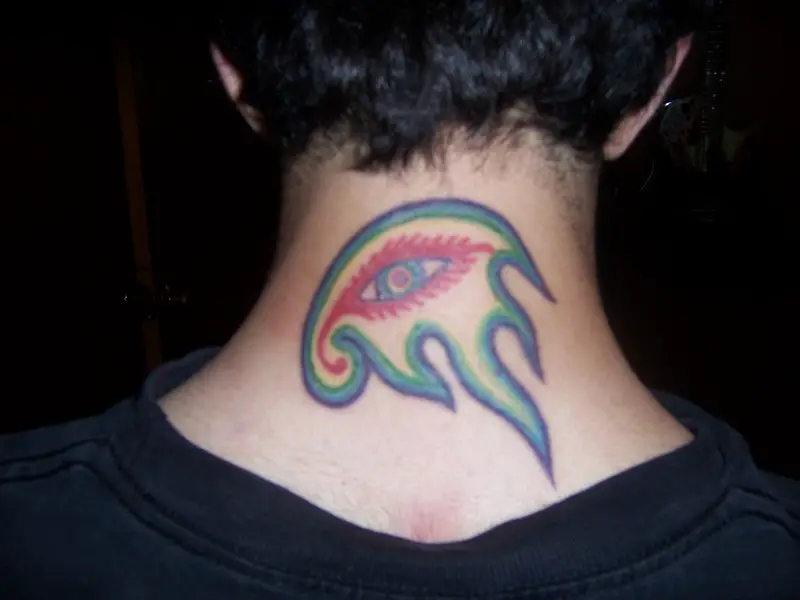 The single yet intense eye symbol may be representative of this individual's attitude to anything life may throw at him.  It's hard not to be drawn in or be intimidated by this glare.
#4: THE MOTH OR BUTTERFLY DESIGN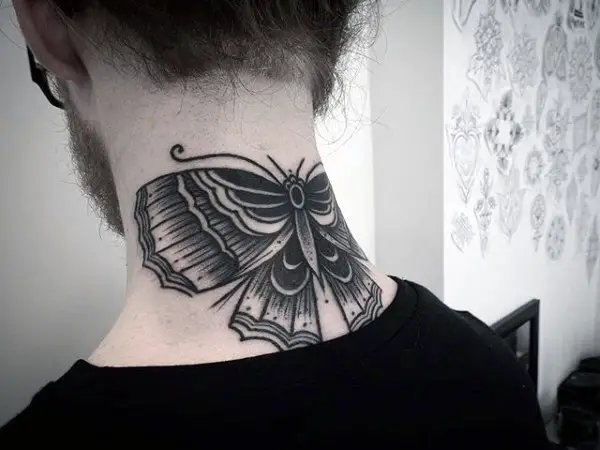 Powerful and bold use of black in this huge moth tattoos on the back of the neck is undeniably an attention grabber. Check out the details of this skillfully executed piece of body art that is meant to strike at a distance.
#5. MESMERIZING PATTERNS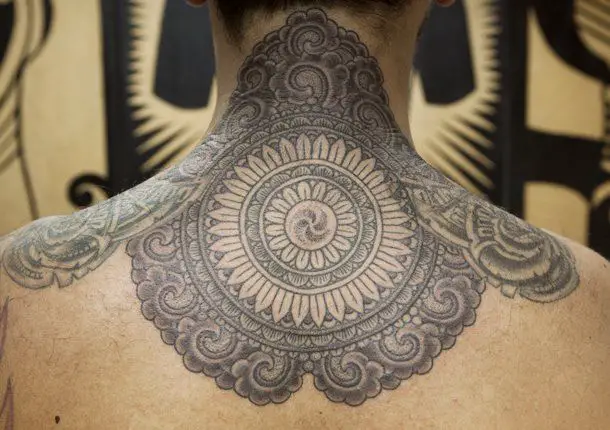 This mesmerizing back of the neck tattoo is hard to miss. Check out the intricate details and patterns that require extreme patience and fortitude. Naturally, this bold ink work that covers the shoulders and upper back,  will continue to attract attention.
#6:  SKULL, FLOWERS AND THE CROSS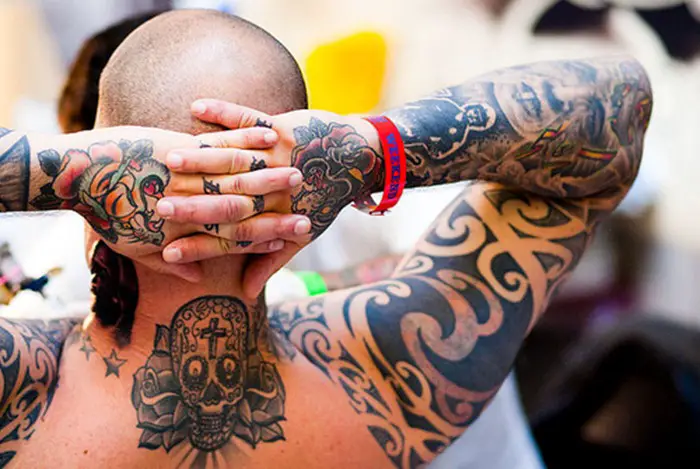 Now here's one dude who does not need a shirt. This skull, cross and hot roses tattoo takes center stage on the back of his neck. His predominantly black inking sends a strong protest to any who dares to challenge him.
#7: KANJI CHARACTERS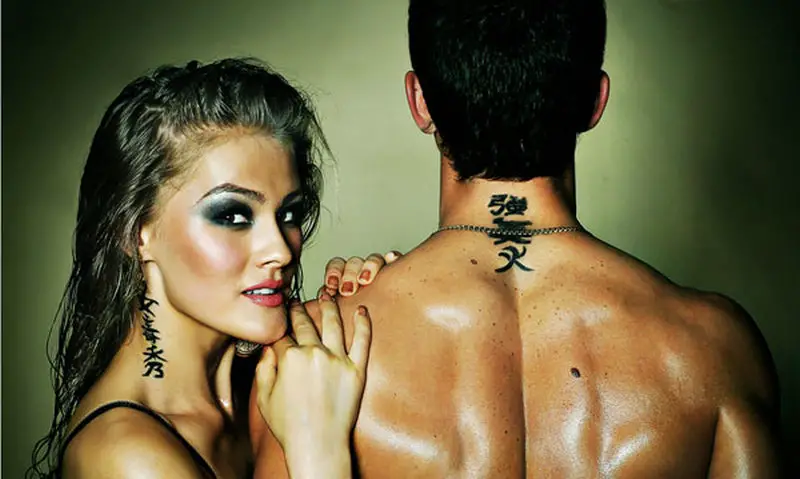 Sometimes it's sufficient to have a single character on the back of the neck. Kanji characters, like the ones shown here, may hold special meaning for this couple.Also can try this matching tattoos for couples.
#8. CRUCIFIX WITH WINGS BACK OF NECK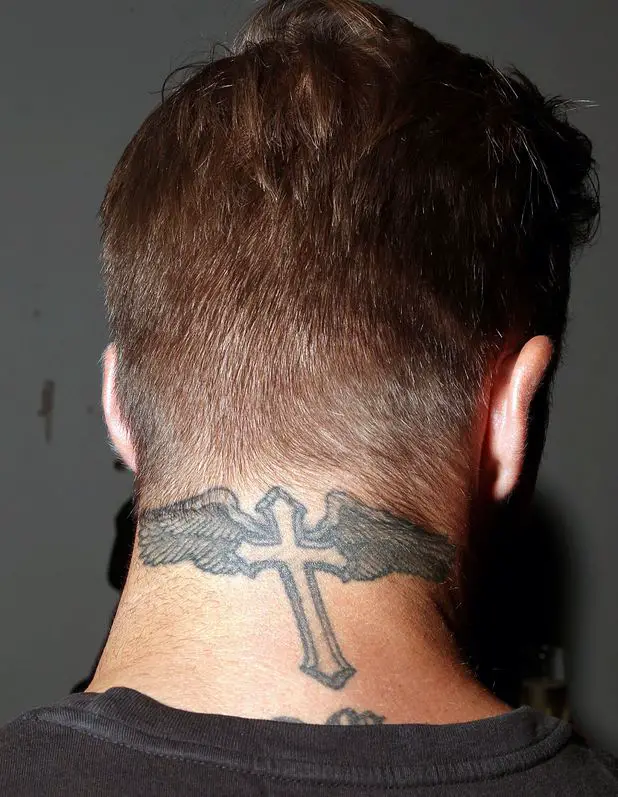 This awesome winged crucifix design features black ink work tattoo that stretched across the neck. Who knows what story is being told with this strong and awesome design.
#9. EXOTIC TRIBAL NECK TATTOO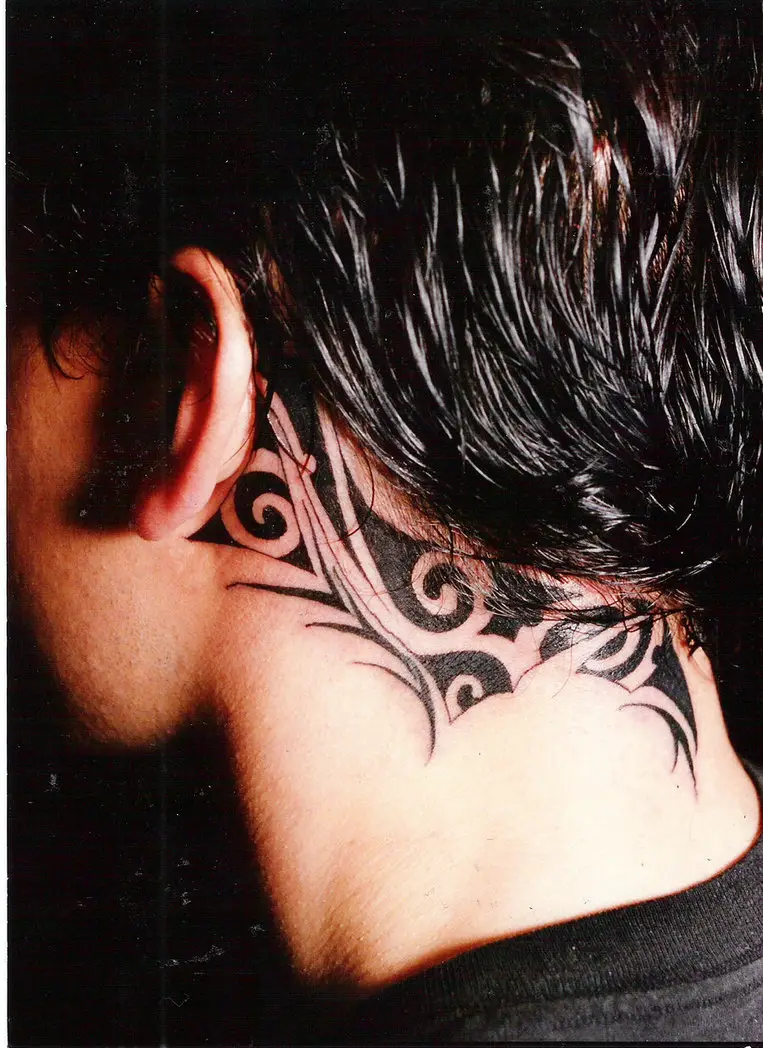 An exotic tribal back of neck tattoos like this one remains a favorite among men who make their affiliations known. Certainly, this design, when done well, will be a thing of beauty.
#10. MYSTERIOUS LINE TATTOOS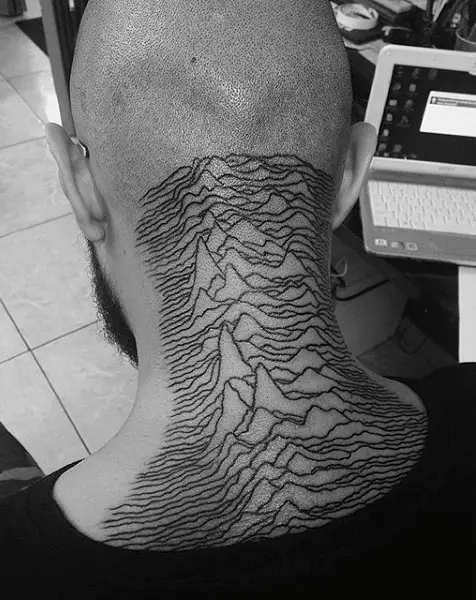 Here's a tattoo that can easily mean any number of things, numerous mountains, waves or ice caps.  Whatever you might imagine, you may be able to see in this increasingly popular art form – the line tattoo.
#11: COMPLEMENTARY BACK OF NECK TATTOO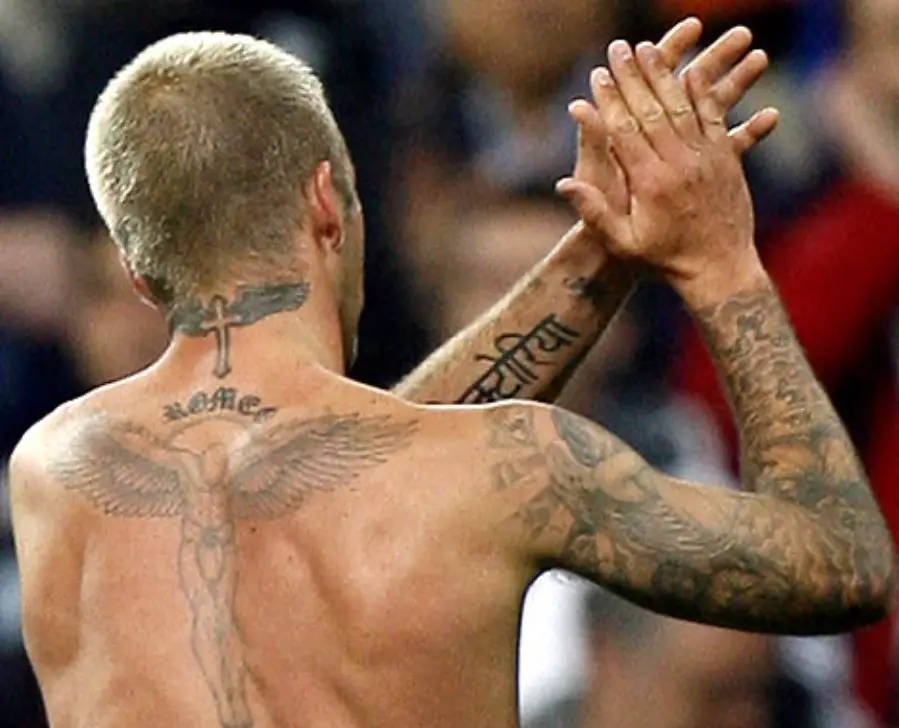 Back of neck tattoos often complement other tattoos on the body resulting in a complete theme.  Here, for example, the crucifix with wings provides another element to the figure depicted on the wearer's back. You don't need to be religious to recognize the meaning of this piece.
#12: PROTEST TATTOOS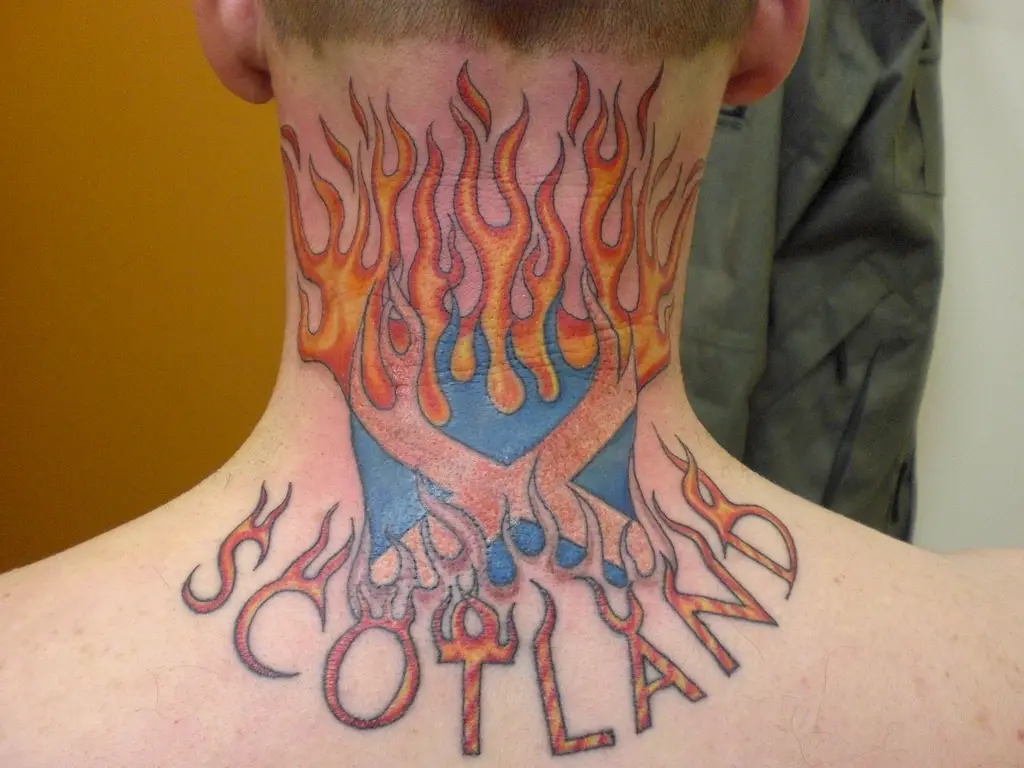 While some back of neck tattoos hold secret mysteries for the wearer, others, like this colorful one. are loud protests about some injustice or perhaps political statements.  Scotland is certainly in flames and heading to hell as far as this guy is concerned.
#13:  SKULL IN SHADES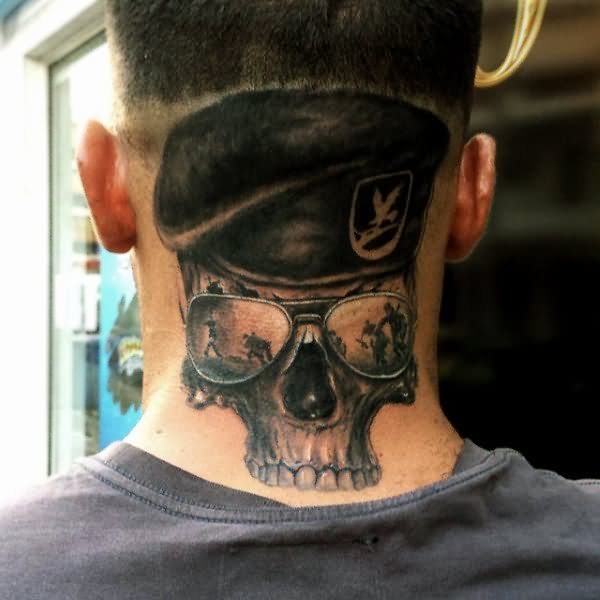 With a super cool tattoo like this, who needs hair? Check out the stunning attention to details evident in this black ink skull tattoo in shades design.
#14: TRIBAL PATTERNS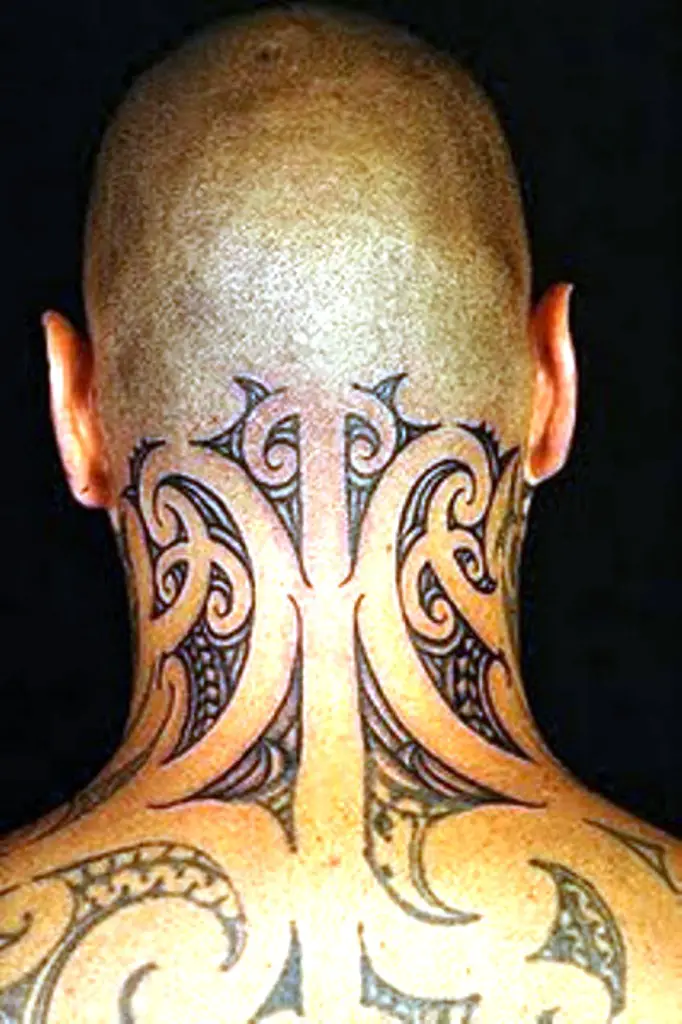 The care and thought that went into this dominantly black neck tattoo speaks volumes about this man's creativity. This huge tribal pattern tattoo may perhaps be a powerful association with tribal body art. Certainly, this is a thing of beauty that's also a  butt kicker.
#15: FUNNY SCISSORS AND COMB TATTOO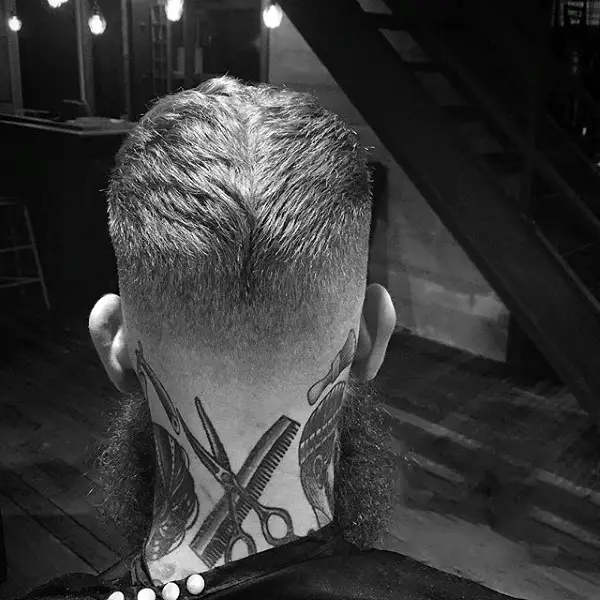 Maybe this scissors and comb tattoo is meant to poke fun at barbers. Or is it poking fun at the idea of getting a haircut? Anyway, everyone should at least see the humor in this cheeky back of neck tattoo.
#16: THE HORNED RAM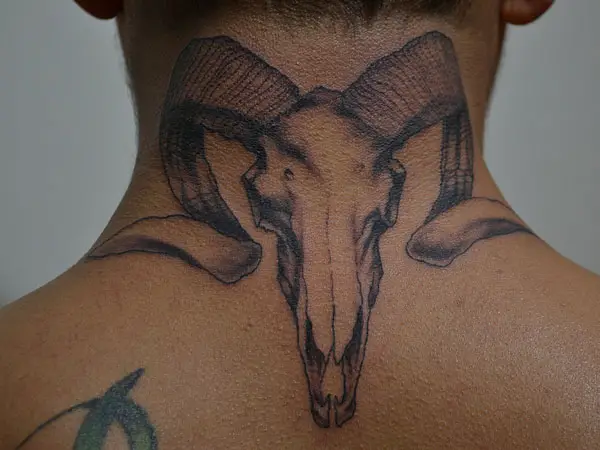 The horned ram skull tattoo may be in homage to Aries the ram in the Zodiac.  Whether this man is celebrating his birth sign or making another statement with this dominant neck tattoo, you can't help but be captivated by it.
#17: ELABORATE DESIGN
How about the magnificent back of neck tattoos like this one that's definitely on target. The clever mix of black and color and the elaborate details makes this one of those tattoos only the bold and defiant can wear.
EXCLUSIVE STOMACH TATTOOS FOR MEN
#18: VISIBLE NECK DESIGNS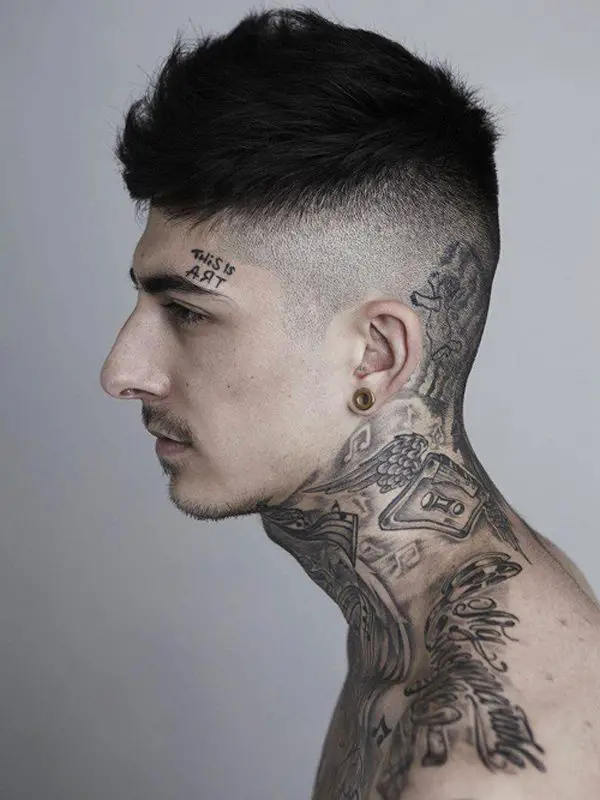 There is so much going on around this guy's neck and chest. This dominant tattoo covers a wide area and may be a collection of everything that means something special to him.
#19: THE POWERFUL EAGLE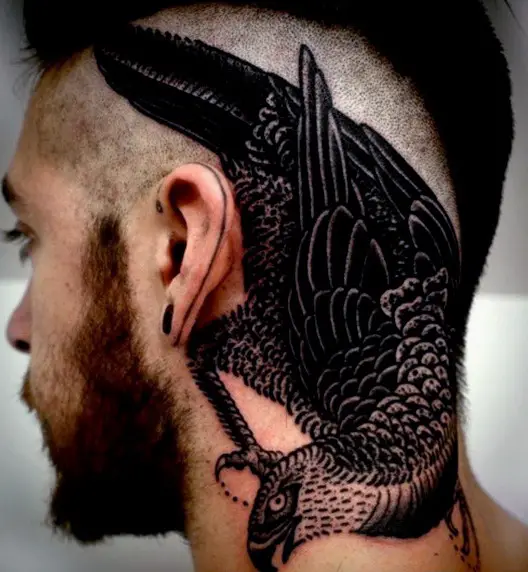 Eagles and other powerful or symbolic birds remain the dominant element of the back of neck tattoos men desire. Here, this eagle is prepared to pounce on its prey. The intricate details in this black ink are awe inspiring.
#20: THE SCARY SKULL DESIGN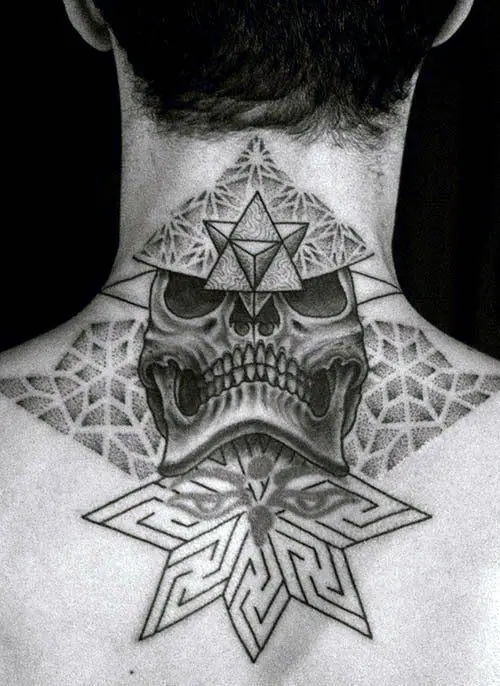 This seriously chilling skull tattoo dominates the back of this man's neck in a most aggressive way. There's no doubt about what this individual thinks about society and its rules. The other symbols depicted in this body art creates another dimension to this classic skull idea.
#21: ILLUMUNATI TRIANGLE NECK TATTOO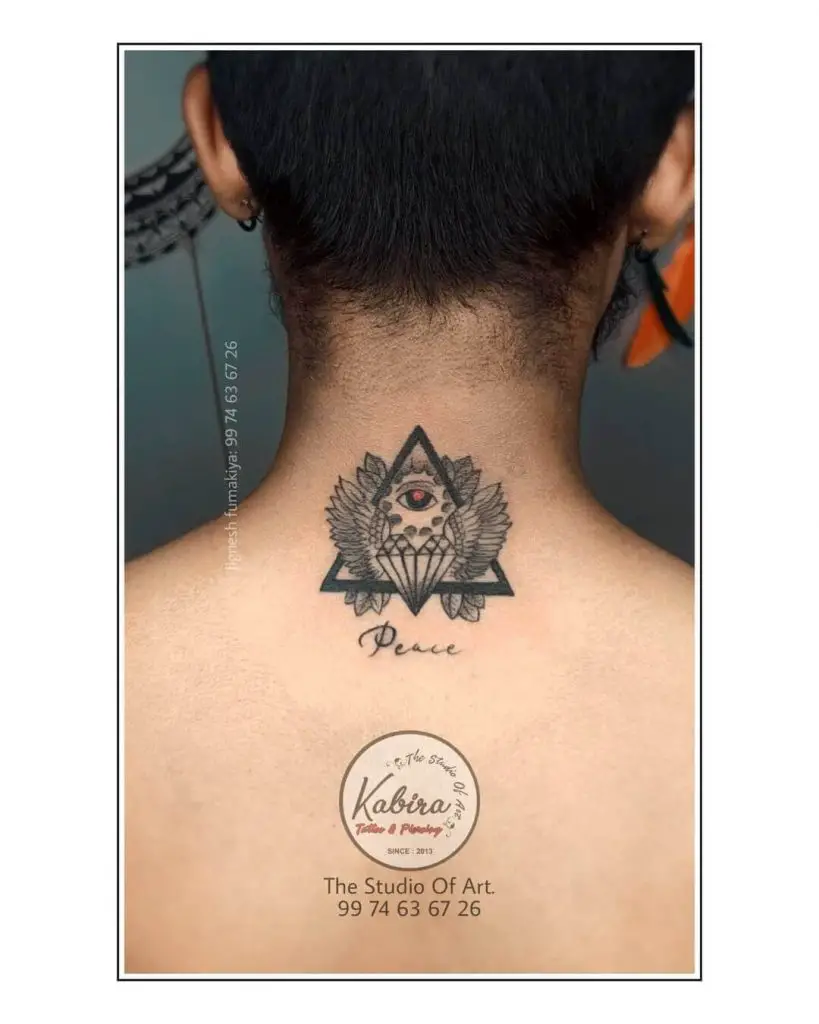 This is one of the must-have tattoos if you've always been interested in conspiracy theories involving the illuminati. The diamon details around the glowing eyes are always a good touch!
#21 ANGEL WITH SPREAD WINGS NECK TATTOO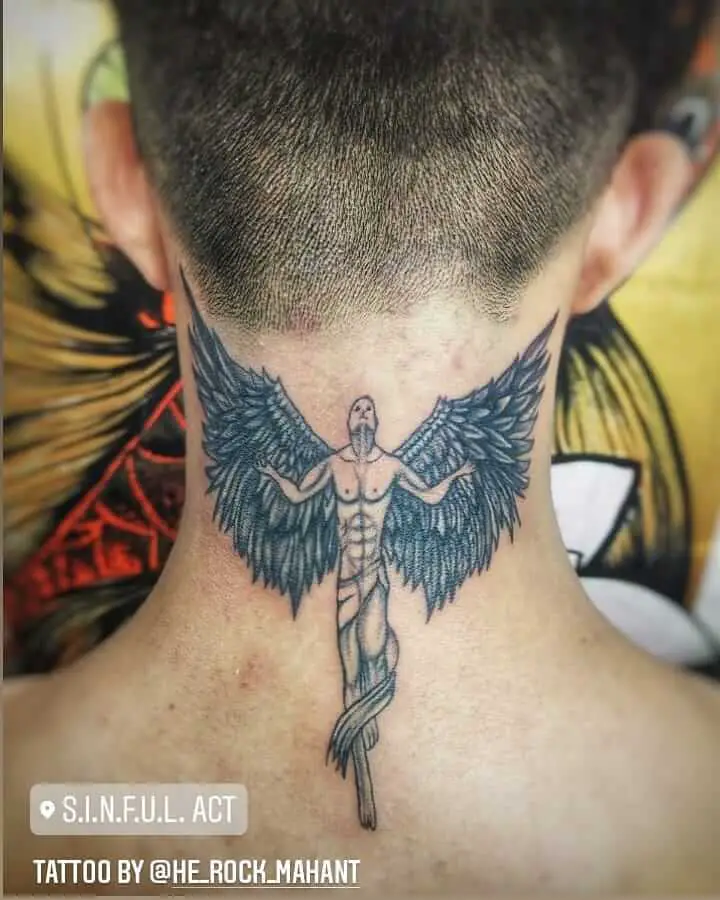 Angel tattoos are popular options, among both men and women. A special design like this one would utilize the space on your neck just right. The spread wings are the key!
#22: SEMI REALISTIC FUTURISTUC PORTRAIT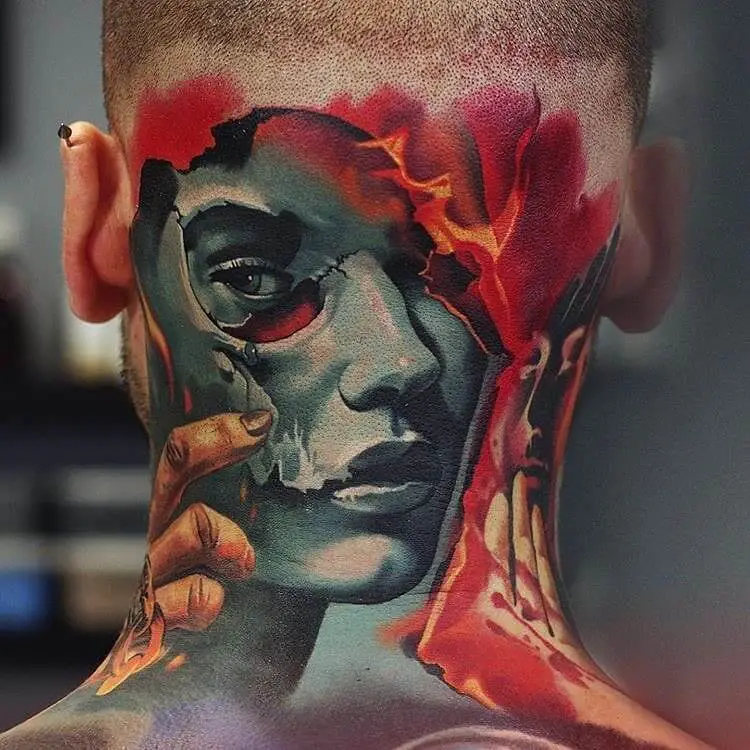 If you're lucky enough to find a tattoo artist who can do semi-realistic portraits, you best bet that you can get tattoos like this done! The flame details are not easy to recreate, but it sure looks amazing!
#23: SPOTTED SERVAL WITH FLOWERS TATTOO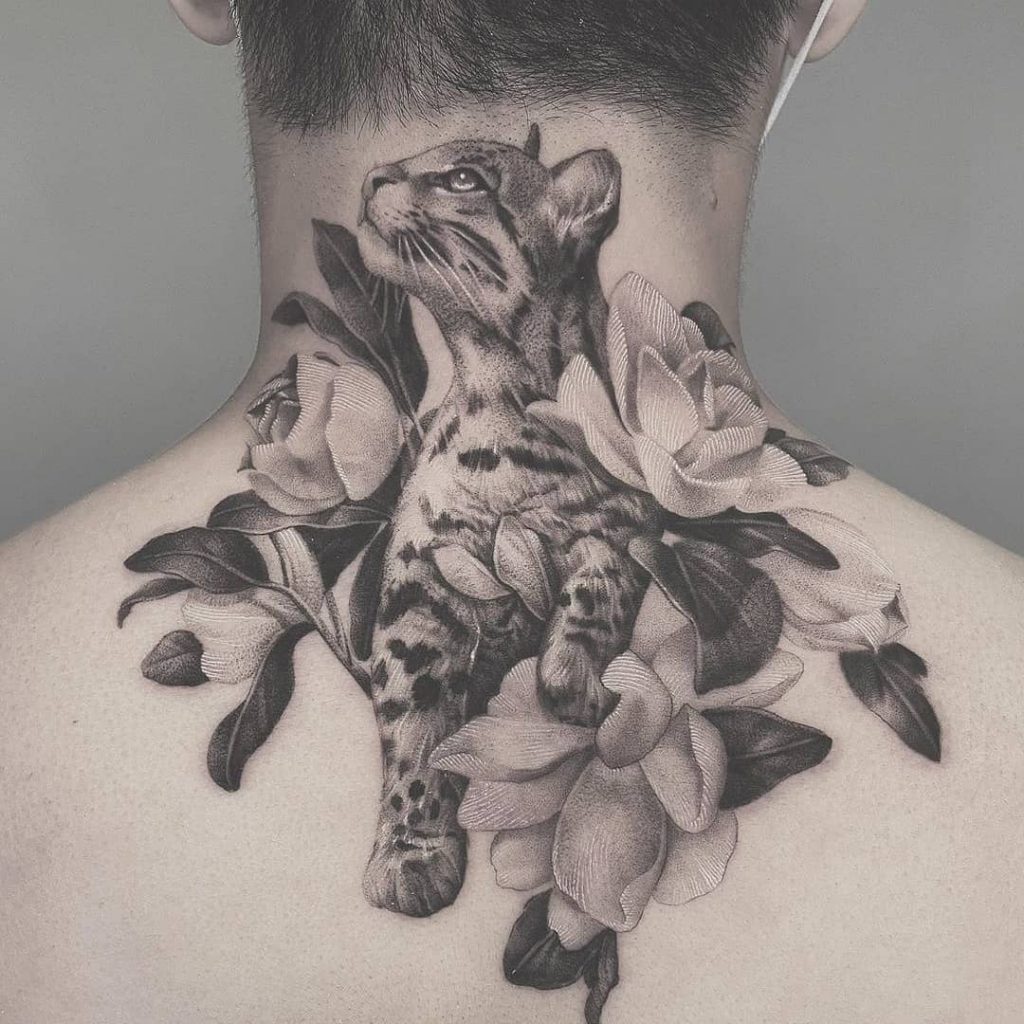 Nature and animal lovers can go for a dotted tattoo design like this one. Your tattoo artist will need to have the right equipment and skills to pull off a dotted tattoo design like this one!
#24: TWO SPREAD WINGS WITH BIG FEATHER DETAILS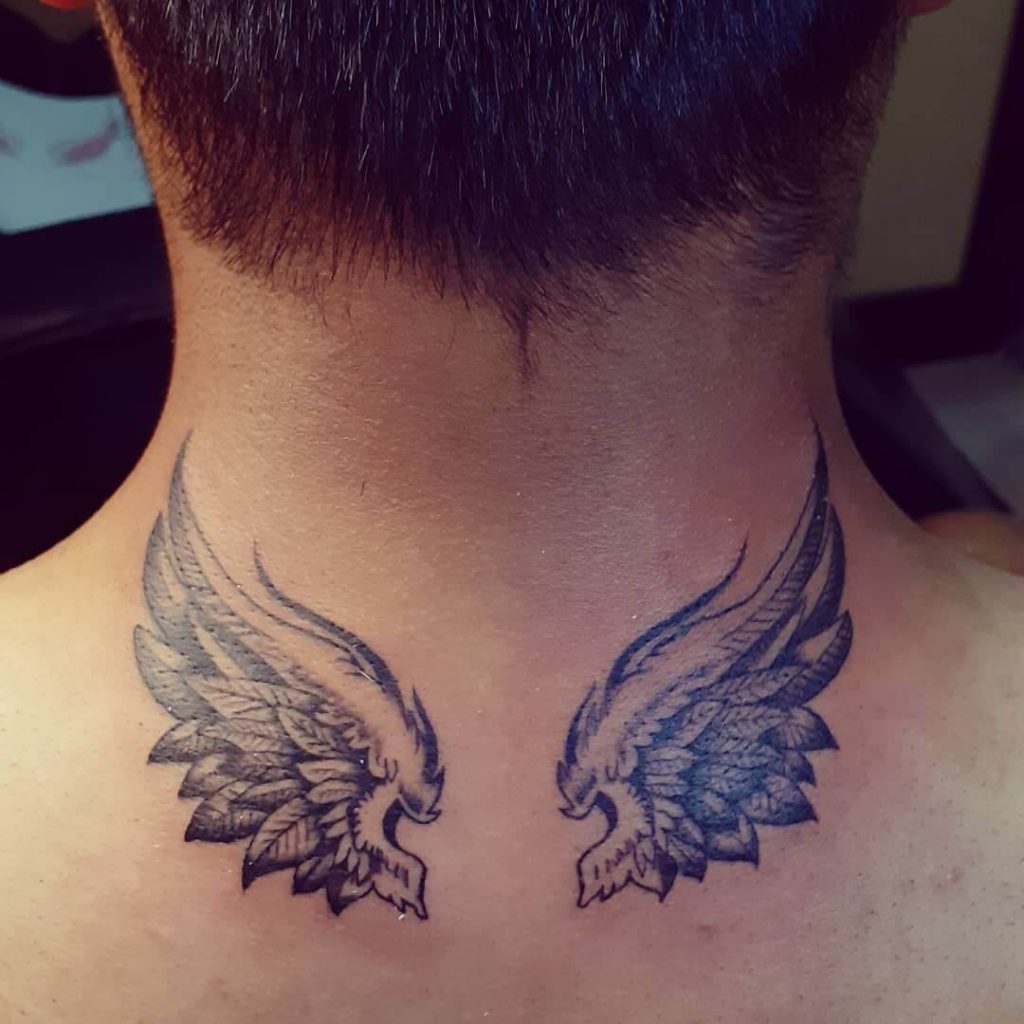 Spread wings are one of the best tattoo designs that you can apply on your back or around the base of your neck. If you don't have anything that you want centered at the middle of the wings, just the plain set is fine too!
#25: DOTTED MANDALA-LIKE PATTERN
Sometimes, the best tattoos have no lined borders. This is where dotted tattoo designs come in! With a lined sketch prepared beforehand, your tattoo artist can create a final dotted geometric piece just like this one. 
#26: ORIENTAL FLORAL TATTOO
Want to have a unique floral tattoo? You can try an oriental flower tattoo style. It will spice up all the artwork you have tattooed on your skin for sure!
#27: CRYPTIC SYMBOL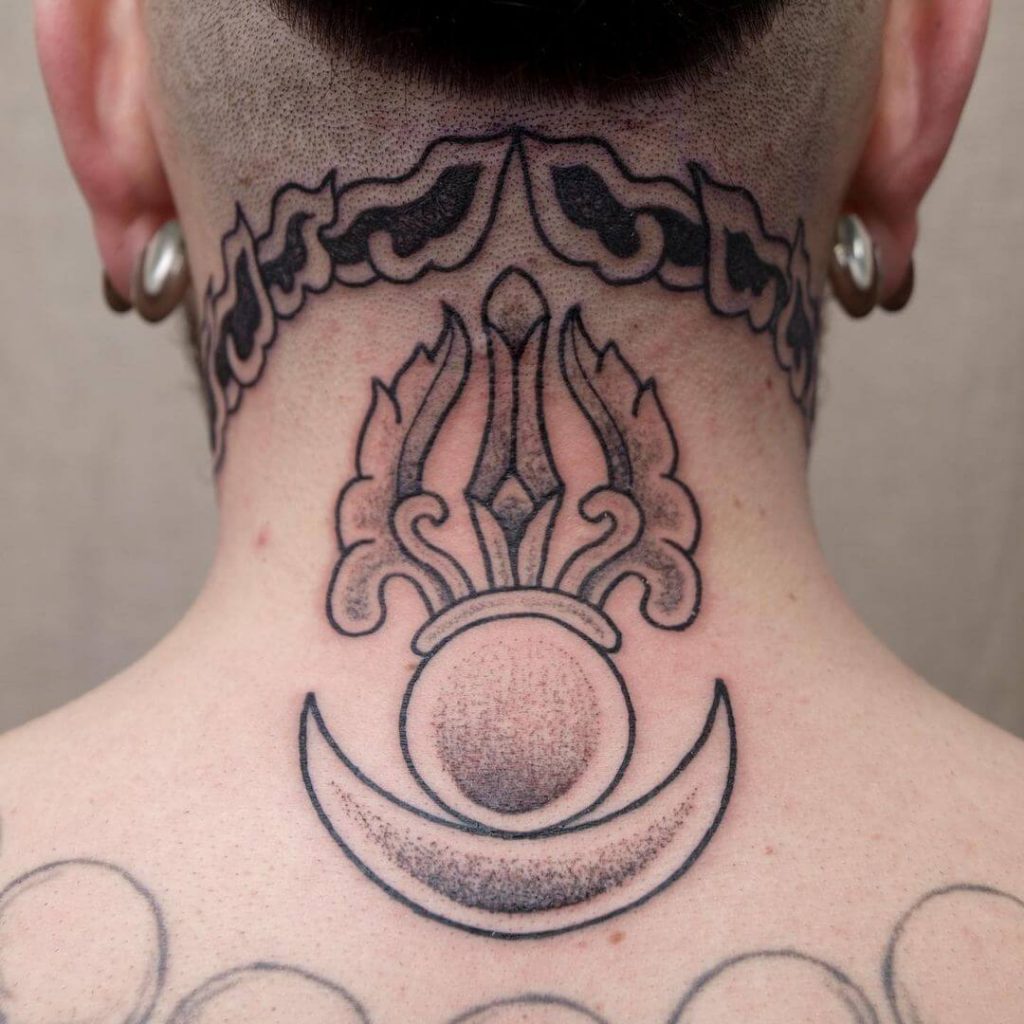 You may have a symbol which means a lot to you, whether it's from a lore, your beliefs, your culture or anything else. In any case, you can always tattoo these symbols on yourself to show how significant it is for yourself!
#28: UNIFORM MANDALA PATTERN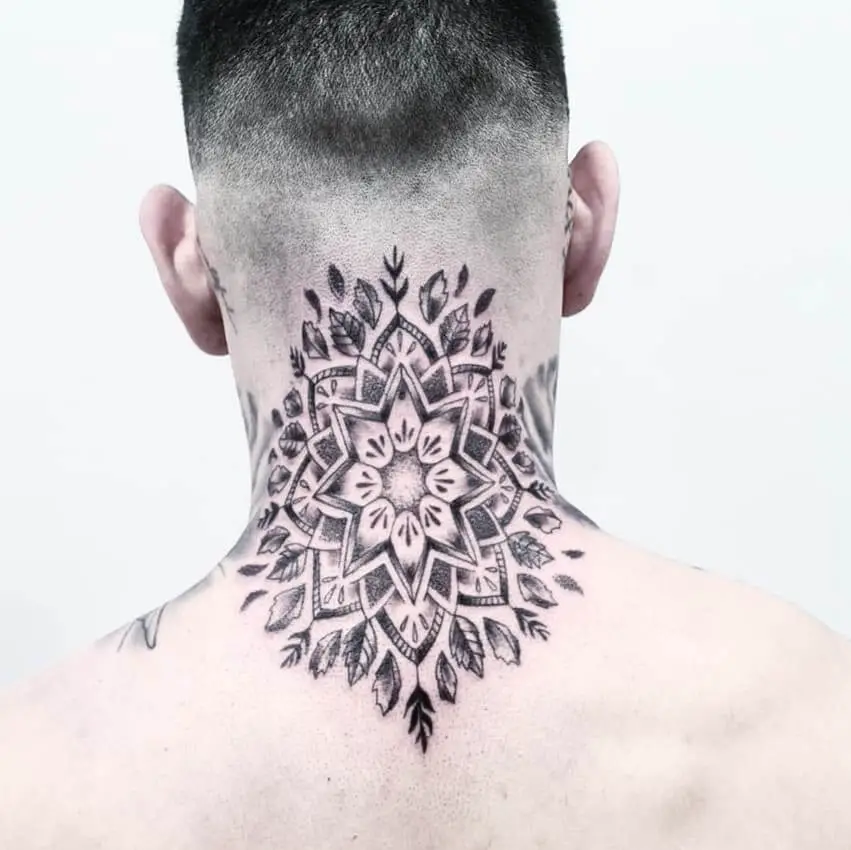 Spruce up your mandala tattoos with some nature elements. A balanced pattern involving various types of leaves can fit in well with mandala back of neck tattoos too!
#29: PRAYING HANDS WITH RAYS OF LIGHT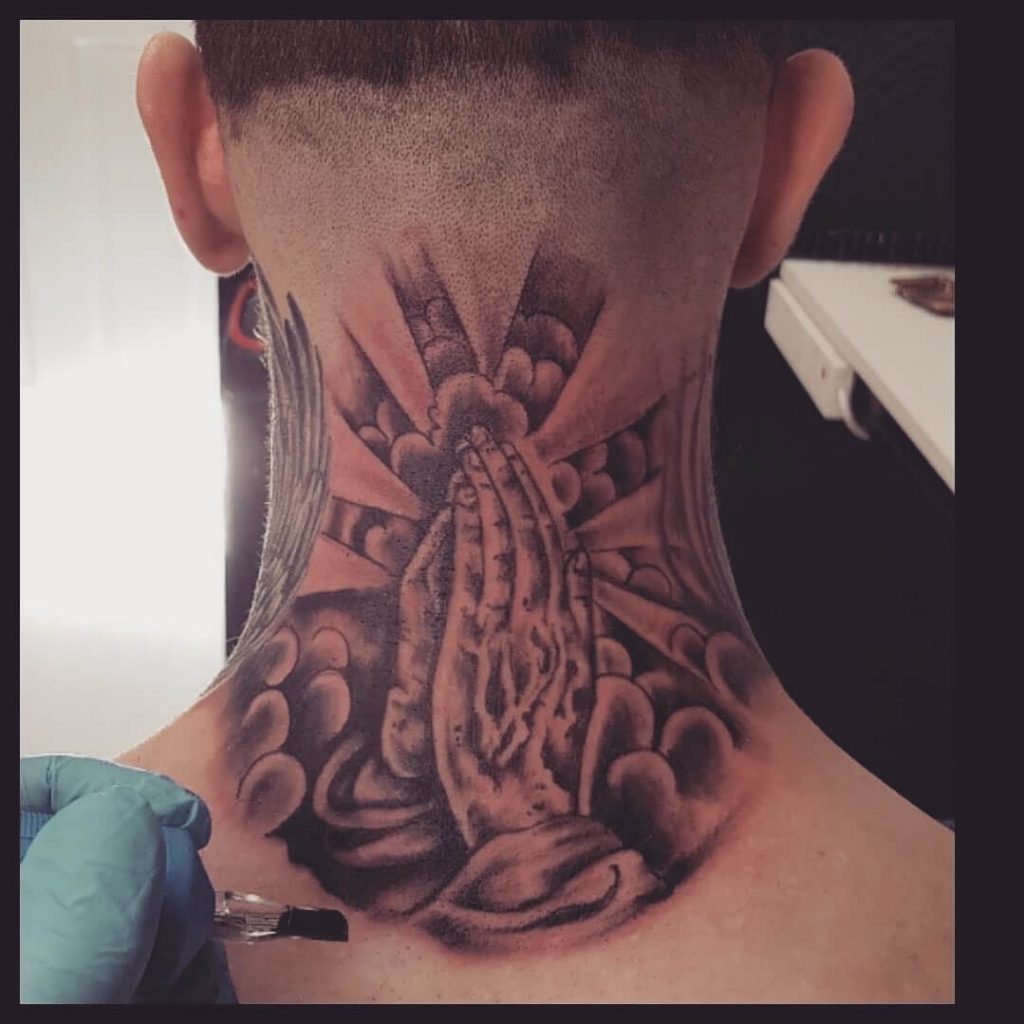 Prayer tattoos just look much better when you also include rays of light in the background. Many neck tattoos for men can include rays of light in different settings, whether it's in a religious or cultural aspect. 
#30: SCENIC NECK TATTOOS FOR MEN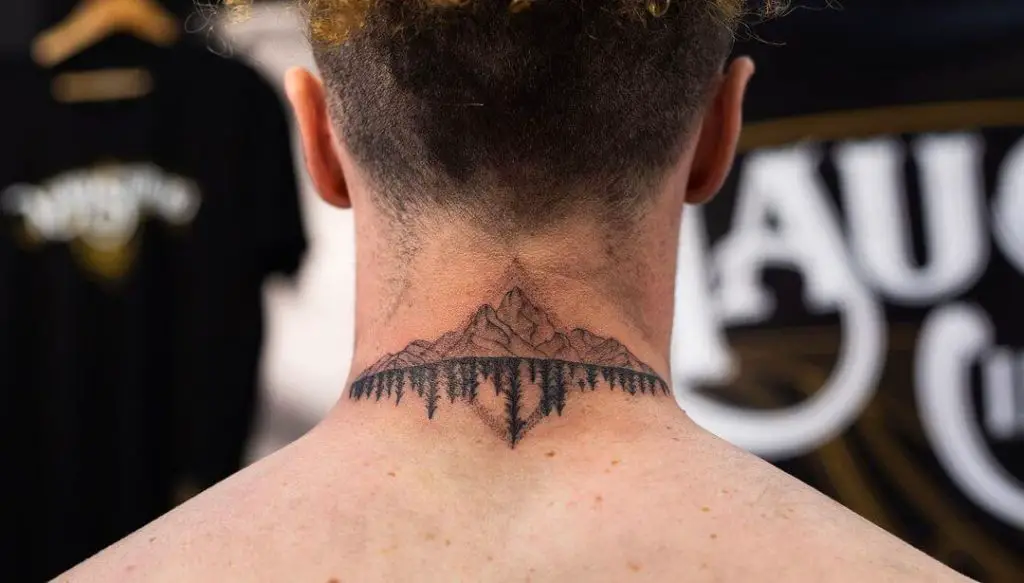 It's really okay if you're into hipster neck tattoos like this one. After all, who doesn't love the mountain and fir tree combo, paired with a geometric backdrop? 
#31: EYE OF HORUS BACK OF NECK TATTOOS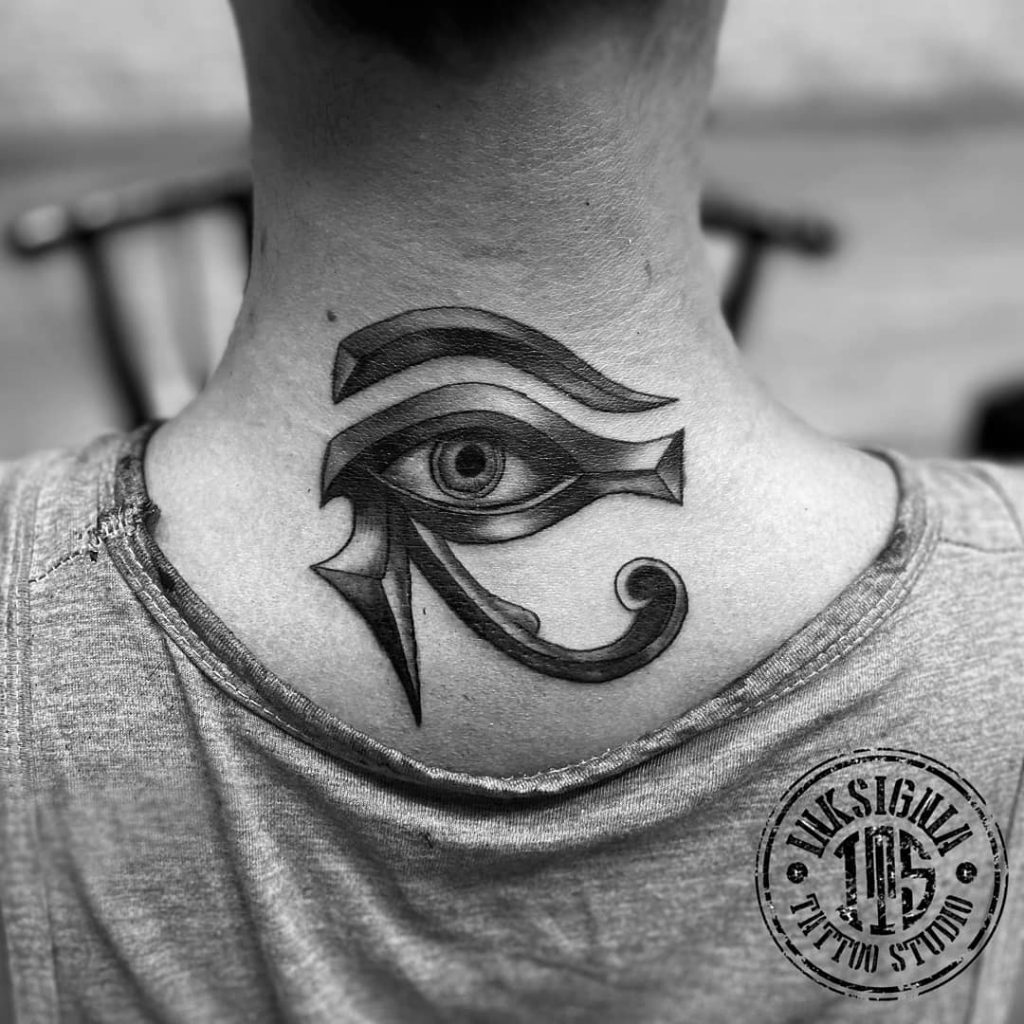 Men fascinated with Egyptian symbols like the Eye of Horus can also have it tattooed at the back of their neck with some 3D details. The trick lies within the shadowing technique.
#32: TRIBAL NECK TATTOO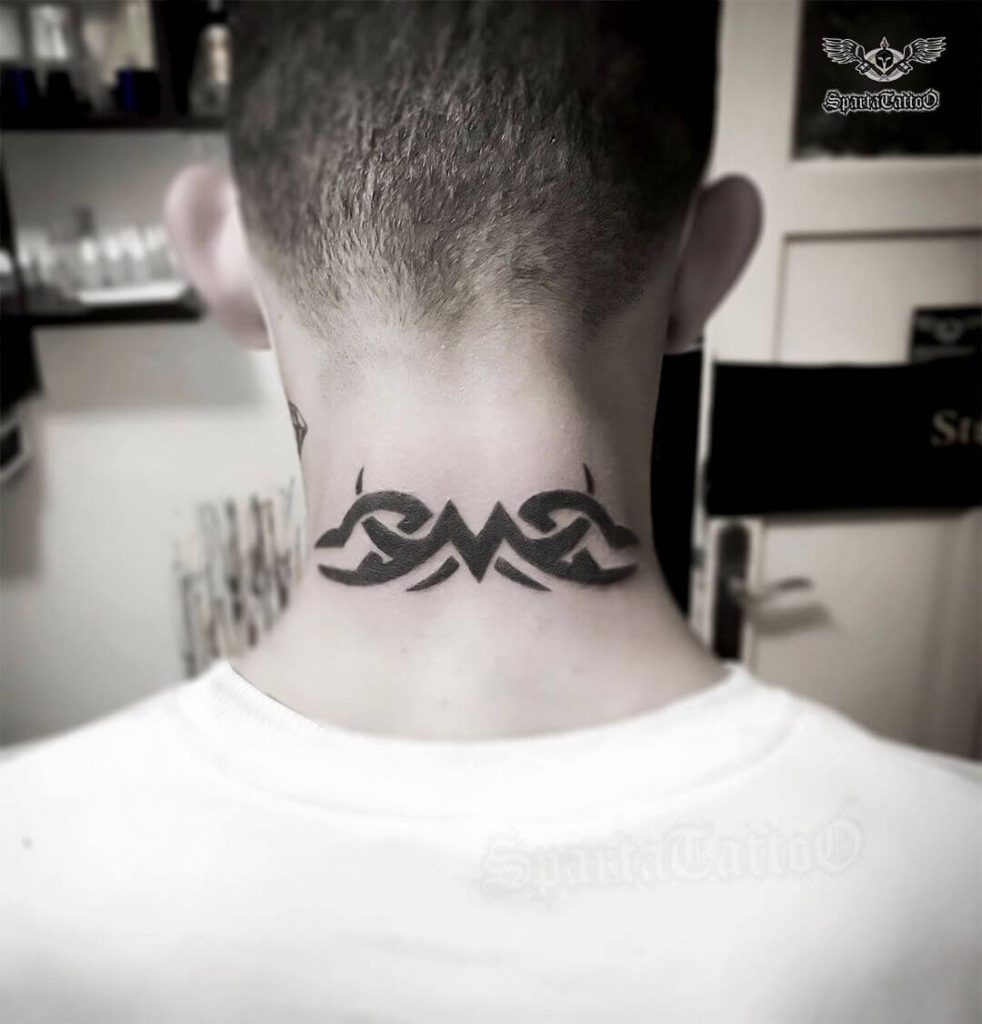 In case you haven't noticed, tribal tattoos are often shaded in and symmetrical. A simple one like this can easily fit at the back of your neck, around your wrist or any other small regions of your body!
#33: WESTERN SKULL TATTOO DETAIL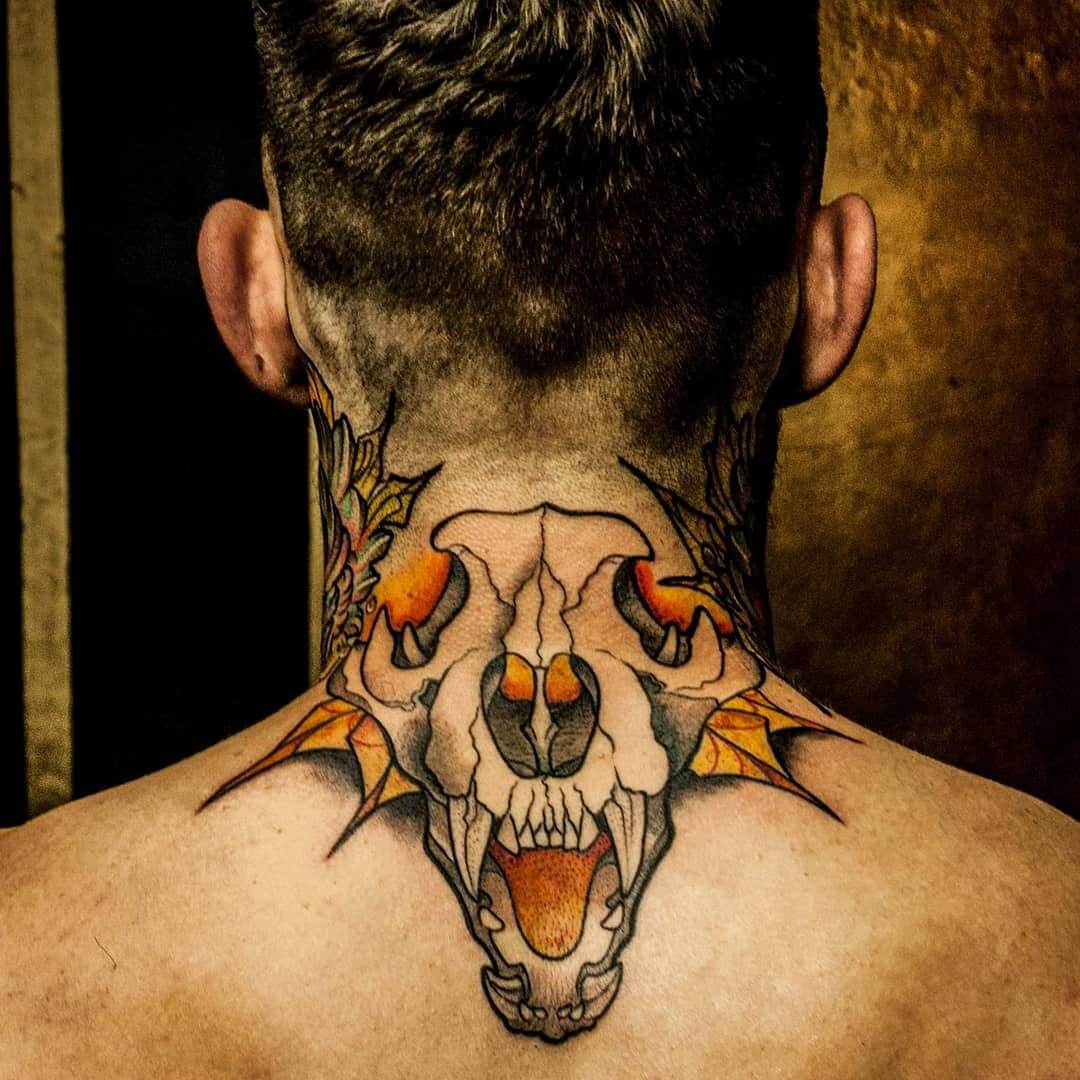 We love the sunset shading in this tattoo! The long shape of an animal's skull makes it ideal for a back of neck tattoo. Men in love with the Western cowboy culture will definitely take a liking to tattoos like this one!
#34: NIGHT SCENERY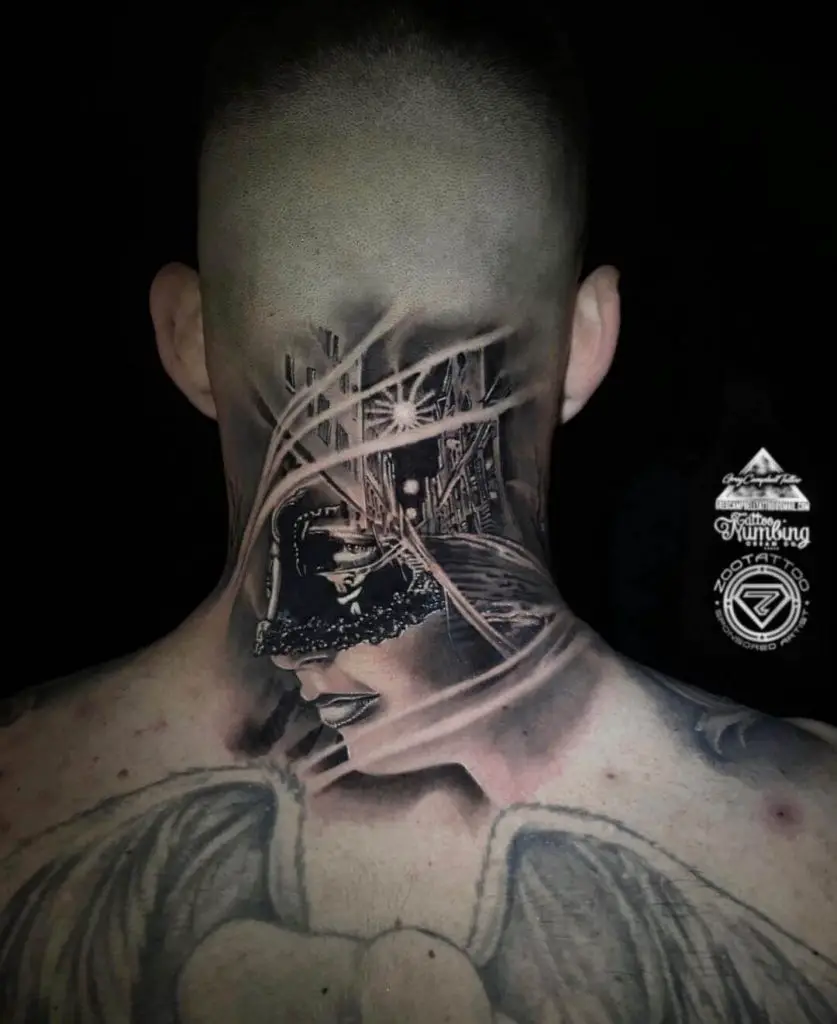 Men looking for tattoos that stand out can always choose a scenic tattoo. The more fine details your scenic tattoo has, the easier it will capture attention. Make sure that your tattoo is shaded right for effects like this one!
#35: THE CREATION OF ADAM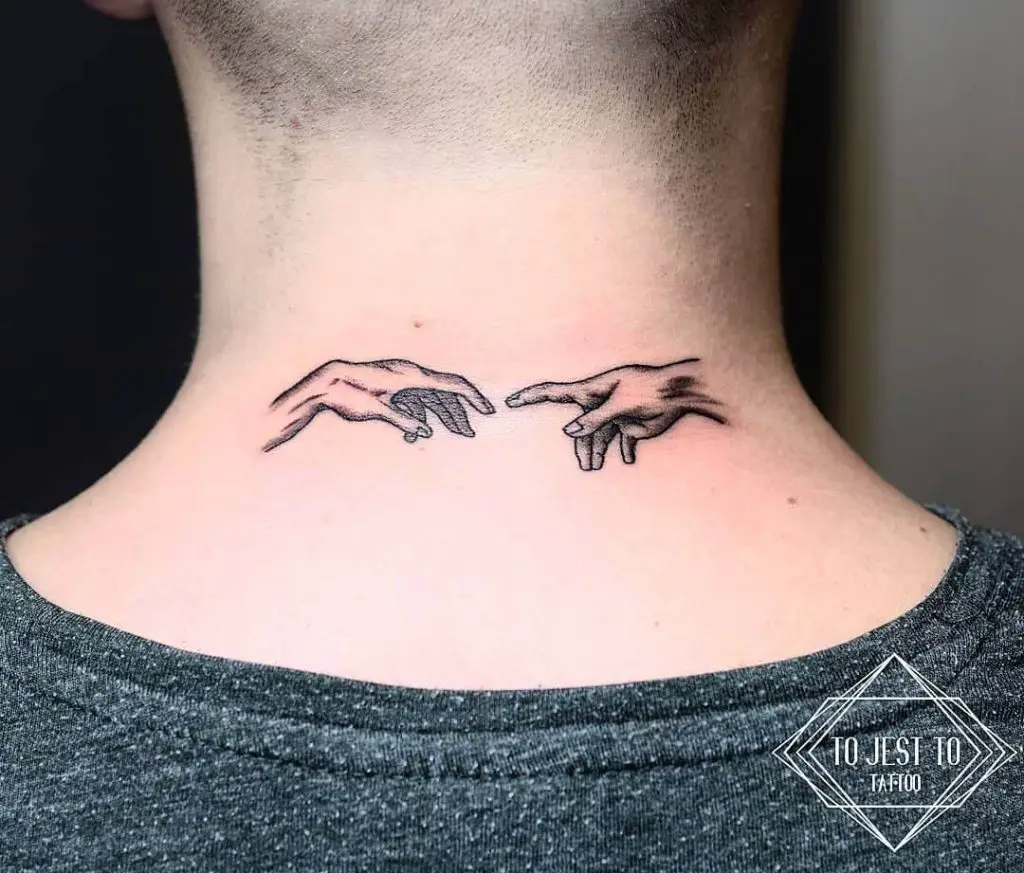 Fans of Da Vinci artwork will easily recognize this simple and small tattoo. This minimalistic tattoo fits well at the small back of your neck, and also around your wrist. Some also put this tattoo behind their heels!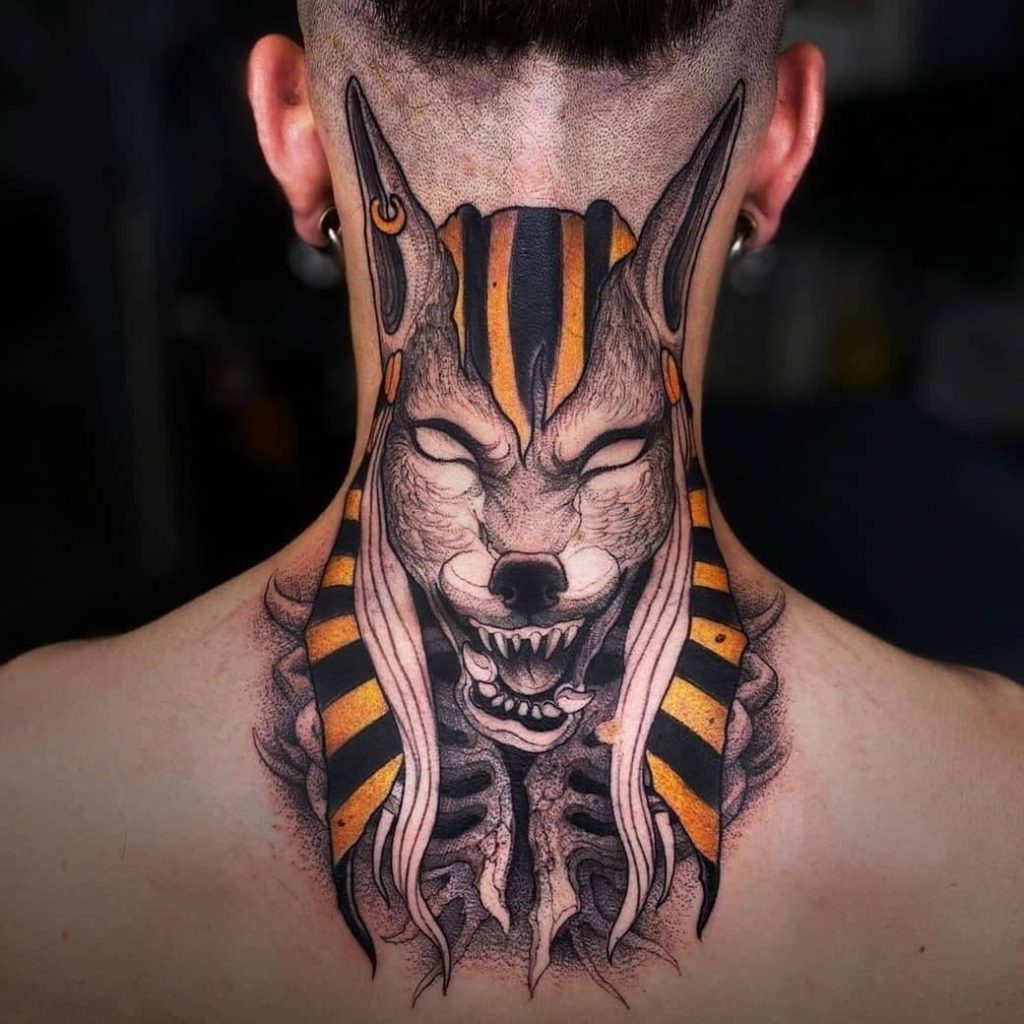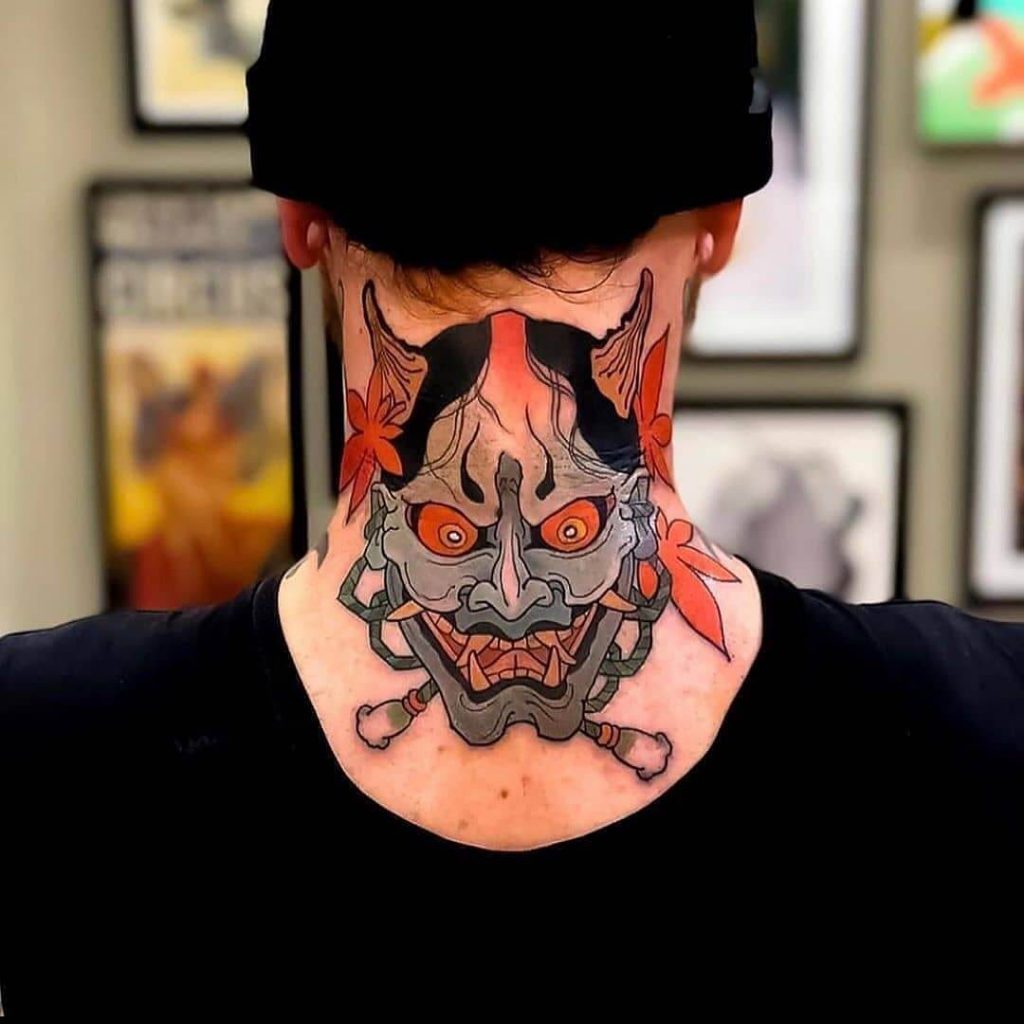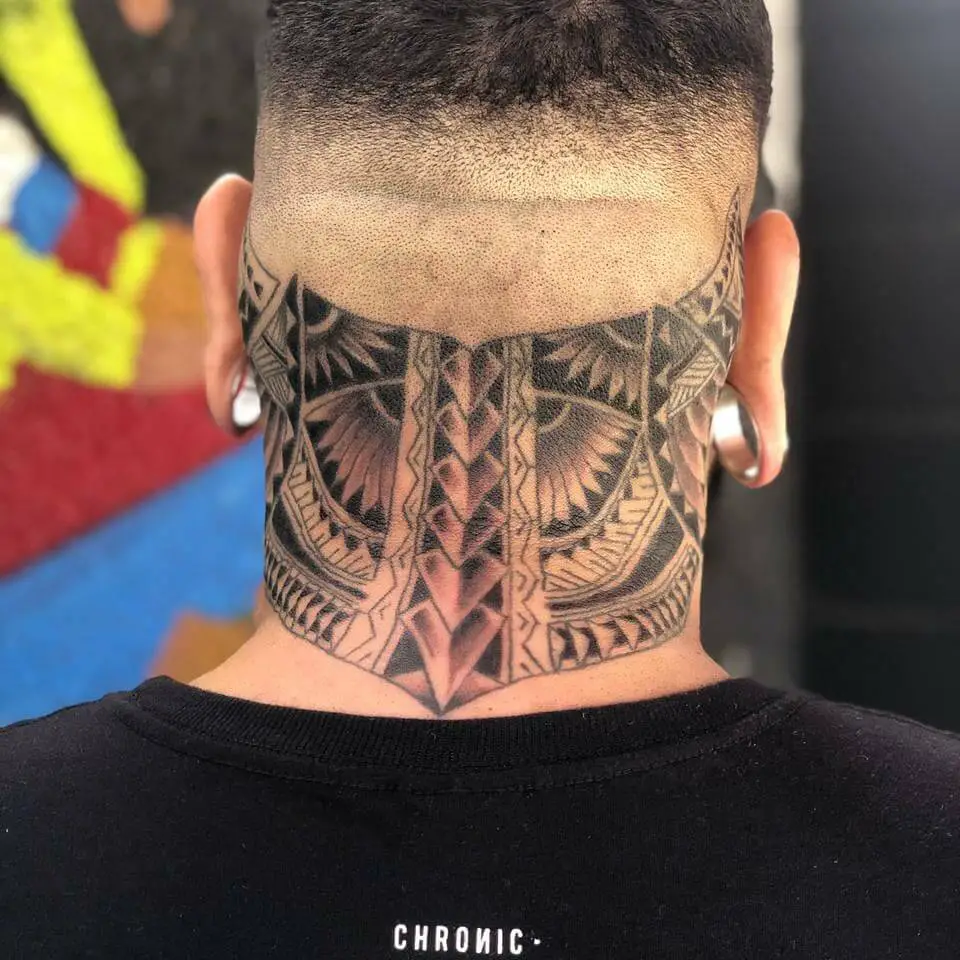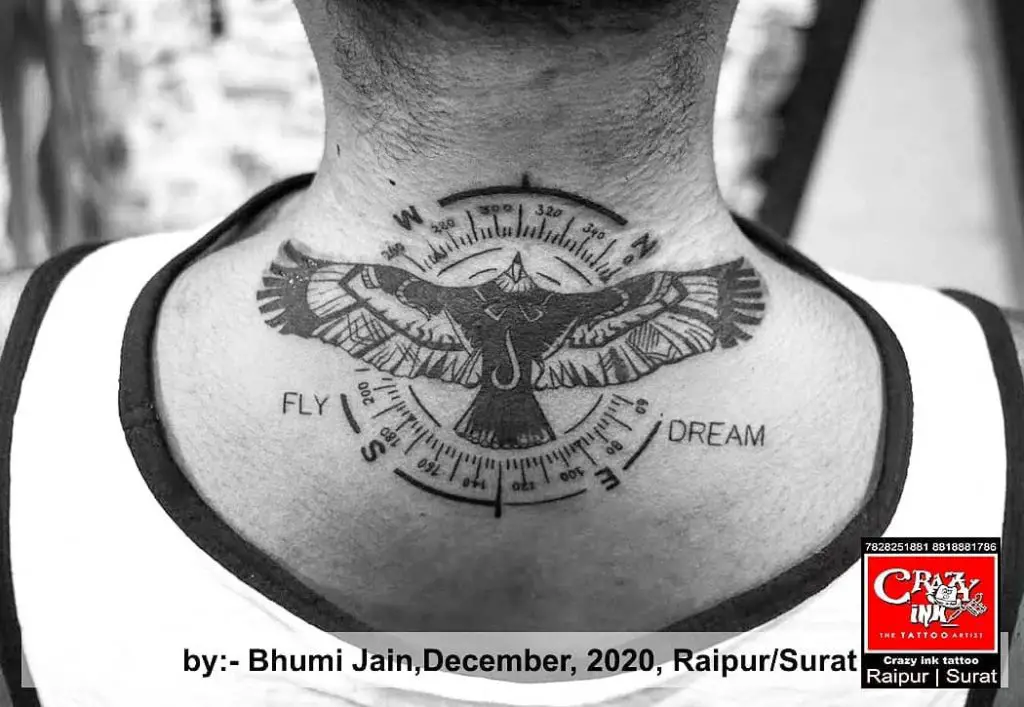 As you can clearly see from the back of neck tattoo ideas discussed here. there are many symbols that are bold statements that defy society and its rules. We have shown you twenty awesomely striking tattoo ideas that may be worn boldly and with supreme confidence. Neck tattoos are not easy to hide so if it's a secret tattoo you're looking for, you'll be disappointed as these back of neck tattoos are anything but discrete. So, if you want the perfect neck tattoo to consider these or other just as compelling body art.