Panther tattoos are popular for many reasons. They are highly symbolic tattoos depicting power, strength, determination, or adrenaline. They are also relatively easy to acquire. You can find a lot of different options, as well as a variety of different designs.
Certain animals are considered to be powerful when it comes to good luck and protection. Among these animals are the lion, the butterfly, and the panther, each of which has its tattoo. 
If you're looking for a design with a special meaning, you might want to get a panther-themed tattoo, as it is said to symbolize strength and protection. This blog will help you decide what to get and what it means.
Top 102 Panther tattoos Designs and Meanings:
Panther tattoos are famous among men and women. The meaning behind it varies based on ethnicity and culture, with some men and women wearing them for protection and others for beauty.
Traditional Panther Tattoo
The traditional panther tattoos are typically related to power, strength, and ferocity. They are also used to remind us of the importance of spiritual protection.
Thunder Black Panther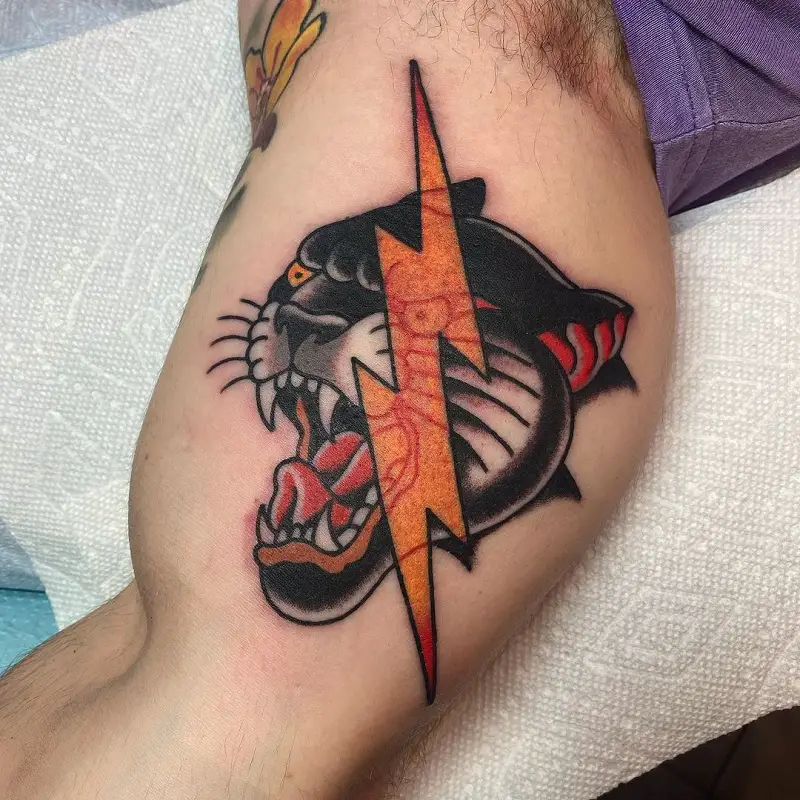 This image's black panther face with a thunder symbol looks pretty awesome. If a man has a big bicep, he might get this tattoo to express his power in protecting his loved ones.
2. Rose Panther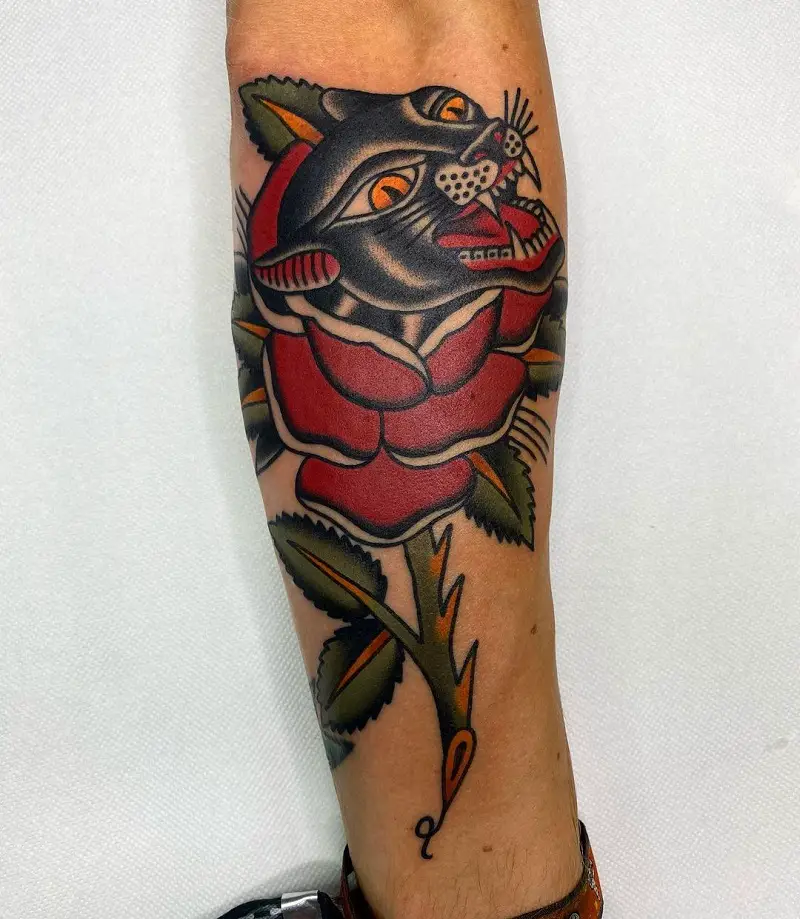 On a man's hand, we observe a lengthy rose-themed tattoo, but from within the rose, a panther emerges, which is distinctive. This style of tattoo informs us that we must work hard to achieve our goals in life.
3. Biting Panther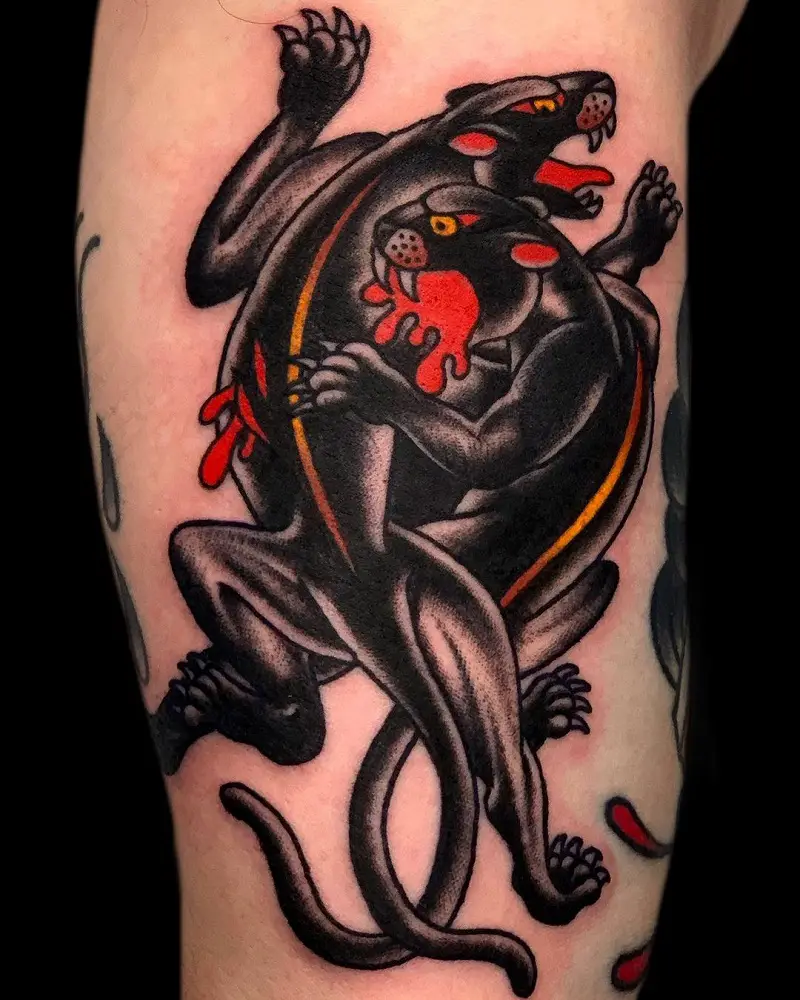 On a man's thigh, we see two black panthers battling, one biting and the other seeming enraged. This tattoo depicts the survival of the fittest ideology.
Sucky Panther Tattoo
Sucky Panther tattoos are ideal for those who appreciate traditional tattoo art. These tattoos represent the pain of losing loved ones or remembering someone's memories.
4. Iron Panther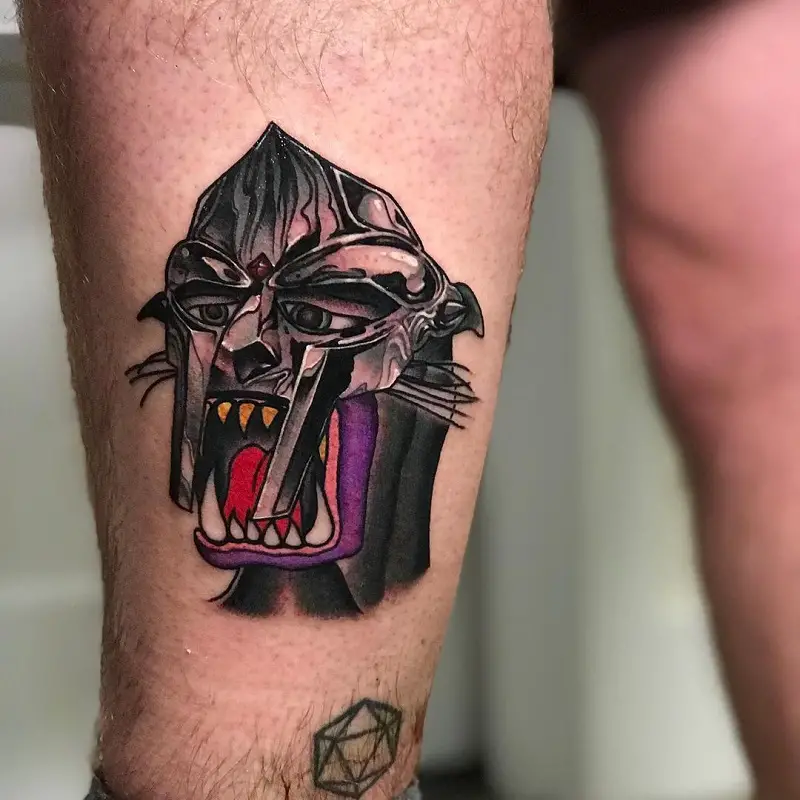 A black panther face wearing an iron helmet appears to be returning from a fight, yet it is sorrowful. If you lose someone in war, you can memorialize them by getting this tattoo on your thigh.
5. Crying Panther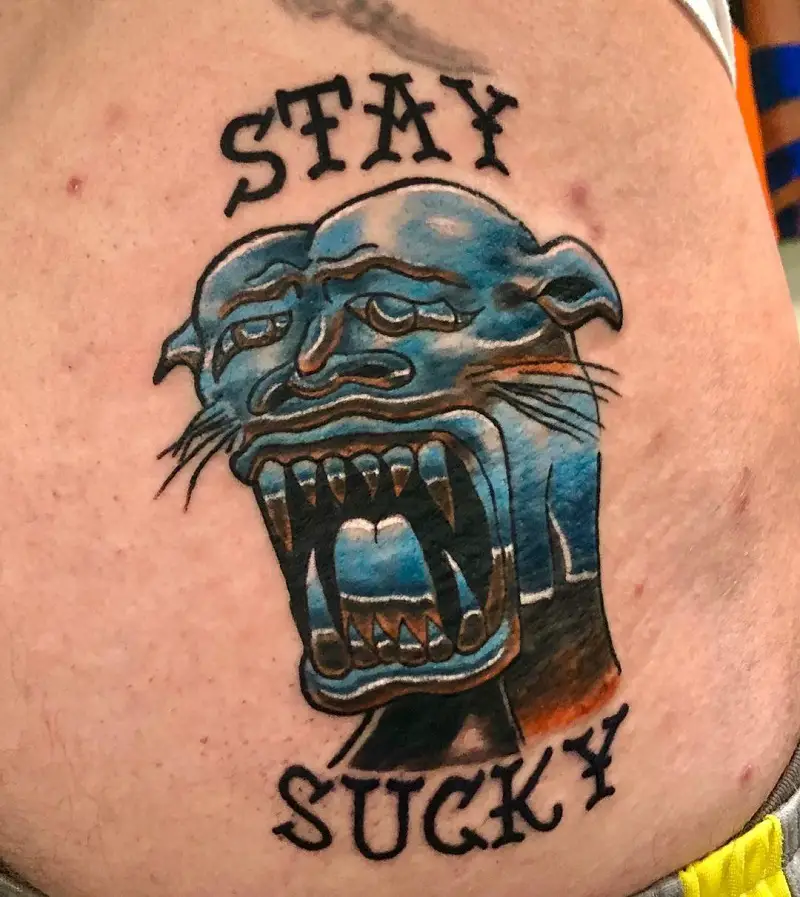 A blue panther face with a sobbing expression is unusual. If you lost a son in a battle, you could have this tattoo on your side of the abdomen to memorialize him.
6. Purple Head Panther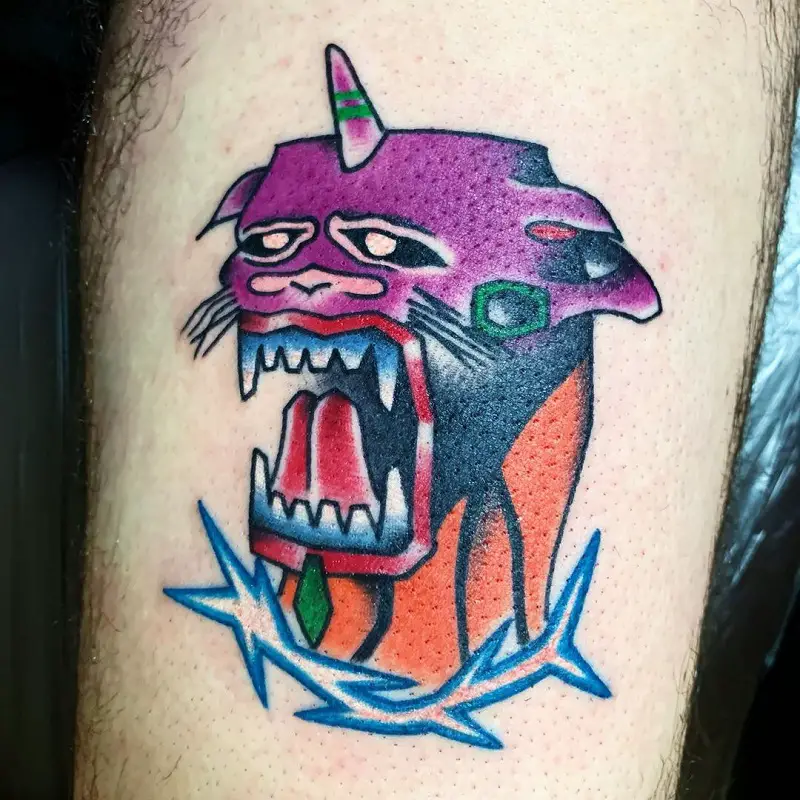 A weeping panther face with purple decorations is quite appealing. Sometimes in life, we lose our beloved wife, who helped us along the way; this tattoo shows appreciation and gratitude for her.
Realistic Black Panther Tattoo
If you are looking for a real black panther tattoo design, you have come to the right place. These tattoos, such as "Black Panther" or "Strength, "show your inner strength."
7. Panther Family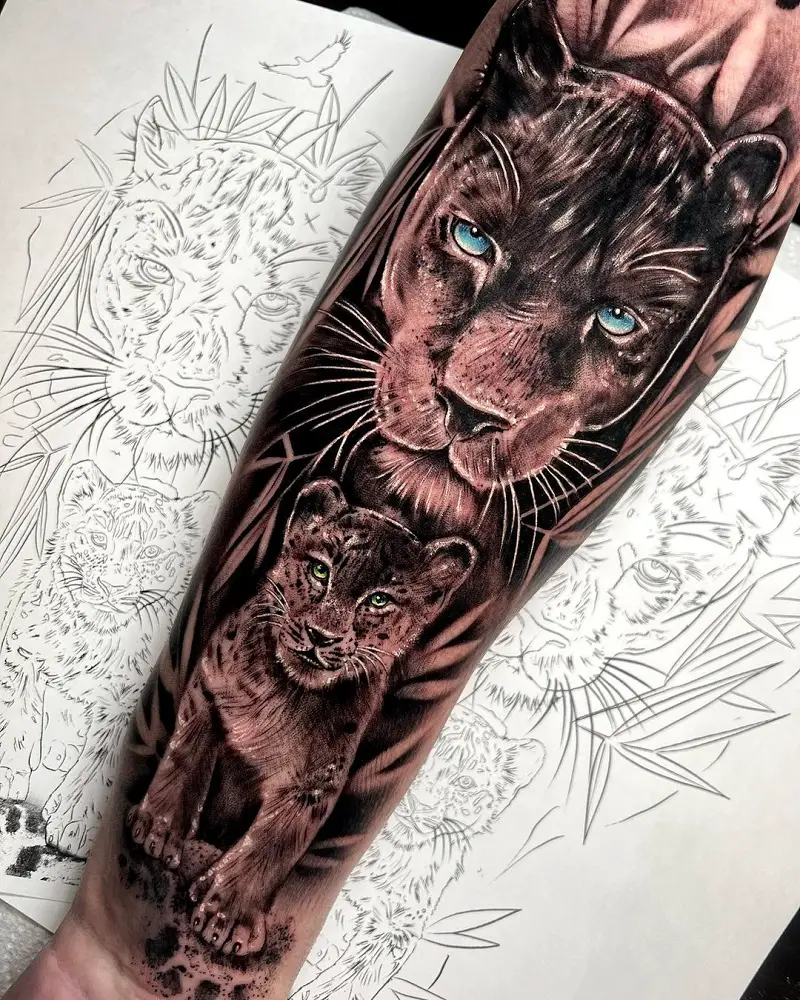 Here, we see a real face of a baby panther, and its mother demonstrates family love and strength. This lovely tattoo is suitable for both male and female hands who wish to express their familial ties.
8. Blue Rose Panther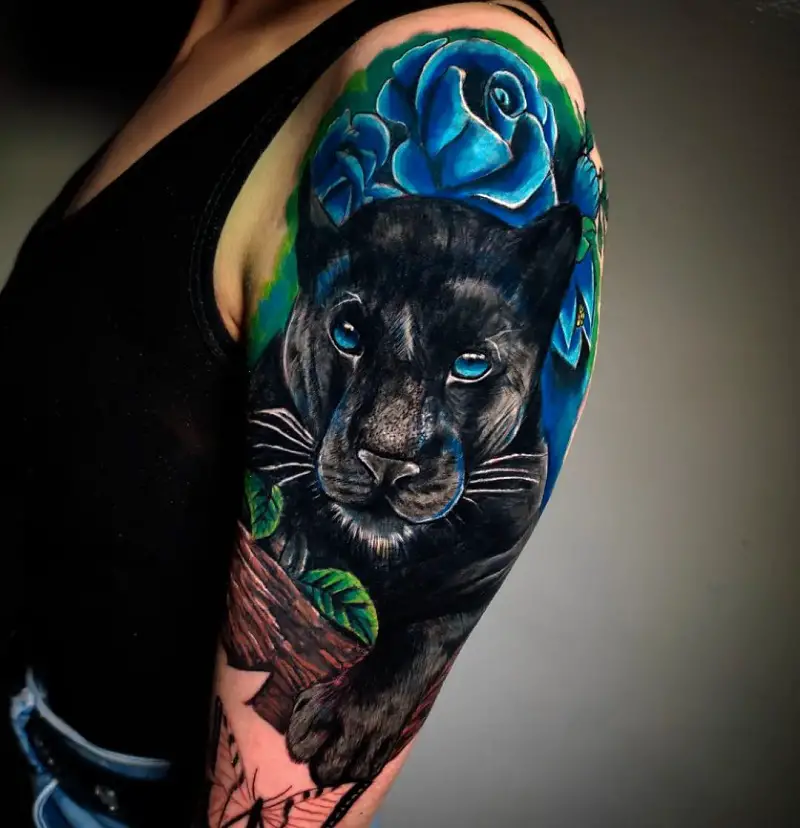 A blue-eyed panther is quite lovely in a blue rose garden. This tattoo is ideal for a girl's upper hand sleeve and conveys the message of female empowerment.
9. Old Red-Eyed Panther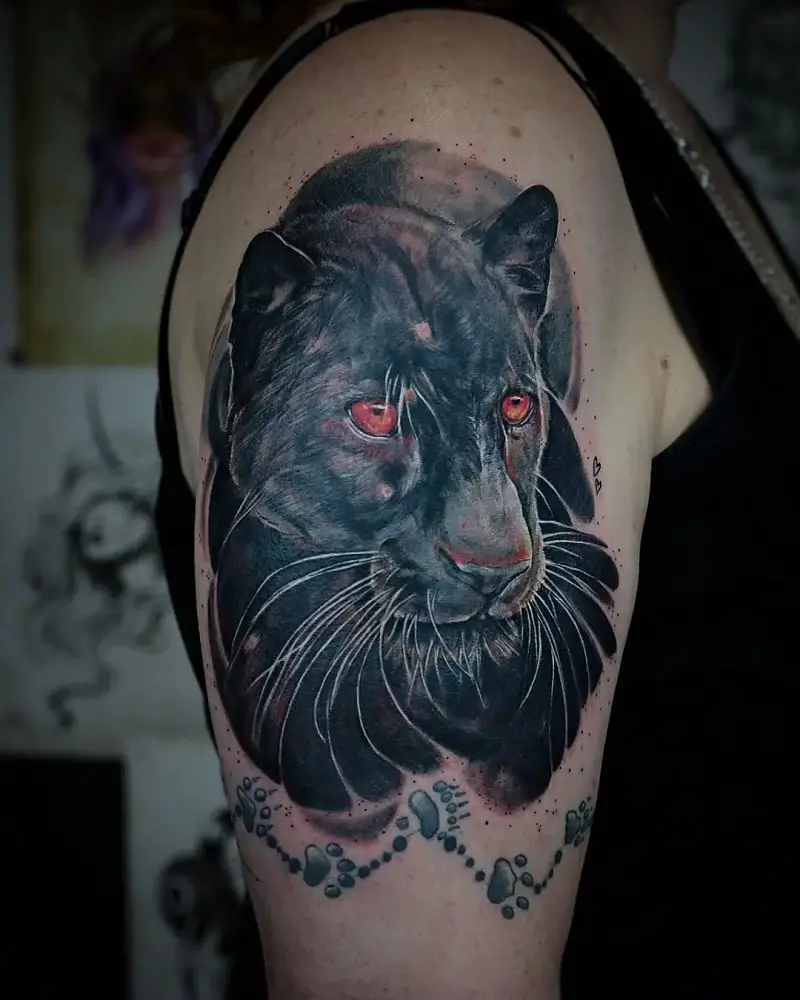 We observe an antique panther-themed tattoo with ruby eyes on a girl's sleeve. This type of tattoo is popular among girls who prefer to be active and muscular like guys.
Electric Panther Tattoo
Electric Panther Tattoos are designed as a way to captivate your attention. They are vibrant and eye-catching and always a great conversation piece. These tattoos are a great way to show off your personality and style.
10. True Black Panther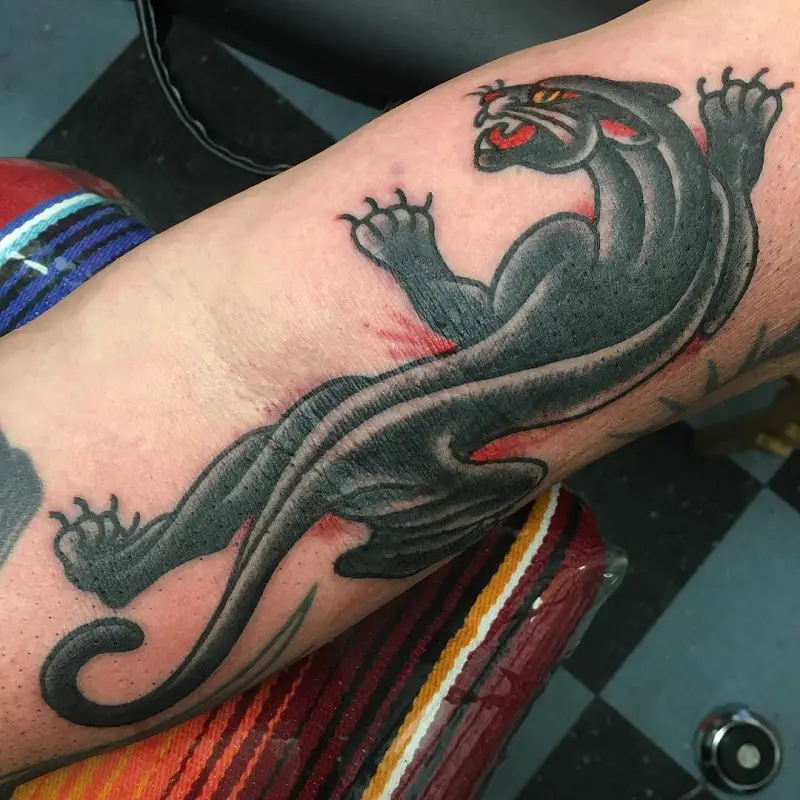 A real black panther is seen on a man's hand, gazing ferociously at its opponent. This tattoo is incredibly eye-catching and conveys that you are always prepared to confront any problems.
11. Furious Panther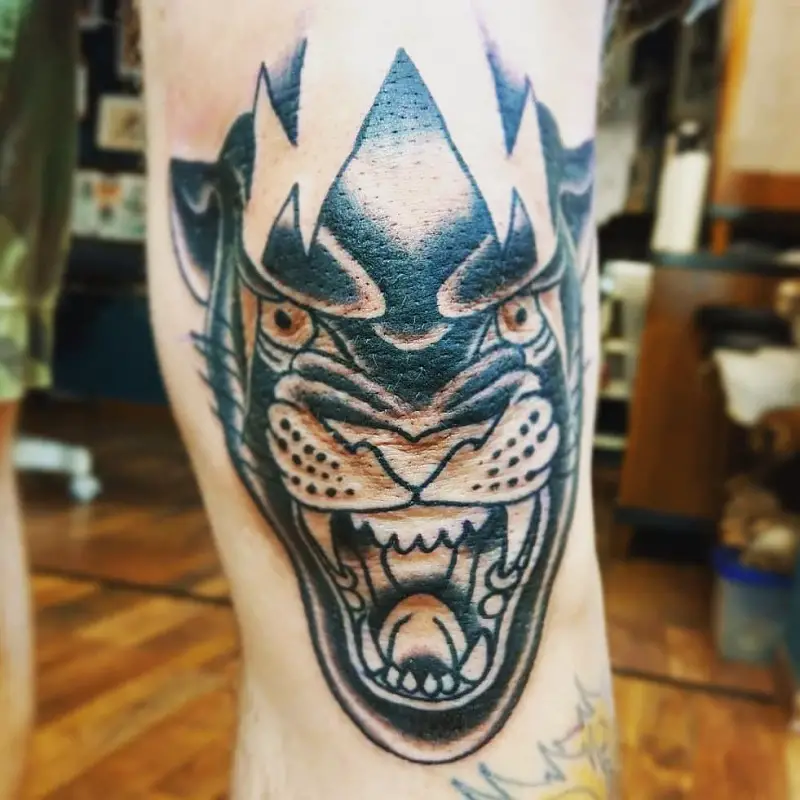 On the backside of a man's leg, we observe a panther face tattoo that is enraged and ready to attack. This tattoo of a panther symbolizes manhood and the desire to protect one's nation.
12. Jail Breaker Panther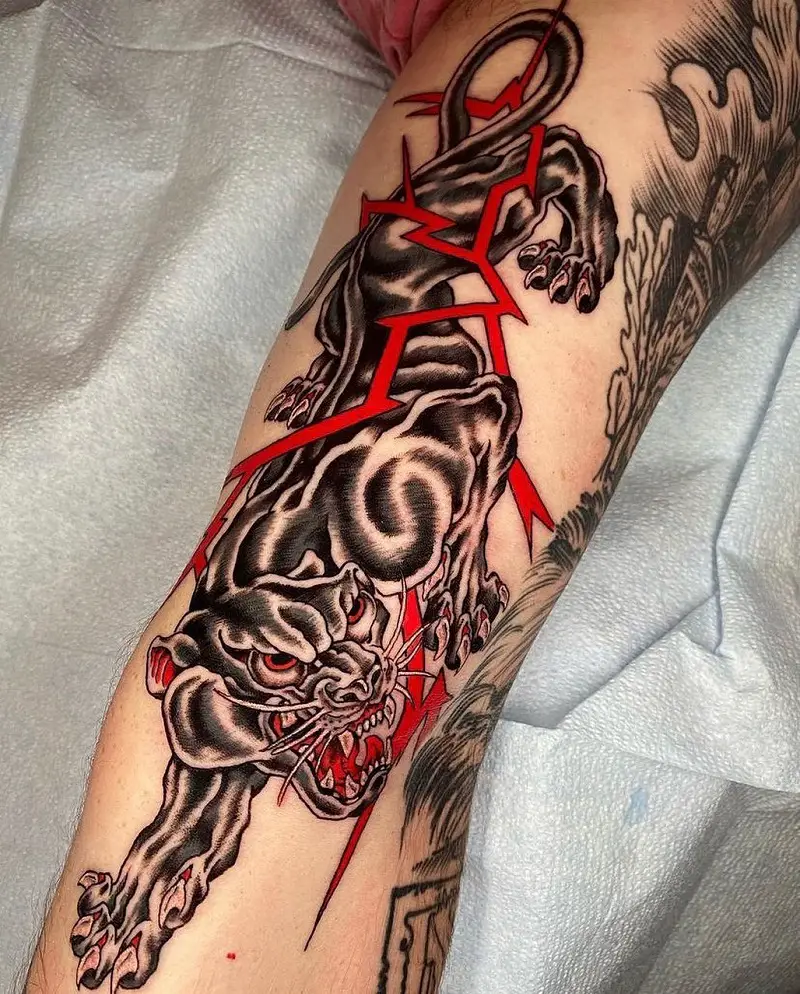 Here we witness a panther getting out of jail with a terrific force, which looks fantastic. People who value freedom and want to express themselves in public can consider getting this tattoo of a panther.
Realistic Panther Tattoo
When looking for a realistic-looking tattoo, you may want to consider something involving a panther. These tattoos are known for their realistic look and are often associated with strength, power, and courage.
13. Sunset Panther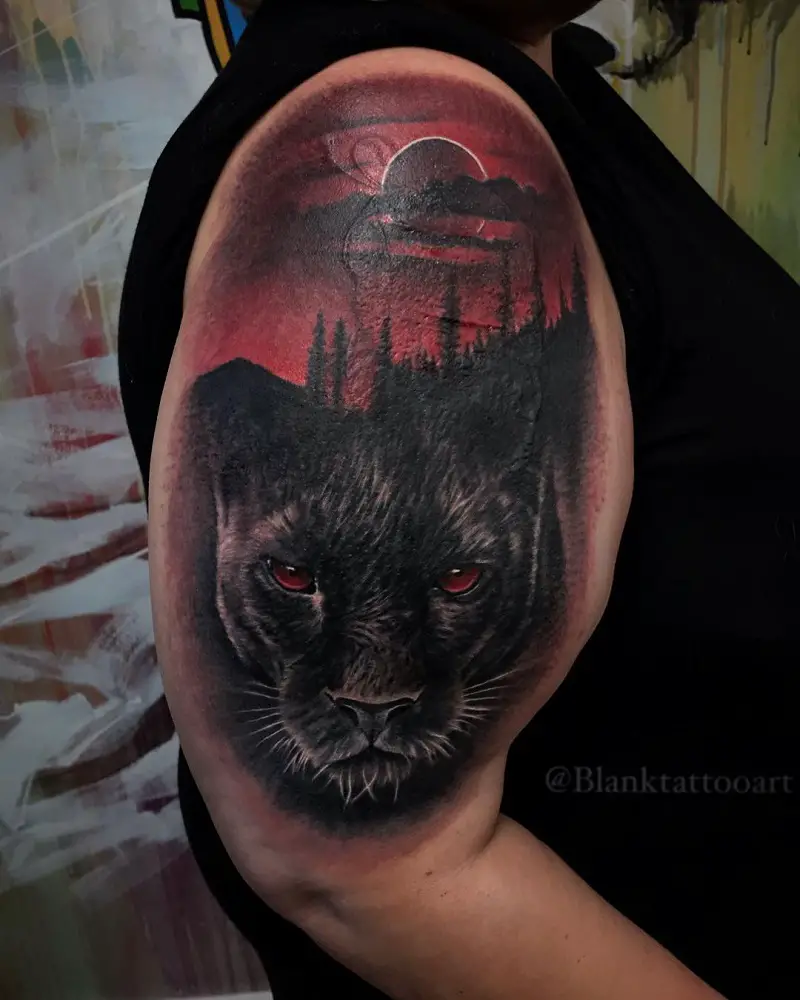 A panther emerges from the shadows after the sun has set to look for food. This tattoo looks incredibly stylish on a man's bicep and symbolizes the force of a man's drive to achieve anything.
14. Baby Panther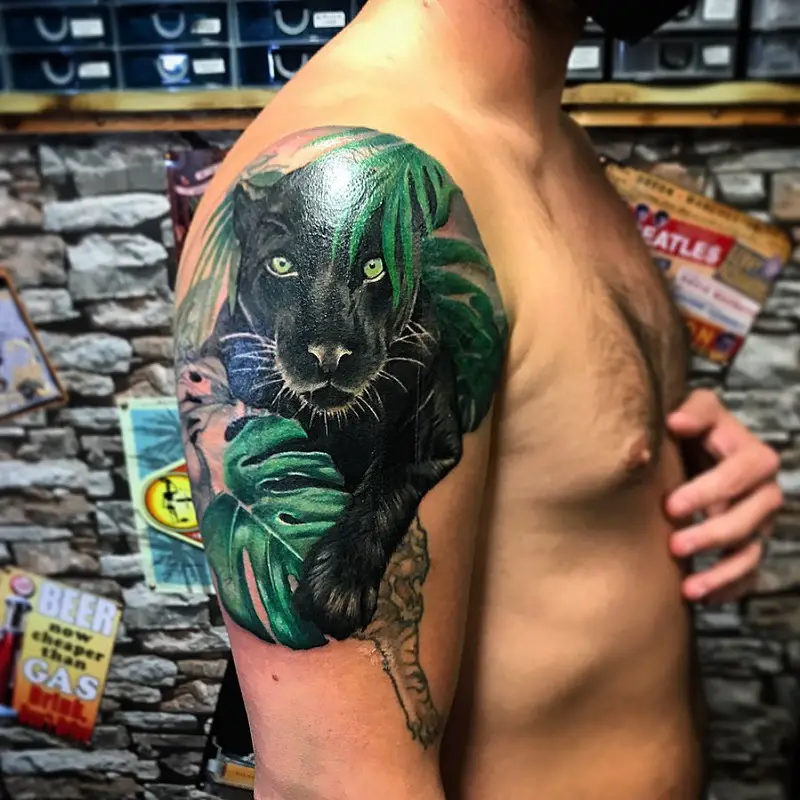 A little newborn panther is staring at you with a kind expression. This tattoo indicates that a couple is expecting a child or that a guy has become a new father. This panther-themed tattoo looks best on the man's upper hand sleeve.
15. King Panther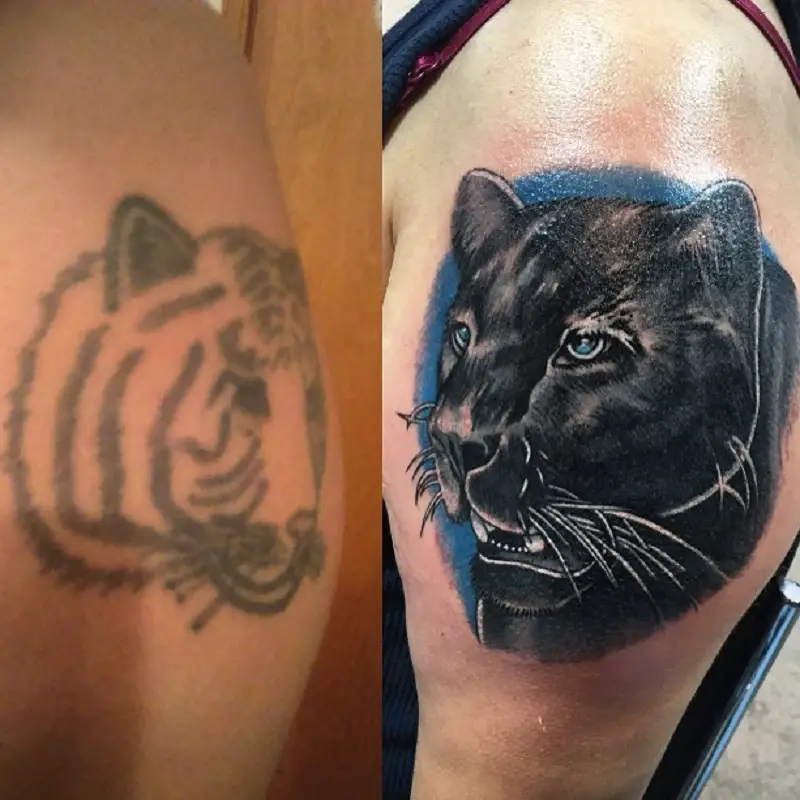 We observe a blue backdrop with a black panther face. This tattoo has a white border that helps it seem stylish and realistic. And demonstrate the strength of devotion.
Crawling Panther Tattoo
A crawling Panther Tattoo is a great way to show your love for someone or something you're passionate about. This tattoo symbolizes the start of something new.
16. Crawling Panther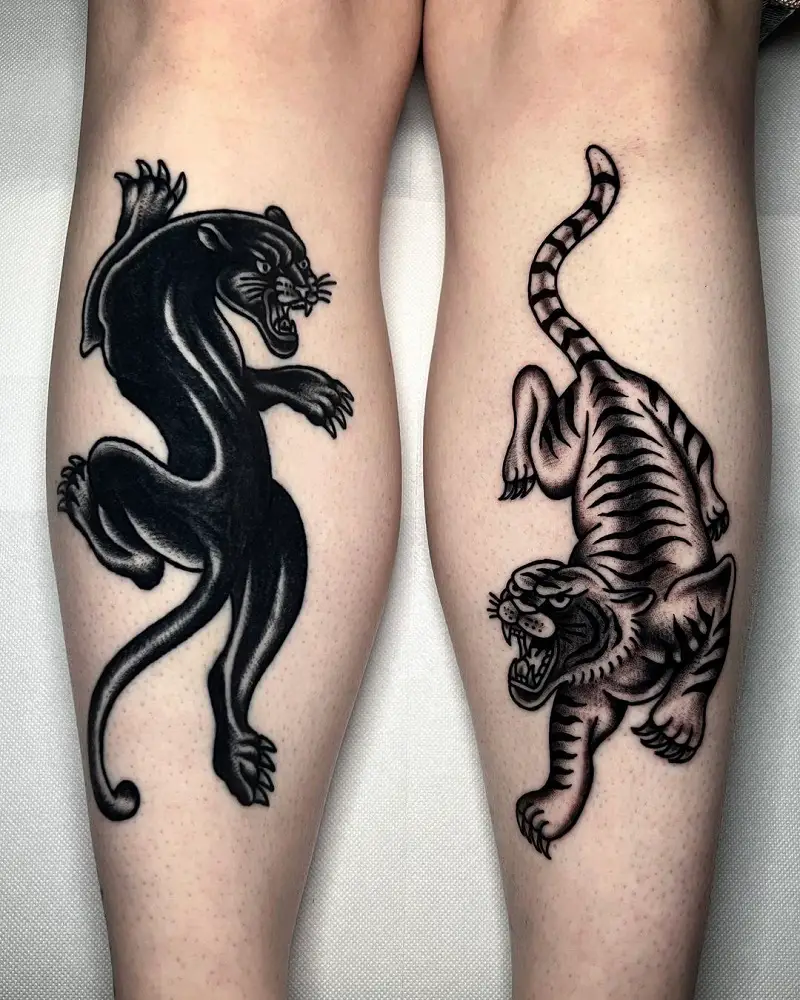 We observe a pure black panther crawling to grab something on your calf. This tattoo informs us that we must work hard to achieve our life's goals.
17. Blue Thunder Panther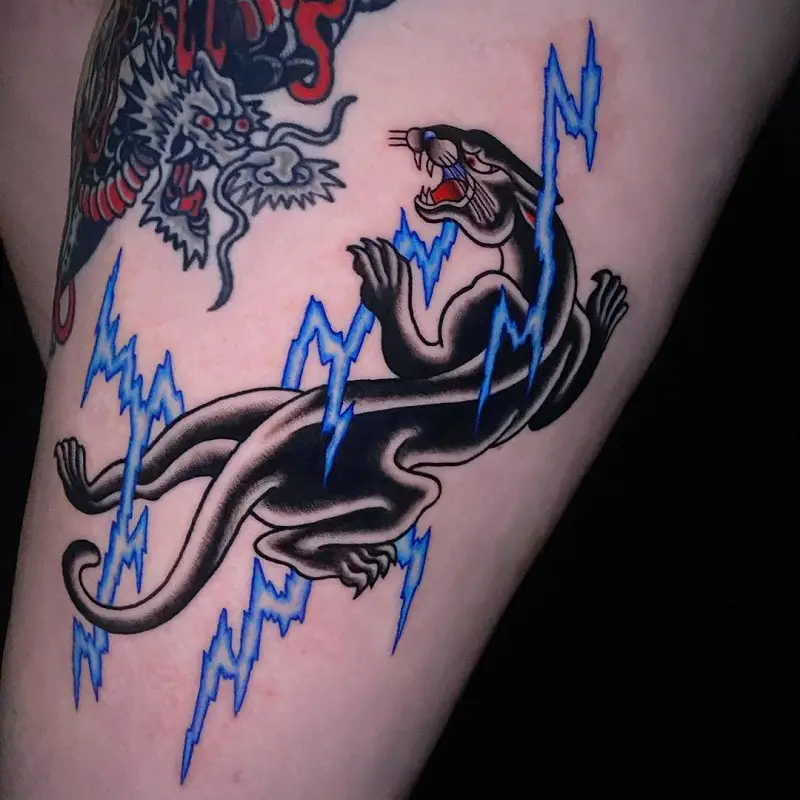 A panther crawling something in the middle of a stormy night looks fantastic. This tattoo is distinguished by its use of black and white colors. Girls may have this tattoo to make their thighs seem great.
18. Prisoner Panther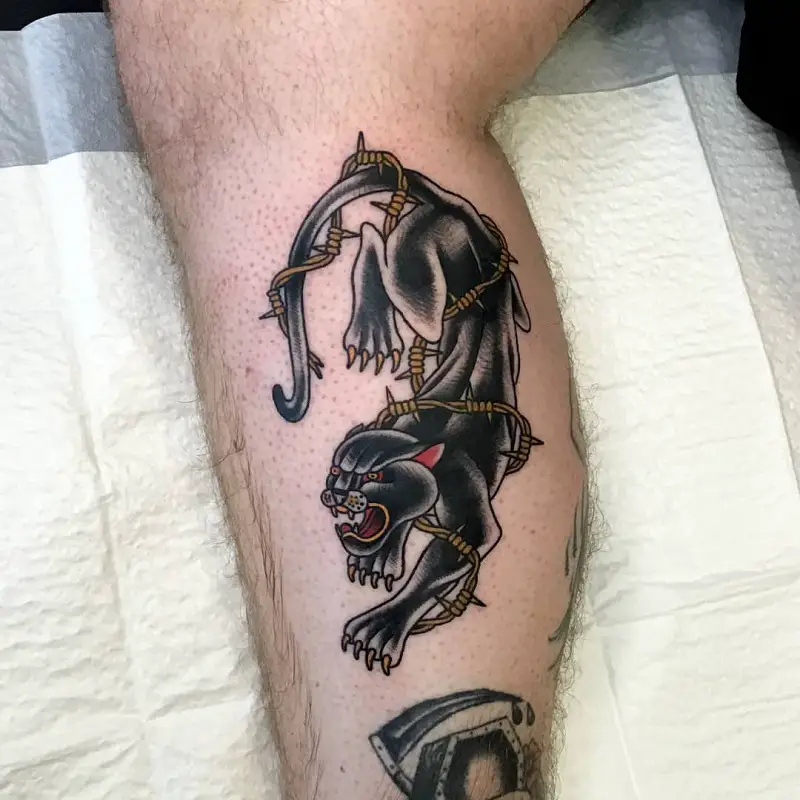 A panther escapes from prison. This tattoo indicates that the wearer values freedom and has achieved it through hard effort and sacrifice. 
Japanese Panther Tattoo
Japanese Panther Tattoos are a tattoo often associated with the Japanese gang, Yakuza. Across Japanese society, these tattoos have been used to represent the human spirit and Japanese culture. 
19. Burning Panther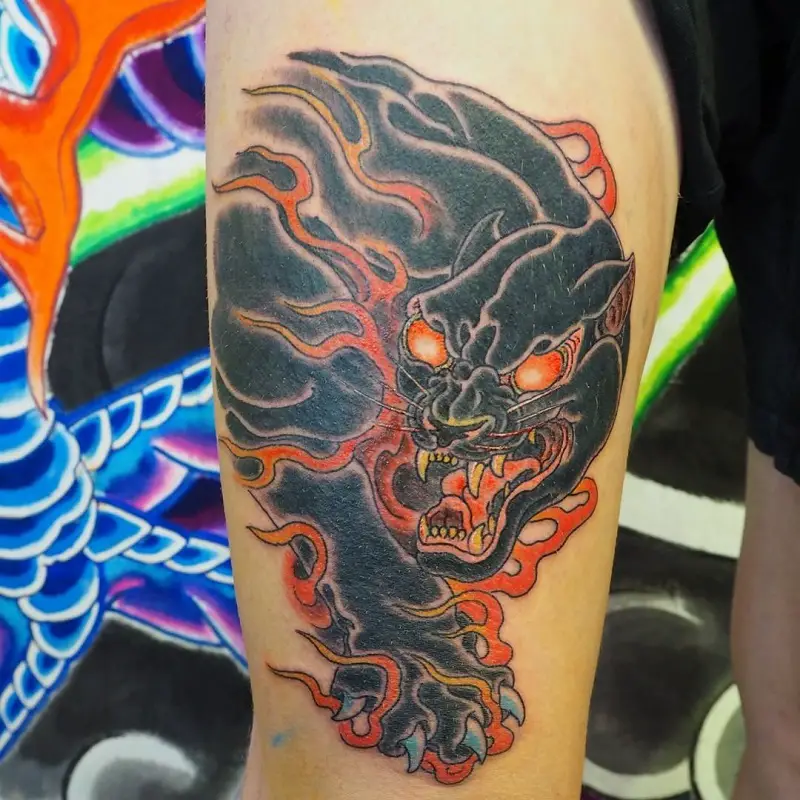 We see a blazing panther on a man's thigh, enraged and ready to battle. This tattoo is quite popular in Japan and represents a rebellious attitude toward terrible individuals.
20. Red Rose Panther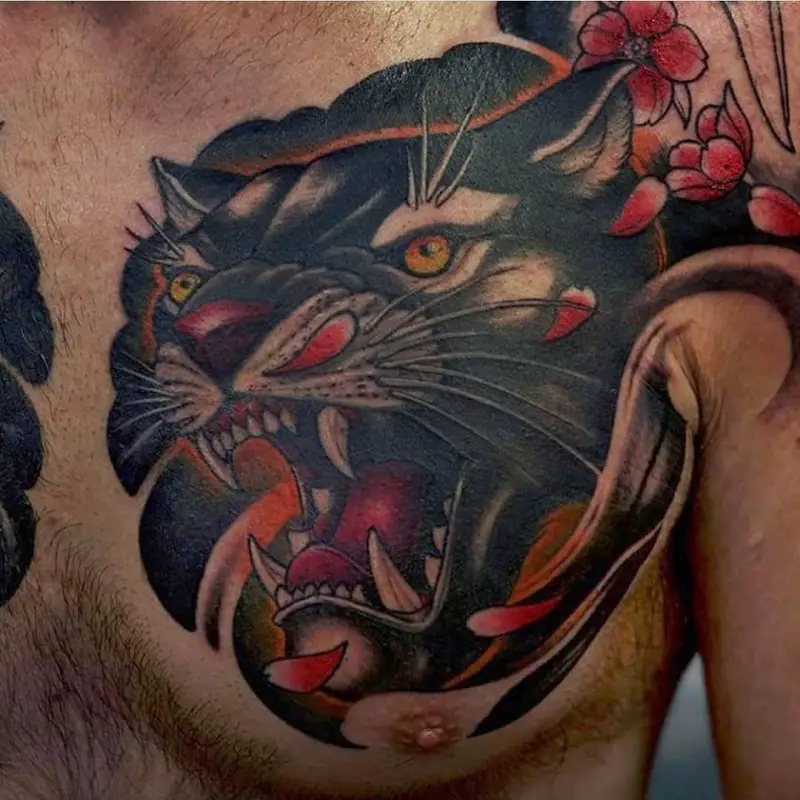 A black panther covered with red flowers on a man's chest looks great. This panther has razor-sharp fangs and appears enraged. If males want tattoos on their chests they can have this panther tattoo.
21. Yellow-Eyed Panther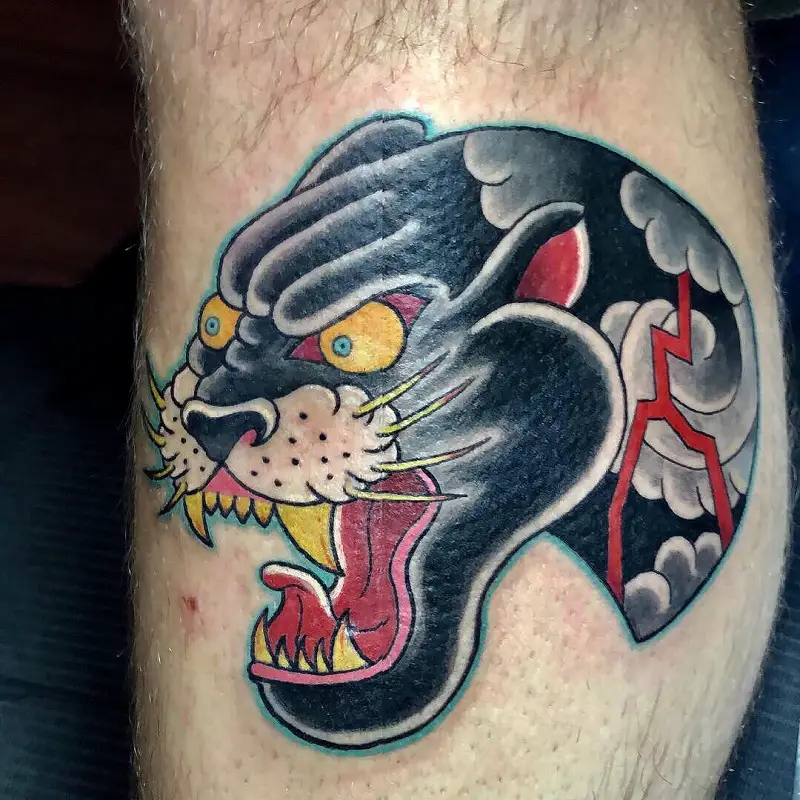 Suppose you have a different mindset than our culture or desire to change anything in society. Then this panther tattoo demonstrates that kind of attitude. This tattoo is popular in Japan and is suitable for guys' calves.
Flying Panther Tattoo
Flying Panther tattoos are a tattoo of a winged panther that is being lifted into the sky. The winged panther is held by one hand in the sky while the other reaches down to touch the ground.
22. Blue Wing Panther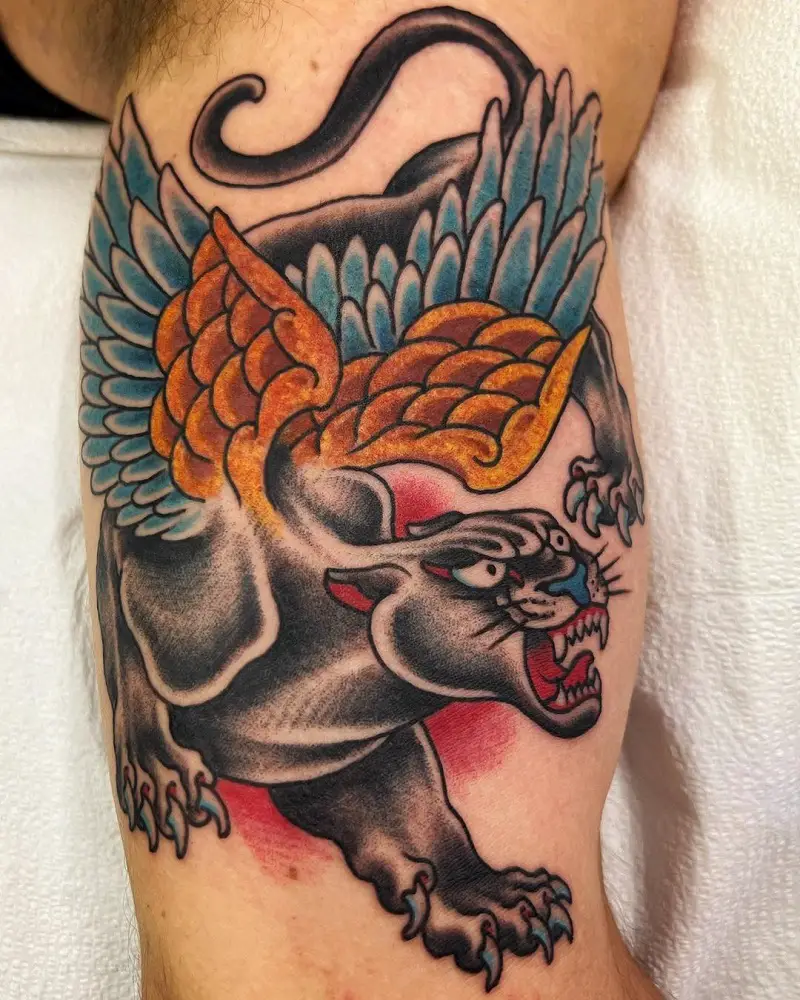 A panther with golden blue wings seems incredibly lovely on a man's bicep. This tattoo represents the desire to pursue one's passion, and the red color shadow adds a contemporary touch.
23. Dark Wing Panther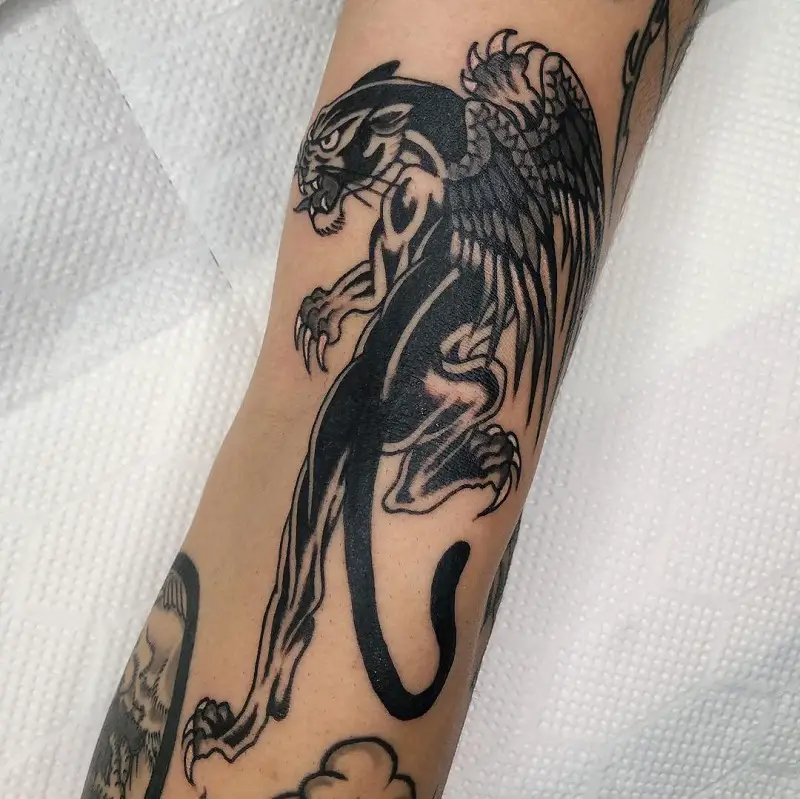 On a girl's hand, we observe a black panther with black wings, indicating that she has the most feminine mind. This tattoo's black-and-white color scheme makes it eye-catching and cool.
24. Angel Panther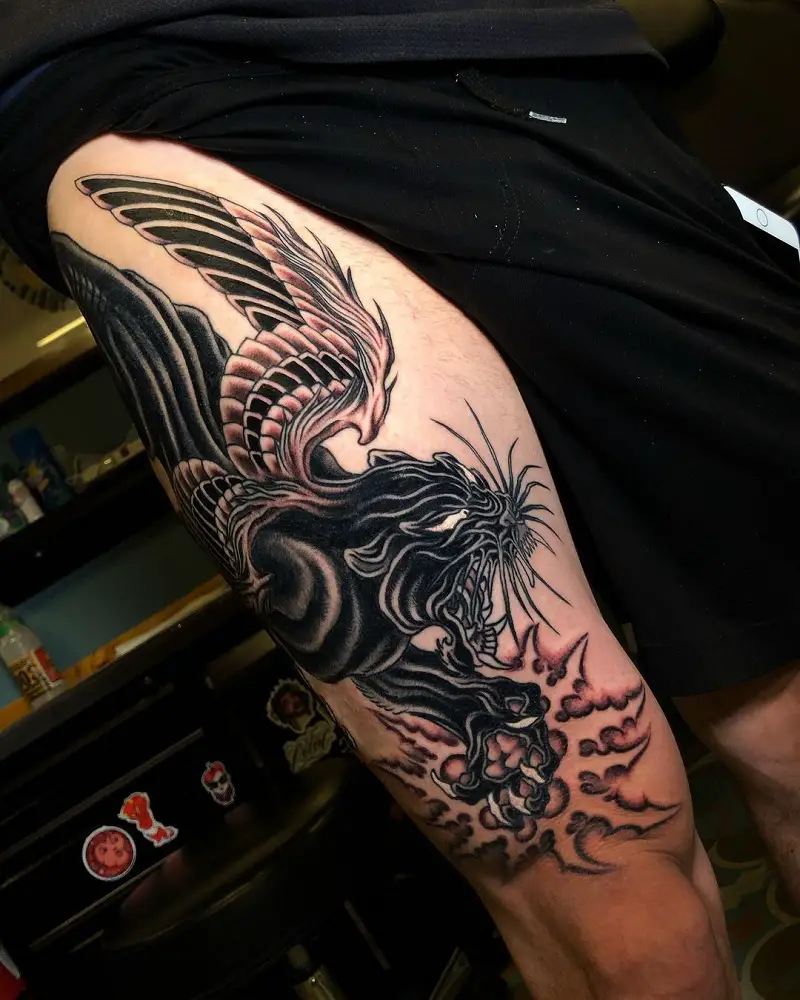 A flying angel panther with blazing eyes appears approaching from the sky. This tattoo is excellent for a man's back of the hand and represents his faith in God against the Devil.
Tribal Panther Tattoo
Tribal Panther Tattoos are a new trend gaining popularity and have many meanings. One of the meanings is that they represent the ability to take control of your life and achieve your goals.
25. Hunting Panther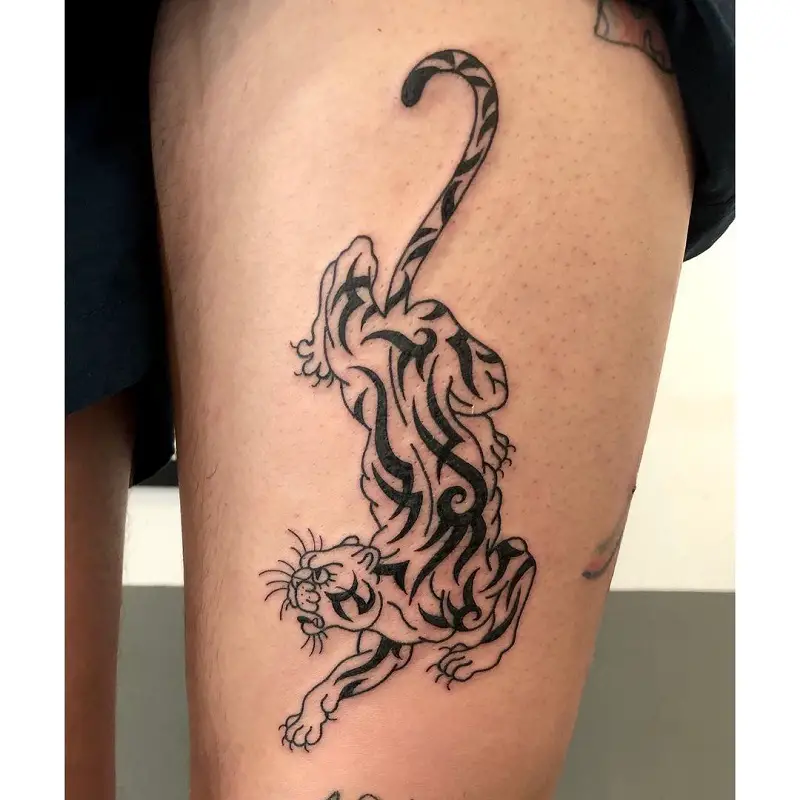 We find a tribal design pattern of a panther here, indicating respect for Native American culture. This tattoo is ideal for both males and girls who want to express their appreciation for tribal culture on their thighs.
26.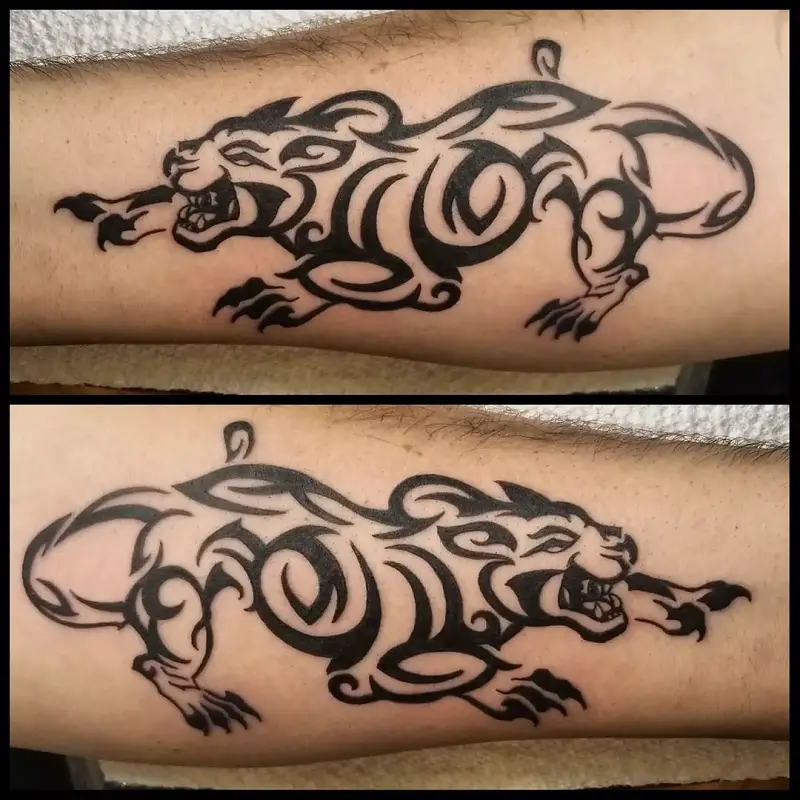 27.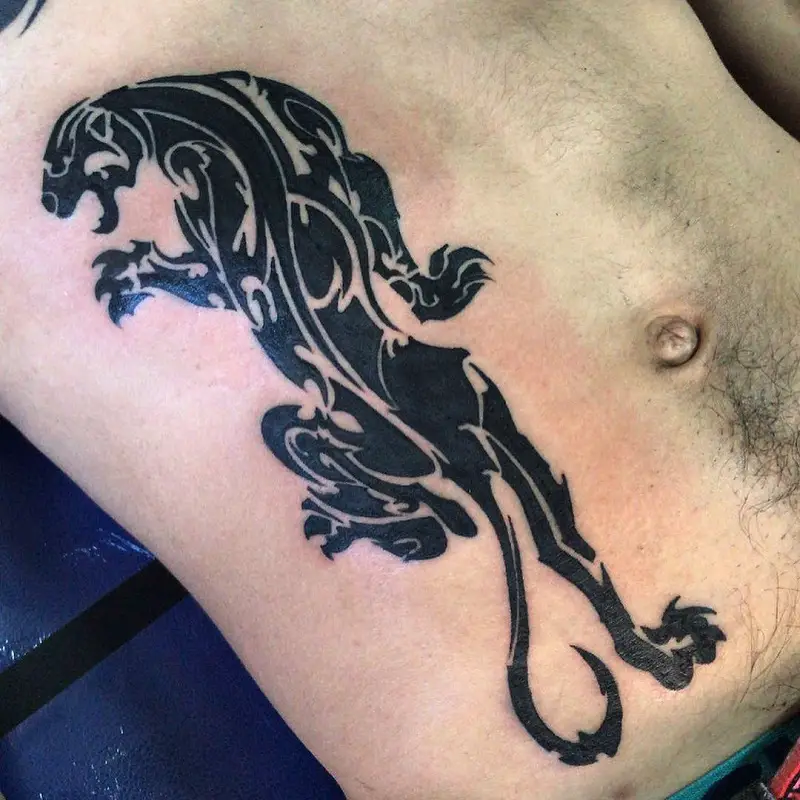 Chrome Panther Tattoo
28.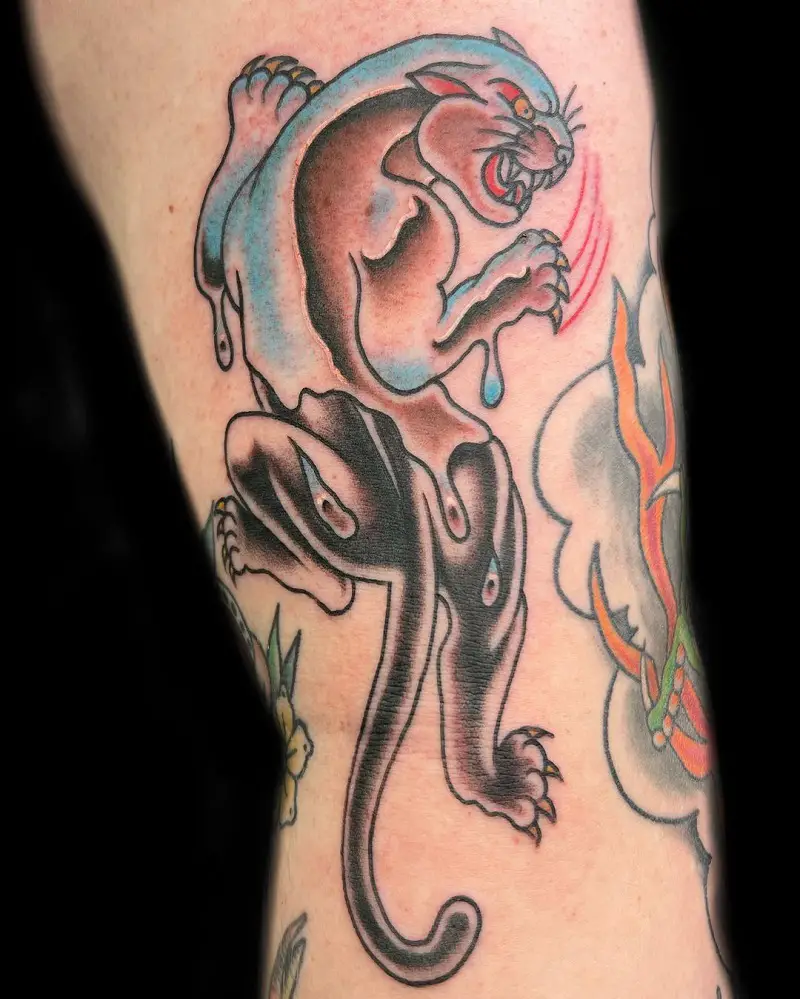 29.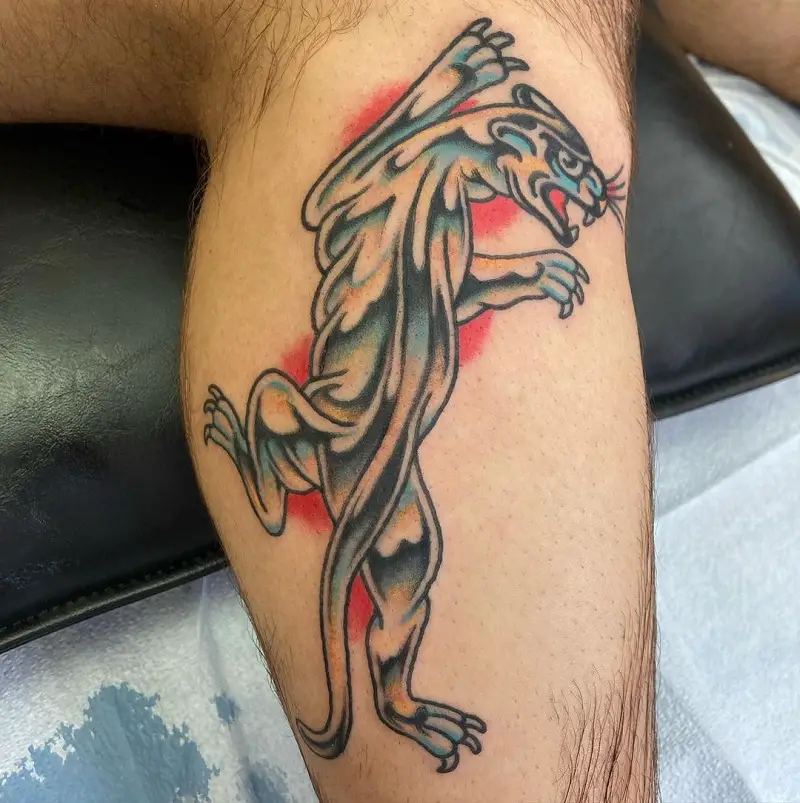 30.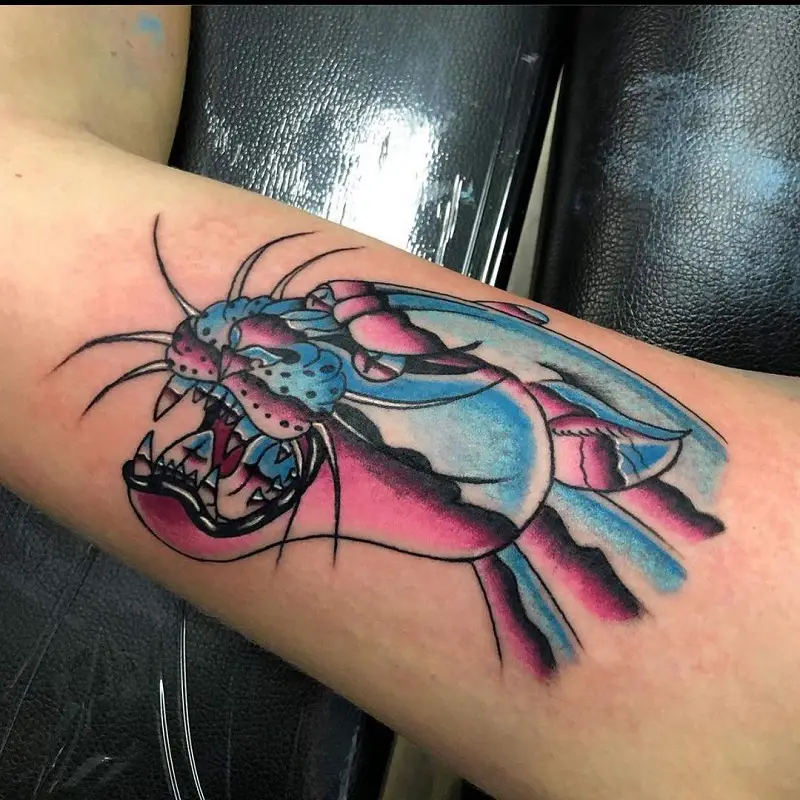 Forearm Black Panther Tattoo
31.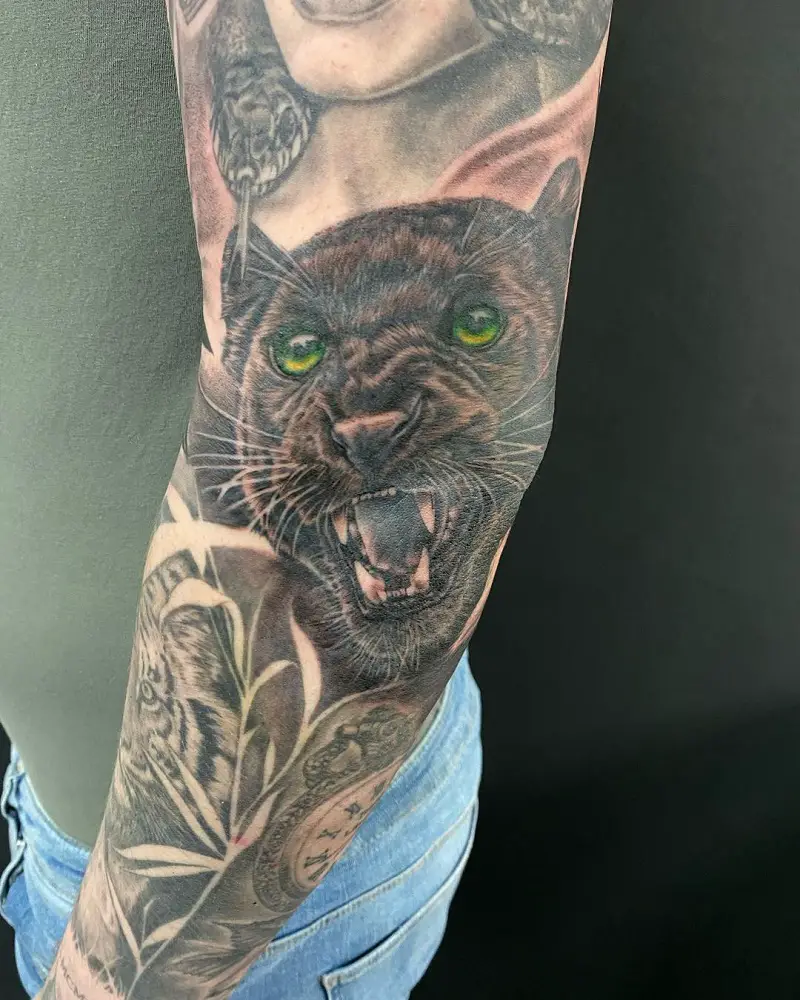 32.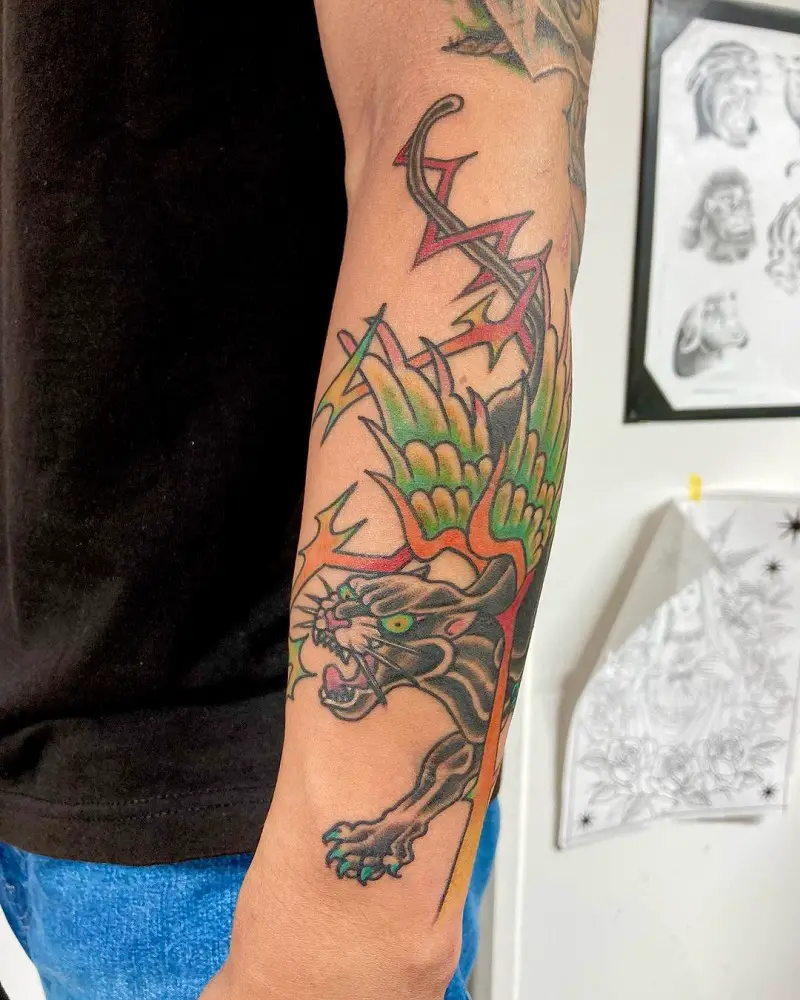 33.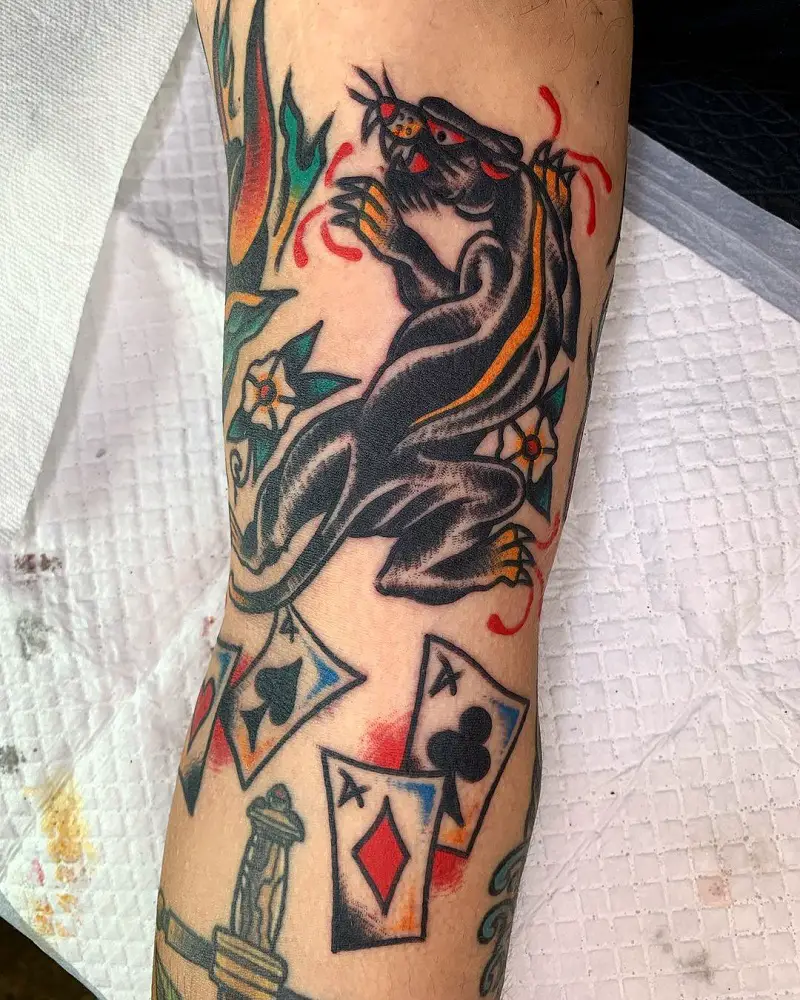 Bad Panther Tattoo
34.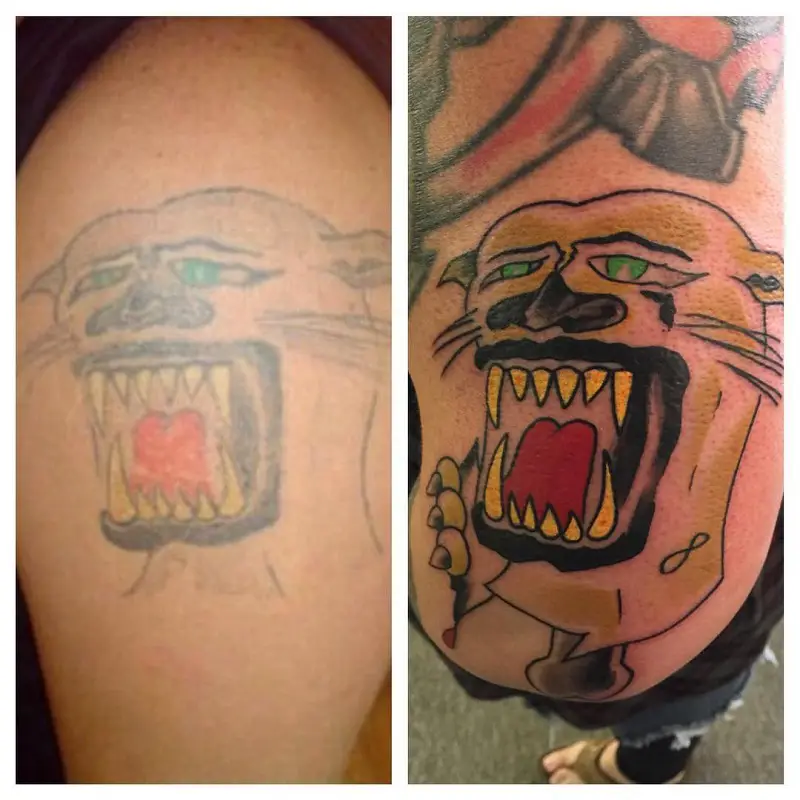 35.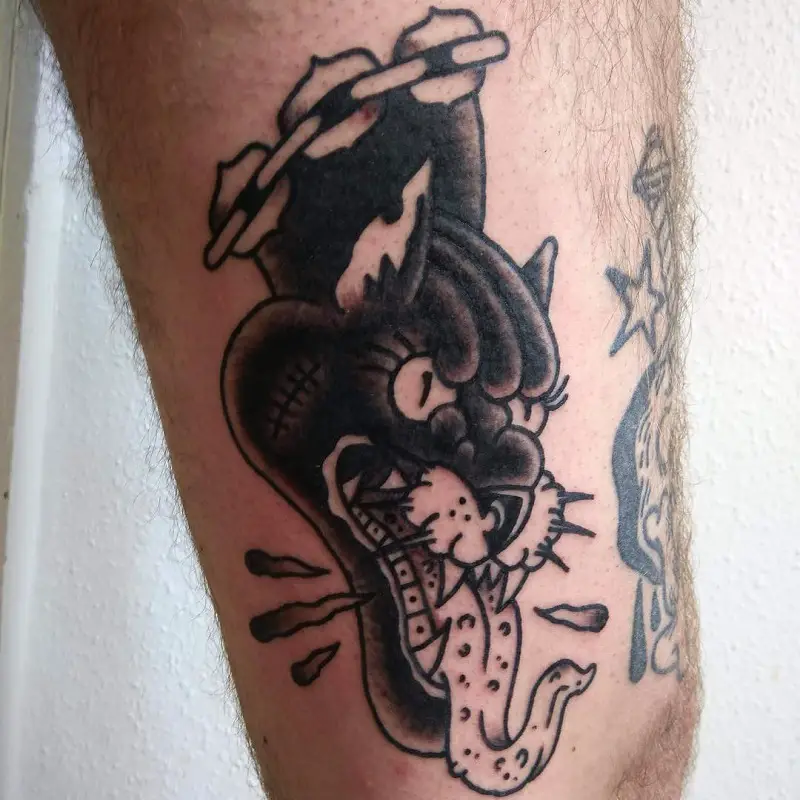 36.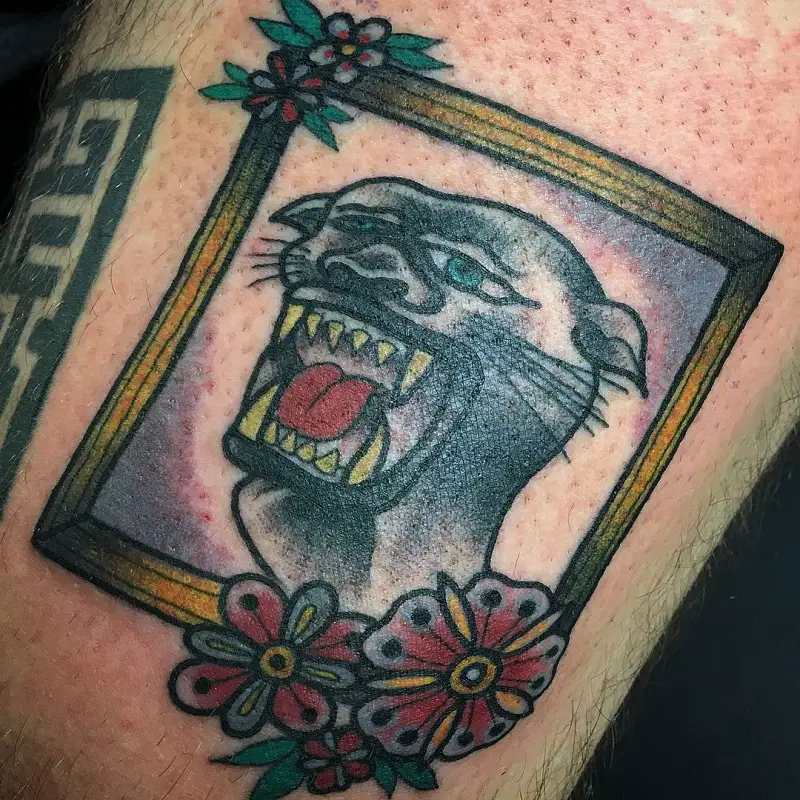 Sailor Jerry Traditional Panther Tattoo
37.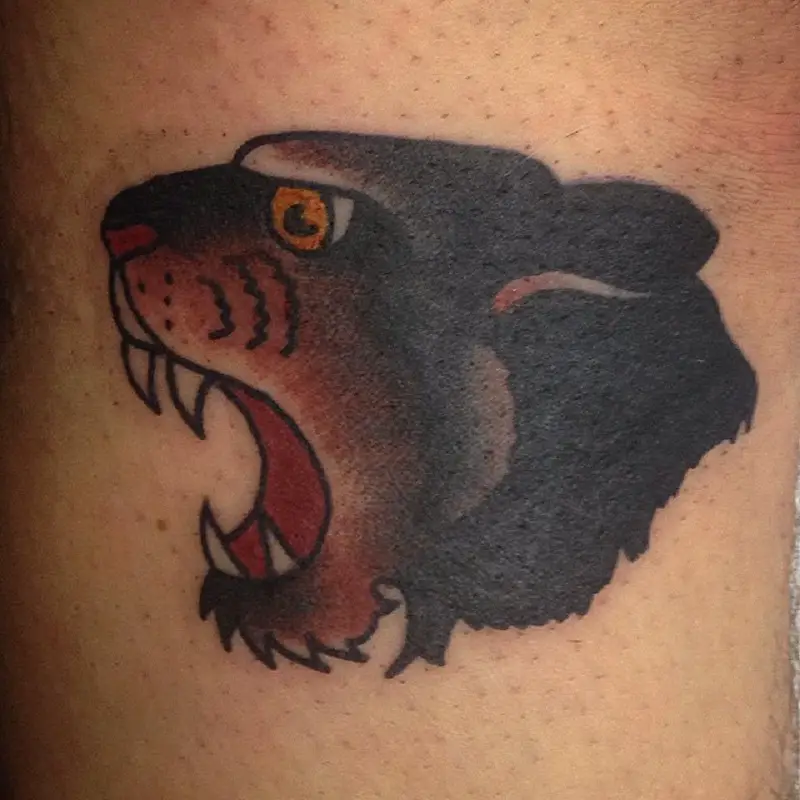 38.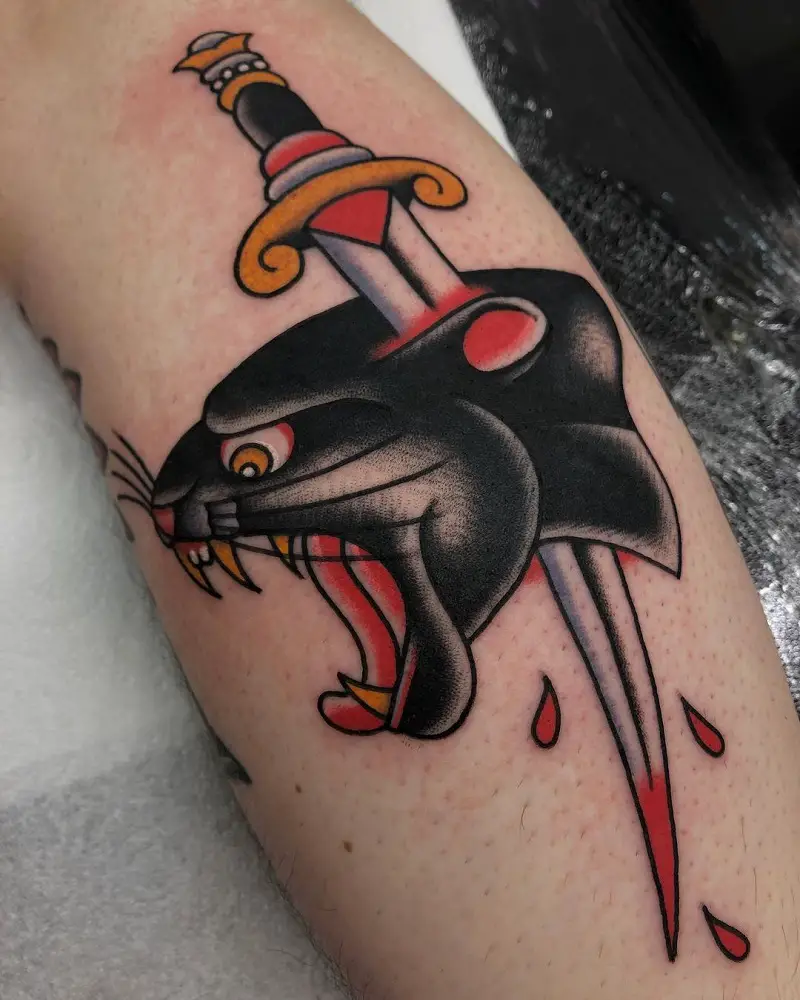 39.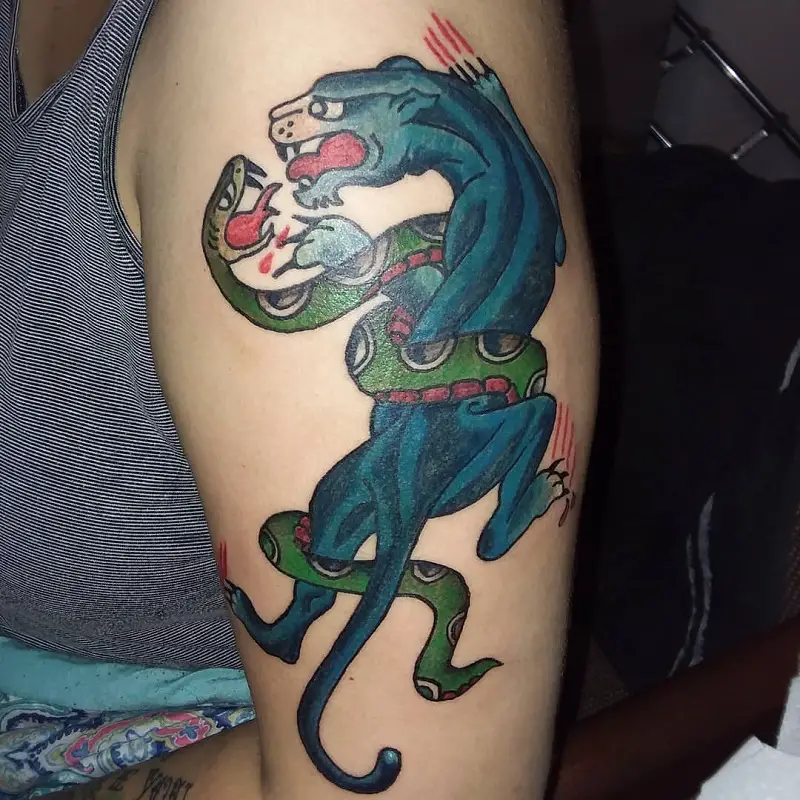 Heart Panther Tattoo
40.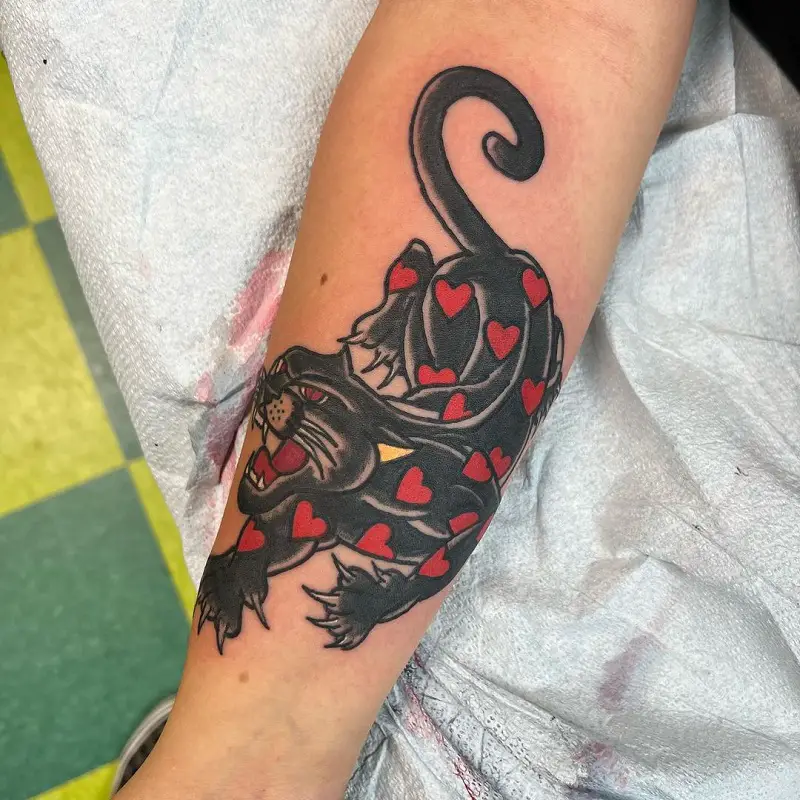 41.
42.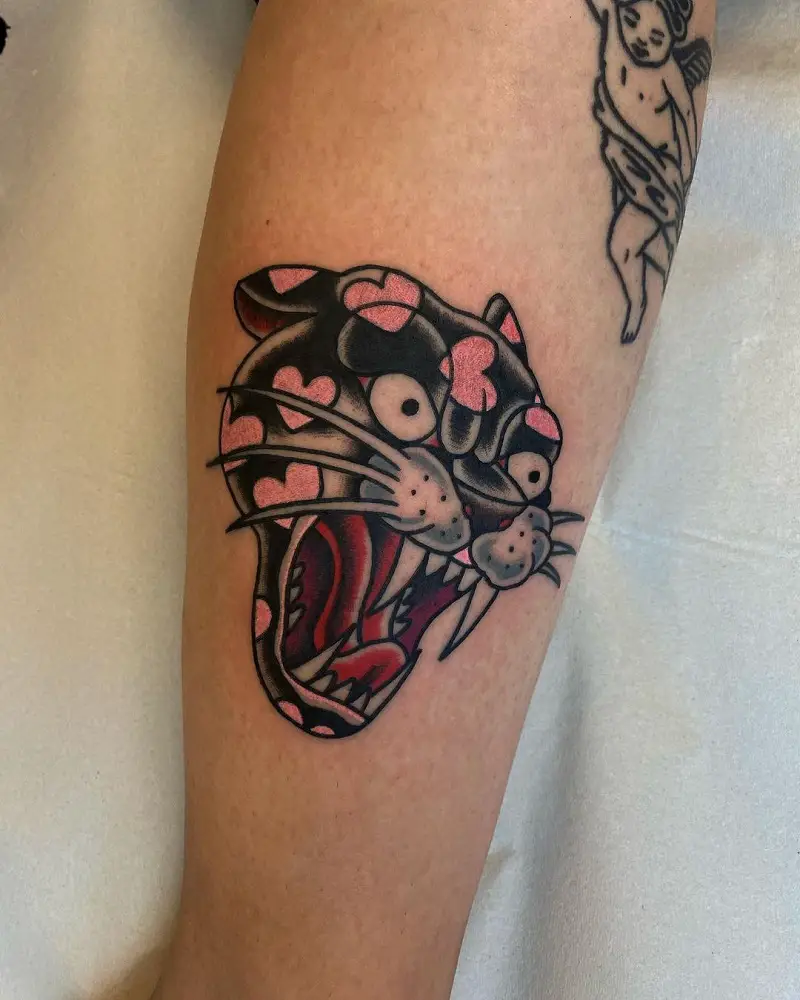 Classic Panther Tattoo
43.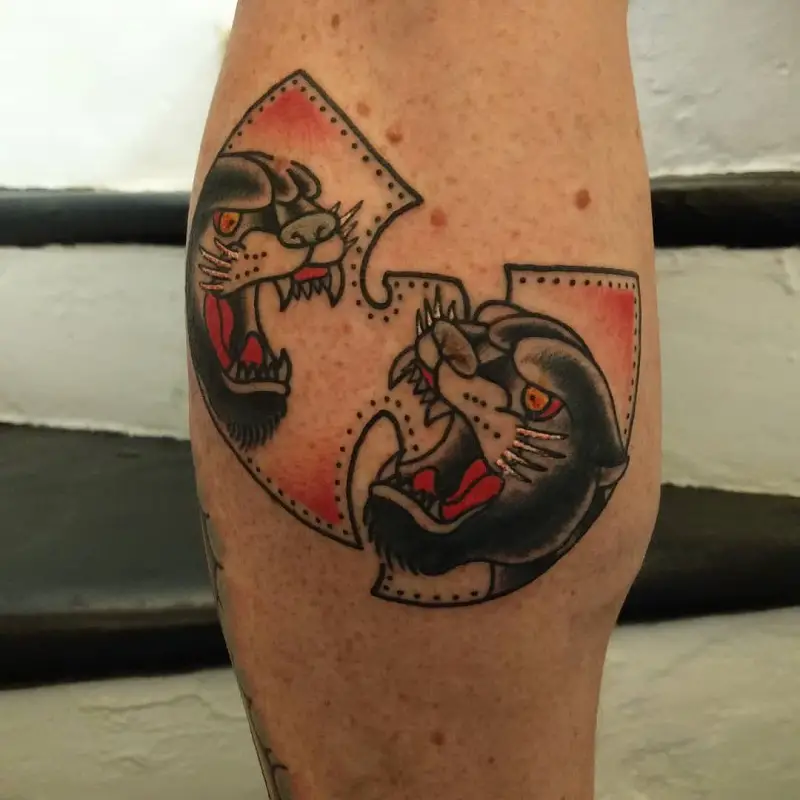 44.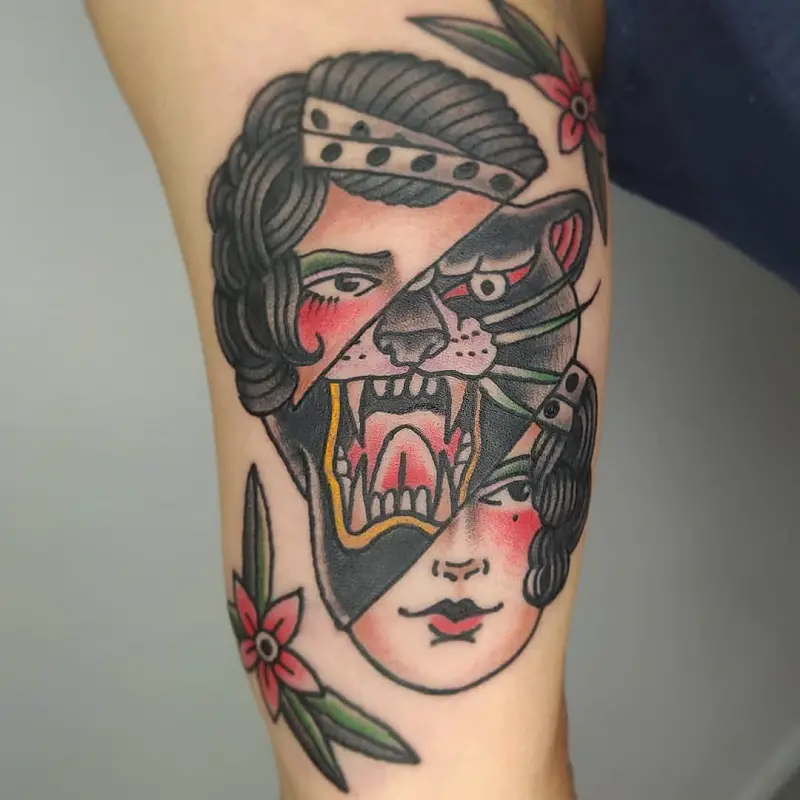 45.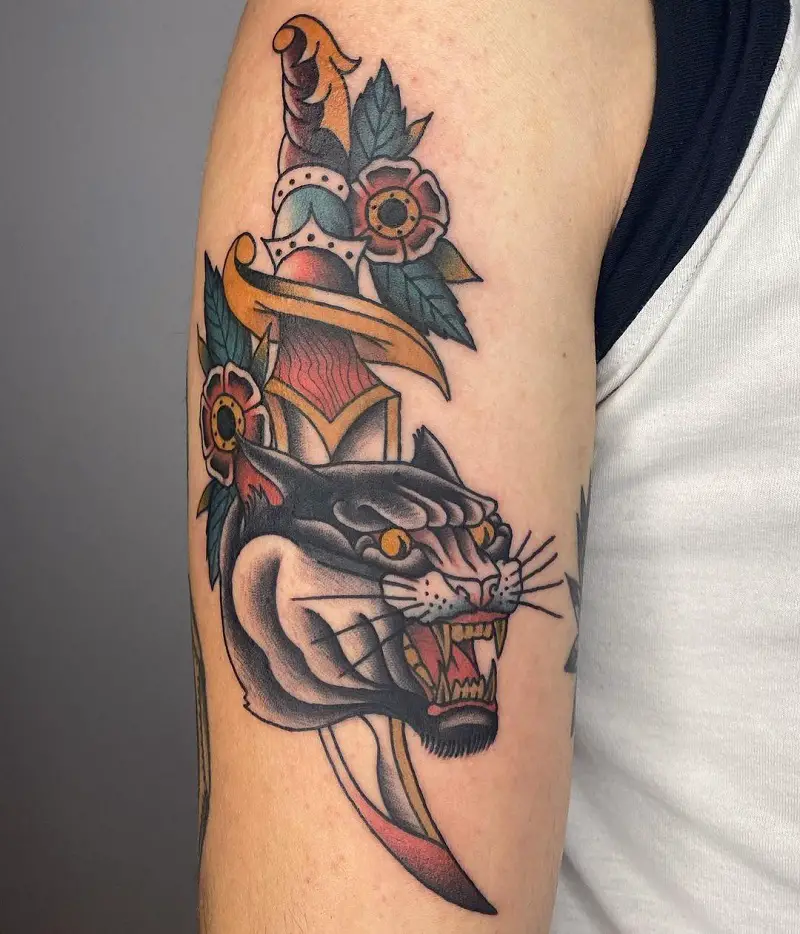 Climbing Panther Tattoo
46.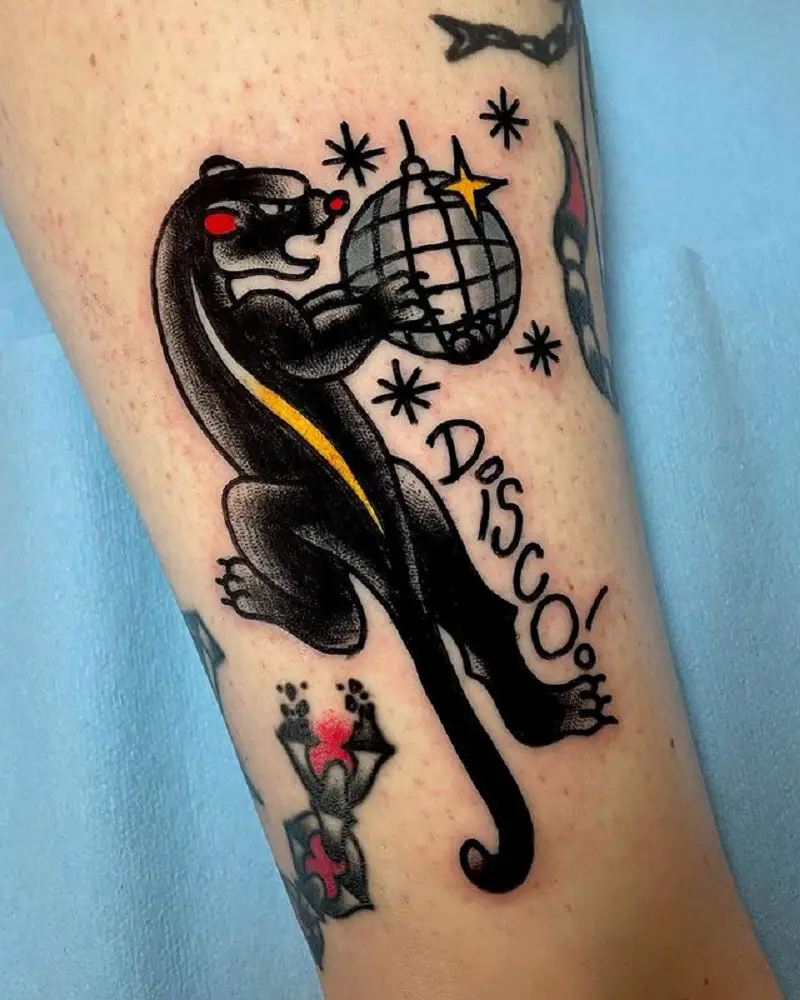 47.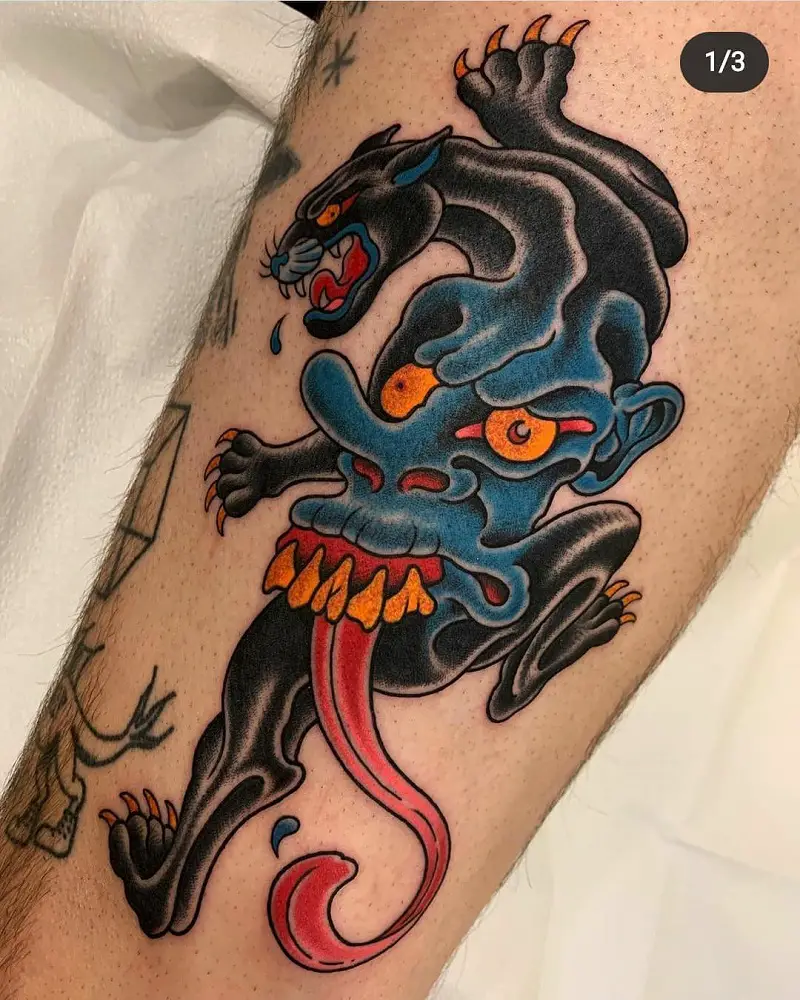 48.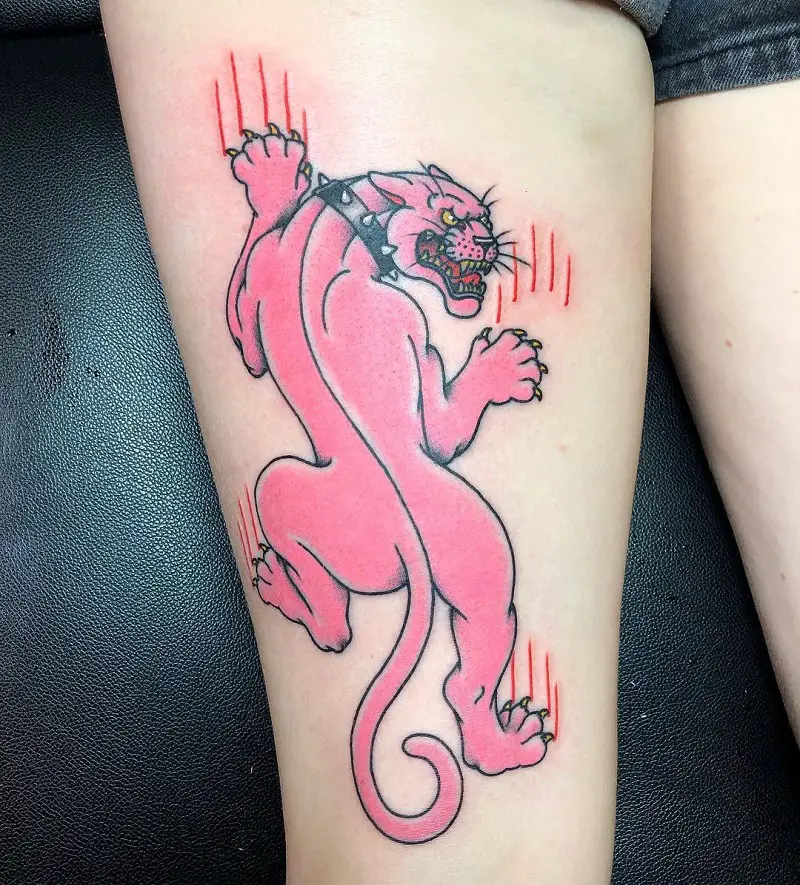 Cover Up Black Panther Tattoo
49.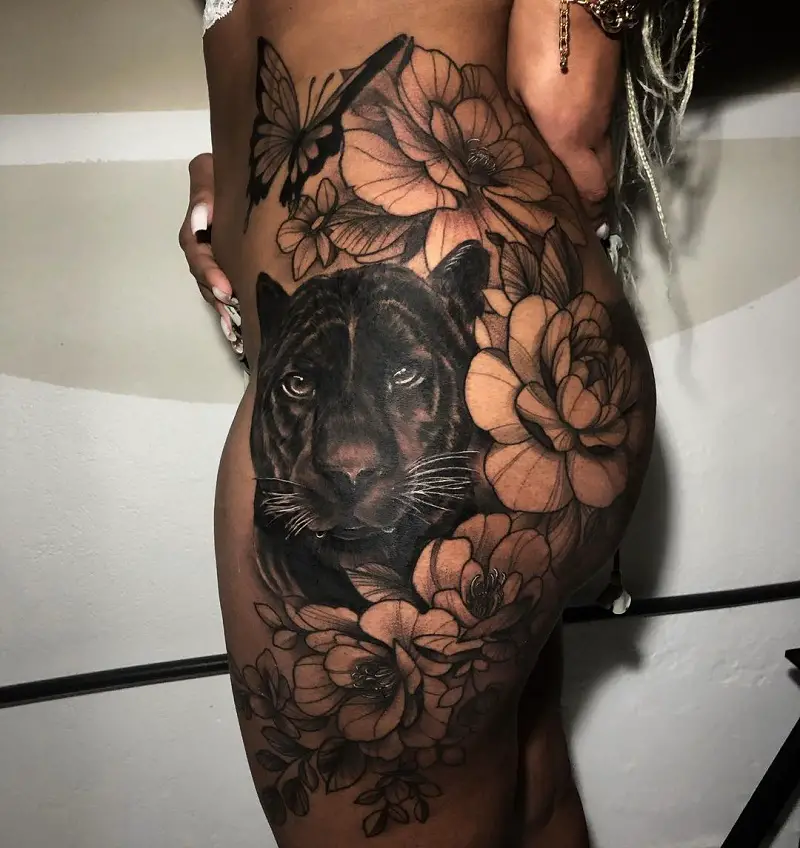 50.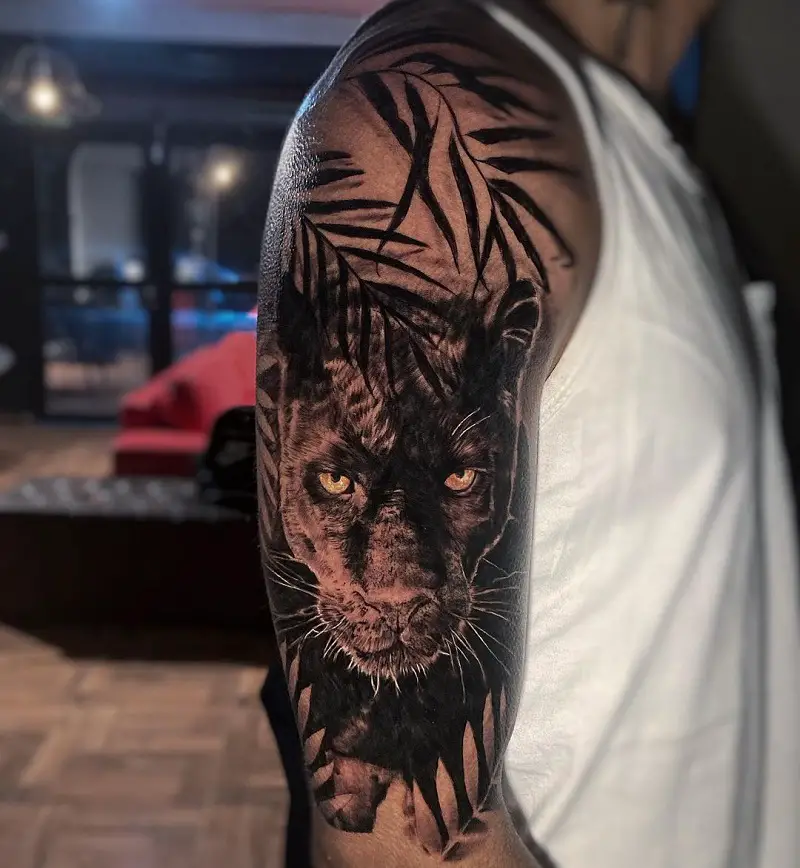 51.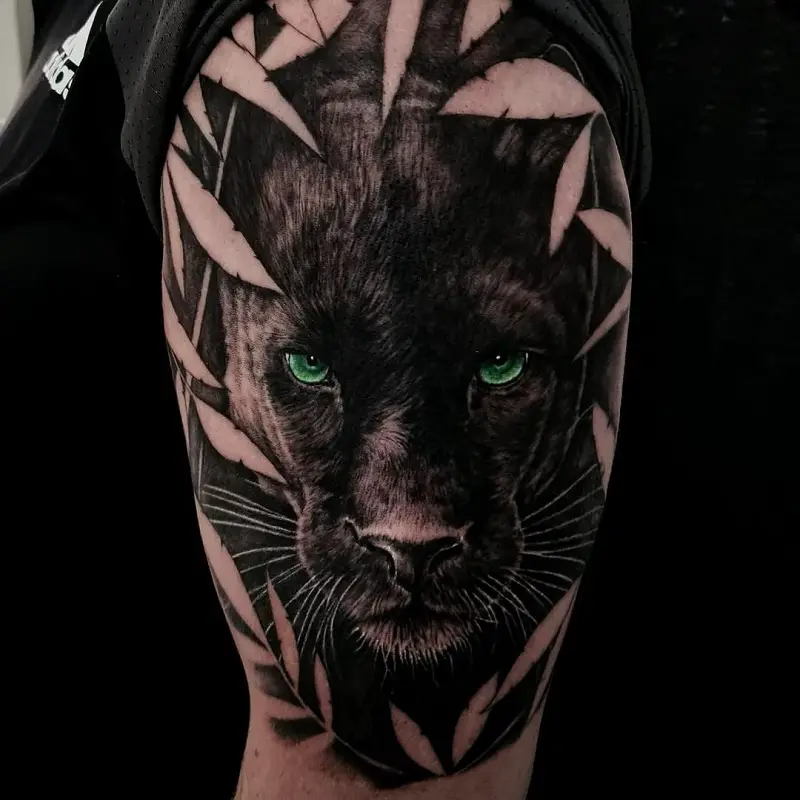 Lil Peep Pink Panther Tattoo
52.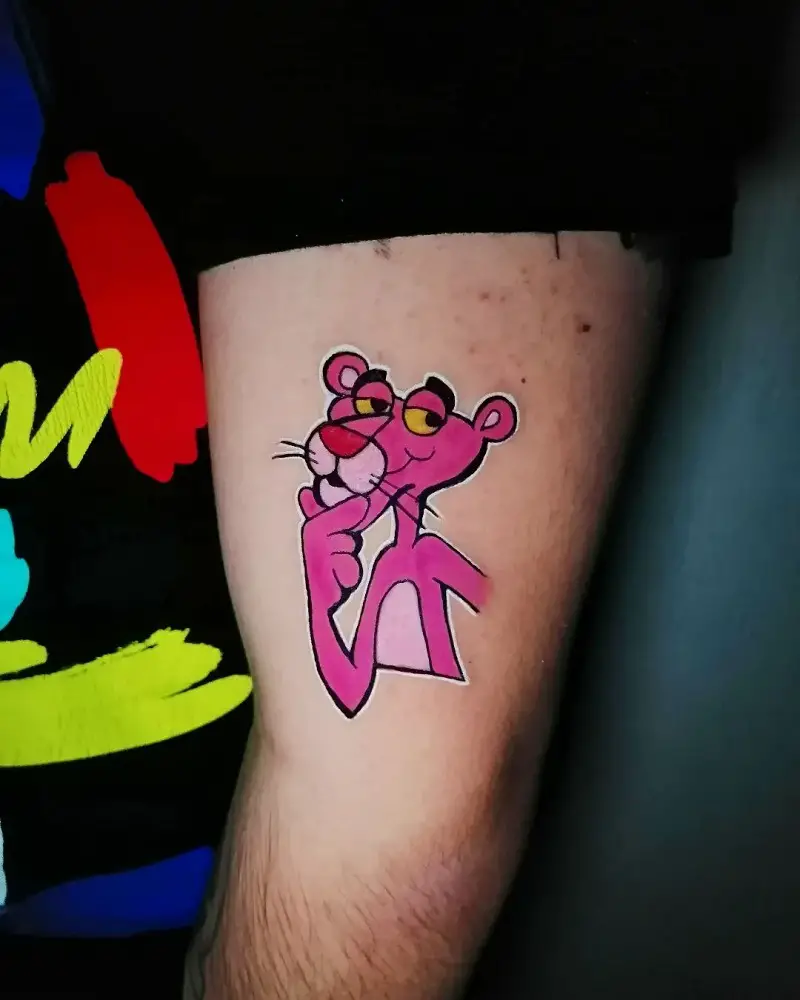 53.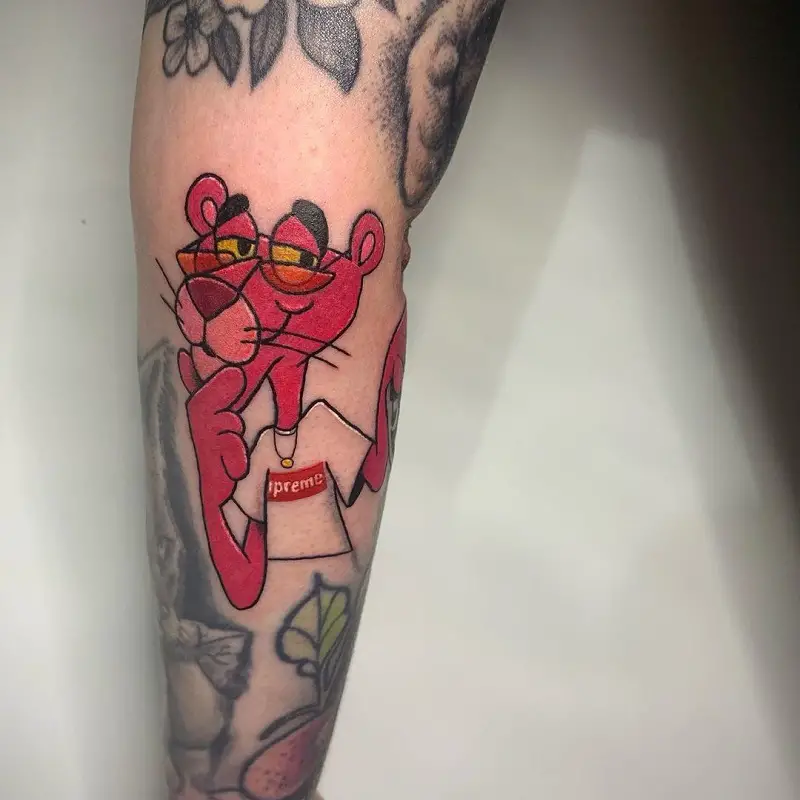 54.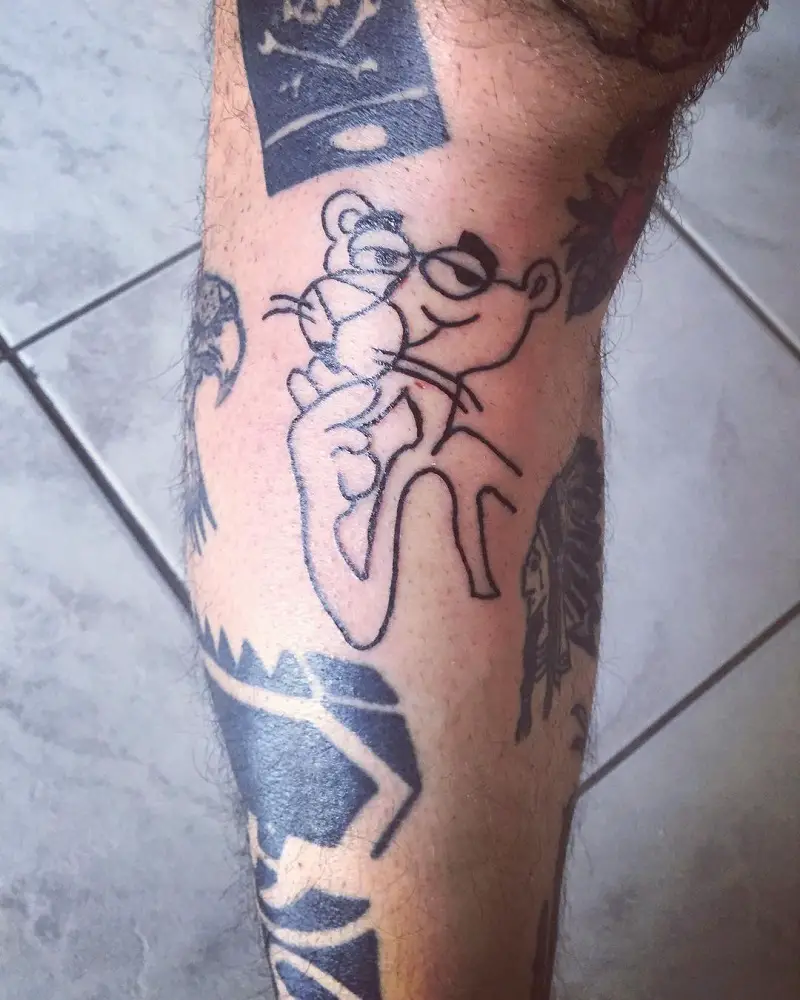 Steel Panther Tattoo
55.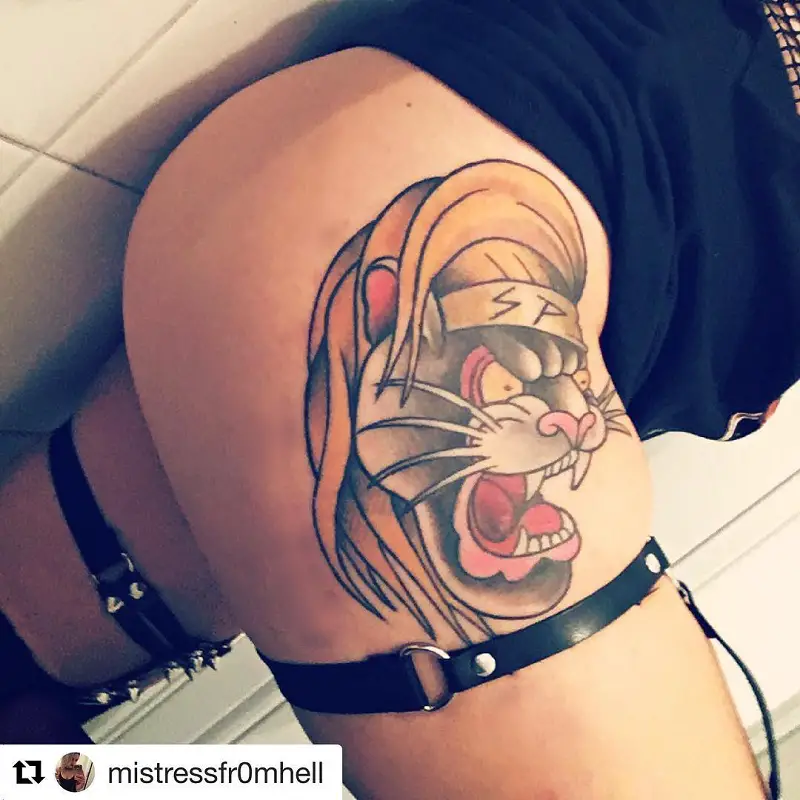 56.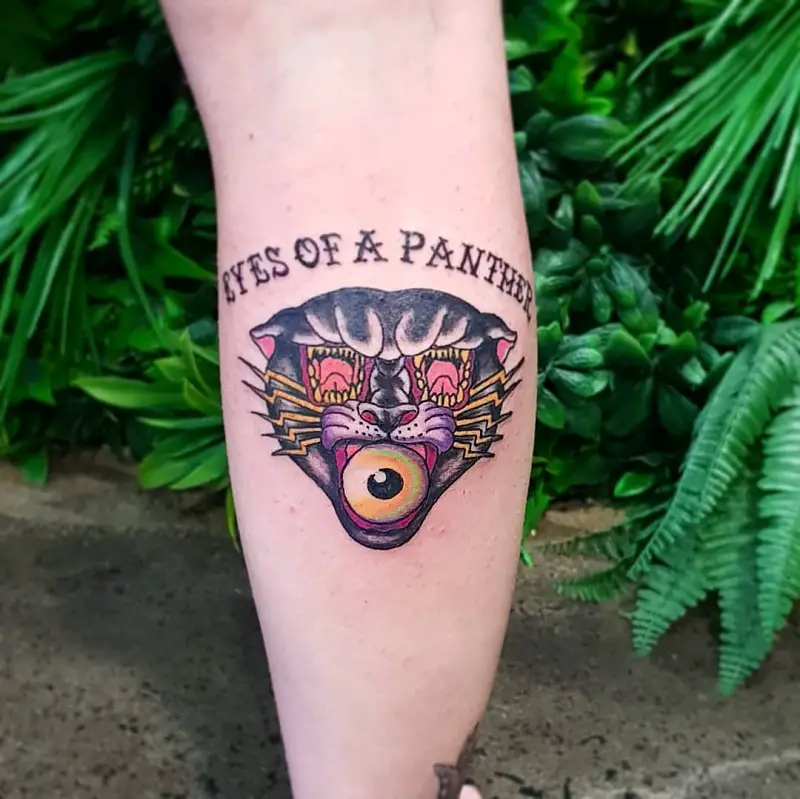 57.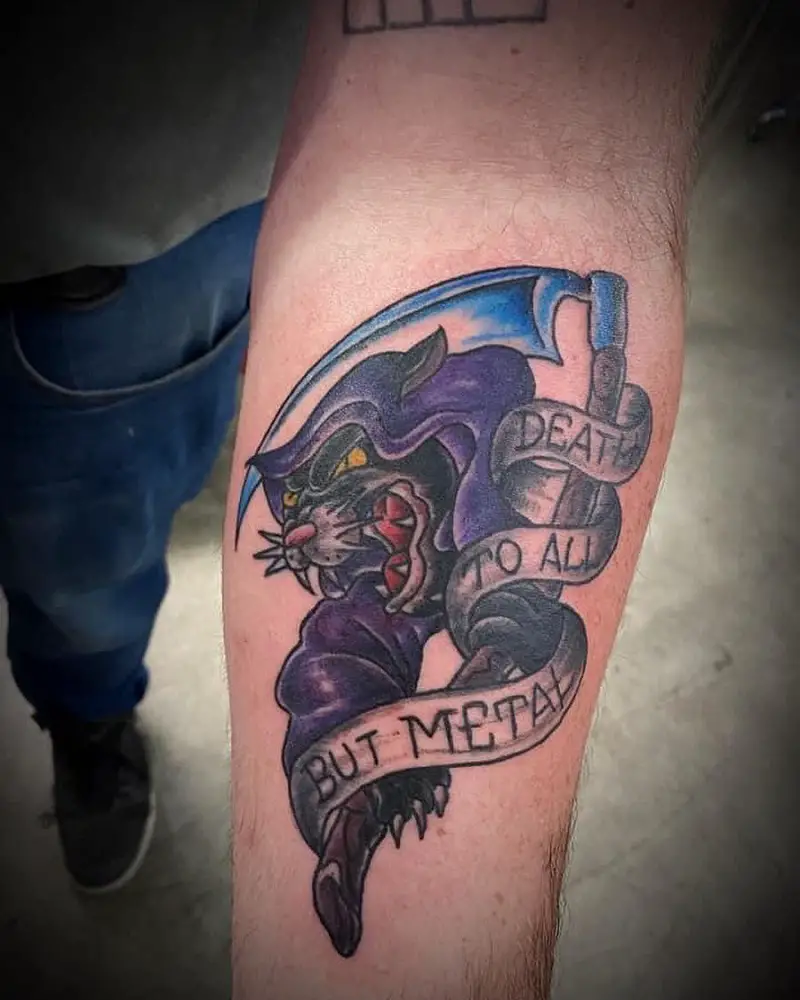 Ugly Panther Tattoo
58.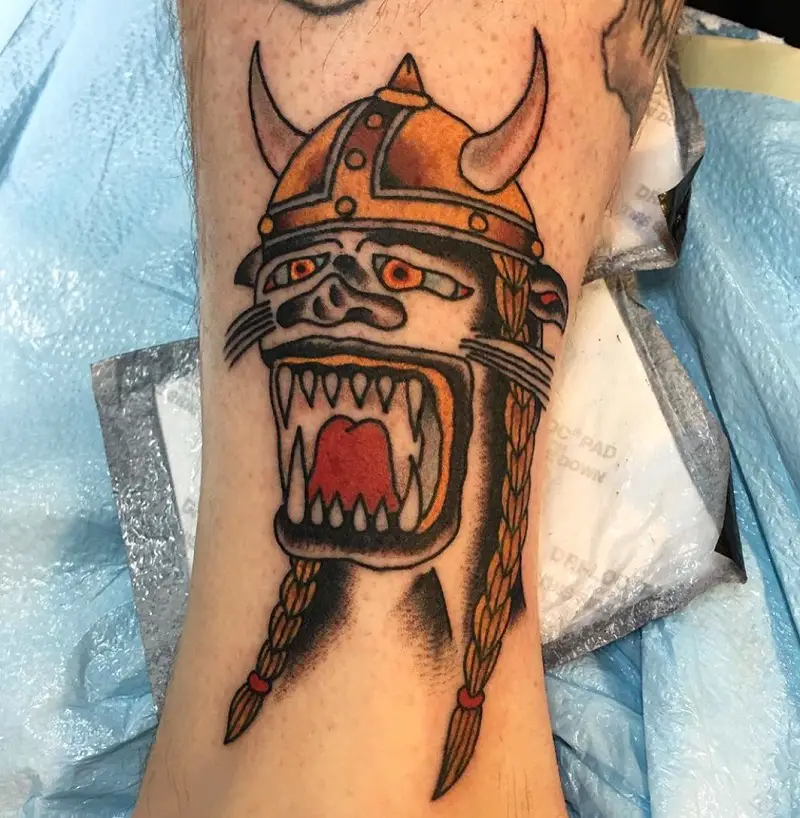 59.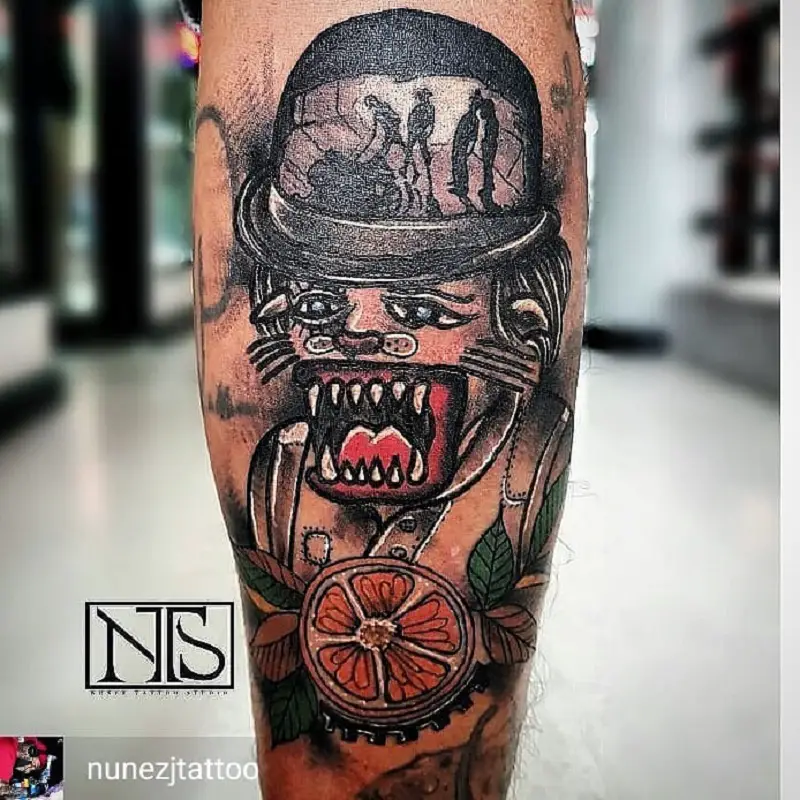 60.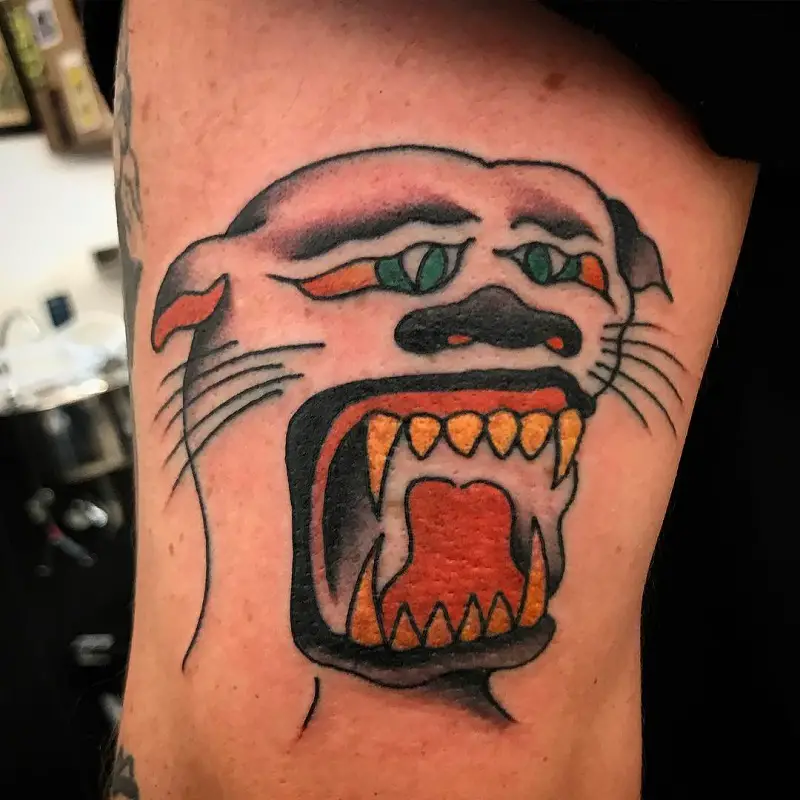 Love Panther Tattoo
61.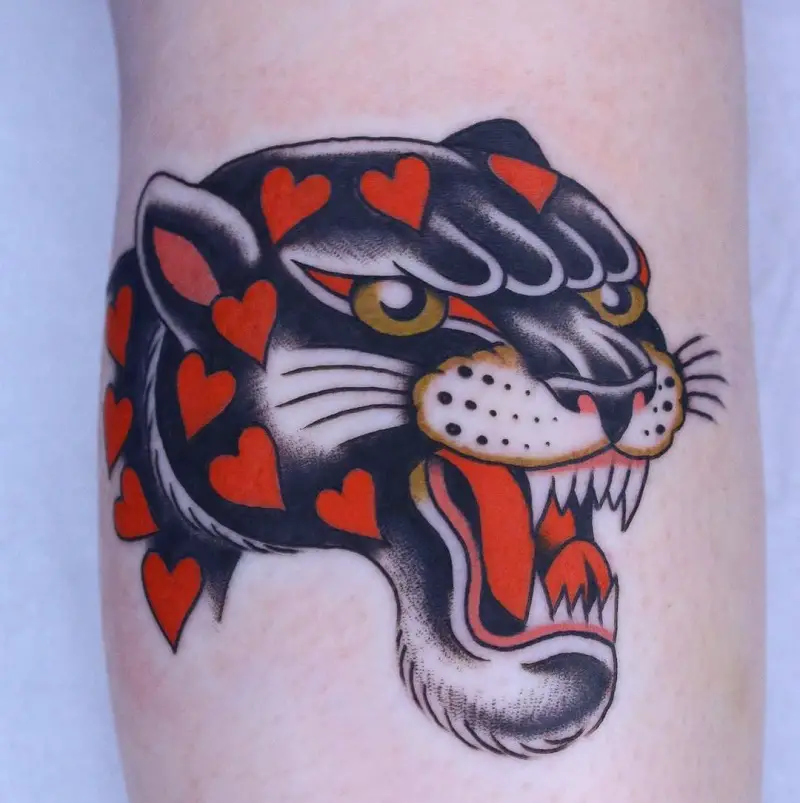 62.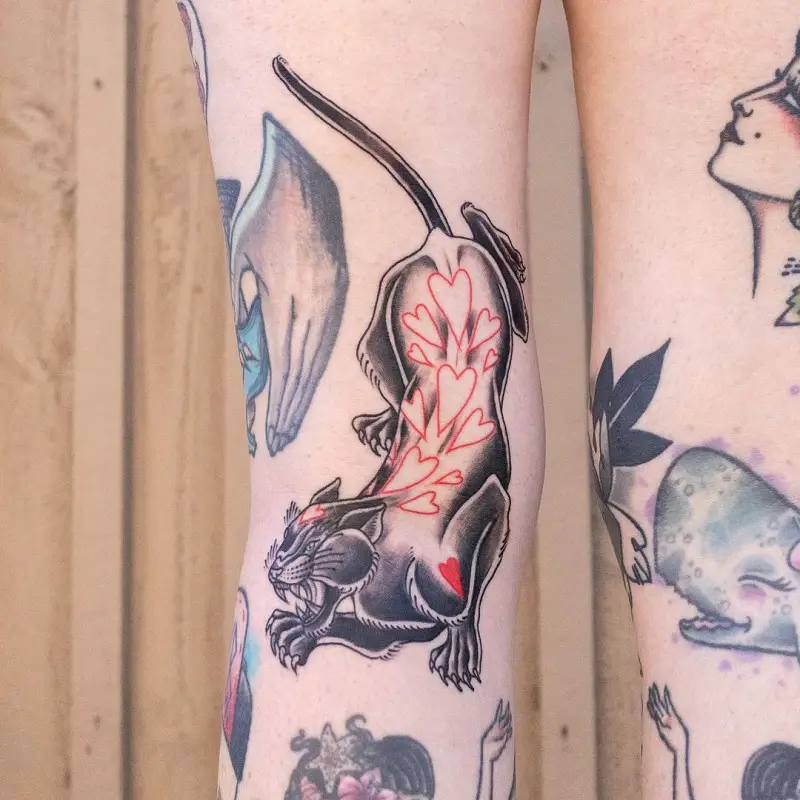 63.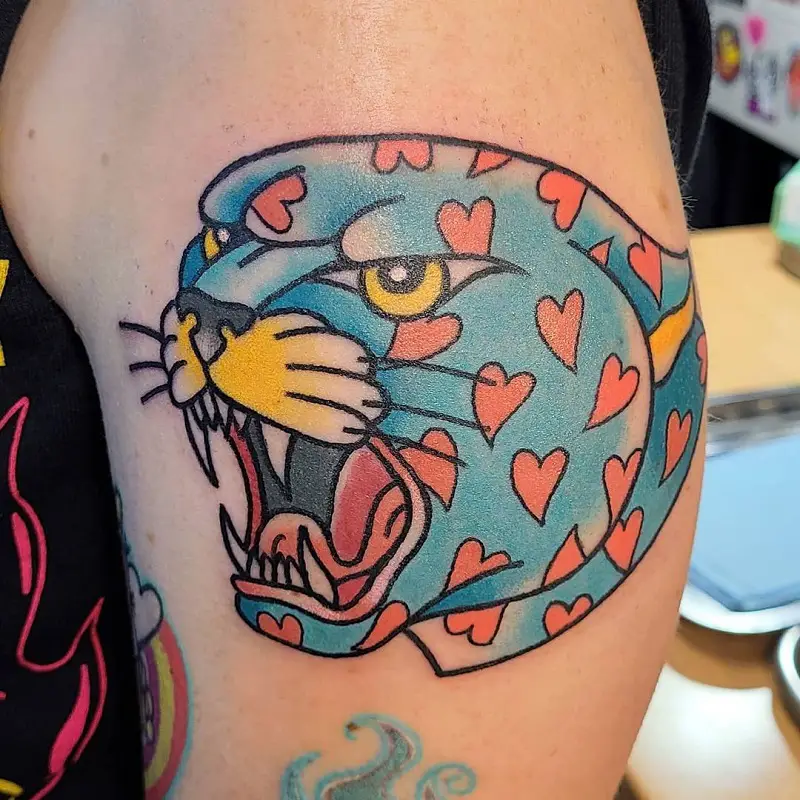 Geometric Panther Tattoo
64.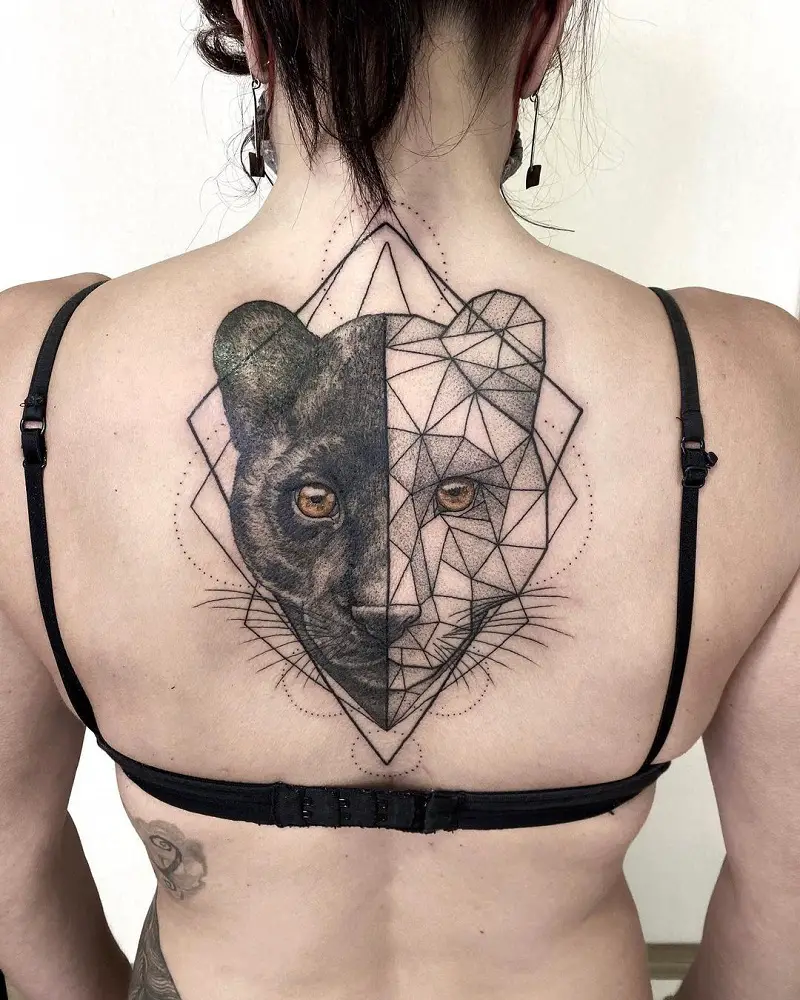 65.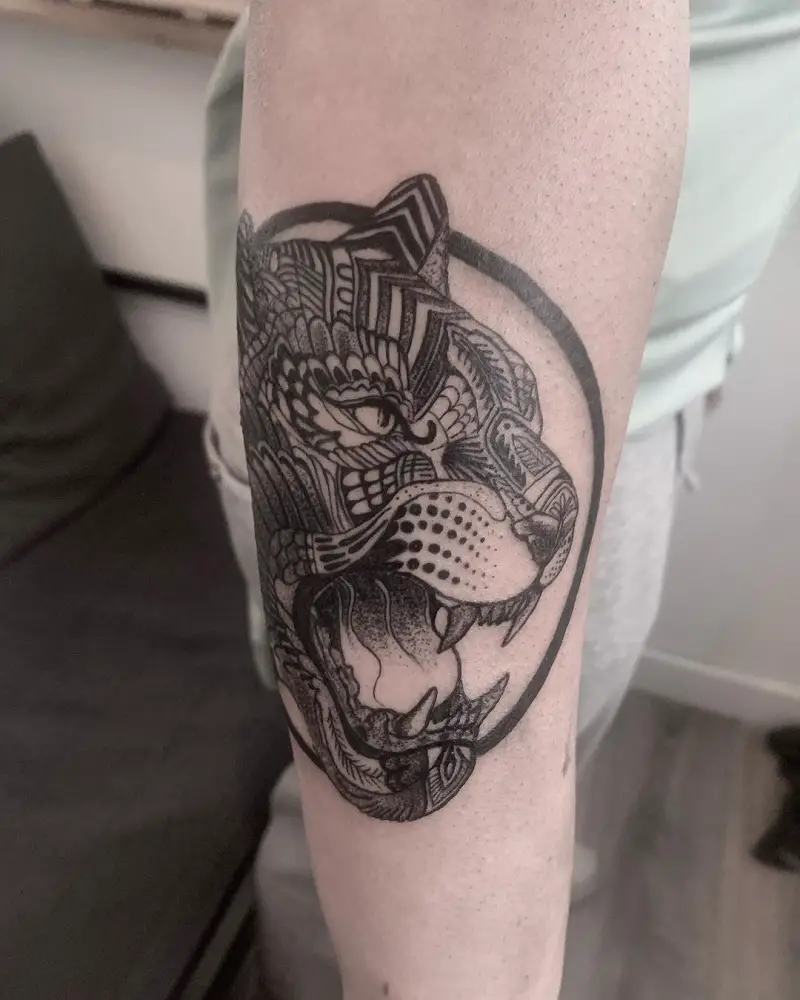 66.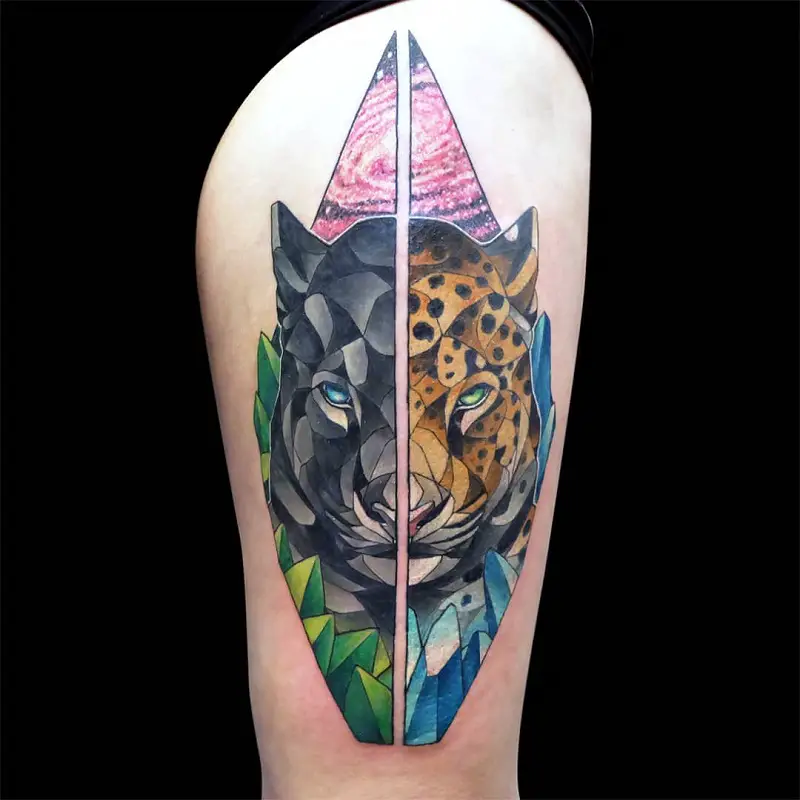 Angry Black Panther Tattoo
67.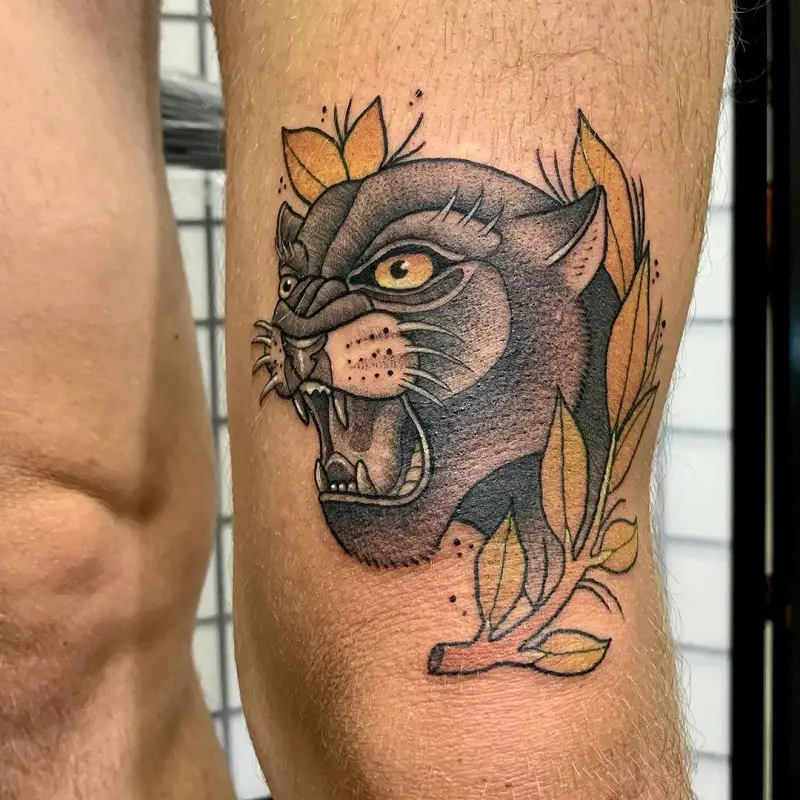 68.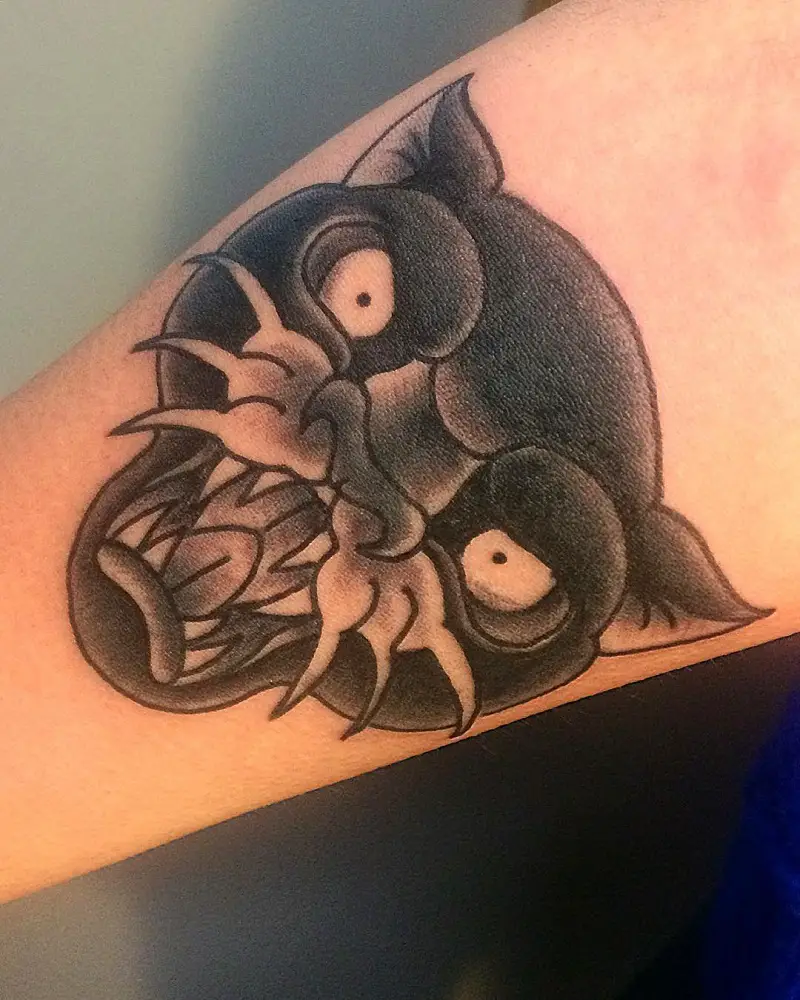 69.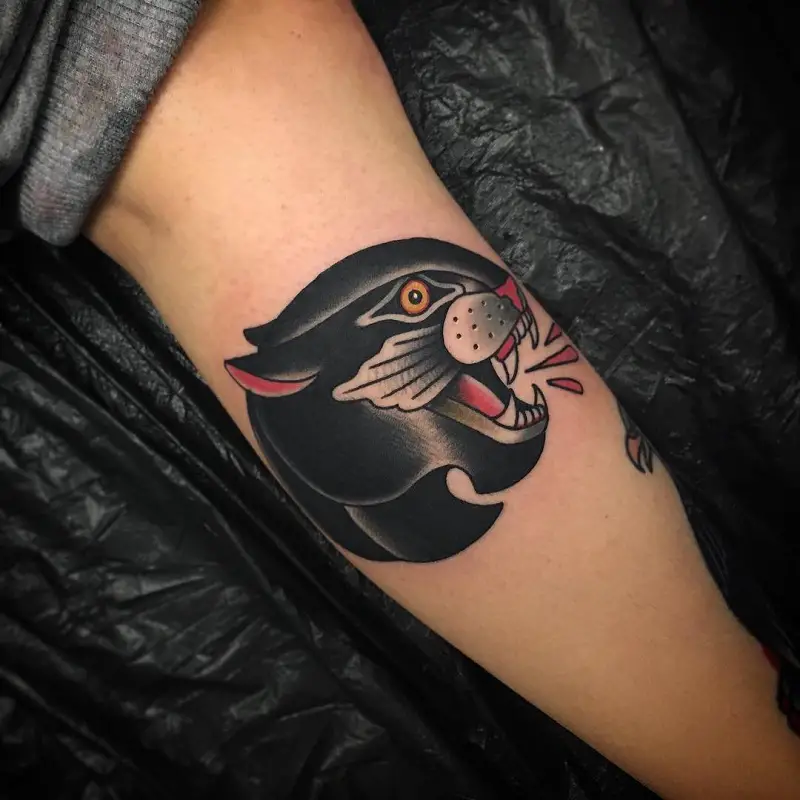 Cartoon Panther Tattoo
70.
71.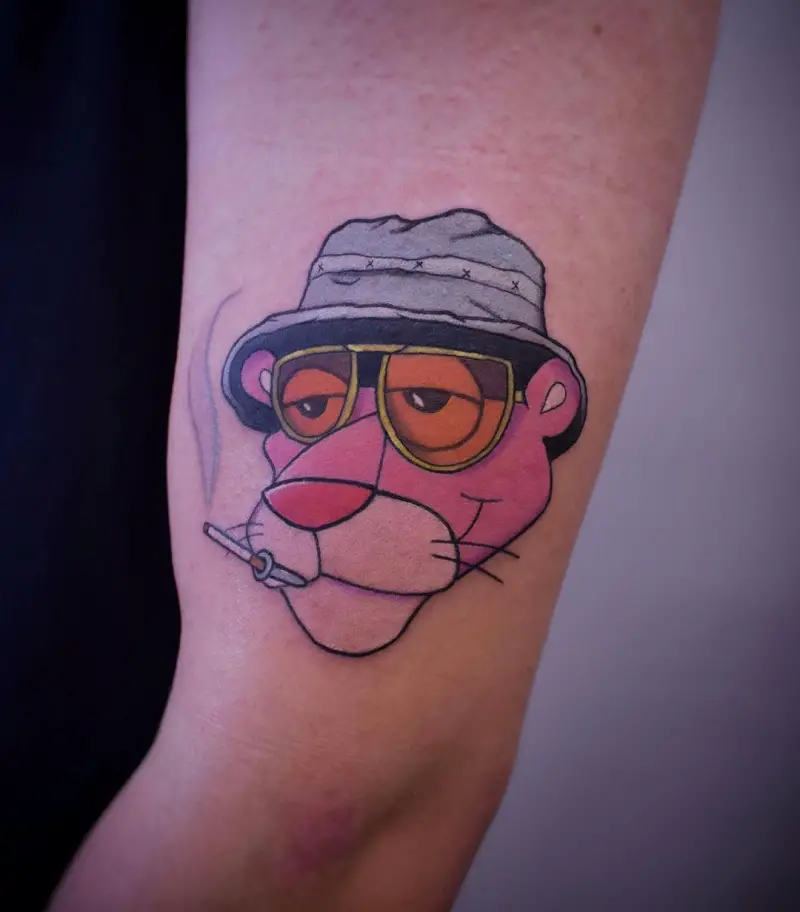 72.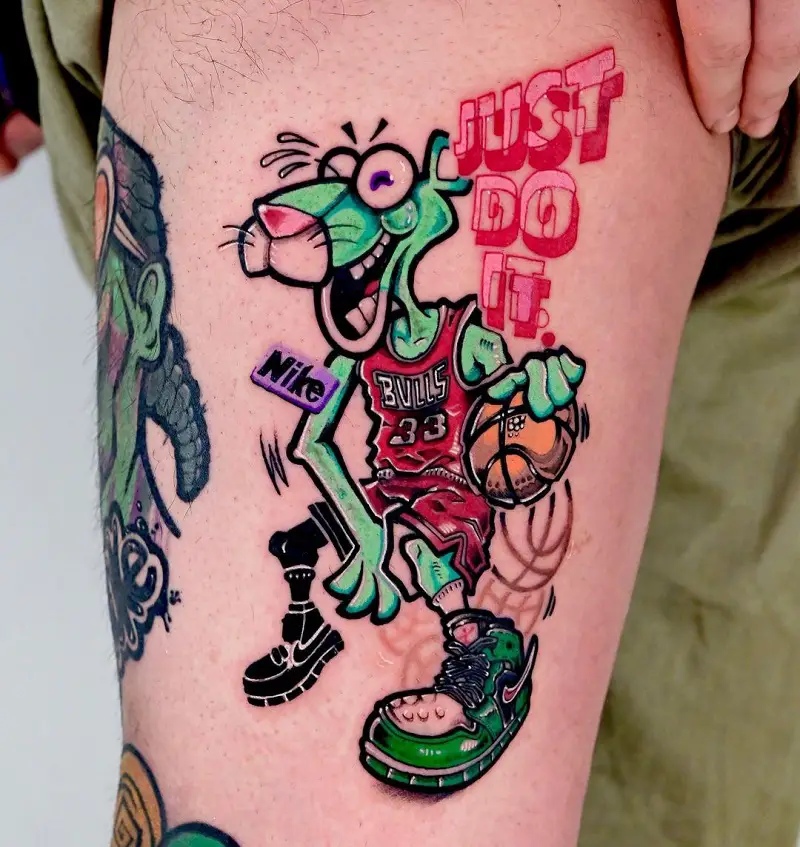 Chinese Panther Tattoo
73.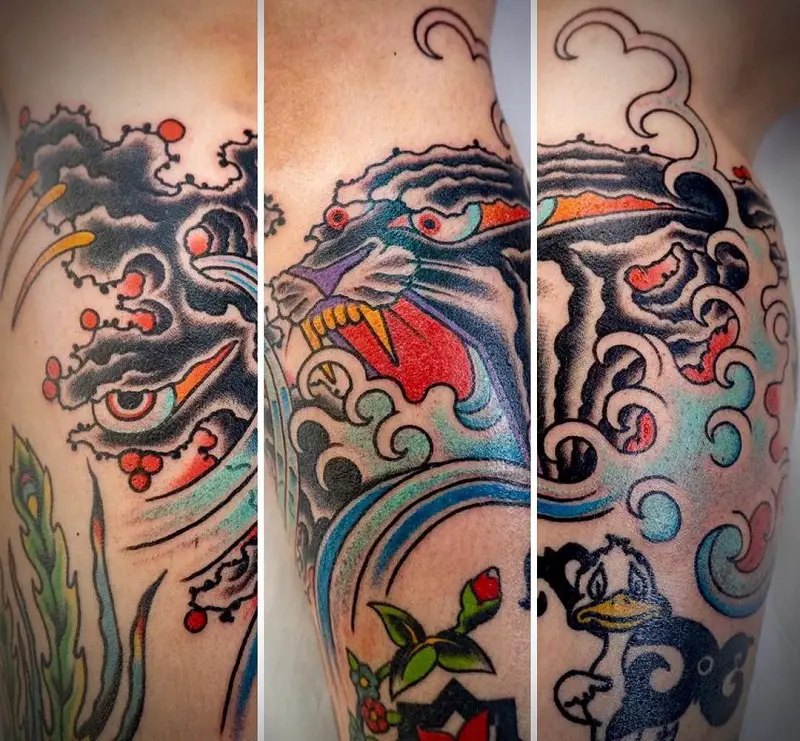 74.
75.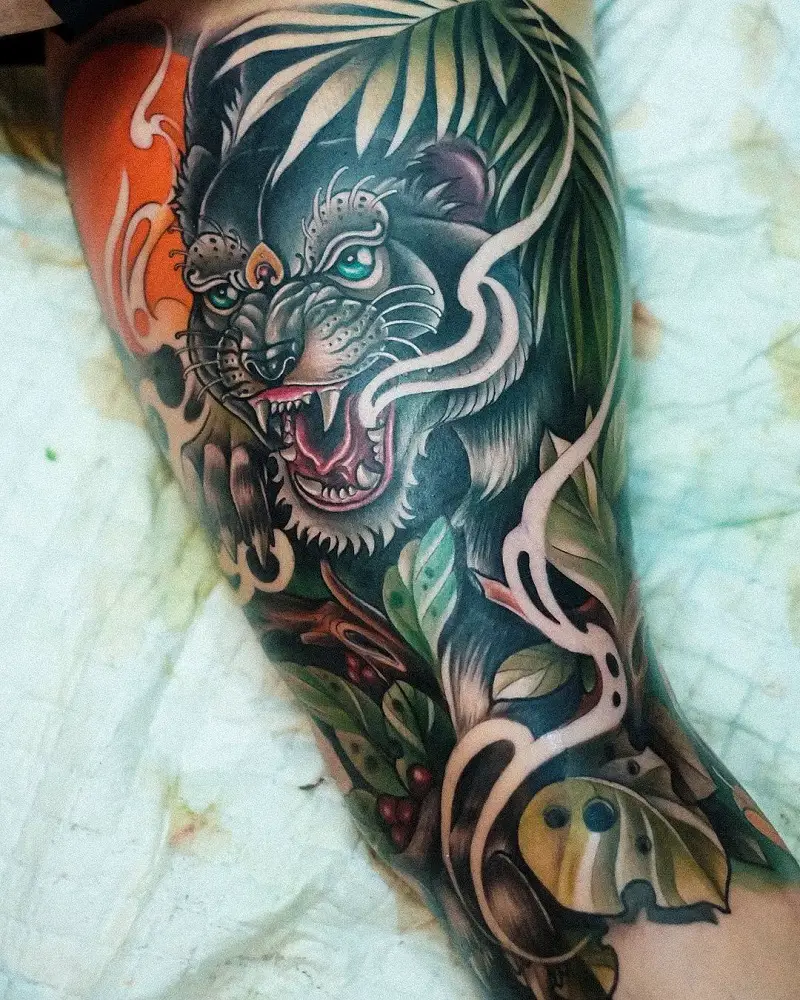 Crouching Panther Tattoo
76.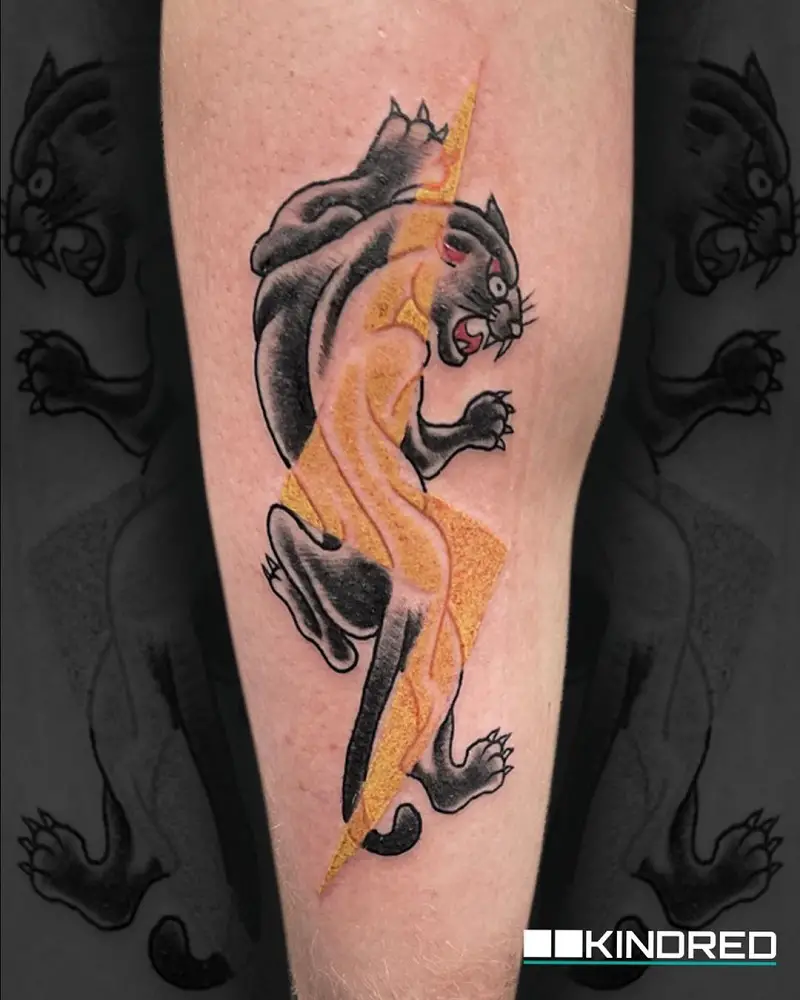 77.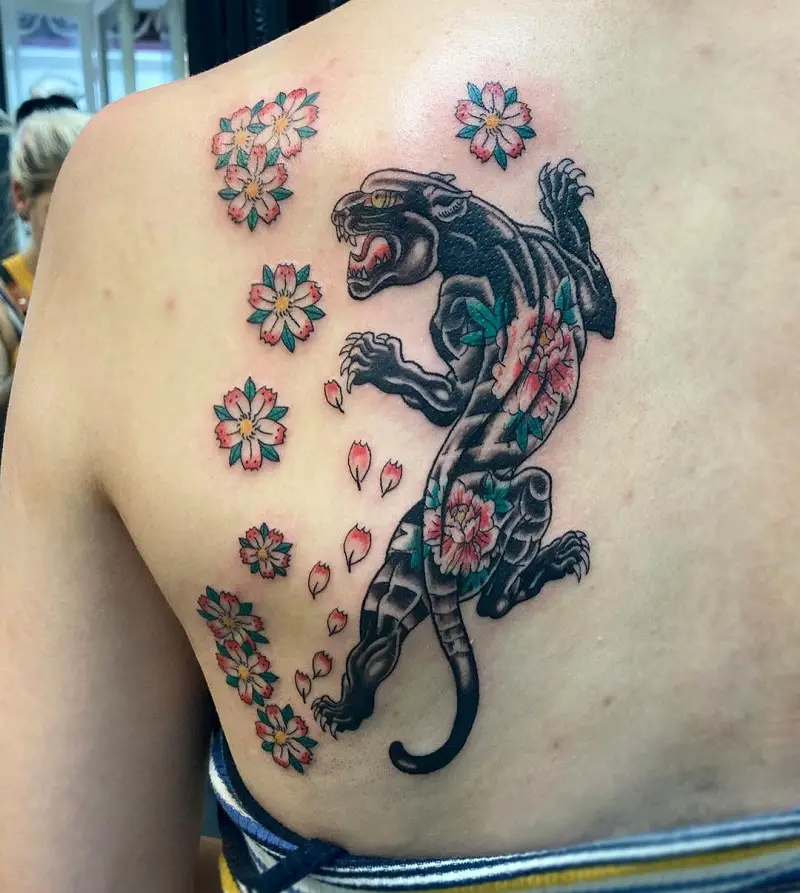 78.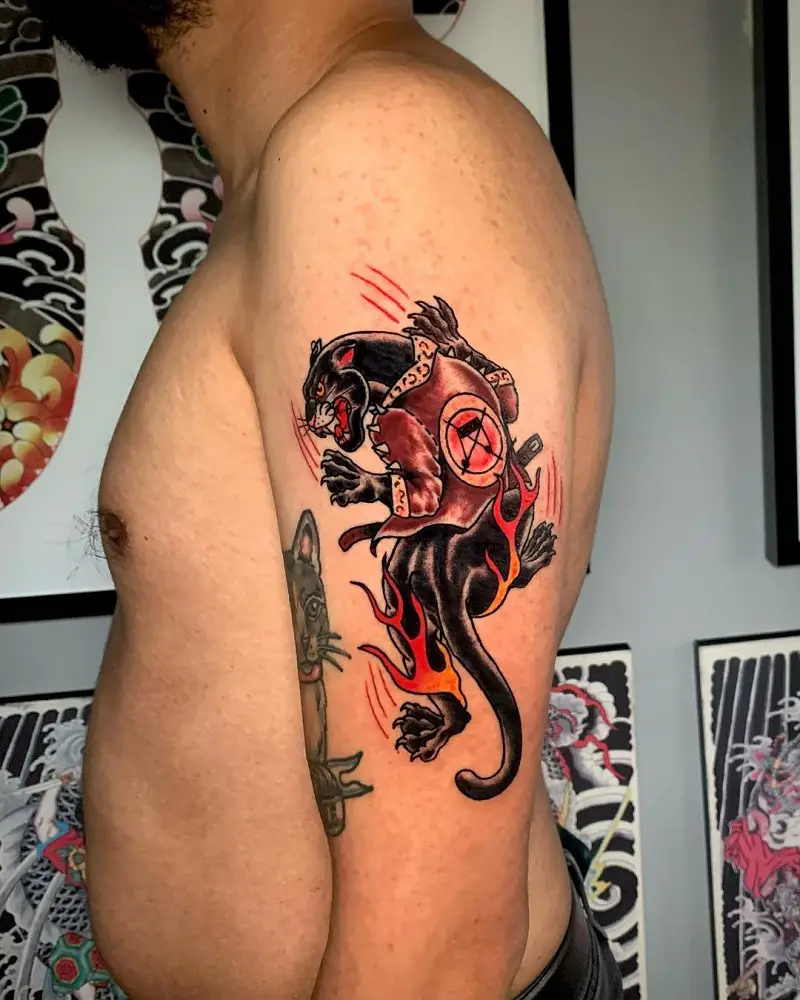 King Panther Tattoo
79.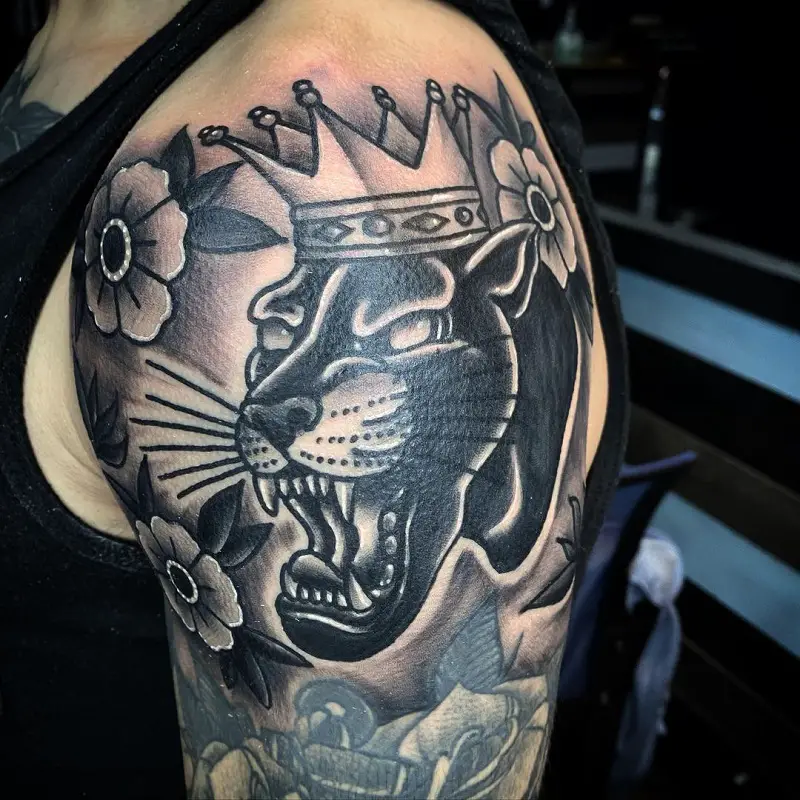 80.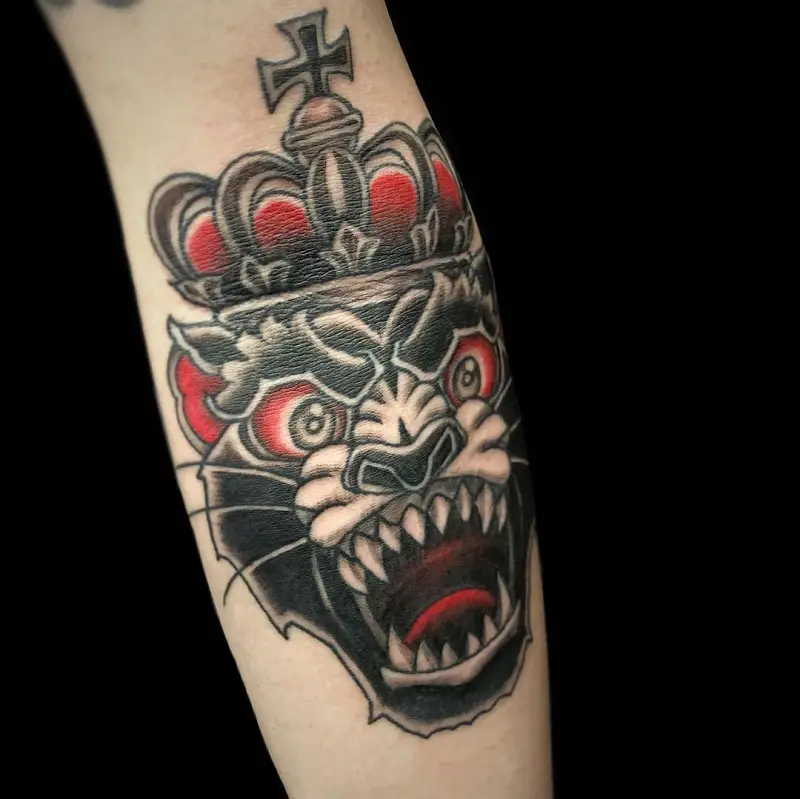 81.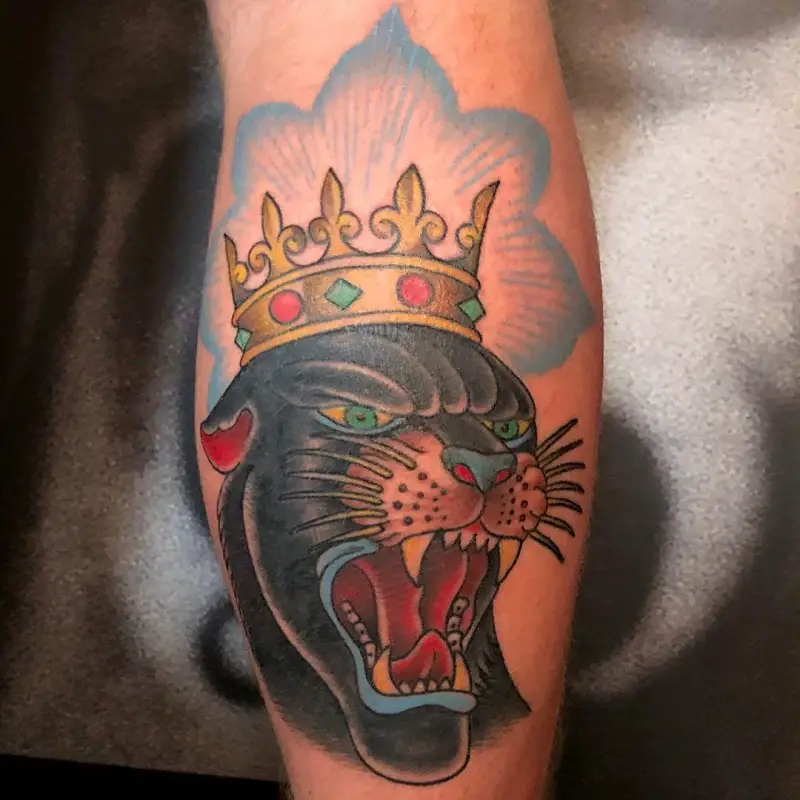 Abstract Panther Tattoo
82.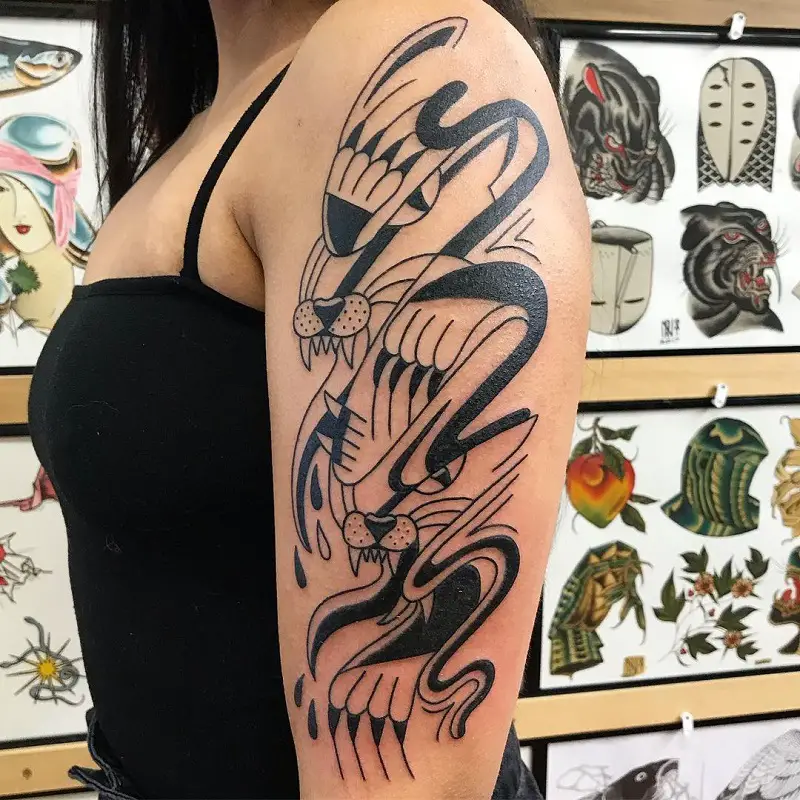 83.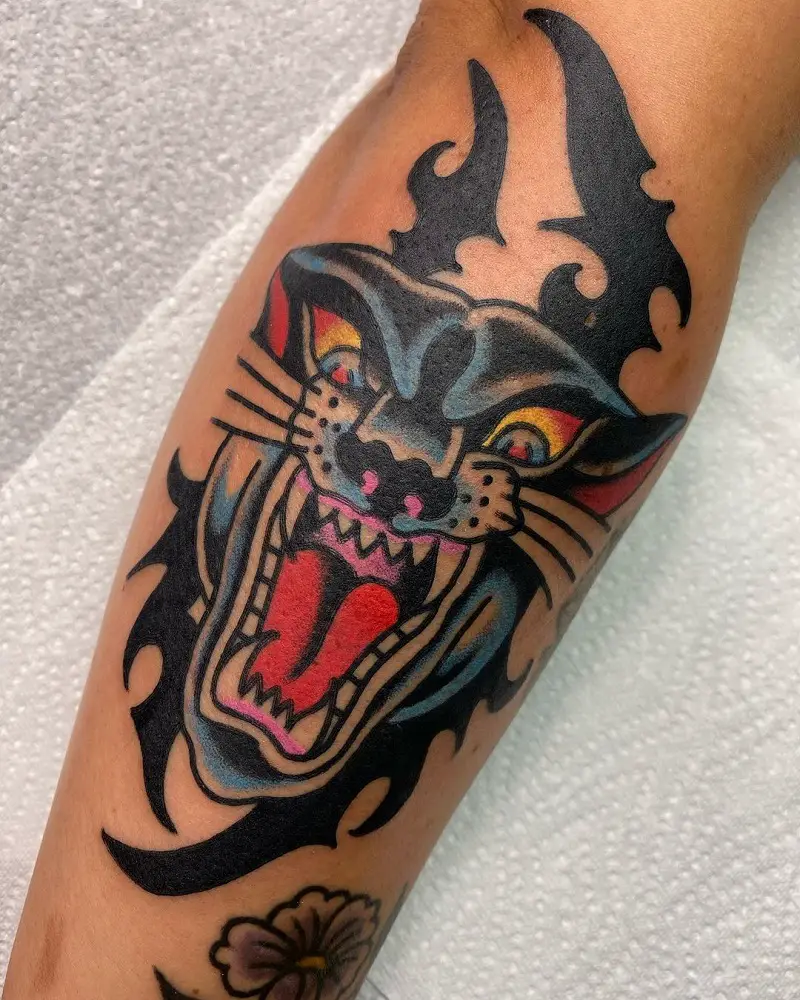 84.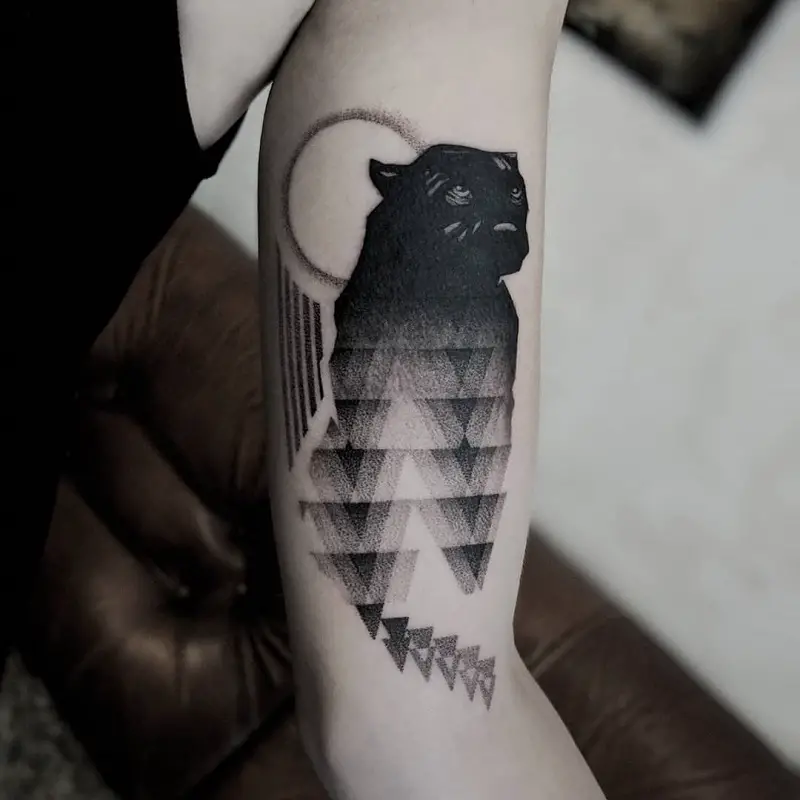 Asian Panther Tattoo
85.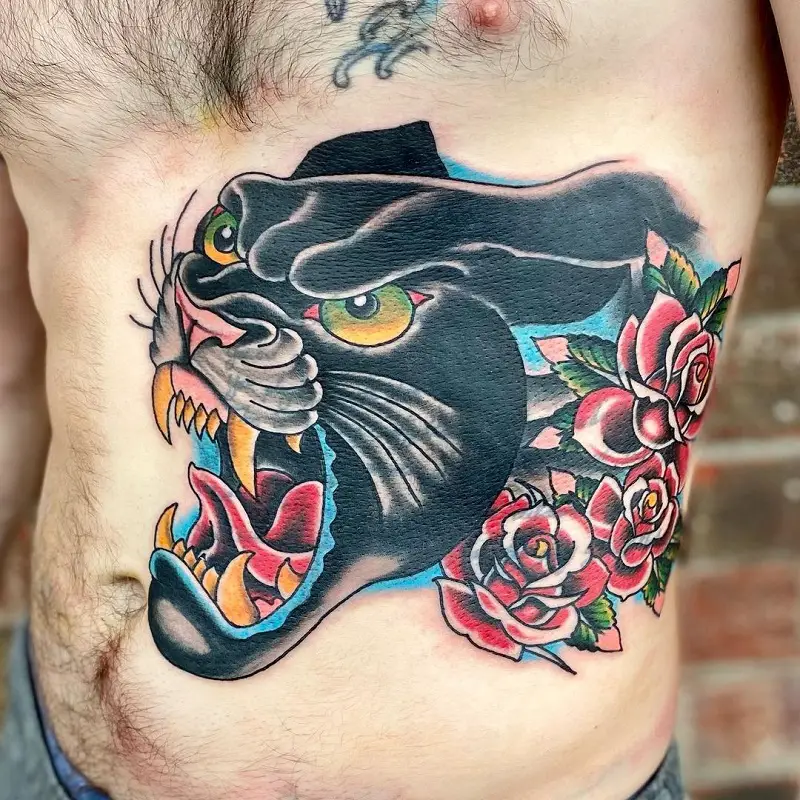 86.
87.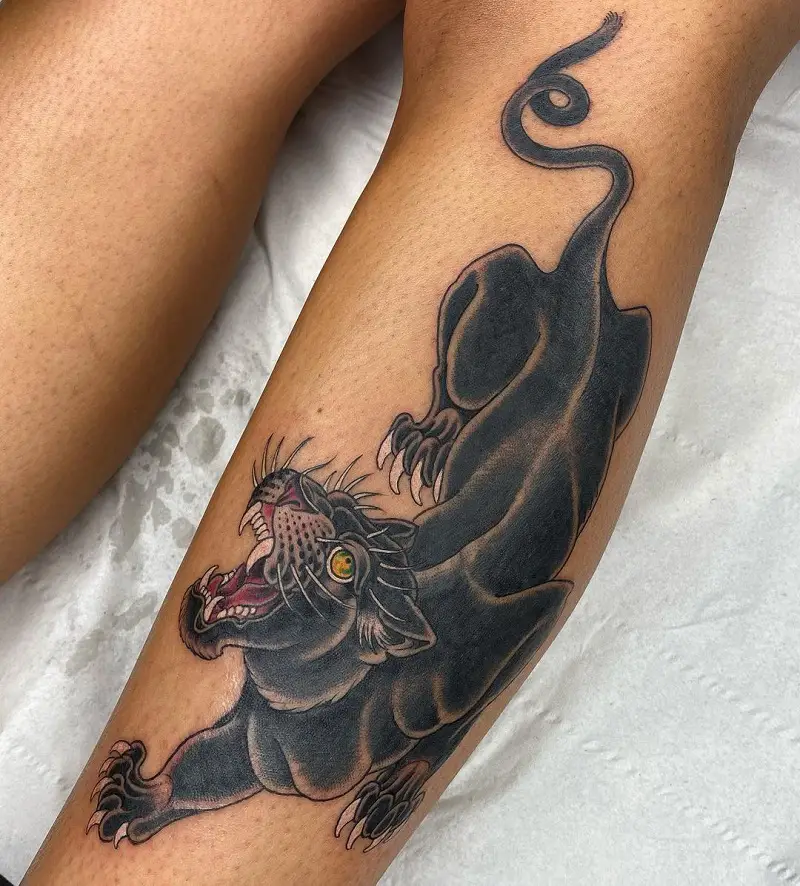 Aztec Panther Tattoo
88.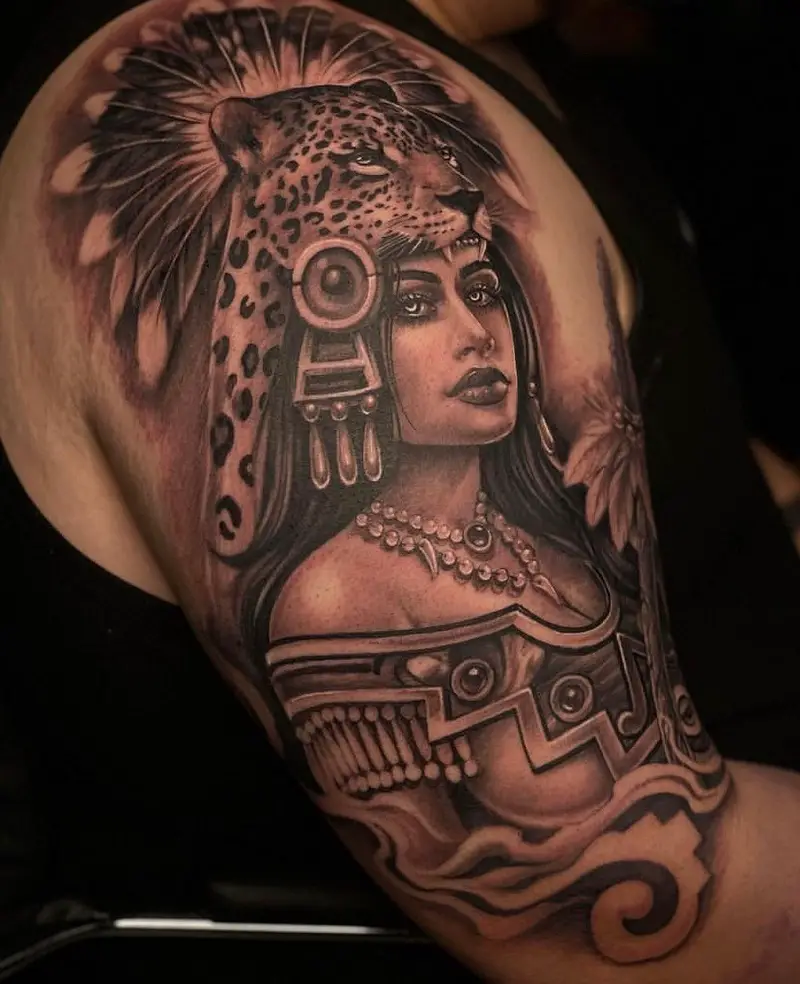 89.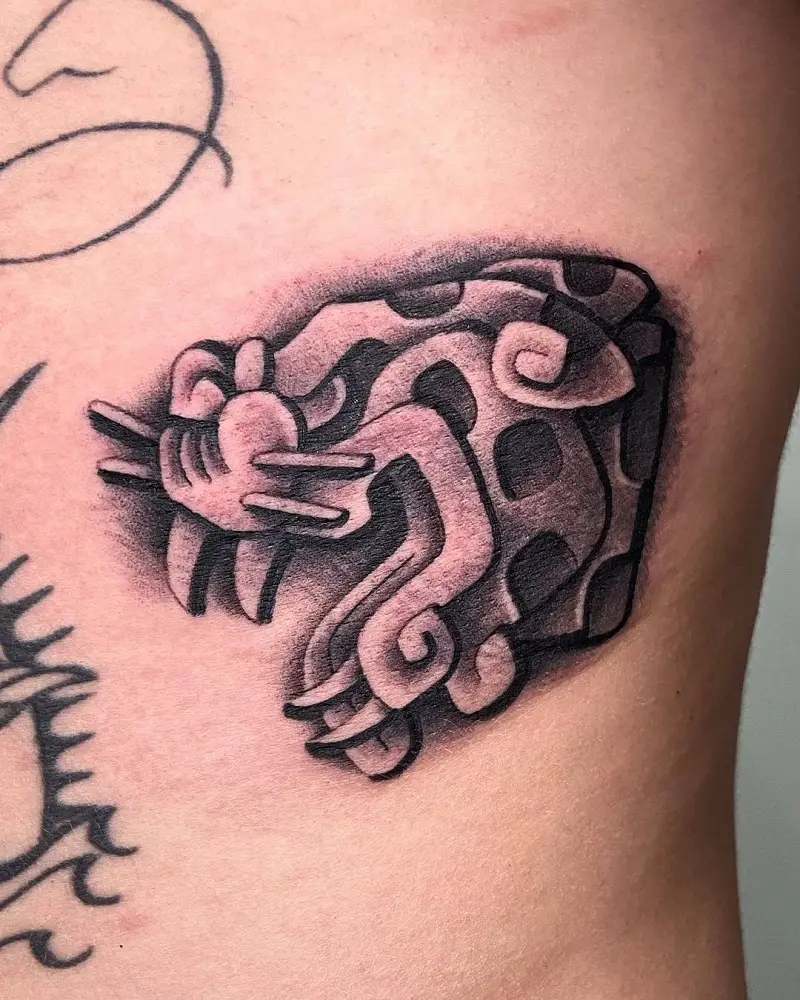 90.
Dragon Panther Tattoo
91.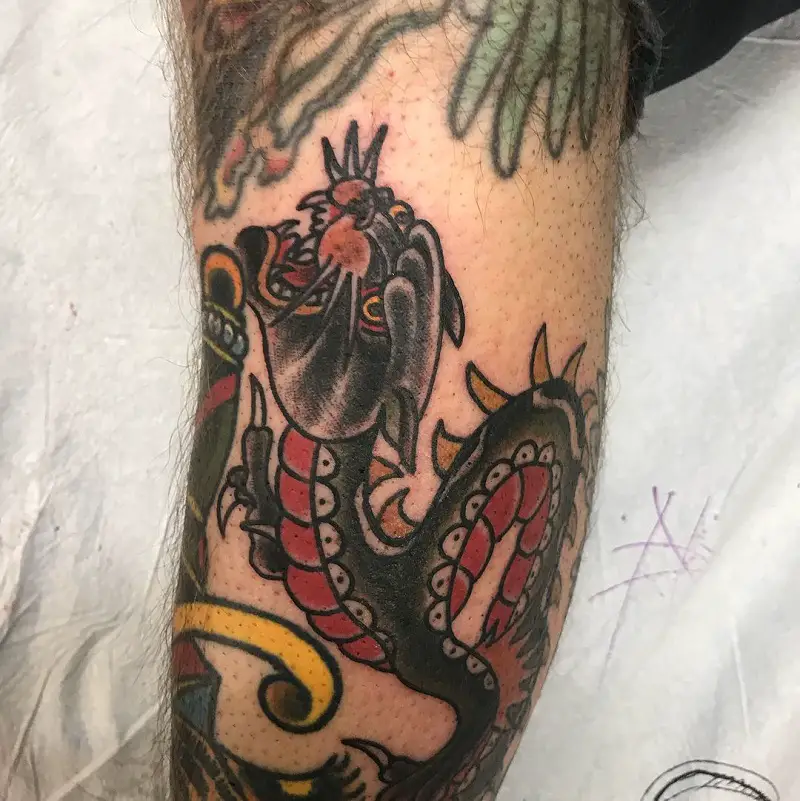 92.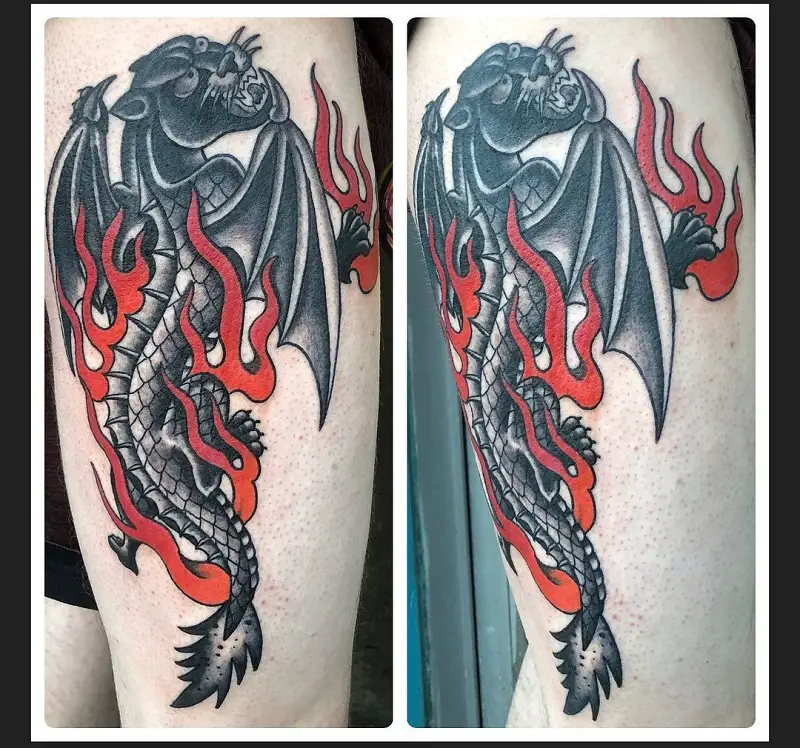 93.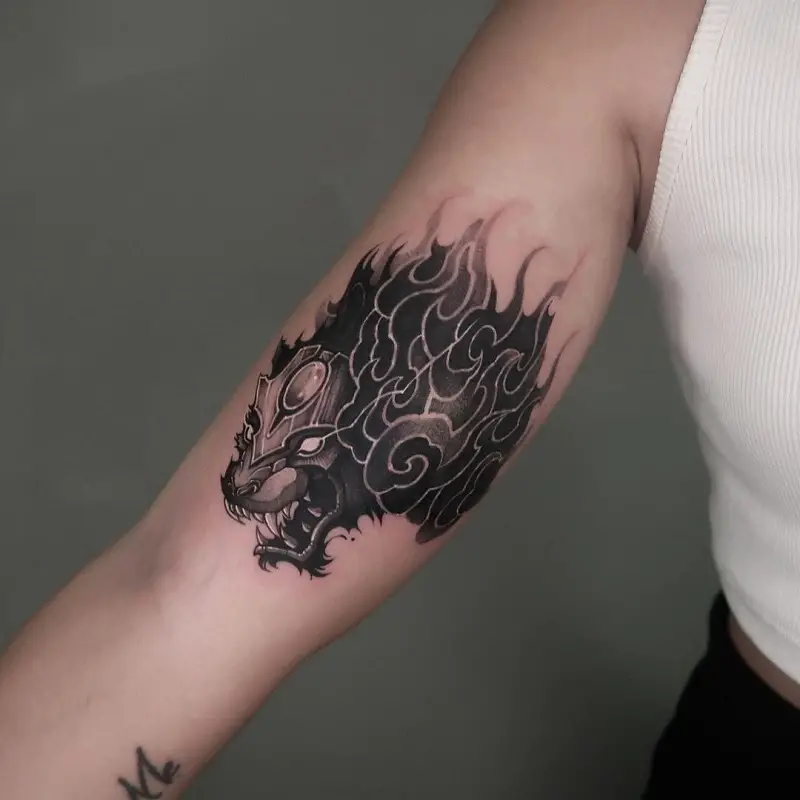 Egyptian Panther Tattoo
94.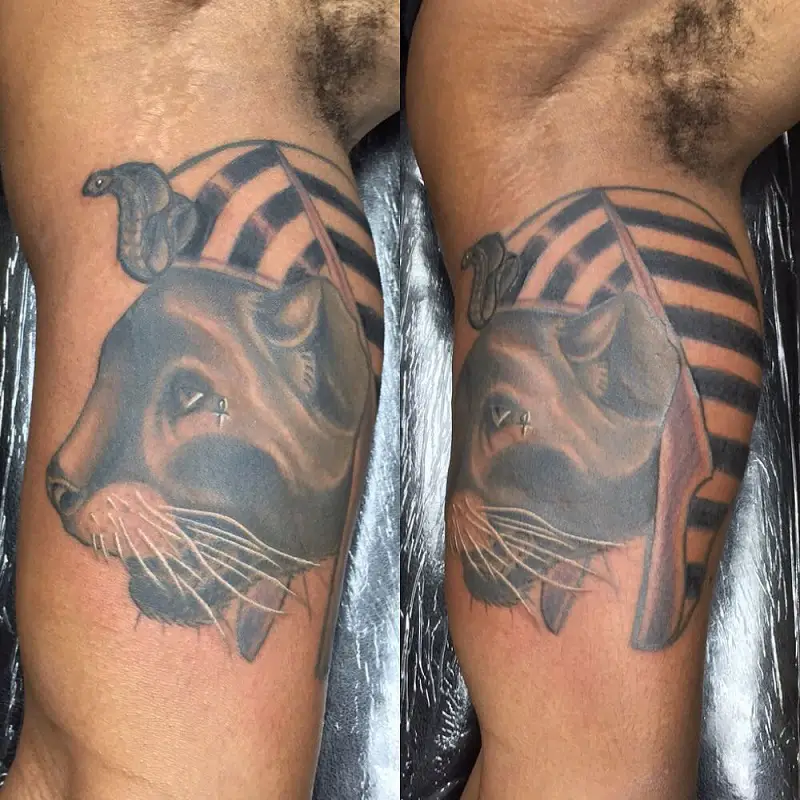 95.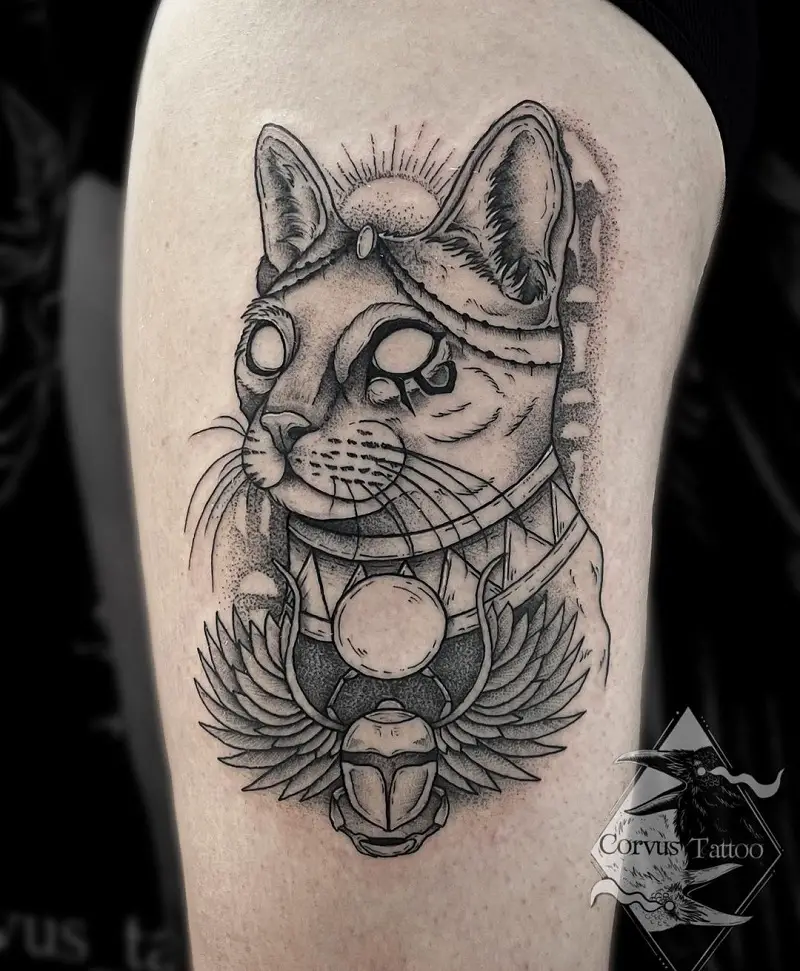 96.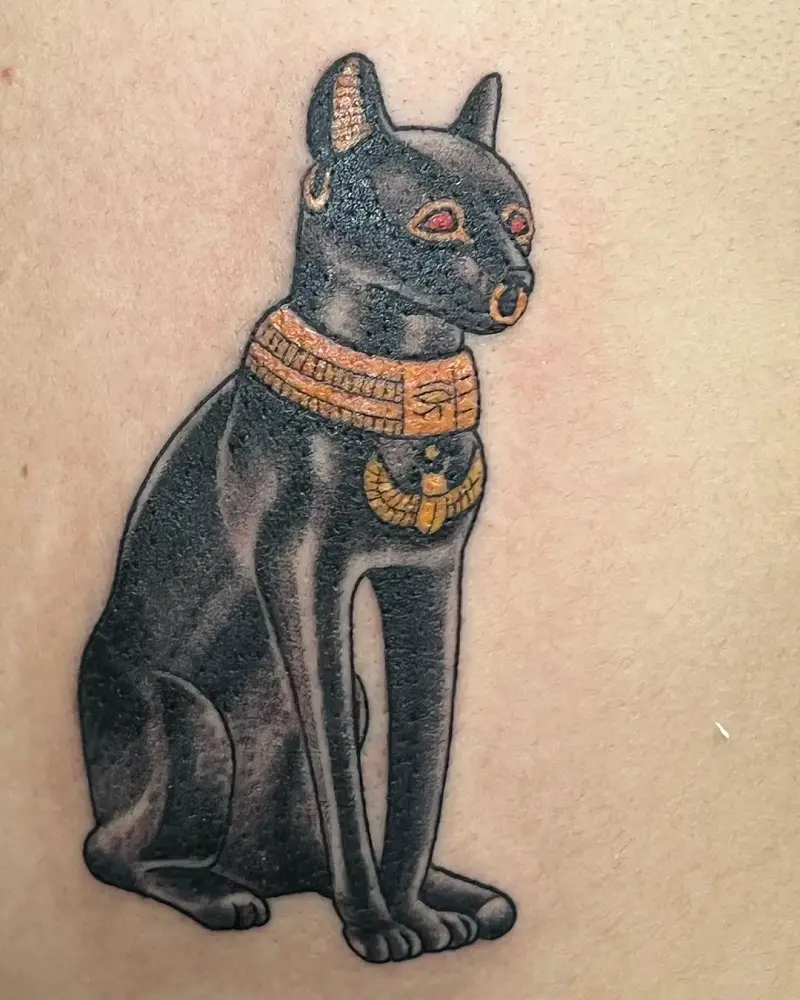 Flash Panther Tattoo
97.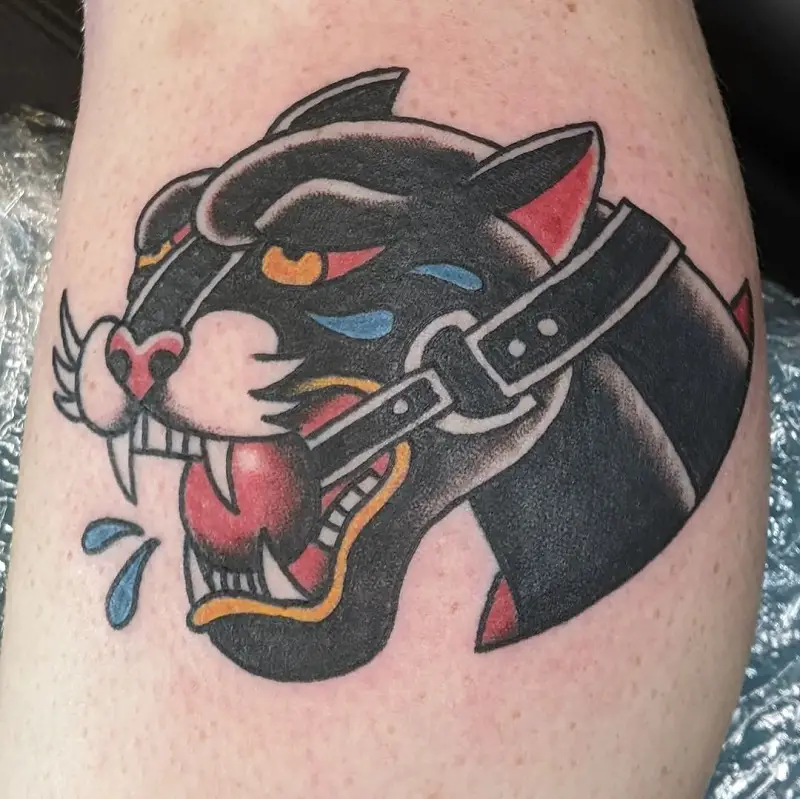 98.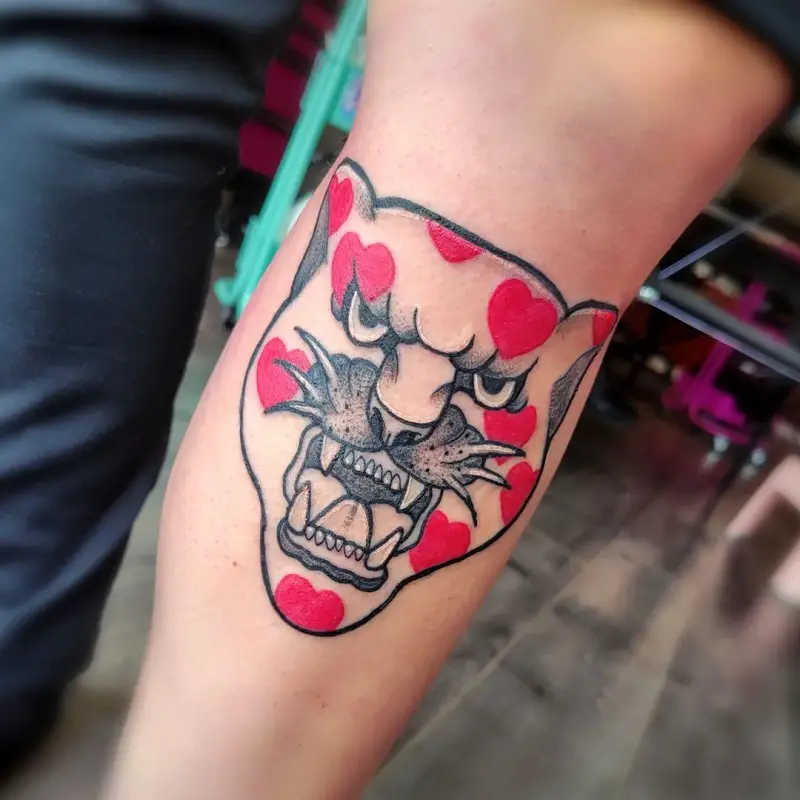 99.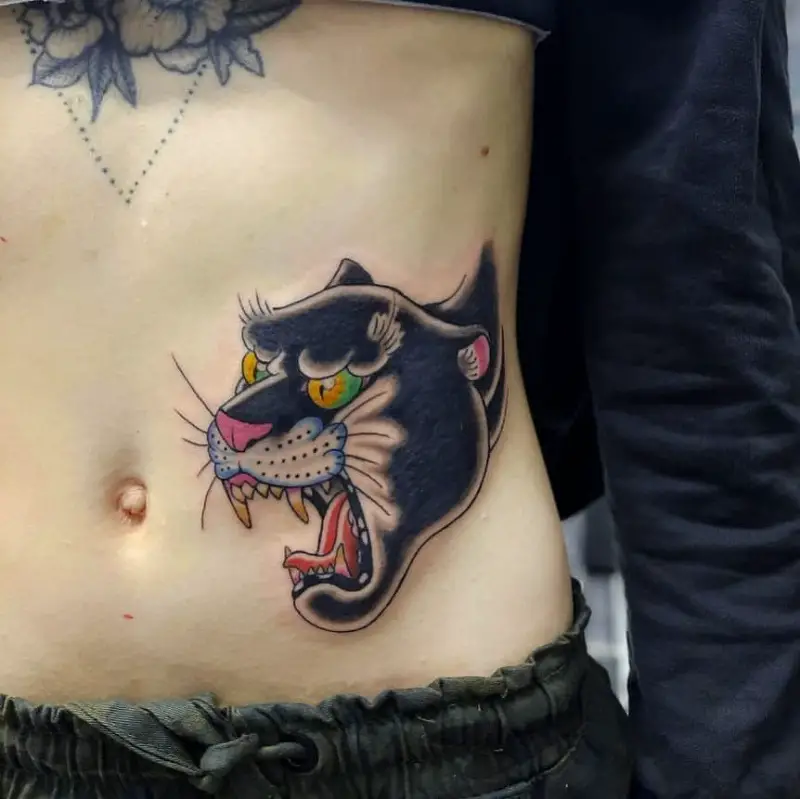 Full Body Panther Tattoo
100.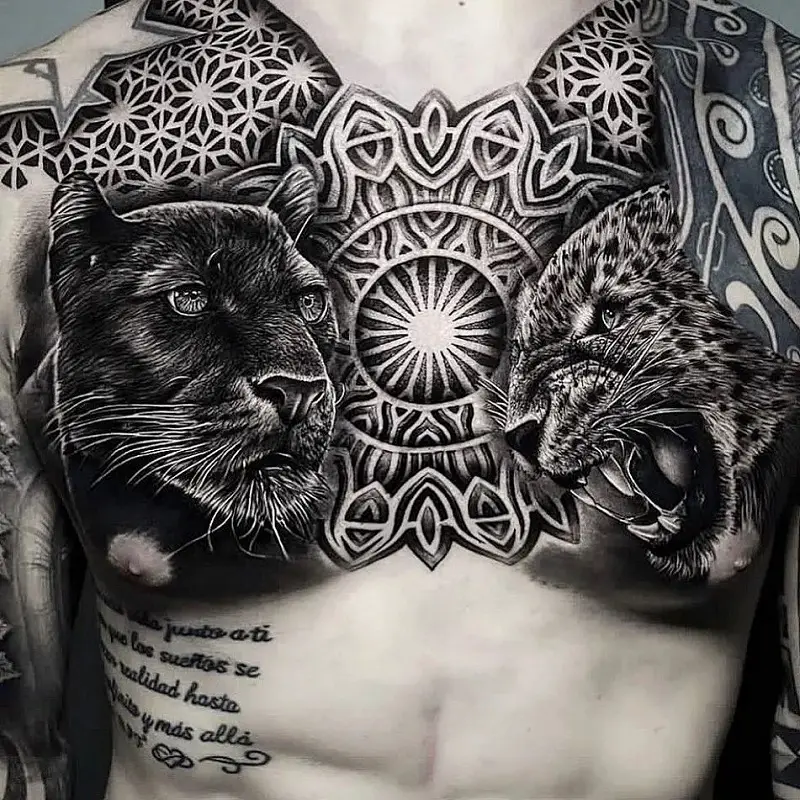 101.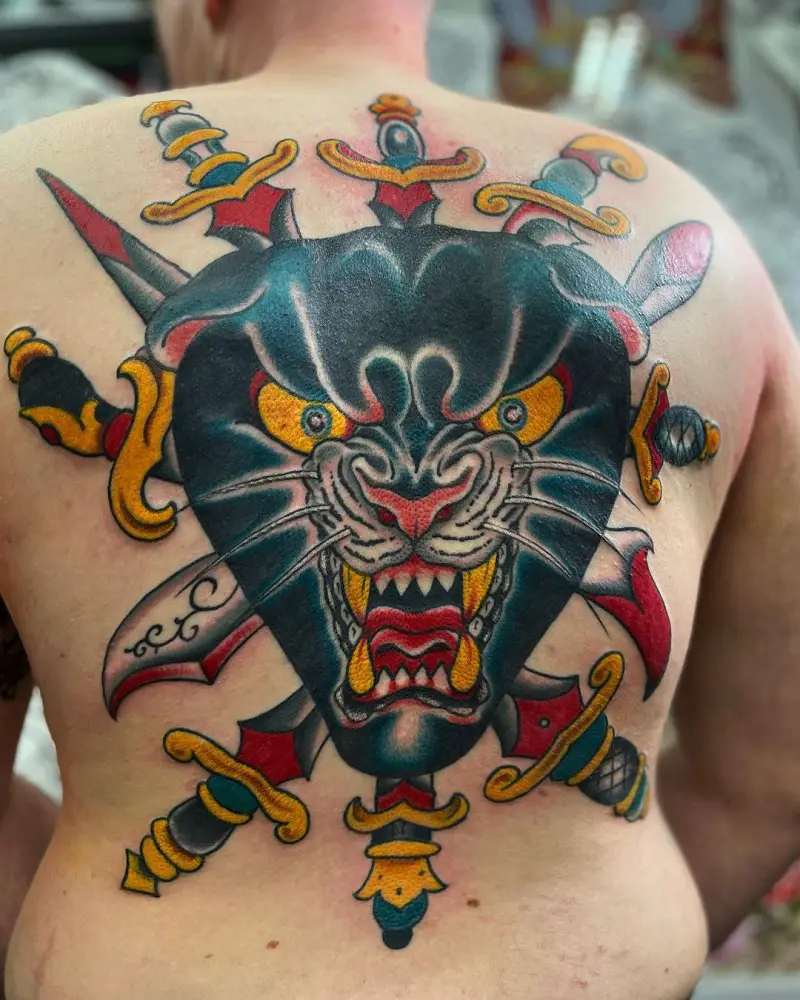 102.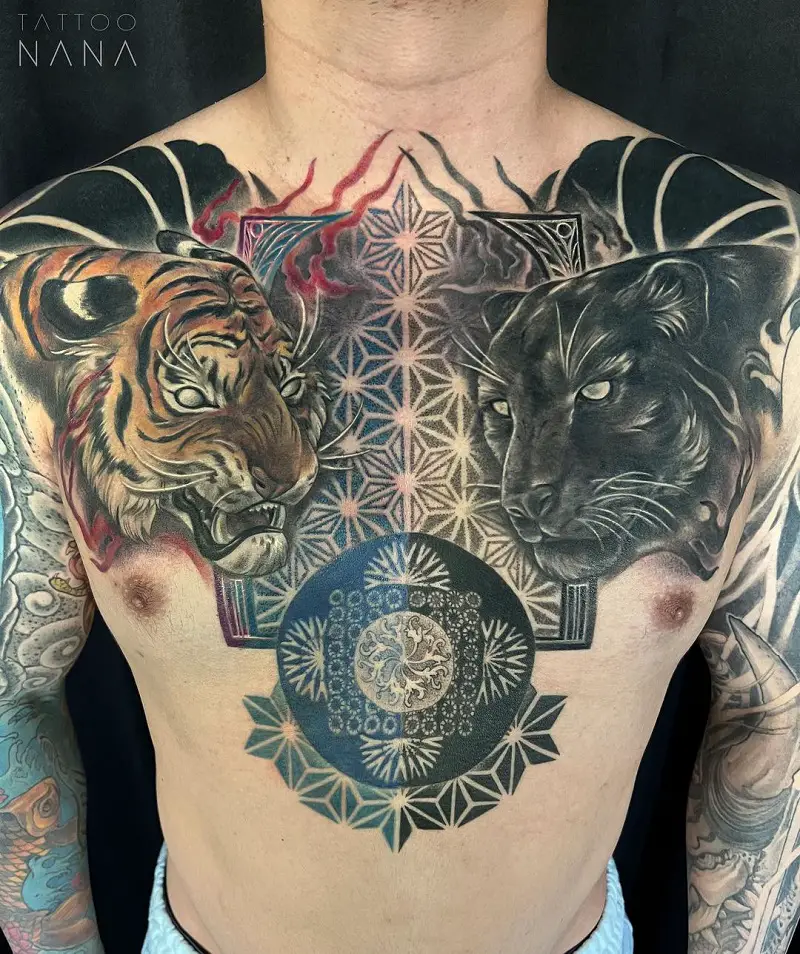 Final Words:
Hope you enjoyed our article on Panther tattoos' top designs and meanings. Sometimes you can have a Panther-themed tattoo done as a tribute to a loved one, to your culture and heritage, as a statement, or as a way to celebrate. 
We also hope this article helped you to expand your knowledge of all the different meanings of the tattoos of Panther and the significance of each one. 
If you have any questions or comments, please don't hesitate to contact us in the comment section. Thank you for reading; we would love to hear from you!