If there is one thing to be said about girls who dare to wear tattoos is that, they aren't afraid to express themselves creatively and to use their bodies as canvases. In fact, well designed and skillfully executed hand tattoos for girls are quite popular and it is not unusual to find women and girls everywhere sporting at least one tattoo.  Let's face it, committing to any tattoo is a really big deal whether it's a first tattoo or another design to add to your collection.
DARING HAND TATTOOS FOR GIRLS TO TRY
Perhaps you're choosing your tattoo to express your daring personality or to celebrate inspiring persons or symbols. Maybe it's to record your best relationships or life's experiences. Perhaps, your hand tattoo is simply to cover a blemish. Whatever the case, your stunning hand tattoo can be a single yet unforgettable image or a combination of different elements that may be acquired over a period of time.
So let's take a look at  twenty-two amazing ideas for hand tattoos that girls may find most appealing and meaningful:
#1: FLOWER IN BLOOM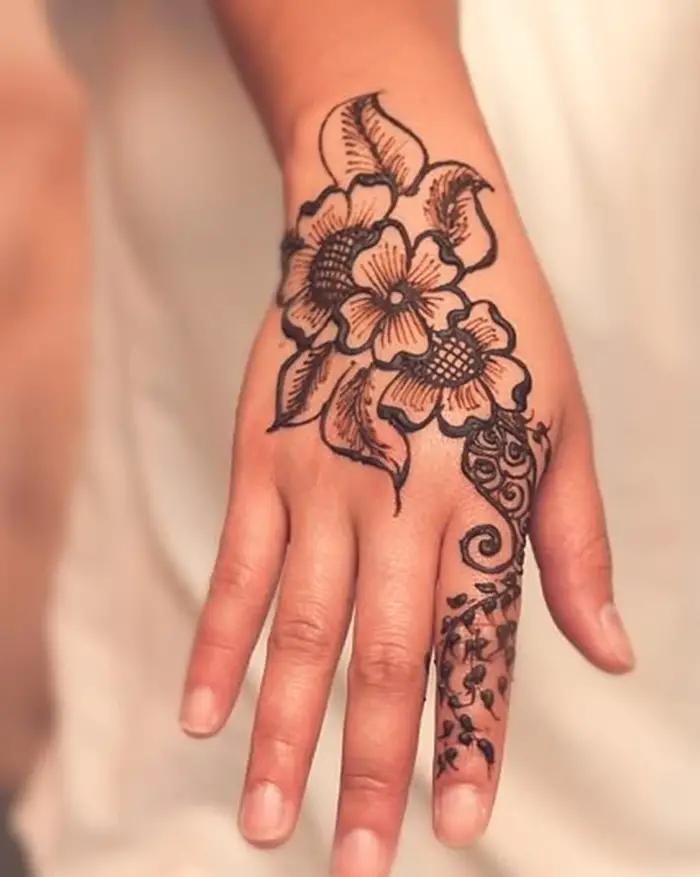 Most girls will appreciate the intricacy of this hand tattoo featuring flowers in bloom. See how well it involves the index finger. The single color is all that's needed to make this a standout pattern.
ROCKING SIDE TATTOOS FOR GIRLS
#2: SACRED SYMBOL HAND TATTOO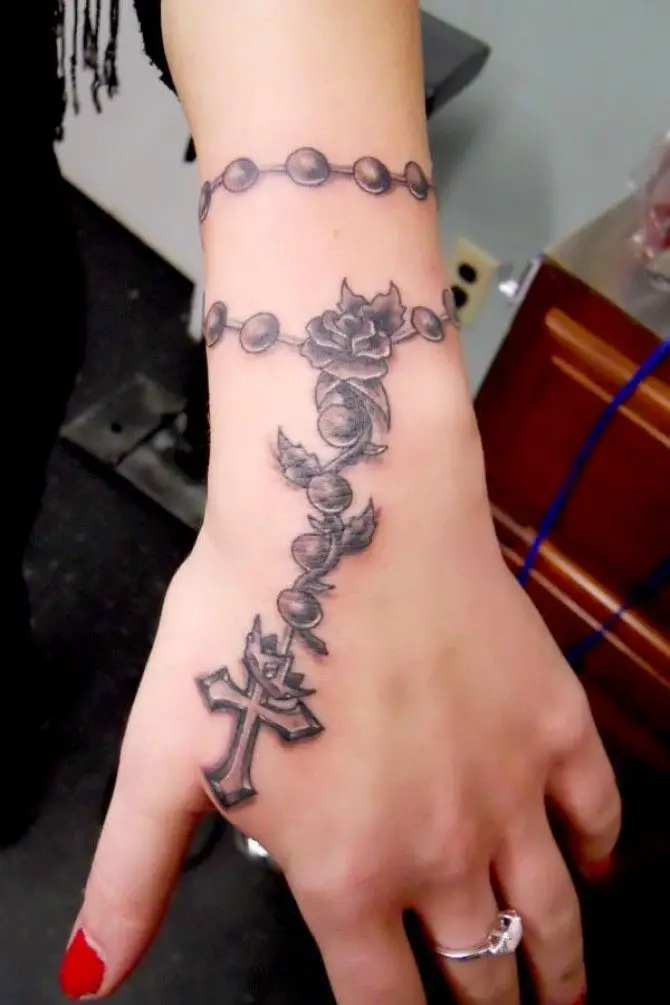 The rosary pattern remains a popular choice in hand tattoos for girls. You simply can't go wrong with this sacred choice. Notice the vine and flower combination that are so skillfully interwoven, nice touch.
#3: SERIOUS THREATS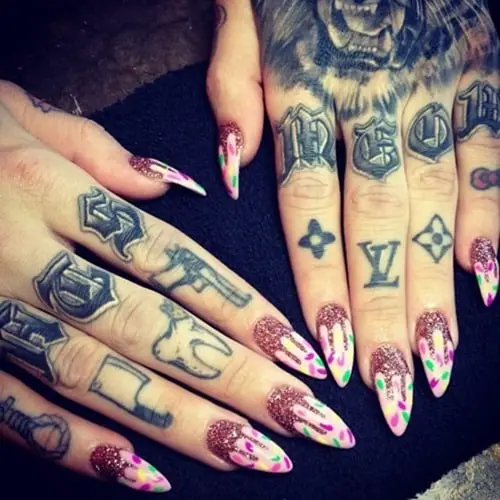 Interestingly, not all hand tattoos for girls represent the typical gender stereotype. Check out the bold imagery and strong characters depicted on these hands. This is one girl nobody messes with.
#4: ONE DESIGN ON BOTH HANDS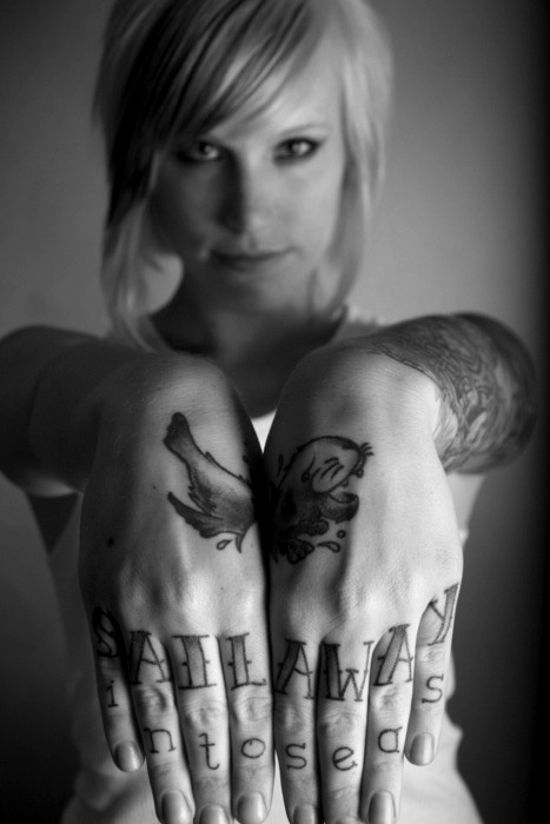 Sometimes it takes both hands to deliver what you need to say and this girl wants everyone to know that she desires to "sail away into the seas". The added water graphics when combined complete the picture.
#5: NATIVE INSPIRATION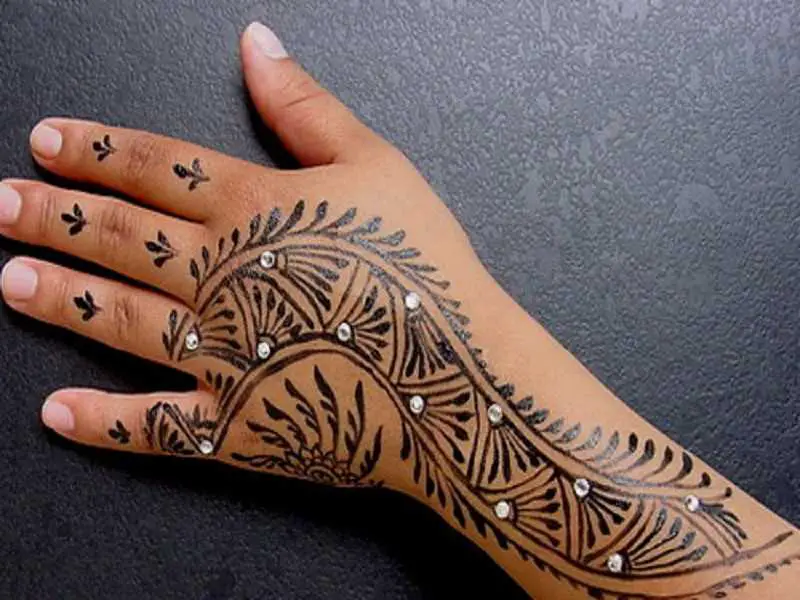 This intricate pattern inspired by native tribes is always a great choice for hand tattoos. Bold black ink with white accents bring out the power of this design and nothing detracts from its sheer elegance.
#6: INTRICATE HAND TATTOOS THAT ACCENTUATE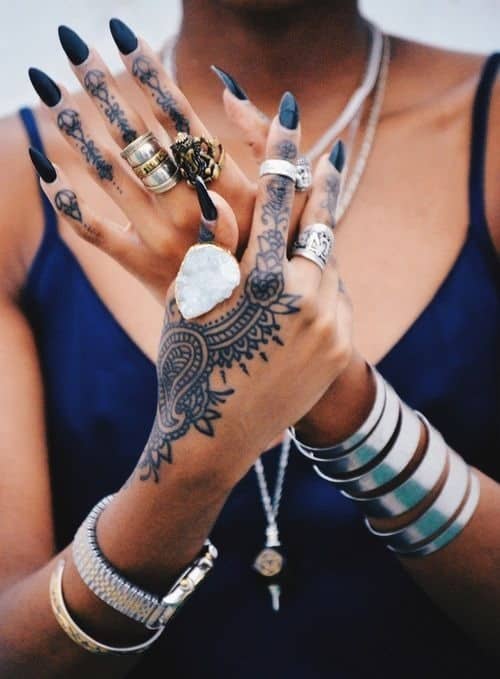 It's very obvious that for this girl her hand tattoo adds mystique to her rings and accessories. Check out the details that take inspiration from tribal or native symbols. Black ink with no color added is perfect for her skin tone.
#7: VIVID DESIGN WITH VARIETY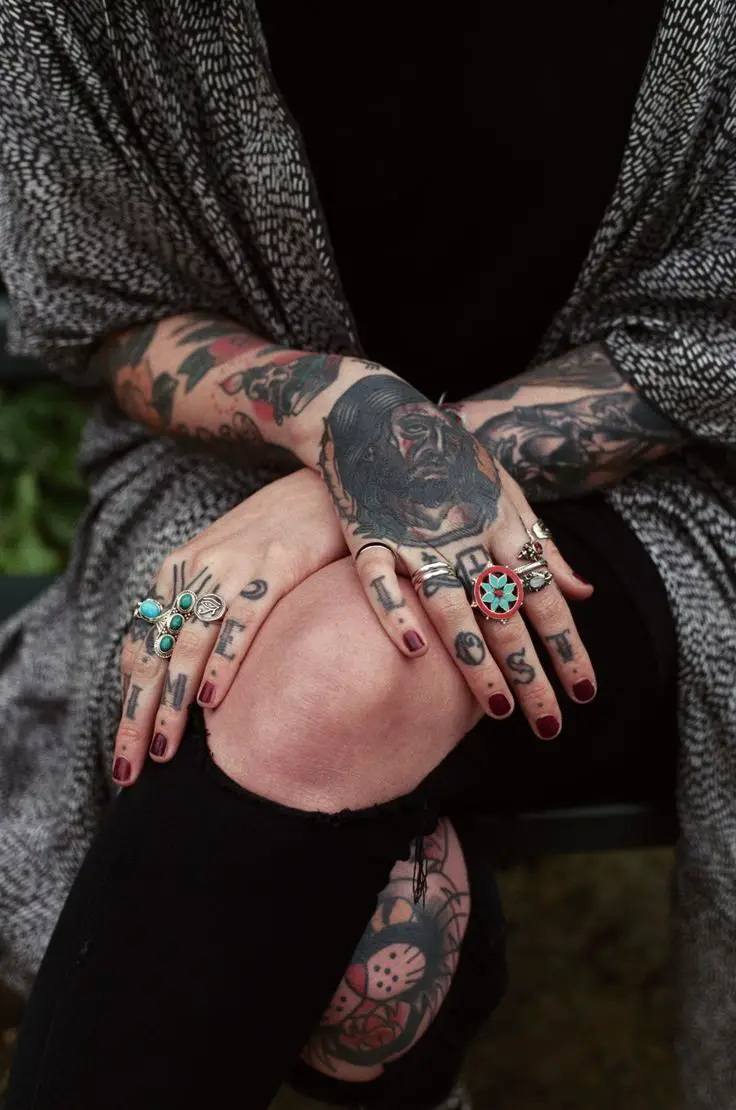 You can bet that this is one hand tattoo for girls that brings out the vivid designs and colors and reveals her many inspirations and experiences.  This girl is certainly comfortable to show this mix of color and black that presents a striking theme that's hard to ignore.
#8: BOLD HAND TATTOO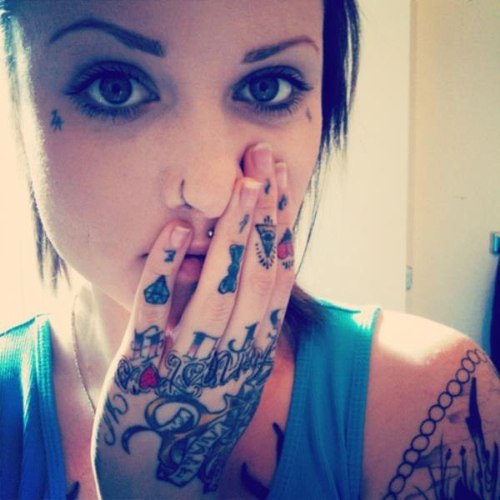 This bold hand tattoo presents a detailed symbol that adds to the other tattoos this girl is already wearing. By itself, this striking design is a strong statement that defines her personality. No doubt the rest of her inking would complement what her hand reveals.
#9: A FLOWER IS ALL IT TAKES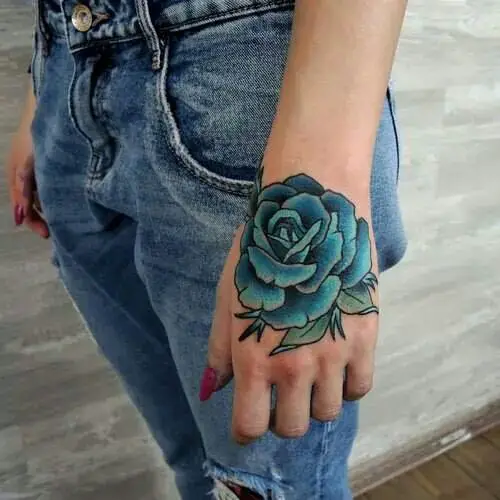 All it takes is a single symbol to fulfill the vision for the perfect hand tattoo for girls.  This blue rose design presents the right image of feminine beauty that's girly yet brash.
#10: DON'T ASK I MIGHT TELL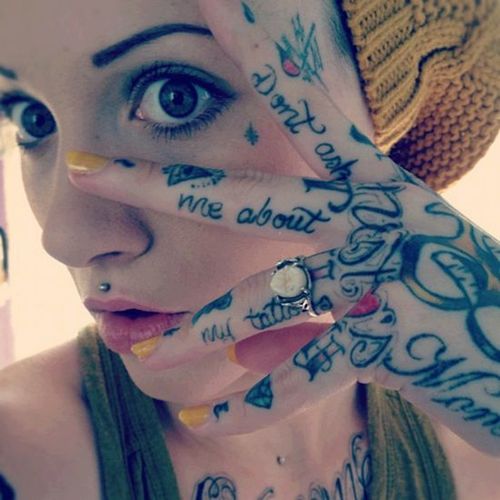 Hand tattoos that mix words and images are bound to draw attention even to ones that say "don't ask…". Really, there's nothing shy about this girl and her fully covered hand.
#11: SIMPLY ELEGANT HAND TATTOO FOR GIRLS TO LOVE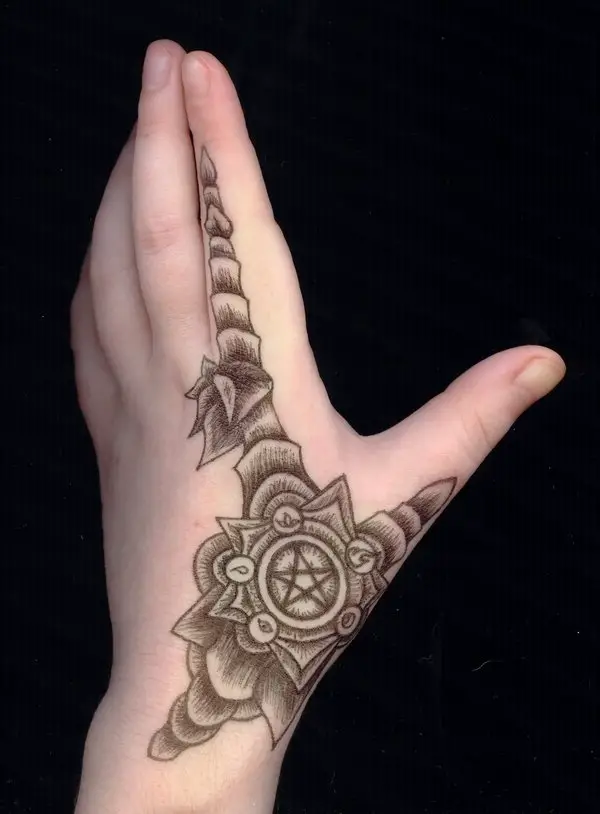 Here's a clear and straightforward hand tattoo design that means more than can be seen for any girl who wears it. All that's required is a single color and a skillful tattooist who can transform your hand into a work of art.
#12: FINGERS ARE INCLUDED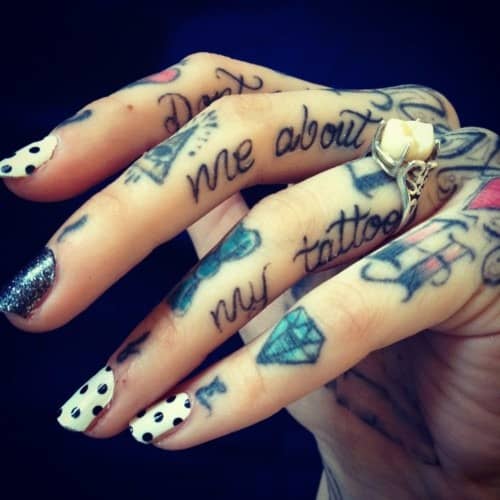 Small tattoos on the fingers work best and for this girl. There is no space wasted as she shows just what means the most to her. Also, the colors allow this hand tattoo to be more than just another jumble of cluttered symbols.
#13: ARABIAN TEXT HAND TATTOO FOR GIRLS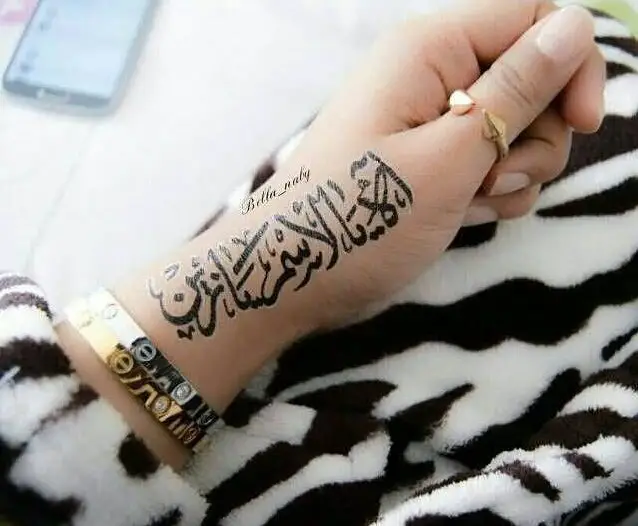 Evidently, graphics are not the only element you'll find on awe inspiring hand tattoos for girls.  Take this Arabic text which is quite intricate, stylish and a clear symbol of the wearer's identity or interests.
#14: ELABORATE GEOMETRY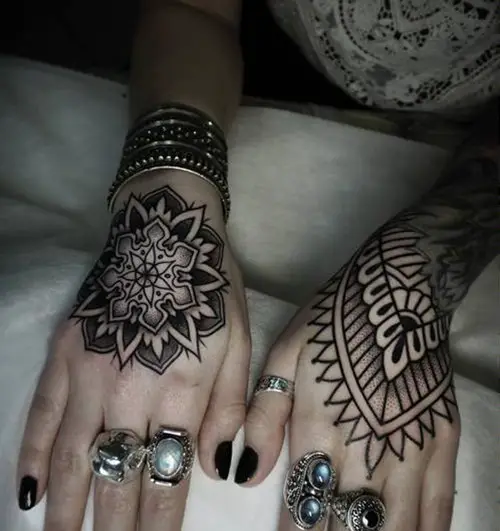 You cannot help but admire the elaborate details of these geometric hand tattoo designs. Certainly, considering the intricacy of this inking on both hands its no wonder this girl is quite proud to show them off.
#15:  THE CELESTIAL PAIR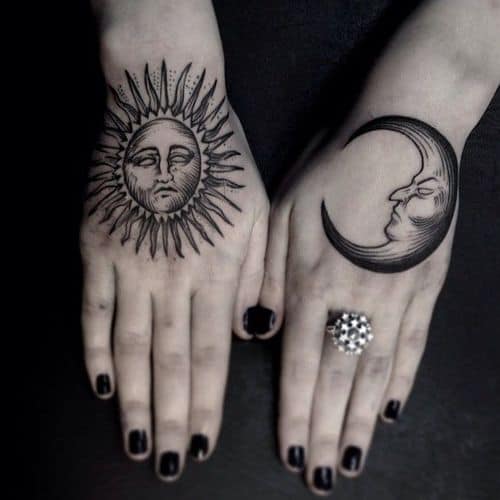 Evidently, for girls who love celestial the Sun and Moon, represent an appropriate pair that can be worn on both hands.
#16: GUIDING COMPASS HAND TATTOO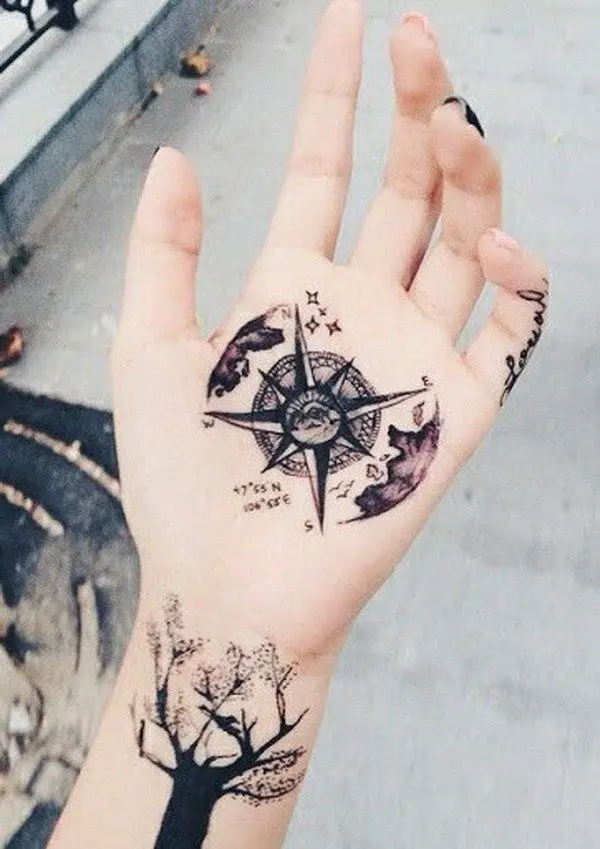 Elaborate palm designs are not common and this compass looking down on the tree at the wrist makes a strong statement about important life lessons. It's hard to lose your bearings when you have the perfect guide in the palm of your hands.
#17: SOPHISTICATED INKED JEWELS HAND TATTOO FOR GIRLS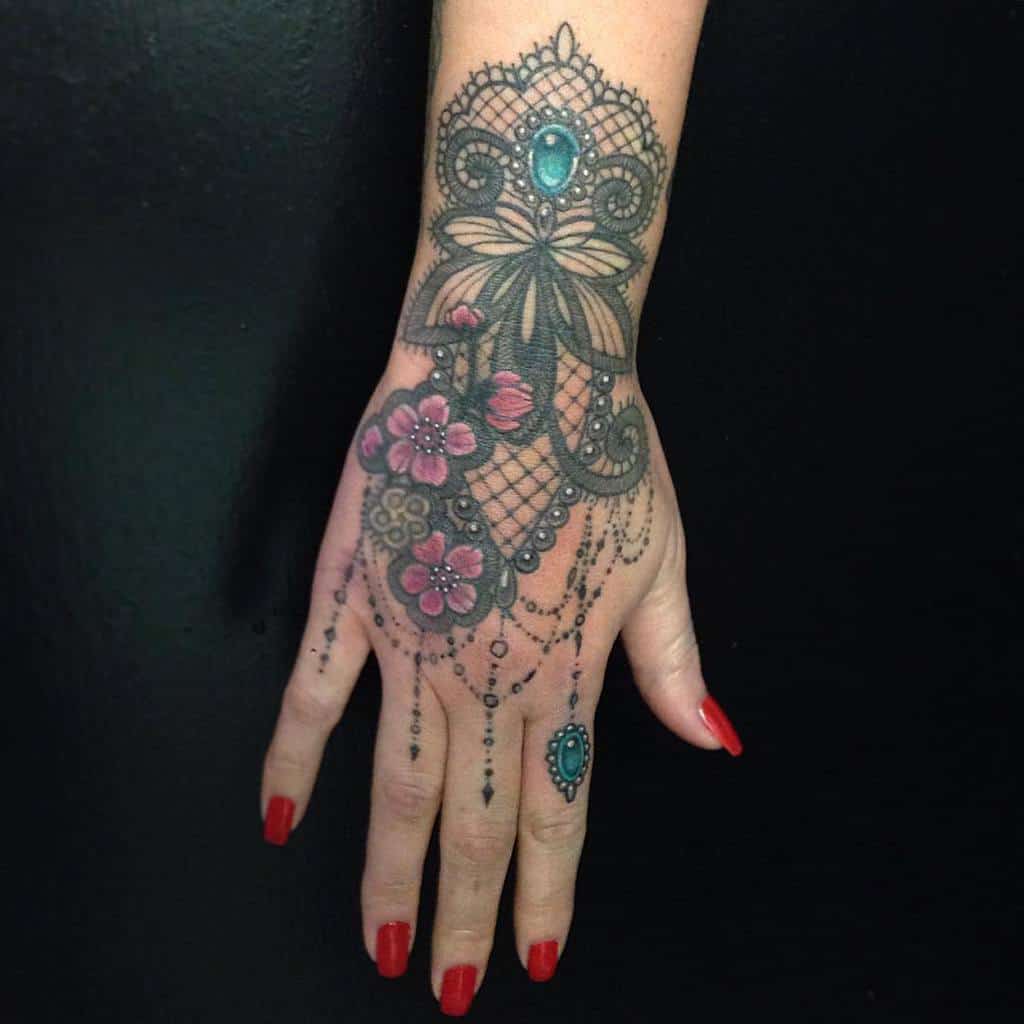 Another hand tattoo for girls that also features flowers and jewels is a perfect fit for the stylish and sophisticated woman. It's not hard to see why wearing this is like sporting an exotic hand jewel.
#18: PARTIALLY INKED HAND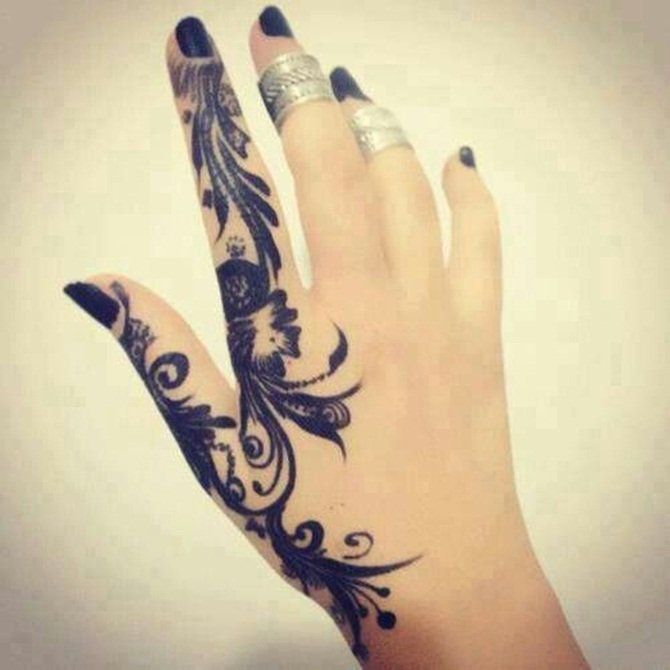 To wear this simply gorgeous and intricate hand tattoo design is to make a fashion statement. Also, for girls who appreciate the sophisticated details and styling of this ink, the absence of other distractions makes this hand tattoo all the more alluring.
#19: INTRICATE CURVES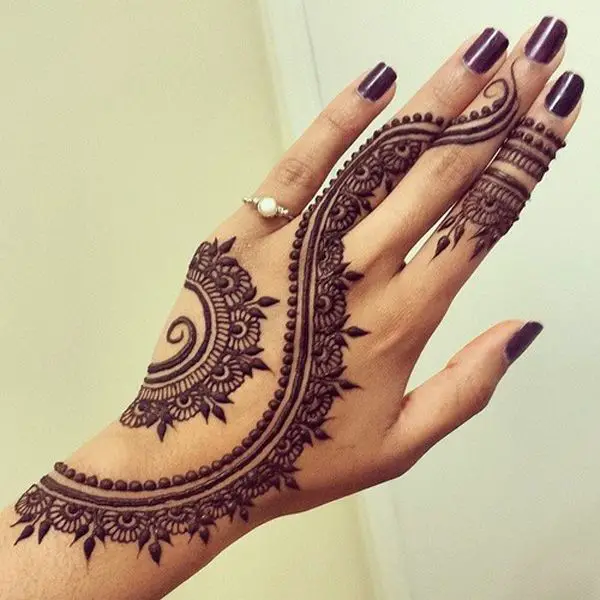 Here's another exquisitely designed hand tattoo that's suitable for that girl who loves beautiful works of art. This nicely woven pattern works well with the contours of the slender feminine hands.
#20: DETAILED BLACK INK DESIGN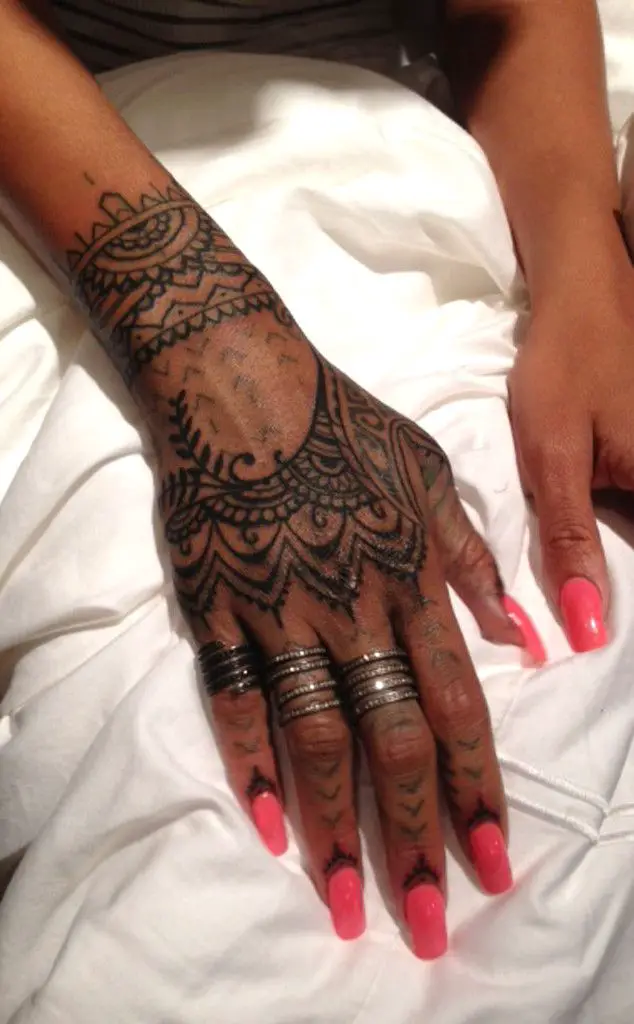 Most certainly the ink work in this design takes its influence from cultural symbols. No color is needed for this hand tattoo design that is just what this girl desires.
#21: EXOTIC HAND TATTOO ON FLAWLESS SKIN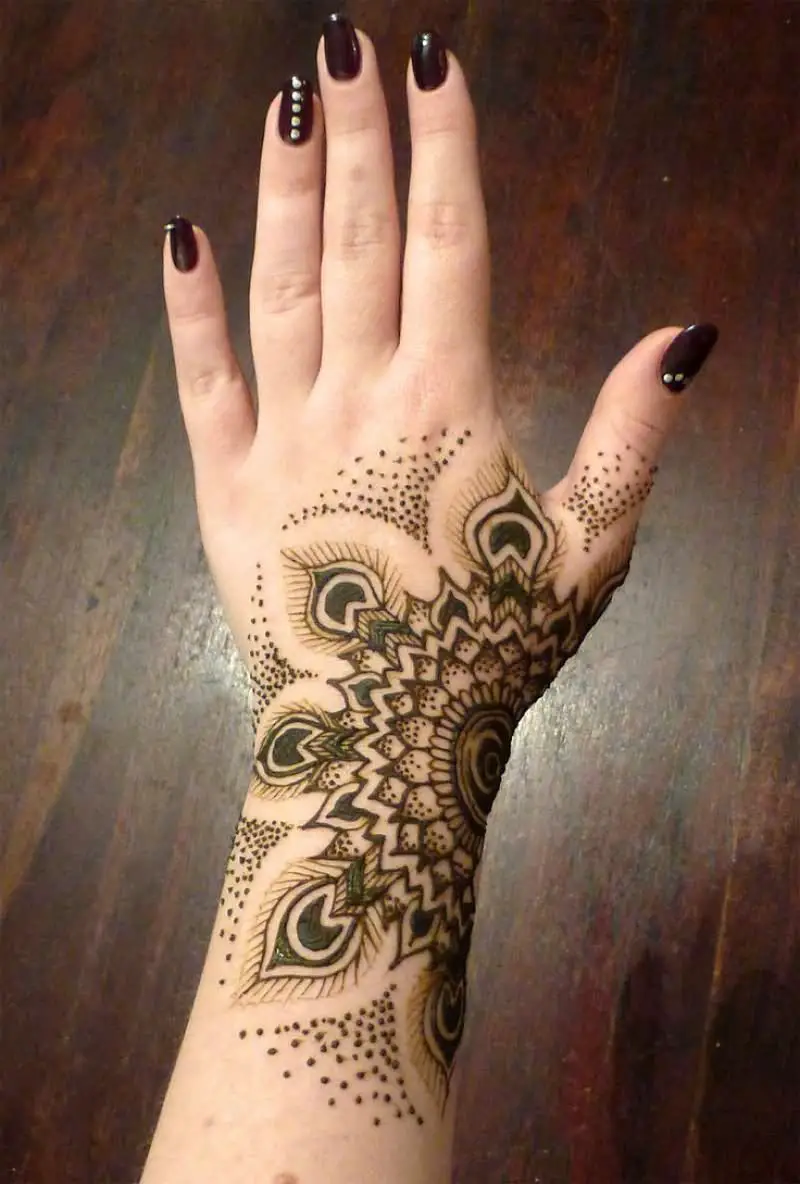 A single yet prominent and well-designed hand tattoo for girls who love exotic art is another option that is sure to attract admiration.
#22: FASHIONABLE HAND TATTOO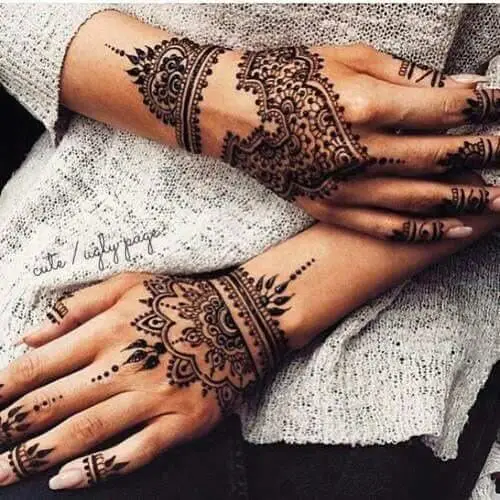 Certainly, you may agree that this black inked design fits perfectly like a pair of gloves.  Check out the striking details on each hand even to the fingers. This tattoo design idea can accentuate any outfit she chooses to wear.
You've seen twenty-two outstanding hand tattoos for girls that may strike you as daring ideas to try. Certainly, these are but snapshots of the many brushes and bold hand tattoos that girls everywhere prefer. As you can see, there is no limit to how you can transform your hands into exquisite works of art that will continue to make stunning statements.