You might figure that male tattoos are everything but intellectually stimulating and meaningful.  The fact is, there are great examples of meaningful tattoos for men out there.  More and more men are choosing to ink profoundly deep and heart-tugging messages on their bodies.
MEANINGFUL TATTOOS FOR MEN TO CHOOSE
Check out any of the tattoo designs that mean something to someone.  What do they have in common? These meaningful tattoos for men are usually well thought out.  Another thing is that they are statements, messages or quotes which the wearer use as encouragement, reminders, or even humor. Also, these tattoos are thought-provoking. We thought these twenty appropriately meaningful tattoos for men will give you ideas of the many tattoo options that say what they mean.
#1: SERENITY, COURAGE AND WISDOM PRAYER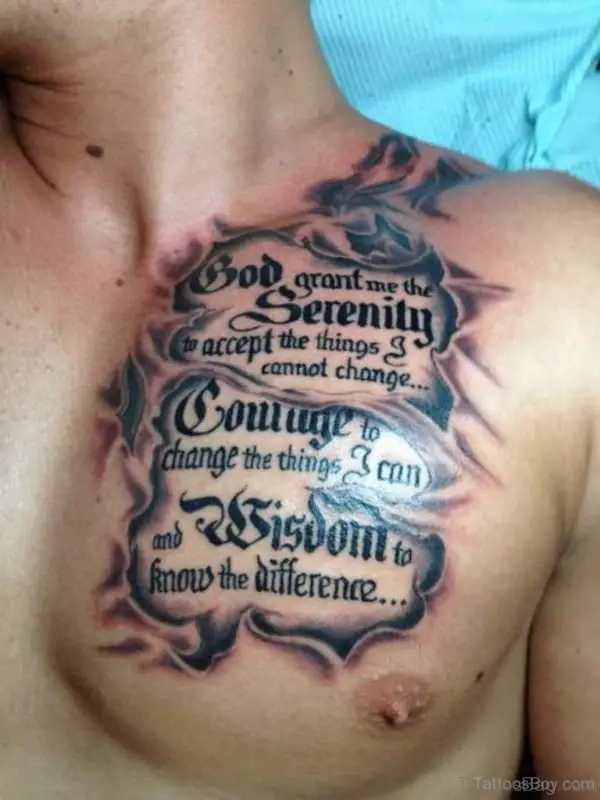 Here's a well-known excerpt from a famous prayer for serenity, courage, and wisdom. This is the kind of tattoo you wear close to the heart. The Old English or Medieval ink work is deliberately dark with a hint of color.
ASTONISHING RIB TATTOOS FOR MEN
#2: TIME FOR THOSE WHO USE IT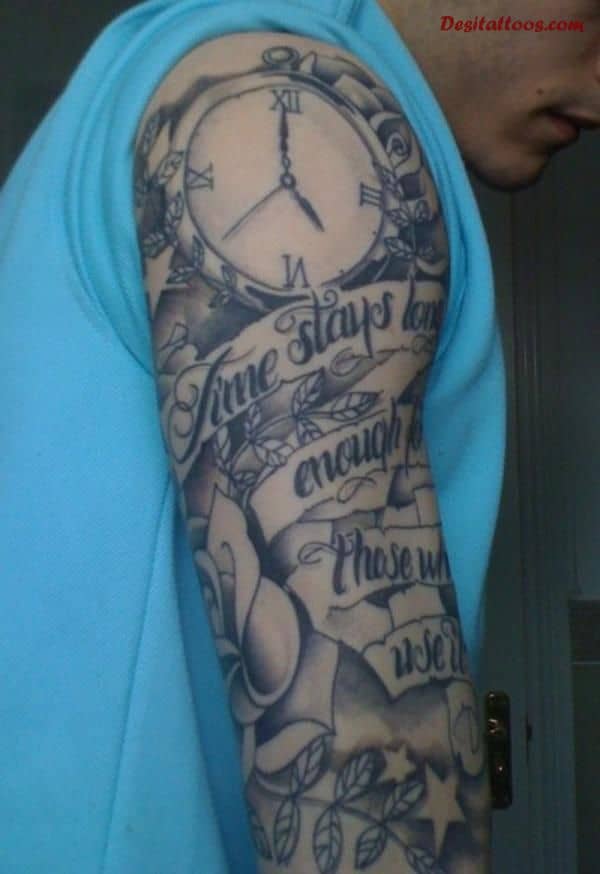 Although this tattoo is a complete sleeve it's still possible to understand the clear meaning conveyed here. Time stays with those who use it is clearly an answer to the old adage "time does not wait on any man".
#3: MEANINGFUL LIVE TATTOOS FOR MEN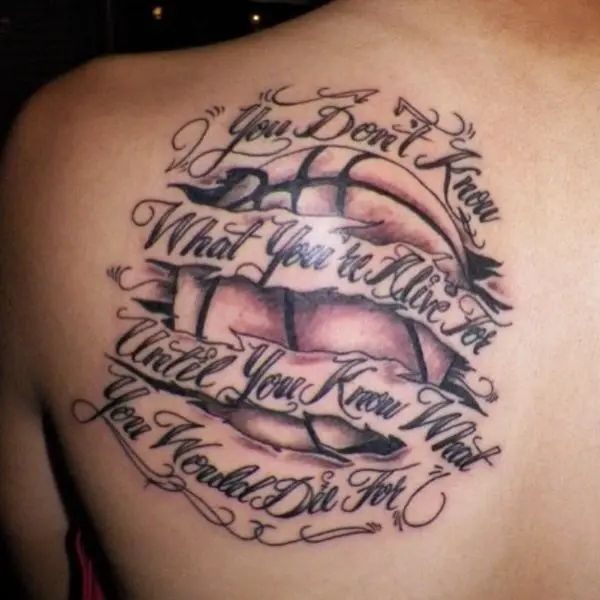 Meaningful tattoos for men sometimes put two ideas against each other.  Here life and death are on opposing sides. Certainly, a man really has to know what his choices will be, even if that choice is basketball.
#4: LIVE FOR SOMETHING OR DIE FOR NOTHING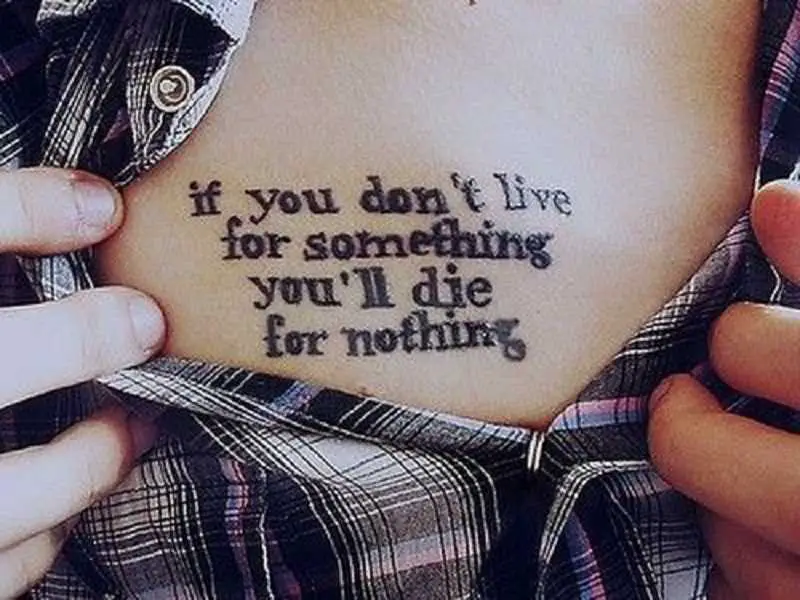 Another life and death statement which shows what man's aim in life should be. These are the kinds of statements you'll find among meaningful tattoos for men.
#5: MISTAKES AND CREATIVITY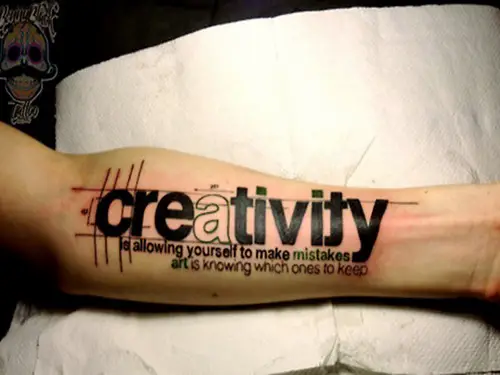 Take a look at this example of a statement that you really have to think about to understand. Humor is also present to take the edge off for those who are sensitive and passionate about their creativity and artistic talents.
#6: SO MUCH TO SAY HERE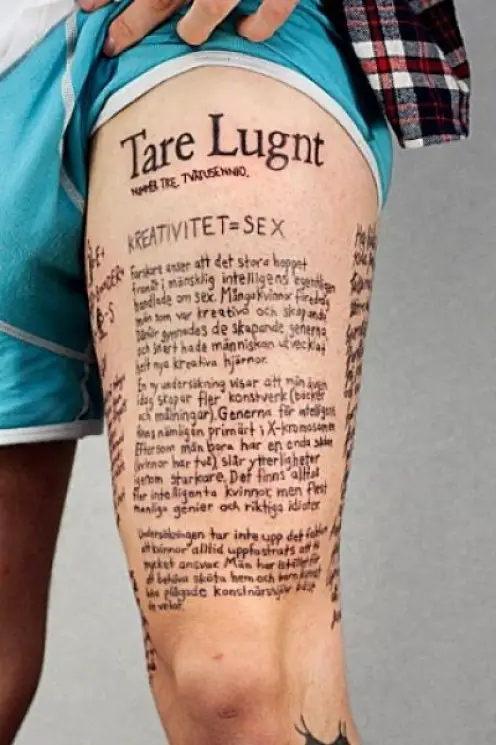 Some meaningful tattoos for men can be quite lengthy and require much reading to get the point. Clearly, this man has found solace in the many words here which he can refer to whenever he needs to.
#7: PEACE FROM WAR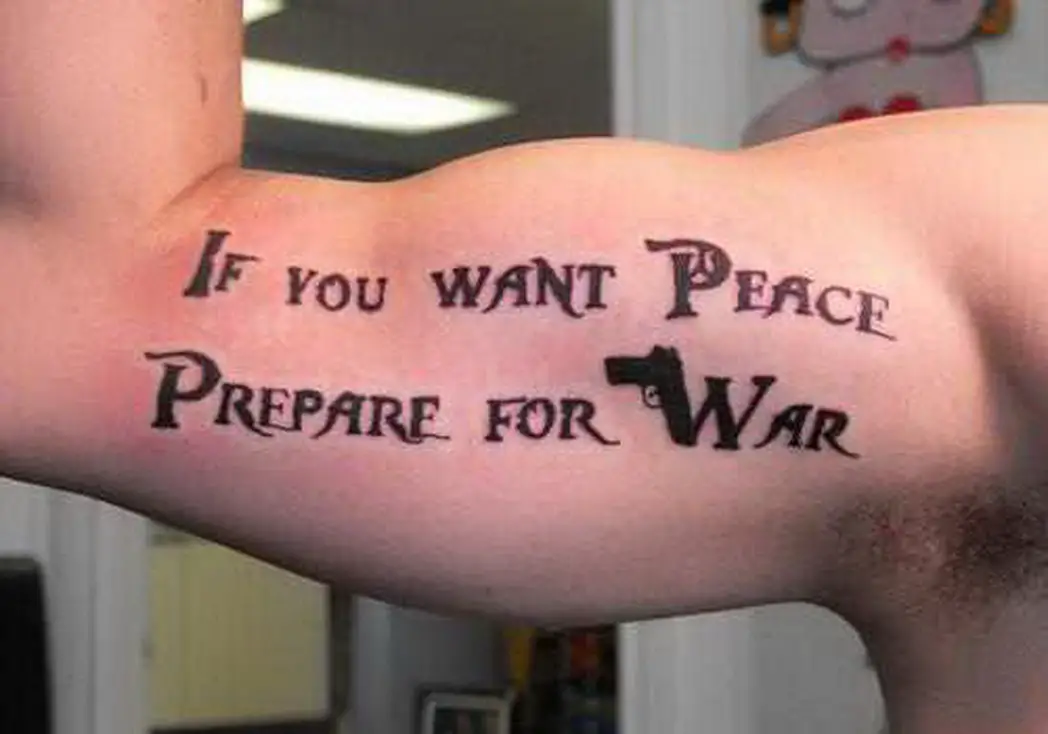 The age old paradox of war and peace finds itself well represented in this example of meaningful tattoos for men. Done only in black ink, this simple yet profound statement speaks for itself.
#8: FAMILY IN STRENGTH AND WEAKNESS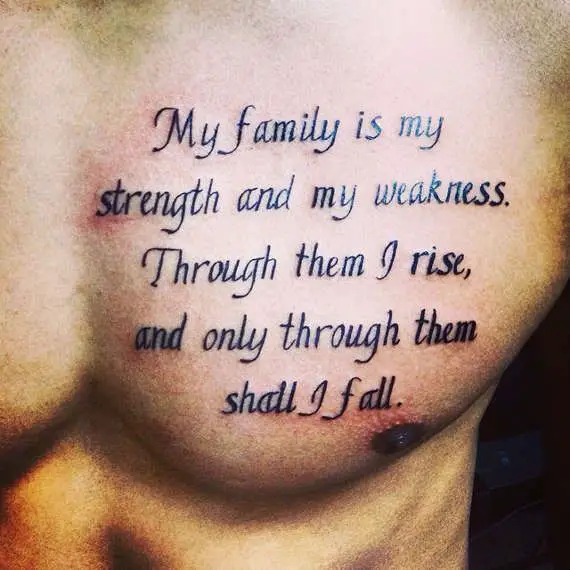 Placed prominently on the left breast is a man's statement about his connection with his family.  Not surprisingly, there are quite a few tattoos like this one that recognizes how connected people are to their families.
#9: LOST TIME IS LOST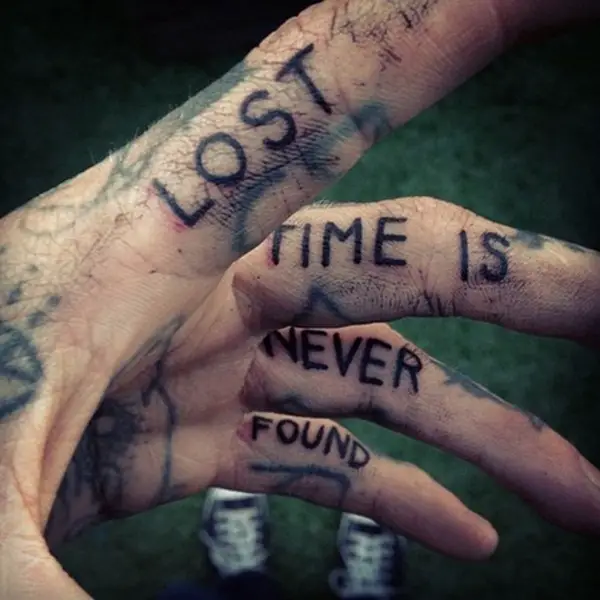 No matter where on the body you put it, a meaningful statement shows what you need to know. Indeed, for this man, time is precious and valuable and should not be wasted.
#10: LIVING IN THE MOMENT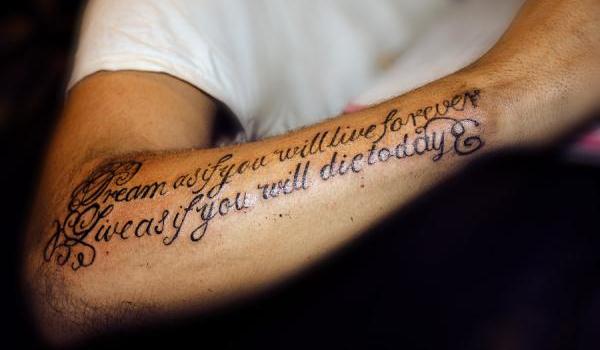 It's amazing the number of meaningful tattoos that speak about life and death.  This one, for instance, is really an encouragement to live in the moment and savor every bit of what life offers.
DECEPTIVELY SIMPLE TATTOOS FOR MEN
#11: VALUABLE LOVE AND MEMORIES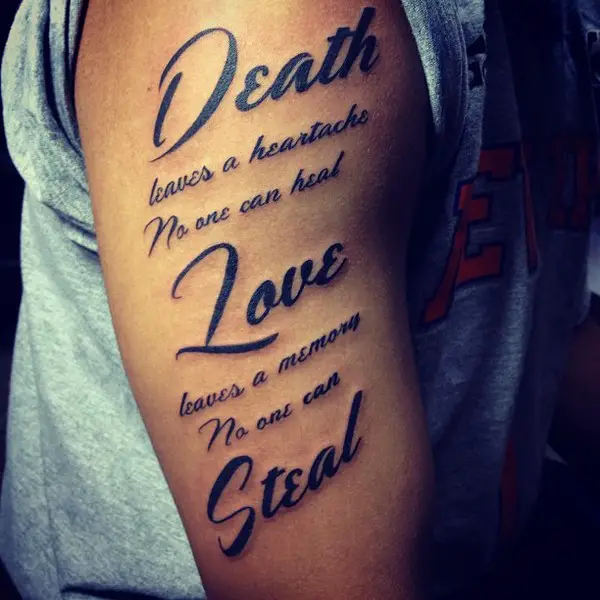 Here's a profound statement about the power of love even after death has done its damage. Certainly, messages like these featured in meaningful tattoos for men can be comforting in times of trouble.
#12: THE UNSINKABLE SPIRIT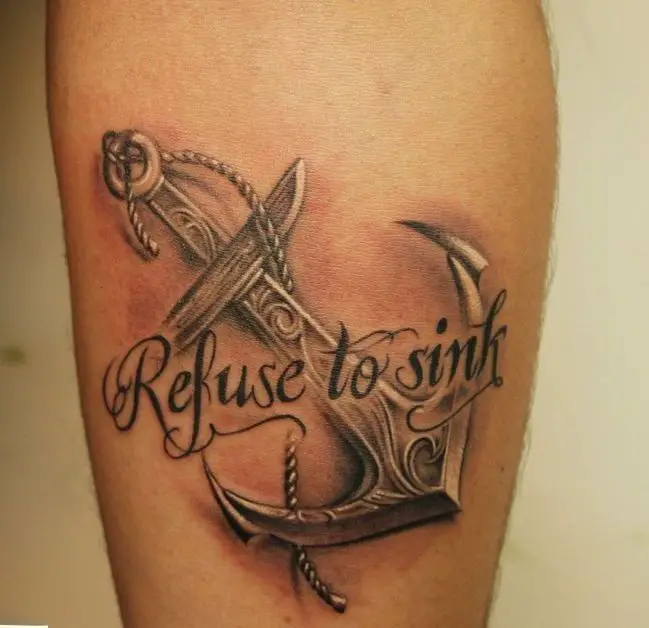 His determination can be effectively stated by an anchor and the right words. Anchors are meaningful images that suggest stability, determination, and focus. Messages like these are quite appropriate, especially for young men who are finding their way in the world.
#13: ANCHORED TO STAY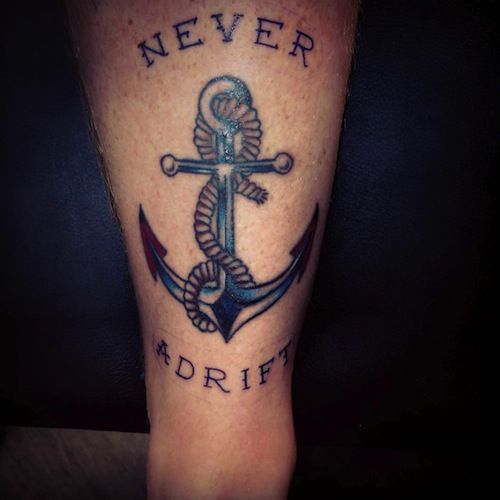 Using an appropriate image like an anchor is a sure fire way to keep a simple statement like this most memorable. No doubt that anyone will ever lose the deep meaning behind this image and words. Never lose focus.
#14: FAITH AGAINST DEATH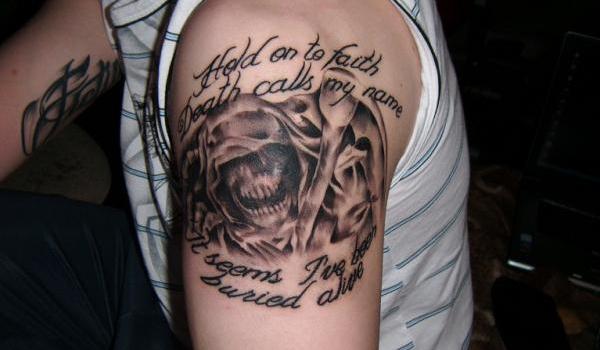 It's possible to combine an encouraging message with skulls to bring out a positive meaning.  This upper arm tattoo presents a message of faith in the face of death. Messages like these usually hold deep meaning for the persons who have had them inked into their bodies.
#15:  MEMORIAL SCRIPTURE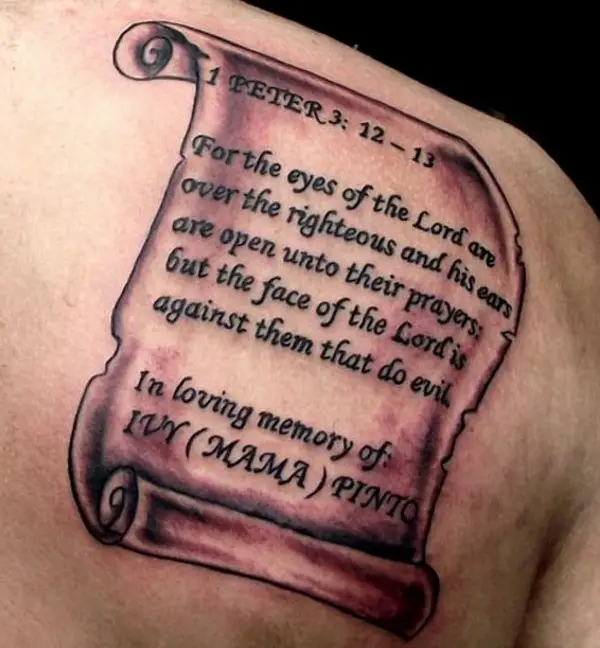 Some of the most meaningful tattoos appear as memorials to loved ones who may have passed on. Passages of Scripture often combine with other symbols or messages to complete the statement. You can't get more meaningful than that.
#16: THE WAY HOME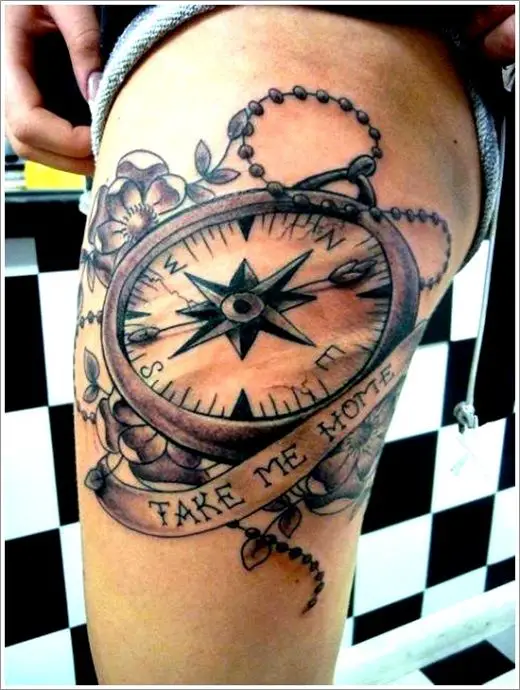 Meaningful tattoos for men are not complete without at least a compass somewhere.  Here around the knee is a finely inked compass with other details complete with an appropriate message. No doubt the direction is clearly carved out for this guy.
#17: HOPEFUL THOUGHT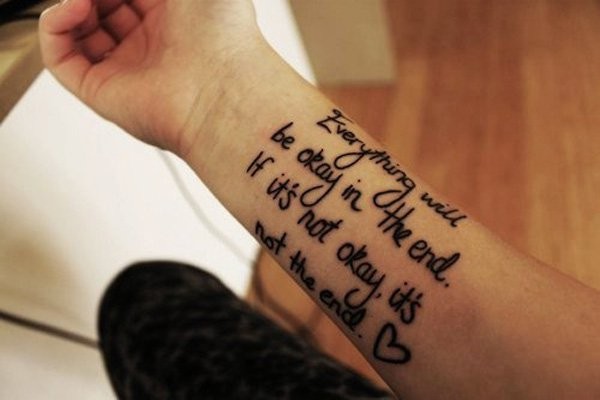 An assurance that everything will be alright in the end remains a constant reminder to this man. However, you can't avoid the humor in this statement as well.
#18: SEE, HEAR, SPEAK NO EVIL TWISTED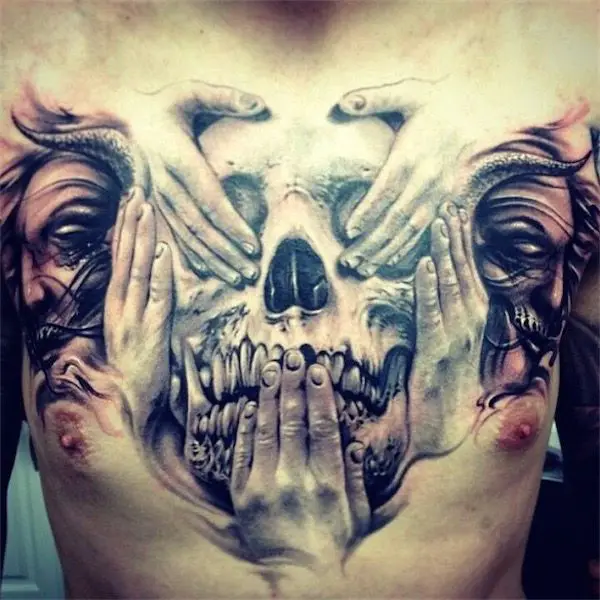 This classic message now has a twist, the use of a skull at the center of attention. This stunning piece of art presents the grim reminder that life is short and should not be wasted on evil.
#19: LATIN INSCRIPTION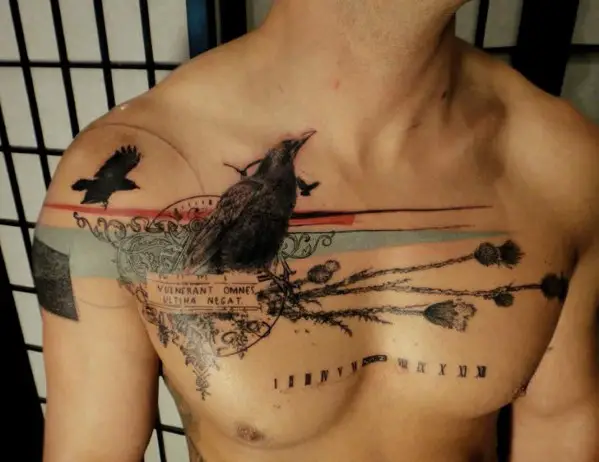 Some of the most meaningful tattoos for men are written in other languages.  Certainly, this Latin-inspired tattoo must mean something to this guy.  Perhaps this is a permanent reminder that life is only for a time before death steps in.
#20: CLEVER WORDS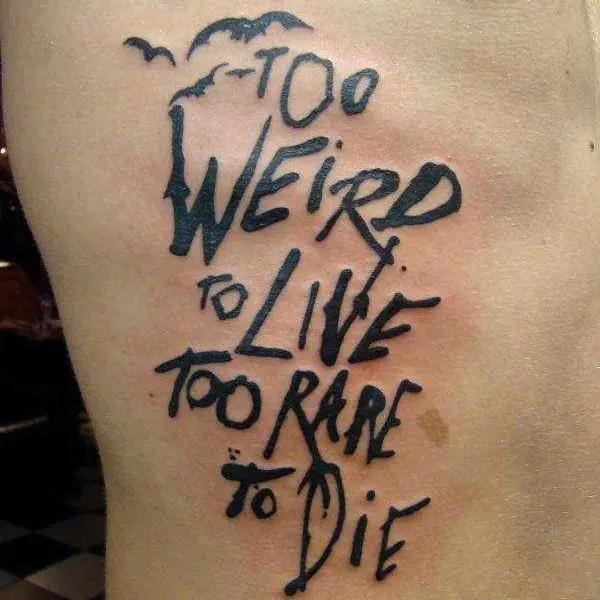 Here's a clever spin on words that would put a smile on your face.  This statement is made in humor but somehow sounds quite profound.
There is simply no shortage of meaningful tattoos for men out there to find interesting.  You really don't need to look far for your inspiration. Any meaningful quotation, symbol, graphic, or life experience could be the perfect source of inspiration for your next tattoo. Find a skillful tattoo artist who understands your vision and desires and who can recreate them on your body.