Daffodil tattoo is only for girls. What nonsense! Yes, any flower tattoo is more popular among women as girls are more delicate and sensitive. But in this era, boys are not afraid of flexing in flower or daffodil tattoos.
It is clear that daffodil tattoos have more layers than we see. For example, in Japanese culture, this flower symbolizes rebirth. It is because daffodils bloom in spring after a rough and barren winter. Likewise, in Europe, the daffodil represents prosperity and good fortune.
Apparently, daffodil tattoos can carry a darker meaning too! Some stories have depicted this flower as a symbol of death and misfortune.
Which daffodil design will tell your story? Let's find out from these 100 designs.
100 Daffodil Tattoo Designs And Ideas
Daffodil tattoos are cute and give an instant positive vibe. You can add colors to the flowers and even write the names or messages on the side. The tattoo will express a different emotion based on the design and the location you place it.
You will discover 100 daffodil tattoo ideas with their meanings in the following article.
Daffodil Flower Tattoo
A daffodil flower can be a refreshing and meaningful tattoo for anyone. There are many references to this flower in history, ancient stories, and literature. Hence, it is often difficult to interpret the actual dynamics of this flower tattoo. People generally get a daffodil tattoo to express a sensitive and delicate side of their personalities.
1. A Gift For Tomorrow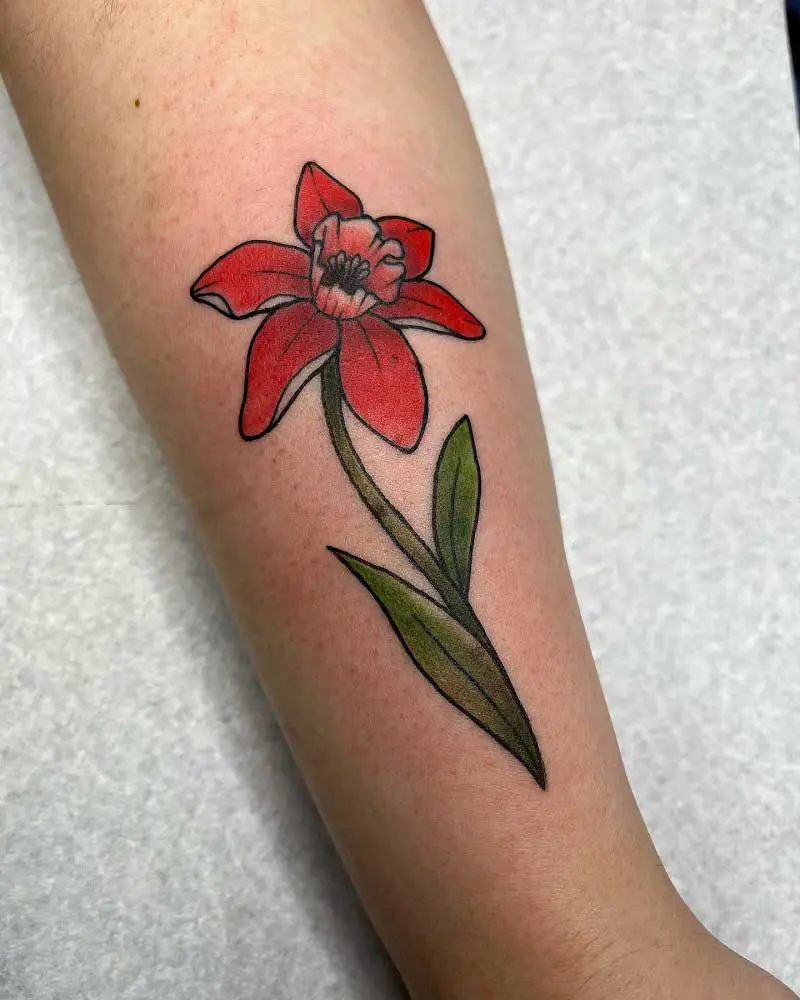 It takes much care and time to grow red daffodils. But once they bloom, their fragrance and beauty fascinate everyone. Similarly, the red daffodil tattoo symbolizes hardship and rewards.
2. Soul Of Light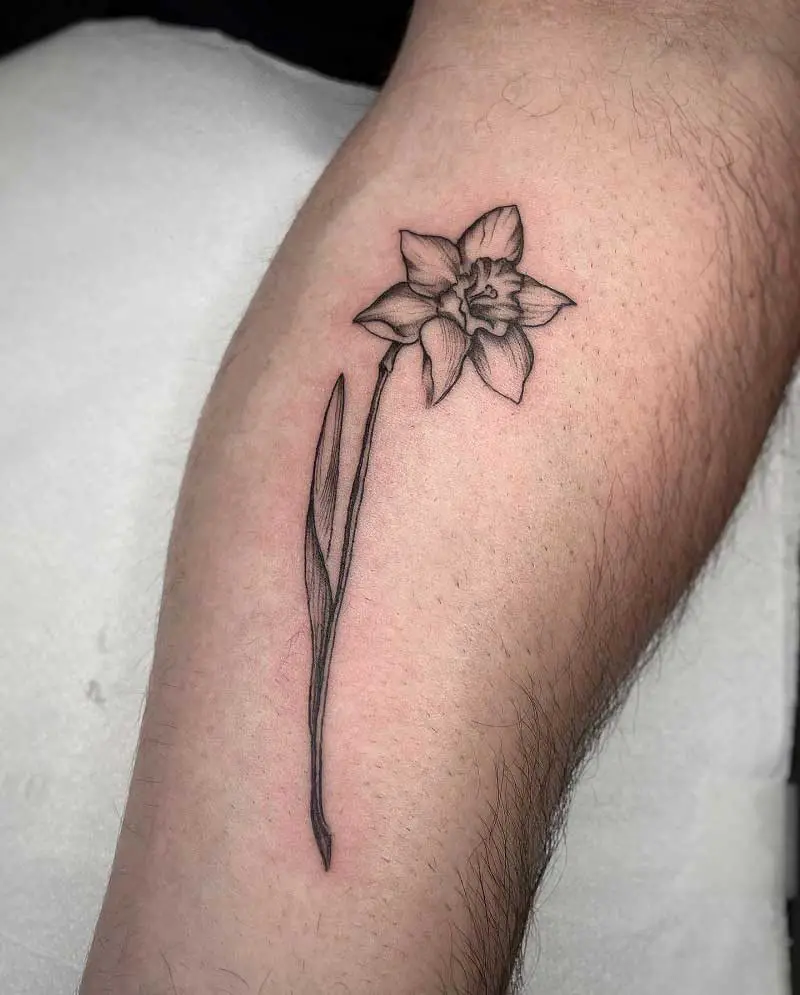 You will see daffodil signs at many fundraising events. It is because the flower often represents the purity of hearts. You can get the daffodil tattoo to express your emotions too.
3. A Bouquet Of Joy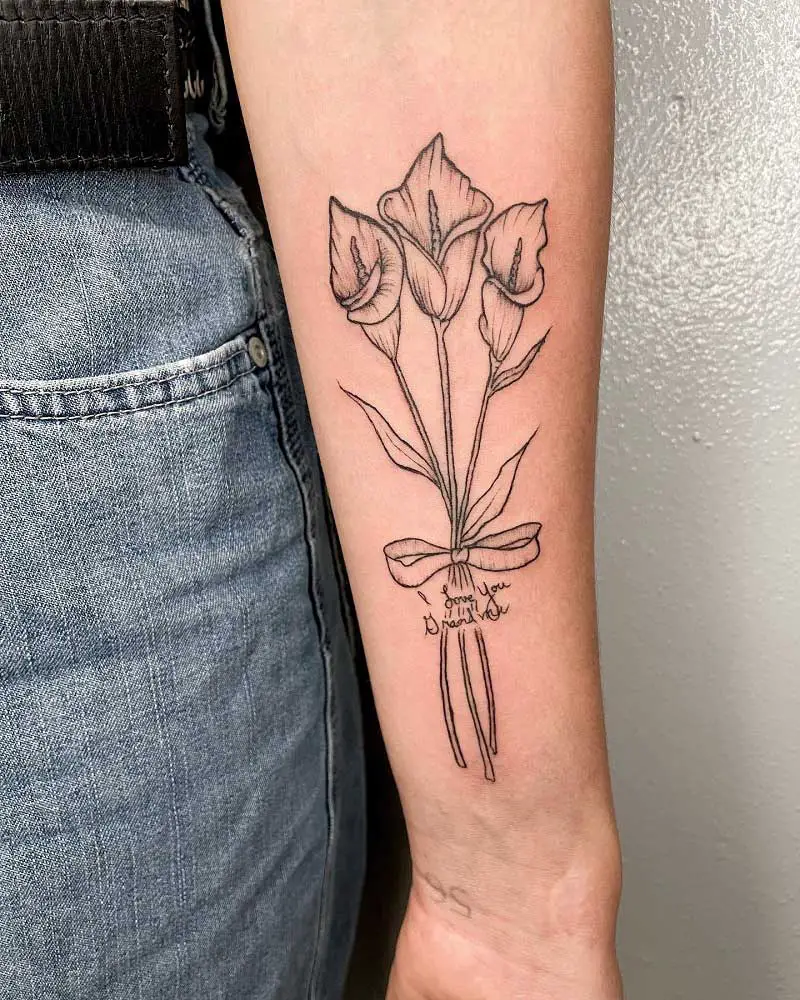 My grandmother used to tell me that a daffodil bouquet symbolizes joy. You can get this three daffodil tattoo on your forearm to remind yourself of happy times.
Minimalist Daffodil Tattoo
A minimalistic tattoo is simple and clean. You can get a minimal daffodil tattoo on your neck, ankle, wrist, waist, or tummy. Usually, beginners and introverts opt for minimalistic tattoos. It is because the small tattoos blend in the skin perfectly without ruining the beauty of the design.
4. Brimming With Self-Love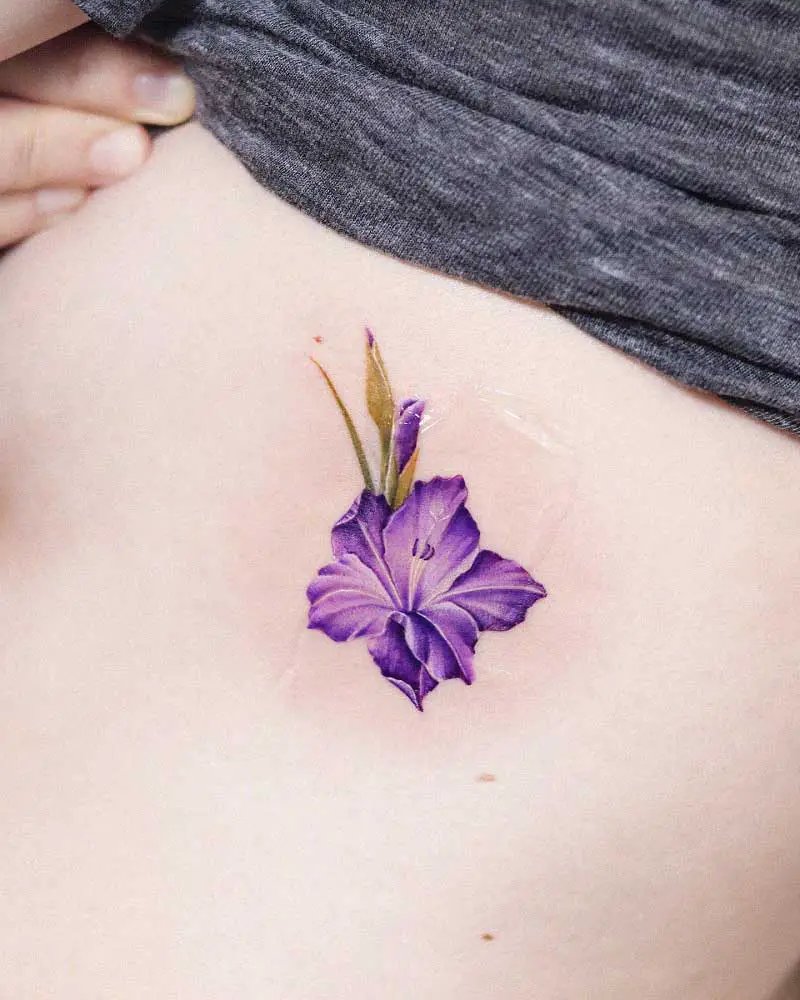 In Greek culture, daffodils were sometimes used as a sign of narcissism. The violet daffodil tattoo depicts this story of self-obsession and the destruction that comes with it.
5. Spring Vibe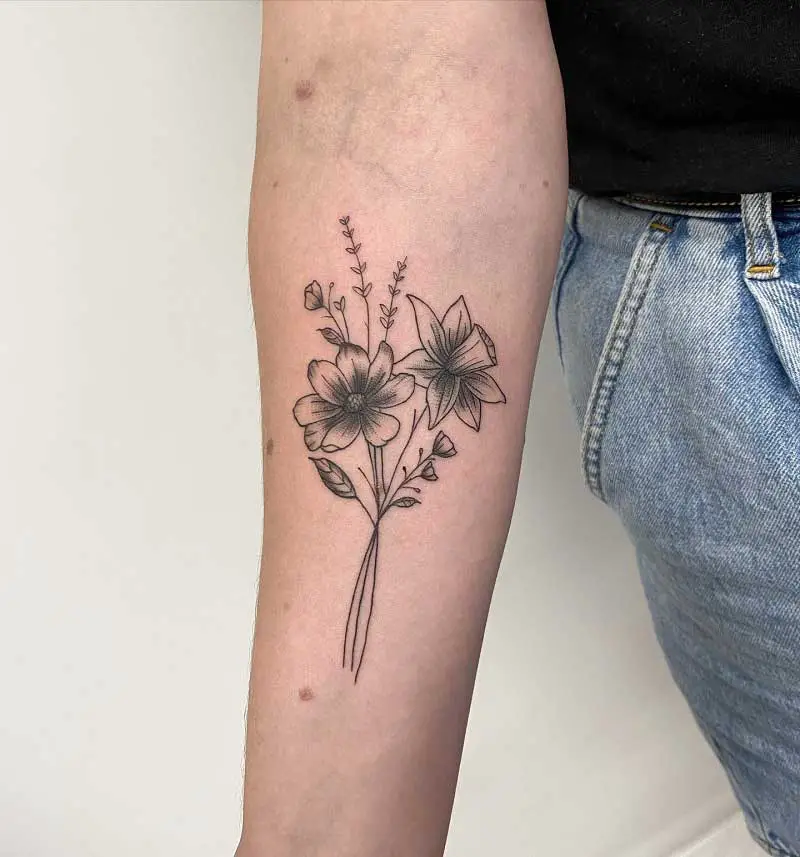 The daffodil is a flower of spring. This messenger tells us that the harsh winter is over. A daffodil tattoo often motivates us to go through hard times.
6. Beyond The Misfortune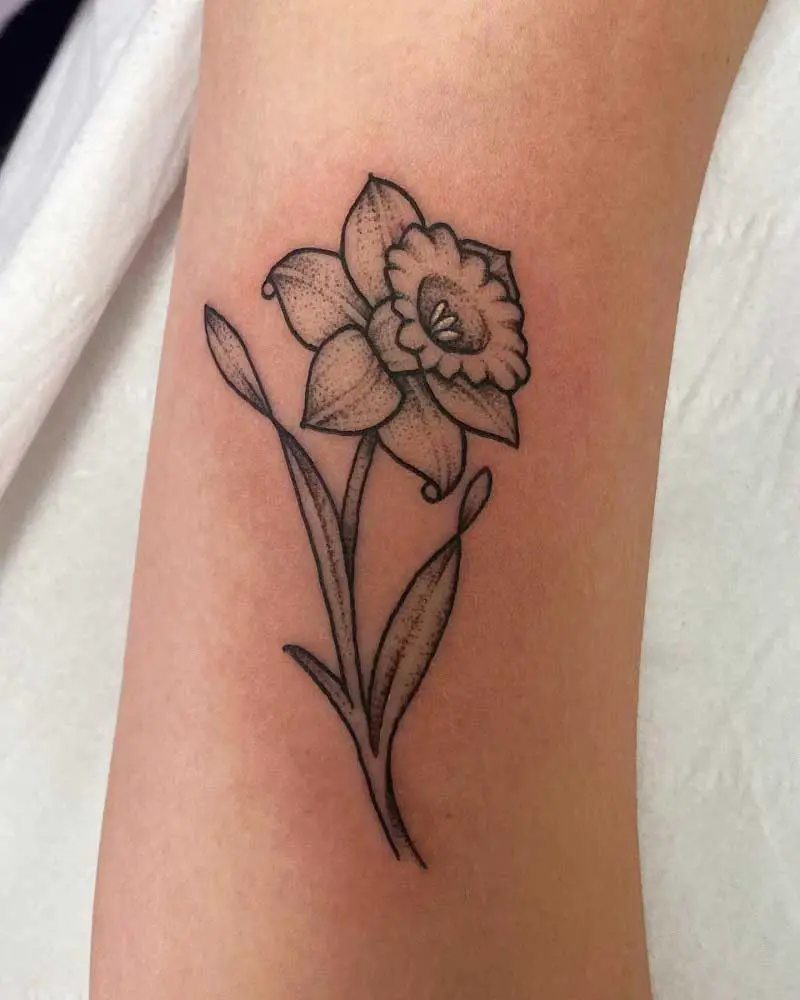 The myth says a single daffodil foretells bad fortune. People get a single daffodil tattoo even knowing this negative meaning. It is because they only believe in hard work, not luck.
Realistic Daffodil Tattoo
Some people prefer realistic-looking tattoos instead of going with illustrative ideas. Like any other design, realistic daffodils take much work from the artist's end. You can add real-life values and lessons to the tattoos to express your deep and practical personality.
7. The Unusual Duo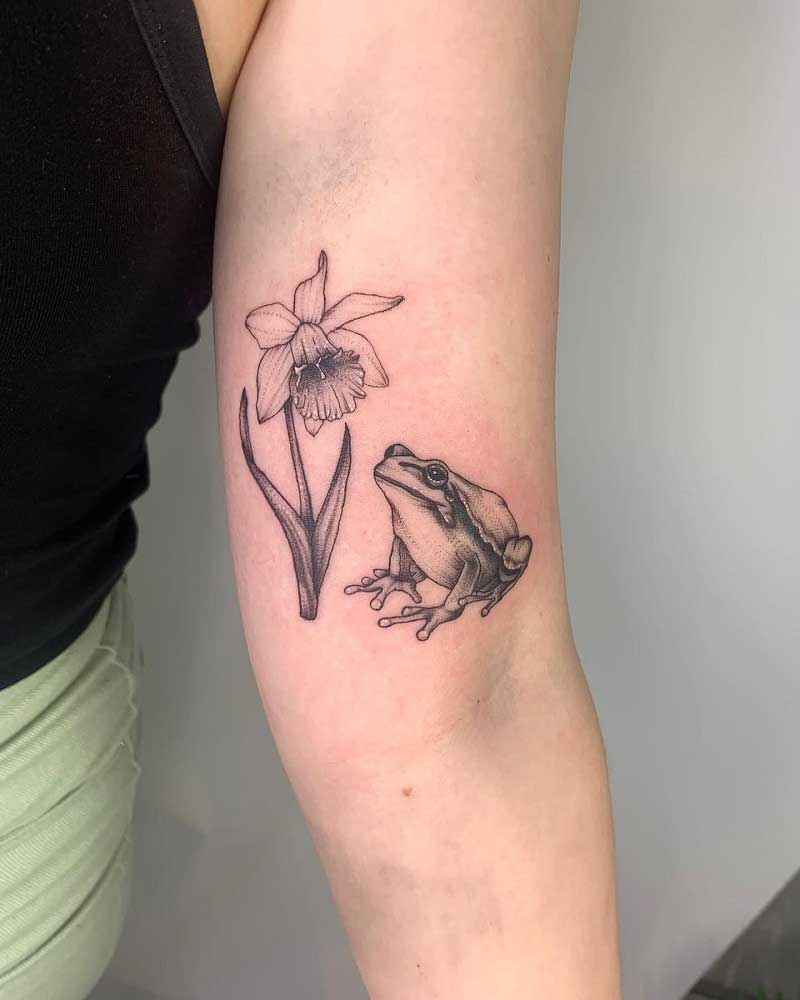 Does this daffodil and frog duo look odd to you? In reality, both express good fortune and rebirth. This unusual tattoo will catch many eyes and expresses your belief in luck.
8. Mismatch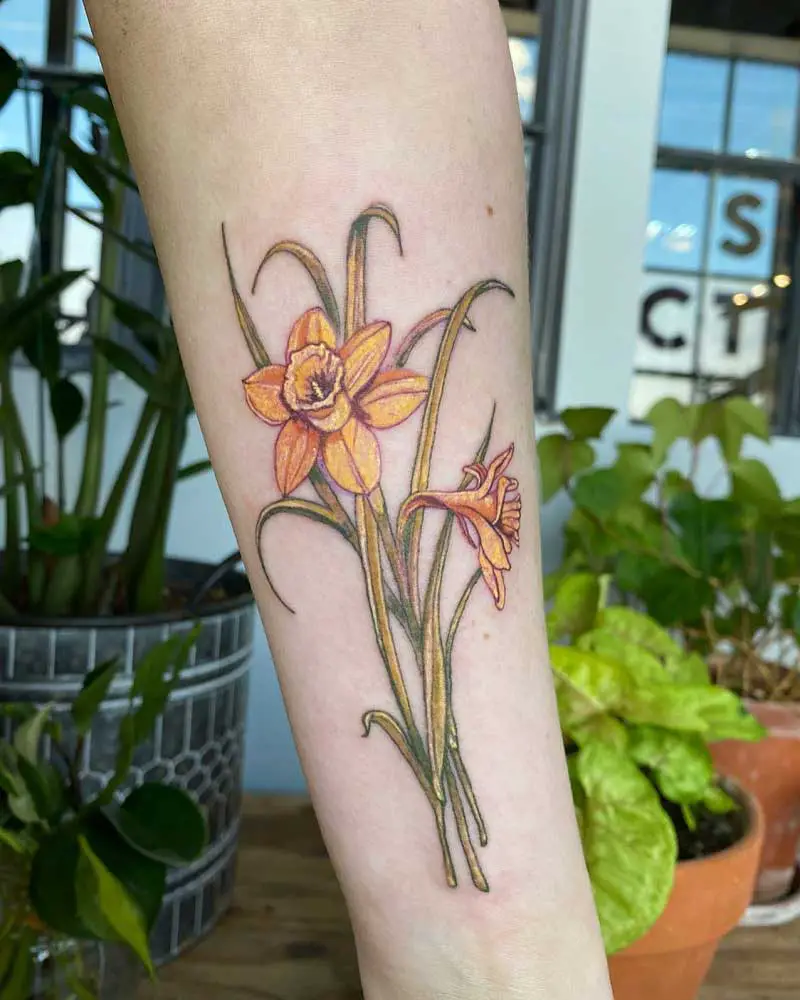 See how the flowers are facing the opposing side? This tattoo is the perfect tribute to your sibling, partner or friend who is entirely opposite of you.
9. Sweet Cuddle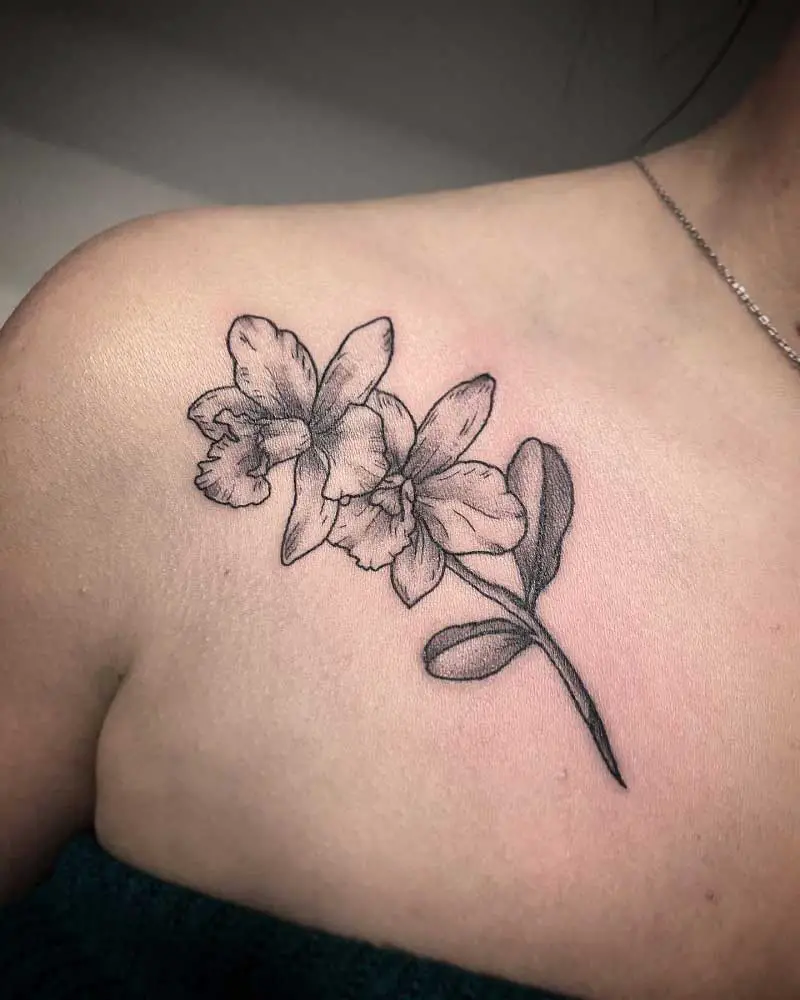 Daffodil tattoos have been linked to unrequited love in many cultures and references. The flower pair in the above tattoo resembles a hugging couple and a pure bond between them.
Small Daffodil Tattoo
Simple and line-worked daffodil tattoos are mostly popular among youngsters. They prefer a go-to tattoo, which will reflect an unseen side of their character without messing up their images. I suggest you get a small daffodil tattoo if it is your first time.
10. Law Of Attaction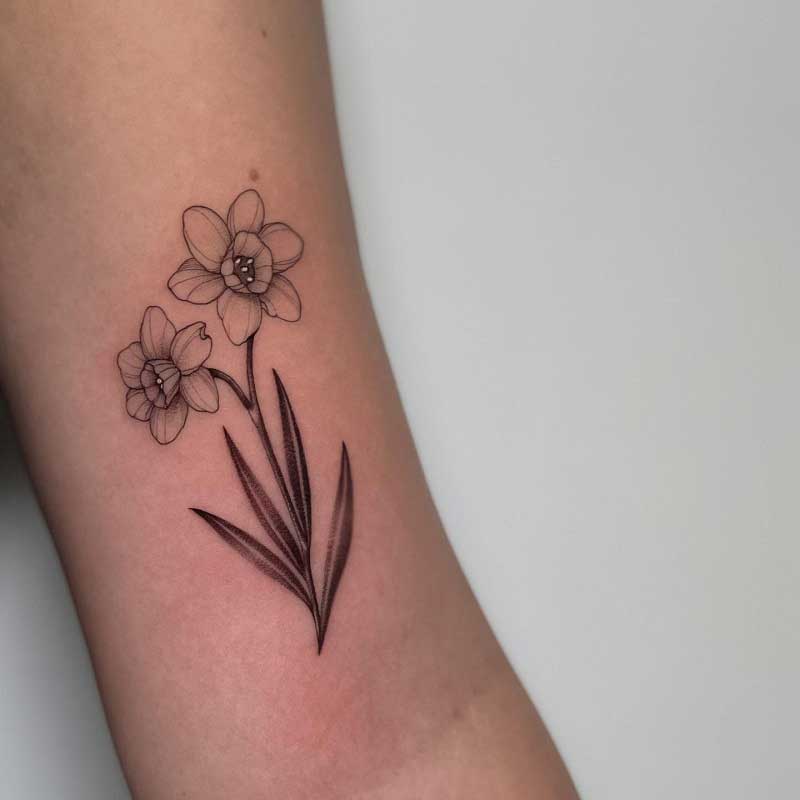 In modern art, daffodils are often linked to sensuality. You can also uphold your sexuality with this beautiful daffodil pair. Using colors will add more meaning to the tattoo.
11. Rise From The Rubble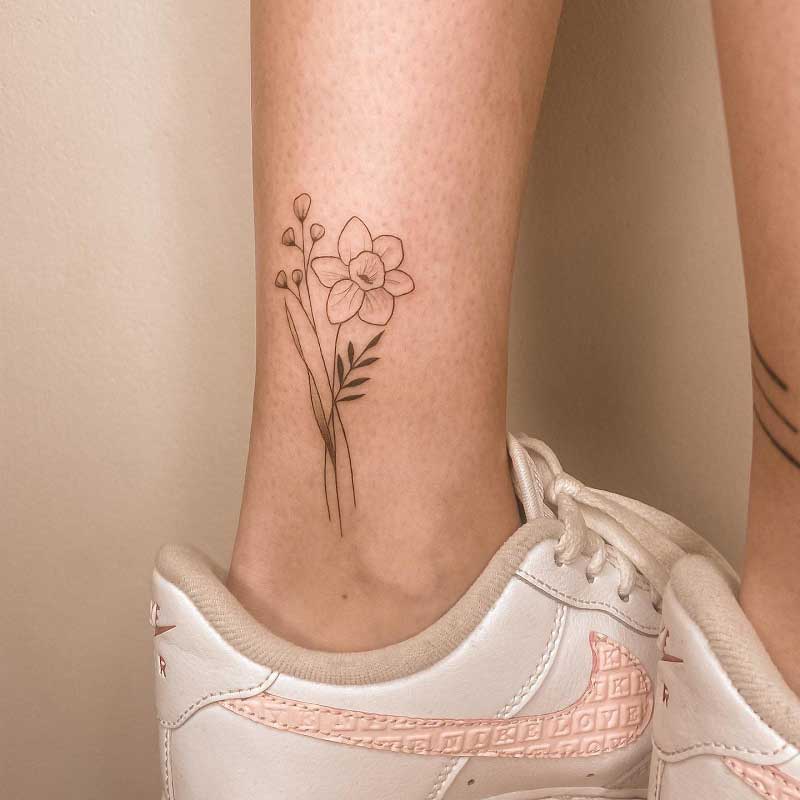 In the Japanese and Chinese cultures, daffodil symbolizes rebirth. The daffodil tattoo on the ankle reflects the same meaning. It indicates your rise from the ashes and through hardship.
12. Token Of Trust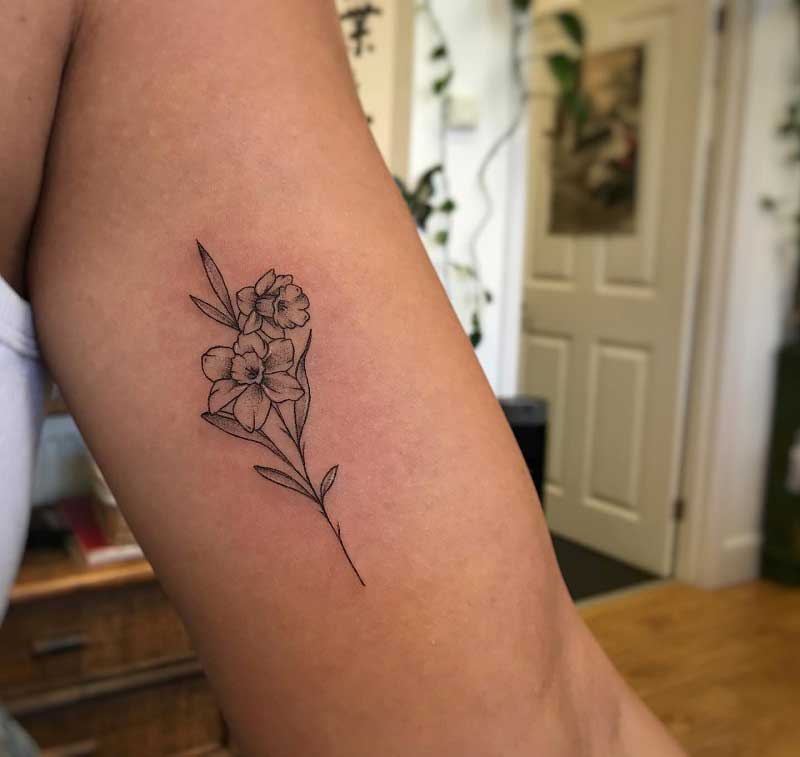 The daffodil pair tattoo on the biceps is quite popular among women. Here, the flowers are leaning towards each other. It is a sign that you trust your partner.
Daffodil Drawing Tattoo
The drawing daffodil tattoo is a piece of art. Each stroke of ink on the design has to be perfect. Otherwise, the entire purpose of the tattoo will be changed. Usually, daffodil drawing tattoos have a more profound and sophisticated meaning of this life and the afterlife.
13.  Death & Shadow 
According to Egyptian myths and stories, daffodil only grows underground and symbolizes death. Carving this daffodil tattoo will remind you of death and help you practice humbleness.
14. Knotted Together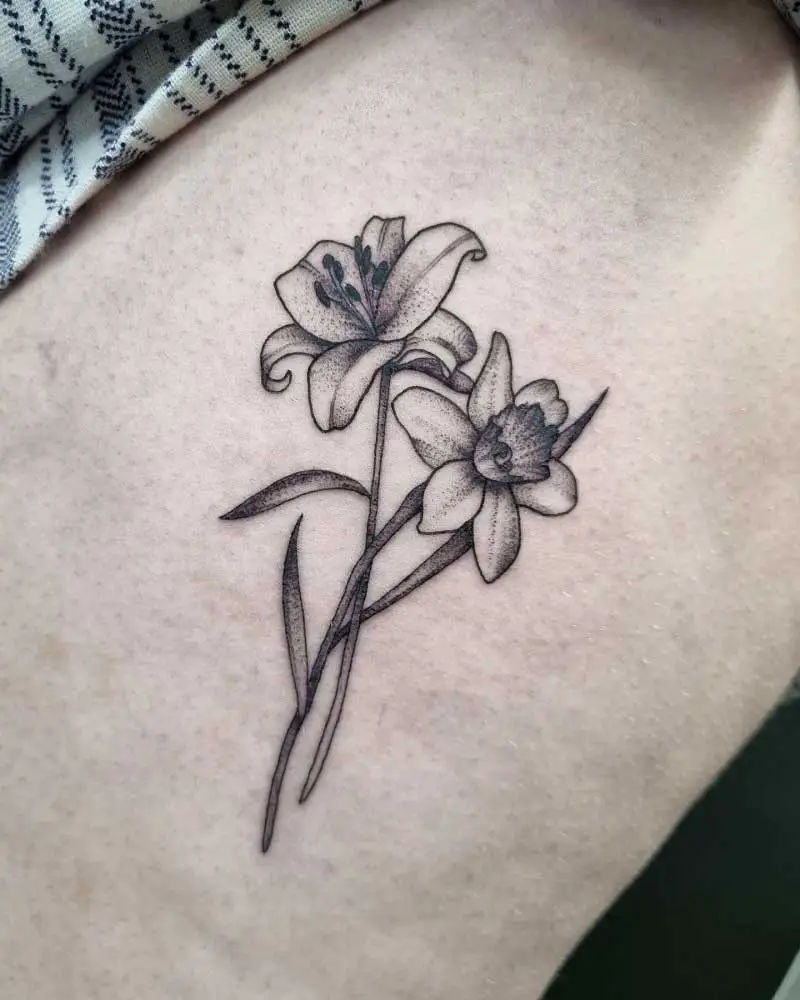 See how one daffodil is knotted to the other one? Yes, this tattoo is the perfect picture, expressing your bond with your partner or a special friend.
15. Memory Of Love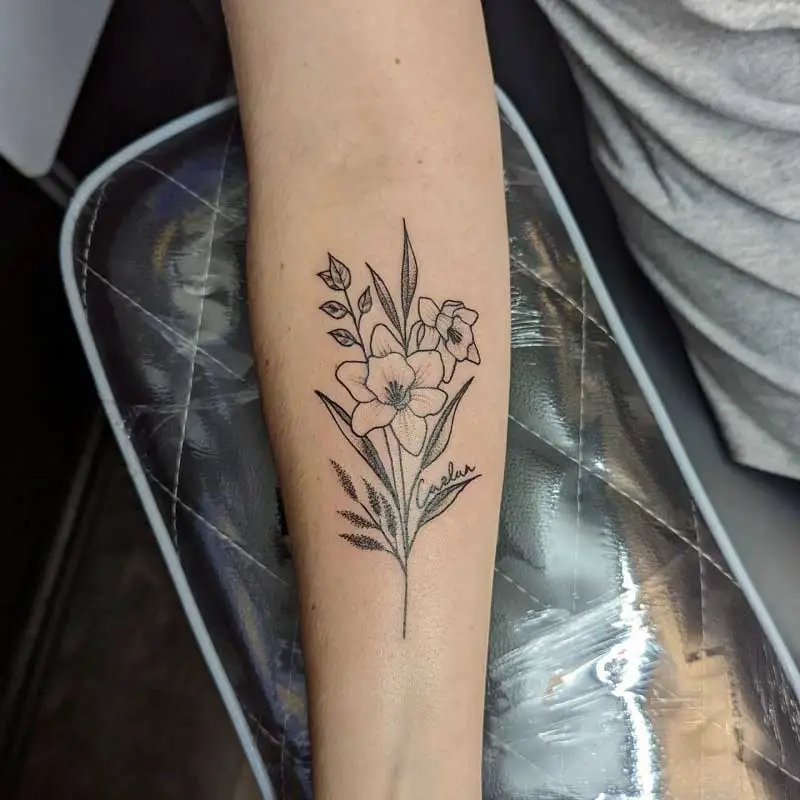 This daffodil tattoo is for siblings and cousins. You can get this when moving out. It is a token of the sweet and bitter memories with your brother or sister.
Daffodil Tattoo Design
In a broad sense, daffodil tattoos always represent positivity. Even the grey and black ones also reflect a joyous journey of life. People do like adding colors to the daffodil for elegance and uniqueness. In most cases, colors bring boldness to the overall tattoo design.
16. Joy Of Friendship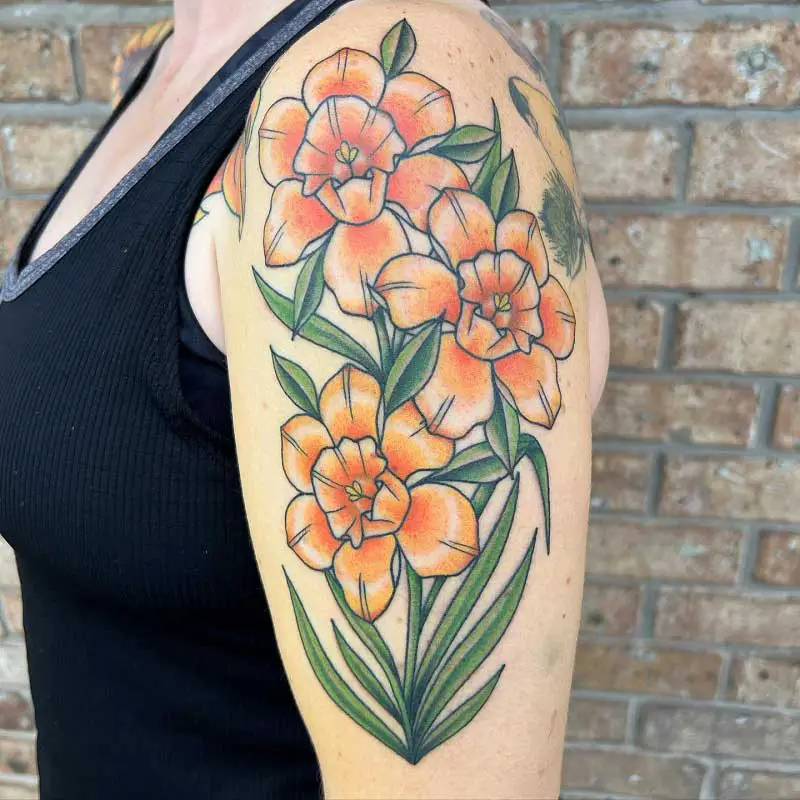 Orange daffodils are always linked to friendship. Apparently, the orange shade here stands for the enthusiasm of your bond. So, why not surprise your homies with this daffodil arm tattoo?
17. The Positivity Charm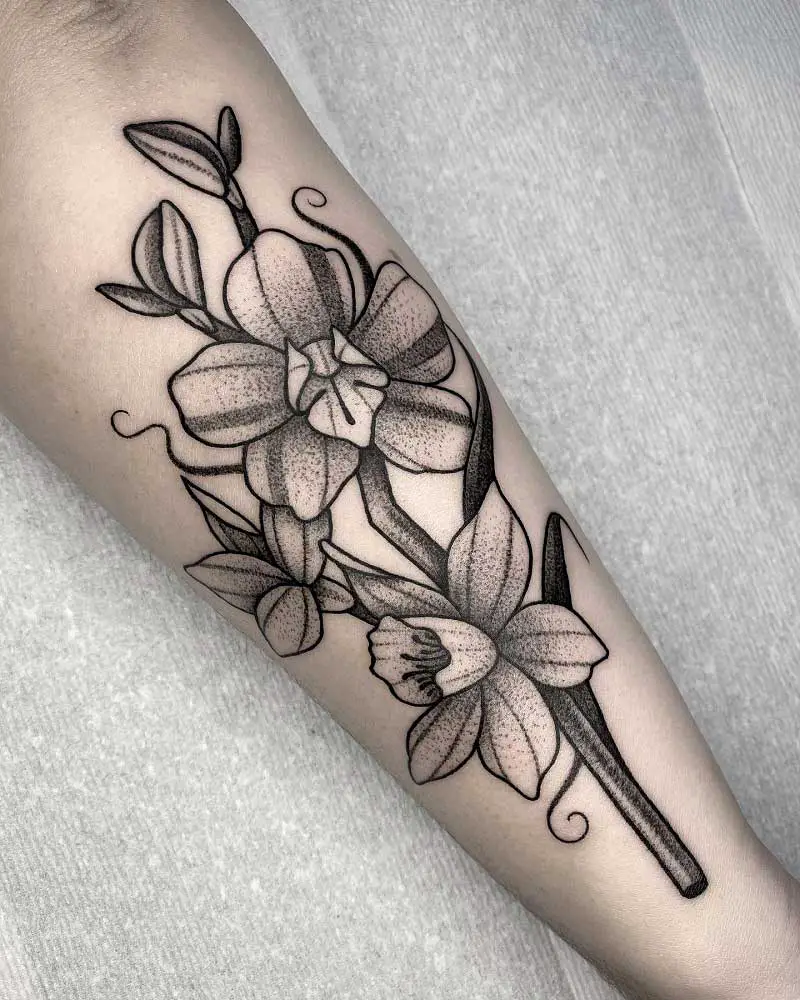 In many cultures, daffodil symbolizes energy and vitality. Look at this arm daffodil tattoo. Doesn't it radiate a positive vibe? You can have them in your favorite colors too!
18. The Prosperity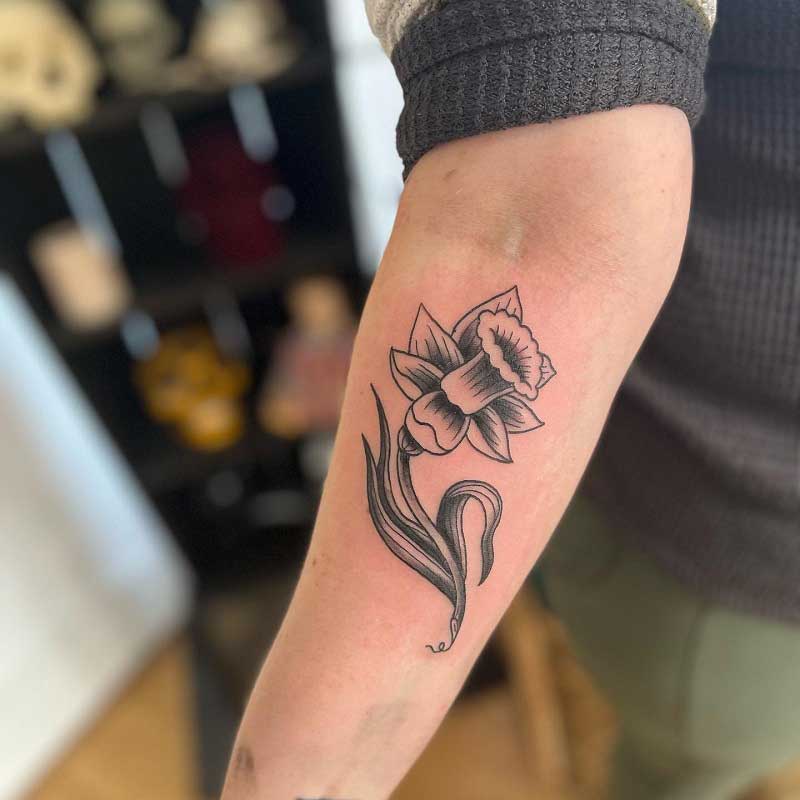 This daffodil tattoo represents prosperity and wealth. As per European folklore, you gain riches if you see the first bloom of daffodil of the year.
Dainty Daffodil Tattoo
You do not have to be concerned about detailing the dainty daffodil tattoos. These designs are simple yet have the charm to catch attention. If you consider the meaning, the dainty daffodils carry a more mysterious and positive aura. It also shows you as a sensitive and delicate person.
19. Flower Of Underworld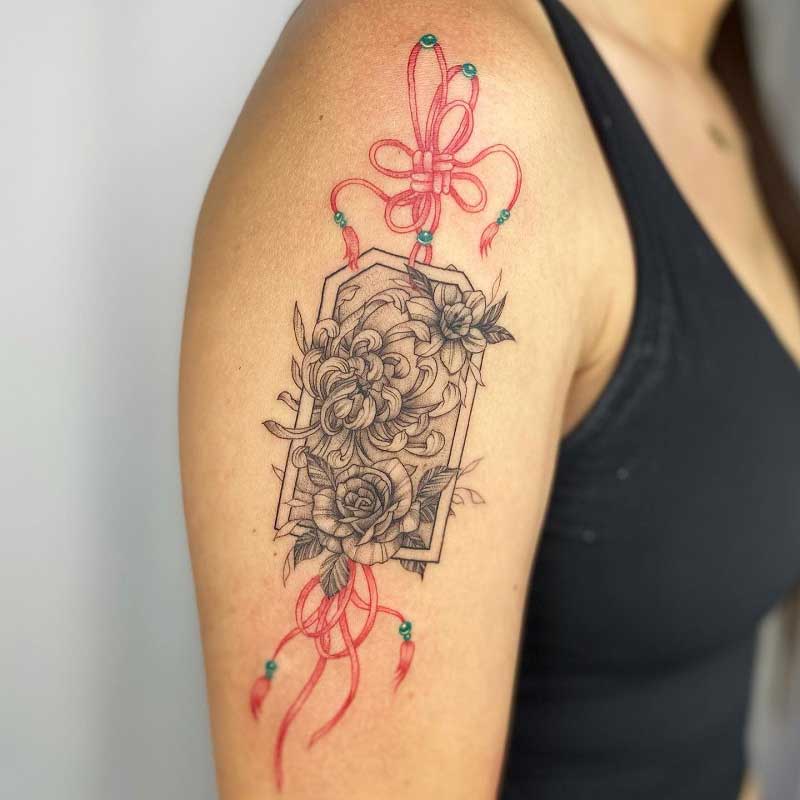 In Greek literature, writers have often referred to daffodils as the flower of the underworld. This royal and sophisticated tattoo upholds the mysterious stories of Gods and Goddesses.
20.  Celebration In The Air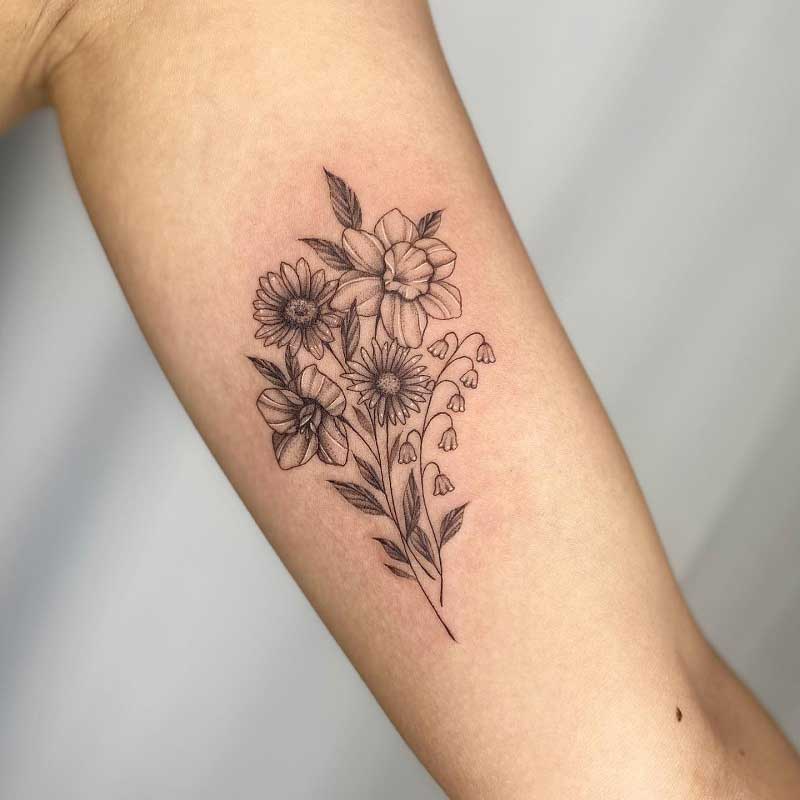 In many counties and areas, daffodils are associated with celebration. So, this daffodil tattoo will definitely add a fun vibe to your character. Color the flowers to catch more attention.
21. The Unseen Beauty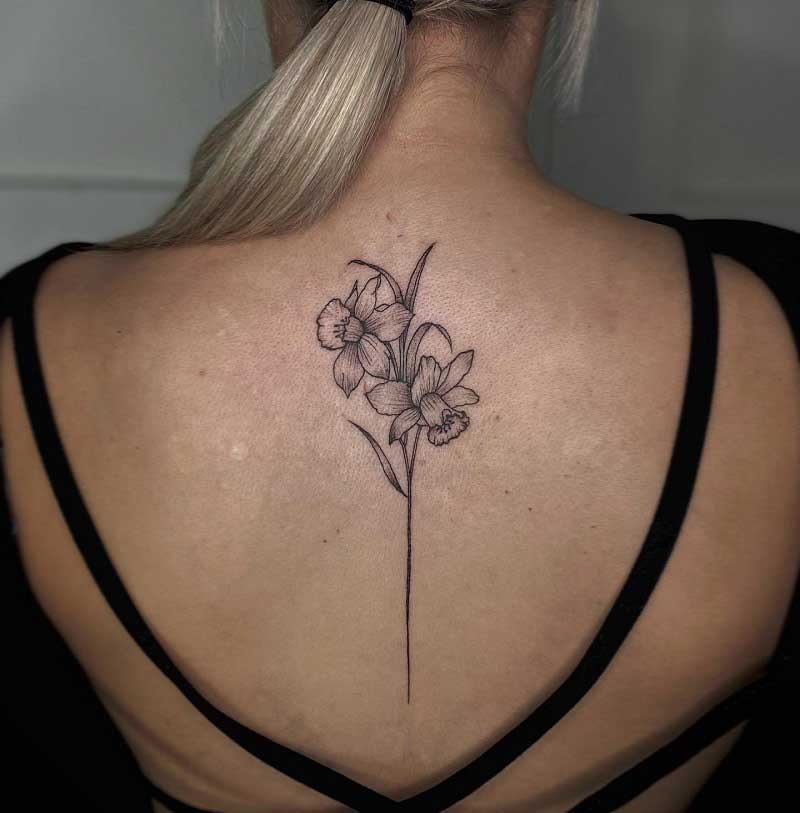 A back tattoo always leaves an after-impression on the spectator's mind. This graceful daffodil back tattoo is recommended for women with unique and sophisticated tastes.
Daffodil Bouquet Tattoo
A bouquet can bring a smile to anyone's face. Likewise, a daffodil bouquet tattoo symbolizes joy, happiness, and celebration. You can get such a daffodil tattoo for positive energy and staying motivated. It will also represent you as an optimistic character.
22. Creative Trio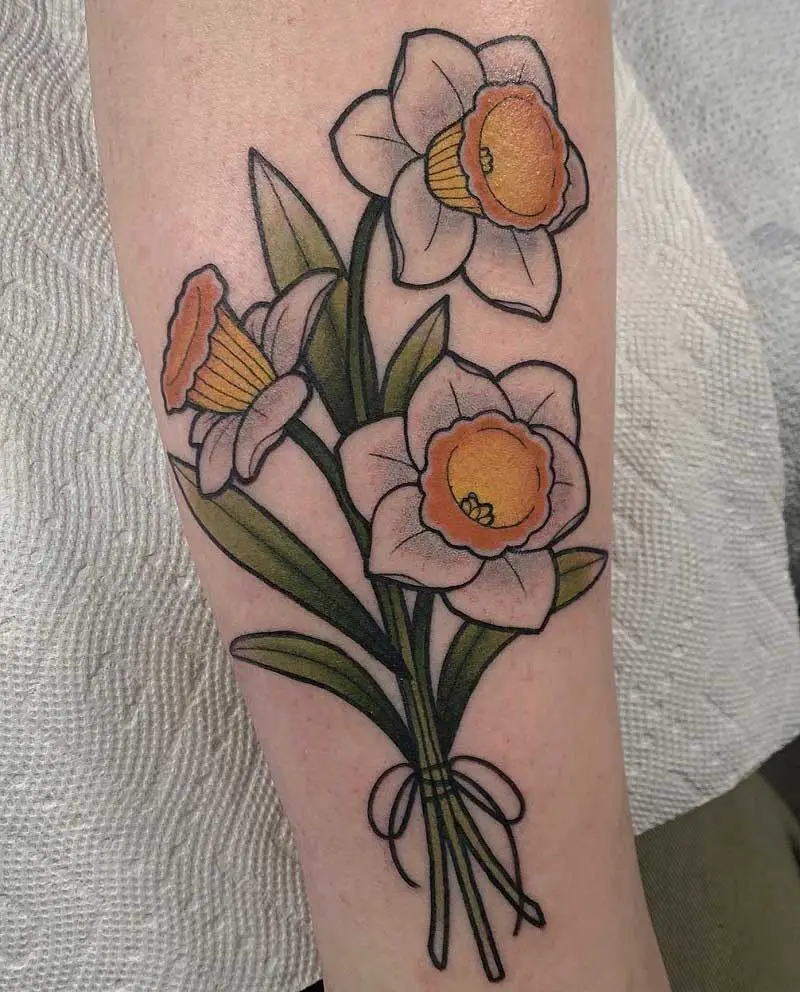 This daffodil trio tattoo reflects your creative mind and elegant personality. In spirituality, 3 represents the combination of mind, body, and soul. The tattoo here thus shows your thoughtful side too.
23. Bathing In The Moonlight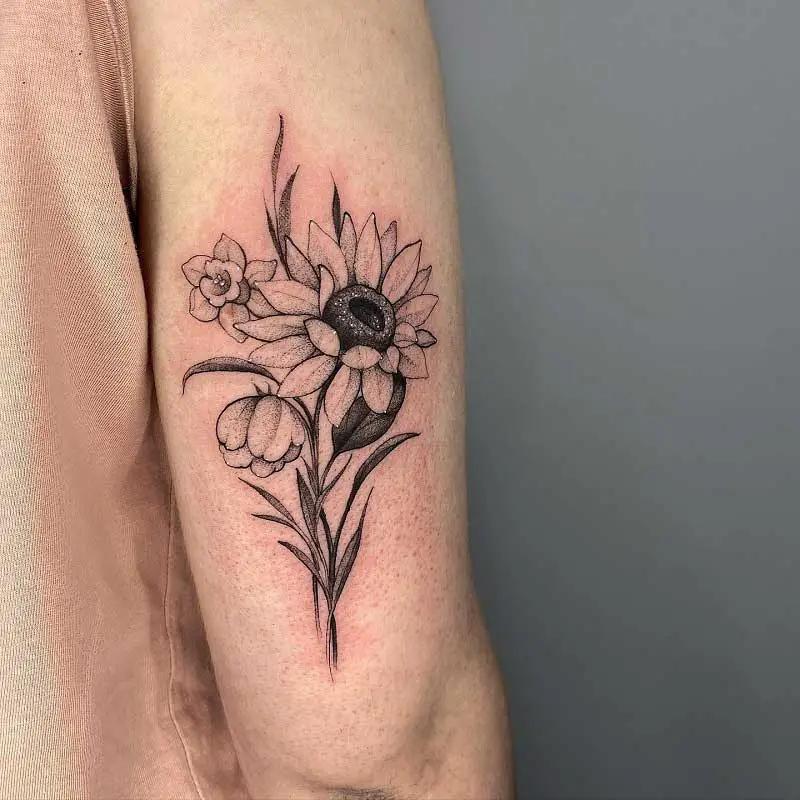 Have you ever bathed in the moonlight? Don't you feel a surge of energy afterward? The dreamy daffodil tattoo symbolizes reborn and belief in harnessing spiritual connection.
24. Eternal Friend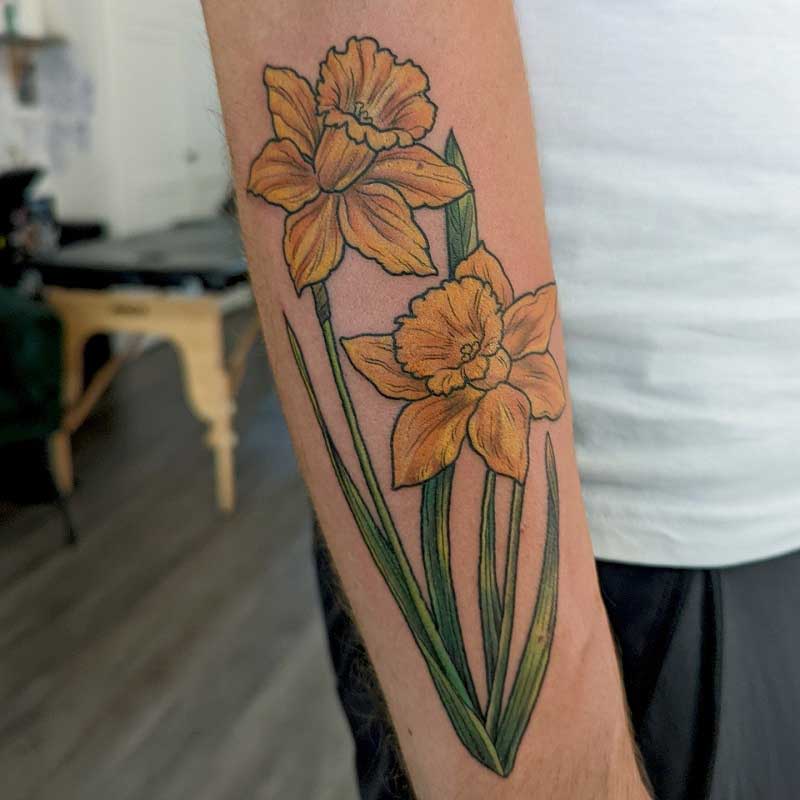 Yellow daffodils stand for friendship. Convince your best friend to get this elegant daffodil tattoo with your name under the flower. It will remain as a token of your bond.
Aquamarine Daffodil Tattoo
Daffodils are mostly yellow, right? But we have successfully harvested orange, pink, and even red daffodils. Unfortunately, there is no aquamarine tattoo in real life. But a creative mind fascinates this rare beauty through tattoos.
An aquamarine tattoo depicts the story of uniqueness and elegance. It shares how your imagination becomes a tree of hope and faith.
25. Hope & Believe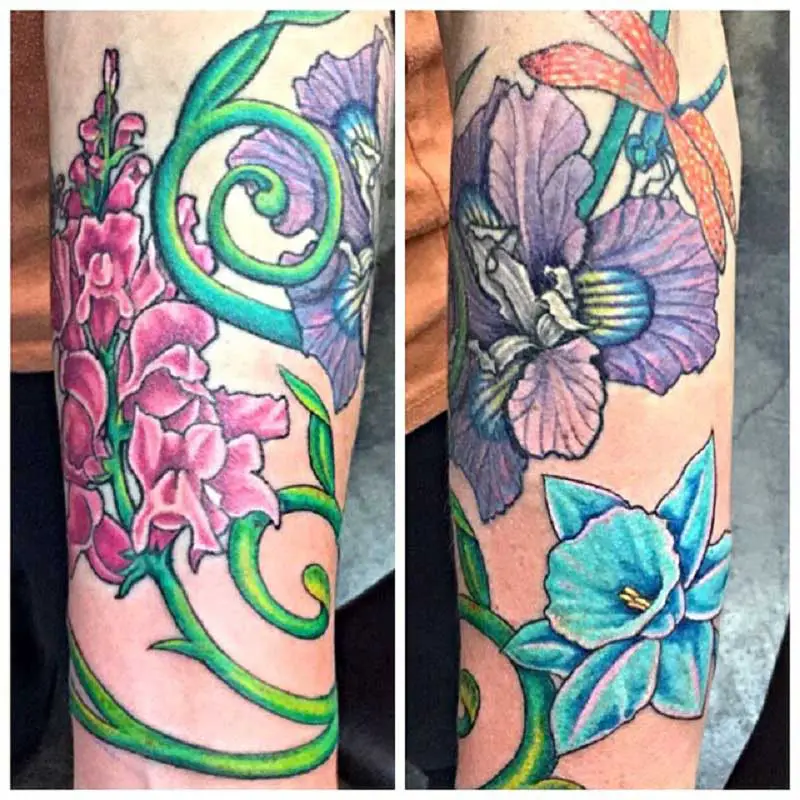 Not everyone can carry this elegant tattoo with their personality. While the daffodils here present rebirth, the dragonfly symbolizes prosperity. The tattoo only suits the ones with hippie and fun traits.
Daffodil Foot Tattoo
26.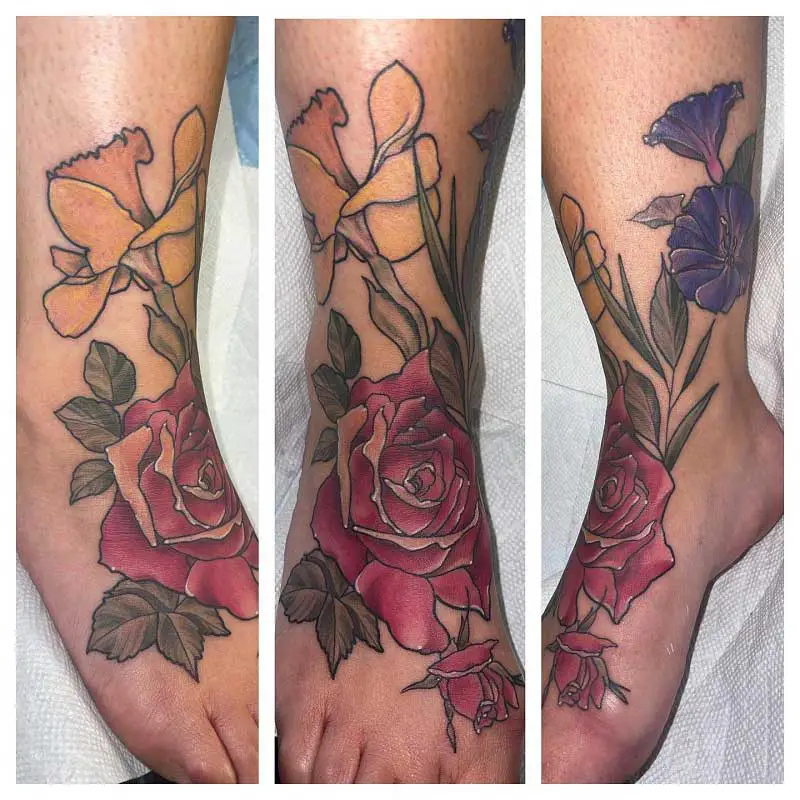 27.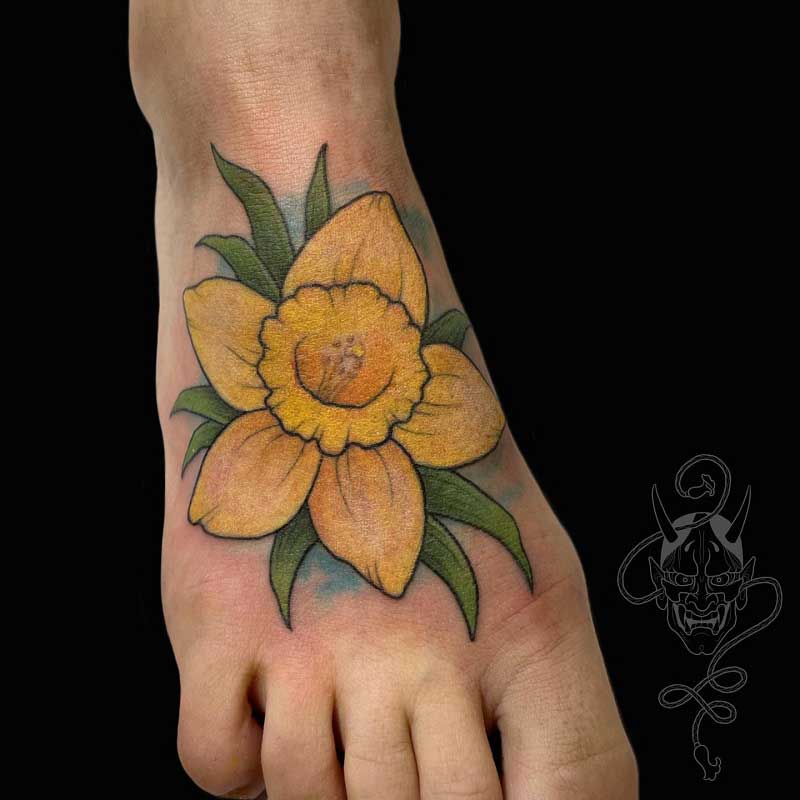 28.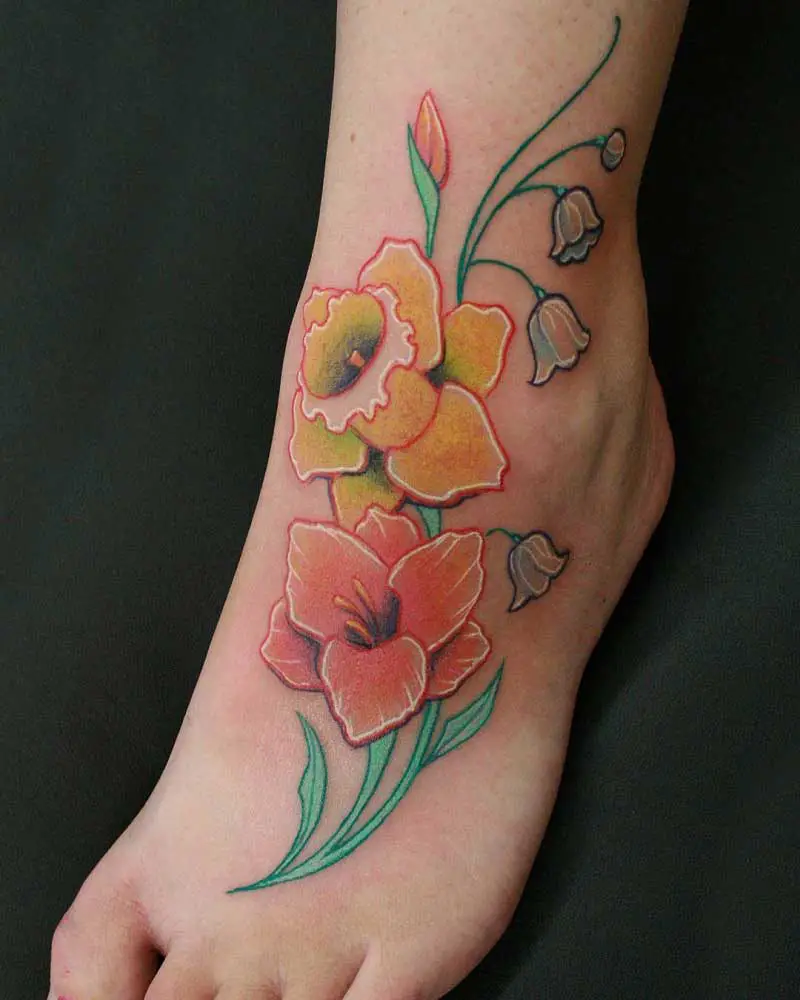 Welsh Daffodil Tattoo
29.
30.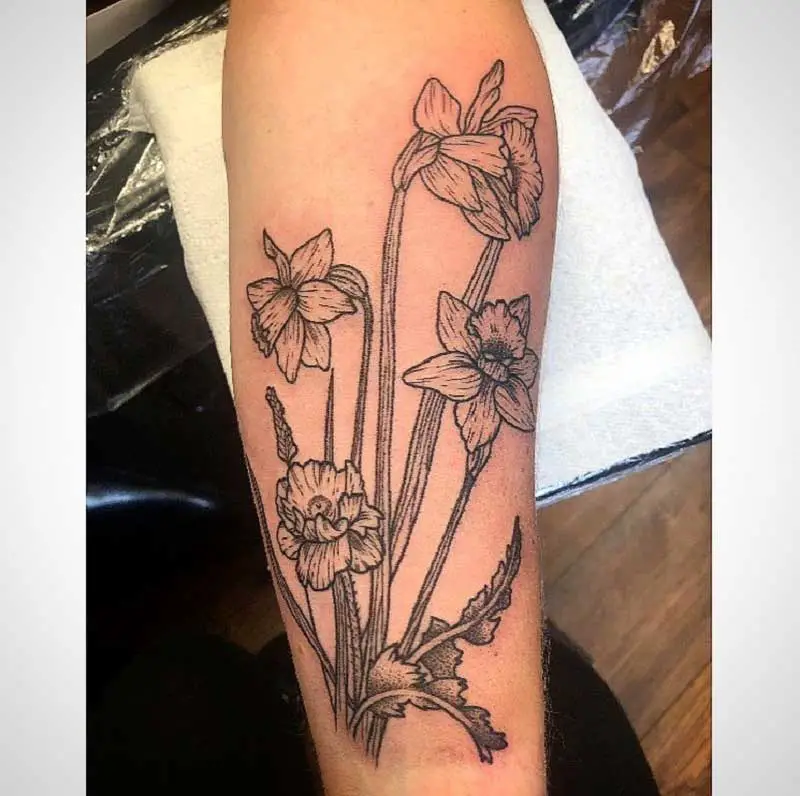 31.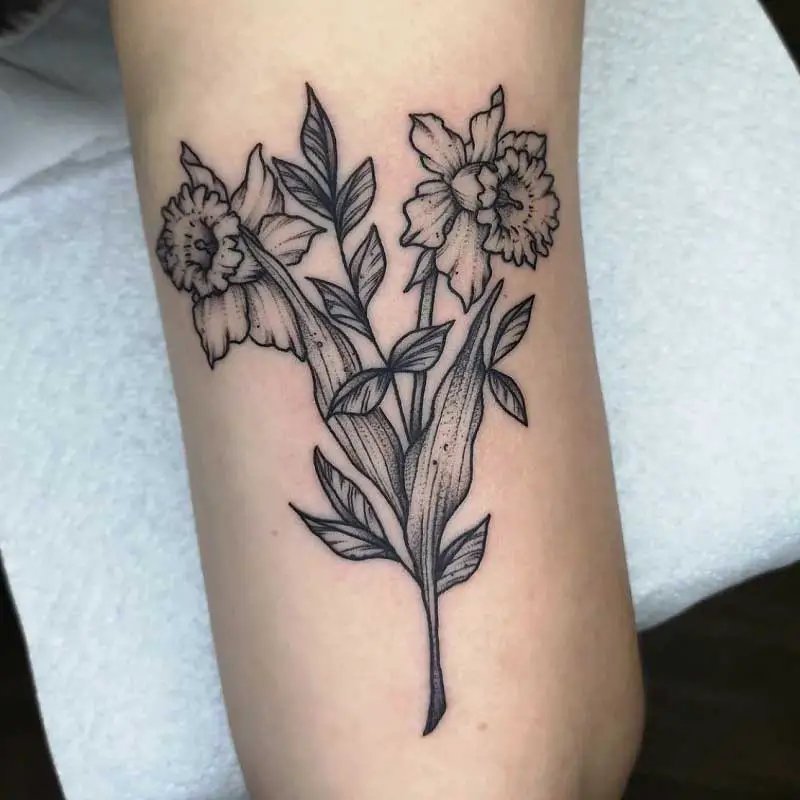 Butterfly Daffodil Tattoo
32.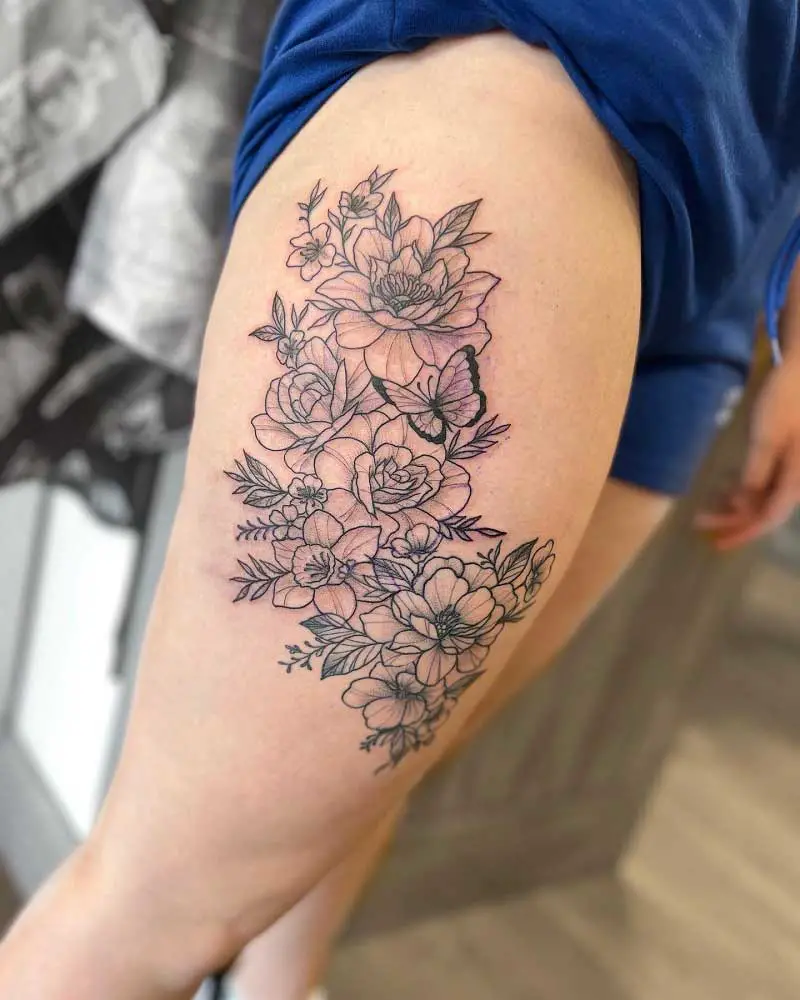 33.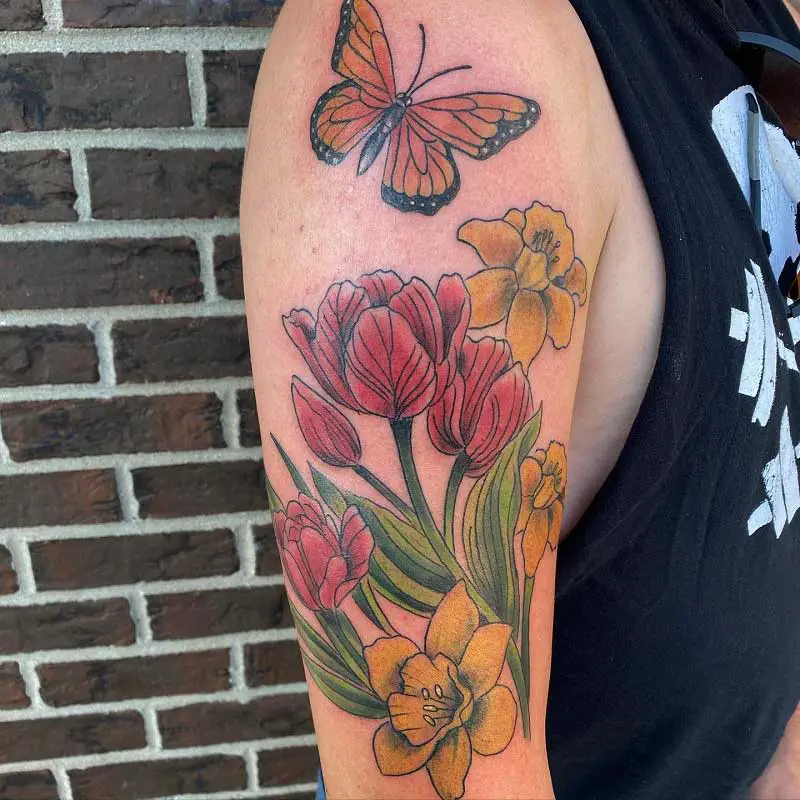 34.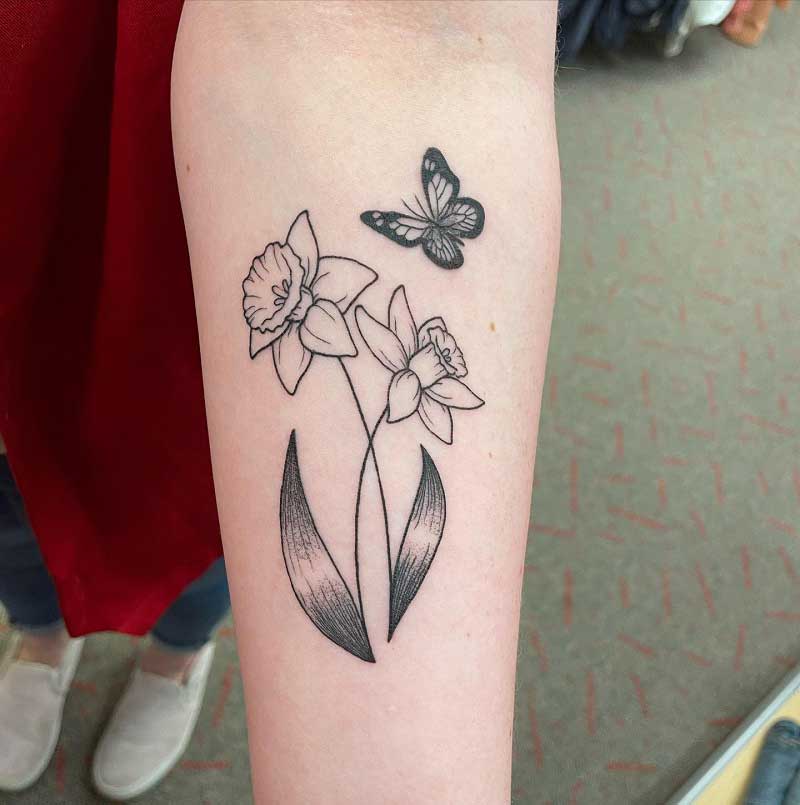 Daffodil Hand Tattoo
35.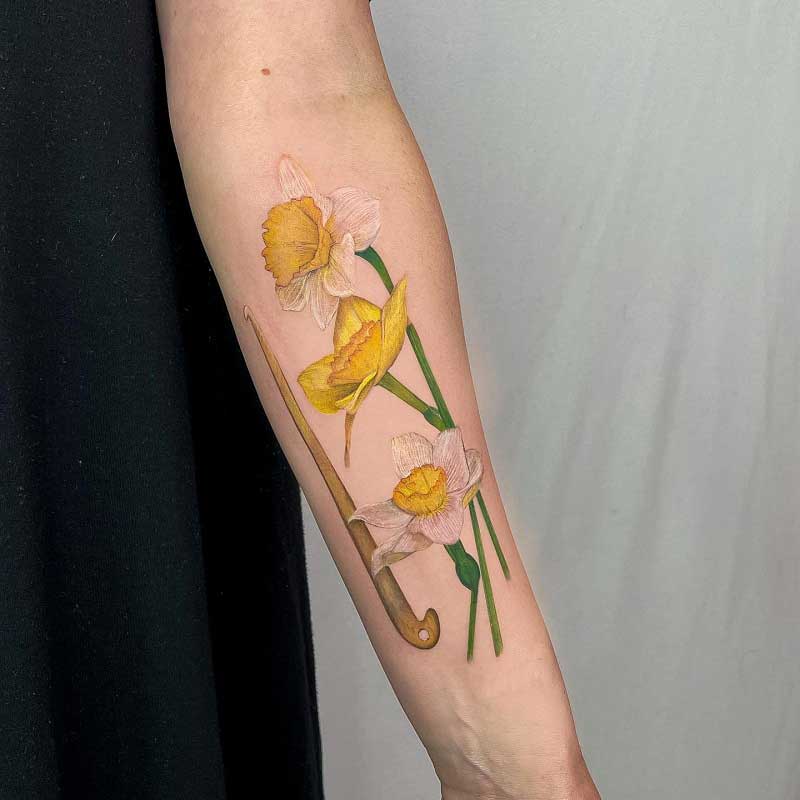 36.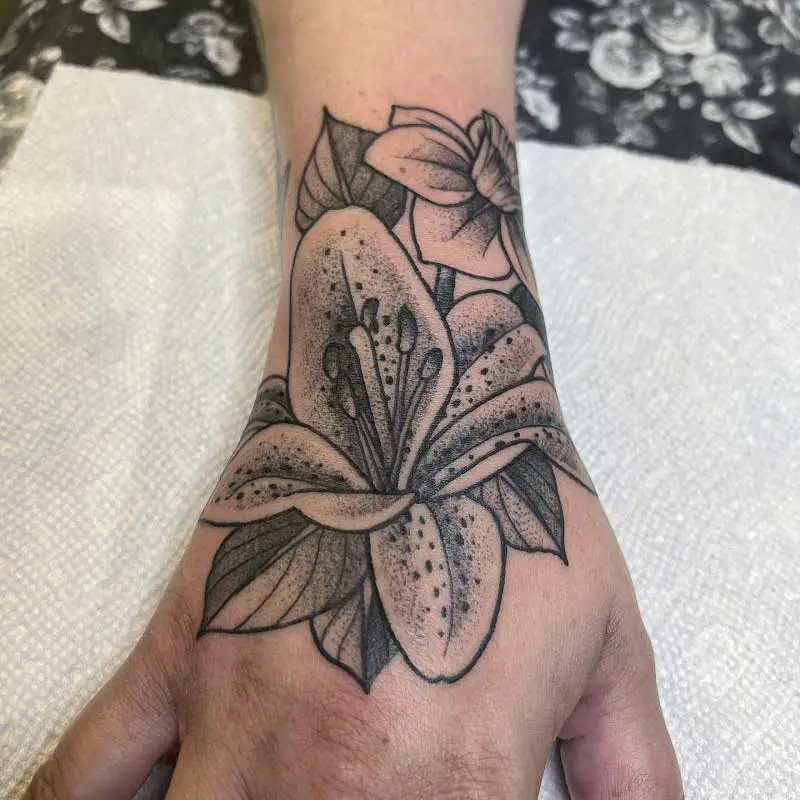 37.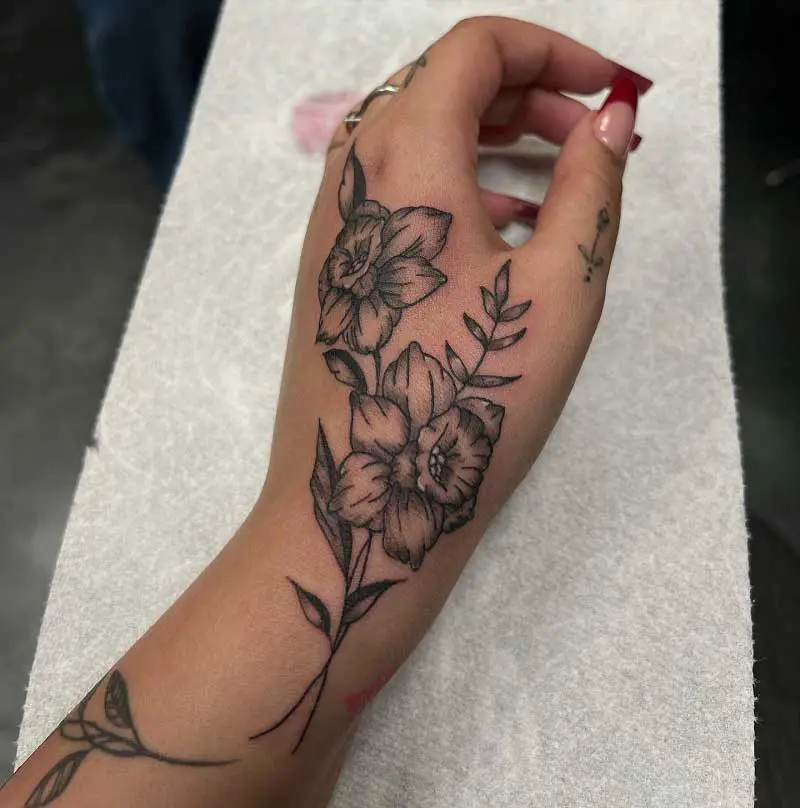 Daffodil Heart Tattoo
38.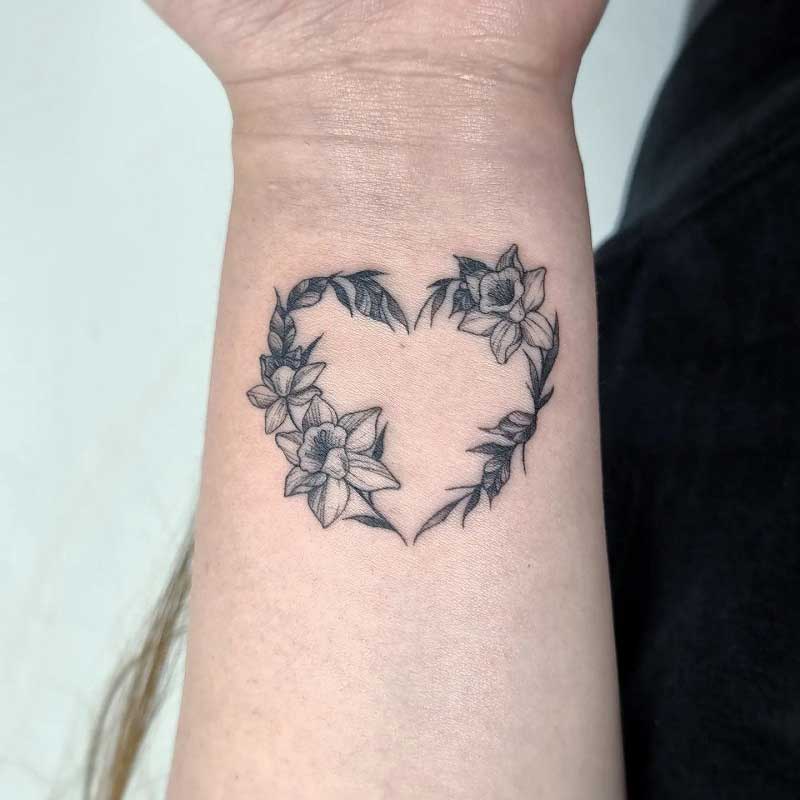 39.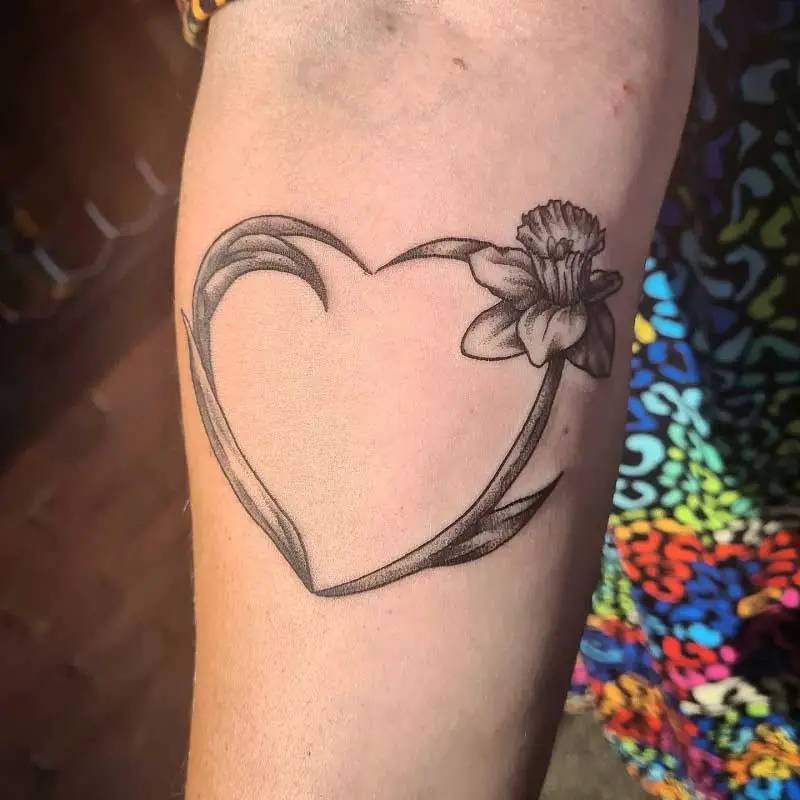 40.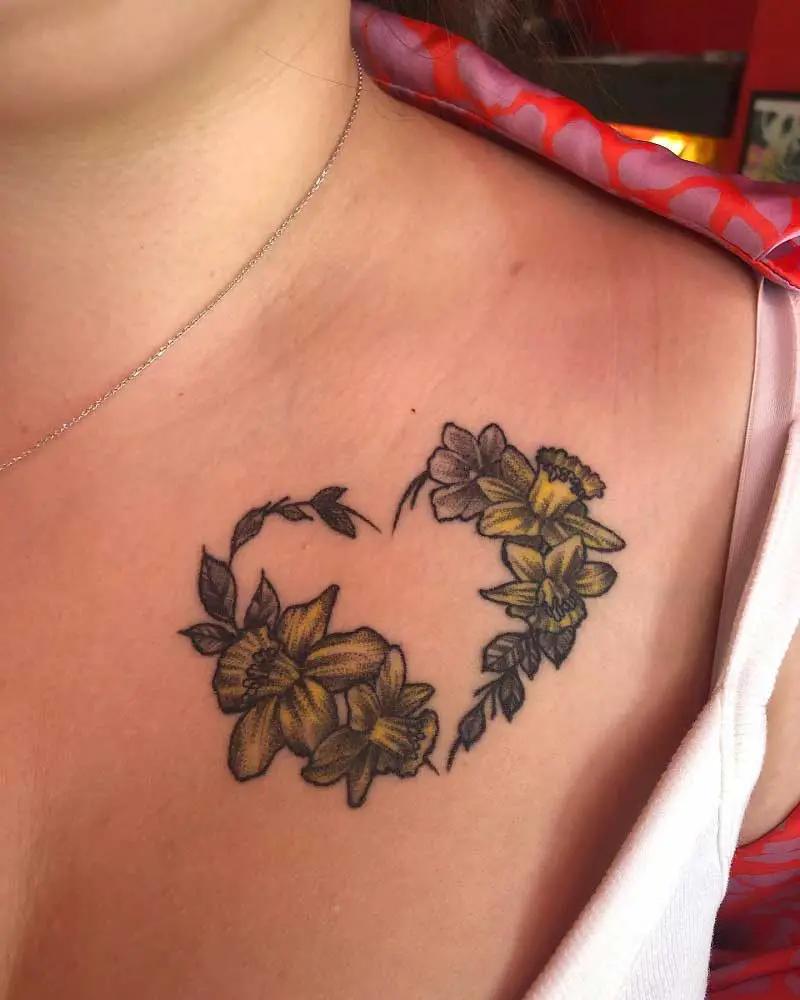 Daffodil Mandala Tattoo
41.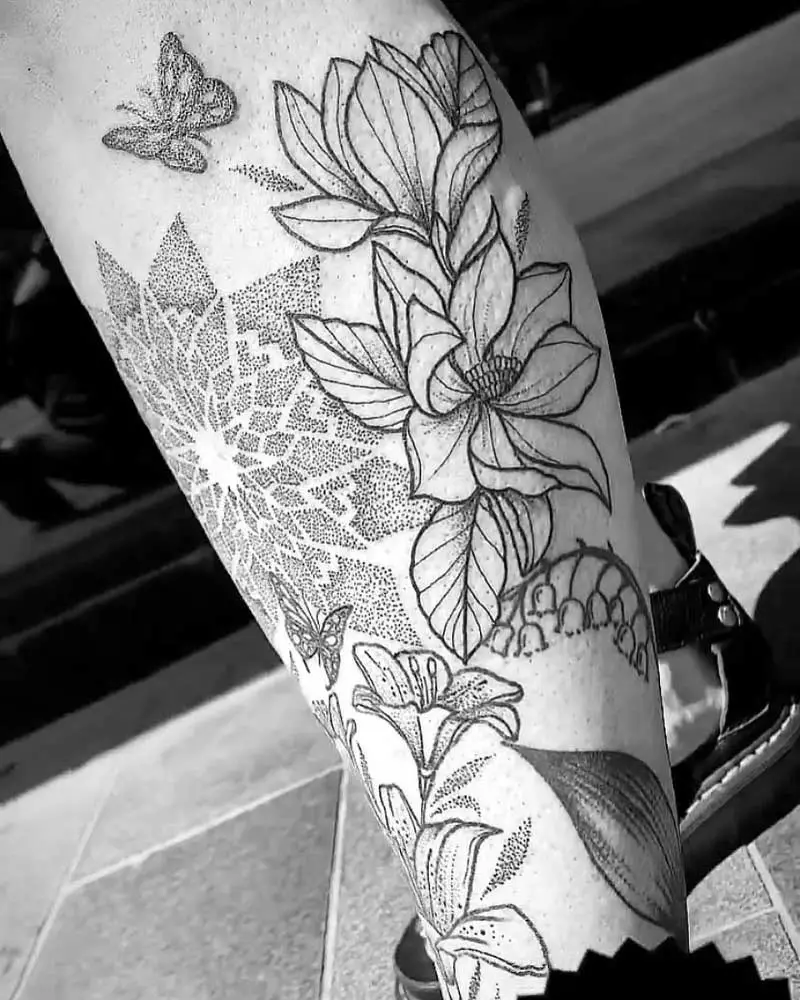 42.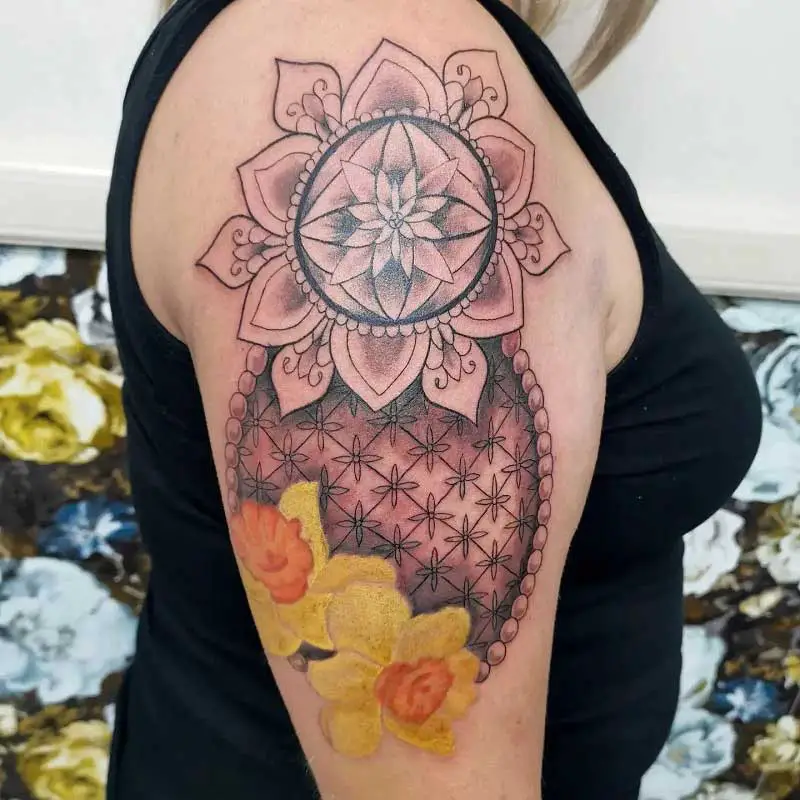 43.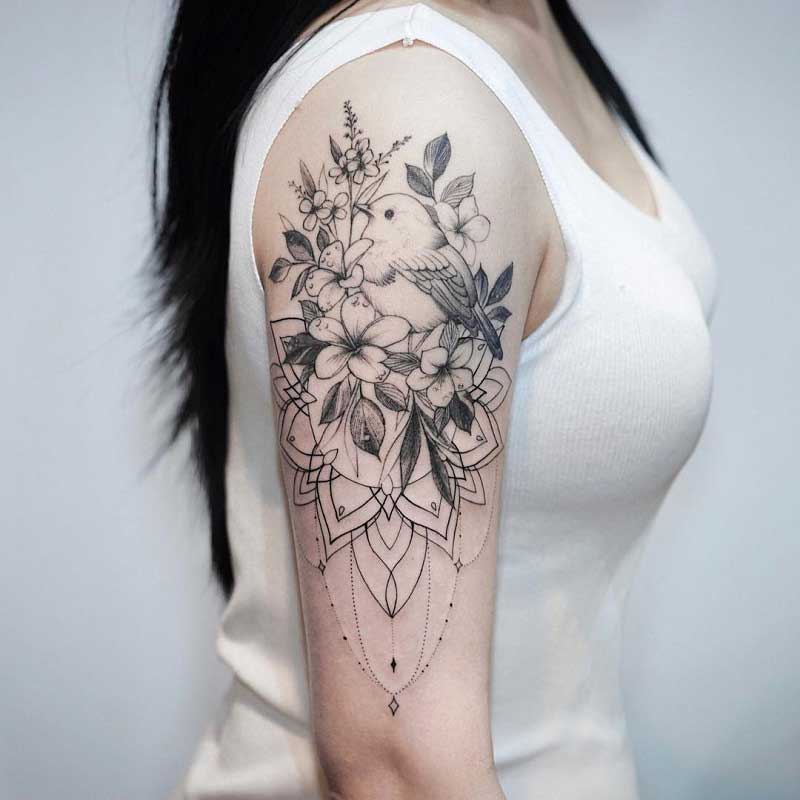 Daffodil Rose Tattoo
44.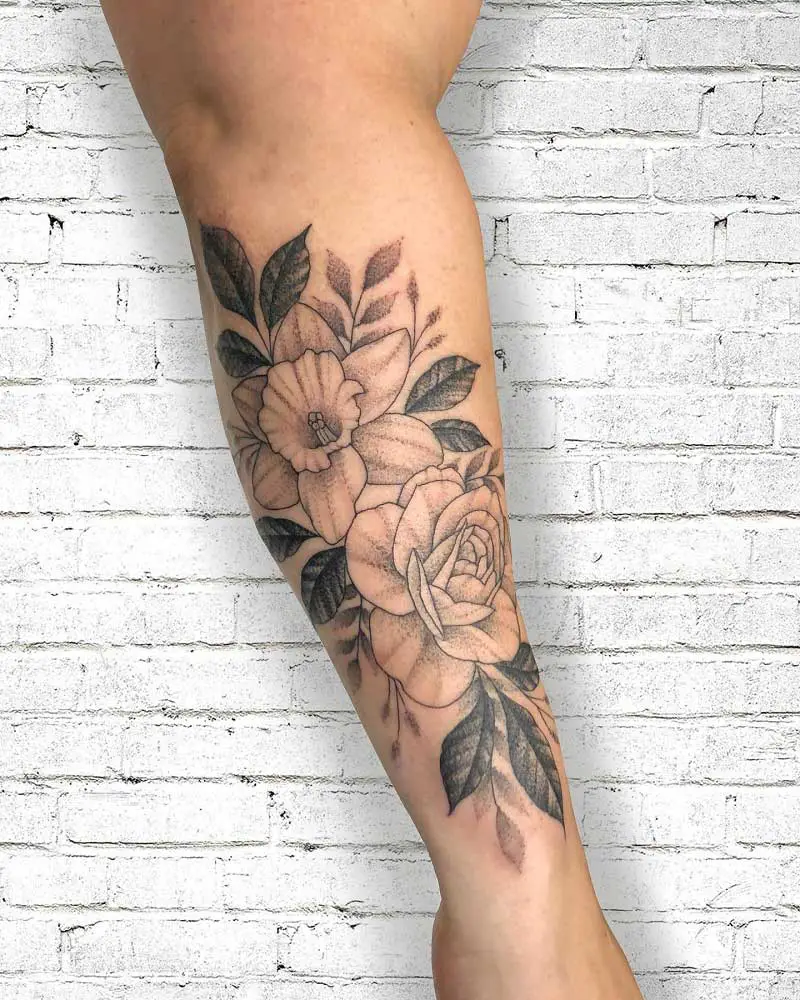 45.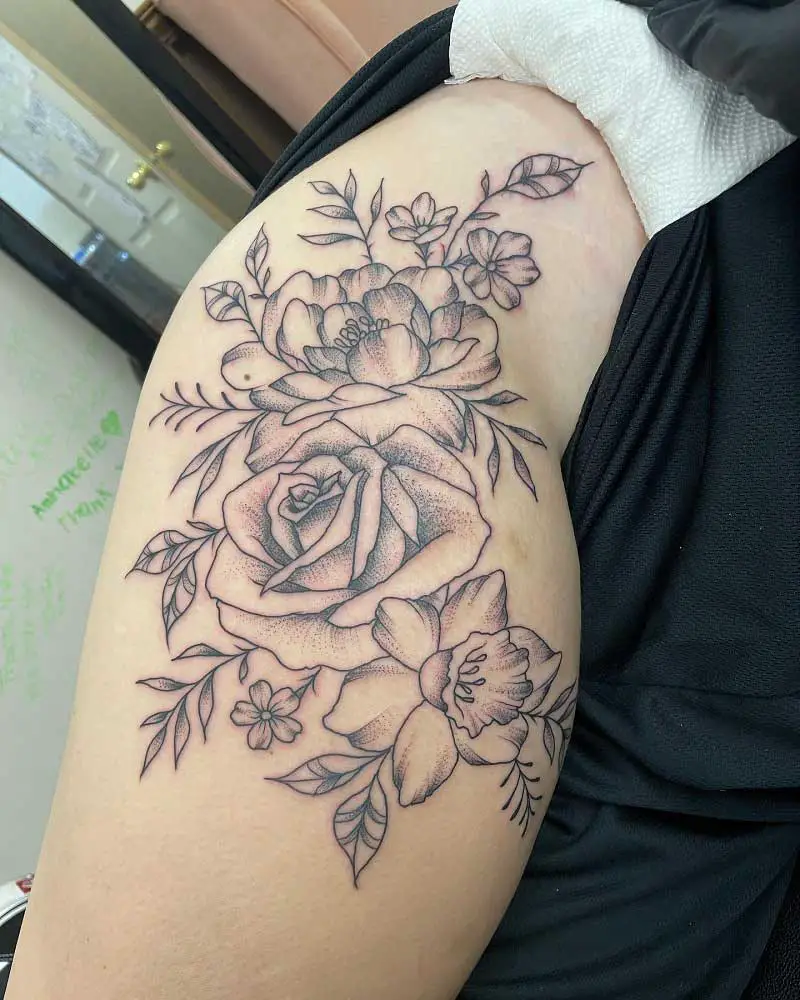 46.
Daffodil Shoulder Tattoo
47.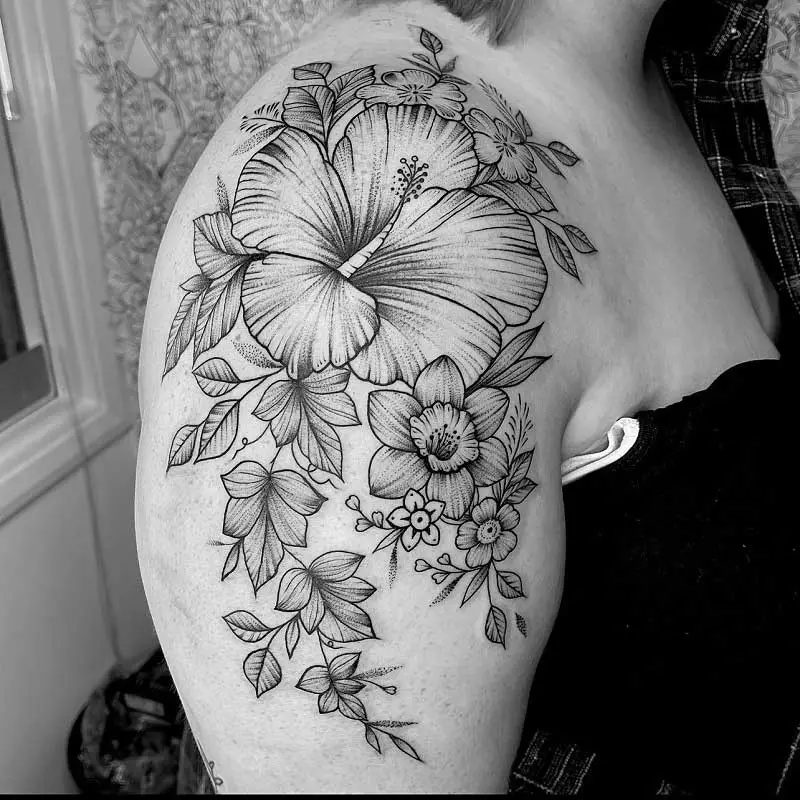 48.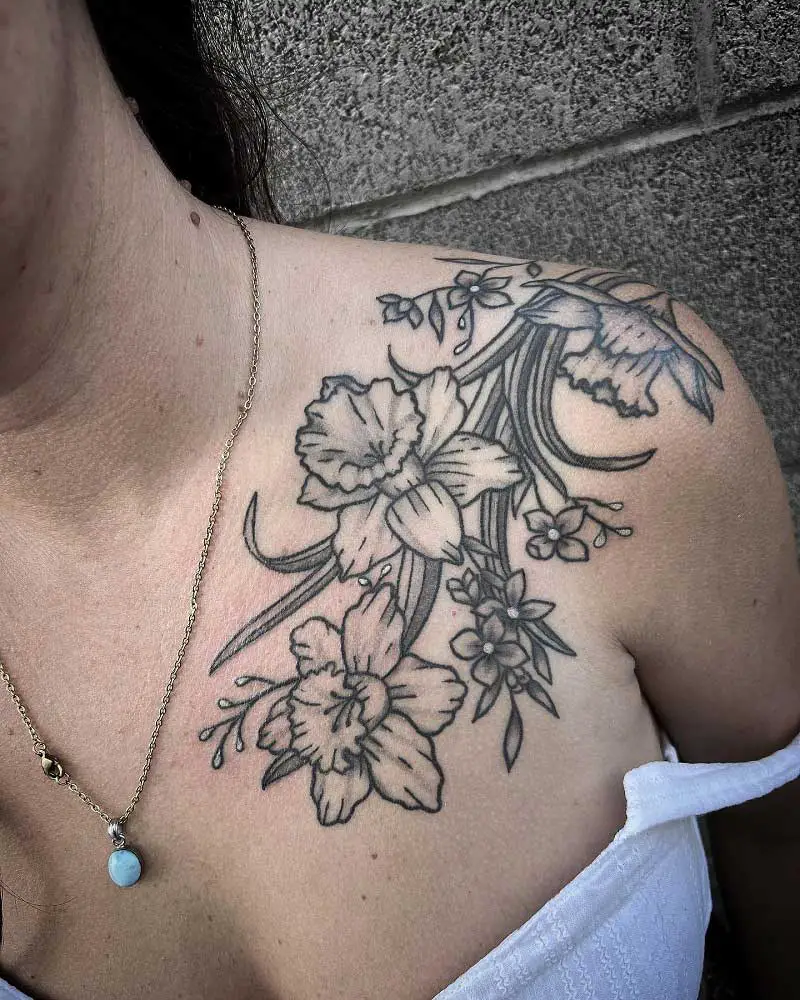 49.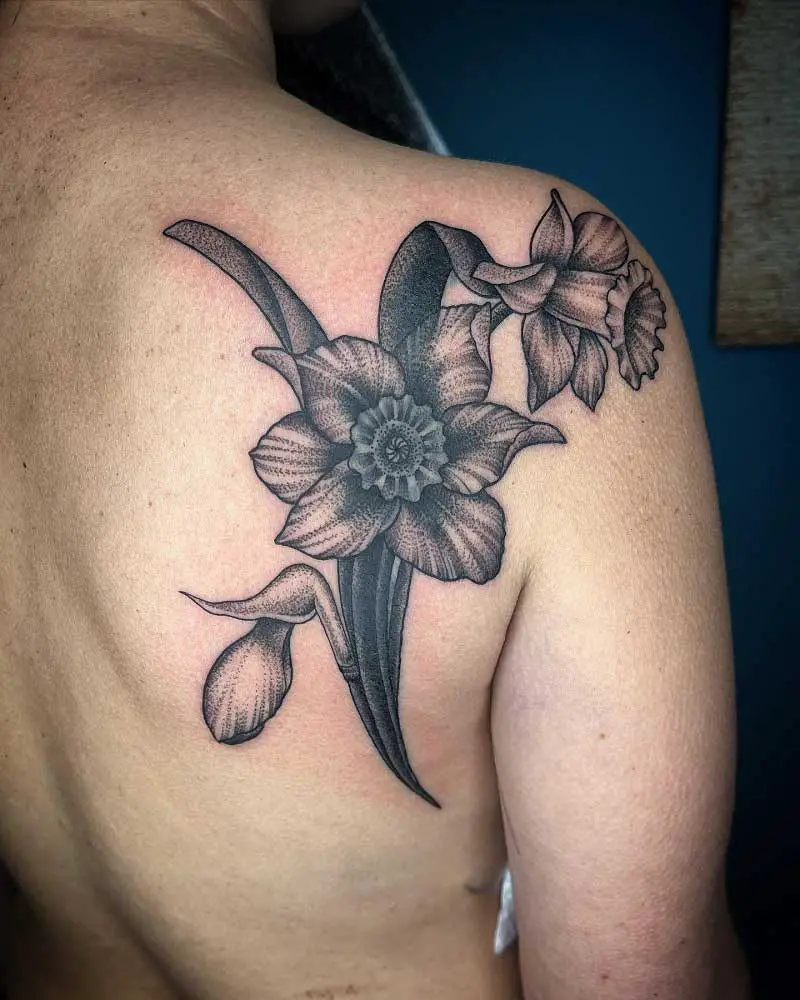 Daffodil Sleeve Tattoos
50.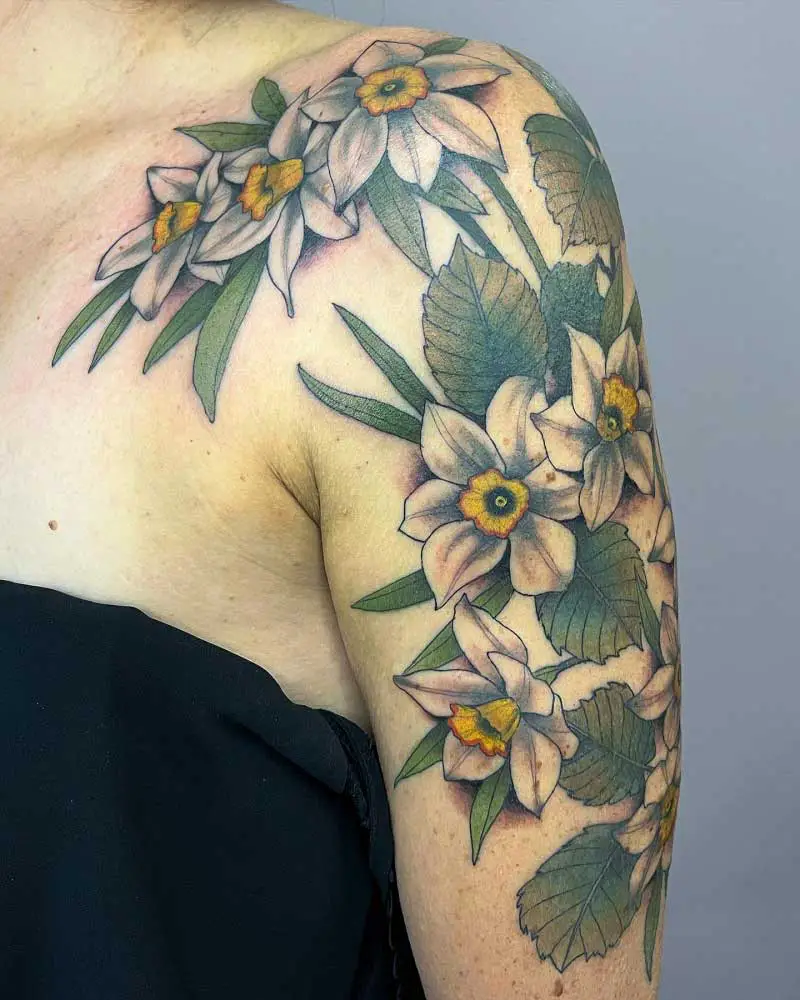 51.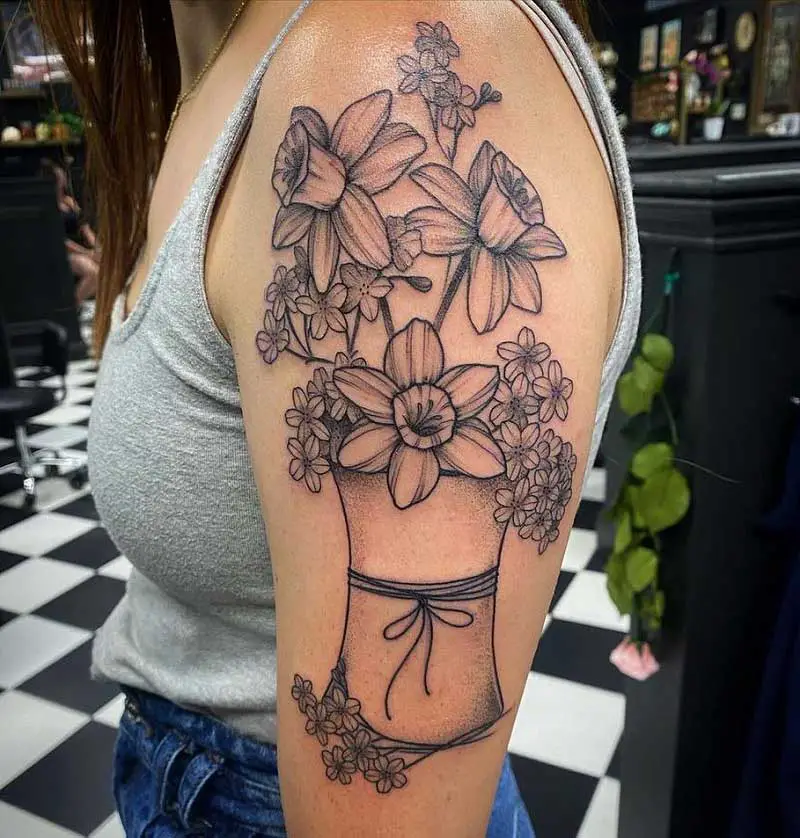 52.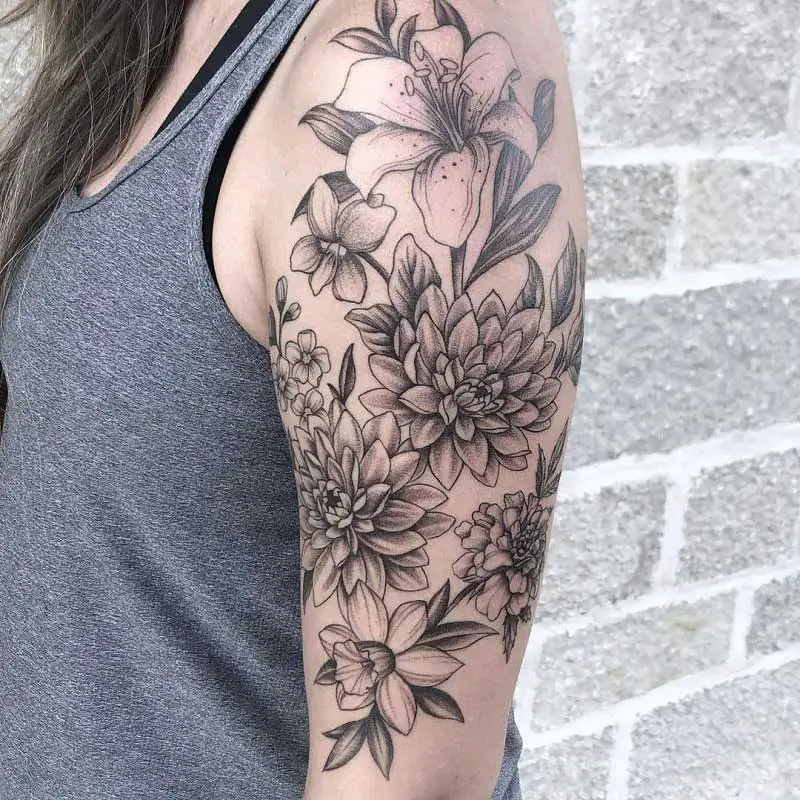 Daffodil Spine Tattoo
53.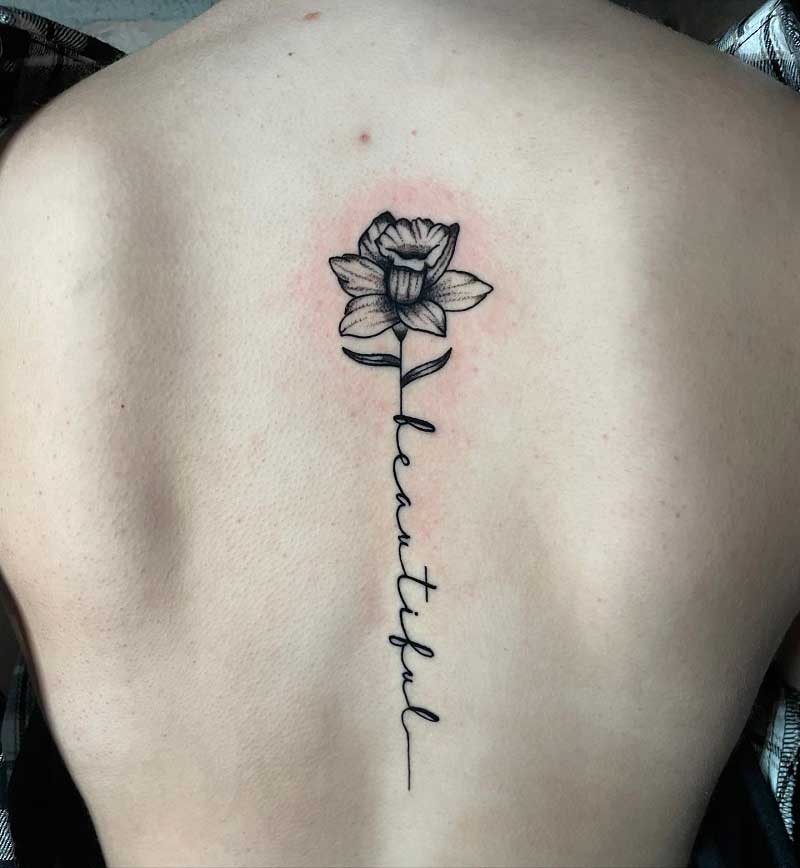 54.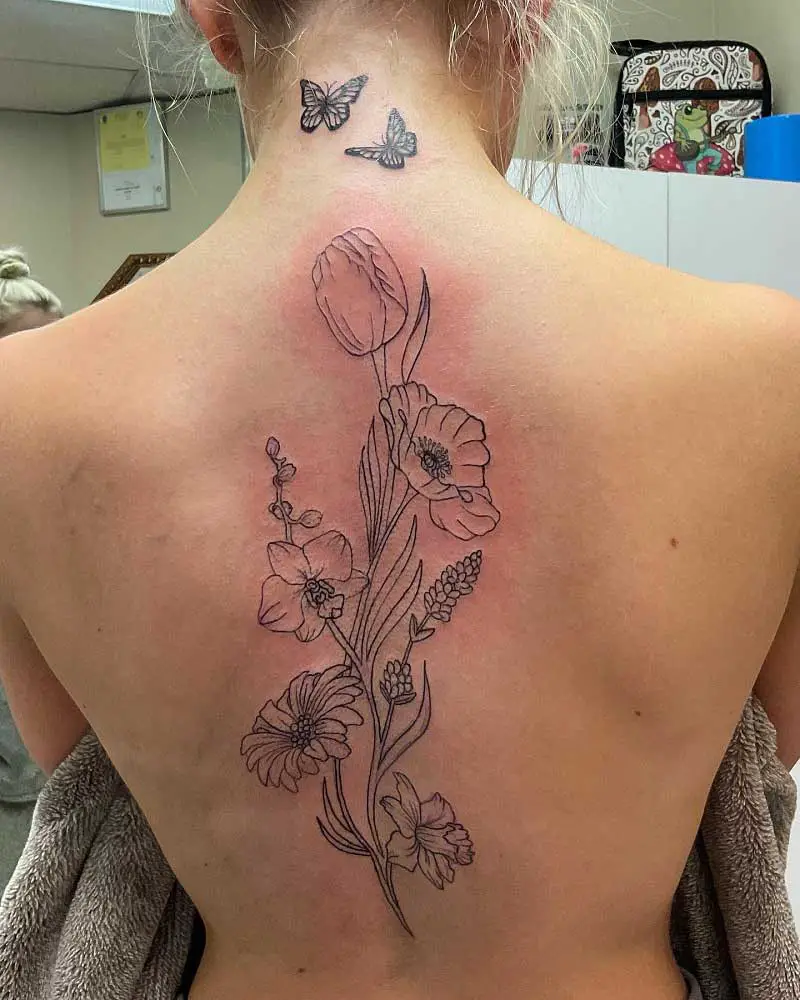 55.
Daffodil Traditional Tattoo
56.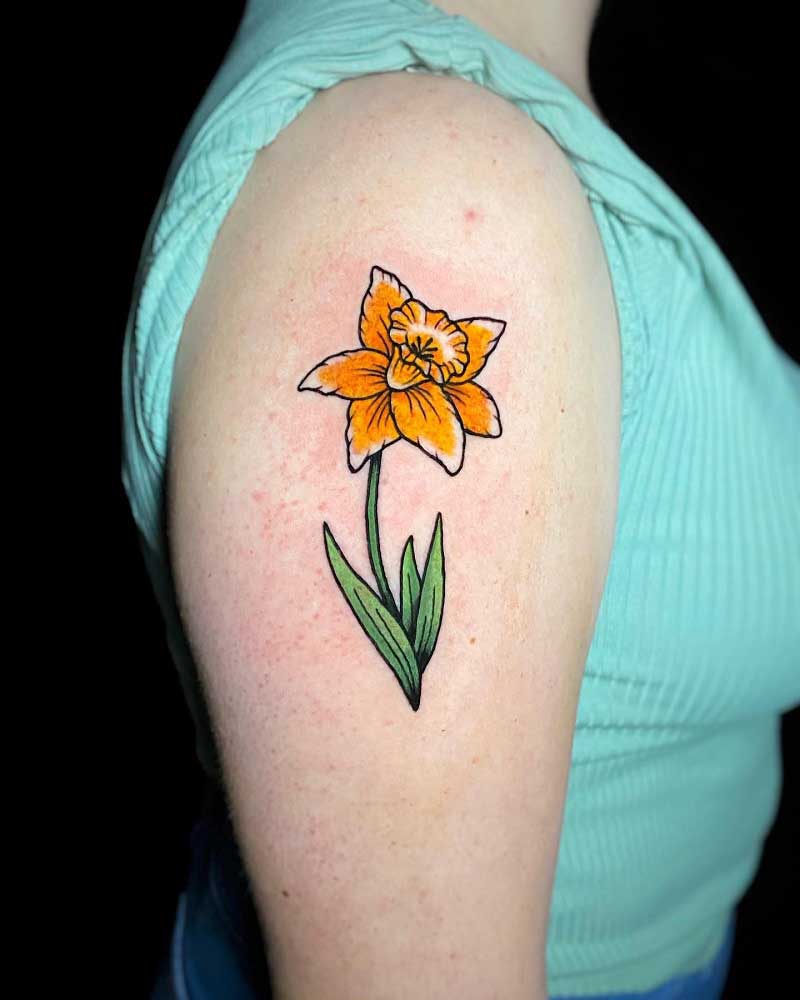 57.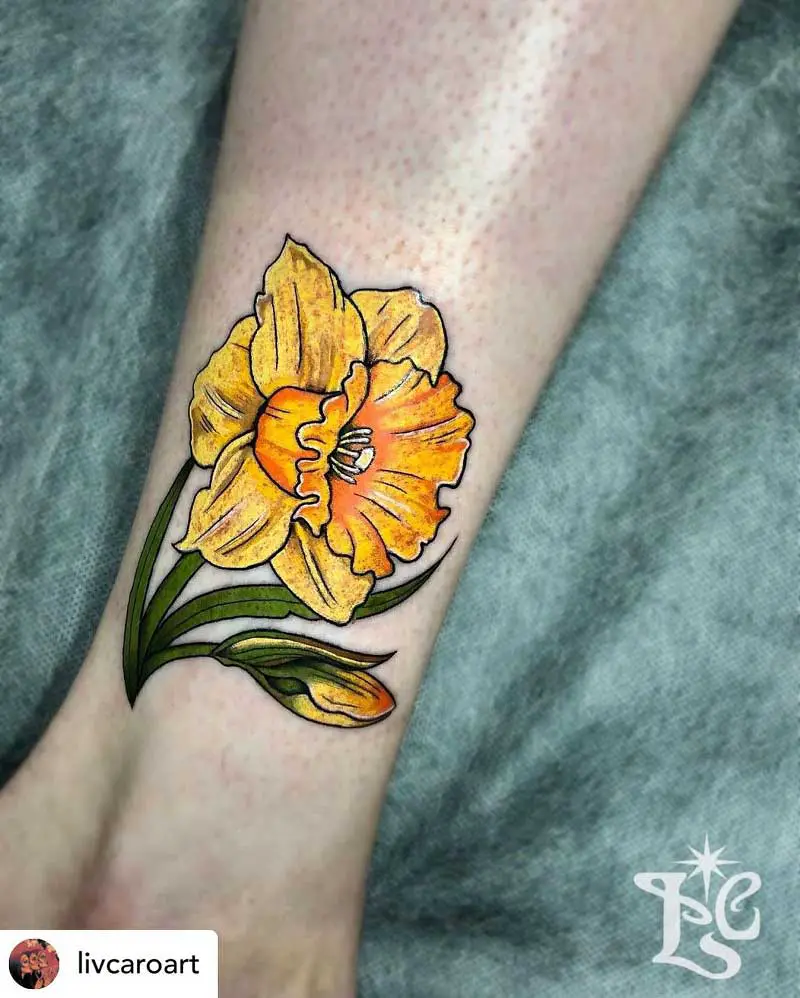 58.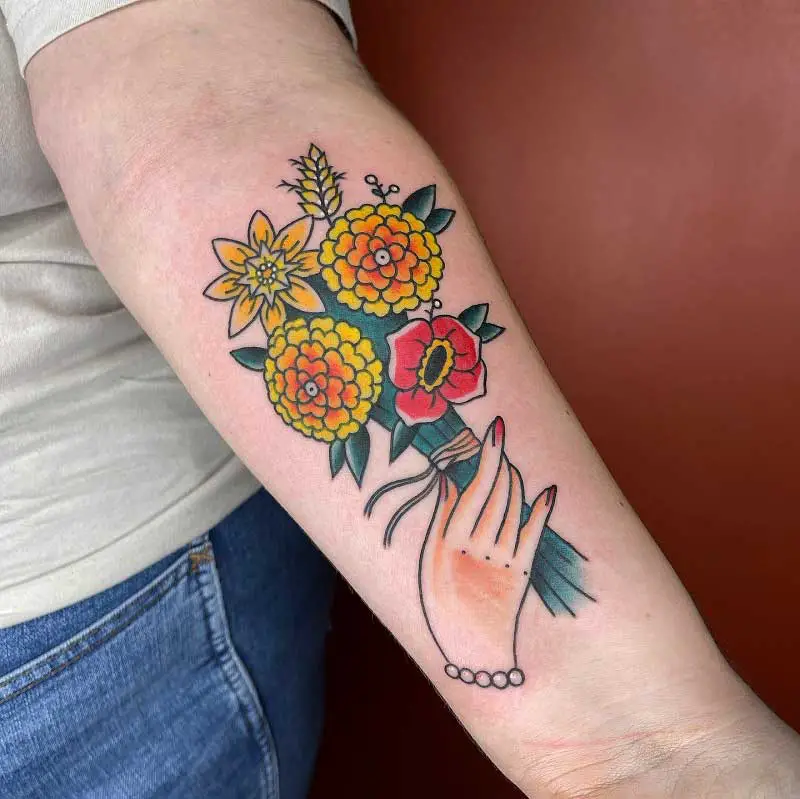 Geometric Daffodil Tattoo
59.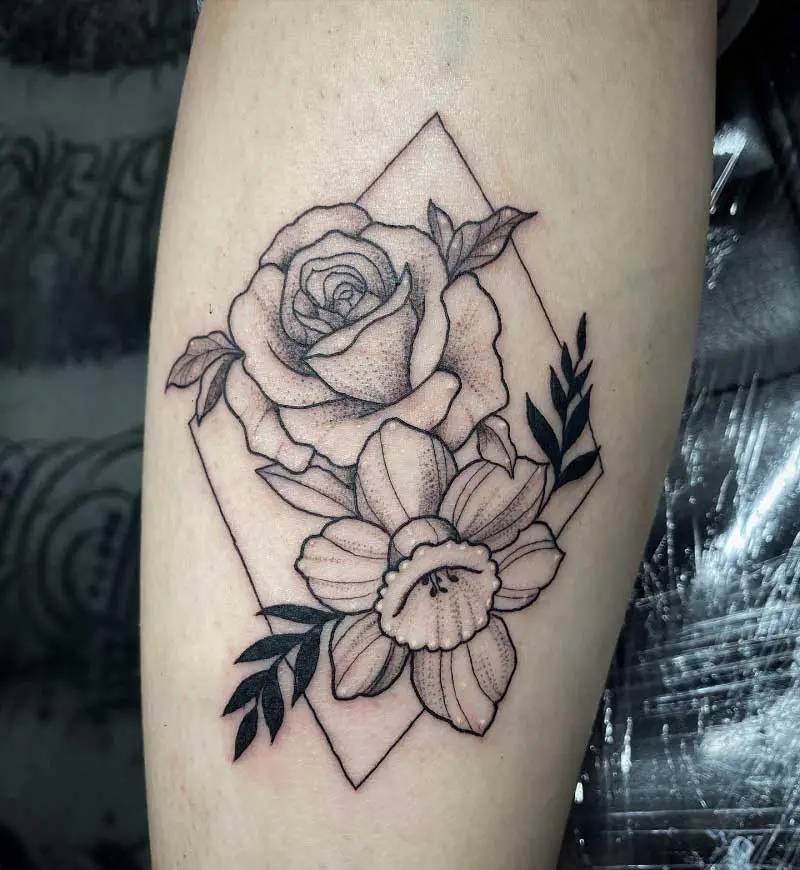 60.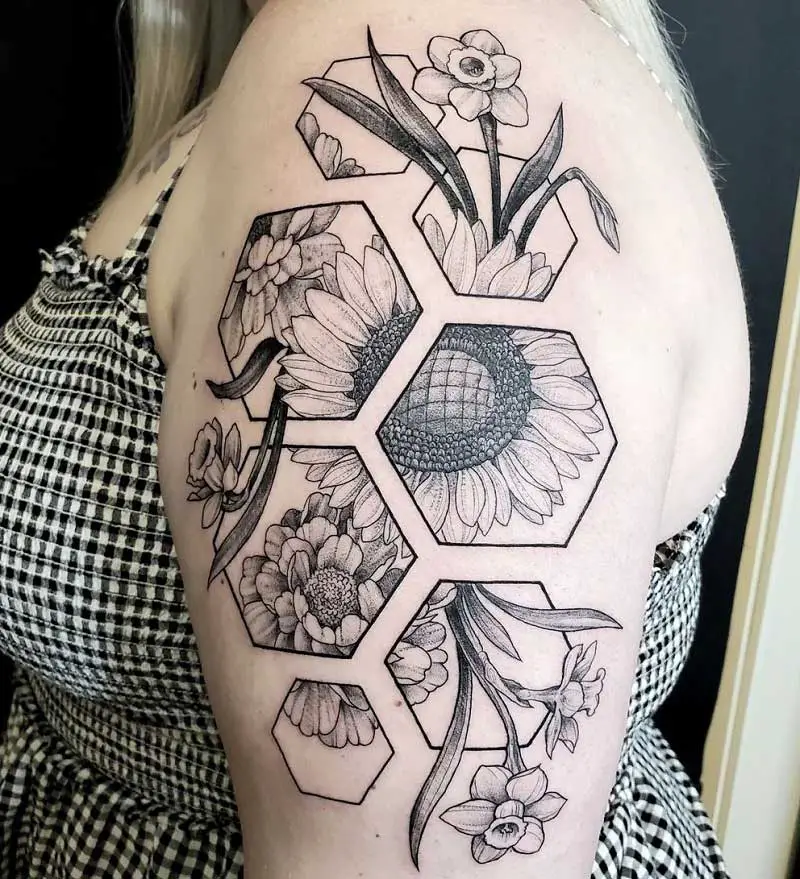 61.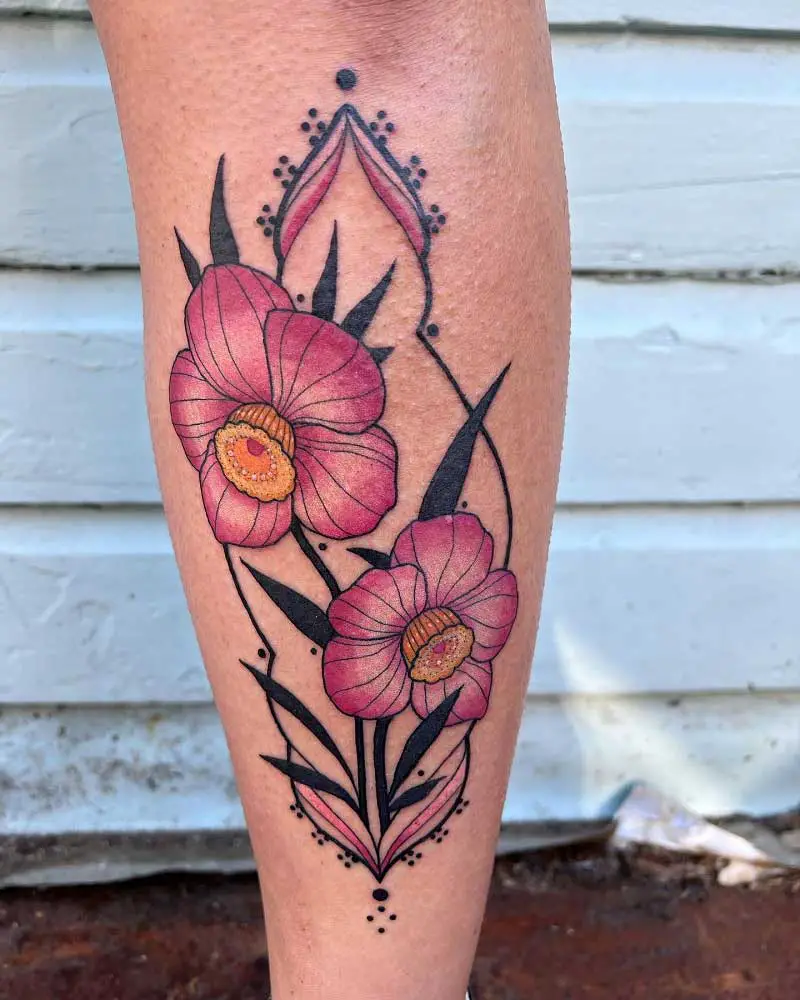 Cancer Daffodil Tattoo
62.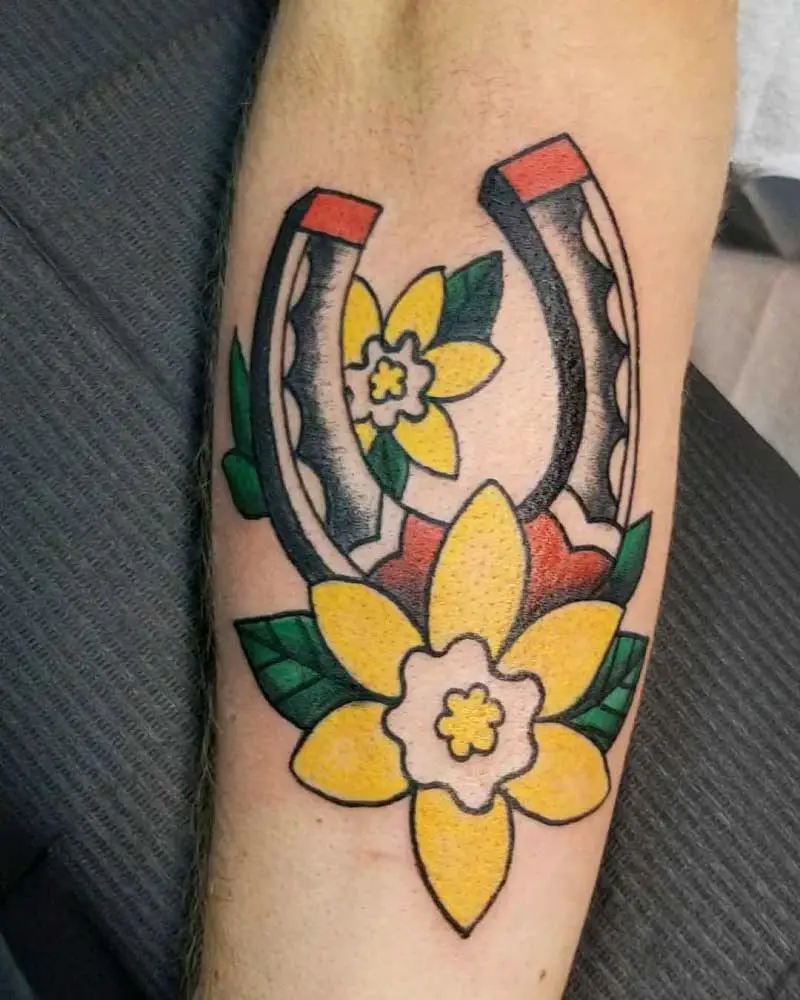 63.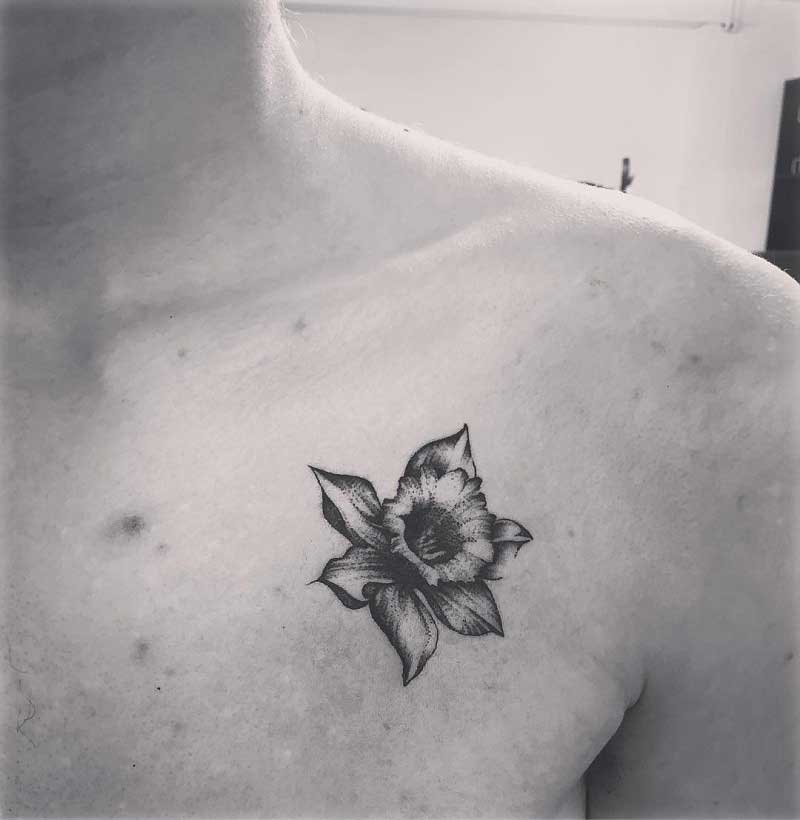 64.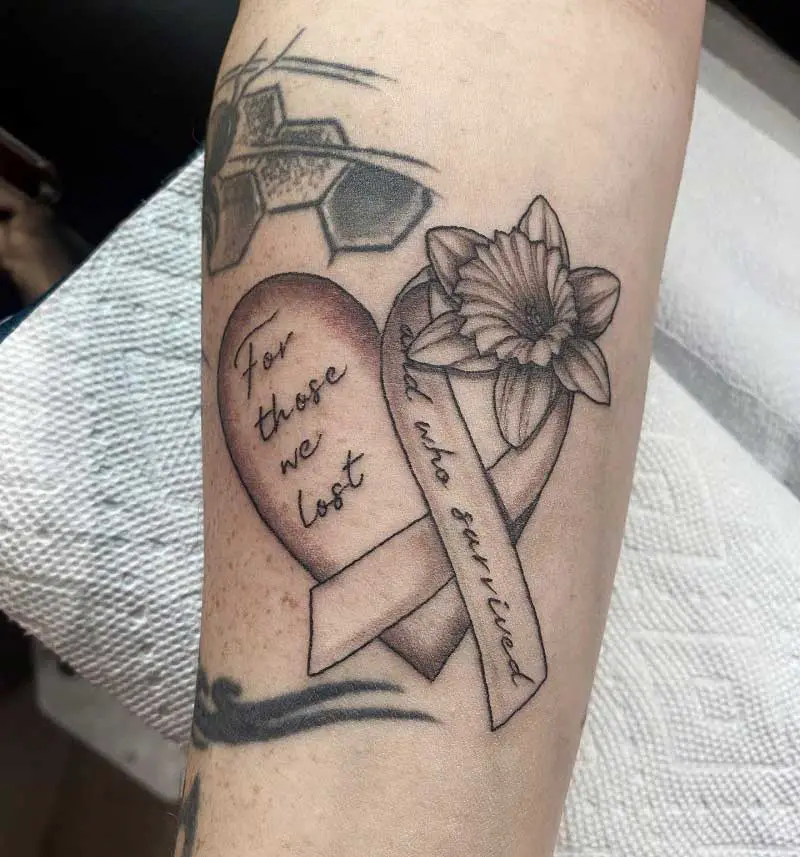 Daffodil Memorial Tattoo
65.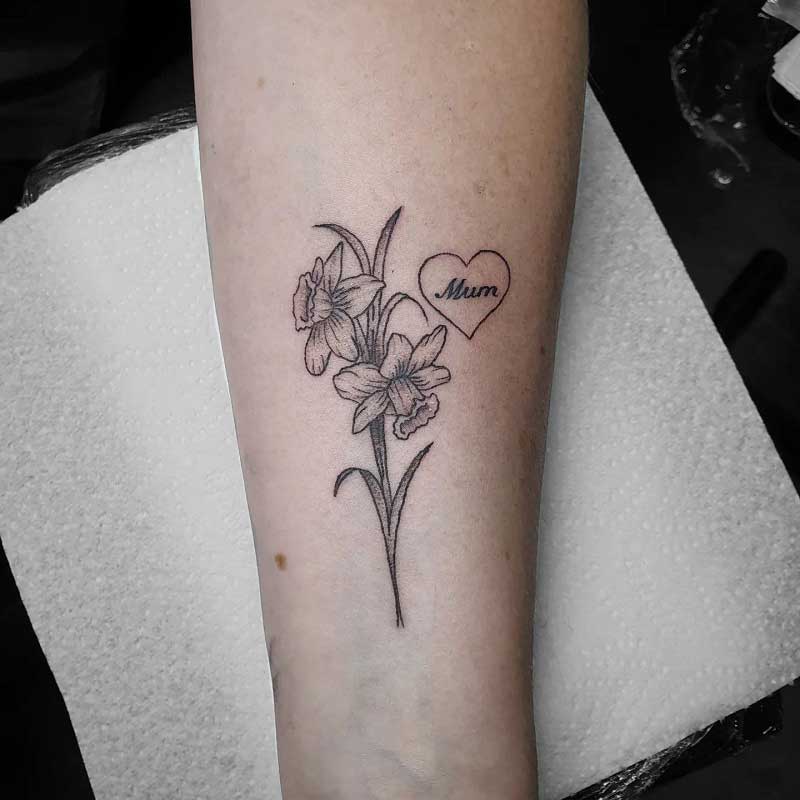 66.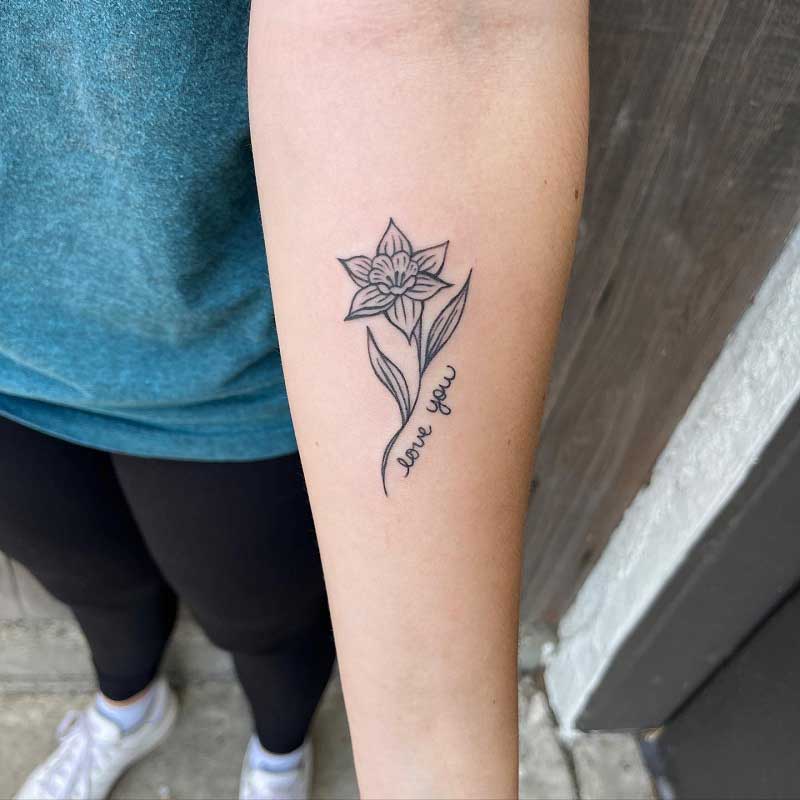 67.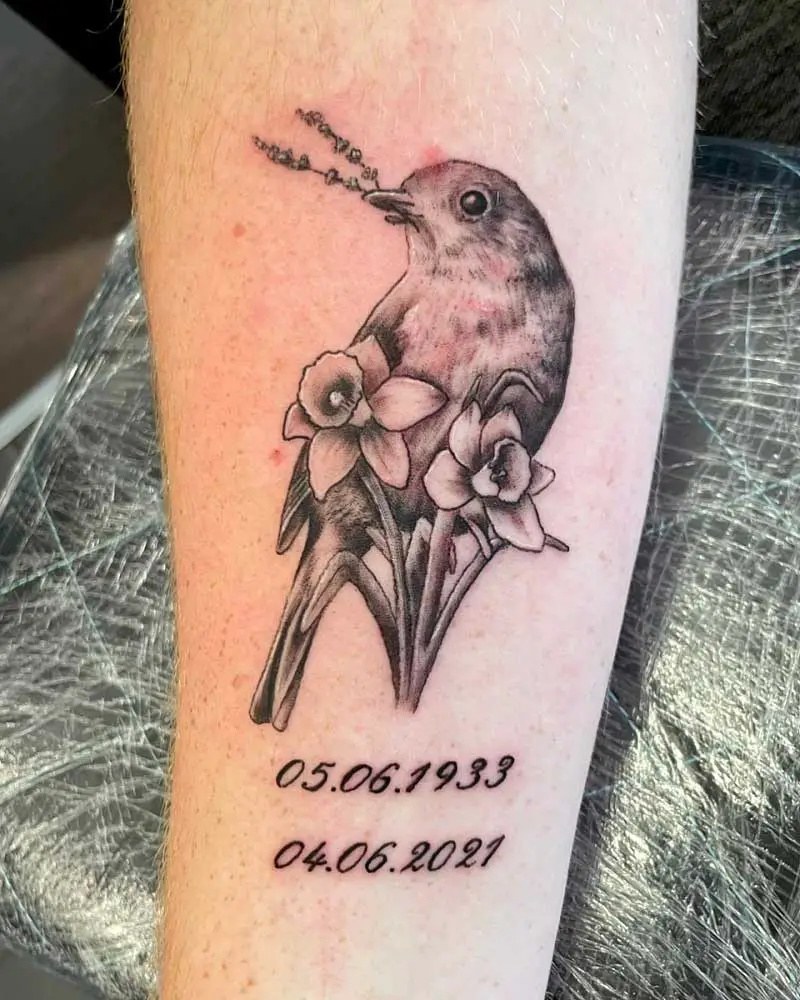 Daffodil Moon Tattoo
68.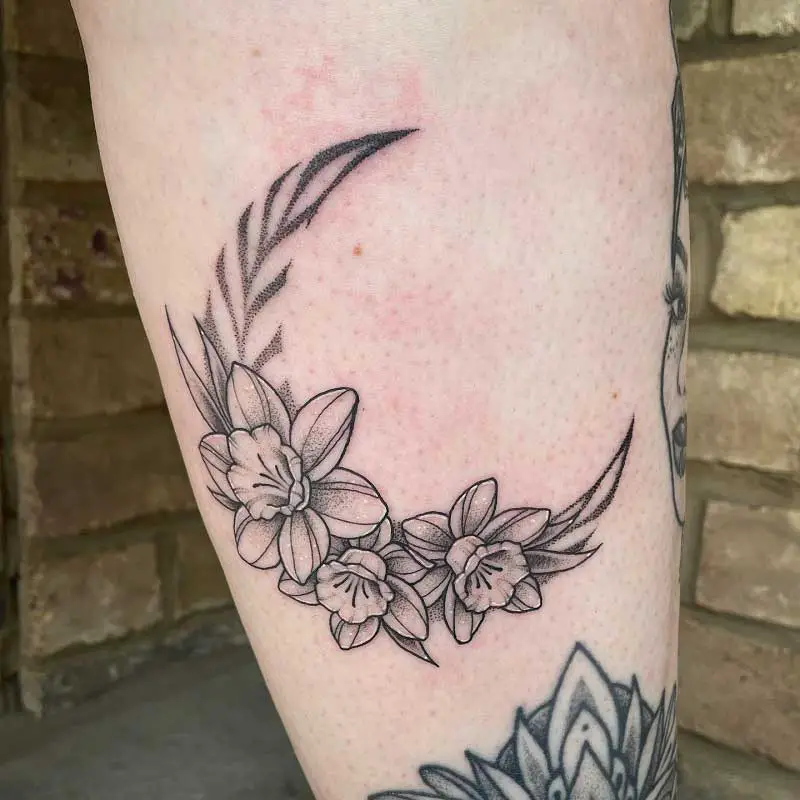 69.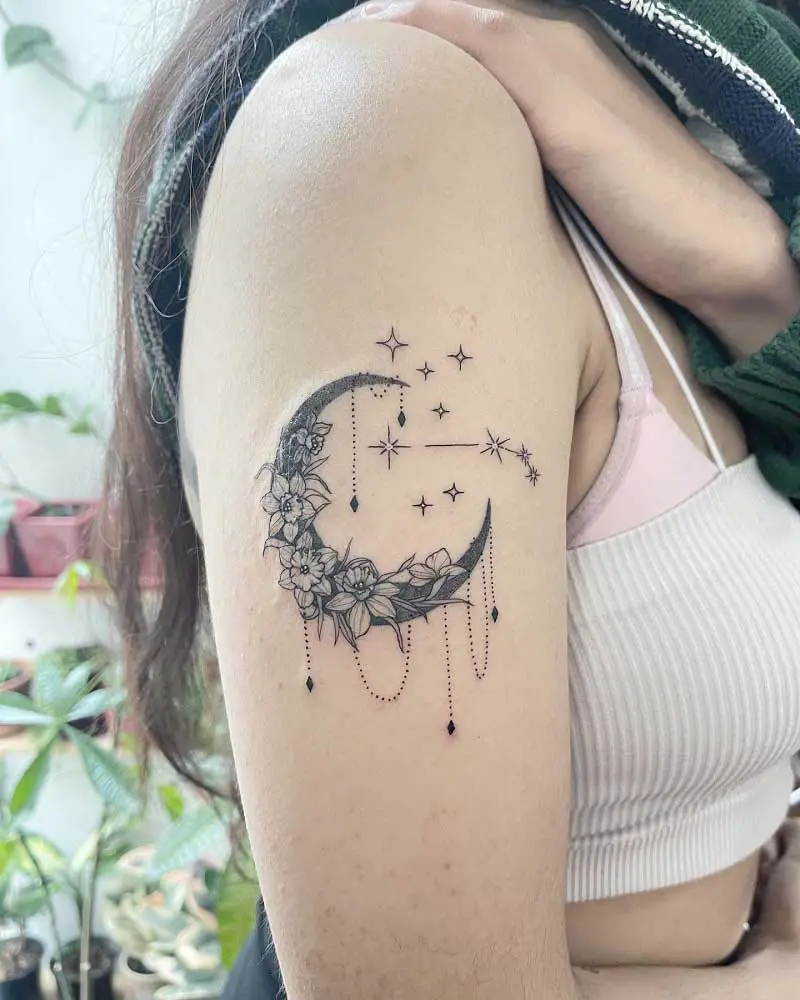 70.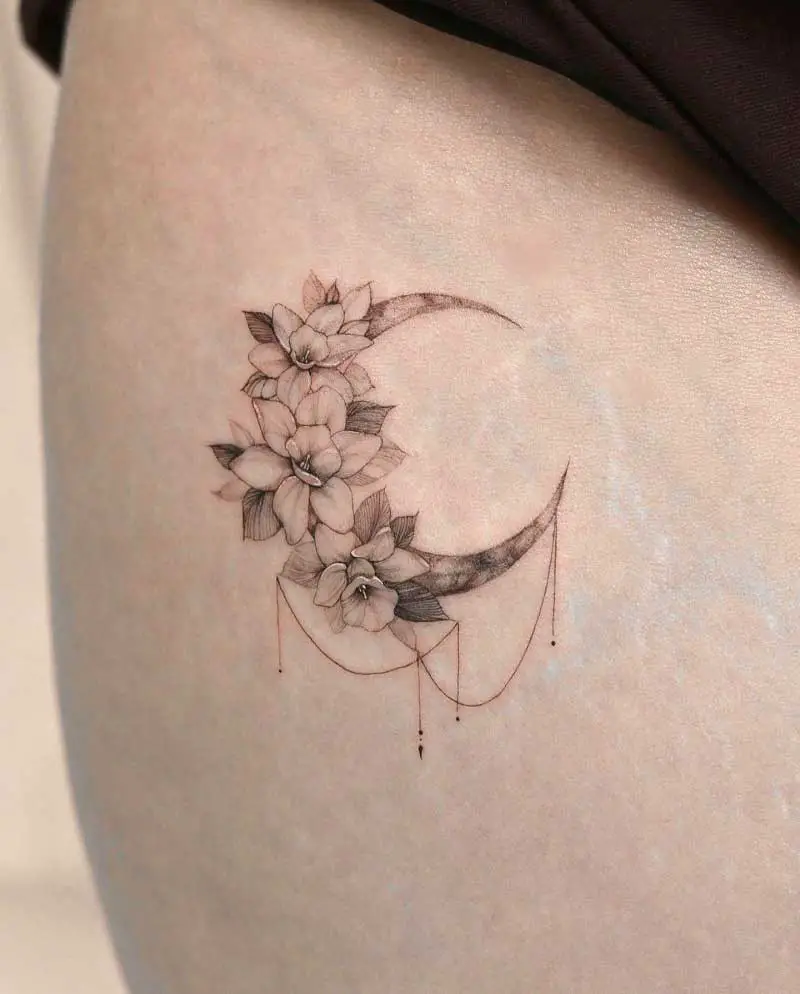 Cartoon Daffodil Tattoo
71.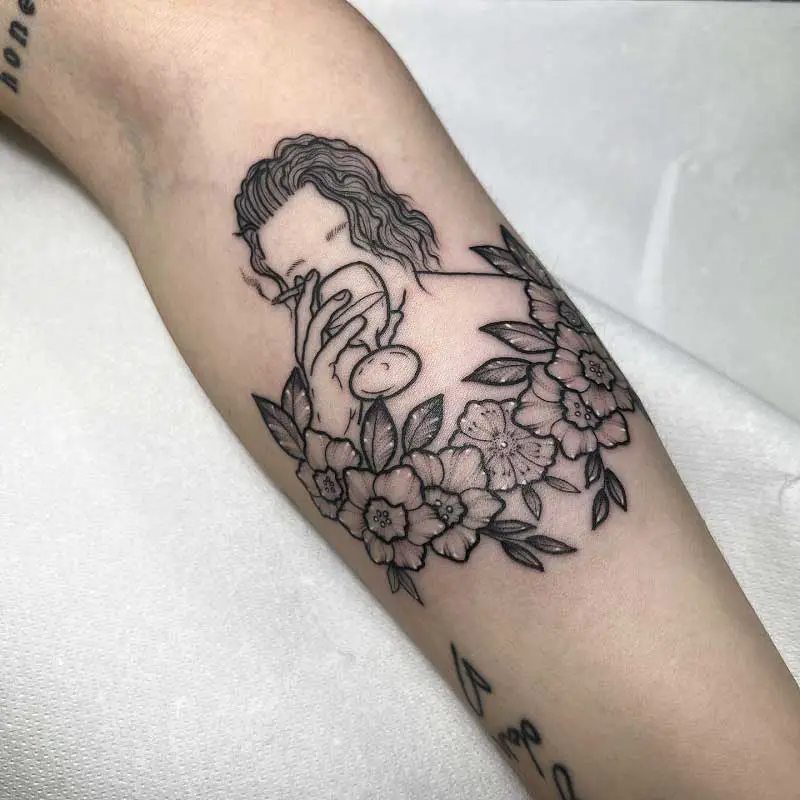 72.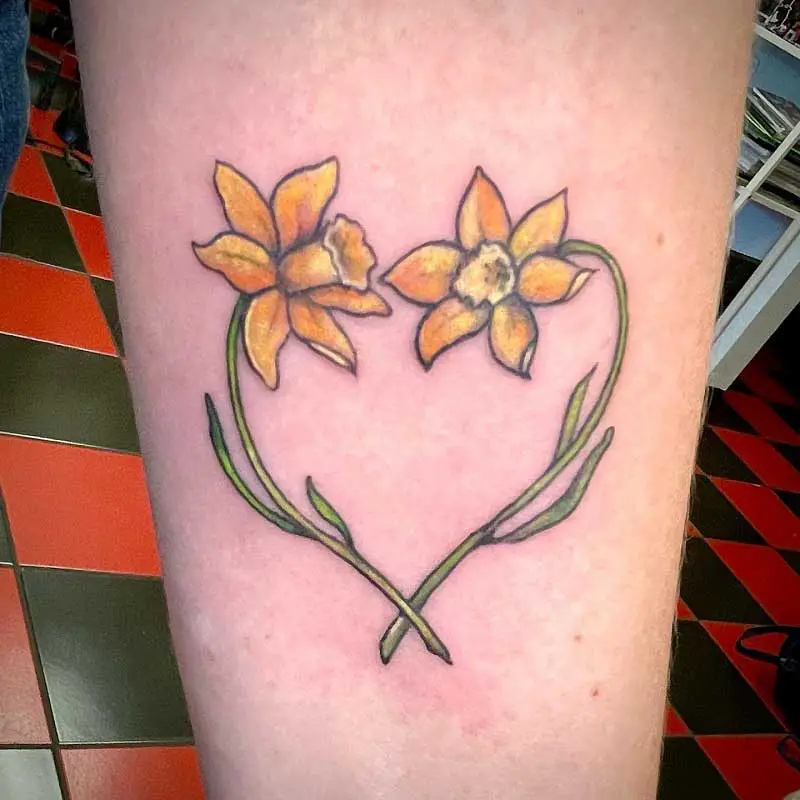 73.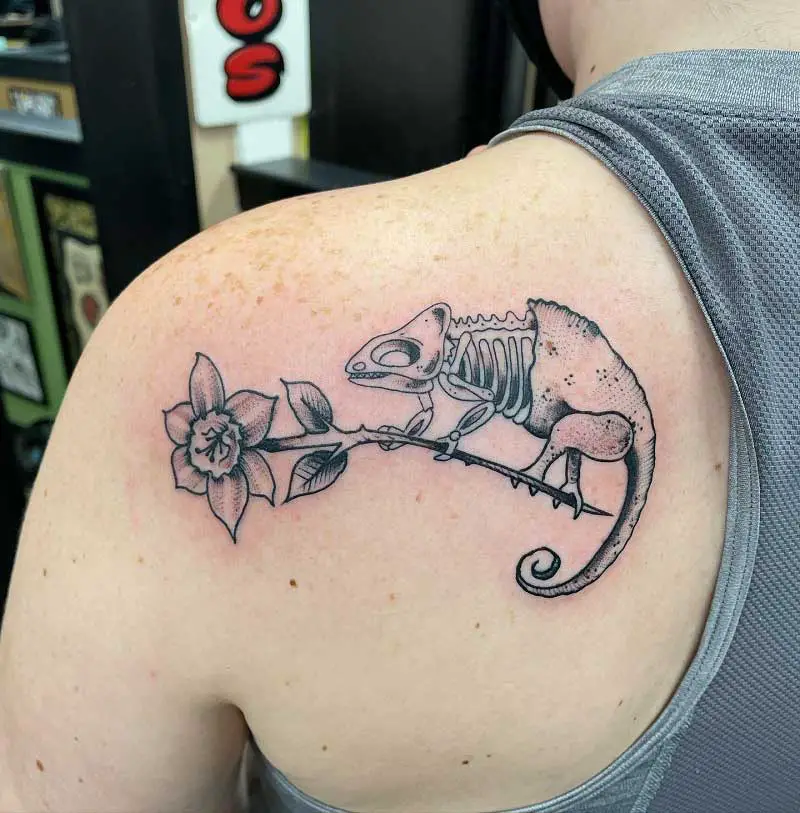 Celtic Daffodil Tattoo
74.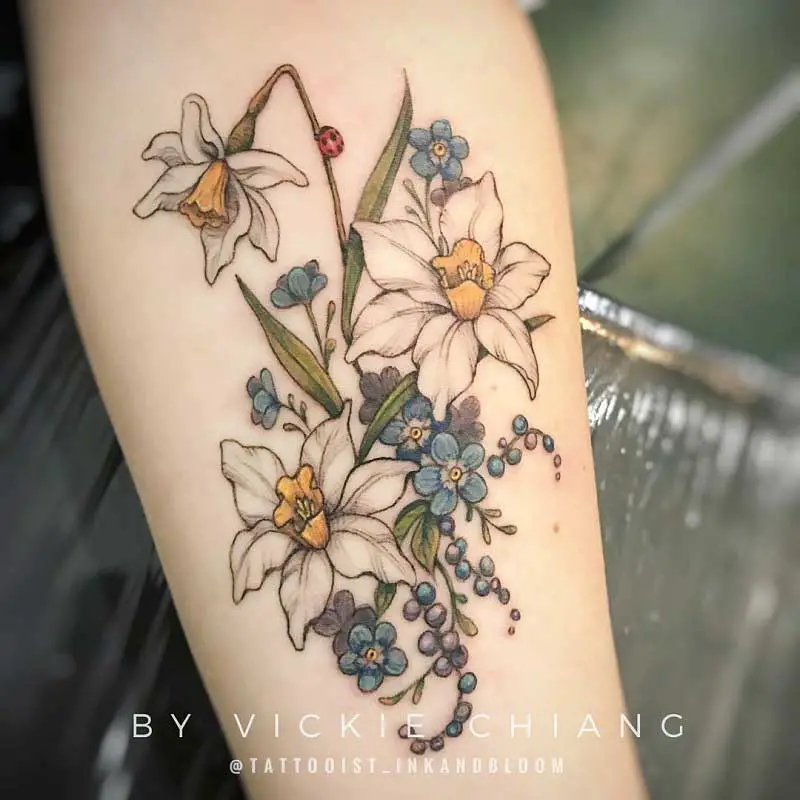 75.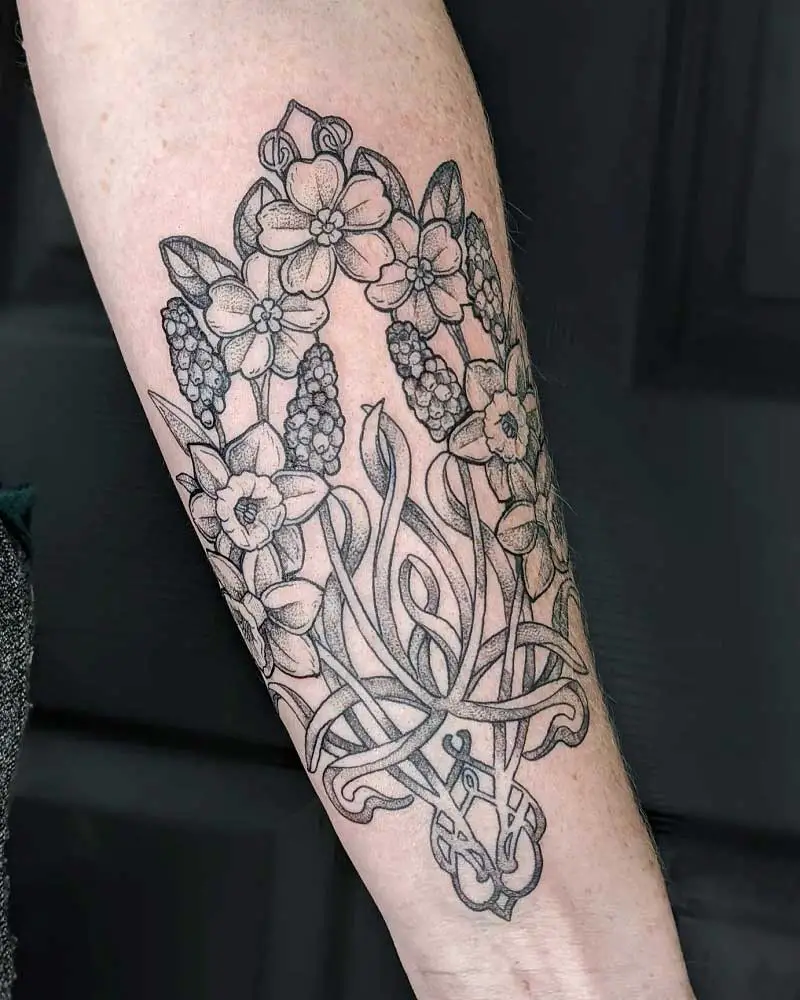 Daffodil Bracelet Tattoo
76.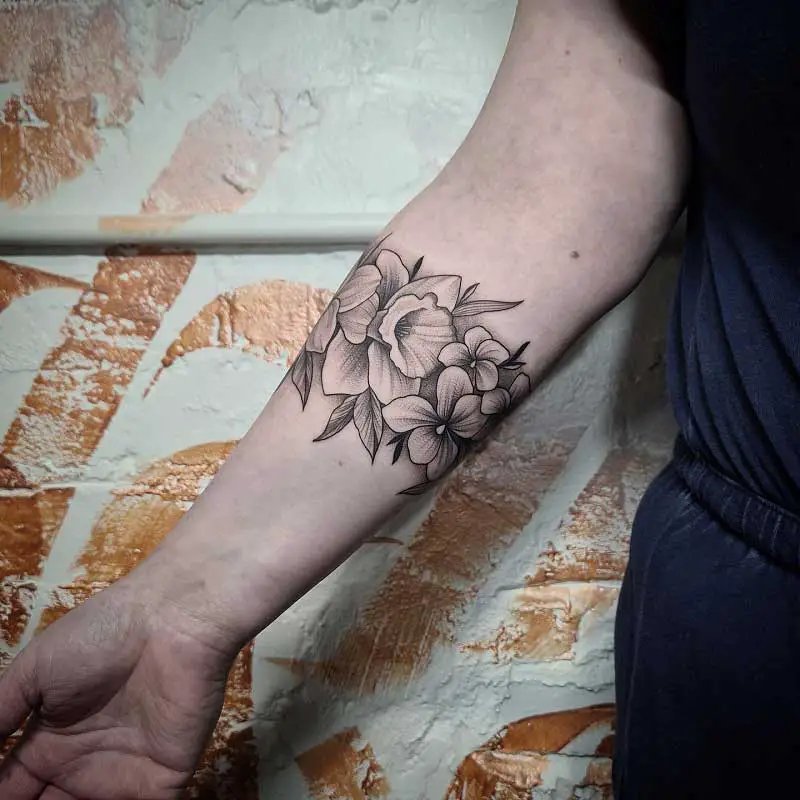 77.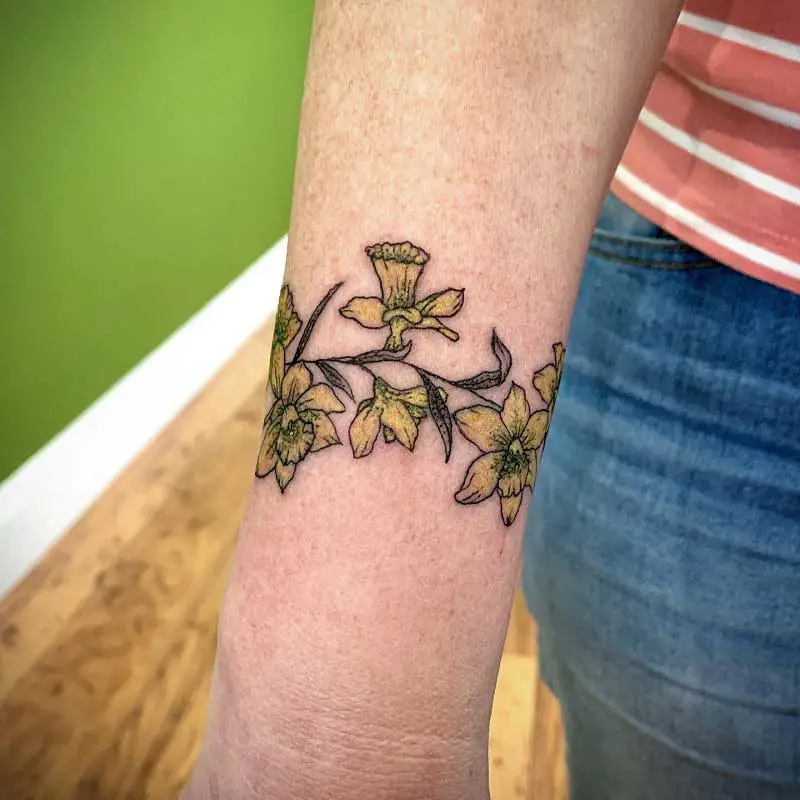 78.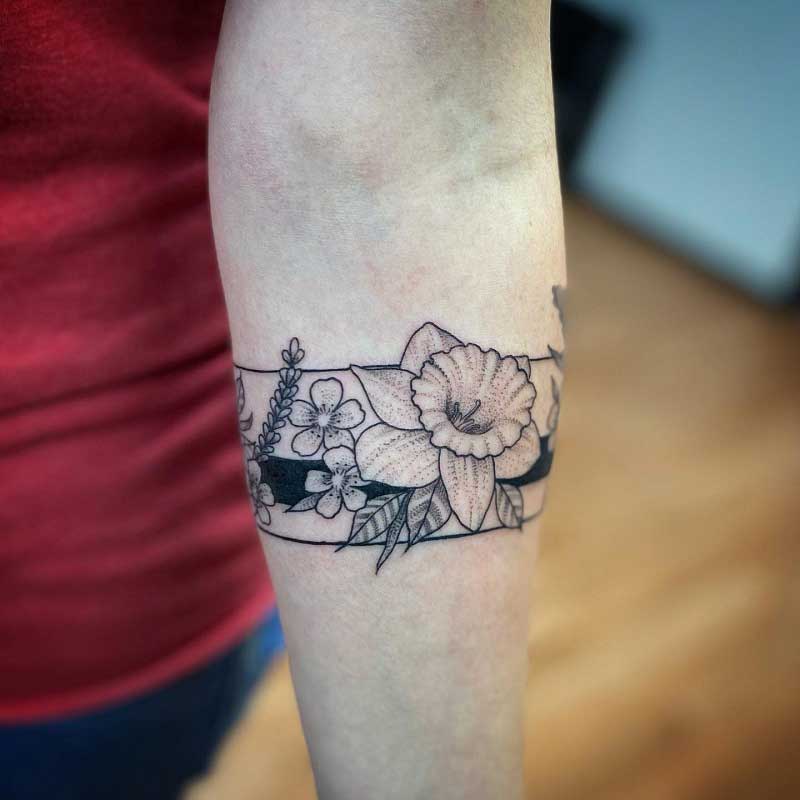 Daffodil Bud Tattoo
79.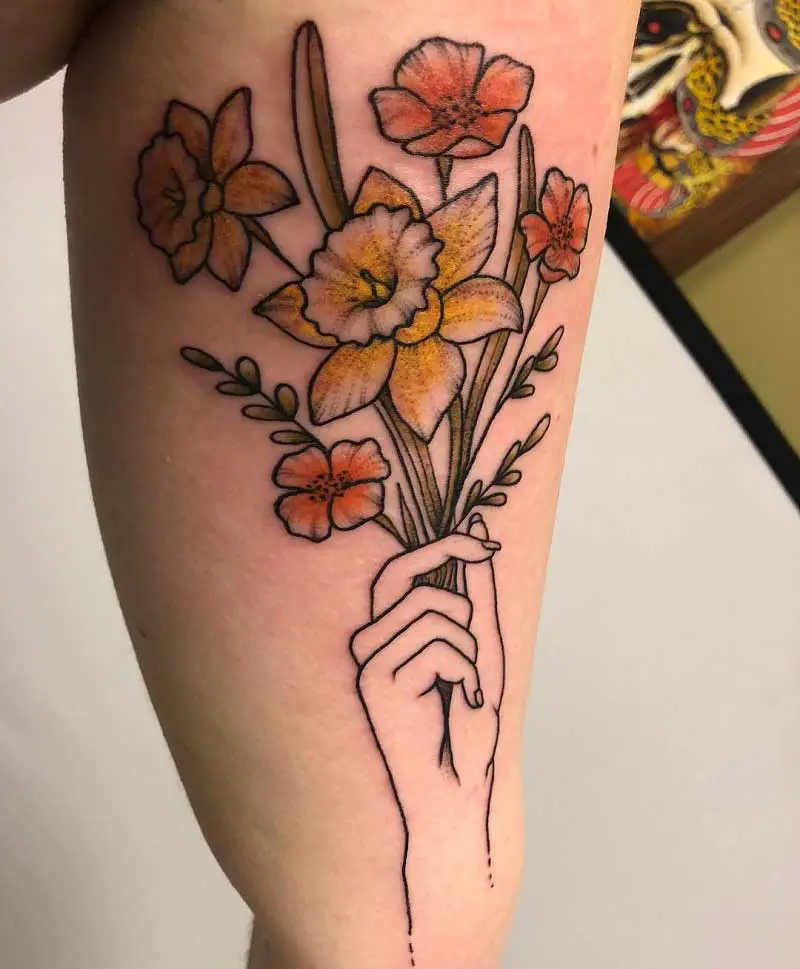 80.
Daffodil Ear Tattoo
81.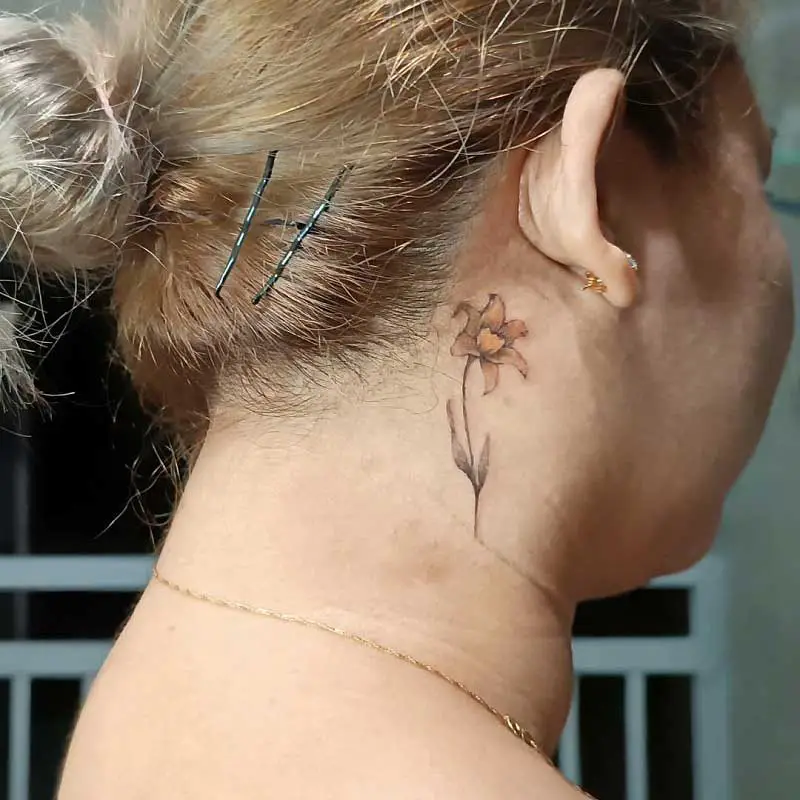 82.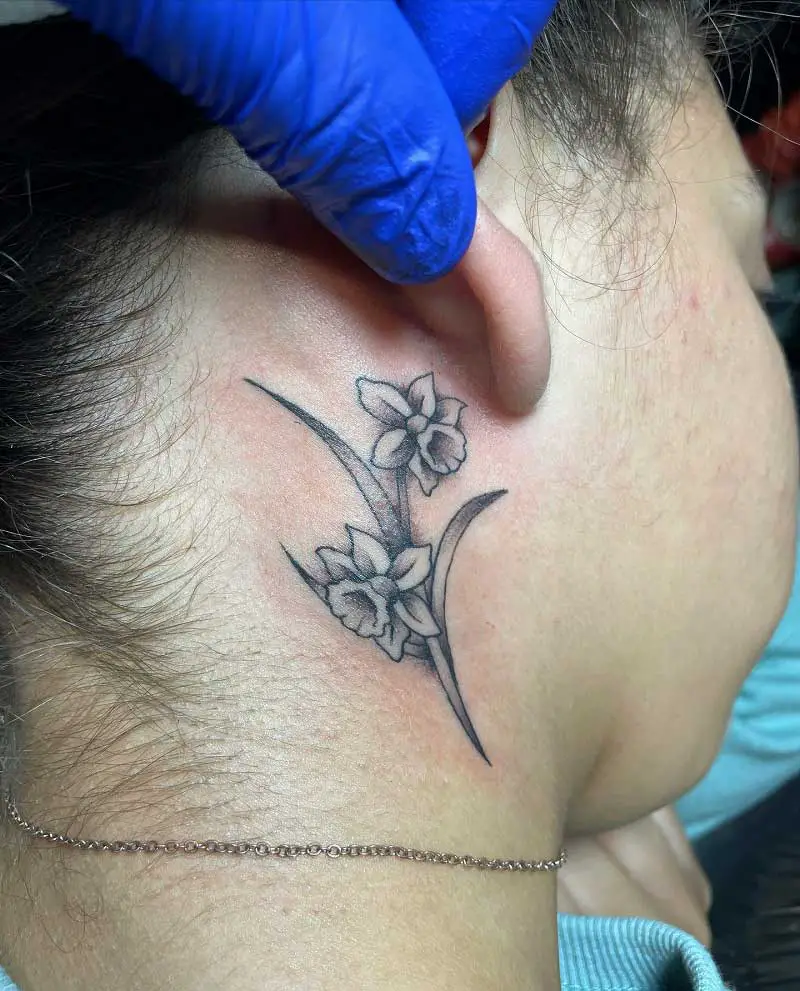 83.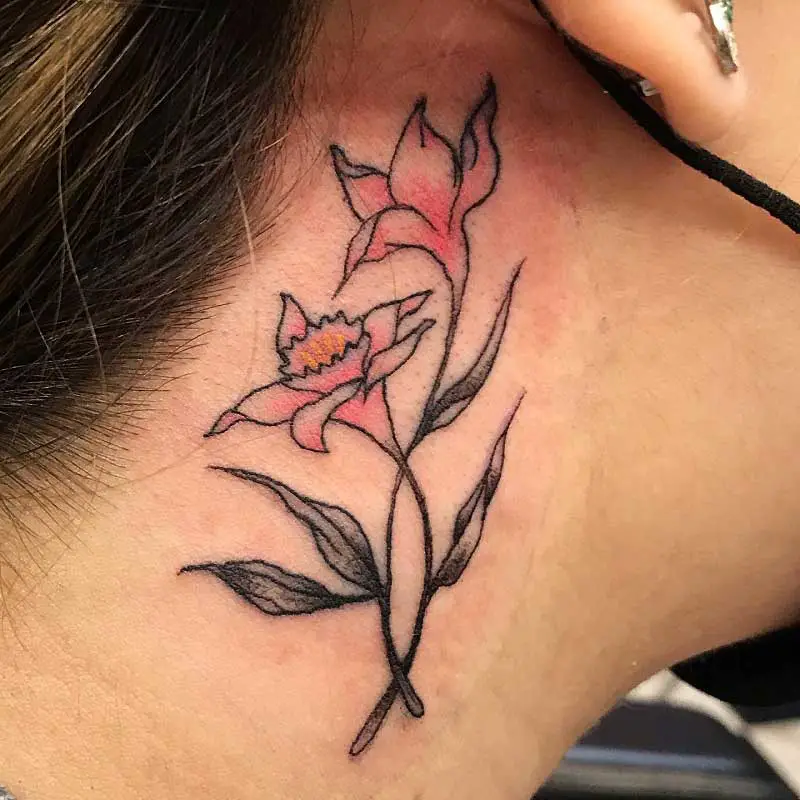 Daffodil Family Tattoo
84.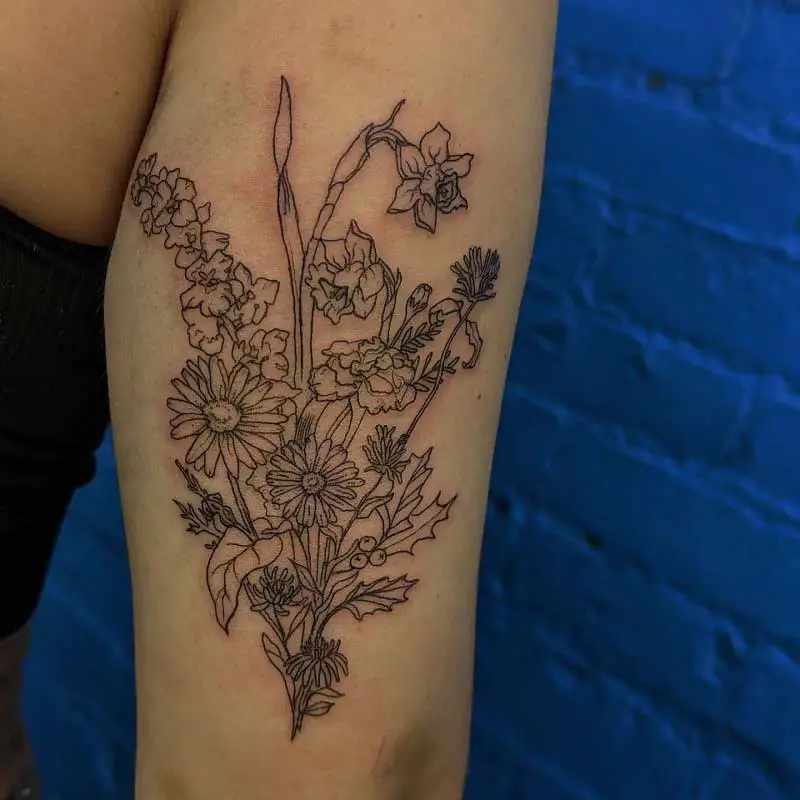 85.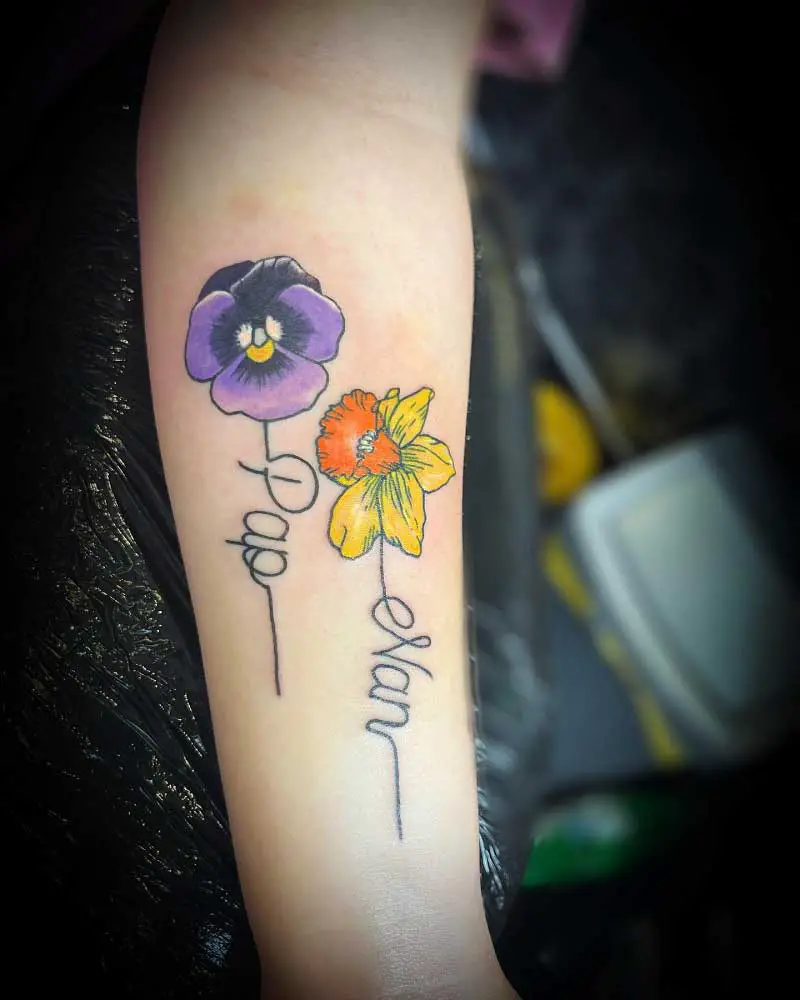 86.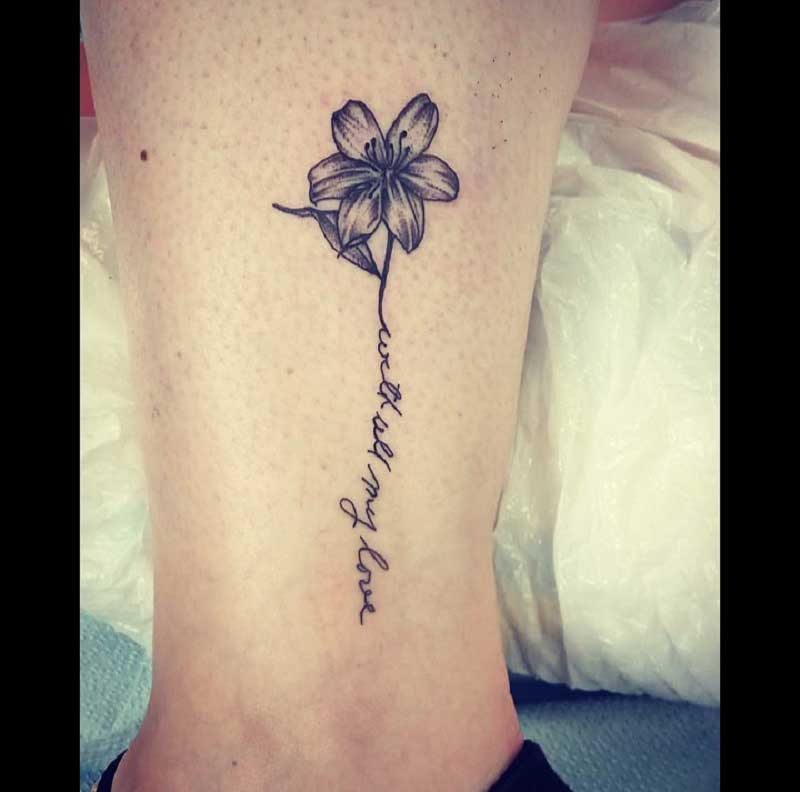 Daffodil Hip Tattoo
87.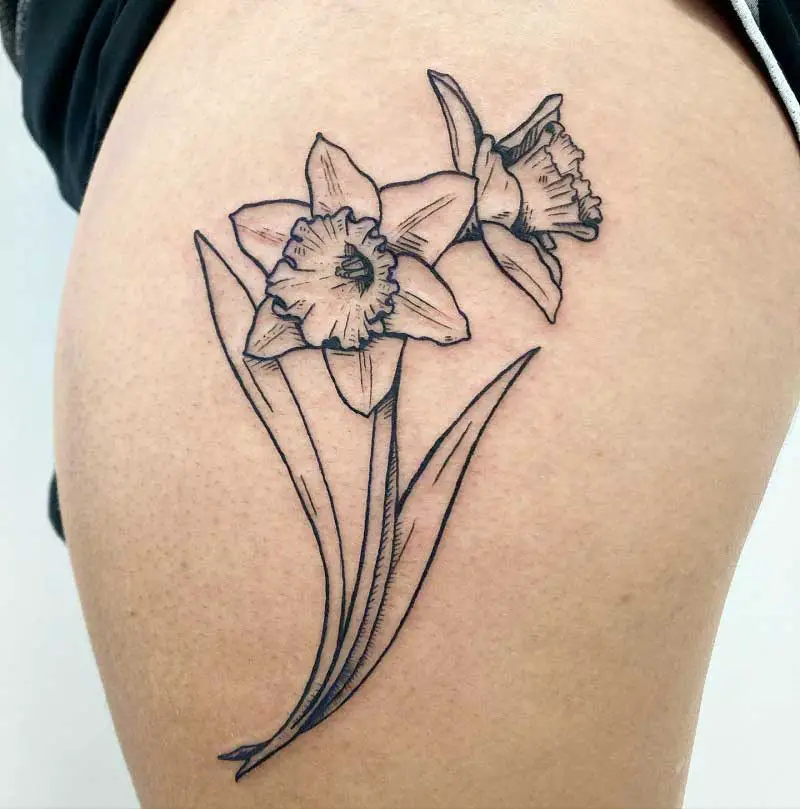 88.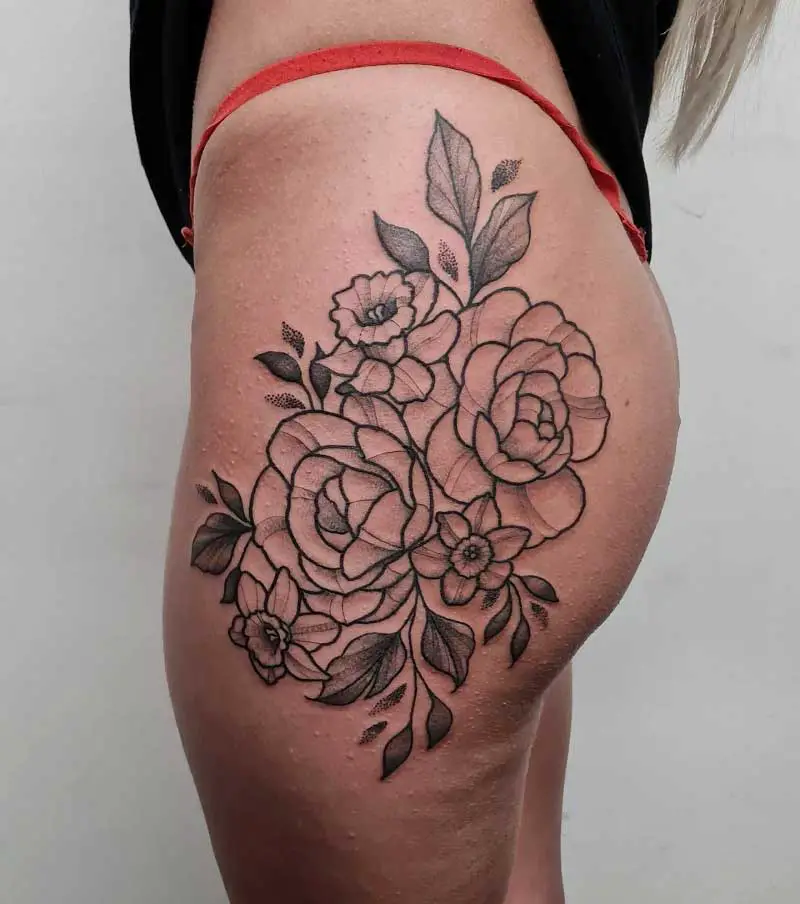 89.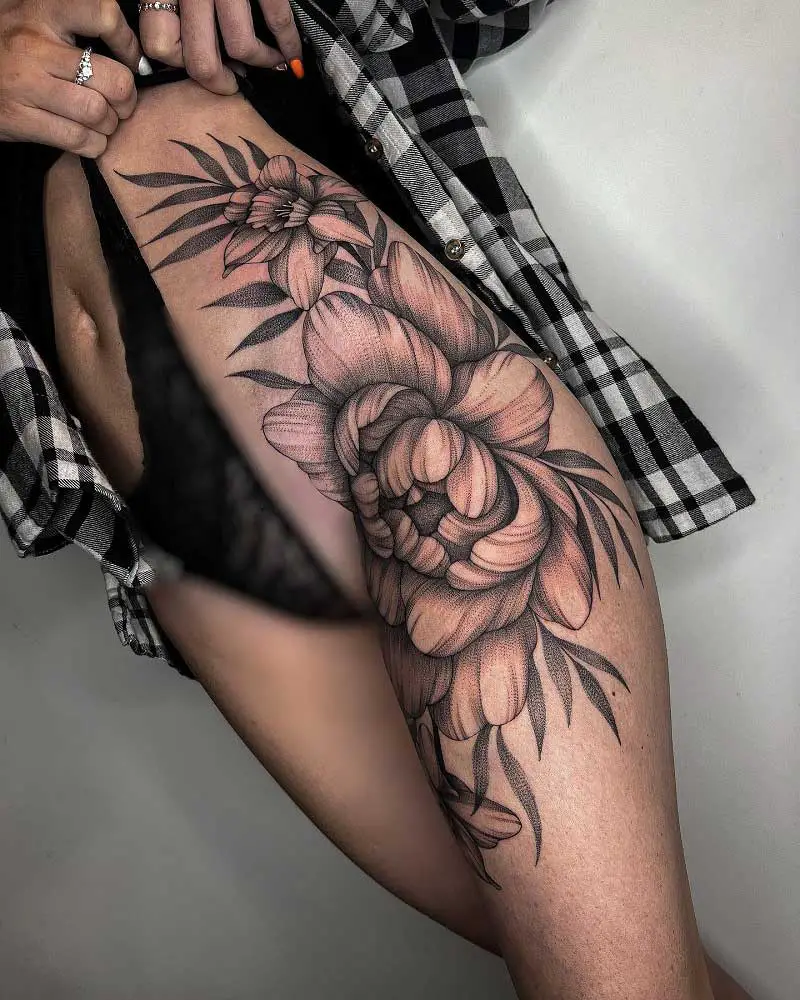 Daffodil Wildflower Tattoo
90.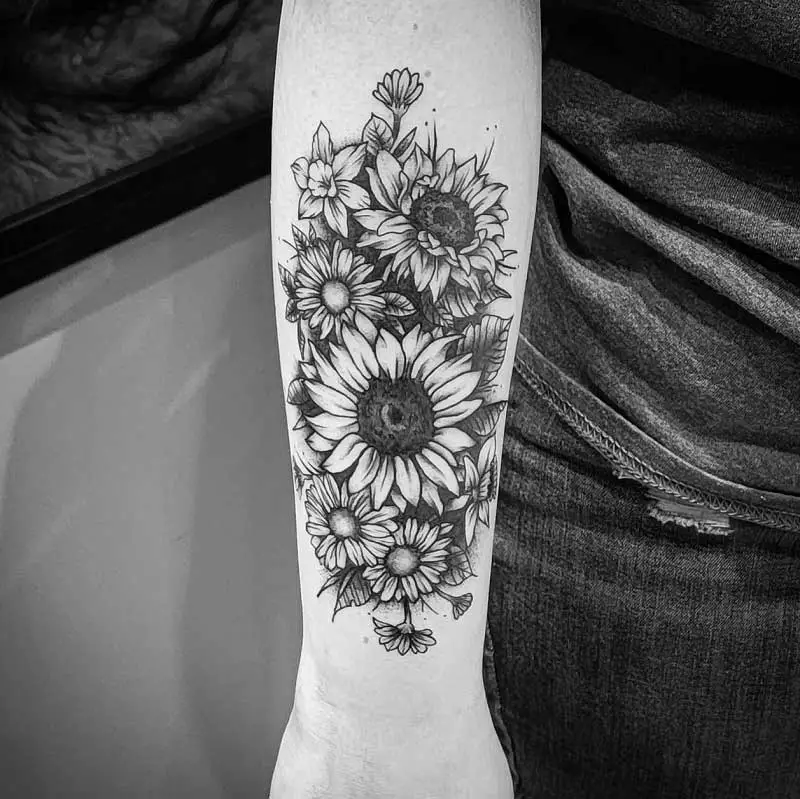 91.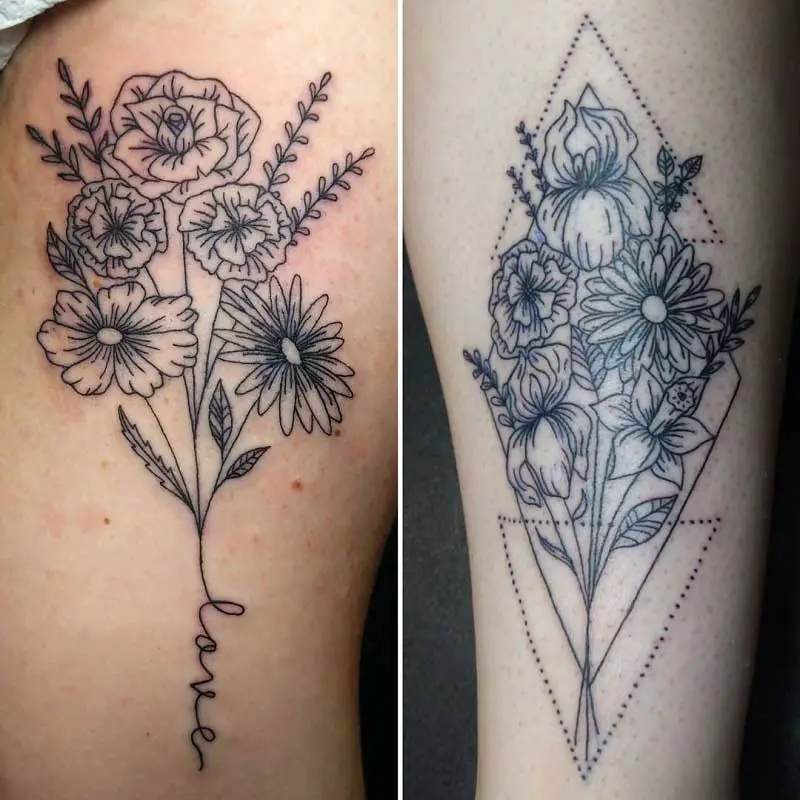 92.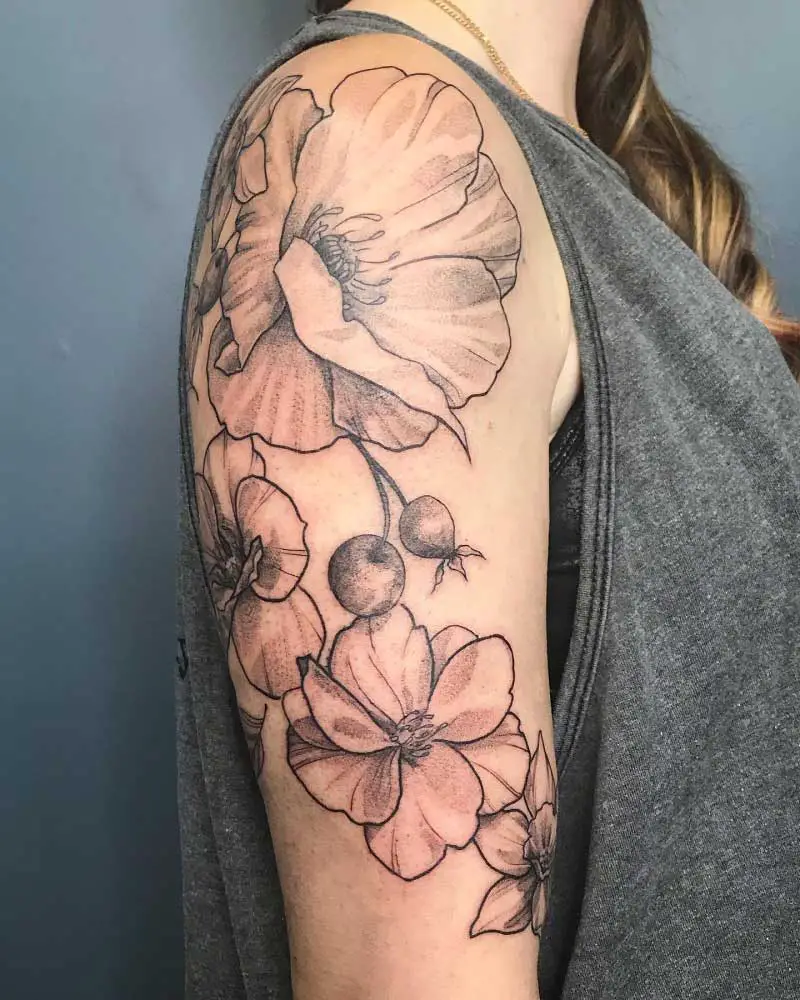 Daisy Daffodil Tattoo
93.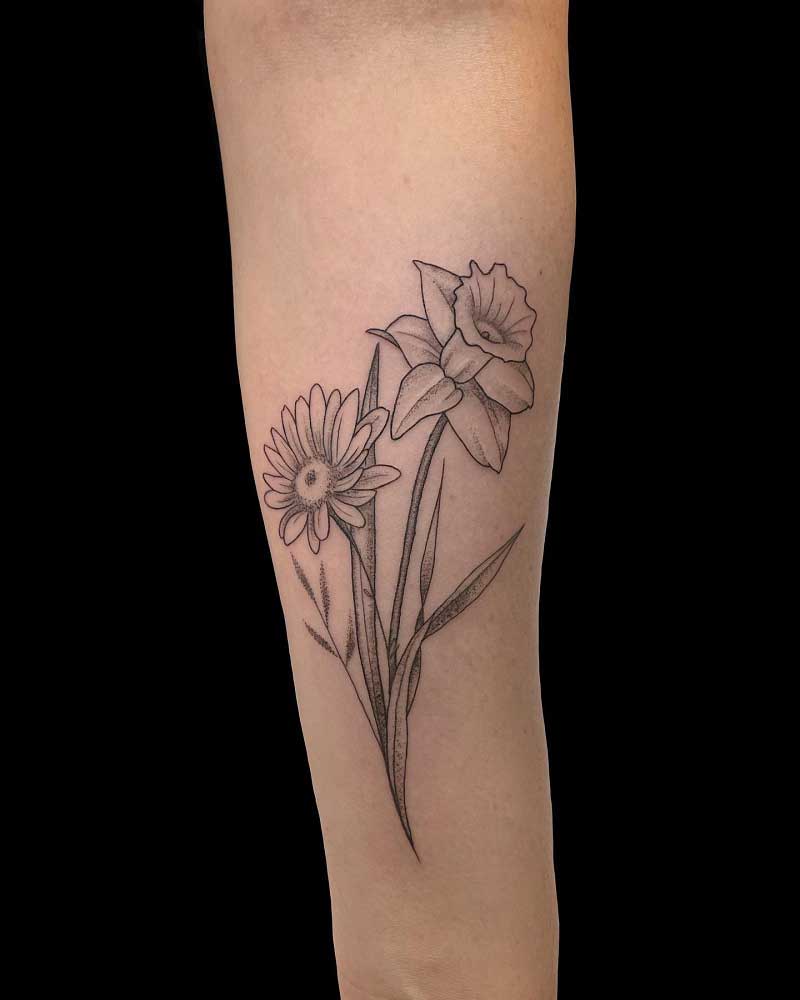 94.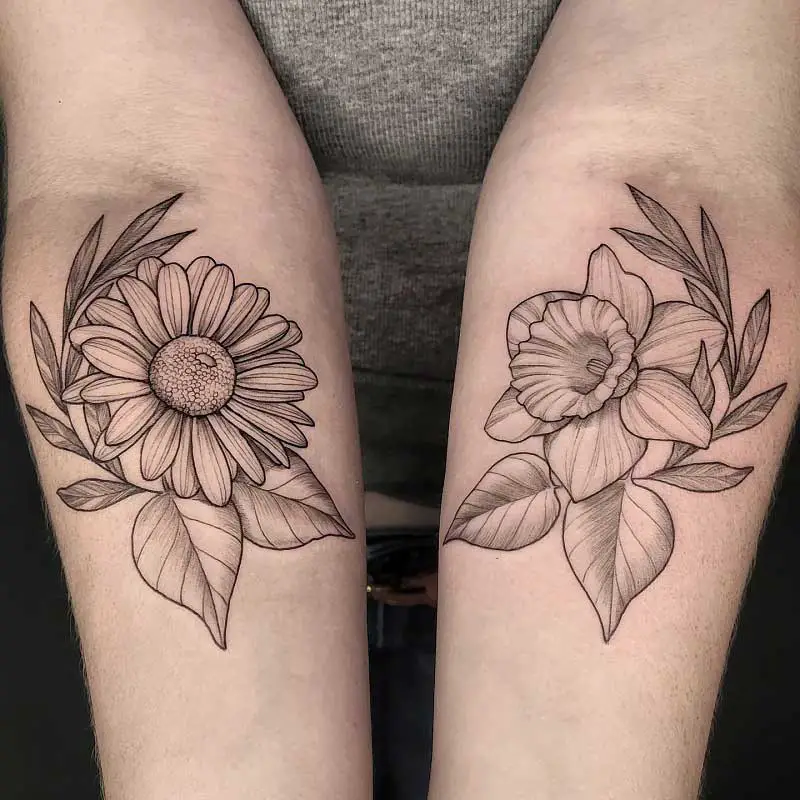 95.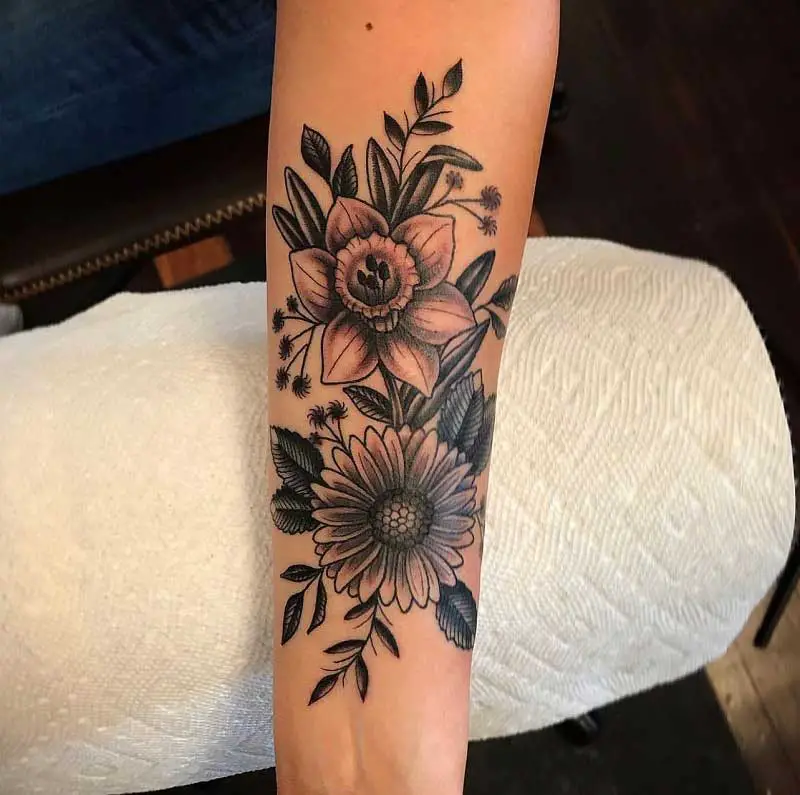 Hiraeth Daffodil Tattoo
96.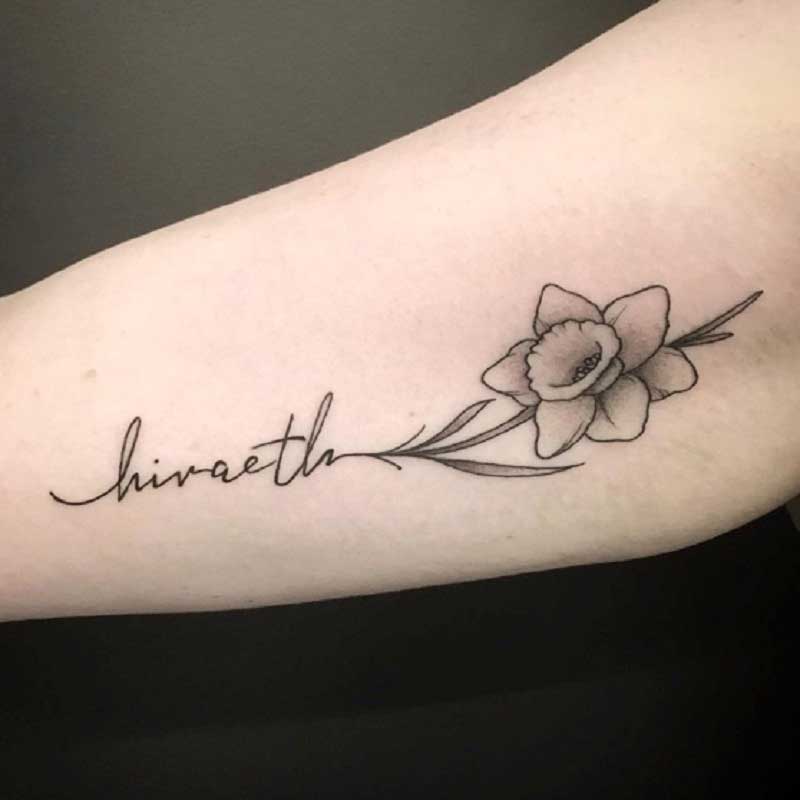 Linnea Daffodil Lily Tattoo
97.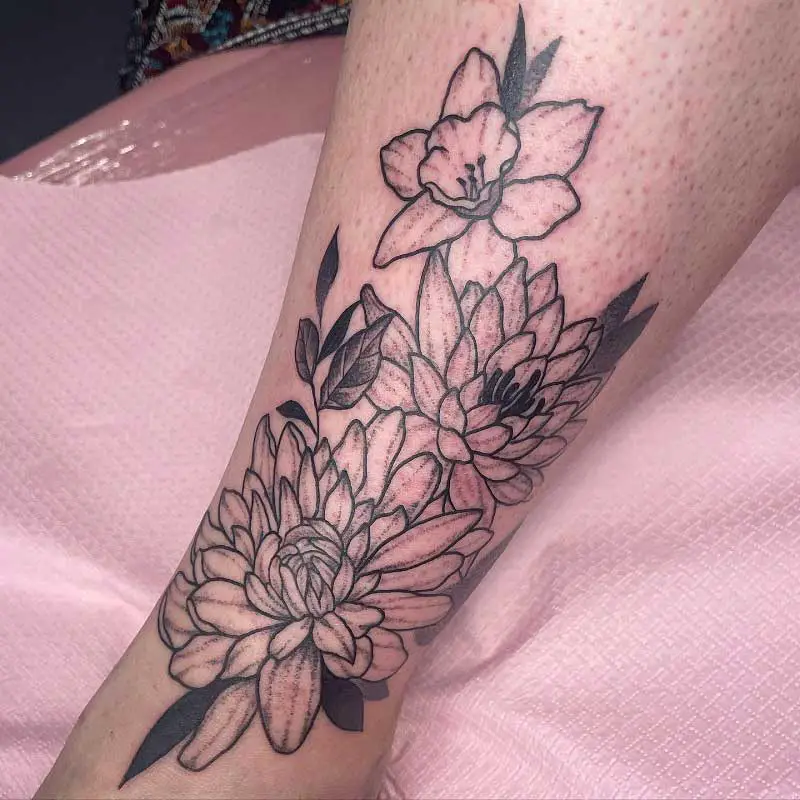 98.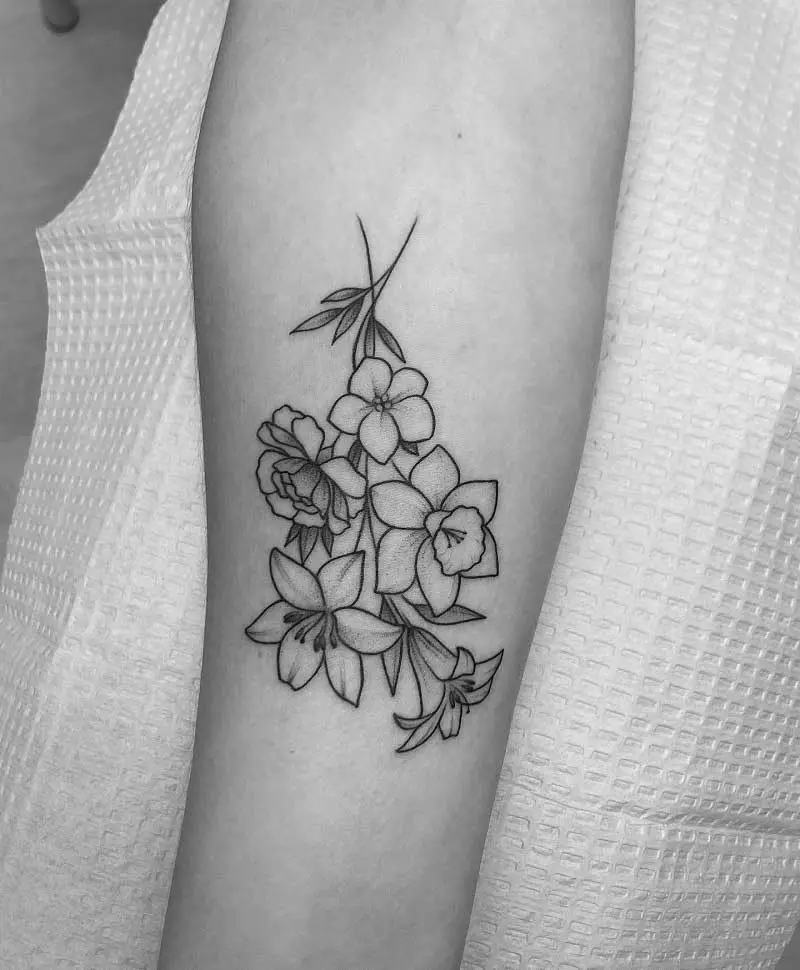 99.
Marie Curie Daffodil Tattoo
100.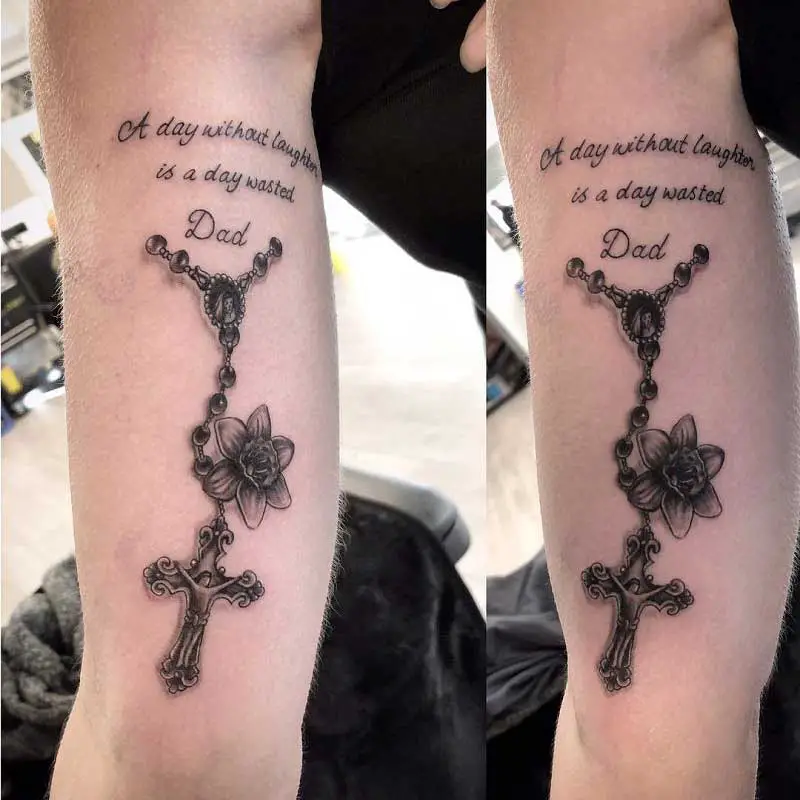 Conclusion
We experience a lot of emotions every day and express only a little. Tattoos gave us the space to show this delicate and sensitive side of us. A daffodil tattoo is perfect for you if you are practical and emotional at the same time. The tattoo talks about the deeper meaning of life and spirituality. 
Finally, do not worry about the design. You can ink the daffodil tattoos in any dimension and on any location of your body. 
Frequently Asked Questions
What Does A Daffodil Tattoo Symbolize?
Daffodil tattoos mainly symbolize purity, rebirth, and hope. The designs can also reflect prosperity, friendship, and bond with people. Some daffodil tattoos carry a darker meaning, indicating death or misfortune.
What Does The Yellow Daffodil Tattoo Mean?
Generally, yellow daffodils or any yellow flower, in general, represent friendship and a new beginning. You can express similar feelings with the orange daffodil tattoos too. But orange seems to add boldness to the design.
Do Daffodils Mean Love?
You can definitely interpret daffodils as a symbol of love. In fact, in many cultures, daffodil tattoos are signs of self-love, unrequited love, or obsession.