Religious individuals get inked with varying tattoo designs to show their faith, spirituality, and gratitude. Blessed tattoo designs are considered to be very popular among spiritual people. 
The urge to get blessed tattoos is more than just a trend; it's a means to show gratitude to god for everything good in life. People choose it to show their connection to the divine and also to motivate themselves with optimism. 
Being considered a vessel for the soul's journey; there are loads of creative possibilities if you want to get the word 'Blessed' inked on your body. What better way can there be to remind yourself of life's beauty, than getting etched with a 'Blessed' tattoo?
81 Blessed Tattoo Designs and Meanings
Tattoos are considered to be one of the best mediums of personal narratives, aspirations, and beliefs. A tattoo that may seem simple may be hiding layers of mysteries and stories that are hidden from the naked eye. Below, we will explore some of the best blessed tattoos that we have piled up. You are surely going to find your next spiritual tattoo on this list and we are excited enough to assist you with finding one!
Blessed Forearm Tattoo
People choose to get blessed forearm tattoos when they are looking for something big and with aesthetic looks. This is a large canvas area that provides loads of possibilities for your tattoo artist to work his magic.
Serene Blessings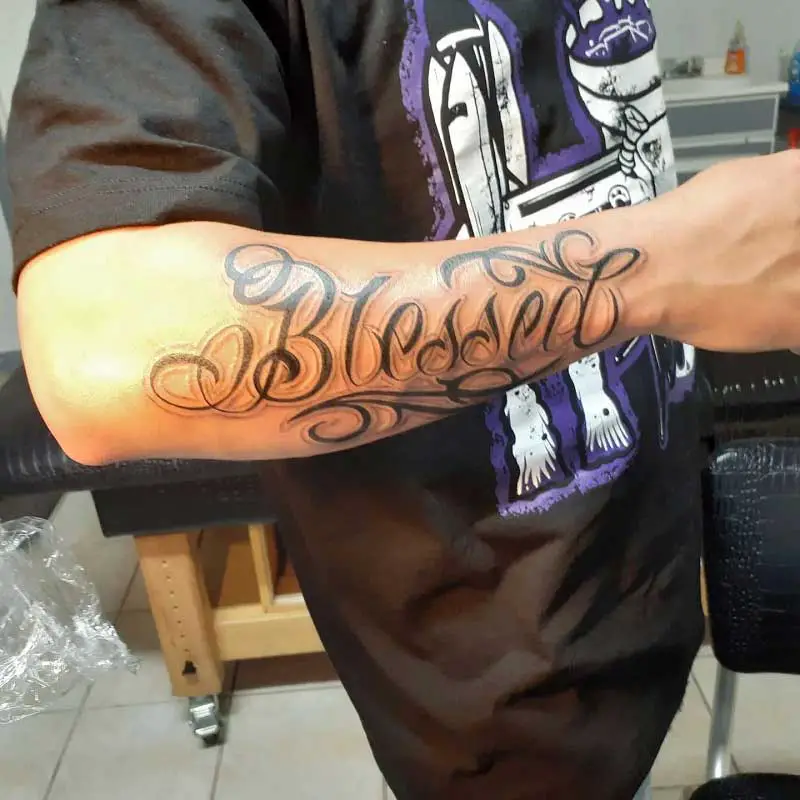 A simple blessed tattoo for your forearm that is simple and does its job well. It is easy to read and the cursive font adds a lot of beauty to the whole art.
2. Blessed Love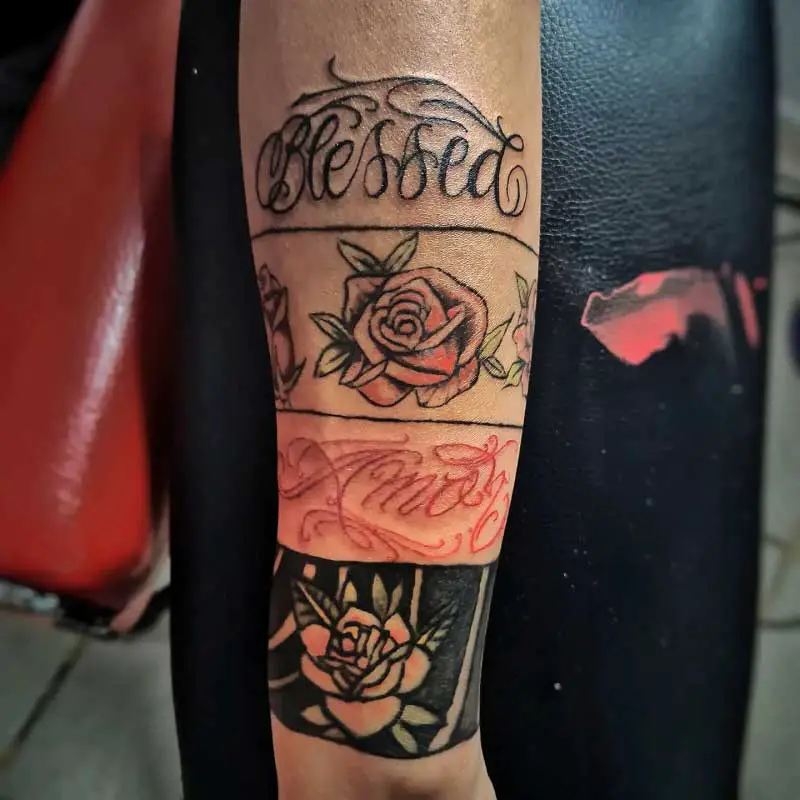 This blessed tattoo on the man's forearm is a way for him to show gratitude to god for letting him have his soulmate, that's what the word 'Amor' written below suggests. Consider getting inked with this for your partner.
3. Rugged Blessings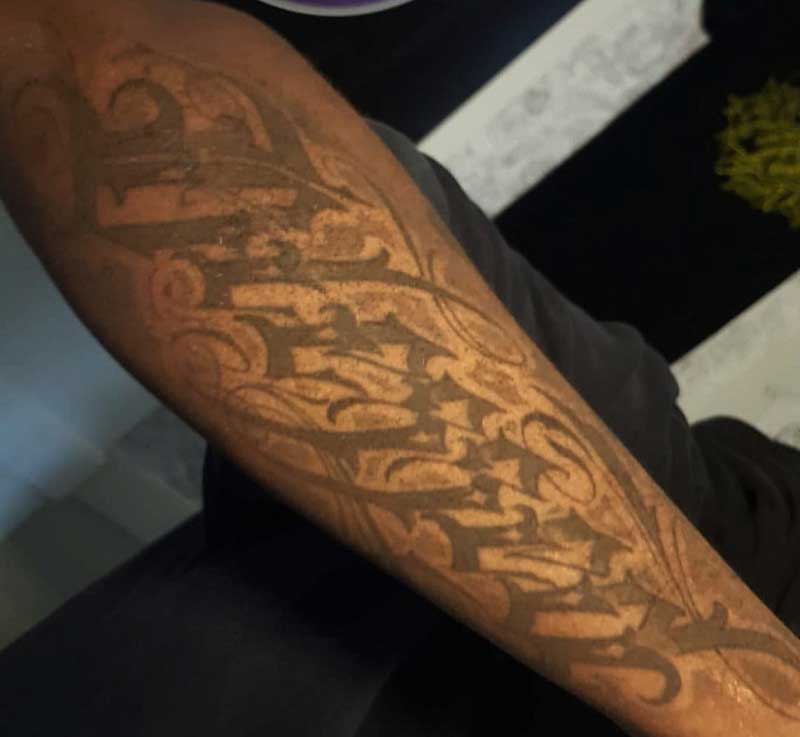 If you're tough and strong but still spiritual, you should opt for this forearm tattoo. The rugged look on this one would go well with your personality.
Blessed Neck Tattoo
When you incorporate tiny tattoos with the skin on your neck, the result is always fantabulous! Blessed neck tattoos look super aesthetic and are also very popular. Be aware tho, getting tattoos on the neck can hurt a bit but believe us when we say, it's worth it!
4. By The Side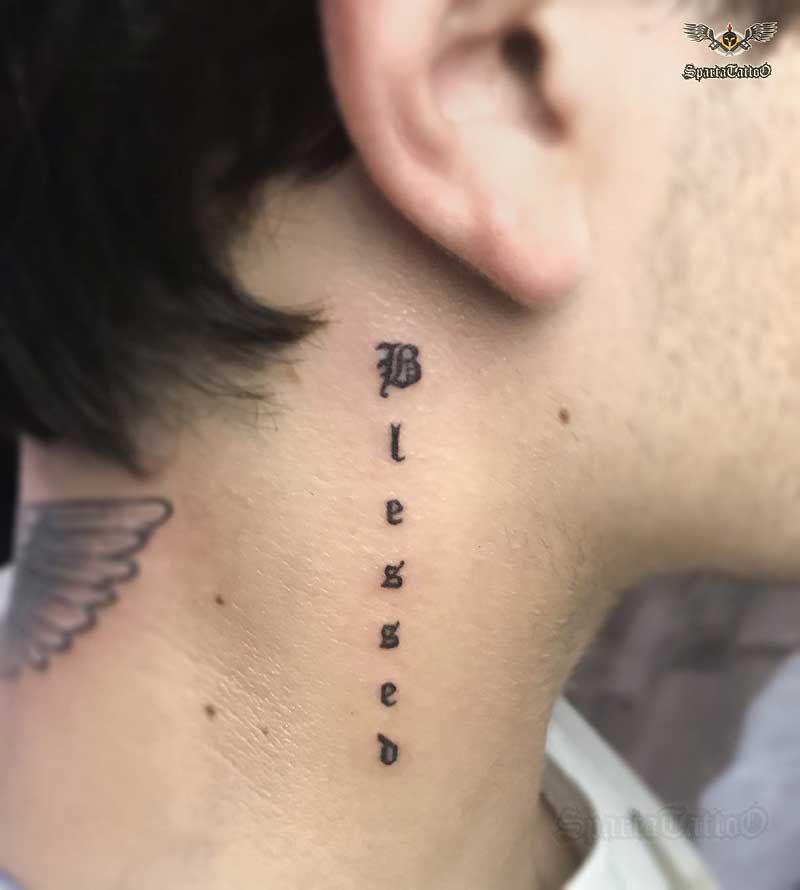 This blessed black and white tattoo on the man's neck is simple but looks appealing. The positioning of this tattoo is slightly upwards, allowing it to still be visible even if you wear a shirt.
5. Angelic Blessings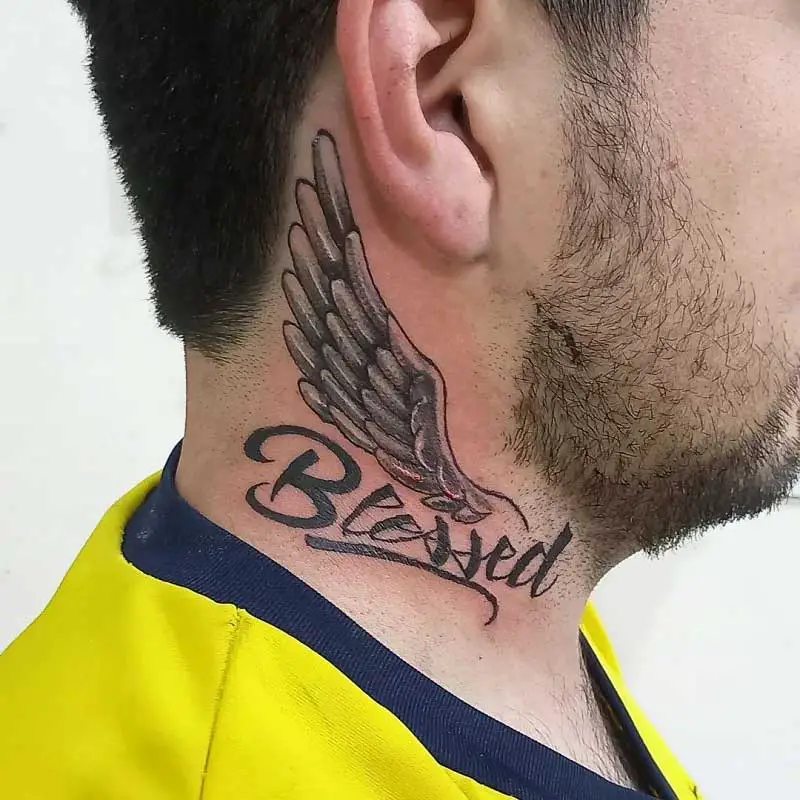 You might know already that angel wings are used to symbolize spiritual protection and guidance. Adding that up with your blessed tattoo probably is the best combination ever!
6. Standing strong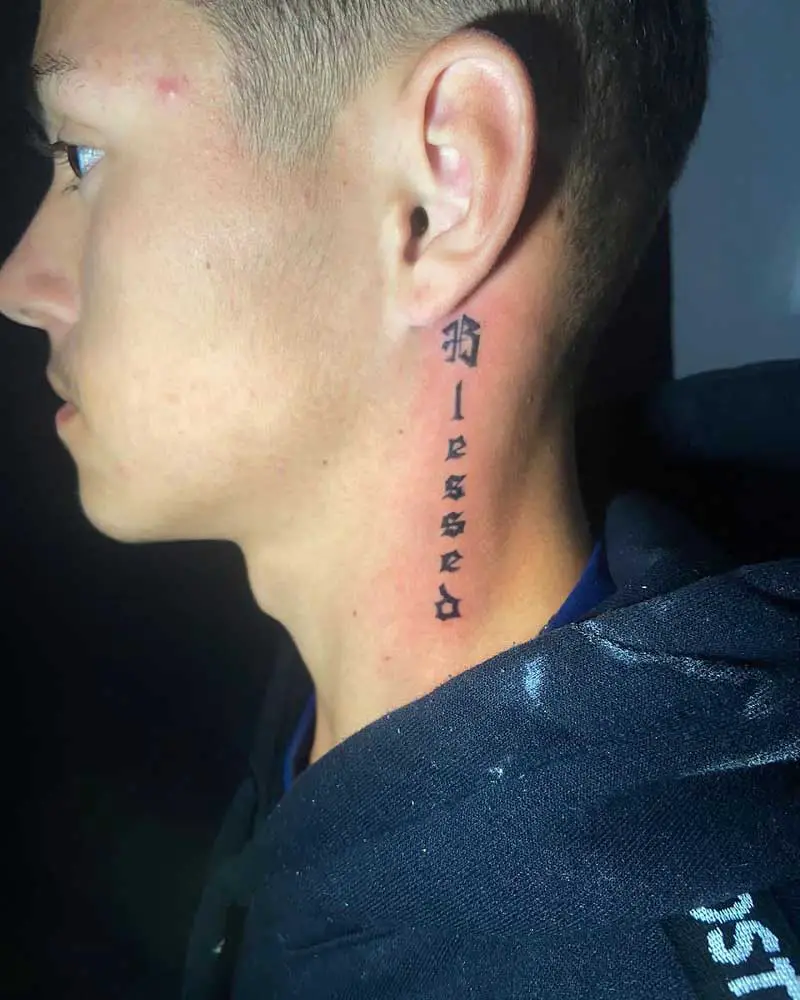 Another blessed neck tattoo. This one is slightly bigger than the previous one. It's an eye candy that would look quite attractive when peeking from the collar of your shirt.
Cursive Blessed Tattoo
Cursive fonts are effortlessly charming and bring words to life. The various curves and loops in cursive words indeed are very pleasing to the eye. Below we are presenting you some of the best blessed tattoos written in cursive.
7. Plain Blessed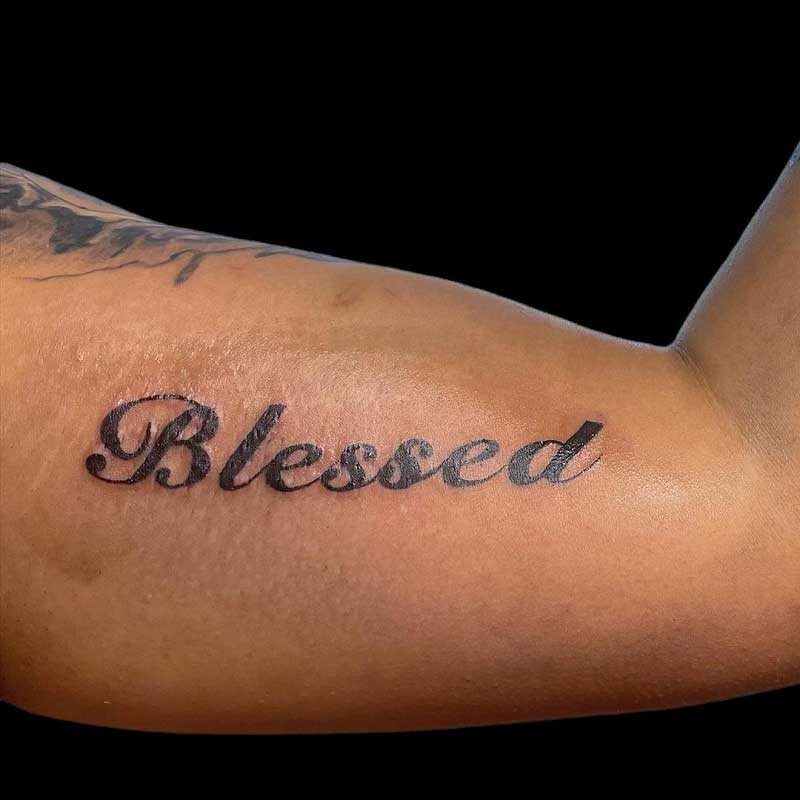 A simple cursive blessed tattoo. This is easily readable by anyone because the amount of cursive is low. Simple and sweet, just like you.
8. Guidance of The Cross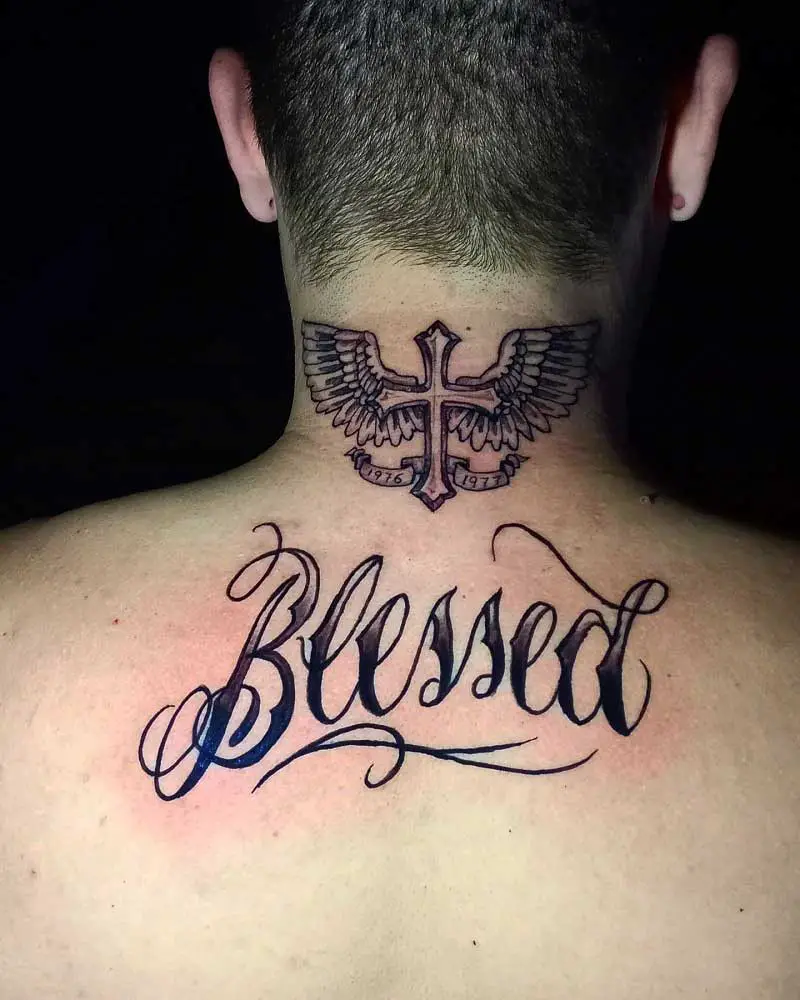 There can be nothing more powerful and deeply symbolic than a cross tattoo. Combining it with a cursive blessed tattoo on your back states that you're blessed by Jesus himself.
9. Blessed Back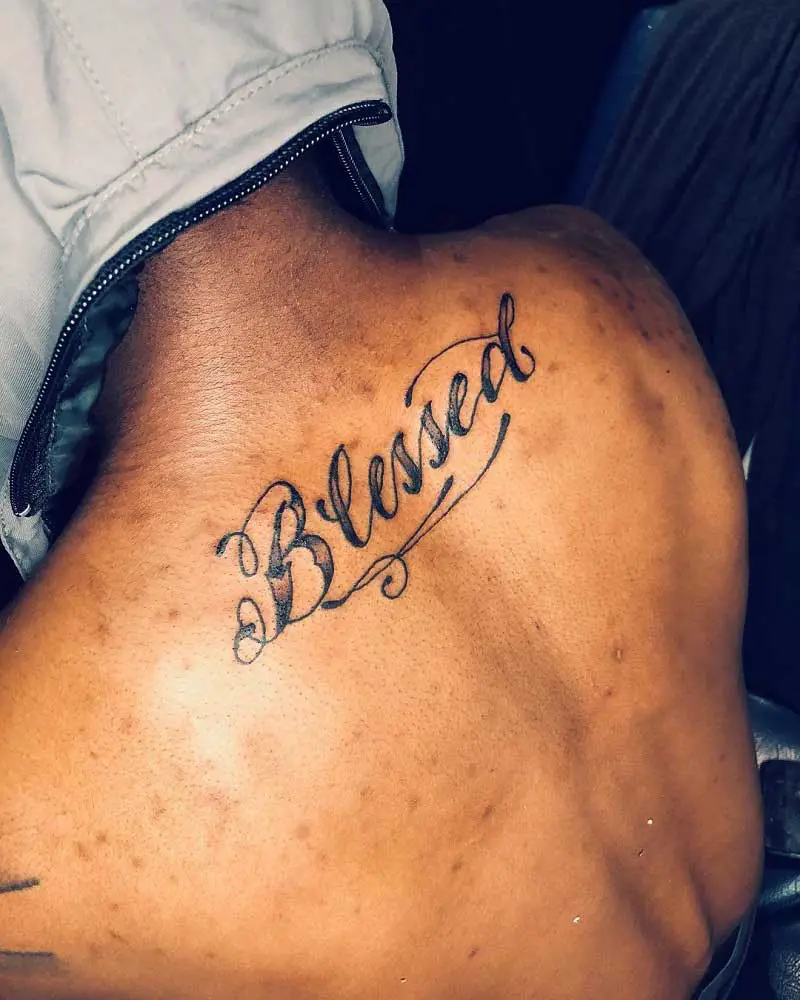 This black and white tattoo looks enticing and being written in cursive adds more points for beauty. The curves on this tattoo are very detailed together with the different shades of black.
Blessed Tattoo on Chest
Having a blessed tattoo on the front is a great way to keep your heart at peace. It also helps you to see it every morning when you stand in front of the mirror before you head to work. Getting a blessed tattoo chest design comes with a plethora of possibilities.
10. Blessings For Bravery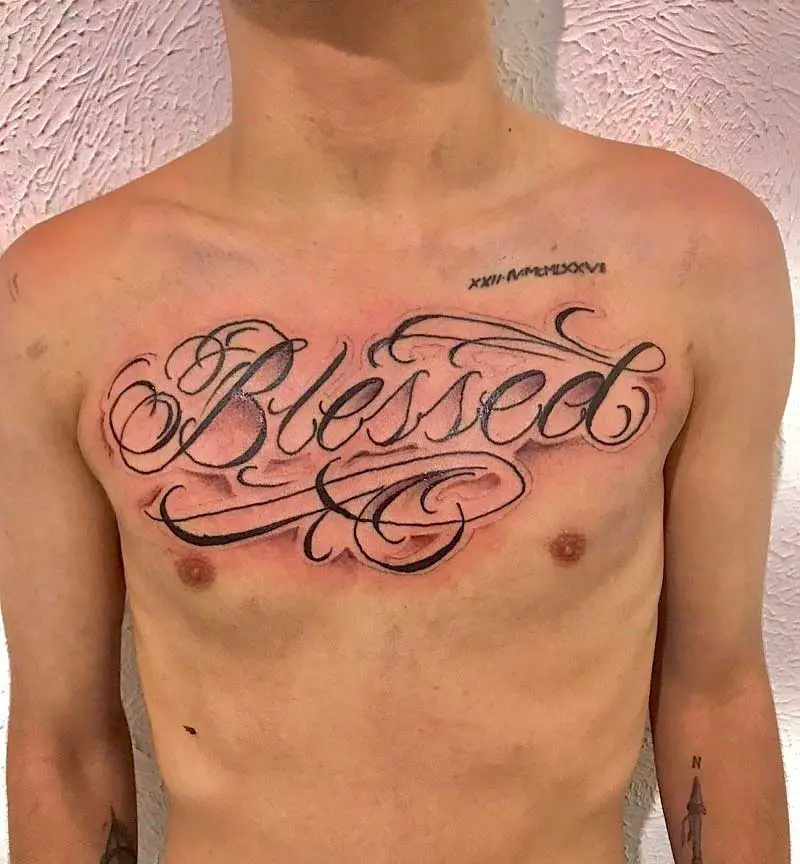 It is a common saying that bravery and courage are stored in our hearts. What better way to motivate yourself to have all these personality traits than getting your chest tattooed with this big blessed chest tattoo
11. Cursive Blessed Chest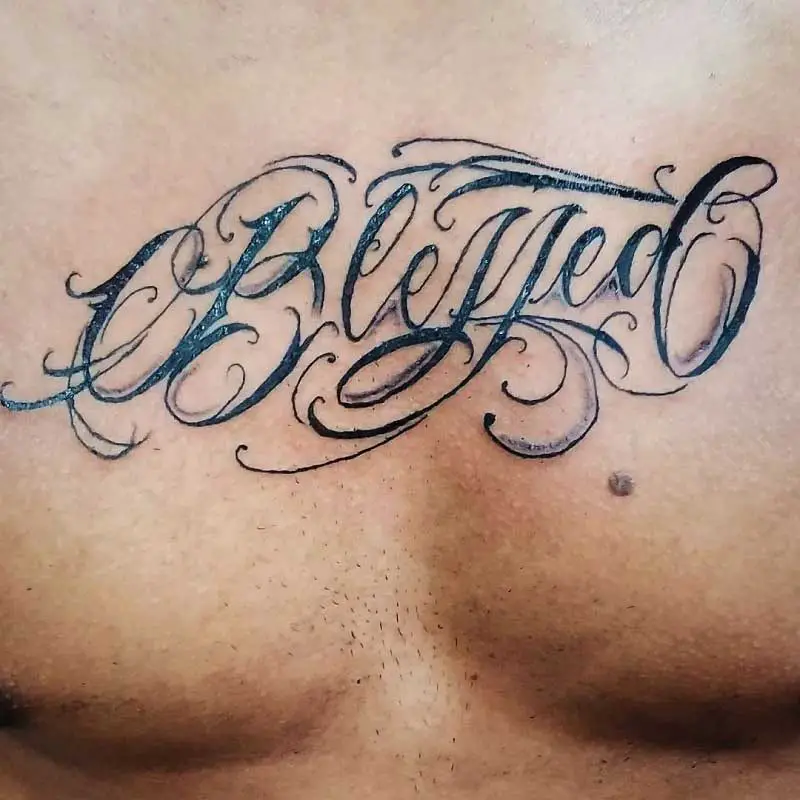 We have already seen how cursive fonts add to the beauty of  'Blessed' tattoos, now imagine having a big blessed tattoo on the chest. That would be a great sight for your lover when you unbutton your shirt.
12. Divine Power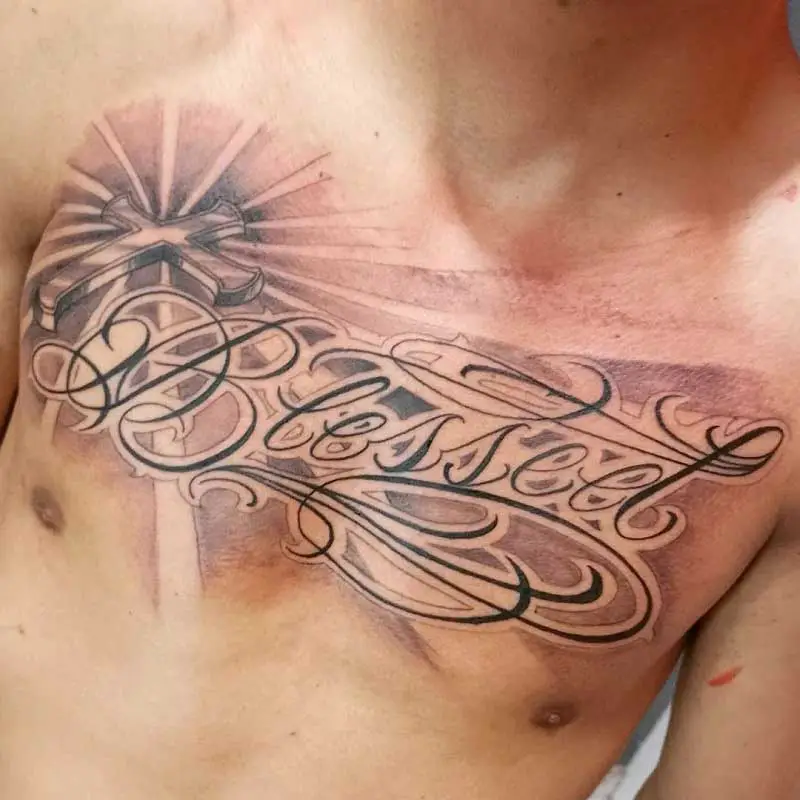 A blessed tattoo, that itself is blessed by the cross in the background. Getting this highly motivating beautiful blessed tattoo is the best way to satisfy your spiritual needs.
Crown Blessed Tattoo
Getting inked with a Crown blessed tattoo is a great way to show that you're blessed to conquer everything around you. Be a king or queen in your life with these attractive tattoos down below.
13. Blue Beauty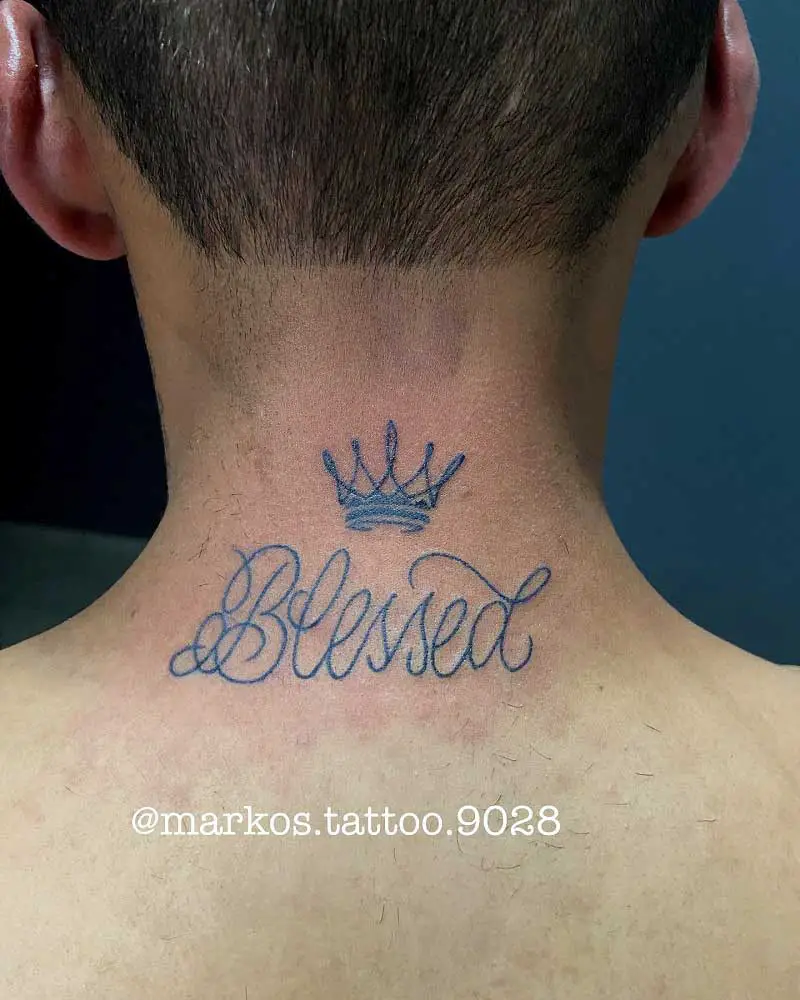 This is a popular spot for getting inked and any tattoo looks attractive here – ask the hitman. Being a blue tattoo, it helps stand out in the crowd and can easily attract attention in the crowd.
14. Blessed Elbow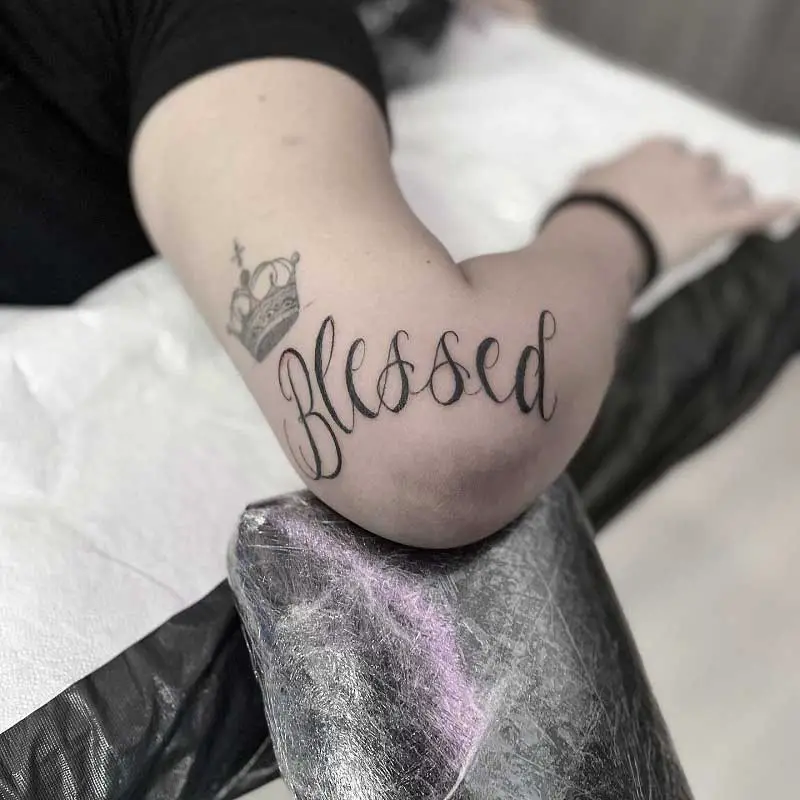 A black and white crown blessed tattoo lining up your elbow. If inked correctly, the tattoo would be very pleasing to the eye.
15. Holy Crown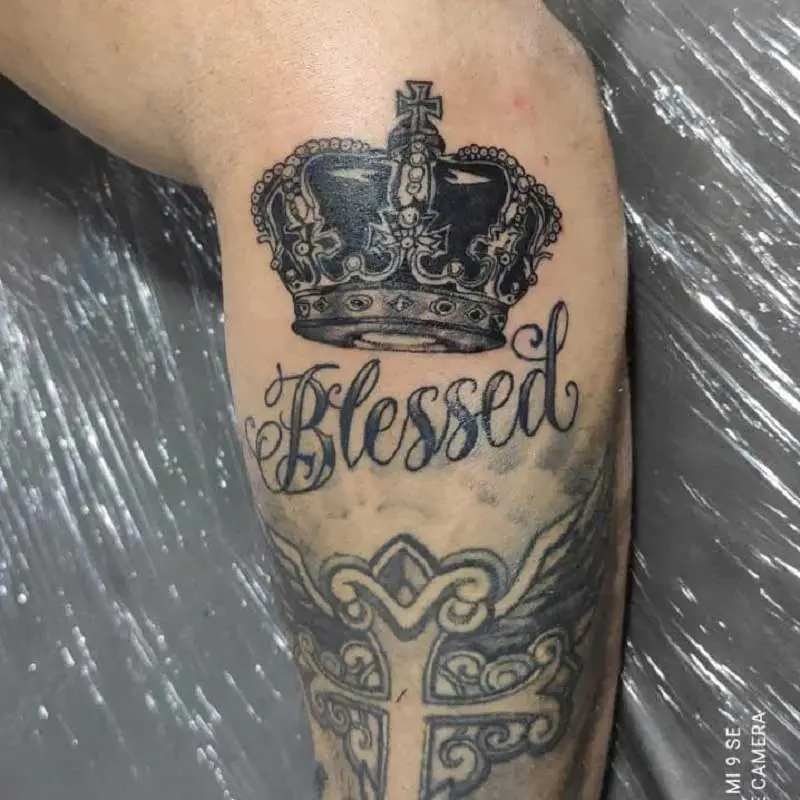 Just look at the number of details on the crown. This tattoo design is insane! topped with a cursive blessed tattoo. This is a very complete tattoo design that you're surely tempted to get.
Gangster Blessed Tattoo
Tattoos for the soulless. No matter how soulless you are, you surely need divine intervention in your life to protect you from all the negativities that you call upon yourself. Gangster blessed tattoos are a great way to show up your personality if you are the rough and tough kind of guy.
16. Thorny Blessed Tattoo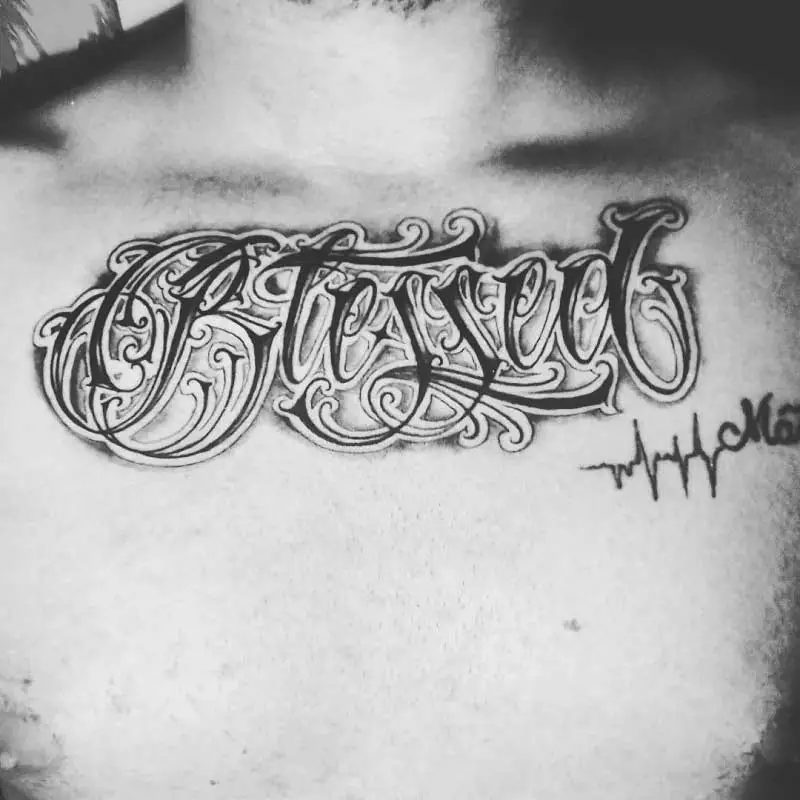 Gangster life is more about the thorny path you have to walk on. This blessed tattoo does well in representing that. Consider getting this artistic tattoo on your chest.
17. Grafitti Blessed Tattoo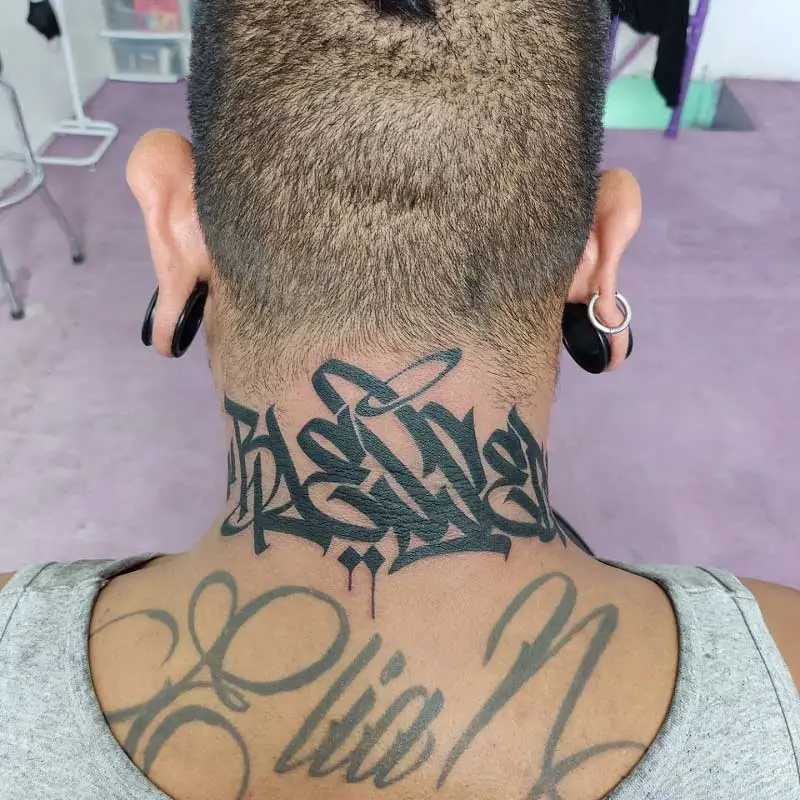 Straight out of GTA San and Reas, this Grafitti font blessed tattoo is outstanding. Anybody who sees it the first time is probably going to think, somebody spray painted this on the back of your neck.
18. Vintage Blessed Tattoo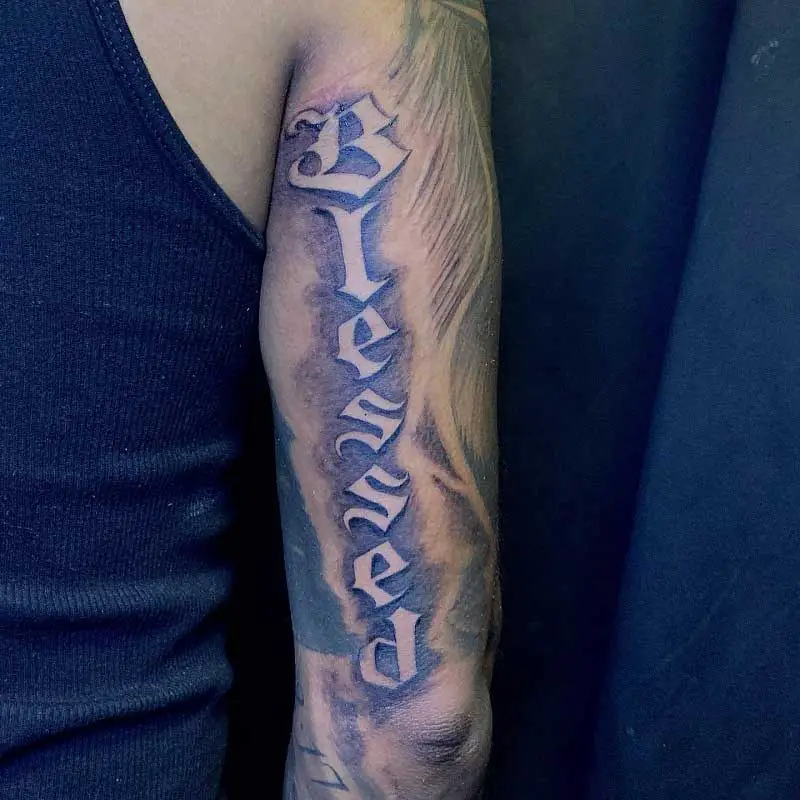 A vintage-styled gangster-blessed tattoo for your back of arm. This is a must-have for you if you are a fan of gangsters from the 20th century just like us.
Blessed Face Tattoo
Getting tattooed on the face is considered a bit extreme, but if you plan on getting a blessed face tattoo for yourself then we have got you sorted. Below we have some of the top blessed face tattoos.
19. Crisp Blessed Tattoo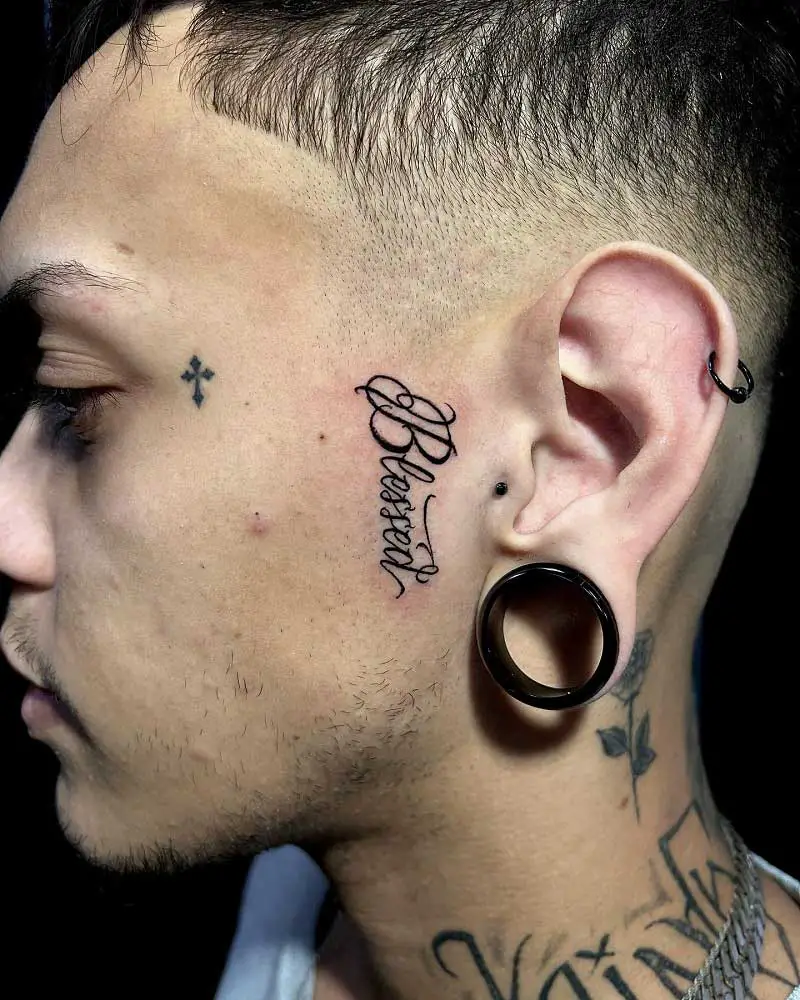 This blessed tattoo on the man's face looks crisp thanks to the vibrant black color. The tattoo is simple but powerful if that is what you are looking for.
20. Over The Eye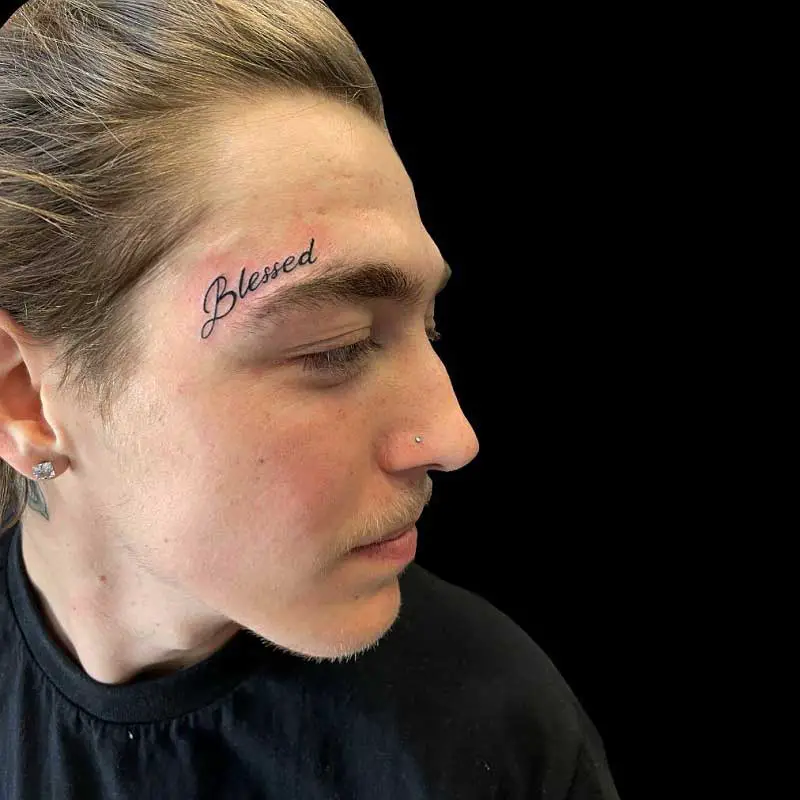 Over-the-eye tattoos look very alluring to a lot of people. This simple design does look very attractive as well. But we believe we must warn you about the pain that this tattoo can bring.
21. Cursive Blessed Tattoo For Face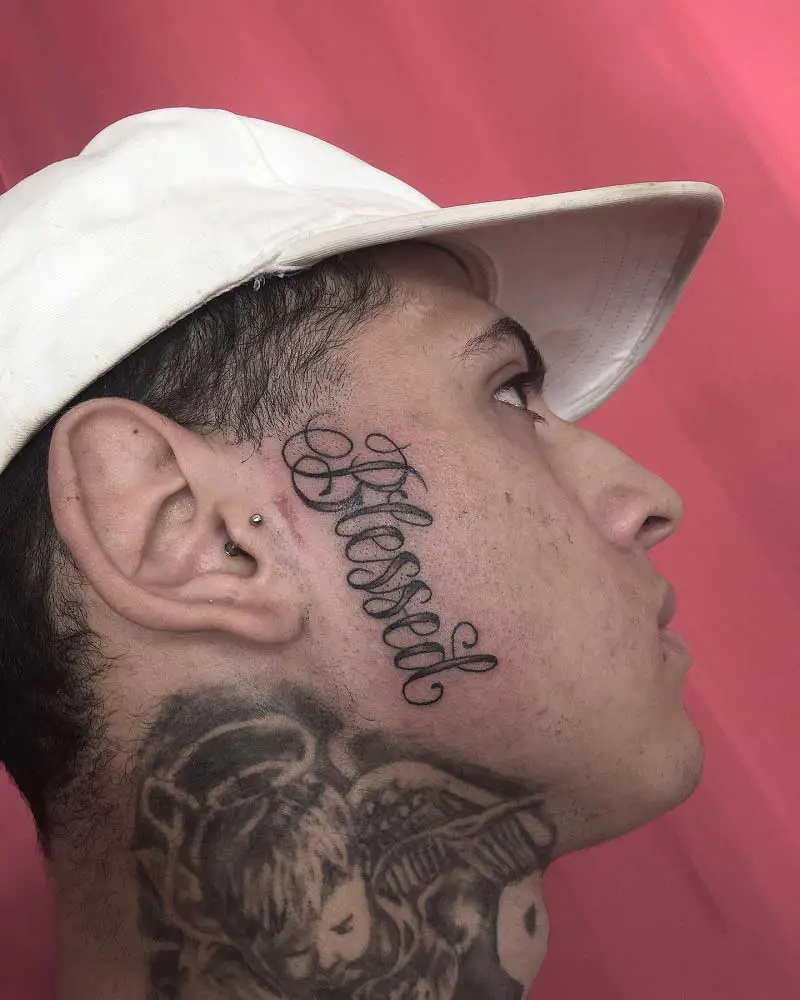 We can never praise Cursive tattoos enough, and the reason is evident in this tattoo. The elegance of this cursive face blessed tattoo design will add to your beauty if you consider getting it.
Blessed Arm Tattoos
Arm tattoos offer a range of possibilities when it comes to adding tattoos to them. Also, blessed arm tattoos are very popular among women. Below, we have accumulated some of the most popular blessed arm tattoo designs just for you!
22. A Blessed Heart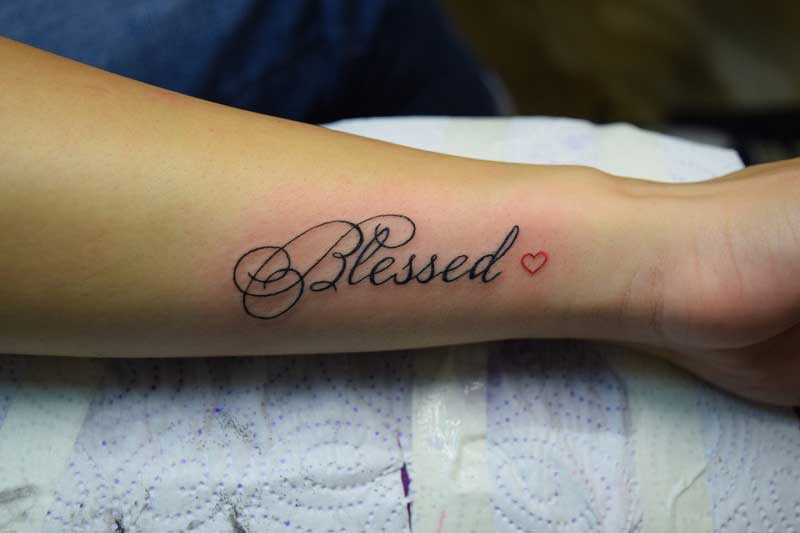 This tattoo design on a woman's hand shows signs of contentment and gratitude for their life and everything they have. A cute tattoo that would look spectacular on your beautiful hands.
23. Focused And Blessed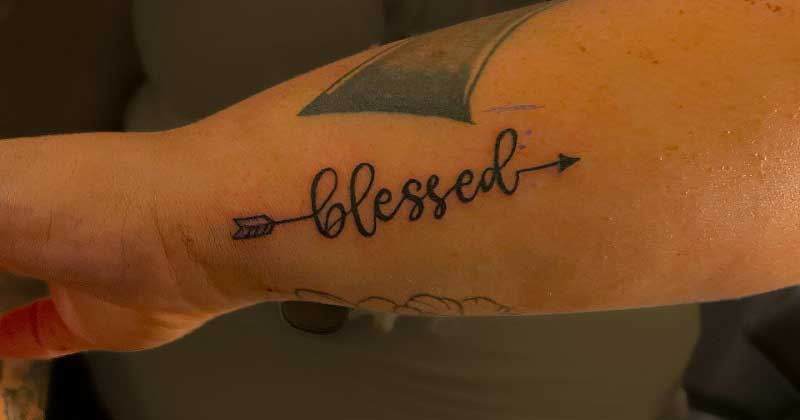 Arrows symbolize focus and direction, and incorporating that with blessed tattoos means being motivated and focused in your life. A tattoo that you would want to have to succeed in life.
24. Shades of Black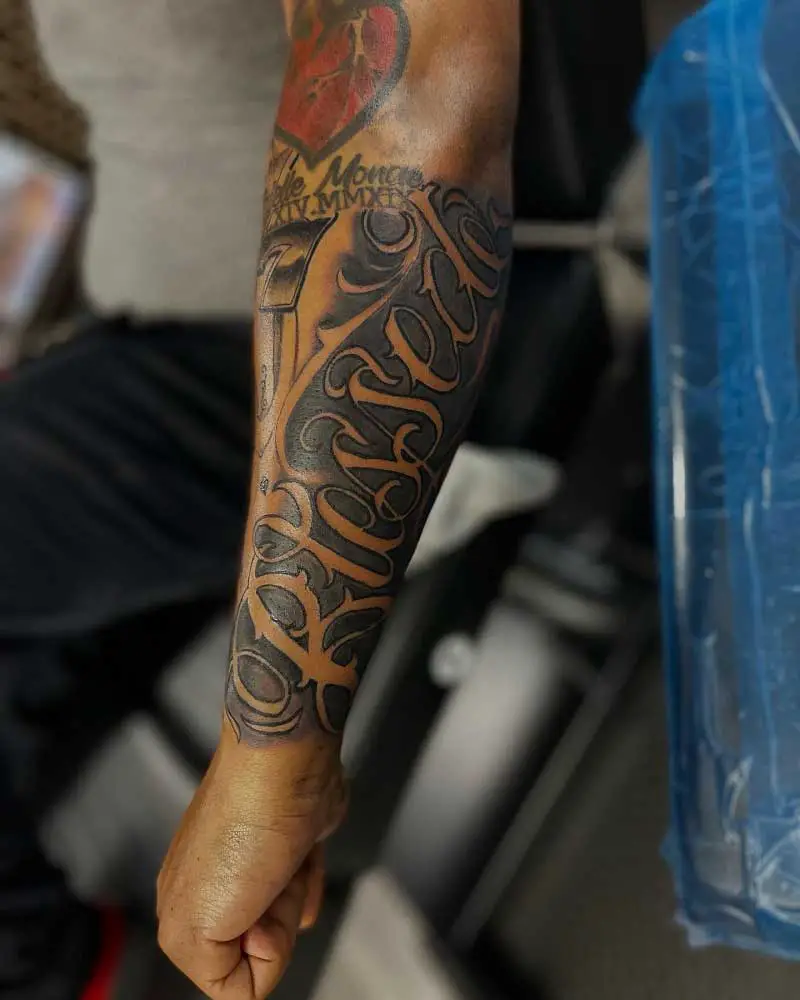 An absolutely breathtaking negative space tattoo! The shade of black on the background helps the word to stand out more. This is an option you can pick if you are into negative space tattoos.
Blessed Rose Tattoo
Rose is a symbol of love and beauty. Combining it with a blessed tattoo suggests your love for yourself and your family. The key to a happy life is being satisfied with what god has given to you. Check out these cool blessed rose tattoo designs below.
25.  Blessed With Beauty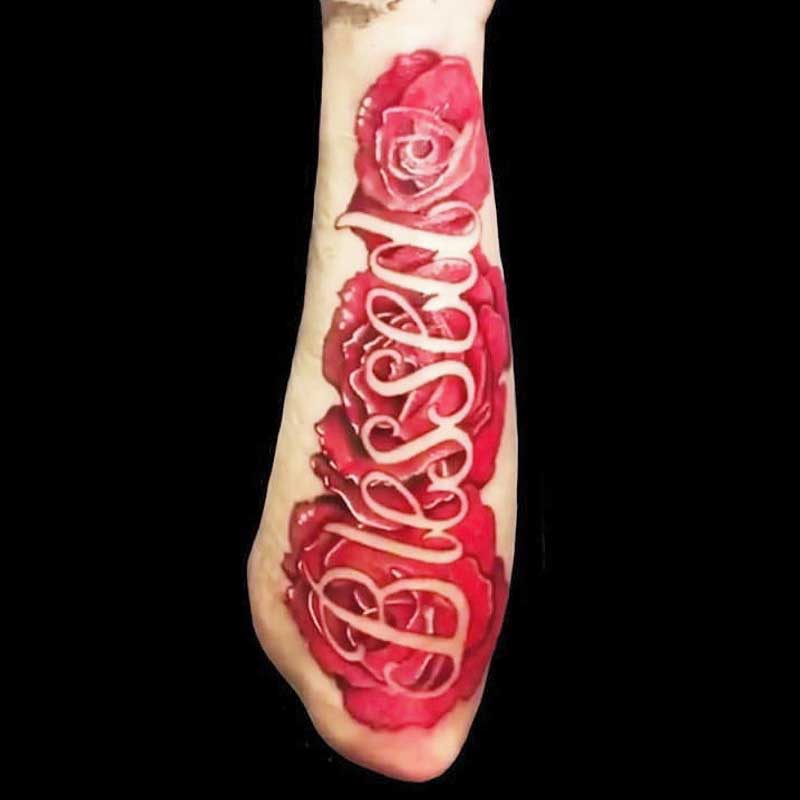 This blessed rose tattoo on a man's arm looks astounding, and it would look just as stunning on your arm as well. The genius idea of using the roses as a negative space helps the blessed rose tattoo to attract attention really well.
26.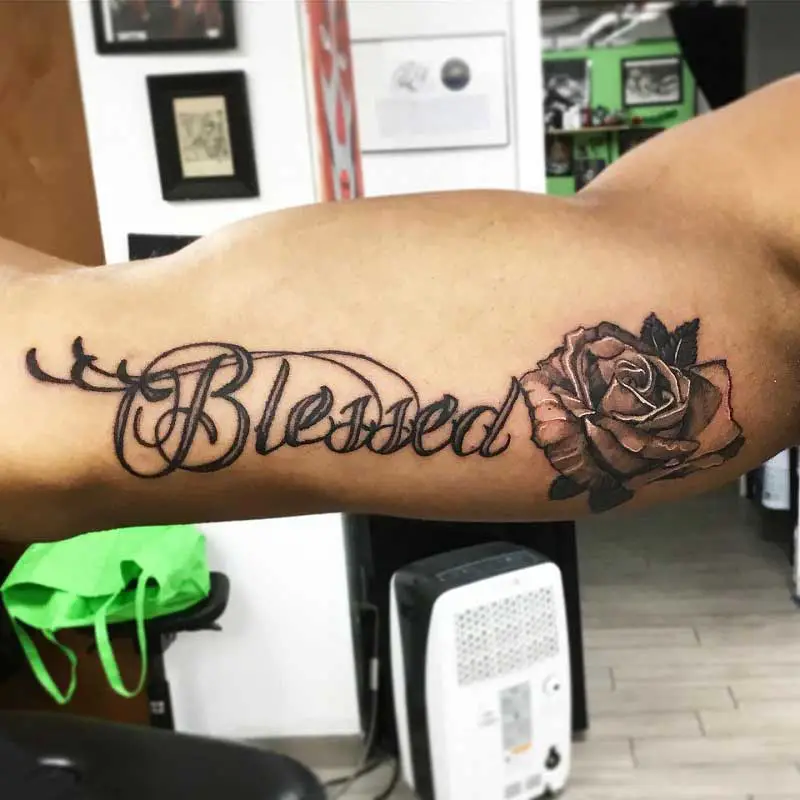 27.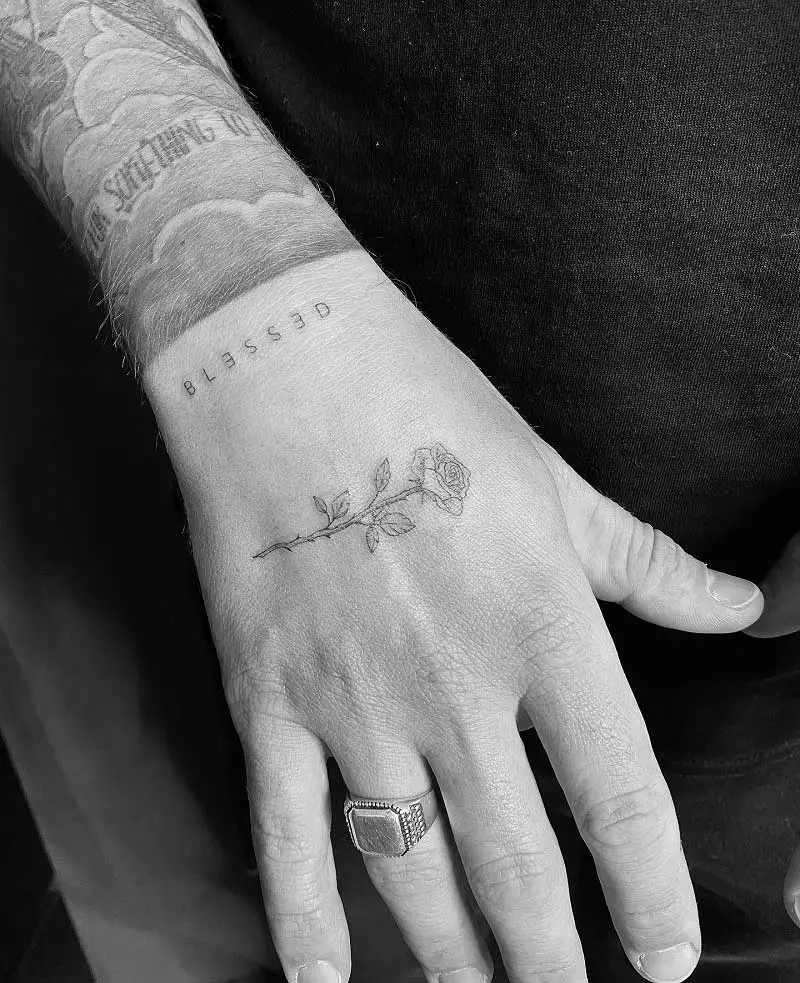 Blessed Cross Tattoo
28.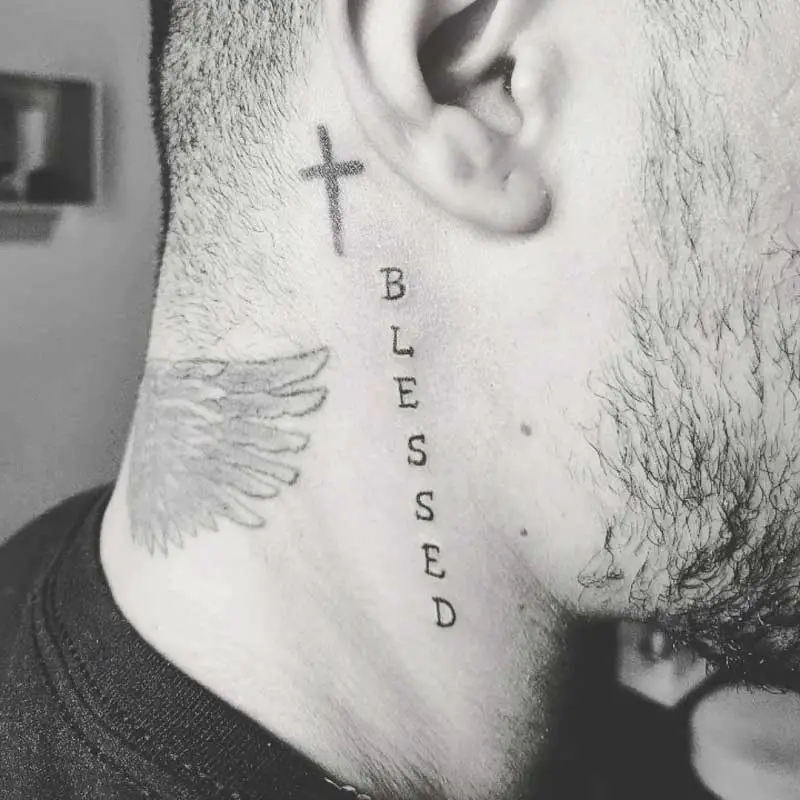 29.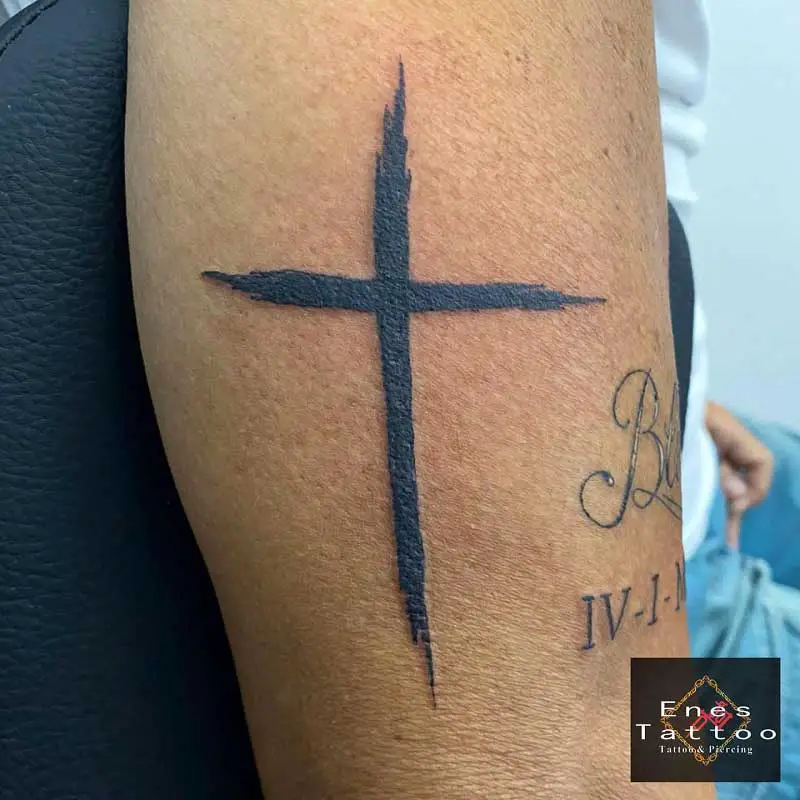 30.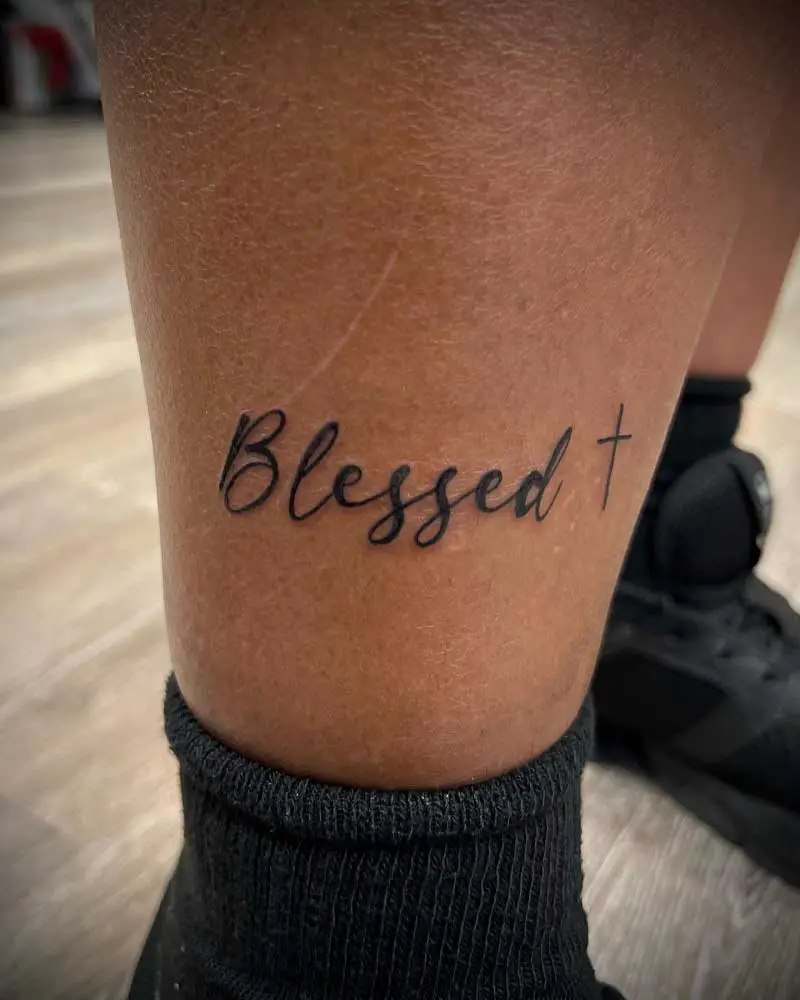 Blessed Mother Tattoo
31.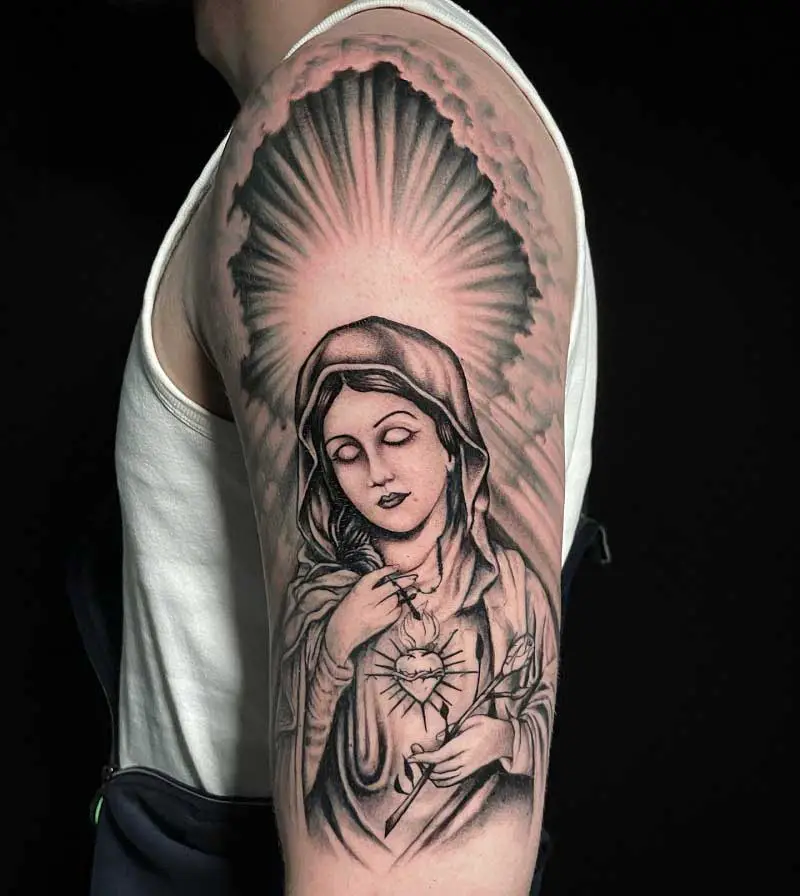 32.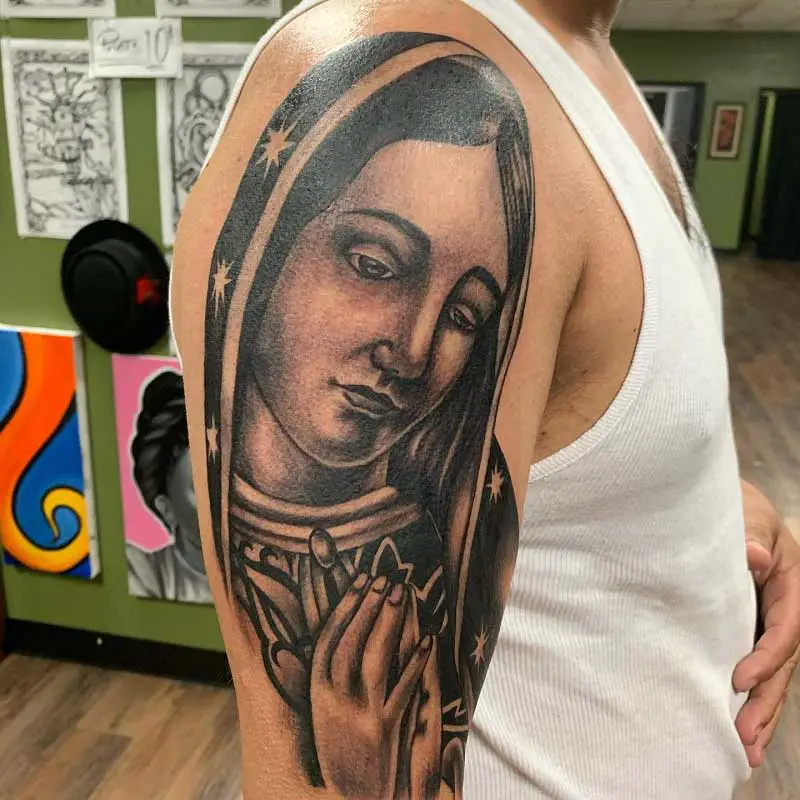 33.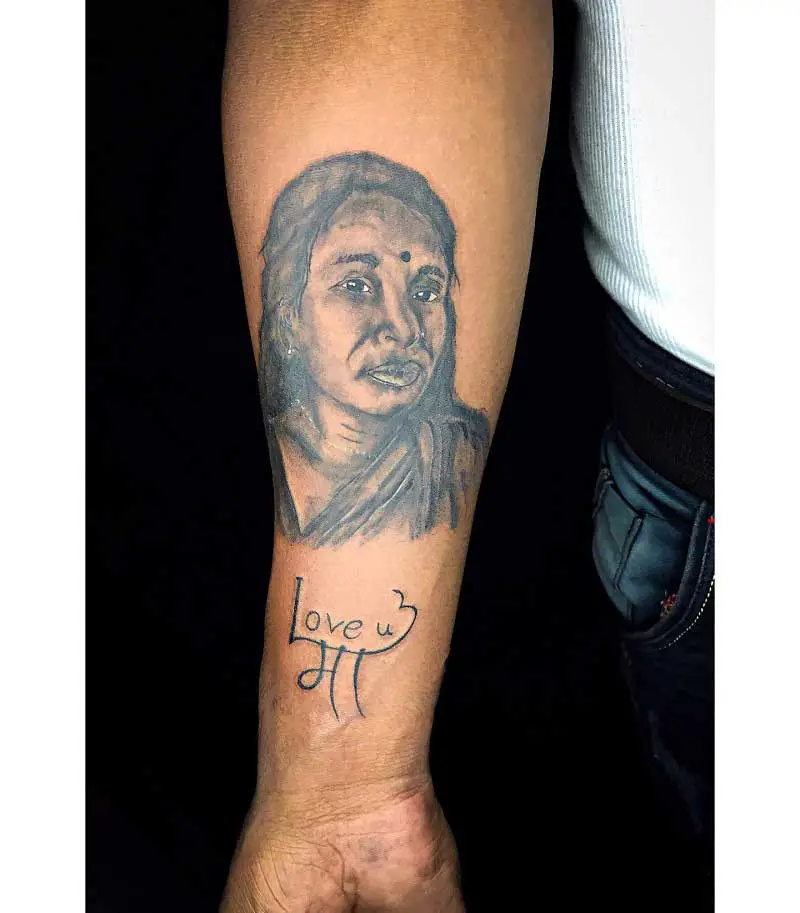 Blessed Saints Tattoo
34.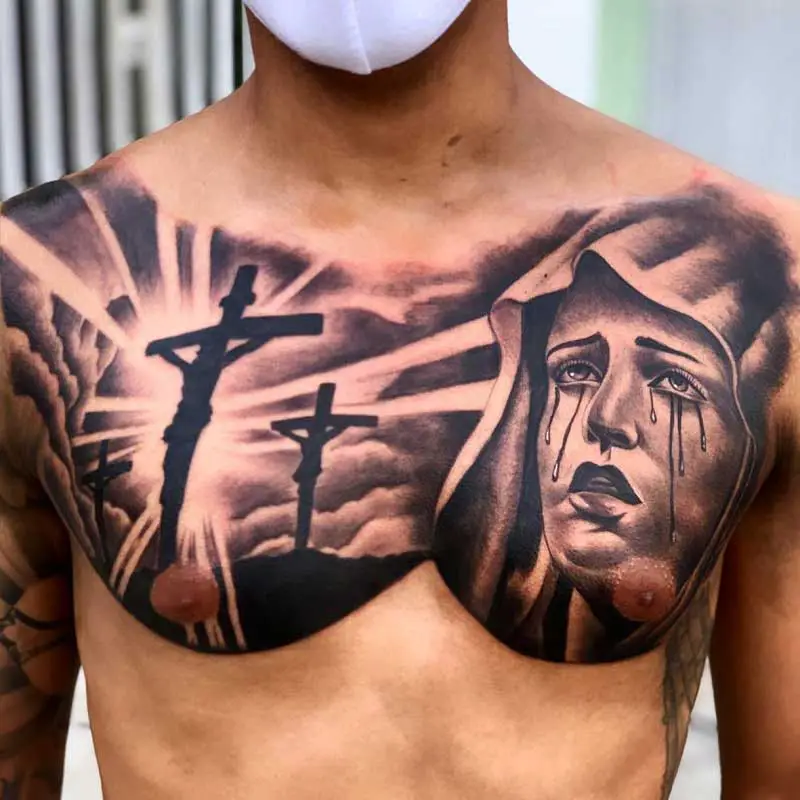 35.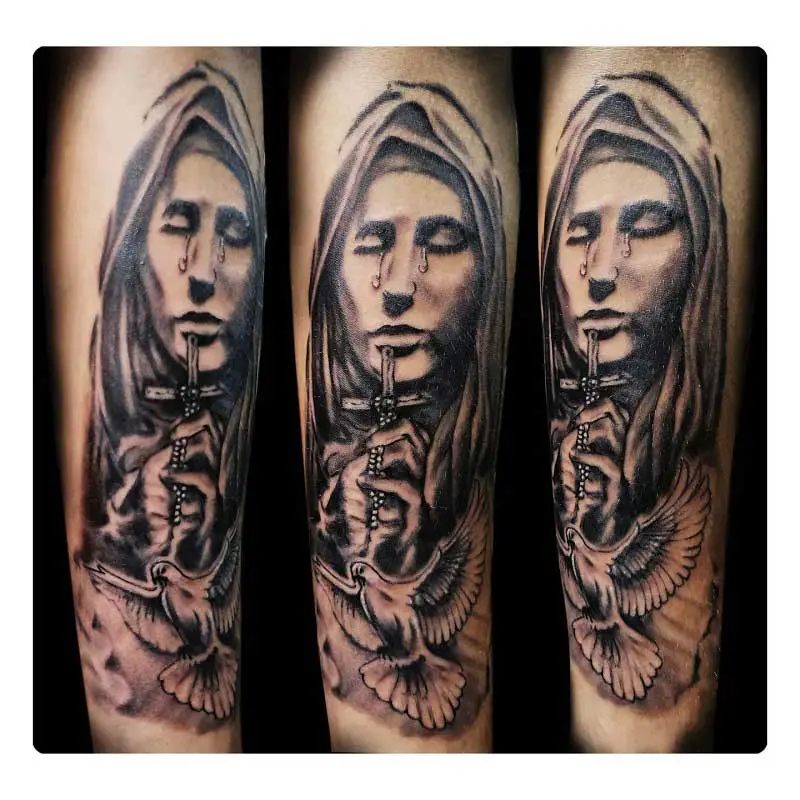 36.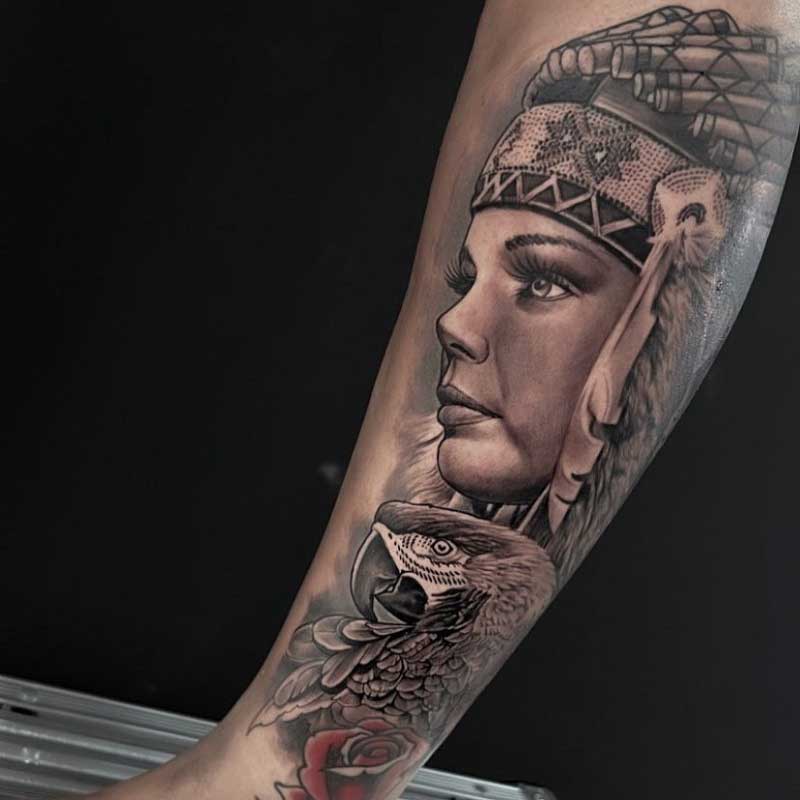 Blessed Lettering Tattoo
37.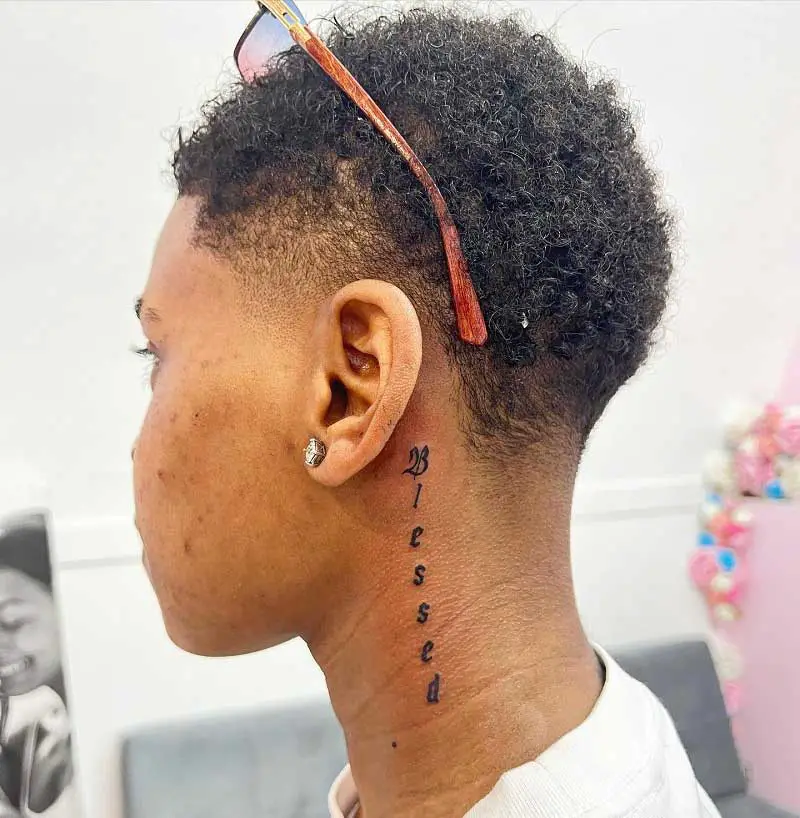 38.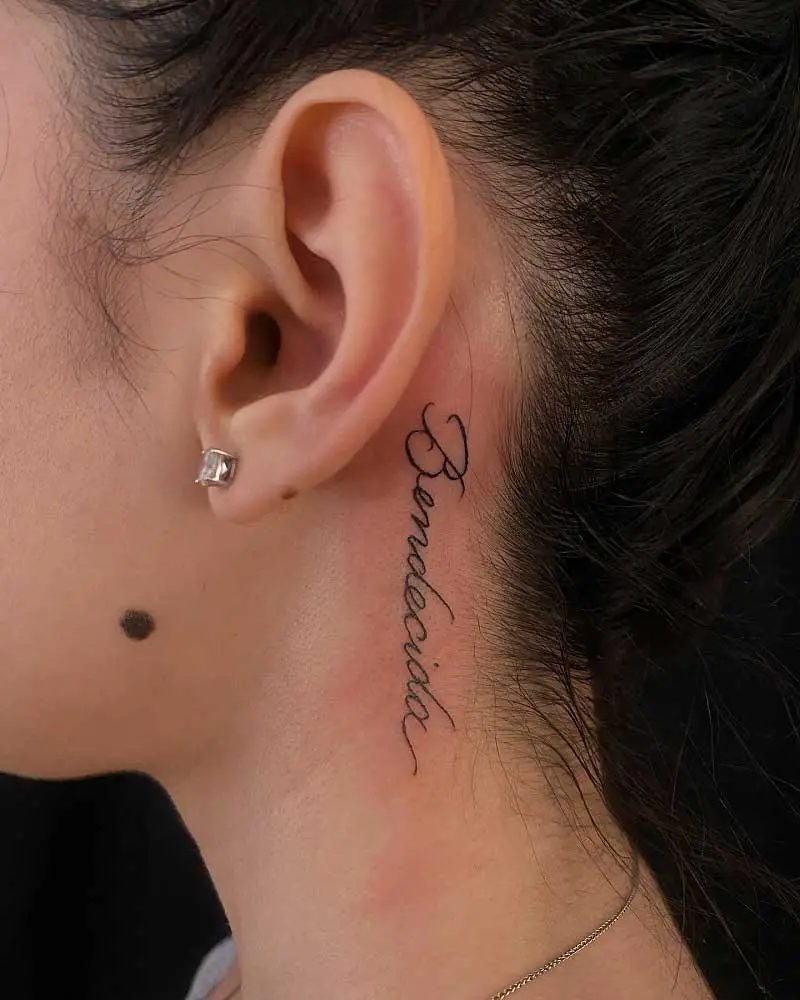 39.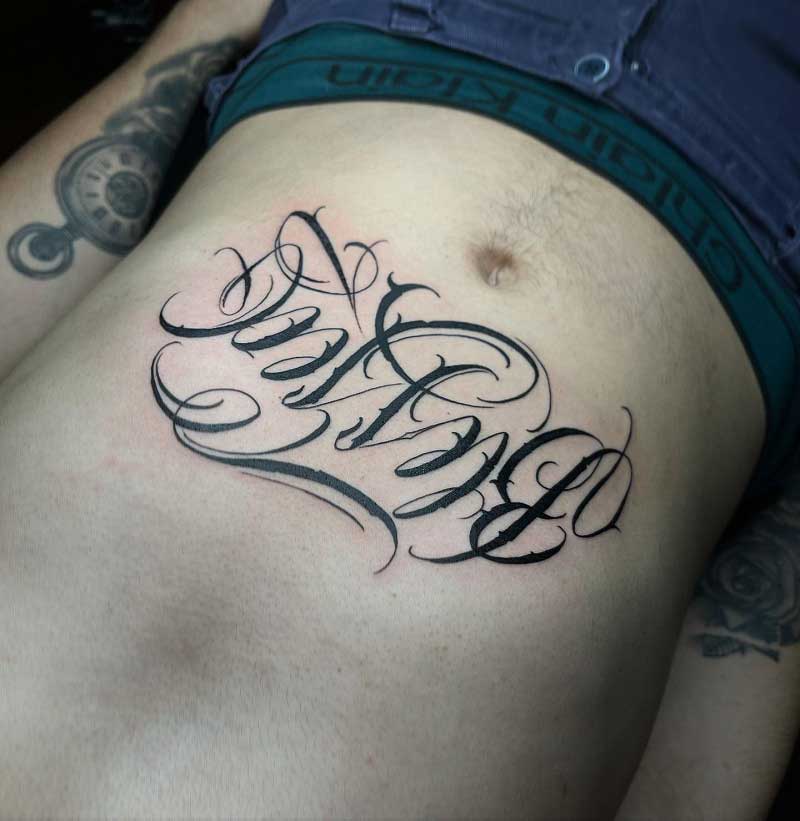 Blessed Throat Tattoo
40.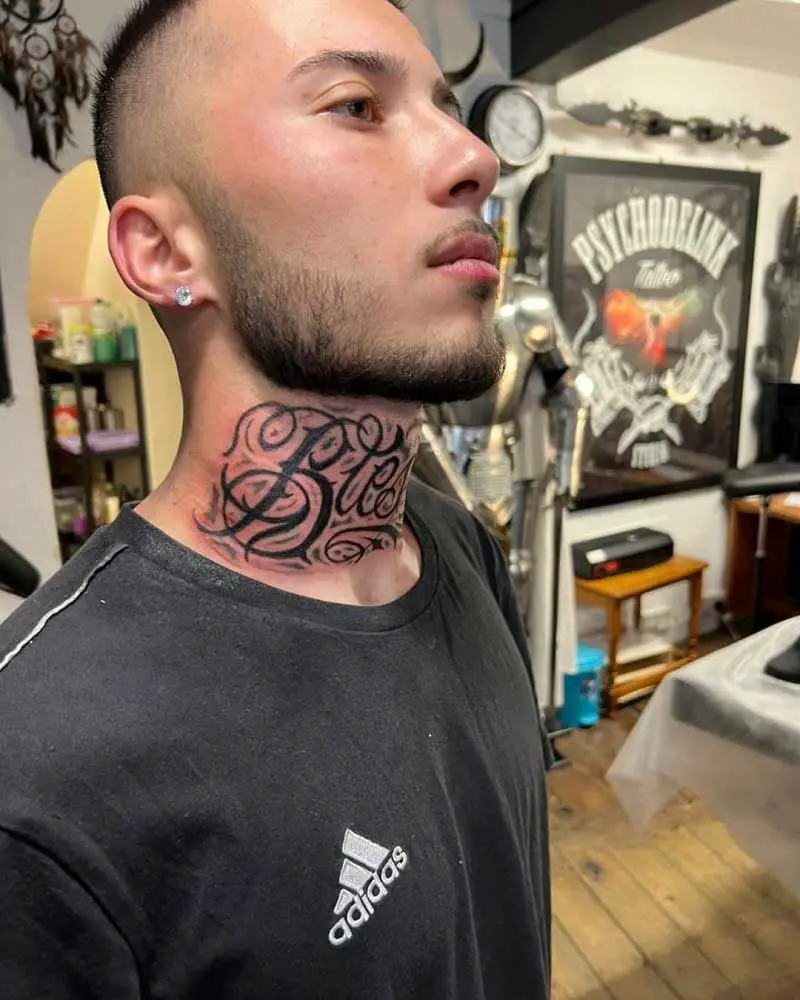 41.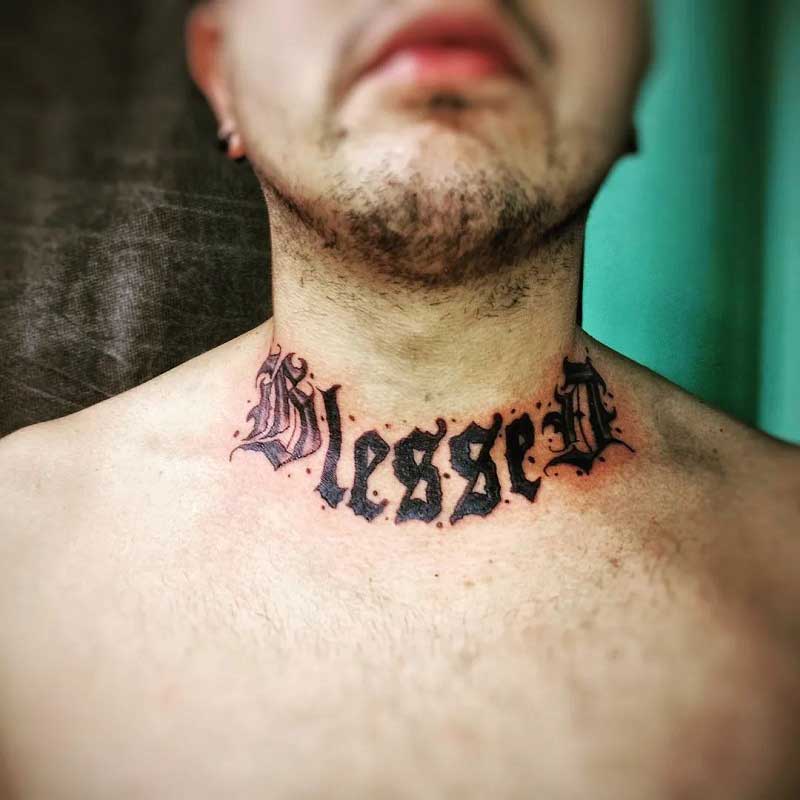 42.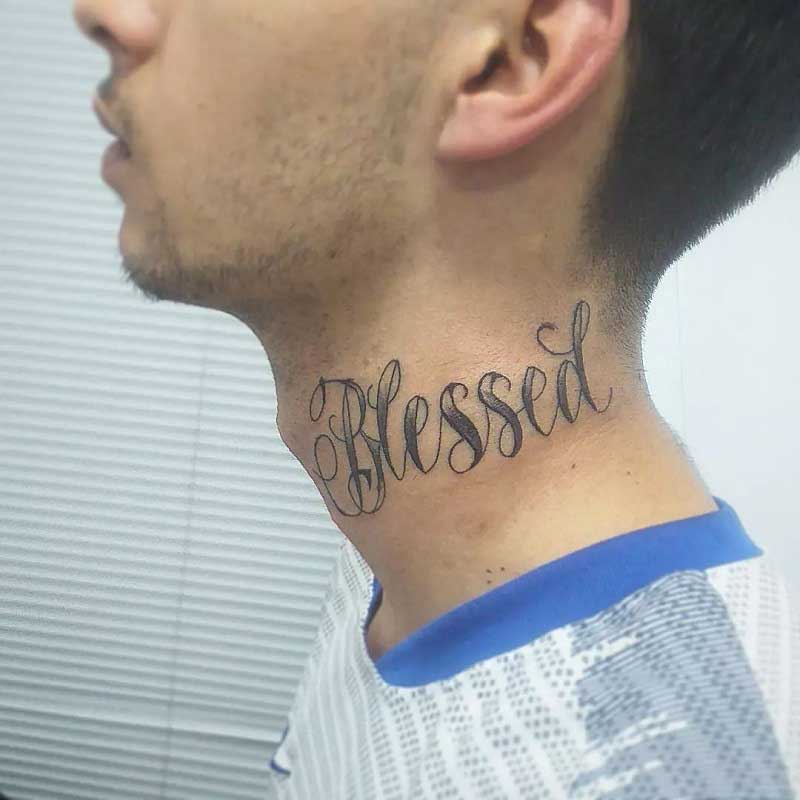 Beyond Blessed Tattoo
43.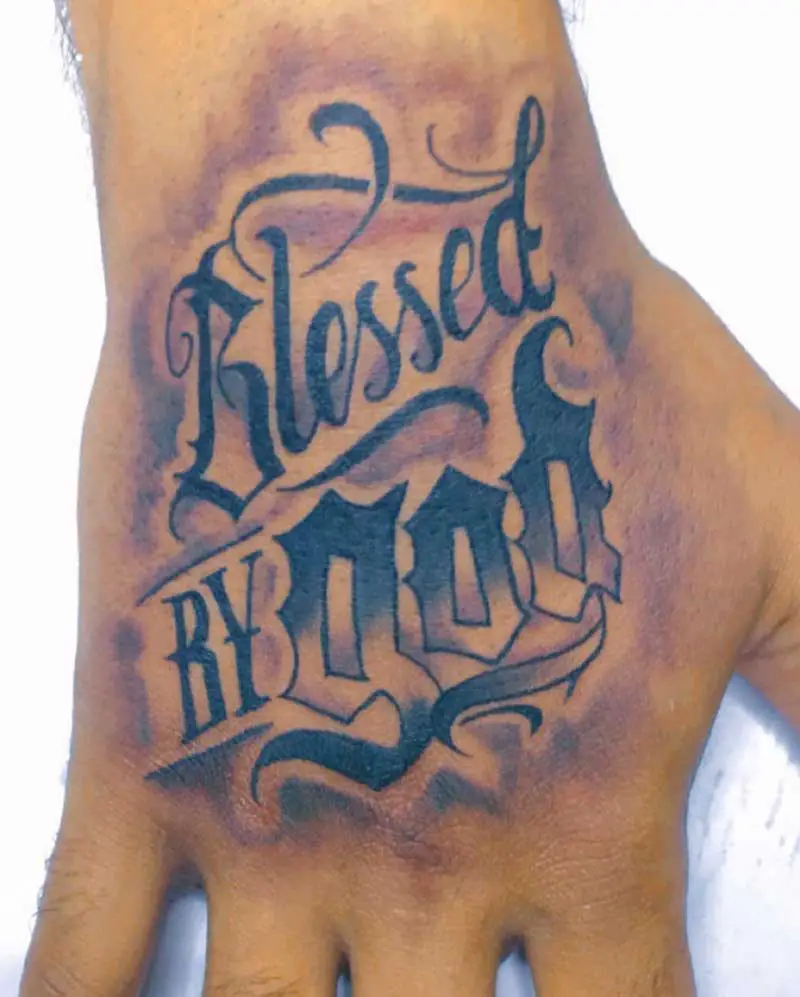 44.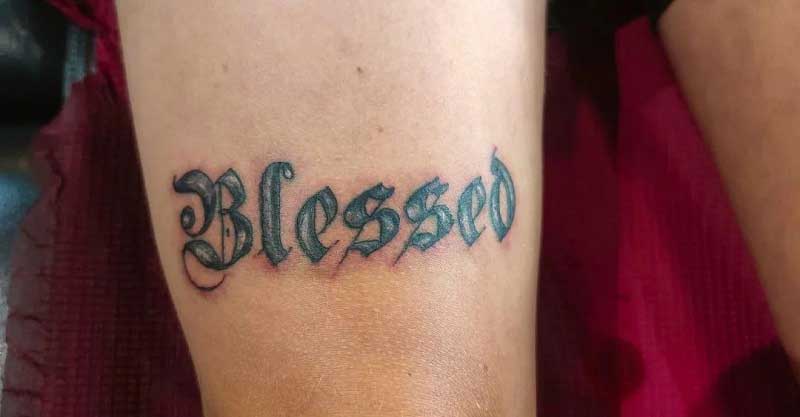 45.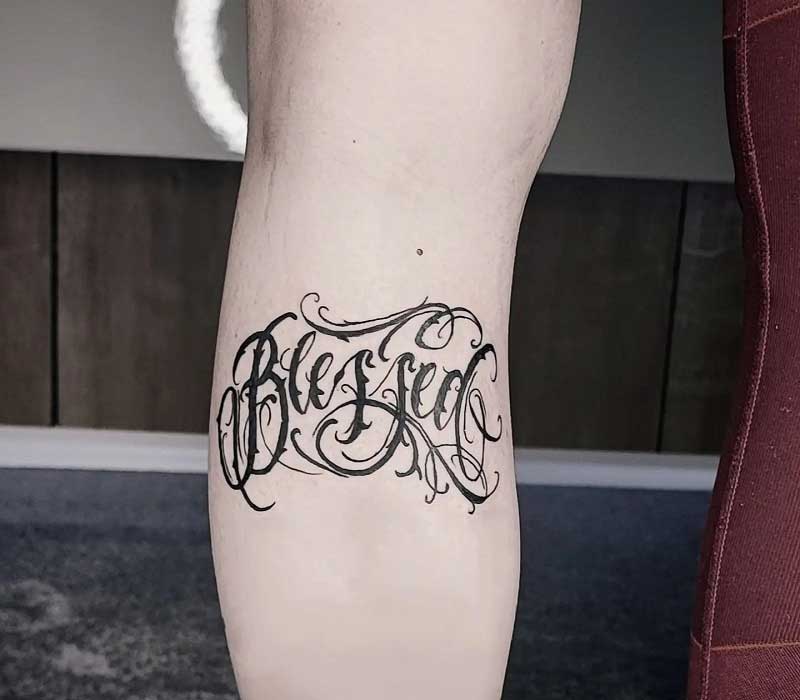 Blessed Leg Tattoo
46.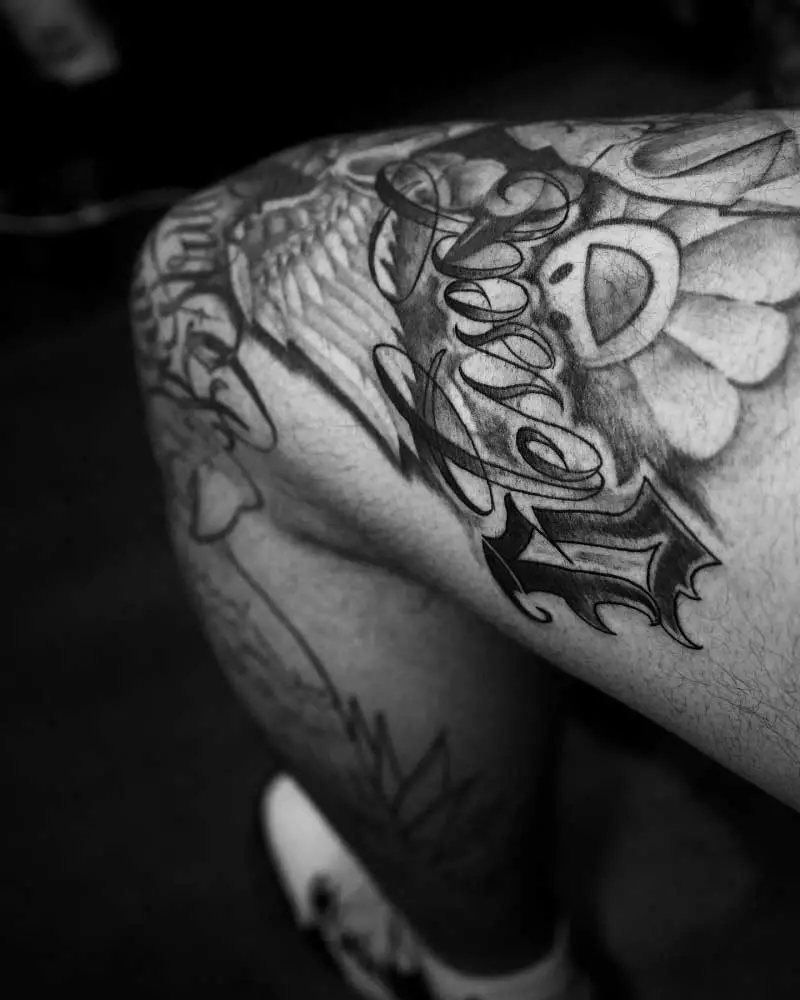 47.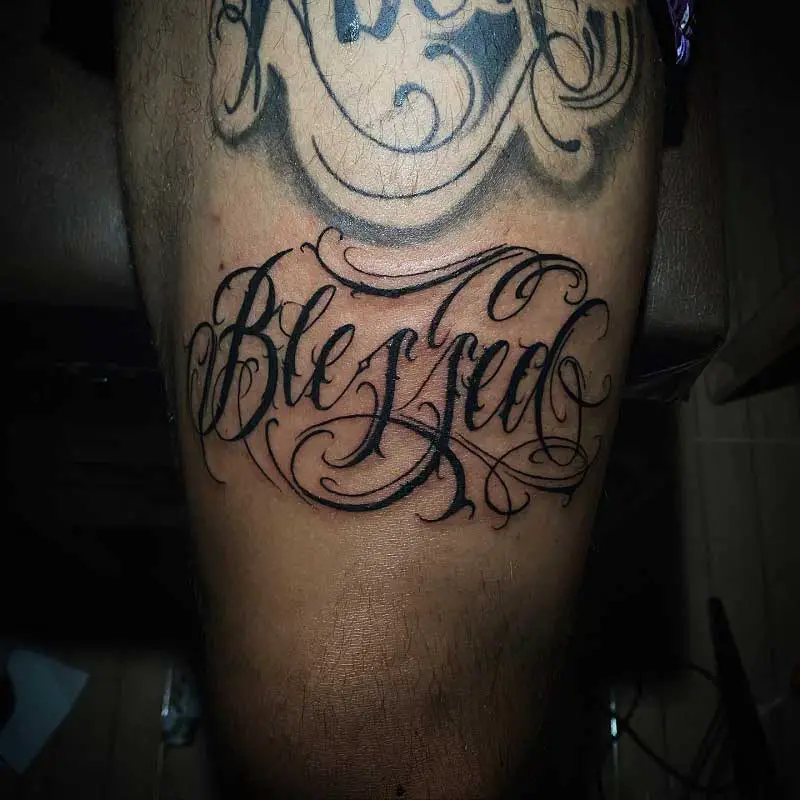 48.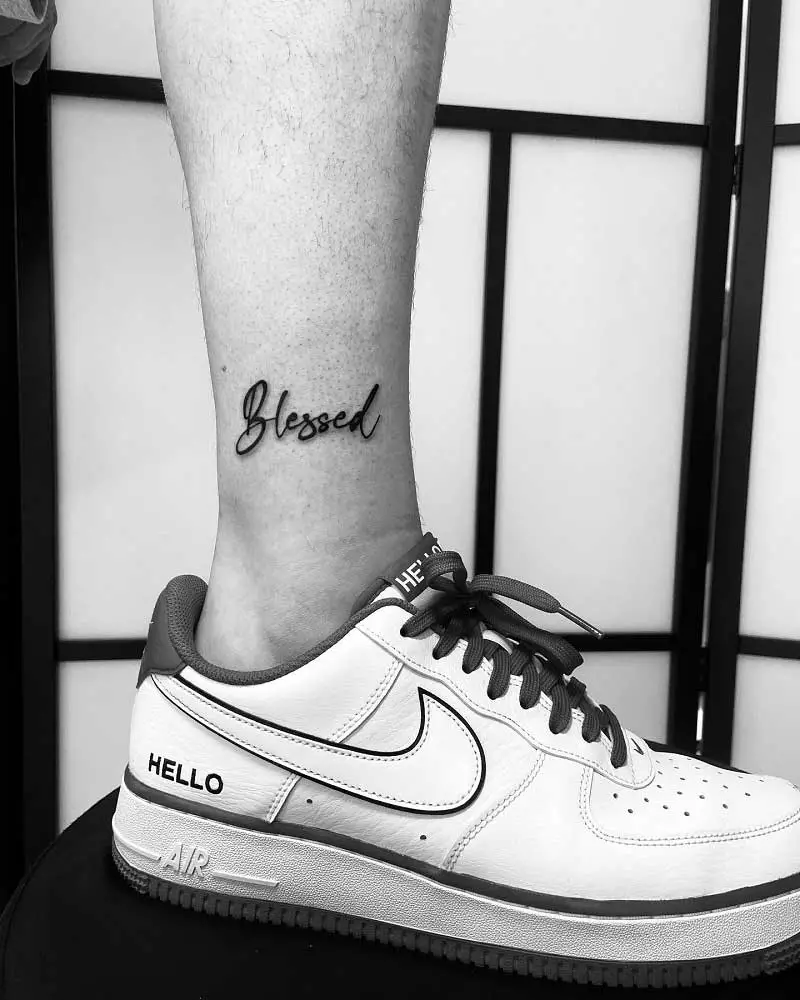 Bless Your Heart Tattoo
49.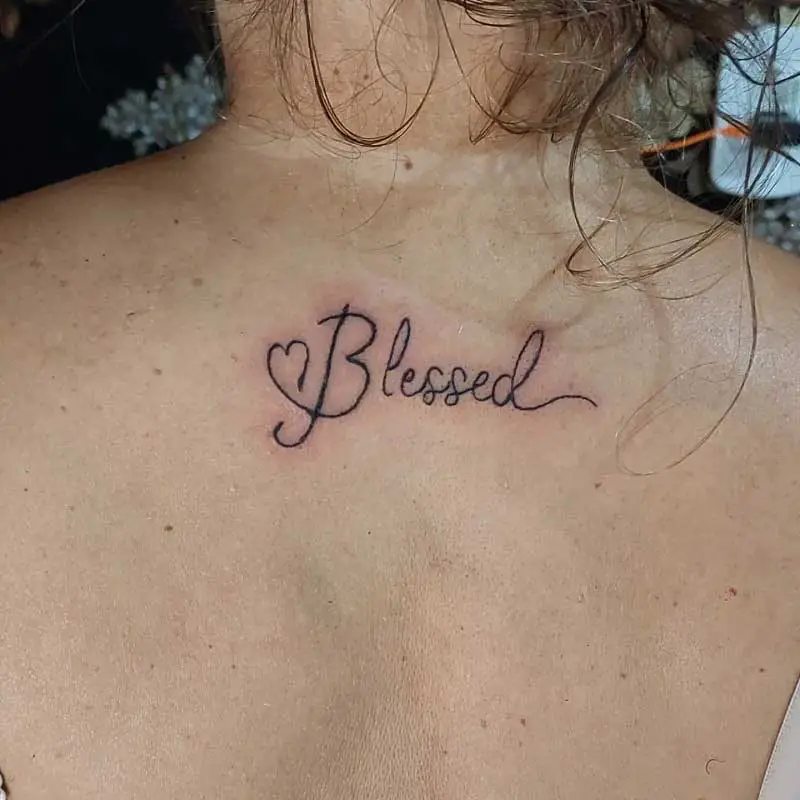 50.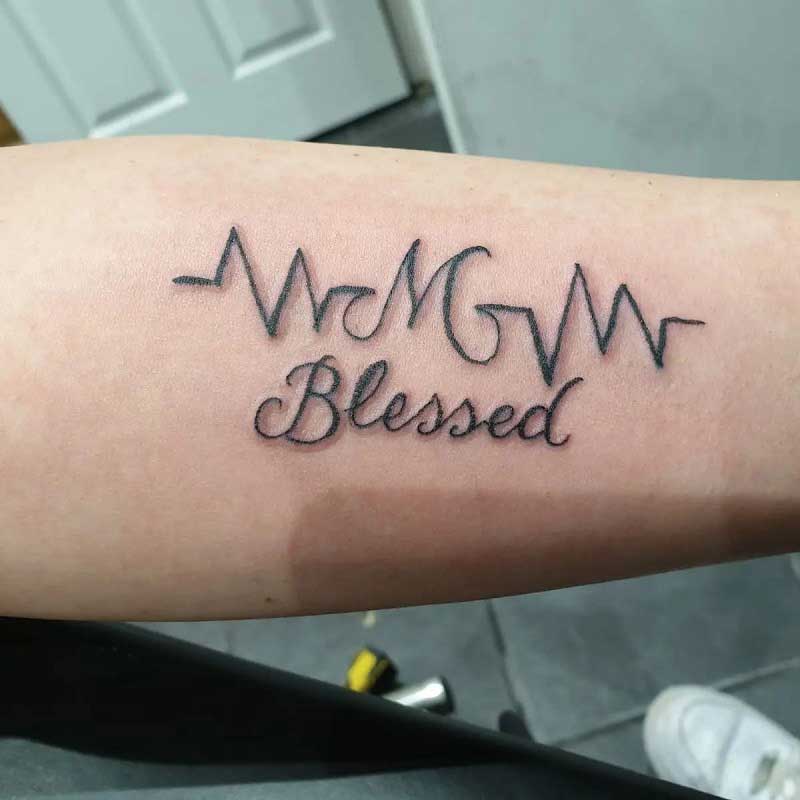 51.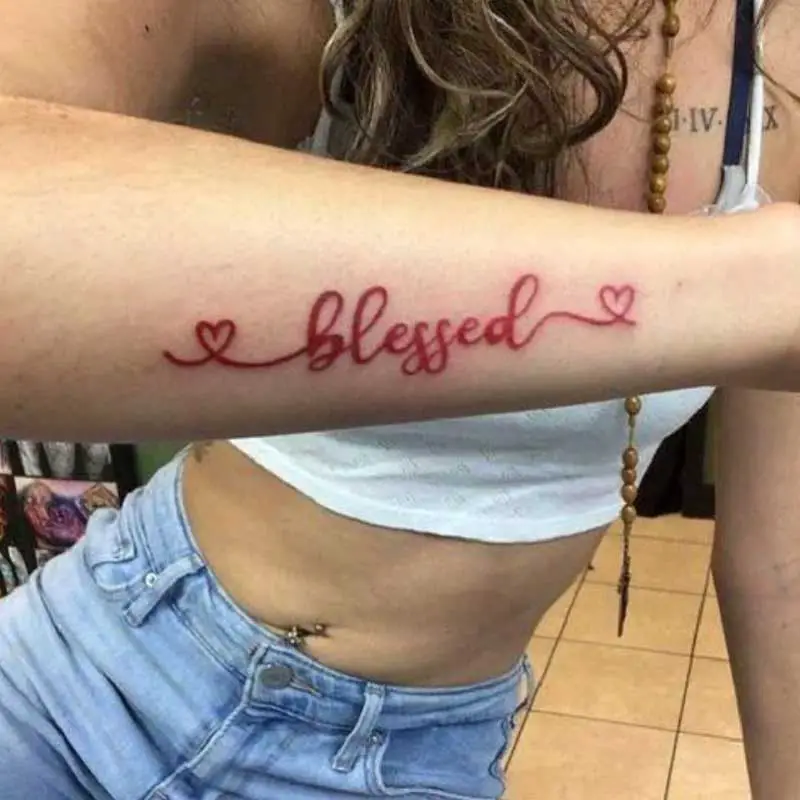 Blessed Behind Ear Tattoo
52.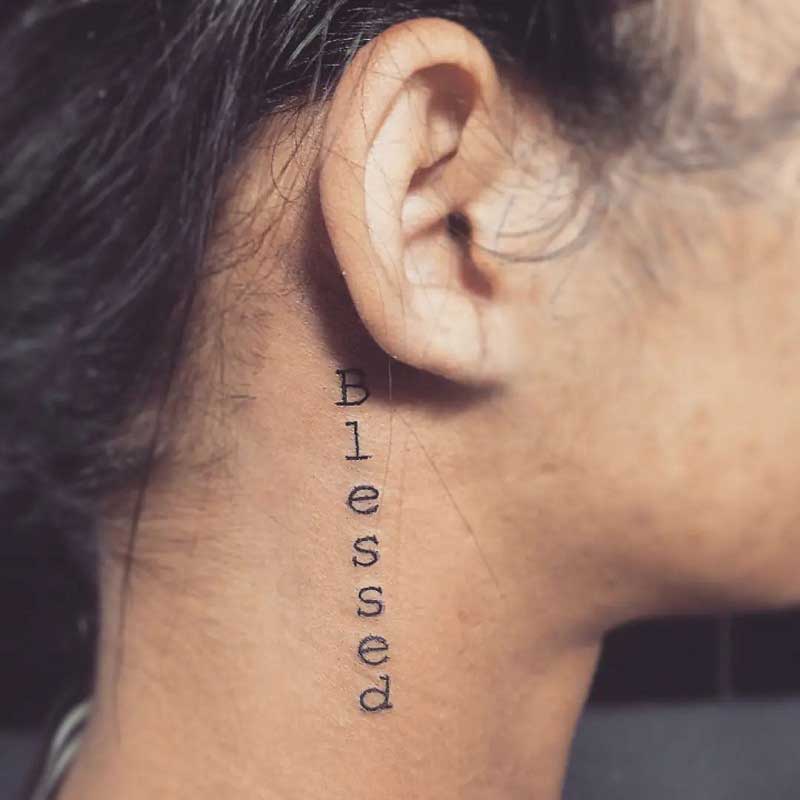 53.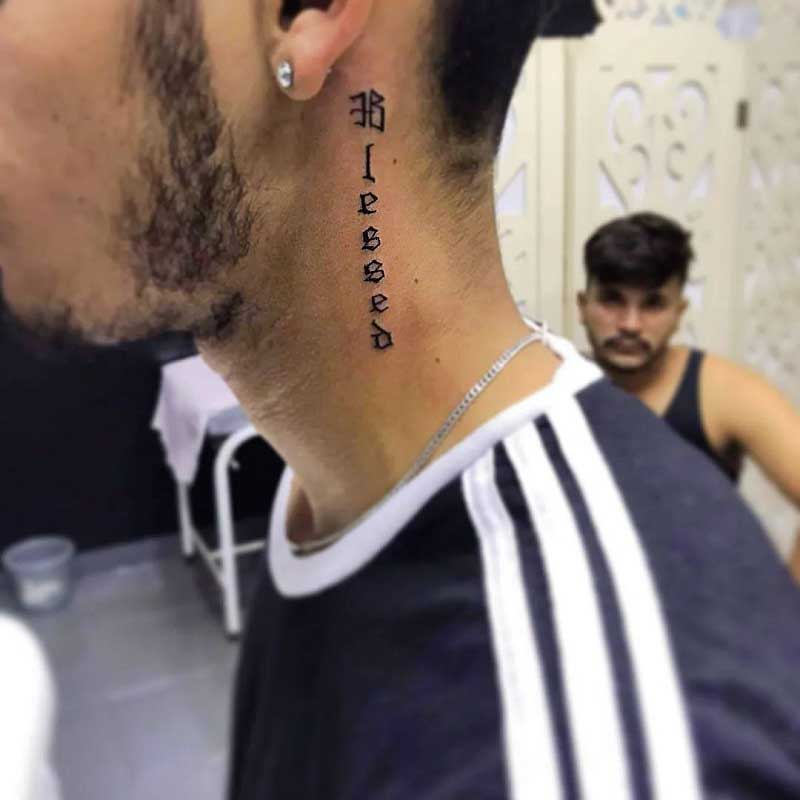 54.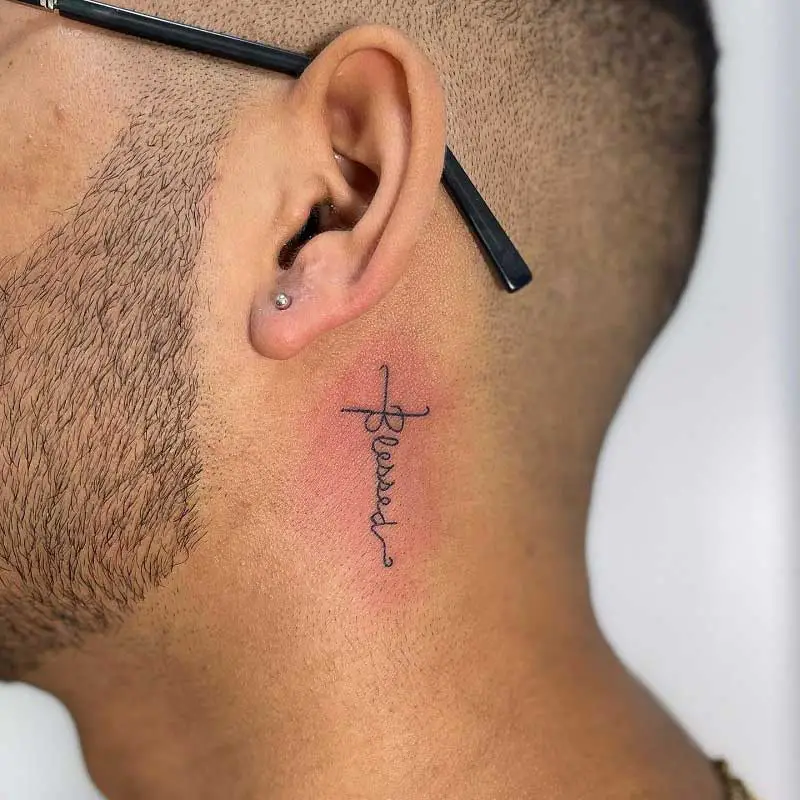 Blessed Finger Tattoo
55.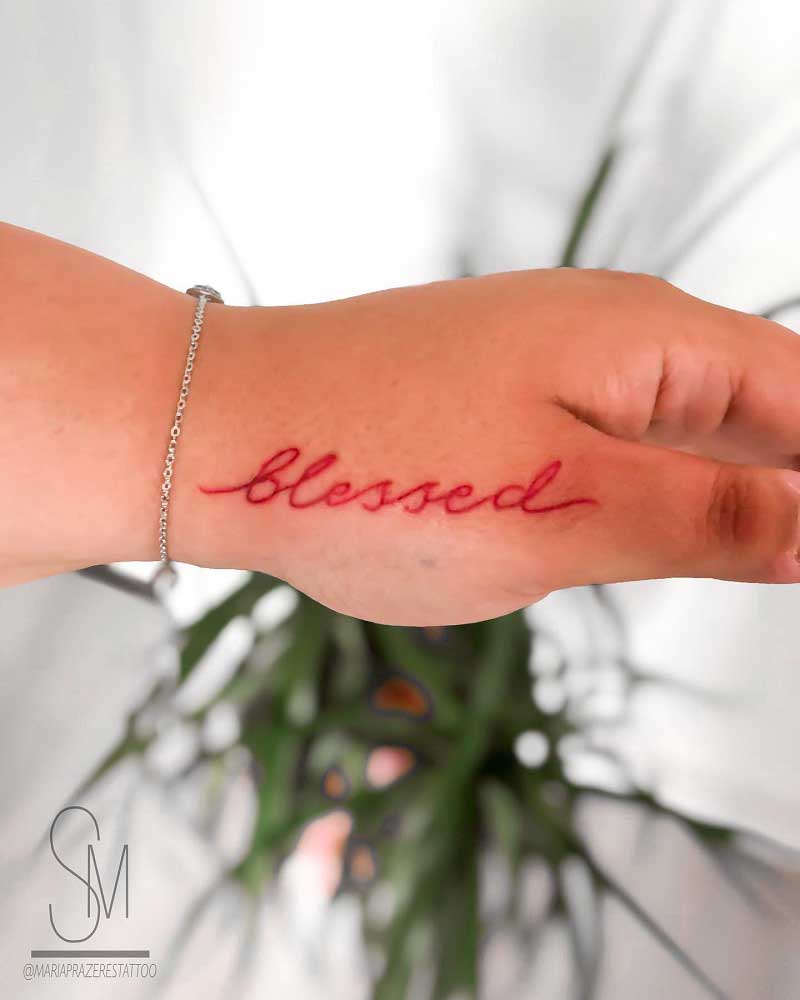 56.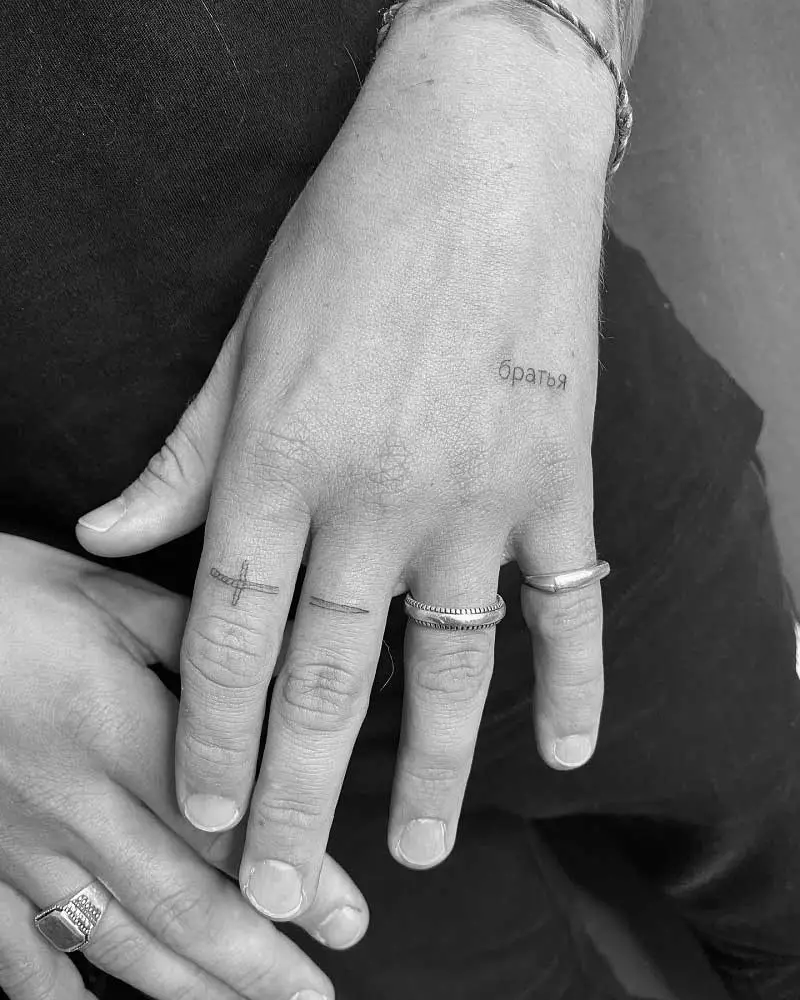 57.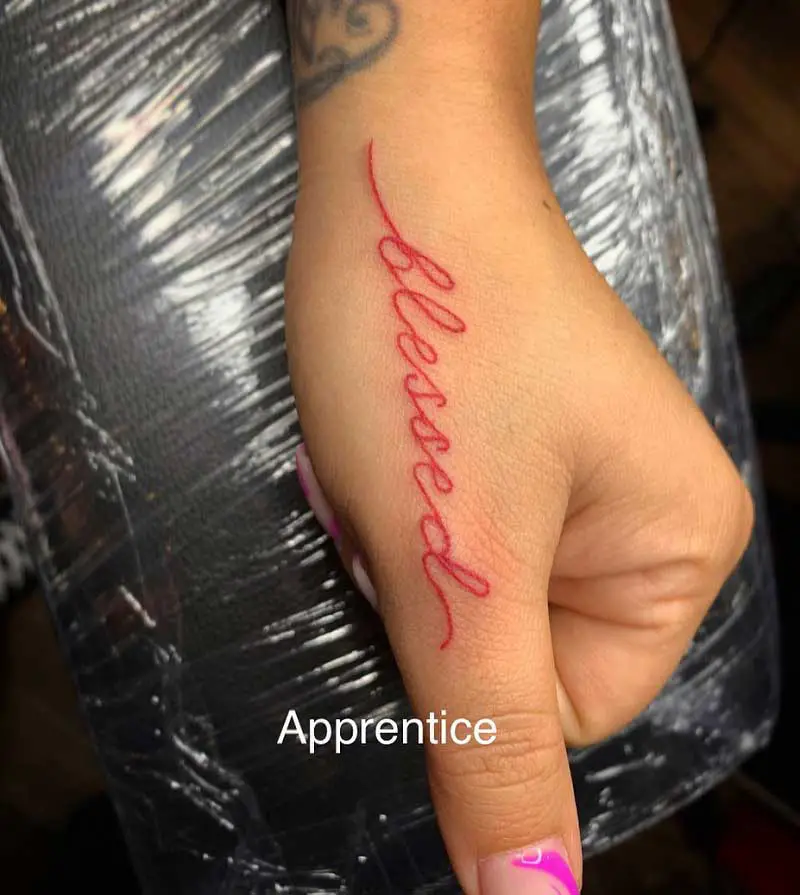 Blessed Mary Tattoos
58.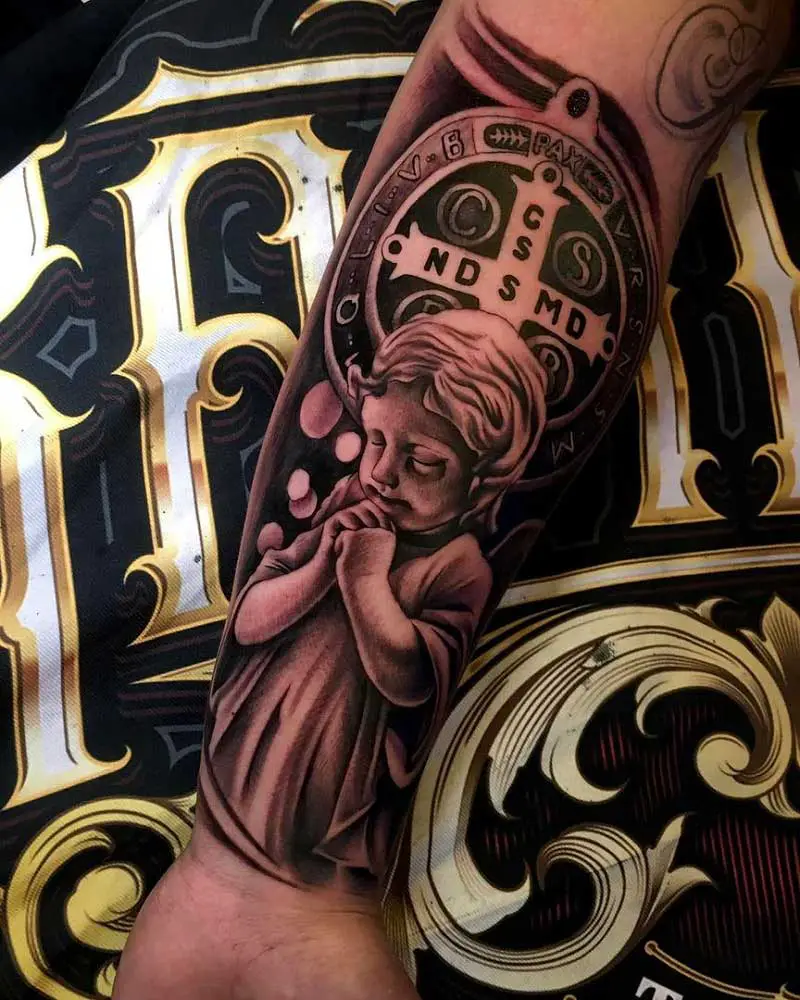 59.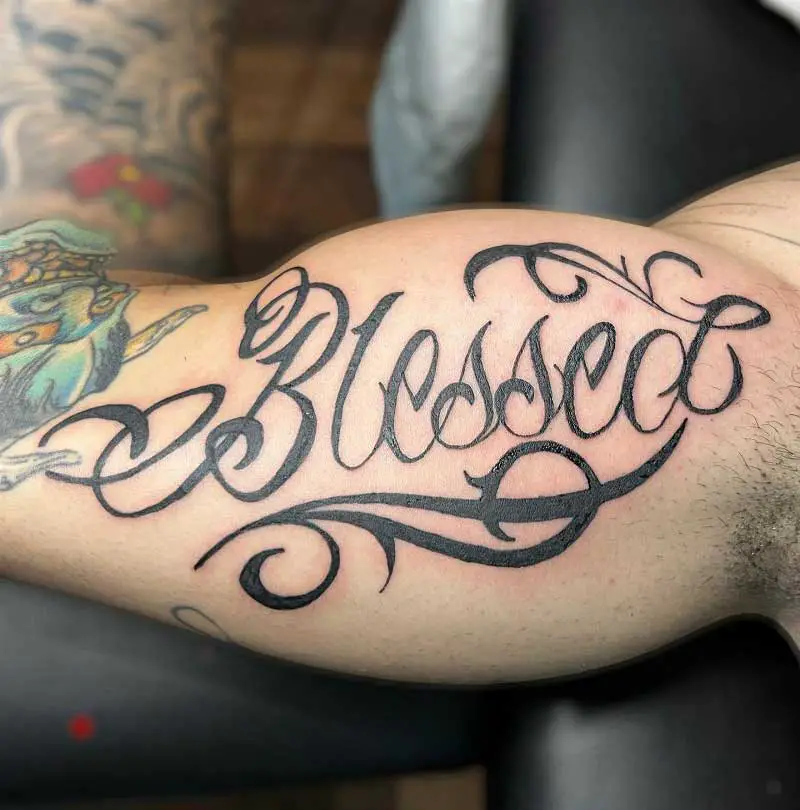 60.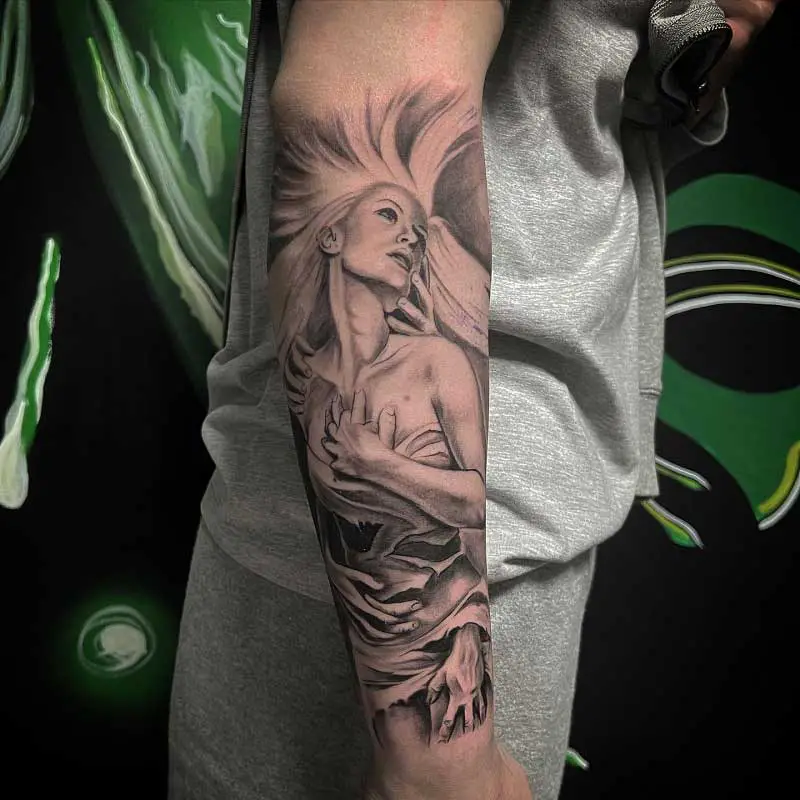 Blessed Minimalist Tattoo
61.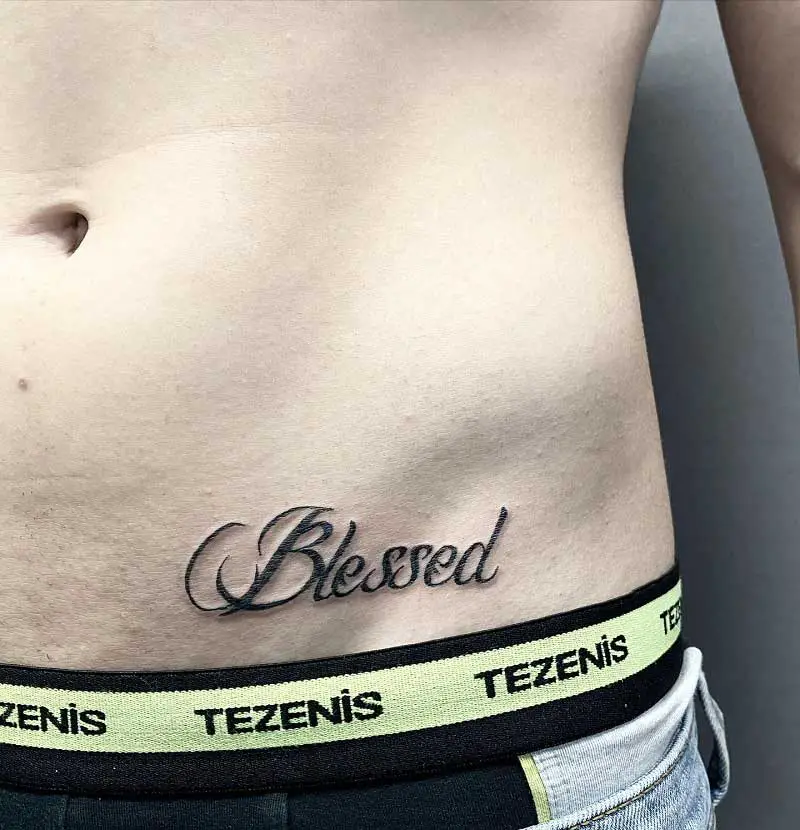 62.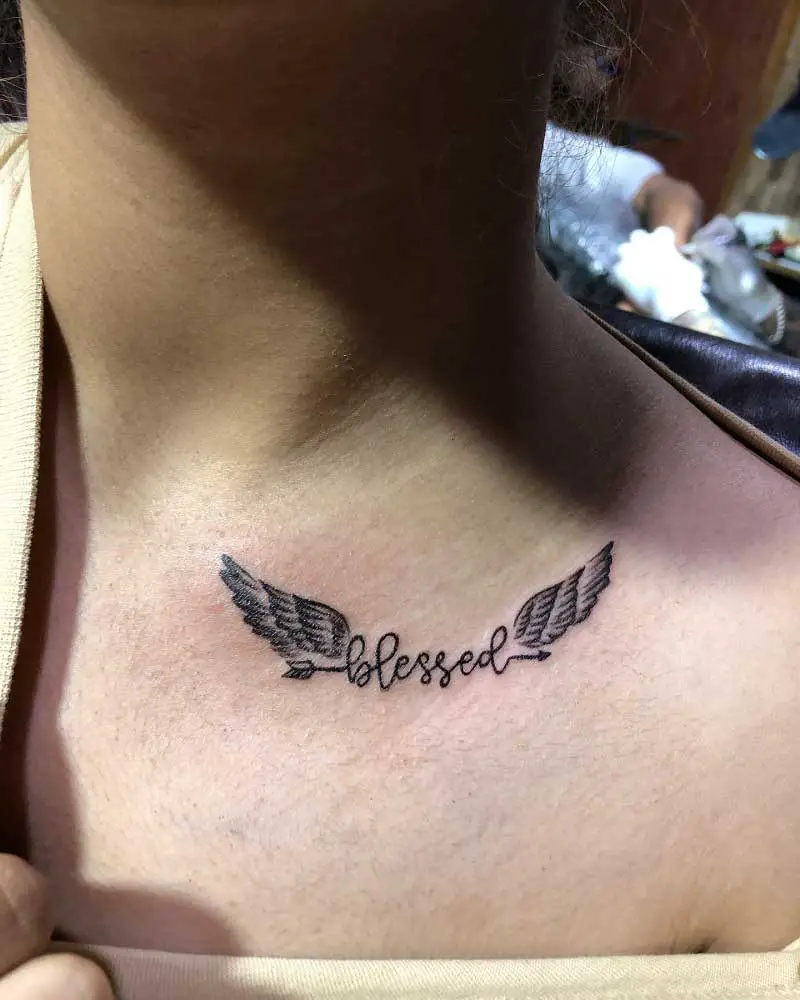 63.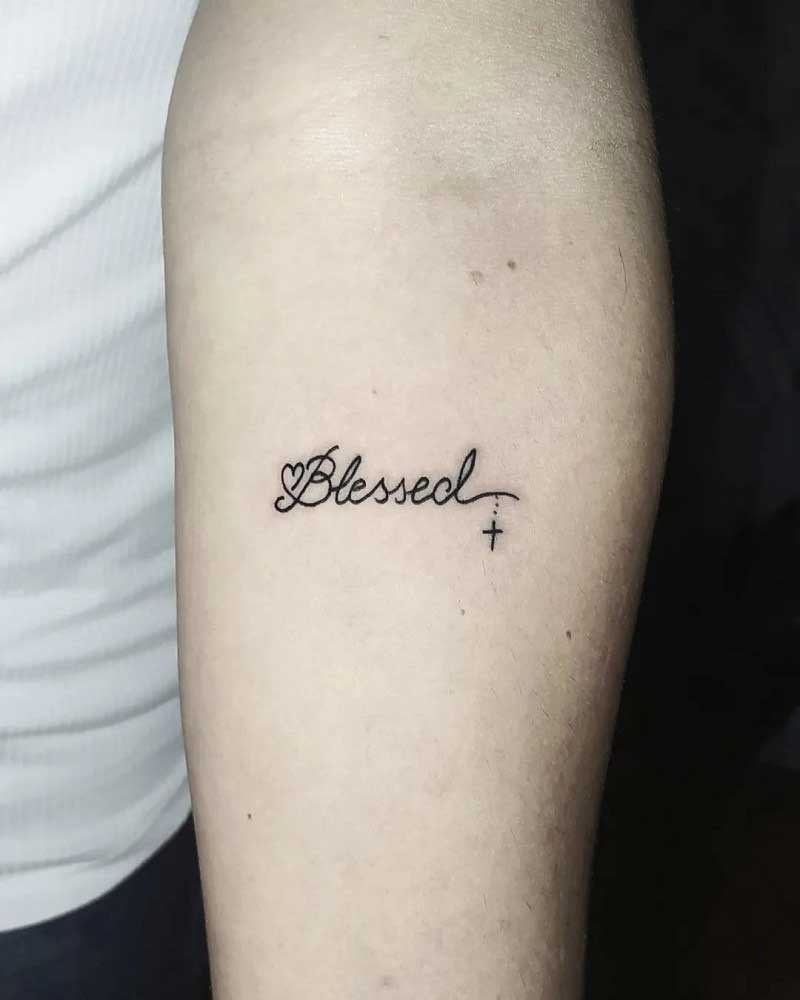 I Am Blessed Tattoo
64.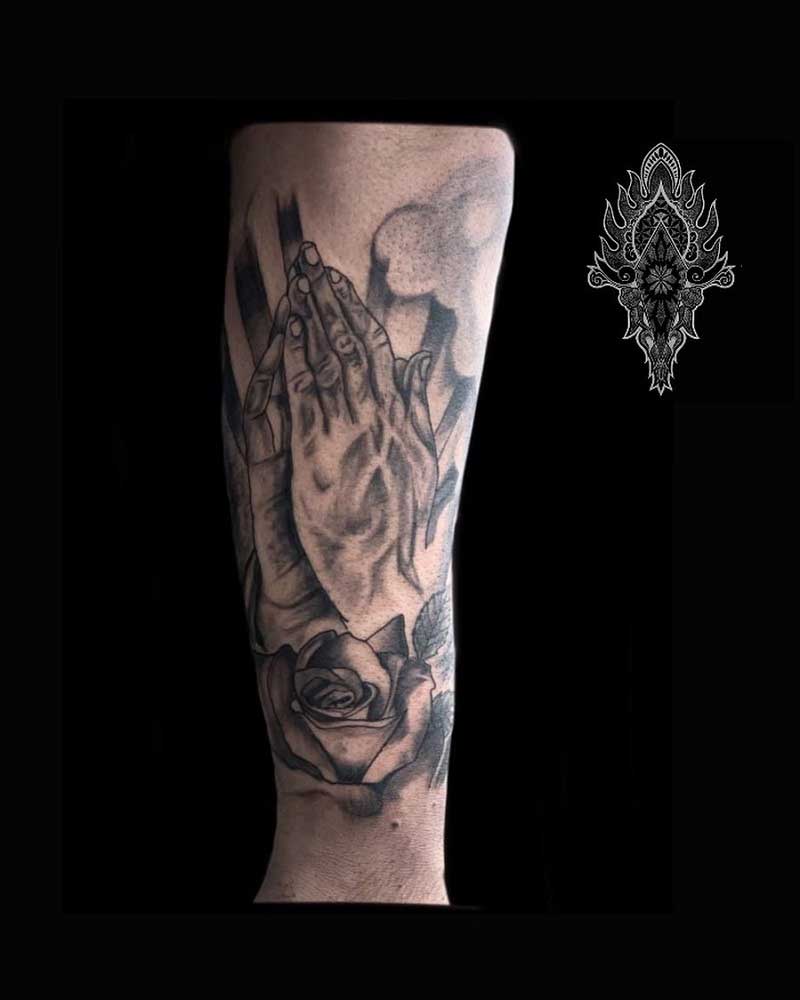 65.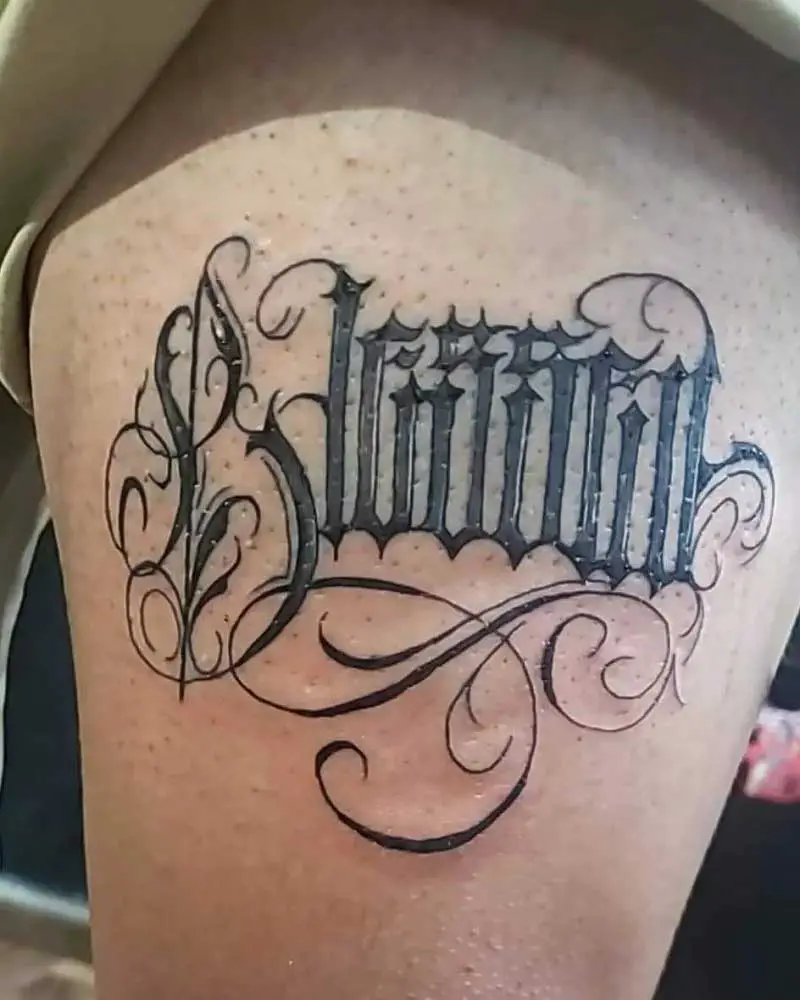 66.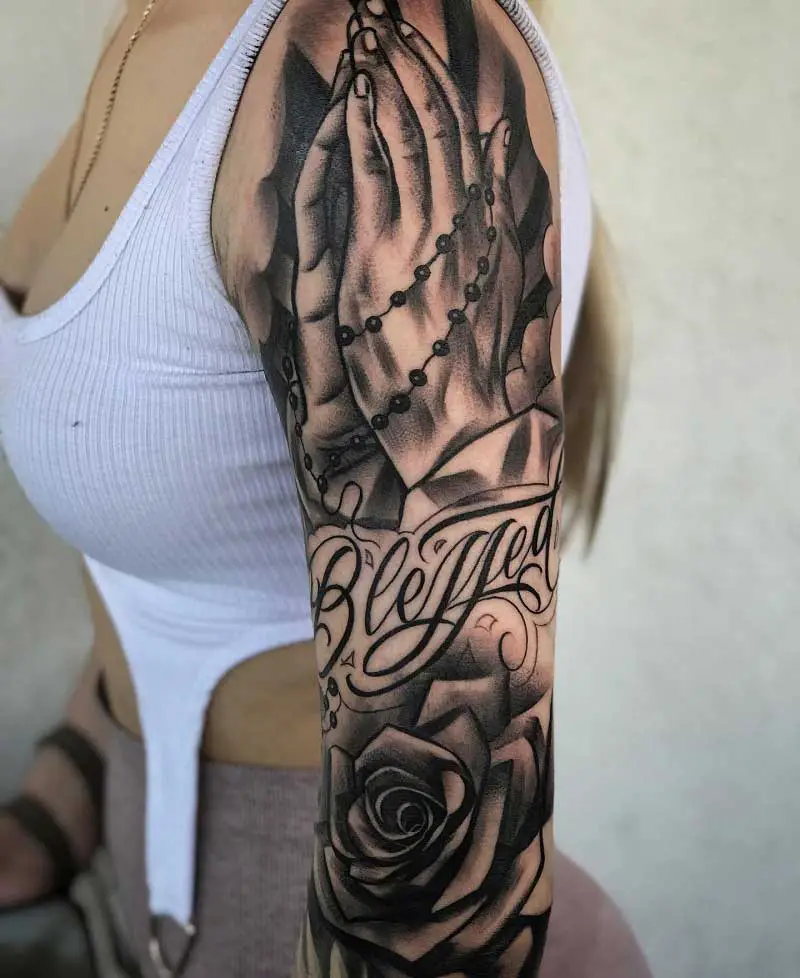 Bless My Family Tattoo
67.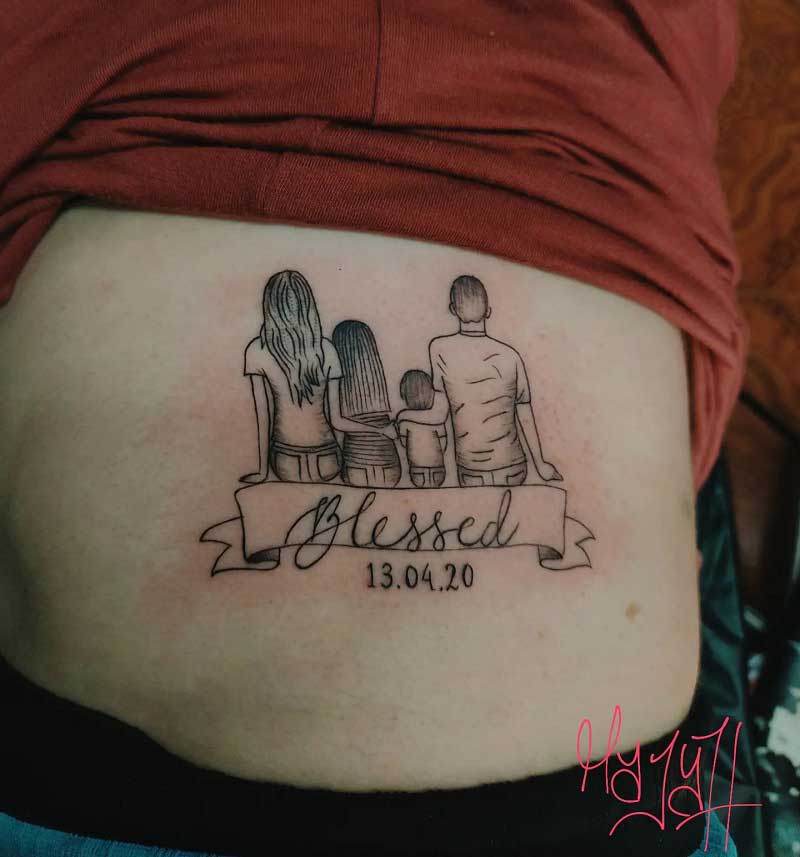 68.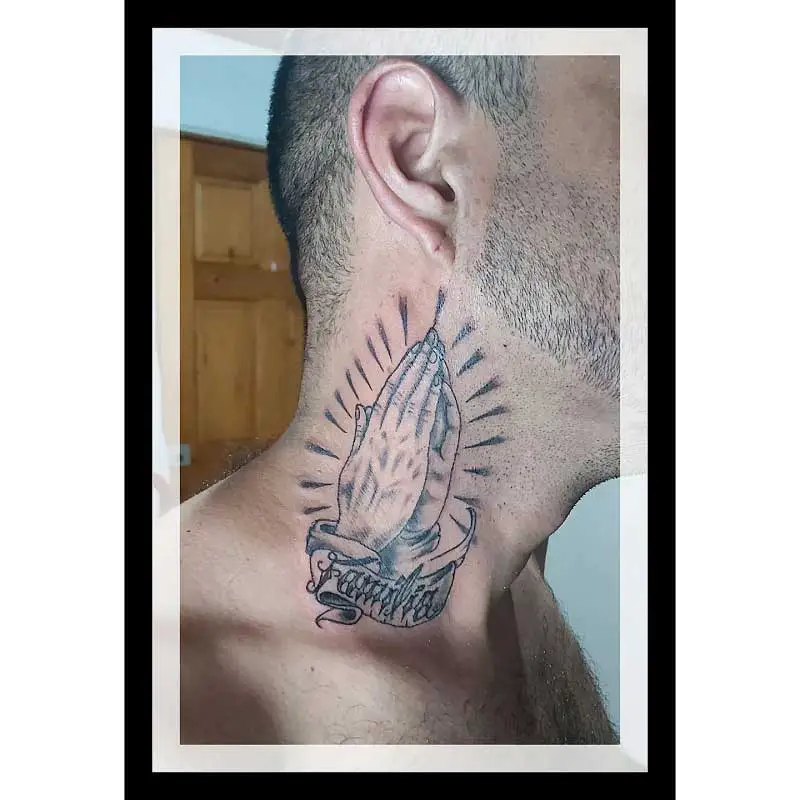 69.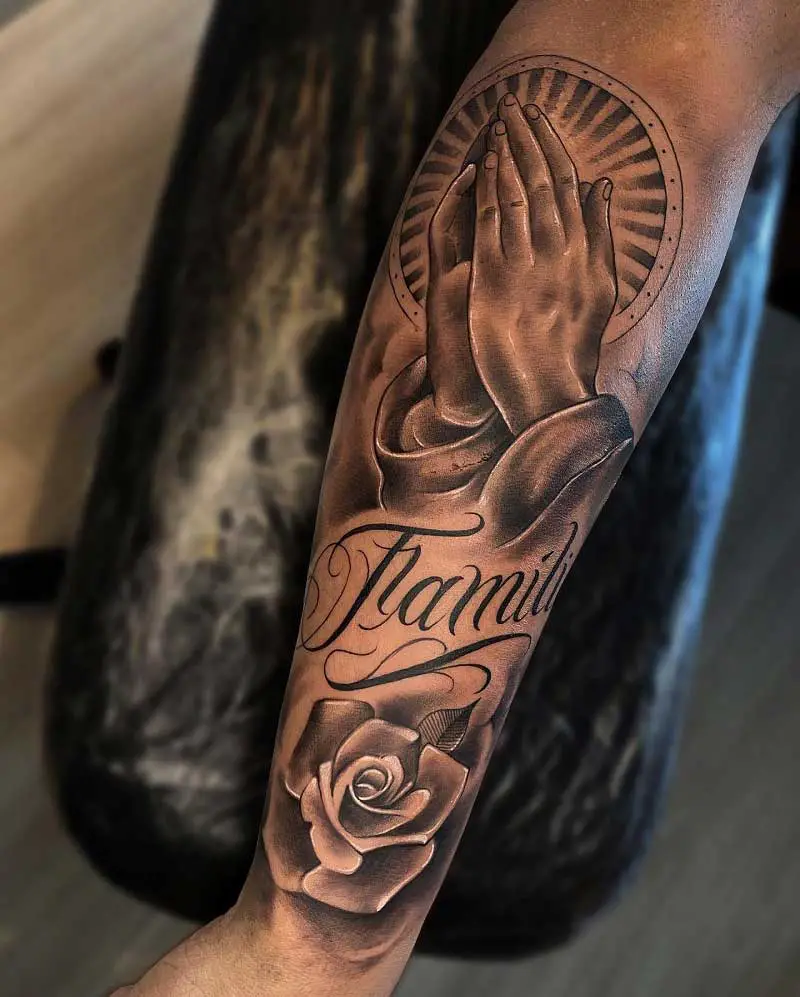 Blessed Angel Tattoo
70.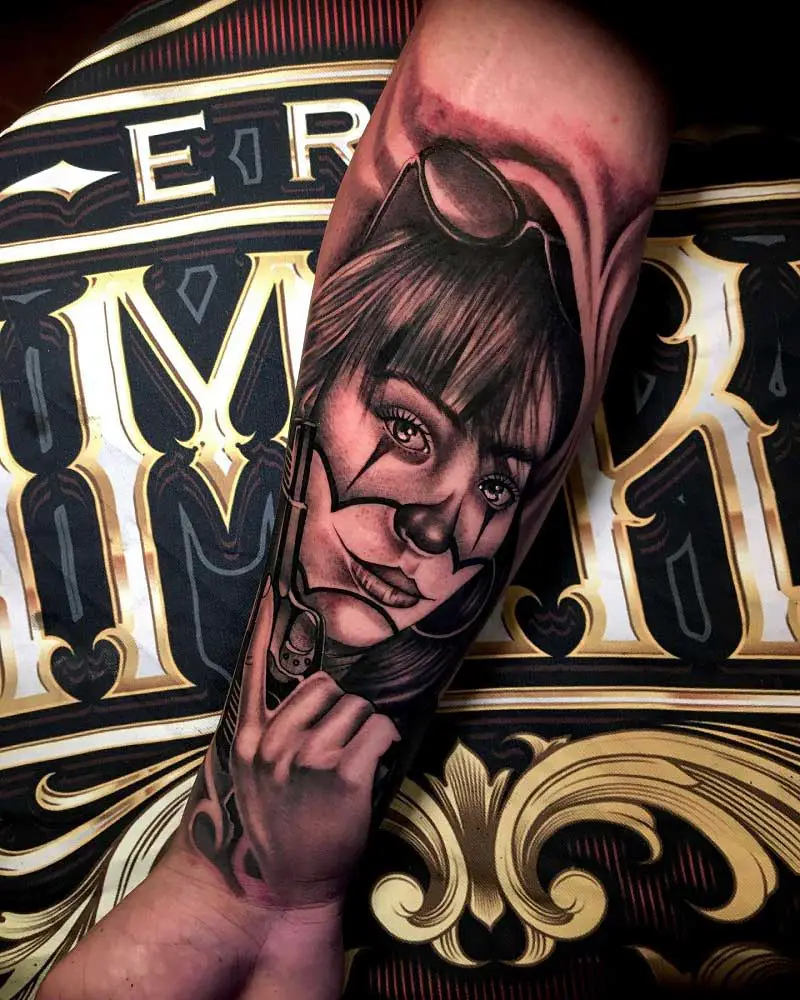 71.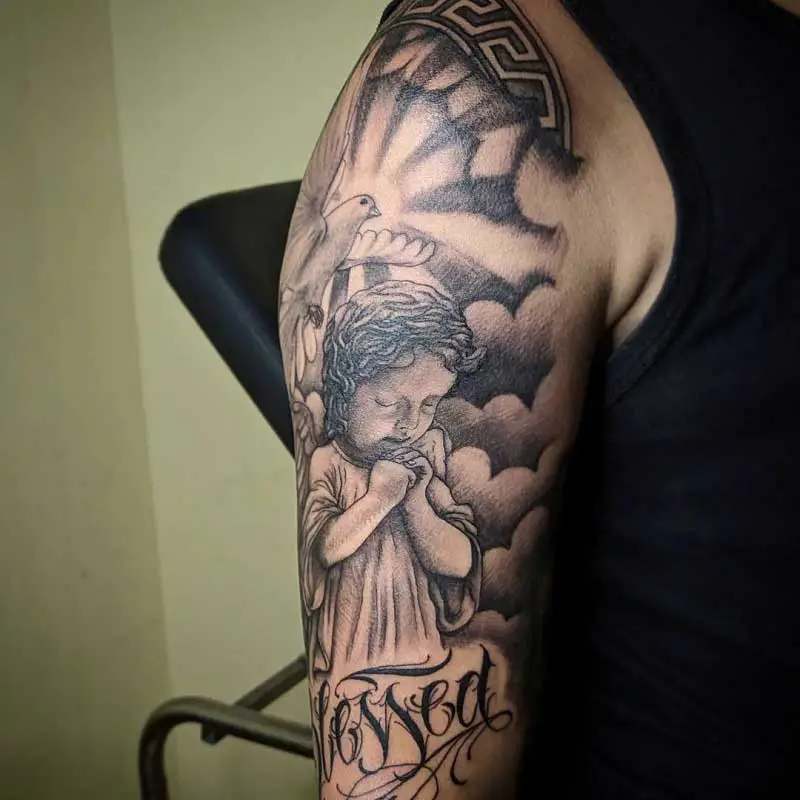 72.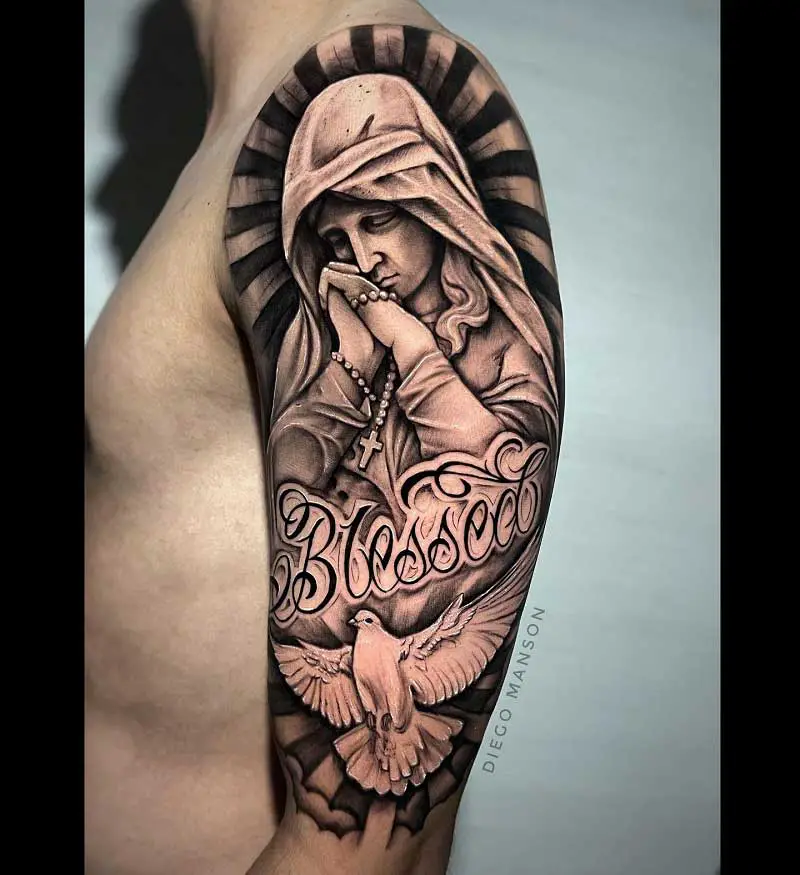 Blessed Butterfly Tattoo
73.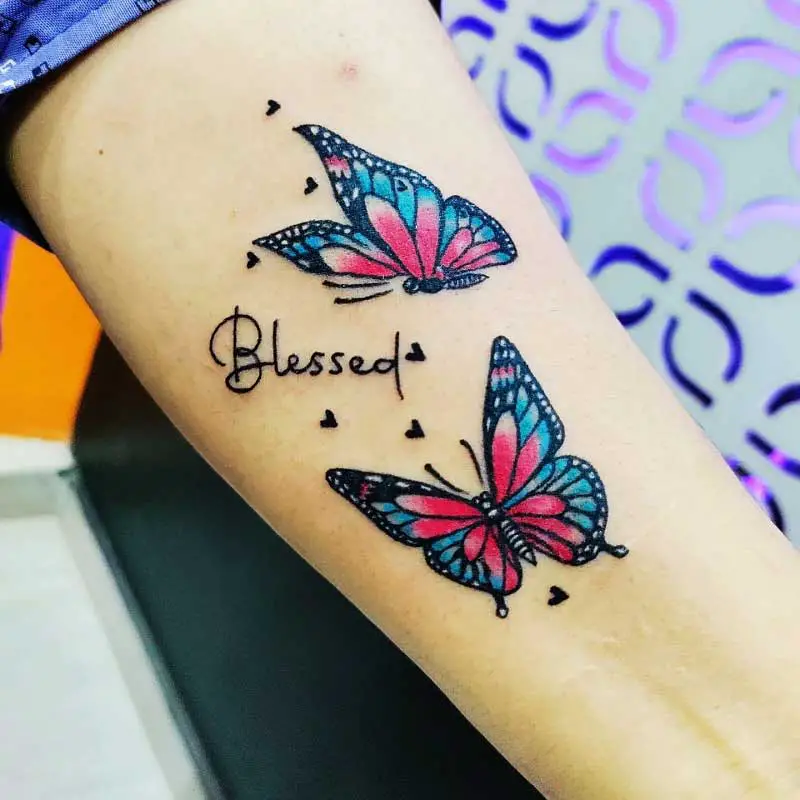 74.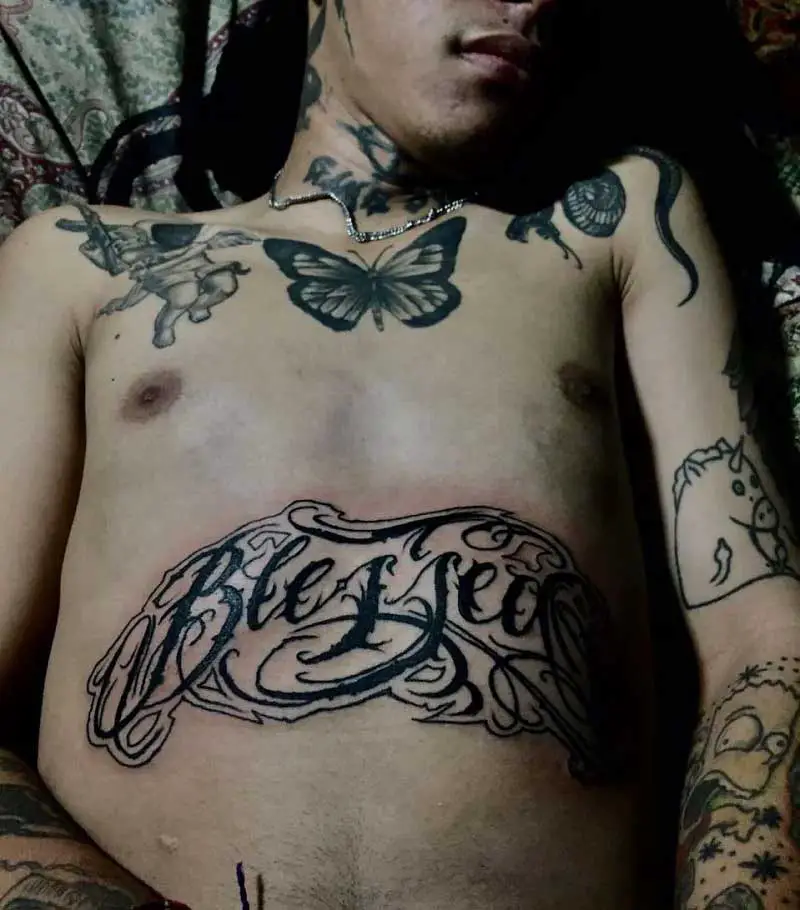 75.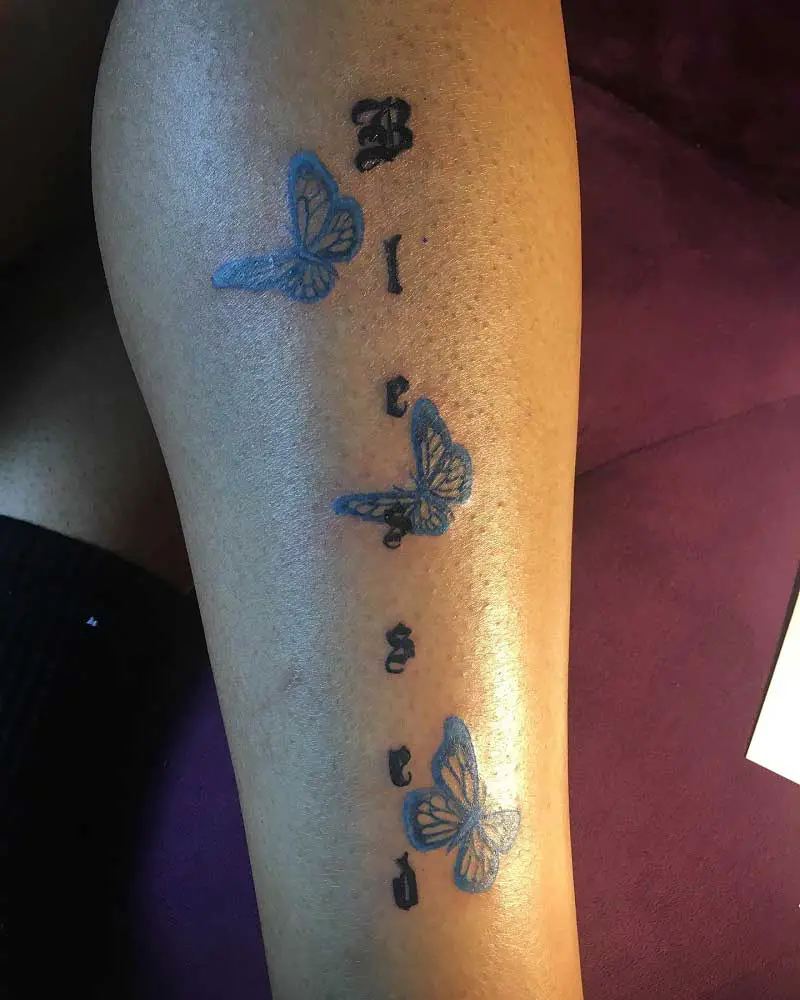 Blessed Calligraphy Tattoo
76.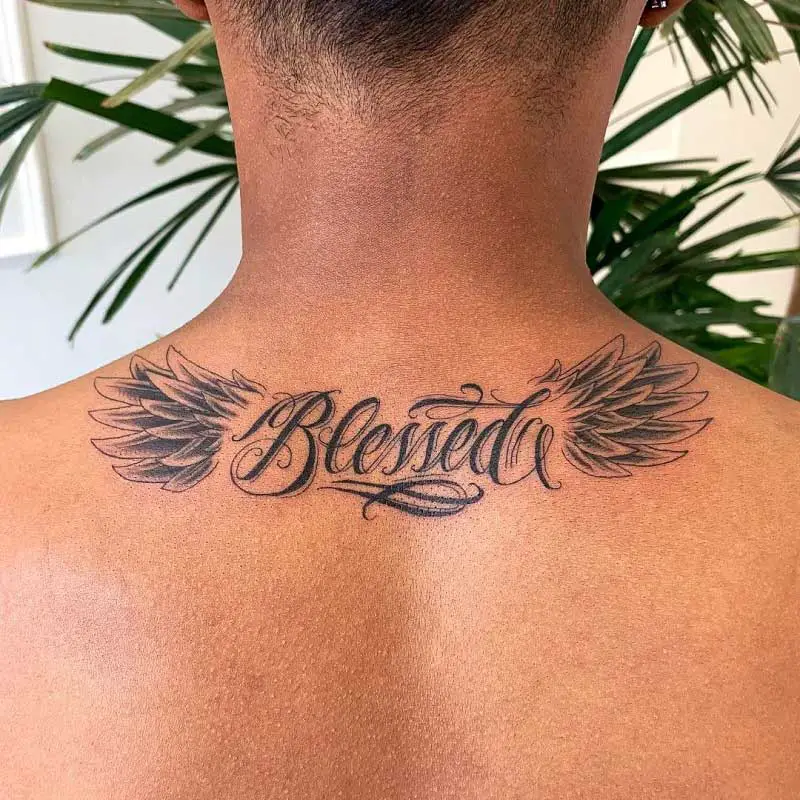 77.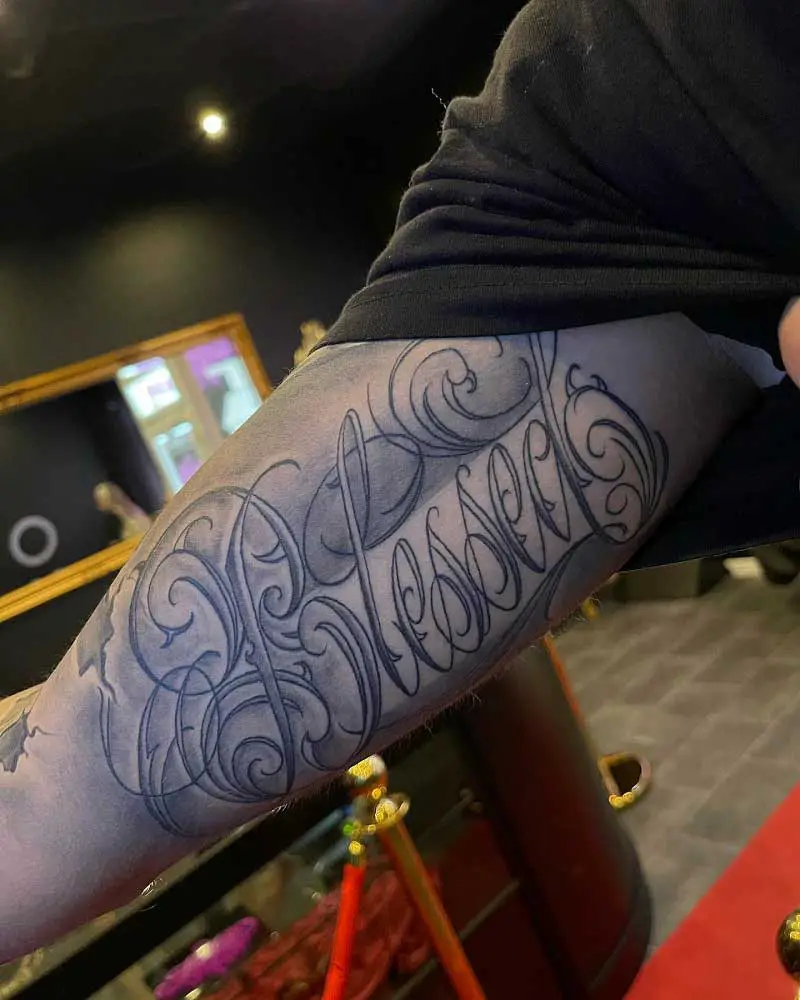 78.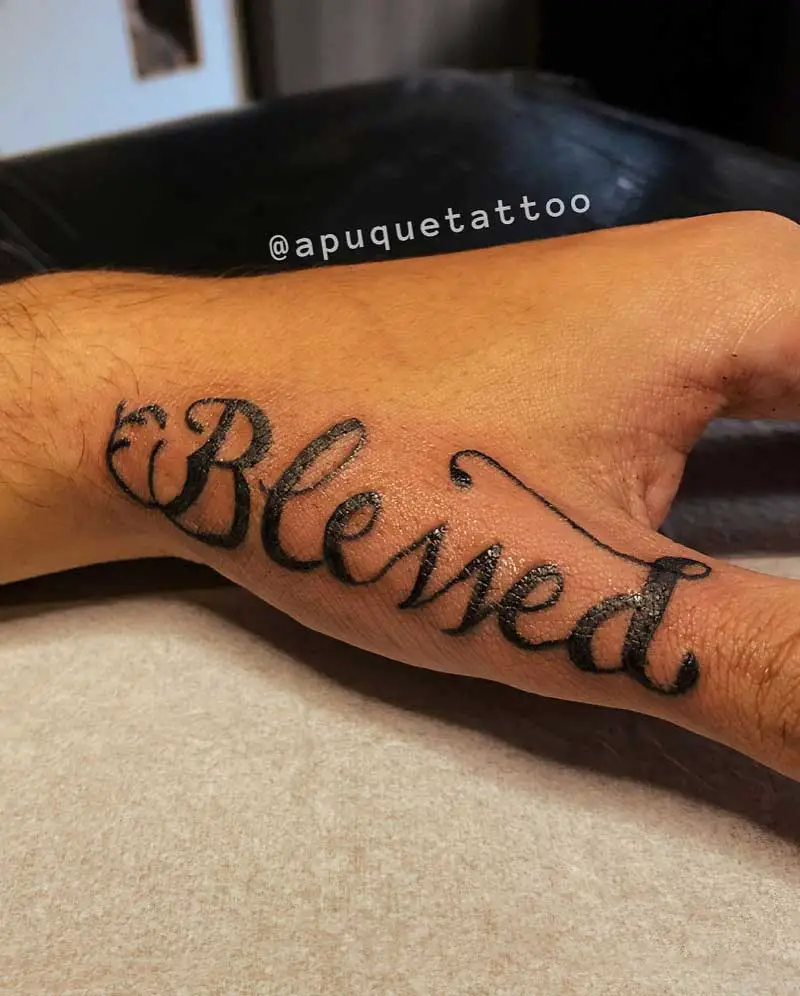 Blessed Hebrew Tattoo
79.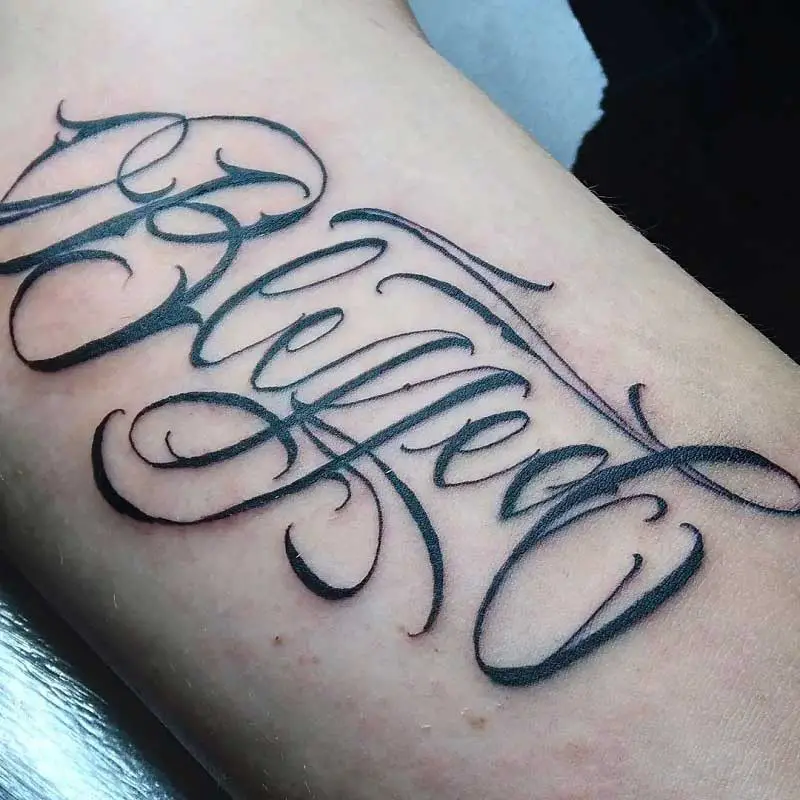 80.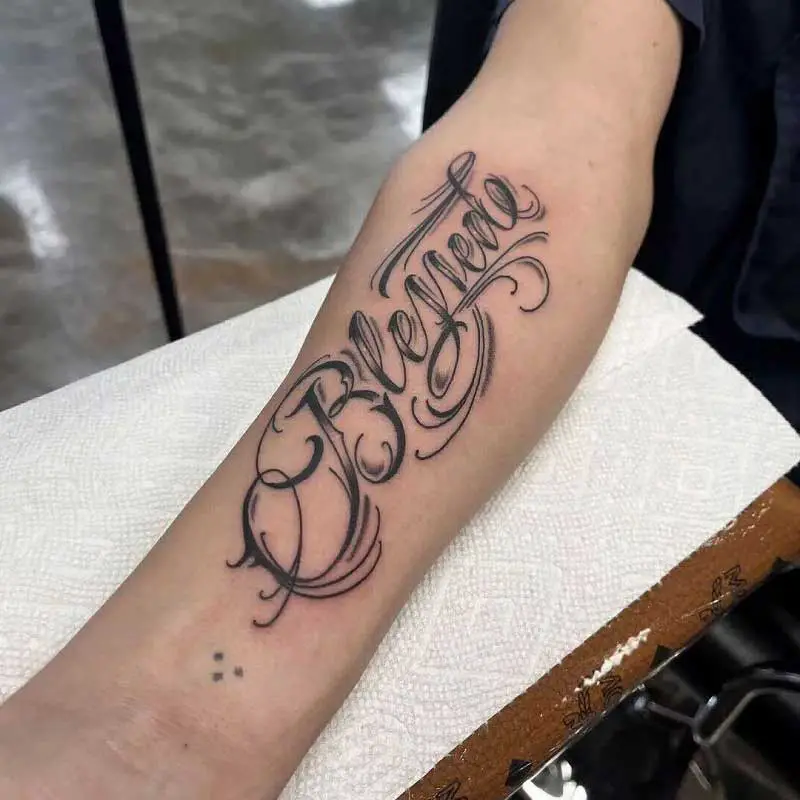 81.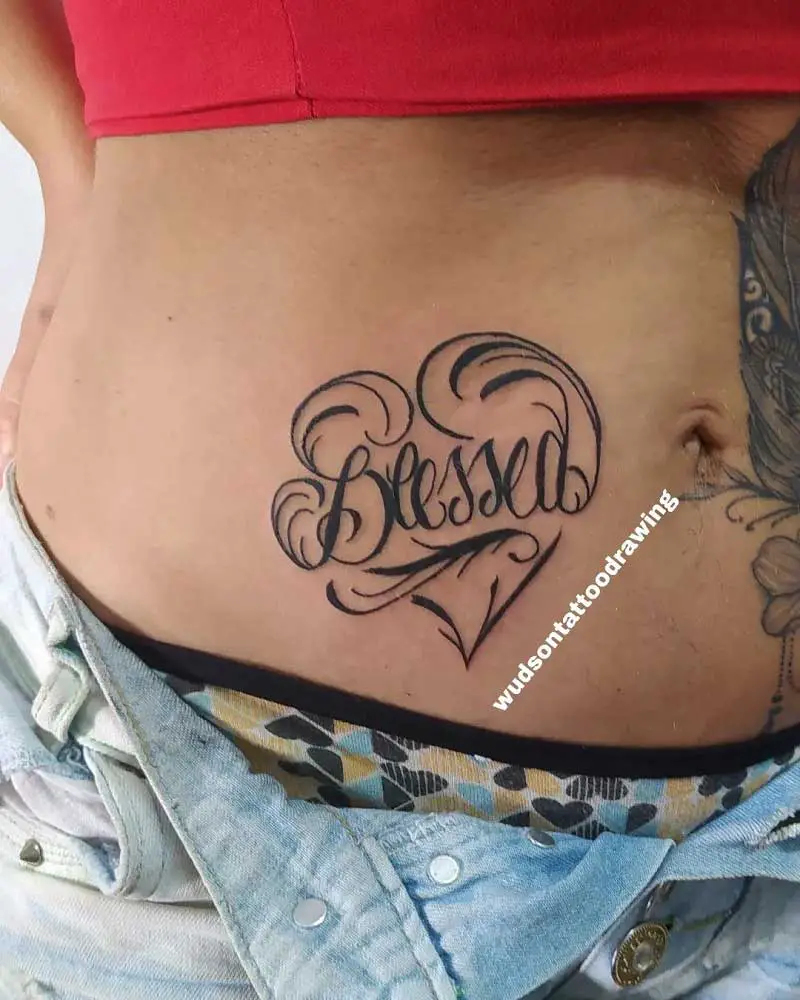 Conclusion:
A blessed tattoo is a sincere and spiritual way of showing your gratitude for the life you have through body art. Getting a blessed tattoo helps to incorporate your beliefs and receive motivation to overcome all challenges and hardships. It is very likely that the trend of getting inked with 'Blessed' tattoos is going upward, thanks to people now adapting to the form of spirituality through body ink. It is important that you understand, blessed tattoos are more than just ink on skin and rather your desire for guidance, protection, and well-being.
Frequently Asked Questions:
What does the blessed tattoo mean?
A blessed tattoo can signify gratitude to oneself, or to god for everything they possess or have achieved in their life.
Which is the luckiest tattoo in the world?
The dream catcher is considered to be a very lucky tattoo that prevents negative dreams. It also helps to bring prosperity and good luck to the bearer.
What is the most tattooed symbol?
Dragons, butterflies, skulls, wings, and crosses are one of the most tattooed symbols. All of these symbols have their own different meanings that people choose to get inked with.
Which tattoo gives positive energy?
It is believed that adding the number 7 to your tattoos would help to increase the positive energy around you and also bring good luck.