The first thing you'll realize about arm tattoos for girls is that they are quite attractive. Indeed, they will grab your attention the moment they enter the room. It's not hard to see why girls with great ink work will turn your head.  The huge variety of tattoo design ideas will literally mesmerize and amaze you. Among popular images on female arm tattoos are flowers, mandala patterns, ornamental designs, dream catchers, other women, or memorable quotes.
HOT ARM TATTOOS FOR GIRLS
What does it really take to wear a hot arm tattoo designed for females? Certainly, you'll first have to have space on your arm to take an elaborate or striking design. You may choose the outer arm or the inner arm areas for your tattoo.  How big or small your tattoo also depends on the size of your arm as well as the space remaining if you have other tattoos. We have chosen twenty of the best arm tattoos for girls that you may use in your next design idea.
#1: BRIGHT FLOWERS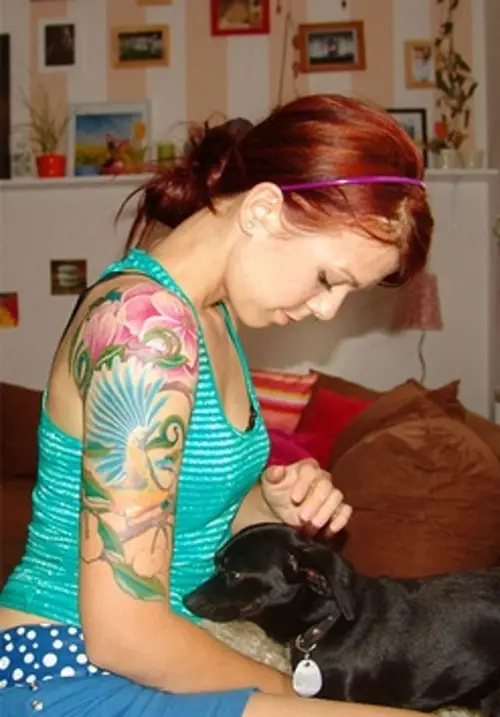 Watercolor arm tattoos are attractive choices for girls who express themselves with body art.  Colorful flowers and other images make this arm tattoo a desirable expression of this girl's connection with beautiful things.
#2: LOVE NOTE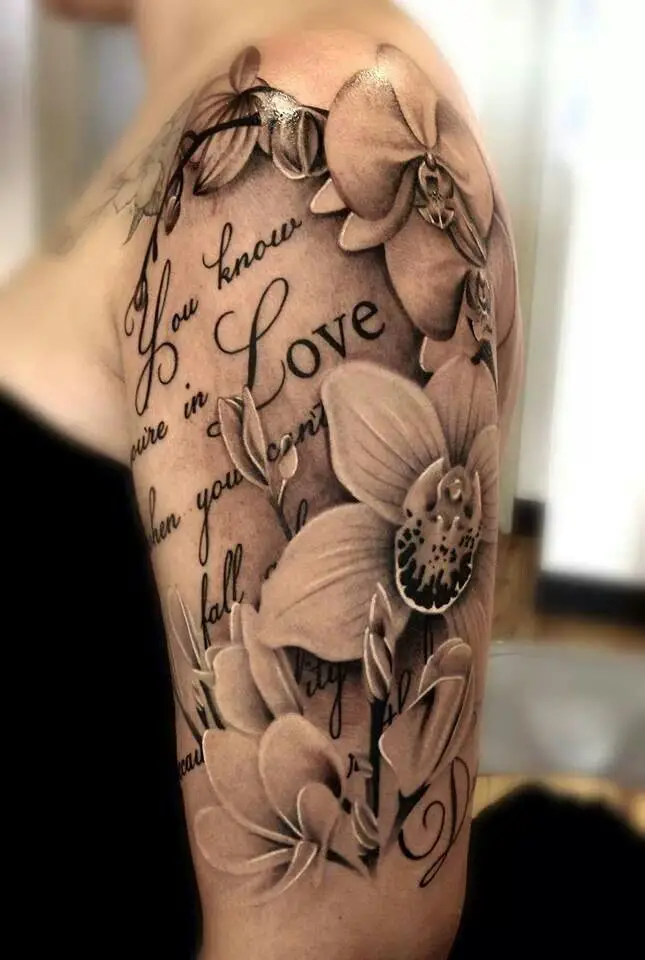 This girl chooses to show her thoughts on love with skillfully shaded petals. Here then is an interesting arm tattoo design that uses both black and white ink to create an eye-popping work of art.
#3: GLOBAL DESIGN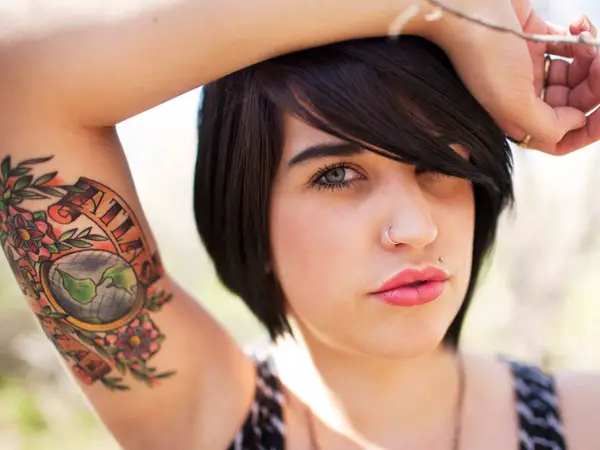 The globe is the center of this girl's colorful arm tattoo. Apparently, discovering the world may be her ultimate desire.
#4: SEA CREATURE IN NATURE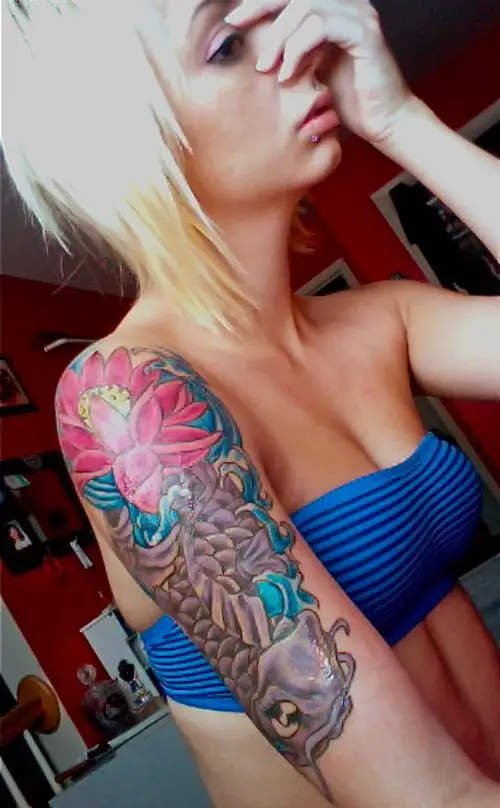 Look closely at this girl's arm tattoo to see the sea creature among the waves. This graphic image is done in bright colors as well as with shades of black. Only she knows how important this design is to her, but it's a stunning piece of work.
#5: PETALS IN TATTOO DESIGN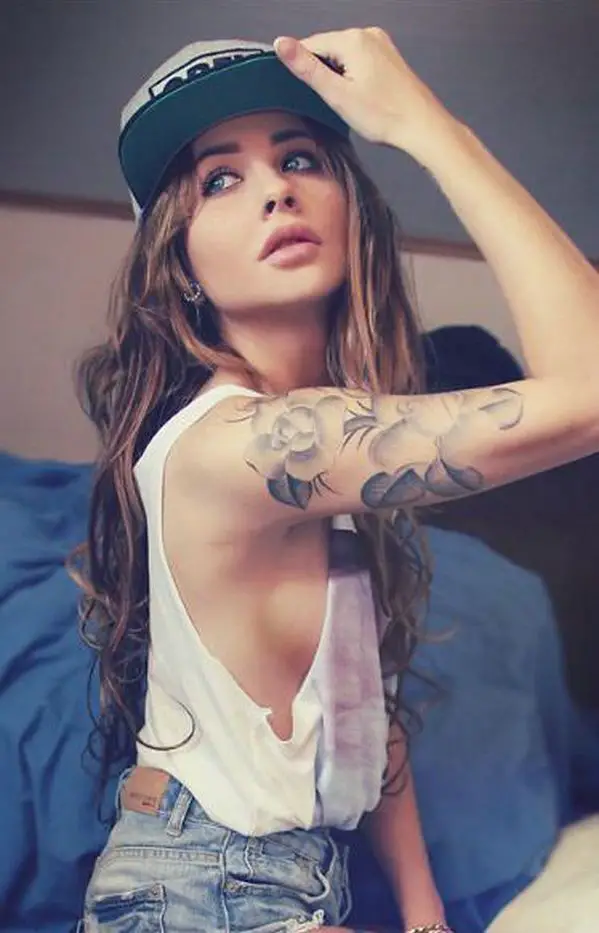 Flowers have always been used in arm tattoos for females and this design shows how appealing they can be.
#6: FLORAL BLOOMS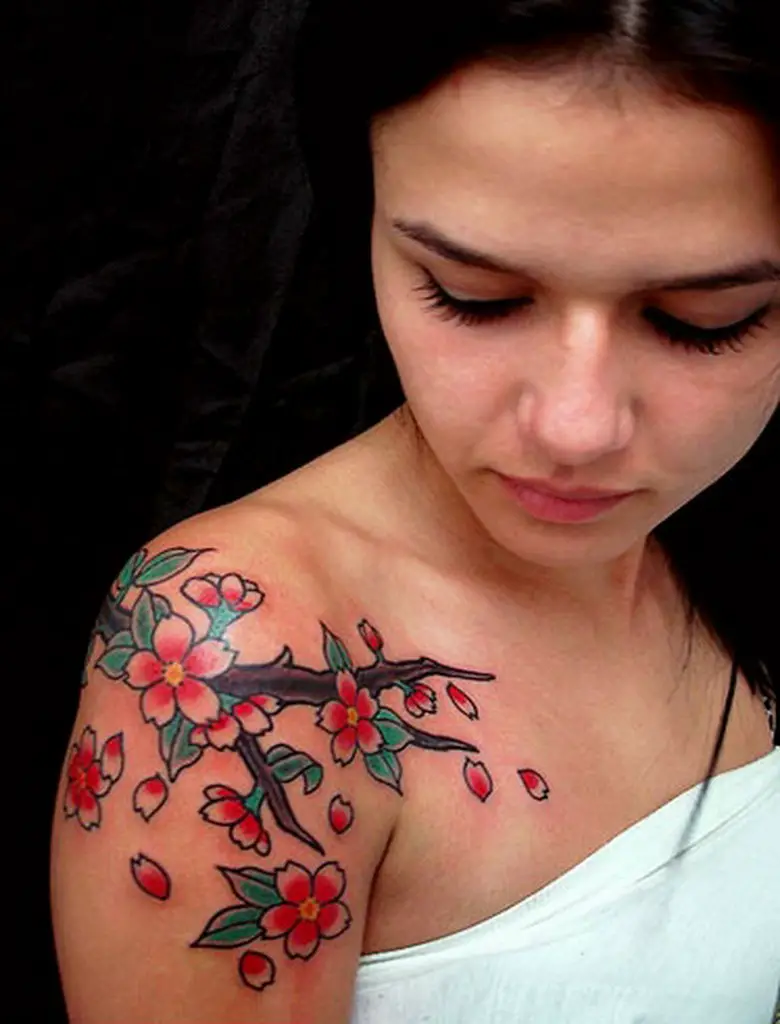 Another example of how flowers are used in arm tattoos for girls.  This time the colors are vibrant and you can see falling petals as well. Apart from the obvious beauty of flowers many tattoos that use flowers also represent life's fragile nature.
#7: DOMINANTLY RED FLORAL DESIGN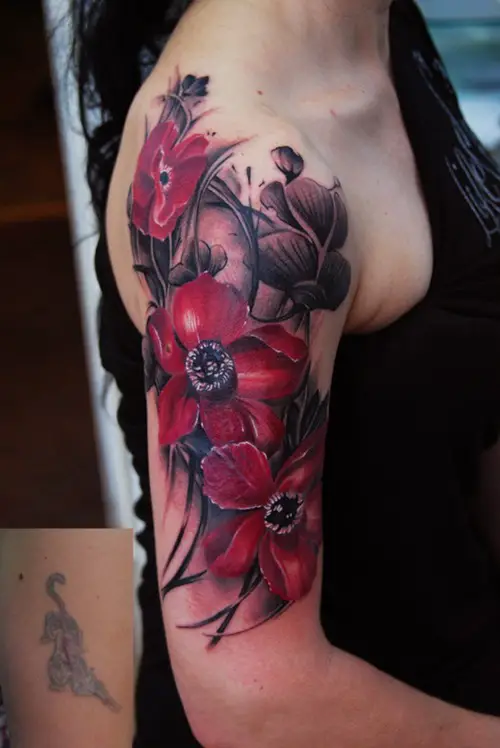 Flowers are not always soft and fragile.  Here is a girl whose floral blooms are strong and vividly red. There's no question that this arm tattoo idea will grab other's attention because of its breath taking appeal.
#8: THE DREAM CATCHERS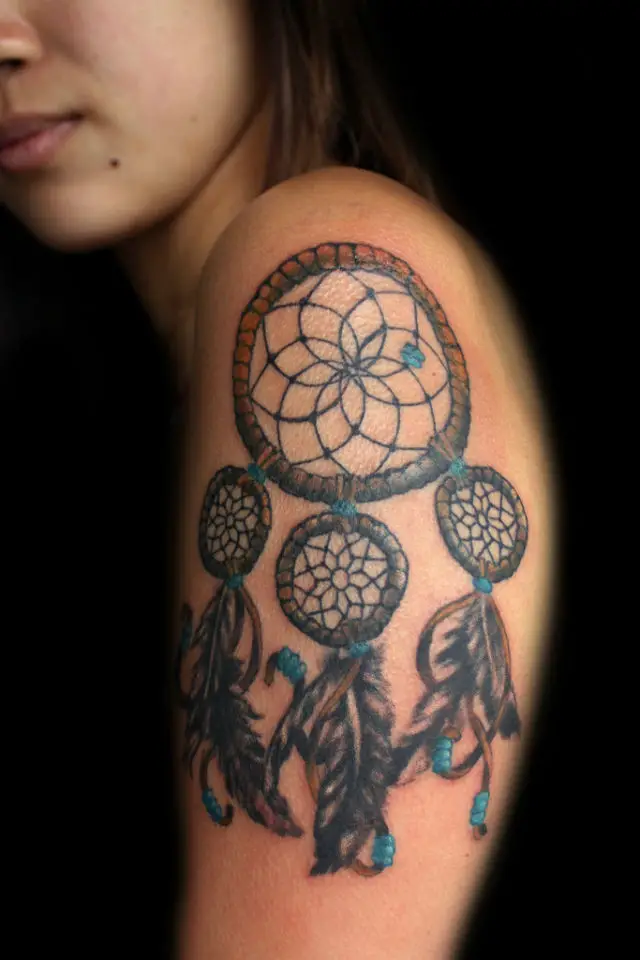 Dream catcher tattoo designs are among the tattoos that actually mean something significant.  Perhaps for this girl, her well designed arm tattoo is her wish for good fortune and dreams come true.
#9: DISNEY FAN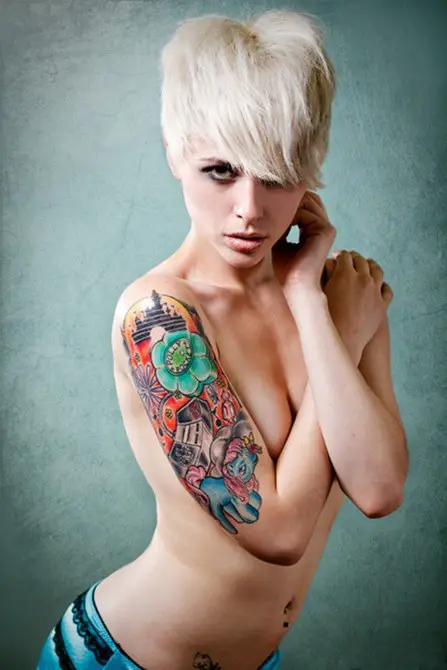 Vibrant colors are dominant in this Disney themed arm tattoo design. Can you find the items that belong to your favorite Disney movie?
#10: COLORS AND BLACK INK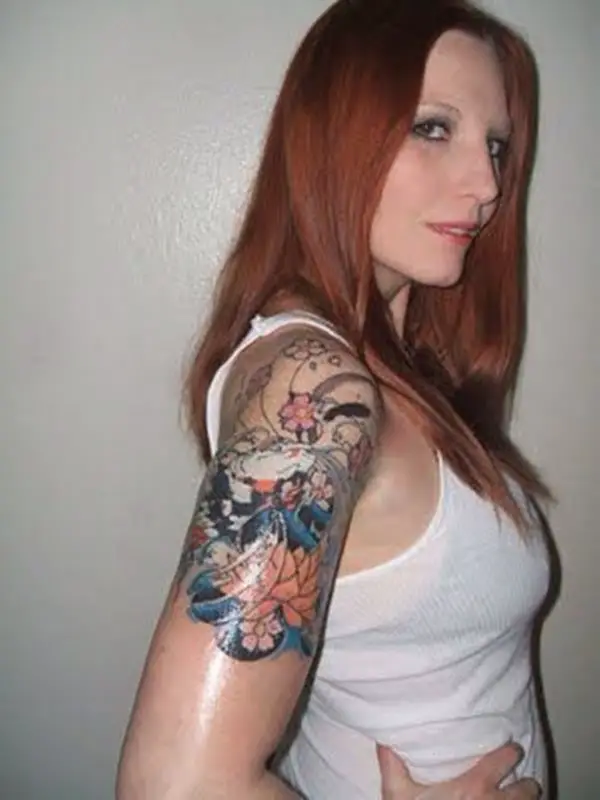 Arm tattoo designs also use ideas that are meaningful to the persons on whose arm the tattoo is inked.  Check out the mix of colors and black used here to showcase this interesting idea.
#11: ANY BRIGHT IDEAS?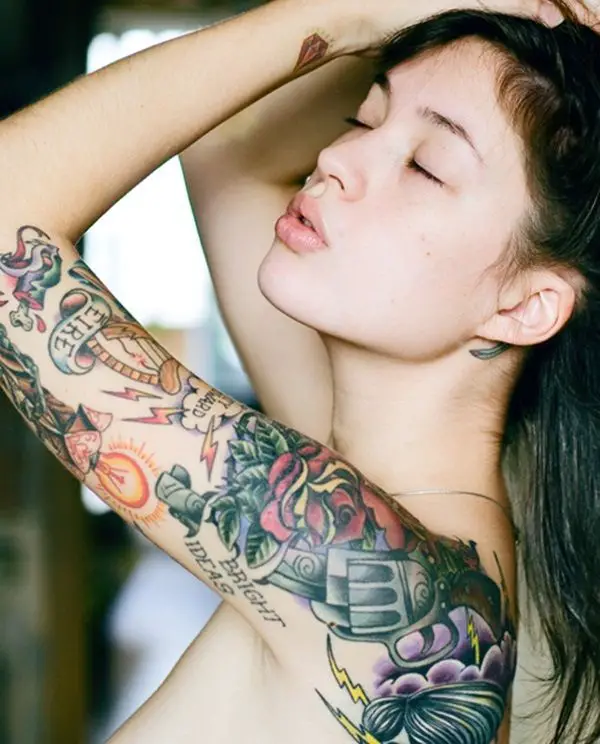 A mix of different images are inked on this girl's arm to show what she really thinks about the world's "bright ideas". As you may realize, not all ideas are as bright as the world thinks.
#12: FLORAL DETAILS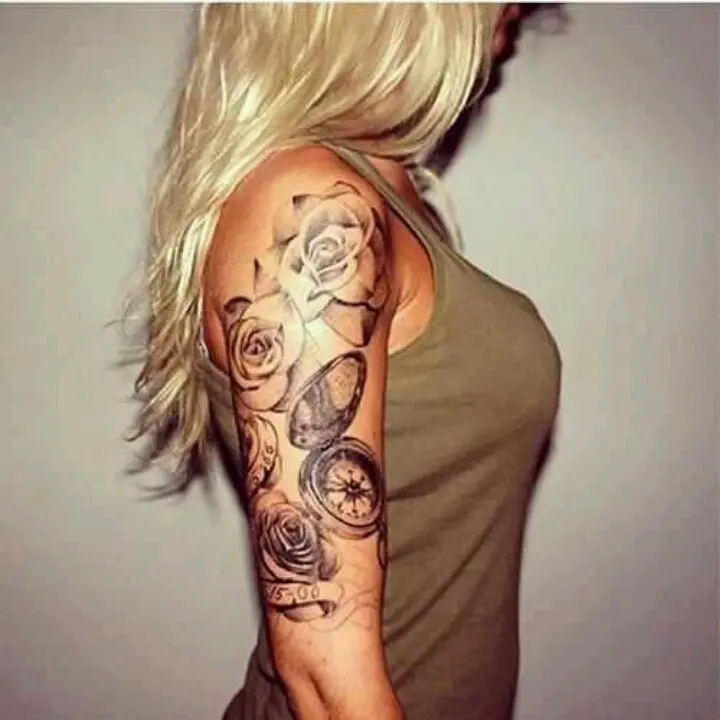 Dominated by roses this girl's arm tattoo also shows the compass as a symbol of life's many directions. It's not hard to figure out what she means by this expertly done black ink art work.
#13: FAIRY TATTOO IDEA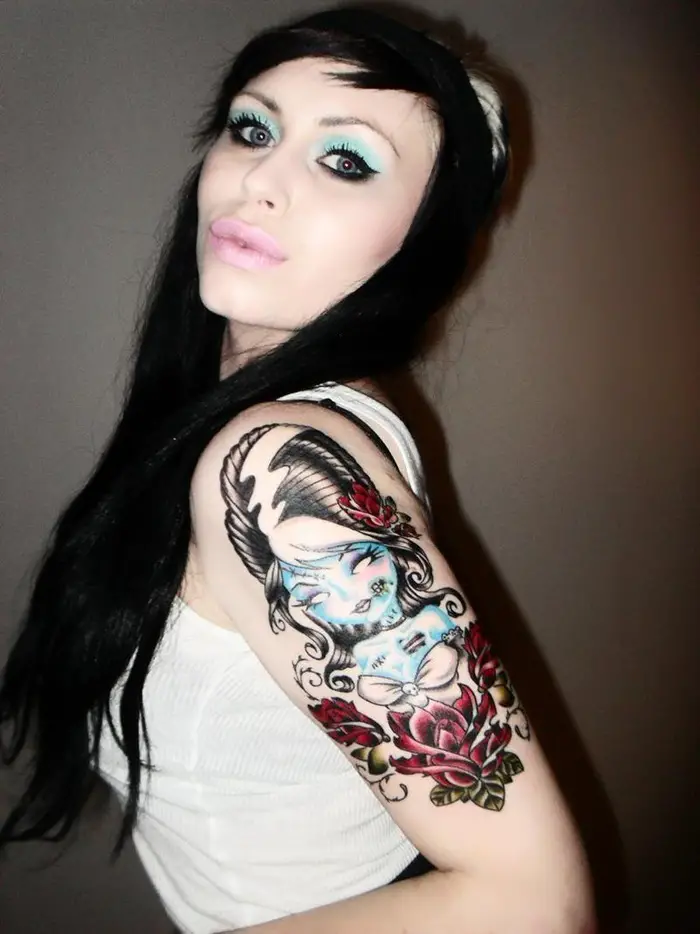 Fairies or other magical creatures are sometimes used by girls in their arm tattoo ideas. This predominantly colorful art work may reveal her favorite passions.
#14: THE ORNAMENTAL HUMMINGBIRD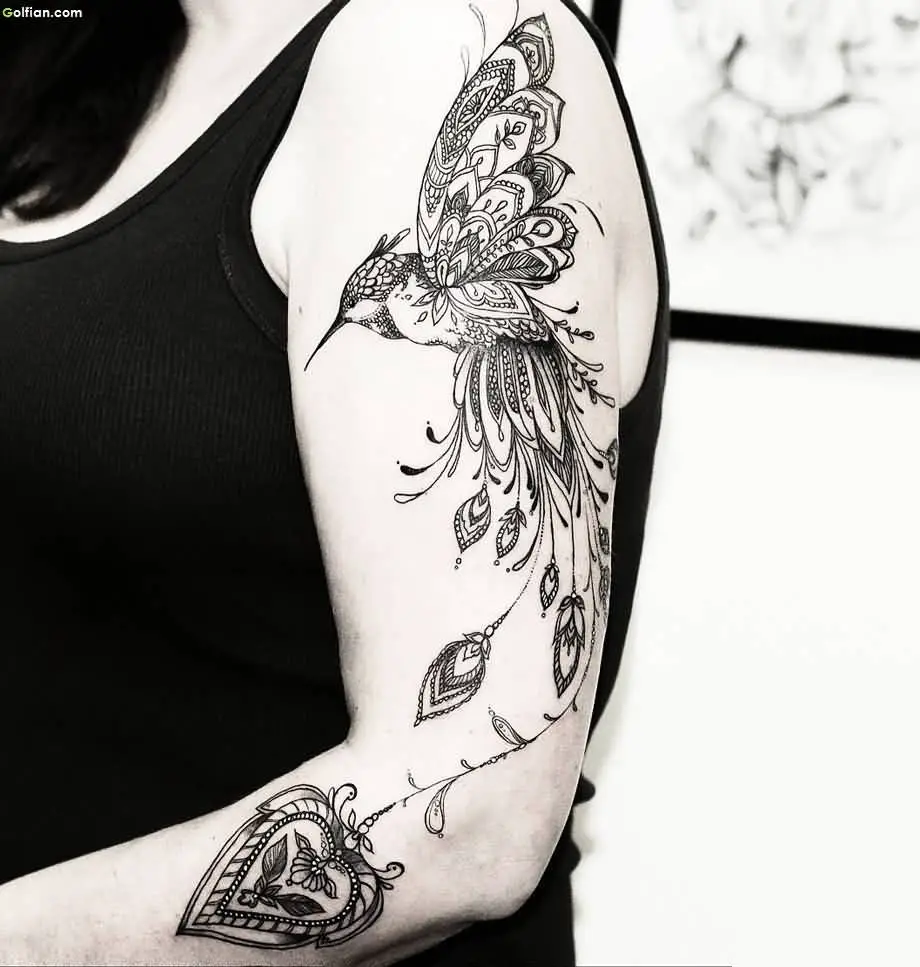 Where ever this girl goes, she's sure to attract attention for this ornamental hummingbird tattoo idea. The exquisite details show off the talented tattoo artist to full effect. It's one arm tattoo that deserves to stand alone with no other distractions.
#15: INTRICATE MANDALA ARM TATTOOS FOR GIRLS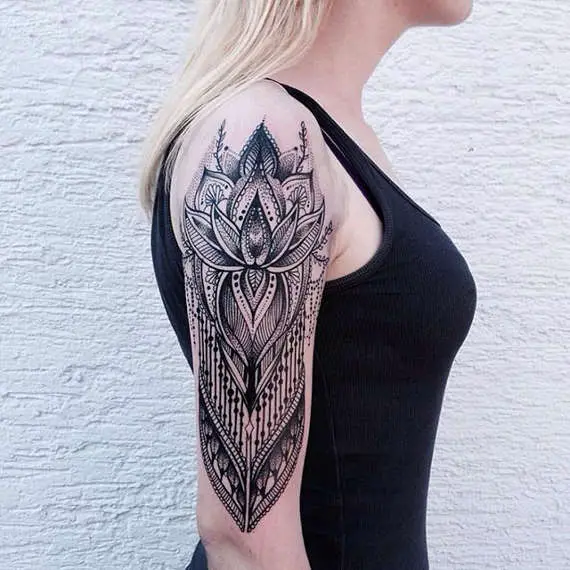 Mandala designs are always winners in arm tattoos for girls.  Is it any wonder that this girl wears hers confidently? With such a spectacular design there's no need to cover up.
#16: BINDING RELATIONSHIP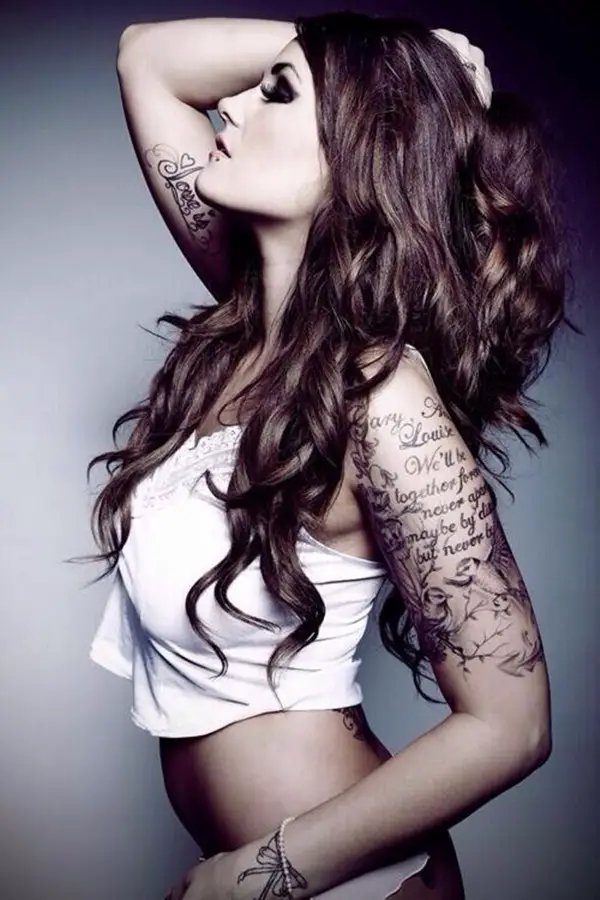 Sometimes notes are the right touch for arm tattoos that say something to others. Here is a note showing the bond of a good relationship supported by birds and other images. There's no need for color to show off this eye-catching black inking.
#17: THE ROSE OF THORNS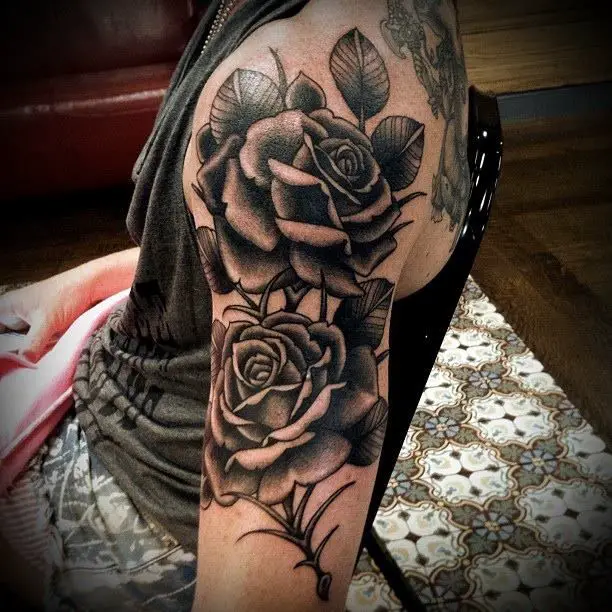 Strikingly sharp details show off this well-designed rose arm tattoo. The thorns present a strong contrast to the soft petals. This is certainly among the head turners in female arm tattoos.
#18: LOVELY FLOWERS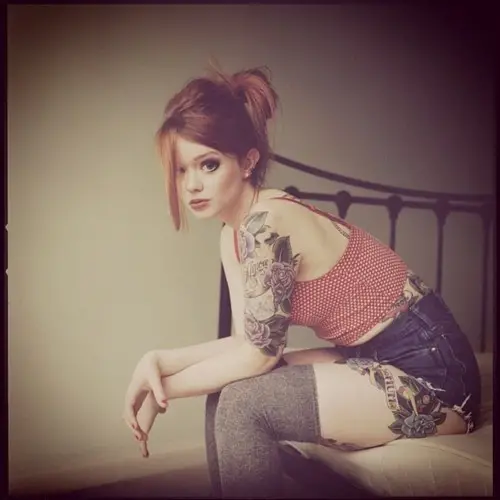 Flowers are quite popular among arm tattoos for girls.  This girl has a well created floral arm tattoo which matches other body art she wears.
#19: FEMME FATALE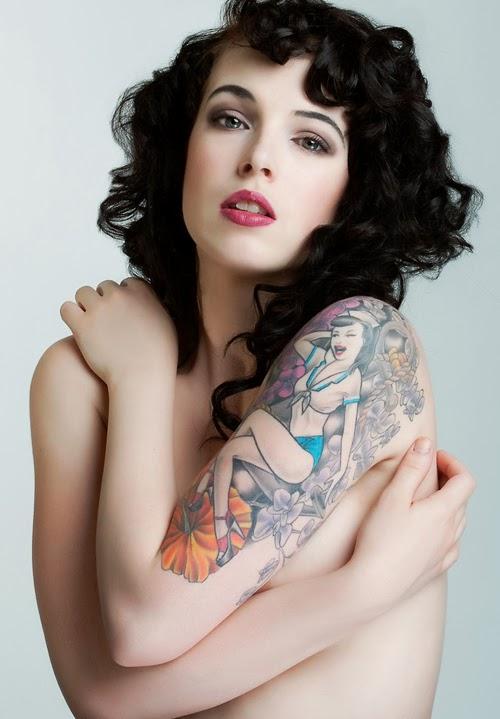 It might be a coincidence that the tattoo on this girl's arm bears a striking resemblance to her. Maybe, this is her way of showing that she is a  femme fatale whose charms will take her places.
#20: ARMED AND DANGEROUS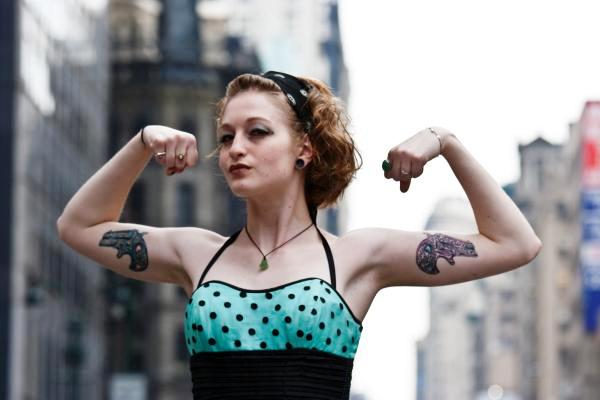 No doubt, this otherwise clean female carries a gun on both arms.  It's hard not to notice the irony of this arm tattoo choice.  Seriously, she doesn't look the type, but others are warned!  She is armed and dangerous.
Don't you agree that you have seen twenty of the best arm tattoos for girls from which to choose? In fact, there are hundreds more that you can browse to find your next tattoo.  Turning heads in any event or occasion are not difficult with these potentially sizzling arm tattoos that females truly love. Simply browse from the available tattoos and you'll soon find just the right design that fits your expectations.