Although they were initially worn by sailors, wrist tattoos for women are more popular today. They look simple and clean but require great skills to draw and are very meaningful. As wrist is a very prominent part of the body, a wrist tattoo can increase your beauty and reflects your personality. Therefore, it is very important to put lots of thoughts before getting a tattoo. You can choose anything from quotes, flowers and Celtic designs to birds, tribal signs and music symbols for a spectacular tattoo on wrist.
While men like tattoos that show strength and masculinity, girls often choose designs that express some kind of emotions or associate with their personality or life in some or the other way. You will find most wrist tattoos for women on the inner side of the wrist because the veins here are directly connected with heart and are prominently visible. Though it is very painful because wrist area is less fleshy and has prominently visible nerves, women are crazy about wrist tattoos.
SUPER CUTE AND SENSATIONAL WRIST TATTOOS FOR WOMEN
Before you decide to go for a tattoo for women on the wrist, think for a while about the design and theme. Do you want a tattoo to honor a relationship, to mark a milestone of your life or to express your emotions? Once you know why you want it, think of the designs, images or theme the best express your reason. Often women know why they want a tattoo but unable to find appropriate design inspiration to relate to it. If that's happening with you, scroll down to explore some of the cutest wrist tattoo design ideas to write your story.
#1: BLACK ROSE WRIST TATTOOS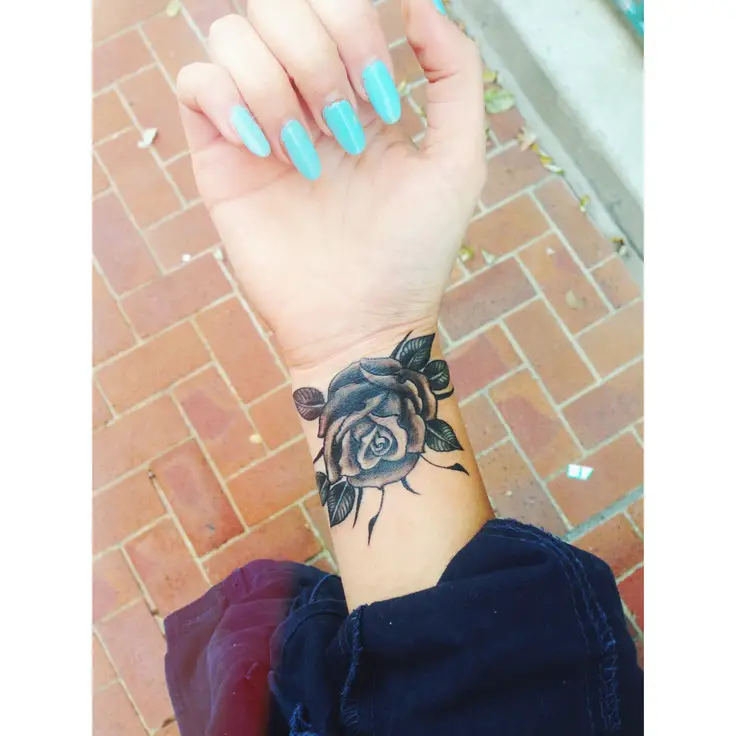 Flowers are one of the simplest of design ideas for wrist tattoos. But that doesn't mean they are easy to ink. The beautiful tattoo above clearly show off the precision required in creating a masterpiece. The rose with folded petals is shaded in tones of black. However, you can choose colorful flowers to show your delicate side.
#2: BUTTERFLY AND STARS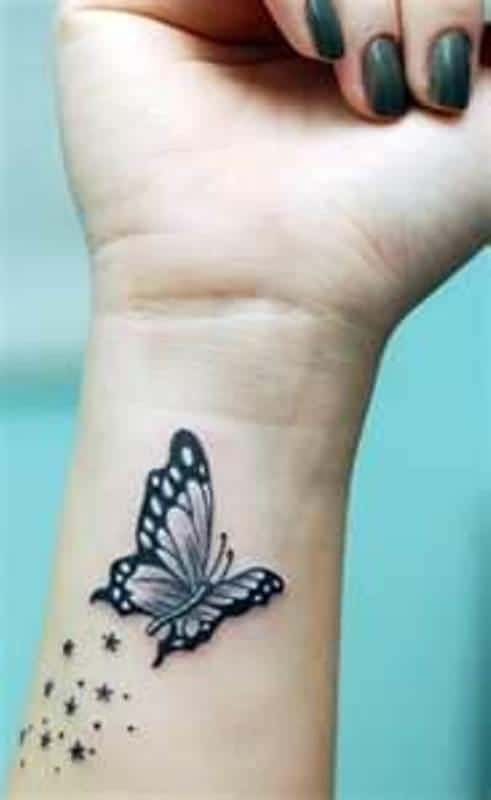 This monochrome butterfly and stars tattoo is a nice example of cute wrist tattoos for women.
#3: SEWING SPOOL AND NEEDLE TATTOO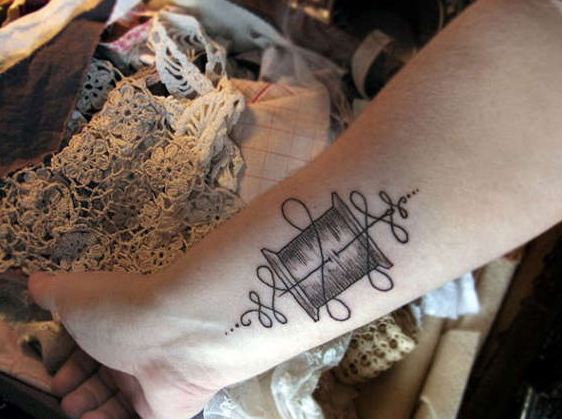 Meaningful tattoos like this sewing spool and needle tattoo reflect your personality. Depending on how people conceive them, they could be simple or complex to understand. Such simple tattoos create a lot of curiosity amongst viewers and thus make you a center of attraction for all good reasons.
#4: THINK POSITIVE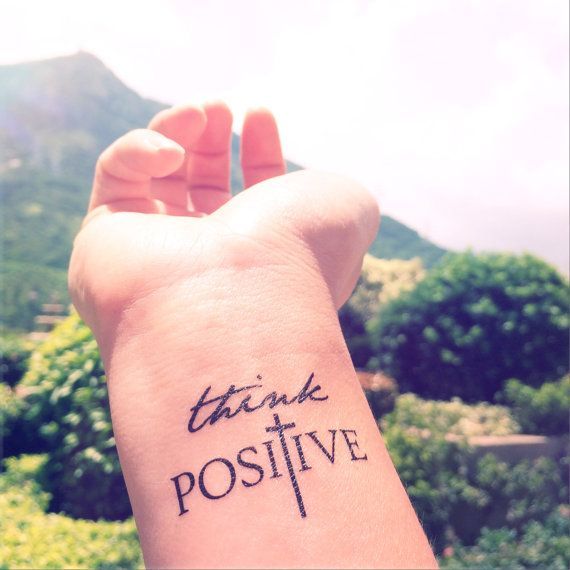 It's a nicely done simple yet classy motivational tattoo. If you like simplicity, try this design idea. You can choose different fonts like the girl did or go for intricate object mix calligraphy for a more sensational appeal.
#5: MANDALA WRIST TATTOOS FOR WOMEN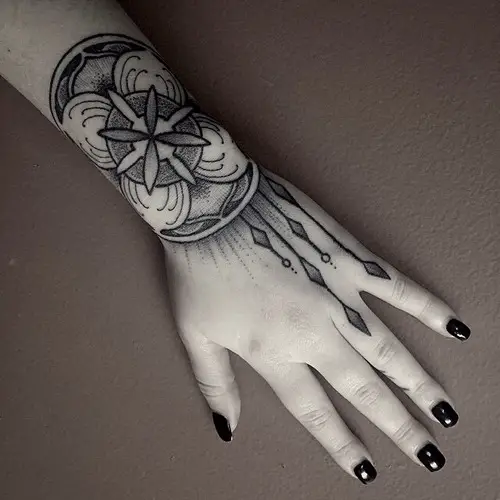 Mandalas in every shape, size, and pattern are a very popular design inspiration for tattooing. If you need something abstract and amazing, think of a design like a mandala above. With its fine detailing, the wrist tattoo instantly catches your attention. Isn't that?
#6: VINE BRACELET WRIST TATTOO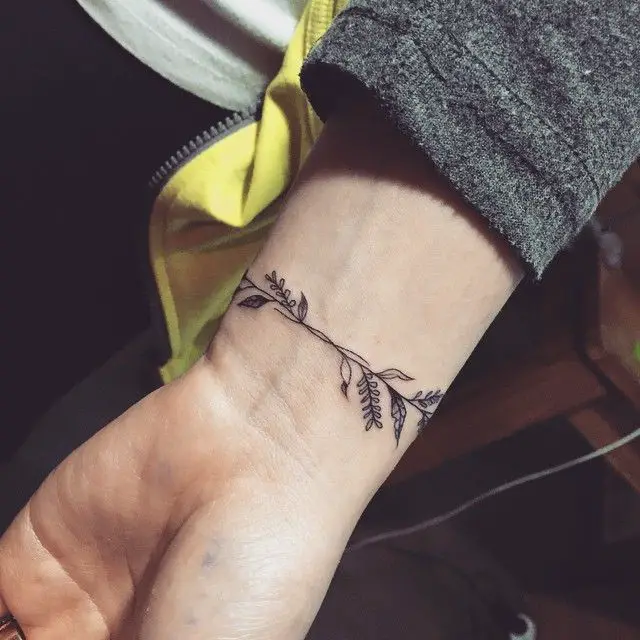 Why you need jewelry when you have a wrist tattoo? While this is a sleek vine bracelet tattoo, you have an array of opulent options to choose.
#7: 3D BUTTERFLY WRIST TATTOO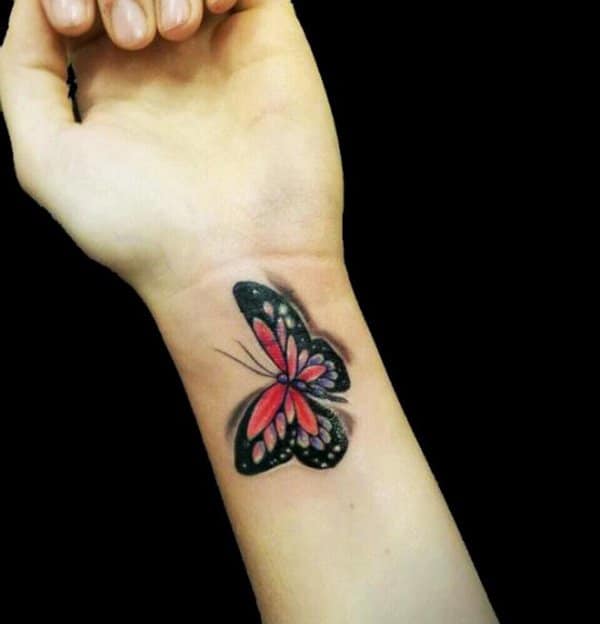 Do you know butterflies represent transformation? A butterfly wrist tattoo could mean you have evolved or in the process of transforming yourself into a better and more beautiful stage. The transformation could be of anything – you thoughts, your relationship, your career, and possibly anything. A butterfly tattoo is nice to signify it.
#8: DRAMATIC HEART TATTOO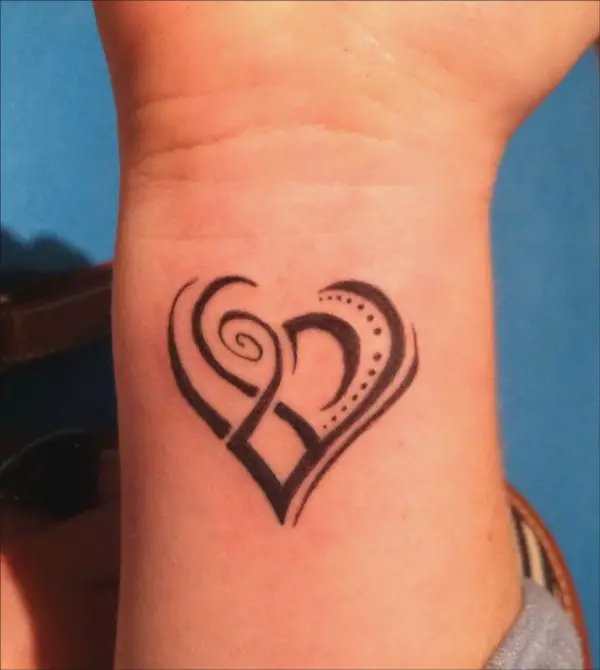 If you want to put your heart on your sleeves then this is a nice design idea for doing it. Heart wrist tattoos are quite popular. Definitely, they express love but a heart tattoo on the inner wrist also signify the connection of it with your heart as you have it just above the vein.
#9: VICTORIAN STYLE FLOWER TATTOO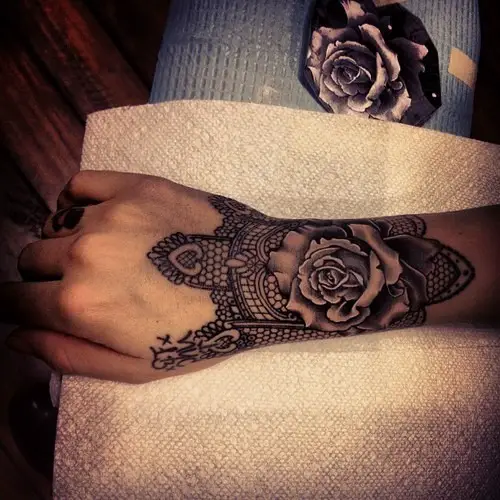 Victorian patterns and jewelry have long been a design inspiration for tattoos. Here, the wrist tattoo looks like an ornate cuff bracelet with a bold flower for added glamor. You don't need any accessory to create a buzz when you have such a spectacular tattoo on your wrist.
BREATHTAKING TRIBAL TATTOOS FOR WOMEN
#10: RED STARS INNER WRIST TATTOOS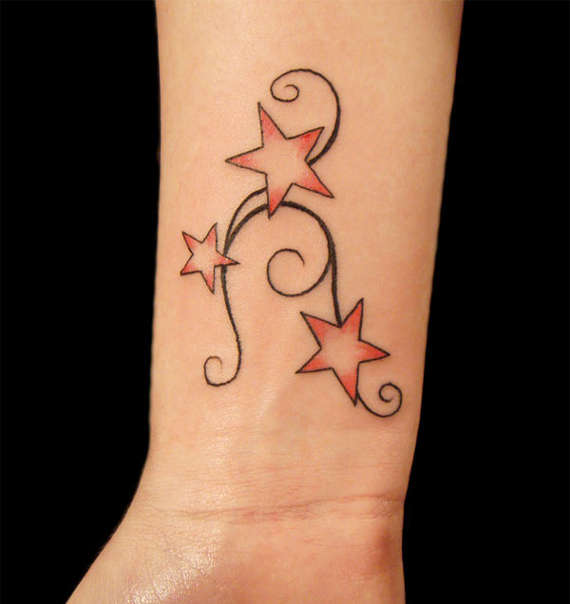 What a pretty tattoo! These red stars could represent anything from a hope of achieving goals to your special interest in astronomy or childbirth. Star tattoos are very meaningful and personalized. Have you got some inspiration now?
#11: ORNATE MOON WRIST TATTOOS FOR WOMEN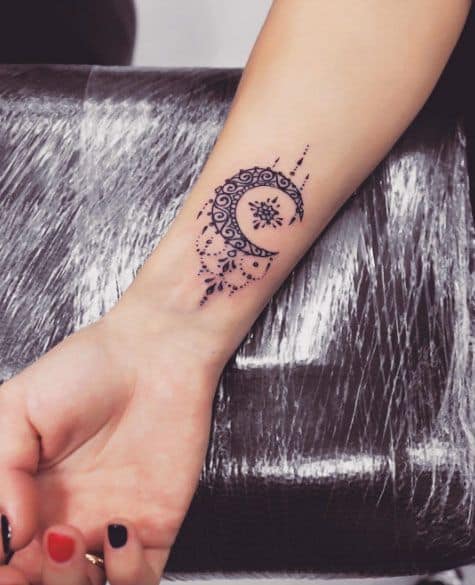 Do you believe in celestial bodies and the influence they have in our lives? Or you need a design to represent your whimsical side? Different phases of the moon have effects, and thus a discreet tattoo like the above one is perfect to express the many facets of your personality.
#12: HALF MANDALA TATTOO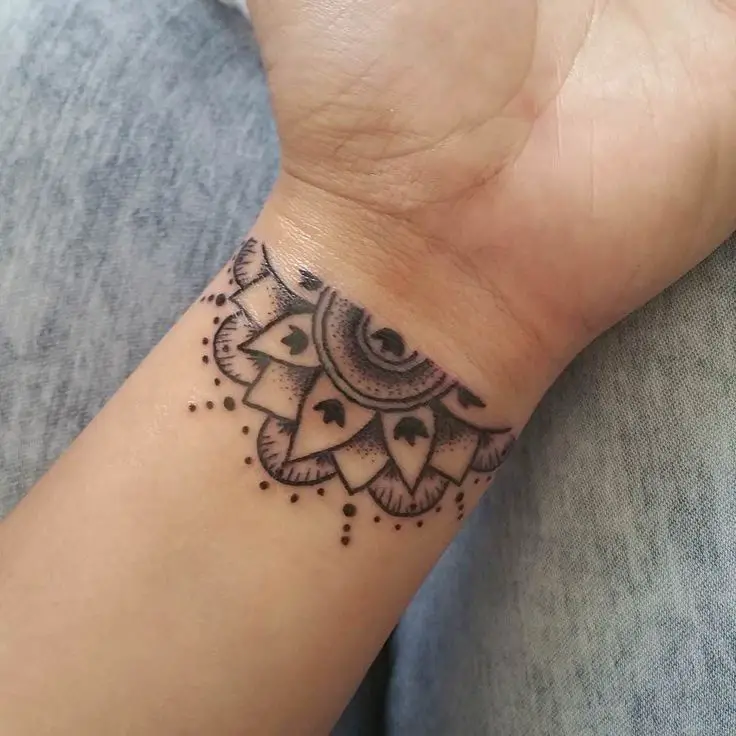 This is another example of how mandalas can be a promising design for wrist tattoos for women.
#13: SUN WRIST TATTOO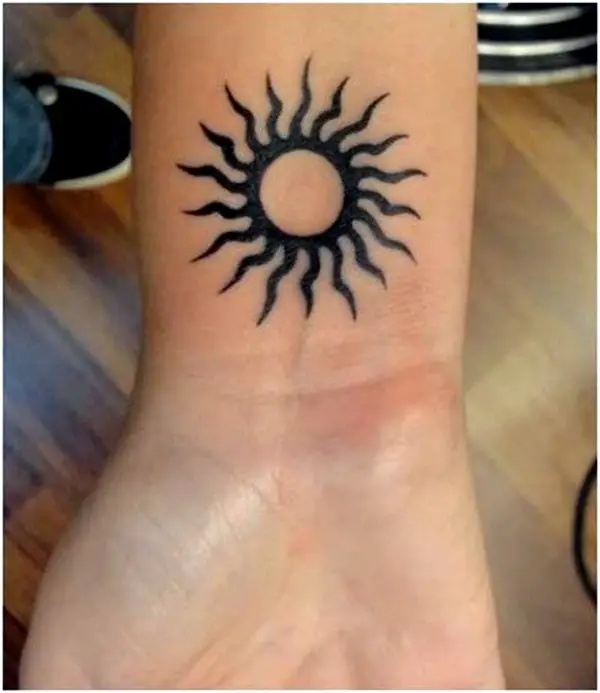 This sun tattoo is another beautiful example of celestial inspired designs. Sun represents power, energy, and strength. So a tattoo like the above one can signify abundant energy and courage you have within.
#14: JOIE DE VIVRE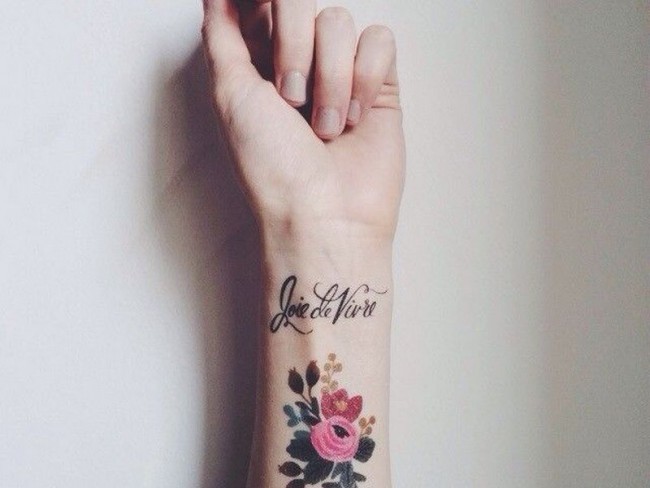 What a wonderful wrist tattoo to express the exultation of spirit and enjoyment of life. 'Joie de Vivre' is a French word that is often used to express a delight of being alive and exciting.
#15: SOLID WRIST AND ARMBAND TATTOOS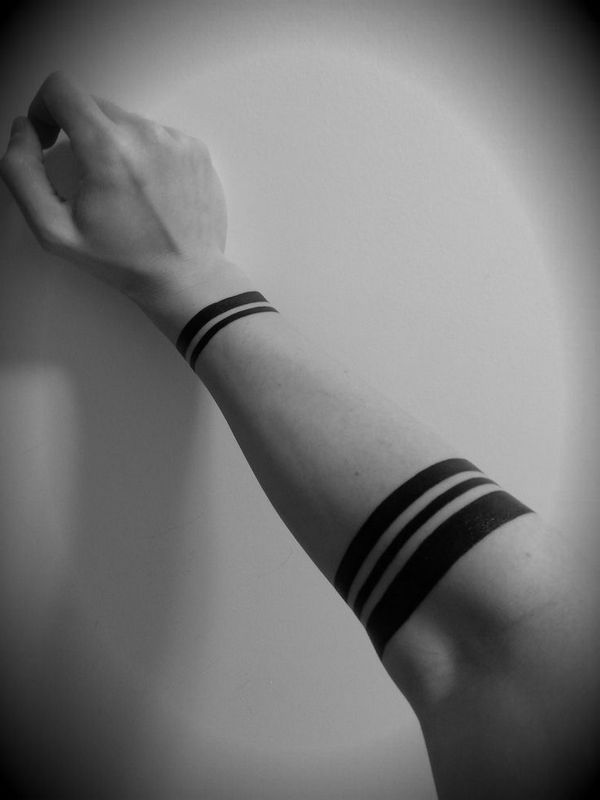 Historically, arm bands were used as a symbol of mourning. However, the design has evolved over time and now considered a style statement. While there are infinite design variations, the tattoos in the above image are the basic yet most acceptable style. It is because it has a solid look and clean simple detailing which most people want.
#16: FLOWER TATTOO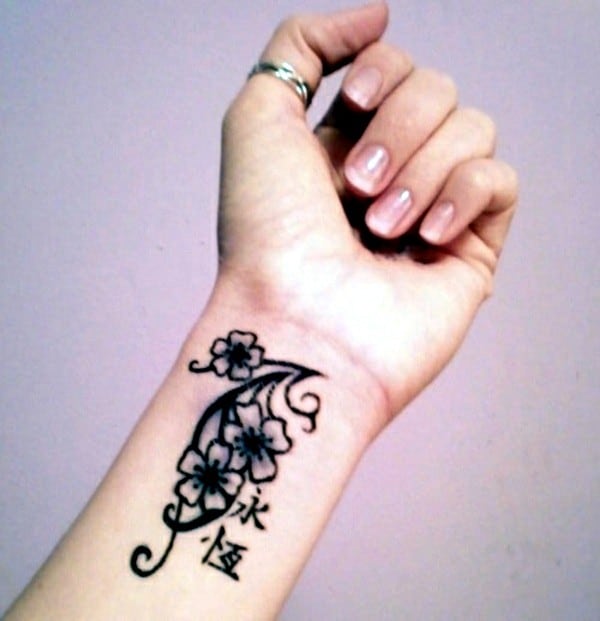 You don't always have to have a meaningful tattoo that has to signify something. This simple flower tattoo is equally good to impress others. It is beautiful and dramatic and has a very distinctive appeal.
#17: STARLIGHT WRIST TATTOOS FOR WOMEN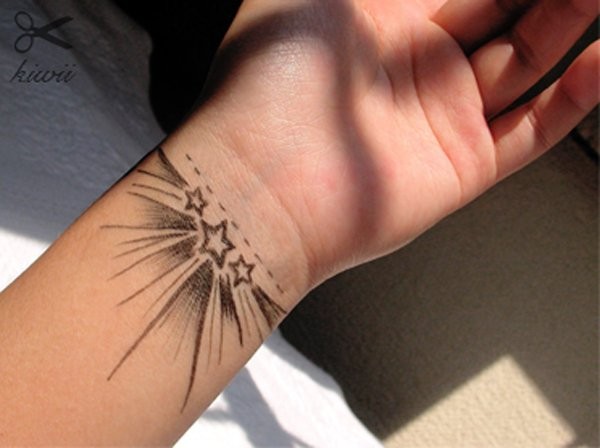 This is another resonating example of impressive star tattoos. The tiny stars are bright enough to spread endless light.
#18: HOWLING WOLF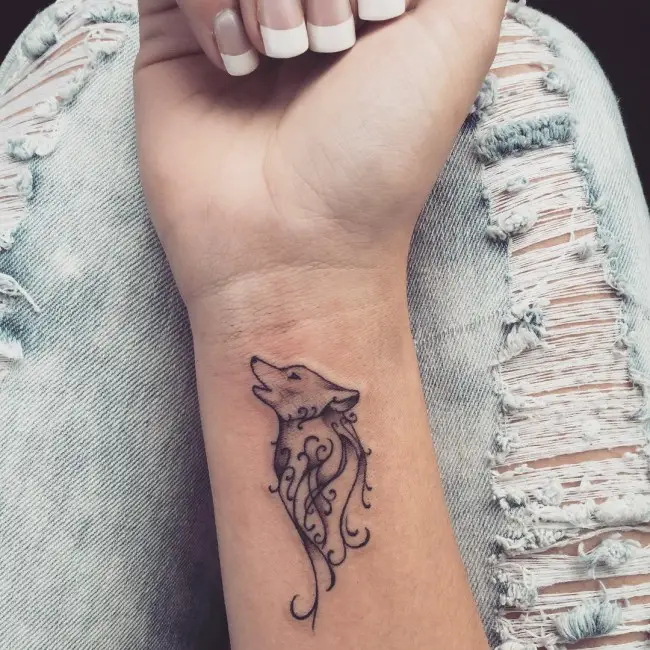 Animal lovers often choose designs with animal images. If you love the wilderness, then this wolf tattoo is a nice option to think.
#19: FAITH HOPE AND LOVE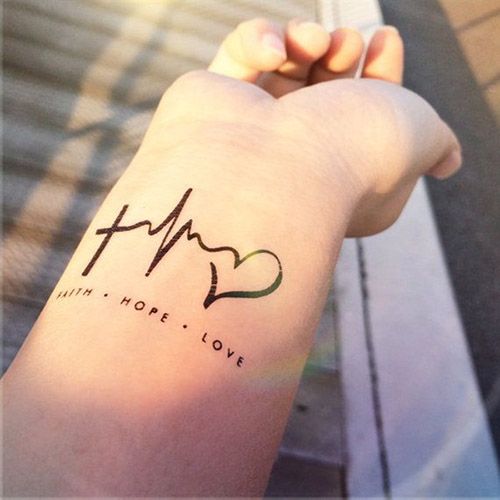 A nice idea of wrist tattoos for woman is this heart rate with inscribed words. The heart line makes a heart at the end and says no to lose the hope ever in life.
#20: CUTE OWL ON BRANCH TATTOO
Let the magic of your personality cast a spell on others with a beautiful tattoo like this cute owl tattoo.
#21: EMMA STONE'S WRIST TATTOO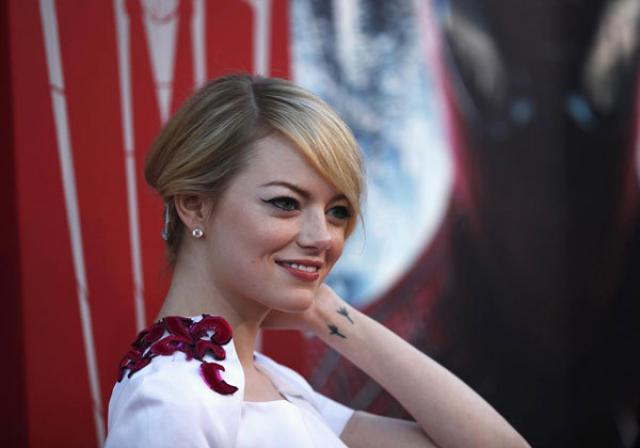 There is a special story behind the tiny wrist tattoo of the Oscar winner star. It's a bird's feet design inked by the Beatles star Paul McCartney to celebrate her mother's success in fighting breast cancer. Wrist tattoos are really nice to immortalize a significant memory!
#22: MILEY CYRUS' WRIST TATTOOS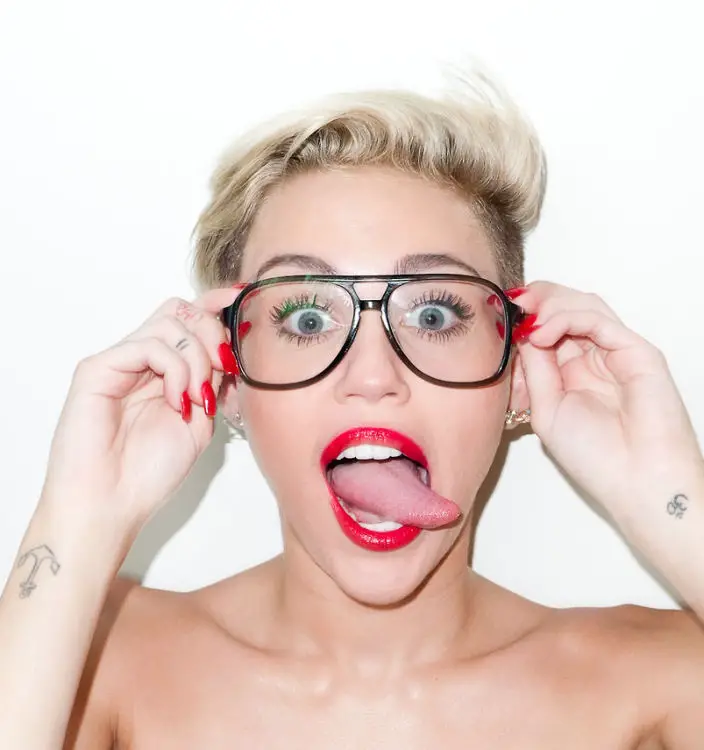 The 'Hanna Montana' fame singer has an anchor on one wrist and a religious word 'Aum' on the other wrist. Religious and sacred tattoos are quite popular. You can think of something like Miley or choose your own sacred wrist tattoo.
With these and many other design ideas, there are ample of options of wrist tattoos for women. The design depends on your personal taste. You can have an outlined tattoo or a brightly colored one, the choice is yours. Try to have a tattoo on the inner side so that it won't fade quickly.